Future Now
Everyday aspects of life are changing all the time, and in the last 10 years you'll have no doubt experienced a significant shift in your daily routine.
Electric vehicles and autonomous driving are the hot topics in automotive news, mainly because they drive excellent click bait arguments and engagement on social media, but there's a lot more going on besides that. The sort of tech that doesn't make an internal combustion enthusiast feel threatened. The sort of tech we love.
The project itself is called '3i-PRINT' and this is everything you need to know.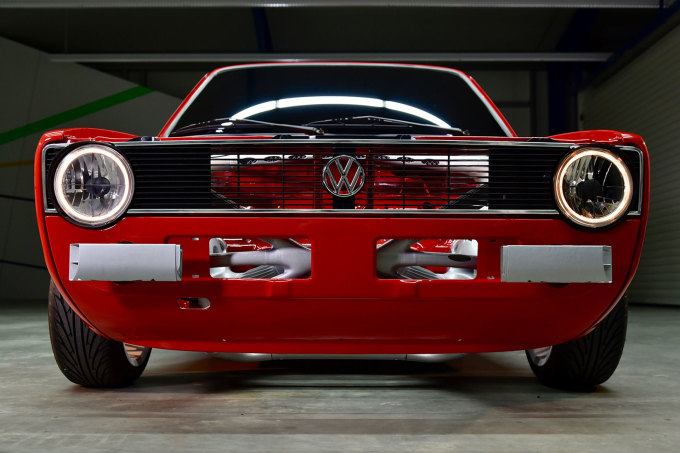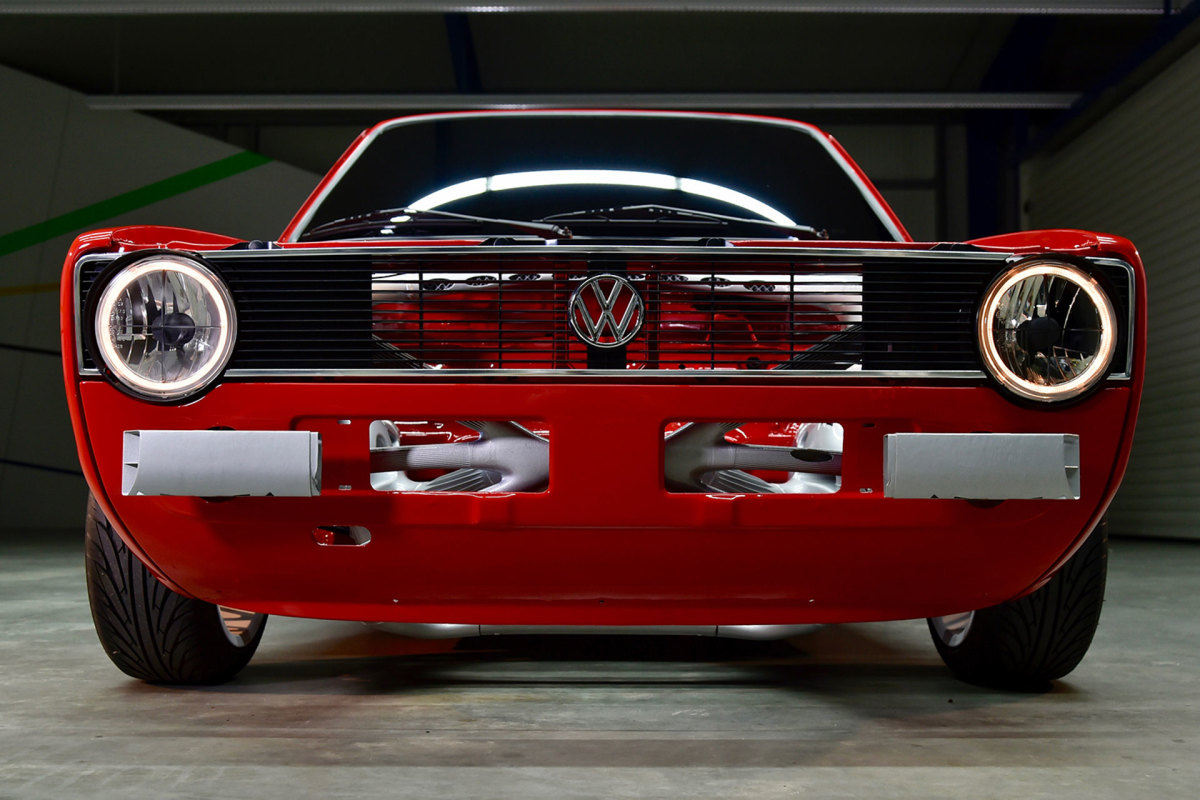 My favorite of these is rapid prototyping, or 'additive manufacturing'. You'll  have no doubt seen sinter-metal printed guns, musical instruments and all manner of oddities on your Internet travels. It's this sintered metal printing that holds the most interesting prospects for the car world. It means that it's truly open season for engineers to create forms and structures otherwise impossible in conventional fabrication or manufacturing.
If you're reading this thinking 'what does cutting edge, super-expensive OEM level technology have to do with modified street cars' then just glance at the opening image.
Granted, it is a design study by six of the worlds leading industrial manufacturing companies and includes considerable input from AP Works, a subsidiary of Airbus; the guys who make aeroplanes, but don't let that put you off. It is still a Volkswagen Caddy, it still has a fully 3D printed front end and it is still awesome. I even like the project ethos; the team says that metal additive manufacturing already works today, but that they wanted to make 3D-printing graspable.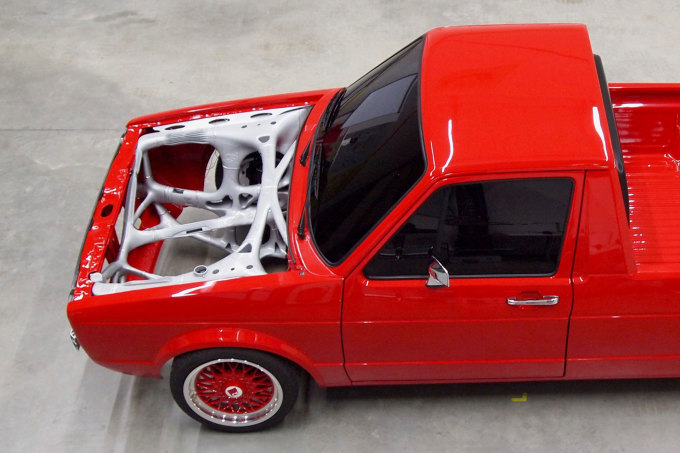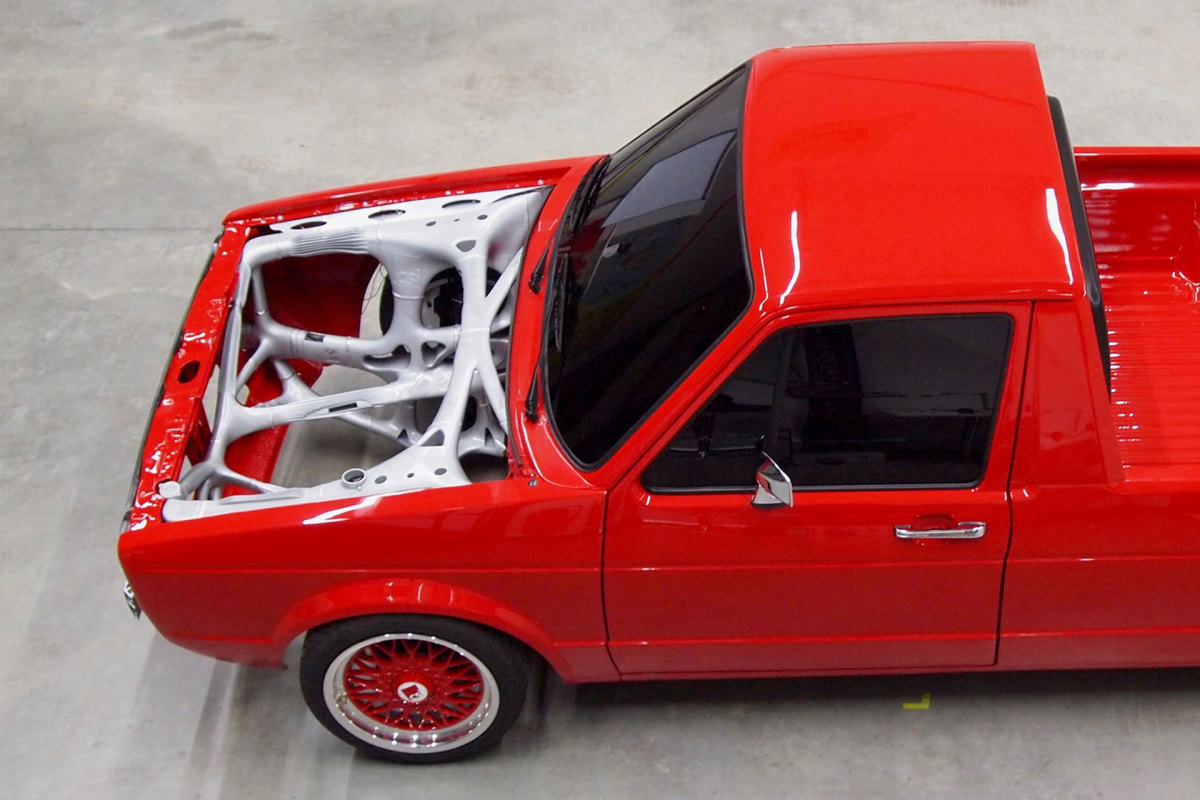 It makes total sense to me; the familiar shape of the MK1 Caddy is immediately jarring when you realize what lies beneath and immediately sparks an intrigue to learn more.
Design Freedom
As an engineer, you always have to consider the actual manufacturing process when designing. It's an annoying reality but one that becomes much less stringent when you ditch conventional machining and fabrication. There are no CNC machining constraints and no material restrictions, in fact you can even print with transitional materials. That means you could make an exhaust header that utilises Inconel at the hot end and taper it to stainless steel towards the collector.
With additive manufacturing the sky really is the limit for design. This means complex lattice structures, long sweeping forms and interactions between surfaces that you would ordinarily only see in organic structures.
The entire frontal substructure in the Caddy is created from a sintered aluminum alloy, called Scalmalloy®. It allows the whole thing to weigh just 34kg, substantially less than the steel structure and associated cooling parts that the 3i-PRINT piece replaces.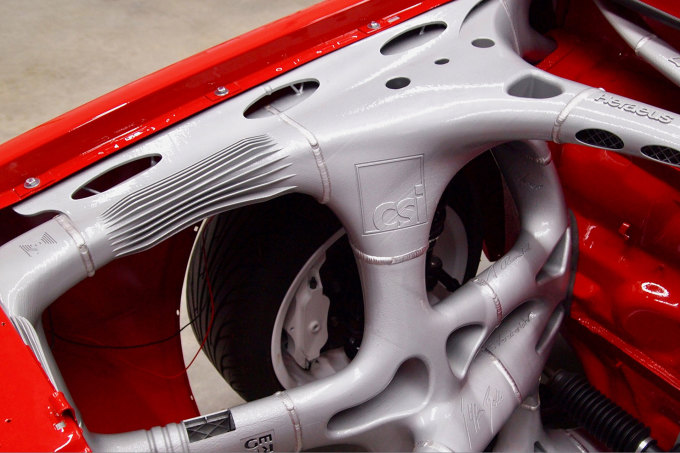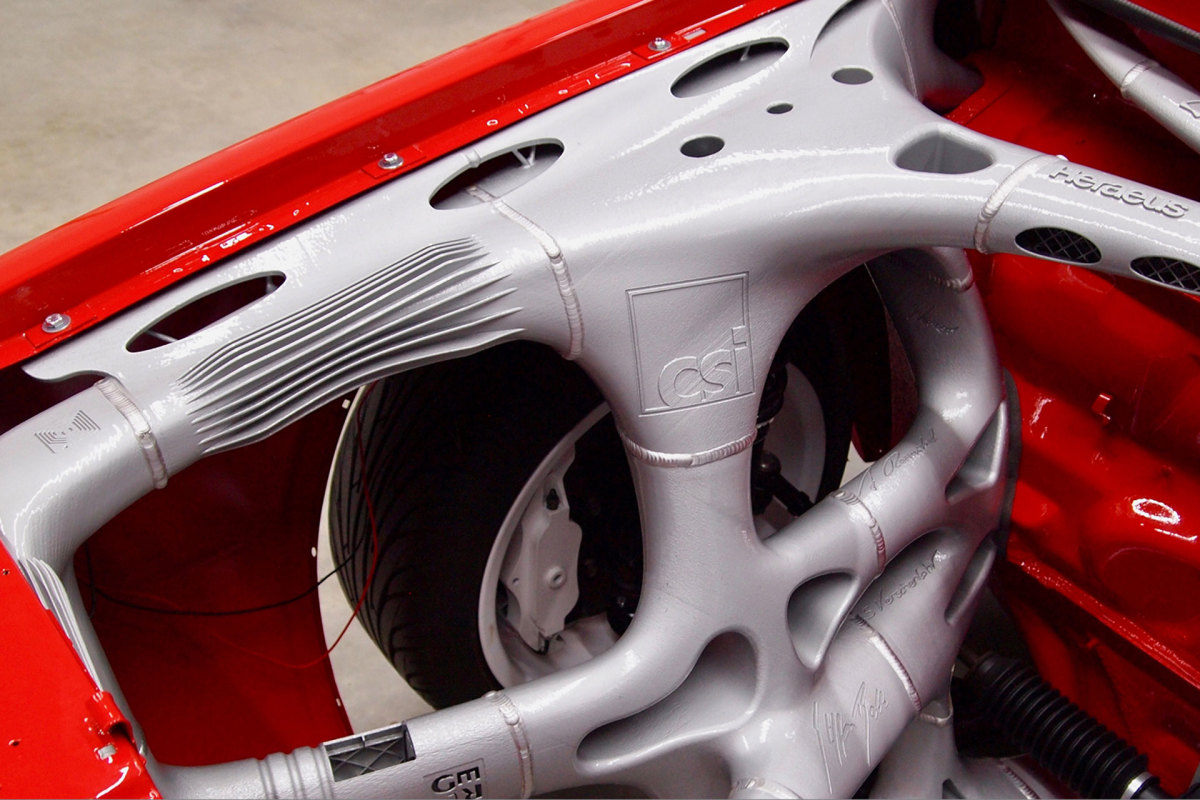 Brace yourself, because this is the really cool bit. The structure isn't just designed to carry the powertrain; it's also responsible for the fluid transfer for the cooling system. Just like the show cars water-cooled VW heads will be familiar with, the 3i-PRINT structure uses the strut brace and strut towers as the header tank. There has to be a modified VW fan on the project, I'm convinced of it.
The thermal management goes even further than this though; the inner wing portions also include ducting for the brakes the structure itself even includes cooling fins for the liquid cooling inside.
Crash Optimisation
To be a truly viable, modern solution the team had to integrate design features that automotive designers require in current designs. This includes crash structures and pedestrian safety. While these are not sexy subjects the solutions integrated into the 3i-PRINT structure are pretty cool.
Crash load paths are optimised through the load bearing structure and crumple zones are incorporated to isolate occupants from crash forces. Likewise, pedestrians receive their own collapsible members, exceeding the crash safety of the MK1 Caddy design by absolute light years.
You see, a century ago the motor-car as we know it was a very different beast. It's come a long way and it's all down to innovation. It's all the better for it. Embracing new technologies is what car enthusiasts do best and you can't argue that you're not glad to see the back of mechanical fuel injection on daily drivers.
My point is; when you peep over the parapet, past the EV noise, we're on the brink of a modifying revolution.
Ryan Stewart
Instagram: 7.nth
ryan@speedhunters.com
Photos by 3i-Print