The Confident, Quiet Type
Sometimes it's the quiet ones that make an impression. It's the firm handshake and a reassuring, confident glance of eye contact giving an air of competence. An absence of ceremony epitomised through unwavering desire to knuckle down and get results.
This is the guy you want on your team.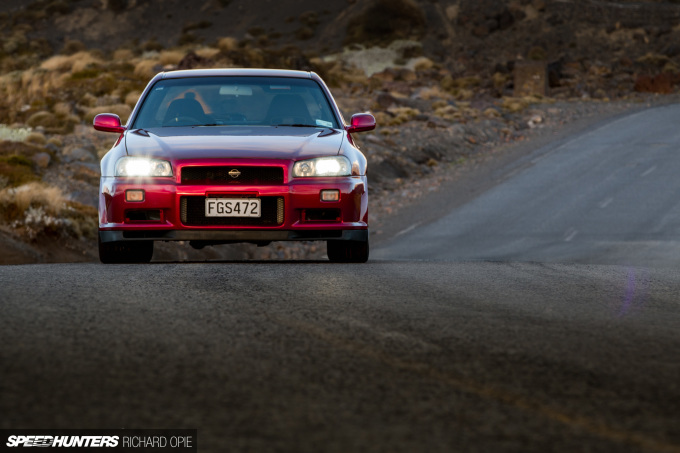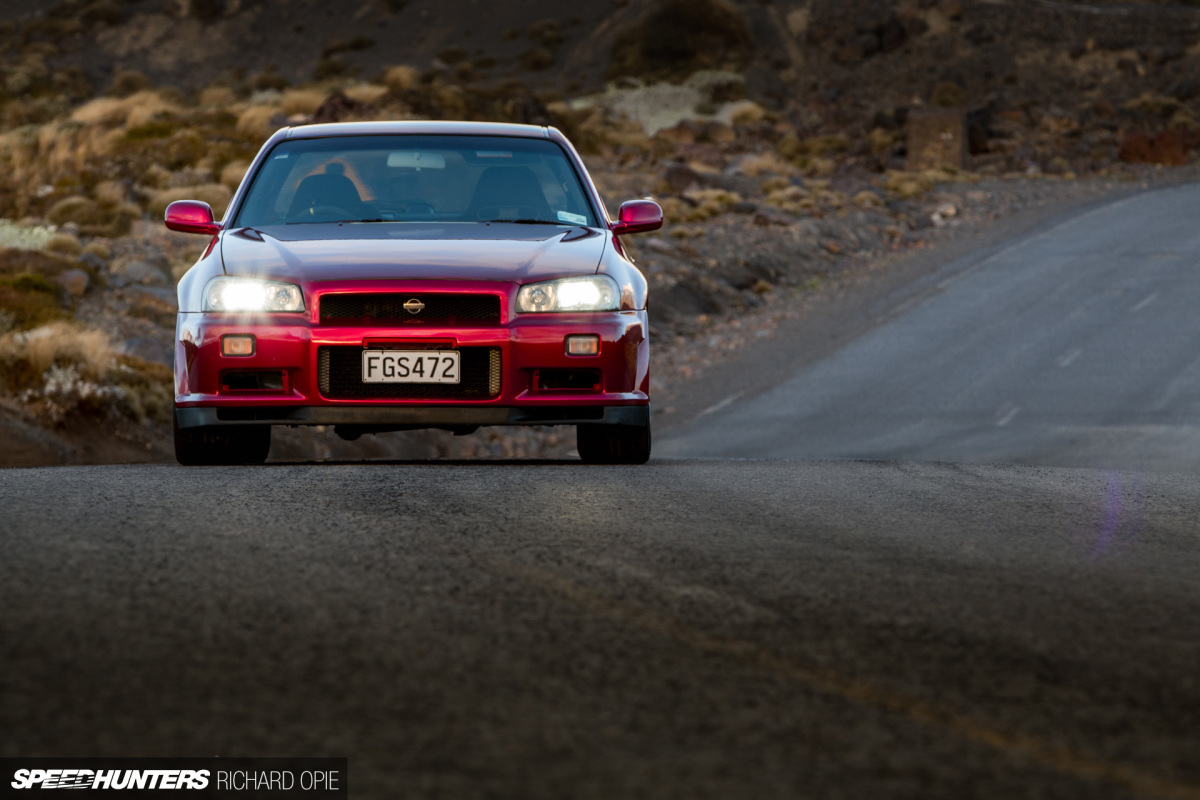 This is the automotive overachiever personified. On the outside, clean cut, clad in a sharp set of threads, yet not ostentatious. A little too persuasive to be considered a sleeper. This build exudes ability from every panel gap. Maybe the term Q-ship is more apt.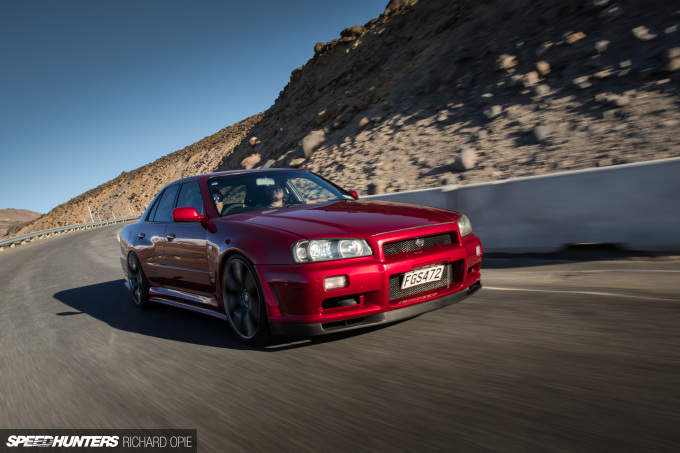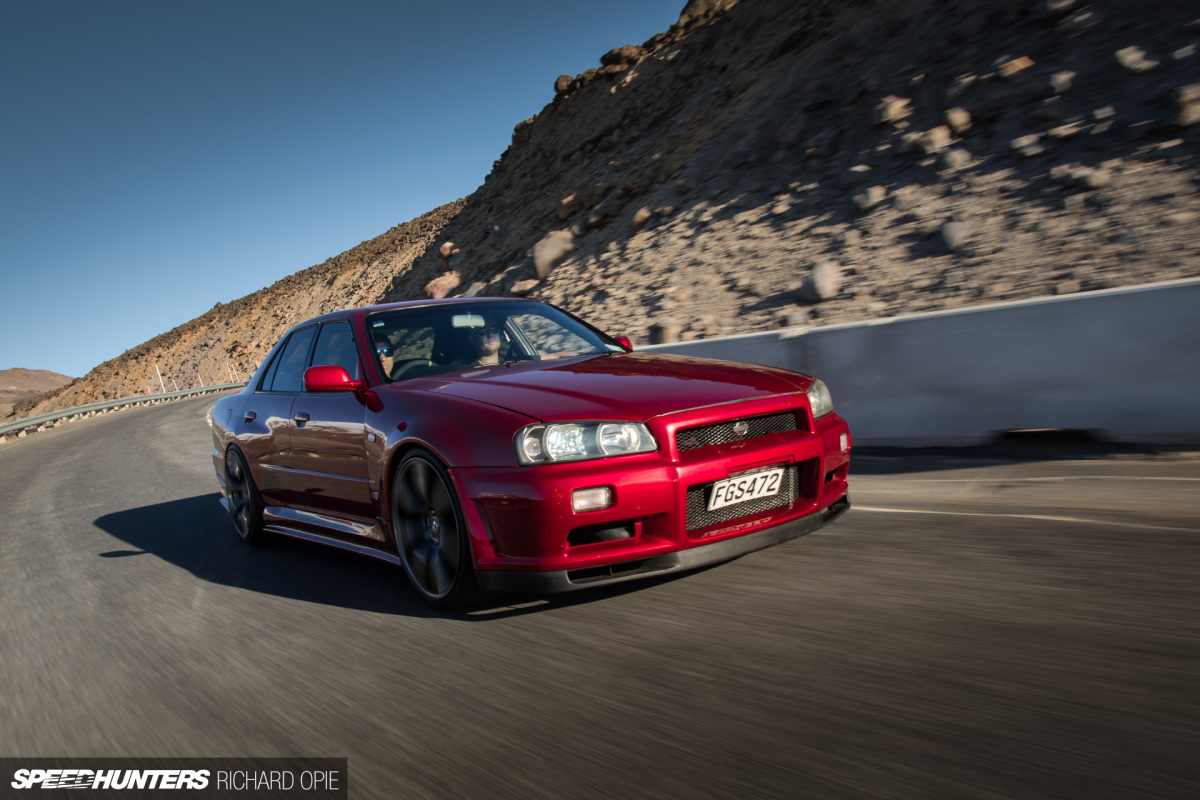 In wartime, the Q-ship moniker referred to merchant navy vessels that while restrained and business-like externally, concealed heavy armament. Repurposed by the motoring media, the term is often attributed to vehicles possessive of elegance and speed.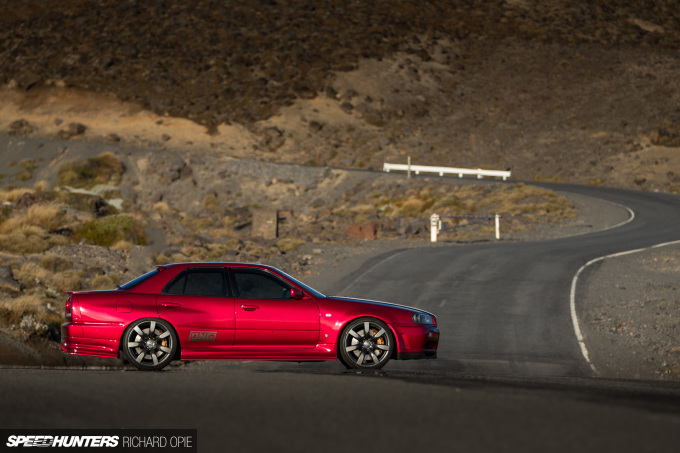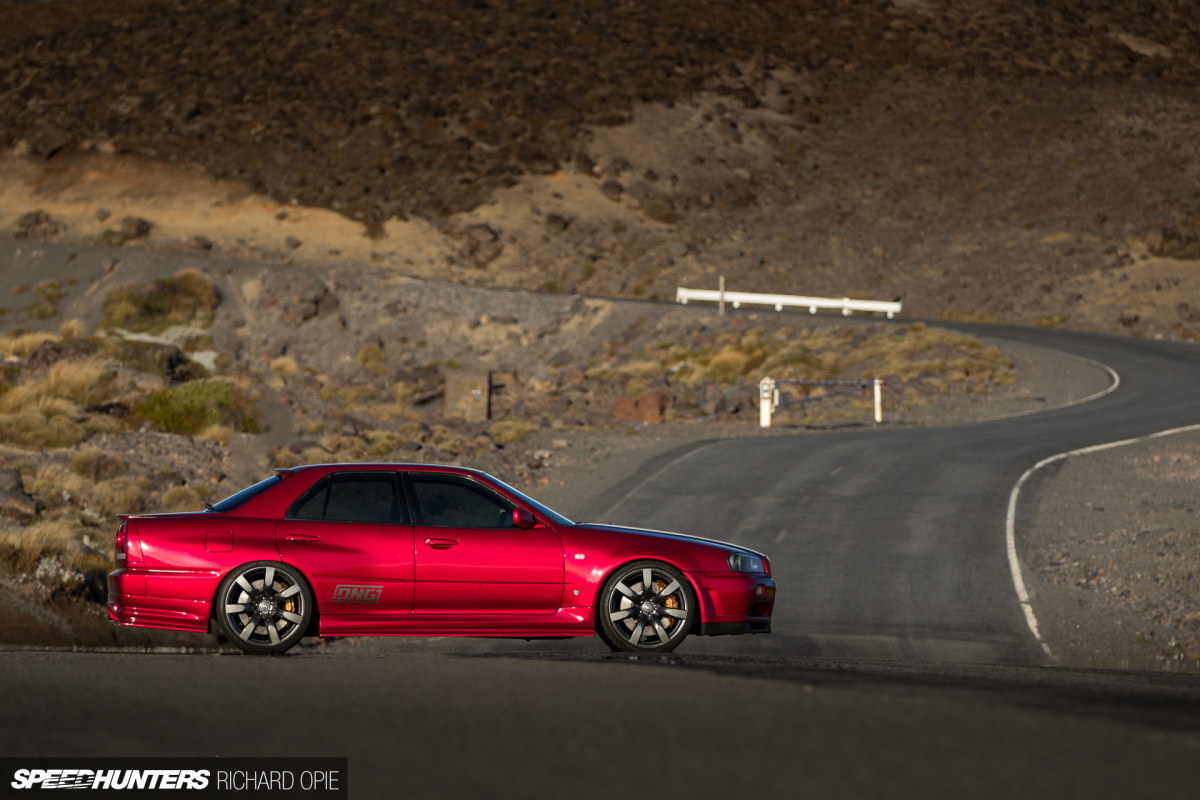 However it's not a titled bestowed frequently on a modified build. Especially not an ER34 Nissan Skyline sedan. Never. Surely?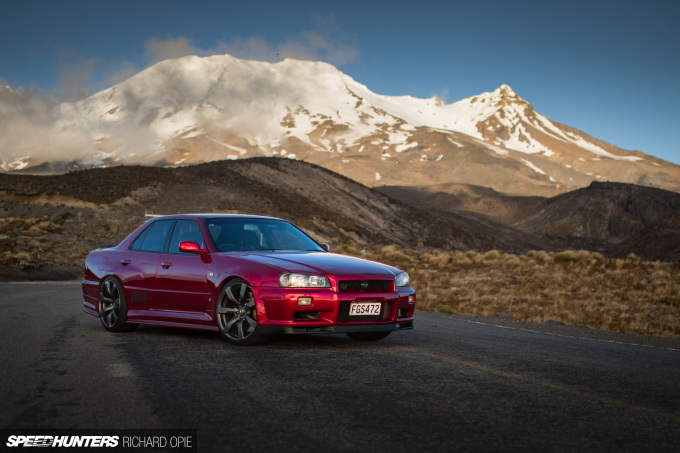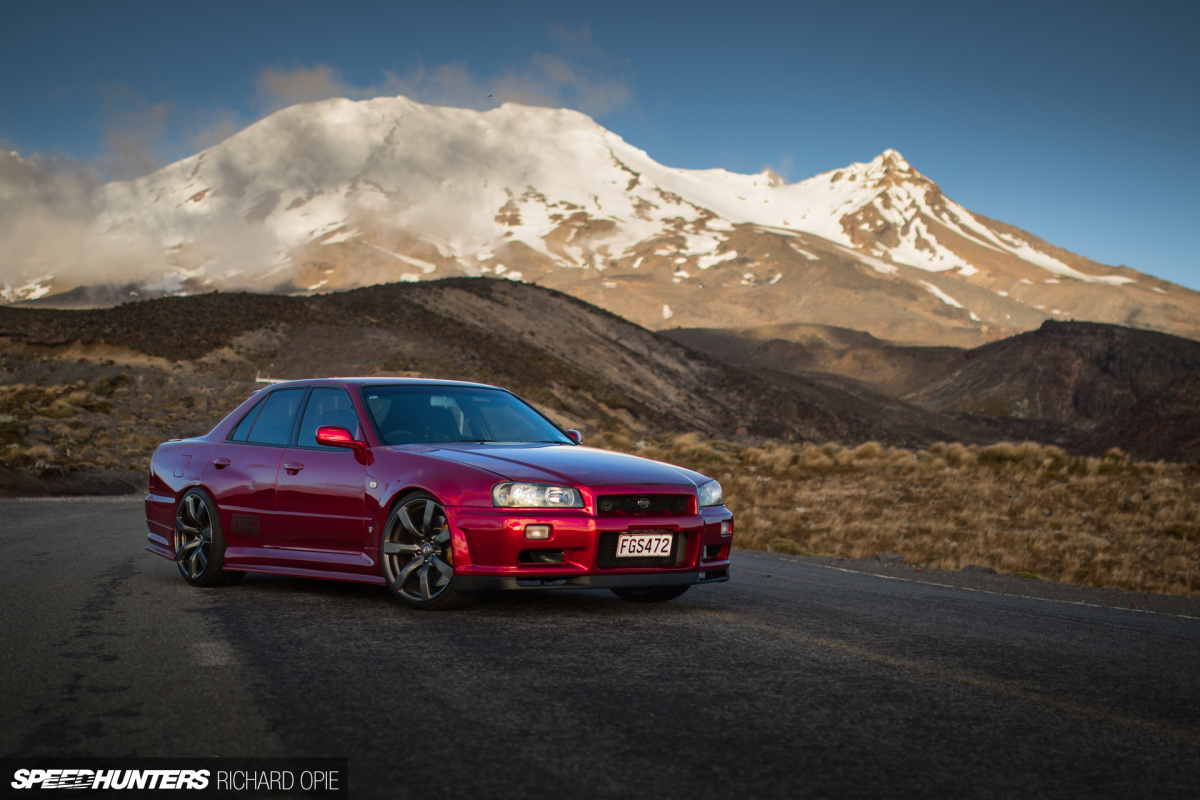 But it's the noun of choice when describing Dustin Ng's beautifully accomplished build. This four-door interpretation of a platform so epitomised by the hero GT-R, sports an aesthetic that errs on the subtle rather than the extreme. But beneath the sharp-dressed skin lies a mechanical package born of pure function.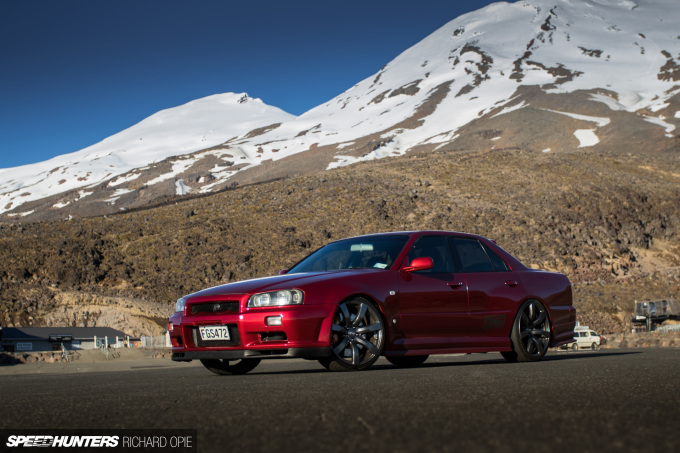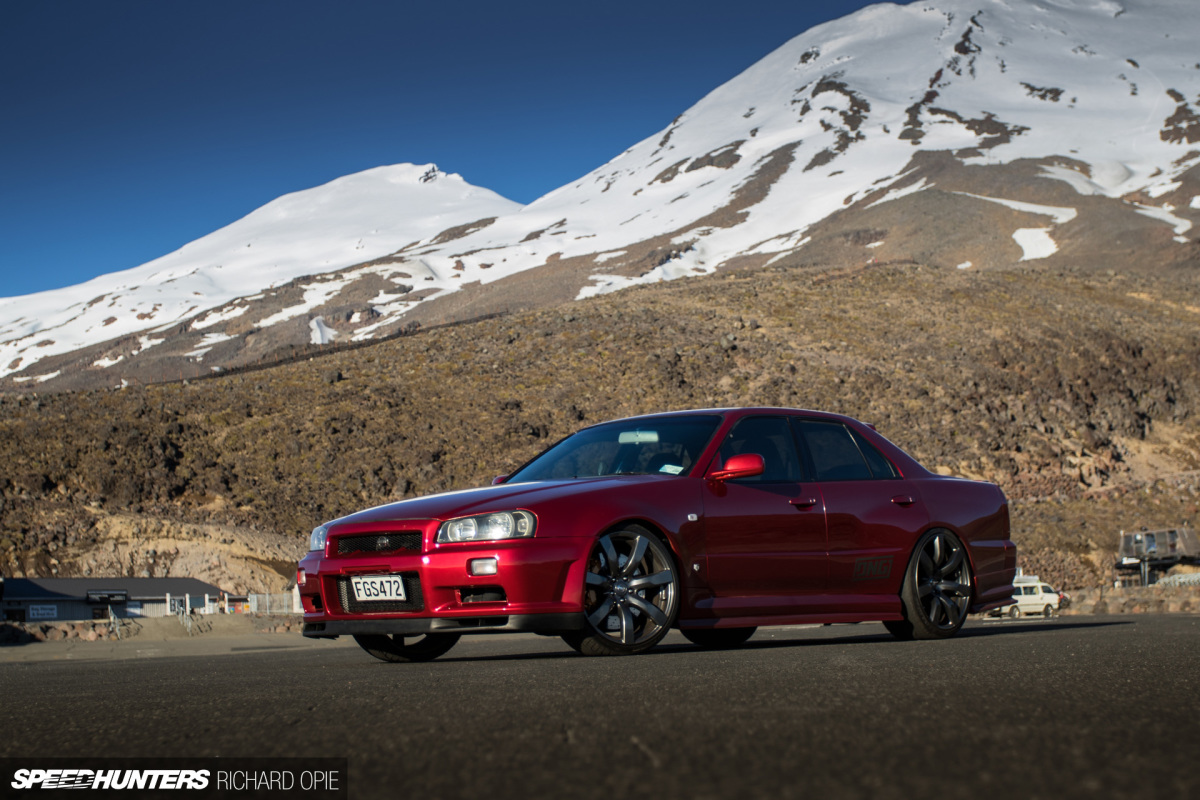 Understanding the concept of this build requires delving back into Dustin's recent past. Around 2005, he acquired a written-off Mitsubishi Lancer Evo VI for relative pennies. With an ethos of chasing power-to-weight, the Evo's 4G63 engine and AWD drivetrain made its way into what Dustin termed "an aqua teal grandma car." In this case, a CJ4 Mitsubishi Mirage hatch.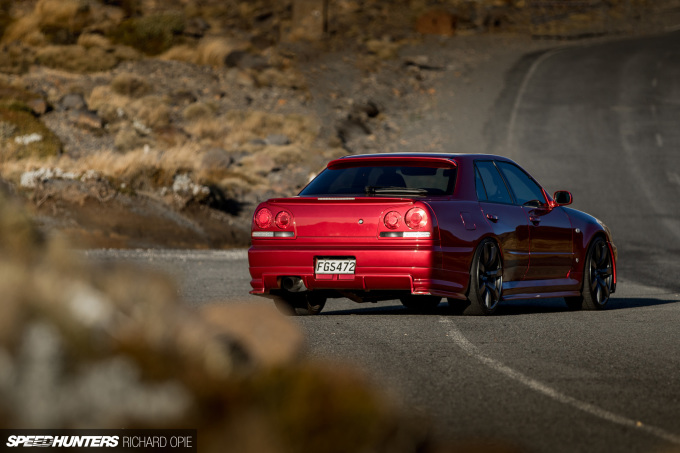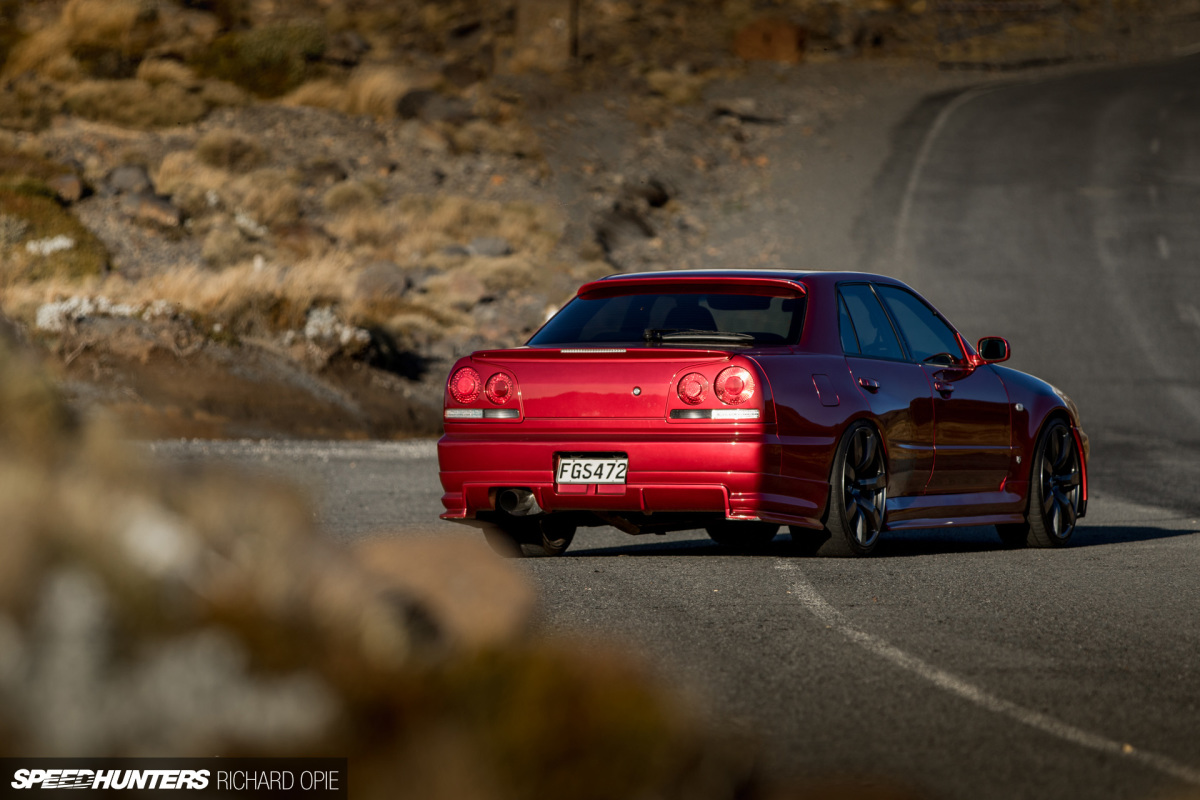 As with any typical car build, a process of evolution (intentional pun alert) ensued, largely through a desire to be competitive in local hill climbs. With a caged shell and Evo VI wide-body enveloping a serious wheel and suspension package, the Mirage proved a bit of a tarmac hill climb mountain goat.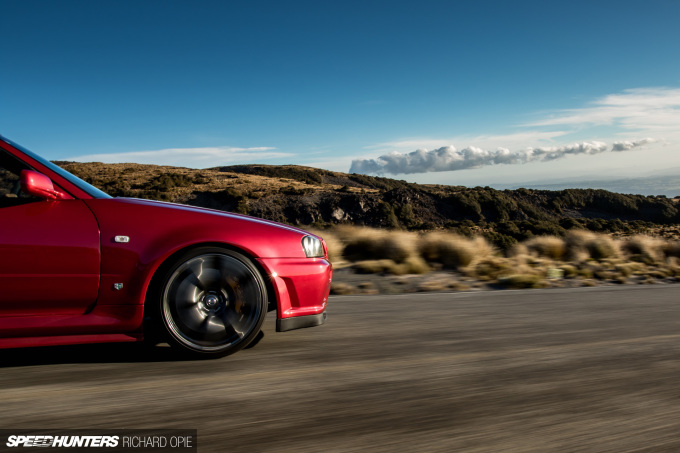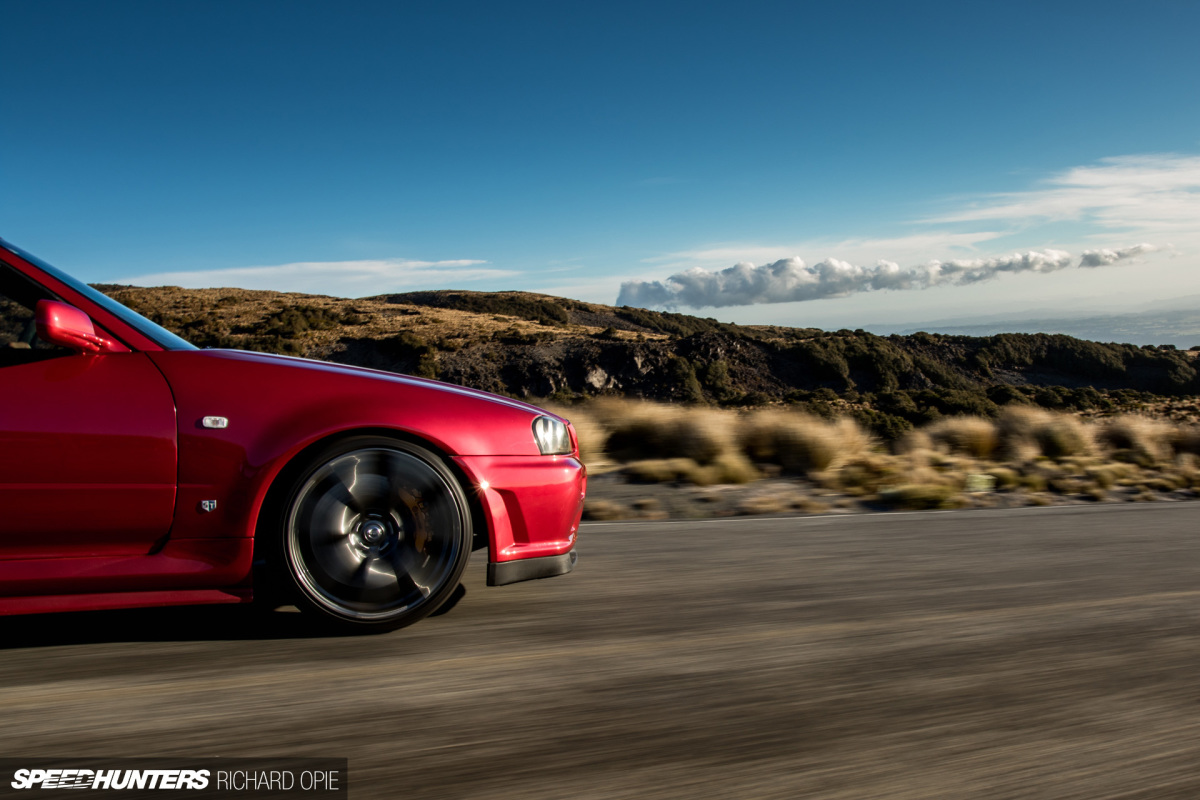 In an all too typical storyline, Dustin decided the Evo/Mirage hybrid didn't quite have enough poke to rocket from apex to apex. With an already-handy 360hp supported by the stock turbo, Dustin upsized the turbo combo, subsequently followed up by a 2.4-litre stroker block with the usual fruit.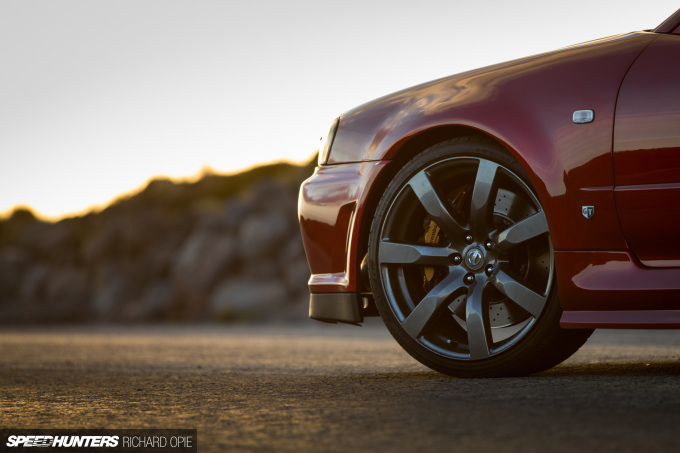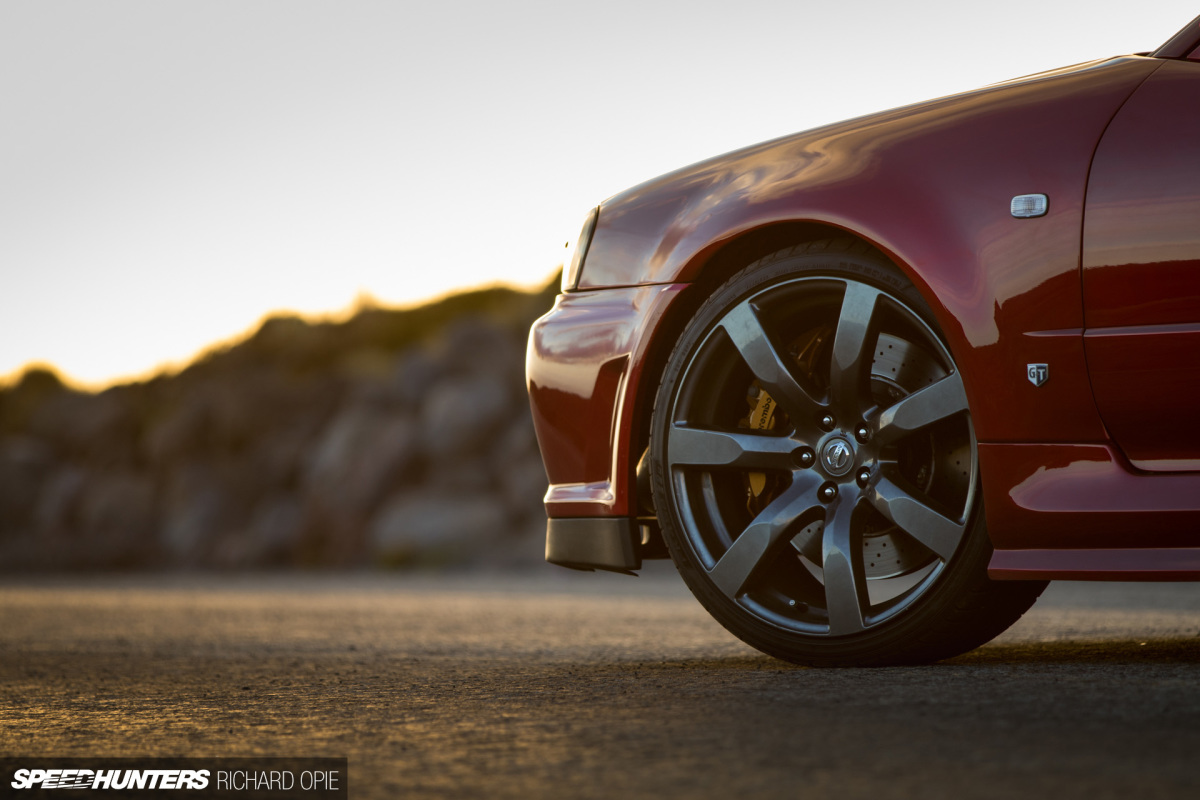 The net result, a street-registered, 500hp weapon neatly concealed within the confines of a bulked-out grocery-getter. However, the narrow focus of the car meant enjoying it with more than one mate in tow was impossible. Then there was the driving experience, which had become less suited to general road use.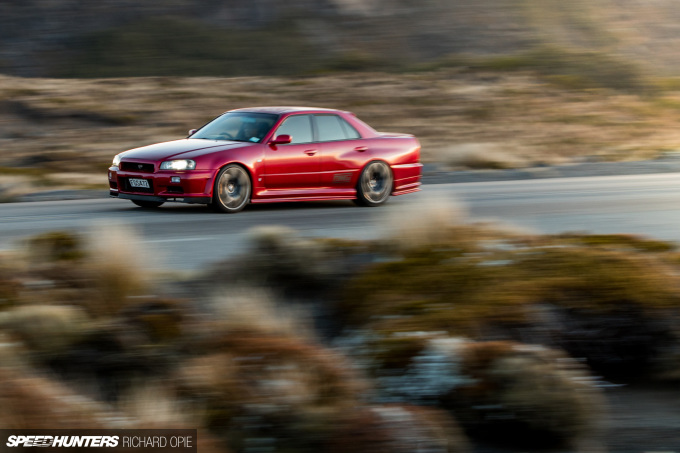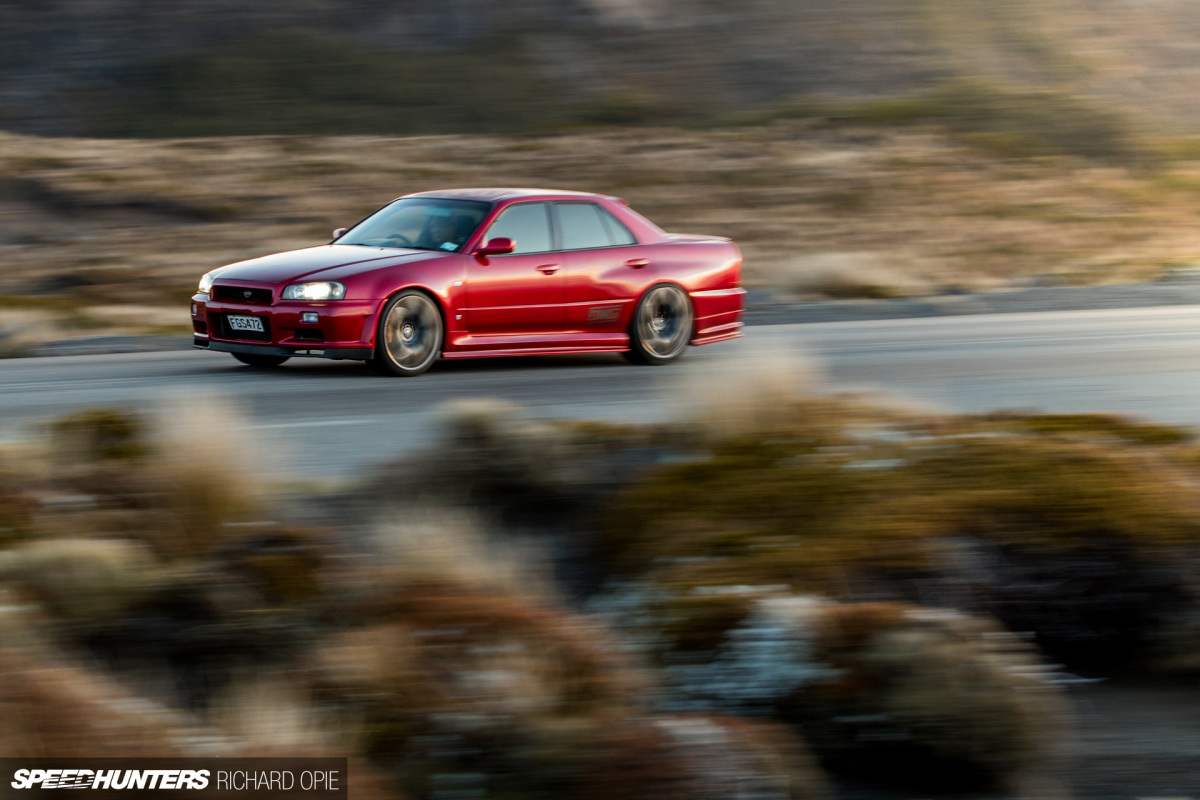 The antidote? Four doors. Five seats. A healthy dose of power and dynamics able to entertain through the twisties. Maybe most importantly, looks sharp enough to betray the factory lines, described succinctly by Dustin as "f**king ugly" and elevate the humble R34 sedan to proper suave street-fighter status.
De-Uglifying The Duckling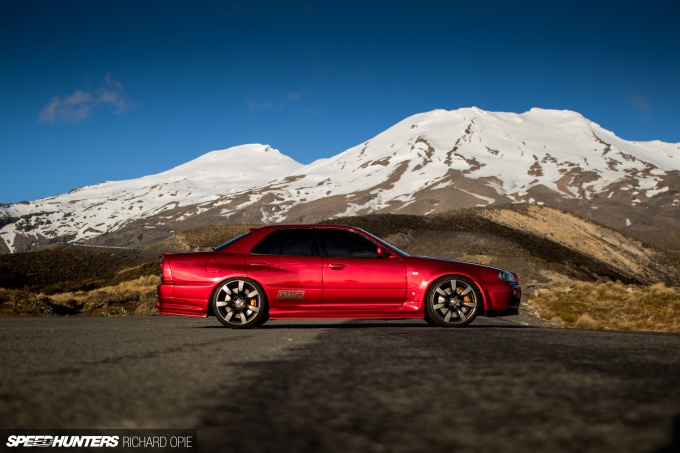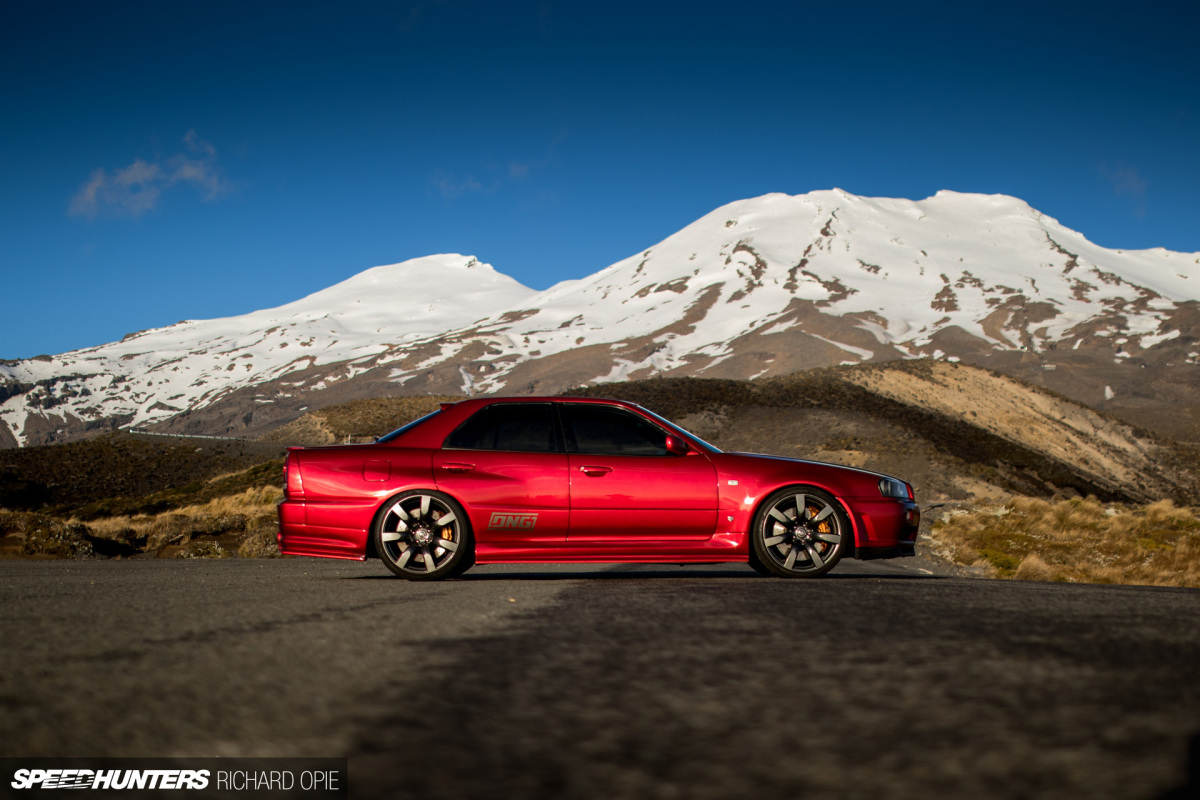 Dustin's craving for four-door Japanese performance was sated by not one, but ultimately three R34 sedans. Number one proved too wrecked to resurrect; number two suffered terminal build headaches; number three ended up with the full package. This car delivers.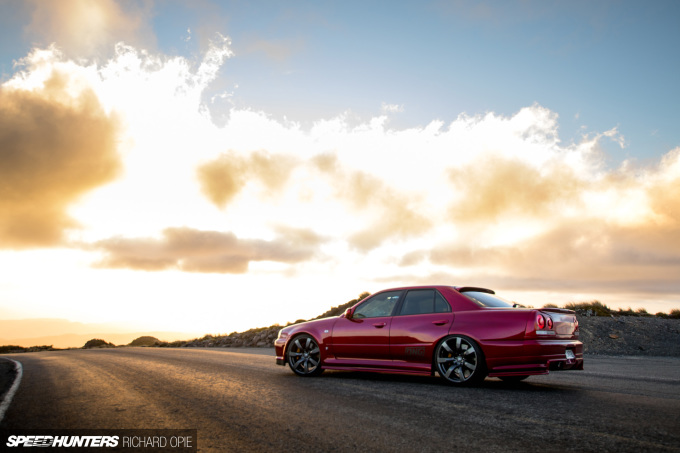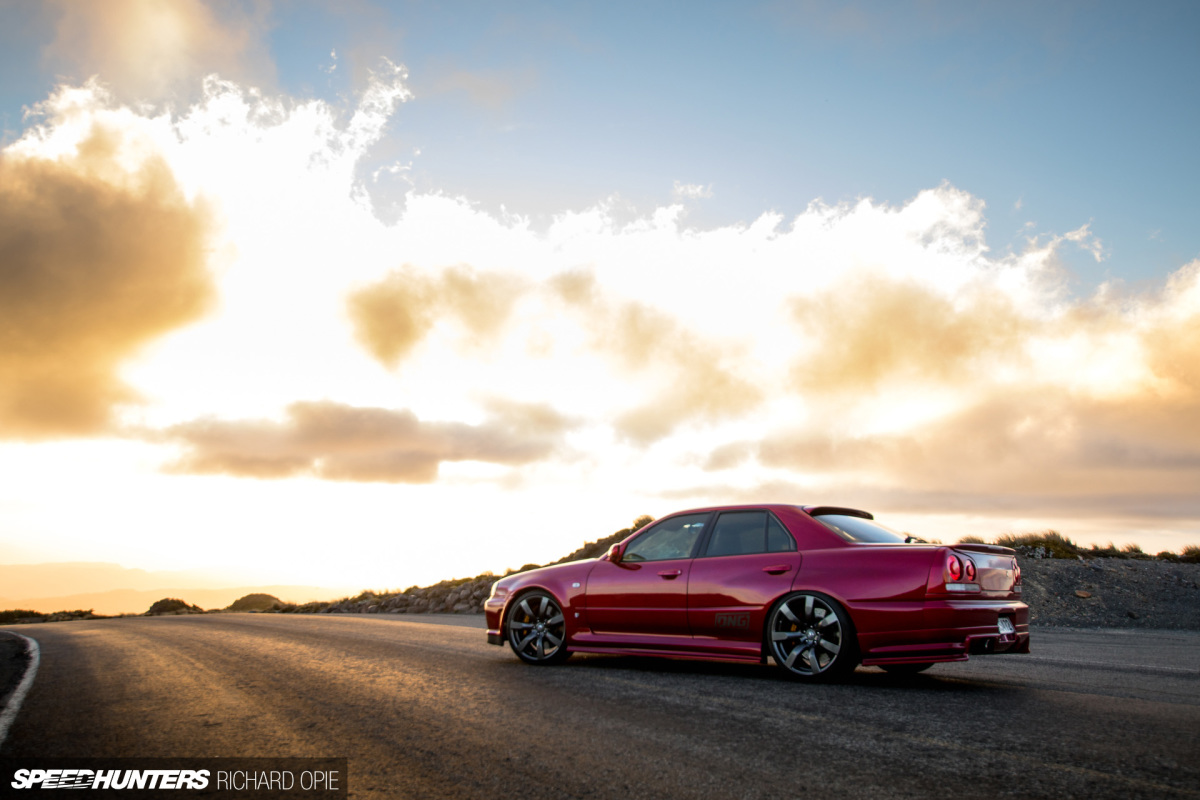 The resulting product hits the silent achiever target. Reminiscent of its somewhat more distinguished GT-R sibling, Dustin's four-door hints at an upskilled mechanical package below its pumped-up, yet subtle silhouette.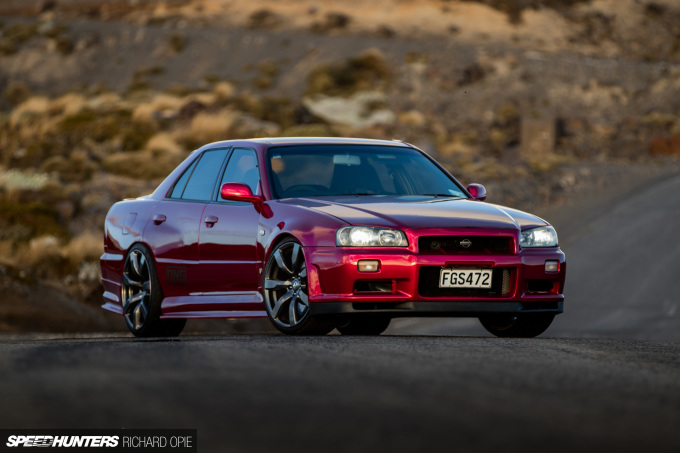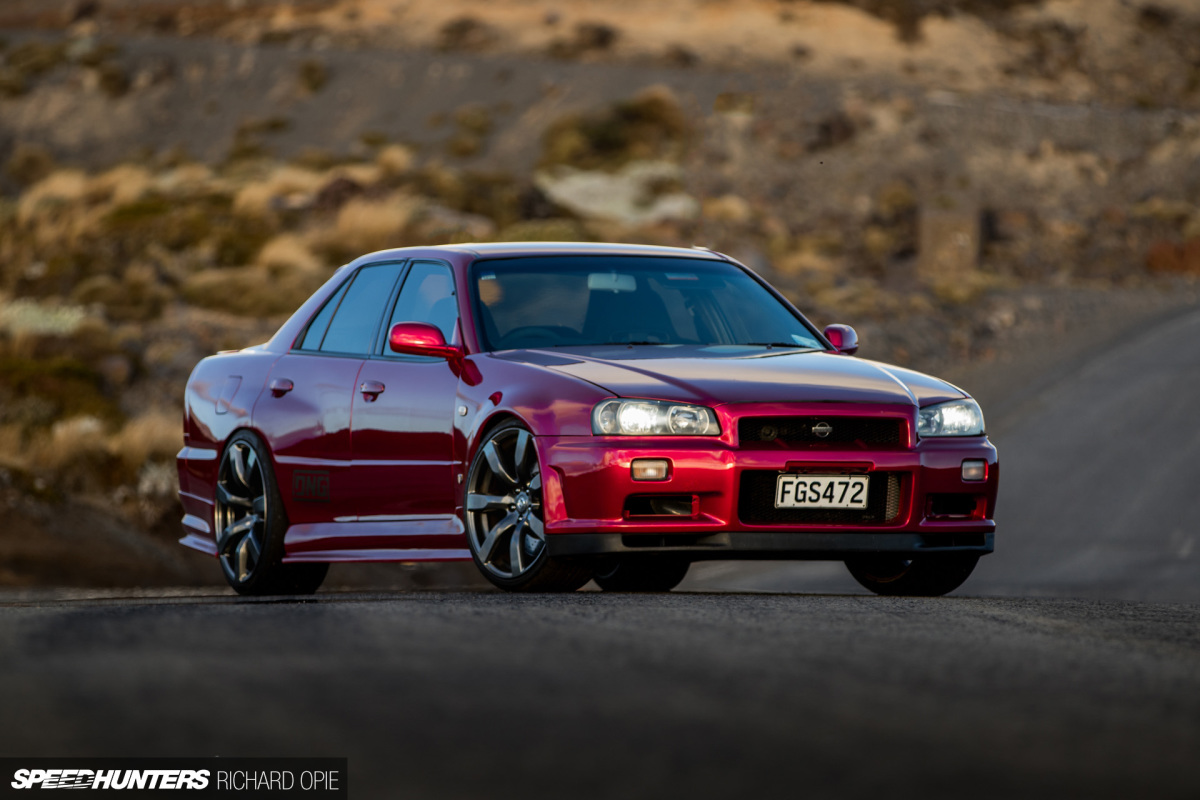 For the hapless soul watching the R34 gain on them via their rear-view mirror, the frontal aspect is all GT-R. And while it'd be too easy to write the conversion to the GT-R nose as a simple bolt-on affair, the nuances involved in swapping from the mundane to the sublime are numerous.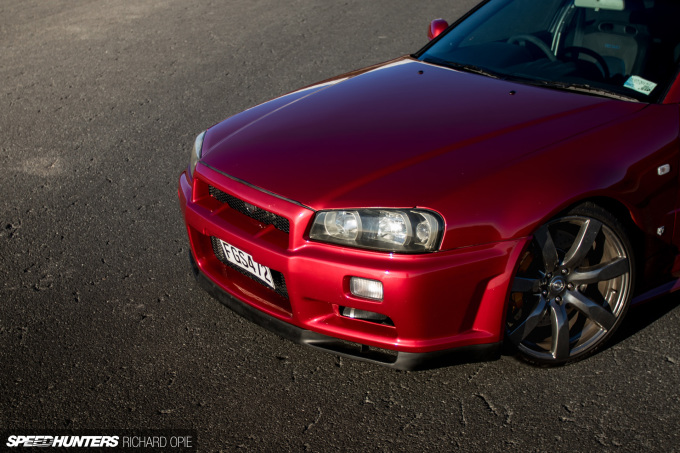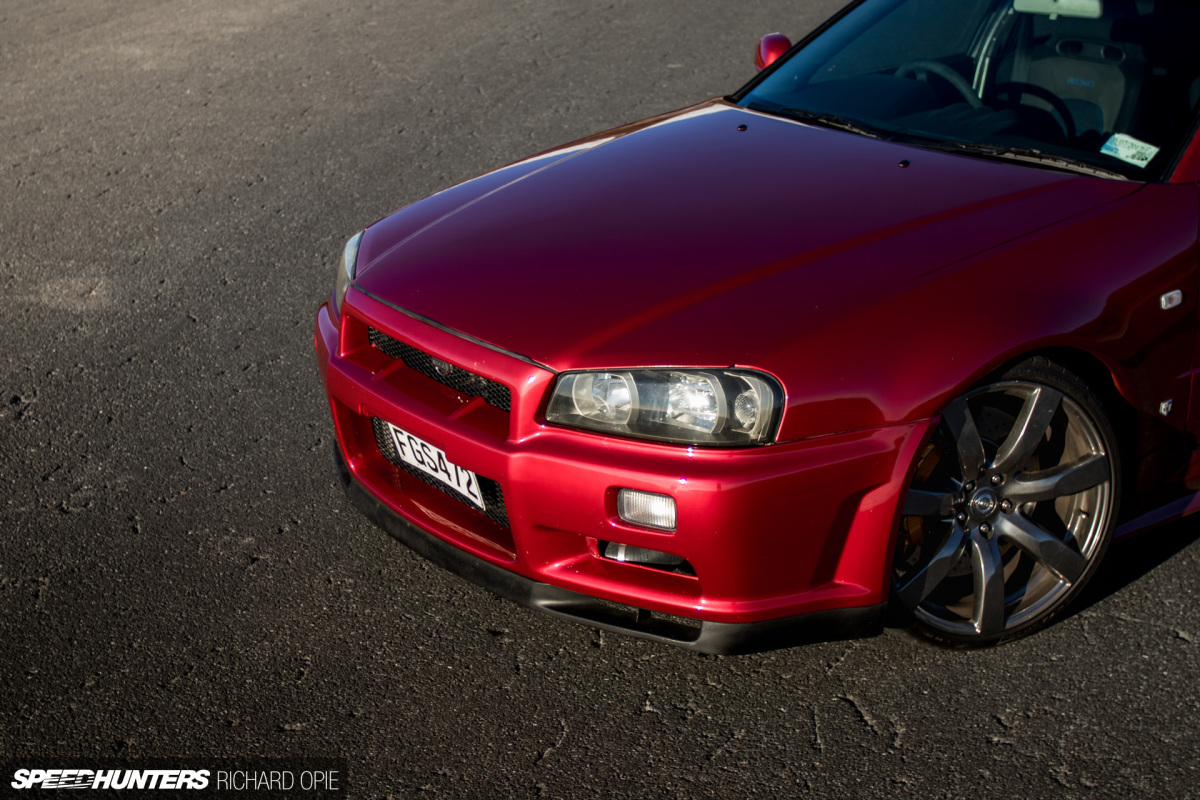 To begin with, finding the panels is a tough ask; R34 GT-R's aren't exactly polluting the U-Pick lots of New Zealand. Dustin pieced together a multi-coloured front end, including OEM aluminium Nissan hood and fenders, the latter of which required a 20mm riser to mount correctly on the sedan chassis.
Installing the GT-R Xenon headlamps, integral to the look, also proved challenging. With subsequent sheetmetal fabrication they fit seamlessly into the sedan front panel, topping the OEM urethane GT-R front bar which since this shoot has received a lower lip.
Channelling the GT-R-like authority are the rear quarters. It's a hot-rod-esque move, in that at first glance they have an OEM appearance but on closer inspection solicit low whistles of approval from those who know.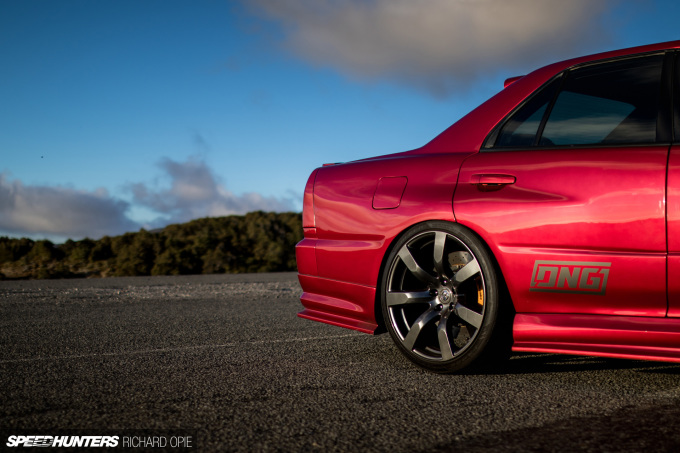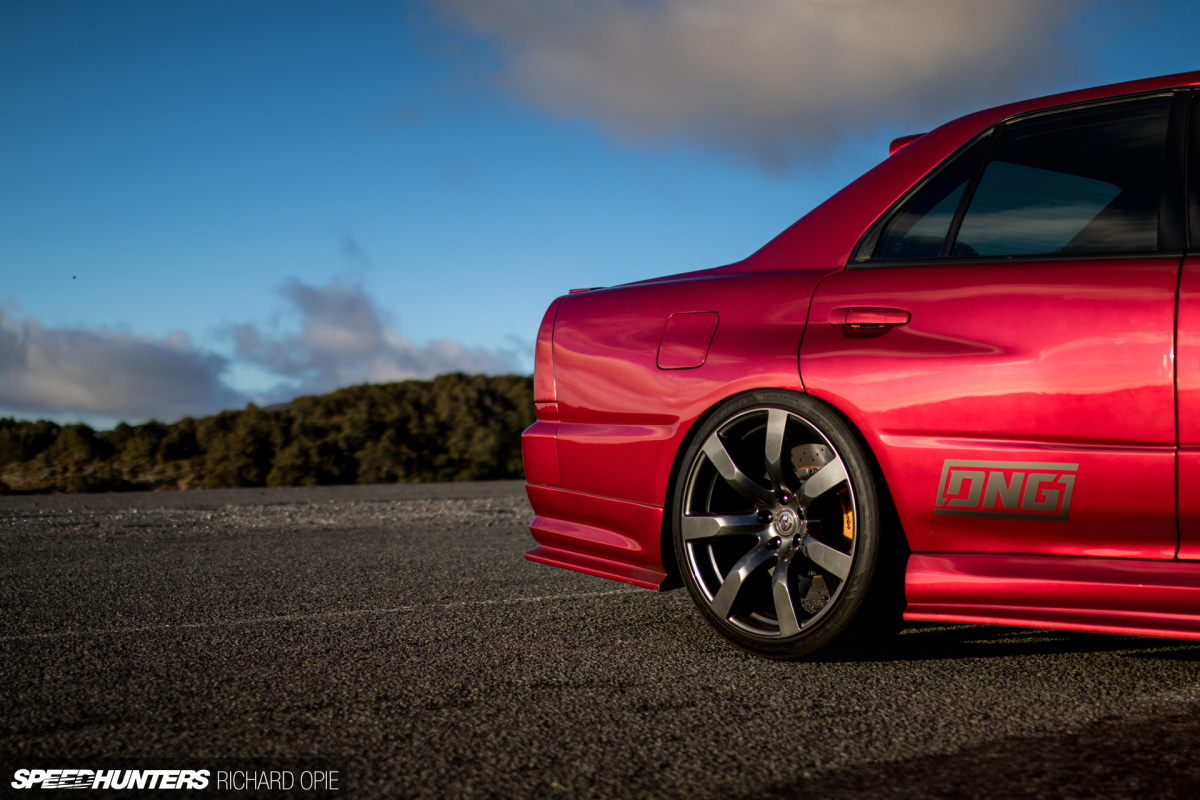 As testament to the metal-shaping skills of GT Refinishers, the rear quarters bulge outwards thanks to hand-sculpted steel arches. The real trick is the integration of the rear doors, the shut line now extending into the arch radius, itself nipped, tucked and clearanced to accommodate larger wheel tubs. It's all built around R35 GT-R 20×10-inch wheels.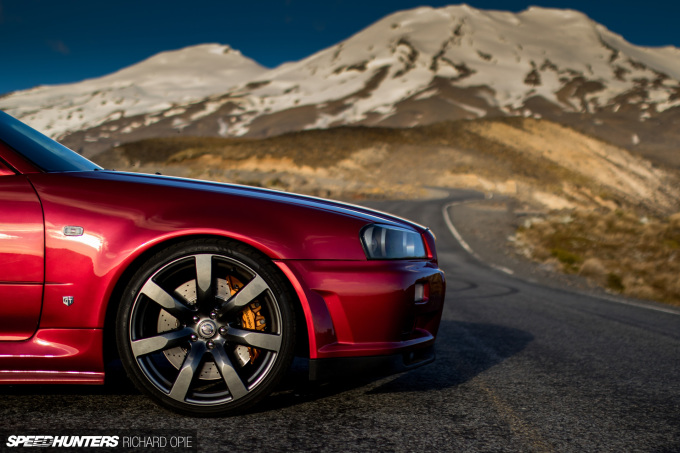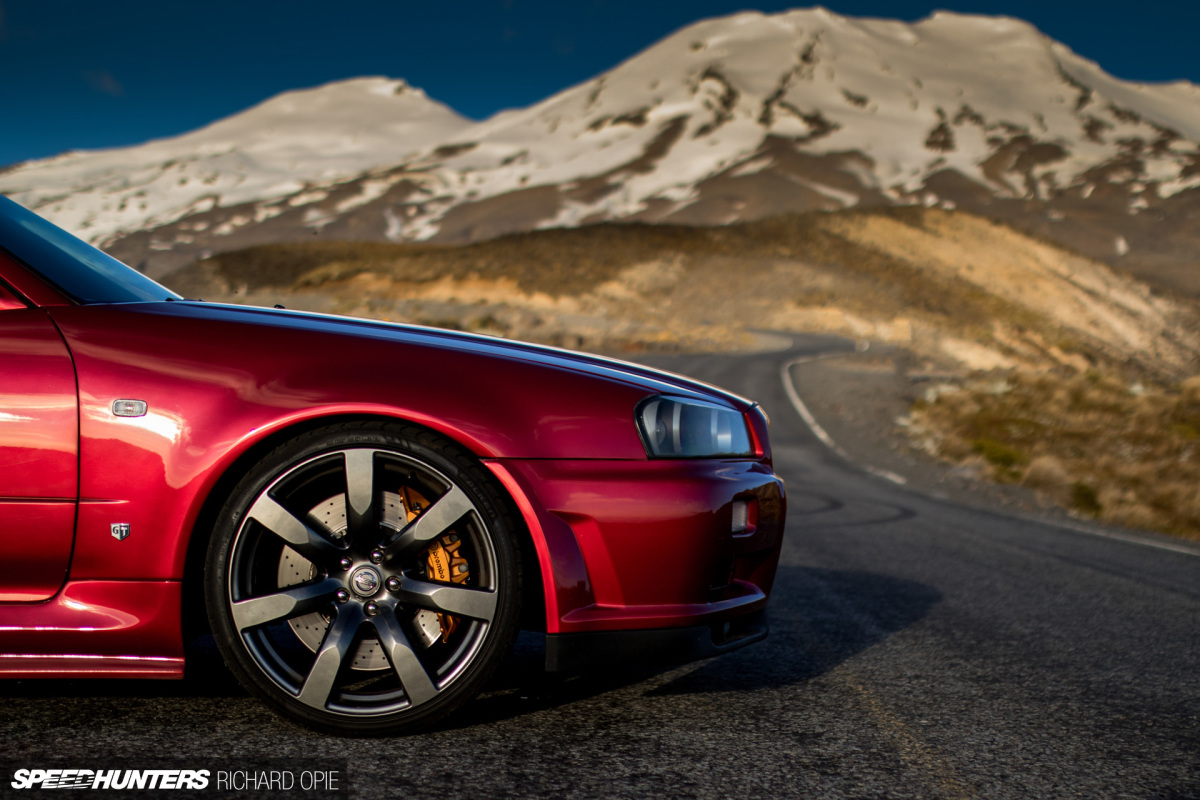 The RAYS-made wheels top off the multi-step program to muscle gain, sourced almost accidentally. Dustin's day job involves race car preparation and servicing, which has its perks. When an associate explained a set of R35 wheels were going spare after being removed for a endurance build, Dustin swooped.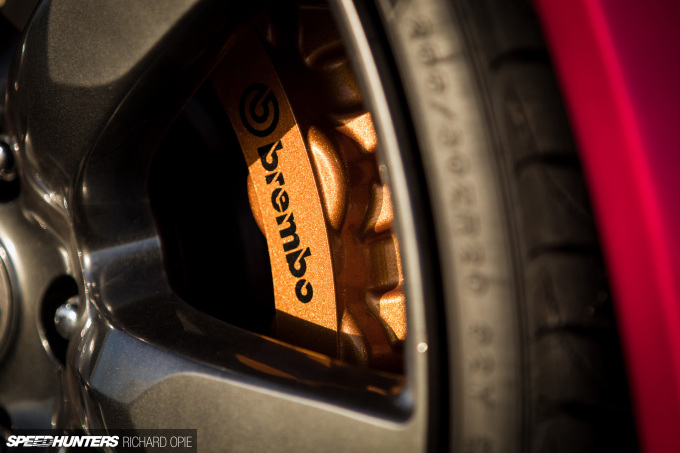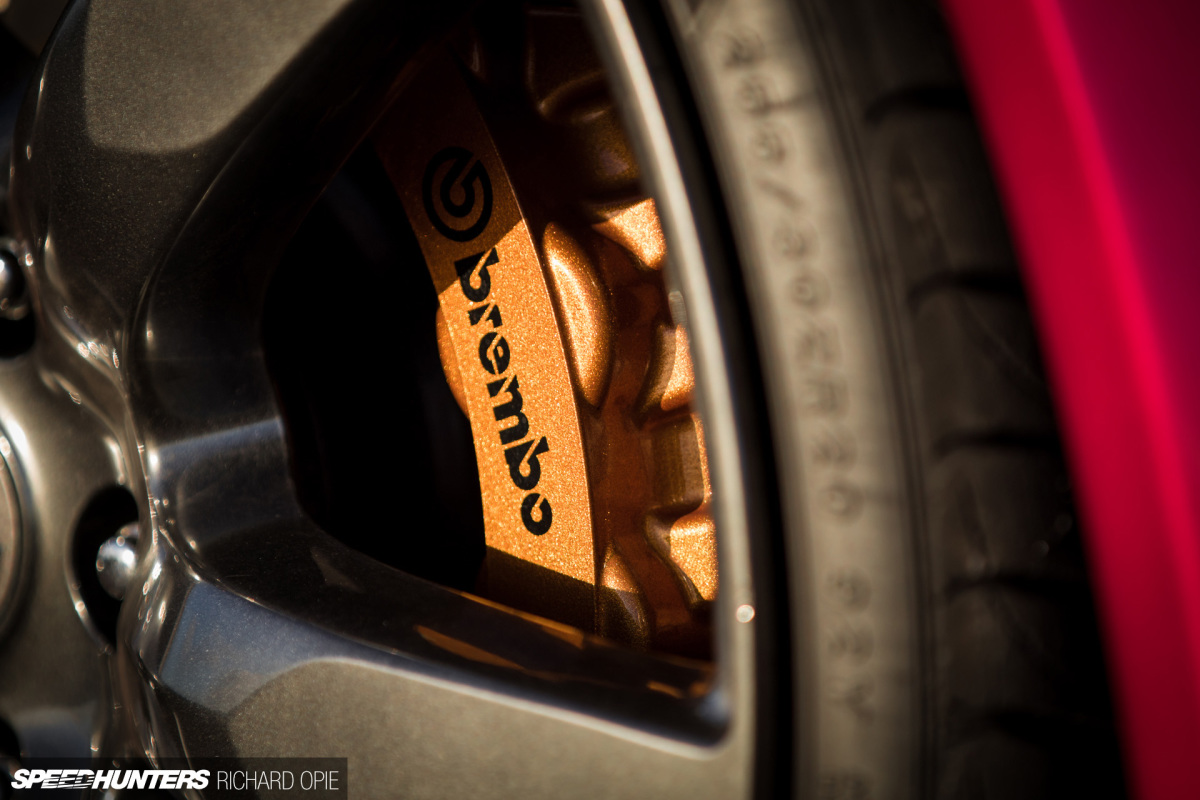 Of course, it'd be rude to separate the GT-R brake package from the wheels. The same R35 gave up its 380mm 2-piece rotors and 6-pot front, 4-pot rear Brembo calipers. It's a function thing, sure, but the look is undeniable.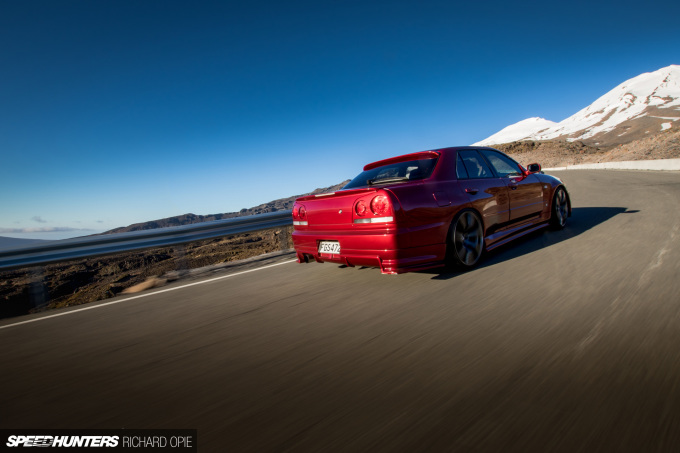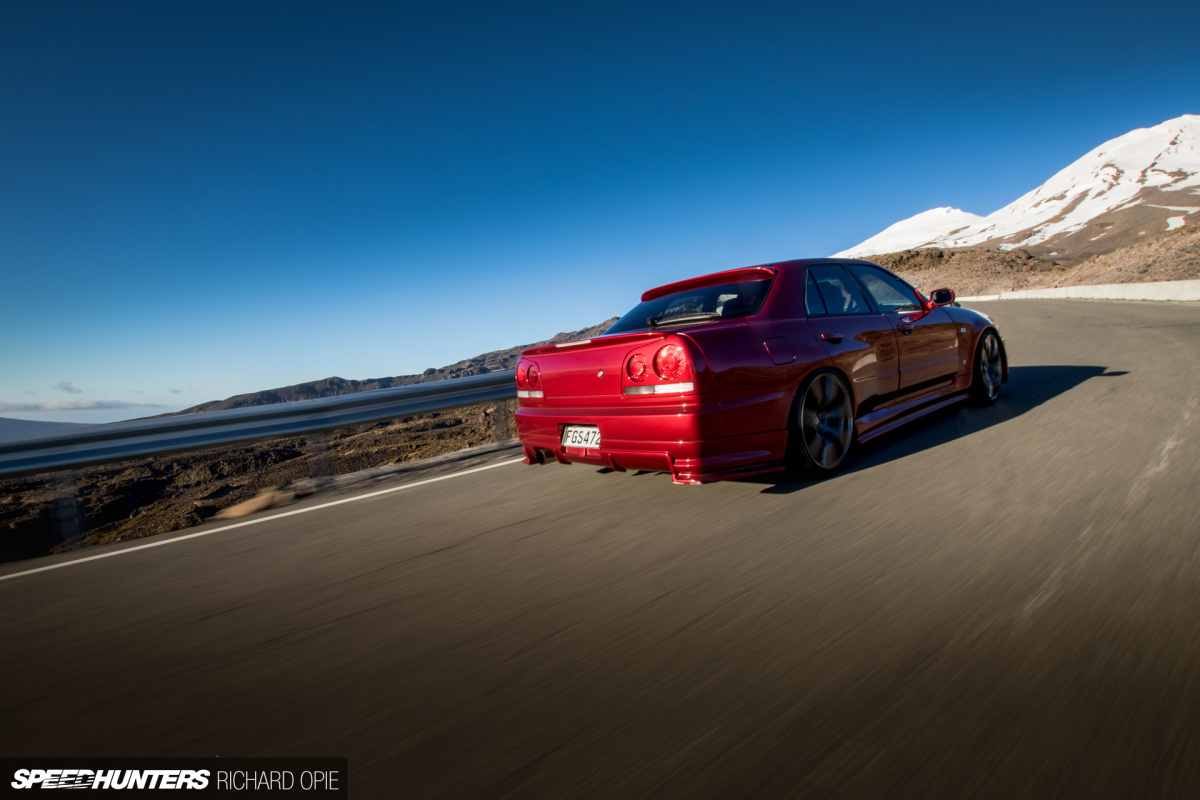 Tied together with URAS side skirts, rear lip, subtle bootlid lip and a roof spoiler, the R34's overall aesthetic is balanced. The Mazda Soul red hue is neither lairy nor too subdued, complementing the balanced proportion of the sedan lines and accentuating the custom metalwork.
Blasphemy… Or Is It?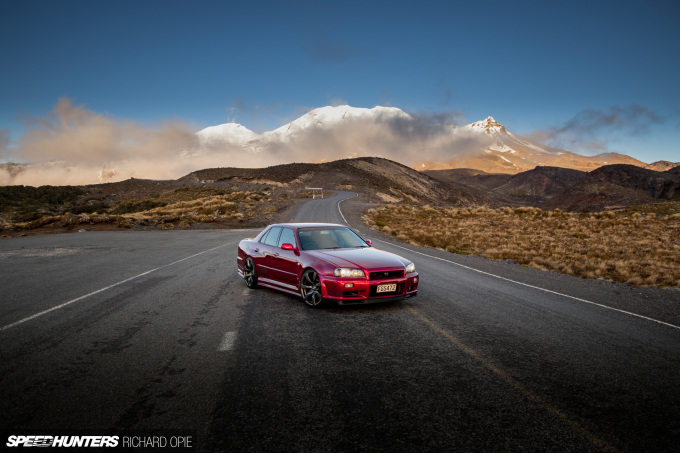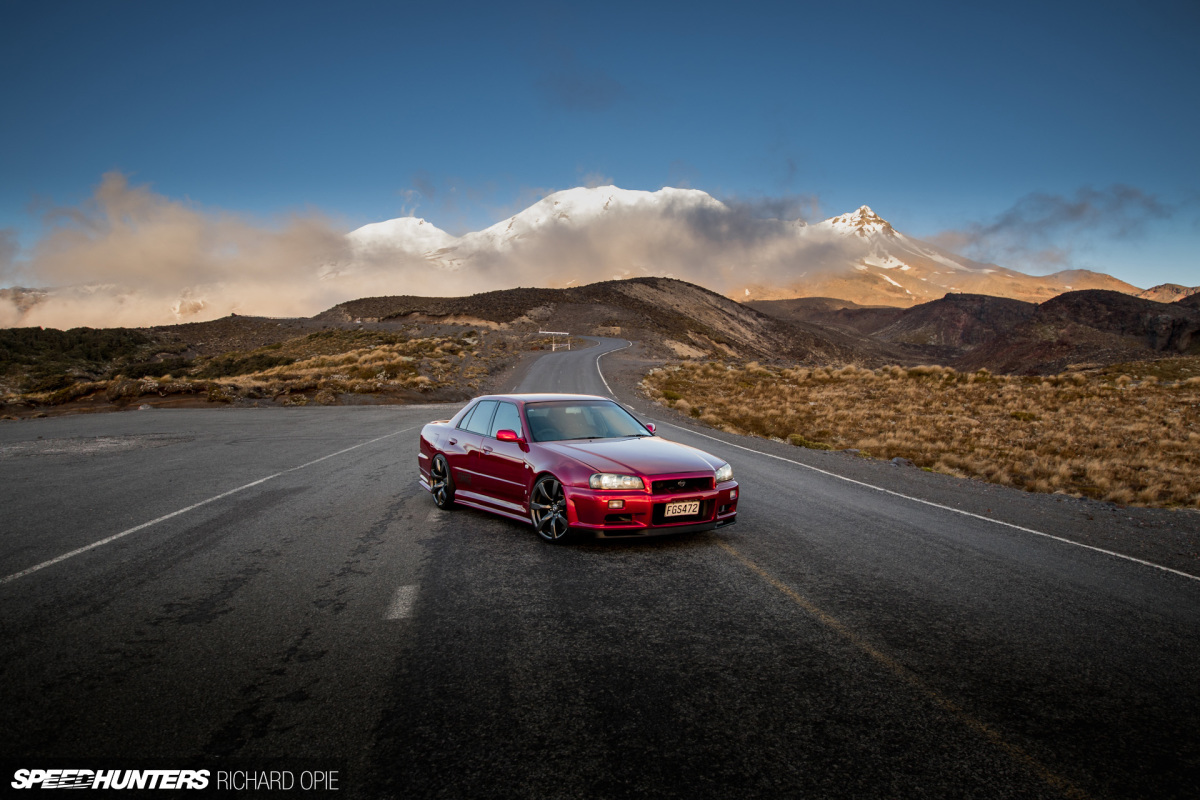 In original form, Dustin's sedan pottered around with its 150hp RB20DE and 4-speed Jatco auto trans. Functional but hardly inspiring, much less befitting of the evocative exterior contours. The Skyline needed a concealed sucker-punch, and Dustin knew exactly where to find it.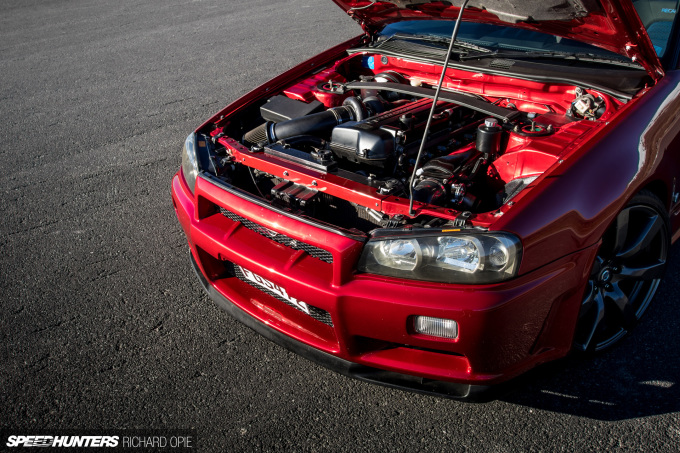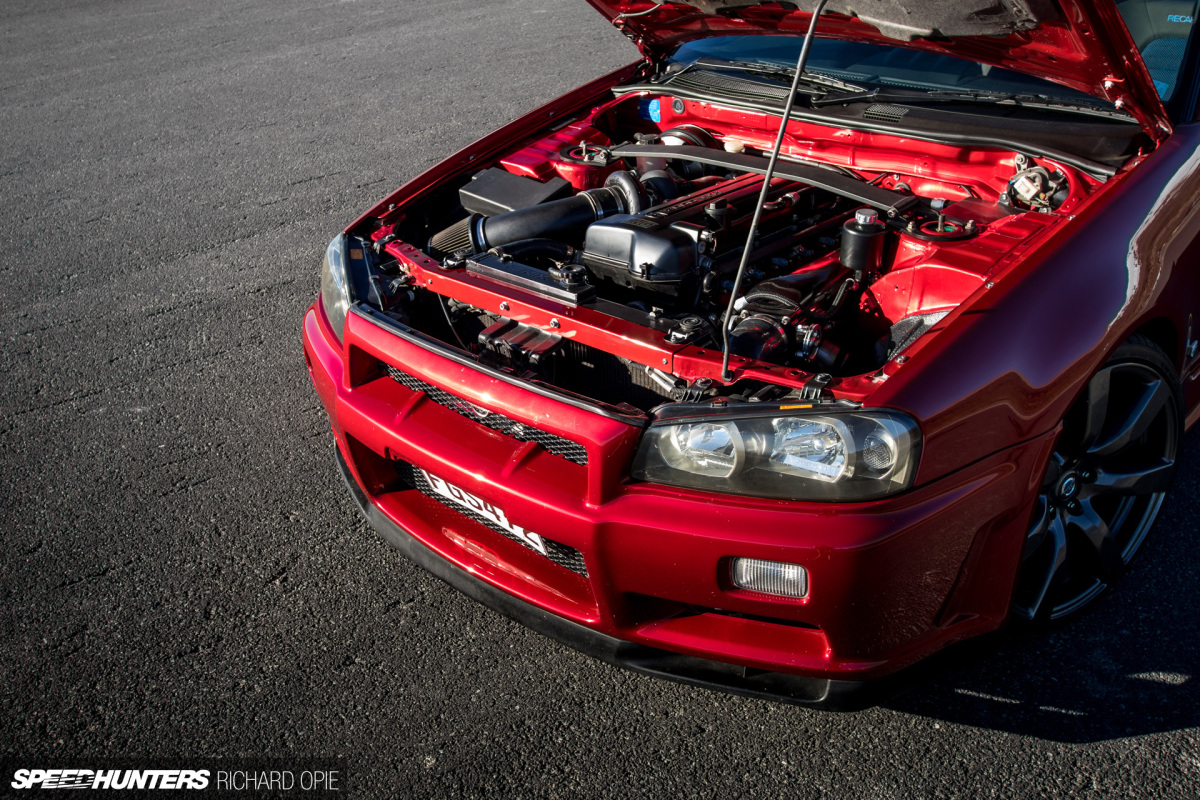 The answer came in the form of the venerable Toyota 2JZ-GTE. The installation into the four-door shell naturally leads one to query why Dustin didn't just buy a JZX-chassis Toyota, simply shrugged off as a matter of taste. Possessing a repertoire of automotive skills, the physical install came easy. "Oh, you know… we just had to weld a couple of mounts up and boom, in she went. The bay was designed for a six-cylinder anyway so it's not like there's a lack of space."
Yes, Dustin could have pieced together a 3.0-litre (or larger) RB engine in the interests of purity, but the 2JZ was a logic-driven choice, combining near unparalleled power potential on a stock-block and big-capacity flexibility, a key attribute in a street-driven build. The bottom end is just that, a refreshed OEM long block with only ARP fasteners added to cope with the power increase.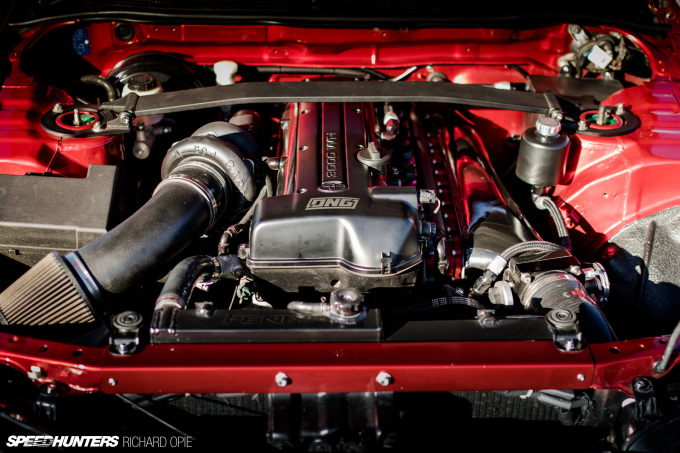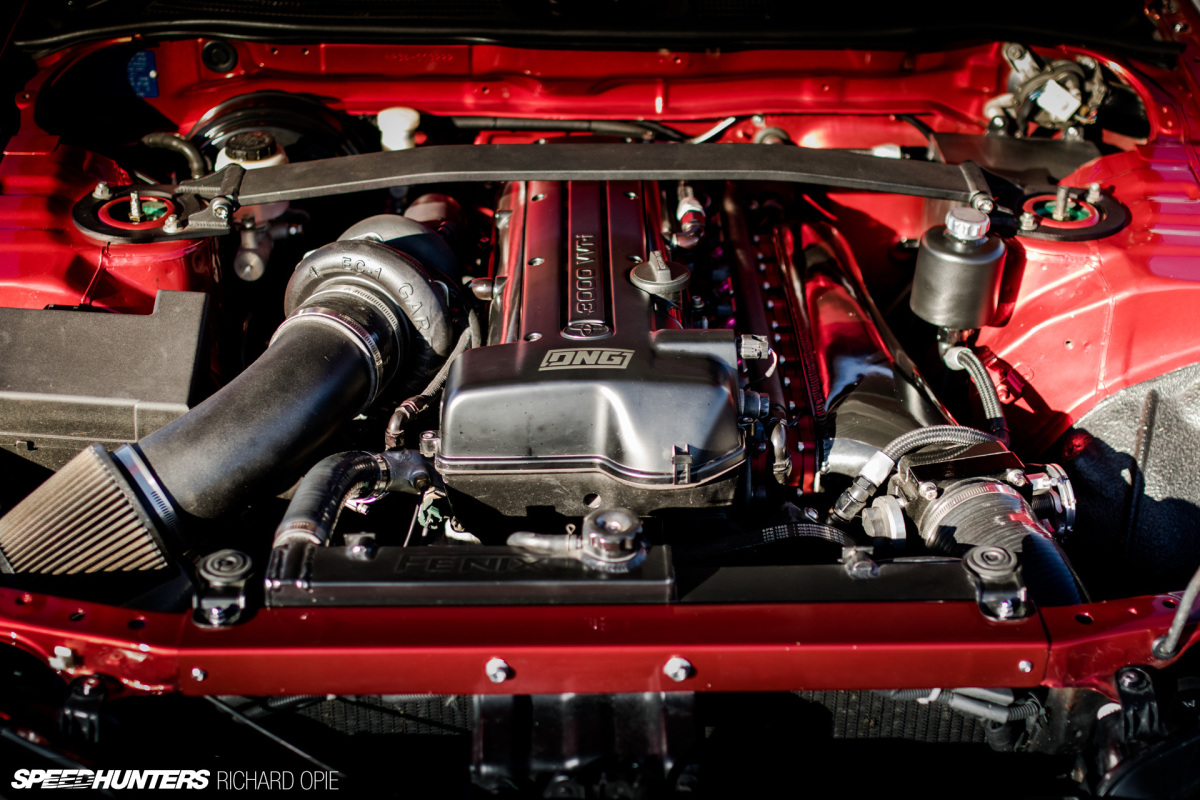 Up the top the head benefits from a set of custom-spec cams, but it's the bits hanging off either side that endow the 2JZ with real-world performance. Proper, responsive, flexible and retaining the guttural tone that only a boosted inline-six can muster. On one side it's a Hypertune 3-piece billet manifold fed through fabricated intercooler pipework. On the other side sits a Garrett GTX3582 atop a Sinco high-mount manifold with excess boost venting through a 60mm TiAL wastegate.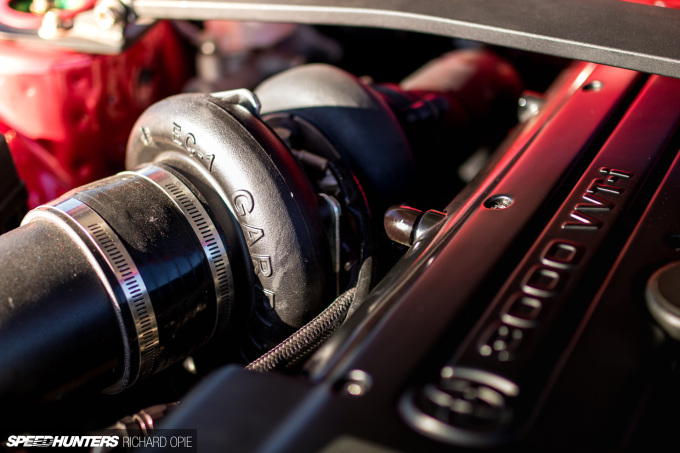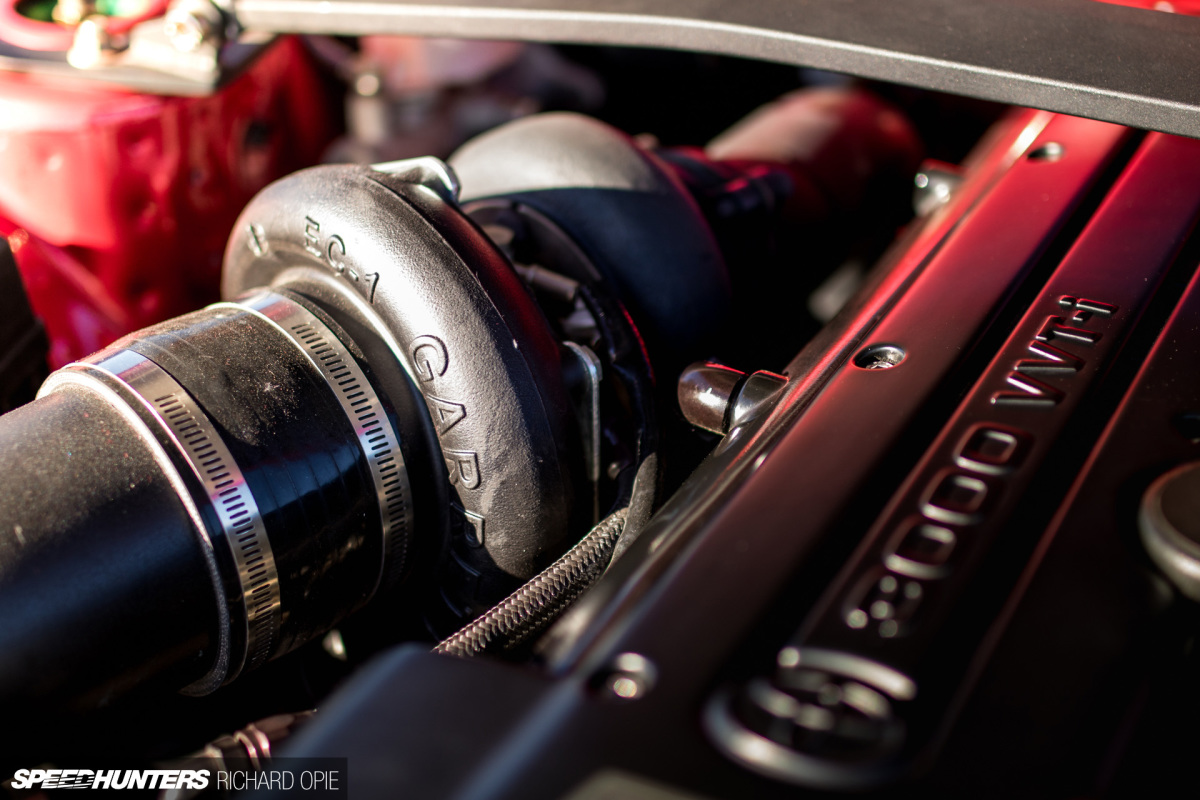 The 2JZ and GTX3582 combo offers ideal real-world characteristics. The engine comes on boost around 1,200rpm, peaking at 22psi at 3,500rpm and holding solidly through the rev range to a peak of 591hp at just over 7000rpm. A Getrag 6-speed then deals with the abuse via a twin-plate clutch, sending drive to a Tomei LSD-equipped GT-R diff. The way it drives is aggressive yet seamless in character, like delving into a creamy vat of accessible oomph.
Spark and fuel is controlled by a Link G4+ ECU, the fuel system itself presenting an orderly aesthetic befitting of the R34's style. A fabricated surge tank perched on a boot-mounted plinth with twin Bosch 044 pumps feeds a fuel system bristling with quality AN fittings, all in understated black.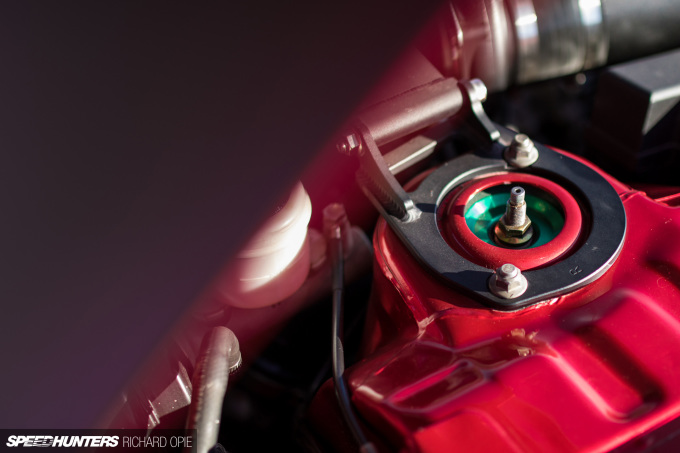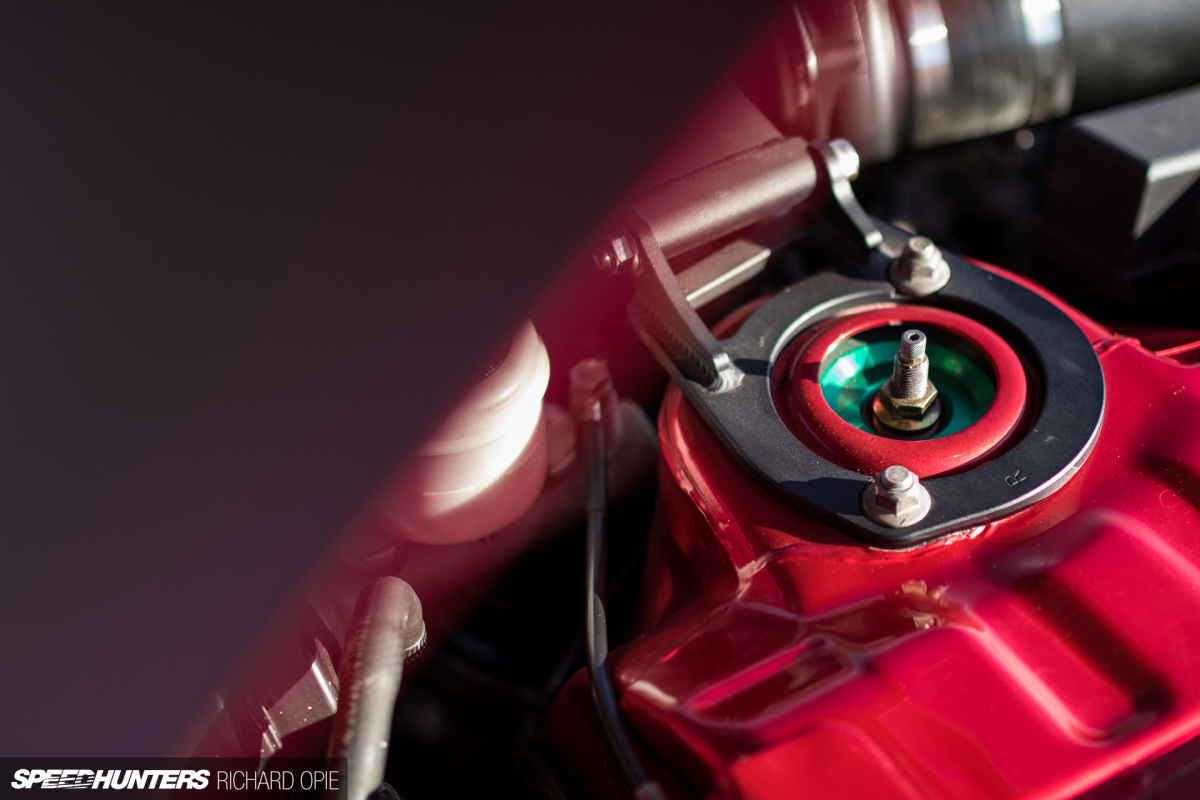 Suspension is a set of Tein Flex coilovers, modified to suit. In keeping with the build mentality, the ride is street-friendly, taking in the bumpy B-roads with aplomb despite the low-profile Falken 285/35ZR20 tyres.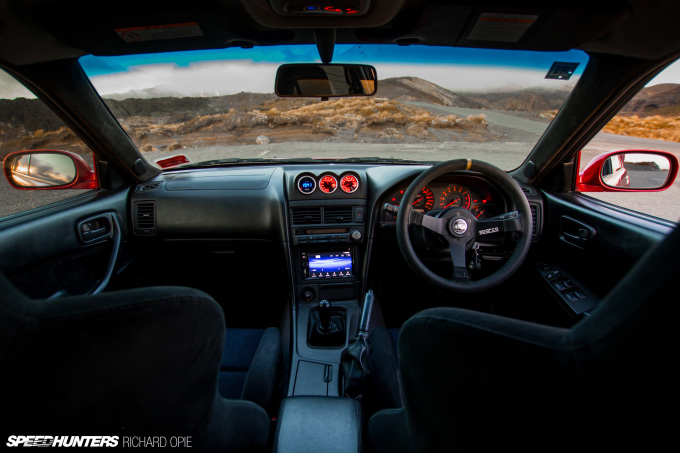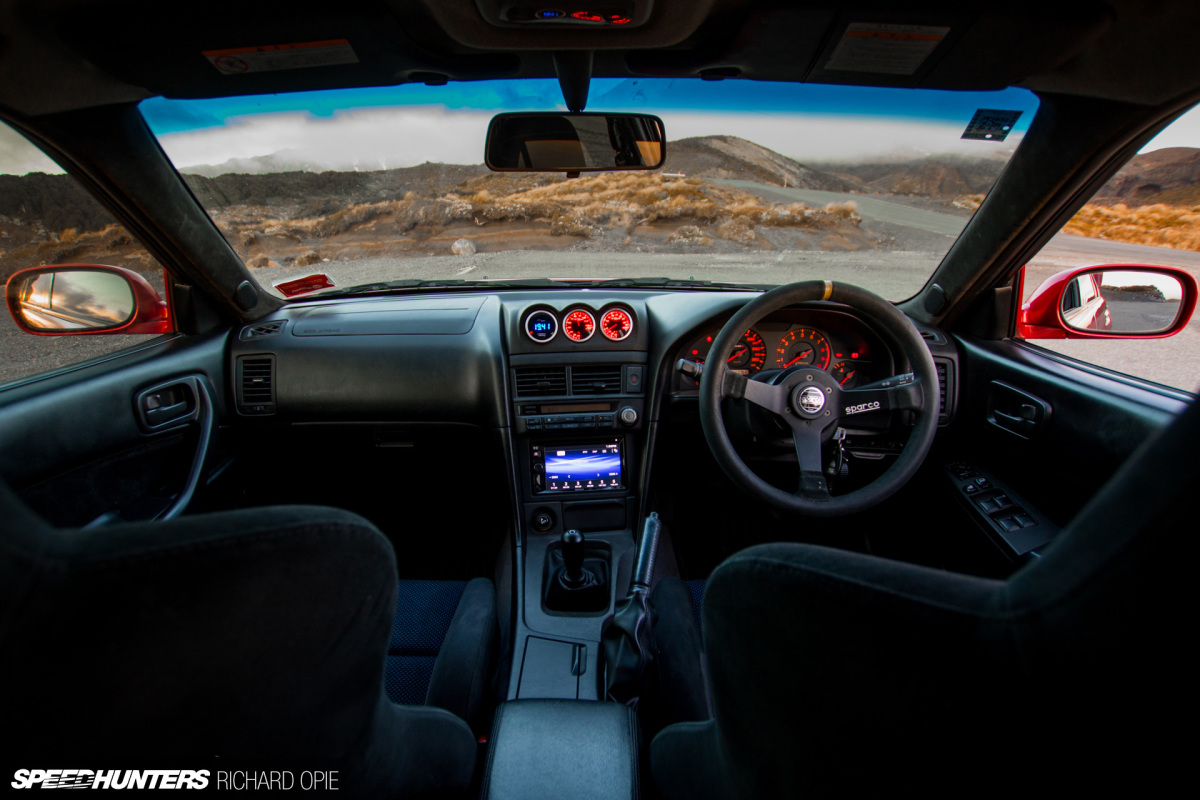 Inside the cabin, the considered approach prevails. The lower-spec R34 interiors don't typically offer up any kind of inspiration, with swathes of grey plastic and tactile surfaces of no particular quality. Dustin's now features black trim, with repurposed Mitsubishi Evo Recaro front recliners and a matching rear bench carrying the sports-saloon feel.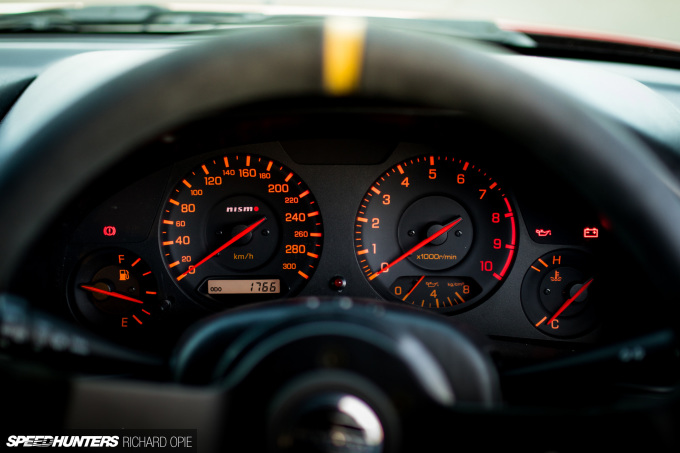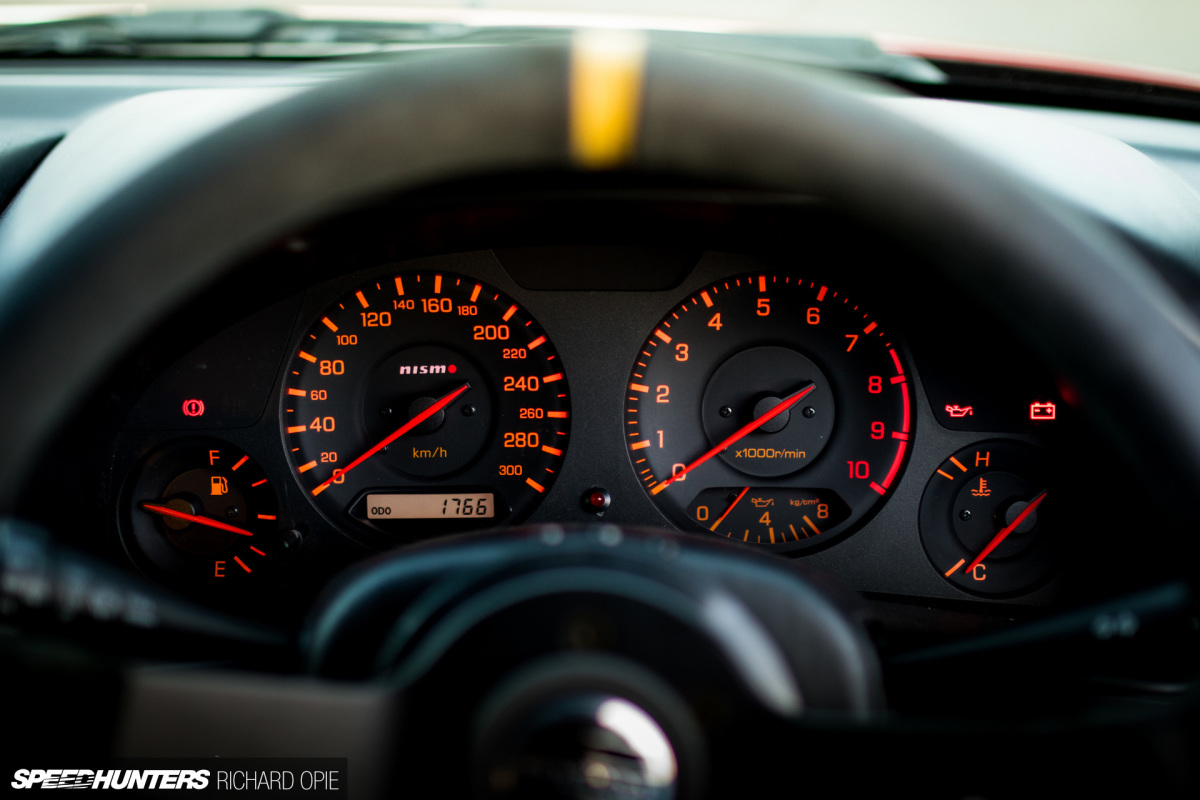 In the event judicious use of the right foot wasn't enough to constantly remind of the power potential, a Nismo GT-R cluster is front and center of the driver.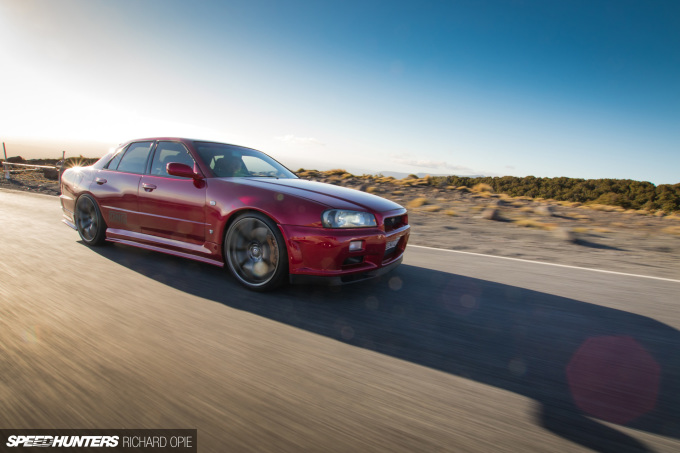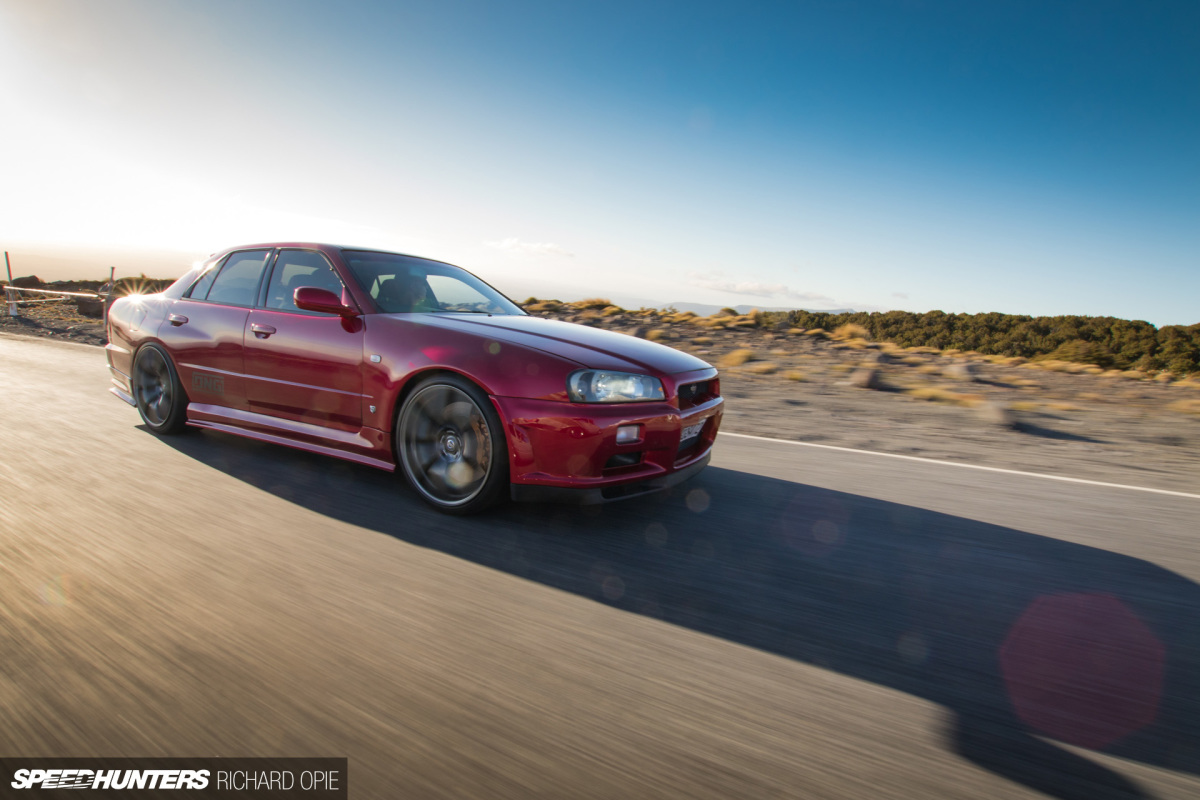 It's fair reminder of just how accomplished this R34 build is. After a full afternoon, followed by some rapid evening driving, time spent with Dustin and the R34 reaffirmed the appeal of creating a street-focused all-rounder.
Four-door practicality, understated lines, crushing performance. Could it be the holy trinity of street-driven attributes? Whatever the summation, the R34 epitomises the understated overachiever. A home-brewed Q-ship.
Richard Opie
richy@speedhunters.com
Instagram: snoozinrichy
Cutting Room Floor