He Had A Dream
One thing is common to all petrol-heads, regardless of our styles and loyalties. We've all had the dream, a personal masterplan for our interpretation of the perfect vehicle.
For most of us though, the dream stops there. The responsibilities of everyday life step in, forcing our dreams to exist only in tiny bubbles of imagination and small talk. But imagine a life where you threw it all on the line to chase that dream. To save furiously; to quit your day job; to learn new skills; to change your entire life. To give priority to that good idea and let go of your mundane, everyday responsibilities.
That's what it took for Joel Dimmack to park his GT-Z dream project in his garage rather than it being parked eternally in a memory of missed opportunity.
I've already covered a lot of details in the car's official debut, not just to Speedhunters but to the entire world. If this is news to you, give yourself 10 minutes to catch up here. It's worth it, trust me!
So rather than rehashing most of the same info, let's focus more on how the GT-Z came to be. How does a fleeting dream cross over to the real world? This story begins where most of ours finish.
Getting Started
As I'd alluded to, the GT-Z was originally nothing more than a dream build; an idea that laid dormant for many years, not too dissimilar to most of our dream projects. Over time though, the dream kept taunting Joel in his sleep and fighting for his attention as he tried to get through the less challenging tasks of real life.
Sourcing a suitable 240Z chassis was the first step, but hunting for vintage metal is anything but simple. A cheaper and cleaner 260Z or even a 280ZX could have simplified things, but in Joel's eyes that would have diluted the project straight away. Finally, the car gods answered his prayers with chassis #1212. This was the car that Joel was searching for.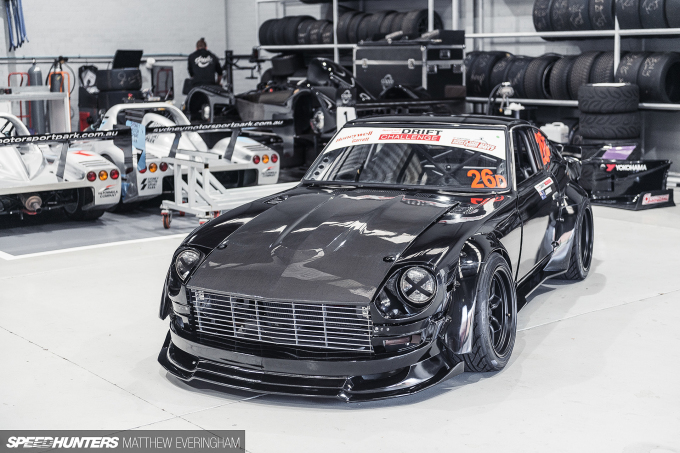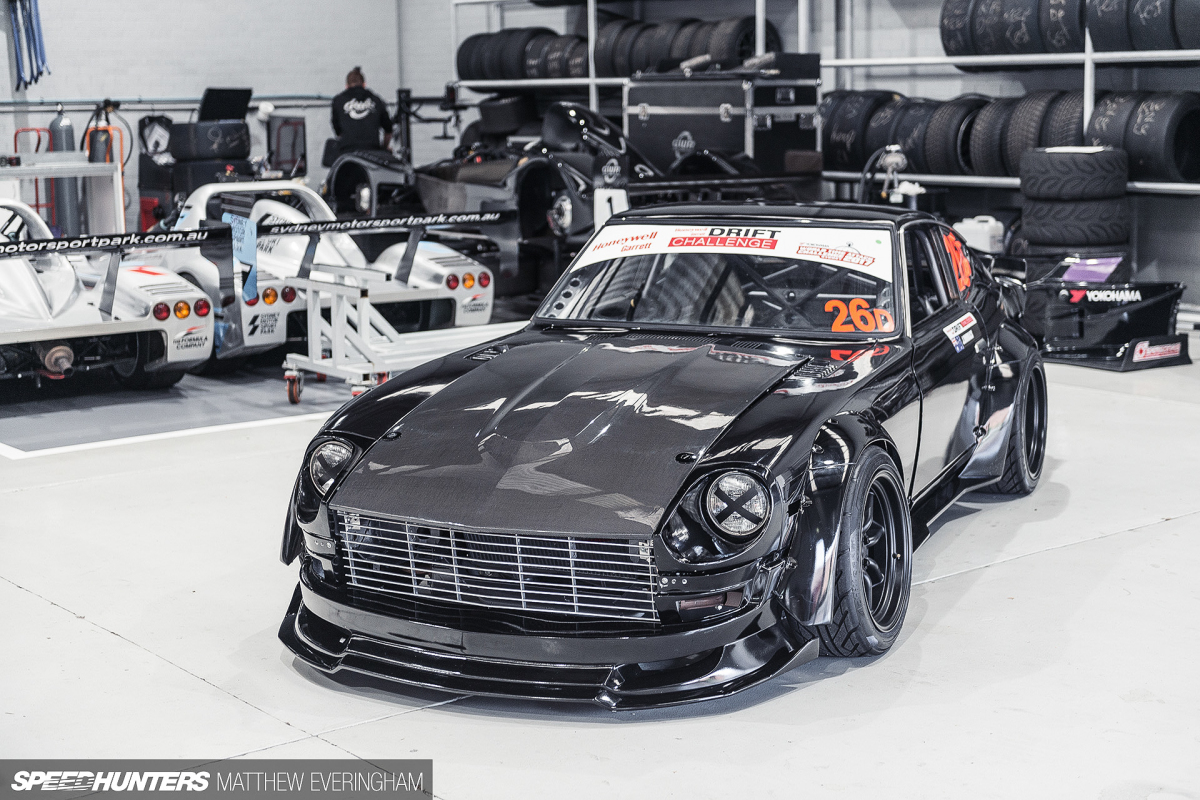 Even as one of the cleaner cars, it was still [probably] manufactured closer to your parents' birthdays than your own. Almost as soon as taking up residence in Joel's garage, the 240Z was sandblasted back to bare metal for a true assessment; it wasn't pretty. Every one of its 46 years were etched into the bodywork, and it took over three months of tidying things up before the chassis was in a state clean enough to even think about further fabrication.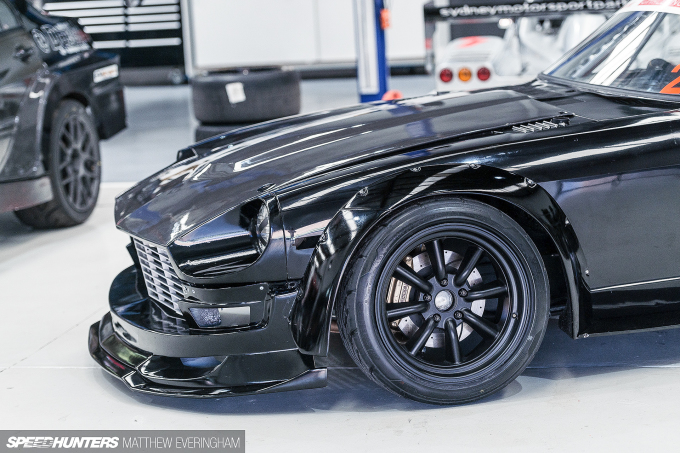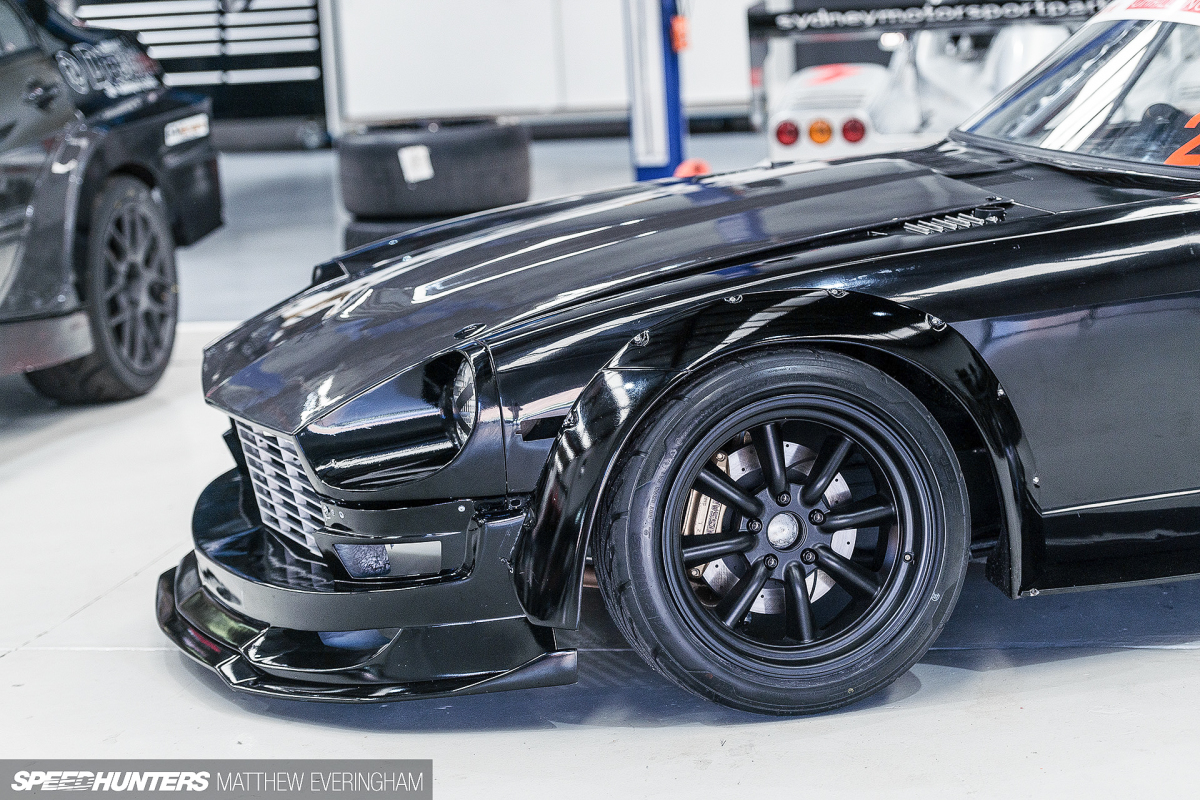 That's how the Z sat for some time; the first hold up a detour of sorts. After wrapping up a major work project, it was time for some skids. Joel spent some time in Japan where he hoped to fry tires and compete in the D1 Divisional Series (D1SL), in a car sourced from Powervehicles.
That trip was cut short, and the opportunity to compete was smashed into just as many pieces when his newly-acquired Nissan 180SX was hit pretty hard by a group of less experienced drifters at Ebisu, just days before the competition. Instead of dwelling on the unfortunate turn of events, Joel instead chose to use that disappointment as a 150-shot of NOS to speed up the project at home.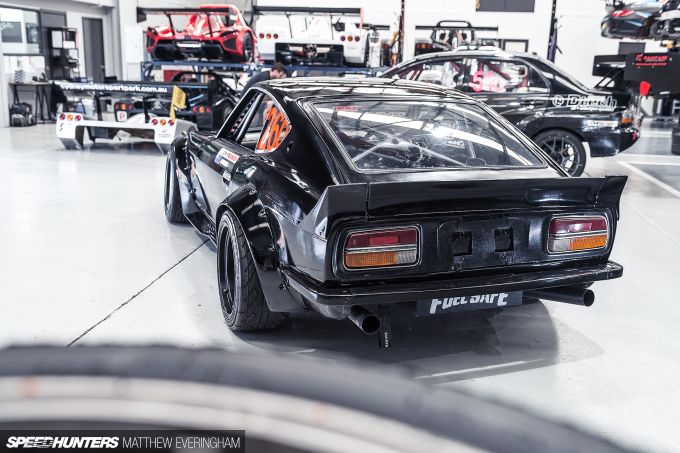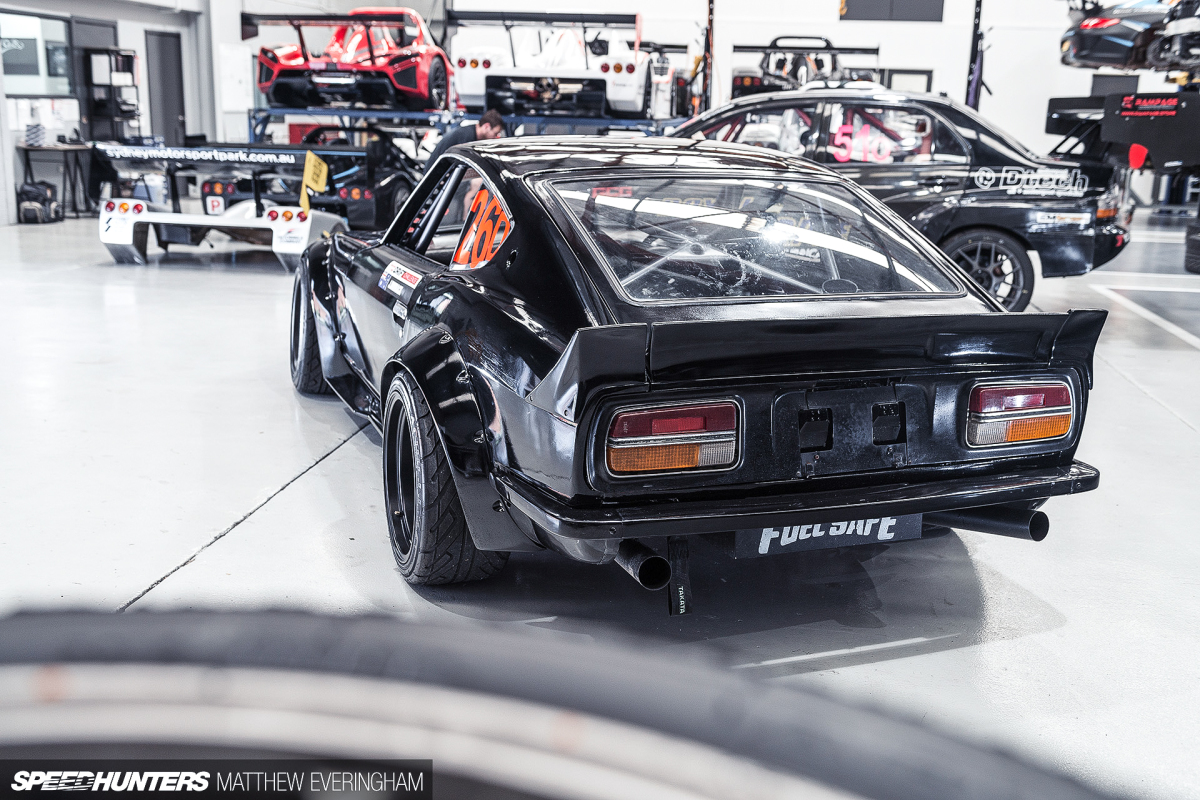 Pace Yourself
Up until this point the project had been a mostly solo affair, but if he was to stay true to the original vision, skills and knowledge outside of his experience were needed. The first step was to engage with PACE Innovations, a company best known in Australia for its involvement in creating the current 'Car Of The Future' chassis in the V8 Supercars series.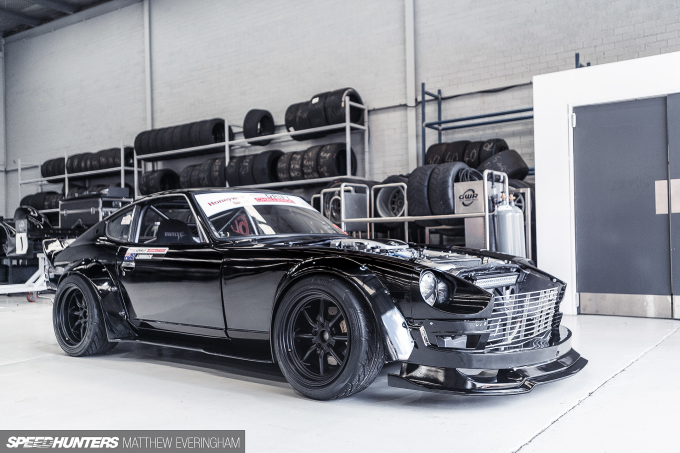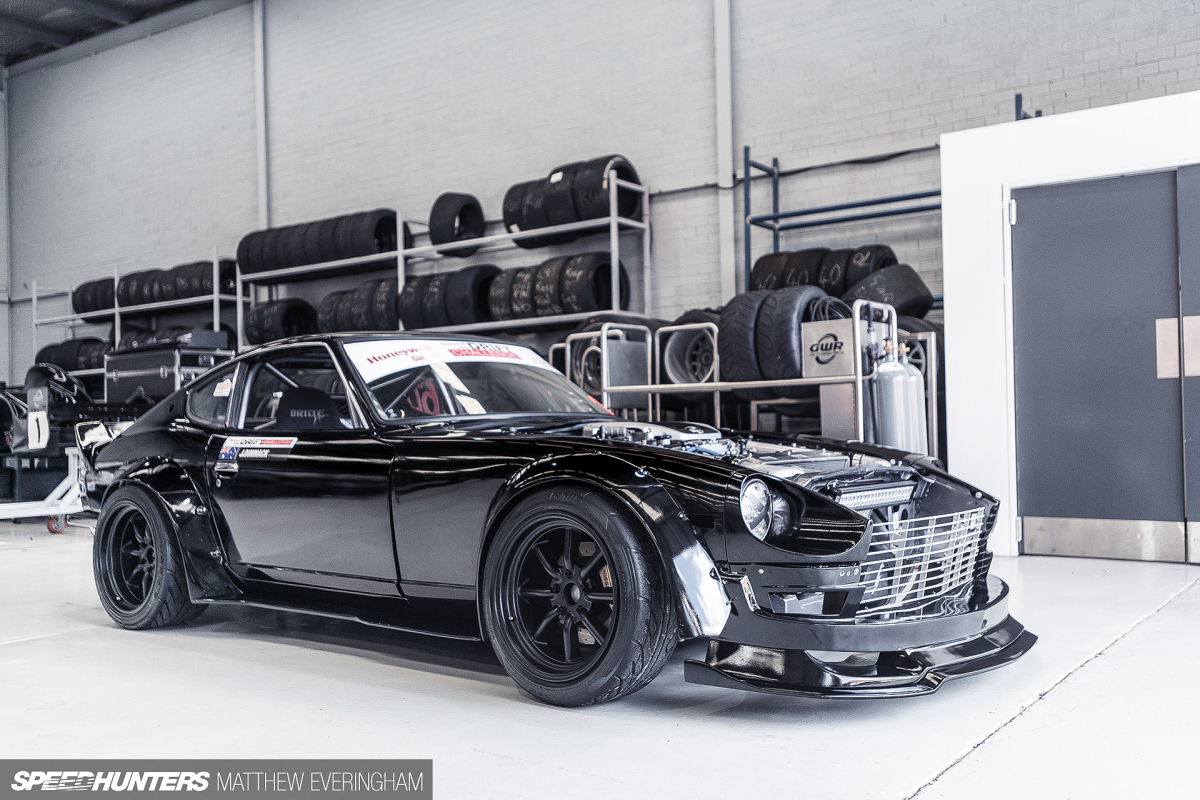 I'm not jealous of what Joel had to do next, which was basically walking in off the street and trying to convince one of Australia's leading race engineering firms that his project, his dream machine, and a drift car no less, was something they'd want to get behind.
It must have been an exciting presentation, because Reuben Laurenson and the team at PACE Engineering agreed to take on the project straight away. Modifying a beaten-up, 46-year-old chassis into something capable of competing at an international level was going to be a monumental undertaking, but perhaps the promise of that challenge is what sealed the deal.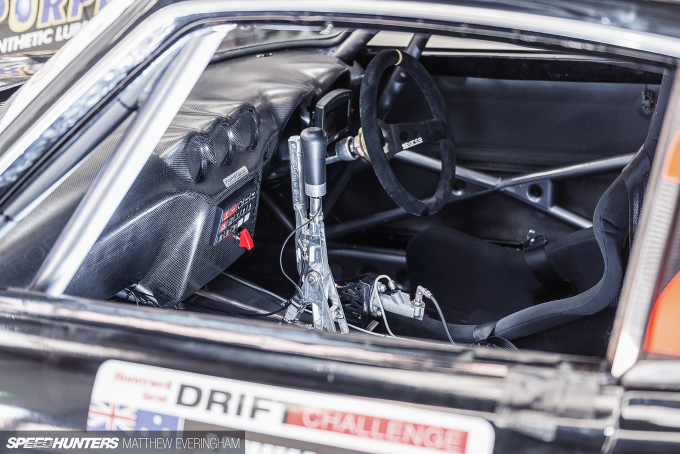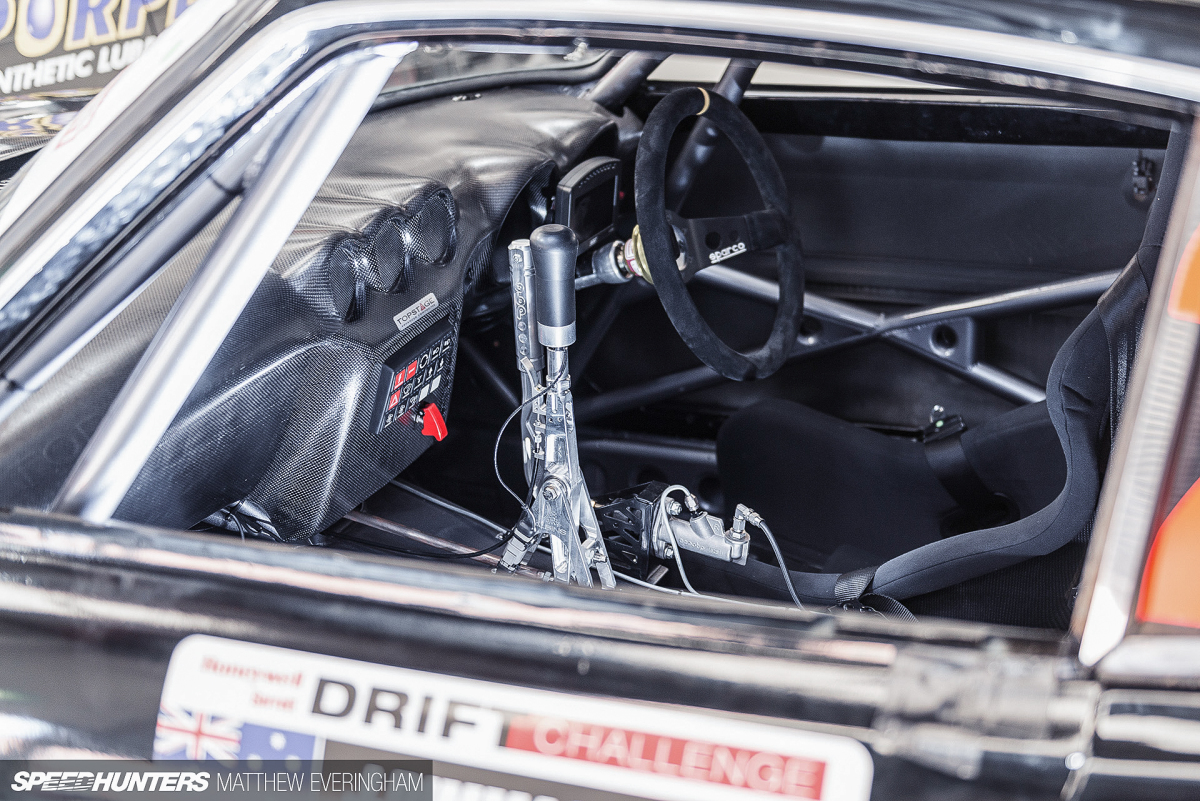 The bare shell was delivered to PACE where the team began by reinforcing and seam-welding the chassis. The Z was placed on a jig and twisted back to be straighter than ever.
That was the easy part, though. The next phase involved transplanting a factory Silvia cross-member, suspension arms and steering components. It's one of those jobs that's easy to do poorly, but difficult to do well, and setting everything square and correct to the wheel line and ride height ended up being one of the most time-consuming exercises of the build.
Fabricating the roll-cage was next on the agenda. Who would have thought that safety engineering could ever be classified as an artist's masterpiece? Joel and PACE co-designed the cage, Joel used his graphic design skills to ensure the aesthetics stayed true to the 240Z, while the engineers at PACE made sure the structure would not only be safe but also maximise chassis rigidity.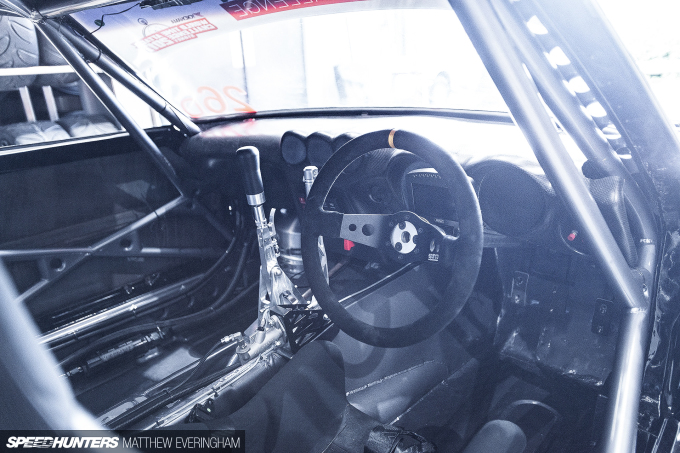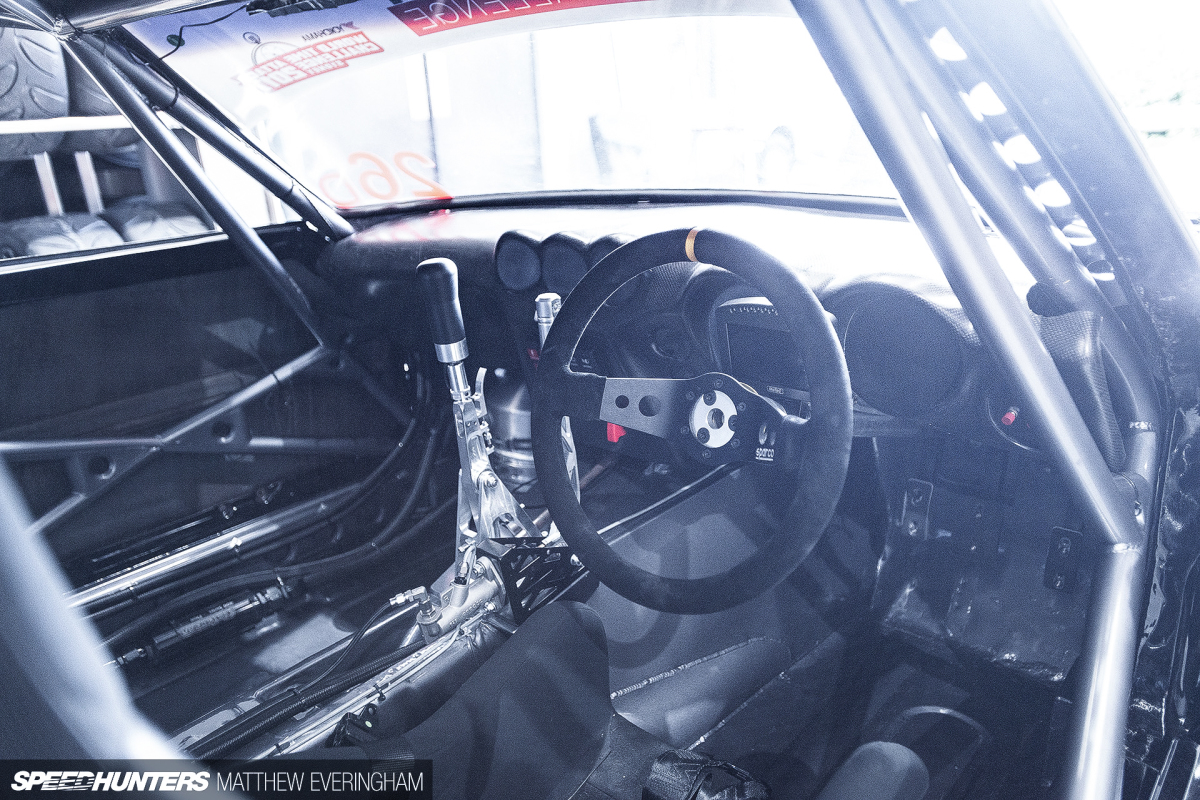 The gussets alone were drawn up in CAD, laser cut and dimple died from 4130 chromoly material to fit perfectly. This extra fabrication freedom gave PACE the ability to create the frame around the ideal driving position of its 6ft4 driver, and the final result exceeded all expectations.
Build Once. Build Right
On that note, this car is a masterclass in packaging, from the Bride carbon bucket seats, Tilton hanging pedal assembly, Woodward adjustable steering column and boot-mounted PWR engine and gearbox oil coolers. Wherever you look you'll find an intelligent solution to a problem. I'm confident that within the clean and uncluttered finish are a metric tonne of other exceptional features hiding from me in plain sight.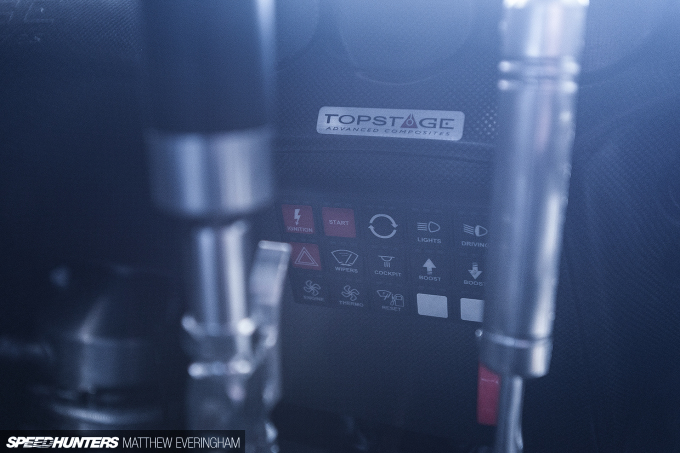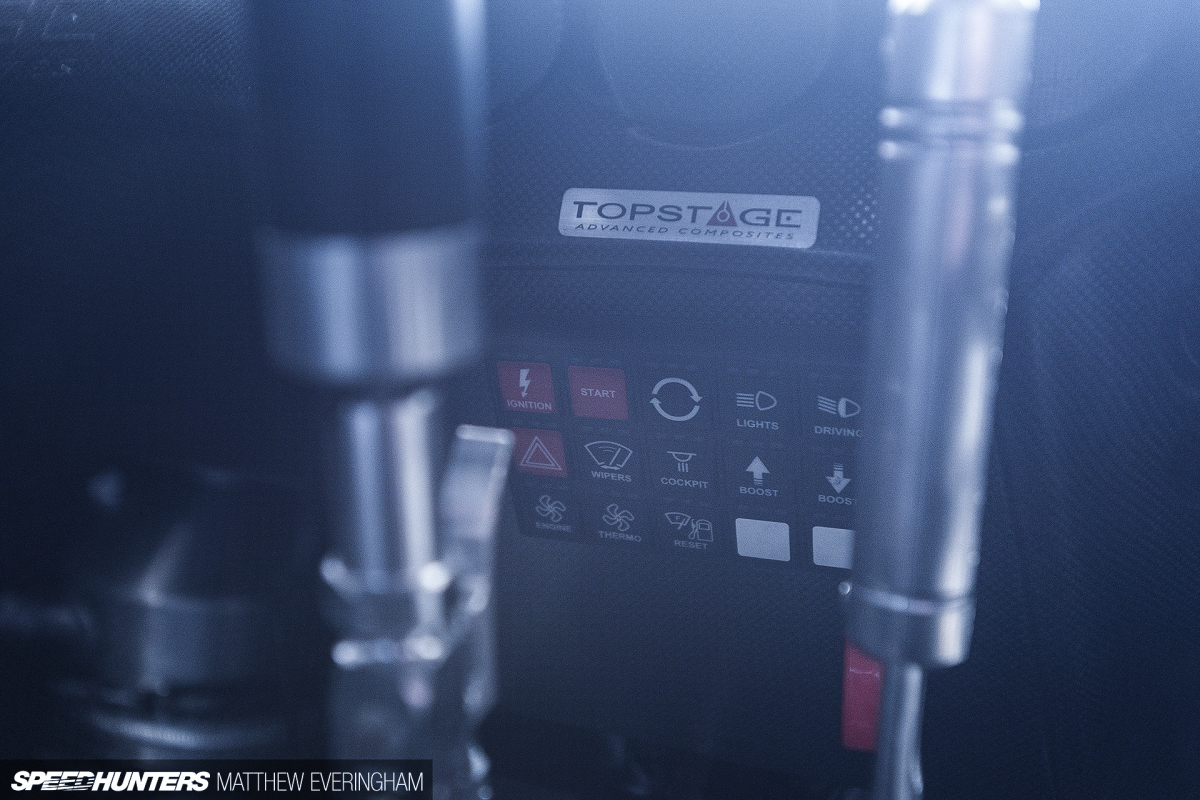 Sticking with the original vision, a VR38DETT was liberated from a Nissan R35 GT-R and set aside for the project. It was now time to decide on a gearbox and drivetrain package. Two options were on the table, but at this stage in the build the budget was thinning out considerably.
The cheaper option was a 370Z's 6-speed transmission, which would bolt straight up to the VR38 block and was rumored to be capable of handling a lot of abuse. The second option, the PACE-endorsed choice, was to do it once and do it right. And so the hunt for an actual race-bred gearbox began.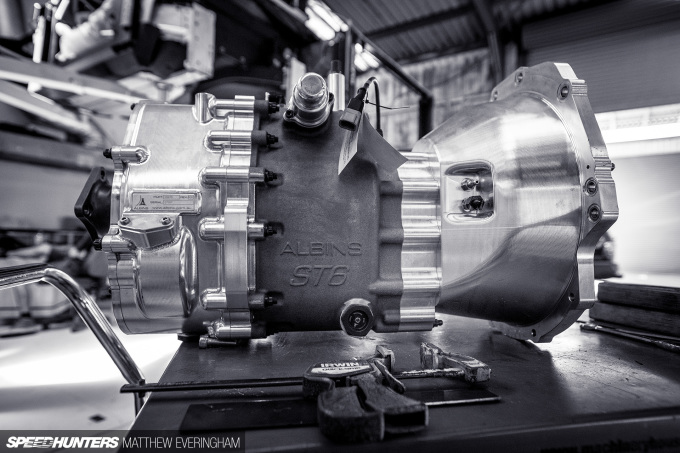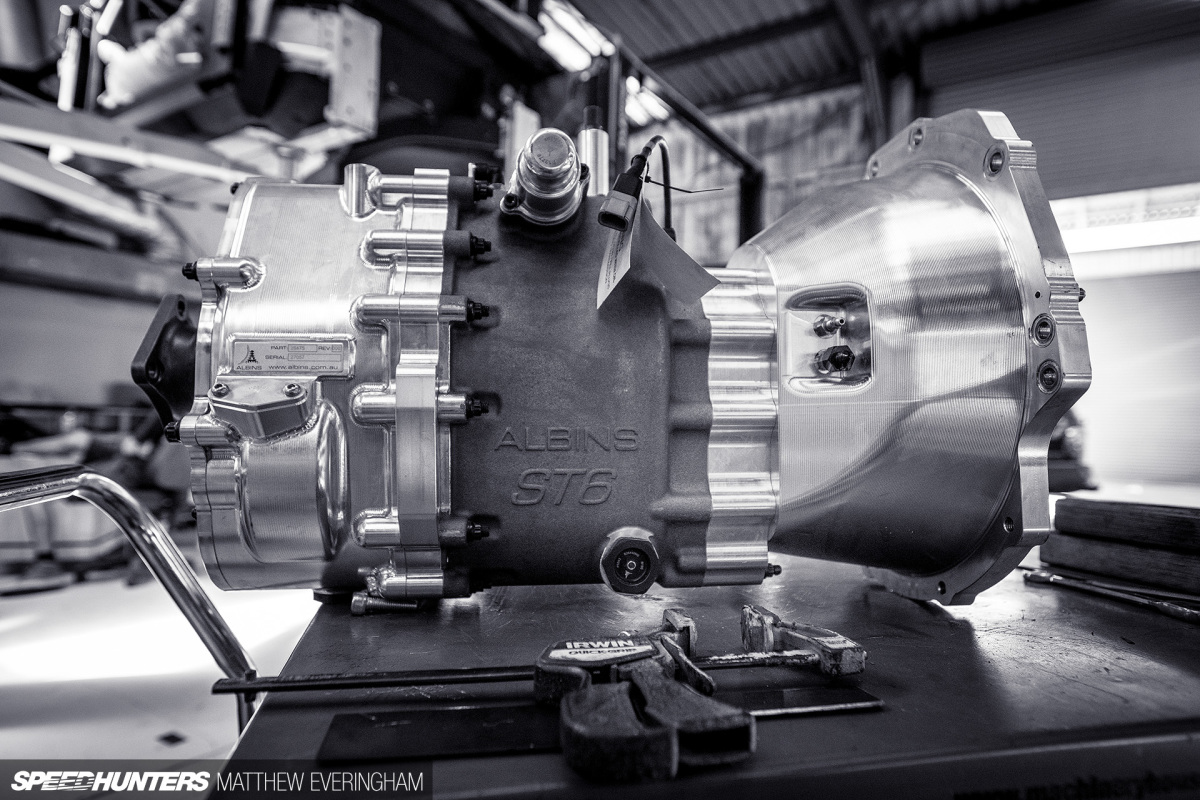 PACE took it upon themselves to engage the help of Albins, who came on board as the first product partner. Their solution was the ST6-I (inline) 6-speed sequential, which is the current control gearbox for V8 Supercars. Certainly, the Albins would be capable of withstanding whatever power and torque figures the 3.8-litre V6 could send down the line.
No longer would Joel need to daydream about flat-shifting gears in a proper race car; the added confidence provided by the Albins box would see him snapping gears with no hesitation.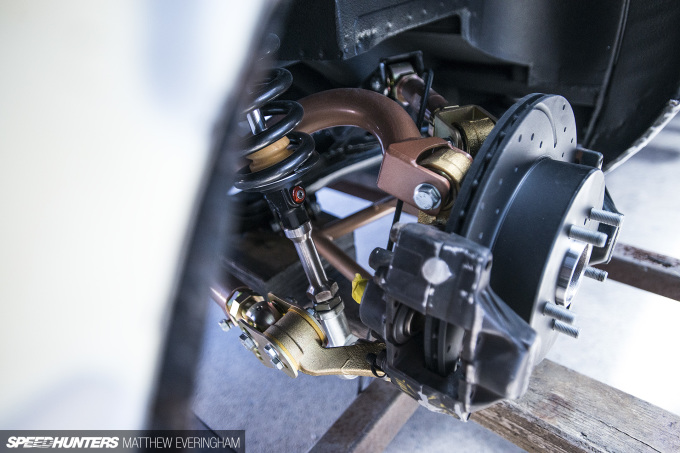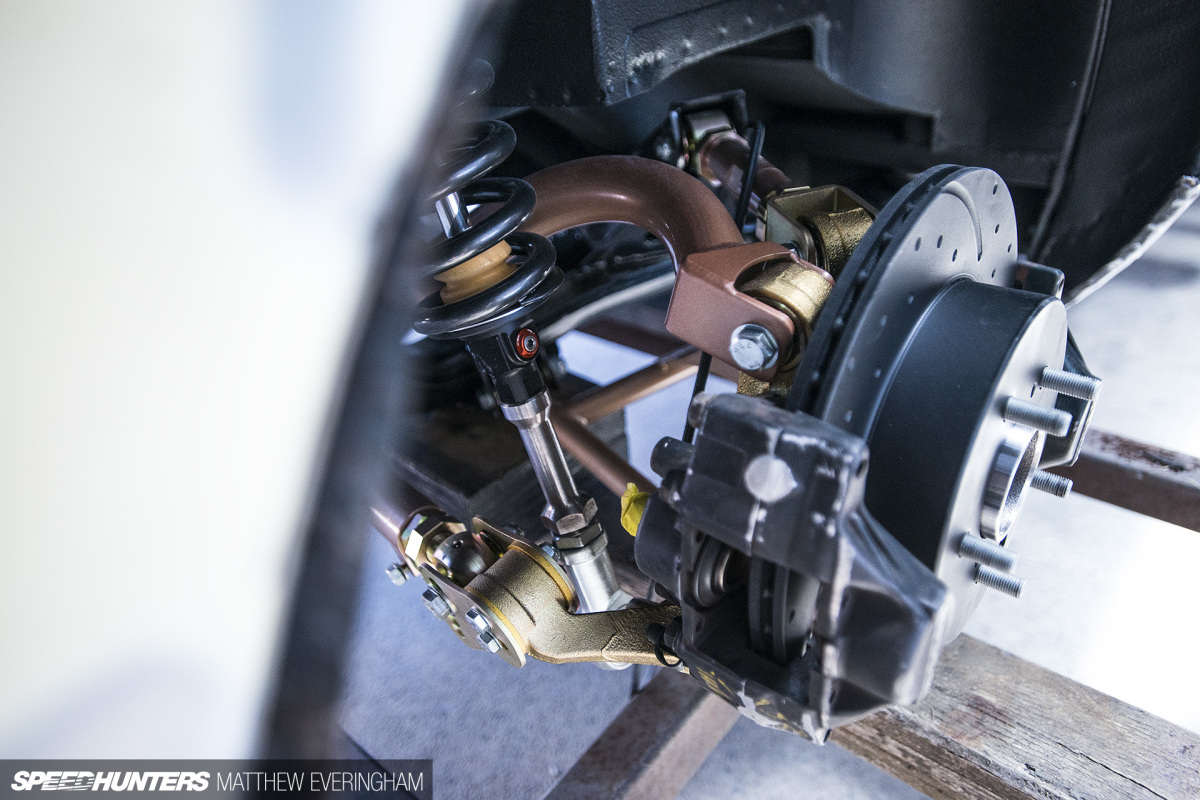 Parts Shop Max was the next vital sponsor to jump onboard, supplying their Limit Break steering kit, with all adjustable multi-link arms for the front and rear of the car. PSM's entire Silvia catalog of off-the-shelf parts was bolted straight into the factory subframe and cross members. A huge 70 degrees of steering lock is now possible.
The added adjustability of the GT-Z's new steering, flexibility in handling and reinforced chassis has brought the 240Z into the modern era.
Godzilla's Heart
With the fab work finished, the car was sent to Matt Stone Racing to be assembled and receive a coat of paint, hopefully in time for its scheduled public debut at Sydney's World Time Attack Challenge.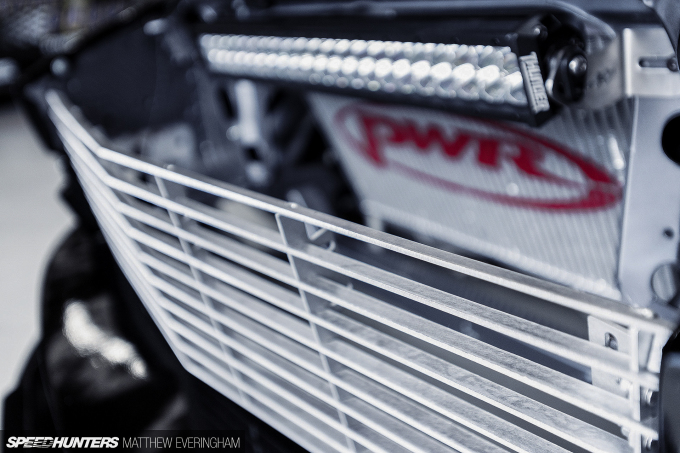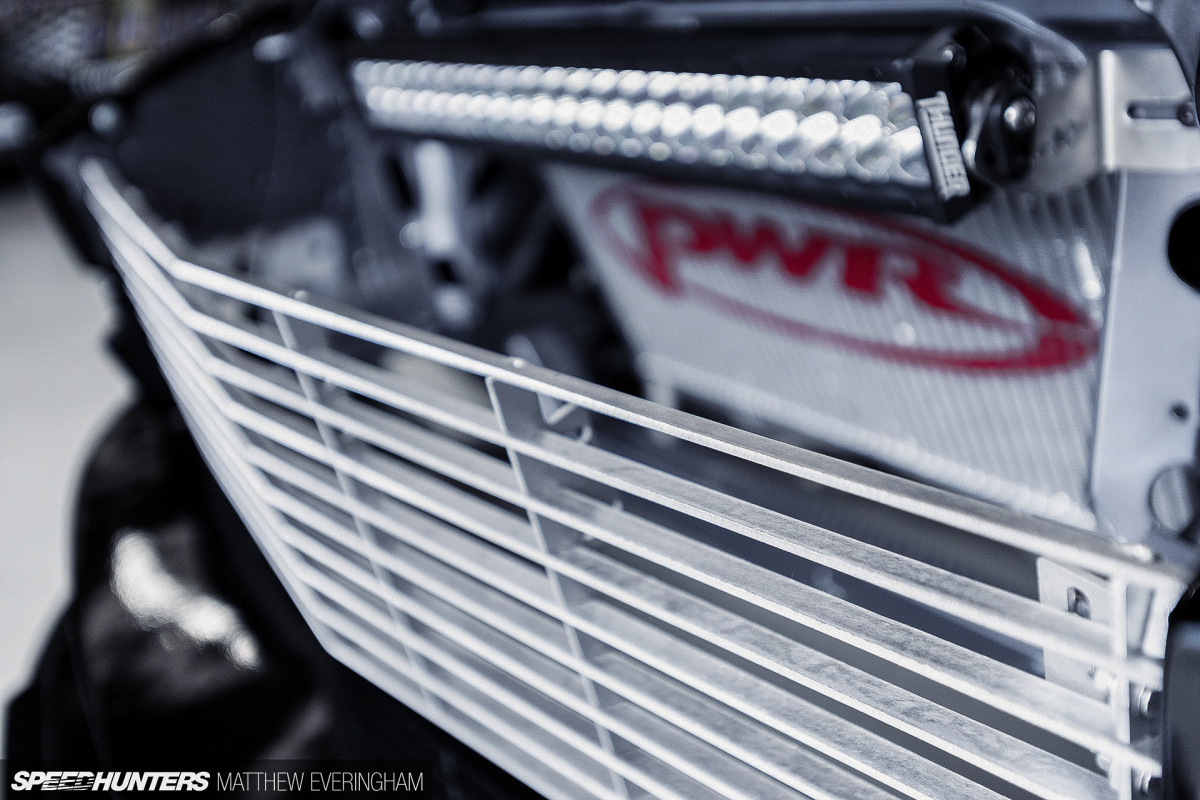 The last time we saw the car the majority of the engine bay was under wraps, and I mean that quite literally as the 240Z was just hours away from receiving a fresh coat of paint. The plumbing was still an early work in progress.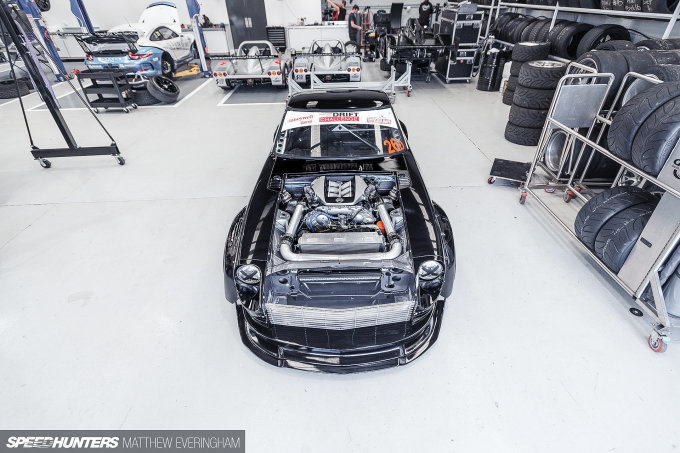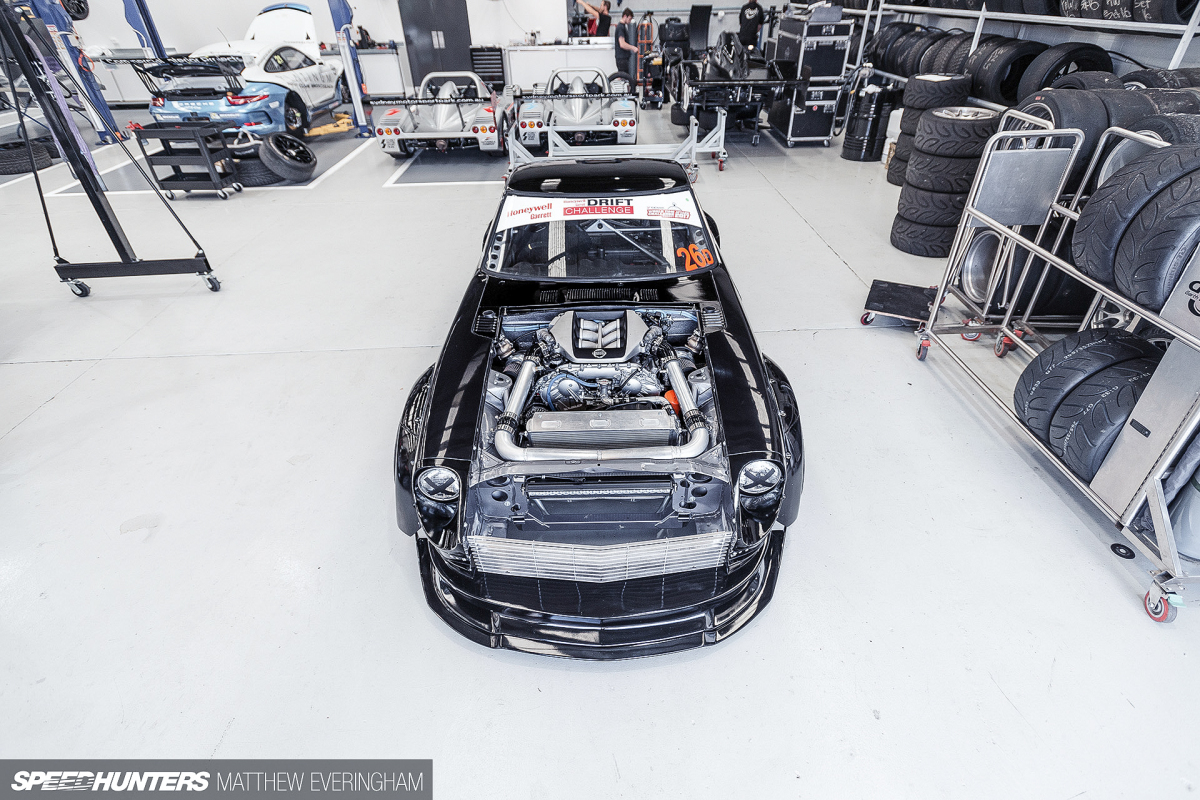 A dummy block was fitted to help the team find the final placement while the real motor was rebuilt. Joel remembers this to be the most exciting time of the build; wave after wave of new parts were delivered almost hourly. It was a tuner's dream, and an accountant's worst nightmare.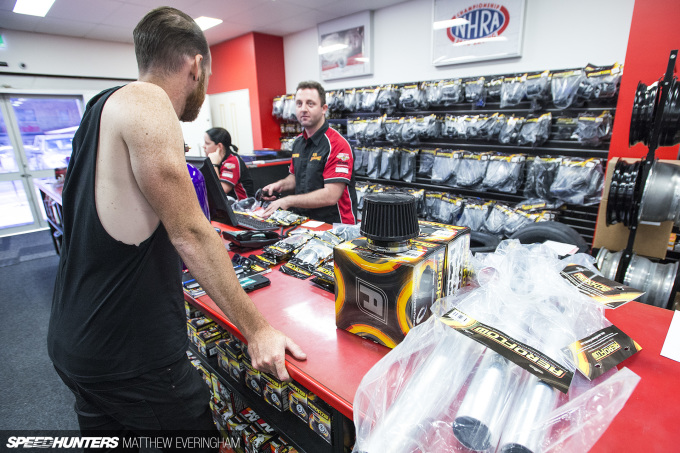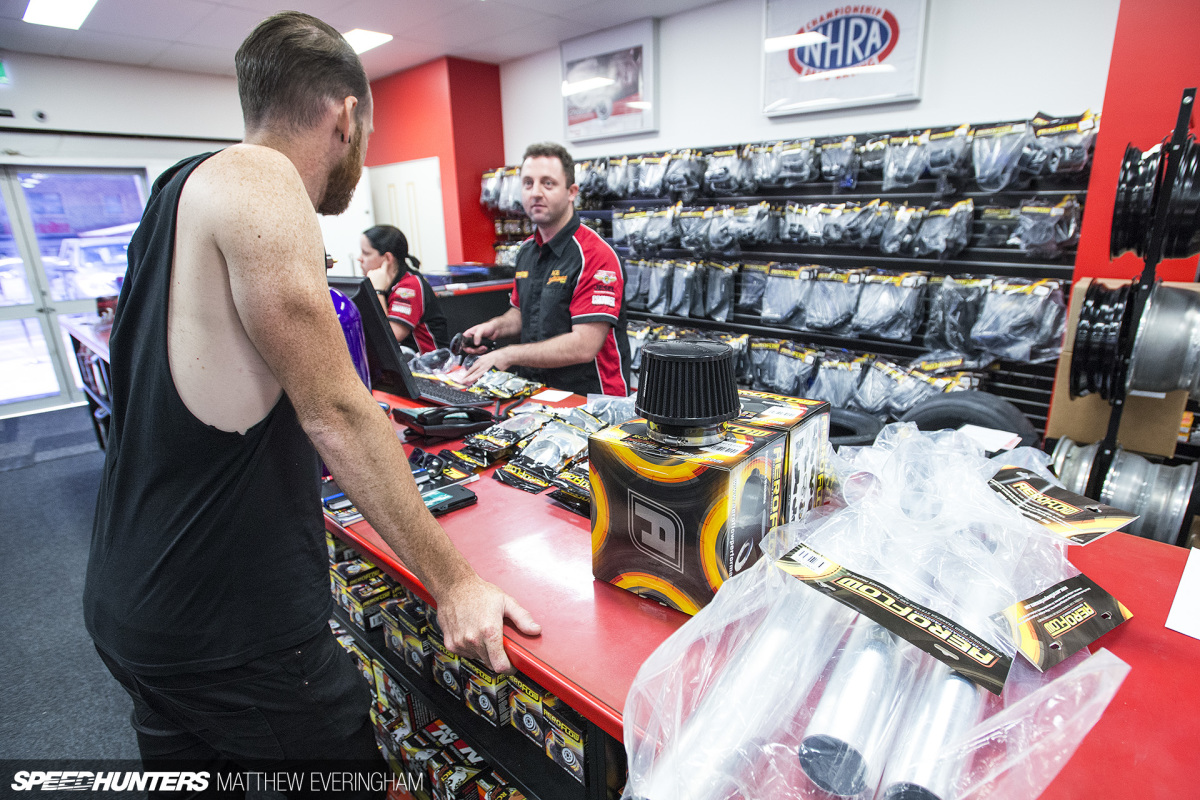 In between taking shipments, Joel was basically an on-call delivery driver. If a hose, clamp or random part was needed to keep the build progressing, Joel and his ute could be found setting lap records along the Pacific Highway that runs between the workshop and Race Car Engineering, a local specialist racing store that miraculously stocked 99% of what was needed.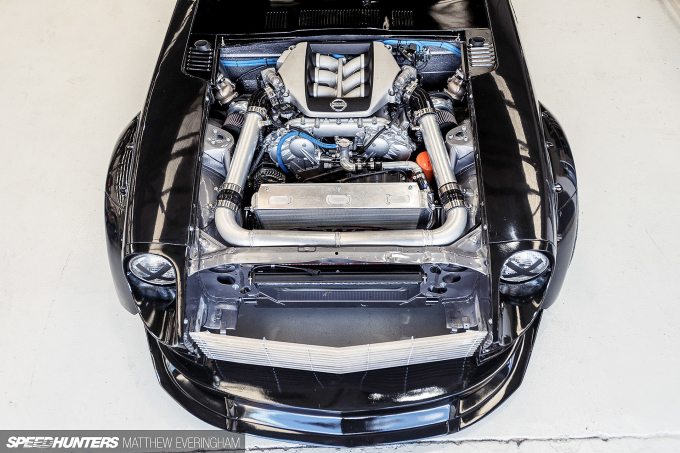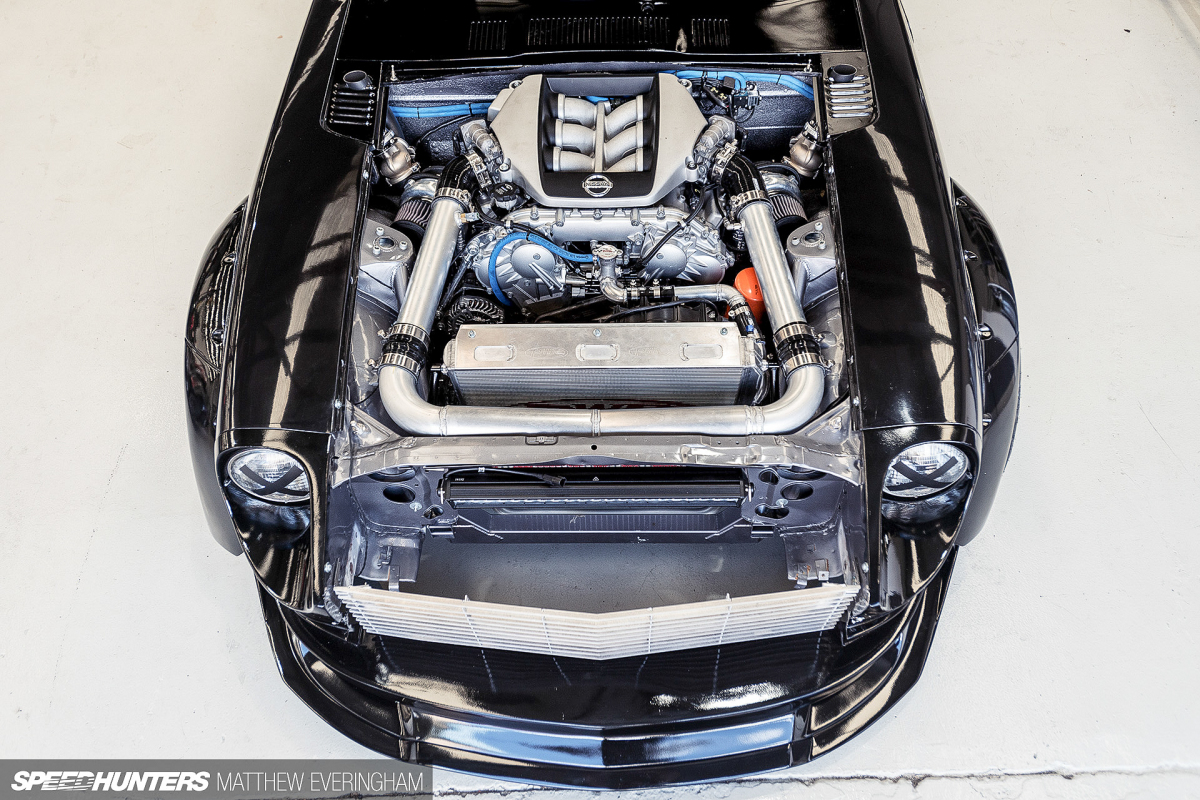 The first thing you've probably noticed is how far back the VR38 sits in the bay. The block and twin-turbos fit snuggly behind the strut towers to improve the GT-Z's weight distribution. It's a tight fit, but done without recessing the firewall.
GCG Turbochargers specced up a pair of symmetrical Garrett GTX3076R Gen II turbos, the counter-rotating option made specifically for v-configured engines running a twin-turbo setup. The pair are a perfect match for the 3.8-litre V6 engine on E85, based on their ability to flow a lot of volume without sacrificing spool time. The smoother power curve is important for a drift car that needs torque on tap to break traction and fluctuate the throttle smoothly, especially from the chase car position.
The dual GCG snails are accompanied by a pair of Turbosmart Pro-Gate 50mm wastegates. Bonus points are awarded to the GT-Z for venting its screamer pipes to atmosphere right out of the inspection lids on each side of the bonnet. It meant some extra work for the fabrication team, but I doubt they'd not be impressed with their handiwork while the Datsun is spitting three-inch flames skyward.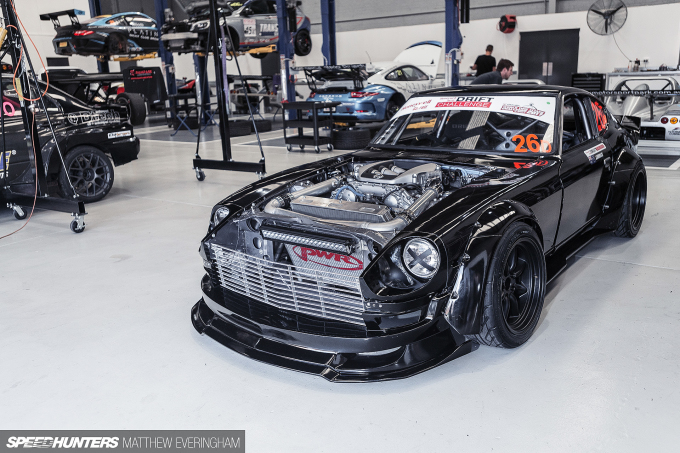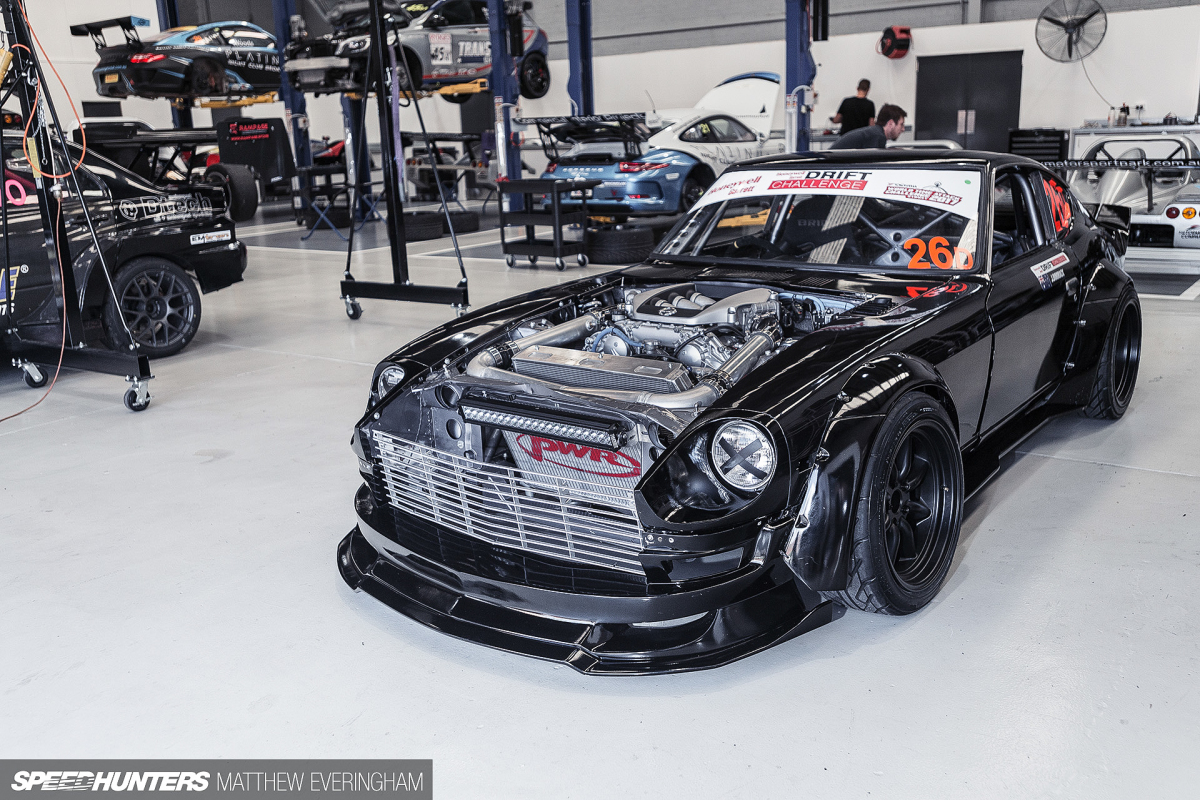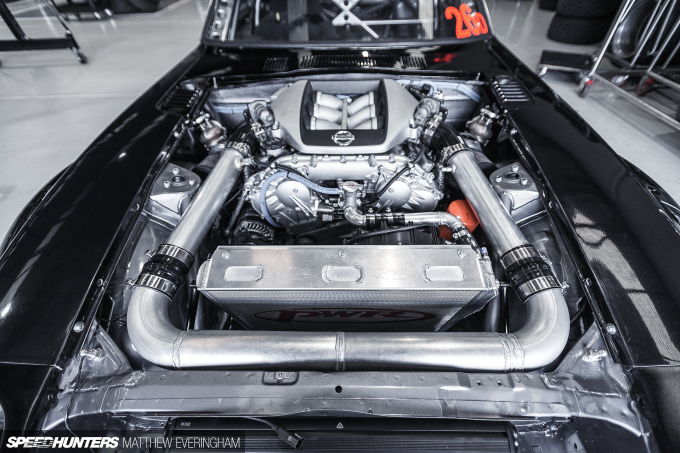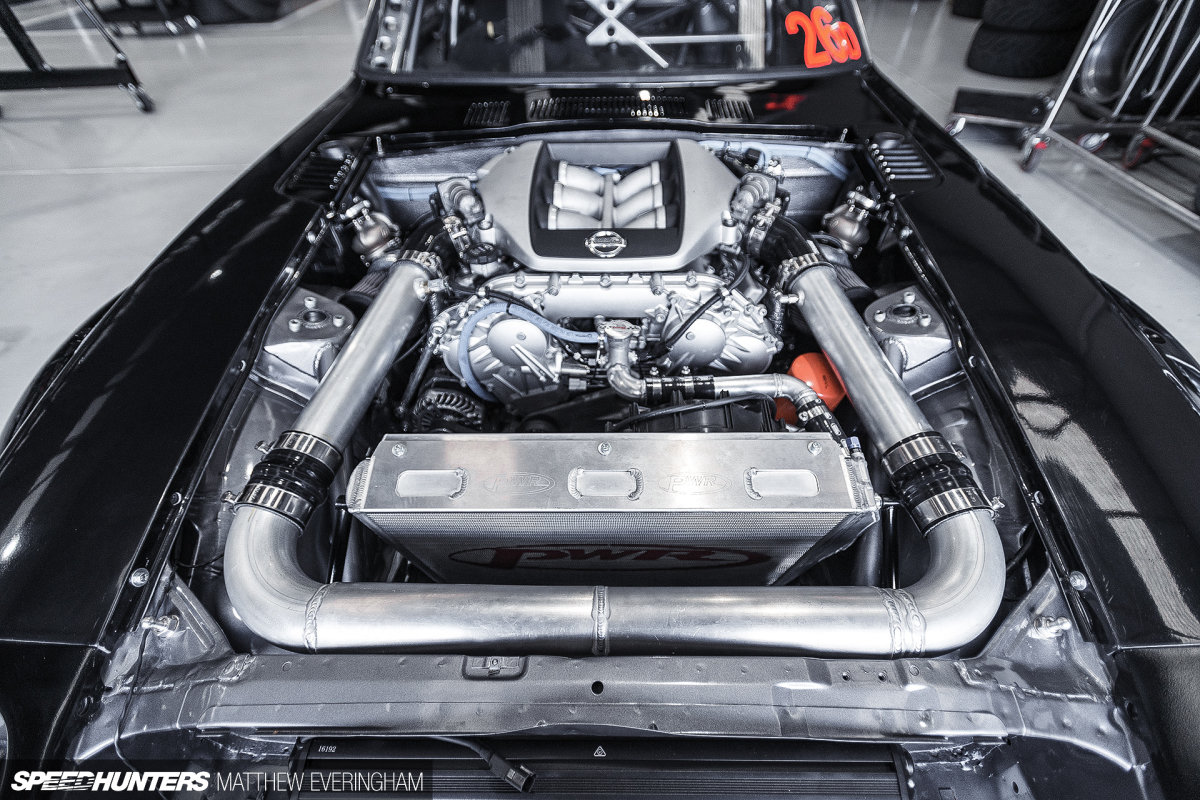 Engine temperatures are controlled by a beautiful V-mount intercooler and radiator package courtesy of PWR. The GT-Z's engine bay was laser scanned by PWR and a bespoke setup capable of the cooling demands of a top-level competition car was developed to make the most of the limited space available. PWR engine and gearbox oil coolers are also fitted.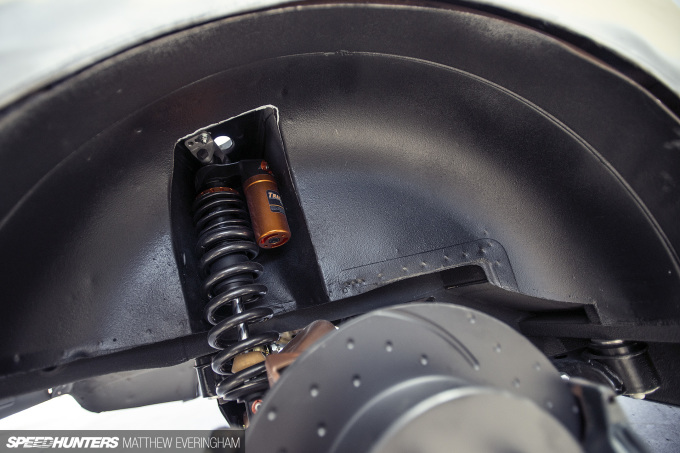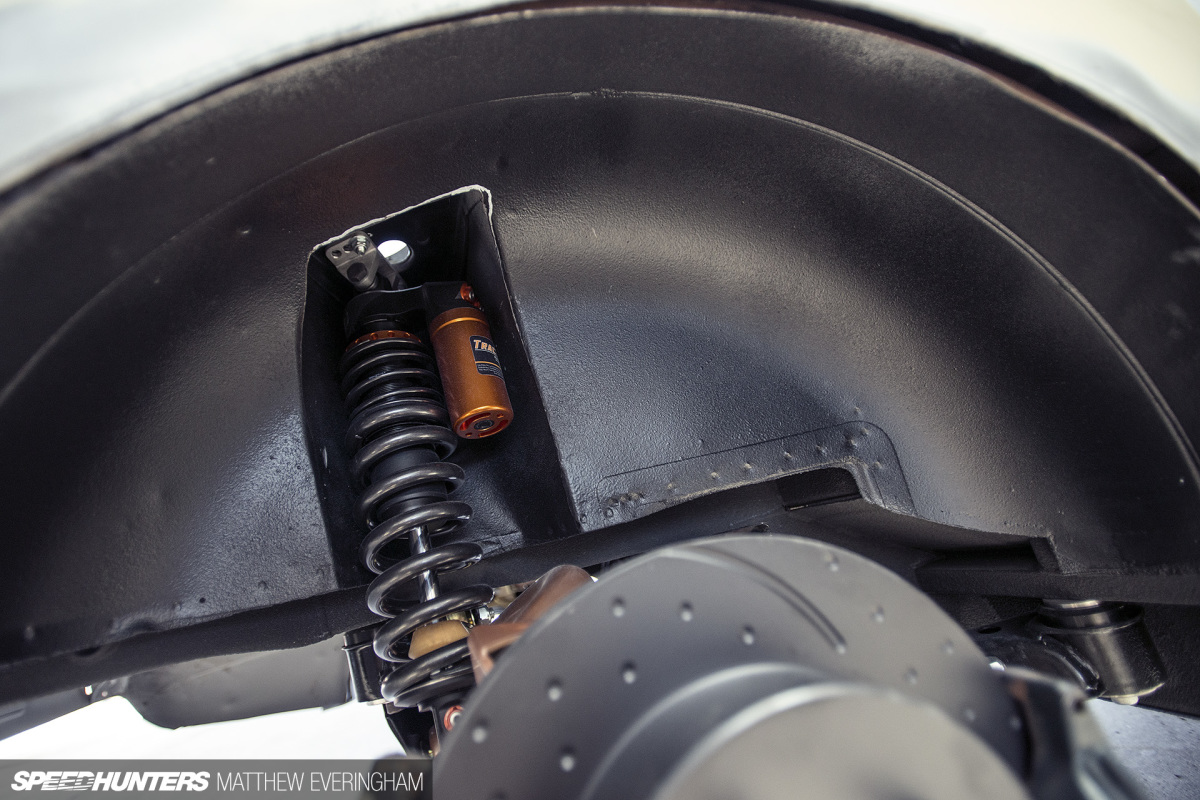 The final piece of this mechanical puzzle was designed and supplied by Tractive Suspension, the same people responsible for many high-end OEM active suspension setups. Unique 3-way adjustable dampers were built and assembled in the Netherlands, and supported by TT Suspension in Sydney, Australia.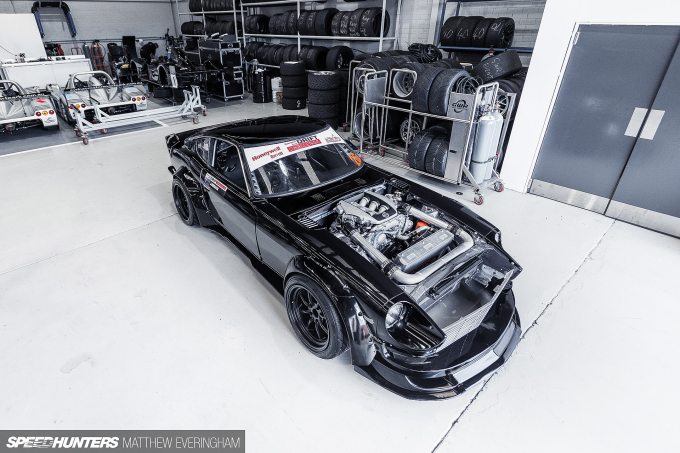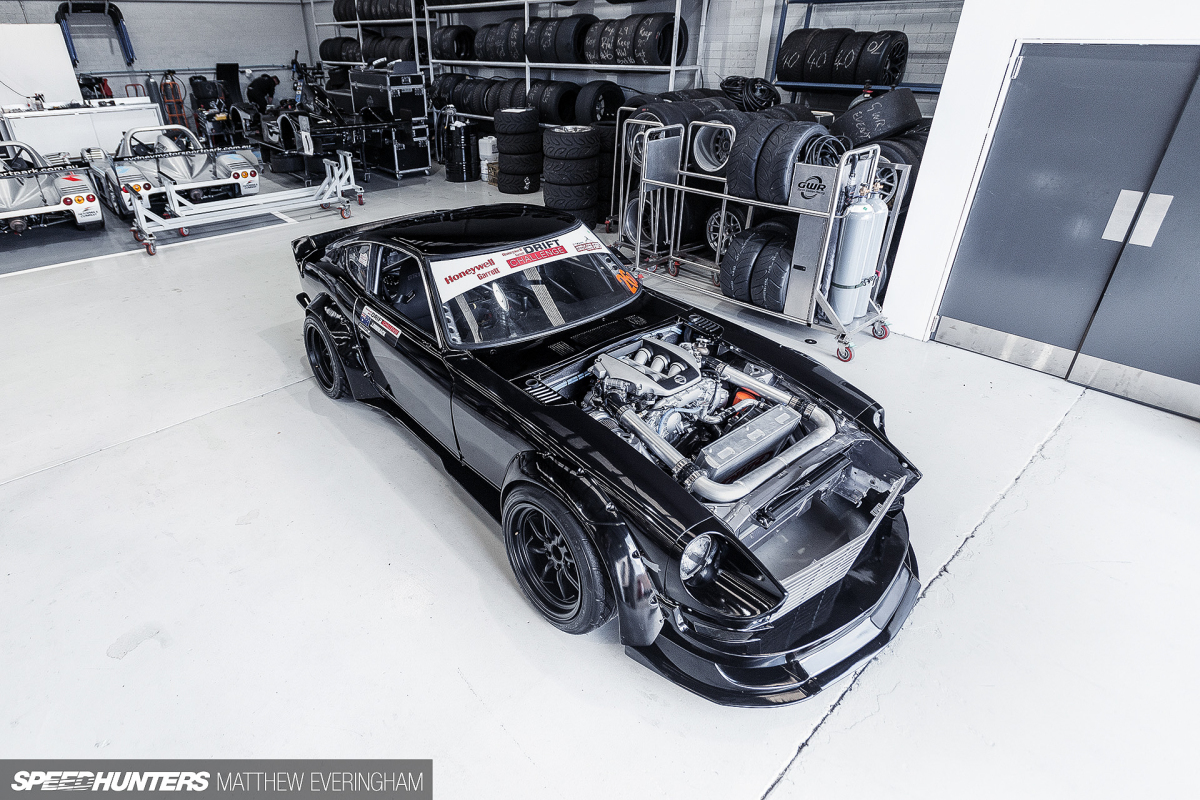 With the last of the big mechanical tasks complete, the remaining time went into fitting the CarbonSignal Moonbeam bodykit which arrived at the very last minute, and then applying a very quick coat of paint to have the GT-Z ready for its WTAC debut.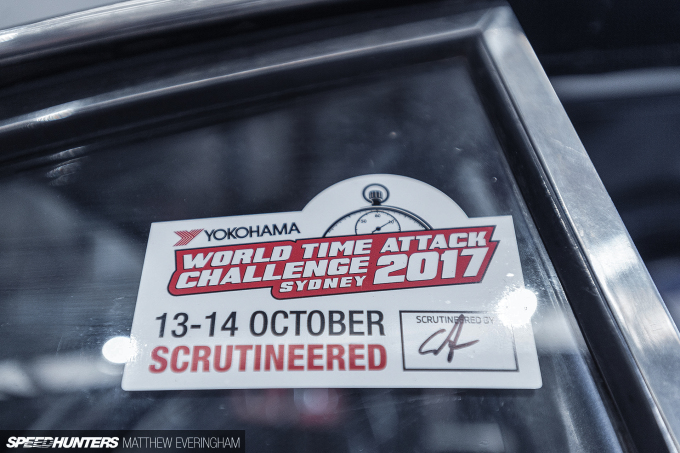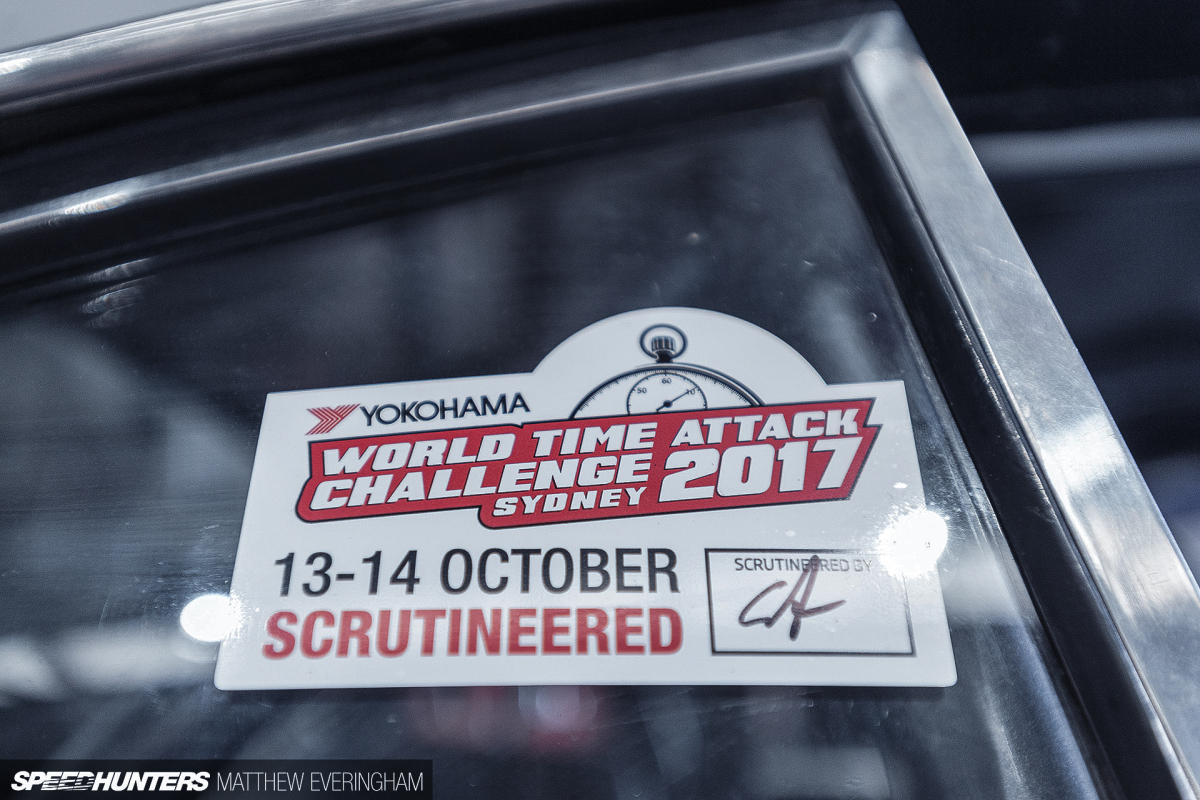 The car was painted a custom colour Platinum GT-Z, a metallic charcoal that blends perfectly into a sea of carbon fibre and billet aluminium. A carbon roof was also made up and blended seamlessly into the body. Not only is it a great weight saver, it's such a cool, hidden detail.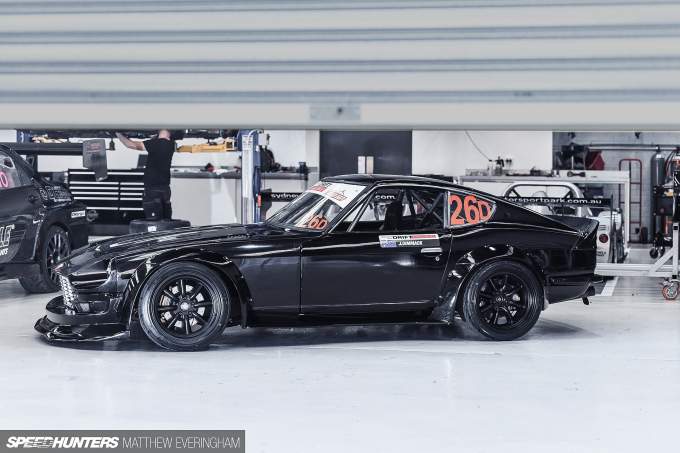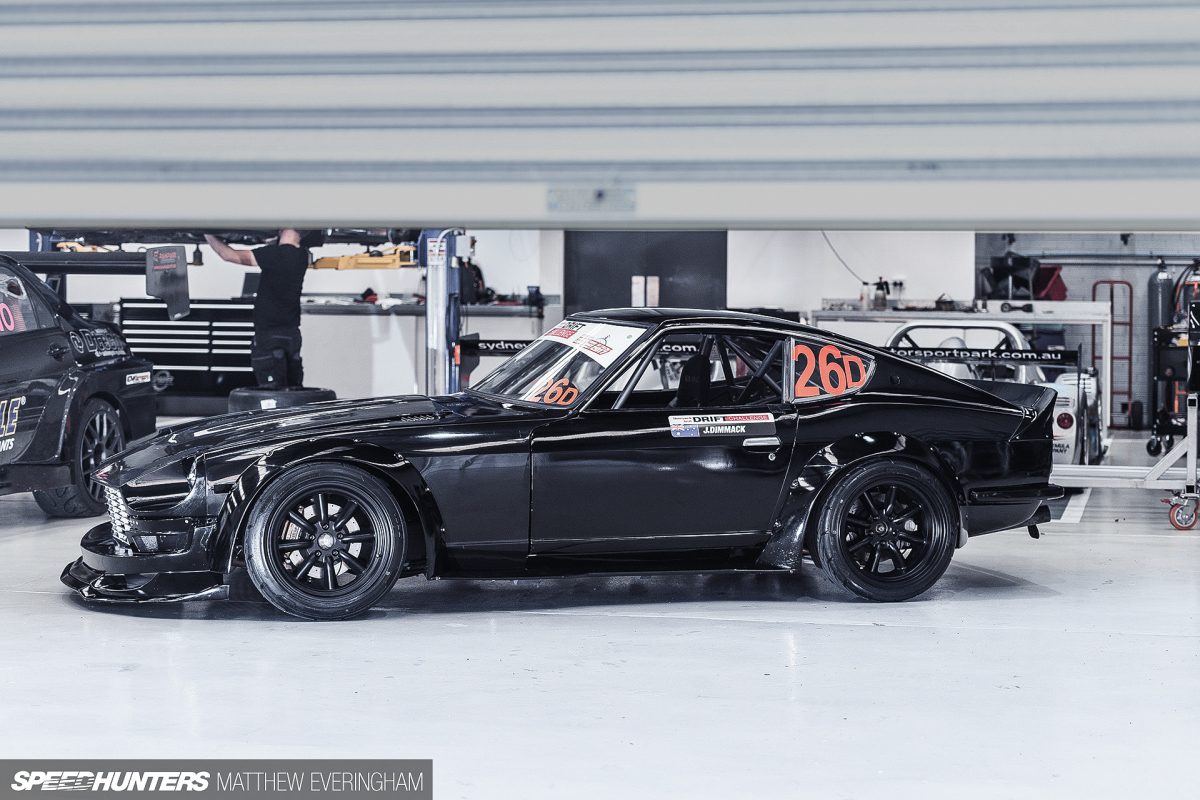 Building the GT-Z was no easy task, but really, nothing good comes easy. Everyone involved with the project provided some very clever solutions to what could be considered a near-impossible task.
With the talent behind the build, and Joel behind the wheel, my eyes are set to the future. I'm very keen to see the full potential of the world's very first GT-Z unlocked.
Matthew Everingham
Instagram: matthew_everingham
matt@mattheweveringham.com
The Cutting Room Floor