When you nail details people take notice, and there were no shortage of Speedhunters readers who had their interests piqued by a certain Fox Body Mustang featured in my first post from the SEMA Show floor last week. One reader asked me to go back and spotlight the car, which I did, and now that I've recovered from a crazy week of Speedhunting in Las Vegas, I'm ready to share it.
With so many cars on show at SEMA, it's an extremely tough ask to see them all, let alone go back for a second look. But every time I walked past the 'Goodguys Pace Car' on my travels (it had prime thoroughfare positioning in the busiest hall at the Las Vegas Convention Center), I was drawn in for another walk-around.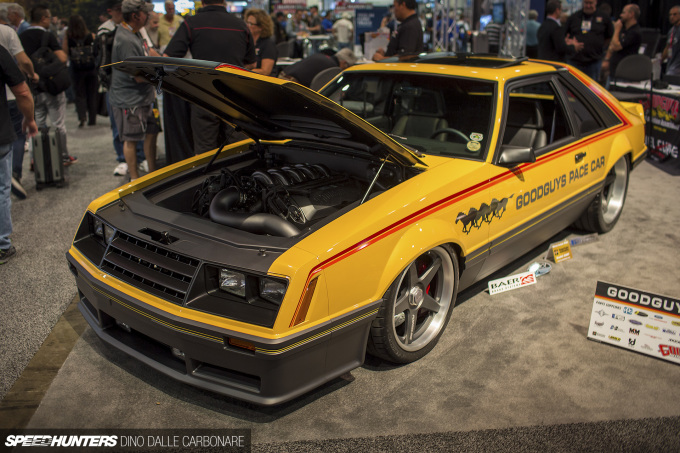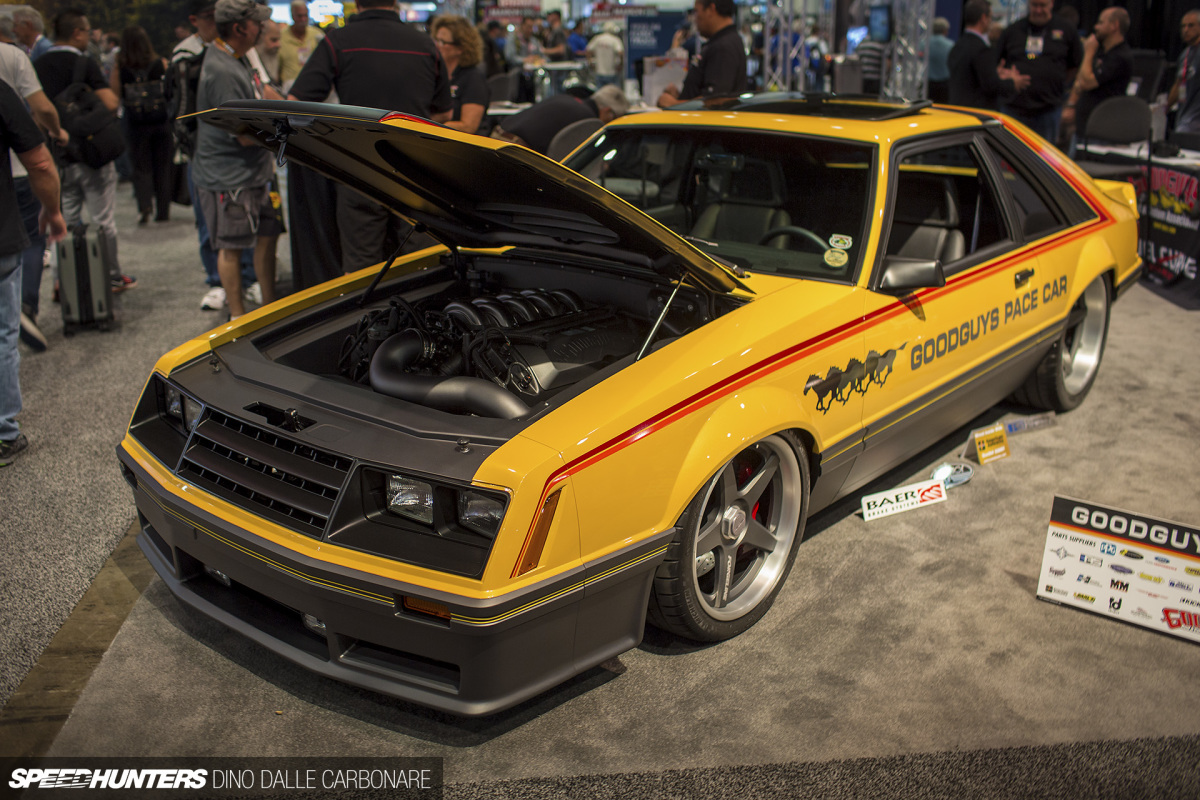 I kept thinking how damn good it looked, and not because it's a replica of an 1979 favorite that made its mark in American car culture, but because it was executed so perfectly.
You see, up until last week I didn't even know what a 1979 Indy 500 Pace Car Mustang was; I grew up on the other side of the world and had other influences in my young years as an up-and-coming car nerd.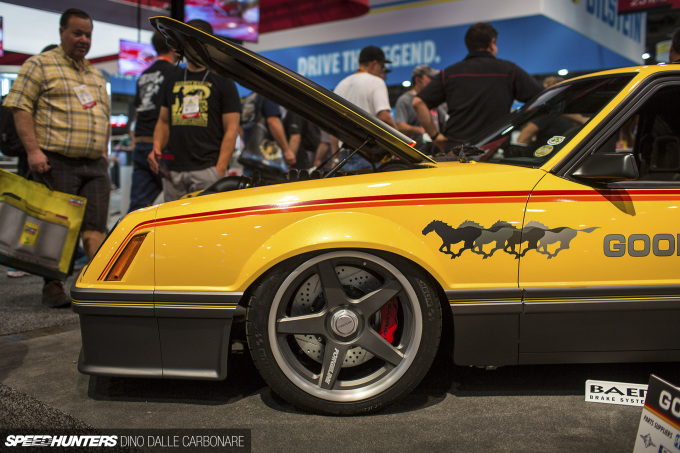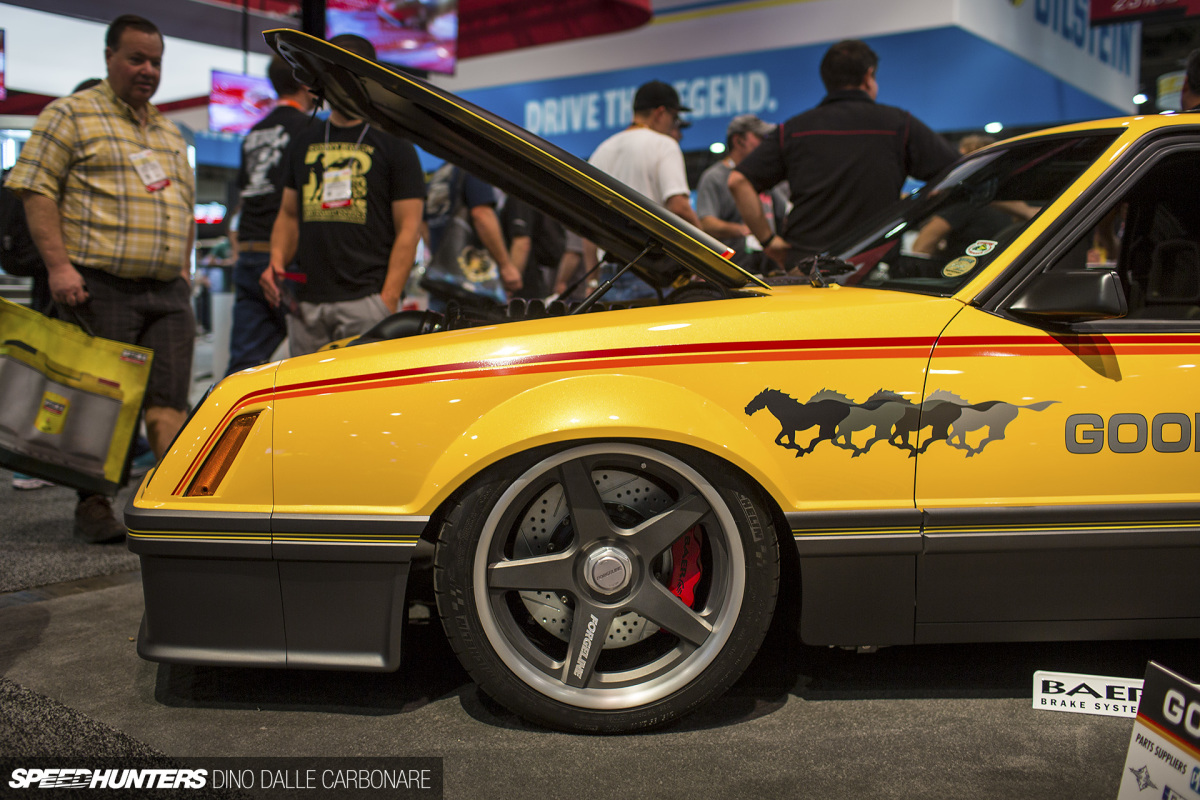 What I can tell you, however, is that when you take a close to 40-year-old car and transform it into something that oozes presence, people will take notice, no matter where their love lies.
With this build, the Goodguys Rod & Custom Association have shown everyone how you're supposed to do fender flares: you form them from metal and then integrate them into the body work. All of this work was entrusted to Goolsby Customs with famed custom car designer Eric Brockmeyer tasked with the design aspect.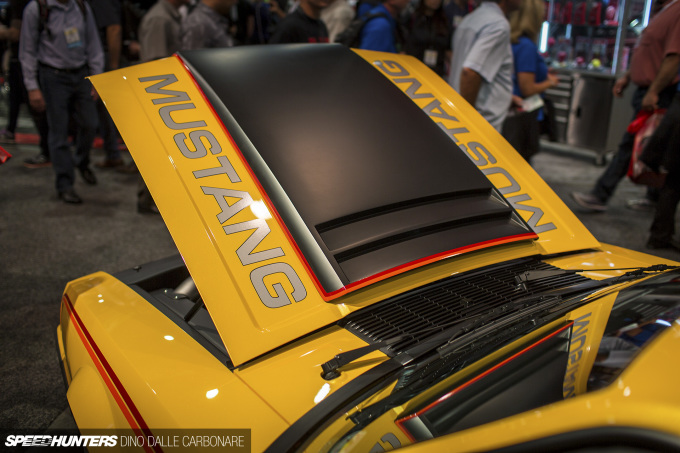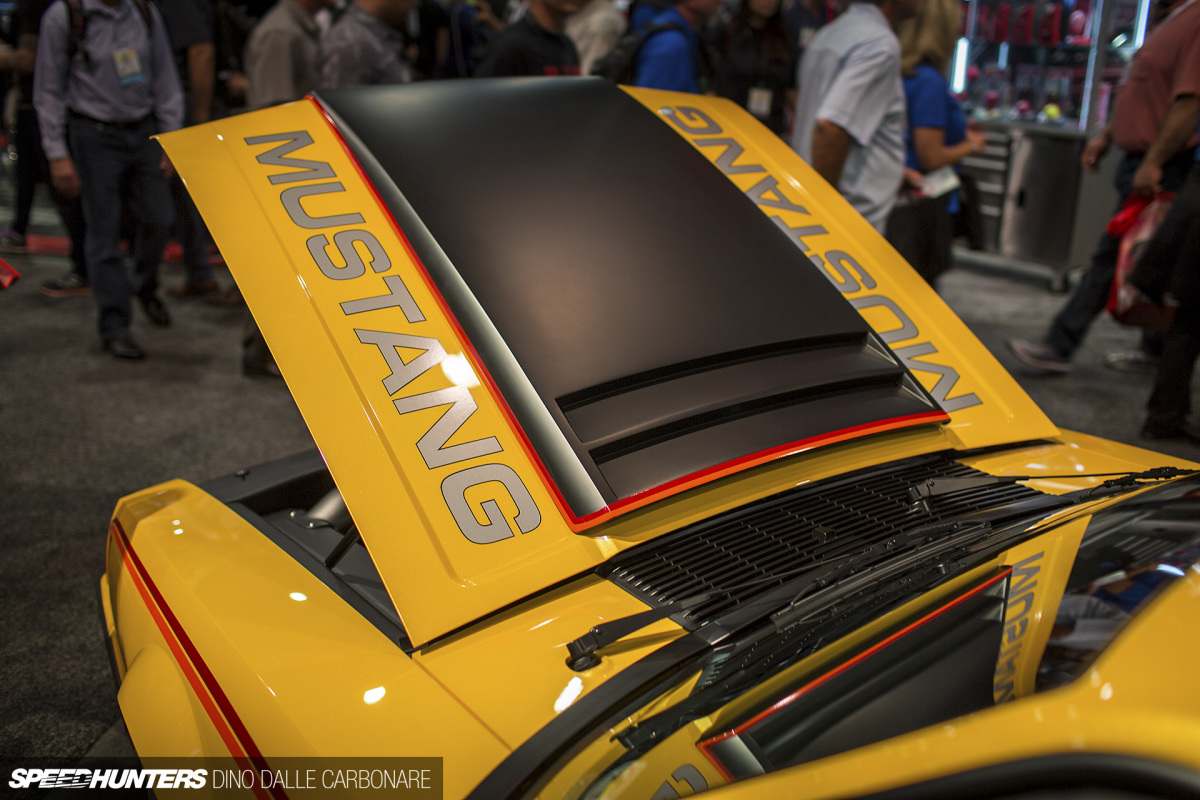 And no car at SEMA could possibly give a sense of aggression outside without backing it up with something worthy under the hood, a raised and vented one in this case.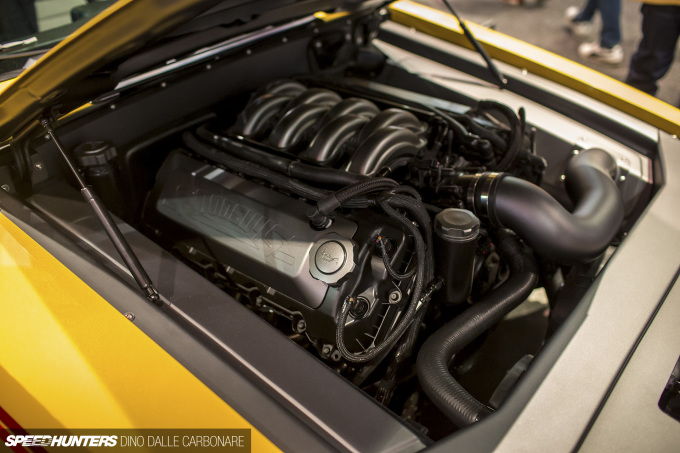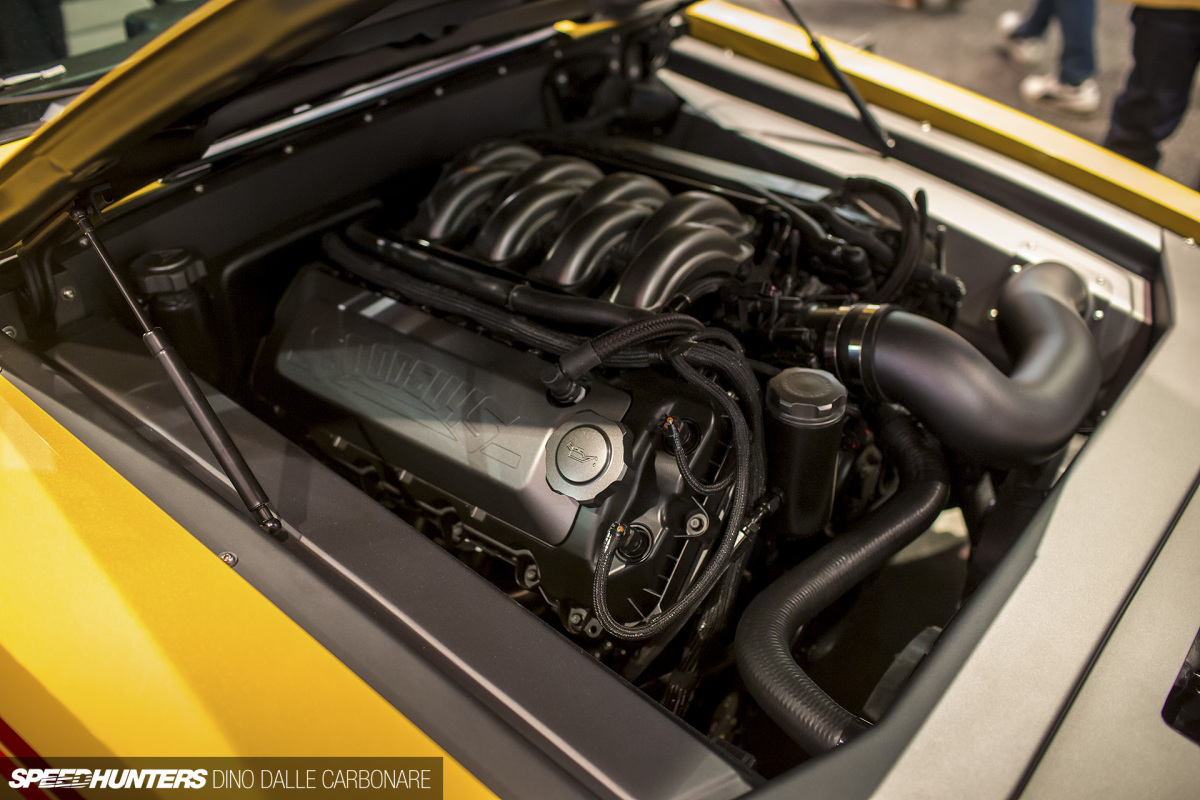 Looking like it's almost suspended in thin air, the 5.0L Ford Aluminator XS Coyote V8 crate engine hides Mahle forged pistons and Manley H-beam connecting rods to support the 11:1 compression ratio and a power output north of 500hp. The Goodguys cam covers are a cool touch, too.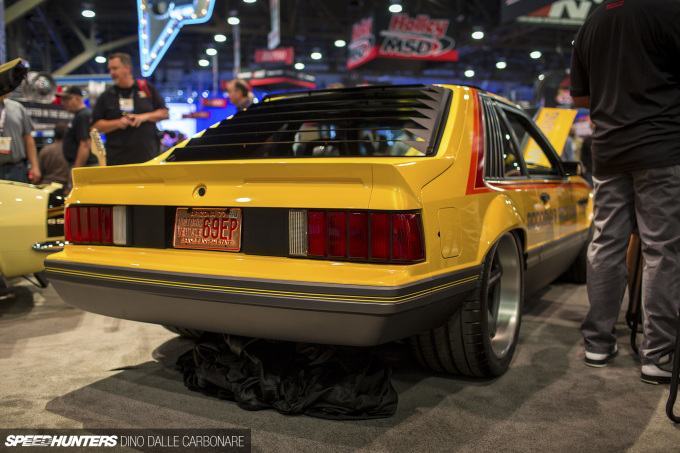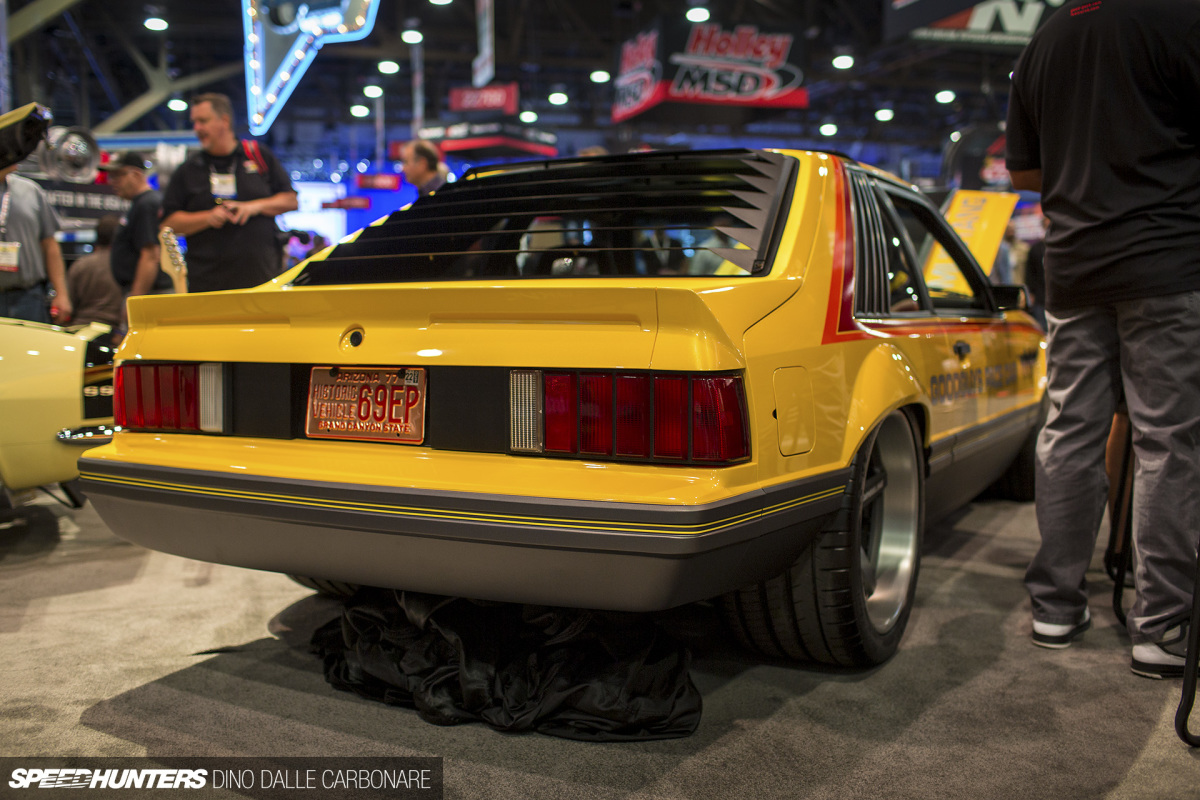 The power runs through a Tremec T56 6-speed and out to massively wide 345/30R19 Michelins that wrap around 19×12-inch Forgeline center-lock wheels at the rear. And back here we have an even wider interpretation of the front fender flares.
The interior looks so simple and well laid out that you may start to assume that not much work went into it, but such an assumption would be very wrong. Under the skin this thing runs a full Roadster Shop Fast Track chassis and mini tubs – the factory unibody is no more.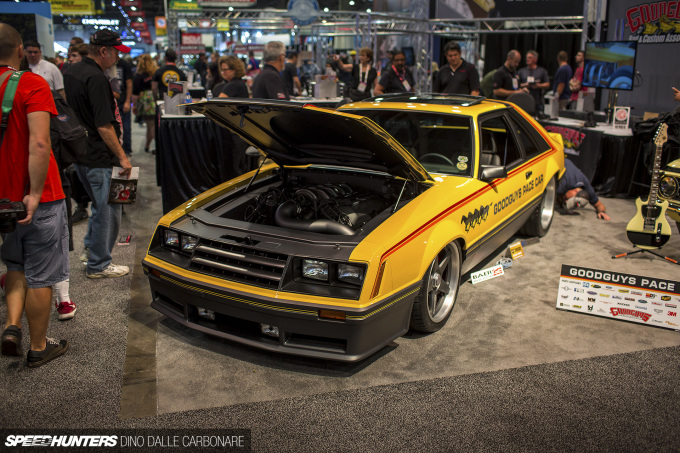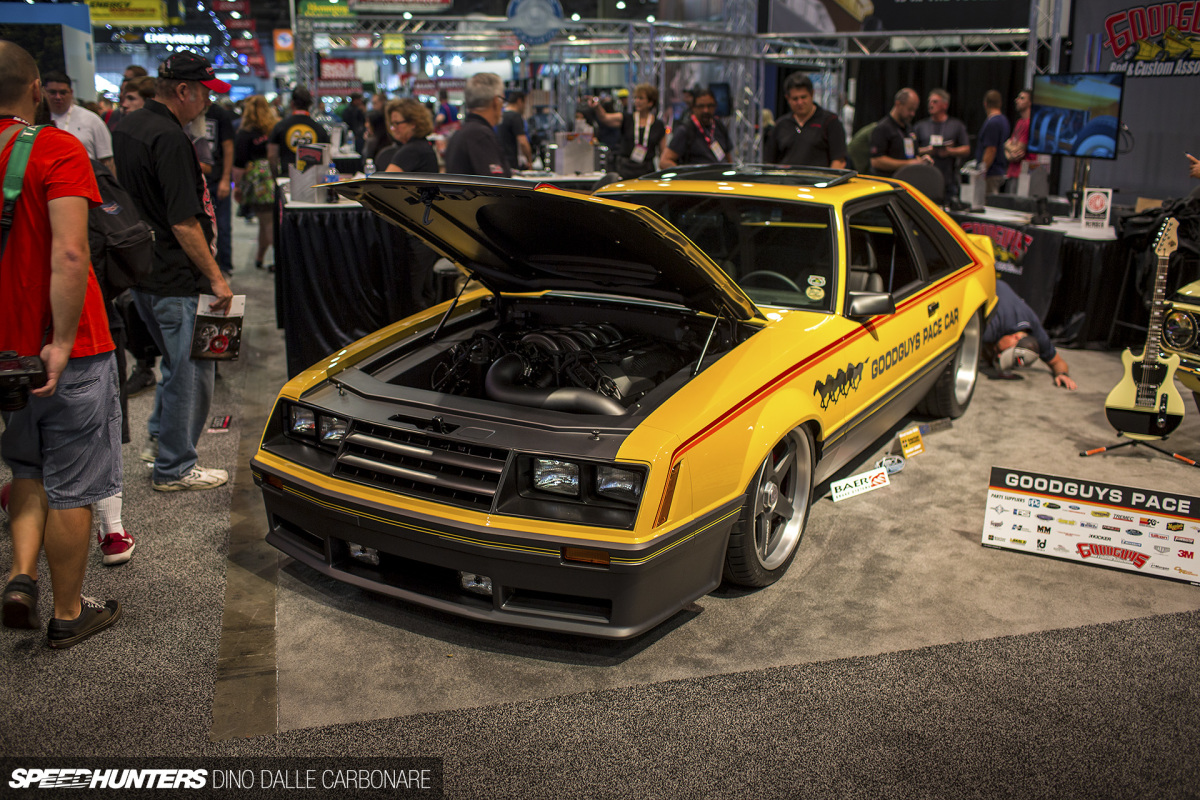 The whole point of this car was to make the announcement that as of 2018, Goodguys car events and shows are now open to cars from 1984 and earlier. It's a point very well made, don't you think?
Dino Dalle Carbonare
Instagram: speedhunters_dino
dino@speedhunters.com