Welcome To GMG
There are very few shops in the US that are trusted by the likes of McLaren, Audi, and Porsche to help run their customer racing programs. But there is so much more to GMG than their motorsports efforts, and all will be revealed in this shop tour I recently took with Louis.
Since 2001, Global Motorsports Group (GMG) Racing has been one of the most highly regarded US shops for European racing and tuning. These guys have been racing in premier stateside championships including the American Le Mans Series, the Rolex Sports Car Series (now known as IMSA), the Pirelli World Challenge, while also competing in smaller national events run by NASA, SCCA, and American Endurance Racing (AER).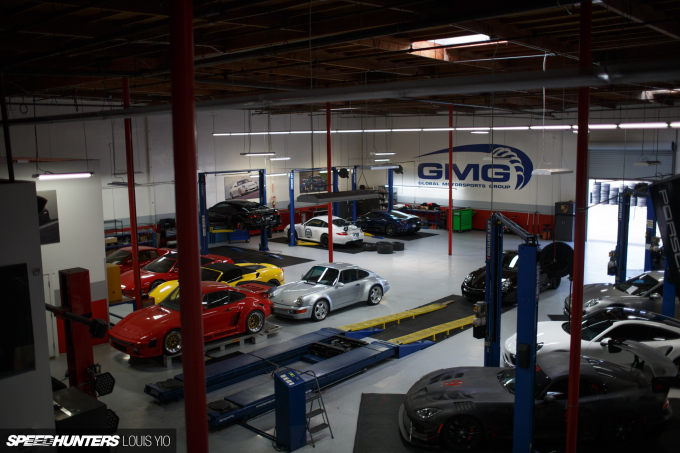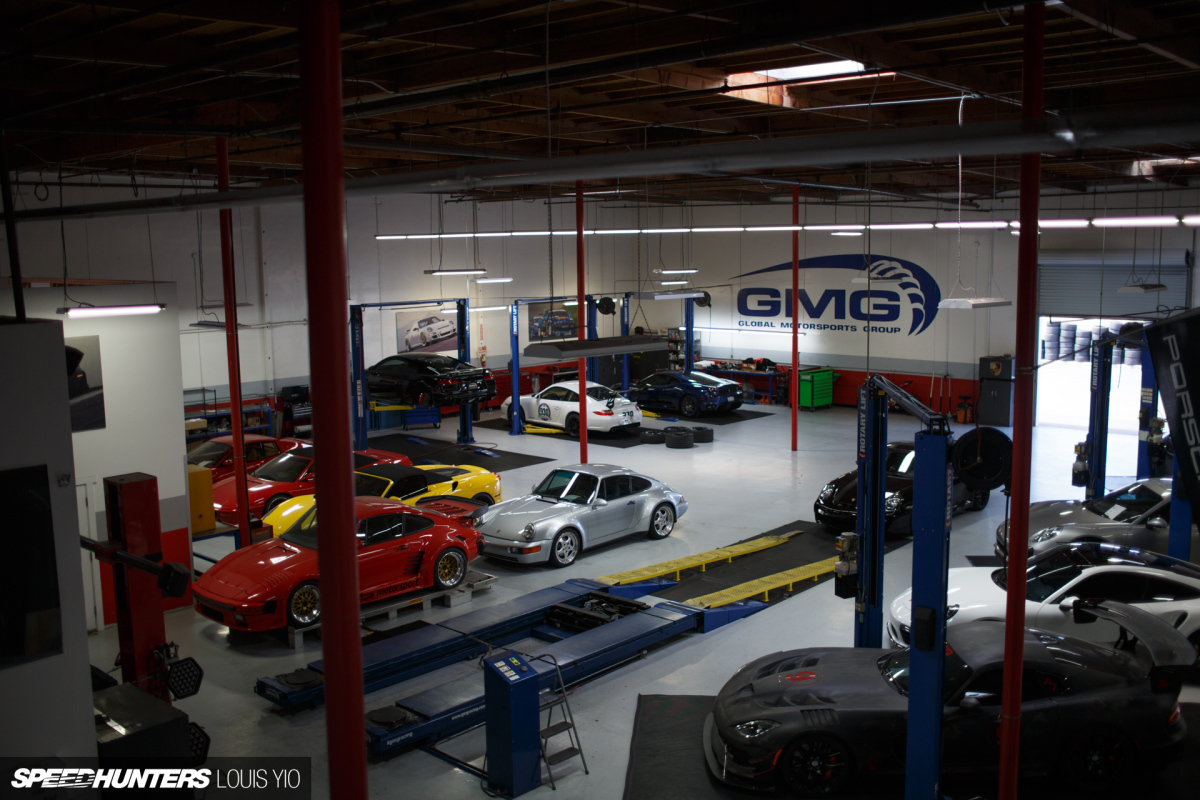 Motorsports, while appearing to be GMG's bread and butter, isn't the only thing they do on a daily basis.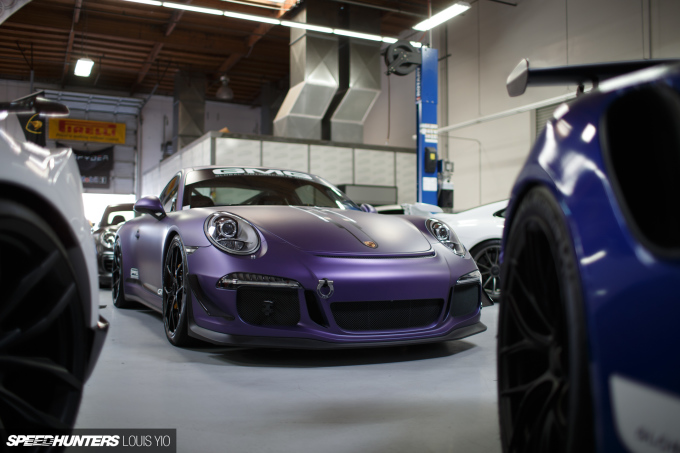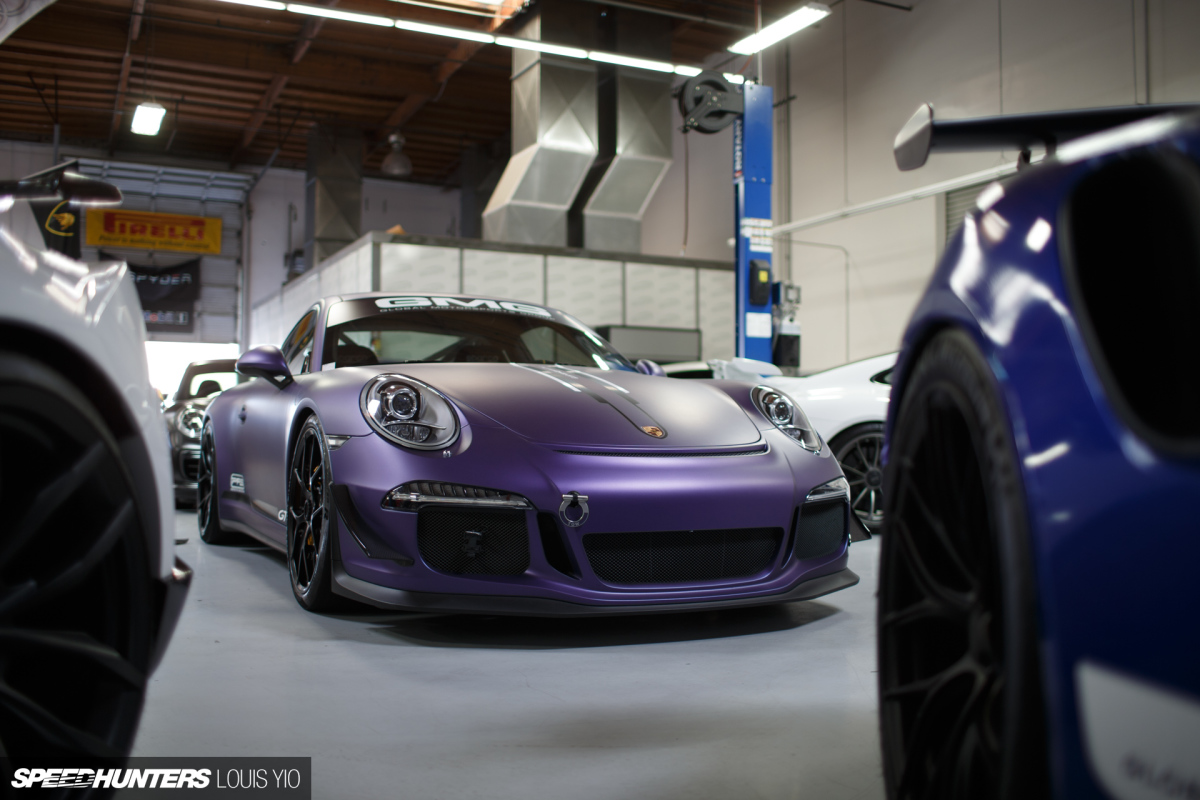 You would also not be at fault to associate GMG with Porsche. The German manufacturer has had a very heavy influence on the team and that was thanks to GMG's location being right across from the original Porsche Motorsport North America (PMNA) offices. PMNA now resides with the Porsche Experience Center Los Angeles in Carson, California, about 20 minutes or so directly south from the city center of LA.
While many feel that the focus away from Porsche happened in 2012 when GMG showed off the first American Audi R8 LMS GT3, they had actually been working on Audis, Ferraris, McLarens, Mercedes-Benzes, and other European brands for many years prior.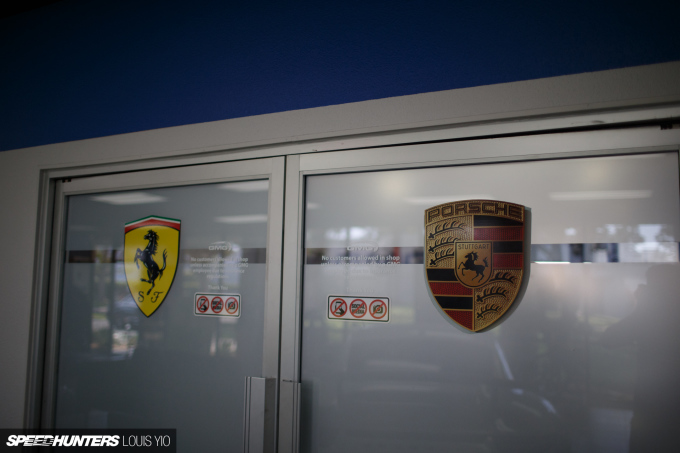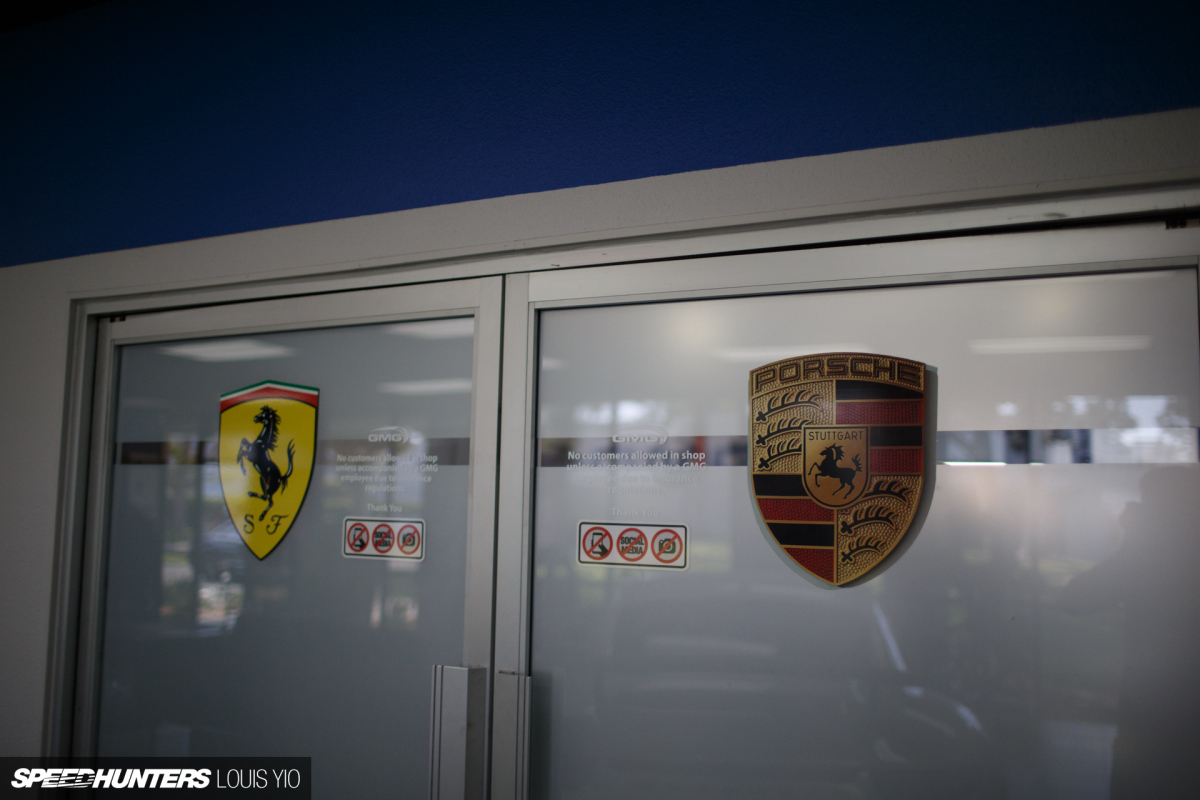 You see it when you first walk into the shop on any given day. Behind the frosted glass doors are often Lamborghinis, Paganis, new and classic Ferraris, and pretty much anything else exotic that crosses the Atlantic.
However, you'll always find a Porsche in the shop.
DP 935 & A Testarossa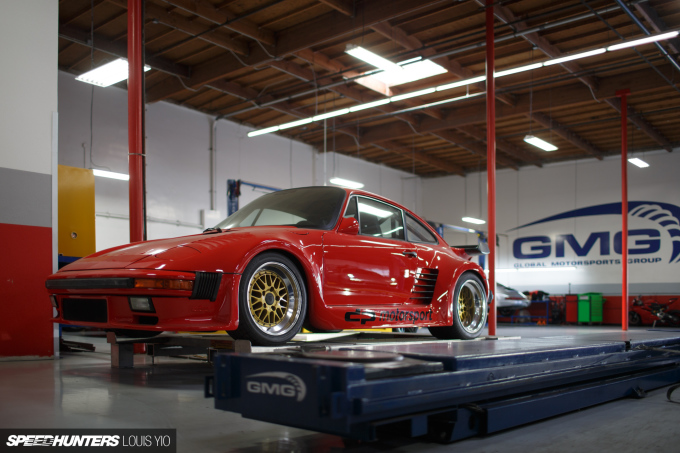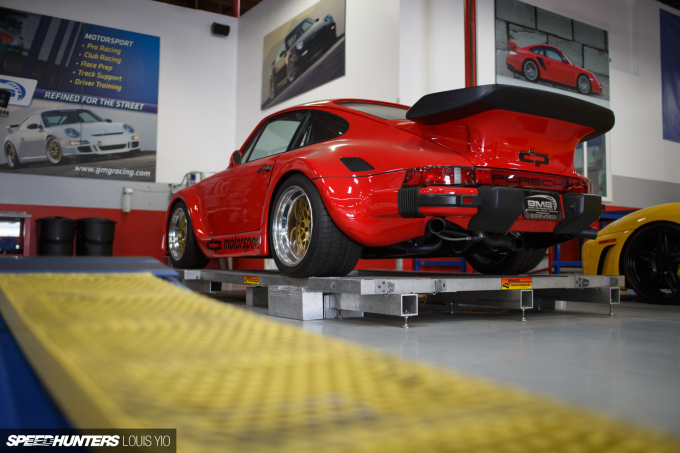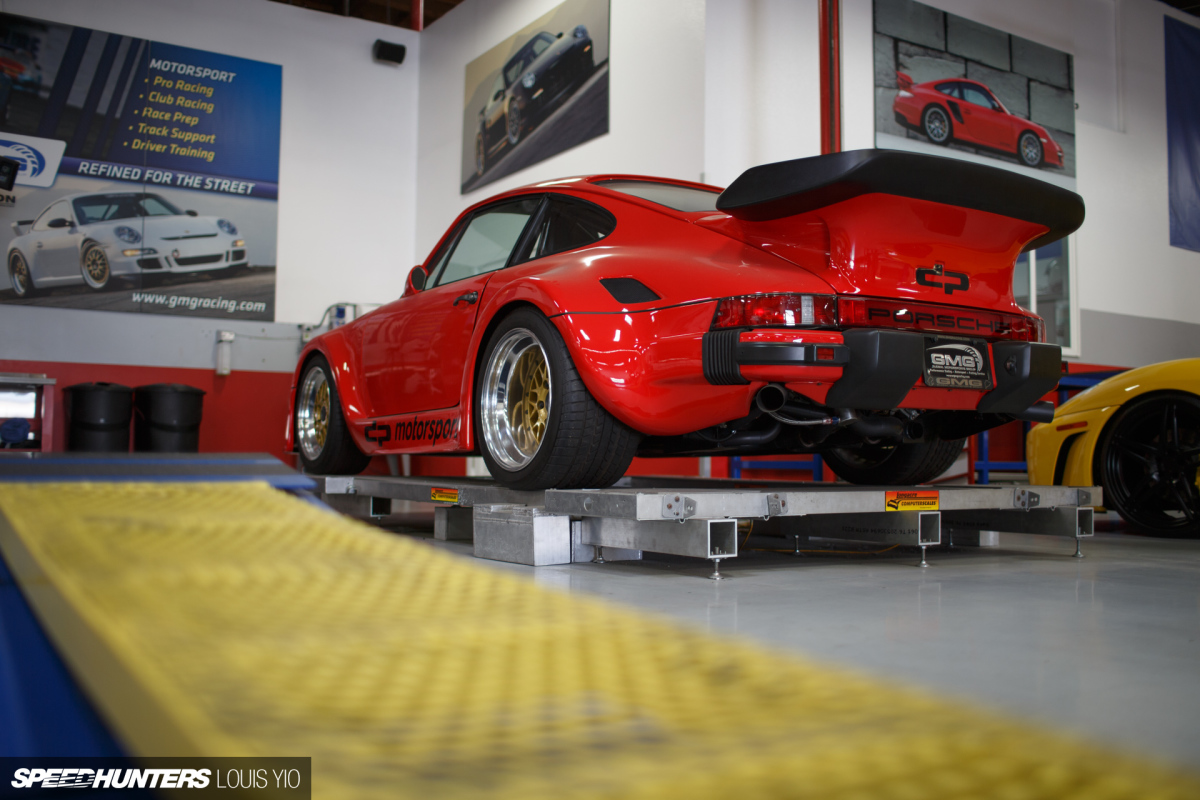 Yes, you keen-eyed Porsche fans will no doubt recognize the DP (Design & Plastik) Motorsport 935, and yes it's a fully original car. If you're unaware, DP Motorsports, as founded by Ekkehard Zimmermann in 1975, was the GMG of the 1980s. Their widened Porsches would give RWB a run for their money back then and still do now, and it's cars like the DP 935 that helped solidify the desire of the slant nose 911. Many of those Cologne-designed cars made their way to the US and participated in the IMSA series, and in Group C with the Kremer CK5 and several Joest Racing cars.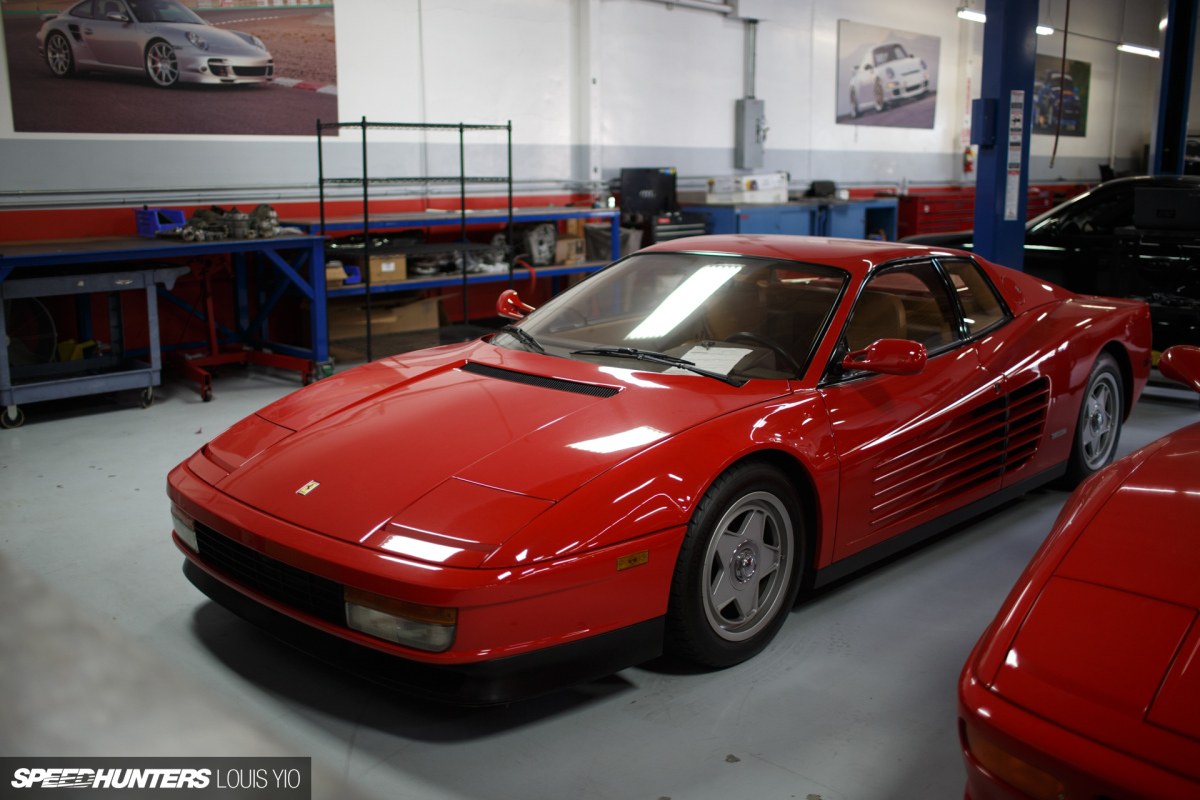 It would be unfair for me to point out the DP 935 and not point out the Ferrari Testarossa, the icon of Miami Vice and the late 1980s. Its insane-for-the-time Pininfarina design has been copied on many Pontiac Fieros and horrible looking mini-trucks, but the original car's charm was never able to be duplicated by designers of gaudy bodykits.
The 'Red Head' would also sing to a 7,700rpm redline with its 4.9-liter flat-12 F113A, making 380hp here in the US, 5hp less than the European version.
Building Horsepower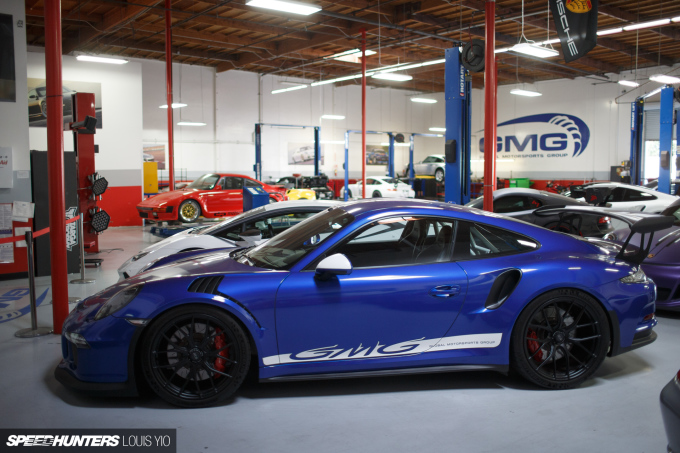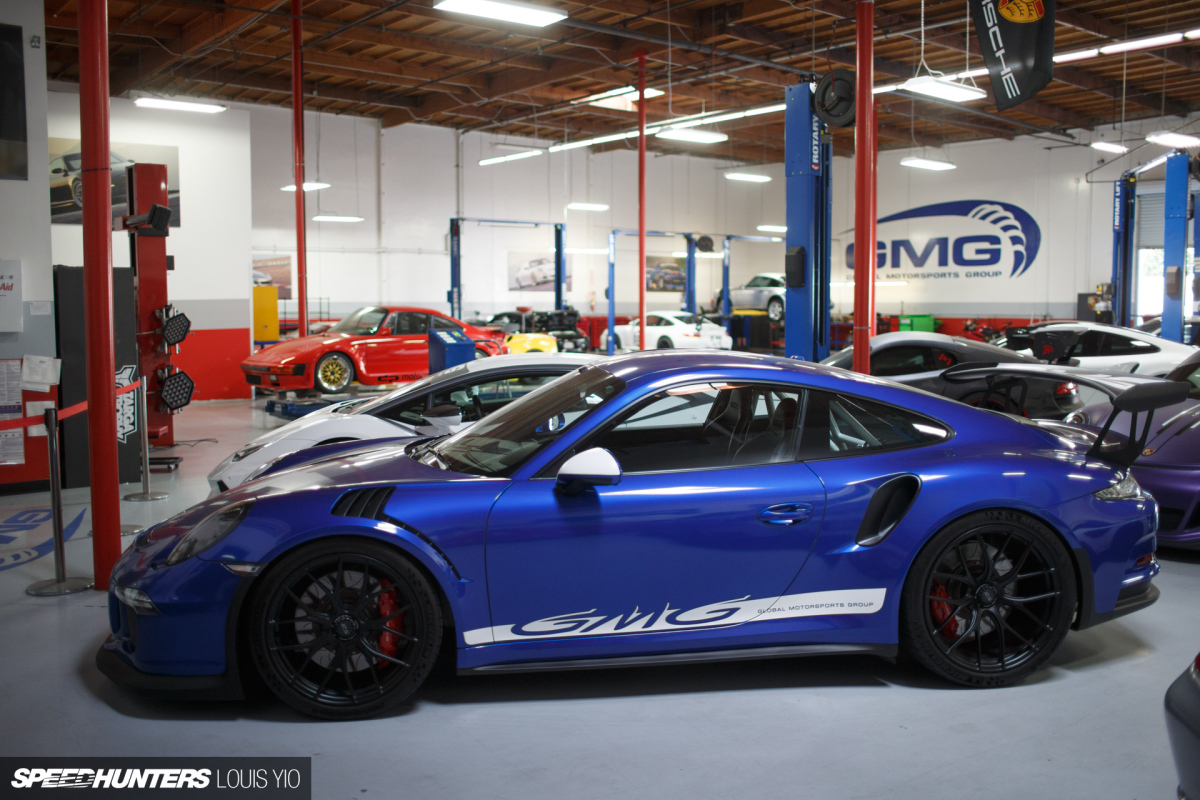 The important thing for any good shop that fabricates its own parts is to put them on cars they themselves drive and use. Case in point is James Sofronas' 991.1 GT3 RS. The car runs a GMG half-cage, GMG's long-tube headers with their WC (World Challenge) Center Section exhaust, and BBS FI-R center-lock wheels among other things.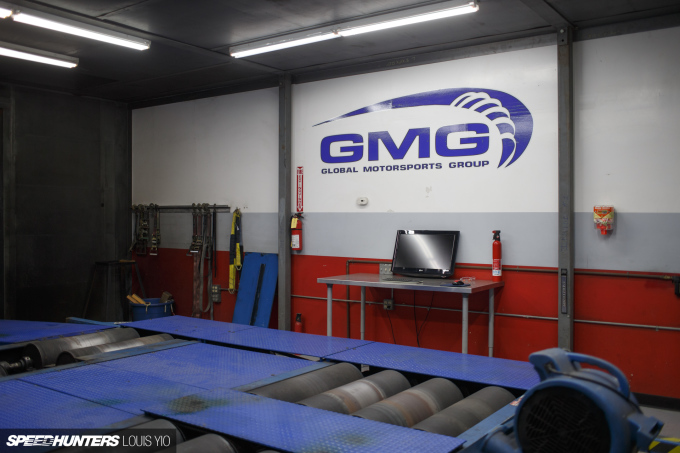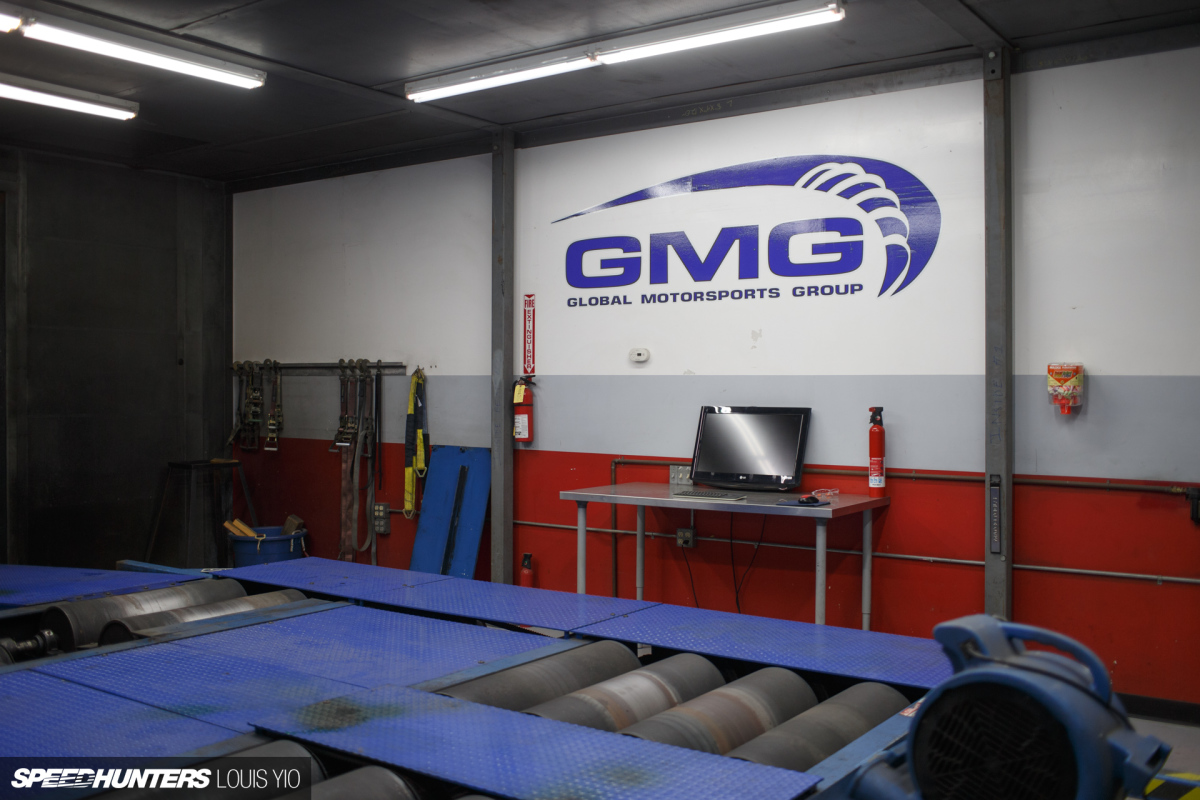 Of course, testing and tuning are a part of the game and you need a dyno for it. GMG's dyno room is isolated and sound proofed from the shop with full environmental control. They utilize a Mustang AWD 500SE chassis dynamometer, and an Eddy-Current absorption (over water or hydraulic brake absorption) dyno capable of up to 1,500whp for two-wheel drive and up to 2,500whp for all-wheel drive.
Yes, this means GMG can test nearly any car they want. In the past they have tuned Mitsubishis, Subarus, GMs, Fords, and the occasional Fiat-Chrysler.
High-End Cars Need High-End Equipment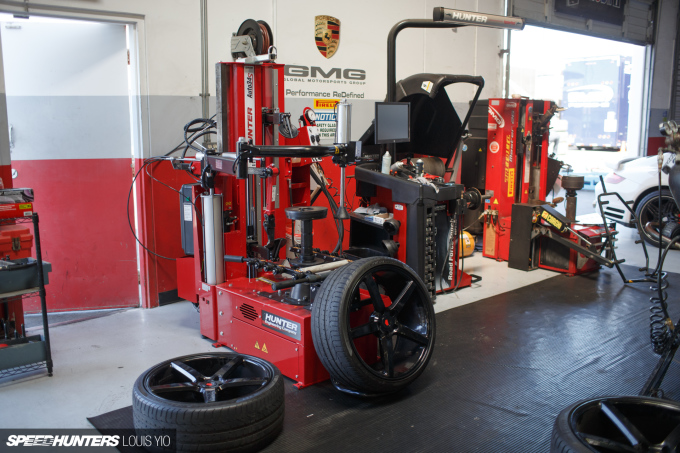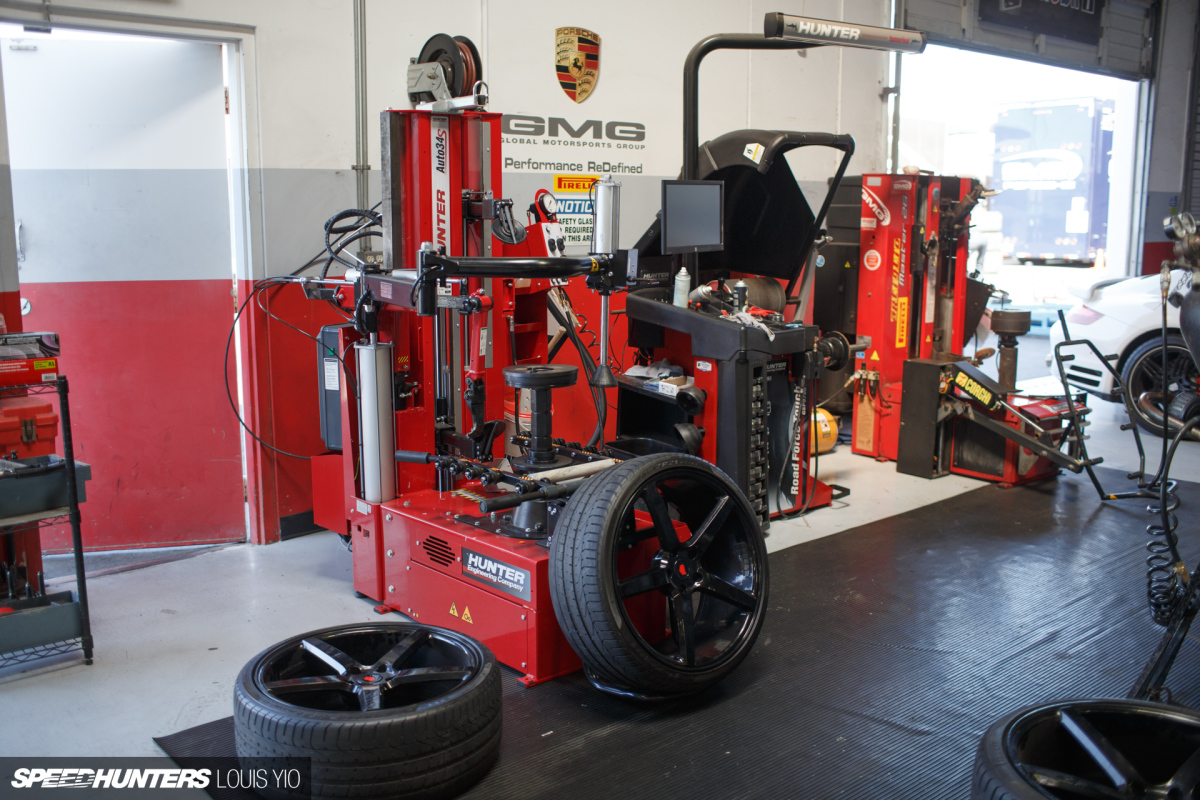 When working with high-end cars, you need machines that are capable of mounting tires on very expensive wheels without damage. The Hunter Auto34S is one of the best tools of the business. As its name implies, it's a fully-automated system that loads the tire onto the hub, breaks the bead, and pulls the tire off without the tech touching the tire and rim in most cases. The tech still must control each function, but there are no pull bars to scratch wheels and put a strain on the worker since it's all done by the machine and shop air.
Race car wheels, though, are handled by a Corghi Artiglio Master 26, which is still mostly touch-less but isn't as gentle as the Auto34S. Either way, they are then road force balanced with a Hunter GSP9700 balancer, which puts a rolling drum on the tire to simulate road conditions for road pull by the tires. It's sensitive enough to know when a tire is balanced, out of round, or damaged, and the drum can even help further seat the bead on the wheel. I know, I'm nerding out on something that's for service, but it's an amazing process you only get to deal with if you're an automotive technician. It was also nice to talk about some of my past work as a tech while looking at these machines as I don't get to do it often anymore.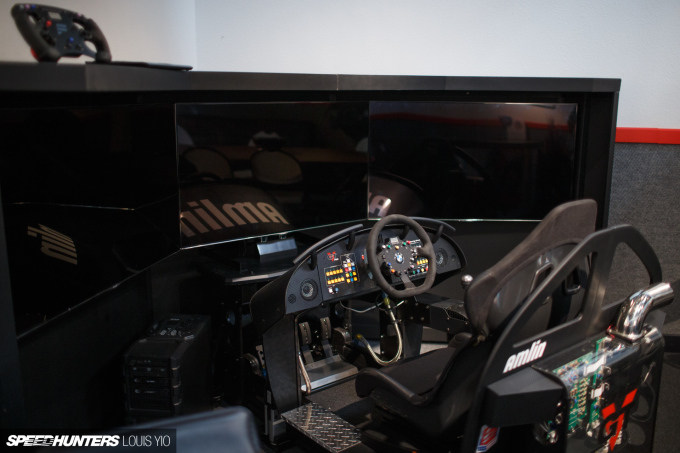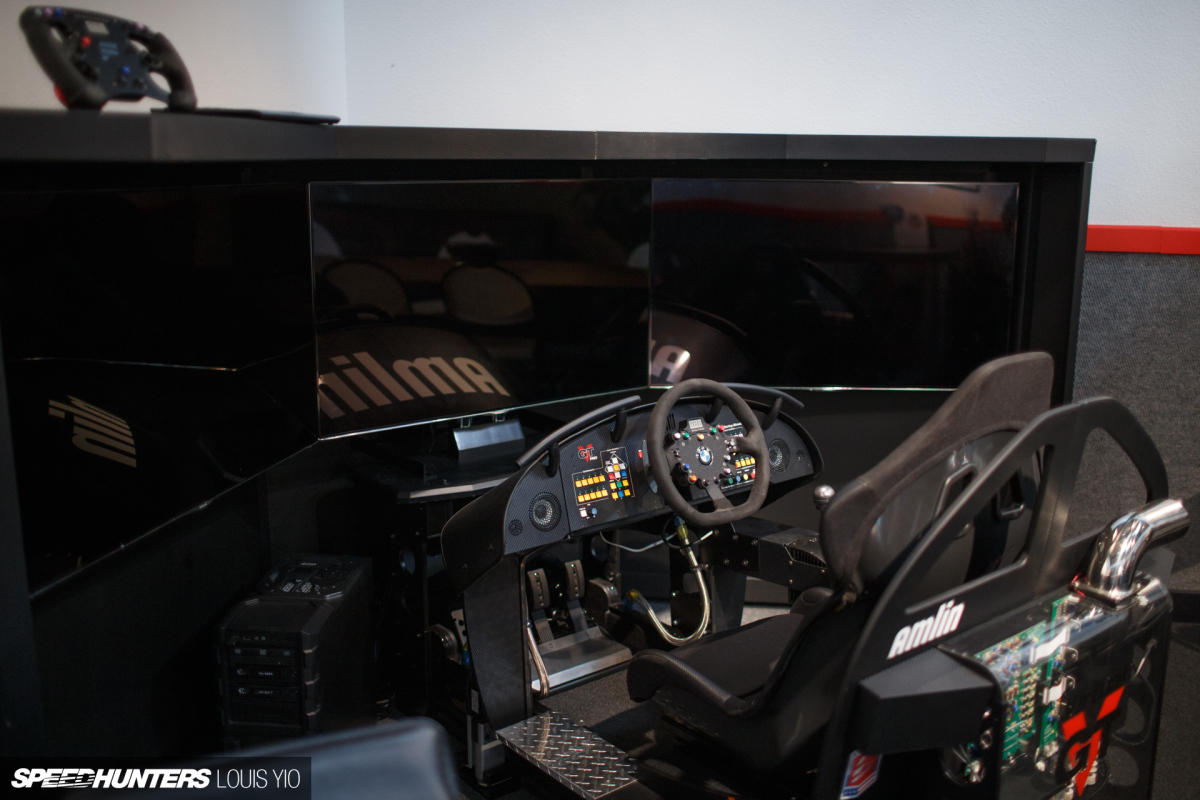 When you're a race shop with world-class drivers hiring your team to prep their cars, you also need to prep the drivers themselves. That's why GMG has two full simulators to train drivers for their next race or work on their own driving techniques while not on track.
With the trophies the team has won including Sofronas' own 2017 Pirelli World Challenge SprintX Championship title as well as George Kurtz's GTSA Championship win in the CrowdStrike McLaren 570s GT4, it's hard to argue that these guys don't build champions and winners.
The Racing Side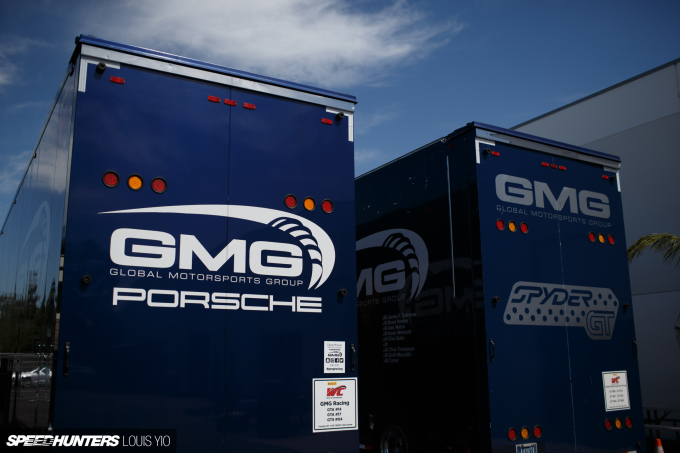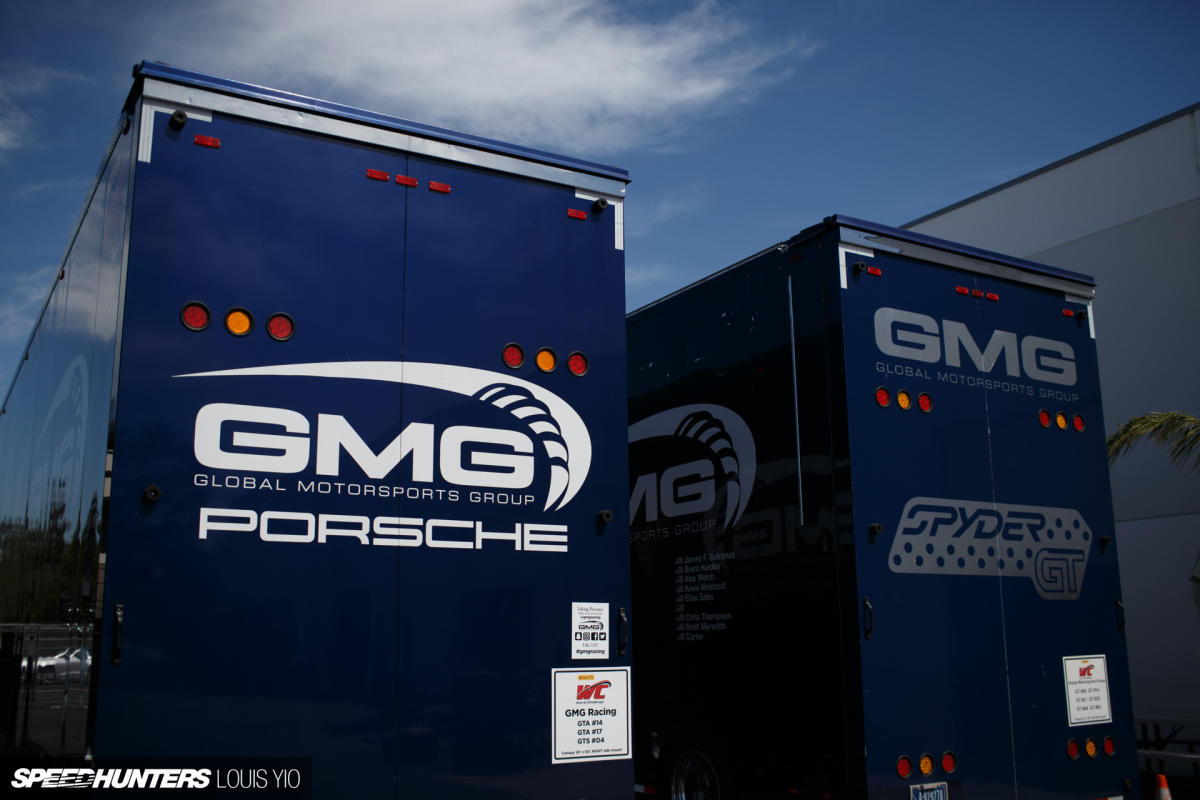 You can't go to a racing shop and not talk about the race team itself. Most of the people working at GMG also work on the race teams – those of the shop itself and its customers. They provide preparation services, trackside accomodation, fabrication and race day support via these two semi-trailers and sometimes an additional tag-along if they need to transport more race cars.
Even though they do club racing support, GMG is a pro-level race team no matter where they work.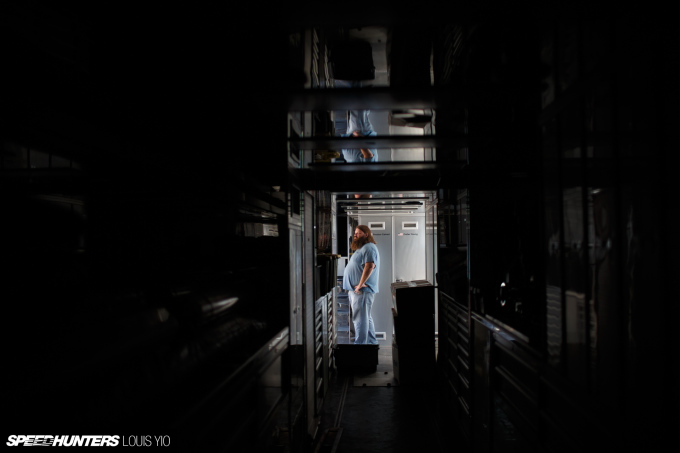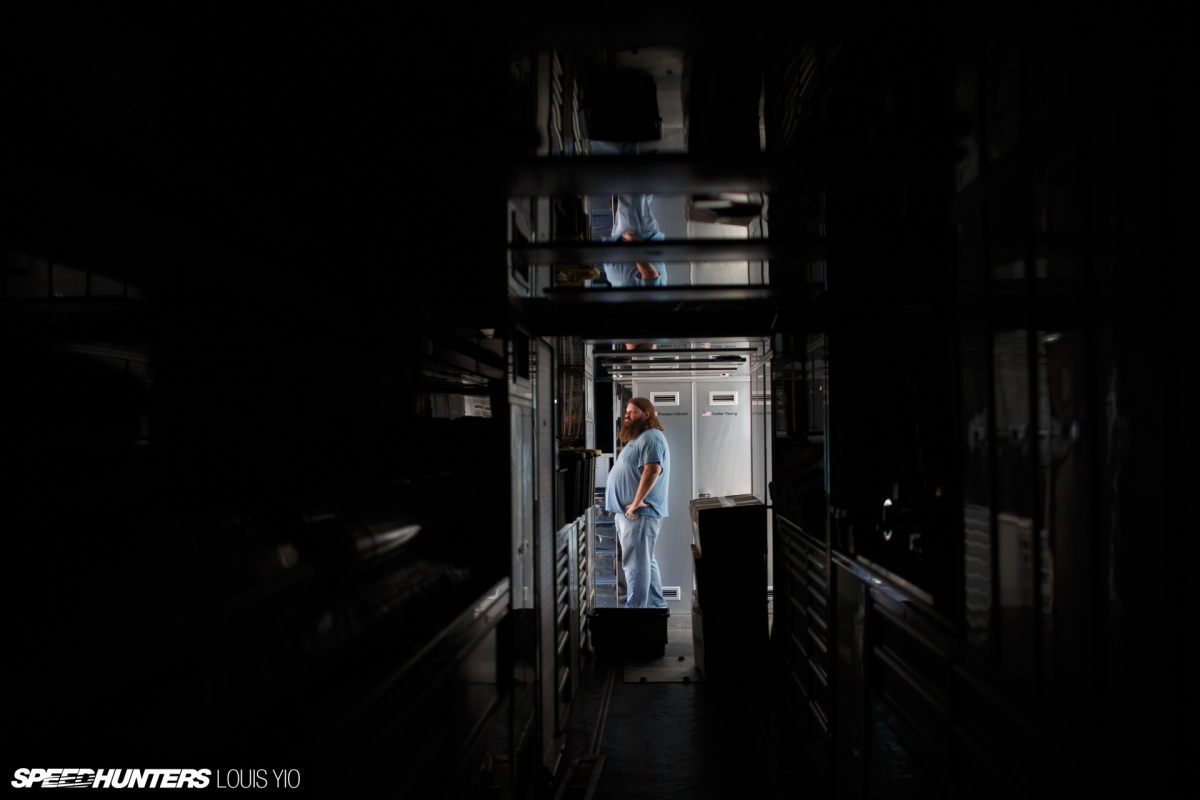 Each semi-trailer does a different job on race day. One acts as a getaway for the drivers and teams; the other is a full fabrication rig with welders, lathes, spare parts, and everything to make sure a car can last a sprint race or an all day and all night enduro. If you think even just running a sprint race is simple, one look at this trailer will having you thinking otherwise.
Audi Sport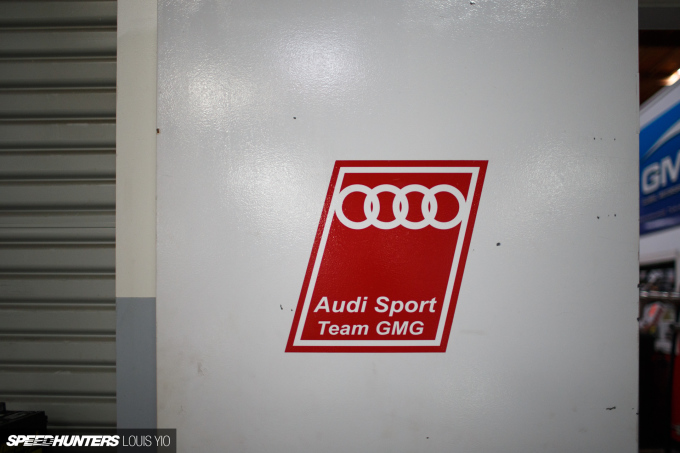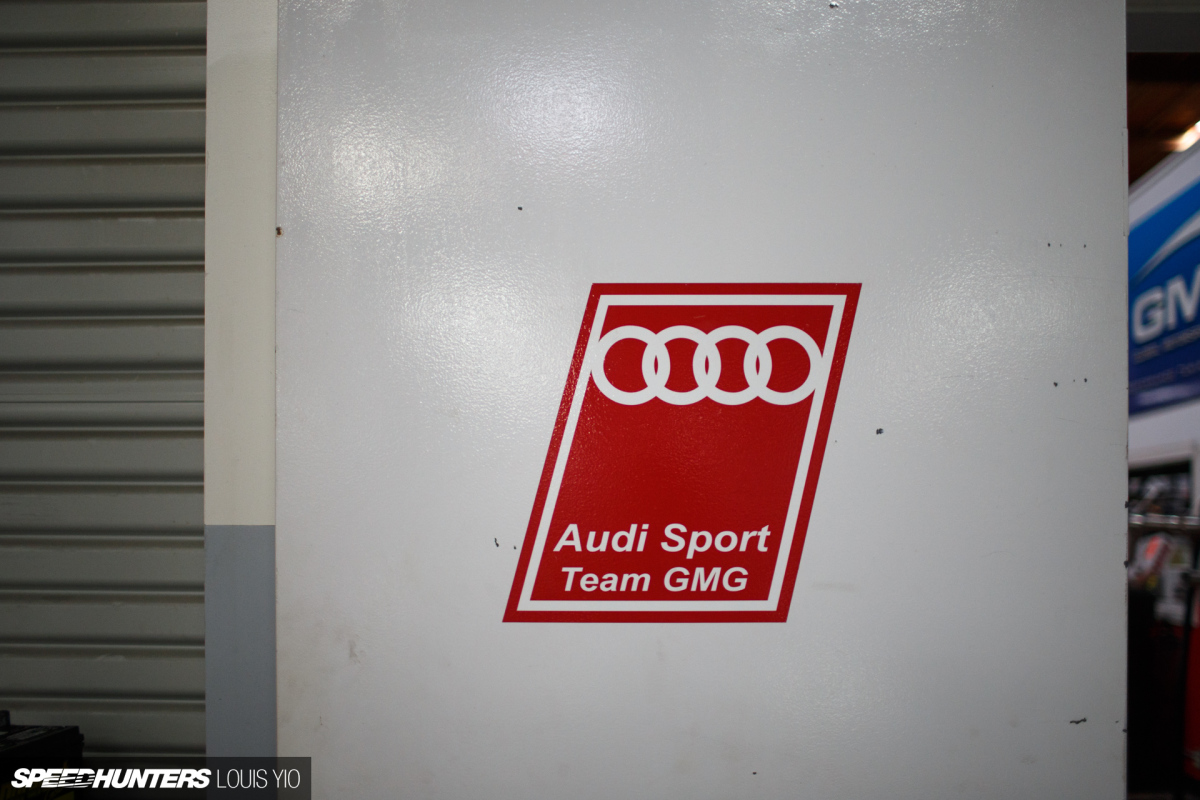 As mentioned earlier, GMG Racing was the first provider of the Audi Sport R8 LMS GT3. With that much trust and success, there are perks with running with Audi Sport, something that Louis and I were given some extreme privilege to view without the annoyance of crowd-controlling barriers.
We were originally not even allowed to show you that this was here, however, one phone call by James Sofronas to Audi Sport in the US and we were given permission to show you something that's historically special.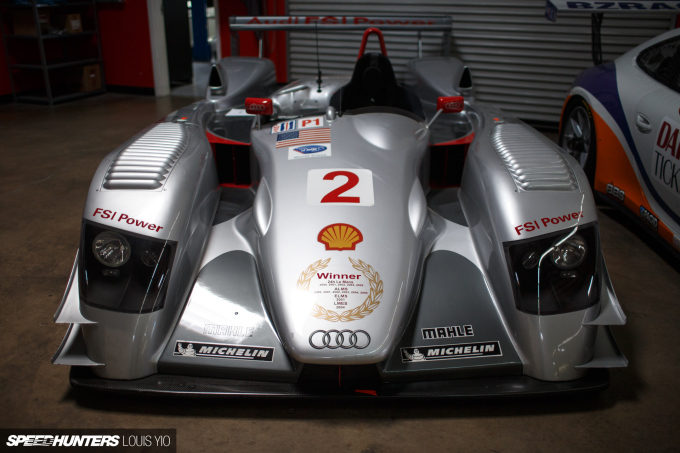 This R8 was the #1 car that won Le Mans in 2000, 2001, and 2002 with Tom Kristensen, Emanuele Pirro, and Fran Biela before it was number swapped as the #2 car. The R8s also won the 2004 and 2005 24 Hours of Le Mans, the ELMS Championship in 2001, the LMES championship in 2004, and the American Le Mans Series from 2000 to 2005.
After 2005, the R8 ended its active role in professional competition to make way for the next change of the LMP class: the R10 TDi and the diesels. However, in the chassis' 79 races it amassed 63 wins, 47 poles, eight championships, and five Le Mans overall and class wins.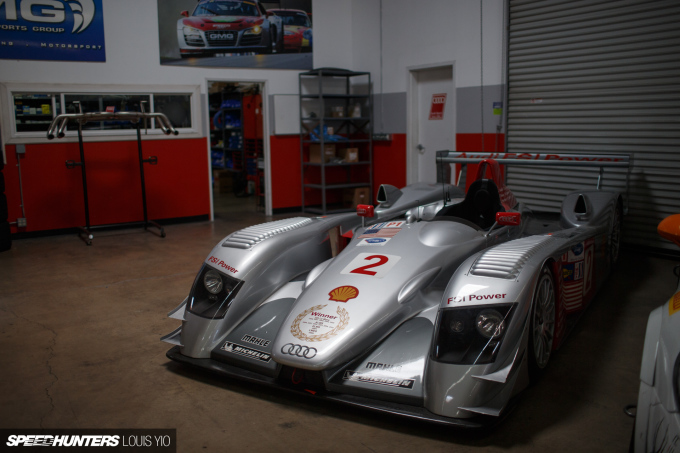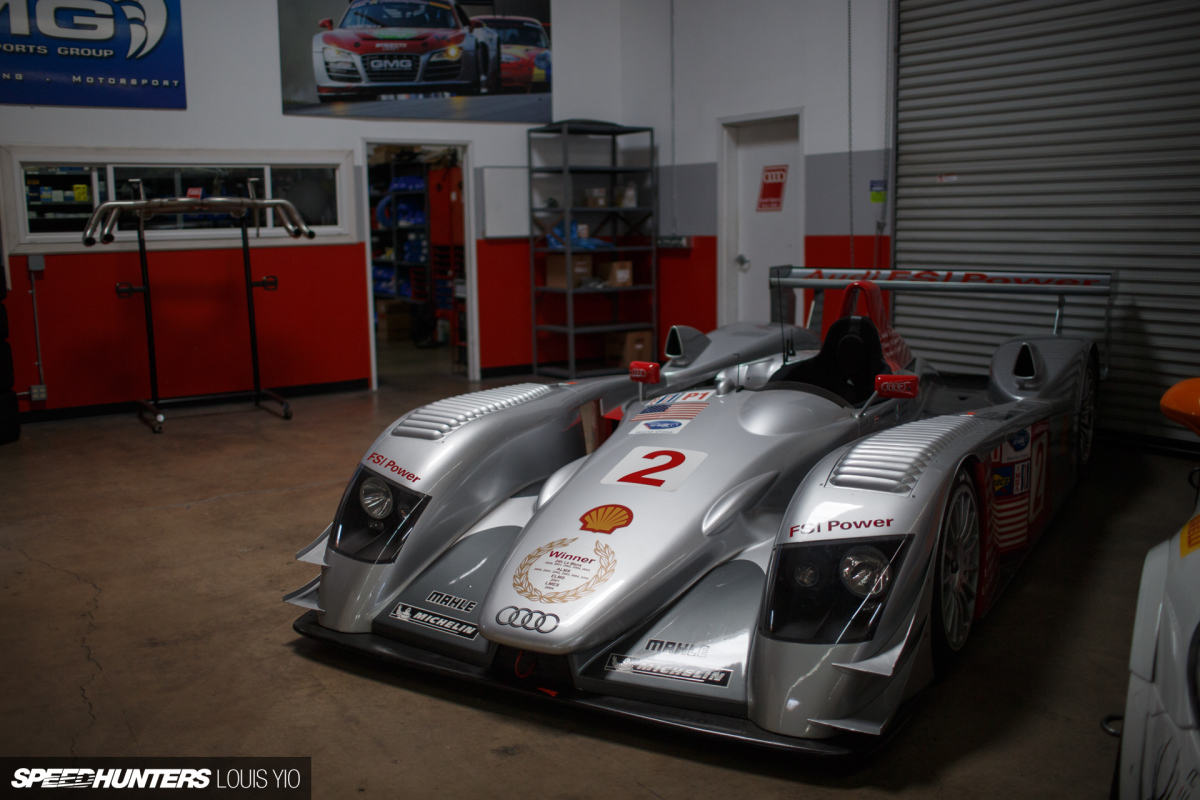 The R8s were powered by the 3.6-liter twin-turbo FSI V8 that had varying power outputs from 520hp in customer cars and 670hp in the works car. It's a non-hybrid era car, too, so that's all engine horsepower sent uninterrupted to the rear wheels by a Ricardo sequential 6-speed transmission with electro-pneumatic gear changing. The gearing ranged event to event, but it set a top speed of 210mph (338km/h) at the 2002 Le Mans, and could do 217mph (349km/h) in full, low downforce setup.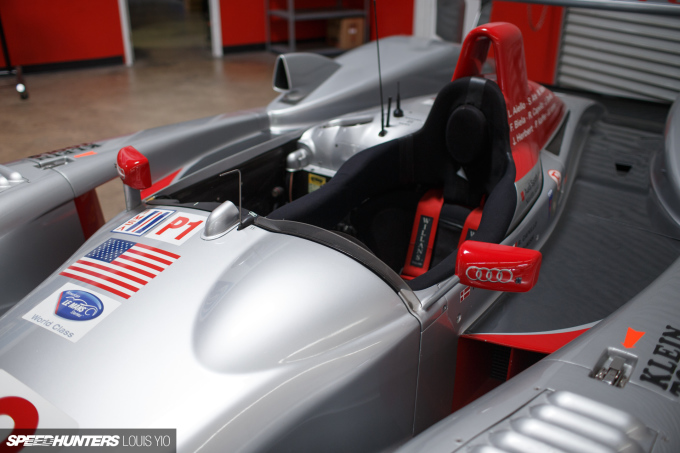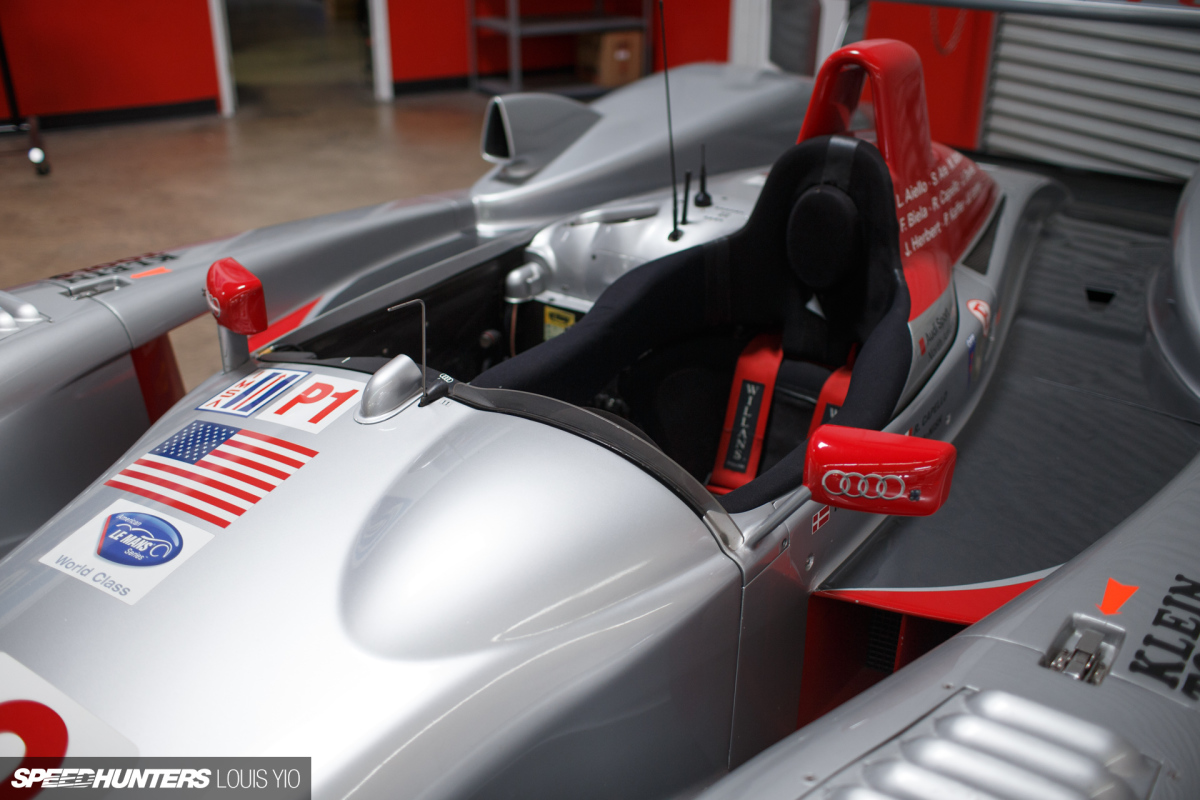 The R8 was also the standard-setter for parts changing with Team Joest swapping an entire gearbox during the 2000 Le Mans in less than four minutes (three minutes, 16 seconds is the reported amount of time).
This led to ACO and ALMS declaring that the gearbox housing had to remain with the car for the entire race. But even with that change, the ease of access and maintenance of the R8 allowed it to remain dominant.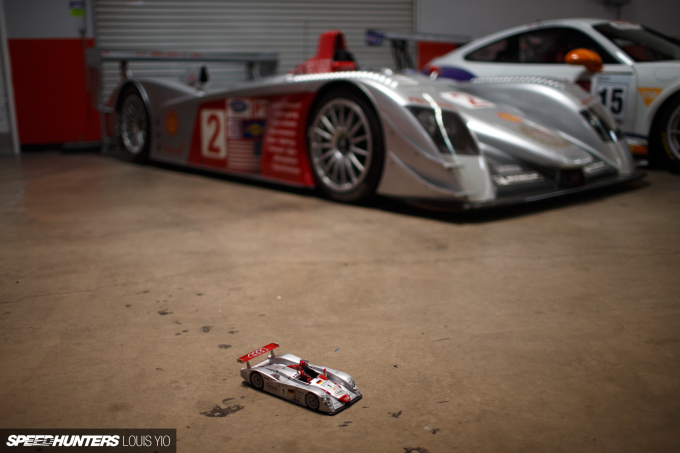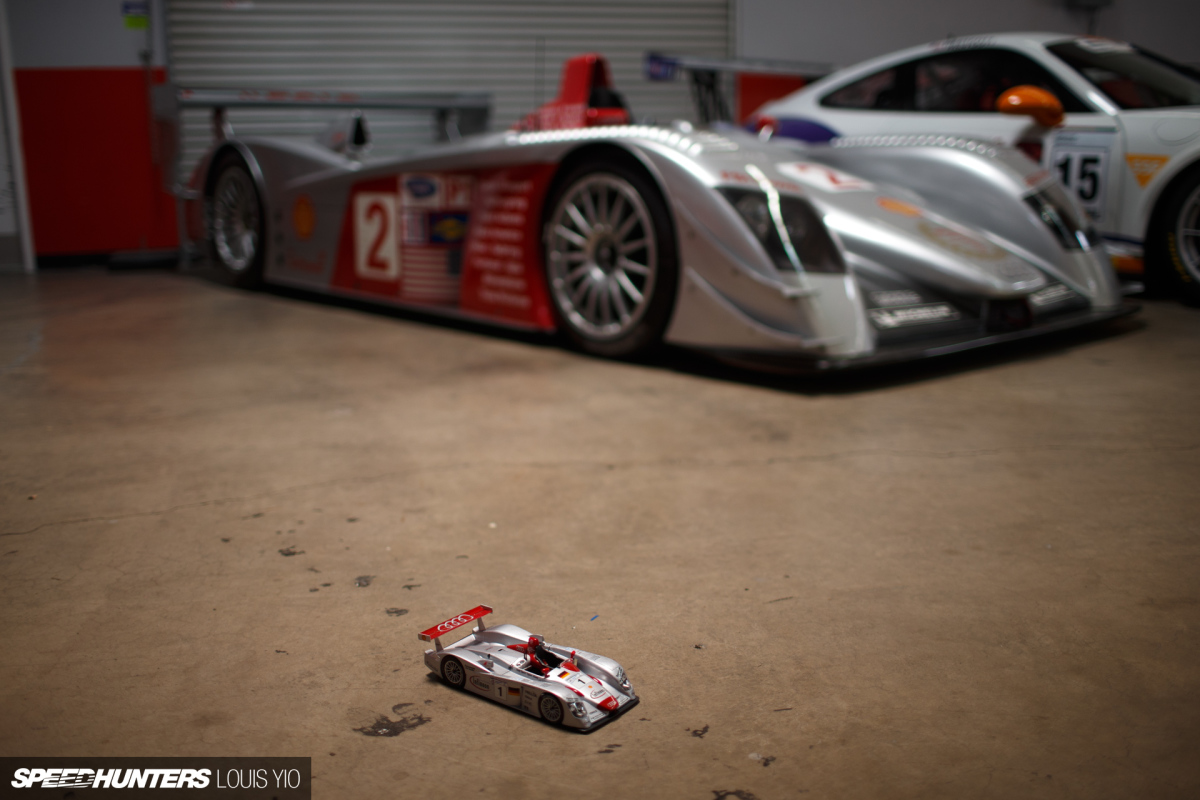 I must admit, this has been the highlight of my year thus far, and being so close to such a historic, Le Mans-winning race car like this – save for the original Porsche 356 SL at Emory Motorsports – is probably going to be hard to top. However, there are still over 30 days left in 2017 at the time of writing, so I may still get a surprise. Who knows? Being a Speedhunter does have its perks.
Words by Justin Banner
Instagram: jb27tt
Facebook: racerbanner
Twitter: RacerBanner
Photos by Louis Yio
louis@speedhunters.com
Instagram: lusciousy
Cutting Room Floor