I Am The Speedhunter
I've been reading articles on the Speedhunters website for at least seven years; for many of you, I'm sure it's been longer than that.
We've all been consuming this content over the years, but what's really involved in creating these photographs and stories? The 2017 SEMA Show was was my first encounter with the team and I set out to answer this very question.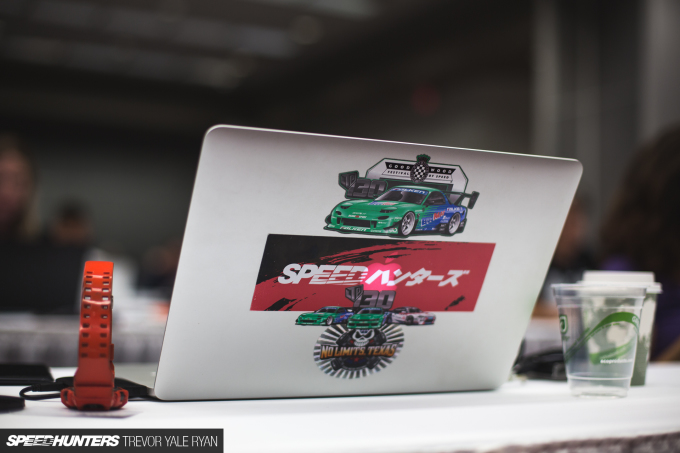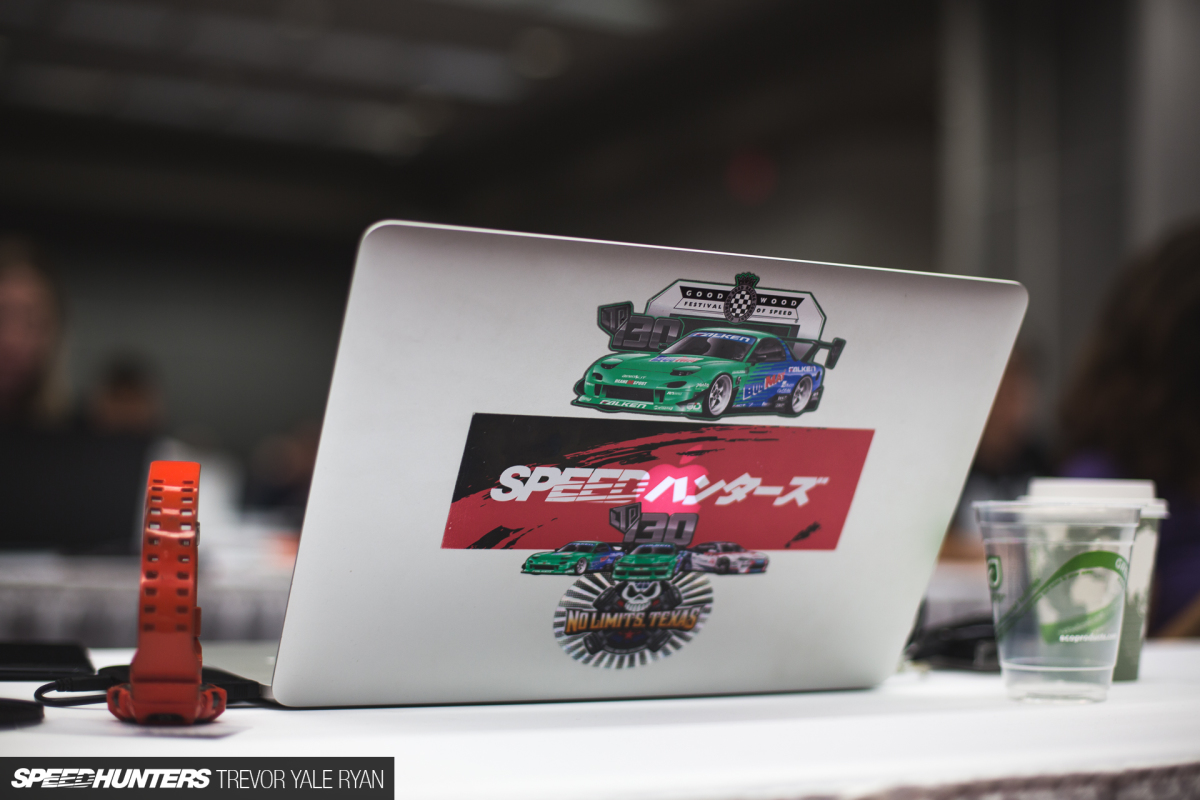 For me, things really have gone full circle in the last four years and it all starts with The Speedhunters. So, to start things off I'll properly introduce myself and let you know where I'm coming from.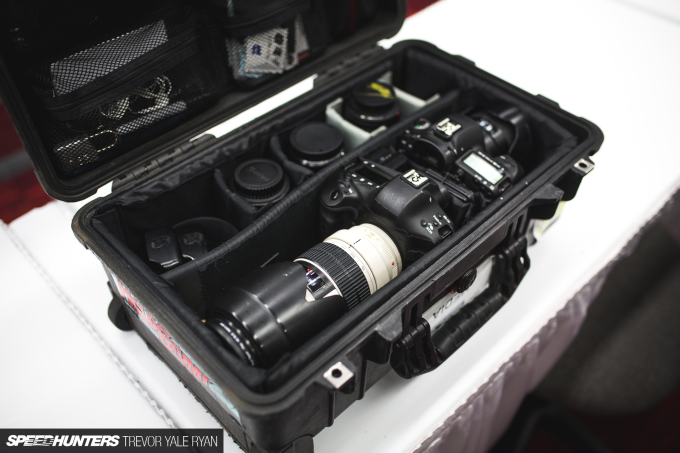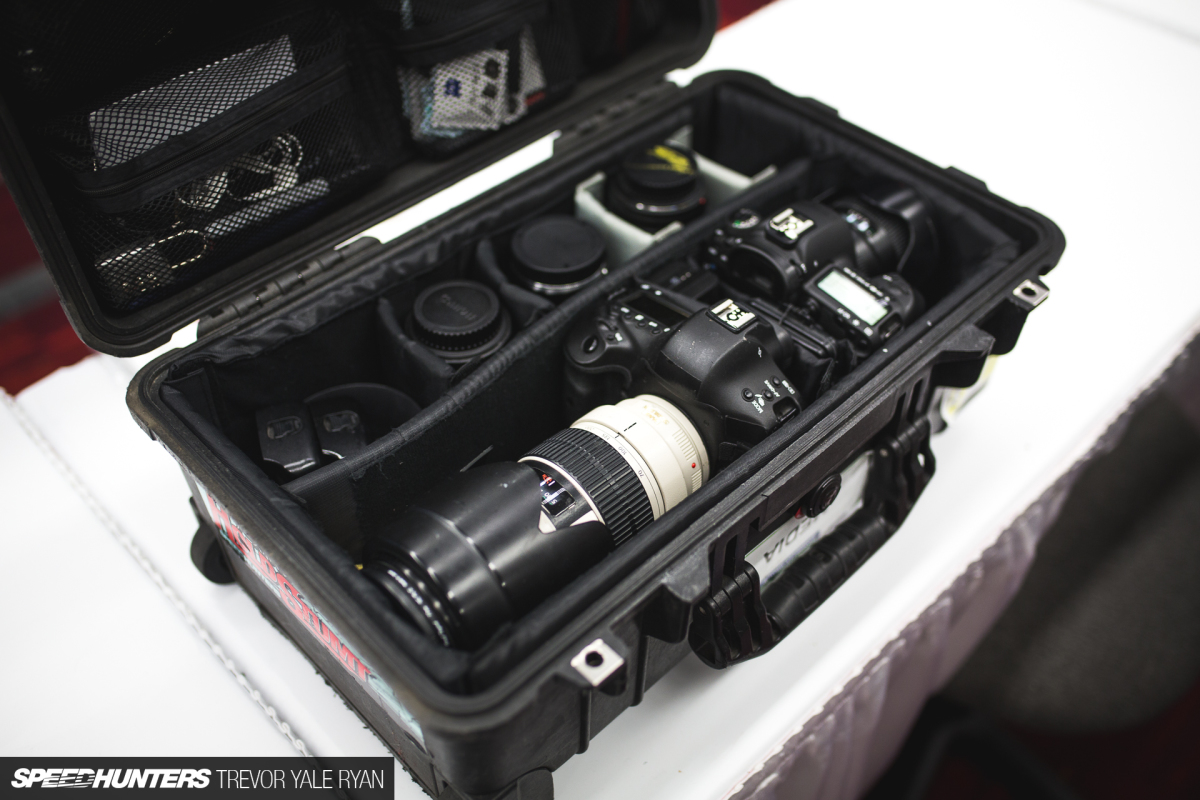 It was in 2013 when Paddy and Larry started the Speedhunters Photography Guide and I absolutely ate it up. (Who wants a revamped, Version 2?) Seeing as how I had fairly dismal results at the 2012 US Grand Prix with my parents' point and shoot I borrowed, I thought I'd take the plunge and go for a DSLR before my trip back in 2013.
The only one I could reasonably afford at the time was a Canon EOS 40D, the very body Paddy recommended as a sort of low-end but acceptable option for motorsport. I picked one up, along with a couple kit lenses, and a 50mm f/1.8 for something like $60 used, and I took my gear with me everywhere.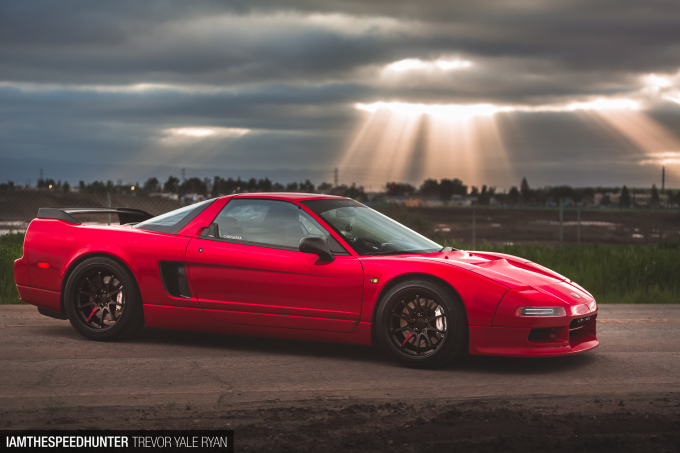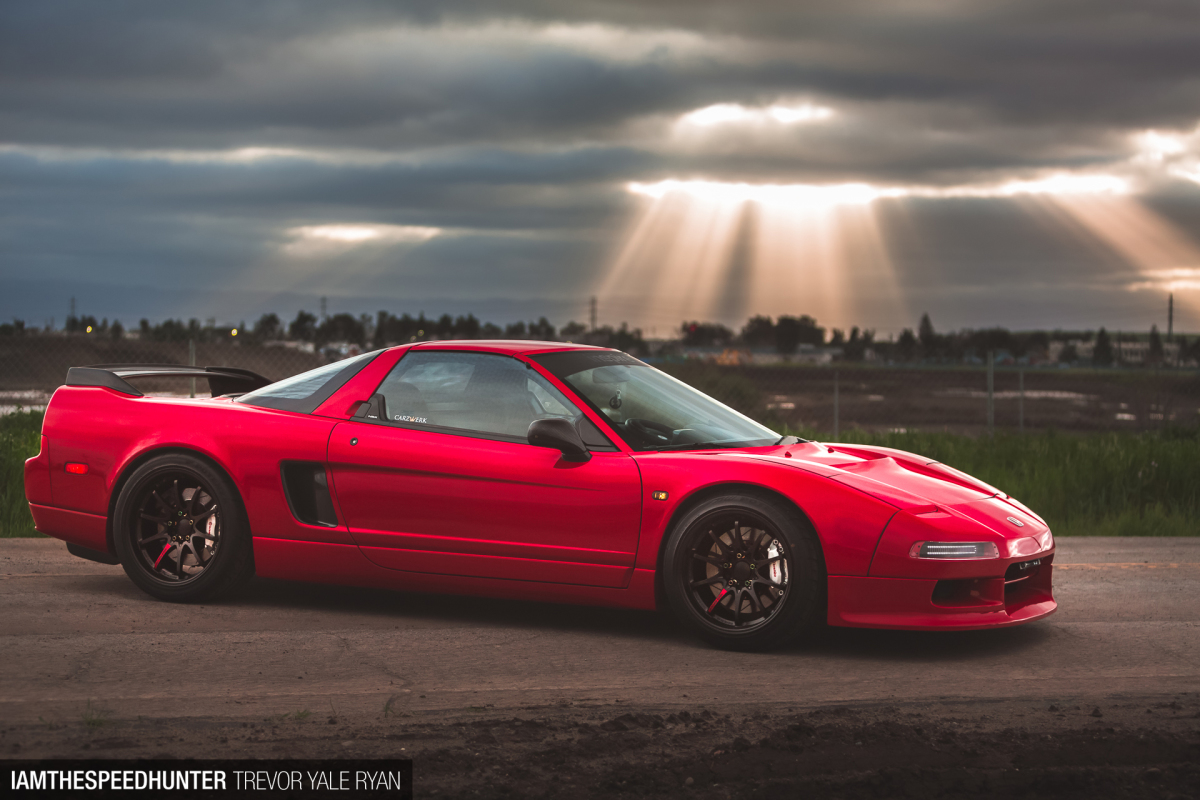 At the same time I purchased the 40D I went back to school to pursue my engineering degree. I can easily say that I spent more time behind the camera than I did in class, and more time in post-processing than I did doing homework for the next four years. Despite this, I still graduated, and I'm currently working full-time in California's Bay Area.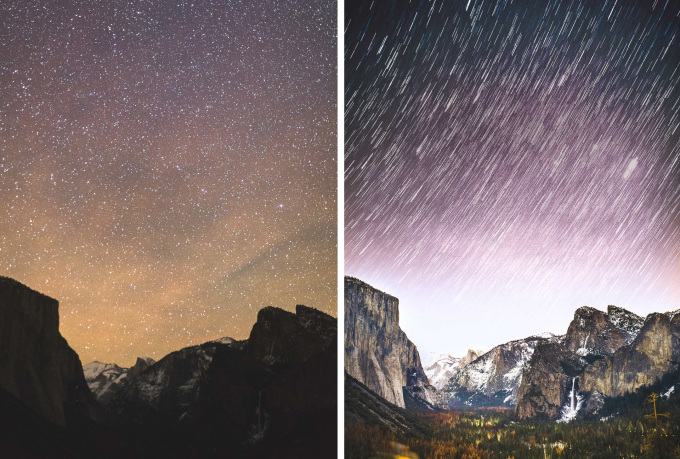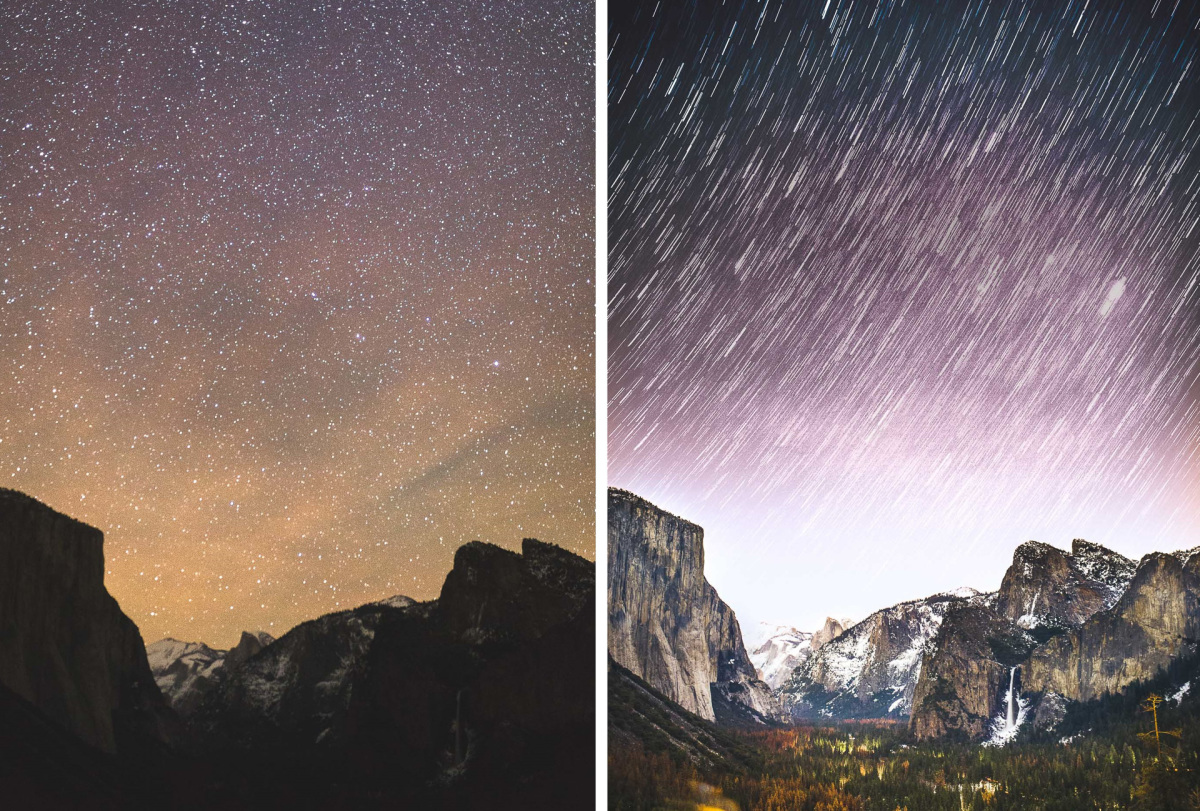 Meanwhile with my camera, I shot and shot and shot, anything and everything, until I began to produce what I wanted.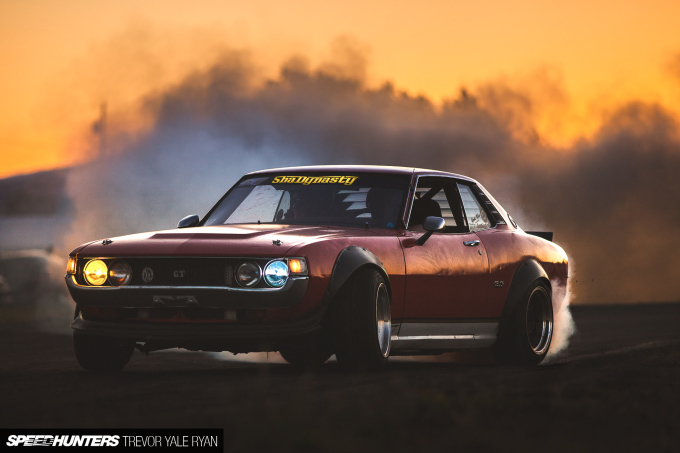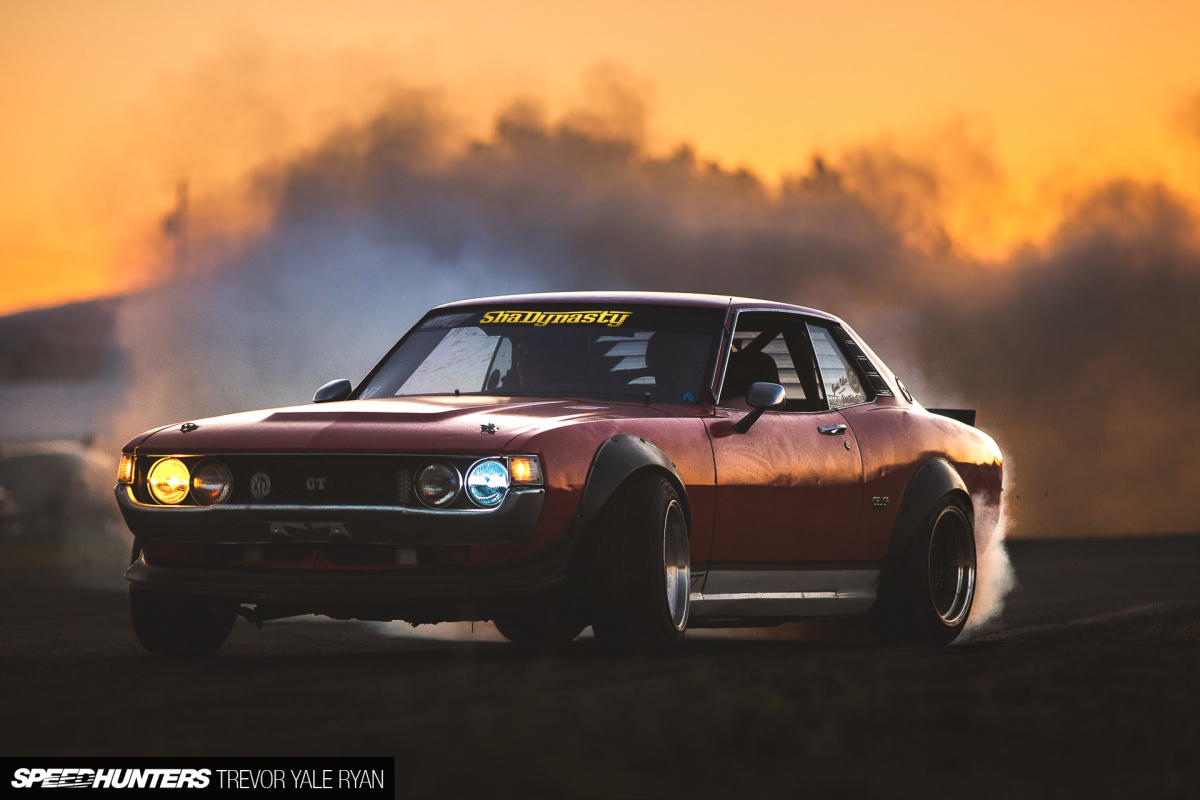 I became more and more interested in shooting cars, and eventually that was my only focus. Drifting is a particularly good place to get acquainted with the mechanics of a camera; the dynamism of a moving vehicle forces you to learn how to use your gear.
The drift events were fun, allow you good access and made for some great imagery, but eventually I started shooting at track days where I found a lot of support from the drivers.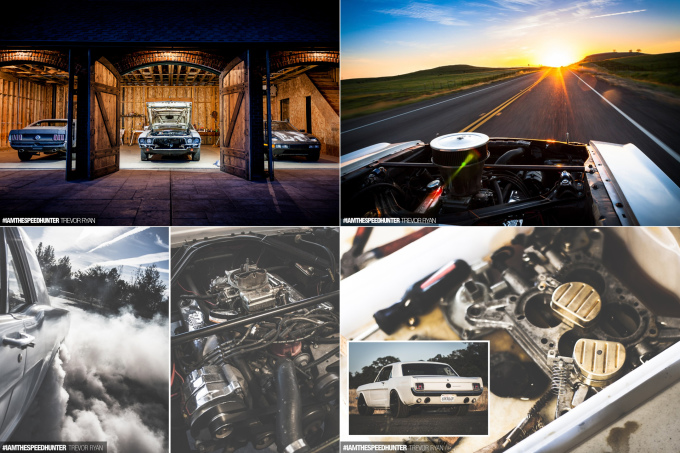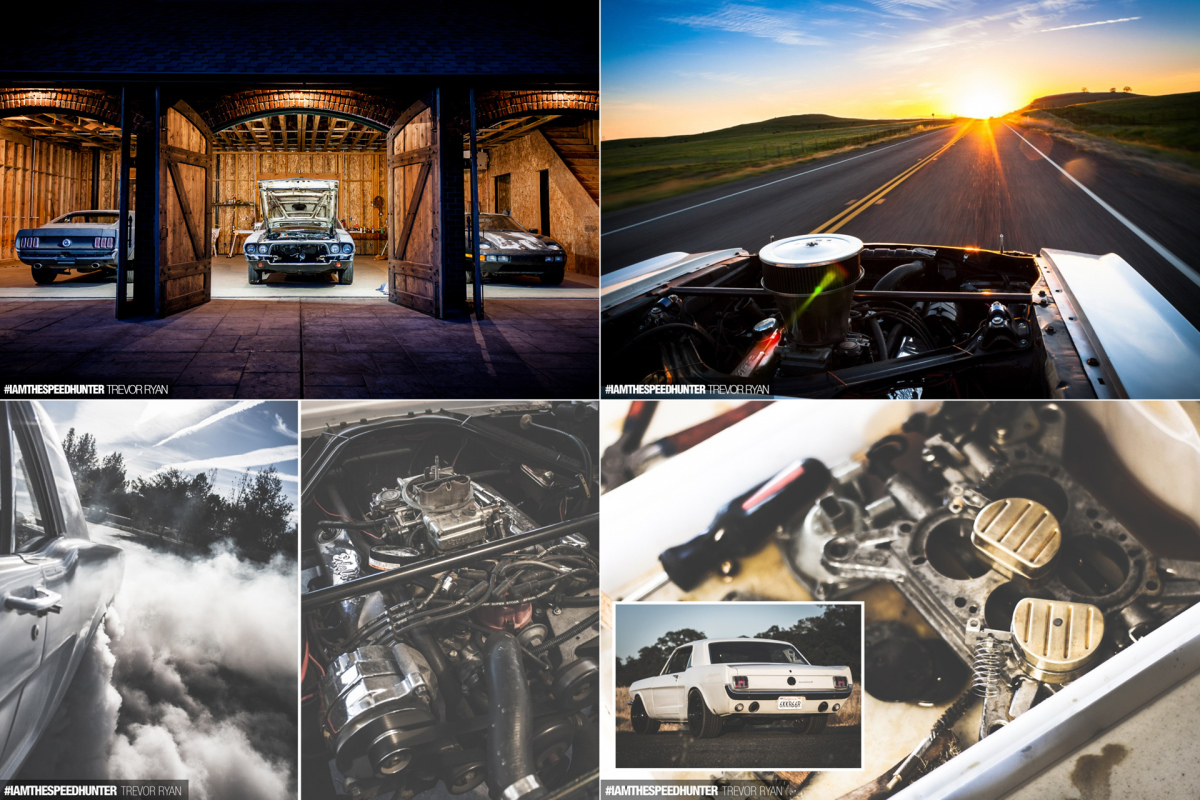 As with many things, timing is everything. Had Paddy and Larry not created the photo guides right when they did, I likely wouldn't be here. If I hadn't received support from drivers at track days when I did, I probably would have had to go back to a restaurant job to put myself through school.
If Paddy and Taryn Croucher hadn't handled the I Am The Speedhunter program back in the day, I doubt I ever would have thought it was possible for me to be a part of the site.
The Guys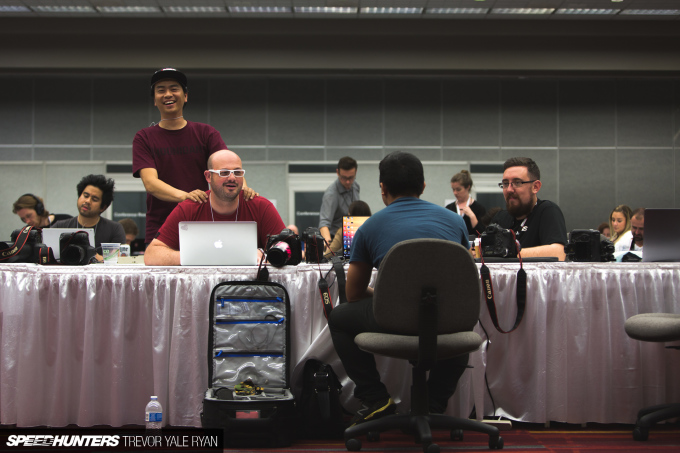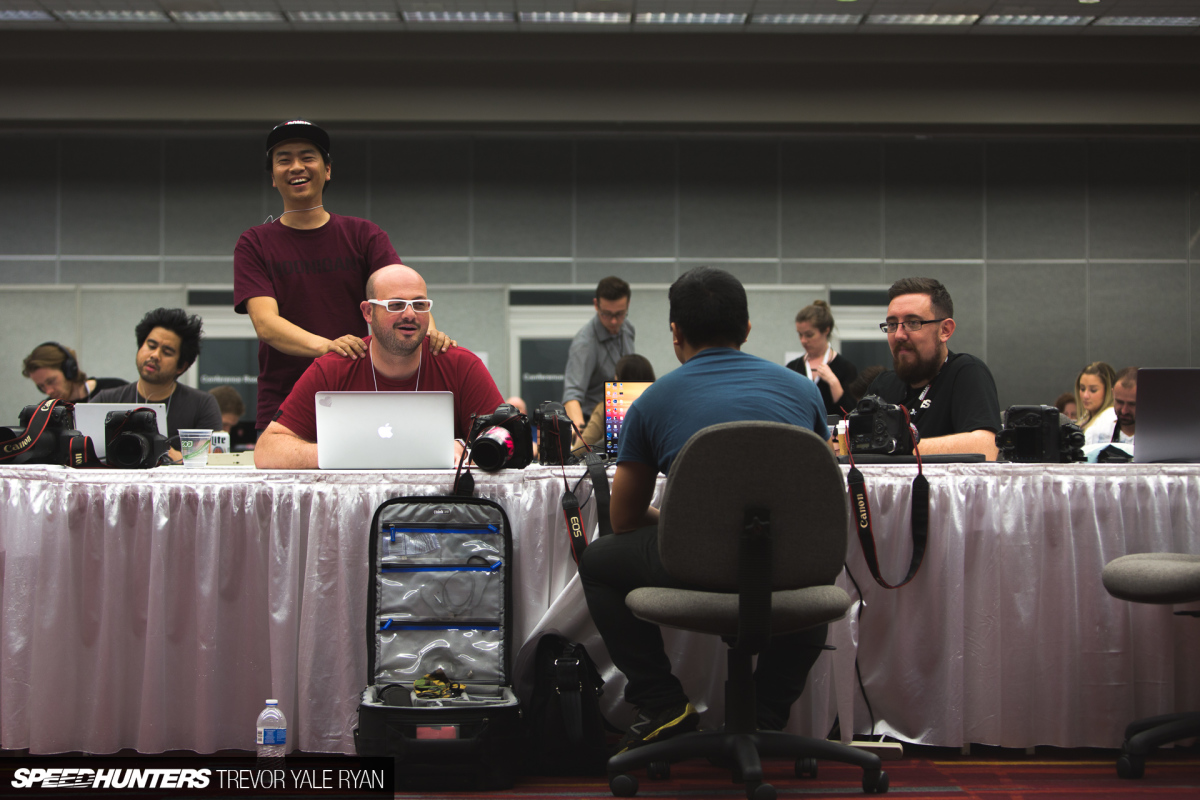 Of course, there are the guys you already know and love. Dino, Paddy, Larry, Justin, and Louis were all at the SEMA Show. Mark Riccioni, Ben Chandler, Rob Bullough and a few others who work tirelessly behind the scenes to keep the site moving also attended. Here you can see Paddy explaining to Louis why Dino is the one that gets back rubs from Larry – totally normal.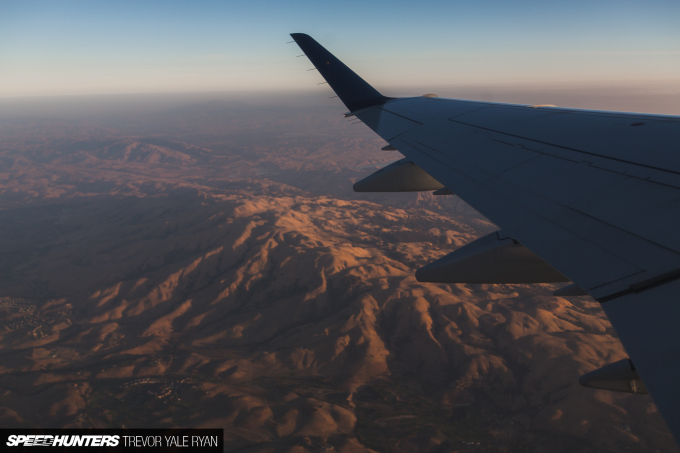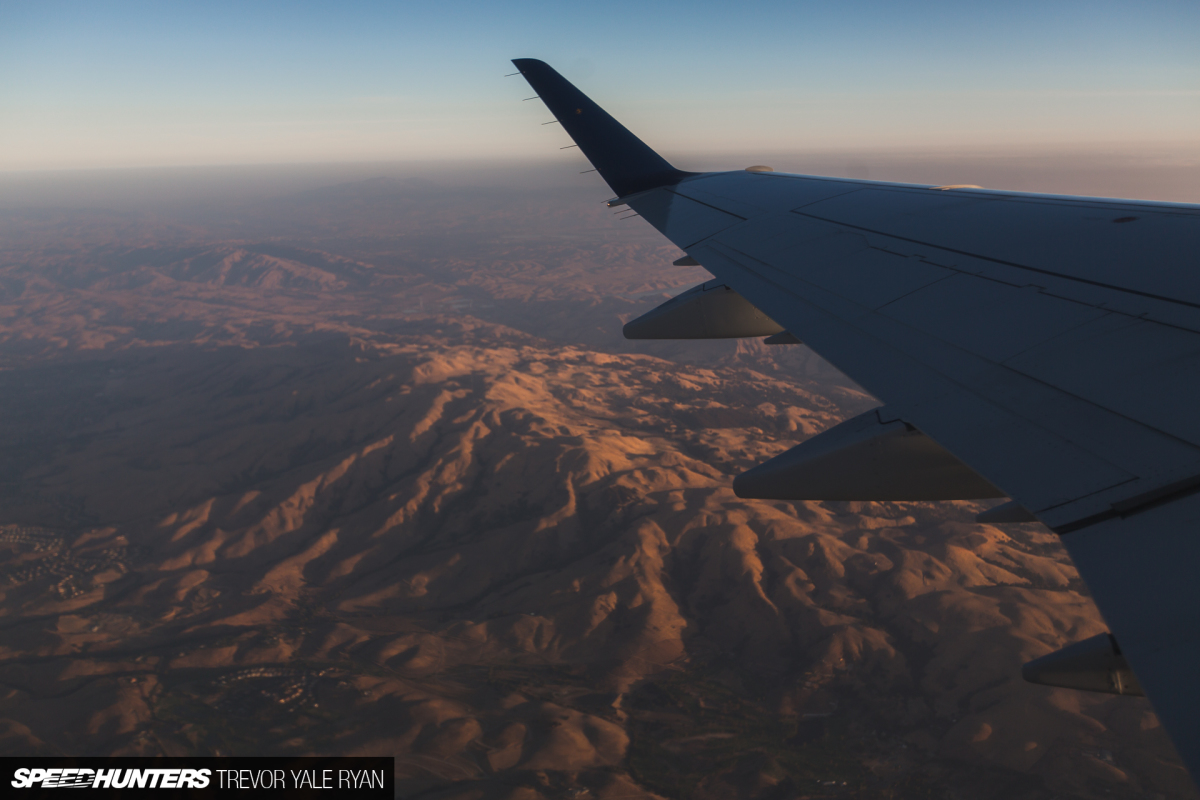 As you know, plenty of these guys had to come from overseas, resulting in an absolutely astounding 76,900km traveled by the team just to cover this one show, totaling north of 150 travel hours. Of course, not such a large group need to go to every show or event, but there's lots of work to be done at SEMA.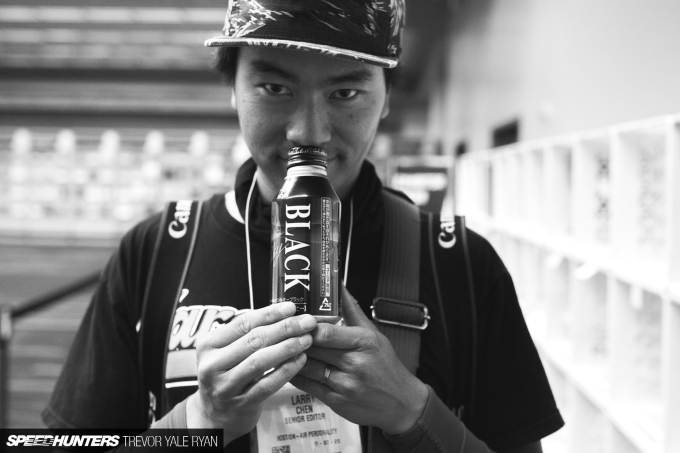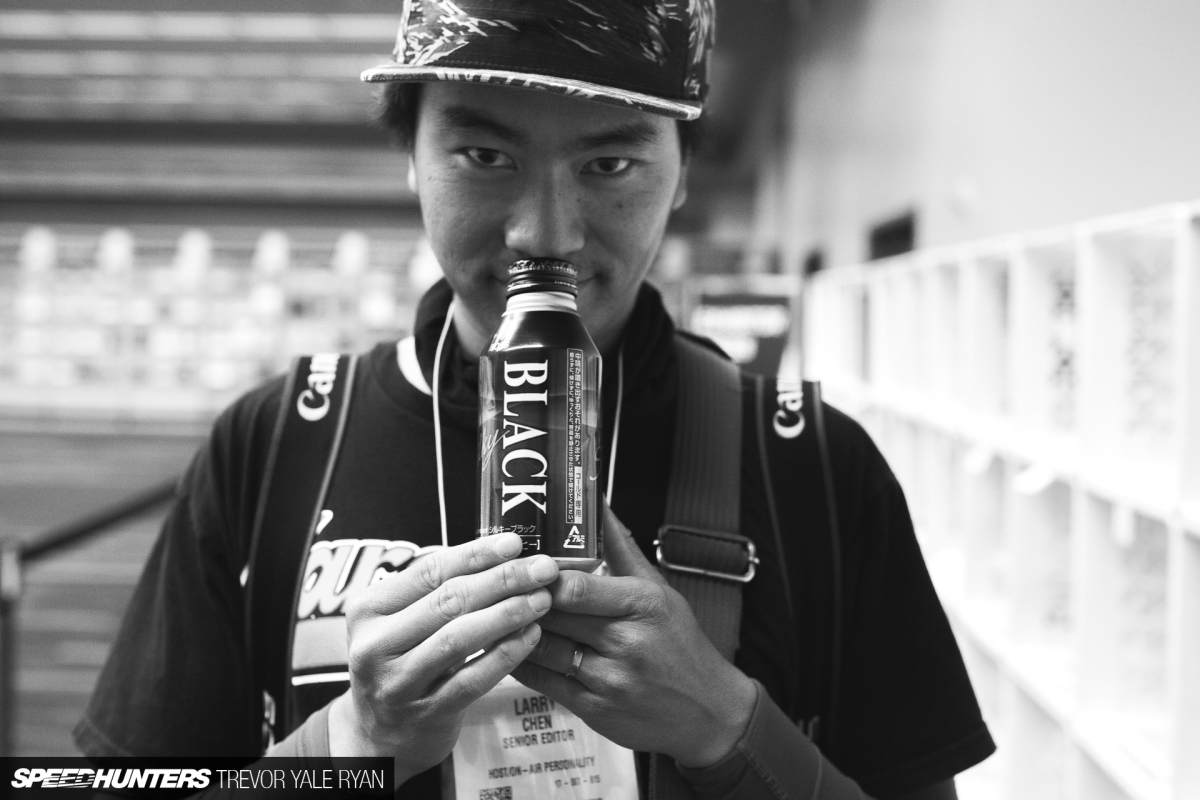 Larry, who of course needs no introduction, says over the years he isn't able to shoot as much at SEMA (and elsewhere) because there's just more and more business to be done. It's terribly hard to shoot for people who you haven't met yet, isn't it?
The SEMA Show is a melting pot of all things automotive, and if you need to find a company, make a contact, or strike a deal for the coming year, this is the place to do it.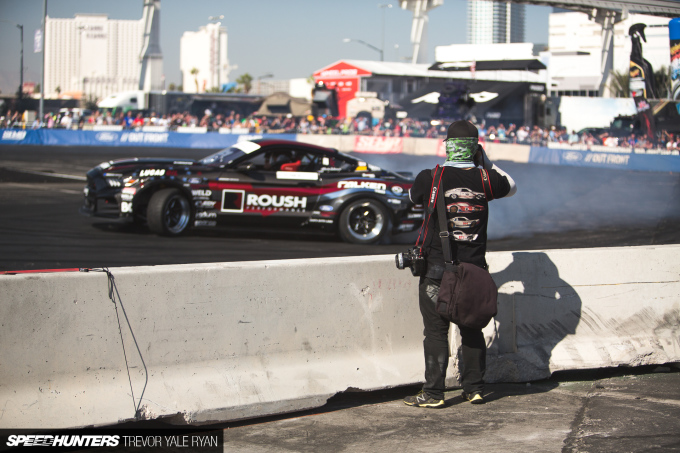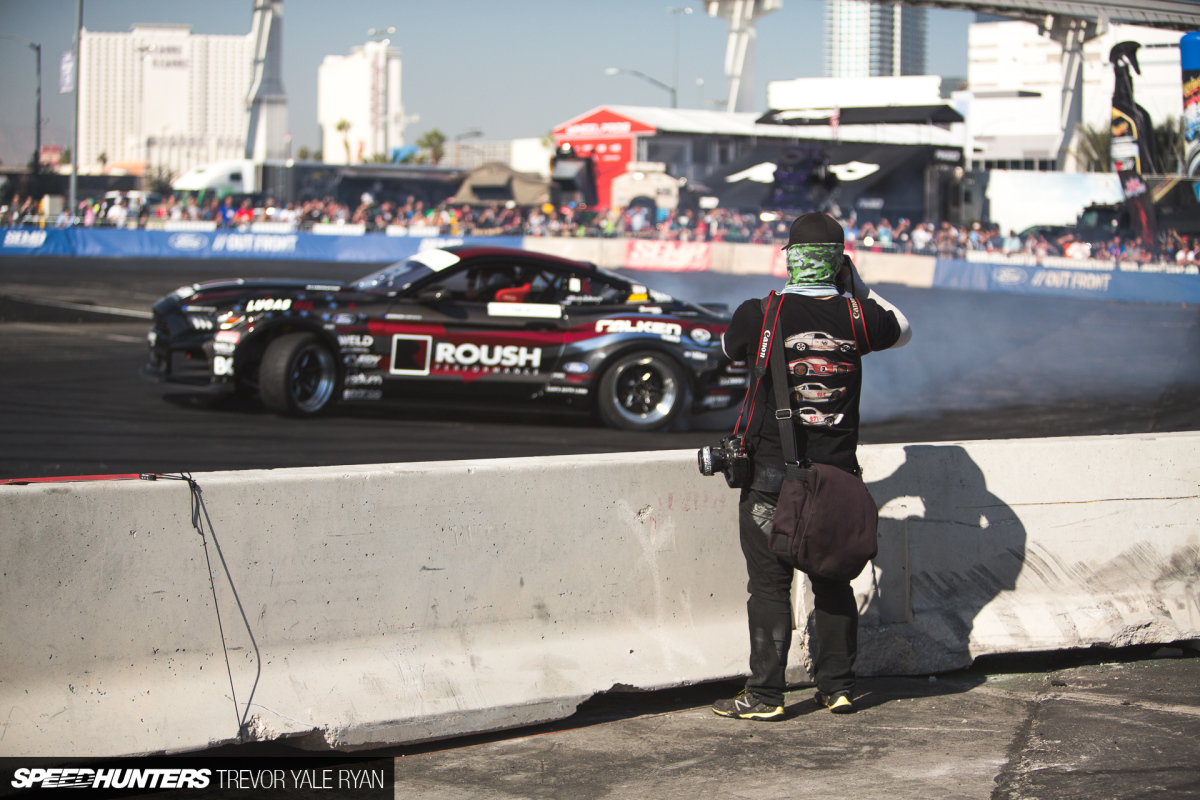 If you're hanging around Larry at an event, it's likely that Louis Yio is not far behind. This guy is an absolute machine behind the camera and was positively cranking out the clicks the entire time I followed him about.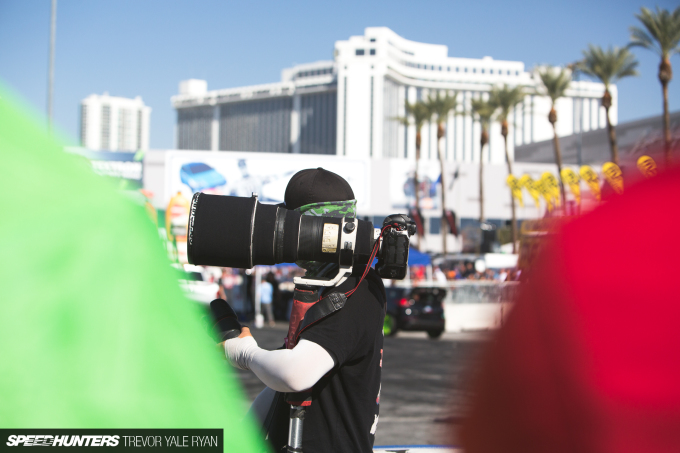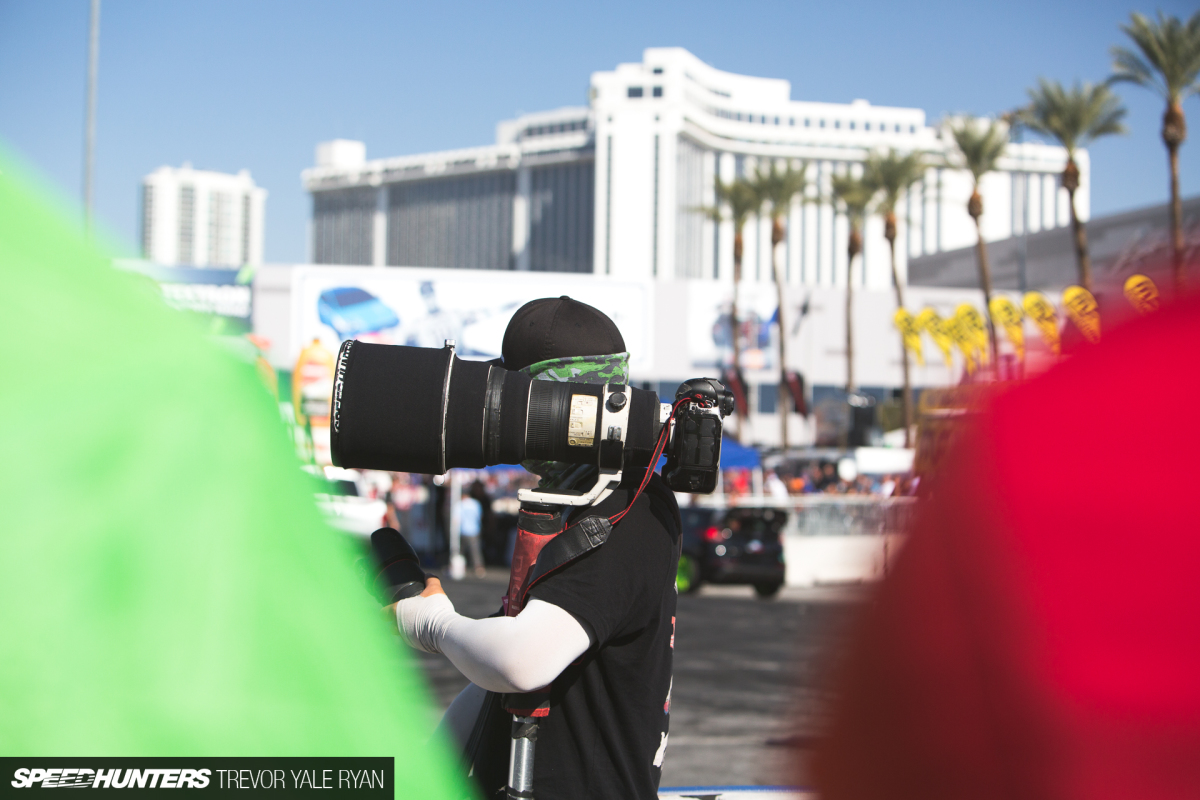 When the track wasn't hot, he'd turn around and shoot the crowd, the buildings, the signs. I think he even started shooting the sky, perhaps because he simply ran out of things to take photos of. His gear shows some serious signs of use, and I'm sure that shutter has been replaced at least a few times.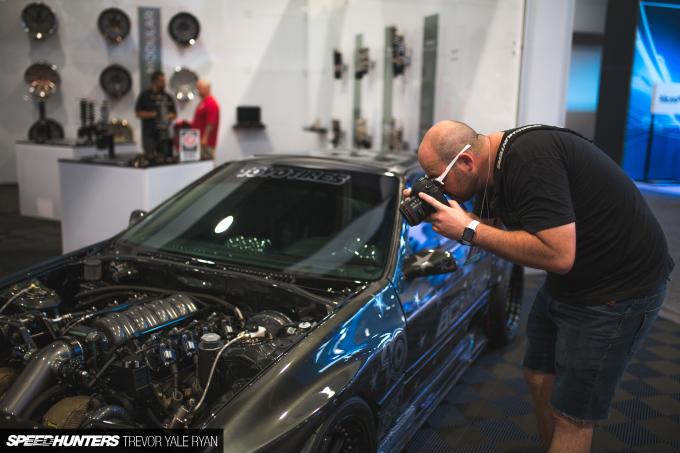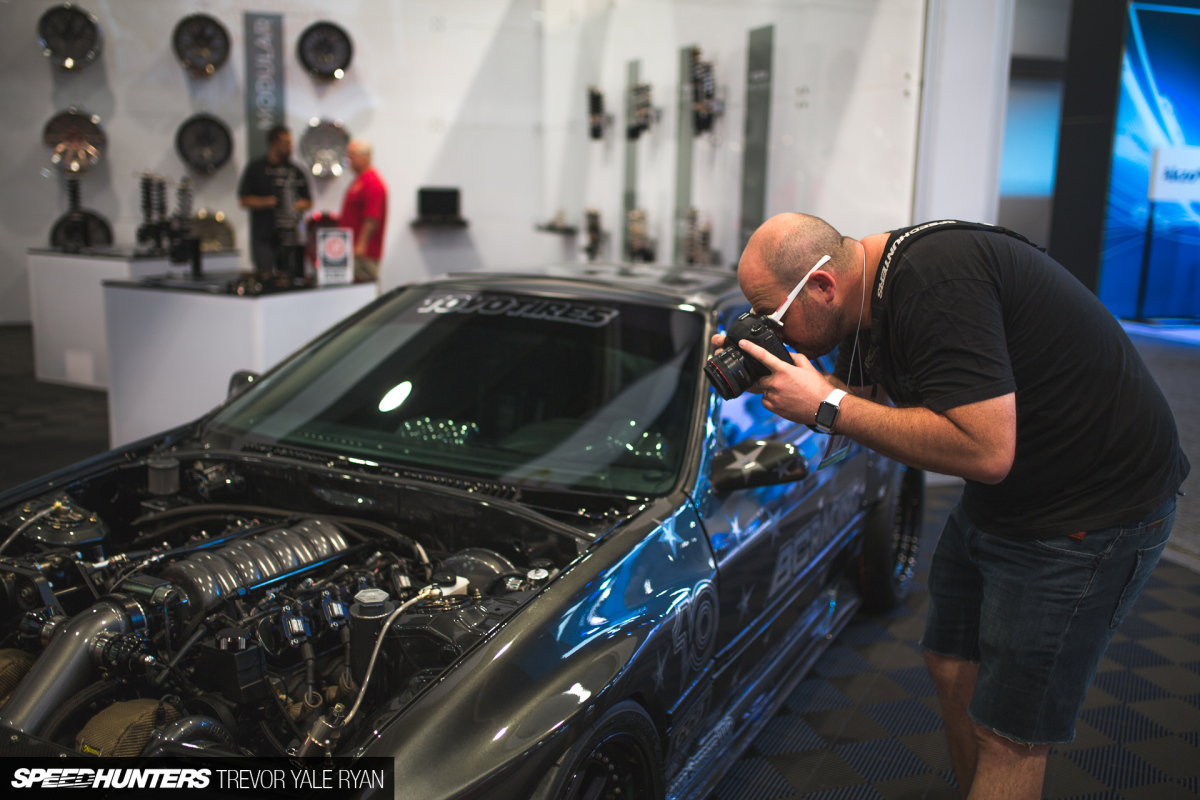 You're already more than familiar with the man in white glasses, Dino Dalle Carbonare, who has just stepped down from his role as Editor in Chief to do more hunting in the field. I followed him around a bit while he worked on his JDM piece, as well as the V8-swapped FC3S Mazda RX-7 spotlight.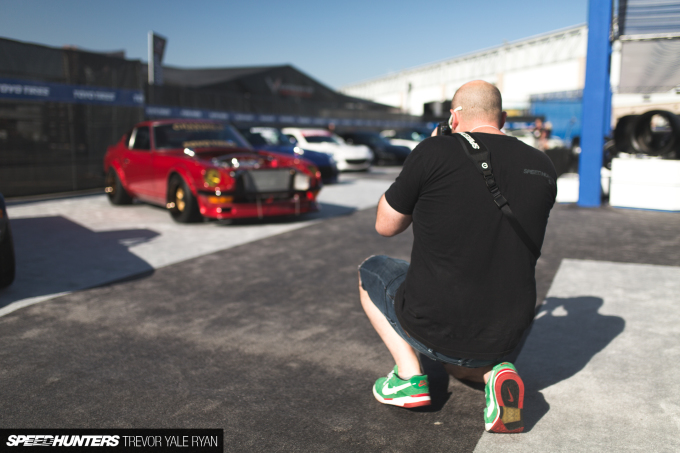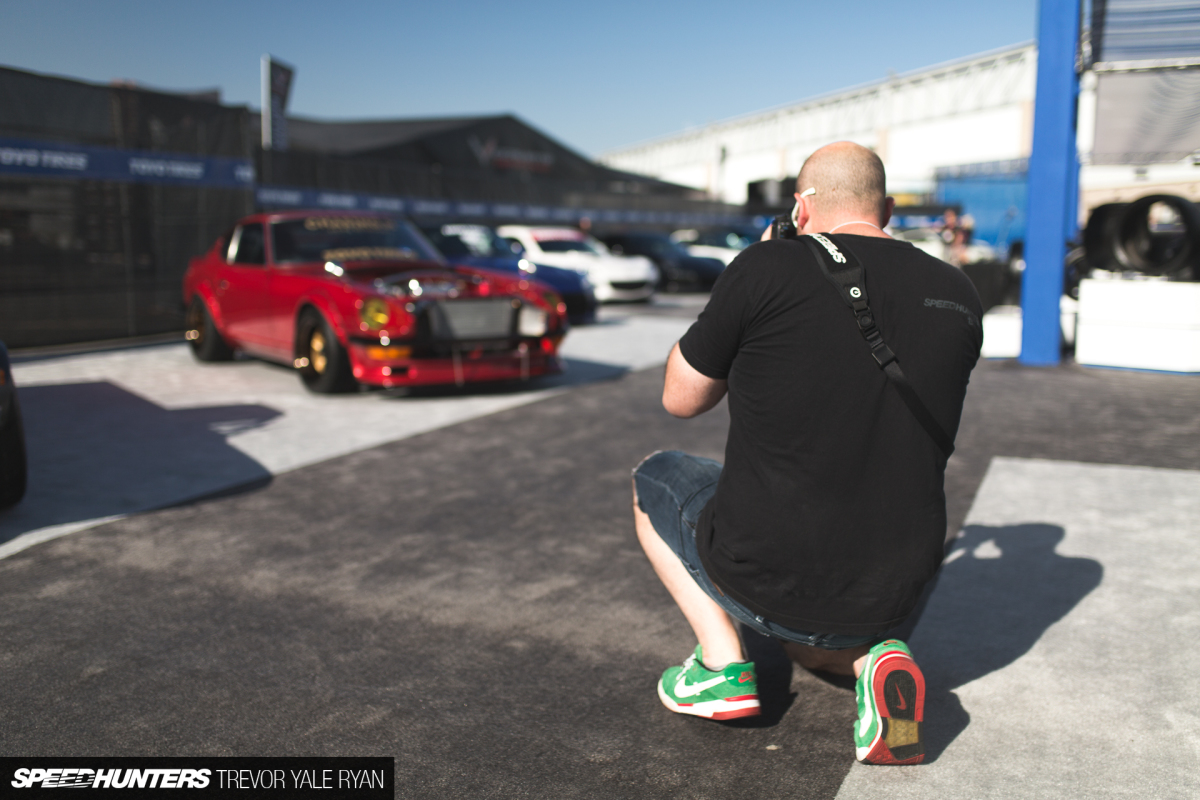 Originally from Italy, which is why his name sounds like a fancy dish you might order at an upscale restaurant, he's been in Japan now for over two decades. He says he quite likes it there, so he just never left. This trip to SEMA marked his 12th time in Las Vegas, surely with many more to come in future years.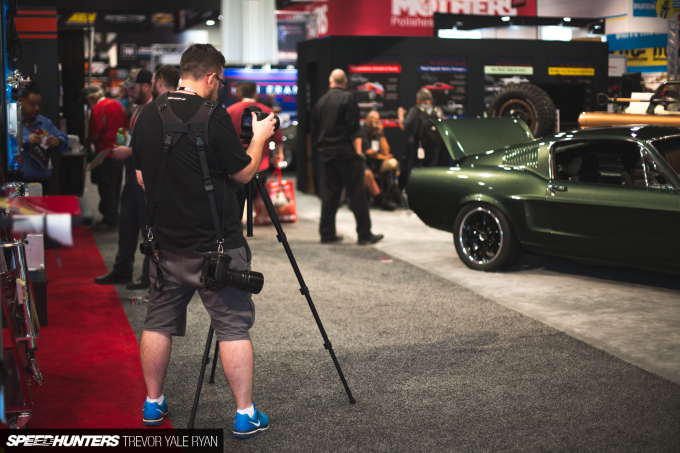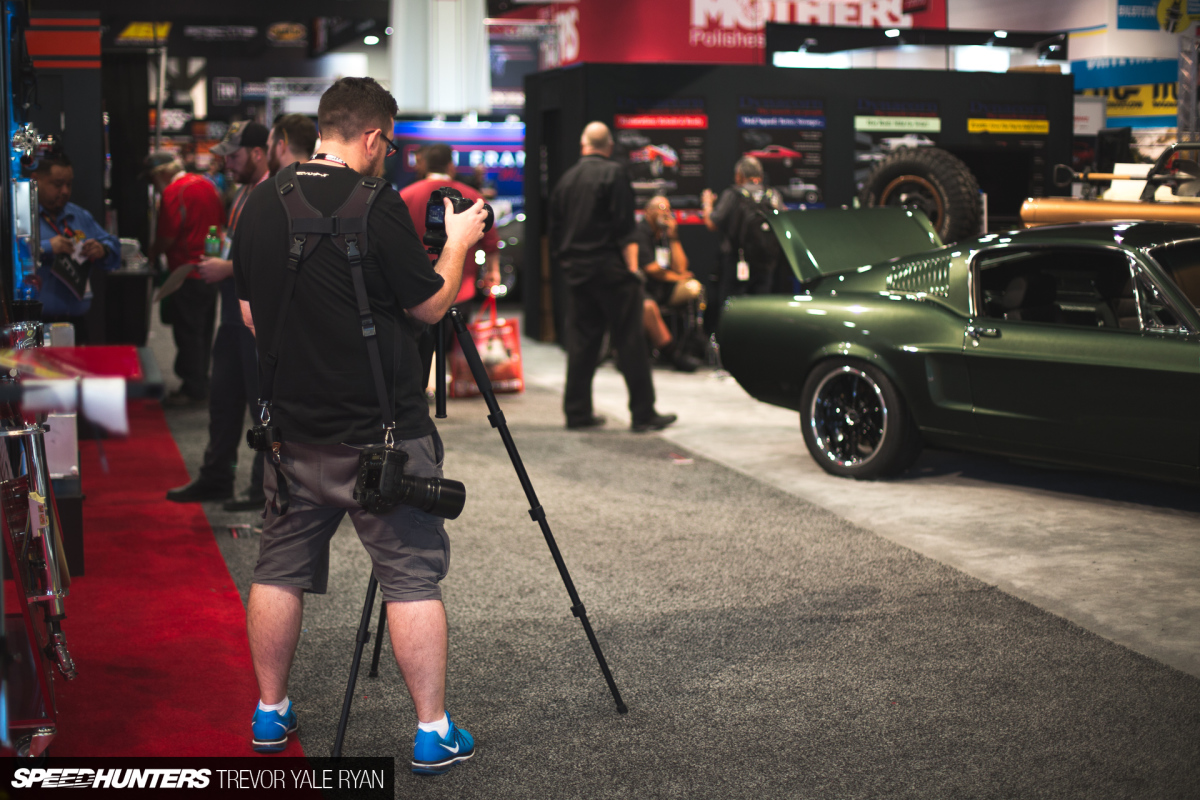 As you know, Paddy is the one who will replace Dino at the top of the Speedhunting food chain. This was his first time to SEMA as he hails from Ireland, which is awfully far away as well as bitterly wet and cold — perhaps why he always appears quite angry. However, if you approach him slowly with a small snack of some sort (or coffee), he may let you pet him. He's quite friendly once he warms up.
Paddy's journey to SEMA was the 20th trans-Atlantic flight he's made this year alone; covering Formula Drift is a lot more work than you might realize when you must come from Europe to do it. Be sure to thank him for all the drifting content you've seen this year. Likewise, be sure to check out his long exposures from around the show, carrying a tripod around all day isn't easy either.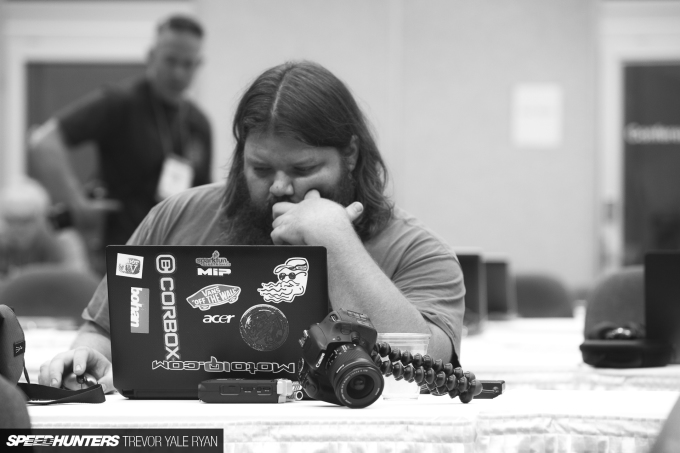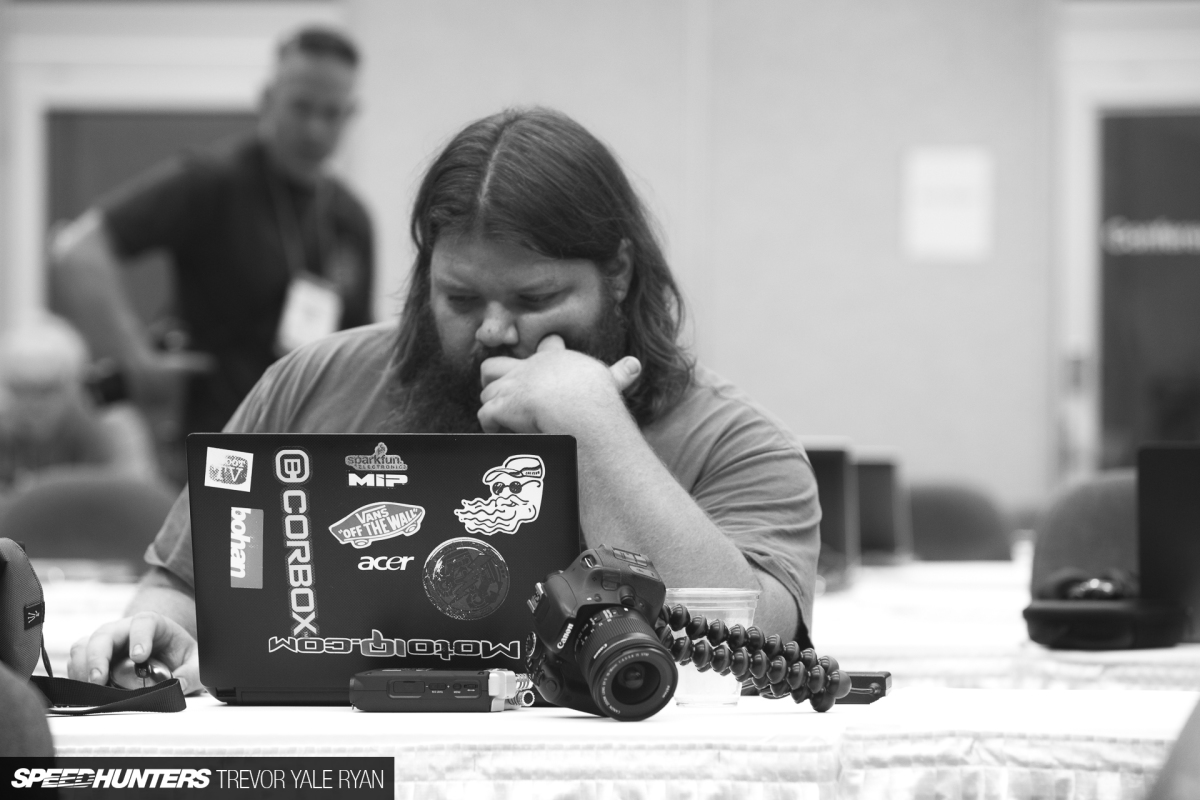 Also out in Vegas was Justin Banner, the (quite powerful) wizard behind the keyboard. He's grown up around cars, racing, off-roading, and all things automotive. You've probably noticed how thorough he is in his writing and he's the go-to guy to bring you all the details on a build.
It's great to have someone dependable to throw photos at, knowing that he can explain the ins and outs of a feature car with an eloquence I lack. And, if I'm honest, he knows a good bit more about cars than I do anyhow.
The Gear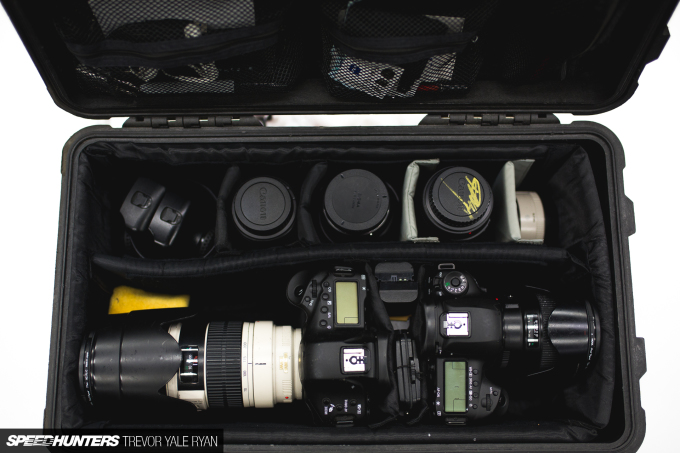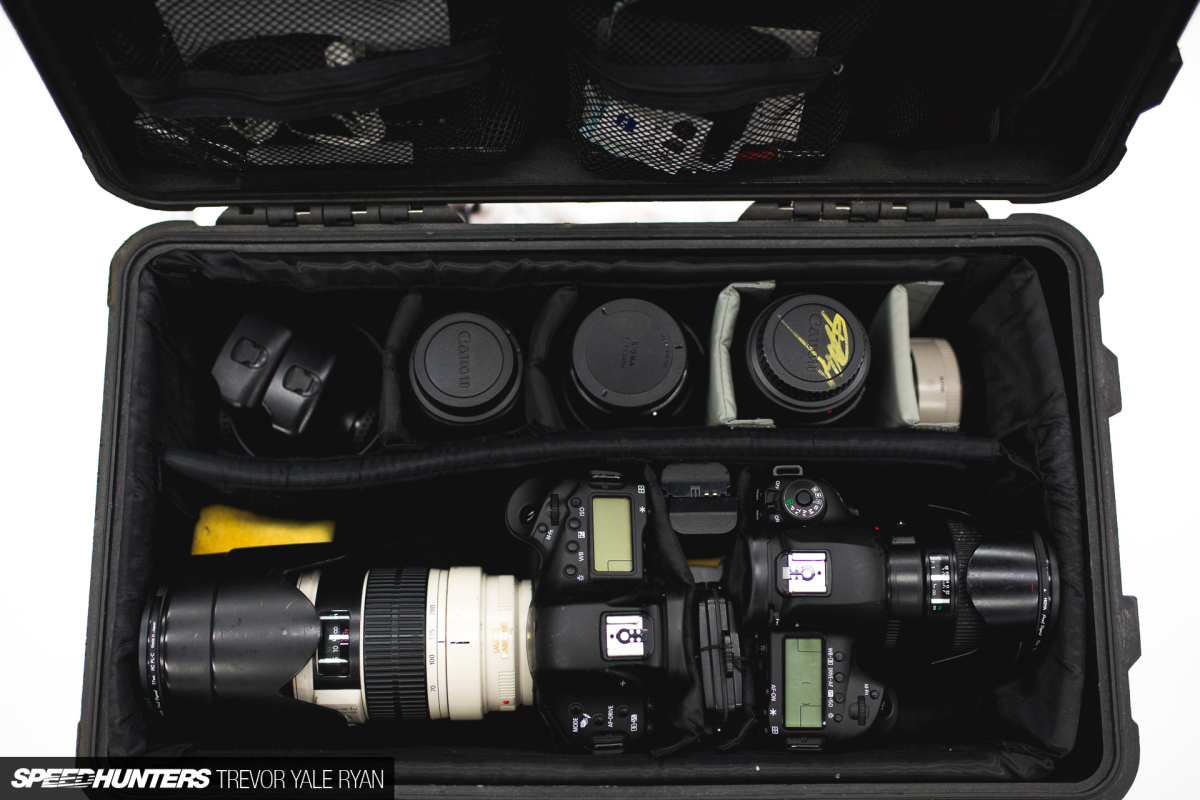 Then there's the gear; loads and loads of it. Together, the team brought 16 camera bodies and 37 lenses to bring you content from the SEMA Show.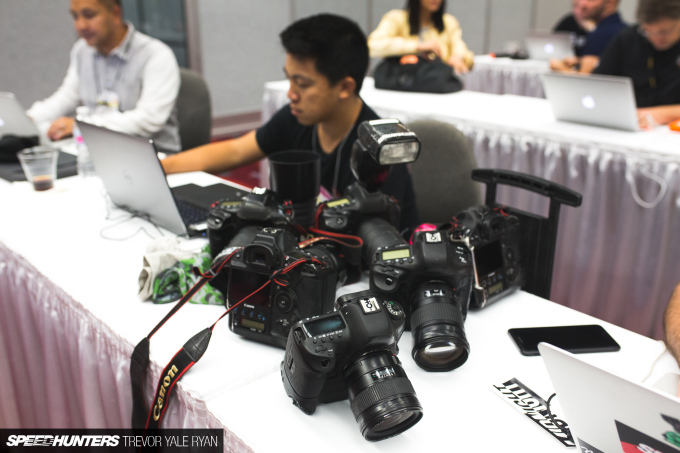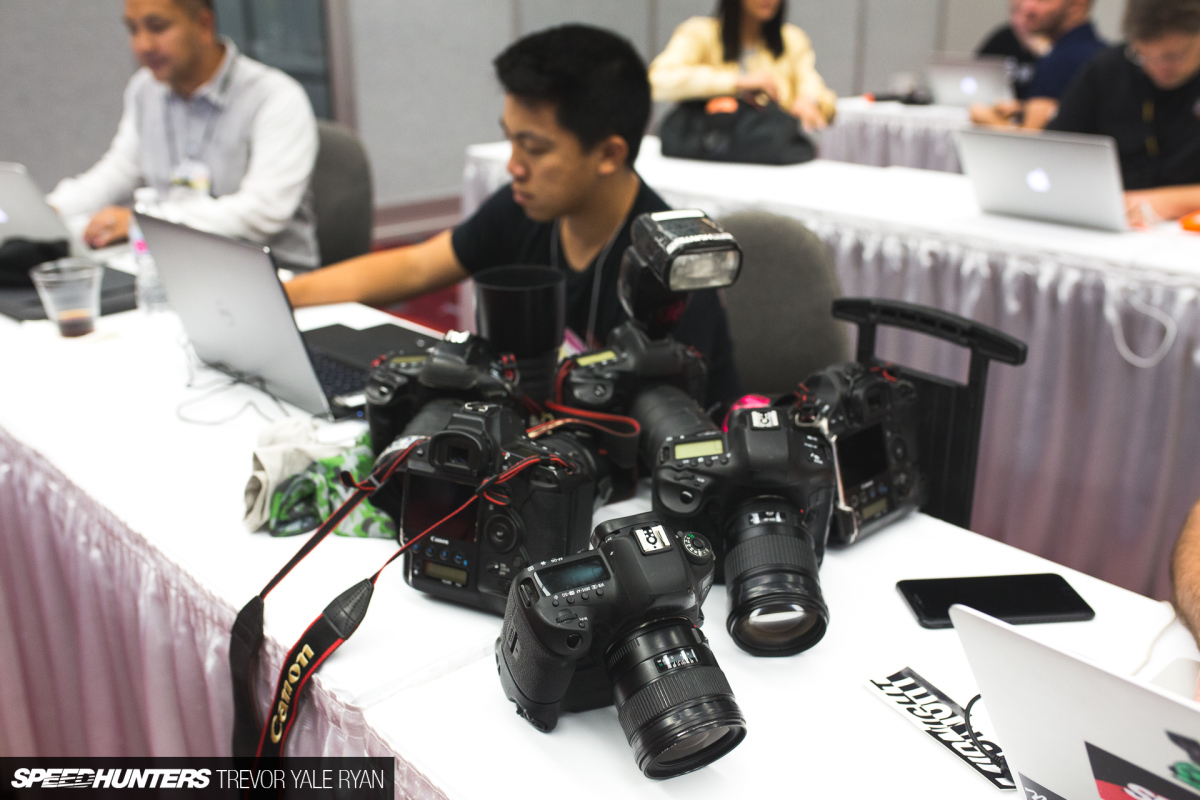 "Just look at all this trash someone left on the table," Larry said. Absolutely disrespectful, those Speedhunters. There were cases and bags all over our table, not to mention laptops, chargers, card readers, back-up hard drives, and all the other little odds and ends you don't quite consider.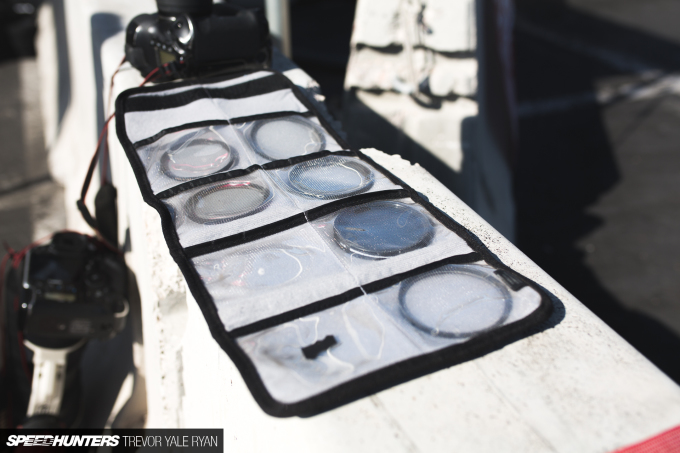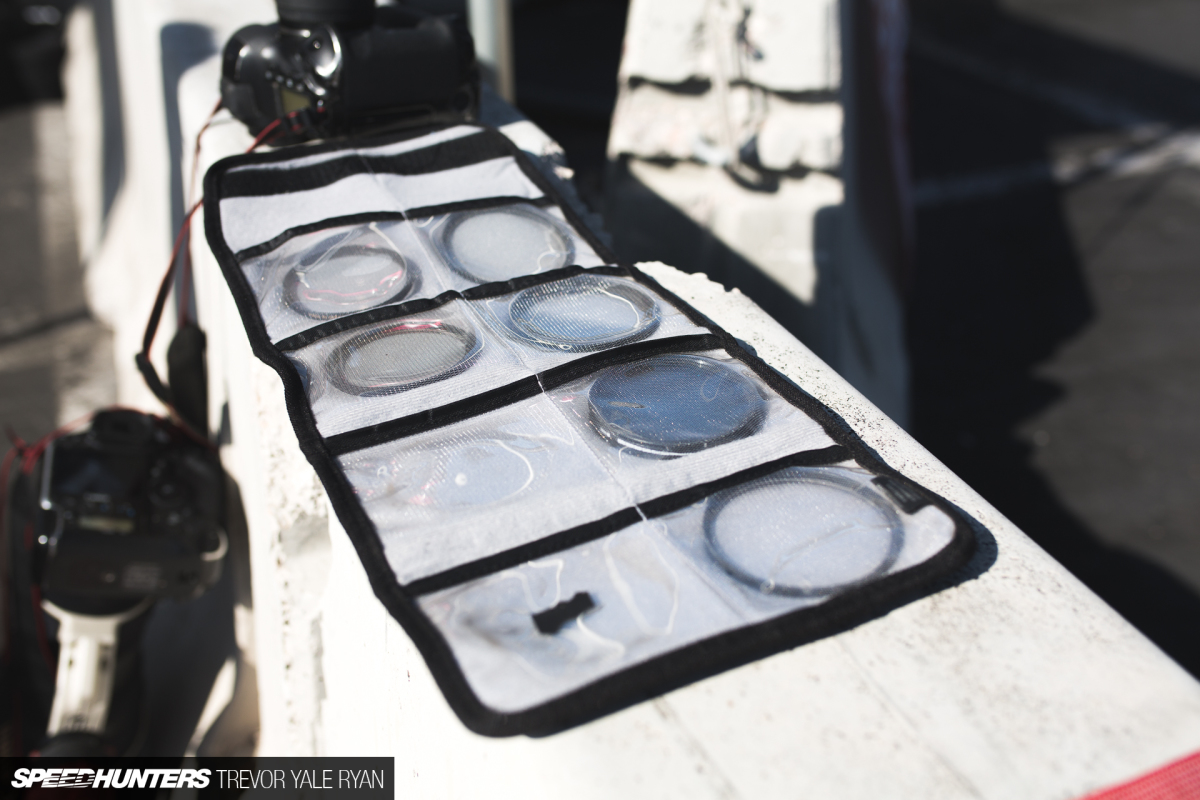 If I learned one thing at this show, it's that I need some better support equipment to go along with my cameras and lenses. Bags for quick accessibility of lenses, for example, and I also quite liked these filter holders I saw Louis and Larry using. This all-new huge aperture 35mm that Louis picked up seems pretty useful.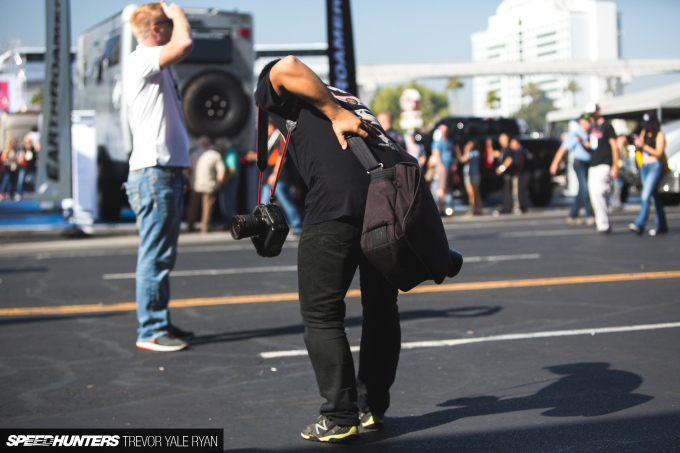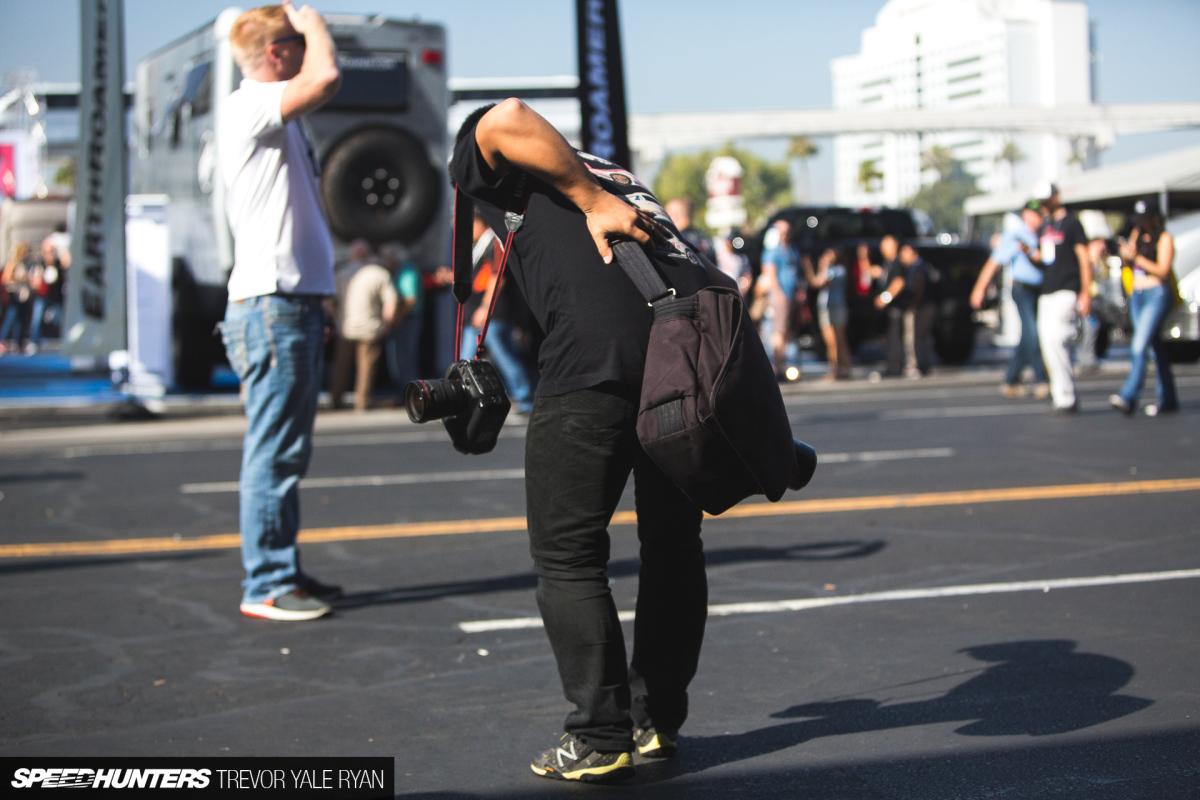 Bringing all of this gear to use means you're responsible for hauling it around with you all week, too. But we put it to good use — the exact count of shots taken at and around SEMA by our group alone was 46,327. That's nearly half the entire rated lifespan of many consumer-grade DSLR bodies, just at one show. And for a motorsports event like Formula Drift or the Goodwood Festival of Speed, it's easy to rack up three or four times as many shots per day as a static event like this.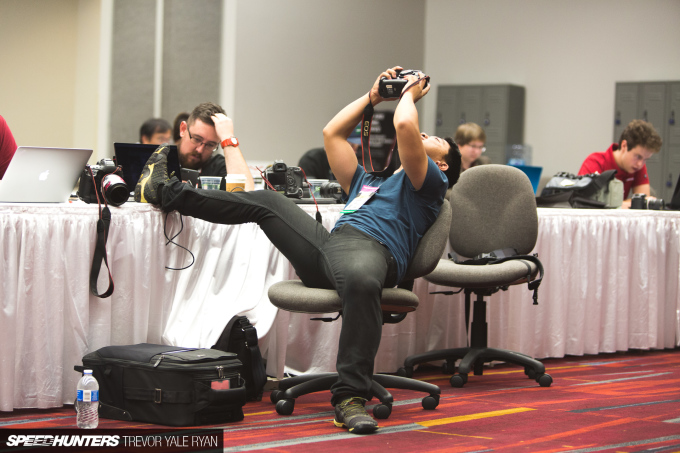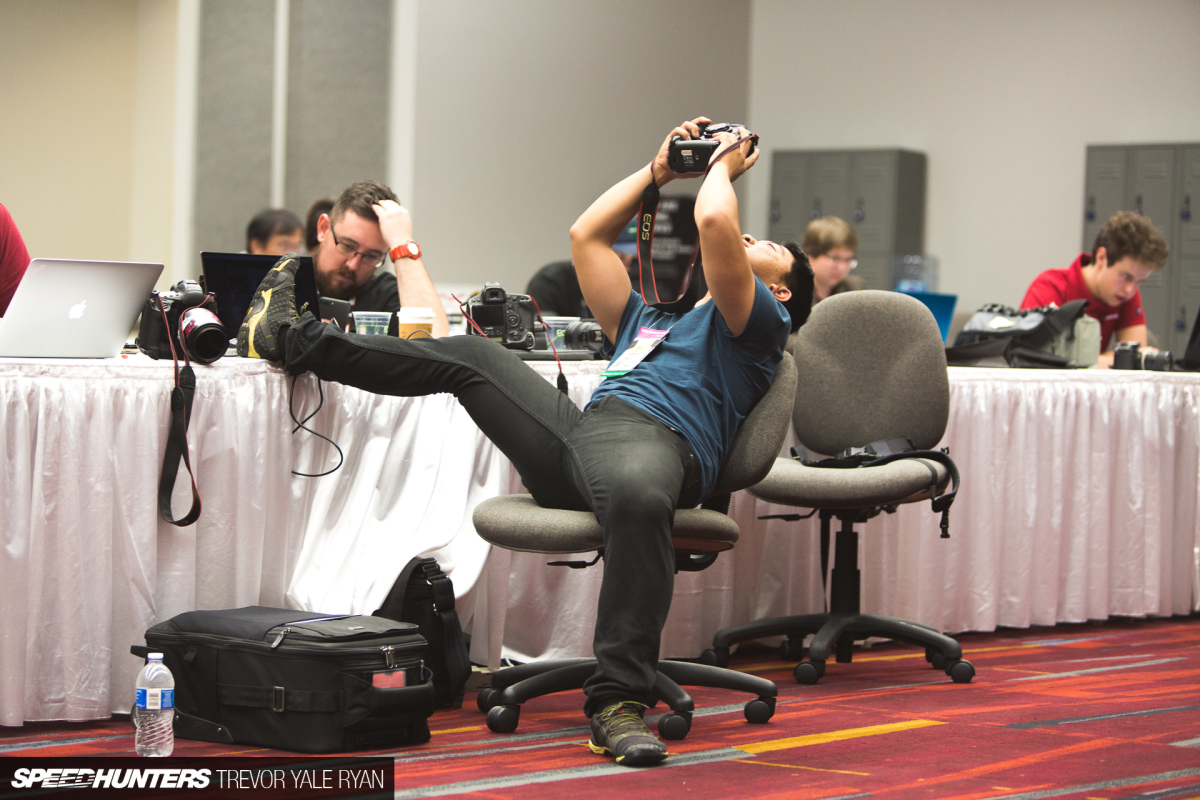 This content filled over 950GB on hard drives, which of course doubles when you back it up. Then, after taking all these photos, you have to sort through them as well. Louis seems to be having a better time here than Paddy, but then again, Paddy may not have had his coffee yet.
Believe it or not, when you're all done, you actually have to talk to people to figure out what's in their cars in the first place. Who would have thought that photographers were allowed to socialize? Dino, however, has an alternate technique where he becomes very still and close to the car, trying to hear it whisper to him. See? He's doing it right there.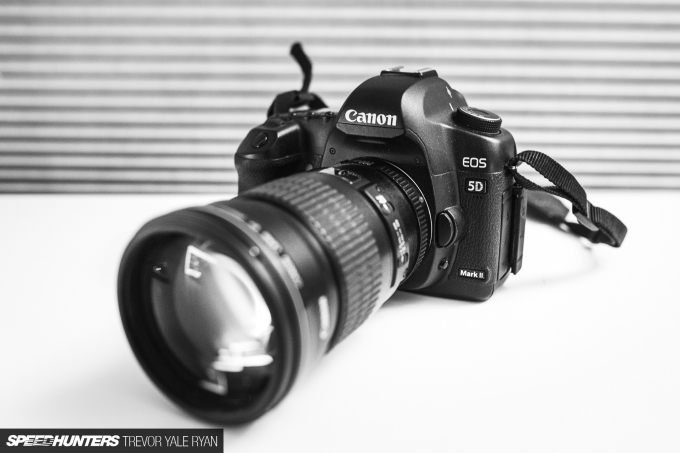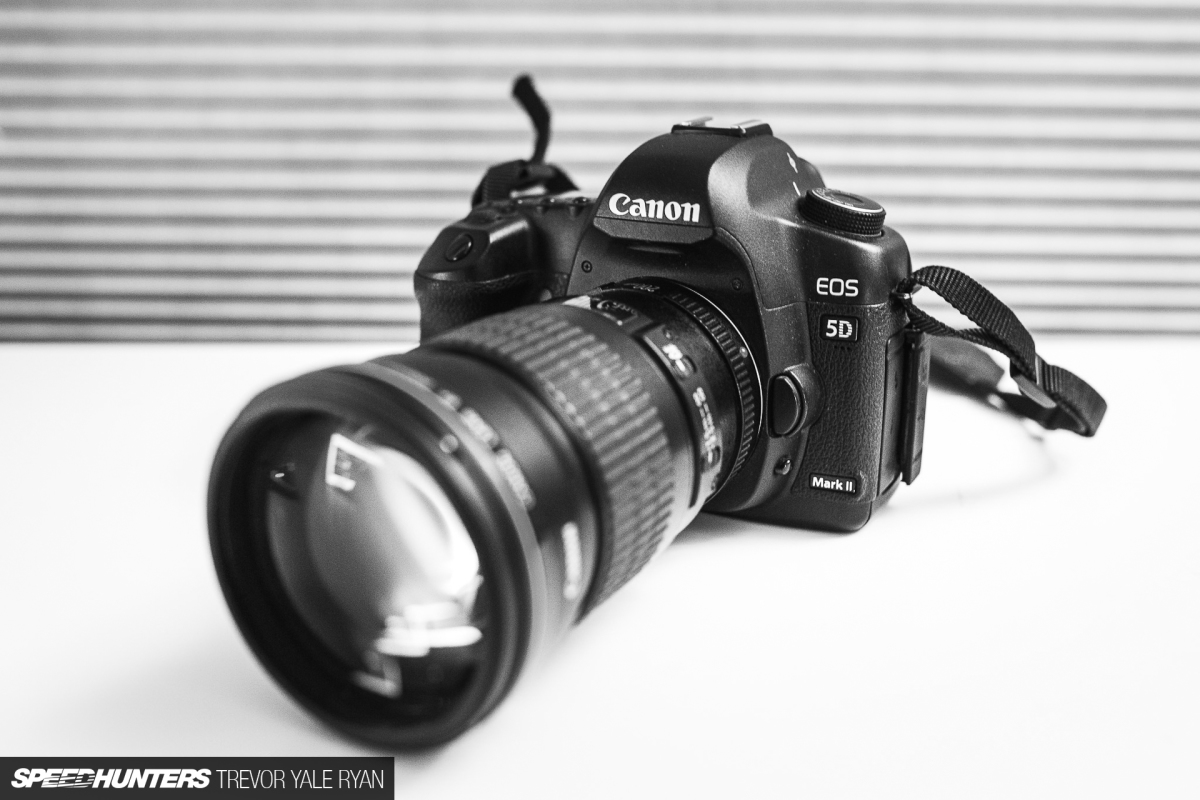 As far as taking the photos themselves, I personally upgraded from that 40D to a 60D, then on to my first full-frame camera, the 5D Mark II. This switch pretty much blew my mind, and I wish I had done it sooner. Eventually I moved on to a 5D Mark III and later added a 1D Mark IV (which has a 1.3x crop sensor), both of which I shoot with now. They're a bit older but they get the job done.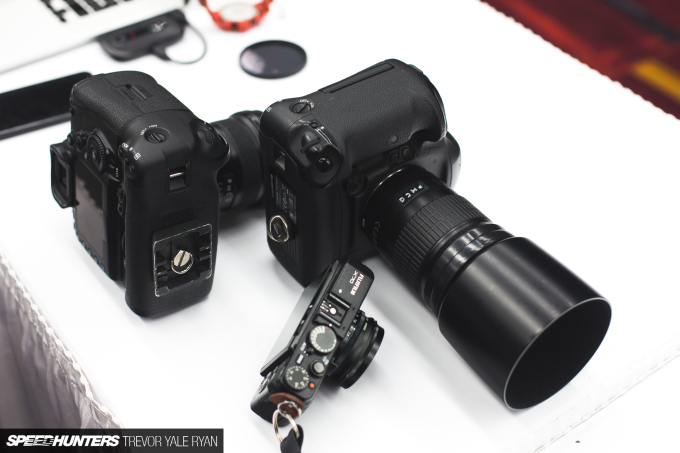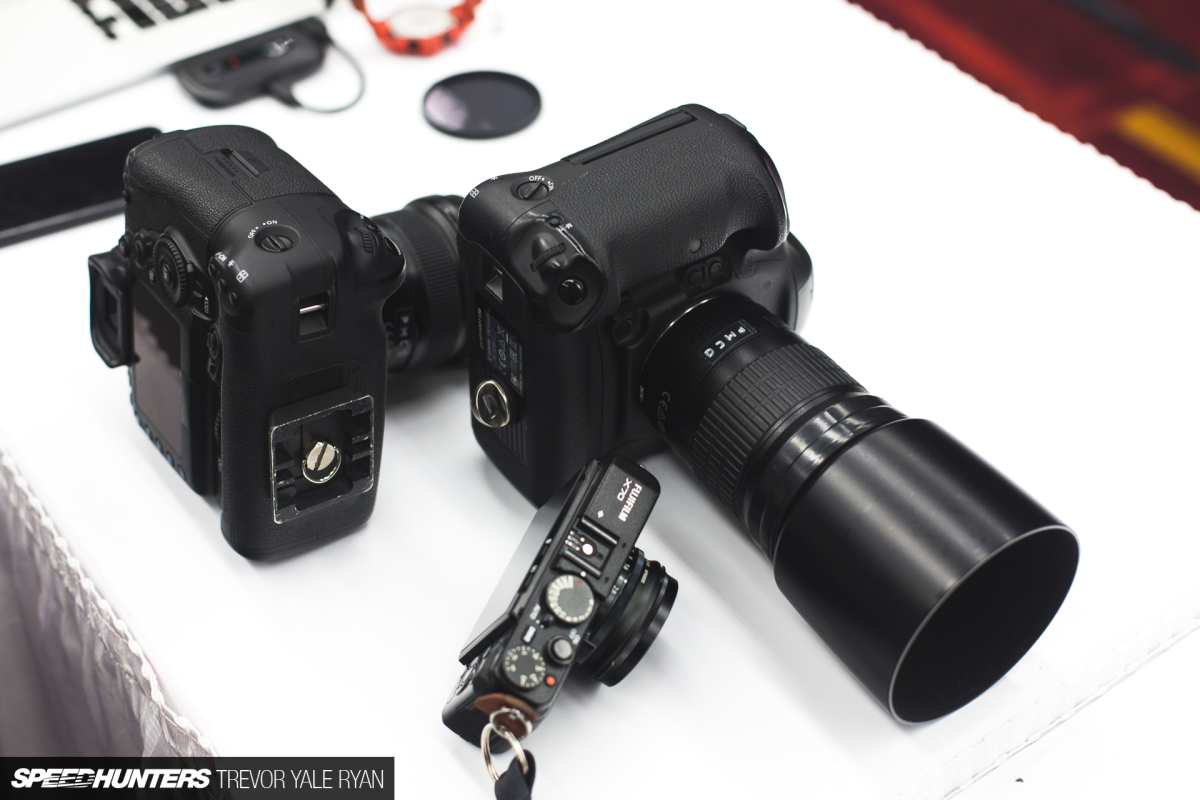 I know Paddy brought this miniature device in conjunction with his big-boy bodies, all three of which saw use at the show. Other camera bodies used by the team unsurprisingly include Canon's 5D Mark IV as well as bodies from the 1Dx line.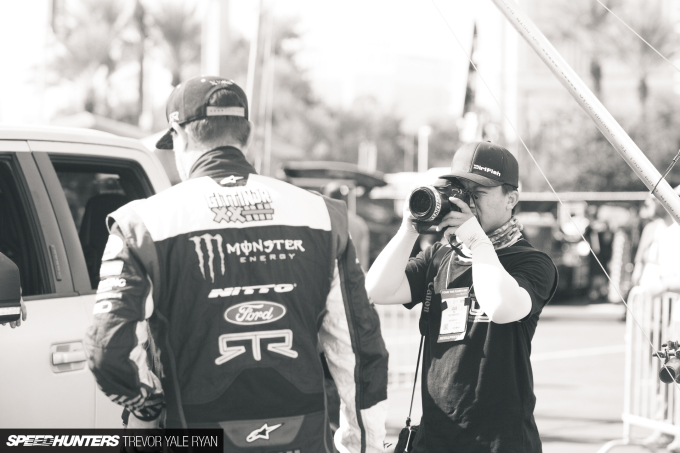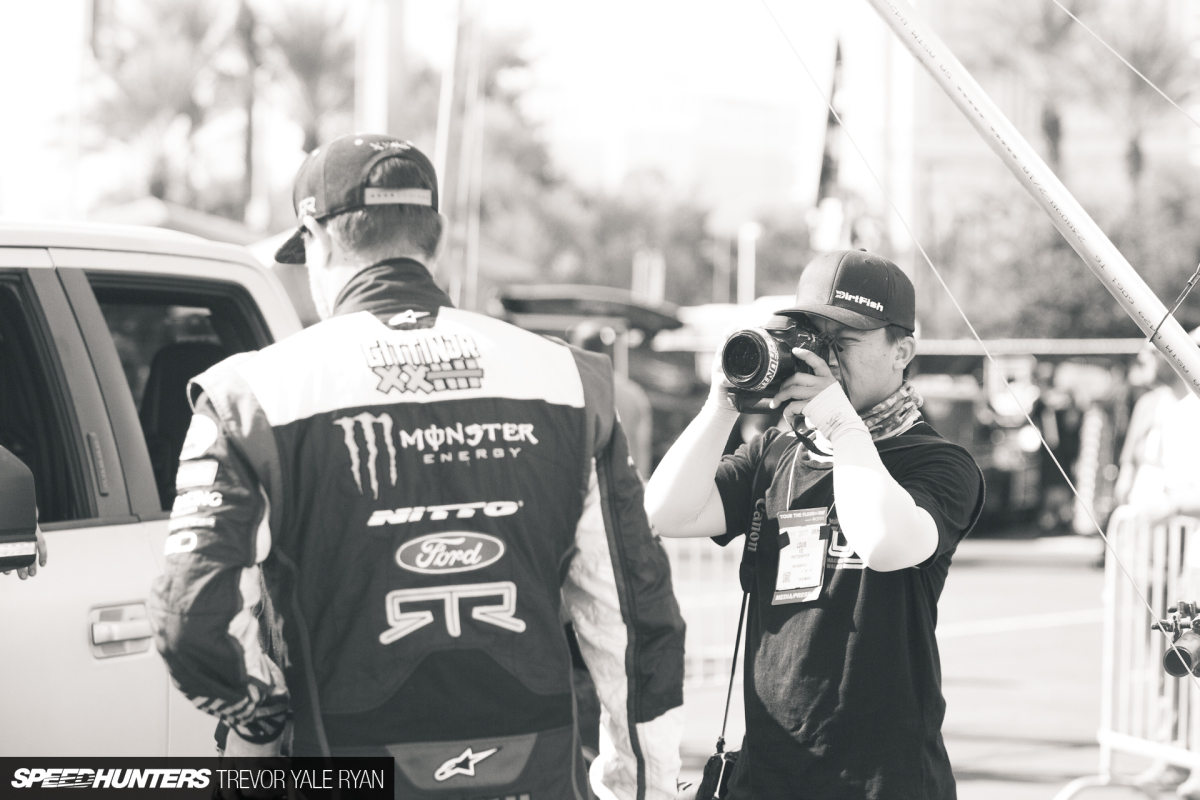 Of course, a DSLR does no good without some nice glass in front of it and that's where things tend to become expensive. For a show like this though, simple, relatively affordable gear is sufficient. I primarily use my Sigma 35mm f/1.4 for stuff like this, and toss in the 16-35mm f/2.8 and 70-200mm f/2.8 as well. Of course, you can never go wrong with a good 50mm either; Dino has a nice f/1.2 version, and I got away with my f/1.4 when I needed it. The thing I noticed most when following these guys around was not their gear, but instead their movement as they try to frame an image.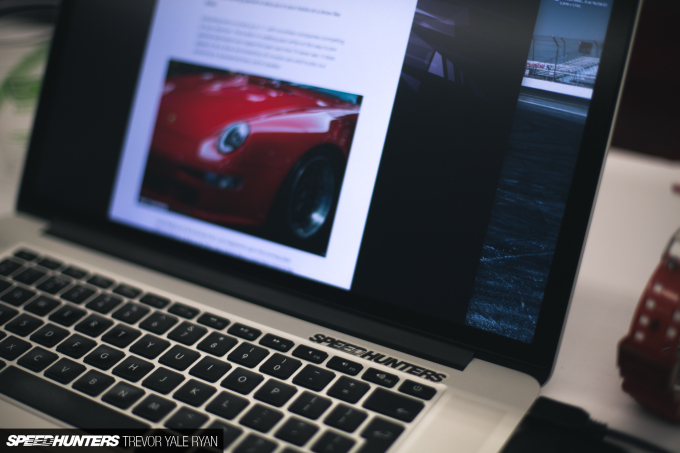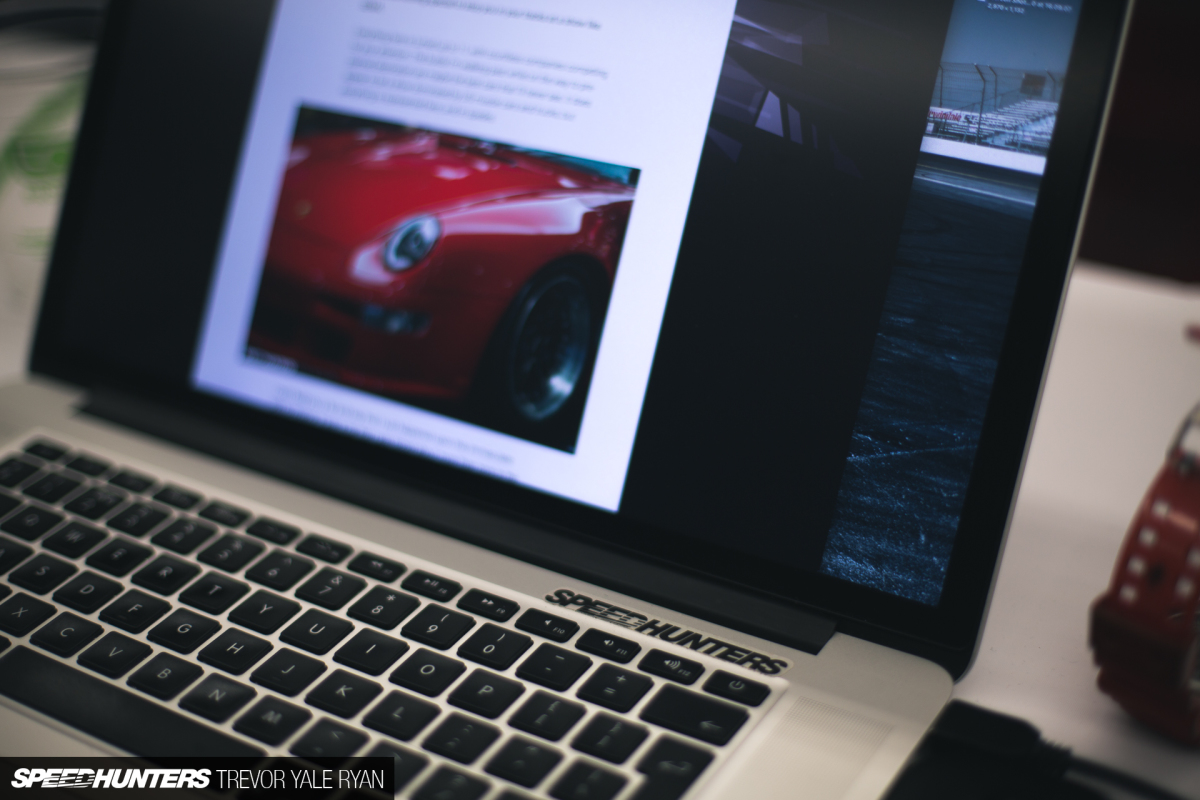 It's pretty insane when you start to tally up the equipment involved in making each of these stories happen, and there are more feature cars on the way.
While it's one thing to create 10 or 20 images that you're happy with from an event, it's another thing altogether to individually produce the hundreds of edits required to cover a show like this.
The Larry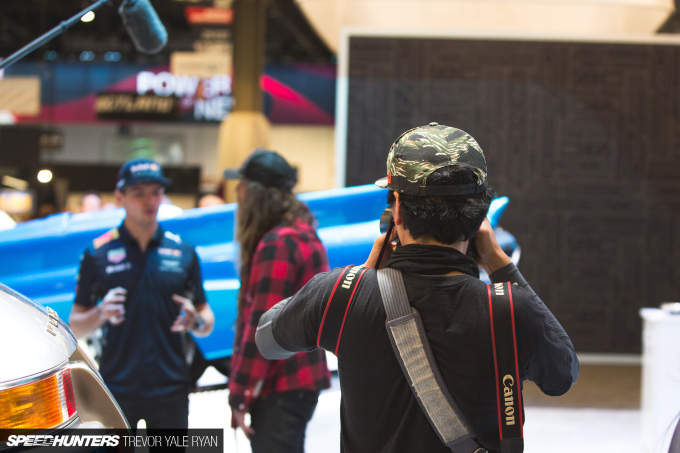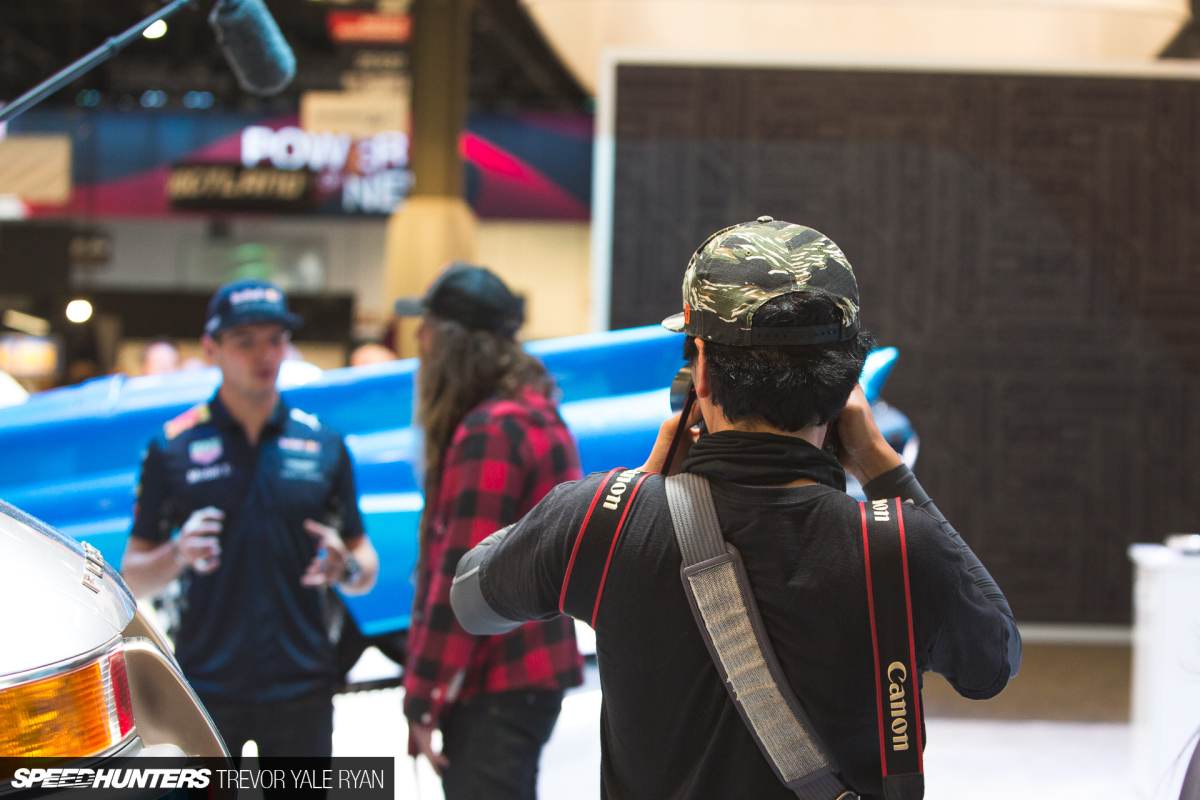 During the course of the SEMA Show, Larry was the one Speedhunter that eluded me the most. Larry is a guy who essentially has an endless list of assignments, and as such he's a bit hard to track down. Or perhaps it's the way I smell?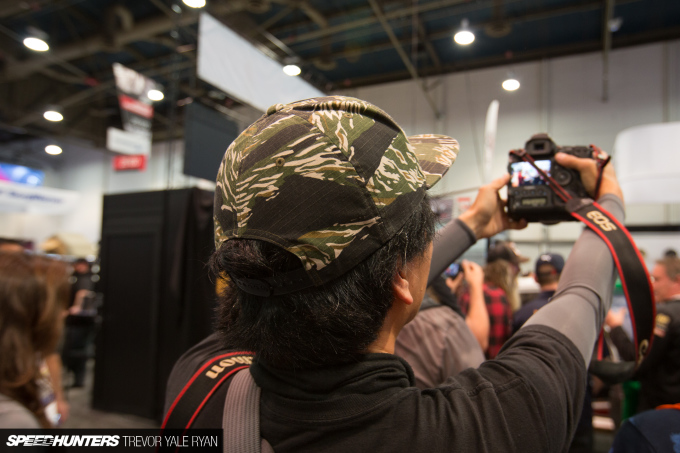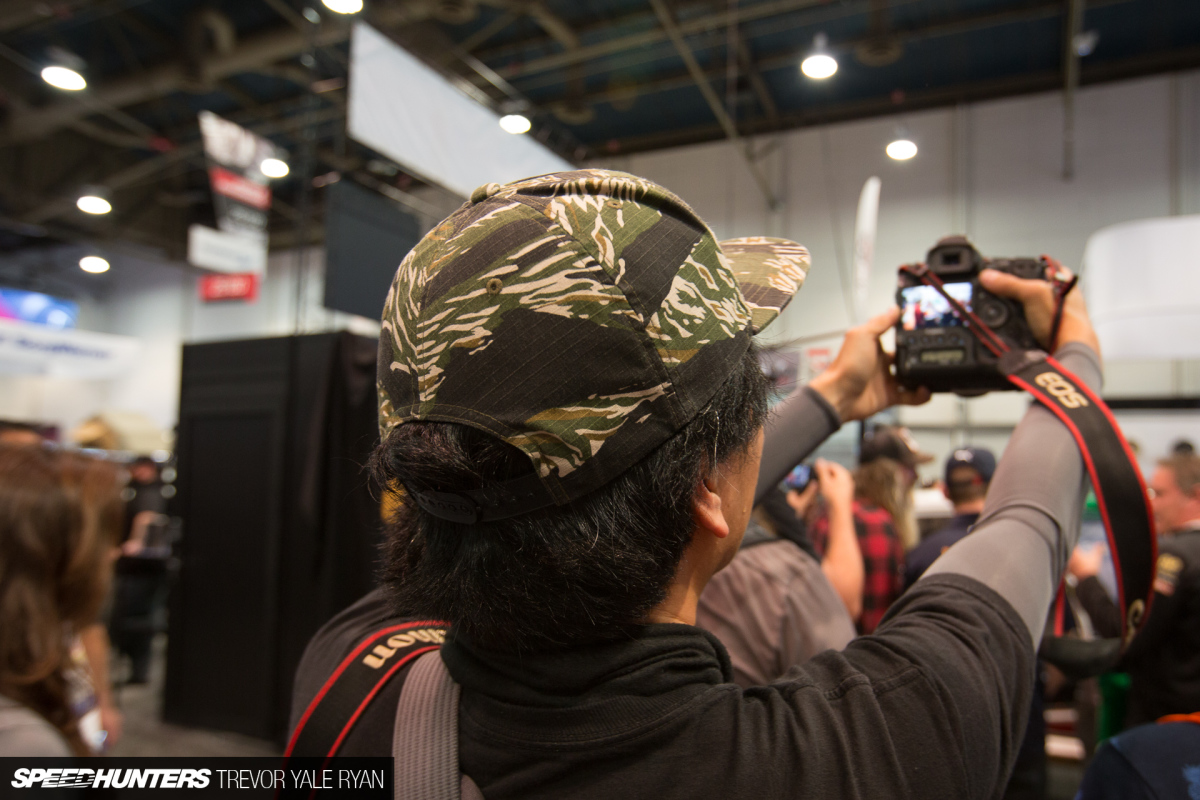 He gets his own chapter not because he's better than anyone else — he'll be the first to tell you this. In fact, I stole those words right from his own mouth and you can hear them yourself in this video, where you get to see in more detail what Speedhunting is like.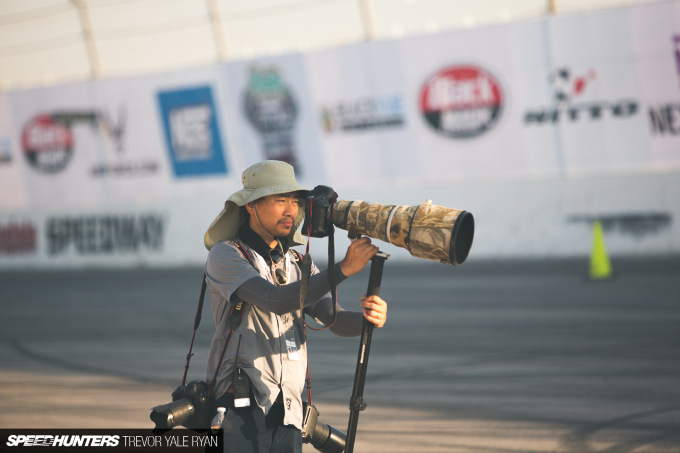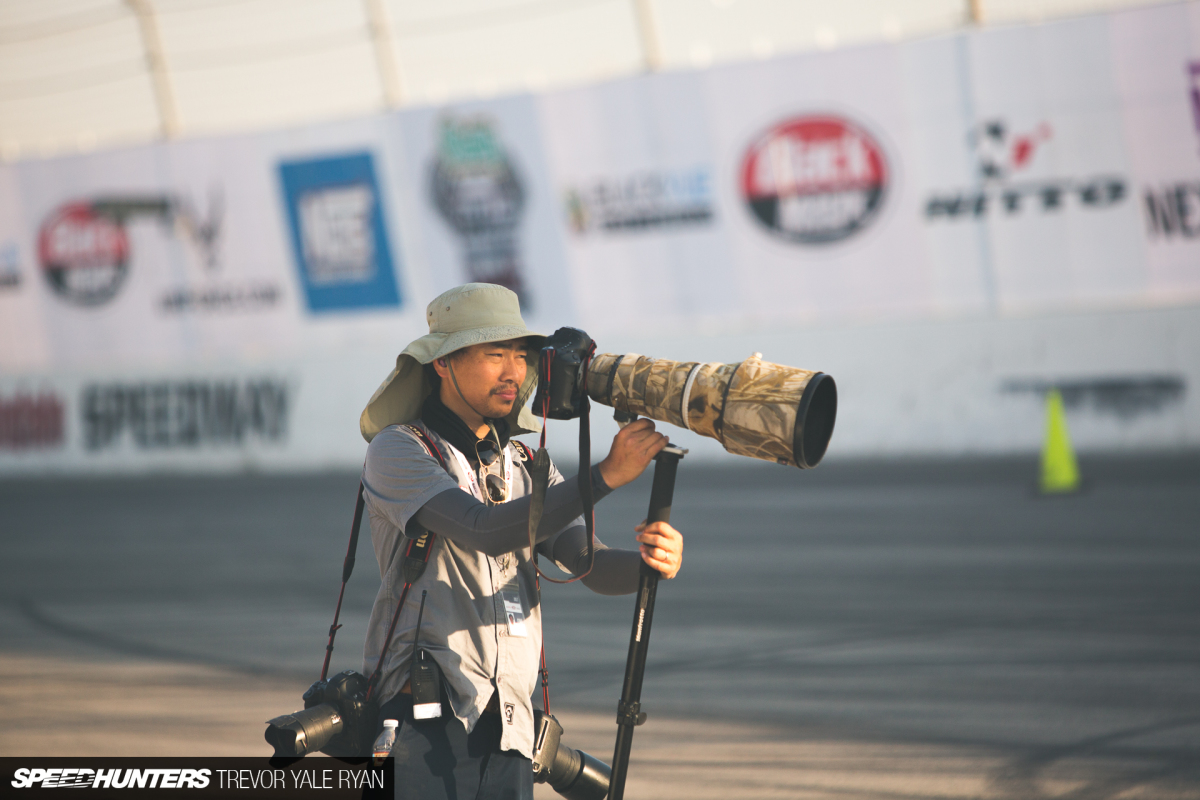 Instead, I set aside a chapter for Larry alone because he is the hardest working guy in the industry; others on the Speedhunting team are quick to say the same about him. If you've ever seen Larry at an event, you'll know what I'm talking about. He'll be found running around with two or more cameras, capturing something from a previously undiscovered angle or shooting a moving vehicle at a dangerously slow shutter speed.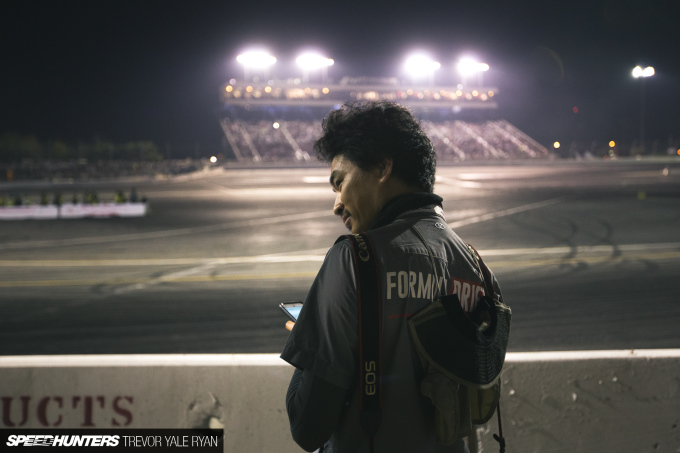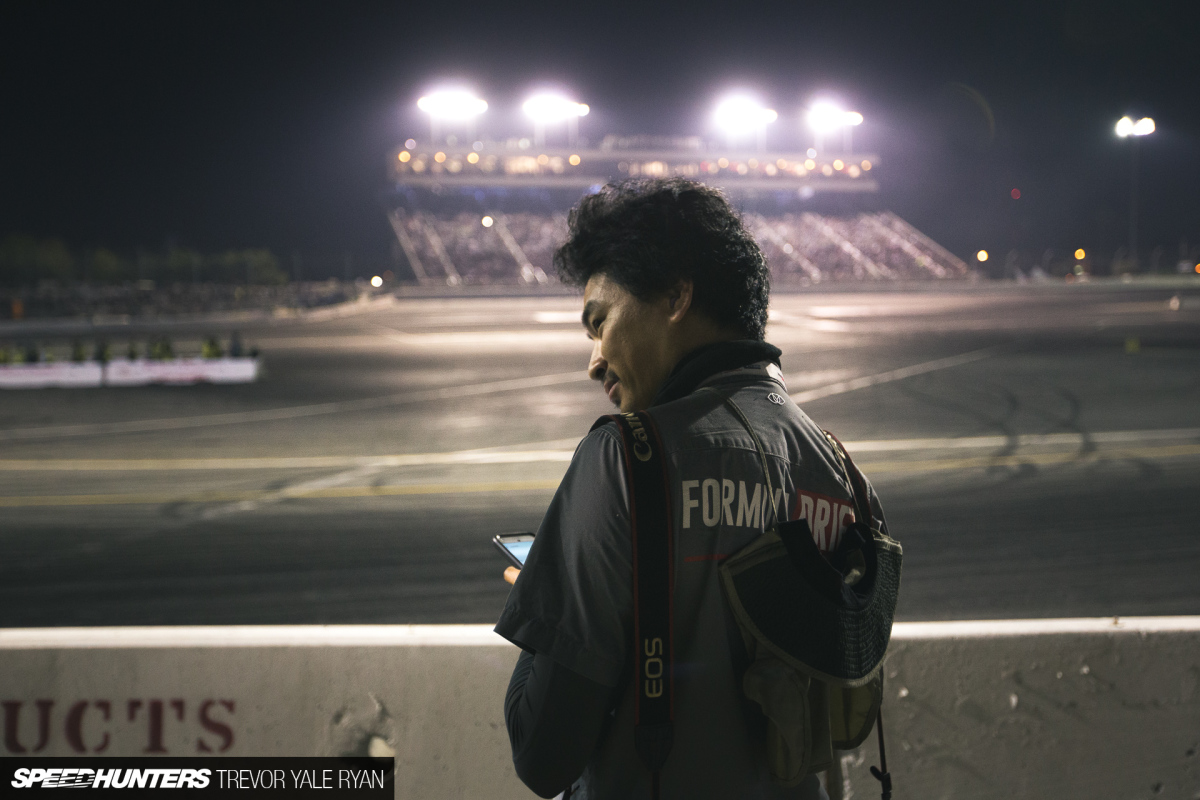 Or posting on Instagram to keep all his hungry fans fed with delicious photos. (Don't bother sneaking up on him though. Here, Larry used Shutter Detect — it's super effective!)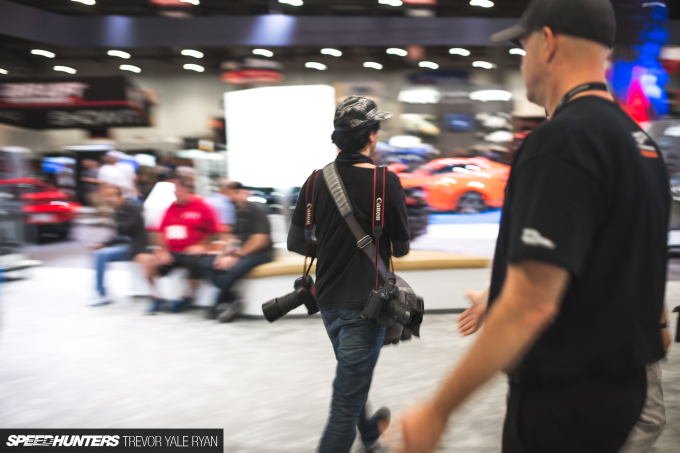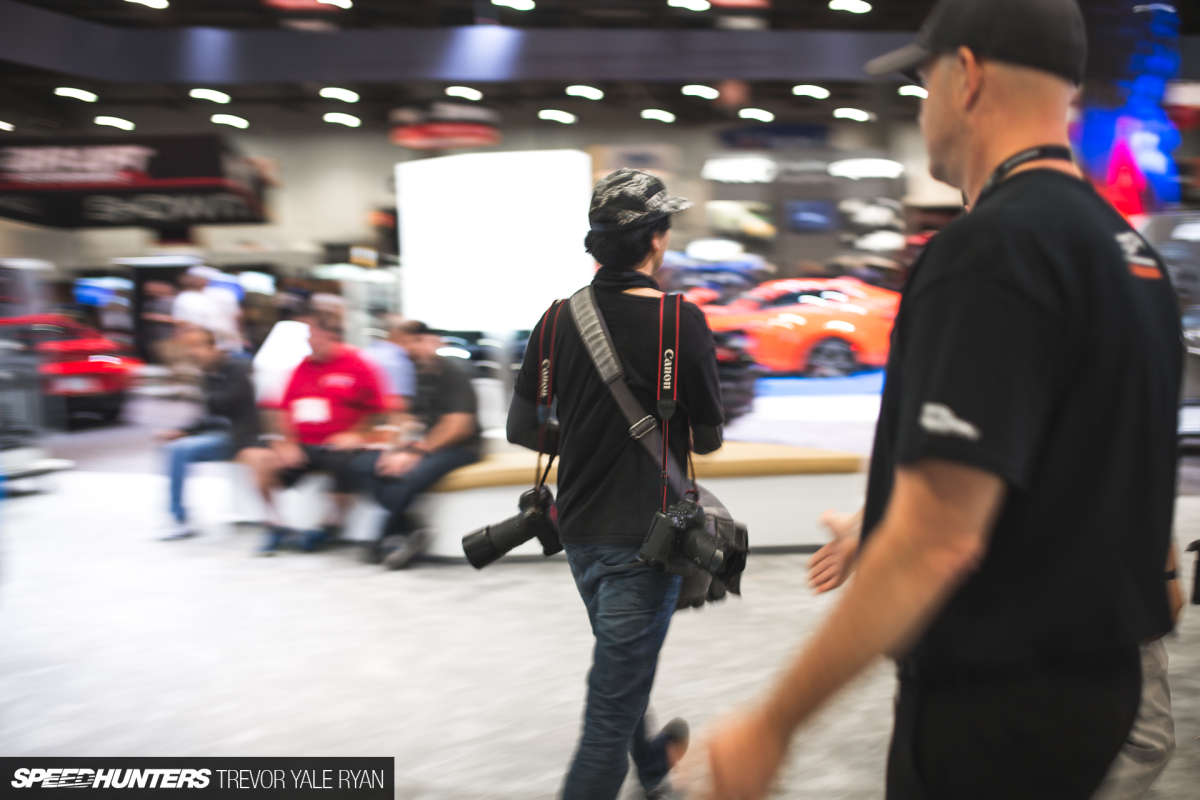 At SEMA, his hard working nature was apparent. When I finally was able to link up with him, I could hardly keep up. I know I've got short legs, but it seemed Larry was practically running to his next assignment. When he got there, he was documenting Magnus Walker, who would be showing F1 superstar Max Verstappen around the show a bit.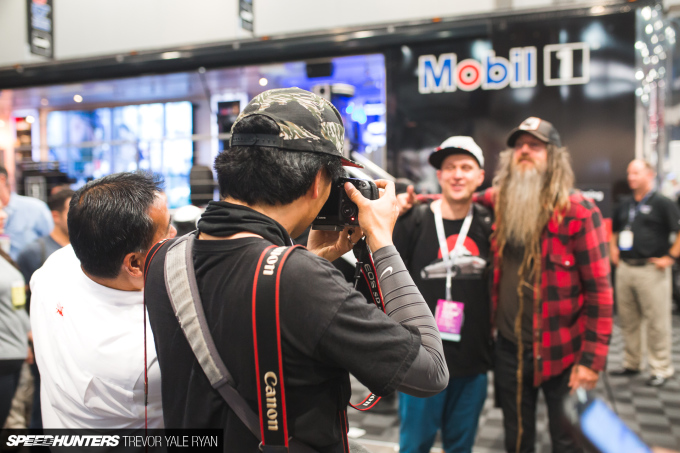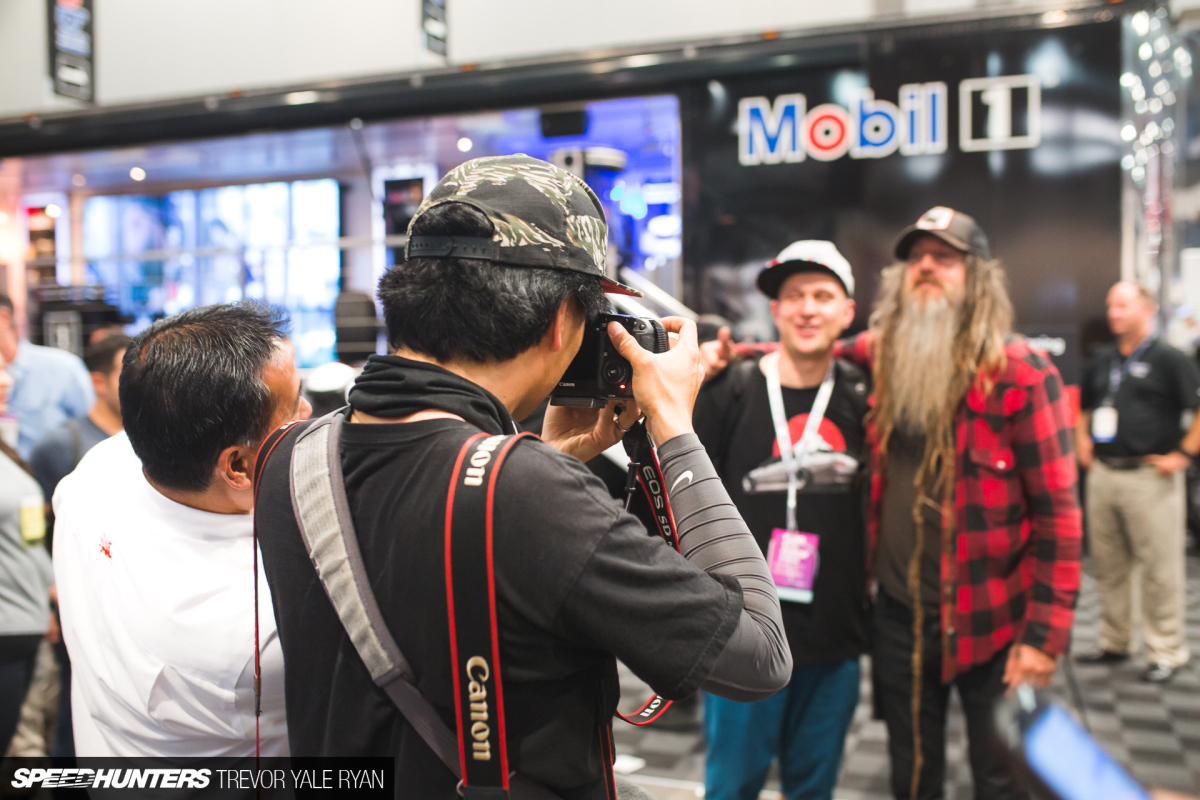 When I asked why he doesn't use a fancy dual camera strap, he said he simply wears them out. Manufacturers of photography accessories, I think this is a challenge…
I followed Larry for about 15 minutes, during which I captured over 300 photos. Just from the sound of his shutter, he took at least three times as many. Unfortunately, I had a flight to catch, which I almost missed, so I had to head out early.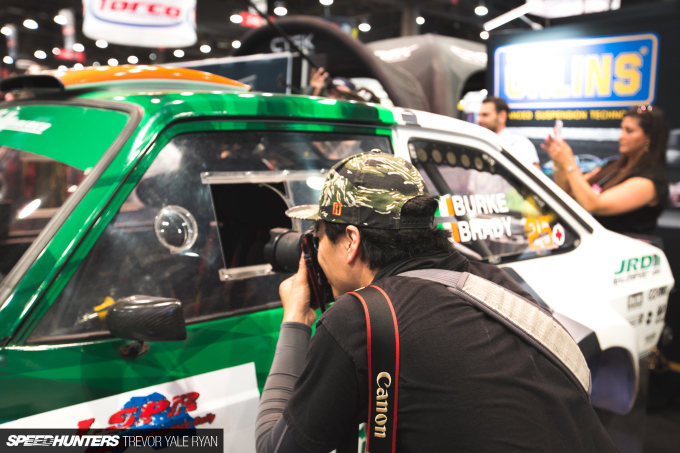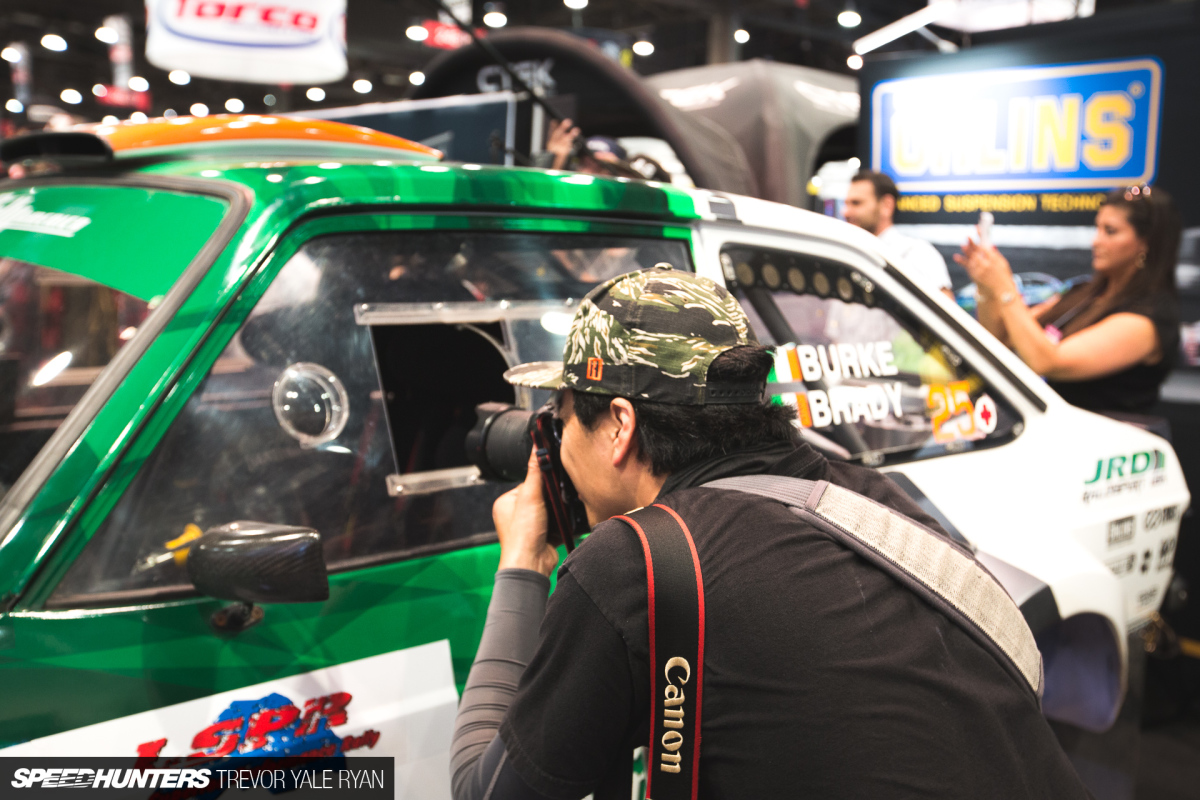 Honestly, shadowing Larry was much harder work than shooting cars. I was sweating as I walked back to the Media Center to pick up my bags, but that might be normal when coming in close contact with Larry. Has this happened to anyone else?
Jokes aside, I hope this gives you an even greater appreciation for his work. It doesn't happen by accident, that's for sure.
The Show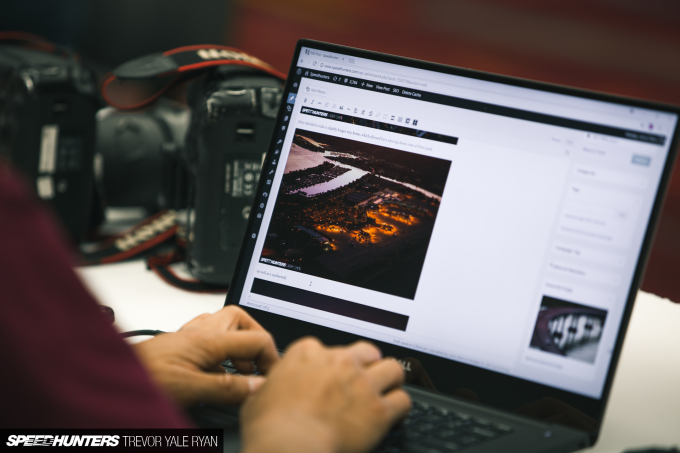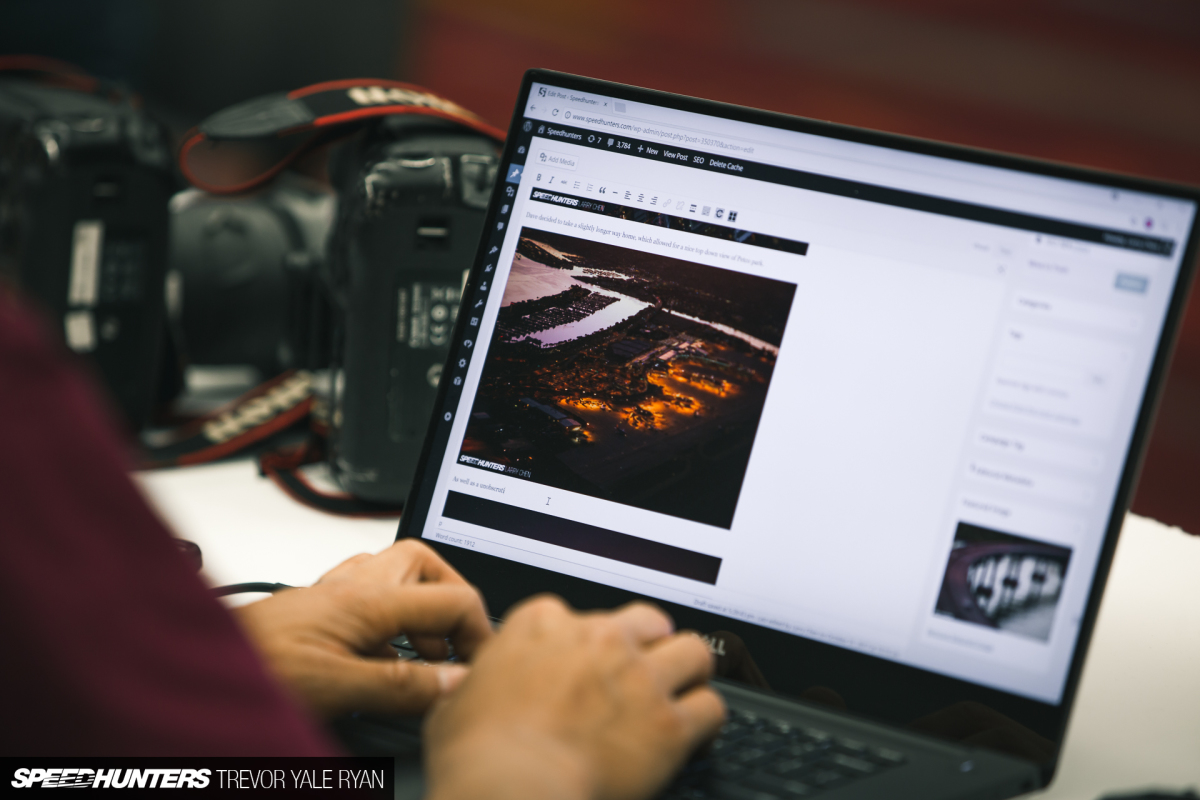 This work ethic and drive for perfection applies to everyone else on the team as well, and they're often doing it on a minimal amount of sleep. Dino and Paddy, for example, travelled a combined 53 hours through 16 time zones.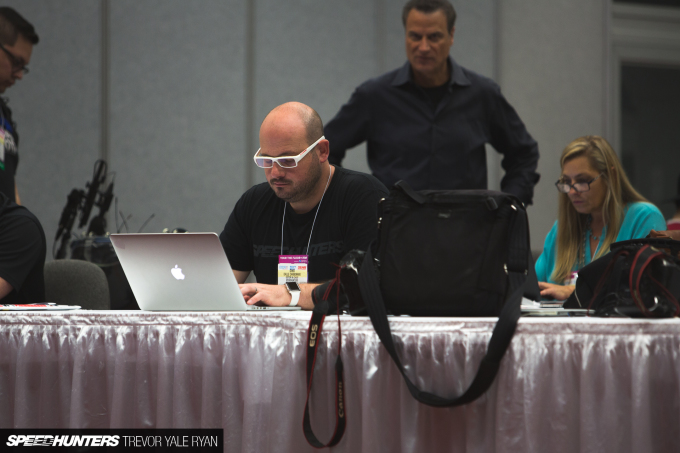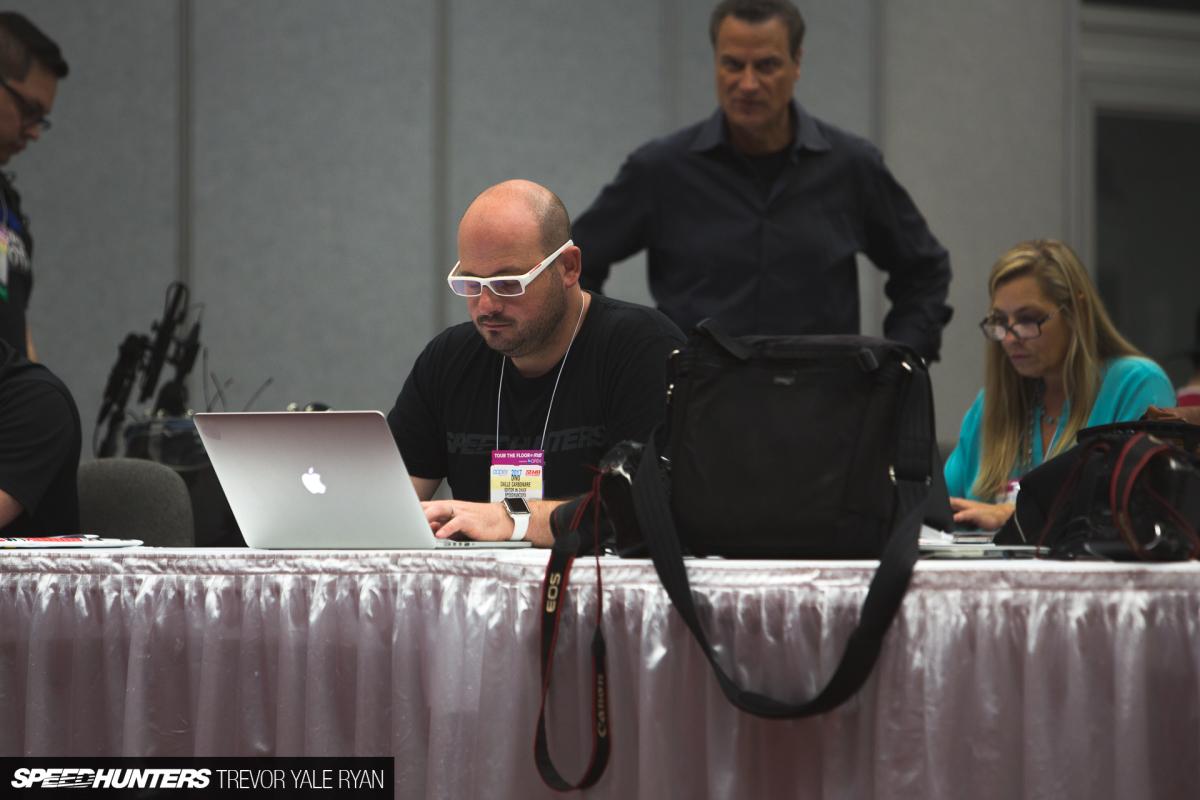 Due to this, Dino may actually be asleep here… it's hard to say. This is a time when coffee becomes as much a part of your kit as your go-to lens.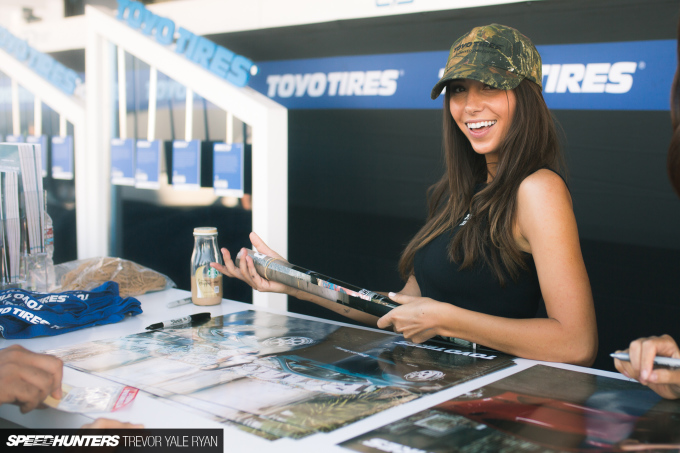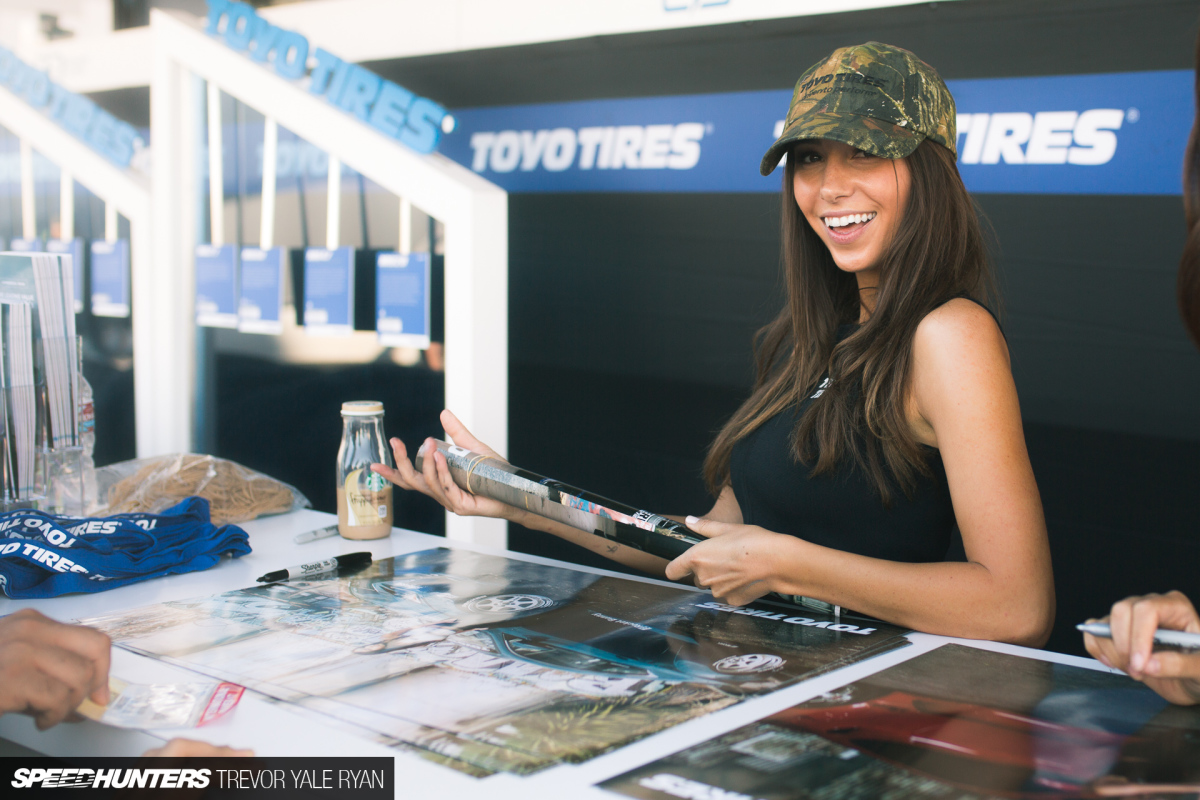 When you consider the amount of work it was for The Speedhunters alone to bring you SEMA coverage, keep in mind over 140,000 people attended the event. Think of all of the exhibitors, visitors, models, and 3,000 other media attendees that also made the trek to Las Vegas.
Many shipped multiple cars and loads of equipment to show off at the event — without these things there's no show at all. To further give you an idea of the scope of things, I heard that one booth spent over $125,000 just for the lighting equipment.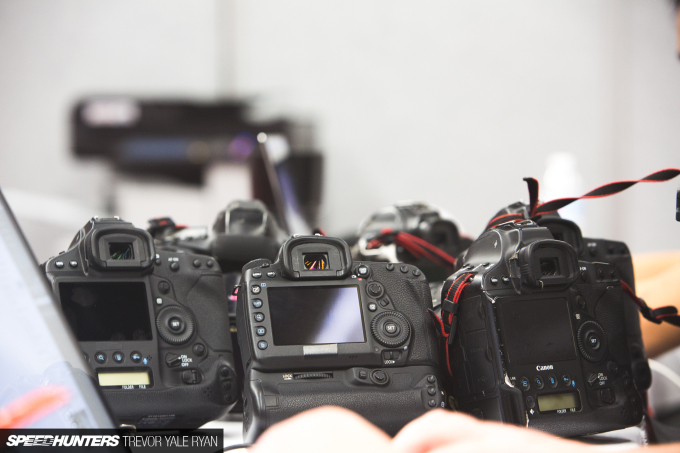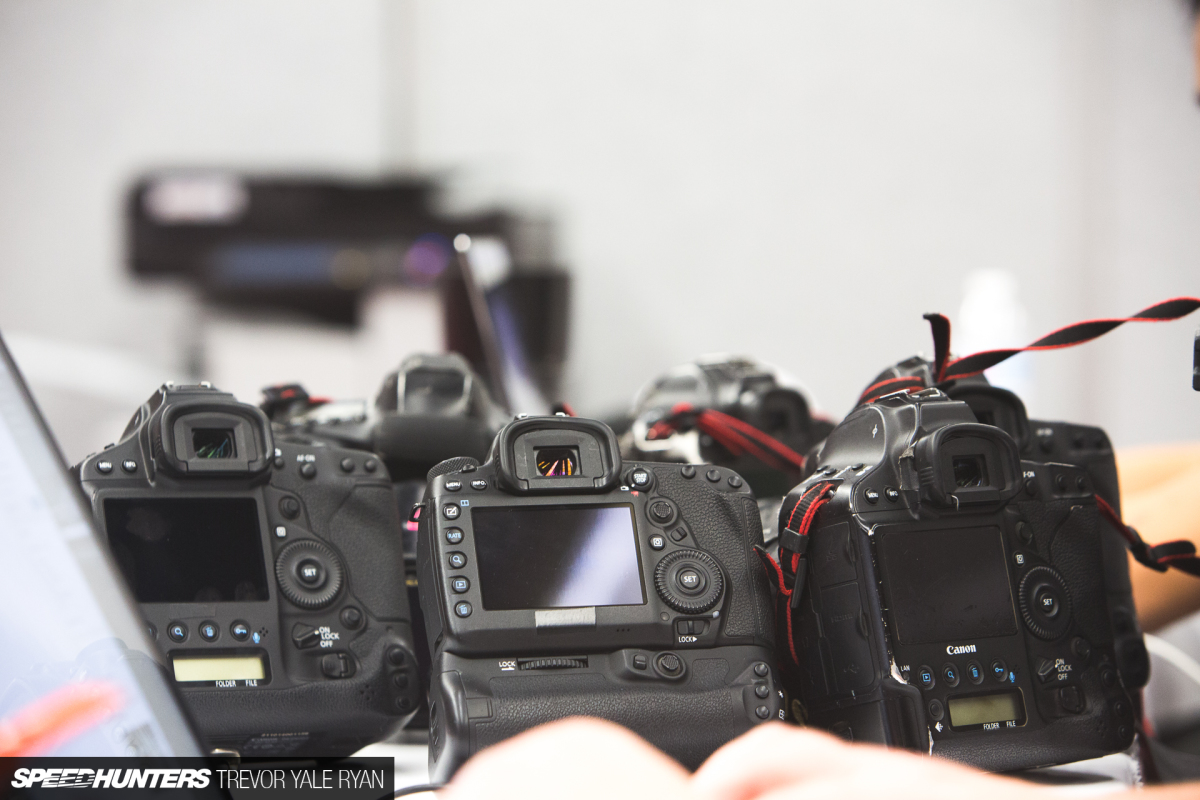 It's a seriously massive undertaking and would never be possible without the thousands of people working behind the scenes to make each booth, and eventually the entire show, come together.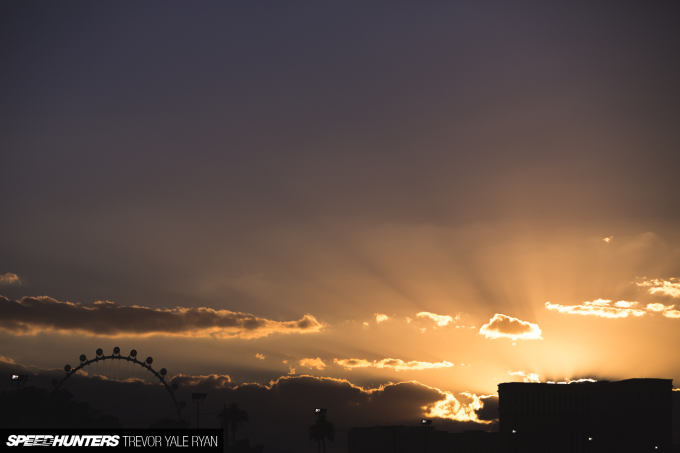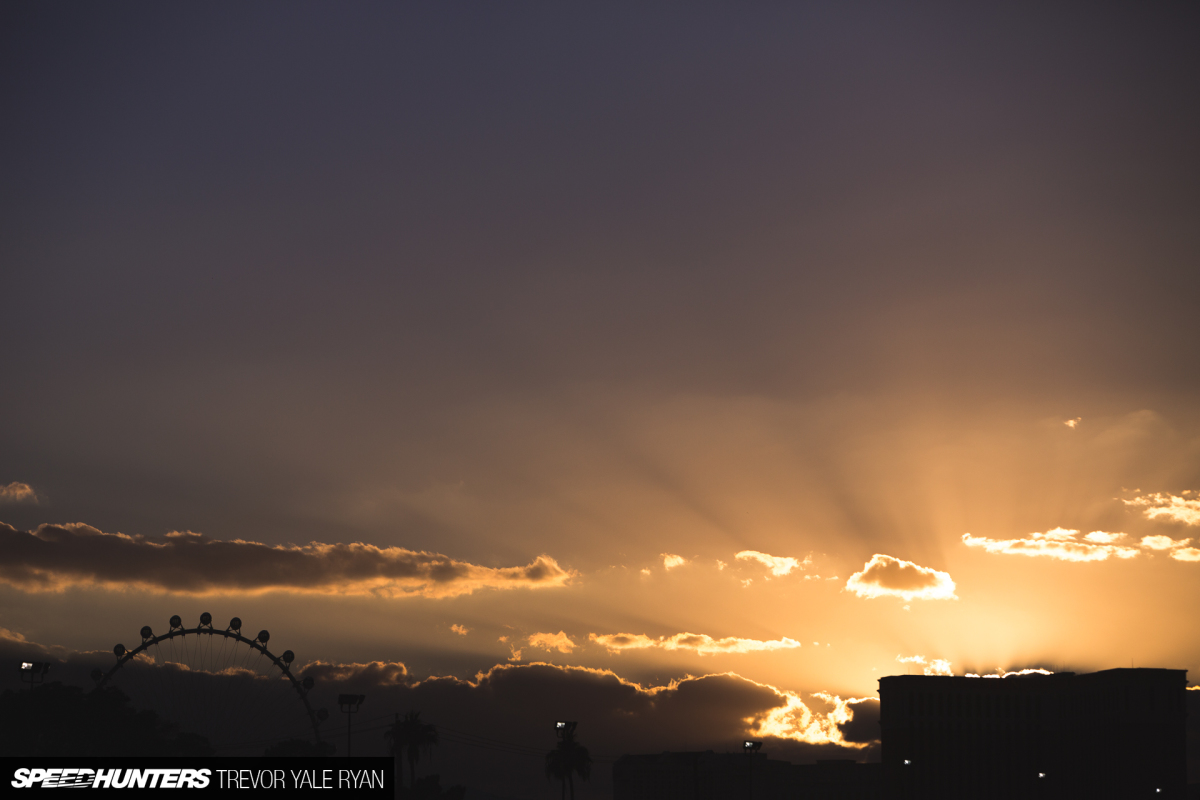 As a photographer, I'm thankful to everyone who made the SEMA show what it is; from five cars displayed in 1967 to over 1,500 five decades later, it is quite the impressive automotive celebration. I'm especially grateful to the Speedhunters team for being so welcoming and easy to work with. I might be biased, but it really is a great group of guys.
For anyone interested in a consolidated list of the totals from the SEMA show, I've tallied it all below.
Trevor Yale Ryan
Instagram: tyrphoto
TYRphoto.com