Nishi: The West Course
It had been seven years since I'd been to a Drift Matsuri at Ebisu Circuit.
Time certainly flies and you'll be happy to know that practically nothing has chanced since those first few events I covered for Speedhunters in 2009 and 2010. It blows my mind that so much time has passed, but when the event started turning into more of a demolition derby, I stepped away from it and pointed my camera towards other trends and styles that were developing in Japan.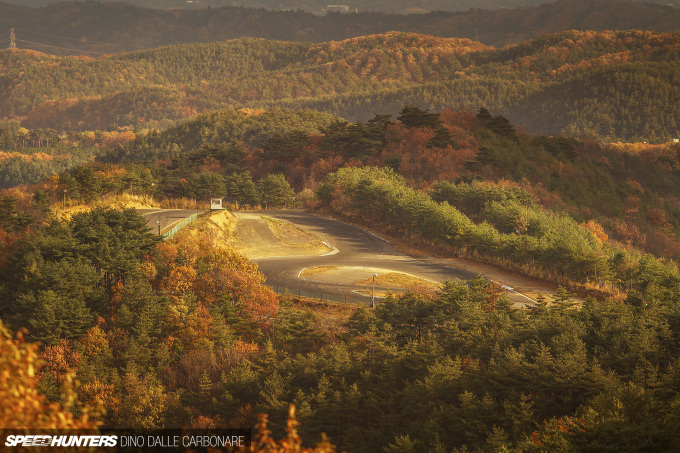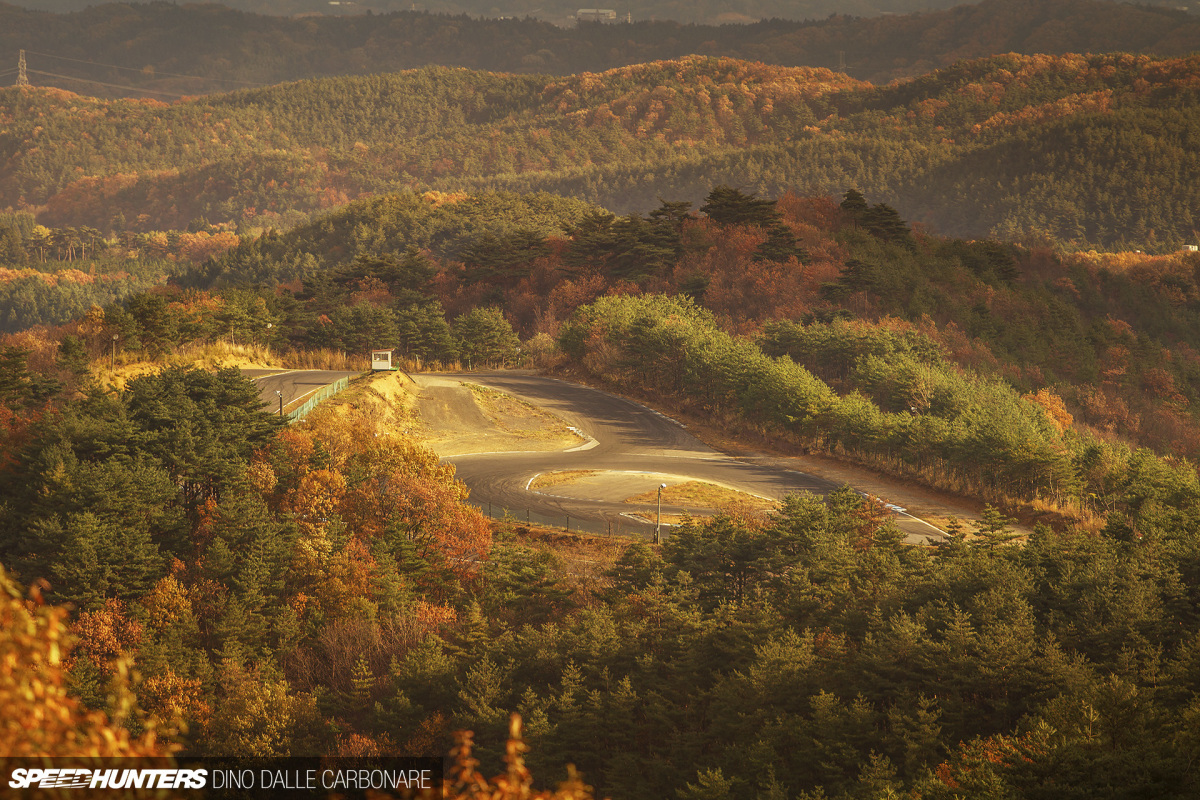 Then of course March 2011 rolled around and the Fukushima Prefecture got hit hard. Ebisu wasn't immune from the power of the earthquake either; there was a lot of damage to roads, the track and buildings within the complex. While there may still be concerns with the general Fukushima area, things got back to normal relatively quickly and Ebisu, drifting and the Matsuri has continued on, stronger than ever.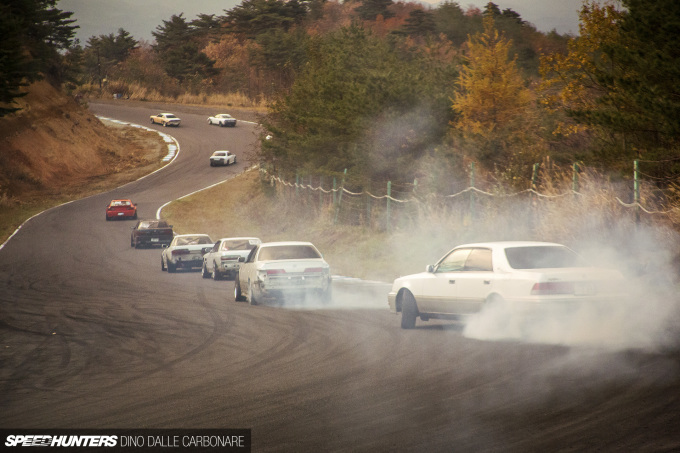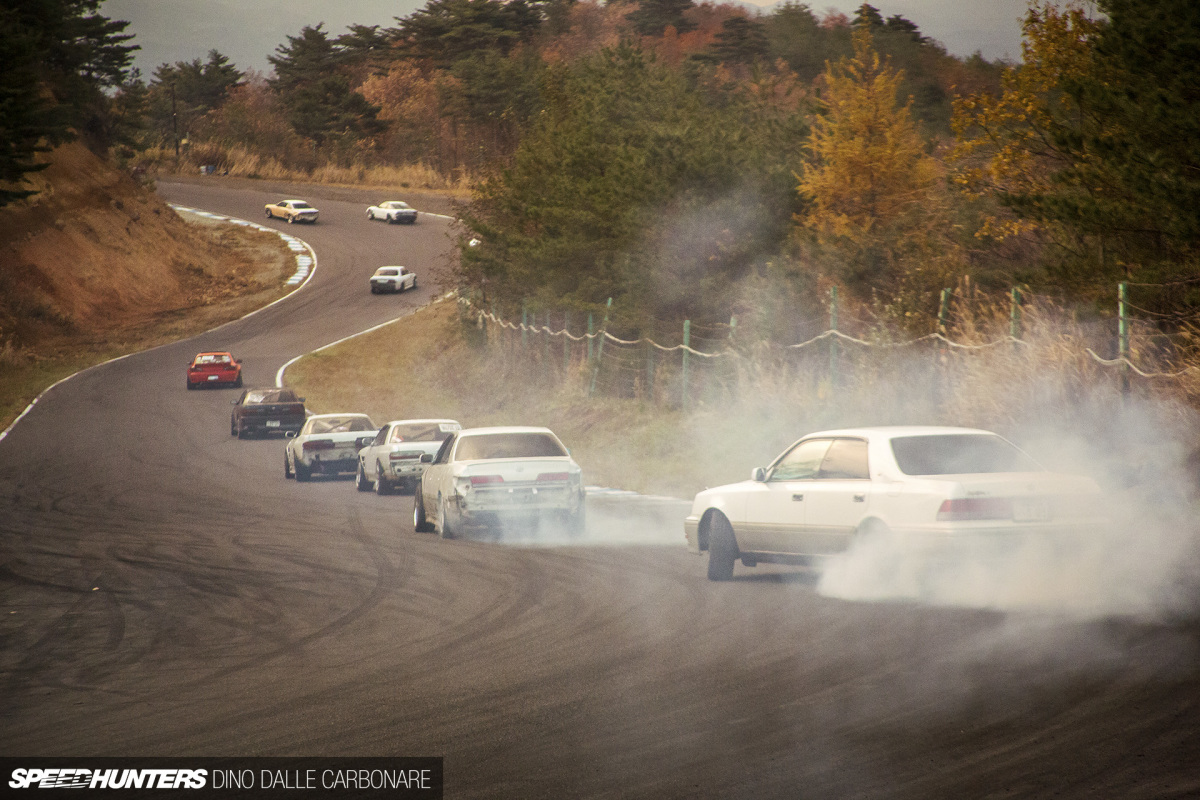 But seven years was just too long, it was time I revisited the Drift Matsuri and soaked up some of the amazing atmosphere that sees people coming back year after year once more. It's intoxicating; for drifters, Ebisu Circuit is possibly the most appealing location on the planet, and when Matsuri rolls around you're essentially left to your own devices with four tracks at your disposal. And it's those four tracks that I've decided to split the coverage from my one-day visit to the autumn event between.
Let's start with the track closest to the Ebisu Circuit entrance, Nishi.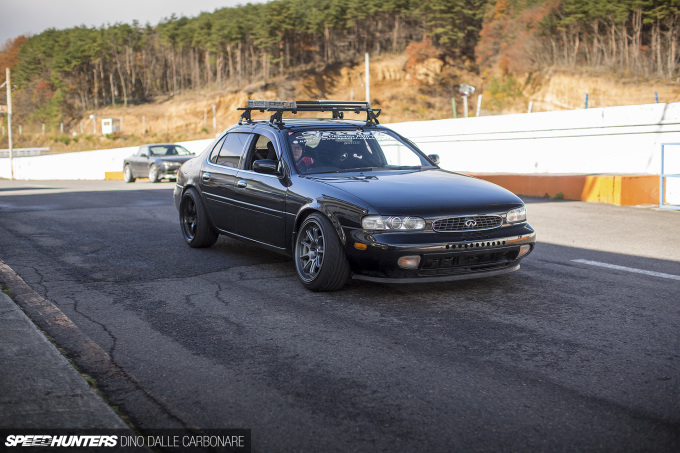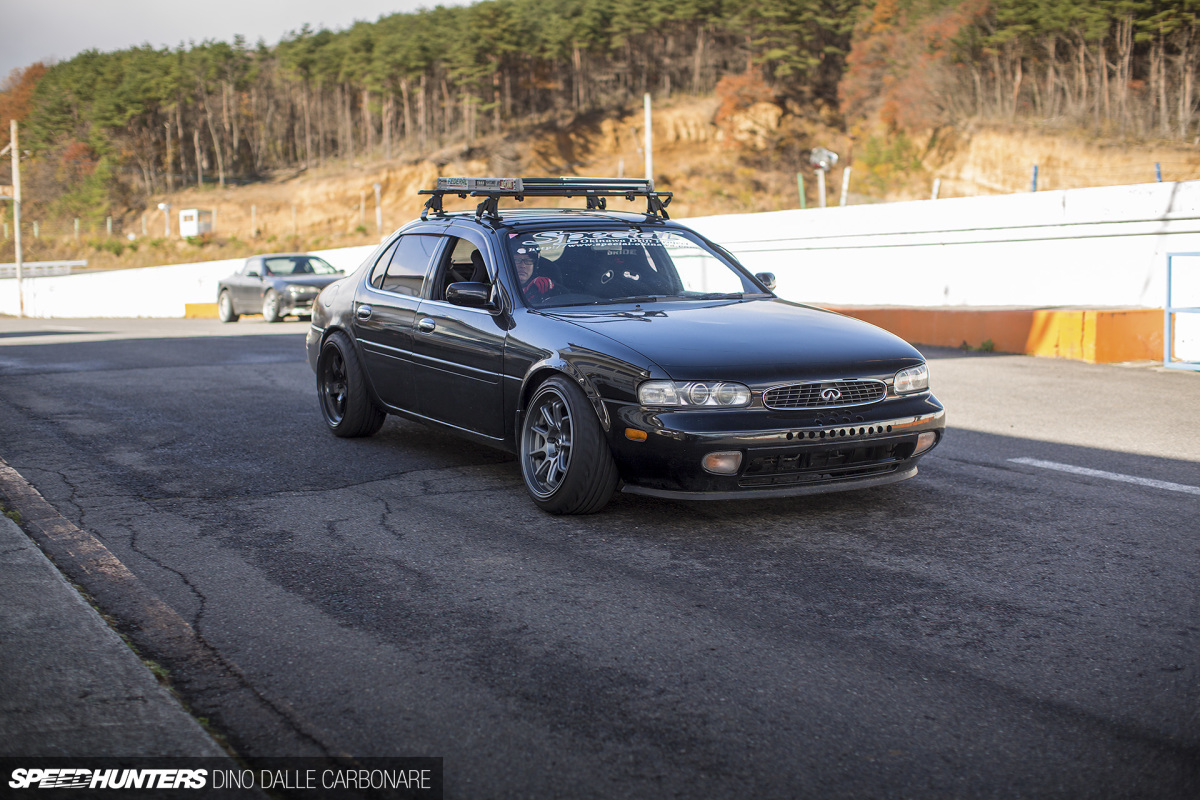 A 5:00am departure from Tokyo was enough to guarantee a 9:00am arrival at Ebisu, pretty much an hour after the event started. Being the first day of the weekend-long bash, people were understandably taking it easy. Most were still unloading cars and getting them ready, but a few were out testing the waters on a track that was still damp.
This was when I saw what was perhaps the oddest car of the whole day, a Y32 Nissan Leopard J Ferie, otherwise known as the JDM version of the Infiniti J30. I guess if it's rear-wheel drive it counts, right? I have to say, I love seeing people going for different cars.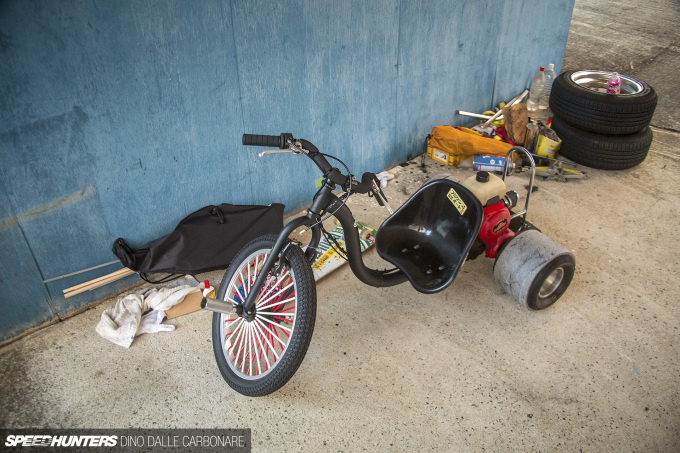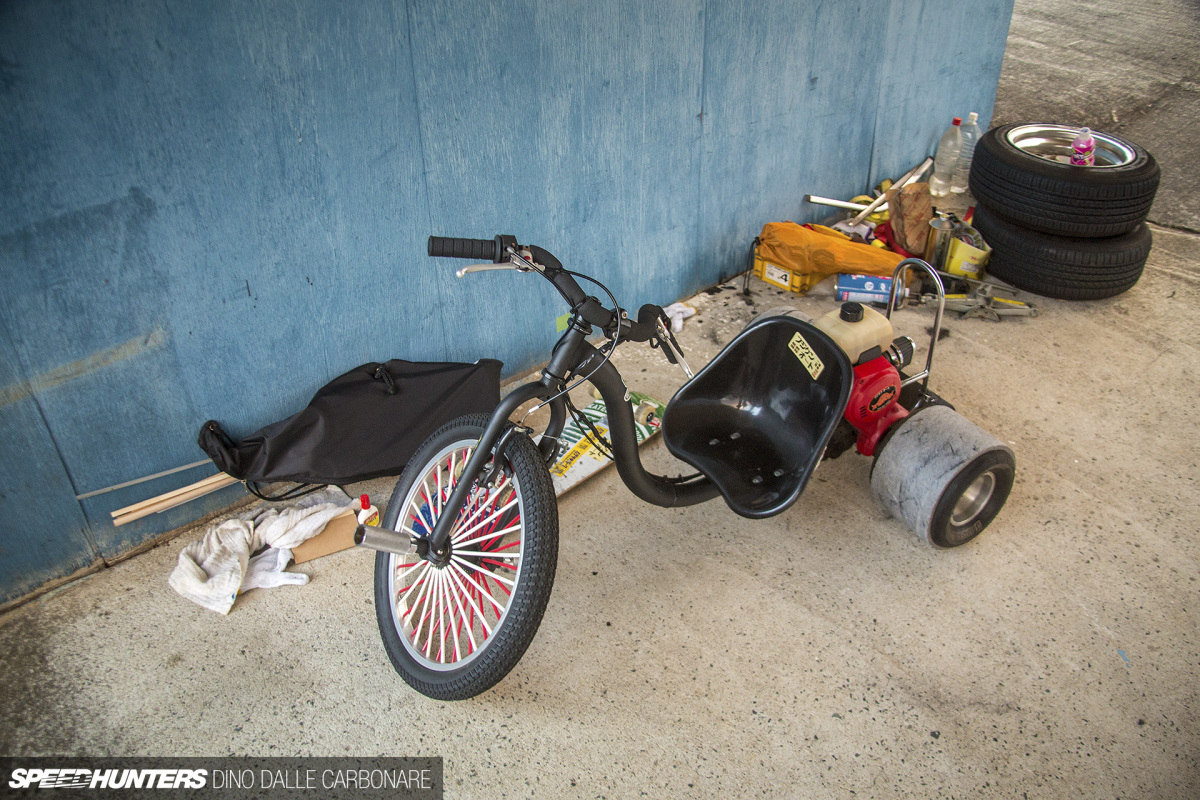 This would drift too, but in a whole different way. I really wanted to take it for a spin, but there was no way I'd have fitted my rear end into that little plastic seat.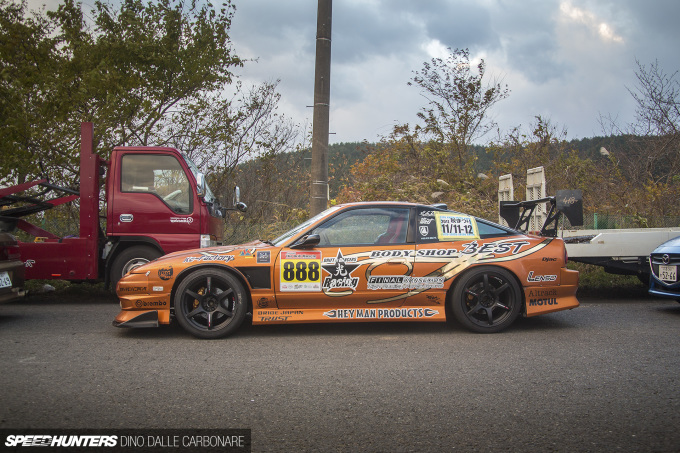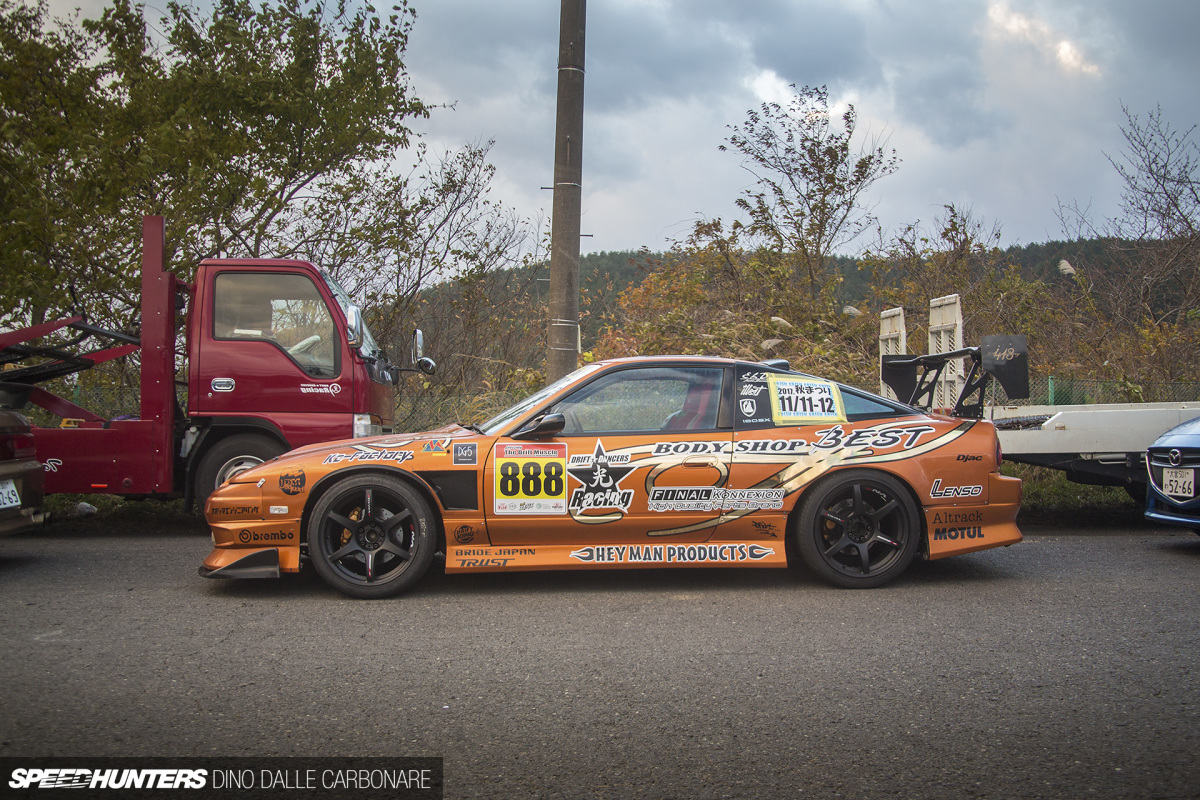 Prior to the event, there were a lot of rumors floating around about well known drivers attending the autumn Matsuri. A bunch of Team Burst members were included, along with the man himself, Nakamura. Unfortunately, I never got to see them go out on the day I attended, which was disappointing. But shooting pro drifters wasn't the reason I had come up to Ebisu, capturing the atmosphere was.
It didn't take me long to see that all the Matsuri's usual practices were very well still in play. After all, when you are stuck at a track with limited access to tools and equipment you learn to think outside the box. Safety first, though!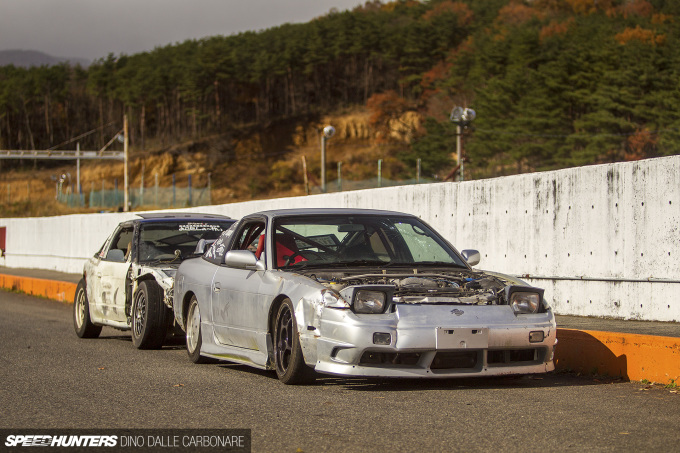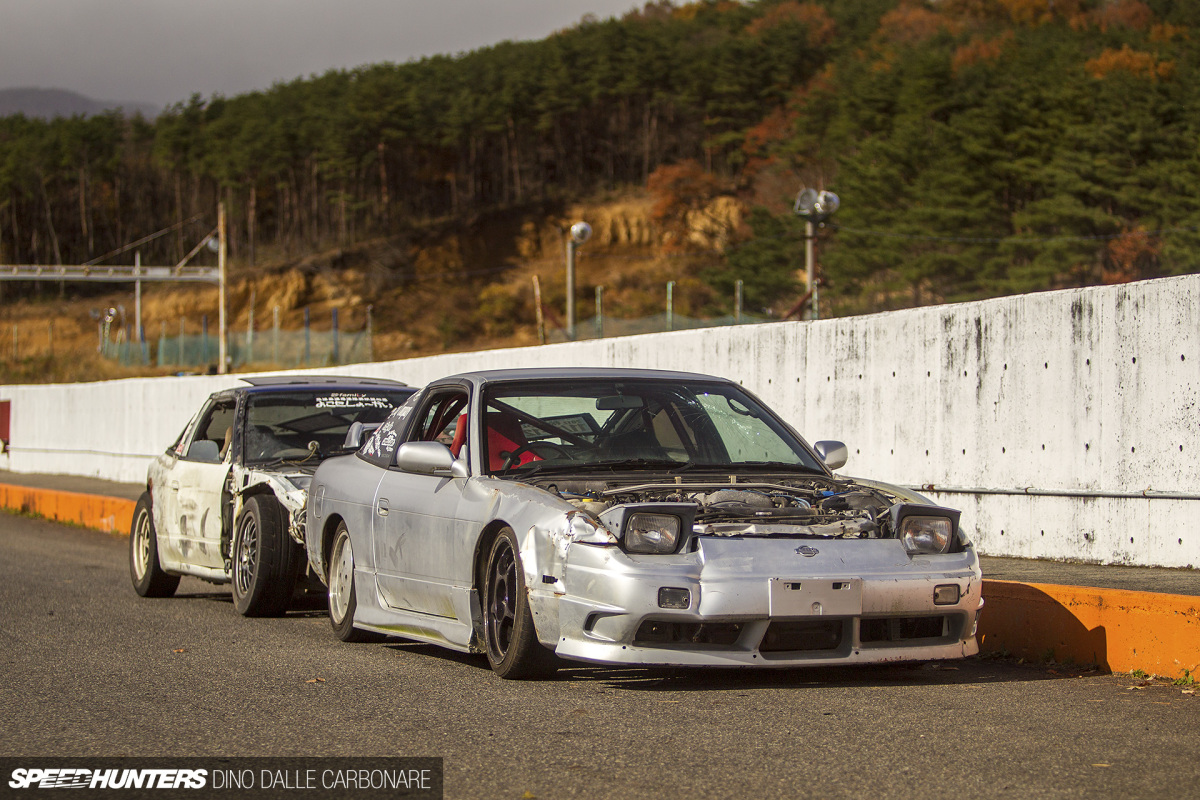 And then of course there are the missiles. There's no escaping the feelings of pity and sadness when I see cars headed towards the grave. Sure, it's all about getting practice in and pushing the envelop without a worry in the world, but that doesn't make it any easier to digest.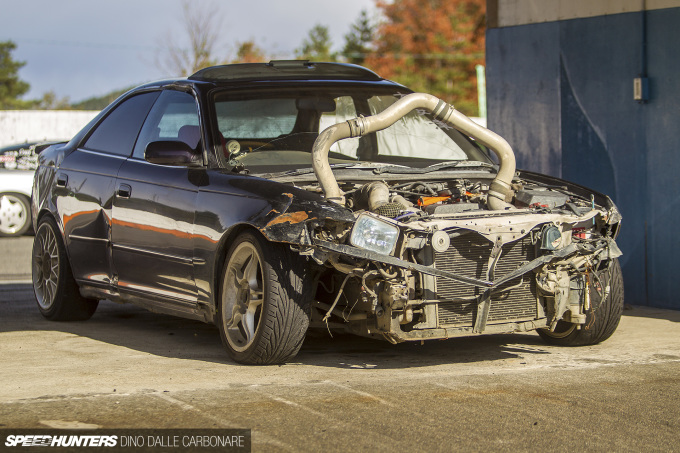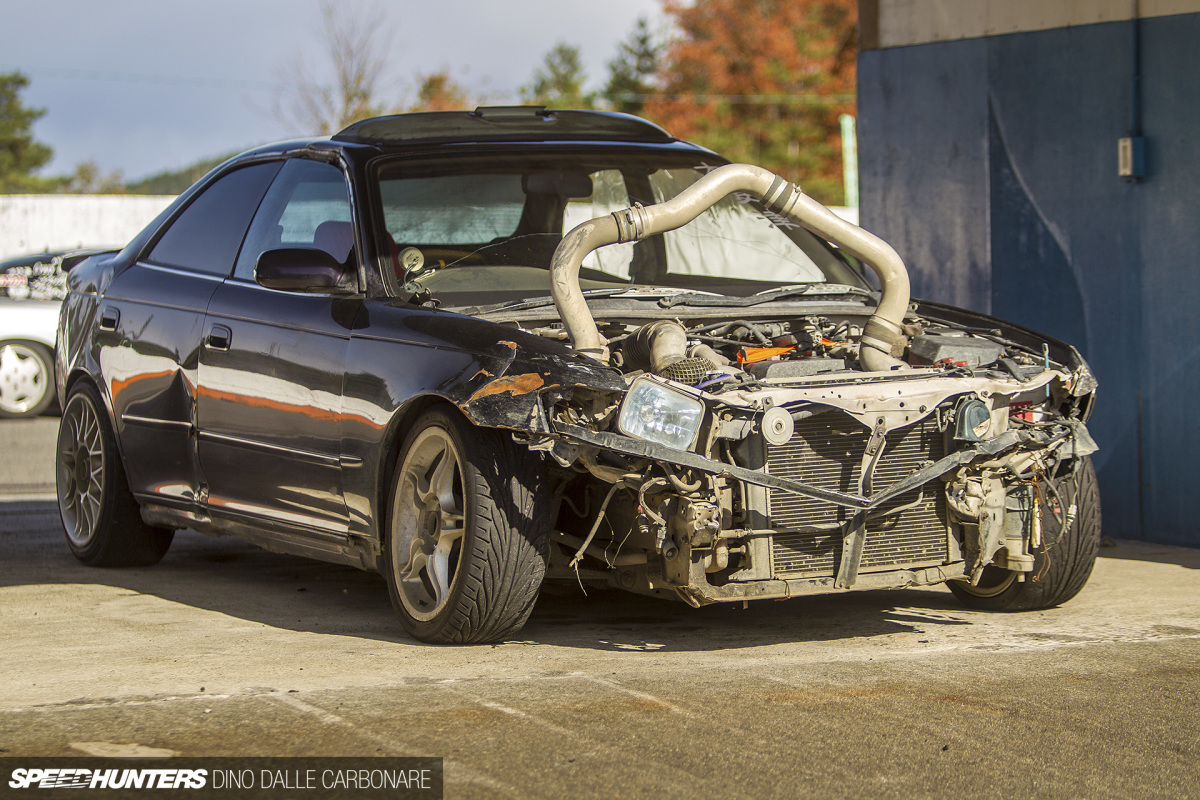 Comical is a good word to describe some of the creations you come across at Drift Matsuri, and I saw a couple of cars with piping sticking out of the engine bay like this. Either there's only so much you can do with limited piping at your disposal, or someone has figured out an alternative method of cooling the intake charge.
There were some rather clean cars around the complex too; these wide-bodied S15s had me drooling.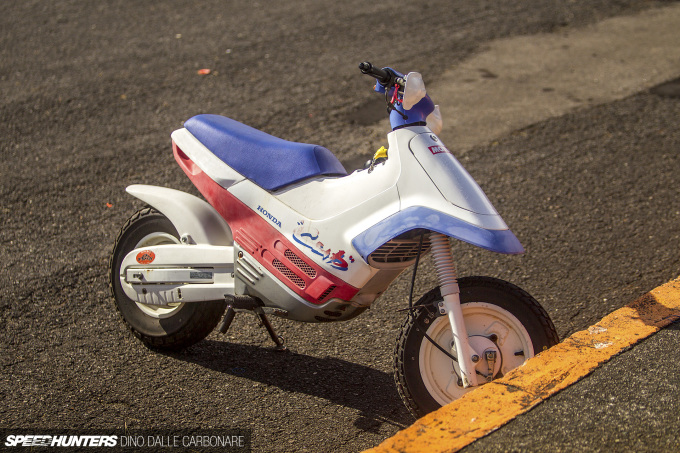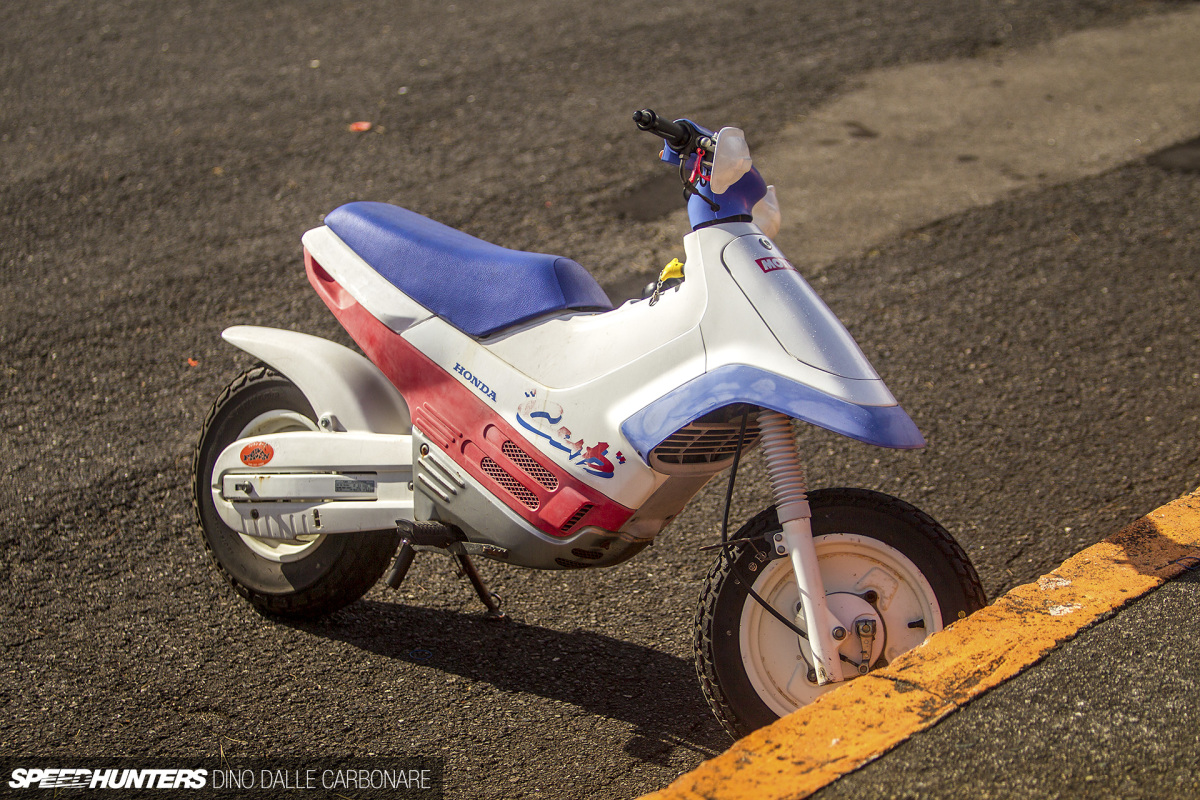 I often talk about the golden era of early '90s Japan, and here's another example why. Many people bring bikes and quads to move between circuits at Ebisu, but this Honda Cub EZ-9 scooter/cross-bike won hands down. It's possibly even better than the pink quad Andy at Powervehicles used to lend me back in the day at this event.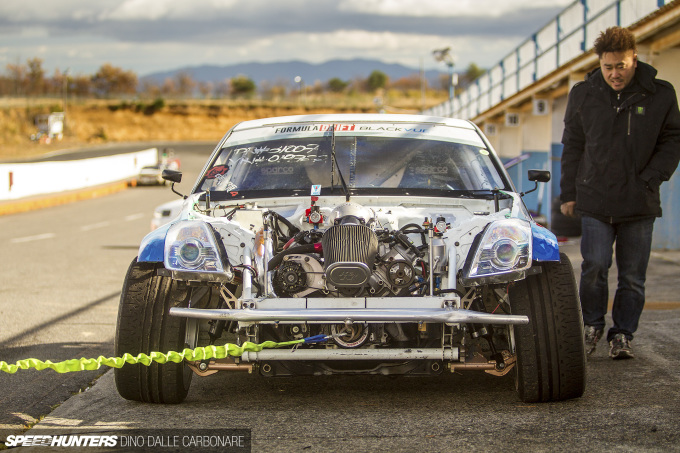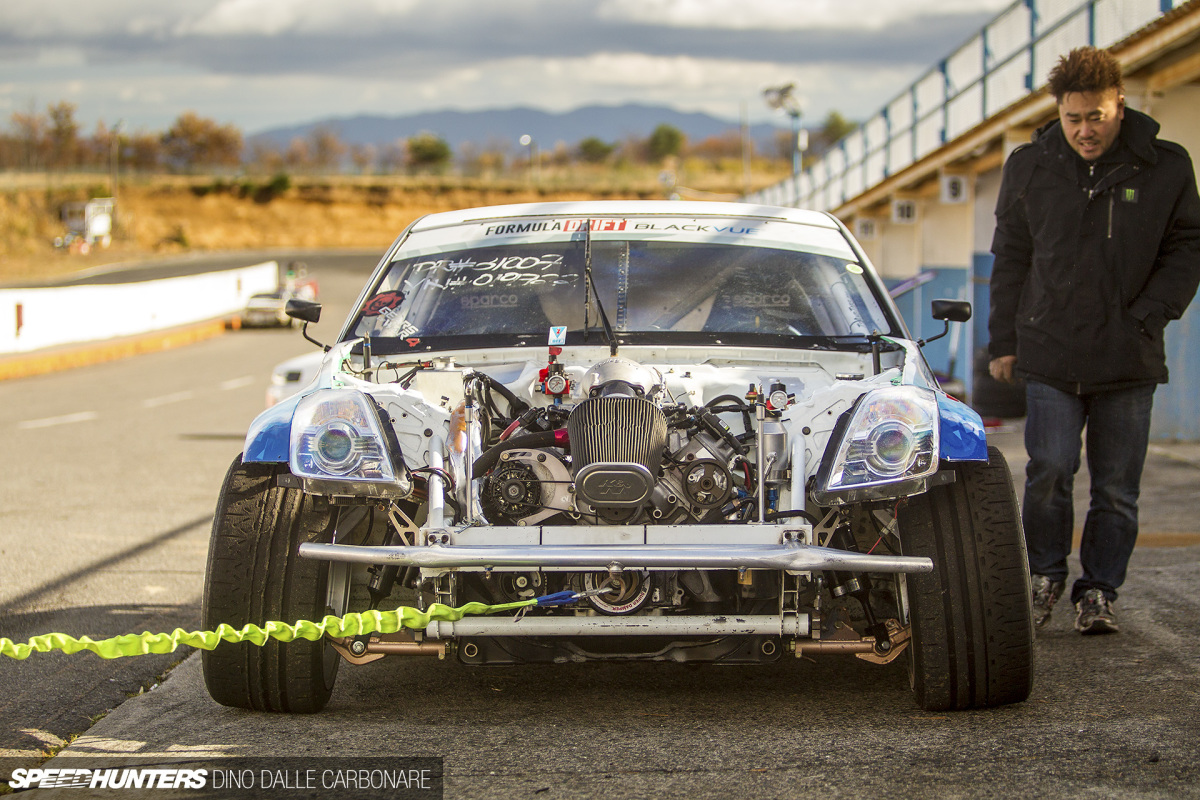 Like a lot of D1/FD drivers, Daigo Saito was at Drift Matsuri to have some fun, but at the same time he wanted to shake down this ex-Formula Drift V8-swapped Z33 he recently picked up from Pat Mordaunt. For most of the morning the engine refused to turn over, but later in the day I returned to Nishi and noticed the tires were well and truly scrubbed, so I'm guessing they figured out the problem and got it running.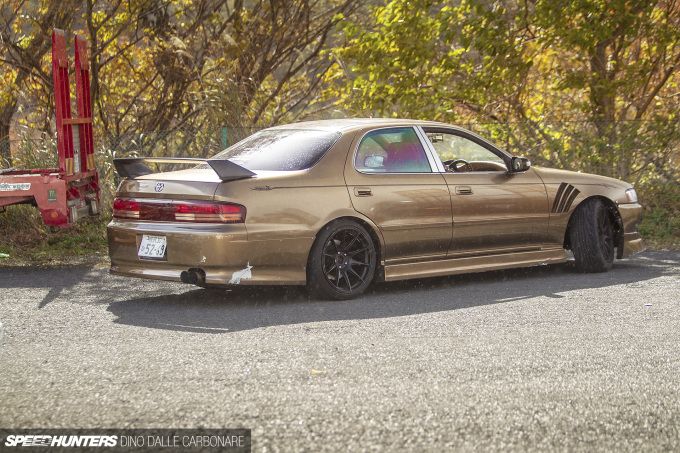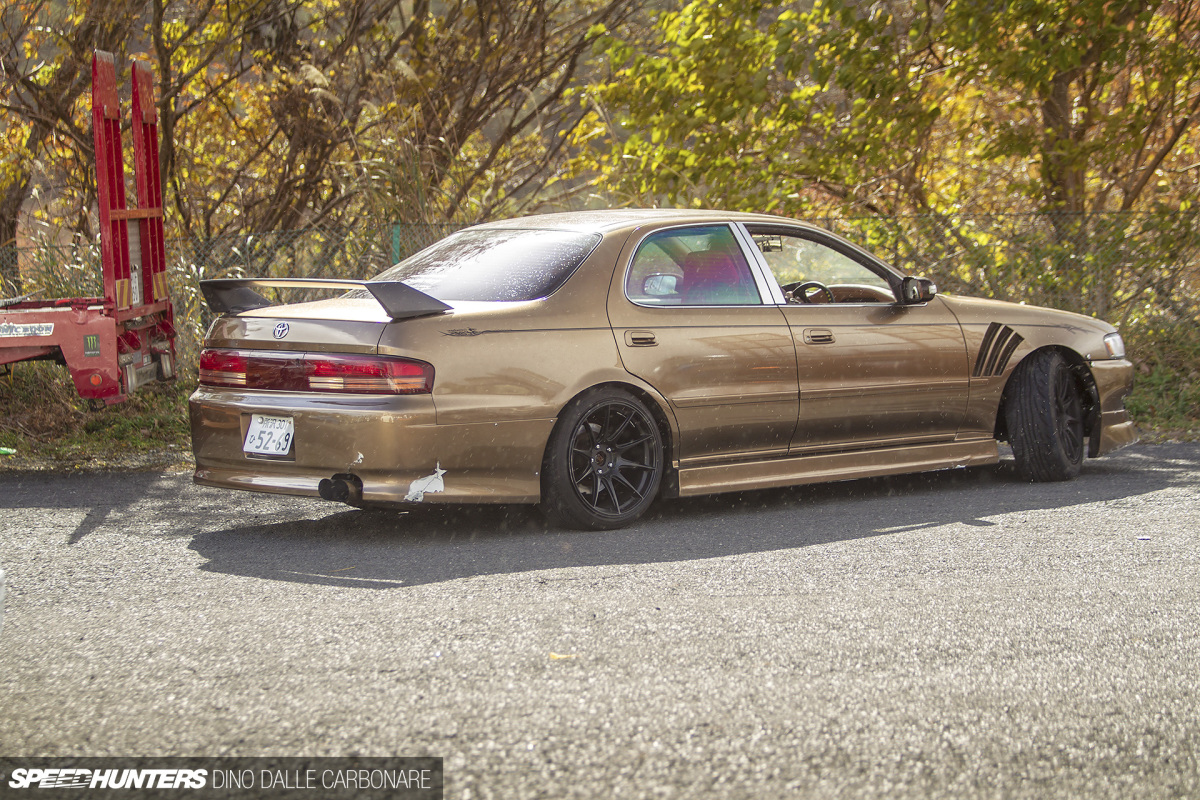 As more cars arrived and began to be unloaded off their transporters I decided it was about time I moved along.
Minami: The South Course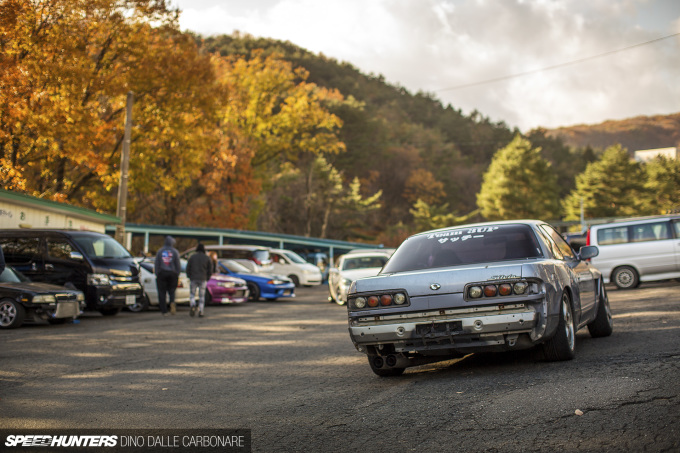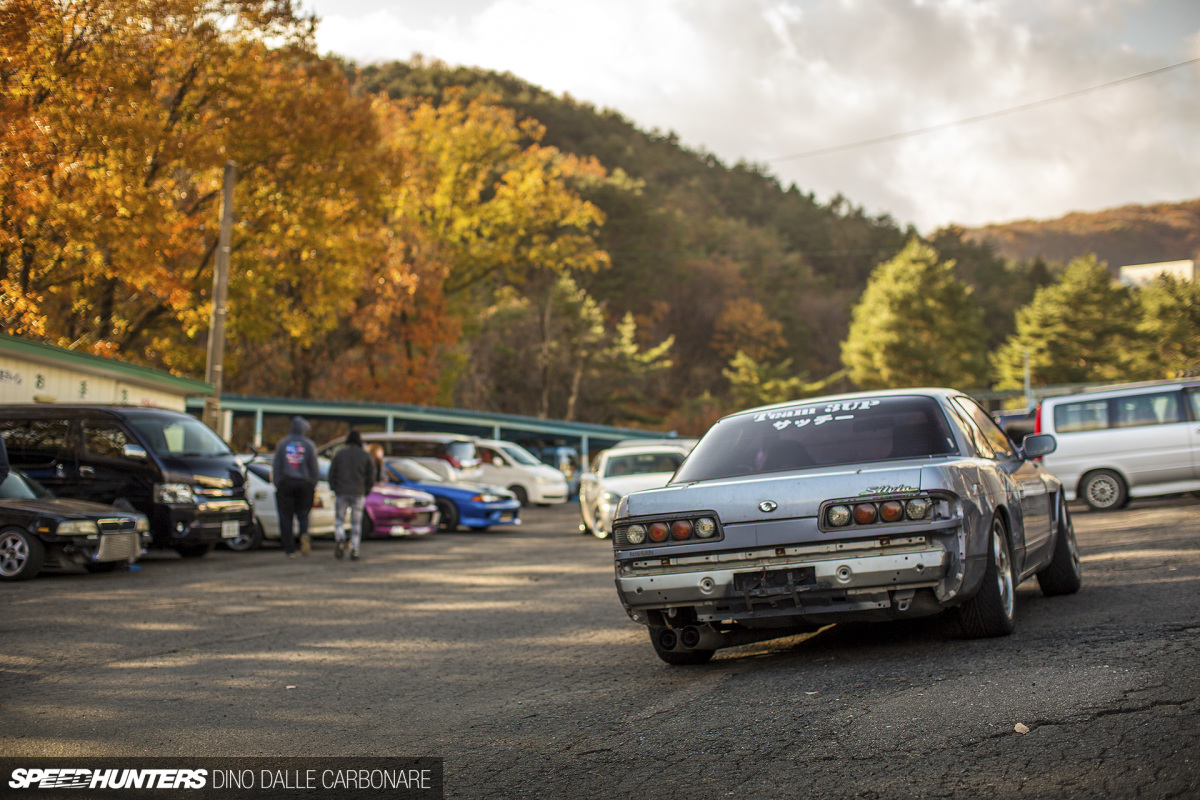 Welcome to Minami.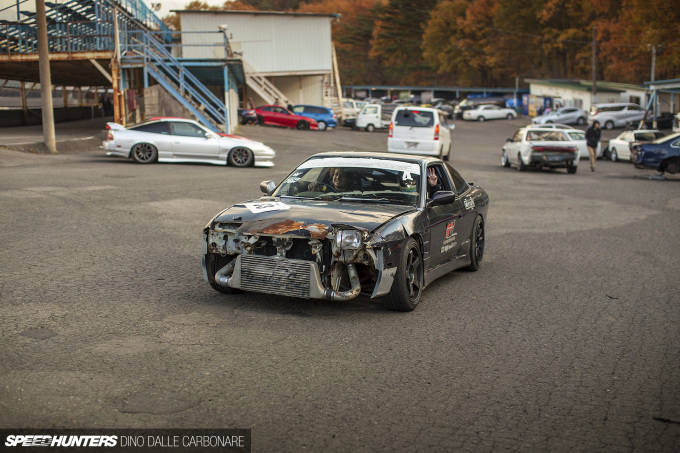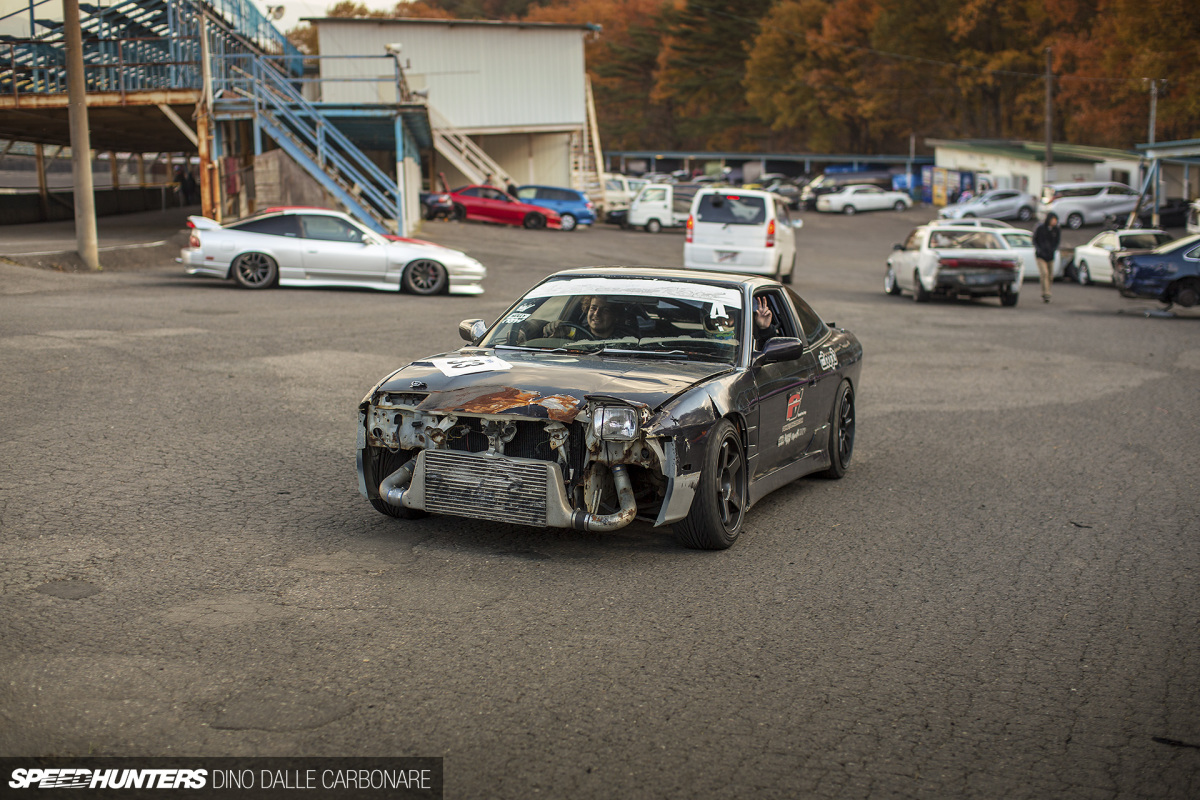 This is a favorite; it's the track that D1 has always used for its championship round at Ebisu, and a challenge for even the most skilled drifters.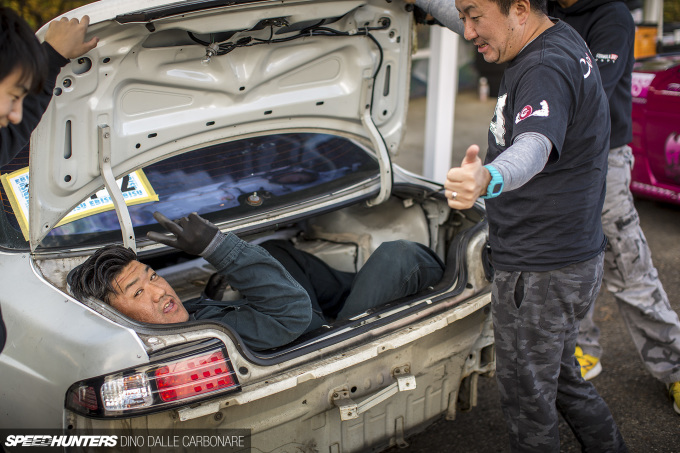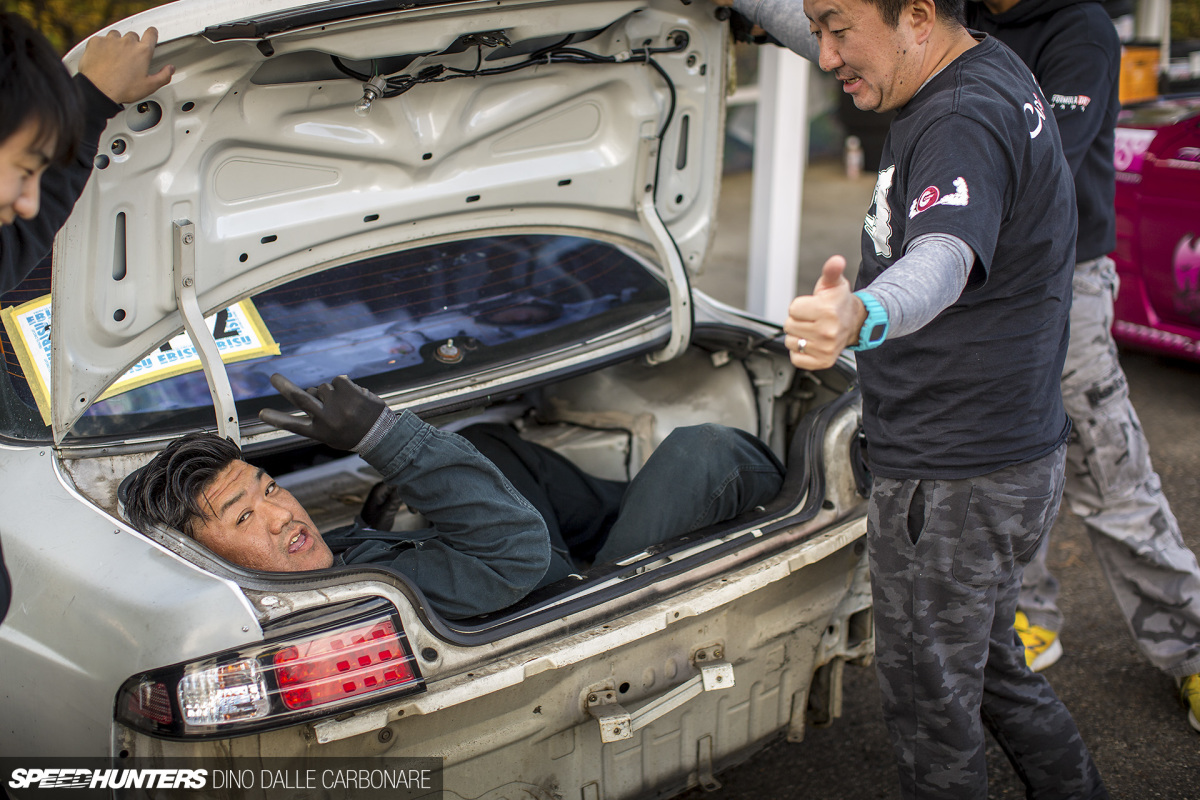 If you've watched any drifting videos from Japan you'll surely be familiar with its left-hand jump and drop into the main straight. You can either not get it right and have a shallow line or the car straightens up on you, but a perfect run is a fast drop into a big drift, shaving the wall with the rear bumper and maintaining the car sideways until you connect up to the double-apex left-hander that comes at the bottom of the short straight. It's probably the hardest thing to get right in the drifting world and there are plenty of wall taps to be seen on any given day. Above is Kazama-san's S14 from Kazama Auto which was getting some strong kicks from the inside of the trunk after the quarter panel was modified by the wall.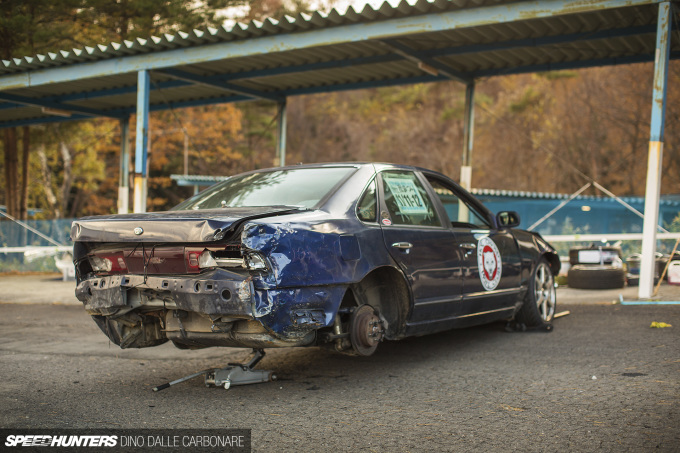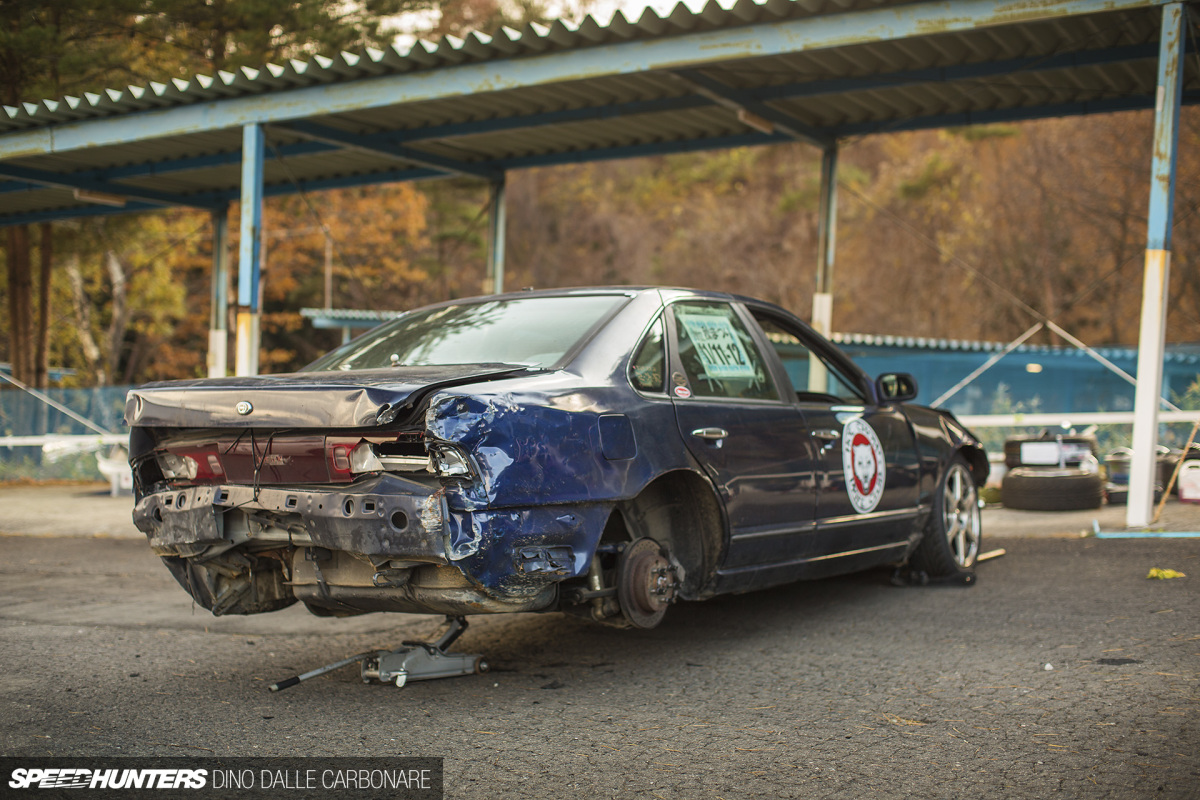 Damage is directly proportional to speed and angle.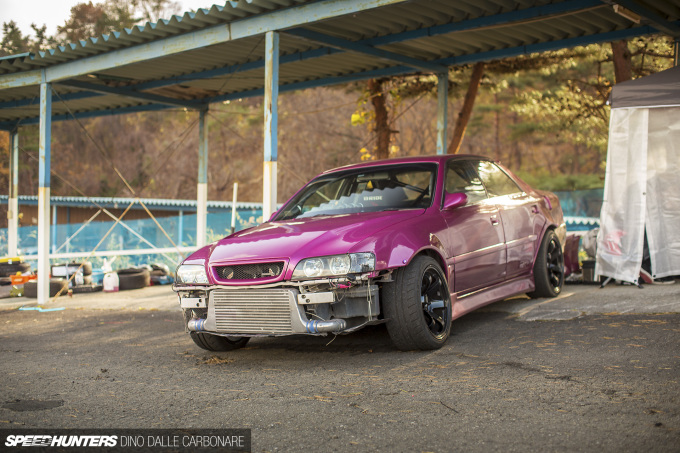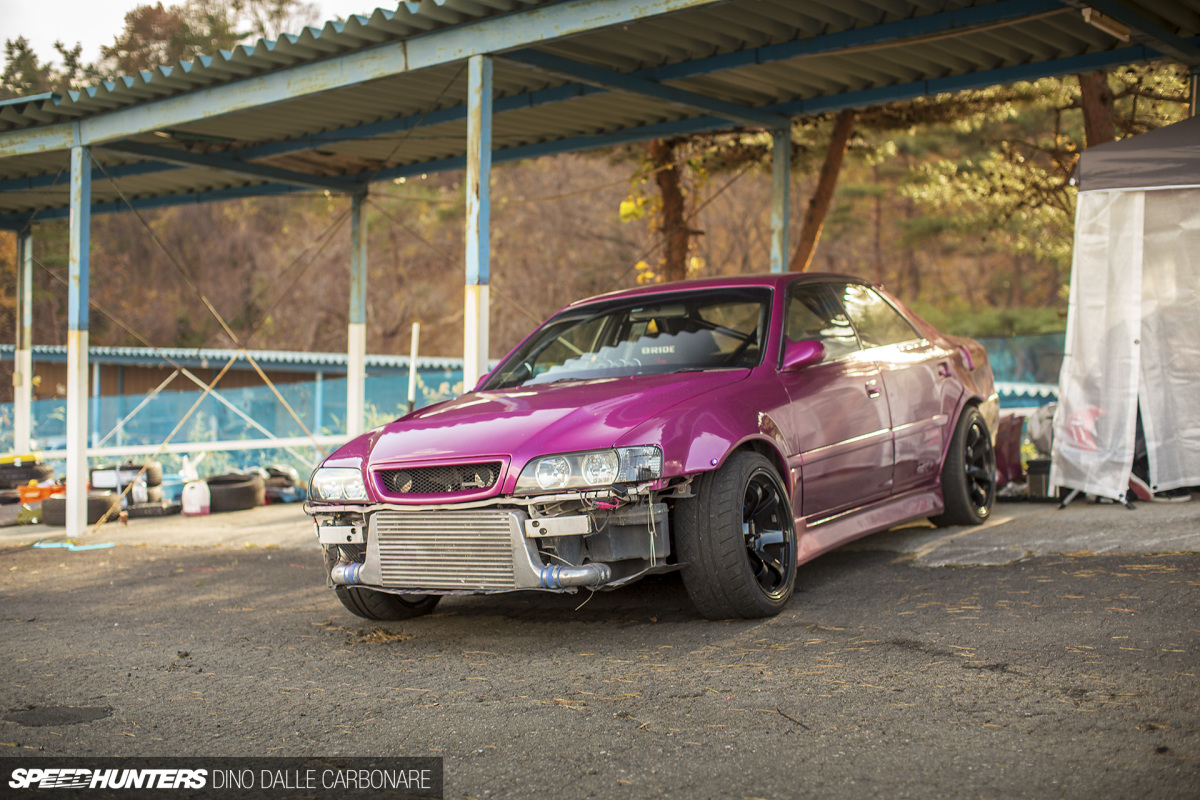 This JZX100 was probably the straightest car in the paddock. The big Toyota chassis has a reputation for being easier to master when drifting; it's heavy and thus introduces a lot of momentum into the equation. They also happen to be built like tanks, which obviously helps keep them going for longer.
Here's a 1JZ-powered S14 sitting next to a 'well-used' JZX90 Mark II.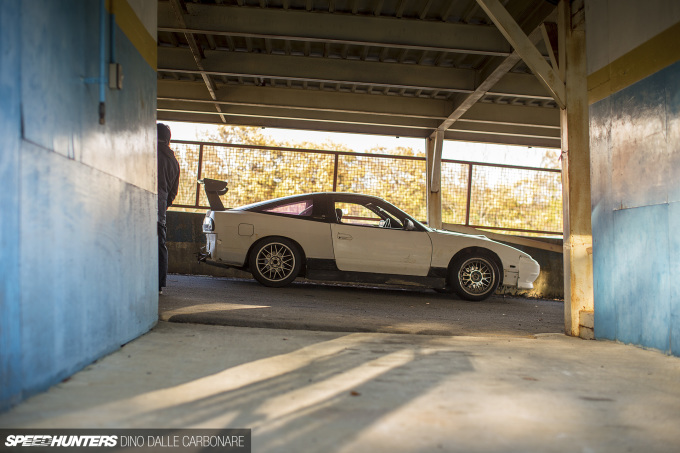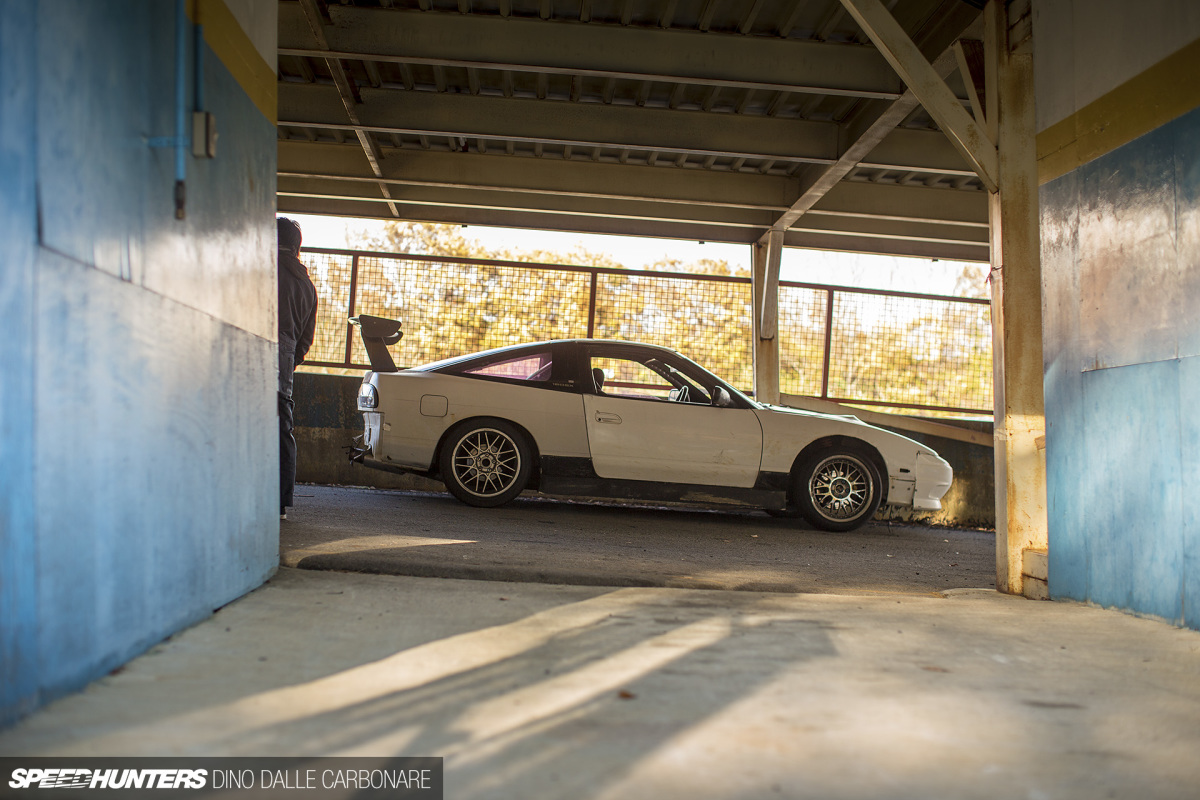 By late morning people really started to go a little wilder out on track and at times there were up to seven or eight cars out at once. Some drivers tandem together or tag along with whoever is out there, while others like to practice by themselves.
Here's a look at a decently executed high-speed drop into the main Minami straight. As you come in packing some speed your car will lift two, three or all four wheels before compressing hard onto its dampers, as this ER34 four-door beautifully demonstrates.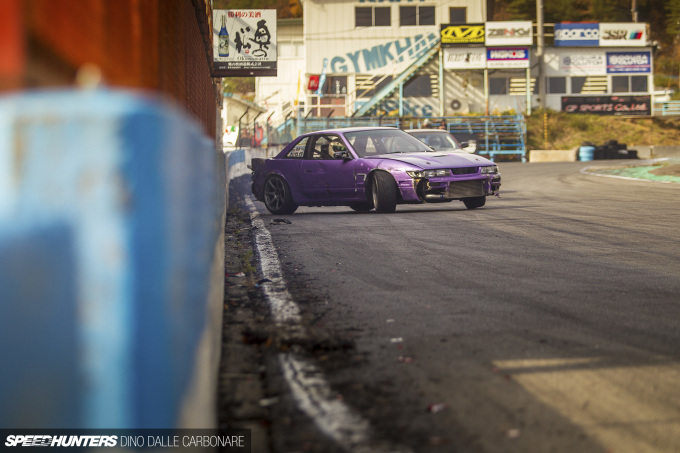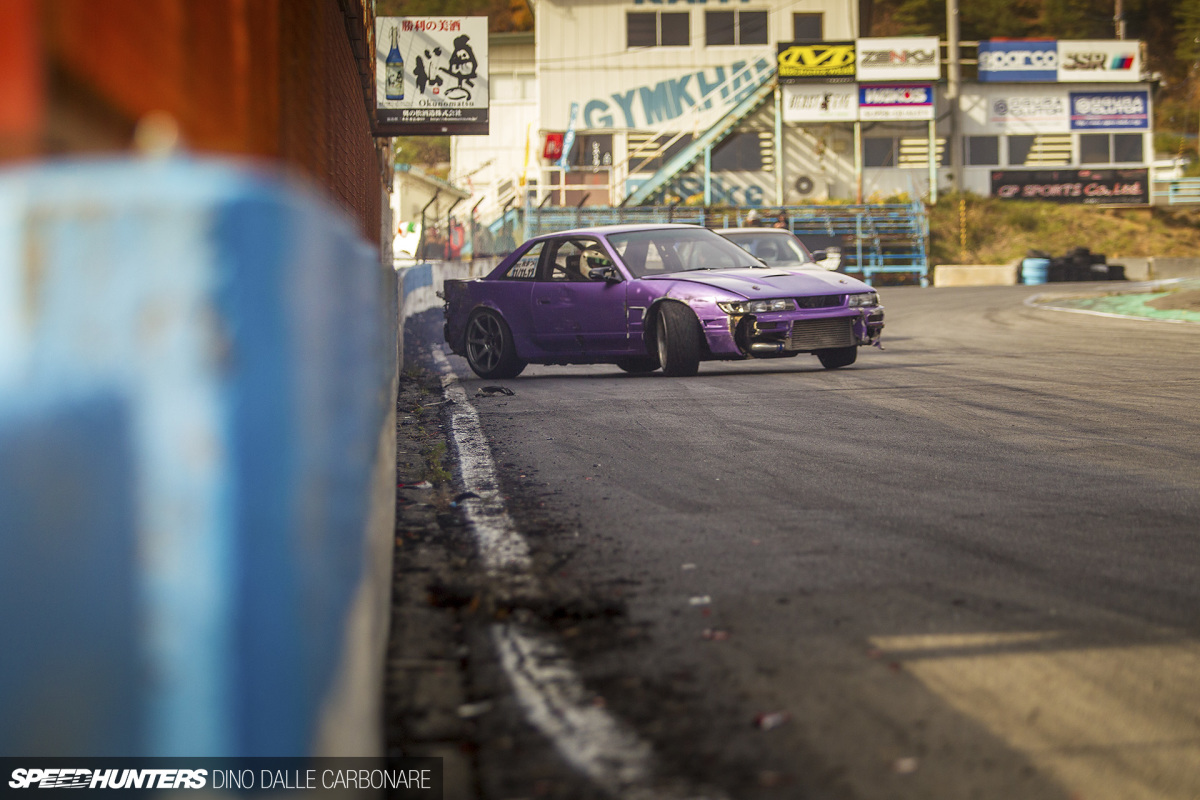 It's then all about staying on the power hard as you edge close to the wall, trying to hold angle through the progression of the downhill straight.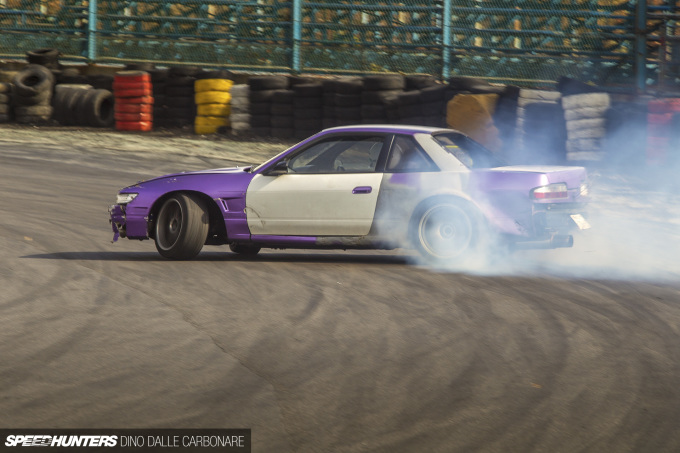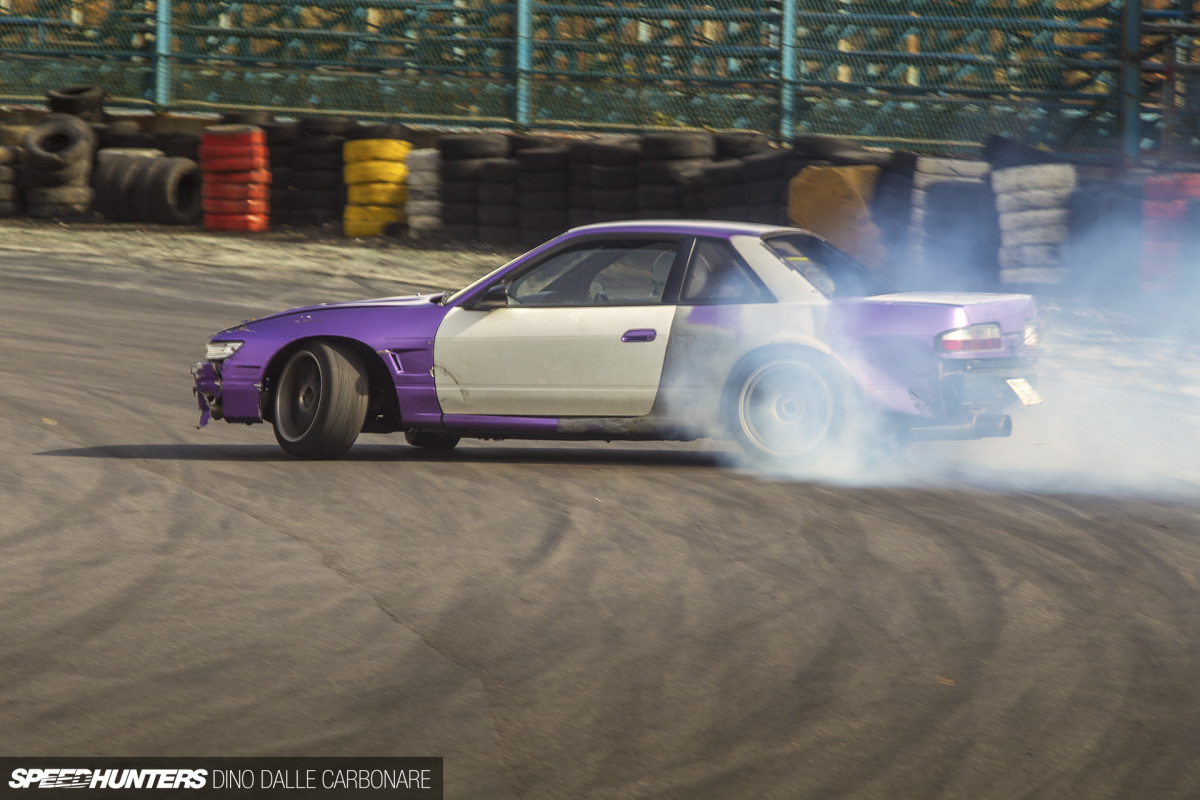 A few yanks of the e-brake and plenty of throttle is then needed after a downshift to keep the car sliding wide to hit the second apex.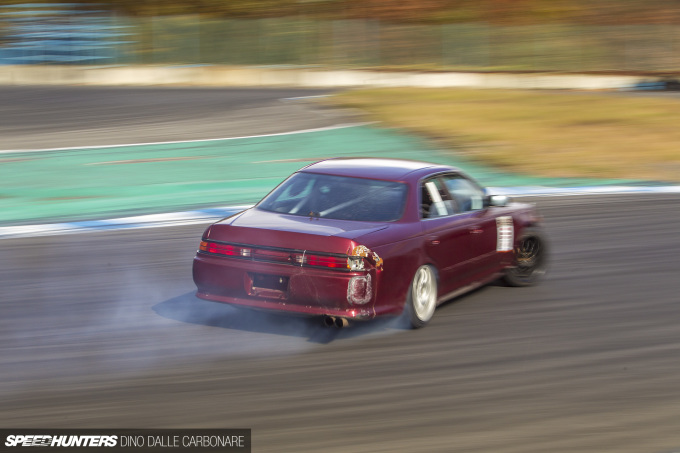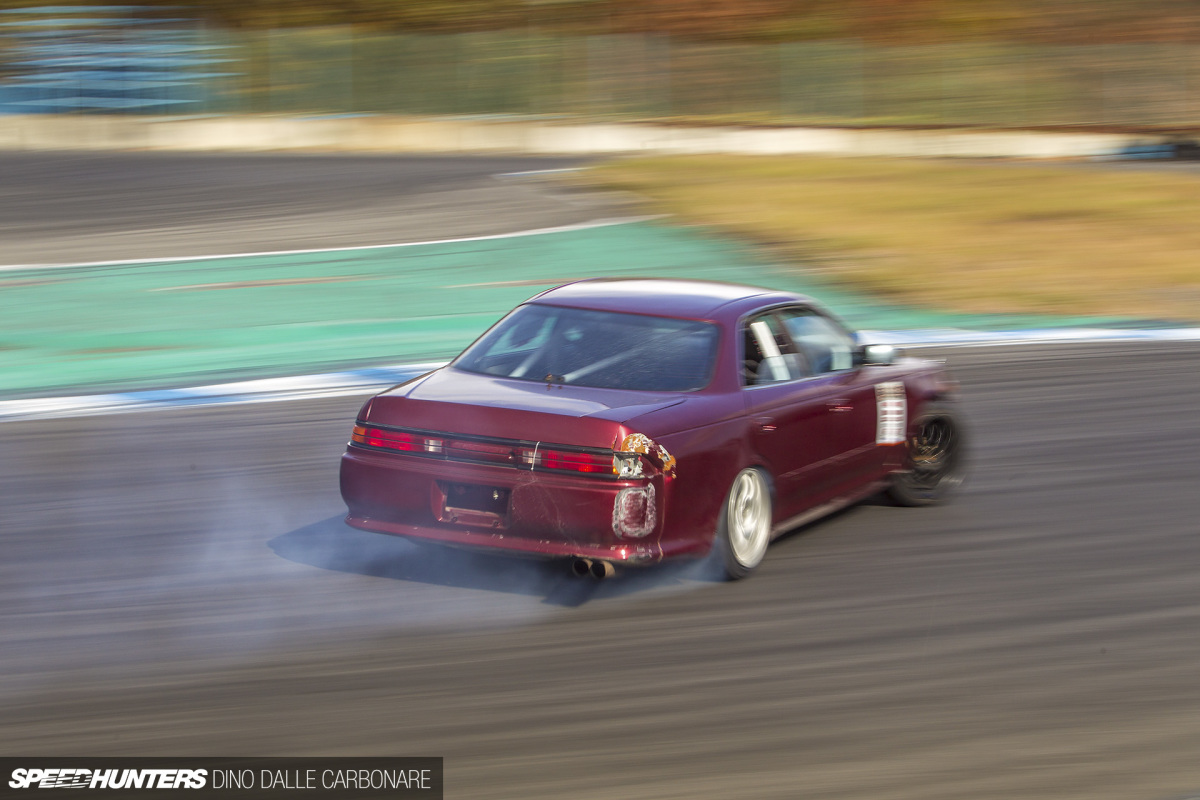 It's fun as hell to watch and even better to drive, but with time ticking away and the menacing clouds moving in I wanted to at least complete my tour of the circuits before potential rain spoiled things.
Higashi: The East Course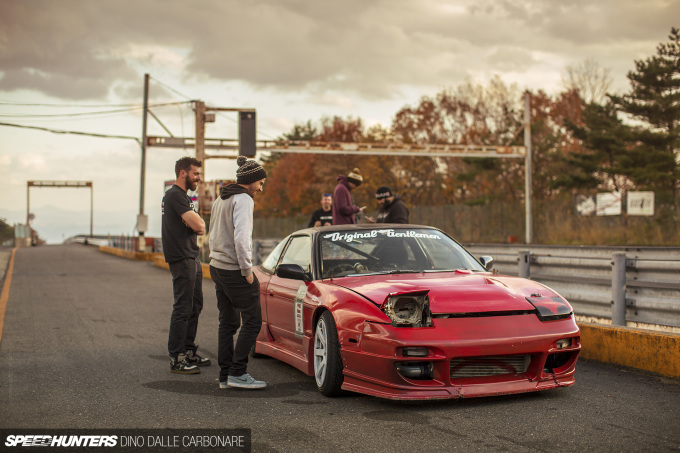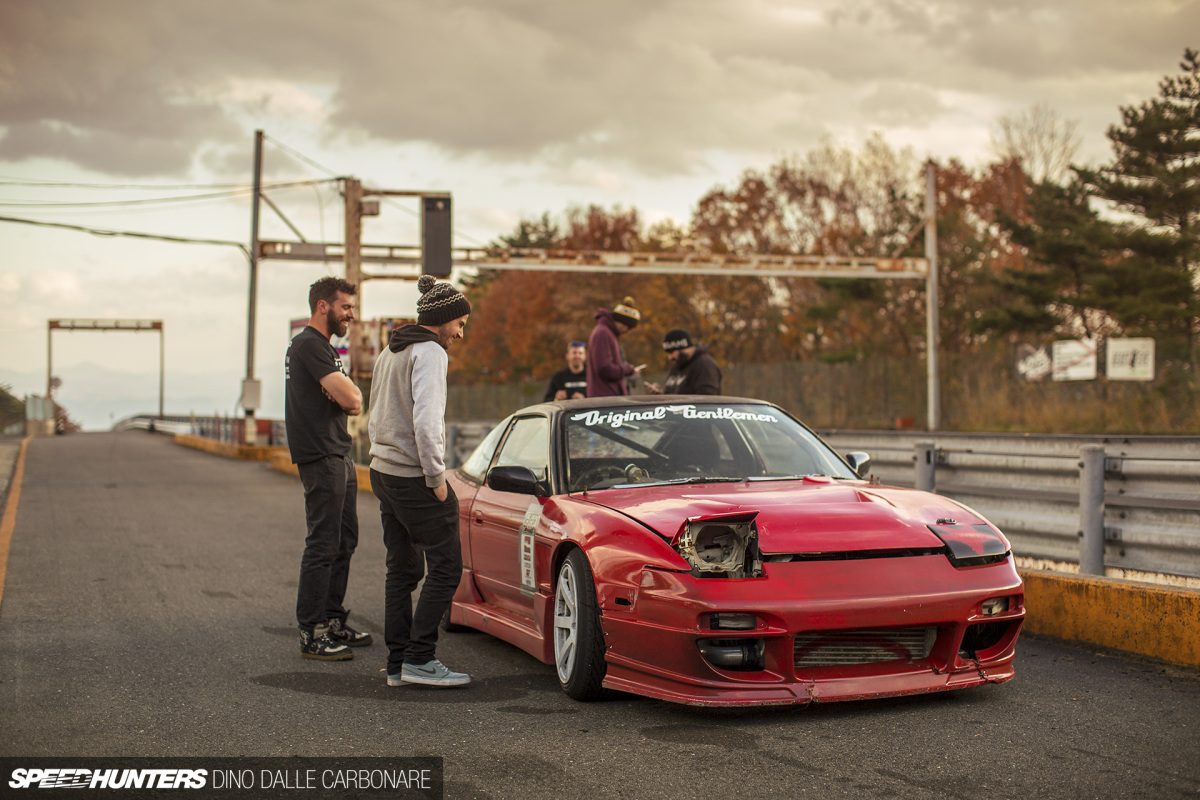 Next, I made my way to the lowest circuit on the mountain Ebisu lies on, Higashi. This also happens to be the longest track, and if you are an avid JDM fan you should recognize it from Hot Version videos. What makes the East Course different is that you often find people gripping here, which is a nice contrast to those attempting to hit every corner sideways.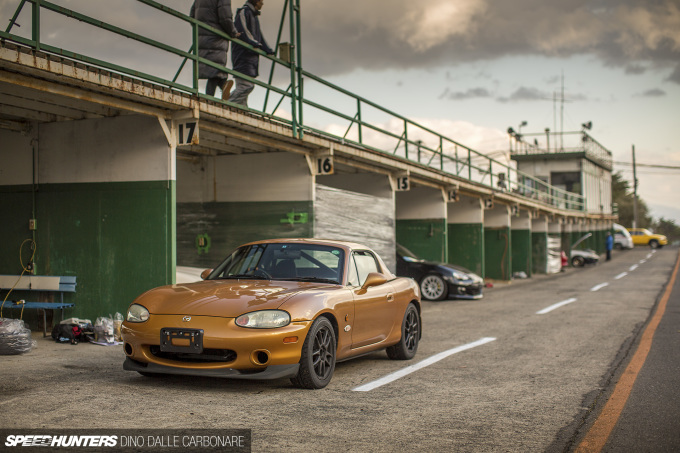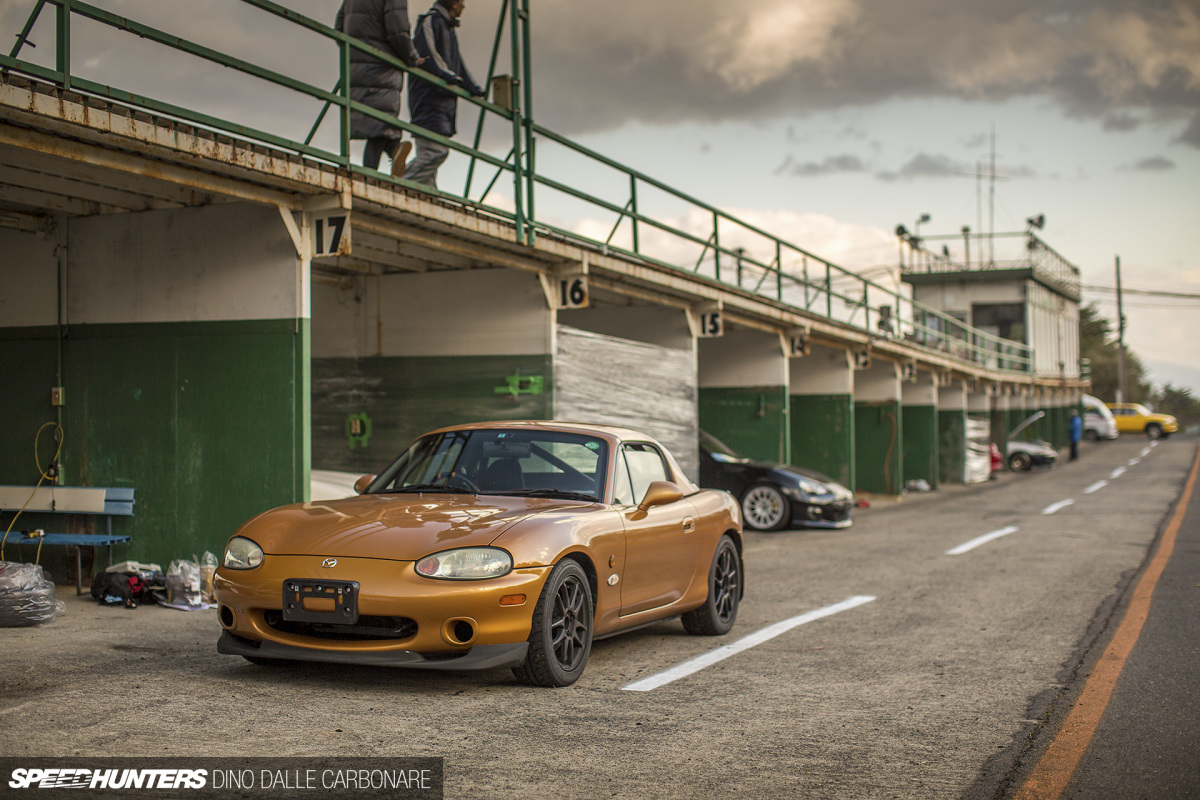 You can instantly tell the cars that are used to go straight – they tend to be in one piece and will probably be driven home at the end of the weekend.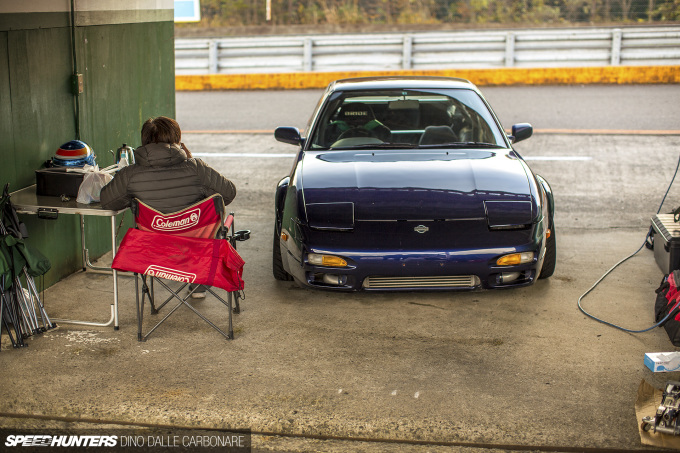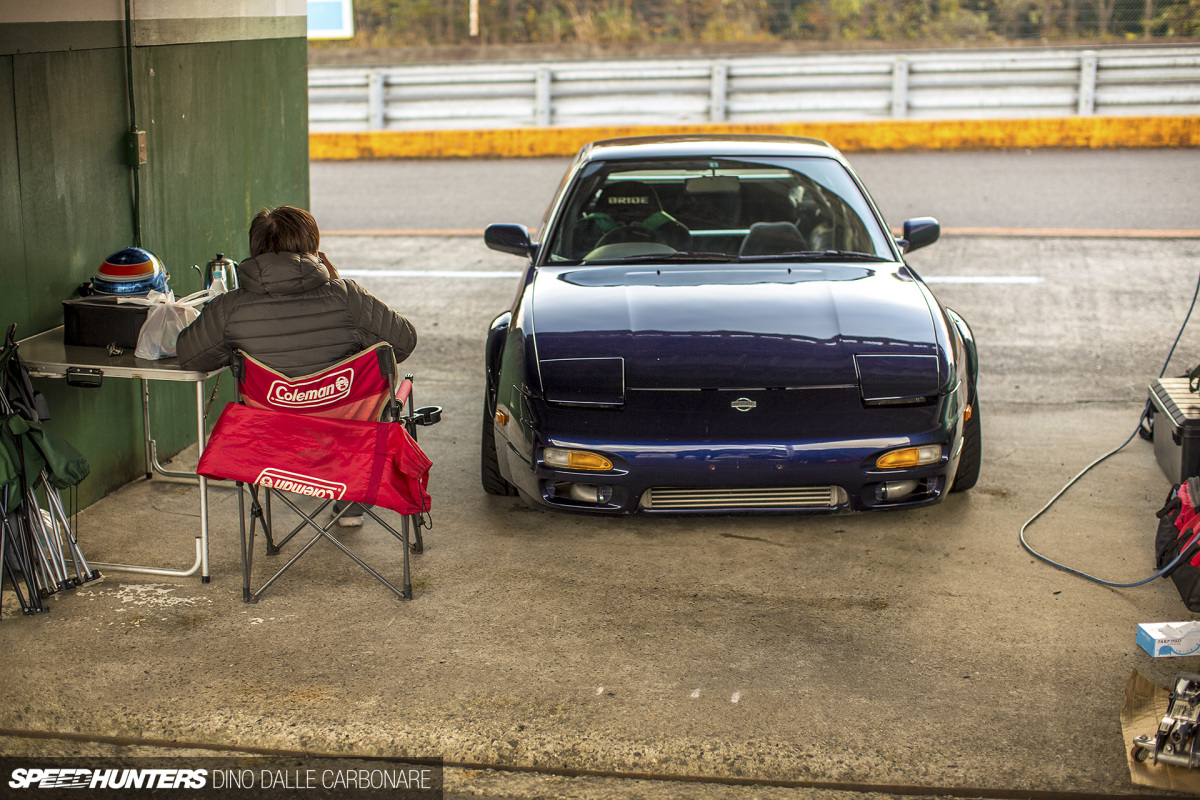 Of course, that doesn't mean that all drift cars are missiles ready to be driven till every panel has either been bent or fallen off. Many people come to the Matsuri for some quiet practice.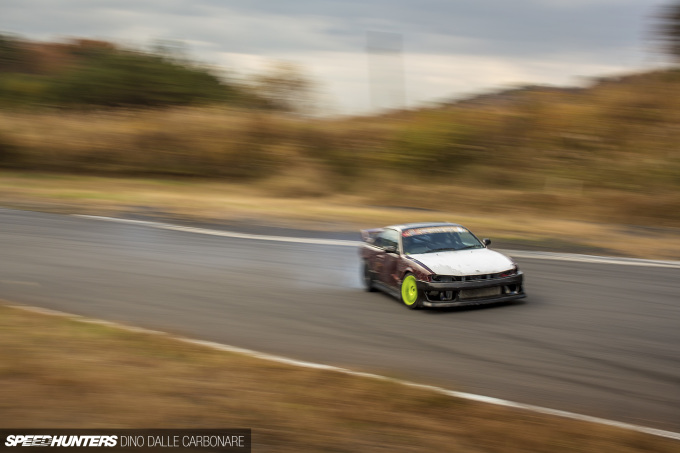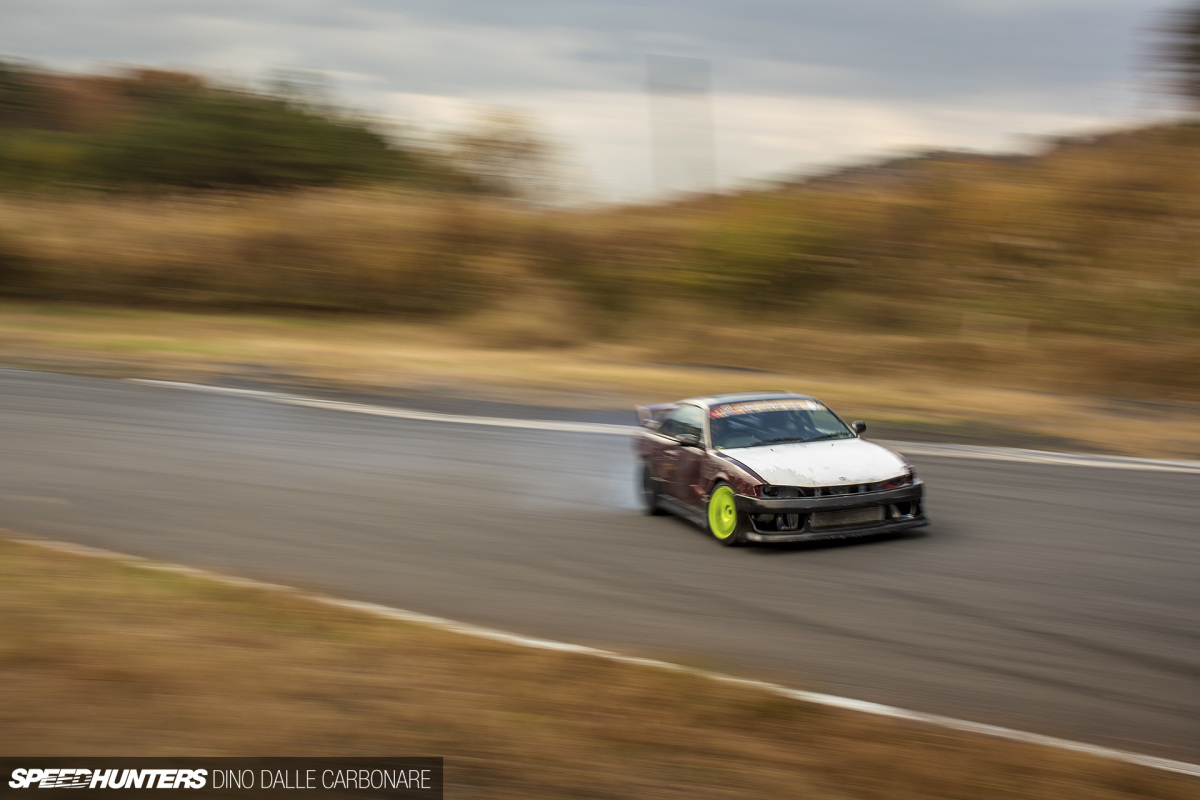 This is a track I've driven a few times over the years, and it rates as one of my favorites. It's crazy scary in some bits and the massive hill up the main straight will test out even the most powerful of engines.
Kita: The North Course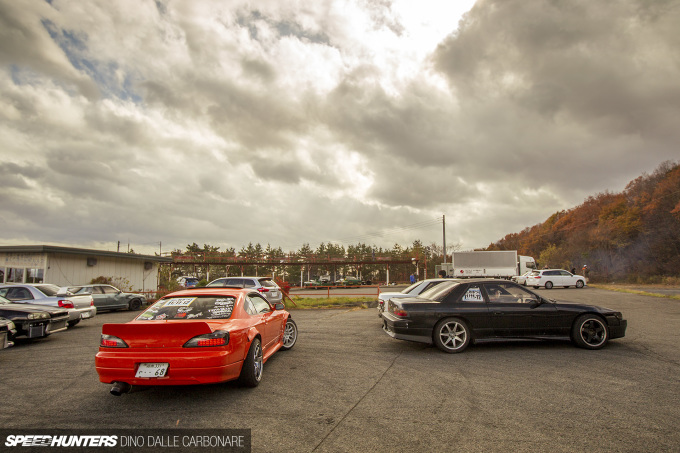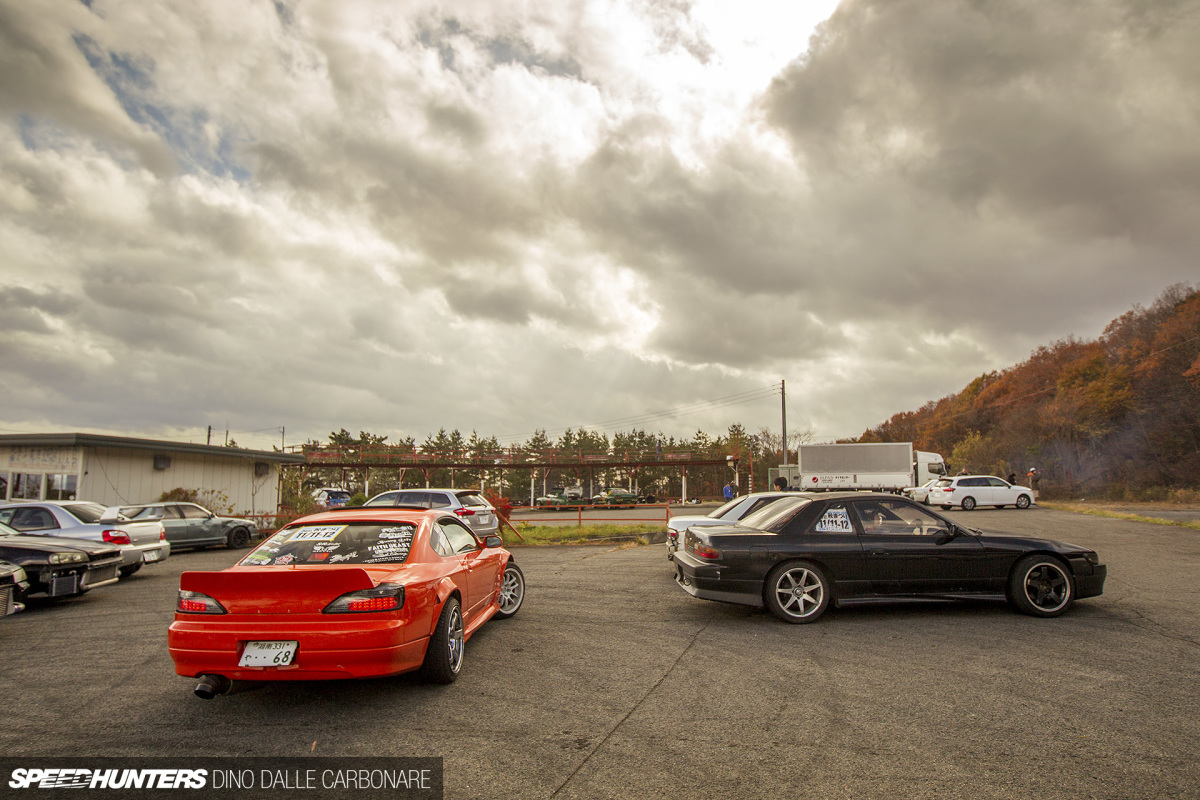 From the lowest track all the way up to the very top of the mountain for the North Course, Kita. I can't stress enough how different each circuit at Ebisu is; Kumakubo sure knew what he was doing back in the day when he jumped in a digger and started moving soil.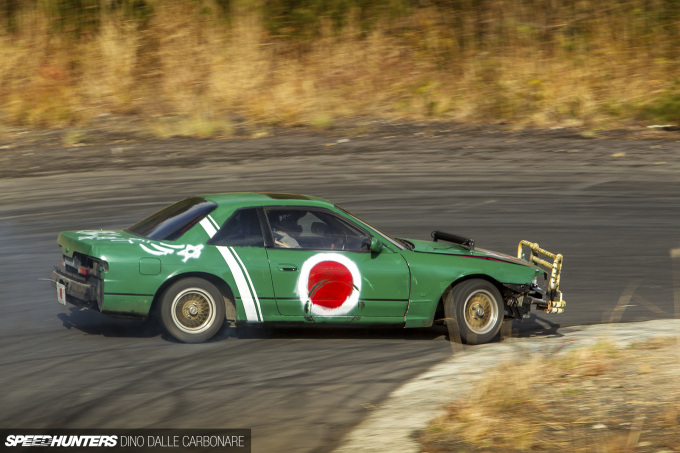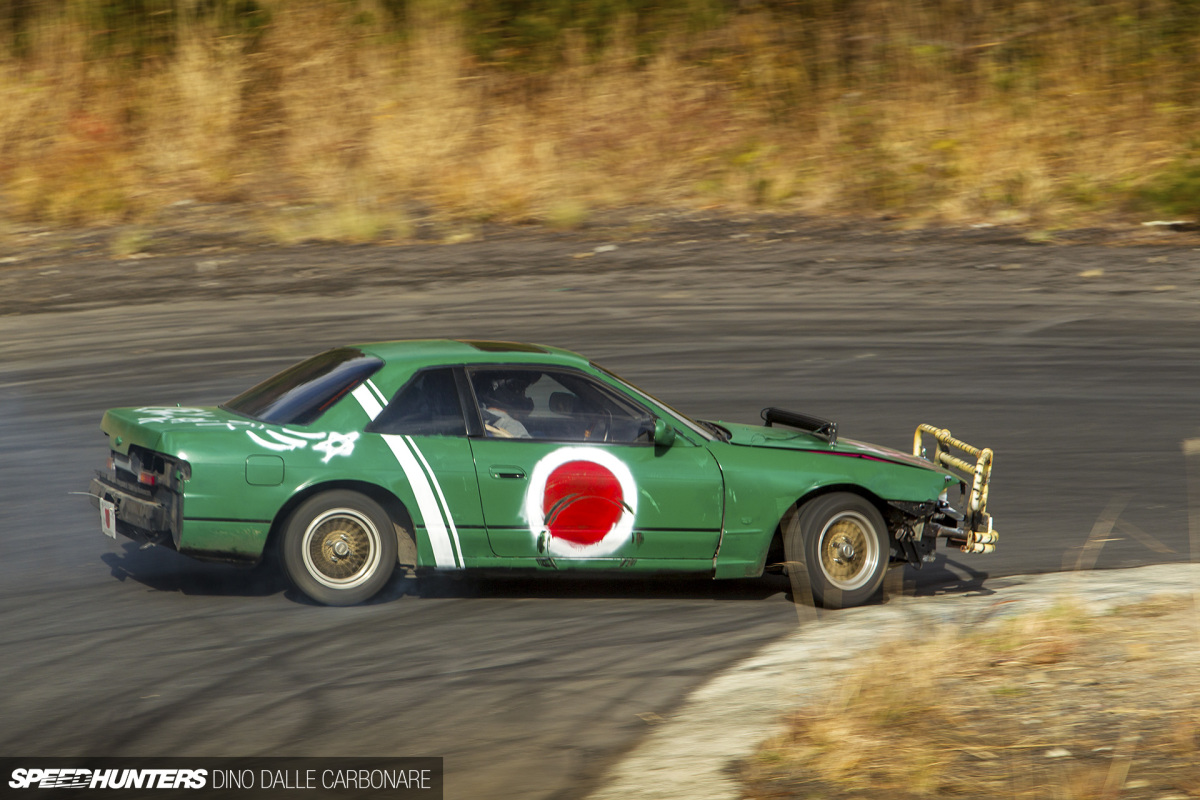 Kita is short but sweet with a tight and technical backside to it which feeds a fast uphill straight. Halfway up here, the best drivers start throwing their cars sideways.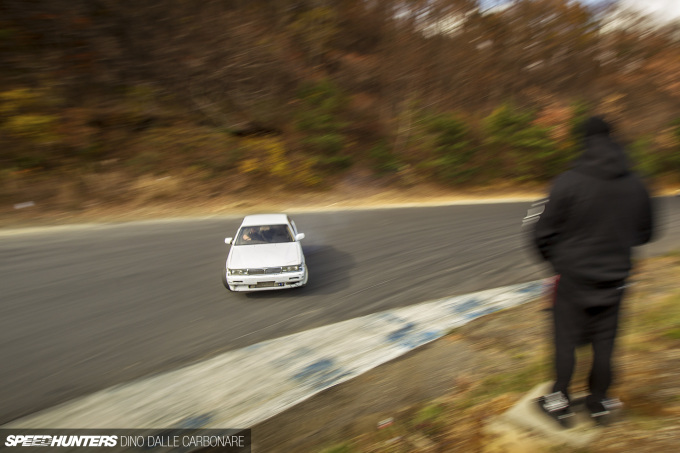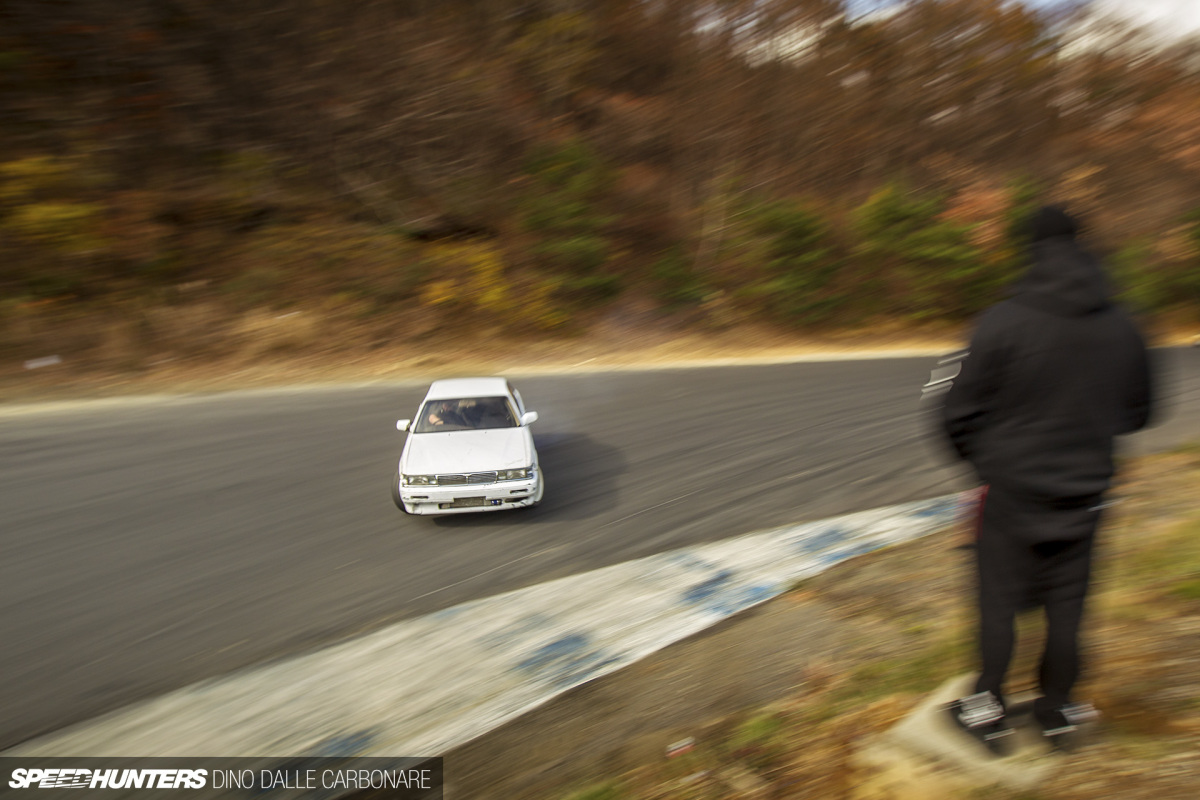 The best vantage point is turn one; it's almost a hairpin when you enter it, but then it opens up wide and allows you to bring in a ton of speed. This is everyone's favorite backwards-entry practice spot.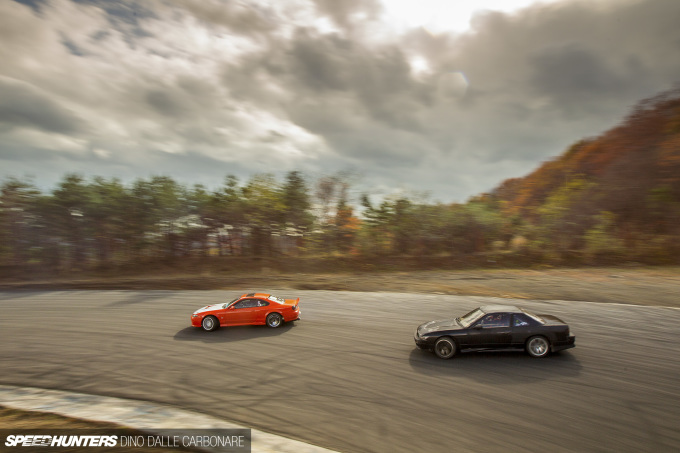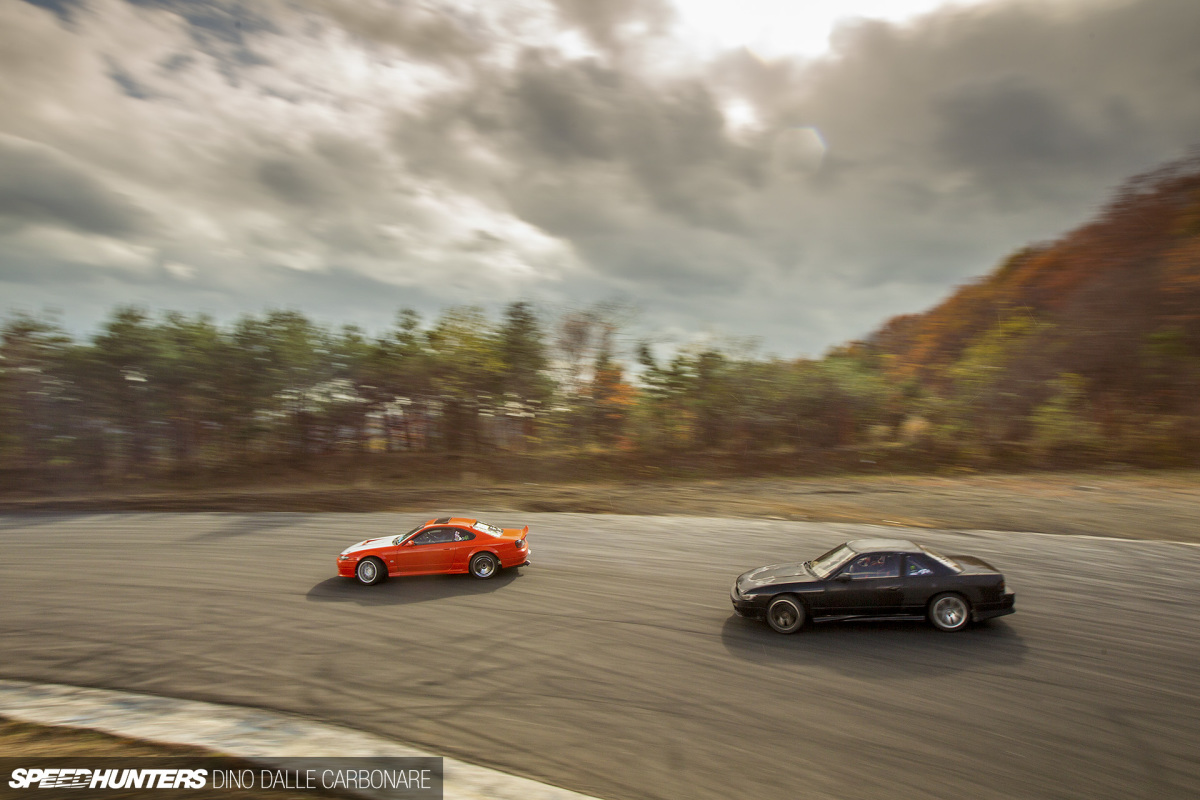 Shortly after this shot was taken I dropped my camera and broke my 16-35mm lens in half, which sort of put me into deep depression for the rest of the day. I spent the rest of the afternoon shooting long shots and just enjoying the atmosphere that got me hooked all those years back.
As I sit here now looking at these images, I really can't wait for spring and its Drift Matsuri to arrive. I definitely want to do it all over again, and this time I'm staying the whole weekend!
Dino Dalle Carbonare
Instagram: speedhunters_dino
dino@speedhunters.com