The Road To Irwindale
This year's Formula Drift Title Fight at Irwindale Speedway was insane. So much happened throughout the weekend, and both Paddy and Larry have stories coming very soon.
In the meantime, I'll take you on a morning stroll through the sunny Southern California car show that AutoCon snuck in next to the FD paddock.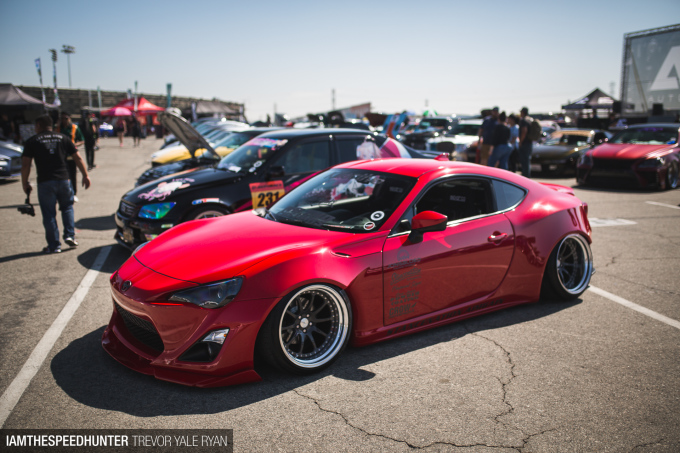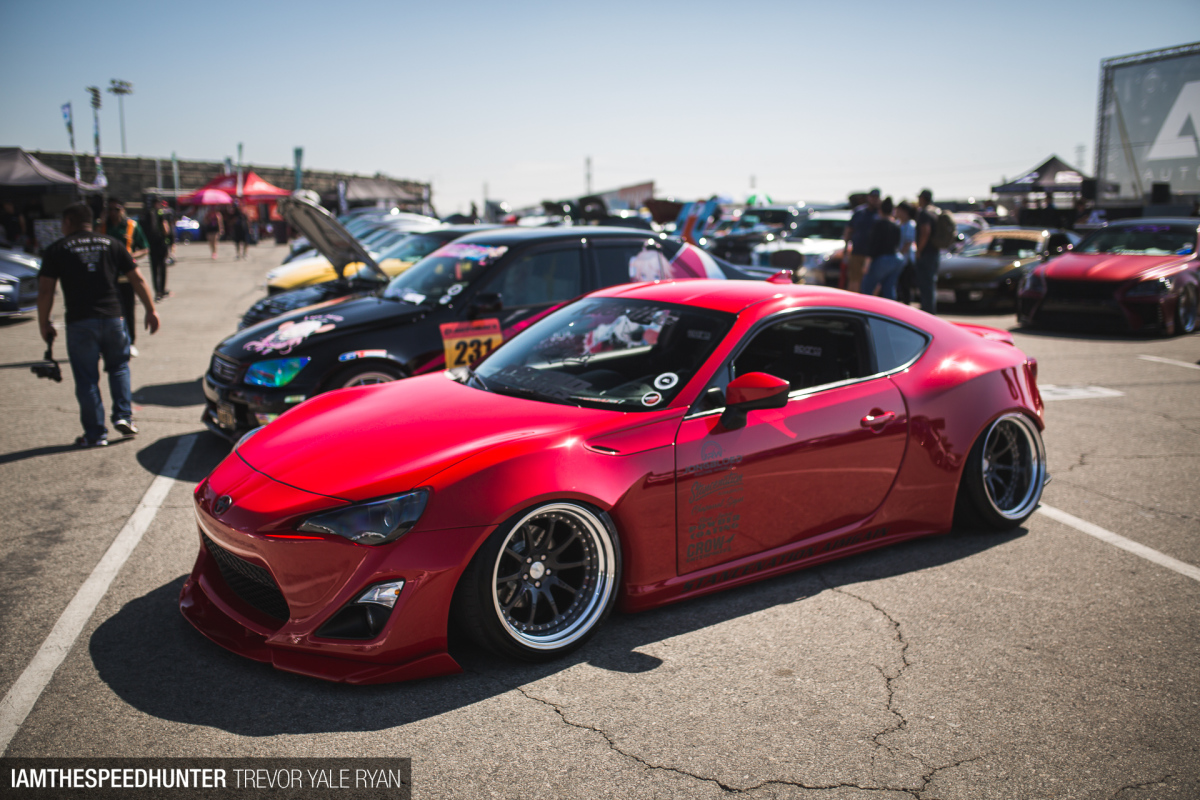 Even though it was a relatively small gathering, there still wasn't enough downtime during the day to take in all of the cars. I was lucky that I arrived early enough to pop by in the morning when the cars finished rolling in and action on the track was still non-existent.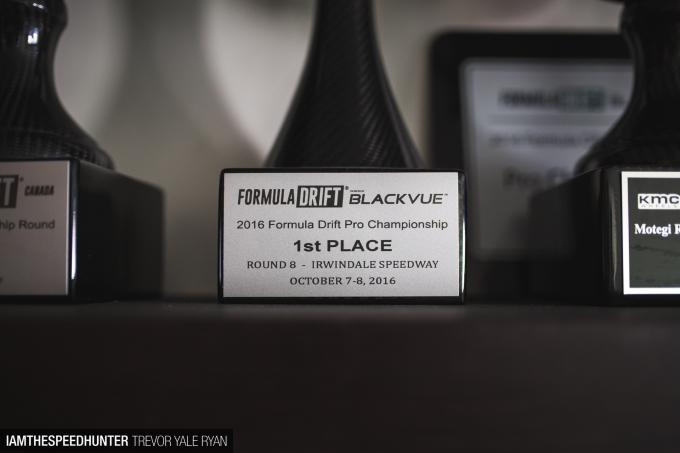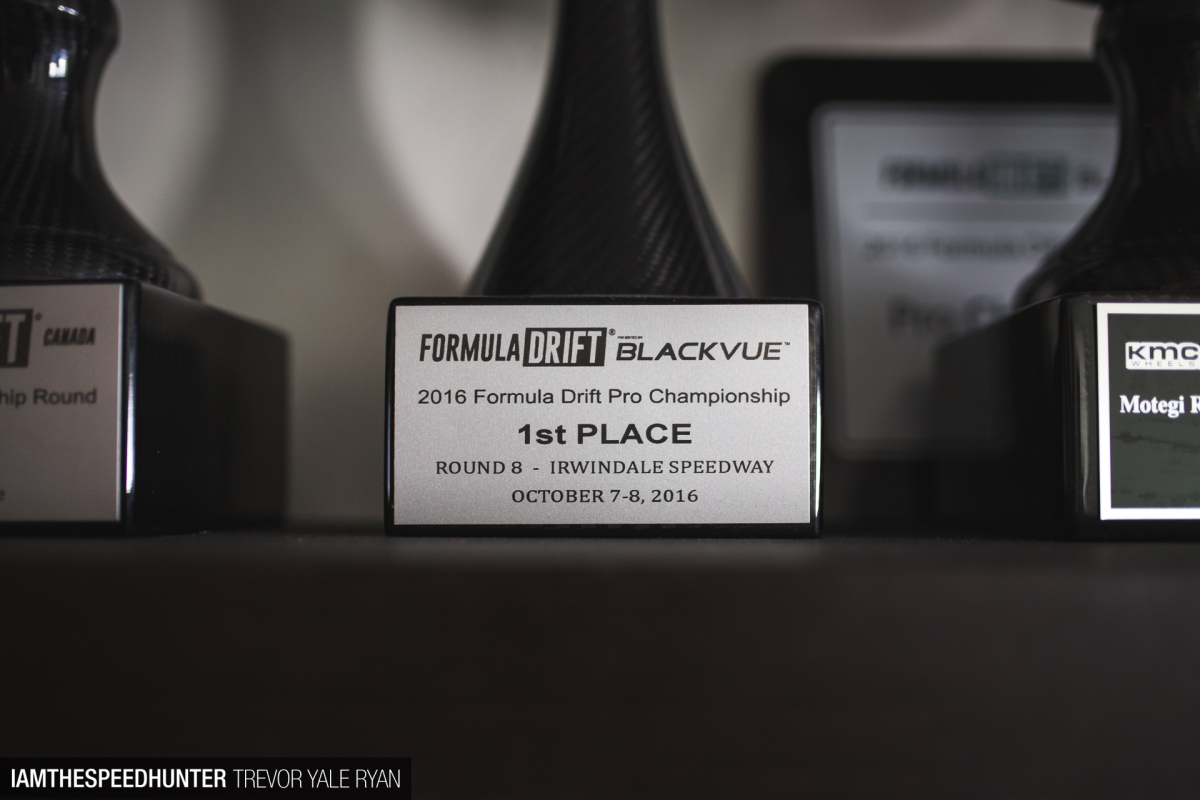 Before I could make it to the show, though, I had to make it to Irwindale in the first place. The adventure started at Matt Field's residence on Friday (keep your eyes out for a tour at Matt's shop, Drift Cave, soon). Matt, of course, was last year's event winner at Irwindale and already at the track for practice; I'd be making the trip south with his roommate.
As you would expect, the household is full of automotive enthusiasts, and as such there are extra wheels strewn about the back patio, and the front is jam-packed with track cars, drift beaters, and the like. In this case, it may seem a bit out of place that the vehicle of choice for the trip down was an electric car.
However, the EV we took was a manufacturer-registered P100D, used for development and testing. The roommate (who shall remain unnamed until he brings his monstrous BMW E36 back to glory so I can feature it) is not only a bit of a track addict, but also an engineer at Tesla. He spends the majority of his time testing and tweaking the cars, and you can take my word for it that he's doing everything in his power to make them exciting to drive. After spending a bit of time behind the wheel of a recent-production P100D in 'Ludicrous' mode, I'll be the first to say he's doing a grand job.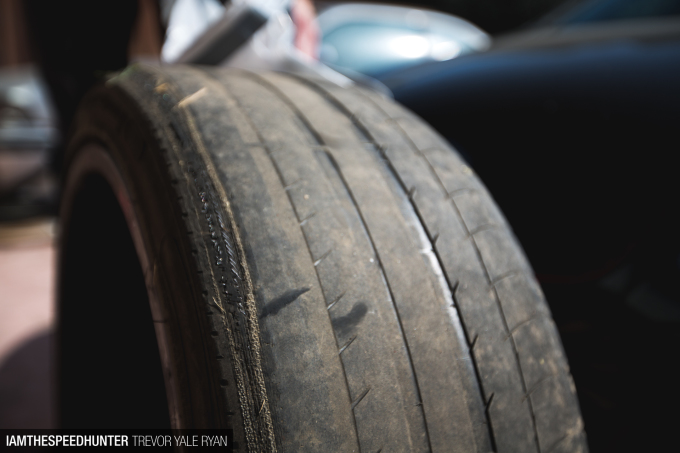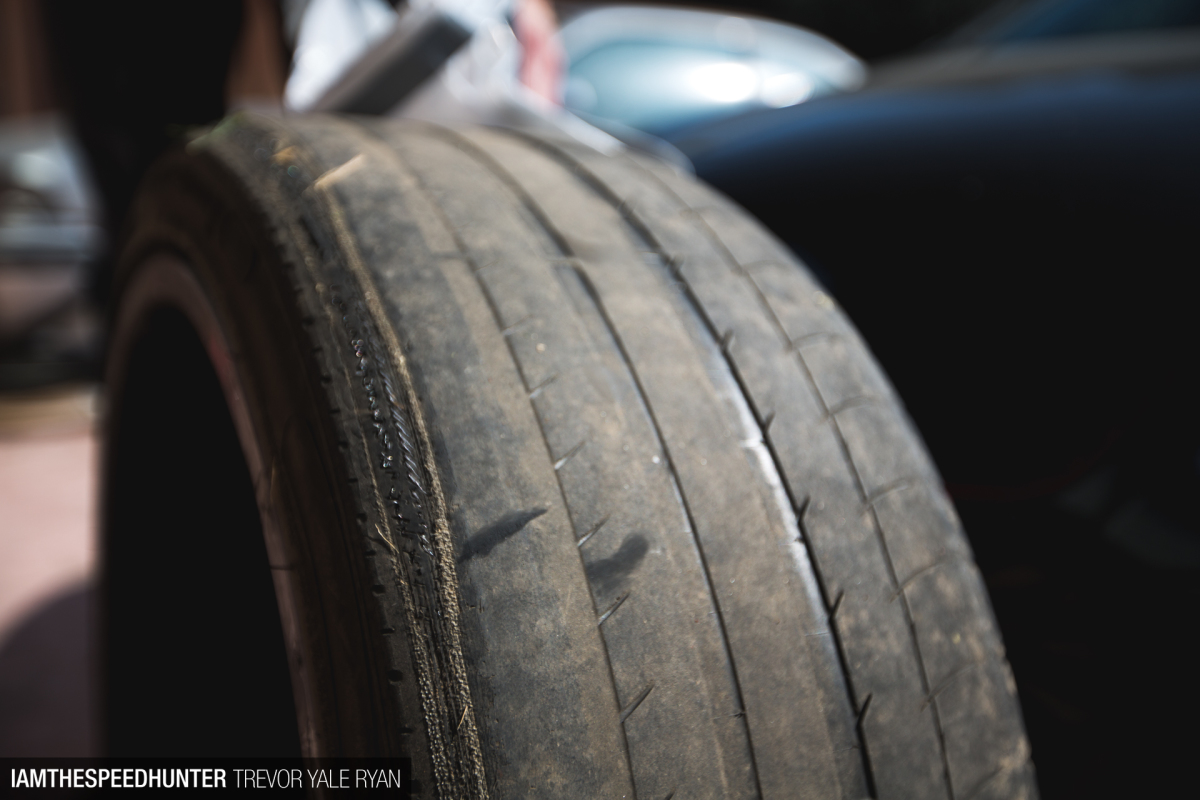 Unfortunately, what should have been a simple endeavor got off to a bad start when we noticed one of our rear tires was corded… I told you he's doing his best to make the cars fun, didn't I? The fix was simple enough, but anyone who has left California's Bay Area on a Friday afternoon knows that every minute is precious.
On top of the rush-hour traffic we ended up very slowly passing no less than six fender-benders on our way, only to end up in typical Los Angeles traffic. While that Tesla is still fresh in your mind, it's worth mentioning we only waited on the car for about 15 minutes during the journey that managed to stretch itself to 10 hours; the rest of our stops were spent eating and using the restroom while the car grabbed a quick charge.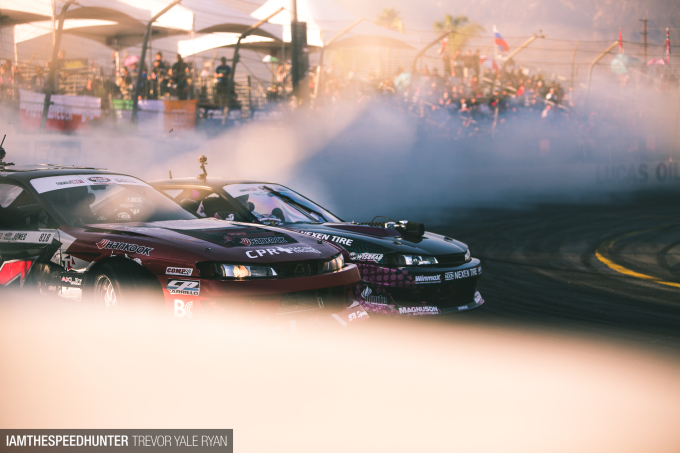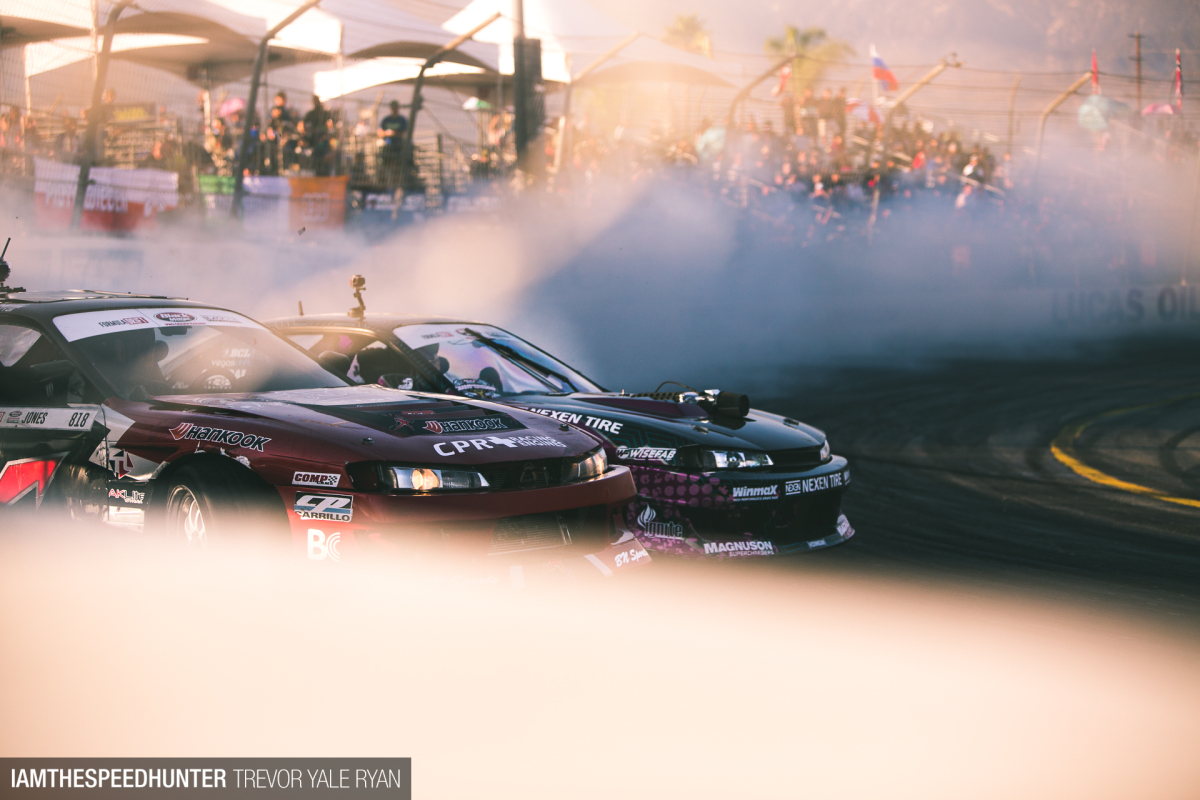 But when we finally made it to the track the next morning, it was all worth it. I woke up early, excited to check out AutoCon Irwindale and take in the final round of the Formula D season.
AutoCon Irwindale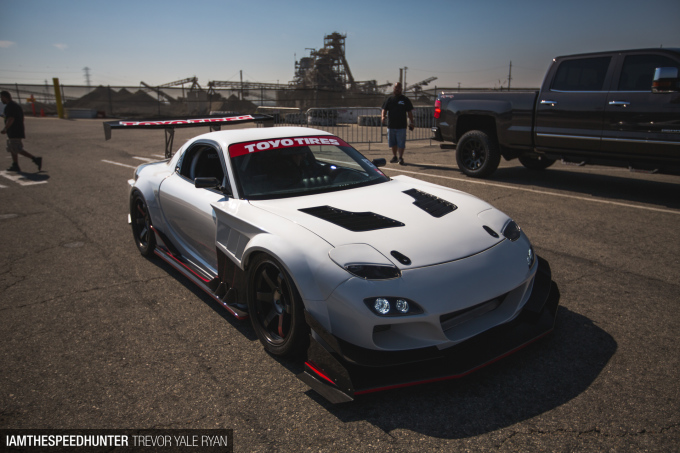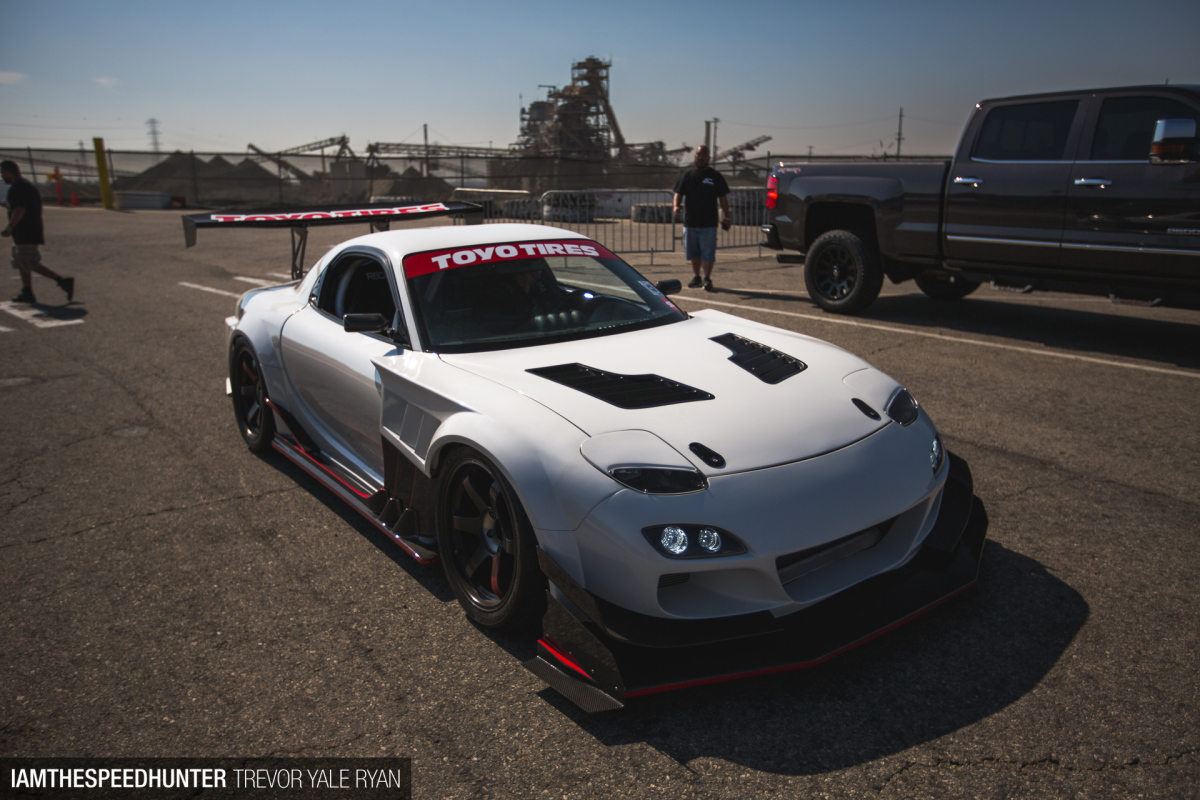 Believe it or not, but this was the first real SoCal car show I'd ever been to, so I took advantage of the quiet morning hours at The House of Drift to get up close to some of the builds that made it out.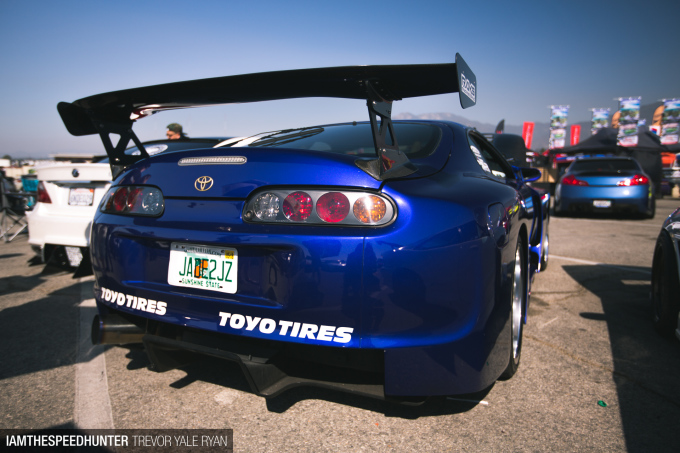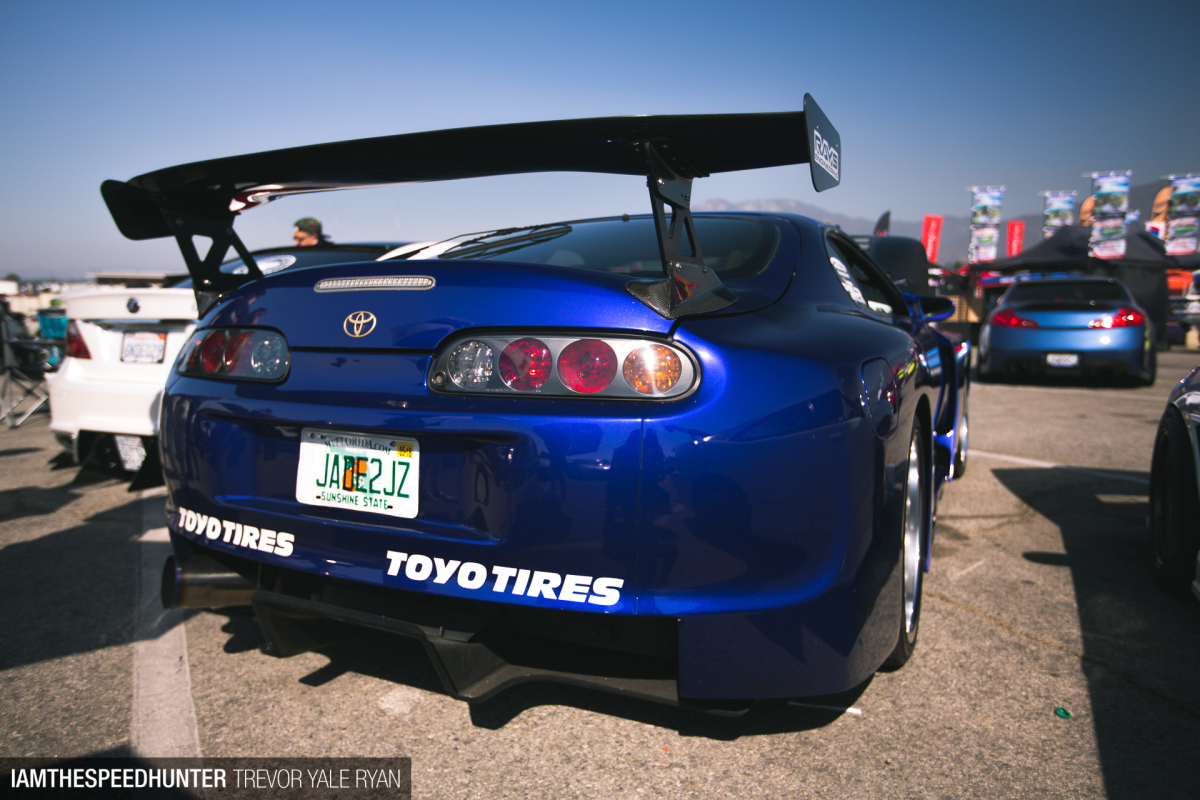 One of the first cars I spotted was this JZA80 Toyota Supra wearing a Top Secret GT300 wide-body. The kit looked unreal with the deep blue paint, which I think is actually some version of the factory Royal Sapphire Purple.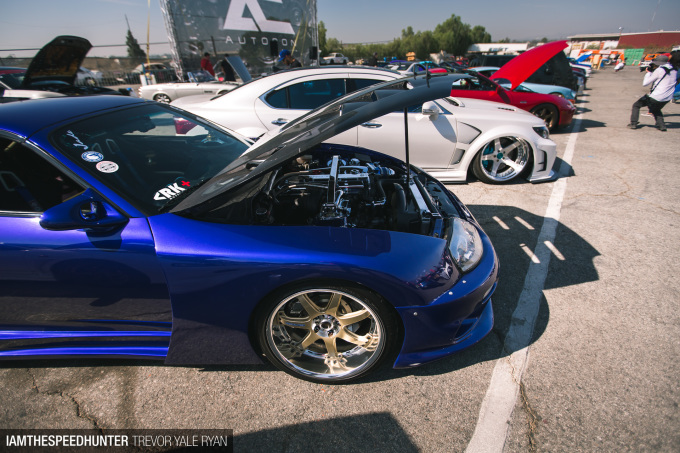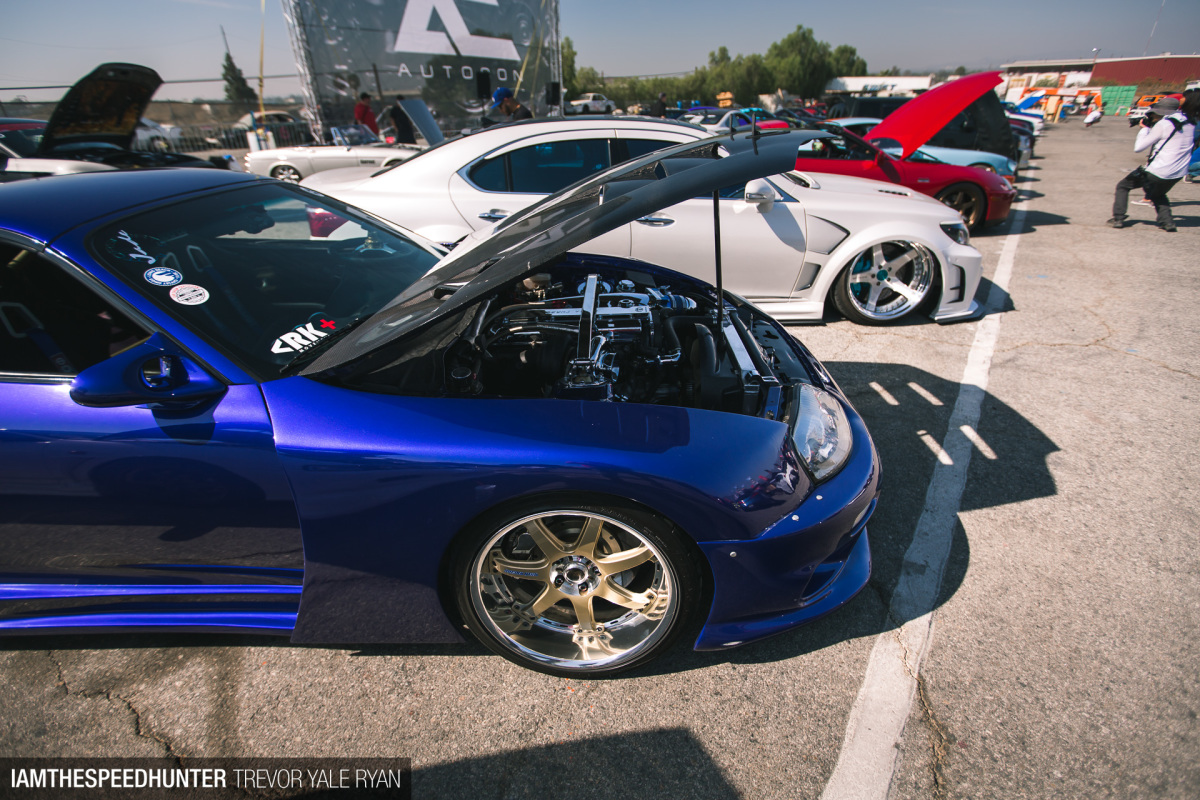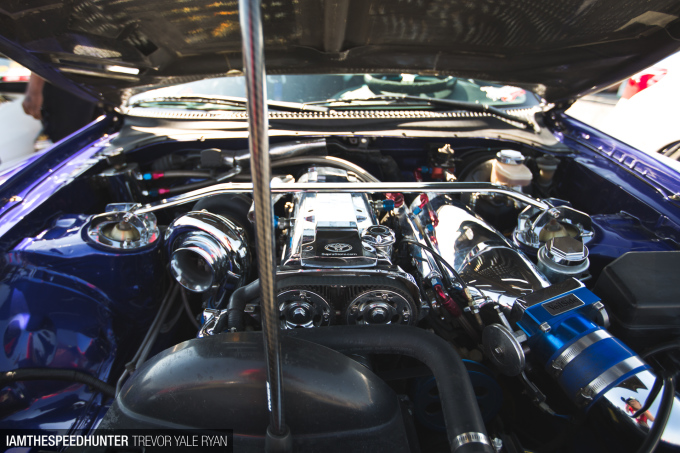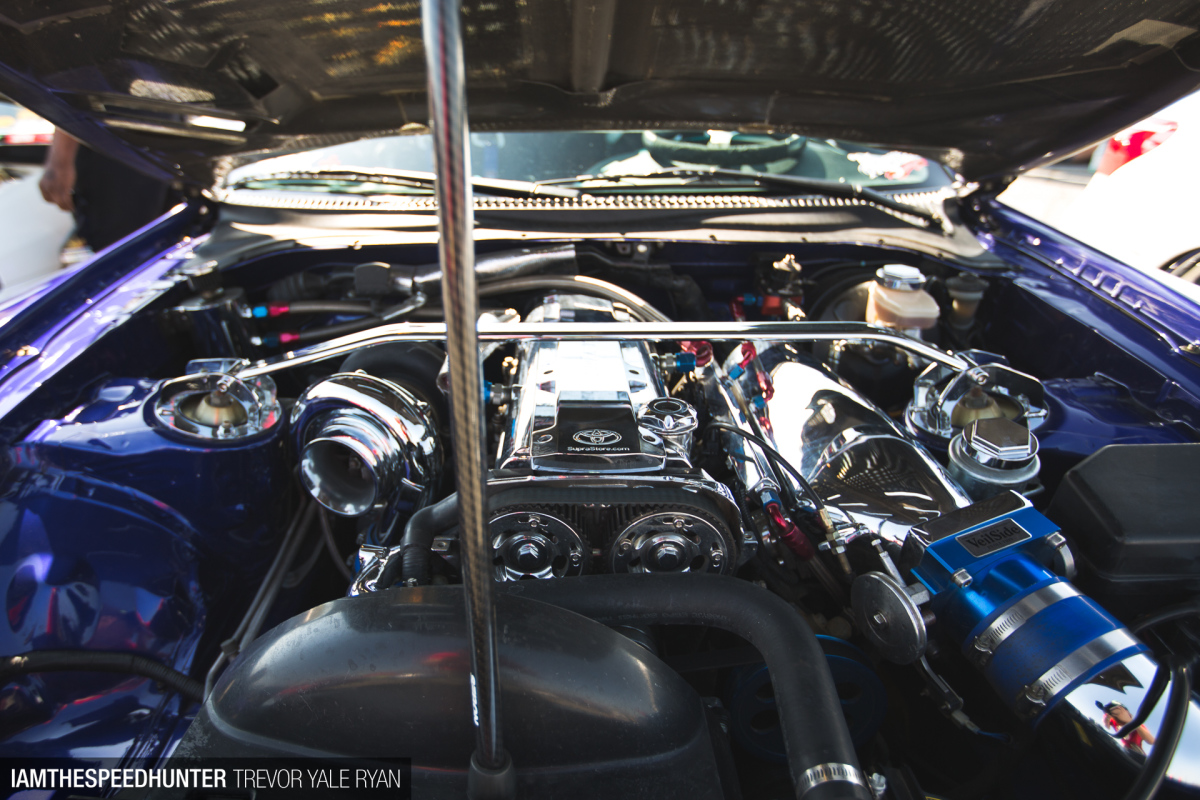 With the massively dished 19-inch RAYS Volk Racing GT-7 wheels, GT wing, diffuser, and Top Secret carbon fiber hood to round out the kit, the thing just looked so good. The high quality of this build extended to the engine bay and interior as well.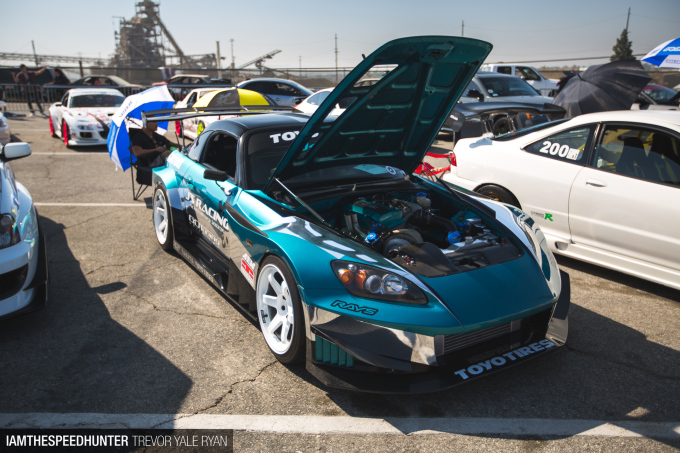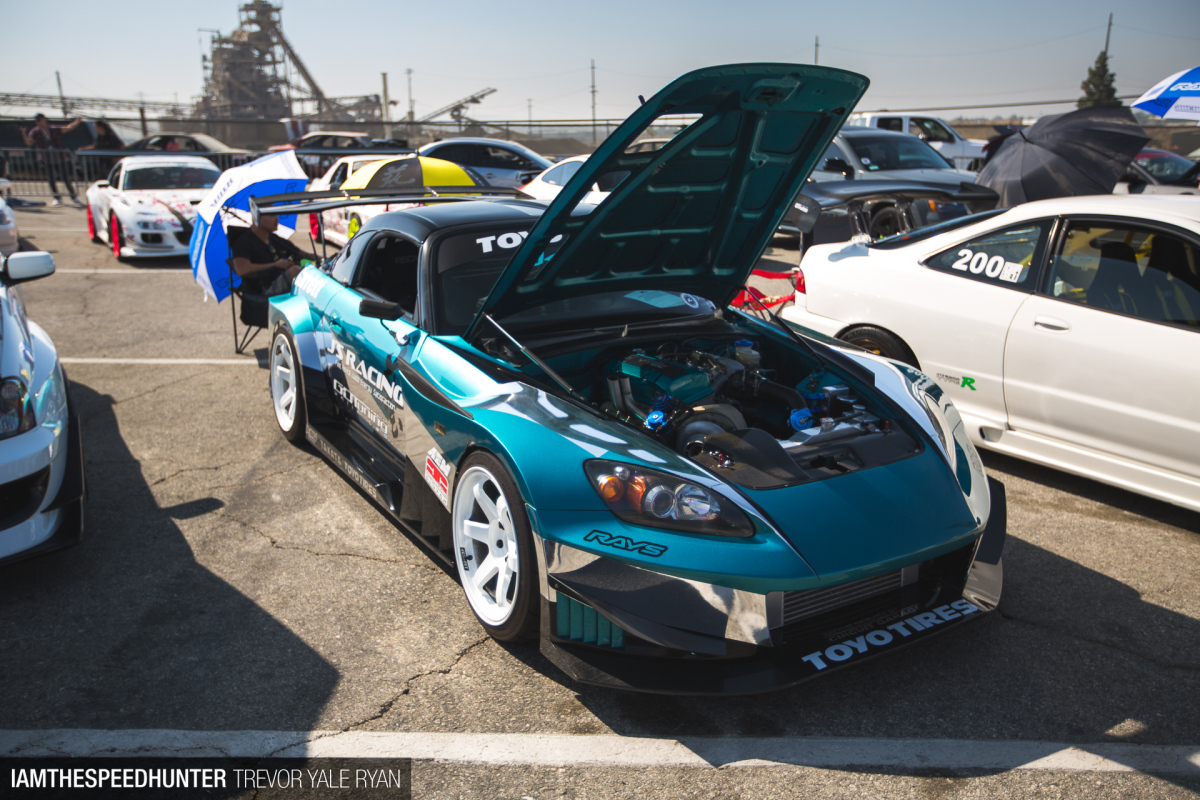 I would say the side event, if it's even fair to call it that, was predominantly a JDM affair, and plenty of extremely well-executed builds were present. Form, function, or a bit of both; this show had healthy doses of it all.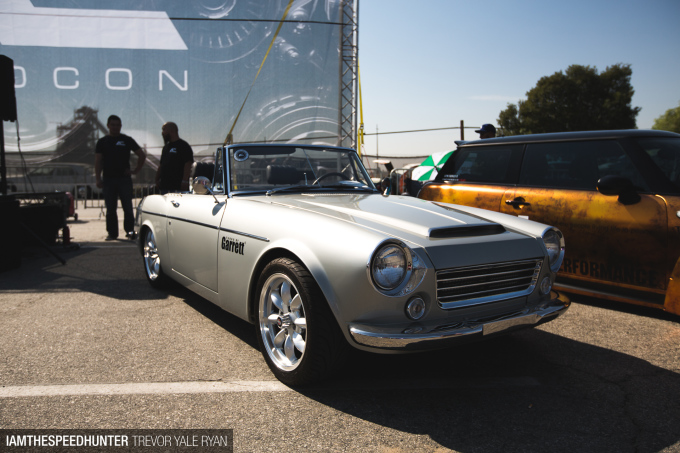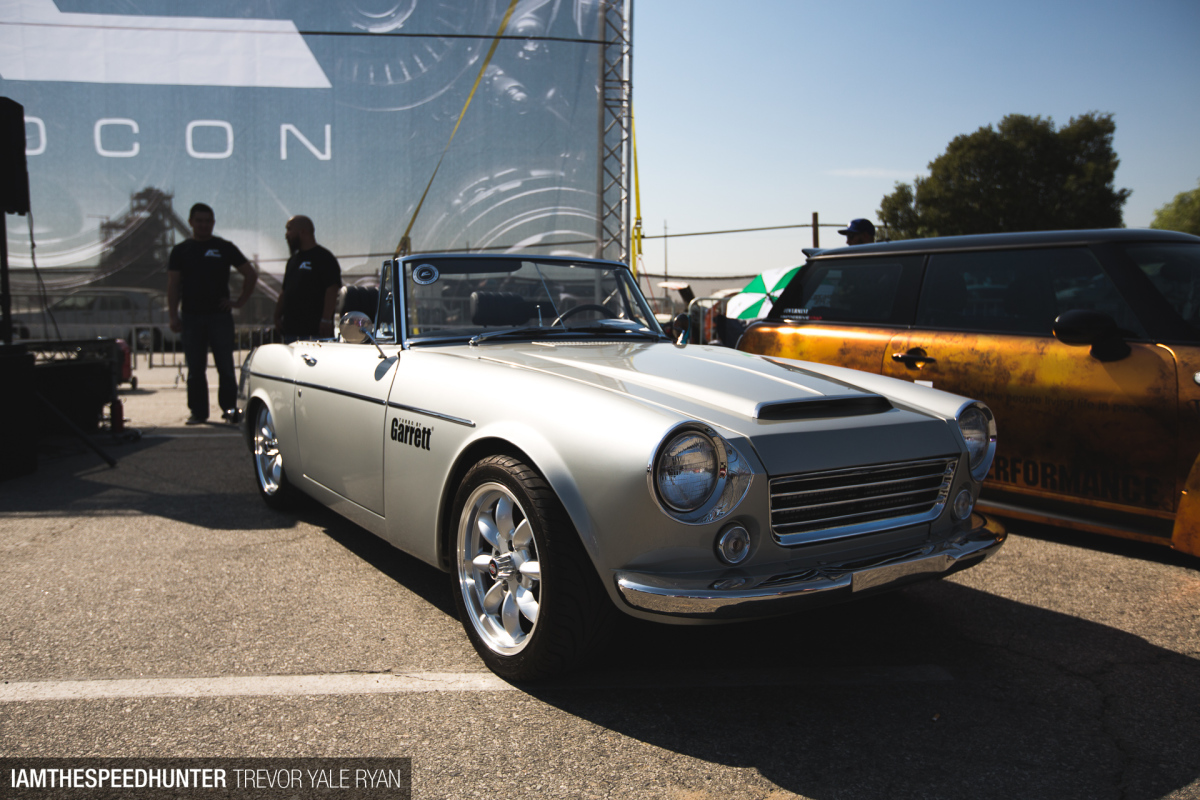 A few older cars were scattered about the lot as well, and I took a particular liking to this 1967 Datsun Roadster.
The turbo 'SR20VET' looked right at home, as did all of the custom dials that were set into the dash. The car had a modern feel, and was put together very well. It's often hard to pull this sort of thing off, but with the right amount of carbon fiber anything is possible.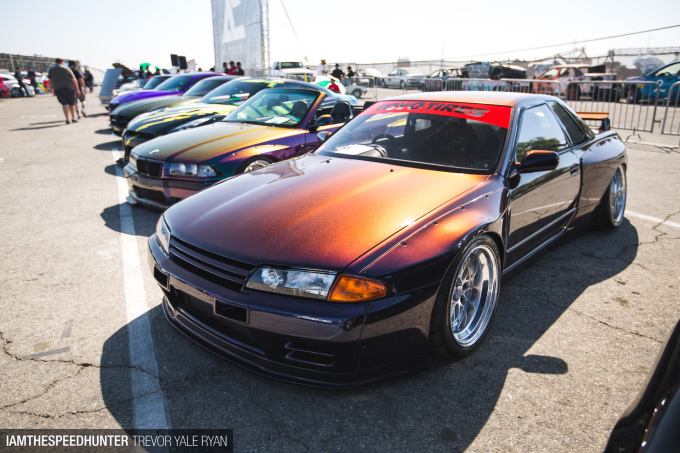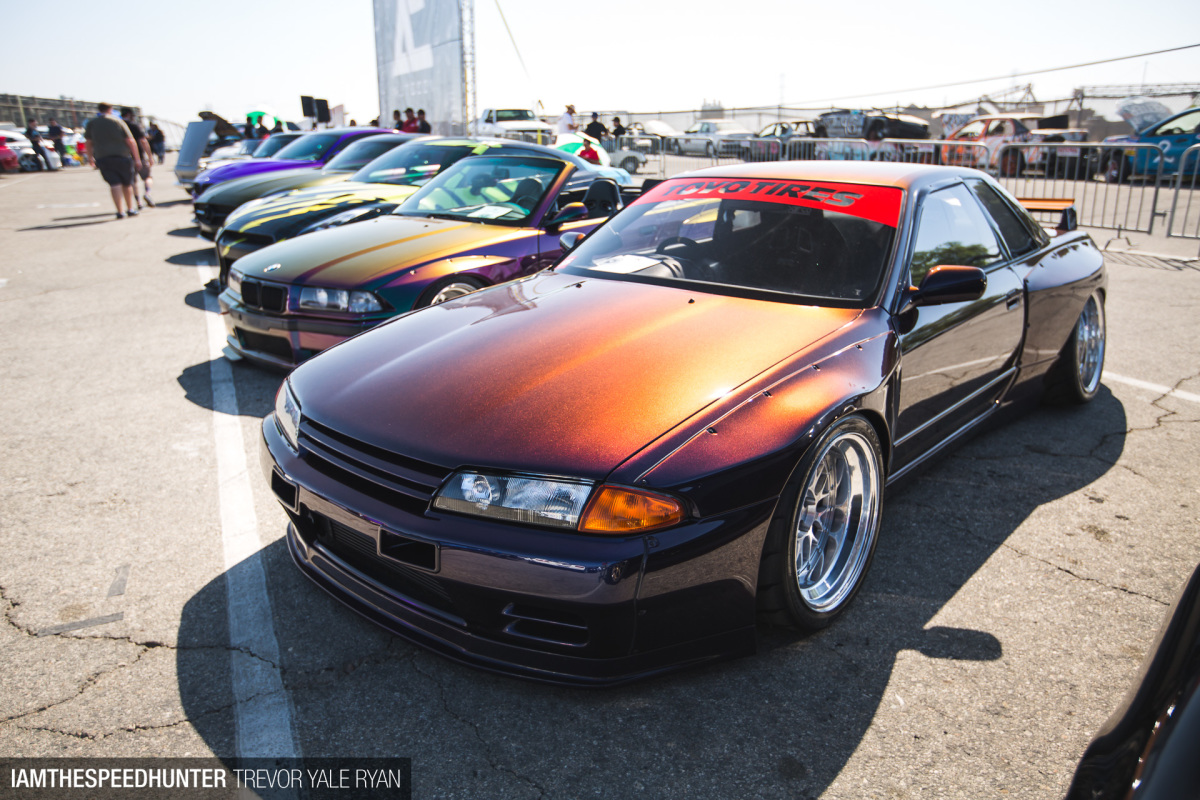 Some Pandem-kitted cars were in attendance as well and I have to say I rather like the bodywork matched up to the BNR32 Skyline GT-R. While previously not a huge fan of this type of major color-changing pearlescent paintwork, I think it looks really good here. The paint is just as wild as the kit, so why not?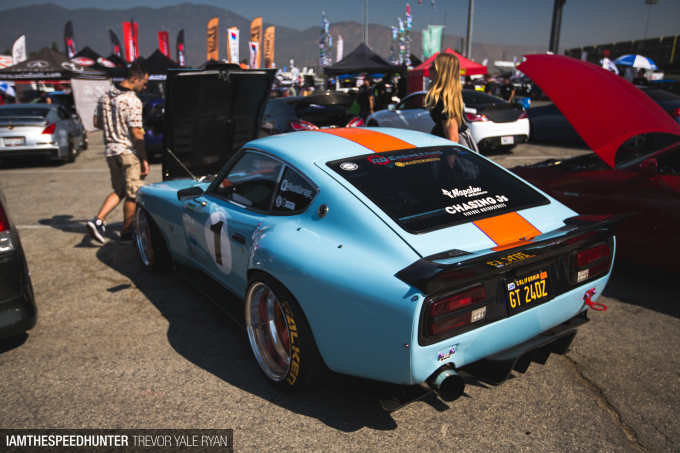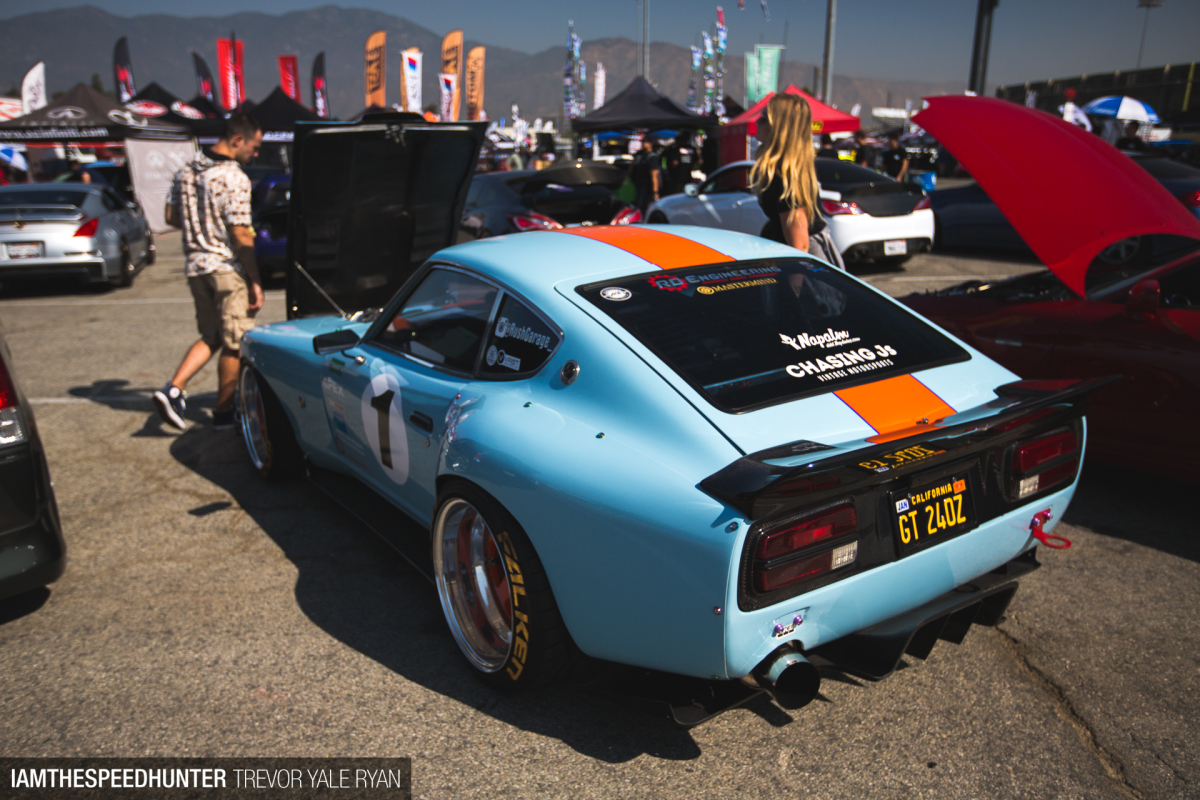 On the subject of overfenders and the like, this Datsun S30 240Z also looked really good in wide-body guise. Unlike the R32 Pandem kit, this one seems to stay more true to the original body lines. In doing so, perhaps the actual essence of the car is better preserved.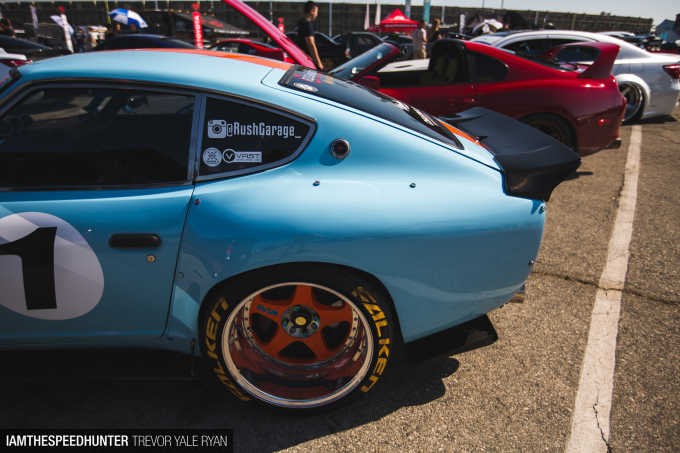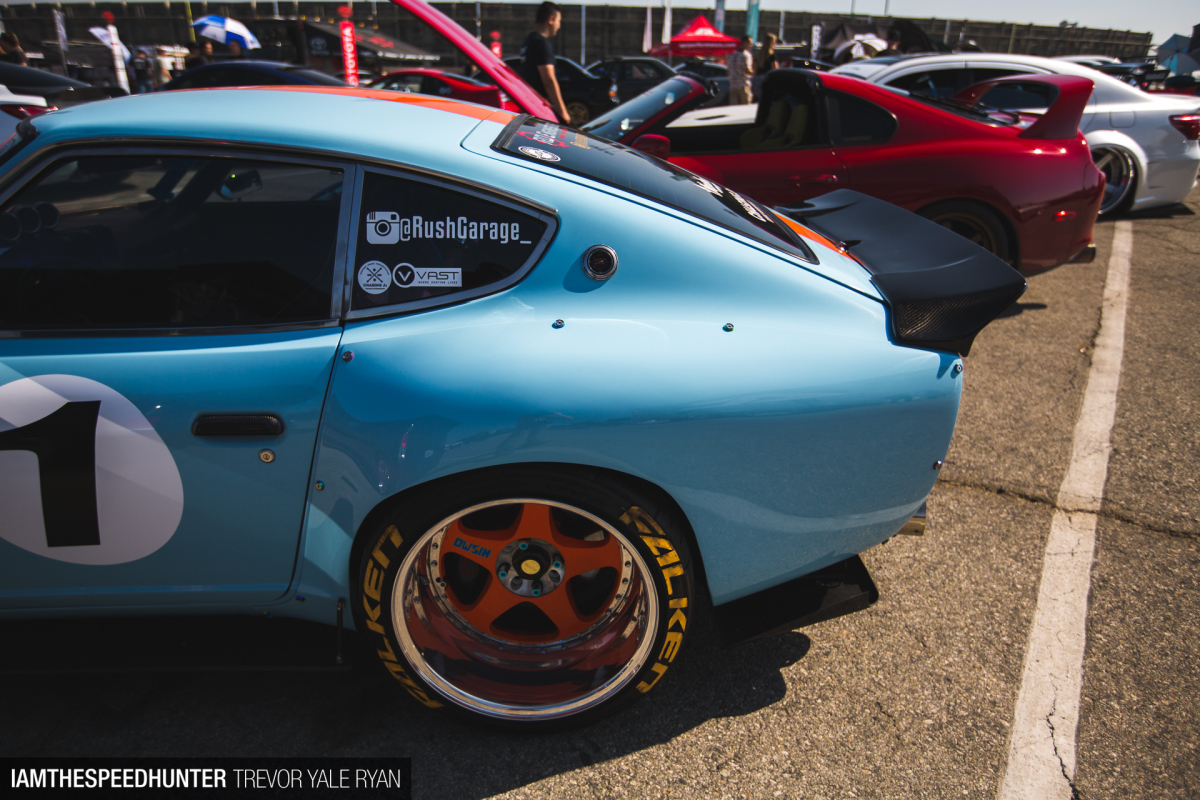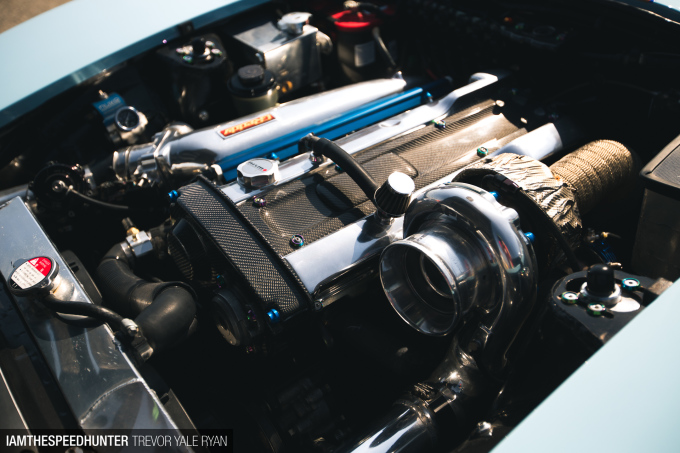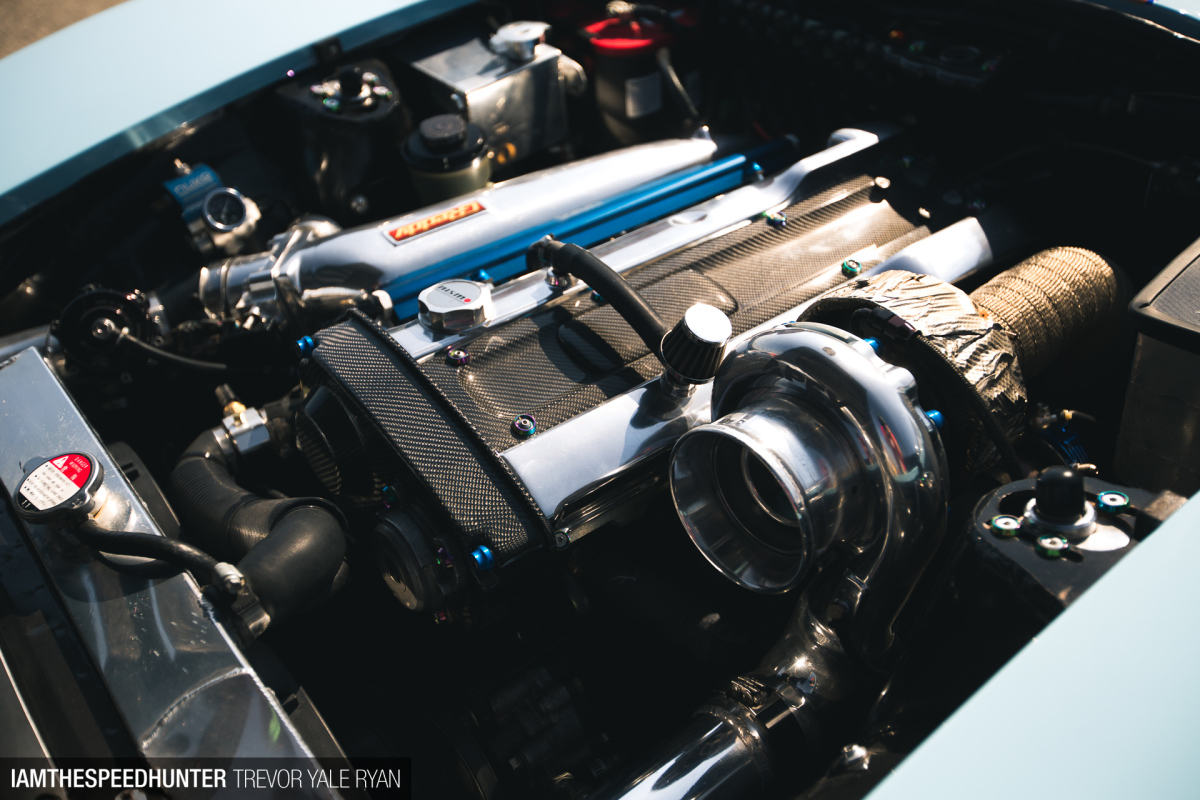 The other upgrades are fitting and well-matched, resulting in a pleasant balance overall. And as you can see, the original Nissan L-series has been ditched in favor a family-correct RB-series power plant. I'm sure one of our more educated readers can inform me of which model this is, exactly.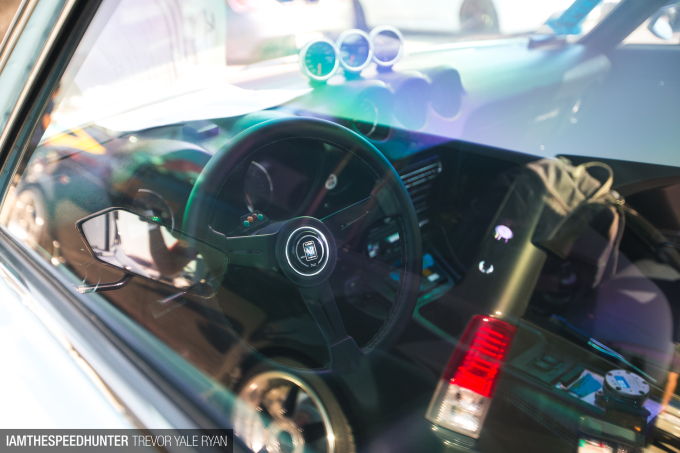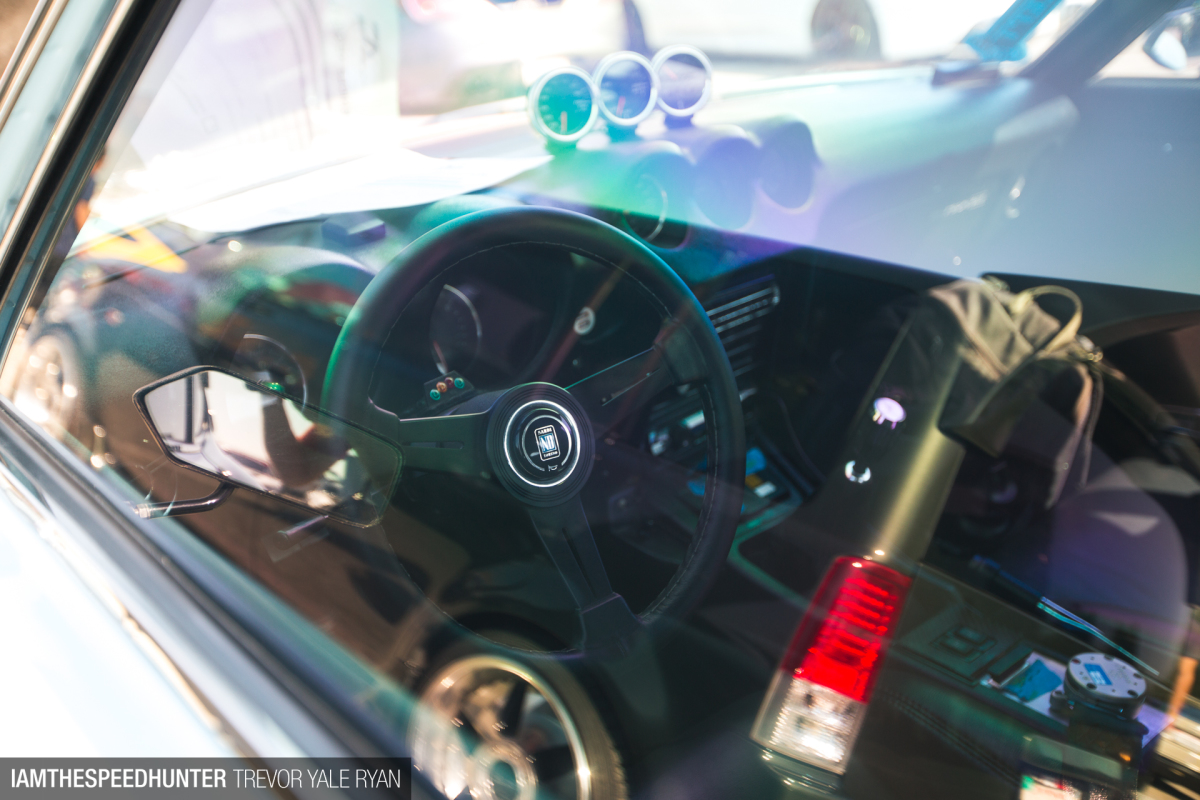 But whatever the engine displaces is beside the point – this a modern interpretation of a timeless classic, an ever more popular philosophy. I'm far more excited to see what the next decade brings in terms of aftermarket parts for older cars than I am about any new model releases.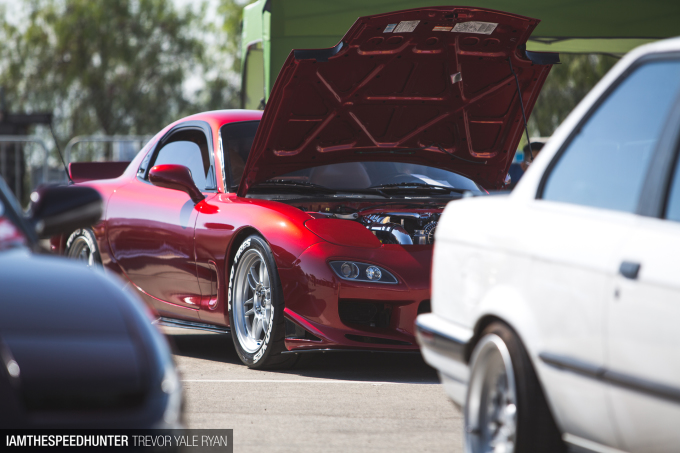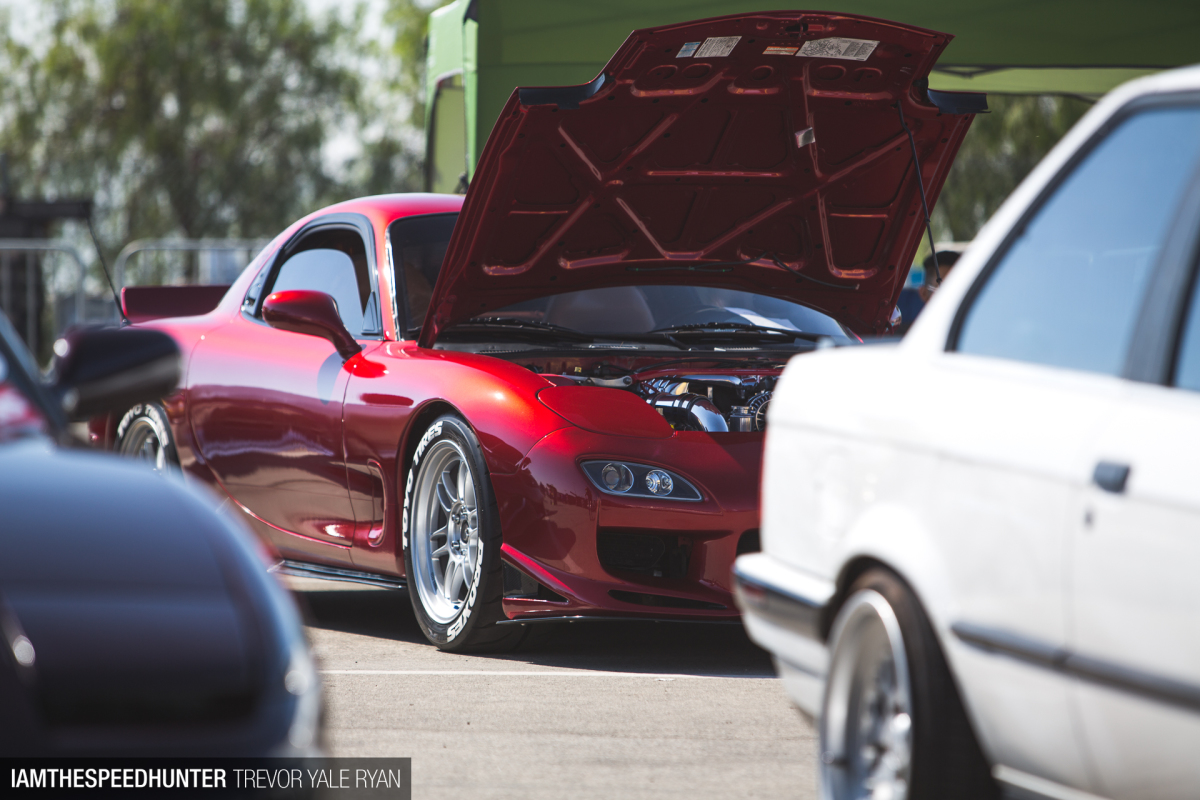 While I seem to have quite the penchant for posting RX-7s on Speedhunters, I couldn't help but grab a few photos of this lovely FD3S when I saw it peeking at me from behind a nice E30. With the original body lines entirely maintained and a proper rotary powerplant, this is one to please the purists.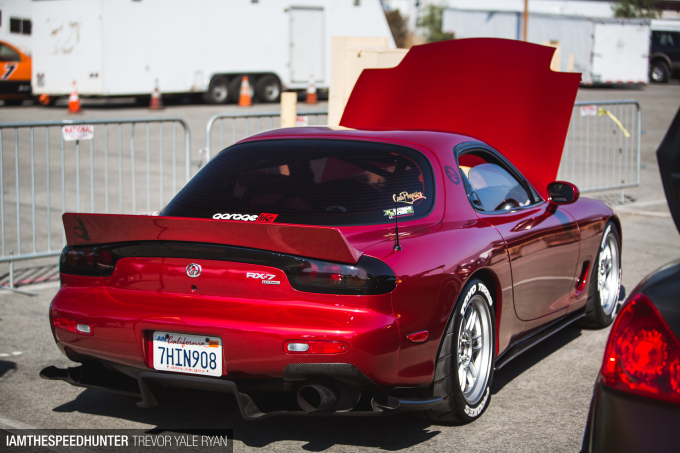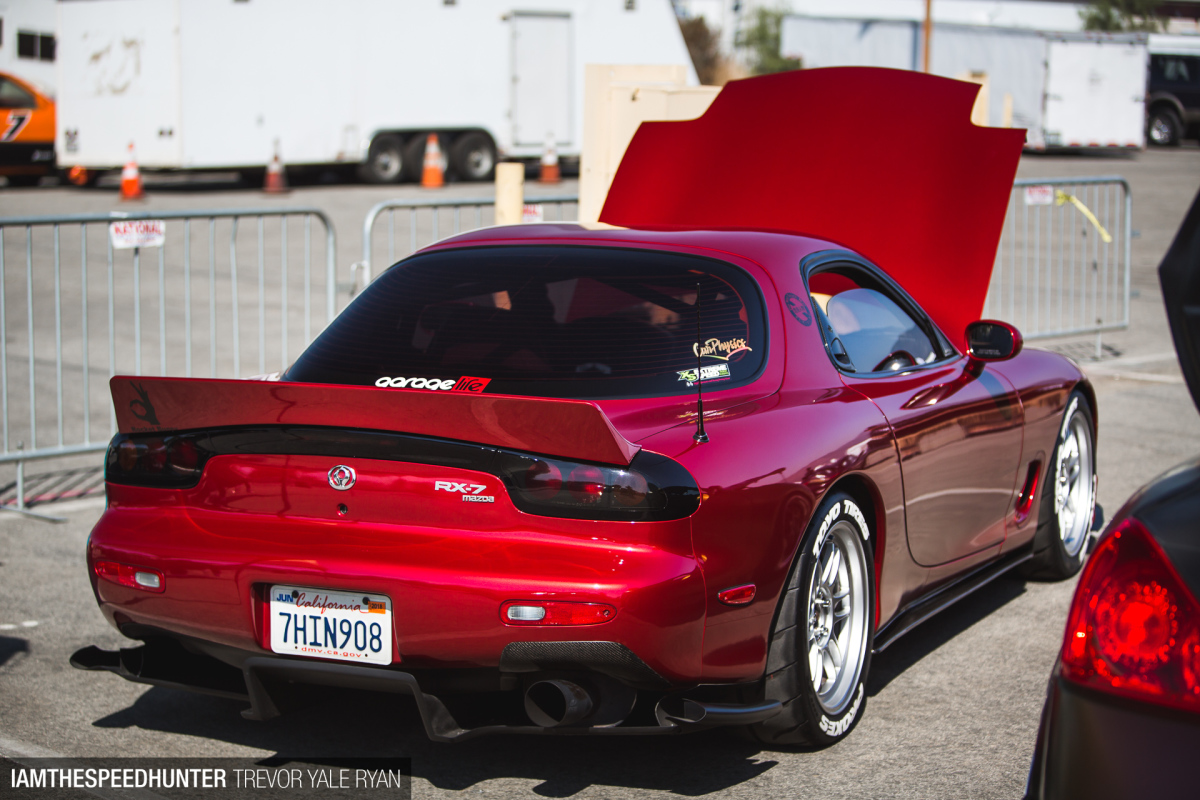 The engine bay was beautiful, the car was beautiful, and it's easy to see why so many cry foul when these chassis are tampered with. Surely the addition of the Rocket Bunny duck tail and RE Amemiya diffuser are modifications we can all agree on.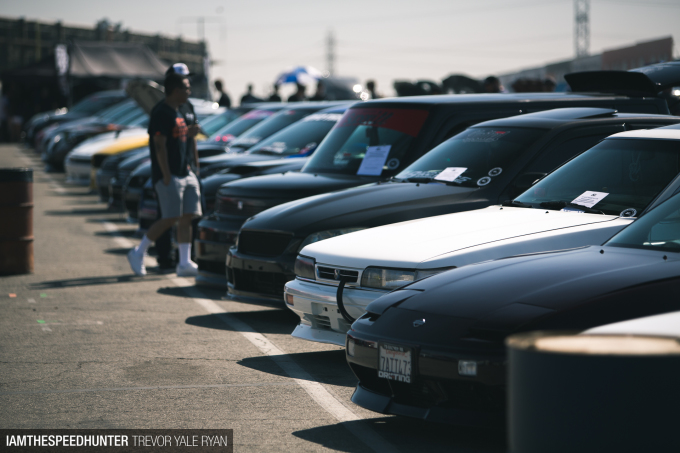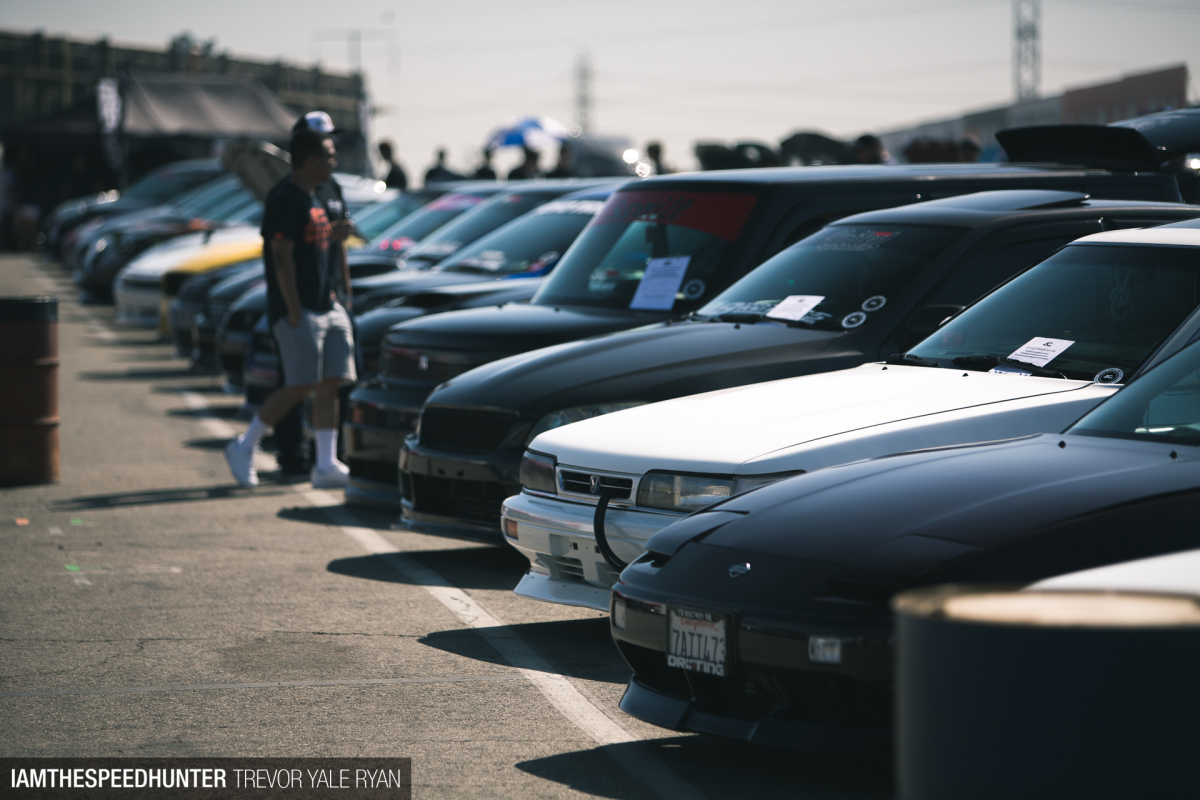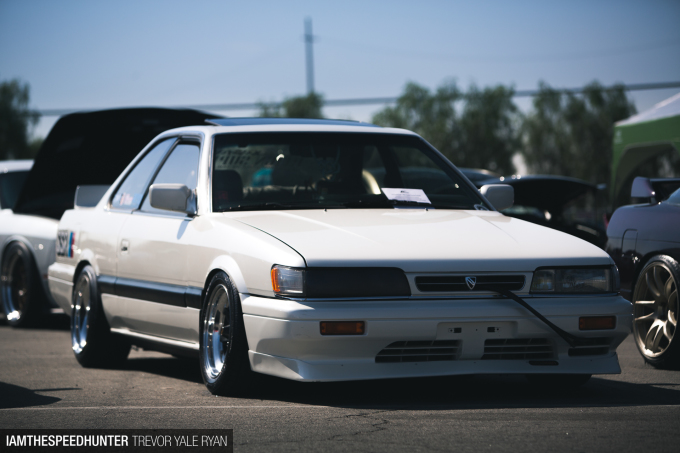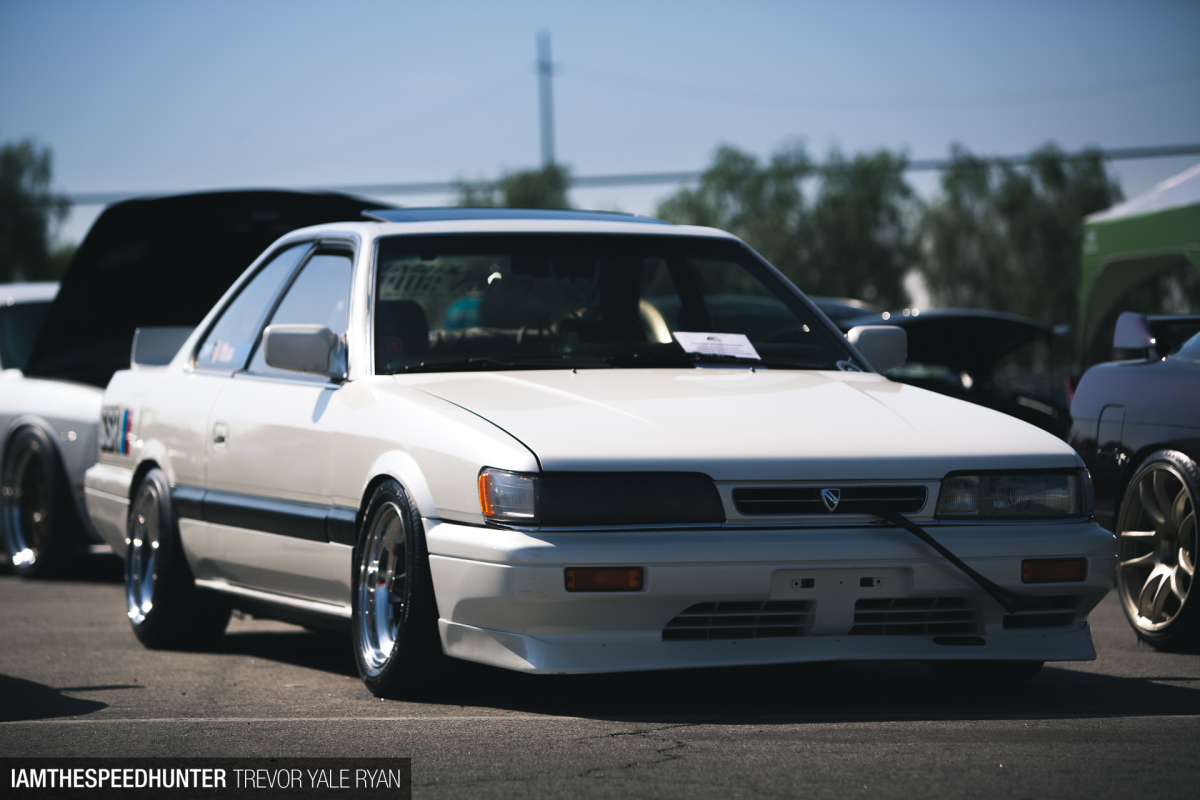 Another favorite was this Nissan Leopard, as it was badged. Having seen the car in this form here, I can't say if I've ever spotted too many before. It's quite possible I've simply been overlooking these late '80s Infiniti M30s (the proper US moniker) when I see them passing by during my daily driving activities.
A bit of homework on my end taught me that the chassis is indeed relatively rare, but a great platform to use for more common performance Nissan parts due to the shared dimensions. Another one to add to the ever-growing list of cars I really want that make no sense for me to own, I suppose.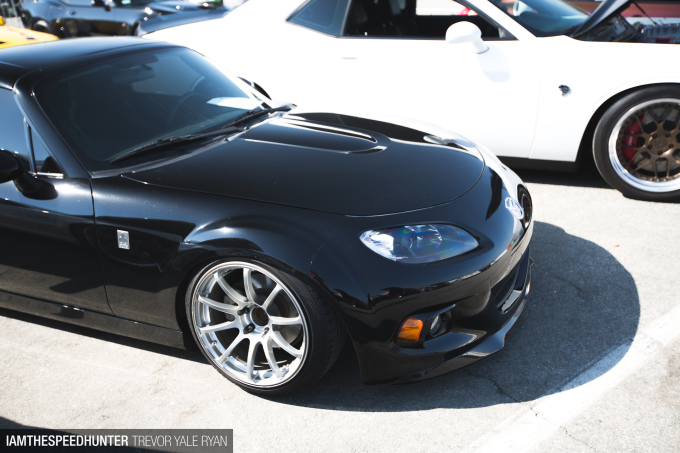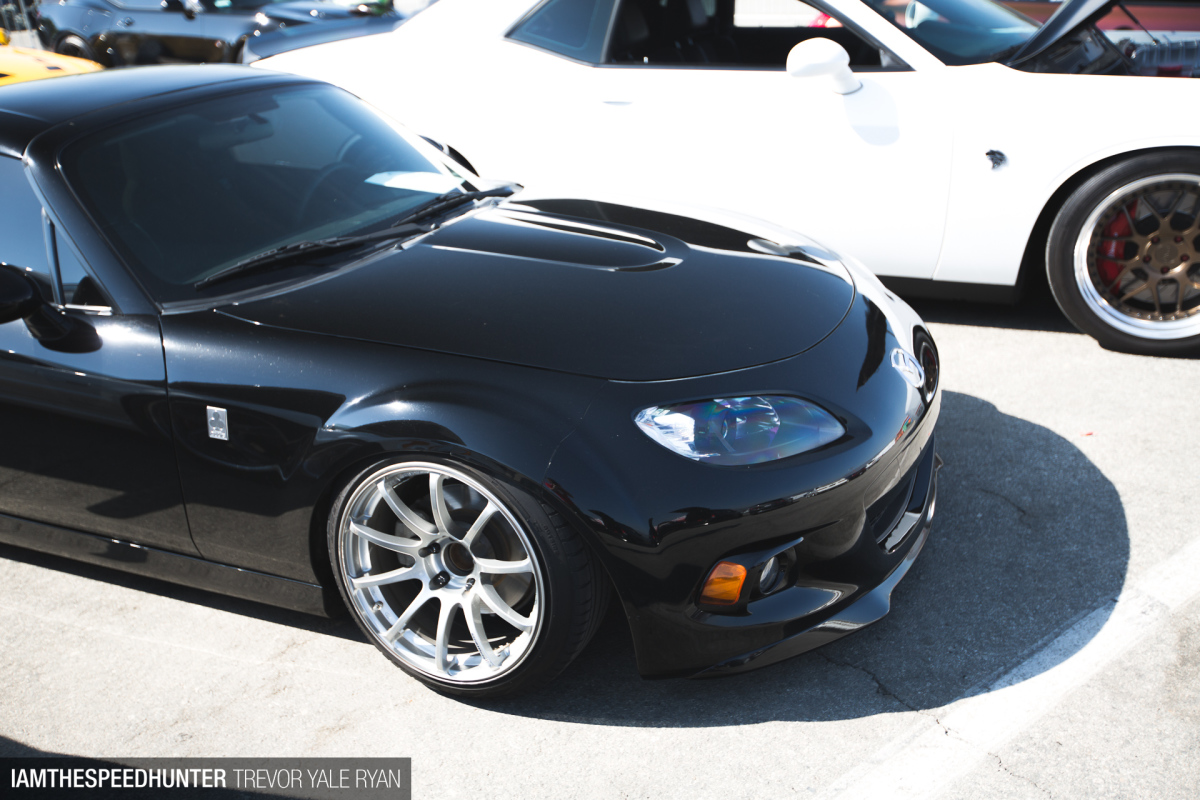 I also noticed a very clean NC Mazda Miata sitting nice and low at the show. To put it bluntly, this is my least favorite MX-5 chassis, and I know I'm not alone in this feeling.
However, this one looked rather good wearing a hardtop and sitting low on tightly-fitted SSR GTV02 wheels. I'm sure it's plenty of fun on the backroads, and quite possibly definite proof that the NC has the soul of a Miata hiding deep inside.
Anticipation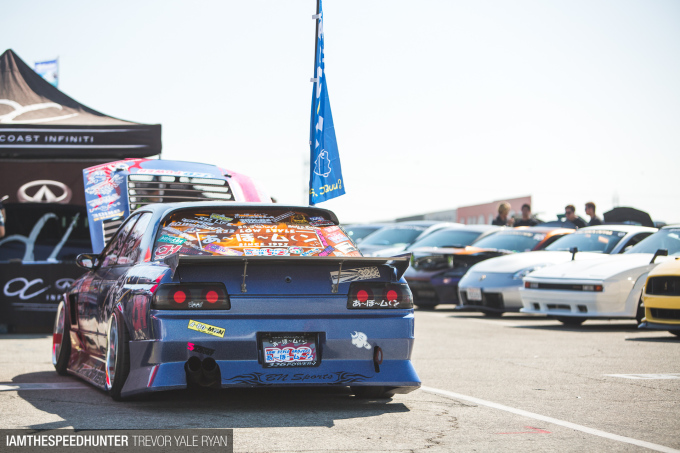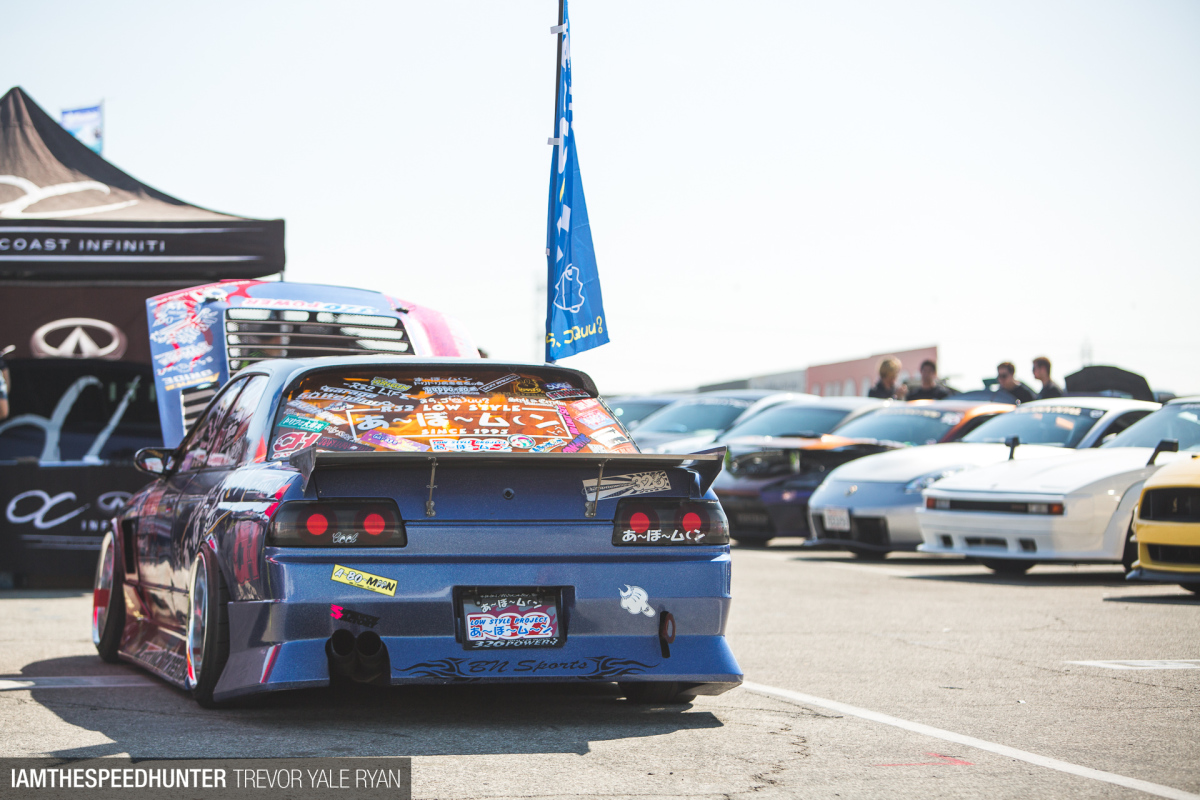 Of course, right next to the show was the banked oval that is Irwindale Speedway, and as such, organizers, teams, sponsors, and vendors were scrambling around the paddock just five meters away. In particular, I took note of the A-Bo-Moon R32 that kept grabbing my eye as I wandered around the parked-up cars next to it at AutoCon Irwindale.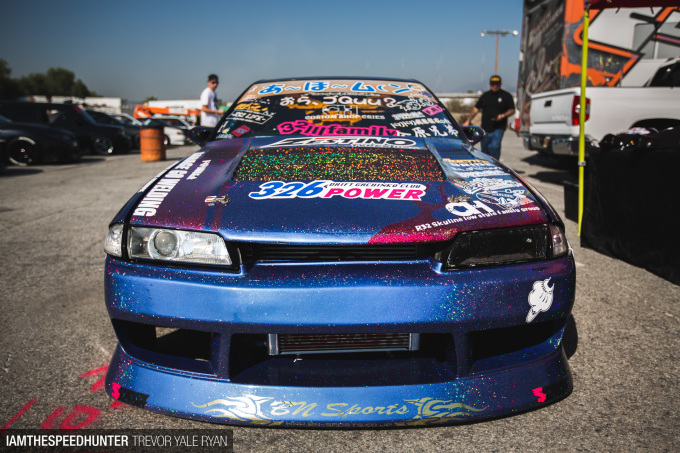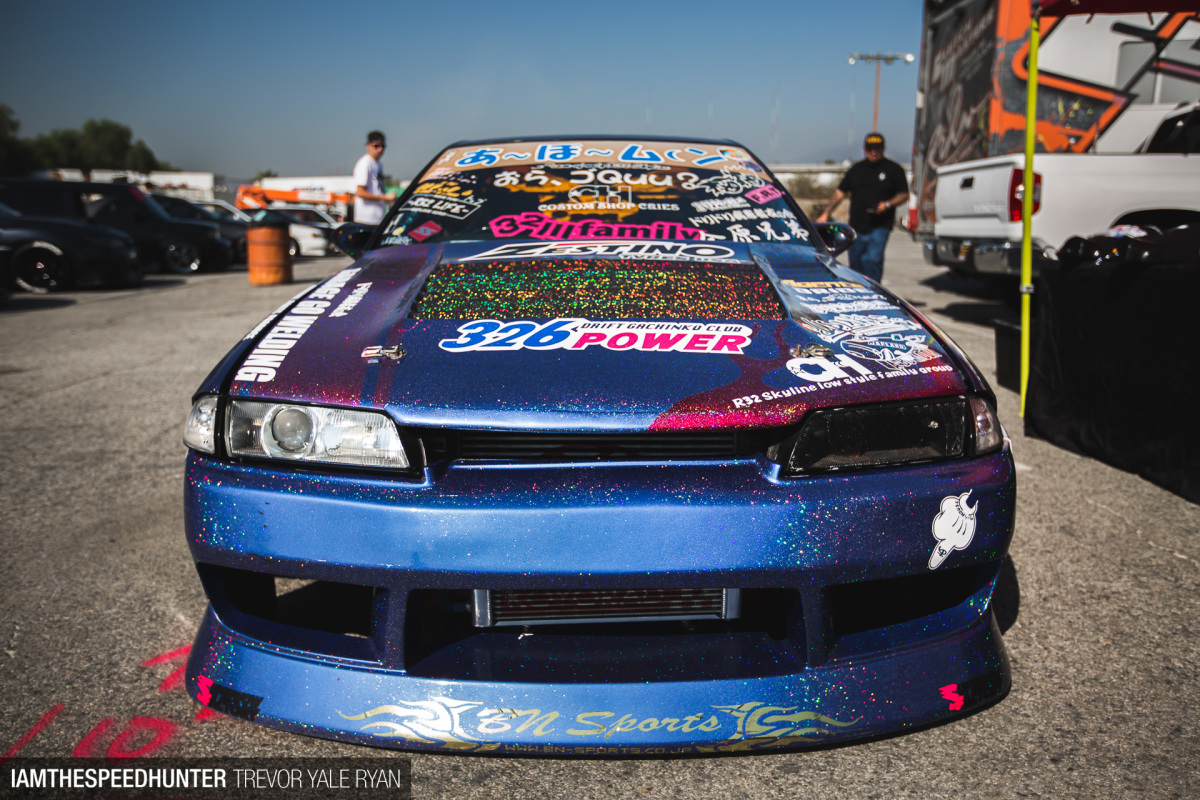 Firstly, it's hard not to notice the sparkling exterior of the Low Style Hero that Akinobu Satsukawa has owned for nearly 20 years now, and there are a couple specific details I'd like to point out. First off, the sticker on the roof is the original sticker that Satsuma placed on the Skyline; it's recessed into the body and you can feel the layers and layers of paint that have been applied around it.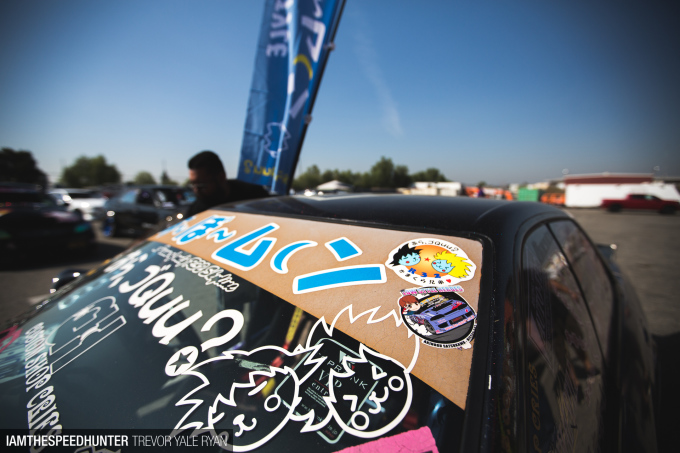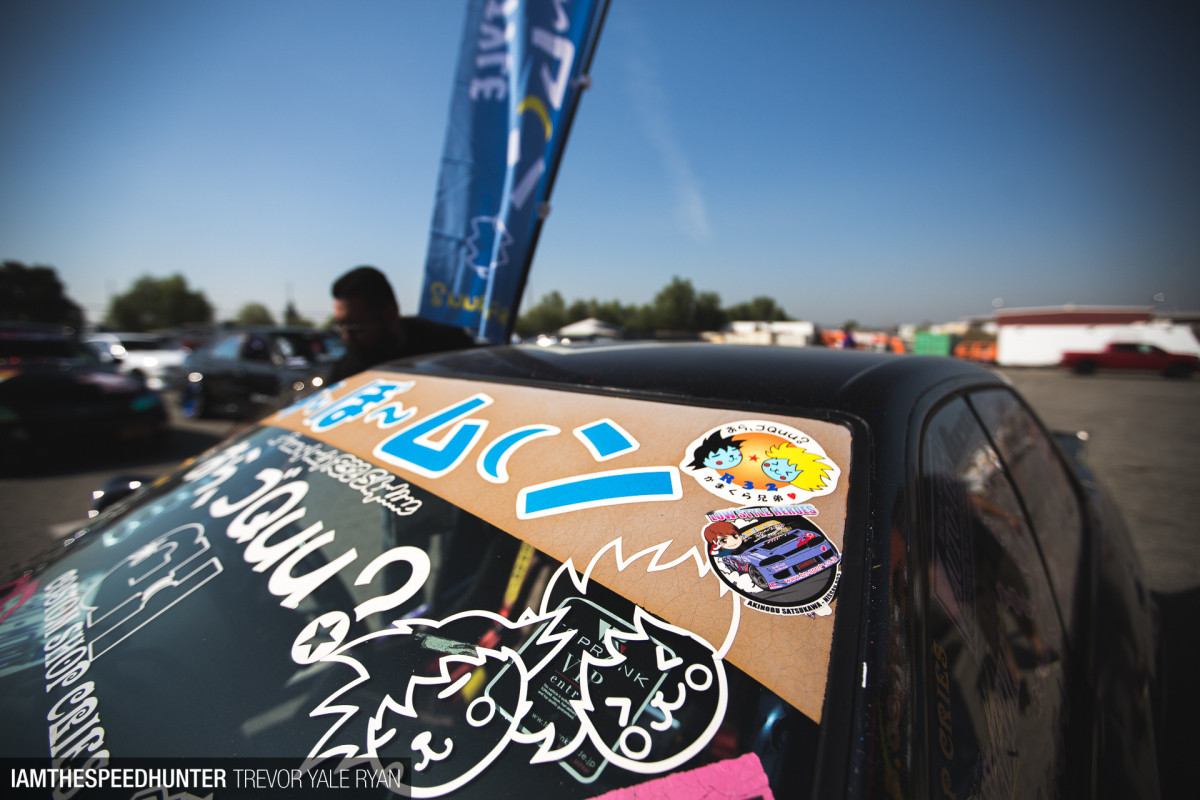 Next, there's the front windshield. Yes, it's just an ordinary piece of glass, but the sticker across the top is also ancient history in the world of drifting. Originally bright yellow, the fact that it has never been replaced means that this is a car that has been drifted and driven with precision. No unnecessary dirt drops, no needless door banging shenanigans — no cracked windshields.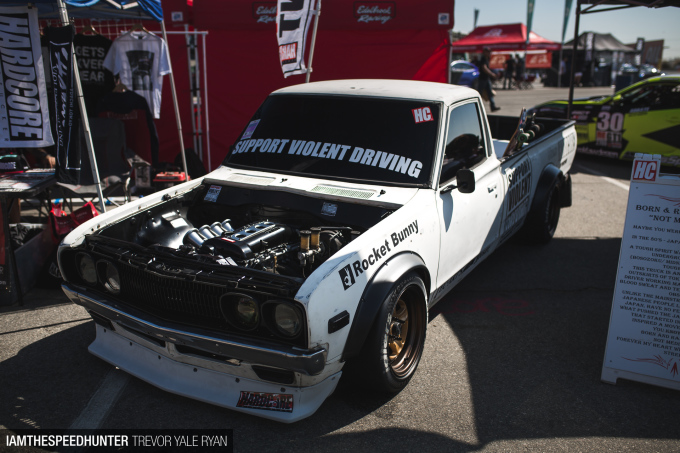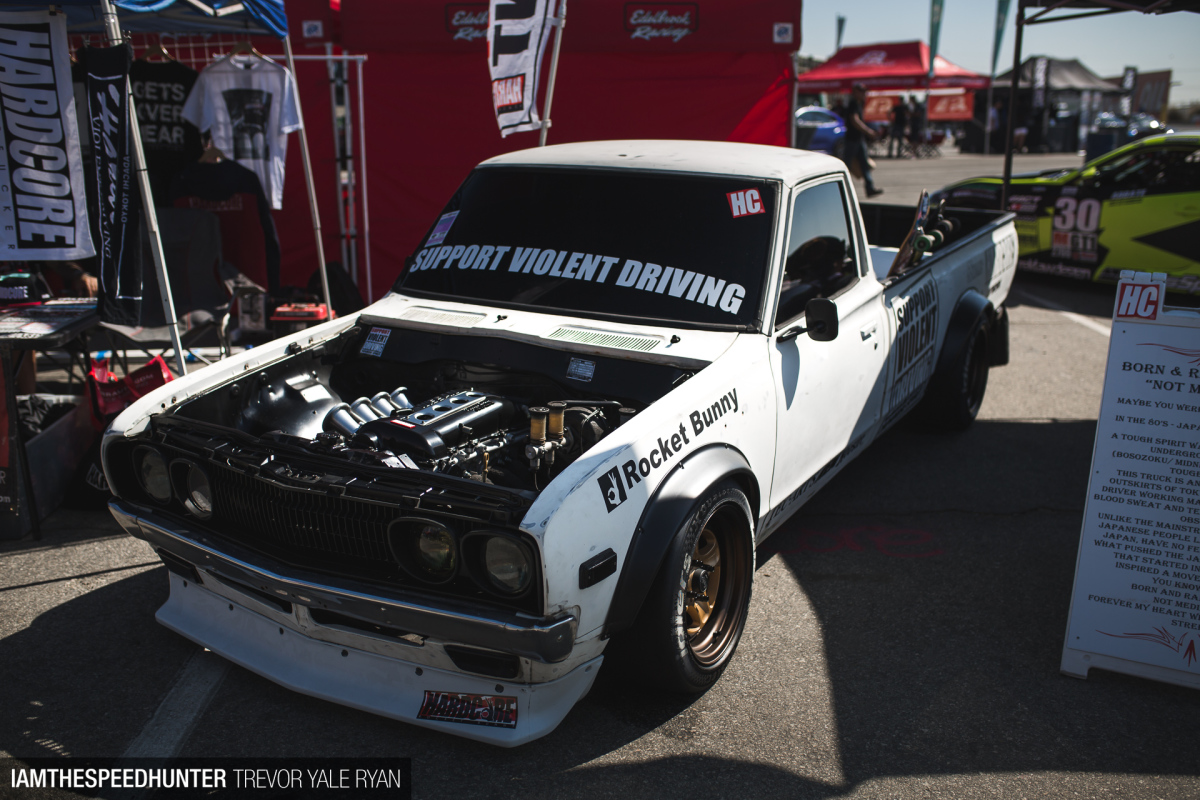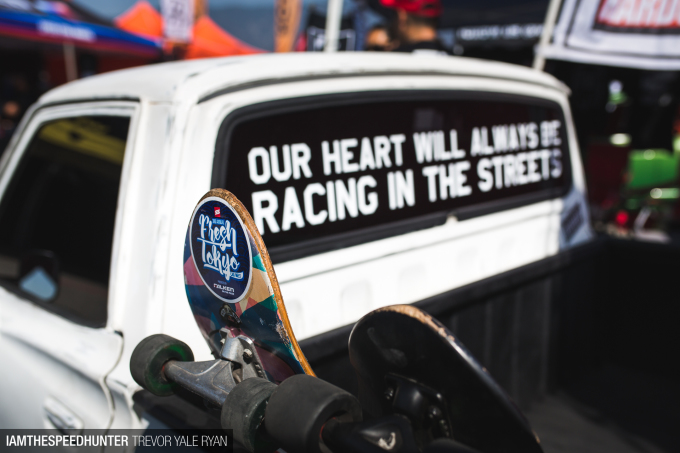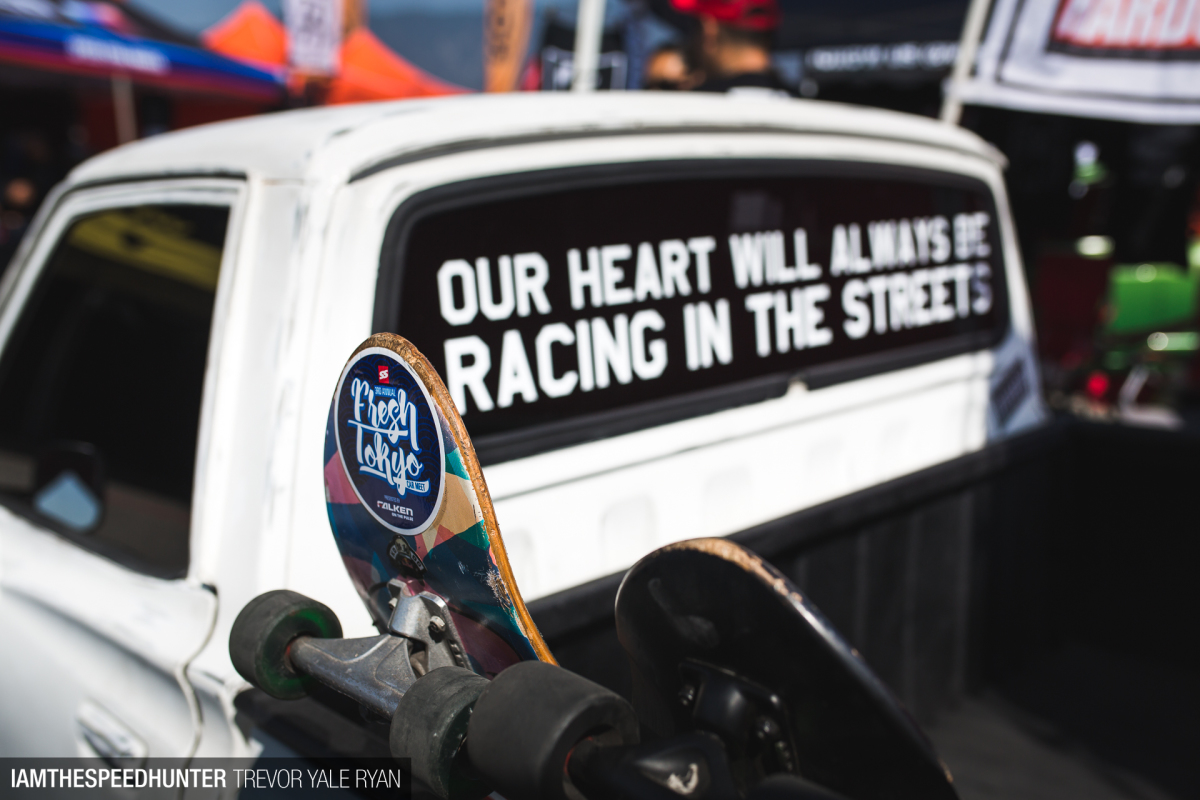 Walking a bit farther in, I saw the Pandem Datsun 620 pickup that we posted renders of earlier this year had been completed; when I shot the KRC FD3S at SSworxs last month, this was the car in the shop I wasn't allowed to publish any images of. It's a simple enough kit and I love the retro feel it has, especially paired with those ITBs on the naturally aspirated SR20DE in the engine bay.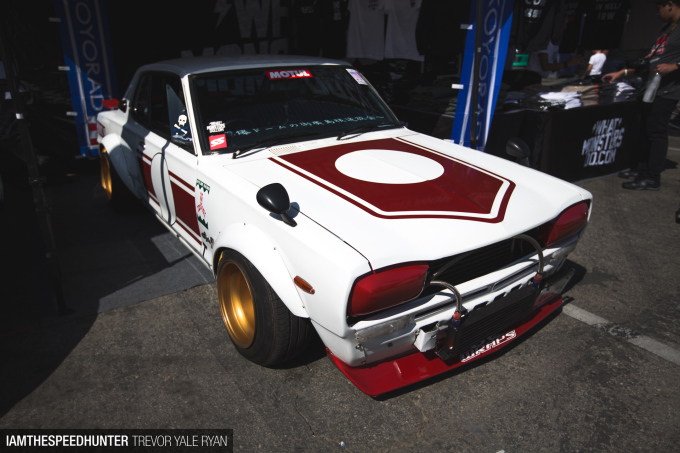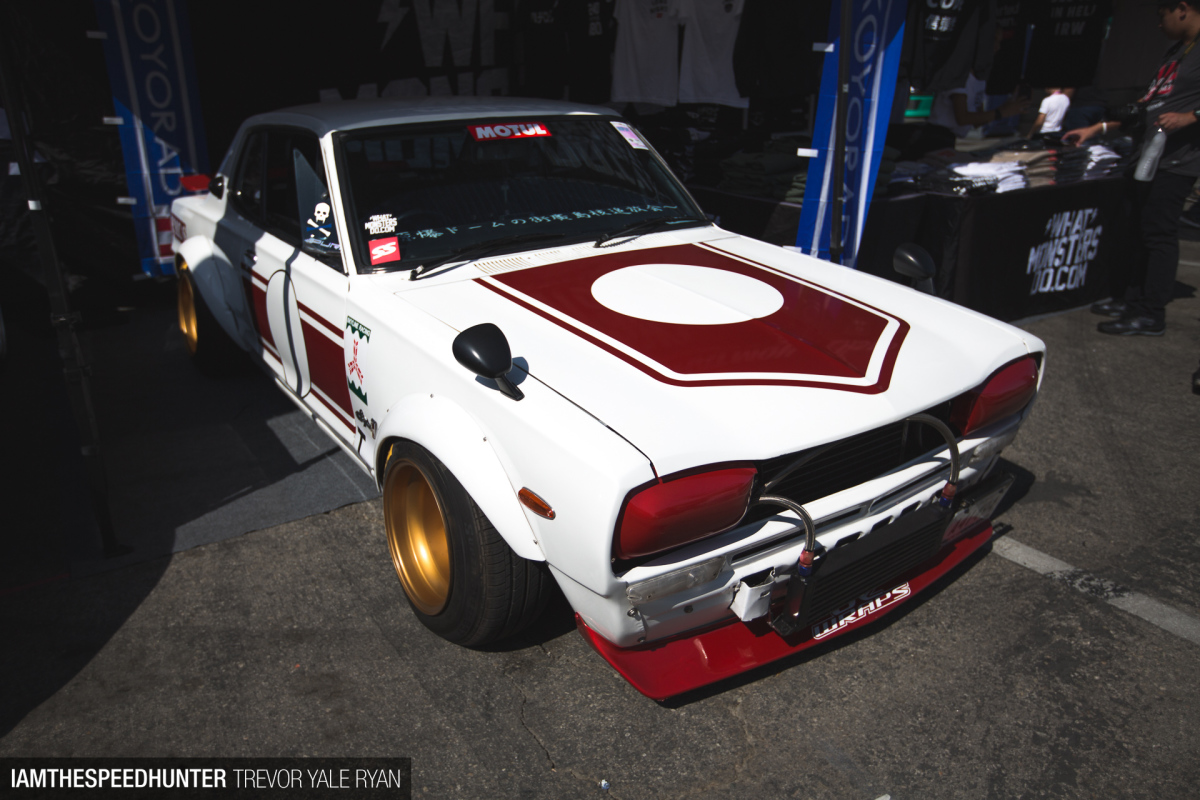 This amazing Hakosuka Skyline that Louis featured for us this summer was parked up at a booth at FD Irwindale as well.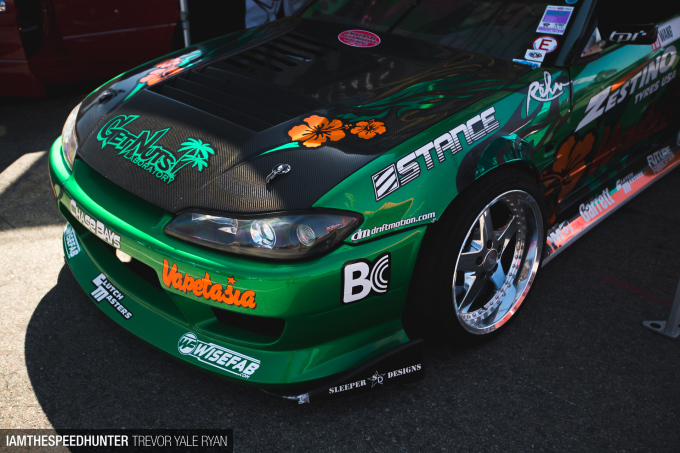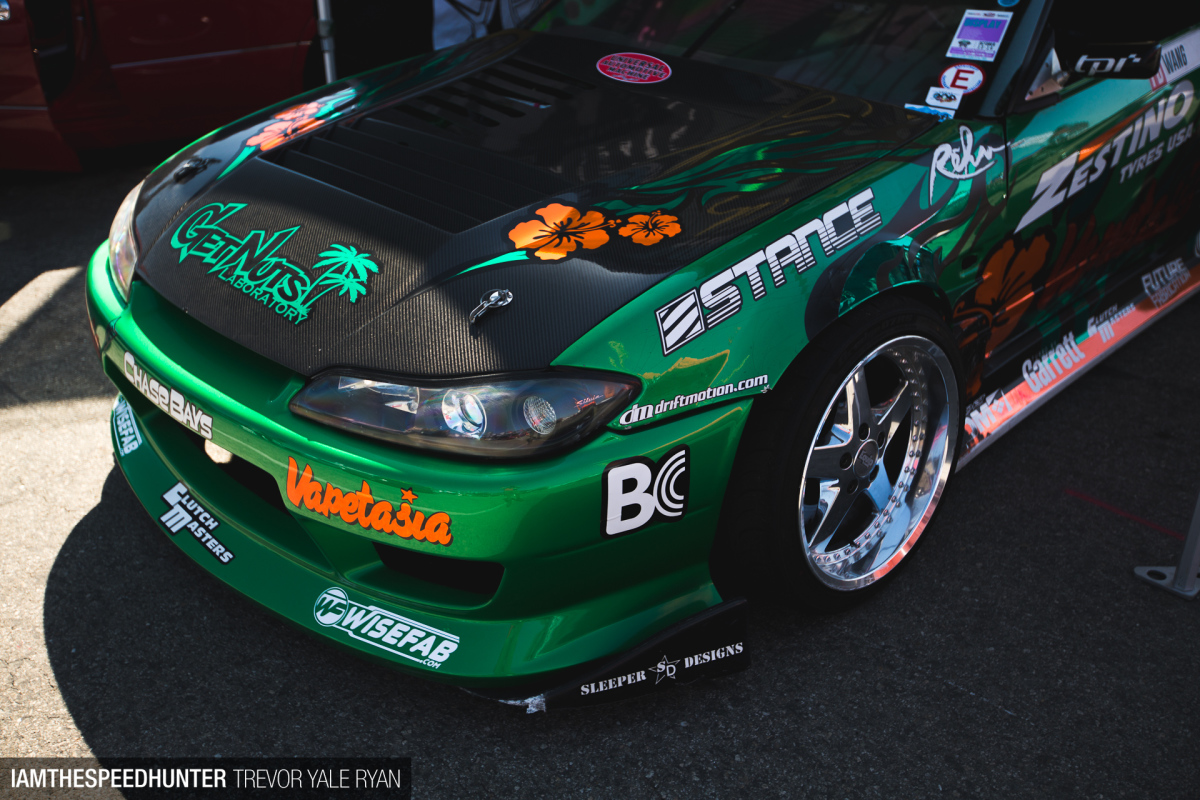 This weekend was so packed with great cars it's hard not to ramble on about them. It was rad to see Forrest Wang's S15 again, but a shame that it wasn't out on course getting sideways.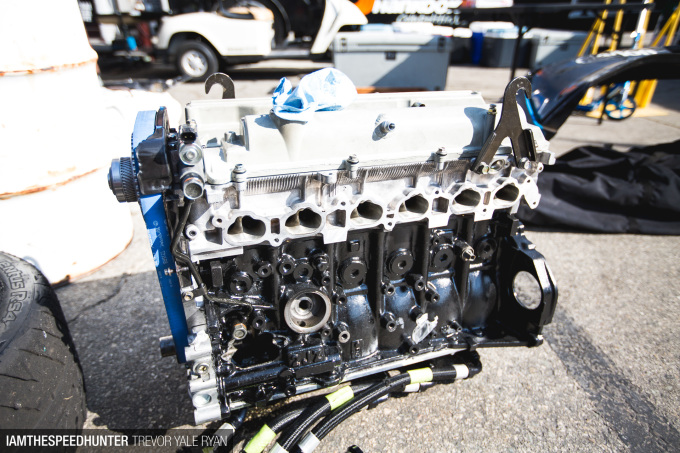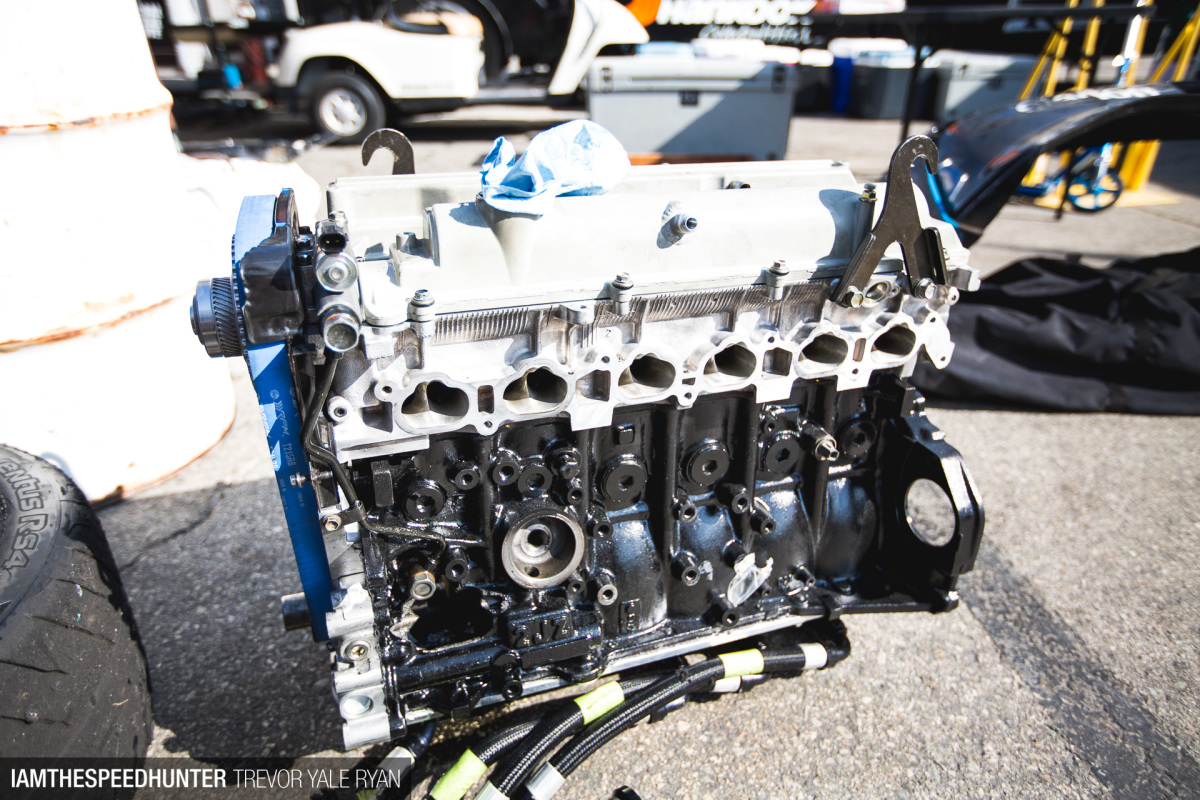 With the main event drawing closer, nervous anticipation could be felt in the paddock as teams ran around swapping motors or putting the finishing touches on the teams' cars while others did their best to relax and mentally prepare for the title fight.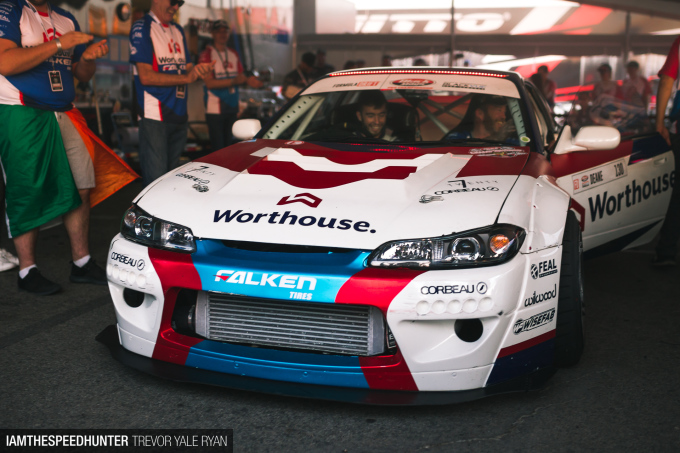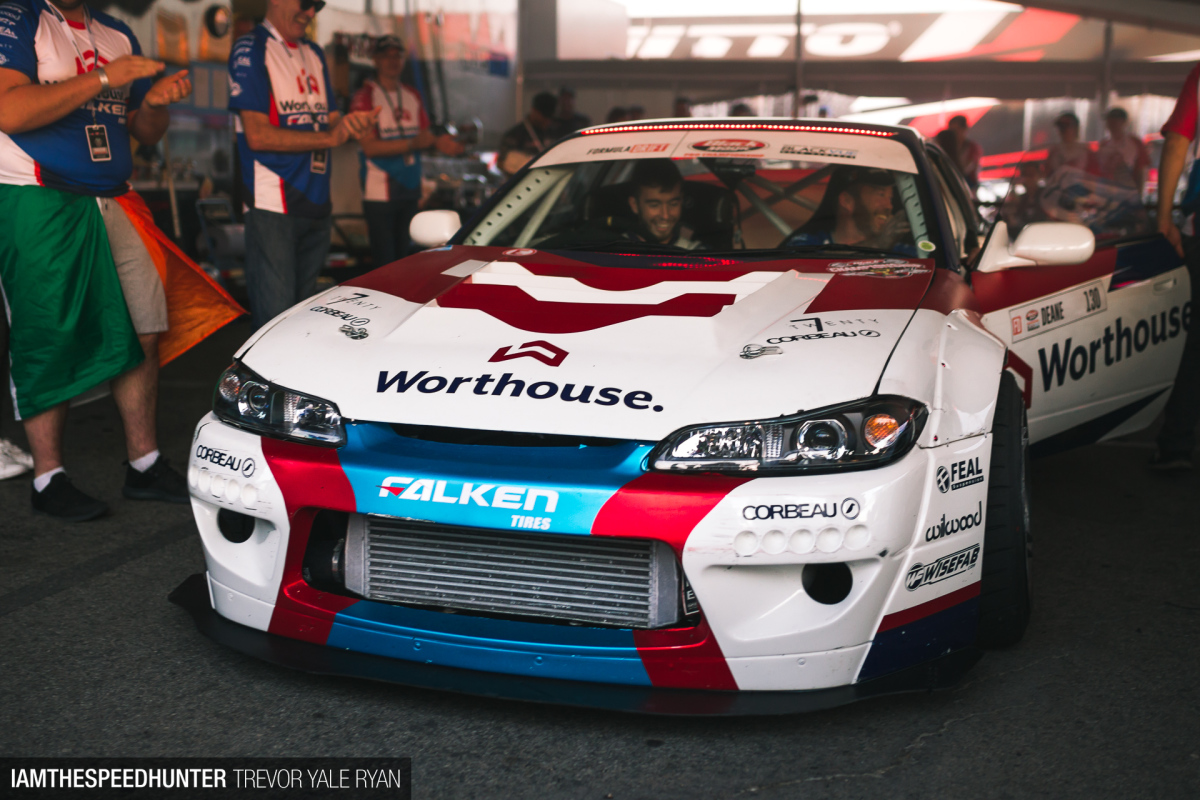 While the season result was determined early in the day, there was plenty of action all night long.
As far as AutoCon was concerned, there were many other great cars in attendance and I hate to admit that it was impossible for me to get to them all. If you missed the weekend, while this almost certainly was the last ever FD event at The House of Drift, you're in luck as far as the show cars go.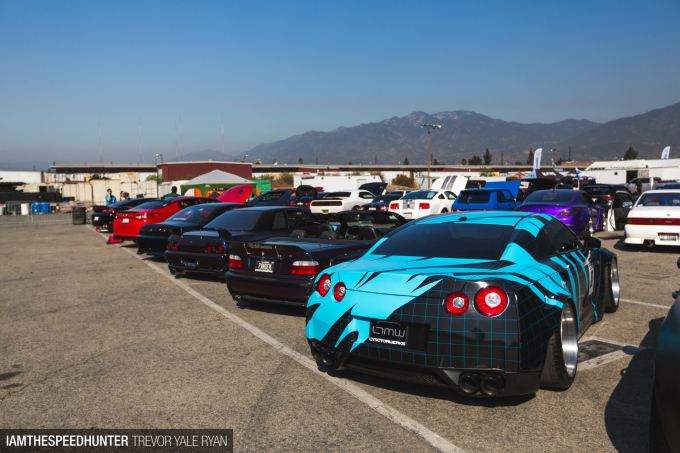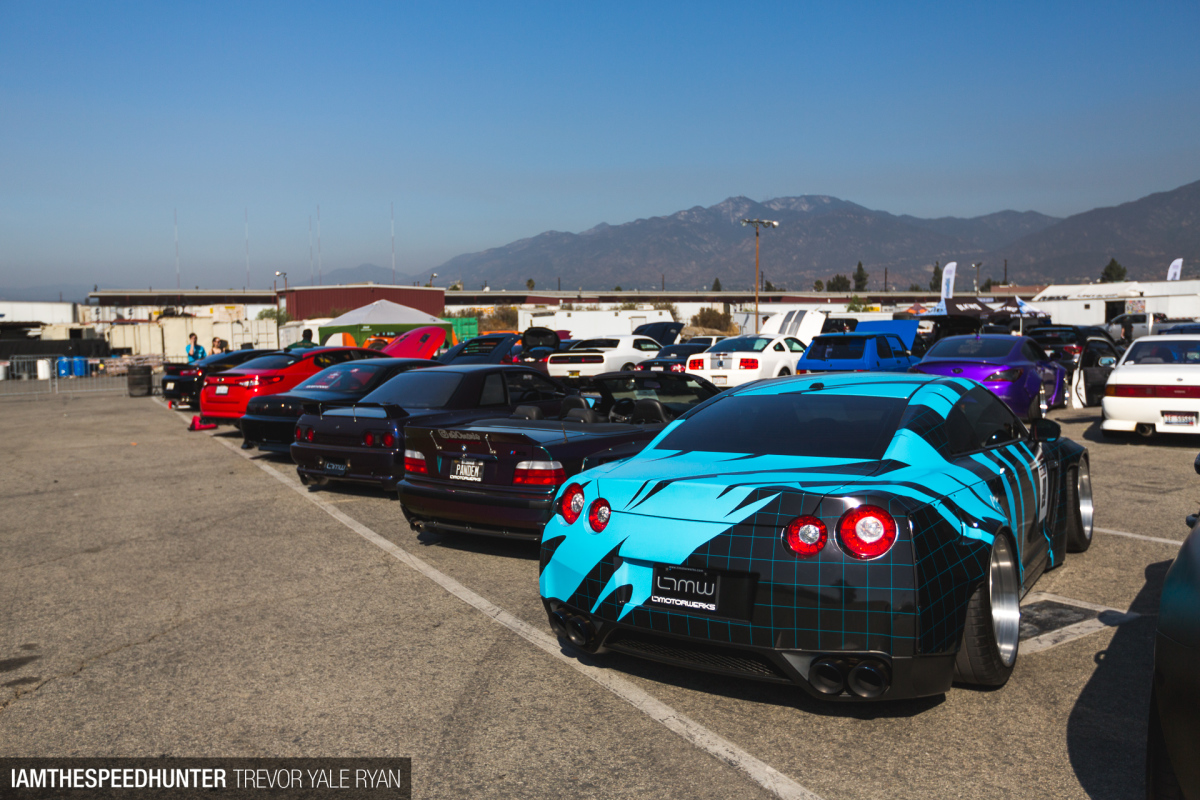 Southern California car culture isn't slowing down a bit, and there will be plenty of good opportunities to spot many of these cars at the numerous local shows that are to come.
Trevor Yale Ryan
Instagram: tyrphoto
TYRphoto.com
Cutting Room Floor