Austrian Alps
On a daily basis I receive emails from individuals and companies pitching me all kinds of ideas for car shoots. Some are crazy and others are just downright weird. A little while back I opened one that caught my eye: an opportunity to shoot the new Ford GT in the Austrian Alps. The catch? They would film me while I went about the photography.
While I don't mind being in front of the camera, I'll admit that I was a little confused. Why on earth would someone fly me halfway around the world to watch me shoot pictures?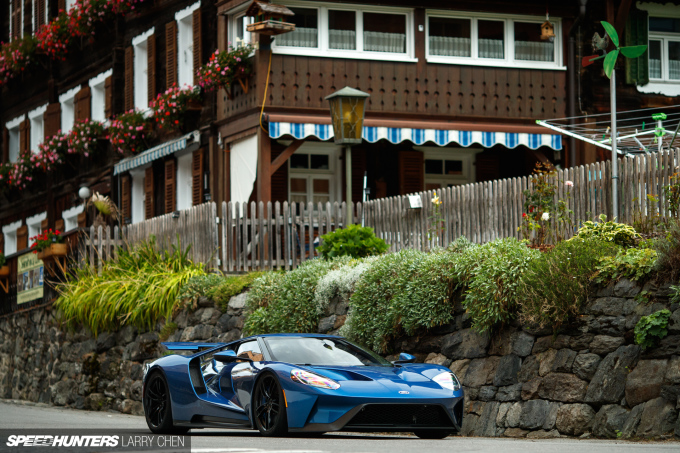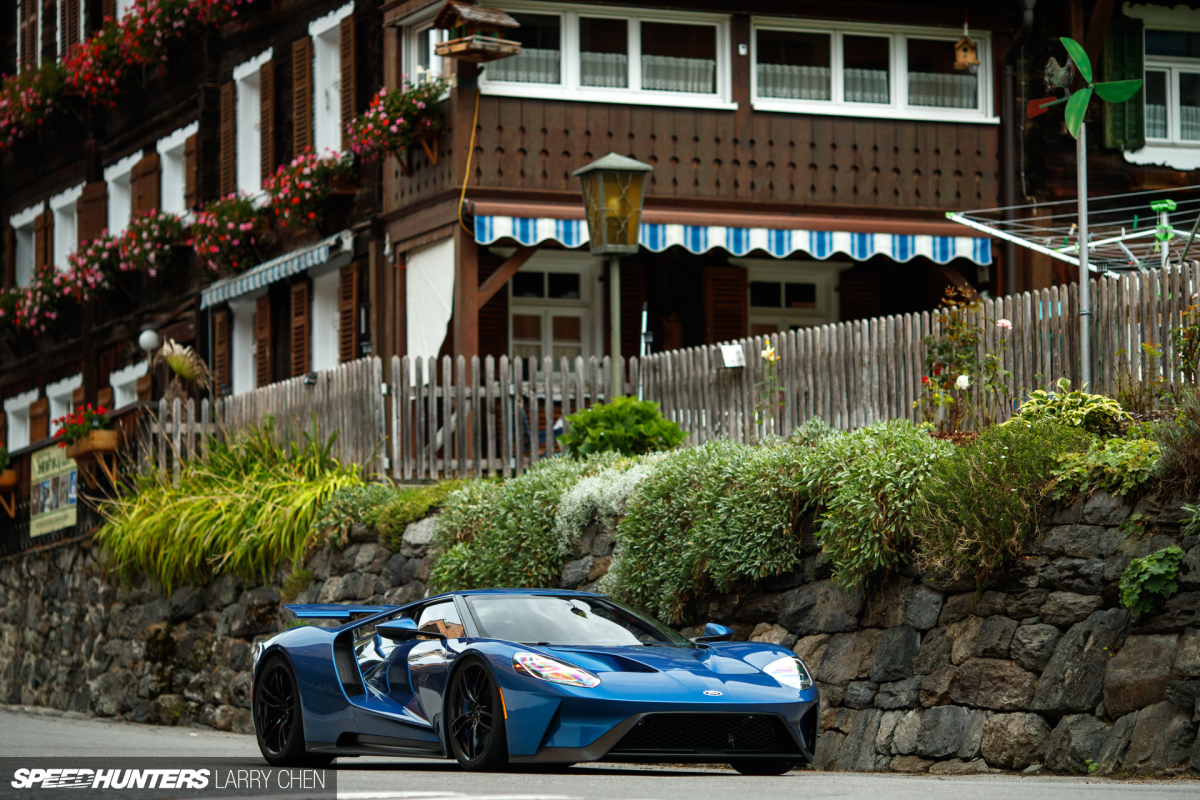 Well, as it turns out, Michelin tires has a web show called DriveStyle, where they explore different aspects of car culture. Although it's mostly based in Germany, they have filmed all over Europe for the current series.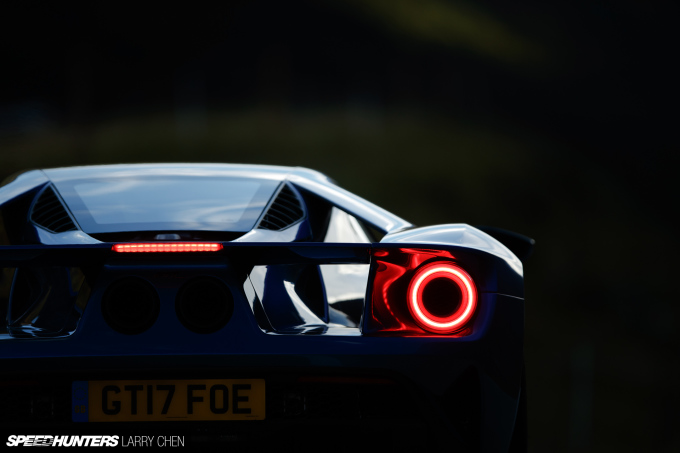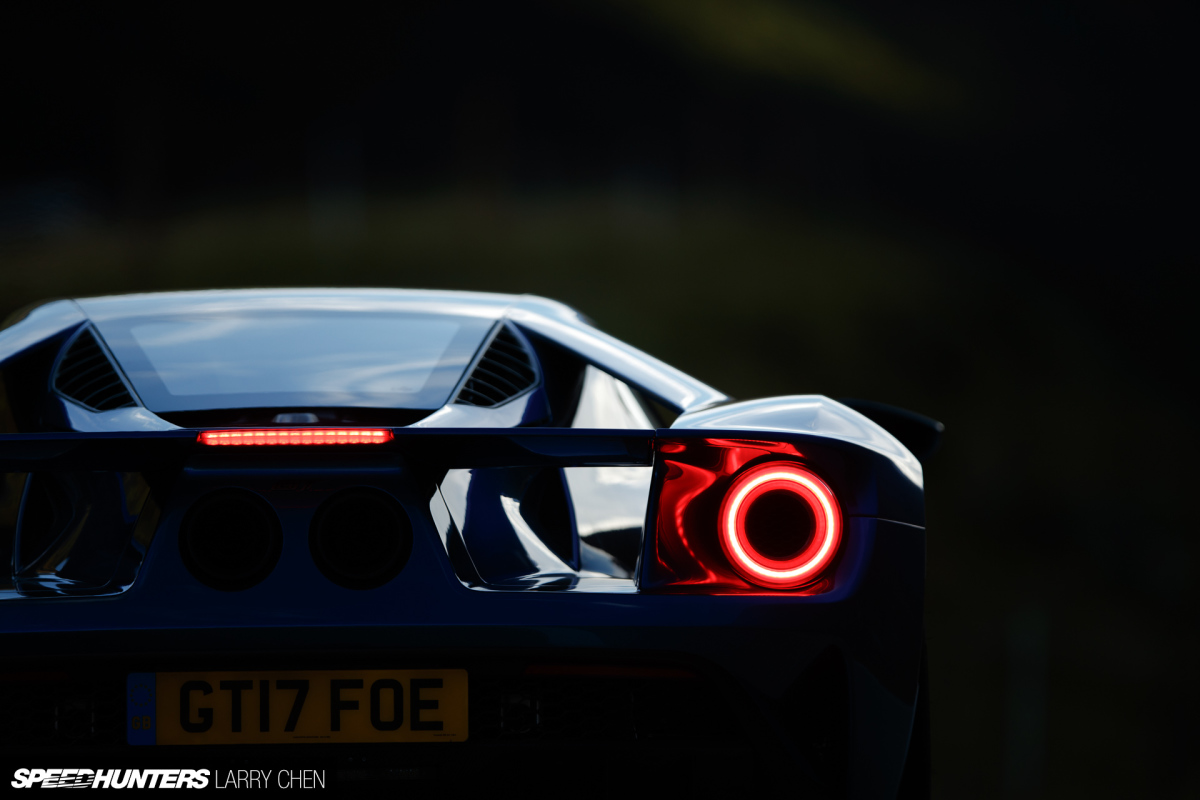 Up until this point they'd only had racing drivers or friends of the brand on the show, but for this episode they were reaching out to a photographer.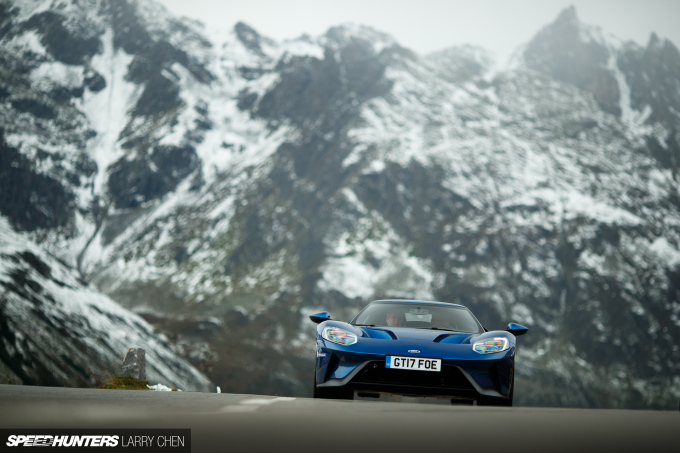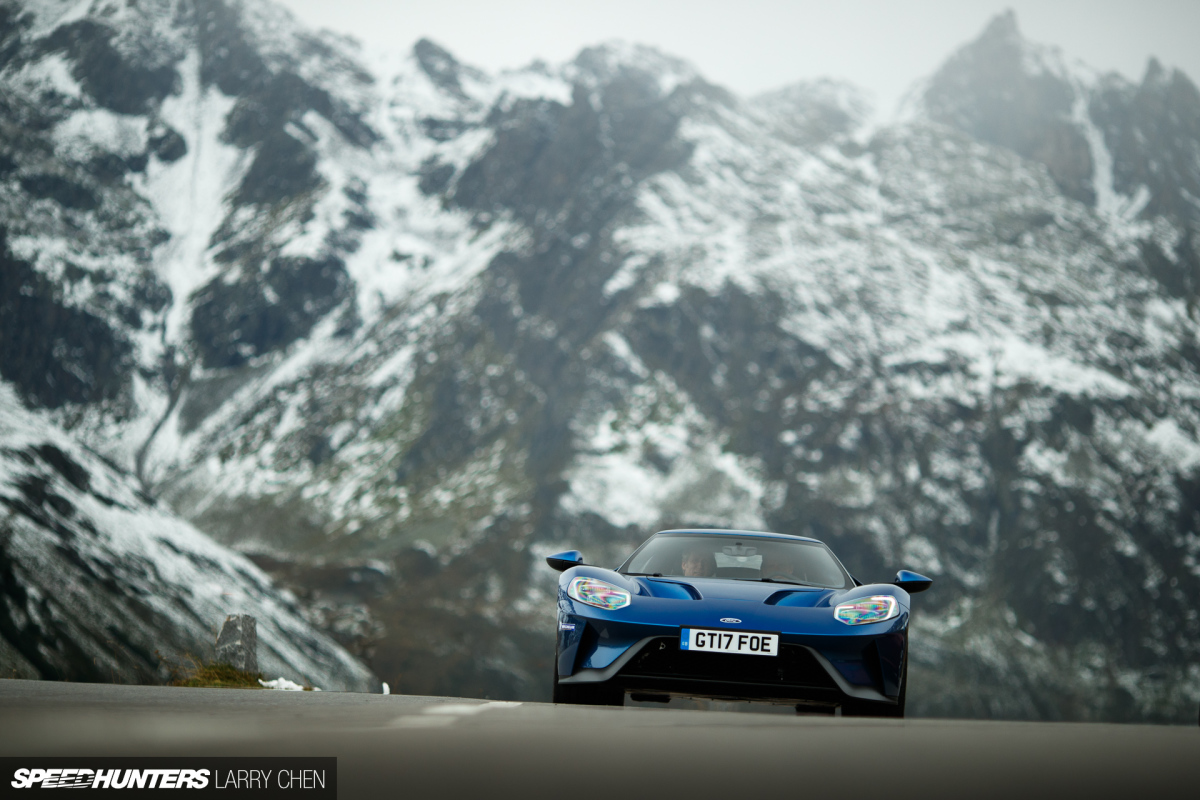 Lucky for me, right? They also wanted to feature a groundbreaking car, and that's where the new Ford GT comes in.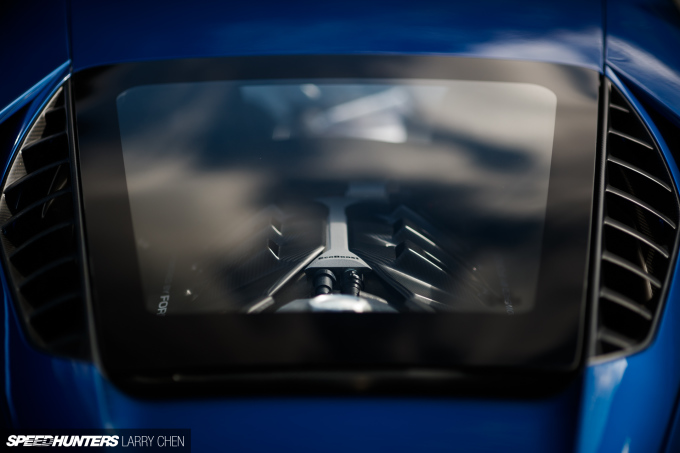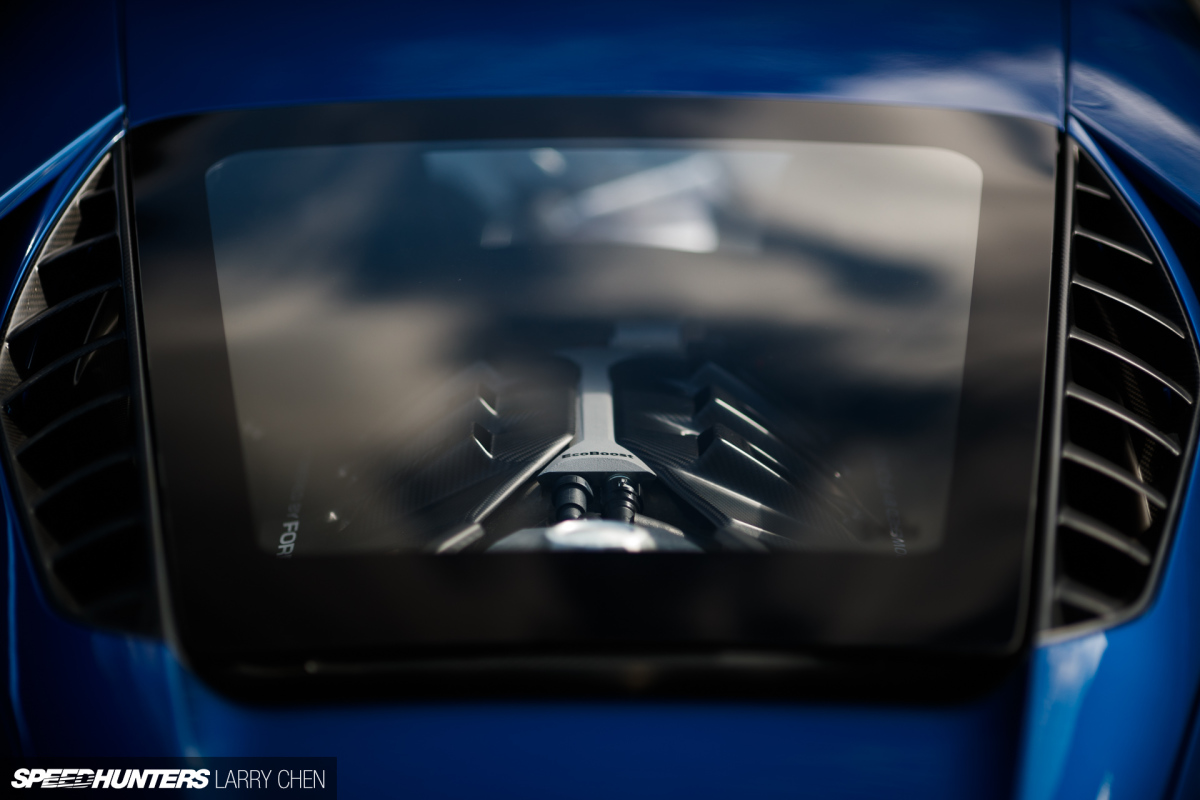 What I love about the guys from Michelin is that they aren't all talk. Within a few weeks I was sitting on flight destined for Austria.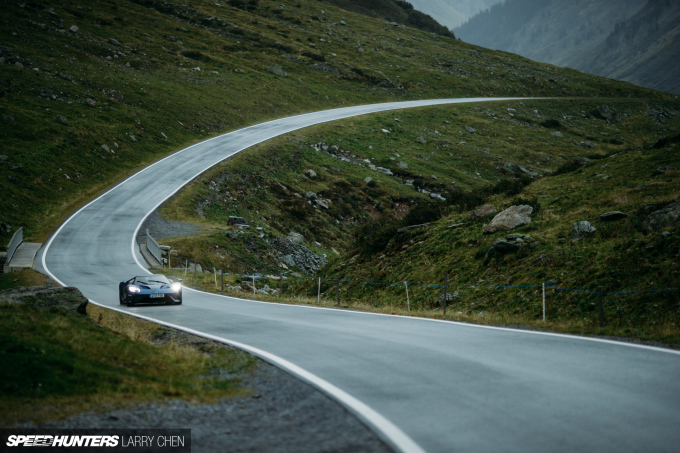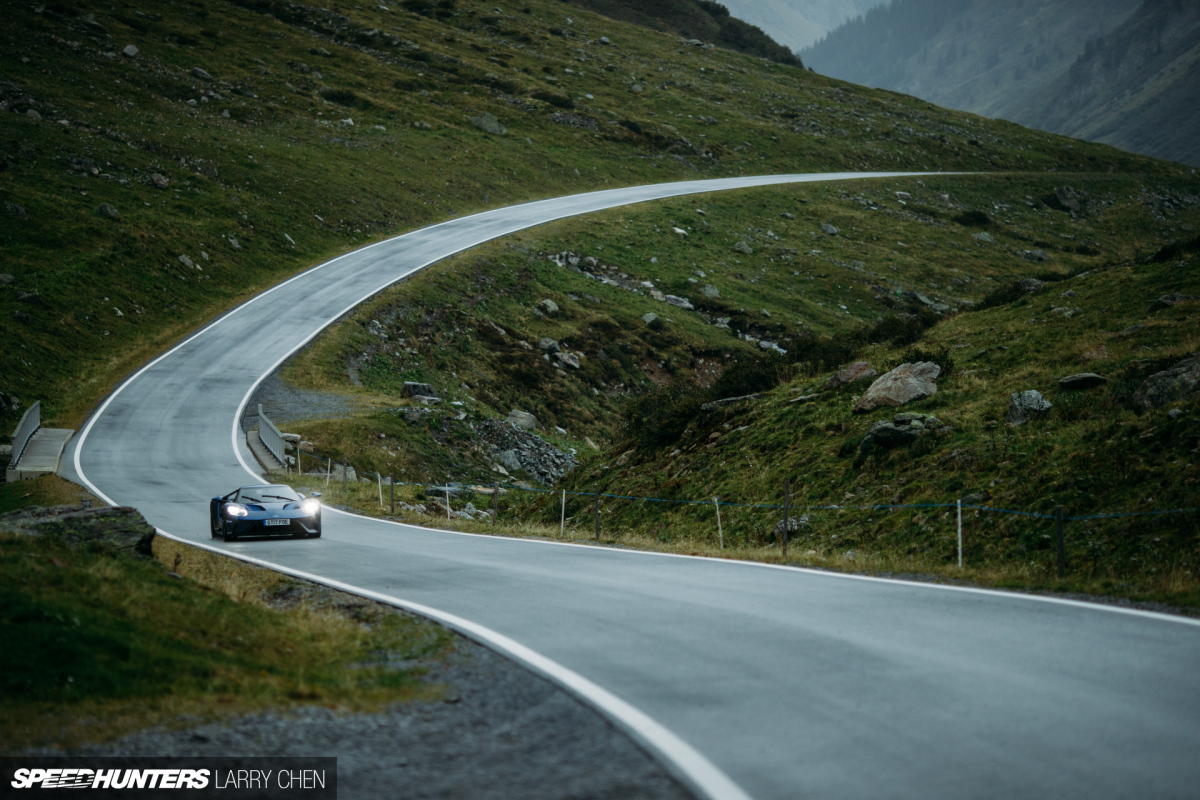 And not a moment after I arrived, I was standing in front of a Liquid Blue Ford GT.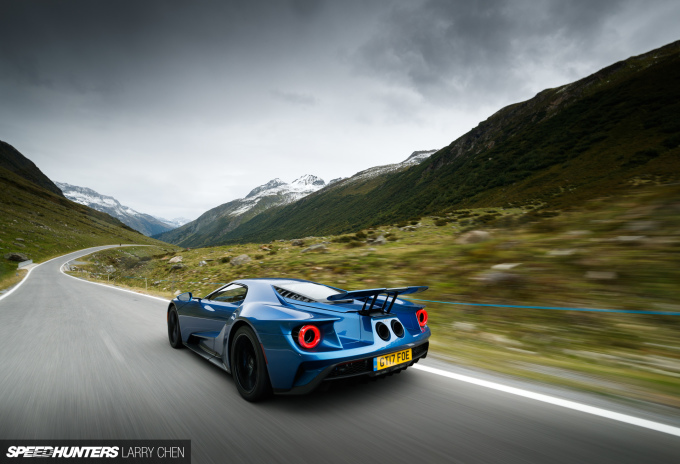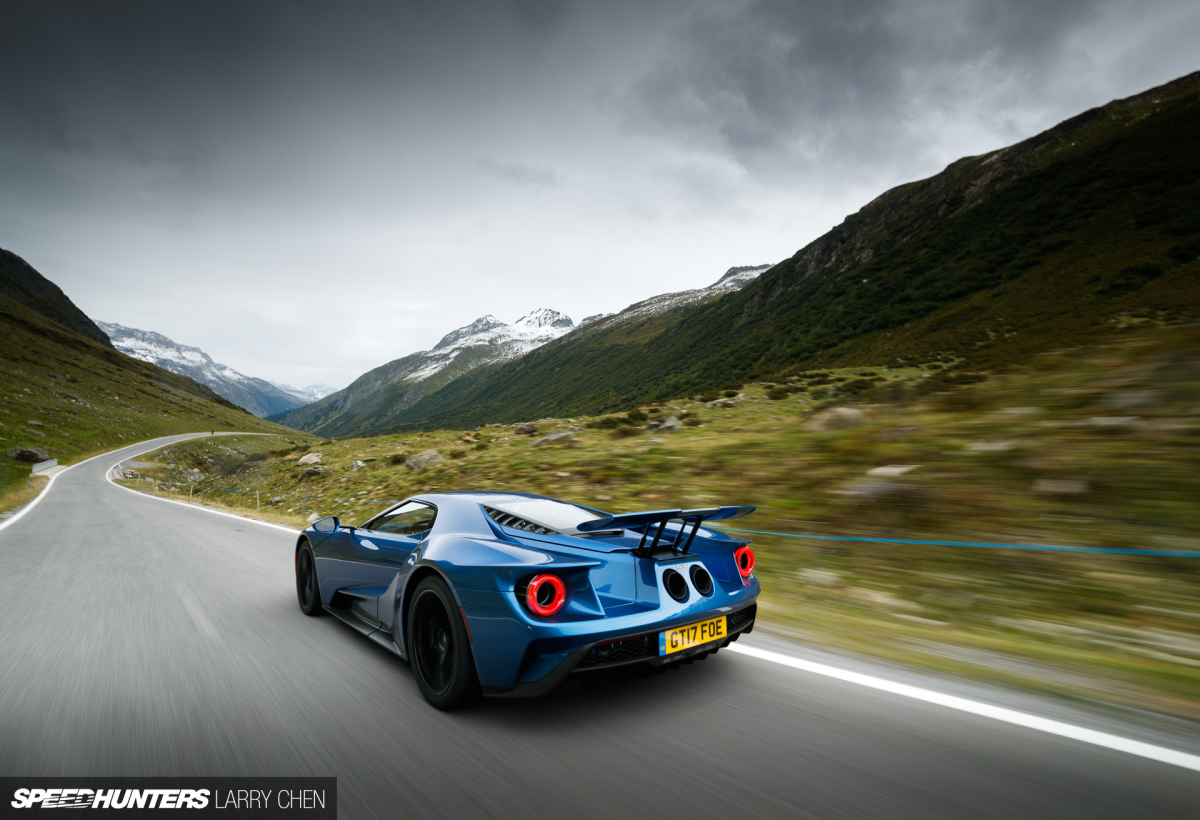 Michelin spared no expense for this shoot, closing down an entire stretch of public road. We would have exclusive use of the road for a few hours over the two-day production.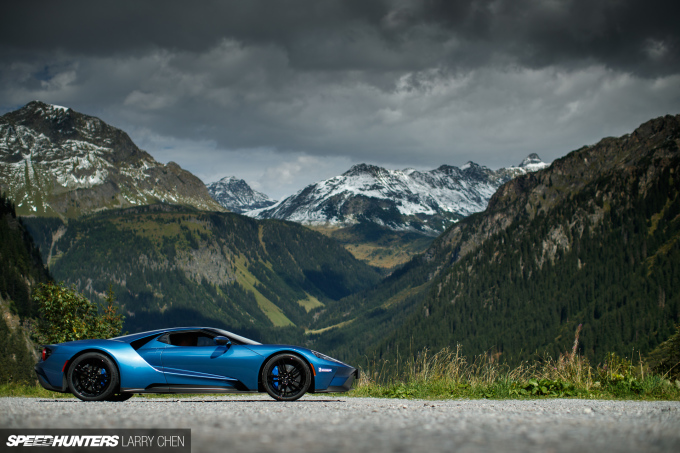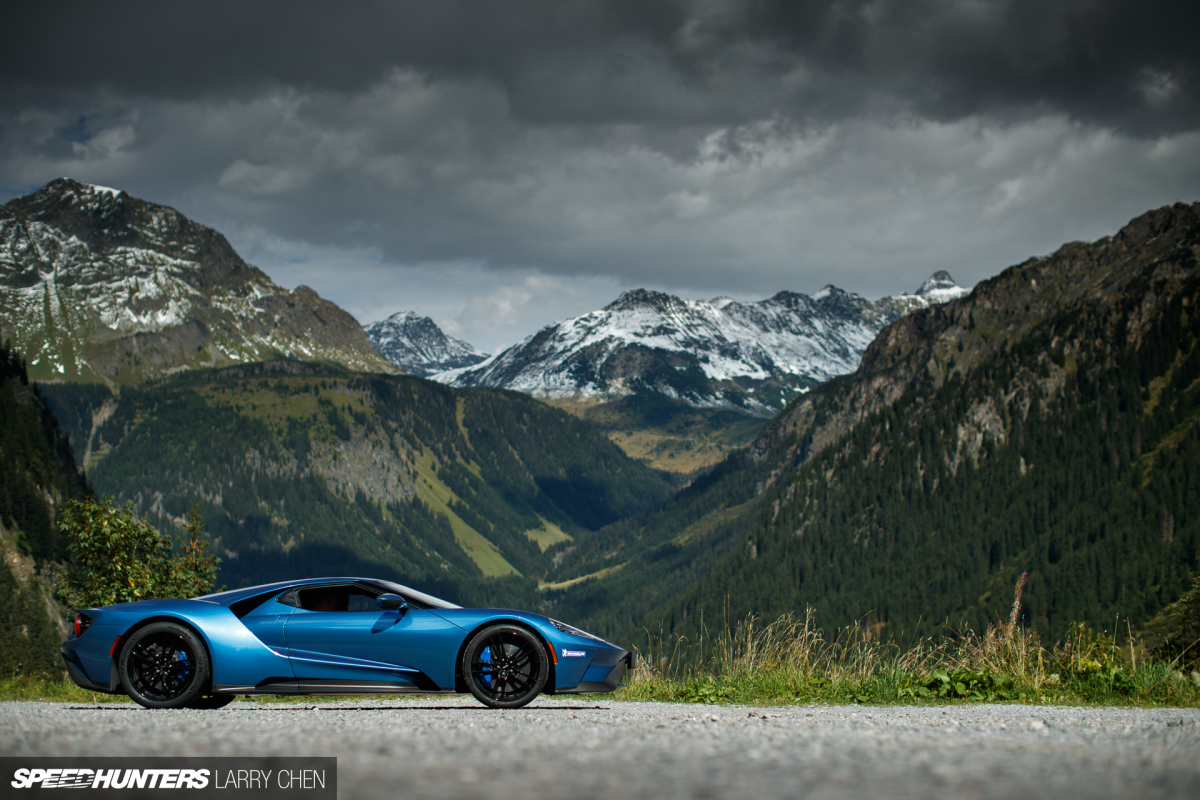 Ever since the Ford GT was released I dreamed of shooting it, but to do it on a road like this in Austria was beyond what I could have ever imagined.
Liquid Blue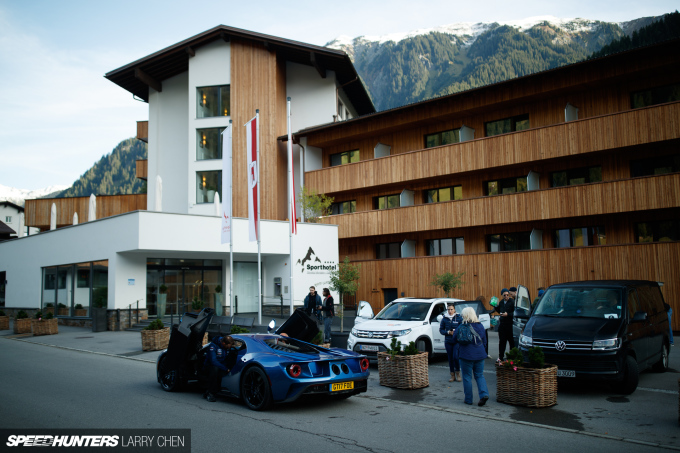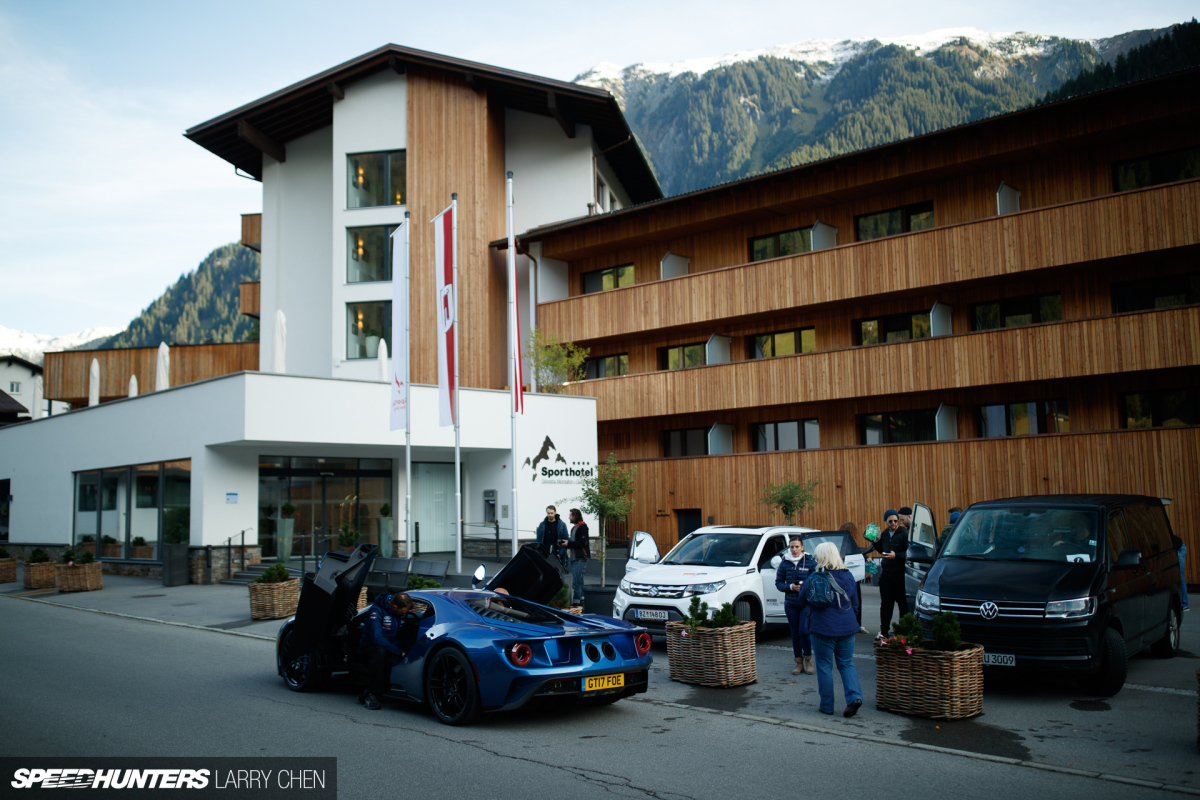 The night before we were due to get started I was sick with a cold, but when I woke the next morning I felt incredibly refreshed. I couldn't wait to sink my teeth into shooting this blue beauty.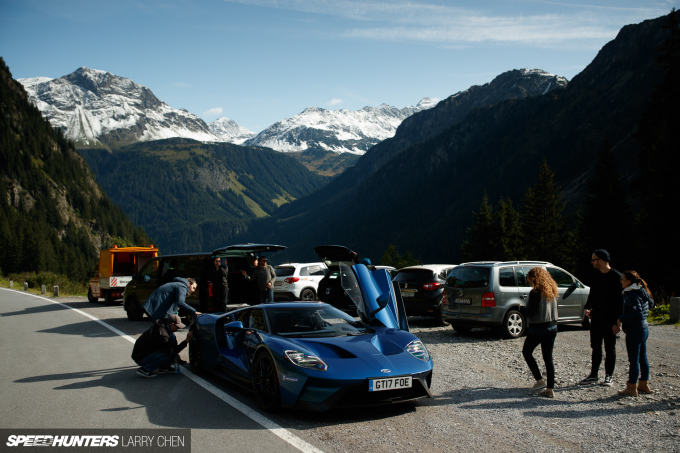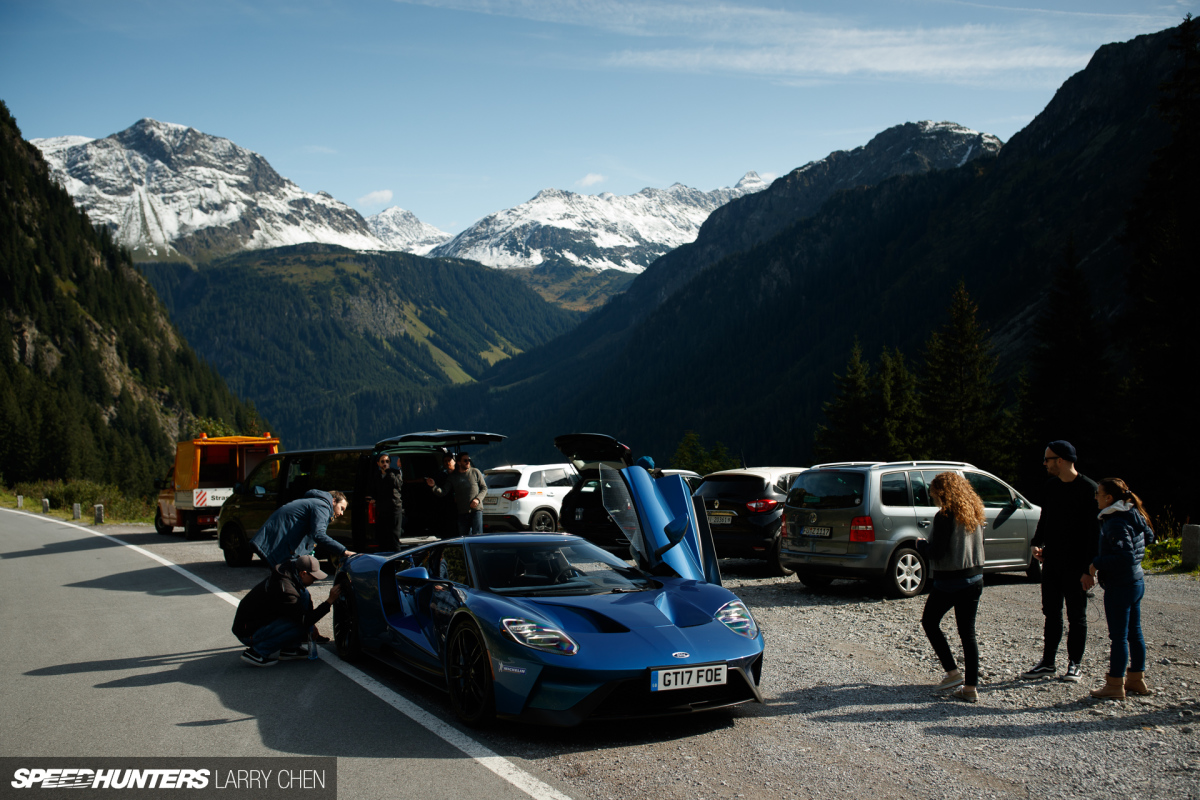 It was easy for me to forget that at the same time I'd be shooting the car, DriveStyle would be shooting me.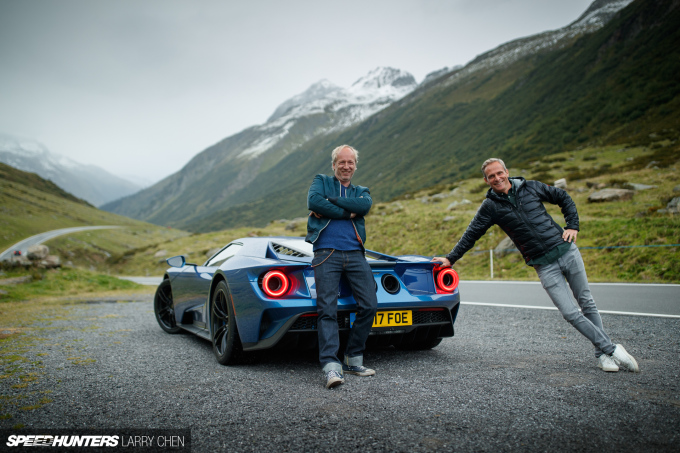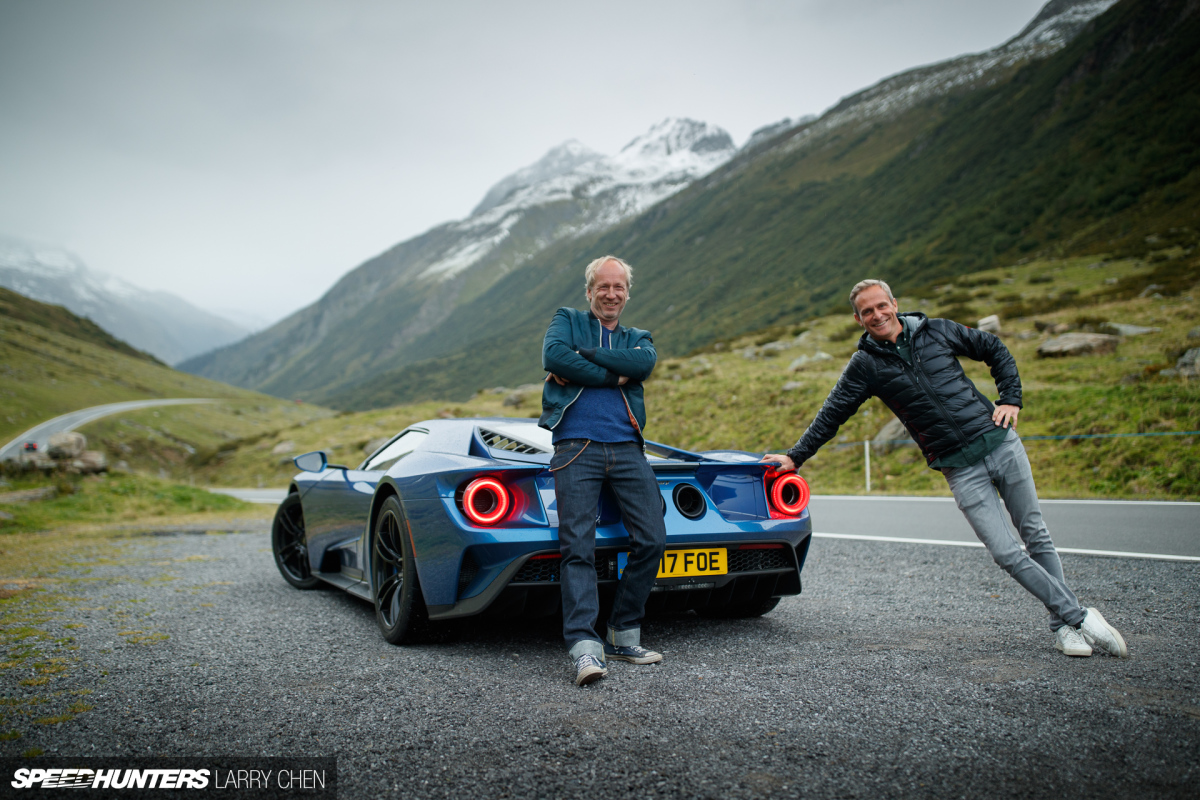 Prior to meeting them, I had know idea that the show's hosts, Helge Thomsen and Matthias Malmedie, are extremely well known German television personalities. They were both super-friendly and easy to work with on and off-camera.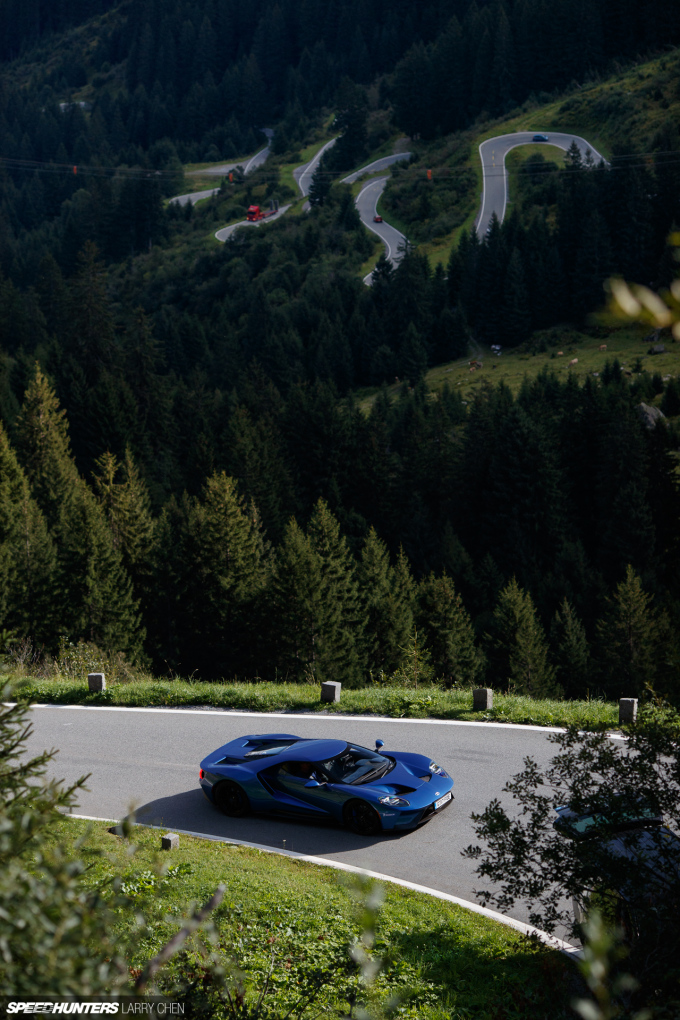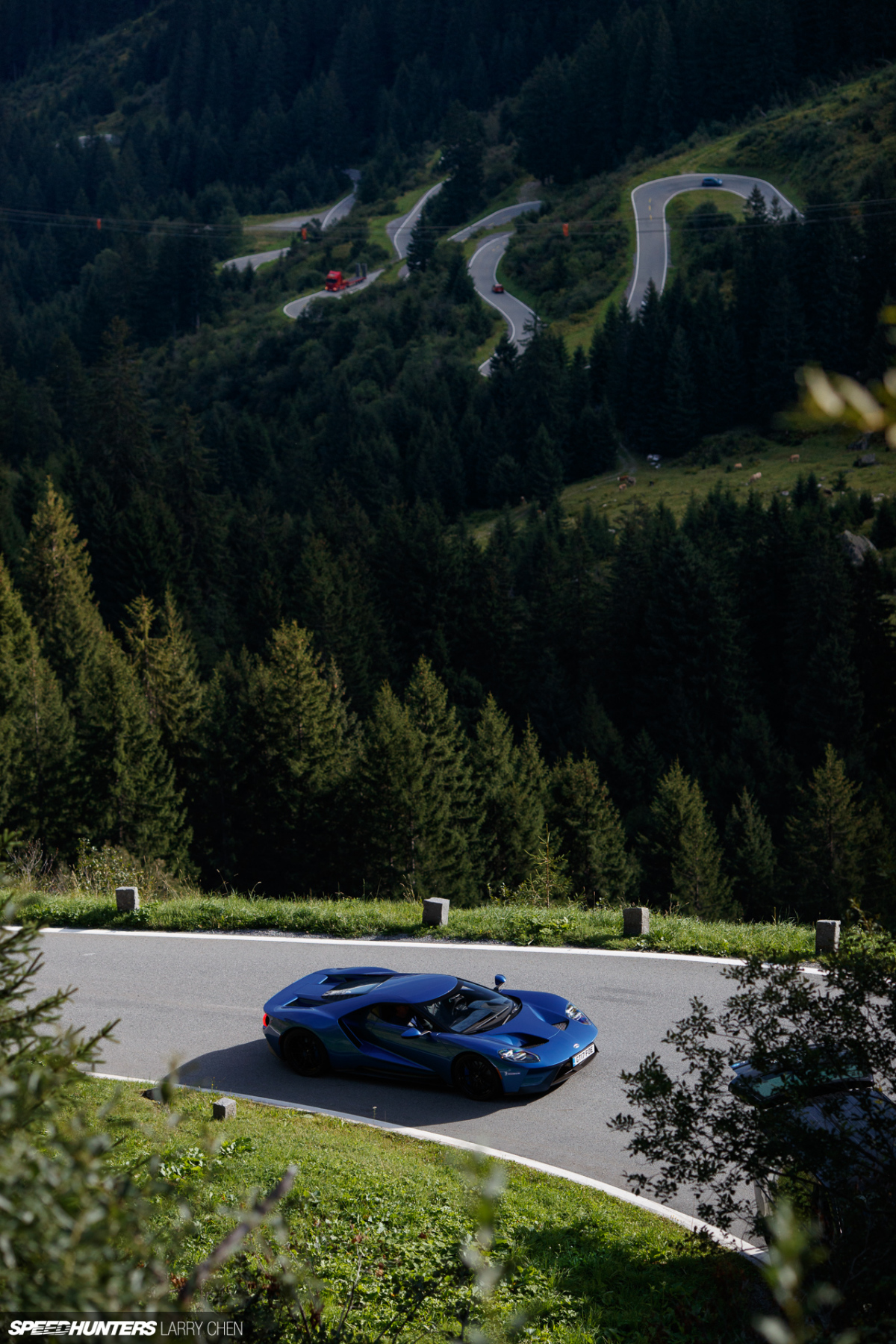 Just a few minutes away from our hotel room was probably one of the best mountain roads I've ever seen. Is this even real life?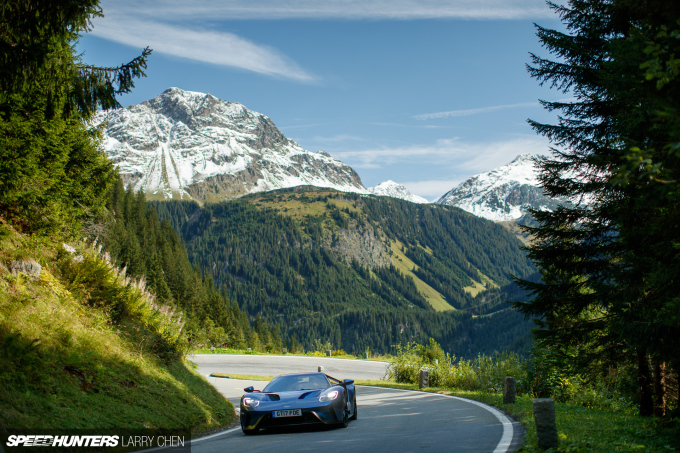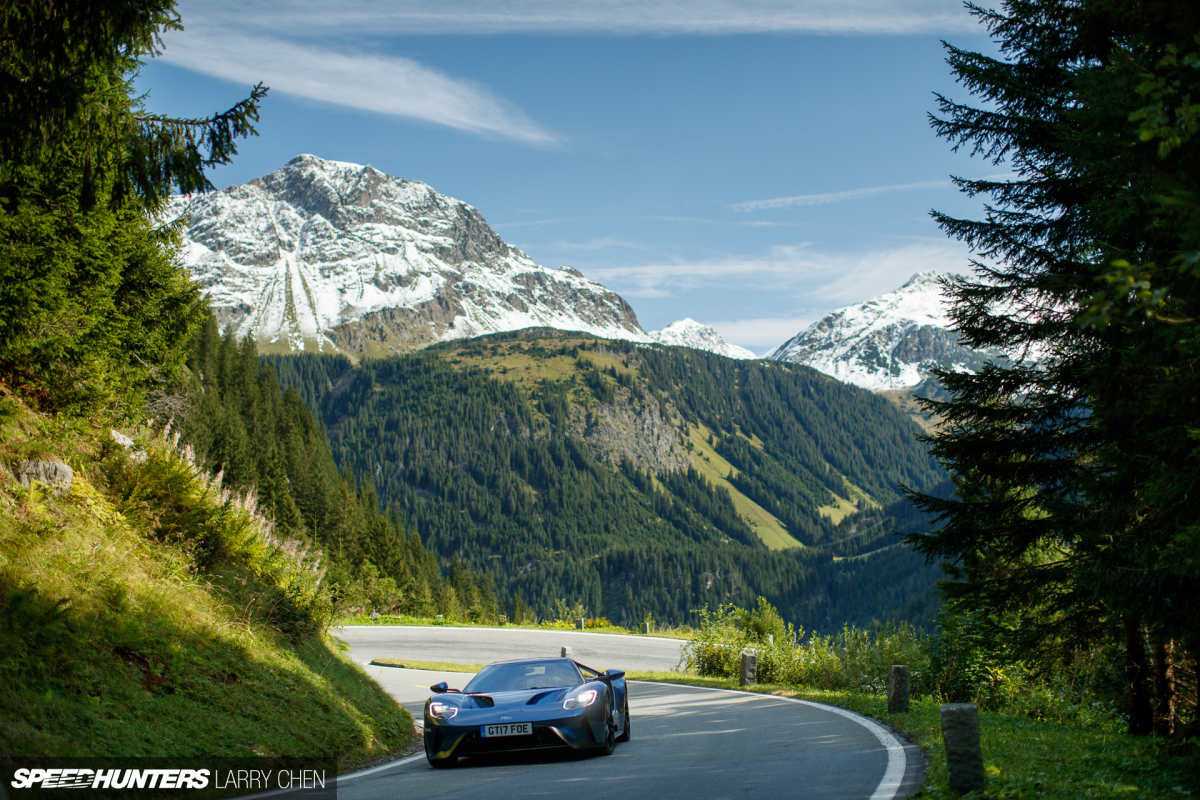 I know what you guys are wondering – did I get to drive it? The answer is no, but the GT was in good hands all the same; Helge and Matthias drove the wheels off the thing.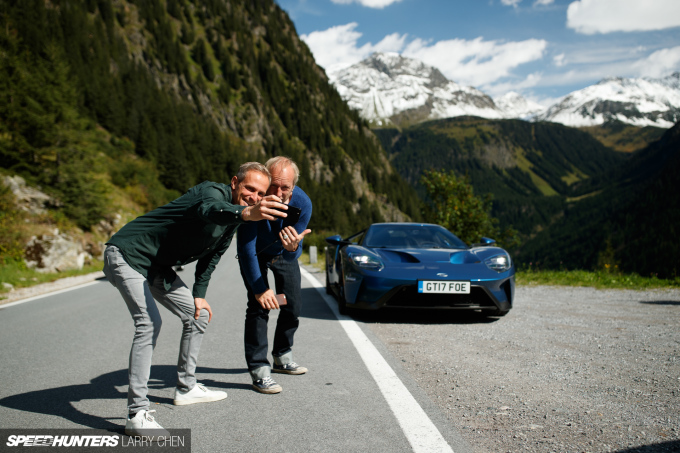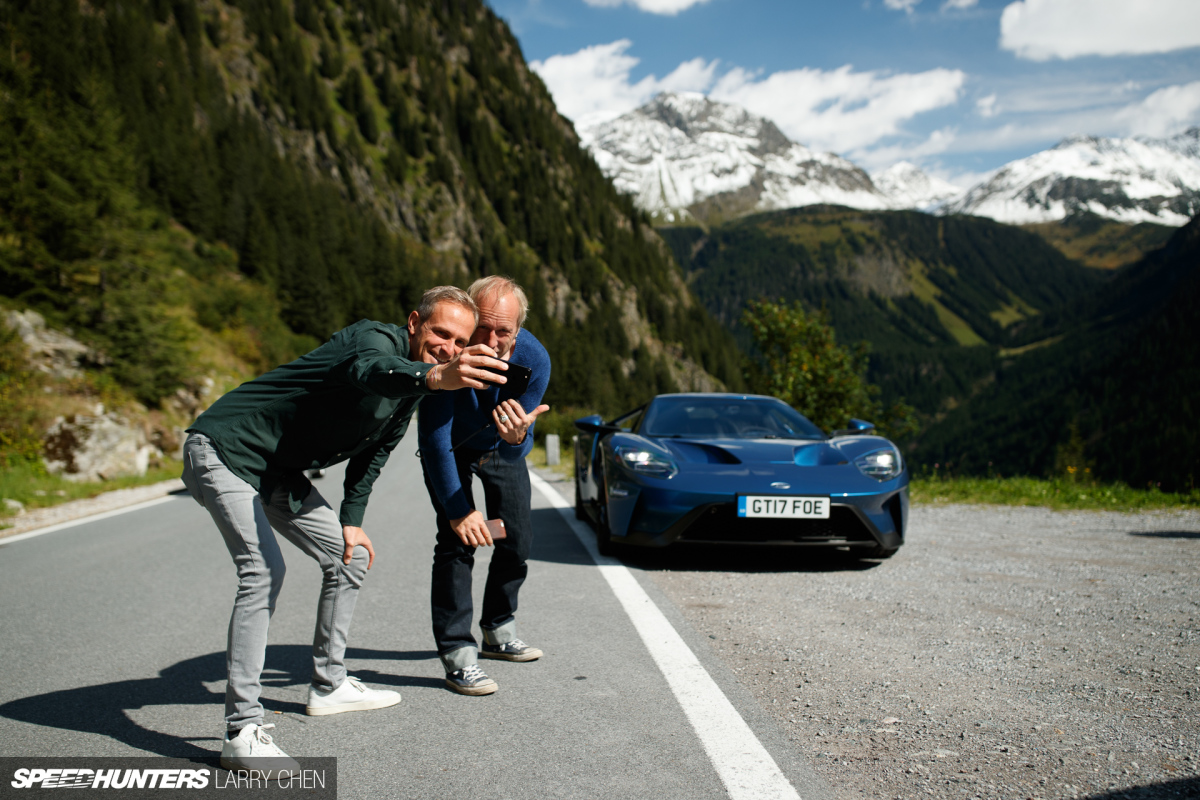 In this respect it helps that Matthias has a motorsports background; he's driven in many endurance races including the famed 24 Hours of Nürburgring.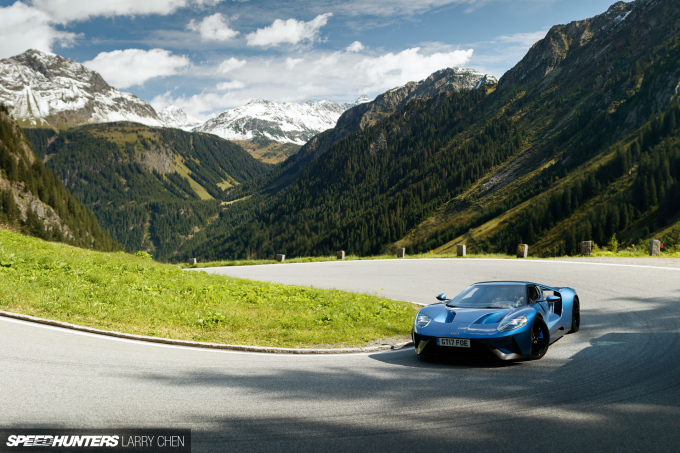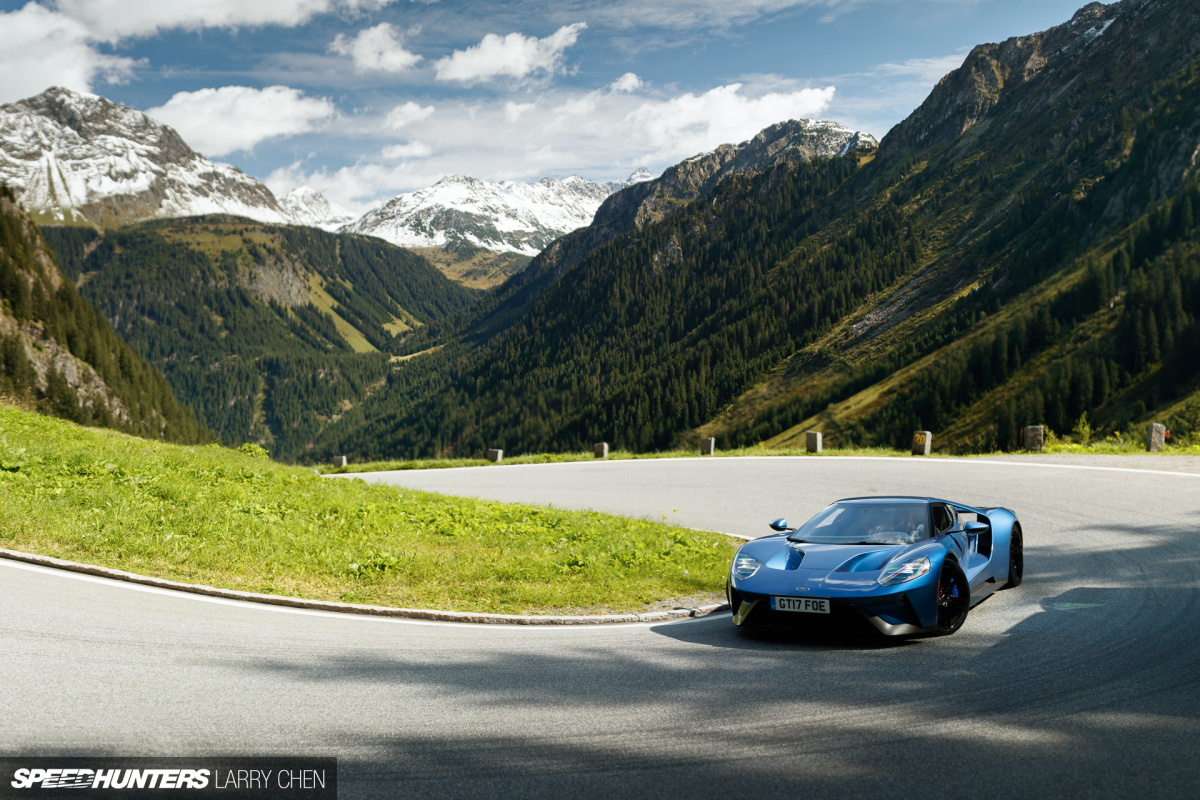 He definitely didn't hold back on the gorgeous mountain roads when we had full road closure. I'll admit, I was green with envy standing on the sidelines.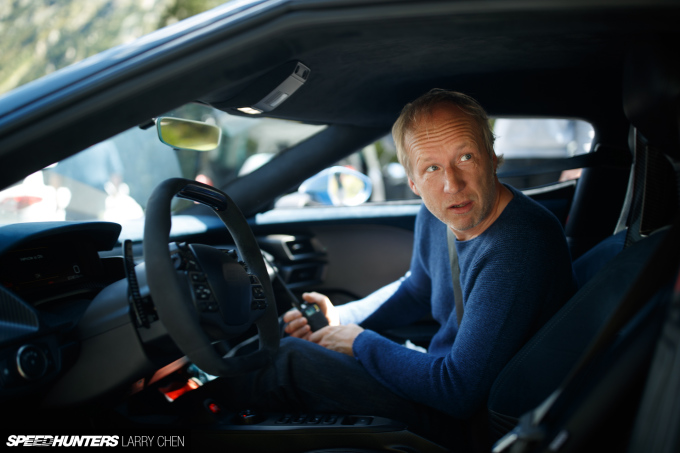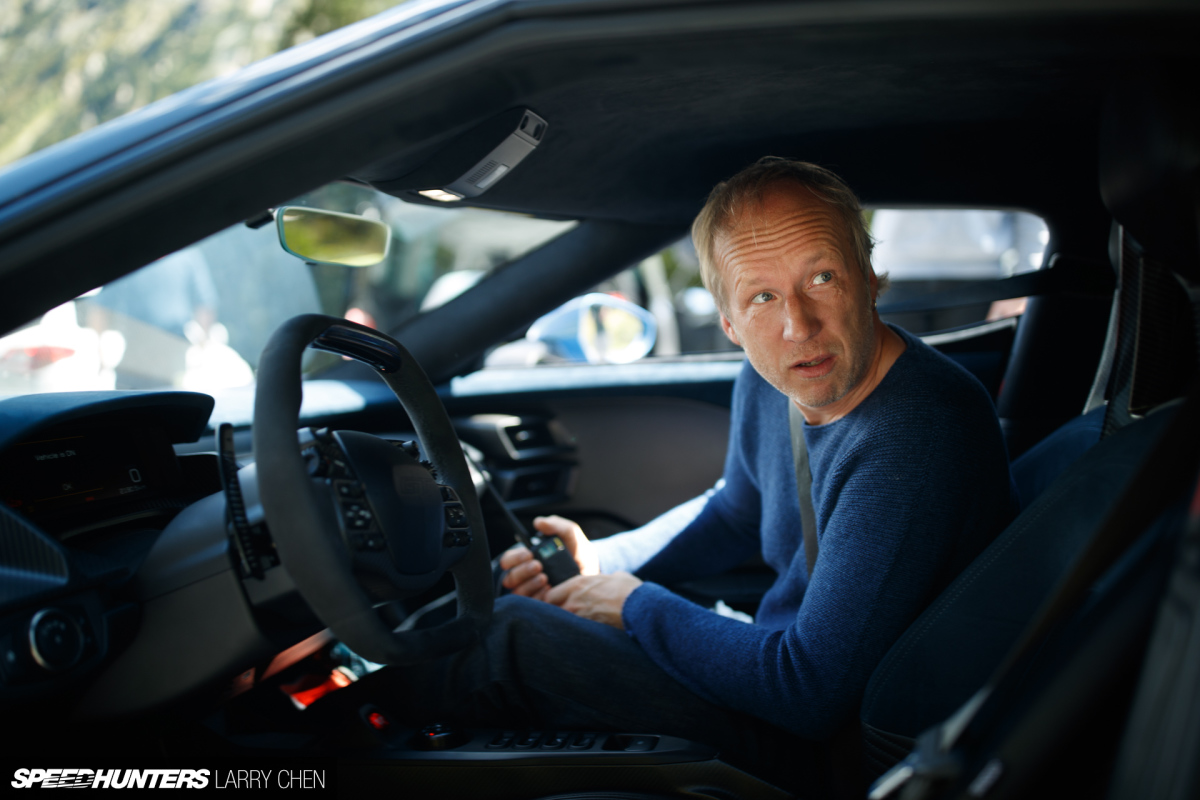 Helge is also a big car nerd like myself, but is more into American muscle. He has quite a few cars in his collection including an awesome Plymouth Roadrunner.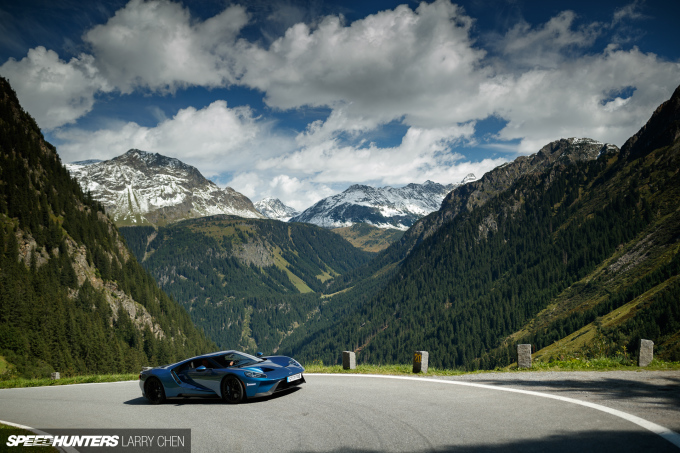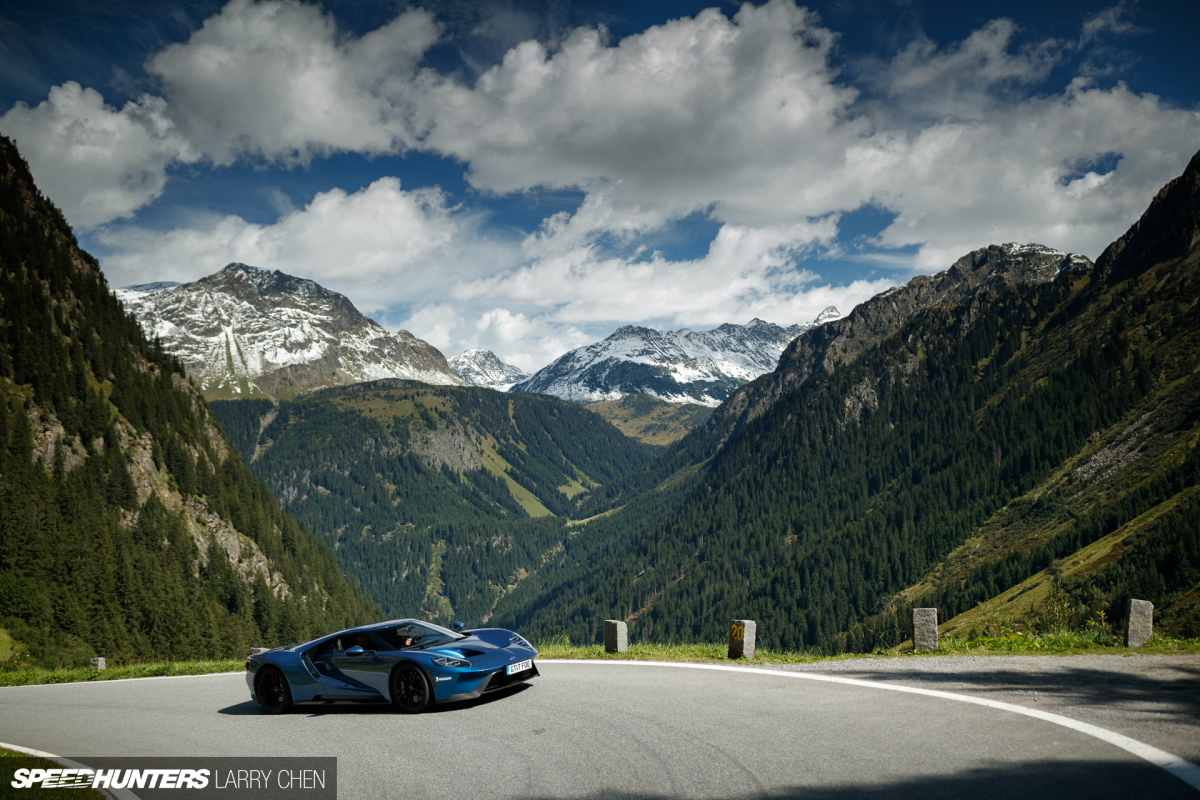 While I've previously shot the Ford GT race car on the track and have seen a few street car versions up close, I'd never had a chance to spend some time taking in all the details that this beautiful machine has to offer.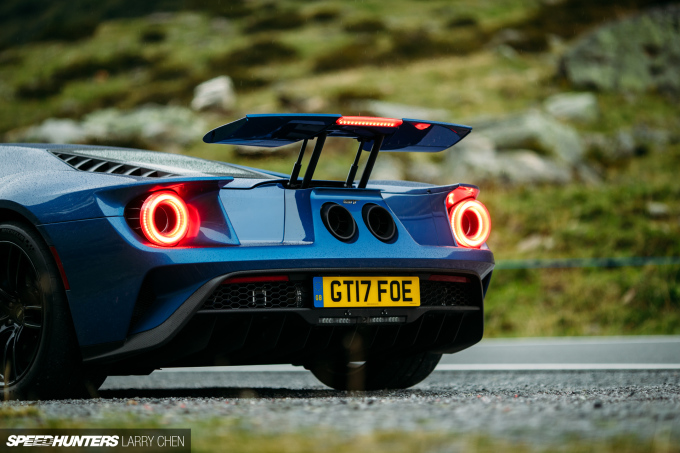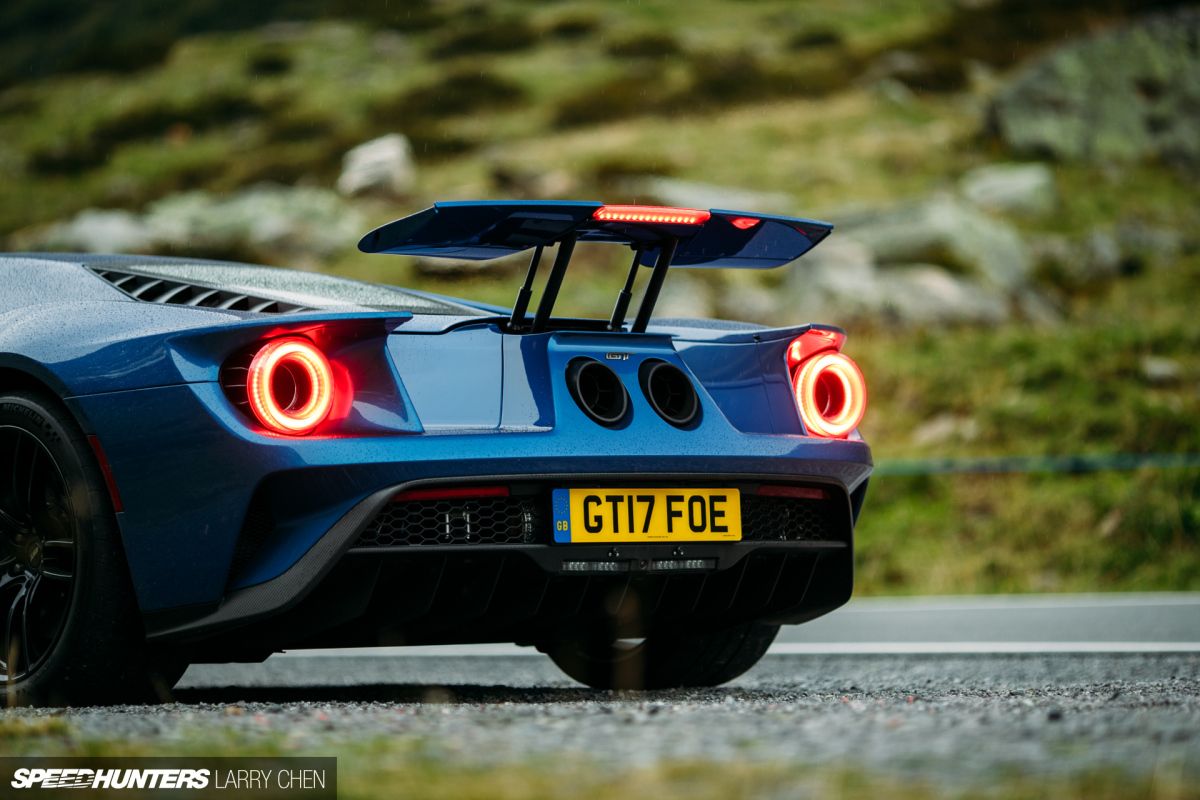 I really slowed down my shooting for this one; I did circles around the car and tilted my head at different heights to find all the neat shapes hidden within the body lines.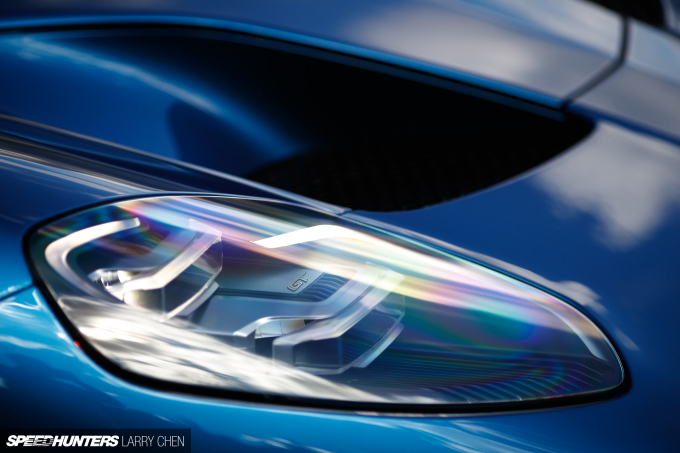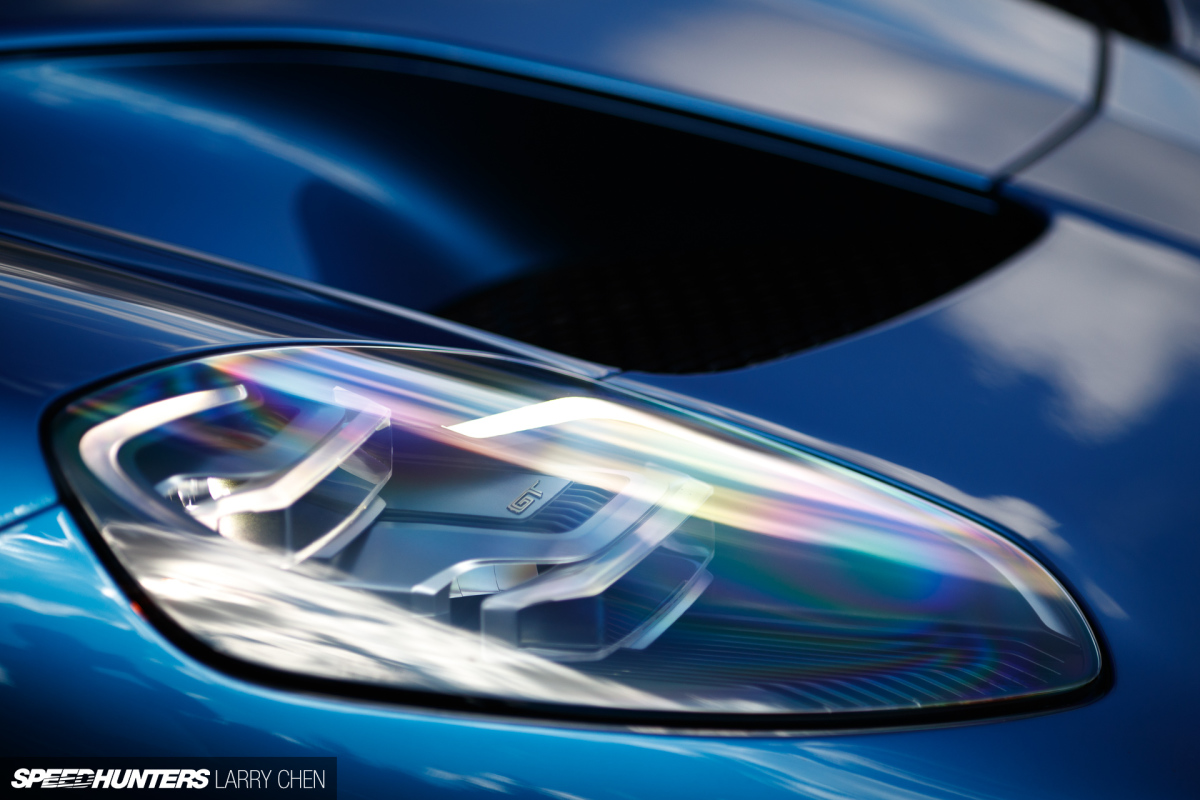 So much form and function in one package; automotive design doesn't get much better.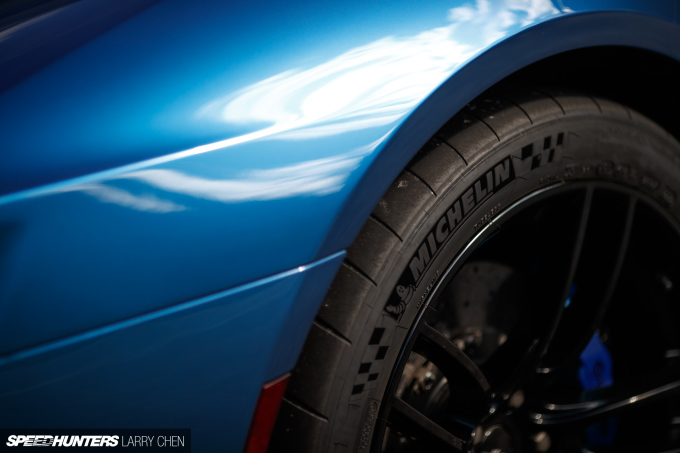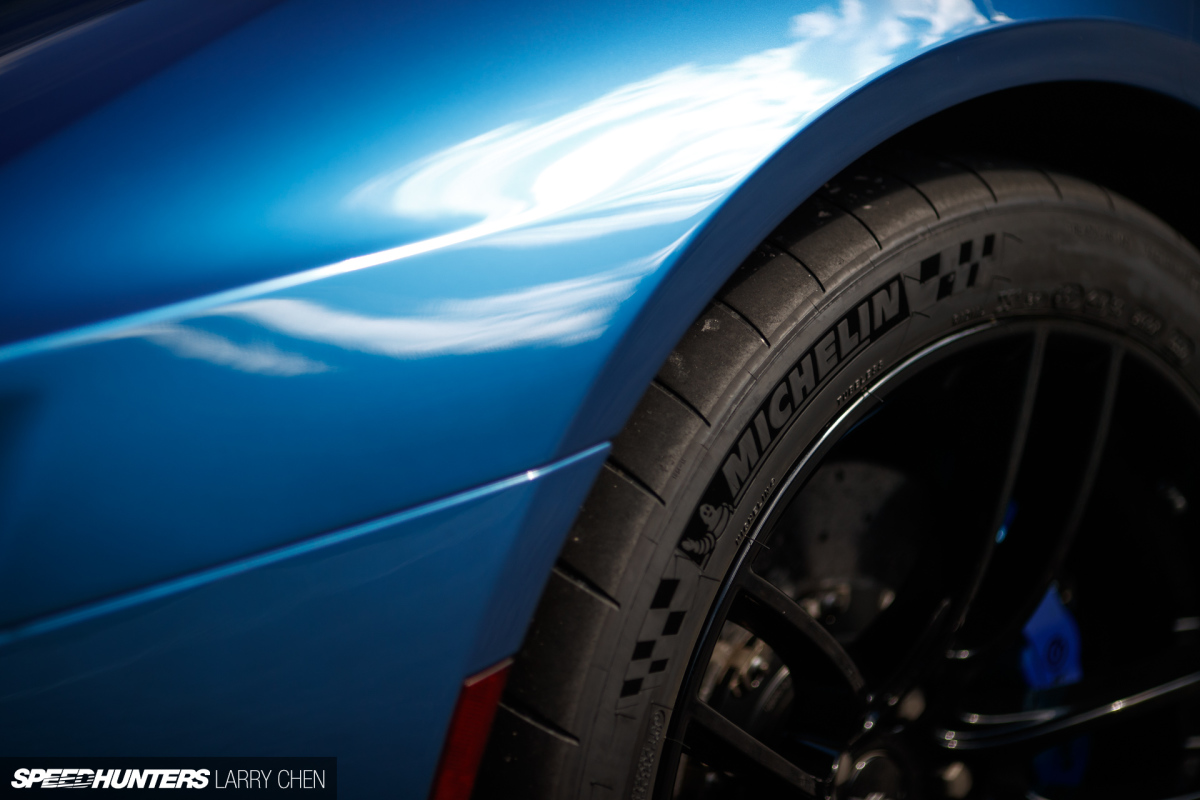 Even the Michelin Pilot Sport Cup 2 tires have a bit of a subtle aesthetic to them with a velvet texture print.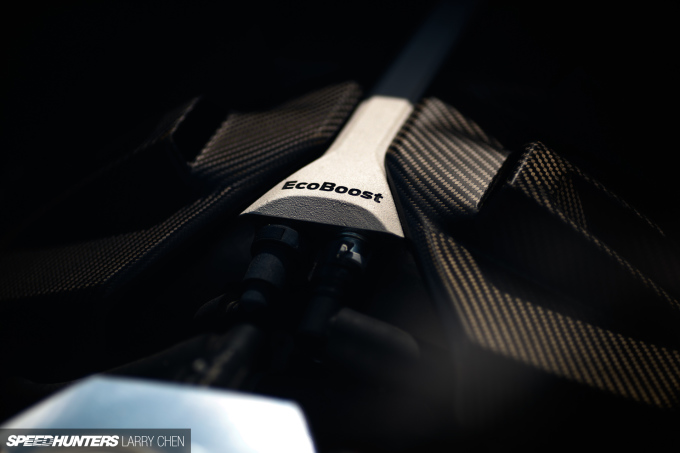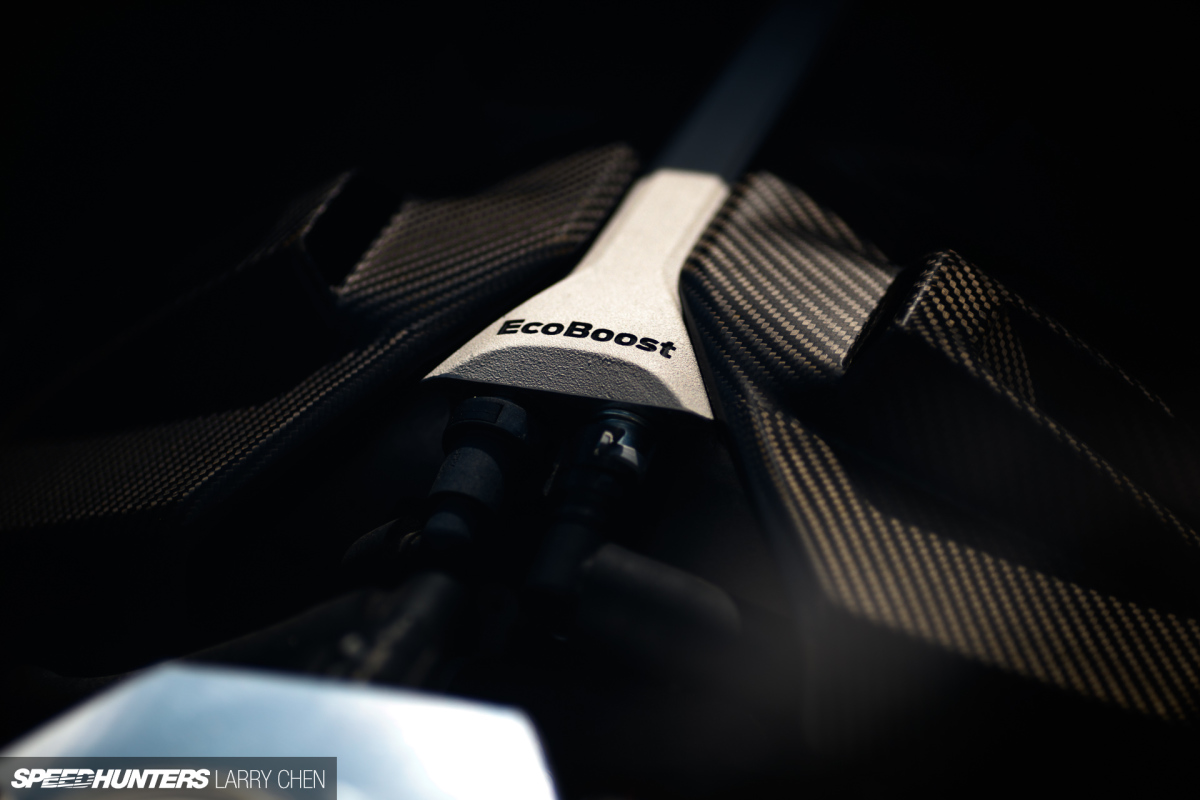 Looking into the engine bay you can't see much, but what is on show is aesthetically pleasing and perfectly matches in with the rest of the vehicle's futuristic design.
Video Games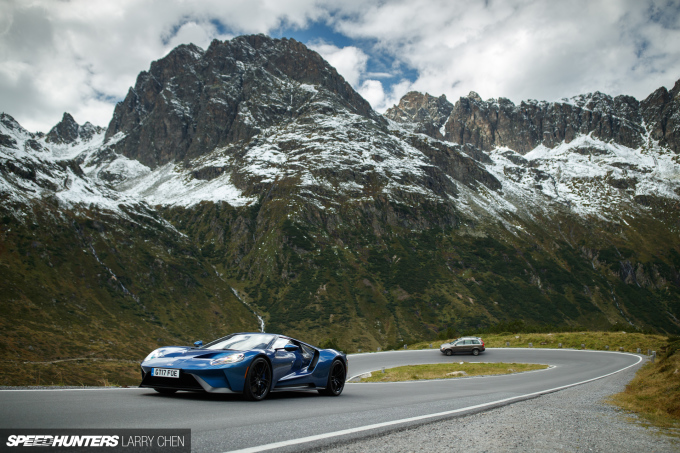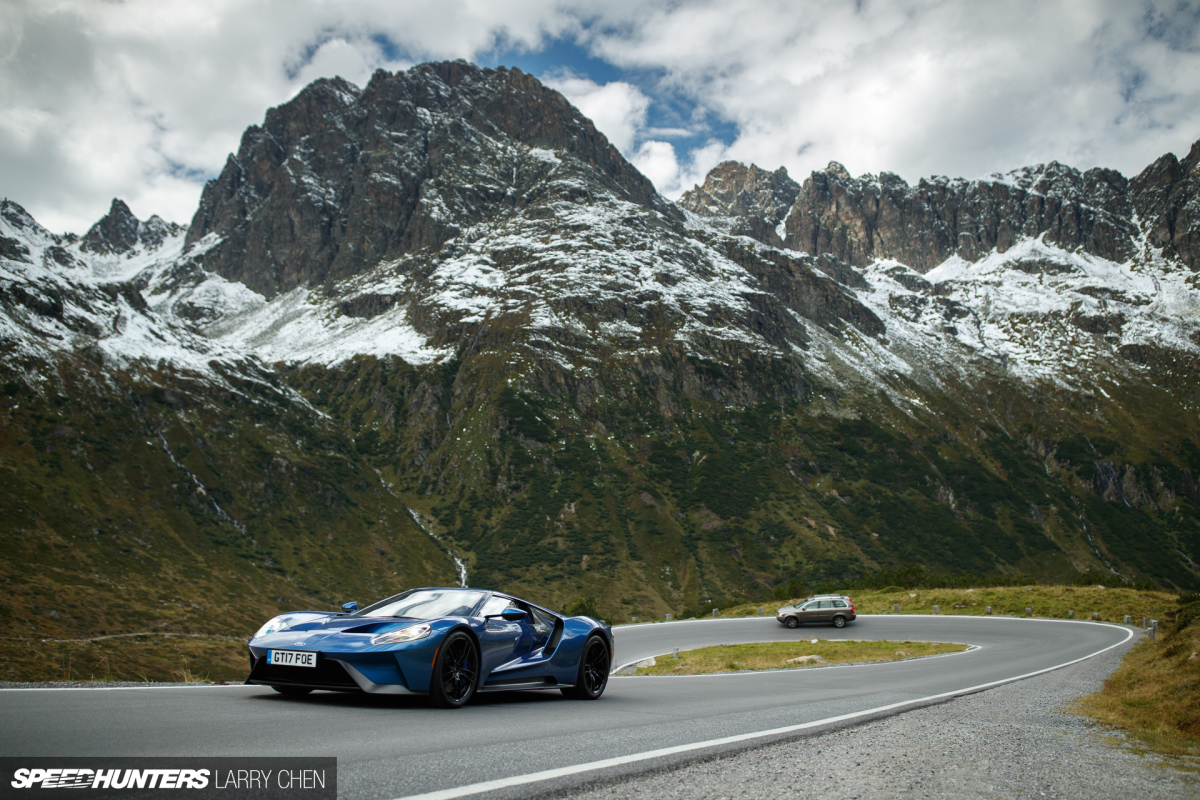 We had our fun below the tree line, but the Austrian Alps really show their beauty at high elevation. These roads were like something out of a driving simulator or video game – absolutely perfect. Although, soon enough the skies opened up and the weather was not on our side. Some wet stuff fell from the sky, not something I see very often living in Los Angeles.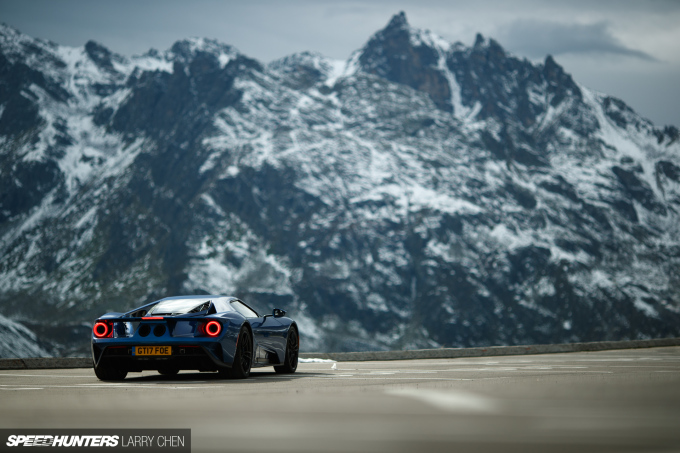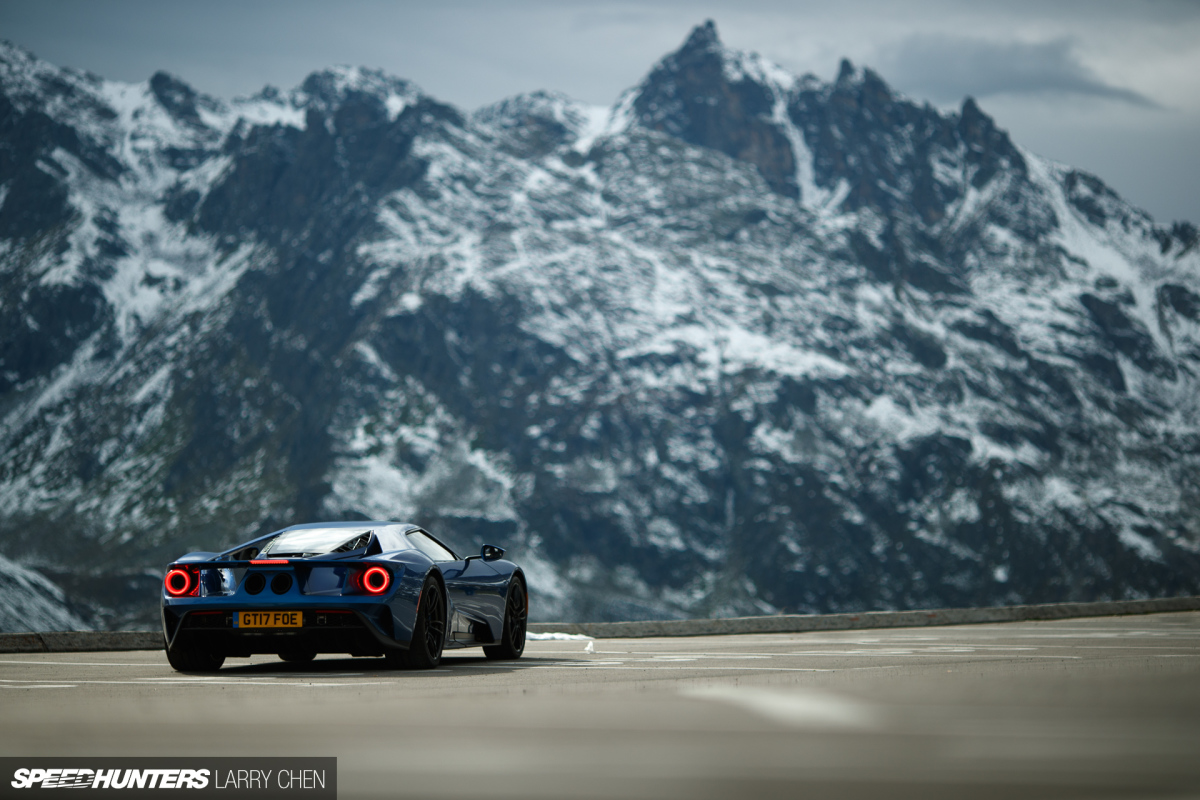 Since I didn't get to drive the GT, I really wanted to focus on the visual impact the car had on me and its surroundings. I did get it a ride in it though, and let me tell you that there's not much room at all.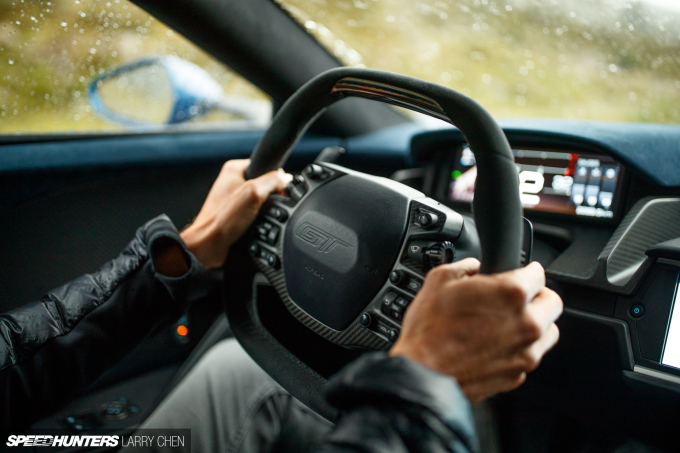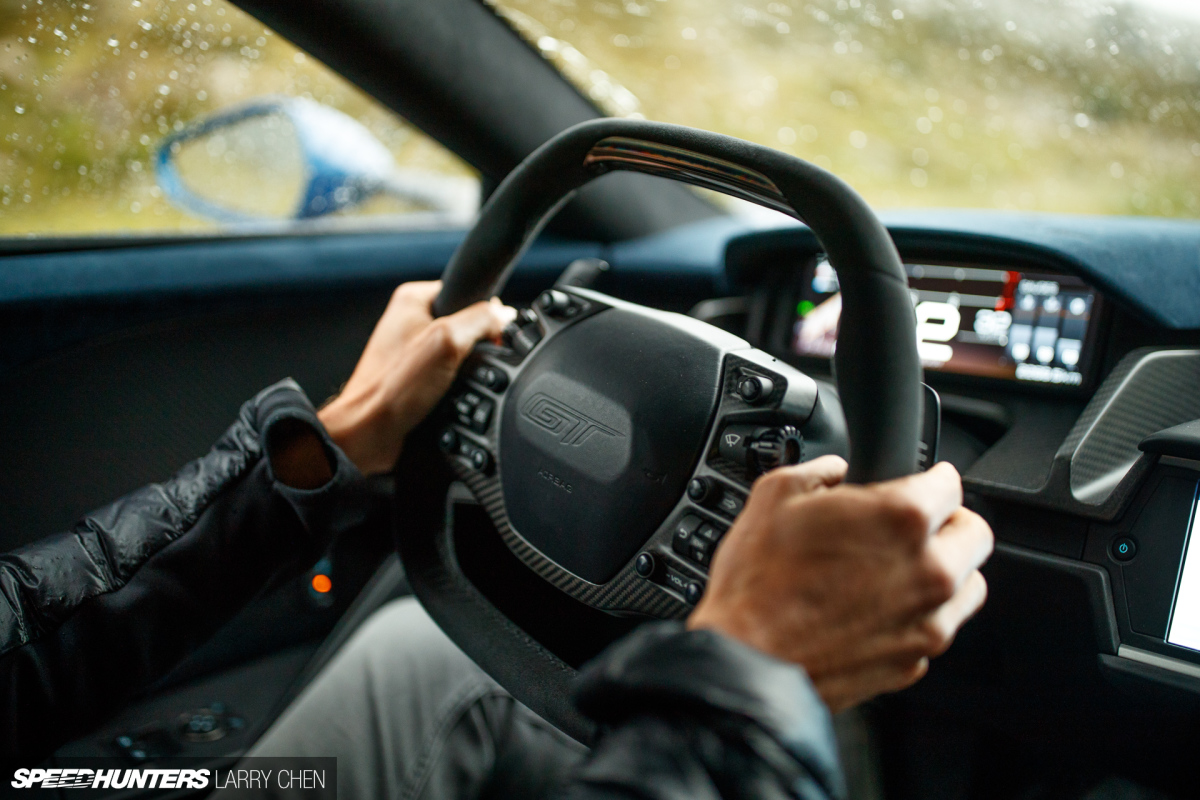 In between filming takes, I snuck away to steal some shots of the GT sitting by itself. This proved to be a bit of a challenge as there was always sound equipment and cameras suction-cupped to some part of the car.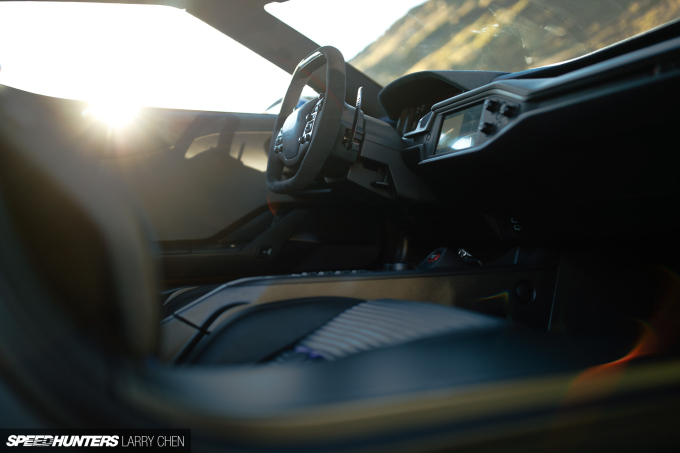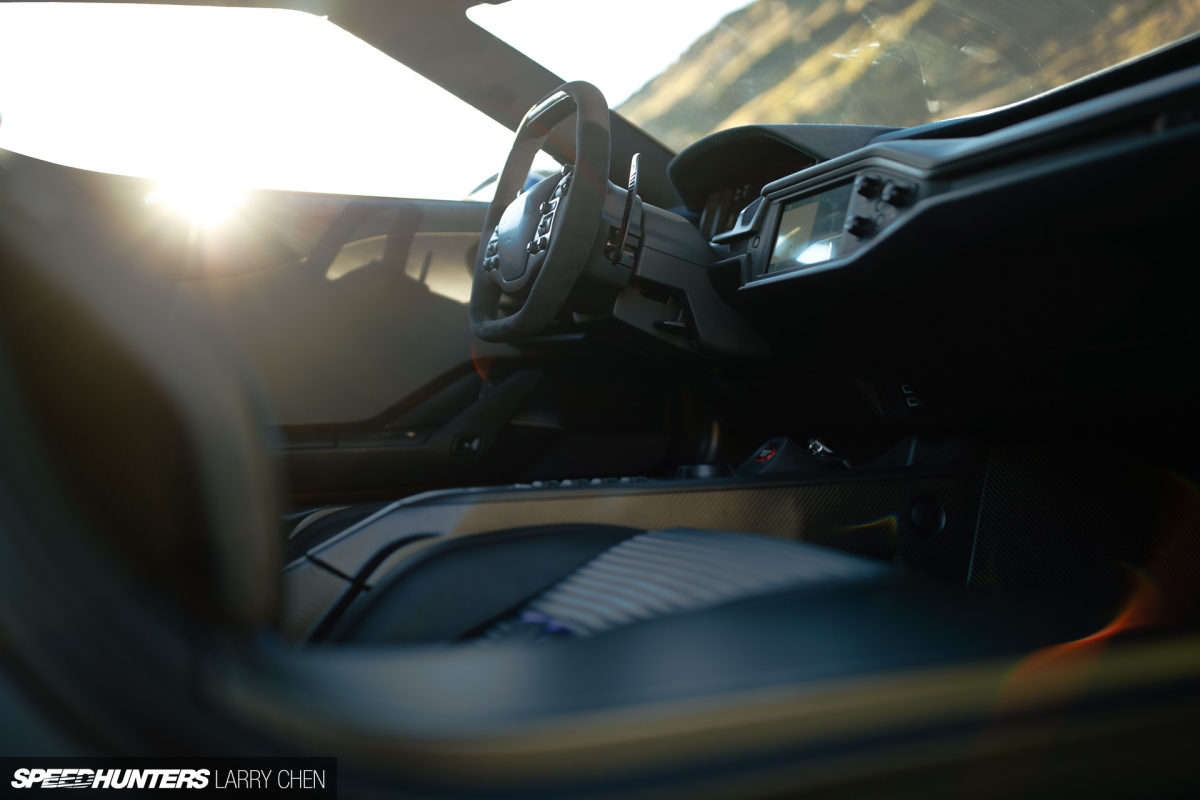 The cockpit is barely big enough to fit two grown men, but who cares; this is a real race car for the street after all.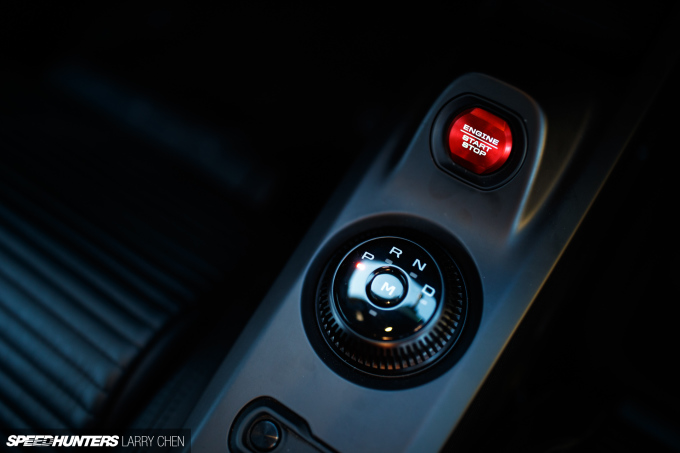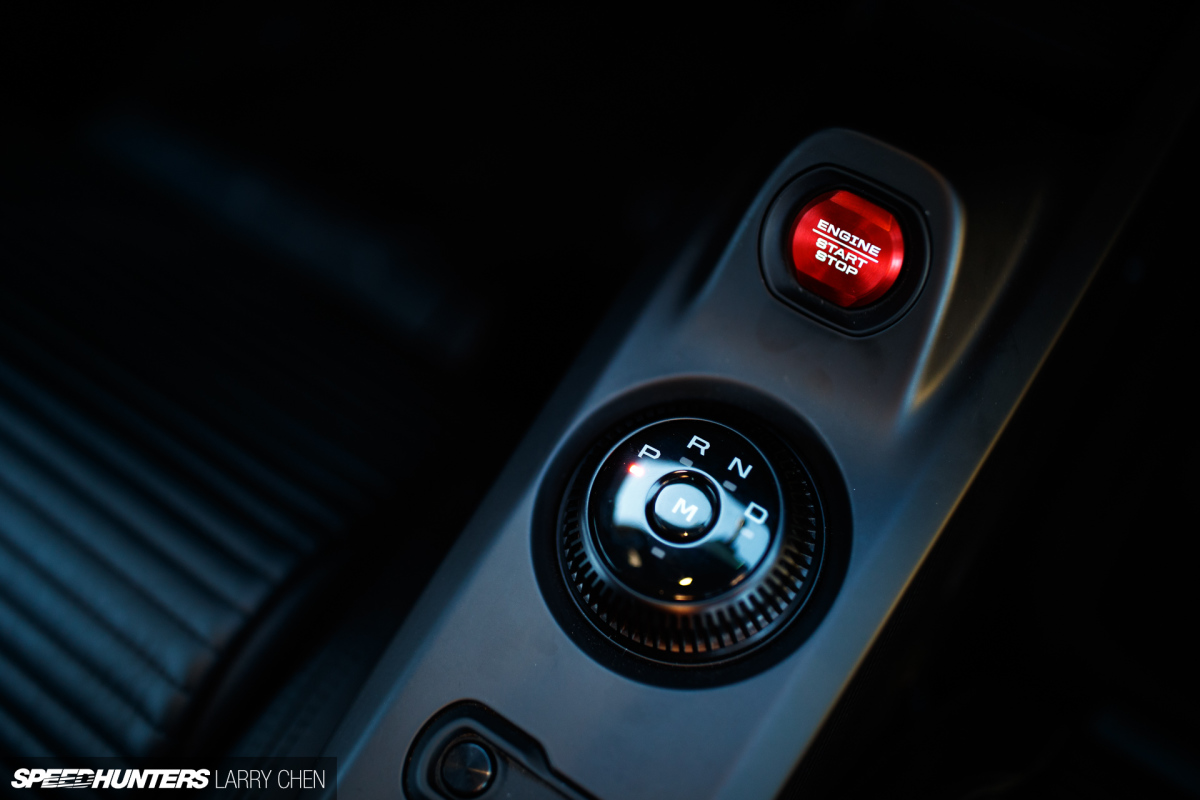 There are so many small details that make it feel even more special.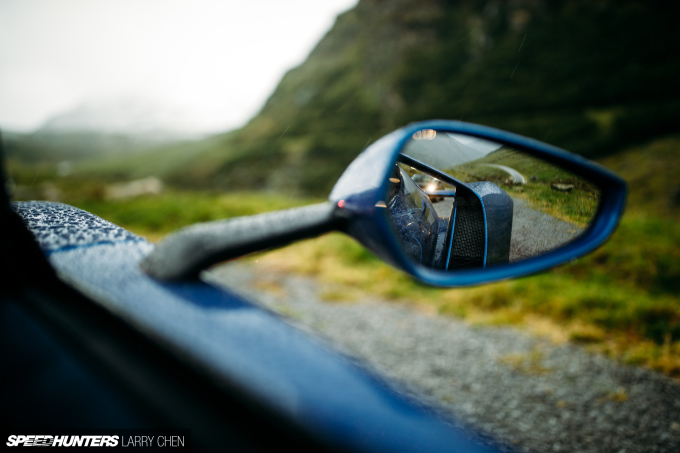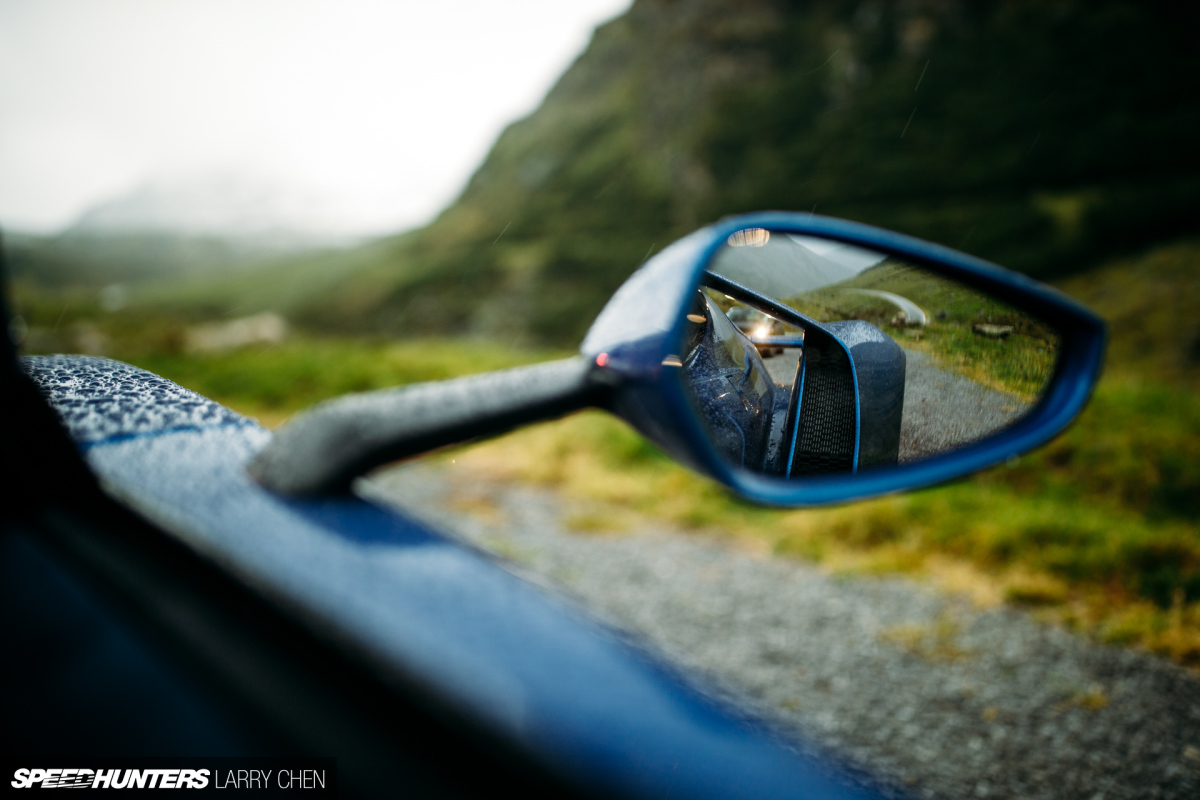 This was my view from the passenger seat. In the side mirrors you get a perfect view of what are the craziest features of the car – the large open channels on either side.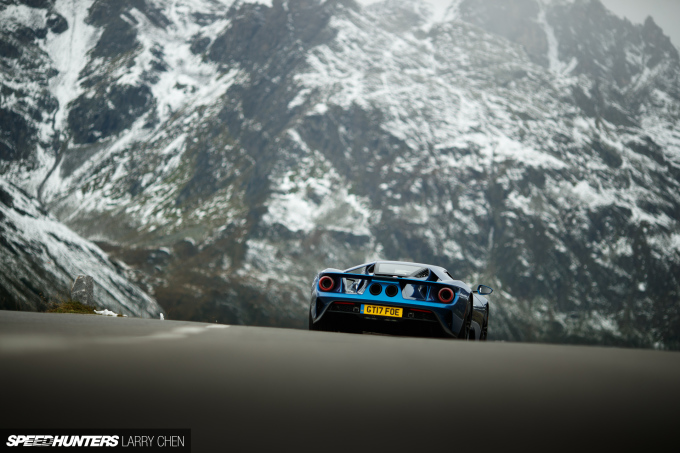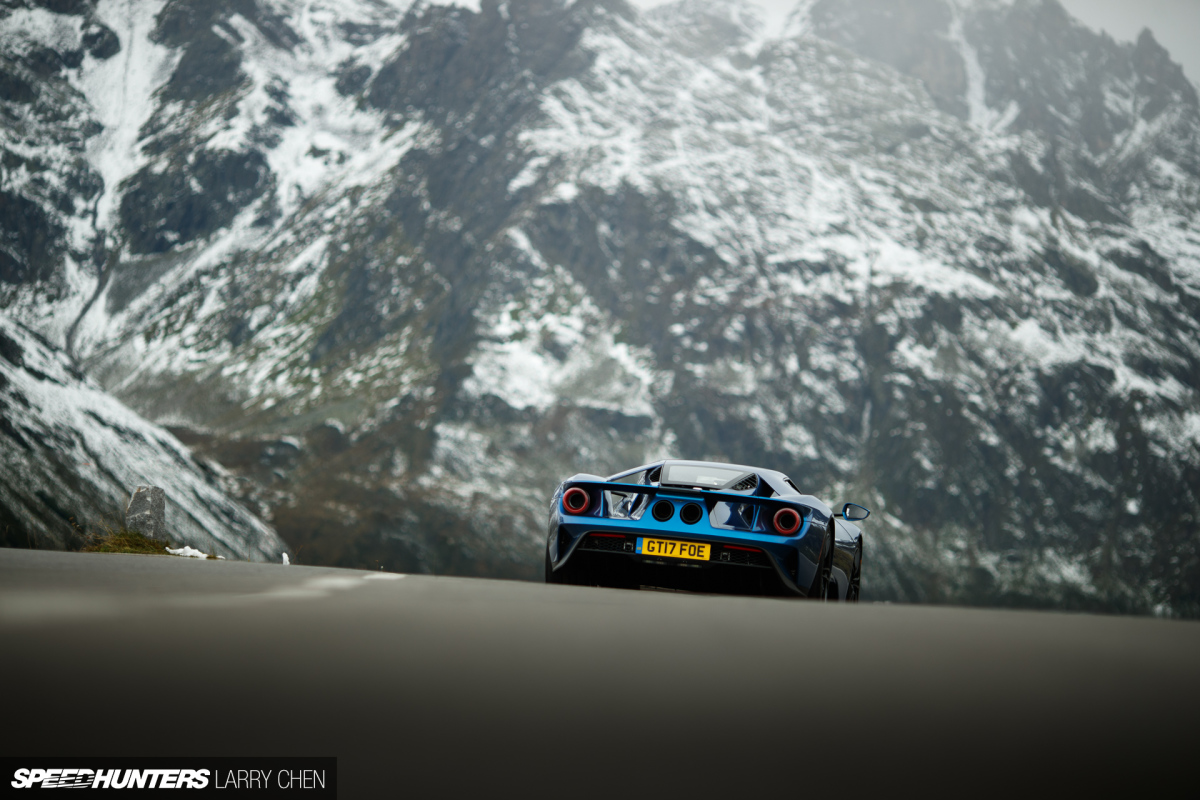 In an age with so many global regulations when it comes to safety equipment and crash standards, it's a wonder that something as unique as the Ford GT can exist.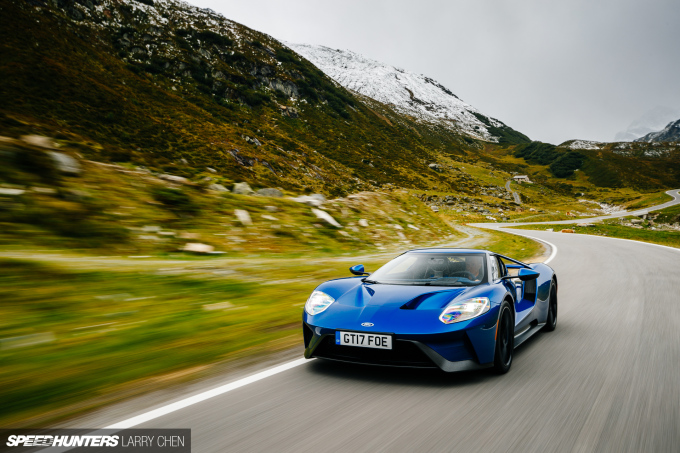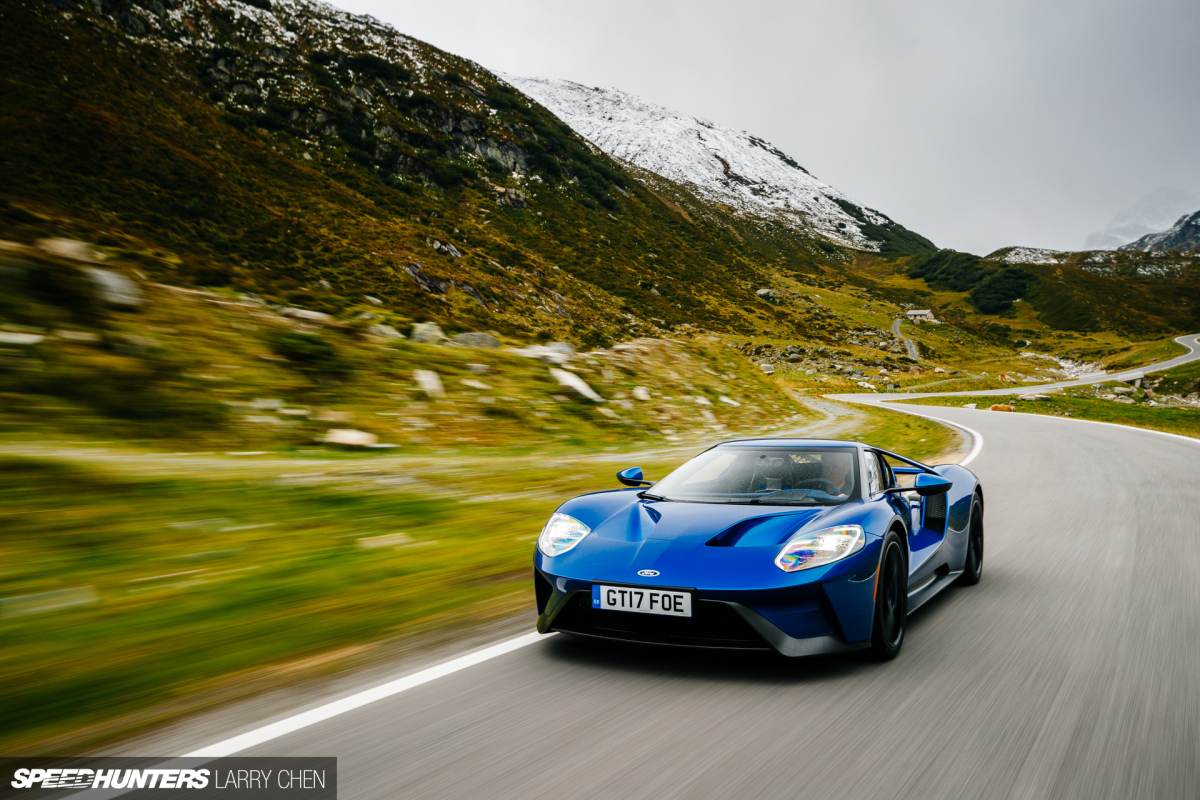 Not to mention the fact that it pays homage in its styling to the original model from 1964.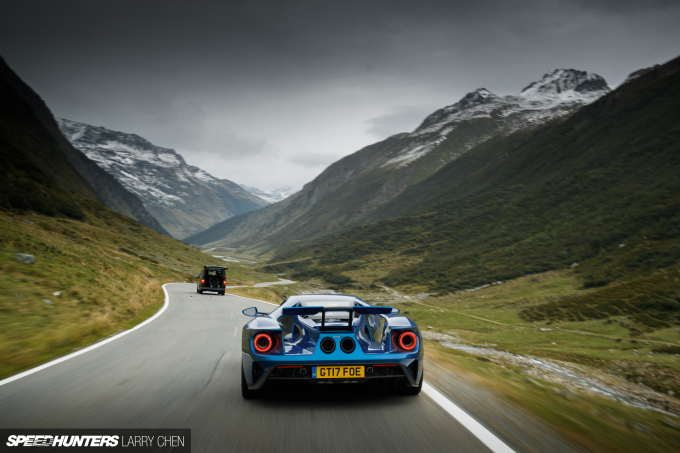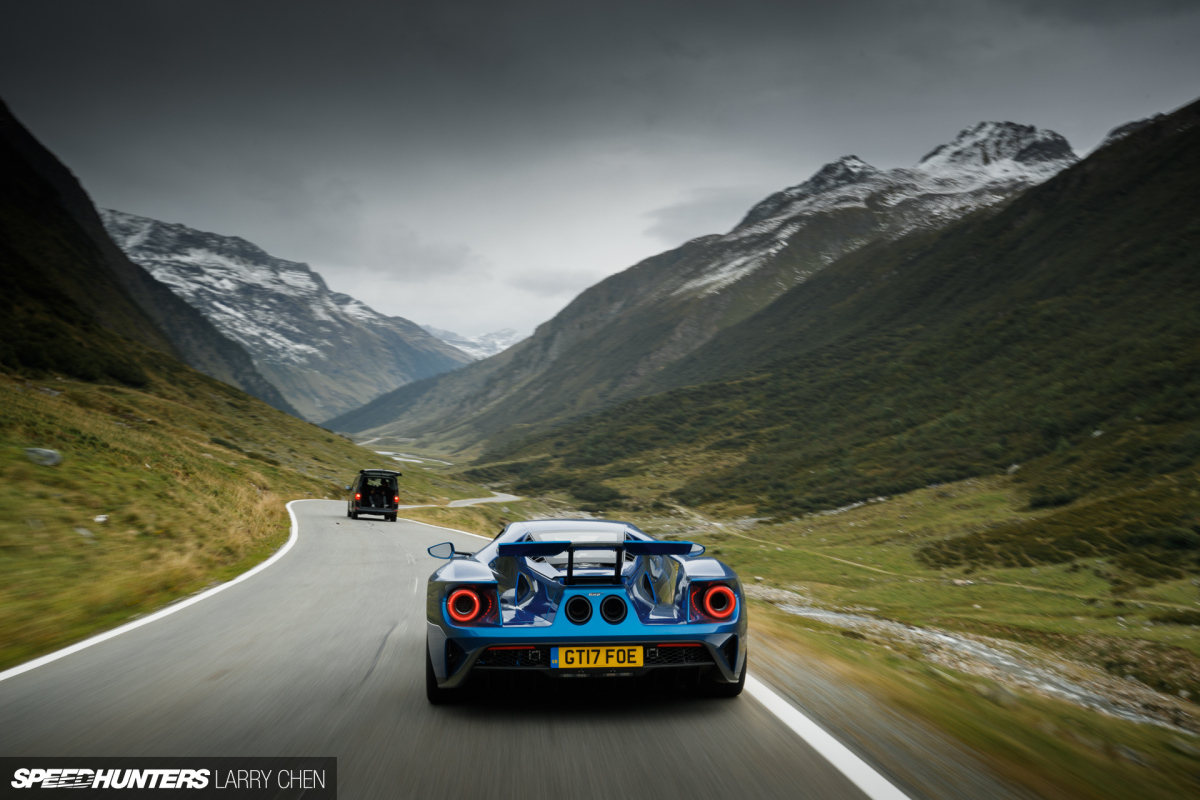 Next up were some rolling shots, so I hung out of my rental car with Helge at the wheel while the guys in the production van up front filmed both the GT and me shooting it.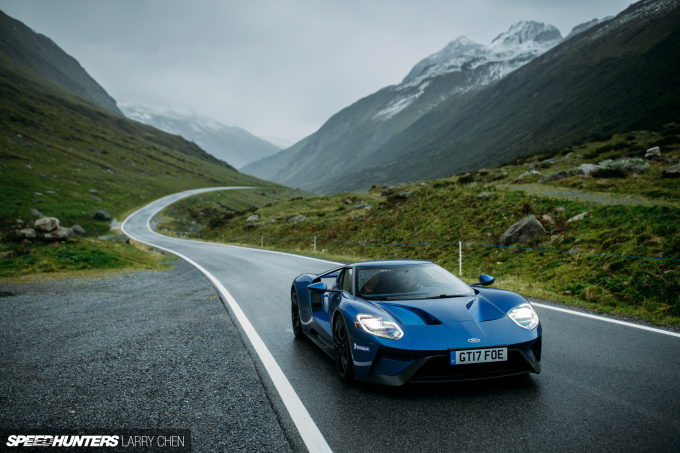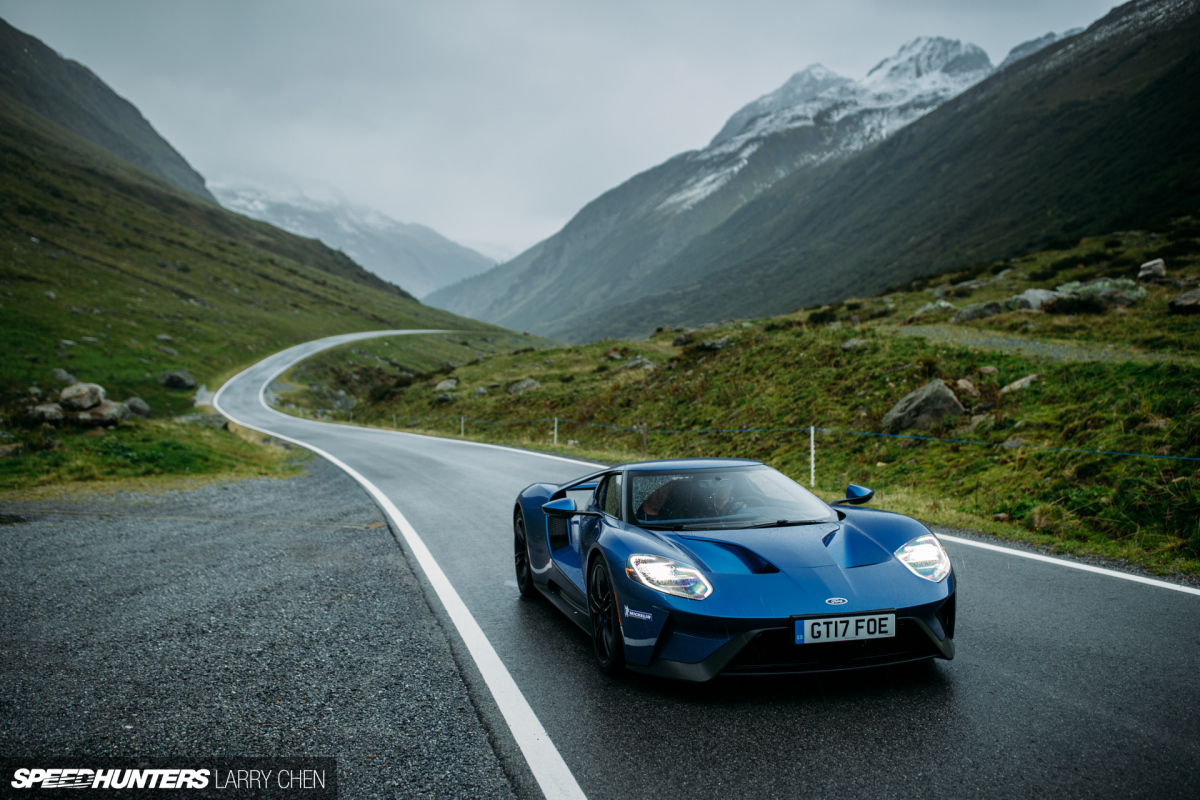 To be honest, I didn't really mind shooting in the gloomy and wet conditions; the dark, ominous skies proved to be a nice change from harsh Southern California sunlight.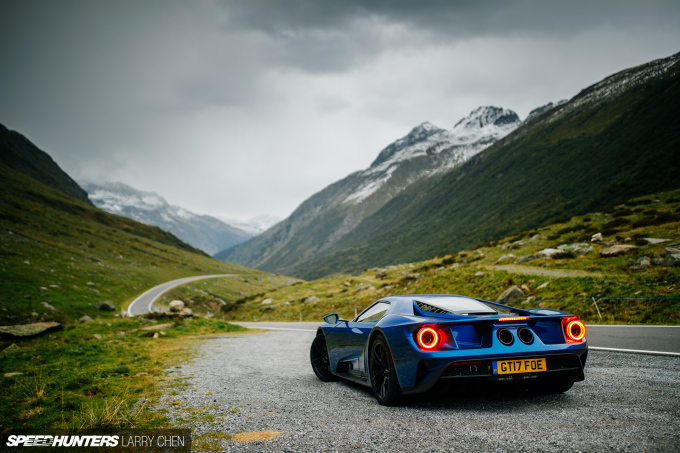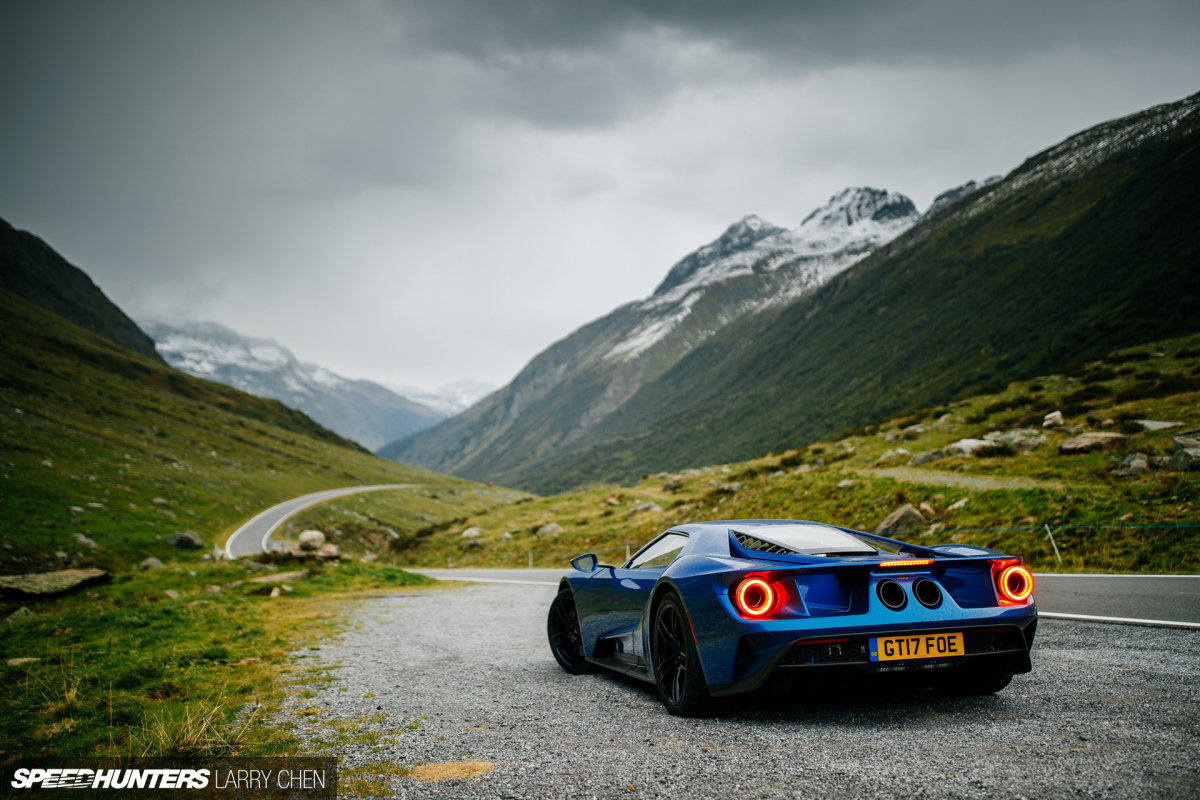 While everyone else was running for cover, I just kept shooting. I'd never seen a Ford GT street car in the rain.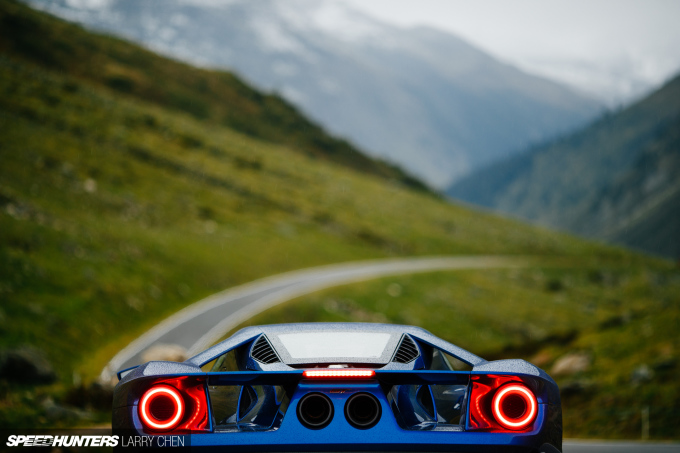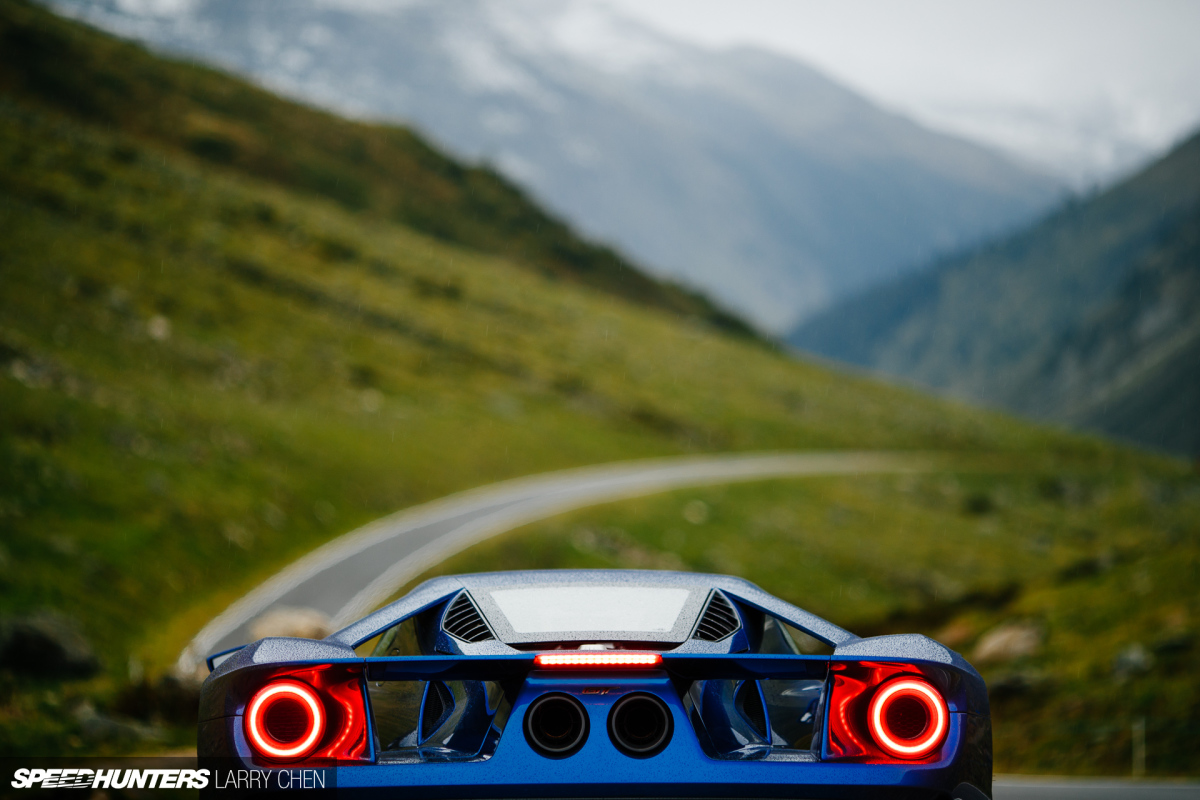 What I hadn't noticed before was the way the taillights reflected off the surrounding area. It's such a small detail, but it's so cool.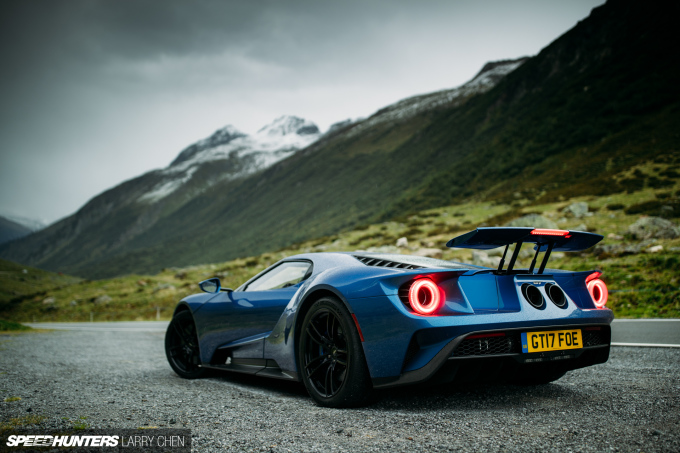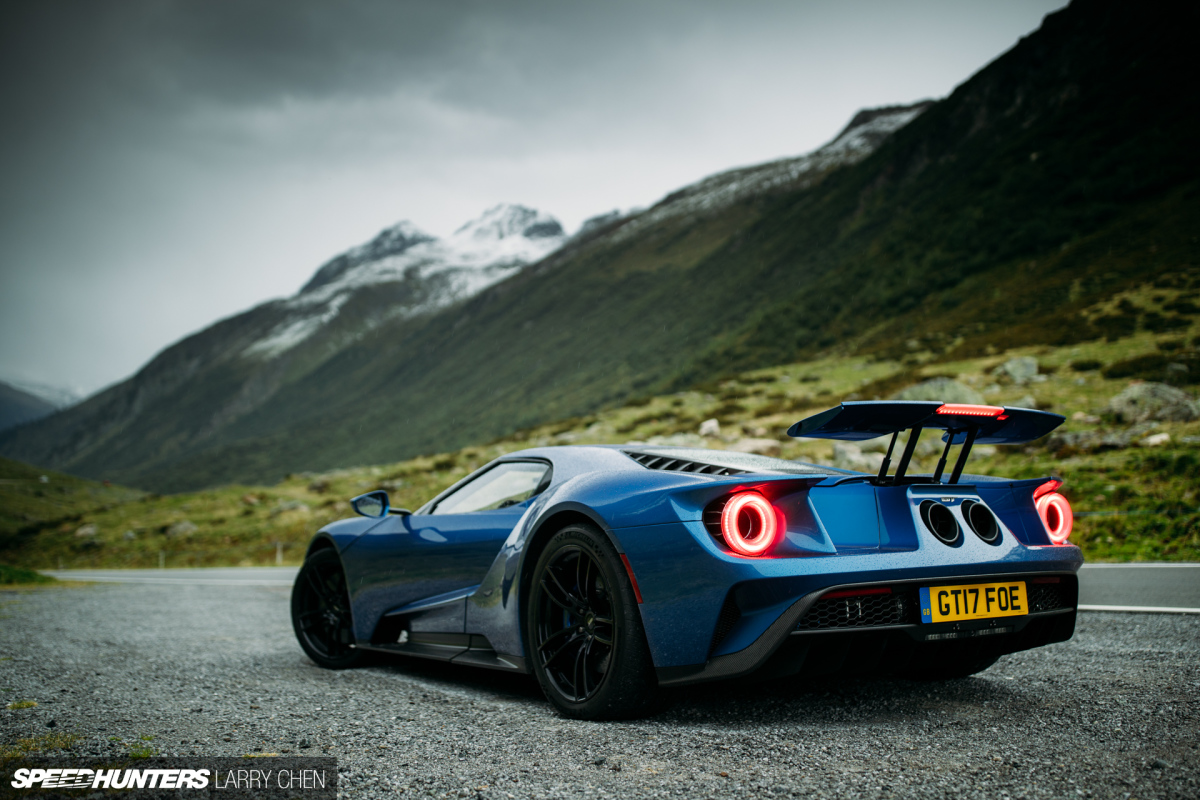 The wing can be manually raised, but it automatically lifts at around 75mph when you are driving. Even better is when it turns into an air brake under hard braking from triple-digit speeds.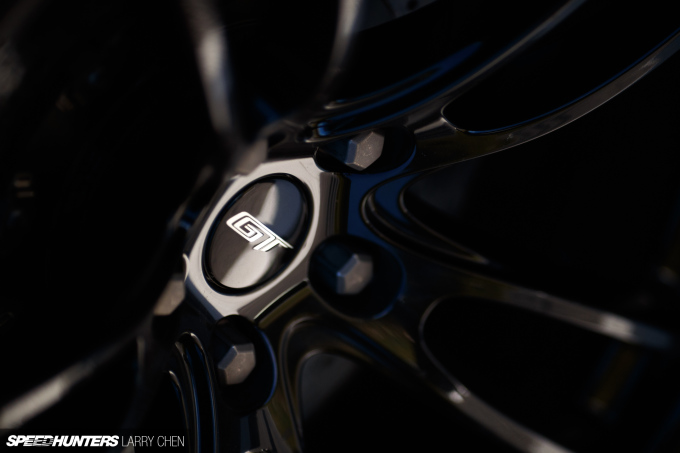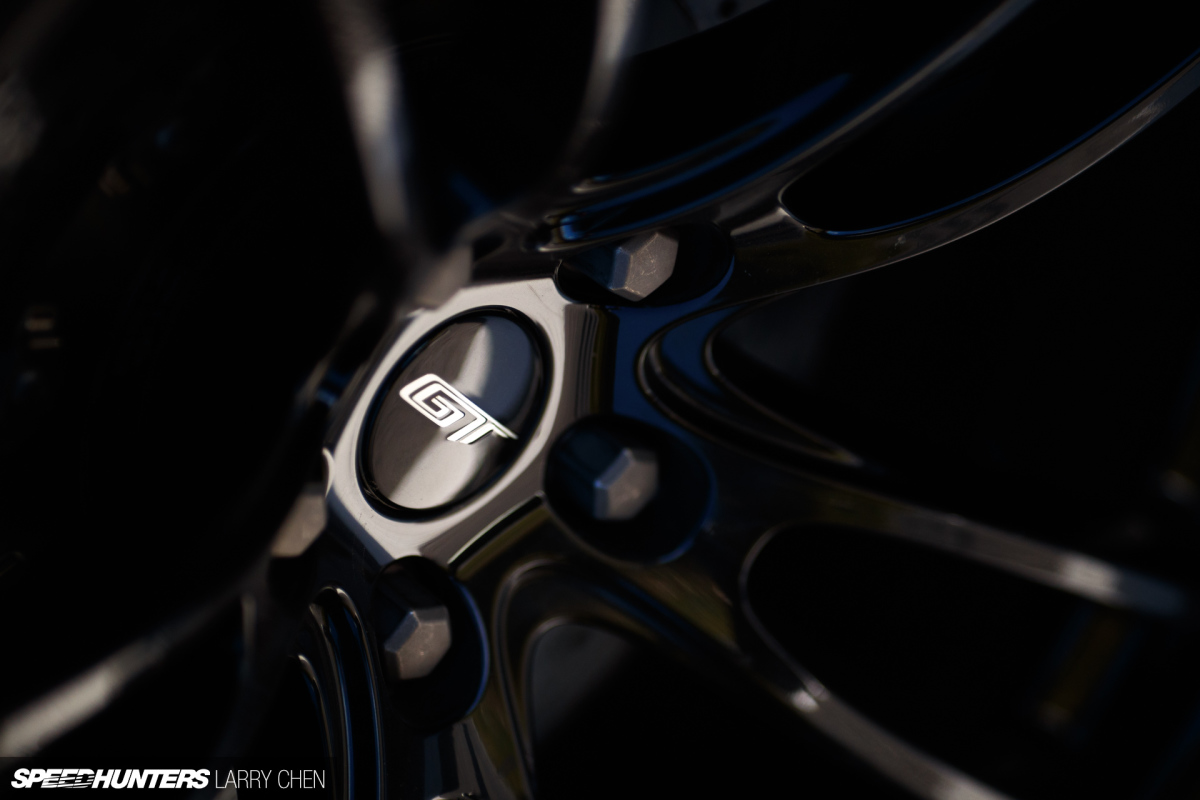 Walking around the car, I noticed endless shapes and angles – things you just don't see when a car like this is on the showroom floor surrounded by hundreds of drooling car nerds.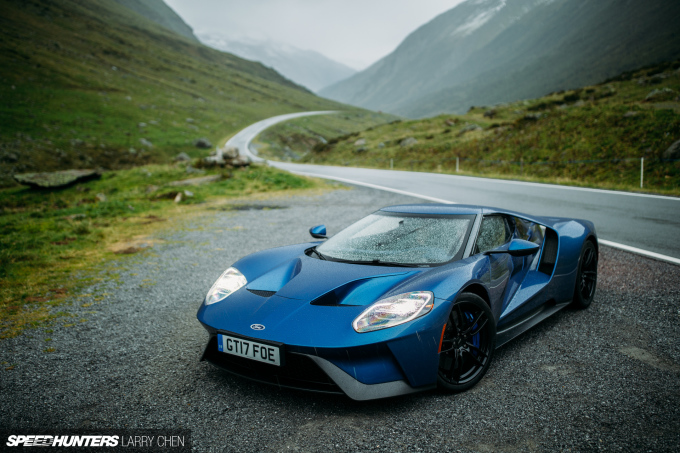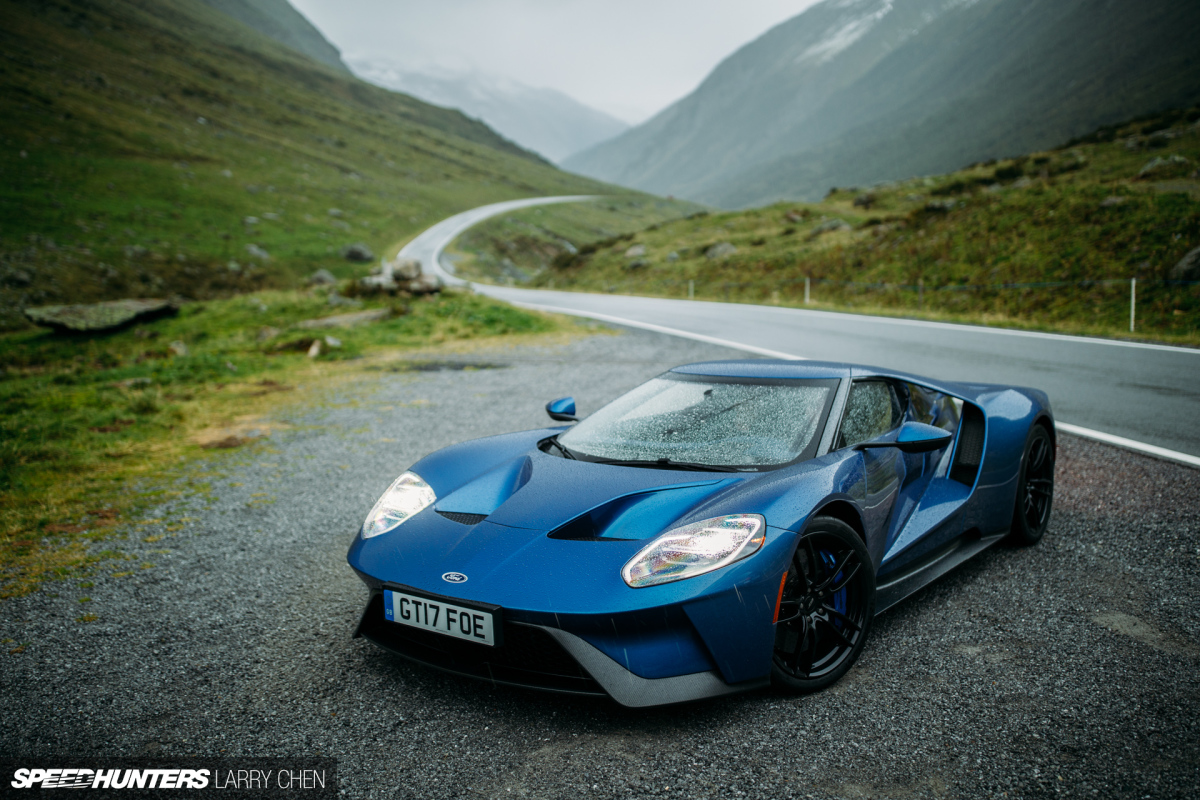 By now I was pretty soaked, and as we were running out of light it was time to call it a night. I didn't realise how short the days are in Austria, but for what it's worth, I had enough shots in the bag after the first day of filming.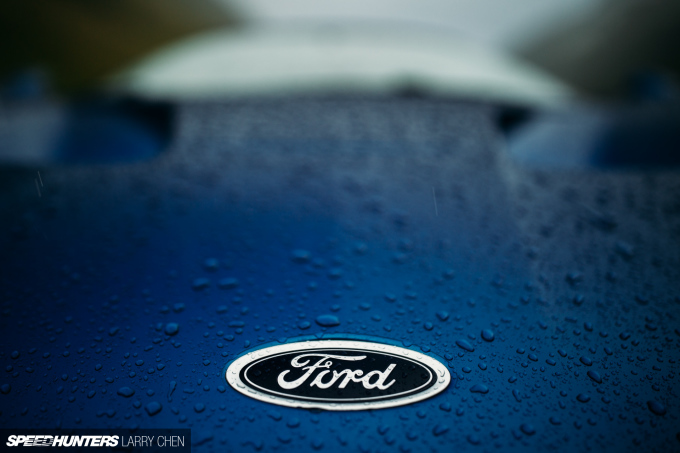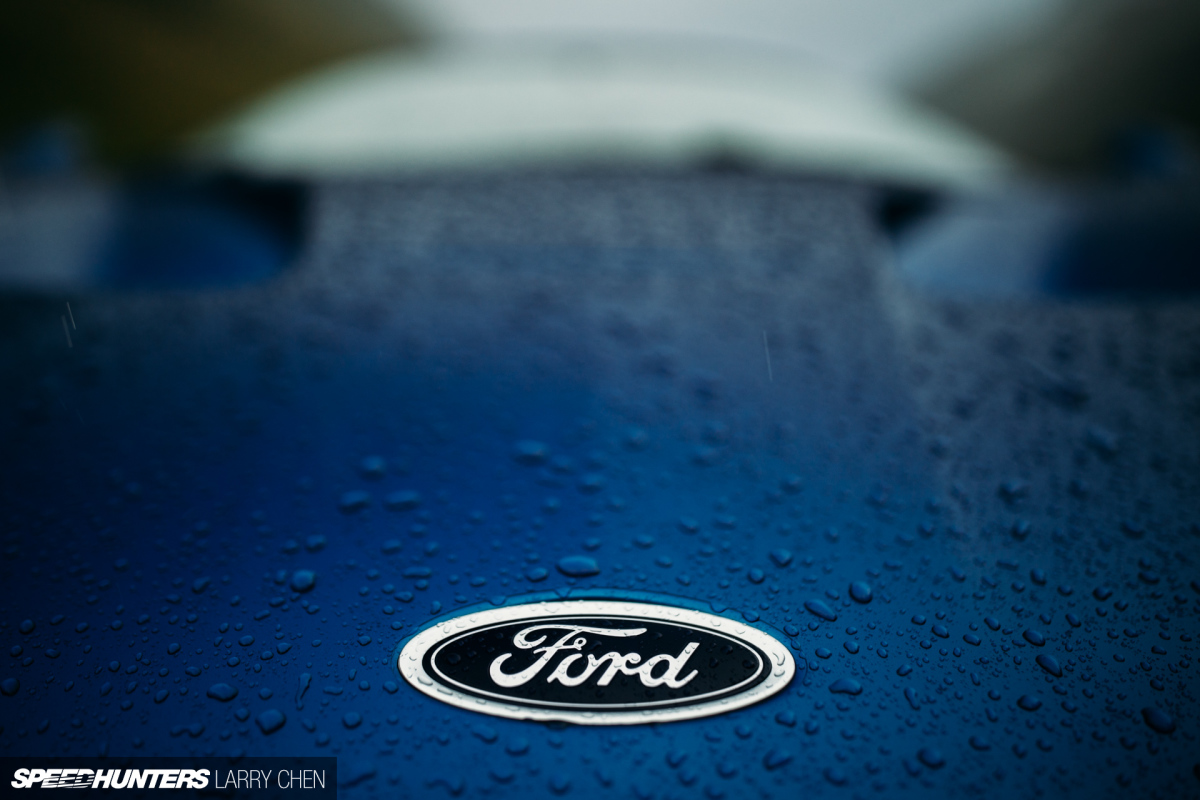 This has to be one of the most photographed new sports cars today, but spending all day with the Ford GT allowed me to shoot the way I wanted to shoot it.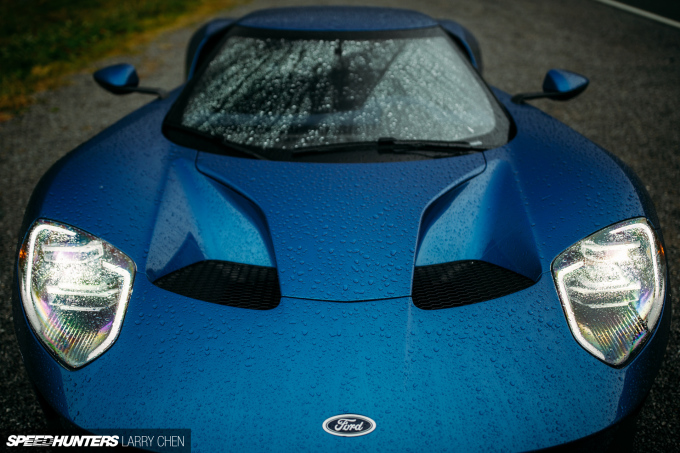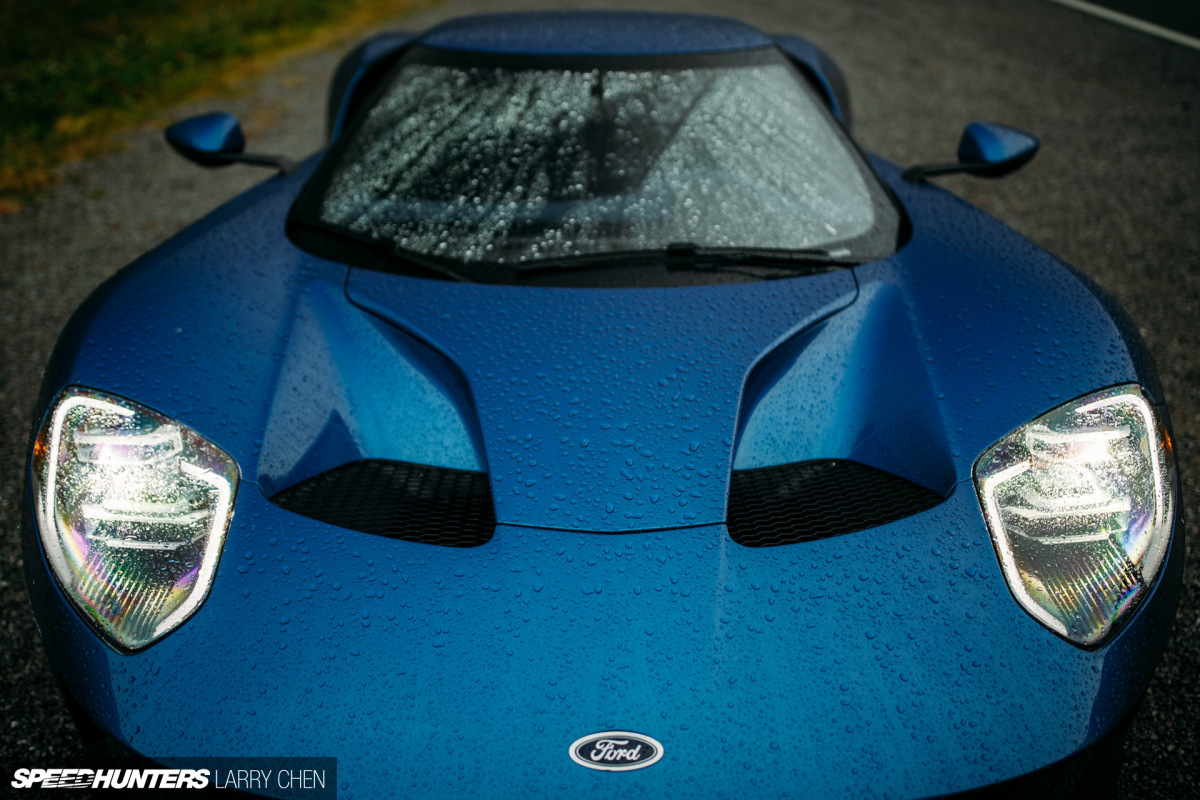 There was something really interesting about seeing it wet and bathed in soft light.
The Legend Returns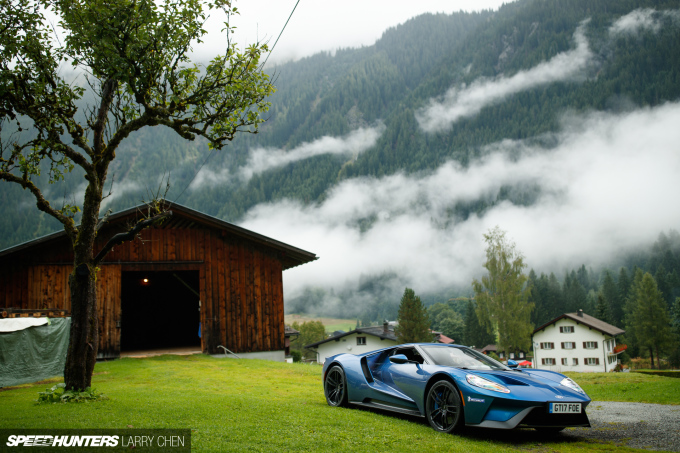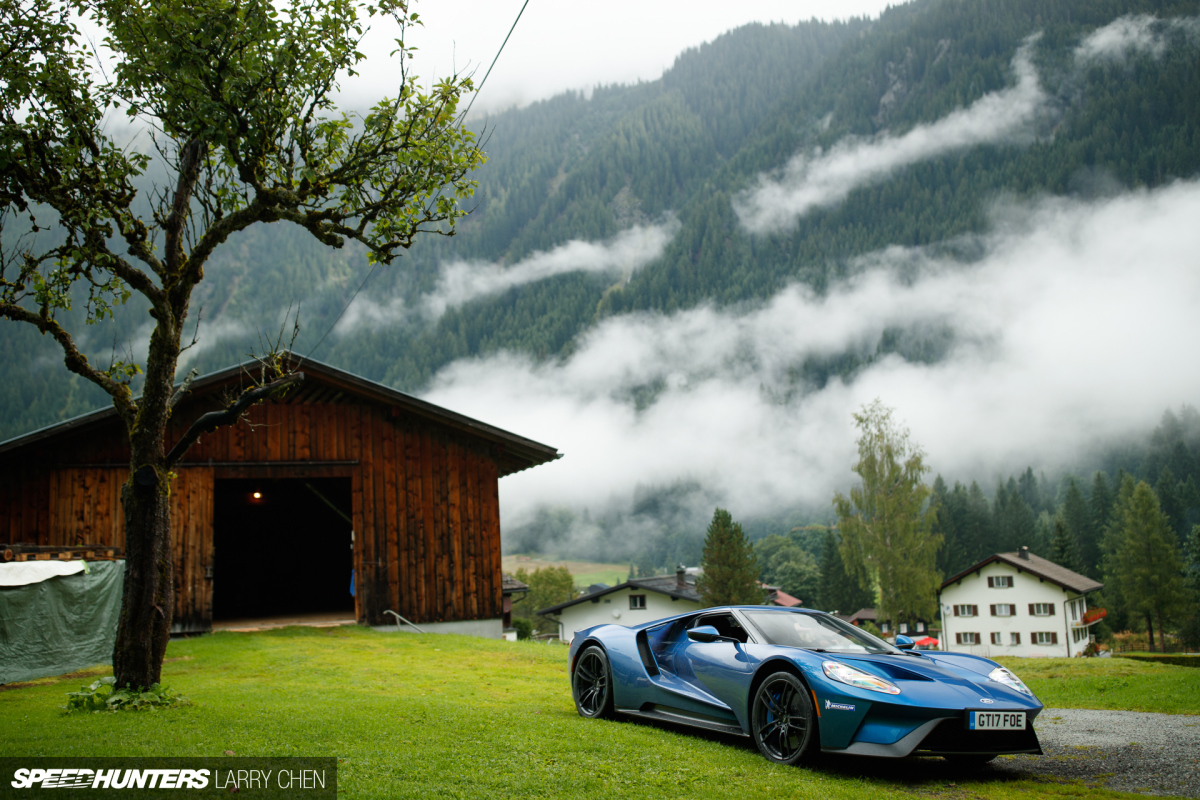 The next morning was mostly narrative and storytelling shots, including the opening shot of the Ford GT in a barn.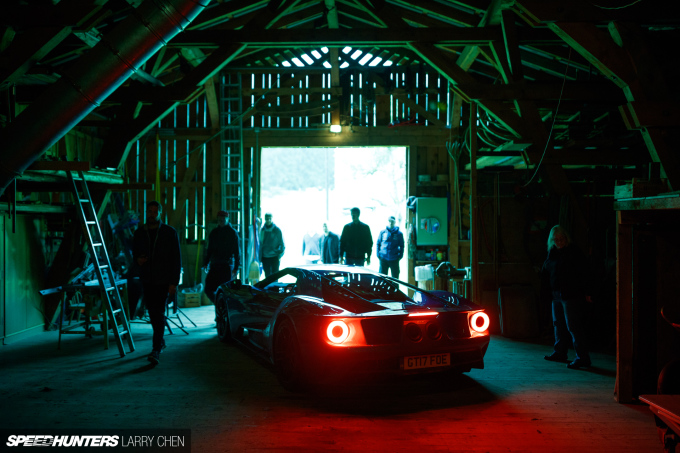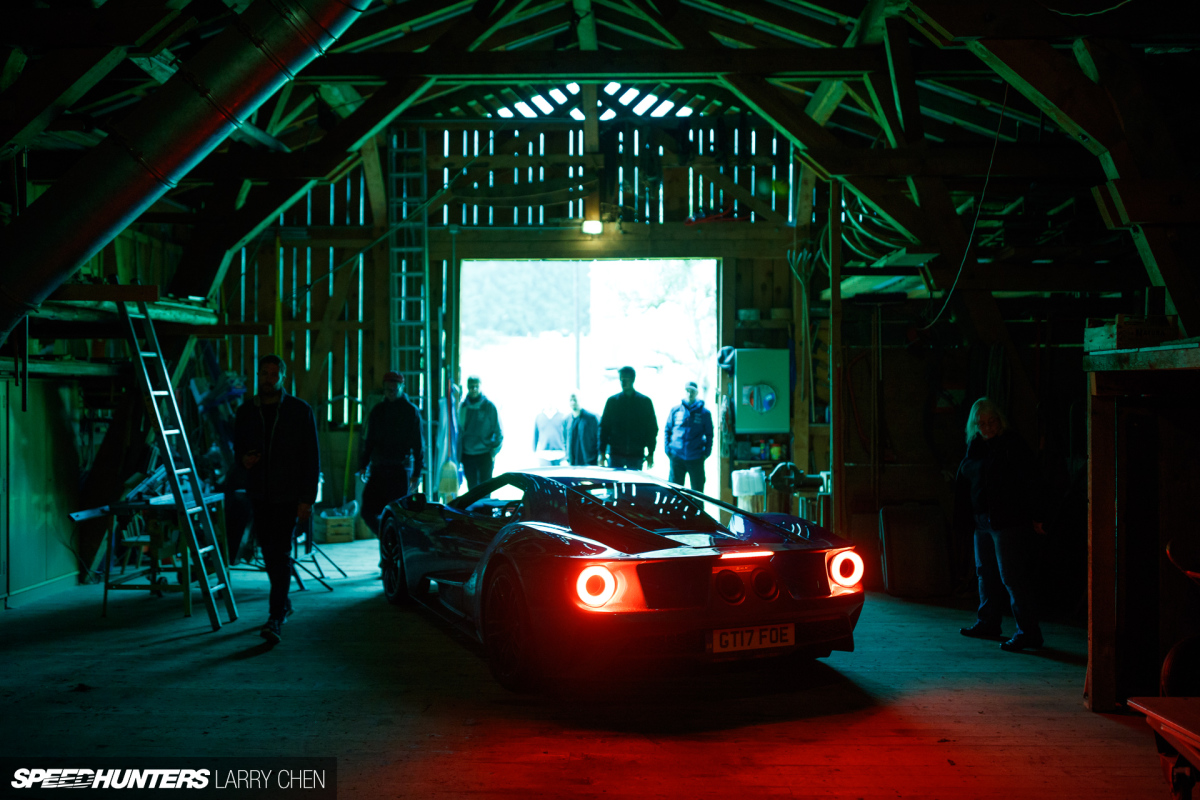 Why a barn, you ask? Well, back in the 1960s most Le Mans teams weren't working out of fancy garages – they used local barns around Circuit de la Sarthe.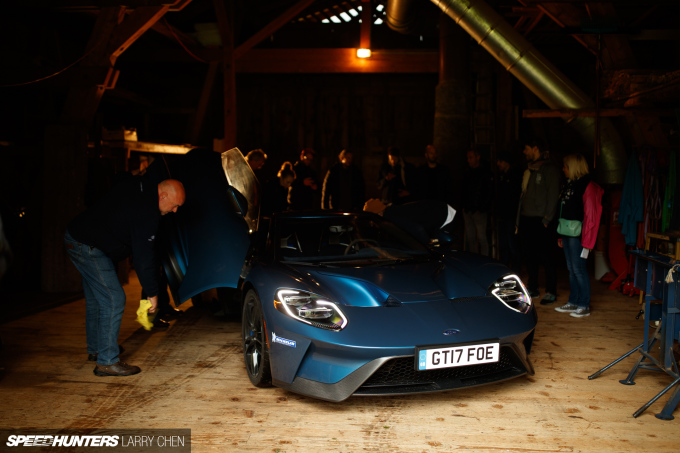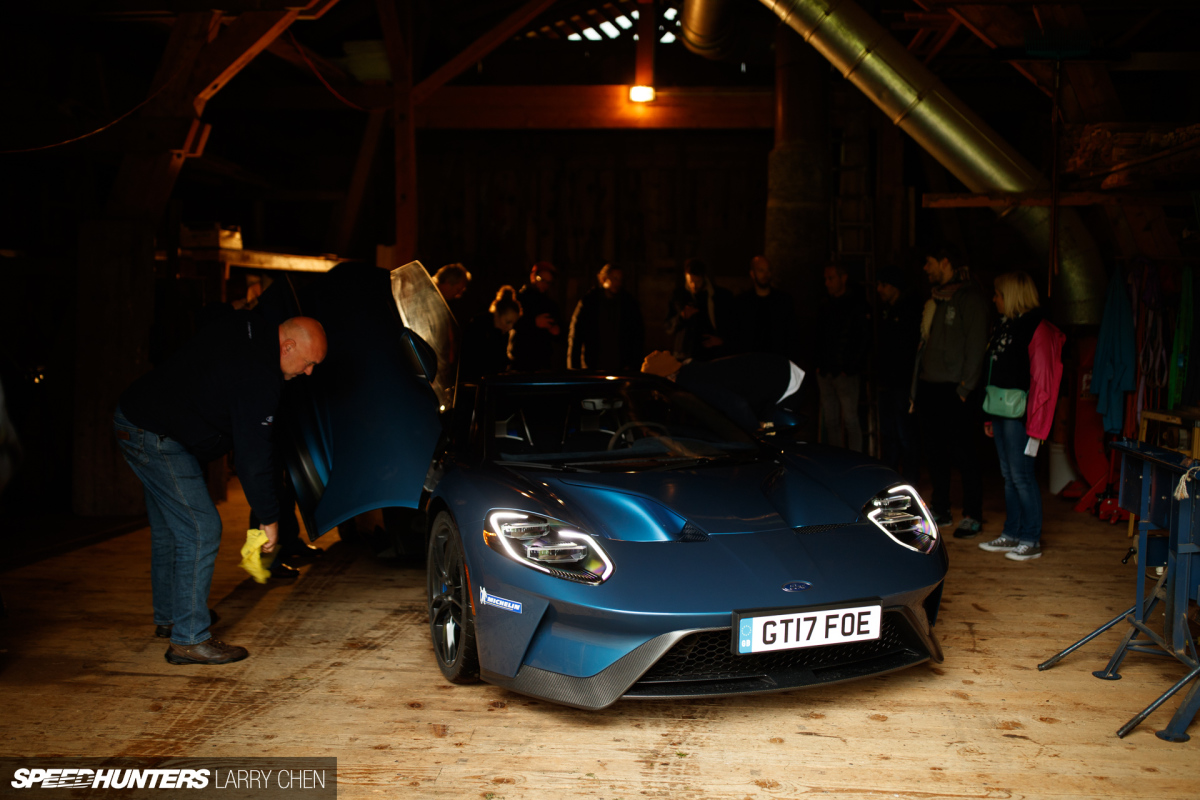 The guys at DriveStyle thought it would be a fun idea to use a barn for the opening shot.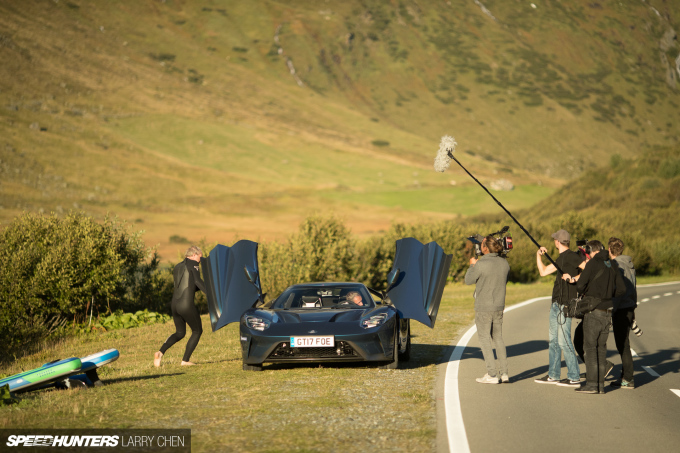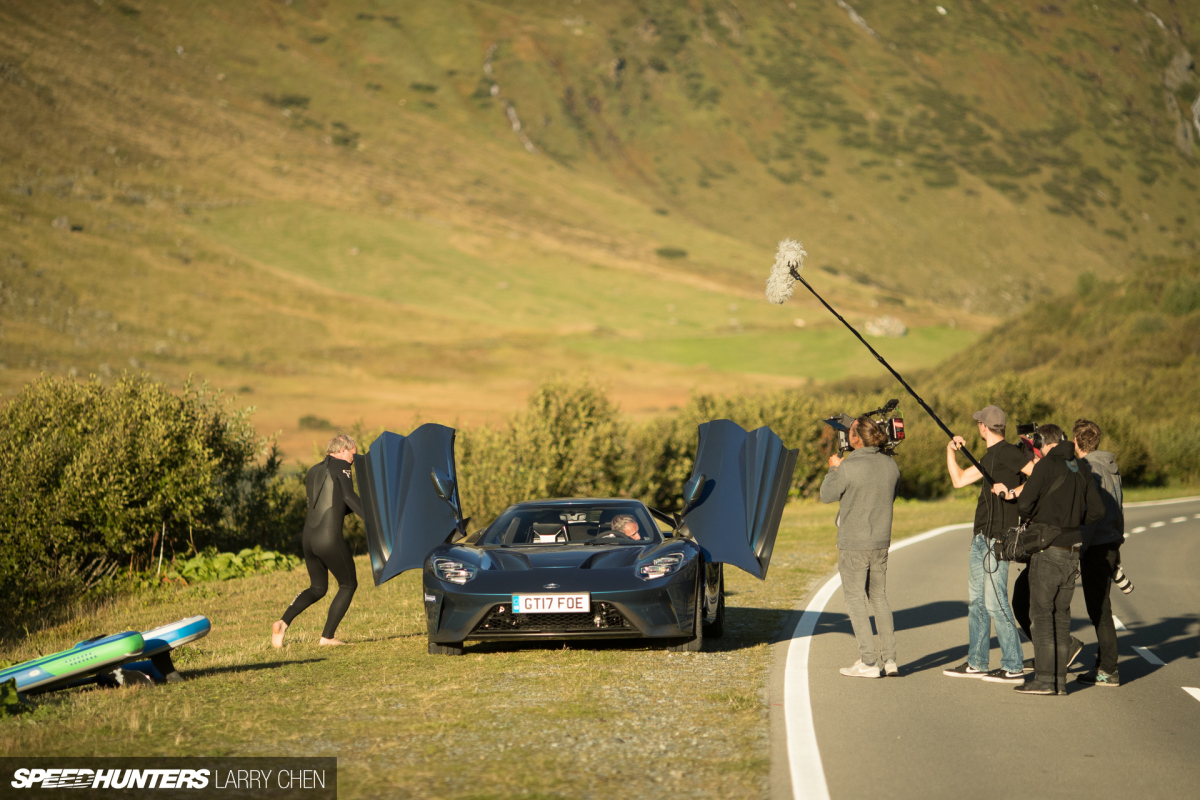 The crew really are jokers, and because it was the last episode of the season, they decided to do an American Gladiators-style battle in a nearby river, which by the way was absolutely freezing.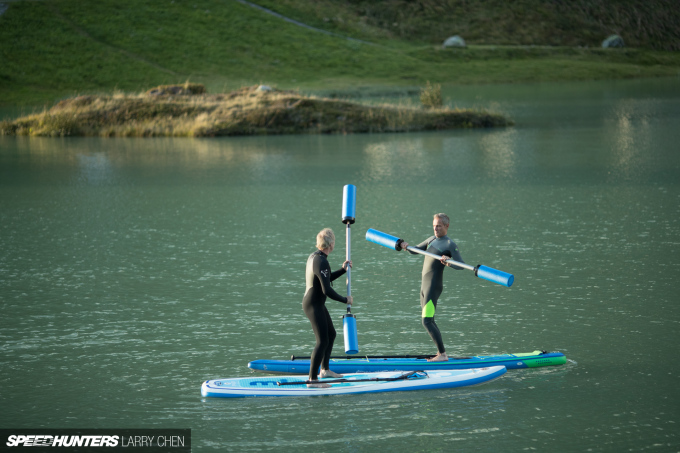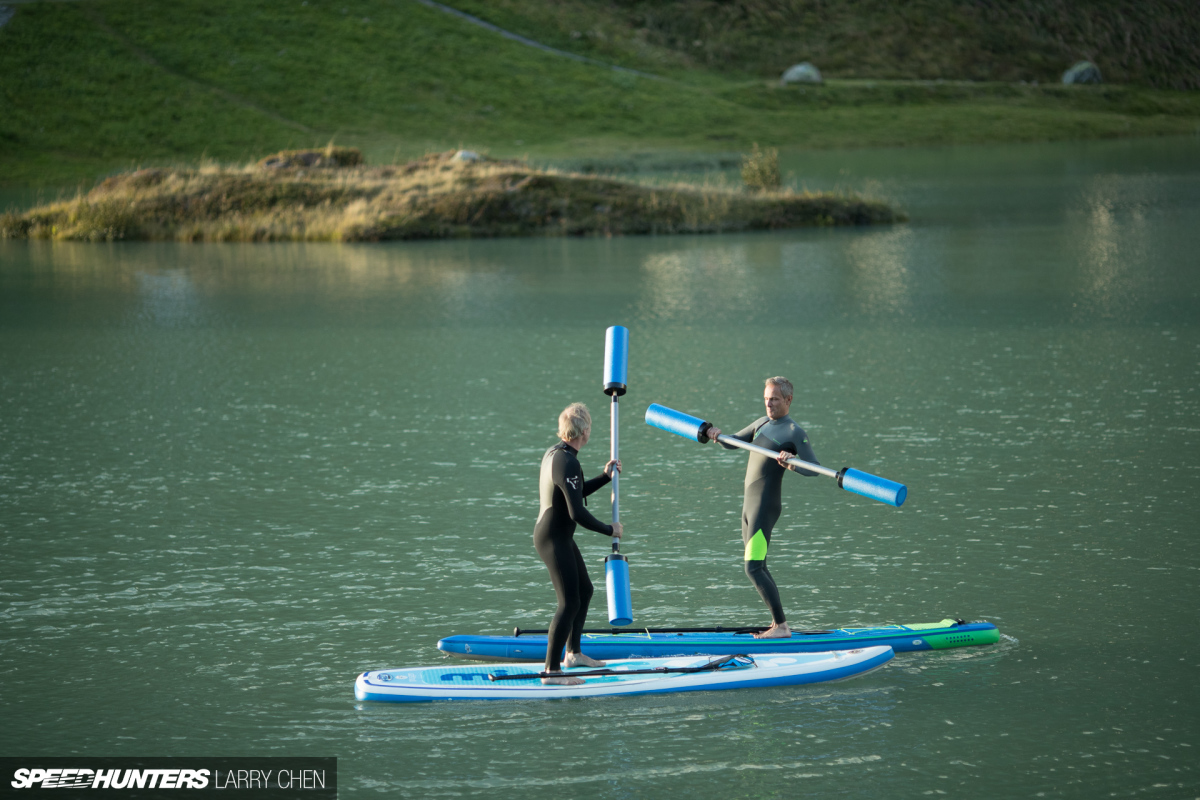 Both Helge and Matthias took a dip in the drink for a longer period of time than they would have liked.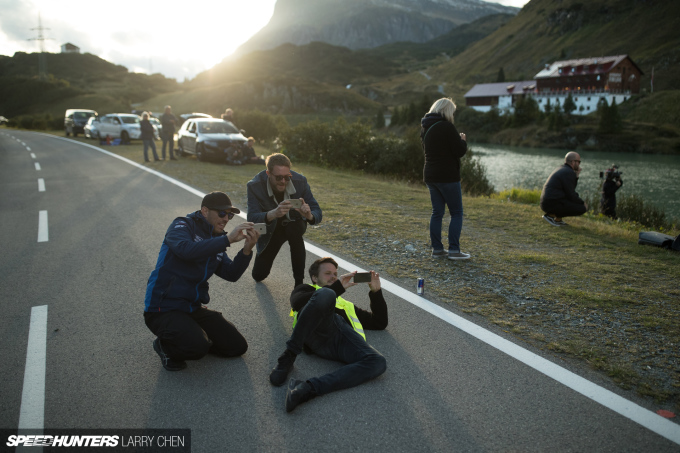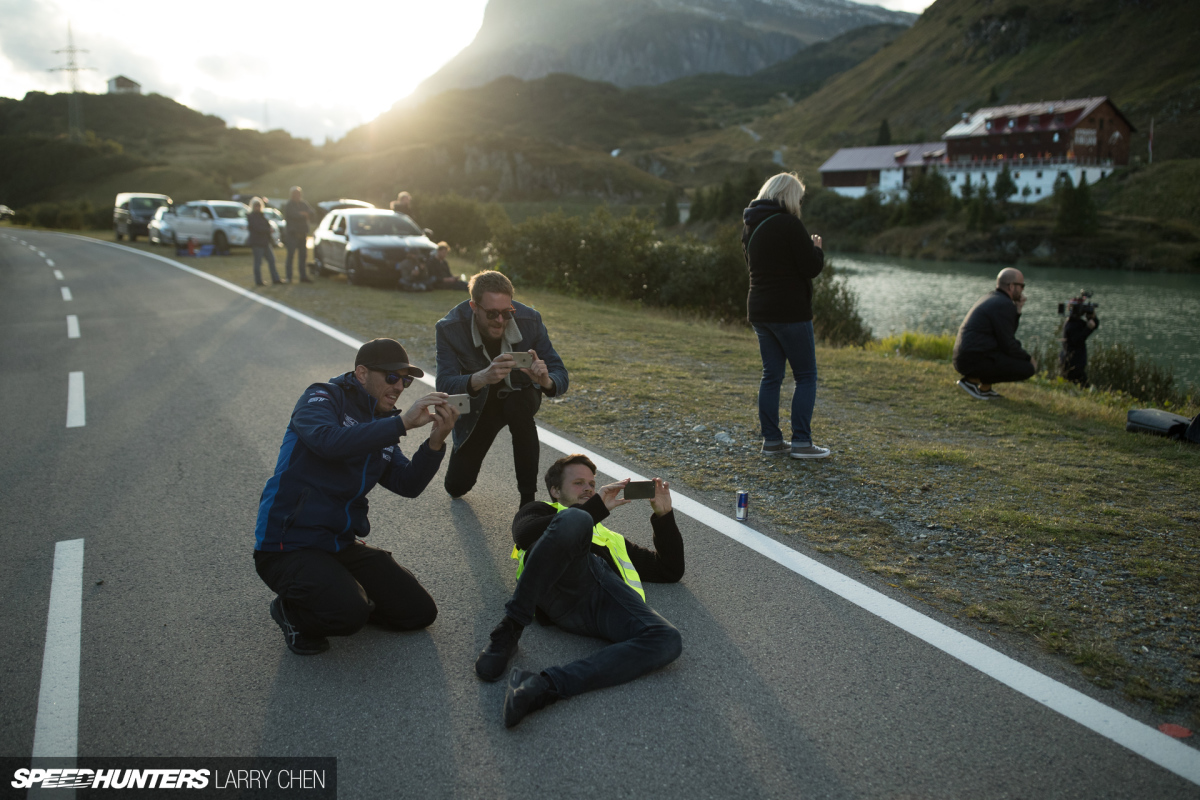 This was pretty much the common sight on set while I was shooting the GT; every time I turned around at least a few of the crew had their phones out, furiously snapping away at the blue beast.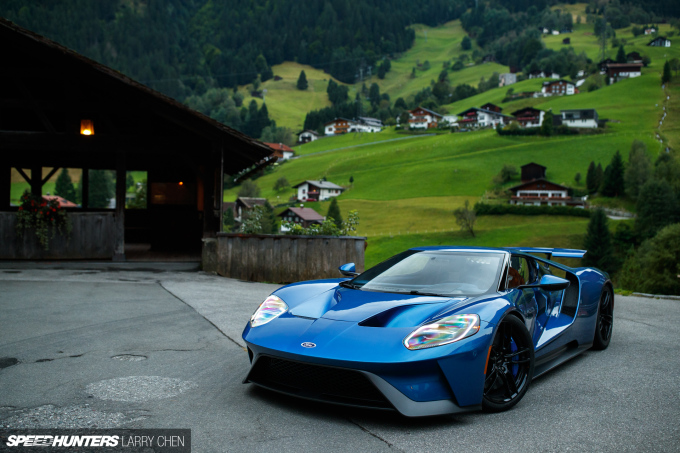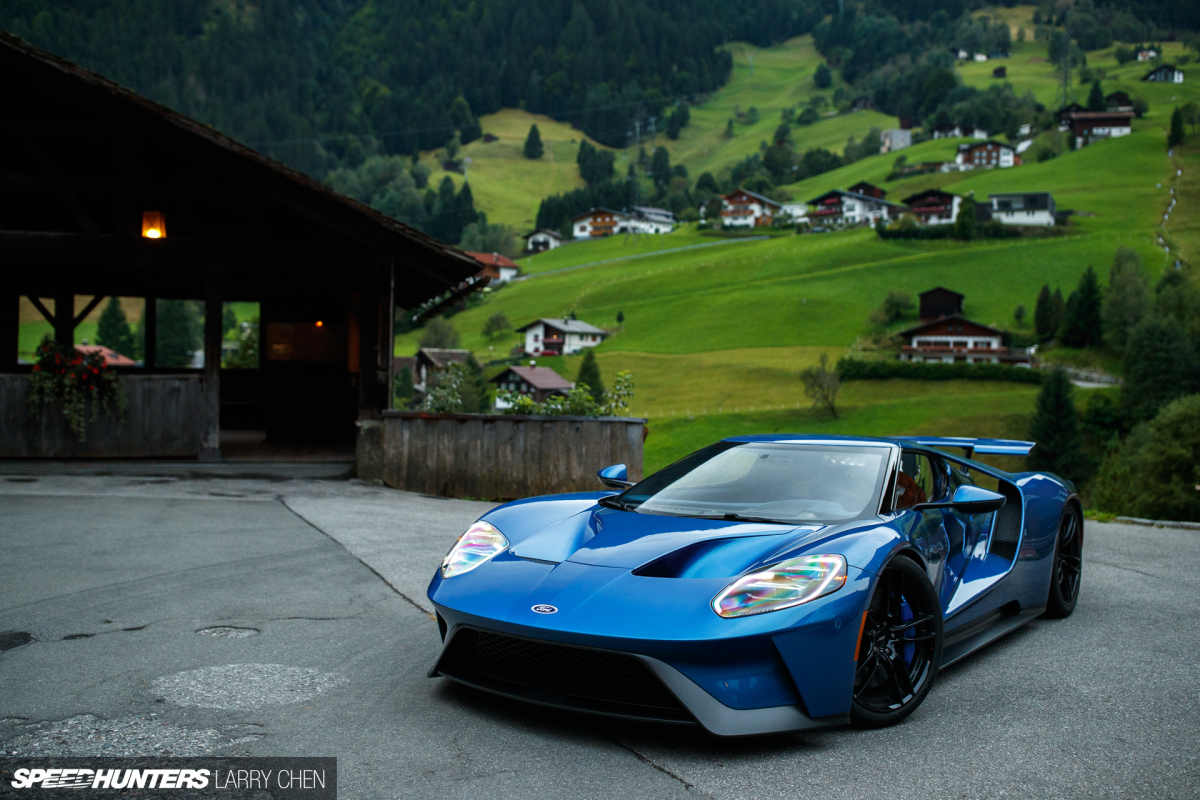 I didn't manage to get any clean shots of the front of the car without a license plate during filming because it needed to remain road legal at all times. So the next day I woke up super early in order to grab some one-on-one time with the car (sans front plate) in the quaint little Austrian village of Gaschurn.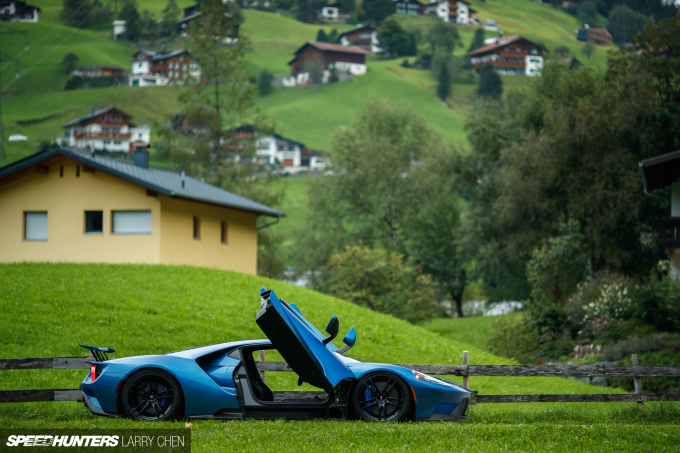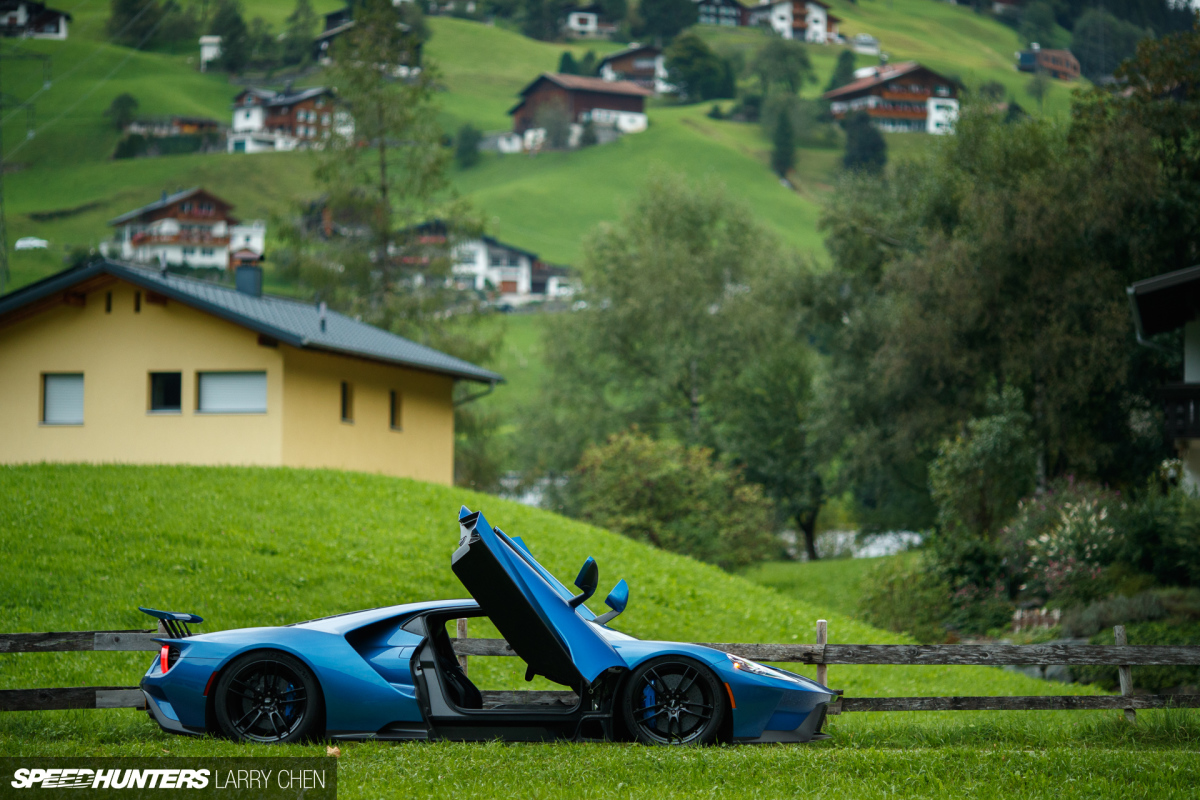 With just 30 minutes before I needed to be in a car headed for the airport, I was running around like a crazy person with a camera.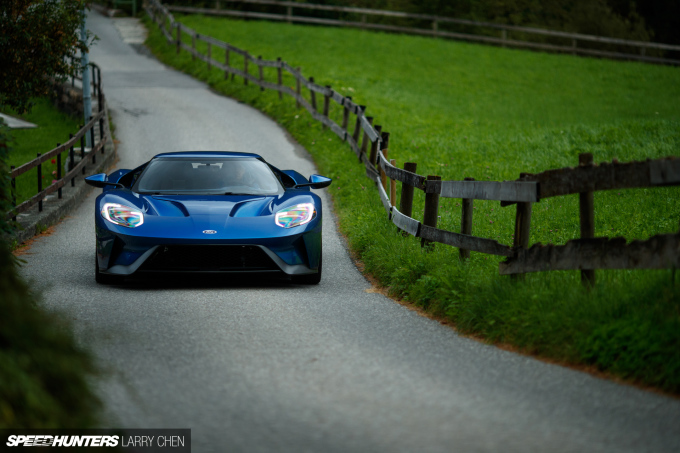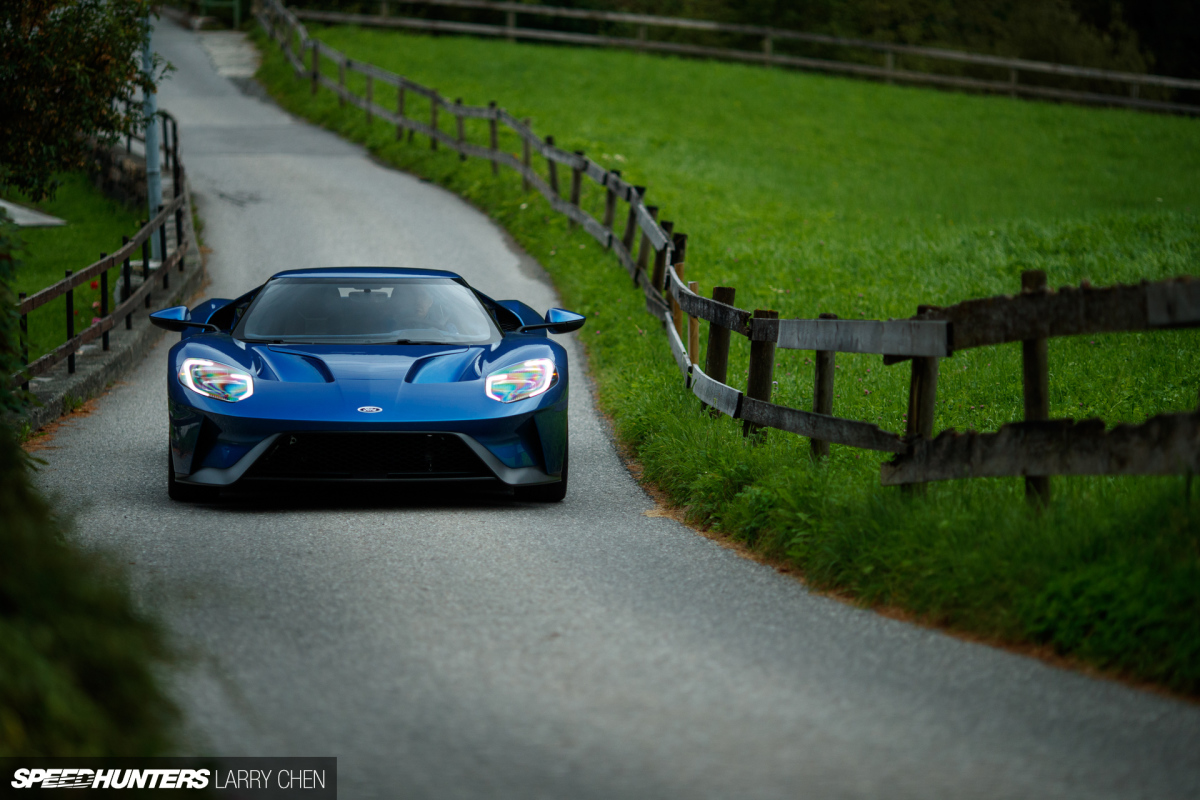 I asked the engineer who was driving the car around for me to put it in track mode, just for a few snaps.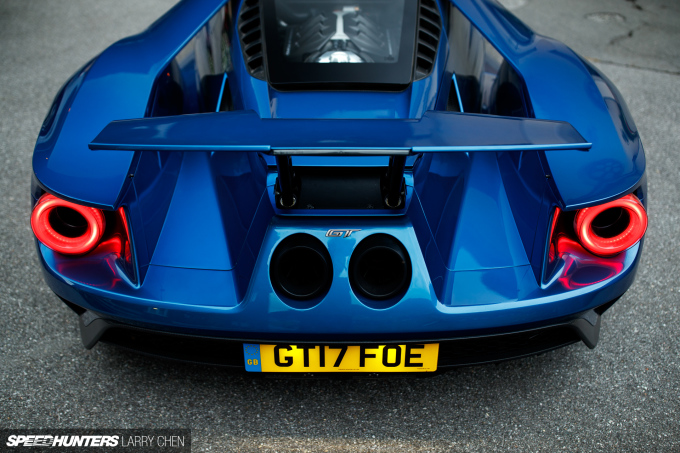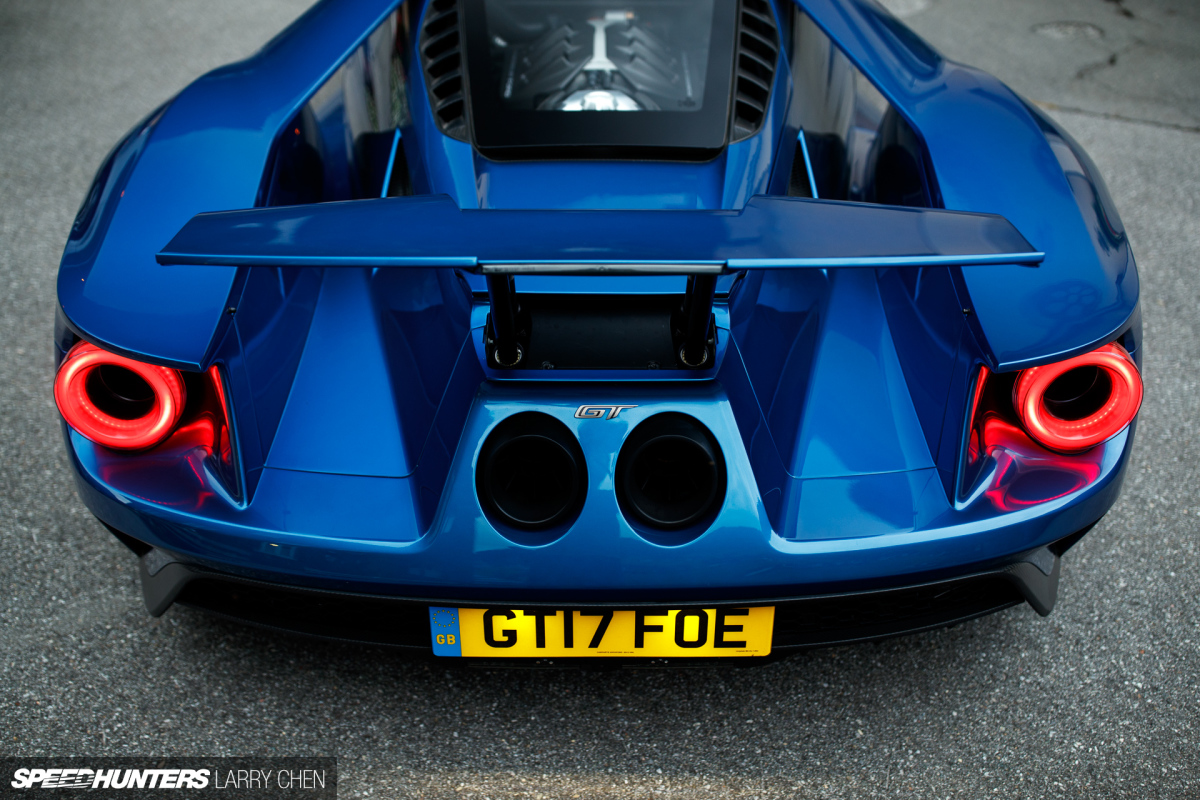 I could not believe how fast it transformed; in less than a second the GT drops down so low that you'd think it was laying chassis on the ground.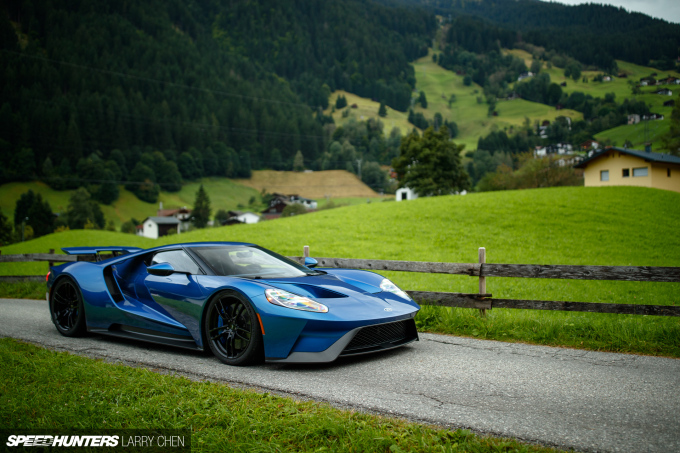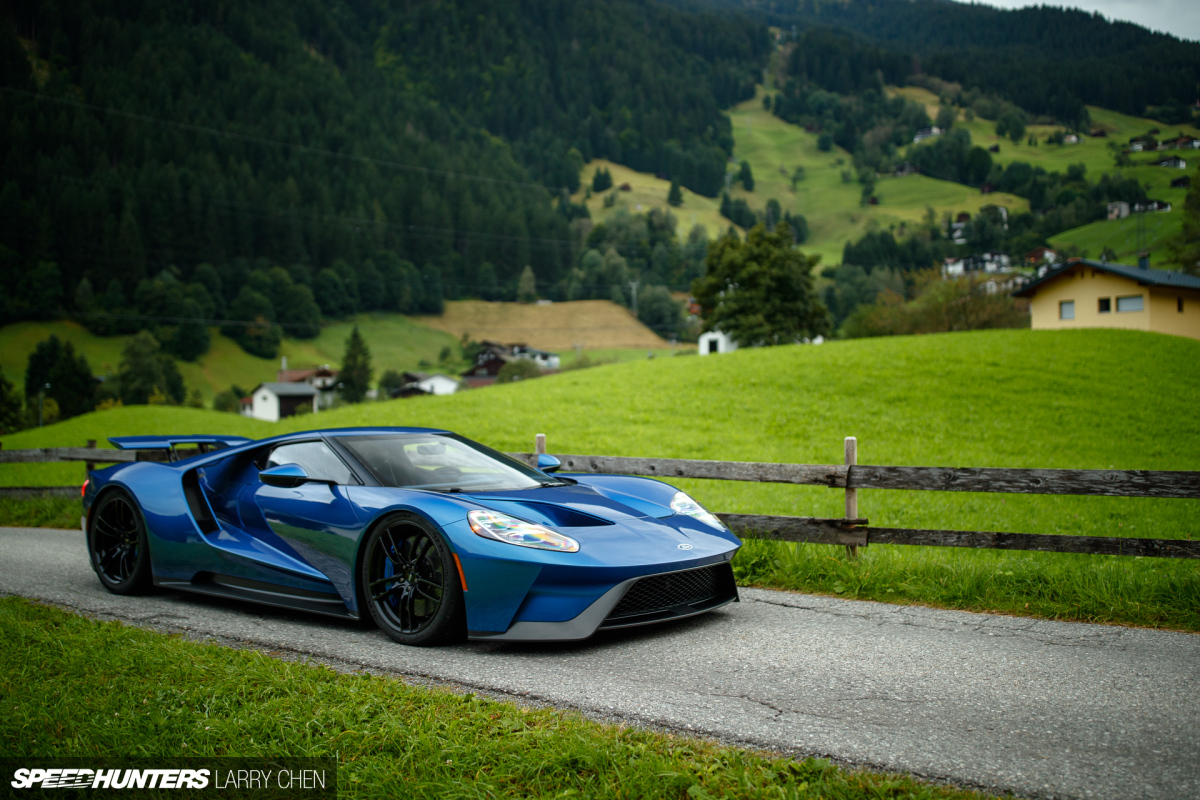 The wing pops up right away, too. As if it wasn't hard enough to get in and out of the thing normally, with the car sitting like this you practically have to crawl out hands first.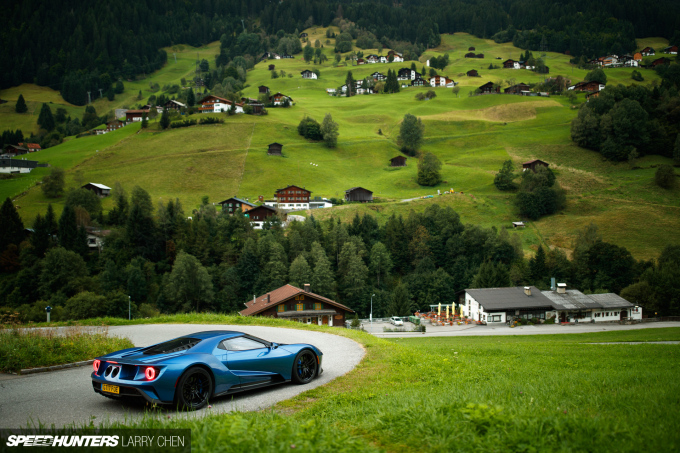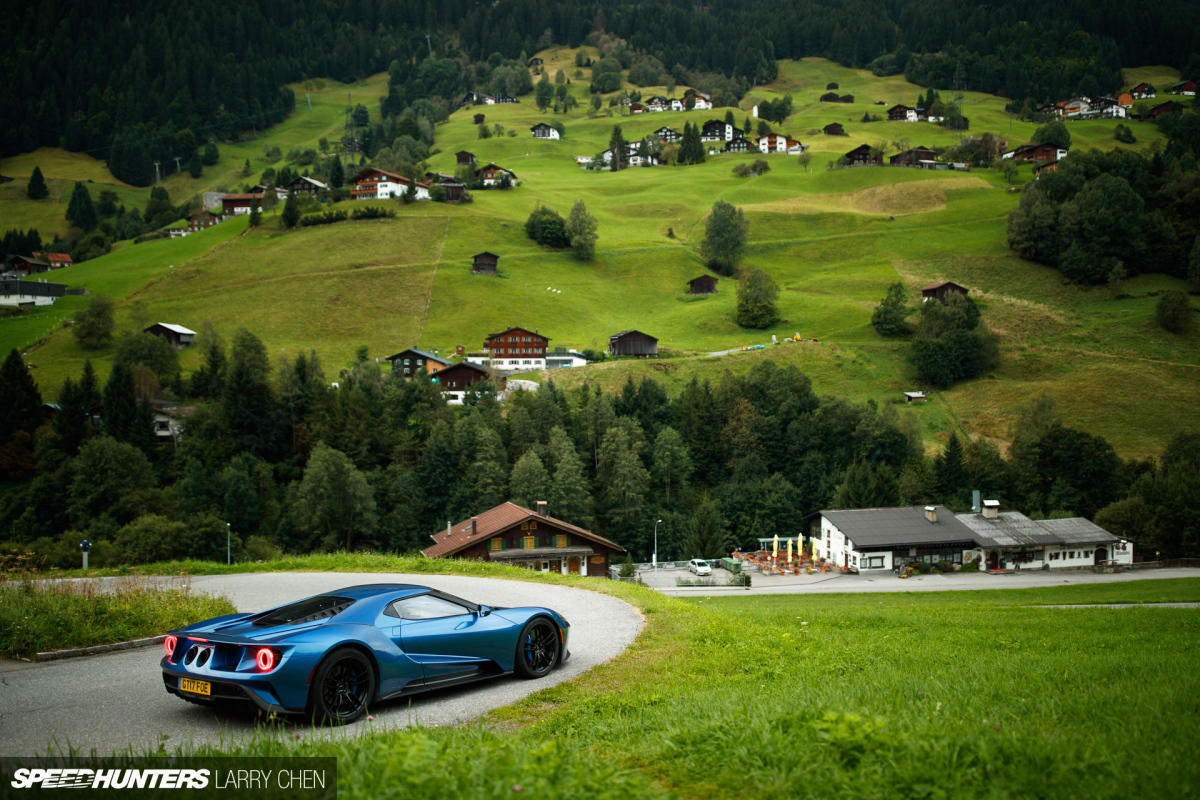 My Austrian Alps trip was short, but I think it was productive. Plus, I will never forget being able to spend so much time with a halo car like the Ford GT.
As for the episode of DriveStyle, you can check it out by pressing the play button above. Try not to laugh at my terrible acting too much – I'm just a photographer!
Larry Chen
Instagram: larry_chen_foto
larry@speedhunters.com
Cutting Room Floor