Things Done Changed
As a long-time reader of Speedhunters, and rather sporadic contributor to this site I love very much, it feels surreal to be typing up my very first SH Garage project story to share with you.
Before the BMW you see here, I was daily driving a Mercedes-AMG C63, so the M3 is not wildly different from my previous car choice. Eagle-eyed readers will spot that the lead image is shot on the Nürburgring, and I'll get to that in a bit.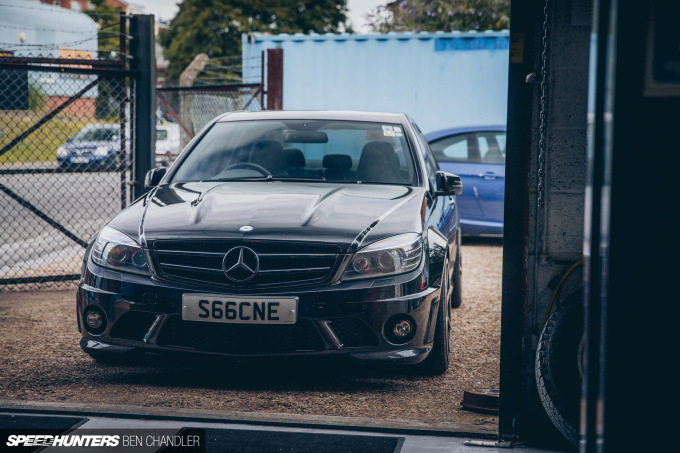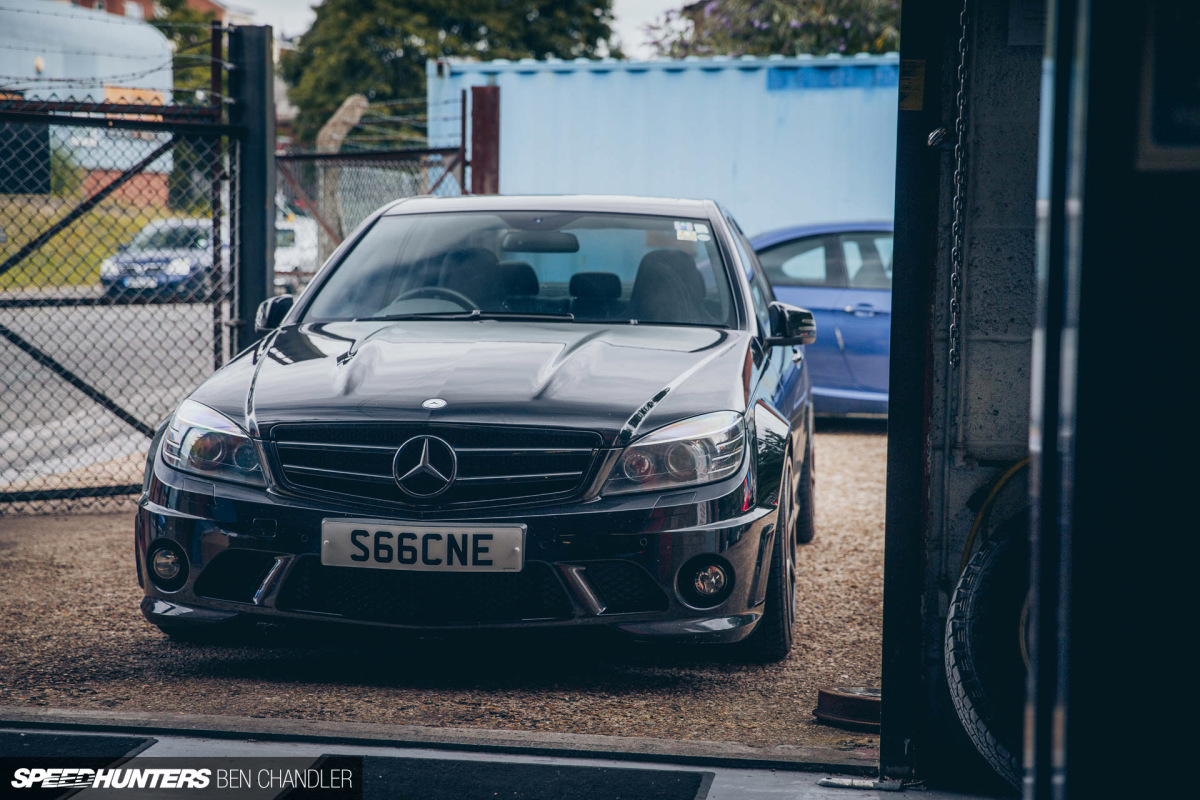 When I bought the AMG, it was the sound of the motor and the exhaust note that had me sold. After driving a saloon version with the traction control turned off at Portimao Circuit in Portugal, I'd wanted one for years. This first proper sports saloon encounter was recently covered within Jason Whipple's M3 feature, which you can read here. The C63 dream became a reality in 2014 and rear-wheel drive fun commenced.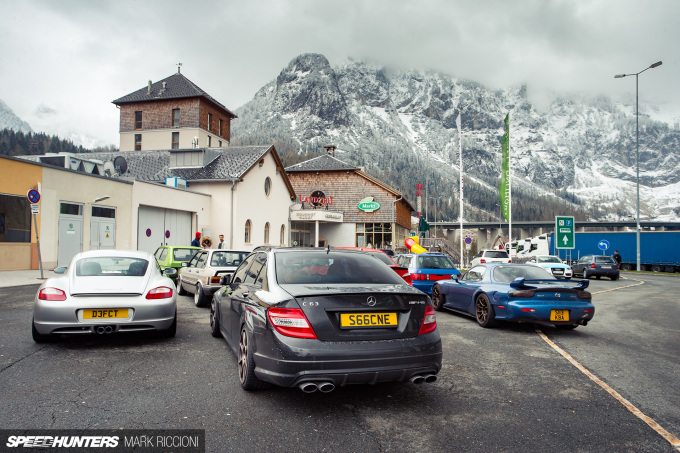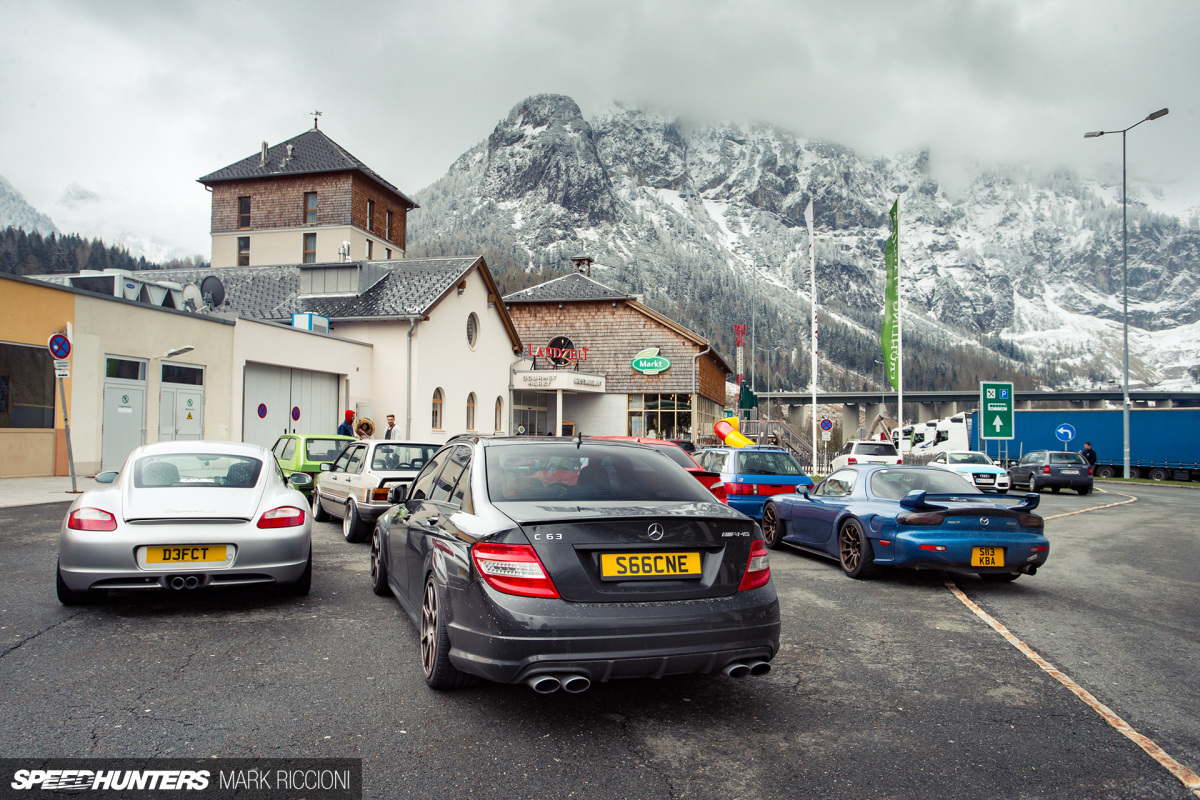 The Mercedes purchase was one of pure lust, over having any form of plan in my mind, though. After a Wavetrac diff upgrade, secondary cat delete and an ECU remap, I didn't feel the need to do a great deal more to the car. I lowered it over a decent set of wheels and drove it quite a lot, but that was about it. Sure, I could have supercharged it, but 540bhp was more than enough for what's essentially a German muscle car with a gearbox that takes its time to do, well, anything. Honestly, as a daily, I didn't think my non-MCT C63 needed more power.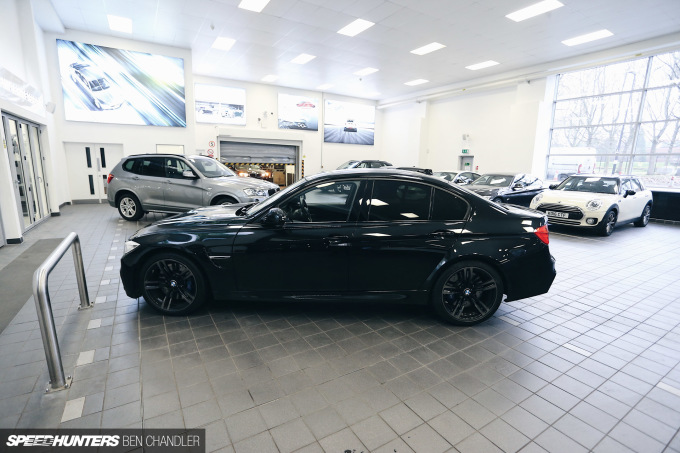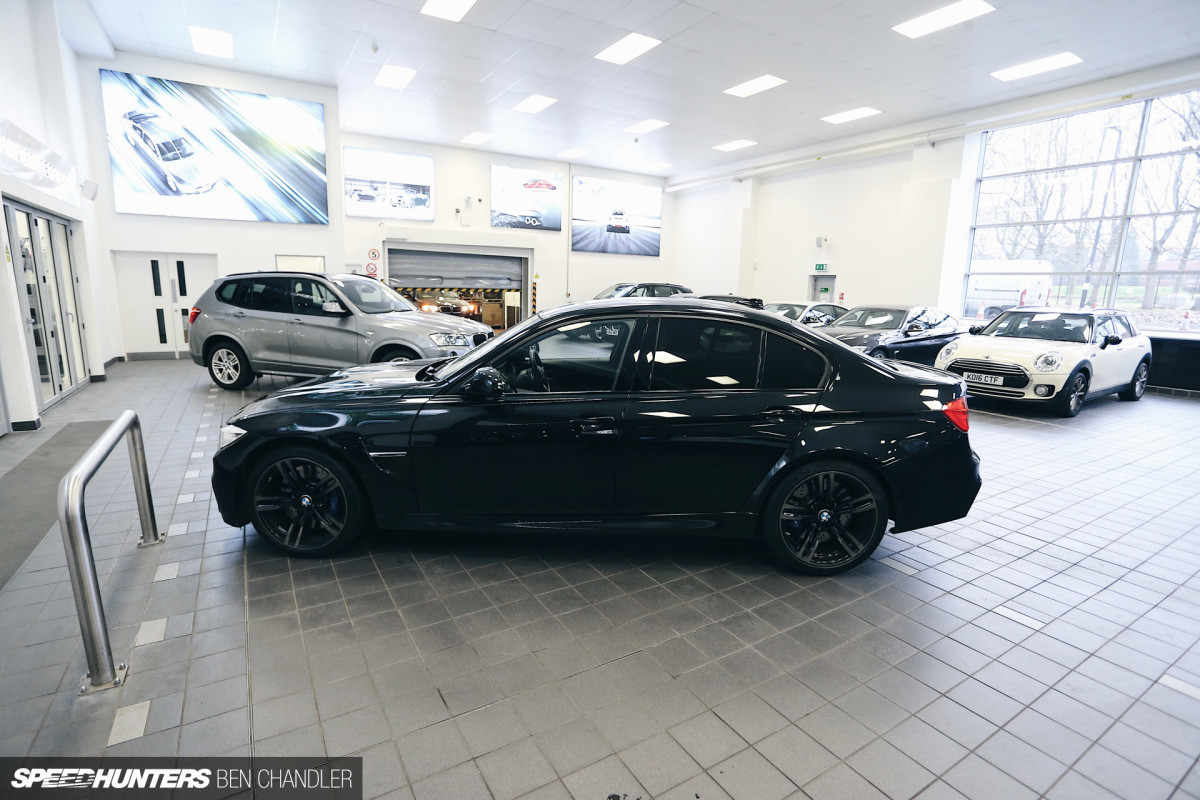 Also back in 2014, I visited Detroit's NAIAS with Bryn Musselwhite and saw the M3 at the official launch. I absolutely loved the car, and the range of M Performance parts that followed seemed too good to be true. Great looks combined with fancy parts made the want pretty strong.
So, to the M3 you see here. Spec-wise, it's a carbon copy of the C63: black-on-black-on-black. What can I say? When it comes to choosing car colour combos, I'm predictable. At the time of my search, there was a used F80 finished in British Racing Green Individual paintwork, with a brown interior. It sounds like a bit of a weird colour combo, but I am kicking myself now for not having balls big enough to buy it.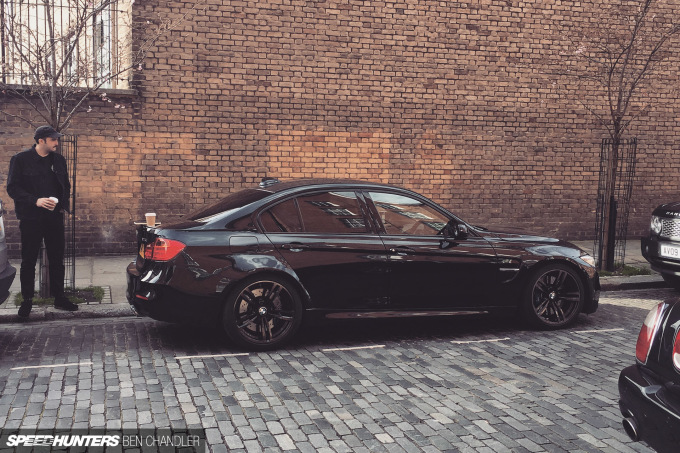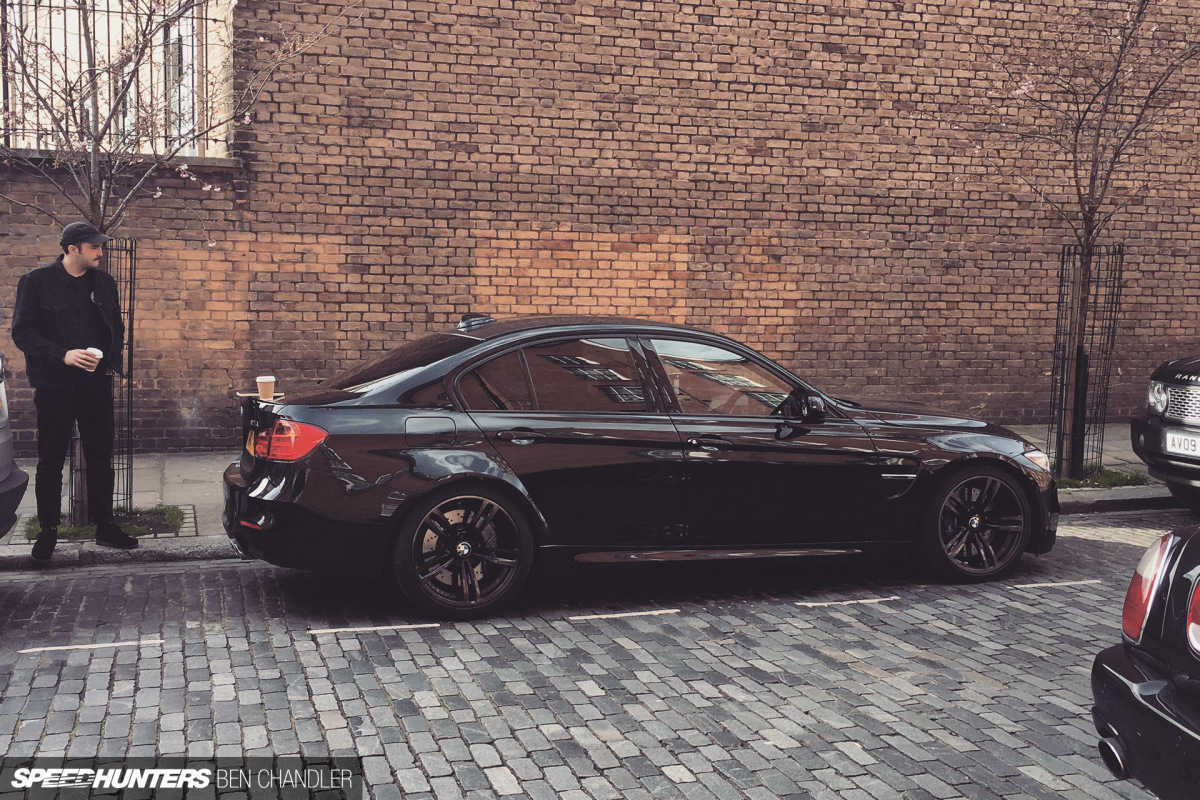 Aesthetically, I much prefer the M3 over the M4; I think the F80 looks more bulbous and aggressive. I'm sure there'll be a lot of people that disagree and hate the idea of having extra doors, but I love being able to get all my stuff in the car easily. When I'm picking up friends the saloon makes life much more simple, too.
Incidentally, after so much talk about buying an F80, I'm lucky to have any friends left. Particularly good ones like Ryan Stewart, pictured above. Thanks for putting up with the endless screenshots of cars for sale, mate!
Everyday Struggle
Choosing a DCT M3 over a manual was an easy decision, for a few reasons. 1.) I live in London, and this means that it often takes over an hour to cover 10 miles or so. 2.) Manual gearbox + London = zero fun, unless it's 4:00am when there's almost zero traffic. 3.) BMW's DCT is light-years ahead of the tech in my old C63's gearbox. Plus, it's way faster than I can shift gears using a conventional stick, and I really like going fast.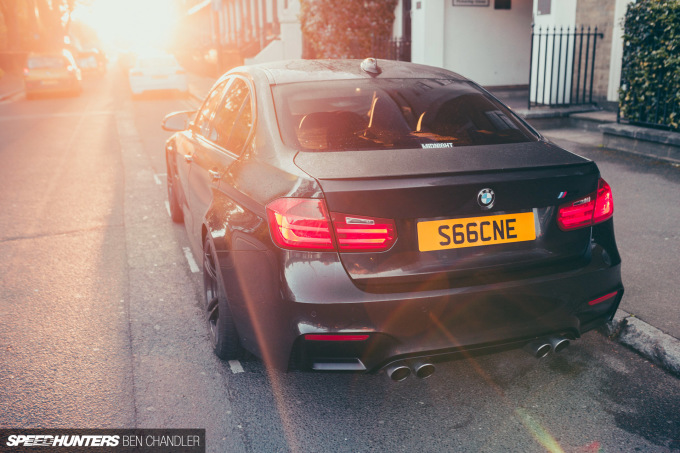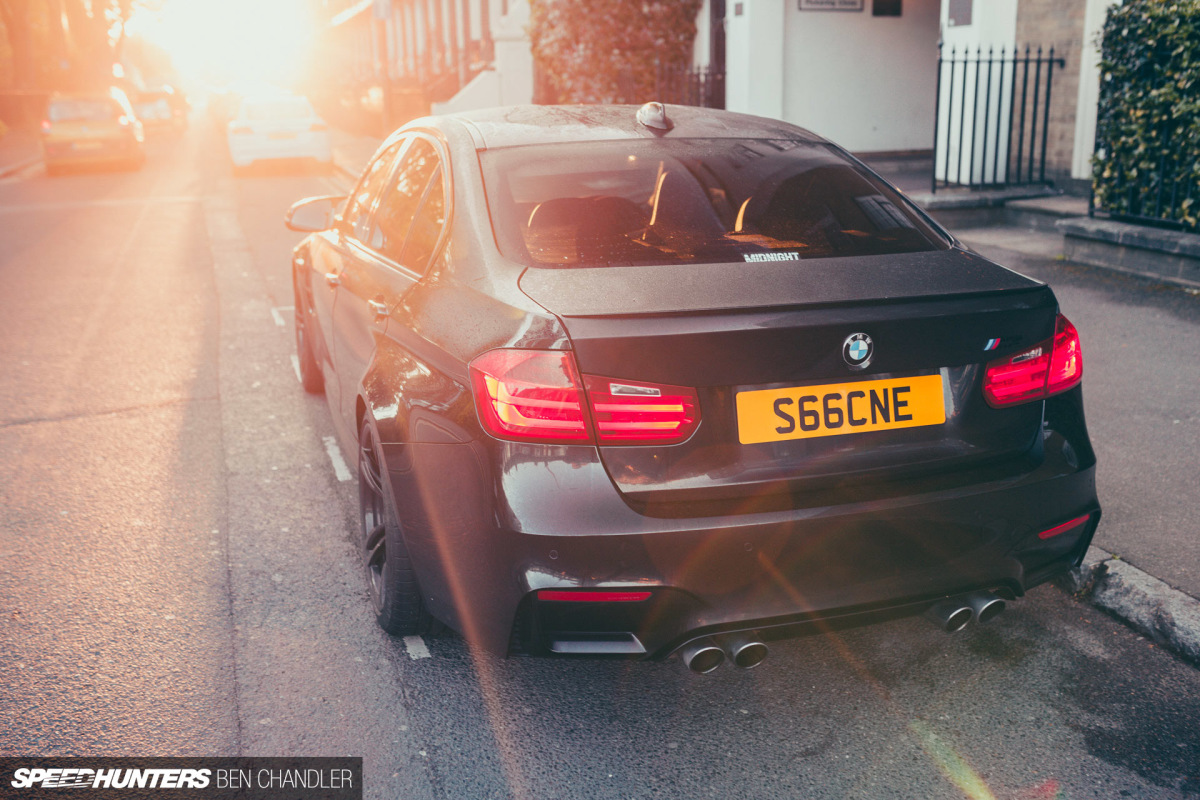 So there you go, it's not got a gearstick. When I can find a Phase 2 Peugeot 106 Rallye that isn't ridiculous money, then I'll have the best of both worlds: M3 daily and silly French hatchback for weekend blasts. Anyway, I digress.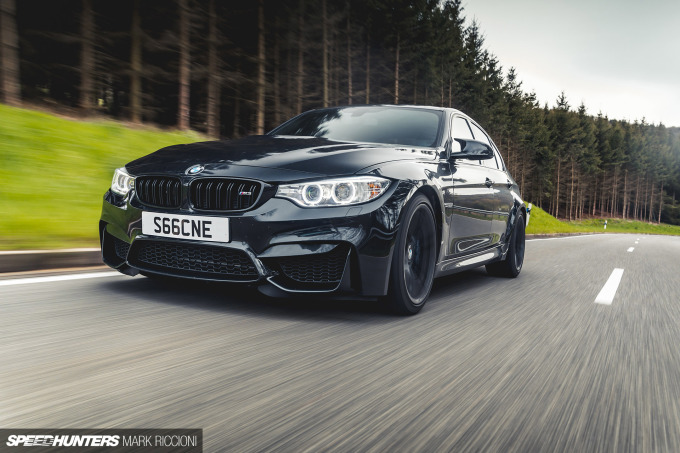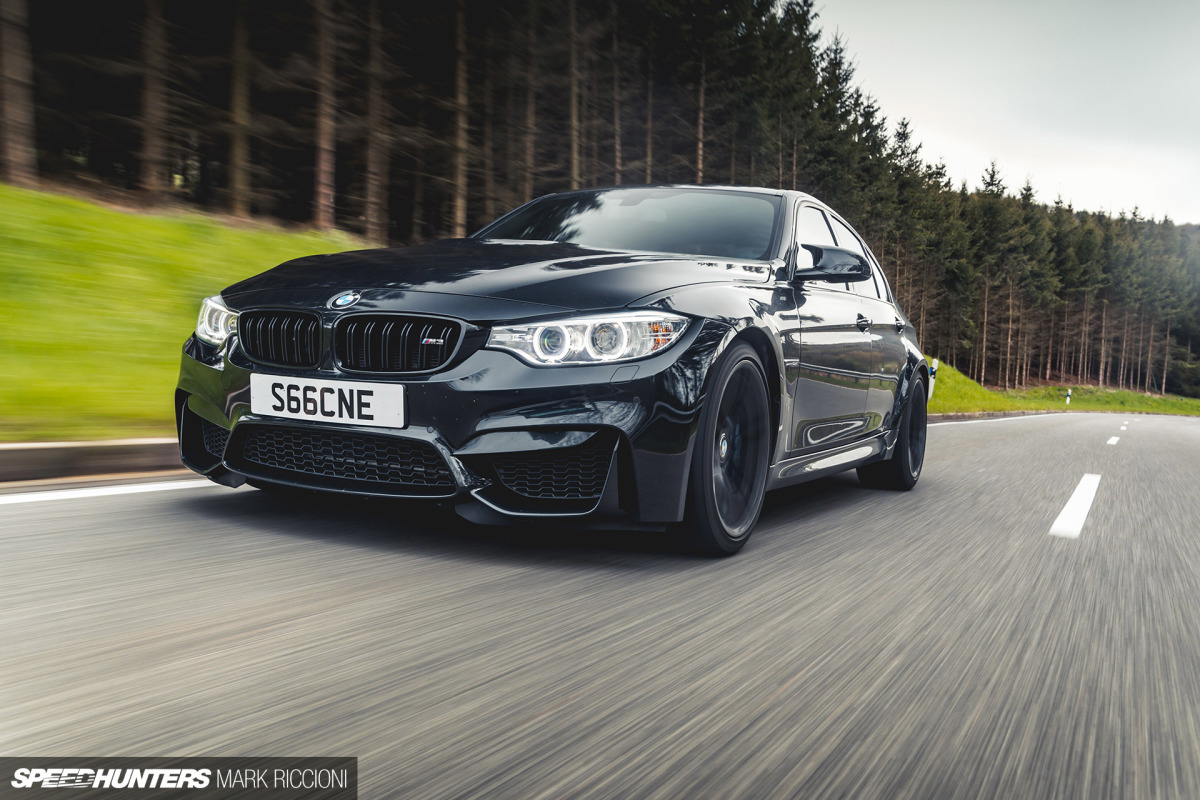 Back to tuning, which by the title of this story you may have guessed has already begun. The F80 M3 has been around for three years now and this is a 2014 launch car, which I bought at the back end of March. It was the drive of Jason's aforementioned M3 that eventually made me want to own one of these cars as soon as possible.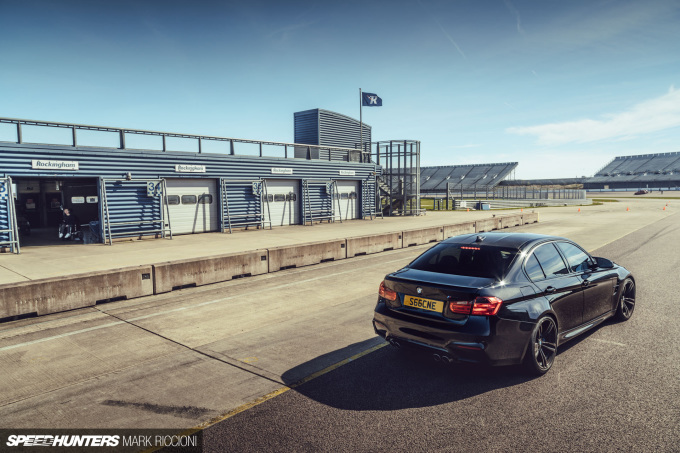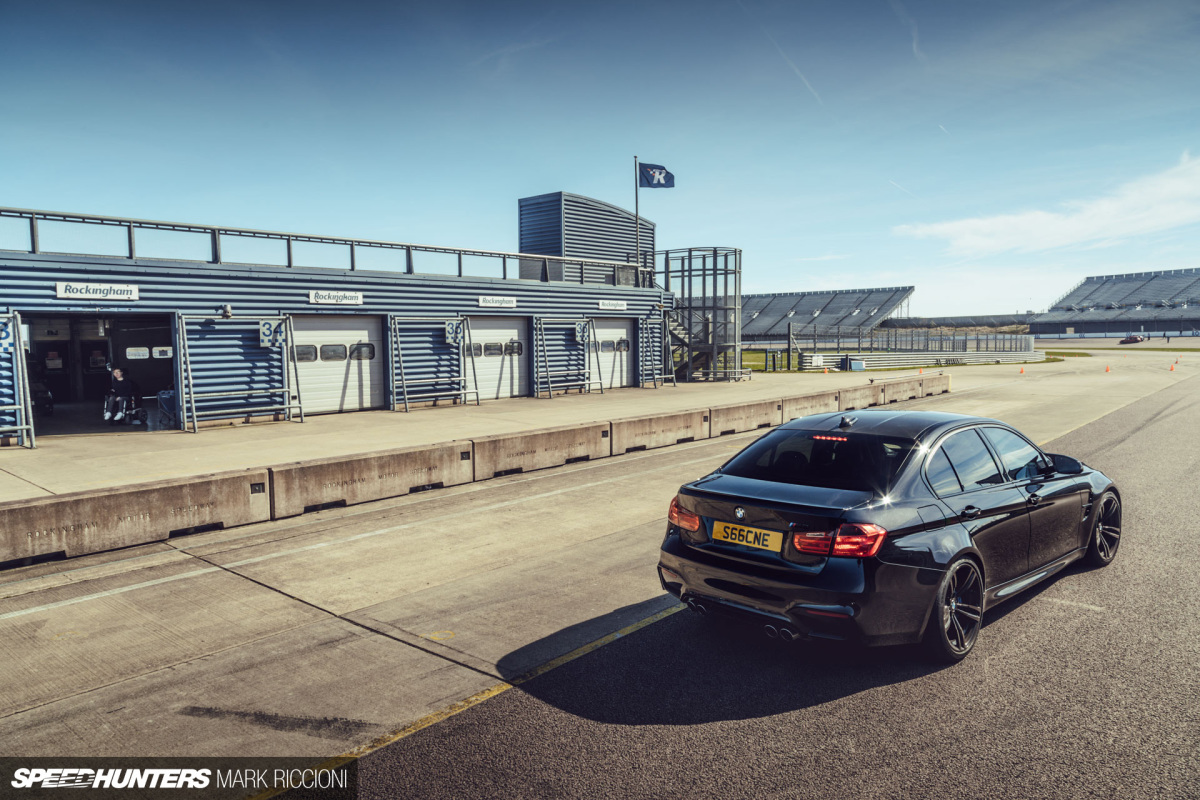 The car I ended up buying had two previous owners, the first being the dealer I purchased it from. When I got the keys, there was little over 14,000 miles on the clock, it had been well looked after, and a nice gentleman called Paolo at Milton Keynes BMW came down a bit on the price, so a deal was done about 10 minutes after I finished test driving it.
Knowing how much of a BMW fan Paddy is, I immediately sent him a text message to share my new purchase. I won't tell you what he replied, but it wasn't pleasant. His hostility became clear when he proceeded to explain that a new M3 in Ireland, with their fierce taxation, is over 100,000 Euros. Madness! So from Paddy's point of view, I am absolutely balling out of control. But the reality is, I picked Project F80 up for not much more than the cost of a new Volkswagen Golf R.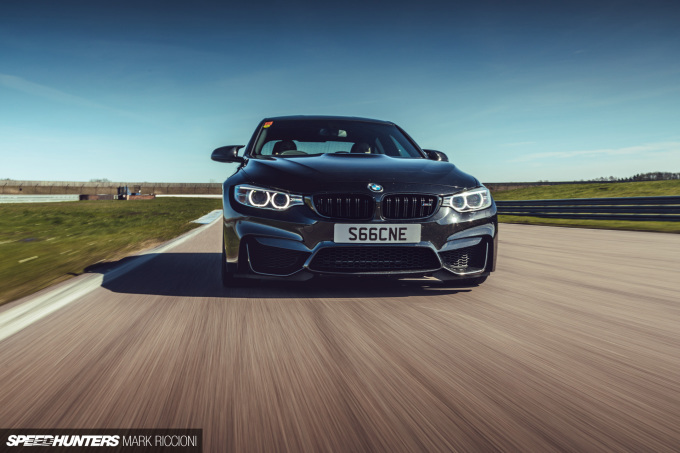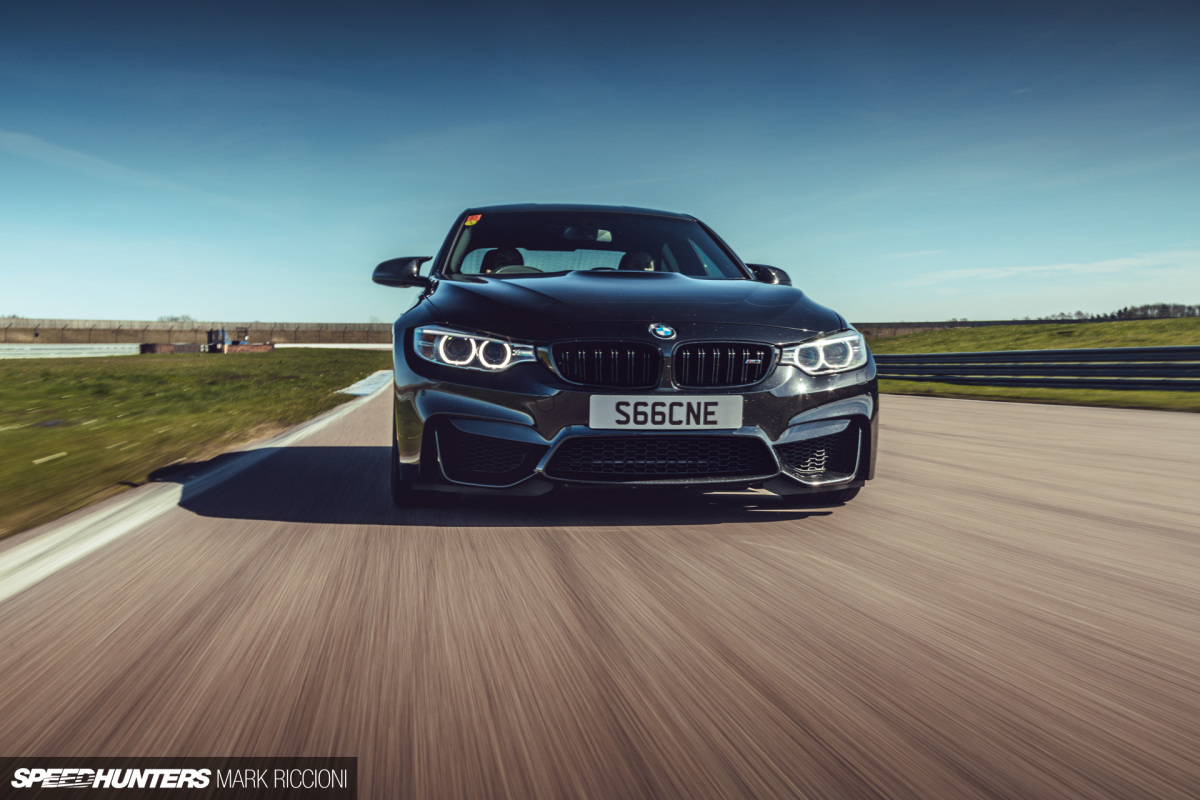 Right now there's an abundance of products available to up the power, better the suspension and increase braking performance of these cars. You can even buy a kidney grille with fancy coloured stripes to show your allegiance to M Power. I don't think that will be on my to-do list, though.
If you're familiar with the F8x chassis, you'll know that the nose sits quite high leaving an unsightly arch gap up front. You might also spot that the chassis isn't stock on my M3. As soon as I collected the car, I drove straight to R-Tec Auto Design who installed an Eibach Pro-Kit which lowered the car 20mm at the front and just 5mm at the rear. Whilst it still didn't sit quite right, it did look a lot better than stock. Most importantly though, R-Tec carried out a full alignment, which was much needed before heading to the track.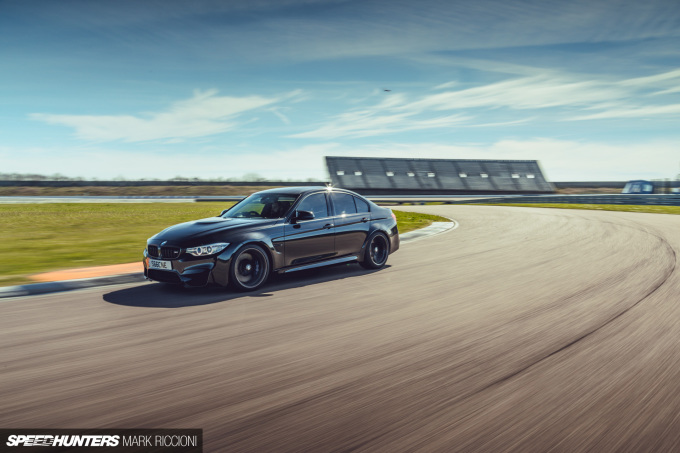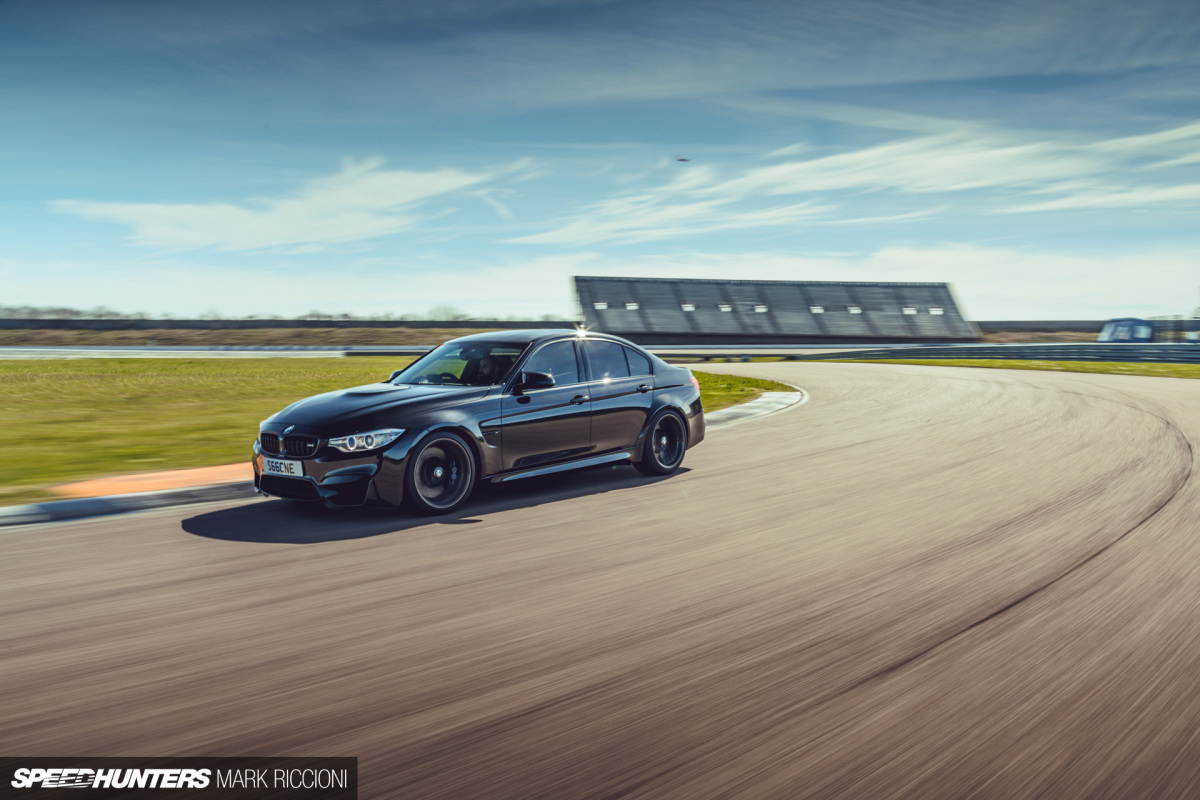 With a claimed 425bhp at the flywheel, the S55 twin-turbocharged 3.0-litre motor was never going to feel slow, but despite having more low-down torque than previous M3 models, it definitely lacked the grunt that the C63 delivered.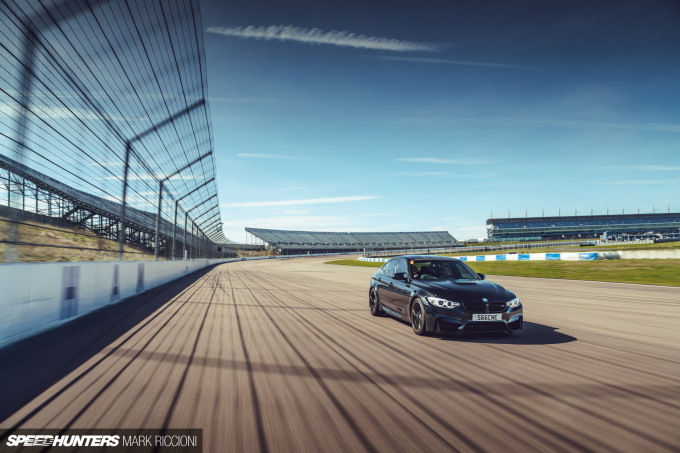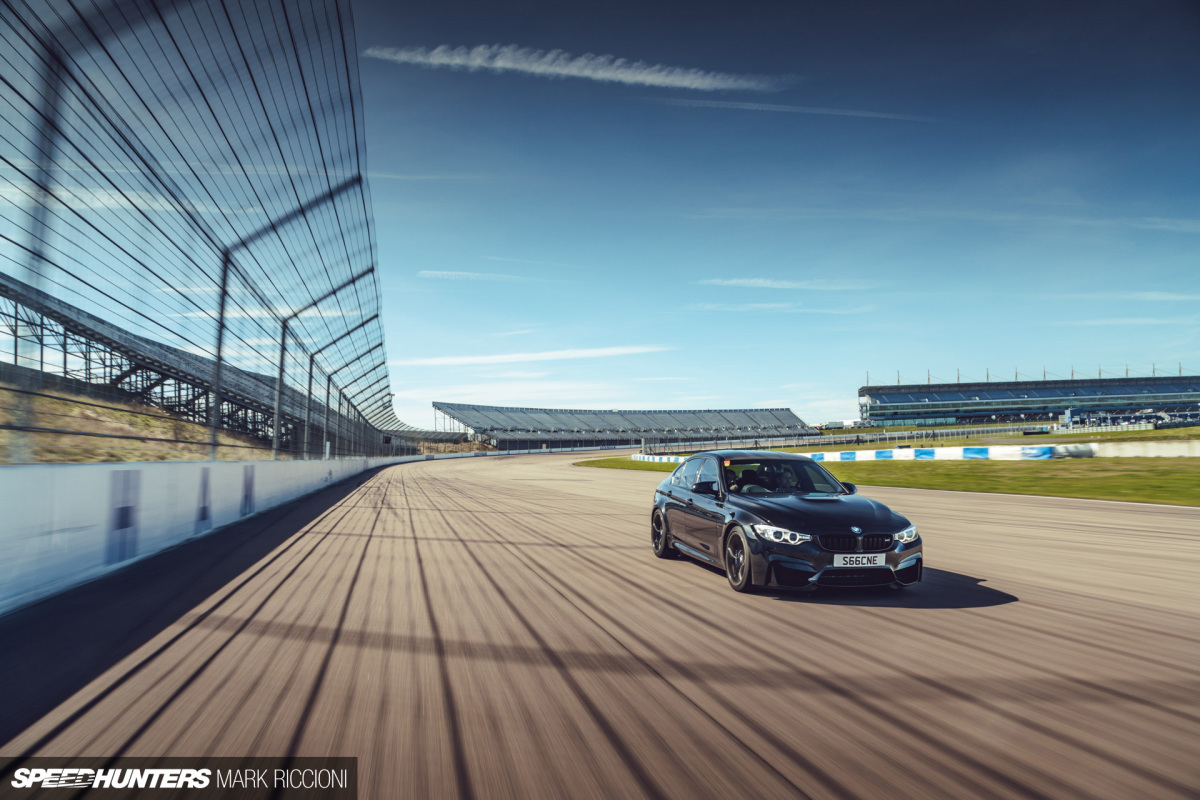 Of course, the engines are chalk and cheese, but I knew that I wanted to recalibrate the ECU as soon as possible to make the M3 more exciting.
With one track day under my belt at Rockingham, brake fade had also shown up as an issue. To resolve this, I booked the car in at Regal Autosport who fitted Pagid RS29 pads front and rear, installed Tarox braided brake lines and upgraded the brake fluid. The total for these parts came in at just over a grand.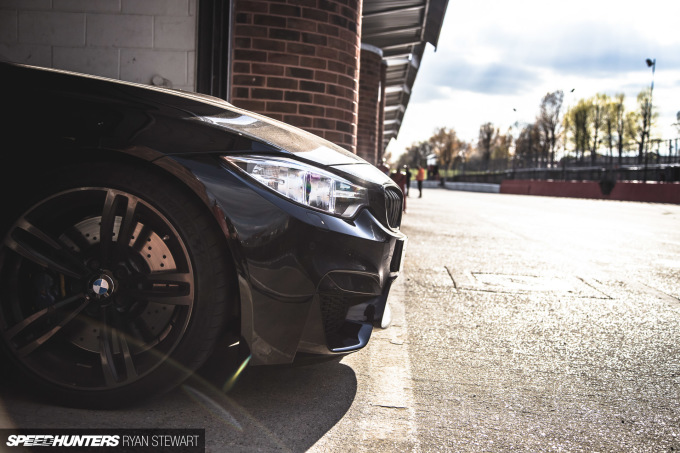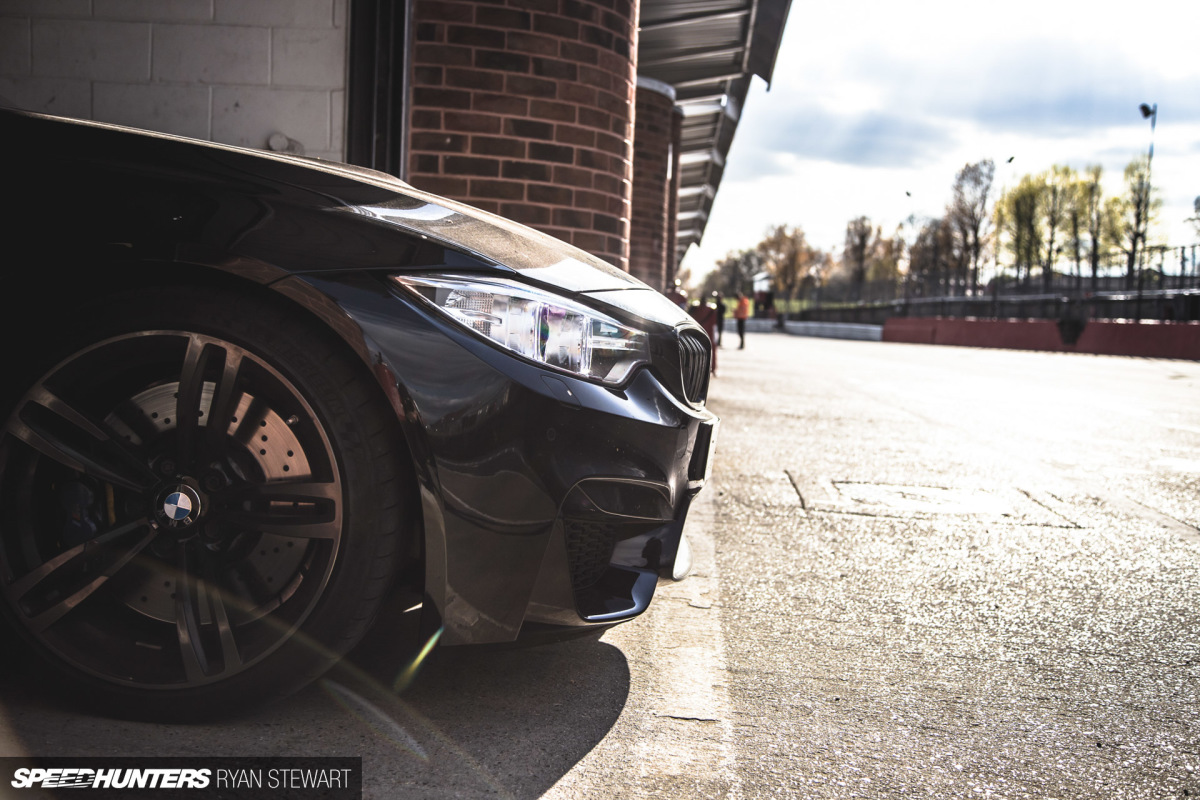 Keen to test the new braking setup, I left Regal and headed straight to Brands Hatch for one of their evening track days.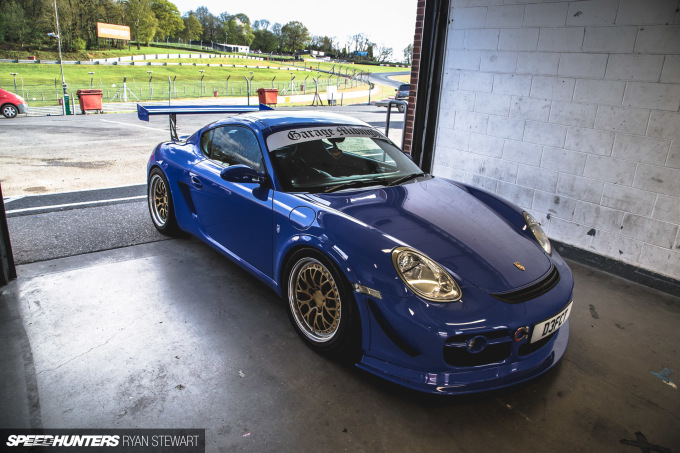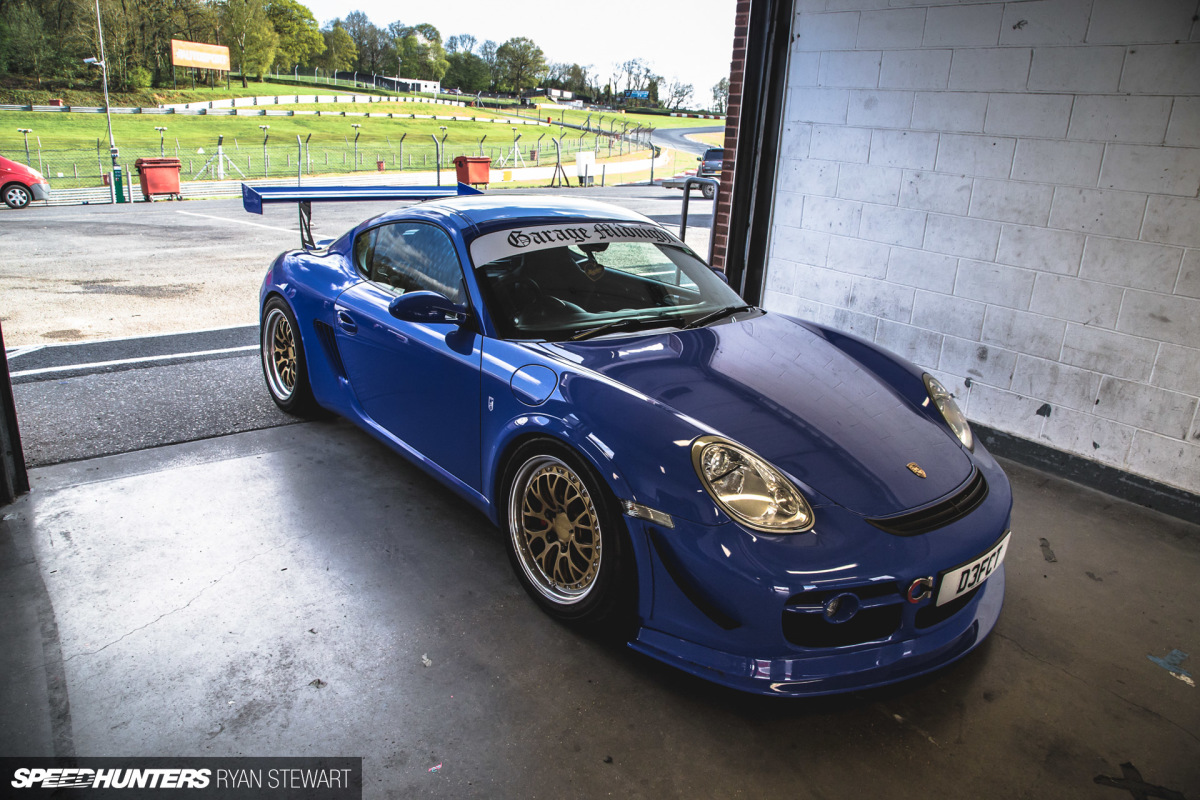 Ryan met me there in his Cayman which, as we thought, failed the 105dB noise limit by tripping the meter at something silly like 109dB. I knew the Porsche was loud, but that seemed a bit daft. Ry, let it never be said that you do things by halves! Suffice to say, the Cayman sat in the pit garage for the evening.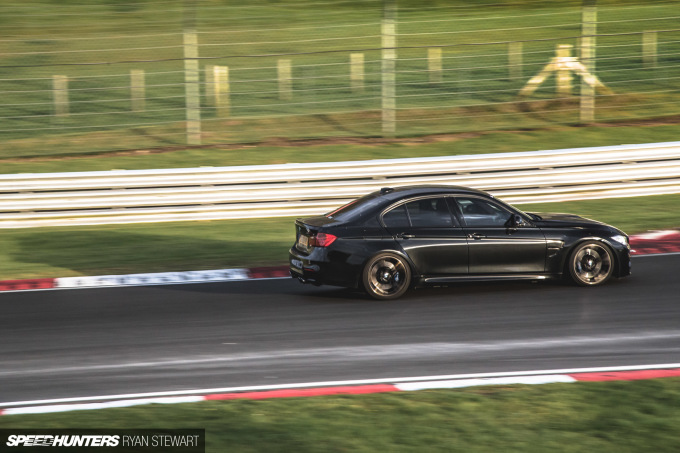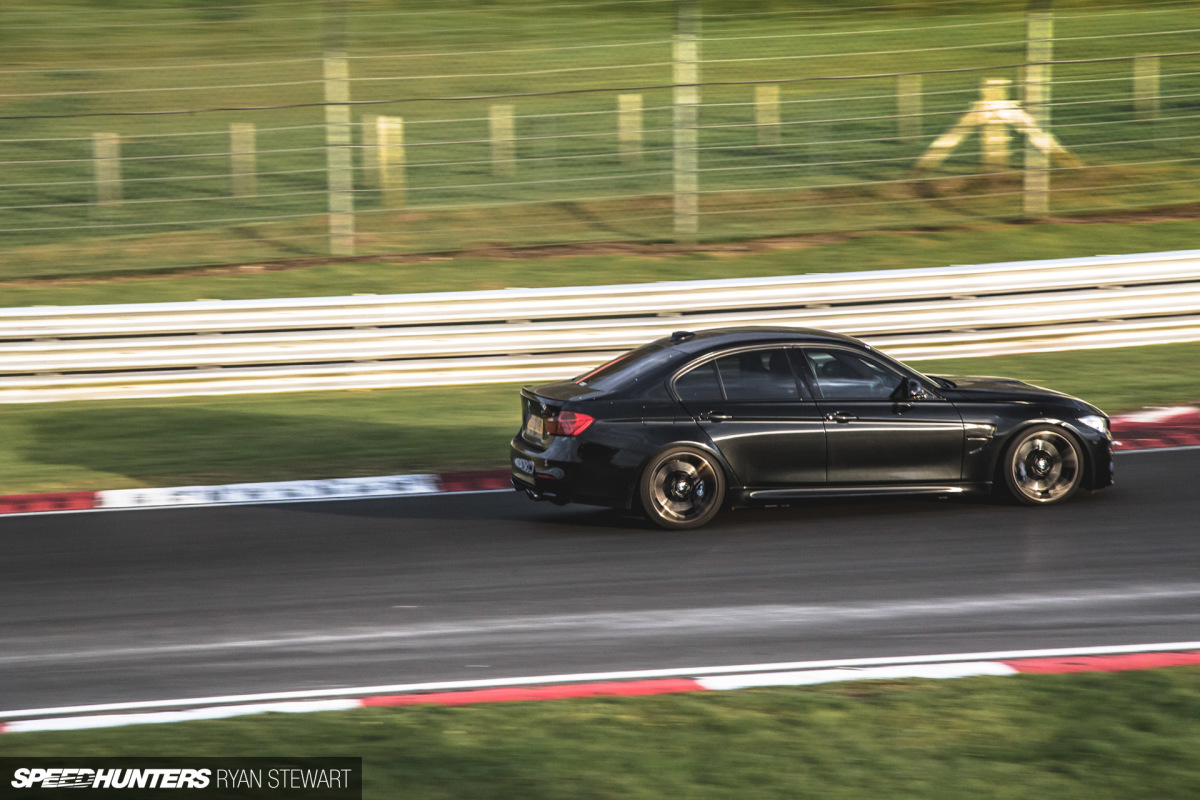 A couple of laps saw the fresh pads bedded-in and several 20 to 30-minute sessions out on track confirmed that fade is now a thing of the past. The new Pagid and Tarox combo resulted in braking performance that is much improved over stock; there's a lot more bite and the brakes now far exceed my ability as a driver. That's probably the best grand I've spent in a while.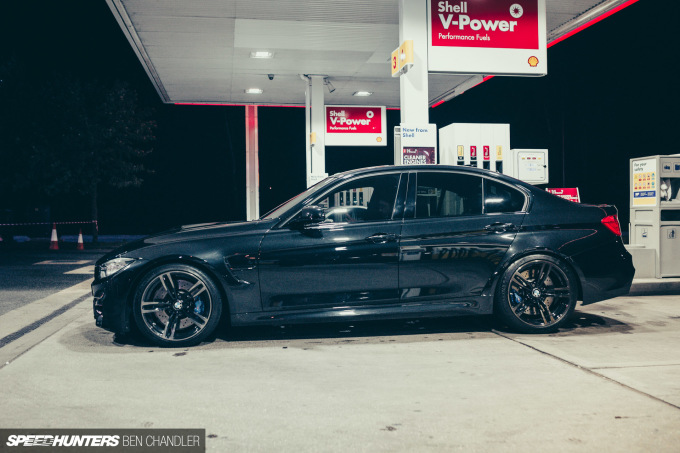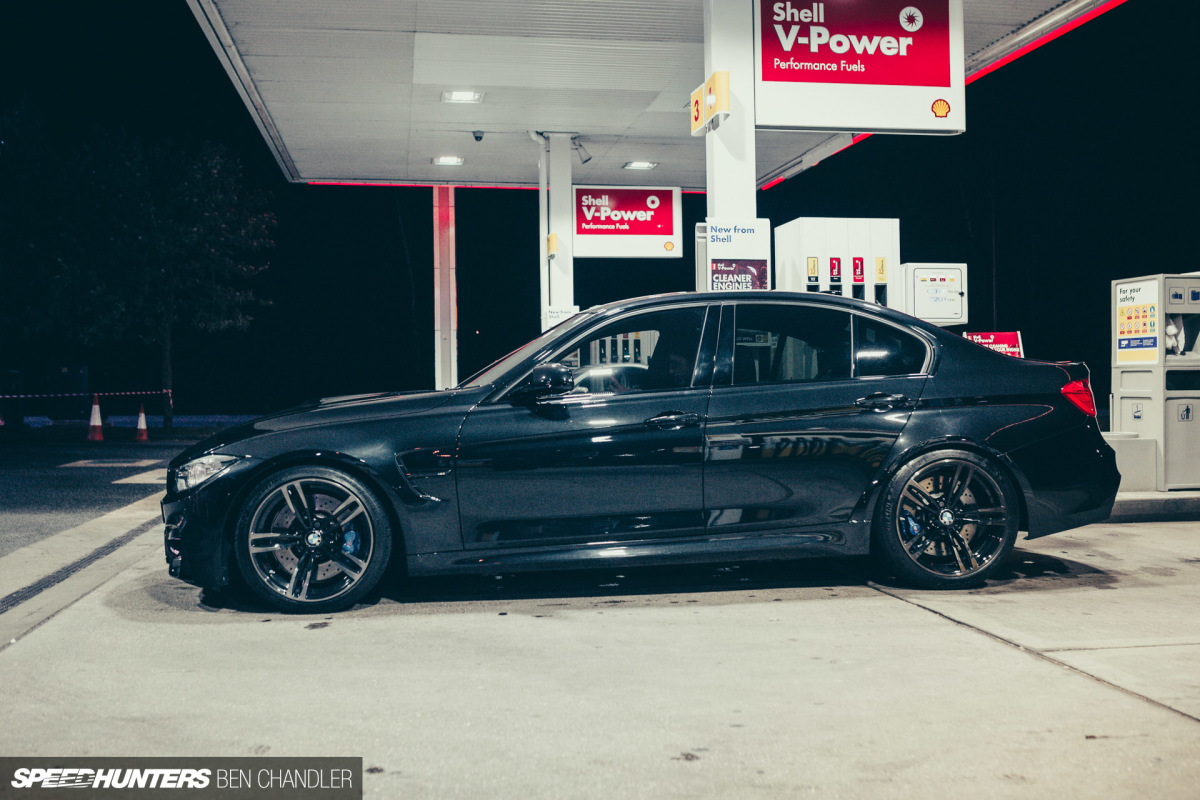 Whilst getting the brakes upgraded, I had a proper chat with Ash Stewart at Regal Autosport who ran me through VF Engineering's HEX tuning options for the M3. Regal has been VF Engineering's European dealer since the dawn of time and they have recalibrated the software on lots of F8xs, so when it came to cracking open my M3's ECU I would be in safe hands.
I'd also been following the 80-plus page thread on f80.bimmerpost.com and knew that I didn't want to run a piggyback ECU tuning system. Having a tuning box installed wasn't for me, so before you could say 'Stop-Start delete' and 'M4 GTS features', I was booked in. A couple of weeks later, I left London at 5:00am with a full tank of Shell V-Power, headed down to Southampton for a day of M3 tuning with boss man, Chris Stewart.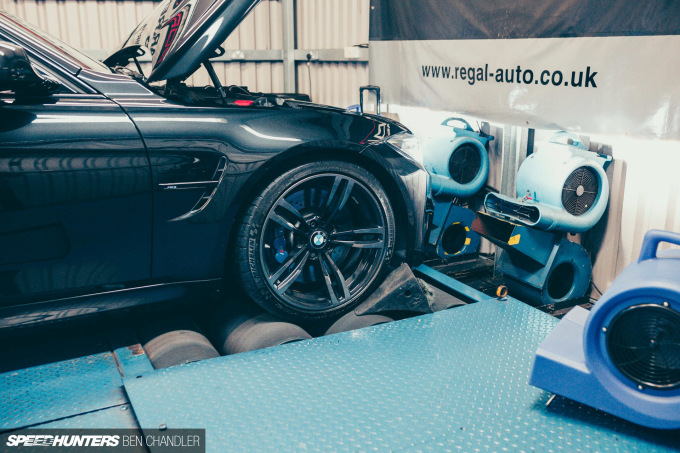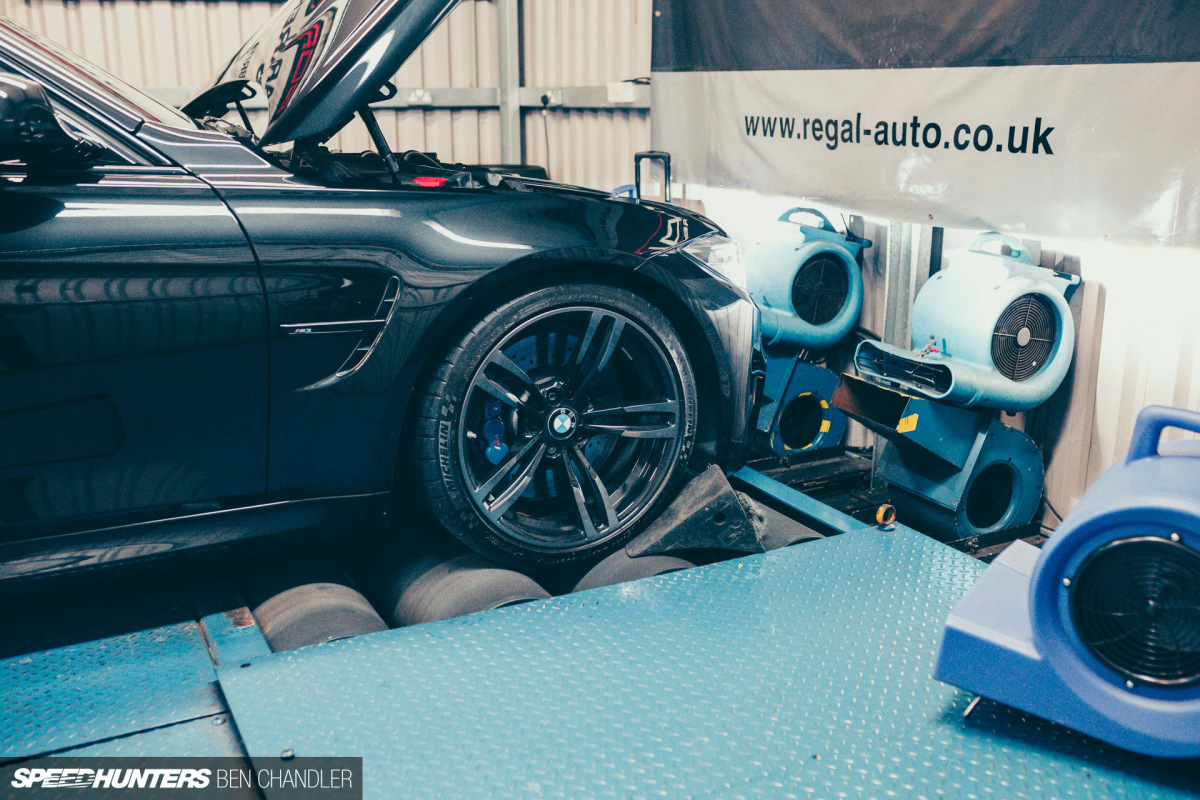 First things first, the M3 was put on Regal's 4WD Mustang dyno to lay down the base figures. BMW claims 425bhp at the flywheel, but I've heard owners reporting that their stock cars are making more when dyno tested.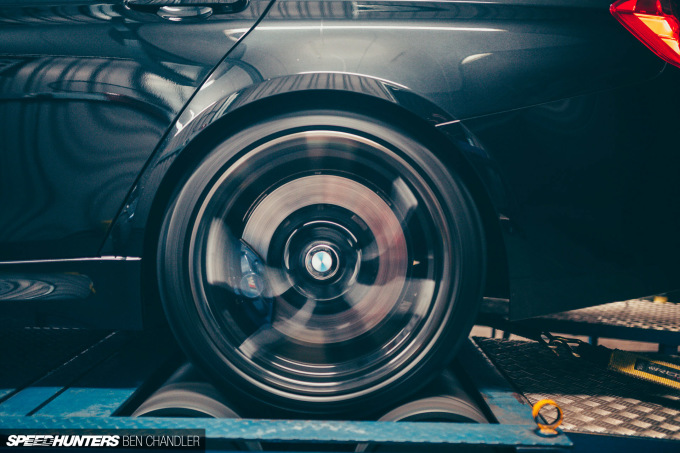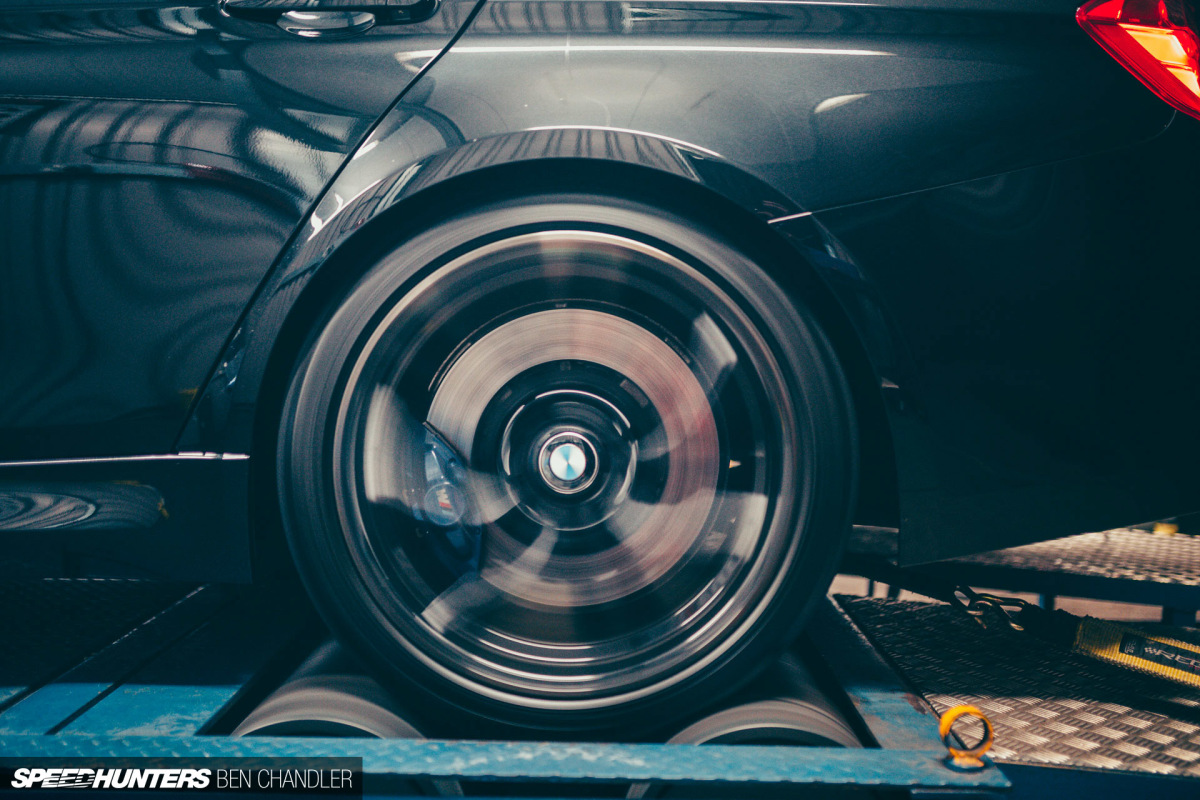 This would be the first time the M3 had been on a dyno, so obviously I was interested to see what figures it was putting out.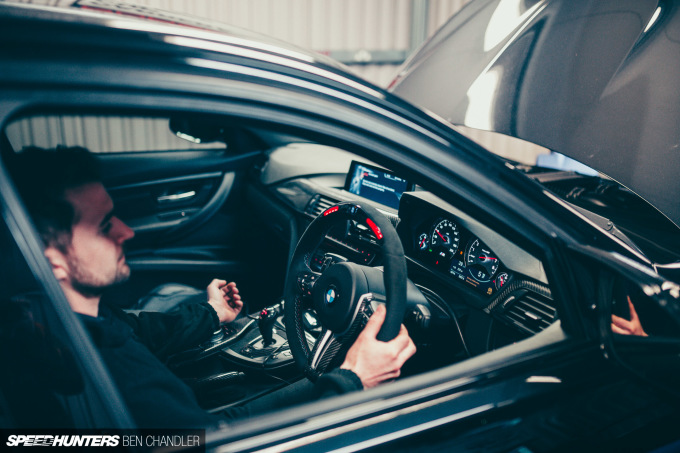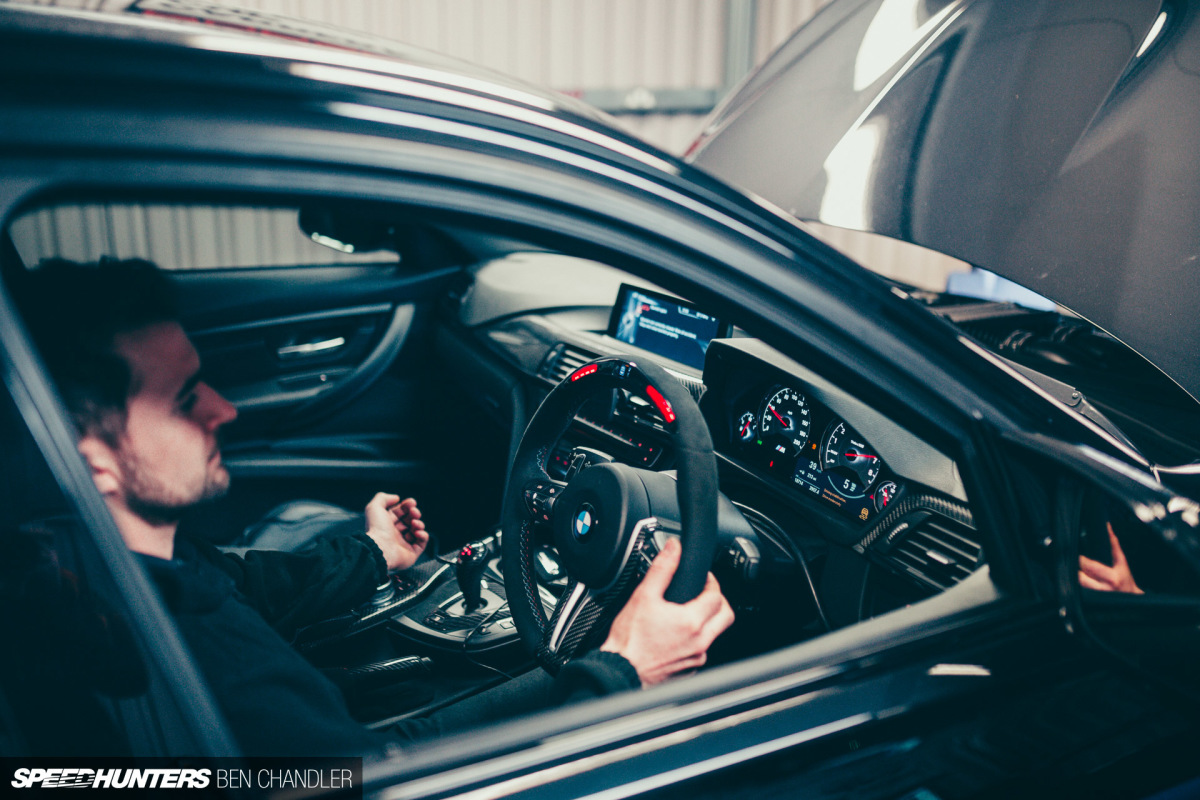 Looking at the flashy, light-up M Performance steering wheel do its thing with someone else at the wheel, was also a first. I won't pretend for a single second that one of the reasons I bought this car wasn't to have that ritzy thing fitted. It's functional, though, right?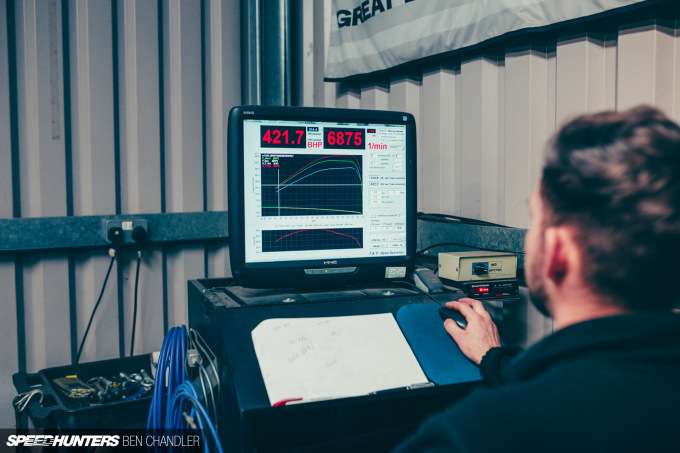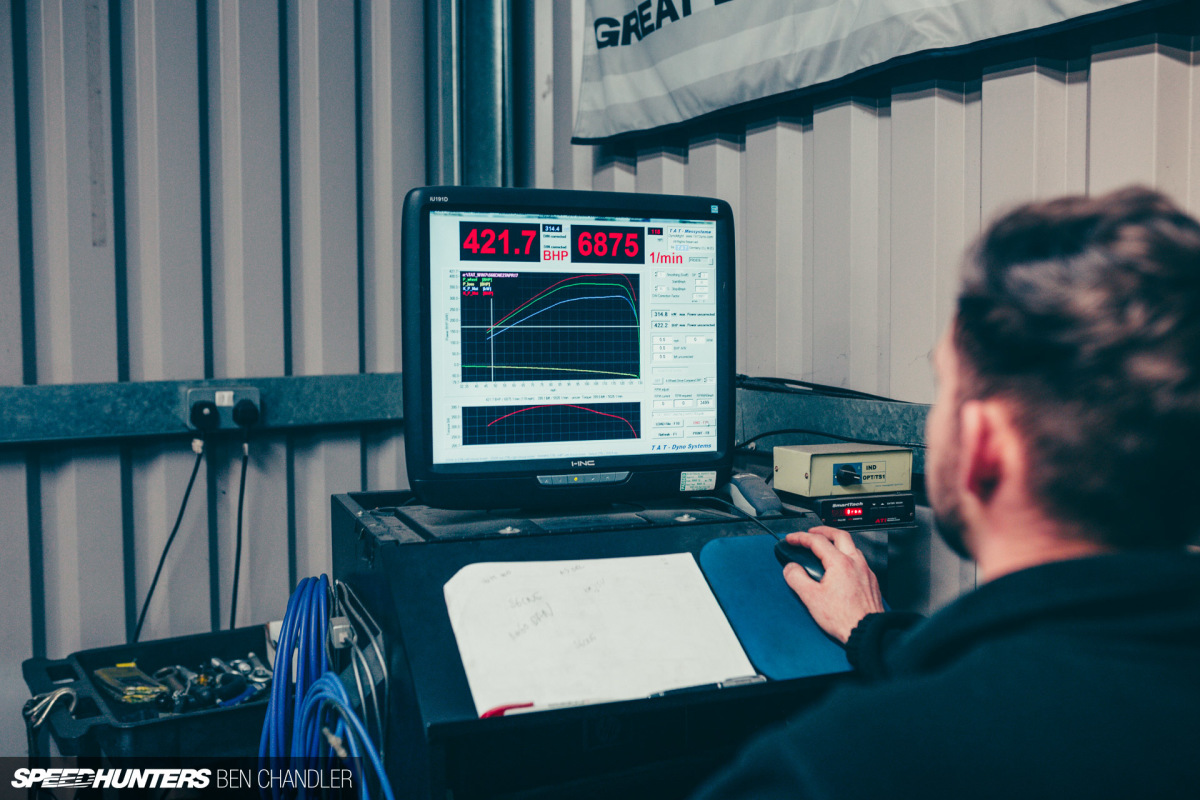 A few power runs saw Project F80 consistently put out 421bhp at the flywheel. Regal's head technician, also called Ben, set to work on the next step, which would involve removing the ECU.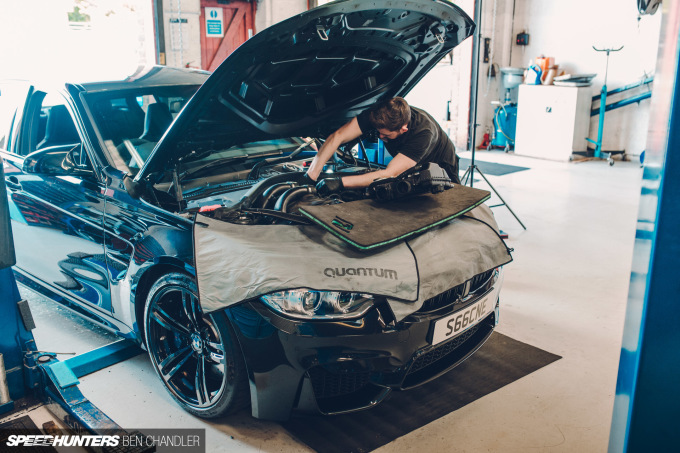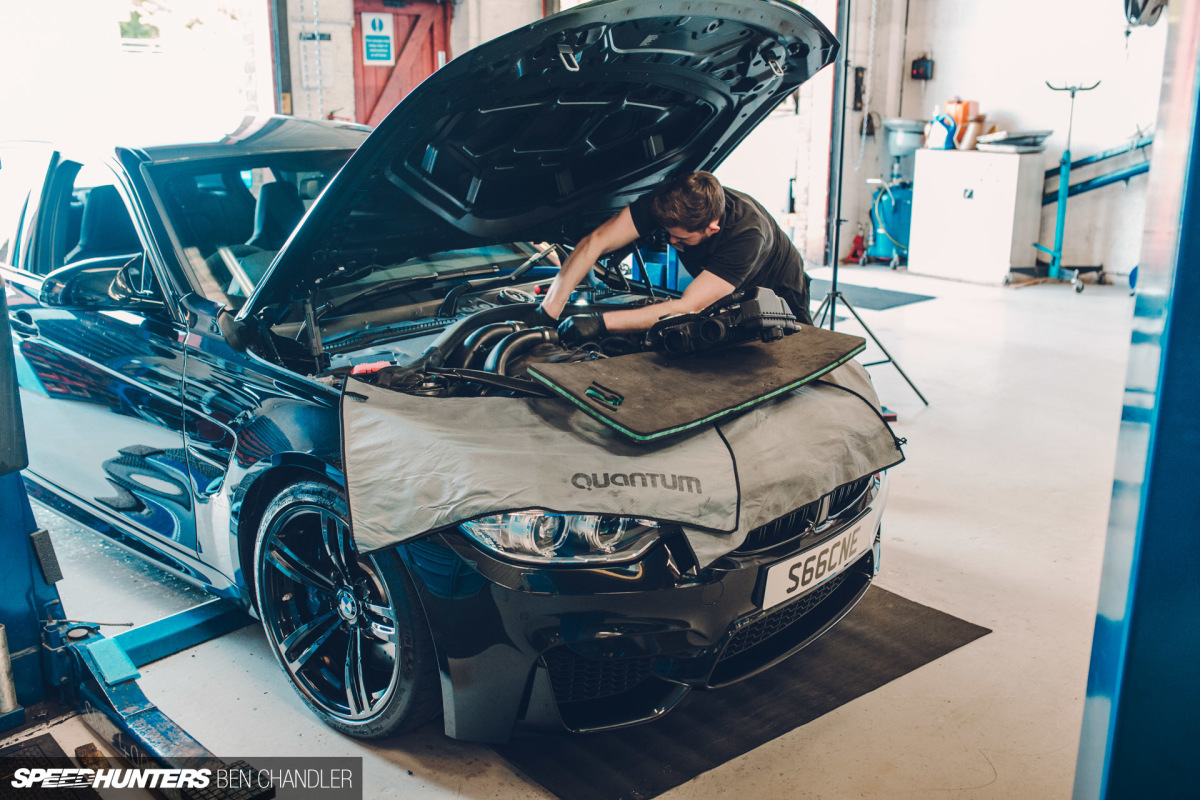 The engine's electronic control unit is located under the charge-cooler on the F8x and this has to be removed to access the password, Eprom reads, and patch the ECU to allow OBD port writing. Once this is done, the ECU can be flashed simply by using a laptop with Windows, even by an idiot like me, apparently.
The photos make this process look daunting, but Ben worked his way through this task methodically. It does help that Regal has carried out this procedure on a lot of F8x cars, so they're very familiar with the work required to remove the ECU for reads.
Although I don't think I'd attempt it myself, if you wanted to do it there are plenty of guides on YouTube showing how to remove the ECU in under half an hour using simple tools. This allows you to send off your ECU to Regal or VF Engineering for the updates that effectively allow you to tune your M3 yourself using the HEX Tuning online portal.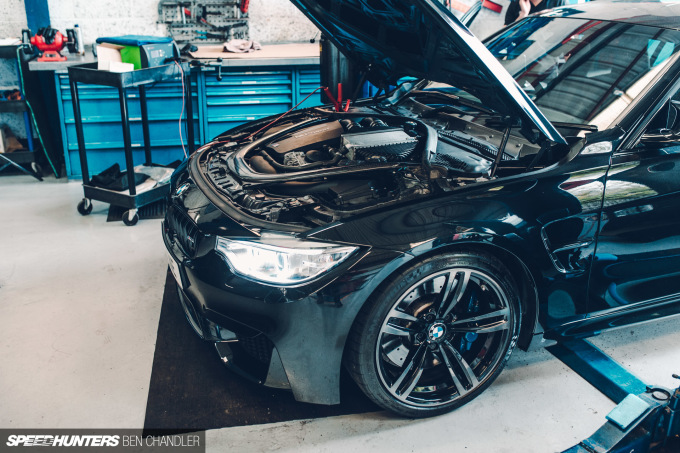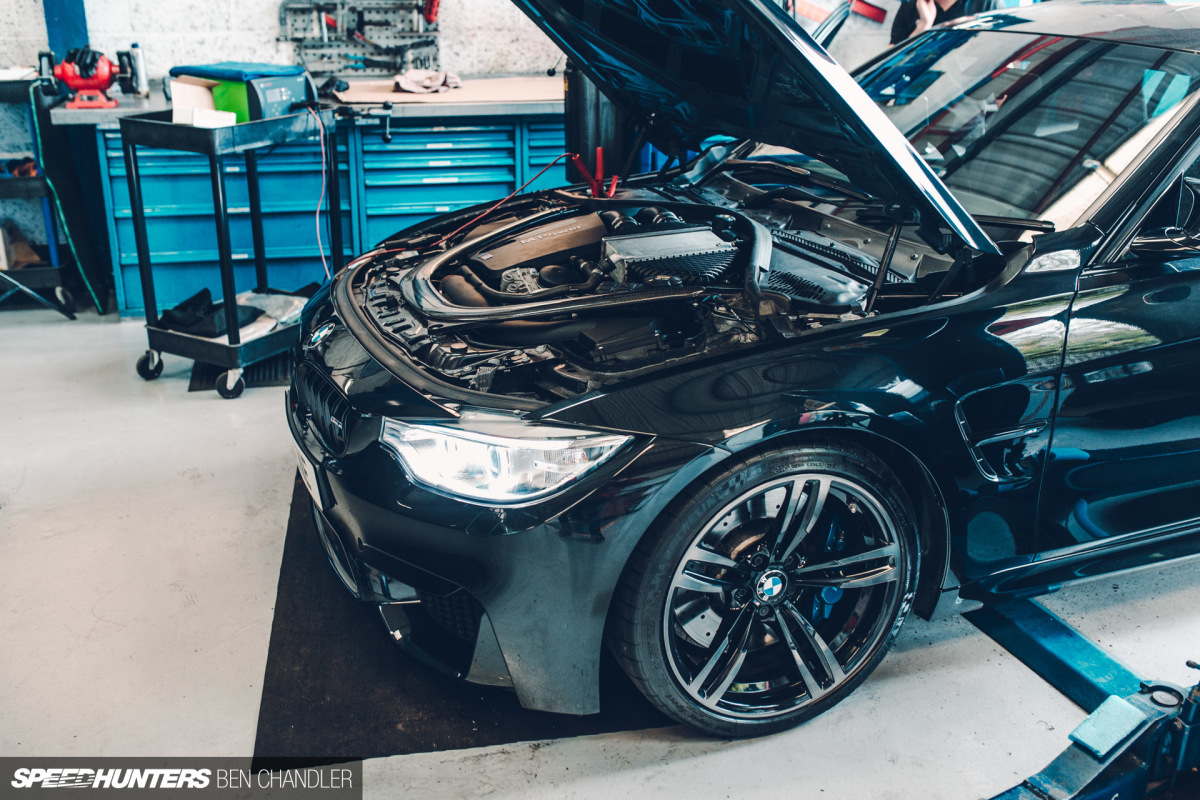 As has been said many times before, refitting is the reverse of removal. Of course, I left that to the professionals, too. With the ECU work carried out I could now 'flash' my M3 via the OBD port.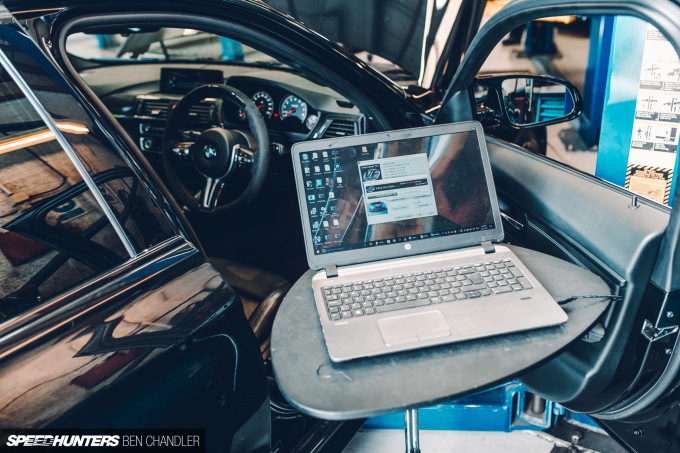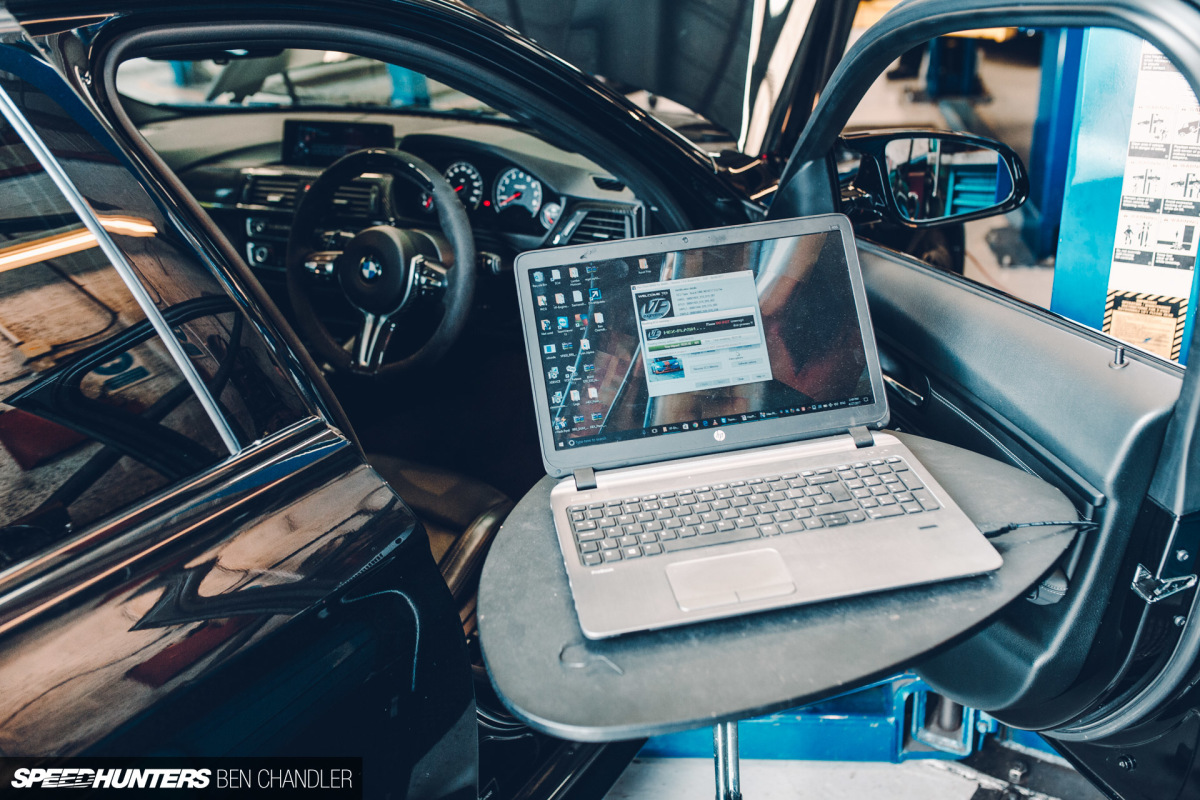 There's a trio of upgrade paths on offer with the HEX Tuning system and I opted to tick a box from all three of these. At the time, I wasn't fitting downpipes to the M3, so I had to start out with a Stage 1 tune which promised a fairly decent power increase and an even more hefty improvement of torque. The 3.0-litre twin-turbo S55 is not short on power in stock form, but the way it's delivered isn't what I would describe as exciting.
HEX Tuning is an ECU recalibration that works in conjunction with the OEM diagnostic and safety features, so this should result in more consistent and reliable power than a piggyback tune. I've driven cars with tuning boxes installed and there's this lack of finesse which makes the throttle feel distinctly unoriginal. I was hoping the M3 would still feel, well, like an M3 but just better.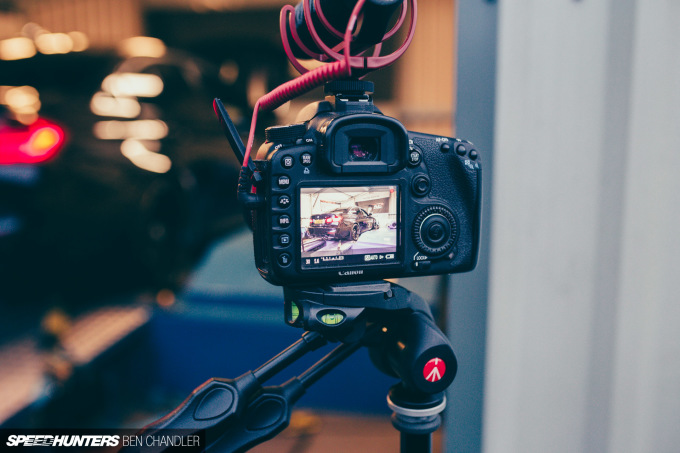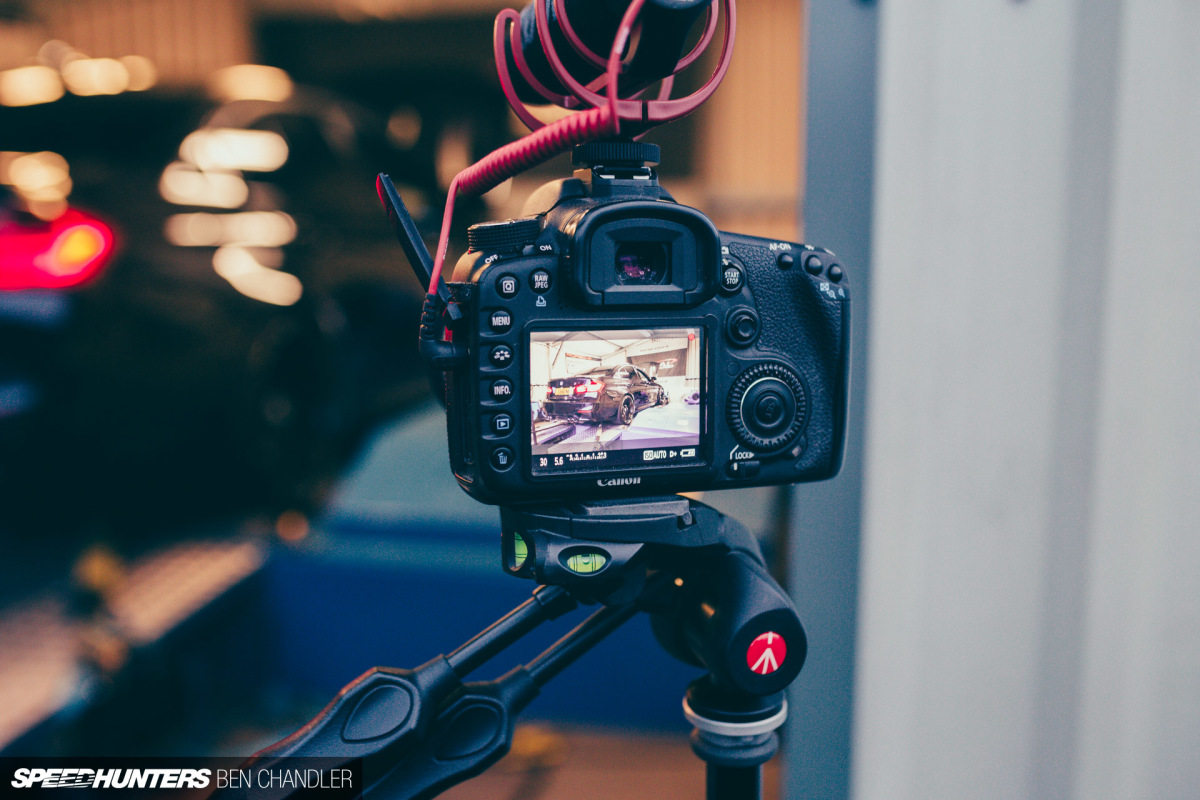 On top of the ECU upgrade, I also opted for the TCU tune, which would deliver a higher clamping force for improved torque delivery. Alongside this, the HEX engineers have increased shift speeds and improved the rev matching making going up and down the gears quicker. To be honest, I was almost more into the idea of having the transmission tuned simply because, in stock form, the M3's shifts are pretty fierce. Although HEX doesn't shout about it, Ash and Chris at Regal said that the DCT would be faster and smoother.
Perhaps the most exciting of the three upgrades on offer is the part HEX call 'Features'. With this option box ticked on your HEX booking form you gain a whole bunch of features that are inspired by the M4 GTS. Read that as a new top speed limit set to a fairly rowdy 192mph (309km/h), GTS start-up sequence complete with exhaust 'roar', and there's a lovely throttle overrun that delivers an exhaust burble, too. There's also a clever GTS 'Sport Display' upgrade, which shows the power and torque readings in the GTS format. I'll capture a video of all this in my next update.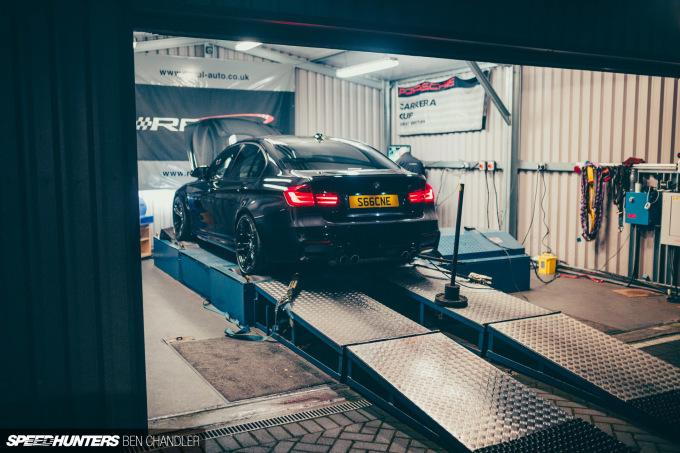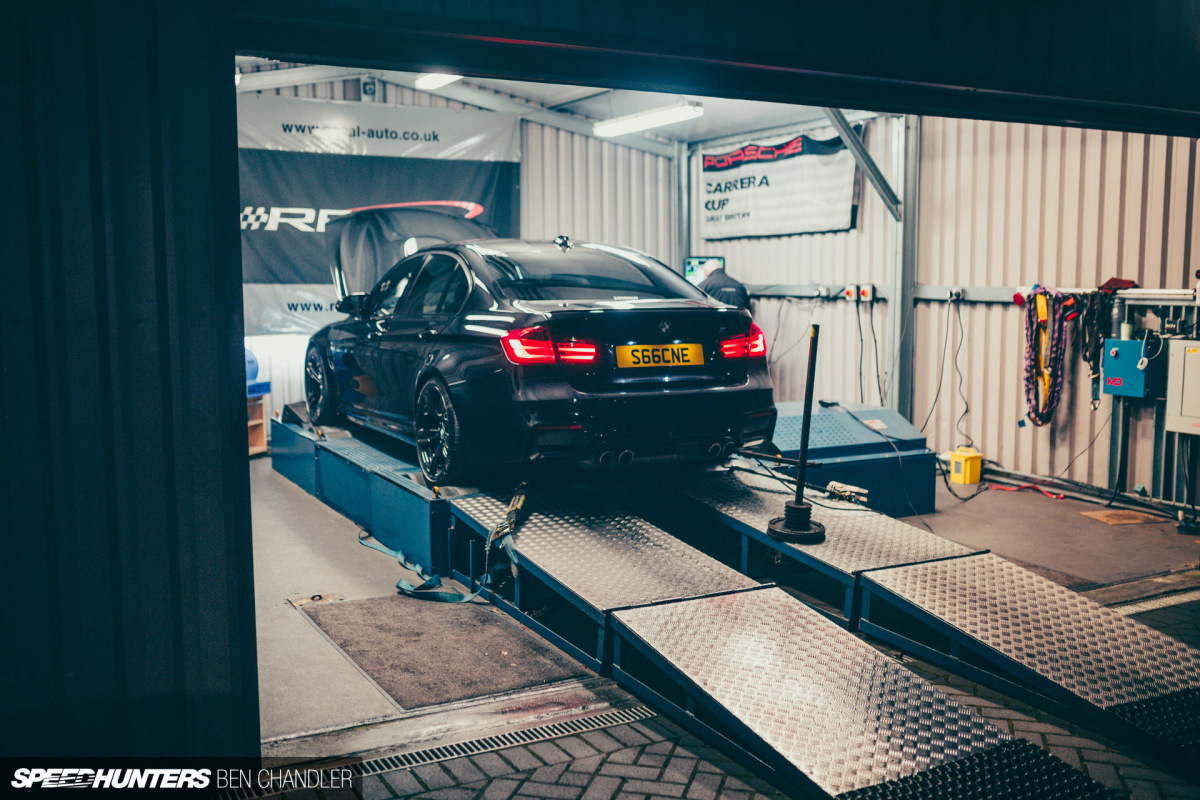 With all these upgrades taken care of, the M3 was back on the Regal dyno. It's always cool watching your car being tested and I was excited to see what the results were.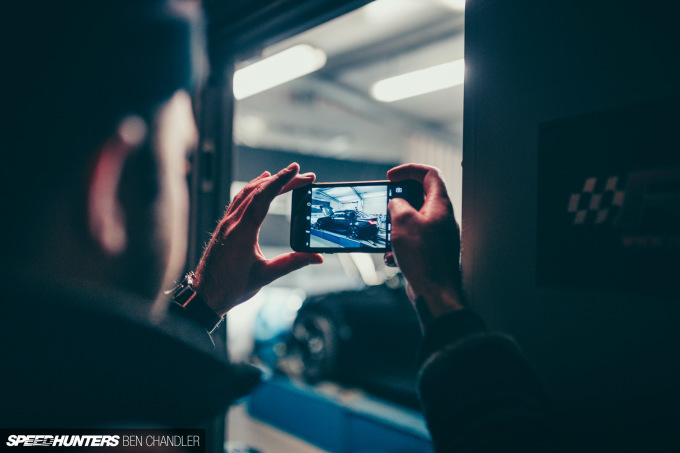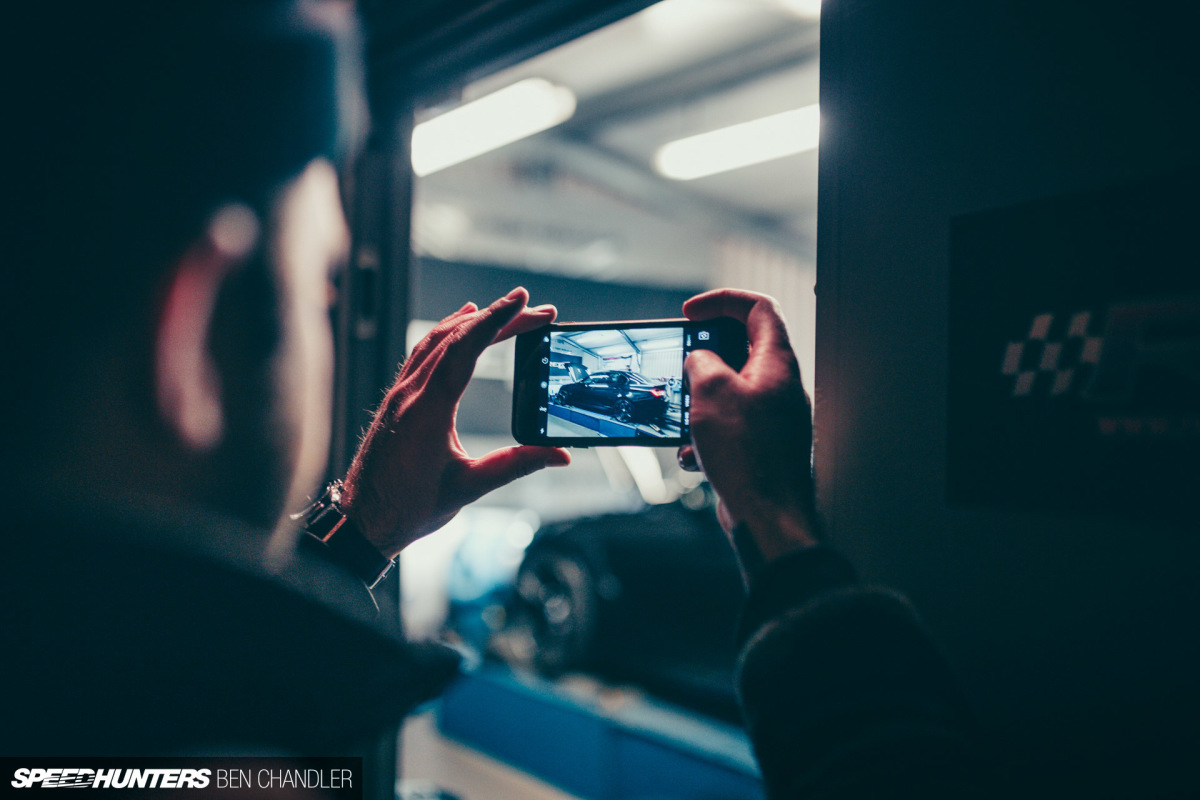 What power would it make? What would the drive home be like? And how many beers would I need to buy the guys at Regal for all their hard work? Many questions were soon about to be answered.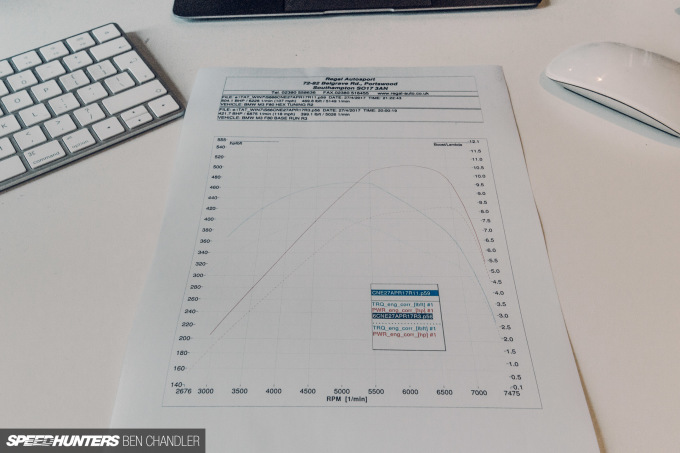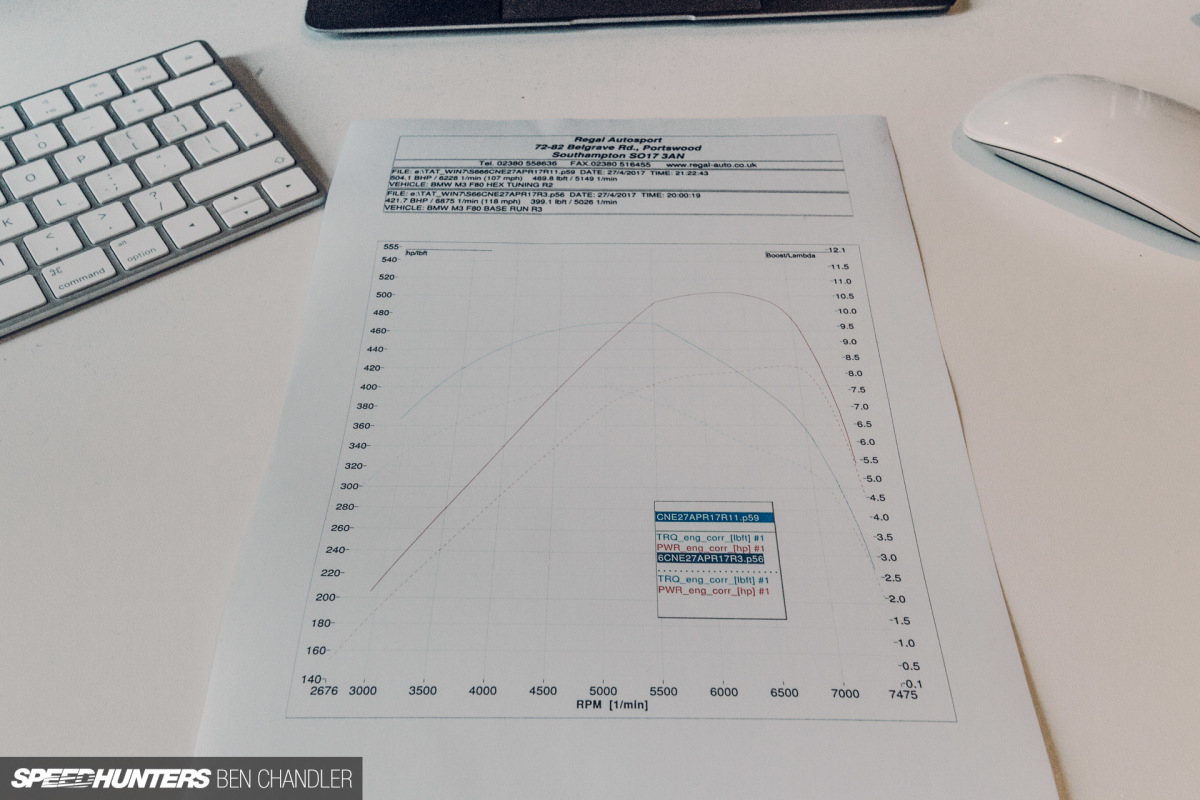 In stock form Project F80 made 421.7bhp at 6,875rpm, whilst torque was 399.1lb-ft at 5,026rpm. You can see from the print out above the HEX Stage 1 tune delivered 504.1bhp at 6,228rpm and 469.8lb-ft of torque at 5,149rpm. As a daily driver, the increase in torque is almost more important than the power, and the Stage 1 tune makes the same amount of torque at around 3,250rpm as the stock car did at its peak near 5,000rpm.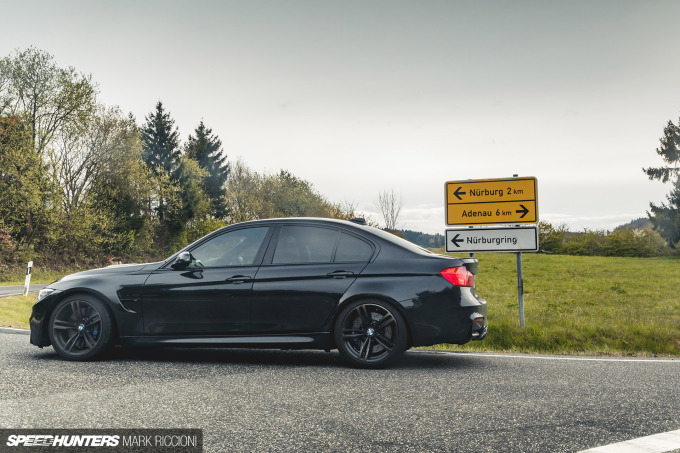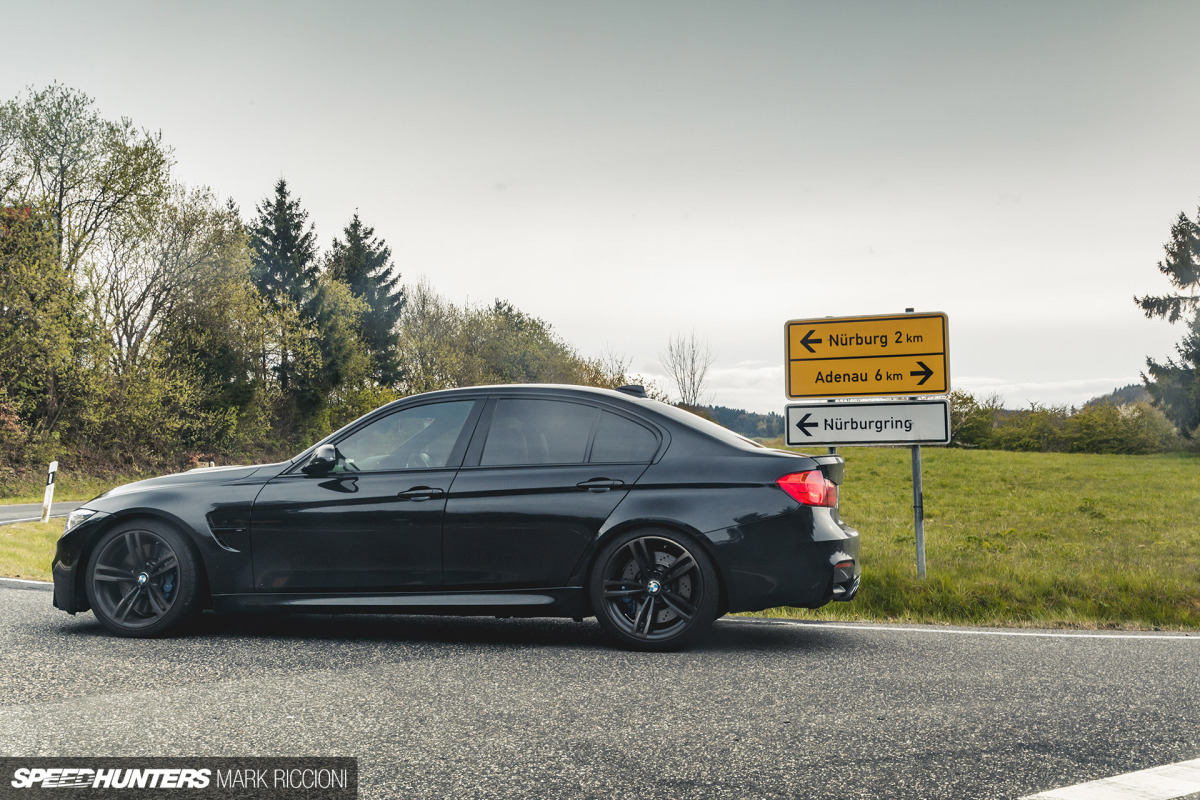 The absolute numbers don't really matter, unless you want to brag to your mates that you have a 500 horsepower car, of course. What's important is the relative difference. What Project F80 drove like in the real world would be the most telling test.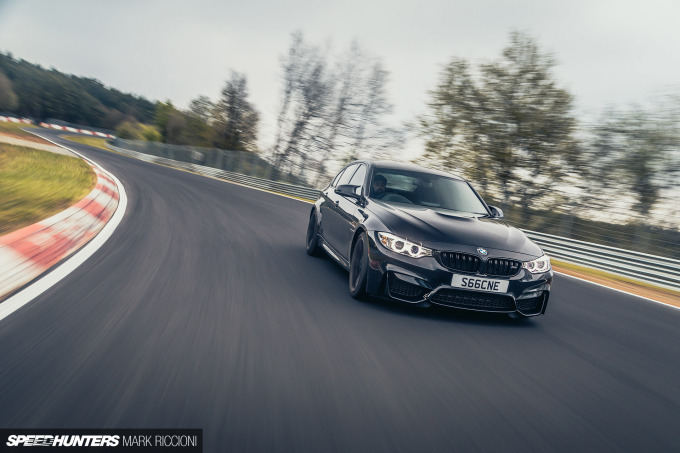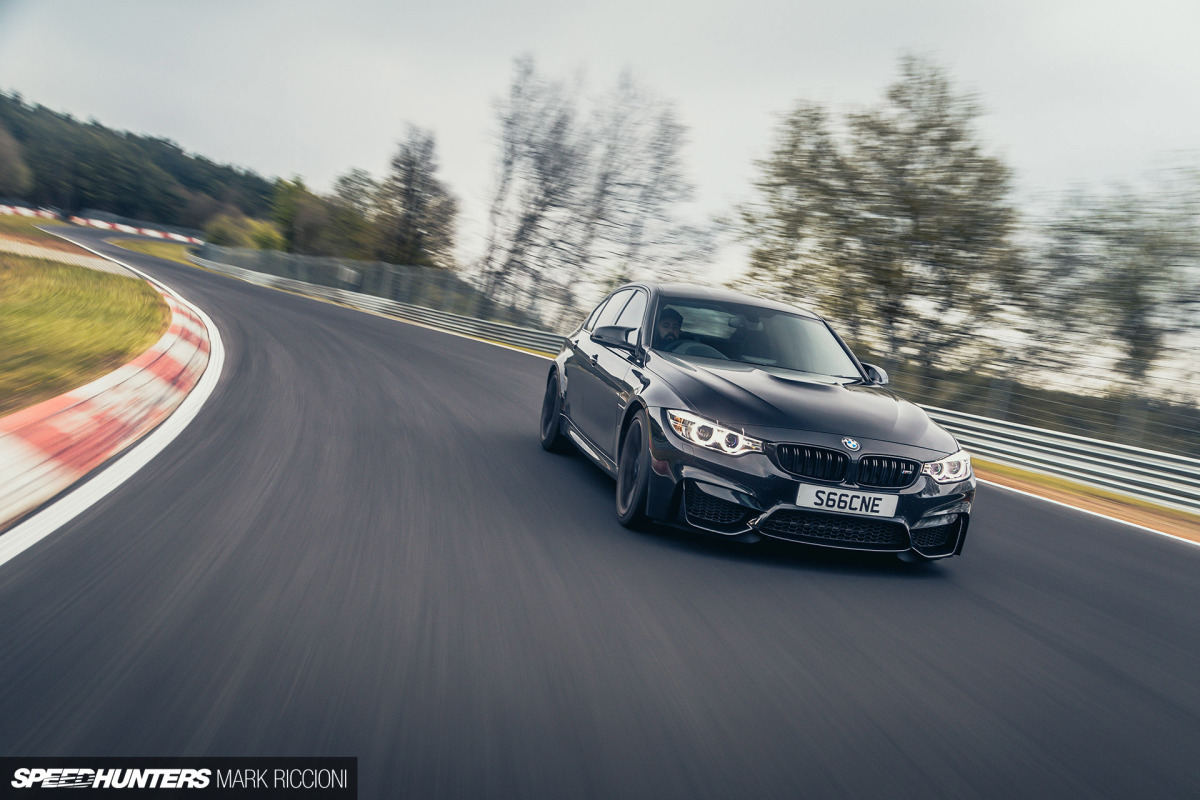 So what's it like with an extra 82bhp and 70lb-ft, along with this newfound power and torque coming in much sooner through the rev range? It's outstanding. After the short 100-mile-or-so drive home from Regal, I made some notes. As previously mentioned, on their website HEX don't really shout about how much smoother the shifts will become, but the difference is huge. Even in mode 3, the most aggressive shifting option, gear changes are fast and super-smooth.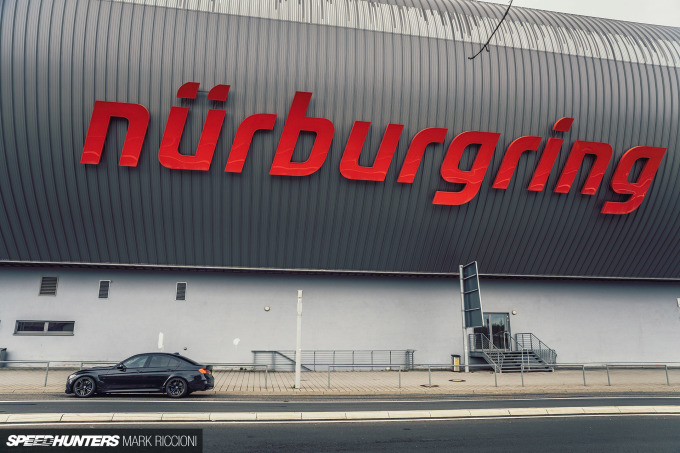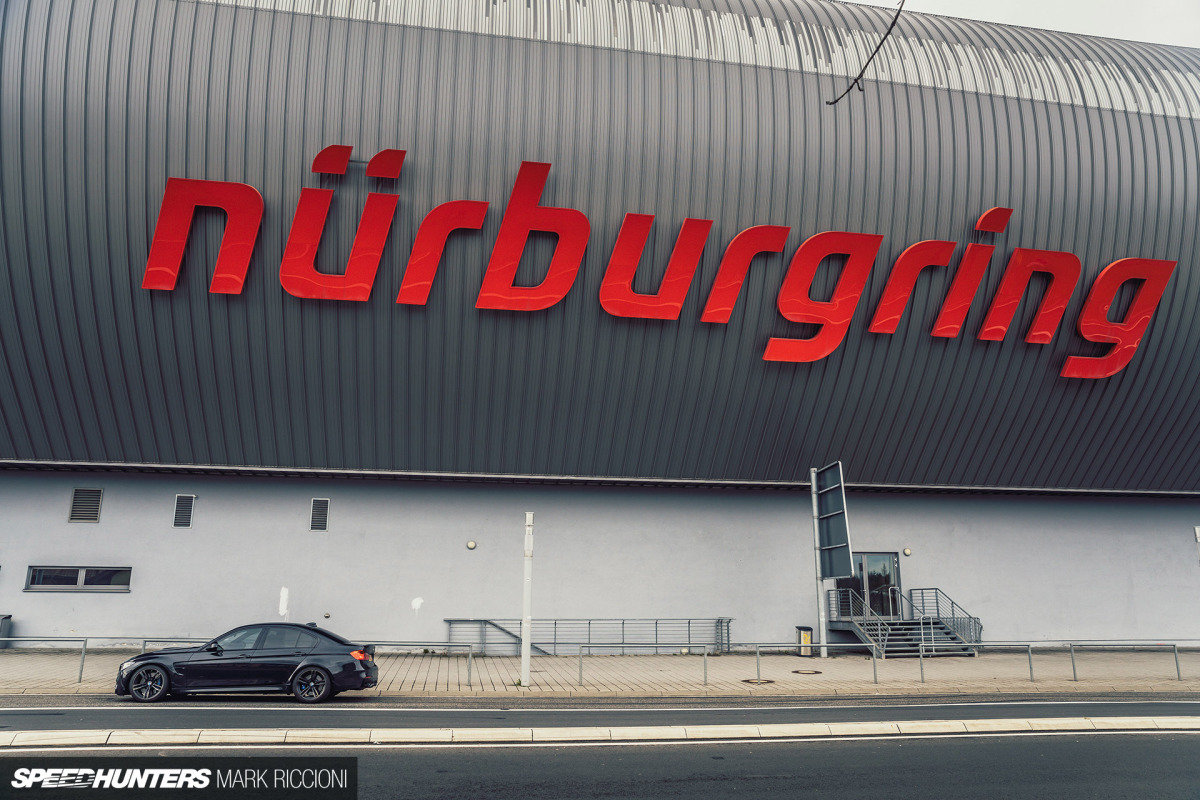 The car is also a lot more fun to drive in manual mode now. Shortly after the tune at Regal, I headed to Destination Nürburgring, which, as you can guess, is held at some famous place in Germany.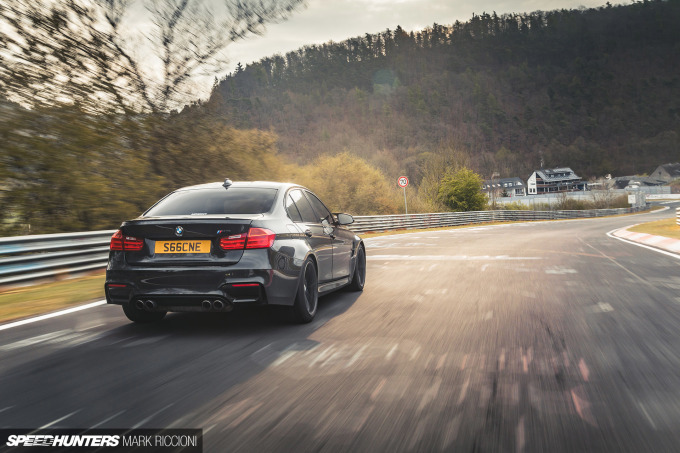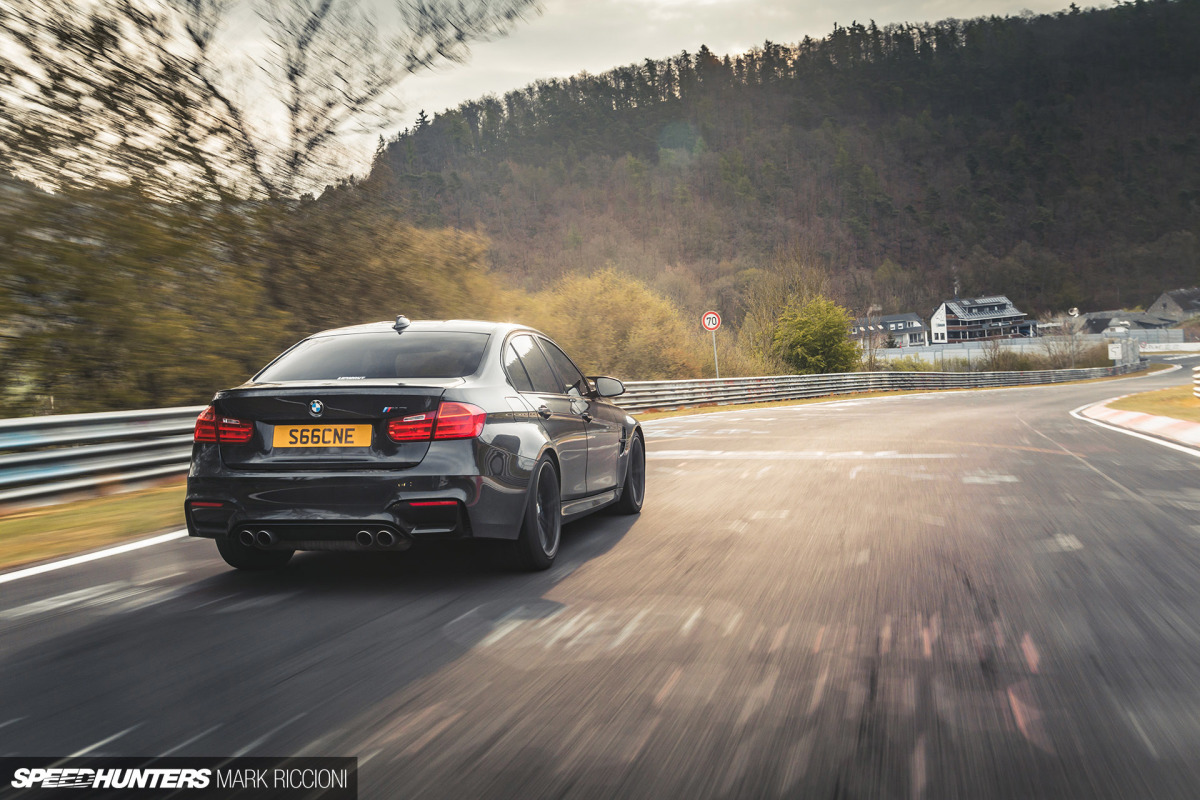 The increase in torque allows you to leave the car in 7th gear on the motorway for most of the time. In manual mode, opening the throttle sees the speed build rapidly as you pass other cars without the need to shift down. This now makes Project F80 feel extra smooth to drive on long journeys.
Then there's the noise. The S55 is not known for being the sweetest sounding motor, but the HEX tuning system changes this. Turbos spool up angrily and deliver a lovely noise into the cabin as they suck in extra air. With the new GTS features, the exhaust pops and burbles without being intrusive. Now when I get into the city and encounter traffic, I simply select 'Efficiency' mode to gain a smooth and easy-to-manage throttle, along with less 'roar' from the exhaust. You really can have the best of both with this Stage 1 system.
It's All I Had
Is the speed limiter really set to 192mph? Well, I wanted this software upgrade to be a comprehensive long-term test. You might have spotted that the date on the dyno print out is showing April 27th, so over the past five months I've driven Project F80 as much as possible. I can't tell you if the top speed limit of 192mph that HEX has set is real. But what I can tell you, after over 10,000 miles, 190mph (306km/h) and two sets of tyres, is this: HEX, VF Engineering and Regal Autosport have taken the best car I have ever owned and made it twice as exciting.
I can also tell you that impromptu video making on Das Autobahn, with a GoPro Hero Session in your mouth, doesn't make for particularly great footage. Hopefully you get the idea, though. 190mph comes with ease and cars disappear in your mirrors very swiftly. Next time, I promise to do better with the camera work, and if I don't run out of road, I'll go faster!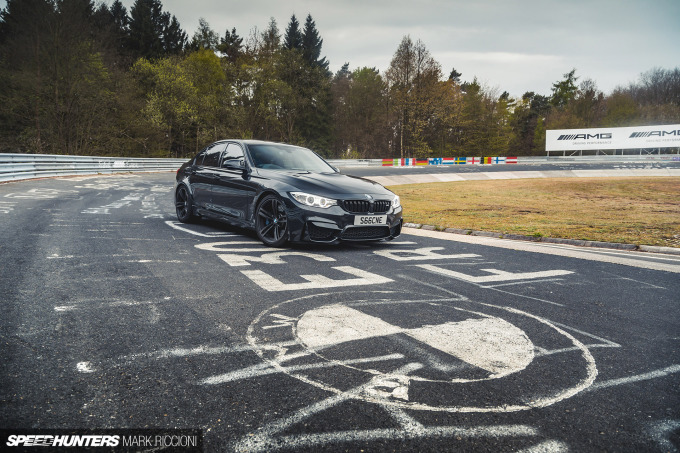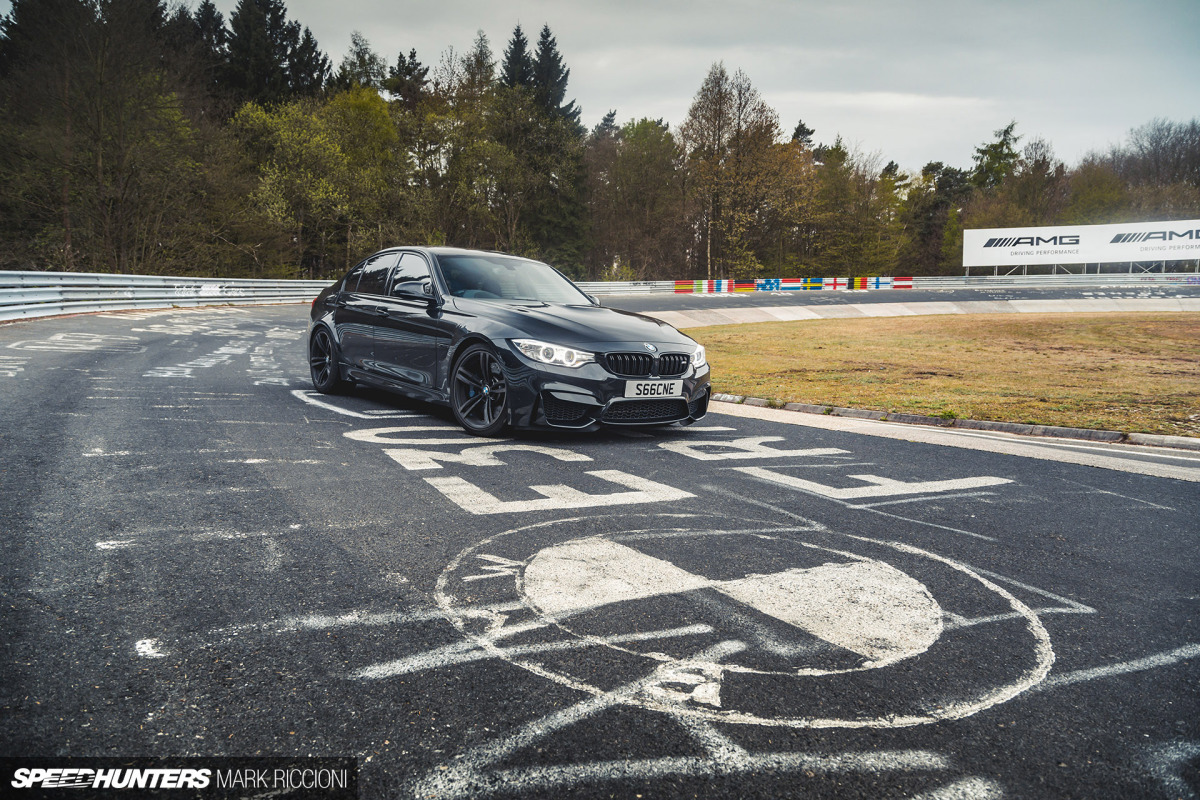 As I look at the shots above it's hard to believe that we were lucky enough to be allowed onto a closed Nürburgring to capture them. Special thanks to Darren at DN, Aaron at Bilstein and Jens Kaub for arranging access to the Nordschleife early one morning in May. About an hour after this shot was taken the weather changed and it rained for most of the day. Nevertheless, a few wet laps were still accomplished. Hopefully I'll get to enjoy the Eifel region again in the M3 next year, perhaps with even more power. Thanks also to Mark for these killer photos.
So what's next? I've got some updates to share with you over the next month or two. The car now has CSF's 3-piece cooling package installed and a few other changes. I'm also looking into upgrading the intake, downpipes and the exhaust at some point soon, and when that happens HEX Stage 2 will be on the cards.
In the meantime, if you're an F8x owner, I'd be interested to hear about the tuning parts you've installed.
Ben Chandler
Instagram: ben_scenemedia
ben@speedhunters.com
Additional photos by Mark Riccioni
Instagram: mark_scenemedia
mark@speedhunters.com
Additional photos by Ryan Stewart
Instagram: 7th.seal