When faced with the challenge of building a capable drift car, Kuala Lumpur's Ee Yoong Cherng had one objective in mind: no compromises.
That meant the car needed to look fresh and in line with current trends when it came to aero, and also possess the sort of performance and adjustability that you dream of in a professional tire-slasher. And Yoong is no strange to competitive drifting – he's a Formula D Asia veteran who has fine tuned his style over the years. During my recent visit to Malaysia for Art of Speed, I was really keen to see what Yoong's Japanese-inspired Nissan S13 Silvia was hiding away under its 6666 Customs-enhanced exterior.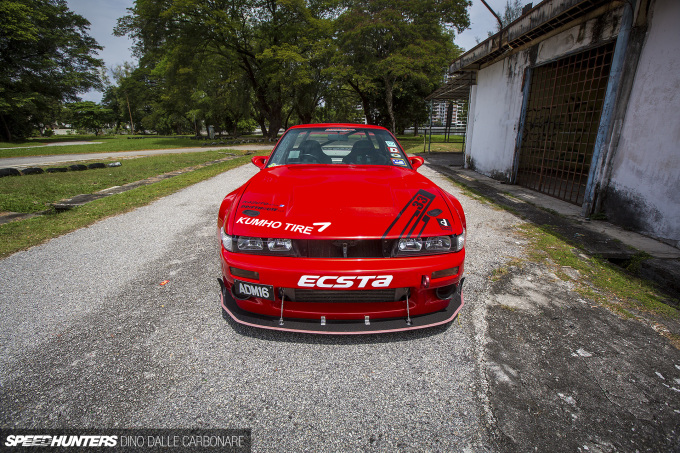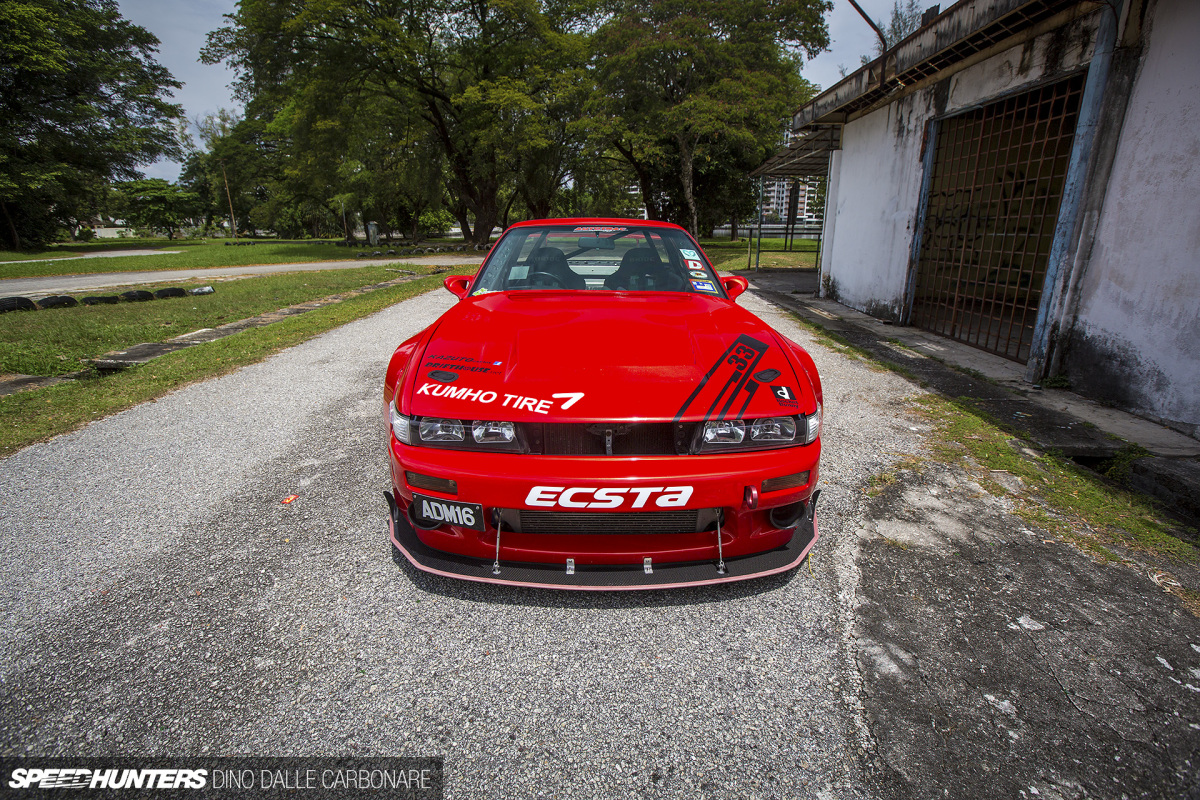 With Sean Eu of Mooneyes acting as my KL tour guide, we met Yoong at the Crocodile Farm, a popular eatery that has a massive parking area, but thankfully no large aquatic reptiles.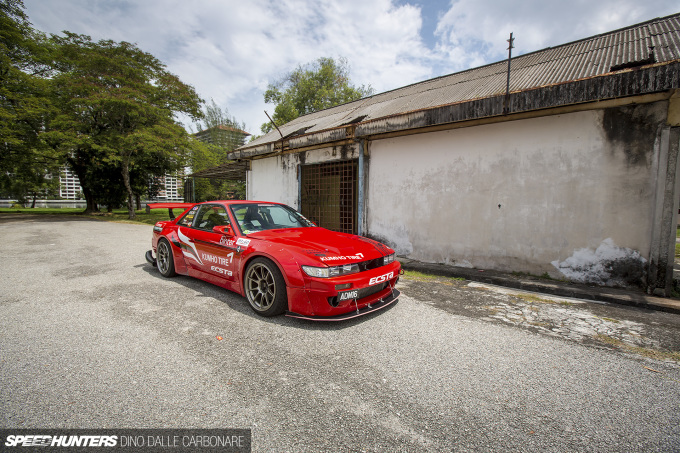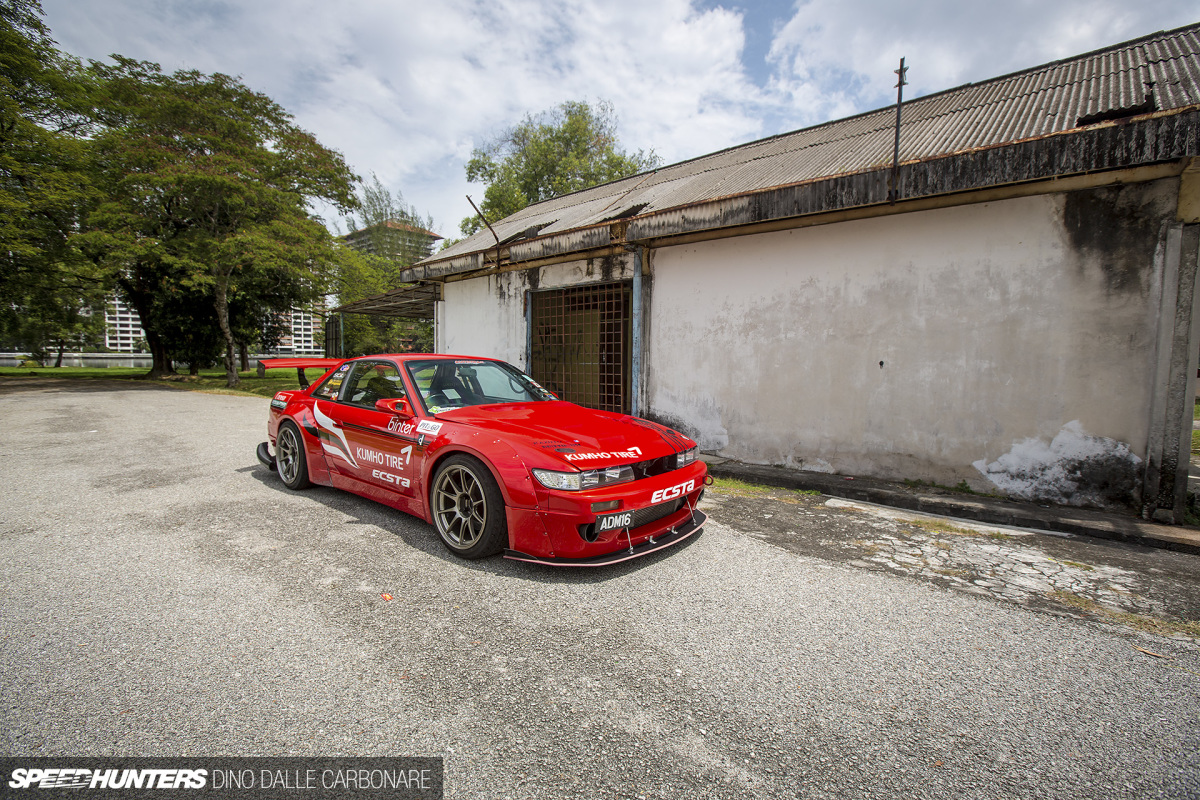 With an old karting track at our disposal and an awesome subject to point my camera at, this was one opportunity I didn't want to have go to waste. I took a deep breath, put my JDM sweat towel around my neck, and got cracking. Given it was midday and ridiculously hot, I had to shoot quick and efficiently before I passed out. But with the promise of a few cold brews after we were done, I had all the motivation I needed!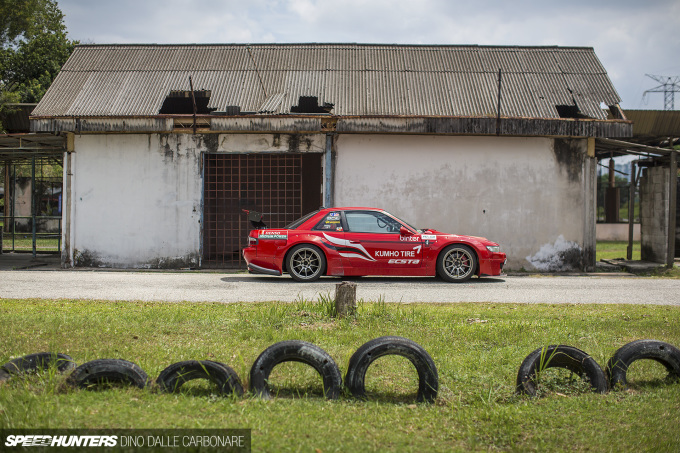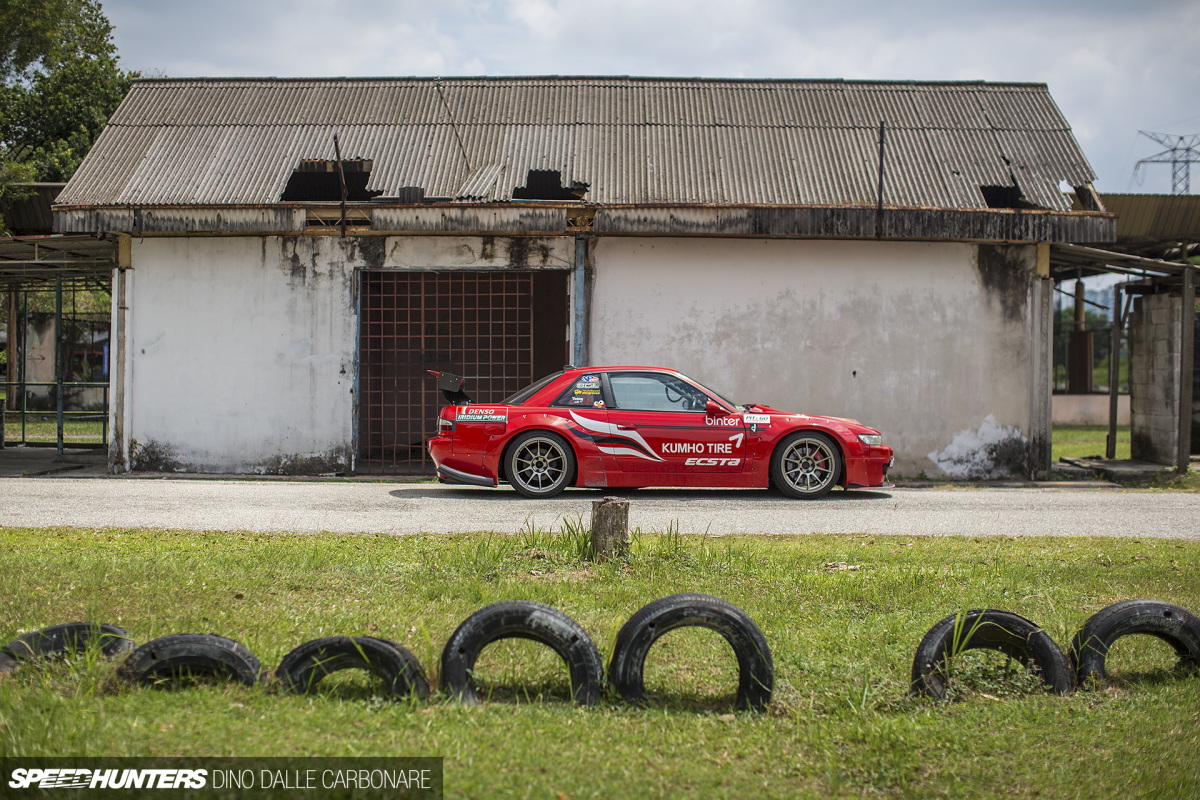 The thing that strikes me most about Yoong's Silvia is the authenticity. It combines all the right Japanese-inspired touches, yet has that extra something about it that sets it apart from all the other drift-spec S13s we've seen in the past.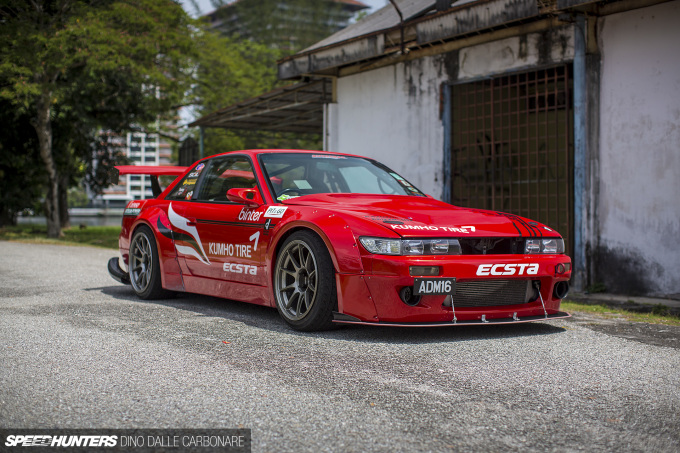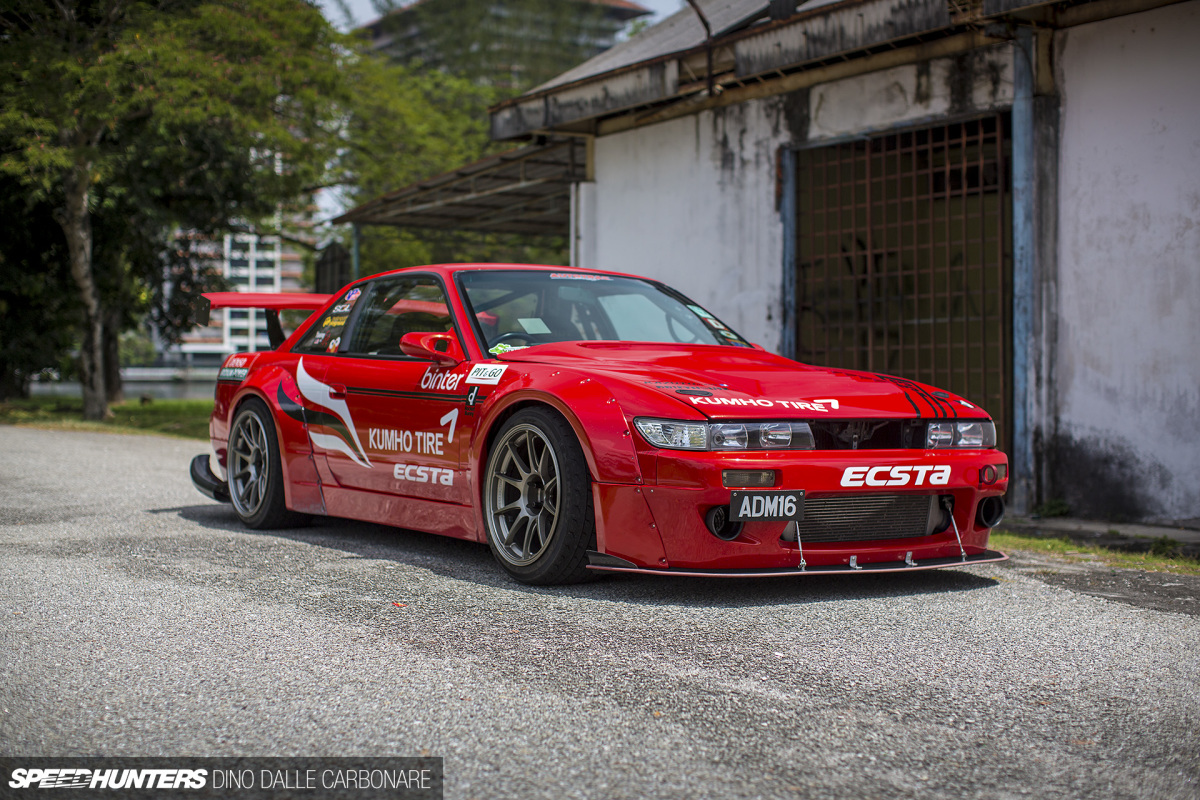 And that's hard to achieve if you think about it, because the S13 chassis is one of the most popular modifying platforms out there. Take the front splitter for example; it's an unusual addition for a drift car yet works in really well with the 6666 Customs wide-body conversion. I'll touch more on the rest of the exterior upgrades shortly, but at this point in the shoot I couldn't wait to see if the car balanced its menacing stance with proper performance.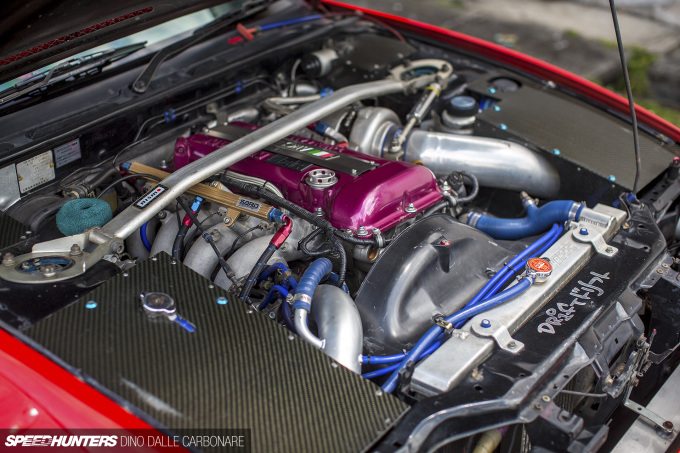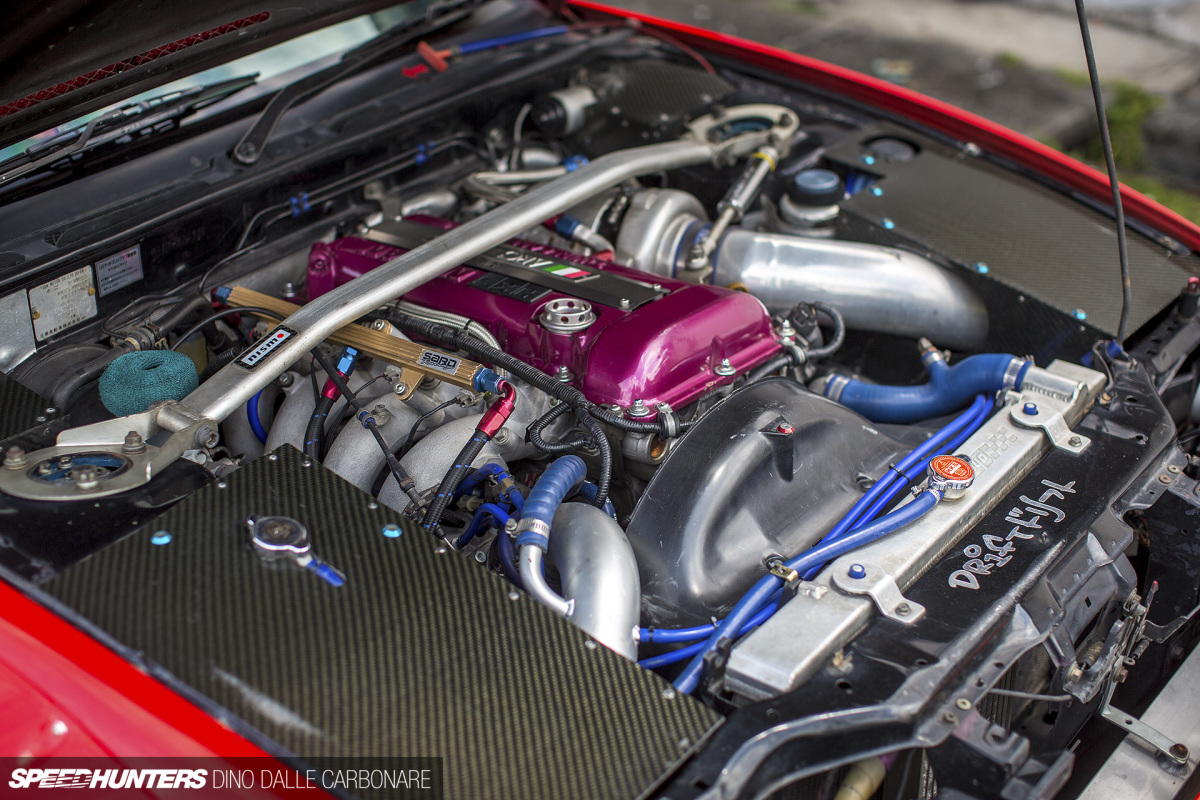 A quick glance in the engine bay is all I needed to confirm what I hoped I'd find. Yoong made sure the engine was up to task by having the SR20DET block honed to accept 87mm HKS forged pistons, and during the rebuild fitted fresh Nismo big end and main bearings and a high pressure oil pump.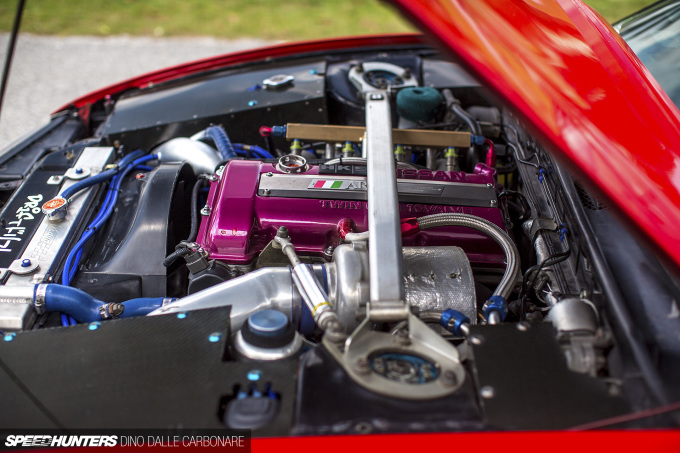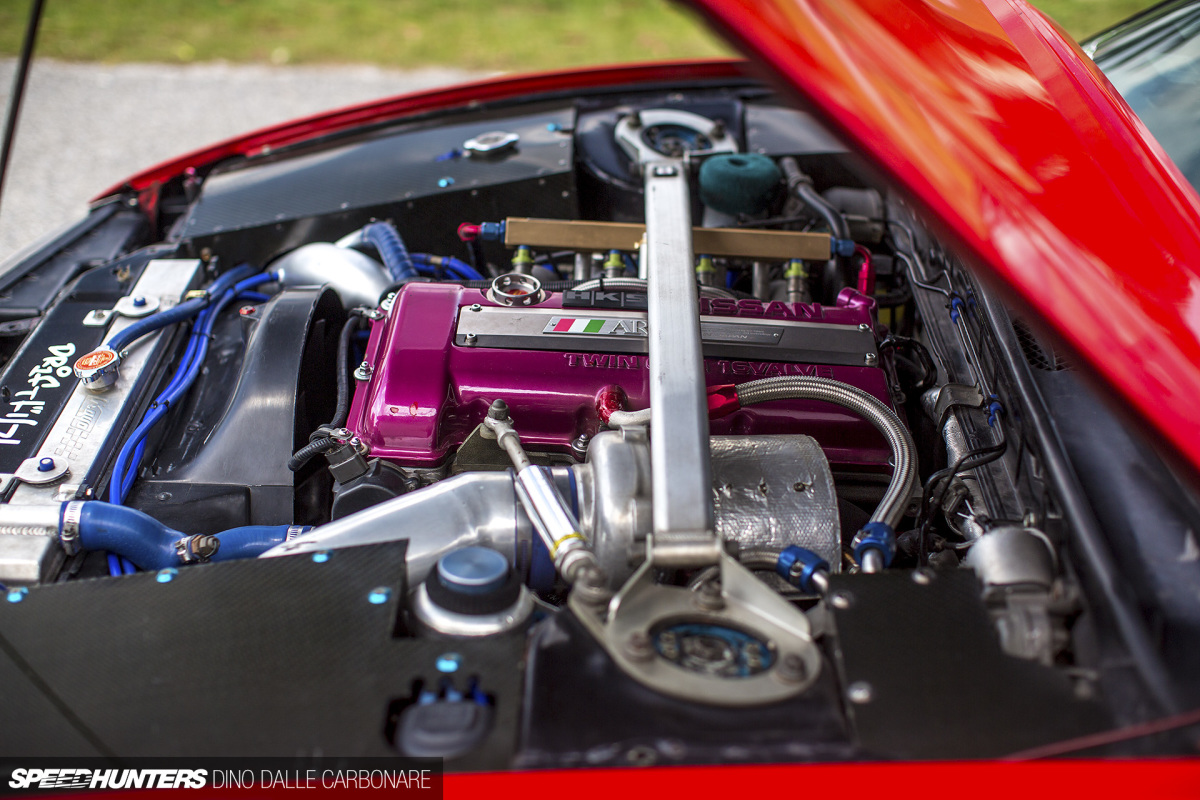 HKS Step-2 cams were the final addition before the engine was pieced back together and the ancillaries added. Like the top-mounted HKS GT2835R turbocharger, which is good for a nice and reliable 400hp of fun to the rear wheels.
The fuel system comprises of four 800cc/min SARD injectors while boost pressure is controlled by an HKS EVC 5. I really like how the sides of the engine bay have been boxed off in carbon fiber, hiding away the stuff that nobody really wants to see under the hood. It's the next best thing to shaving and wire-tucking I suppose, and something we've seen HKS do in the past with their own demo cars.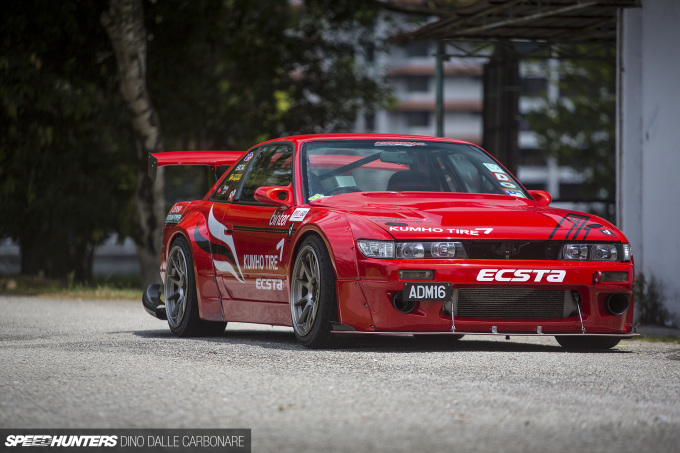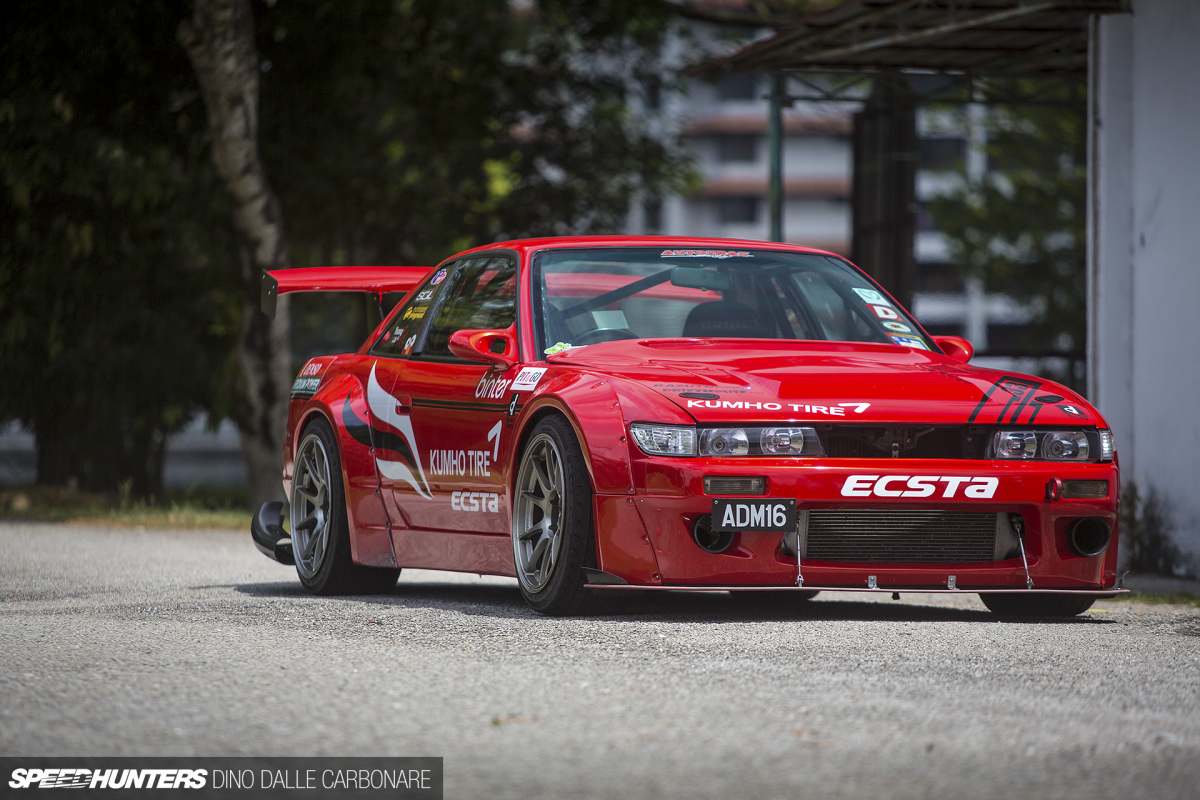 Driveline components are exposed to some serious torture in a drift car, so Yoong chose parts wisely to guarantee strength and reliability, but also control. An Exedy Racing clutch juggles the torque and allows for aggressive clutch kicks to throw the tail out, while a Cusco Type-MZ 1.5-way limited slip differential distributes even power to both rear wheels.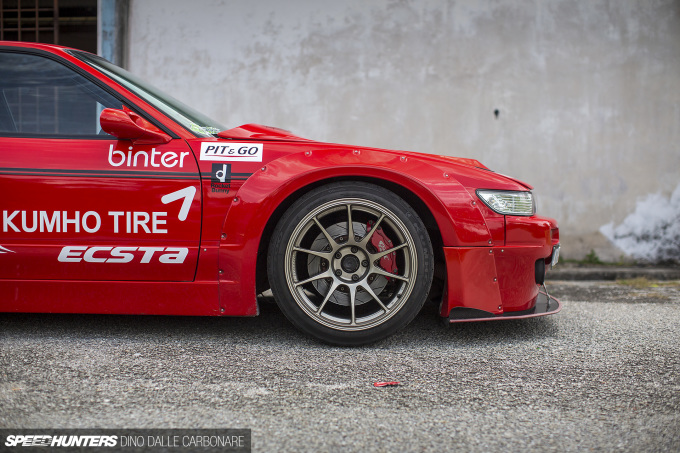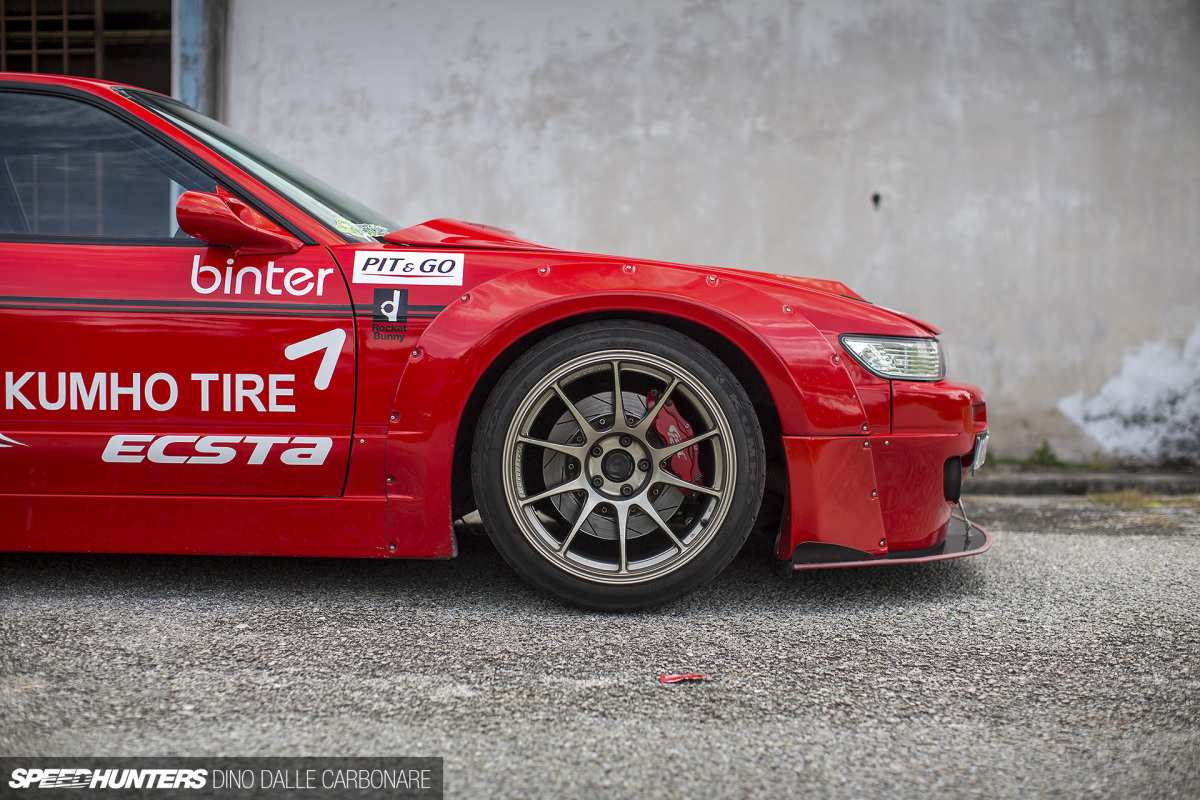 The thin spokes of the WedsSport TC105N wheels bring a unique and fresh look to the whole car. Their slightly bronzed silver finish is a nice match for the deep red hue of the body, too.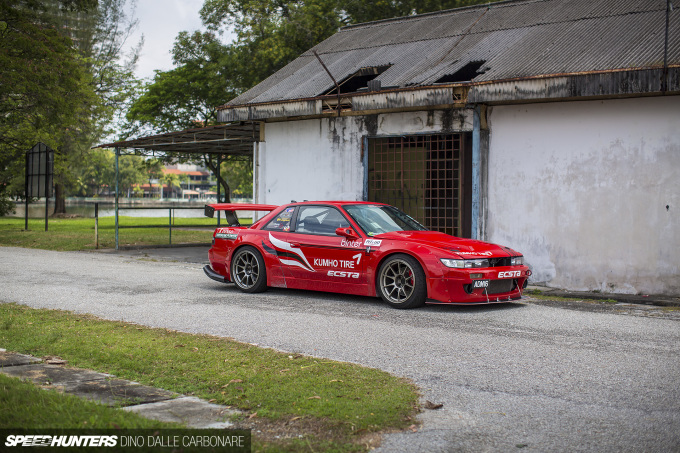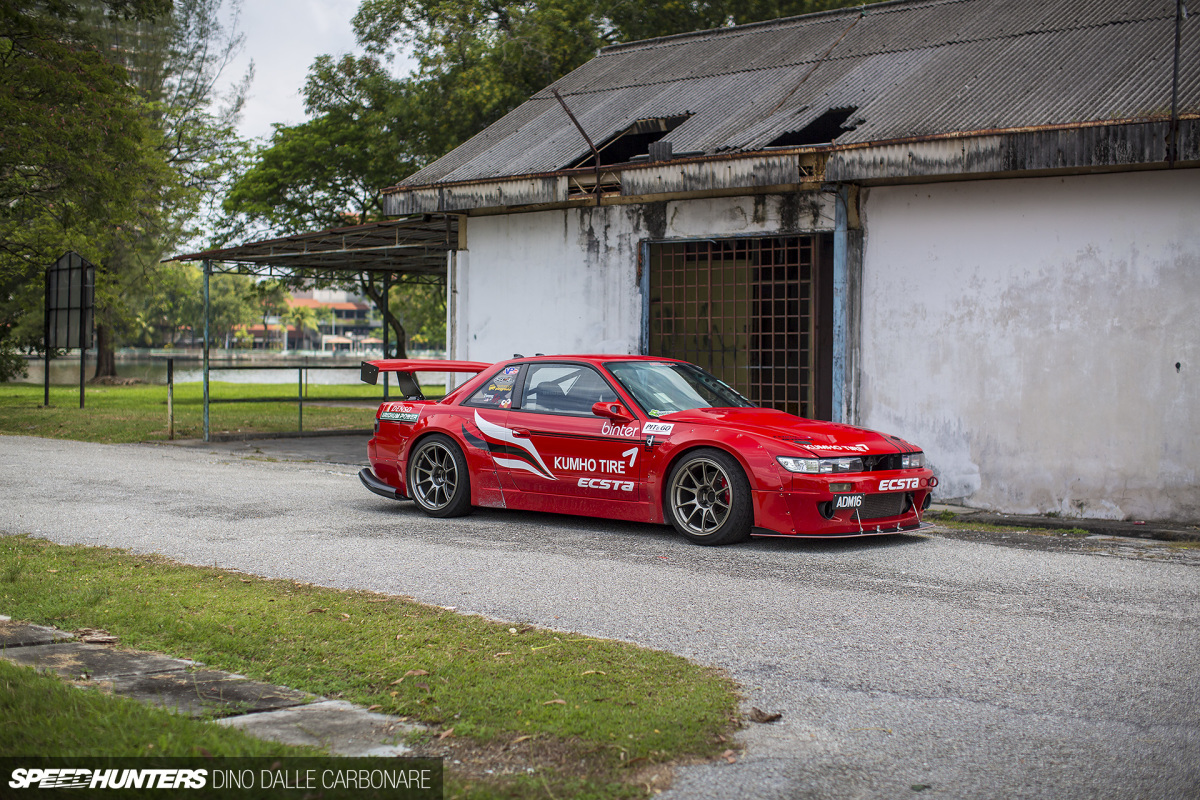 Through the spokes it's easy to see the ISC 6-pot front calipers, but they're just the beginning of a very well thought out brake package. The calipers are matched to 330mm slotted and floating rotors and are balanced out back with Endless rotors. Pad choice is all about balance, mixing the need for strong initial pedal bite, progressive feel through the pedal travel, and of course immediate e-brake lock up. In Yoong's S13, Dixcel Z-type ceramic front pads, Endless Super Street rear pads and Project µ shoe linings are used. Also in the mix is an HFM BM57 master cylinder, and as you will see in the cabin, a Tilton brake bias adjuster. That my friends, is how you nail a brake setup. I like the fact that there is no hydraulic e-brake; Yoong keeps it full-on JDM, using his skill and power/momentum control to initiate drifts rather than taking the easy way out.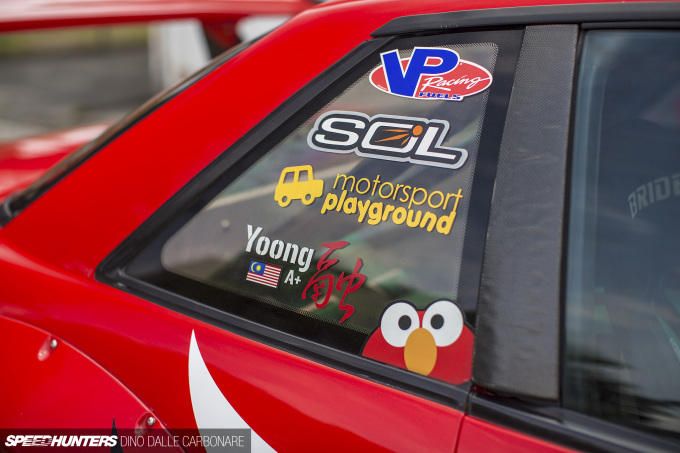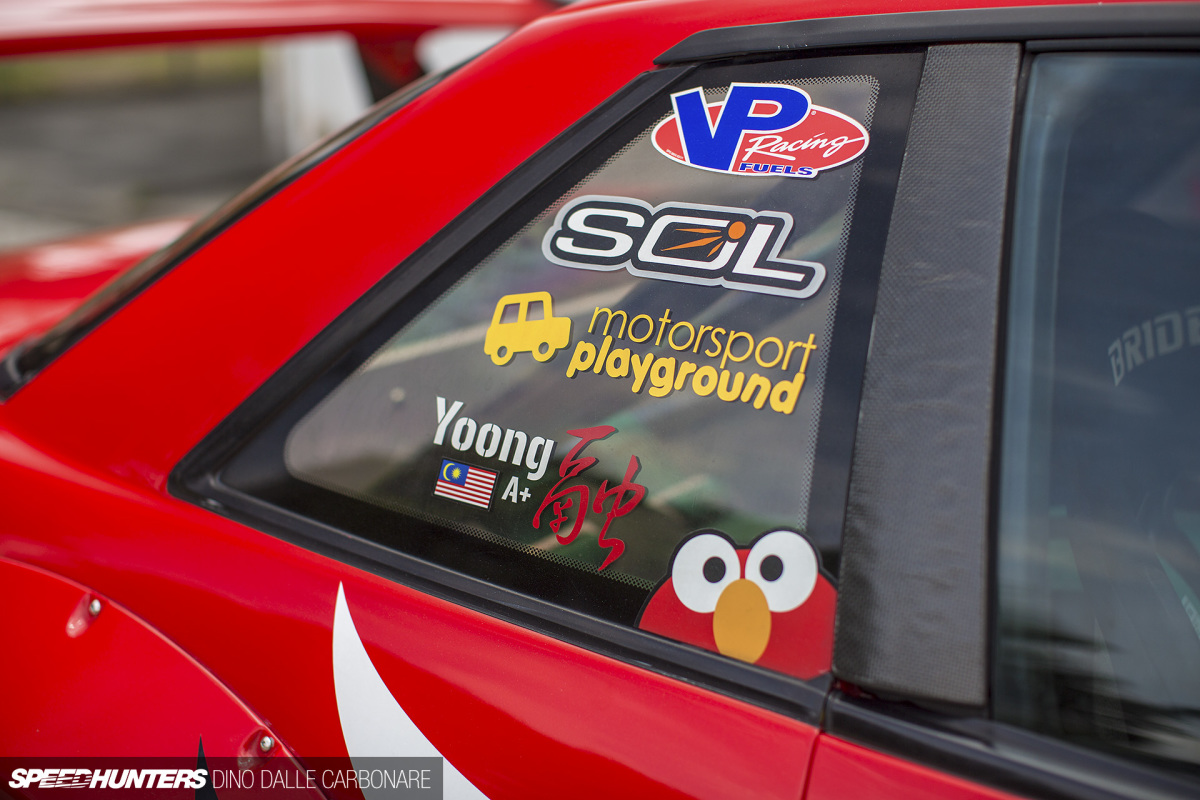 Hello, Elmo!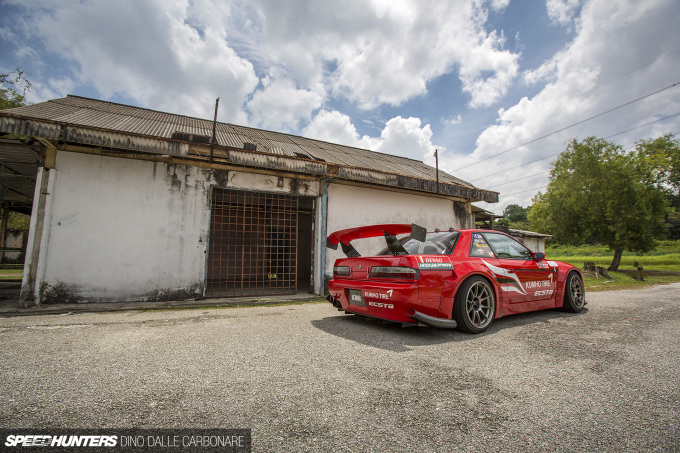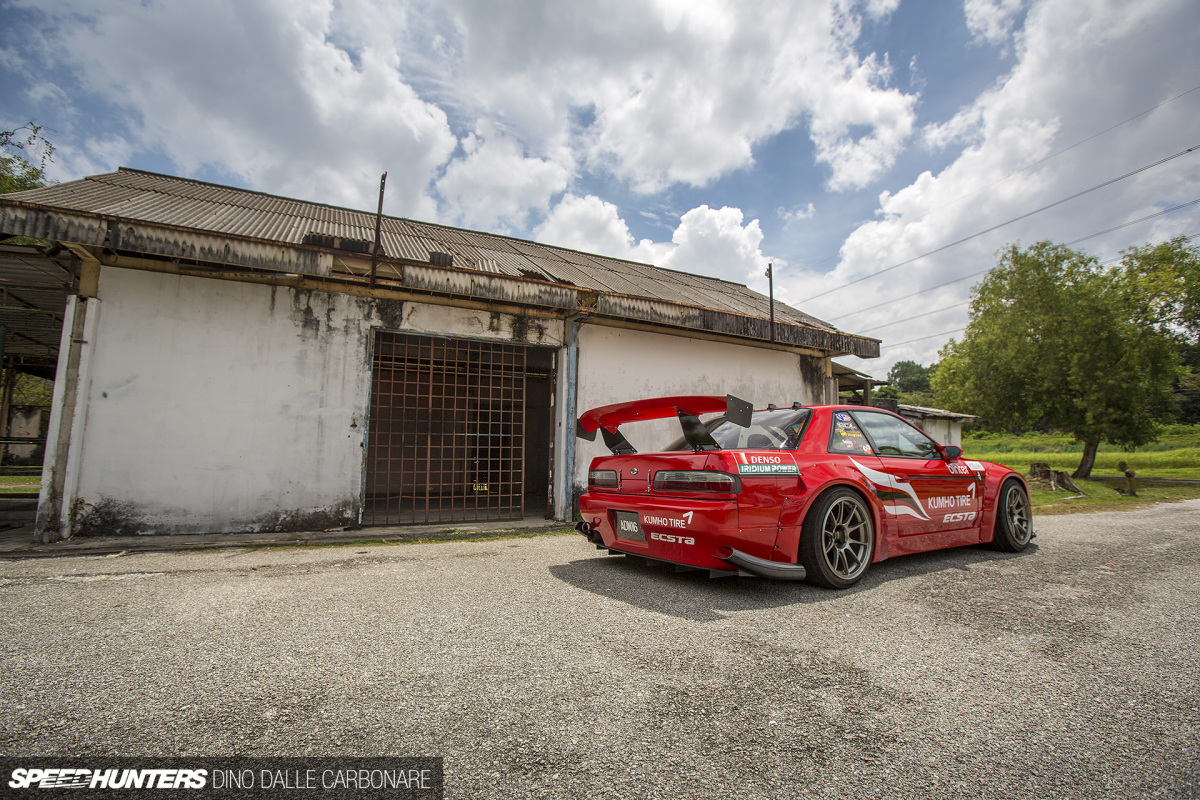 I'm not sure if it's the flares or the way everything comes together, but this S13 sits so good at the rear. Don't you just love functional setups!
I'm not normally a fan of vortex generators; they usually stick out, have questionable aero benefits, and are at times horribly made. But these rather massive examples seem to flow with the lines of the bumper.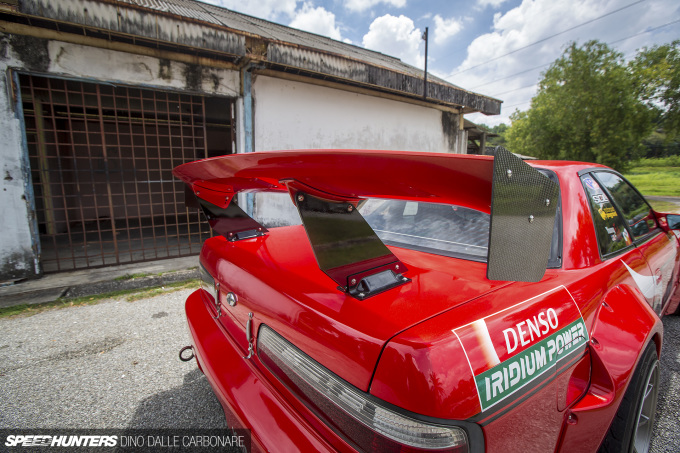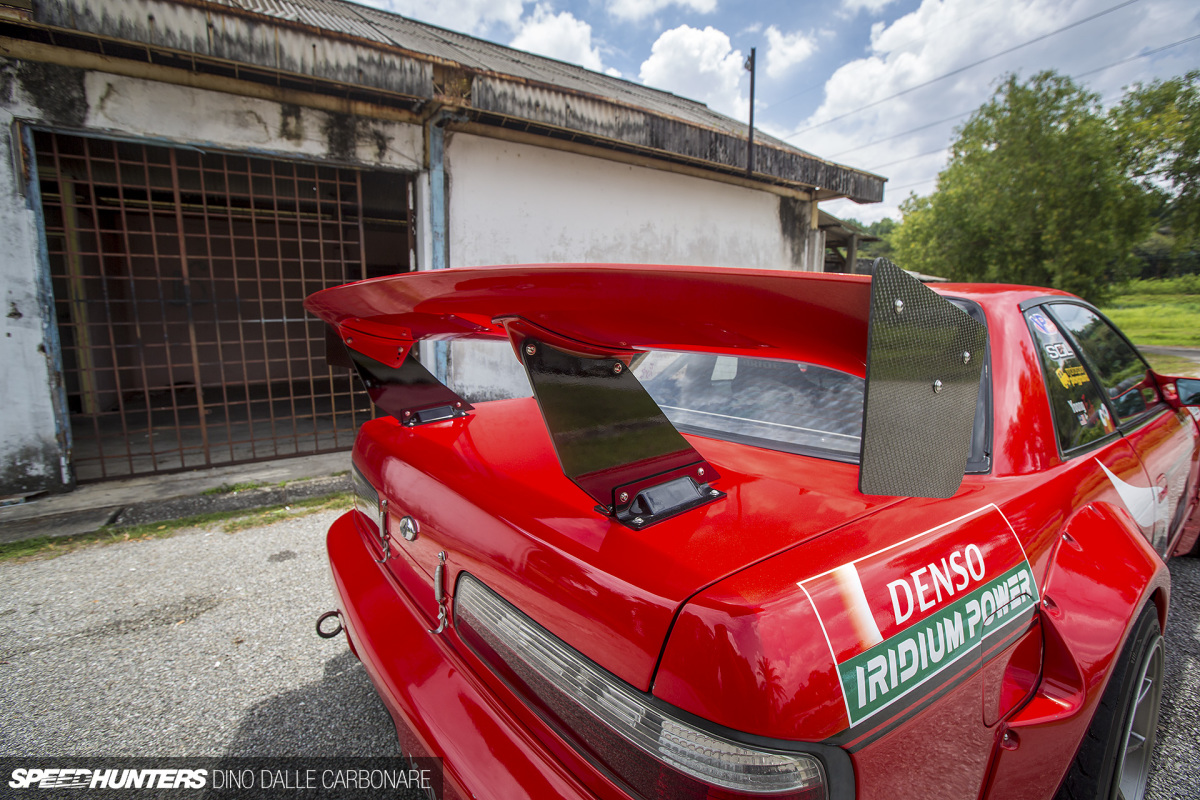 I'm the same for big GT wings; I don't really care for them, but for some reason the stubby carbon stays brought this one up to a height and position that just works.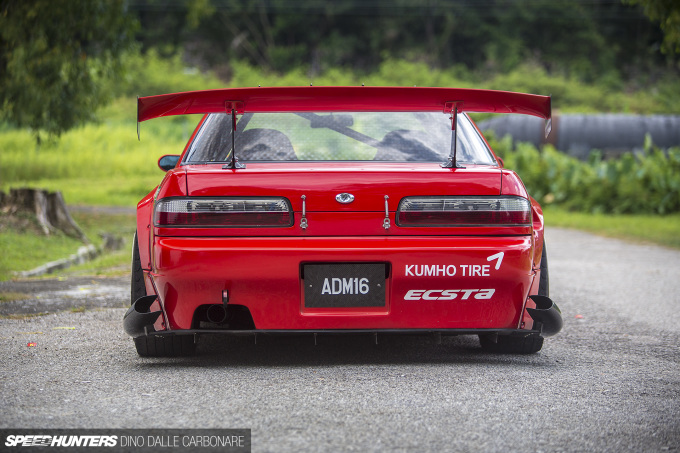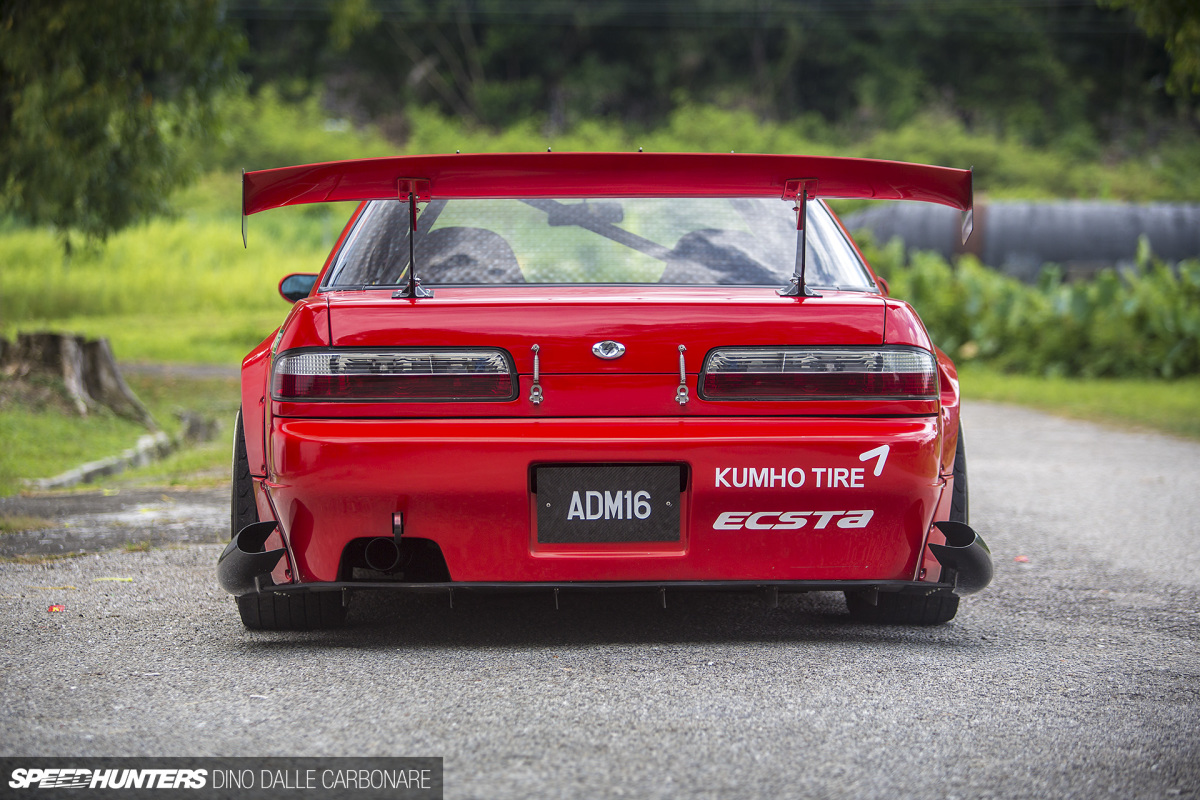 Look closer and you'll find even more carbon. The tidy and tight-fitting rear finned diffuser ties everything in together nicely.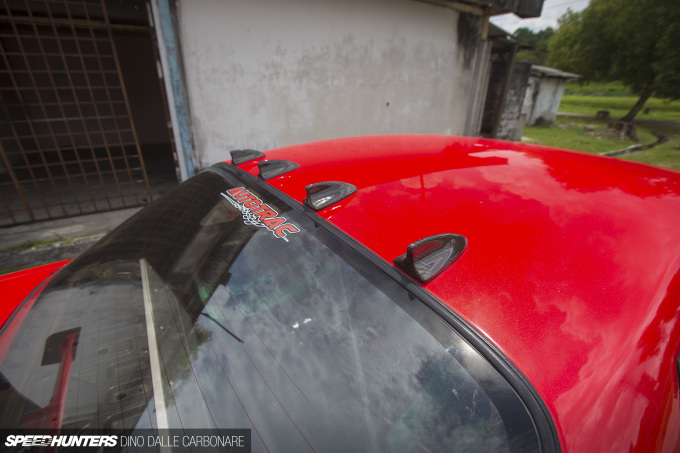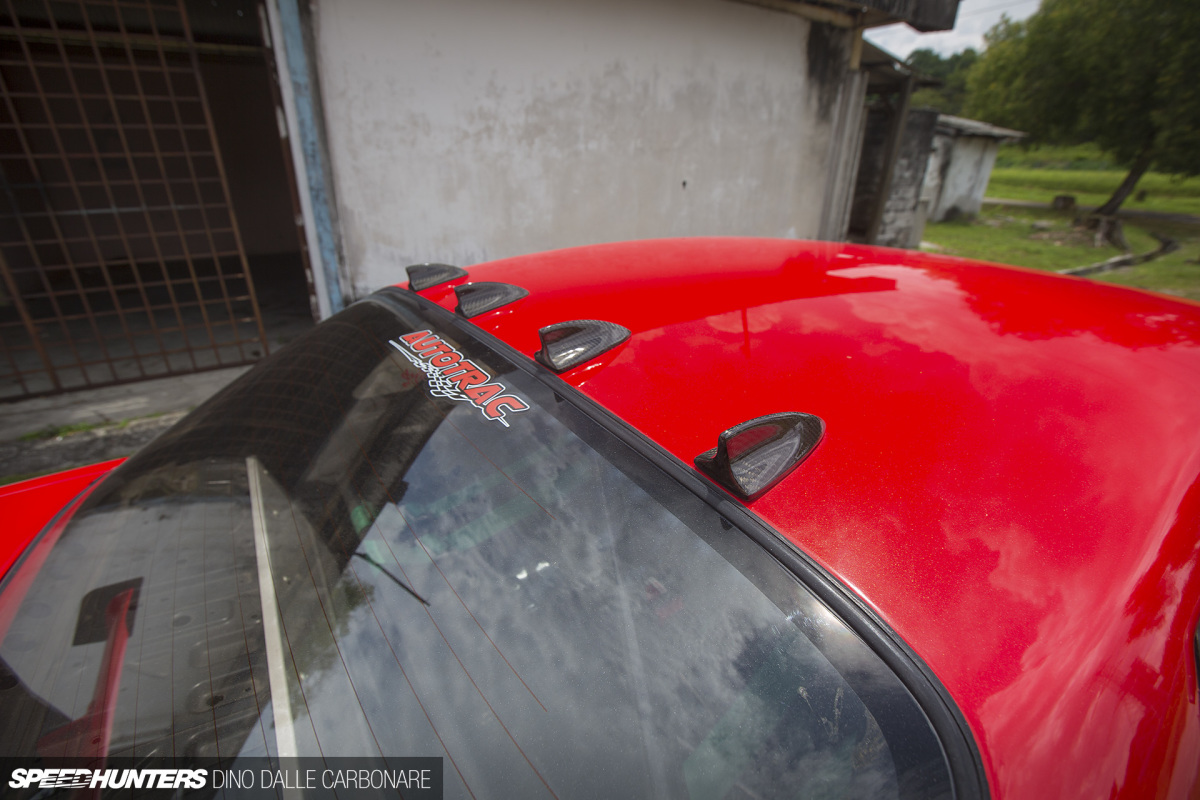 There's more vortex generation happening on the roof, something we first saw a decade or so back with the introduction of the Mitsubishi Lancer Evo IX. The idea with these is to boost the effect of the rear wing.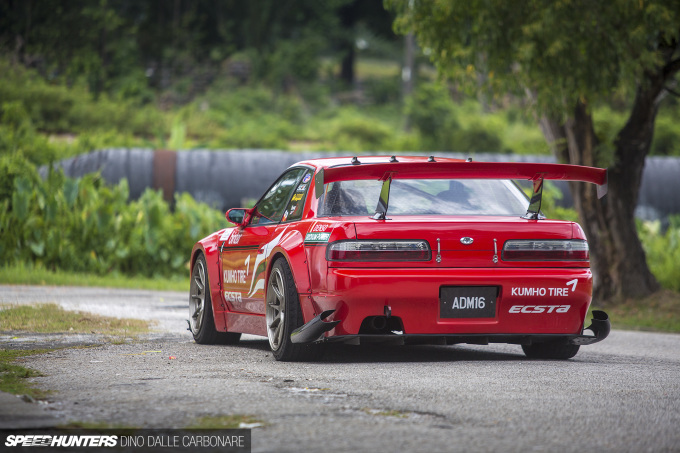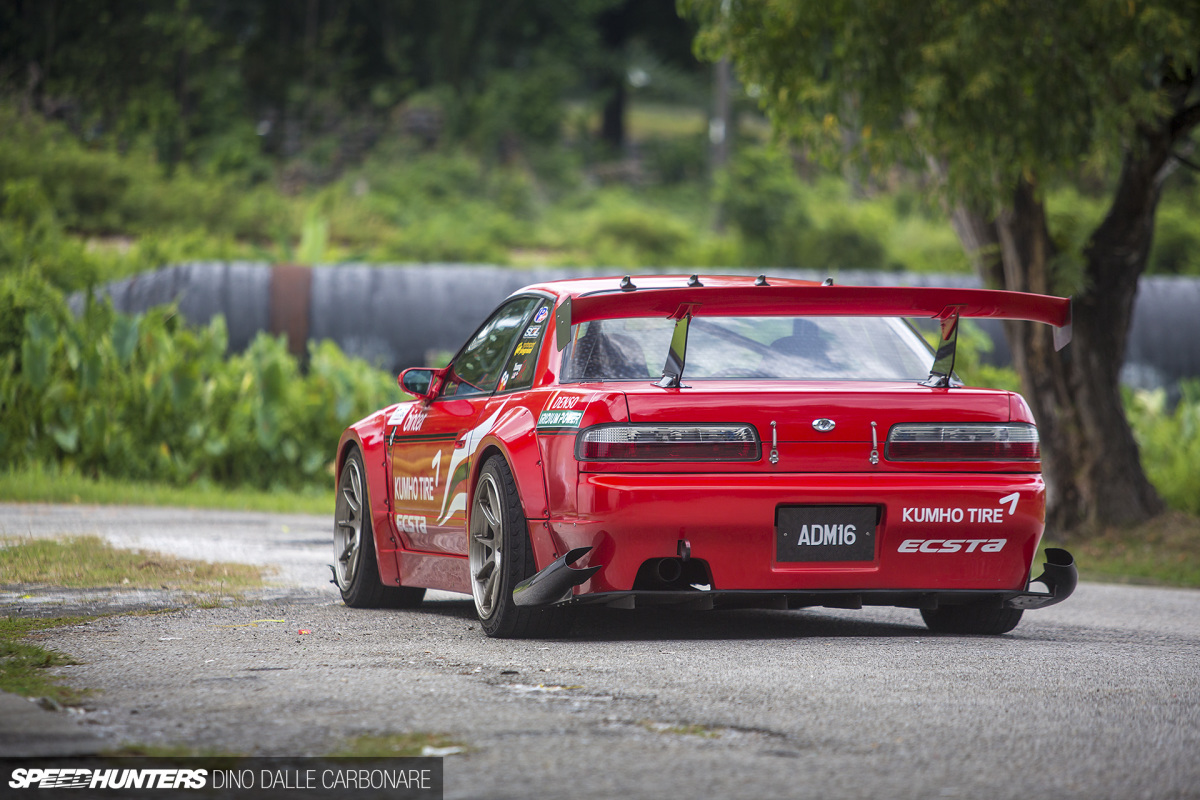 I wonder if they work while going sideways at speed?
I should have shut my mouth, as Yoong immediately jumped in his car and proceeded to do a few passes. Given we were at a small track of sorts, it would have been rude not to!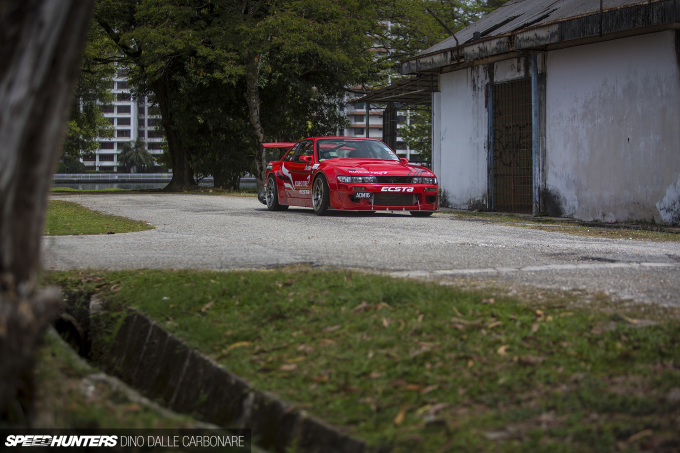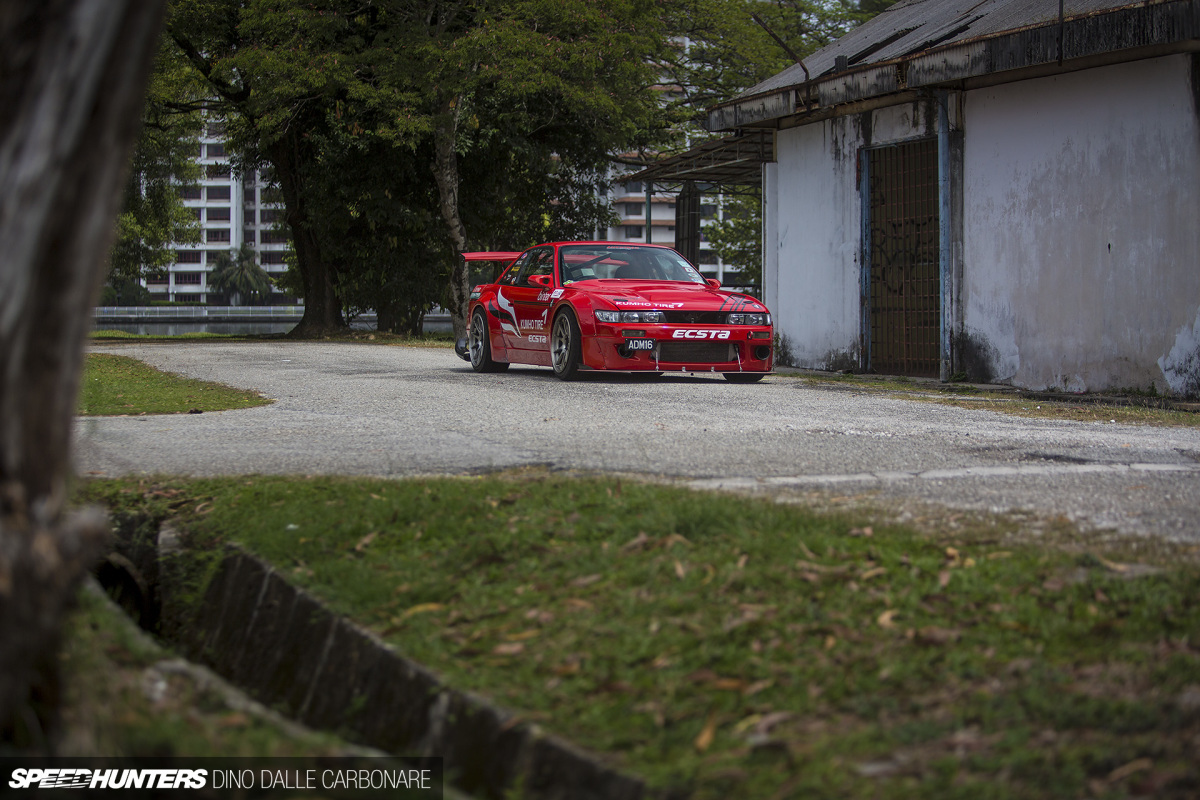 The final exterior touches comes in the form of G-Corporation clear headlight covers. They give a more fierce look to the front end and really bring the 25-year-old car into the 21st century.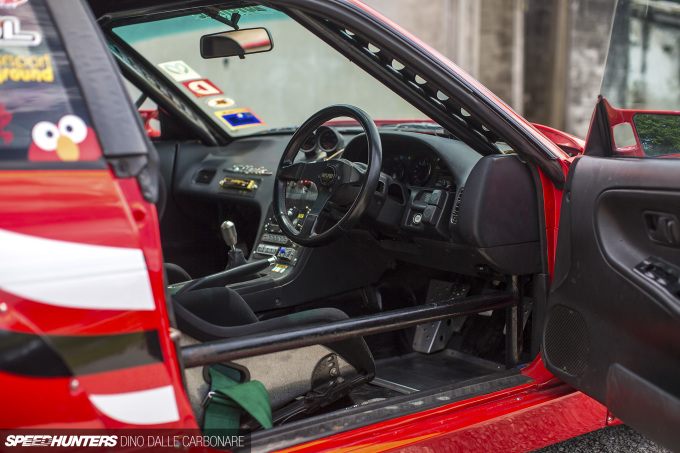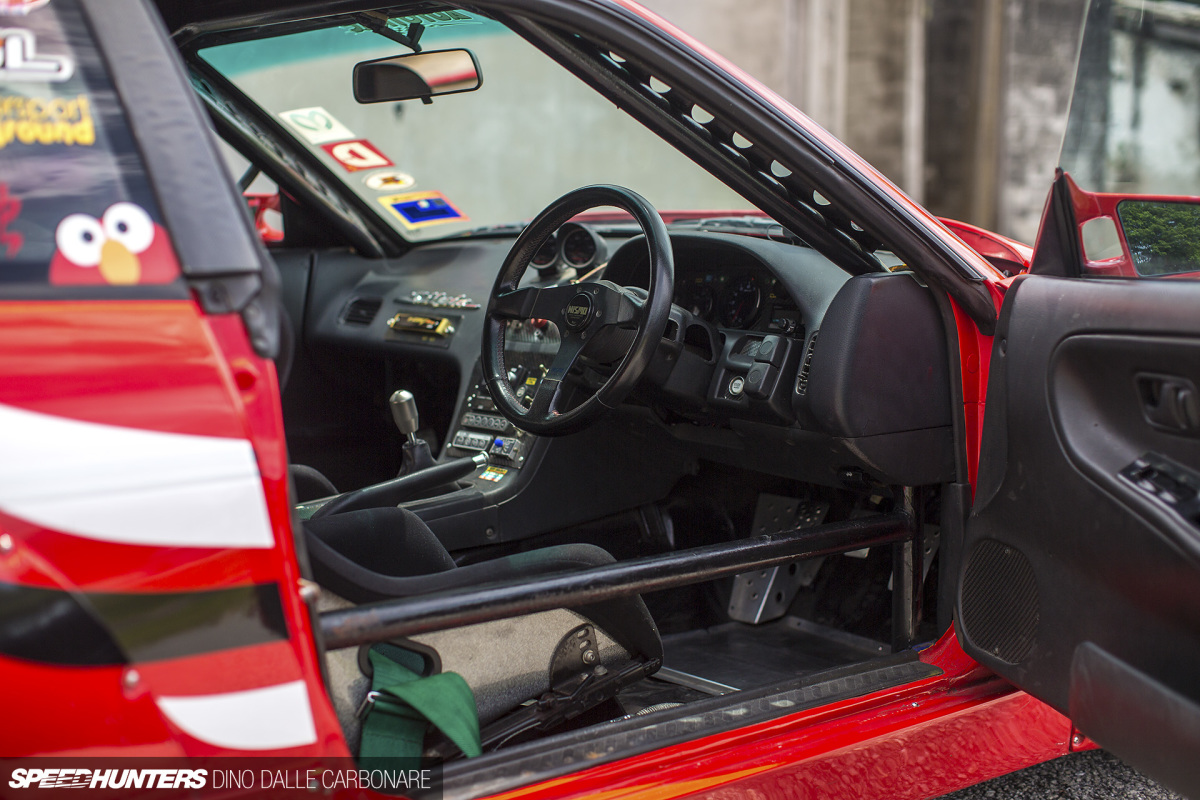 Swing open the driver's door and there's more evidence of the way the car has been meticulously put together and properly prepped. The build started off with a bare chassis to allow for the fabrication of the custom 15-point welded-in and gusseted roll-cage.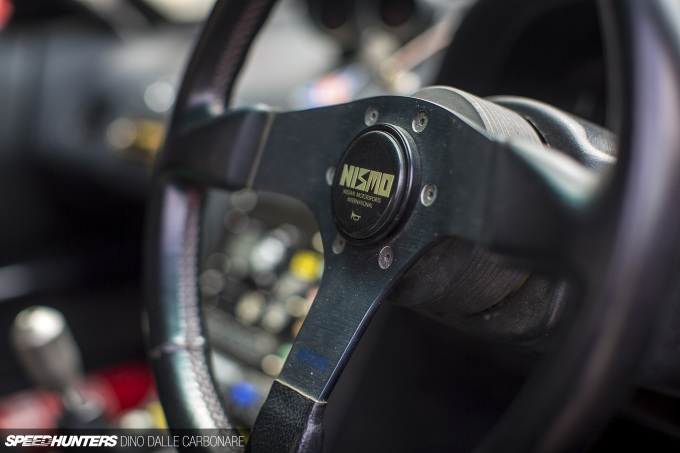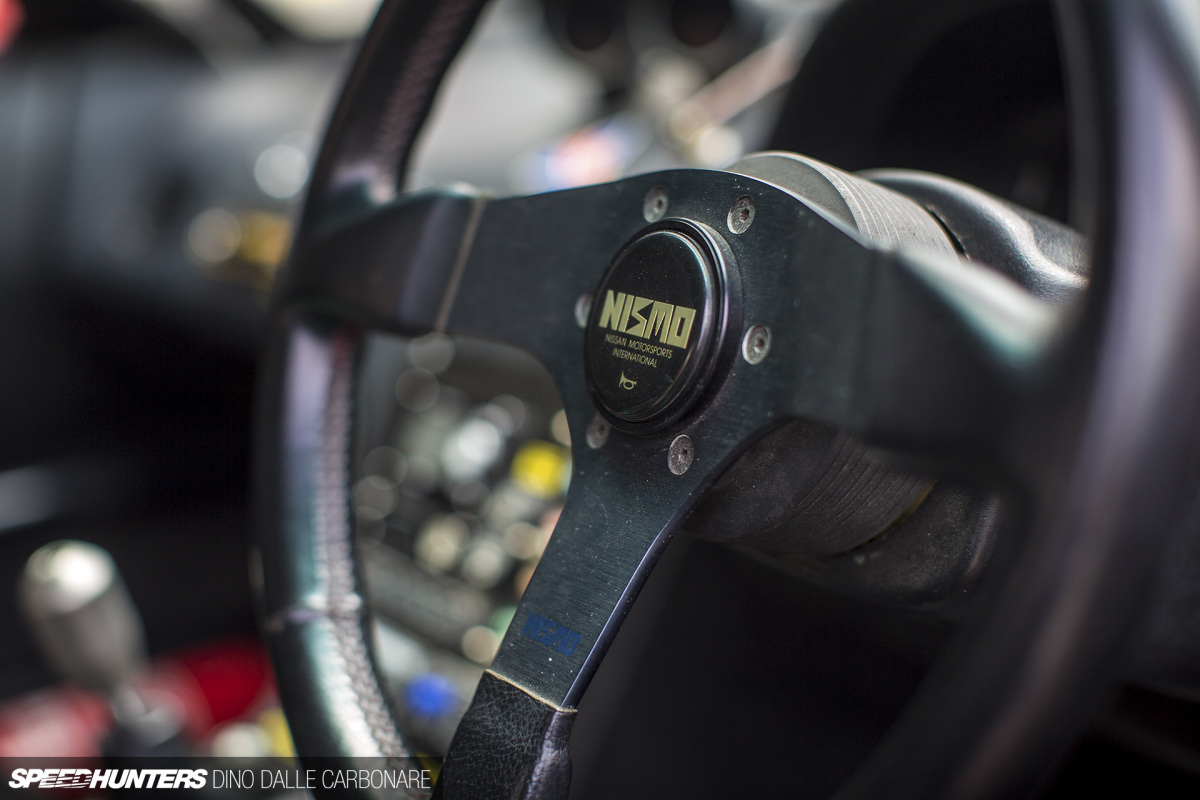 While I do like it when older cars are fitted with well-chosen modern upgrades, I'm also a sucker for period-correct touches. Seeing the old school Nismo steering wheel with matching horn button made me shed a tear. OK, maybe not, but it was cool to see nonetheless.
That said, the Nismo wheel is one of only old pieces of equipment in the cabin. Woong has gone gadget-crazy; there's a custom dash laid out with a Defi Link OLED display and a boost and RPM gauge from the BF line up, plus a Stack fuel lever meter in the corner.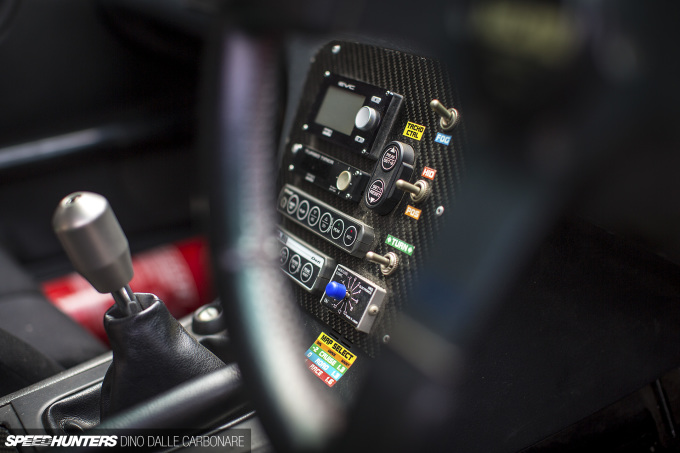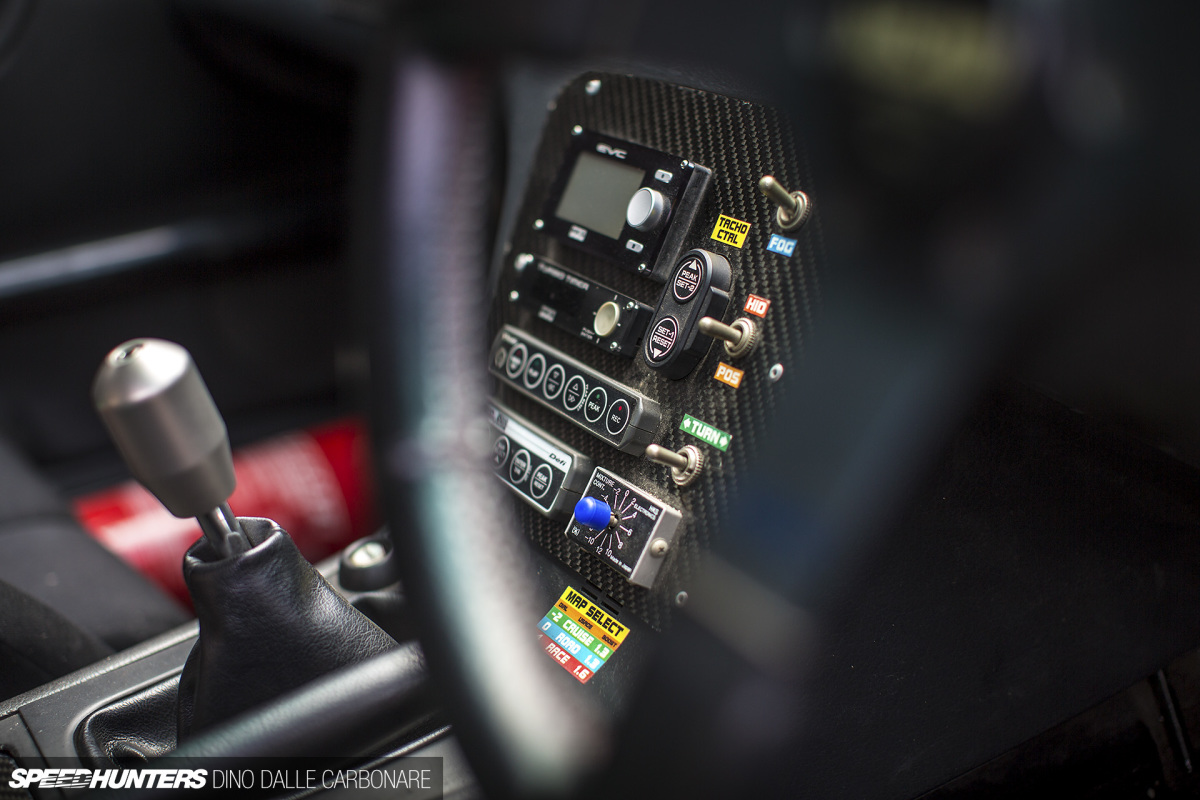 Then there's the center stack!
This houses all the controls for the Defi gauges and displays, which also includes the VSD Concept HUD and the HKS EVC. The brains of the car – the HKS F-CON V Pro – is conveniently mounted in the passenger side of the dash for easy plug and play with a laptop.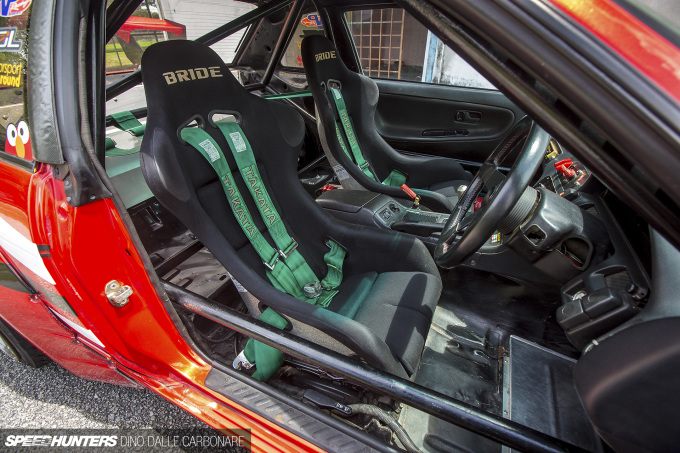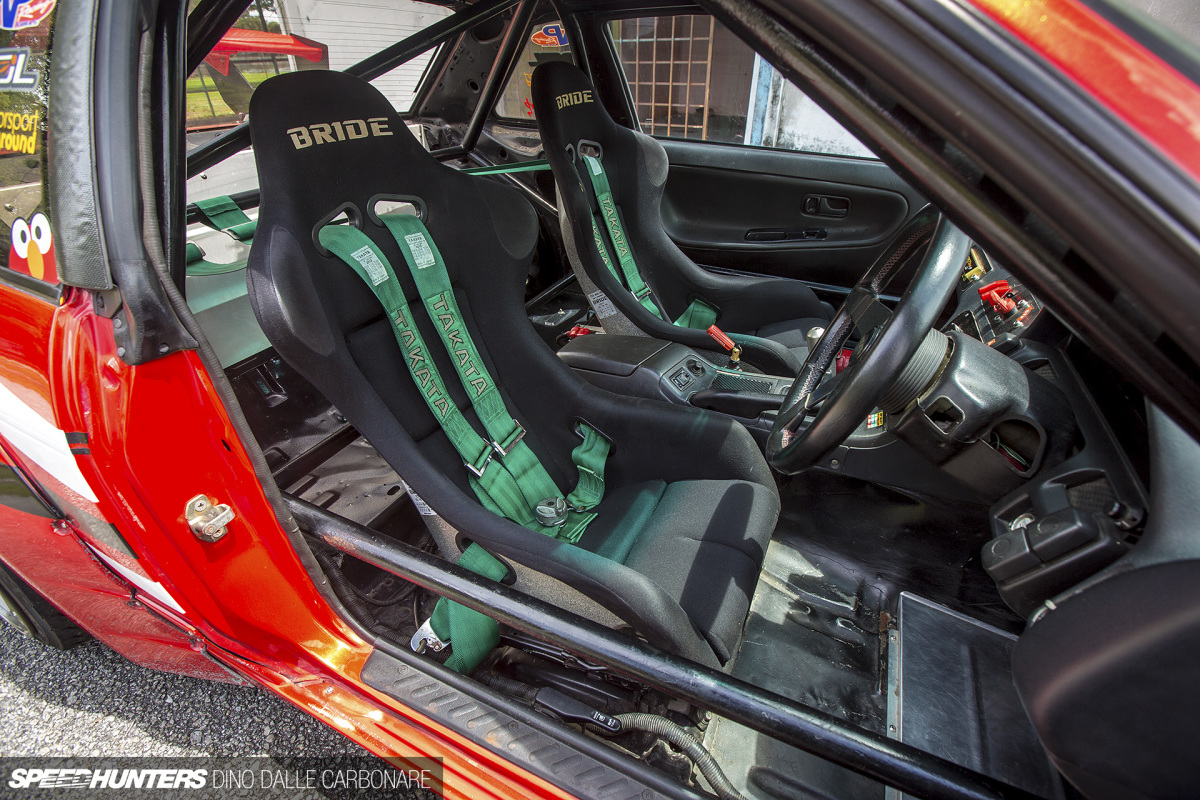 Both the driver and passenger get Bride Zeta III bucket seats and Takata Racing harnesses.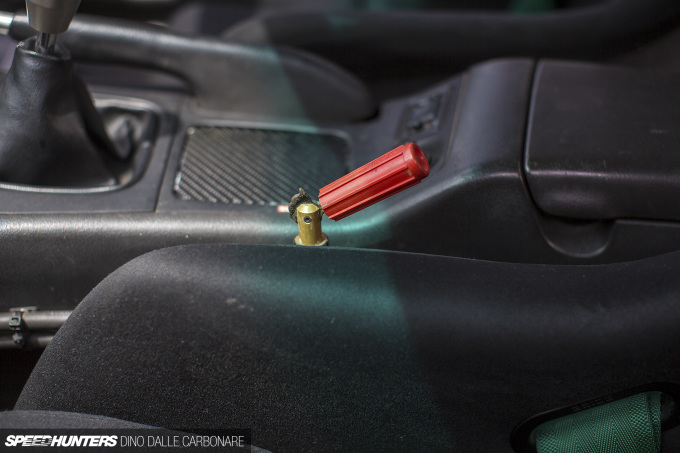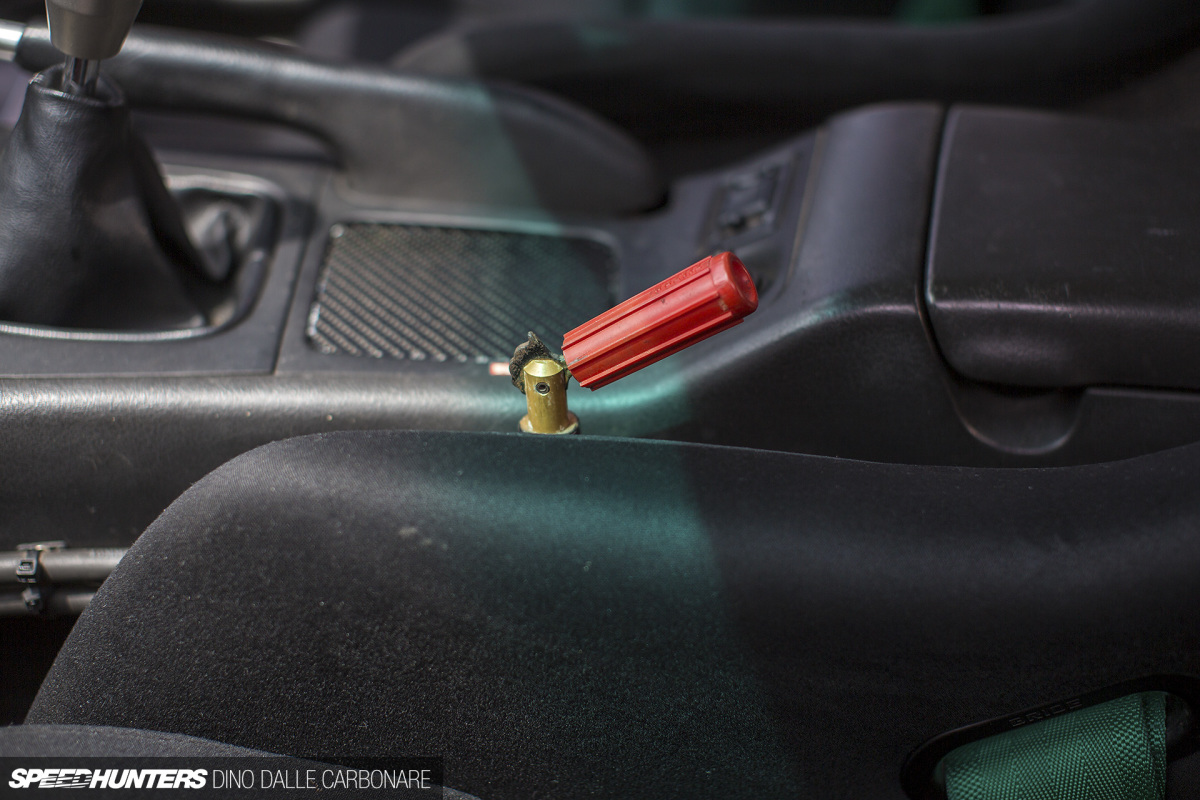 The little red knob you see sticking out along the center console is the aforementioned Tilton brake bias adjuster, which you can twist to set your preference on how the car feels under braking.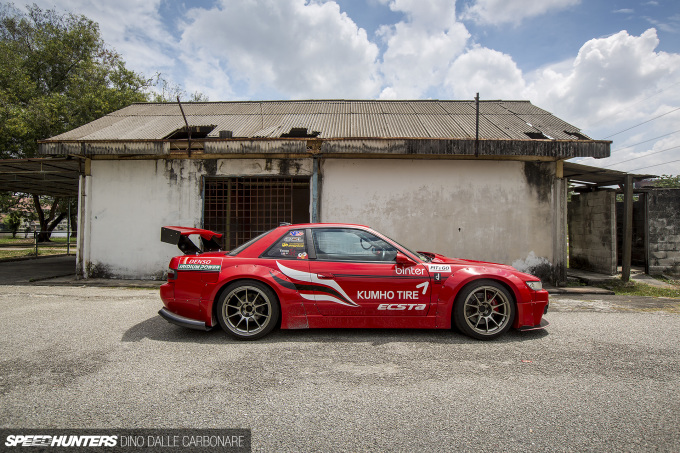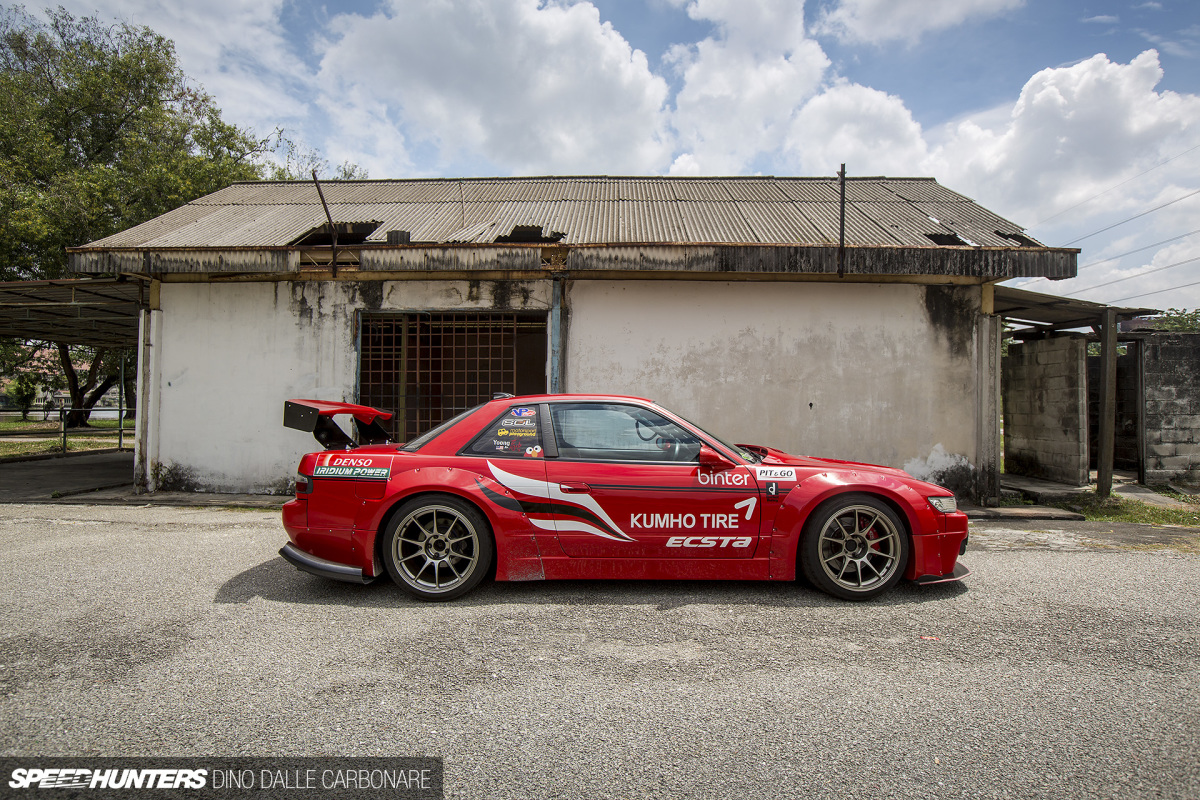 The final piece of the puzzle is the handling, and in this respect the S13 is suspended on Ikeya Formula adjustable arms mated to HKS Hipermax D' dampers running 10kg/mm Swift springs. The setup is infinitely adjustable and running a geometry that Yoong feels is spot on.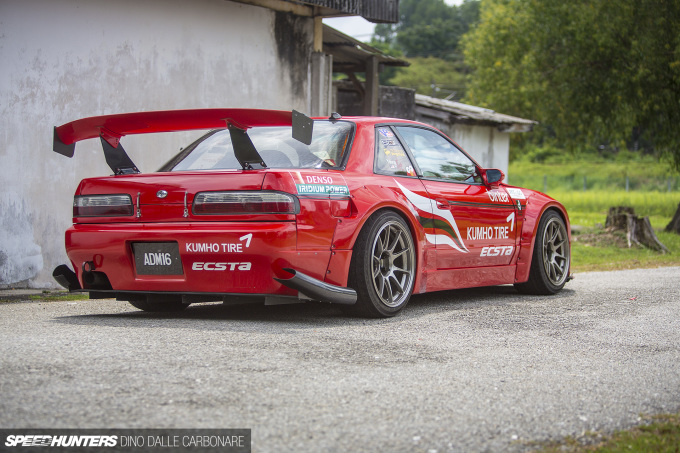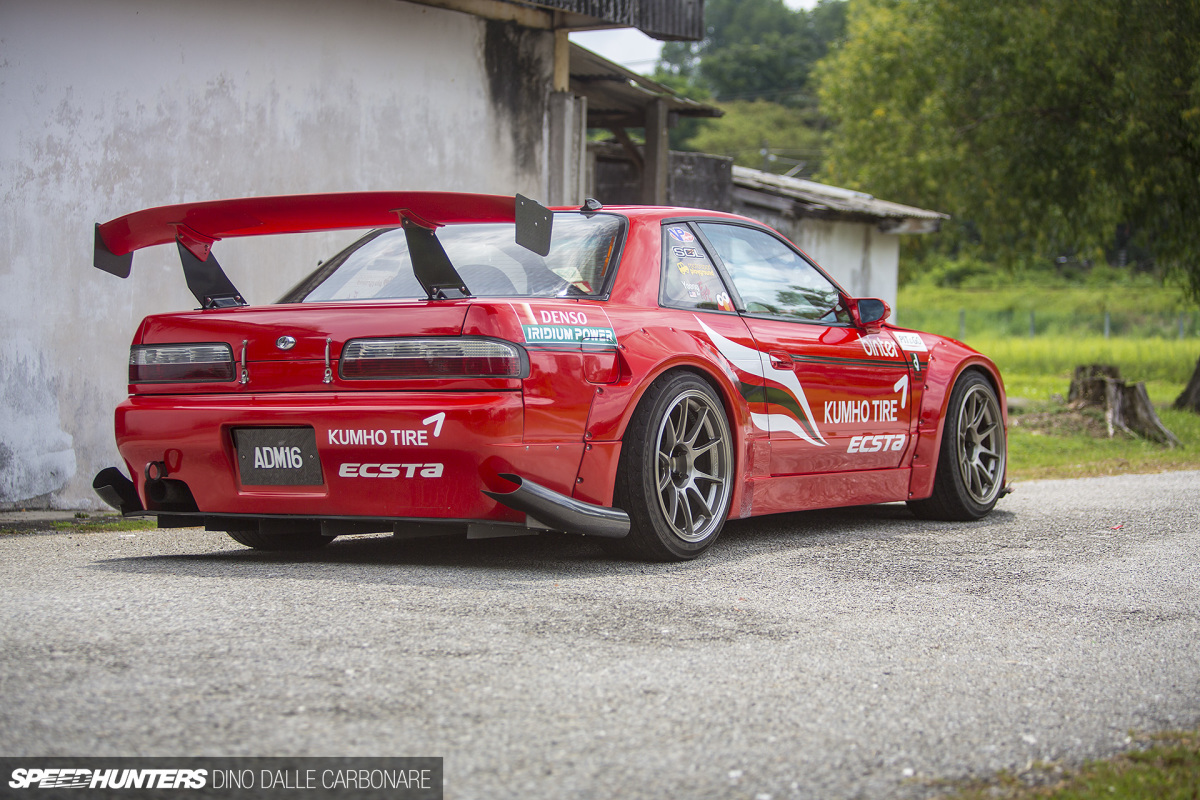 I think that's a fitting term to summarize this car; it's spot on in every way, put together with a well thought out plan and executed with taste and brutal functionality. It's these sort of builds that really set the standard.
Dino Dalle Carbonare
Instagram: speedhunters_dino
dino@speedhunters.com
Ee Yoong Cherng's Nissan Silvia S13
Engine:
Nissan SR20DET, HKS 87mm forged pistons, HKS Step-2 camshafts, HKS GT2835R turbocharger, HKS Racing Suction intake, Splitfire Super Direct Di ignition coils, ATI crank pulley, Nismo big end & main bearings, custom high pressure oil pump, SARD 800c/min top-feed injectors, SARD fuel rail, HKS F-CON V Pro engine management system, HKS EVC 5 boost controller
Driveline:
Nissan 5-speed gearbox, custom ratios, Exedy racing clutch, Cusco Type-MZ 1.5-way LSD
Suspension/Brakes:
HKS Hipermax D' dampers, Swift racing springs 10kg/mm front, 10kg/mm rear, Ikeya Formula adjustable arms, Nismo power brace, Nismo front & rear strut bars, ISC 330mm/6-pot front brake calipers with Dixcel Z-type graphite ceramic pads, Endless rear brake rotors with Endless Super Street brake pads, Project µ  e-brake shoe linings, HFM BM57 brake master cylinder, Tilton brake bias adjuster
Wheels/Tires:
WedsSport TC105N 18×10.5-inch +12 wheels front/rear, Kumho V70A tires 265/35R18 front/rear
Exterior:
TRA Kyoto 6666 Customs Rocket Bunny kit, D-Max FRP hood, Garage BB Ignite custom GT wing, G-Corporation clear headlight covers, Ganador mirrors, custom carbon fiber front splitter & rear diffuser
Interior:
Fully stripped, SRF fabricated 15-point roll-cage, Bride Zeta III bucket seats, Takata Racing 4-point racing harness, Nismo steering wheel, Nismo titanium shift knob, Carbing rear bulk head cover, Carbing foot rest & pedal set, Longacre master cut-off switch, custom meter panels, Defi BF gauges, Defi VSD Concept, Stack fuel level meter