A Sight For Sore Eyes
And so the obsession continues. Year in and year out, the lure of Nissan's GT-R badge brings us back to the R's Meeting, an event that's evolved into something quite special since GT-R Magazine started it all back in 2010.
It's a celebration of the cars that so many of us love, but at the same time an awesome way to help the whole community evolve. The car parks at Fuji Speedway are laden with every generation of GT-R, and Japan's tuning royalty is ready to talk and answer any questions about upgrades.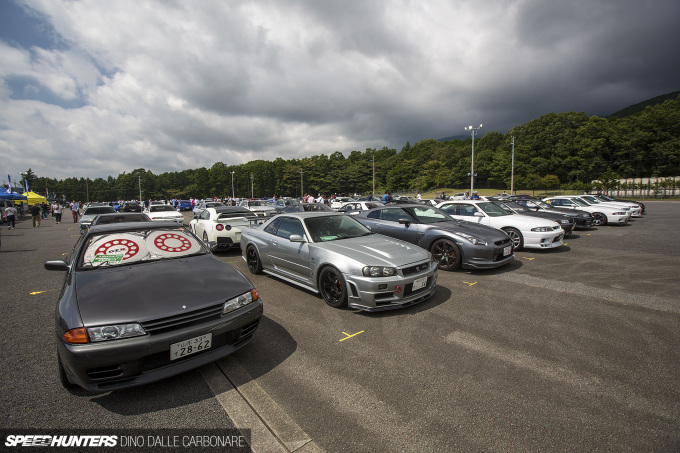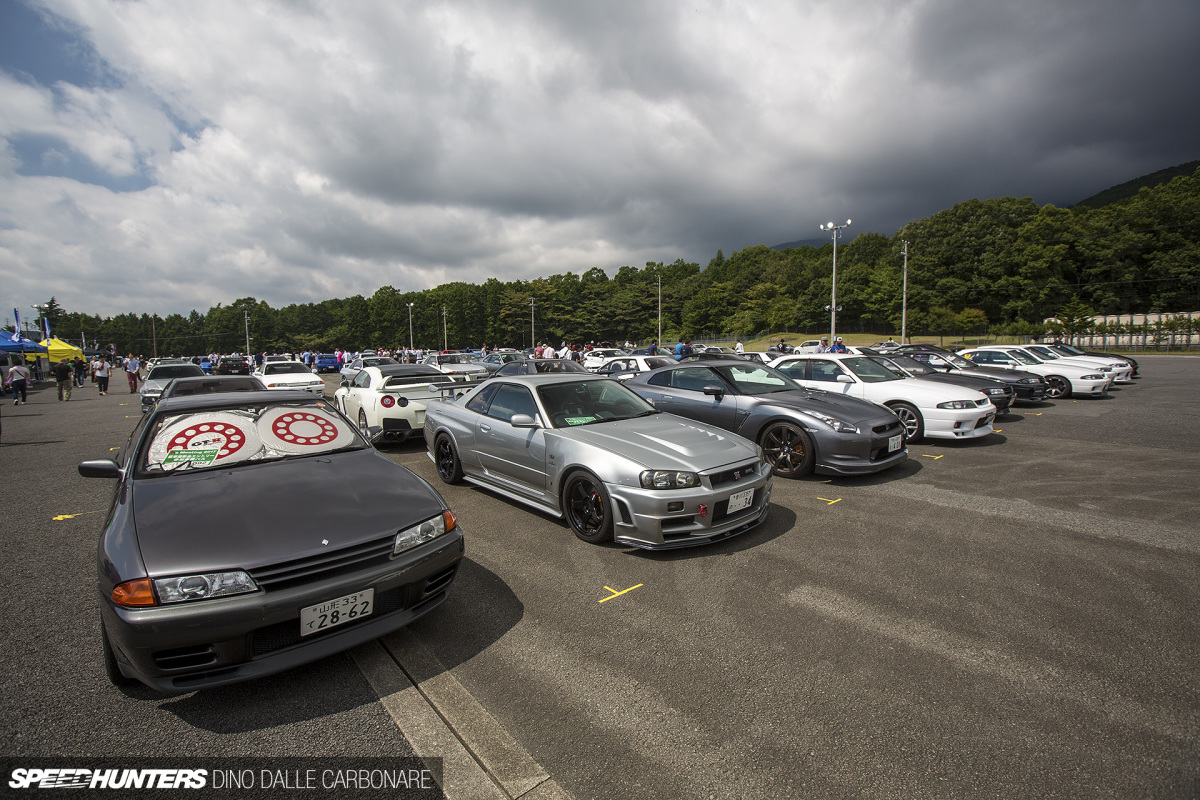 Visually, it's on the verge of being overwhelming. Seeing a sight like this never gets old.
For GT-R owners, the mental shopping lists of parts and mods that you want to do to your own car, inevitably gets longer and longer. That's partly because the whole GT-R tuning scene seems to become more alive as each year passes; the newfound popularity of the RB26-powered cars continuously spawns new parts as manufacturers work hard to get the most out of these older models.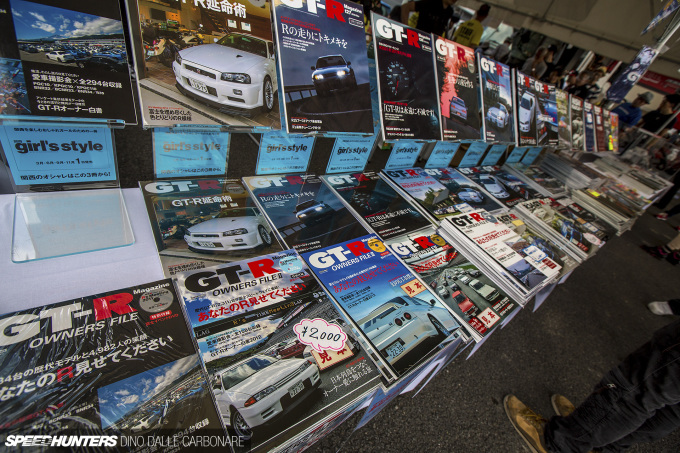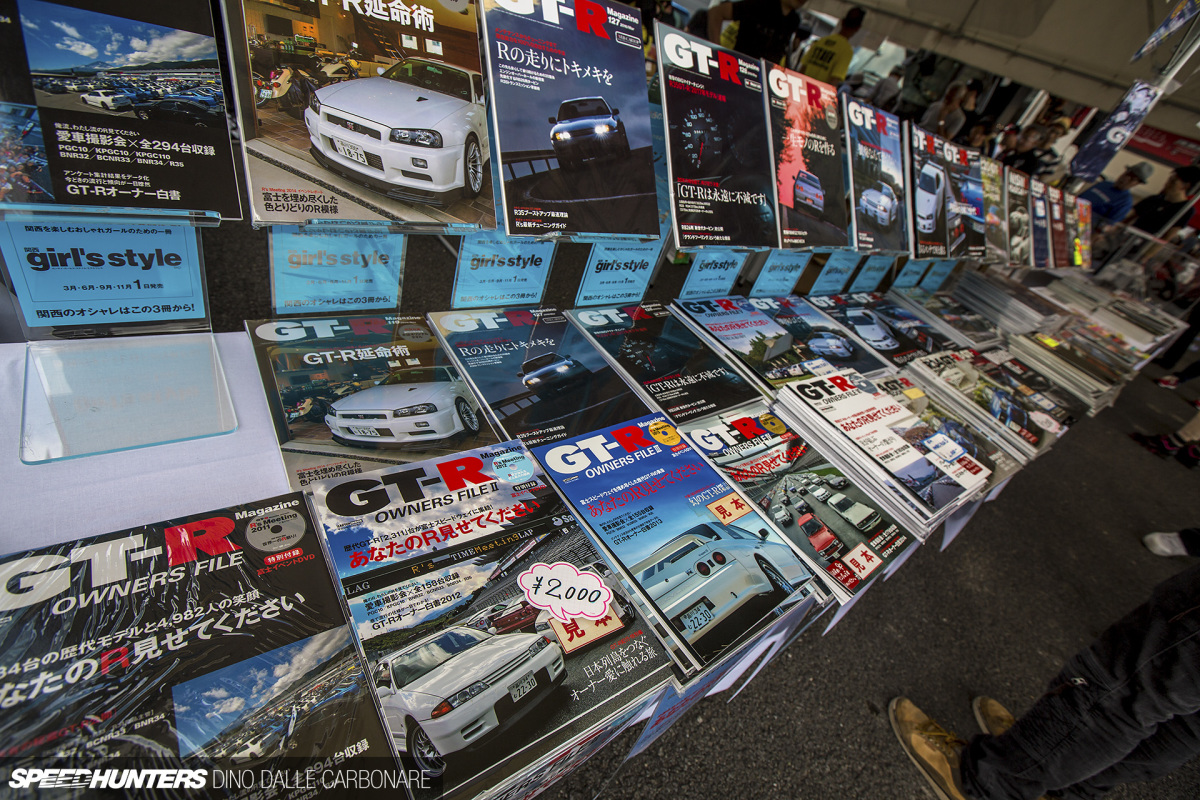 GT-R Magazine does an awesome job of documenting it all, too. The publication has been around since 1994 and is nothing short of a bible for most GT-R owners. Its pages provide a perfect way to keep your finger on the pulse when it comes to running, modifying and fixing your car.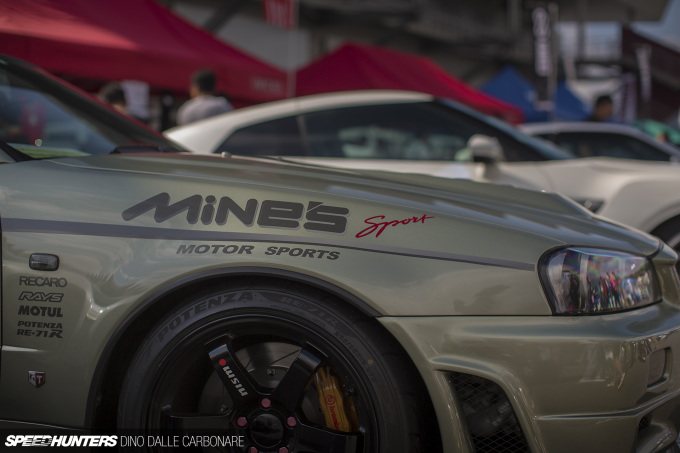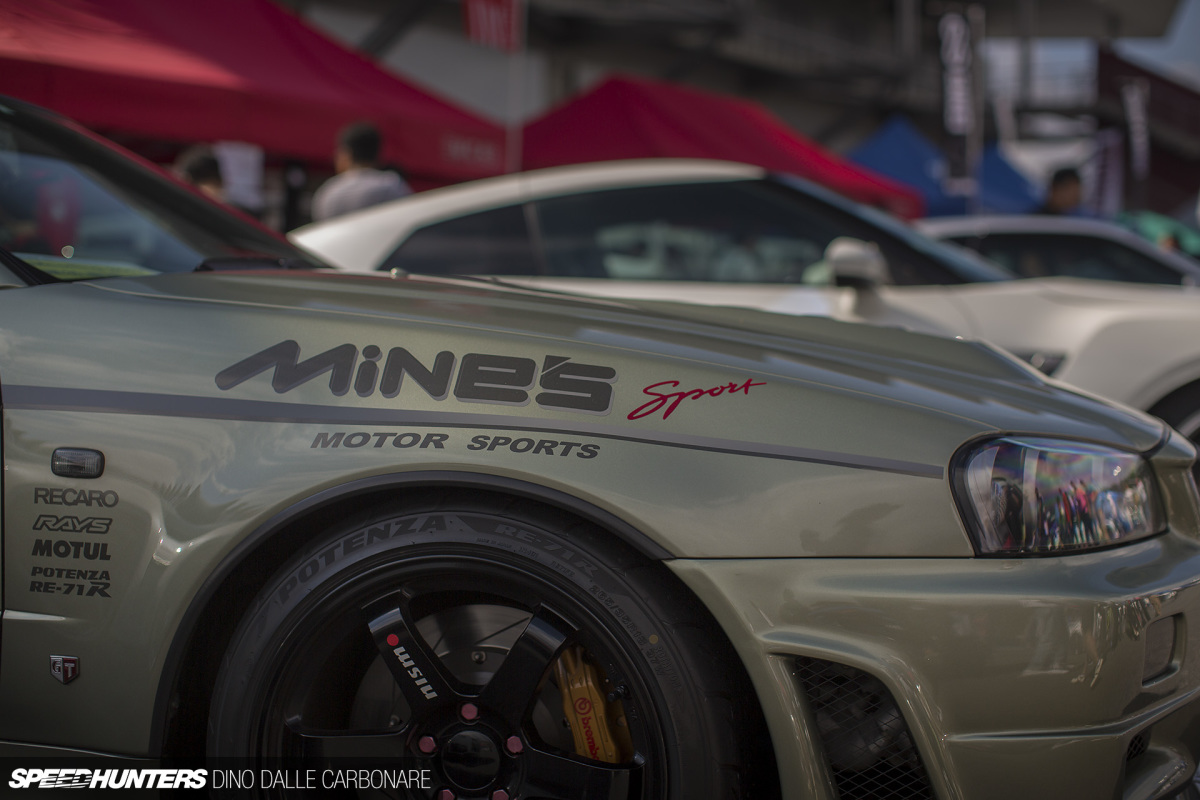 It's always great to revisit the masters, and seeing a world-renowned tuner like Mine's bringing their cars out is such a pleasure. A brief chat with Nakayama-san, the chief mechanic at Mine's, confirmed that the company has shifted a lot of its efforts into building complete cars, especially for export to other countries. They've seen a huge shift in customers going back to the RB26 GT-Rs, and have adapted to meet the market. It's a good thing to see and it makes so much sense. Mine's created a very unique image and tuning philosophy with their cars back in the 1990s and early 2000s, but some of that focus seemed to get lost once they began concentrating on the R35. You could say that balance has been restored.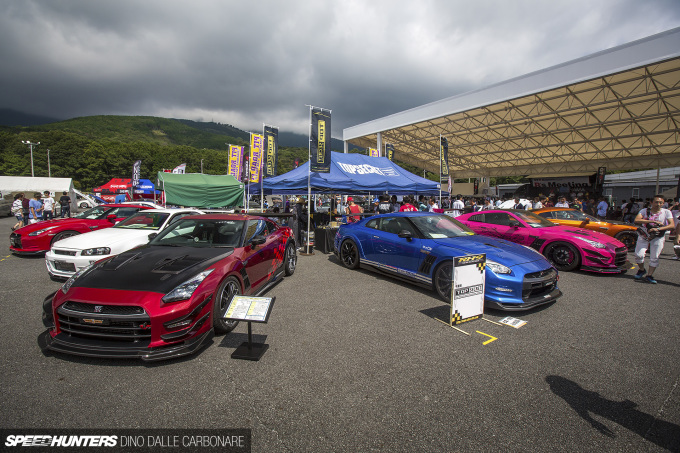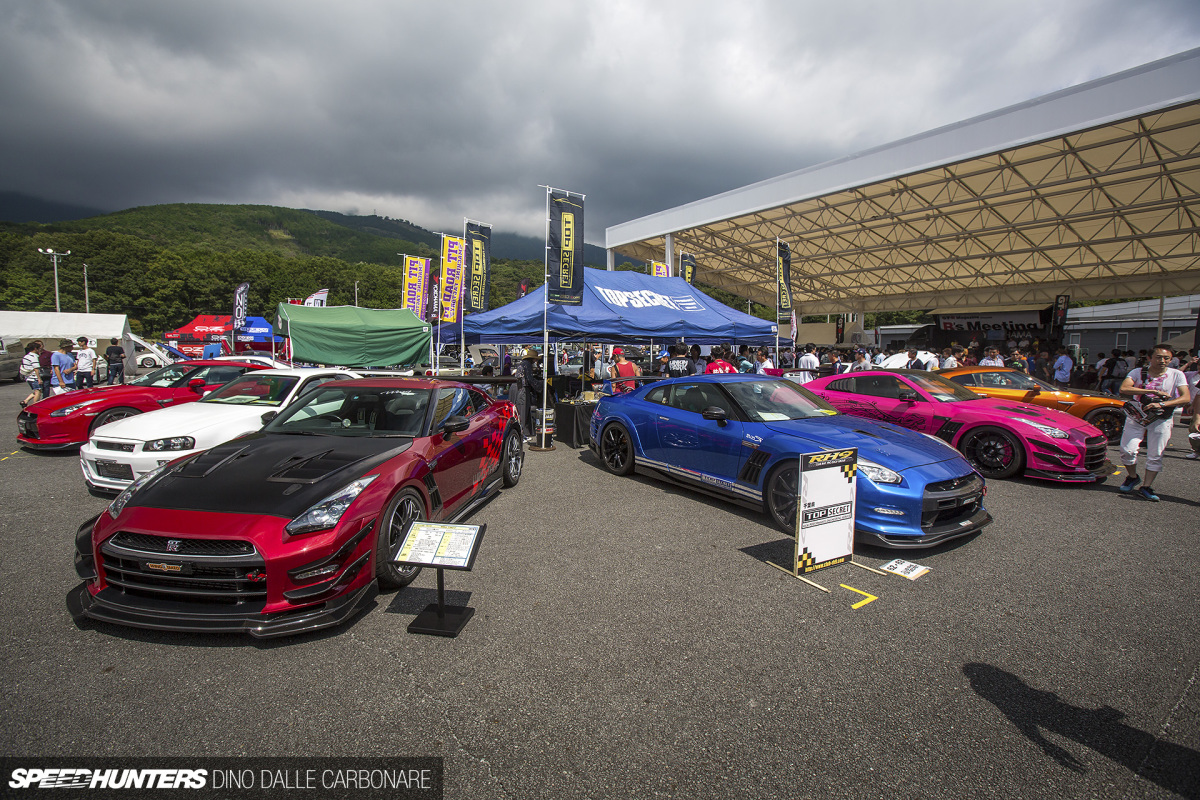 Top Secret on the other hand has done a good job of bringing in a large number R35 customers, yet managed to retain that 'we'll tune anything to whatever spec you want' mindset that Kazuhiko 'Smoky' Nagata is all about. I shot a separate spotlight on the orange GT-R at the back there, so stay tuned for that.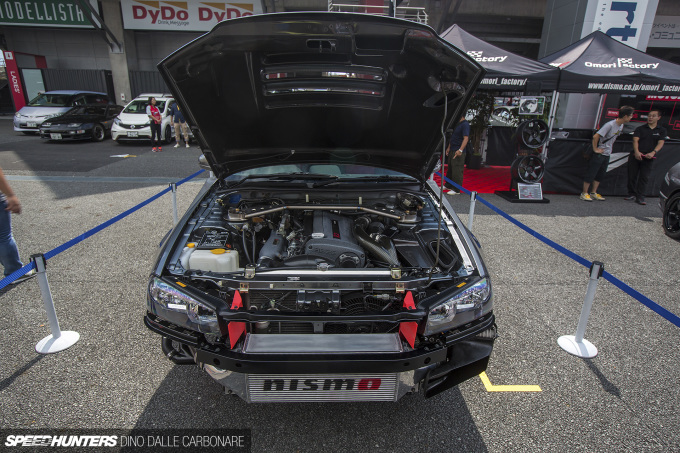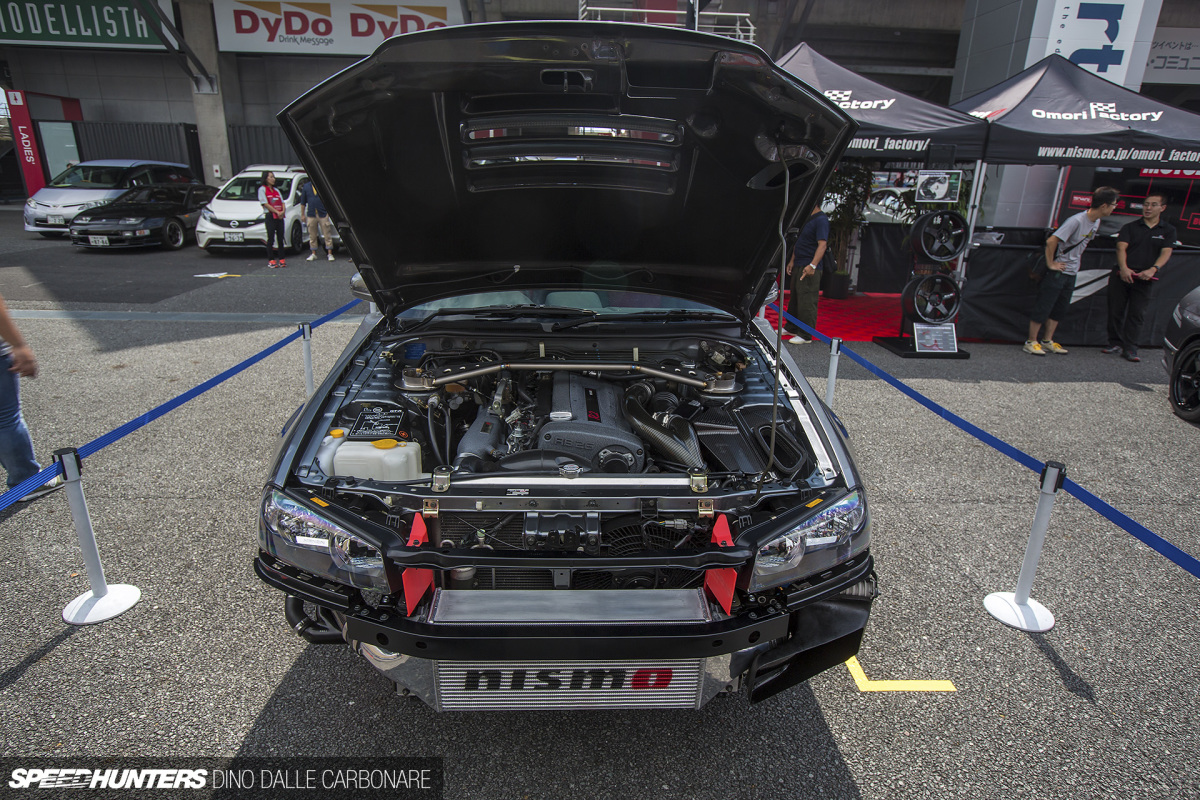 Following the popularity of Nismo's in-house restoration services, which are showcased with this, the R34 Clubman Race Spec, and more recently the R33 Grand Touring Car, you'll be all happy to know that development is still continuing. On the R34 at least.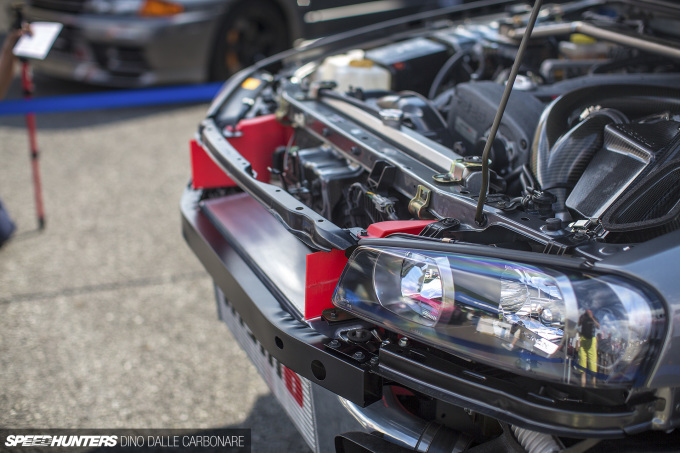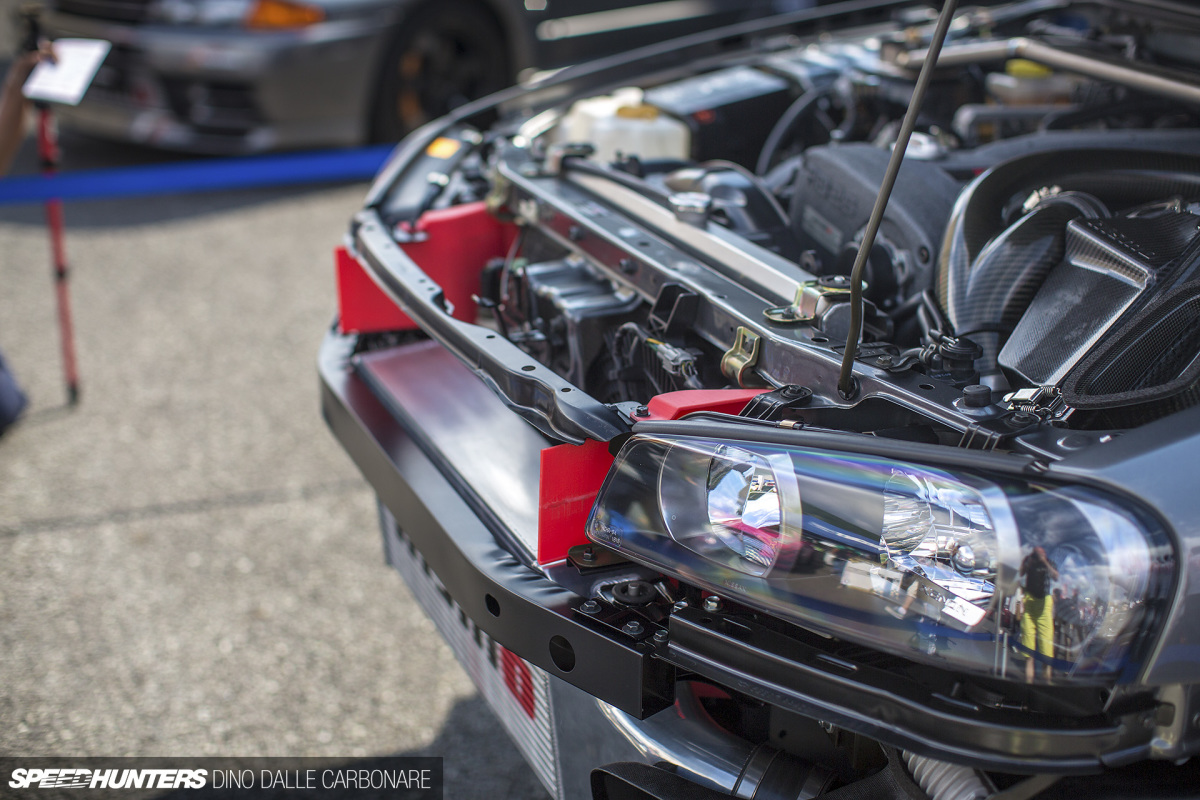 The reason the car was on display without its carbon Z-tune bumper fitted was because of those red pieces of plastic. They are prototype air guides which have the job of cleaning up the air flow coming in through the grille section. By the time they go into production I'm sure they'll be made out of carbon fiber.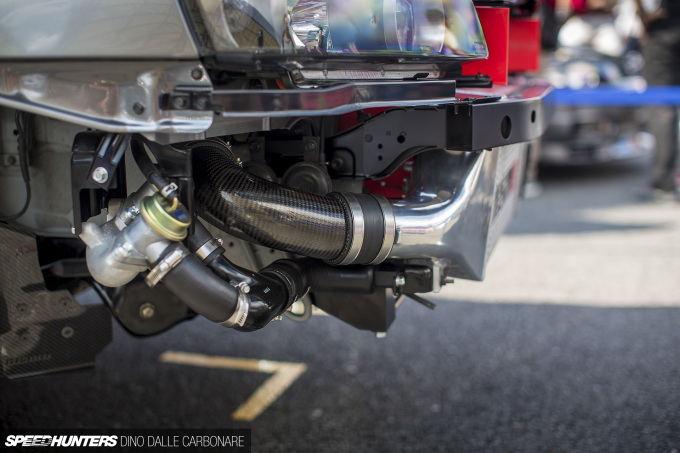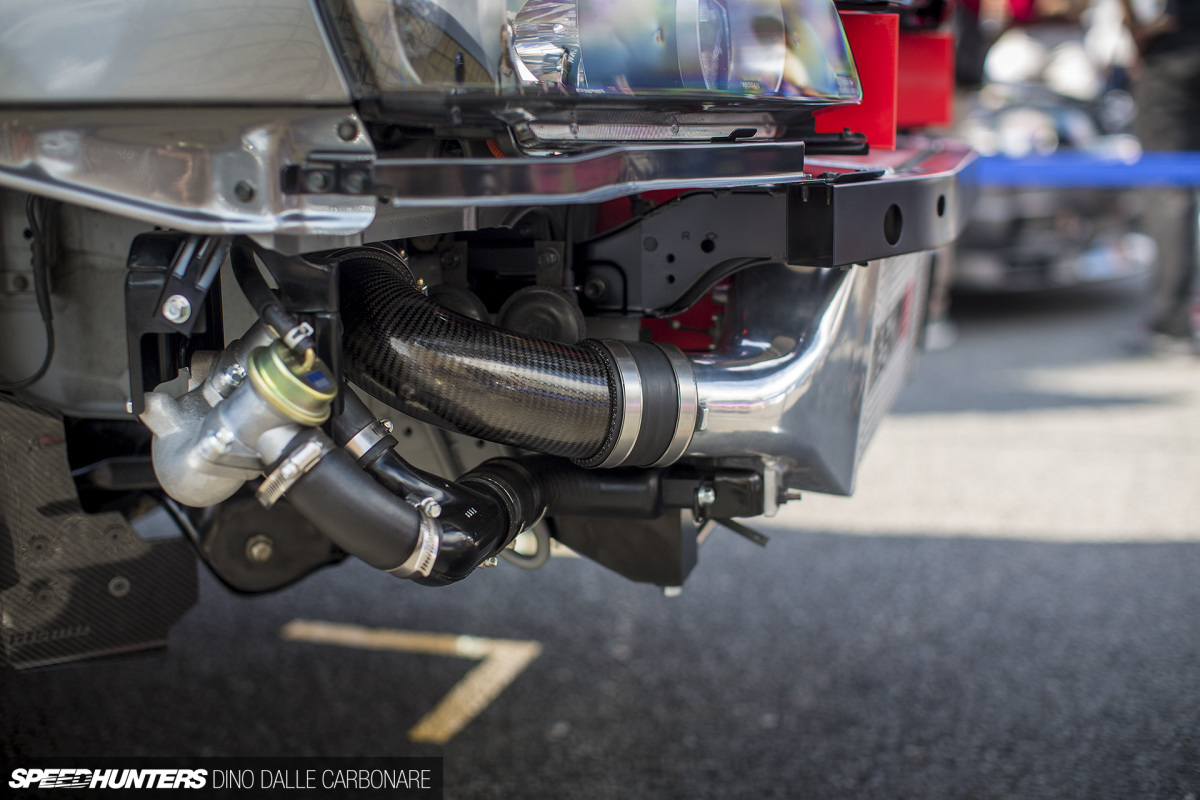 Just like the intercooler piping kit now being offered.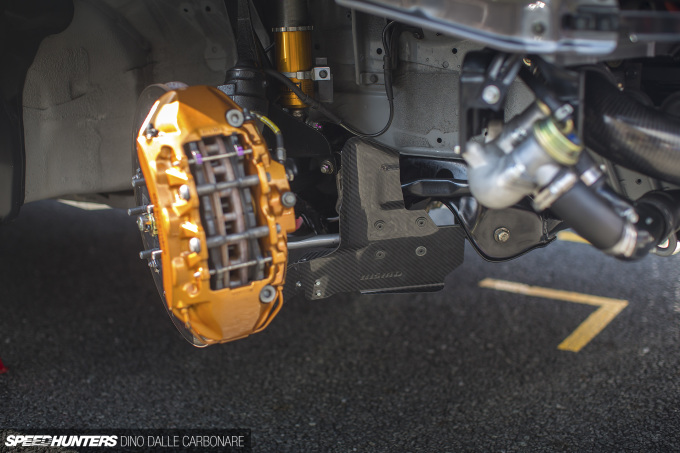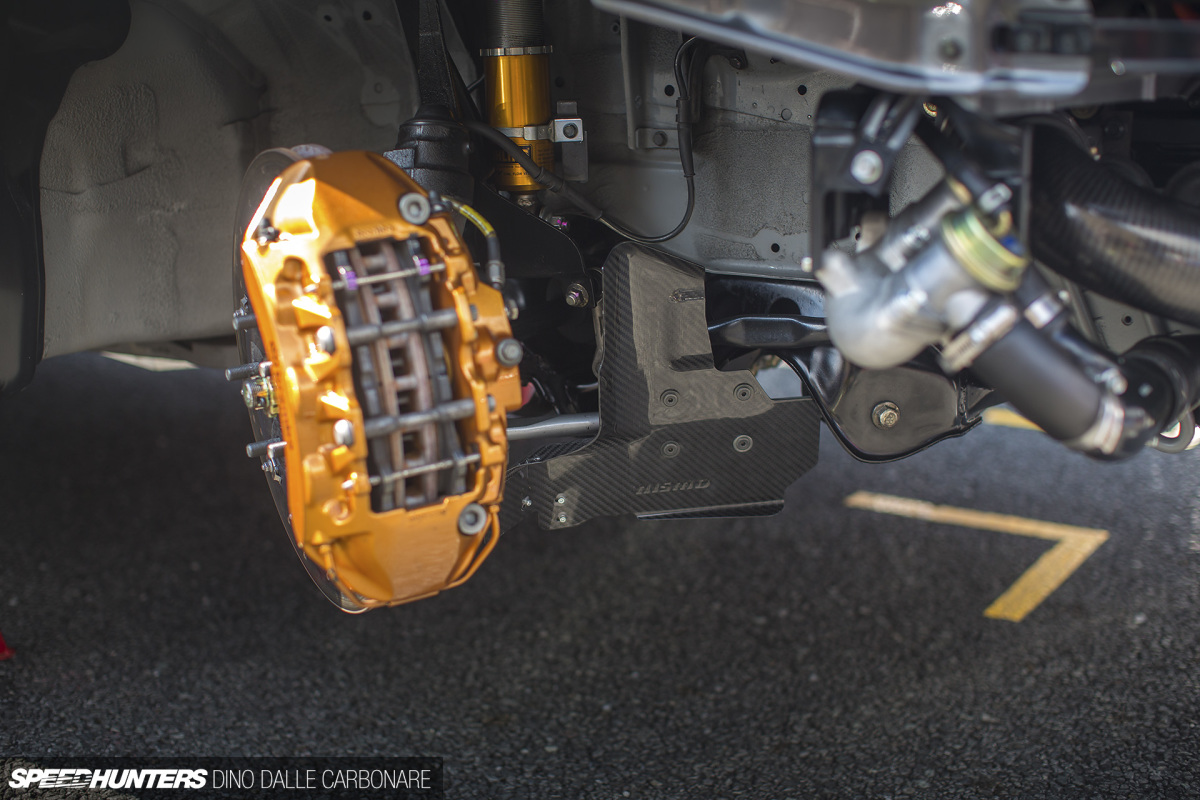 Nismo had other carbon goodies to show off too, like this air guide which works with the Z-tune front bumper's lower openings and forces more flow towards the center of the brake rotor. It seems like overkill to make this out of carbon fiber, but hey, it's Nismo after all.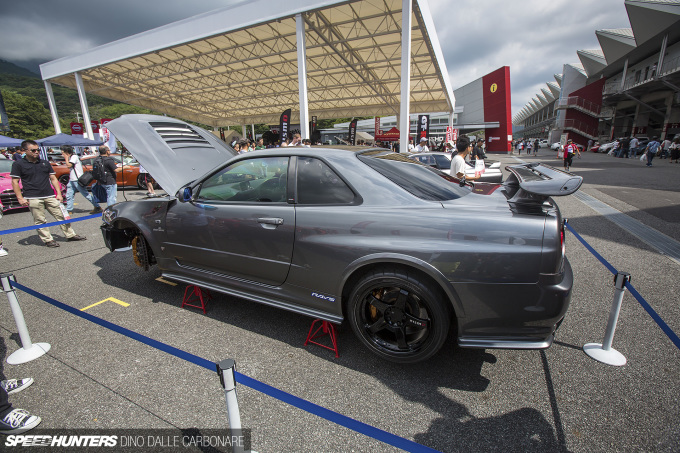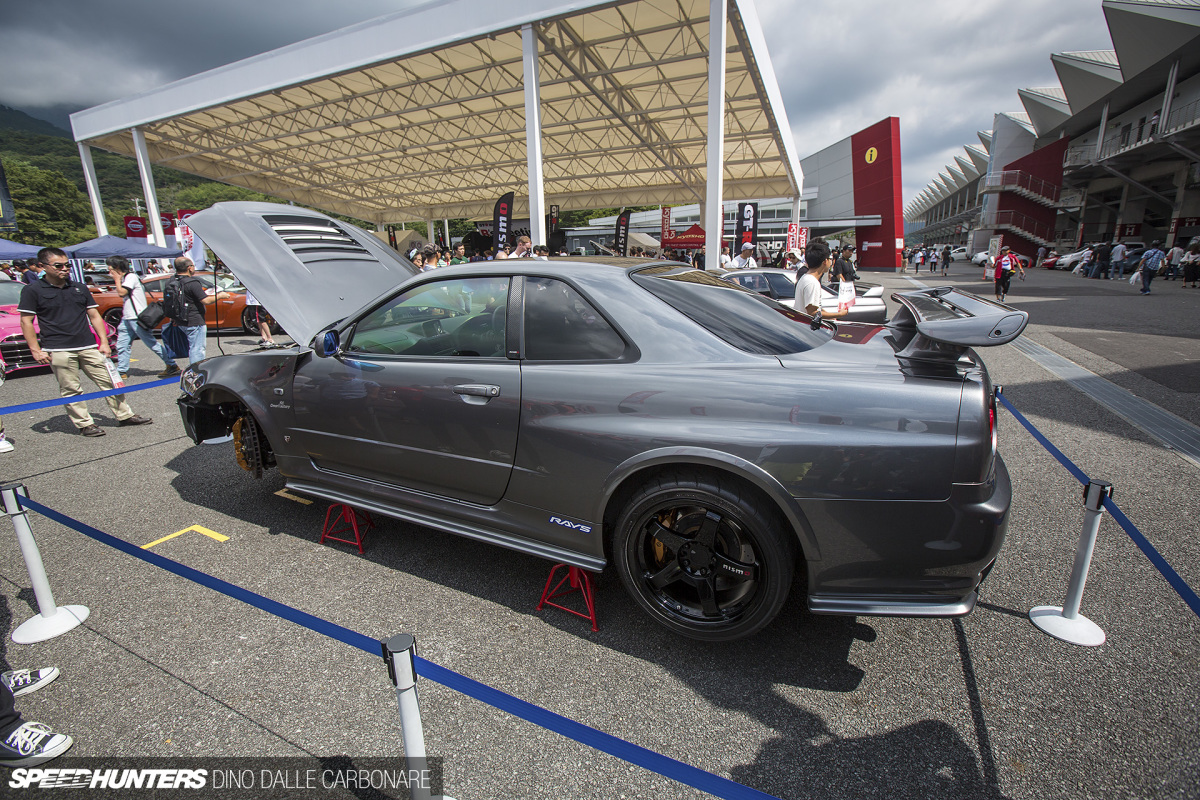 Also on display were new black Nismo LM GT4 wheels, which no doubt will sell-out just as fast as the previous limited-production offerings.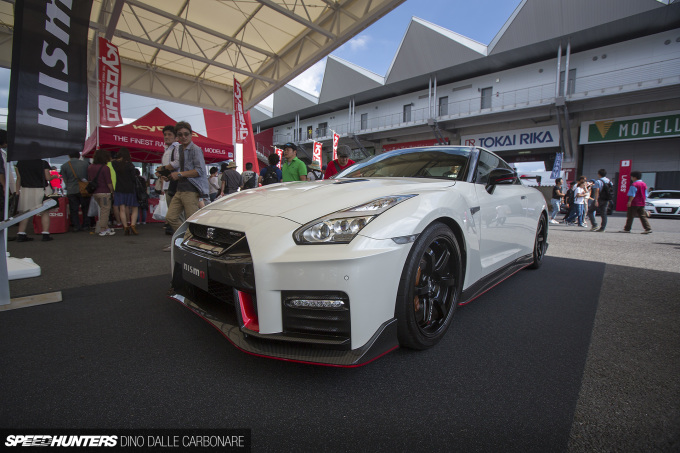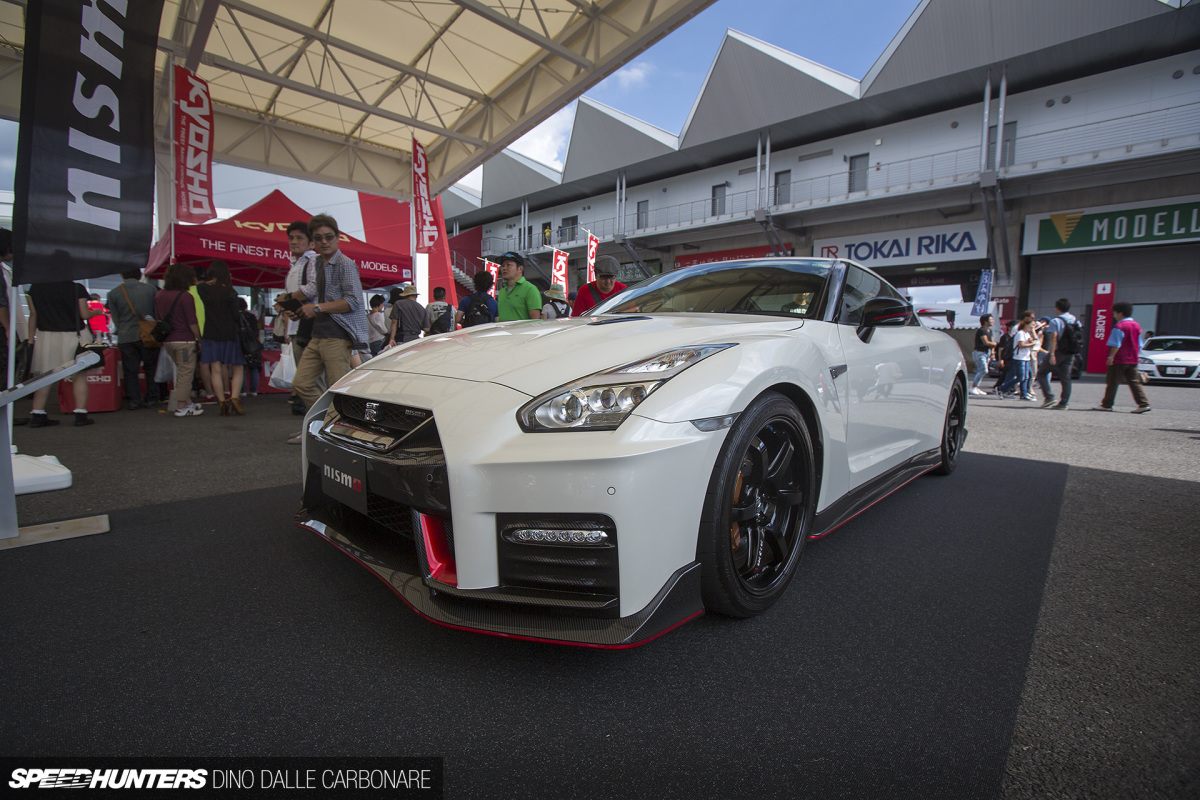 We can't talk about Nismo without showing at least one image of the new and improved 2017 Nismo R35, which I just have to drive before the end of the year. Given the asking price (around ¥18mil or approximately US$165k), I can't wait to find out what it brings to the table.
Cool New Parts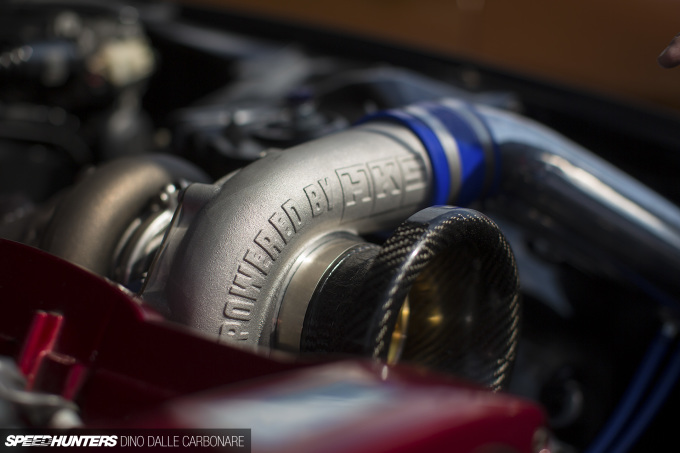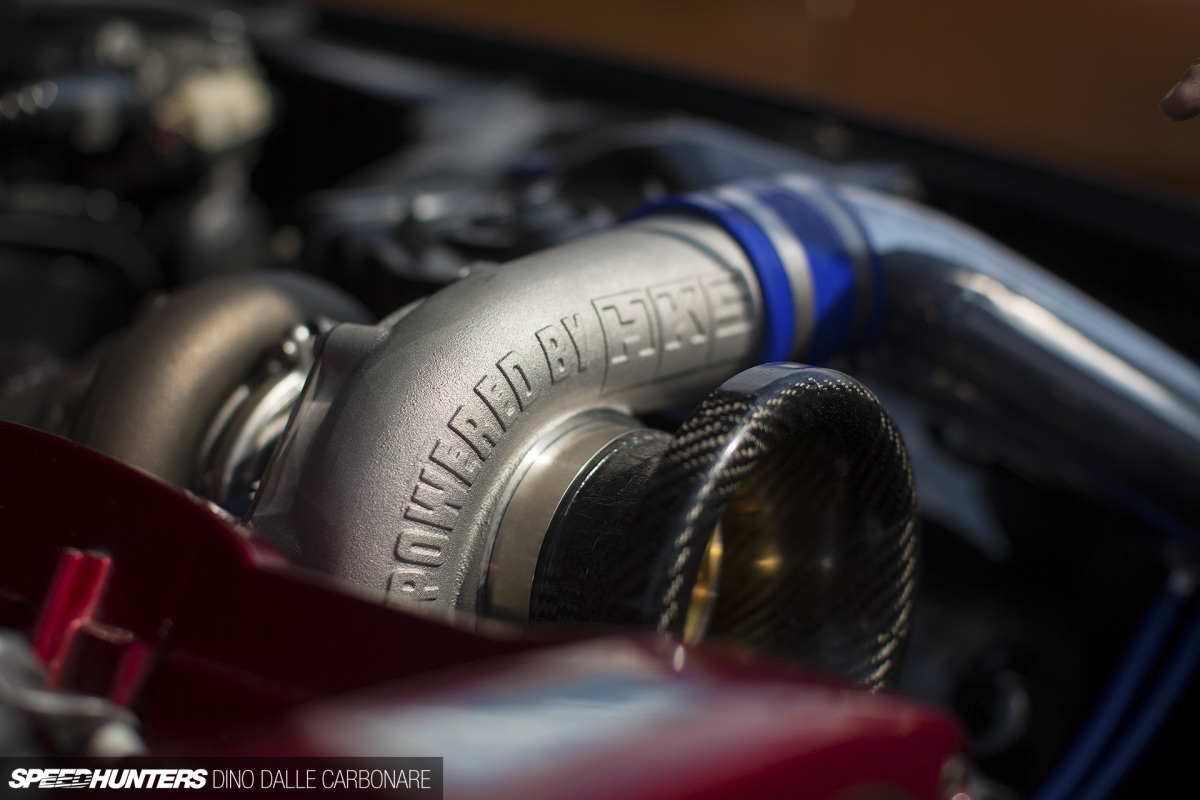 Right, let's talk about parts, specifically the ones that make a real difference when it comes to performance. I'm going to start with HKS, which is in the process of releasing a completely new line-up of Mitsubishi-based turbochargers.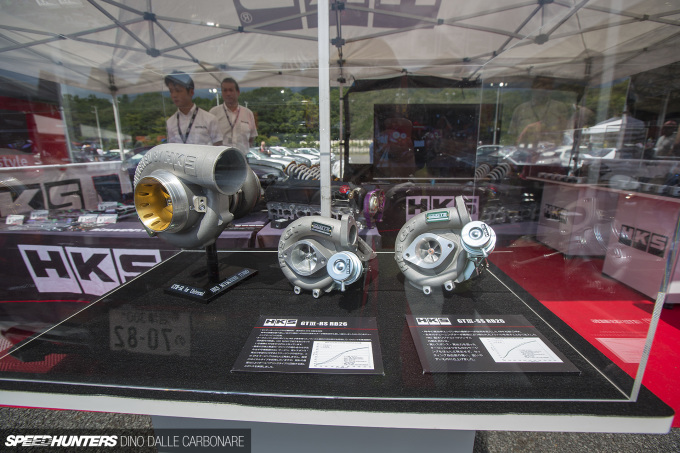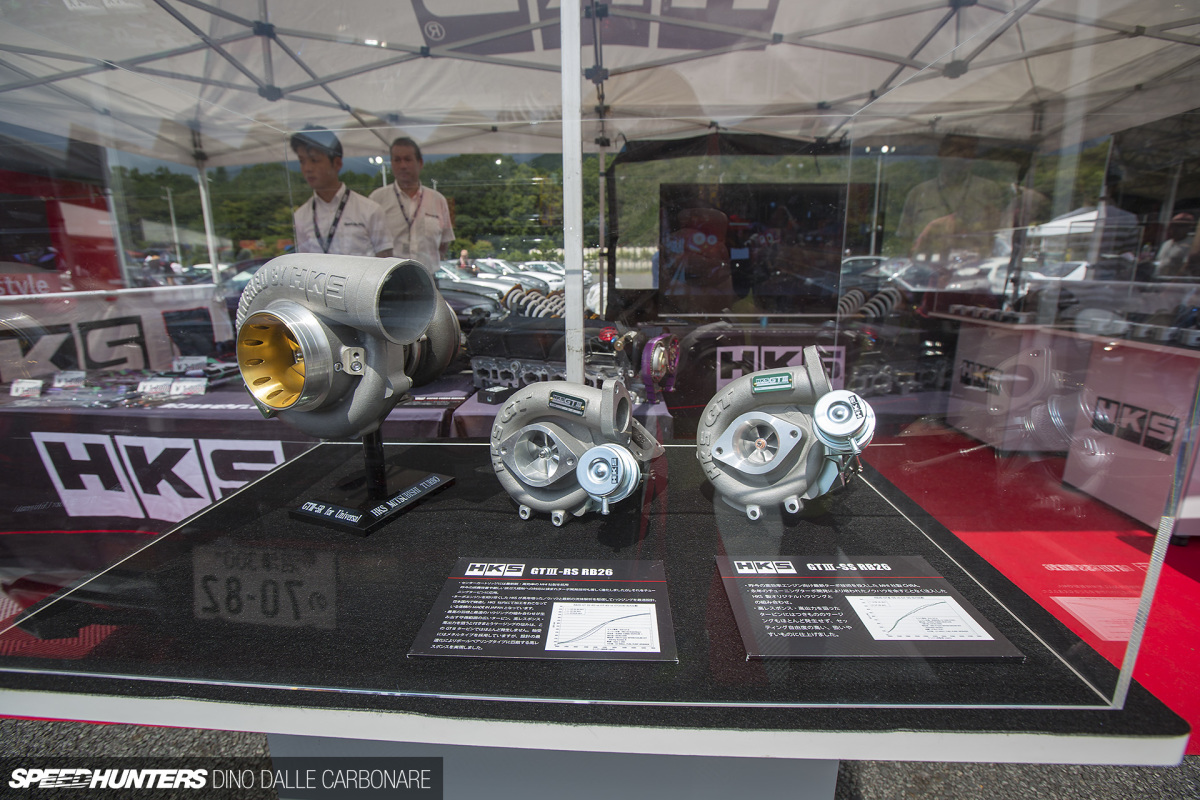 After replacing the old GT-SS and GT-RS with new GTIII-SS and GTIII-RS versions last year, it's time to roll out the big boys. The GTIII-5R and GTIII-4R replace the T51 and T04Z, respectively. It will be cool to see how these are received in the Japanese tuning industry, especially now that there is so much competition from foreign brands like GCG/Garrett and BorgWarner.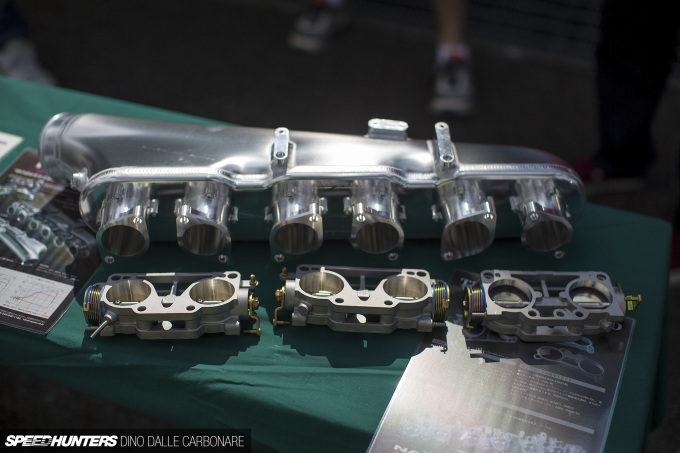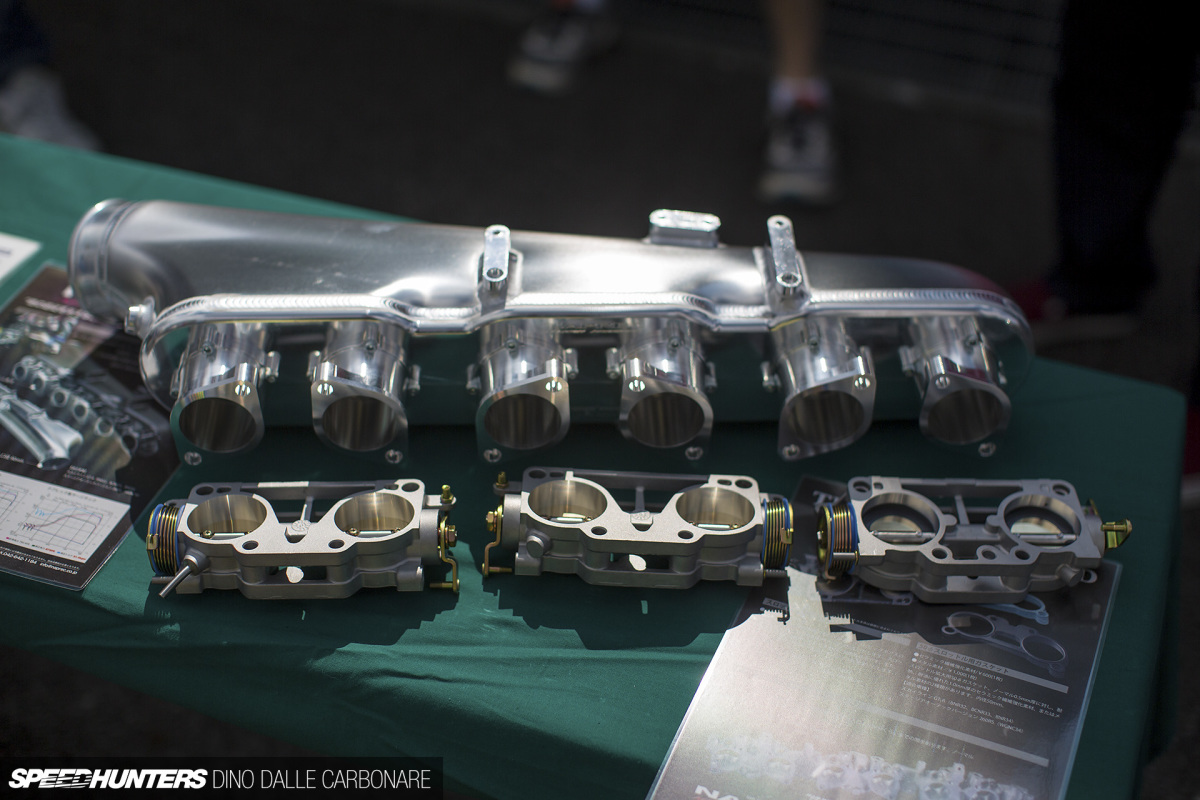 Over at the NAPREC booth, it wasn't their polished and ported heads that grabbed my attention; after all, I had seen every step of how those are done at their factory. Rather, it was the RB26 intake manifold they are selling in Japan, which is a collaboration with Hypertune in Australia. Along with a 90mm single throttle body version, a six 49mm throttle body setup is offered, the latter probably better suited to a more conservative tune geared towards response and mid-range punch.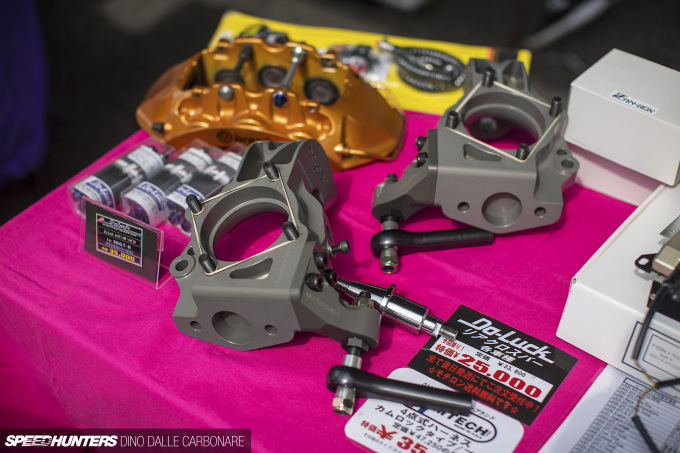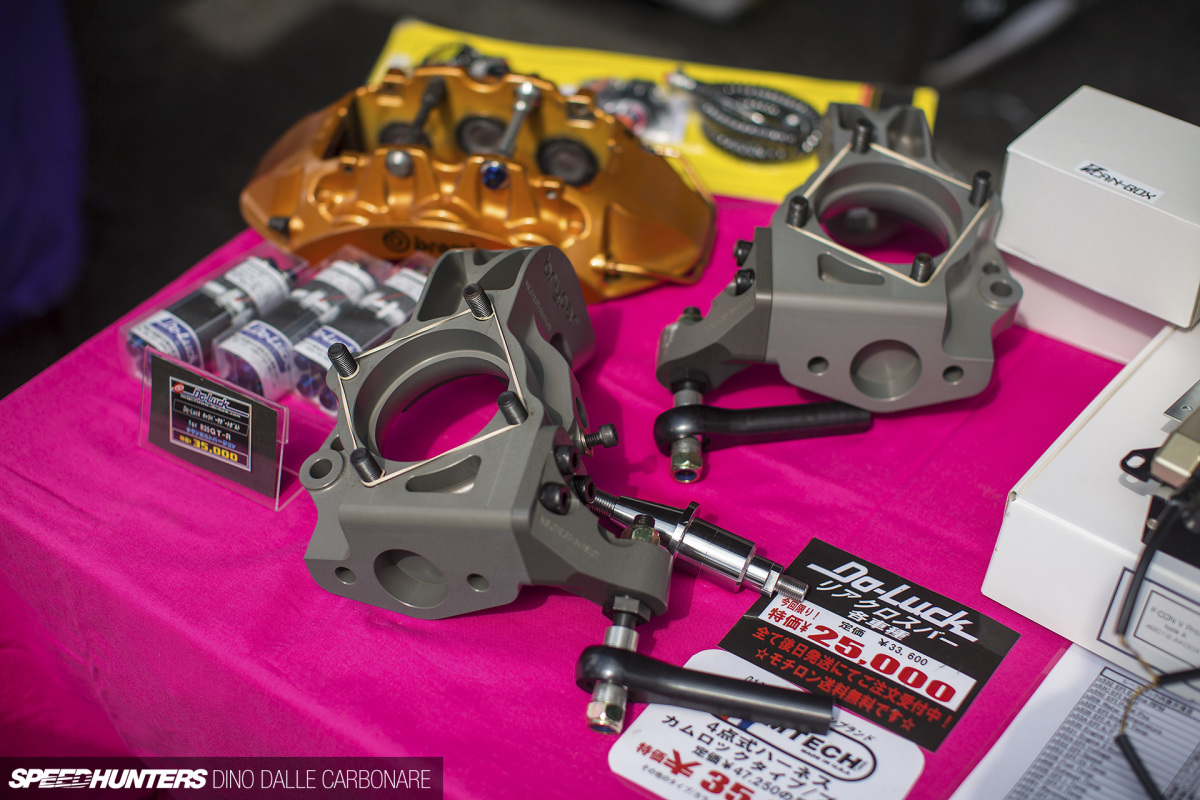 Do-Luck is a Japanese tuner that goes against the grain. They've always been the first guys to import interesting and innovative products from abroad, and this latest acquisition from Australia –  billet Brypar uprights for the R32/R33/R34/R35 – is aimed at those serious about track performance.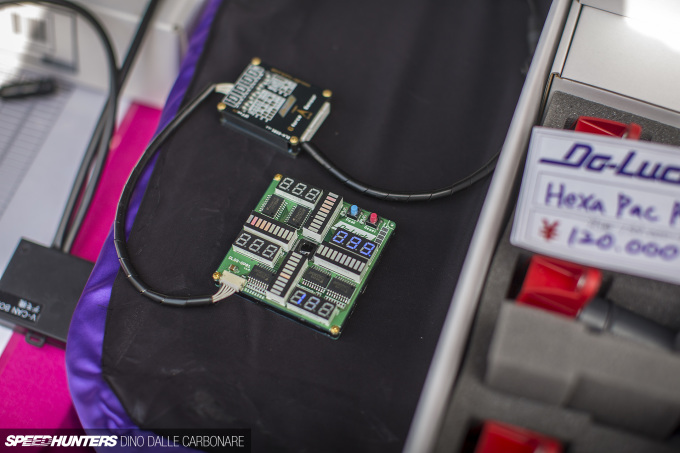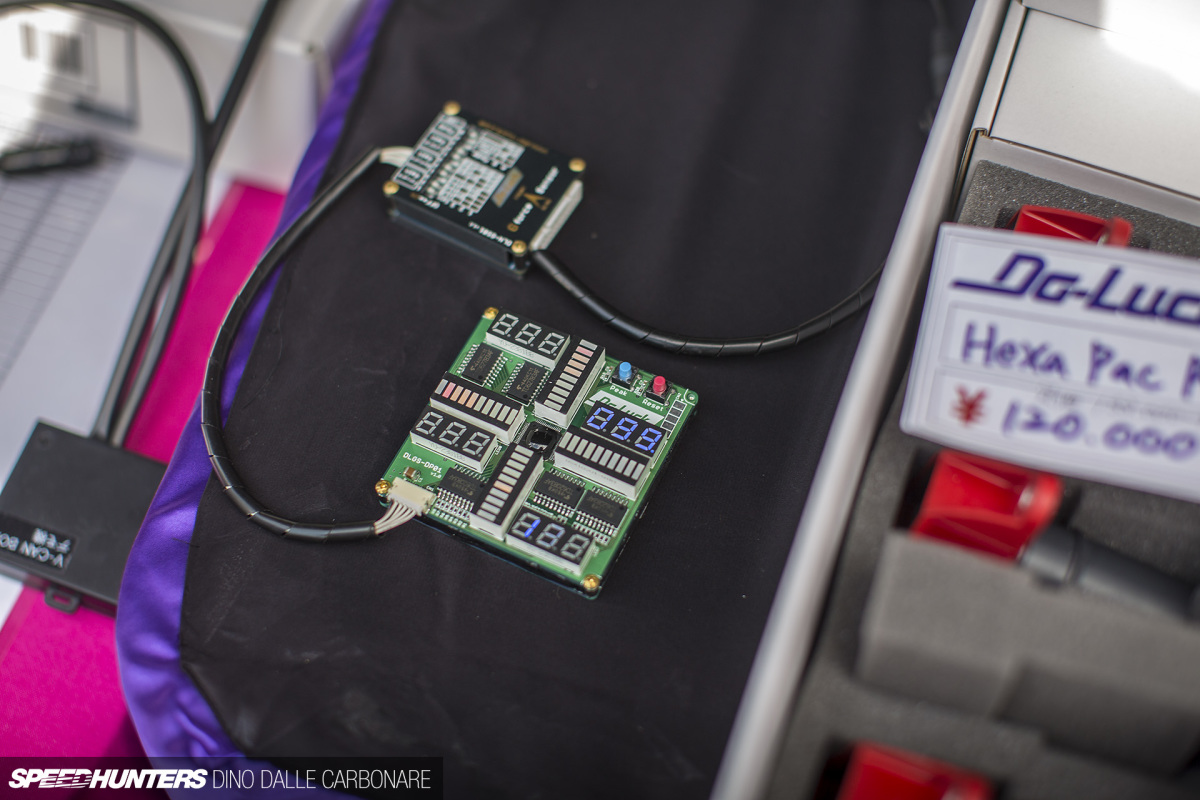 Do-Luck also had their digital G-force Sensor on display, a totally customisable unit that lets you fine tune how the Attessa system reacts, efficiently using more AWD more of the time.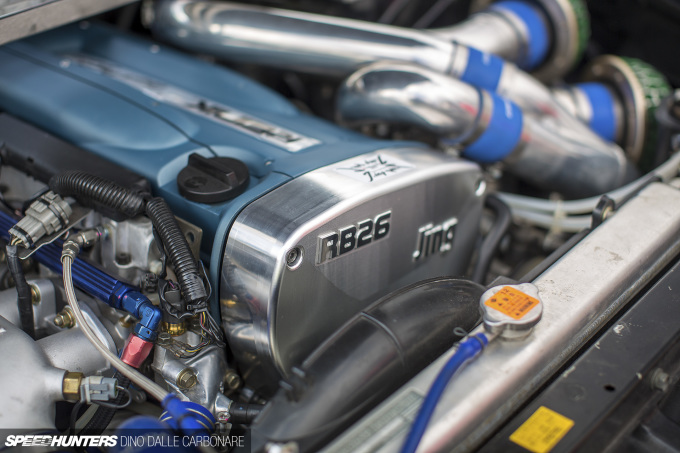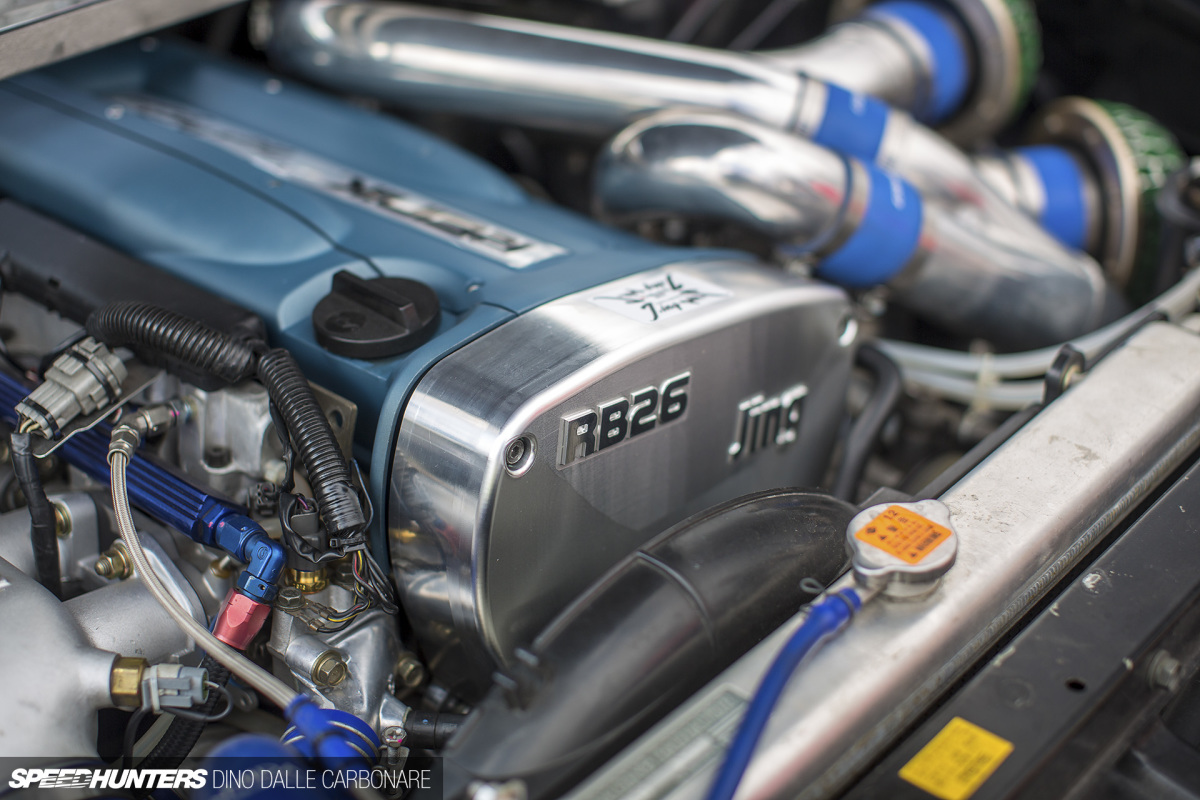 One really interesting thing I spotted was this billet cam cover over at the Jing-R booth. Notice anything different? That's right, it doesn't have the big protruding cam angle sensor on the exhaust cam side. That's been removed and the engine's running a conversion kit that will be released next month. It's quite complex and currently requires the use of a MoTeC engine management system, but it opens up a lot of potential for more efficient tuning while also giving the engine a cleaner look.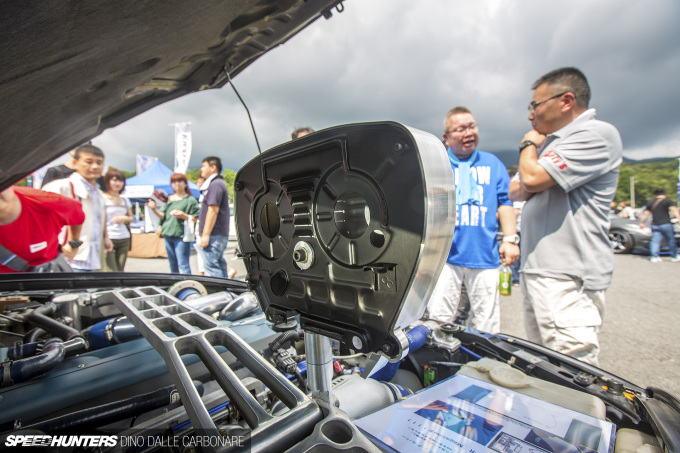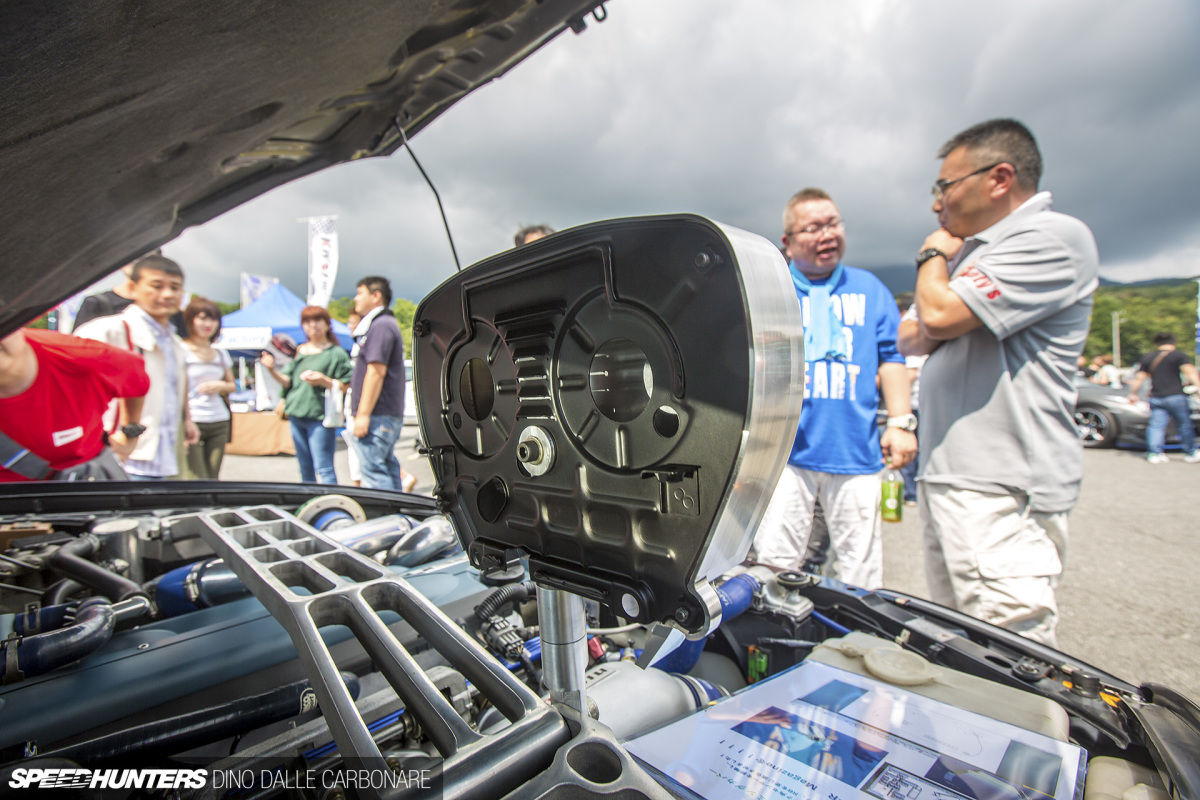 This is what the rear of the cover looks like.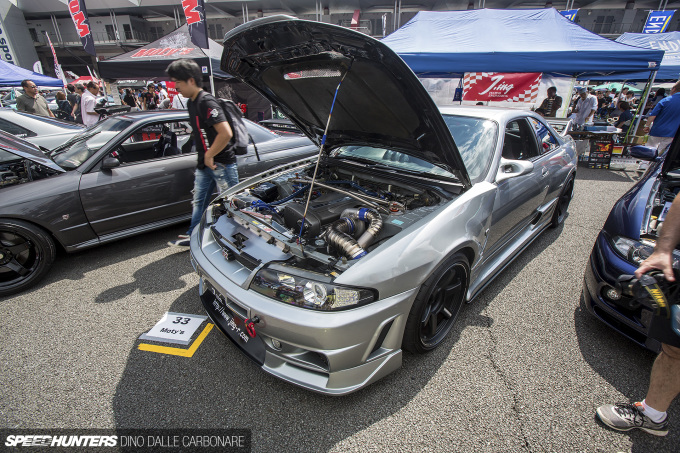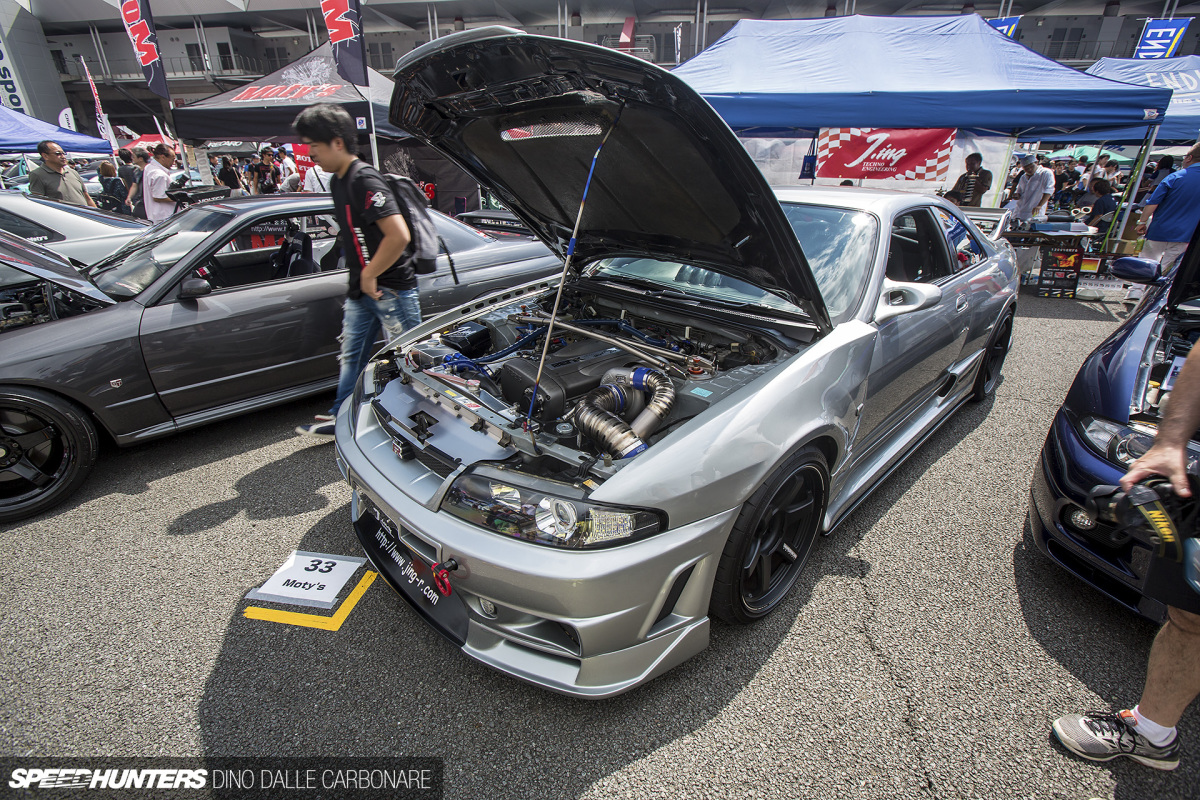 Jing-R also had this really clean R33 running custom vented fenders on display.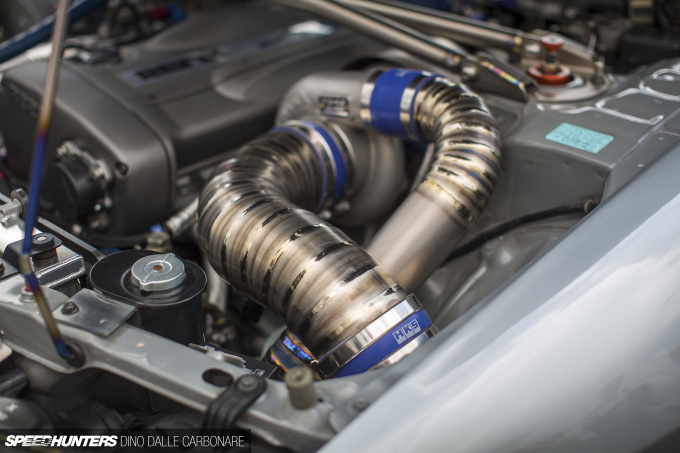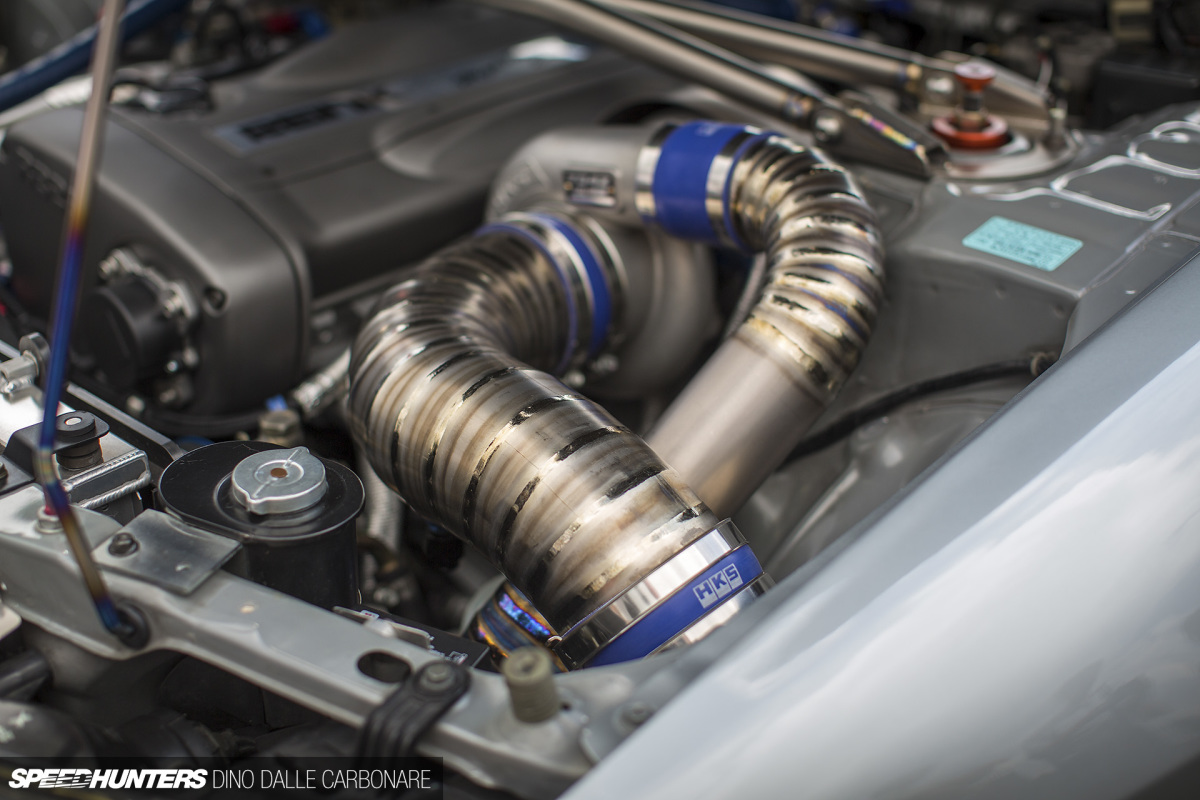 However, it was the lobster tail welding on the titanium piping around the single turbo conversion that took most people's breath away. Is it better than Nismo's carbon fiber piping for the twin-turbo setup? Now that's a hard choice!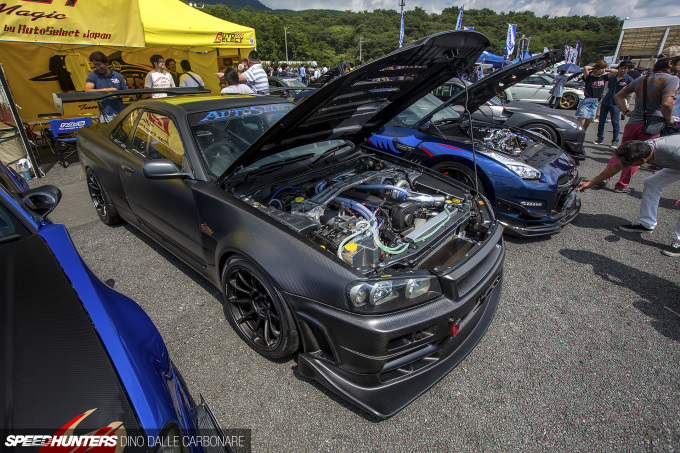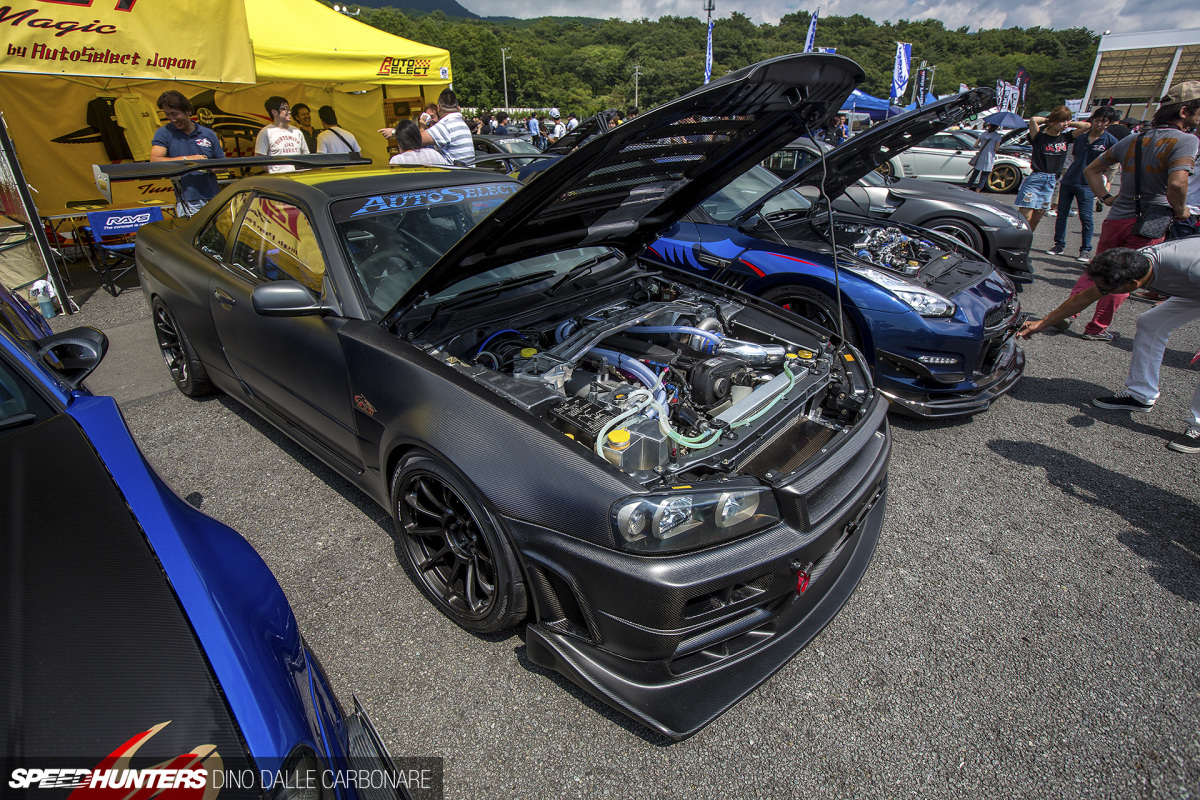 A few steps away was the Auto Select booth with some serious GT-Rs on display, including the R34 we looked at earlier in the week. This other san-yon, however, had me quite confused when I took a peek at the engine.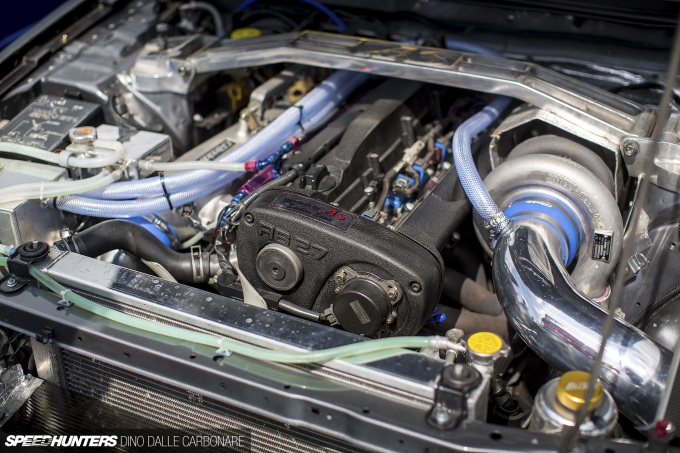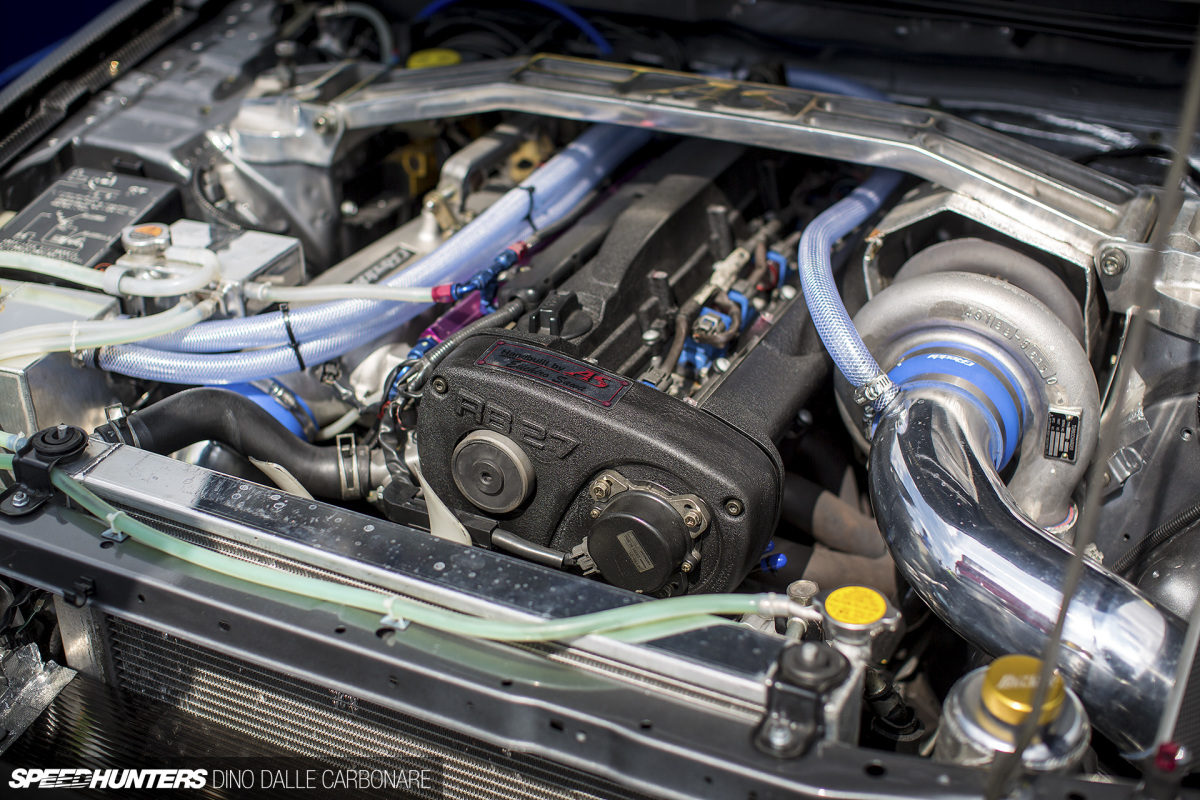 The RB27 embossing on the front cover is pretty impressive, but what I found really interesting is the fact they've used RB25 intake cam components on an RB26 head. It's something I need to investigate more when I visit them next. Essentially they have achieved the opposite of what Jing-R's done with their billet cover!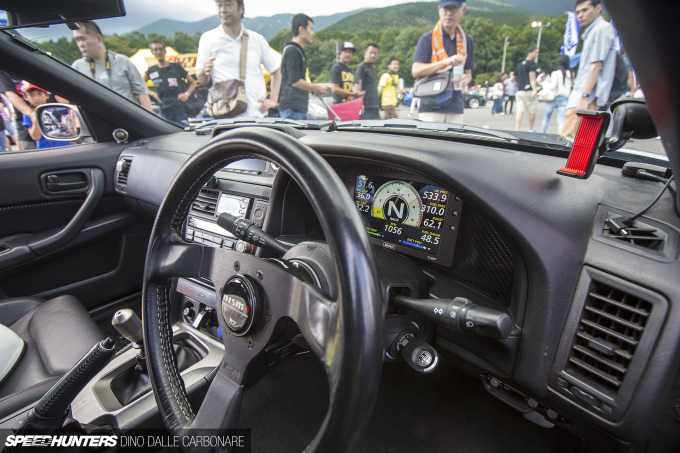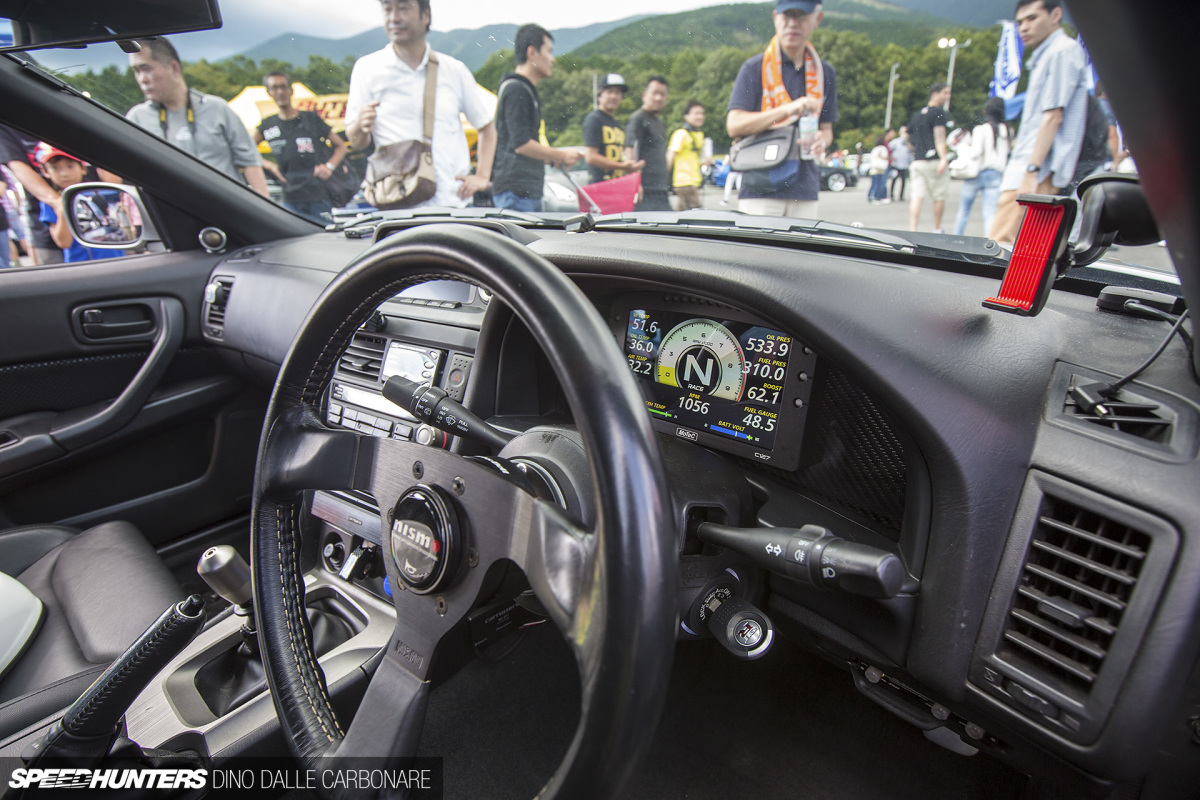 And now to something that got me really excited: an R34 running a full MoTeC engine management system with matching C127 color dash display. This is proper race car stuff right here, and the perfect example of how things are slowly changing in Japan as tuners and owners open up to using more advanced solutions from abroad. Japanese parts makers will have to step their game up.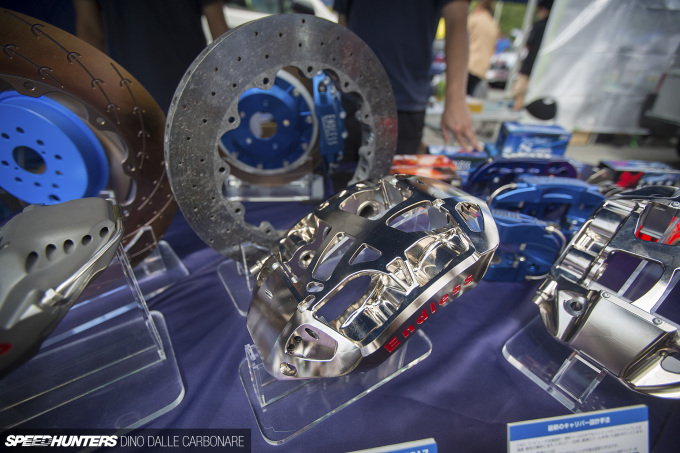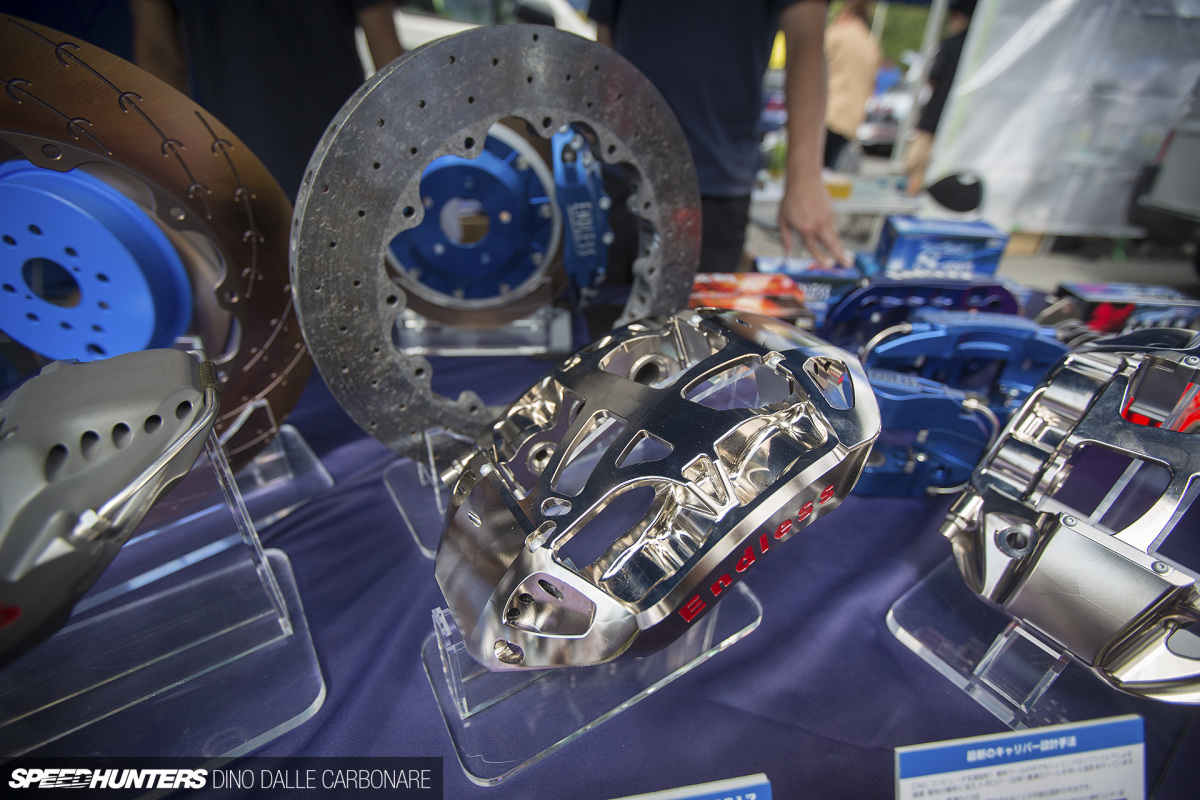 You can have all the performance you want, but power is nothing without control – or rather the ability to shed momentum off efficiently and without fade. The best Japan currently offers is the Endless monoblock caliper system with carbon rotor upgrade. It's wonderful stuff and more geared toward the R35, so you can imagine how many zeros there would be on the price tag. I was actually afraid to ask, so I just quietly moved away with lots of JDM respectful bowing thrown in for good measure.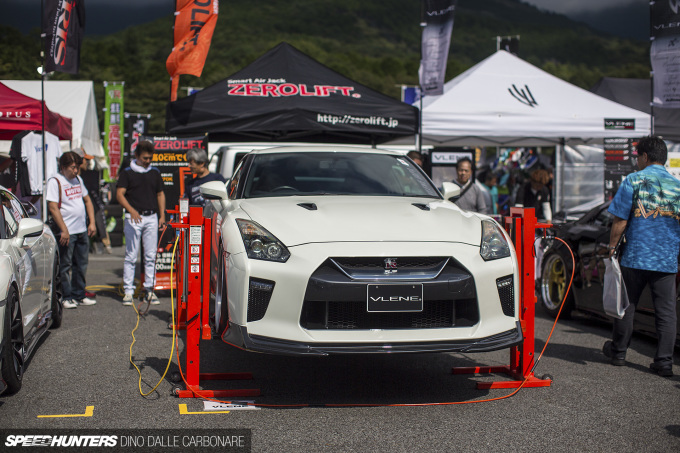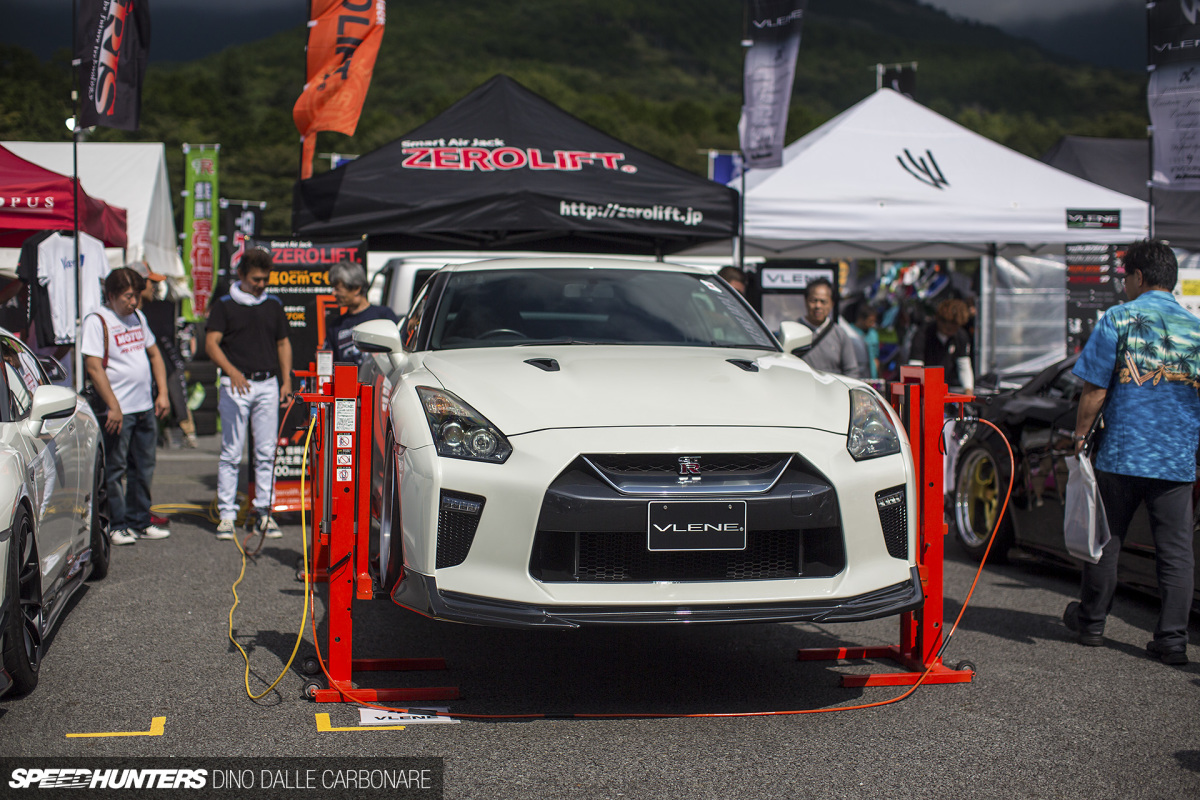 If you ask any enthusiast what their dream garage would be like, I'm pretty sure the vast majority would include a car lift. I know I'd have one in mine, and here's a solution for those who don't have a lot of vertical space at their disposal. Pretty cool, I thought.
A GT-R Sort Of Celebration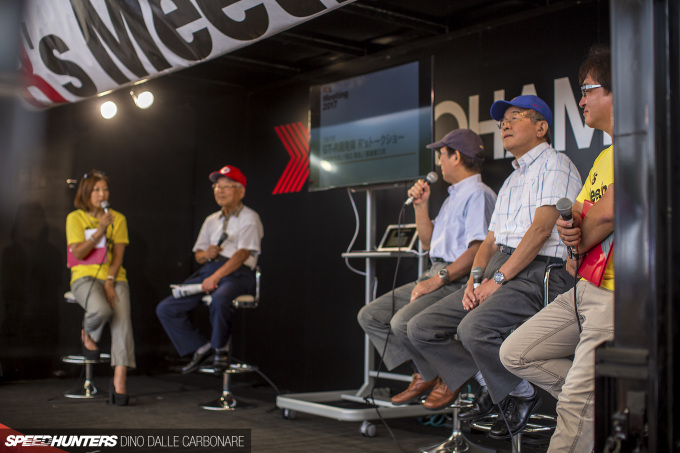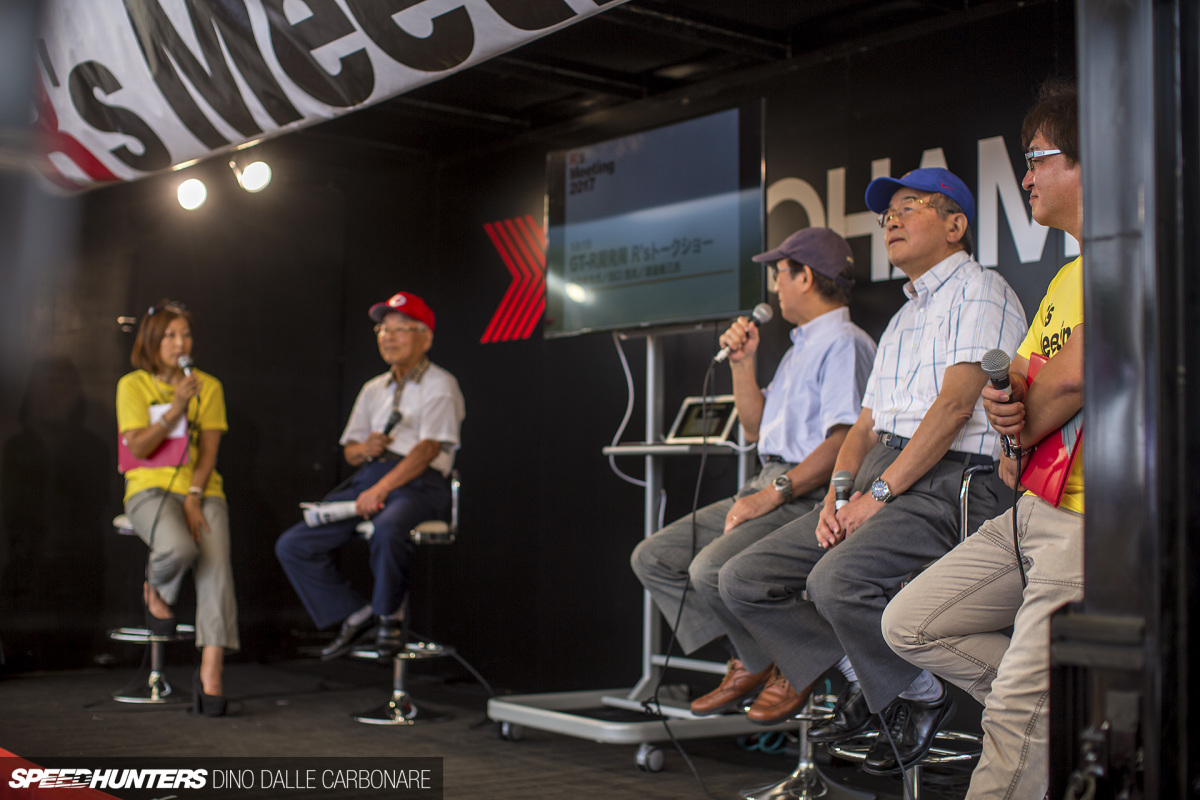 Of course, no Japanese event could possibly be complete without a stage area and lots of important guests being interviewed. It's always cool to hear the father of the GT-R, Watanabe-san, talking about his baby.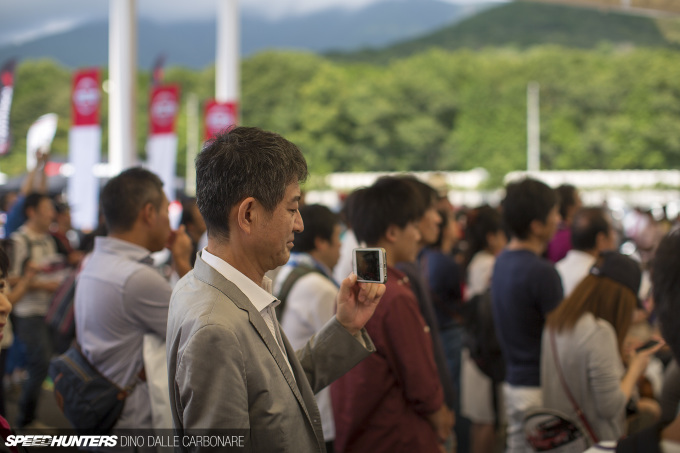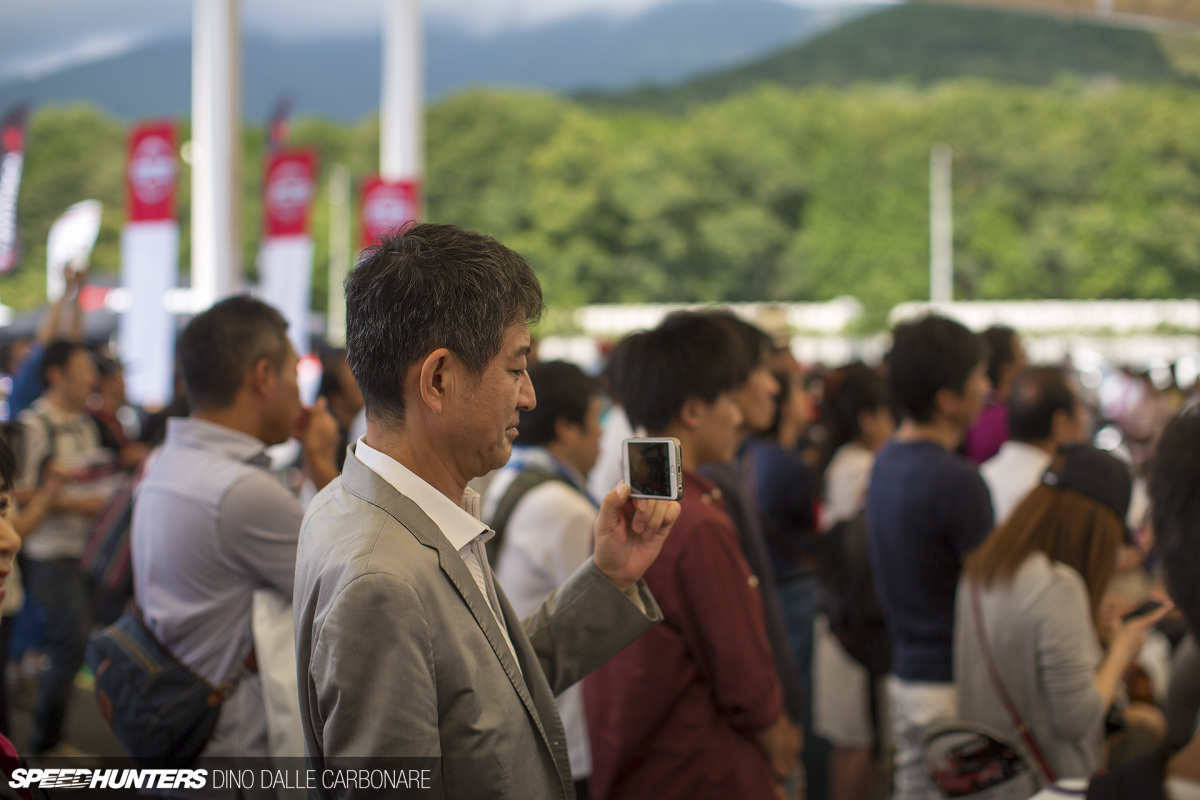 And I spotted his kohai, Tamura-san, in the audience live streaming the talk show before he went up to talk about his take over of the R35 project. This is the man that will dictate what the R36 will be all about, someone I should really have a sit down with one of these days. Maybe we can get him to take out his R32 GT-R with swapped R34 driveline…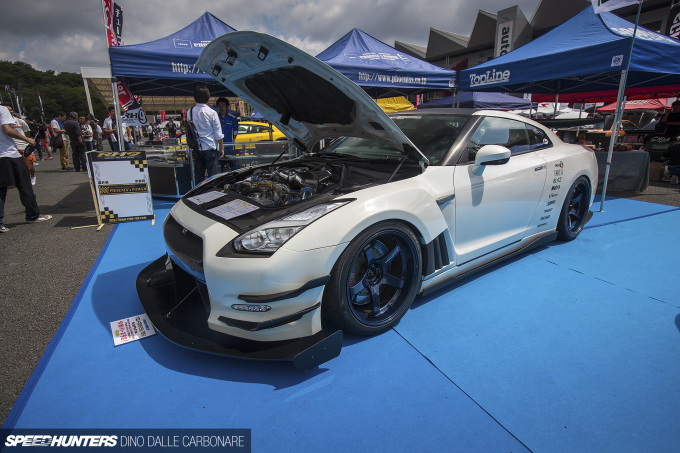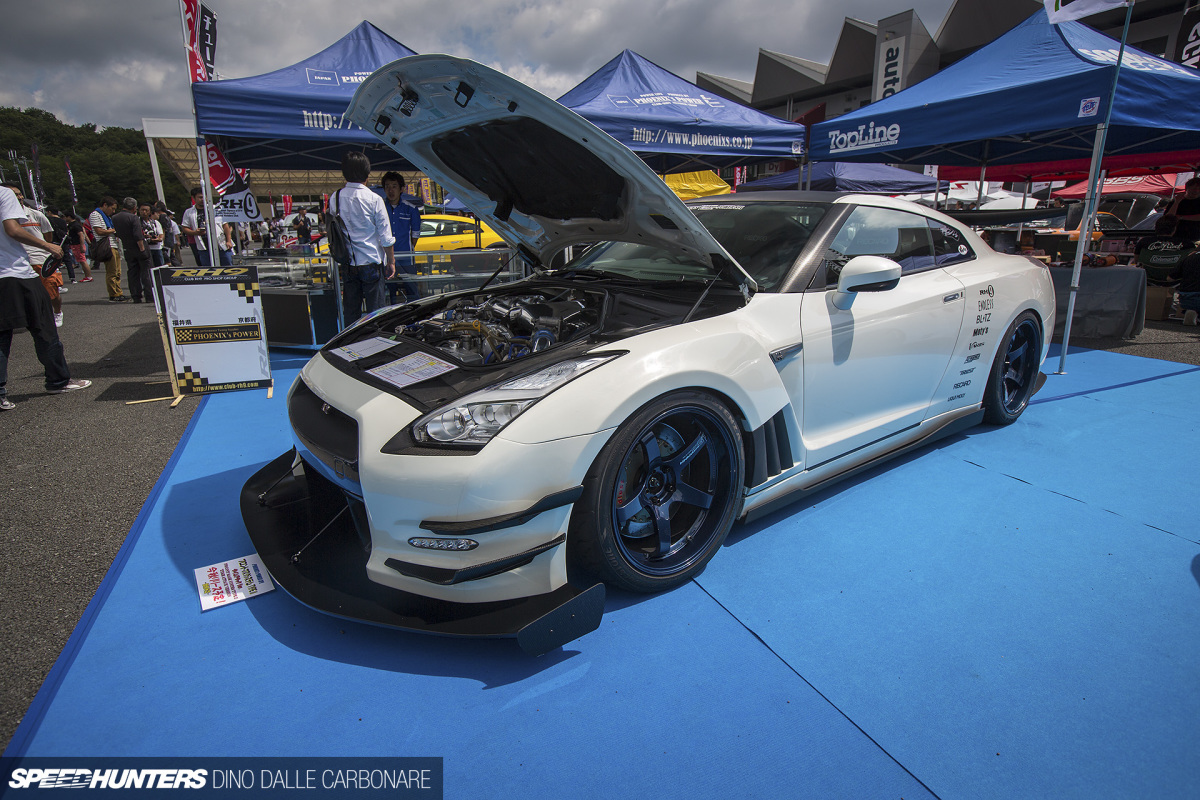 Phoenix's Power is a shop I always stop at whenever I pass by Kyoto. Aside from the fact that they are some of the coolest and most dedicated GT-R guys around, their style is very recognisable; it's always about big power and no-expense-spared development.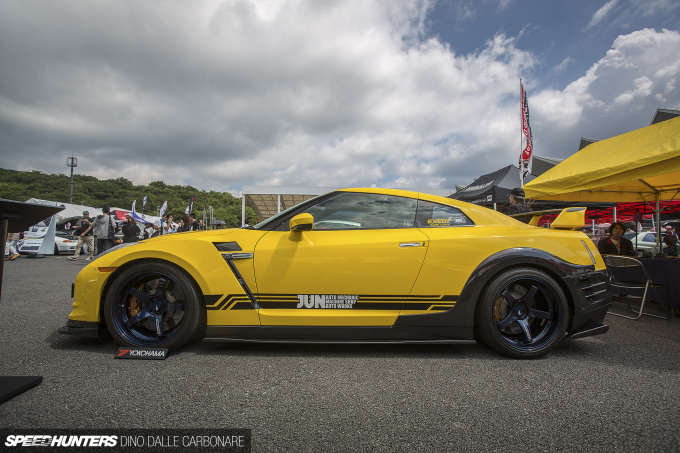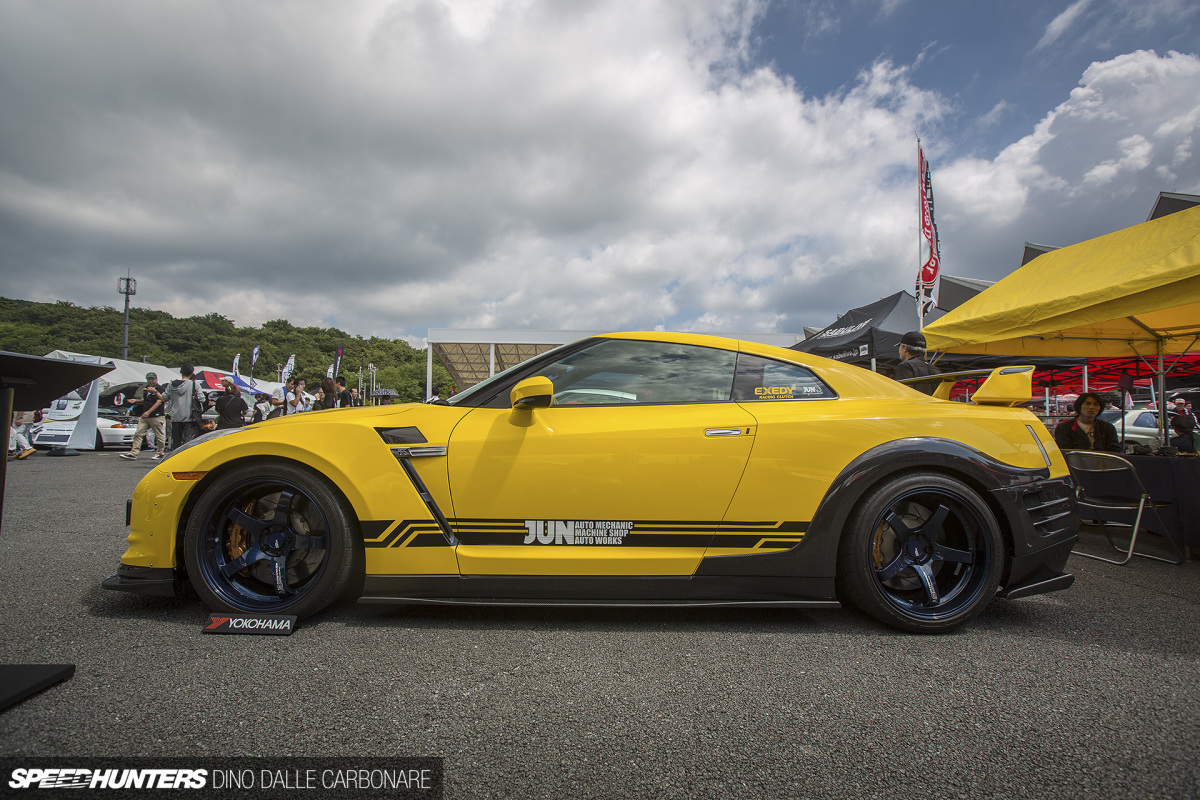 And still on the subject of R35s, one can't walk past a JUN-tuned car without a closer look. It seems like every second R35 is packing more than 1,000hp these days, and this signature yellow JUN demo car is one of them. Let's just think about that statement… If 1,000hp has become the norm today, you have to wonder where we will be in another 10 years!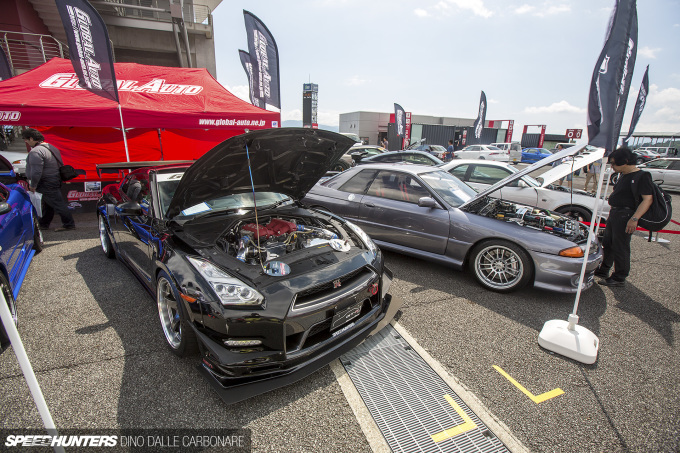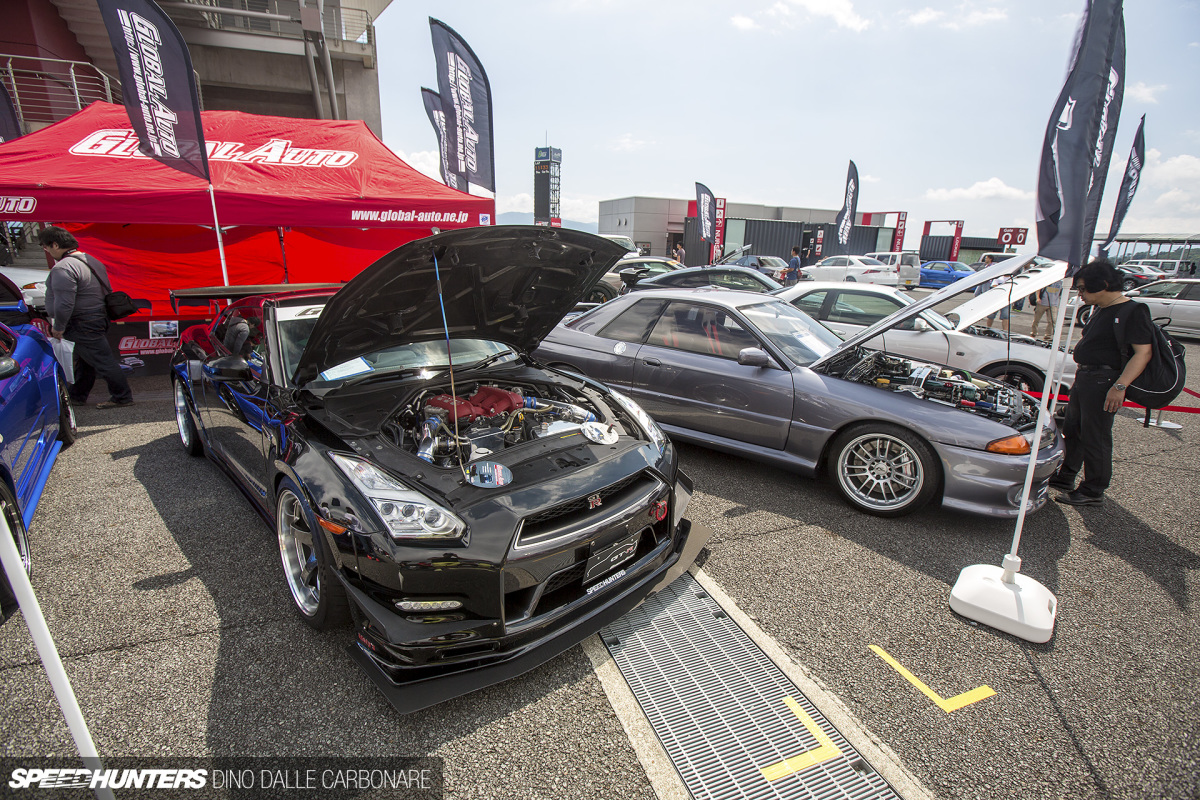 While GT-R specialist Global Auto always has a nice line up of GT-Rs to show (and sell), I was immediately drawn to a car at the far corner of the booth.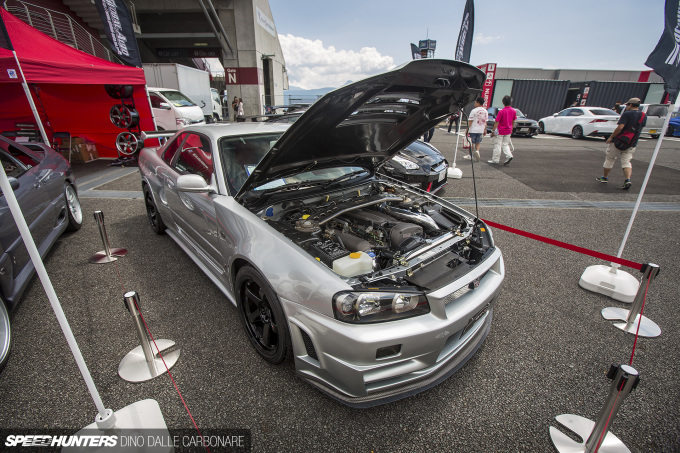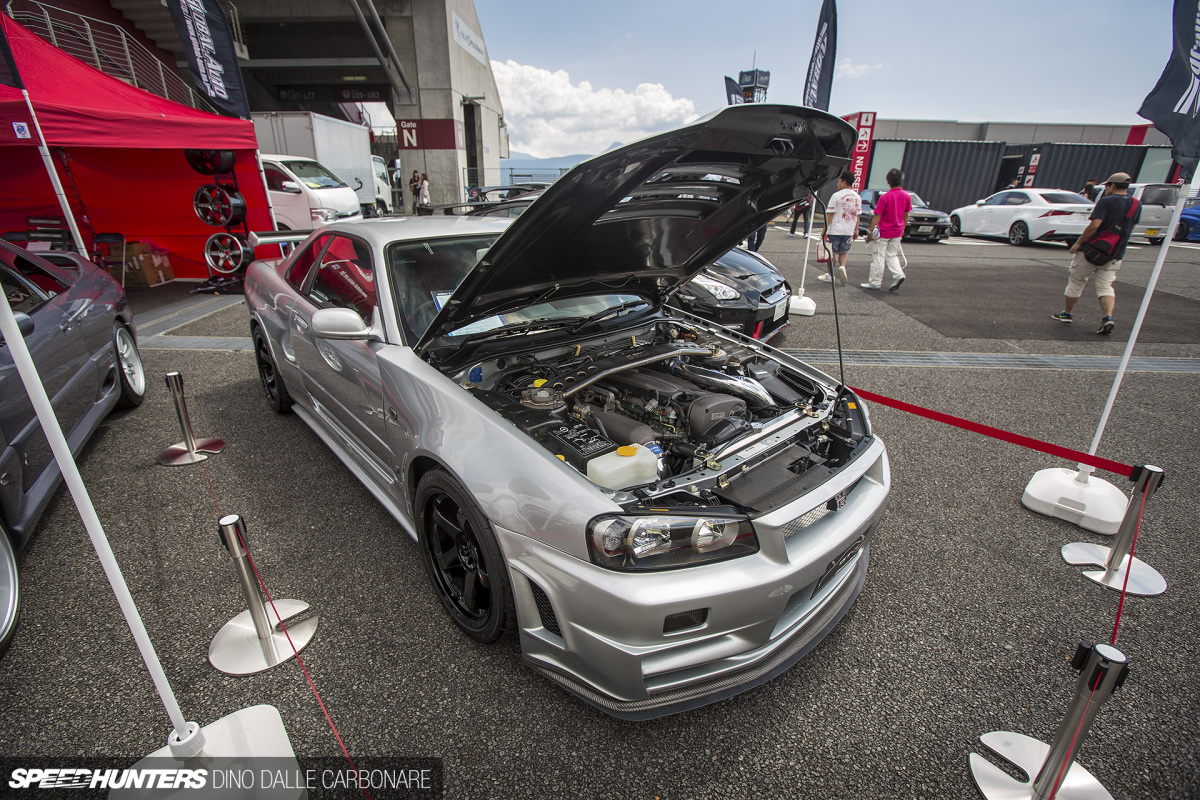 A very low mileage and recently refreshed Nismo Z-tune; the holy grail of any GT-R; the unicorn of the breed. The price? They wouldn't tell me. It seems like the car is indeed for sale, but if you have to ask how much…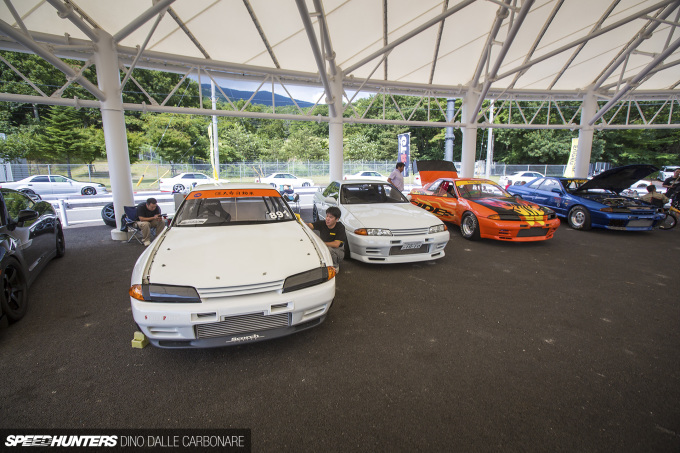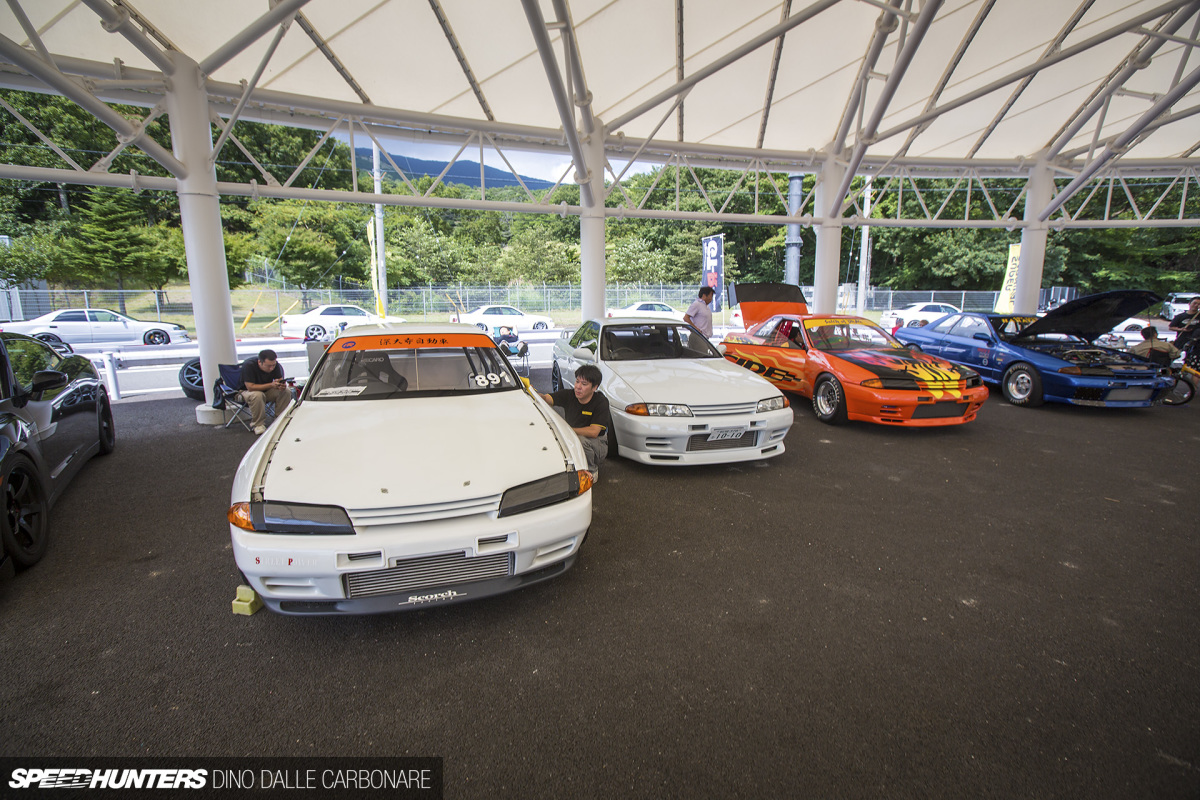 In the covered area of Fuji's paddock I found a rather mouthwatering line-up of R32 drag cars. And I mean serious, 8-second and 9-second machines, which was a rather surprising yet extremely welcomed find. It seems as though the Japanese just can't move away from drag racing even if there is no dedicated quarter-mile drag strip to properly race on.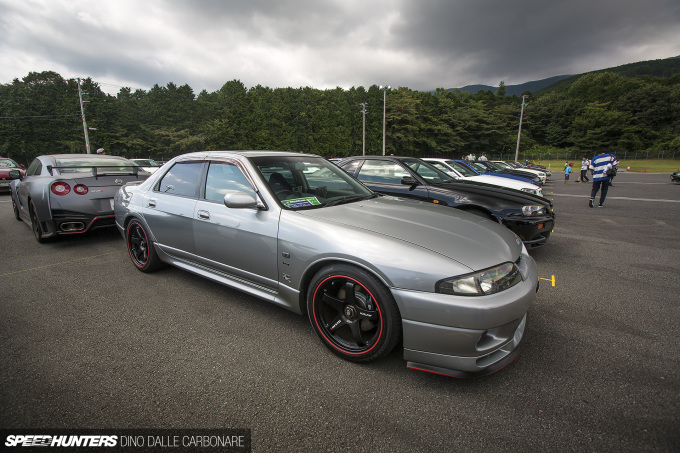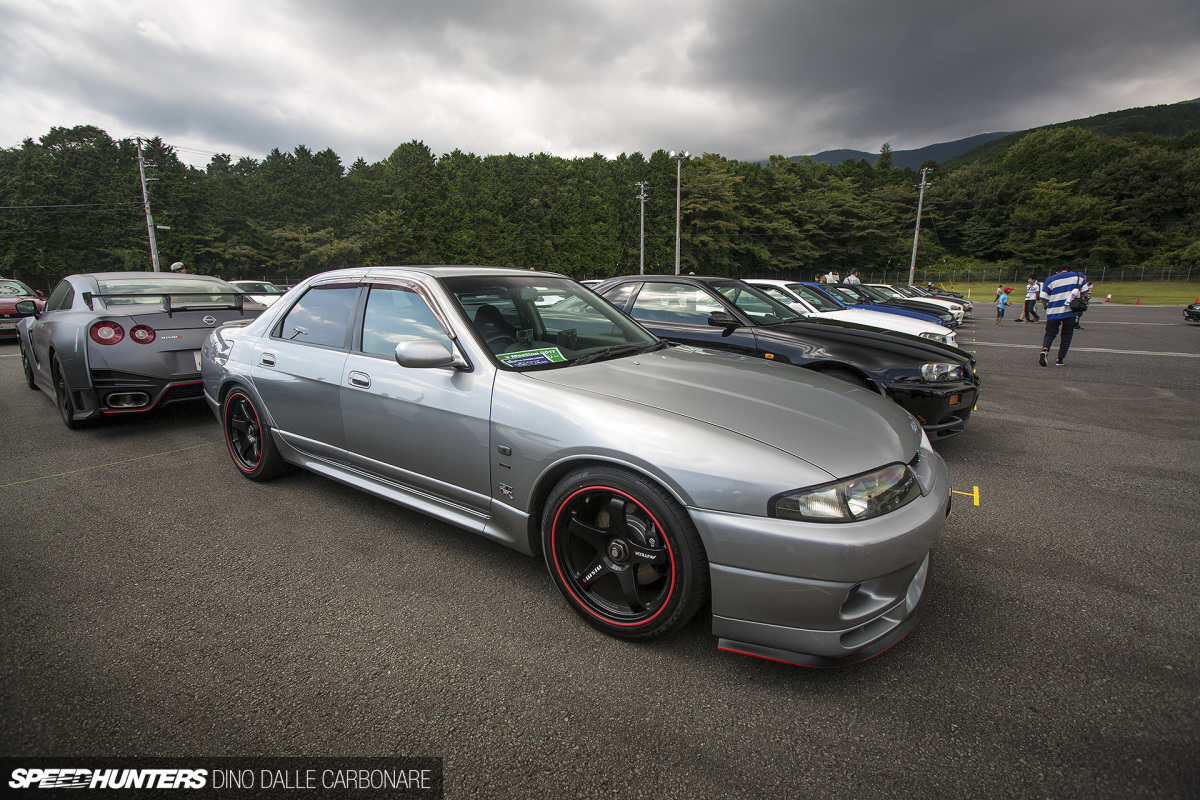 As cool as the shop demo cars are, for me, R's Meeting is about the sight of hundreds upon hundreds of GT-Rs that the public bring out. It's so much fun walking down the car park lines looking out for special models – like this Autech R33 GT-R 4-door – or just enjoying seeing what owners do with their cars. By this point I was beginning to suffer as I had forgotten my hat at home and the sun at Fuji is always pretty strong. Thankfully, I met some of the guys from Skyline Syndicate in the US who gave me their last spare cap. Thanks for saving my scalp, Larry!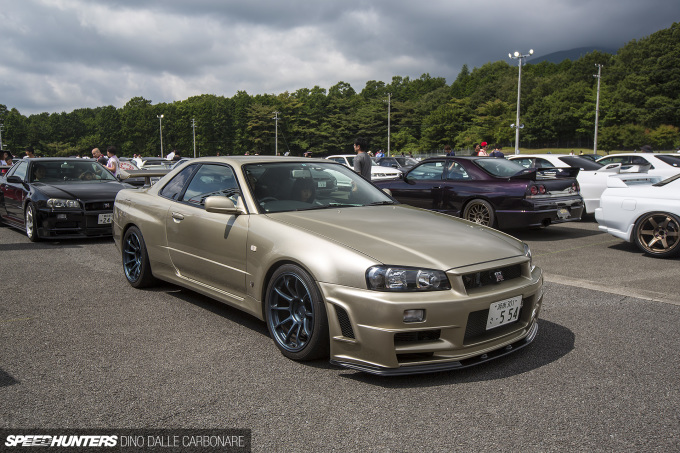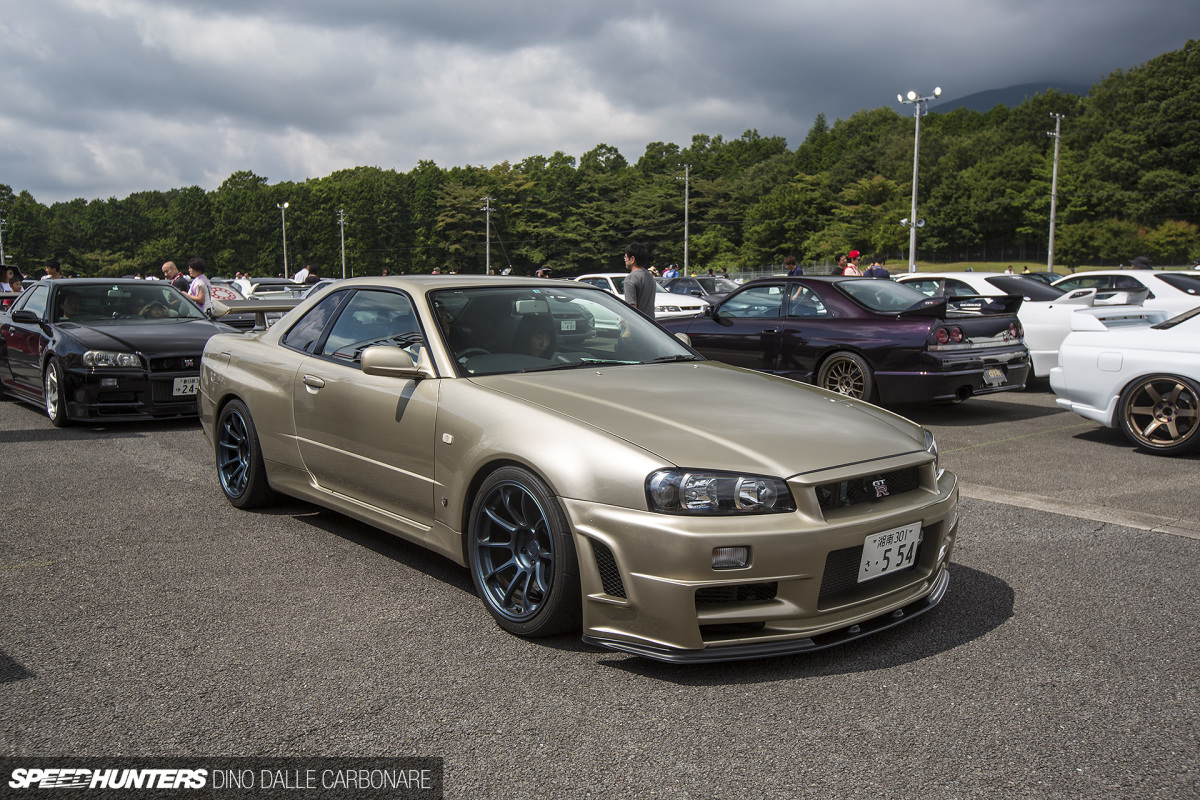 You do get to see some pretty awesome color coordinations too, like this M-spec on matte blue gunmetal RAYS Volk Racing ZE40s.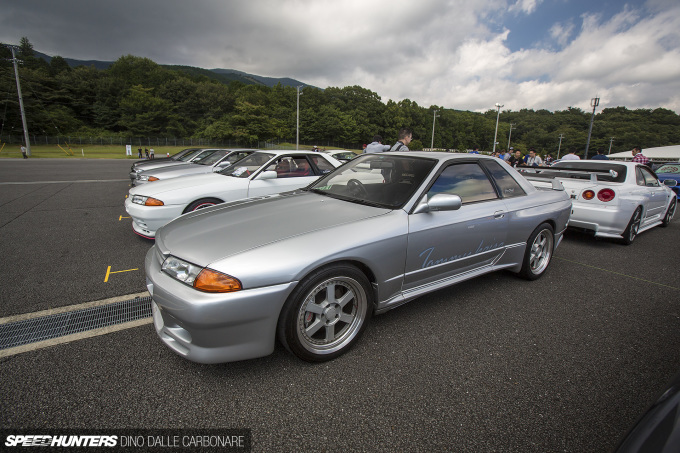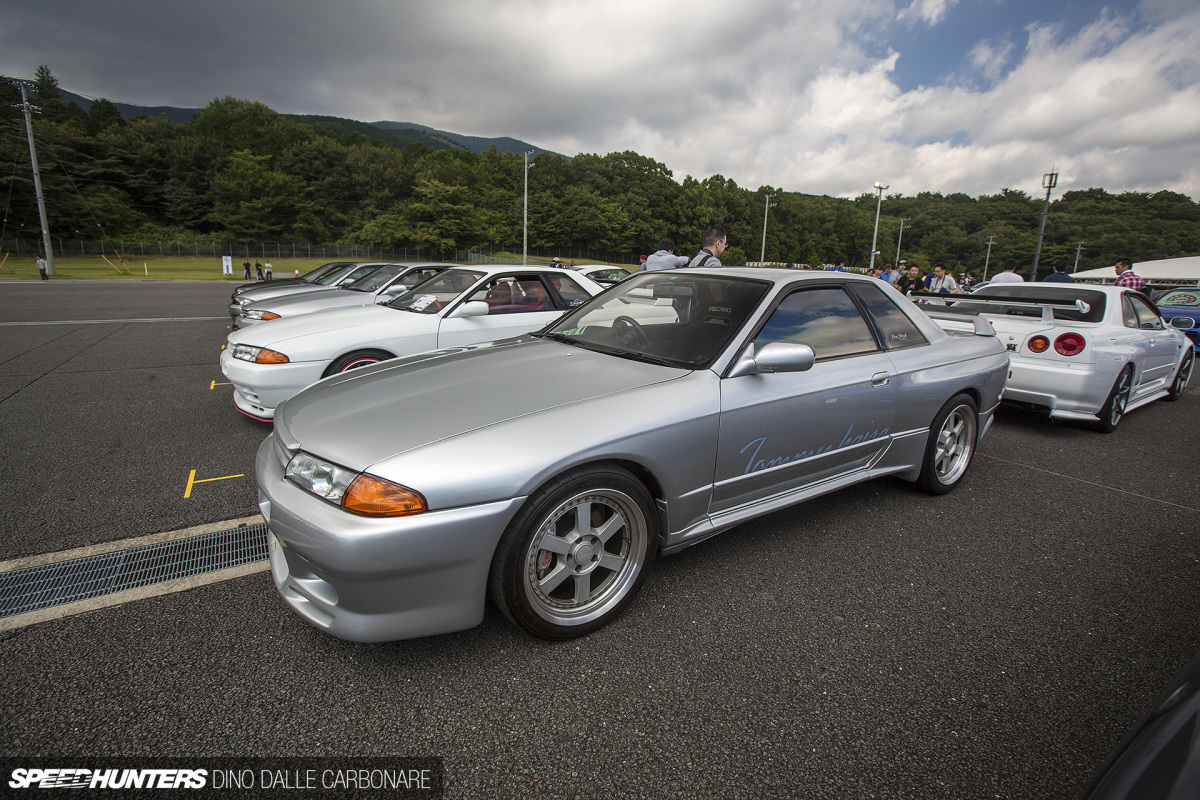 An original Tommykaira BNR32? I don't think I'd ever seen one in person before this. The variety at R's Meeting is pretty wild and very much an inspiration if you are trying to figure out what to do with your own car.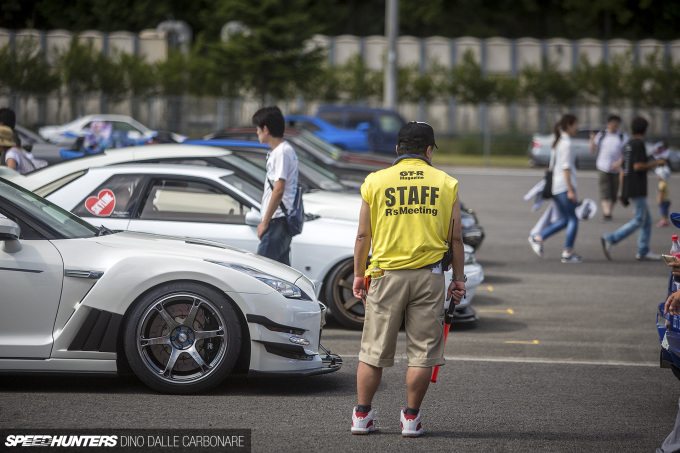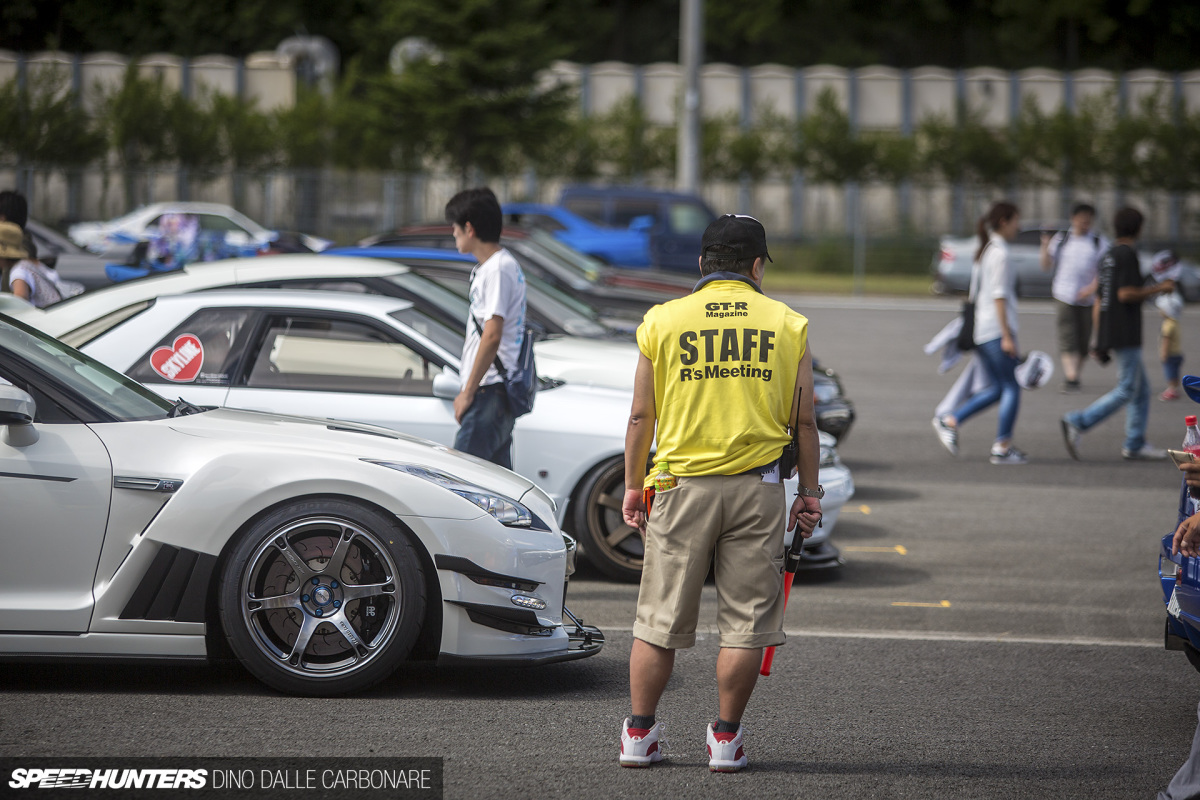 As always, the main paddock was reserved for cars being photographed by the GT-R Magazine staff. Throughout the day there was a constant line of GT-Rs moving towards where four photographers were stationed.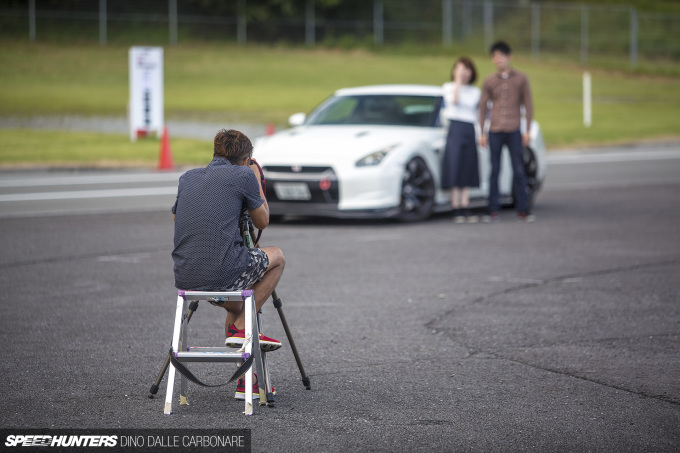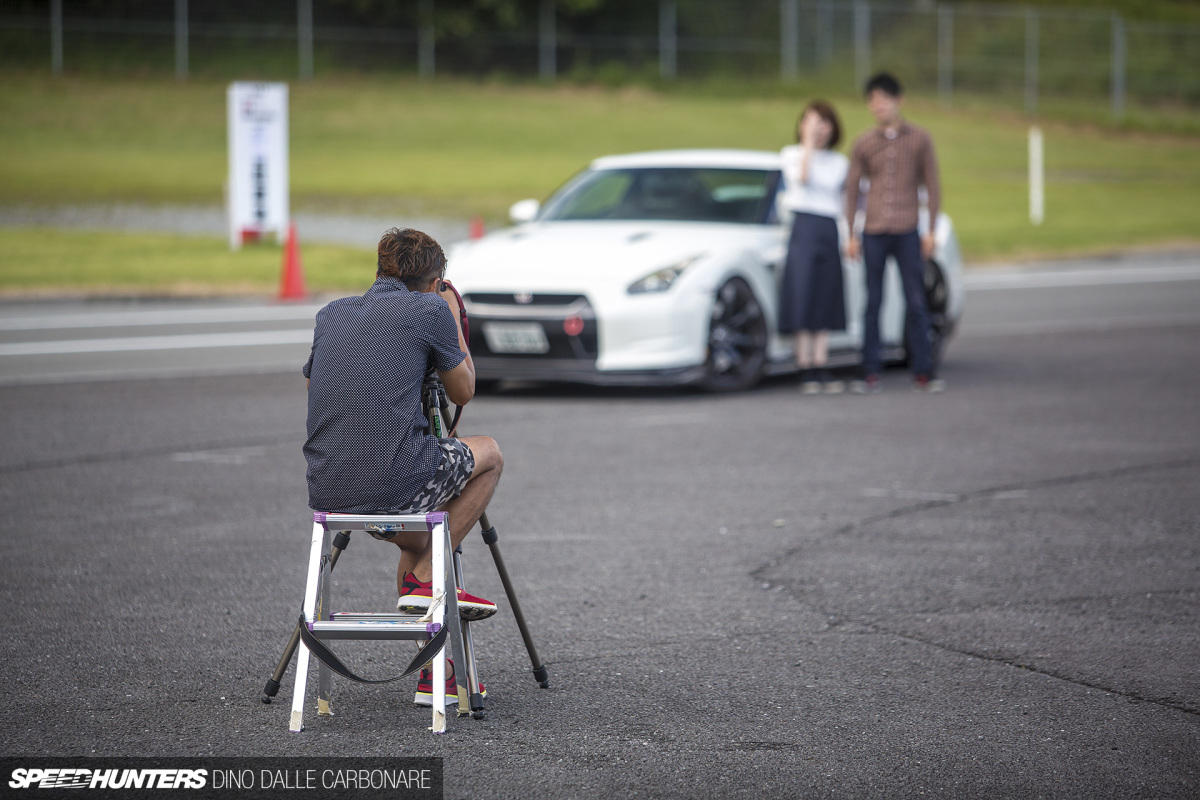 You pose along with your loved one and your picture ends up in the GT-R Owner Collection book that's released with the next issue of the magazine. Pretty cool, right?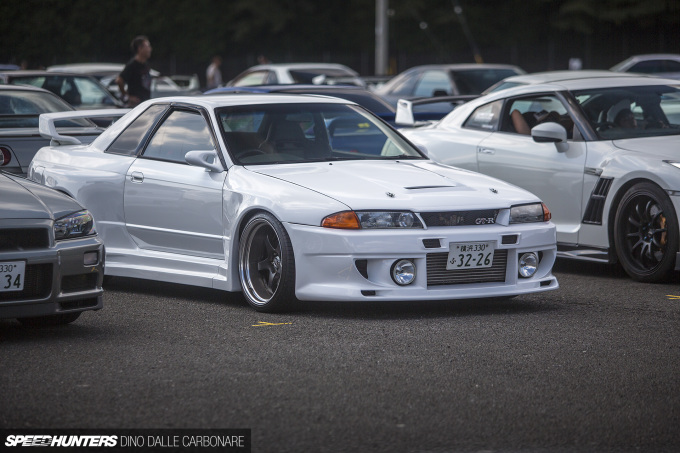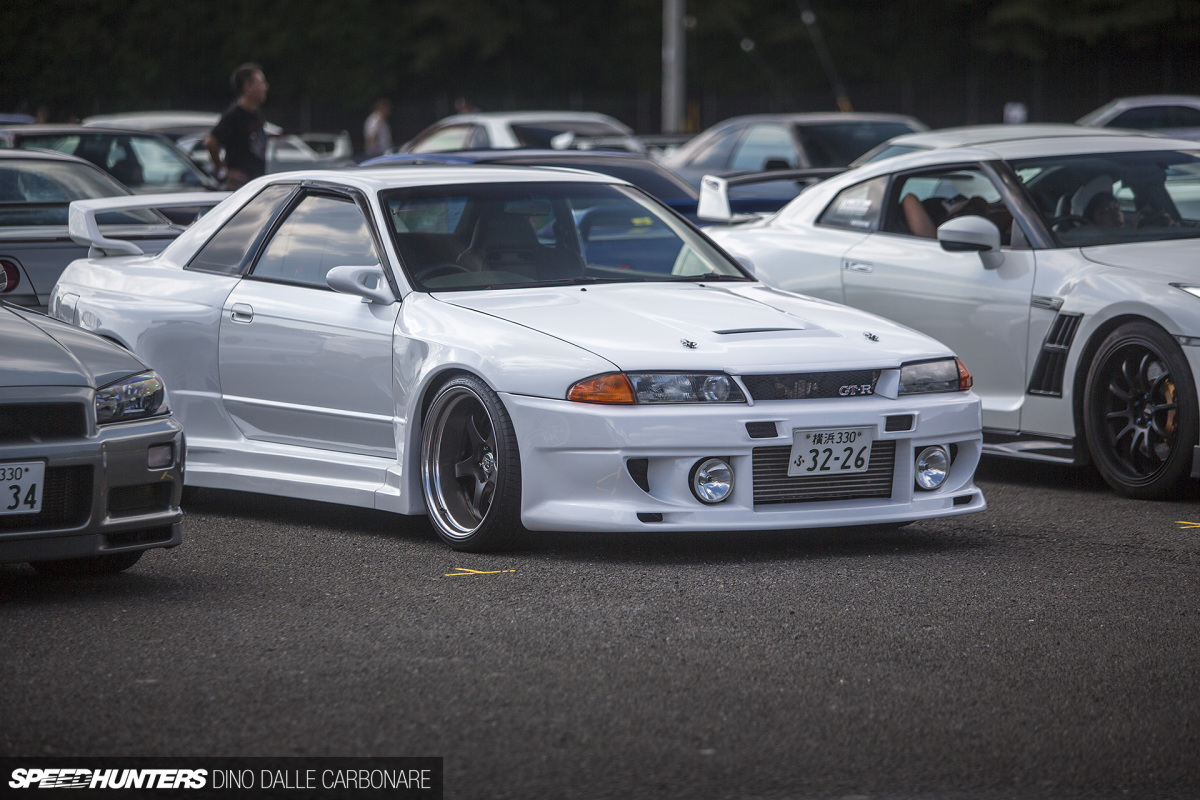 See what I mean? It's like flicking through a Hyper Rev book, but in real life!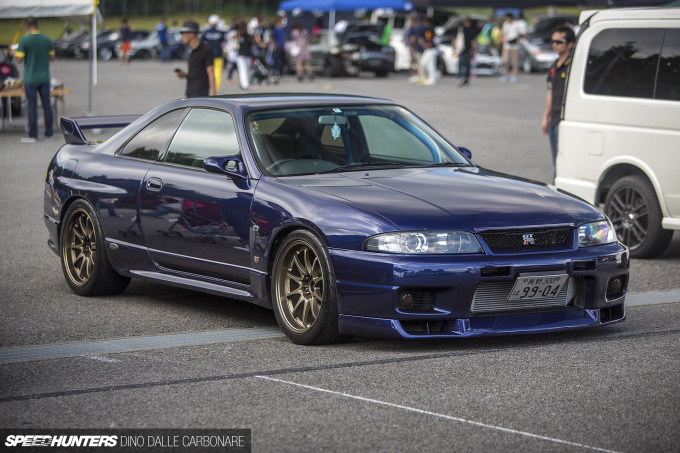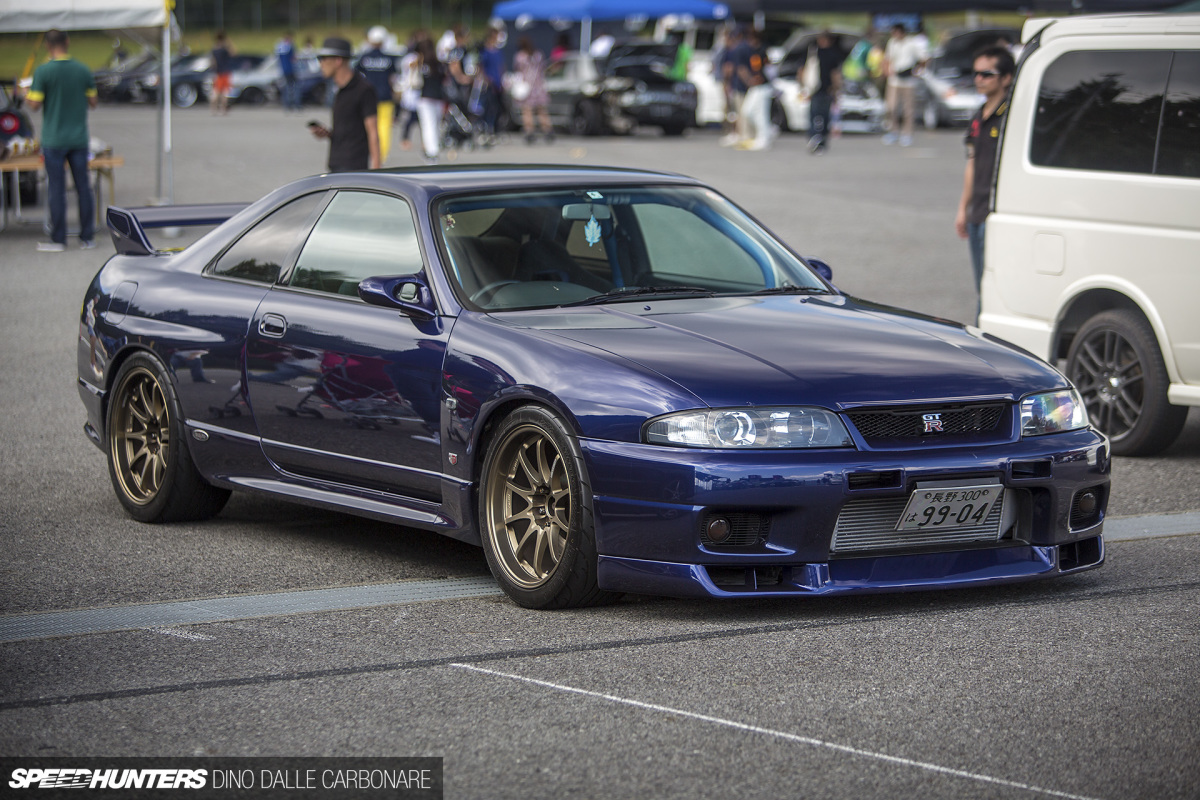 I've realized how much I like the dark blue of the R33, especially when its complemented by RAYS Volk Racing's signature bronze hue, here applied to CE28Ns.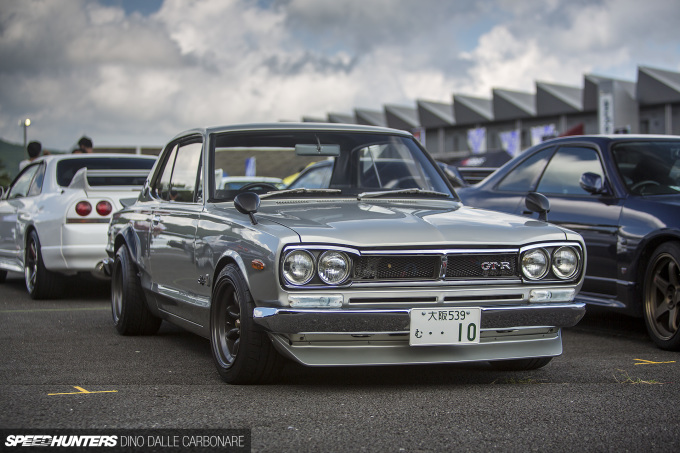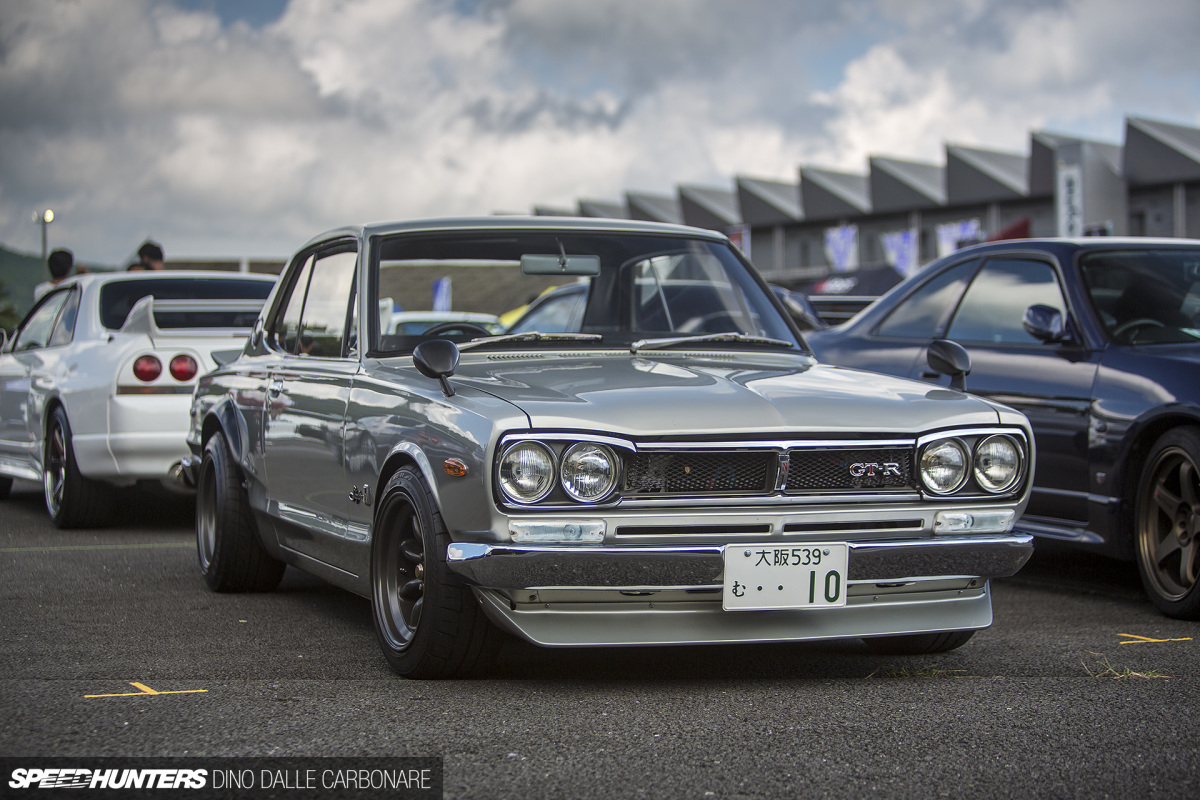 Usually you'll find a few C10 GT-Rs at R's Meeting, but this was the only one I saw this year. Perhaps some left before I made my way around to this particular area… It's always nice seeing the older first-gen cars; it really makes you appreciate how much history that GT-R badge really has.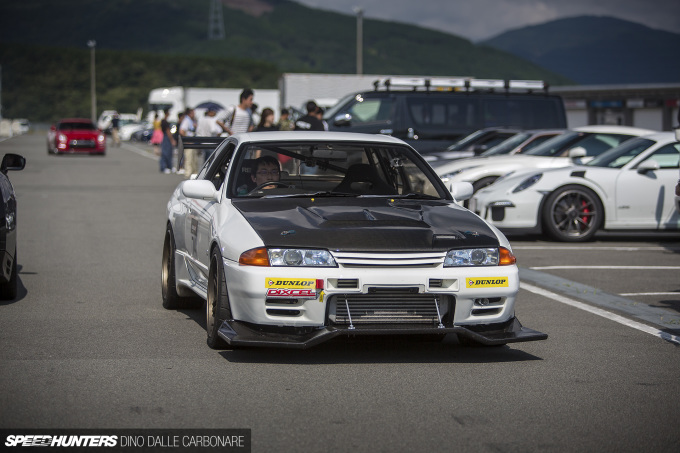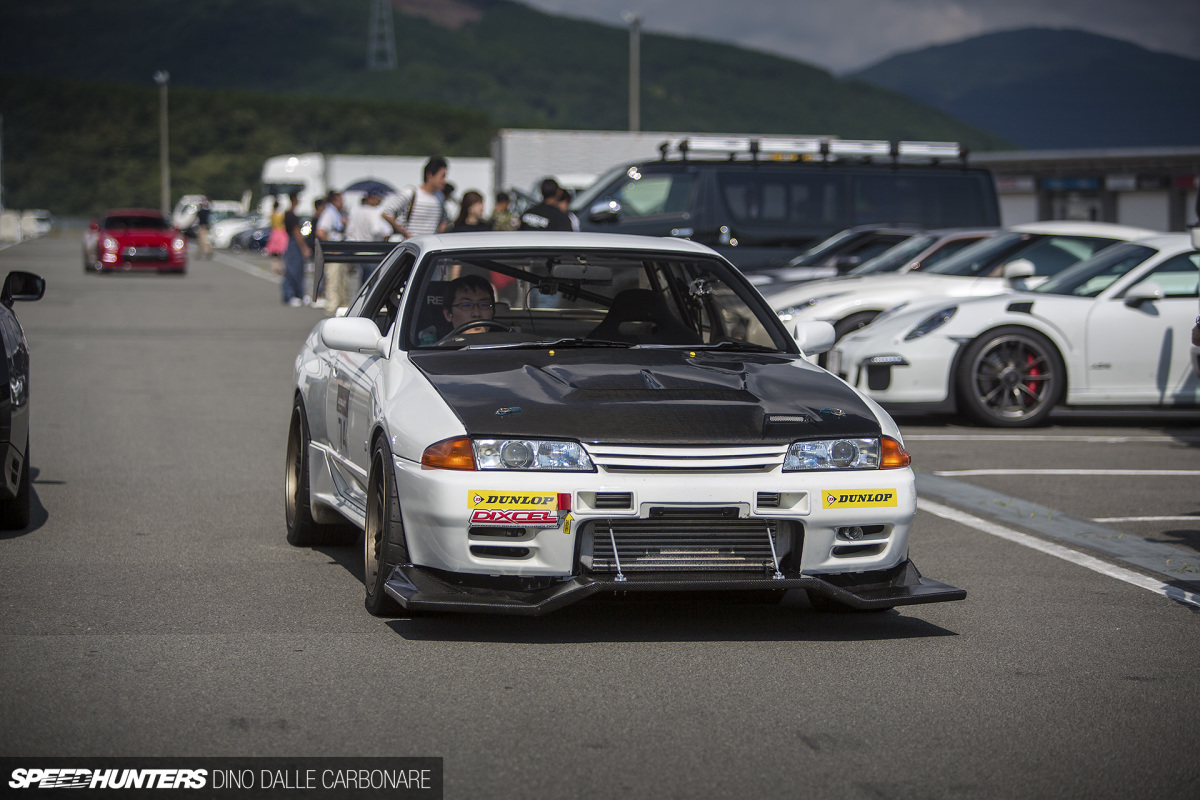 At the same time as the main event is happening, there's also a track day running which ends with a drag race and a parade lap with all the cars.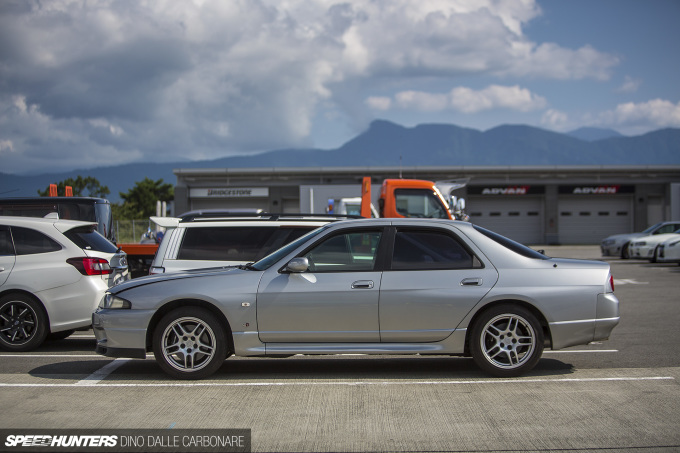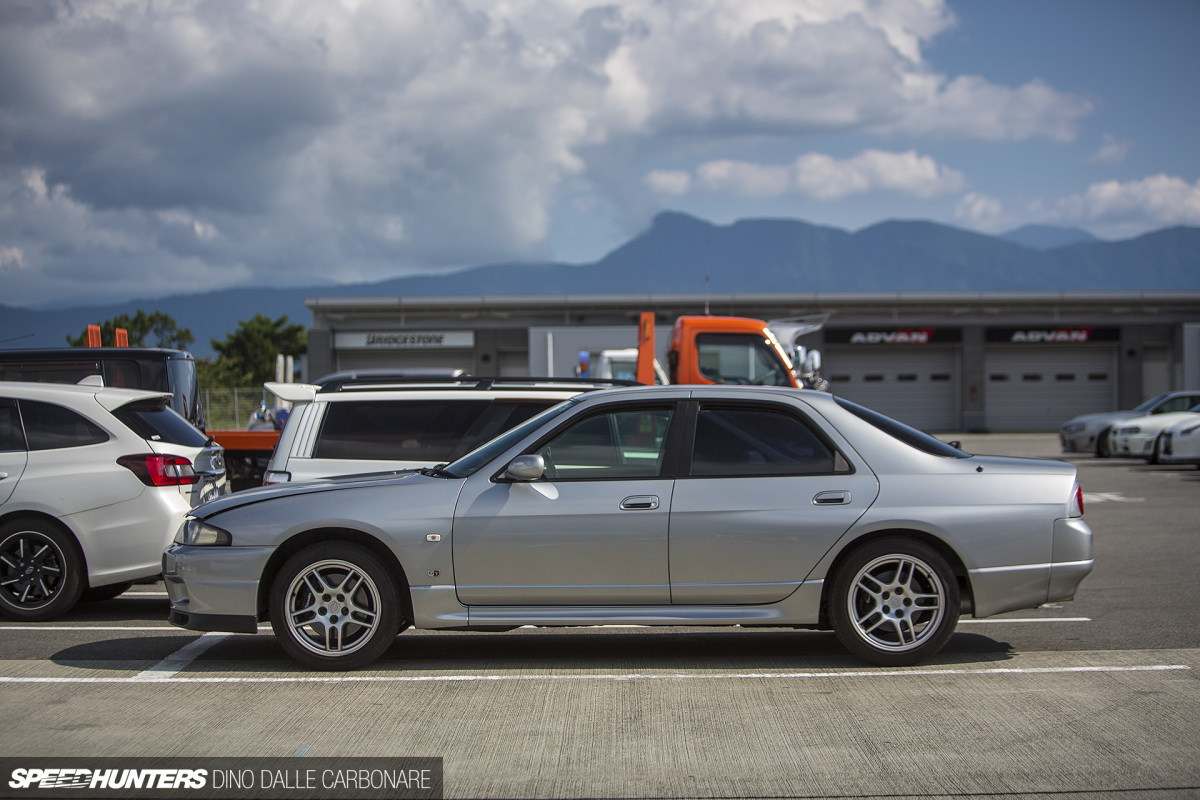 To see who is participating you have to make your way down to the pit area and have a walk around. Check this out, another Autech R33 which looked completely stock.
There's not much stock with this R32, though.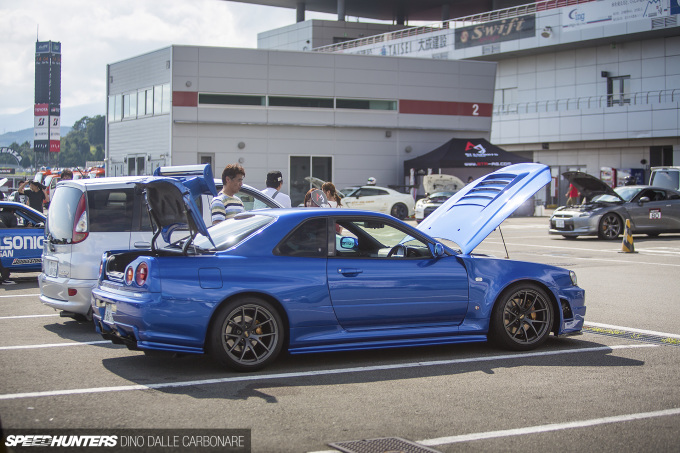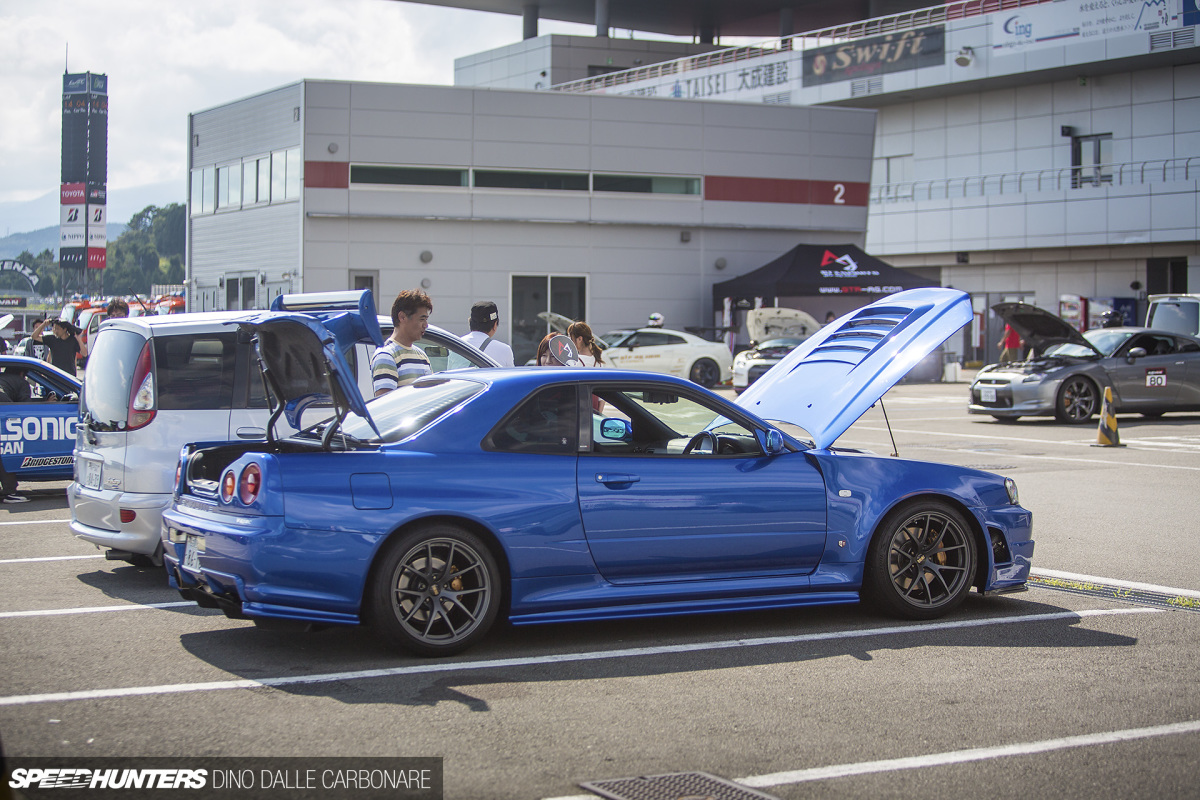 We've seen R34s run all sorts of wheels, but this Nismo-tuned car is the first GT-R I've seen on BBS RI-Ds, which are the same rims I run on Project Drop Top. I was impressed by how damn well they work.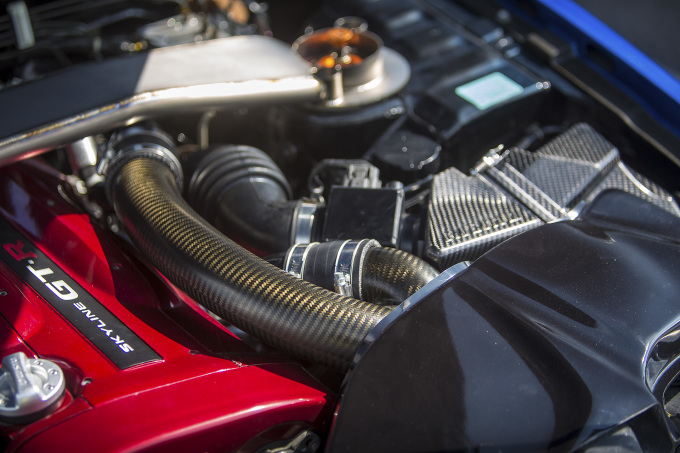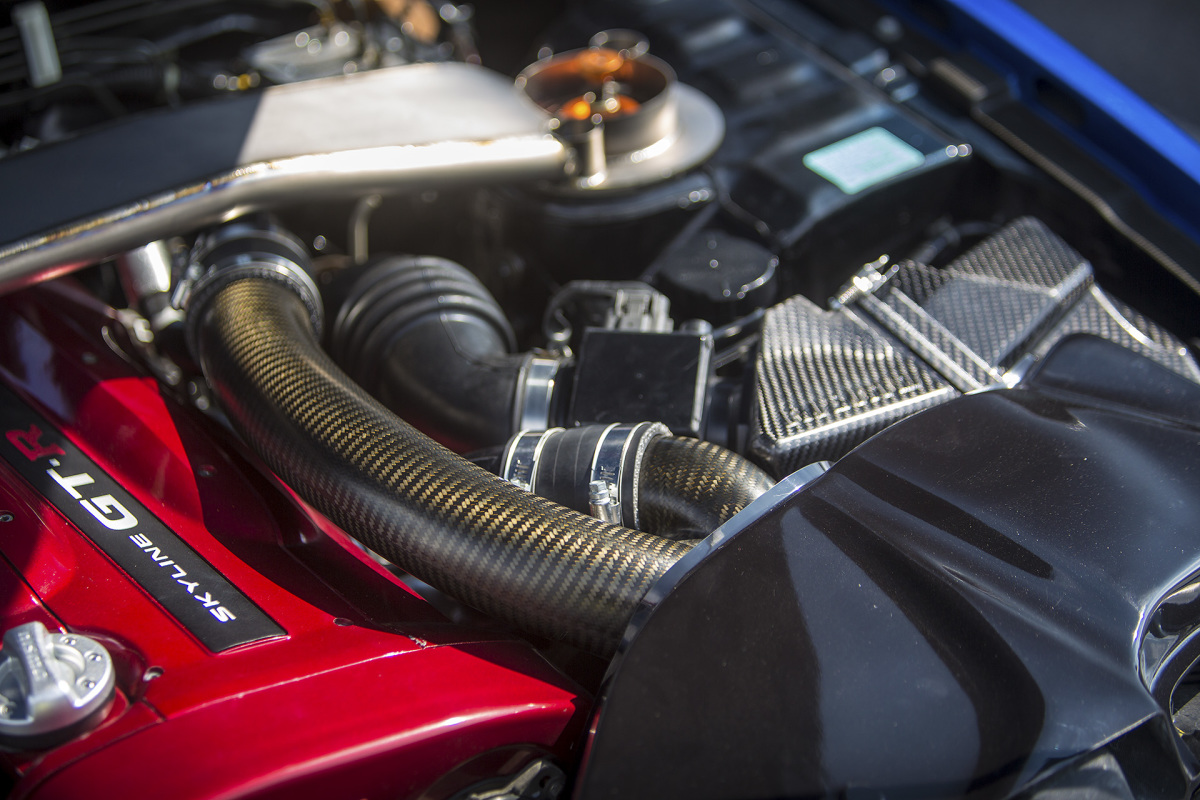 Curiously, this same car also answered a question I've had since last year when Nismo released the US$2,500 carbon piping kit: How long will it look pretty before the resin discolors with all the heat from the turbos? Not very long by the look. You can see the difference against the Nismo carbon airbox this car has also been fitted with.
I'll stop right here with this post, but my R's Meeting coverage is not over as I still have a couple of spotlights to come. Hopefully you've enjoyed my GT-R-centric content this week!
Dino Dalle Carbonare
Instagram: speedhunters_dino
dino@speedhunters.com