The 356
If you wanted a great commuter car in the late 1940s, you went to Volkswagen and its Beetle. If you wanted a great car, you went to Porsche and the 356.
While Porsche is recognized as a German brand founded by Dr. Ferdinand Porsche, its history as a car company was started in Gmund, Austria by his son, 'Ferry' Ferdinand, and daughter Louise. The 356, Porsche's very first production car, was similar to the Volkswagen Beetle being a rear-engine, rear-wheel drive with an air-cooled four-cylinder on a unitized pan and unibody. It is and was a very different car.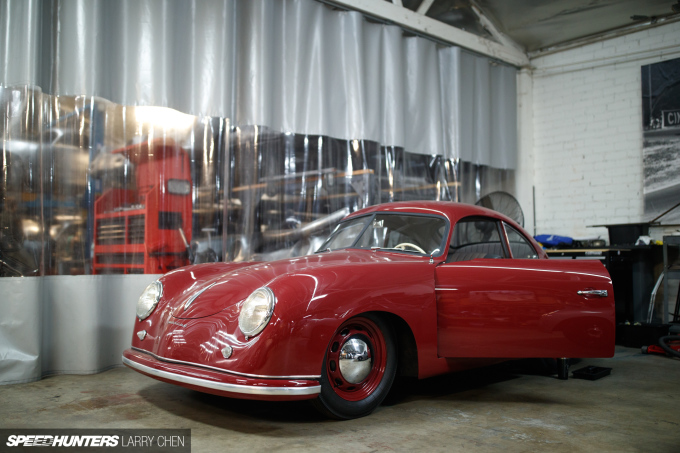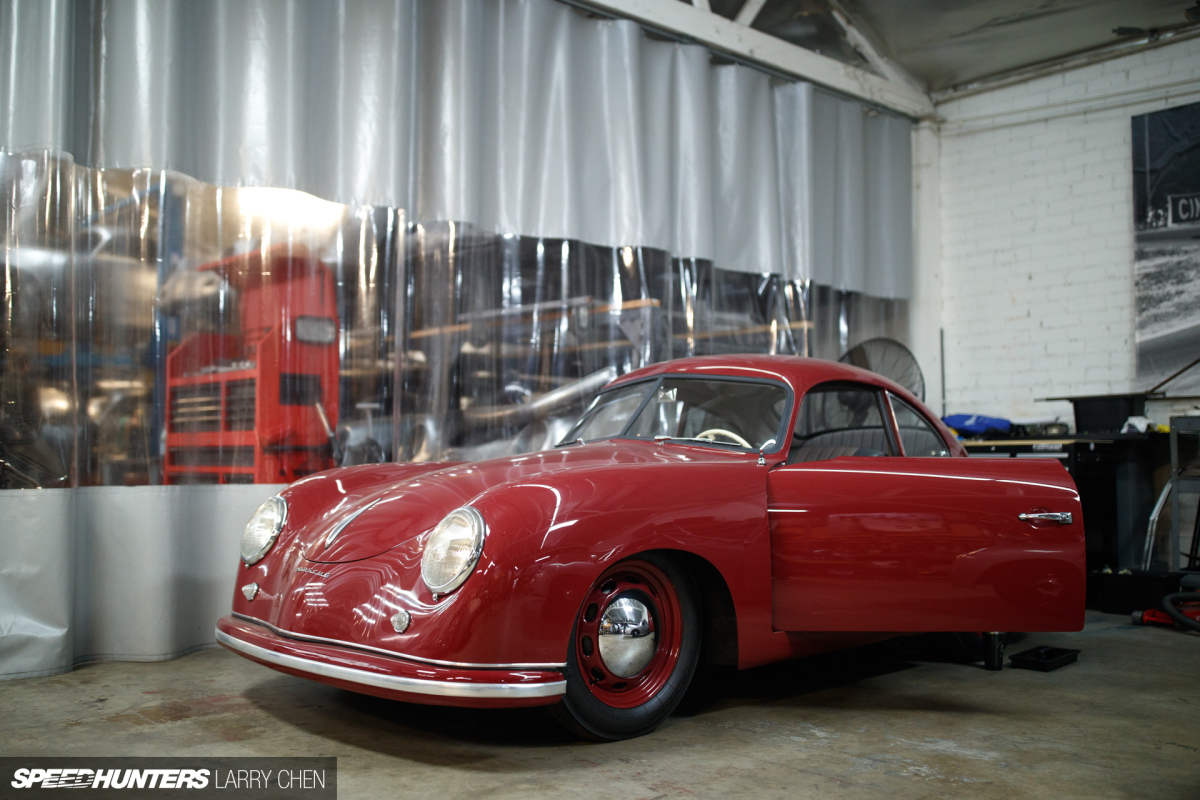 It performed better than the Beetle, had a little more power, and was completely hand-crafted out of aluminum until 1950 when production moved to Germany and steel construction was used. This is what makes the Gmund-built 356s more desirable. The other interesting fact is that the steel bodies were built by Reutter, until Porsche bought out the entire company save for the seat manufacturing, which became Recaro.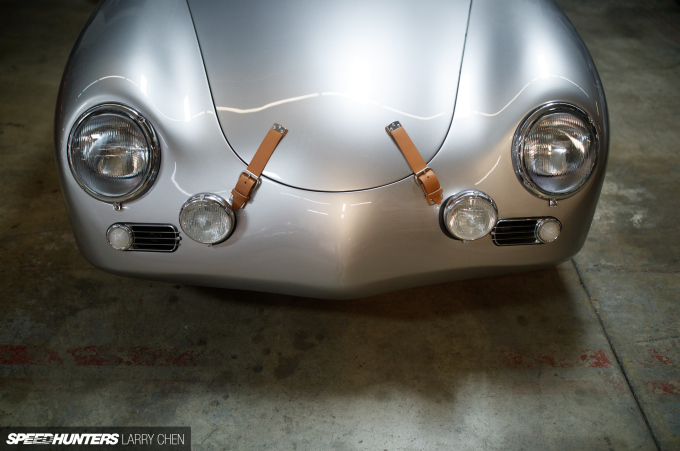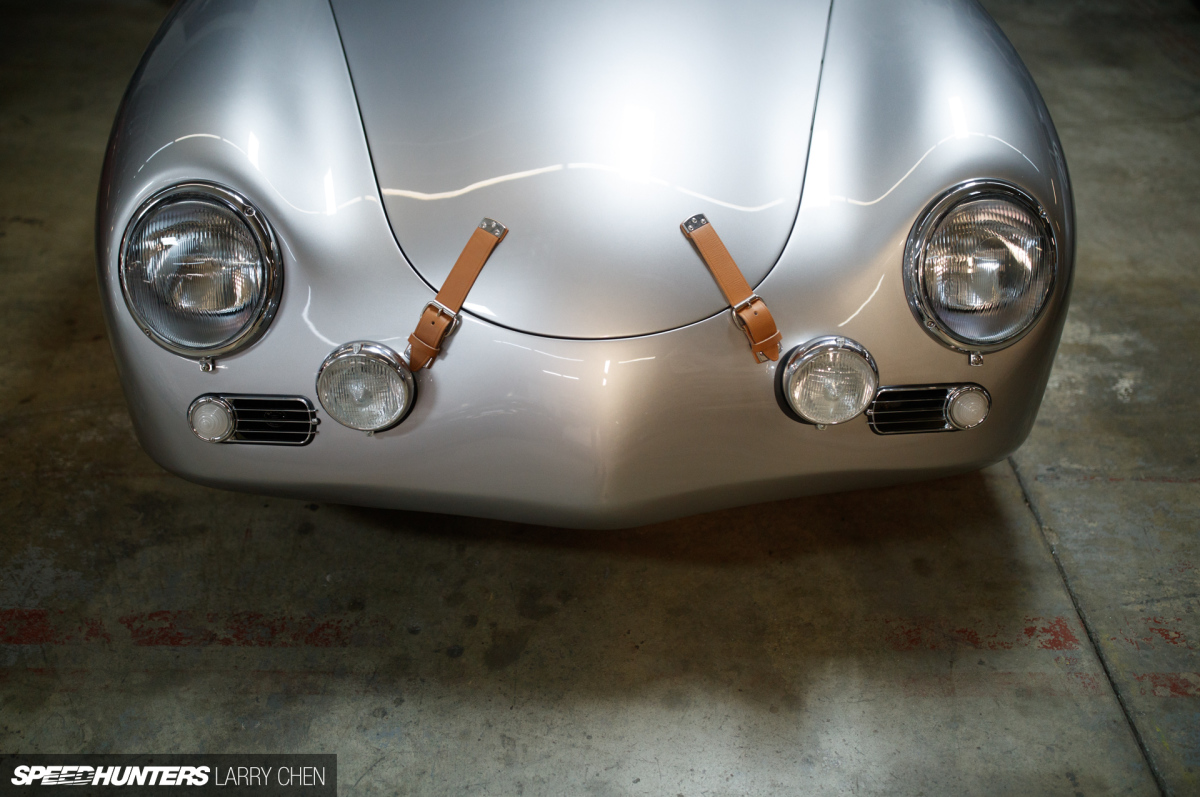 The 356 wasn't well known when it was first built, and it took two years for the company to make and sell 50 of the original design cars. It wasn't until it won the 1951 Le Mans in its class that it became popular. From there the 356 eventually saw three additional revisions and several different engines from 1.1- to 2.0-liters; it was used in rally and road racing with lots of success, and went on to sell a total of 76,313 units from 1948 until final production in 1966.
Hot Rodders Never Die, They Just Pass It On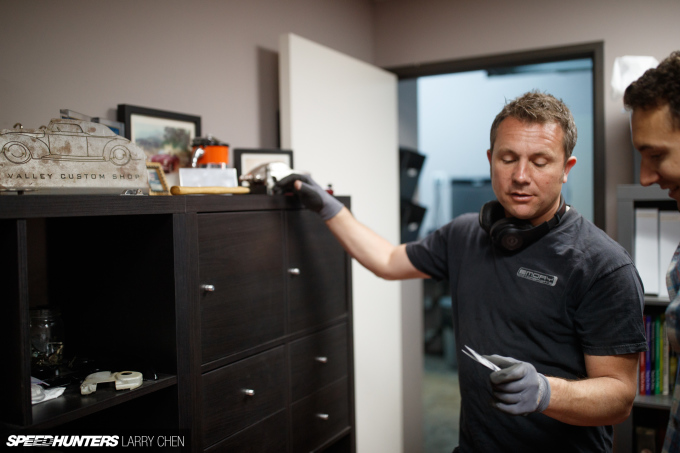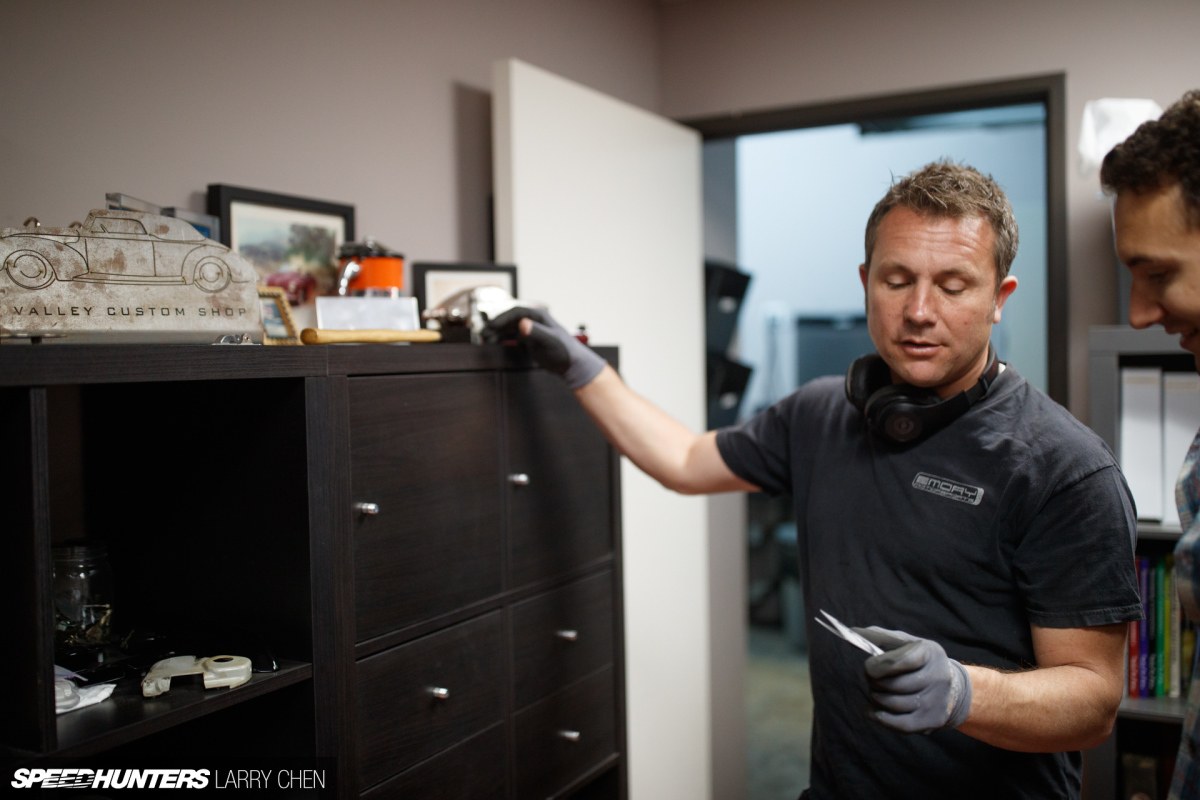 Rod Emory's story begins with his grandfather, Neil Emory of Valley Custom Shop, which he started in Burbank with his brother-in-law, Clayton Jensen after working at a local body shop until 1948. Prior to that and during World War II, Neil was a motor pool body and collision mechanic while stationed at the Alameda Naval Base. The shop was and is still is known for coachwork-style customs; a car that came from Valley Custom did not have wild paint schemes, big grilles, or drastic looking modifications.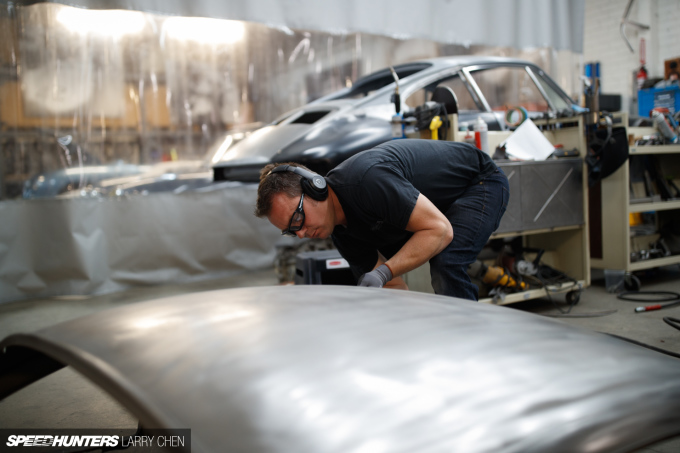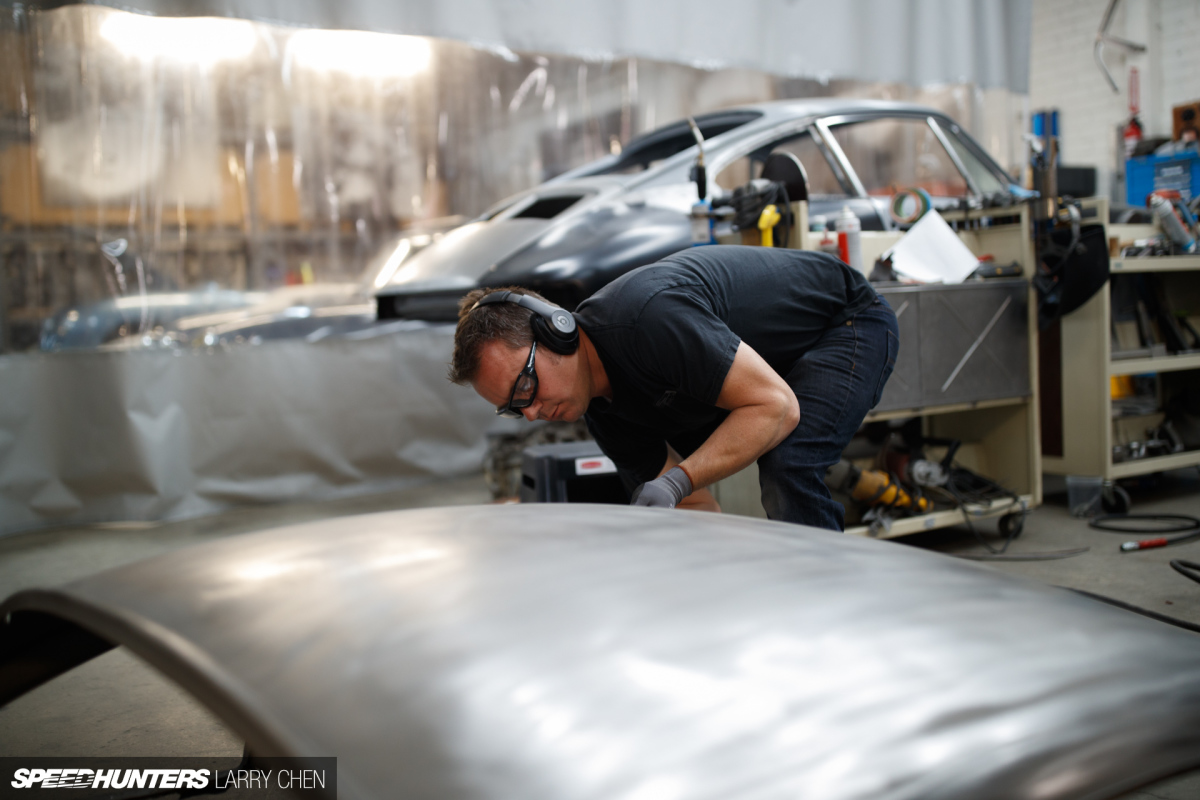 Instead, their cars came out looking like something an OEM might do, but you knew it wasn't totally stock. They did sectioning, chopping, and channeling – processes that custom car builders still utilize today. Channeling modifies the floorboard to make a vehicle look lower without cutting the frame (like many mini-trucks did in their heyday). Sectioning is usually a way of making a vehicle's body shorter (in height) by cutting out sections of the bodywork. Chopping is what most people are familiar with when it comes to a hot rod, something achieved by lowering the front windshield and creating a new roofline.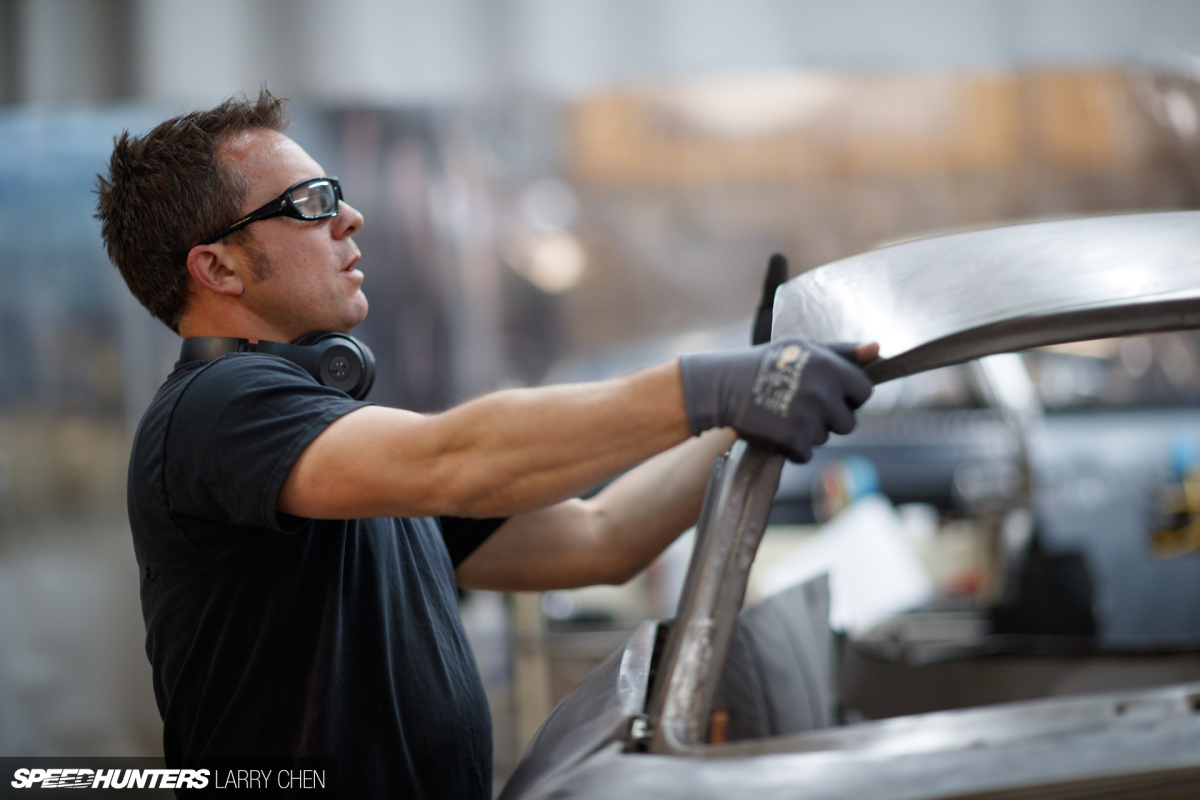 Another car Neil built during his time at Valley Custom Shop was the So-Cal Speed Shop Streamliner, the very first 200mph salt flats car. It was originally sculpted as a belly-tanker, but So-Cal wanted something new and gave Neil the reigns to build a streamlined car on the Model T chassis. Neil's work with metal at Valley was well known and fiberglass wasn't an option for the era yet, which is why So-Cal's Alex Xydias and partner Dean Batchelor went to him.
Where The Porsche Influence Came From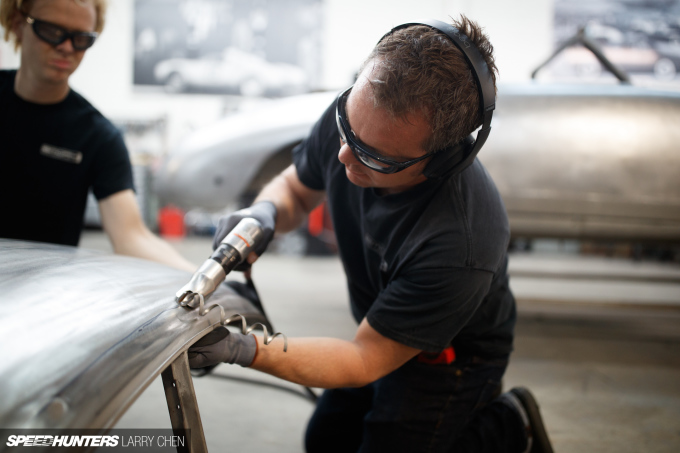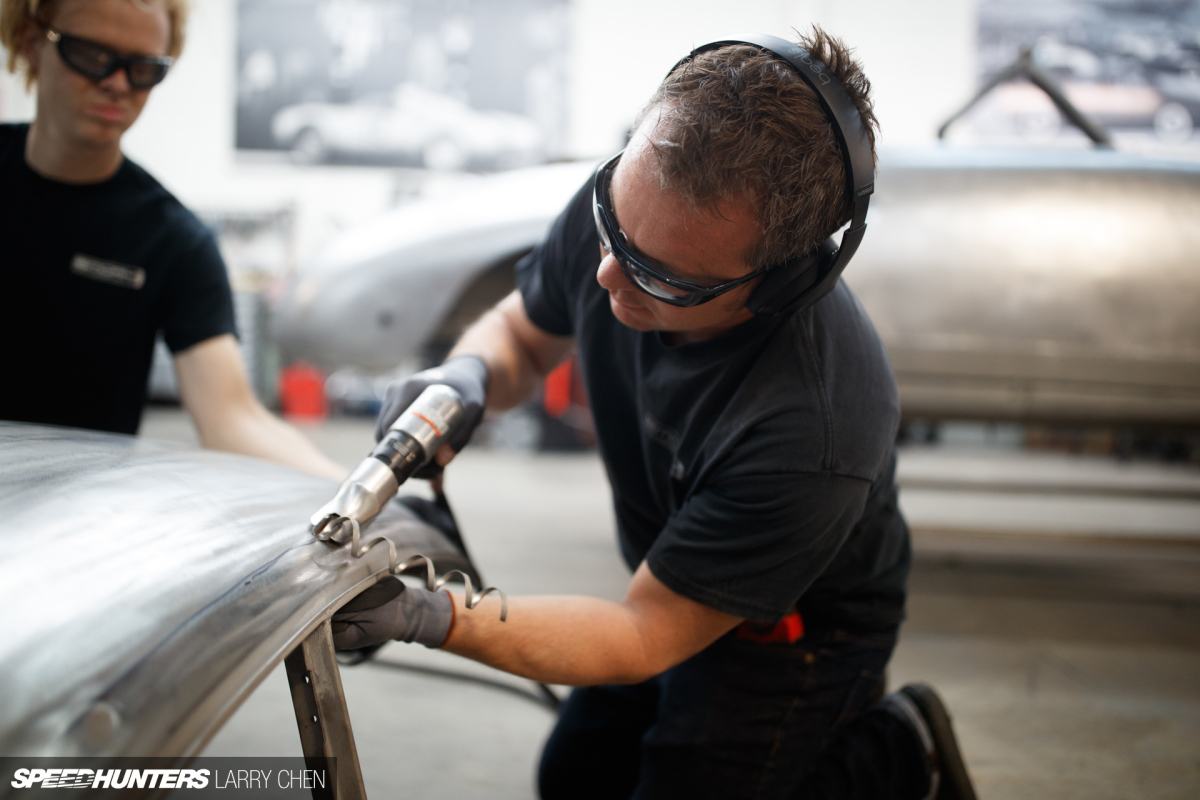 Later in the 1960s, Neil left Valley Custom and started work at a Volkswagen and Porsche dealer in Newport Beach as the body shop manager, at the request of friend Chick Iverson. Later, Neil's son Gary, Rod's father, joined the parts department after he graduated high school and went on to become the manager. Rod was eventually born in 1974 and grew up around that dealership, absorbing the knowledge that both his grandfather and father acquired in their professional lives. Neil's influence made Rod look at custom but OE-looking builds; Gary's influence and knowledge on Porsche parts made him find ways to put those components on different cars.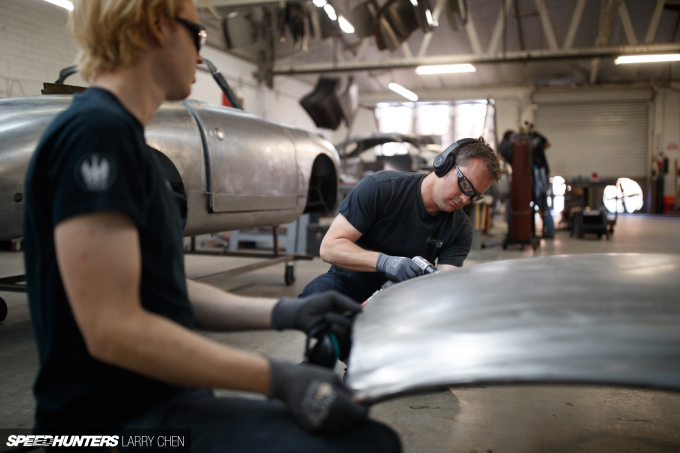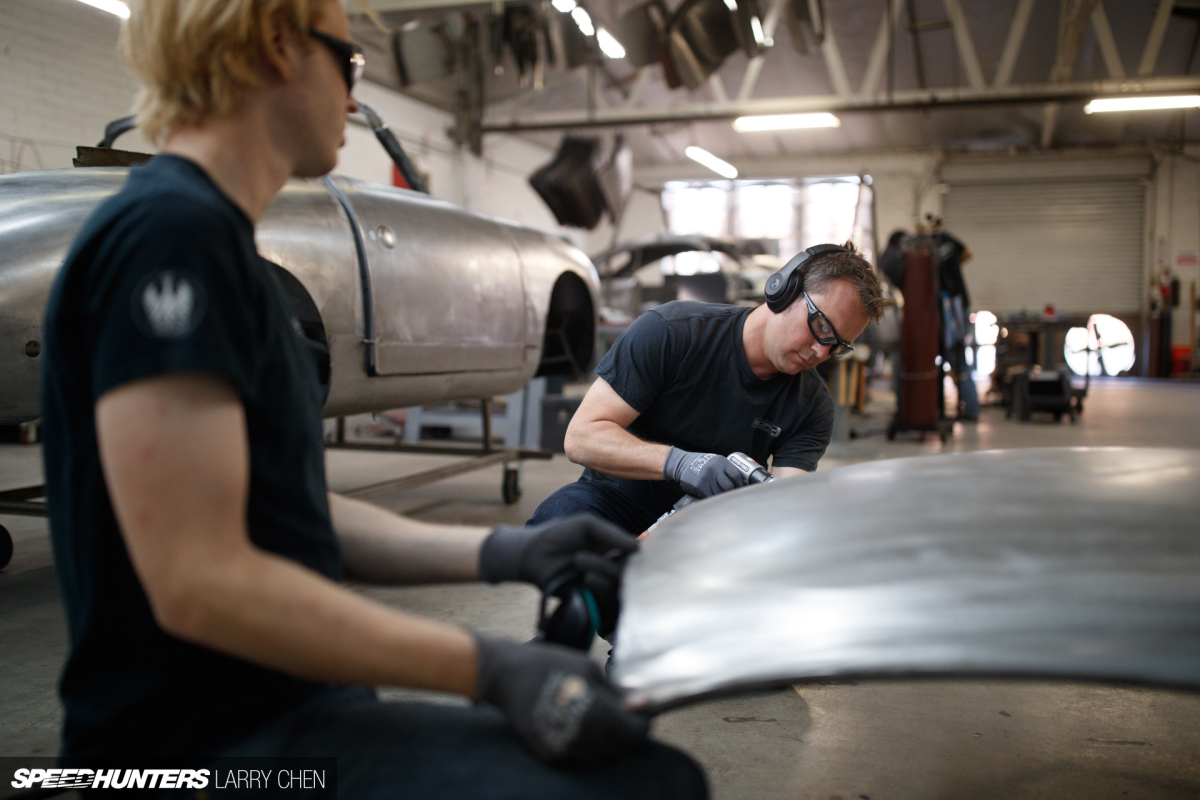 One more piece of Southern California history by Rod's father is a gift to the Volkswagen Beetle community. For years, Gary wanted a Meyer's Manx, but just couldn't really afford the price of the kit. So, when a 1956 oval window rag top Beetle came into the shop smashed in the front and rear, he traded the owner a 80cc Suzuki motorcycle for it and went to work. He and Neil installed four front fenders rolled to match the cut hood, removed the rear deck lid, installed off-road lights, wheels and tires, and cut the front torsion bar mounts to rotate them and raise the front end. What they created in 1969 was the very first Baja Bug.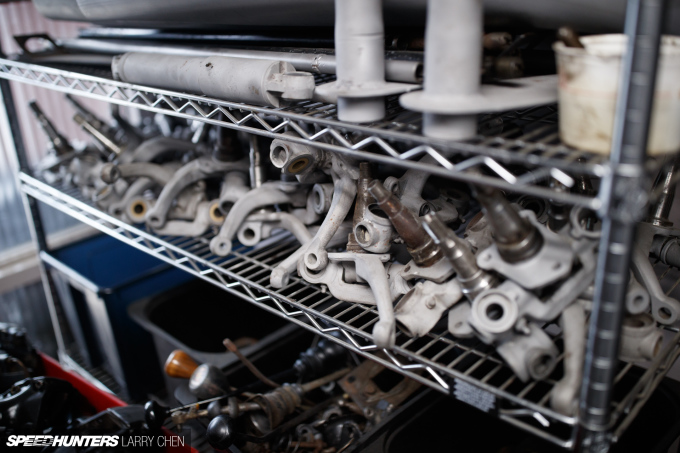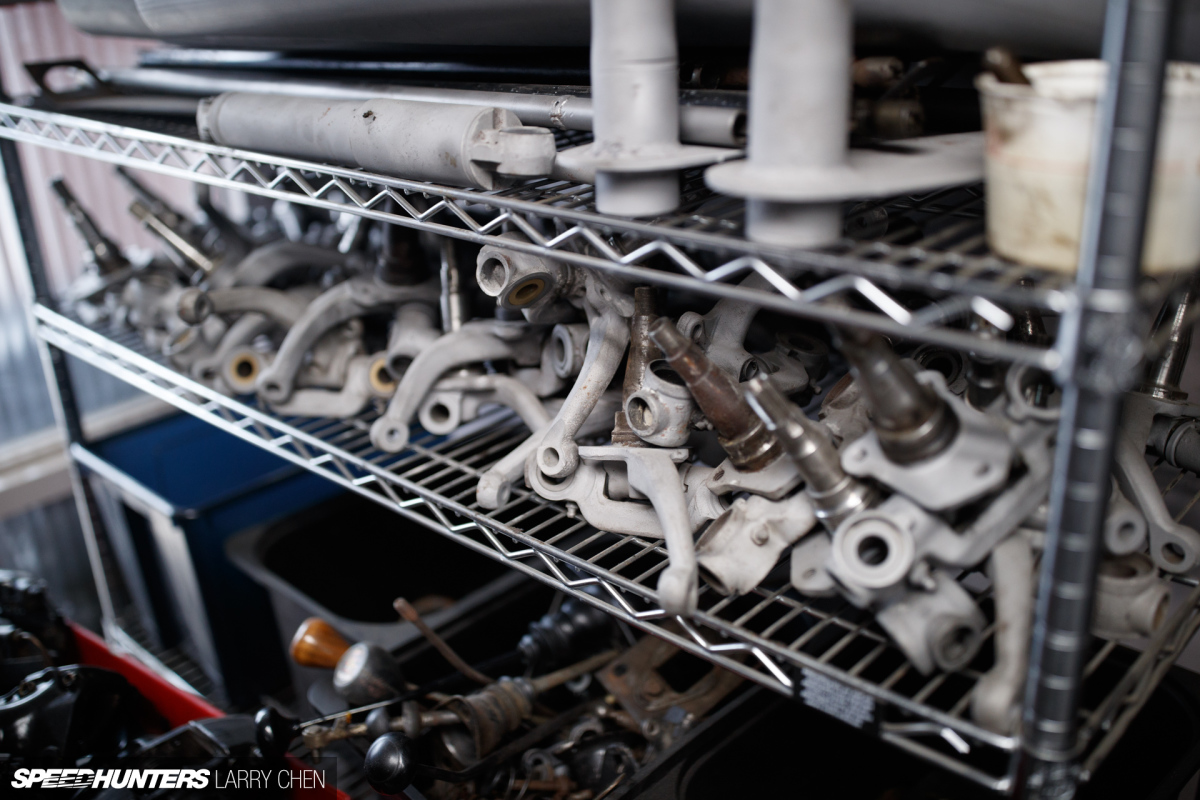 Gary went on to eventually open Porsche Parts Obsolete after noticing that Porsche dealers were sending back unused parts to the distribution warehouses, which were then gotten rid of to free up inventory space. He convinced Iverson to purchase those parts and open the new business for owners and shops who were restoring and maintaining older Porsches and Volkswagens. This building would eventually become the warehouse for another classic European car enthusiast and clothing specialist, namely Bryan Calvero of Period Correct.
A Race Shop Is Hand Formed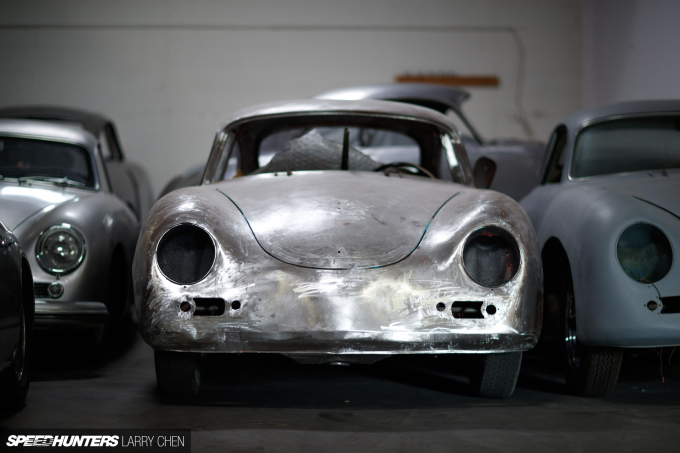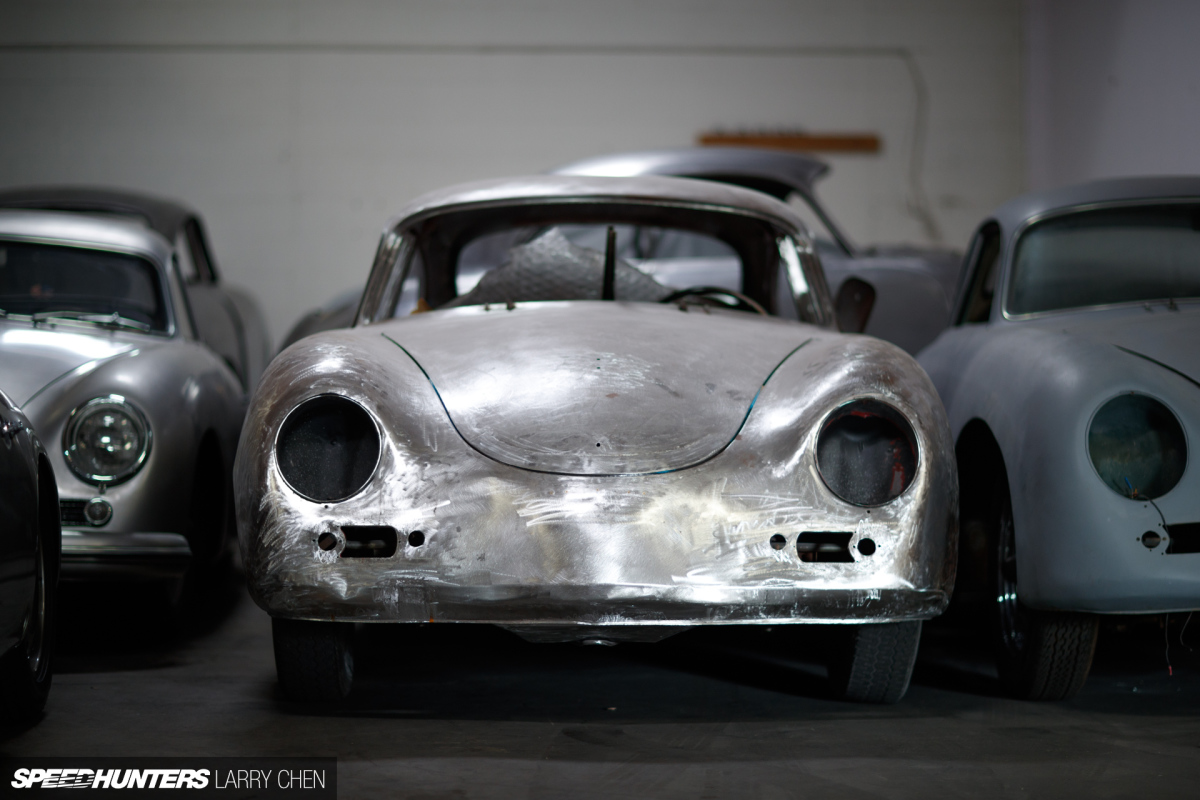 Rod's history with the 356 started out at 14 years of age when he began working on a 1953 model that he could street drive but also run in vintage races. His motorsports career allowed him to eventually begin building and maintaining vintage Porsches for customers, and then went on to include transportation and track support. In 1991, Cameron Healy, the founder of Kettle Chips and also race promoter in Oregon at the time, came to Rod and requested that he build a car for him. This was the start for Emory Motorsports. Once Healy's car was finished and the other vintage Porsche racers saw what Emory had done, they also approached him to build their street cars.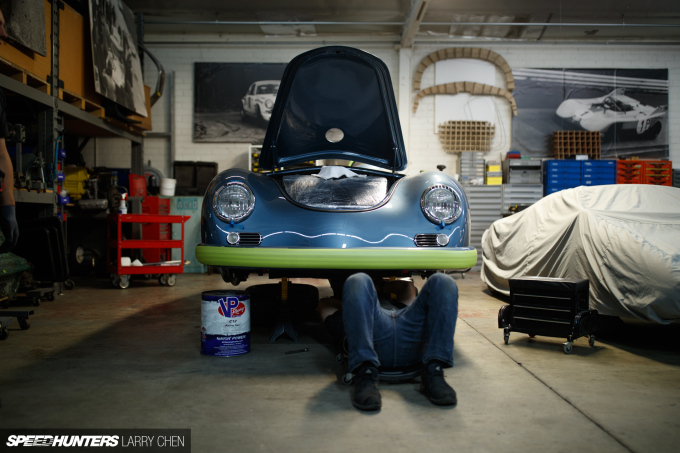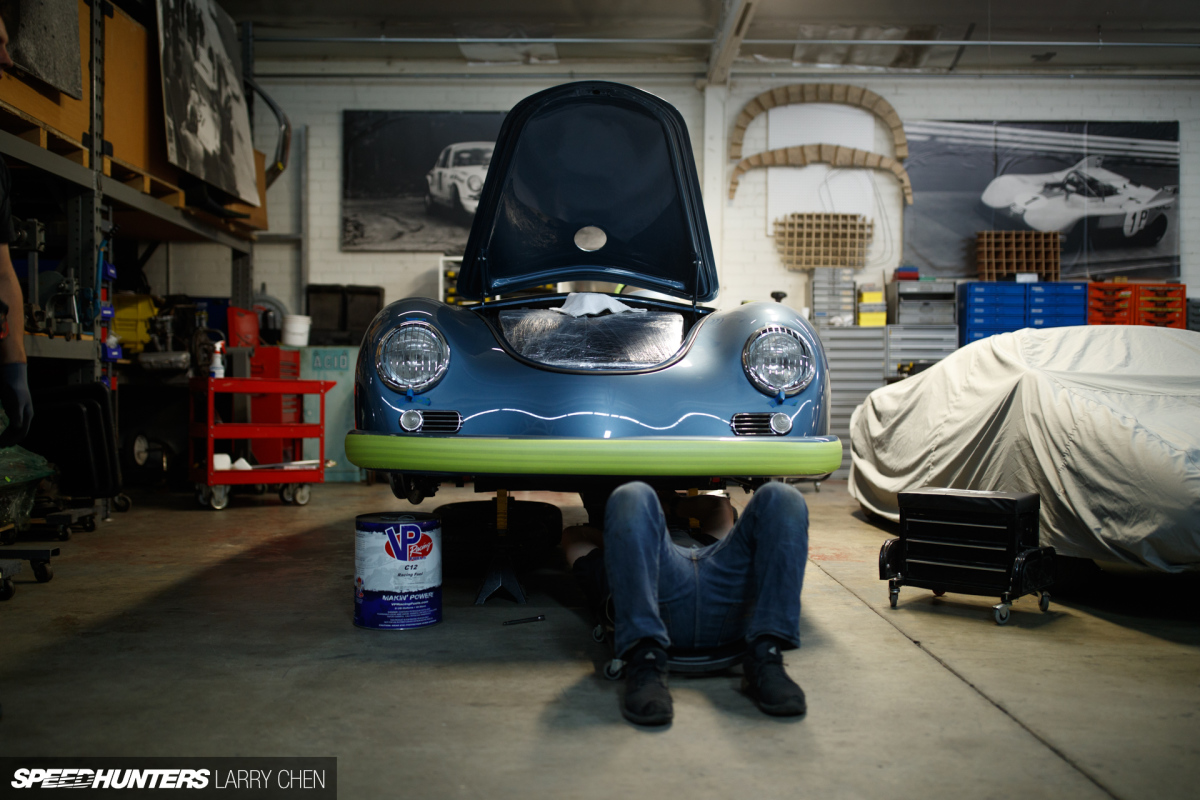 The race support business would continue until 2008 when vintage racing began to die down in popularity. However, within this time Emory Motorsports had been building Emory Outlaws and Specials for customers and demand was continuing to grow. Seeing that, in 2009 Rod shuttered the race support side and focused primarily on custom 356 building, which is still going strong today. "While we're so hyper-focused on the 356, you can see that we draw inspiration to every Porsche model," Rod explained. "Part of my story and what makes me tick is that I grew up in a Porsche parts business. It got me thinking, 'OK, I've got a 356, but how can I take a 911 transmission and fit it into it? How can I take a 908/3 center-lock hub and put it on a 356?' People my age, when they were kids, were playing with Lego and Lincoln Logs; I was playing with Porsche parts and finding ways to make parts that didn't go together, go together."
Outlaws & Specials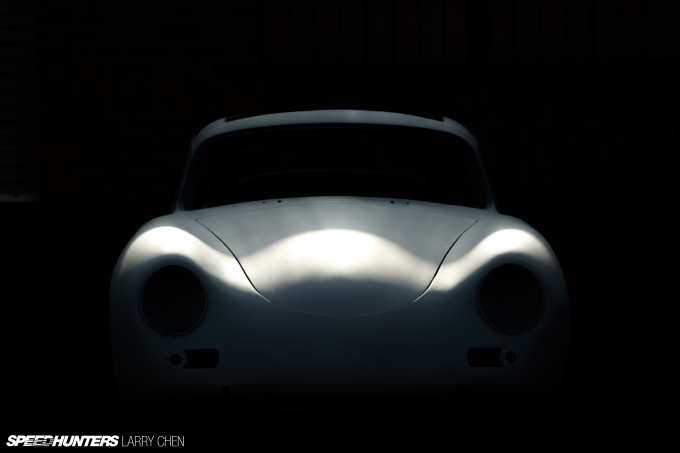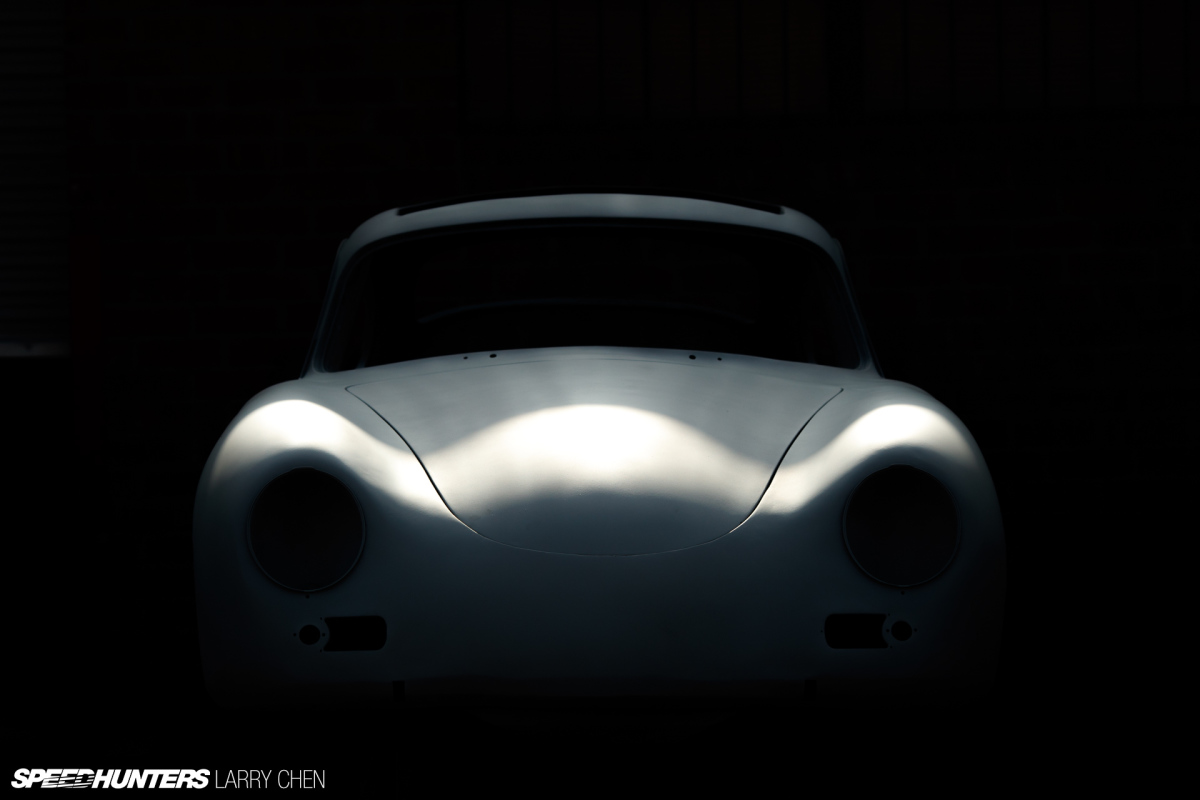 While a Porsche purist might cringe at the thought of modifying a classic 356, there is one thing Rod doesn't do. "I don't work with pristine, numbers-matching cars," he said as we toured his warehouse. Rod's a hot rodder, but even he knows the value of a rare and perfect car. "I don't always go out to look for the next car, either." He pointed out the cars awaiting work and explained how he would come across them. "Sometimes, owners come to me looking for advice and value before they sell theirs. I give them an honest value, what they can actually expect to sell it for, and tell them to either go in with that expectation when they sell it on eBay, or let me buy it for a reasonable price that's usually more than they would get from an auction or even a private sale."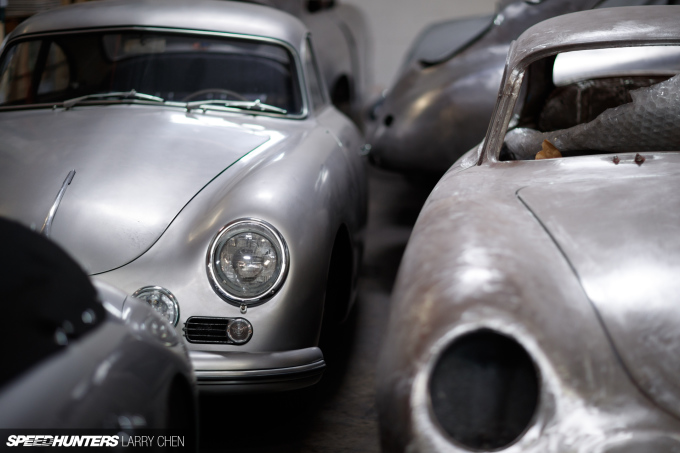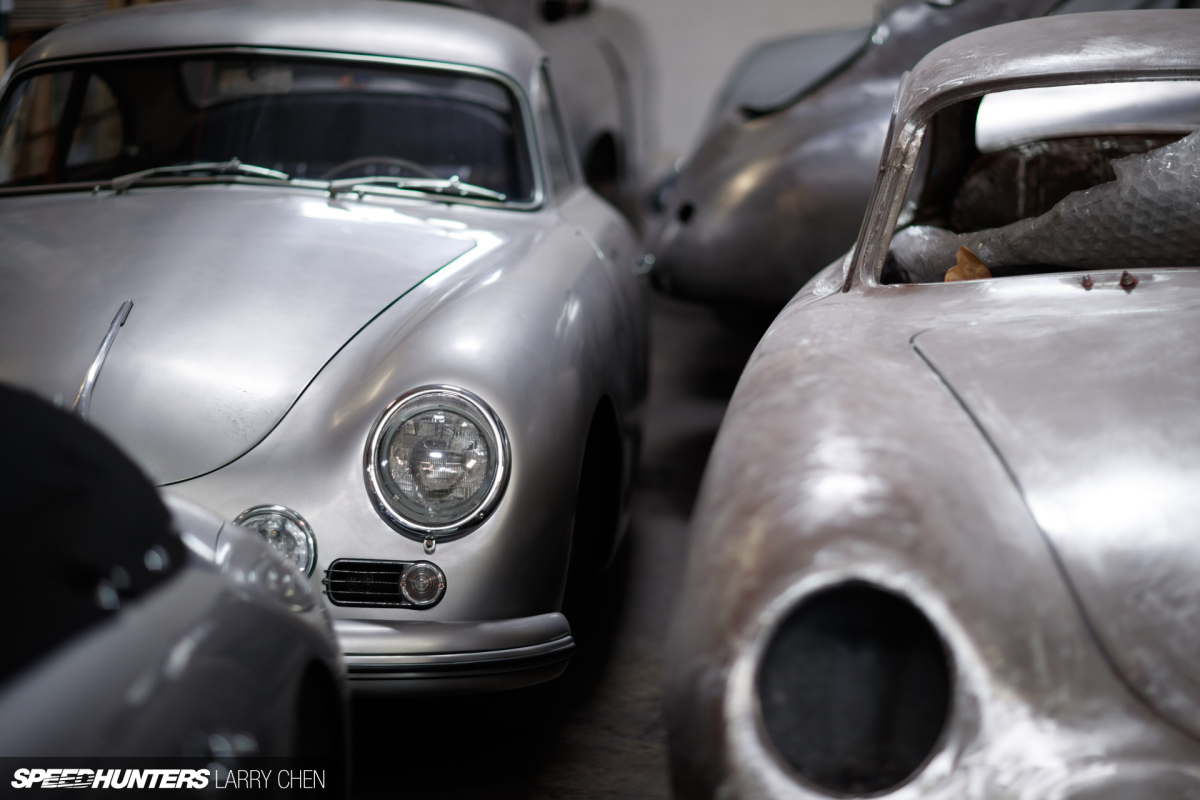 While the 356s are certainly not junkers, they are not perfect either. Either by crash damage, improper repair and body work, or rust – these cars require major restoration before becoming an Emory Outlaw or a Special. "I'd say 80 to 90 percent of the work is all in the metal," says Rod. "Replacing the longitudinal area in the floors is the biggest issue with a 356." That's where the heat tubes pass through so the passenger compartment can get heat on frigid days. Remember, these cars are air-cooled and don't have a liquid cooling system to transfer heat into the cabin.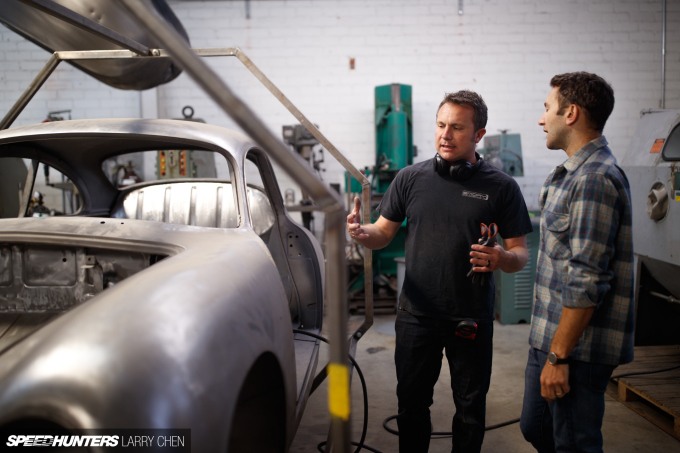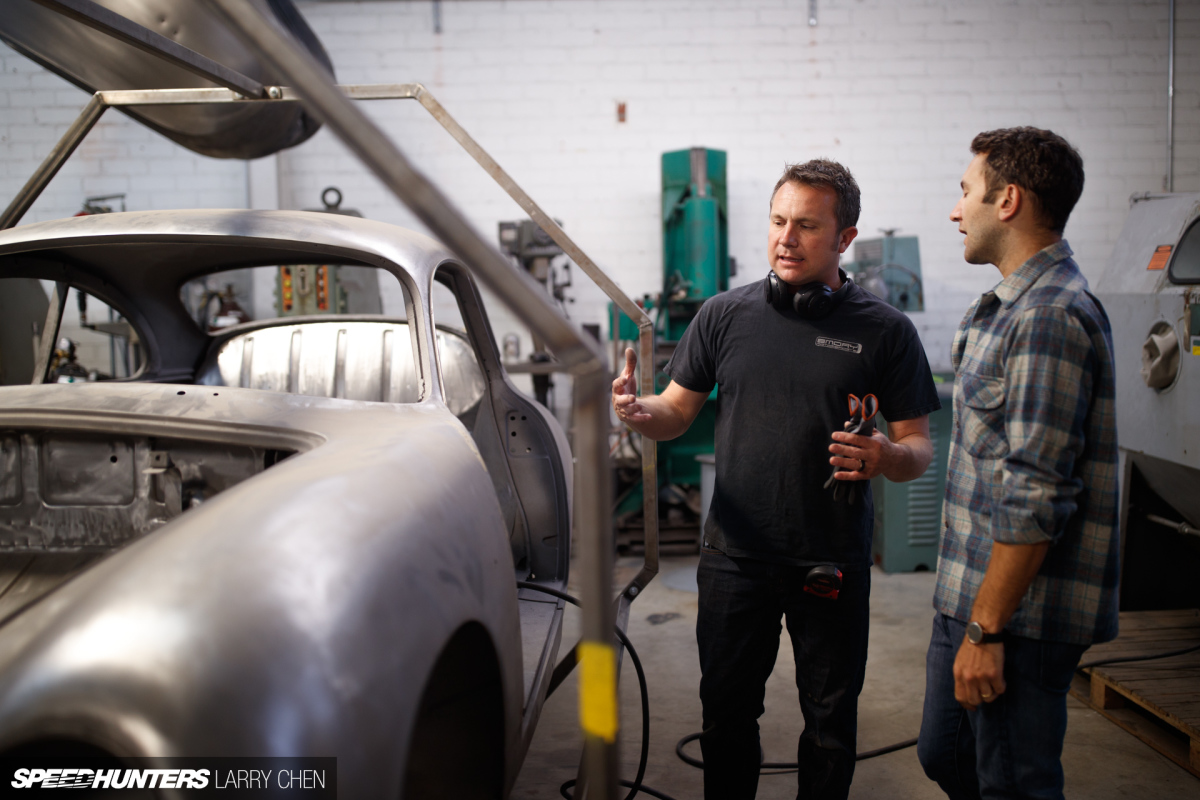 That heats up those tubes and when hot metal cools, it creates condensation that the cardboard heat tube mufflers collect. "The water pools up and causes major corrosion damage," says Rod. "We replace those longitudinals and install new heat tunnel mufflers that are filled with fiberglass instead of cardboard. Those are then cold galvanized [an anti-corrosion treatment] before they are welded back together."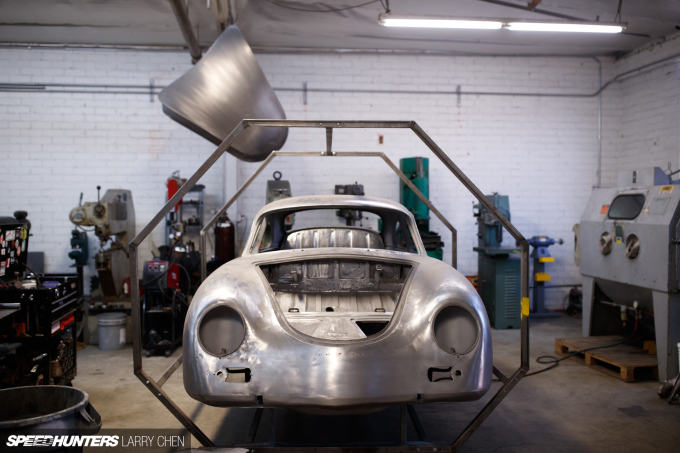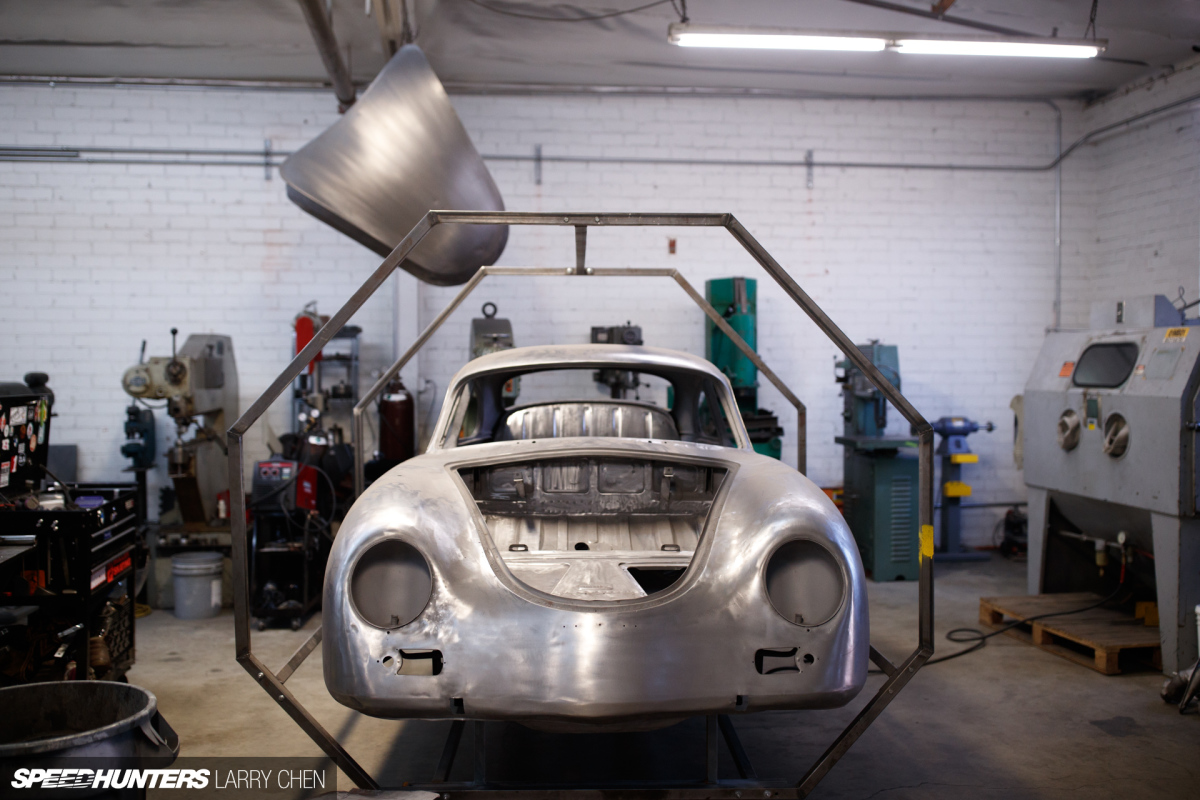 The other challenge is the 356's complete uni-body construction; the entire body save for the hood, doors, and deck lid are one piece and integrated into the chassis, unlike a 911 or even a Beetle. This means you can't use an auto body rotisserie to rotate and work on the underside of the car because there isn't a front or rear chassis point like the bumpers or other structure you can bolt it to. Instead, the chassis is bolted to a four-wheel dolly which an octagonal cage is then bolted to, allowing Rod and his crew to work on the underside of the cars.
Modernized Yet Still Feels Original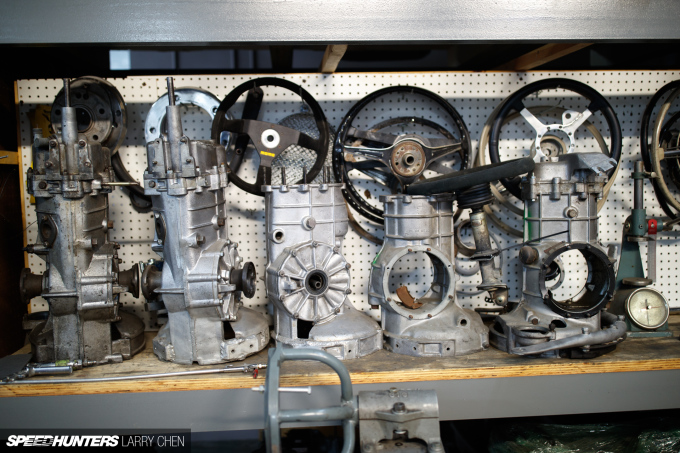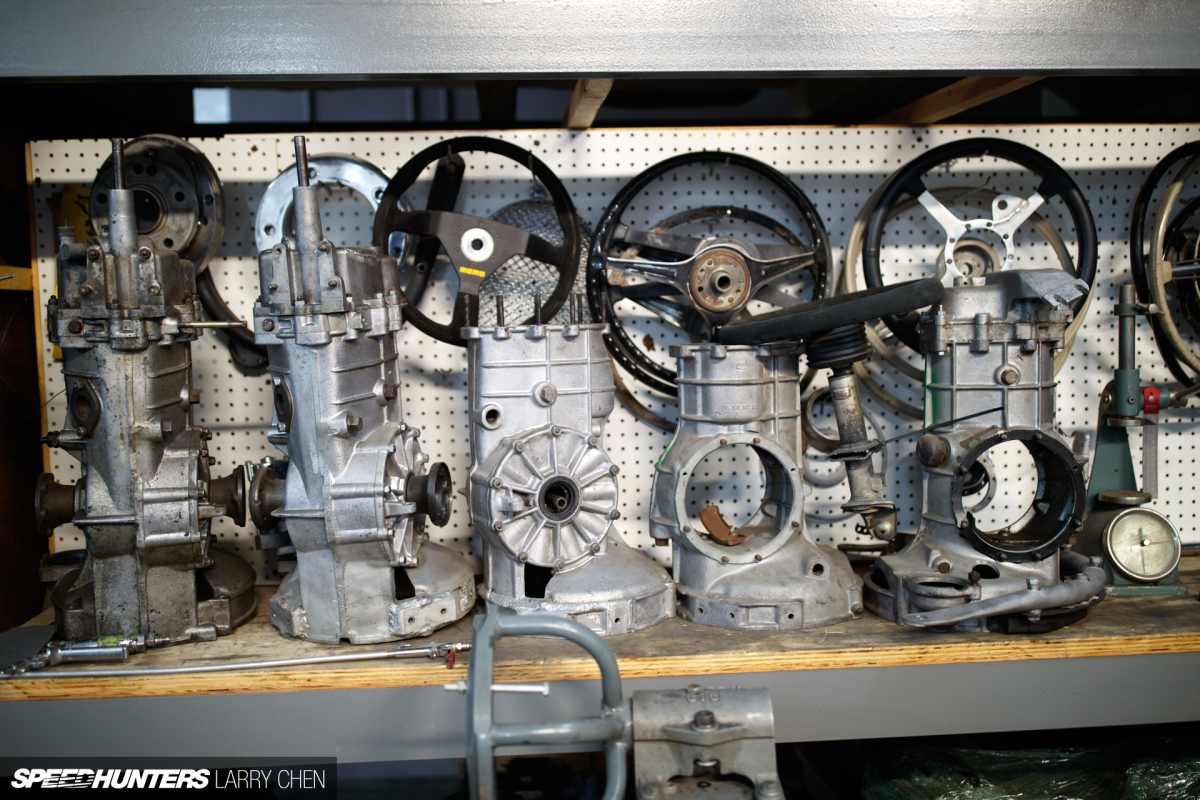 The other work deals with what makes the 356 not so desirable to drive, making it slightly more modern and akin to a 1970s 911. "The suspension is changed to make it better for the street and track, and we change out the electrical system to make it a 12-volt system rather than a 6-volt so the lights are brighter and the car starts a little easier," says Rod. They also retune the suspension for modern tires over the bias ply, and the wheels are changed from narrow steel units to wider forged aluminum wheels with the look of the 356 originals. The brakes are also changed to discs instead of the original aluminum drums, but the hubs the wheels attach to make it seem like those drums are still there.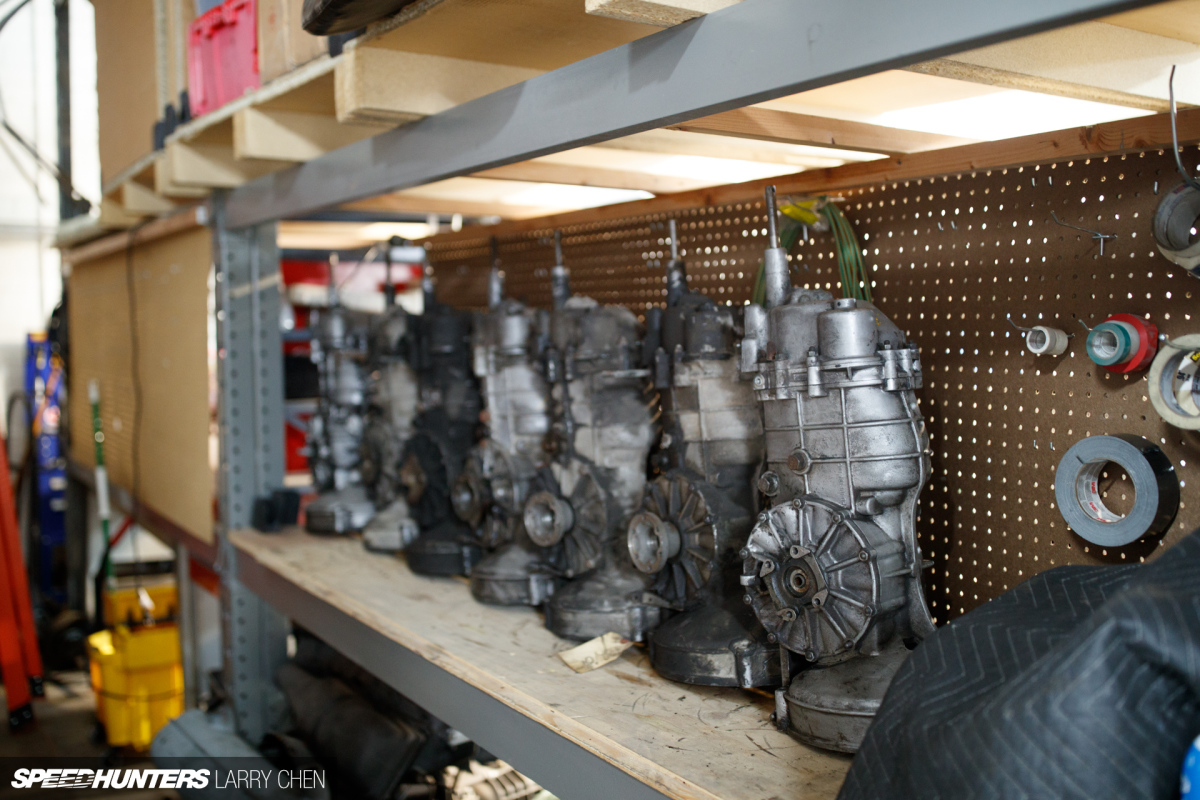 "We change out the engine and drivetrain to a more modern, overhead cam engine with an independent rear suspension that replaces the swing-axle design," said Rod as we approached an engine that was on the ground. It was the original prototype for Emory 356s and the main source of modernization. This one started out as a 964 3.6-liter flat-six, but Rod cut out two cylinders and welded the case back together. A custom crank is installed, but based off the 76.4mm stroke and, with the 100mm bore, it comes out to become a 2.4-liter flat-four that goes into the rear of the 356. The transmission is also from a 964, but was originally cut and welded at the rear of the case.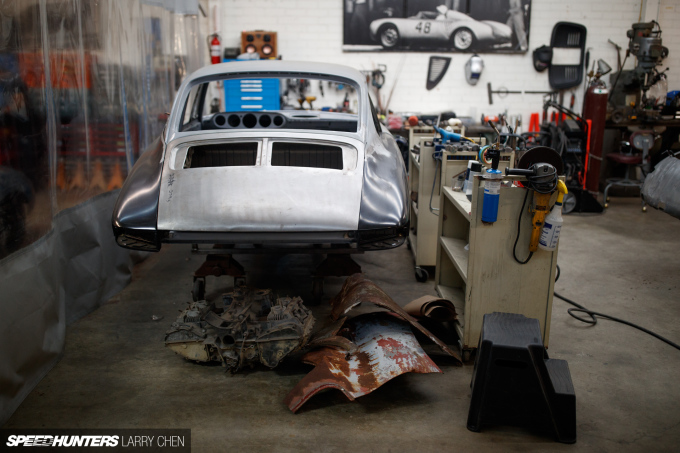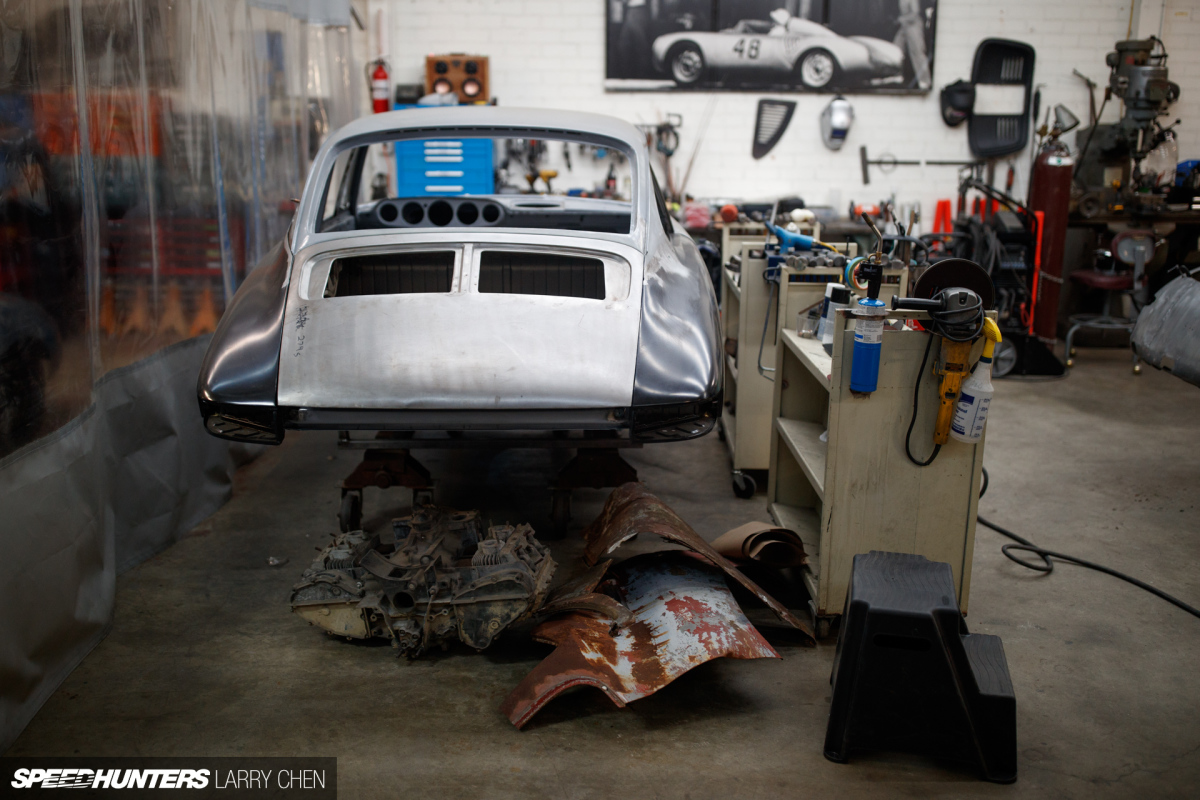 The engine case is now made from new aluminum rather than cutting a 964 block, however, the cylinders, pistons, rods, and other parts from that 3.6-liter fit and work on the custom case and crank. The rear of the transmission also gets a custom piece to fit. There is more to it than just making a four-cylinder from a six, though. All of the modernization of the dry sump oiling system, overhead camshafts and timing chain, and more has to fit within the confines of the 356 engine bay. While it's still a four-cylinder, it's slightly bigger and room needs to be made for it. Even with that, the engine is still carbureted and uses a modified distributor.
A Restored Le Mans Winner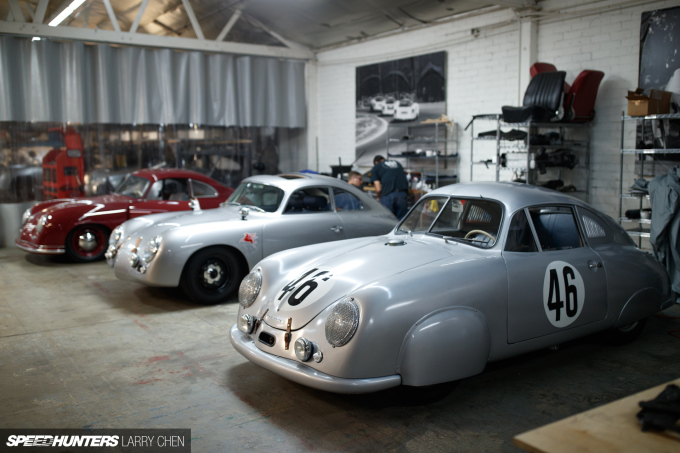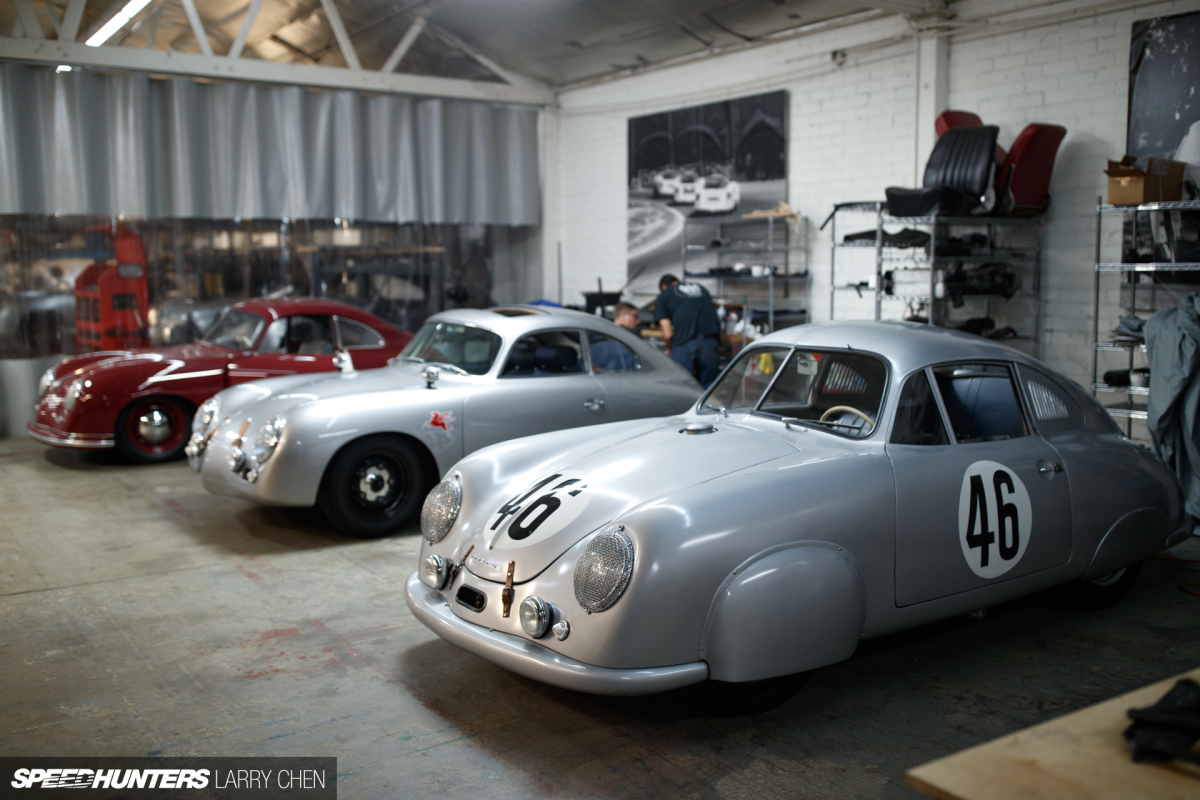 The concluding chapter of our story is one that is incredible to hear from Rod and see in person: the tale of the restored 356 SL that won its class in the 1951 running of the 24 Hours of Le Mans and was the first major motorsports win for Porsche. To look at it now and to see where it came from is unbelievable. After the car won, it was eventually run in speed trials and rallies until Porsche sold it to Max Hoffmann in 1952, who then sold it to John von Neumann. That's when it was modified into a roadster design. The 356's final owner before its restoration was Chuck Forge who raced it until his passing in 2009. Rod and Cameron Healy purchased it from the Forge estate.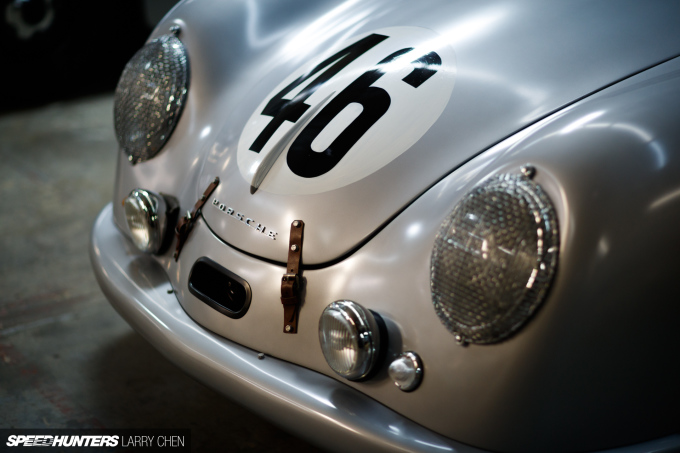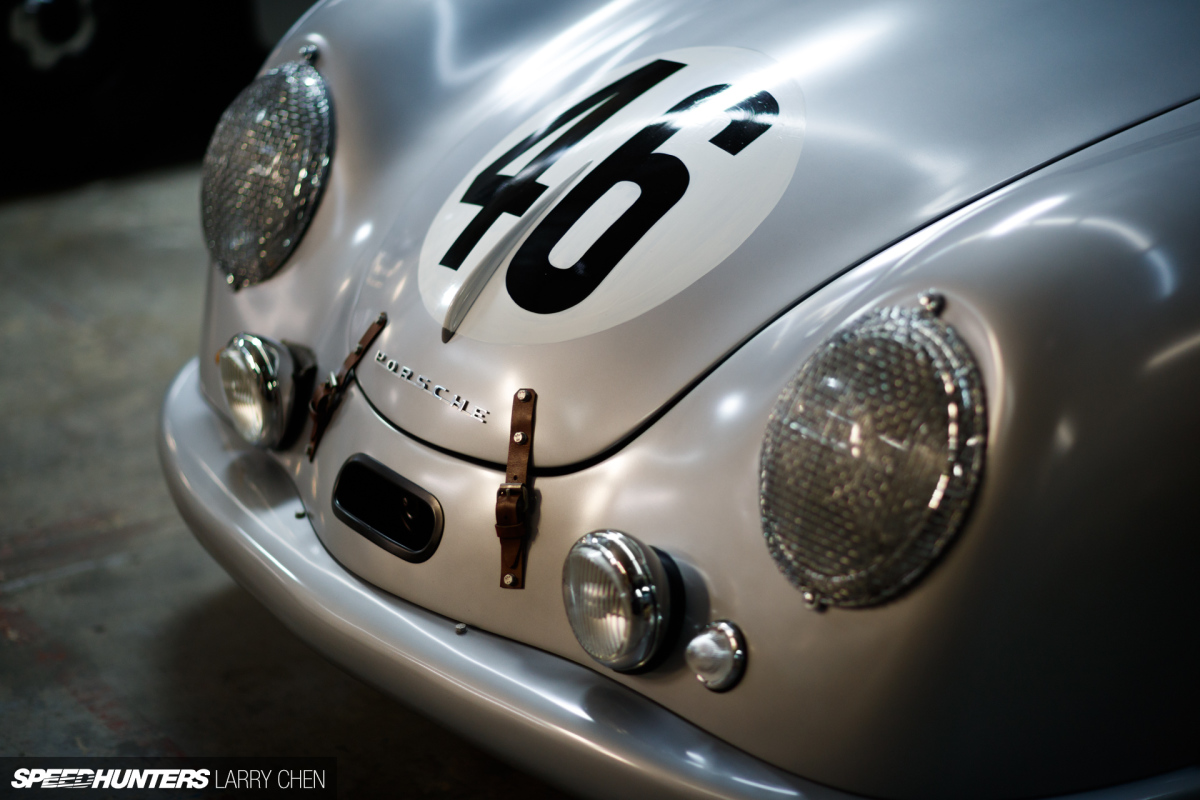 Digging into the car, Rod began to realize that it was the original 1951 Le Mans-winning car. While it was known to be a Porsche race car during its relocation to California and prior to that in Europe, its exact race history over the pond was unknown. That's when Rod and Cameron started to research more and chase the history of this car to ultimately find out that it was Porsche's original winner. They presented the proof to the German automaker who then gave their blessings and followed up with press releases to reveal the granddaddy of the 919, 911 RSR, GT3 Cup Car, the 917 and other racing classics was found alive and well. Well, save for the scalping.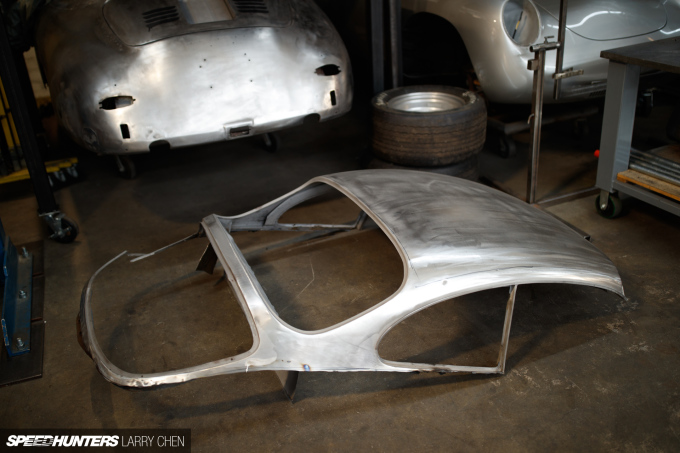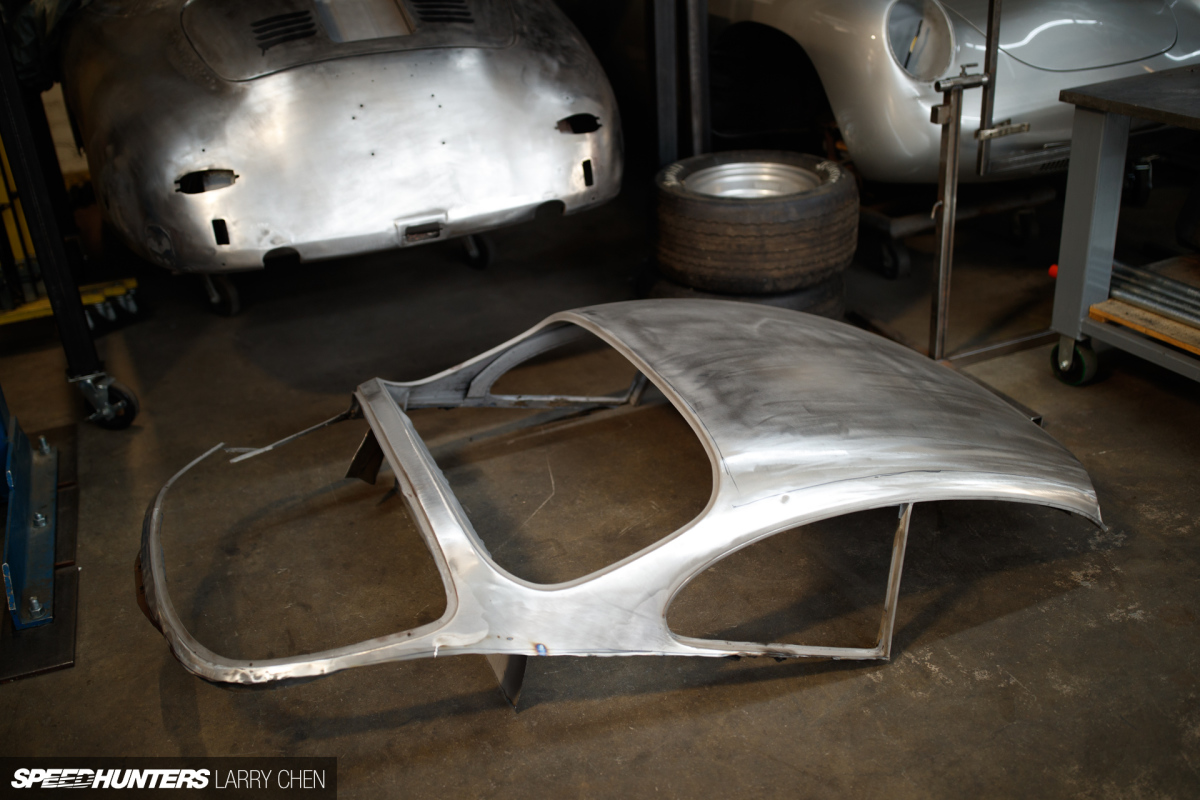 It was this restoration that got Rod into 3D scanning, as it was a straightforward way to recreate the exact roof line of the original Gmund 356 SL. A scan of the original car as it sat was taken and then a scan of the 356 that was at the Porsche Museum in Germany as well as other original Gmund cars brought about the original shape of the roof line. These scans were then taken to a 3D modeling program to merge them all together and create a foam recreation to which a wooden buck was built to serve as the reference to shape the aluminum into its final form. This new aluminum roof line was then brazed back onto the original car and the 356 SL was complete.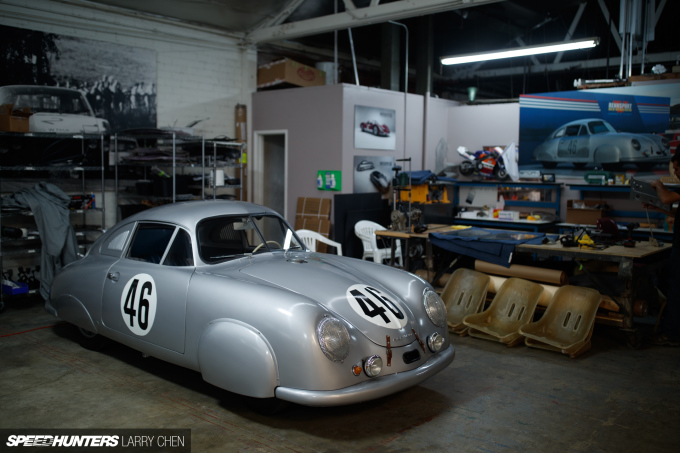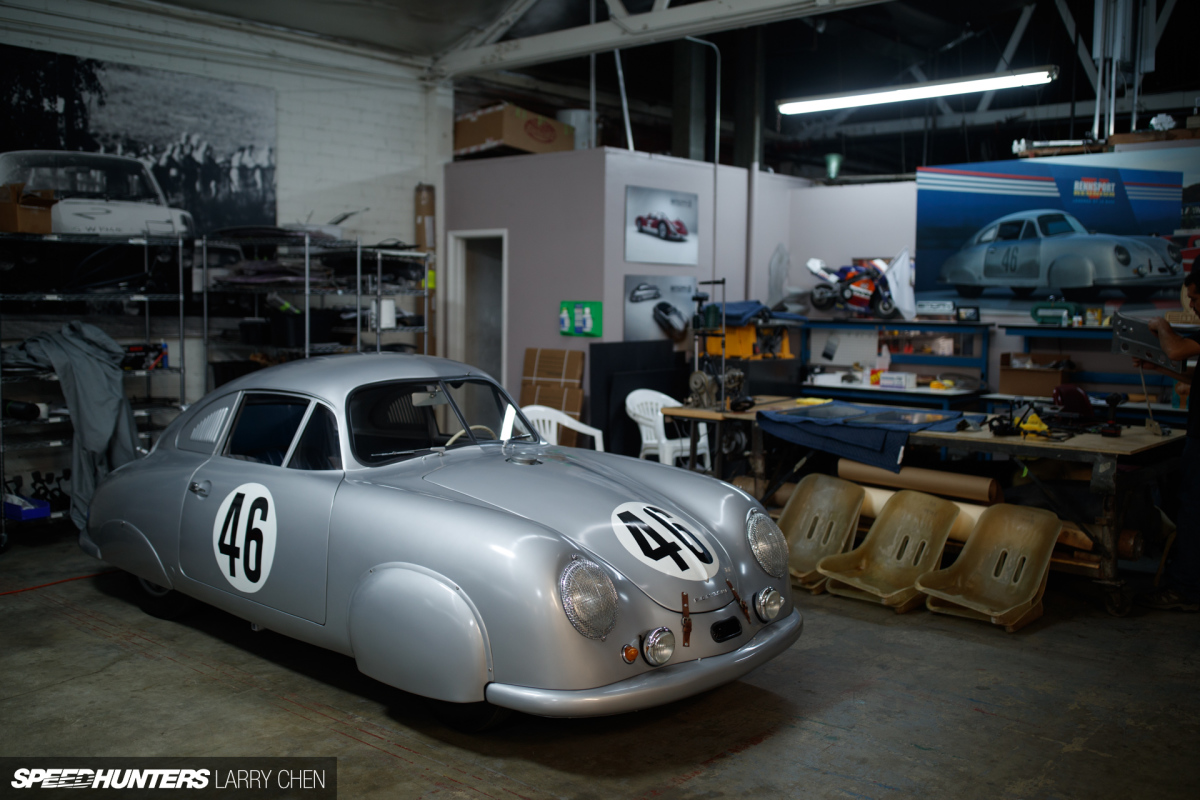 The only thing left was to reveal it at Rennsport Reunion Five in September 2015 at the request of Porsche. It went in as mostly finished and in bare aluminum, but was home among the cars that were inspired by its first win. After Rennsport, the car was back at Emory Motorsports for final restoration and painting before going to Pebble Beach. It was a moment of significance for this 356: Pebble Beach was the first race it ran when it landed in the US, so in a way this was a second homecoming for car #46. While it didn't win the Concours d'Elégance, it did win the hearts and minds of Porsche enthusiasts who were glad to see it back in its original form.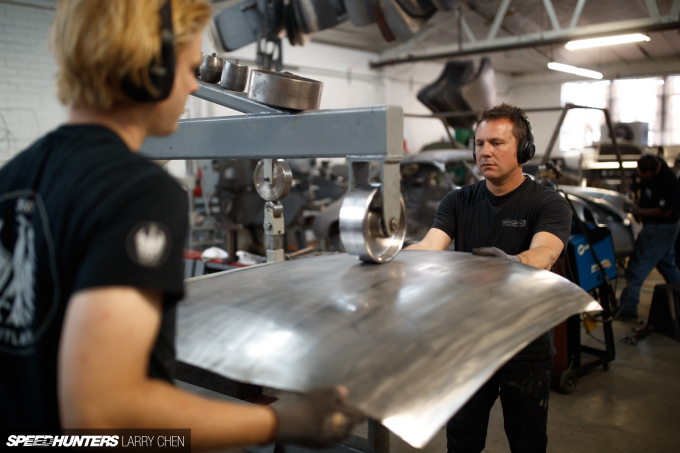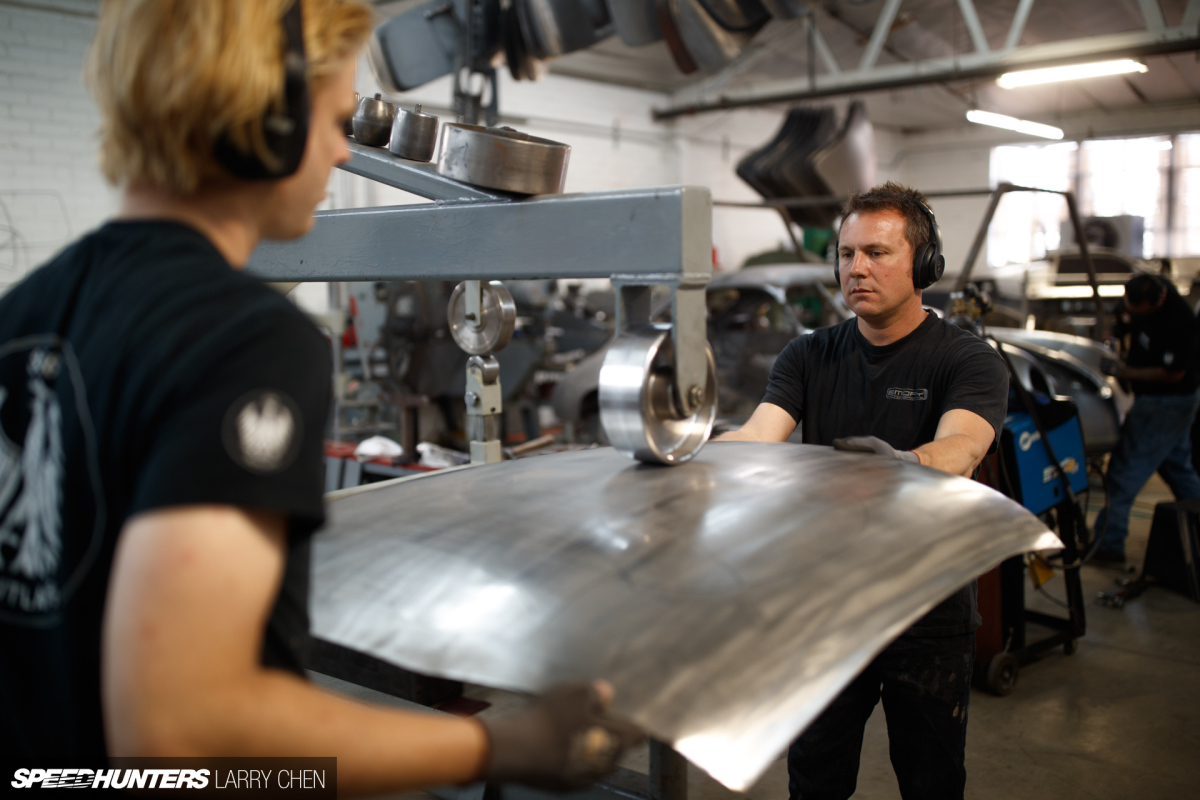 If there was one thing I was left impressed by after talking with Rod and touring his shop, it's the dedication that he puts into it. He isn't a boss that just sits in the office all day, he's out there working with the guys. He's cutting and shaping metal, sweating it out, and hands-deep into these cars, just like his crew is. While he's not racing or running a race shop anymore, much of the teamwork that's required to keep the lights on for something like that is still very present here. They may be hot rodding 356s and Rod may seem to get all the attention, but it hasn't gone to his head. He makes sure his guys are well taken care of and have a life outside of the shop.
Emory Motorsports is a small shop with big projects coming out of it, but it's also that small size that's made it so successful. You can see that with every Outlaw and Special that leaves its doors.
Words by Justin Banner
Instagram: jb27tt
Facebook: racerbanner
Twitter: RacerBanner
Photos by Larry Chen
Instagram: larry_chen_foto
larry@speedhunters.com
Cutting Room Floor