Chance & Coffee
It's a small world. In fact, it's tiny at times. While I'd missed the public debut of Michael Willoughby's freshly completed 1972 Datsun 1200 (B210) wagon during the torrential rain at Sydney's Fitted Festival, chance would see us cross paths again less than 24 hours later.
It was my first lazy Sunday at home after a few solid months of jet-setting and Speedhunting across the entire width of this vast, magnificent continent. How does one relax and unwind after chasing Australia's finest cars? By visiting Small Car Sunday, a local grassroots meet, of course. Except for this adventure, my trusty Nikon would be replaced with my young family. And rather than chasing great stories, I'd only be hunting for a bacon and egg roll and a strong coffee. Fortunately for all of us, I'd find much more.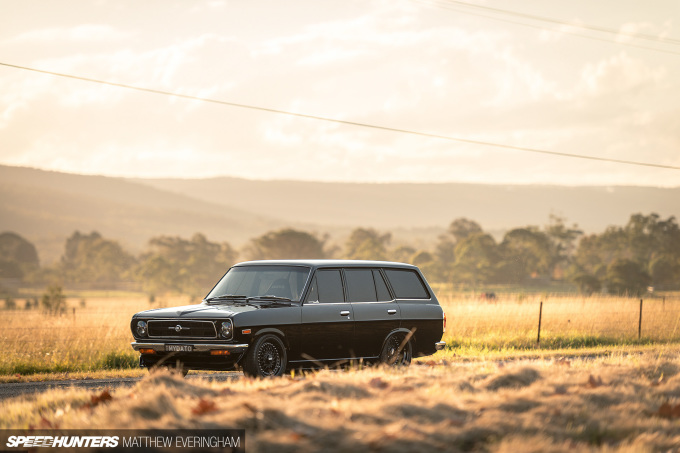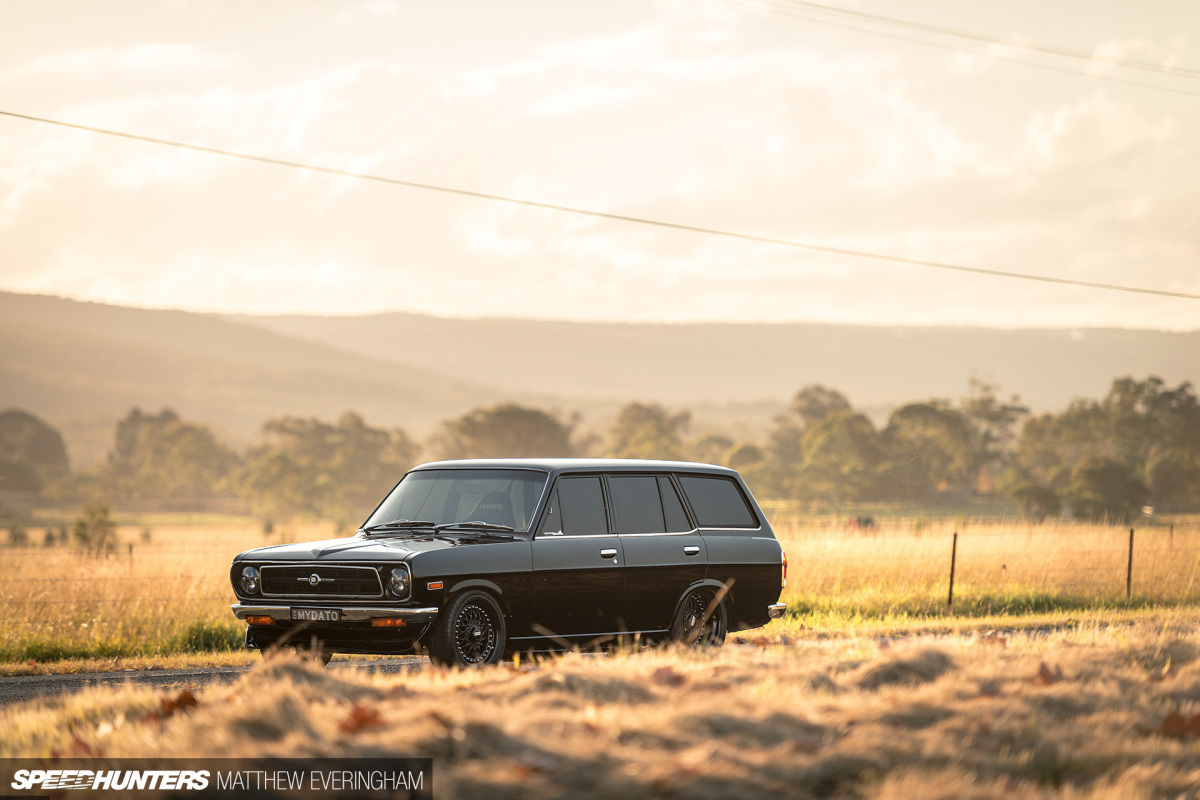 Tummy full, great coffee acquired, a happy family – I'd call that mission accomplished. After a closer look at a few of the event's last remaining highlights and catching up with some familiar faces, we strolled back to my Mitsubishi Lancer Evolution IX, AKA Project Nine. But just as we were about to drive off, an angry sounding, immaculately presented wagon made its way into the compound.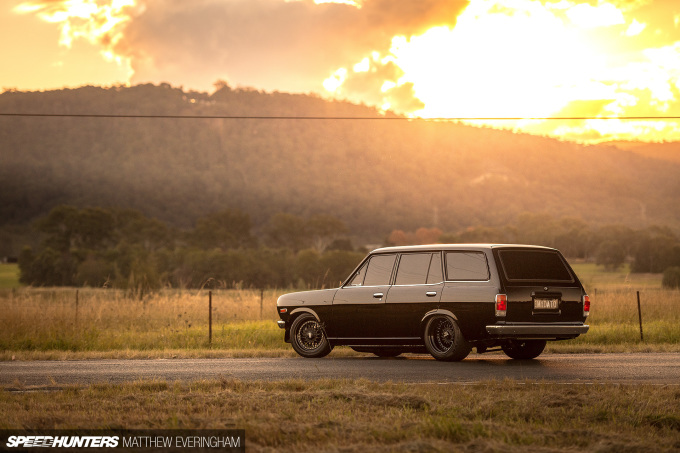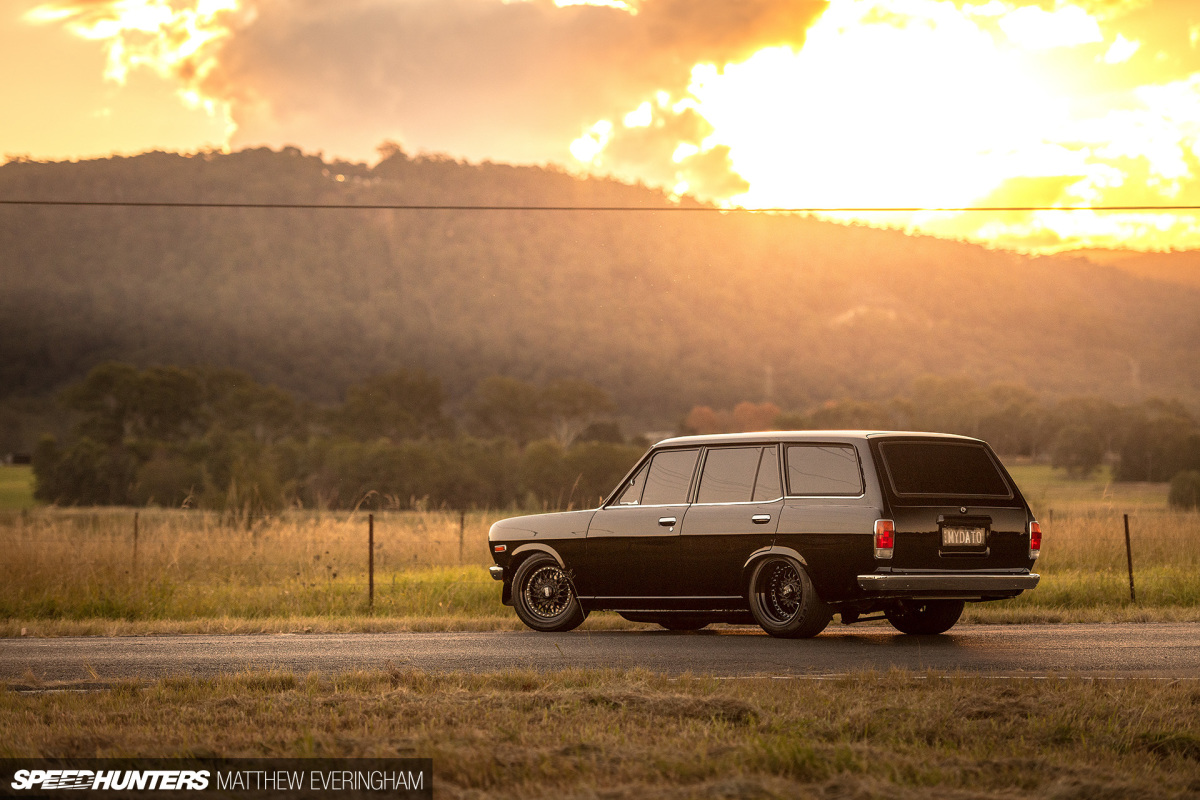 Regular readers would already be aware that I'm a Nissan/Datsun tragic, but despite usually having my finger on the pulse when it comes to high-calibre Nissan/Datsun builds in Sydney, I'd never seen this wagon before. I had to find out more. After all, a Speedhunter is never off-duty.
After a short conversation, both Michael, the owner of the car, and also the event organizer agreed to meet up with me later in the afternoon to make the most of what was sure to be an intense Sydney sunset.
It's A Small World
I thought Michael looked familiar during our first quick conversation, but it only took a few minutes of chatting to him while out on location to work out the connection. He was not only the younger brother of an old friend in a Datsun-mad family, but going back a decade to his first-year apprenticeship as a spray painter, he'd done some touch ups on a previous car of mine.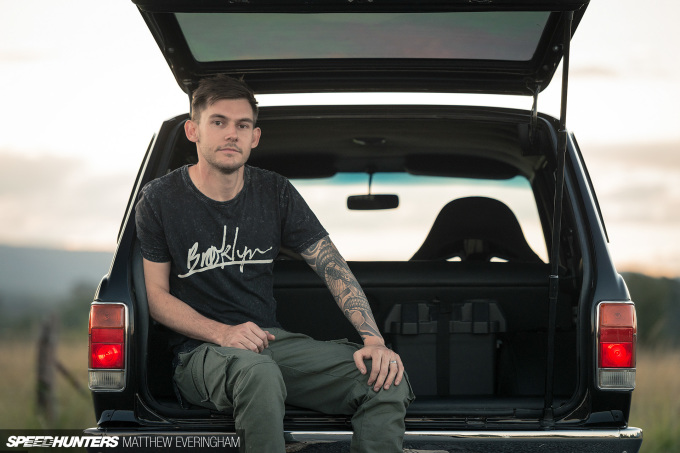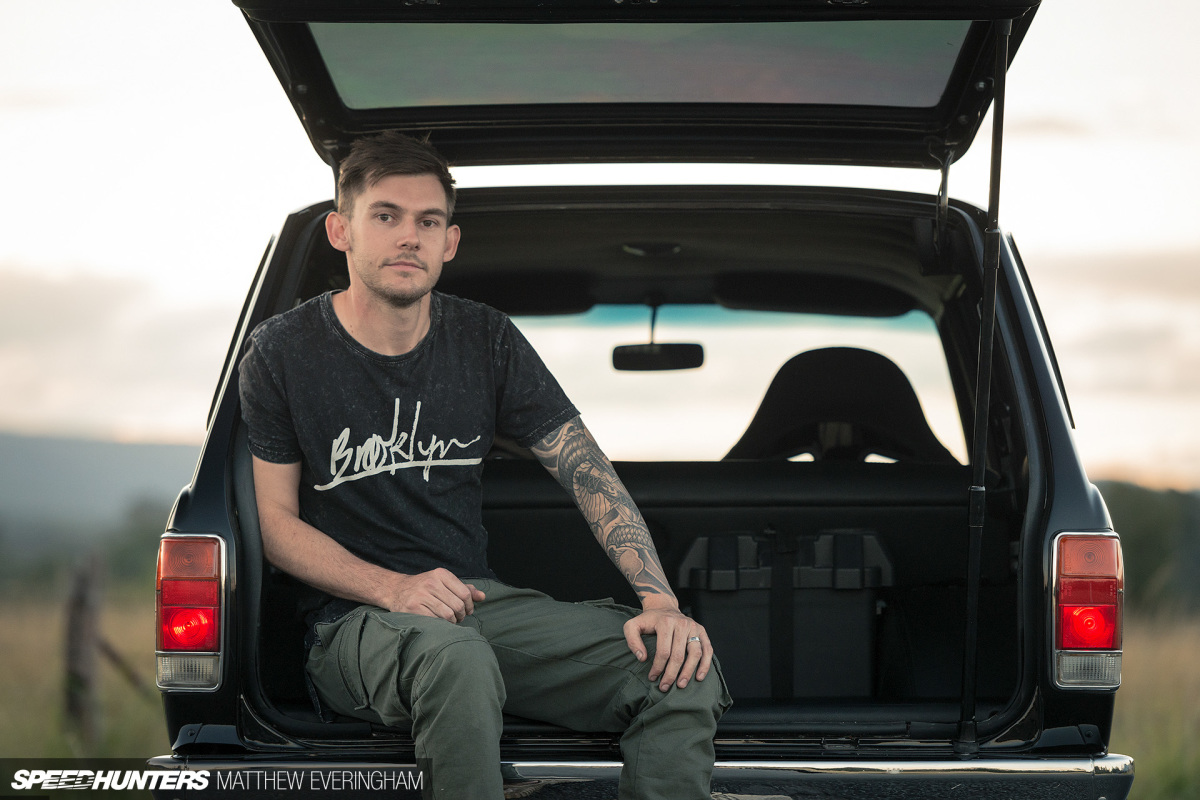 Michael was just 16 then, but now he's an accomplished painter in the trade, newly married and standing half a foot taller than me. It may have been so long since we'd last spoken that I hardly recognized him, but still, I couldn't help to feel proud of how hard he's worked and how far he's come over the past few years.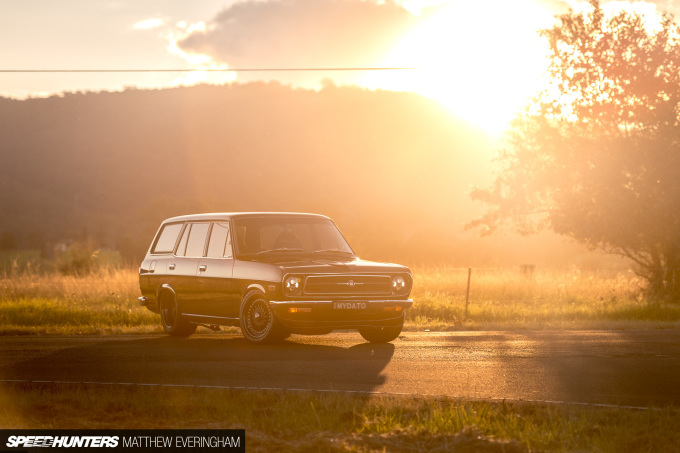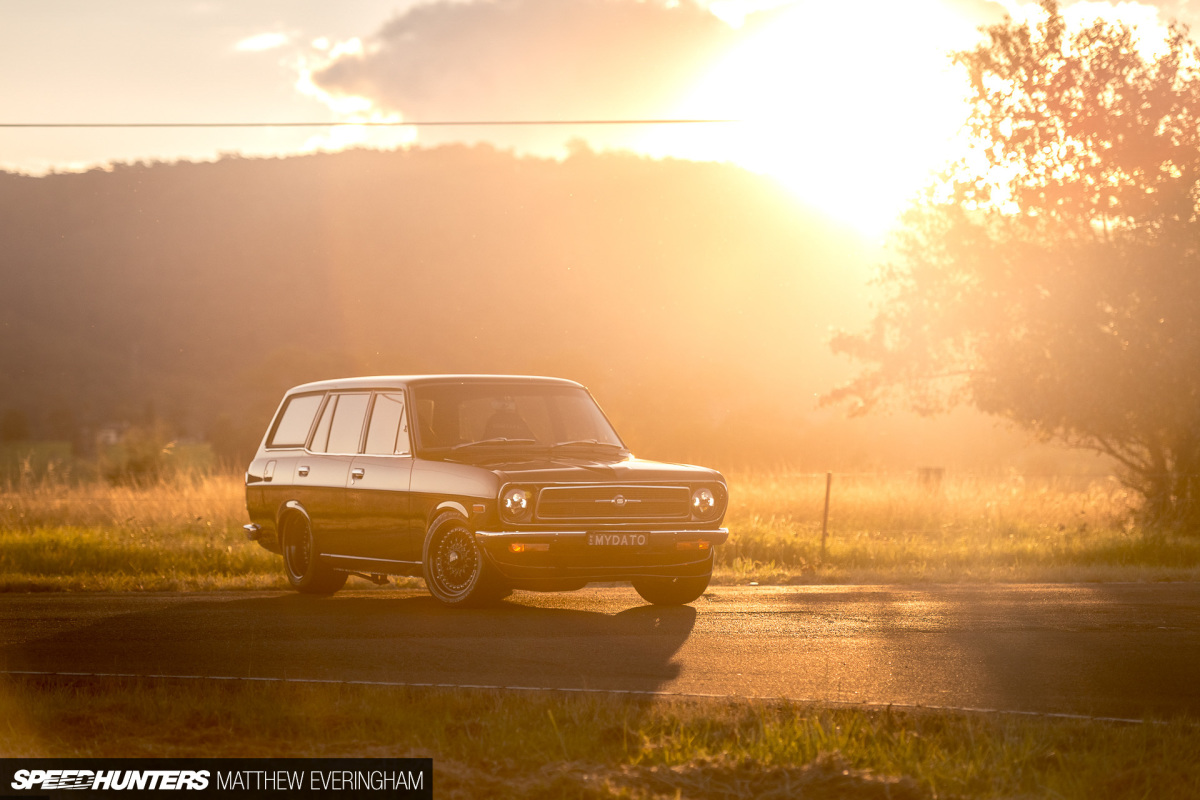 I didn't need to ask how he'd progressed as a painter from our last encounter; the silky smooth paint and flawless panel work spoke a thousand kind words on his behalf. It was metal magic; every gap, every seam, just perfect. I can't ever remember seeing a better or deeper coat of black applied to a vehicle.
Paint It Black
Transforming the wagon to its current state was no easy task. It wasn't meant to be, either. After owning the wagon for close to 10 years, it was time for Michael to refresh the build. But a simple update wasn't an option, he wanted to go all-in and create something special.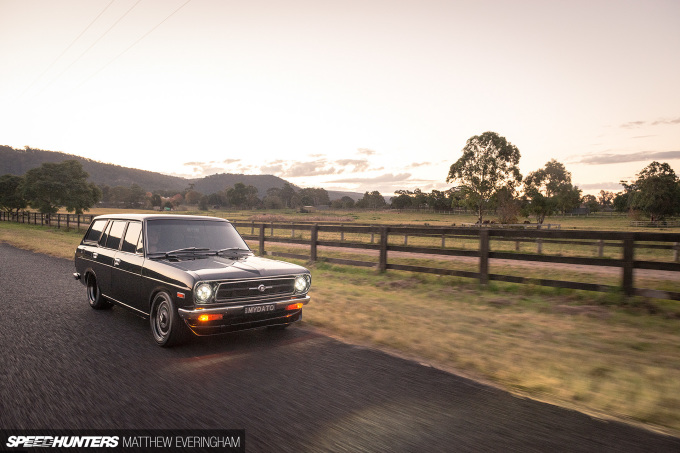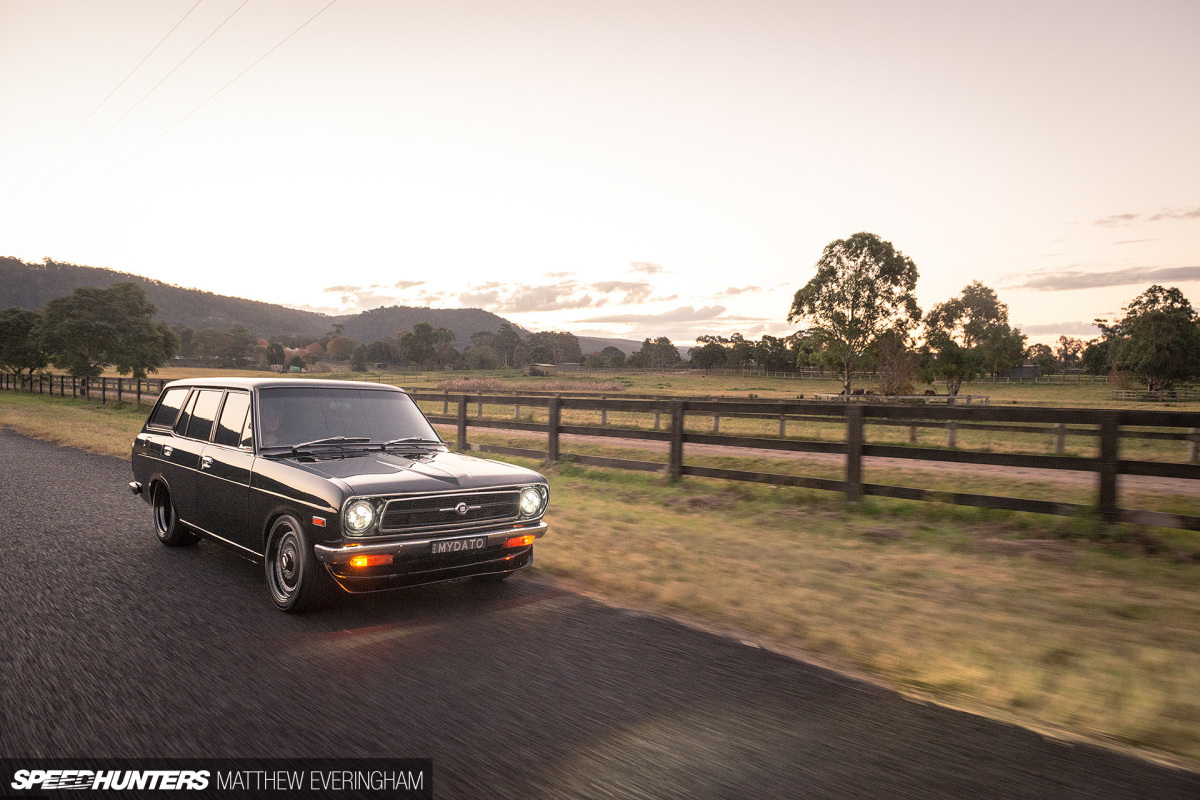 The game plan was to take the wagon off the road until it was complete, as that way there'd be no reason to rush the process.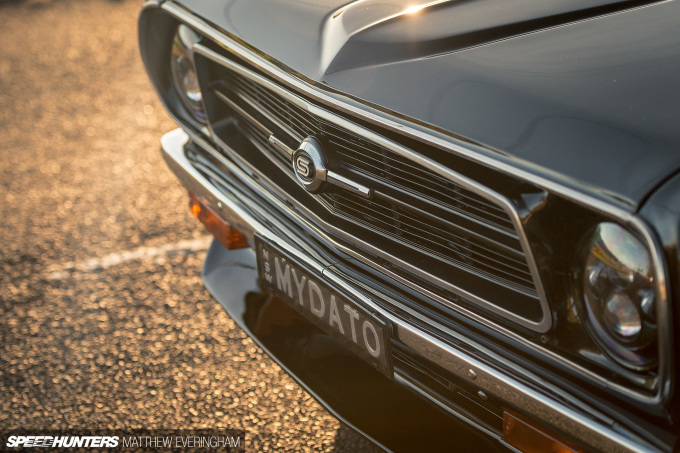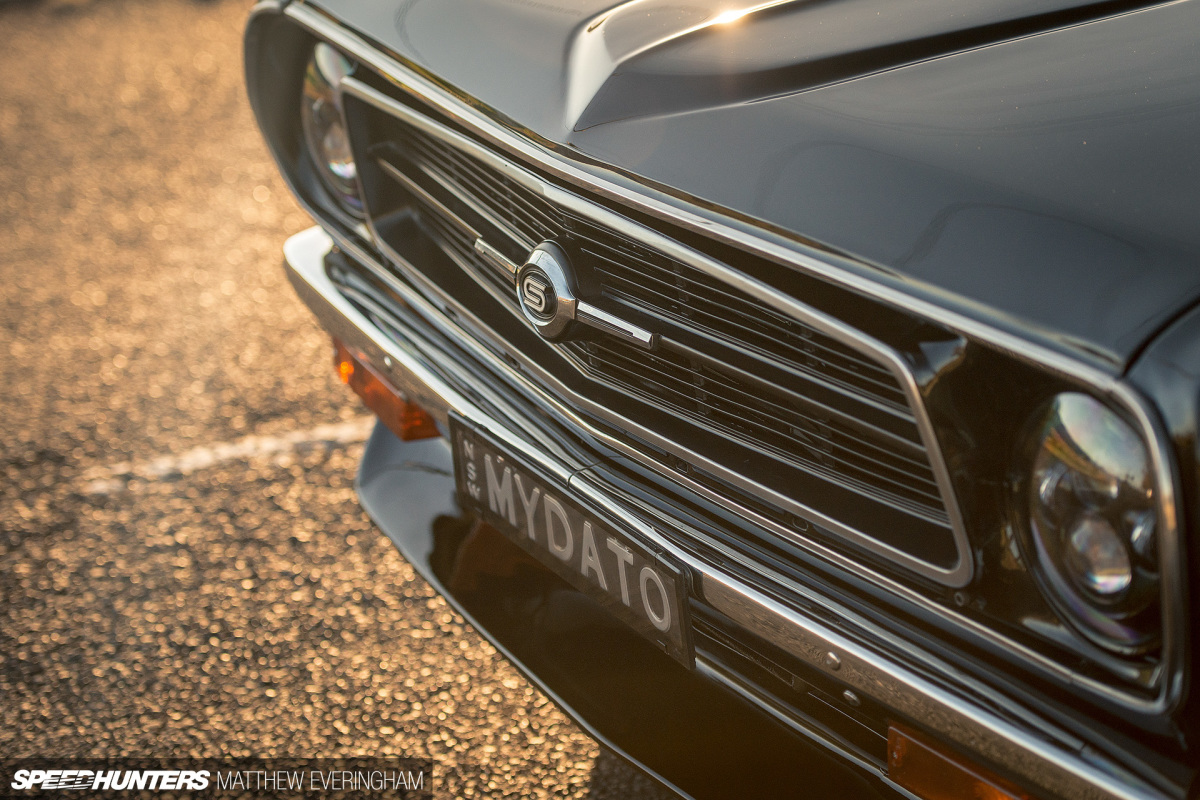 Selecting PPG's Jet Black T407 as the colour was an easy choice for Michael, and one that he made very early on. Black is regarded as one of the hardest colours to get looking perfect as it highlights even the smallest of flaws, but Michael saw it as an opportunity to see what he was capable of as a painter.
Before any panel and paint work was started though, Michael sorted the wheels. Love them or loathe them, the obvious Australian choice would have been a set of locally made Simmons FRs, but as one of the driving forces behind the wagon's reinvention was to turn heads, Michael instead went down the BBS RS road. After being re-barrelled by Sydney's Barrel Bros., the wheels measure 15×6.5-inch up front and a much wider 15×9.5-inch out back.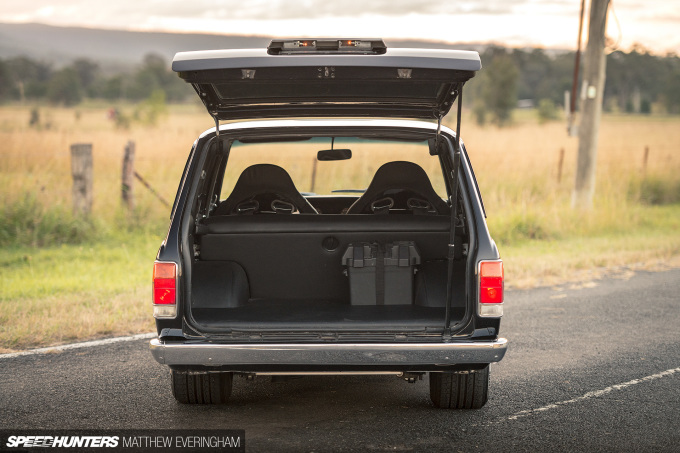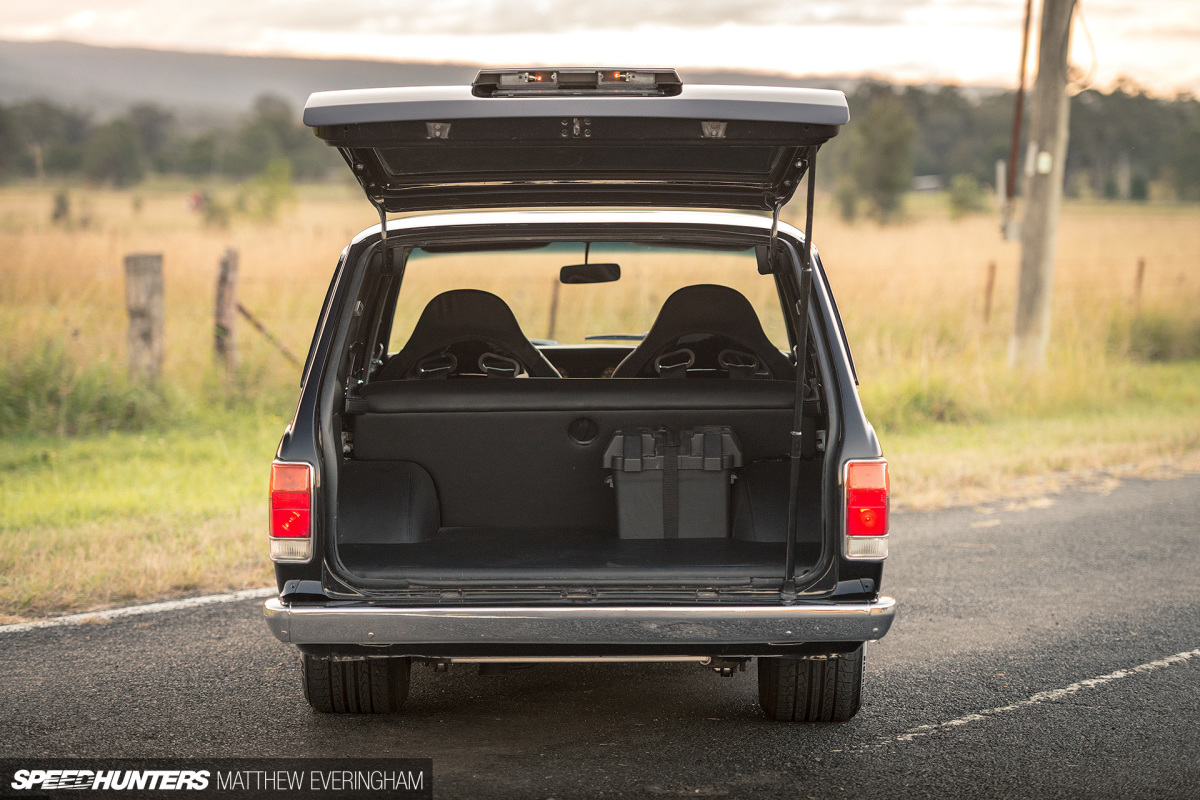 Given the 1200's narrow body, modifications were always going be needed in order to accommodate an extra wide rear wheel and rubber combo, something Michael left in the capable hands of The Tub Shop. The subsequent rear end work entailed custom semi-tubs, a new torsion bar, and fitting a set of Caltracs.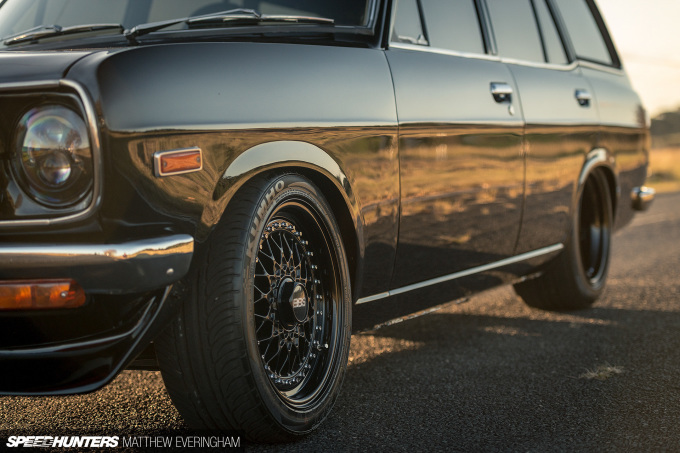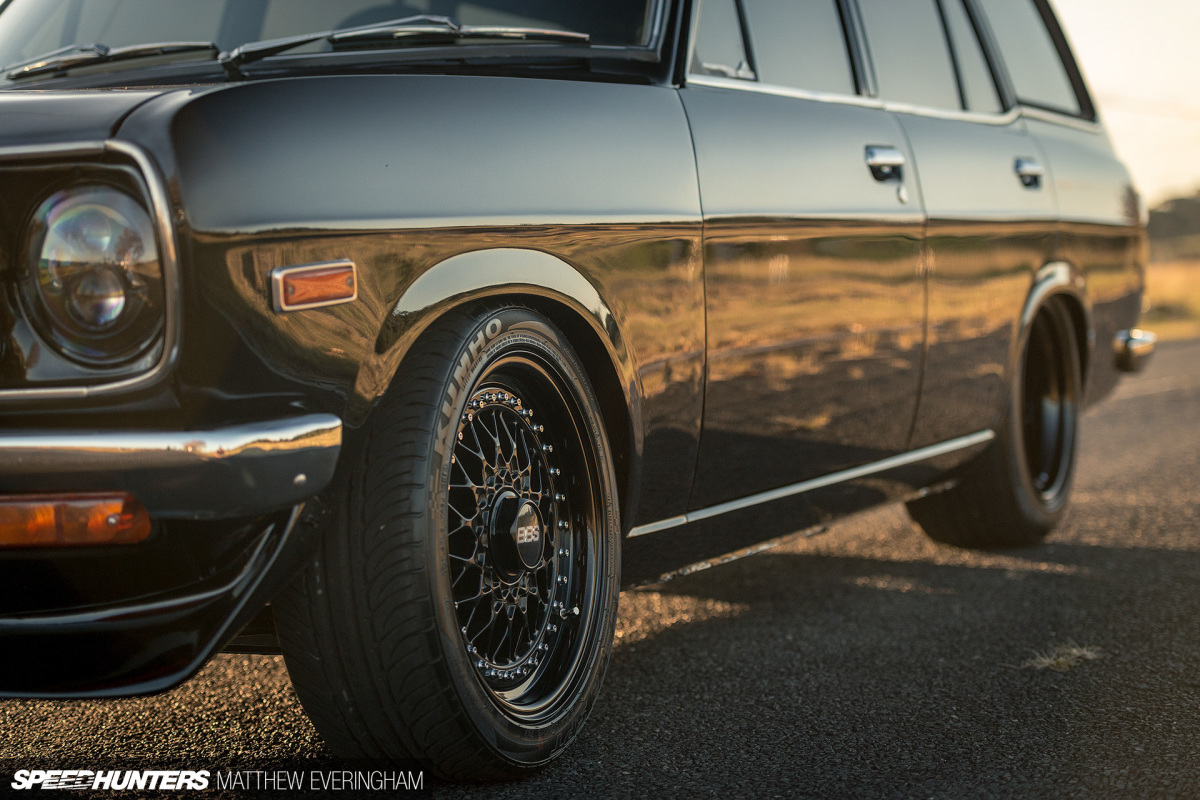 While The Tub Shop did its thing, Michael used the time finish off the BBSs by painting the centers satin black and opting for a gloss black on the lips. The resulting look is subtle but effective.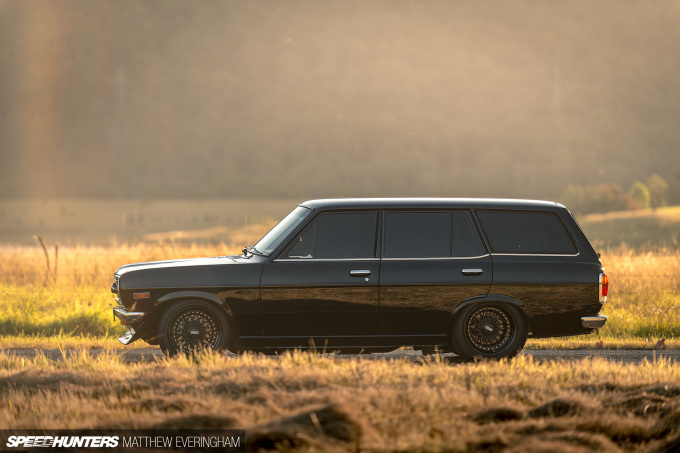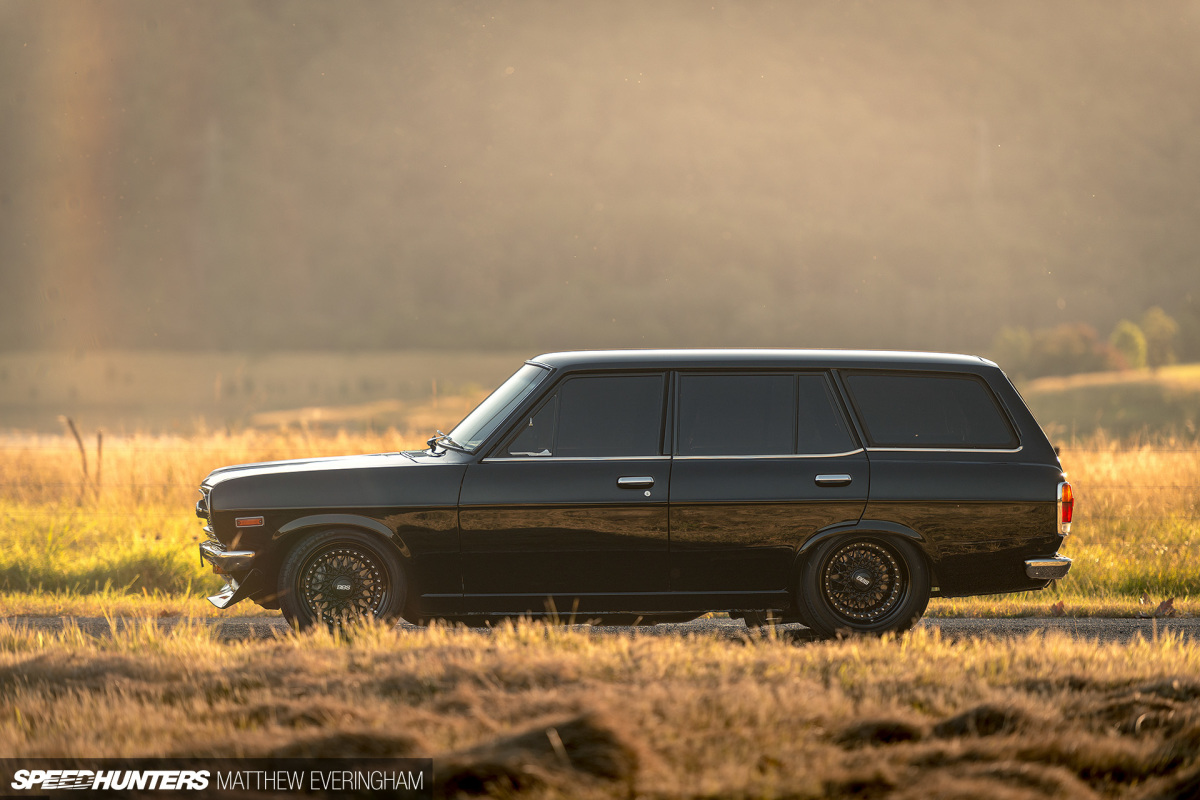 With the wagon back home, Michael jumped right into the paint prep work. Although he initially estimated it would be a six to eight-week job, it snowballed to almost a full 12 months as every last millimetre of exterior metal was chased and corrected. Once the hard work was done, the body was primed, rubbed back, and then re-primed for the final time.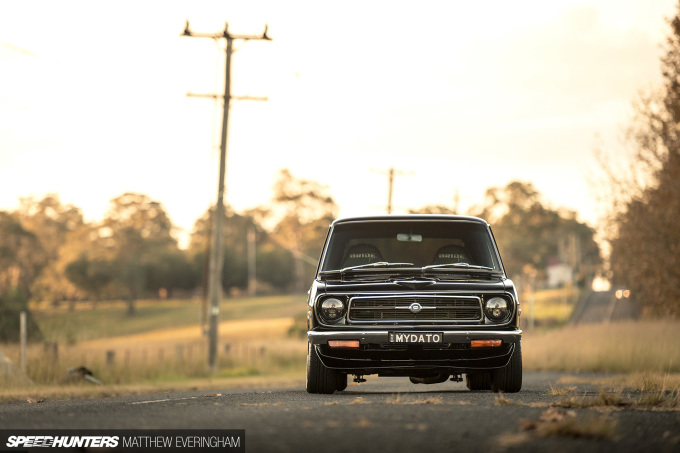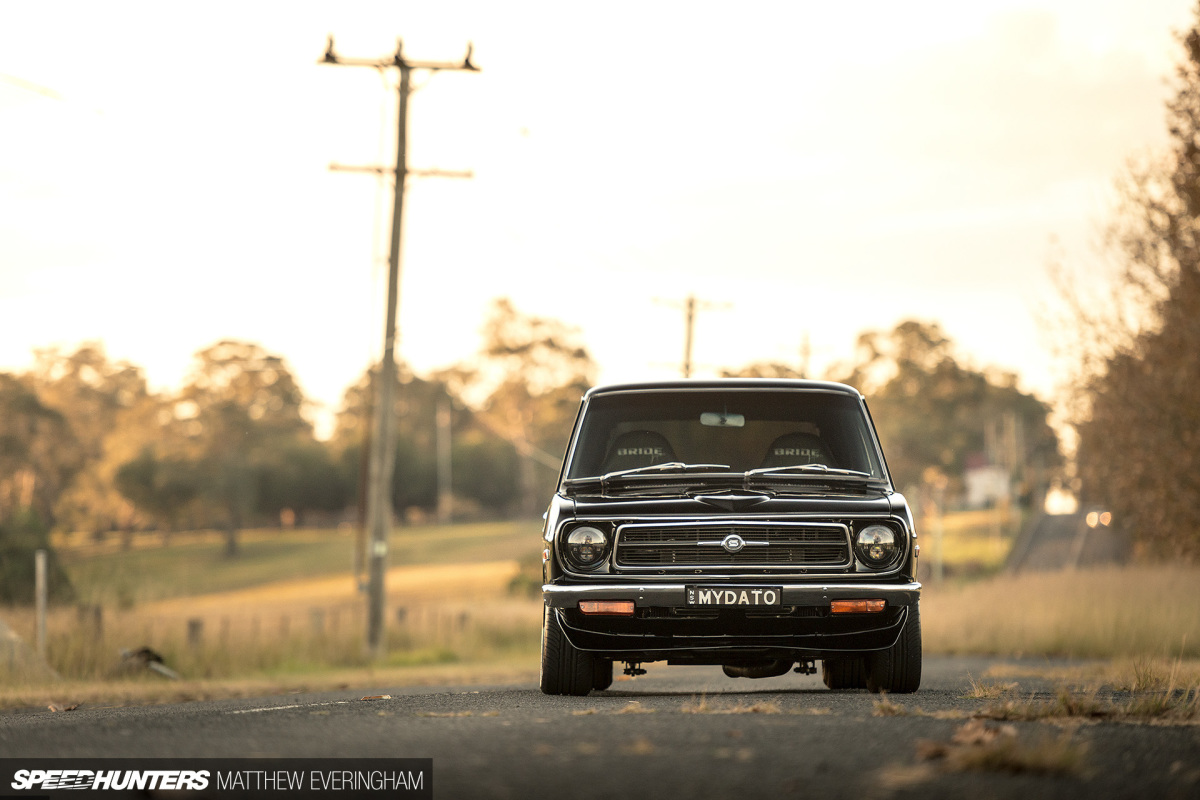 Two coats of Jet Black were applied, followed by two layers of clear. After waiting a month, the paint was then chopped back and flow coated with another two layers of clear to add some extra depth. Finally, a few weeks later the paint was again cut back and buffed to remove even the slightest amount of peel, creating the incredibly deep and pure black glossy finish.
Heart Of Darkness
The same level of planning and dedication has been applied under the hood. The choice to forgo the larger, more popular SR20DET for a CA18DET seemed like a logical choice given the 1200 is the smaller of the Datsun siblings of its era.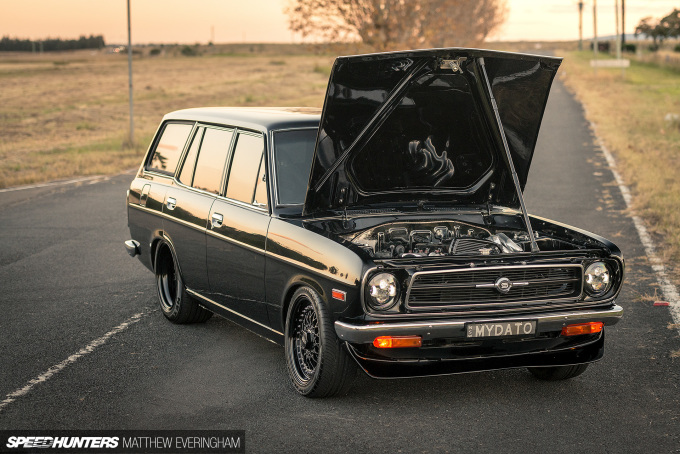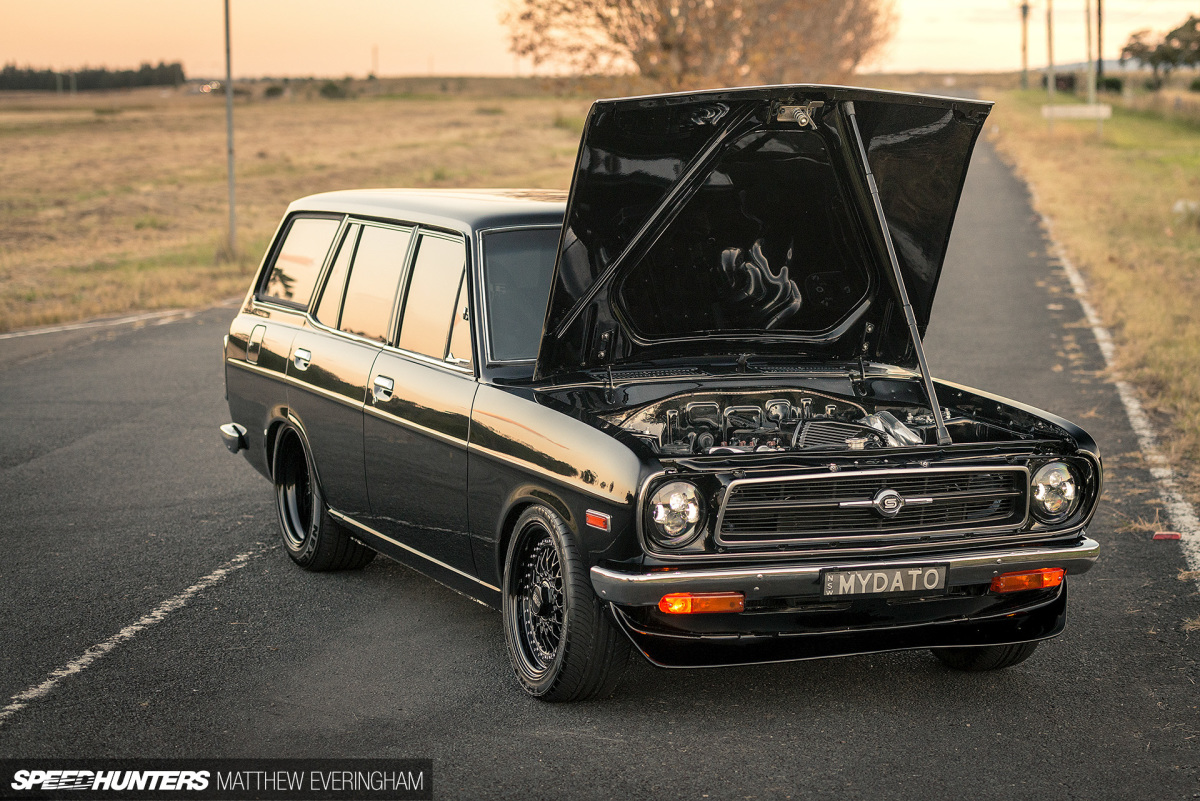 Many car builders are happy to cut some corners when it comes to engine bay presentation, but not here. Like the exterior, the quality of panel work and paint inside the engine bay is of a show car standard. Furthermore, the engine covers and pipework all received the same deep, glossy black paint, while any spare wires or cables were cleverly hidden with only the bare essentials on display.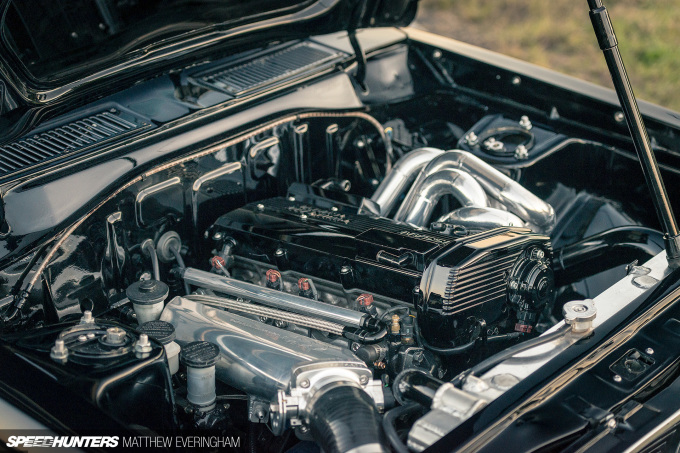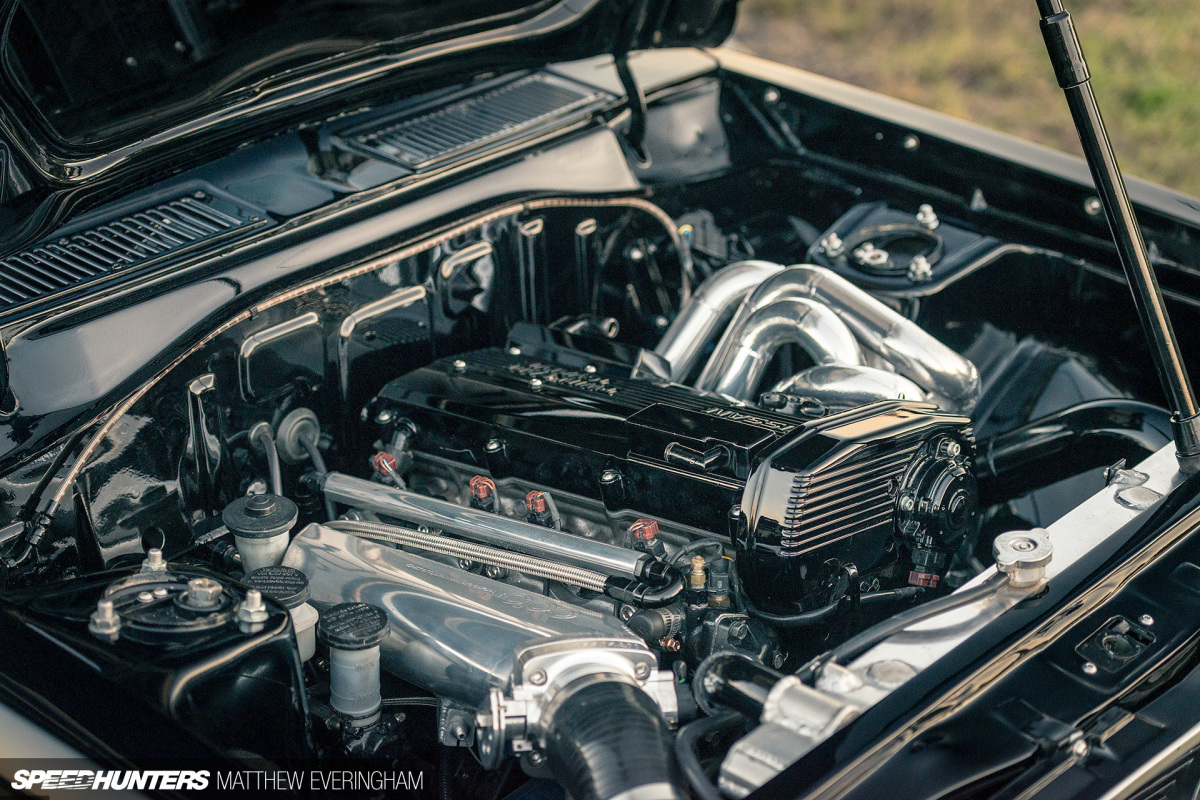 Michael, knowing where his strengths and weaknesses lay, chose to outsource most of the engine work to a friend with more experience.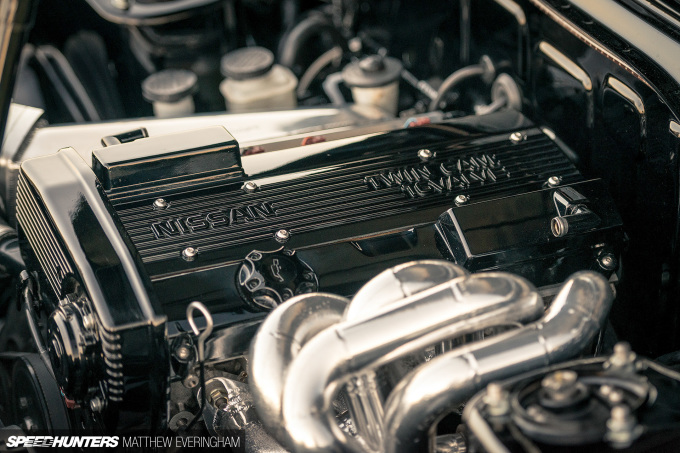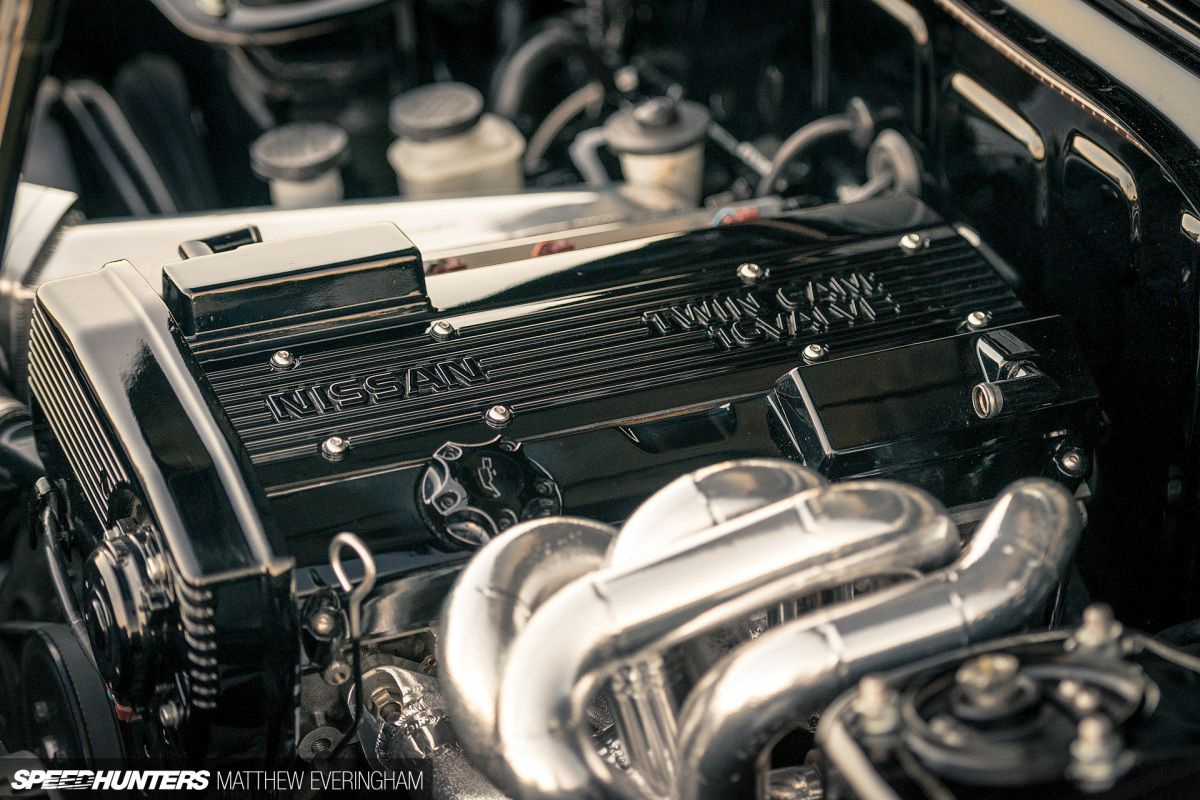 With Ryan Videl at RMV Racing leading the mechanical side of the build, the 1.8-litre CA18DET lined up for the build was completely rebuilt using forged pistons, balanced forged con-rods, and ARP bolts throughout. Inside the DOHC 16-valve cylinder head, the original cams were reground to add a little more lift to their profile and Supertech retainers and locks were added.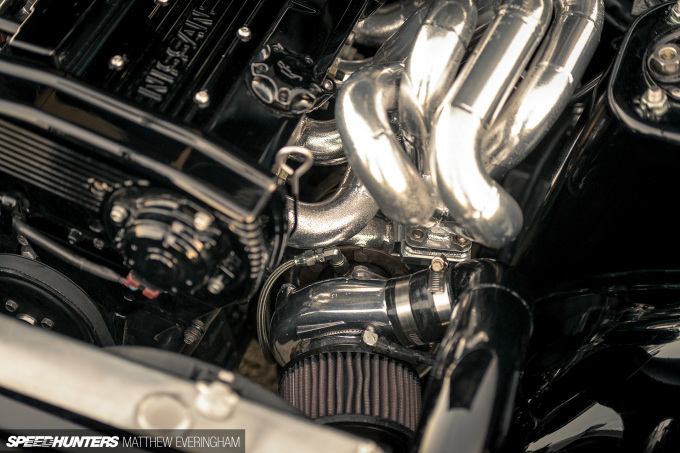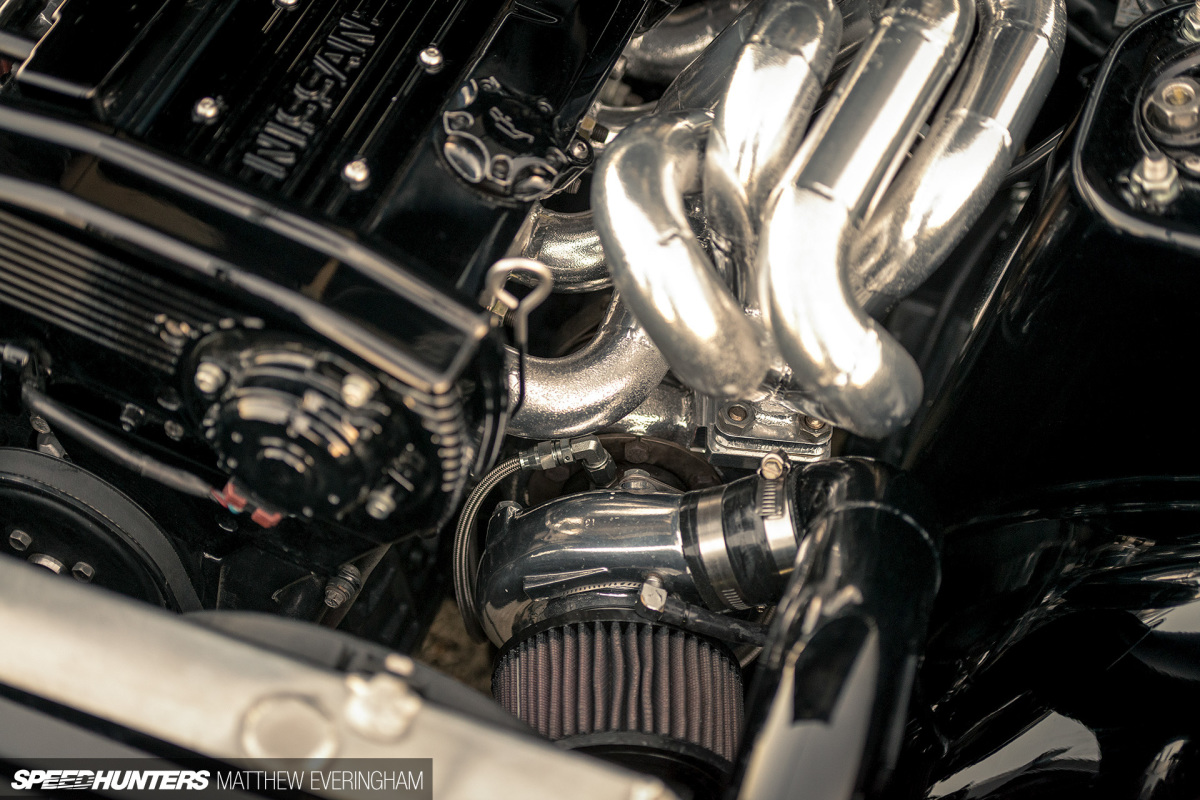 The turbo system is built around a Garrett GTX2876R sitting on a custom tubular manifold. On the intake side there's a custom front-mount intercooler, Plazmaman 66mm throttle body, and custom CPC inlet manifold; on the exhaust side, a custom 3-inch mandrel-bent system featuring a high-flow stainless steel cat and a XForce muffler.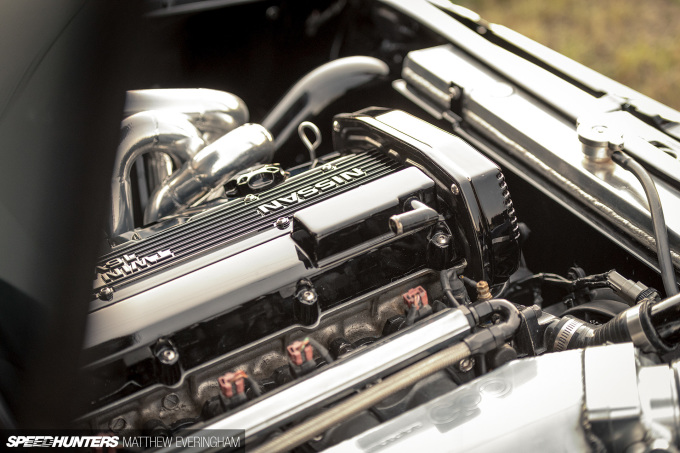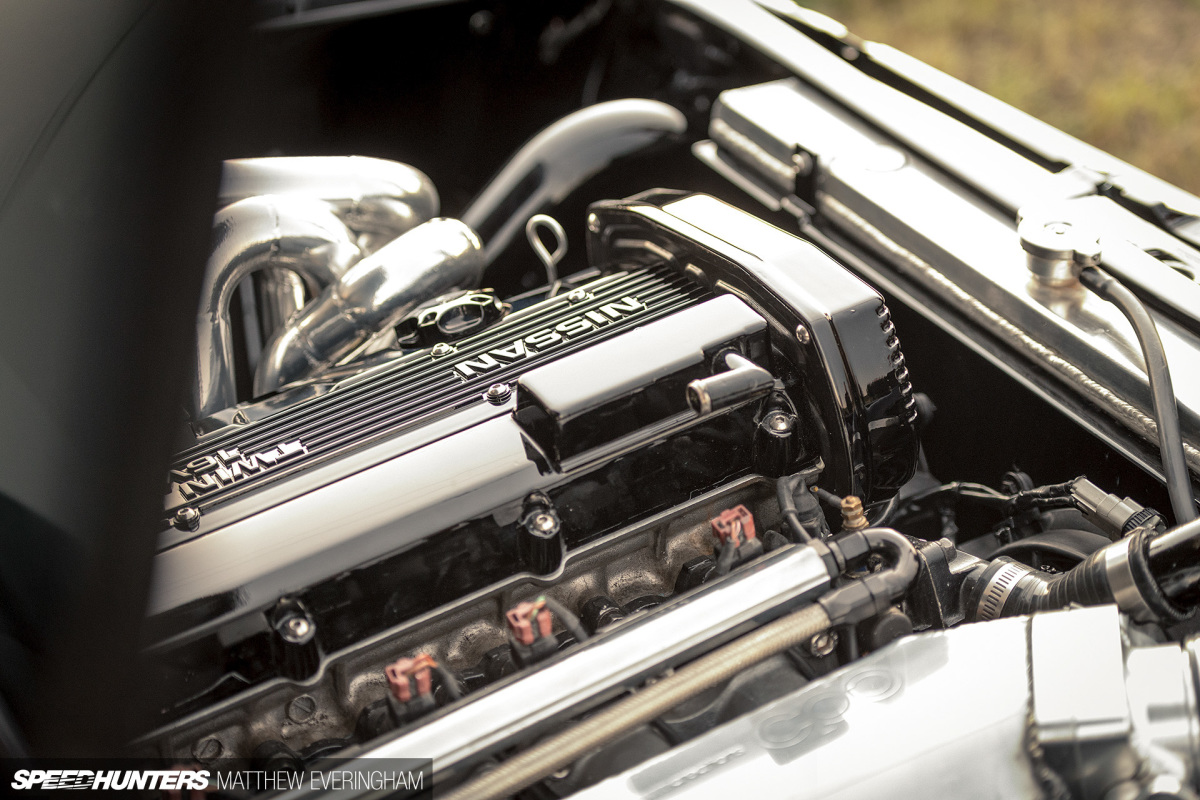 E85 fuel is delivered via 1000cc injectors seated in a custom fuel rail, itself fed from a high-flow Walbro in-tank fuel pump that sits inside an Aeromotive billet Phantom housing. The housing acts as a surge tank and also offers a level of sound deadening to the usual whirl and whine that accompanies most larger fuel pumps.
Tuned through an Autronic SMC engine management system, Michael's CA18 setup delivered 251kW (337hp) on 21psi boost when using regular 98RON pump fuel during its initial tuning. However, you can expect an output figure closer to 300kW (402hp) now that the wagon is running on ethanol-based biofuel.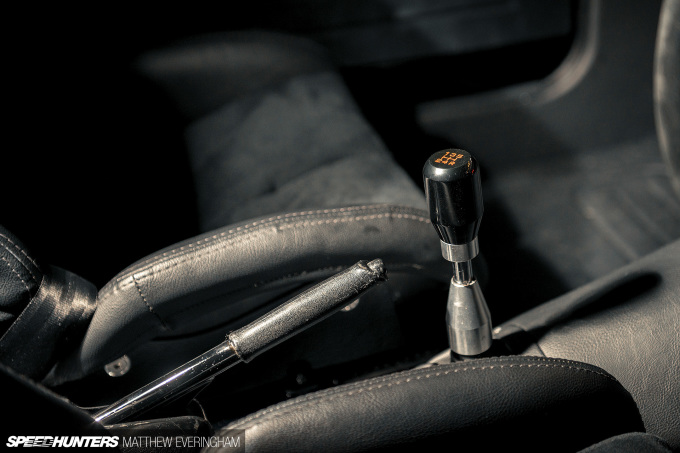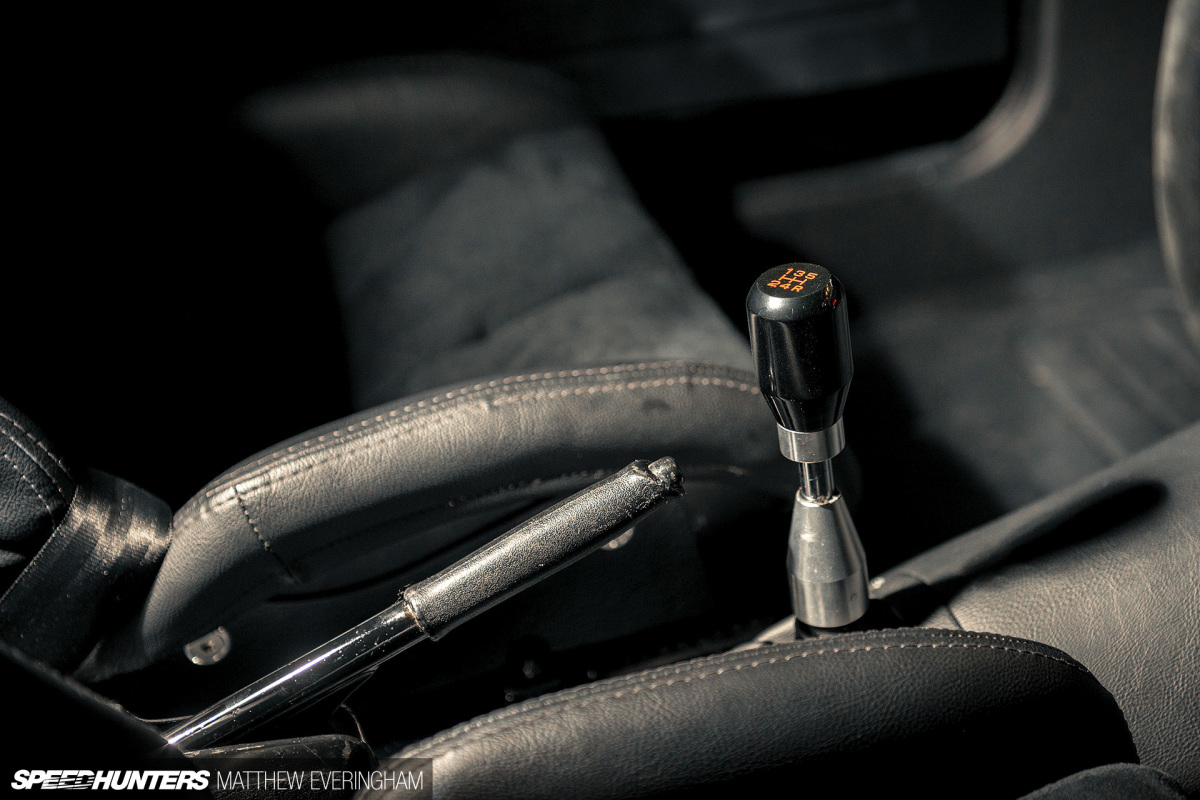 A standard CA18 5-speed gearbox running an Exedy heavy duty clutch and driven through a B&M short shifter has so far handled everything Michael has thrown at it, but if the combo ever fails the plan will be to replace it with a proven RB25 5-speed.
All The Small Things
For me, what makes a good car great or a great car fantastic is the attention to detail. It's the culmination of lots of neat little touches that are usually overlooked with a passing glance. The tiny 1200 is packed full of these little additions.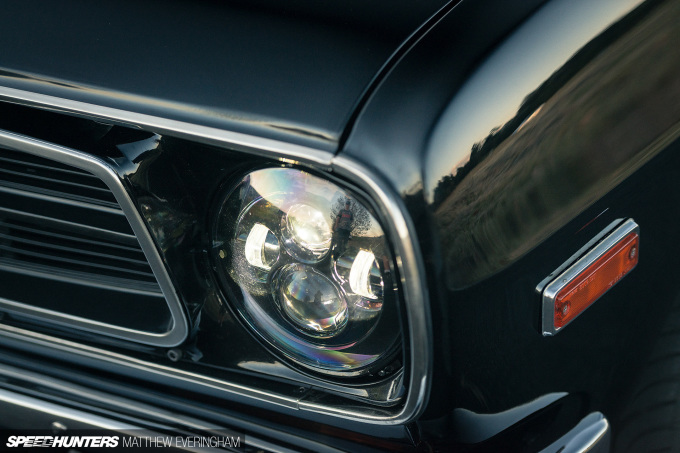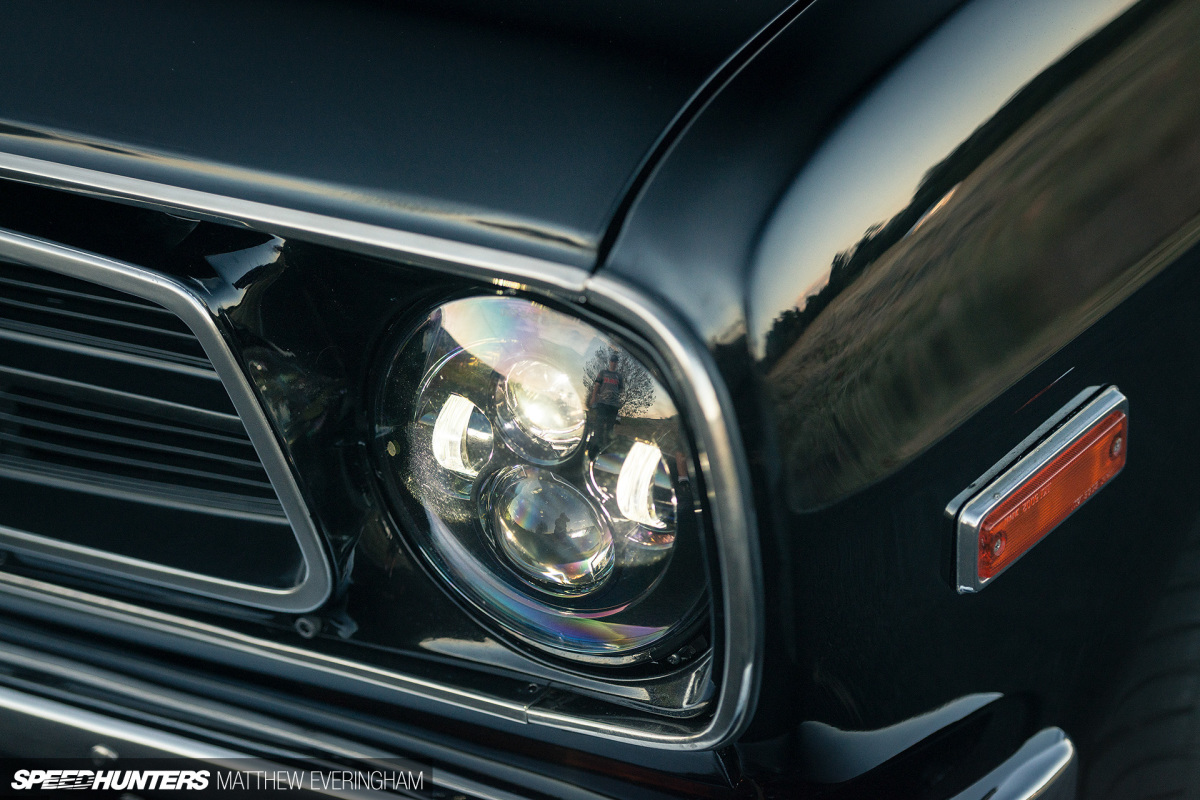 The front headlights add a modern touch without disrupting the clean, classic styling. So subtle are they that I didn't realise they weren't the original lights until they flicked to life. The lamps were sourced from a newer Jeep and only a minor amount of work was needed to fit and integrate them into the Datsun's 45-year-old grille surround.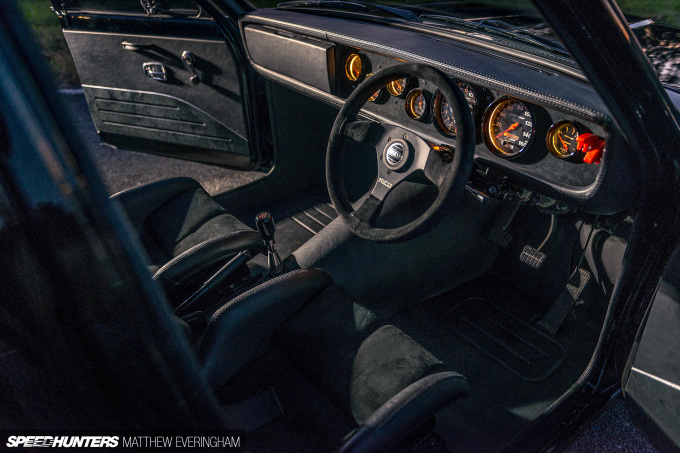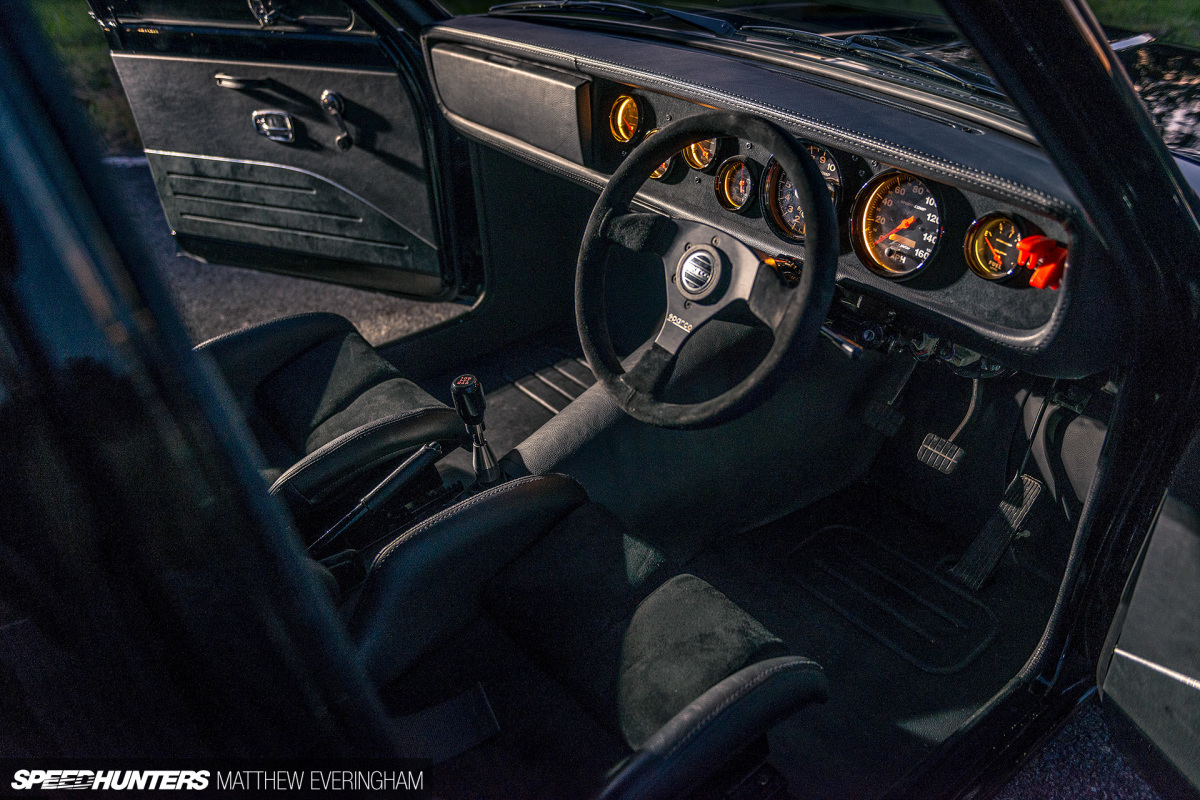 The attention to detail extends into the interior where another of Michael's longtime car buddies, Dave from King Trim, was tasked with an extensive re-trim. The goal was to create something that matched the simple and classic lines of the wagon and maintained some of the interior's original look and feel, but also bring an extra sense of class to the project.
A pair of Bride Low-Max seats were retrimmed in black leather and dark suede, with Michael respraying the backs and bolster frames with the same black paint applied to the exterior.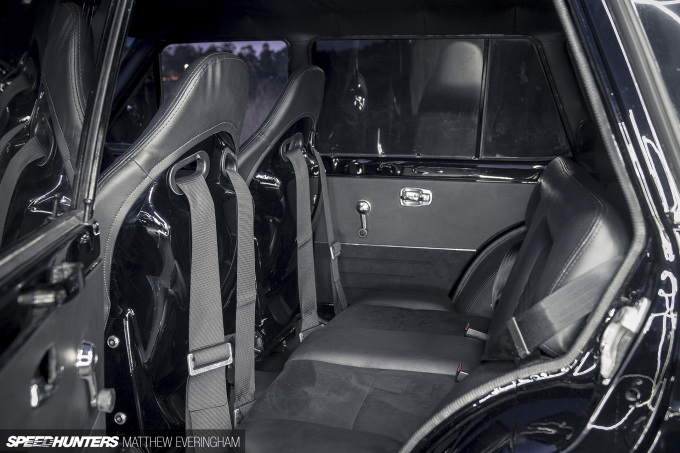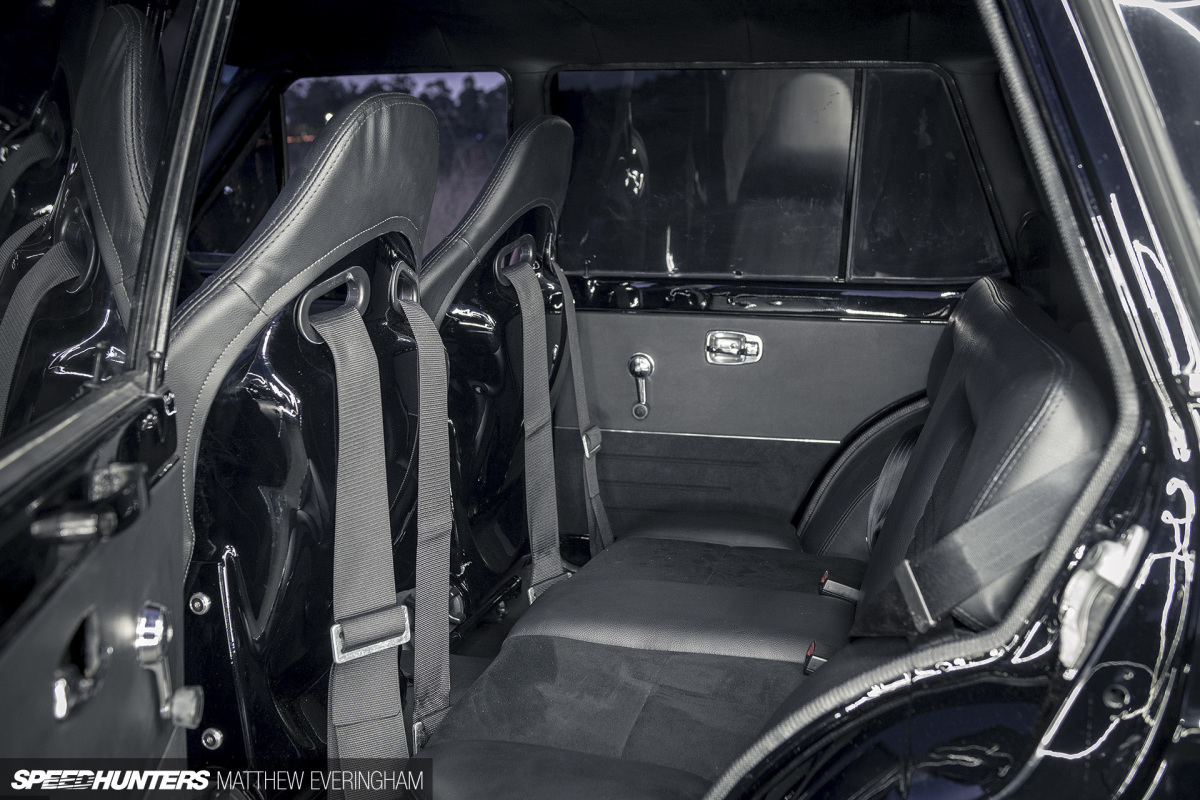 The front seats' combination of leather and suede was used throughout the entire interior, while original fairings like the window winders and openers were sand blasted and re-chromed. Another small but important step was replacing the aged seatbelts with a complete set of Takata Racing harnesses.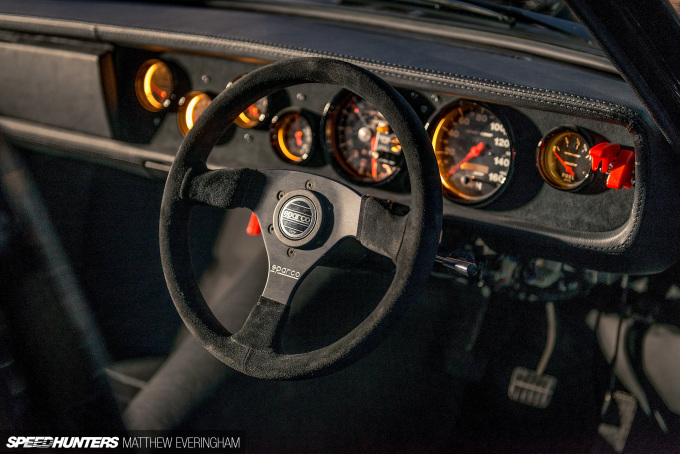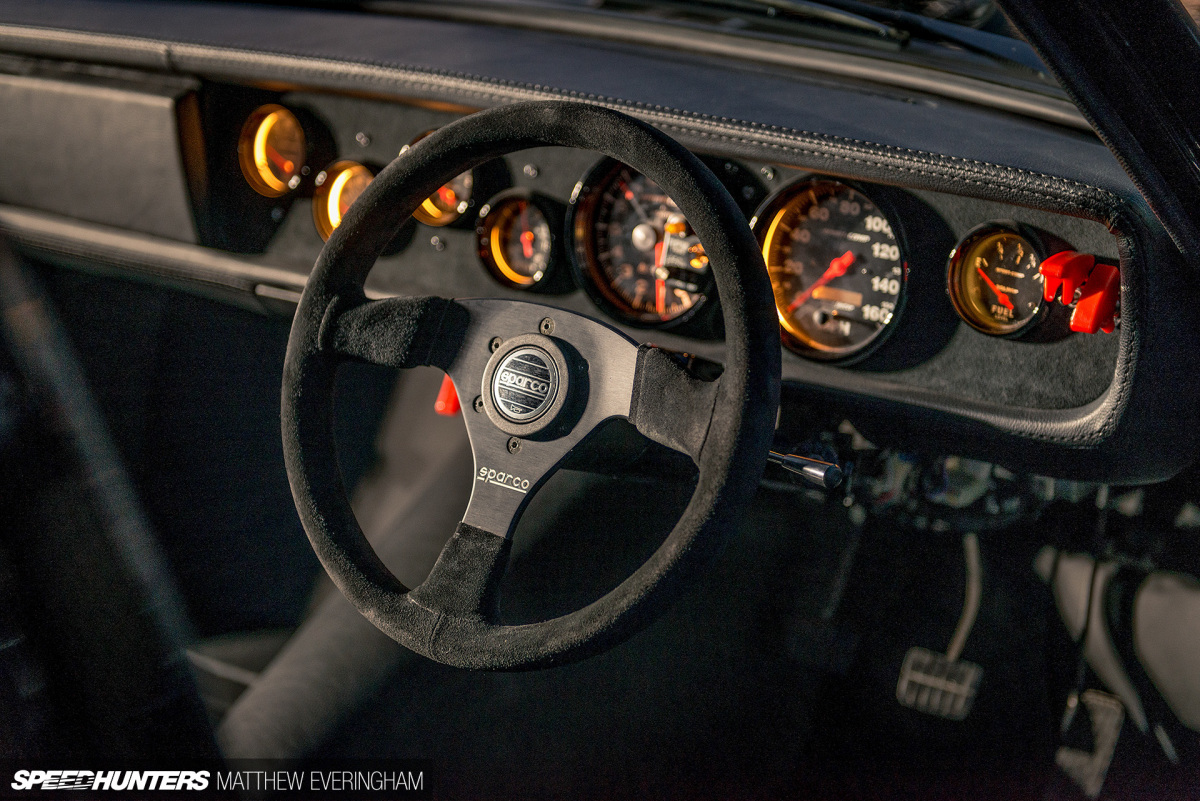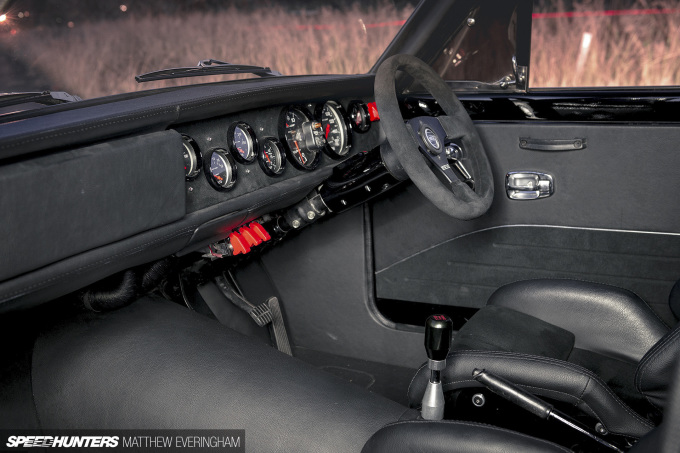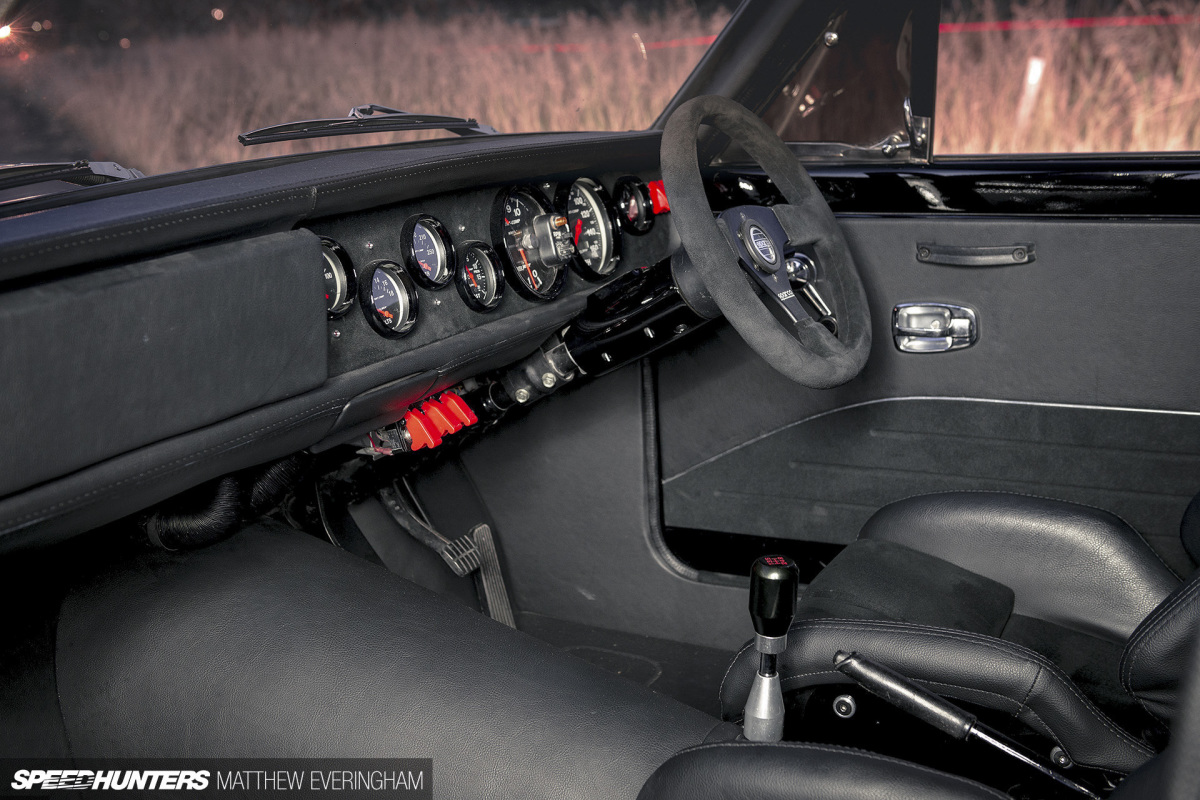 A classic set of Auto Meter gauges that Michael had been holding onto for some years provide the centerpiece of the custom-trimmed dash, while the Sparco steering wheel from the wagon's previous iteration was carried across and recovered in a similar suede as a subtle way to pull the whole look together.
While stripping the chassis back to metal, the carpet and original flooring were completely removed. Now, hard-wearing leather-look vinyl wraps around some cleverly cut MDF panels to provide a false floor that extends all the way back into the cargo bay.
Nice Day For A White (& Black) Wedding
In between working full-time and putting in the extra hours to finish the wagon off, Michael somehow made time to build a house and propose to Tara, his then girlfriend but now wife. Even though the car had been taken off the road to reduce the build's urgency, their newly set wedding date sped up the second half of the process considerably. Not having the wagon ready for the big day or using another vehicle were never options on the table.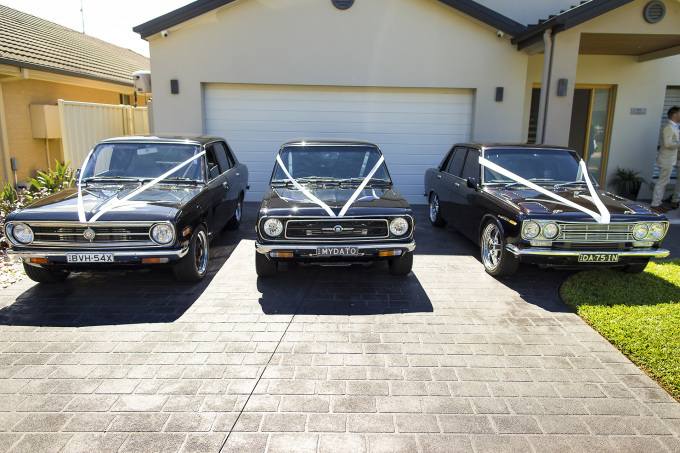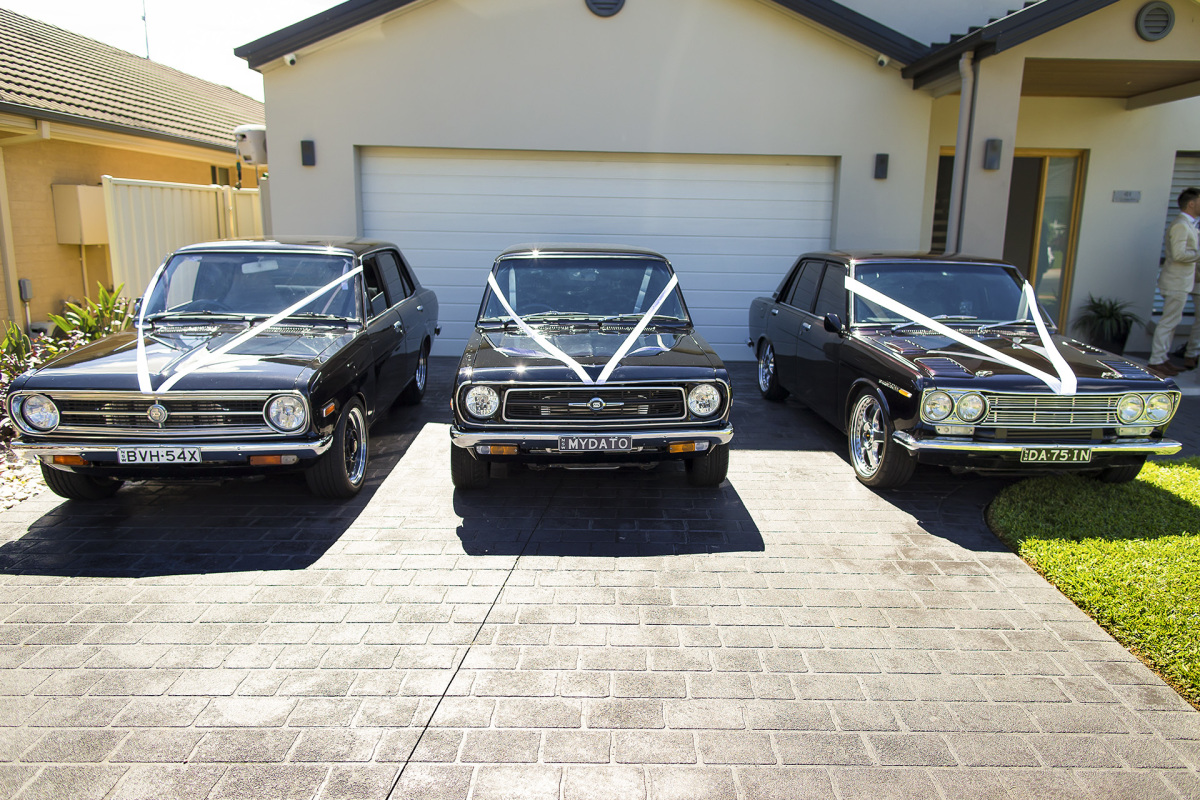 With friends helping, after a few all-nighters and with just a couple of days to spare, Michael's 1200 wagon was ready to cruise alongside his brother's black Datsun 1600, and his best mate's black 1200 sedan.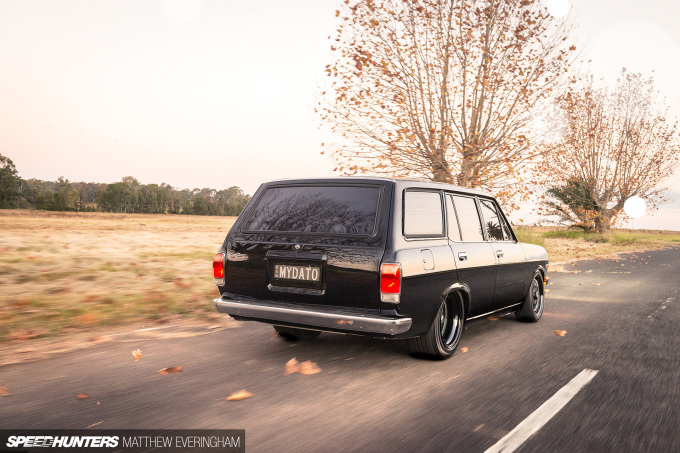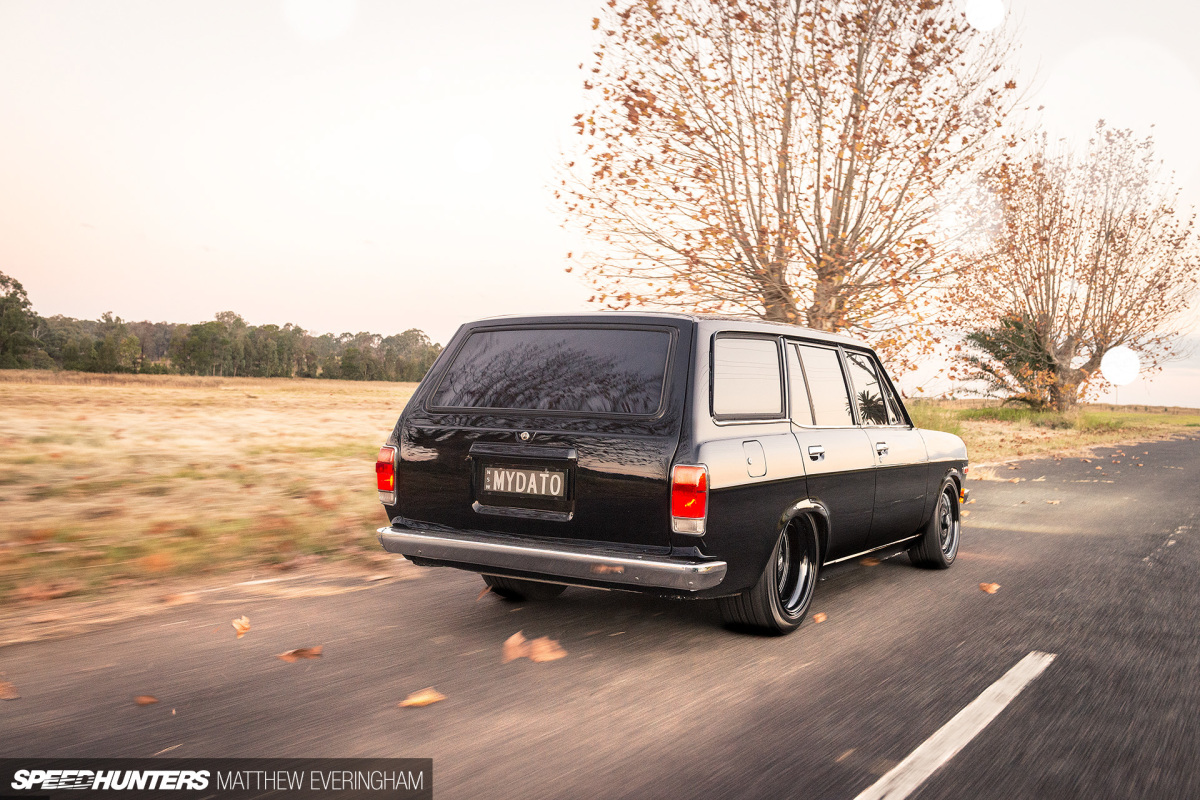 It was all worth it too, because nothing could have made Tara and Michael's first trip as a husband and wife as special as driving in their little black Datsun.
Matthew Everingham
Instagram: matthew_everingham
matt@mattheweveringham.com
The Cutting Room Floor