Four-Door Kyusha
You can talk about their temperamental nature, their questionable reliability, and in many cases their sketchiness at speed, but despite all the shortcomings that classic cars exhibit when measured up against modern machines, character is something that just can't be matched.
It's the very reason why so many enthusiasts look to the past in order to satisfy their automotive dreams.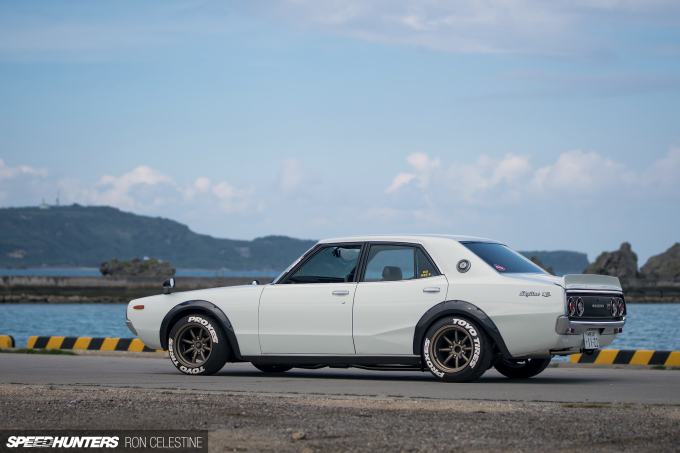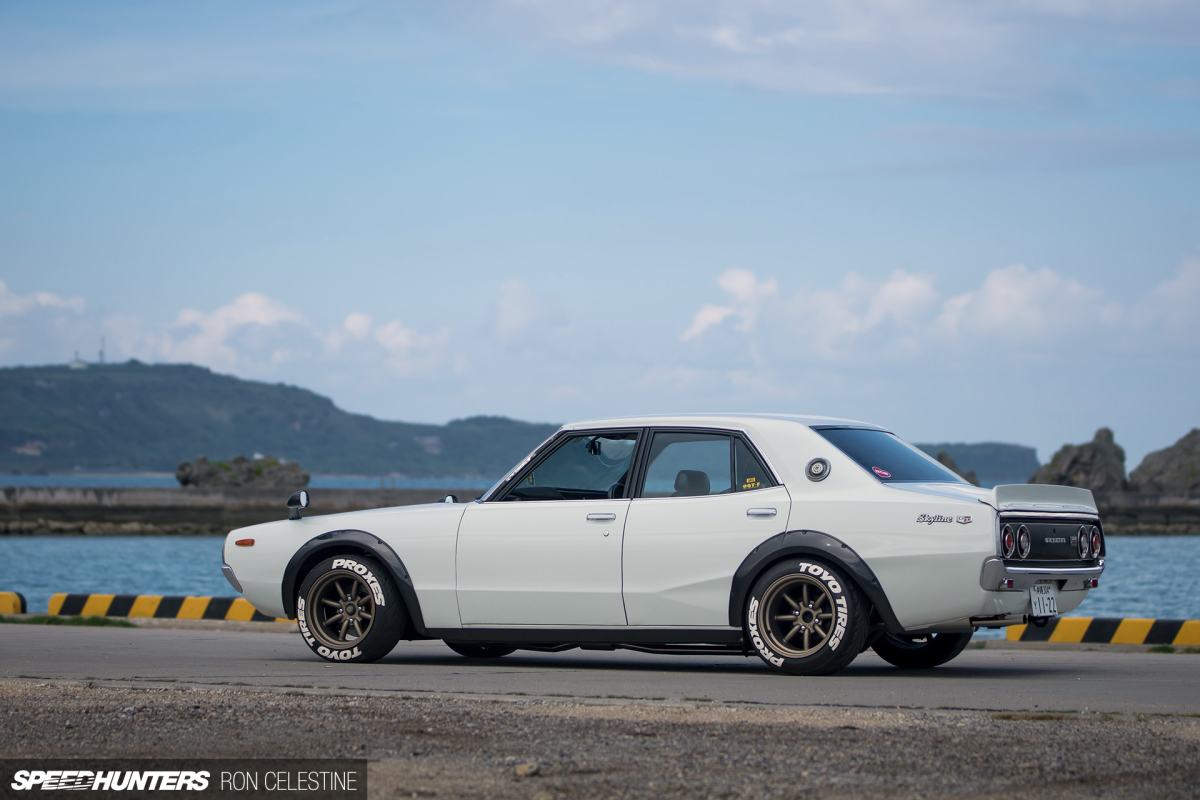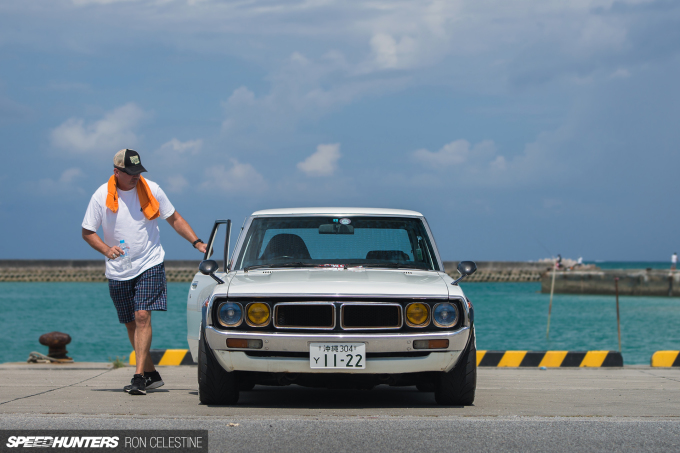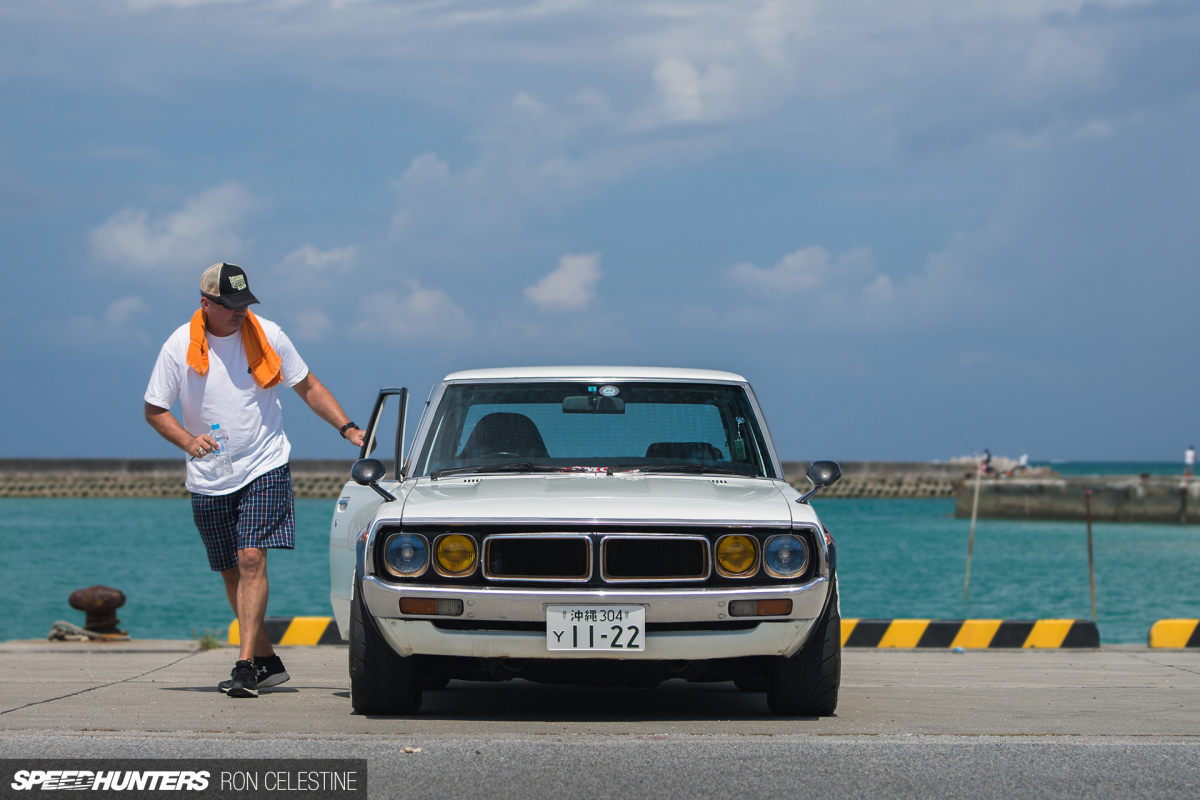 Around a year ago, Blake Broussard was in market for a Japanese classic – a common theme among many who have served, or currently serve in the US military in Japan. After much consideration, he had narrowed down his choices to either an S30 Datsun Fairlady or a C110 Nissan Skyline.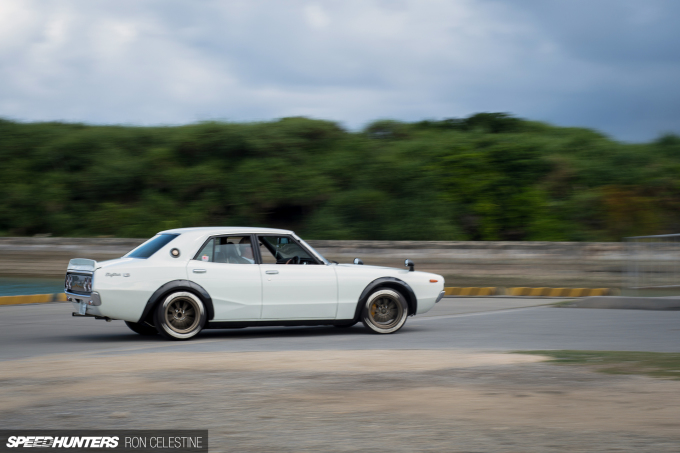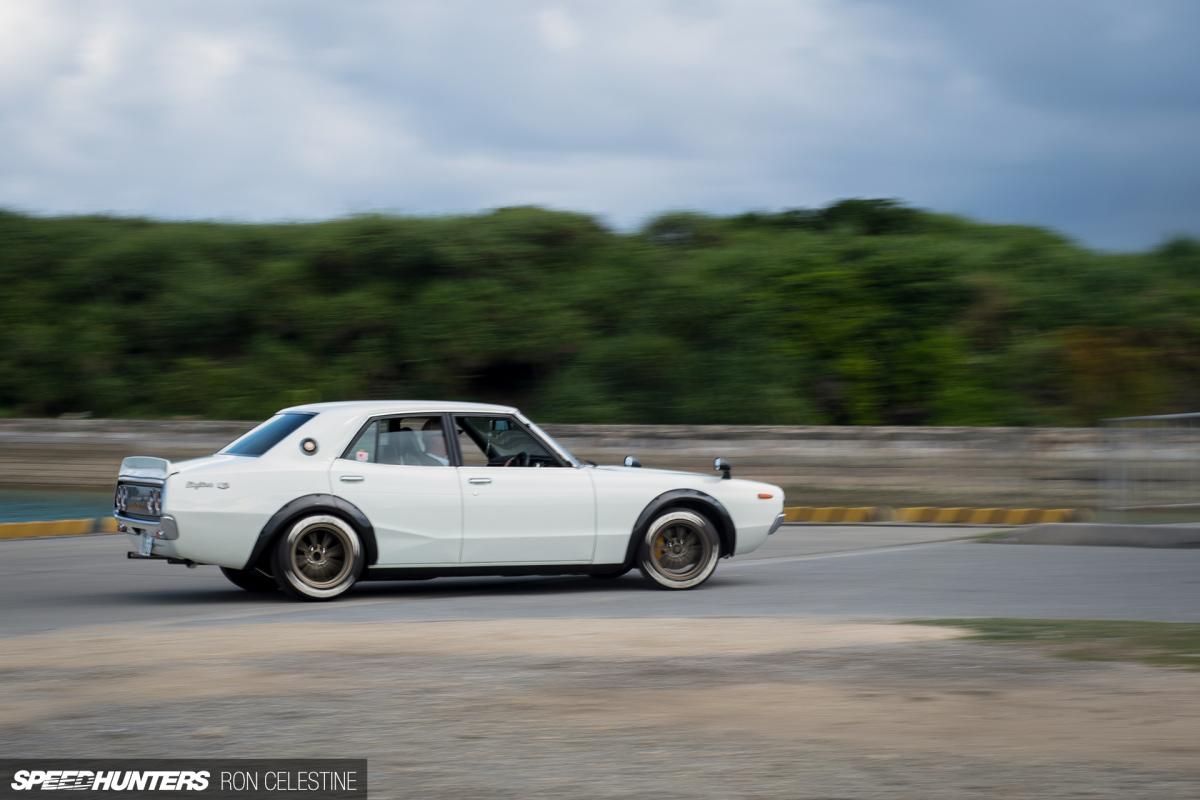 It's obvious which way he went in the end, but before settling on this particular car there was the question of whether he'd go down the more popular route with a two-door C110 Kenmeri coupe, or the lesser travelled road with four-door Yonmeri sedan. Ultimately, it was just too hard for Blake to justify the extra investment required to purchase a coupe – easily an extra US$30,000 over and above what a sedan can be had for.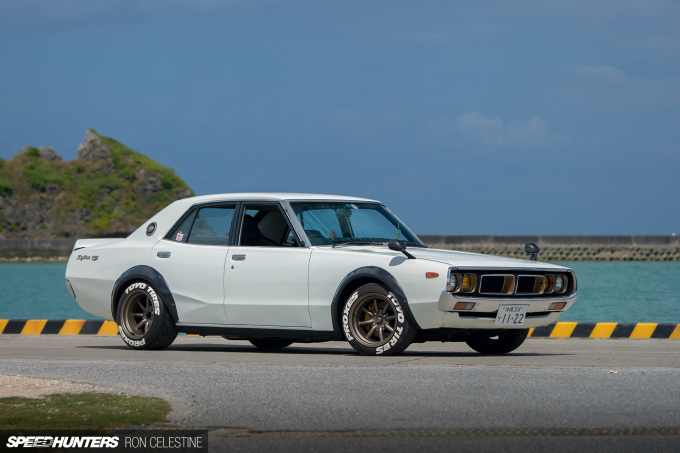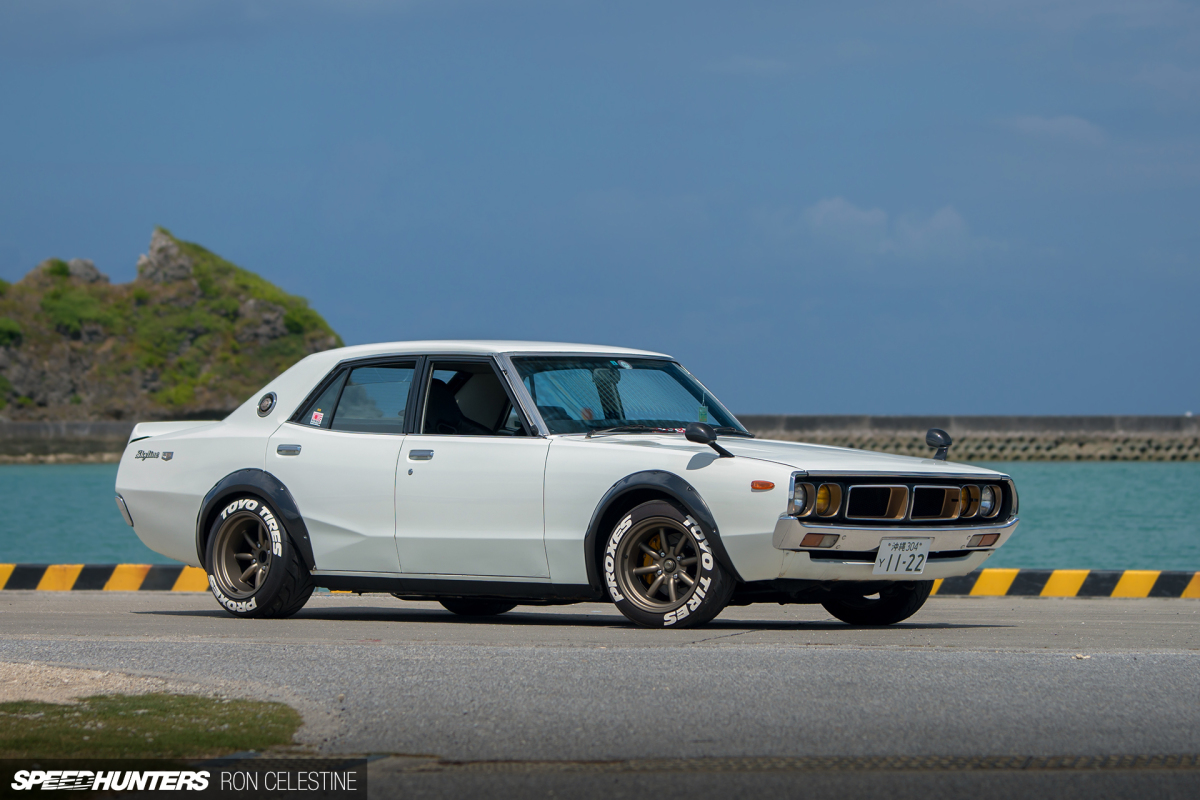 Despite the Yonmeri not having the same perceived collectability as a Kenmeri, Blake has not for one moment regretted his decision. In fact, given that he has a family who he shares his passion for Japanese classic automotive machinery with, it was absolutely the right thing to do.
His Nissan Skyline 2000 GTX sedan is both good looking and functional.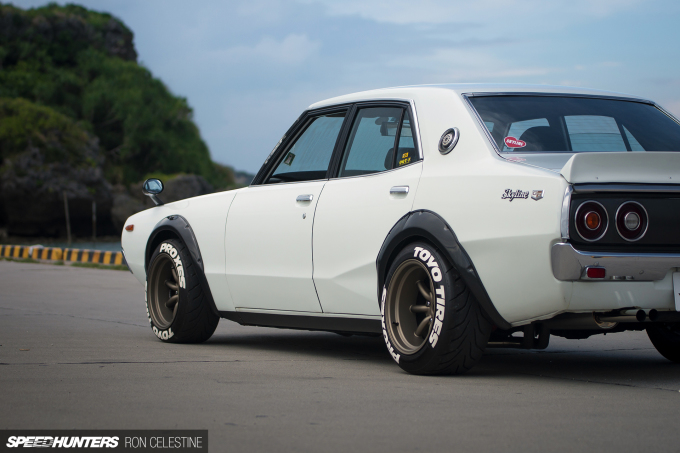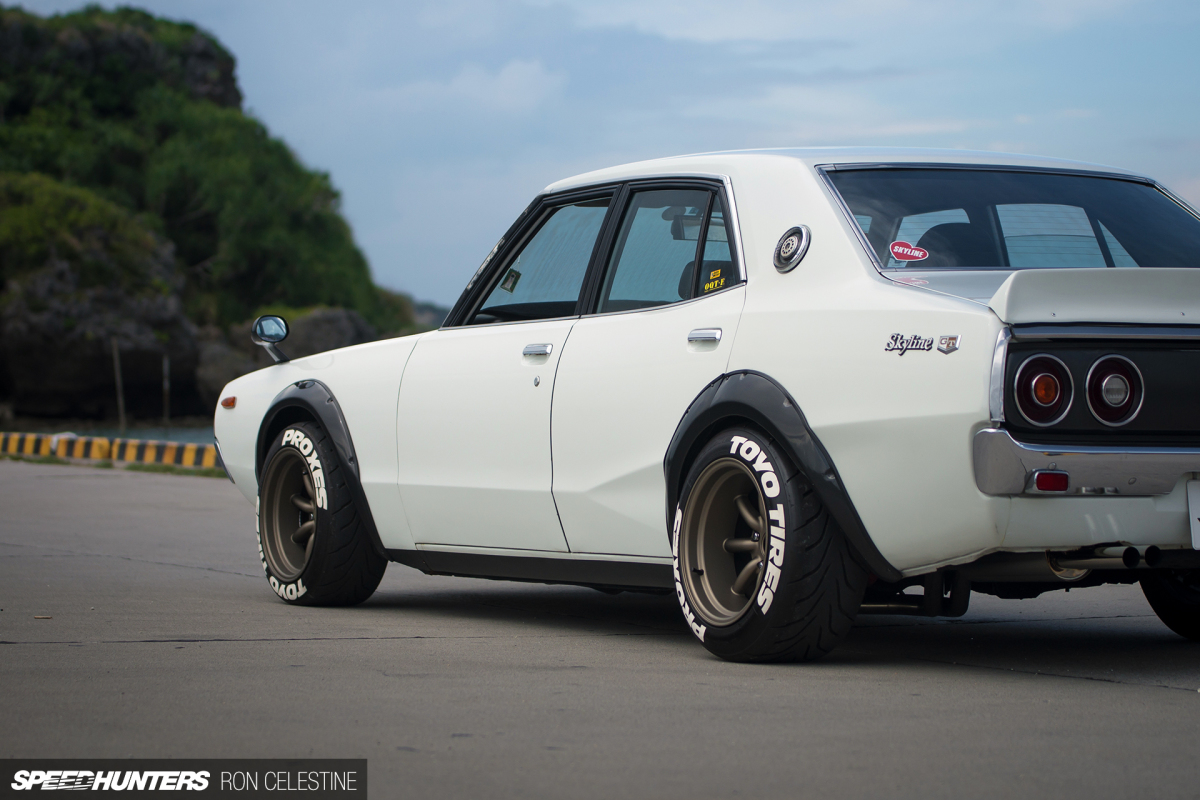 The previous owner was responsible for fitting the works-style carbon fiber fender flares, but Blake has taken the kyusha theme one step further with a ducktail spoiler to toughen up the rear end.
Sticking with the theme, 15-inch RS Watanabe 8-spoke wheels wrapped in Toyo Proxes R888 tires sit perfectly beneath the flares to pull the visual aesthetics together.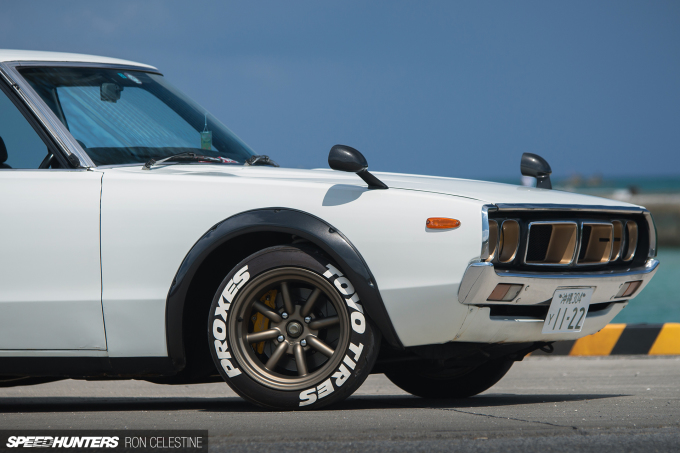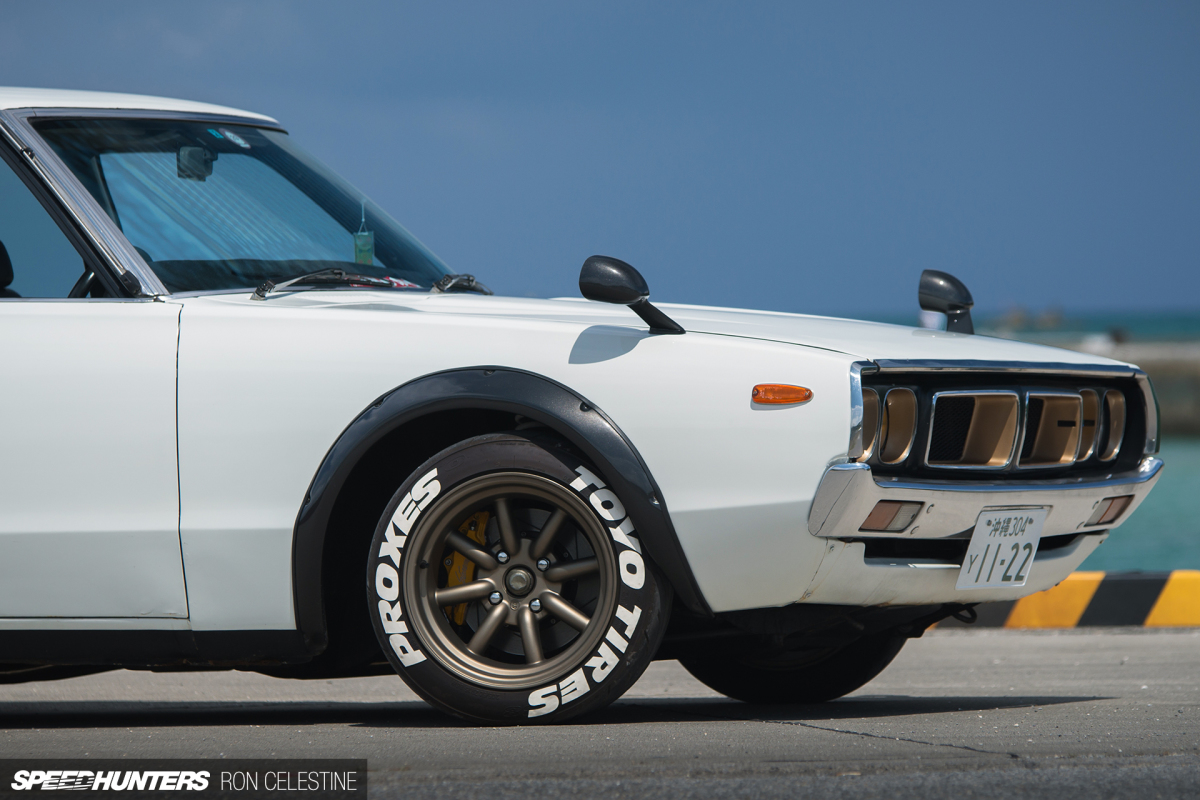 The Watanabe wheels also do an excellent job of showing off the Star Road 4-pot brake setup on the front end, an upgrade that's made a huge difference to the way this car stops. To ensure the Skyline had the right stance, the front struts were also converted to Star Road's fully adjustable coilovers.
As the build plate in the engine bay states, Blake's Yonmeri was originally specced with an 2.0-liter L20 straight-six, but in following a common upgrade path for these cars, it was previously swapped out for an L28.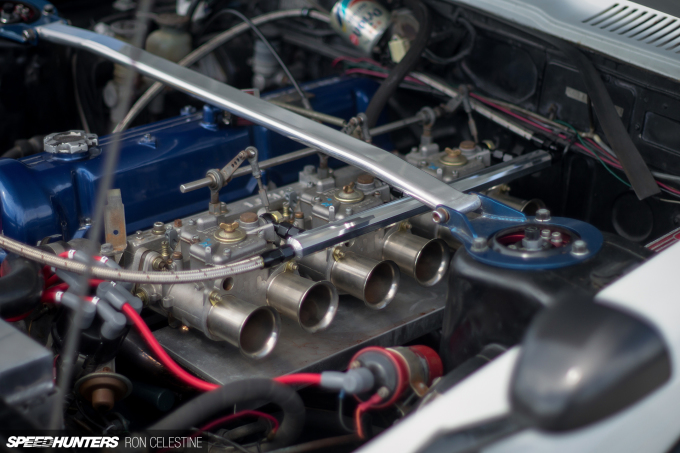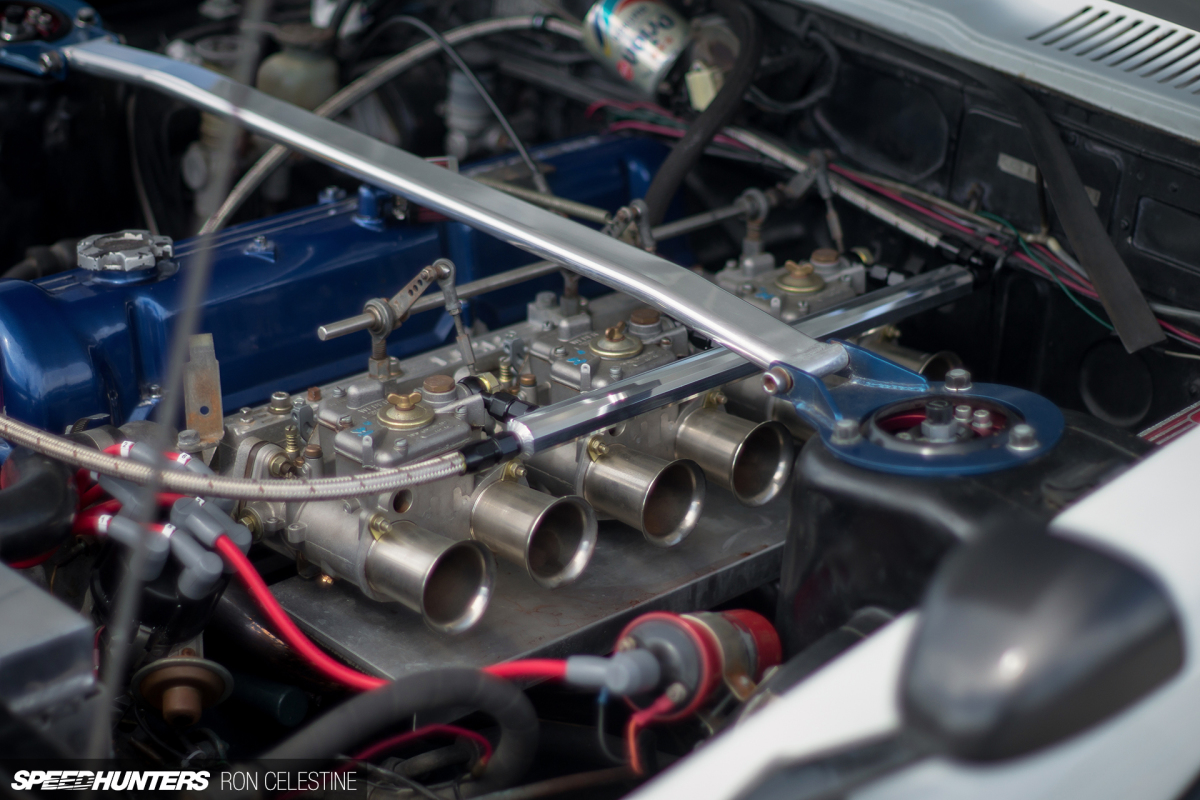 To make the most of the 2.8-liter capacity, a number of modifications have been to the engine, the most obvious being a triple Weber 45DCOE carburetor setup on a FET manifold. Breathing through open trumpets, the induction roar is something that only adds more character to the car.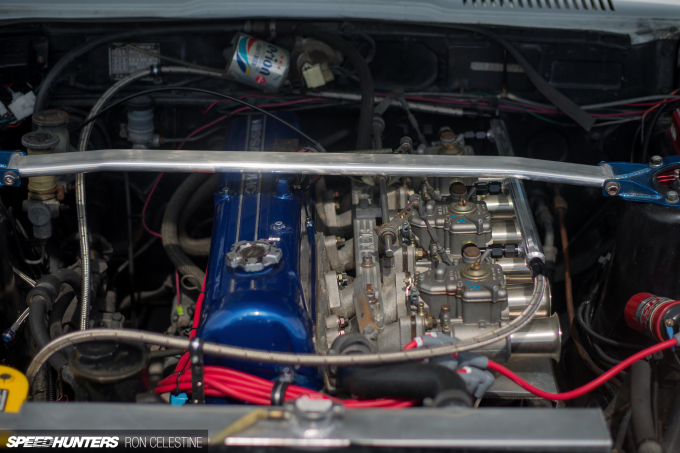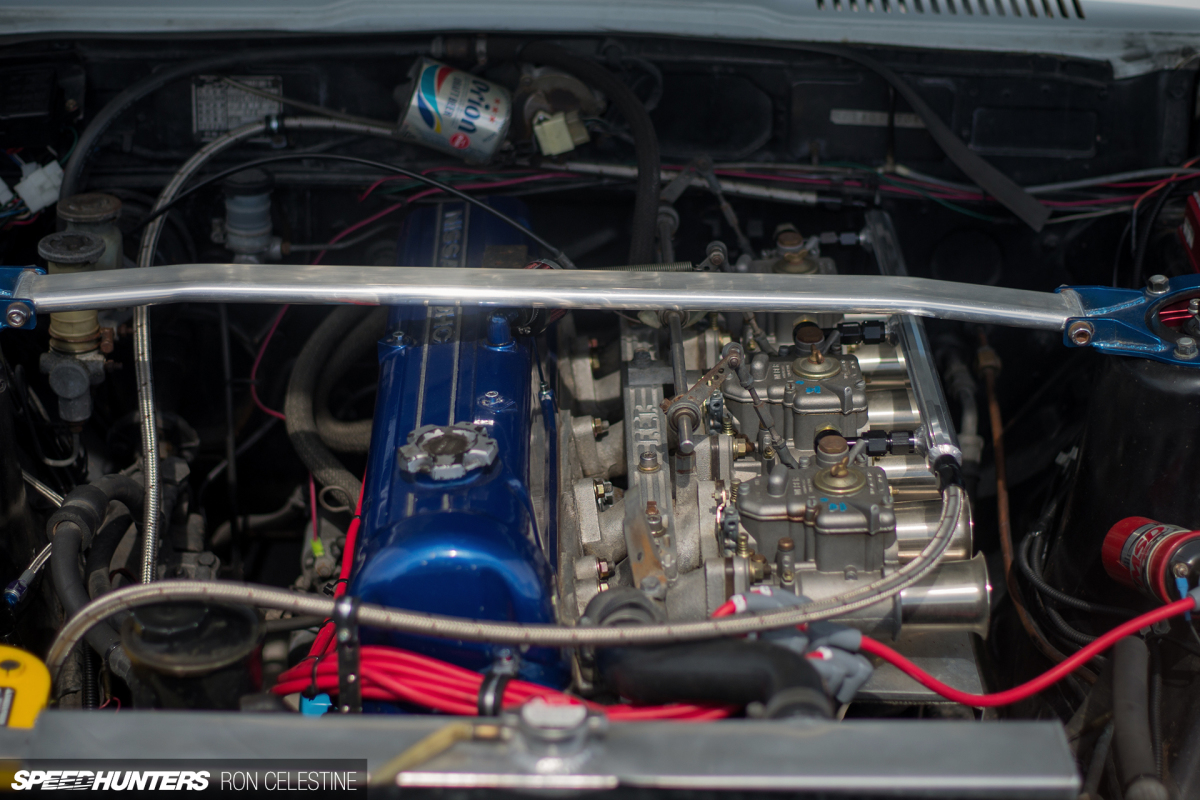 Sobe Speed Shop supplied the custom braided stainless steel fuel lines, while an MSD ignition system provides a reliable spark. To ensure the engine keeps its cool in the sweltering heat of an Okinawan summer, the original radiator was swapped out for a aluminum dual-core equivalent running an electric fan.
It's hard to see under the row of Webers, but closer inspection reveals a Fujitsubo stainless steel exhaust manifold that runs out to a full Fujitsubo stainless system. The aural result is a raspy growl that simply can't be replicated by a modern car.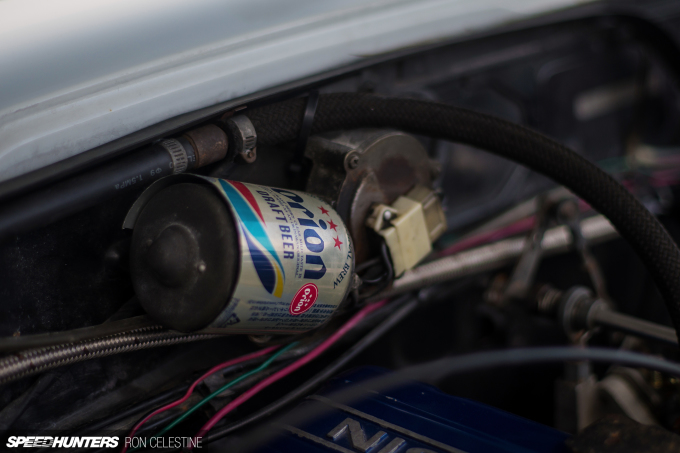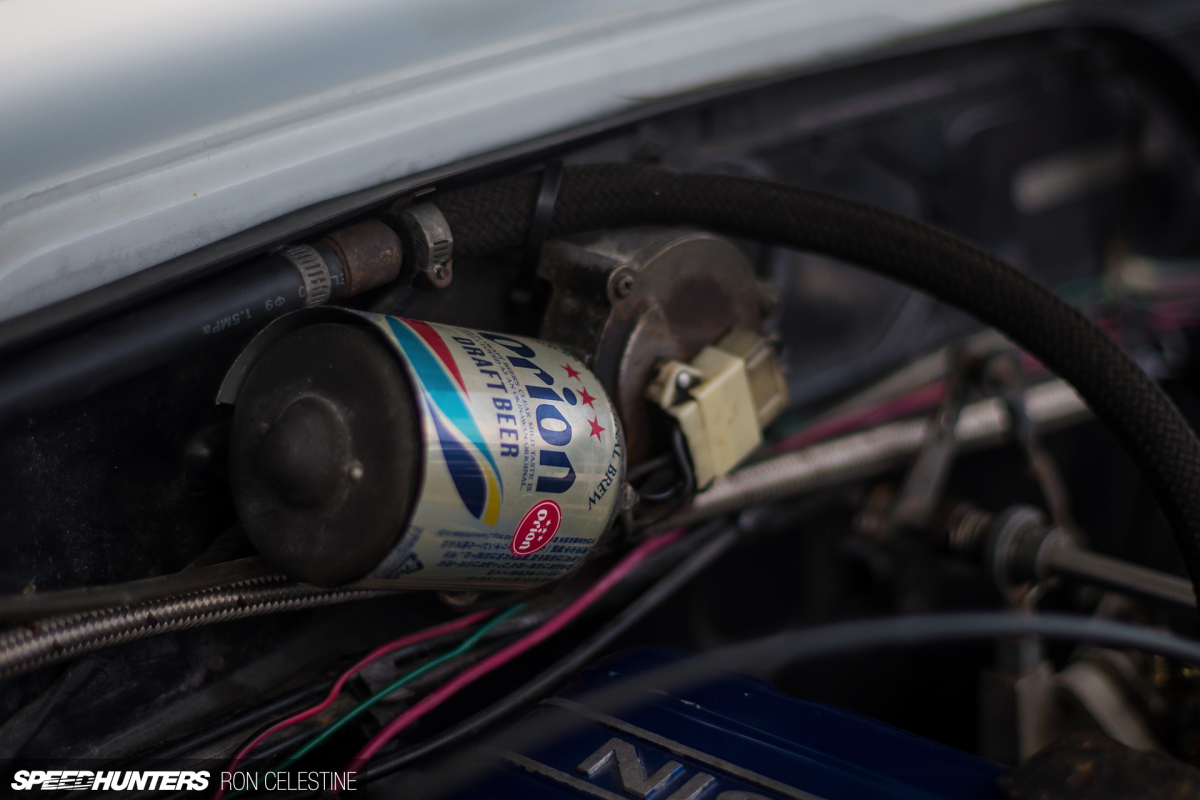 Eagle-eyed readers may have noticed the Orion beer can wrapped around the windshield wiper motor and wondered what purpose it serves. Orion is brewed in Okinawa and could be considered the beer of choice for locals, so in this instance it's all about showing respect and pride.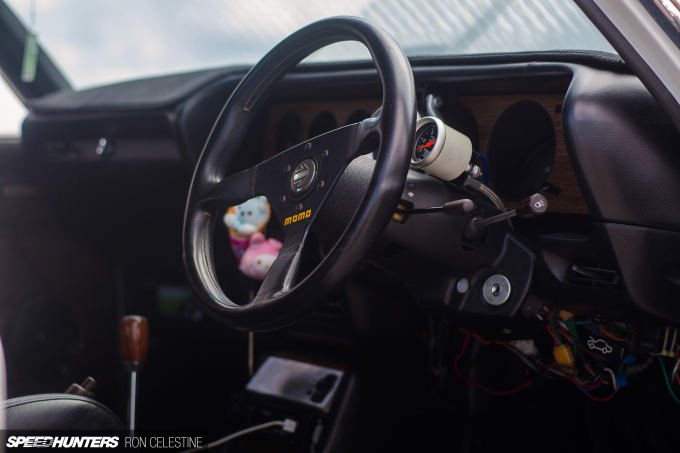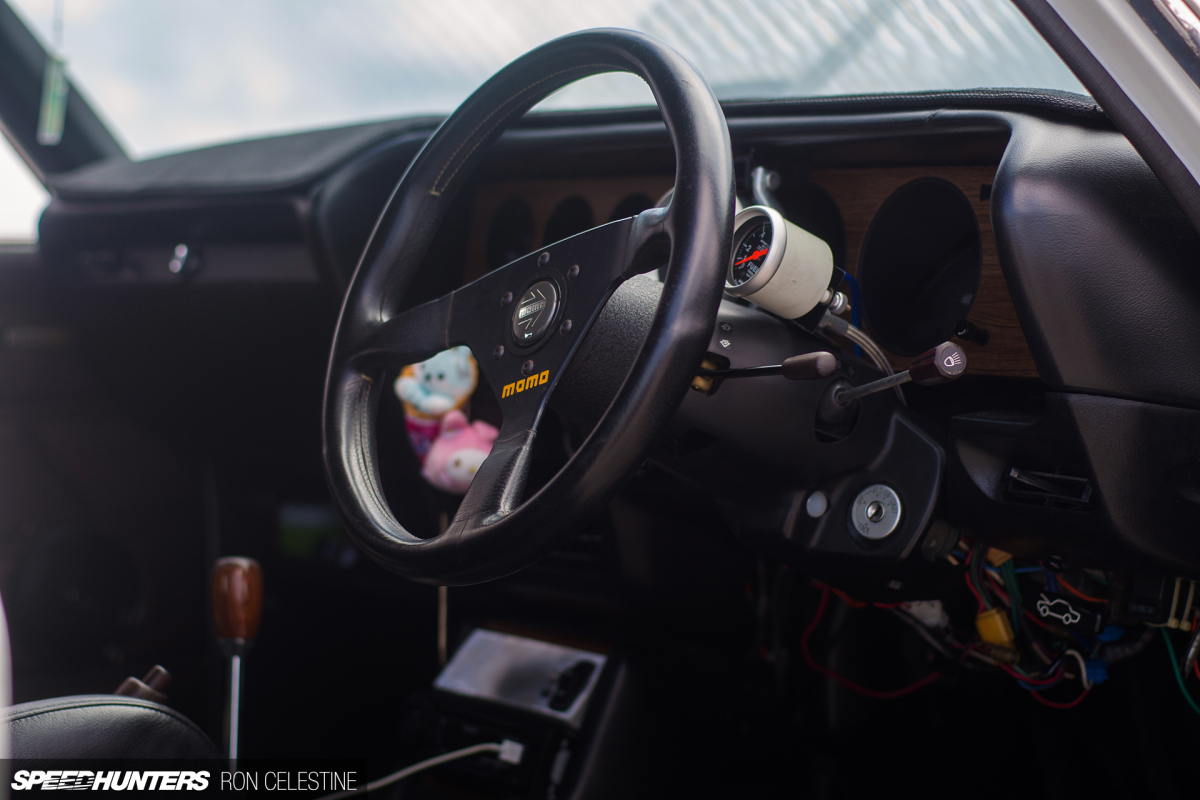 Inside, most of the Skyline's original 1970s charm remains intact, with a few modern touches here and there to improve the overall driving experience. The latter includes a Momo steering wheel, Auto Meter tachometer and fuel pressure gauge, and a Bride Zeta III driver's seat that's been given a new lease on life with a custom re-trim by Blake's friend Michael Garcia to match in with the original upholstery.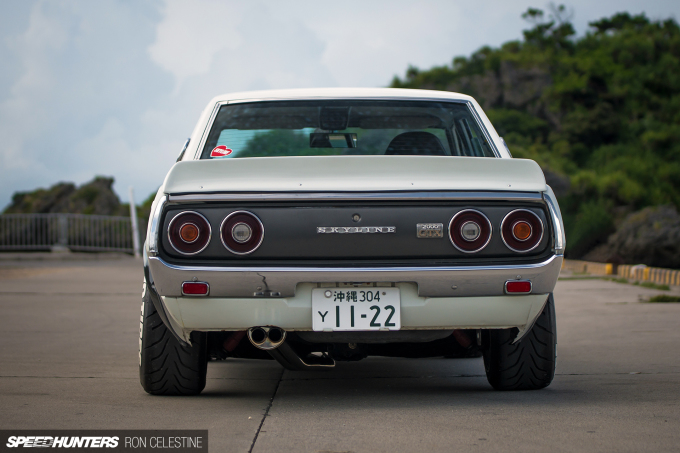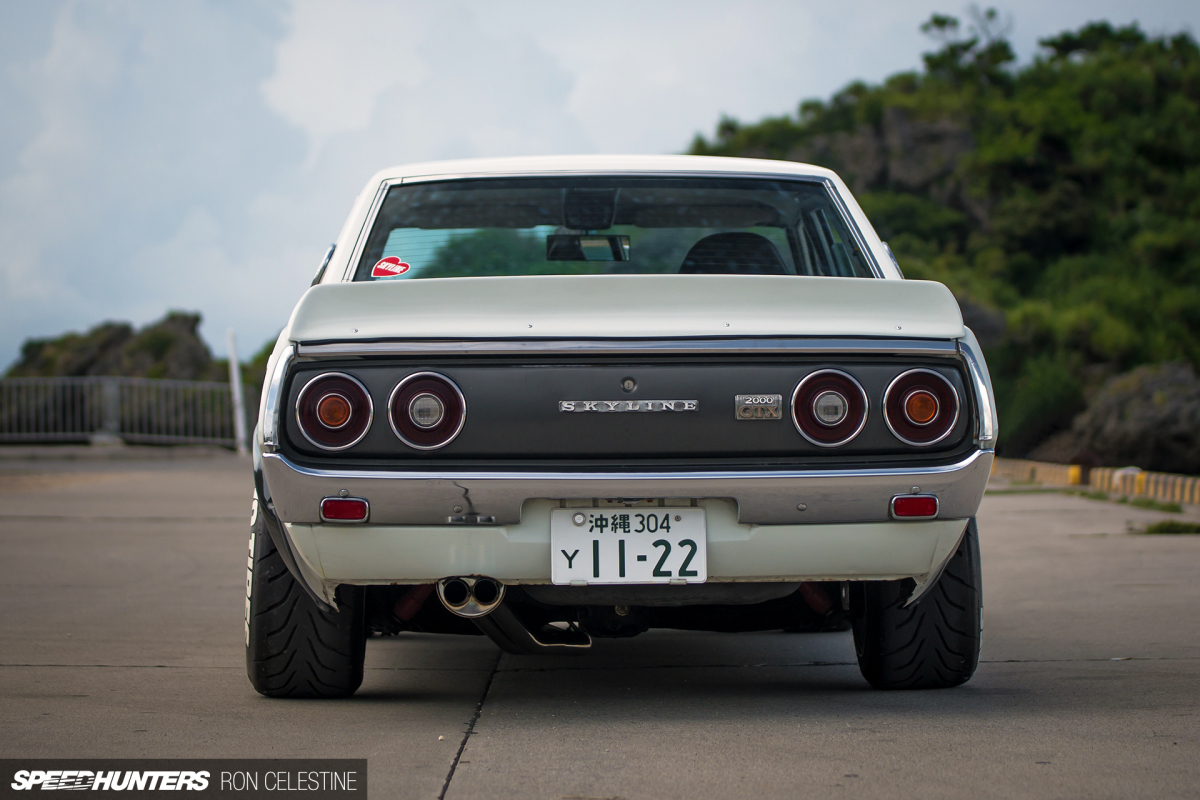 I've mentioned before how classic cars transcend the boundaries of age and interests and pull everyone in as if they have their own gravitational force fields. I was reminded of this while shooting Blake's car; there was no shortage of people slowing down as they passed by, snapping photos on their cellphones and giving us the thumbs-up.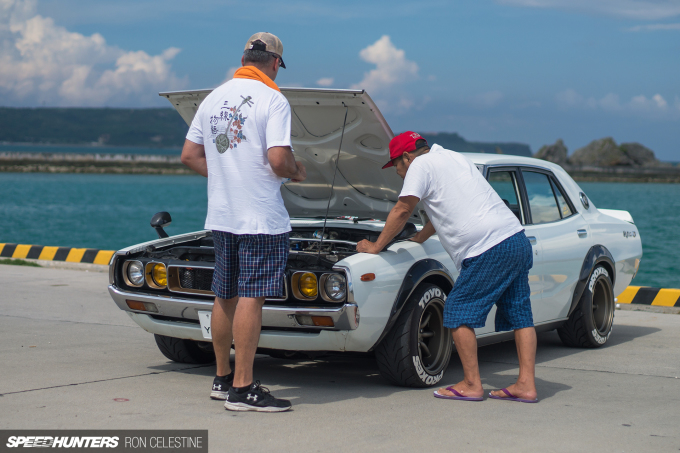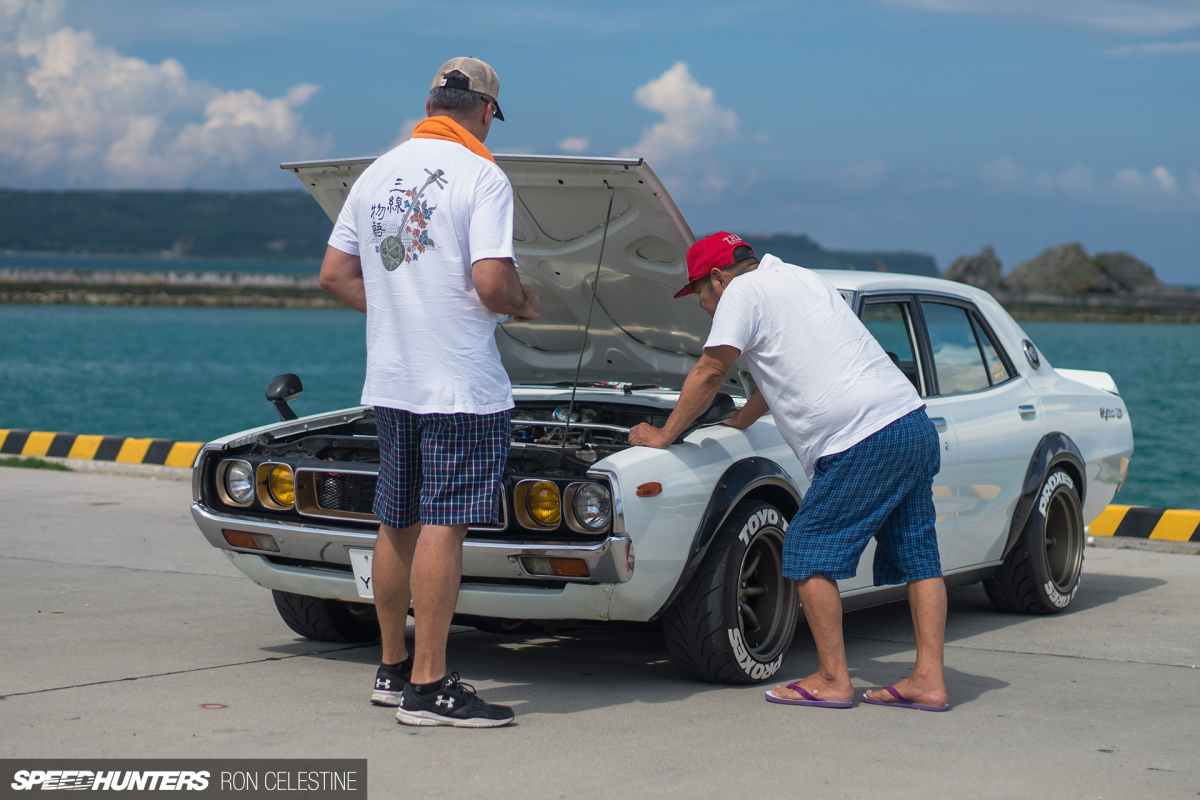 One local gentleman even stopped his car and came over for a closer look and a chat. As it turned out, a little over 20 years ago he owned a KPGC10 GT-R, and seeing this GC110 brought all the memories back.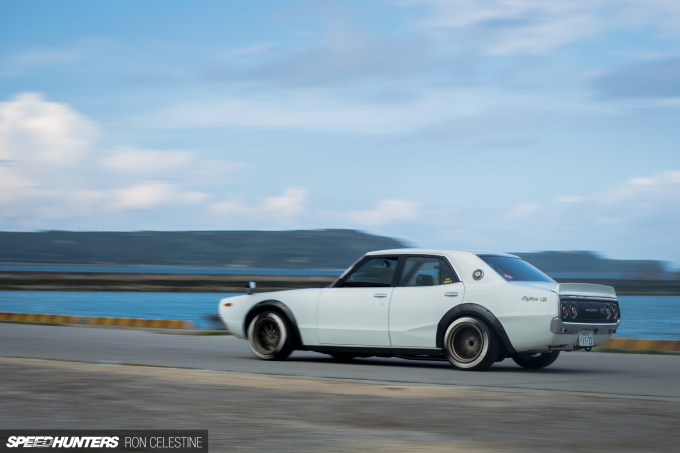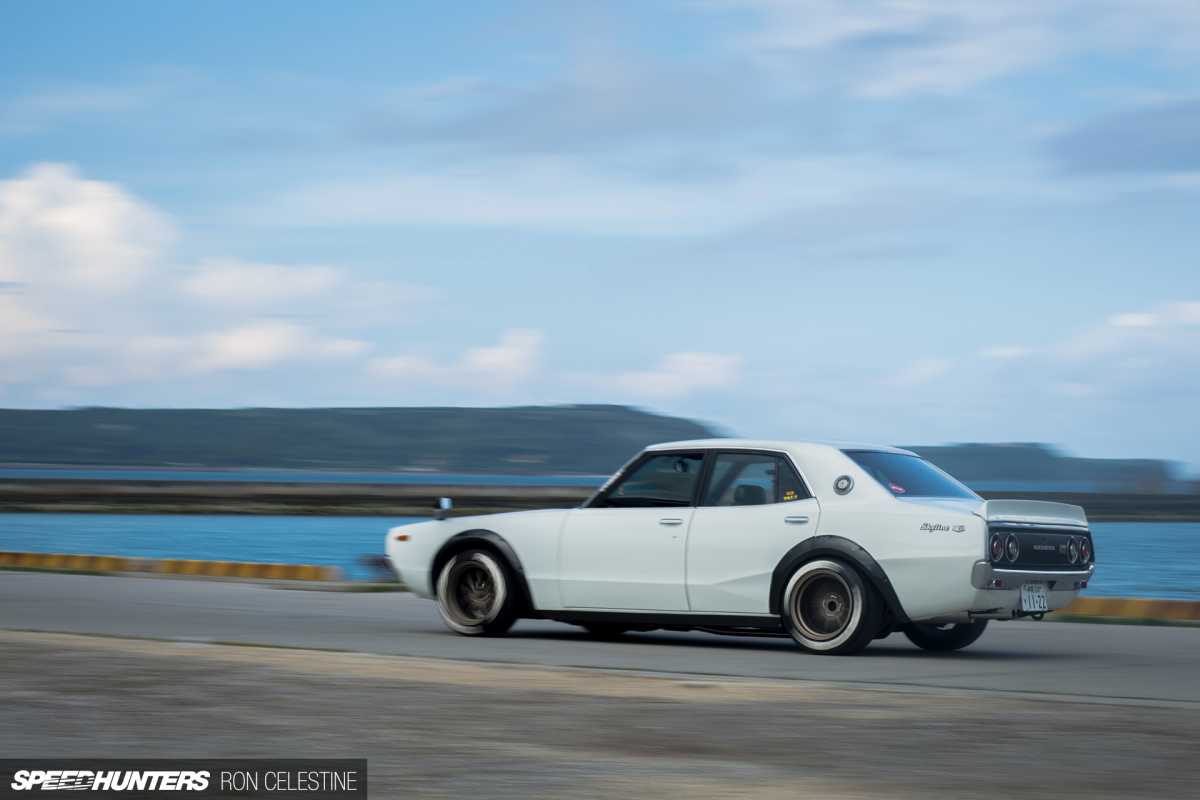 This Yonmeri was never destined to be an over-the-top or hardcore build, but more of a Sunday morning cruiser. And that's exactly what Blake has ended up with; it's a car he can enjoy going on drives with the family in, and then turn up to local meets and turn heads with.
As far as Japanese classics go, what more could you really ask for or want…
Ron Celestine
Instagram: celestinephotography
The Cutting Room Floor