One Track Mind
I don't know many people who drive their cars quite as hard as Ryan Stewart.
We first met back in 2013 when I shot Ryan's then 450bhp Golf GTI. Like a lot people, I was apprehensive of about the idea of a front-wheel drive car packing so much power, but over the course of a 10-minute passenger spin – in the snow and on R888s no less – I had my entire world turned upside down.
Ryan is an approachable person with a peculiar sense of humour, and is always the first person I reach out to when I'm thinking of upgrading or even trying to solve an issue. The manner in which he can rationally and logically deal with anything put in front of him is what impresses me the most.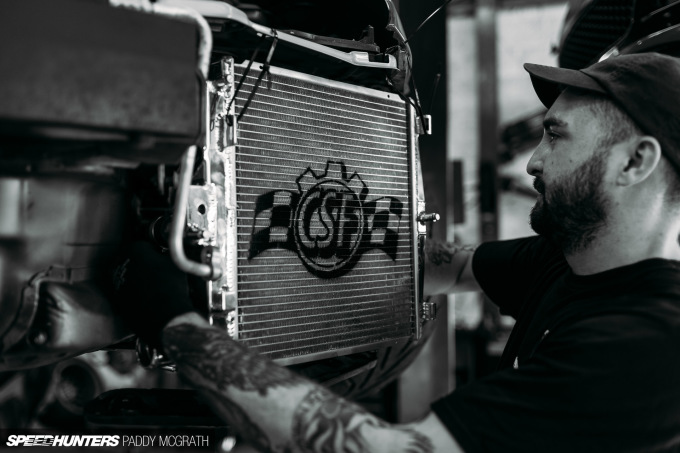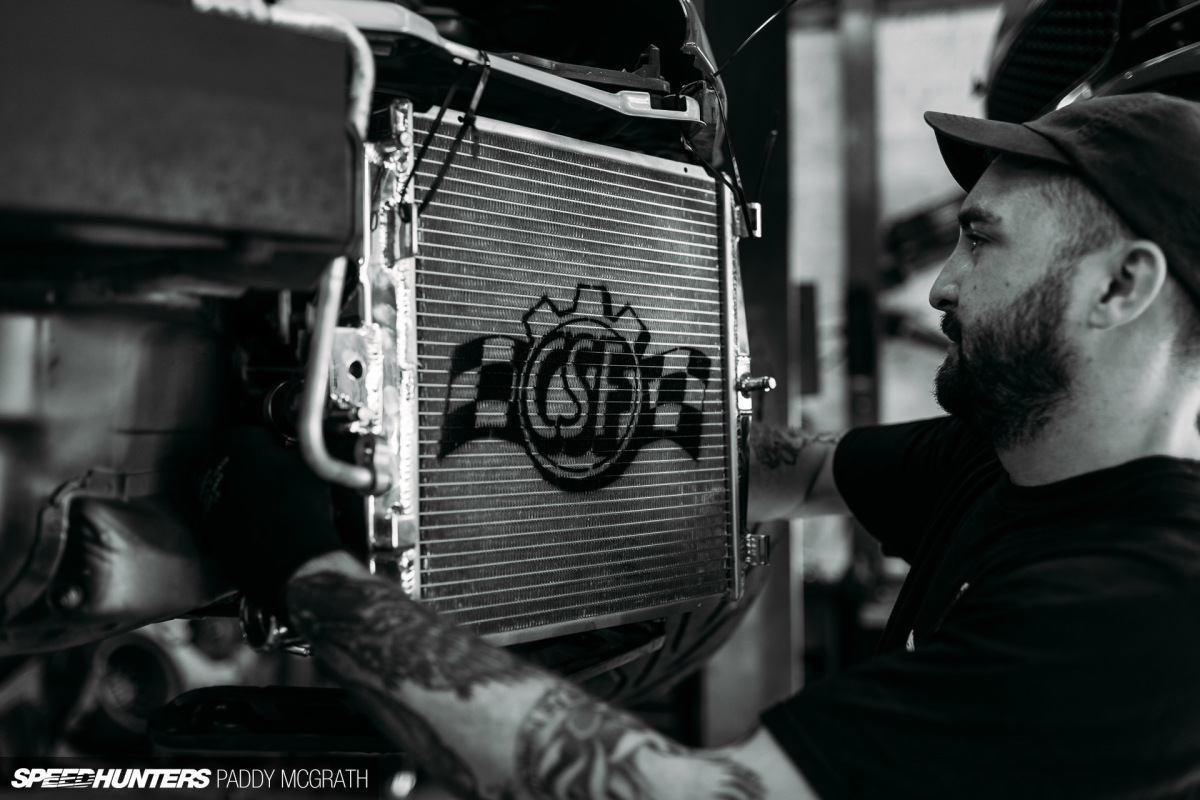 His cars have always been a reflection of this. His MkV started as the simplest and most basic car he could get his hands on, and the same is true of his 2007 Porsche Cayman S. Every decision which followed after purchase was planned and considered to the nth degree before being implemented. Every change was made for a reason.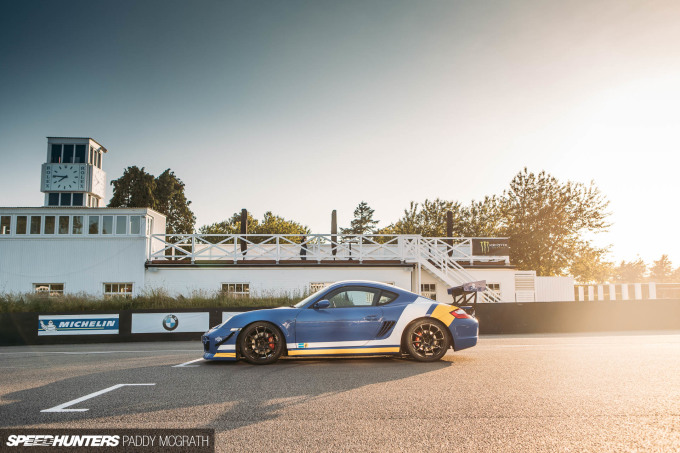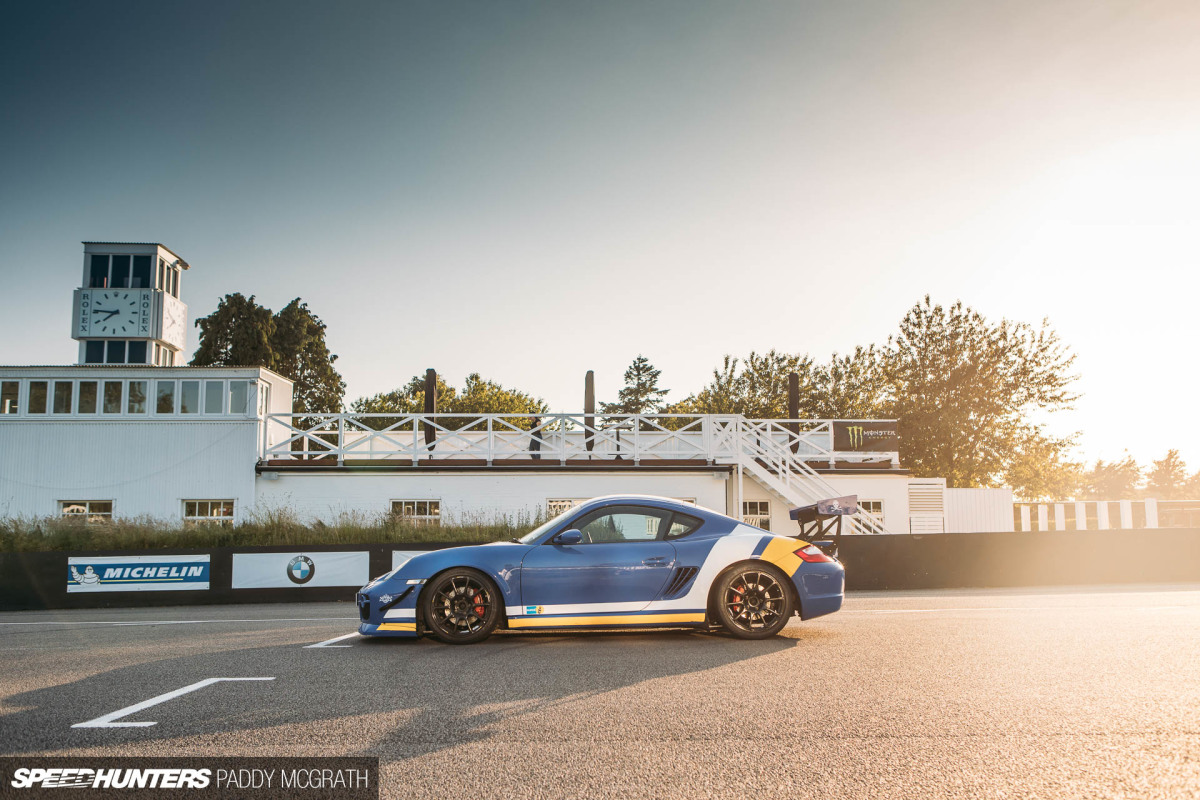 Like all real builds, it's likely that this is a project that will never be finished. It did need to be featured at some point, though, and an empty Goodwood Circuit on a summer's evening was maybe the best excuse that we had to finally grab a snapshot of the car at a single point during its journey.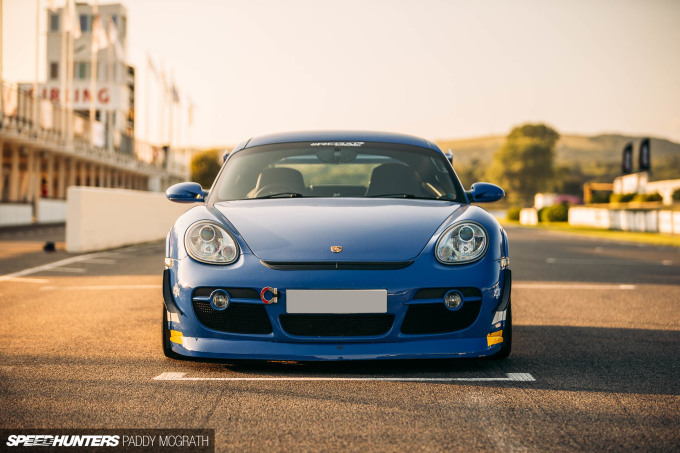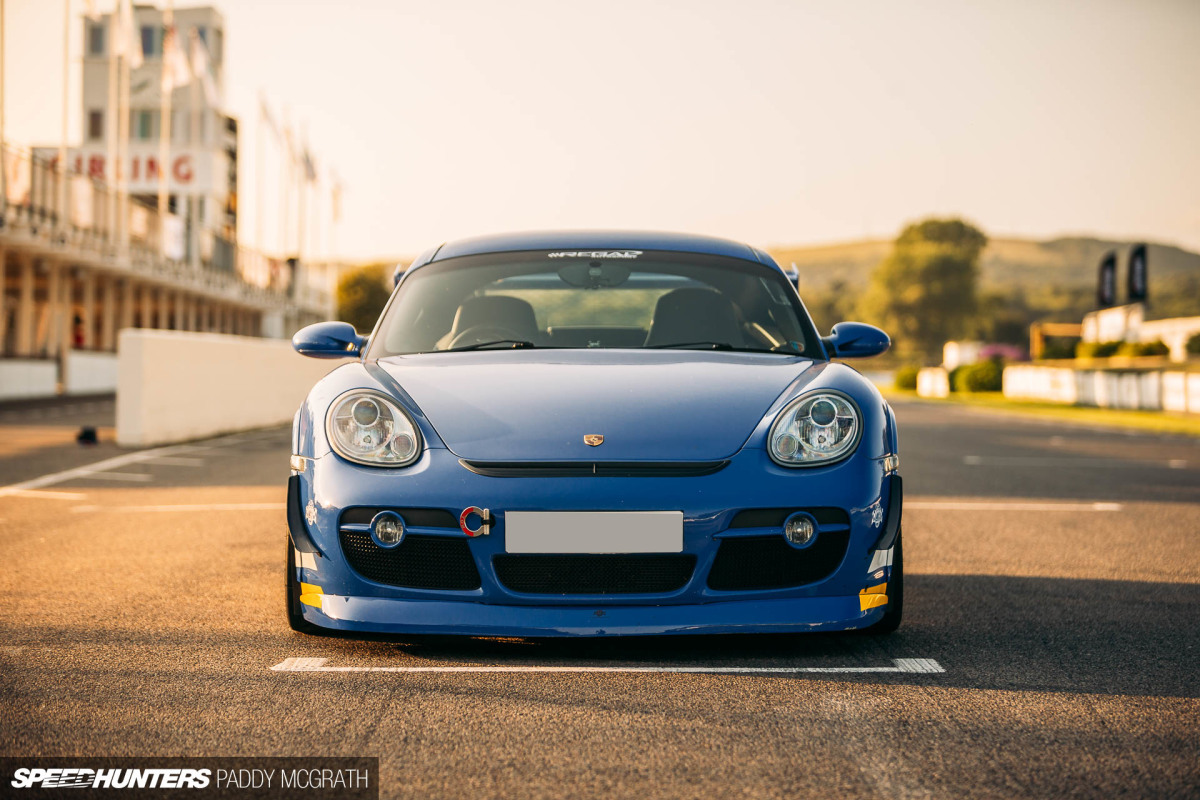 In the relatively short time that Ryan's had the car, it's undergone some significant changes, but none which have wavered from the ultimate plan for the car. It's the focus of getting the car to its ultimate form which sets it apart.
But what exactly is that ultimate form?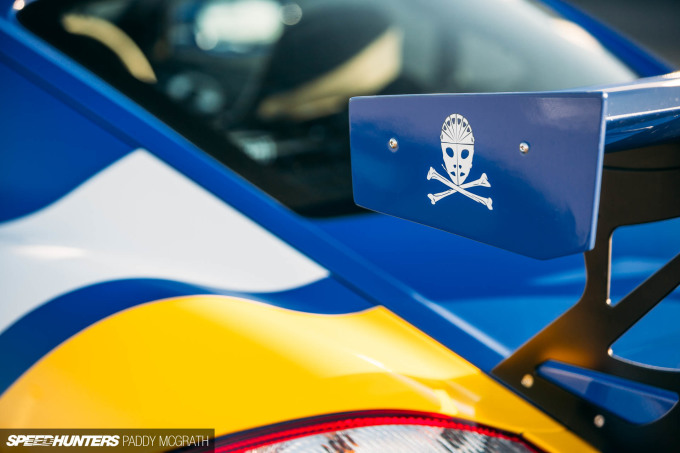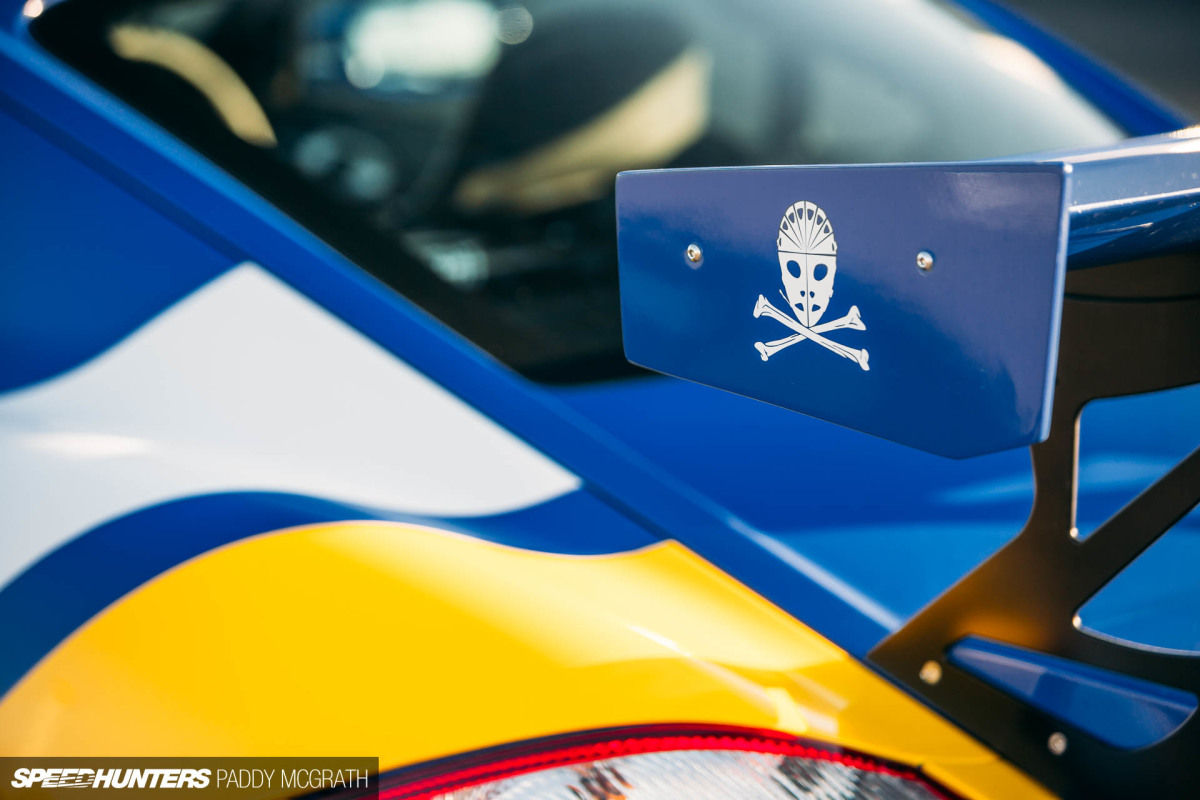 I think that it's best described as a fast road and track car. These terms though usually imply limited mileage, but this same car has also completed several trans-continental trips across Europe, so it's also a GT car of sorts.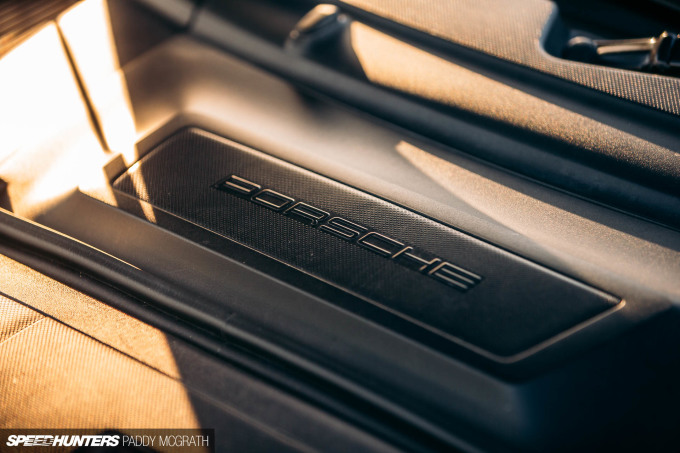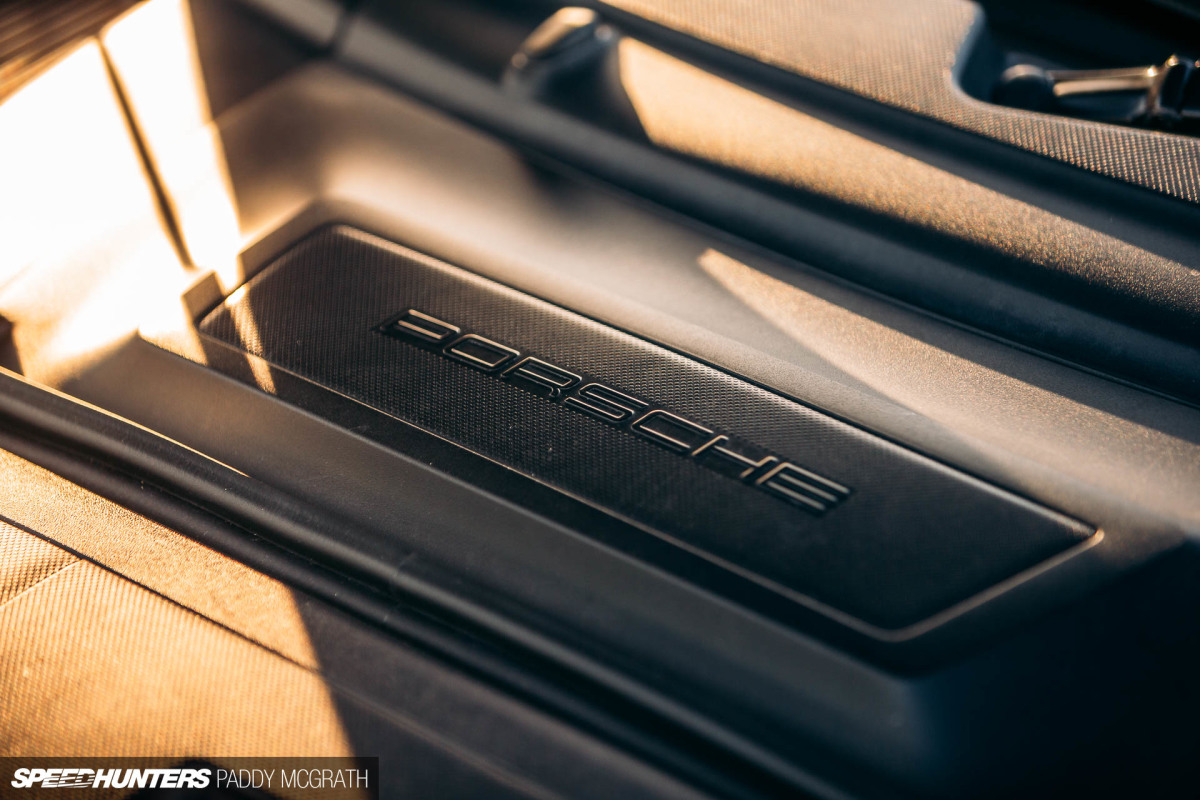 It's a humble car that's also extraordinary. These all seem like conflicting descriptions, but they are testament to how well balanced the car is from whatever angle you look at it. It could be considered a Cayman GT4 on a budget.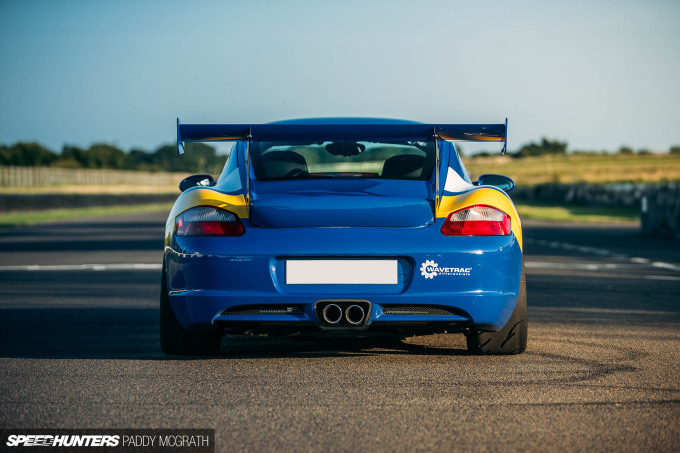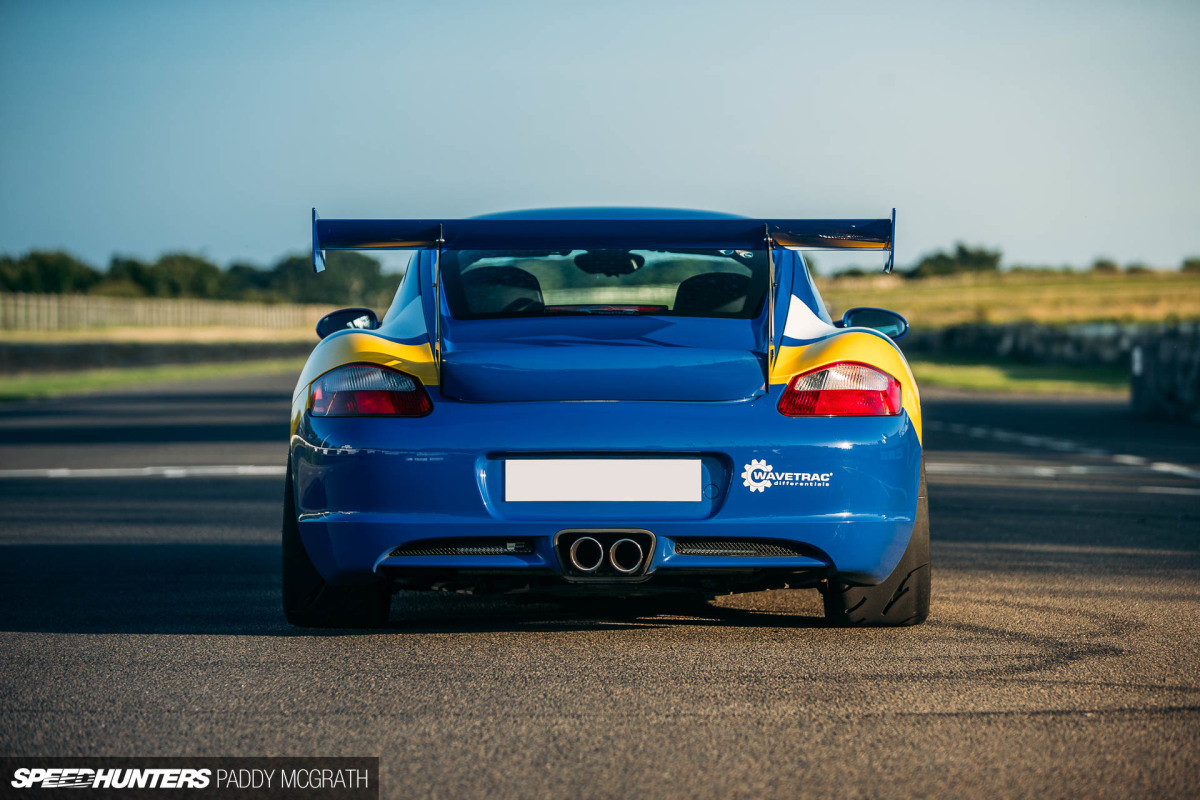 The majority of what makes this car special are the parts that you can't see; those that hide beneath the surface. It doesn't rely on one major modification to make it fast, but rather countless small upgrades that improve the car as a whole.
Its power output is moderate; the 3.4-litre flat six has been lightly upgraded with EVOMS software and air intake, along with Supersprint cat-less tubular race headers and lightweight race exhaust system.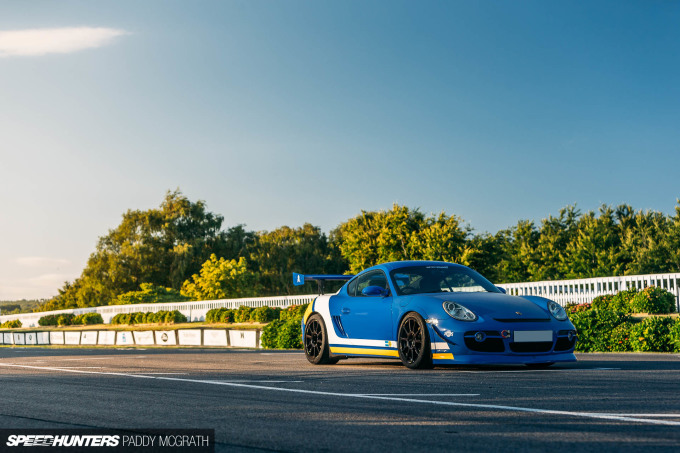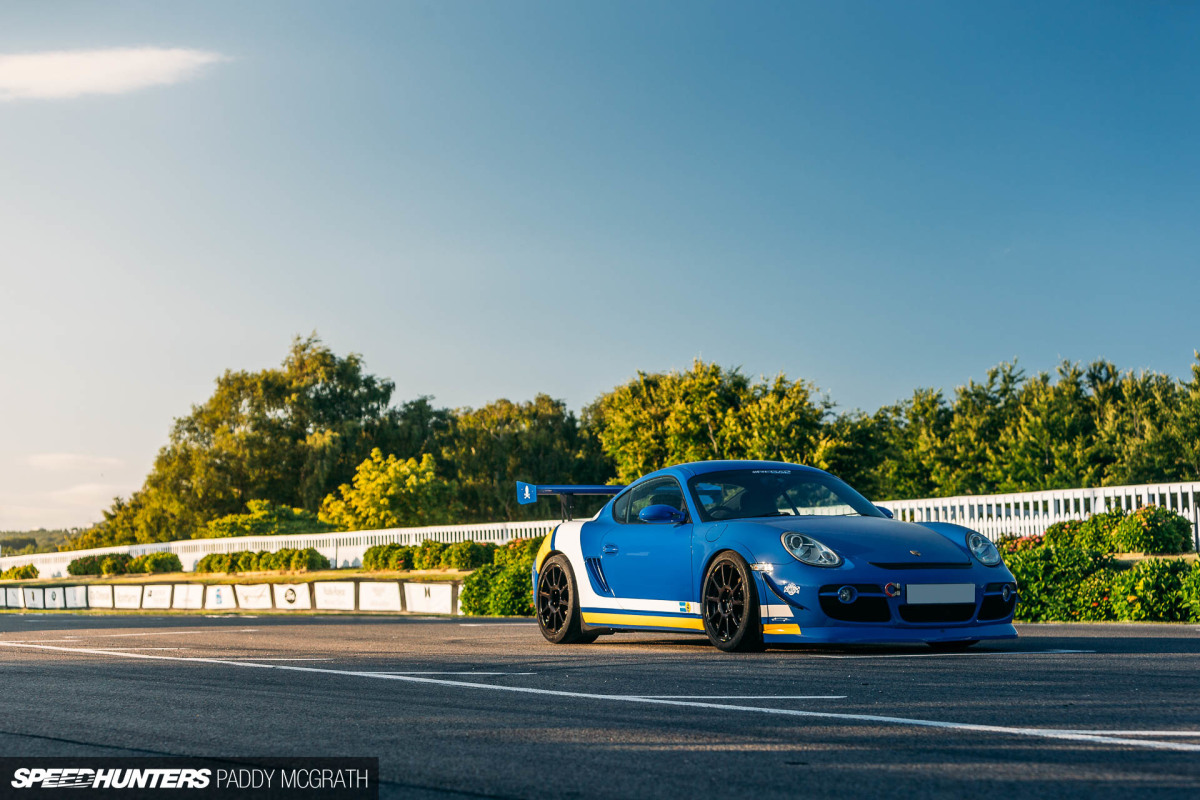 The more significant engine upgrades might not be the most exciting, but they offer the best returns with regards reliability and efficiency, especially considering the car's use on track. Specifically, the Porsche Motorsport Carrera Cup air/oil separator and breather system, along with a Porsche X99 pack baffled sump to manage oil control.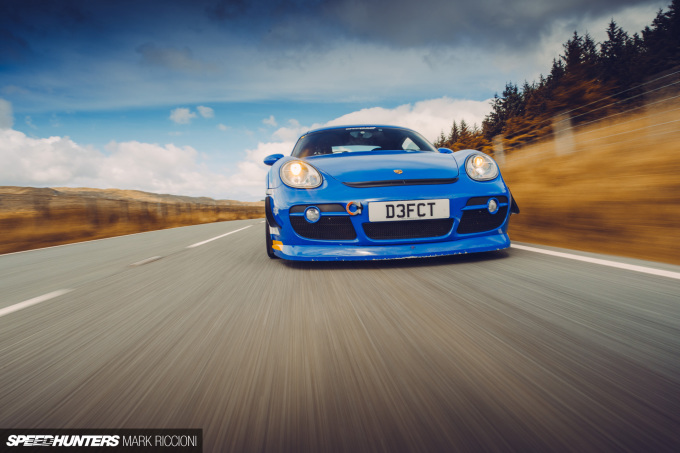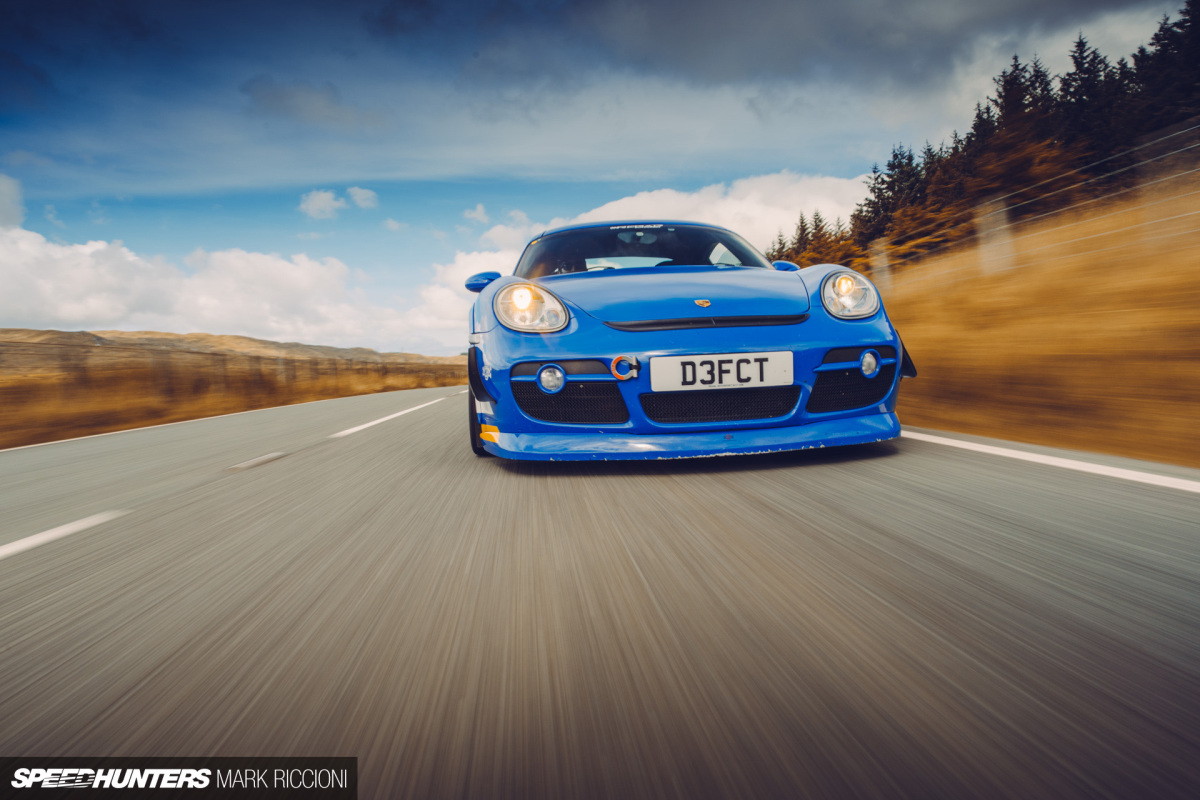 It's a 6-speed manual car with a lightweight billet flywheel, a Sachs Racing cover and spring sintered metal friction plate, and a Wavetrac differential.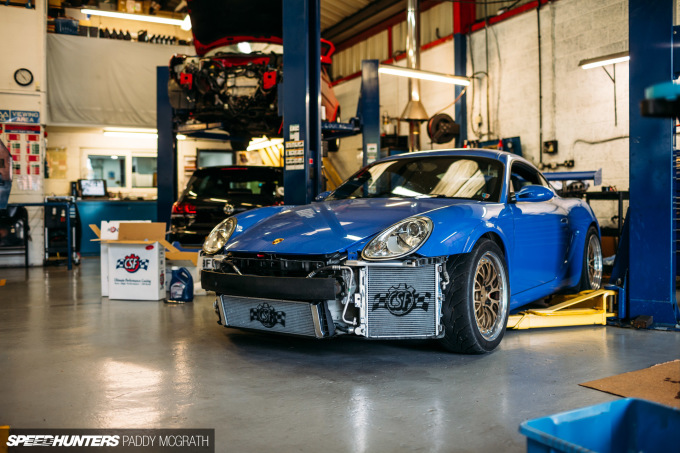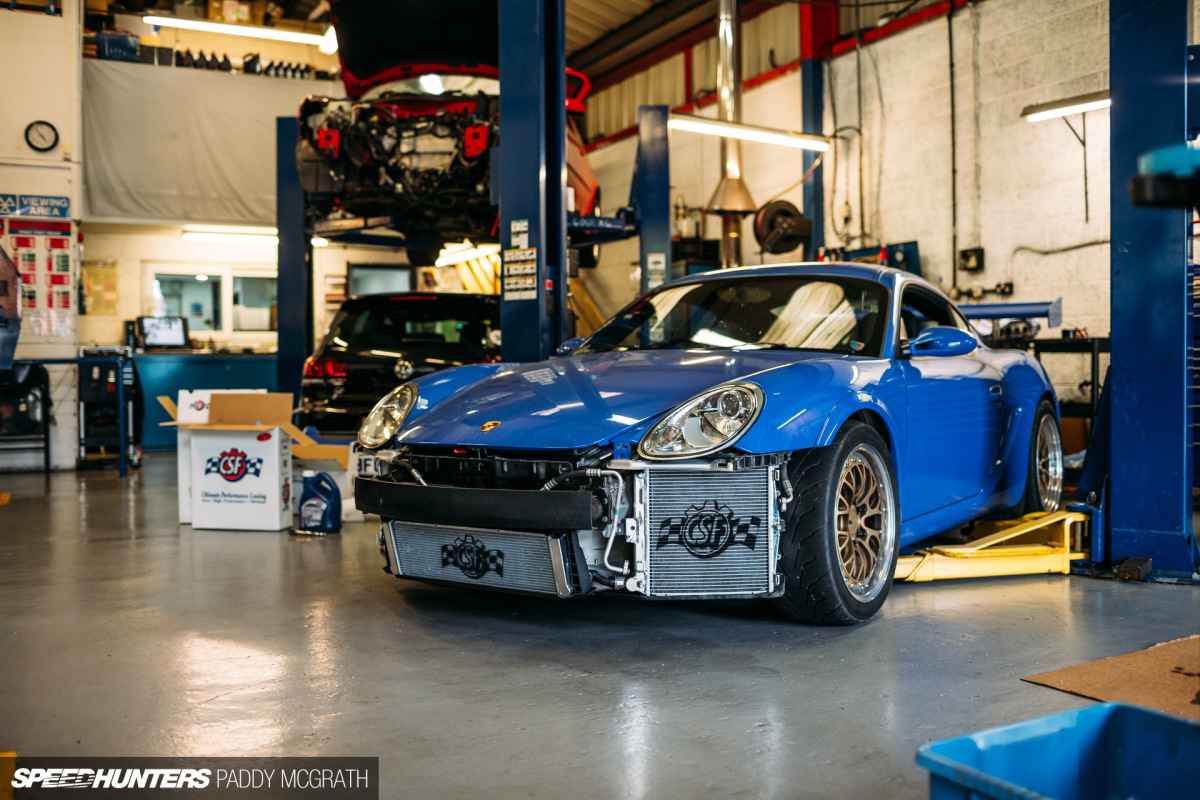 The really trick part is what's hidden behind the front bumper. Ryan spent countless hours figuring out how to implement a triple CSF Race radiator setup at the front of the Cayman using a CSF specification 997 GT3 radiator and OE GT3 cowlings to vent the centre radiator up and over the car in order to reduce lift. You can see the vent in other photos between the top of the front bumper and front bonnet. You can also read about the install in-depth here.
With heat and oil under control, it ensures the car spends more time on the track. Seat time is easily the most valuable asset of any car and driver combination.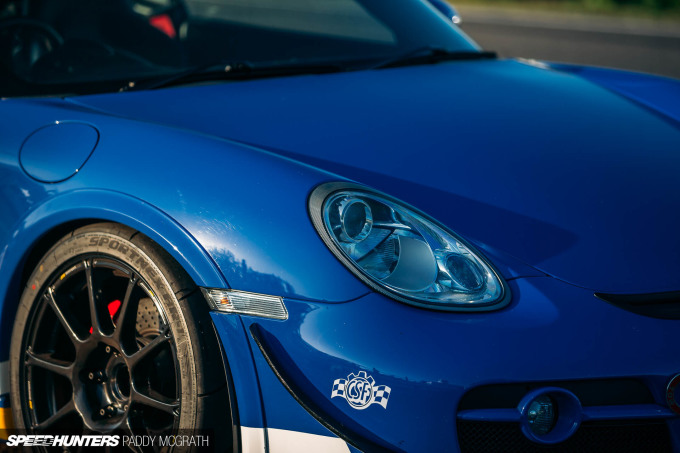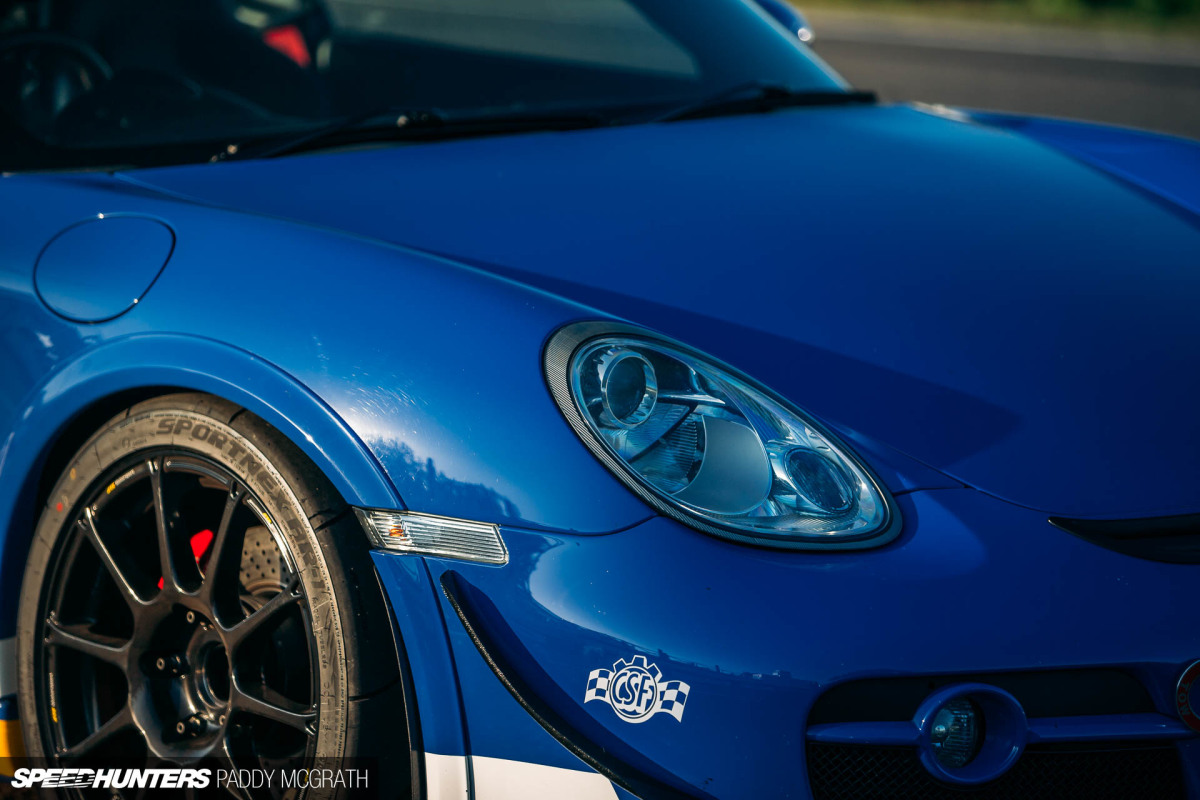 To give you an idea of the lengths that Ryan goes through, the colour change from silver to Maritime Blue is a perfect example. The intensive work was carried out by Greg Howell at Southam Bodies, and it retained all the factory stickers with no attempt to conceal the original identity of the car.
The original VIN sticker proudly displays the car's 987 origins and original factory paint code, although no trace of silver remains. The underside of the front bonnet is finished with a matt topcoat to emulate a factory finish.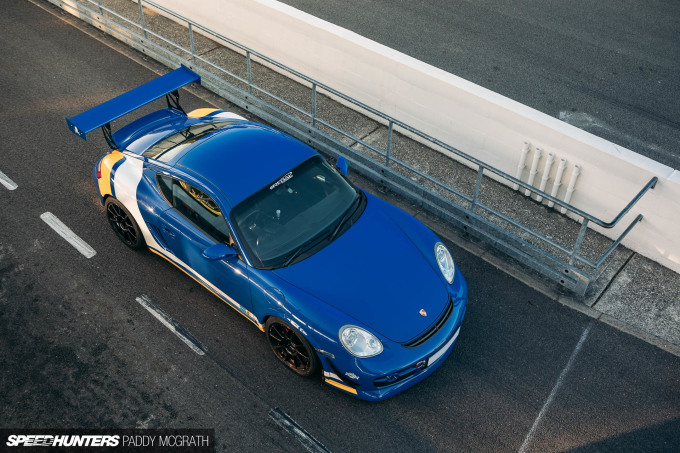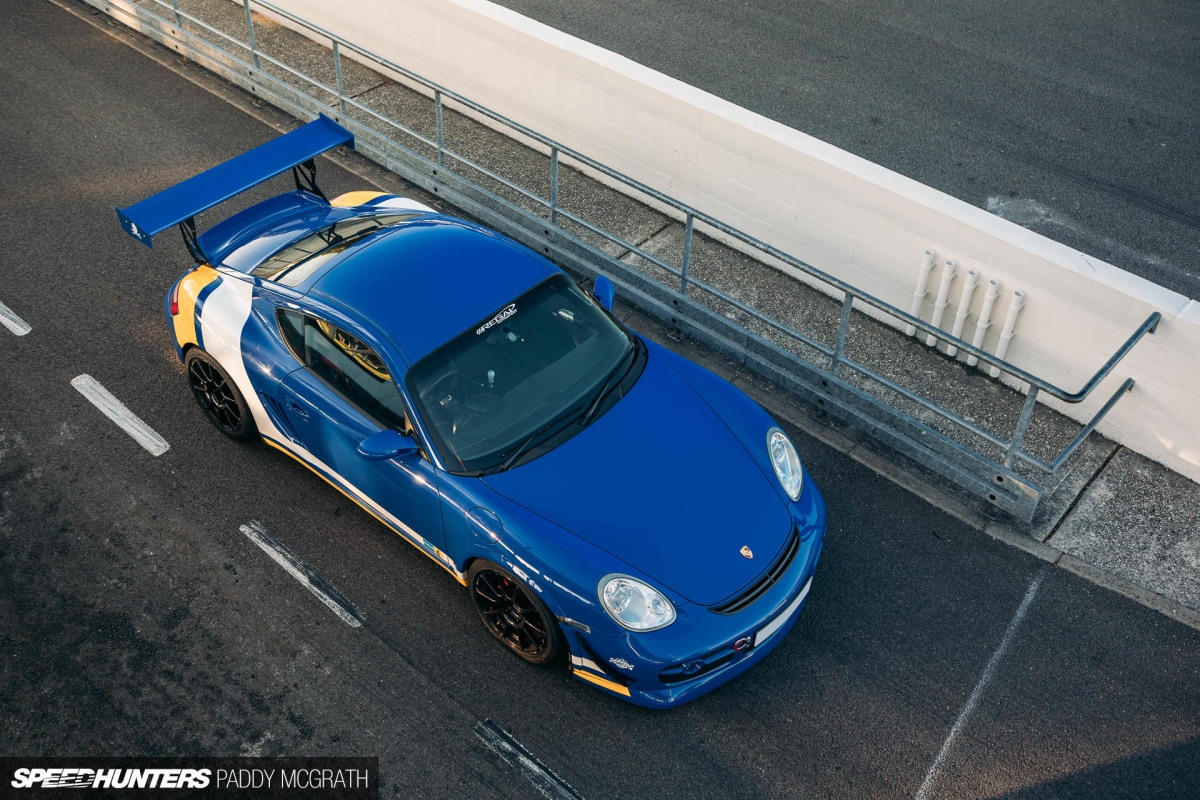 That's not to mention the addition of numerous Carrera Cup, GT3 and GT3 RS aero add-ons. The rear wing is Carrera Cup carbon blade on Getty Design uprights, while the front arch extensions and indicators are those from a 997 GT3 RS 4.0.
The front lip has been extended, carbon canards have been installed, and Carrera Cup carbon arch gurney extensions have also been used. Let's not forget the aforementioned and fully functional GT3 nose vent either.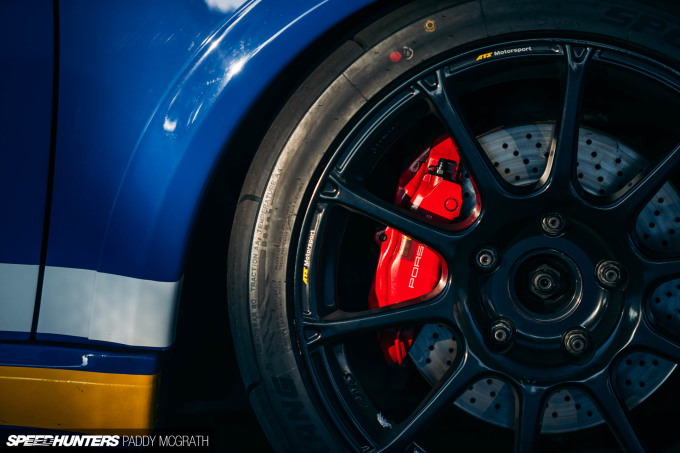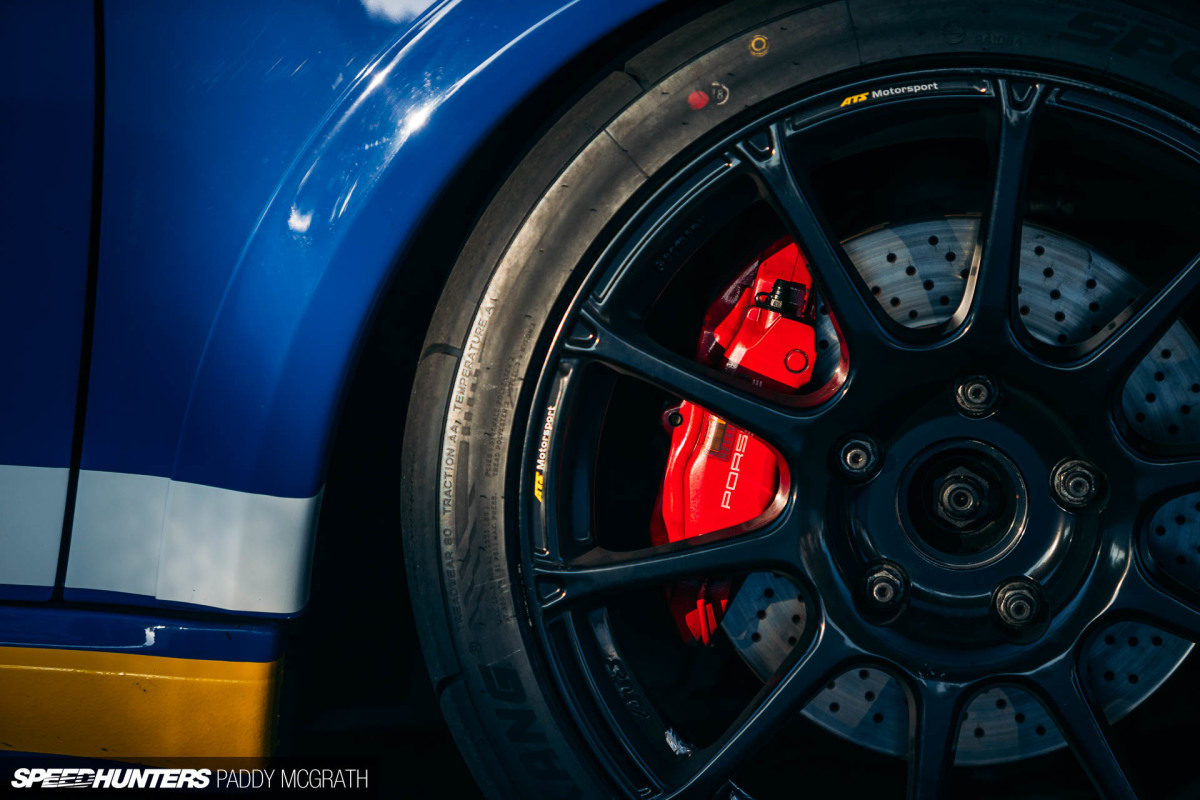 The black ATS GTR wheels were a custom order, measuring 18×9-inch (front) and 18×10-inch (rear) wrapped with Nankang's street legal AR-1. The brake setup uses the Cayman's factory calipers, but considerable improvements have been made to their cooling. There's also a 997 GT3 brake master cylinder, Pagid RS29 pads, braided lines and Tarox heat-treated discs in the mix.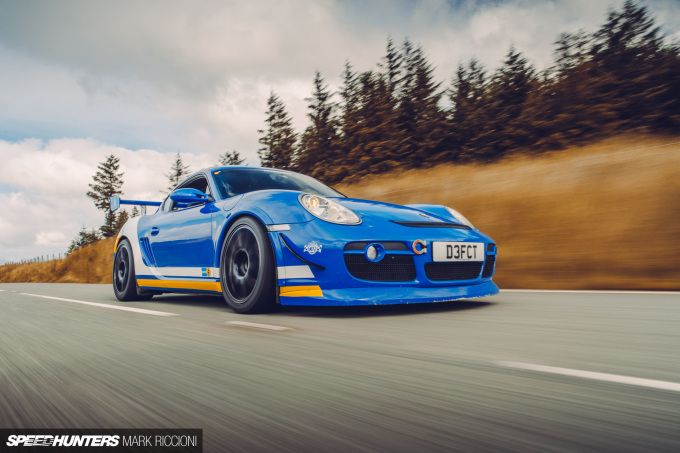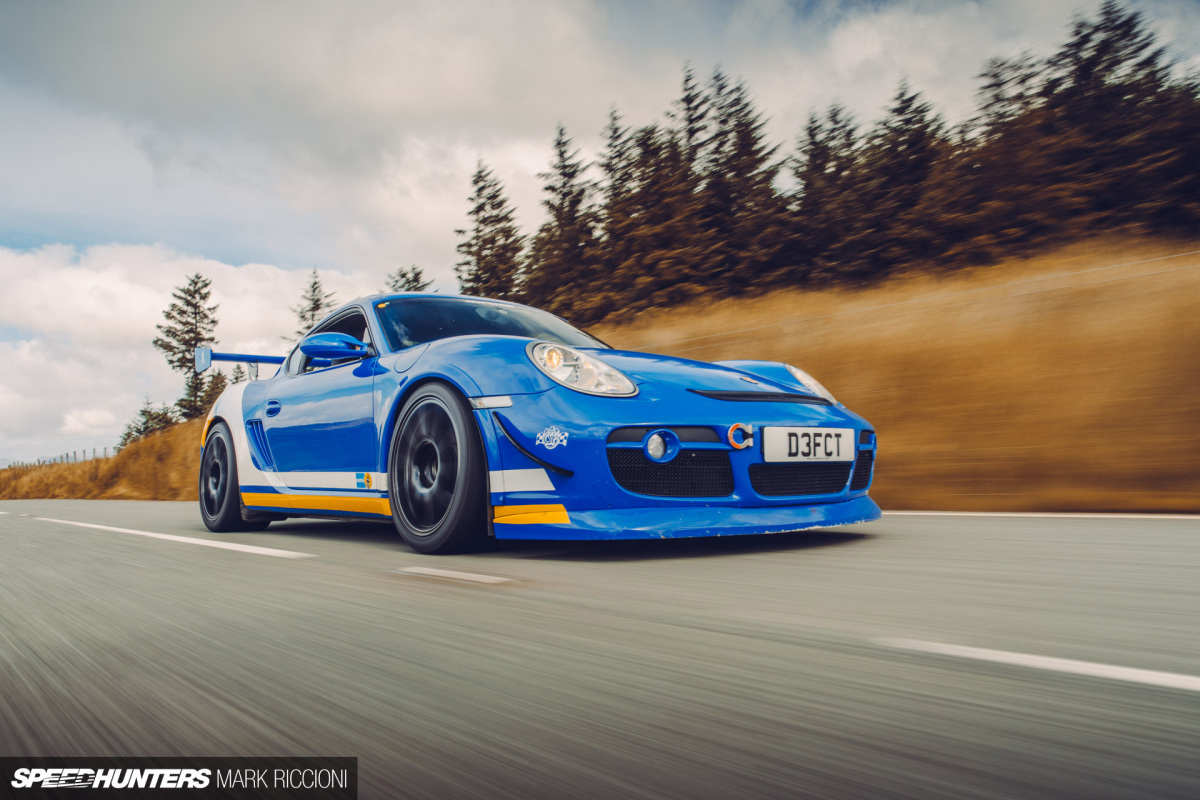 For that brake cooling, Ryan has again taken inspiration from the Carrera Cup cars and Porsche's 997 GT3. The former's front inner arch ducting is used to direct air out of the radiators and over the brakes, with the latter's front lower arm ducting to duct fresh underbody air over the same. The rear features custom brake ducting.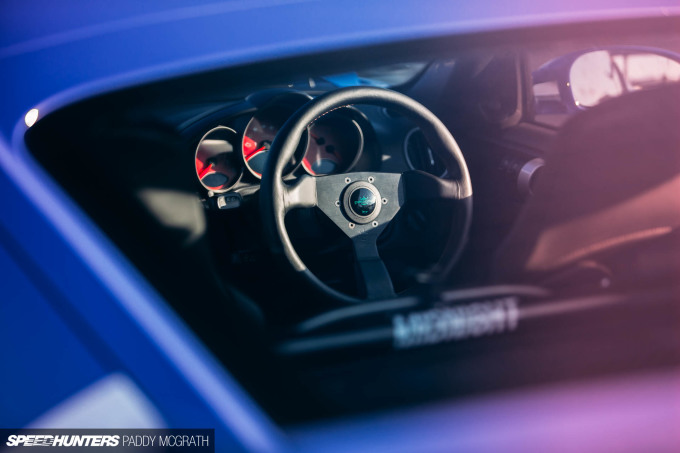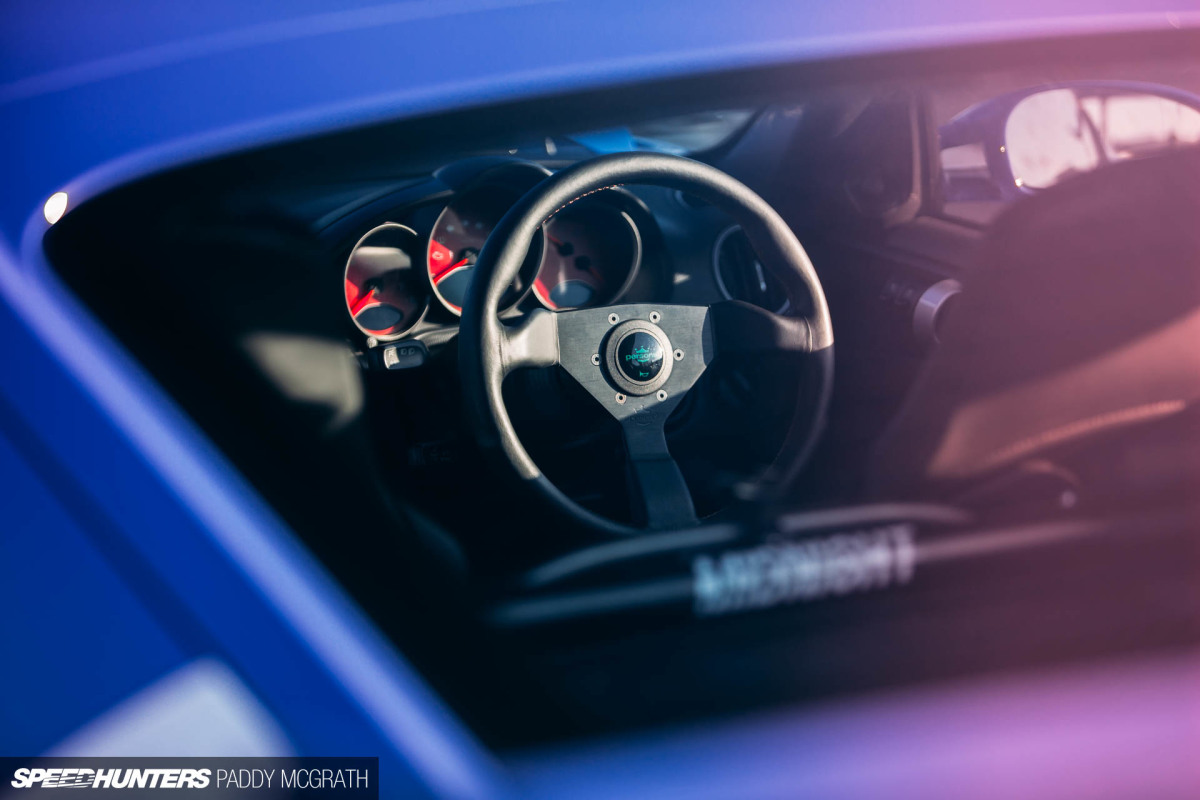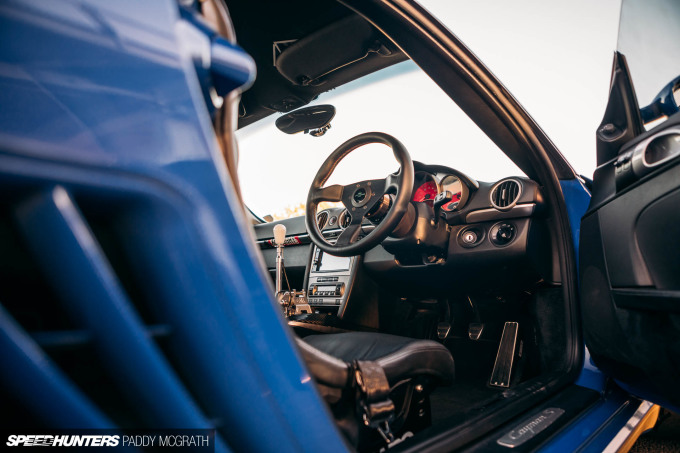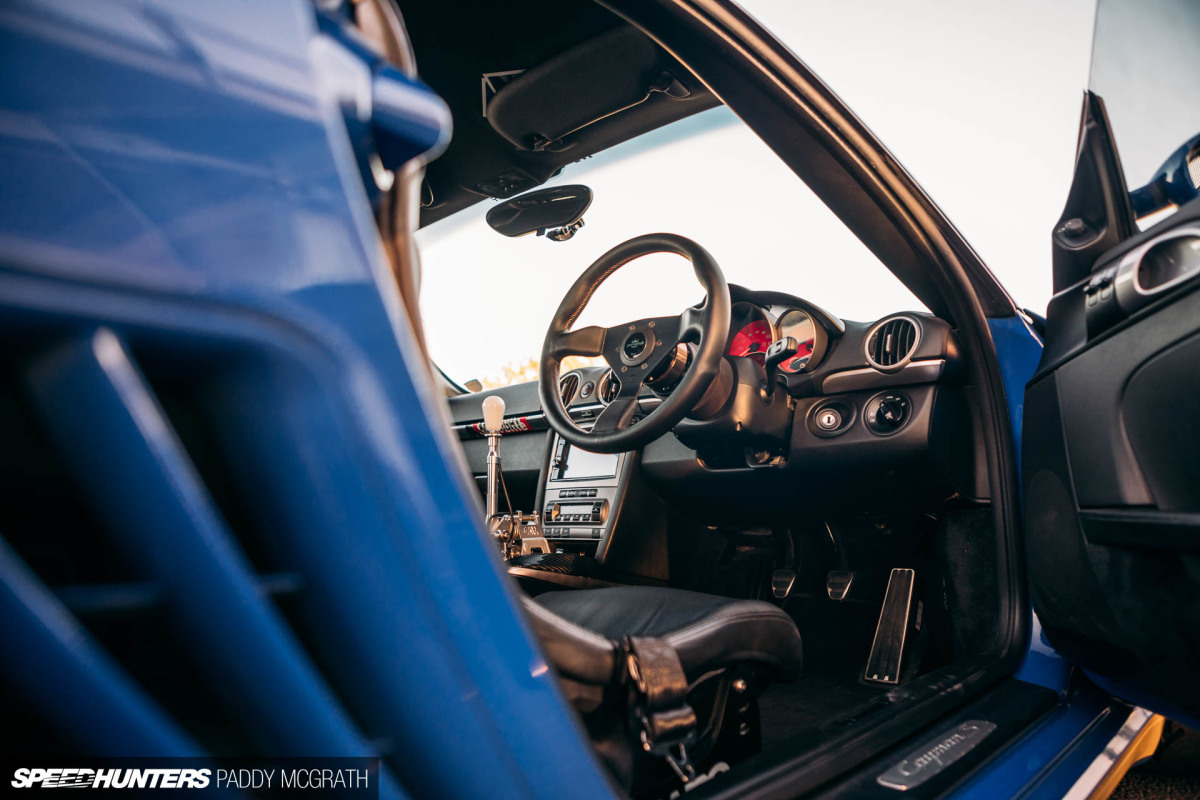 To briefly move to the interior, it agains strikes that balance between road and race car. The seats are Mercedes McLaren AMG Recaro Pole Positions with no branding, sitting on custom CNC-cut subframes. The steering wheel, a 330mm Personal Grinta 'Kingston' Edition sits on the right side of the car, while a CAE Ultrashifter with carbon surround is at the driver's left hand. There's some nice factory touches still in place, like the Guards Red seat belts and dials.
While the standard seatbelts have been retained, they are in addition to a 5-point Schroth harness system, mounted to an RSS harness bar and GT3 submarine bar. Entertainment hasn't been compromised with a Kenwood head-unit, door speakers and slimline subwoofer behind the passenger seat.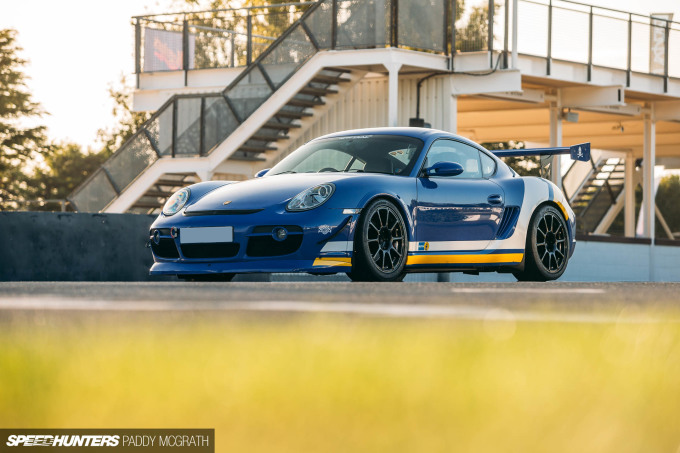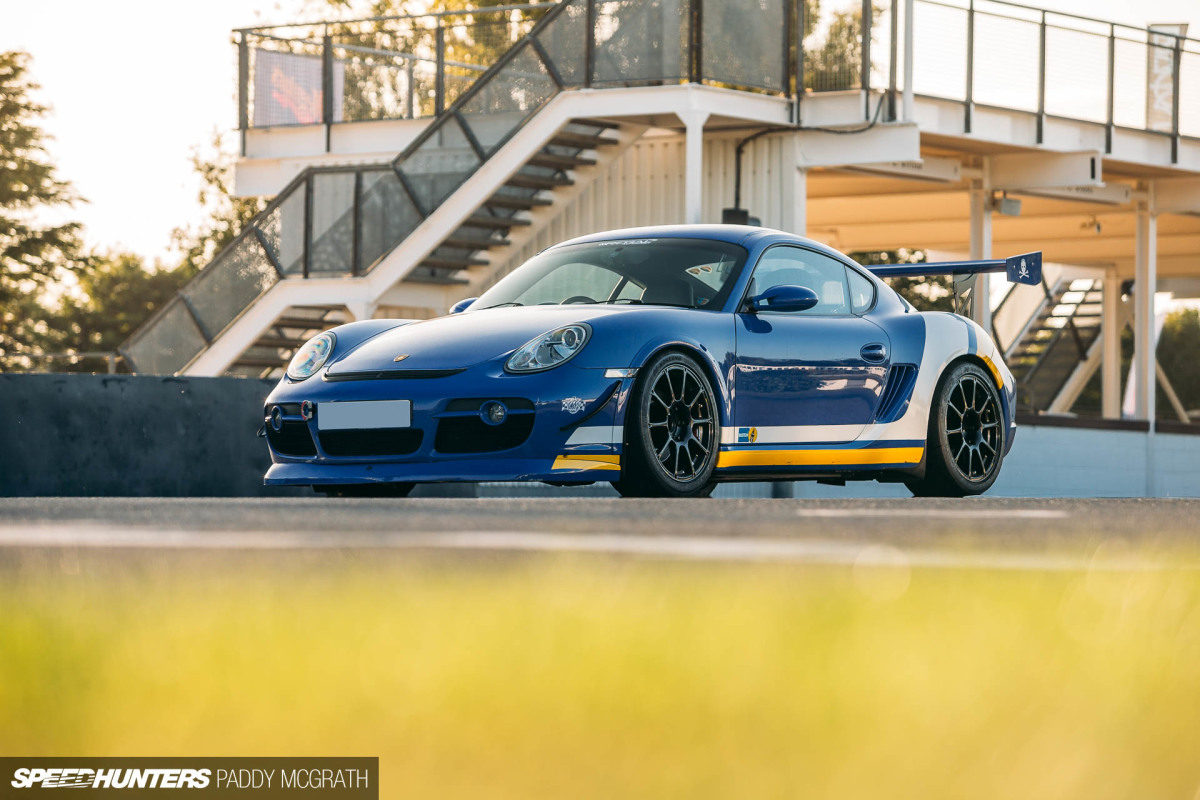 However, what really makes any track car are the modifications and improvements to the suspension and chassis. Considering the car wears a Bilstein livery, you won't win any prizes for guessing what suspends the car. However, it's far from just a simple coilover upgrade.
Using Bilstein's Damptronic suspension kit paired with DSC Sport's PASM module and the addition of a 997 Turbo yaw sensor, the car has been converted to fully active programmable suspension. This means the suspension adapts to acceleration, braking, and corners in either direction.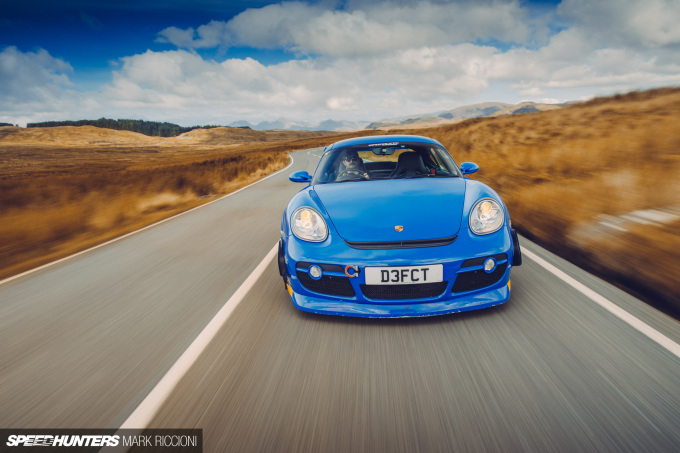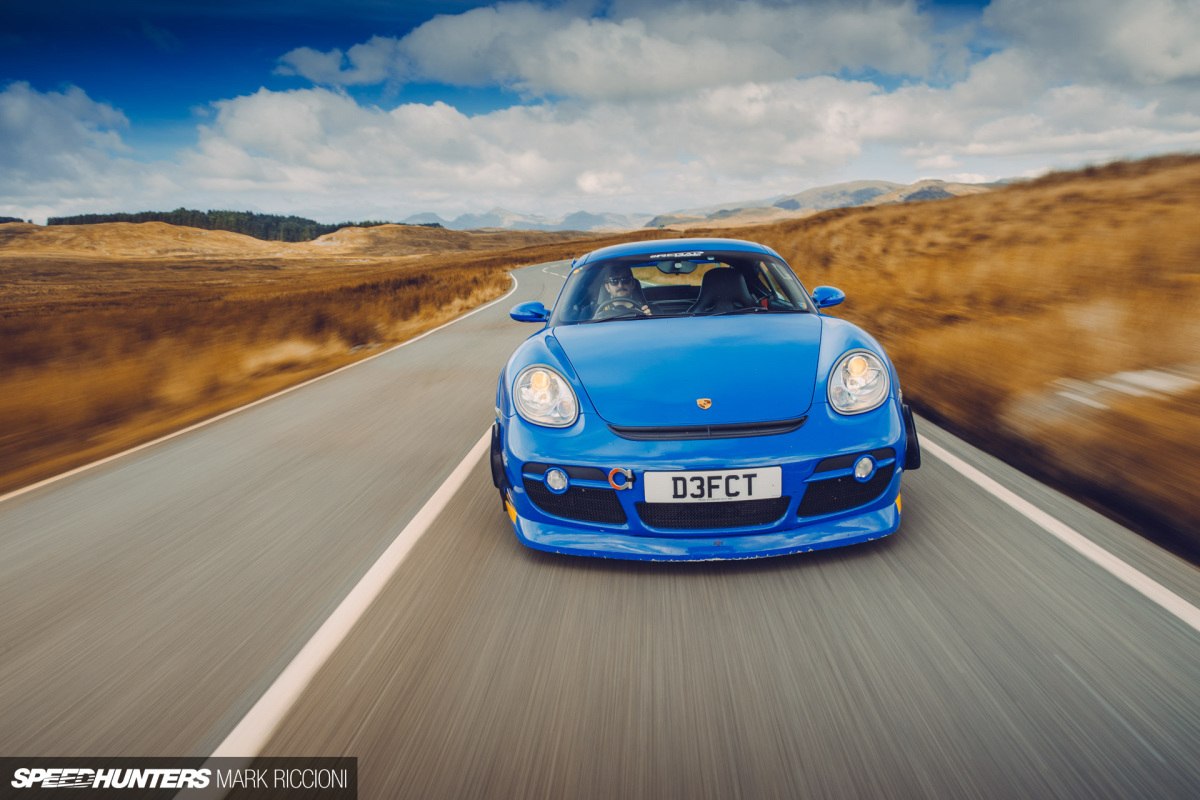 While the active suspension is the headline act, the rest of upgrades play a significant part in the car's dynamism. One manufacturer in particular has been relied on outside of Bilstein, and that is RSS. Their billet control arms have been used all round, which give shim stack camber adjustment and castor.
Ryan has also deployed their rear toe lockouts, rear toe arms, rear camber arms, front toe arms, front anti-bump steer kit and rear anti-bump steer kit with solid bushings or spherical bearings where necessary. Interestingly, he's retained rubber top mounts to insulate the cabin from NVH. All of the suspension upgrades and modifications were taken care of at Regal Autosport.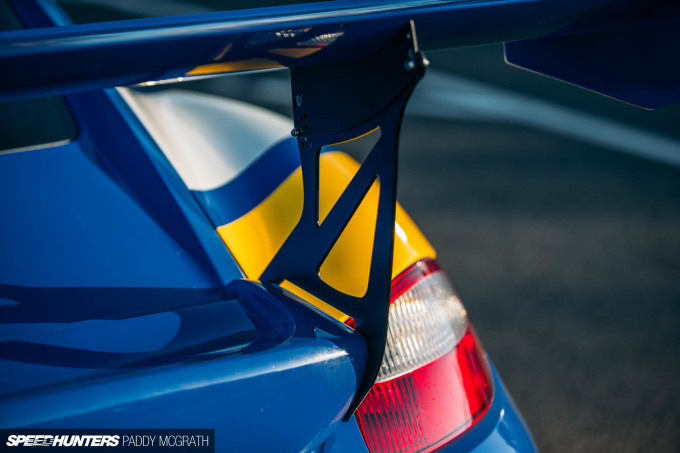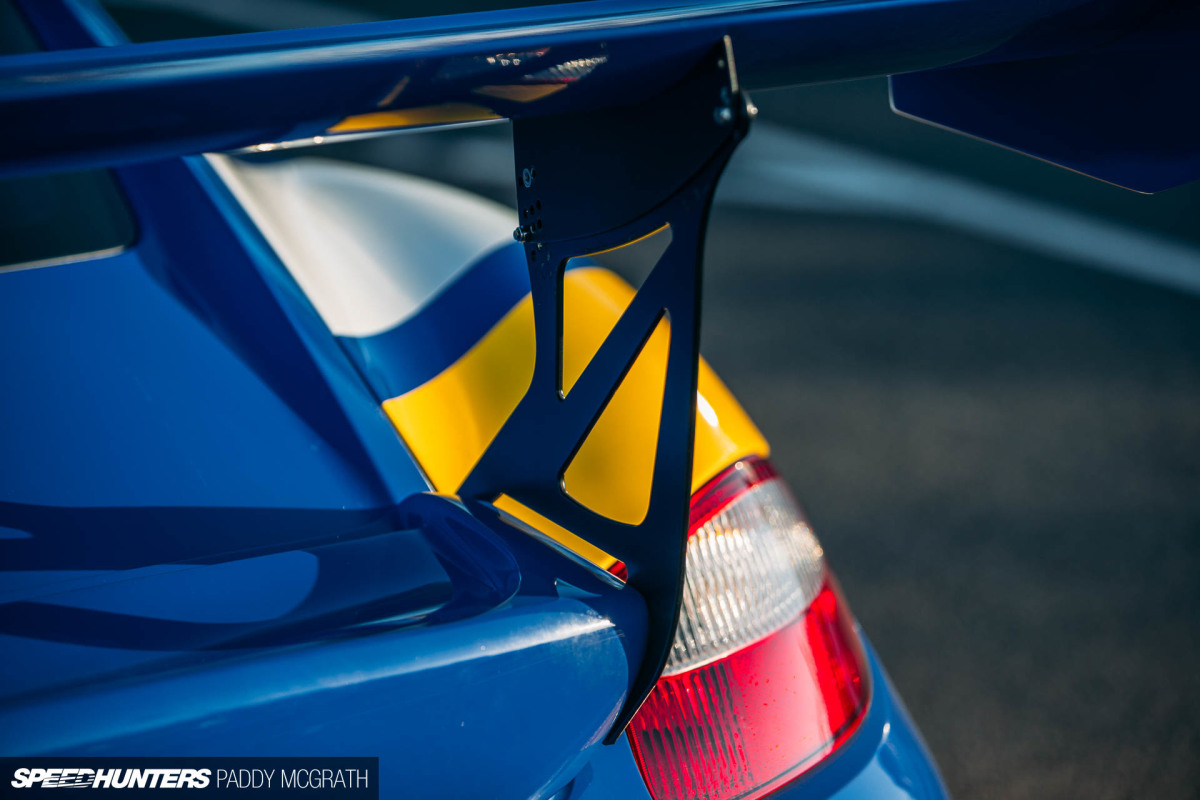 I'm sure you can now appreciate that there's far more to this car than meets the eye. There's an incredible philosophy behind the build to date, and one which will continue. That idea to examine, rationalise and calculate every aspect and potential component of a project before making a decision, is such a simple but effective one.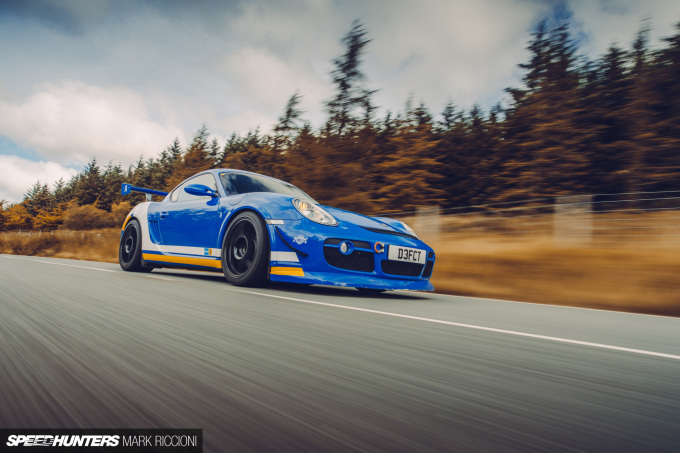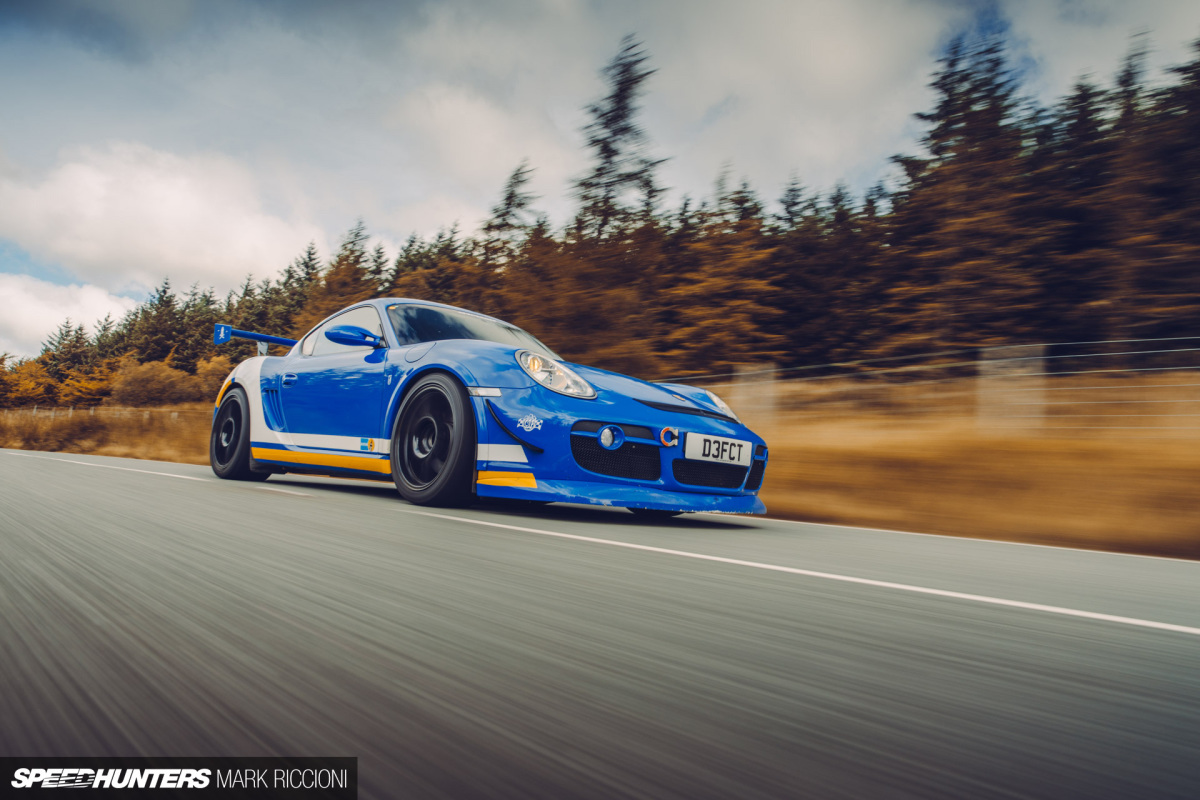 It could have resulted in a car devoid of emotion or soul, but Ryan has found that balance by allowing himself to inject just enough of his own personality into the car to avoid this happening. Others will always talk, but Ryan will keep on doing.
I guess that's the ultimate difference.
Paddy McGrath
Instagram: pmcgphotos
Twitter: pmcgphotos
paddy@speedhunters.com
Extra Photography by Mark Riccioni
Cutting Room Floor