We all set our own personal automotive goals. Some are achievable, but some require far more than we might be prepared to give.
Back in 2013, Reuben Dover stood on the pit wall at Rudskogen Motorsenter as Fredric Aasbø led a train of high speed drift cars, including those driven by Mad Mike Whiddett and Vaughn Gittin Jr., past the wall. 2013 was maybe the best year at Gatebil that I ever experienced, and I can wholly understand why it left an impression on Reuben. Every year since, he's attended Gatebil at Rudskogen, both in July and September.
In late 2016, shortly after importing a 1992 Nissan Laurel from Japan, Reuben made the decision to build and drive his own car at the Gatebil someday. The C33 Laurel that he had imported was a very basic car; it was originally an automatic non-turbo RB25DE, which had been converted in Japan to an RB25DET with a manual gearbox from an R32 Skyline.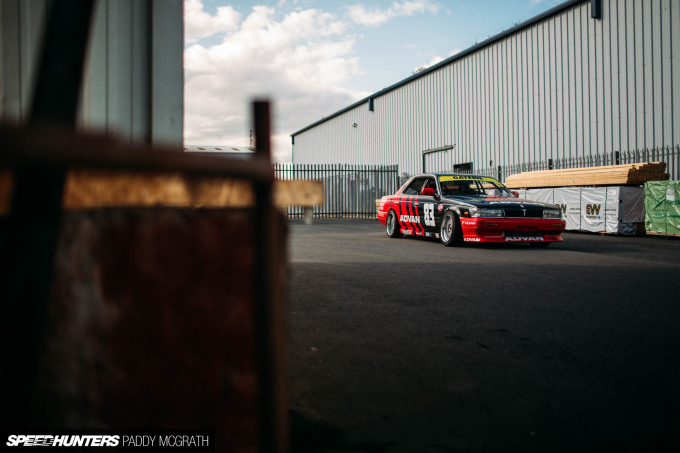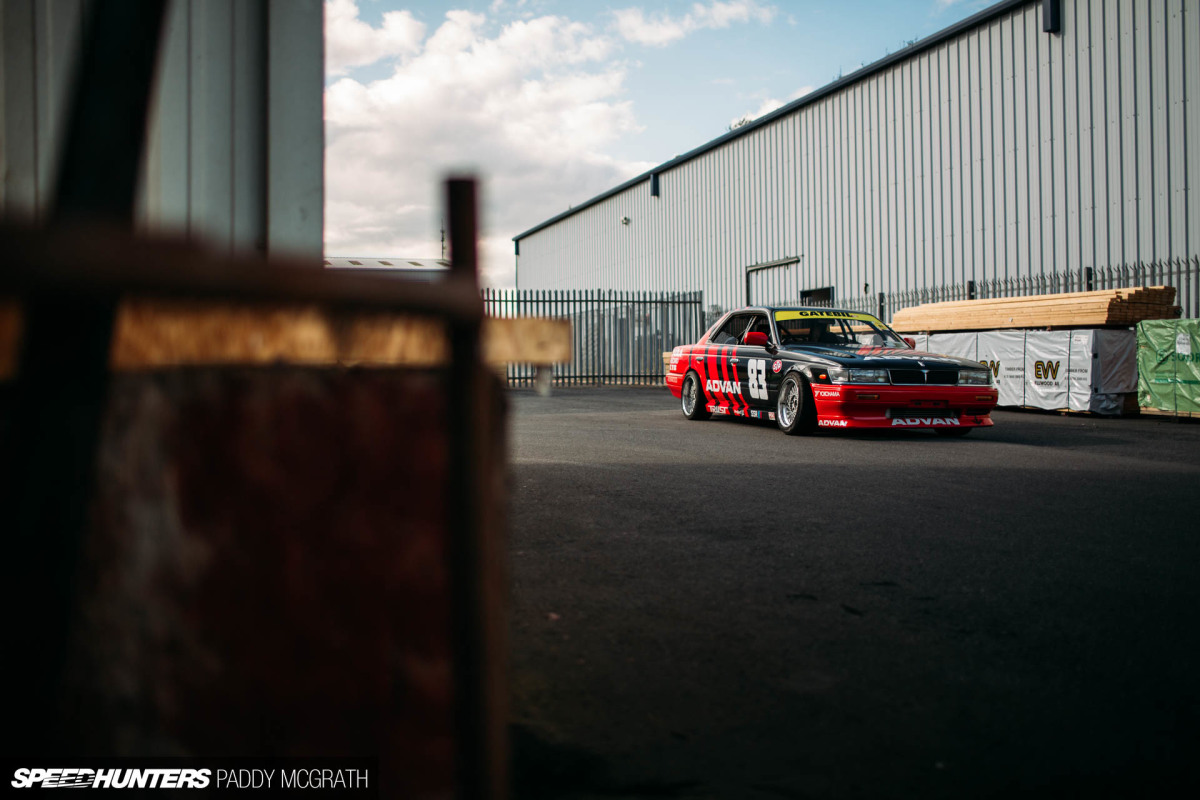 In Reuben's own words, it was a cheap car. His original intention was to sell it when it arrived in Ireland to make some quick money, but when it landed, he fell in love with it. He registered it, and it became his daily driver.
At this point, the car didn't have many modifications, and was only running around 250hp. It was in late April of this year, over a few beers with friends, that Reuben and his friend Teejay decided to build their cars for Gatebil, which then was just eight weeks away.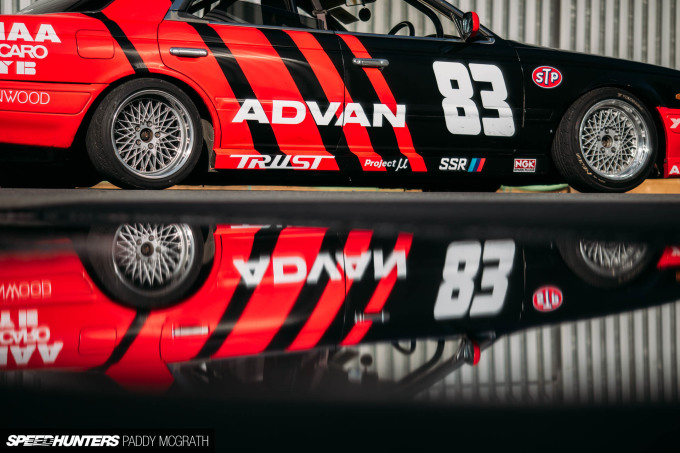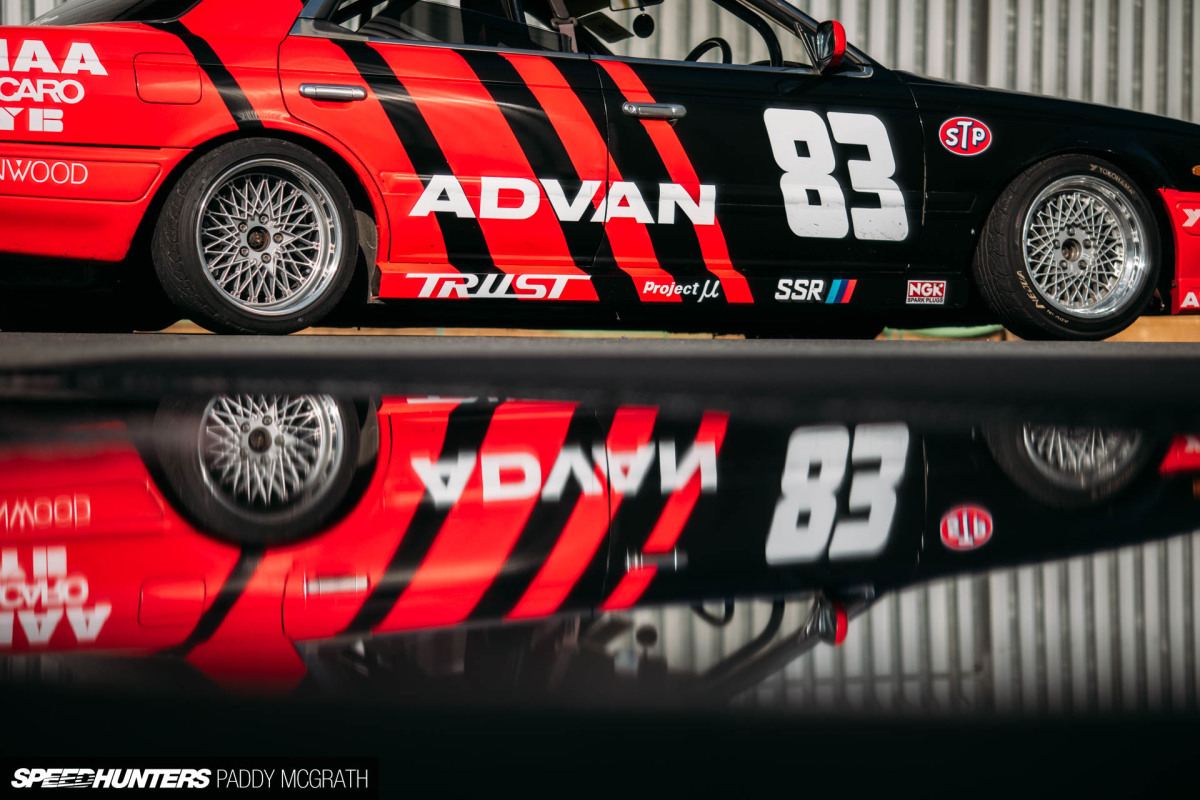 Budget and time were both very tight. With less than two months and a 5,000 kilometre (3,106 mile) road trip across two seas and nine countries before they would cross into Norway ahead of them, they both got down to business. "I put everything into building this car to be ready for Gatebil. Everything." Reuben told me. Down to every last euro his job as a bus mechanic afforded him.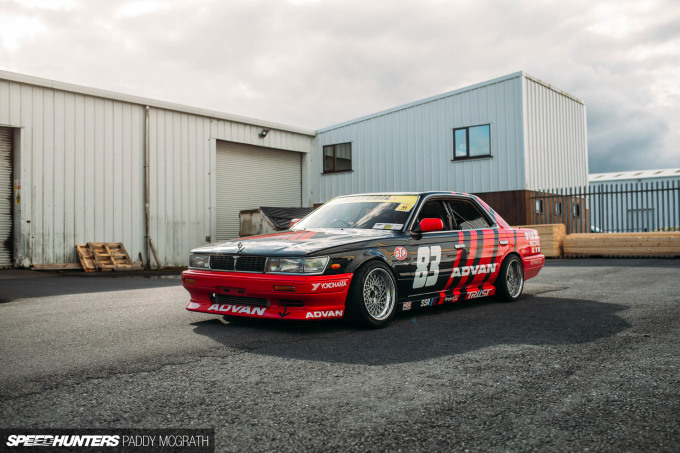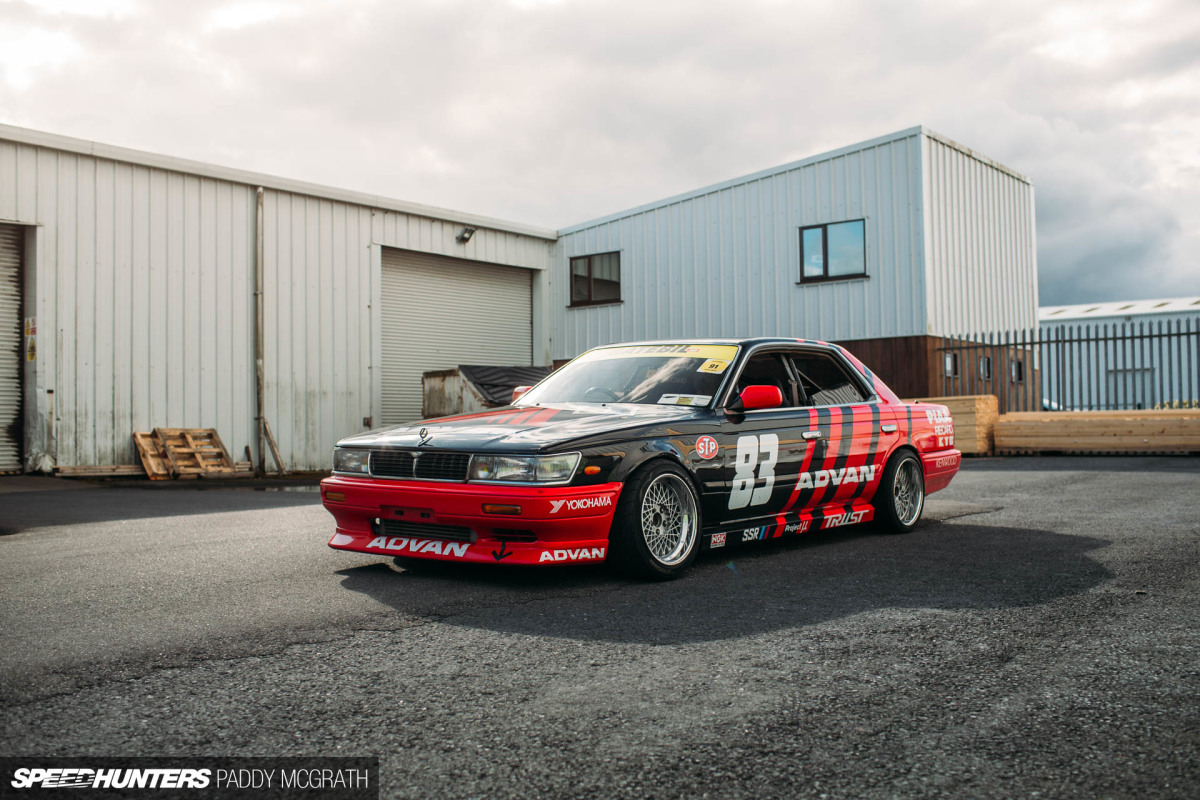 "After work, I would go to the garage at 5:00pm, work on the car until 5:00am or 6:00am, then back to work at 8:00am the next morning. Work, sleep, repeat. I was never so motivated to do something in my whole life. We had to make it to Gatebil."
There were many times during the build when Reuben thought that his dream of driving at Gatebil was over. "I was running out of money; I did not think I could make it. My friends had done everything they could to help, but still I thought I wouldn't make it."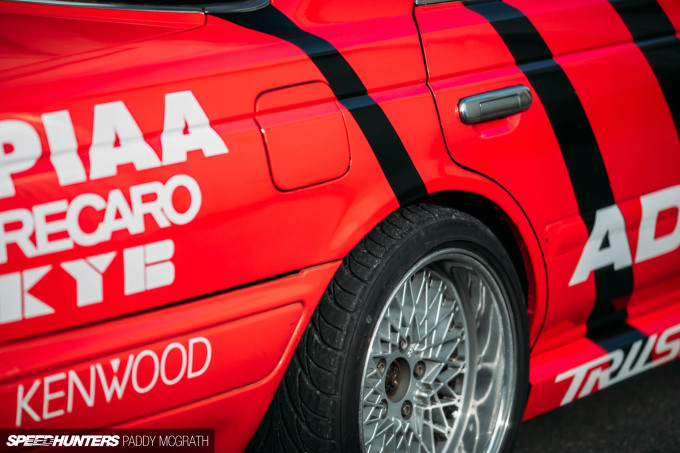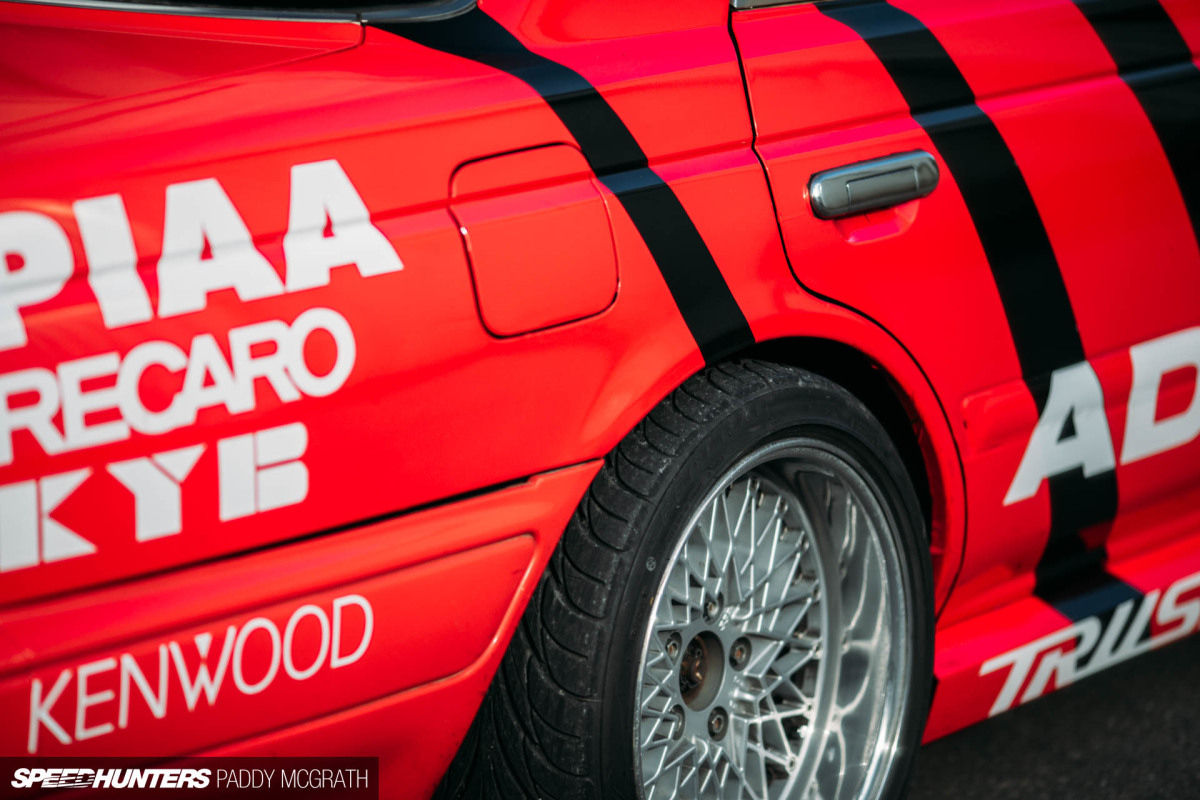 "The closer it got to July, the harder I worked. No sleep, just fixing engine problems and finishing the car." To help the car stand out at Gatebil, he worked with his friend Neil (yes, the same Neil who just pulled a Trueno out of a ditch) to design a custom Advan livery.
"We had no idea how to apply the wrap when it arrived, but we learned as we went along. 24 hours before we left Ireland, we started to wrap it and put the decals on. There were still mechanical problems to deal with, but three hours before we had to leave, the car was finished. It was ready for Gatebil."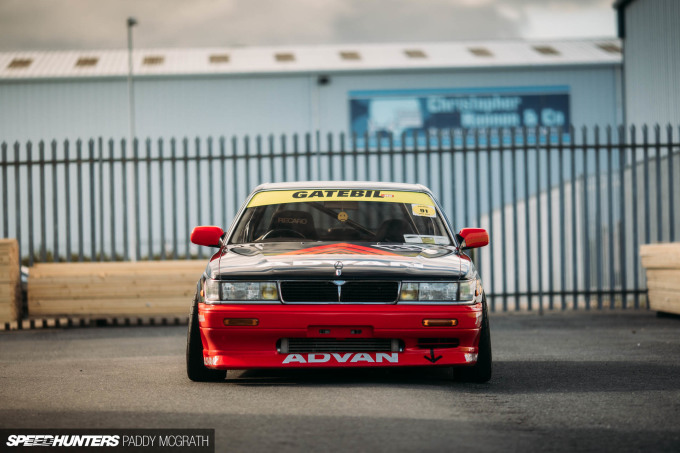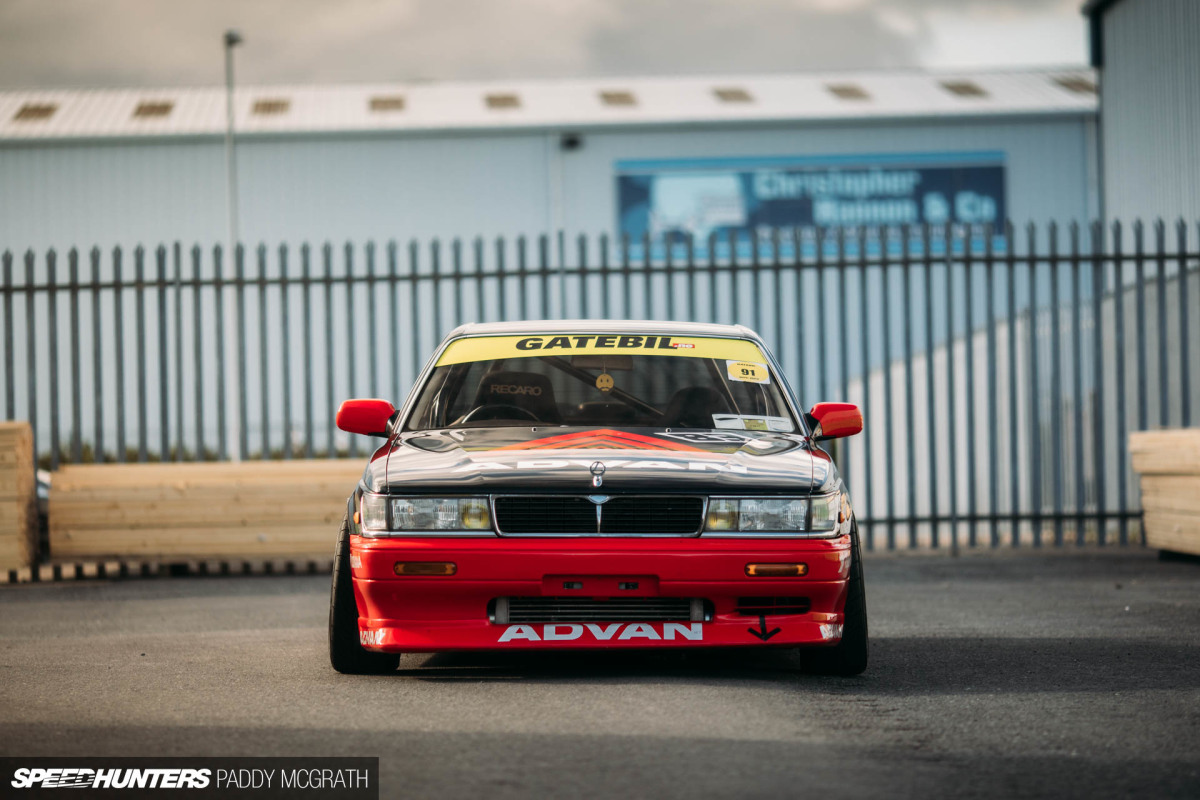 They left Ireland on the night of Sunday, July 2nd, and after 60 hours with no sleep arrived into the paddock at Rudskogen, where Reuben's Swedish friends had reserved him and Teejay a space. A night of serious celebration was had, as the two Irishmen weren't due to drive on track until Friday.
On that Friday morning, while queuing for scrutiny, it occurred to Reuben that he had never – properly – tested the Laurel, and that it had been three years since he had last drifted on track. Gatebil was going to be his test day.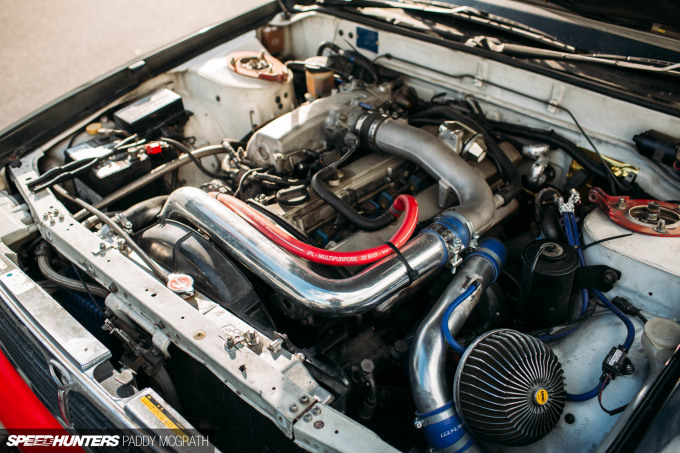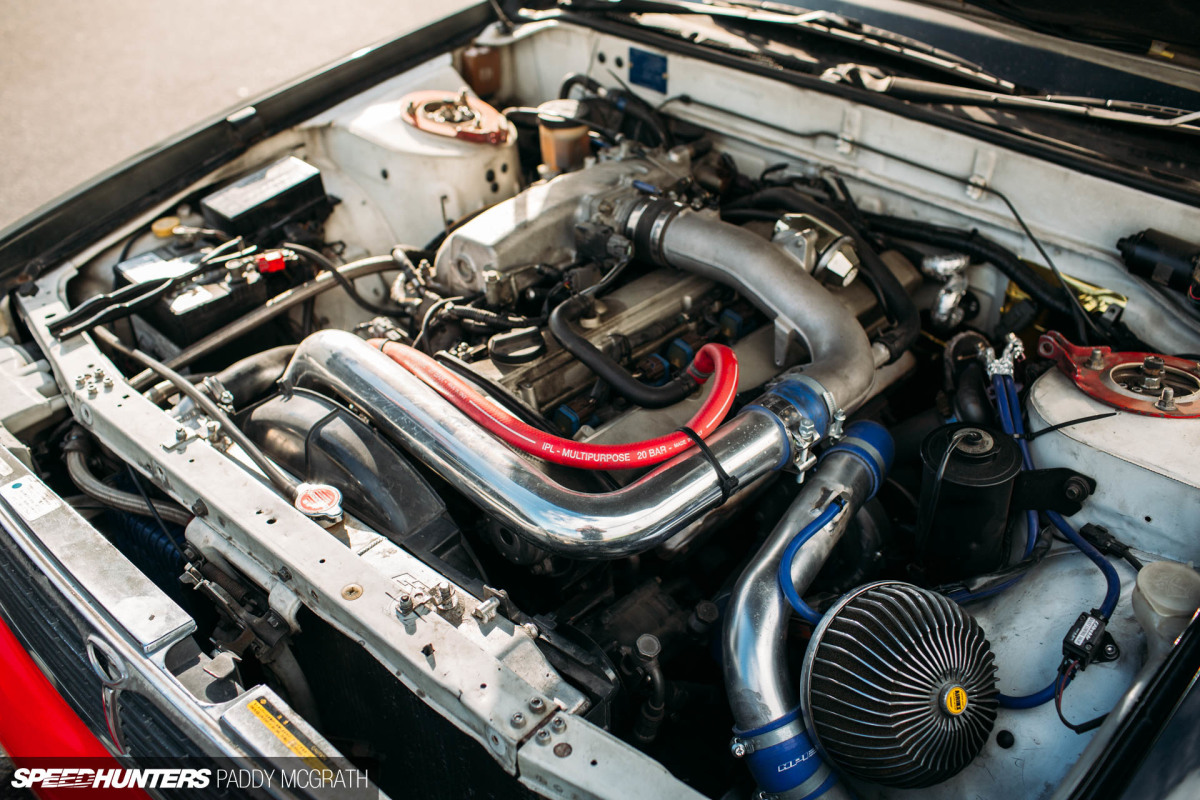 It only took two laps for him to feel comfortable and settled with his revamped Laurel, which was now running around 470hp. Due to budget, the RB25DET remains unopened and still running completely standard internals. A Walbro pump with Sard 550cc injectors provide more fuelling, while a Garrett GT3071R turbocharger running a modified 0.82AR turbine housing for an external wastegate generates the boost required to nearly double the engine's original power output.
"When we arrived in Norway, I had completely run out of money. My friends bought me petrol to run in the car. Every euro I had was gone, but we made it."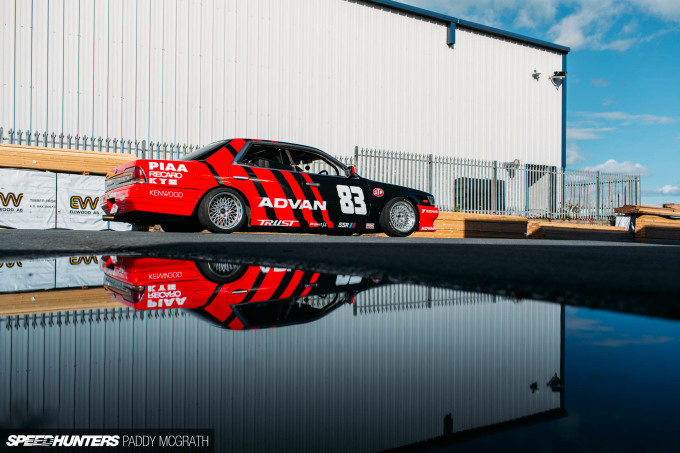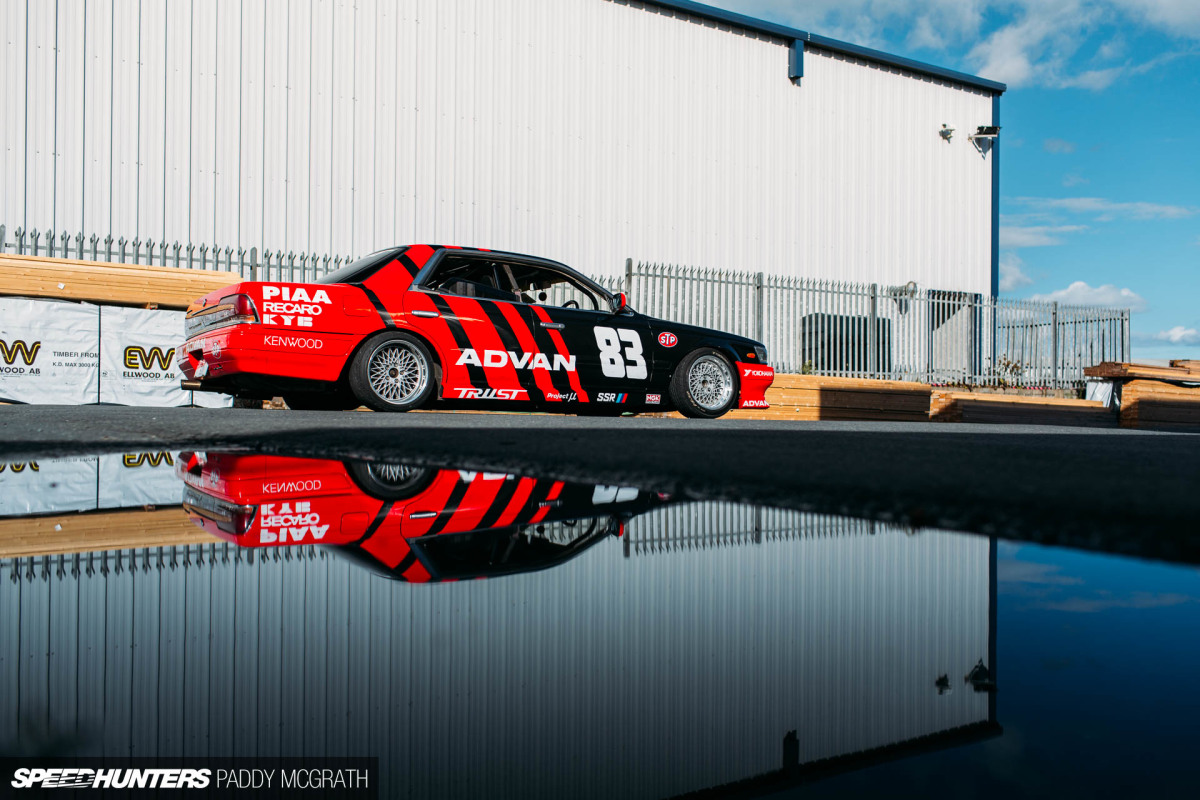 "I tried to save money where I could. My side skirts are actually drain pipe gutters which I purchased in my local DIY store. They were €3.00 [$3.60USD] each."
The livery is the most striking piece of the exterior, but it's just one part of a subtle makeover. The arches are rolled and lightly flared, allowing the SSR Formula Mesh wheels to sit comfortably. The front lip, an Okuto FRP piece, is a simple addition to the standard bumper.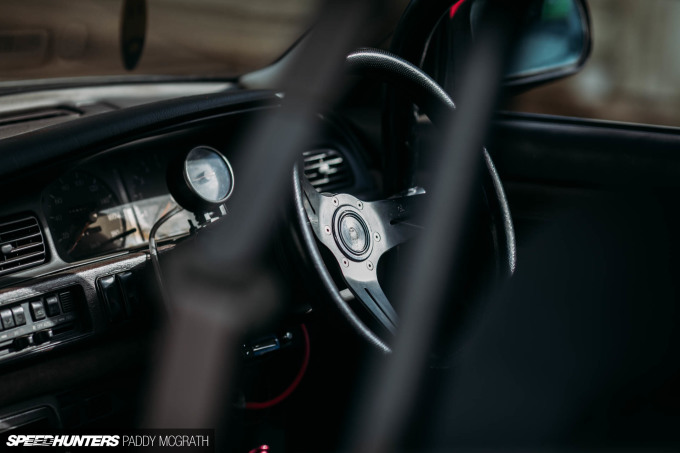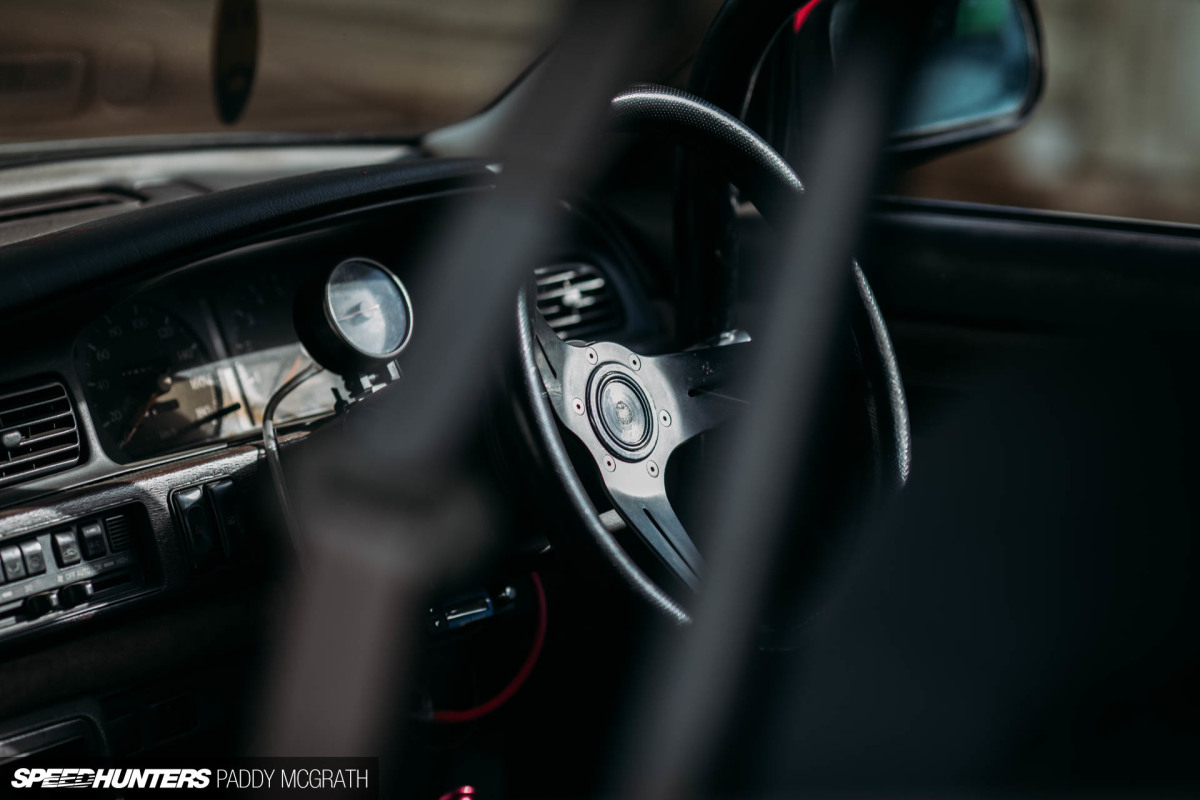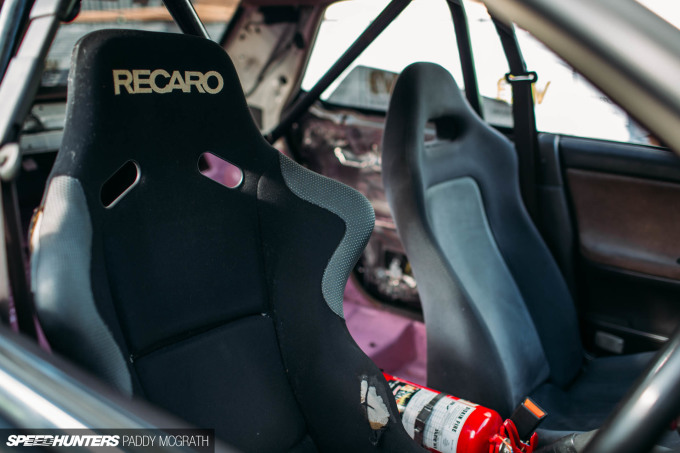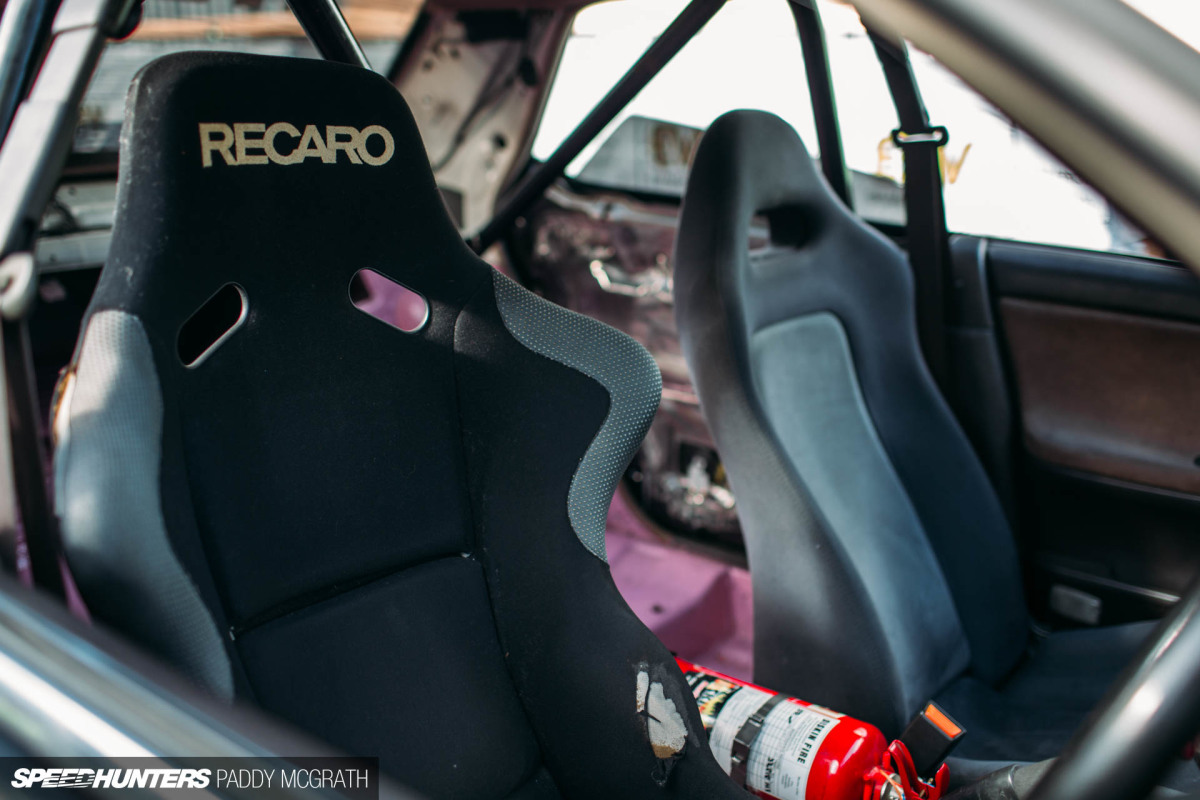 Suitably, the interior has been stripped with the addition of a Cusco/Safety21 bolt-in rollcage and a Recaro SPG driver's seat. In-car entertainment is limited to a full complement of GReddy and A'PEXi gauges which monitor oil and water temperatures along with boost and oil pressures, plus a Kenwood CD and MiniDisc player.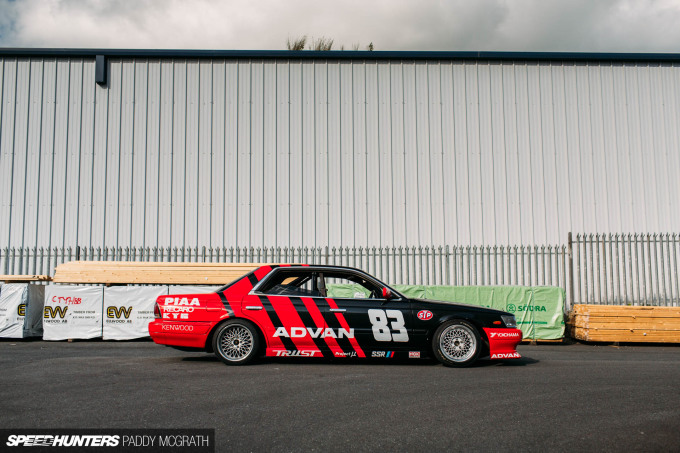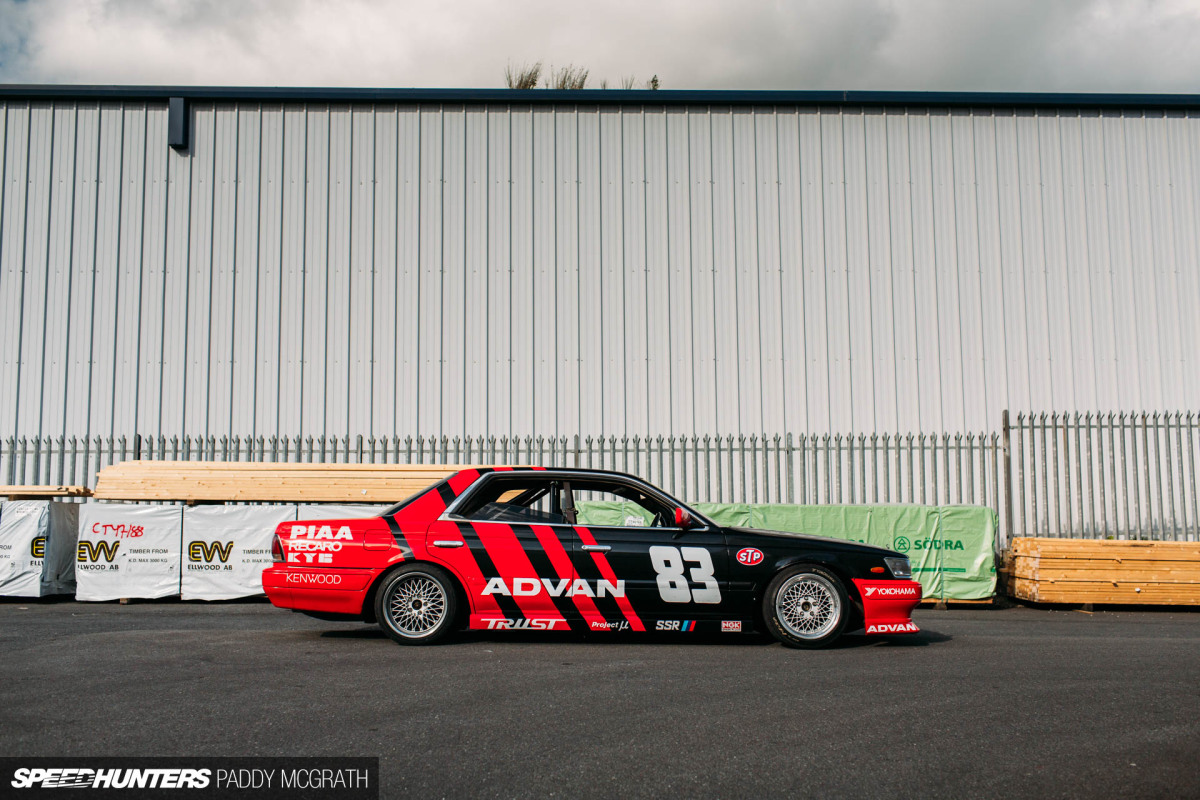 Despite his limited budget and practically bankrupting himself during the build process, Reuben still took the opportunity to identify and buy the best parts that he could. It's something that he attributes to why the car worked so well, and remained perfectly reliable throughout the whole weekend at Gatebil.
"All the nights with no sleep, with no money in my pockets. The stress, everything. It was all worth it," he says.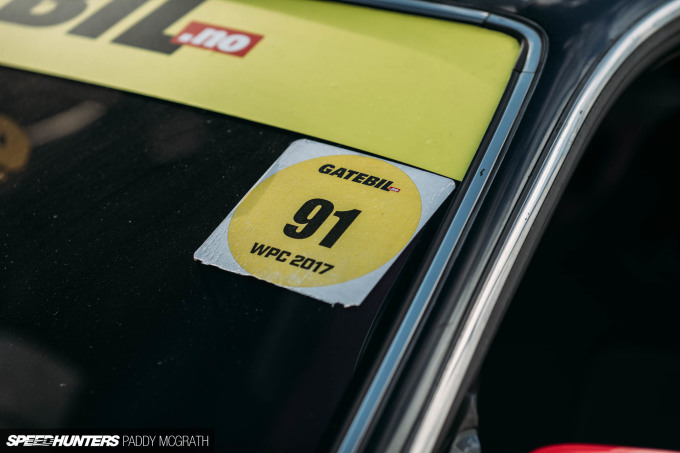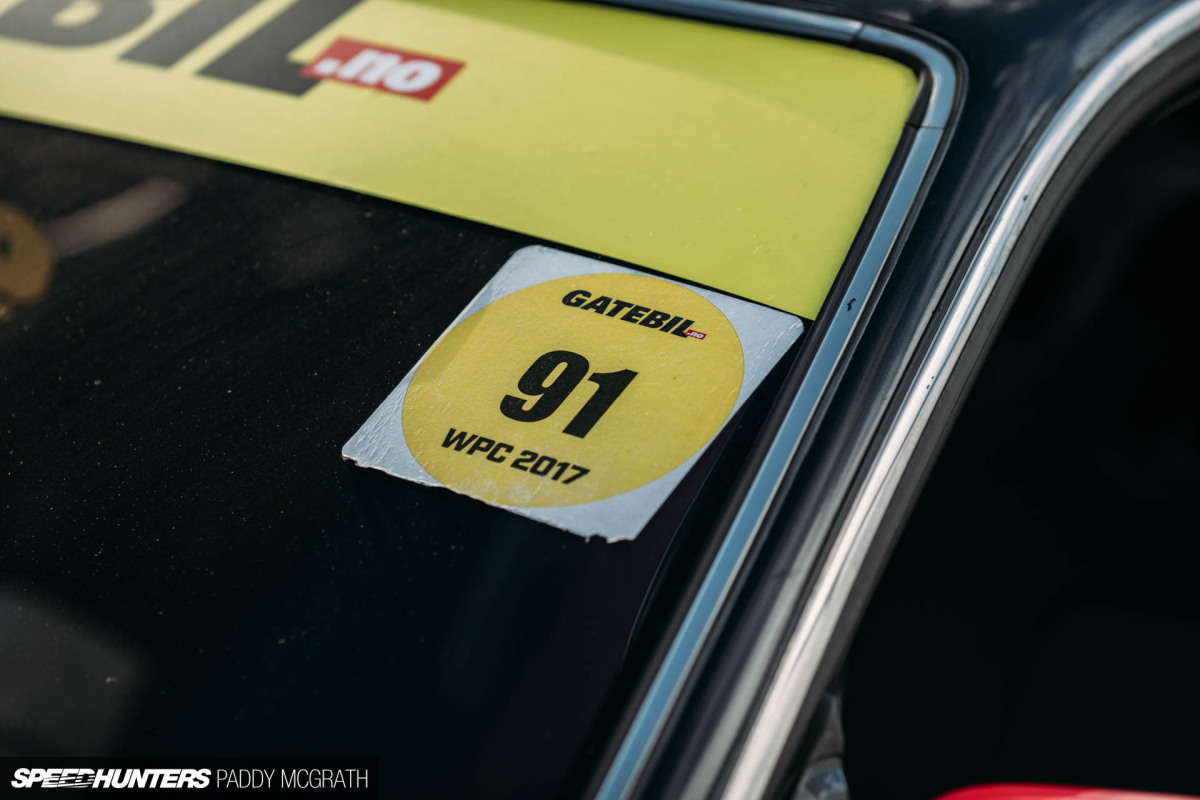 "In 2013, I stood on the pit wall watching Aasbø, Mad Mike and so many other cars. I could never have imagined then, that in 2017, I would be there on track literally rubbing bumpers with Aasbø in the rain. It's a dream come true."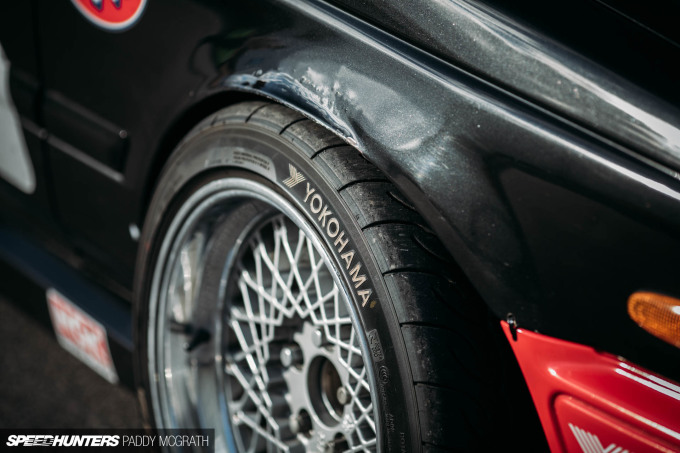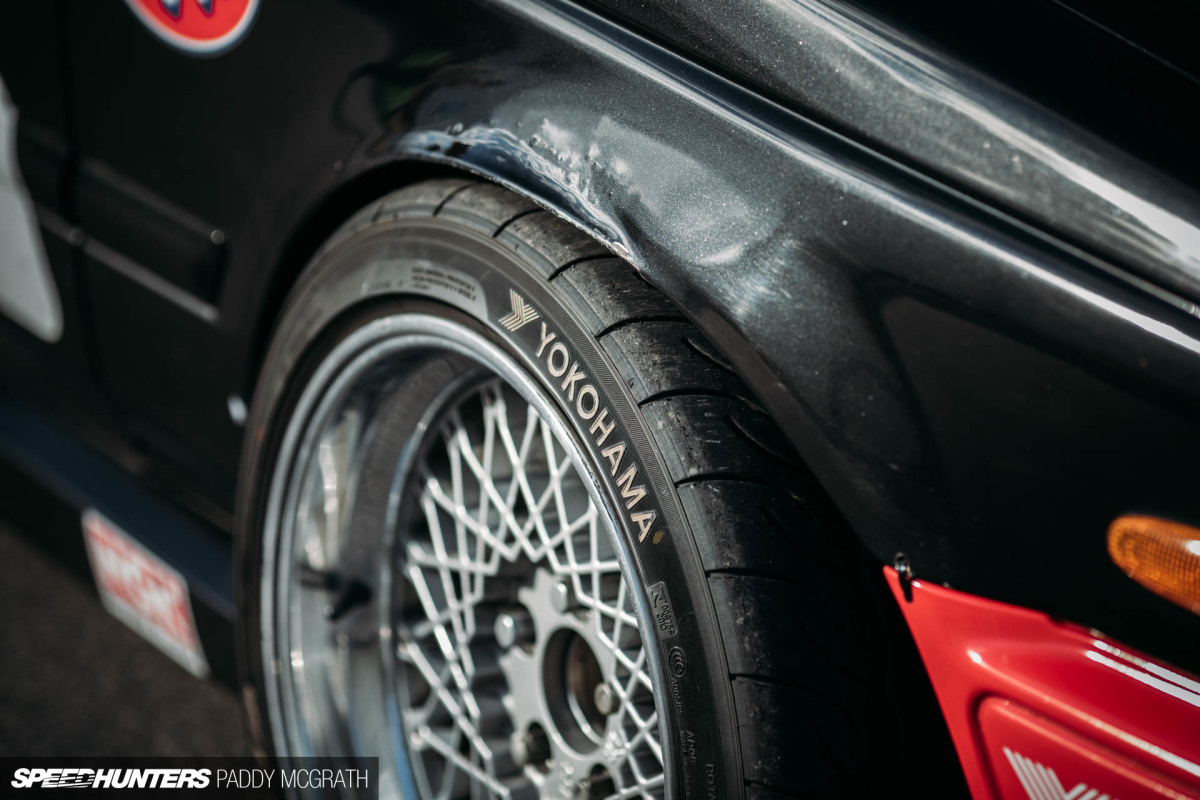 "I'm heavily influenced by Japanese car culture. I just wanted to build something to represent Japanese street style at Gatebil."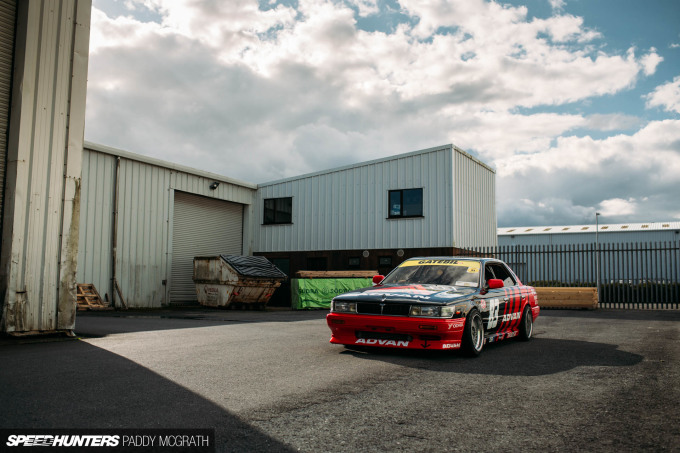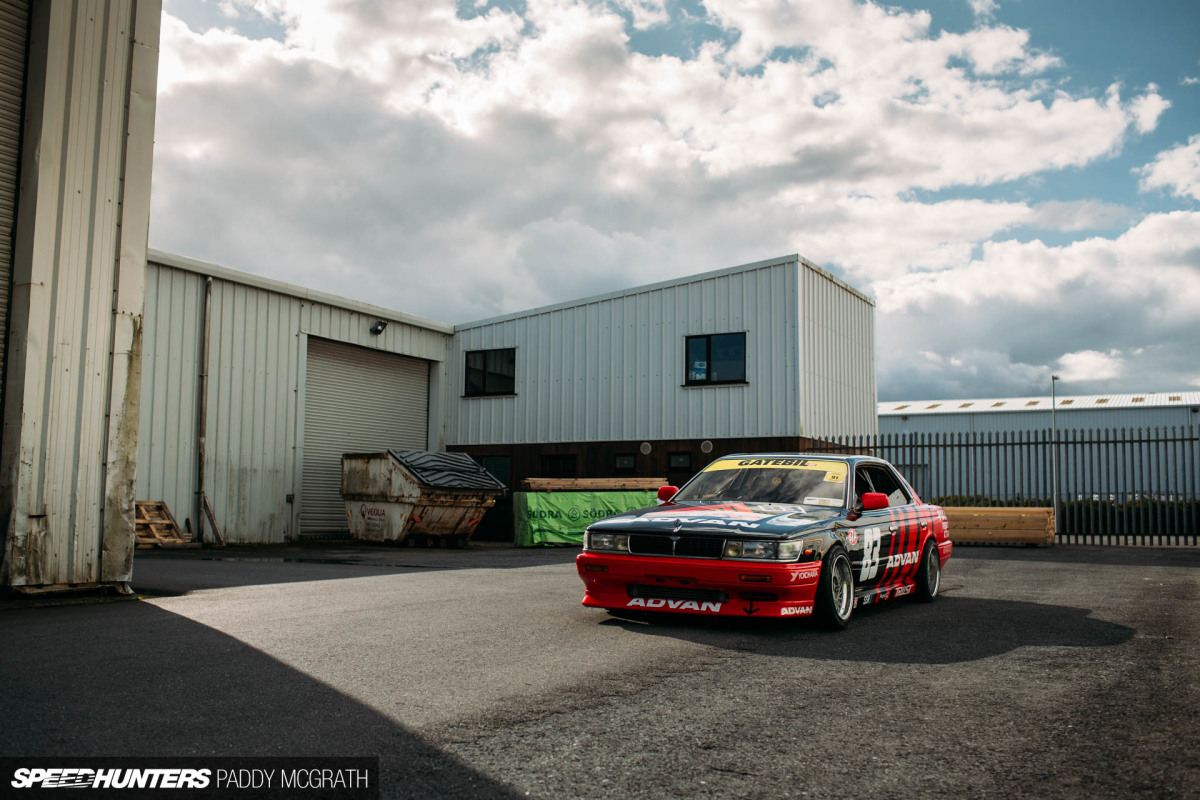 "The car only has 470hp at the flywheel, and I know many cars at Gatebil have 800+hp, but this is my street car. It came home in one piece, and I drove it work the next day. A lot of people look at me, but I love it. 470hp on the street is great as the car is really responsive. My little street car was door to door with some of the best cars in Europe and it never let me down."
Reuben's plan for 2018 is to return to Gatebil with more power and more tyres. Oh, and more ice cream.
Which is another story in itself.
Paddy McGrath
Instagram: pmcgphotos
Twitter: pmcgphotos
paddy@speedhunters.com
Reuben Dover's 1992 Nissan Laurel C33
Engine
2.5-litre RB25DET, standard internals & headgasket, Walbro 255lph fuel pump, Sard 550cc injectors, Z32 AFM, Trust Airnix air filter, HKS front-mount intercooler, A'PEXi Power FC engine management system, Garrett GT3071R, Garrett 0.82AR modified turbine housing, TiAL MVR 46mm wastegate, Splitfire coilpacks, custom exhaust with two silencers, Nismo engine & gearbox mounts, custom intercooler piping, GReddy aluminium radiator, Trust 13-row oil cooler
Drivetrain
RB20DET 5-speed manual gearbox, ACT clutch, Nismo slave cylinder, braided clutch house, Kaaz 2-way LSD
Suspension/Brakes
D-Max D1 specification coilovers, Driftworks Geomaster 2 front race hub knuckles, Driftworks Geomaster tension rods, modified front cross member so steering rack sits 25mm further forwards, SuperPro steering rack bushes, Driftworks Geomaster inner tie-rods, Uras non-offset rack spacers, solid steering bush, Driftworks rear camber arms, R32 GT-R full brake conversion, Endless CCX front brake pads, Project Mu R32 GT-R front discs, Project Mu NS400 rear pads, Project Mu D1 specification rear inner shoes, HEL front & rear braided brake lines
Wheels
SSR Formula Mesh 16×8-inch +12 (front), 16×8-inch +/-0 (rear), 205/50R16 Advan AD08R
Exterior
Custom Advan livery, custom side skirts, rolled arches, Okuto FRP front lip
Interior
Rear seats removed, Cusco/Safety21 rollcage, GReddy oil & water temperature gauges, A'PEXi oil and boost pressure gauges, Recaro SPG driver's seat, R32 GT-R passenger seat, Trust gearknob, Kenwood CD & MiniDisc player, Kenwood door speakers
Reuben thanks: Gatebil for being awesome; Neil Sheehan at Juicebox for help with the graphics; Andrew at StickyBusines.ie for printing the stickers; Richard Bradley for tuning the car last minute; Alexandar Grandlund from No Coast Racing for organising our place in the pits; all my Irish and Scandinavian friends for making this happen.