Hello Speedhunters readers, it's been a long time!
Those of you who have been lurking around these pages for a while now might remember my frequent contributions during my stint as a full-time correspondent a few years back, and if your memory does stretch that far, you might have wondered where I eventually washed ashore after disembarking the good ship Speedhunters. Allow me to give you a little back story.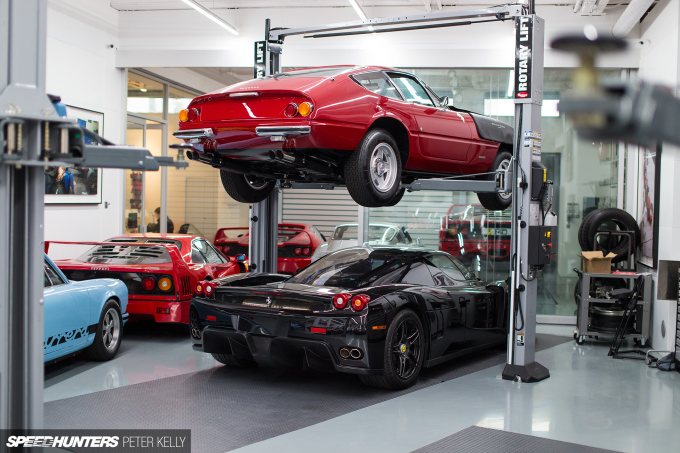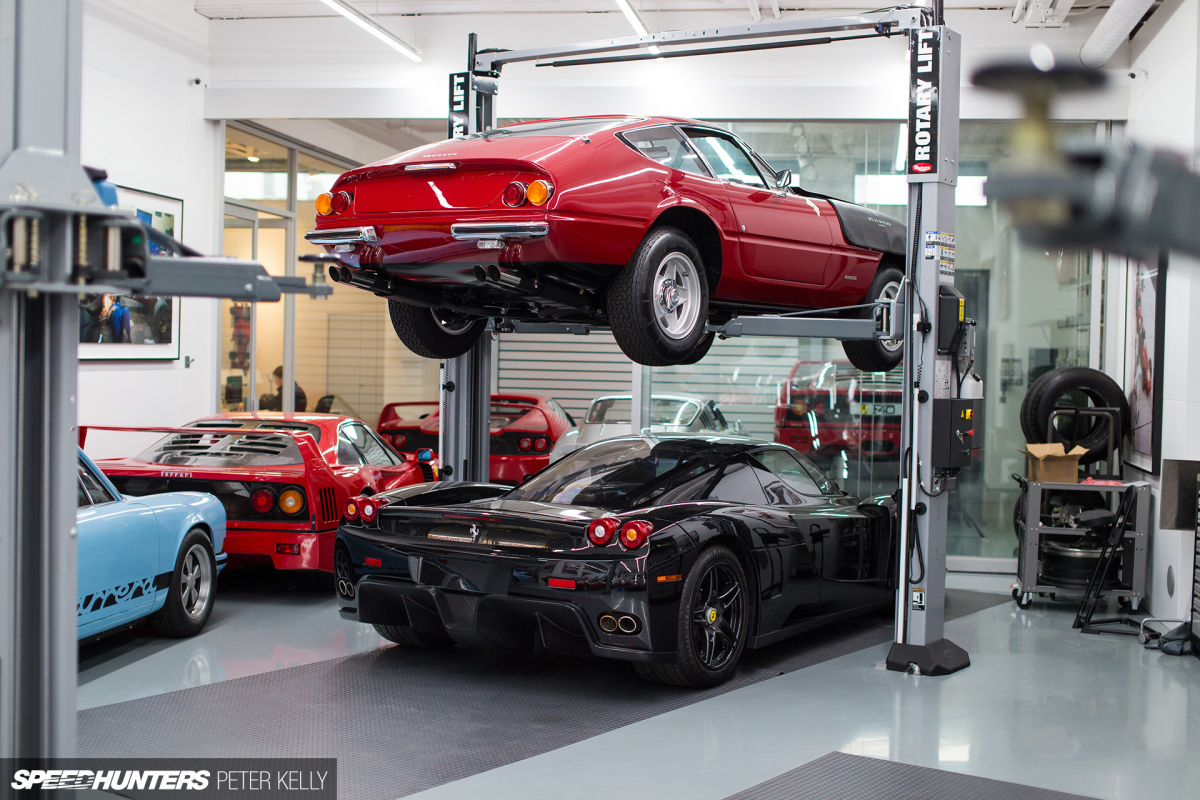 Back in 2015, my wife Taryn (another Speedhunters alumni) and I managed to talk our way into a secretive automotive facility in Hong Kong, Blackbird Automotive. What we found was a treasure trove of incredible Ferrari machinery, and I was lucky enough to thoroughly document it all on this site. The visit left an indelible impression on me, and not too long after I finished up working with Speedhunters, the team in Hong Kong got back in touch and invited us to make a permanent move to their part of the world, to join Blackbird in taking things to the next level.
So what exactly does 'next level' mean for a company that already counts a dream workshop, an incredible simulator lounge, busy publishing house and a fleet of badass tow trucks in its arsenal? As of two months ago, Blackbird Concessionaires became the official Ferrari dealership of Hong Kong, and, as you can probably imagine when it comes to the sort of manufacturer that 'allows' people to buy its products if deemed worthy, getting the nod from Maranello was no easy feat.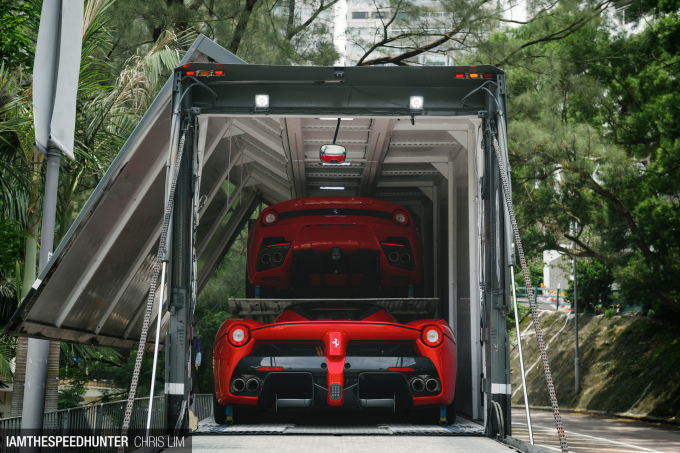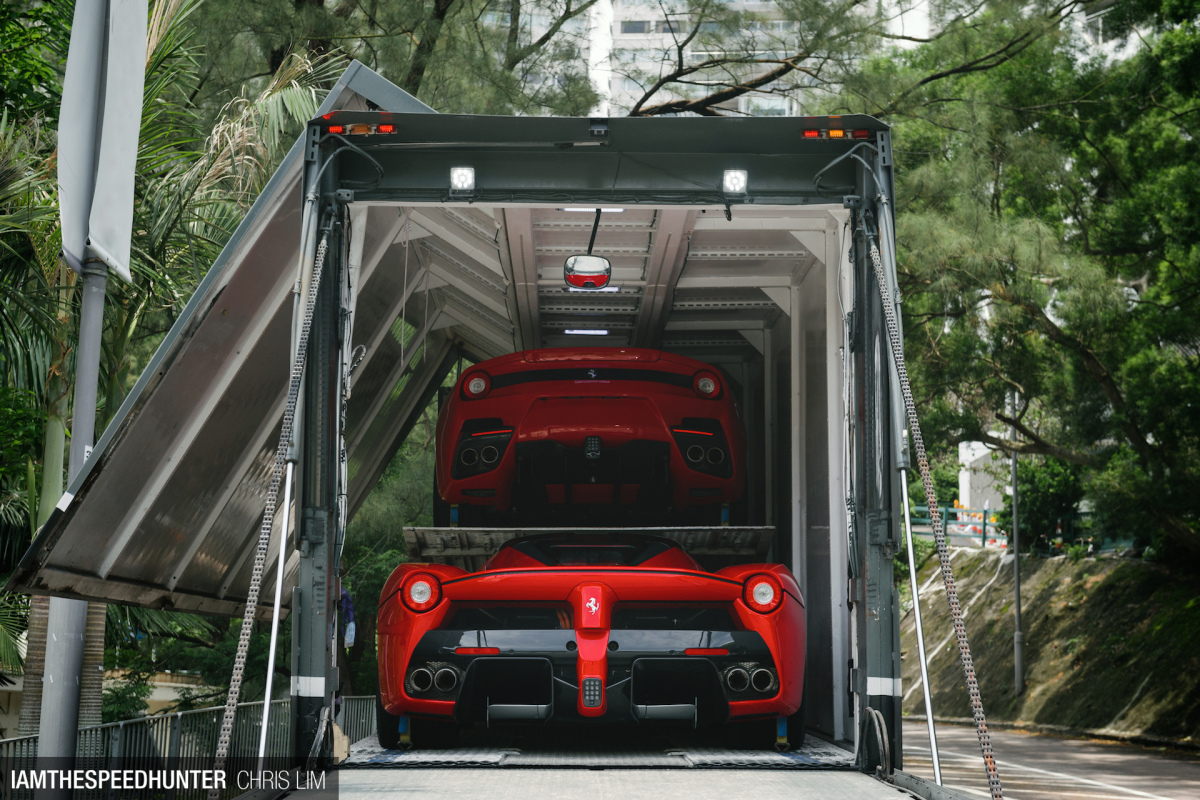 Years' worth of work behind the scenes went into making this happen and here we finally were, watching some very special cars rolling off our trucks and into the new showroom overlooking the white sandy beaches of Hong Kong's Repulse Bay.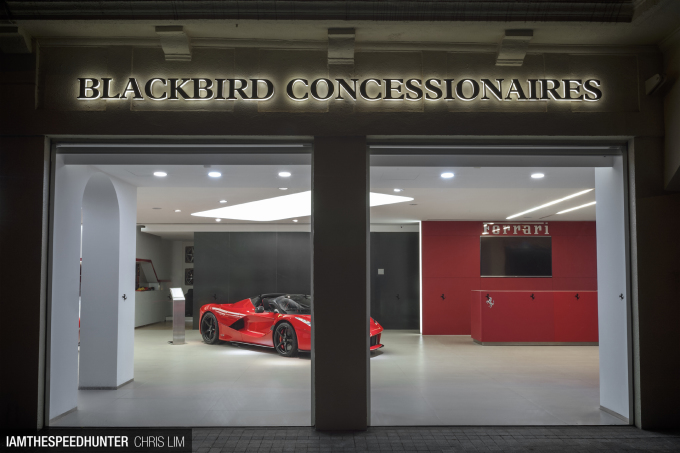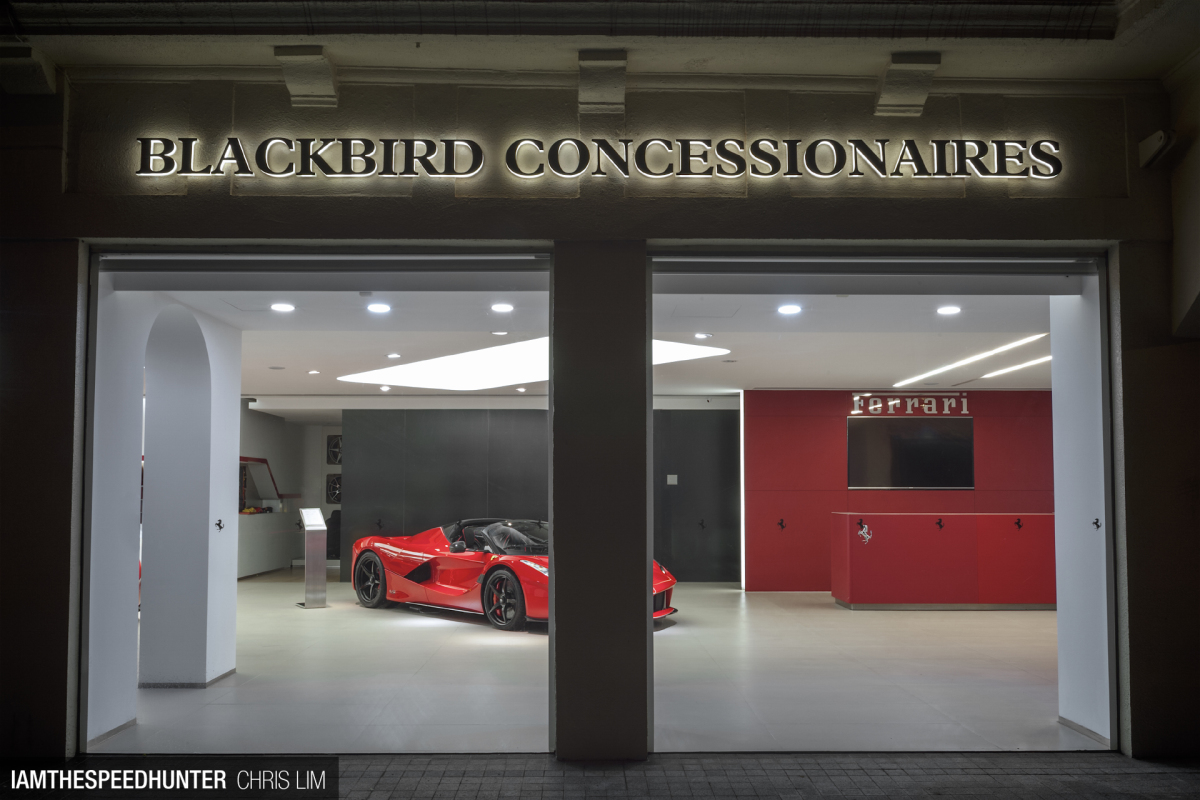 It was at this point that the Speedhunters region of my brain flickered back into life; this seemed like too good of an opportunity to pass up, so I got in touch with head Speedhunter and long-time buddy Dino, and asked if I could put a post together for old times' sake – thanks Dino!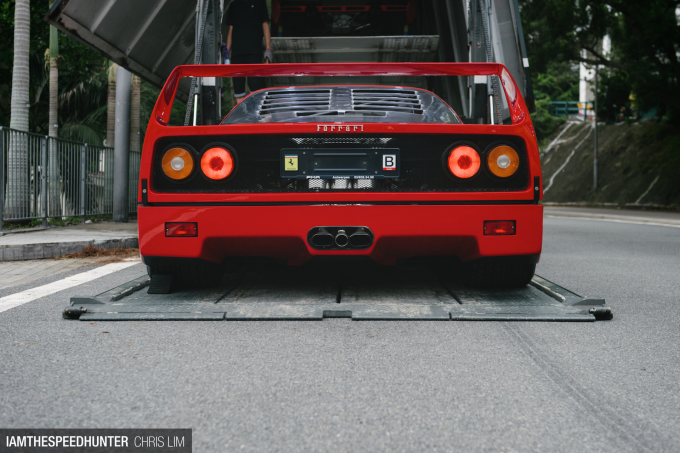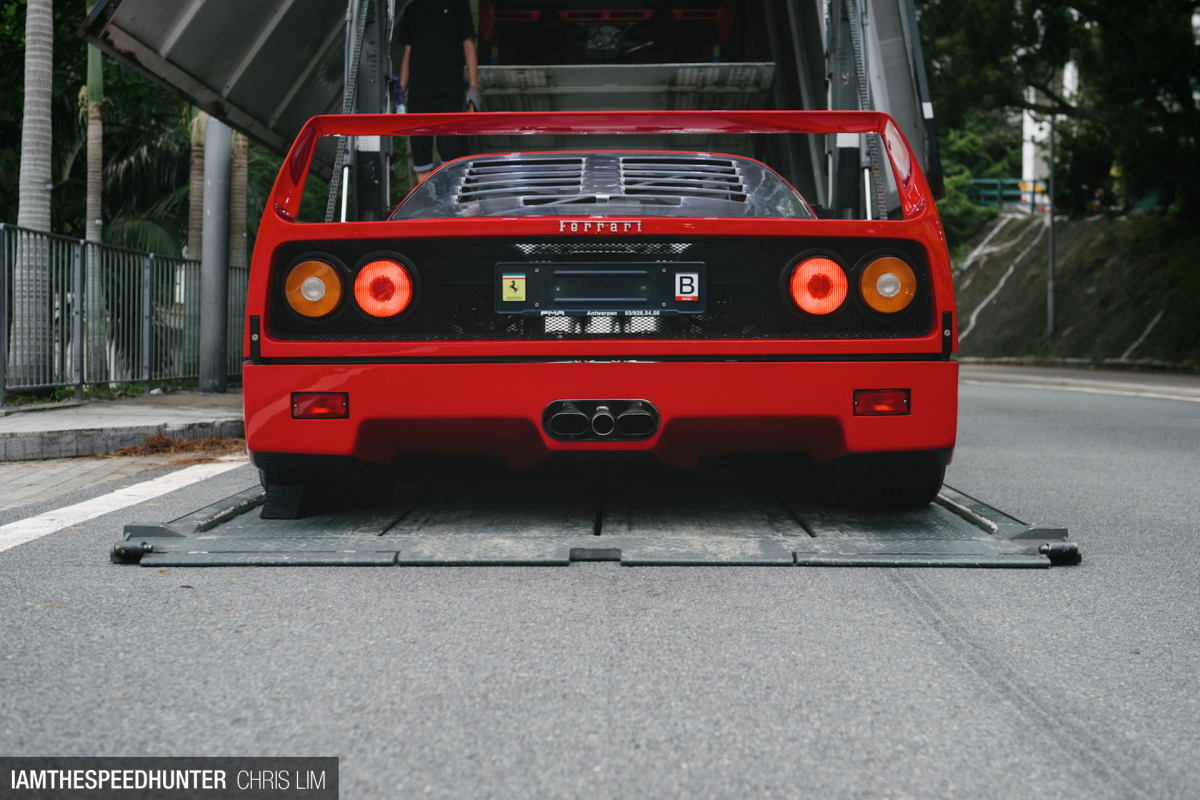 To celebrate the opening of the new dealership, we could have pulled any number of amazing Ferraris out of the storage facility to put in the front window; something pretty from the '60s perhaps, maybe even an F1 car or a Le Mans veteran. But we instead decided to go a bit bigger, gathering eight of the greatest Ferraris of the last 40 years.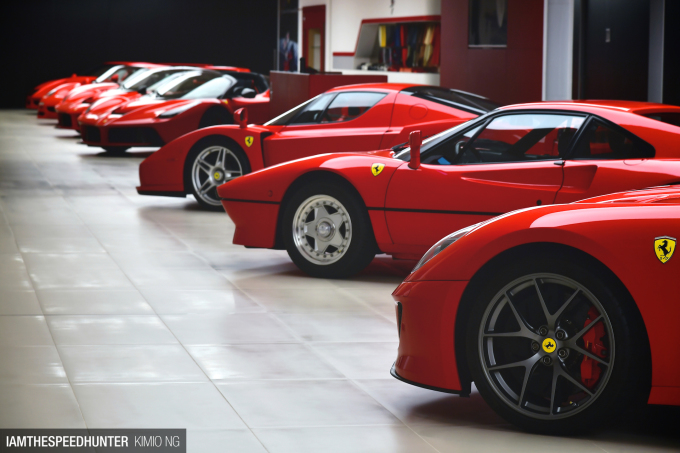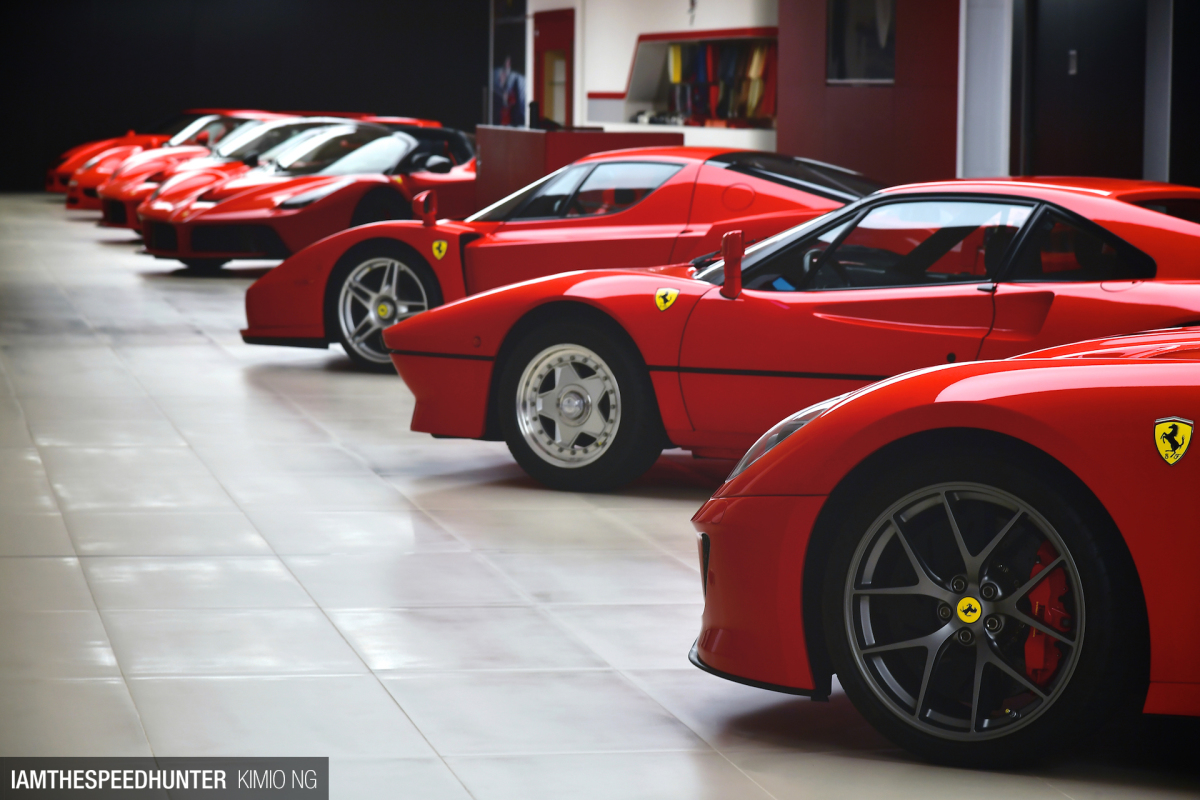 As lovely and exclusive as your regular Ferraris are, these particular limited-run machines are a whole step above. Seeing them all in one place, in one very iconic colour is an almost religious experience for the enlightened.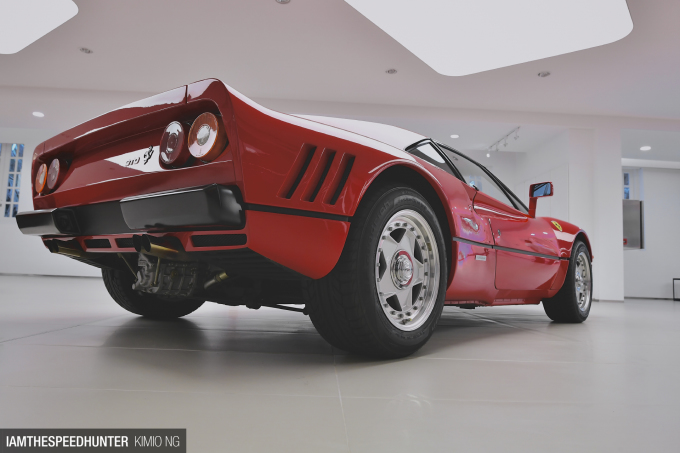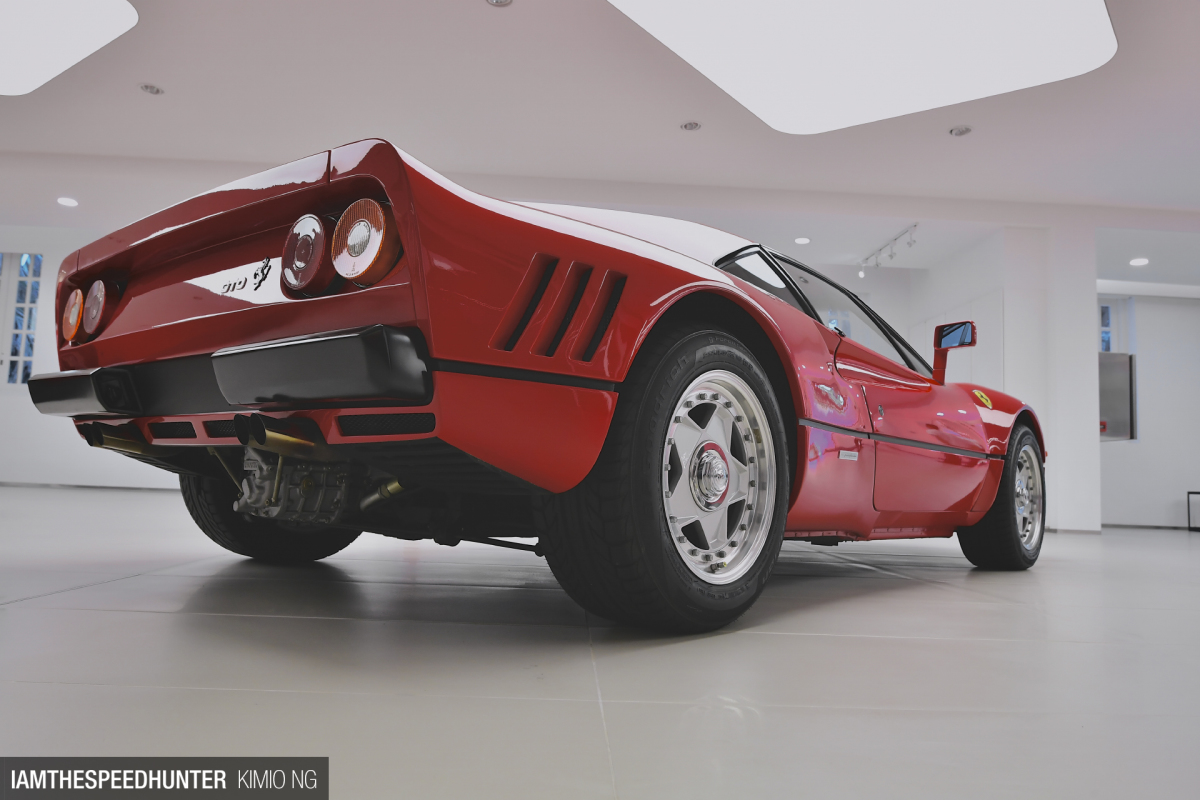 The oldest car on display is also my personal favourite. The twin-turbo V8 288 GTO was built specifically for Group B rally, with 272 manufactured between '84 and '87. Not one ever saw Group B competition dirt however, thanks to the series' cancellation after multiple fiery deaths. While I'm pleased that more 288s probably survived total destruction as a result, I'd still dearly love to have seen these twin-turbo V8s mixing it up with the Audis and Fords of the day for total world domination.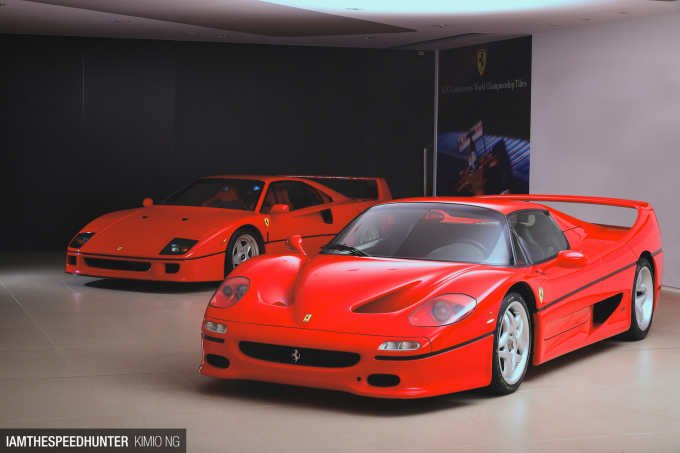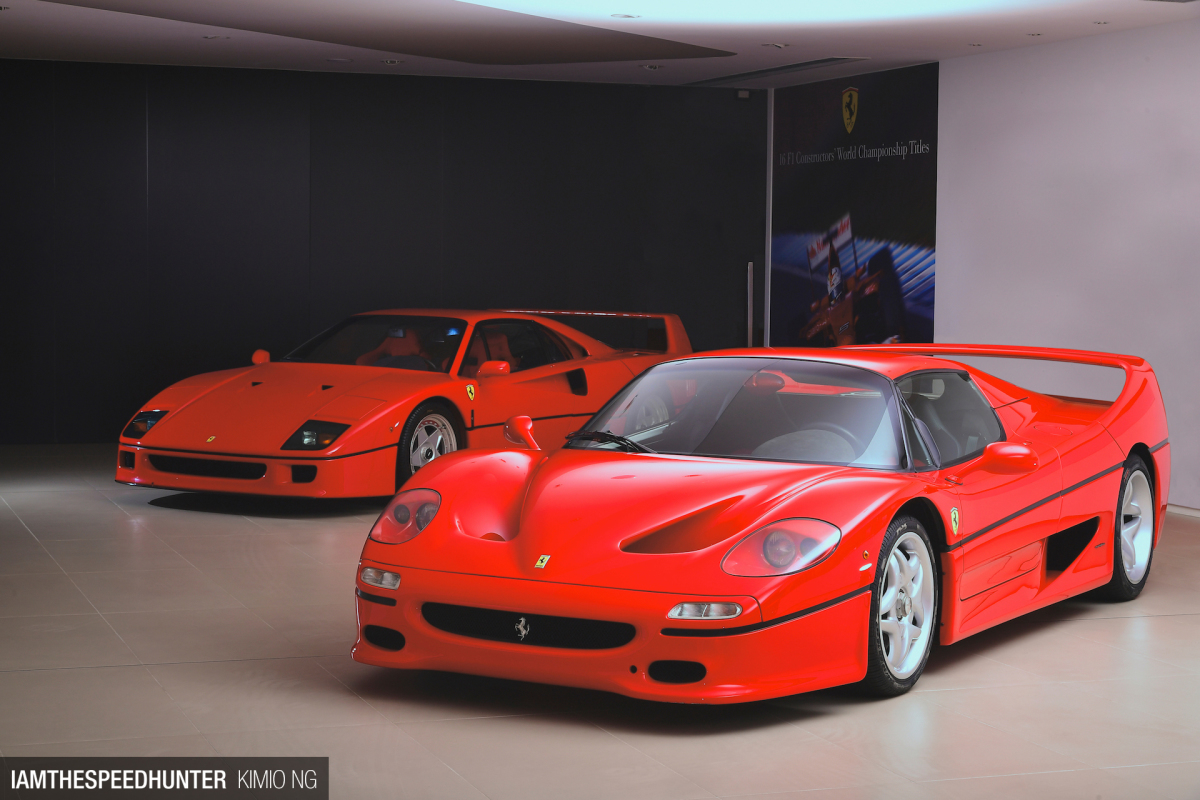 Next in the lineage is the F40 and F50, celebrating 40 and 50 years of Ferrari respectively. The twin-turbo V8 F40 is predictably a visitor favourite in the showroom; for all its brutal design elements and barely-disguised race car underpinnings, it's still somehow immeasurably pretty and elegant. As for the F50, I have to admit that it's never really captured my heart. The NA V12 sings the right notes and it's certainly a very fast and very cool car, but it's also soft in appearance – when compared to its relations, at least. Like most things built in the mid-1990s however, I'm happy to concede that the F50 is starting to grow on me.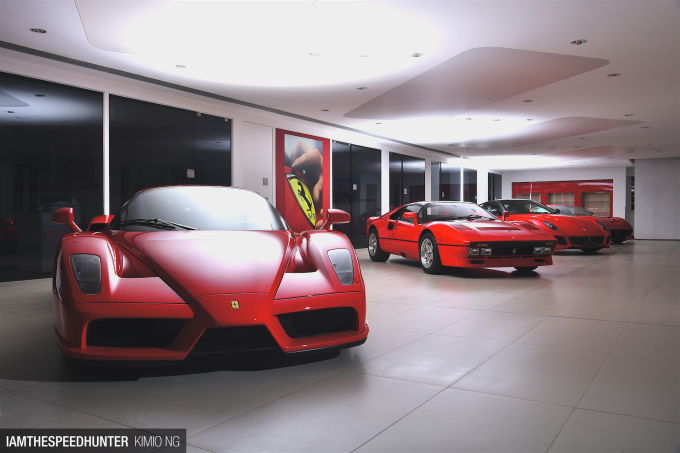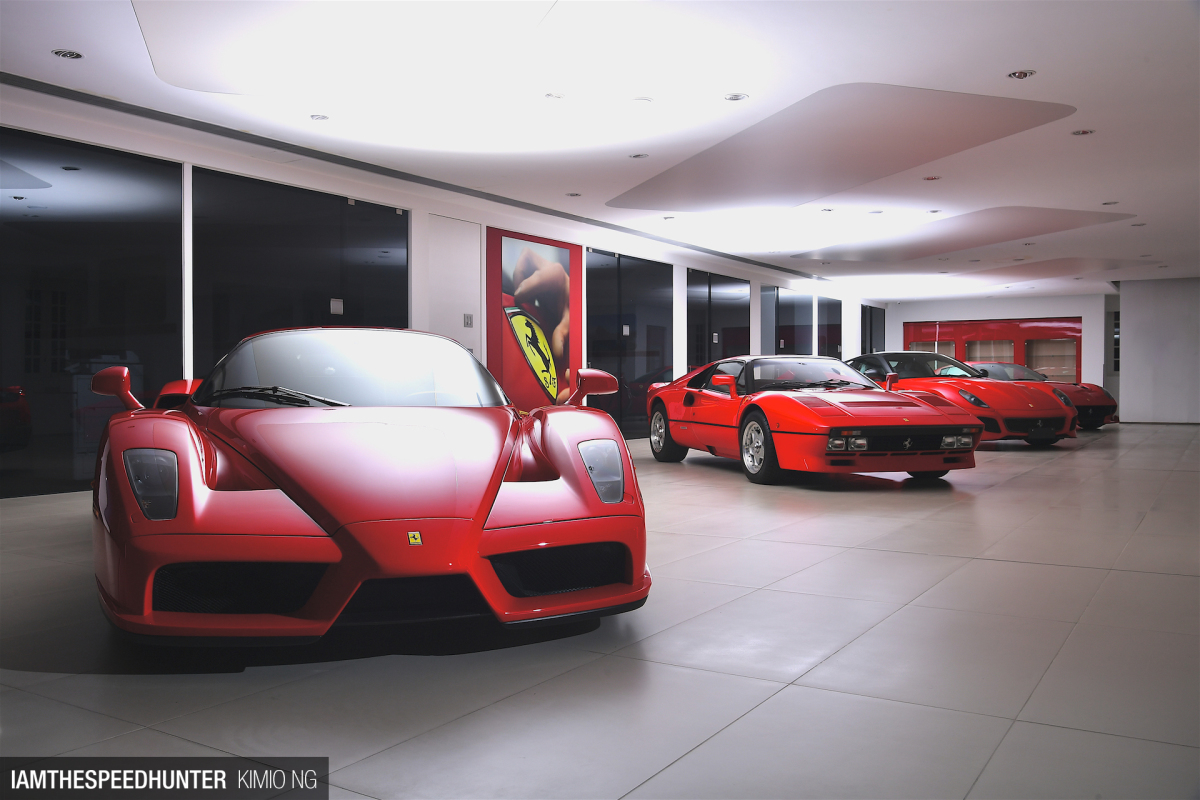 If the F50 could be considered too soft and smooth, its successor, the Enzo, does a full 180. Strangely, I can remember being extremely disappointed when images of the Enzo started to surface back in 2002 – I thought it was just plain ugly. It wasn't until my first visit to Hong Kong, when I saw a black example taking pride of place in the middle of the Blackbird workshop floor, that I began to really appreciate the 660hp V12-powered F1 car-in-disguise. Now, standing in front of this Rosso Corsa example burbling away at idle, it easily comes in at second spot behind the 288 GTO on my list.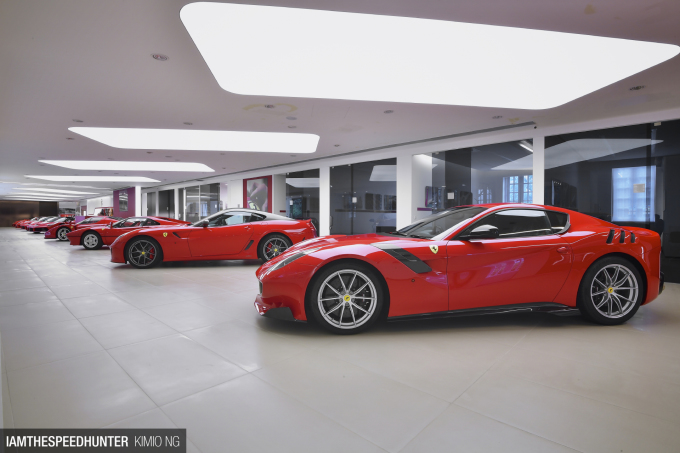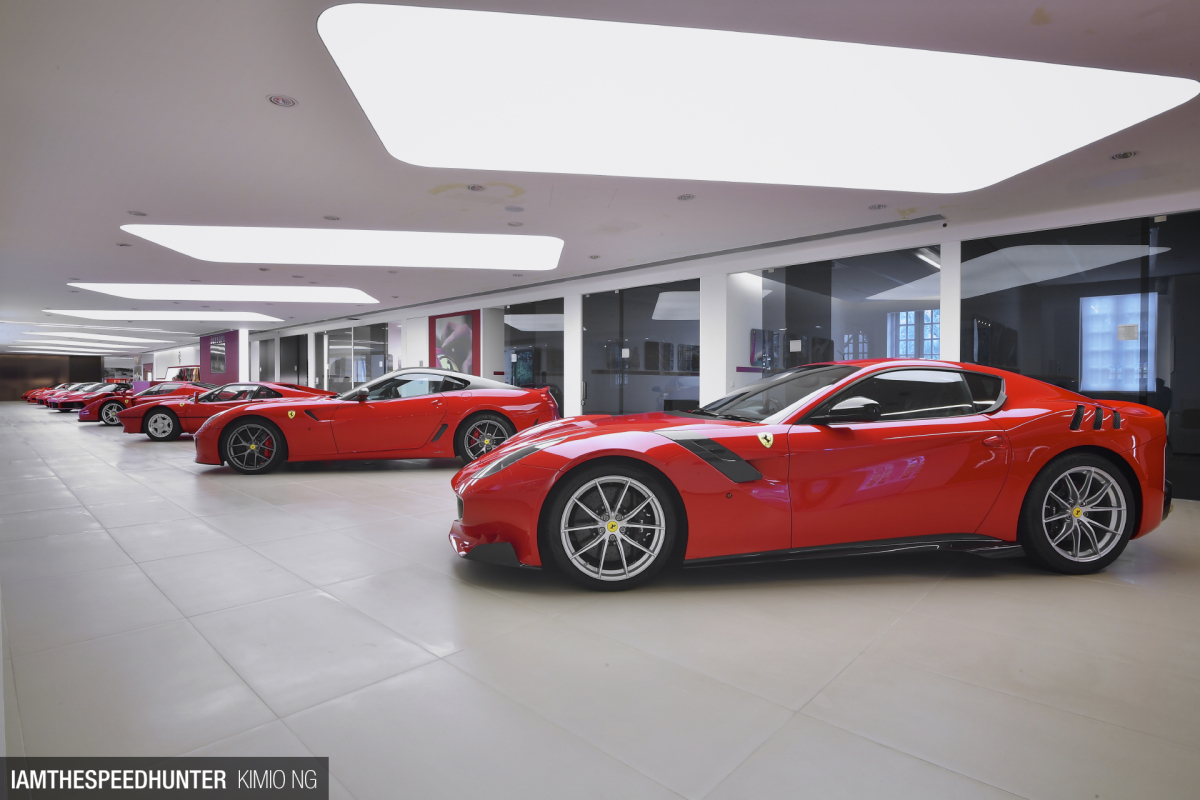 This brings us to the two grand tourers in the line up, a 2010-vintage 599 GTO and the near-new and extremely-aggressive F12TdF. These two front-engine rear-drive V12s are positively huge in comparison. The regular versions of these two cars are brutal enough as it is, but these very limited-edition track-focused models are much more up my alley.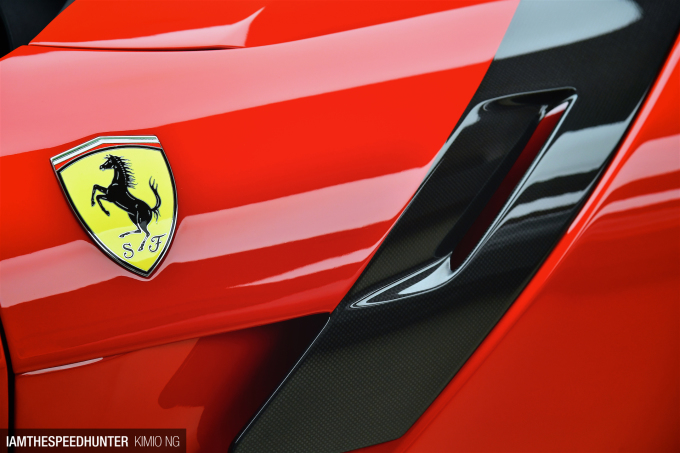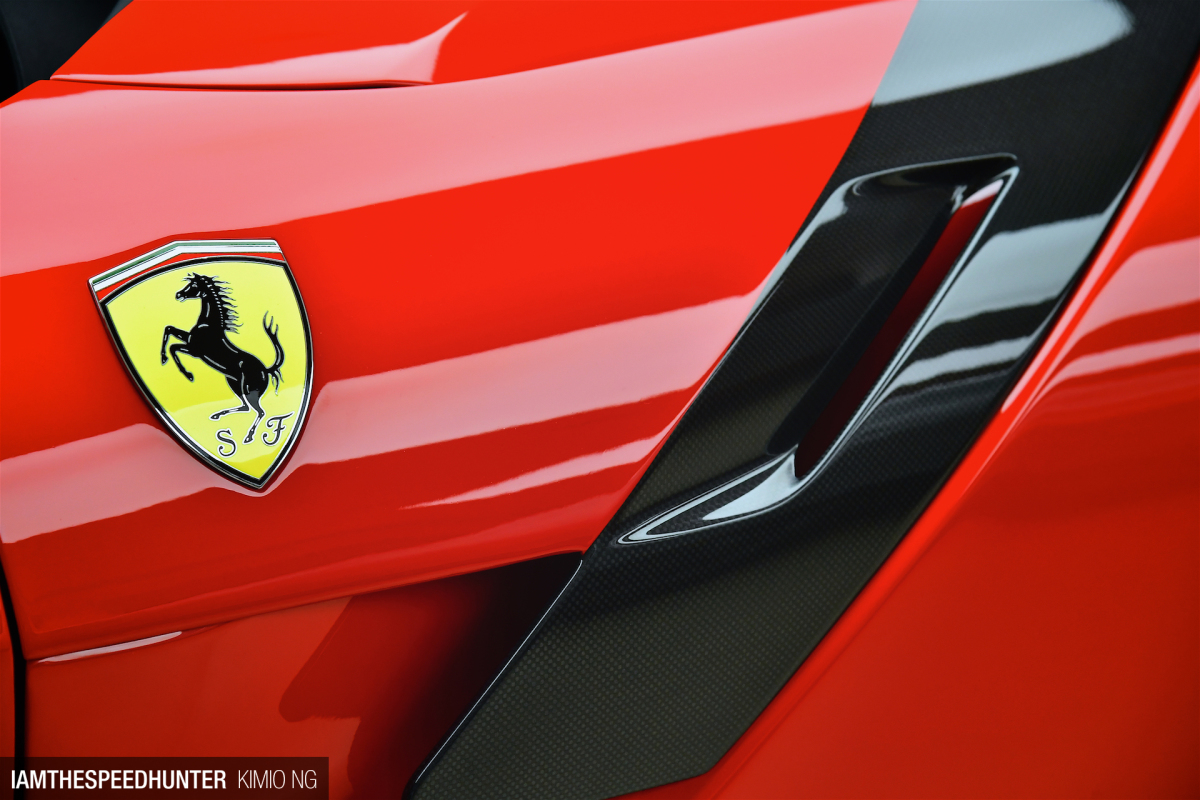 It must be said that while the GTO is very cool and exceptionally fast, the TdF's pure gym-rat-flex really puts a smile on my face.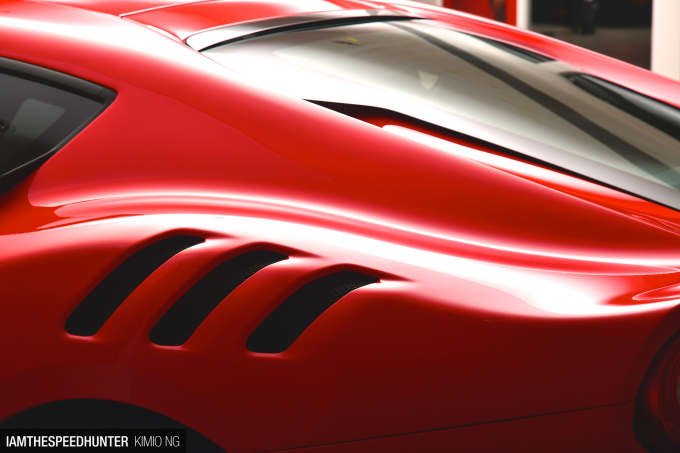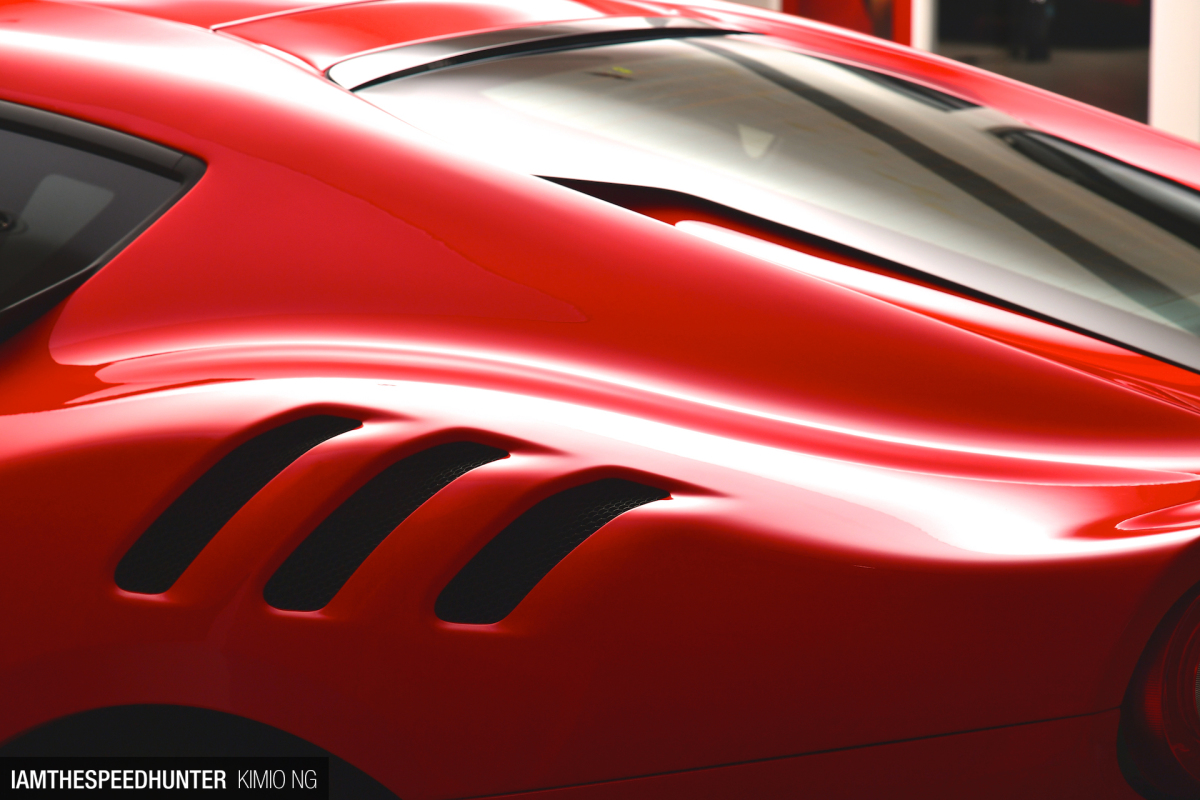 If the regular F12 is all about travelling the highways at warp-speed comfortably, then the lighter-weight, more powerful TdF version is all about kicking and punching its way through bend after bend. I love just how out of place details like the heavily vented fenders seem on such an otherwise-refined big boy grand tourer.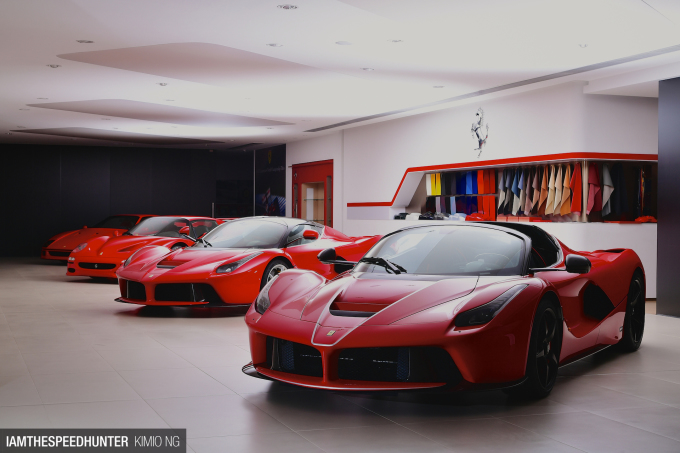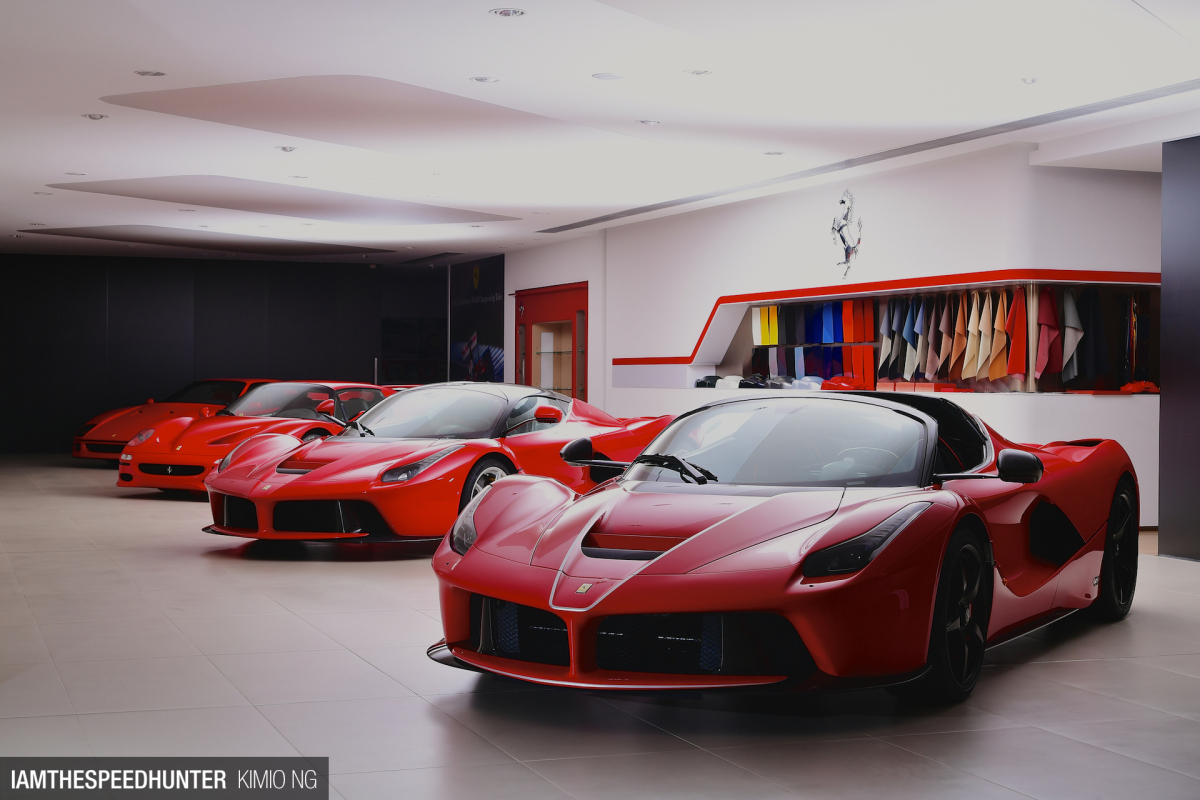 To round out the collection, the centre of the showroom features a pair of LaFerraris, one of which is the newer open-top Aperta 70th anniversary example, currently the most valuable car out of all eight on display.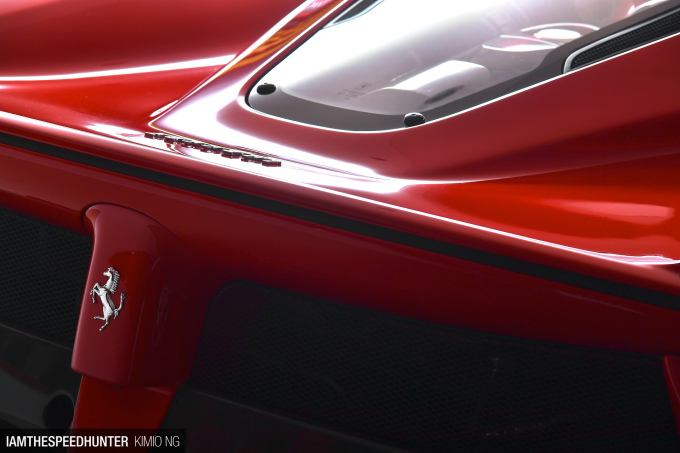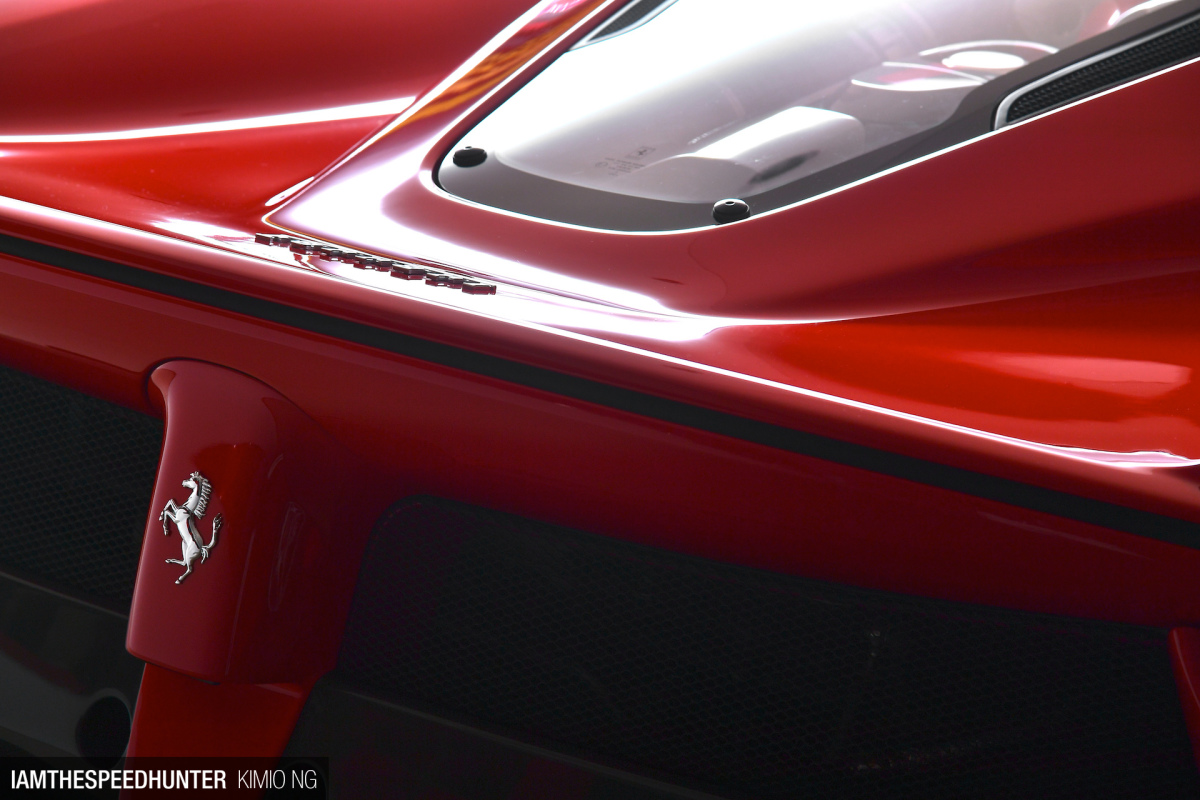 Surveying these two nearly-1000hp hybrid hypercars up close, the quantum leap in technology that the automotive world, and Ferrari especially, has undertaken over the last few decades becomes very obvious.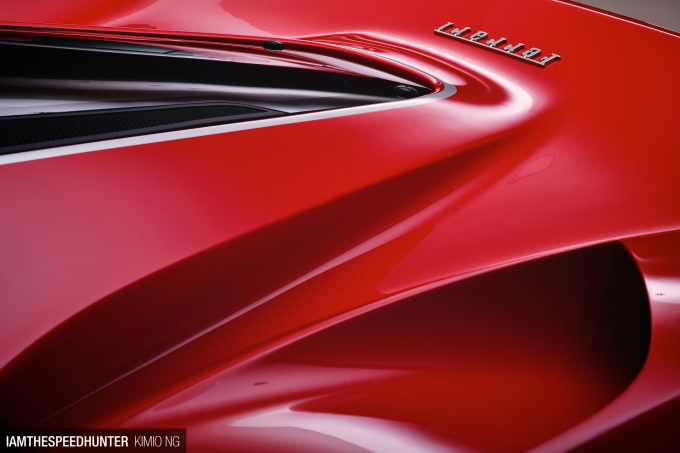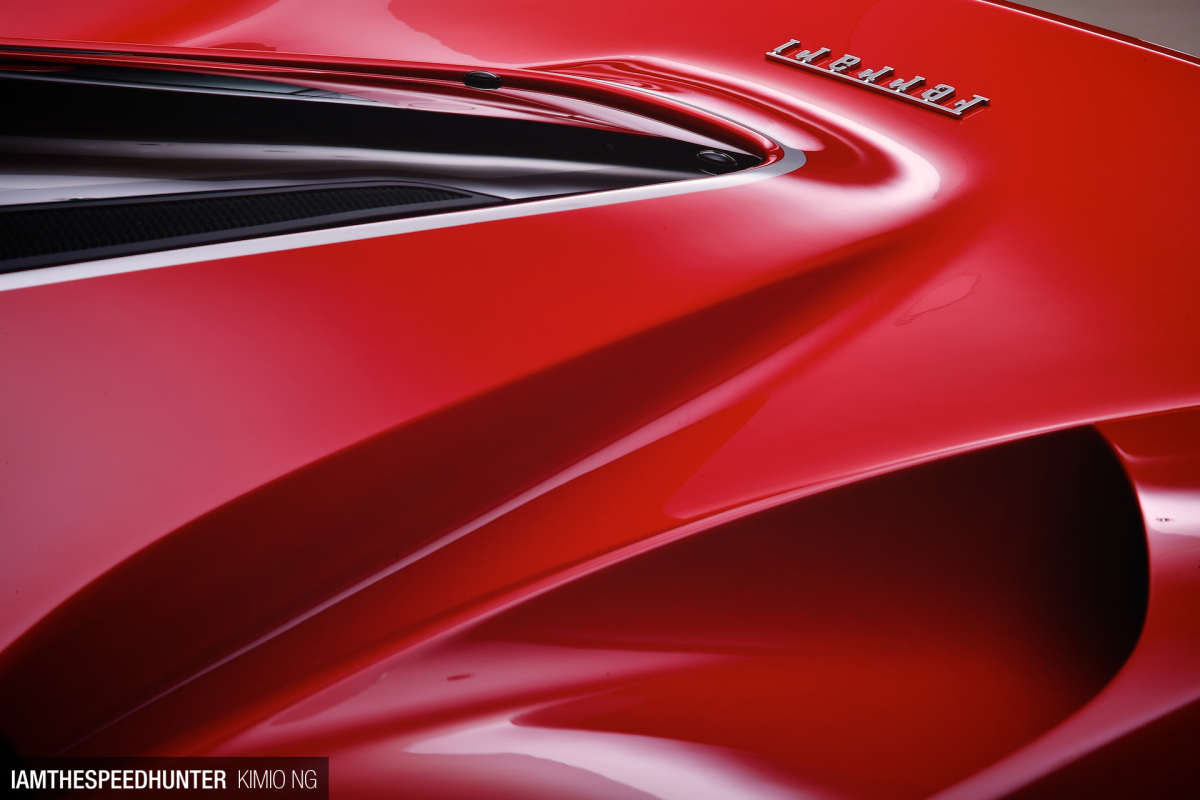 It's impossible not to appreciate the research and development that has gone into creating a machine that is not only incredibly quick, but with its sharp creases and flowing, purposeful lines, looks undeniably amazing too.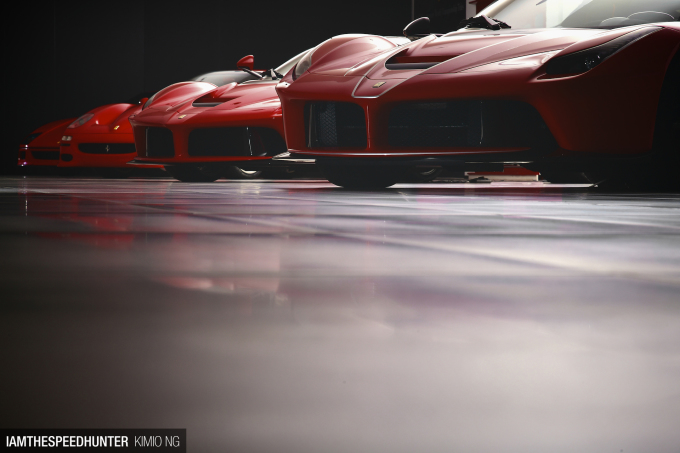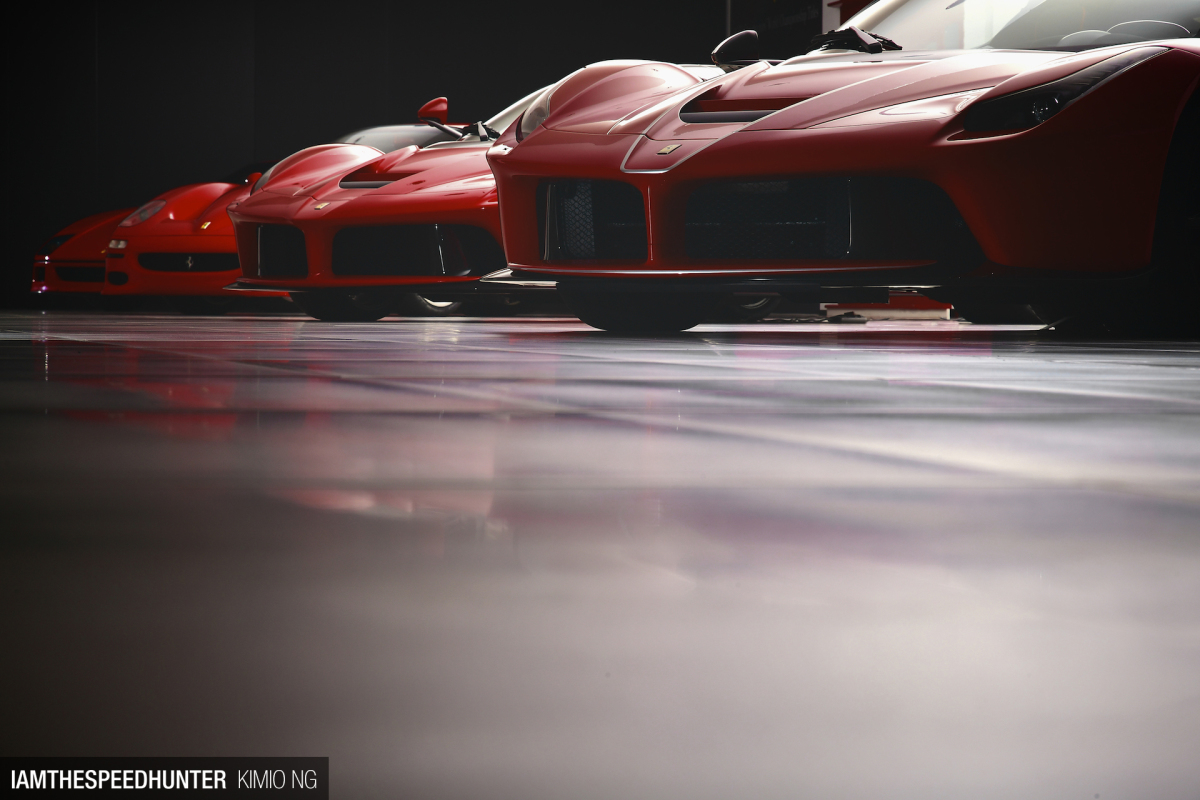 My day-to-day is now very much seen through Rosso Corsa-tinted lenses, and while I've become somewhat of a die-hard "Tifosi" Ferrari mega fan, I have to admit that prior to my first visit to Blackbird back in 2015, I had no more than a mild interest in the Italian automaker. It's not as though I didn't appreciate the beautiful and fast machines coming out of Maranello, it's just that I'd never really given the 70-year-old manufacturer too much thought. To an average joe like me who grew up fiddling with cheap Japanese cars, Ferrari was out of reach.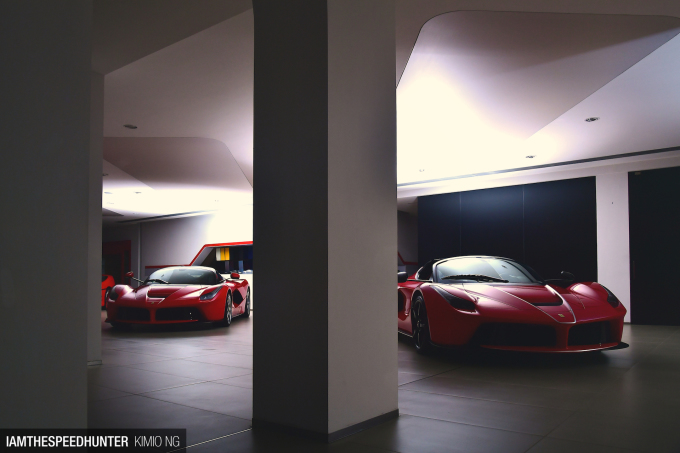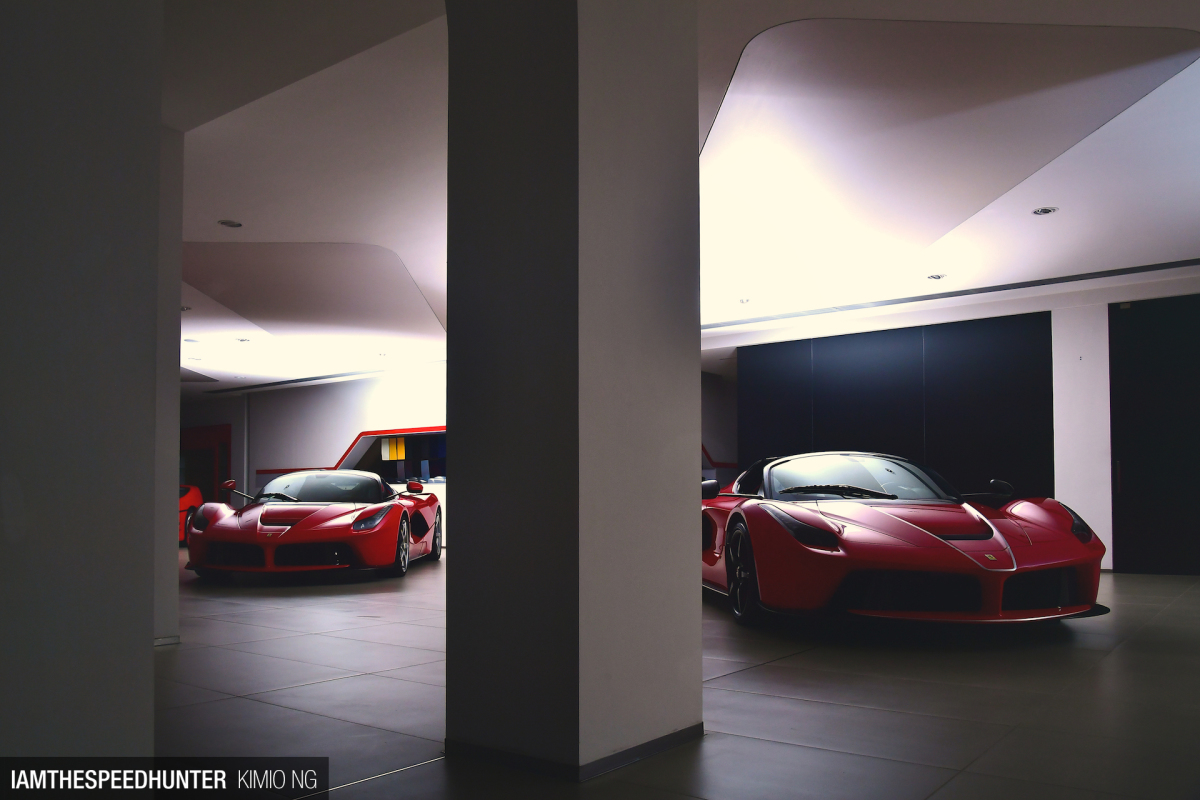 But I was failing to see the bigger picture; to see the history, the culture and the raw passion behind this brand. Working closely with these beauties and the people that love (and in some cases create) them over the last year has truly changed my perspective. From thrashing brand new high-tech supercars in the hills behind Maranello, to taking in the scent of aged leather and 50 years' worth of race gas in an ex-Stirling Moss 250 SWB, I've fostered a fierce but manageable habit for all things Ferrari.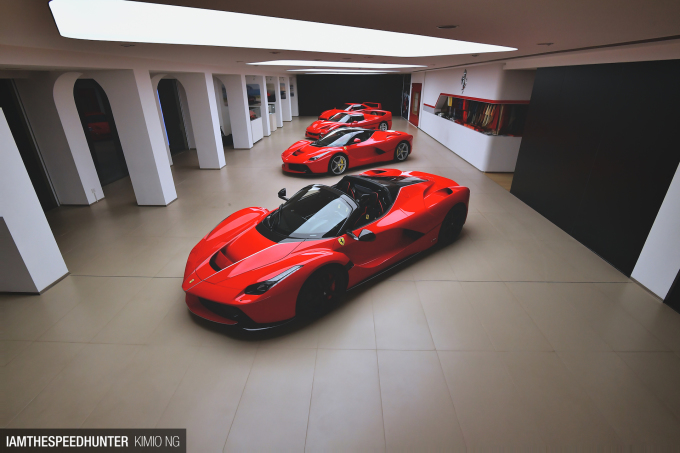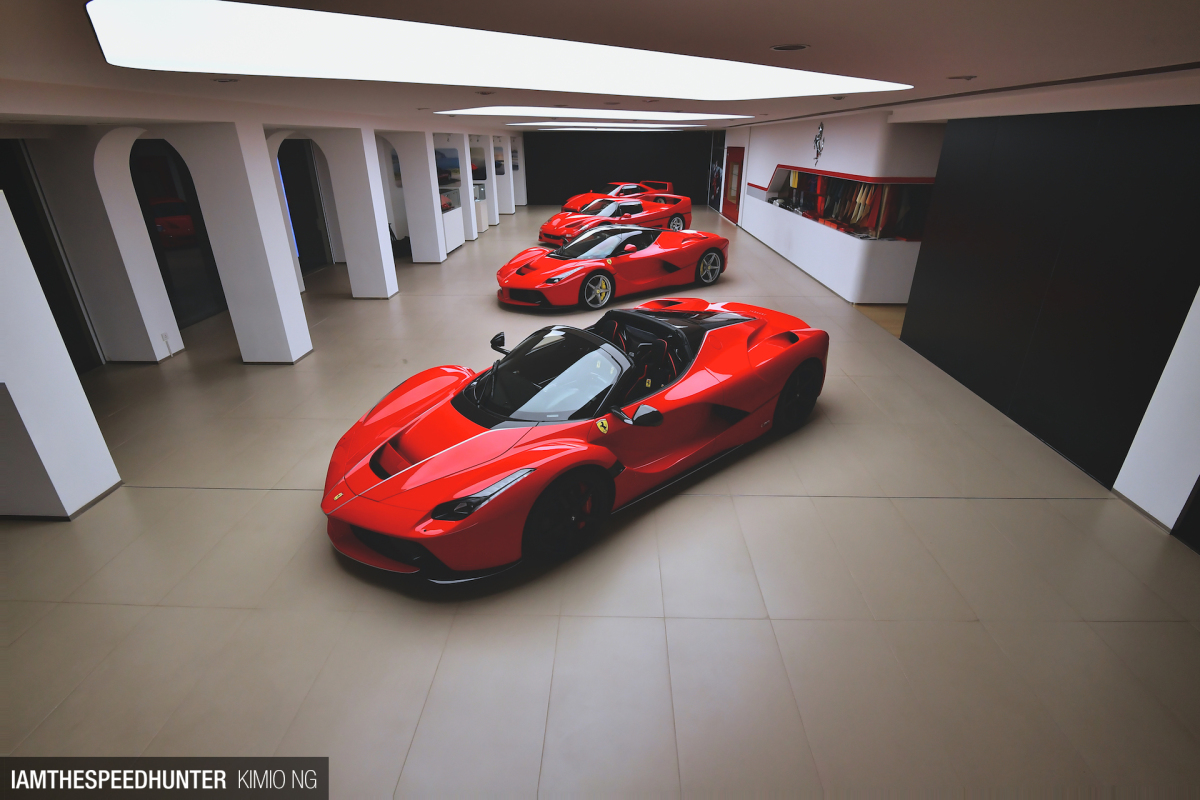 If you'd like to see what else we get up to here in Hong Kong, you can find us on Facebook and Instagram, or if you're local, please feel free to come down to our showroom to see these incredible rolling artworks in person (ideally before we replace them with cars we're actually selling!).
Only one question remains: if you could pick one, and only one of these cars to take home with you, which would you choose?
Words by Peter Kelly
Photos by Kimio Ng & Chris Lim