Finally!
We've begged, we've imported the parts to install on standard models, we played with them in video games, now finally Honda has brought the Civic Type R to the US.
Over the past months there have been some great reviews on the FK8, but we decided that we'd do something different. Instead of prying into every nerdy detail, I'm going to give you a closer look at what the recent stateside launch event looked like. Well, OK, I'll still get nerdy because that's what I do.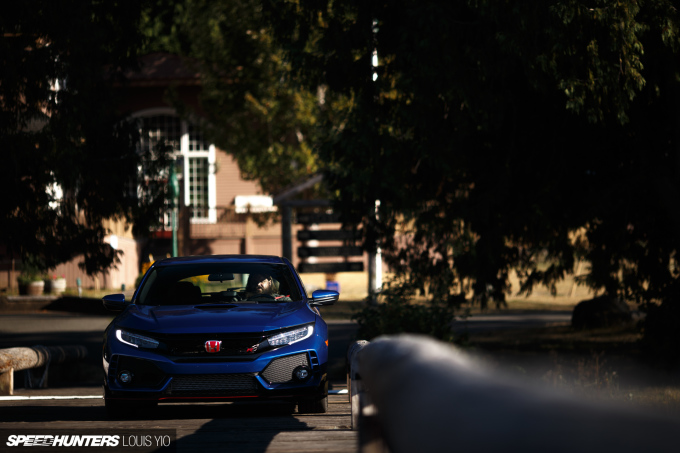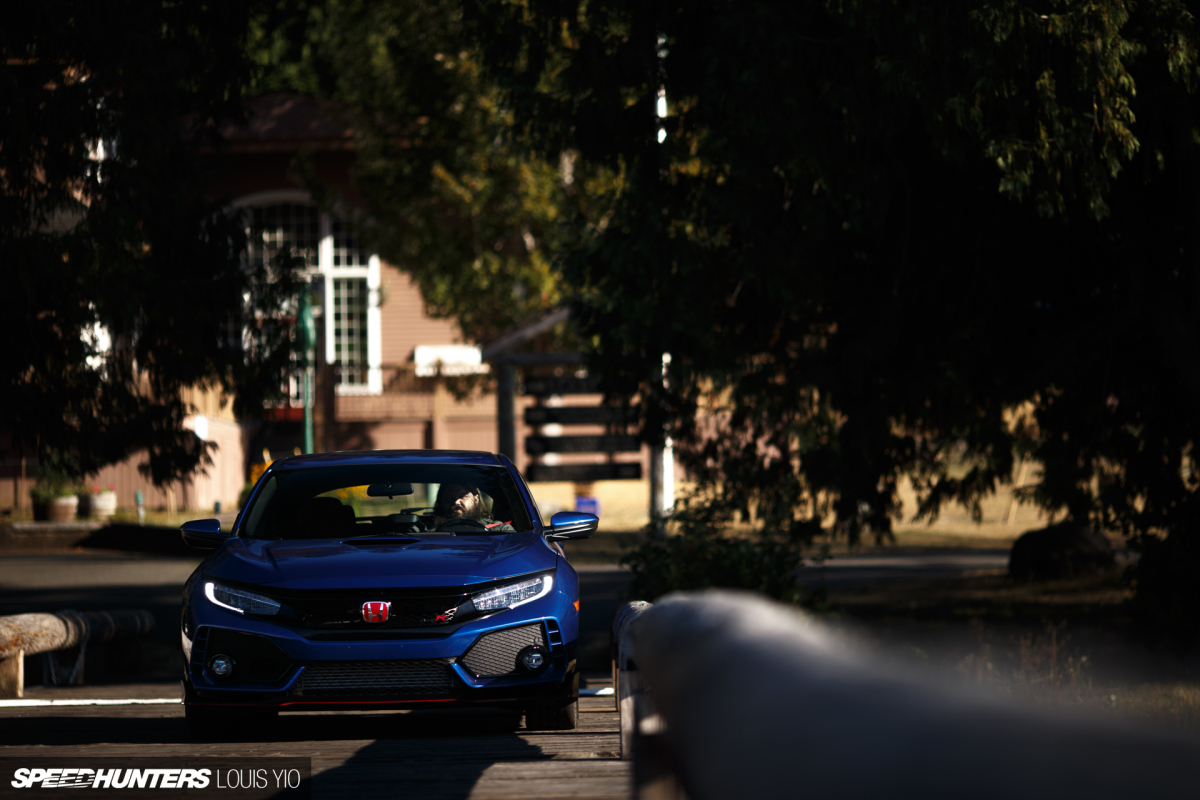 Disclosure: Honda provided Louis and I the plane tickets for travel and accommodations for this press trip.
This was only my second time doing an event with Honda and it's fitting that my first one would be with the new Civic Si. This gave me some heightened expectations for the Type R and I was certainly looking forward to it. Once we landed in Seattle, Louis and I were greeted by the Honda staff and loaded onto a second plane. A seaplane, something I had never been on before.
Travel By Seaplane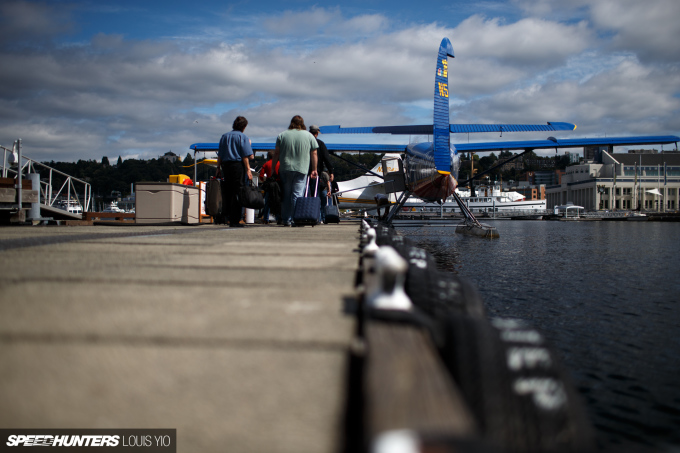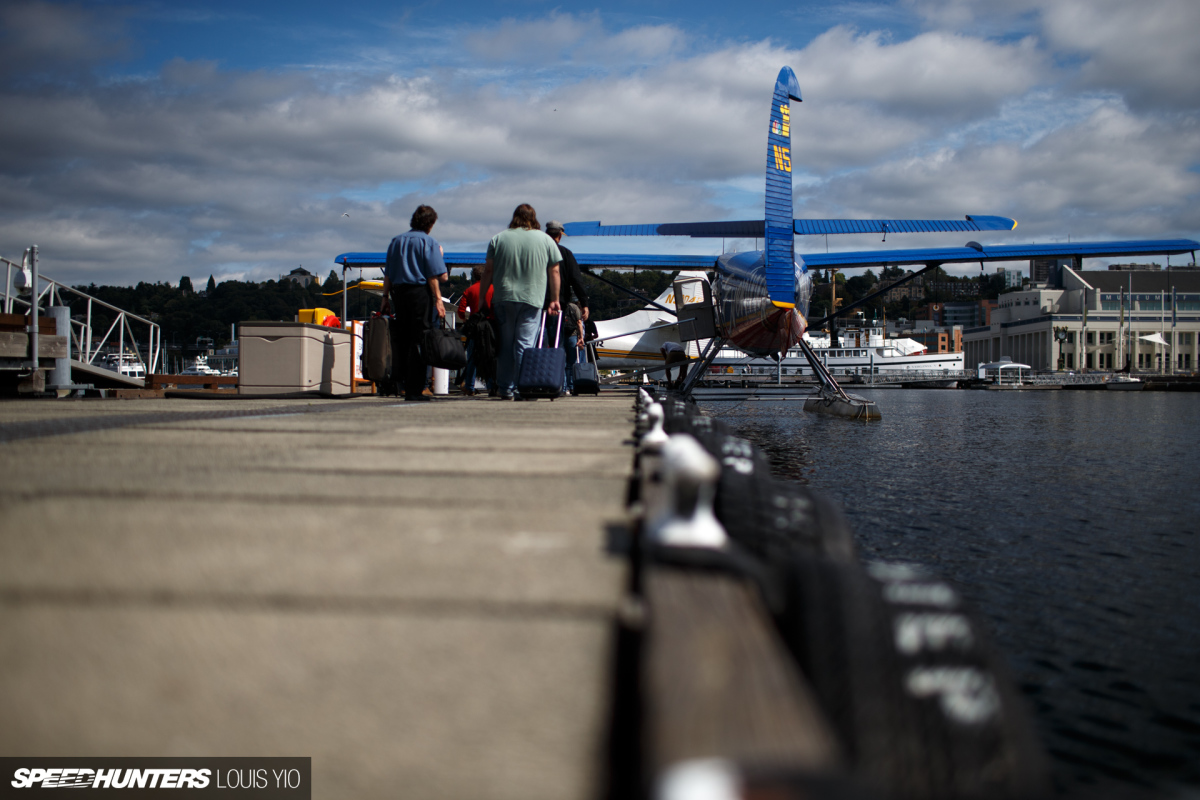 I've been on small aircraft before, including Cessnas and Learjets, but not something that's set up to take off and land on the water. Not only that, but I was sitting shotgun with the pilot. I've always had a fascination with flying and getting to sit right beside our pilot was a great experience for me. I hate to admit this, but sitting up front wasn't from me pushing my status as a Speedhunter. Instead, it was because I was one of the two taller people on the flight and the other guy was chosen to stay in the passenger cabin. So, in short, it was the luck of the tall person draw that got me that seat.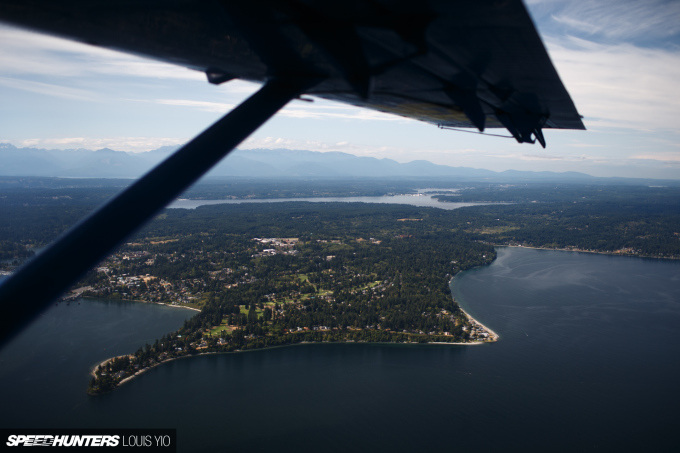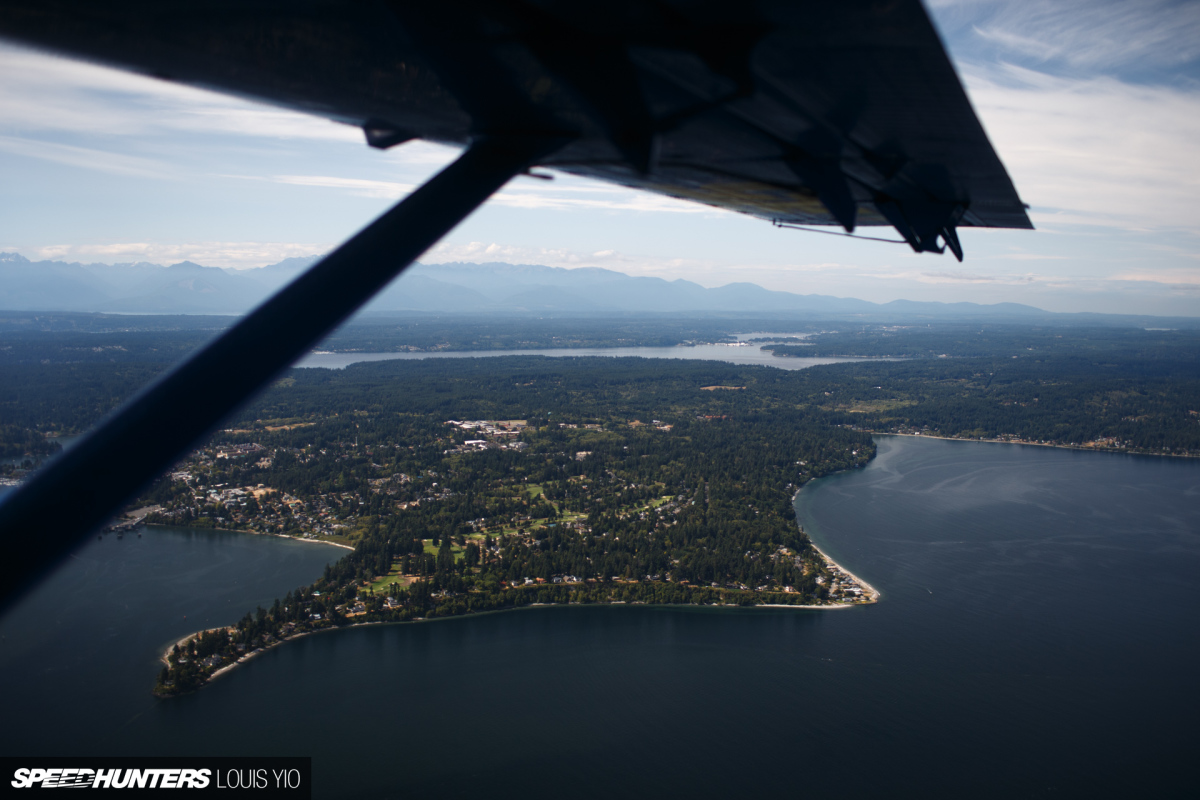 Once we landed, which both take-off and landing were both far smoother than I had imagined, we were greeted once again by the rest of the Honda staff and given the keys to our rooms, name badges, schedules, and a really awesome Civic Type R miniature model. Most of the staff I recognized from the Si launch, so it was great to connect with them again.

After the reception and some light drinks, we were then invited to have dinner just off the beach of the Adlerbrook Resort and hear a brief talk about the Type R from Davis Adams, Honda's Western Regional Manager for Public Relations. He was one of the people I met during the Si drive and had just celebrated his third year at Honda the week before. However, hearing him talk about the Type R really stood out to me. He revealed that once Honda announced that the Civic would be a fully global platform, the very first question out of his mouth was to request the Type R to finally come to the United States. It didn't take much convincing, as we now have it here.
Drive It In Anger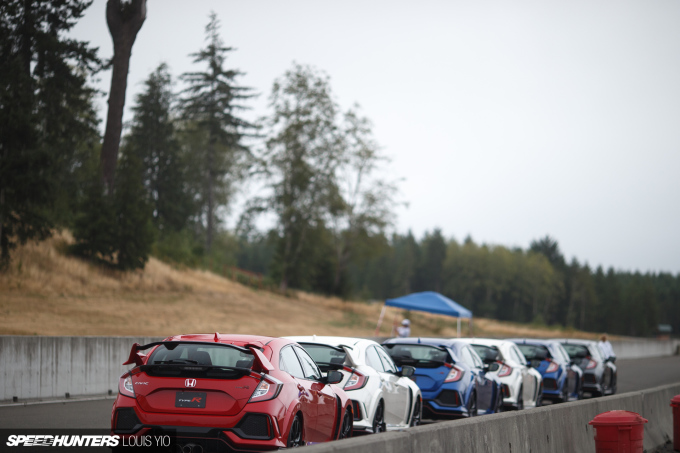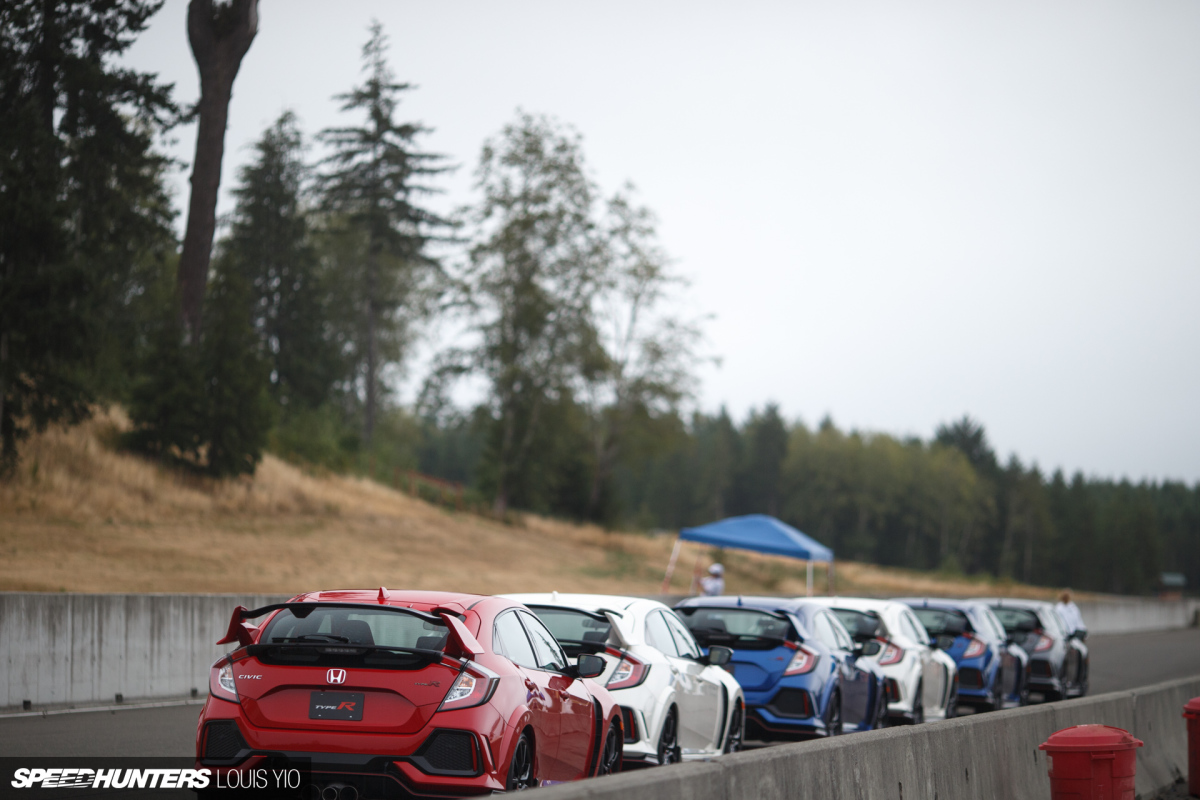 The next morning, Louis and I headed out to the track Honda chose to prove the capabilities of the new Type R to its new American audience – The Ridge Motorsports Park. I have been spoiled on scenic race tracks from living in Virginia and having both Virginia International Raceway and Summit Point Motorsports Park just over 100-miles from me north and south, but The Ridge is right up there. It's a new circuit being just five years old, but it's taken some of the best corners from race tracks around the world and applied them to its 2.47-mile length. You can see some of the Esses from VIR, the Corkscrew from Laguna Seca, the Carousel from the Nürburgring, and much more. It has elevation changes that challenge the best cars and all of this together would be a great test of the Type R's power and suspension.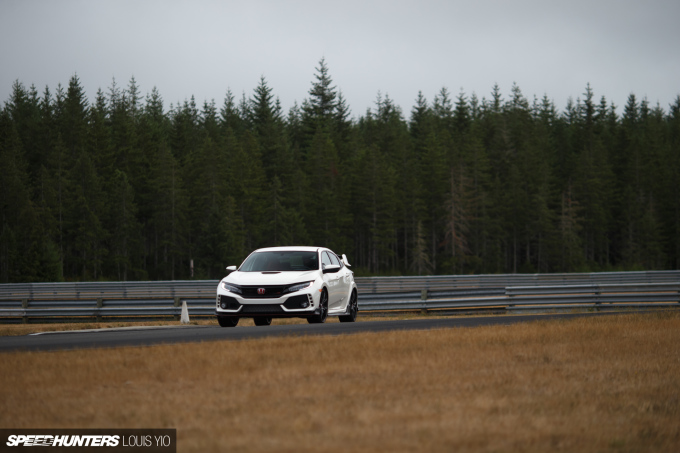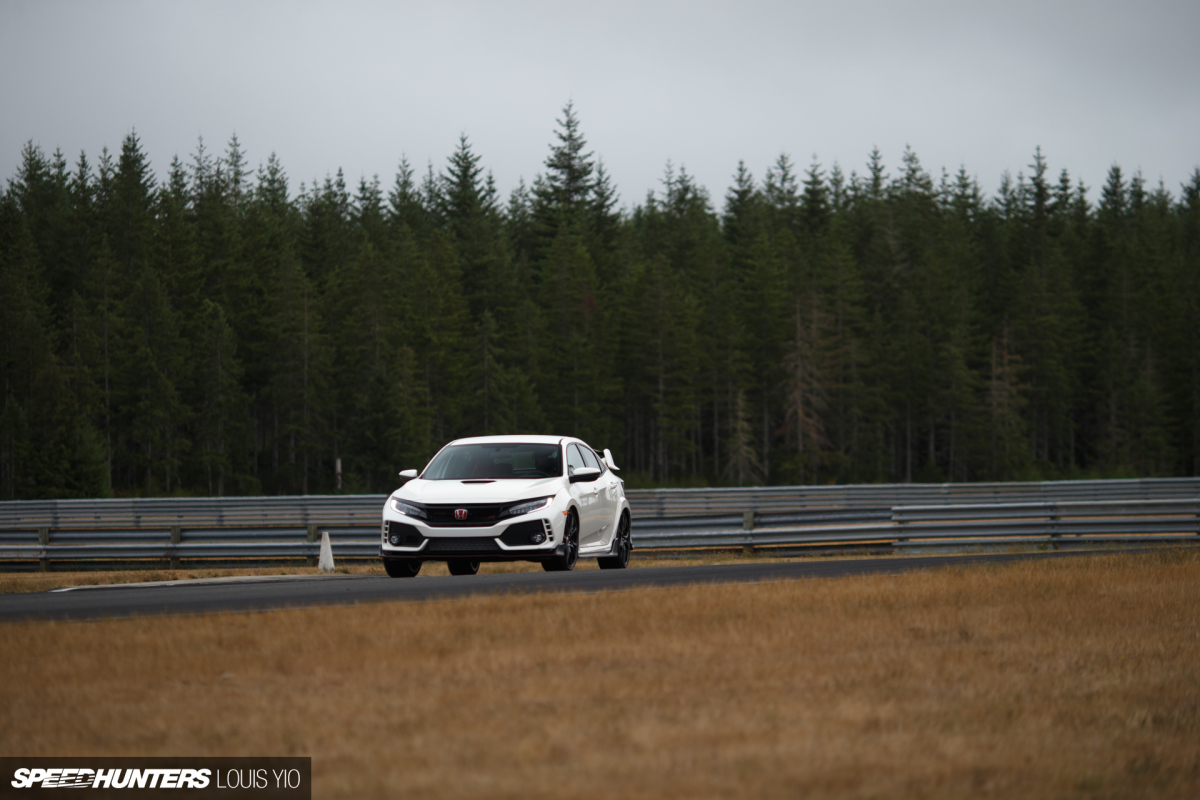 A big change from the Si drive and the Type R drive was how we would do our high-performance track sessions. Instead of having a professional driver in each car, there would be a lead car with a professional driver at the wheel. For this run, we'd have Ryan Lewis, a British-born driver whose career spans from karts to the British Formula 3 to Champ Car Altantics to even the American Le Mans Series before it joined forces with Rolex Sports Cars to reform IMSA. He started us with classroom discussions about the track and what to do if you go two or four wheels off.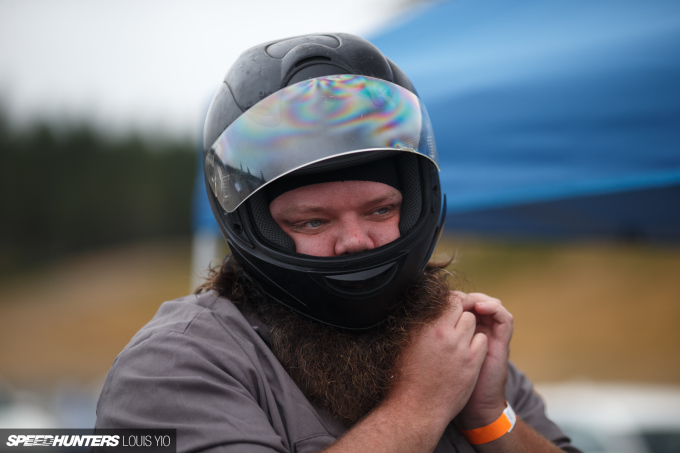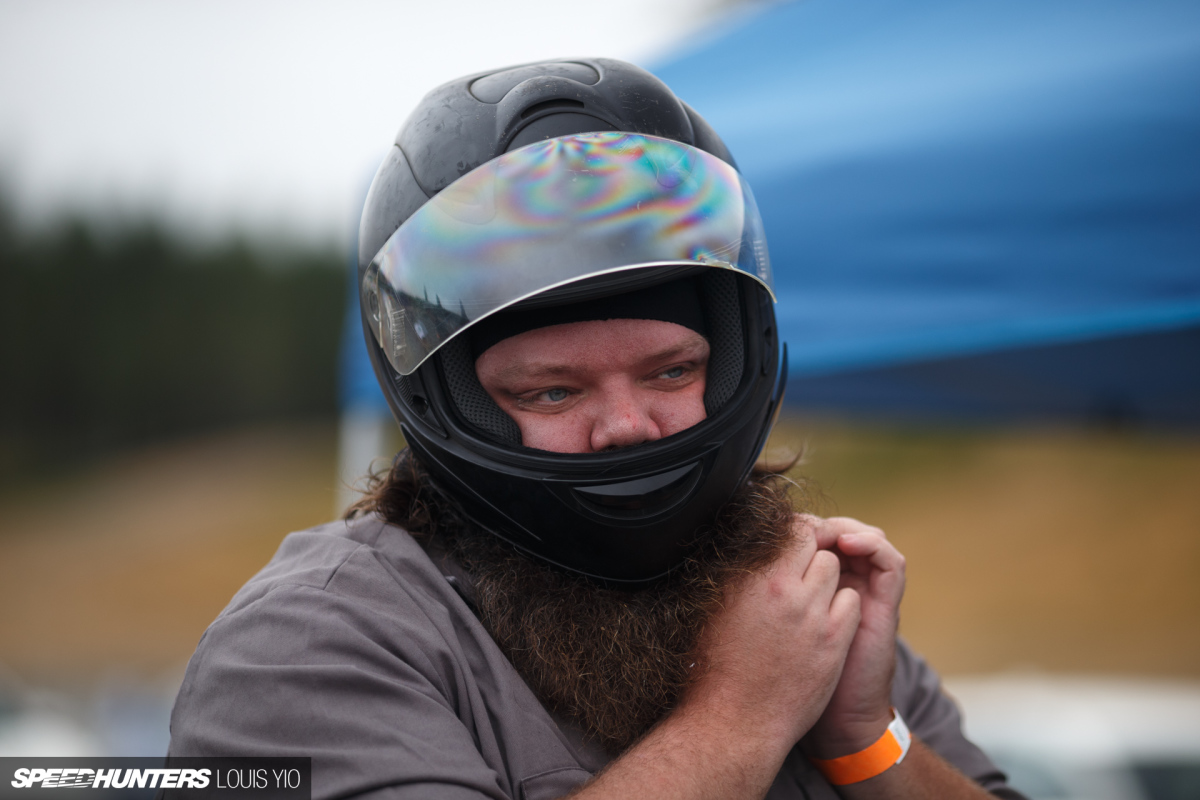 We then headed over to the pit wall to get our helmets and, unfortunately, I ran into my 'I'm a big guy' issue again. I won't lie, I have a big head and it usually takes a double-extra-large helmet to fit over it. The largest open-face helmet they had was just extra-large, but fortunately the kart track came to the rescue with a closed-face helmet that would work and I honestly preferred. However, I'm starting to learn that I really need to bring my own helmet to events like this. It also means I need to get a proper car helmet instead of my motorcycle helmet. That being said, I didn't struggle with headroom in the Type R. The non-powered seats and slightly less raked roofline of the five-door body meant I could sit far more comfortably than in the Si coupe and was just a little better than the Si sedan.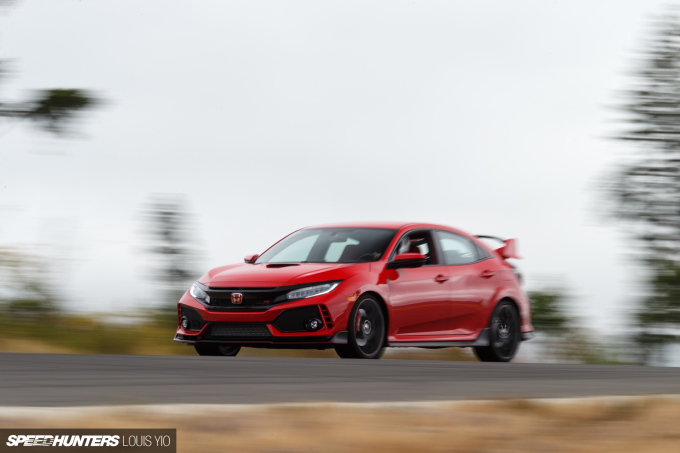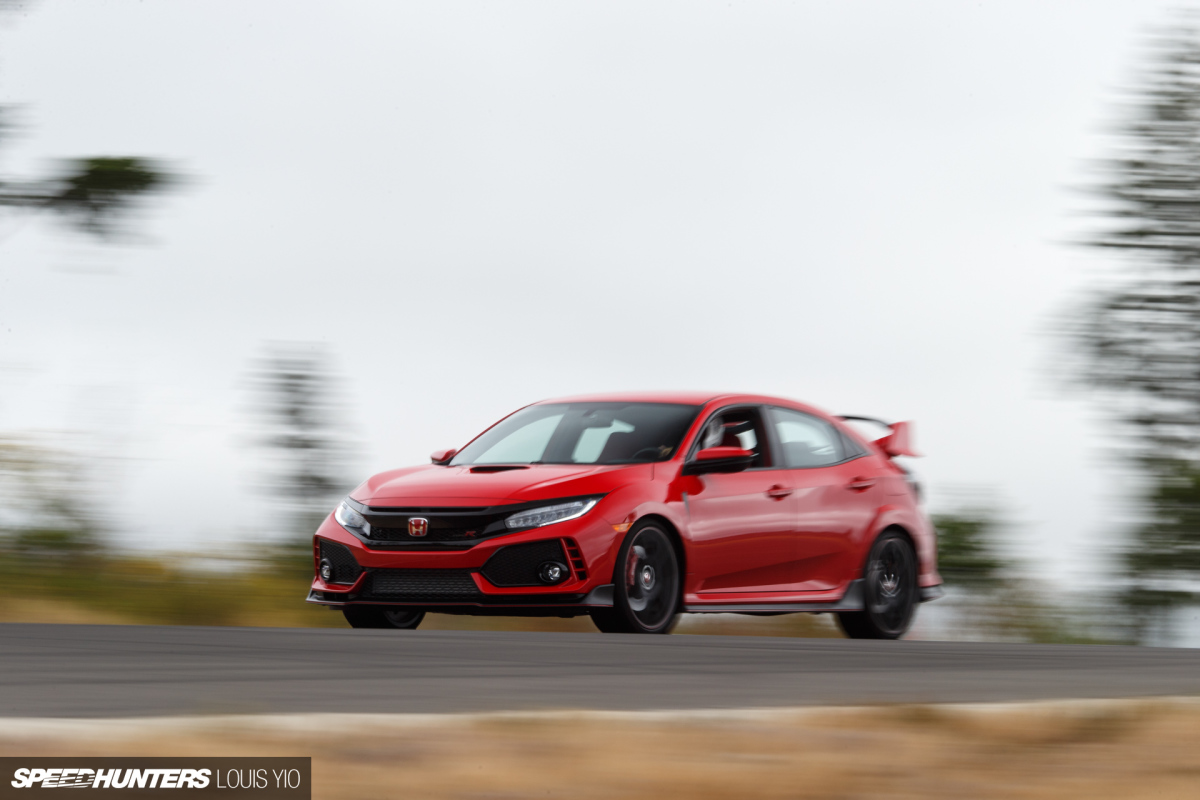 Once my fat head was covered by a helmet, we went out on track. For my first session, I was the second to last car in line.
As I was getting in, I thought I recognized the driver of the car, but didn't want to delay our time out on track. Once everyone was set, we drove off for our first recon lap before Ryan let loose up ahead. The car was very impressive but I couldn't exactly wring it out as the drivers ahead of me weren't really pushing as hard as I had hoped.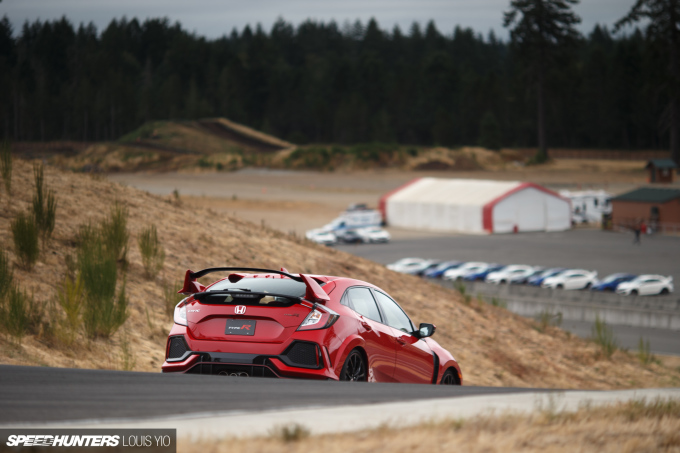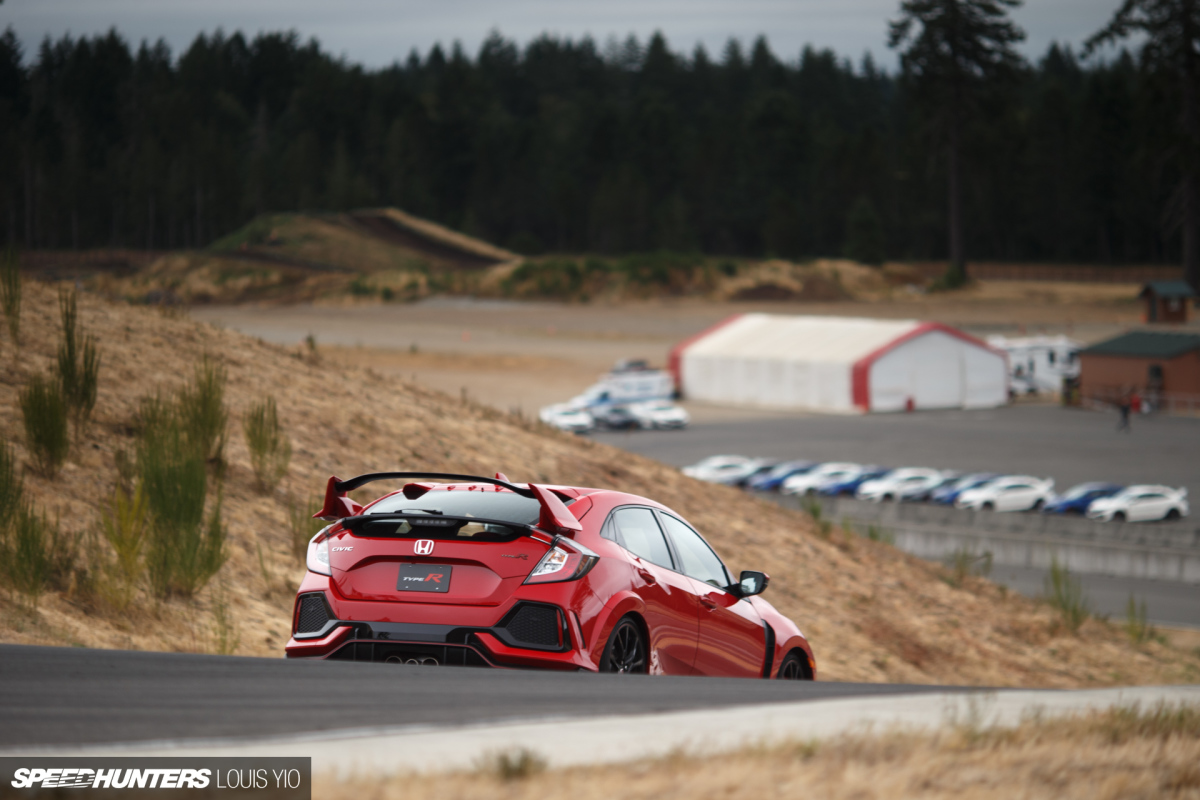 Thankfully, though, we had another session to go and I took the opportunity to catch up with that guy in the red car behind me between them. It turns out it was a legendary driver on my bumper, Andy Pilgrim, who's writing for Automobile magazine now. If you don't know who Andy is, you need to brush up on your GM racing history. He was a factory driver for Corvette Racing in ALMS and Le Mans and the Cadillac CTS-V factory driver for the World Challenge Series, just to give a brief introduction. He's also driven in Porsches, BMWs, and several other high performance cars in his 30-year career.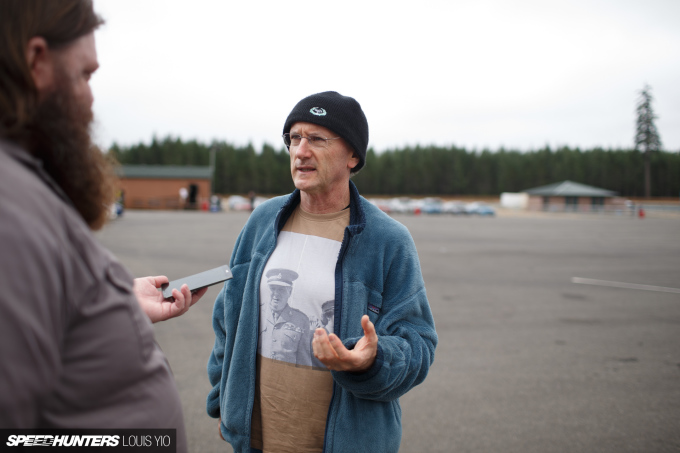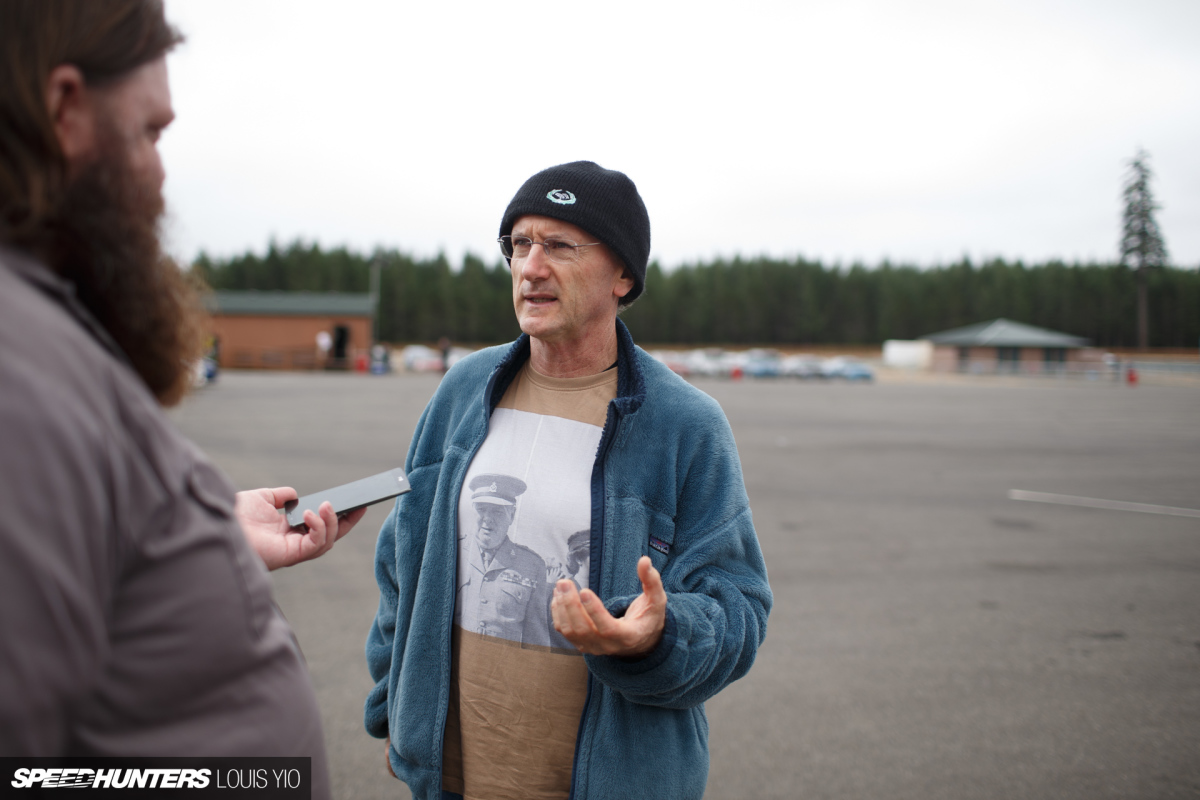 Regardless, I asked Andy his thoughts on the new car and whether he felt the Type R was worthy of being called a track car for the street. "Oh, I would say absolutely," he began after taking the car for a solo lap. "I was lucky enough to have a clean track with nobody out there and I have to tell you, like any front-wheel drive or street car, you're going to fight understeer. So, as long as you're sympathetic to that, it's very capable and very quick; I think they just did a superb job."
While this was Andy's first experience with a high performance FWD, he did recall running with Peter Cunningham and the Real Time Civic team in World Challenge. "I don't know what horsepower those cars were but momentum was all they had. This car, though, it just has real pull without much torque steer. The changes to the suspension to modulate and control the torque steer is absolutely brilliant."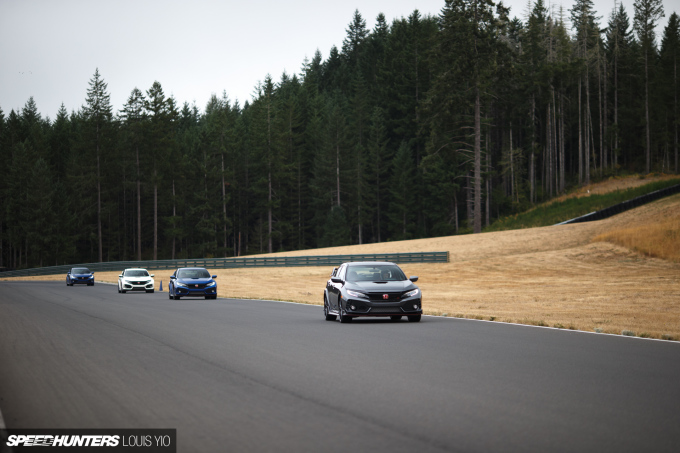 So, it was once again my turn to drive the car but this time I was the car right behind Ryan Lewis. Was I nervous? Maybe a bit. But that went away the moment we started rolling out and the moment we went past the start/finish line; Ryan and I were gunning it.
My God, what an amazing experience it was and what an amazing car this is. I have driven high performance FWDs before, as I've owned a Nissan Sentra Spec V and Volkswagen Golf GTI (MkIV), but I have never driven anything like this. The torque steer is so light it might as well be non-existent and it has the ability to get off-throttle oversteer while mid-corner to correct some of that understeer. I don't left-foot brake, so I modulate my throttle to cause a car to rotate. Normally, you start to lose momentum when you do that – and you still do with the Type R – but it instantly makes it up with boost pressure from the turbocharger.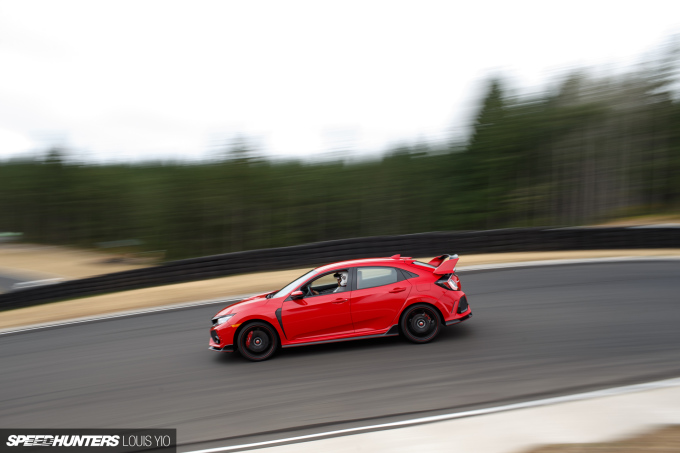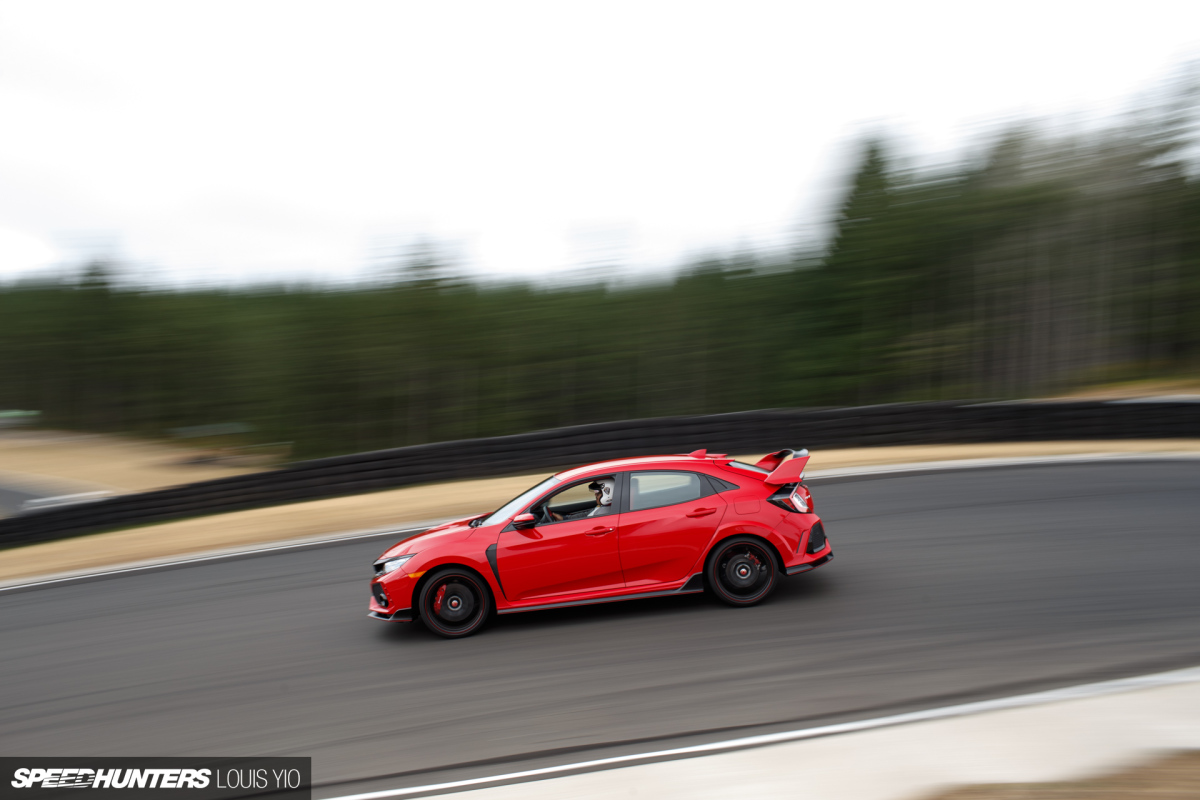 I was able to stay within two- or three-car lengths of Ryan the entire time and it was some of the fastest driving I had done in a car without a roll cage. However, at no time in the CTR did I ever feel a lack of confidence. Its Continental Sport Contact tires kept grip no matter how hard I pushed it with Ryan; the brakes never felt like they were going to fade, the power never let up, and we never encountered the overheating issues some drivers have been complaining about (though most of them are in the SoCal deserts like Willow Springs and Buttonwillow Raceway). Honestly, if you feel the Type R is lacking just because it's FWD, you need to drive it in anger. You won't leave disappointed.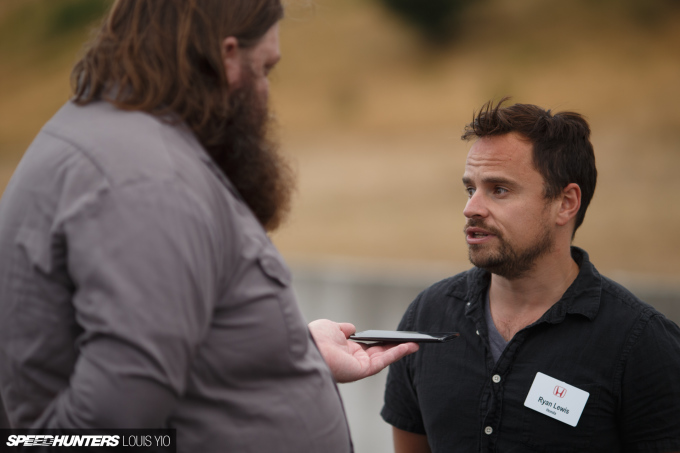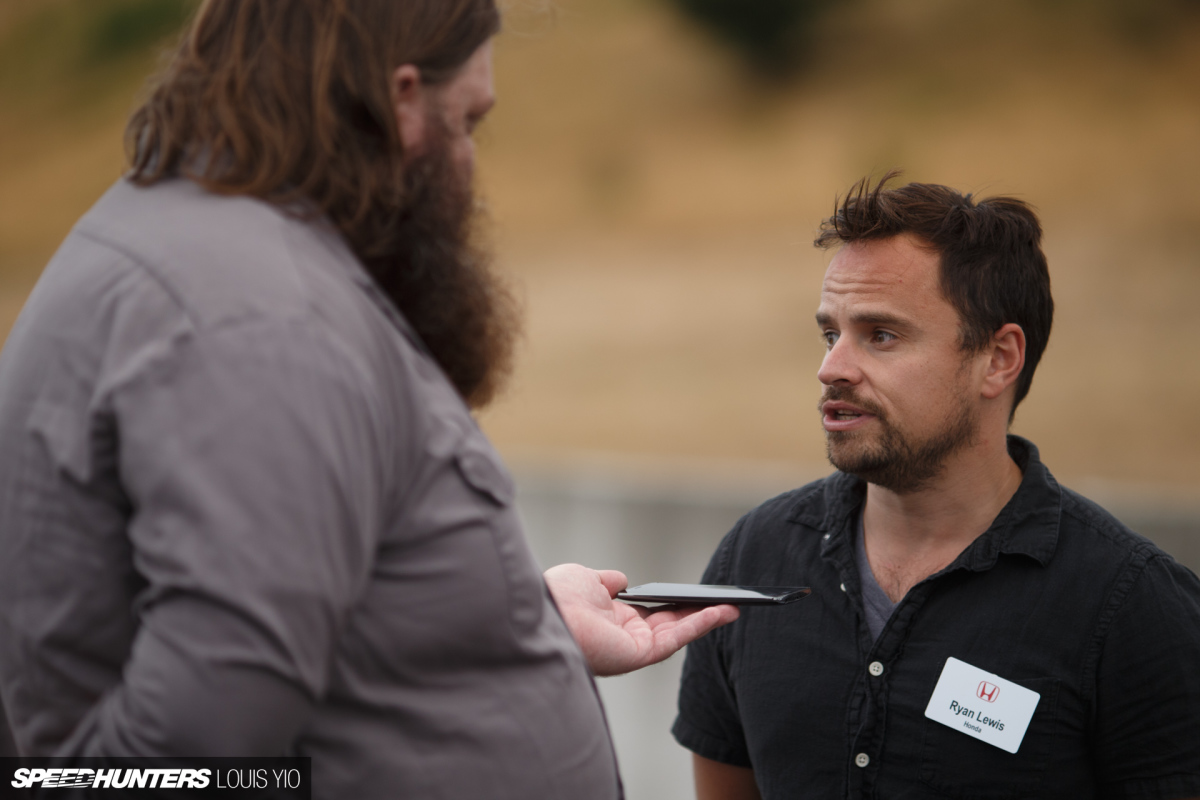 I walked over to Ryan after we were done, shook his hand, and said thank you for the amazing drive he gave me while he was in the lead car. "You didn't do so bad," he said. I then asked him about his thoughts on the Type R, since he's also had various experiences in different types of cars in his own career. "You can see the enthusiasm in Honda for producing cars like this and the NSX," he started. "[The] Type R is definitely cut from the same cloth of that and previous versions."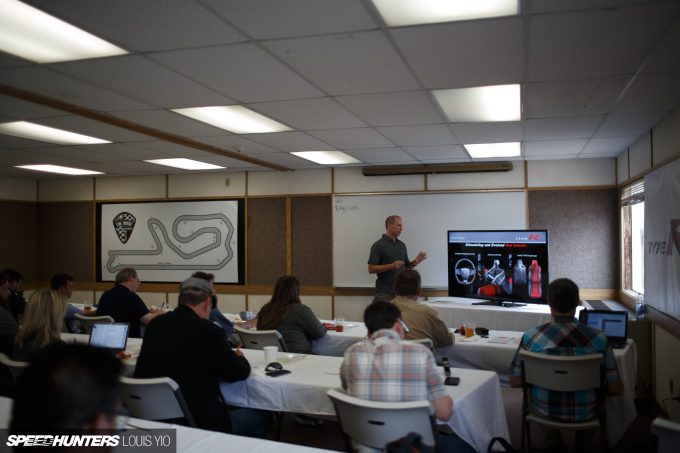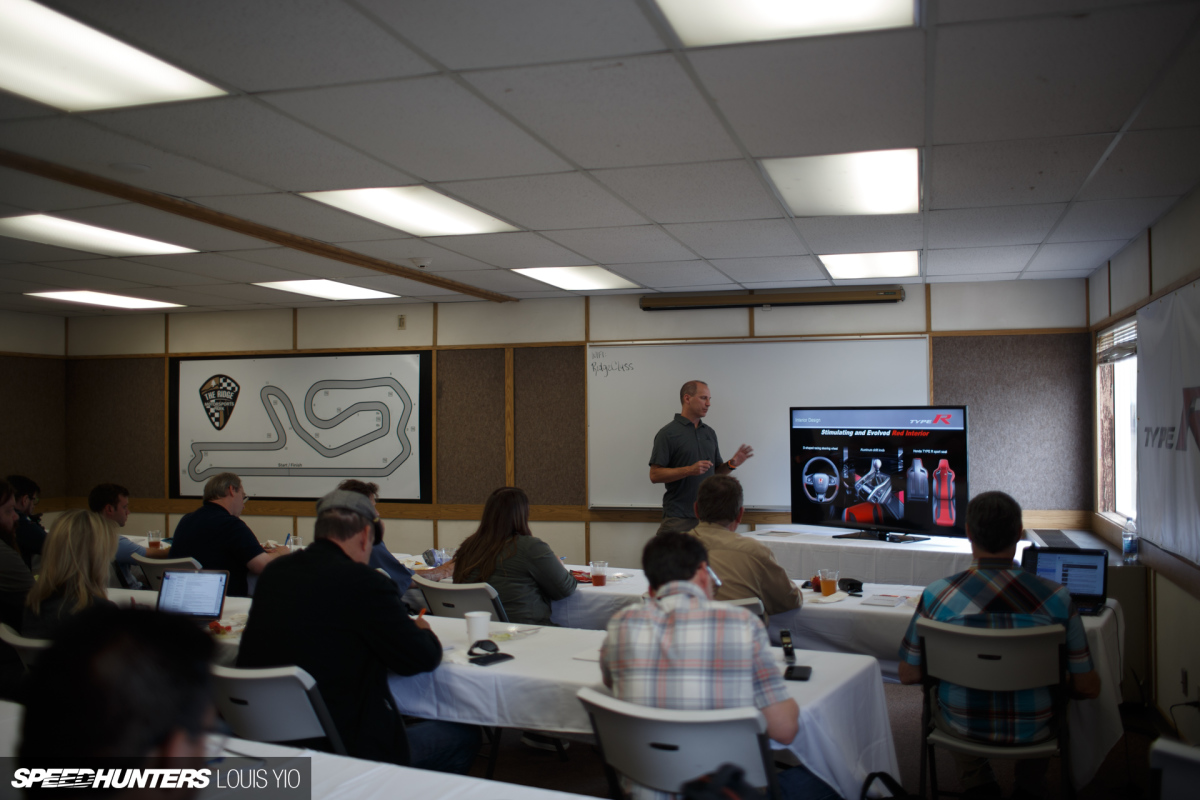 We were then served lunch and given full presentation on the Type R and the differences between it and the rest of the Civic family. As far as packaging goes, it's considered a "touring plus" version, so you get all of the fun doodads of the touring-level Civics provided they don't take away from the performance of the Type R. There's navigation and a rear-view camera, but you don't get a sunroof or power seats. "If we could add it without adding more weight or removing performance from the Type R, we put it on," says Rob Keough, Senior Product Planner for the Civic line-up at Honda.
Going Full Nerd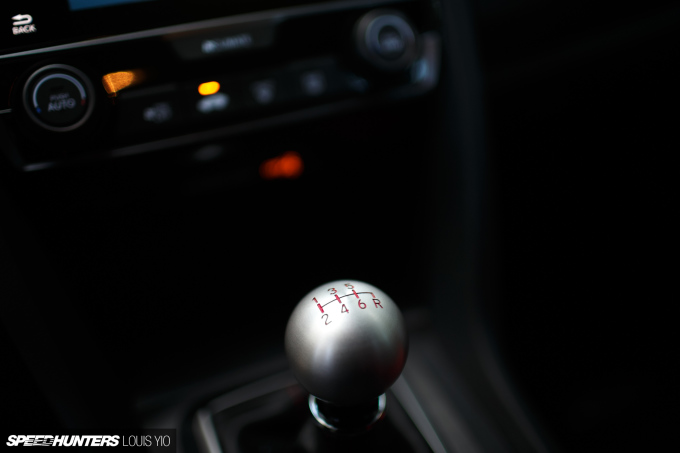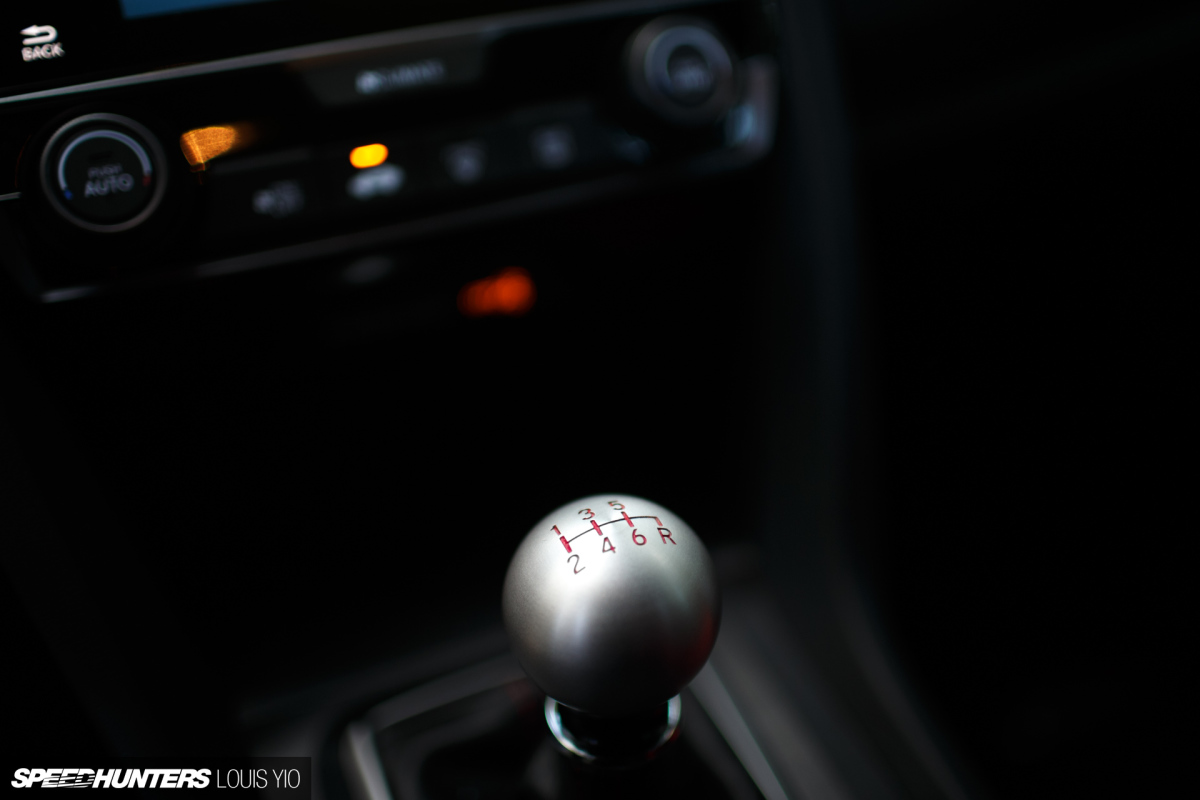 Now, we're going to get a bit nerdy because this is all telling of how the Civic Type R performs as well as it does. First up is the transmission, which features a water-cooled oil cooler, a lighter single-mass flywheel, and a helical limited slip differential. This allows the Type R transmission to drive more with predictably while still out-performing most any car it will encounter.
The single-mass flywheel, while a little rougher when it comes to NVH (noise, vibration, and harshness), is lighter to allow for quicker engine revs and easier rev-matching, which is also enhanced by Honda's rev match system. While you're probably already bemoaning a car that rev-matches for you, don't be. It's actually very non-intrusive and allows you to still rev-match but it will catch your mistakes and make up for them.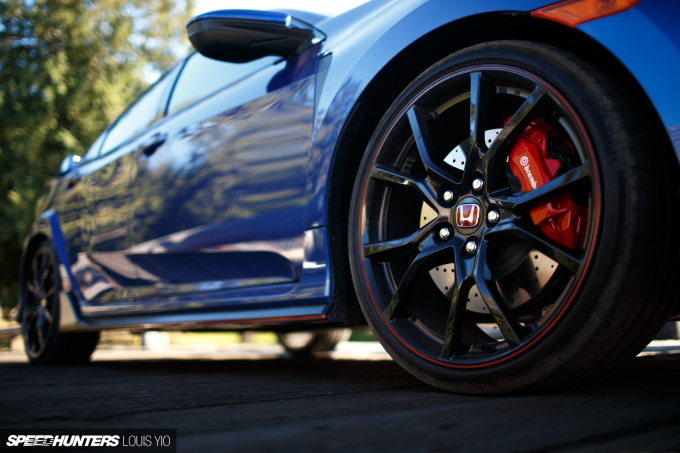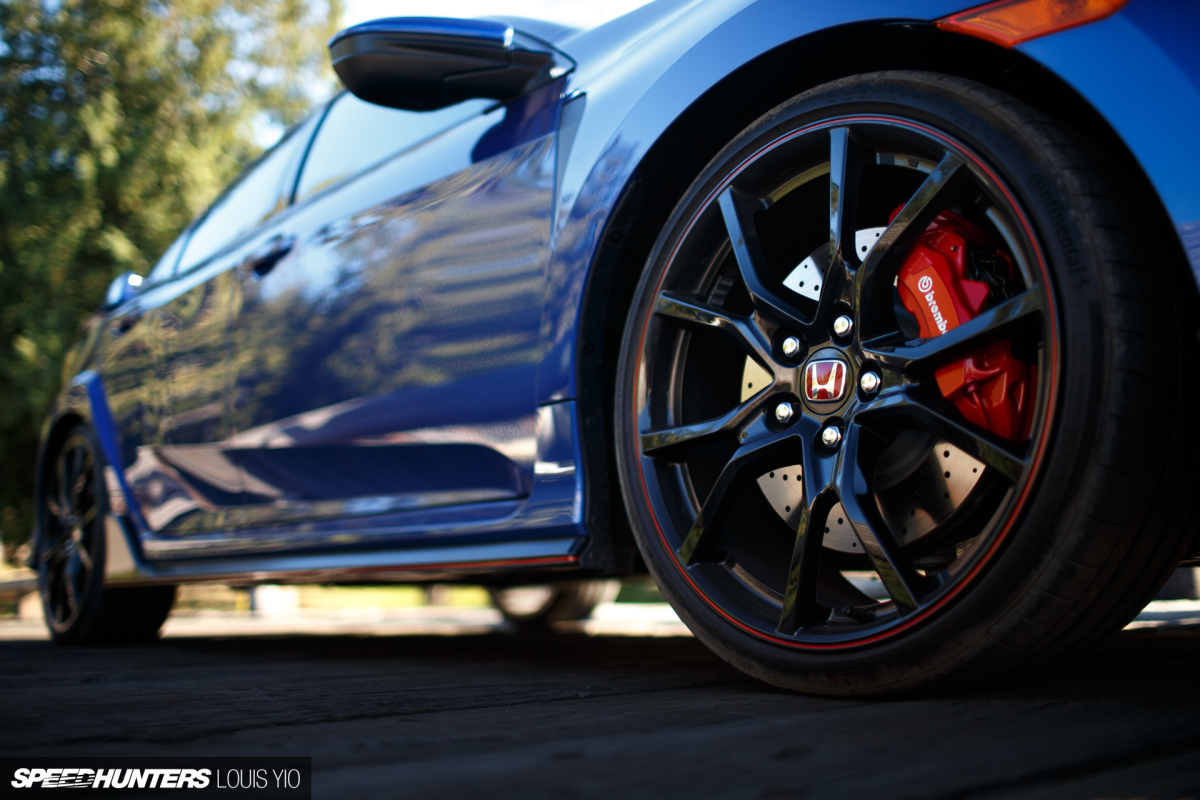 Next up is the suspension, which is nearly nothing like the current Civic line up, save for the solid bushings in the control arms of the Si. The front is not a conventional MacPherson strut package you're used to seeing under your typical street car. What's under the Type R is better known as the super strut, which features a ball joint to connect the knuckle to the strut rather than a plate and two bolts. This means that the KPI (king pin inclination) is more like a dual A-arm design but in the compact strut package that OEMs like.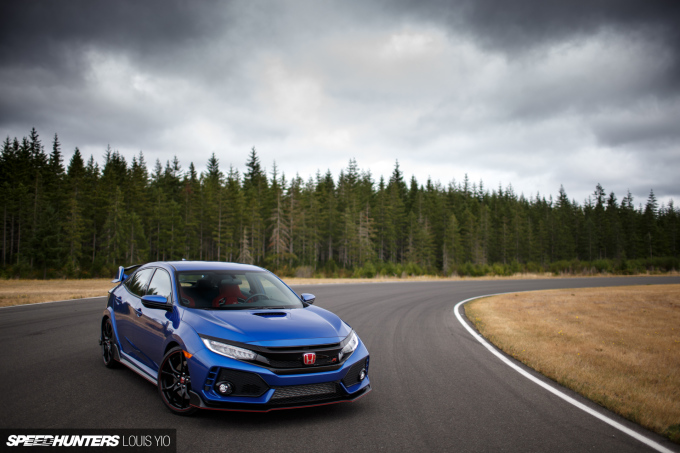 Now that the two points in which the knuckle rotates on to turn is within the wheel, it puts the steering axis and scrub more in line with the center of the wheel rather than far inside like a normal MacPherson strut does. Essentially, if you want to get a visual idea of what I'm talking about, draw a line from the center of your strut to the lower ball joint in your lower control arm all the way the ground. You'll see that this line doesn't line up with the center of the wheel. This, along with some other ingenious work, is what primarily reduces that torque steer and makes the Type R such an amazing car on track.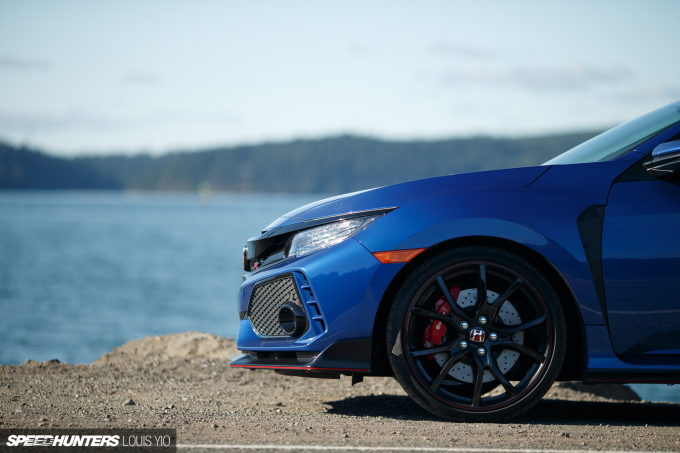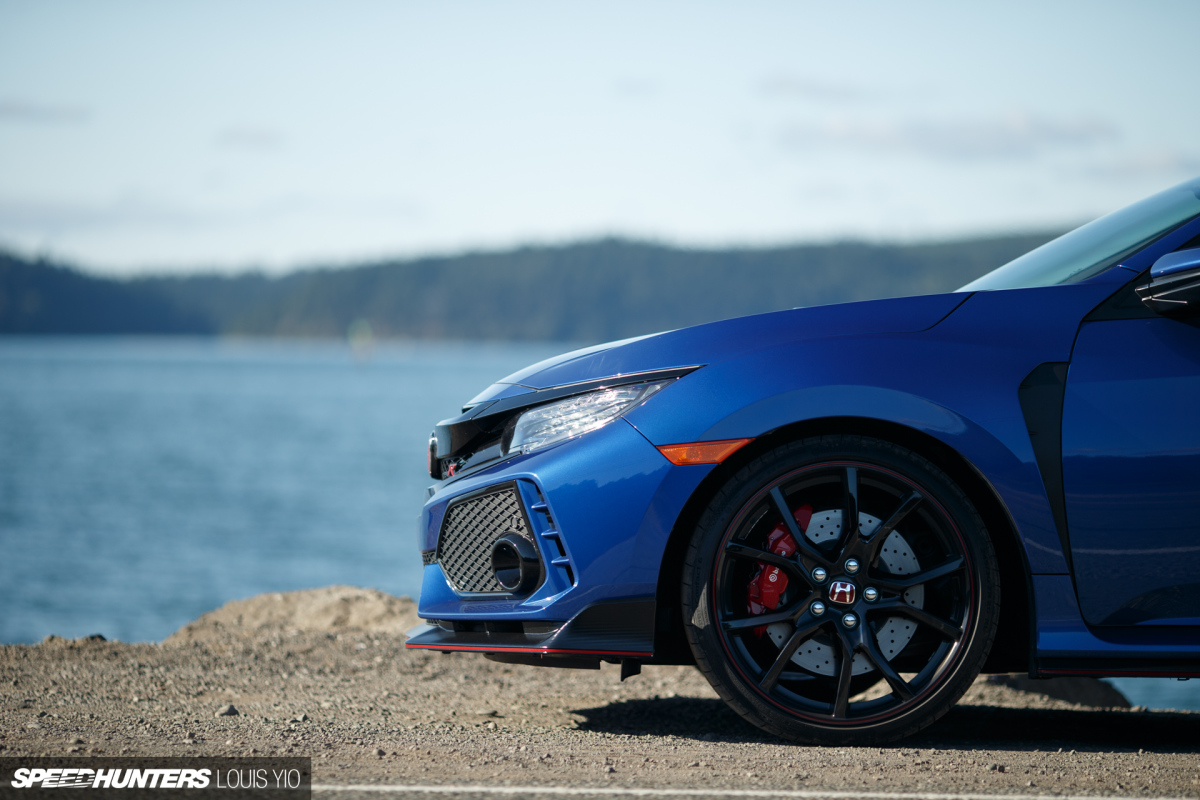 Thanks to that change, the wheels of the Type R won't fit on any other Civic, including the Si. However, since the unibody chassis is the same, with some rigidity improvements in key flex areas, that's not to say that parts from the Type R won't work on any other Civic. I even pressed this with Rob Keough, who confirmed that, while they haven't tried it themselves, if you swap out the knuckles and front struts, you could build yourself a Type R from any Civic in the line-up. However, you would lose the chassis rigidity enhancements and wouldn't be able to fully utilize the Type R suspension as it has sensors on the dampers to give feedback to the ECU to make changes as you drive. The Si does feature on-the-fly suspension dampening changes, but it's preset rather than a constant change as the chassis and suspension moves on the road and track.
Drive It With Passion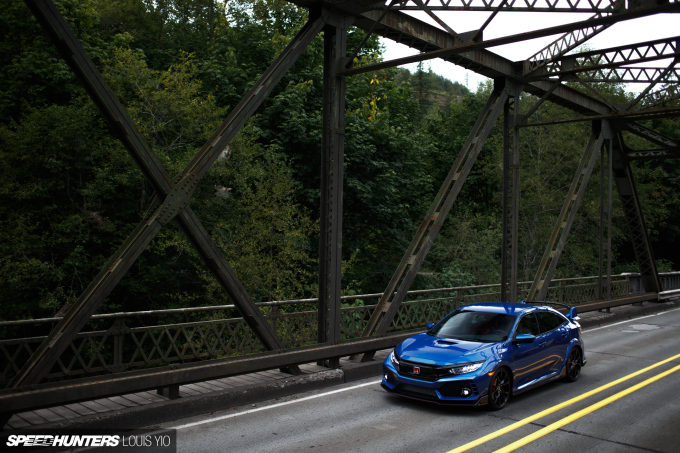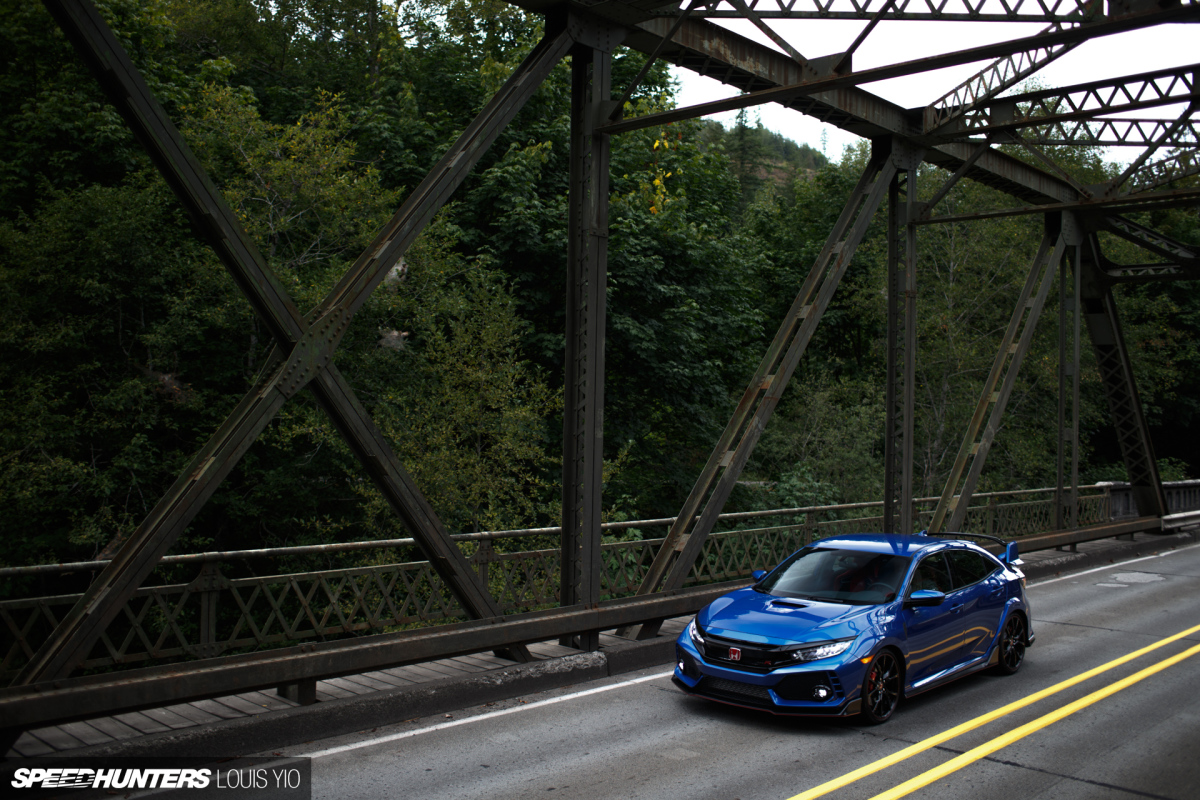 What about the street, though? The place most Type R drivers are probably going to enjoy the car. Well, Honda allowed us a four-hour drive from the track to Fort Worden and then turning around to go back to the Alderbrook Resort. This also gave Louis the opportunity to drive the car and give me feedback outside of my own.
Fort Worden from the track was just over 100-miles and scenic with many, many opportunities to look around and experience the backroads and people of North Western Washington. As I was driving, I got vibes of being around West Virginia and heading to Summit Point. When I rode, I got some flashbacks of heading towards Williamsburg or Virginia Beach with friends for car parts. Being outside of Seattle was beautiful and I loved every minute of it.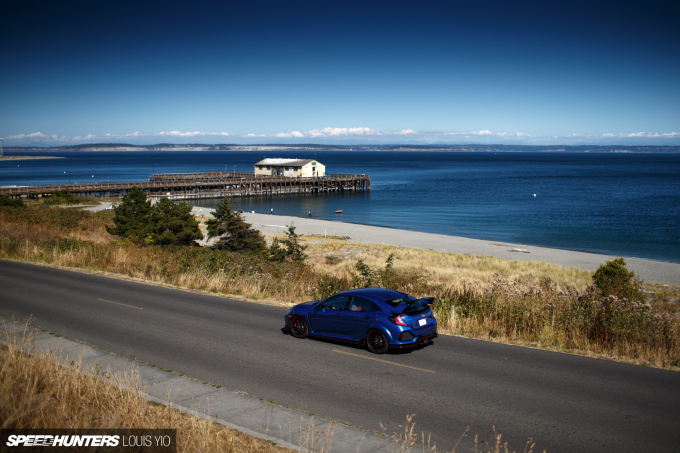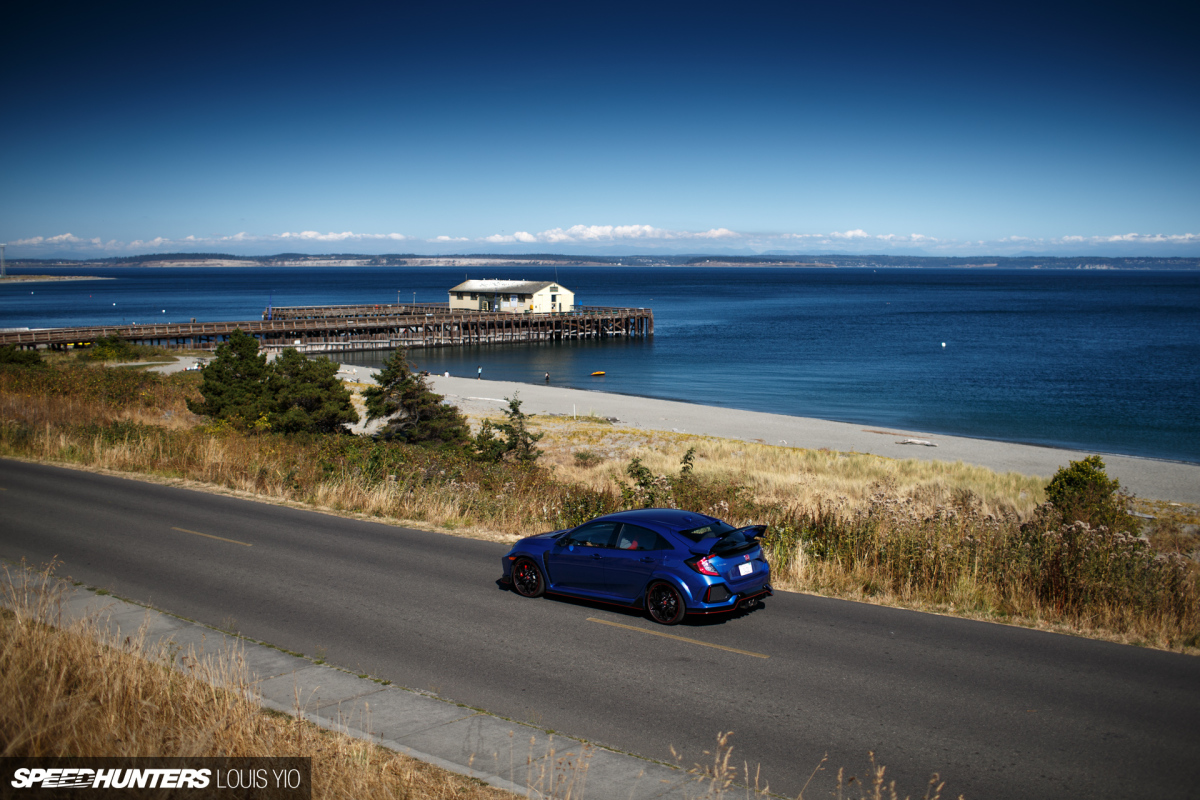 Once we reached the lighthouse in Fort Worden, we then took the route back to the Alderbrook, our second leg, but had to rely on driving by GPS for the first portion of it thanks to a traffic accident that was slowing everyone down. However, even as we were pressed for time, we still took what we could to get photos and experience the car for what it was.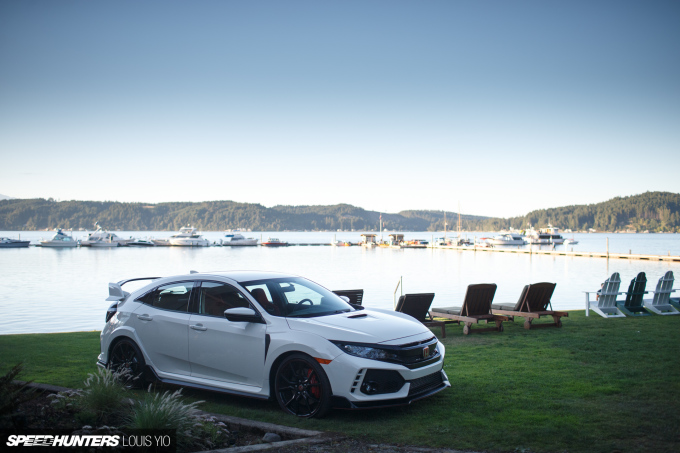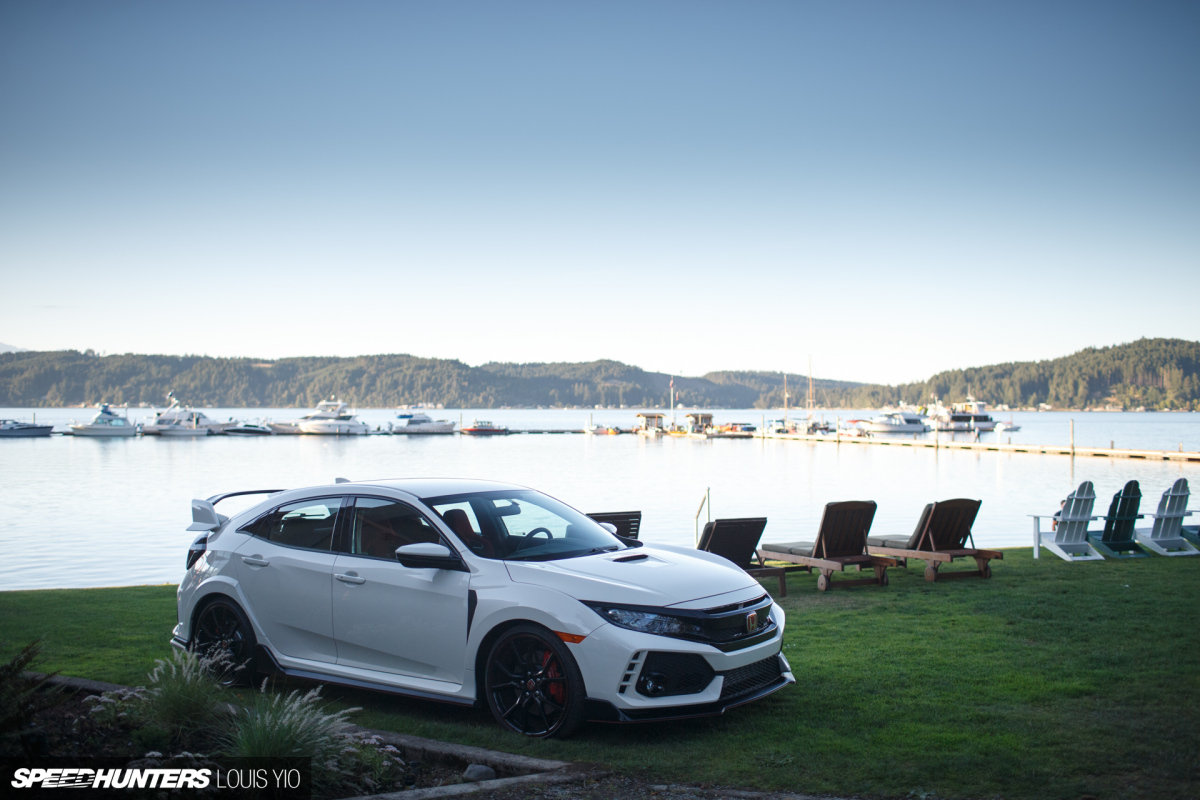 By the time we got back, we were bringing up the rear and only just made it to the after-drive dinner with about five minutes to spare. It was a great dinner, but honestly if we had missed it and continued to drive the Type R, neither Louis nor I would have complained.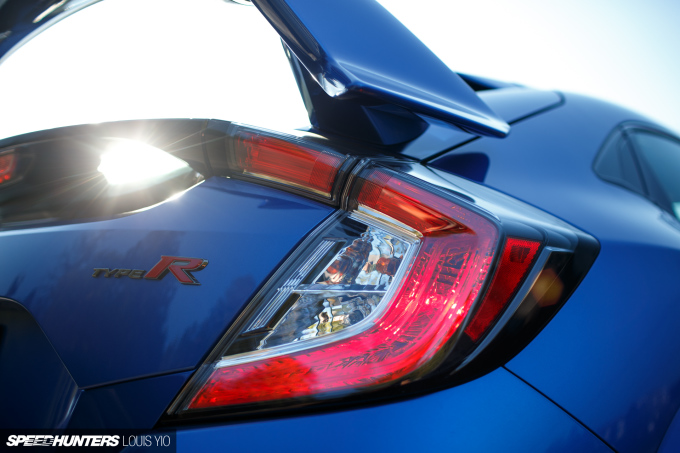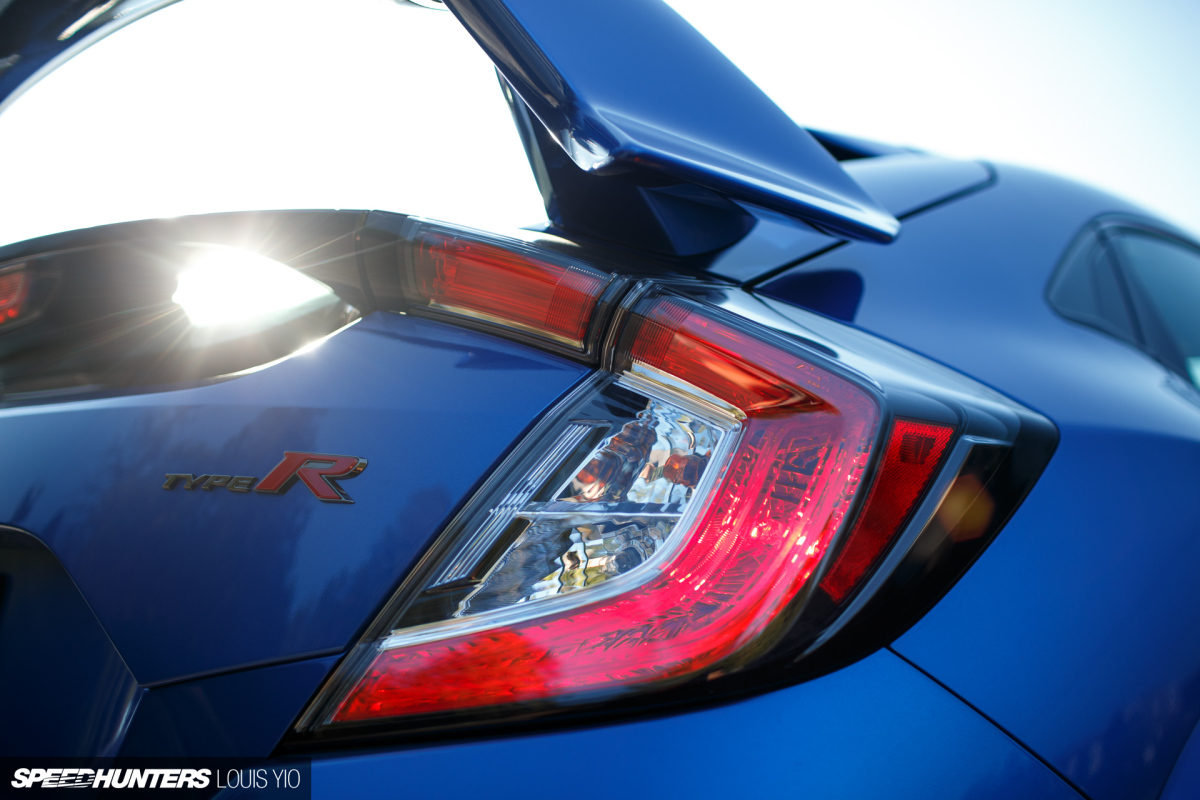 So, as you can probably guess, I am quite impressed with the Civic Type R as everyone else was. Once again, Honda gave me the keys to a car that I just didn't want to give up. As I flew back to Los Angeles, I reflected on my time with the CTR. I fully realized what we were missing, even if the previous Type Rs were even a tenth of what this one was.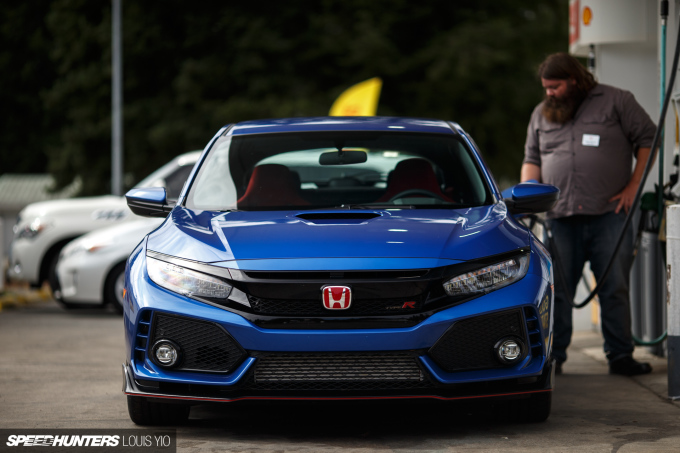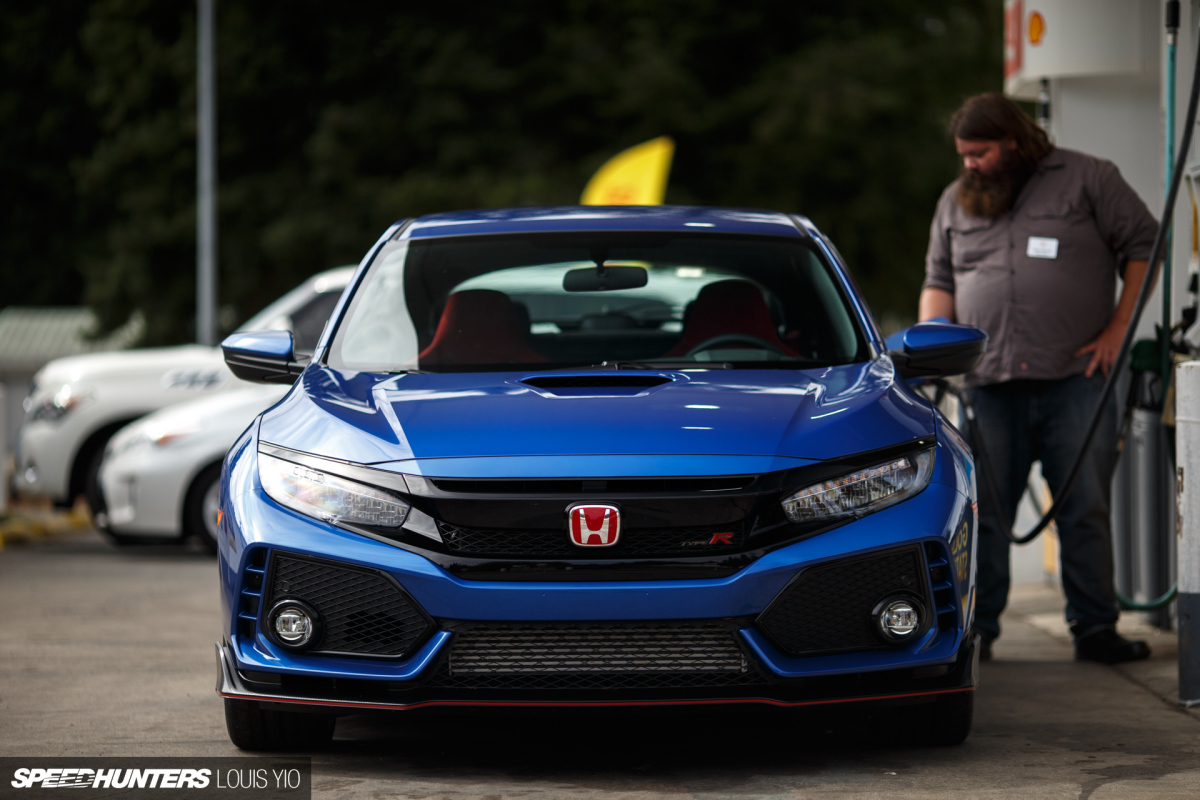 I now want a Type R, but I still do enjoy the thought of owning a Si. It makes me wonder if there couldn't be some sort of compromise…
Regardless, as I mentioned on Instagram, it also makes me realize how privileged I am to be able to attend events put on by OEMs like Honda. I definitely look forward to doing more and bringing those stories and tech to you guys. It also makes me realize how much I miss having my own helmet.
Words by Justin Banner
Instagram: jb27tt
Facebook: racerbanner
Twitter: RacerBanner
Photos by Louis Yio
louis@speedhunters.com
Instagram: lusciousy
Cutting Room Floor