Junkyard Drift
I should start by saying that this was totally unexpected. In my line of work I've come to expect the unexpected, but this was on another level.
Right before Formula Drift Orlando, or in my case, Red Bull GRC Memphis, the guys over at Donut Media told Larry and I about a shoot they were planning. Details were light, but at the center of it all would be Chris Forsberg and his twin-turbo Nissan 370Z in a Los Angeles junkyard.
If that sounds like a recipe for a good time, you'd be right. Before I get into a behind-the-scenes look at the video, you should check out the finished product by hitting play above.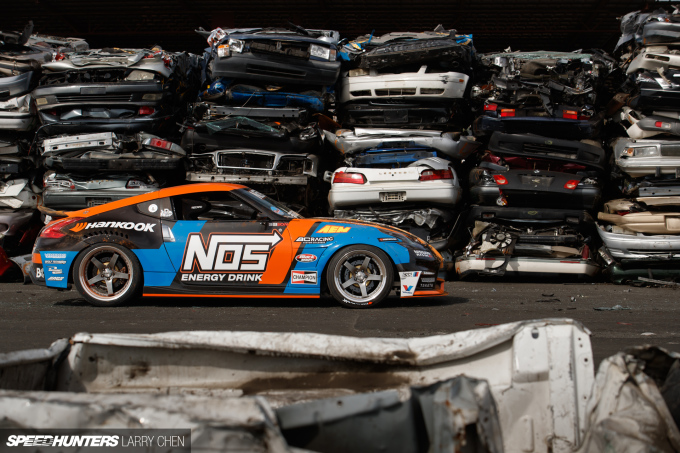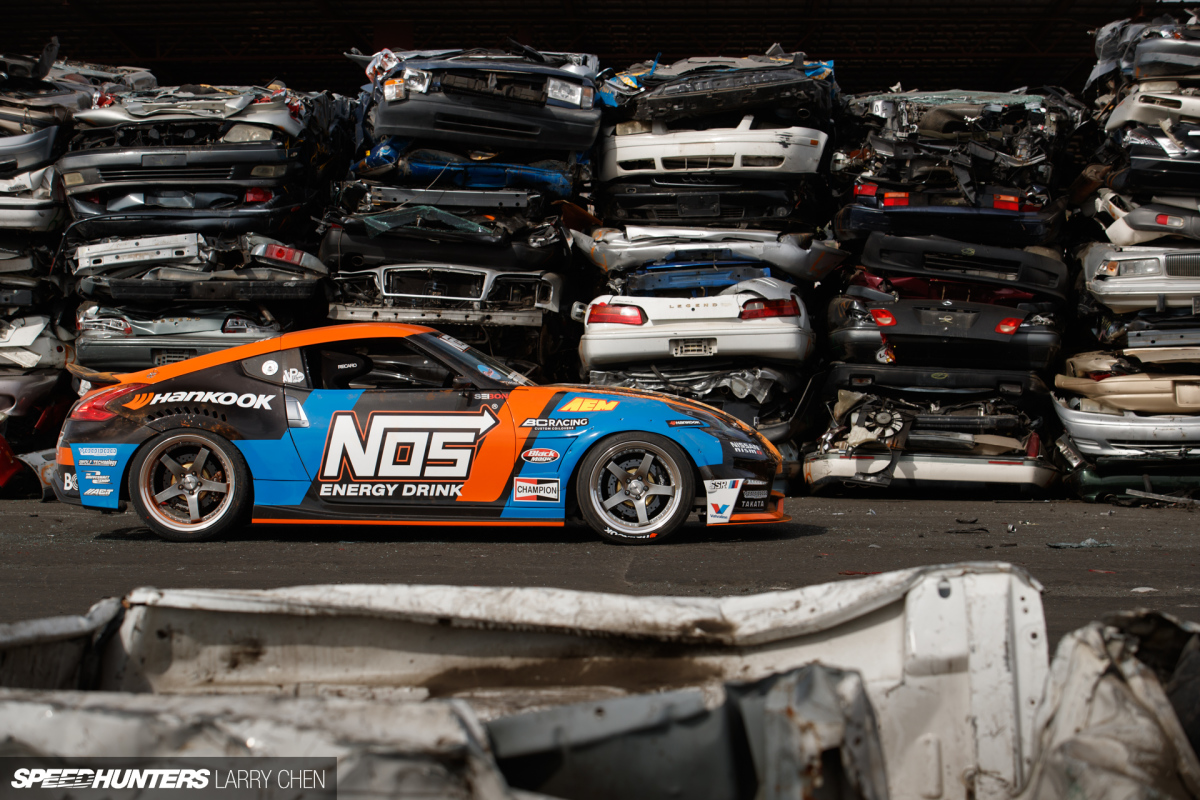 The 370Z was originally a 700hp street car that Chris built with Ryan Tuerck on the web show Drift Garage. As you can see, it's far from that now.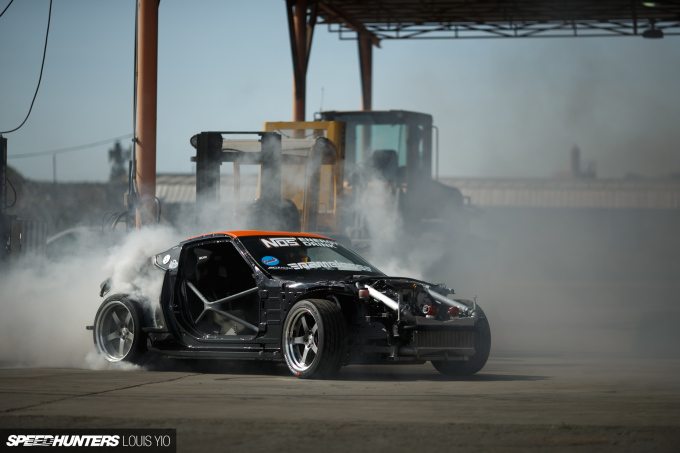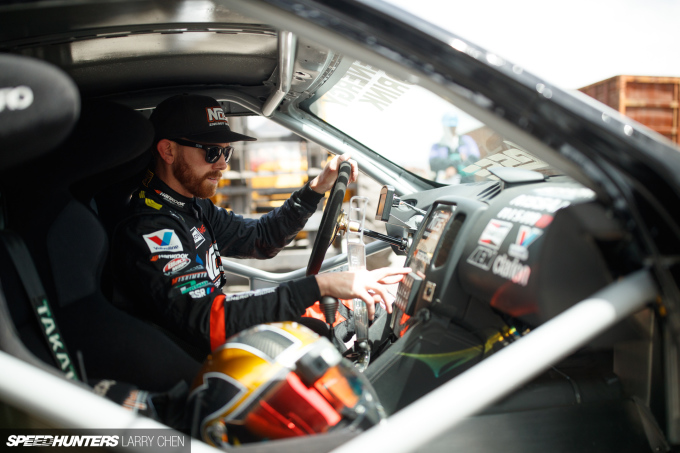 Chris is no stranger to this sort of thing, and I sort of knew what to expect too having worked alongside him back in 2015 on Hoonigan's Black Friday video in an abandoned and asbestos-filled mall in Hawthorne.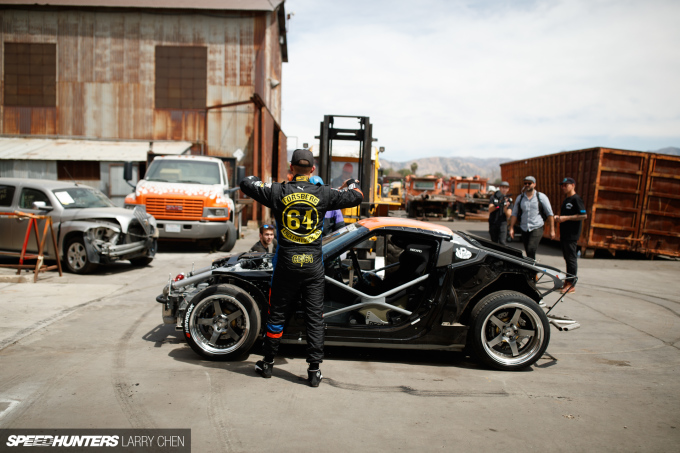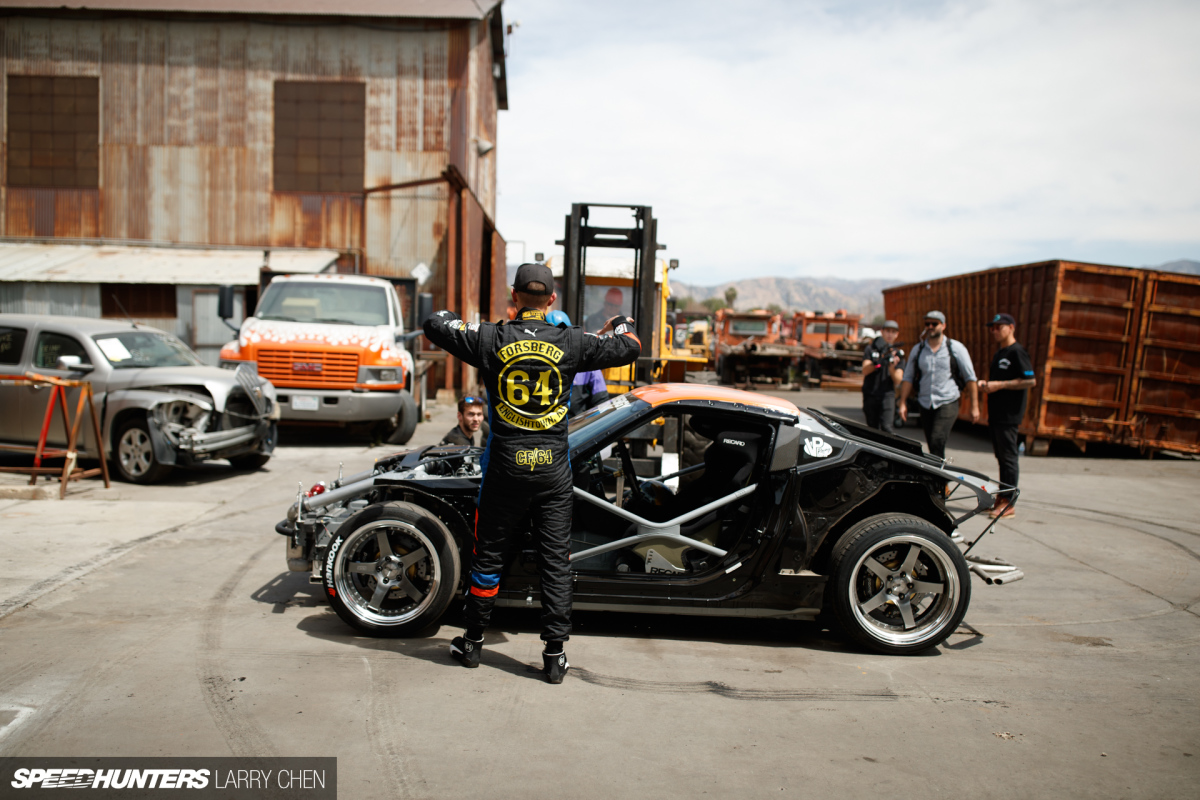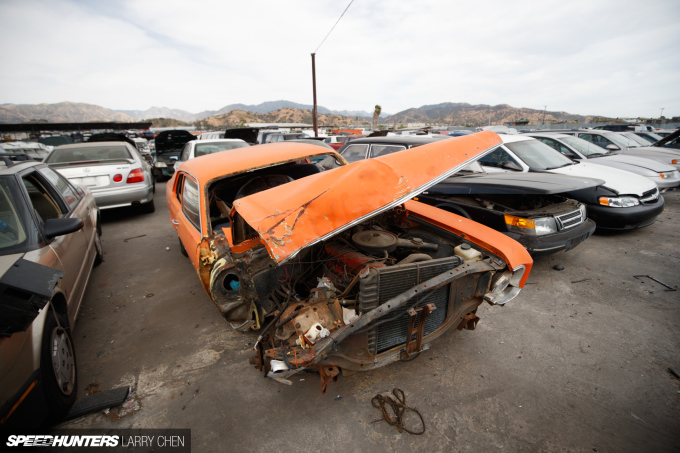 Other than that it was going to be filmed at a local junkyard in LA, I didn't know many details about how the shoot was going to play out, but that's what made it fun and exciting.
The first order of business for the day was to have Chris take off all the body panels from his Z for the first shots, something that proved to be pretty simple. All the Seibon carbon fiber panels plus the headlights and taillights are worth more than my car!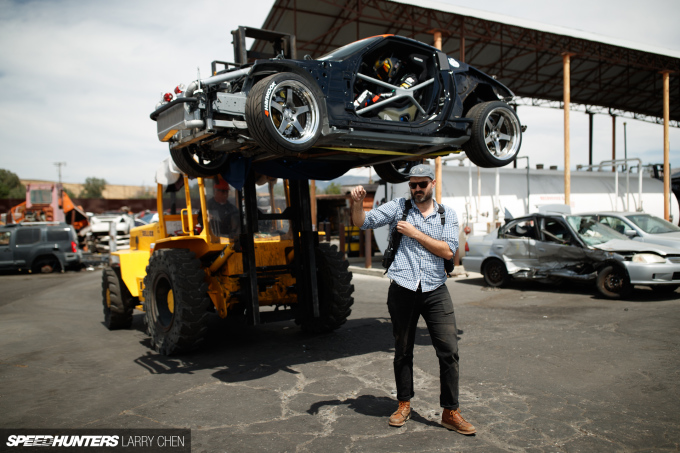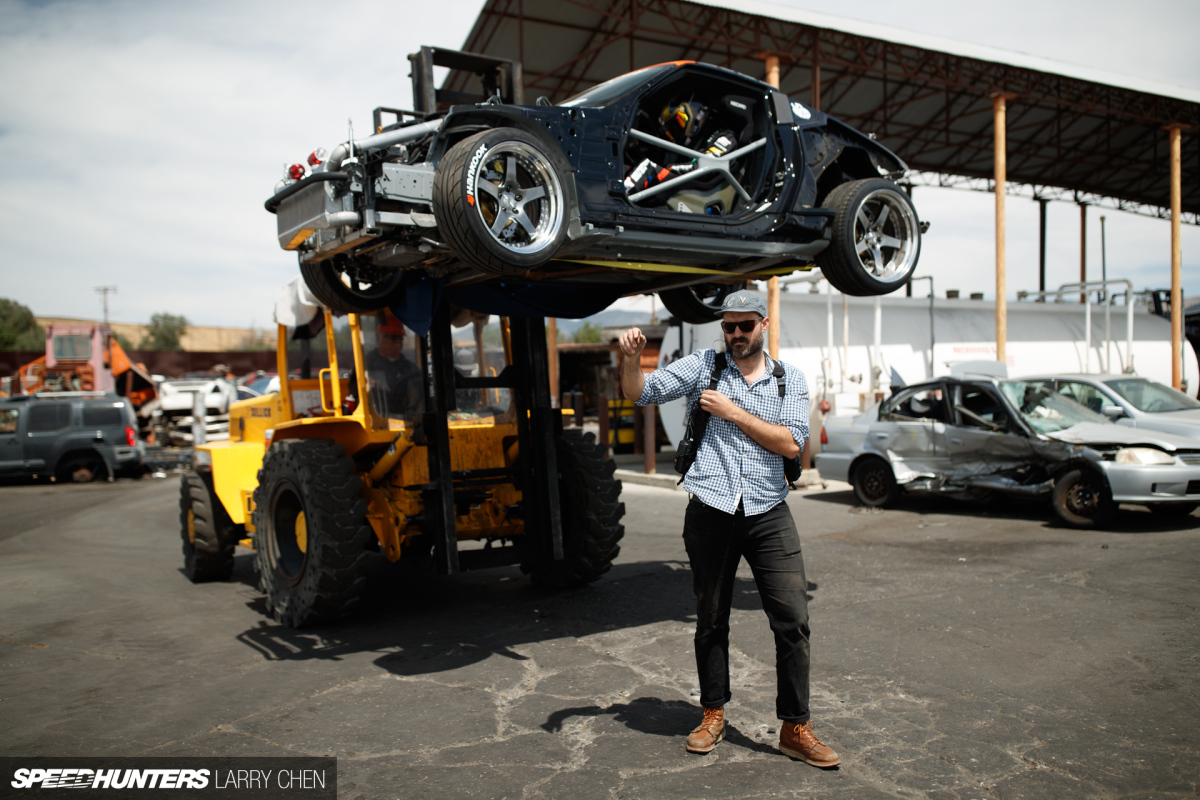 Once the car was naked, the crew had it hoisted up and carried through the junkyard to the paint shop.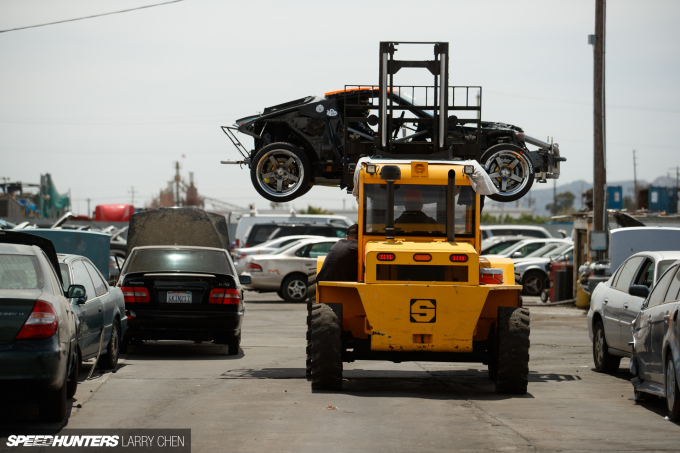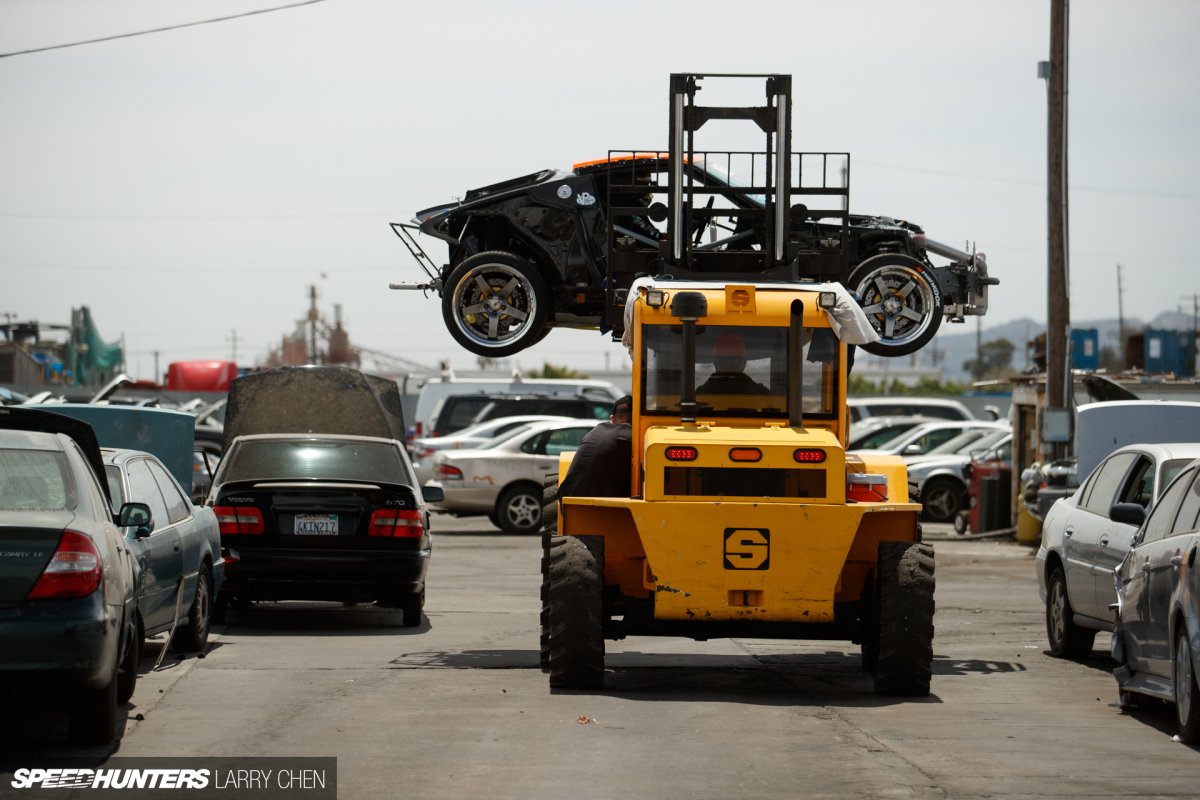 This was one of those things that you can't really imagine until you actually see it for yourself.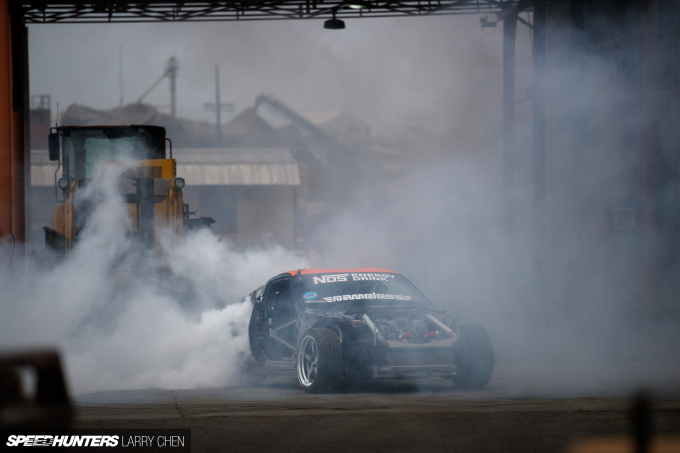 After a few burnouts, the car went into the paint shot to have its panels reattached.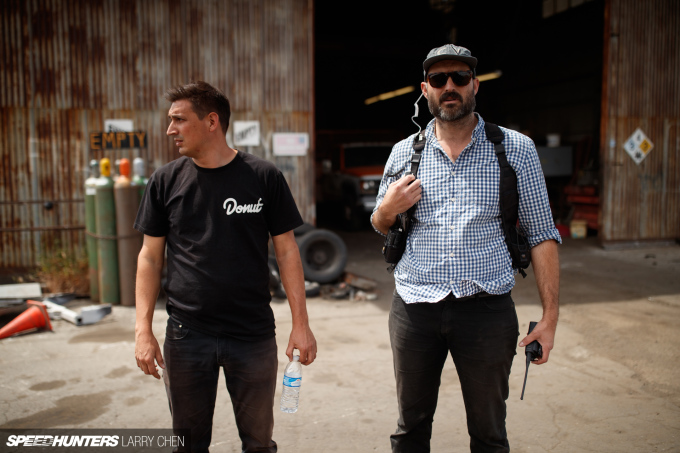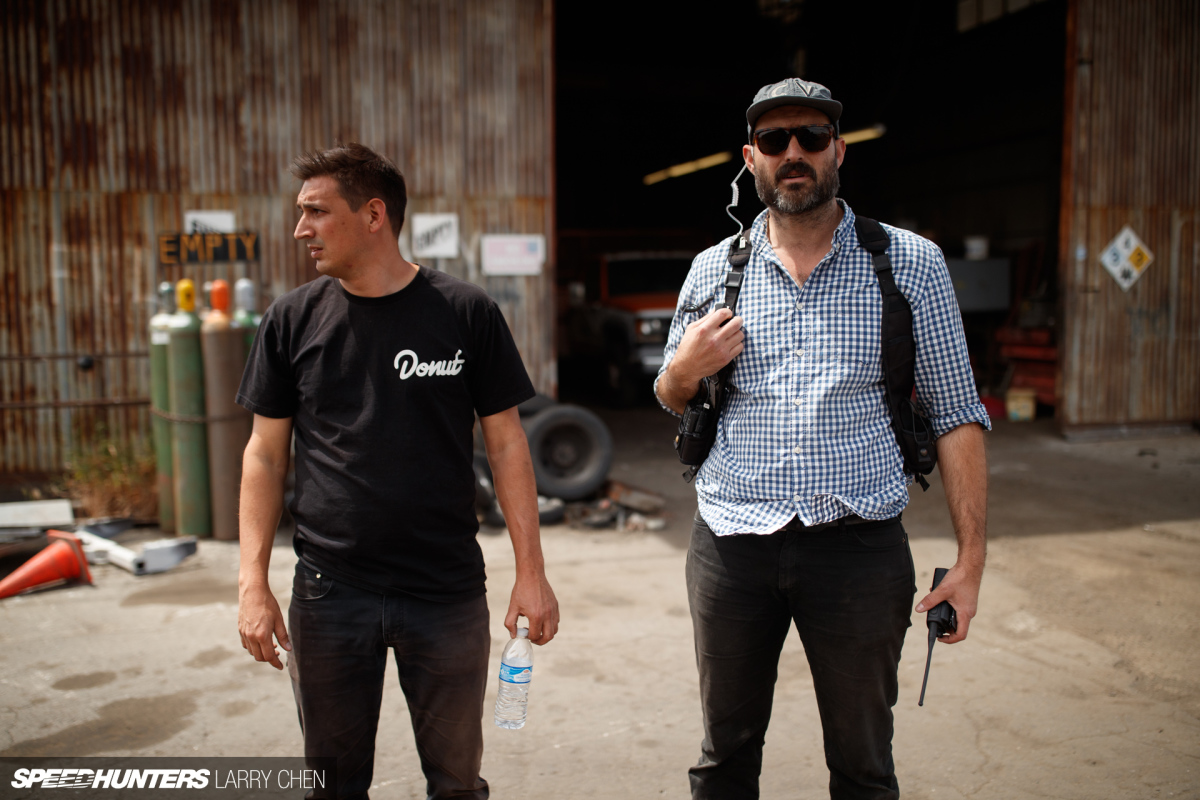 With a short lunch break out of the way, everyone was ready to start filming the main action sequences. Jacob and Andy drew some inspiration from Holi for this one.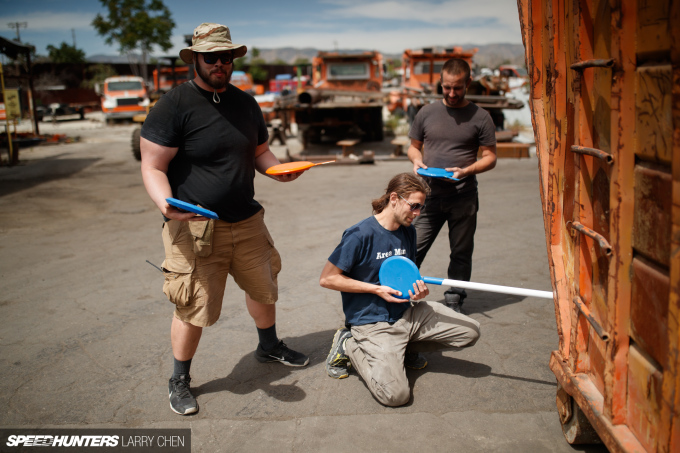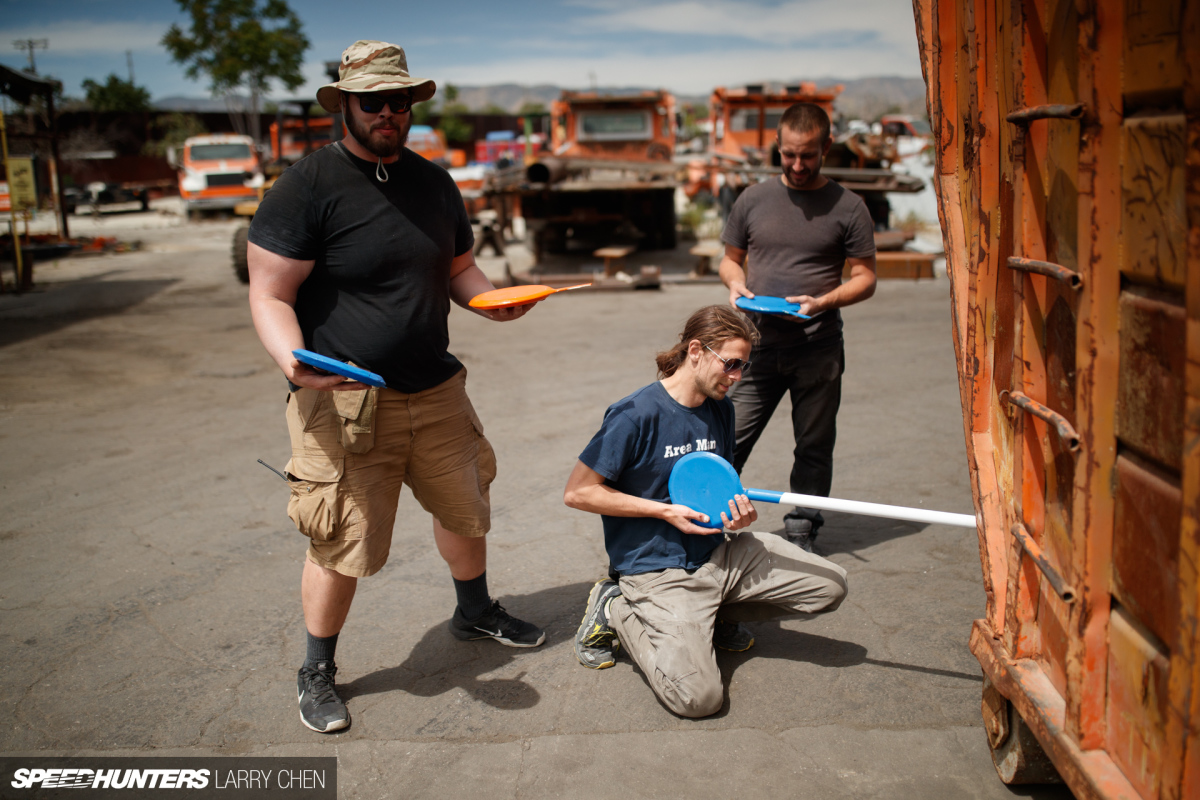 Holi, or Festival of Colours, is a Hindu festival that takes place at the end winter celebrating happiness and positive thoughts. Although it originated in India, the popularity of this event has seen it spread throughout the rest of the world.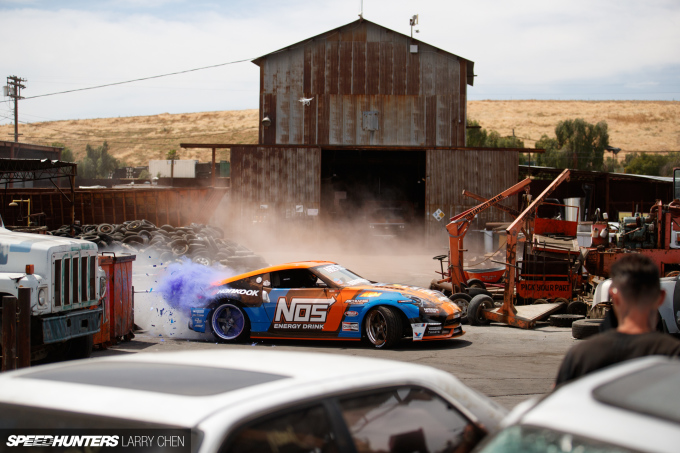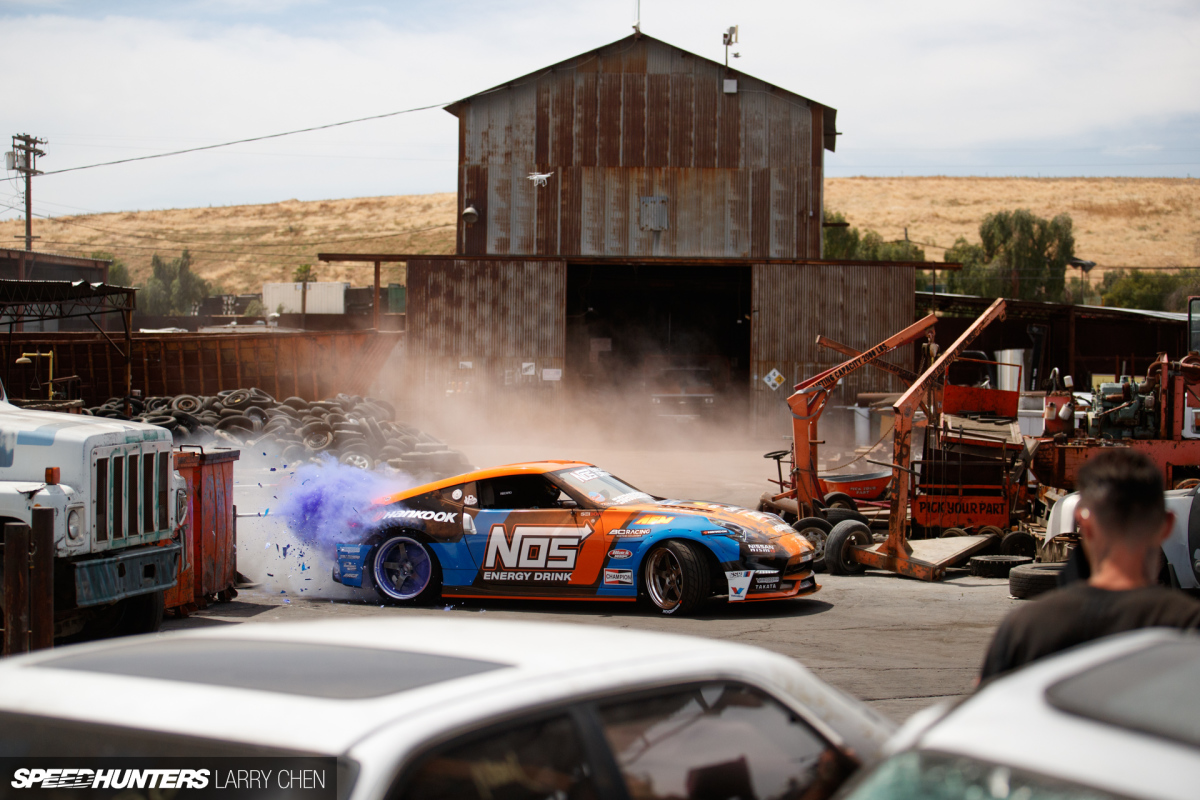 Inspired by this, the Donut guys made color plates filled with Holi powder that matched the 370Z's livery, to use as clipping points.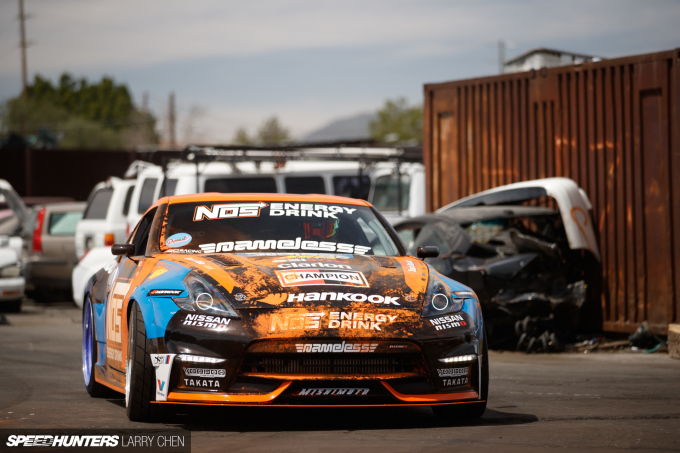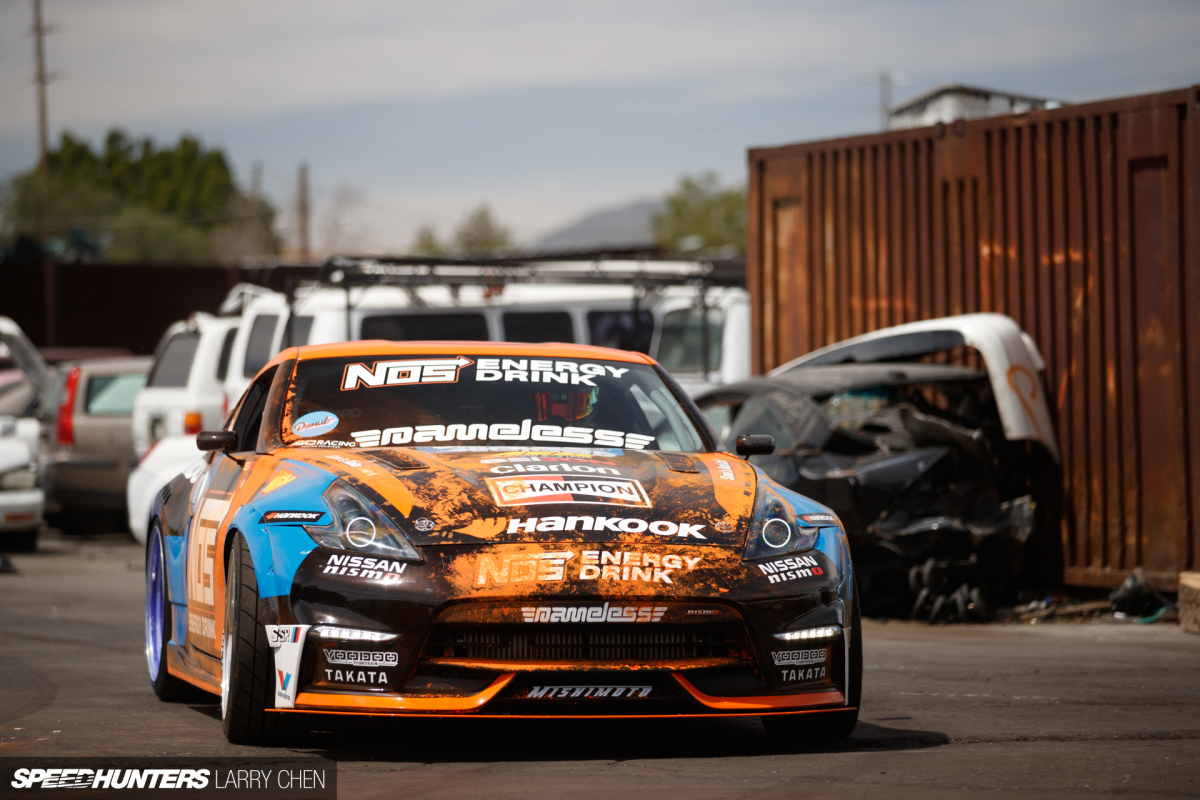 I didn't have a clue that this was going to happen, so it was a nice surprise.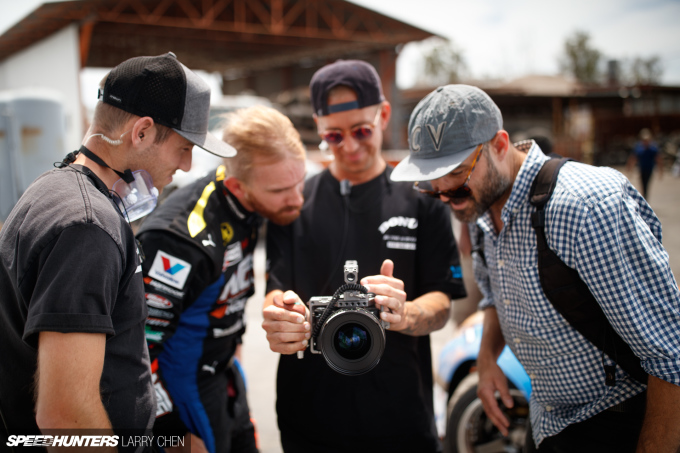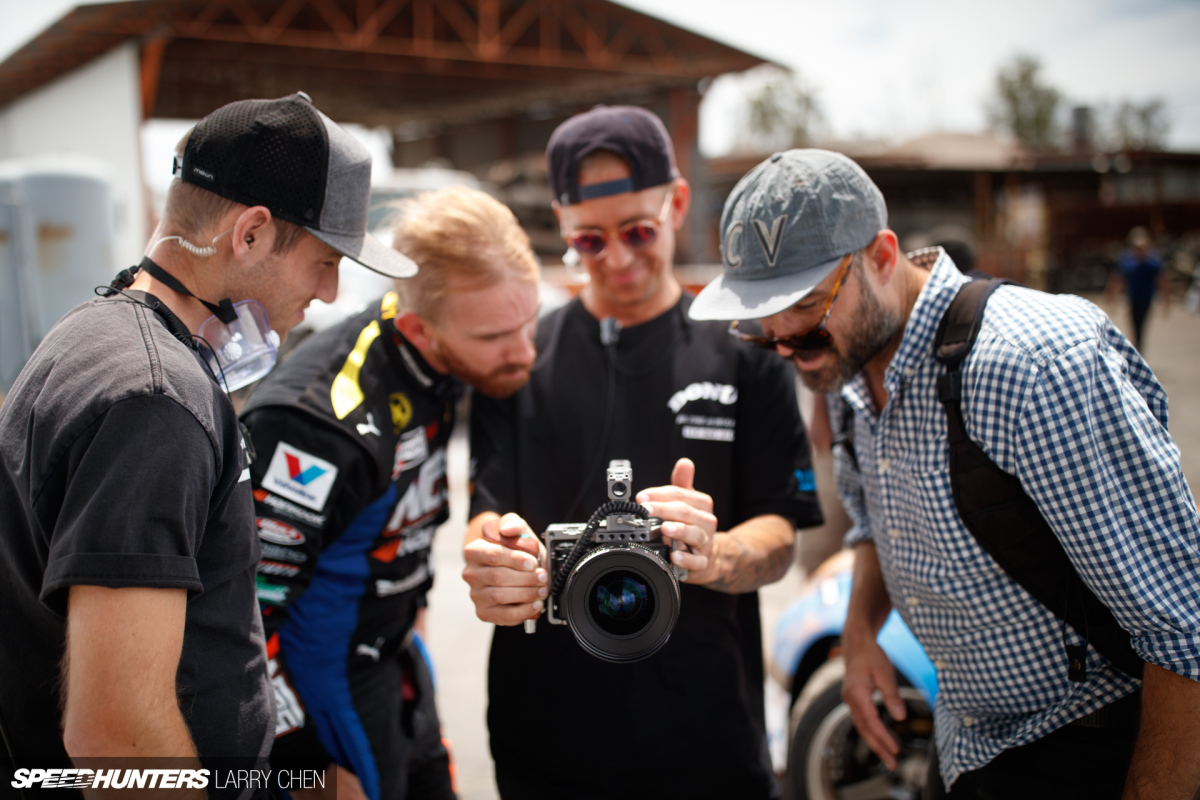 It was seriously impressive watching every take of Chris blasting through the colored plates. There were plenty of moments where we just kept watching the slo-mo replays.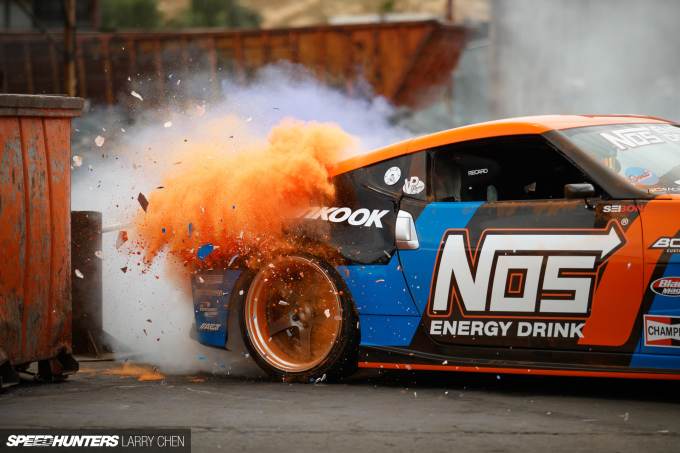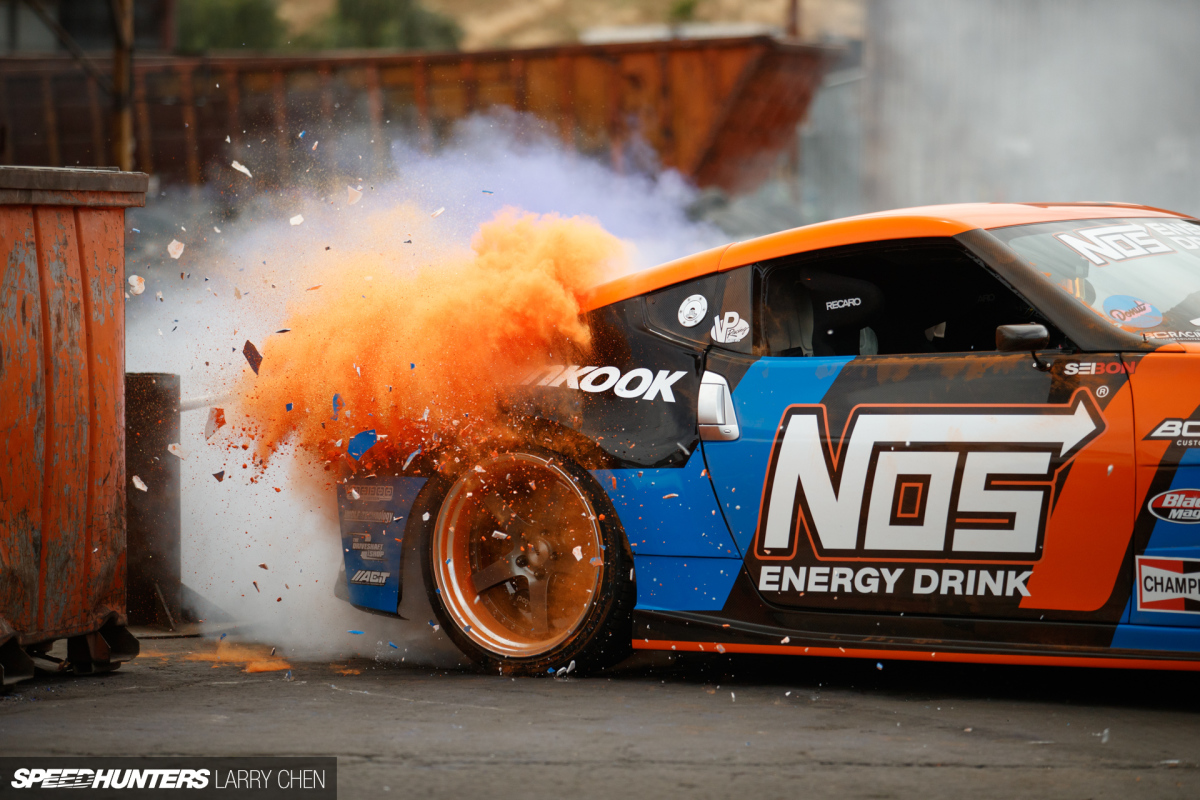 The cloud of Holi powder combined with tire smoke created some interesting colors from the back end of Chris's 370Z.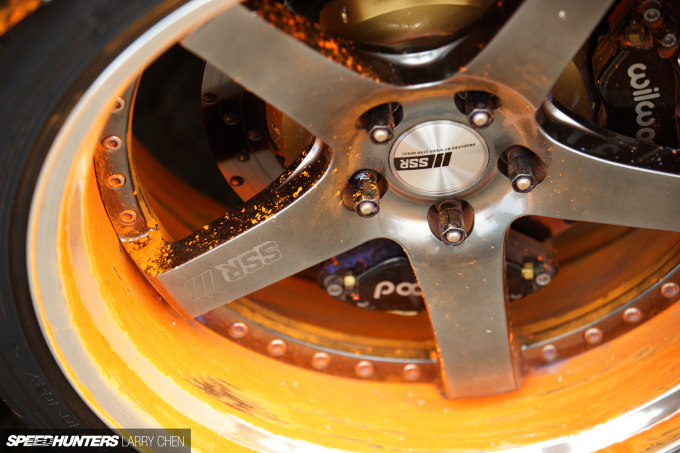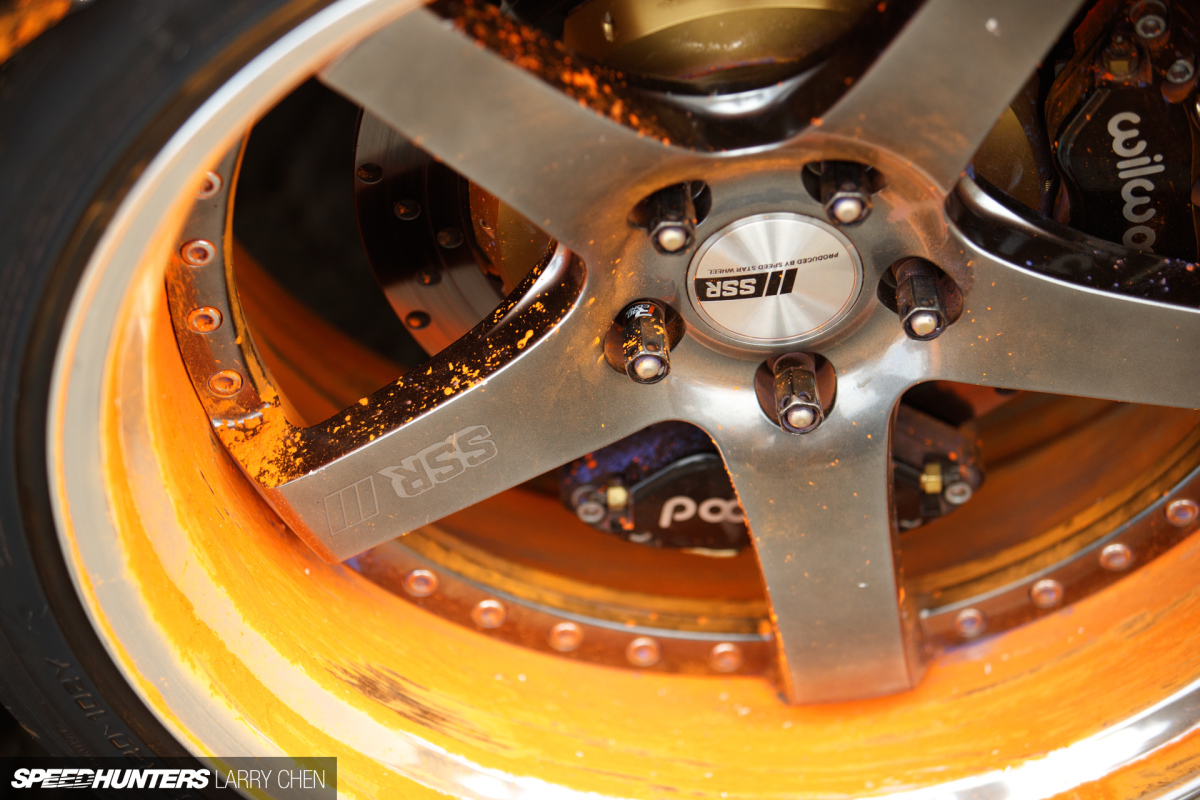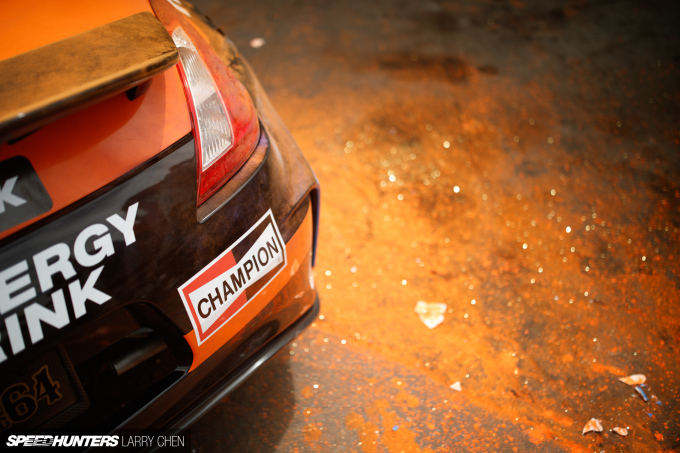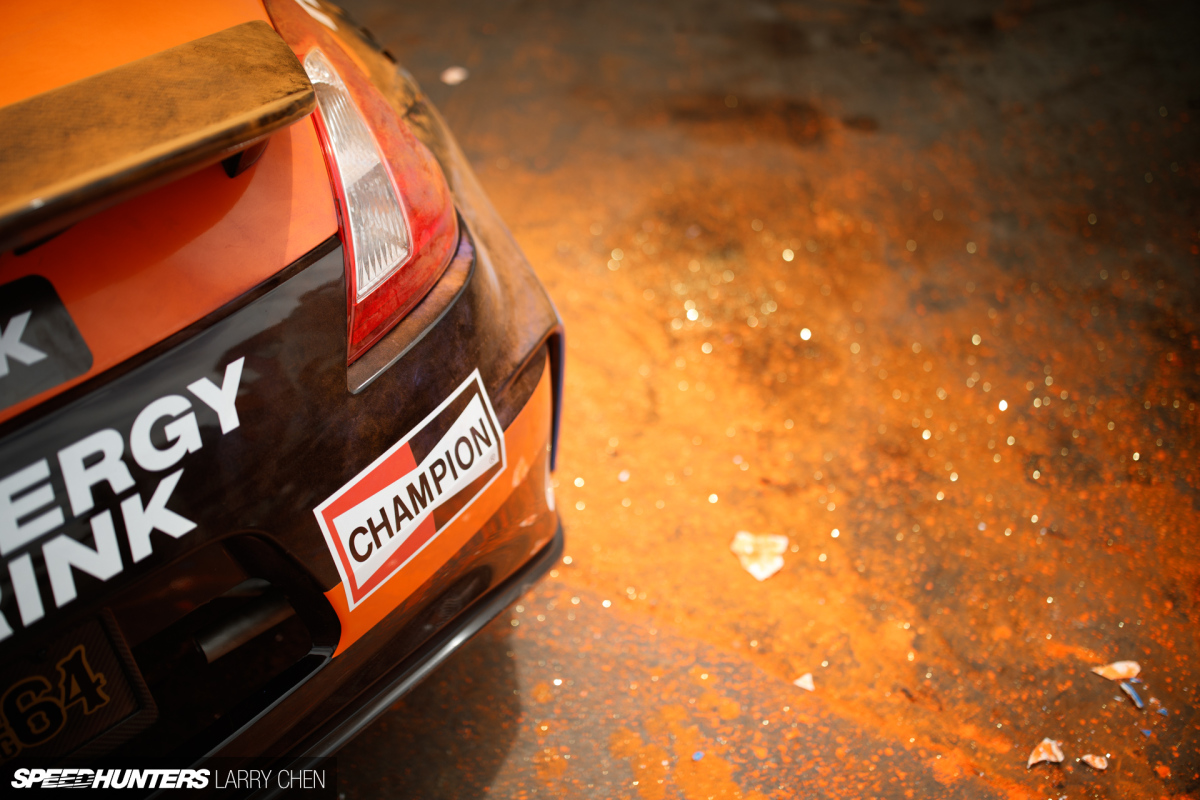 It also brought a new look to the car.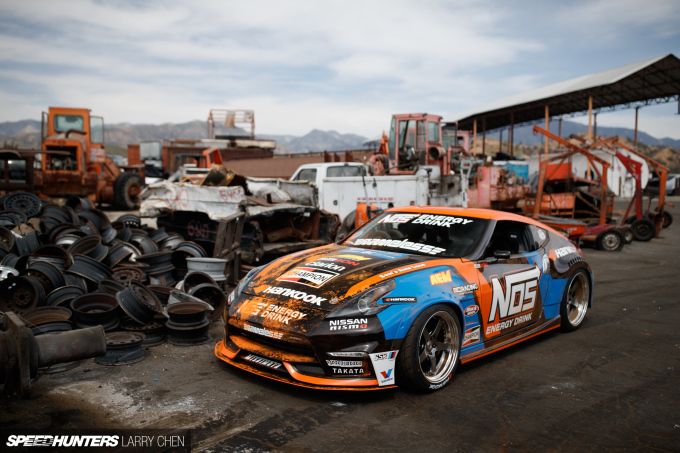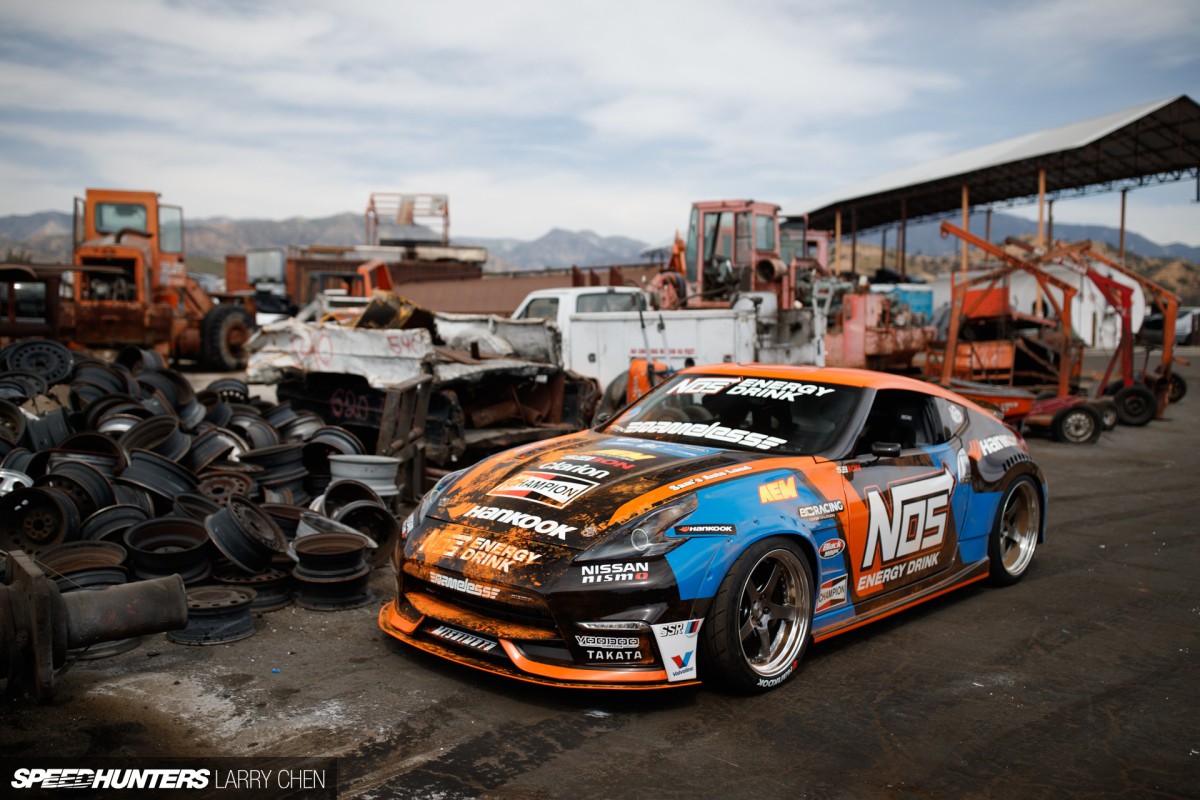 Let's not forget that we were in an junkyard doing this, either. Celebrating positive vibes in such a place created a nice contrasting video concept.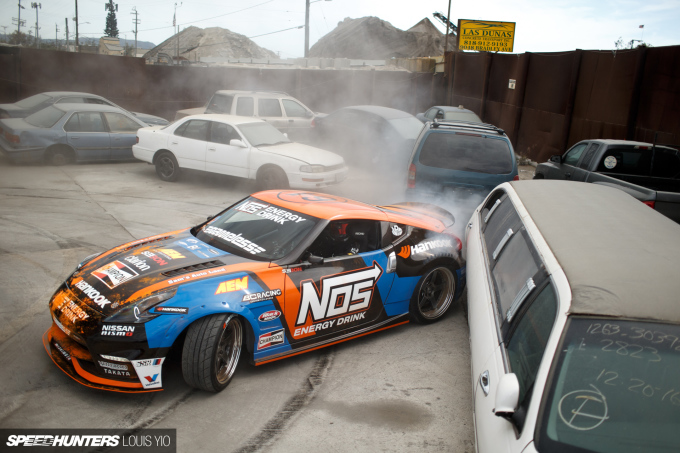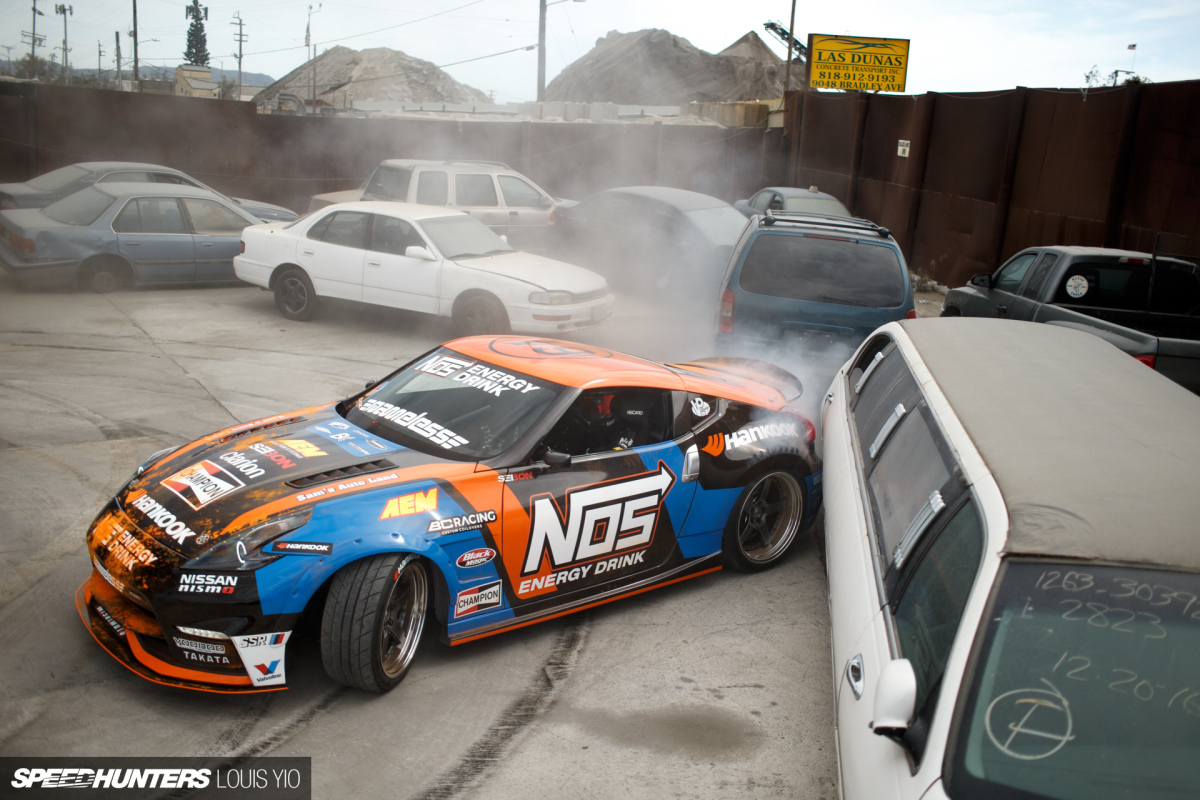 Chris has a slight addiction to wall scrapes, but with nothing suitable in the junkyard he had to improvise.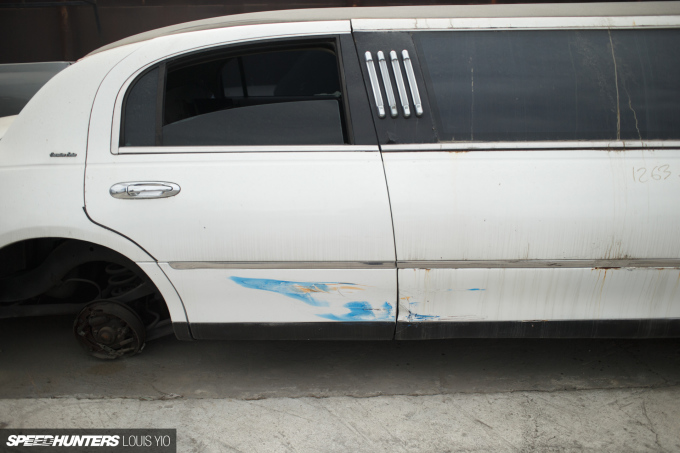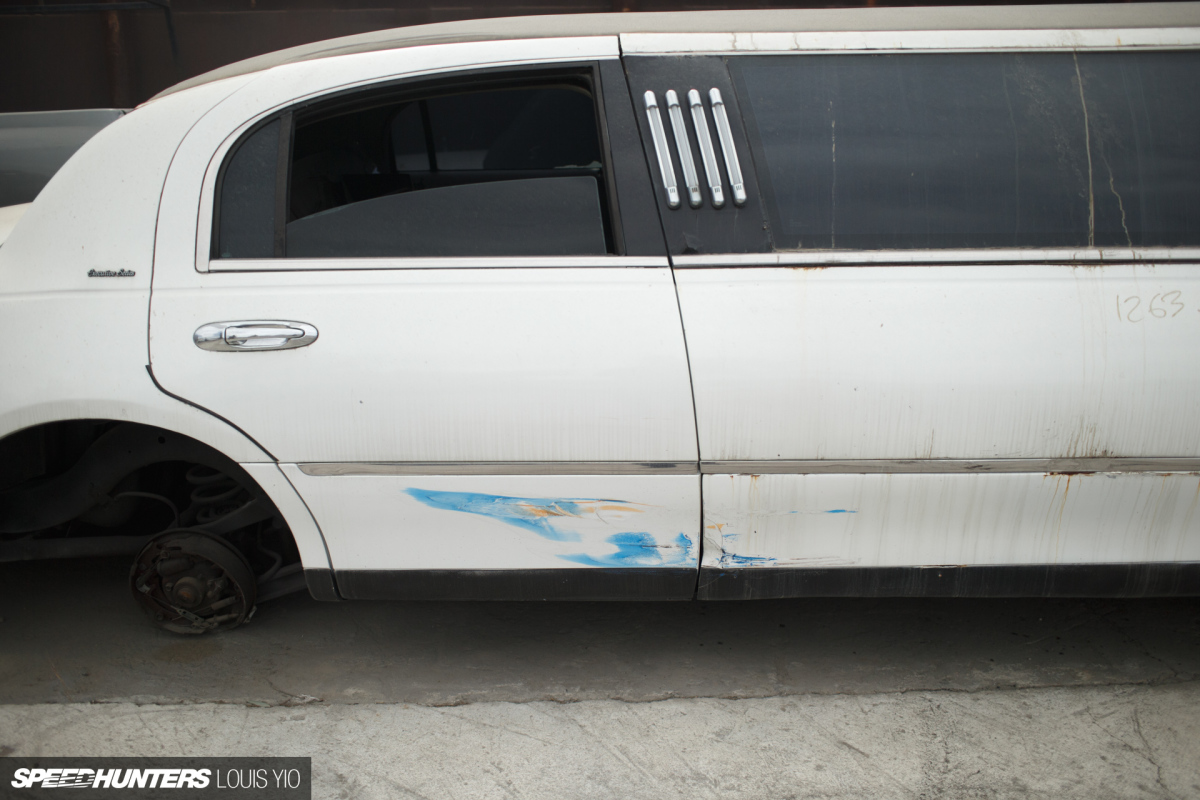 The next best thing was a limousine.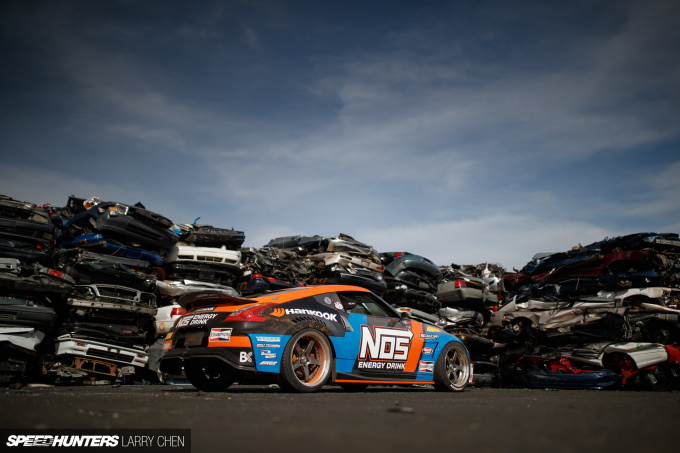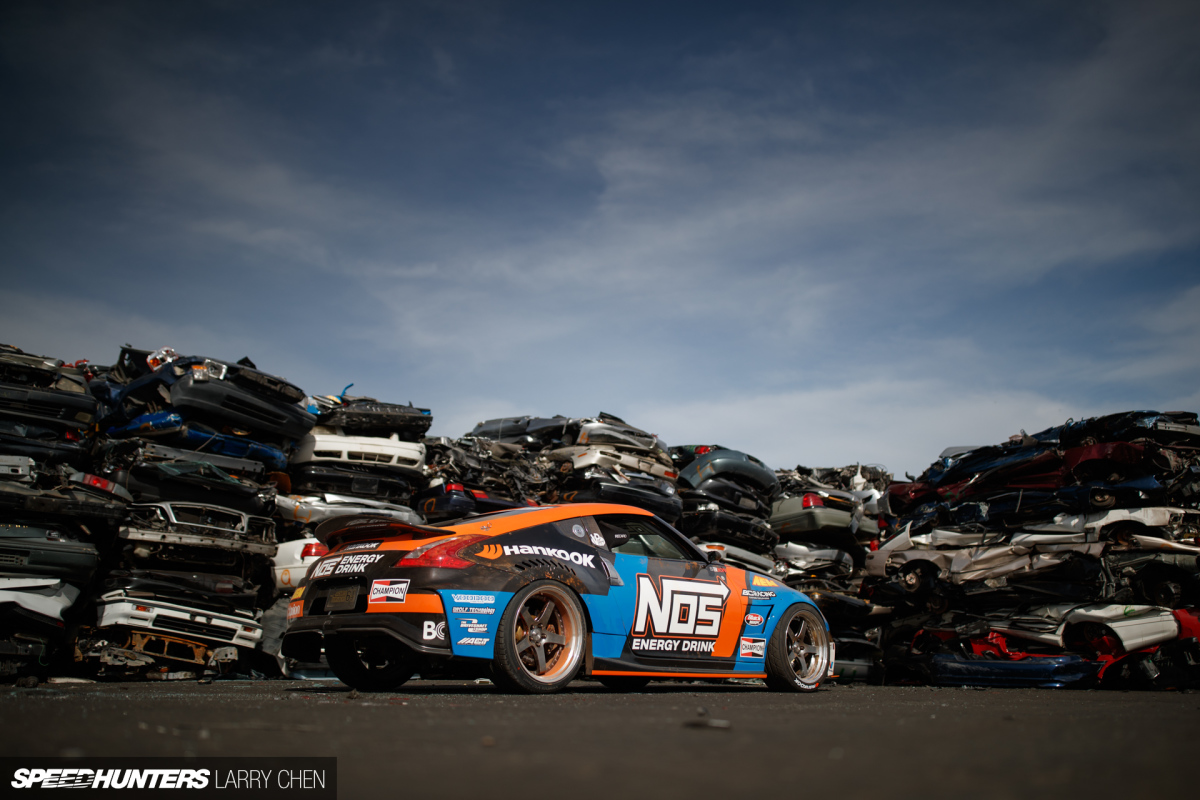 While the video guys were setting up their next shot, we found a perfect photo opportunity.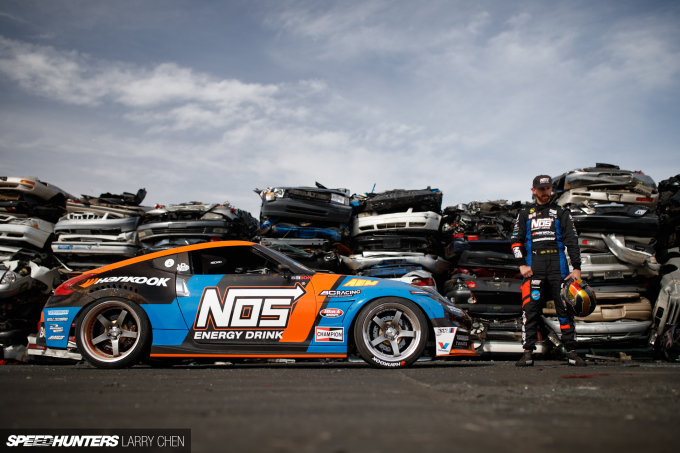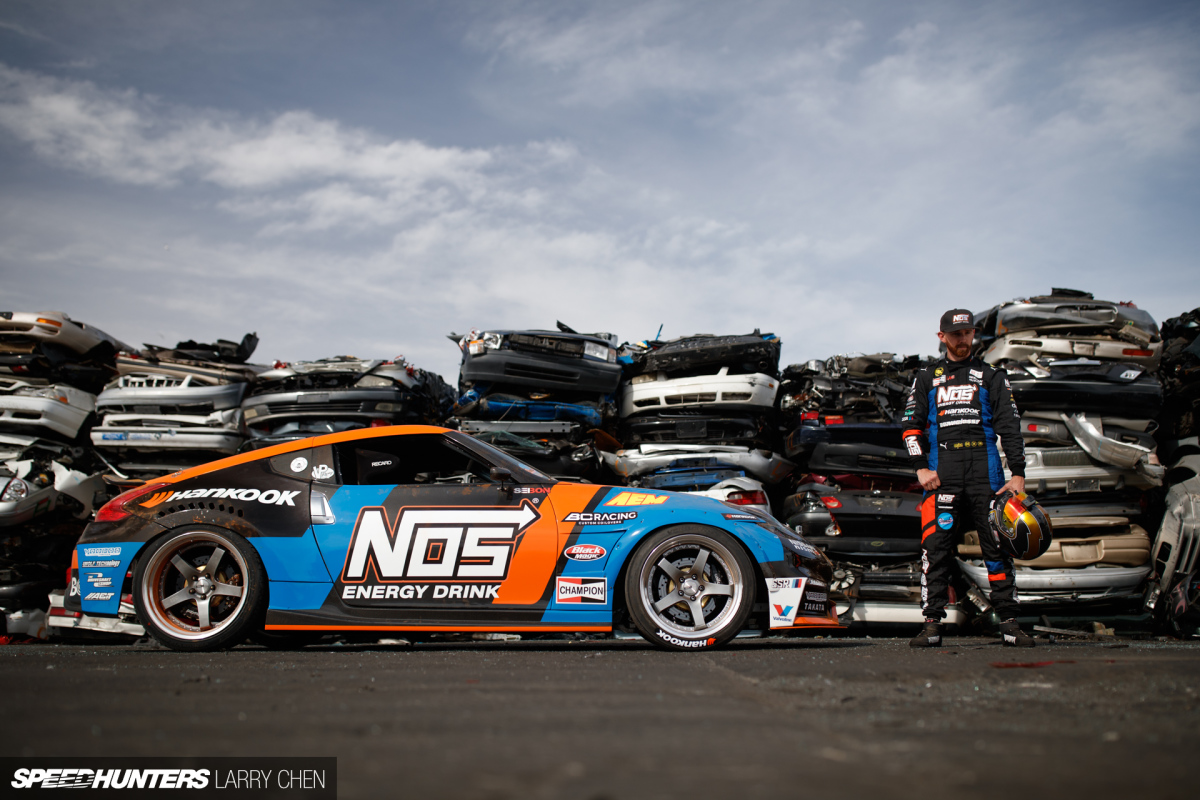 Within the stacks I spotted some Acura Integras, a Subaru WRX, a Nissan 300ZX and a few other enthusiast rides. Yes, I did shed a tear for these once-awesome cars.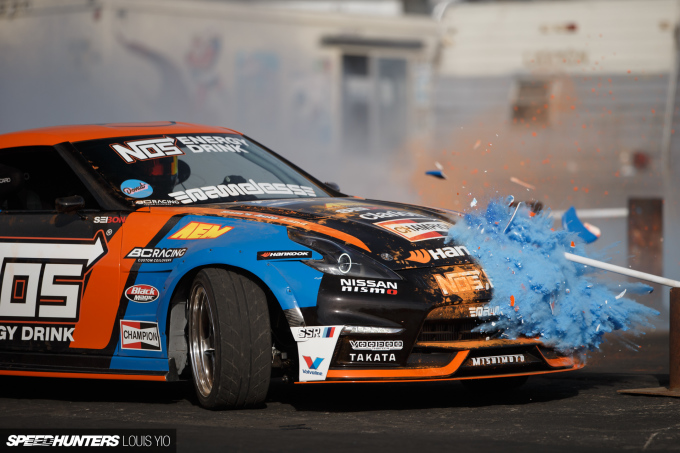 With the sun starting to set, the video guys began finishing things up with a few more color plate sequences.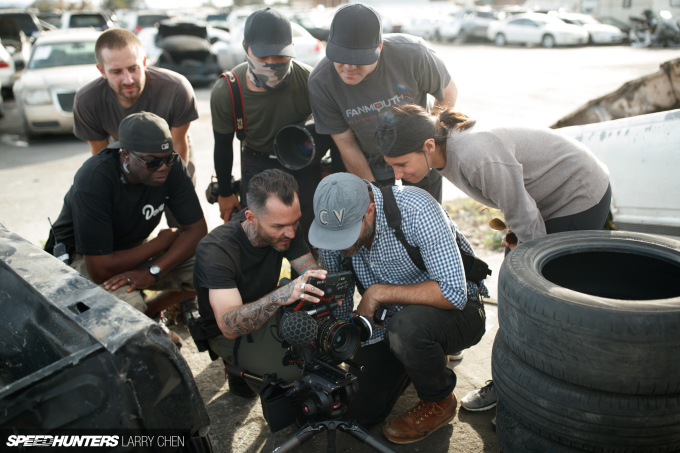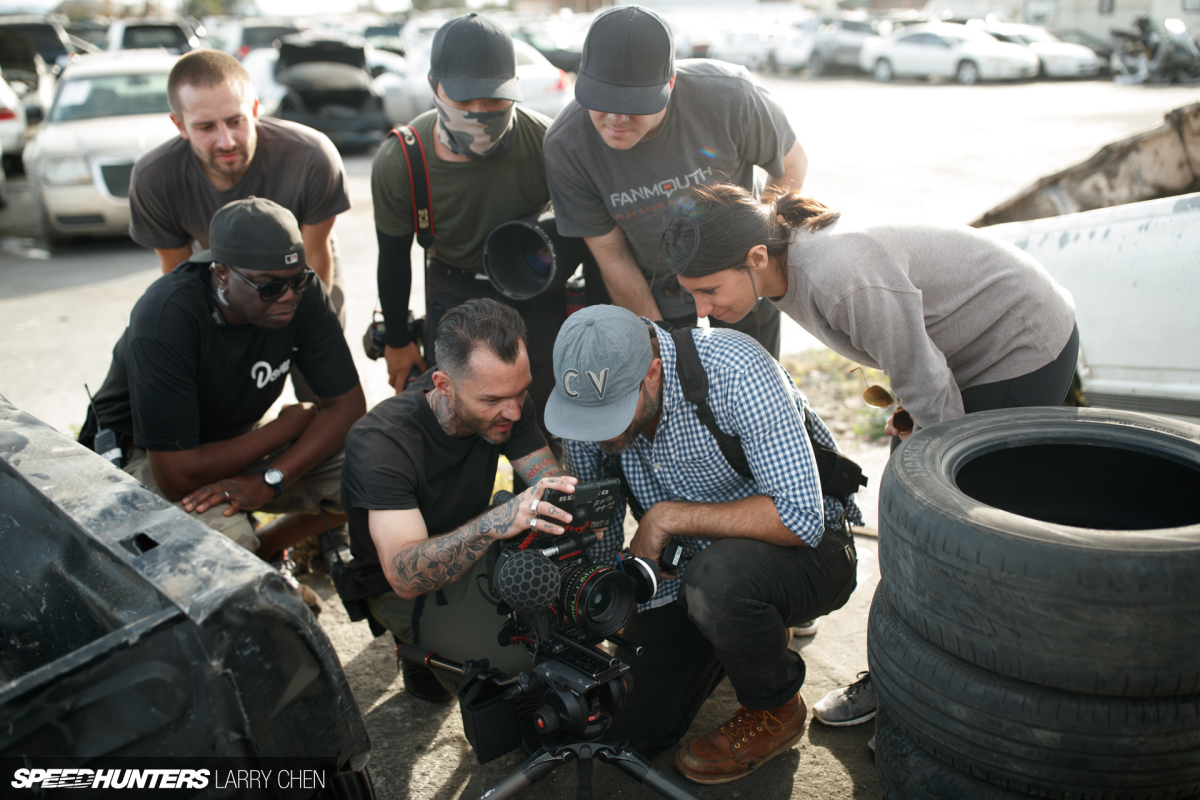 And more slo-mo replays.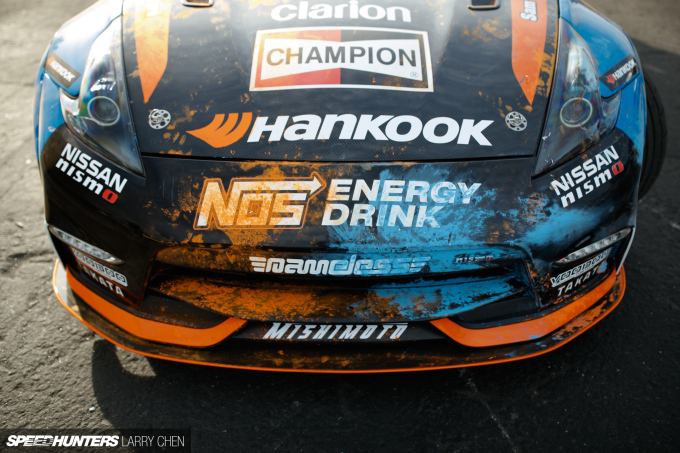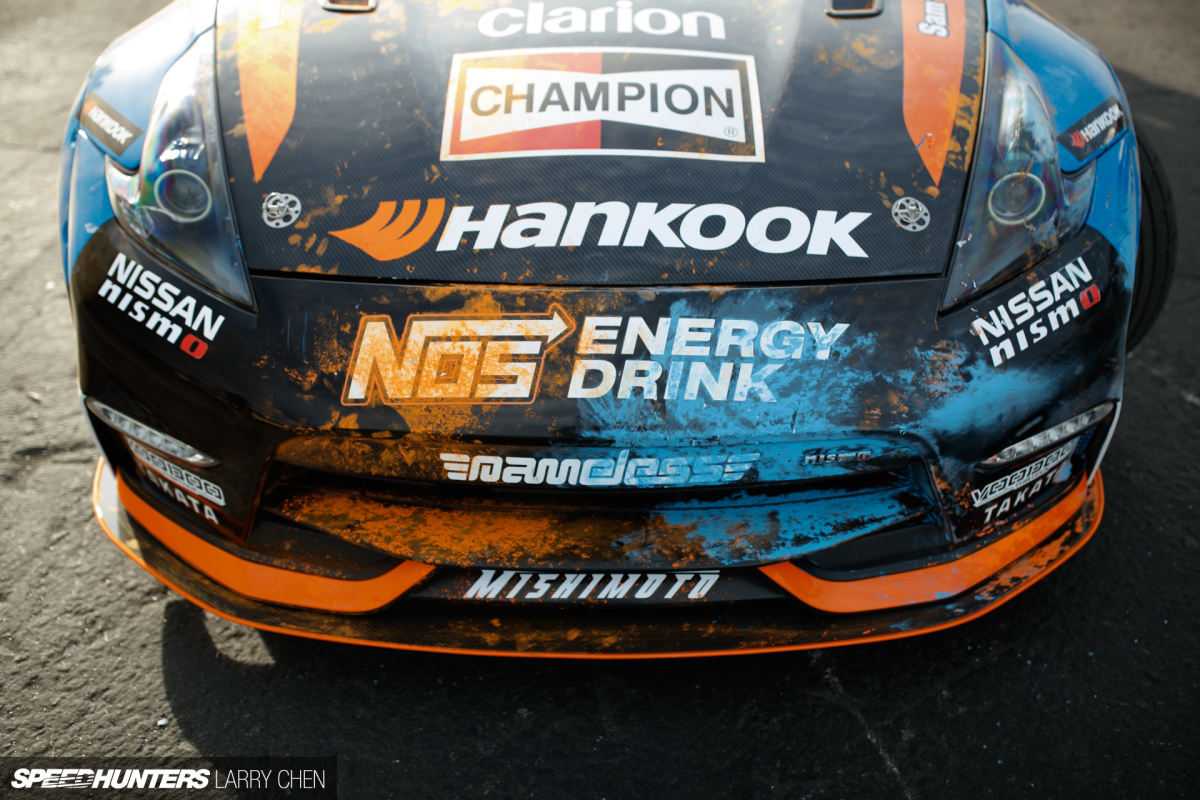 With the car covered in Holi powder, it was finally time for a shot that everyone was excited about.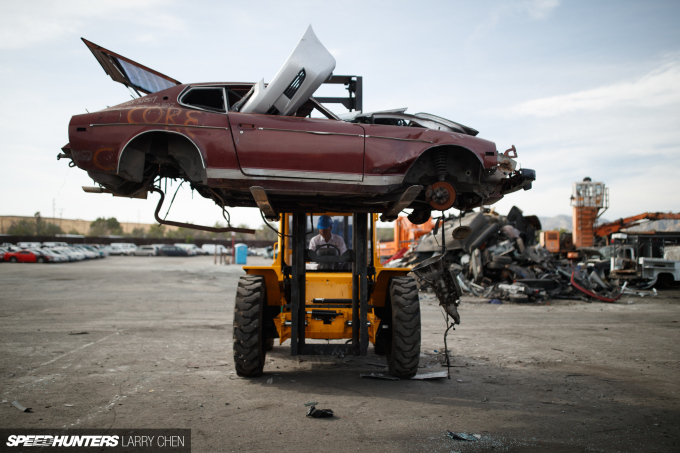 Chris would be drifting around a falling 260Z, its transmission hanging from the side as the cherry on top.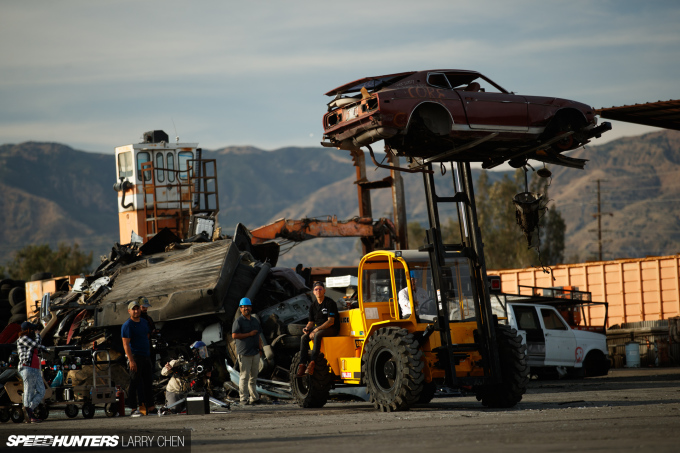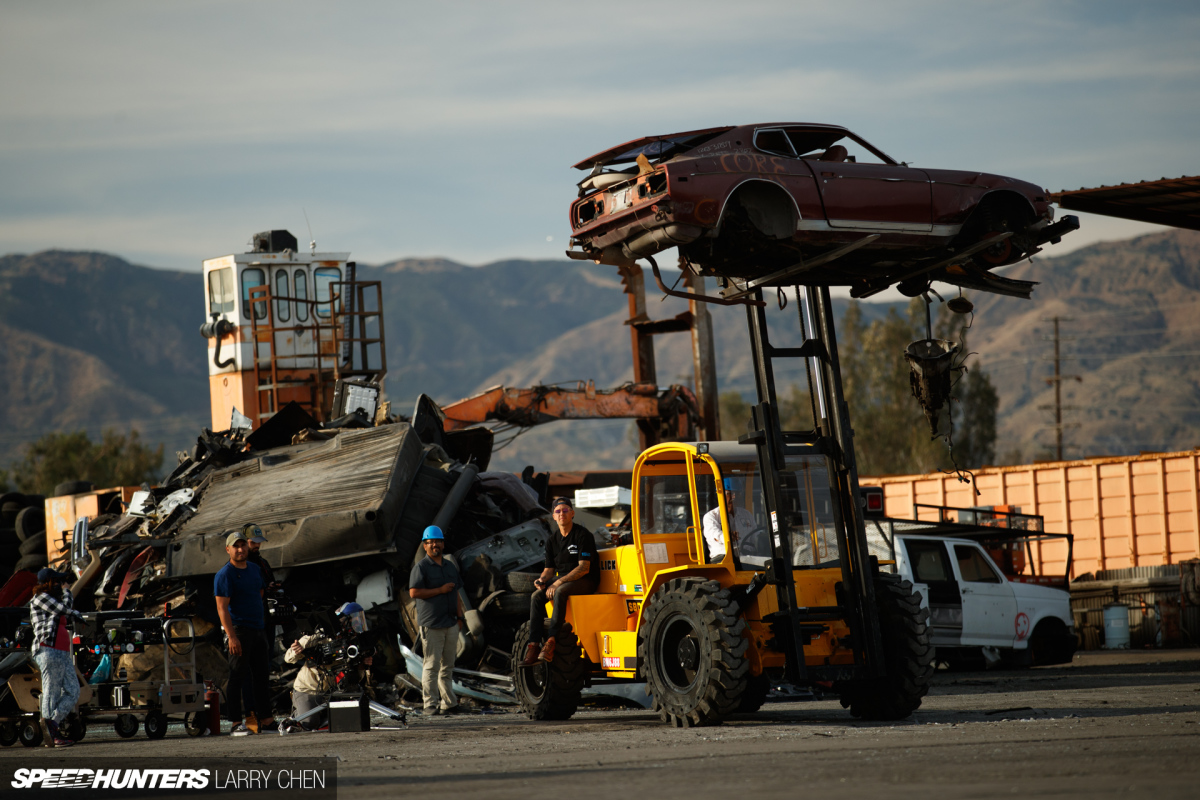 There was really only one chance for Chris to nail the shot, so he made a couple of test runs to ensure he'd get it right.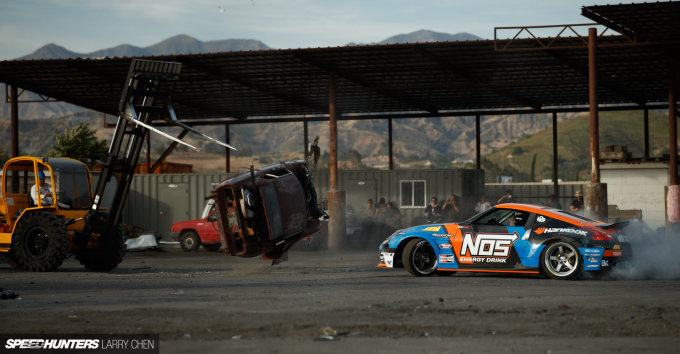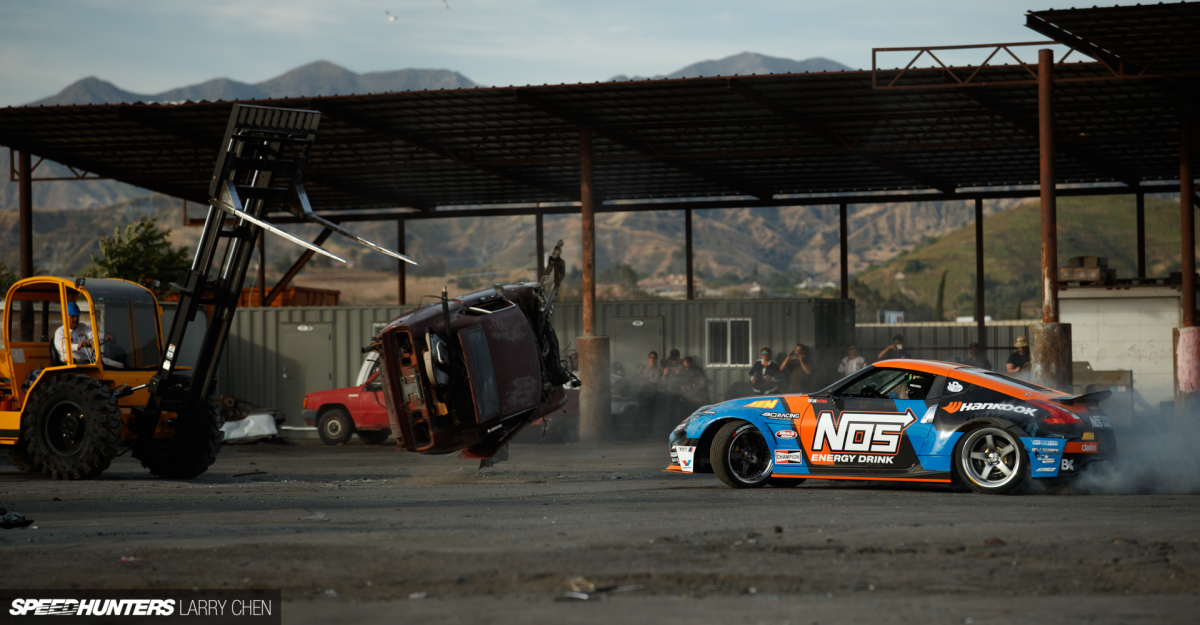 Miraculously, everything went according to plan, and as you saw in the video Chris was able to pull it off.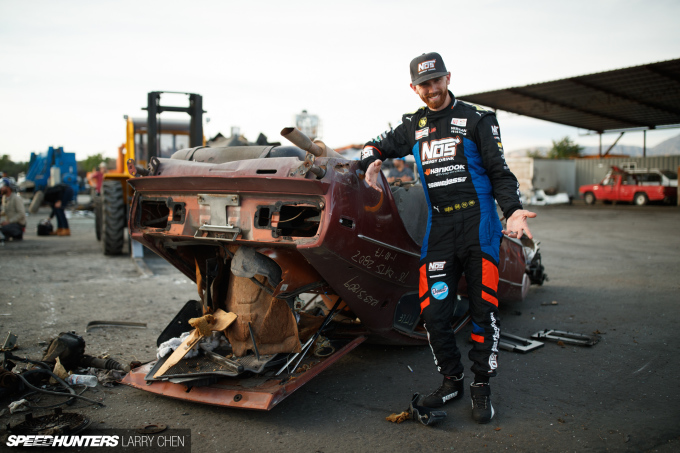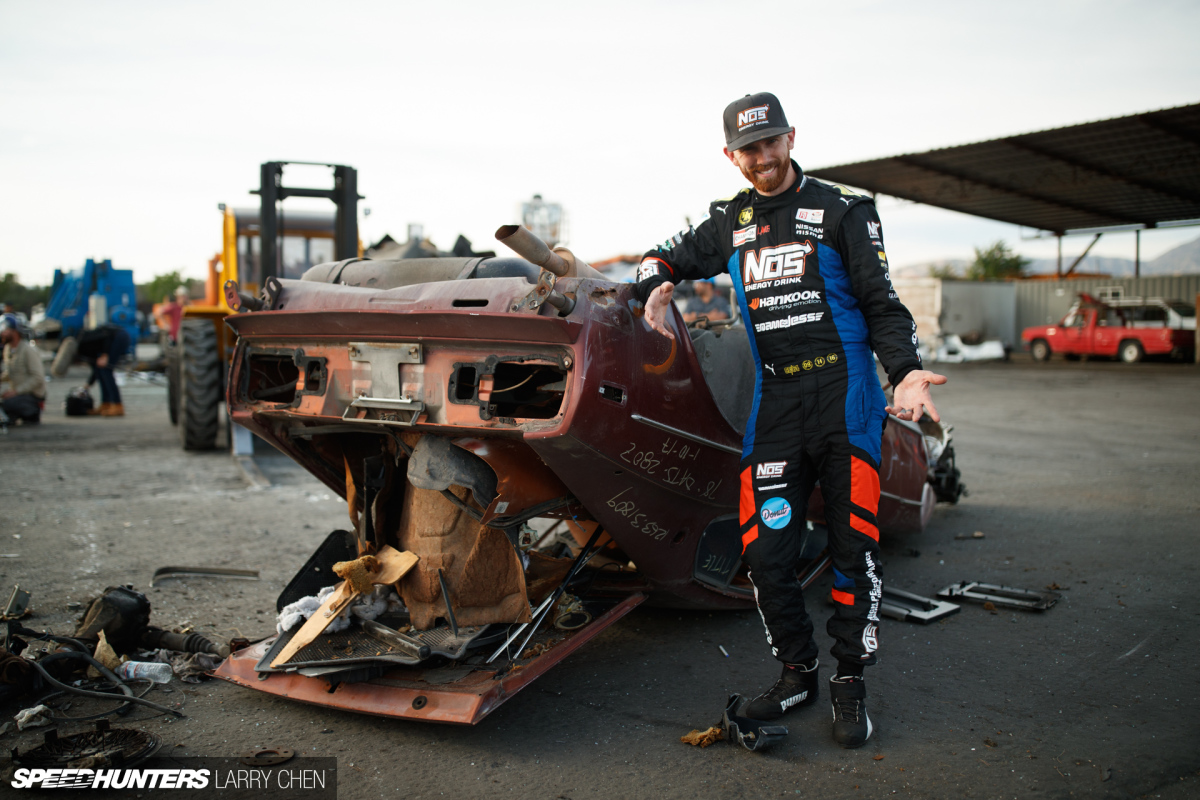 I have to admit, it's kind of sad seeing an enthusiast classic like this all mangled up and beyond repair. It's alright though, because cars like the wrecked 260Z provide parts to owners of other car to keep theirs on the road.
With the sun setting and a few more color plates left, Andy decided to let Chris finish them all off. This provided Larry and I with multiple angles to shoot from which proved to be more than fun.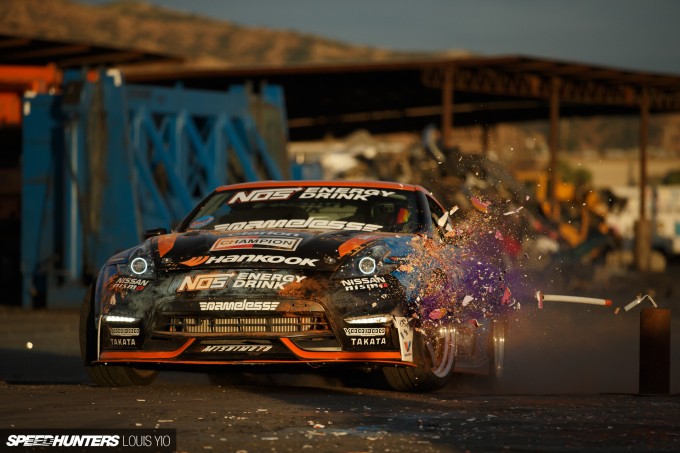 And last but not least, Chris blasted through a jelly donut. Because is there any better way to bring a video shoot in a junkyard to an end?!
Louis Yio
louis@speedhunters.com
Instagram: lusciousy
Additional Photos by Larry Chen
larry@speedhunters.com
Instagram: larry_chen_foto
Cutting Room Floor