As much as it will pain our American readers to hear, there's been a noticeable surge in the abundance of S15s in the UK in the last few years.
There was a time when Nissan's S-chassis swansong was something of a rarity in tuning and drifting circles here in Blighty. Thinking back to the days when I was clumsily sliding an old S14 around an airfield, someone rolling up and drifting an S15 would be considered Billy Big Bucks.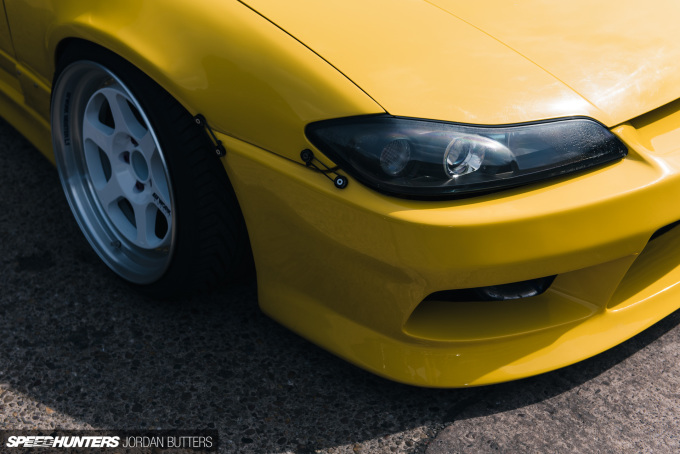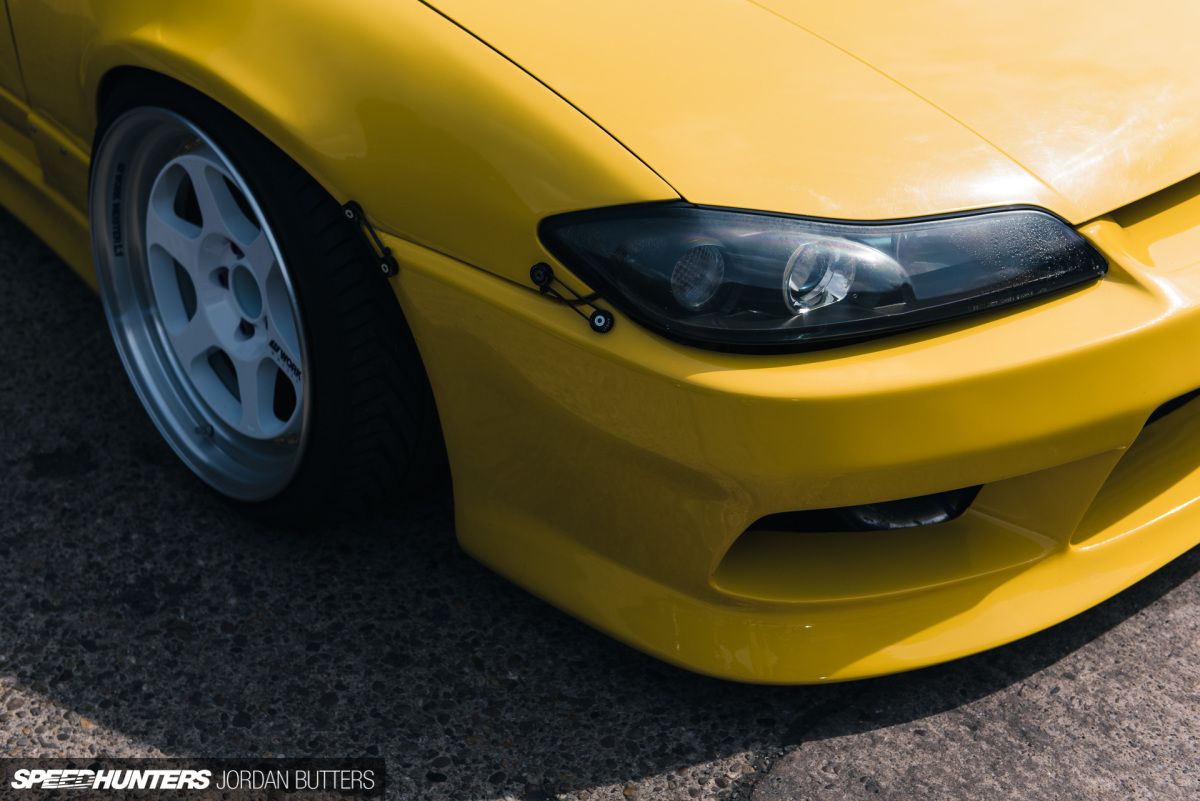 Fast forward to 2017, and attend any JDM-flavoured show or drift event in the UK now and you're sure to encounter at least a handful. I guess they're more affordable now? Or maybe punters are braver with their money when it comes to choosing a drift platform?
Cosmetics aside, it's not much different from an S14 underneath, so repairing and upgrading them is a fairly thrifty affair.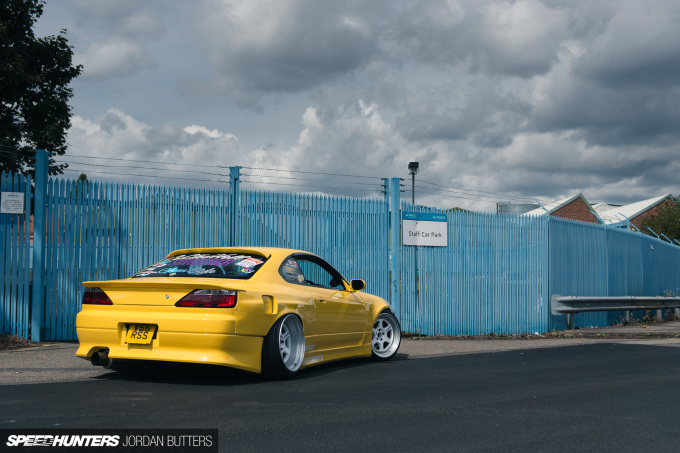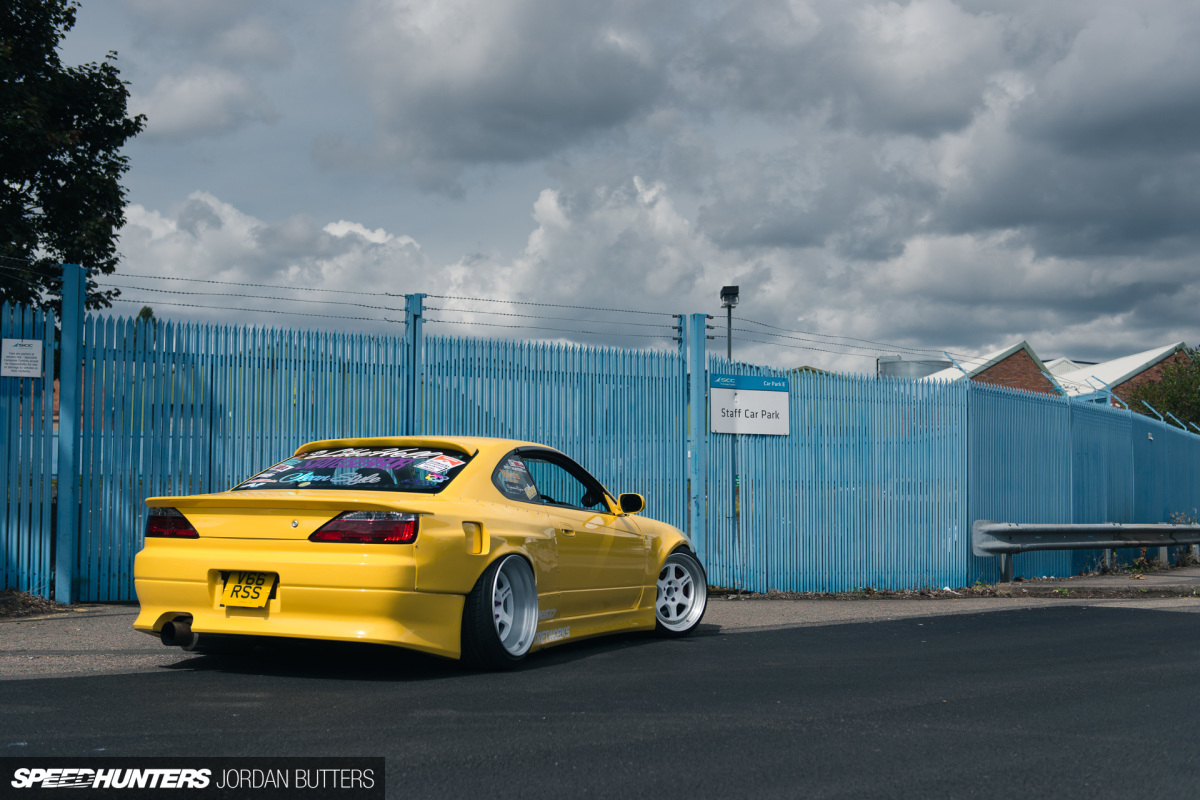 It's a design that's aged remarkably well too. The Silvia S15 still looks as fresh today as it did 15 years ago when the final models rolled off the production line. This is obviously aided by the huge aftermarket support available.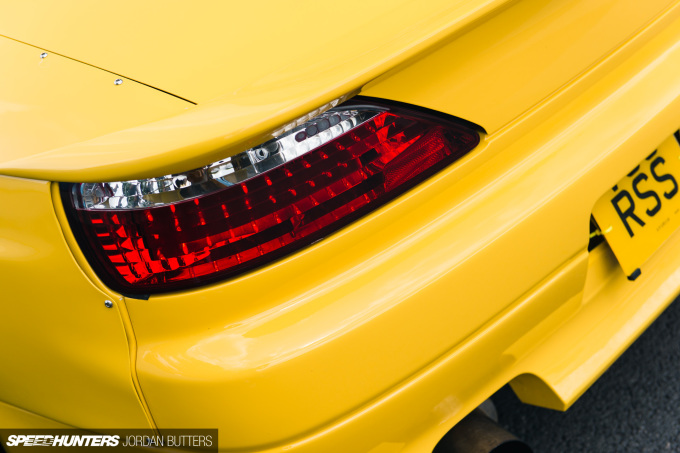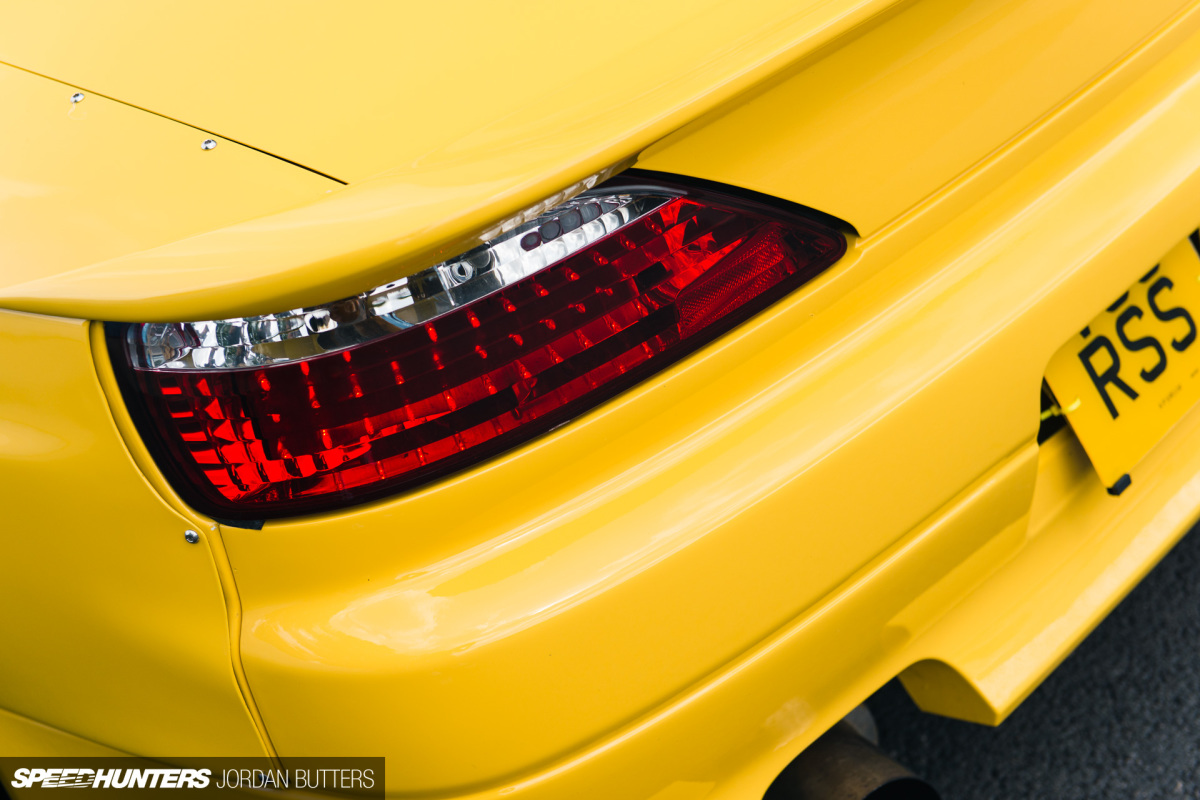 I have a theory about this: I think that cars only really start to age aesthetically when a replacement model is launched. For example, the 350Z looked up to date until the 370Z was unveiled, and each generation of MX-5 looks modern until the next one appears.
On the flip side, cars like the Honda S2000 and the S15 seem to have retained their looks – a newer and better-looking sibling simply never materialised.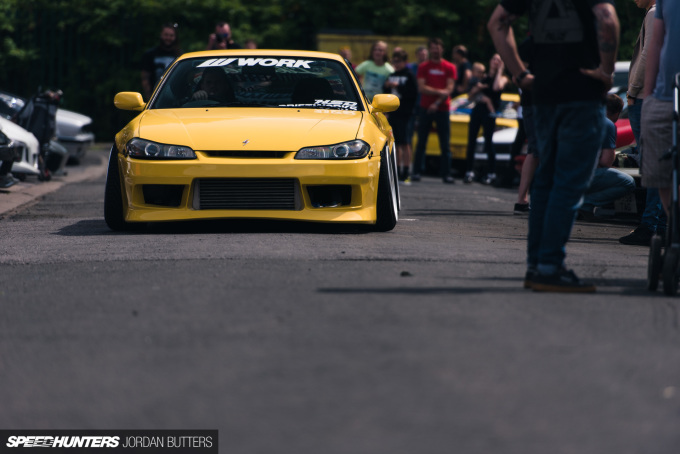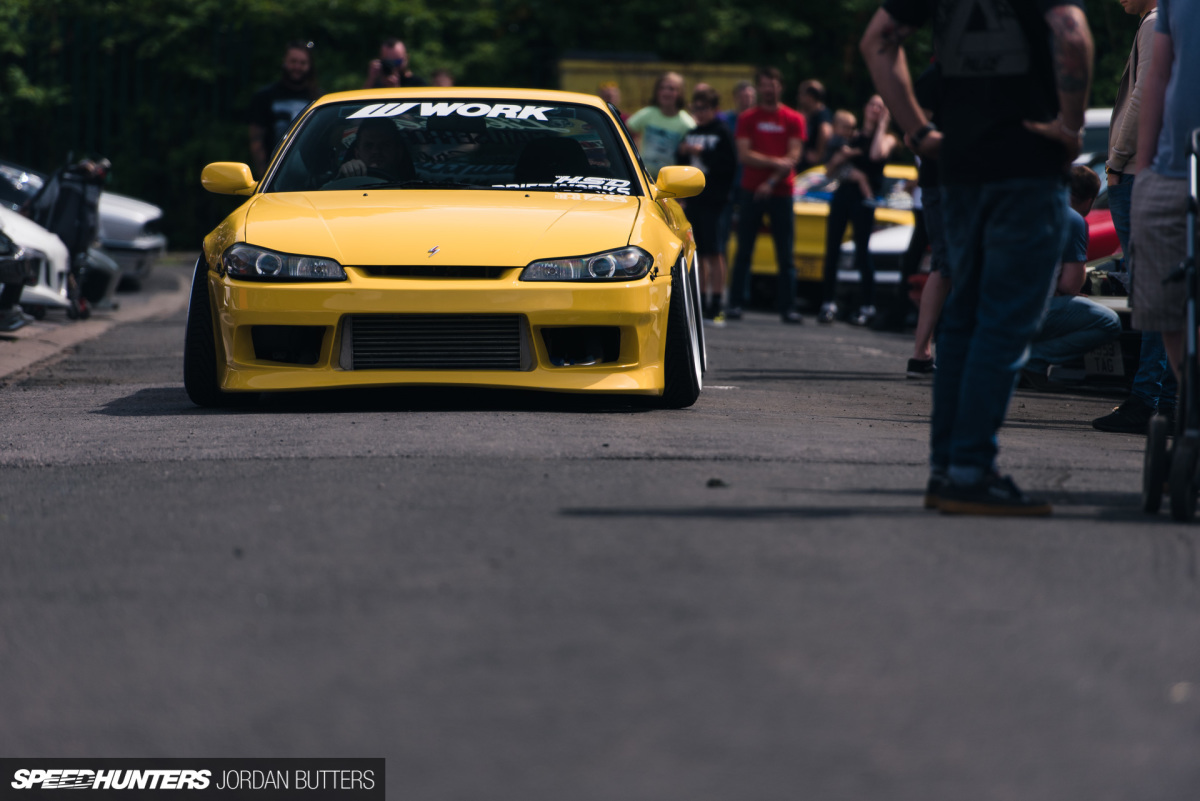 The very low and very yellow example in front of you is owned by Driftworks employee Rich Starkey and, despite his employer's speciality and reputation, it isn't a drift car. This is Rich's daily driver.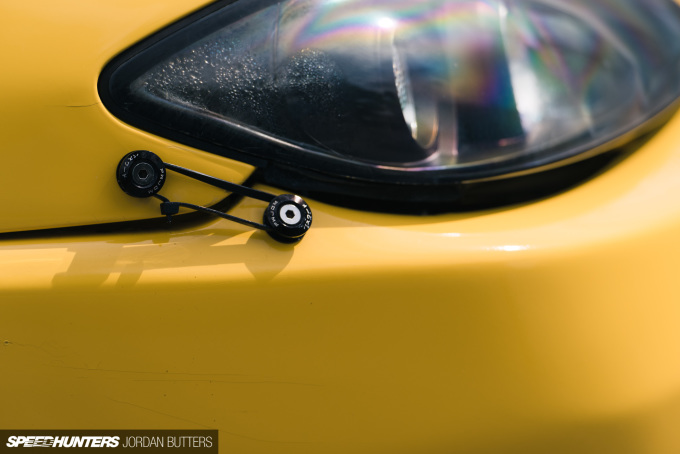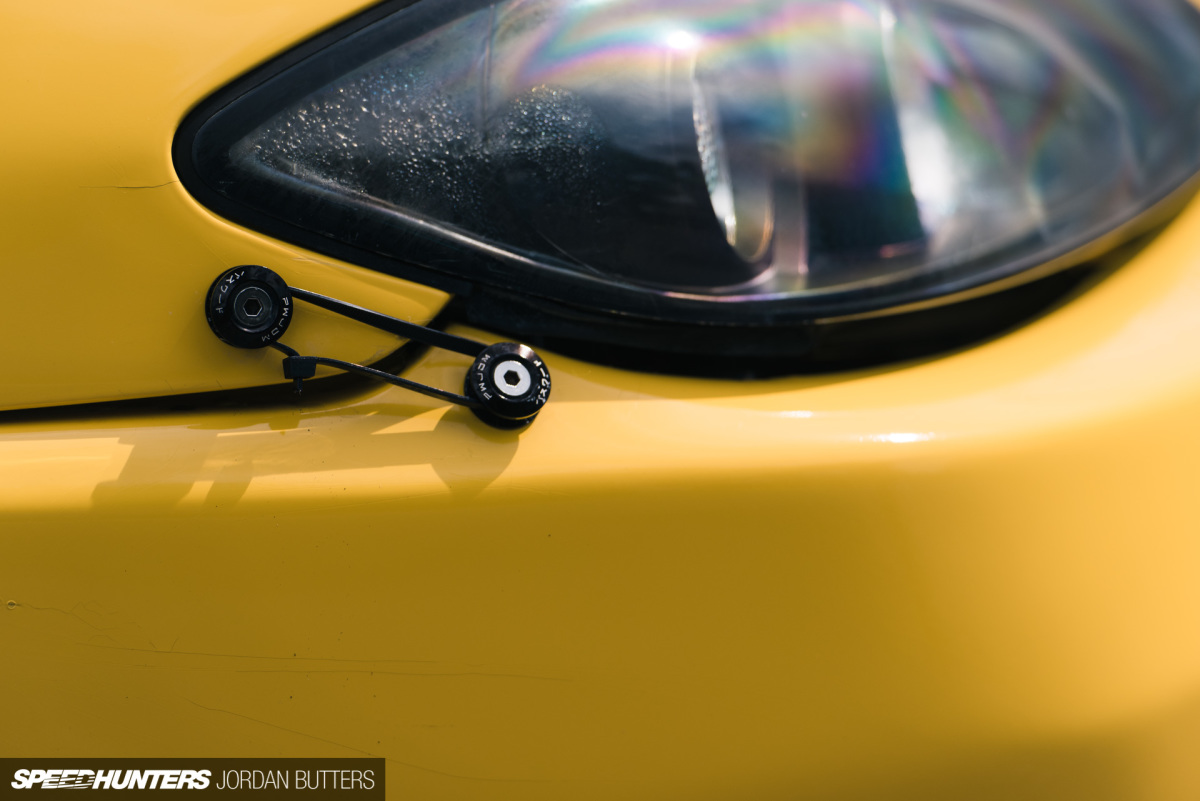 The car was originally purchased by Driftworks itself to act DW lead man Phil Morrison's spare practice car, however shortly after purchasing it, he went and bought another S15 (the black one that you often see in Driftworks' videos) so Rich snapped up the yellow peril.
At the time, the car was a naturally aspirated auto model with air suspension. A complete S14A was purchased and the more potent and involving engine and running gear from this was swapped across.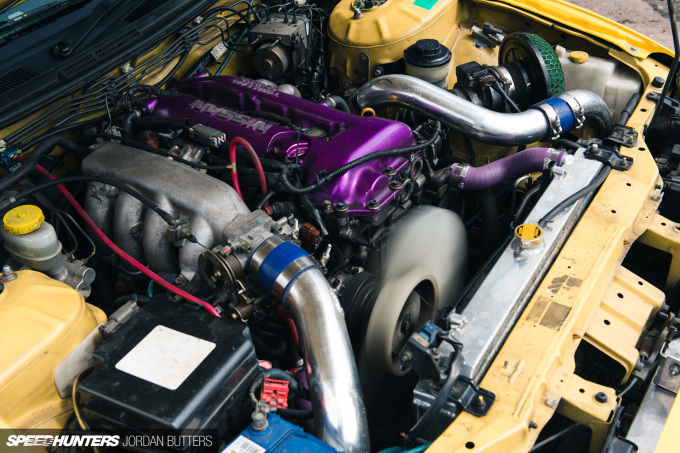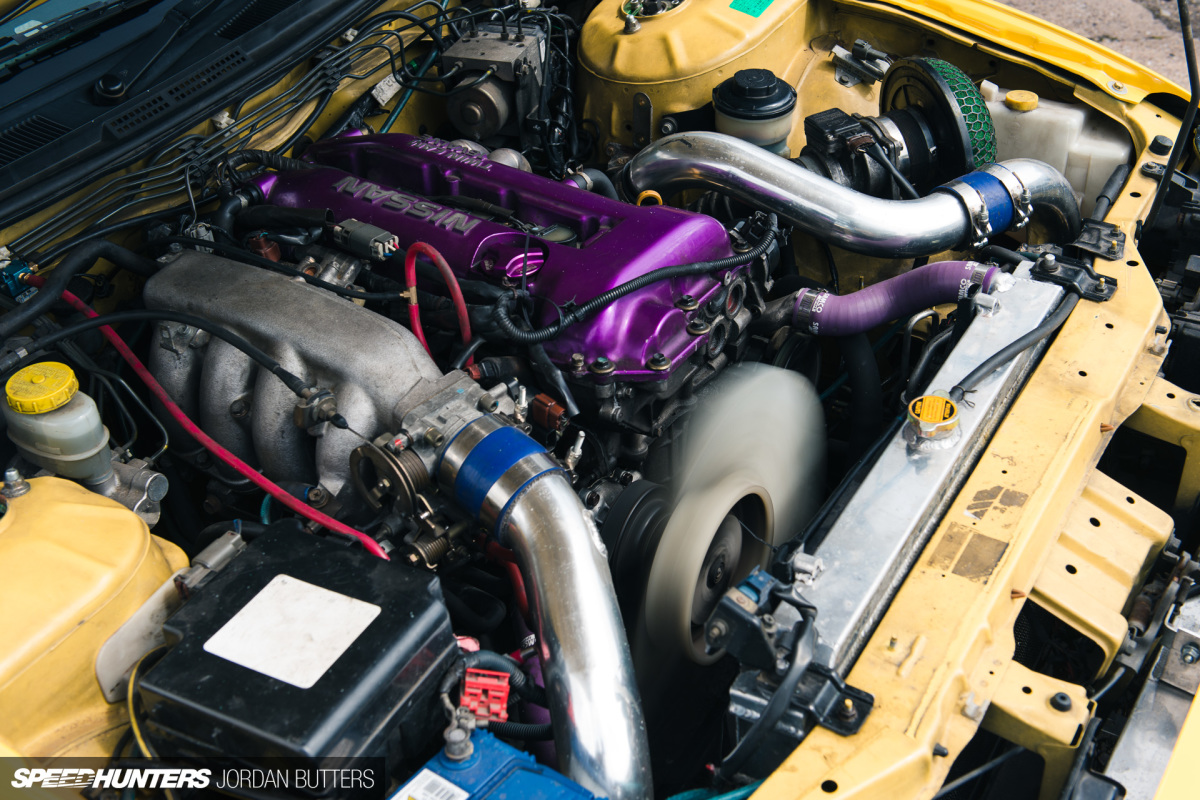 The engine has been lightly breathed on with a selection of off-the-shelf parts, including a full turbo-back exhaust, Cosworth metal head gasket, ARP head studs and Driftworks radiator and intercooler.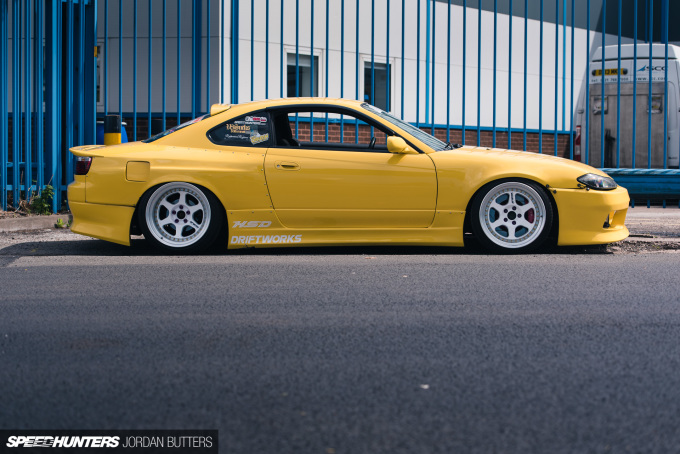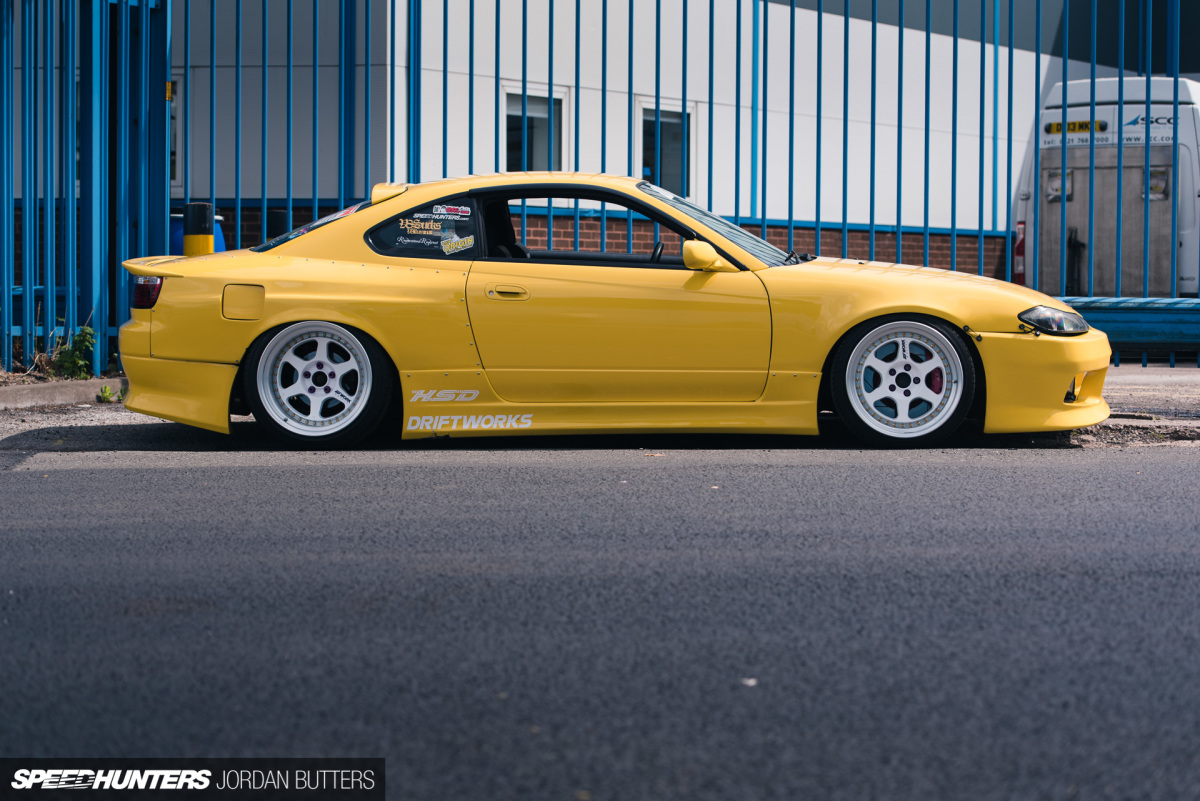 Rather than follow the oft-seen 'drift style' route UK S15s often travel down, and seeing as the import laws over the pond prevent such a thing from existing for a good few years to come, Rich wanted to create his interpretation of a USDM-style S15.
Once again, sorry America.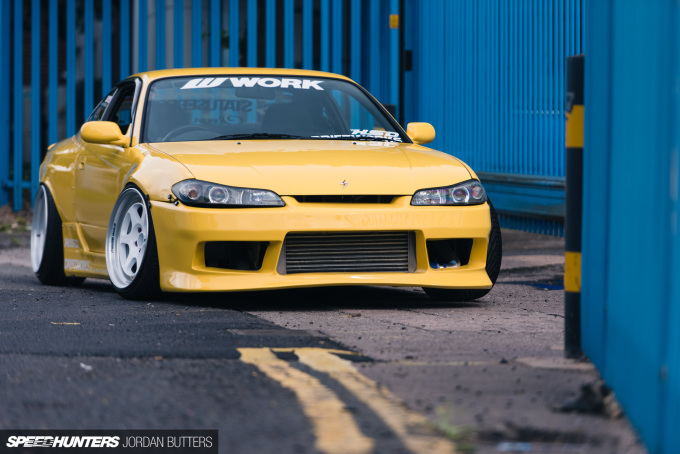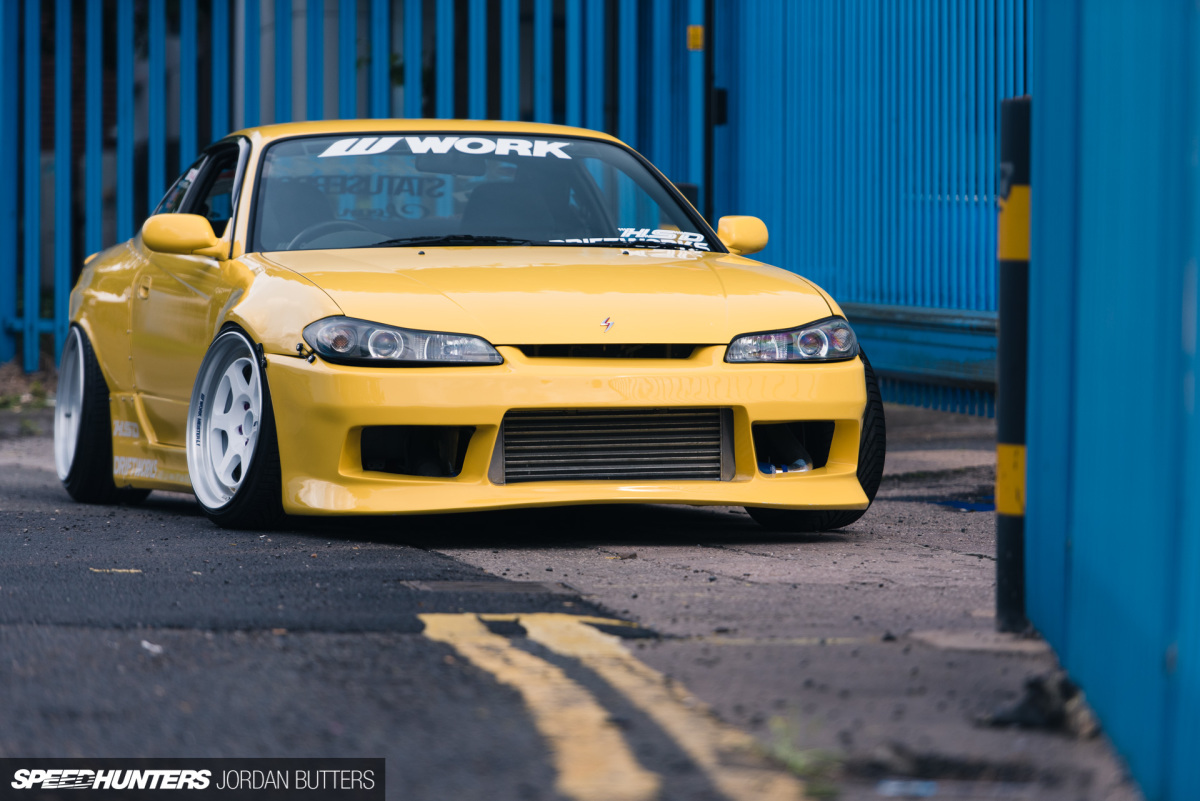 When it comes to acquiring parts, Rich's position at Driftworks affords him some great contacts for importing rare bits. Focusing on the styling, he added a selection of Origin Lab parts, including a Stylish line front bumper and side skirts, front and rear fenders and a subtle roof spoiler.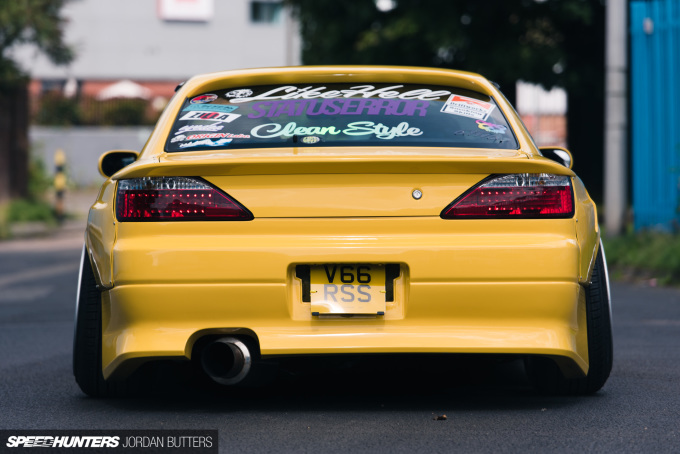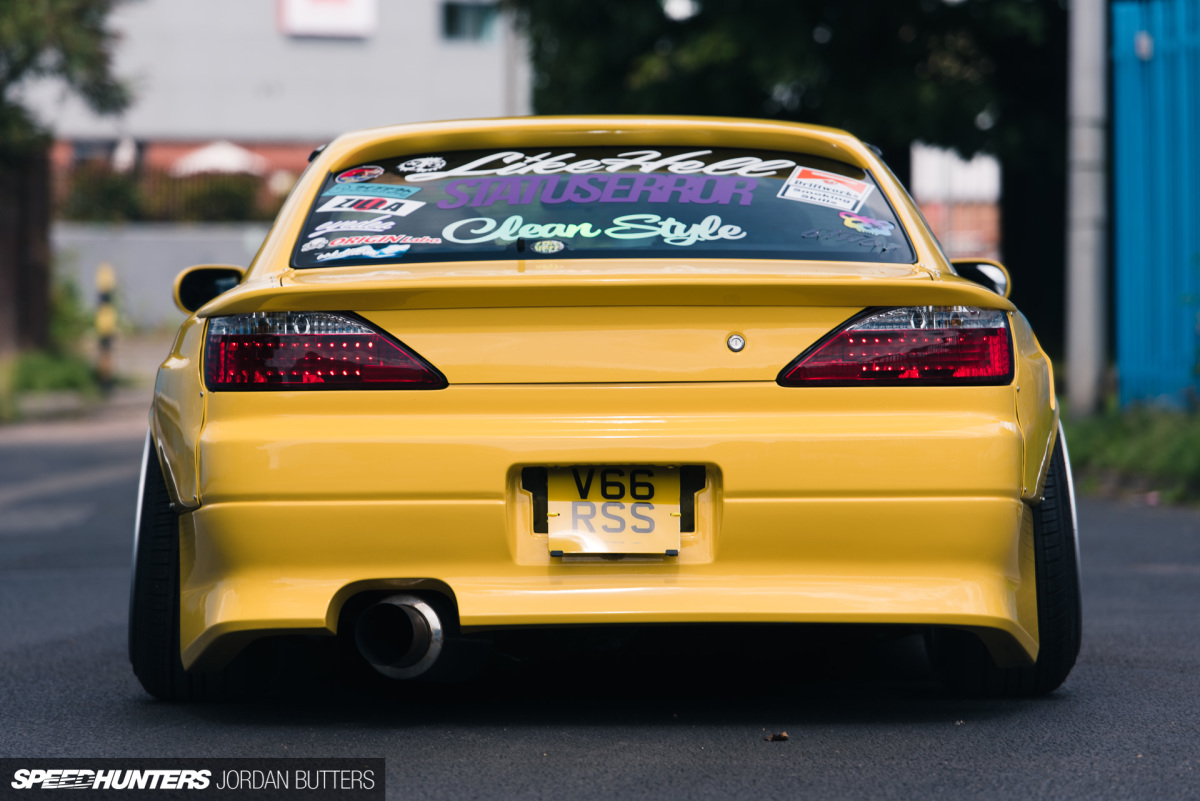 The rear bumper is a Vertex item, and the boot lip spoiler is from 326Power.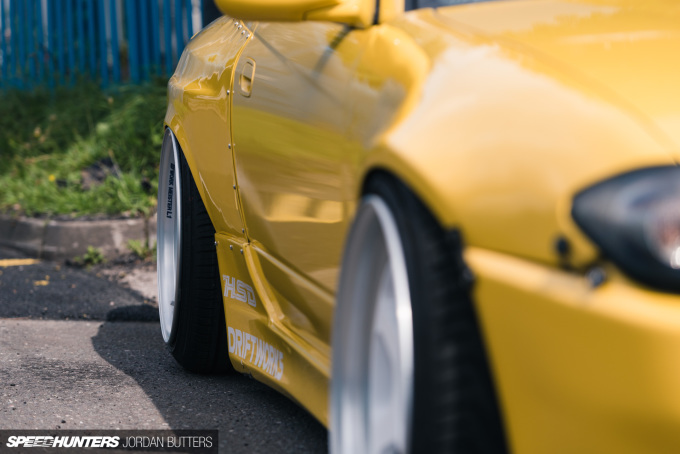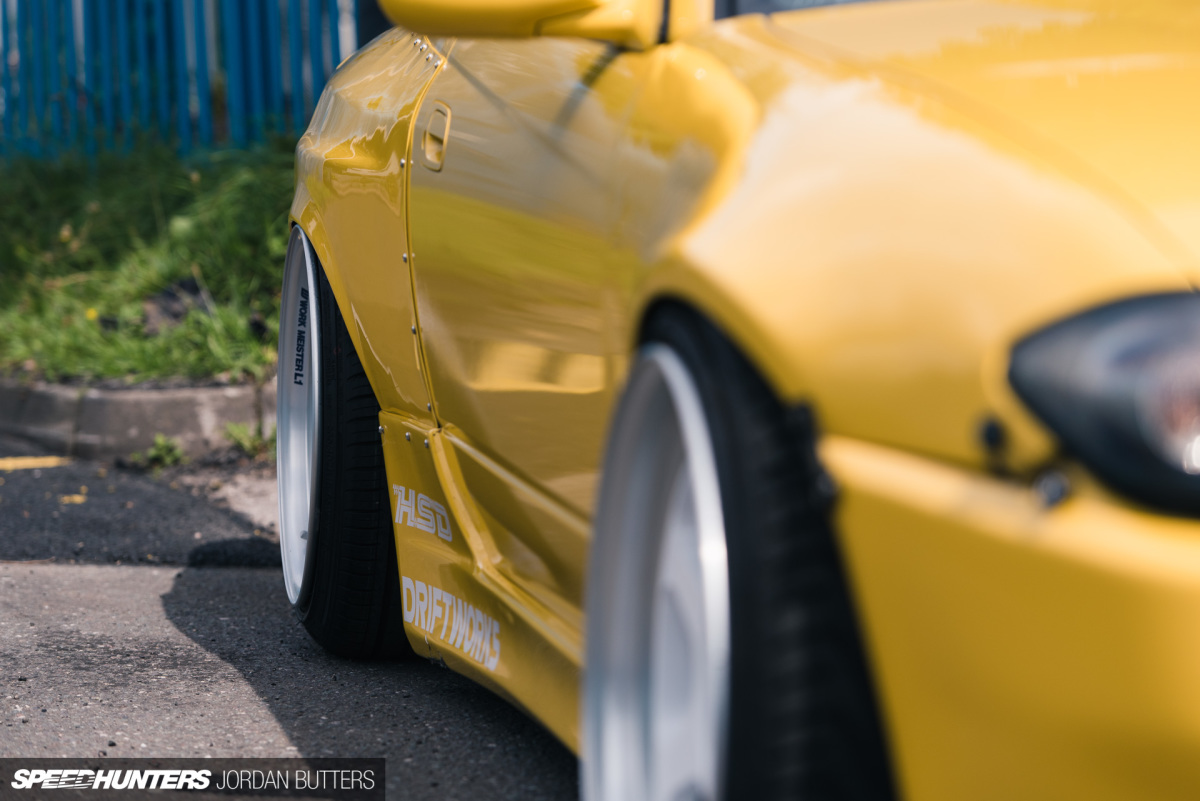 The +40mm front fenders were customised by removing and smoothing over the vent, while the rear fenders are the bulky +50mm variety.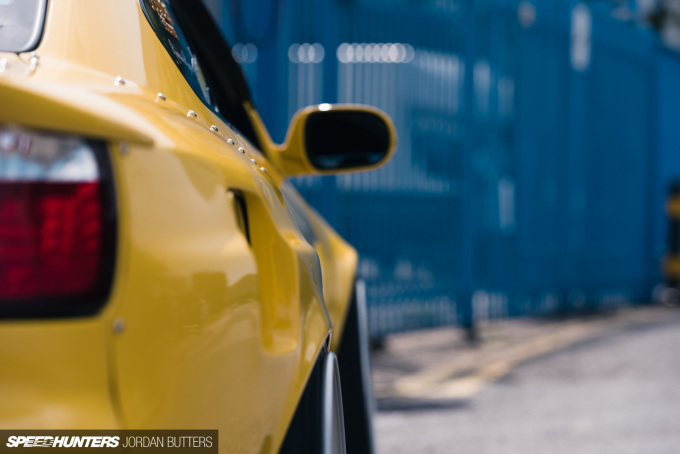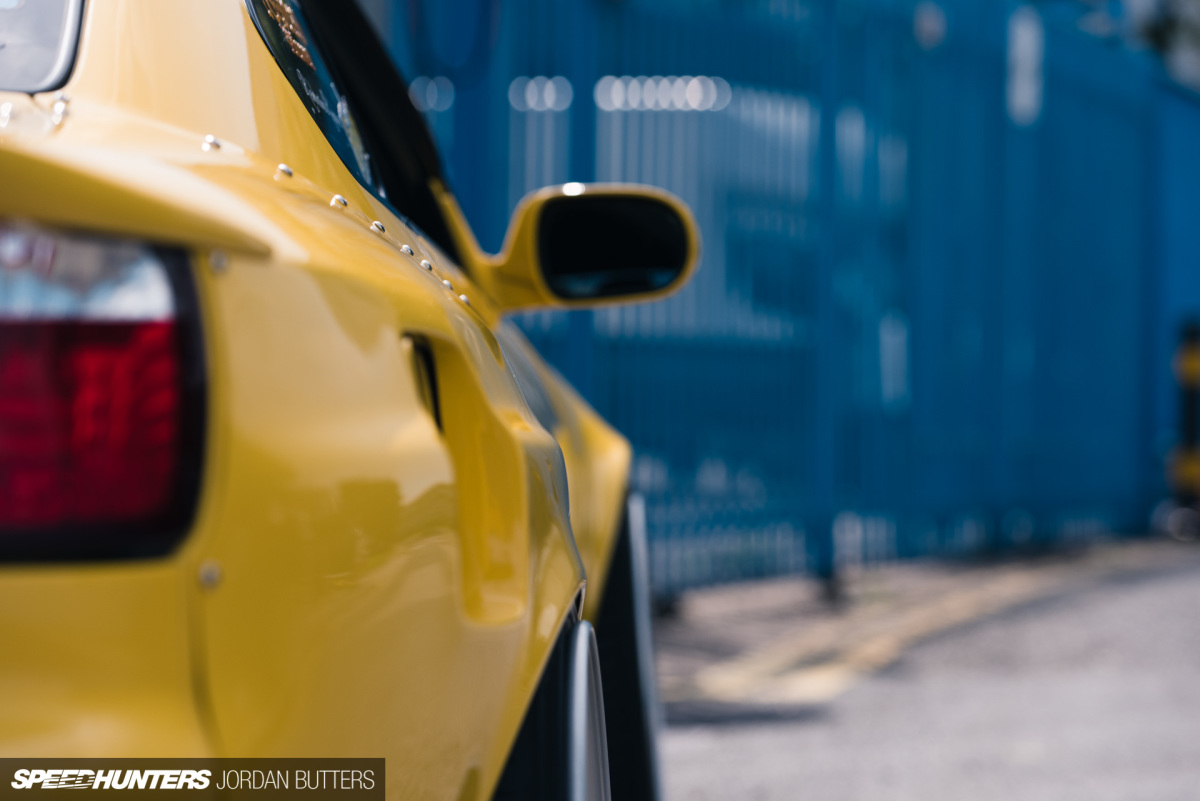 The stepped line in the fenders suits the shape of the S15 down to a tee, and this mishmash of parts from different styling catalogues all works very well together.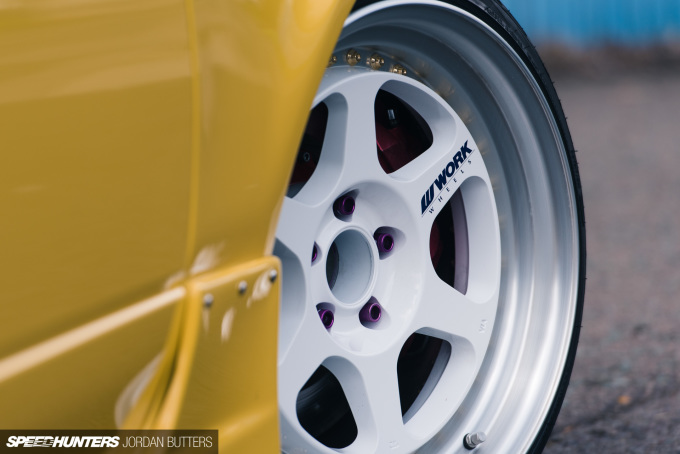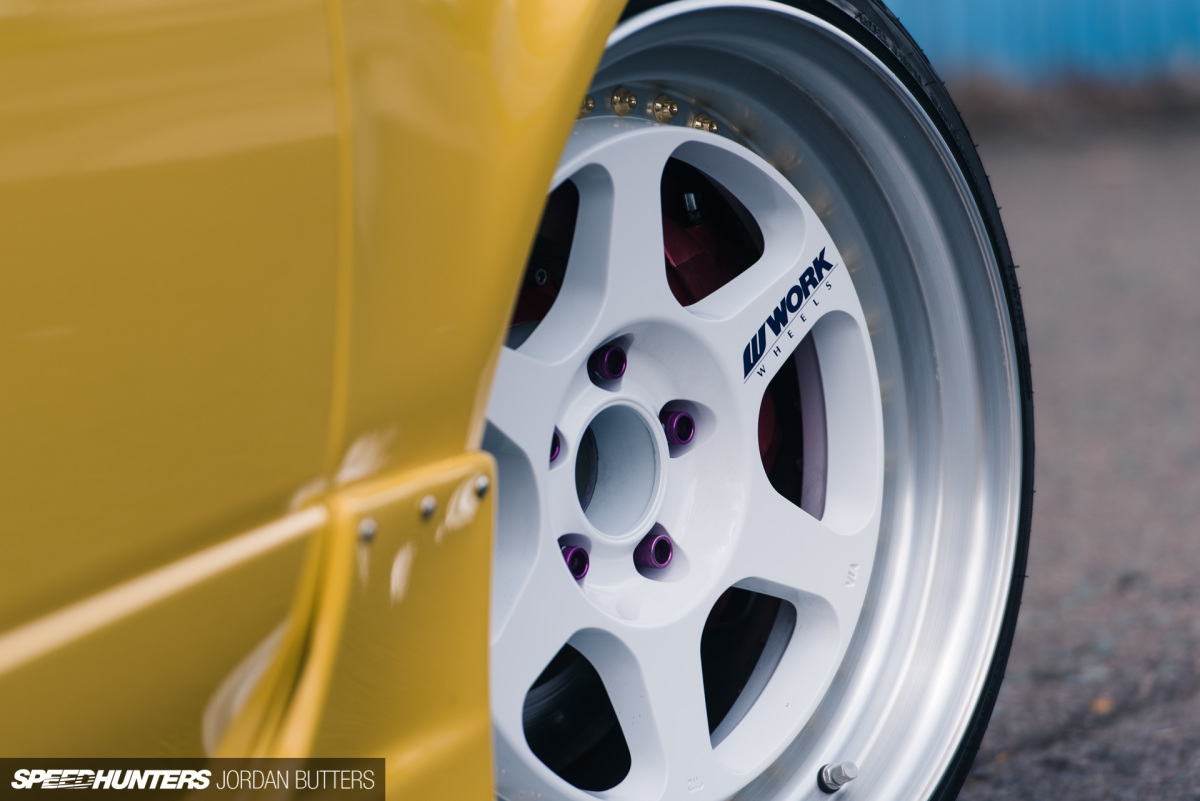 The car is currently used as a demo car not only for Driftworks, but also Work Wheels UK and Europe, so it'll come as no surprise that Rich recently switched to a brand new set of Work Meister L1 3-piece wheels, measuring 18×9.5-inch -5 up front and a girthy 18×10.5-inch -33 in the rear.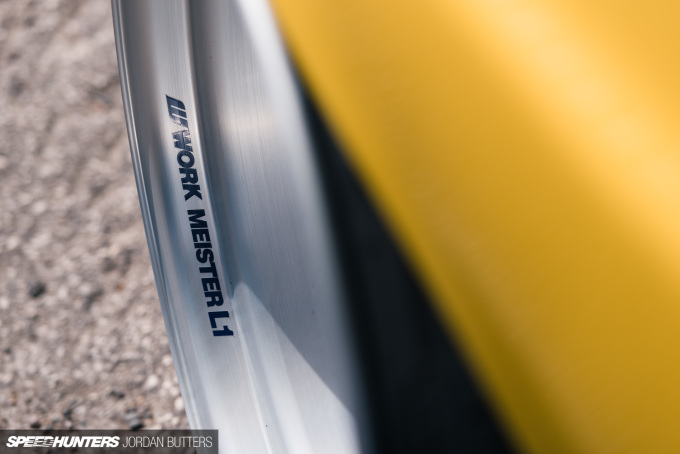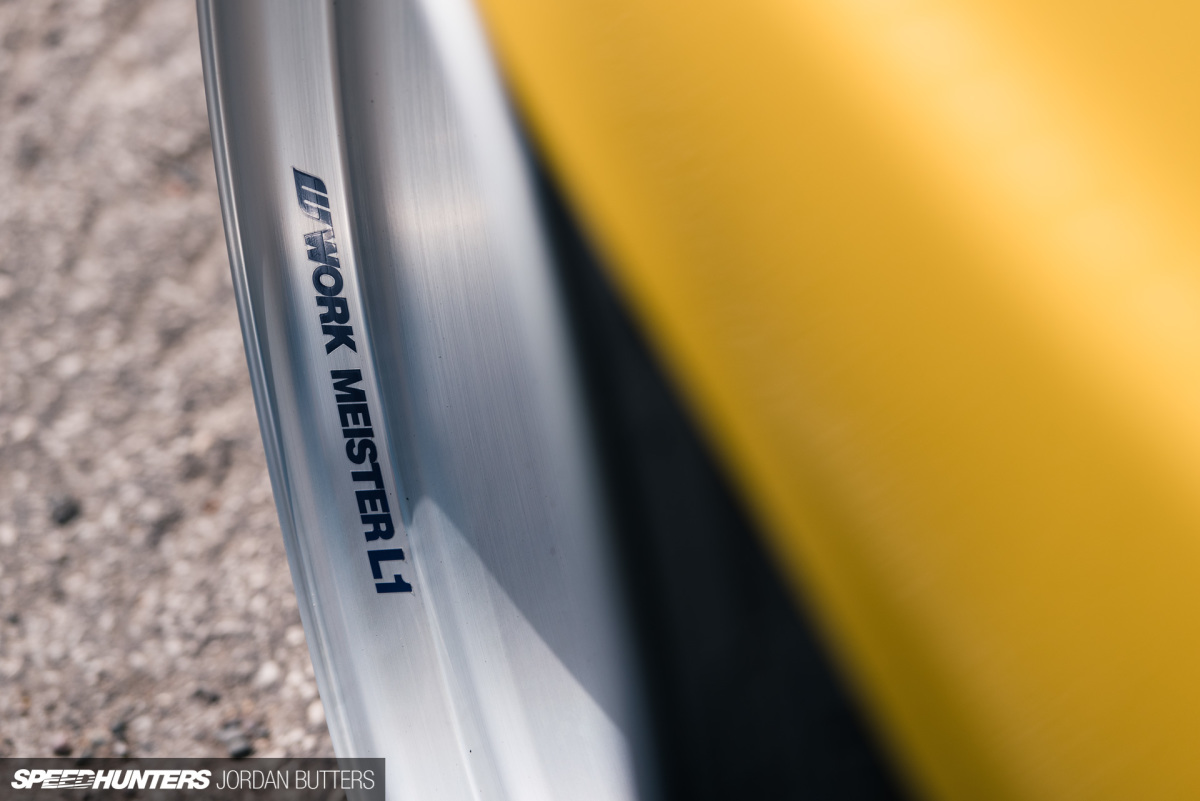 Rather than opt for the usual polished dish, Rich chose a brushed finish. Not only does this make it easier to keep them clean, it also exaggerates the size of the barrels without the reflections from a polished lip playing tricks on your eyes.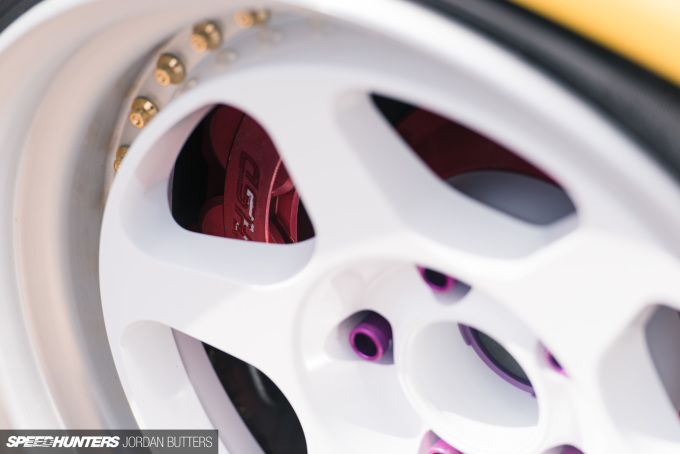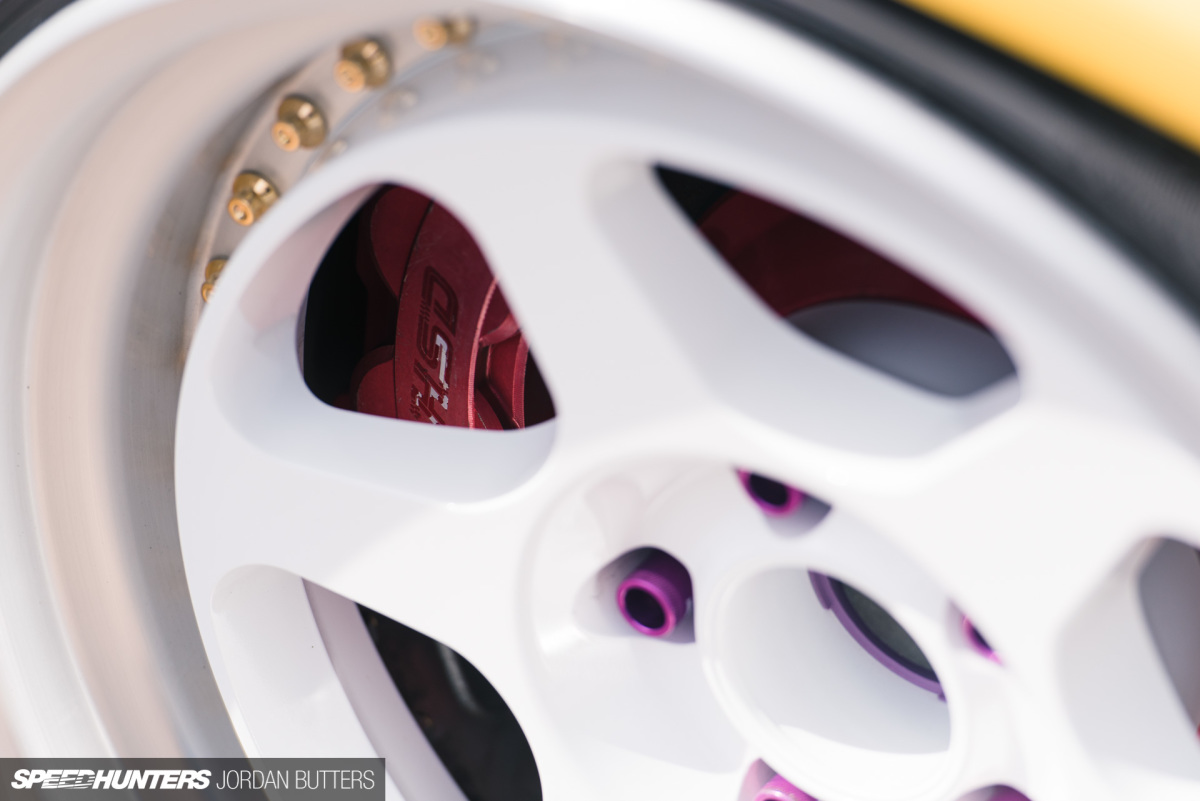 This matte finish contrasts nicely with the white gloss centres and blingy gold bolts. Hidden away are a one-off set of prototype HSD 8-pot 356mm front brakes that never made it into production.
Helping these gigantic wheels fit under the S15's pumped fenders is the sizeable negative camber Rich runs – around -6 degrees in the front and around negative -5 degrees in the rear, I'm told.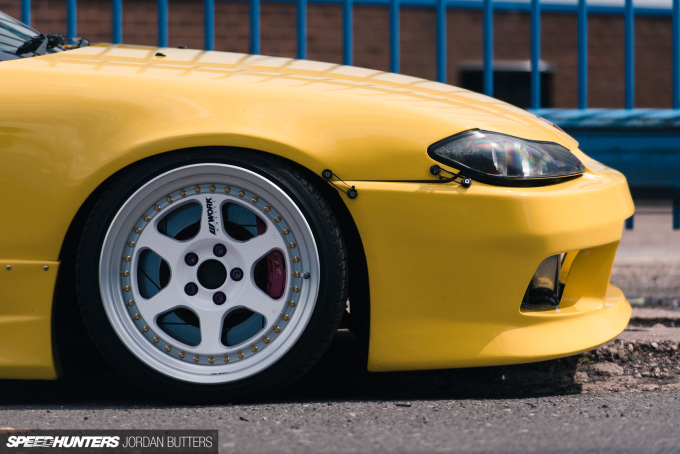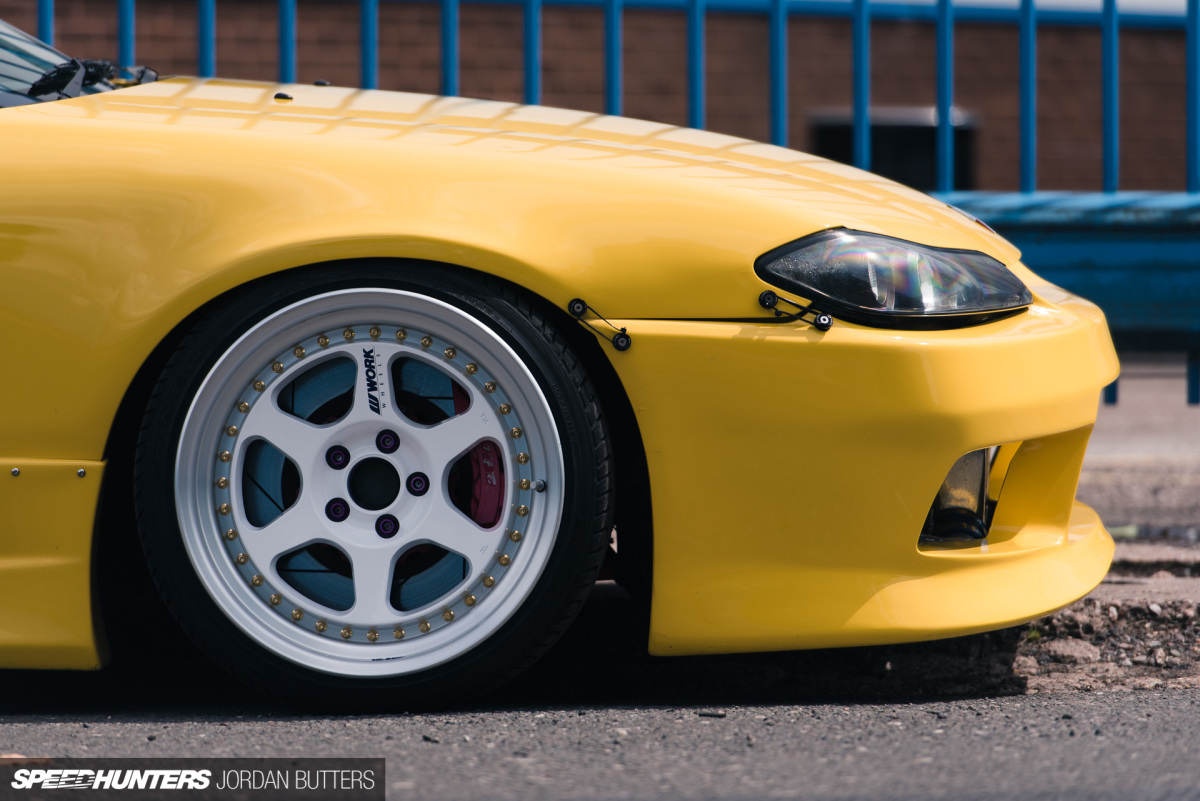 Achieving this ride height would've been relatively simple had Rich kept the air setup, however the S15 has since been converted to a traditional static coilover system. Again, pulling from Driftworks stock, HSD MonoPro coilovers are mated to +25mm extended lower control arms holding Geomaster 2 front knuckles, tension rods and tie rods. Driftworks offset rack spacers provide the extra steering reach to comply with the longer arms.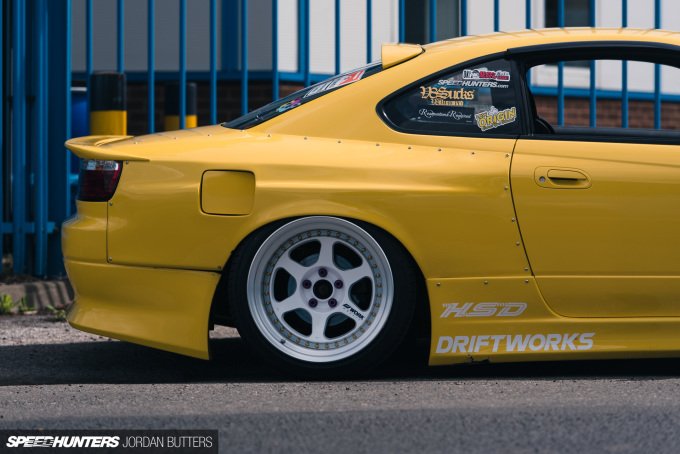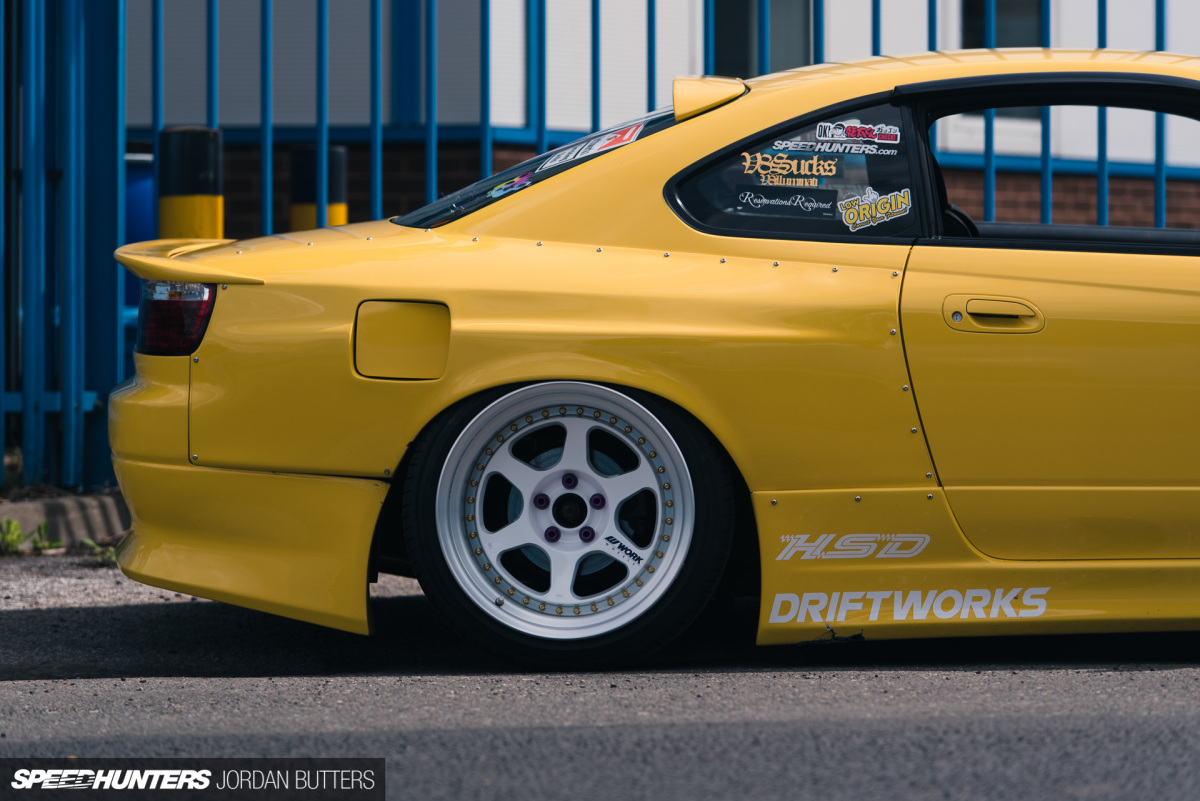 At the back Driftworks rear camber and toe arms provide enough scope for adjustment. A Kaaz 1.5-way LSD is tucked away out of sight, should the need for skids eventually take Rich's fancy.
The cabin is still a work-in-progress, with a Personal Trophy wheel mated to a HKB boss and NRG 3.0 quick release. Rich's choice of shifter is a Wearelikewise item, which resembles a painful torture device of some descript. I'll let you use your own imagination.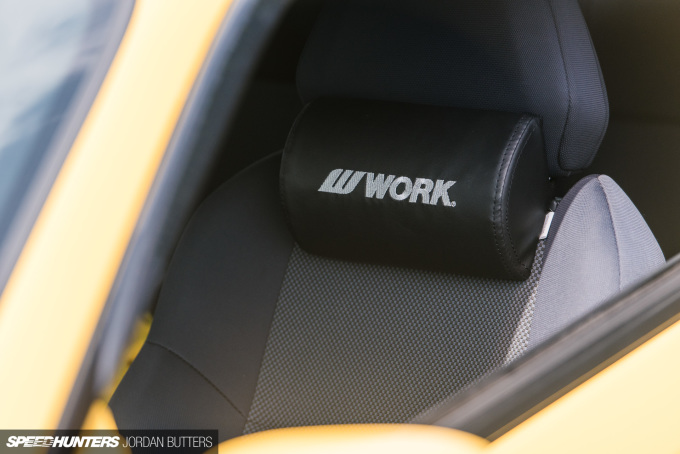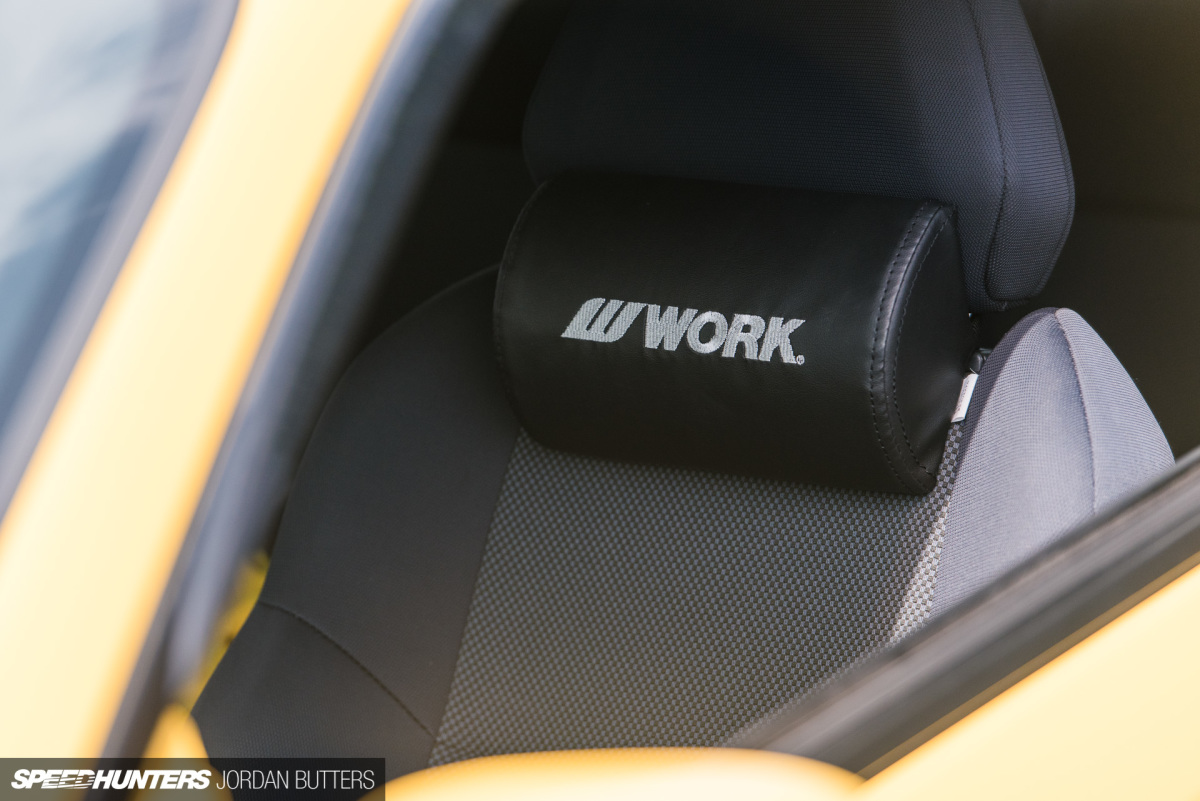 For now, a set of Work pillows adorn the stock seats, although the car is soon to be used for a prototype set of extra low mount seat rails that are currently in development, so it won't stay this way for too long.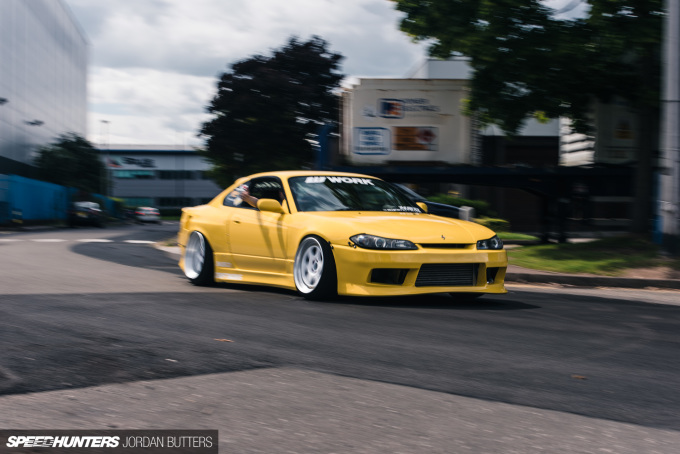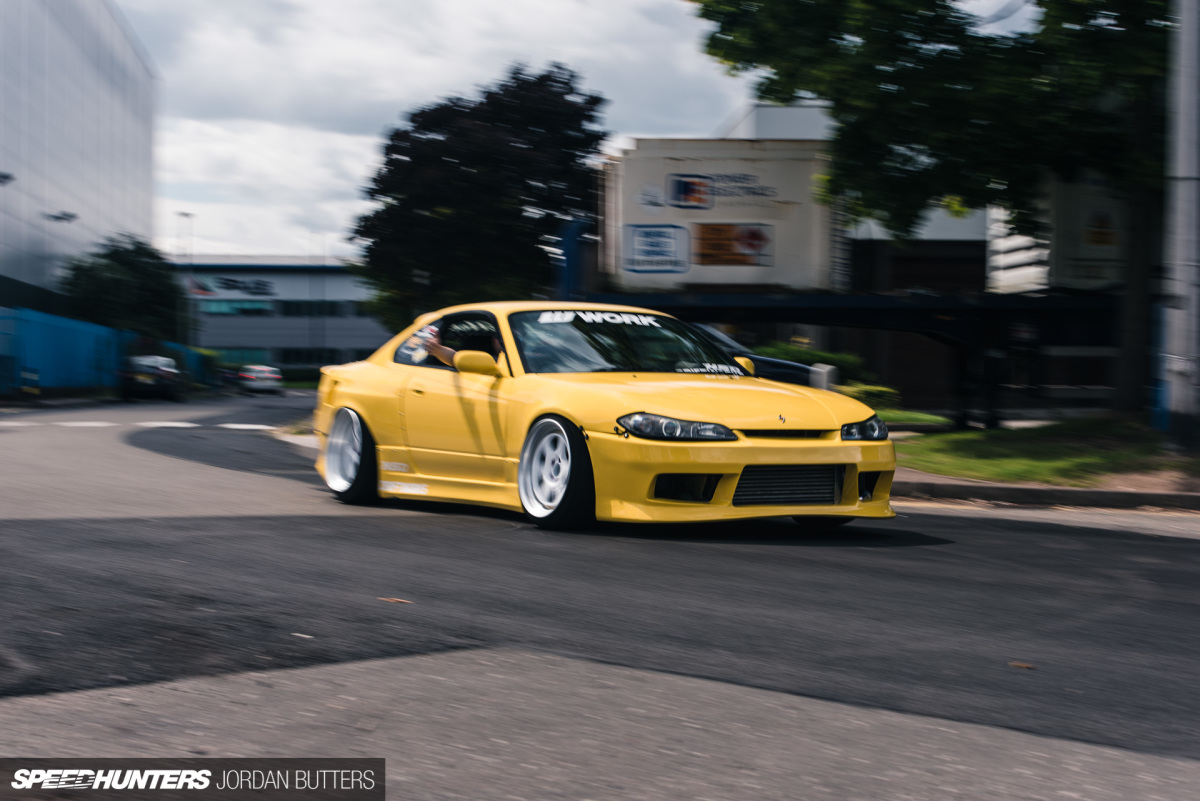 Despite the peer pressure and almost constant goading from his work colleagues, Rich doesn't have any immediate plans to take his S15 drifting. My best efforts to persuade him to do a burnout for the camera weren't met with any success either.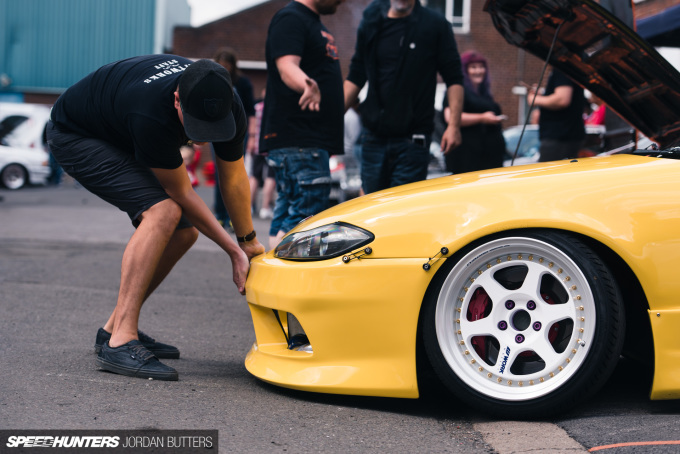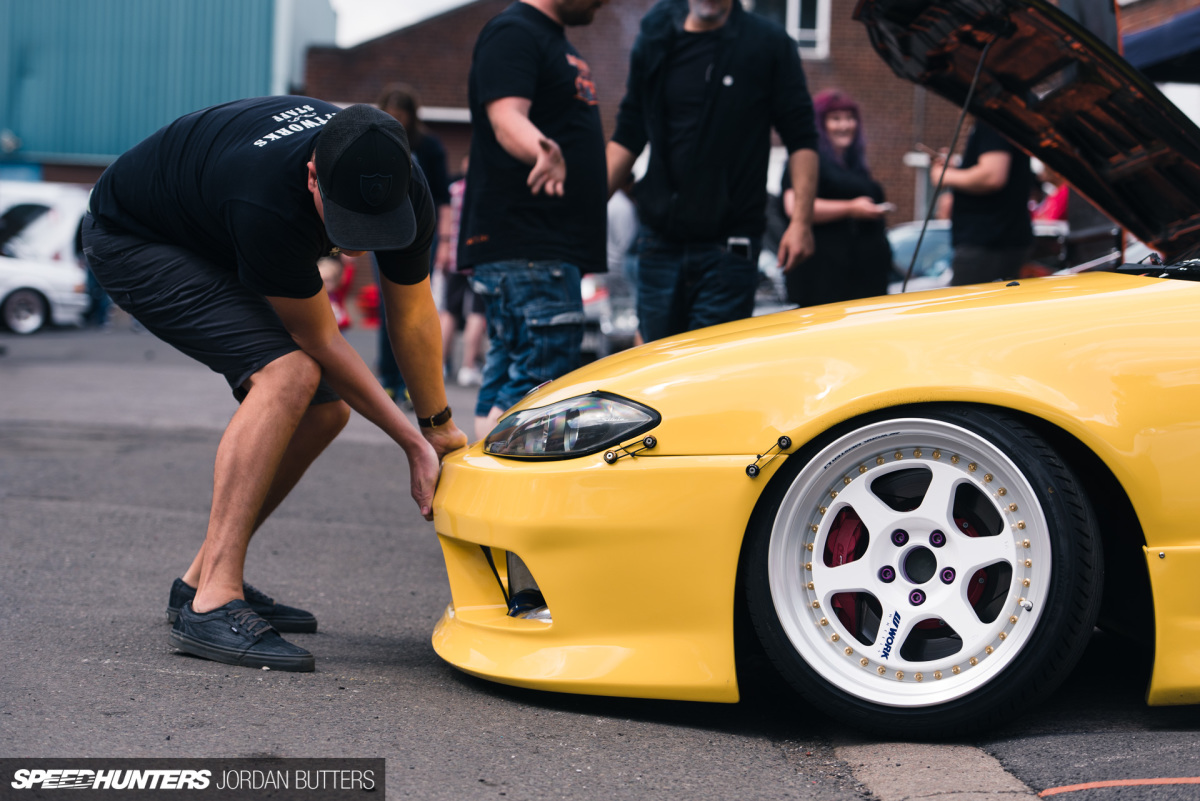 Either way, one the streets of Birmingham the car certainly turns heads. It may not be your usual drift-spec S-chassis, but this is one unique S15 definitely worth taking a closer look around.
Jordan Butters
Instagram: jordanbutters
Facebook: Jordan Butters Photography
jordan@speedhunters.com