That First Meeting
I admire humbleness; it's a quality we should all strive to have some degree of, but it can often be the cause of a lack of understanding.
When shooting a car feature, it's also my job as a journalist to investigate what it's all about. It's about uncovering the passion and work that has gone into the car, and then working those findings into an entertaining story. But sometimes time isn't on one's side, and you barely have a few minutes to take a quick glance over a car. Unfortunately, that's what my first meeting with Erik, the owner of this Gulf-inspired RSR replica, was like when I met him a couple of years back during the RWB Miyabi build in Kuala Lumpur.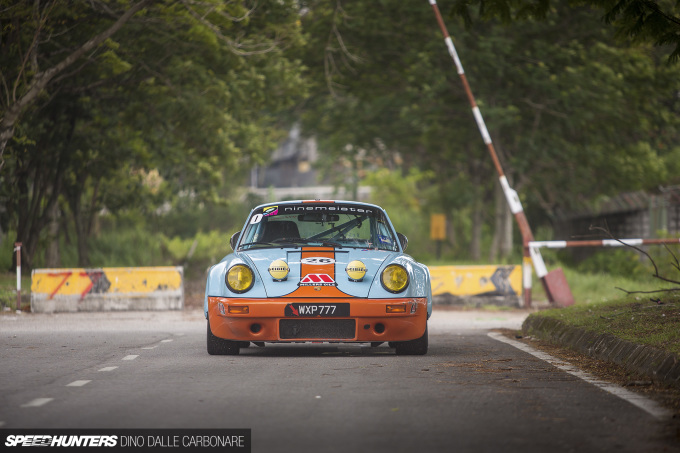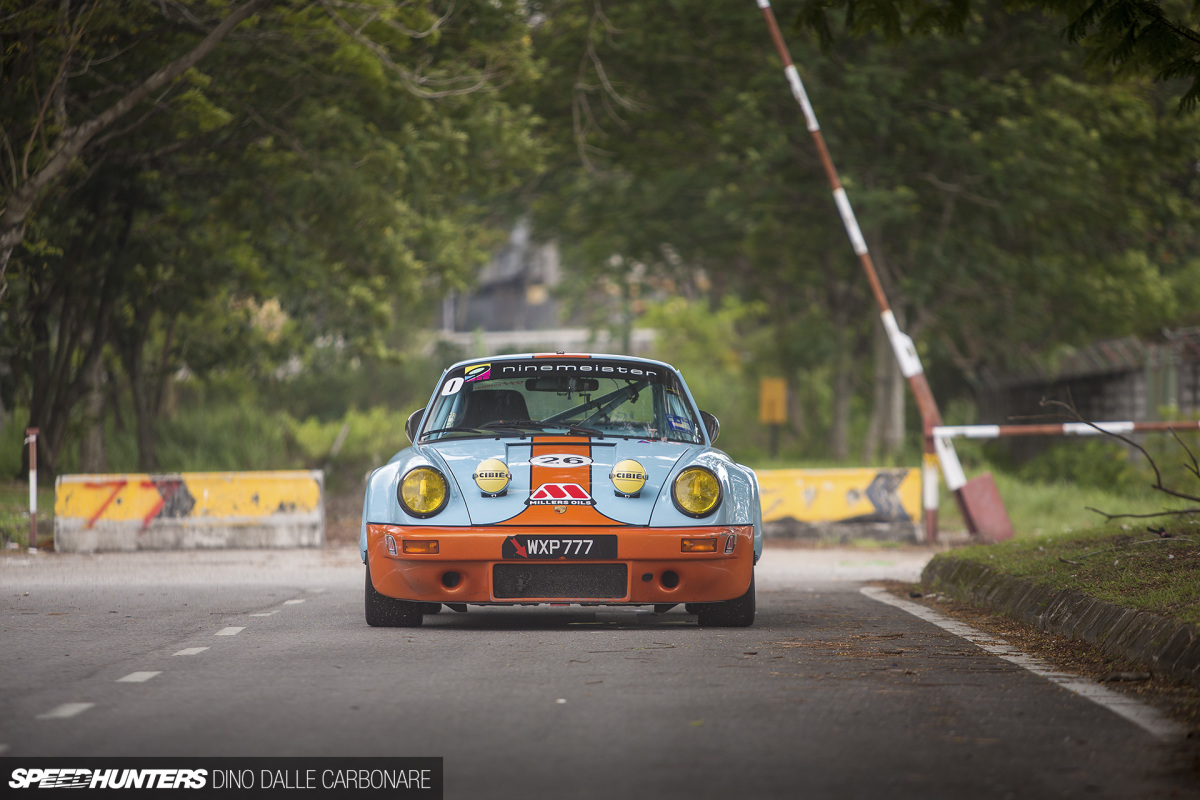 The Dutch Porsche enthusiast dropped by the build location with his 911 every day, and despite me taking a few shots of it and chatting to him about his car, I didn't quite comprehend what I was actually looking at. There was mention of the car having been built at Ninemeister in the UK some years back, and it having interesting details like carbon fiber body panels and a 996 GT3 RS 6-speed gearbox, so I knew it would be a perfect car to shoot the next time I was in the Malaysian capital with a little more time on my hands.
Which brings me to a late morning last month when Erik just so happened to be at One 911 Autoworks where I was shooting a shop tour. This was my opportunity to immortalize his custom creation against a quiet, suburban Kuala Lumpur backdrop.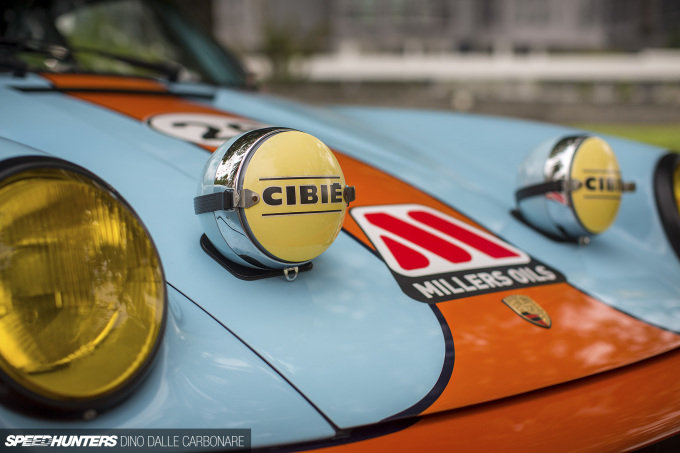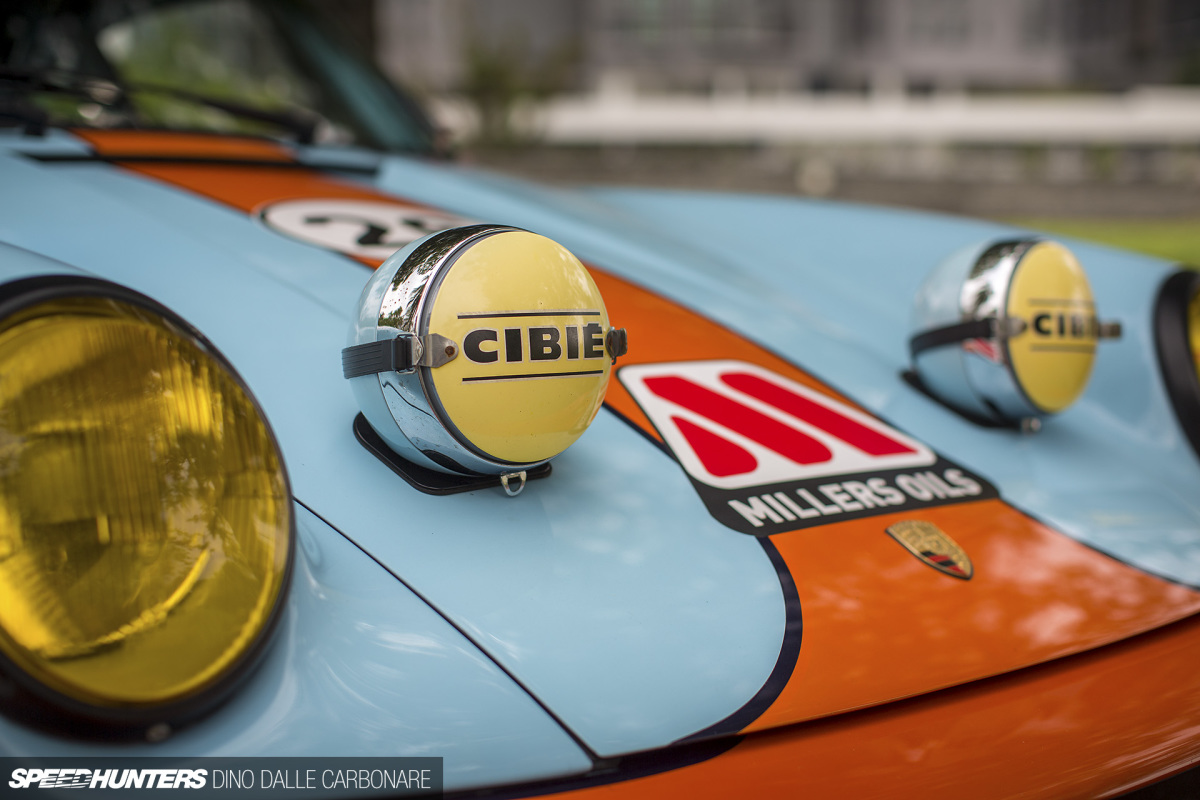 After grabbing a set of images (the ones you're looking at right now) and exchanging contact details with Erik, I was off on my way to the next feature car shoot I had scheduled for the day.
Fast forward a few weeks and I'm back in Japan, reading through the specs that Erik mailed over. At the end of his message was a link to the build process on the Rennlist forum, and a prompt for me to have a look there if I wanted more details. So that's what I did yesterday. My plan was to put the story together before dinner with the family, but by midnight I was still going through 60+ pages of a build thread that spans close to two years.
I was totally and utterly blown away. The attention to the smallest detail that went into the build of this car was nothing short of what you and I would envision doing with our dream project car. So why the hell didn't Erik try to emphasise just how much time and work went into it? Humbleness.
As I said before, I like that. It's better than someone boasting about their car and, in some cases, making it sound way more special than it may actually be in reality. Erik is probably thinking, if whoever looks at my car 'gets it', great, if they don't, whatever.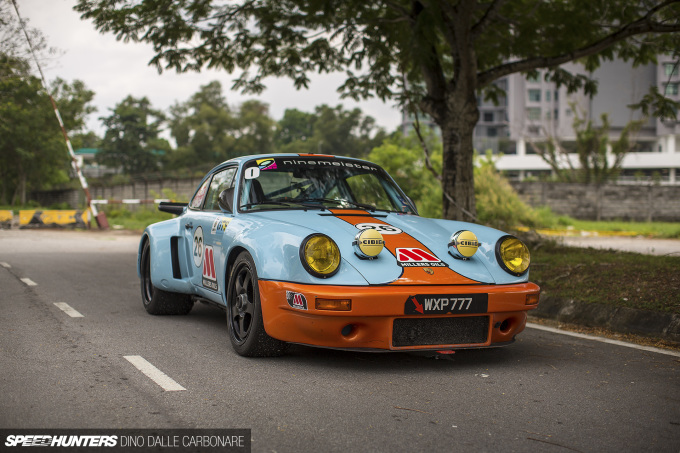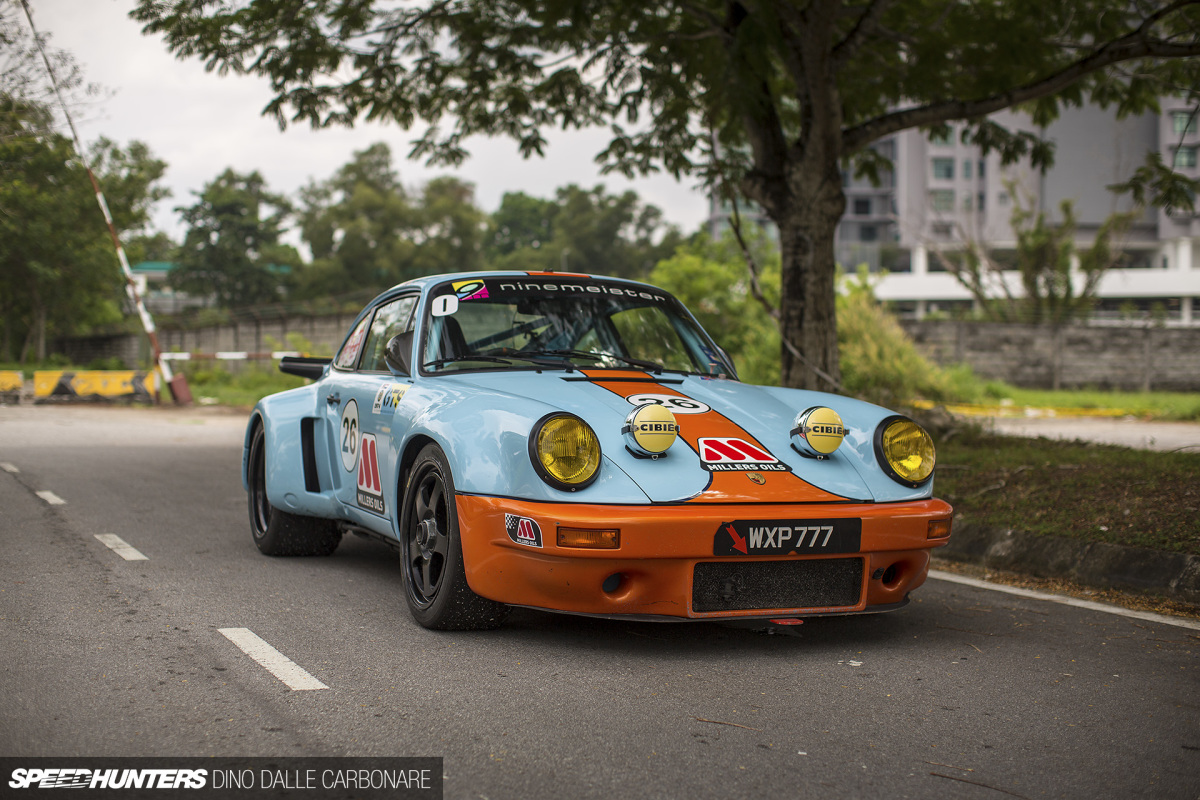 But the thing here is that you can't really fully understand the true beauty of this car – which Neinmeister baptized 9m11-RSR – without spending hours poring over the build thread. The whole project started in late 2010 when the 100,000-mile 964 base car was stripped down to a completely bare chassis. Some corrosion was exposed around the windshield seals, something that always plagues 964s, but that was not an issue as the car would go through some meticulous fabrication which would also include removing the roof to replace it with a non-sunroof version. This would also allow for proper and accurate welding of the roll-cage, a big part of the build for this dedicated track car.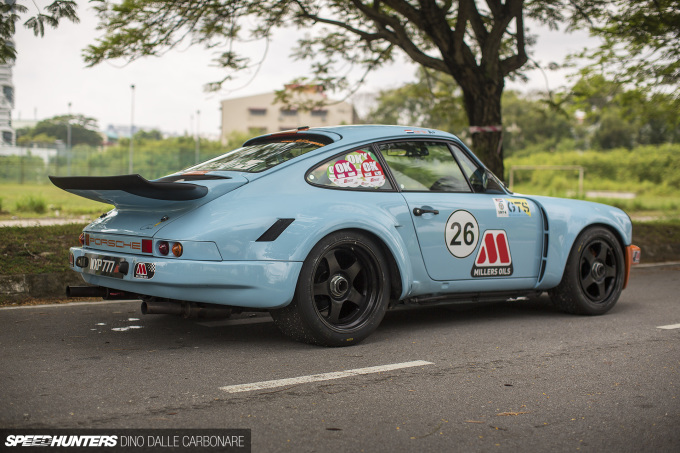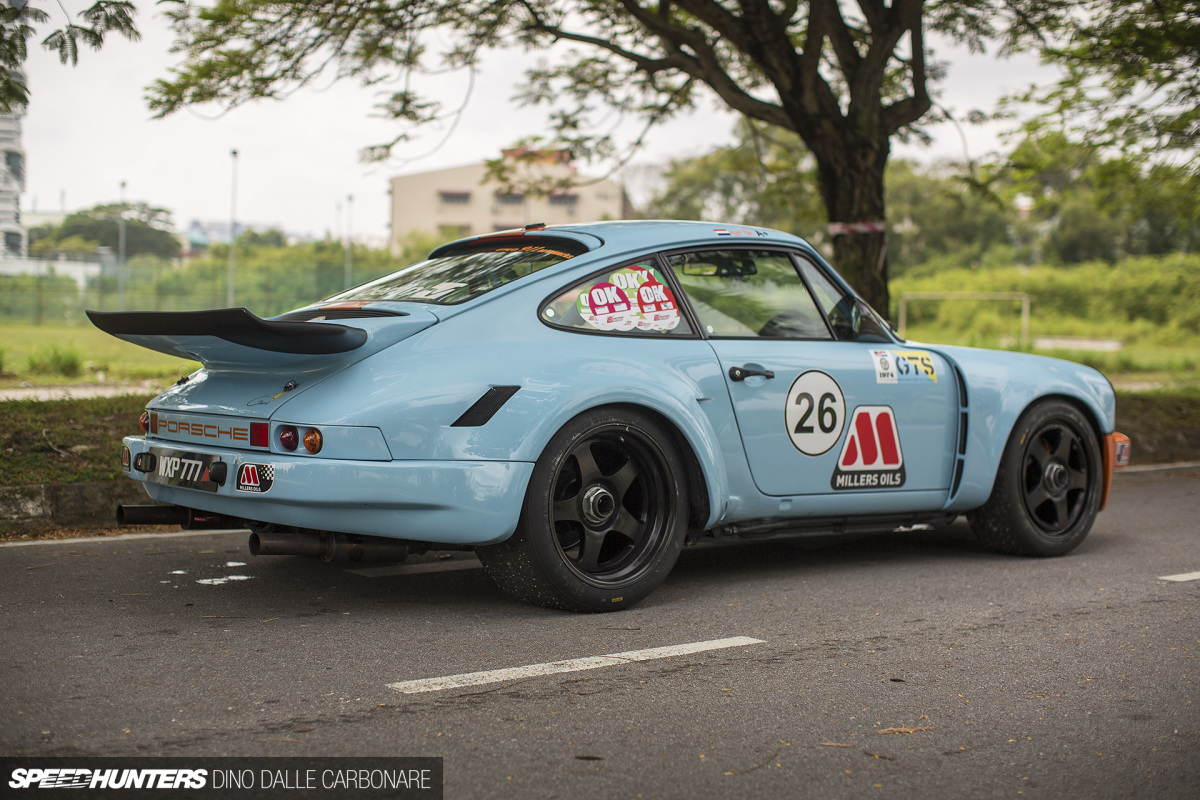 But before the carbon-Kevlar body panels were even added, the chassis spent the best part of half a year on a rotisserie. The custom fabrication work extended to a widened transmission tunnel which would house a 996 GT3 RS 6-speed, a upgrade that Ninemeister hadn't even attempted before. A lot of planning went into getting all the metal work sorted before everything was seam-welded to Clubsport spec.
At the same time that all of this was happening, Ninemaster was in constant contact with the Erik, and one of the things they worked on together was finding a set of wheels that would look the part, fit functionally without spacers, and be able to accept the center-lock conversion that was being done. It should come as no great surprise that these Fikse wheels had to be custom ordered.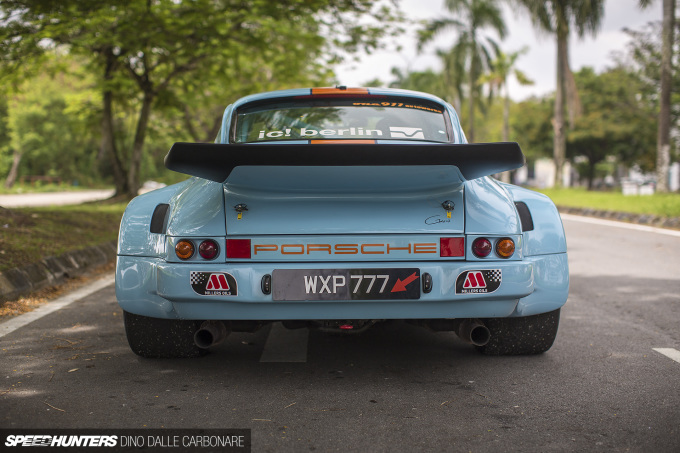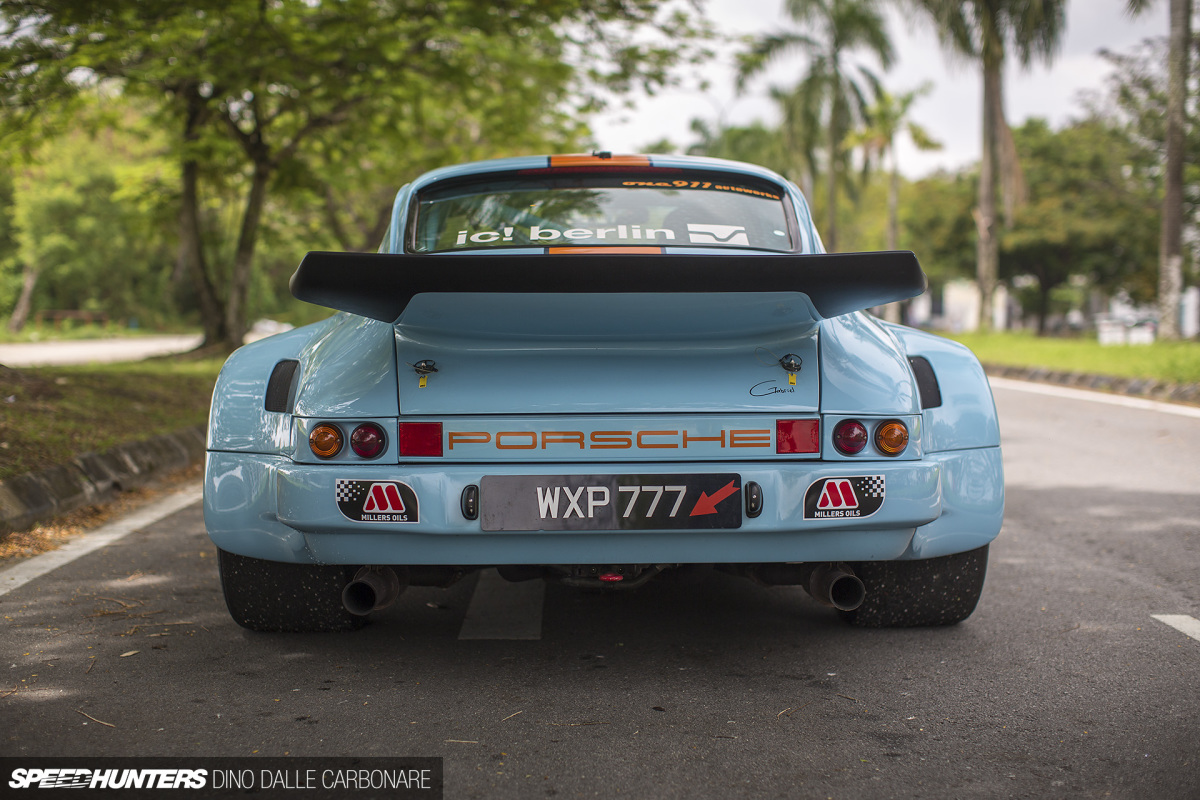 The painting was another huge undertaking and I can't say I've ever seen so much attention to detail being put on getting the colors quite so right. Preparation alone spanned another 12 months; the alignment of all the carbon panels was meticulous, right down to how the front and rear fenders were bonded to the chassis. Smoothing and blending followed to get the composite surface on par with the finely-finished metalwork before it was all painted up.
Finally, the body was sprayed inside and out. Multiple layers were laid down, from prep undercoats that were sanded over and over, to a darker blue that was laid under the lighter Gulf color to give the right balance under the sun.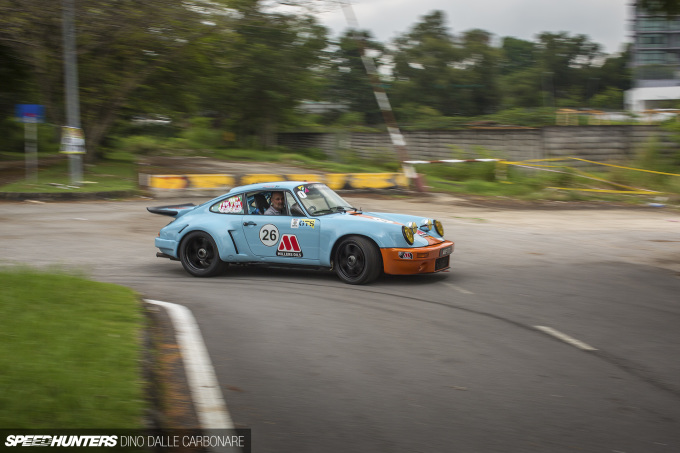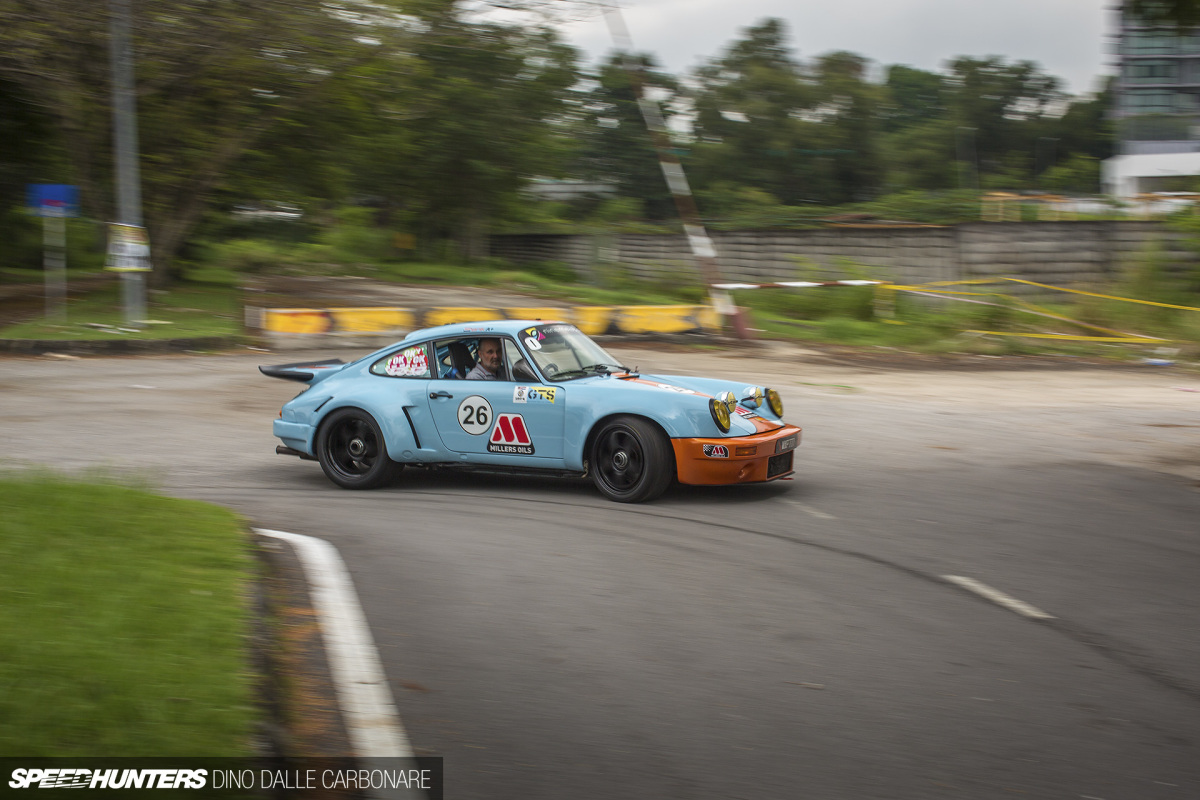 Next on the paint list was the orange race stripe with thin outline detailing and the front bumper. Vinyl would have been the easy option, but that was never going to cut it for Erik.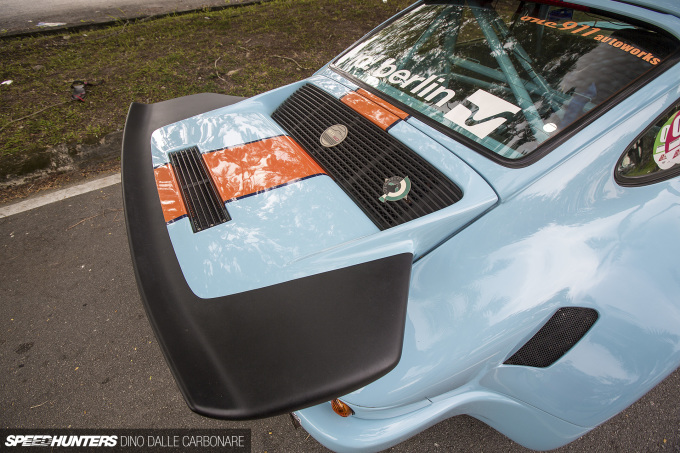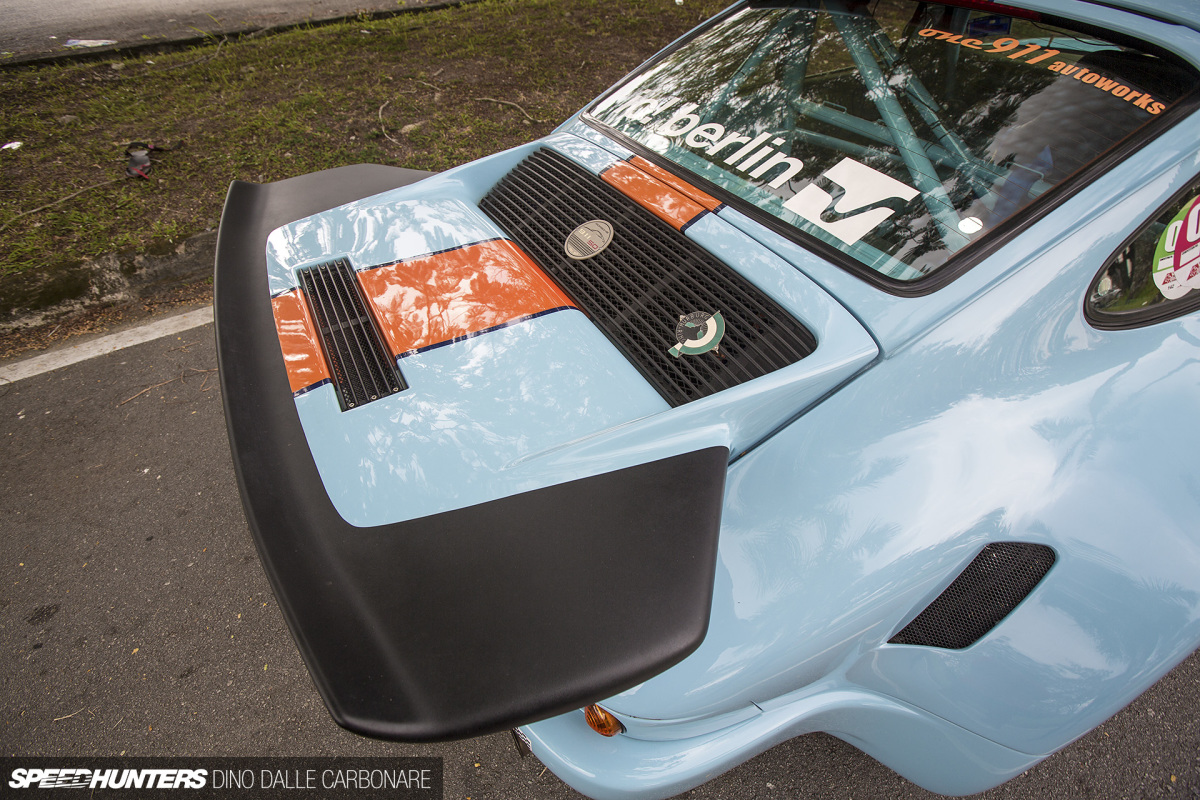 Run your fingers over the paint and it's impossible to tell where one color starts and the other ends. Oh, and the rubber-looking part of the big whale tail spoiler isn't actually rubber but a special type of paint.
The Mechanicals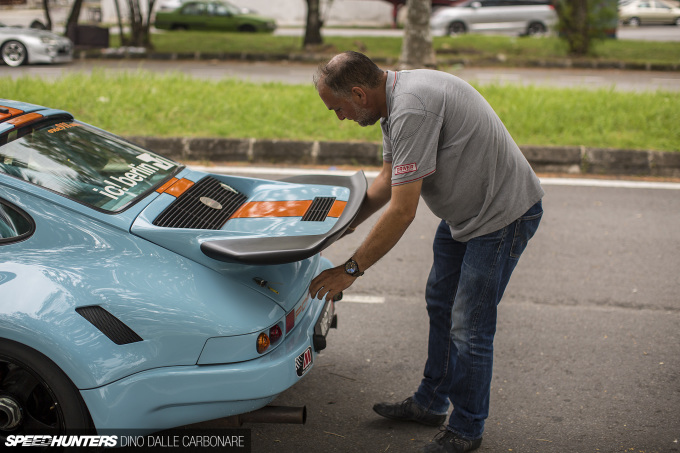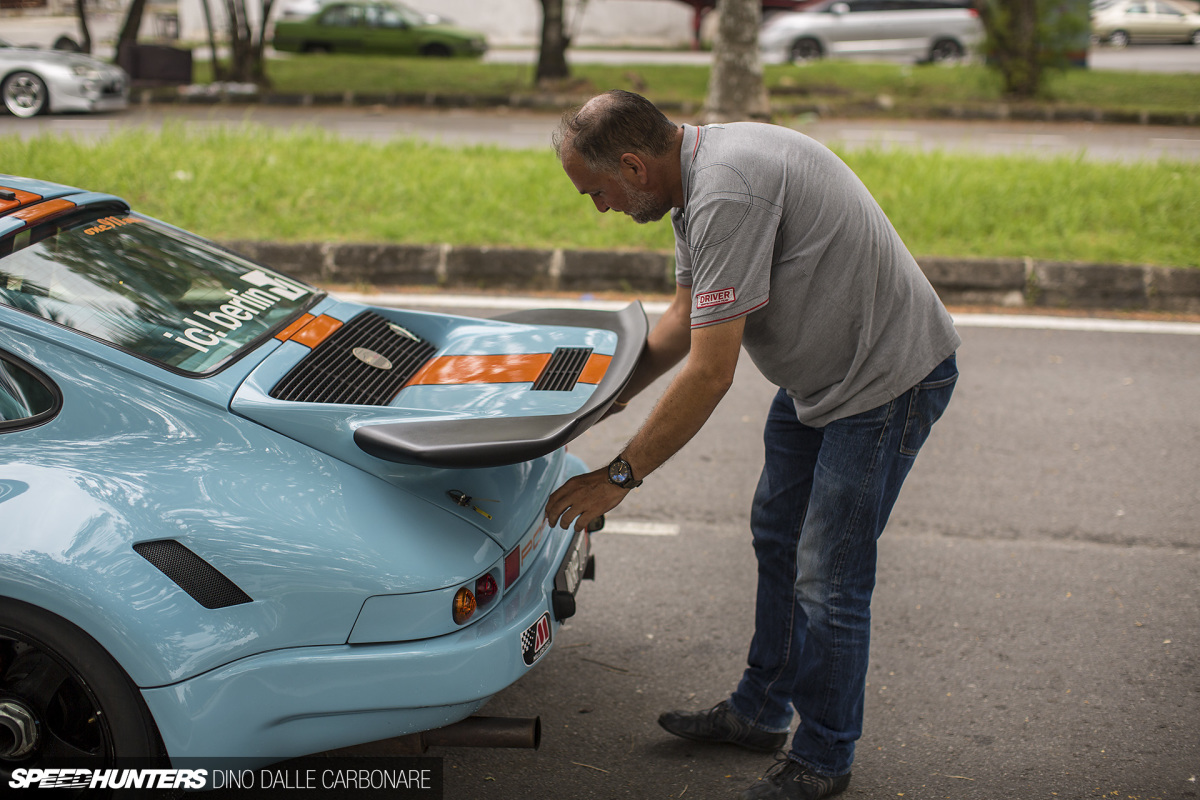 The whole idea behind this homage to the 1974 3.0L RSR was to have a beautiful recreation of a recognizable icon, but the car also needed to have some potency under the hood for when Erik took the car to his local circuit.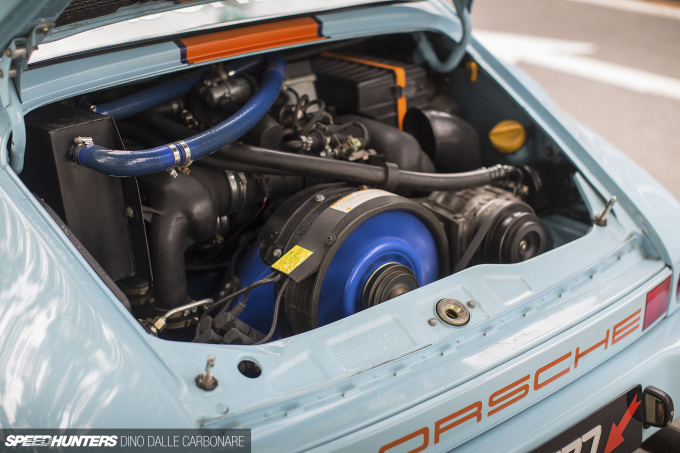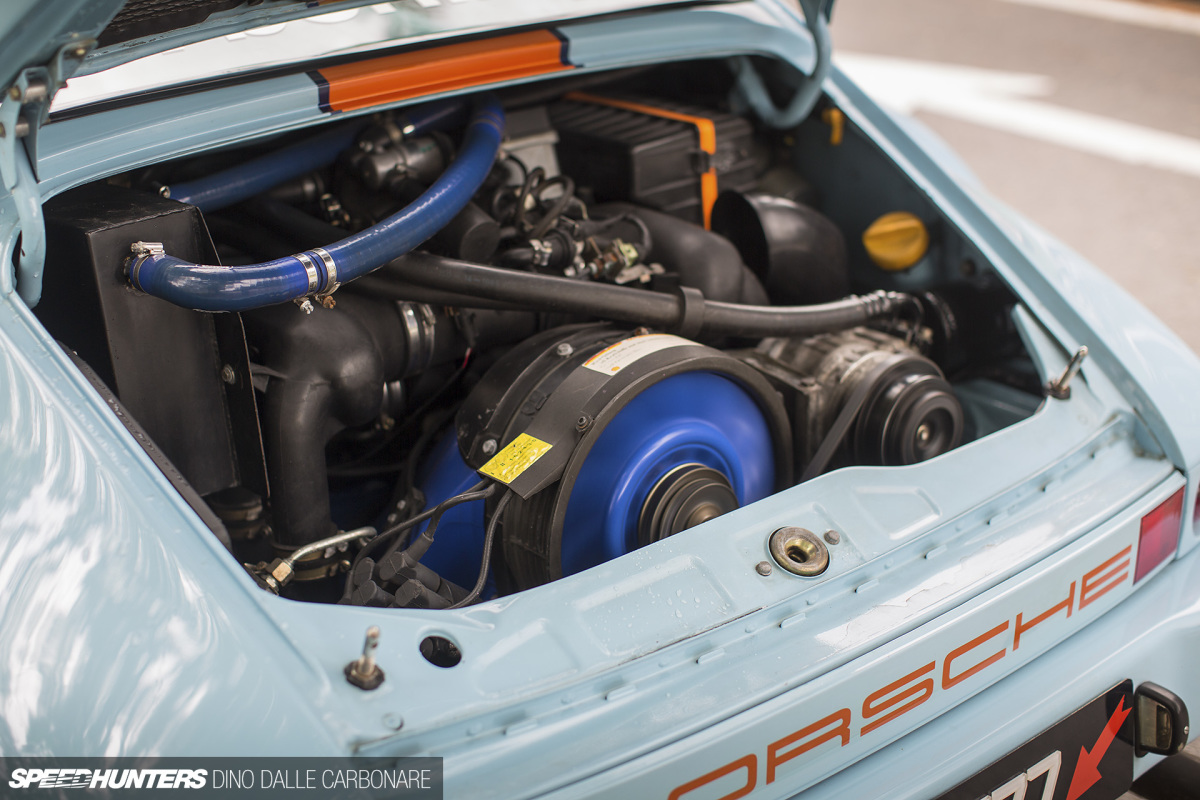 However, it was decided to split the build in two, and run the car for a few years with the 964 RS stock engine that was dropped in for its shakedown test.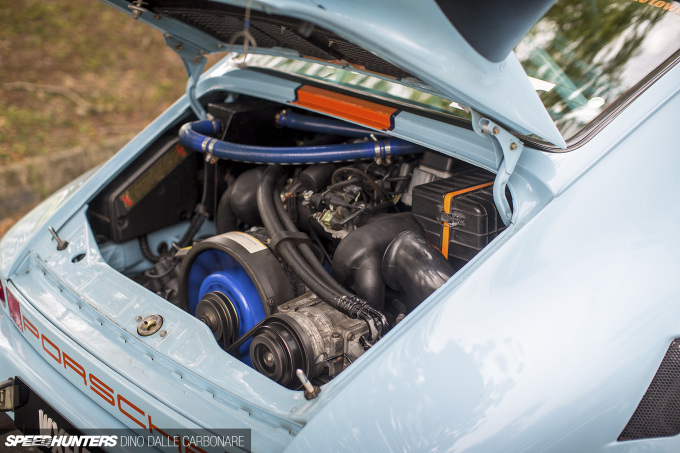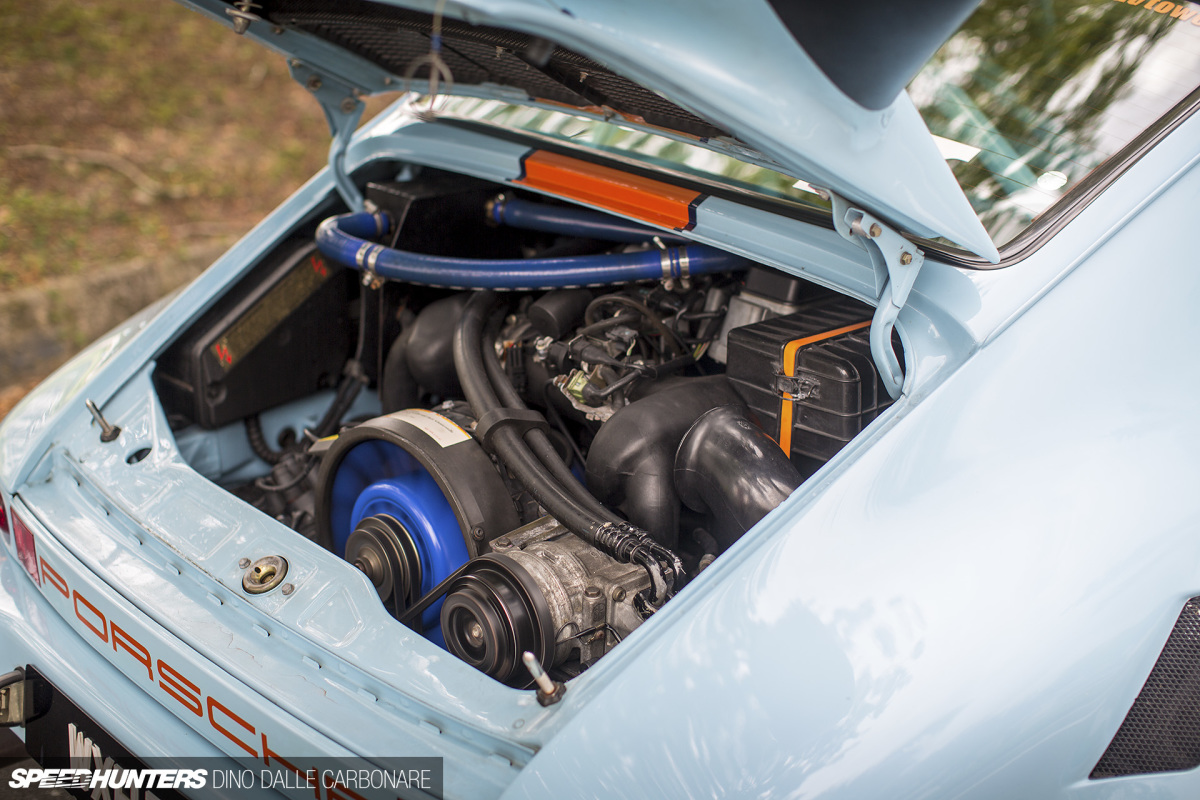 It not only gave Erik the chance to ship his car from the UK to Malaysia, but he was able to get some proper enjoyment out of the race-prepped chassis and suspension. Currently, he's deciding what to do with the built motor that will eventually find its way into the car. Ninemeister are now talking about offering a highly tuned 3.8-liter or 4-liter air-cooled engine, so the wait has opened up some tantalizing new options.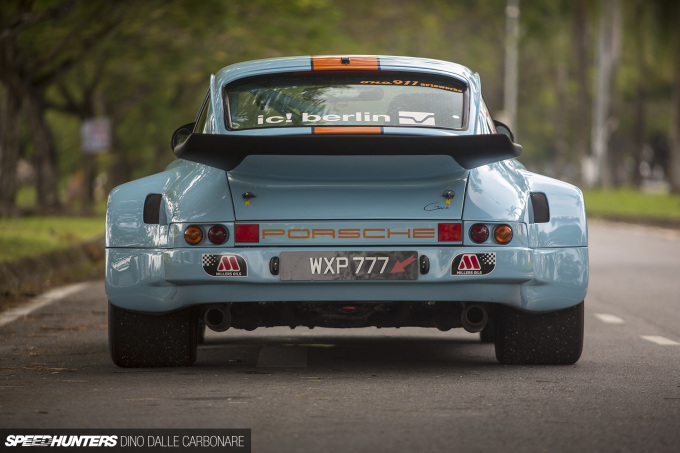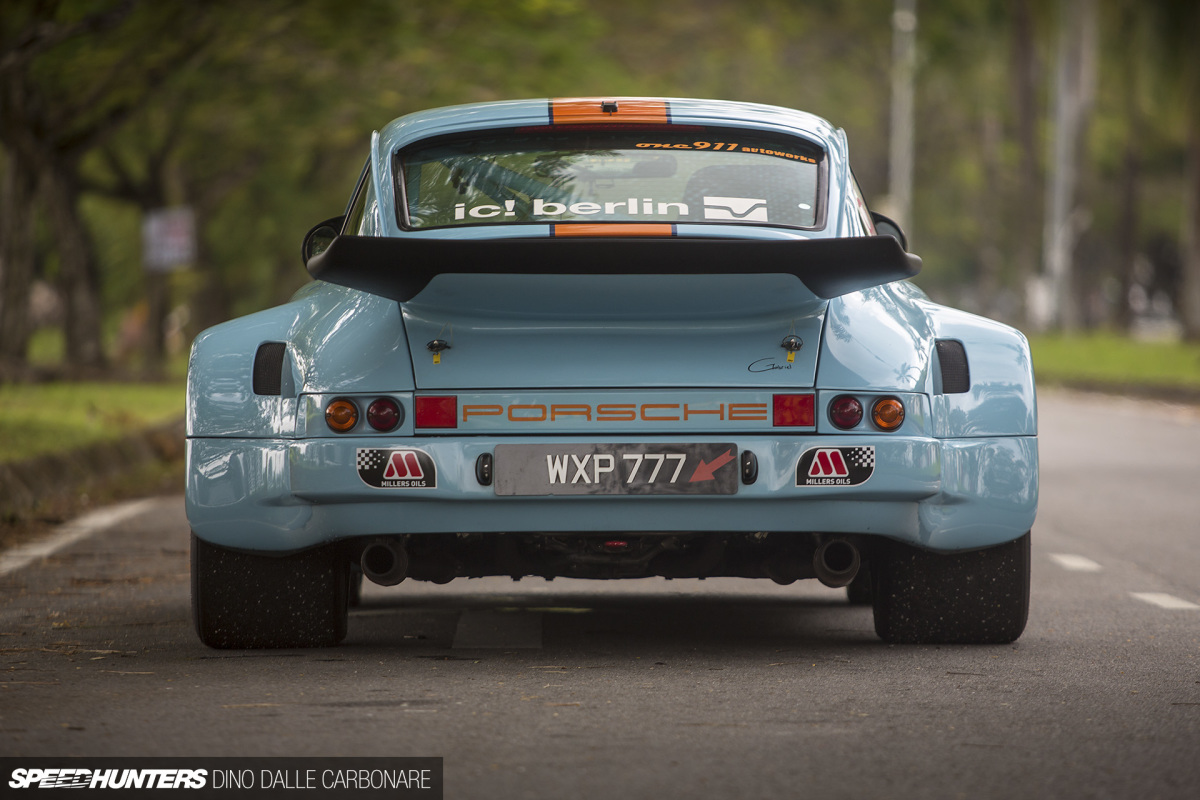 I need to talk about the suspension too, because it's a pretty special package that ensures the car is enjoyable as possible with the sort of direct feedback you can only dream of in modern cars. Aside from having a full RS suspension swap with the more aggressive geometry, the front end has received a 993 GT2 Evolution setup and a hybrid steering system for a true race car feel, while KW Clubsport 2-way dampers do the rest.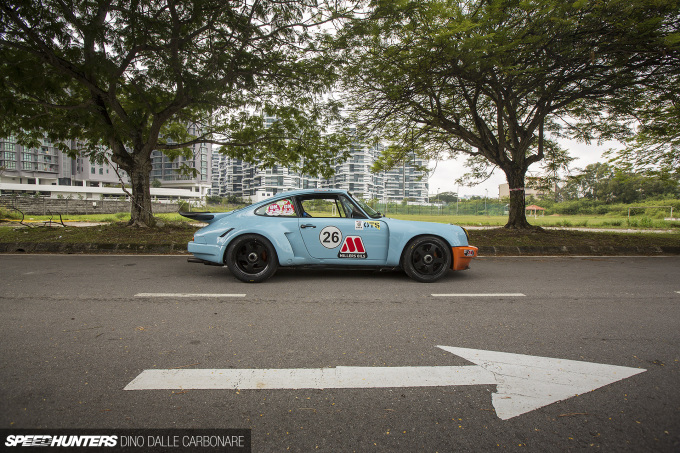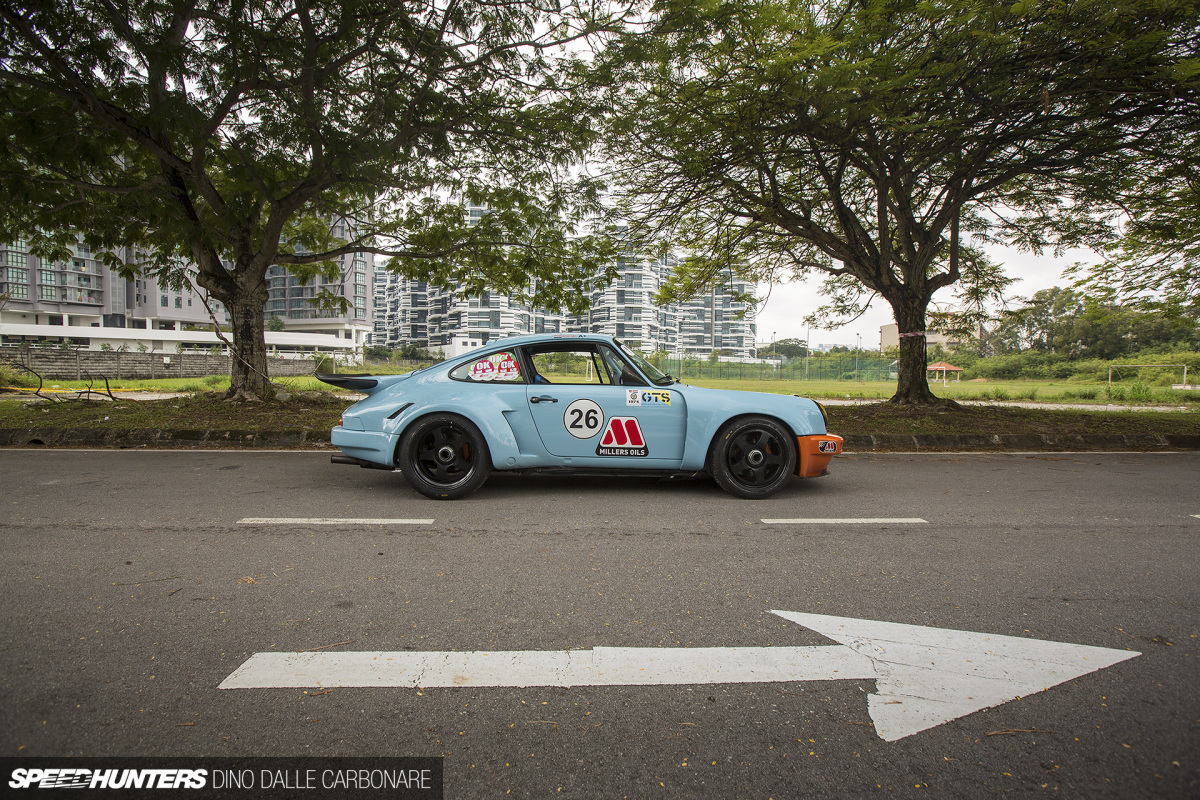 The braking package is a combination of the best interchangeable parts that make these 911s so much fun to mix and match. Up front Erik runs 993 4-pot calipers and rotors while the rear gets a 964 RS setup. It's then all controlled by a full four-channel 996 GT3 ABS system which was quite the headache to integrate and make work.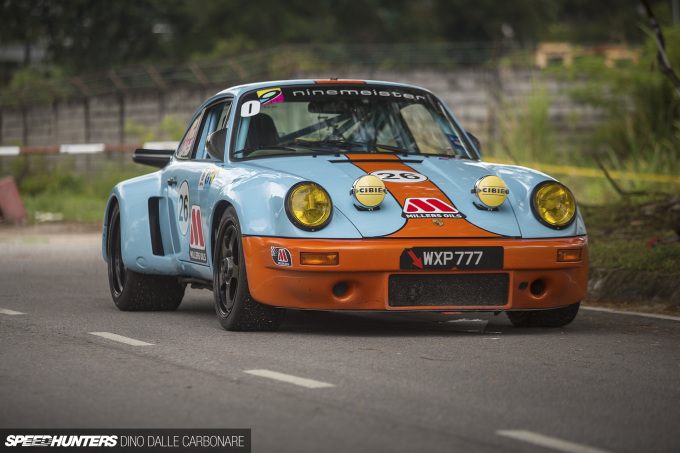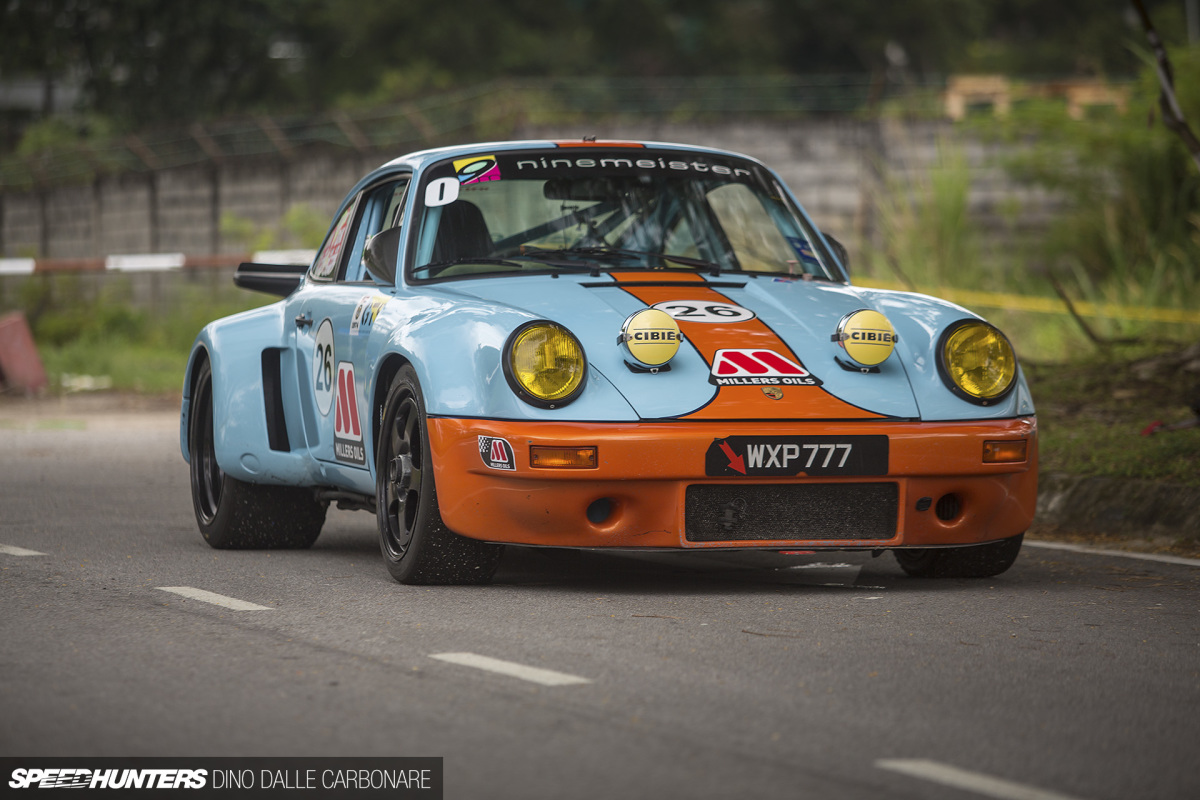 It's pretty crazy, and if I attempted to go through all the custom details this feature story would turn into a rather long one. I mean, even custom wheel arch liners were created, so that the insides of the carbon-Kevlar fenders wouldn't suffer from stone rash. There's also a custom-fitted A/C system (remember, the car has to live in Malaysia's tropical climate), but even this was stripped down to its most simplest of form to shave weight and was mated to back-dated slider-type controls. Like I said, it's all very meticulously put together.
Functional To The Core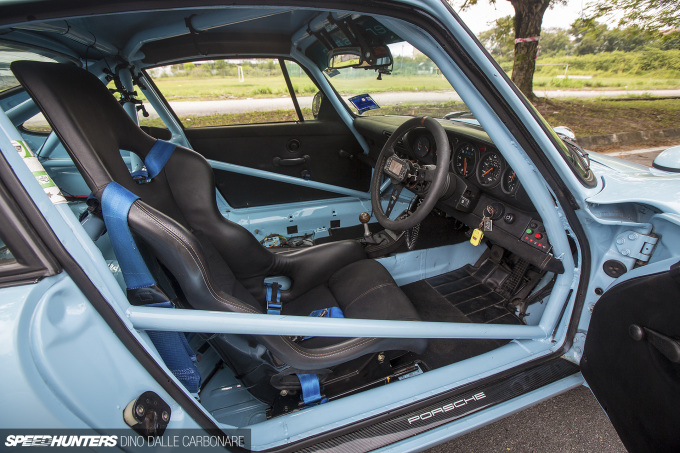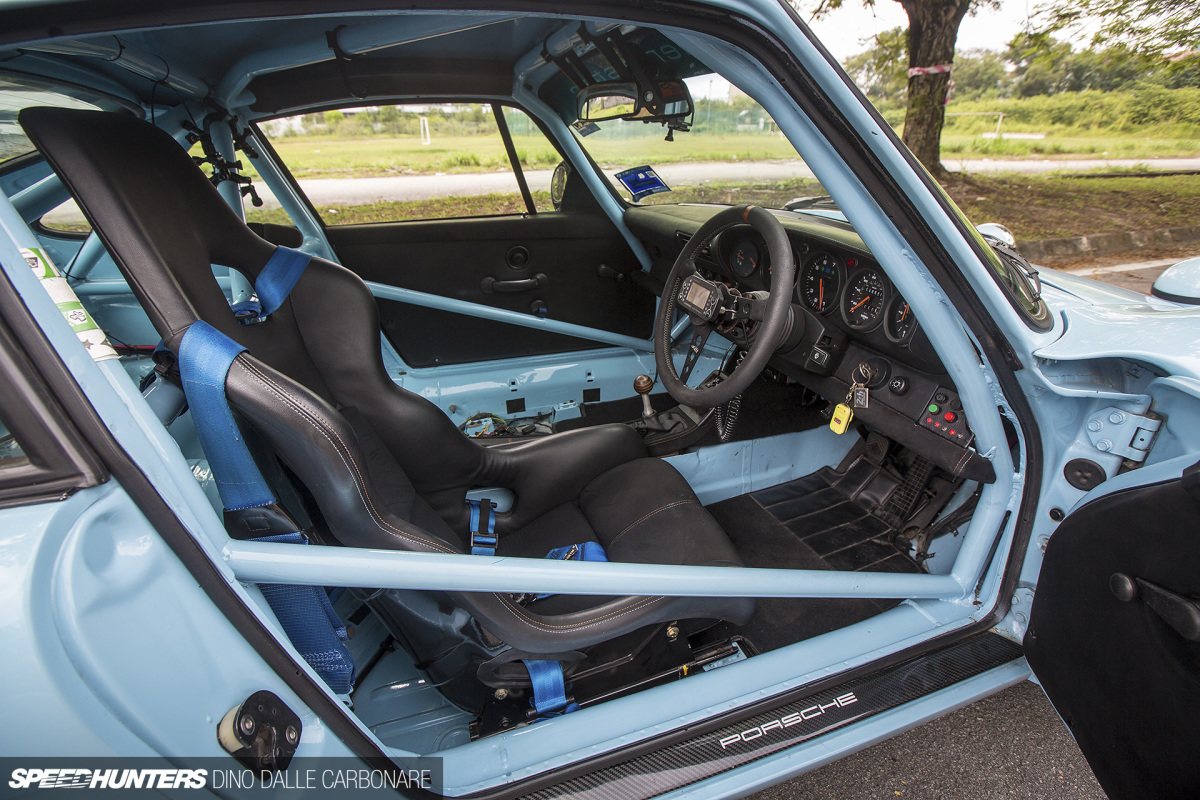 The interior is probably the most simple and minimalistic part of the car, custom leather-trimmed Recaros (only the driver one pictured here as the car had just come back from a day at Sepang, thus Erik ditched the passenger seat to save weight) taking center stage in the fully caged cabin.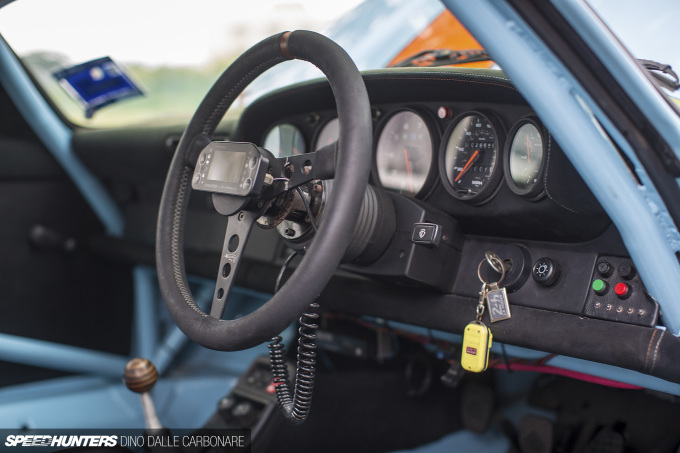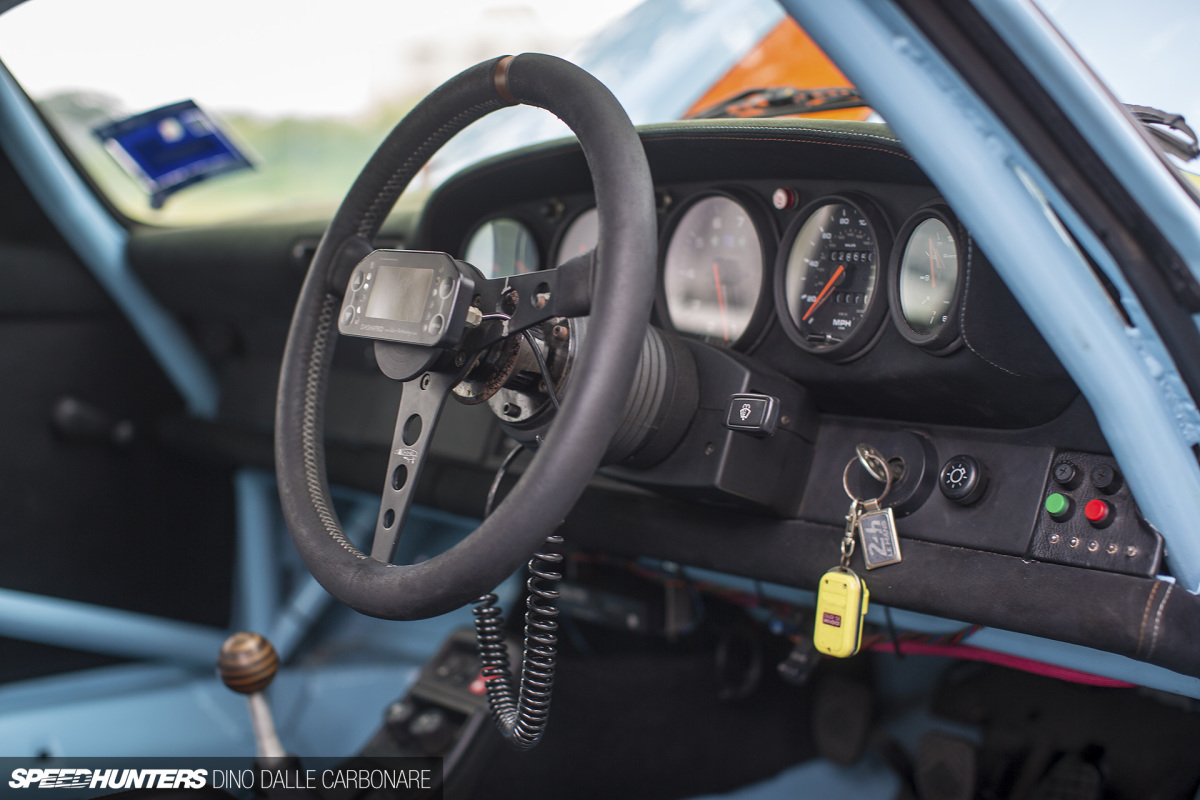 The Gulf blue interior serves as a nice color-coordinated backdrop to house the few bits of trim that have been retained. The dash and center console are finished in Alcantara while RS door cards have been mounted onto the lightweight carbon doors. No auxiliary dials have been added; all the information Erik requires is neatly displayed through the Dash 4 Pro OLED module, including the lap timer for when he's enjoying some track day fun.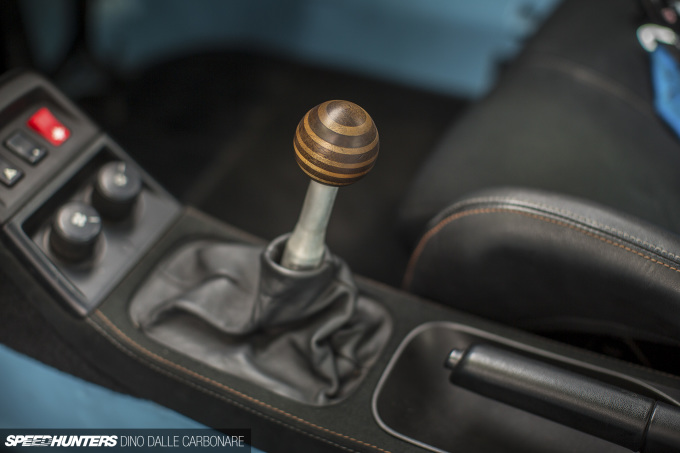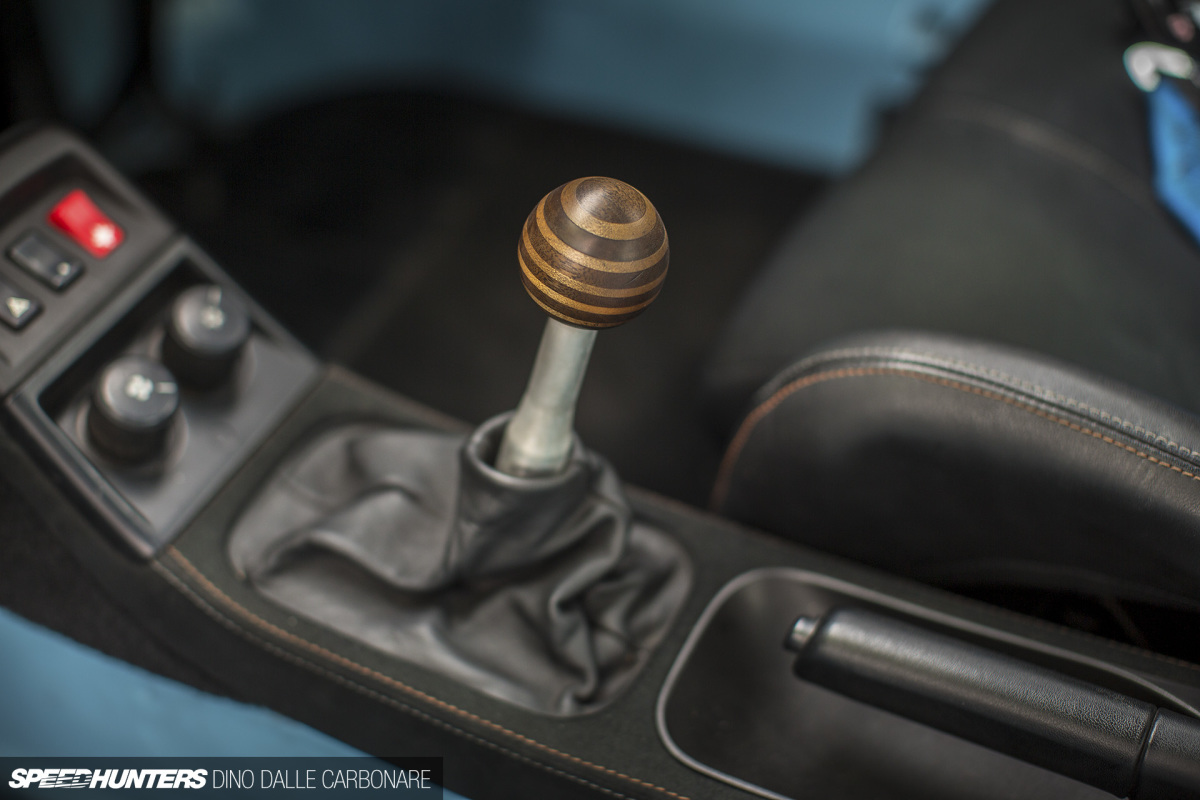 As a nod to the 917 racer of the '70s, a laminated balsa wood replica shifter knob has found its way onto the lever that stirs the cogs of the GT3 transmission. It's probably a good choice for Malaysia, as I'd imaging an alloy shifter would become impossible to touch if left out in the sun.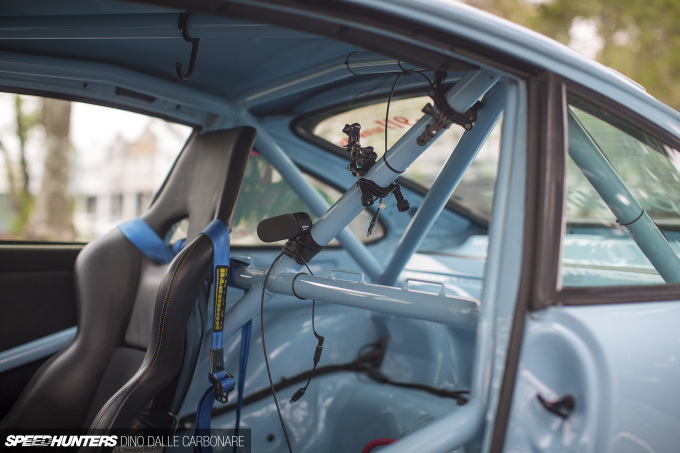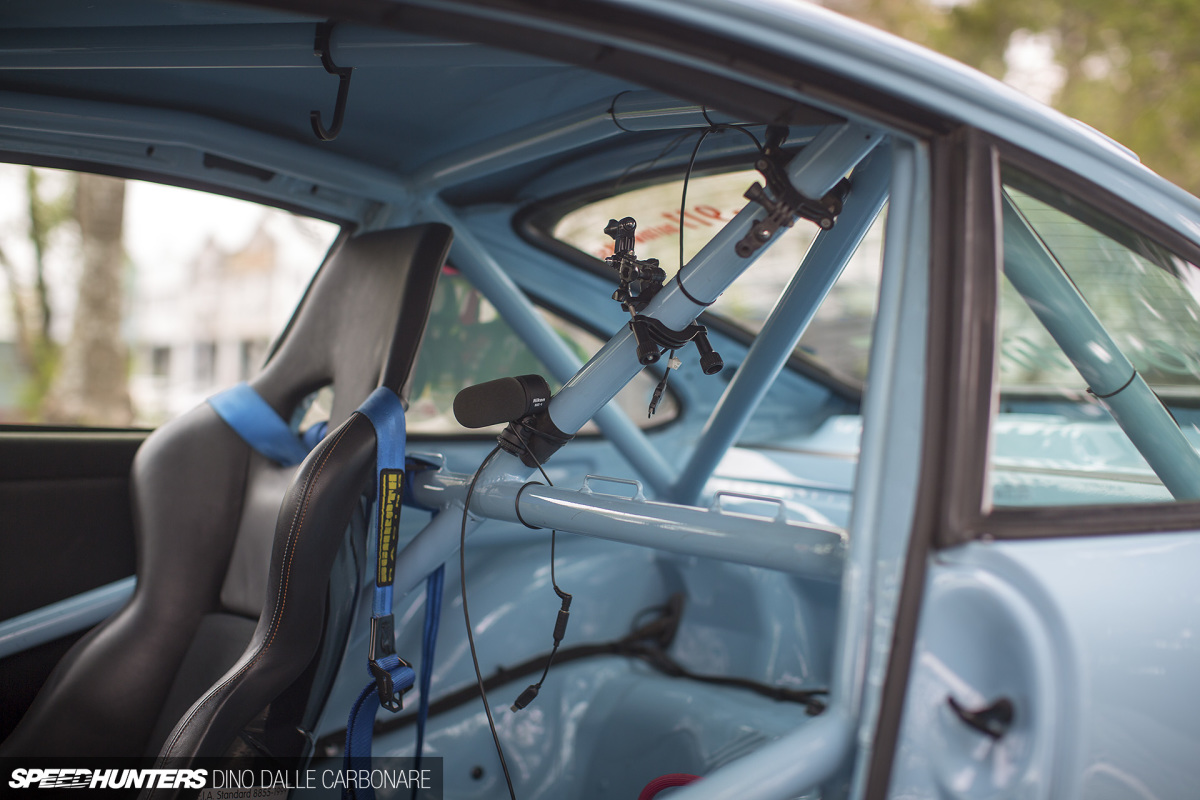 Here you can see the intricacies of the cage, which also doubles up as handy video and audio equipment mounting location. The horizontal bar even has thin guides for the Schroth Racing harnesses.
I included an image of the stock Bosch Motronic ECU because when the new motor is finally fitted, this along with the modified wiring loom will be ditched in favor of a MoTeC M800 and PDM module.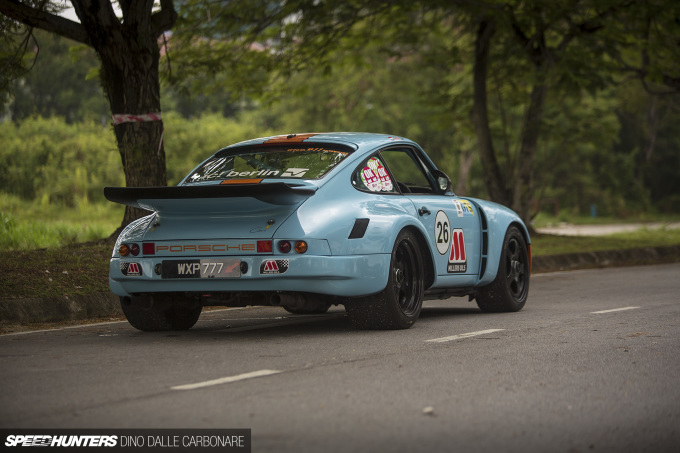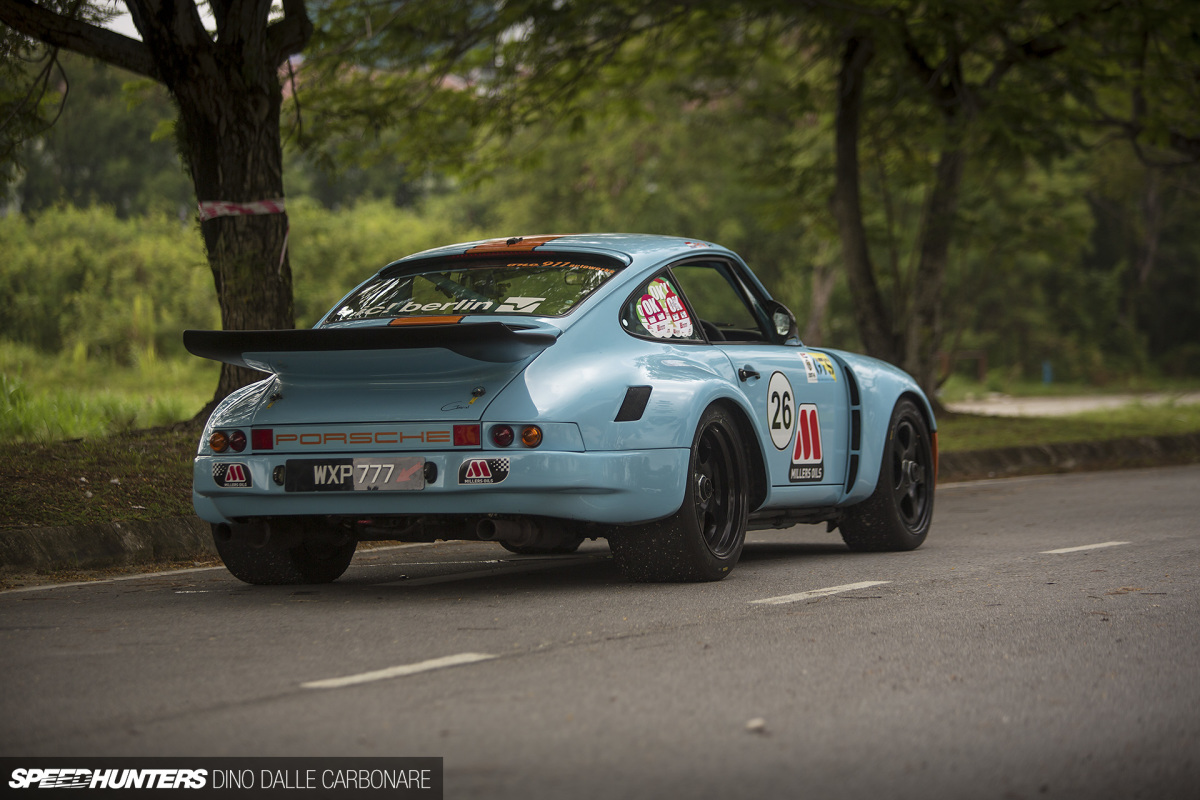 You may have noticed that the custom center-lock Fikse wheels are shod in slick rubber. No, these aren't legal for the road in Malaysia, but as I mentioned earlier, Erik had just spent the previous weekend at the circuit so was still using his track setup. There's nothing is quite as badass as a road car on race rubber!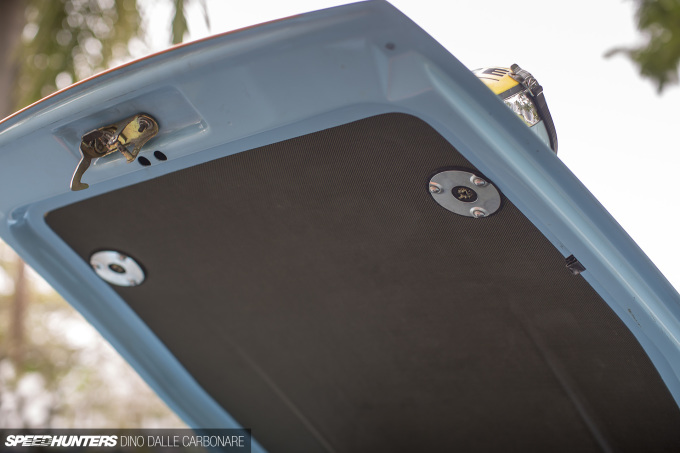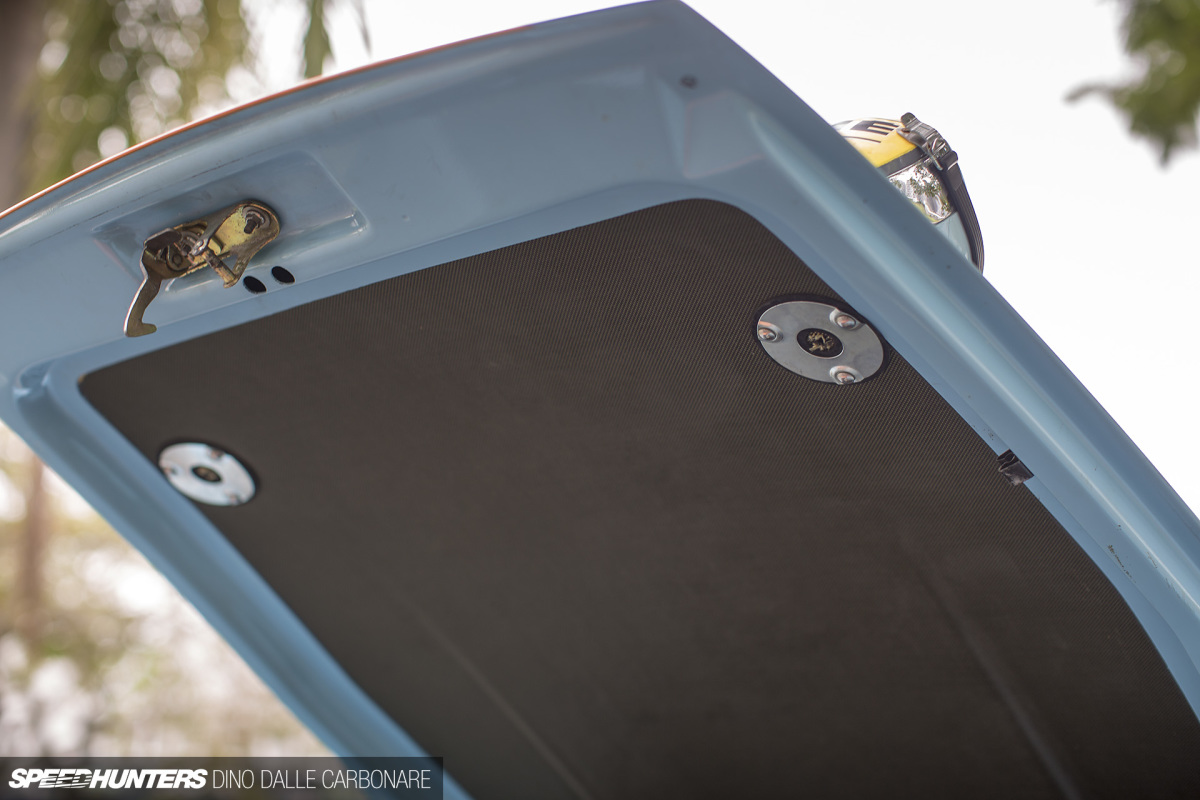 After chatting about the custom suspension pick-up points that were fabricated prior to paint, I asked to see if it was possible to take a look under the carbon frunk.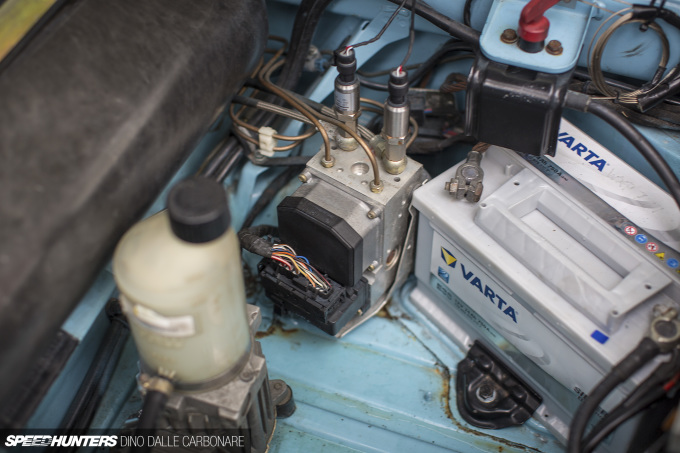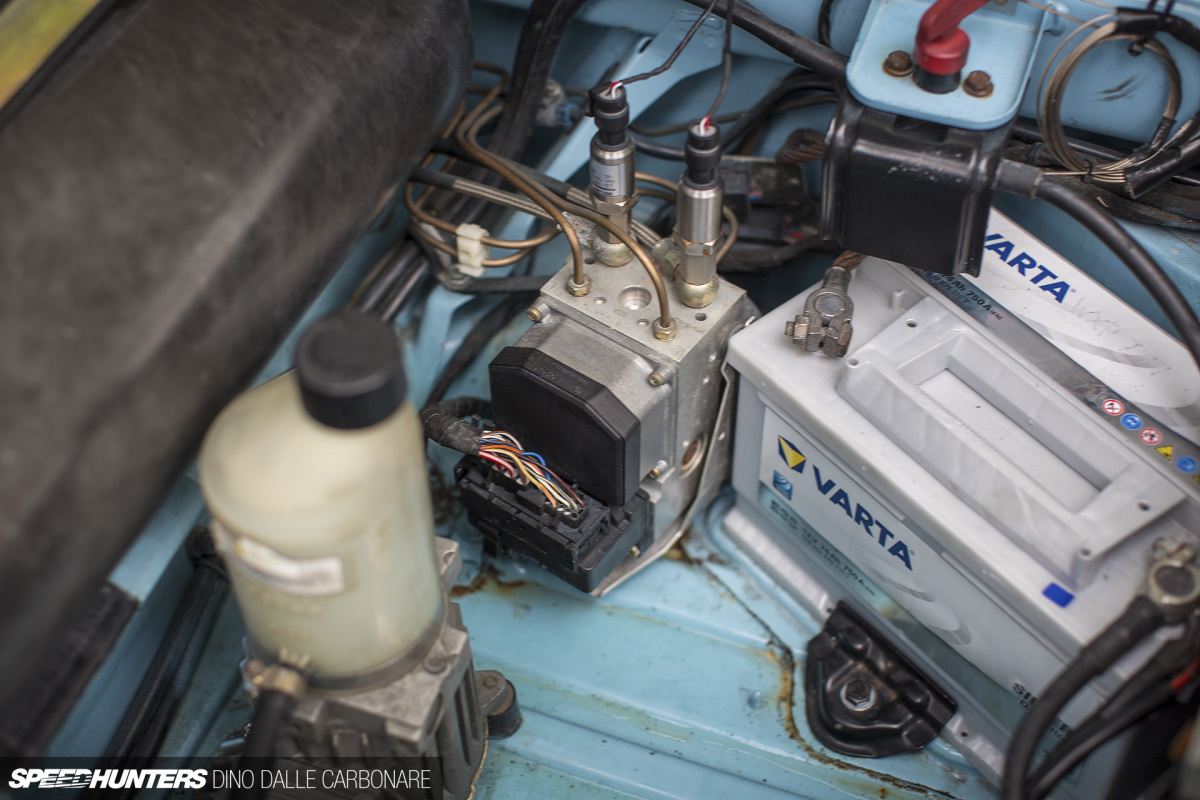 I wanted to get a closer look at where the GT3 ABS unit was placed, another little detail that makes this car such a unique piece of custom goodness.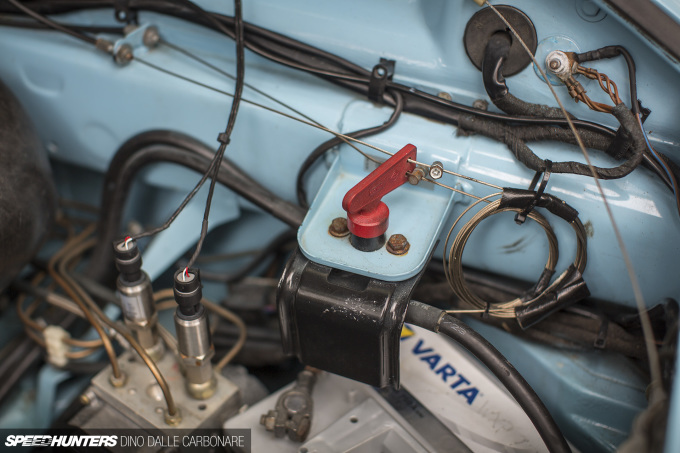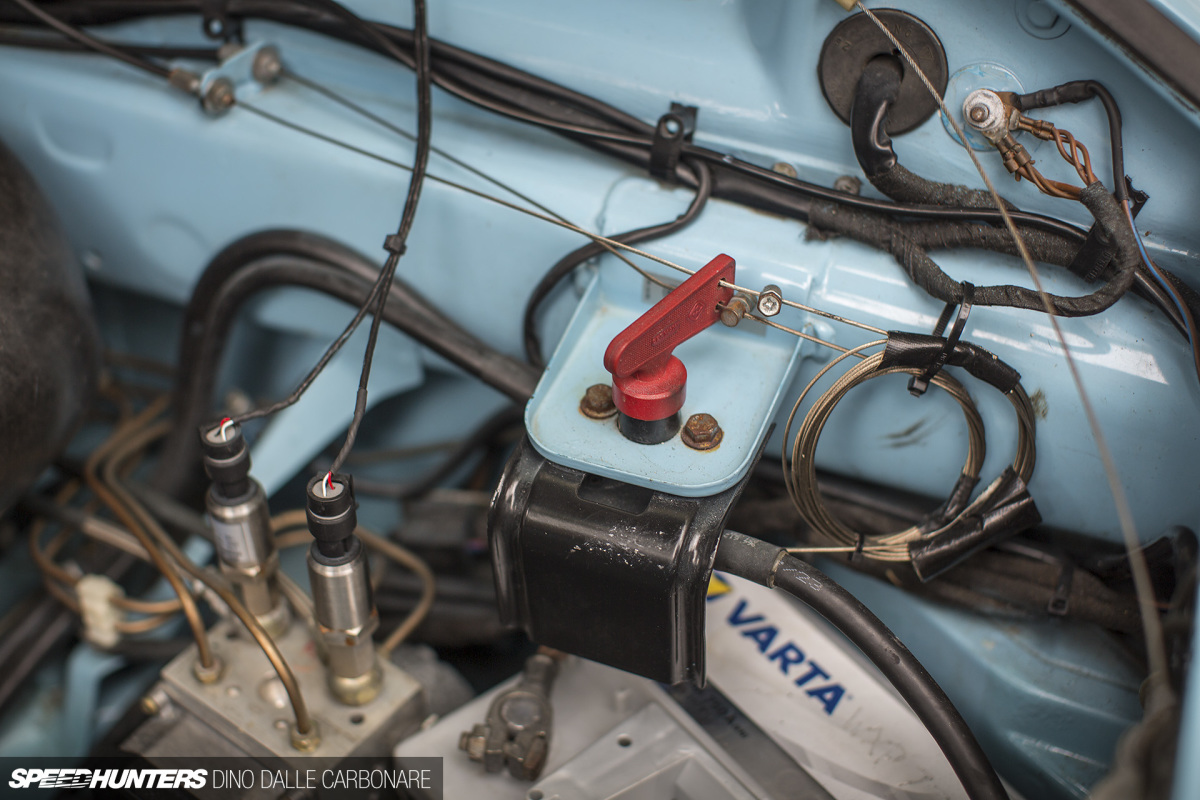 And if anything was ever to go wrong, it's good to know you have the option of killing the electrics with a turn of that red lever.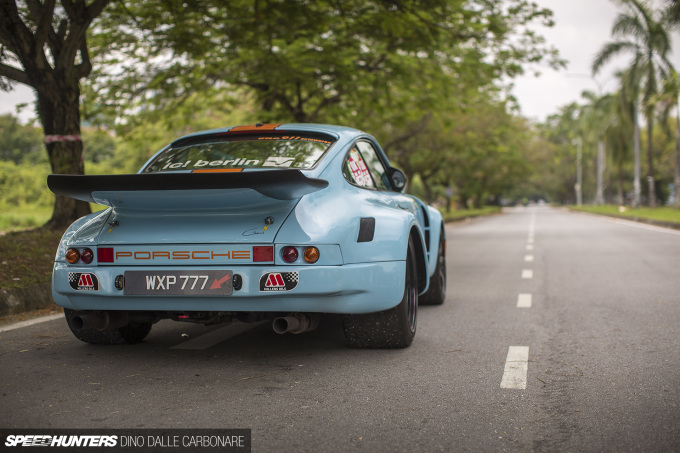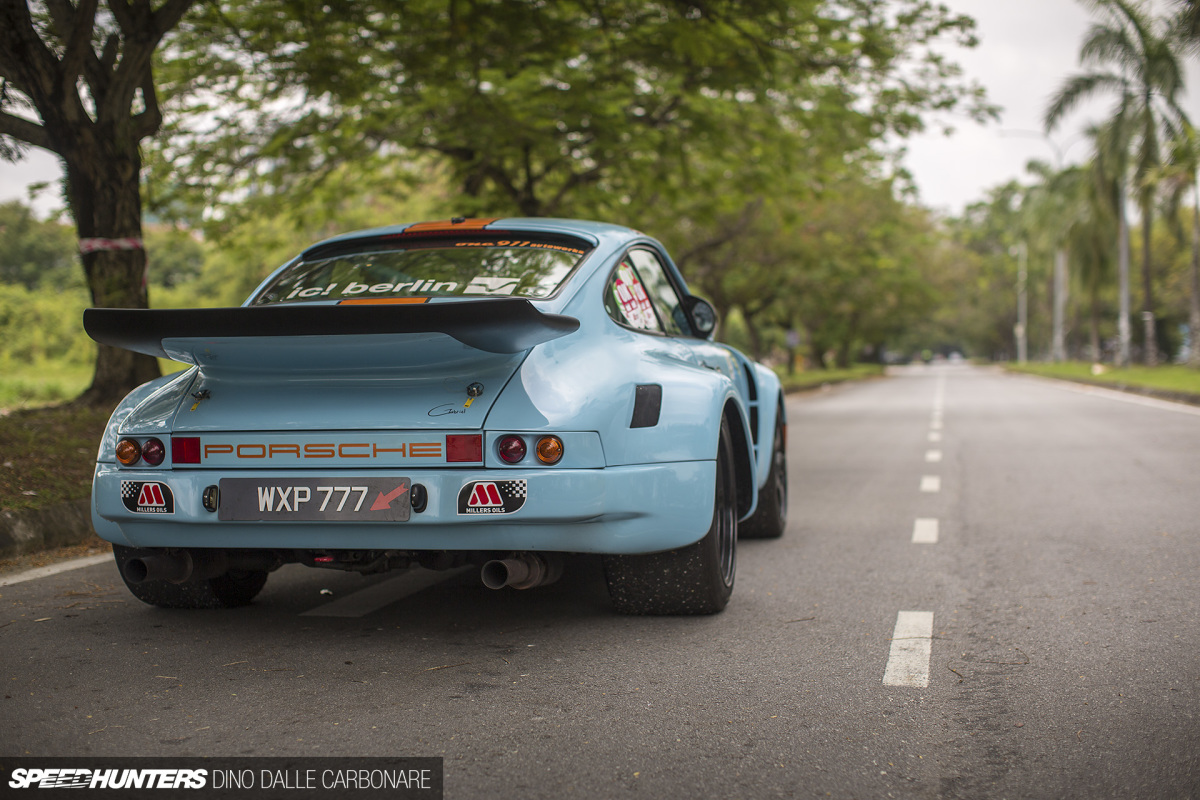 It's pretty amazing to think how difficult it would be to coordinate a complete build of this magnitude and actually finish the project to the desired quality. But Ninemeister stepped up to the challenge and satisfied every request that Erik had, even when he was living on the other side of the planet.
I'm quite interested to see which engine Erik ends up going for, a choice that he tells me will be made once his other project – a 935 K3 – is completed. I guess I'll have to make sure I visit Malaysia again next year. In the meantime, do yourself a favor and check out the full build post here.
Dino Dalle Carbonare
Instagram: speedhunters_dino
dino@speedhunters.com