Lucky Number 7
One of the most fascinating things about this hobby we call car building are the stories that derive from the process. It doesn't matter whether your preference is function or form, there is always a story of sorts that accompanies the project – something that doesn't happen if you simply purchase a brand new vehicle and call it a day.
I'm always interested to hear about how a build came to be and the subsequent road travelled, and Cristian Tyrrell, the owner of this 1988 10th Anniversary Mazda RX-7, had a lot to share to with me about his journey.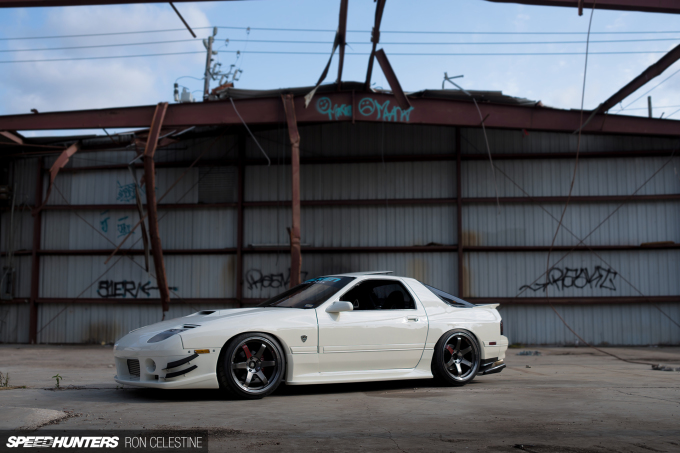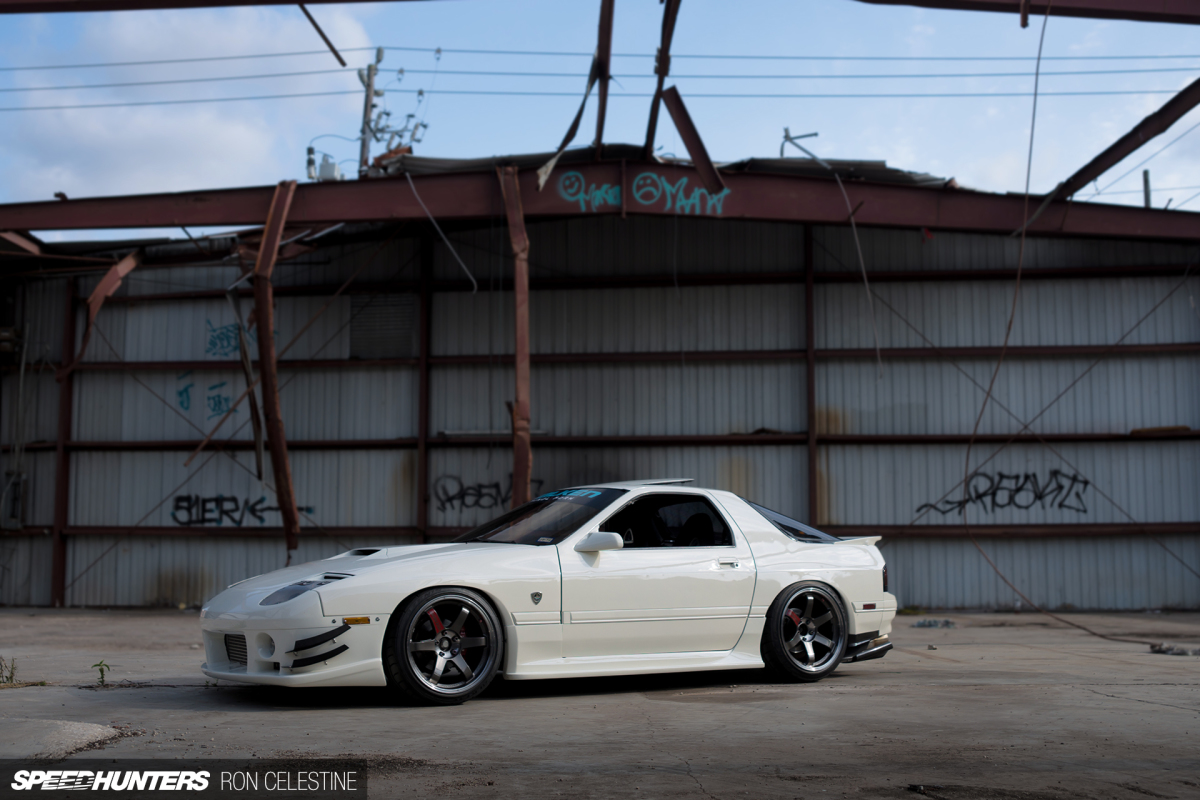 Cristian's passion for cars didn't happen overnight, but by the influence of friends and his environment growing up, namely his local skate park.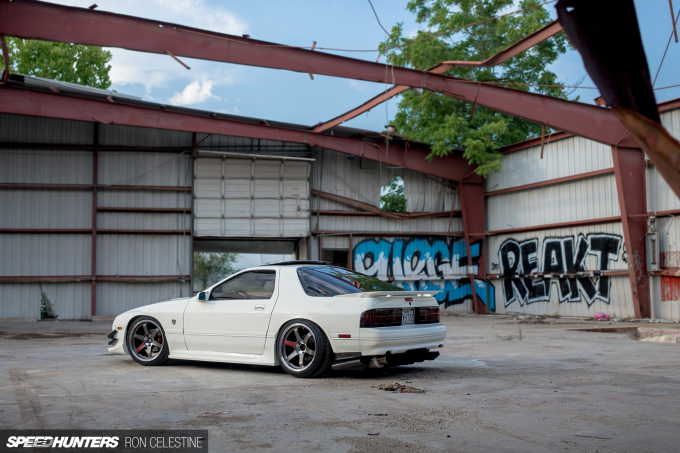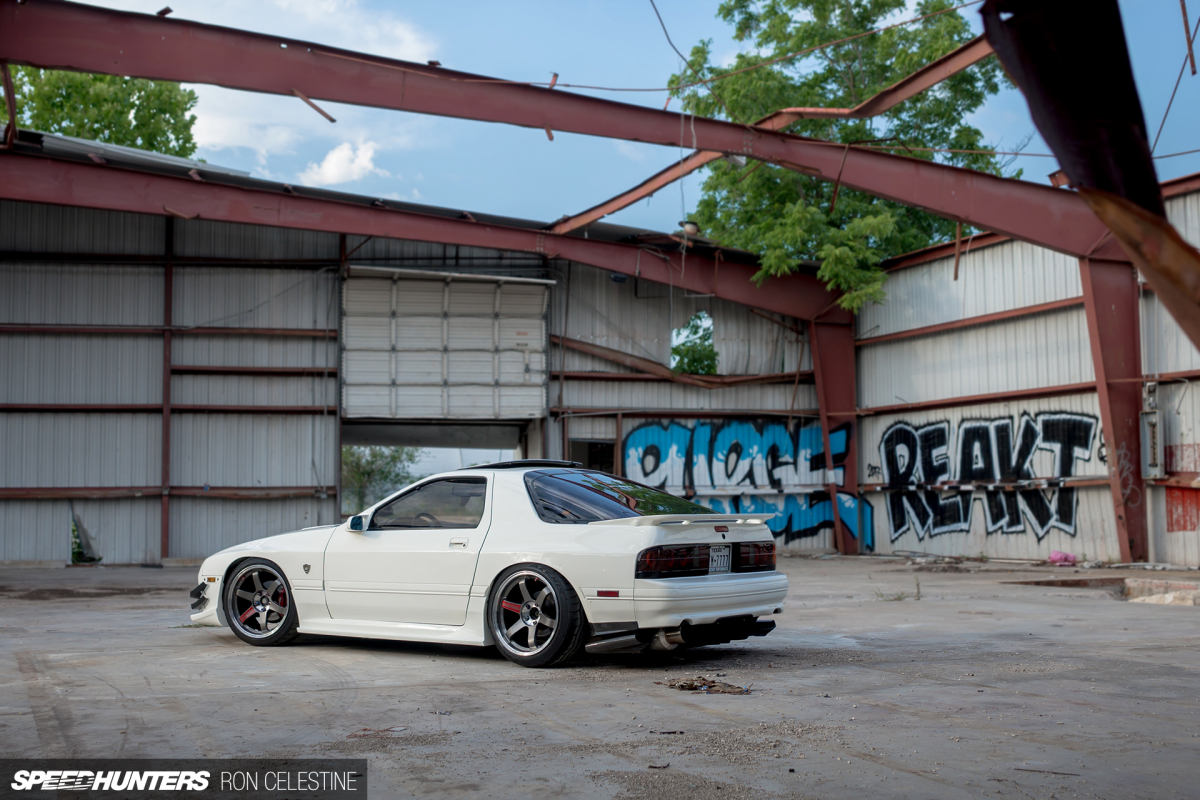 It was there he noticed a fellow skater who always arrived in a highly modified car; Cristian knew it was something he would want when he was old enough to drive.
The first car Cristian went on to own was about as far removed from his dream machine, but after trading that for a 1981 Toyota Corolla he was on his way. About six months after the purchase, a conversation with a fellow enthusiast from Puerto Rico about the popularity of Mazda rotary engine swaps in old Corollas had Cristian's interest well and truly piqued.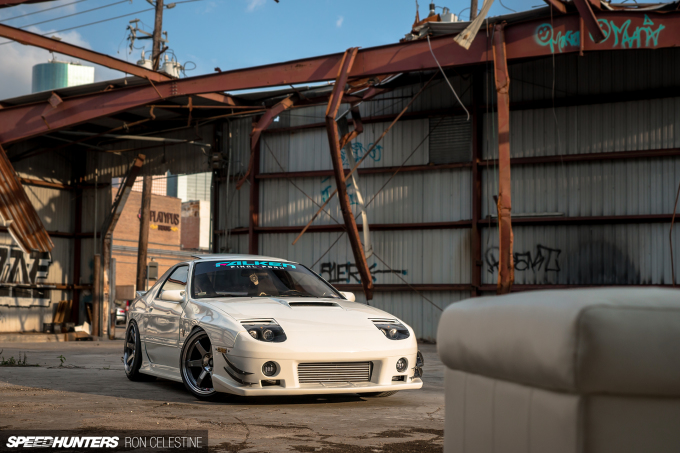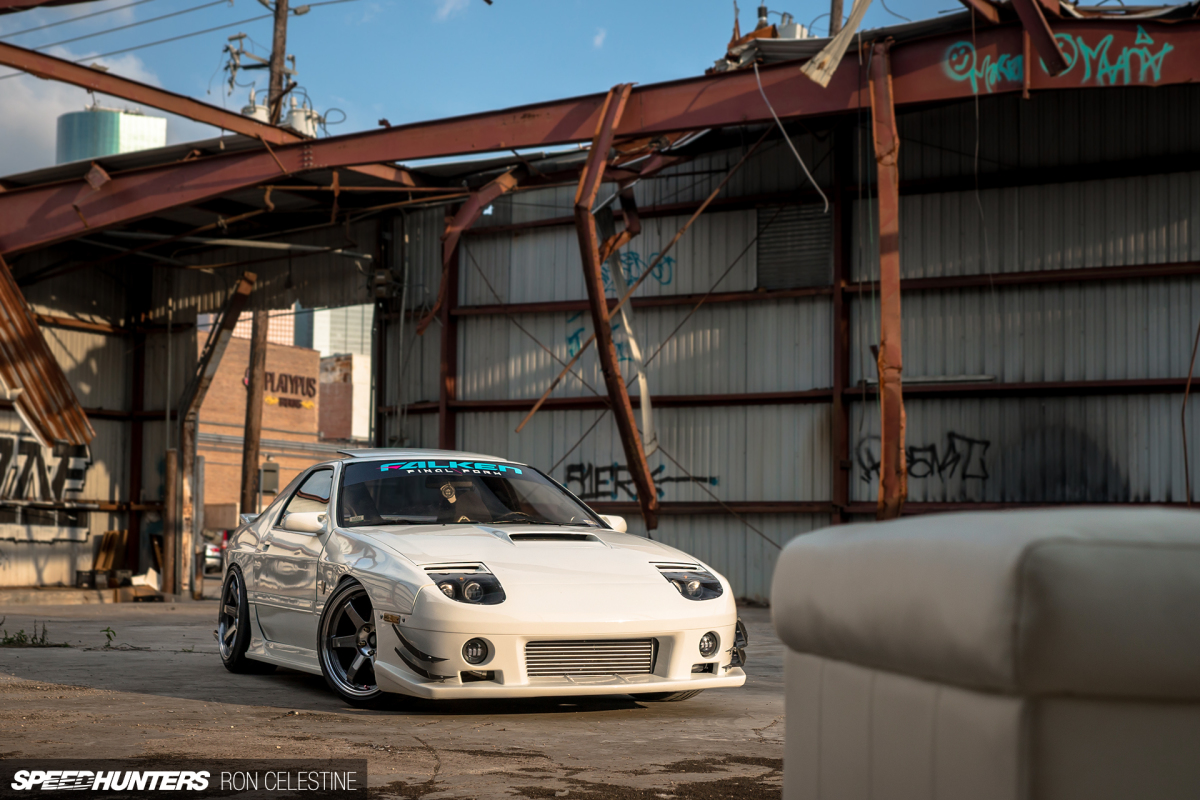 After researching the options, he became quickly hooked on the idea, but ultimately his Toyota wouldn't play a part in the plan. Instead, Cristian opted to pick up a 1988 Series 4 FC3S RX-7.
His time with that car was short-lived though. Although it was only a naturally aspirated model, the RX-7 gave Cristian his first taste of drifting, but that ended badly when the car was totalled. He didn't give up though; another FC3S was needed to fill the void, but this time it had to be turbocharged.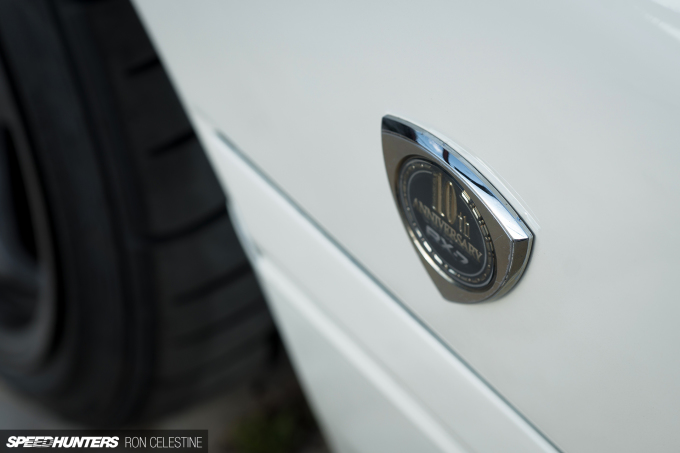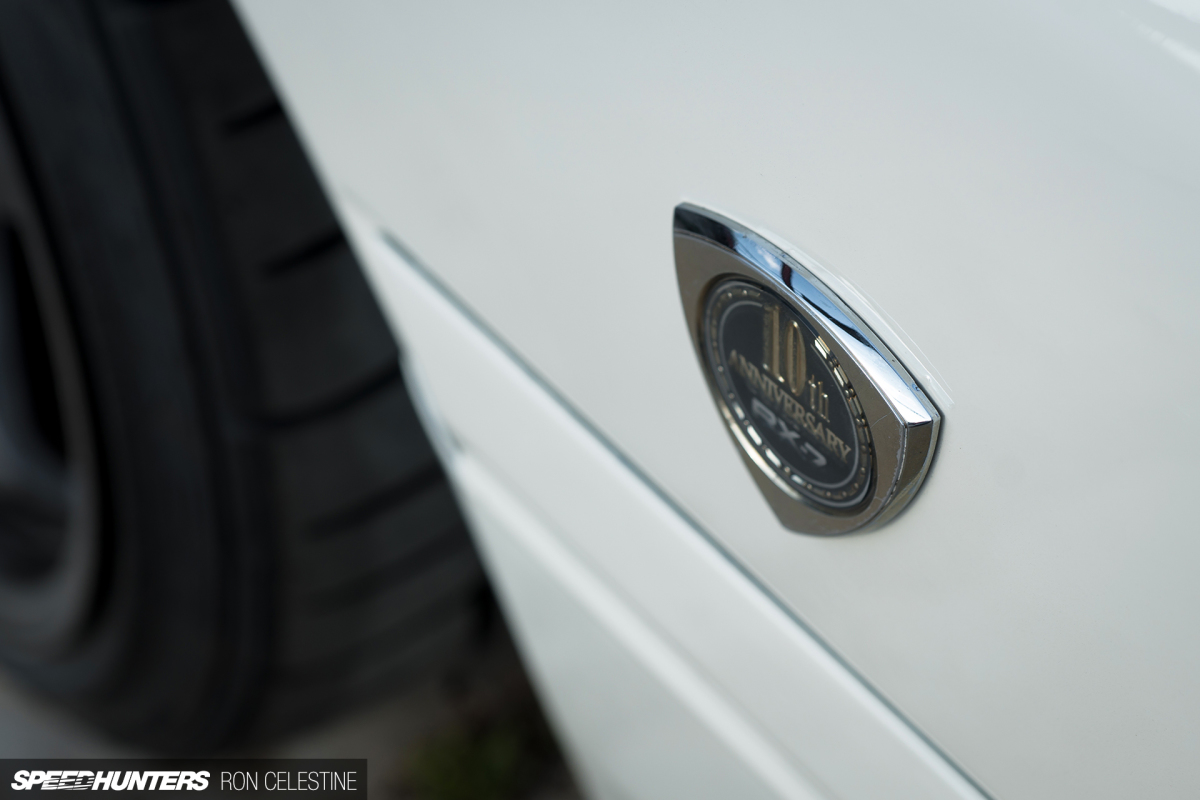 By sheer luck, as Cristian started looking he chanced upon this rare 10th Anniversary edition RX-7, and simply had to have it. A deal was made and he drove it home, and before long Cristian was back into drifting, albeit with extra power at his disposal. A year passed, but then the motor blew.
Money Where It Counts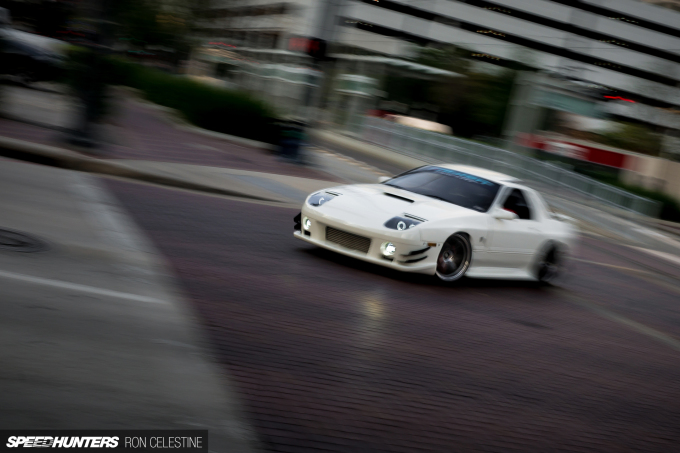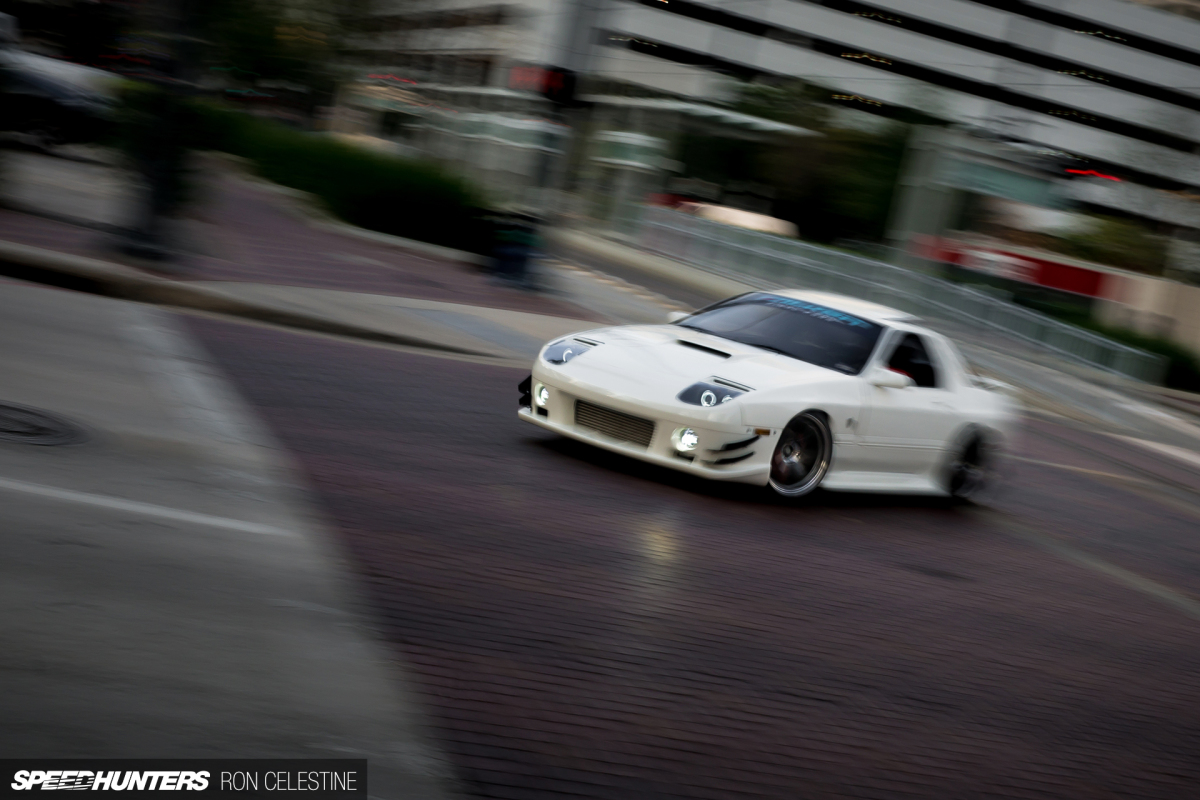 While it was a setback, Cristian decided to take the opportunity to piece together something stronger and more powerful and set about building a bridge-port engine with a friend. Unfortunately, not a lot of attention was paid to the clearances of the seals which resulted in a major lack of compression. Only being in his early twenties and having limited funds, Cristian decided that he would make lifestyle sacrifices to try and fulfil his vision. He took his two motors to Rotary Performance in Garland, Texas hoping they would be able to take two wrongs and make one right.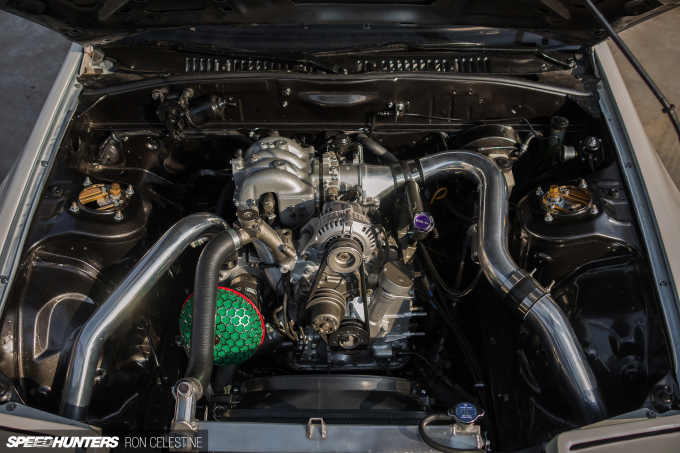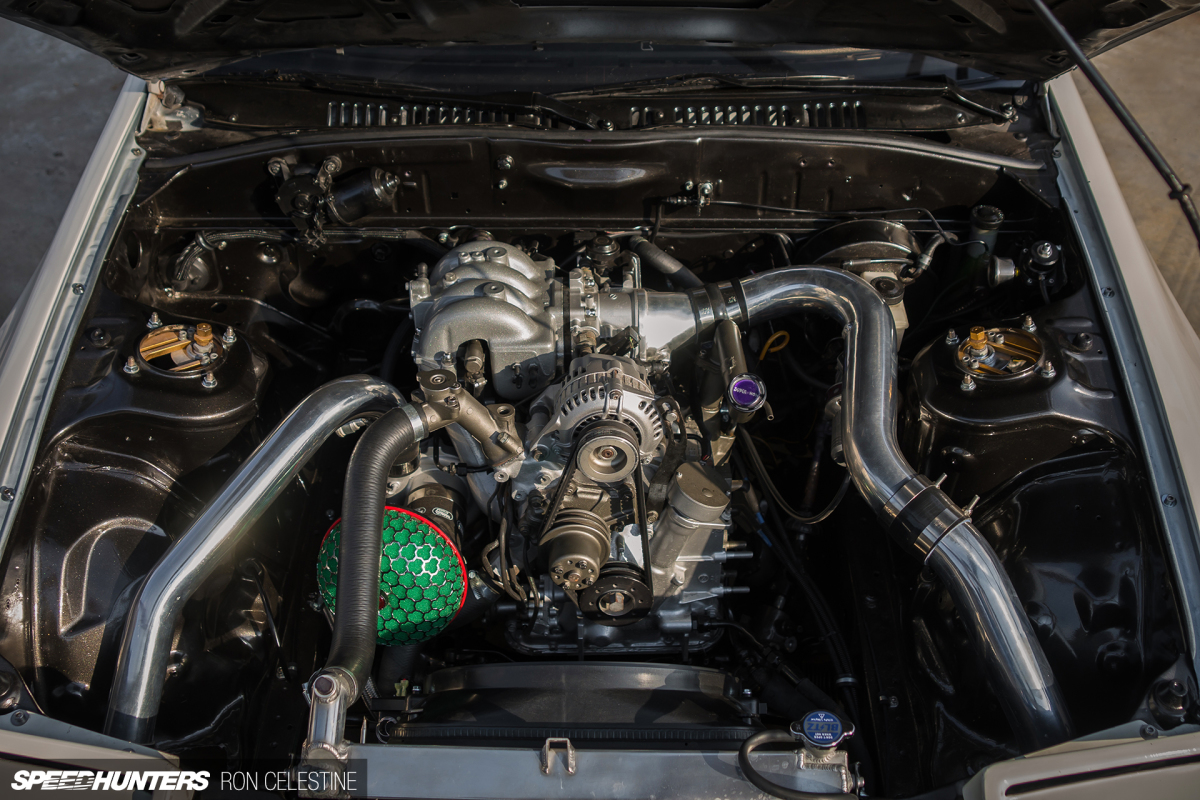 By utilizing S4 and S5 engine parts, the guys at Rotary Performance were not only able to build Cristian a strong engine, but also street-port the 13B to help him reach his power goals.
With a reliable platform to build on, Cristian then decided to go a bit further will ancillary upgrades, starting with a BNR Supercars Stage 4 turbocharger.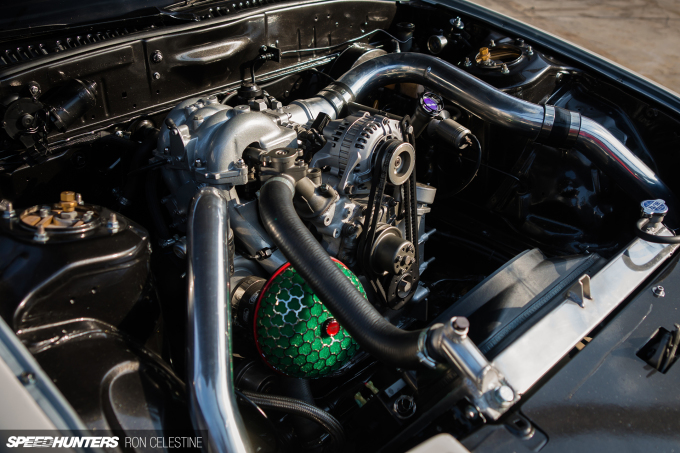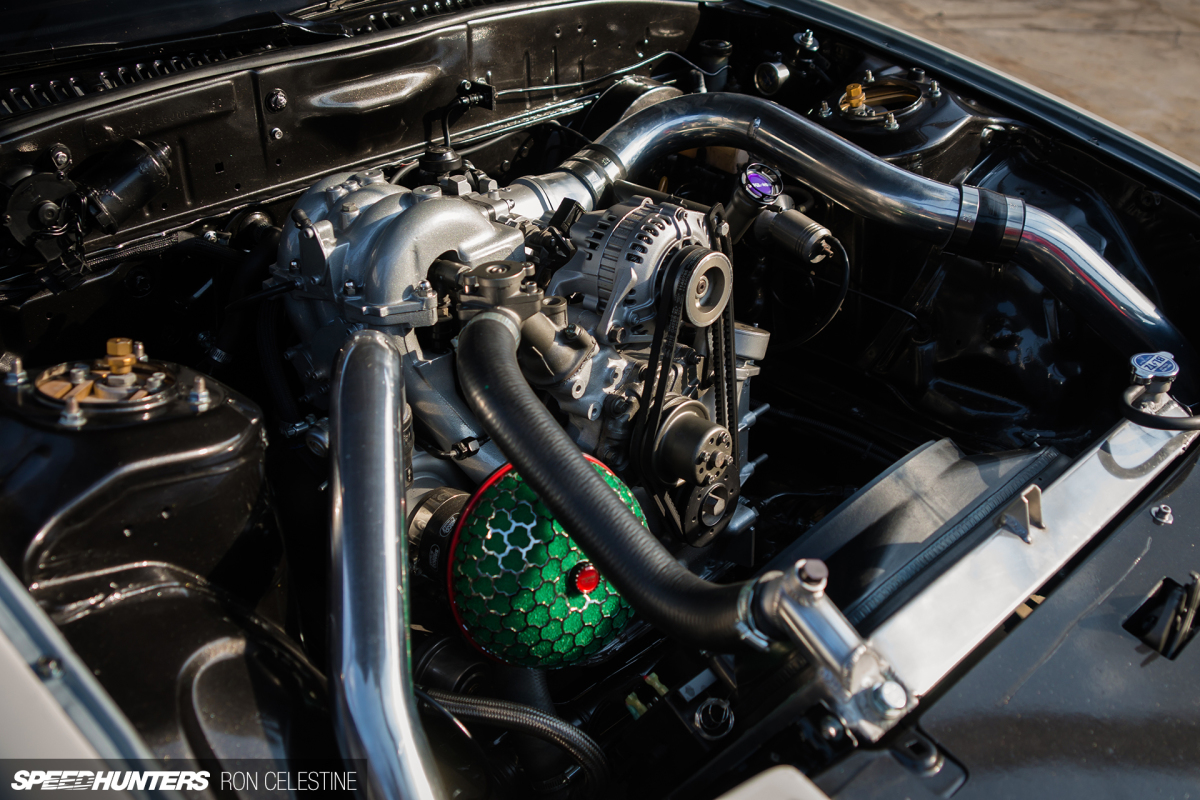 Other modifications include a GReddy front-mount intercooler, A'PEXi GT Spec exhaust, and a fuel system that comprises of a Walbro 255lph pump, Aeromotive Trick Flow regulator and 1680cc secondary injectors. Running 8lb of boost and tuned through an A'PEXi Power FC engine management system, Cristian says the setup is good for 280whp.
The Pursuit Of Details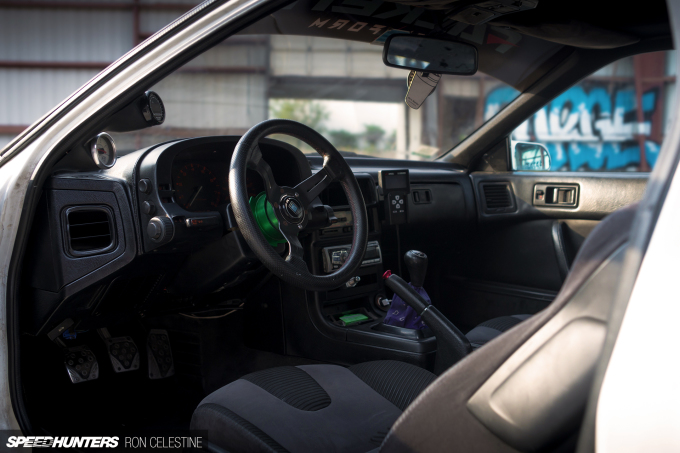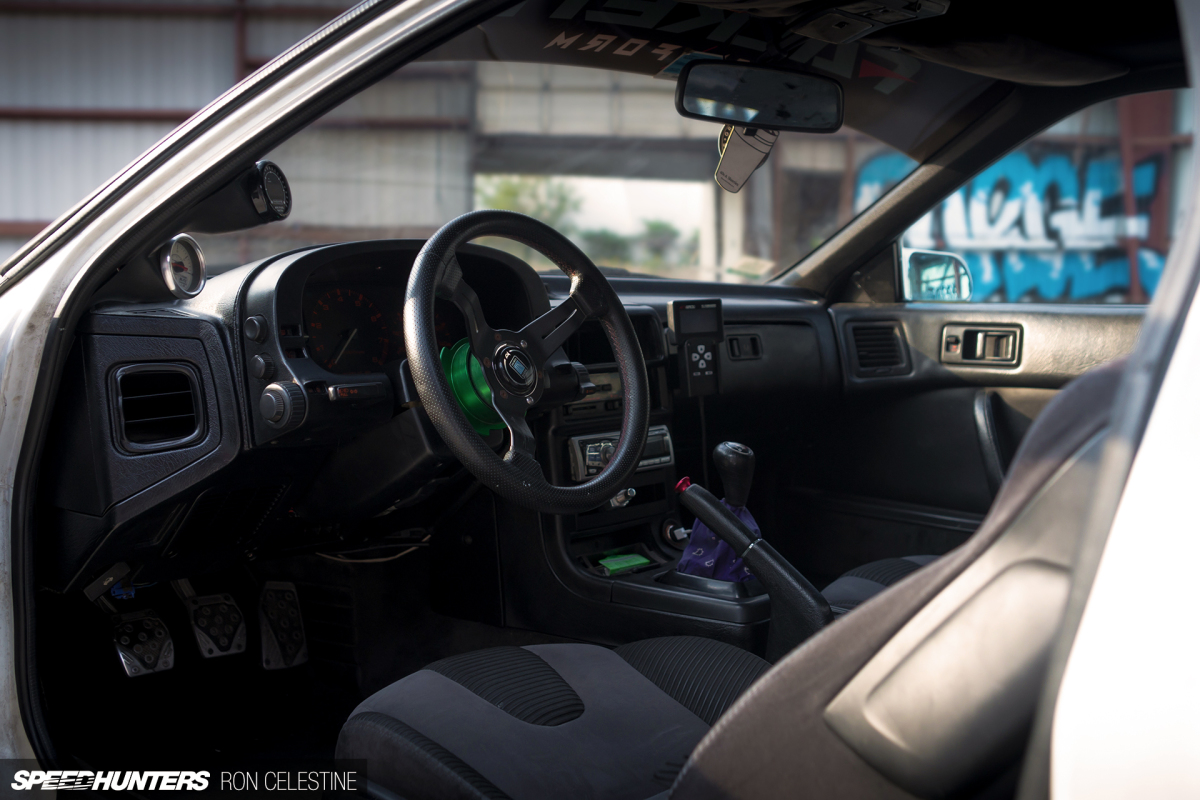 Inside, all the RX-7 creature comforts have been retained, reflecting its use as a street car first and foremost. There are a few upgrades though, including a pair of front seats from an RX-8, a Nardi deep corn steering wheel on a NRG quick-release hub, pillar-mounted gauges, and the A'PEXi FC Commander control unit for the ECU.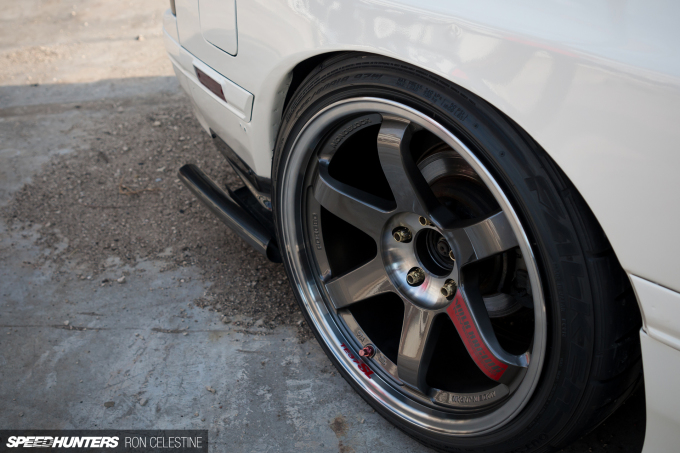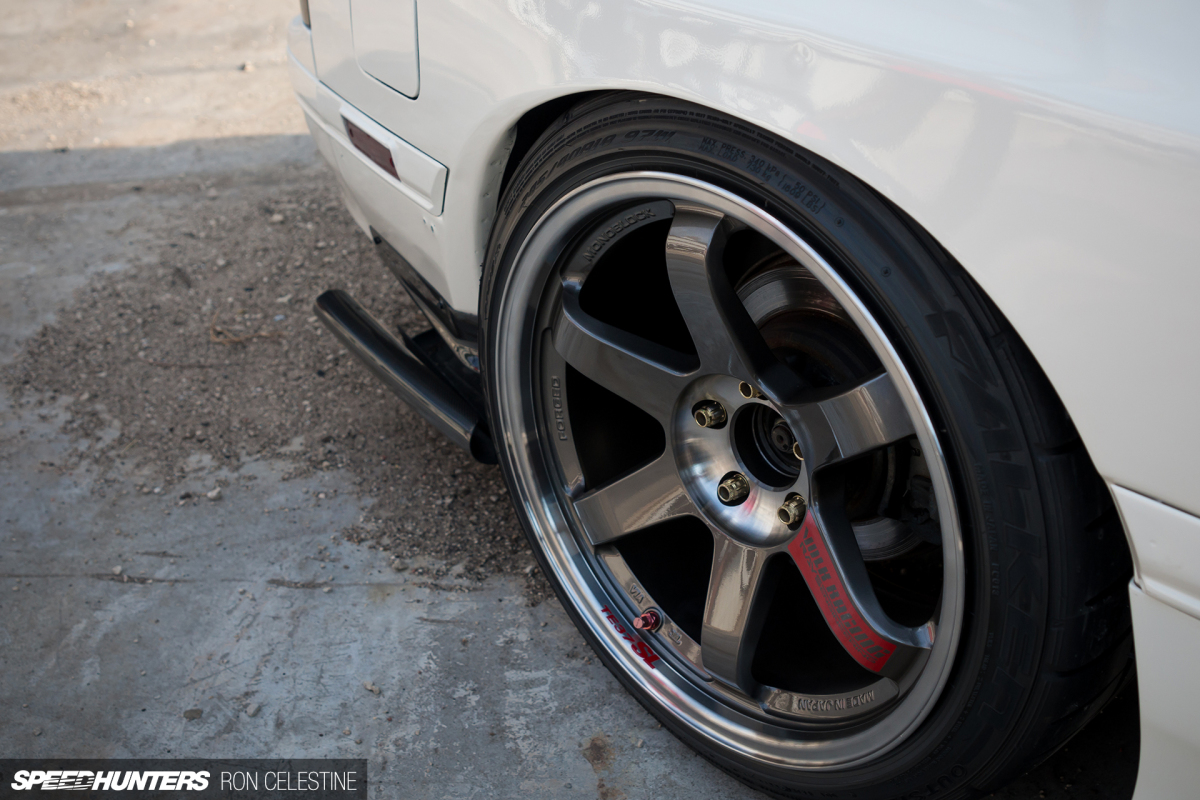 For wheels, Cristian went all-in with RAYS Volk Racing TE37SLs (18×9.5-inch +22mm in the front and 18×10.5-inch +15mm in the rear) wrapped in Falken RT615K tires.
Knowing how important proper suspension geometry is for drifting, Cristian turned to MAX coilovers with upper pillow-ball mounts. Four-pot brake calipers borrowed from an FD3S RX-7 have also found their way onto the FC3S and now benefit from StopTech pads.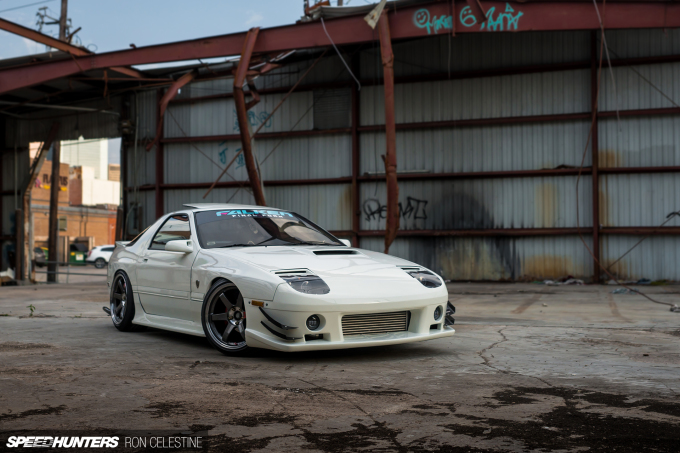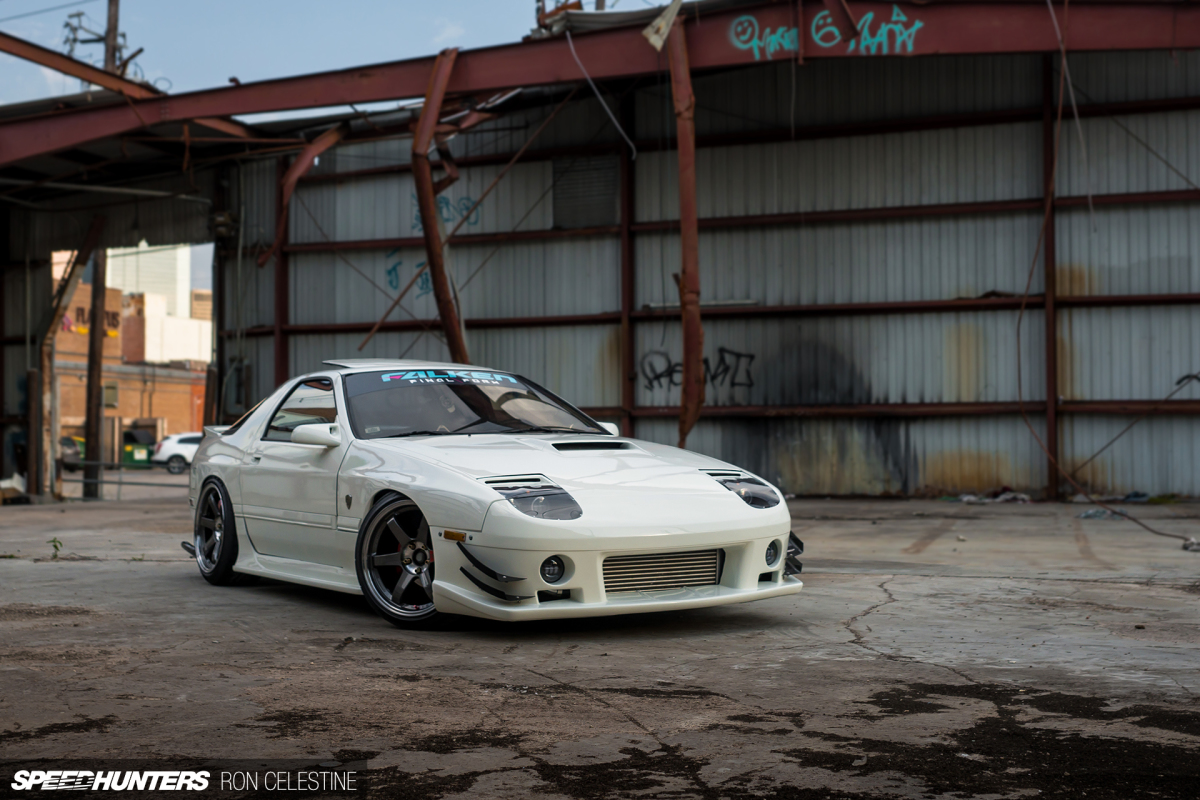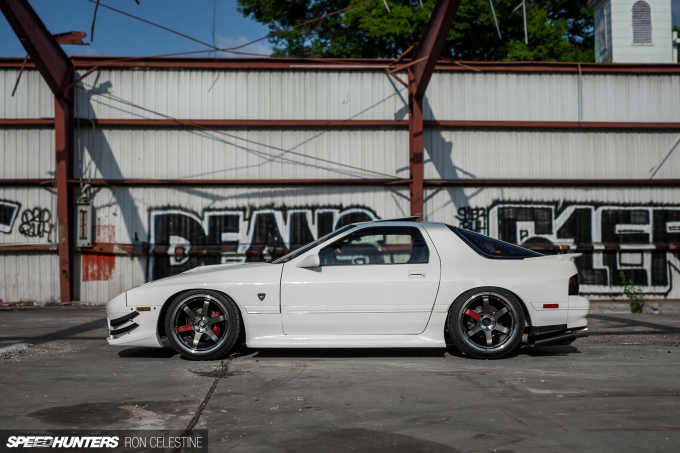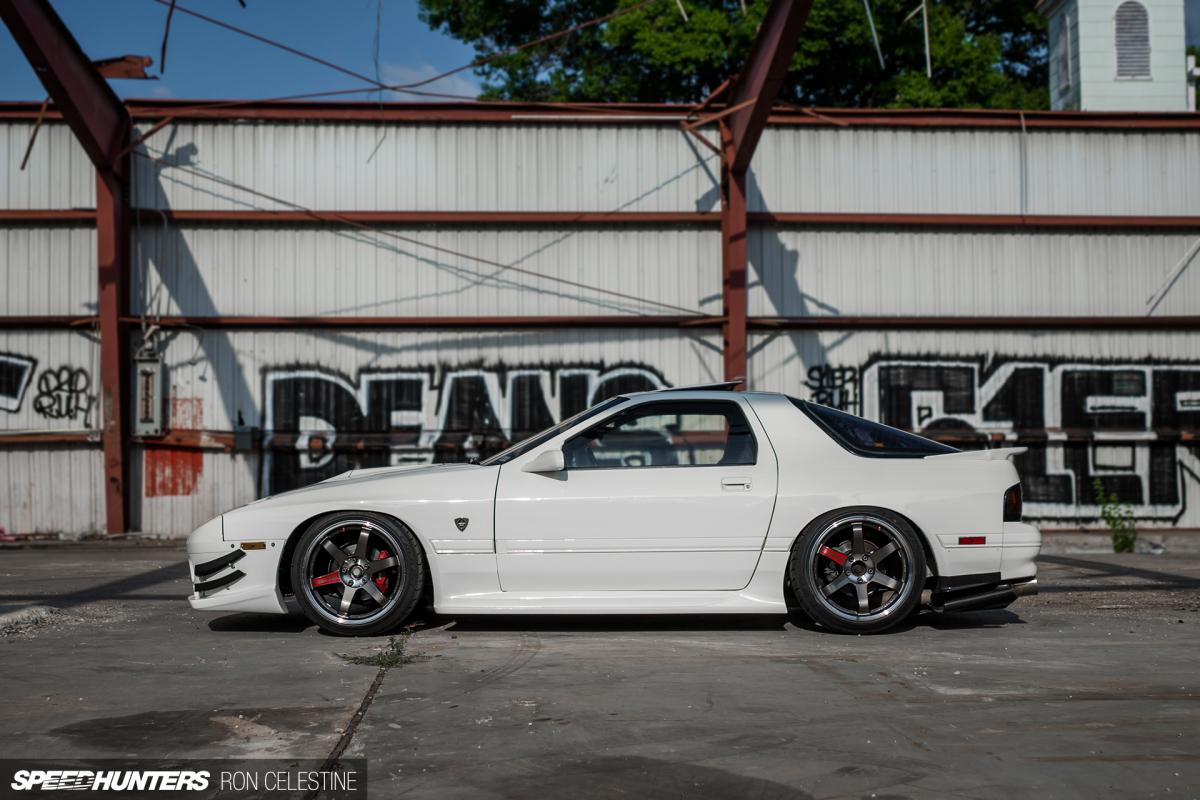 When it came to the exterior, Cristian had a clear idea of what he wanted to achieve. Included are +35mm OEM-style FRP fenders, a Shine Auto Spec-RE FC2000 front bumper and side skirts, S5 FC3S RX-7 rear bumper and a few select carbon fiber aero pieces.
A real custom touch has come with the headlights, Cristian designing his own fixed LED units to replace the factory pop-ups. Out back, Car Shop Glow LED tails add some modern styling to the FC without being too over the top.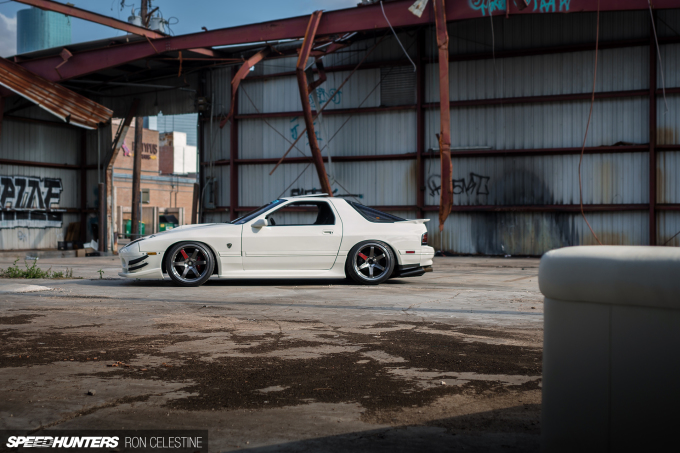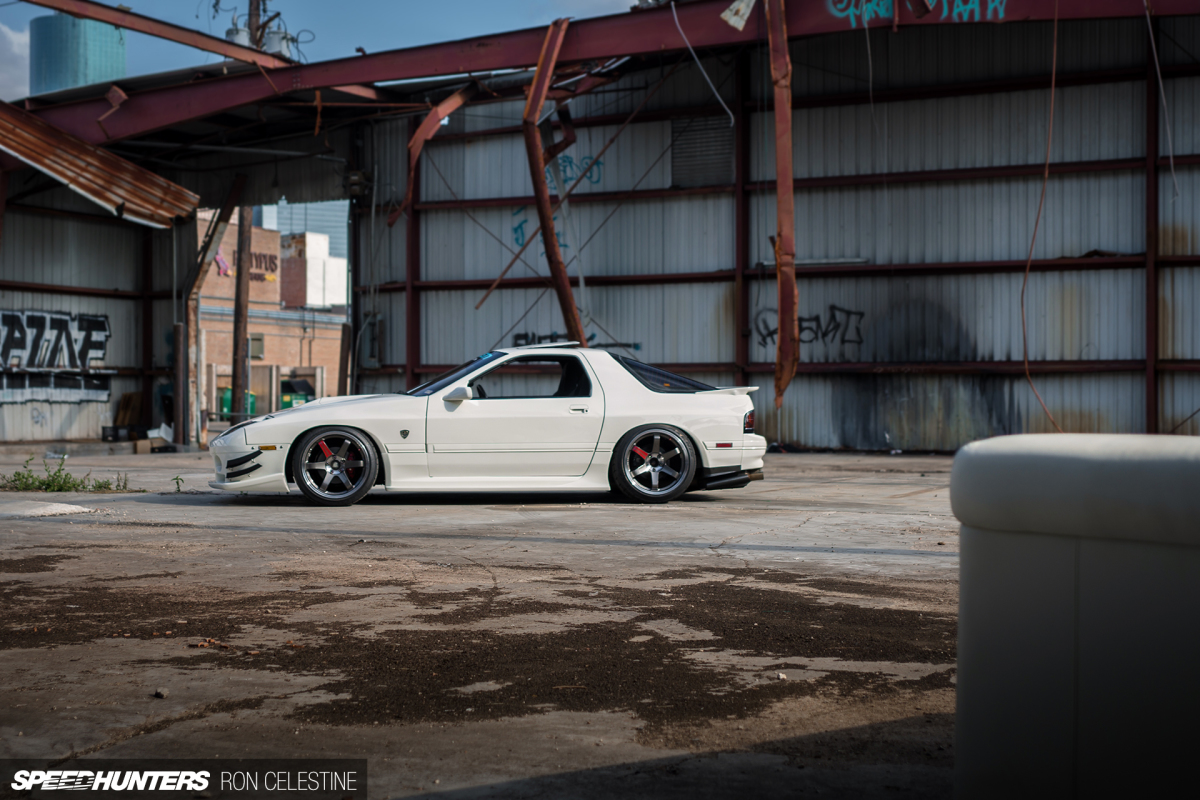 Everyone's car building journey is different, as is everyone's process and workflow – which is the whole point. To try and achieve a goal and to turn our hobbies into a true art form of passion is what we all lust after as enthusiasts, and the more we can do ourselves, the more we learn along the way. With the help of close friends, team members, and a lot of sacrifice, Cristian is one step closer to achieving his goal.
Ron Celestine
Instagram: celestinephotography
Cutting Room Floor