Fate brings AE86
You can't have 86 Day without a proper drift-spec AE86.
It's a chassis that's designed as if Toyota went to their engineers and said, "we want a car that doesn't have too much power but will get sideways off the showroom floor." The AE86 instantly comes to mind when you start talking about drifting, even as it approaches the 35-year-old mark. It's a car that Ryan McClure found to be the one that matched himself and his driving style. However, it wasn't his first drift car.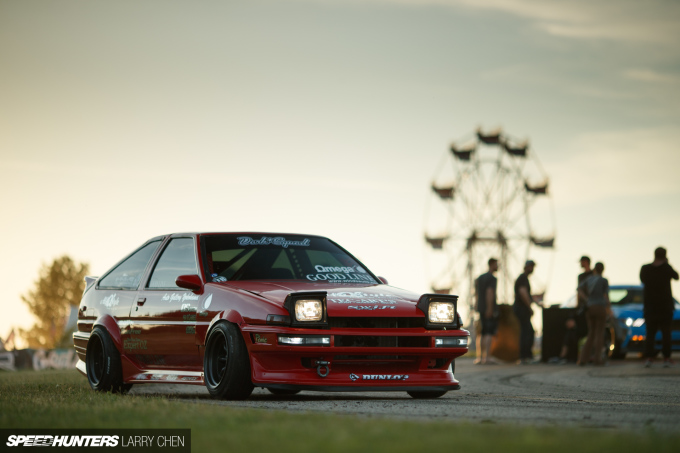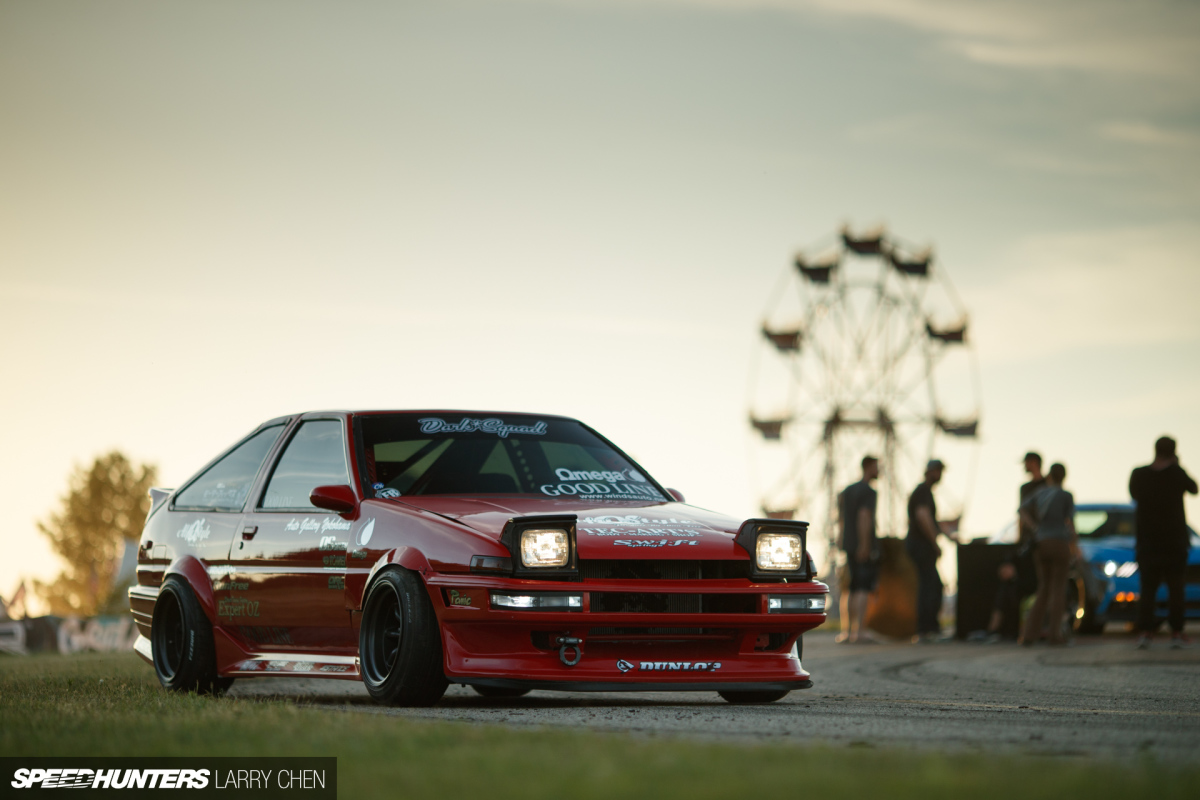 "Like most people, I started drifting with an S-chassis back in 2006 or 2007," he says when I asked why he choose the AE86 over more modern, independent rear suspension cars. "After experiencing a crash that scrapped that chassis at a drift event in 2009, I decided I was burnt out on S-chassis and I wanted to try something new. Then a friend mentioned to me he wanted to sell his 86." It was as if it was a match made by the automotive gods after he repaired it. "The car felt right and that first day I progressed more as a driver than I ever did in the two years I drifted my S13," Ryan says.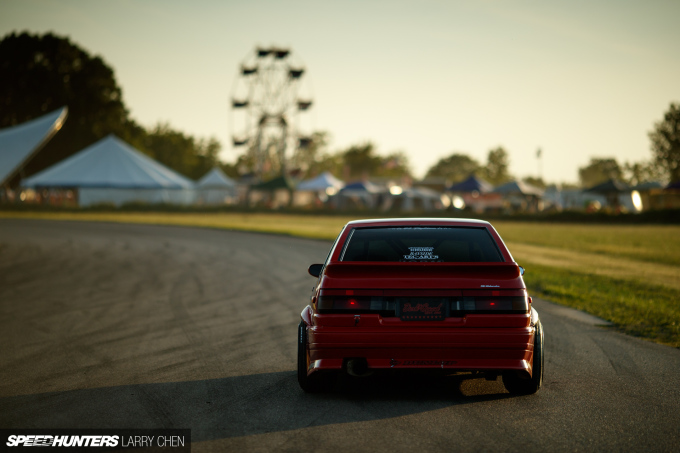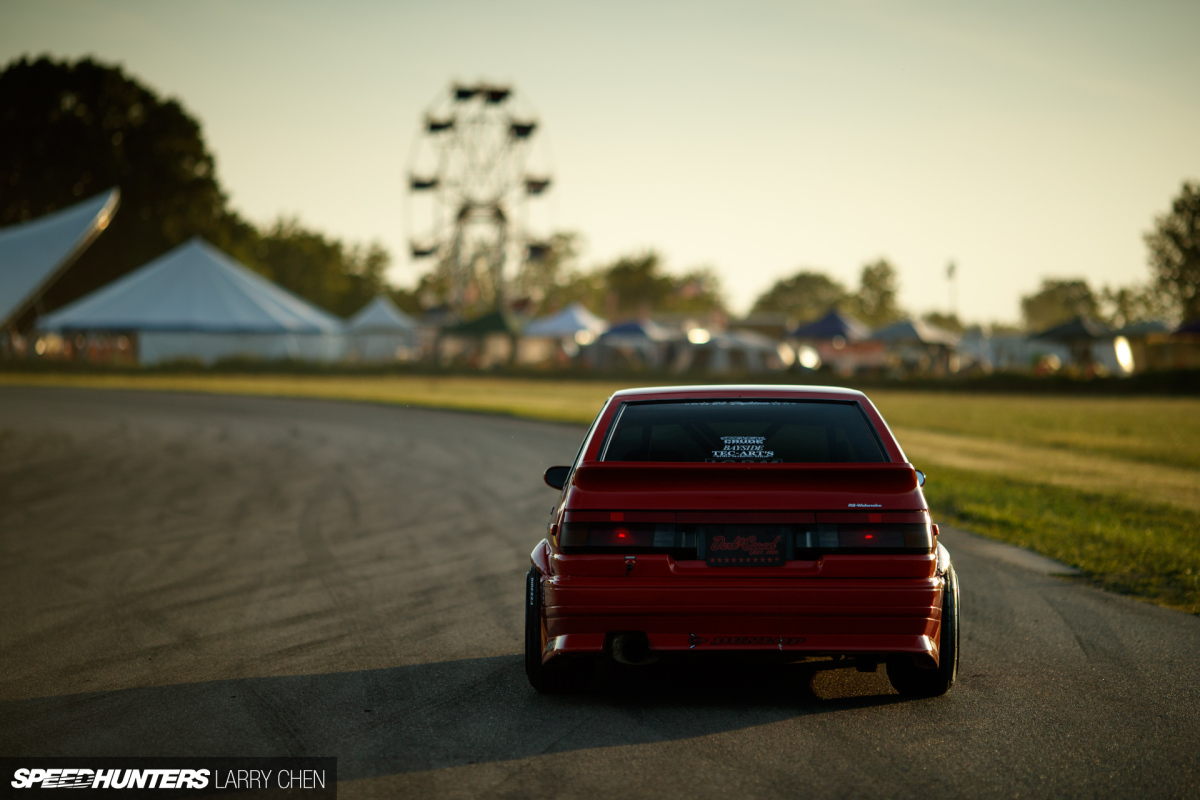 If you look at this car and feel like it has an early '00s D1 Grand Prix feel, you're not wrong, but it also has been influenced from AE86 builds from around the world. Hiroshi Takahashi, Tetsuya Hibino, Team Tekno, and Team Disco – you can see that influence throughout the build as it progresses. The original early-model USDM Corolla GT-S shell was stitch-welded from front to rear before the cage was built, work all done by Vinny Destruction Warehouse. The lights are all later-model Japanese parts, including the kouki Trueno 'redline' rears.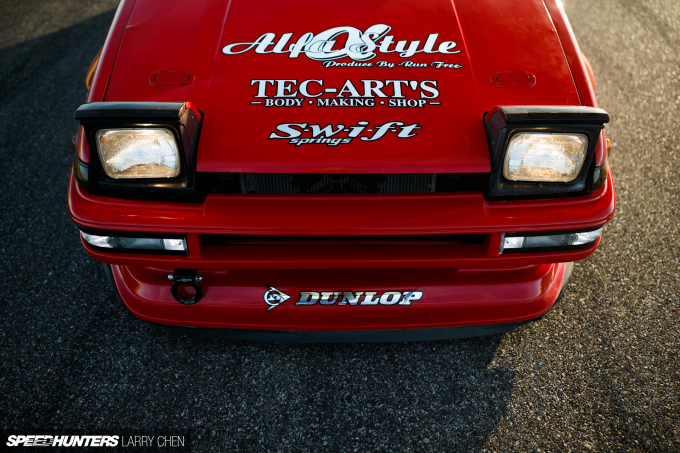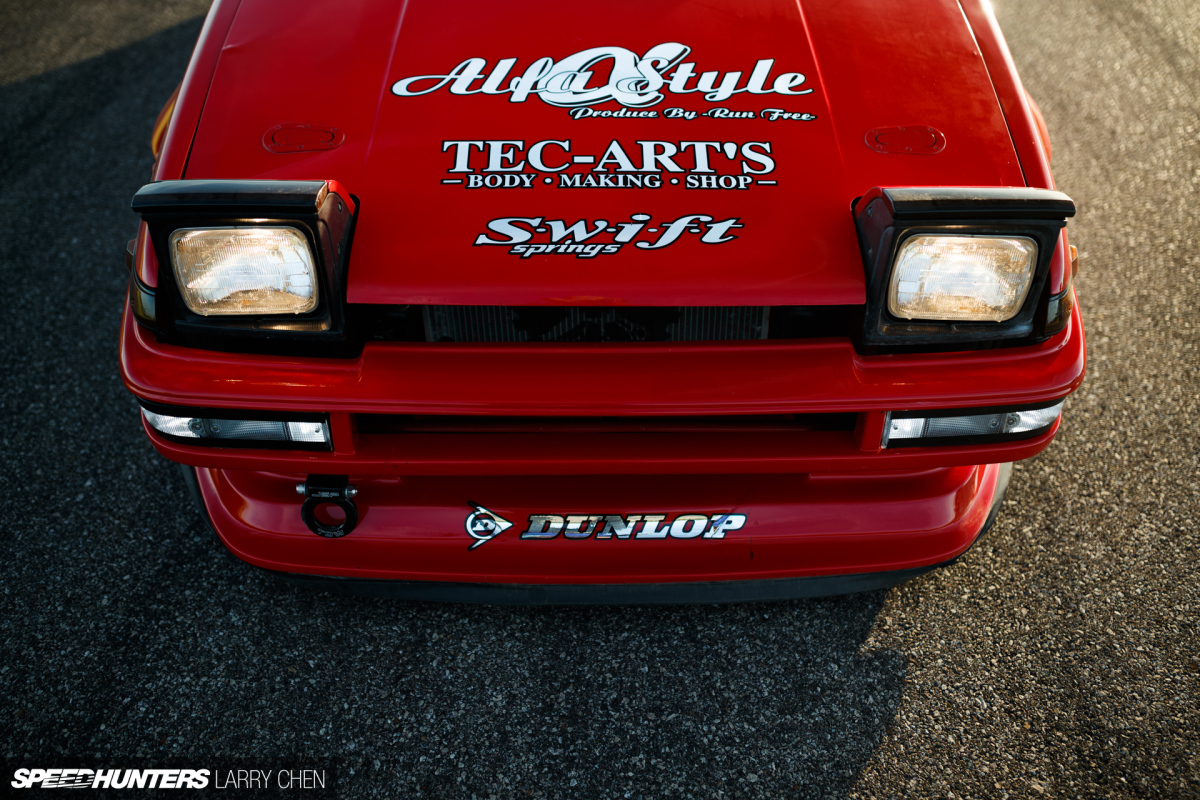 The Good Line front bumper features a universal front lip that hides the Destruction Warehouse front crash bar. The side skirts and rear bumper are Run Free's Type 2 design that work well with the rest of the car, including the TRD N2 rear wing. The front fenders are all metal and were custom flared to fit the wheel and tire combo and match the Run Free rear arches. The paint is a Toyota blend 3P0, better known as 'Absolutely Red' and was shot by Josh Brehmer, who also did the body and fiberglass work needed to make the outside look clean. The vinyl work was done by Reveal Design Shop with a chrome and black, subtle yet catches your attention as the chrome reflects the world in front of it.
As clean as it looks though, you can tell it's used for the purpose it was designed for.
BEAMS-ing With Power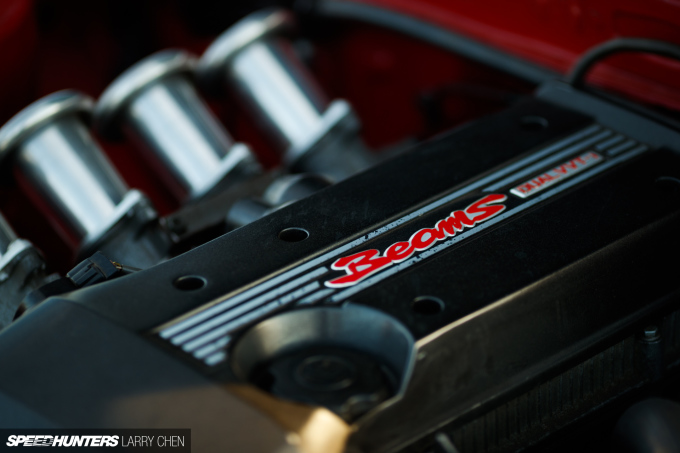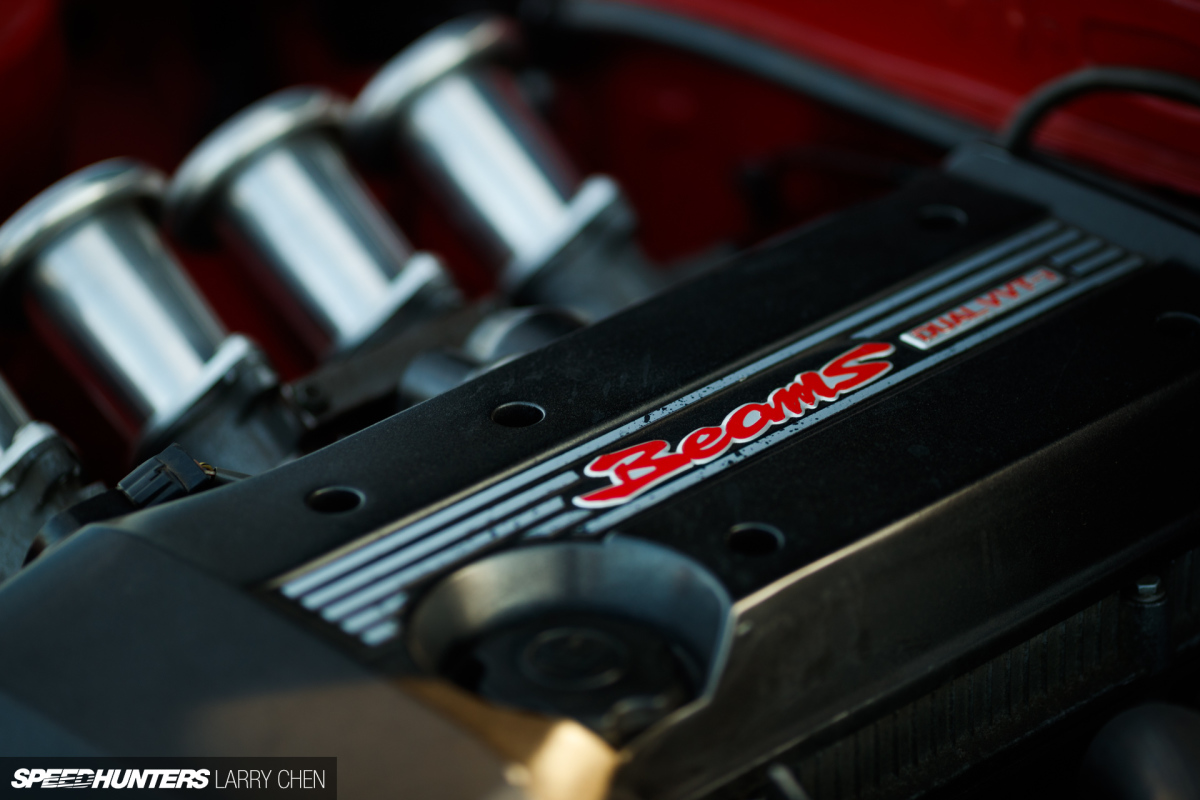 Under the hood may not be the 4A-GE most are expecting but something that has the spirit while being modern and reliable: a generation five 3S-GE. The gen five was the final version of the 3S-GE and it featured the BEAMS (Breakthrough Engine with Advanced Mechanism System) design in the Japanese Altezza RS200. It featured a dual VVT-i, so it could adjust the camshaft timing on both the intake and exhaust and made 207hp on the J160 6-speed transmission version with 11.5:1 compression. "To me," says Ryan, "engine setup has way more to do with the overall vibe or balance of a car than strictly performance or horsepower numbers."

Ryan's engine, however, is modified with a set of AE111 4A-GE 20V individual throttle bodes with 100mm velocity stacks from SQ Engineering instead of the electronically controlled cable throttle body and plenum intake. To mount that system to the engine, an Xcessive Manufacturing adapter plate was used. The engine itself is attached to the chassis by way of a customized subframe with TRD engine mounts, and the oil pan and its pickup were also modified to clear the subframe, steering rack, and for ground clearance. The radiator is a custom aluminum unit which is mounted to a custom radiator support tie-bar support made by Destruction Warehouse.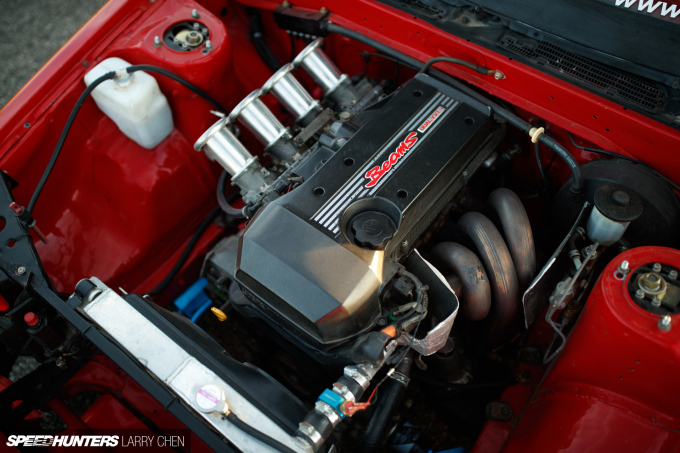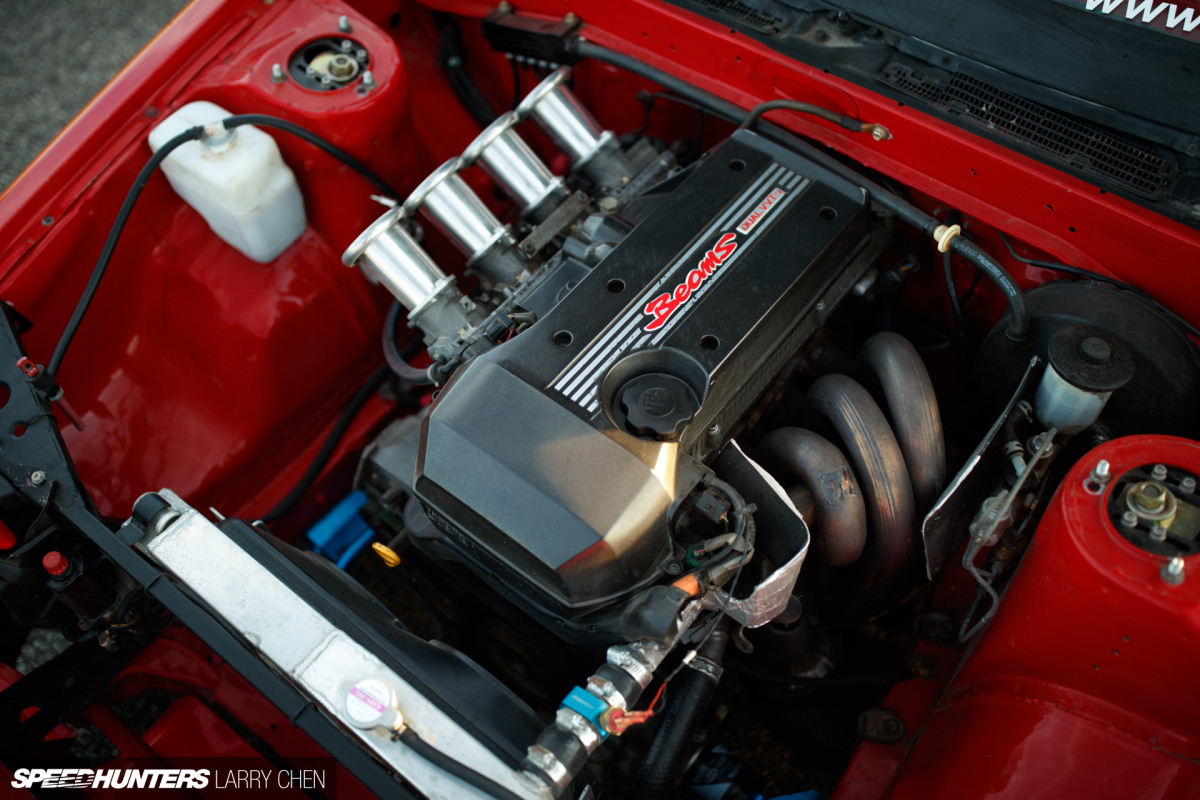 The exhaust manifold is a 4-1 header design by Destruction Warehouse that flows straight into a 2.5-inch custom exhaust system with a Magnaflow muffler. Keeping the gasoline fed to those ITBs is a OE Supra fuel pump in the fuel tank that has custom -6AN fuel lines all the way up to the fuel rail. Of course, the original ECU isn't going to easily deal with the changes done to the engine, even if they aren't internal, so a Link G4+ Monsoon stand alone was tuned by Mark Panic of Panic Wire, who also did the custom engine harness.
Sitting In The Office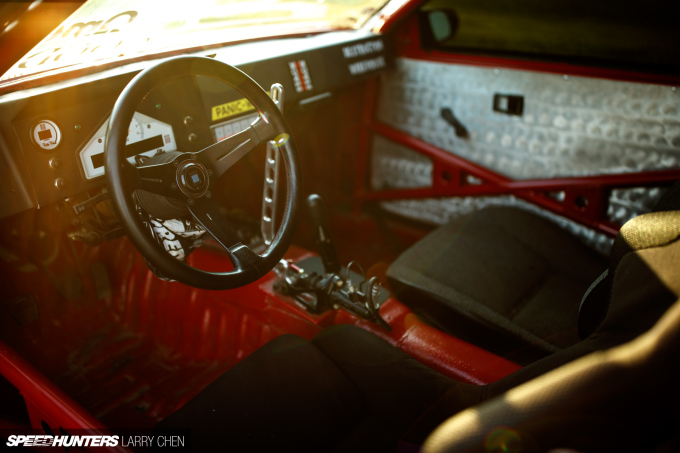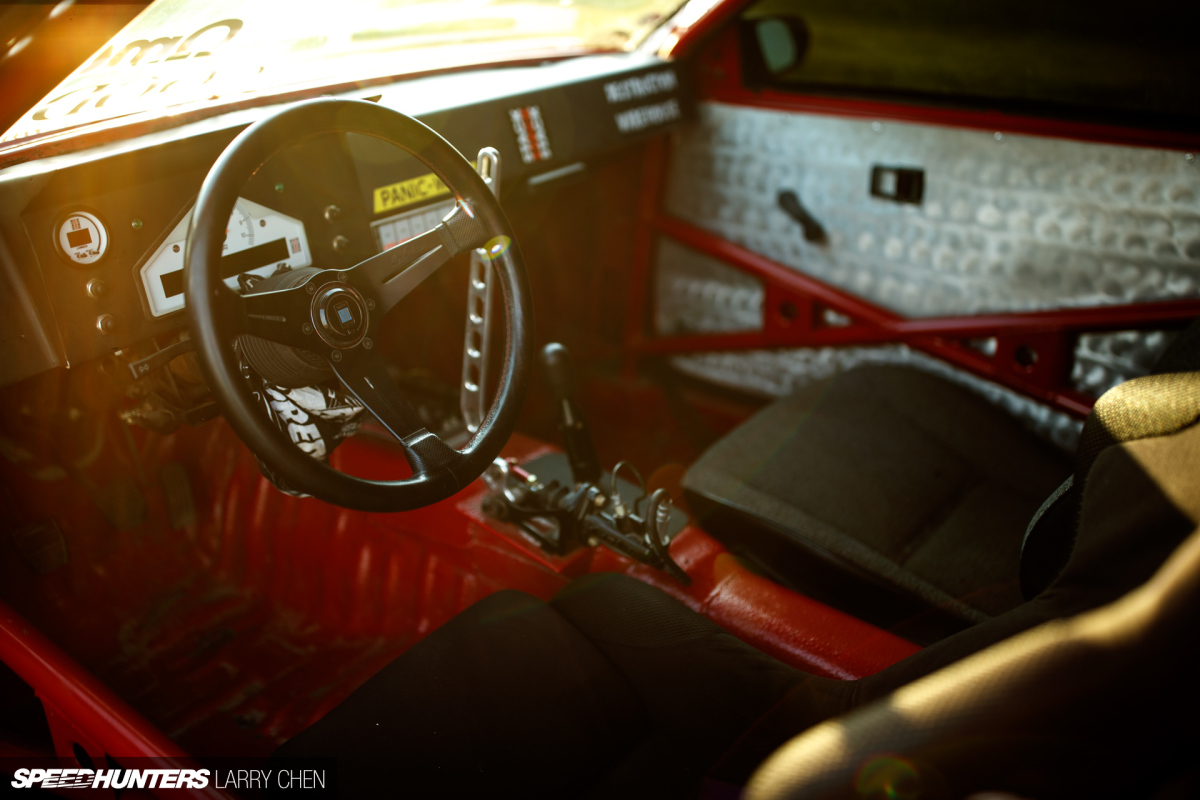 Panic also did the custom wiring for the chassis which is tied into the ARC 8000D relay/fuse board and switch panel. A Moroso kill switch turns the power off from the Optima 51DR Yellow Top battery that's mounted to a custom battery hold down. A Stack ST8130 dash and ST3402 Lambda gauge is mounted to an aluminum racing dash made by Destruction Warehouse, who also had to make a custom transmission tunnel for the J160 transmission. The shifter sits right by the ASD pass-through hydraulic handbrake. This means that it ties into the service brake circuit to the rear calipers rather than use a separate set of calipers with its own brake circuit.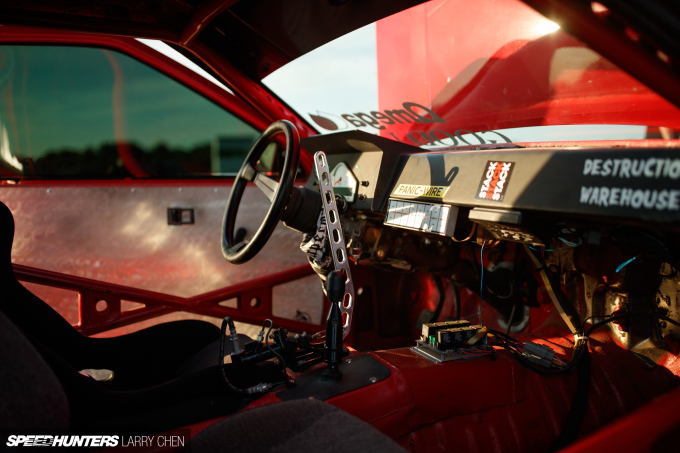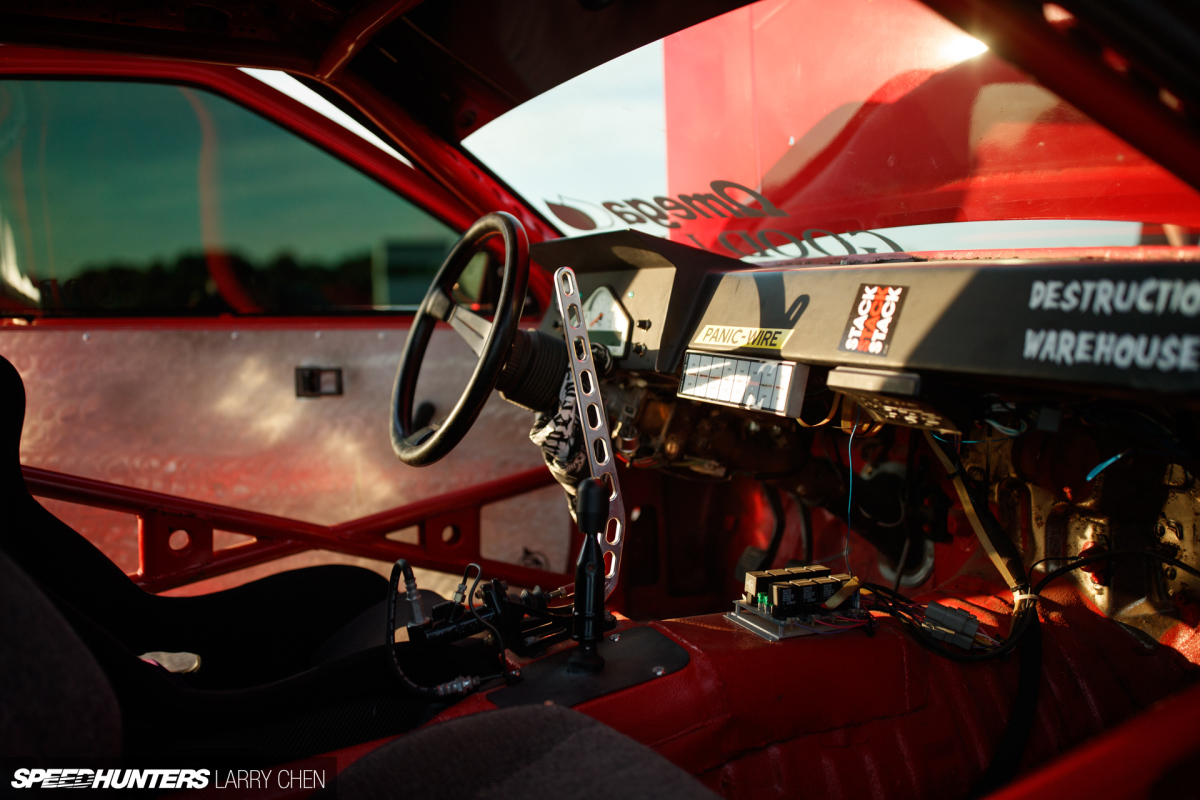 The driver's seat is a Tom Motorsport carbon fiber fixed-back mounted to Nagisa Auto rails. Ryan is held in by a Teamtech 4-point cam-lock harness while the passenger makes due with a SR5 passenger seat. The Nardi steering wheel provides the perfect tactile feel while he's sideways and gets feedback from the front wheels.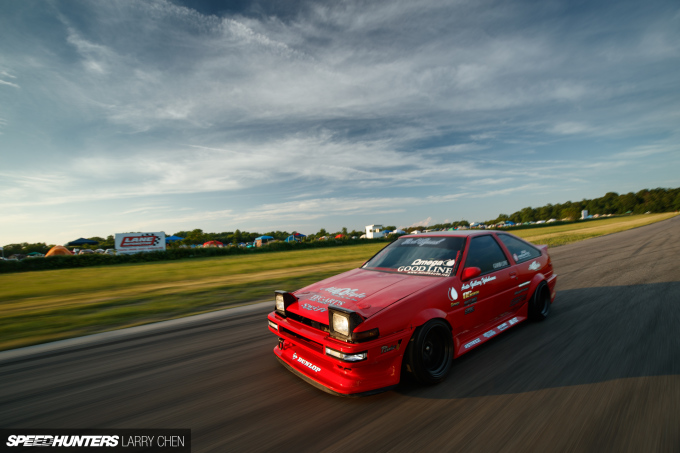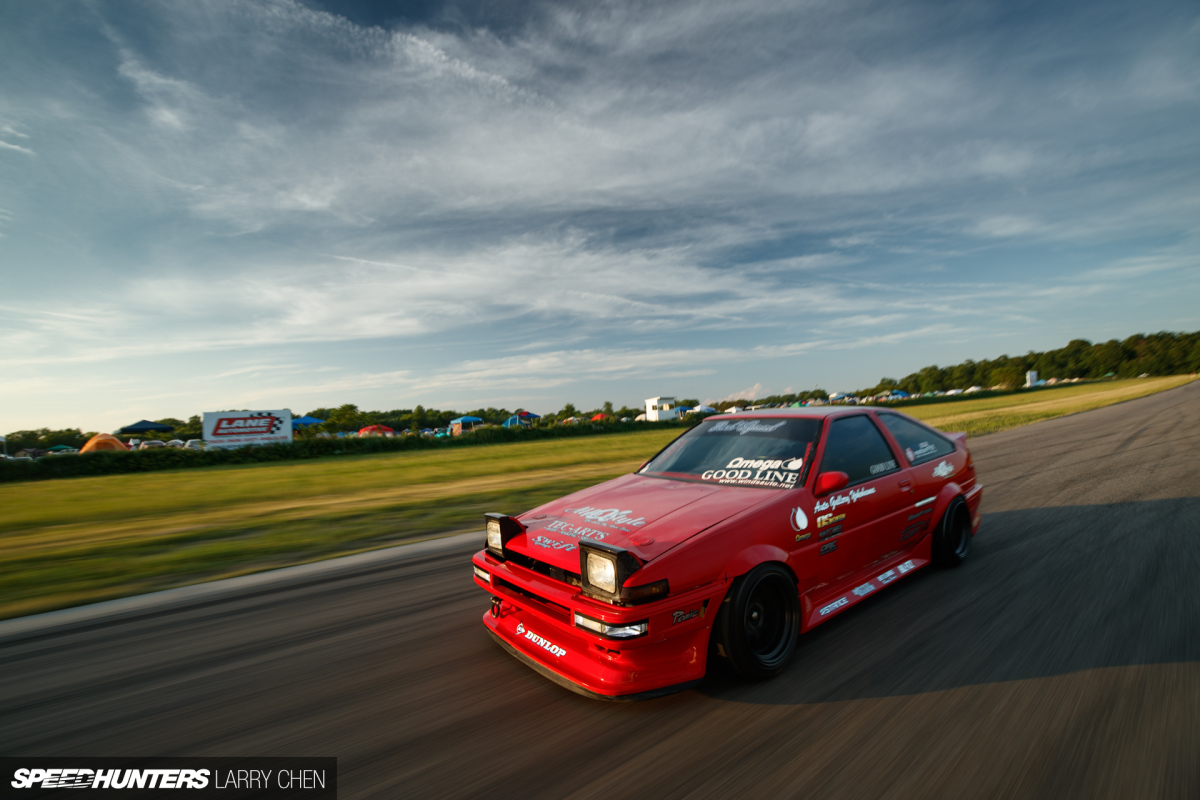 The suspension features Stance coilovers custom valved by David Lee of Touge Factory. To assist with getting maximum steering angle, the front lower control arm was extended 30mm and attach to the Retro Speed Shop steering knuckles with Stance roll center adjusters. These knuckles are shortened at the steering arm to increase the angle they can provide. The Cusco tension rods and brackets allow for quick caster adjustments but are also more rigid than the OE pieces they replace. The front brakes come from the FC3S RX-7 Turbo 2 with Goodridge stainless lines feeding the pistons that squeeze a set of Hawk Performance brake pads on to the drilled and slotted front rotors.
Supra Axle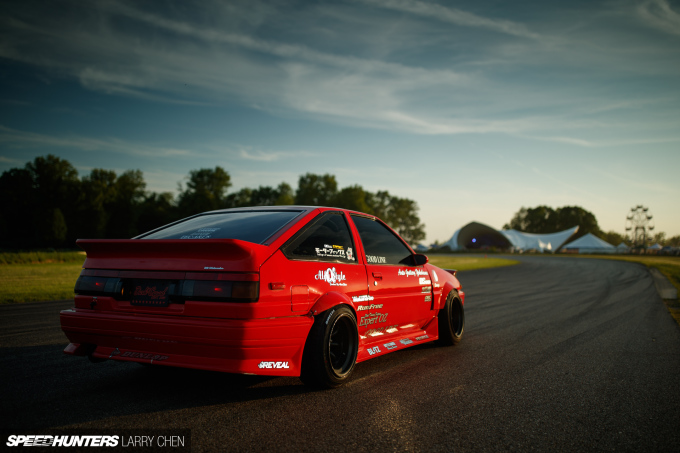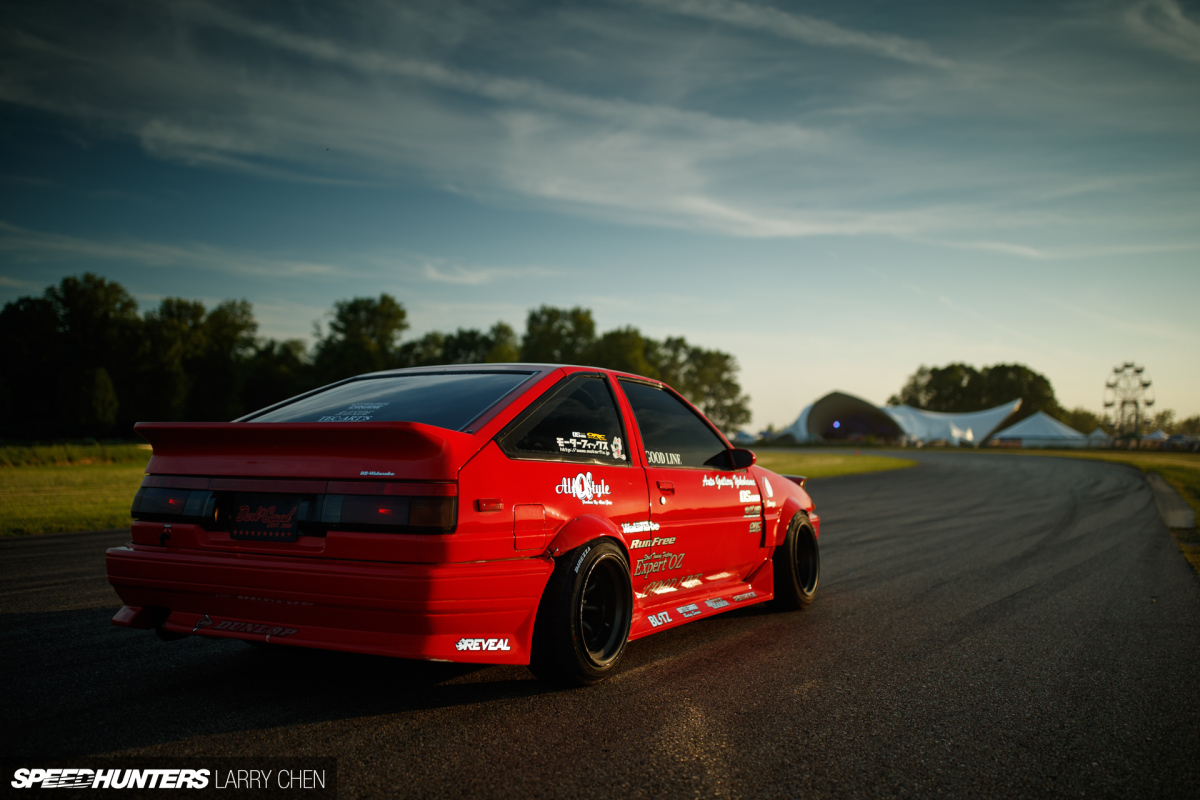 Out back is a MA46 Supra F-series 7.5-inch rear end attached to a set of custom Battle Version equal length four-link control arms along with a custom panhard bar and welded on traction brackets. Inside and attached to the 4.3:1 ring gear is an OS Giken Super Lock LSD that locks up under acceleration but allows the differential to work under normal cornering. The pinion is turned by a Driveshaft Shop one-piece steel driveshaft from the Aisin transmission's output shaft.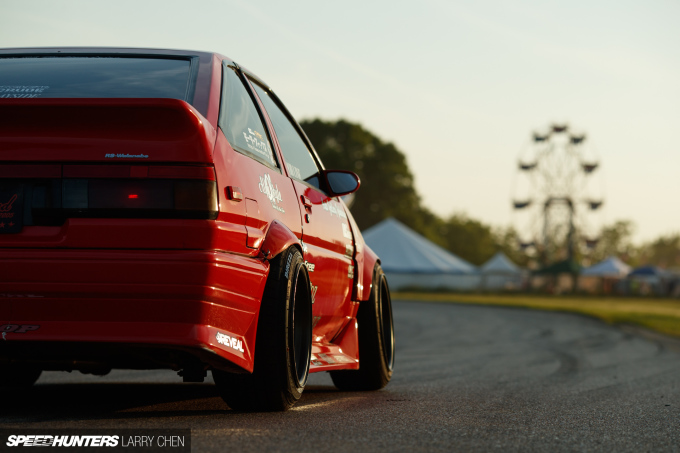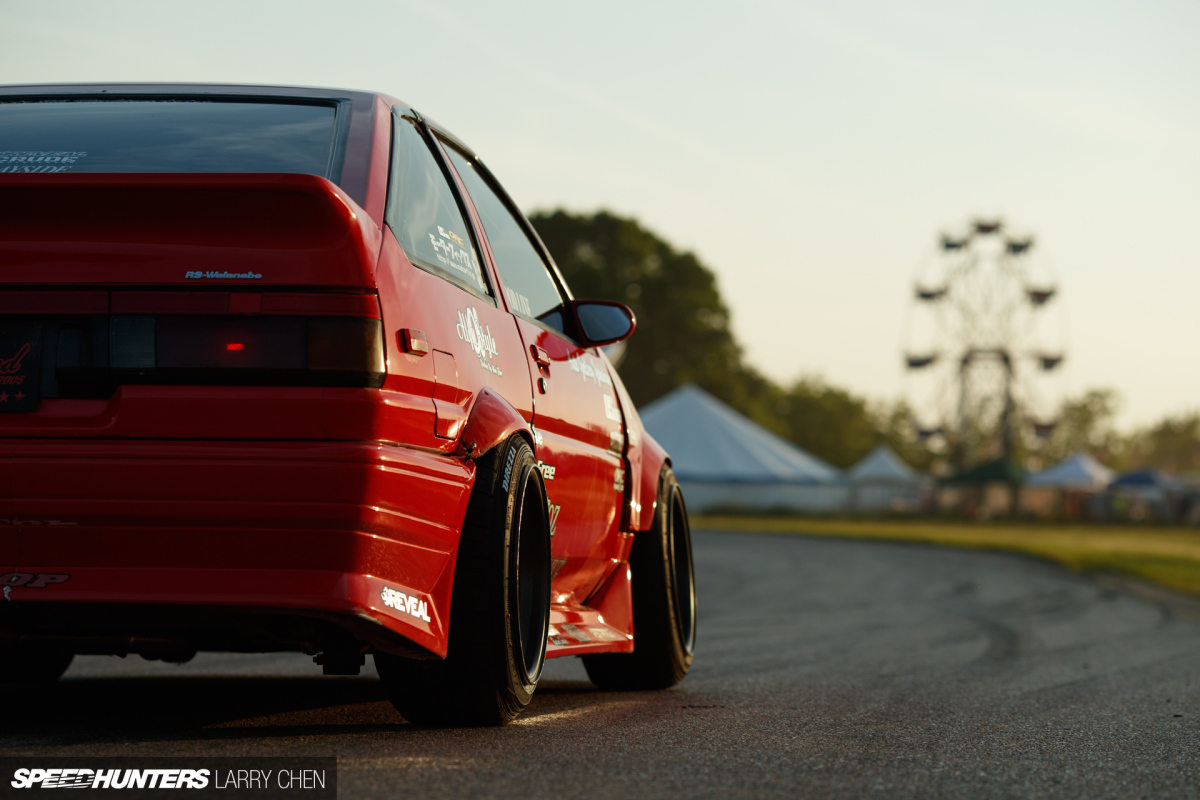 Finally, if you're going to rock a drift spec AE86 with some Japanese influence, there is no other wheel you can use than the RS Watanabe R-Type. The fronts measure in at 15×9-inch with a -13 offset while the rears are 15×10-inch with a -25 offset. The tires are a stretched set of Dunlop Direzza DZ102 in 195/50R15 front and 205/50R15 rear. Even so, this combination is aggressive even with the custom front fenders and Run Free rear arches.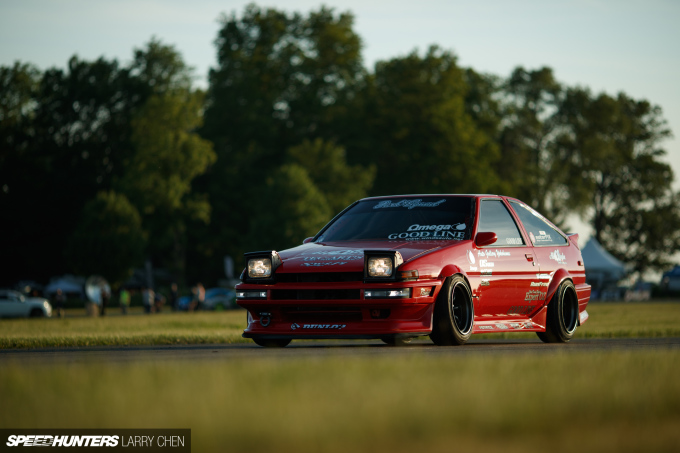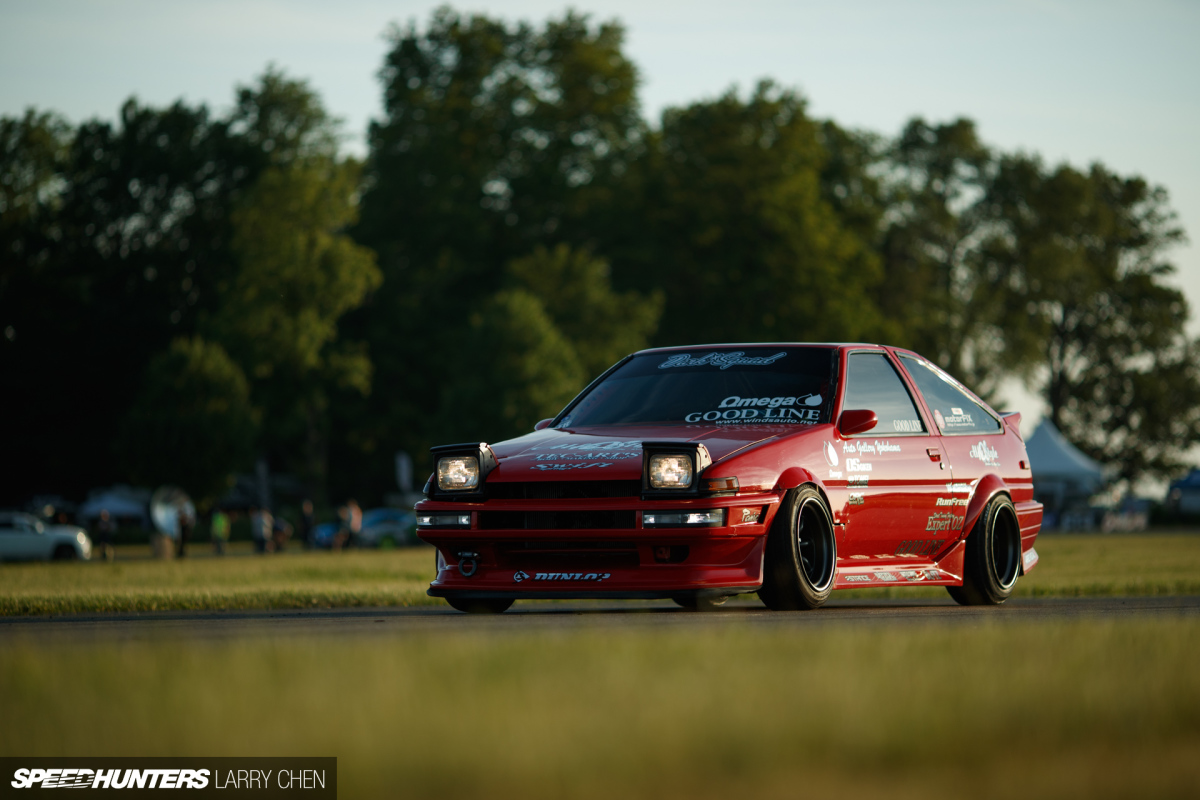 With any project, you can call it done but it never really is, and even Ryan admits that this car may change in the future, "The car is always changing. I have all sorts of ideas to make it better, but from a mechanical and performance standpoint, I can't think of a whole lot I can do to make it better than it is now." Of course, a reliable running car is always going to be the only way you're going to improve and is why he choose the parts he runs. "From a mechanical standpoint," he says, "my goal is to keep the car running and driving reliably as long as I can so that I can continue to do what I love rather than spend all of my time fixing it."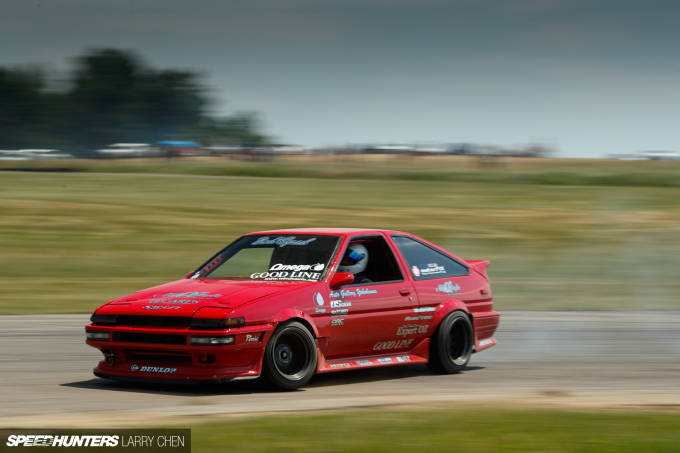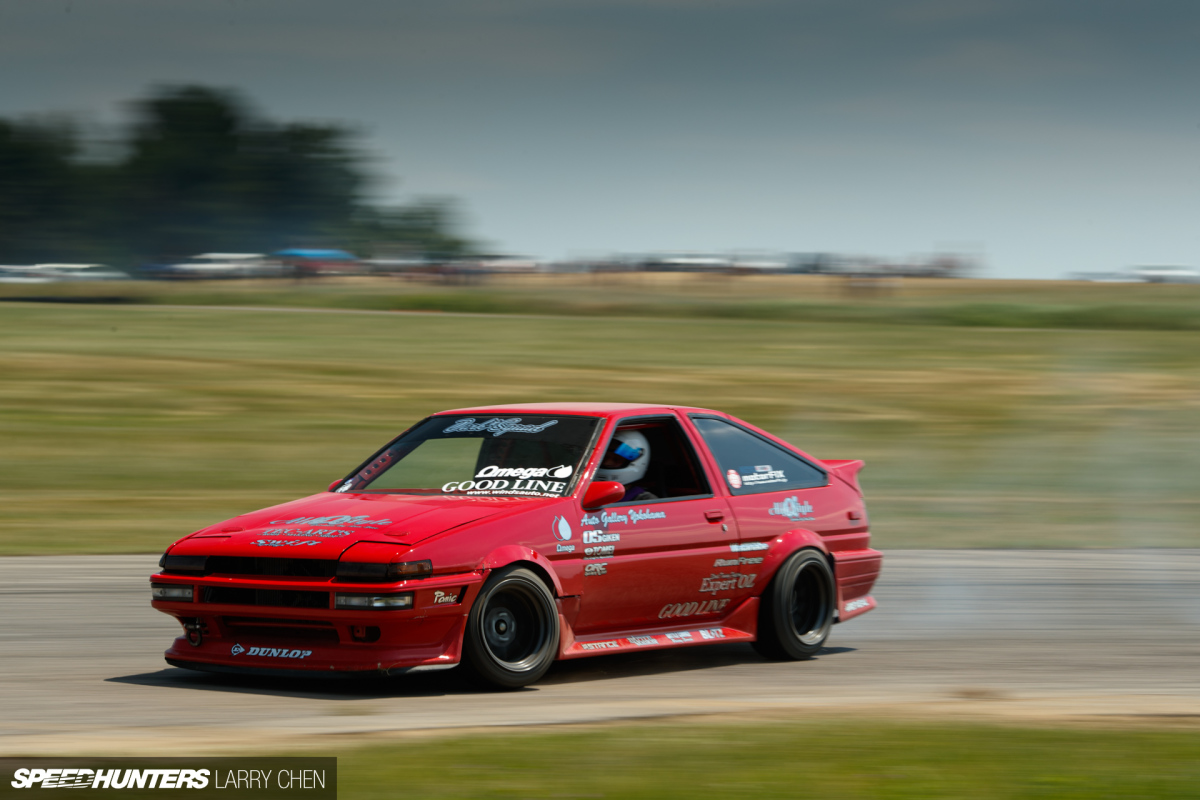 Of course, it's the love of the chassis that has kept the AE86 around for so long. Even outside of the drifting community, the Corolla has been the classic champion of road racer and canyon driver alike. Toyota, whether it did so on purpose or not, created a nearly perfect car straight out of the factory that has influenced drivers all over the world. Even after 30 years, the AE86 is sought after, raced, and drifted despite its economical reason to have existed in the first place. People around the world celebrate this chassis on August 6 and it's hard not to see why.
What's your favorite memory of the AE86? Which Corolla influenced you as you grew up in the Toyota community? Sound off and show off in the comments!
Words by Justin Banner
Instagram: jb27tt
Facebook: racerbanner
Twitter: RacerBanner
Photos by Larry Chen
Instagram: larry_chen_foto
larry@speedhunters.com