New Rubber
I have spent more time interstate than at home the past month, but somehow I've managed to squeeze in some progress on Project Nine.
The short version for picture skimmers: July kicked off with a new set of tyres, Bridgestone supplying a full set of Potenza RE-71R semi-slicks for some road and track testing. My racing helmet was dusted off for the first time in years when I unleashed the Mitsubishi Lancer Evolution IX on Sydney Motorsport Park's GP Circuit.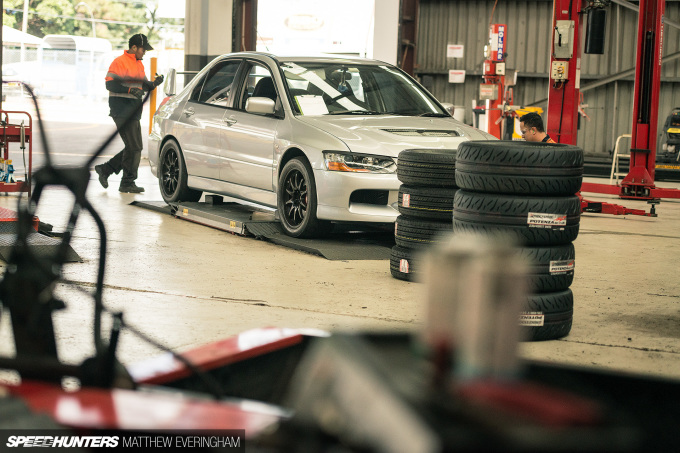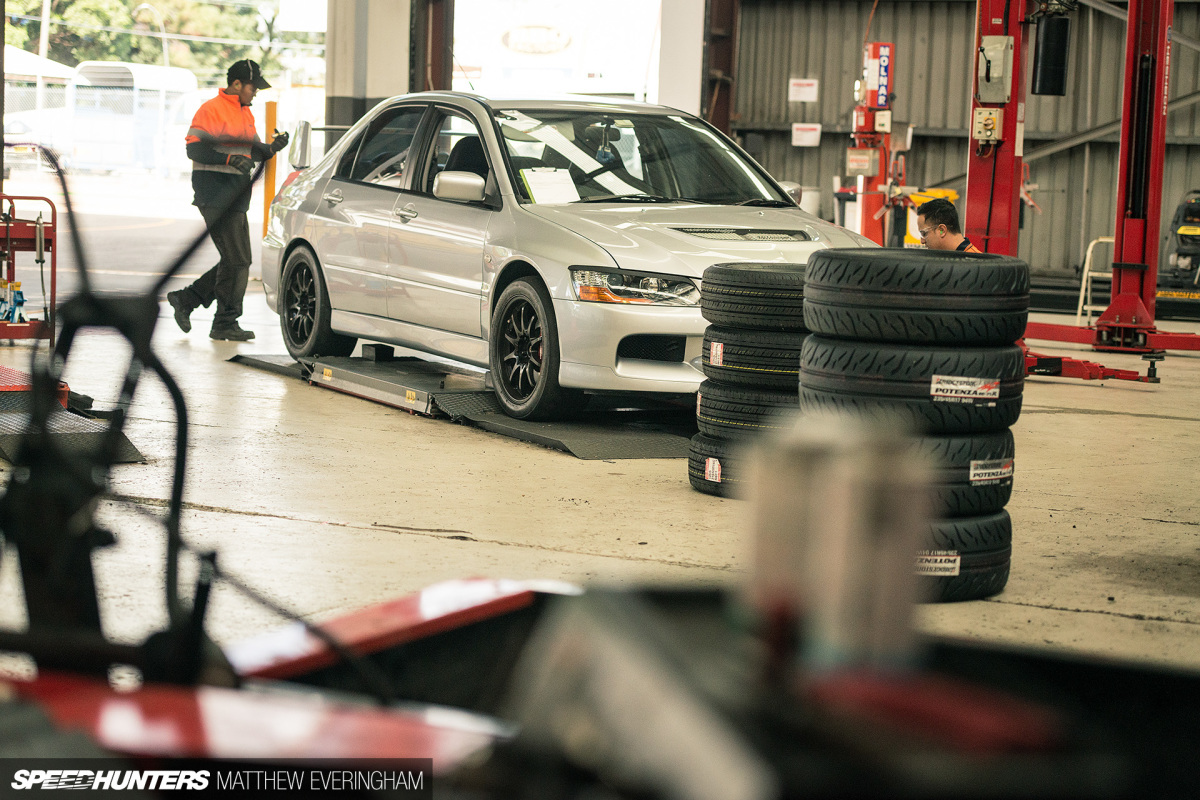 At around the very same time you would have been reading Project Nine's introductory post, my freshly polished Japanese chariot was dropped off at Bridgestone's Sydney headquarters. My previous set of tyres were well and truly past their use-by date; a new set of rubber was long overdue.
To say I was pleased by the superb timing of an offer to test out Bridgestone's latest Australian semi-slick release would be a massive understatement.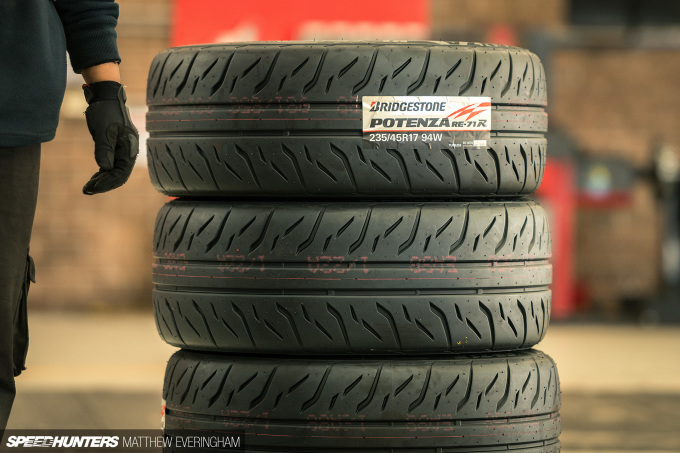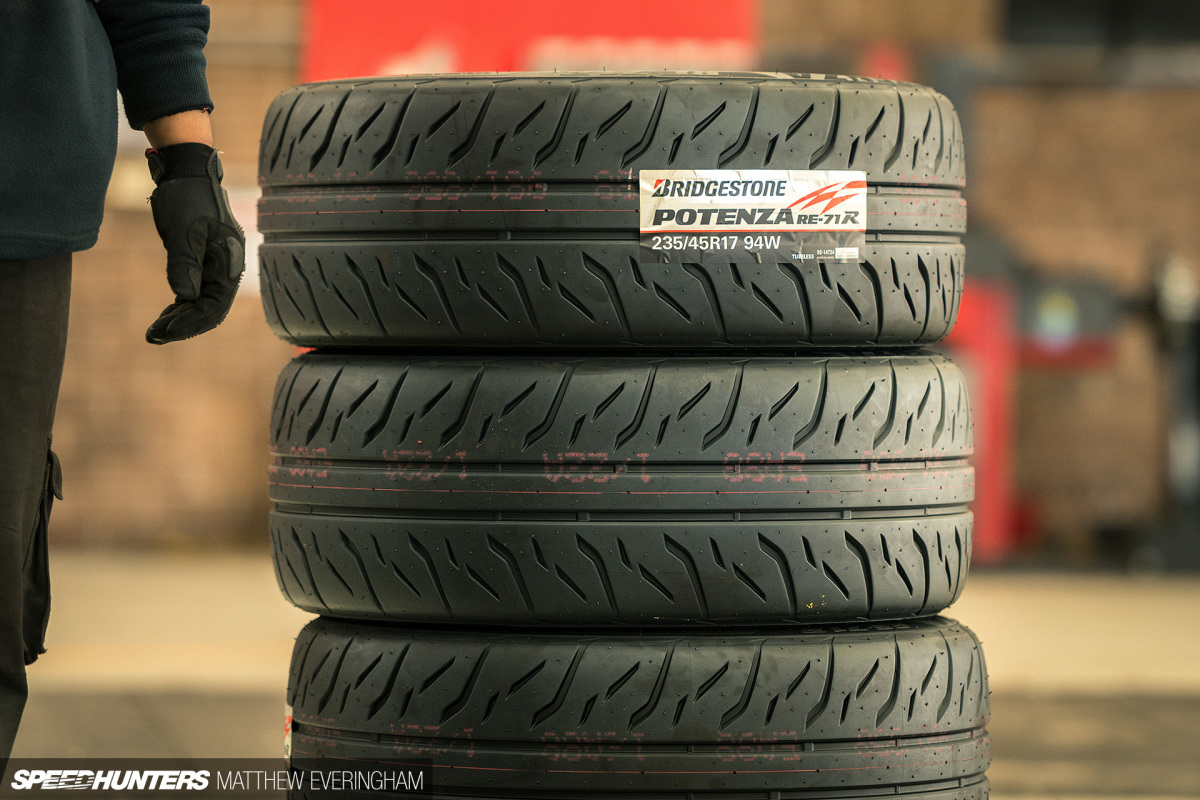 Despite already being available in Japan and a few other regions, the Potenza RE-71R is a brand new release for the Australian market, taking its place at the very top of Bridgestone's street legal sport tyre line. The boffins will tell you that a newly designed tread compound is responsible for the additional grip, and that continuous centre rib work with the massive shoulders to provide more stability. The brochure, meanwhile, states that the '7-shaped' lateral grooves promote water drainage and hydroplaning resistance.
I'm about to share what all this translates to in a real-world driving experience.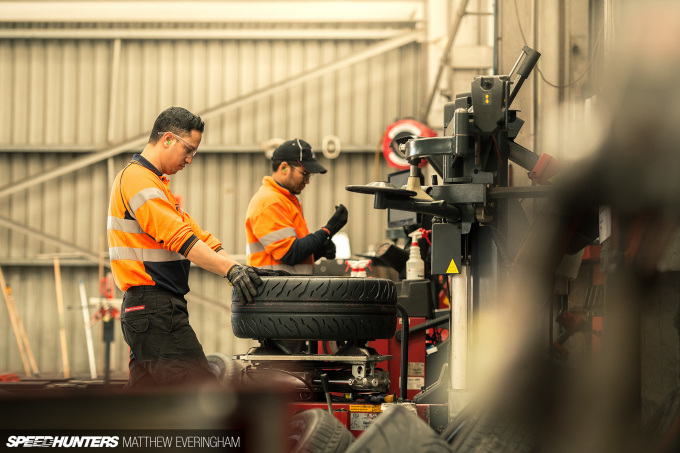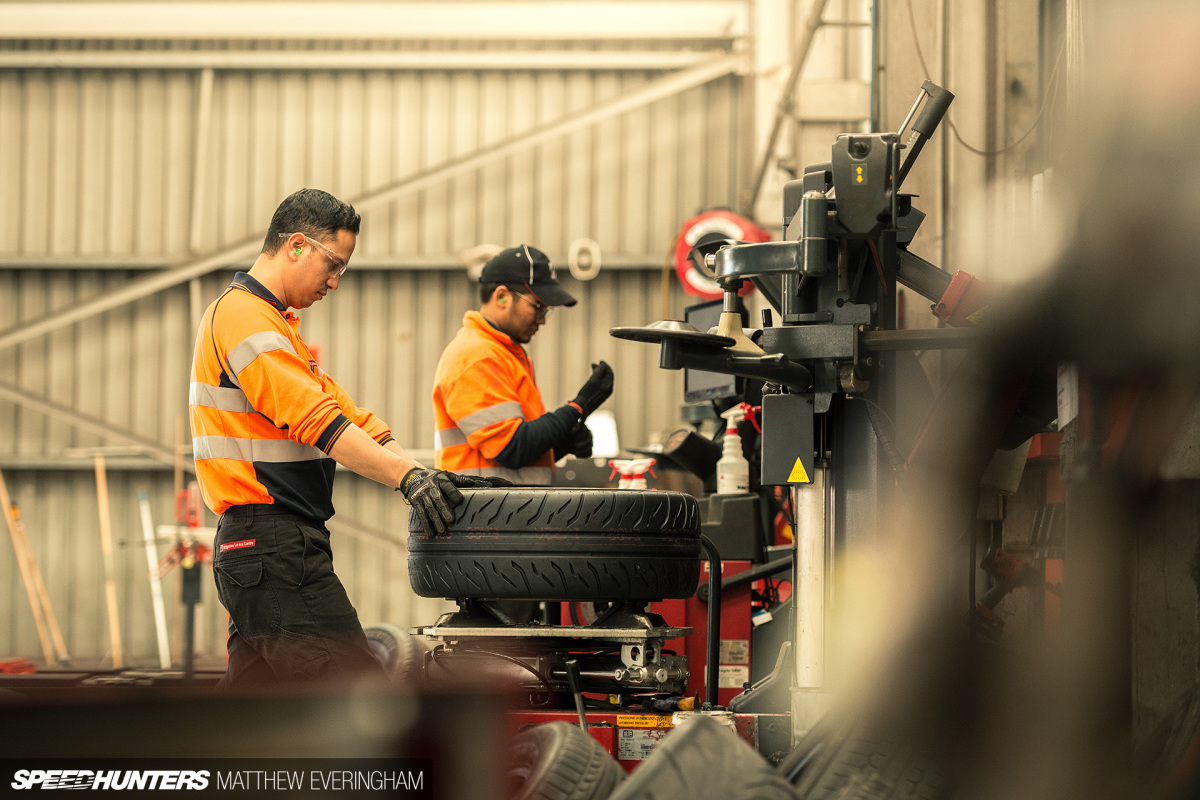 Wanting to give myself enough time to really come to grips with what this new rubber is capable of, I ended up holding this story back for a few extra weeks. I'm glad I did, too. Since fitting the tyres, they've copped remorseless abuse on the race track. They've plodded along quietly in peak-hour traffic. They've driven me safely across the full width of Greater Sydney in torrential rain, and even spent a considerable amount of time on rough unsealed roads while I was busy chasing waterfalls. Yes, literally.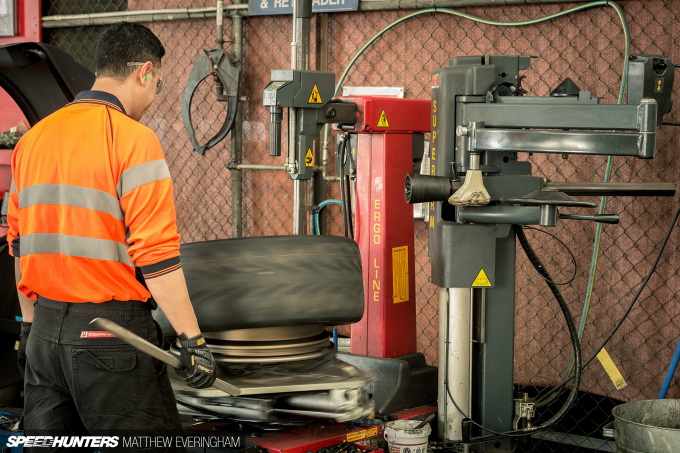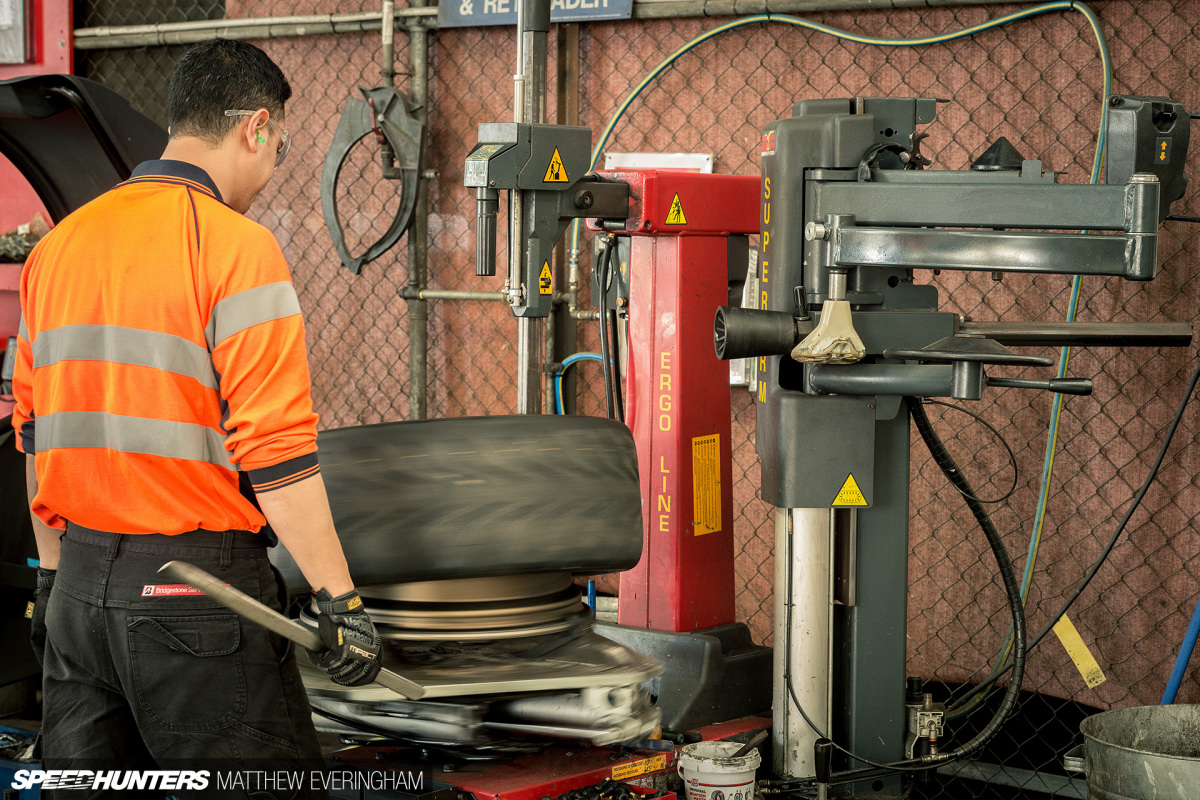 Equipped with all those additional kilometres, I'm confident giving you guys a fair appraisal of their overall performance. That is, with the exception of tyre longevity. Although my poor RE-71Rs were punished severely at the track and since have only been subjected to an additional 1,000km (620mi) or so, I still have no real idea of their life span. I have no intention of spitting out any guesses, so the jury remains out on wear.
I made my first observation just minutes after exiting Bridgestone's driveway: there tyres are super quiet. Having used only semi-slicks for the past decade, I'd grown so accustomed to the extra road noise that this newfound silence was deafening. I could hear so many other road sounds and enjoy my music like I hadn't been able to for years.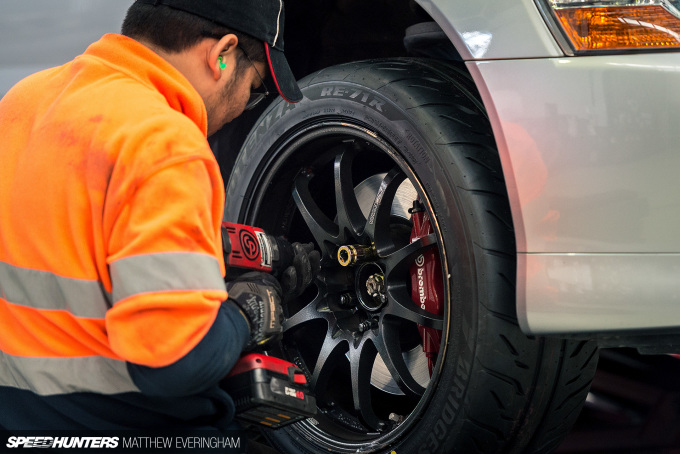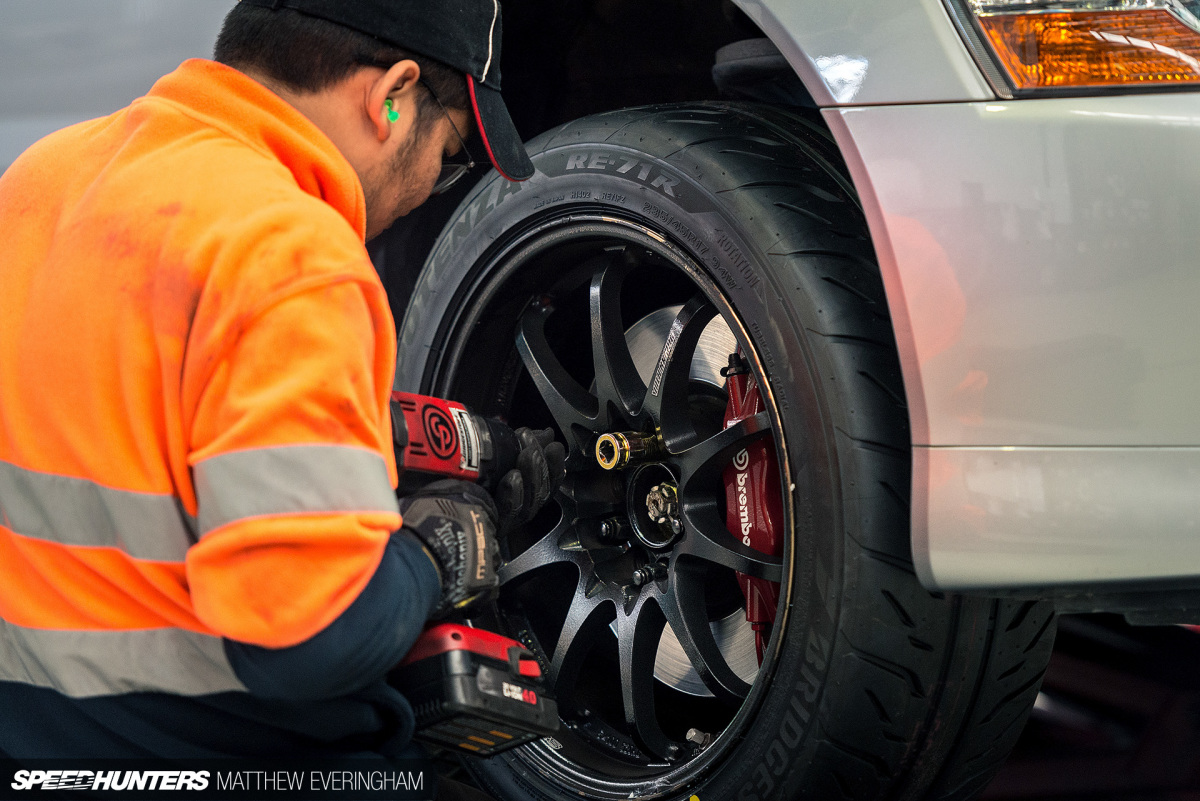 I wondered if this lack of road noise would translate into a lack of grip, but I'd have to wait until hitting the race track to find out for sure. My drive home used the longest, straightest, and highest policed stretch of Sydney's road ways, and before I had parked in my garage, I'd already decided it'd be a struggle to go back to noisier tires after a fresh taste of luxurious silence.
Track Attack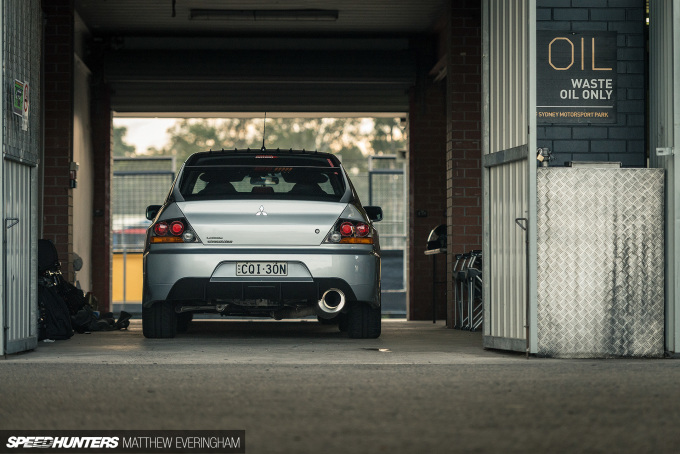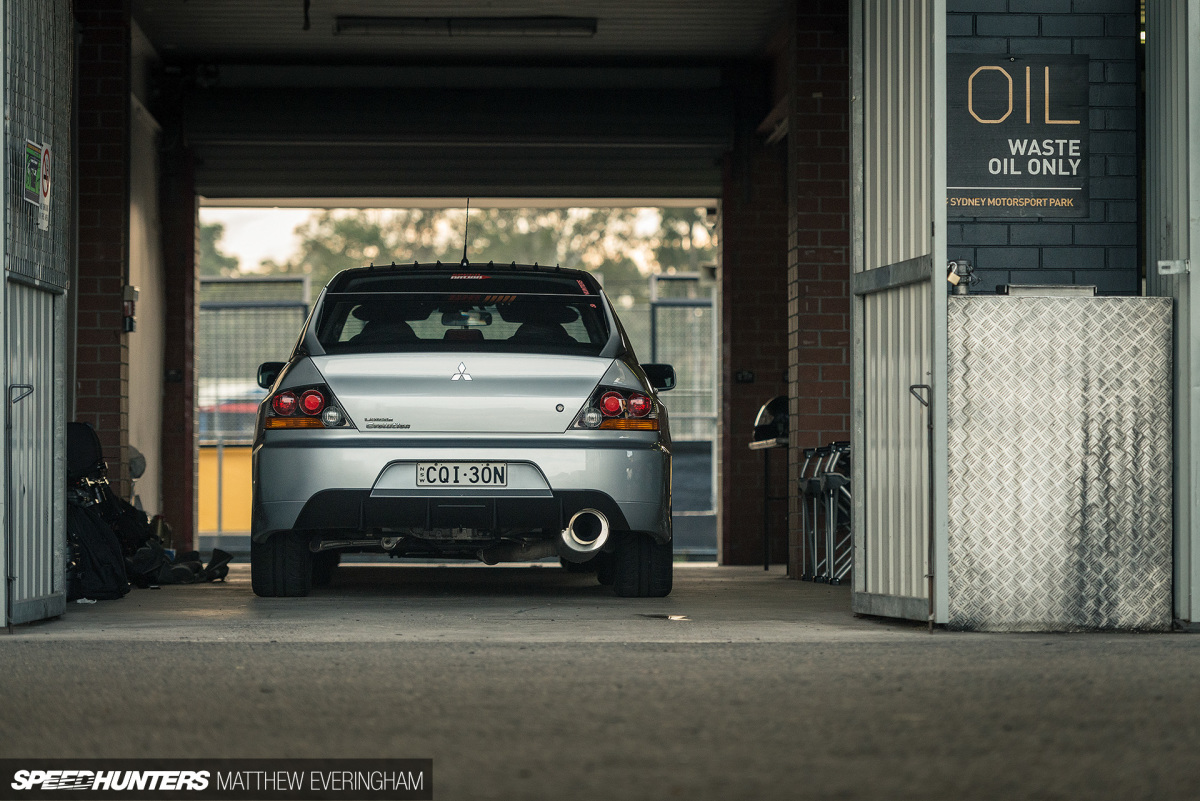 A mix of excitement and nervous energy coursed through my body as security waved me through the competitor gates at Sydney Motorsport Park, home of World Time Attack Challenge. Perhaps by the end of the day, I'd be able to offer Under Suzuki, or reigning champion Tim Slade, some valuable advice. Somehow, I don't think so, though. In truth, I'd feel victorious if I had a good time and managed to drive an undamaged Evo home afterwards.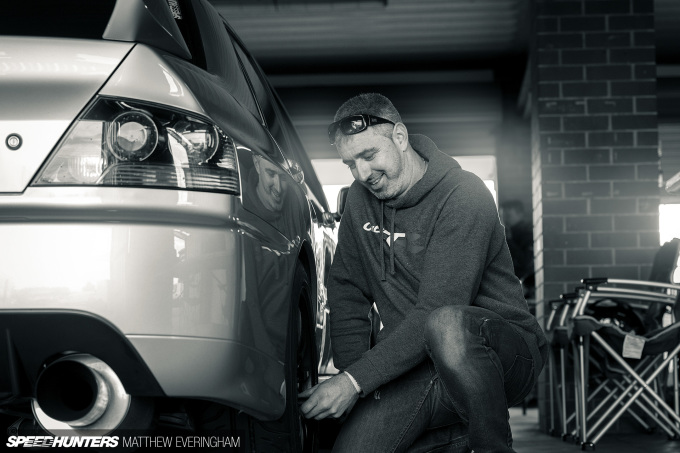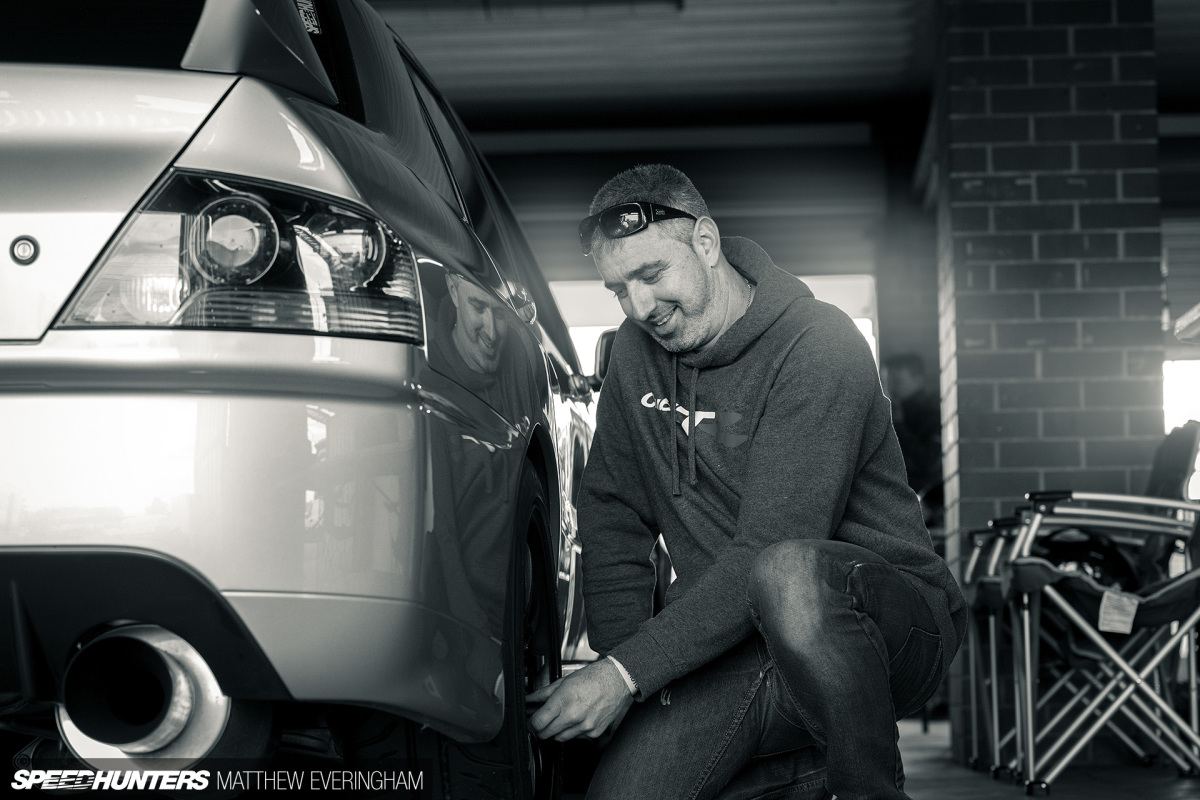 Hitting the track made for a great excuse to catch up with an old mate and see his long-term NSX restoration project in real life for the first time. Cameron's Honda first hit the road around 12 months ago, and I'd seen plenty of images online, but the five-hour drive between him and Sydney makes it slightly difficult to catch up for a coffee and burger.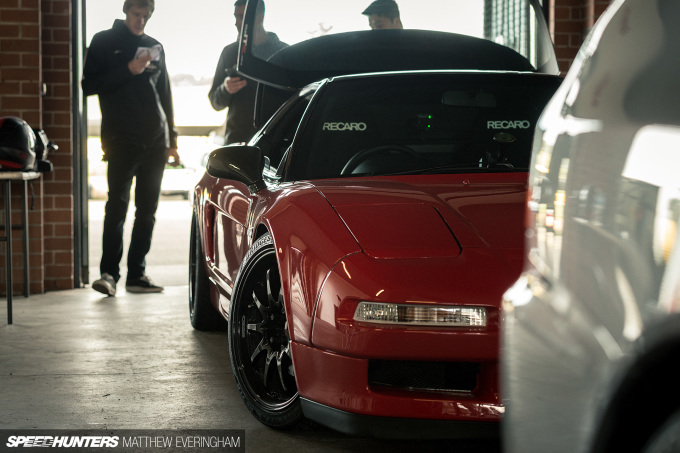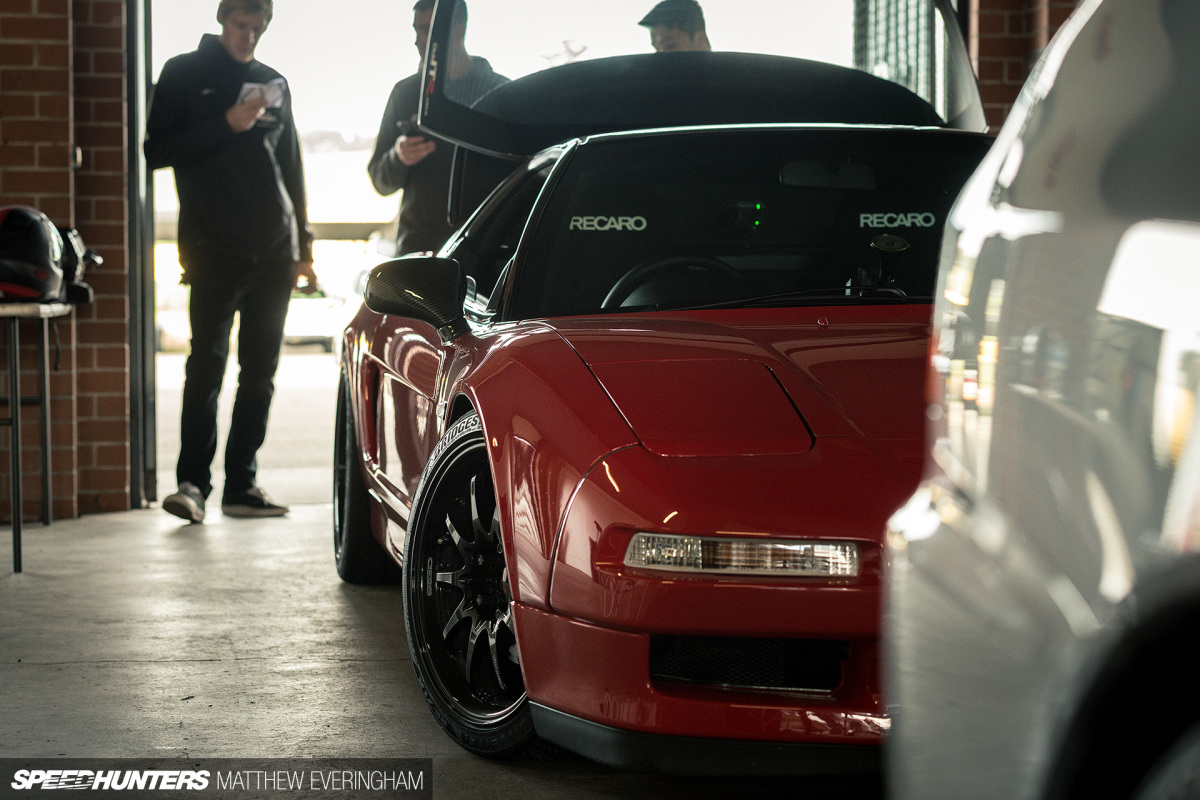 Seeing the results of Cameron's years of hard work in person was a treat. Its 'better than new' condition, and the neat finishing touches make this NSX one of the finest examples I've ever laid eyes on. He's right to feel proud of his work. I almost felt bad for the abuse the NSX was about to be subjected to, but what's the point of owning such a capable vehicle if its potential is never tapped into?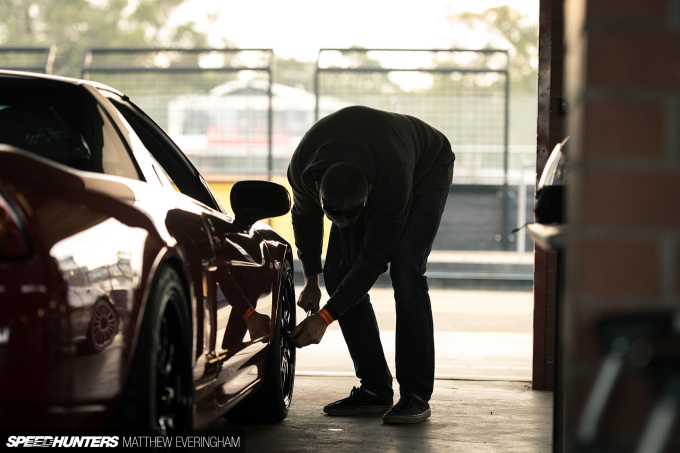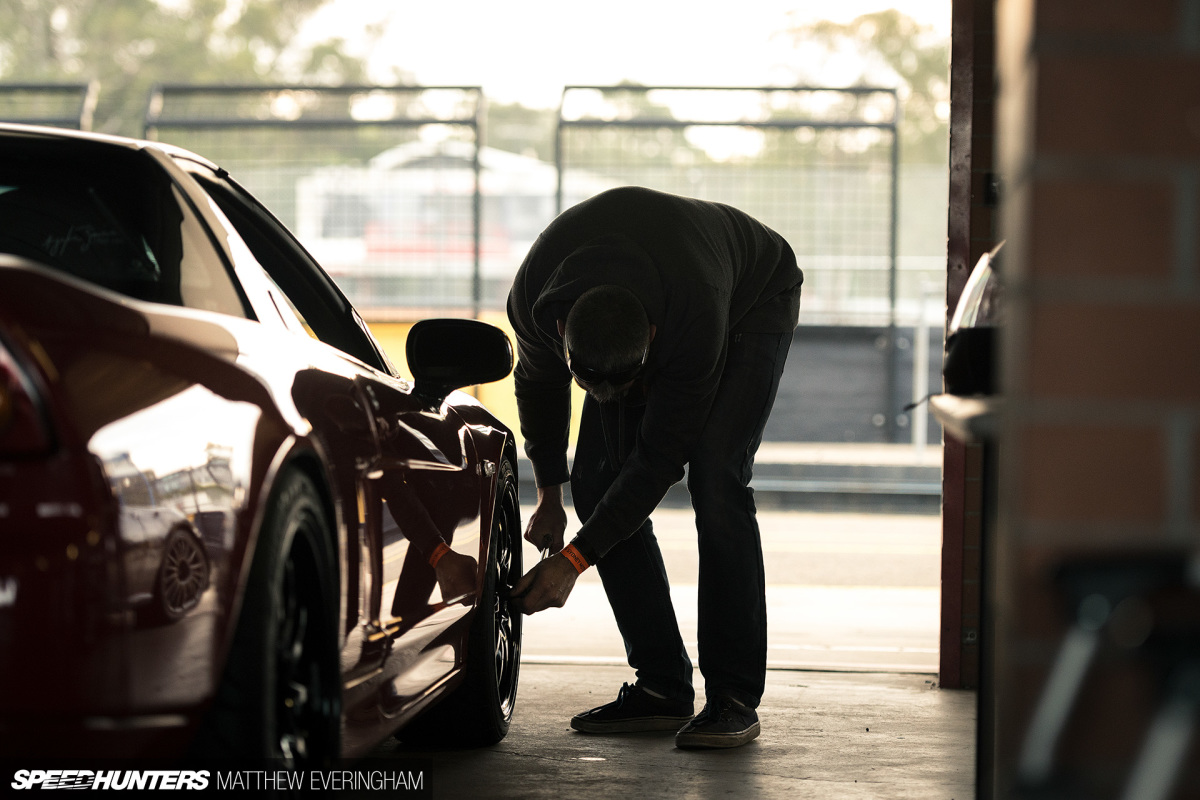 Like Project Nine, Cam's NSX was also shod in a fresh set of Potenza RE-71Rs for some fast fun serious testing.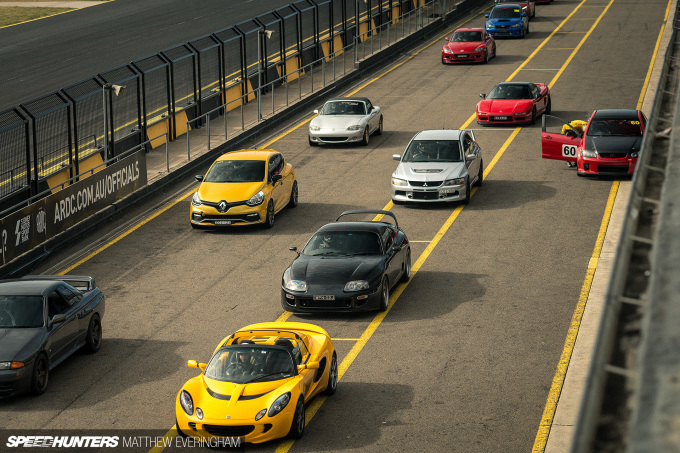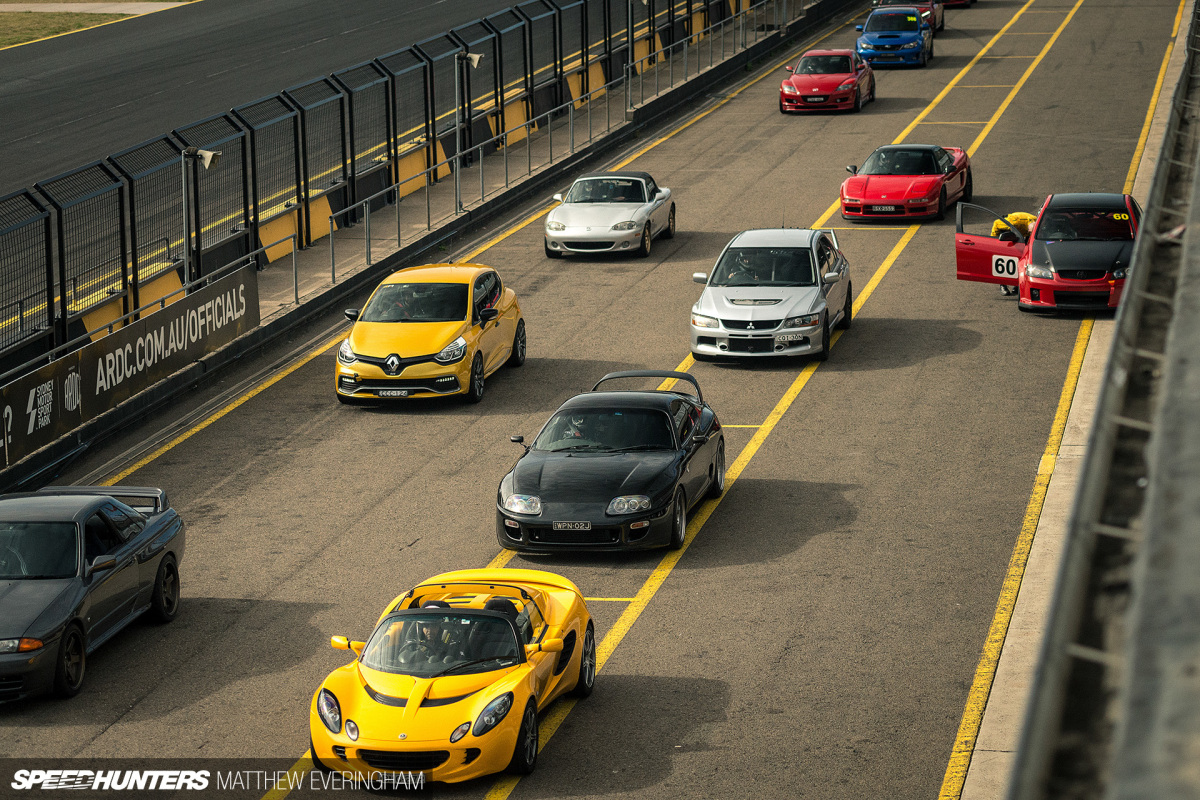 My first session was somewhat subdued; not only did I have to get reacquainted with my car at speed, but I also had to contend with heavier traffic than one would usually encounter. Apparently, we'd picked a very popular day to attack the race track.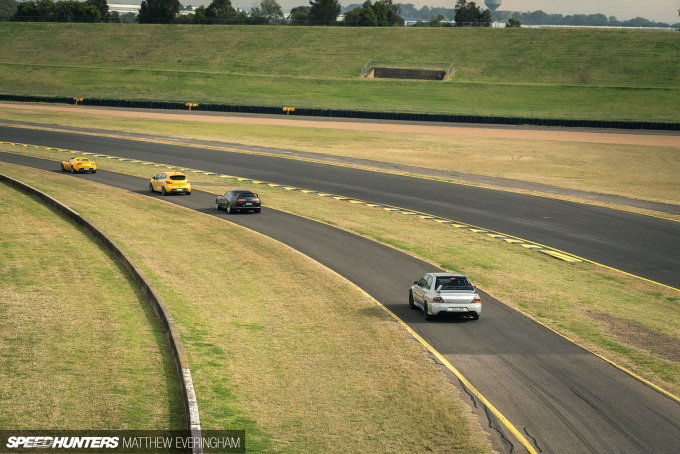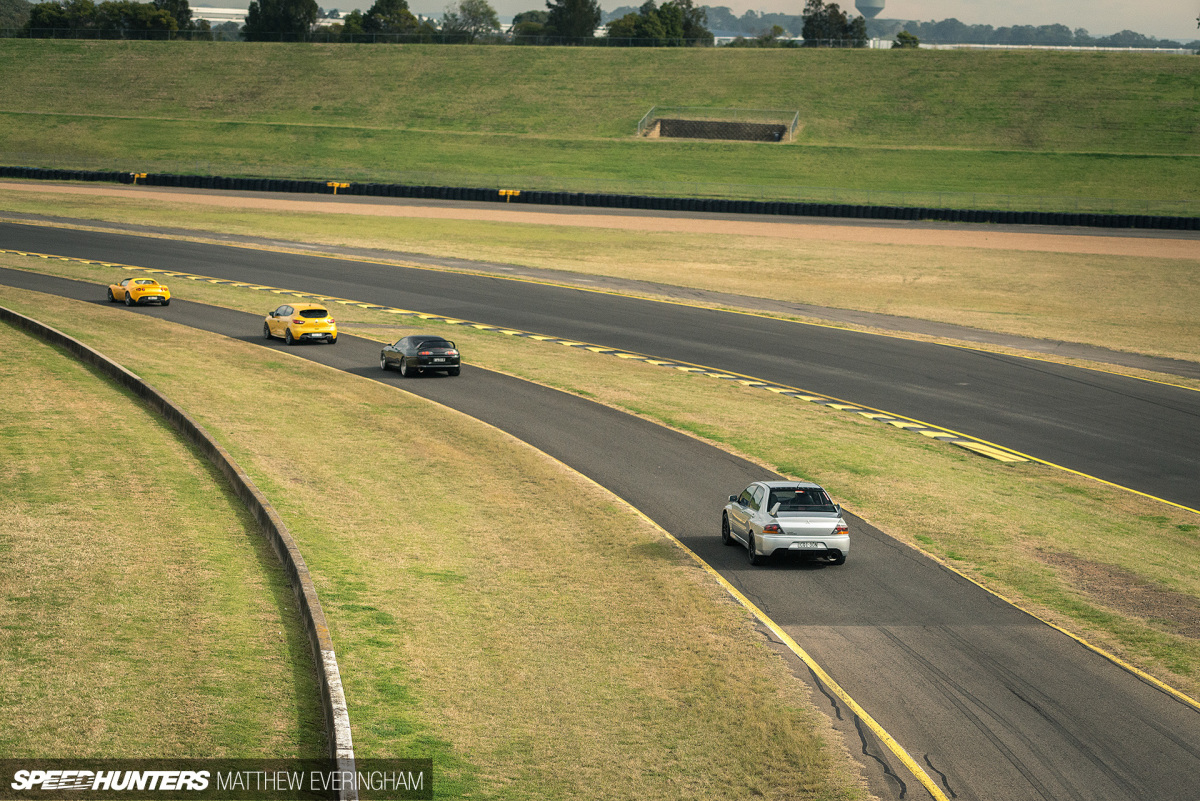 It didn't take long to find a comfortable rhythm though. I started rather gently, but after just a few laps of exploring the road and the tyres' limits, I begun to push a little harder. It's hard to appreciate what the humble Evolution is capable of on public roads; the car's capabilities are always in the back of your mind, but you can't help to be just a little bit impressed when you're allowed to really put it through its paces.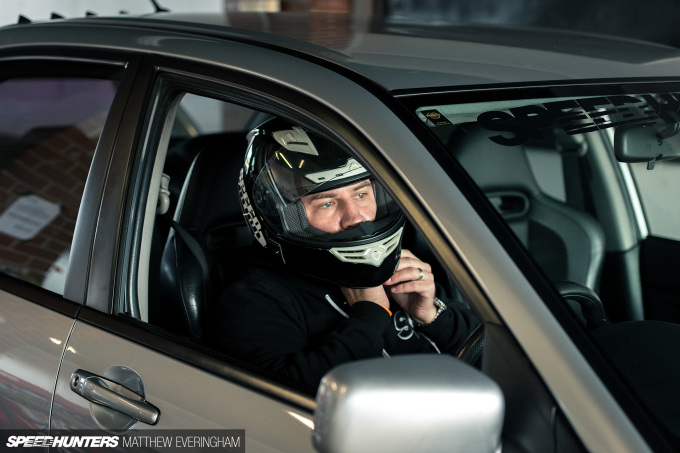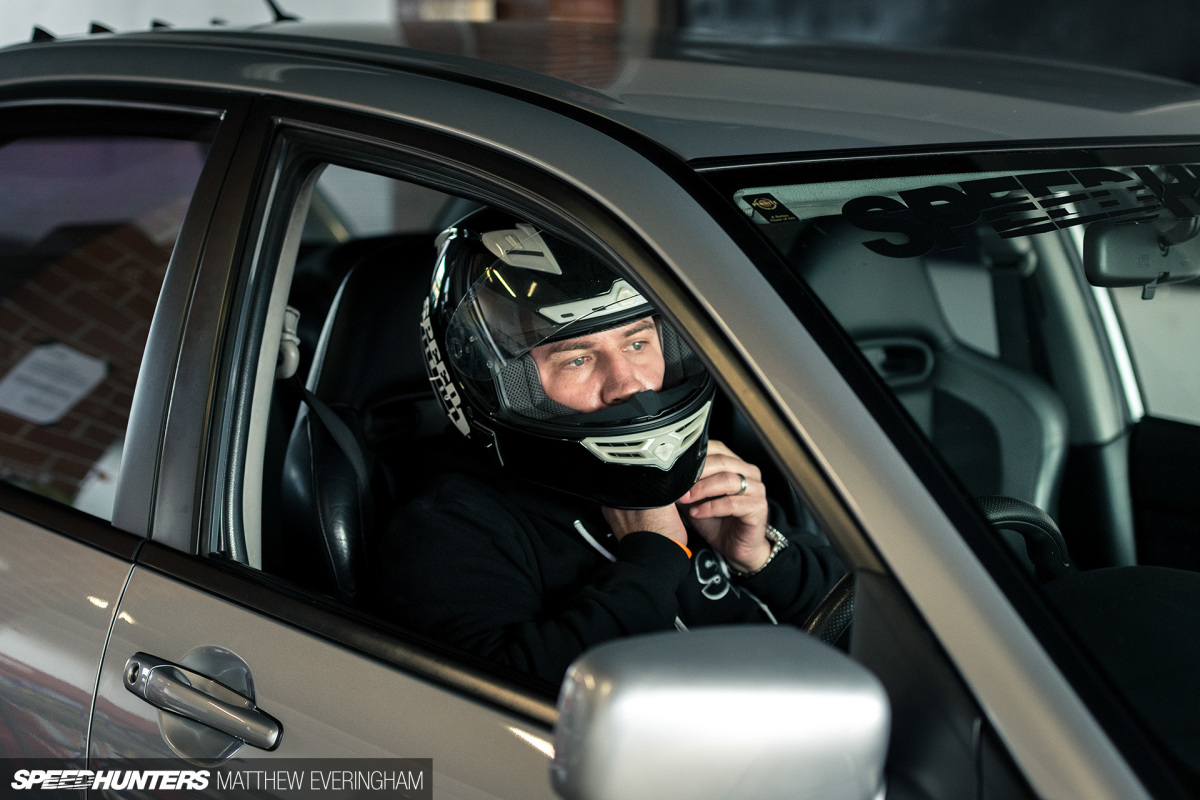 Even with standard suspension and brakes, the Evo's four-wheel drive advantage let it comfortably outpace the majority of traffic through the corners. The main straight was another story though; the current gearing and 220kW (295hp) just wasn't enough to keep up with the faster toys out there.
Being overtaken by the high-horsepower cars along the straight, only to be stuck behind them by the end of the first corner did get frustrating. Although, my lack of straight line speed did provide me with an excellent opportunity to hear the throaty roar of Cam's NSX as it belted past me at 200km/h (130mph).
RE-71R Tested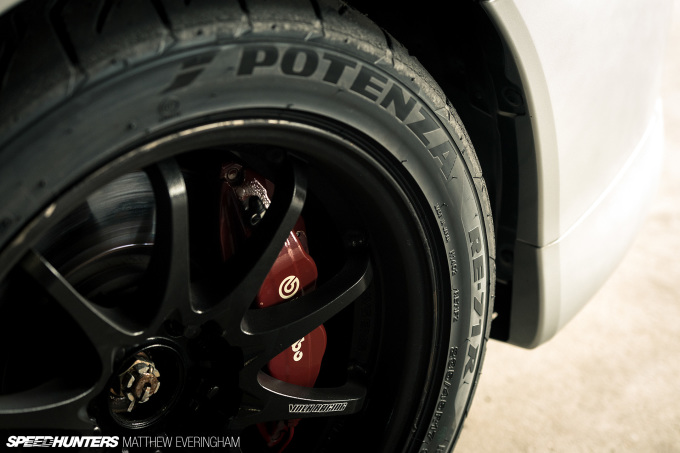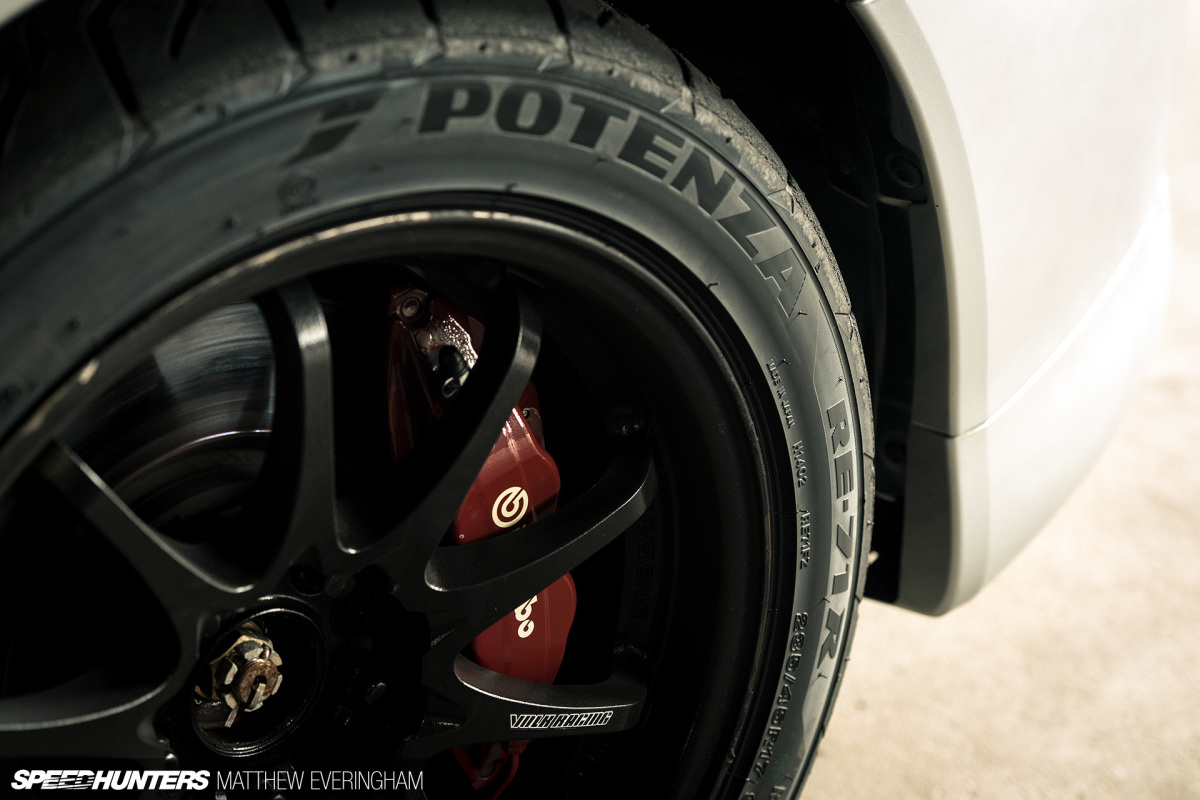 So how did the new tyres perform?  My initial, and incorrect, assumption that the lack of driving noise would somehow translate into a lack of grip was proven wrong a few laps into my first session. Not only were the RE-71Rs very grippy, but the response through heavy cornering was also fantastic, delivering a really smooth and linear steering response even when loading up across high-speed corners. In layman's terms, the tyres felt firm and responsive during sharp cornering; there was no twitchiness, and even as the speed ramped up, you could accurately feel how much grip was left in each corner. This helped the car drive smoother and turn in faster.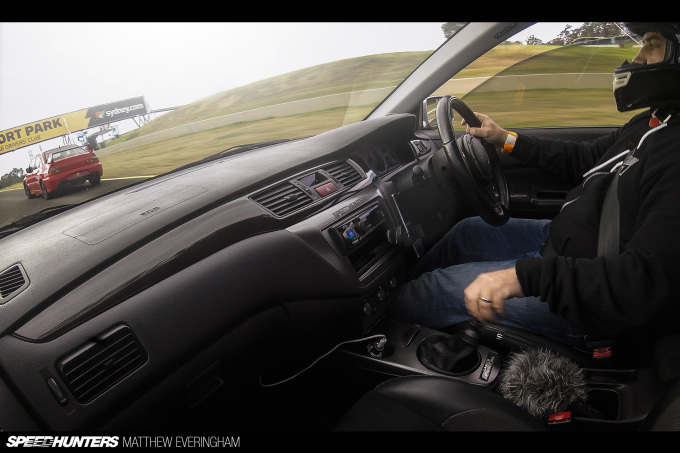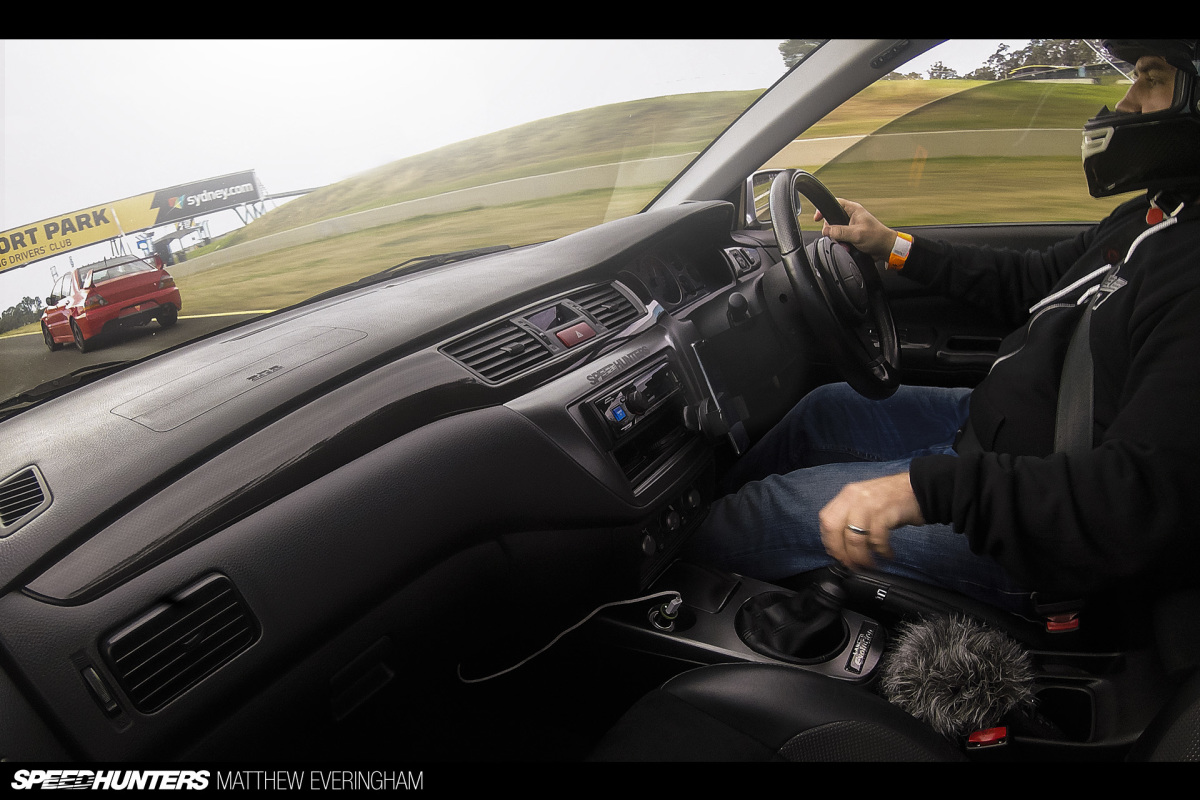 The harder I pushed, the more the rubber surprised and rewarded me. By the end of a few sessions, I felt confident enough to dig a little deeper and push Project Nine harder, setting a new personal best lap time in the process. It's a safe assumption that neither McLaren or Ferrari will be knocking on my door with an offer to drive for them anytime soon, but it was quick enough to satisfy a photographer in a fairly standard family car.
Sadly, my day was cut short earlier than expected. Just two sessions after seeing a Honda Civic roll over through turn one (one of Australia's fastest corners), I experienced a massive brake fade leading into exactly the same spot. Luckily, I managed to drive through unscathed and limp back to the garage slowly. Boiling brake fluid and cooked brake pads seemed to be the main culprit.
Needless to say, brakes have been bumped up the priority list for what to upgrade next on Project Nine. I'd expect that finding the perfect balance between daily duties and track work is going to take some work. Time to get researching…
Matthew Everingham
Instagram: matthew_everingham
matt@mattheweveringham.com
The Cutting Room Floor