Hand-Sculpting Aural Perfection
Looking, touching, appreciating – it's just not enough. It's human nature; we want more. I can sit there and attentively scan each line that defines the aggressive profile of a Lamborghini Aventador, and I can run my hands along the svelte carbon fiber panels that make up its instantly recognizable shape. But I can only do it for so long.
Ultimately, I want to thrash it within an inch of its life. After all, for how unobtainable they may be, these are still cars and cars need to be driven. Hard. I have the same appreciation when it comes to individual parts, and what I'm talking about here specifically is the exhaust. Not just any exhaust, mind you.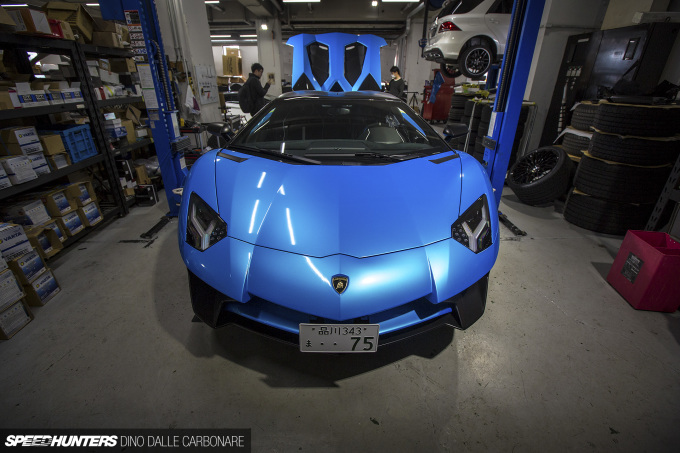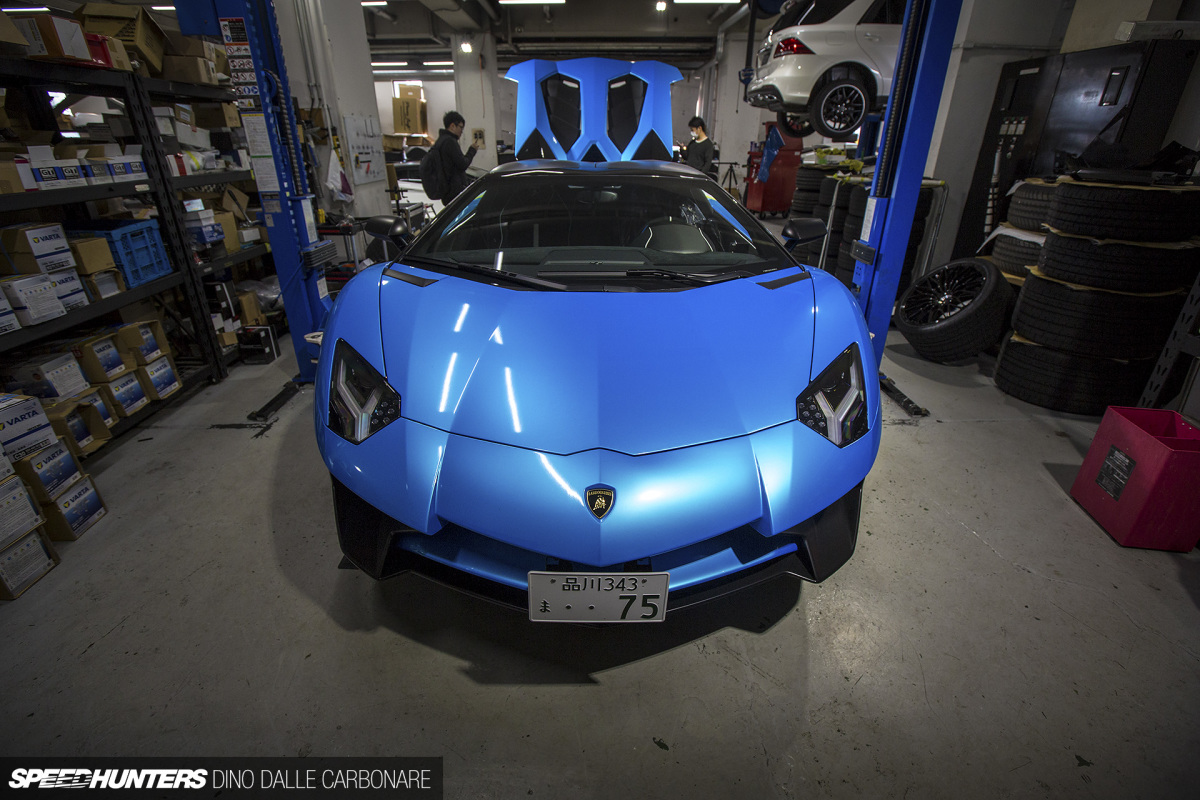 It was last year, during my time at the Monterey Car Week, that I first came to hear of a super limited edition exhaust system that legendary Lamborghini test driver Valentino Balboni was putting his name to. Only 30 'VB55′ systems were to be made, all hand built, and exclusively for the Super Veloce (SV) version of the Aventador.
Given the popularity that the Bull from St. Agata Bolognese is currently enjoying with our Japanese car-nut friends, a few of the systems were earmarked for Japan of course. When I heard that the first one – #02 out of the 30 being made – was being installed just down the road from me at Bond Cars, I couldn't possibly turn down an invitation from the people behind VB exhausts systems to watch it be installed.
And just as I walked into the second floor workshop of the supercar specialist in Tokyo, the hard flight case the exhaust system is delivered in was being cracked open.
It's in protective cases like these that musicians and bands fly their expensive instruments and electronics around the world, and I thought the similarity was not only obvious but totally earned. I mean, this system pushes the envelope between tuning parts and mechanical equipment; it's a functional upgrade for your SV, but at the same time, due to the intricacies of its construction and attention to detail, it becomes so much more. Think of it as a finely tuned musical instrument for your limited edition Lamborghini.
The box separates into two pieces; the top portion lifts up and houses a limited edition coffee table book chronicling Valentino's vast history at Lamborghini.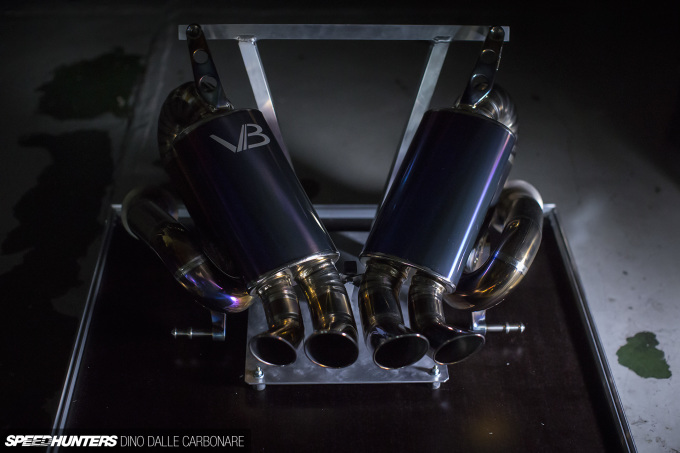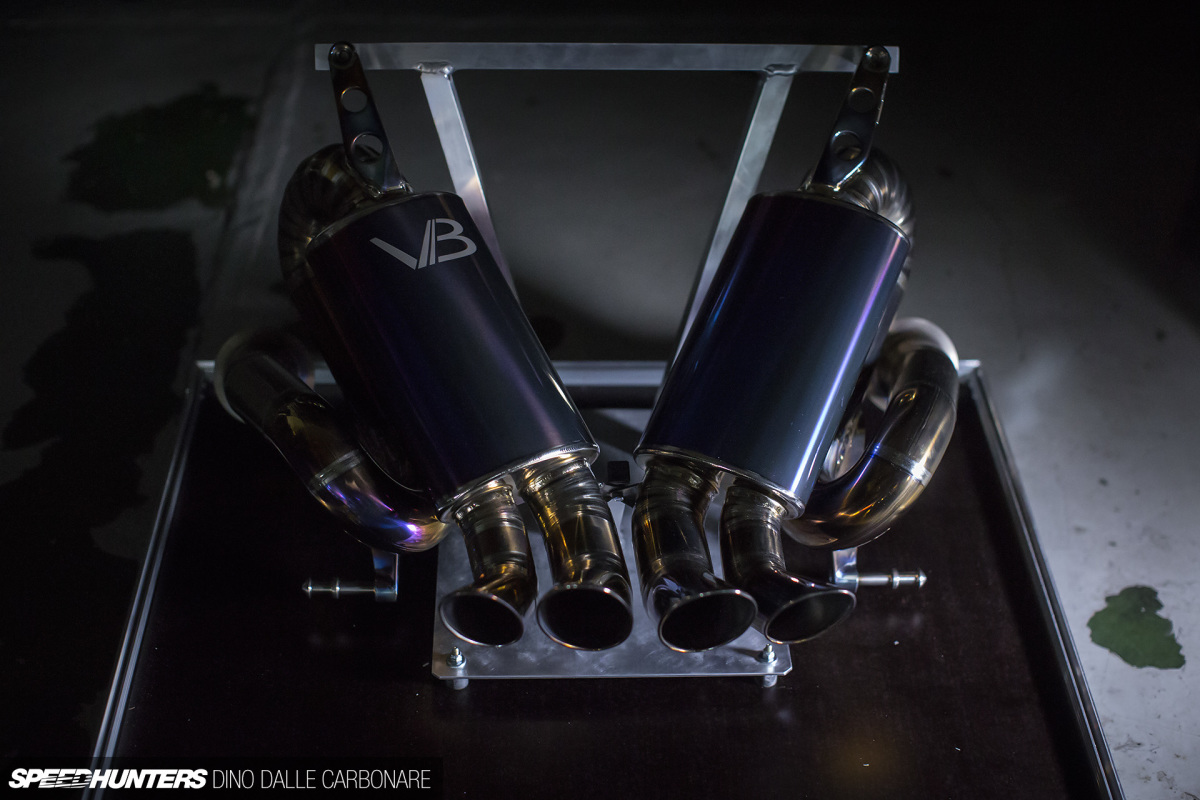 While the lower half unveils the system itself, beautifully presented on a metal rack.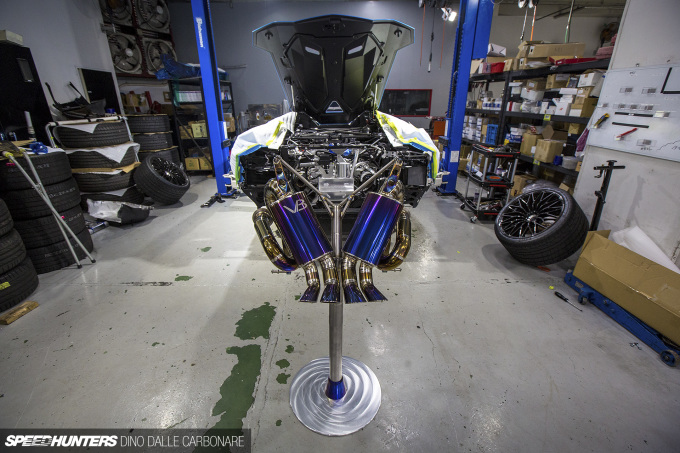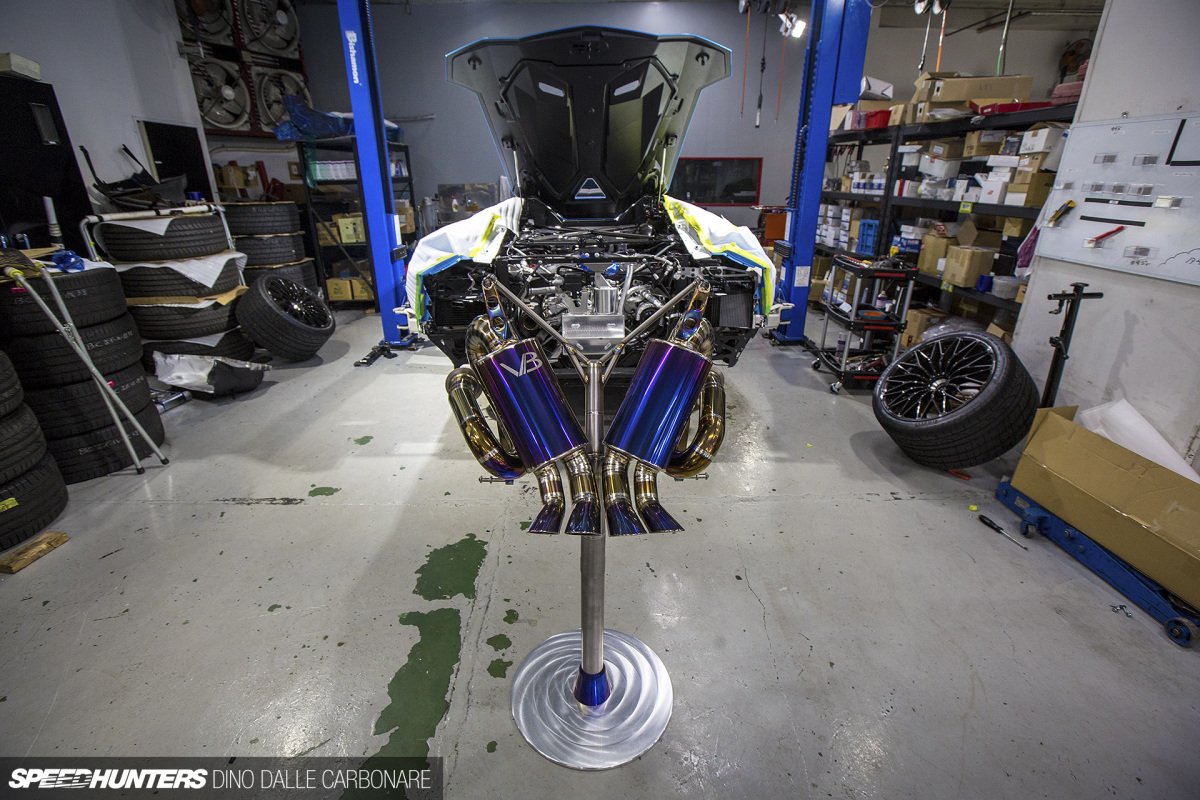 Included in the box is a display pedestal, which like the exhaust is hand-crafted out of titanium. It displays the system in the same position as when it's fitted on an SV.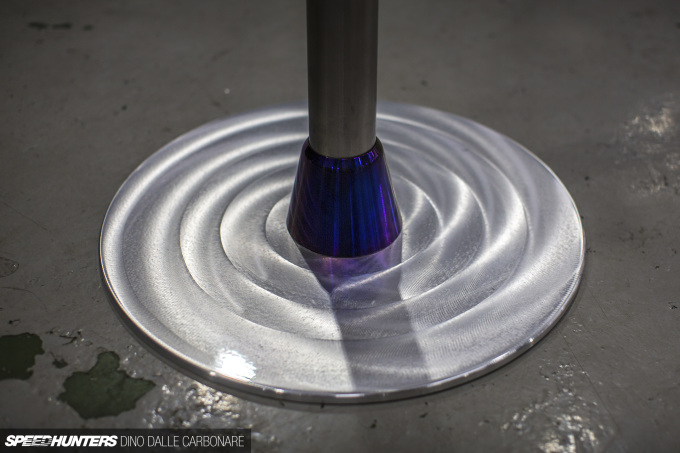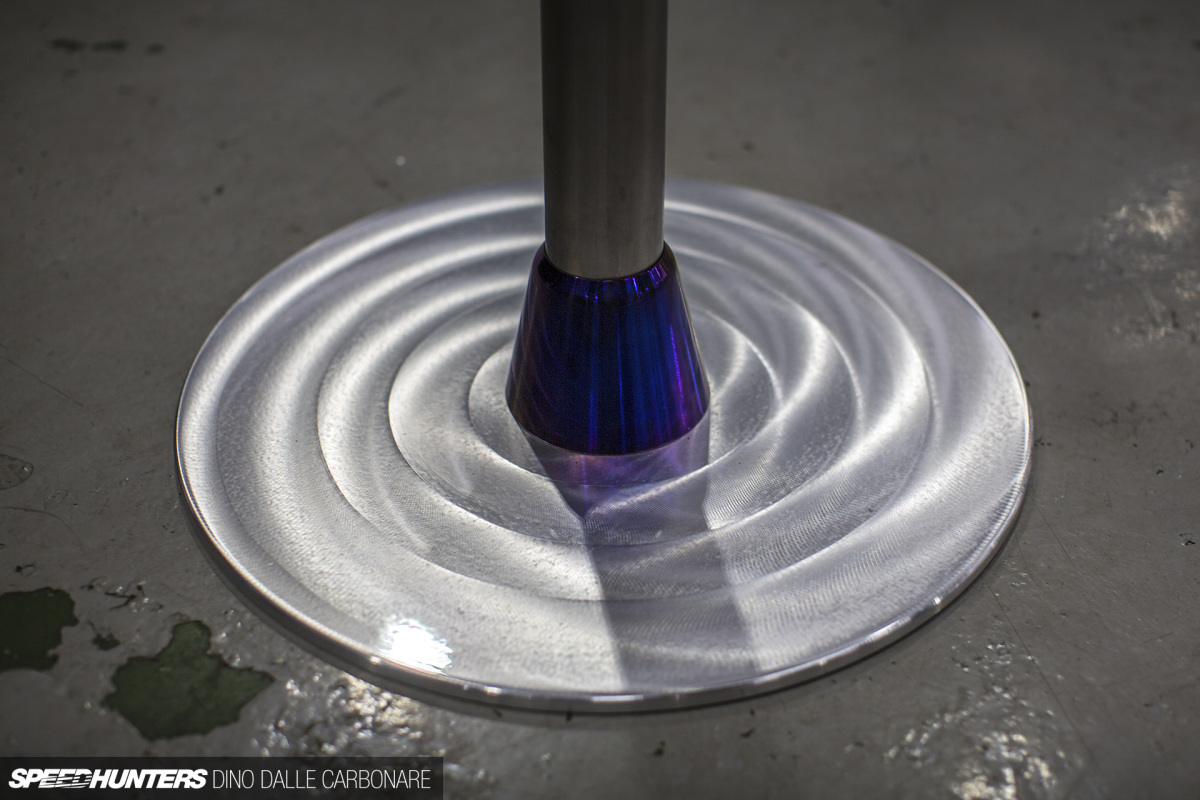 The base of the stand is CNC-machined out of a billet of titanium, then polished to highlight the natural beauty of this metal, leaving the circular machining marks visible.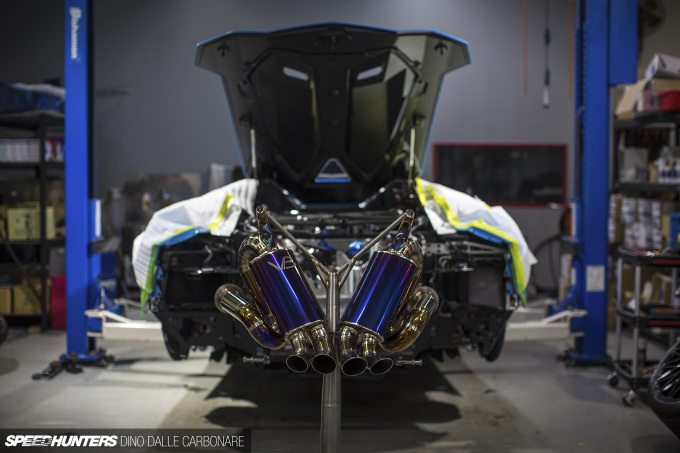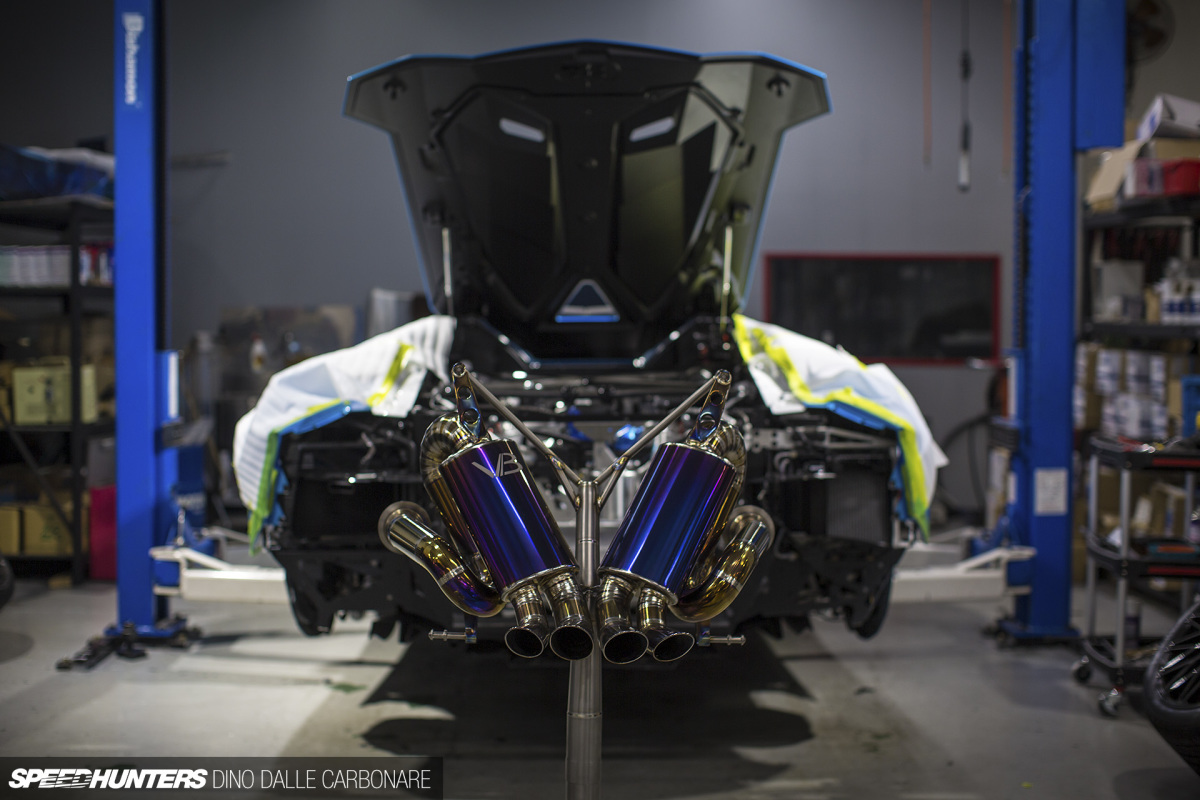 It would make sense for any interested SV owner to buy two of the things, one to fit to the car and the other to keep in the office or garage for display. Because, why not? Life is short, so what's another US$30,000 to splash out on a piece of art? Because that's exactly what this is.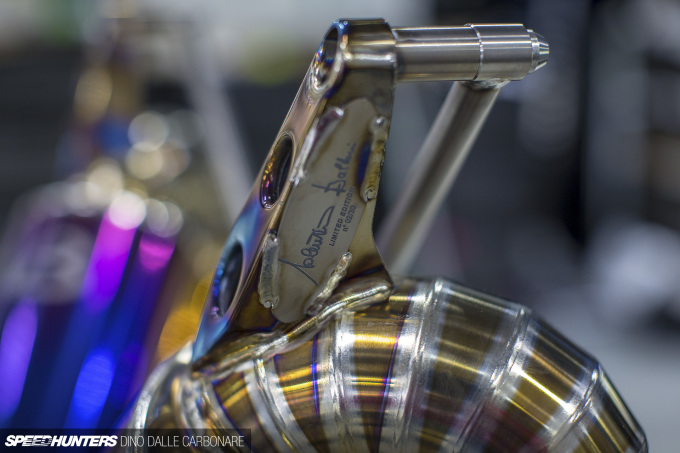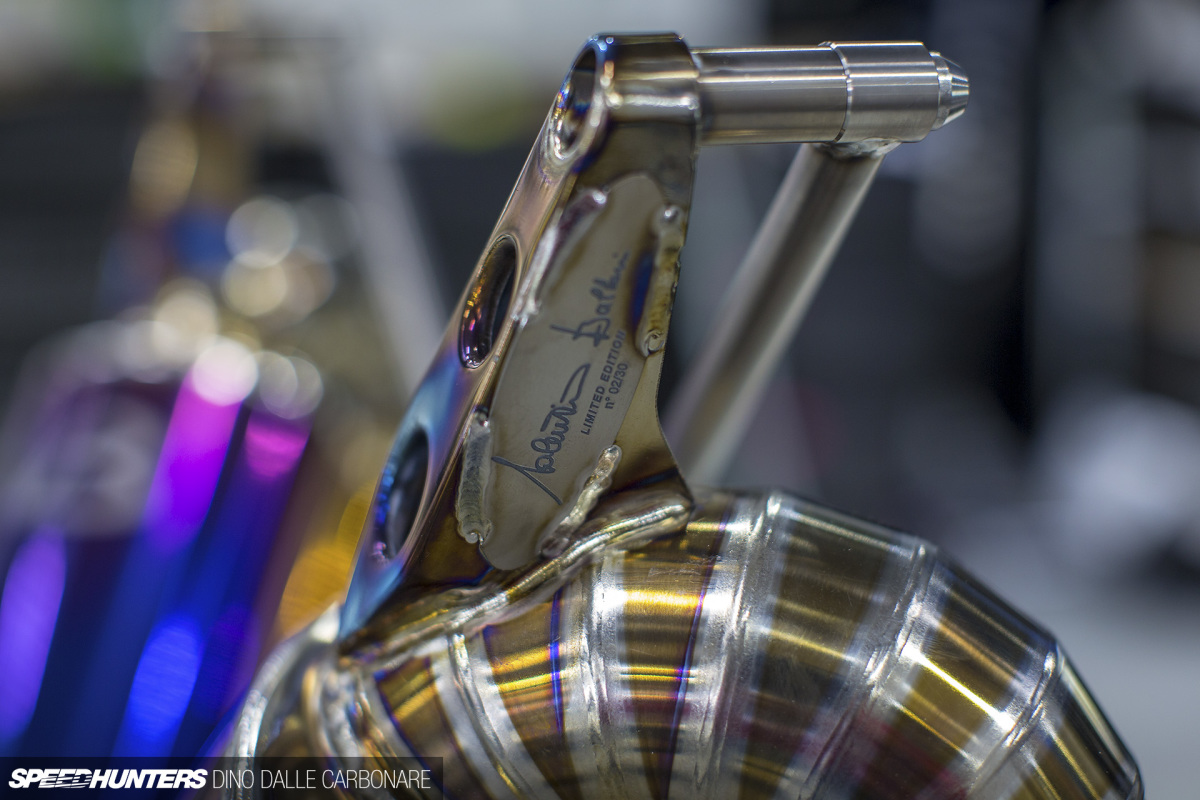 On the right top bracket – made out of billet titanium – Valentino Balaboni's signature is laser-etched alongside the serial number of the system.
As Boris from VB explained during the fitting at Bond Cars, the idea behind the exhaust was to create something that represented absolute quality in both construction and sound output. Outright loudness wasn't the goal – anyone can achieve that – rather, it was the careful tuning of the sound and frequencies so that the already intoxicating naturally aspirated V12 howl was made even more special.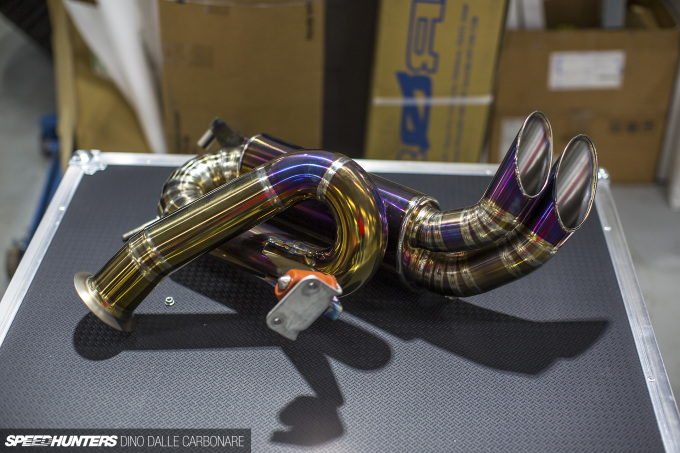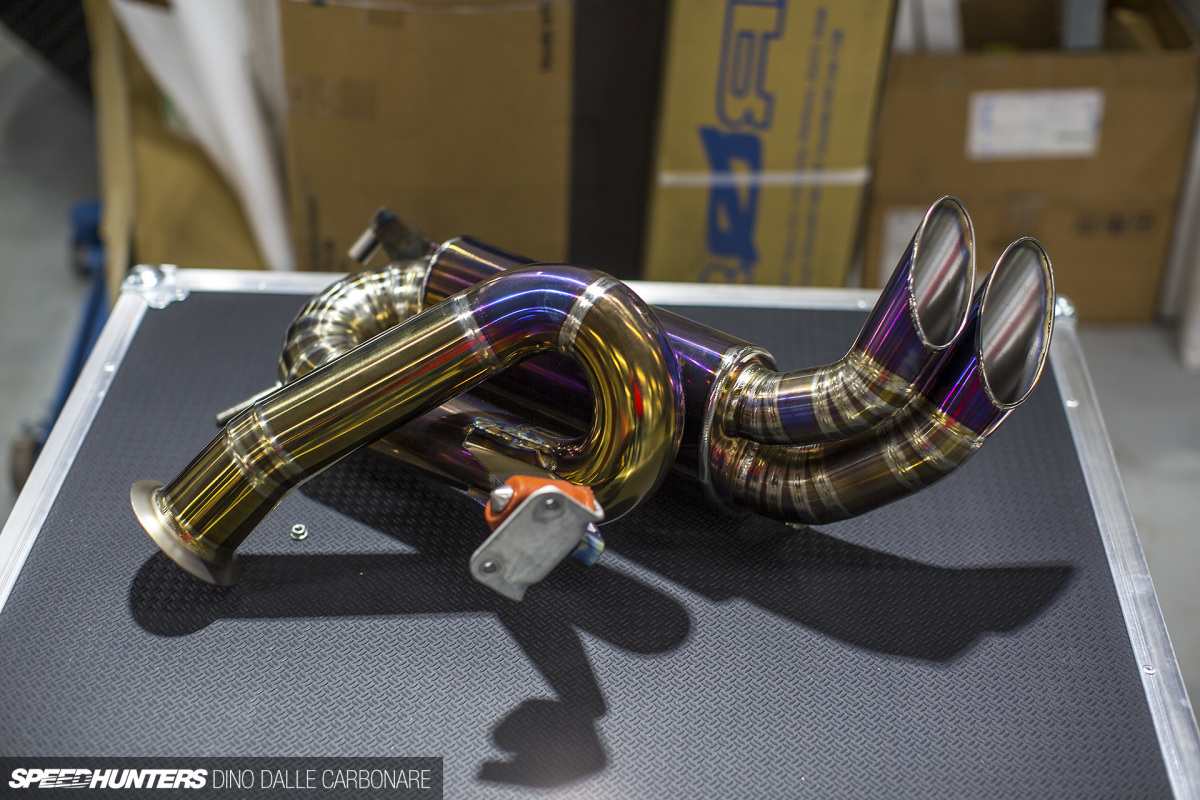 Each half of the exhaust connects up to the catalysts (not on this car as the owner had already gotten rid of them) and gently channels spent gasses and sound through two 180-degree bends onto the silencer.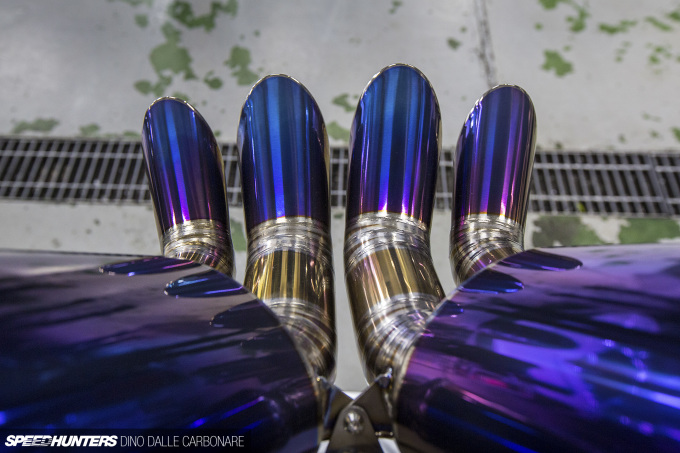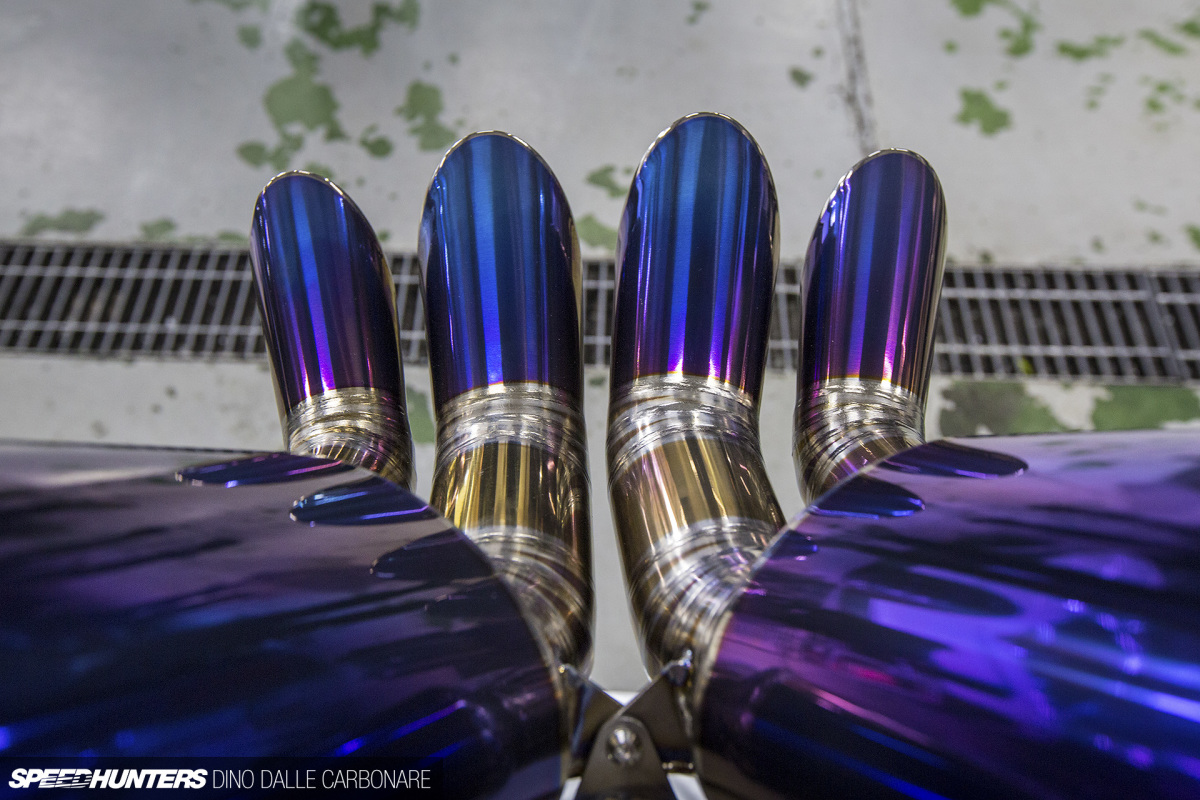 From there, two pipes of different diameters dump the gasses through the cut and tapered trumpet-like tail pipes.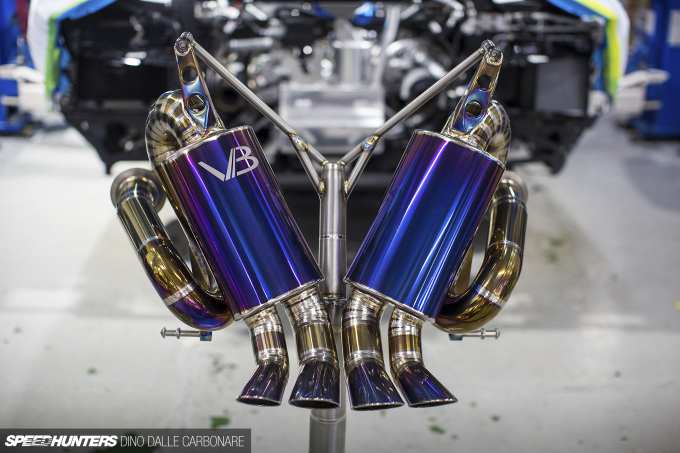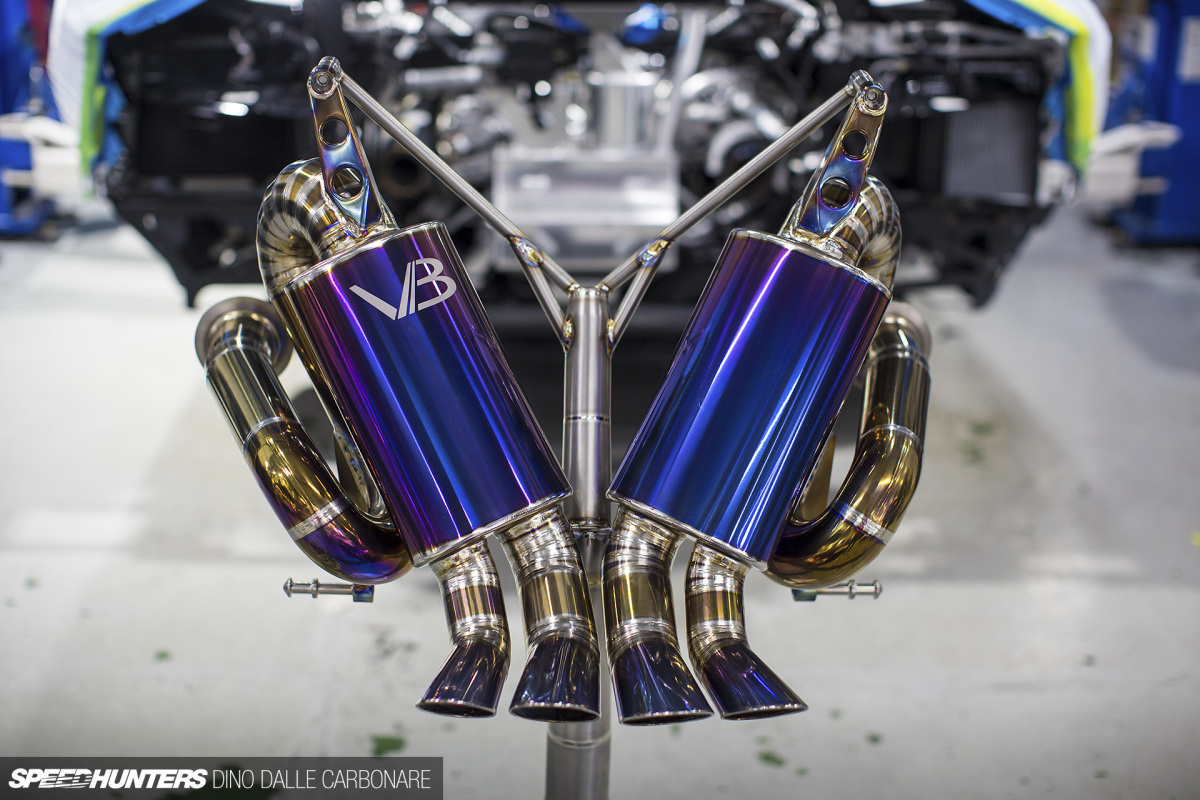 It sounds simple, but it's all been finely tuned to tweak the frequencies for a low and menacing growl at low revs, and to pop eardrums above 4,000rpm.
The Fitting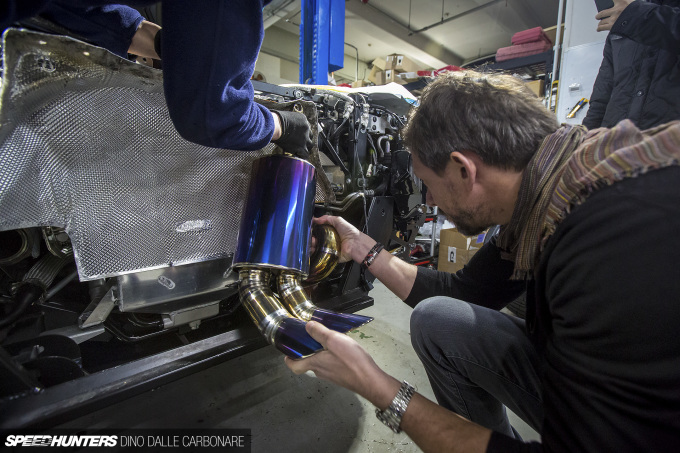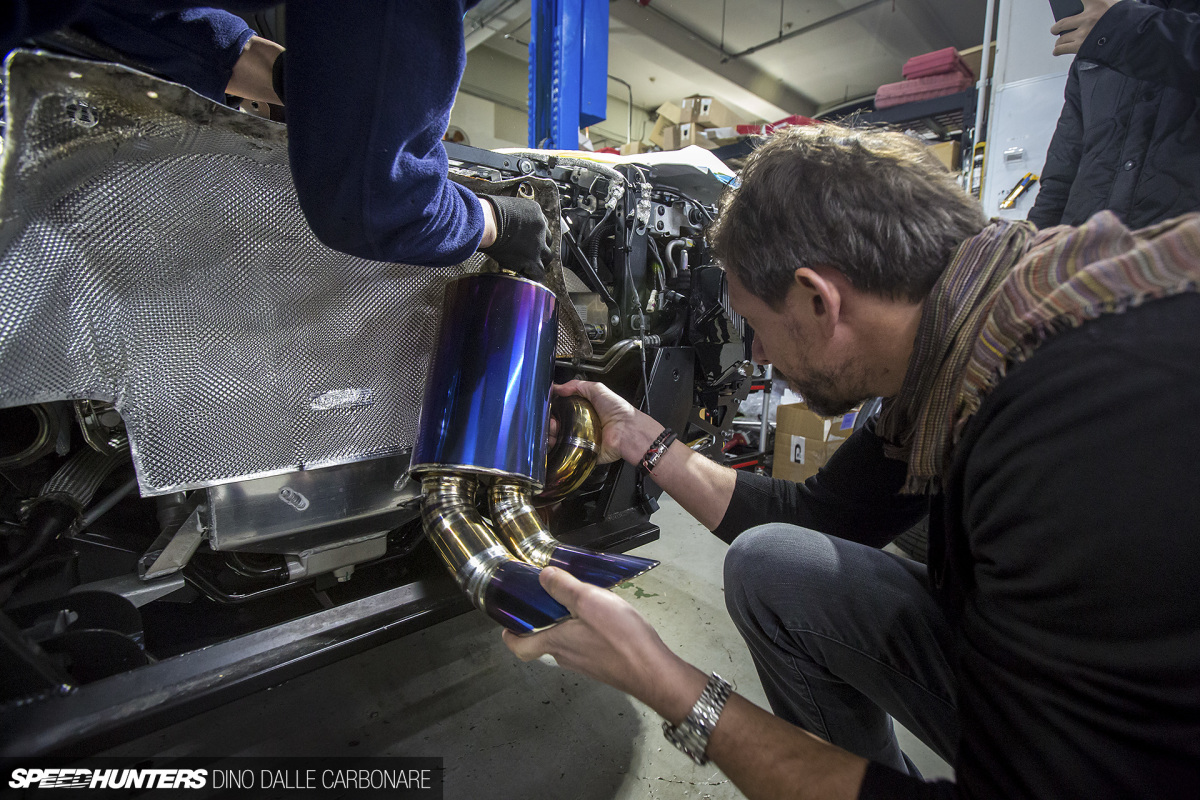 Boris stepped in to help with the install, which is quite straightforward.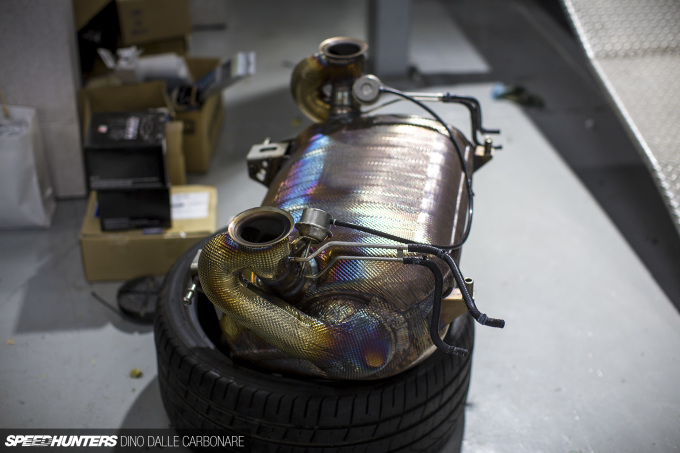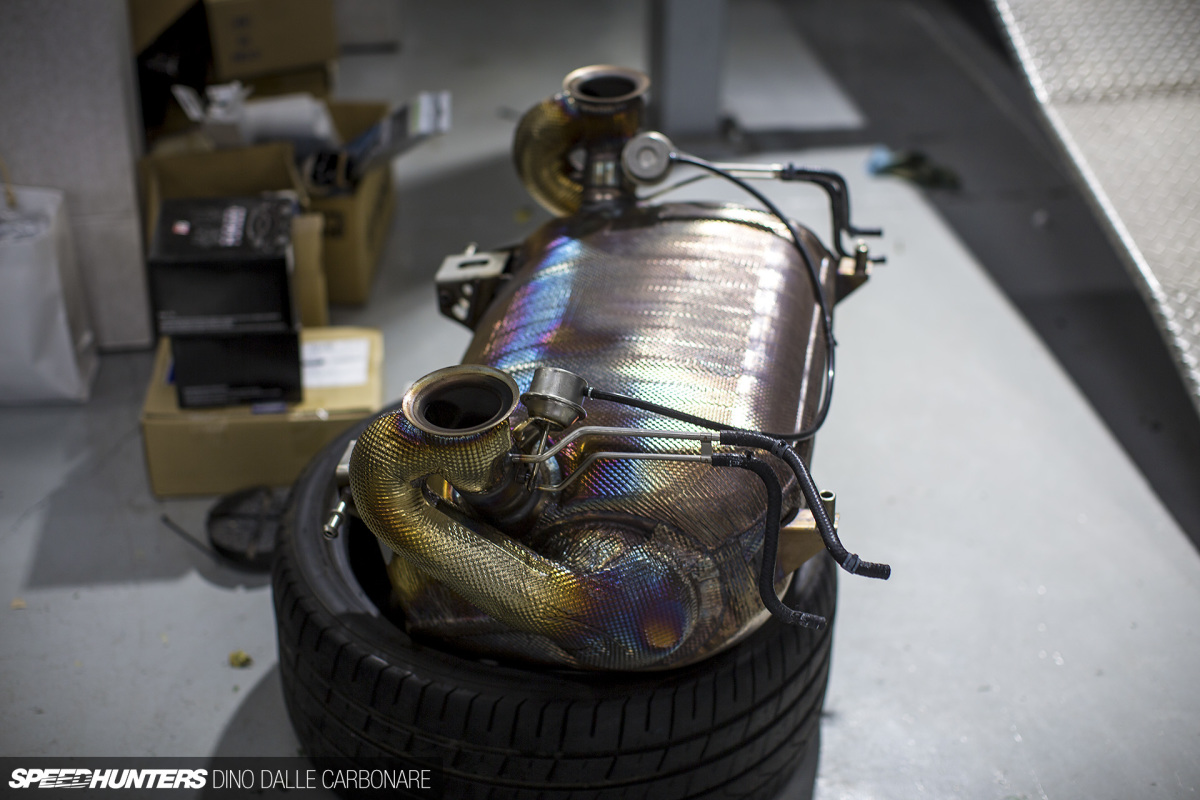 That's once you've removed the stock-valved exhaust which weighs an absolute ton. Dumping this and replacing it with the VB system which weighs in at only 6.3kg helps your SV shed 15kg. It's the welcome effect of switching to a lightweight performance exhaust on any car.
There's already a lot of heat shielding from factory in the exhaust recess, so aside from securing the VB system in place, there's nothing else you need to do.
It wasn't long before the installation was complete and the engine was ready to be fired up for the first test.
There was no way I was going to leave my GoPro at home, but the poor little built-in microphone sure did struggle with the loudness and frequency spectrum it was being bombarded with. It was the same for me – one backfire almost gave me a heart attack!
Out In The Open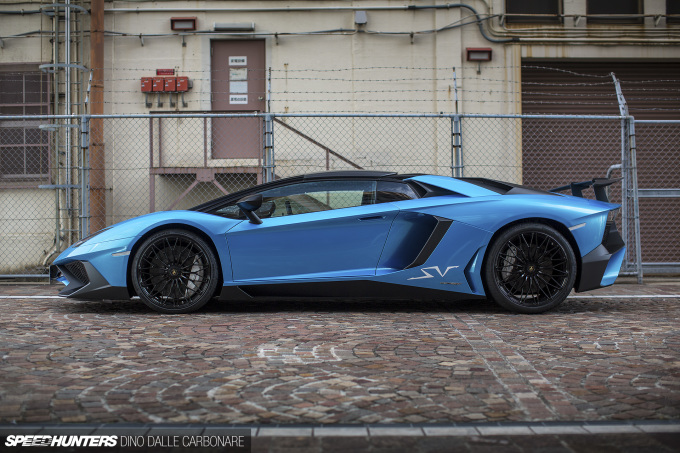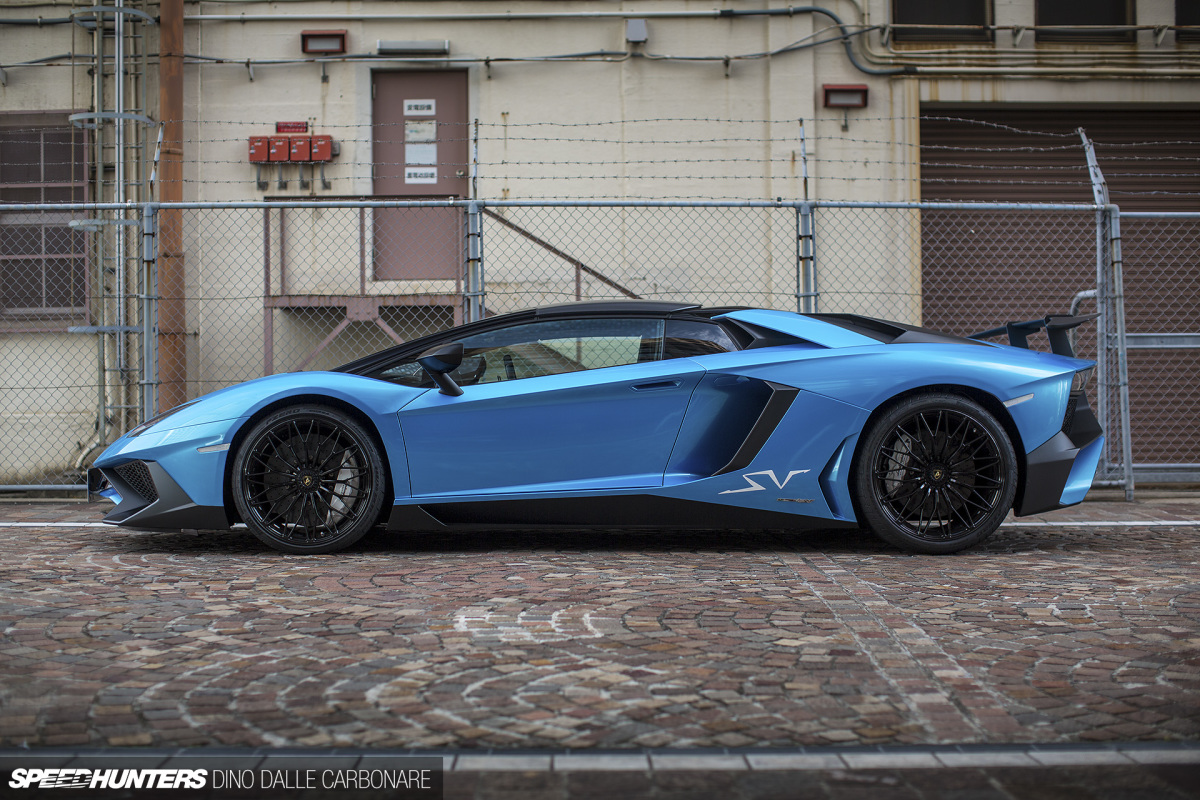 Hearing a freshly-fitted exhaust being revved to the point of giving you palpitations is all well and good, but I wanted to hear this SV out on the streets of Tokyo. I wanted to see what the exhaust looked like with the rear bumper in place and just marvel at these two unique and rare pieces of mechanical art being combined together.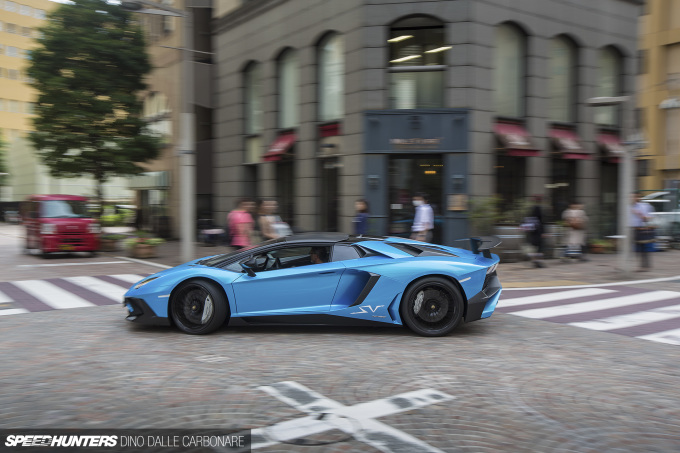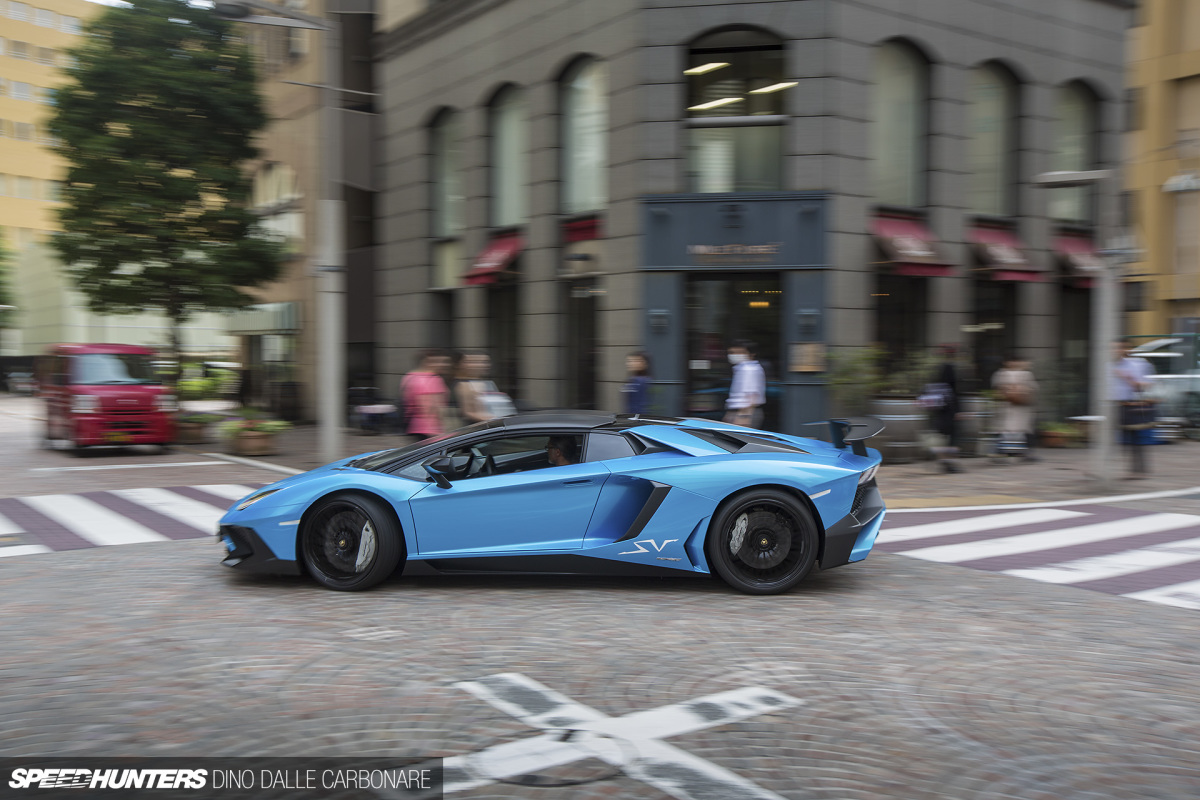 Months actually ended up passing before the owner found some time to meet me. But that's okay; it gave the weather a chance to warm up and allow us to find a decent spot in Tokyo to shoot, and most importantly, hear the car.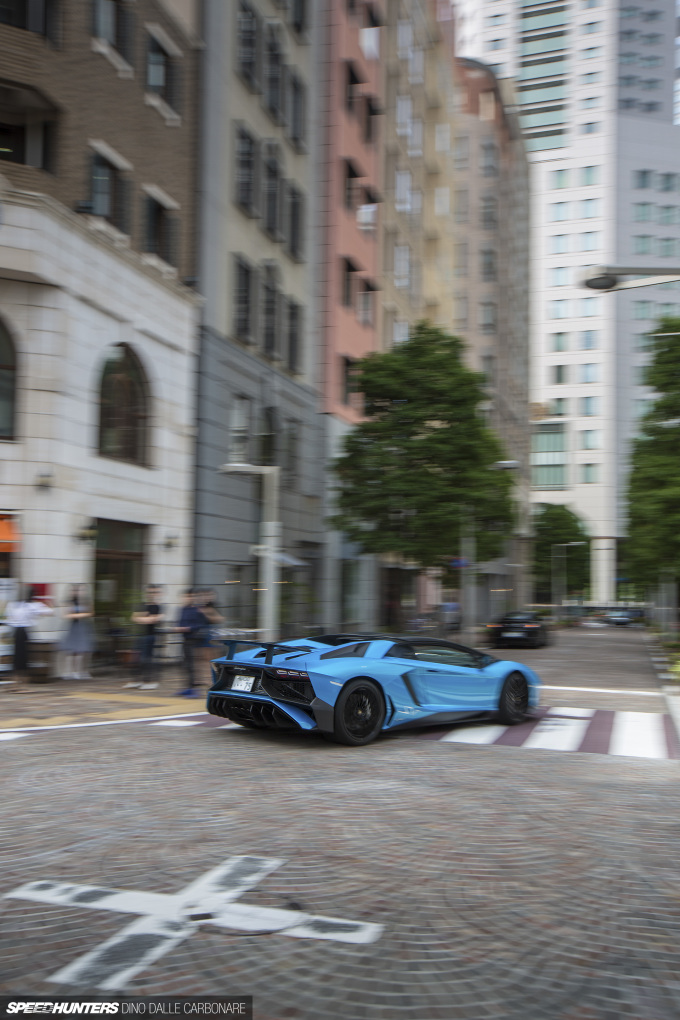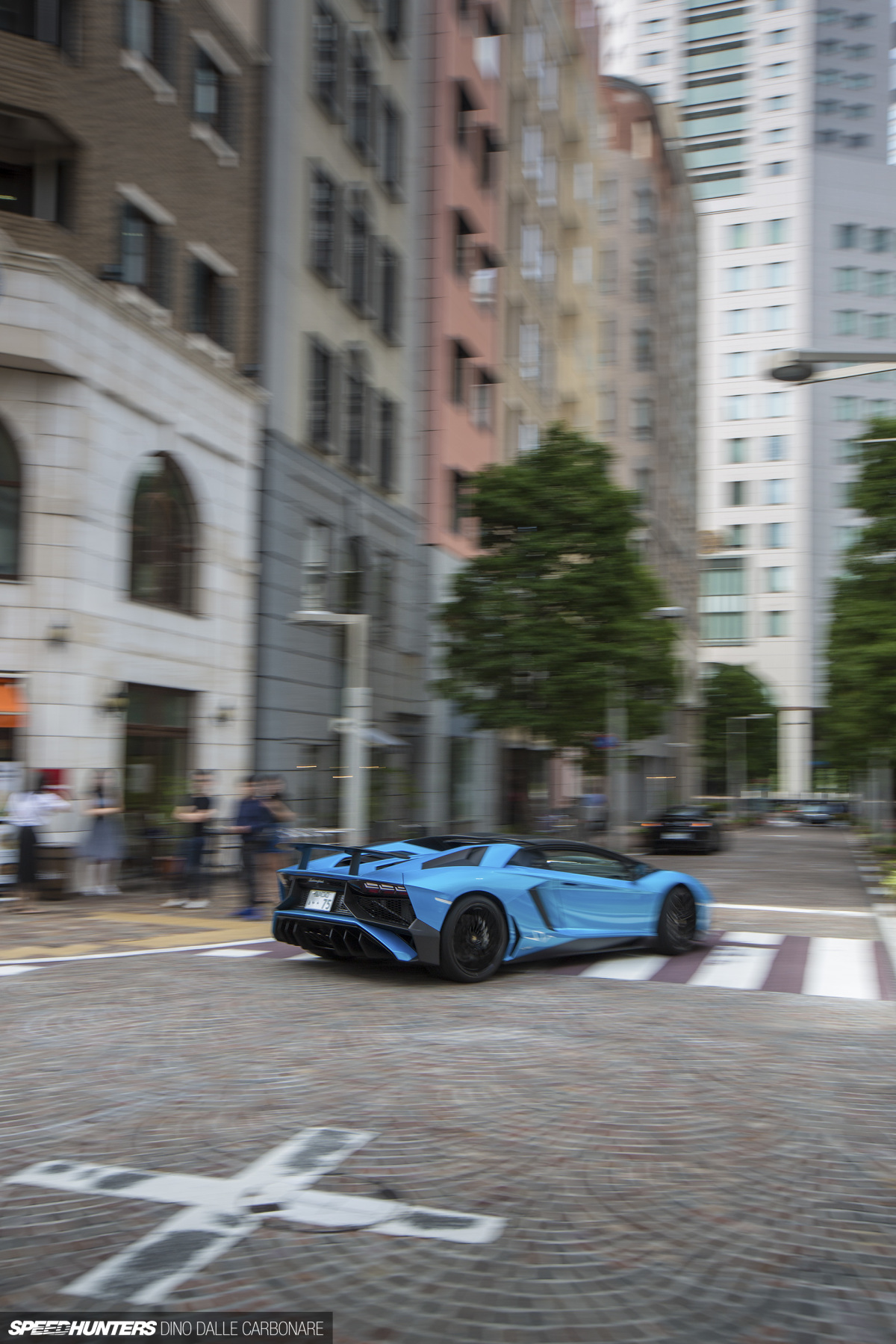 As you've seen from my video above, the sound is heavily muffled until you actually step on the accelerator. In fact, it's probably just a touch louder than stock. Remember, there are no valves here until you hit the 4,000rpm mark – then the familiar Lamborghini V12 scream takes over.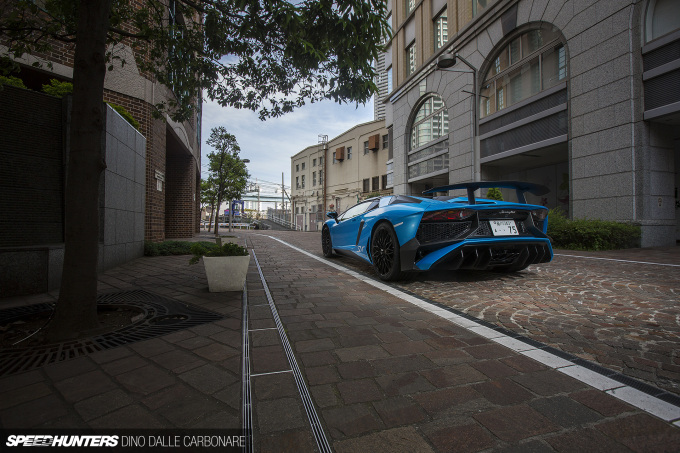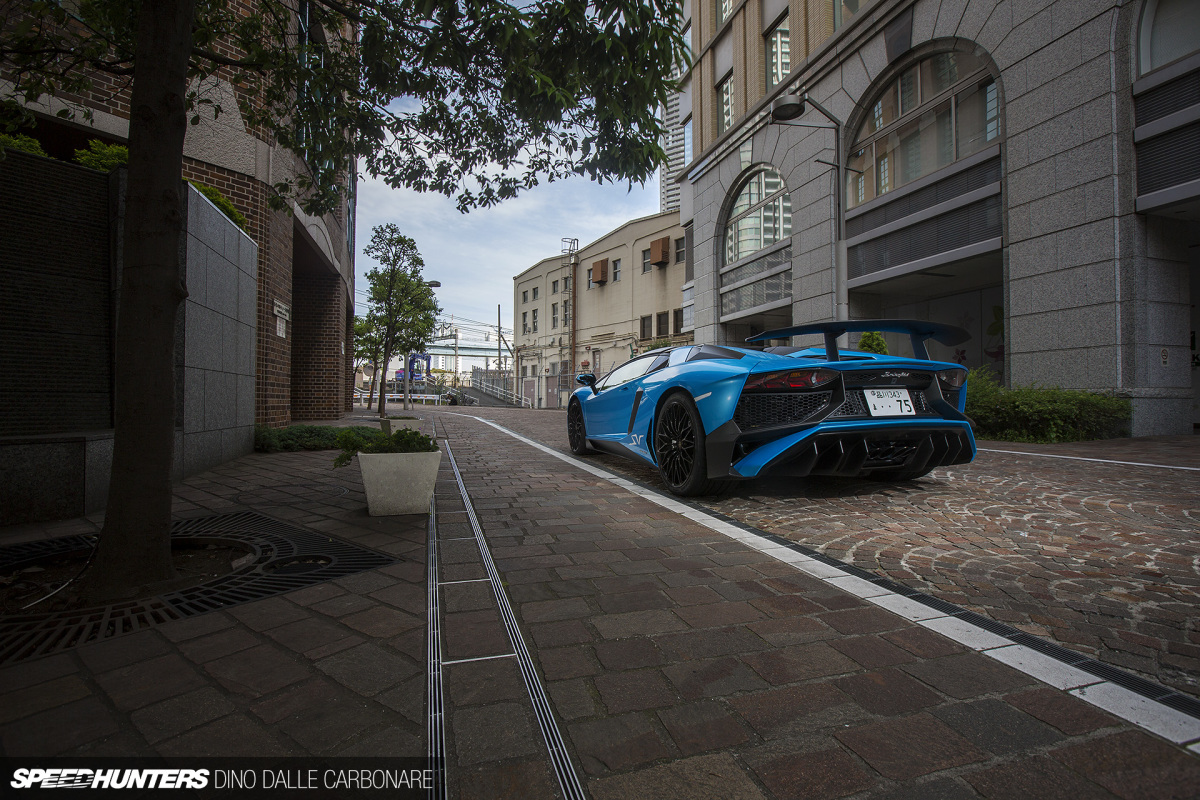 And like its low RPM sound, even the look of the VB exhaust once fitted is also quite discreet.
It sits neatly recessed in the vast opening Lamborghini designed for the center-exit exhaust, the oval-cut pipes elegantly presenting themselves.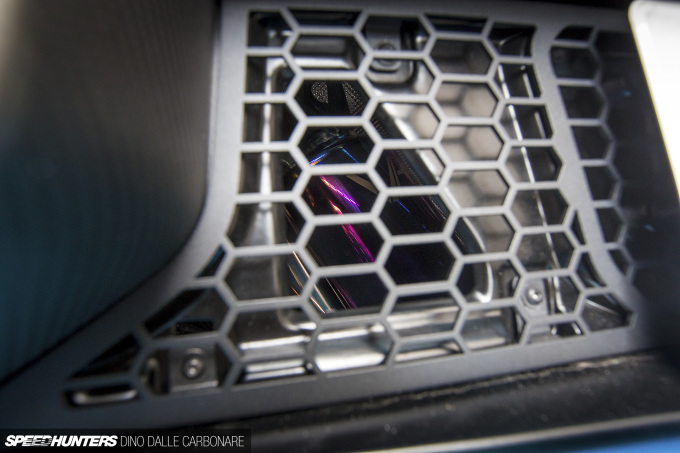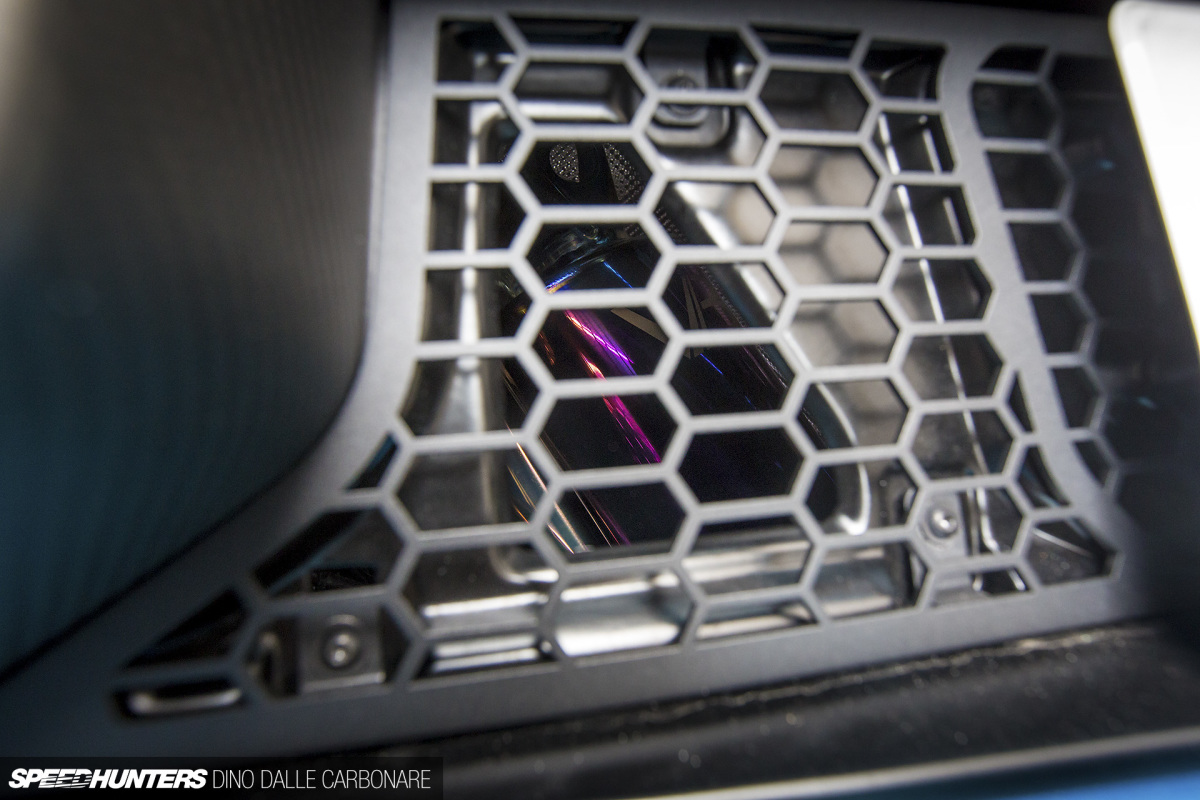 Look through the grilled license plate surround an you can see the purple and blue silencers. Some owners like to remove these grilles to allow for better visuals and potential cooling, but in this case it's been left stock.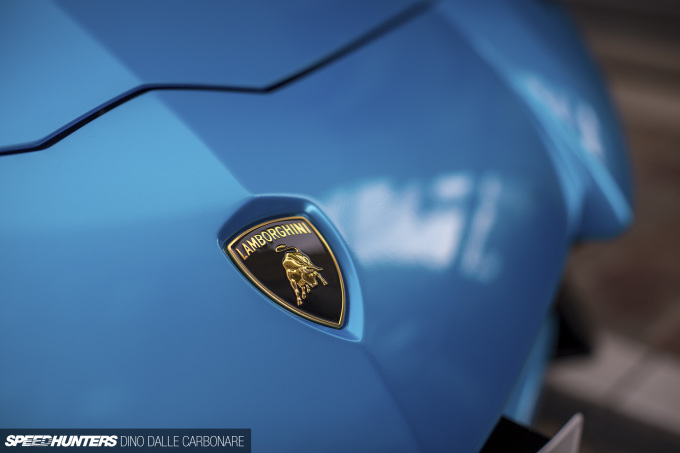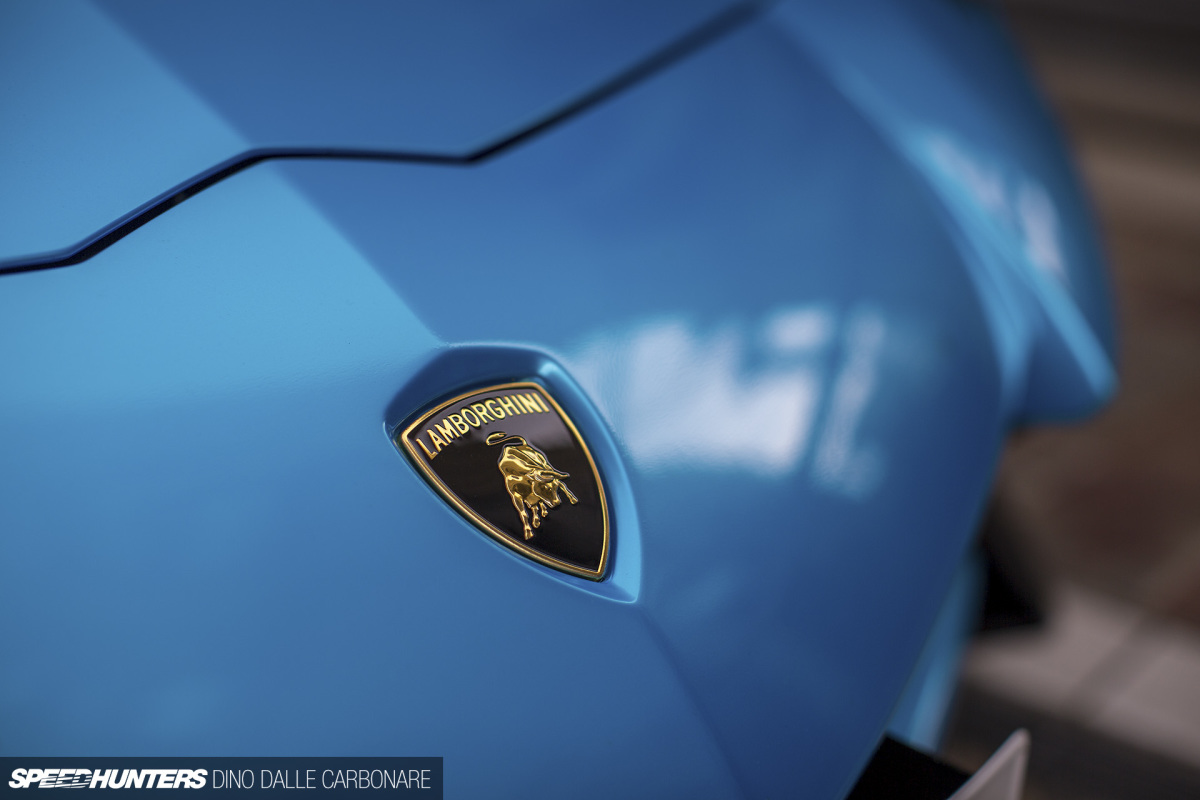 Since I had a few hours to indulge, I took my time getting lost in the details that make this one of Lamborghini's most beautiful creations.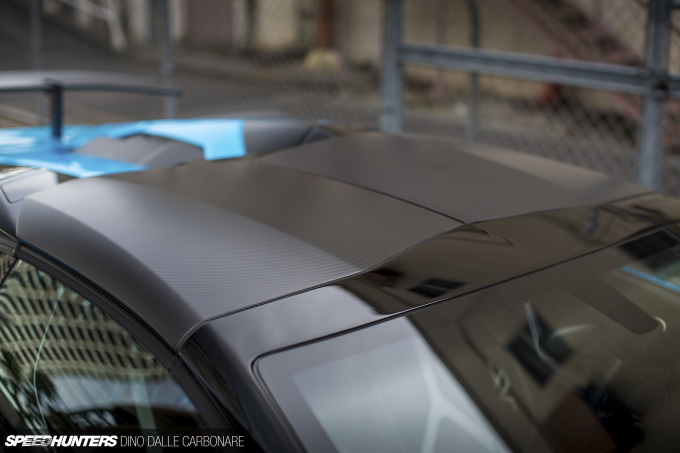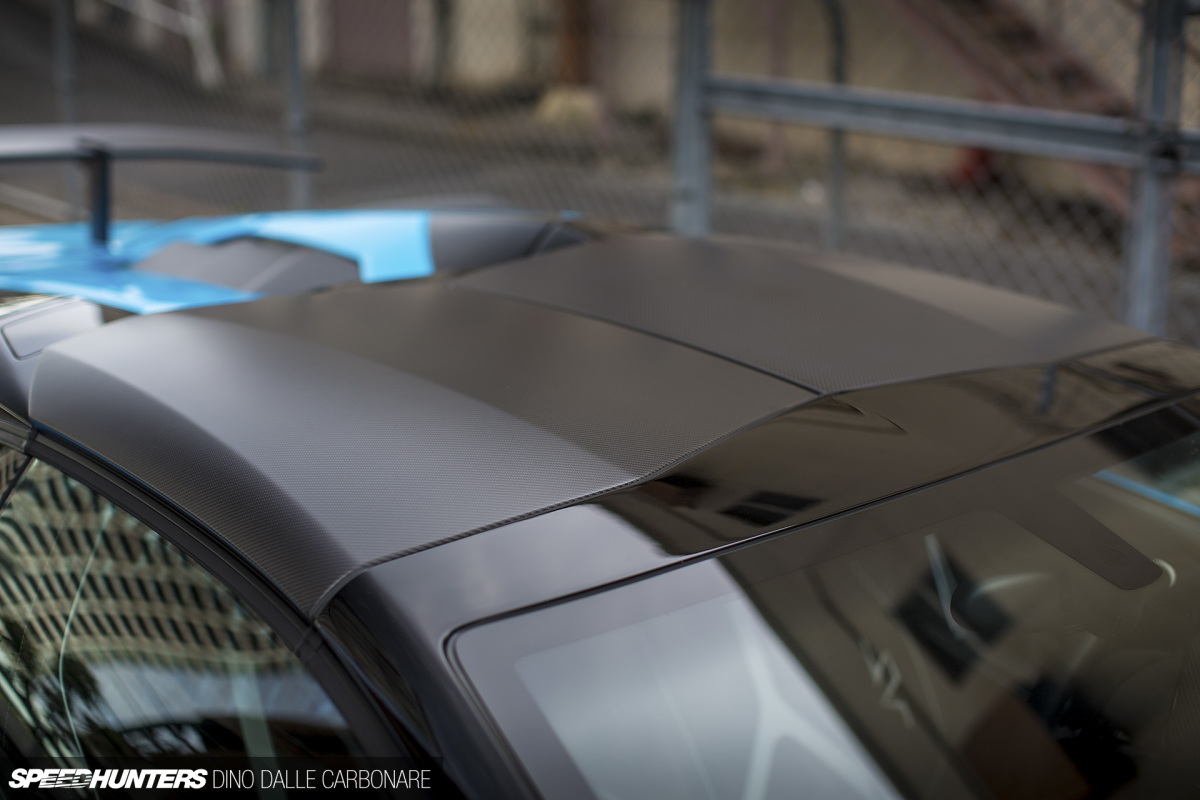 This particular model is a Roadster, one of 500 cars that are being made, sporting a removable 2-piece carbon fiber hard top (6kg per side). Like the coupe SV, it features a number of other carbon parts to help it shed weight, mated to the outrageous 740hp the V12 produces.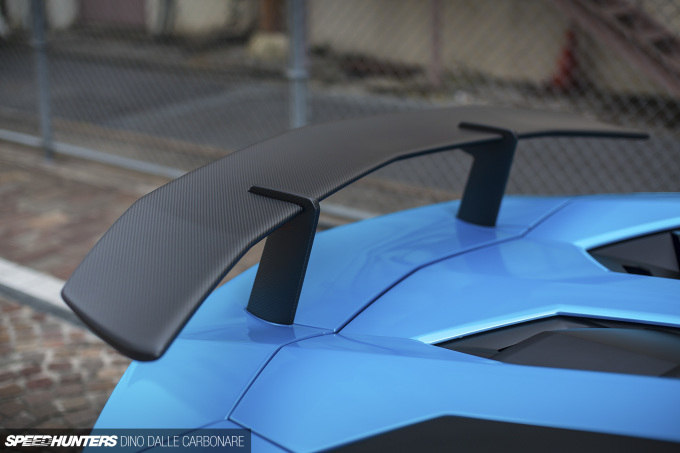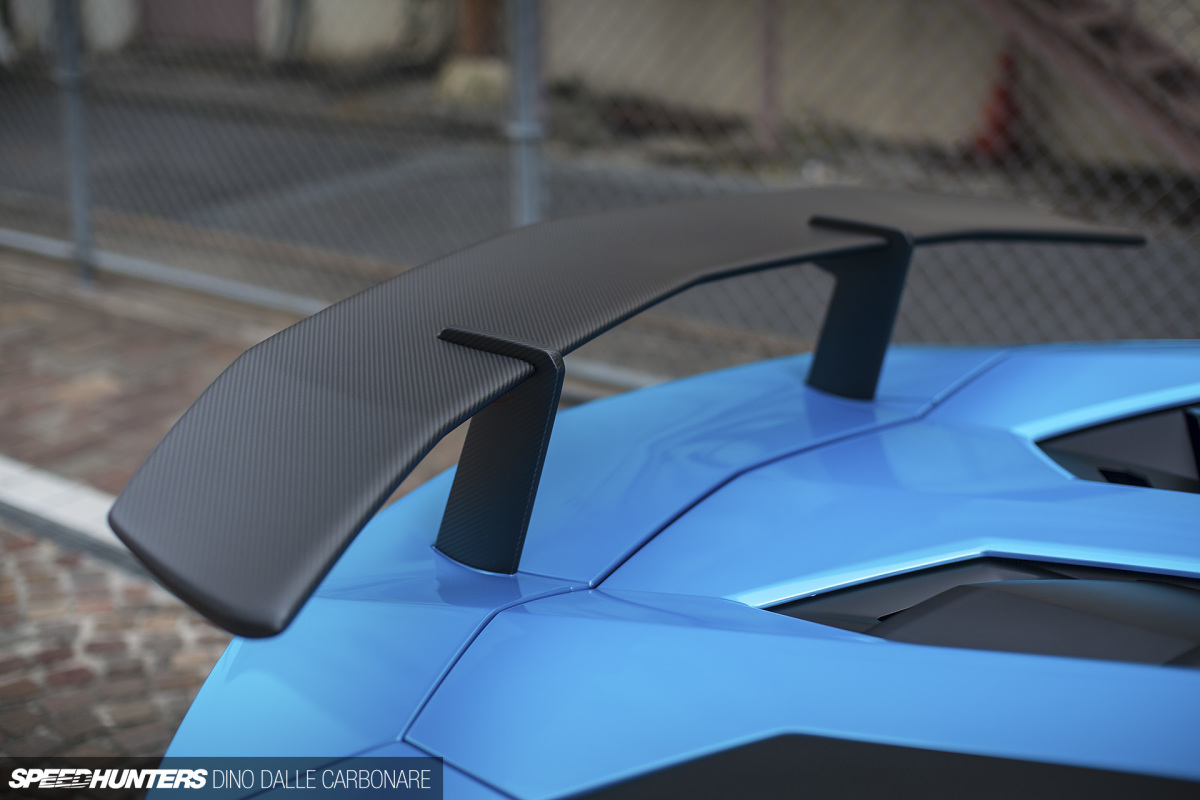 Details also include a fixed carbon fiber rear wing, which contrasts nicely against the candy blue of the vinyl wrap. I have to say, the quality of Lambo's carbon construction is pretty mind-blowing.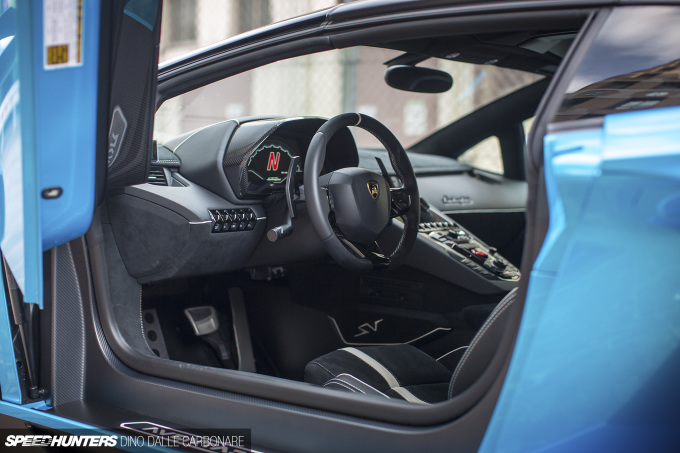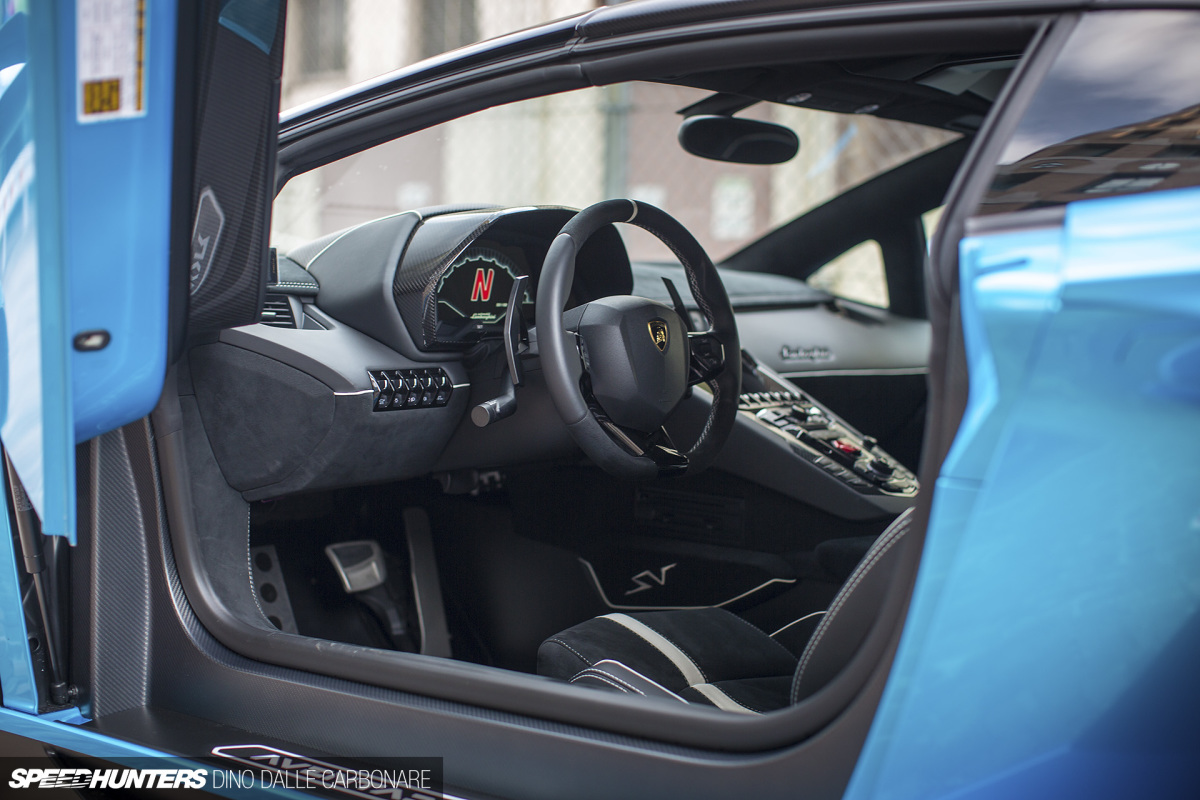 The cockpit is nice and simple with black Alcantara covering pretty much every surface, and what isn't trimmed in the suede-like material is supple leather or carbon fiber.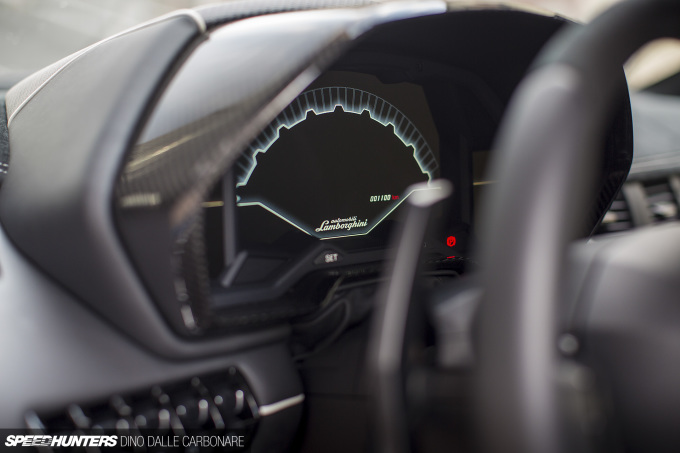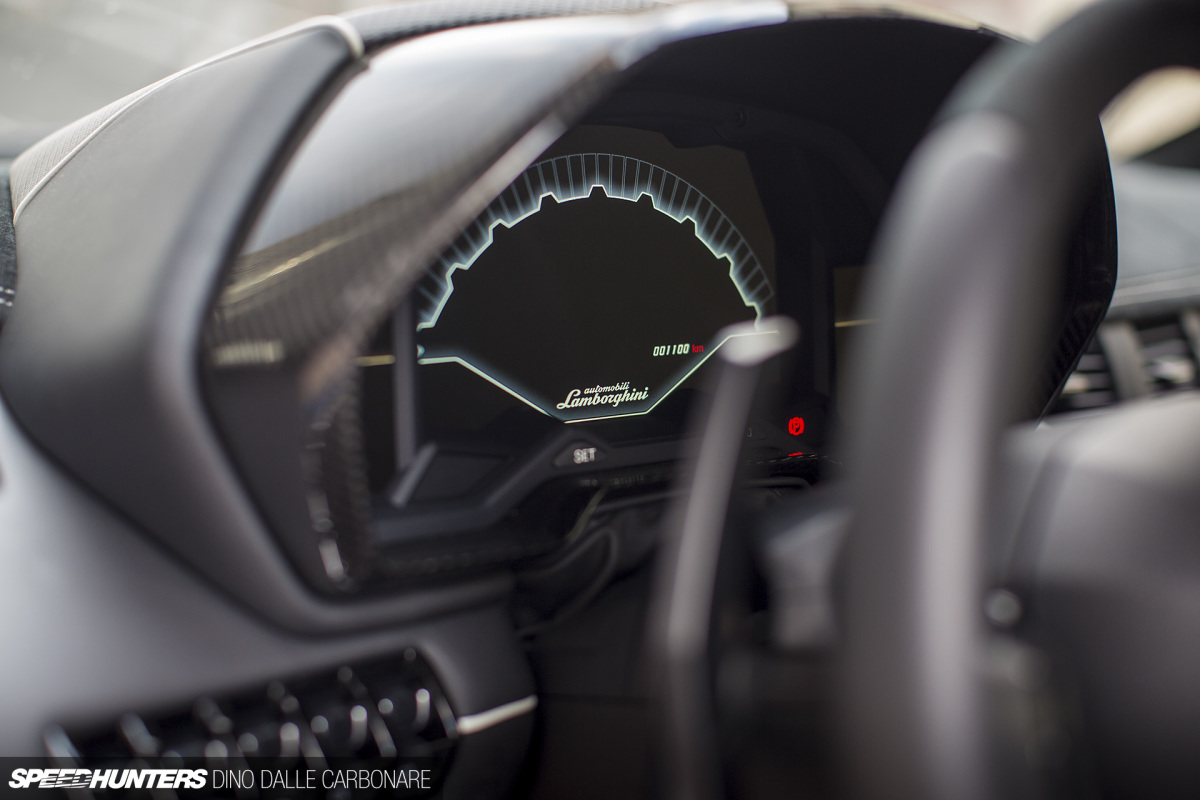 With 1,100km on the odometer this car has barely completed its run in period, but now that it's fitted with the best exhaust money can buy, the owner has no excuse but to go and enjoy it to its fullest.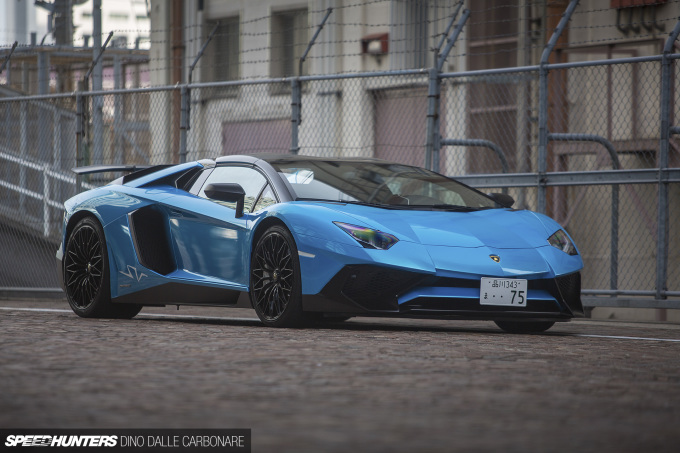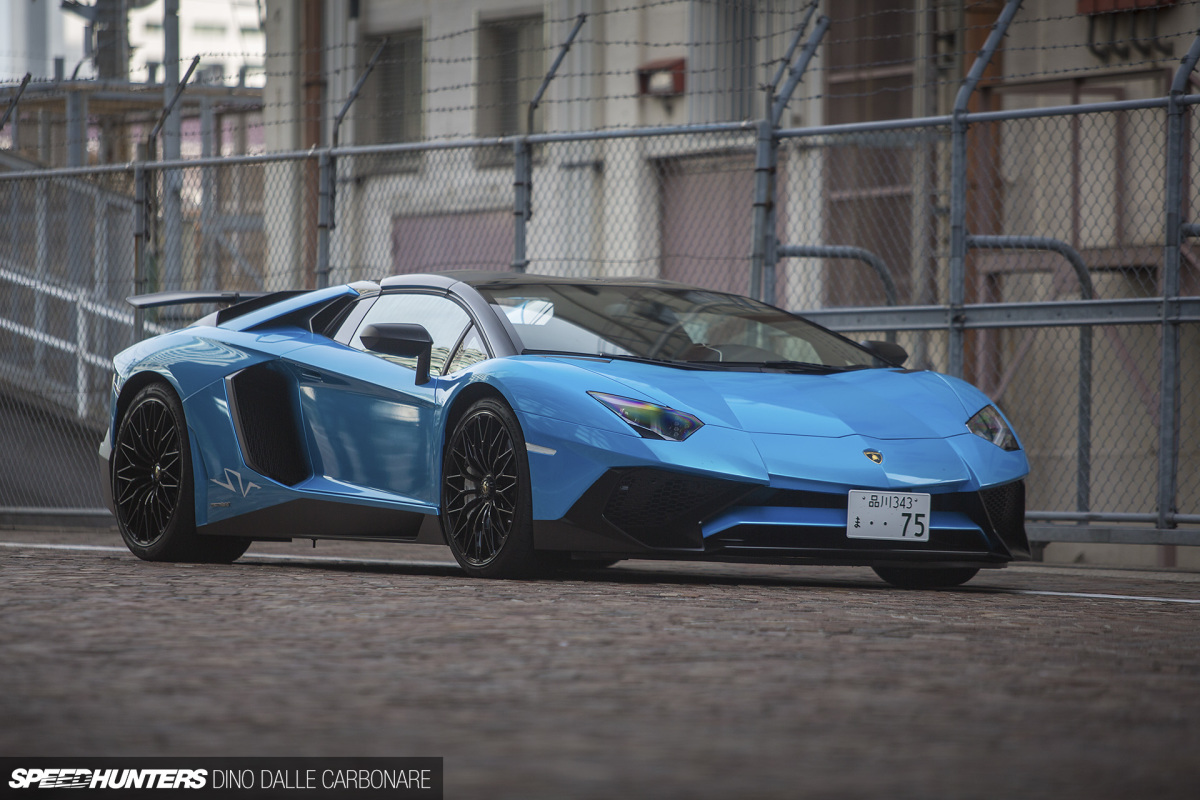 I'm sure a lot of jealous Huracán owners are patiently waiting for the release of something special from the VB stables, even if that may only be offered for the Performante version.
I really hope this isn't a one-off from Valentino Balboni though, because it's important that this level of craftsmanship and beauty continues to be there for those that appreciate it and warrant investing in it. That sound is all you need to hear to justify it all.
Dino Dalle Carbonare
Instagram: speedhunters_dino
dino@speedhunters.com