Day 1: Learning How To Rally
The New England Forest Rally (NEFR) has always been one of my bucket list races to attend here in the United States.
I spend my time shooting at Red Bull GRC all season, but rallycross and stage rally are completely different from one another. It's also fairly difficult to attend a local rally as all the national rounds hosted by the American Rally Association (ARA) are really far from Los Angeles. The closest one to me is in Oregon and that's a 15-hour non-stop drive.
Recently though, Toyota invited me along to watch NEFR as factory driver Ryan Millen set out to clinch the 2WD Championship in a RAV4.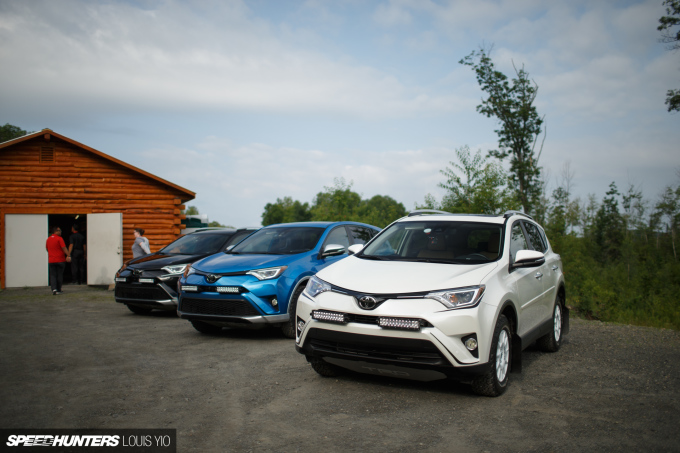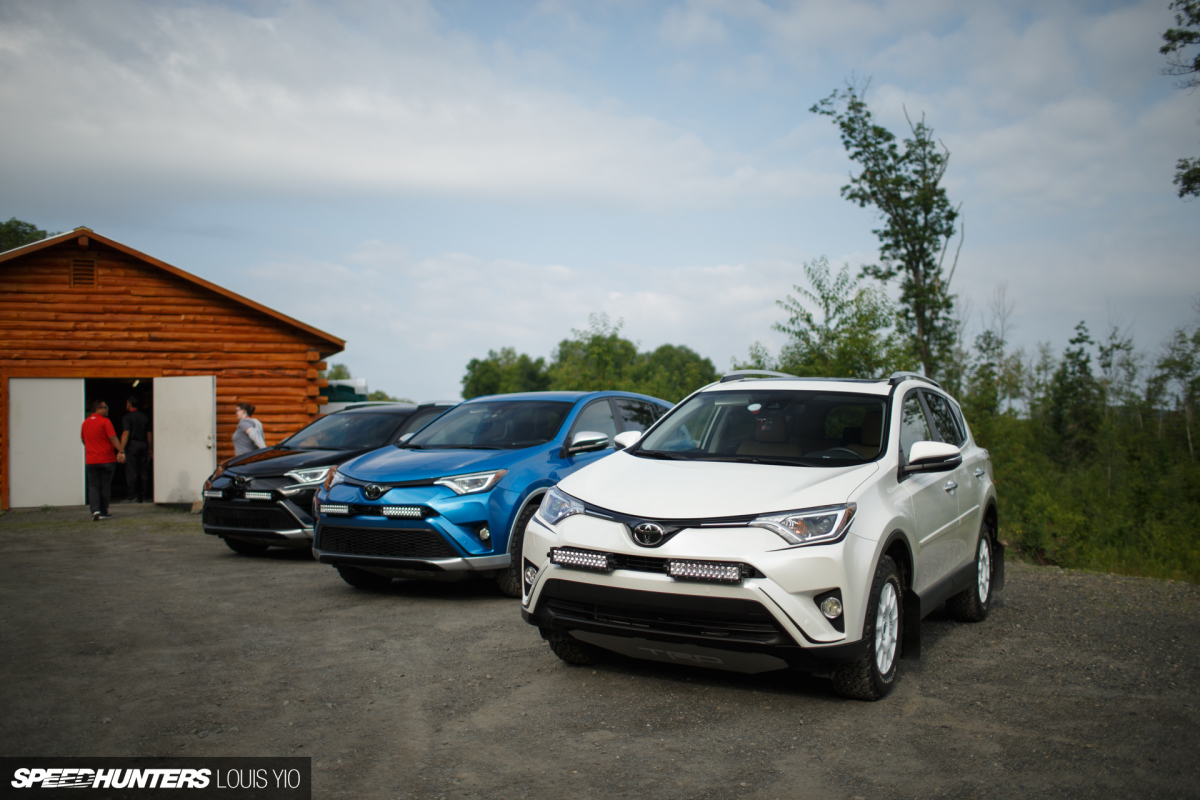 The event was spread over three days. Teams usually spend the first day on recce (reconnaissance) where the driver and co-driver drive through all stages and take pace notes for the actual race on the second and third days. Toyota had us on a different schedule and took us to the famous Team O'Neil Rally School.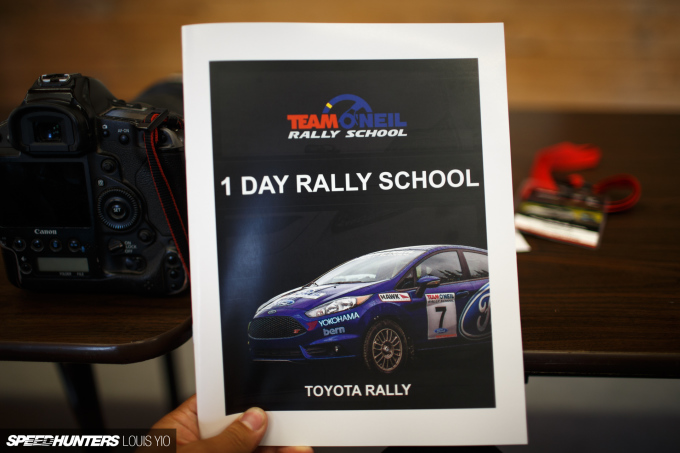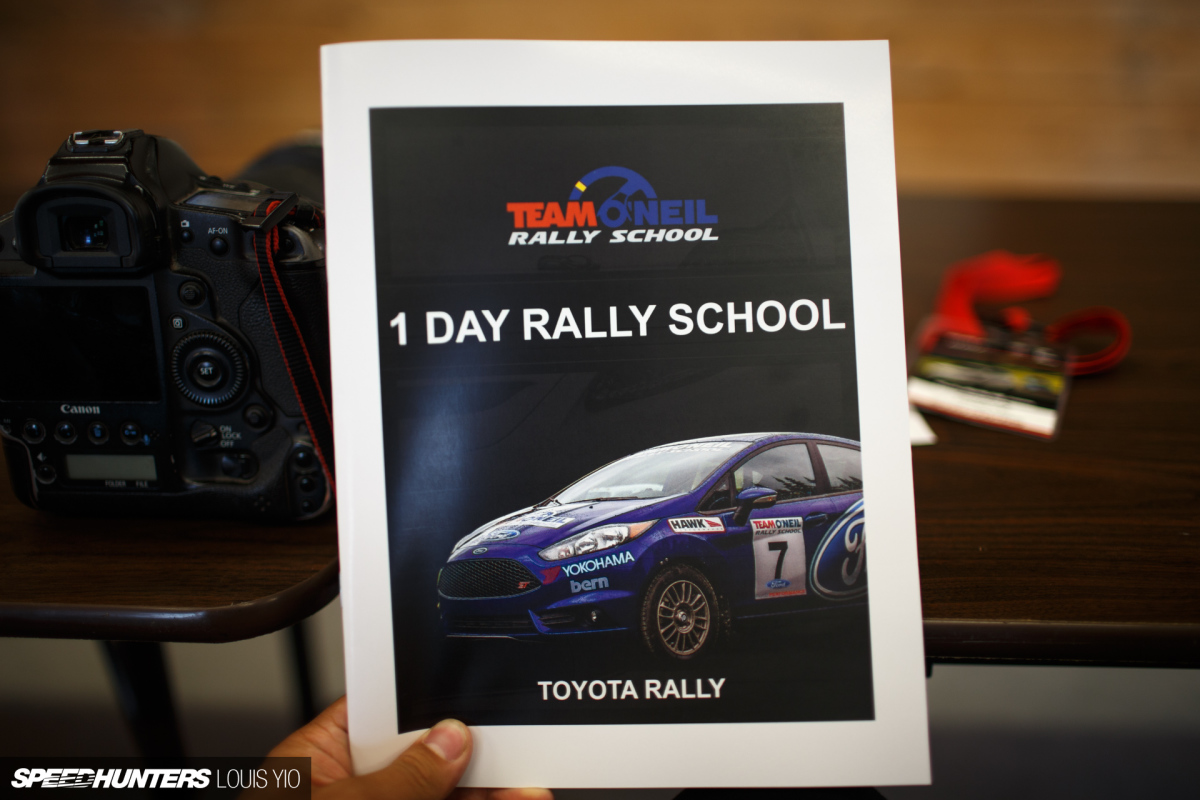 For anyone that doesn't know about Team O'Neil, it's essentially the premier East Coast rally school. With nearly 600 acres of land at its disposal, there are miles and miles of roads for the instructors to train on.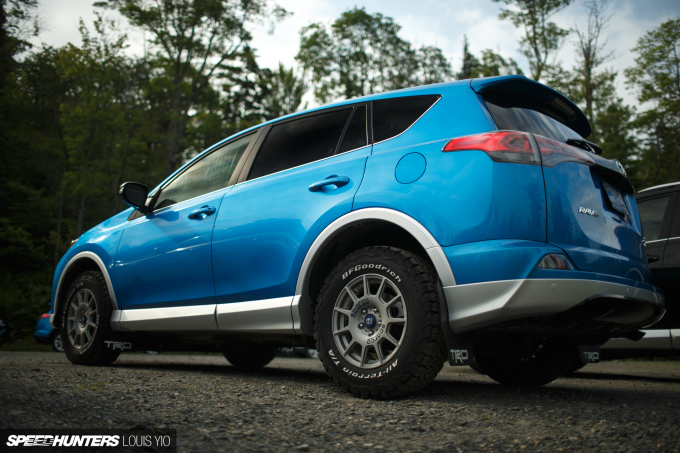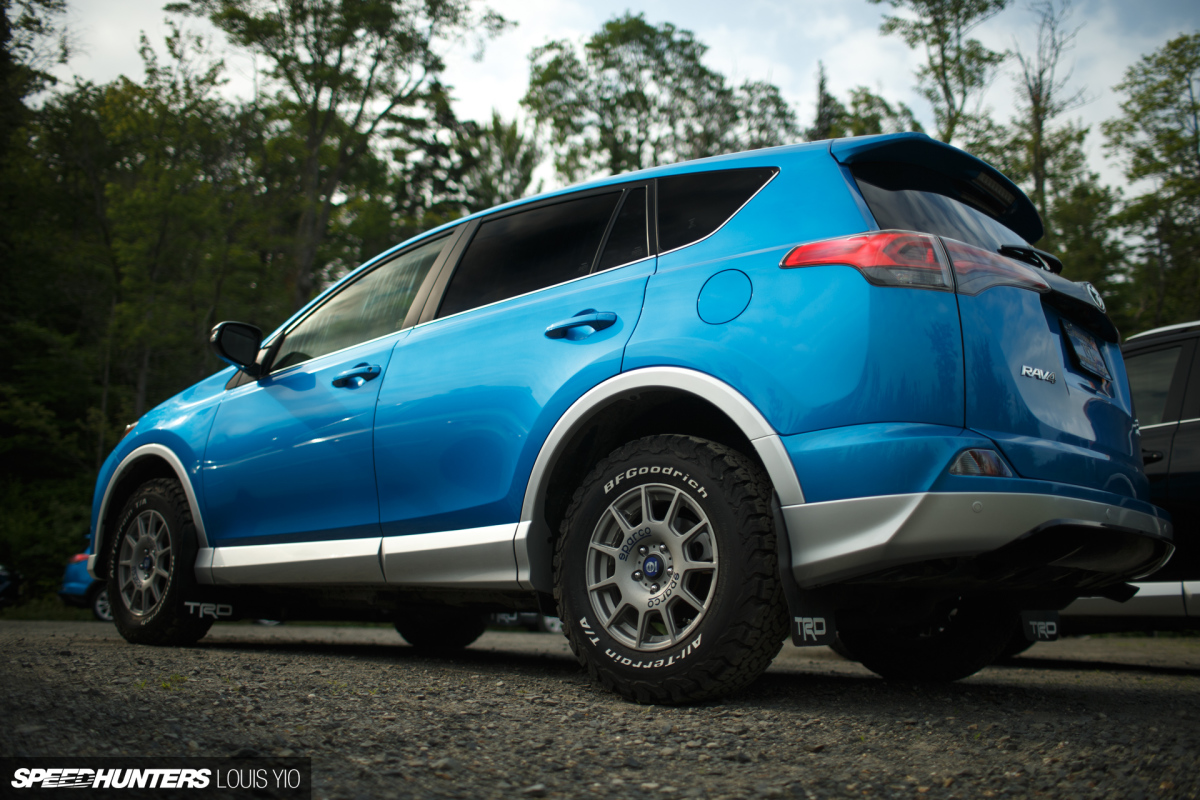 On this particular day, Toyota brought out three rally-prepped RAV4s for us to play with.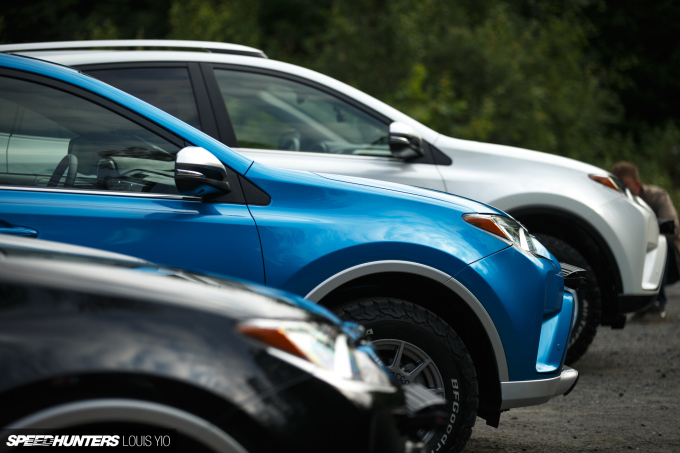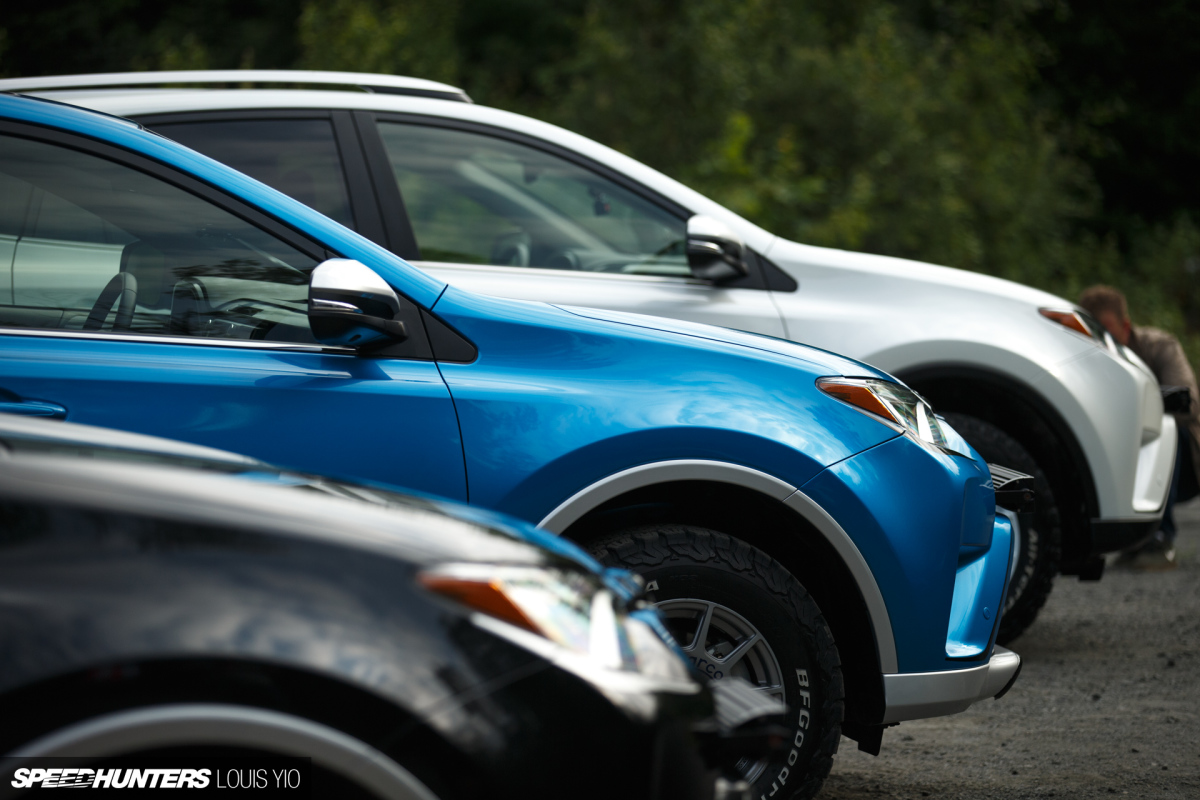 Each one was built differently. The white RAV4 was closest to stock, while the blue one had stiffer suspension and was theoretically the best. The black RAV4 sat somewhere in between.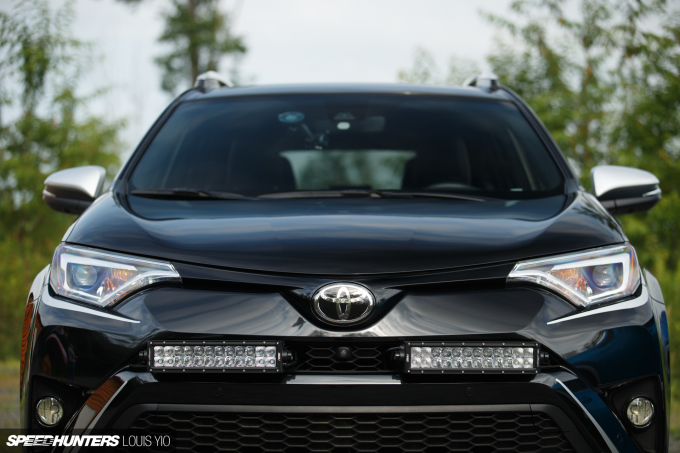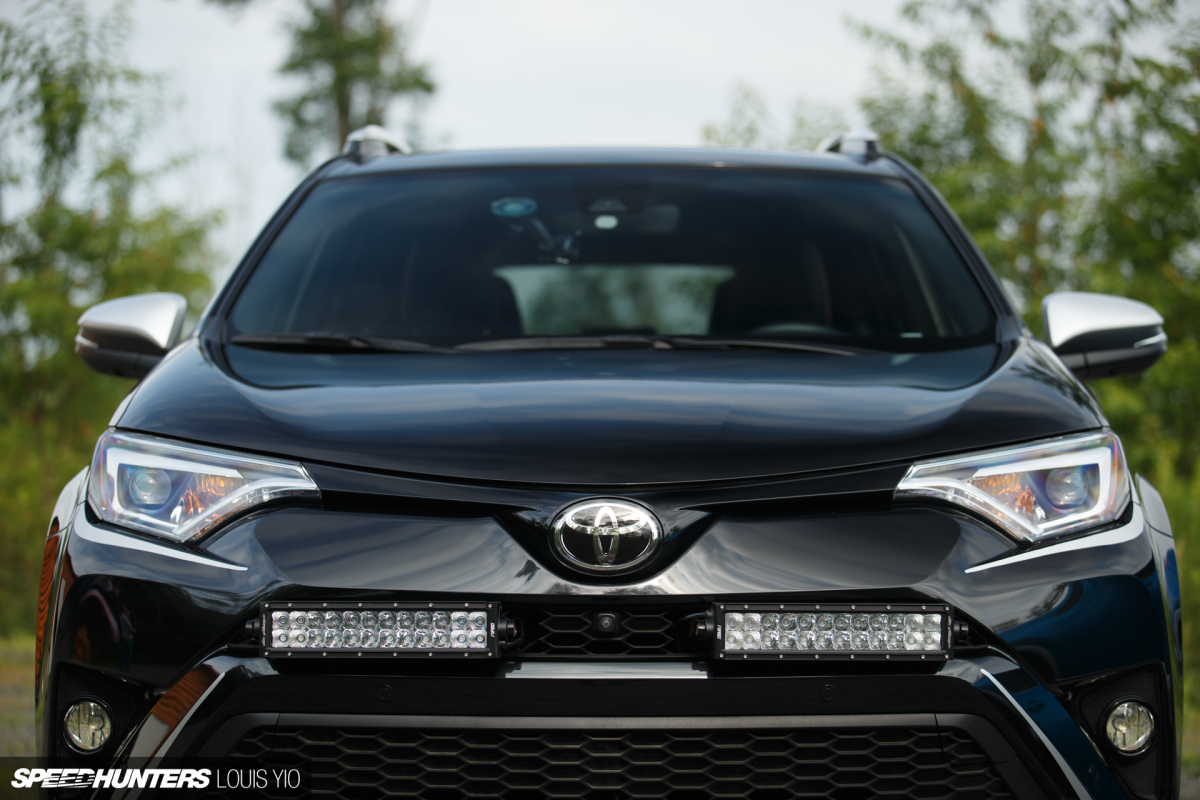 Aside from the fat BFGoodrich T/A KO2 tires, Sparco Terra wheels, and suspension bits, Toyota also added some neat LED light bars.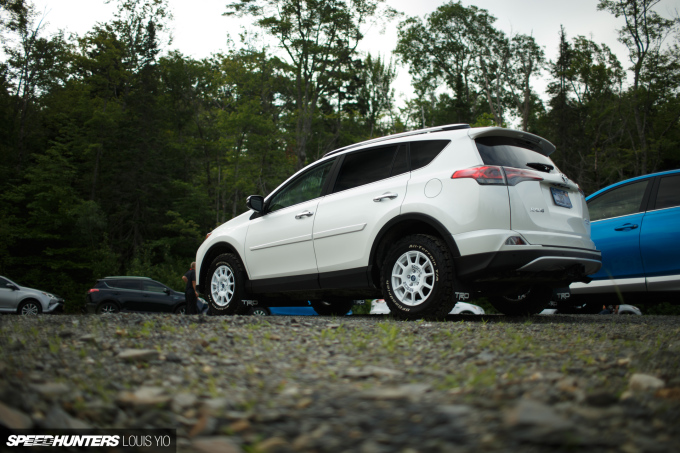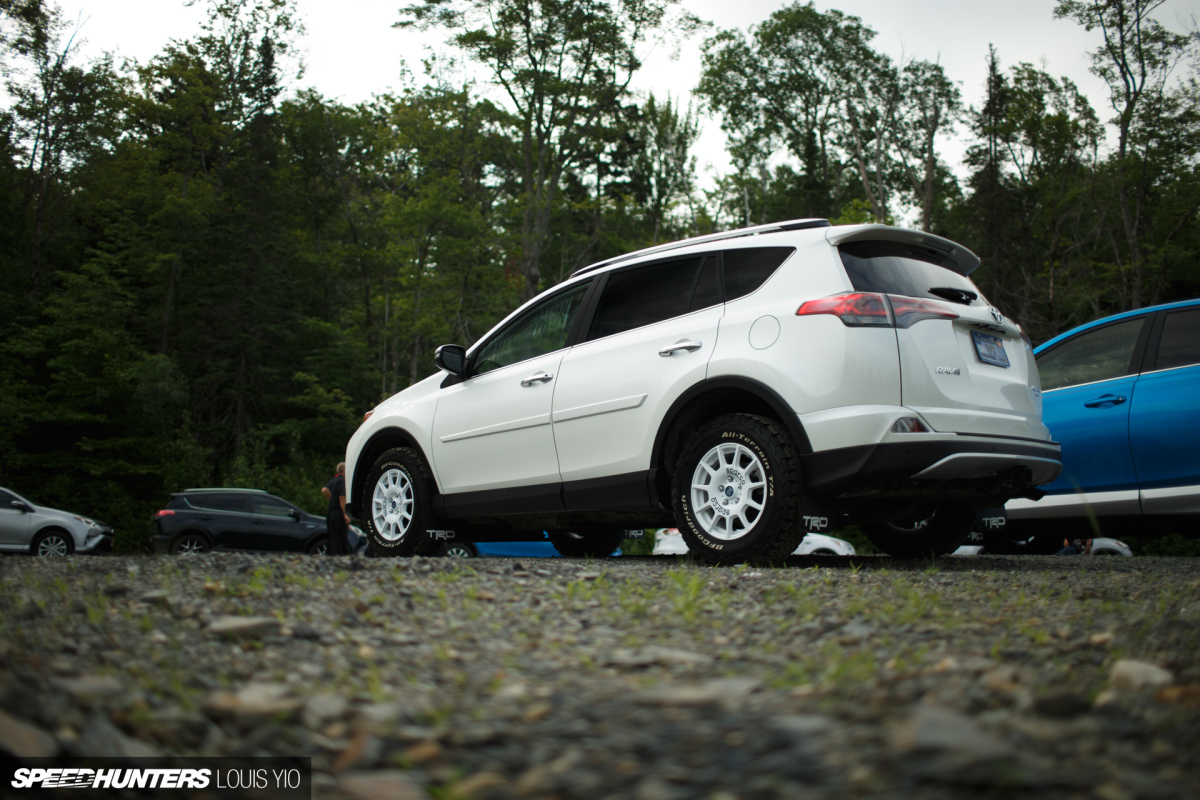 The rally school was split into three parts. The first part took place on the skid pad where we took turns driving in circles. While it sounds simple, this was for us to get used to left-foot braking.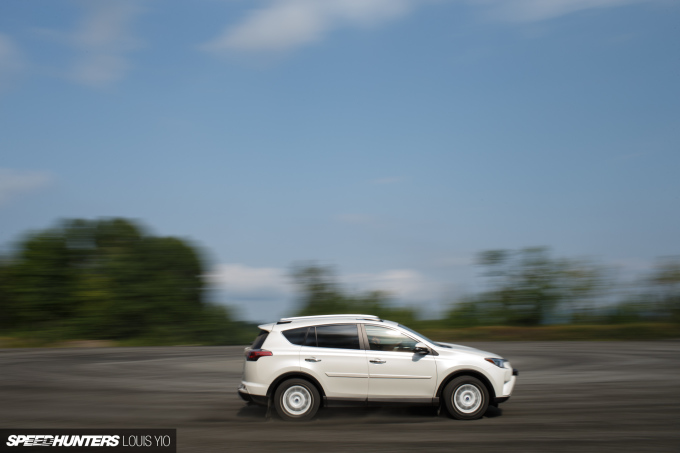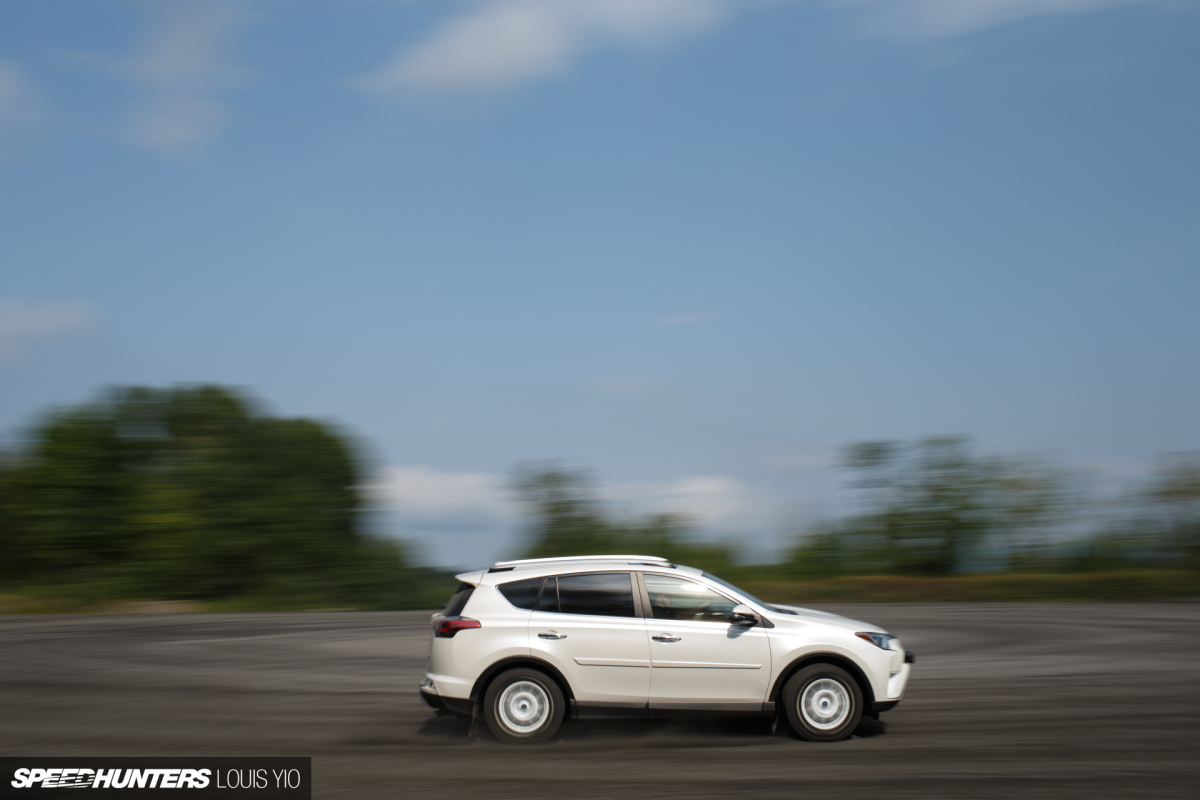 Braking with the left foot did multiple things for us: shift the weight of the car from rear to front; steer the car with the shifted weight now directly above the front tires (therefore giving the car more grip); and induce a subtle and controlled oversteer on gravel.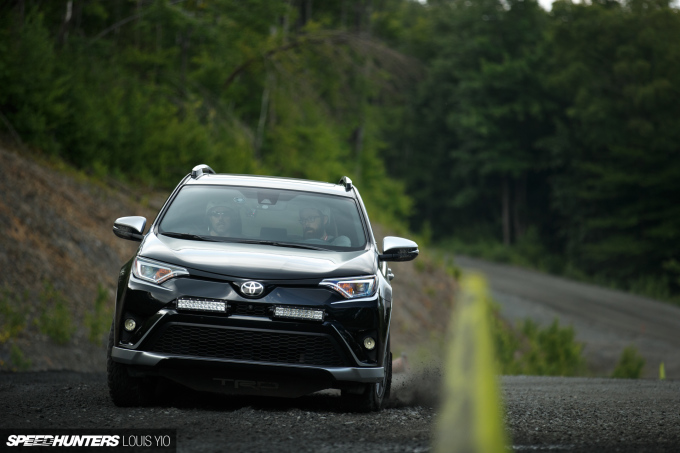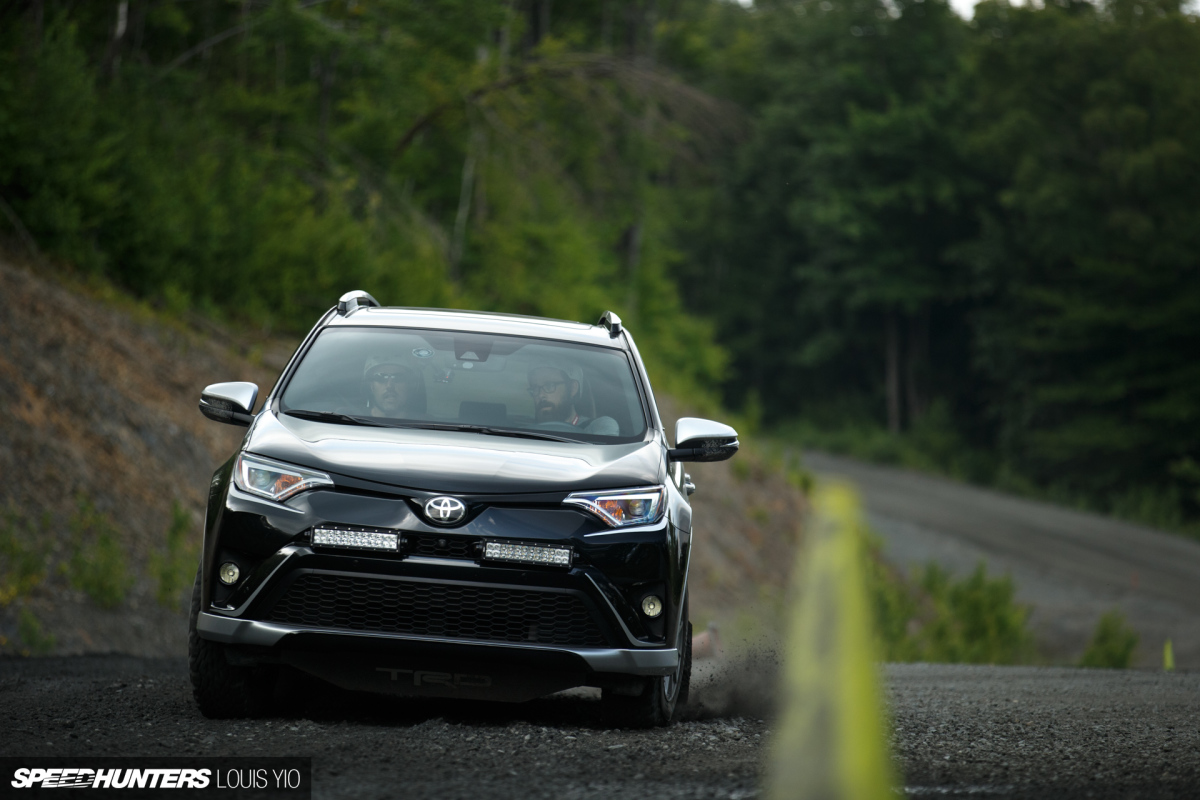 We then took what we learned from the skid pad and applied it to the second part: a simple slalom that the O'Neil guys had set up. The one thing I took from this above all else was to turn before braking. It sounds weird, because we're taught to usually brake hard before attacking the corner on tarmac, right? Things are somewhat flipped off-road, and it took me a good few tries before I fully understood it. We were essentially steering our RAV4s with our brakes; tapping the brakes mid turn would shift the weight up front and let the, now loose, rear end slide out just a bit. I wouldn't rely on this method when going from 80mph into a tight hairpin, but it worked for the slalom course we were running at 40mph.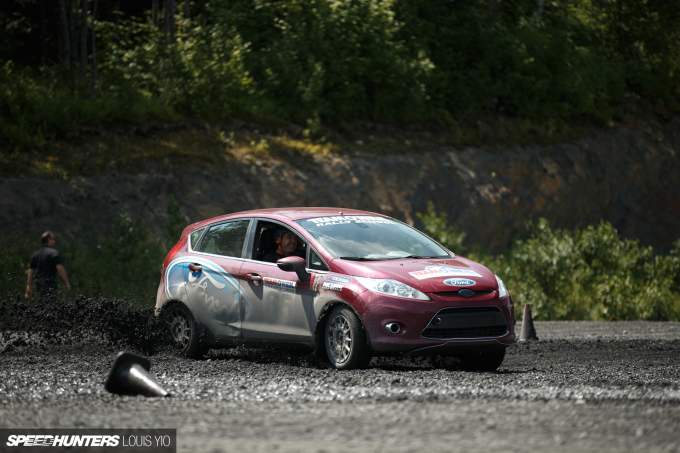 The O'Neil instructors also brought out their school Ford Fiesta so we could hone our technique a little more. It definitely helped me out and boosted my confidence for when I stepped back into the RAV4s.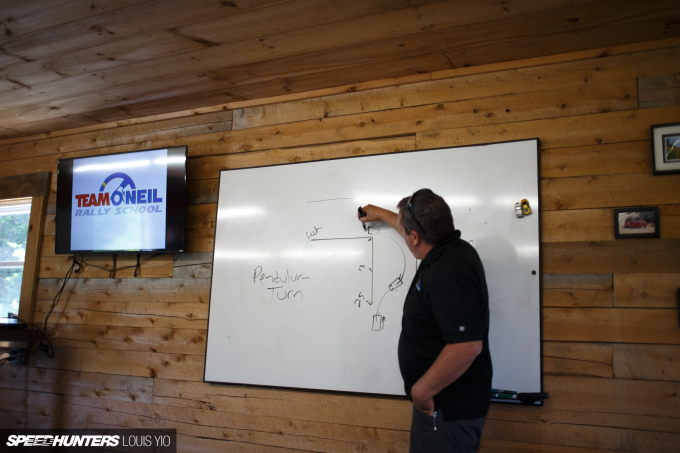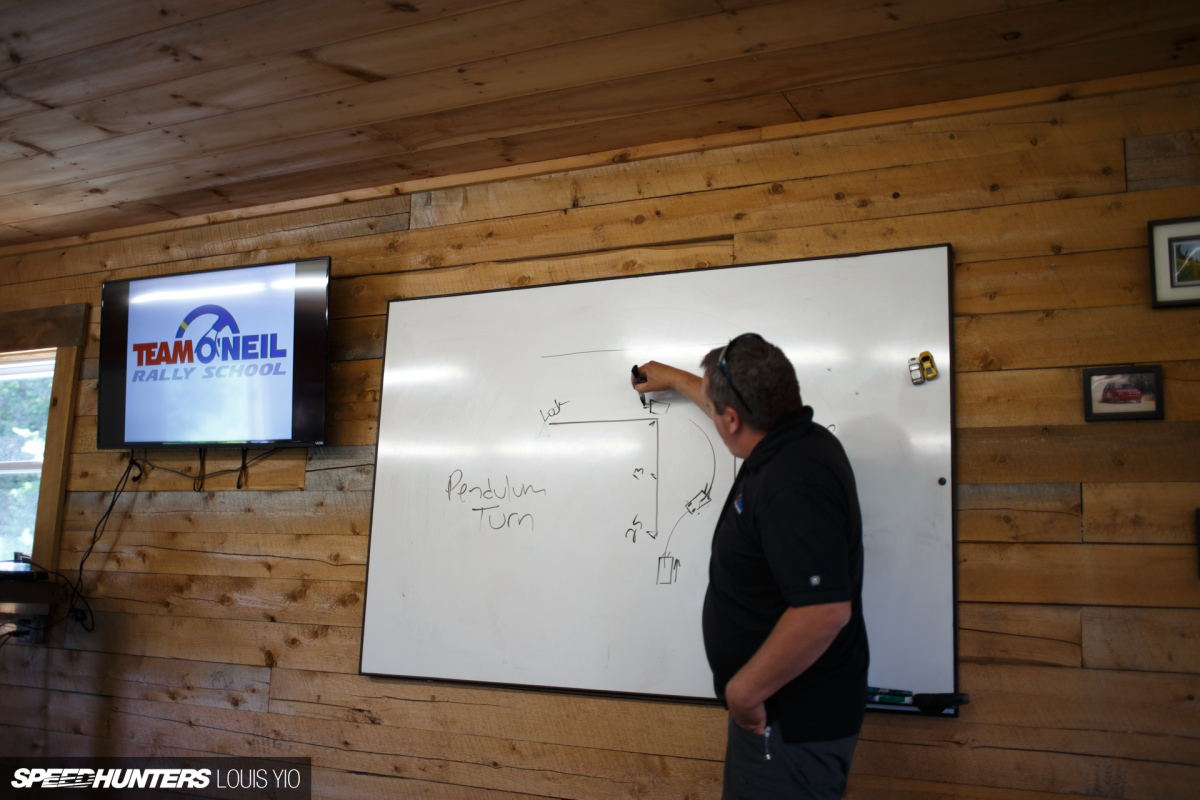 The third part of the course was the pendulum turn, AKA the 'Scandinavian Flick'.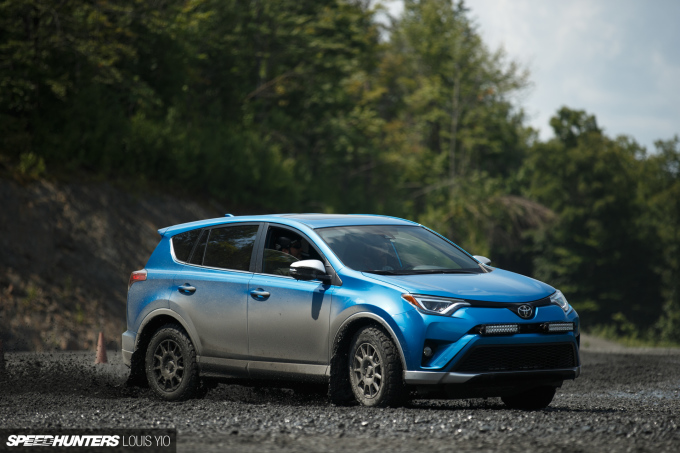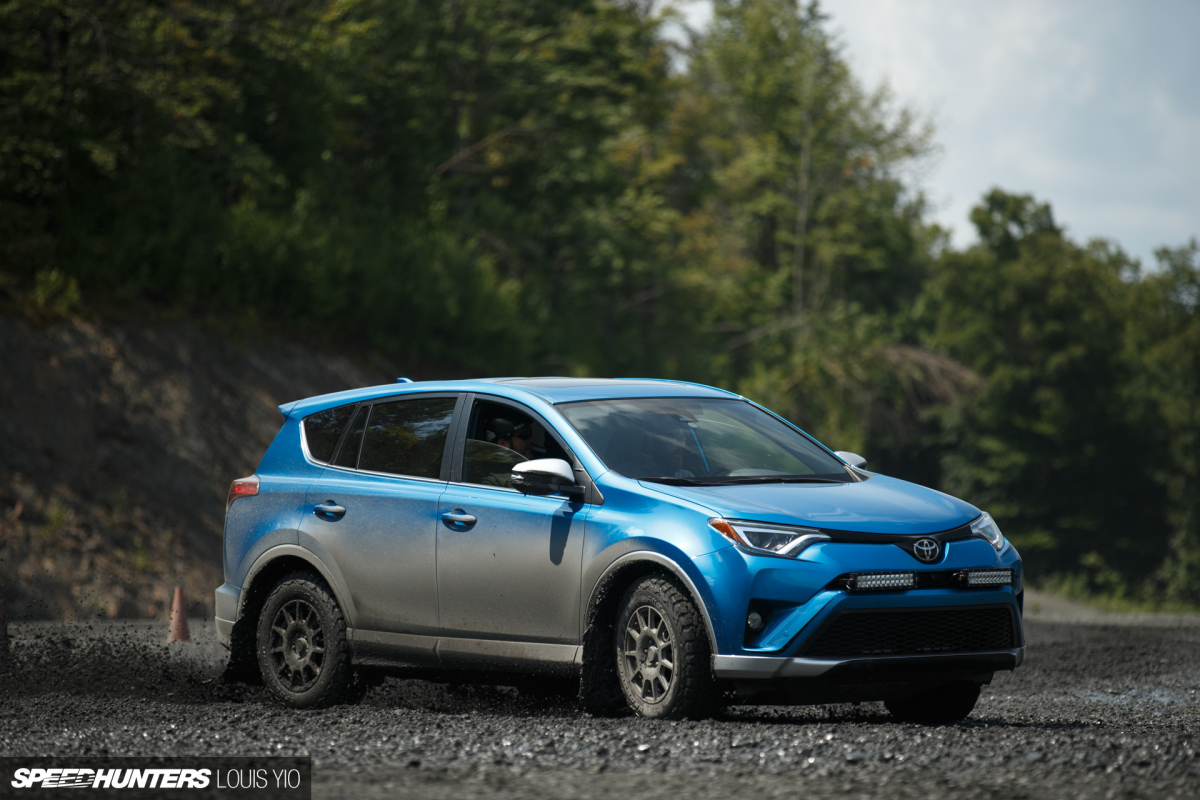 Coming from the world of drift, I was most excited about this part of the training.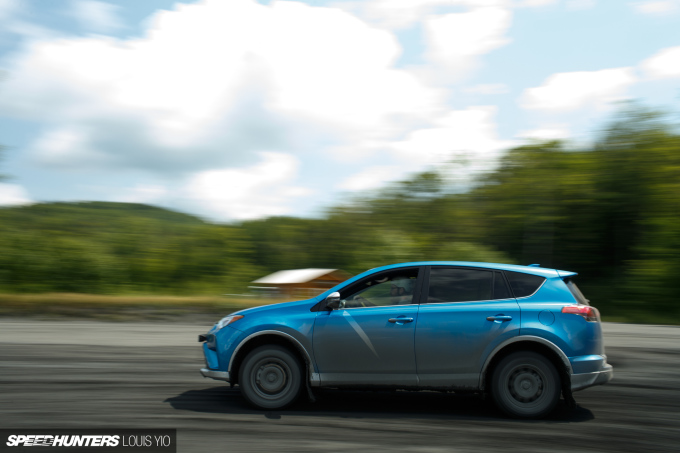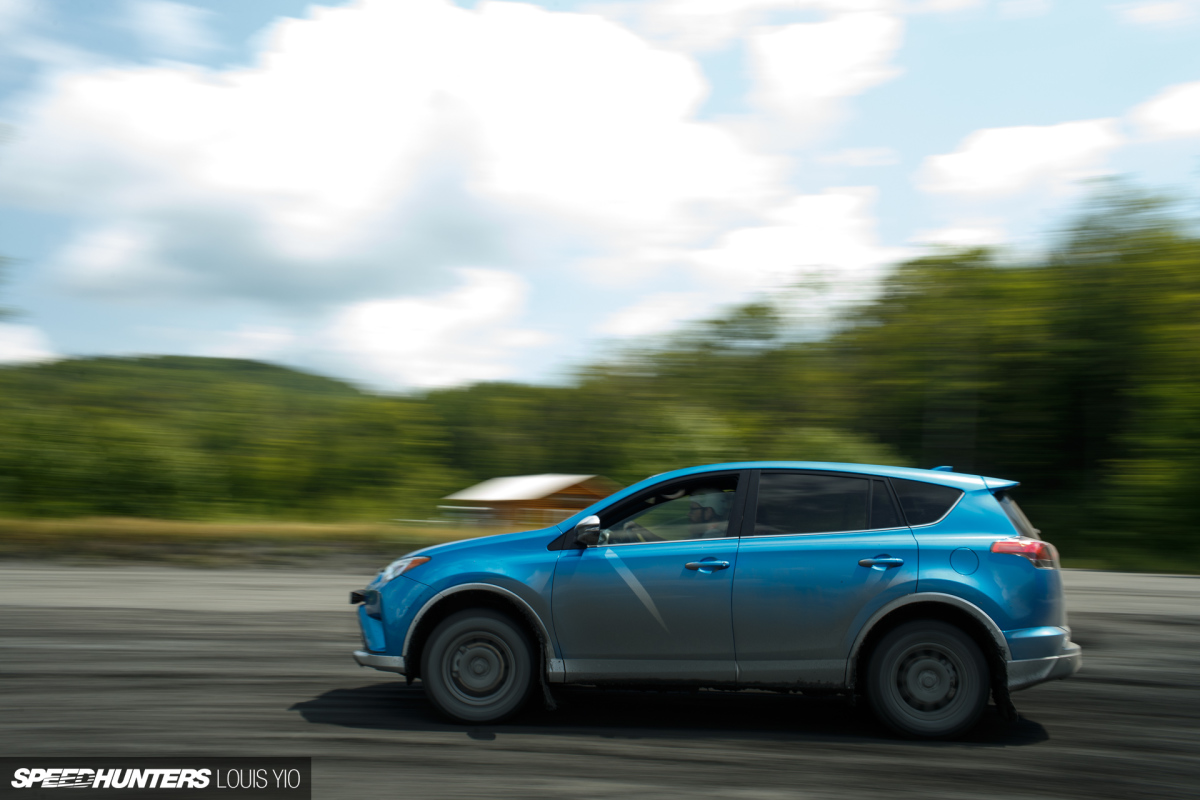 The point of the flick is to essentially build up momentum to amplify your actual turn when you whip the car back around.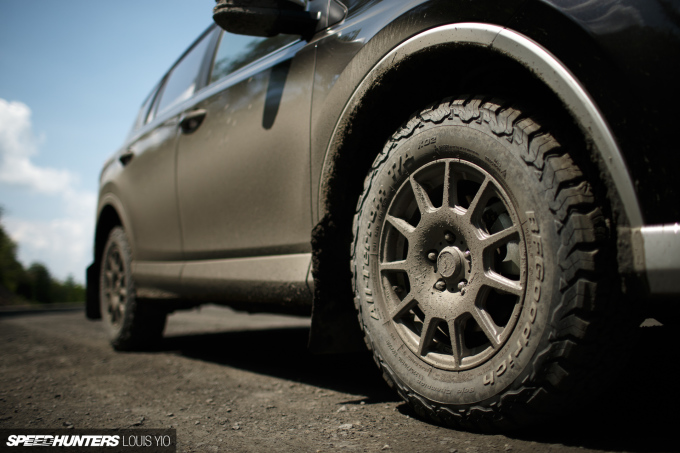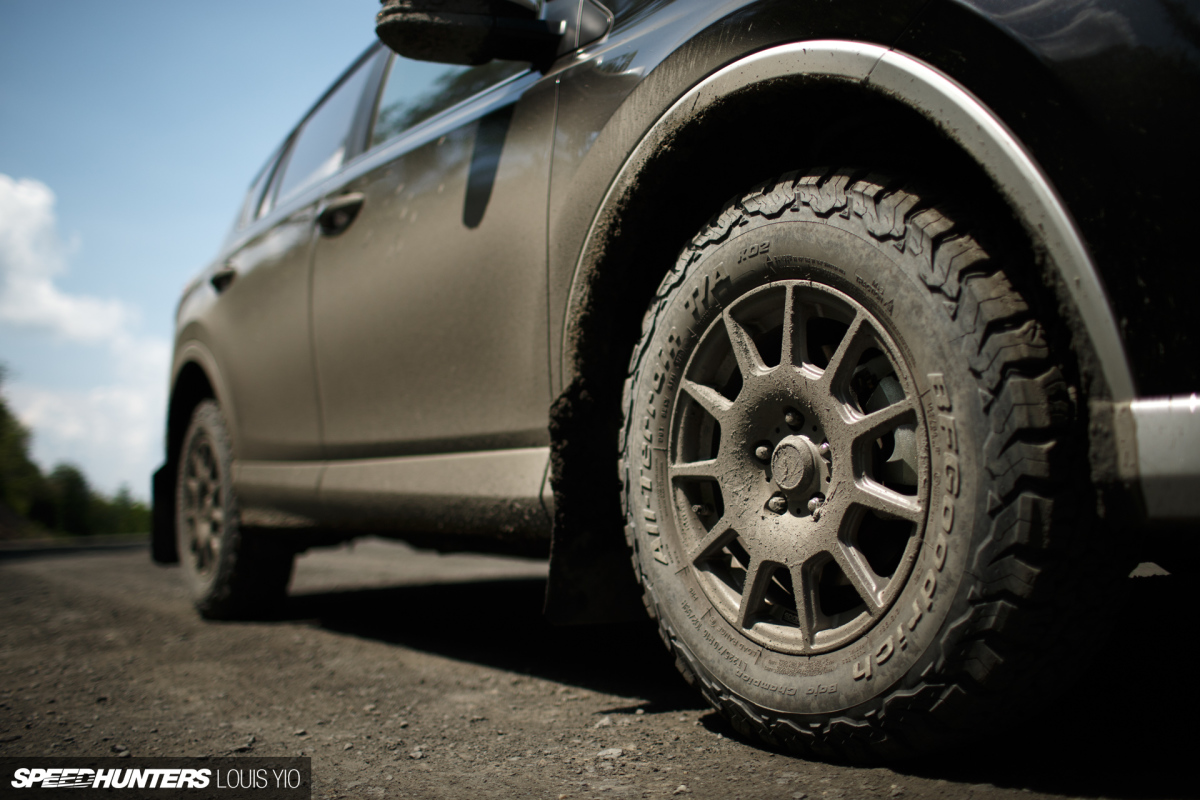 After all three parts were completed, we did the most obvious thing and ran through a short rallycross course to see who was fastest. I made a mistake on my pendulum turn which lost me a second, so I ended up in fourth place just off the podium. Argh!
All of the RAV4s were by now caked in a layer of dirt, and they looked great. Toyota took them for a quick wash before we headed to the Sunday River Resort where the actual rally was based out of.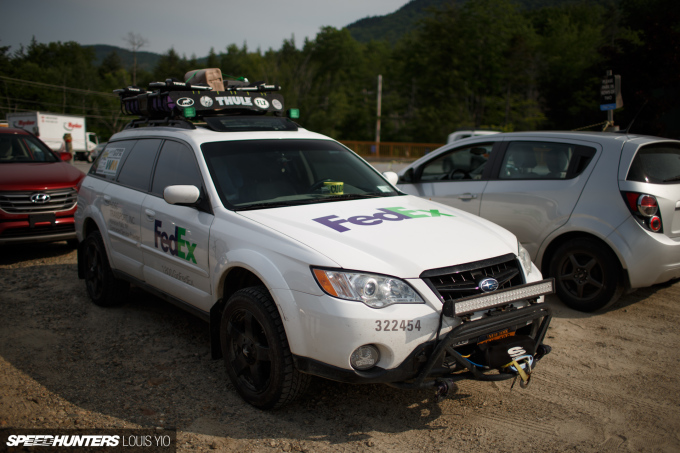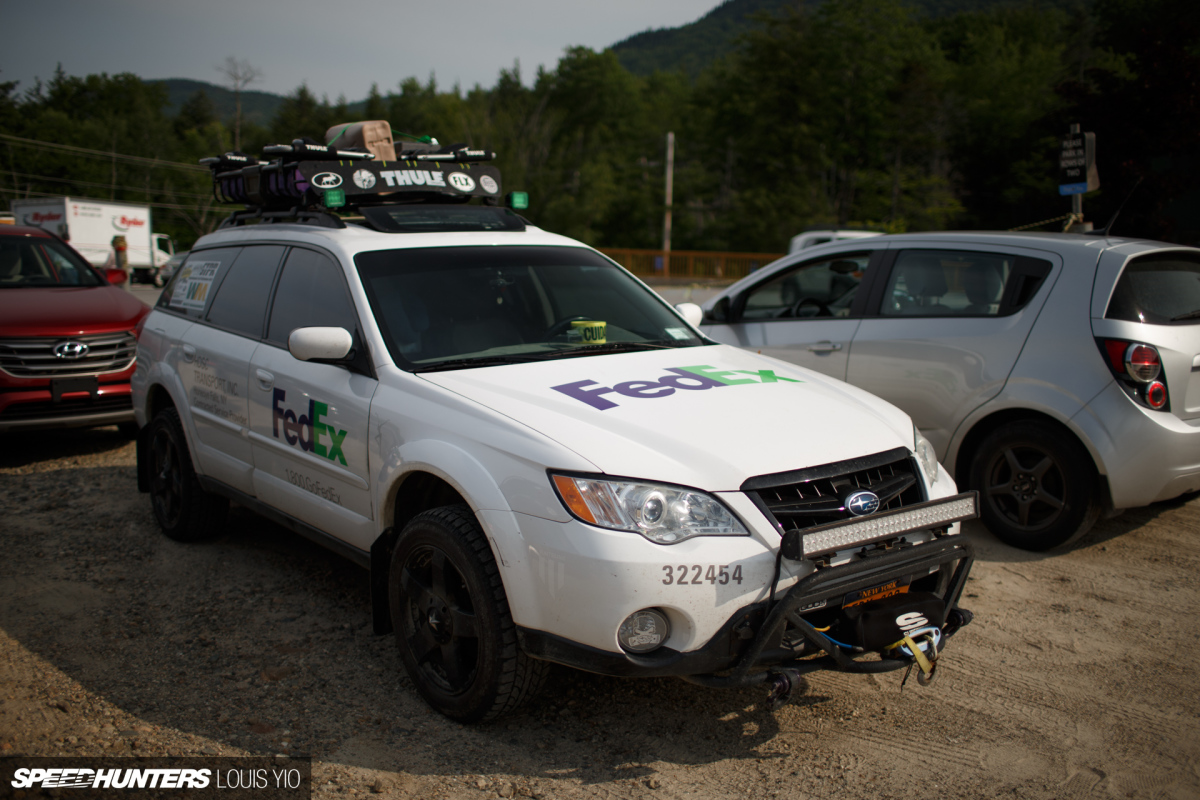 As soon as we parked, I saw this insane thing. Yes, it's an authentic Fedex delivery vehicle.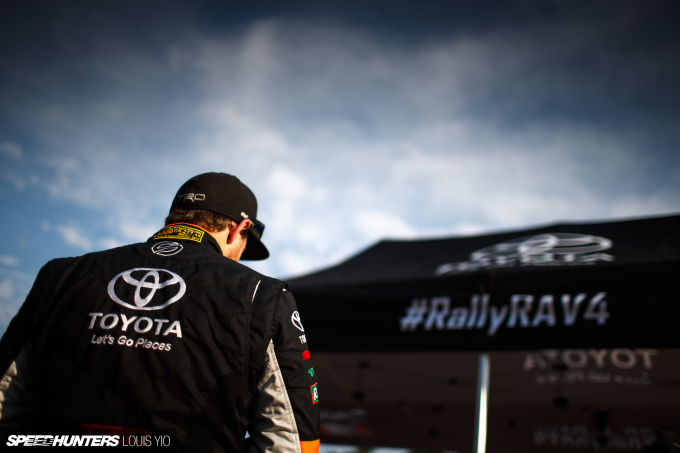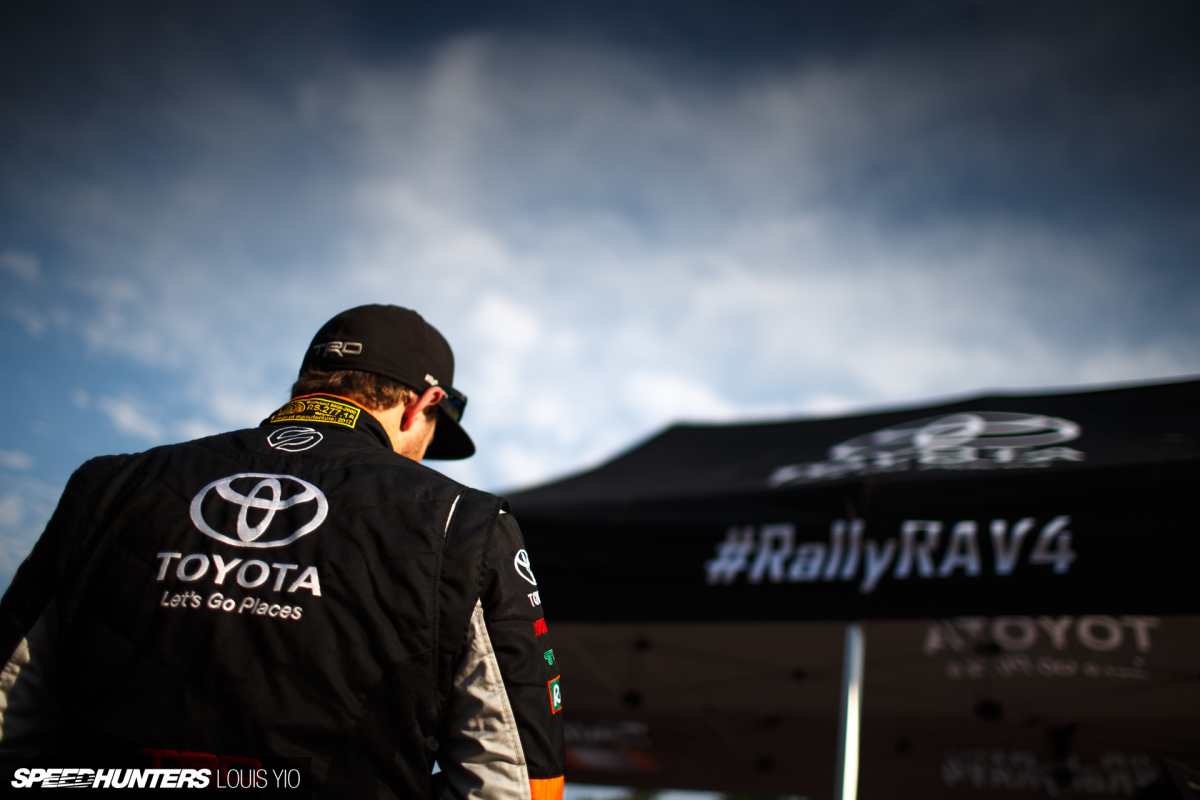 After a quick walk around the area to familiarize ourselves with the place, we left Sunday River and headed to Mount Abram, a local ski resort, to get a cool ride-along with Ryan Millen on a special stage. Yes, Ryan is from the Millen racing family; his father Rod is famous for his billion horsepower Pikes Peak Celica, and his older brother Rhys will need no introduction to you guys.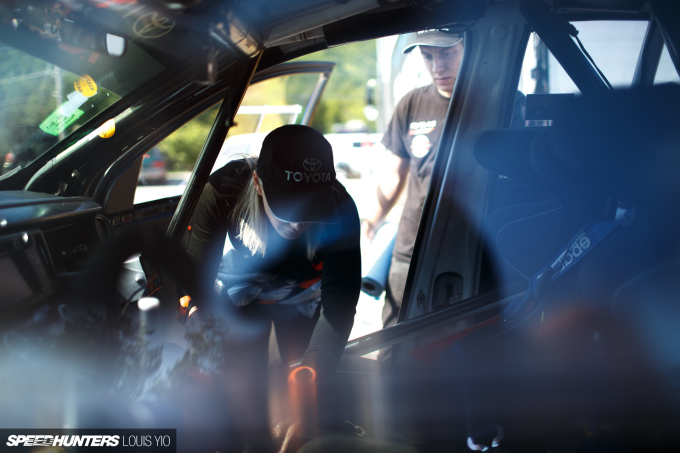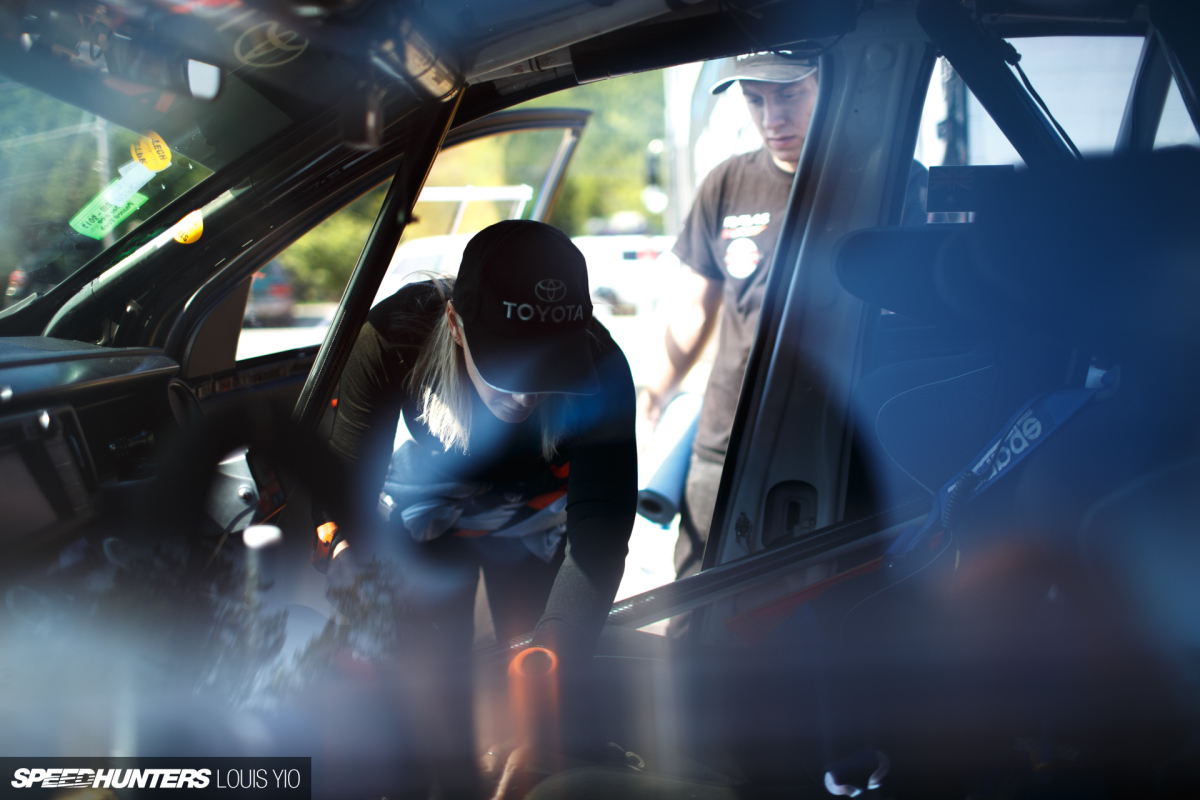 Normally sitting next to Ryan during events is professional co-driver Rhianon Gelsomino. Rhianon is married to Alex Gelsomino, who is someone you might know as Ken Block's co-driver.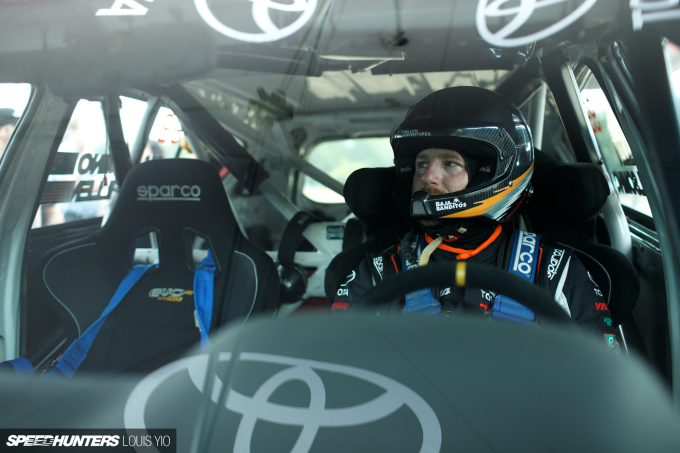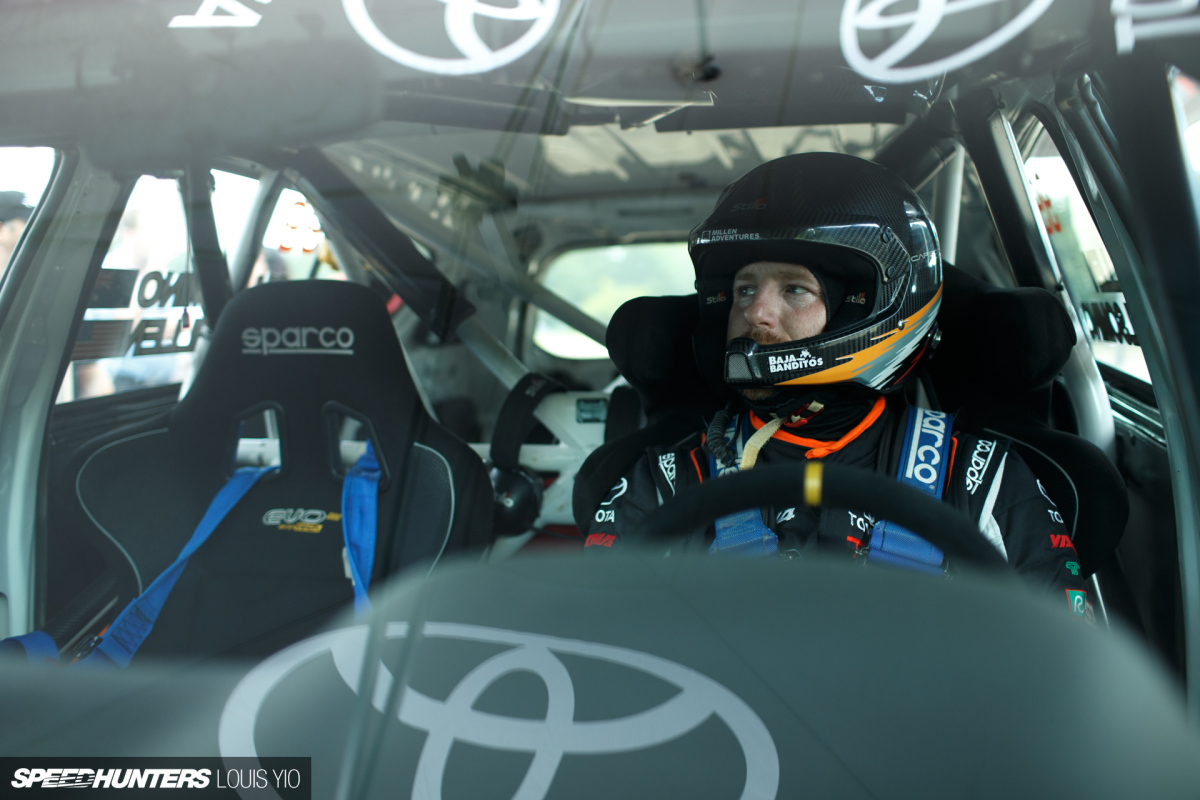 I wasn't aware of it until talking to Ryan, but his rally RAV4 runs a stock engine and stock automative transmission. Knowing this now though, it just makes it that much cooler that Ryan can hoon it as fast as he can.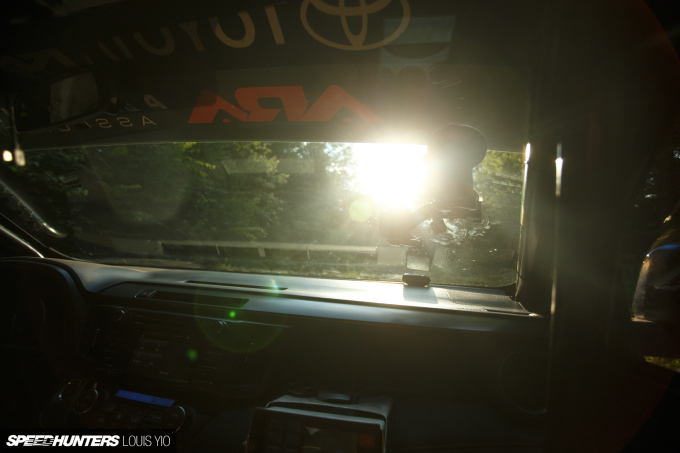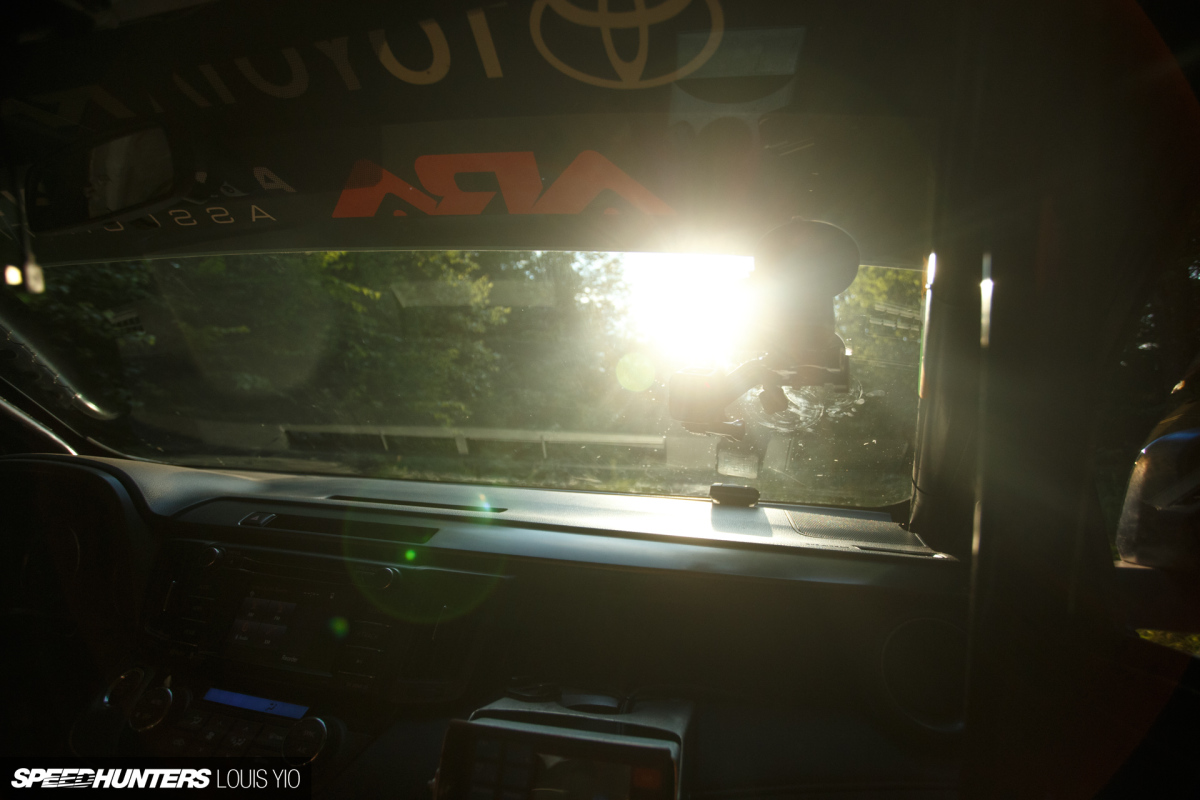 I thought I was going pretty fast in the RAV4s we were driving just hours before, but after riding in Ryan's fully gutted-out car with serious Tein rally-spec suspension, my speed paled in comparison. It was like a rollercoaster and my face actually hurt from smiling so much.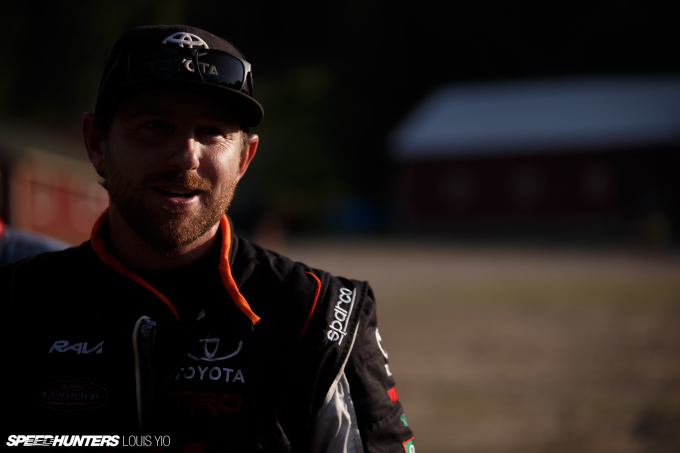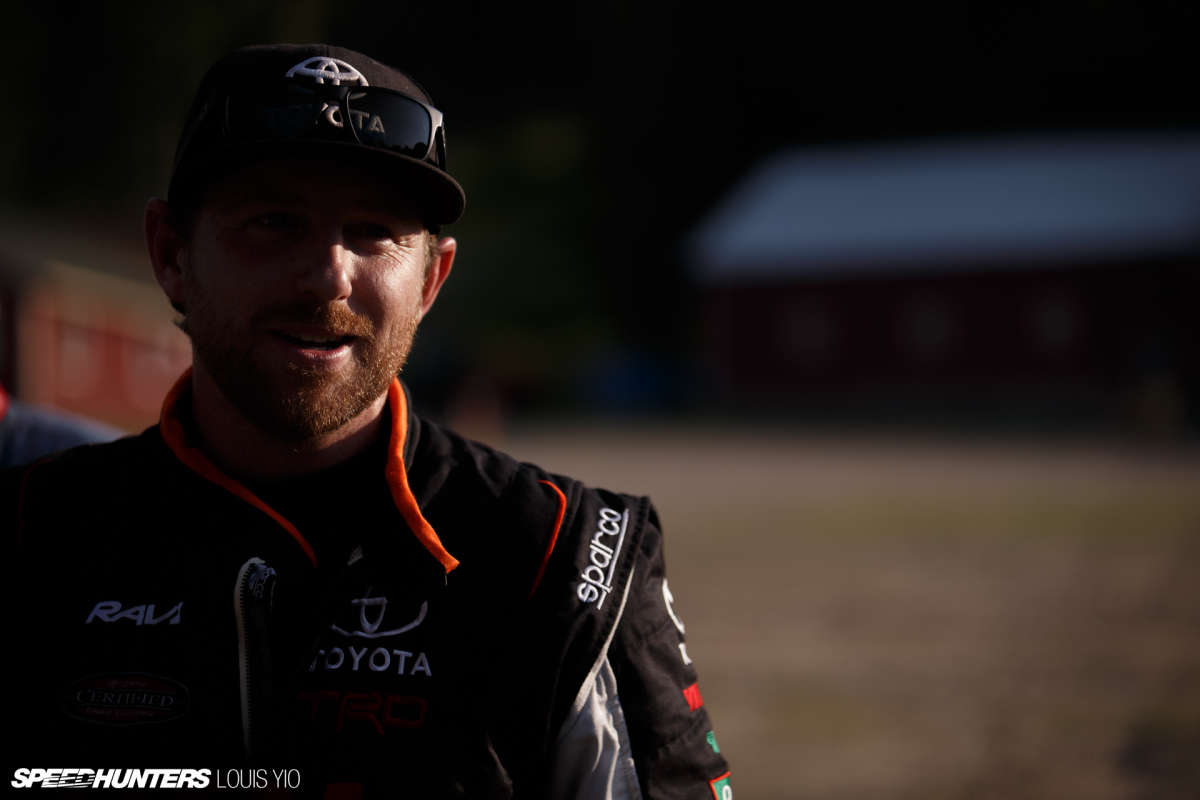 The best part is that Ryan couldn't contain his smile either. I'm seriously thinking about converting my car for rally purposes now.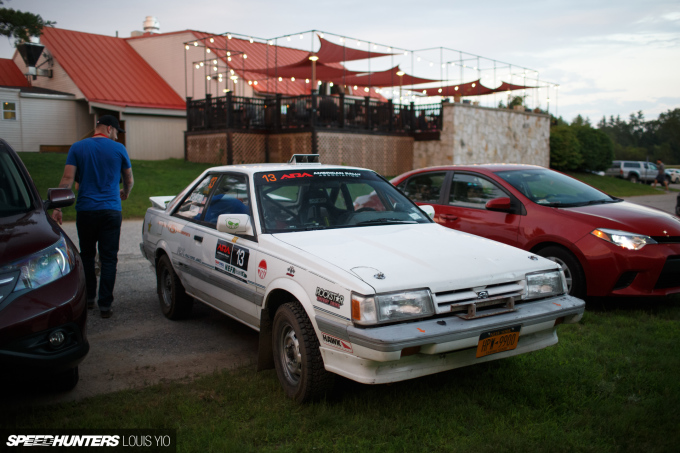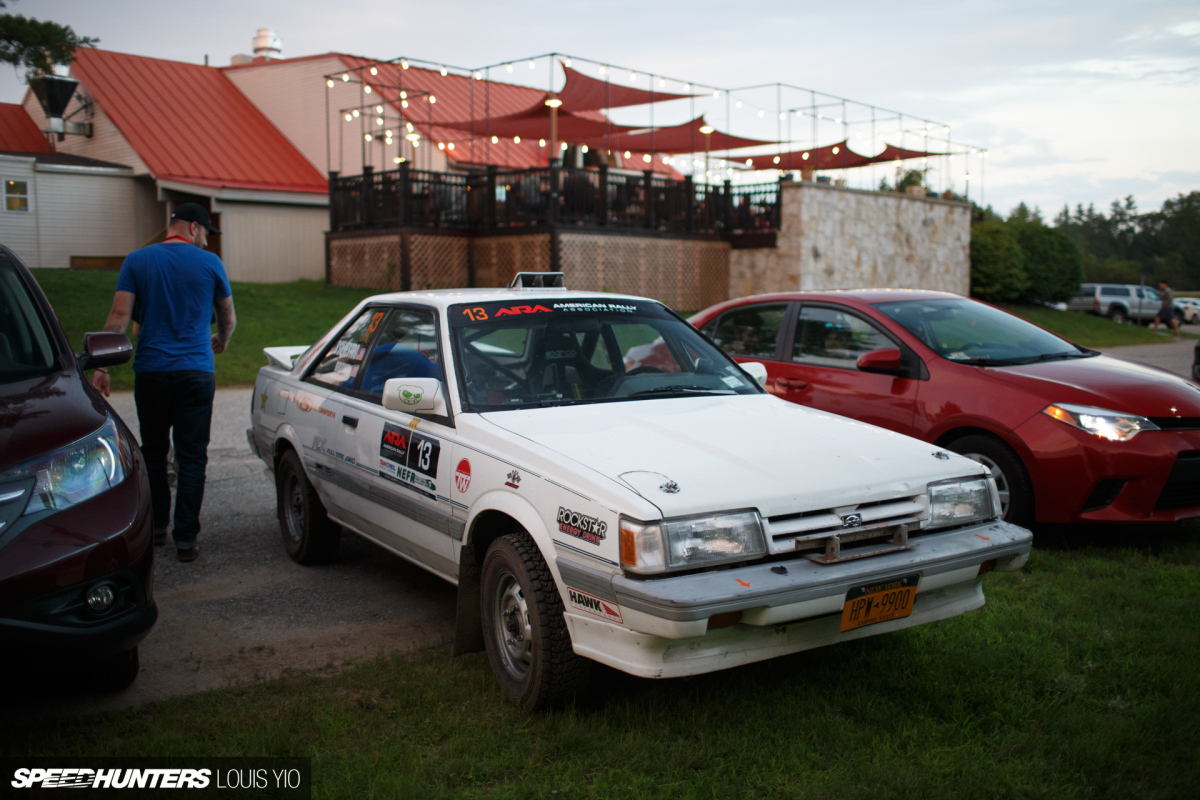 Afterwards, we stopped by the local brewery and I saw one of the rally cars curiously parked in the general lot. I had completely forgotten that every single one of the cars competing has to be street legal.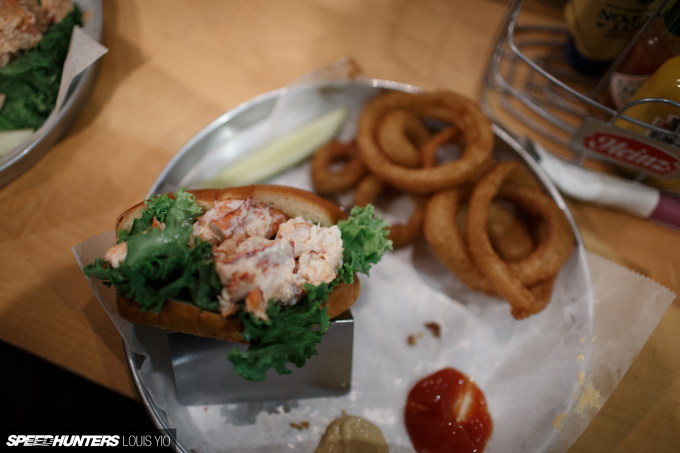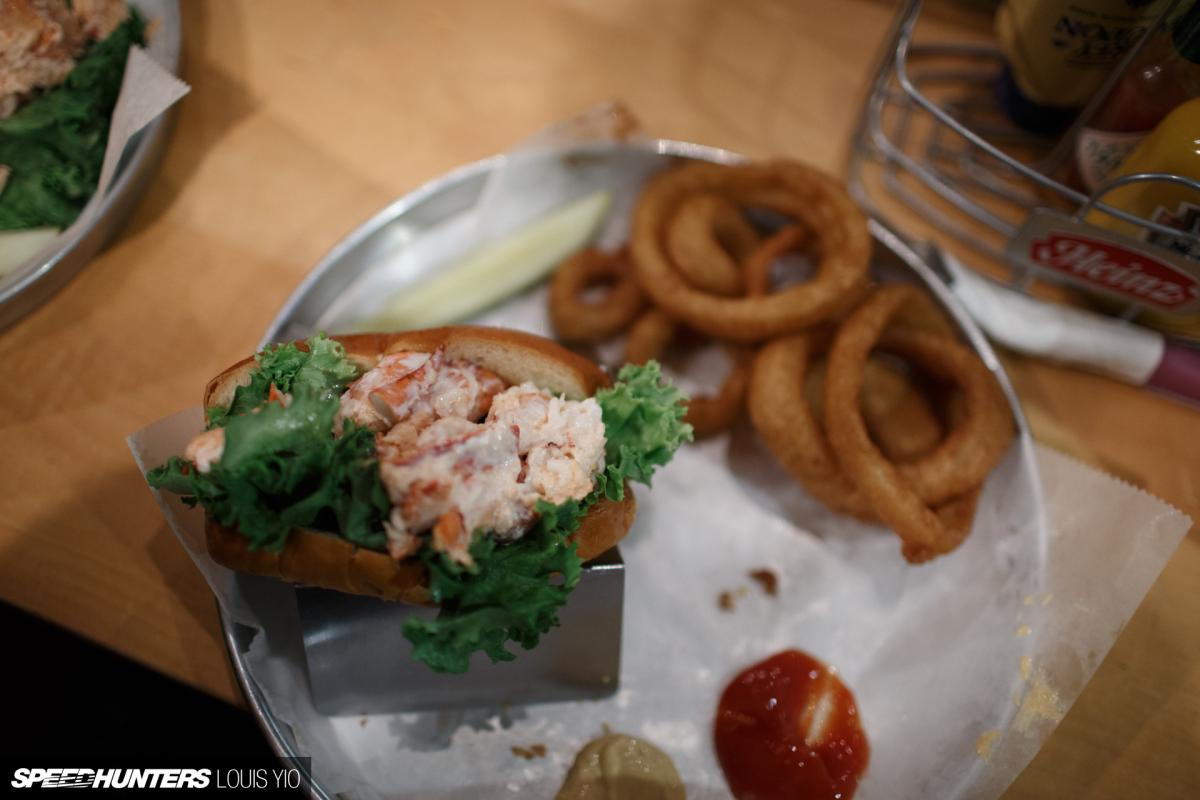 When in Rome… There was no way I was going to pass up the opportunity to sample some local Maine lobster. So good!
Day 2: Absorbing NEFR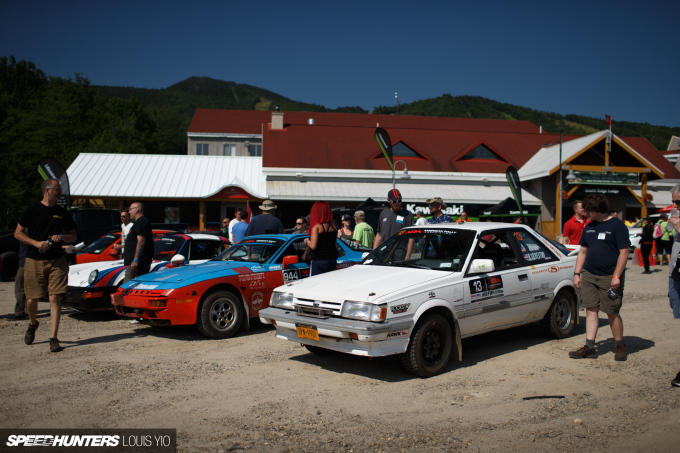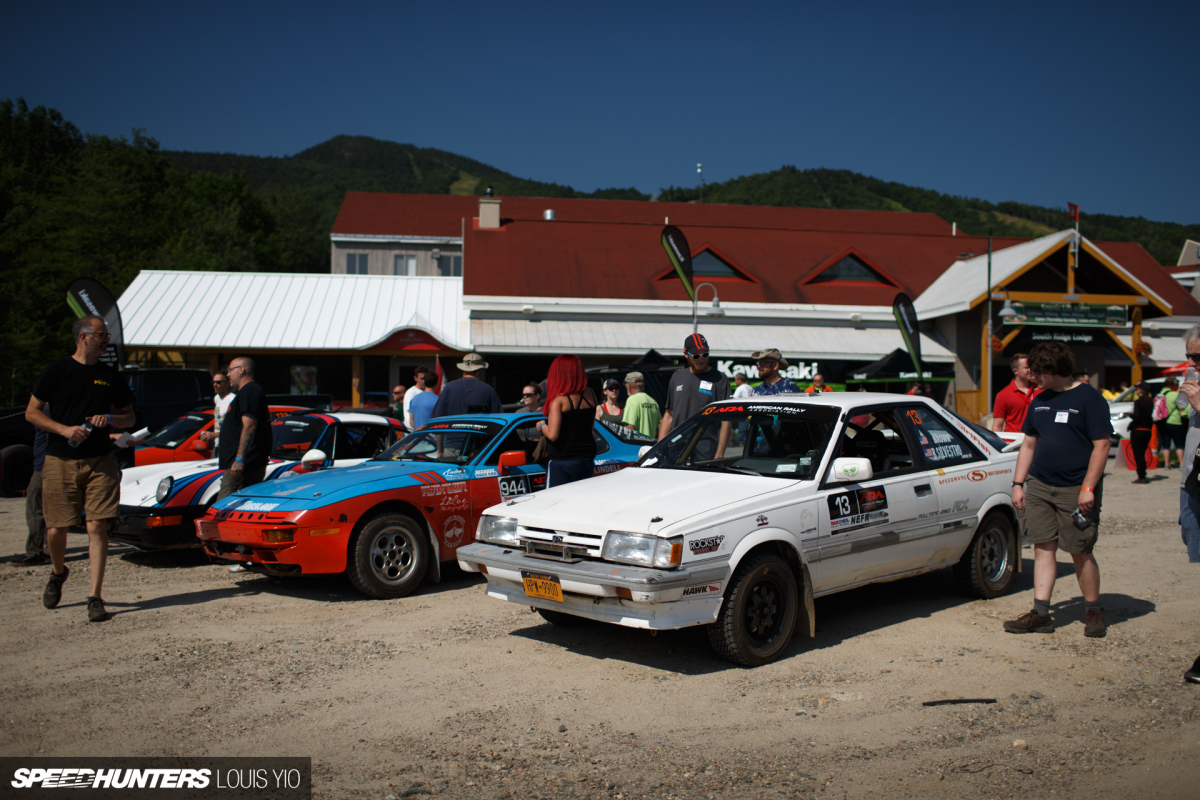 Day 2 marked the official first day of racing, the morning beginning at Sunday River where Parc Expose was held. This is where all the rally cars gather before heading out to the stages; it's also a great opportunity for drivers and fans to hang out for an hour or so.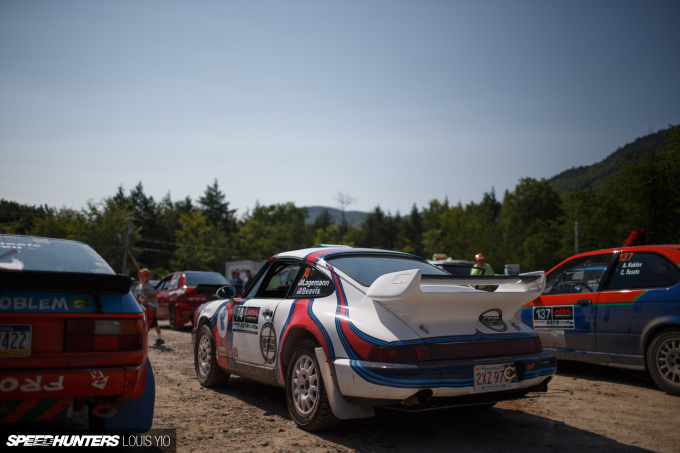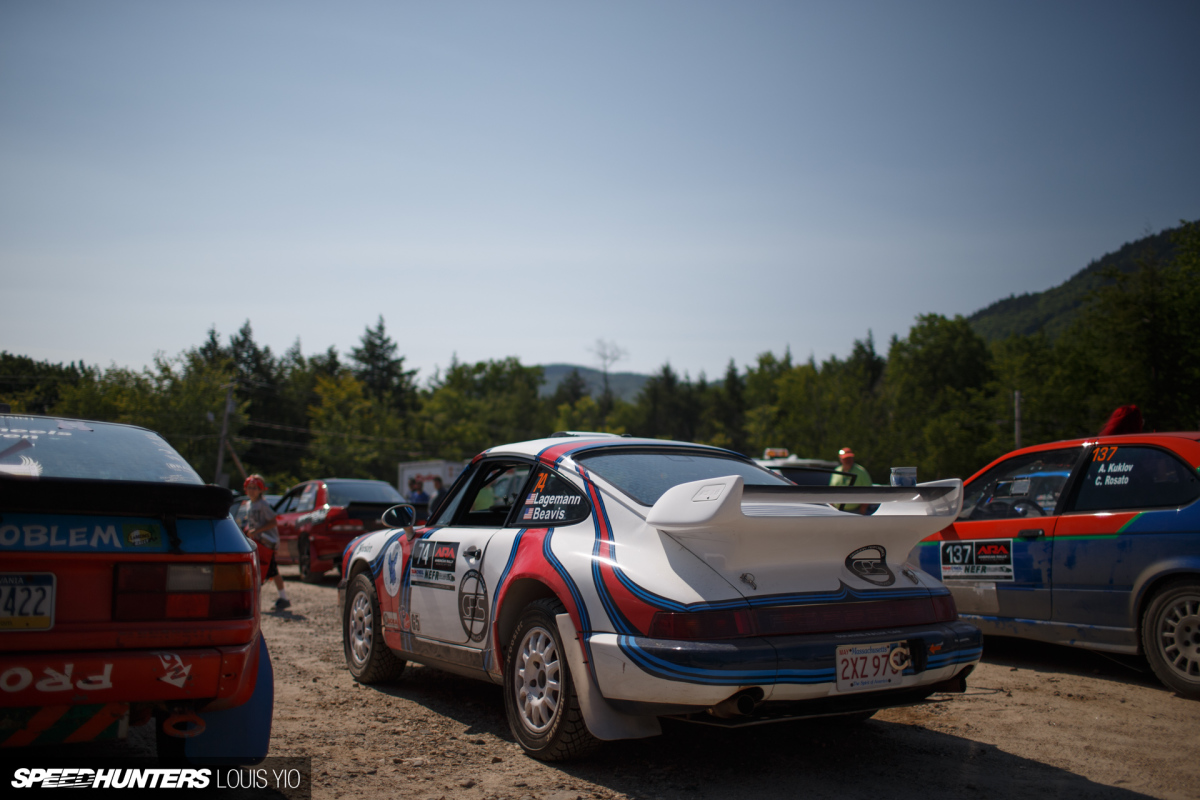 I love rally-spec Porsche 911s, so seeing this one was a nice treat. This car was actually competing in the same 2WD class as Ryan and his RAV4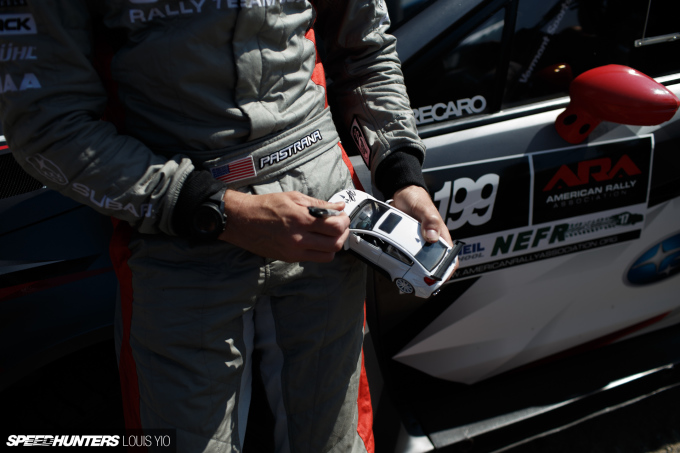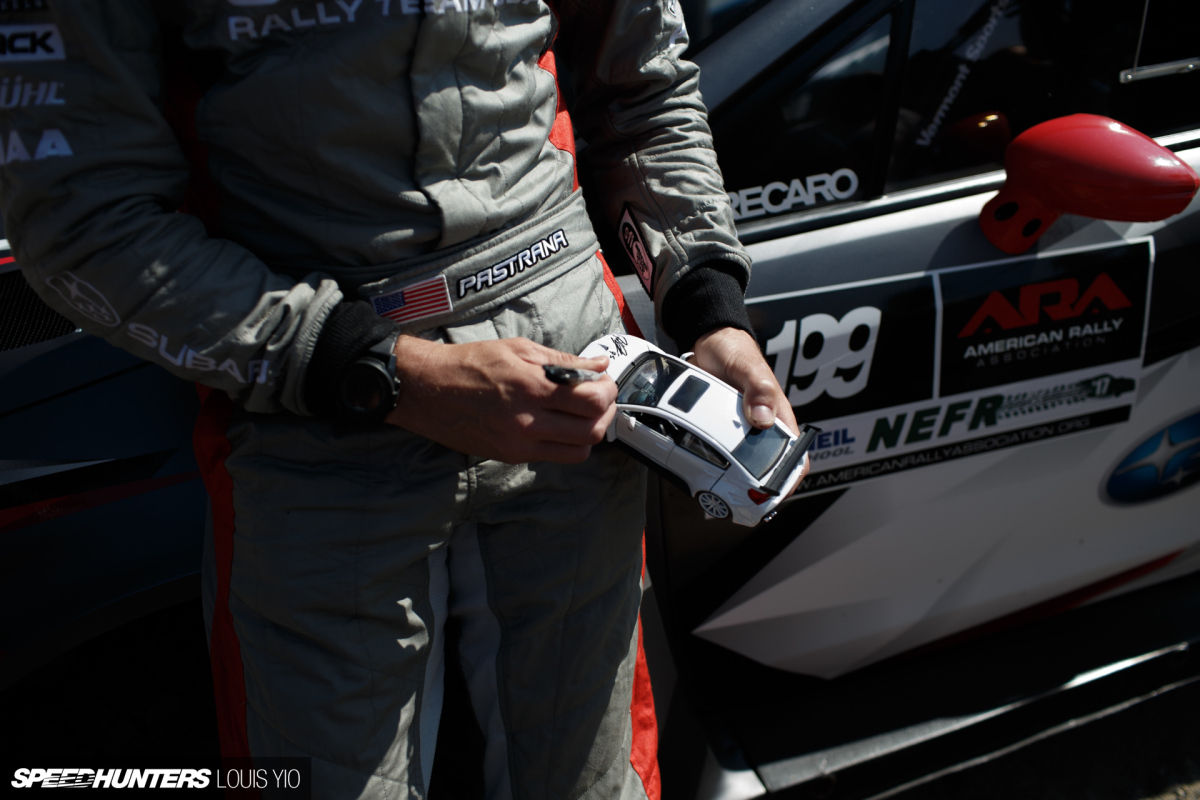 After Parc Expose, the Toyota crew took us out to the beginning of the first stage.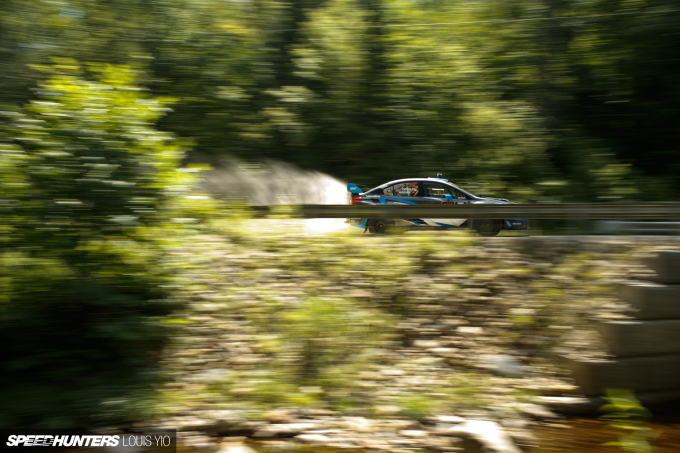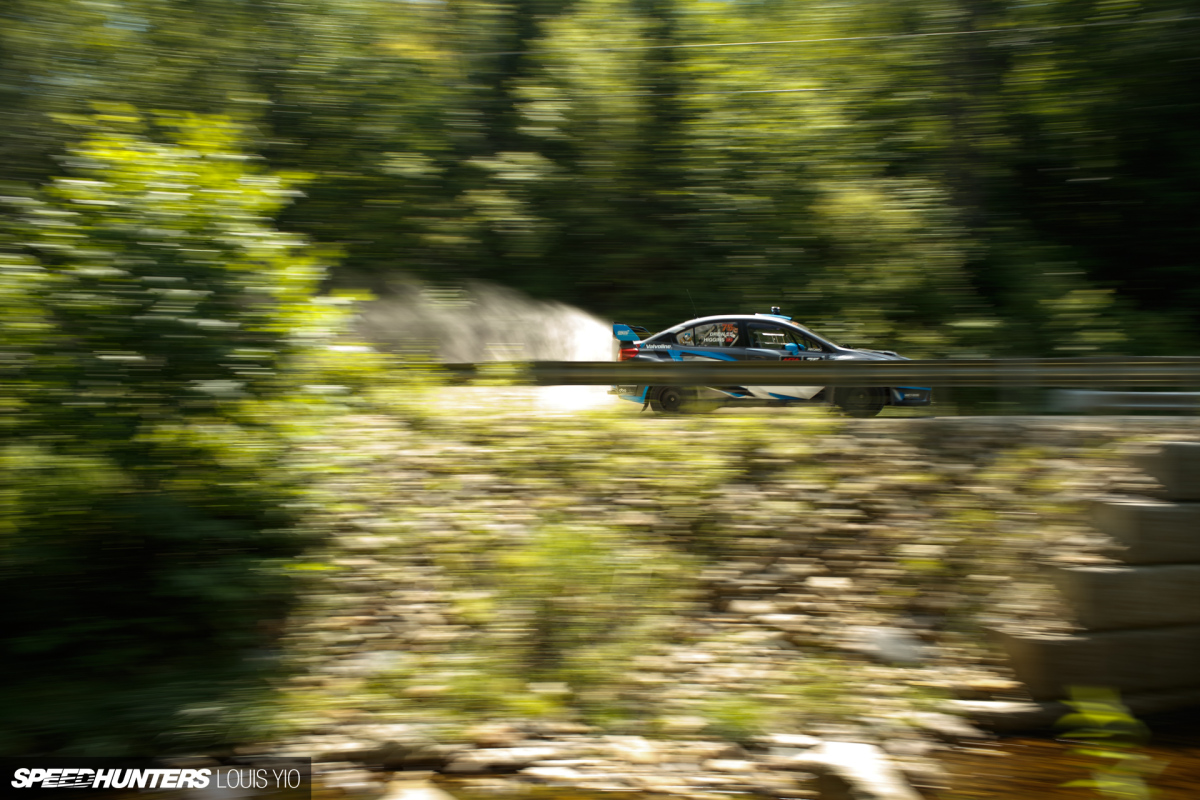 I really wanted to shoot the rally, so I went ahead and applied for media credentials ahead of time. This allowed me to dive deep into the forest to capture the cars as they echoed between the trees.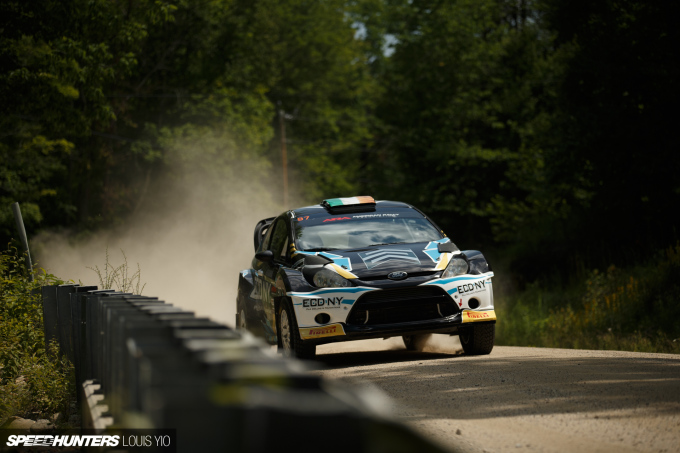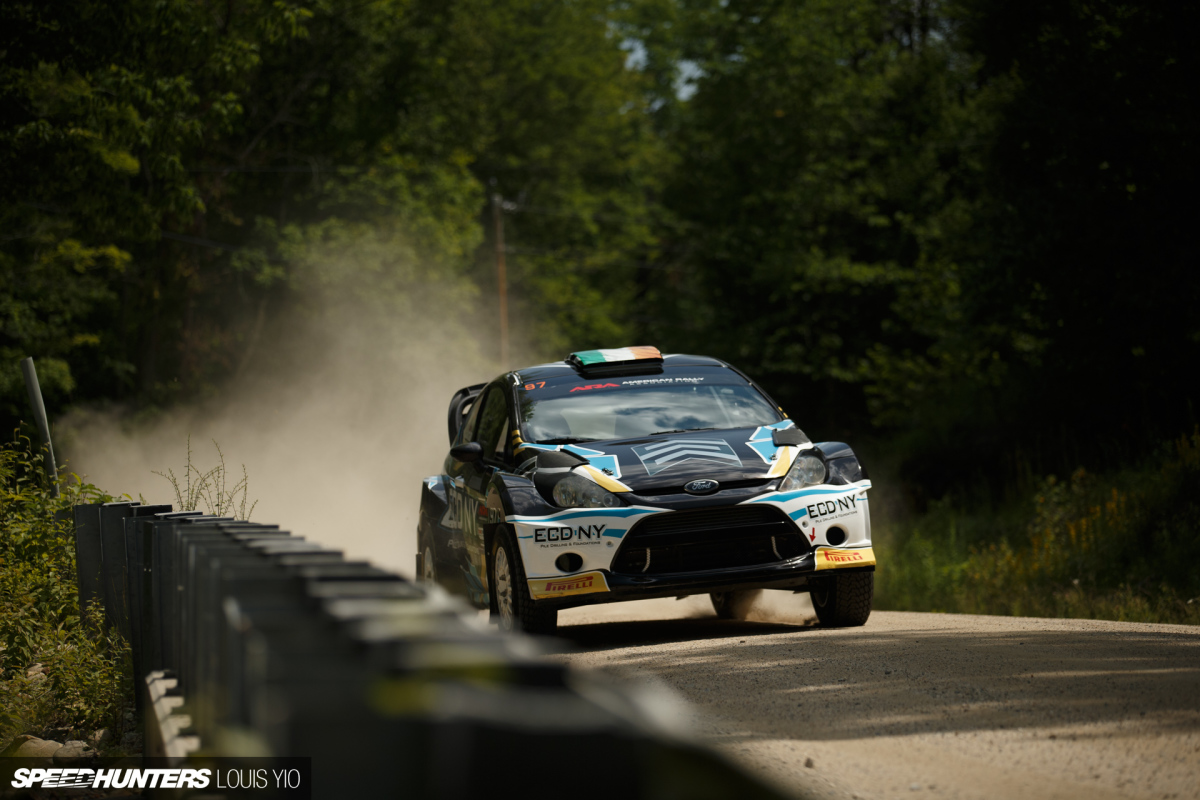 This Ford Fiesta tailing Pastrana and Higgins was a crowd favorite.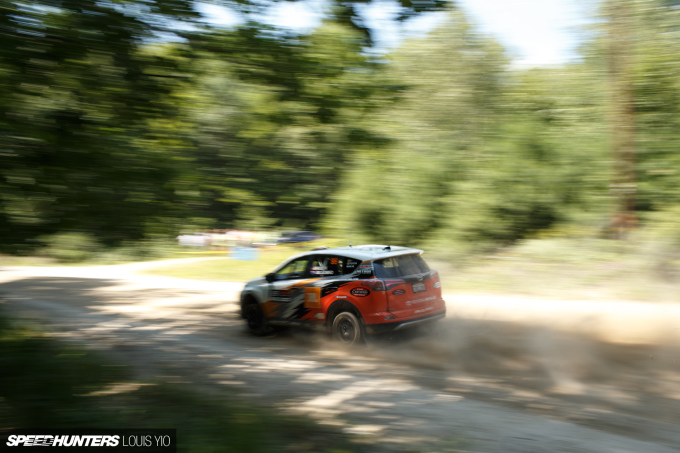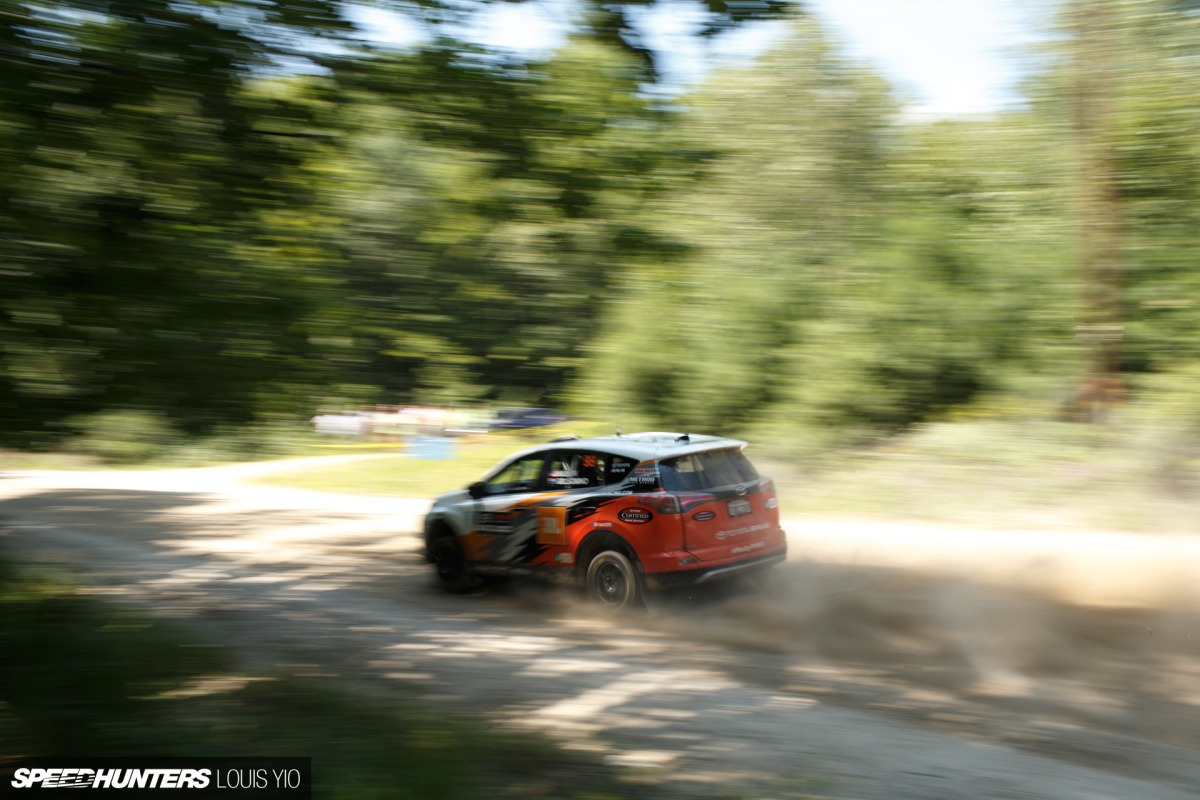 Just a few cars behind the overall race leaders was Ryan. His car has an aftermarket exhaust, but it's pretty quiet compared to the crazy STIs. I actually almost missed him on this first stage.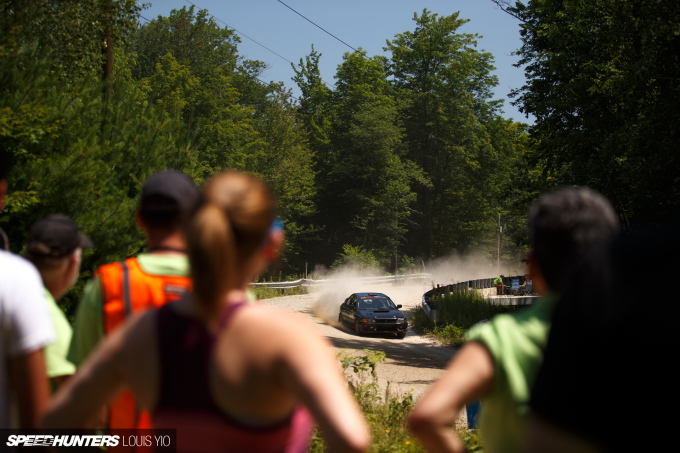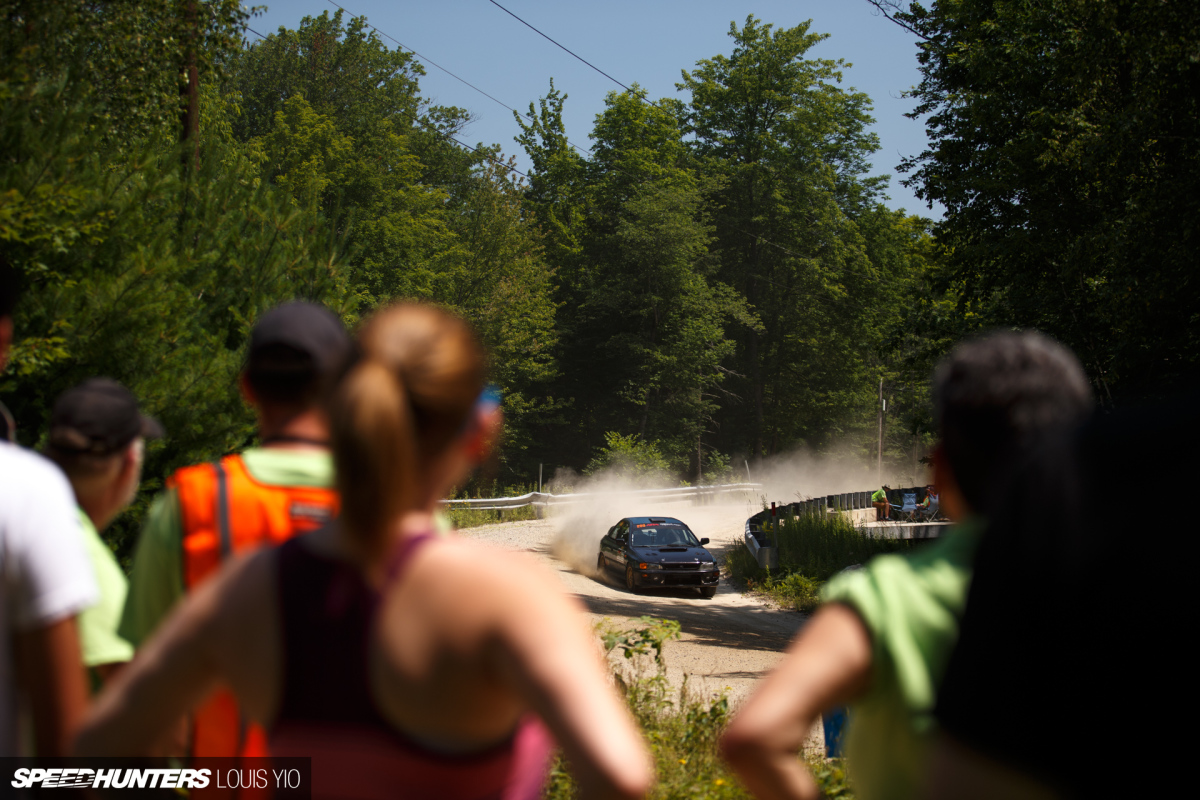 Some of the crowd make their way into designated spectator areas within the stage, where a cool view is guaranteed. The trade-off is that they're stuck at the location until the road is cleared and no longer deemed hot by race officials.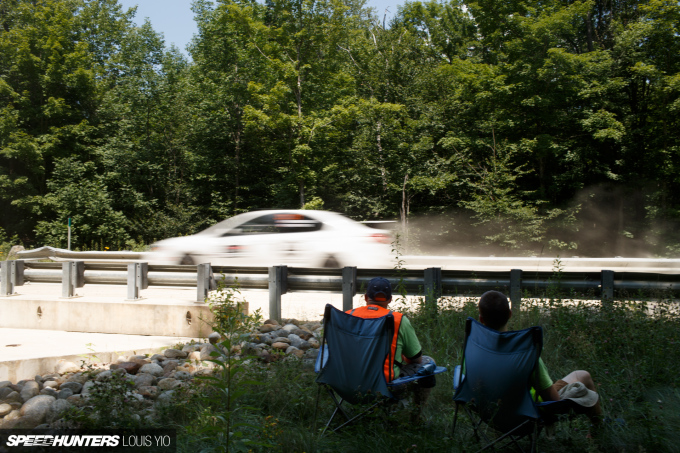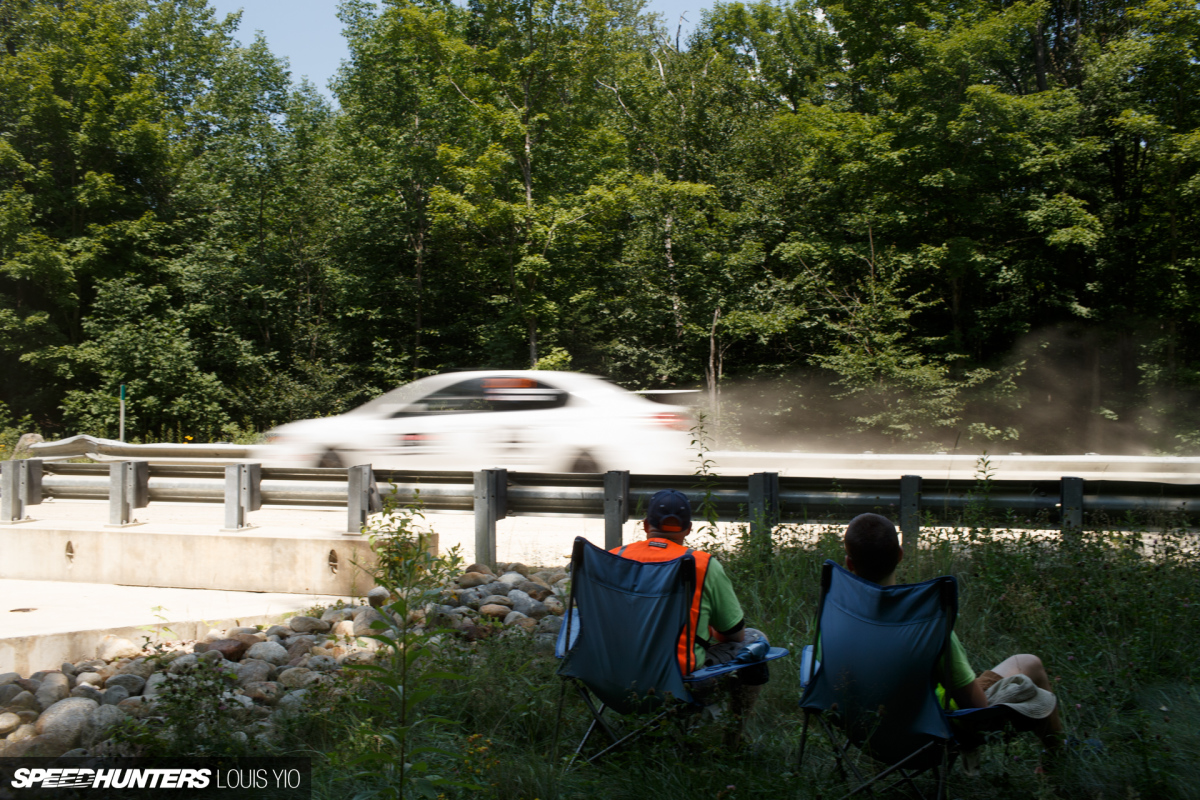 Sometimes, I feel like the race volunteers have the best vantage points.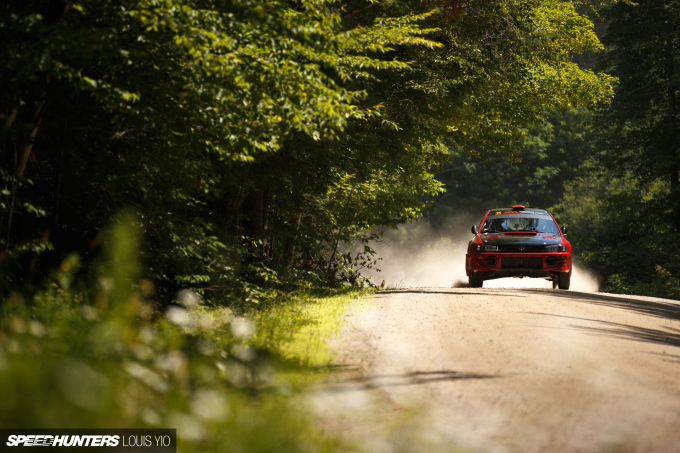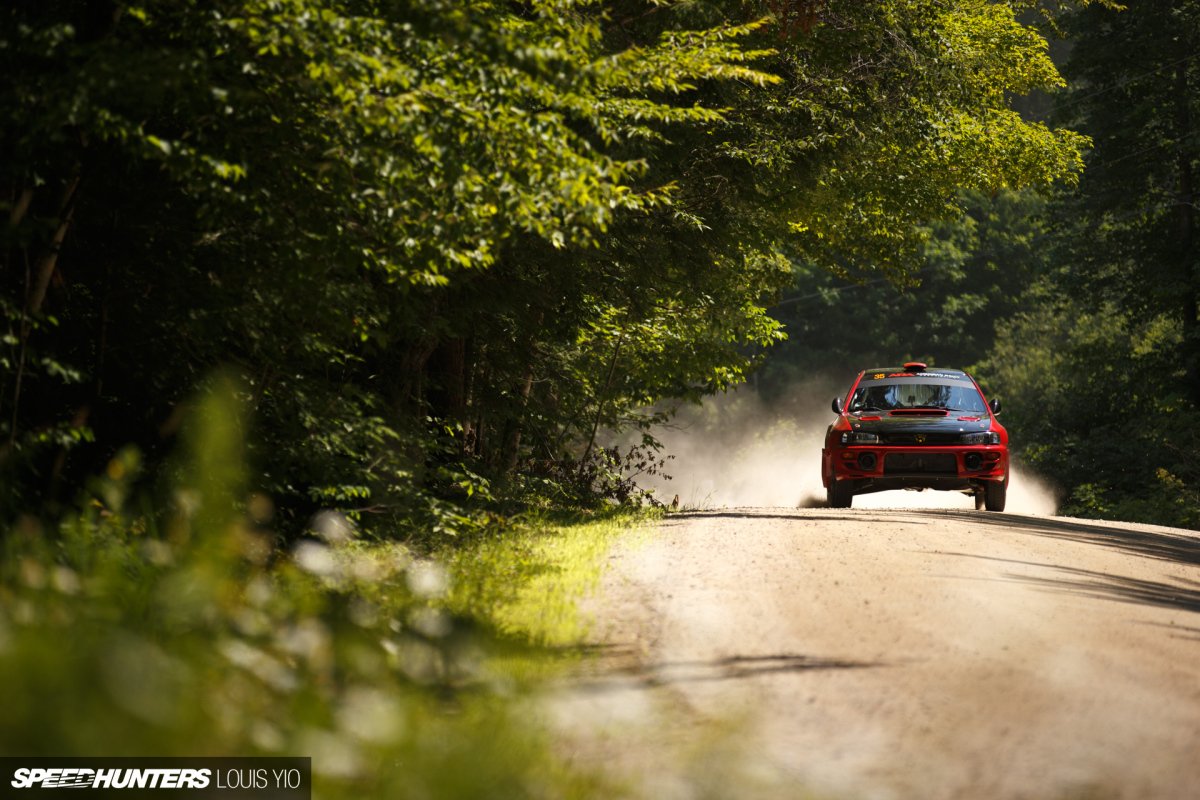 In the three days I was up in New England for the rally, I saw more GC8 Subaru Imprezas than I have ever have in Los Angeles. This made me sad. Really sad.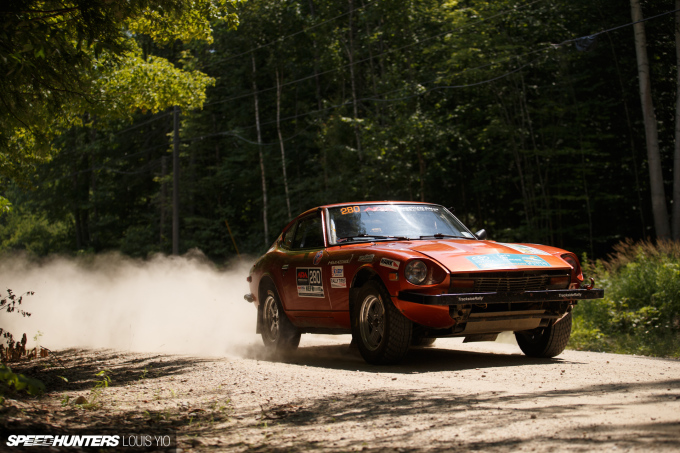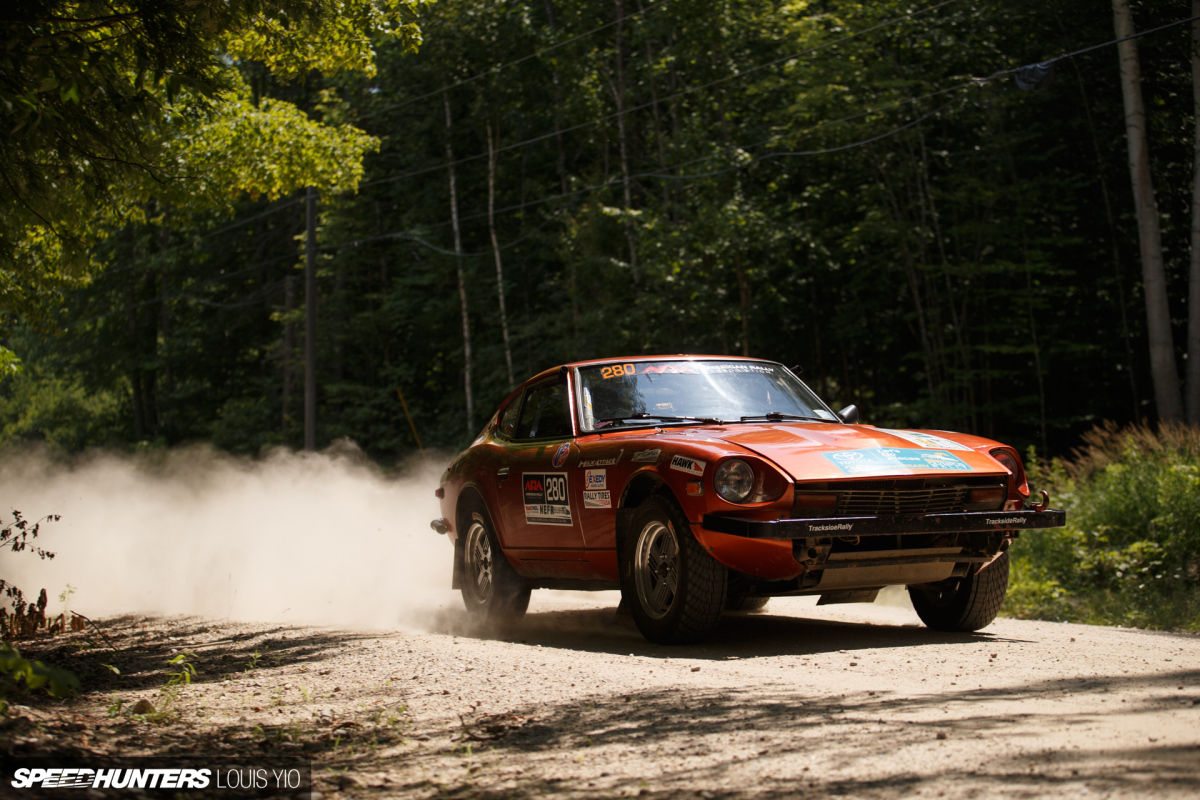 Not just that, but prior to NEFR I never really knew or even understood rally culture. That is until I saw this Datsun 280Z and all the other models that I would never have considered as potential rally cars. As it turns out, pretty much anything goes.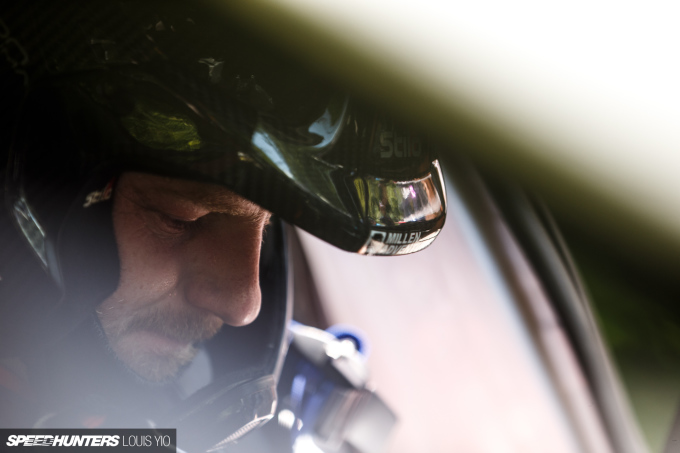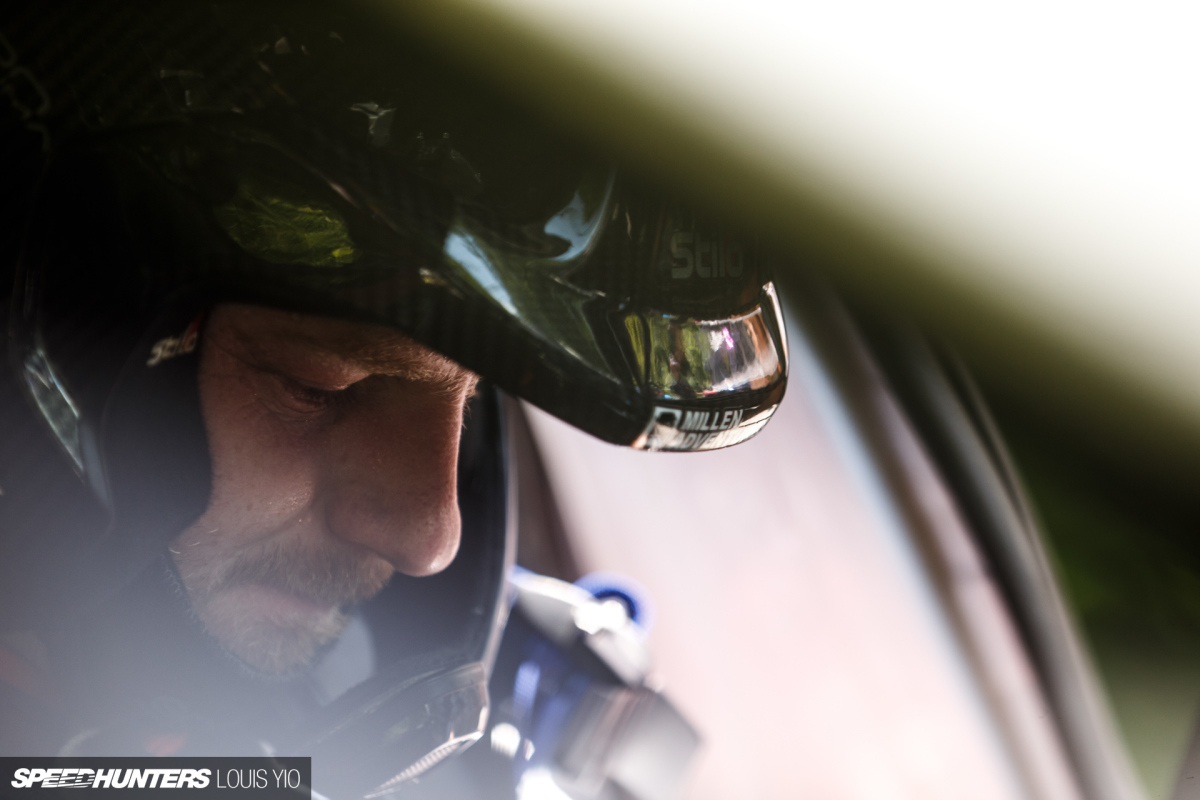 We headed back to Sunday River to relax, as did the teams after completing the day's stages.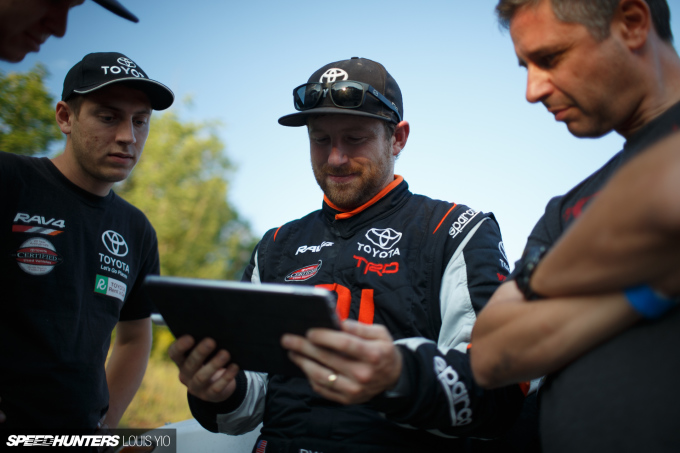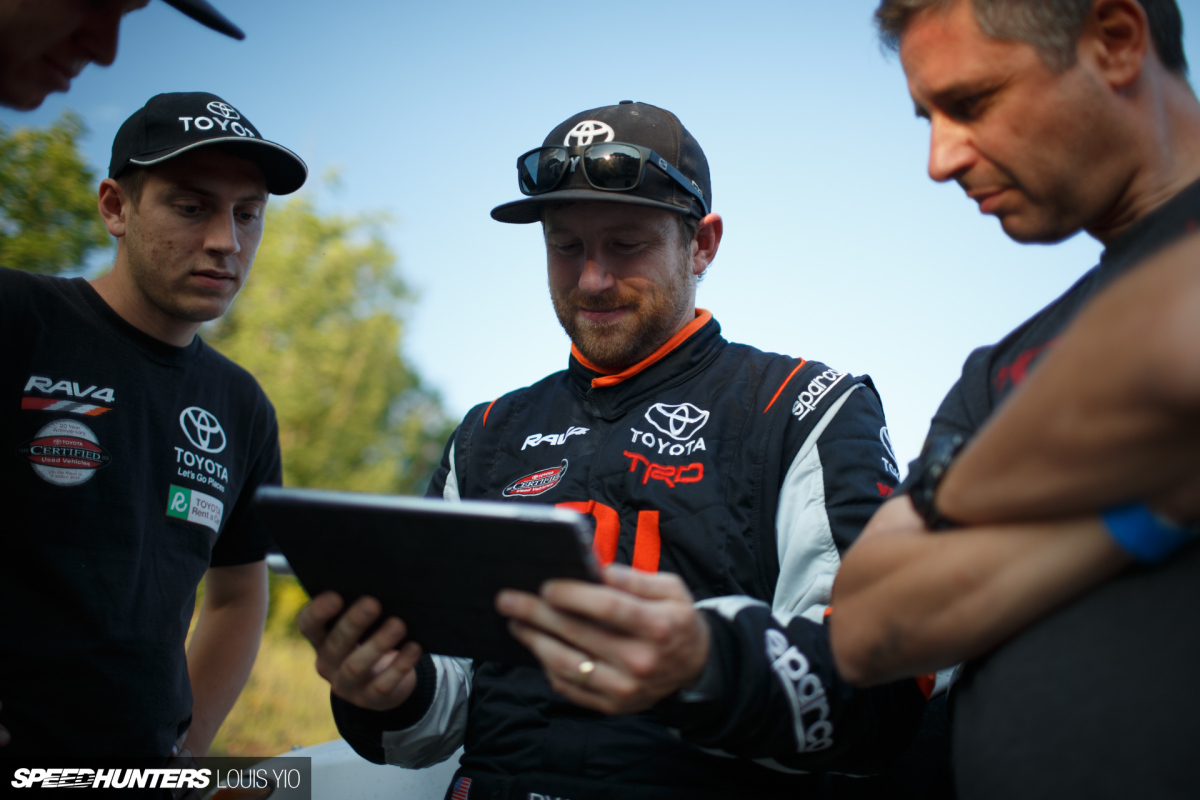 I don't know what's going on in this image but Ryan seemed pretty happy about what he was seeing.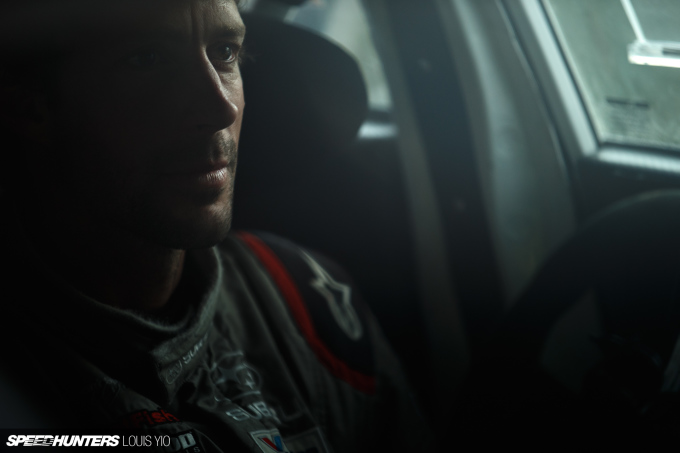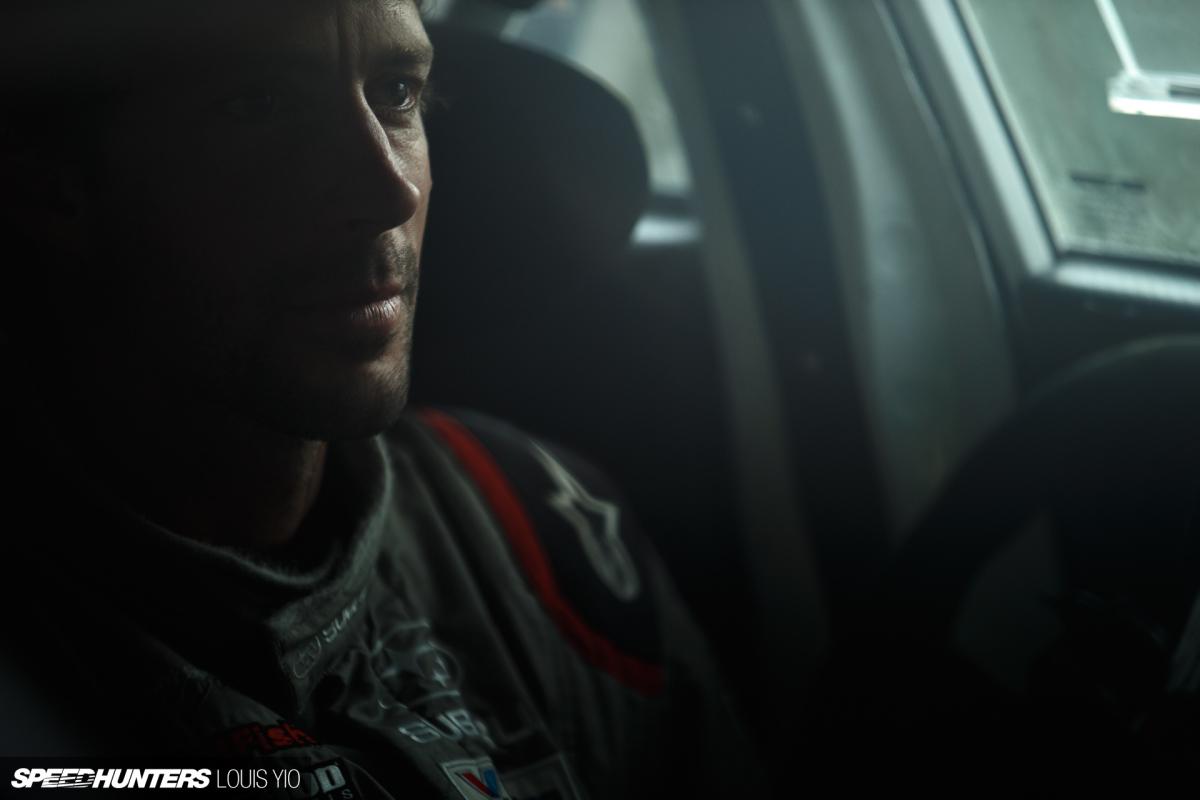 There was a little drama with Travis Pastrana and his team. His co-driver hurt his back after a hard jump landing and had to retire from the race, meaning Travis would either have to retire too, or find someone else to co-drive for him.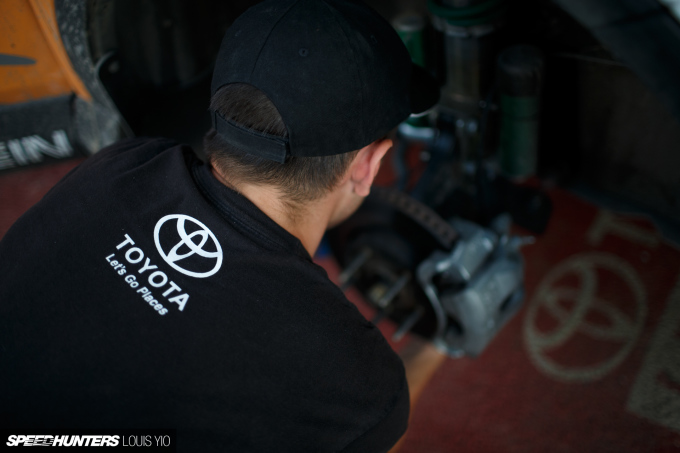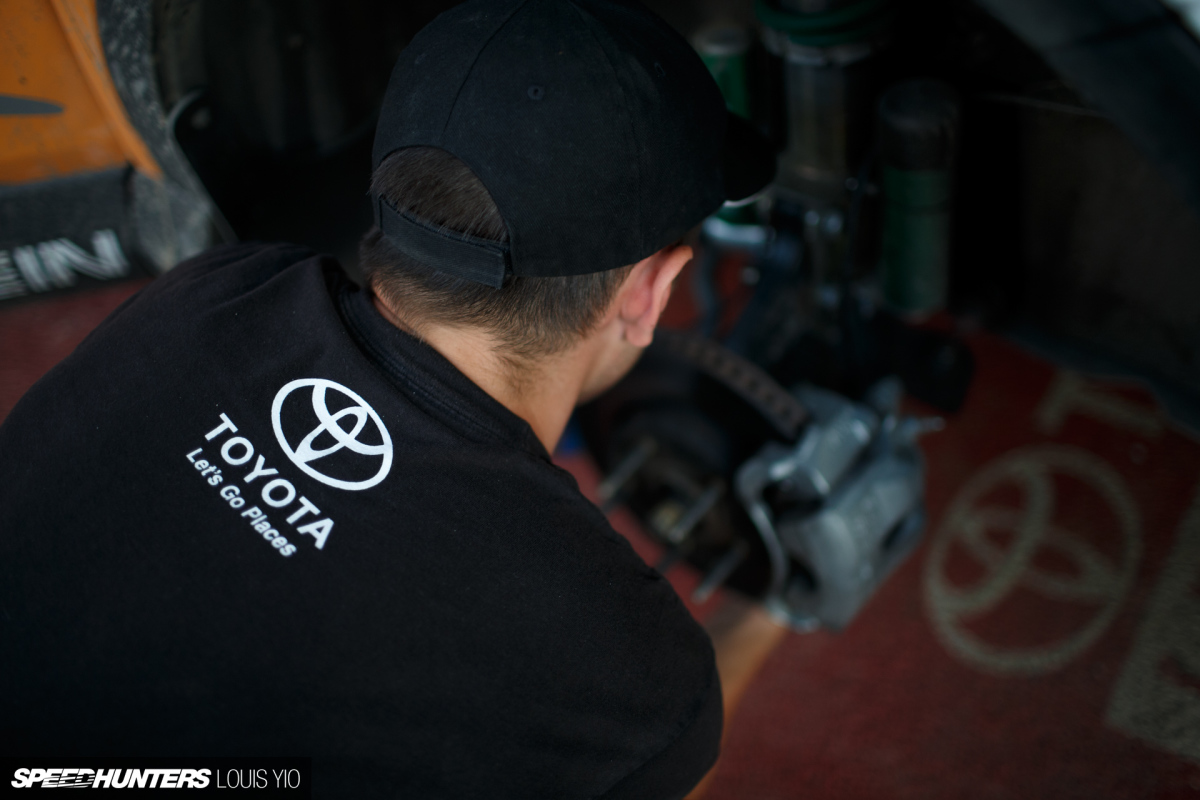 Everyone headed back to their pits to check over and make any necessary repairs to their cars. Ryan's RAV4 was actually in pretty decent condition; all the team needed to do was bleed the brakes and swap tires.
Day 3: Tagging With The Pros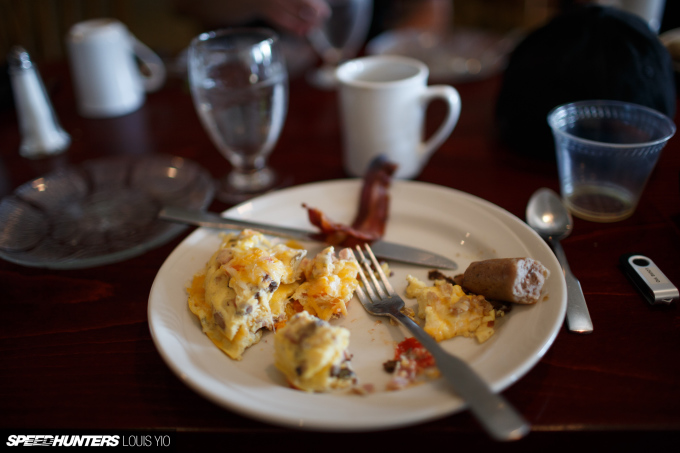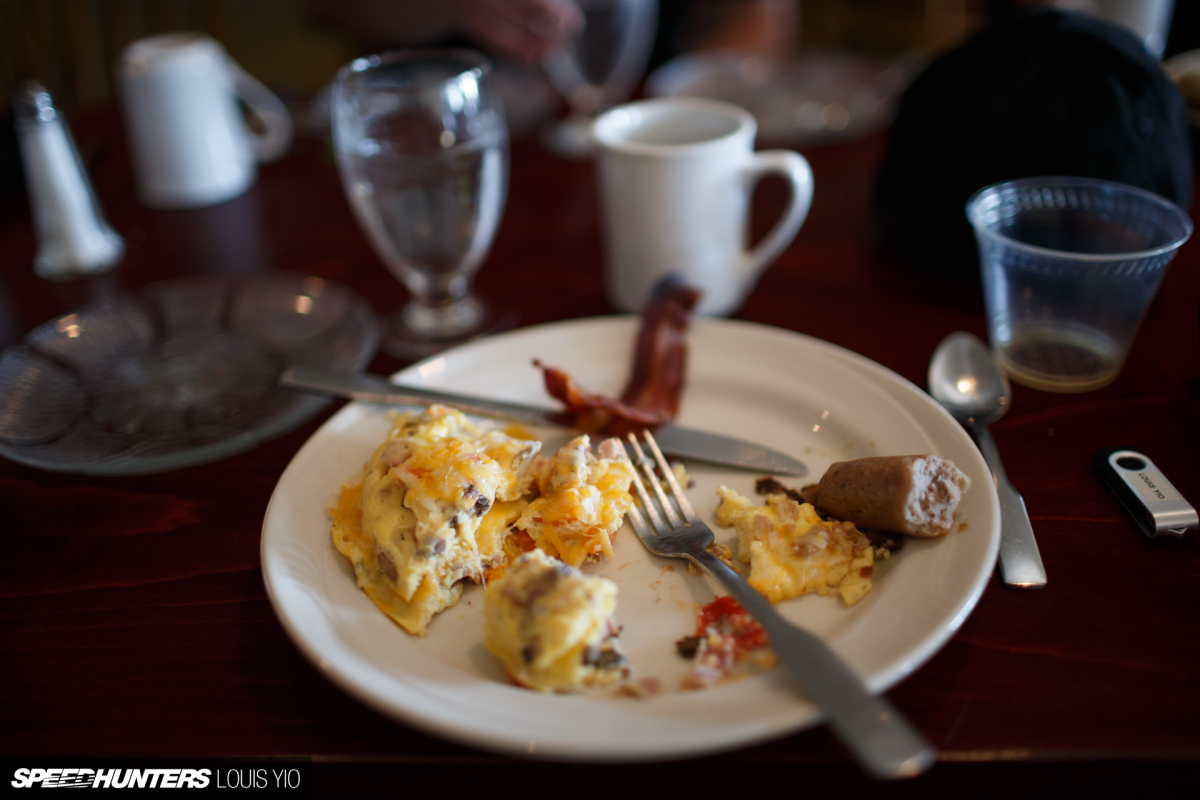 The third and final day of the rally started with a breakfast of champions.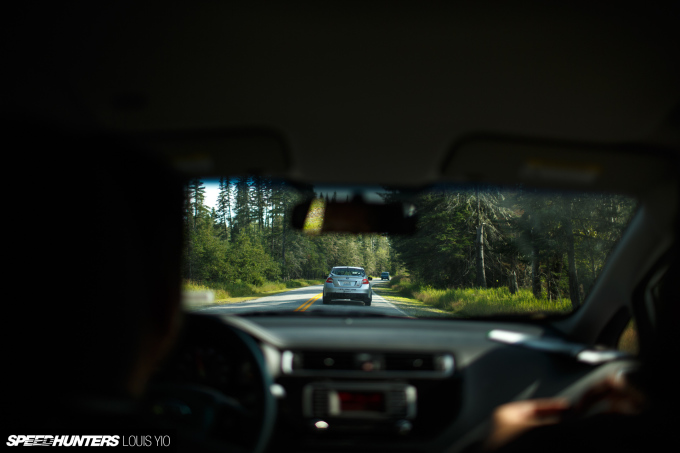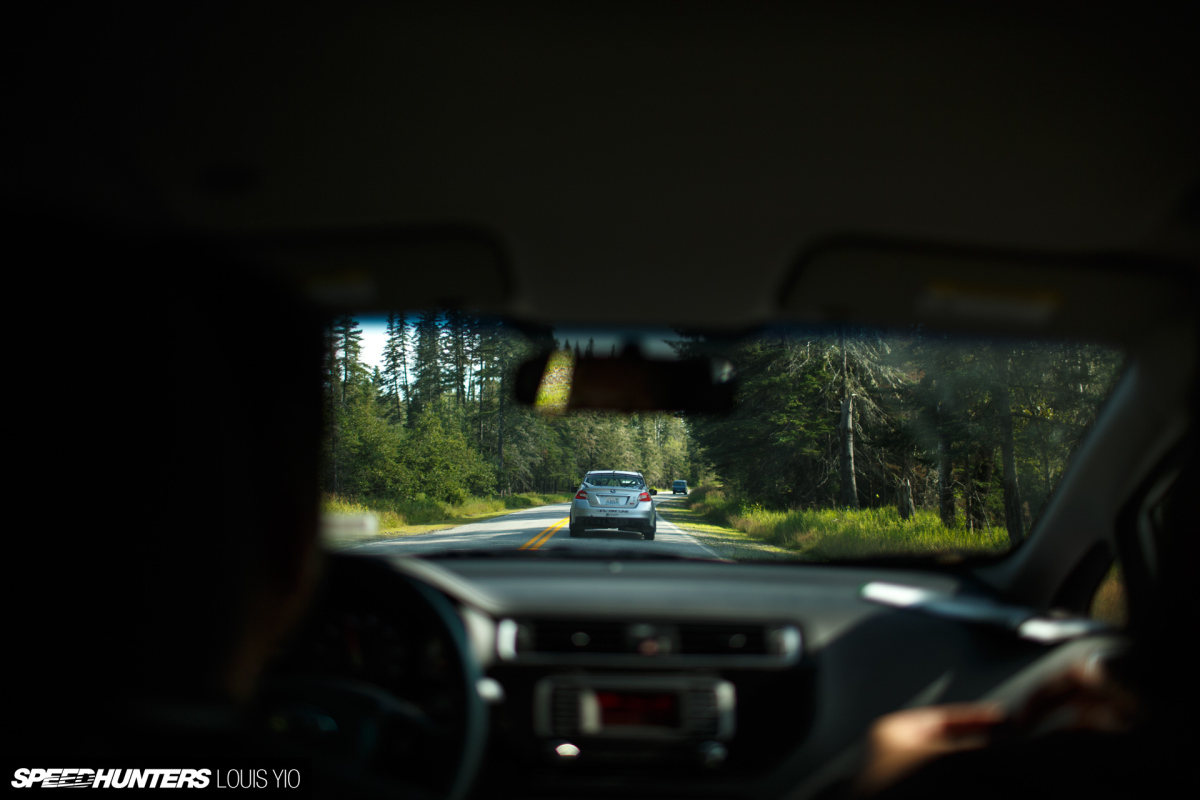 I decided to tag along with fellow photographers Alex Wong and Peter Lapinski for the last day of racing. These two guys follow the ARA series and know a thing or two about shooting stage rally, so I figured it would be cool to watch them work.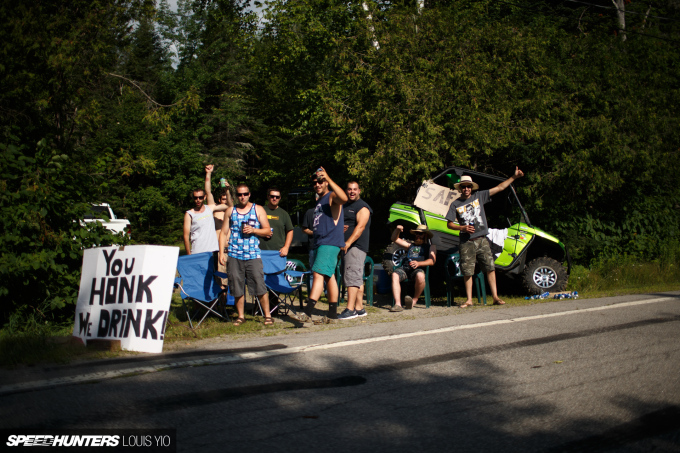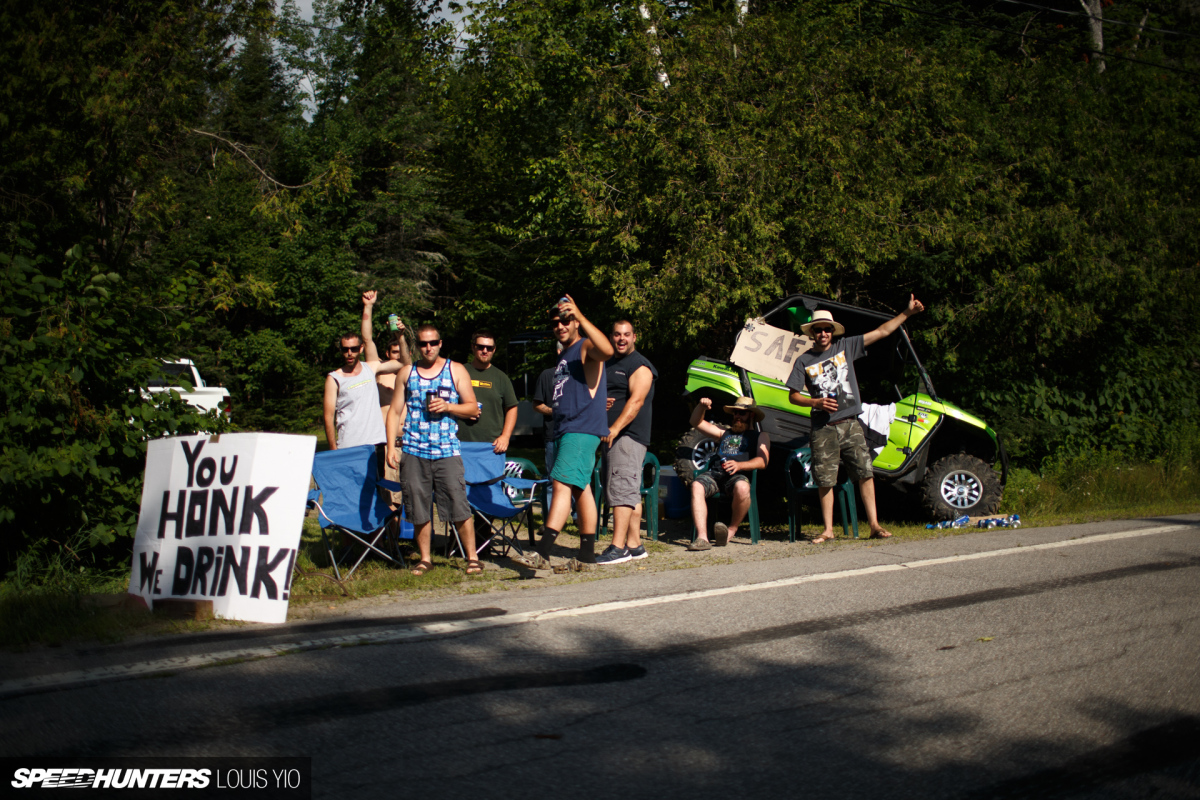 We passed these guys at about 9:00am (who drinks that early?!) and made sure to honk our horn. The funny thing is, as we were heading back in the afternoon, the guys had flipped their sign around to face the opposite traffic. Yes, we honked our horn again.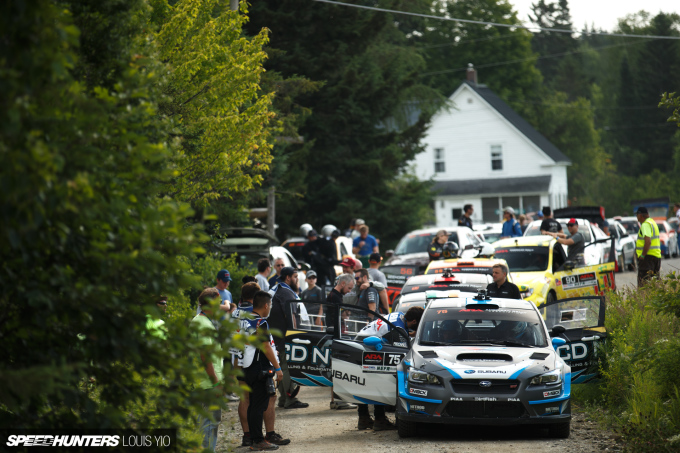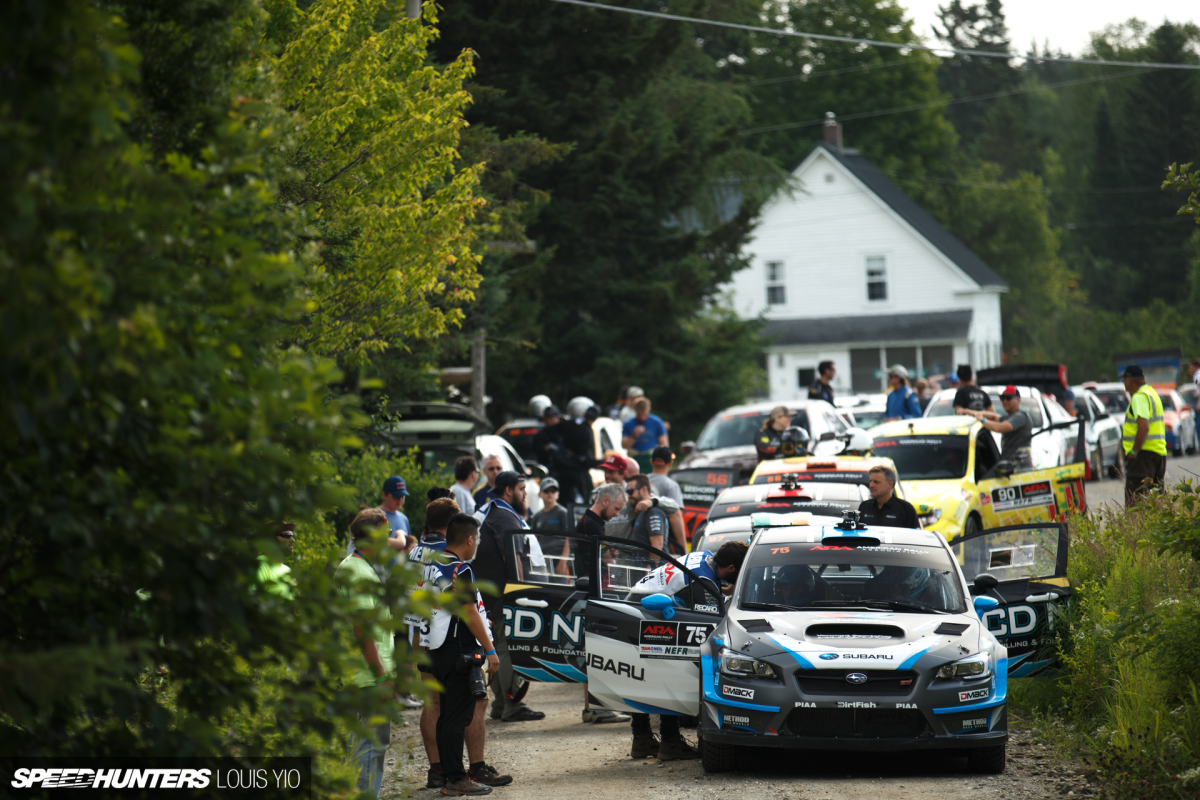 In the morning however, we hit up the first stage of the day to shoot the cars as they left the start line.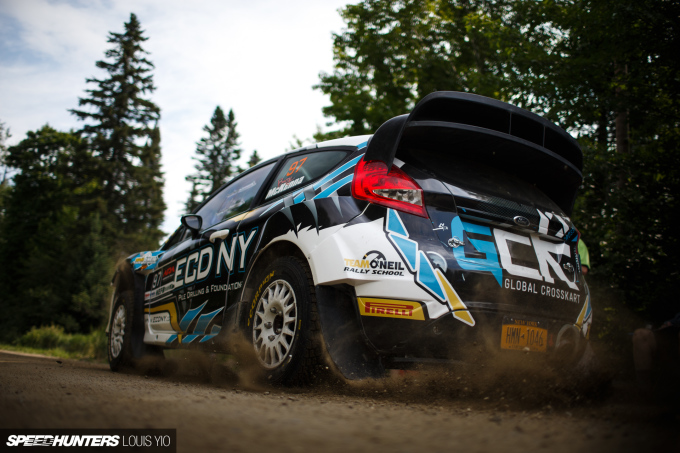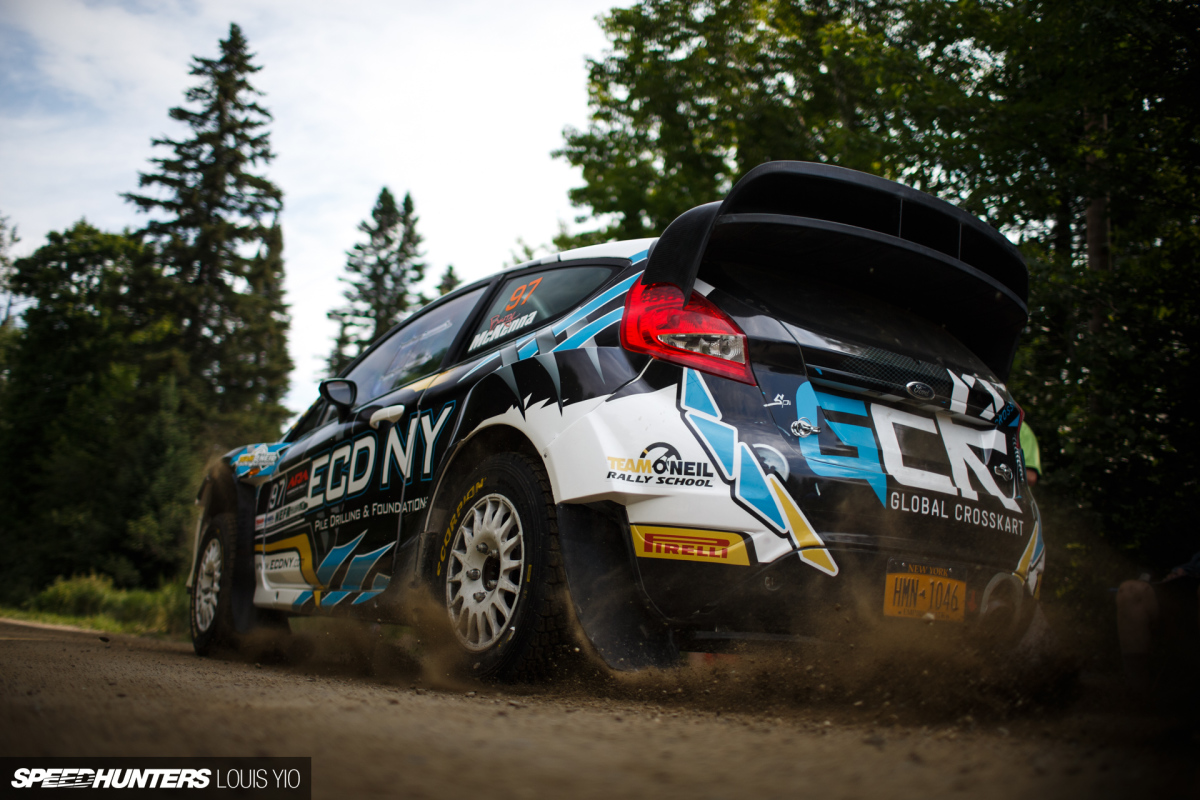 A little dirt flying around doesn't hurt anyone.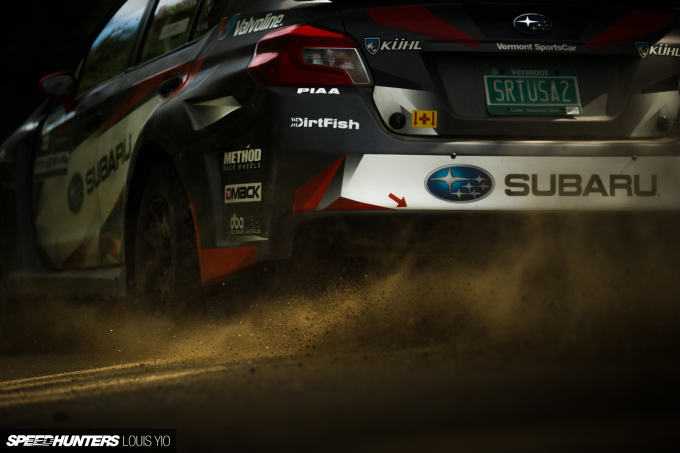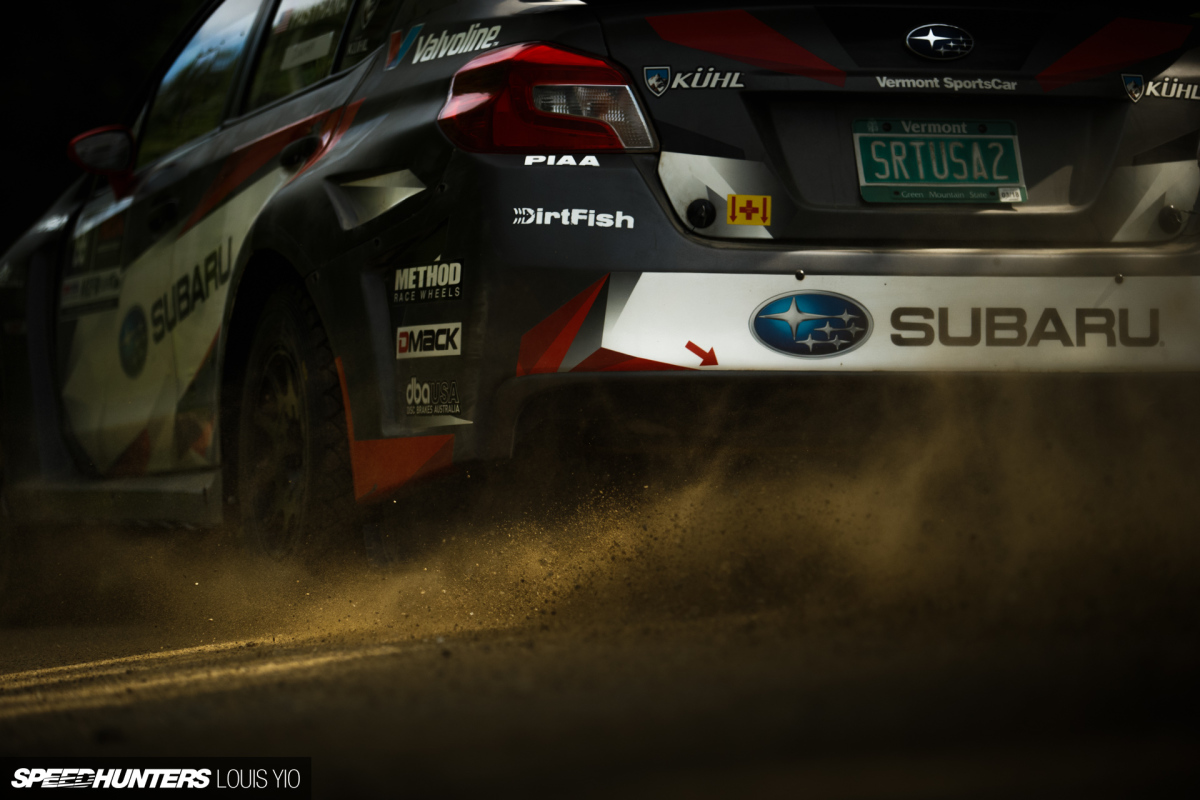 The cars were sent out in one minute intervals so everything was happening relatively fast.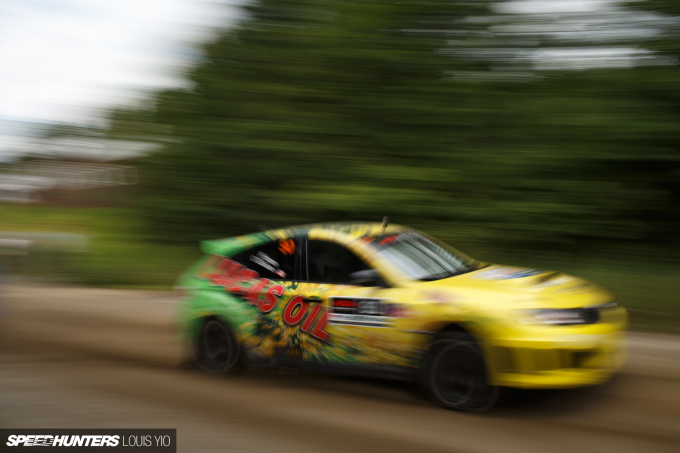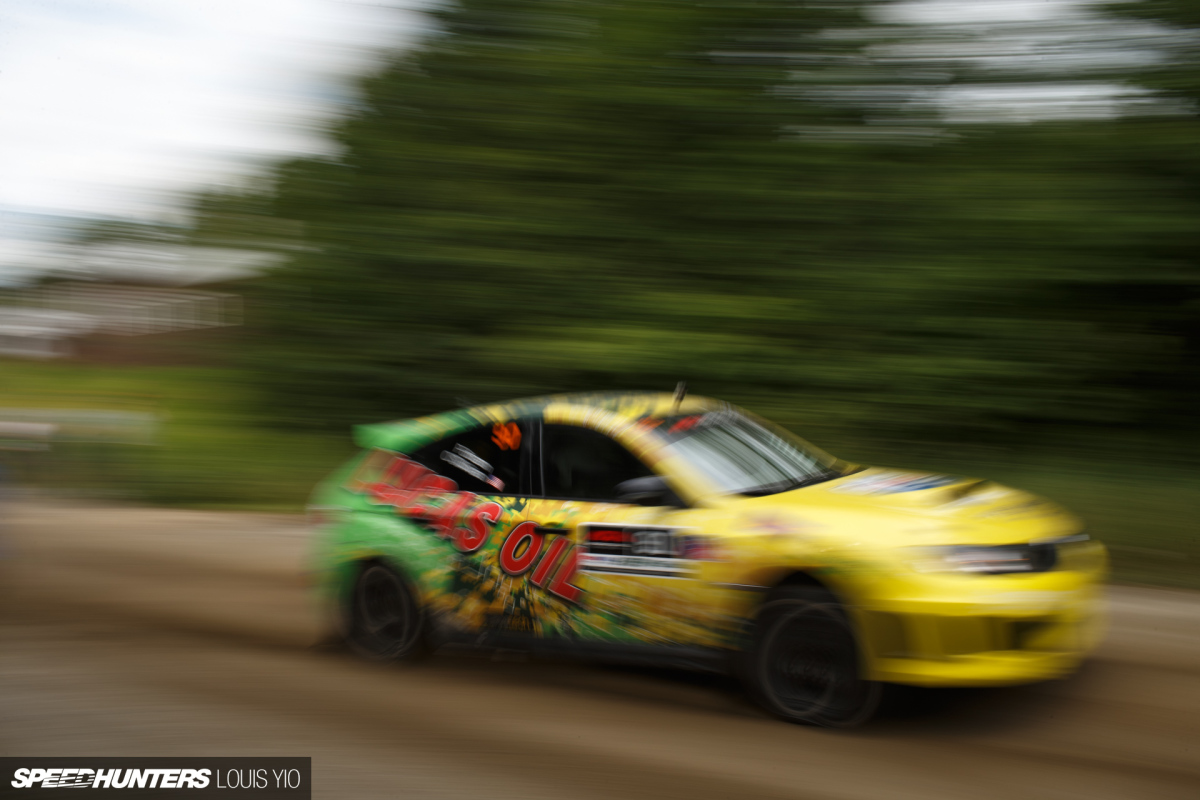 With the limited amount of power these cars make with their turbo restrictors, they still launch hard and fast.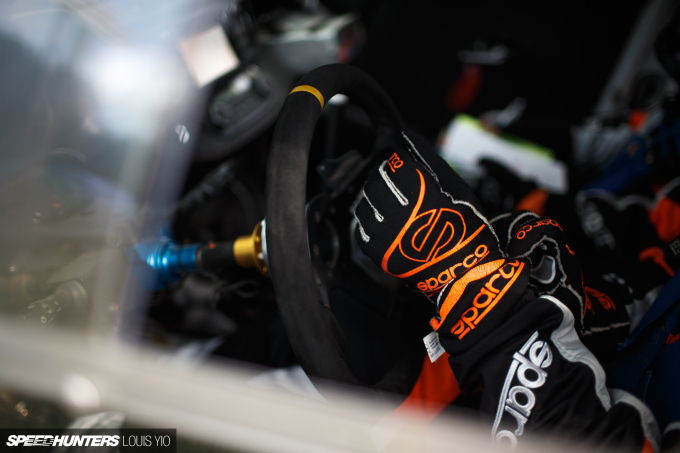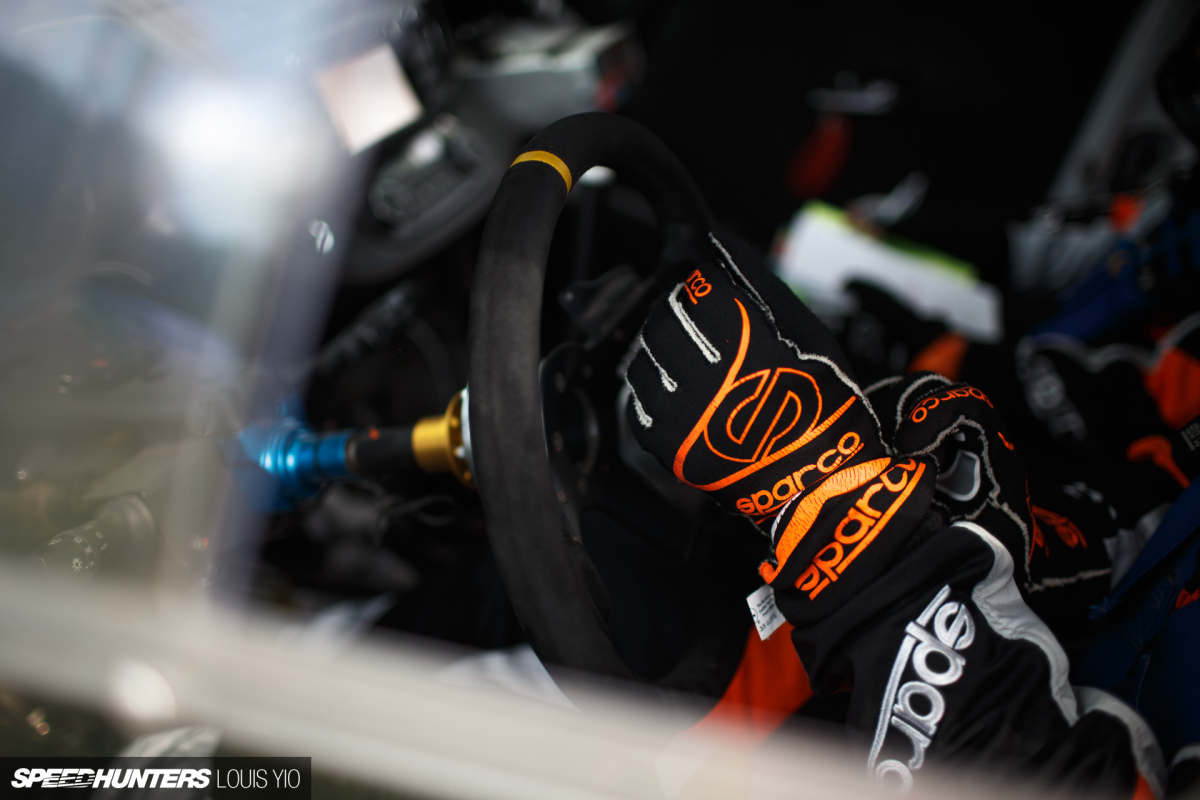 Just further back, Ryan was strapping everything in for his go at the stage. He was leading his class at the end of day one, so was in good position for a result.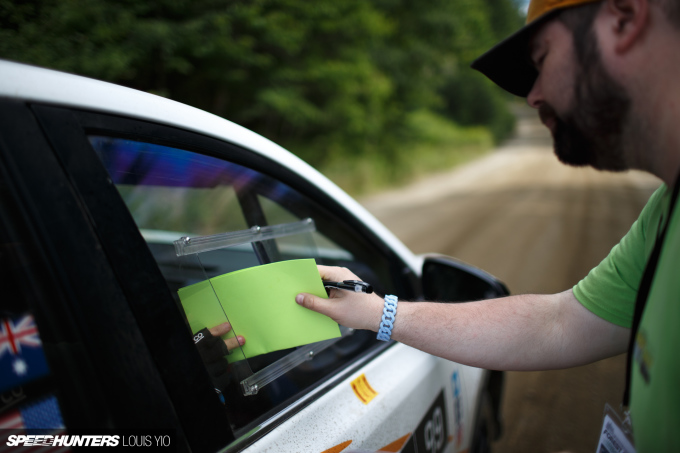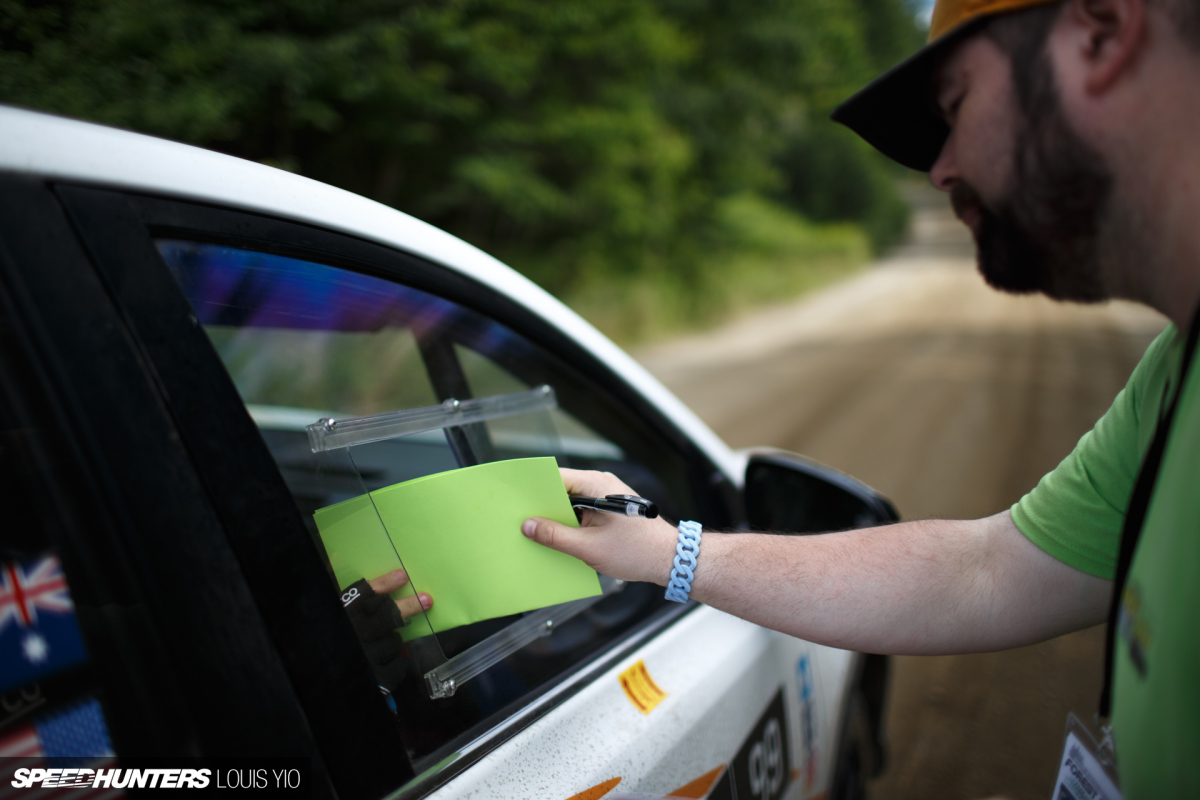 With a trade of official time stamps, Ryan and Rhianon were off.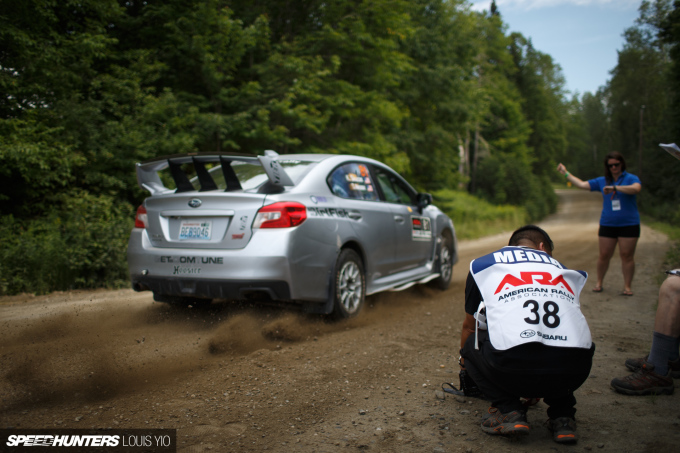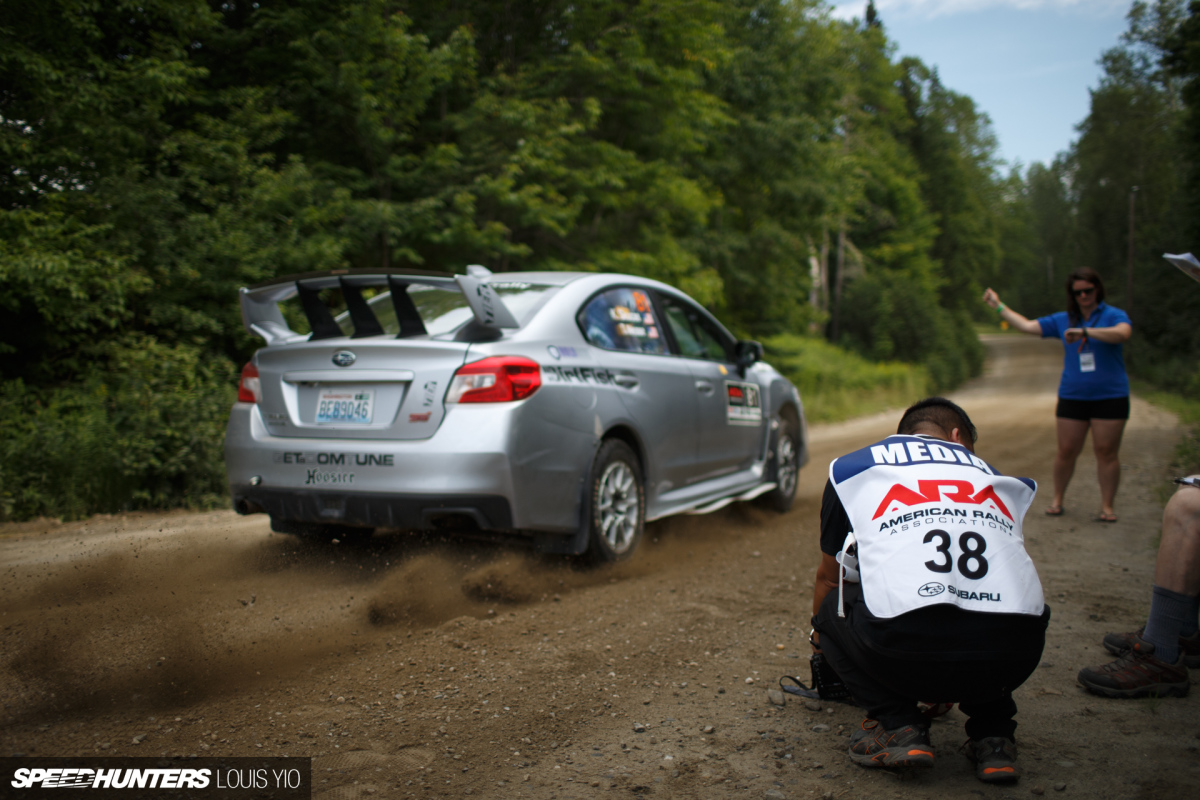 It's kind of random, but I really like the ARA media vests. Compared to those in other racing series, these things are pretty high up there as far as media vest quality goes. I'm not even joking.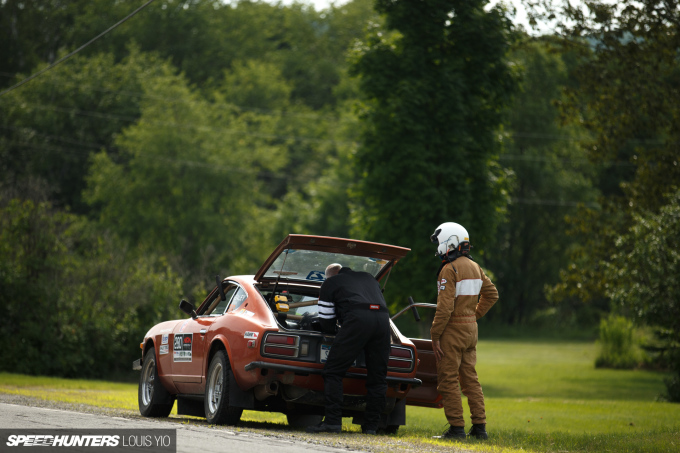 I can't get enough of the Z!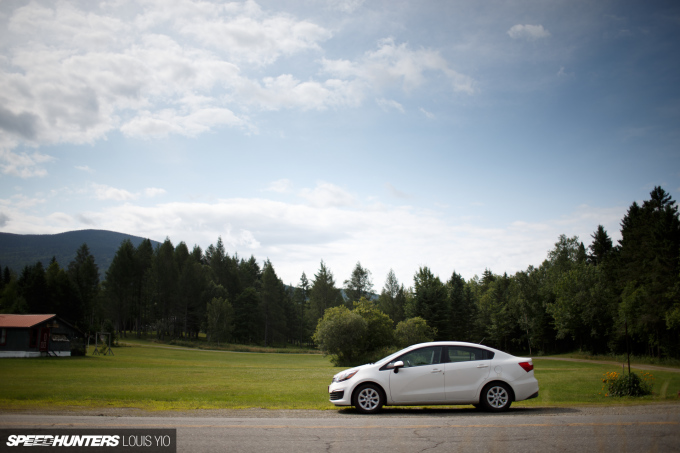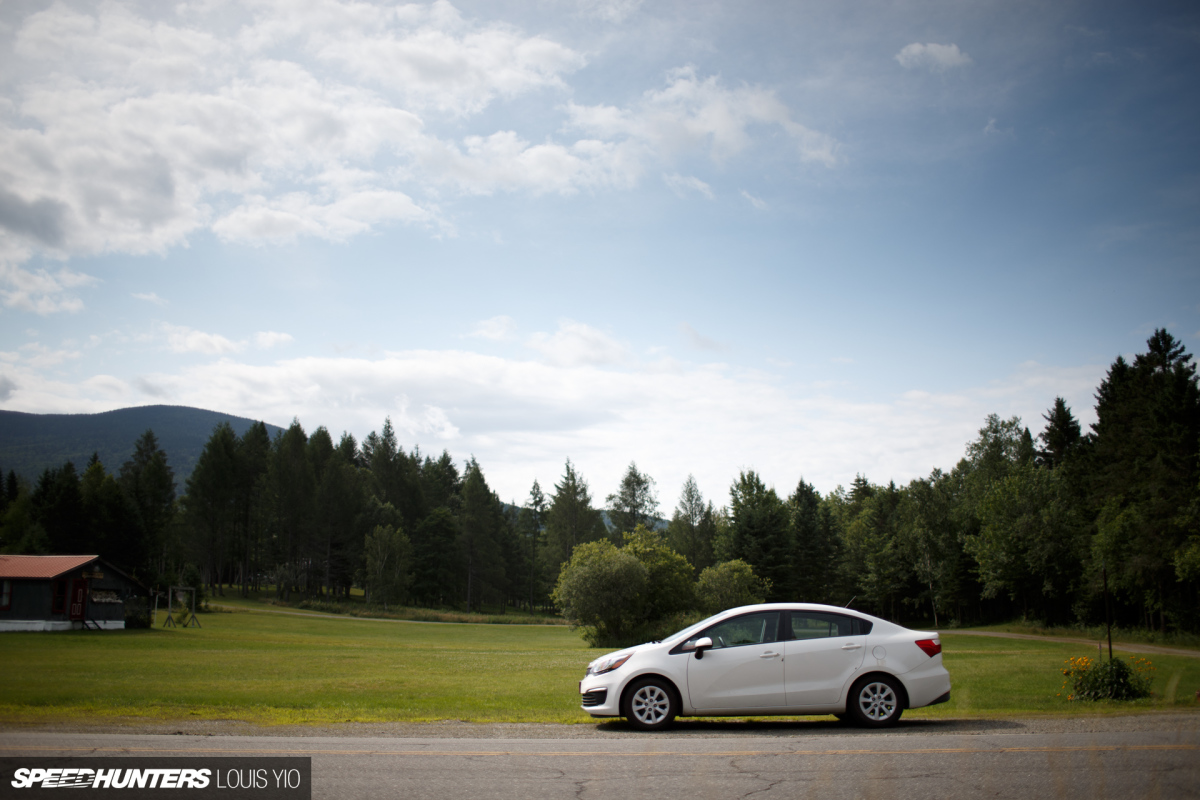 Alex, Peter, and I hopped back into the trusty rental car and headed off to our second stop.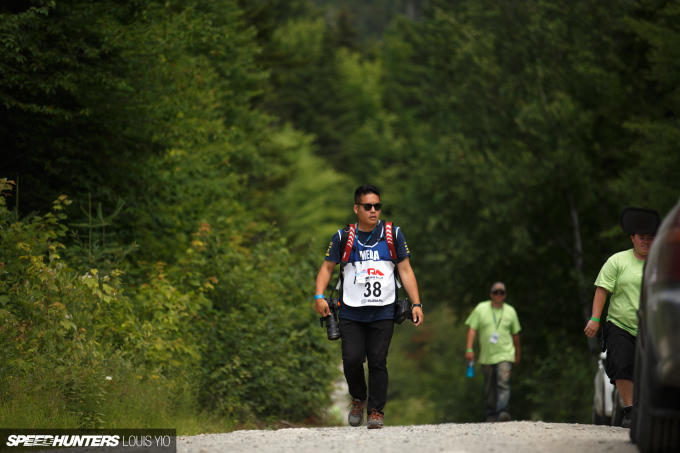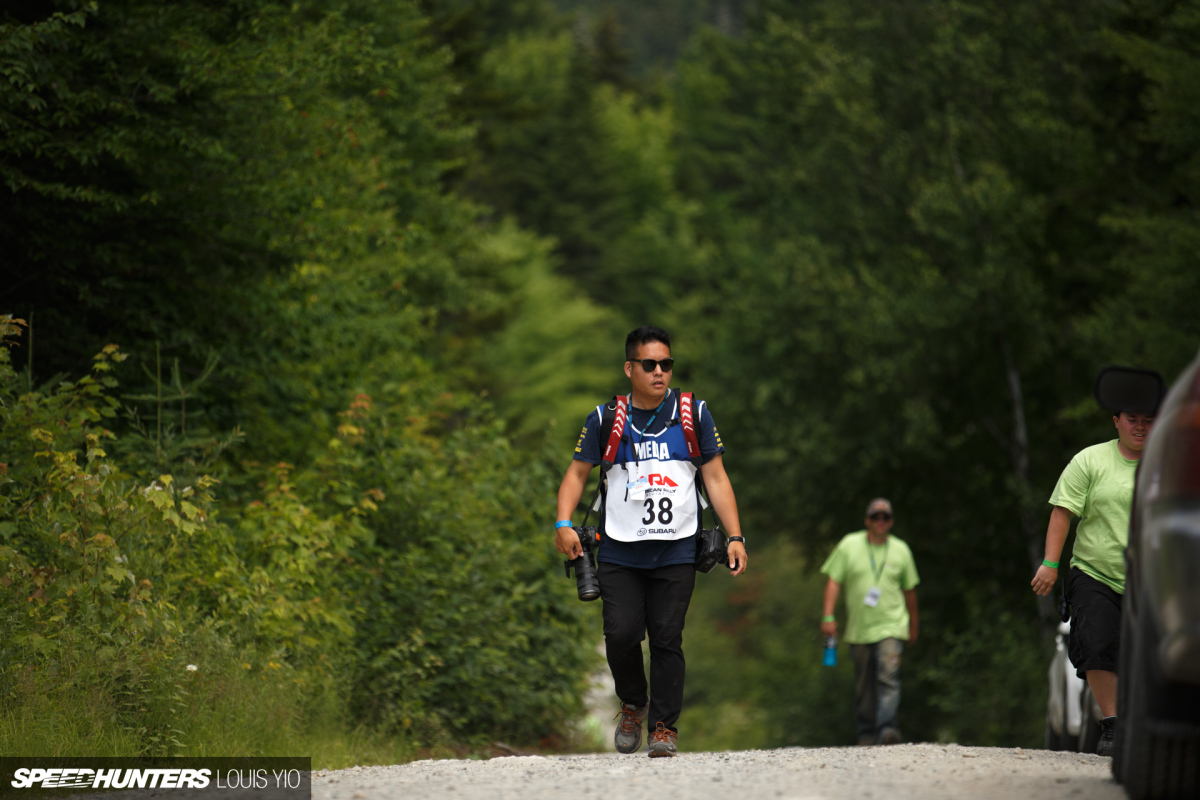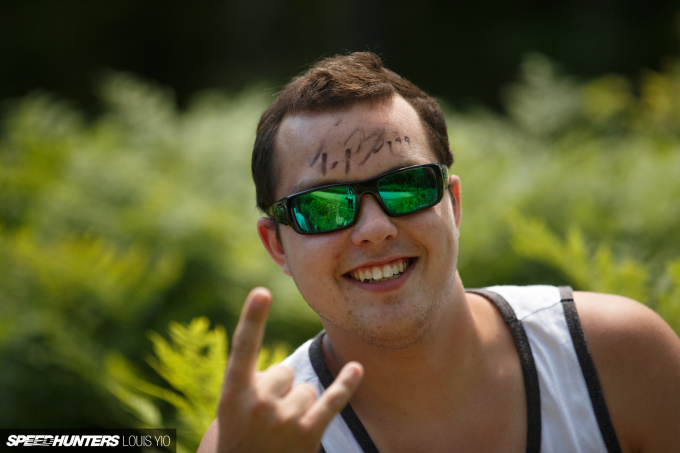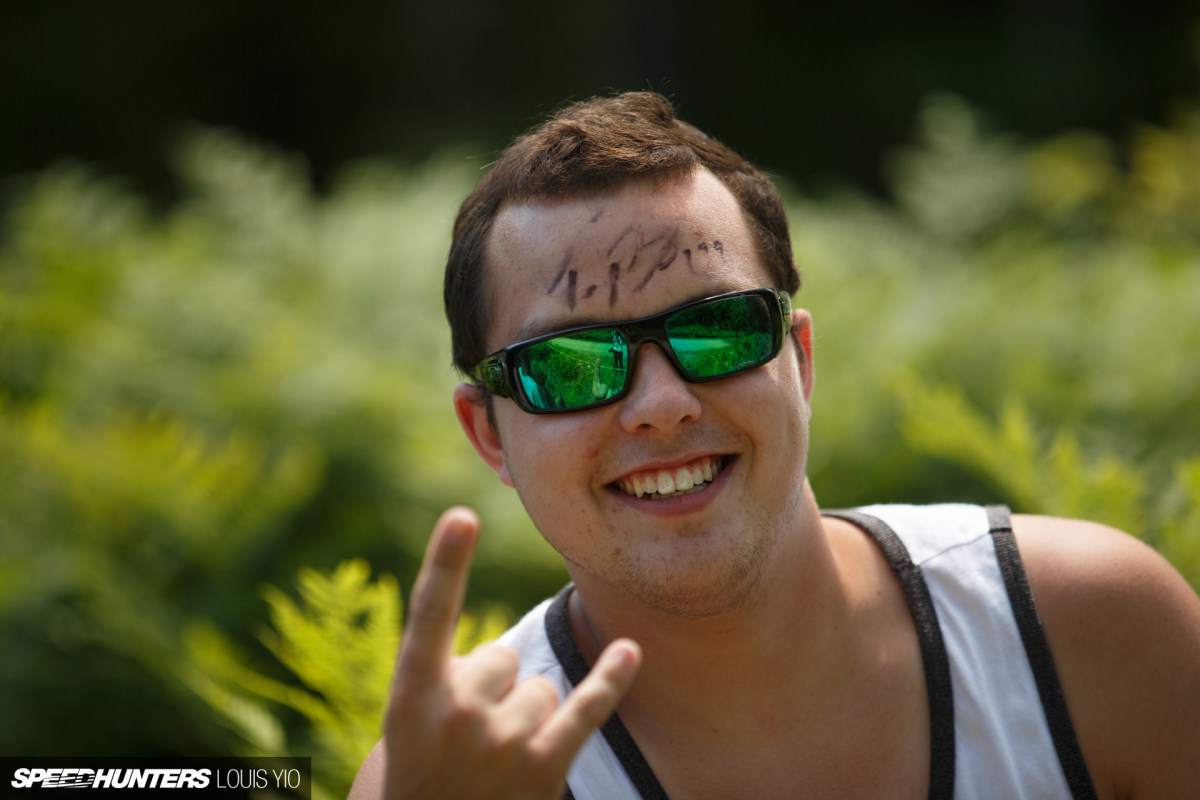 Alex took us to Sturtevant, which is popular stage for spectators. Drivers made two back-to-back runs through here, which explains why the stage was filled with hundreds of diehard fans.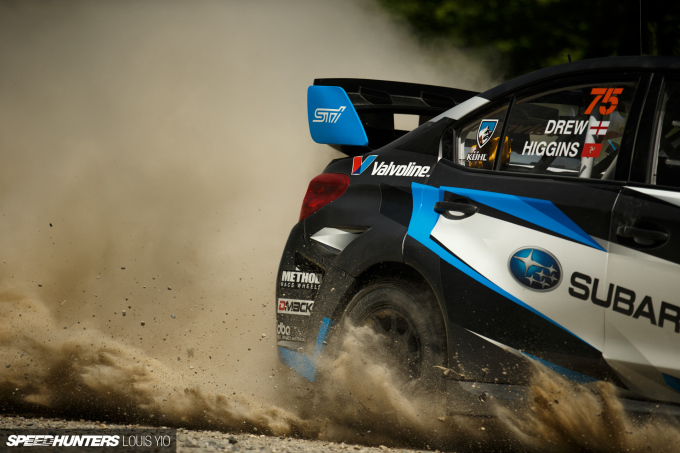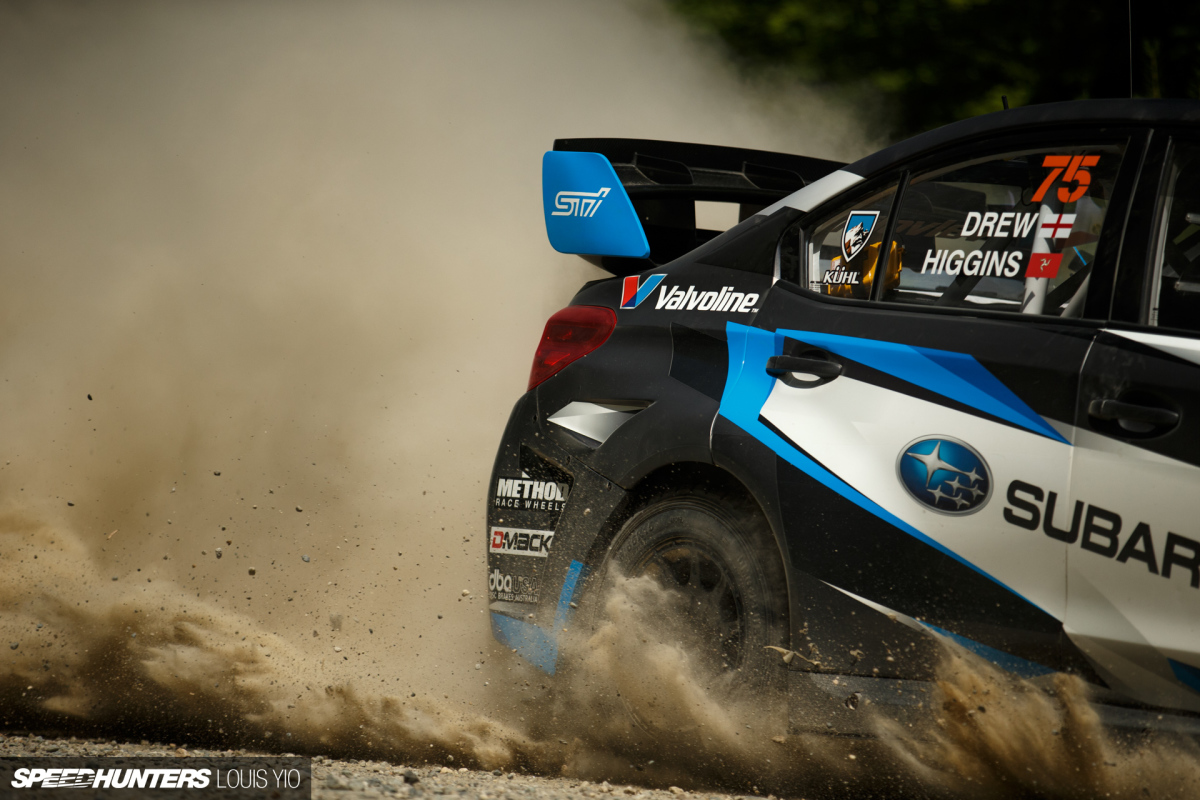 We hiked about a mile and a half into the stage from the end, and not long after we stopped David Higgins and Craig Drew blew by. I received a nice mouthful of dirt in my face even though I was standing pretty far back from the turn shooting with a long lens.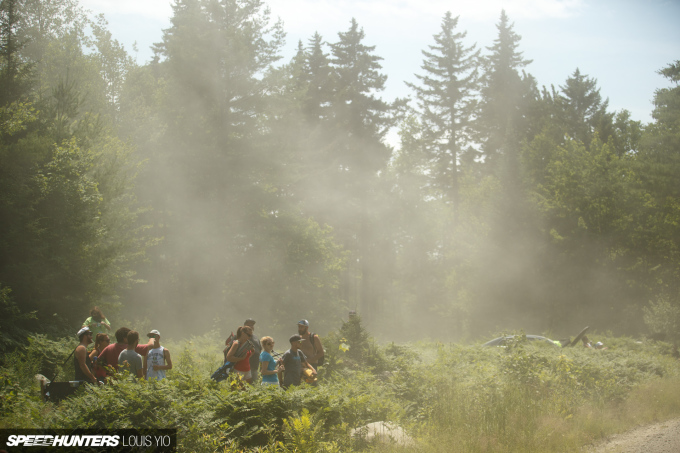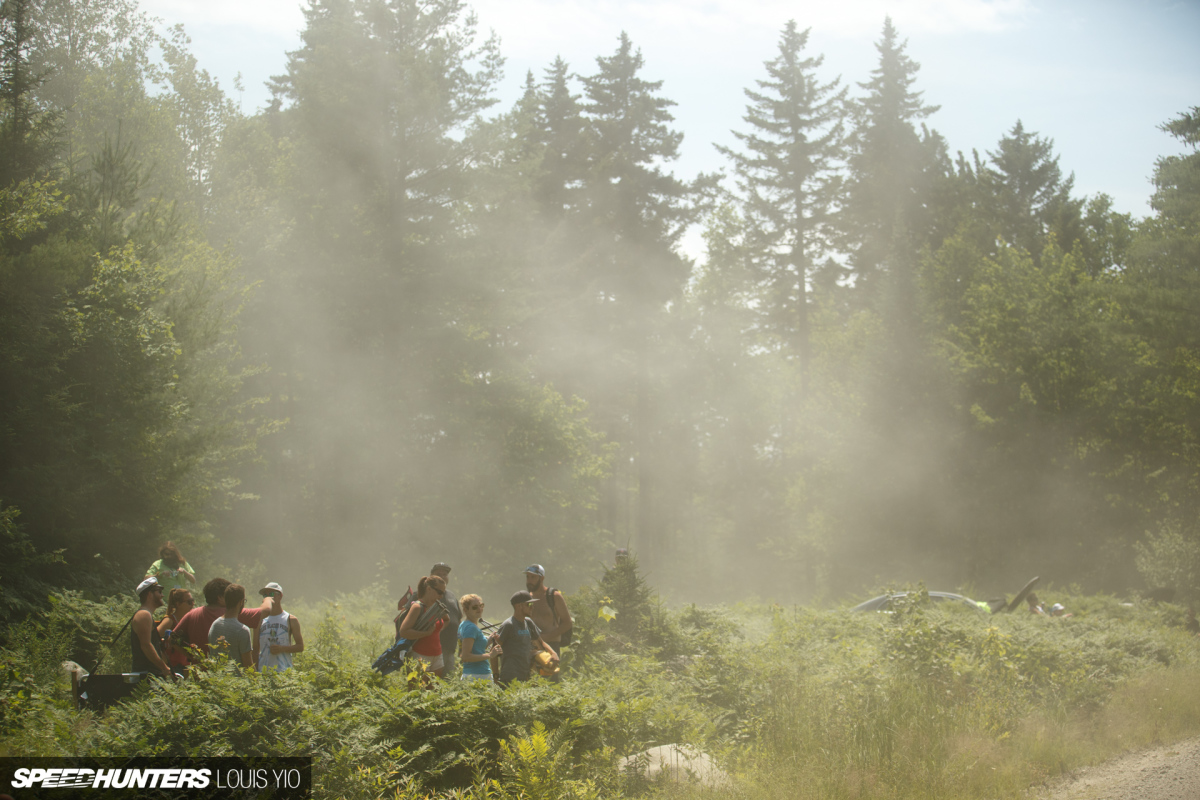 It really reminded me of desert racing in SCORE and BITD. I guess stage rally and desert racing aren't too different after all.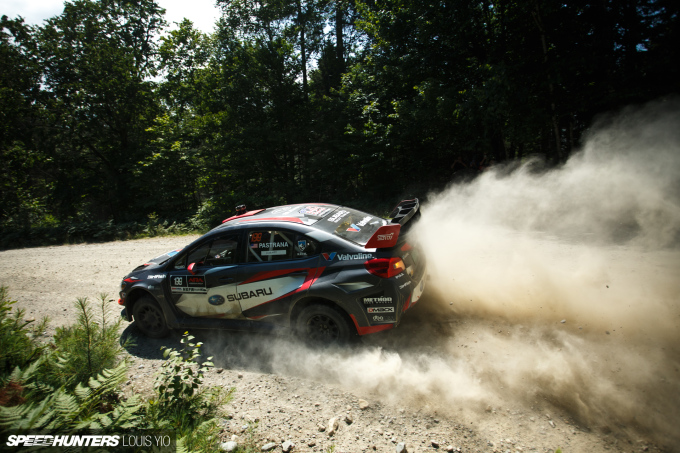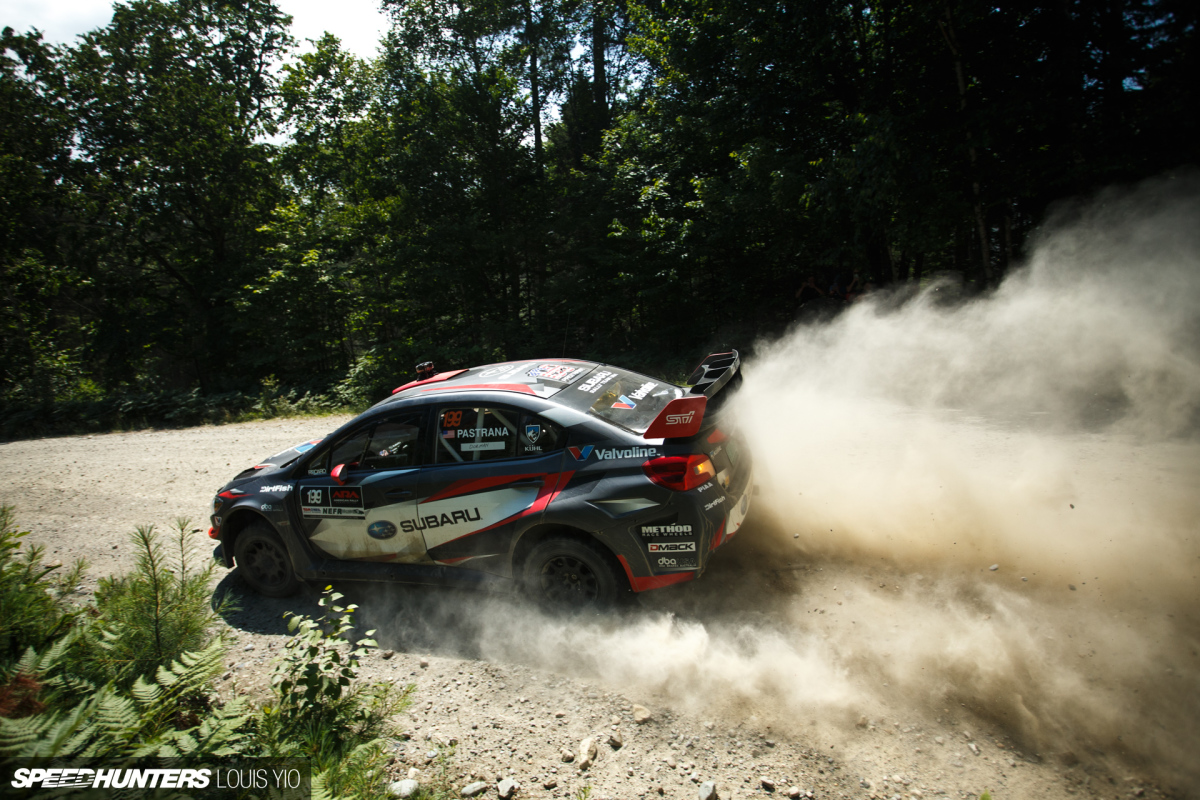 The inside of the corner looked to be a bit safer, so I opted for that as Pastrana and his new co-driver flew by.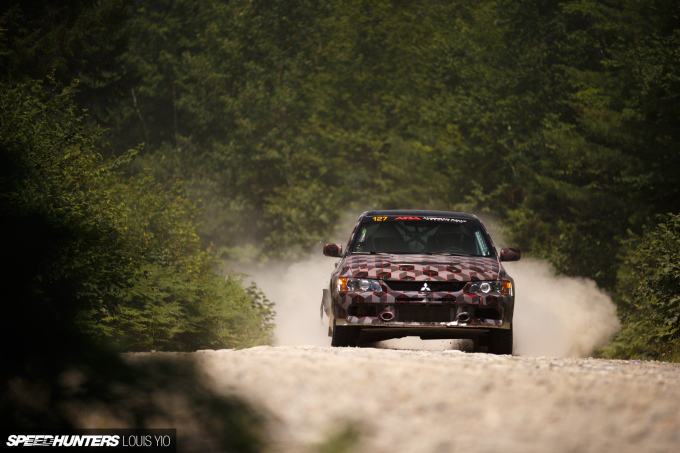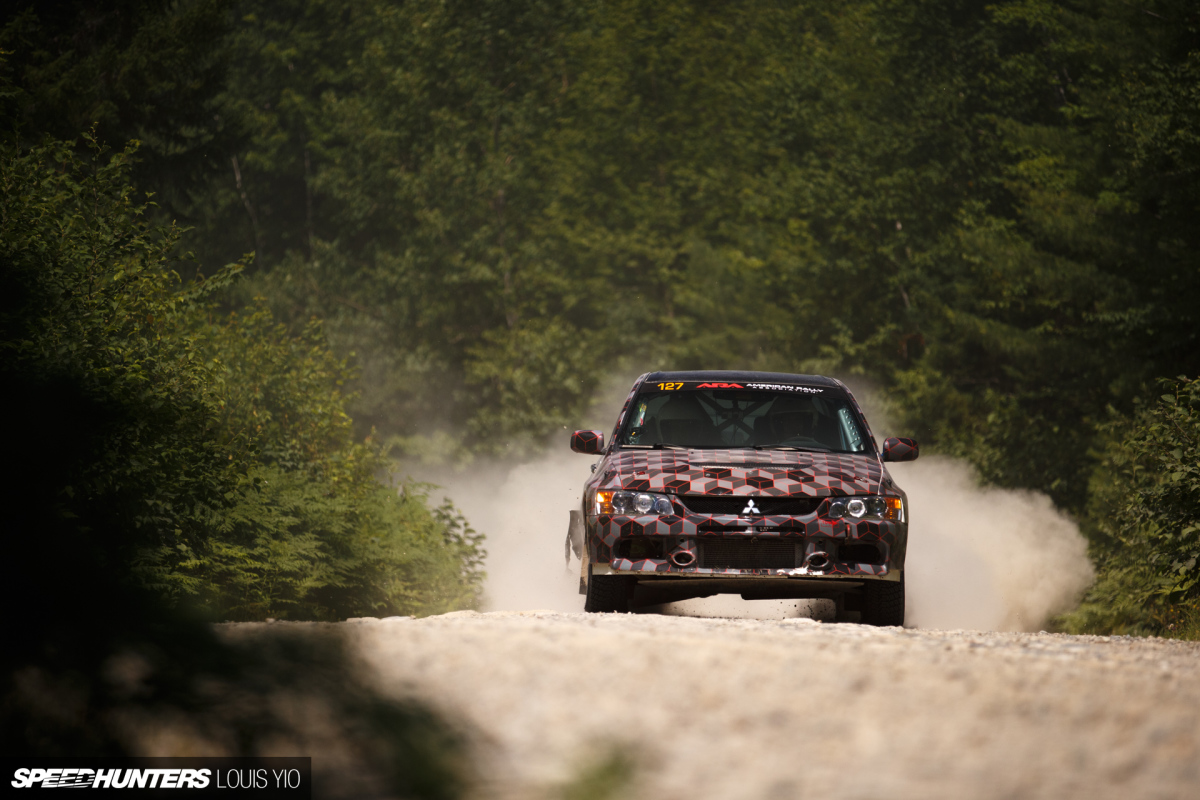 The surrounding forest was getting dustier and dustier with each passing car, but thankfully there was a gust of wind every minute or so to clear it.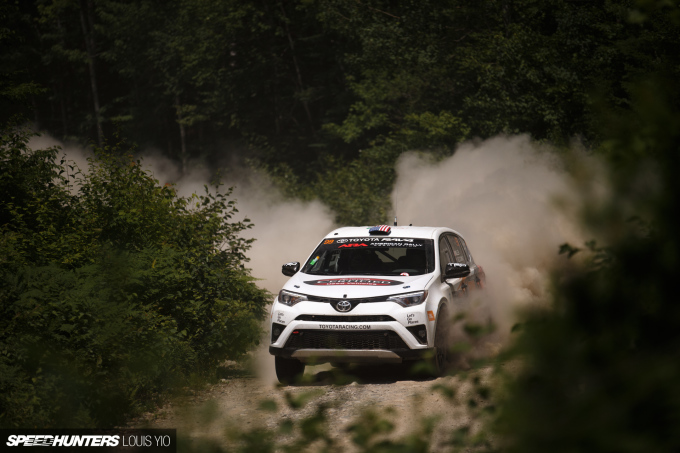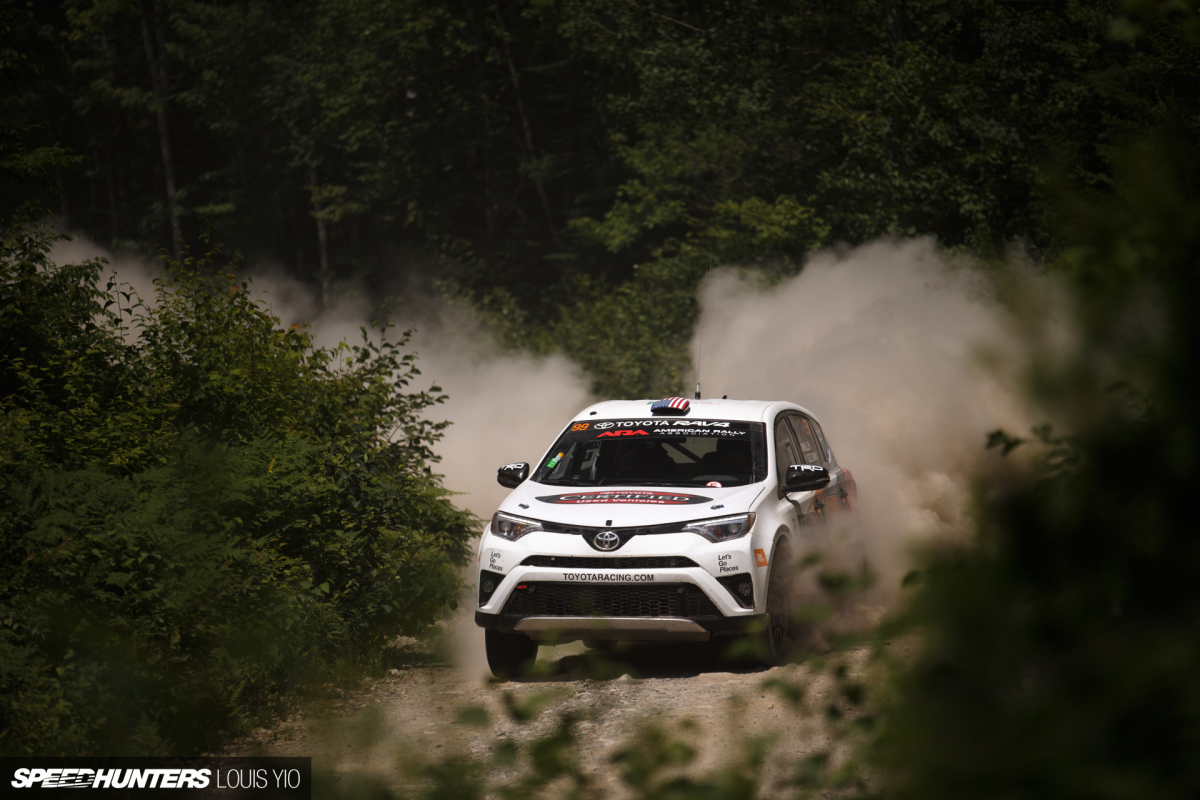 Ryan flew through the previous corner right into my frame, but within two seconds he had disappeared from sight. All I could hear was his RAV4's exhaust note until it faded away.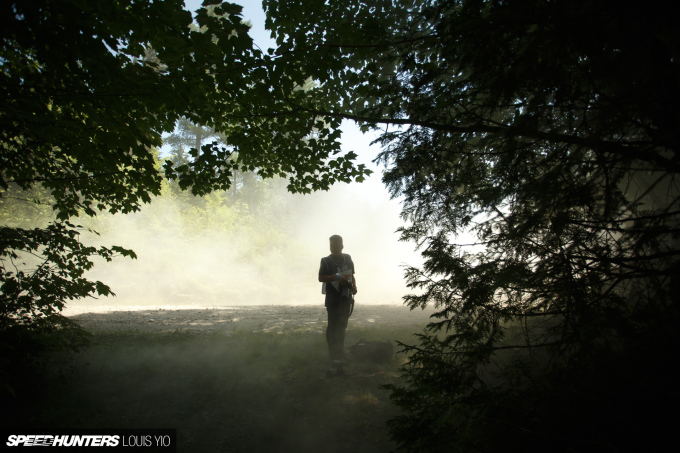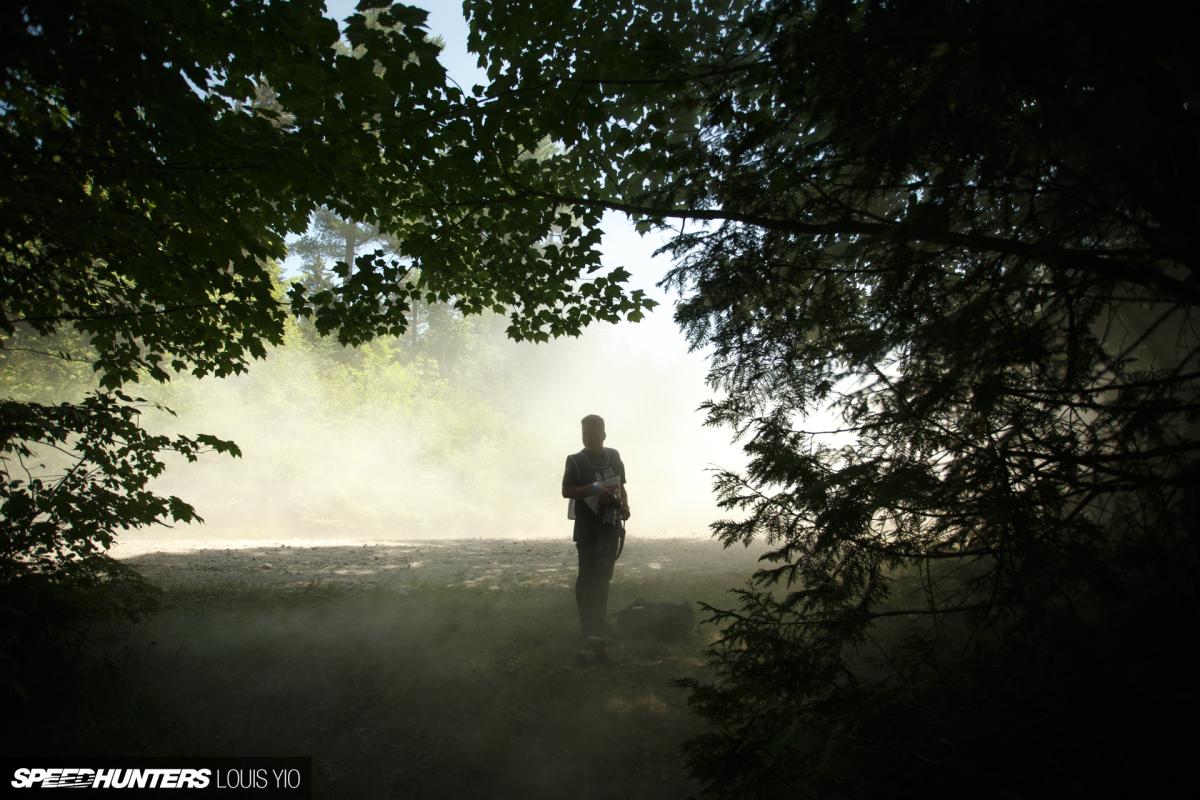 After another few competitors came by, I heard an exhaust came to a dead stop.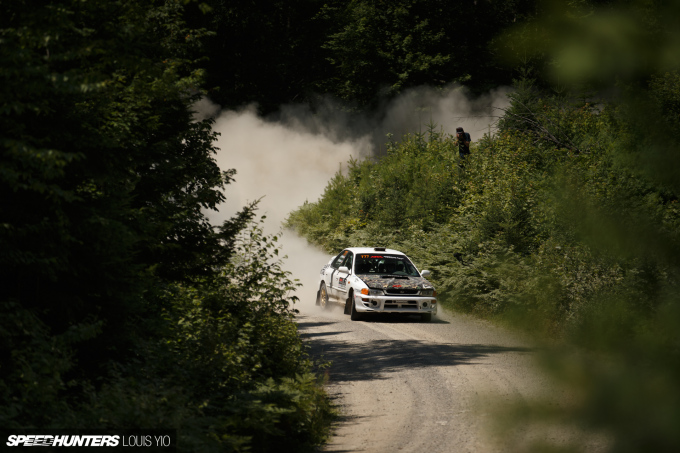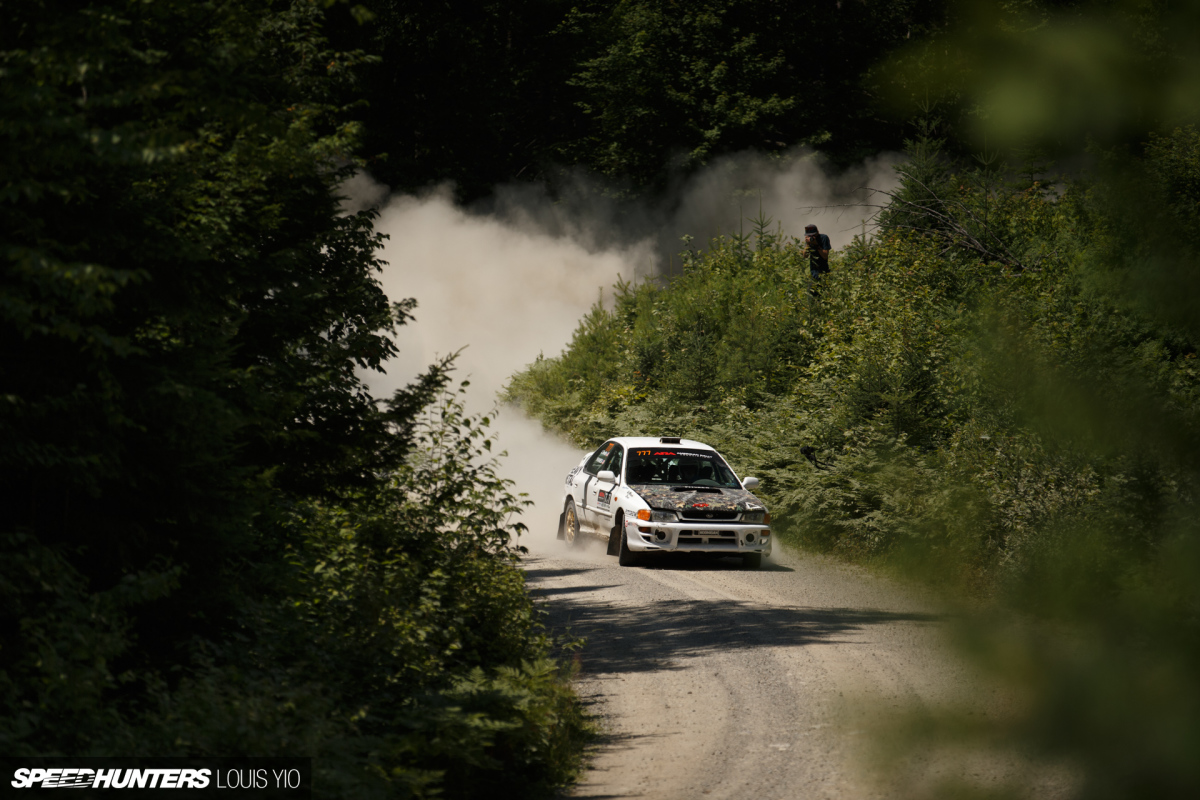 I either went deaf, a competitor had a hybrid vehicle, or something far worse had happened.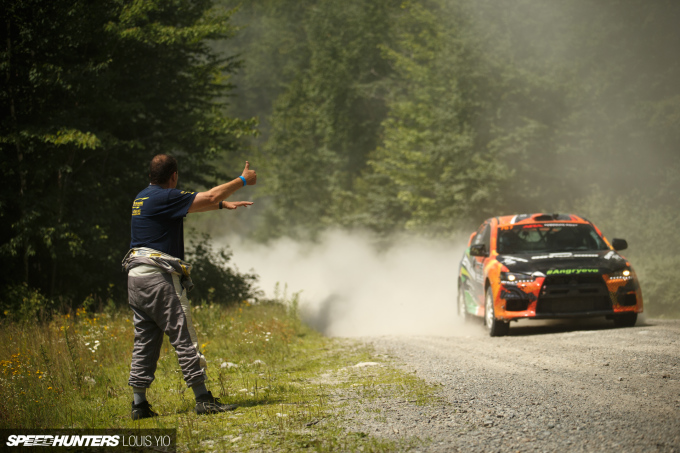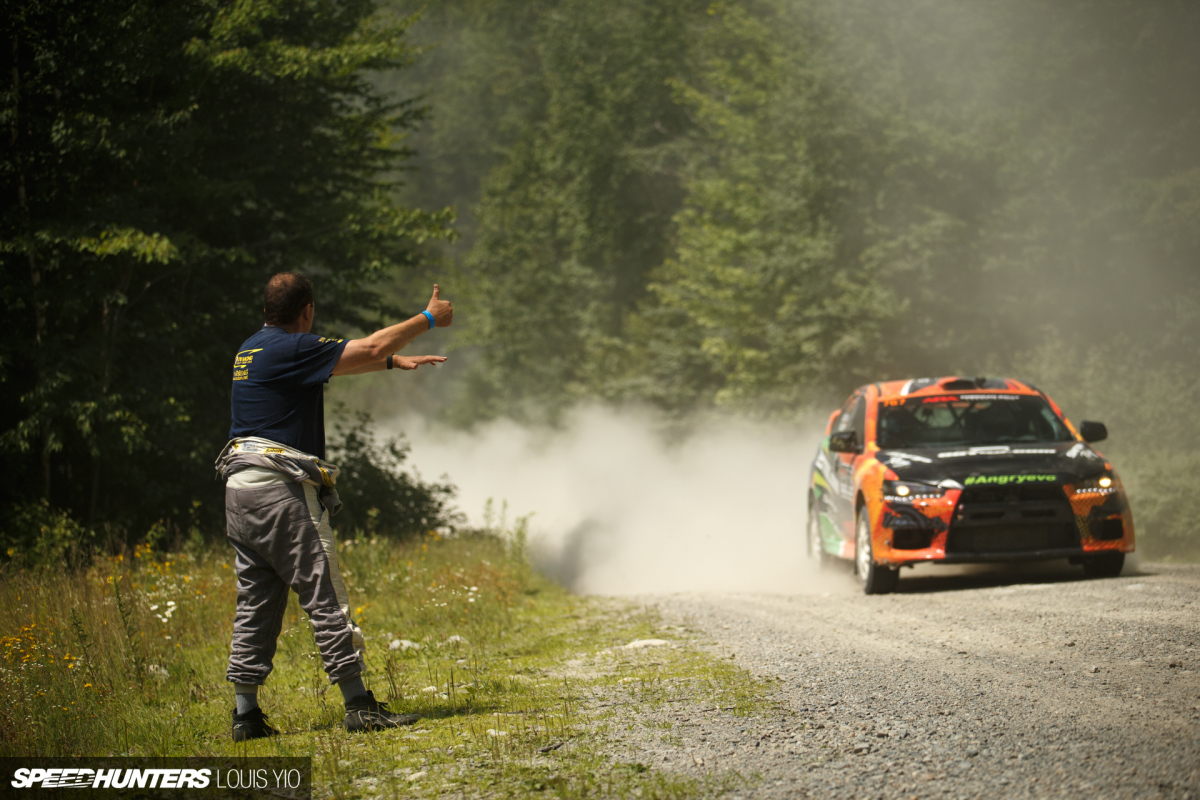 We turned the corner to see a co-driver out on the stage letting fellow competitors know that he and his driver were okay and that they didn't need to stop for aid.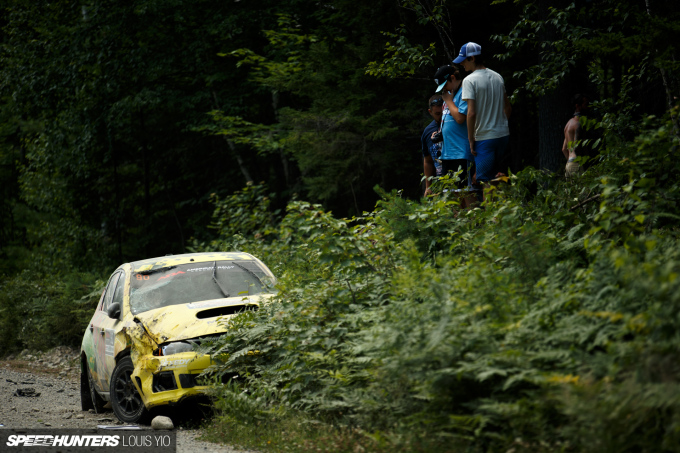 Just around another corner, this WRX was parked right beside a rock.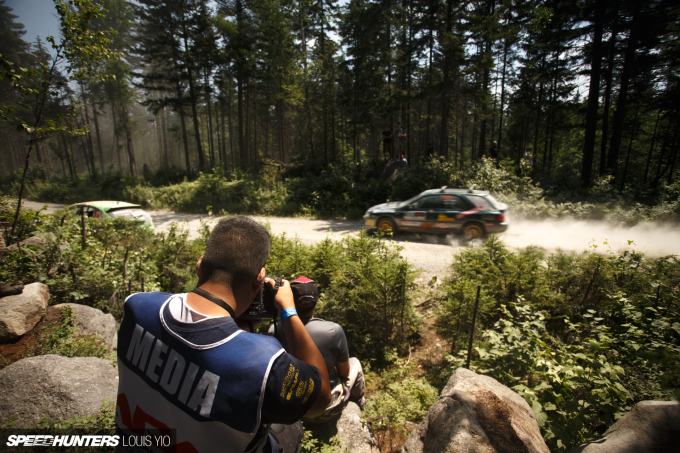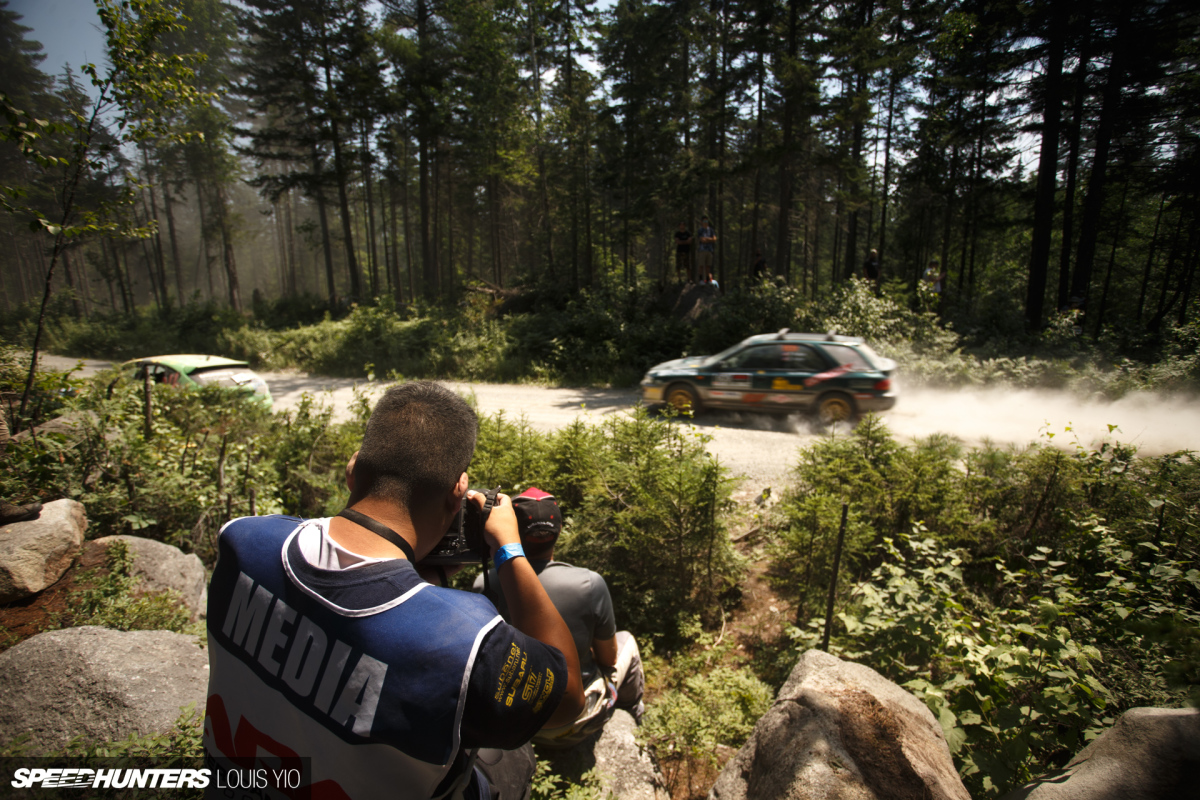 After chatting with the crowd and watching a phone video, we learned that the Subaru had gone a hair too wide into the corner and hit a rock, sending it flying to a halt just a few feet ahead.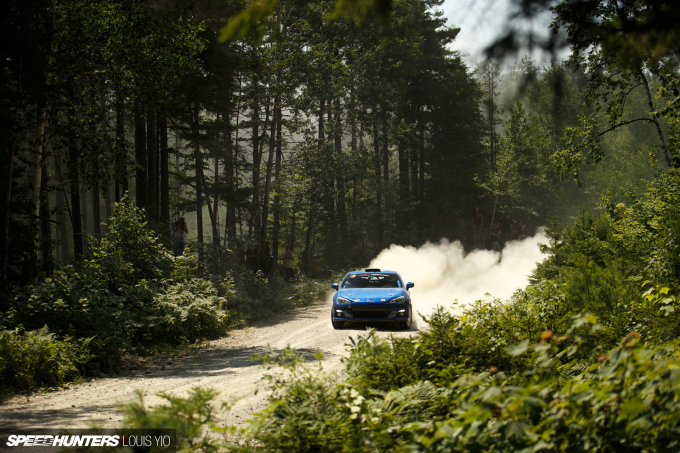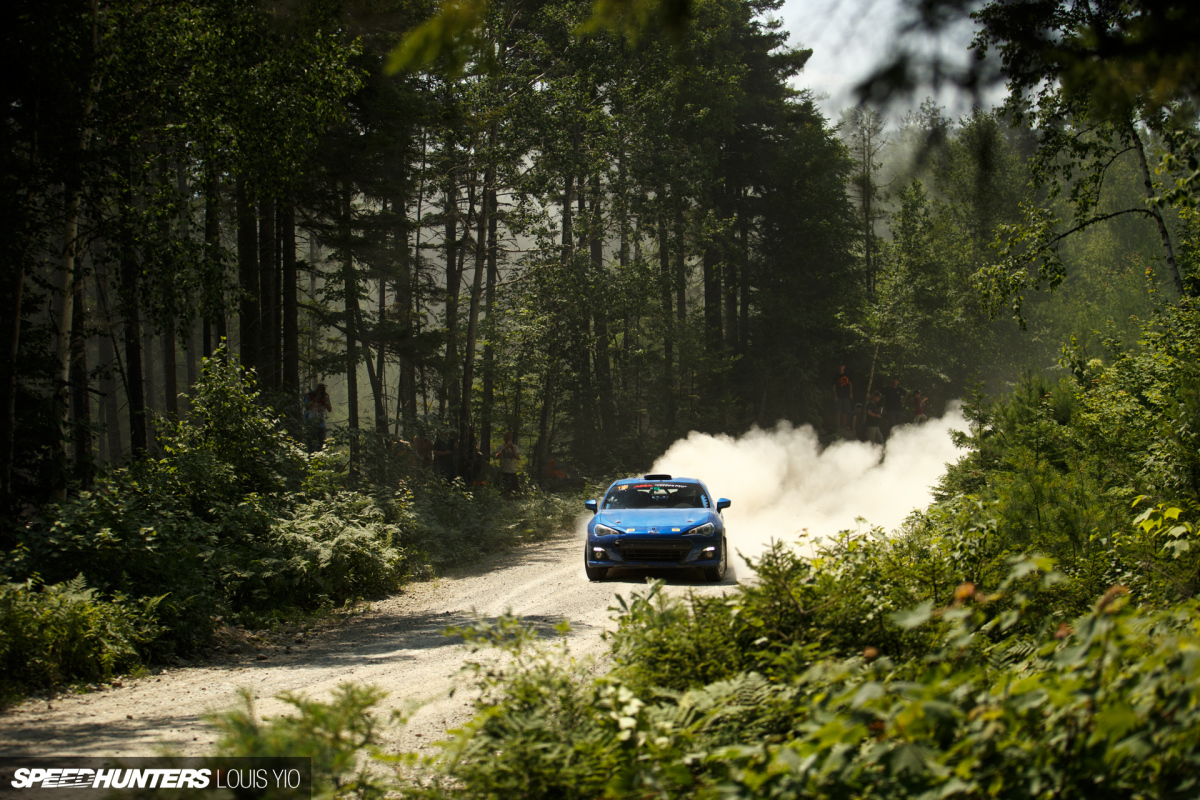 They pulled the car to the side as cars continued to blast by.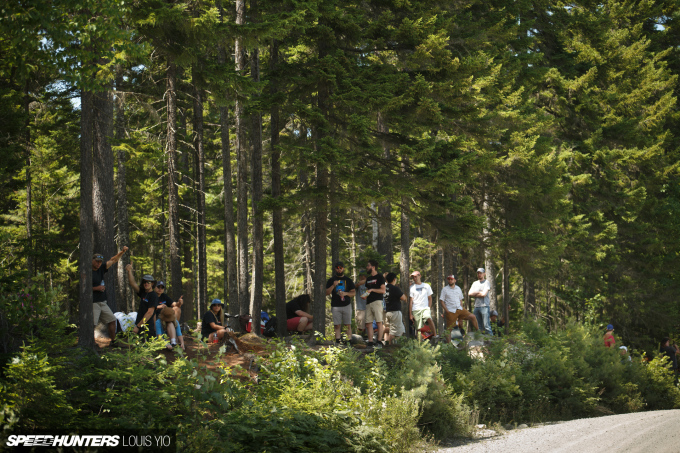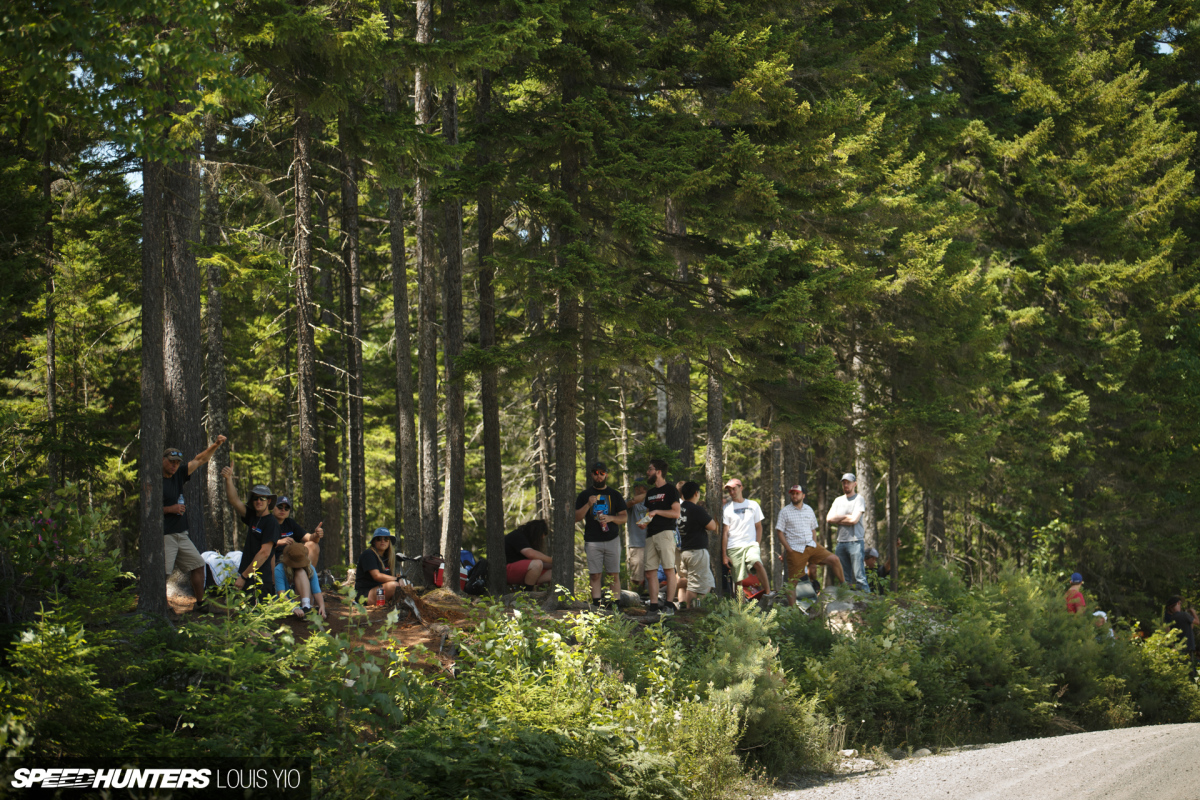 I started making my way back at this point and had dozens of fans ask me what had happened up ahead.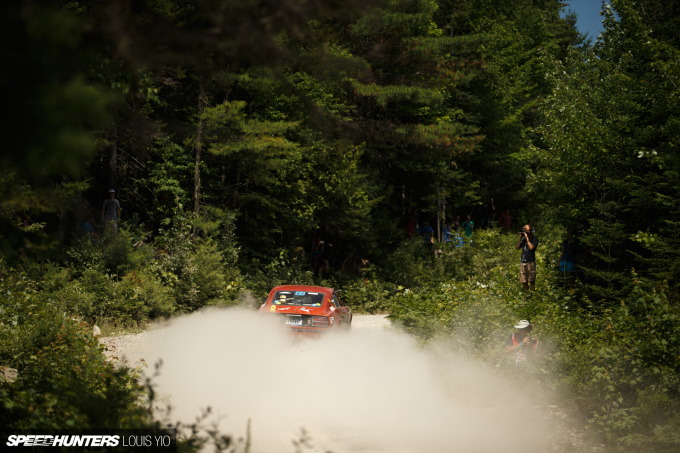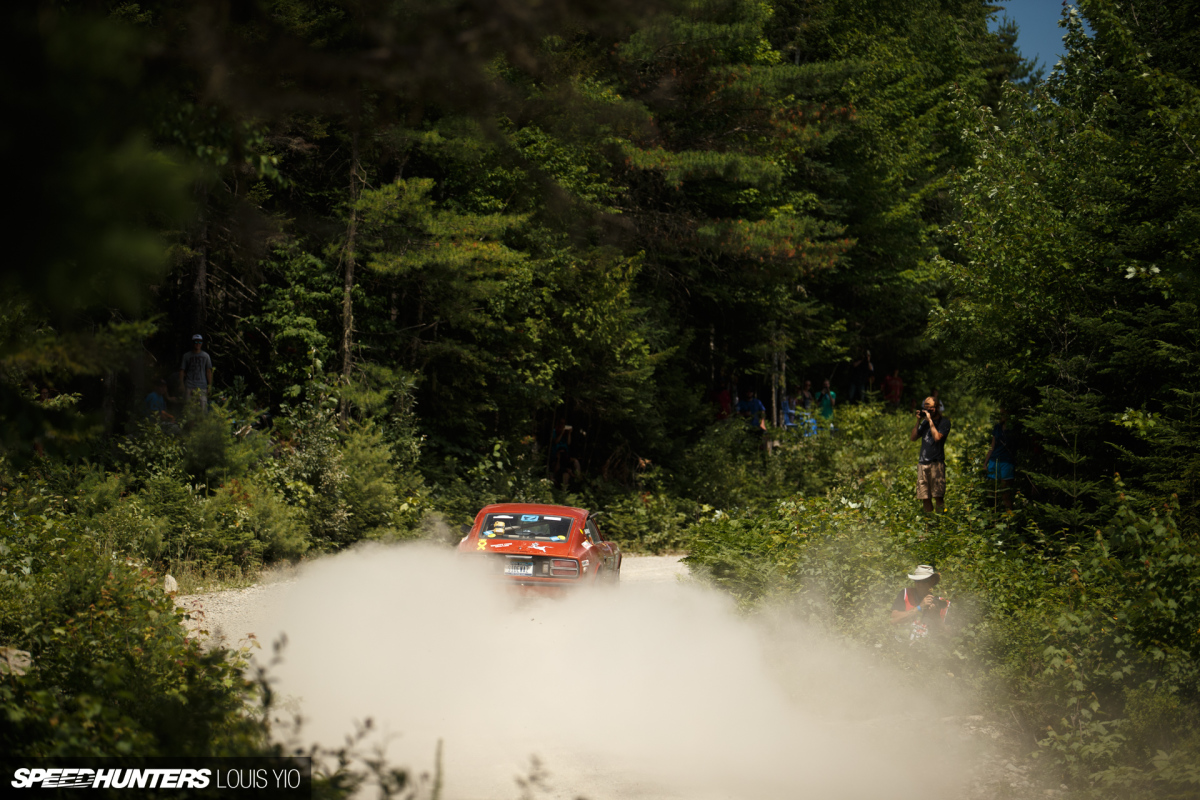 As much as I would love to launch my pro rally career, after seeing a crash like that, it really puts things into perspective. I think I'll stick to my local SCCA amateur autocross/rallycross weekends.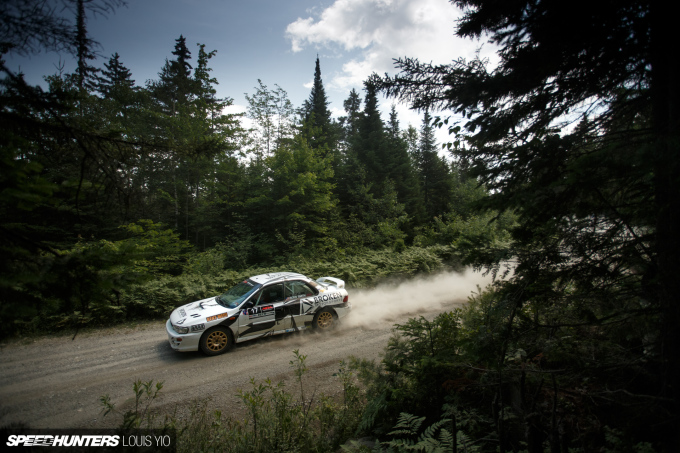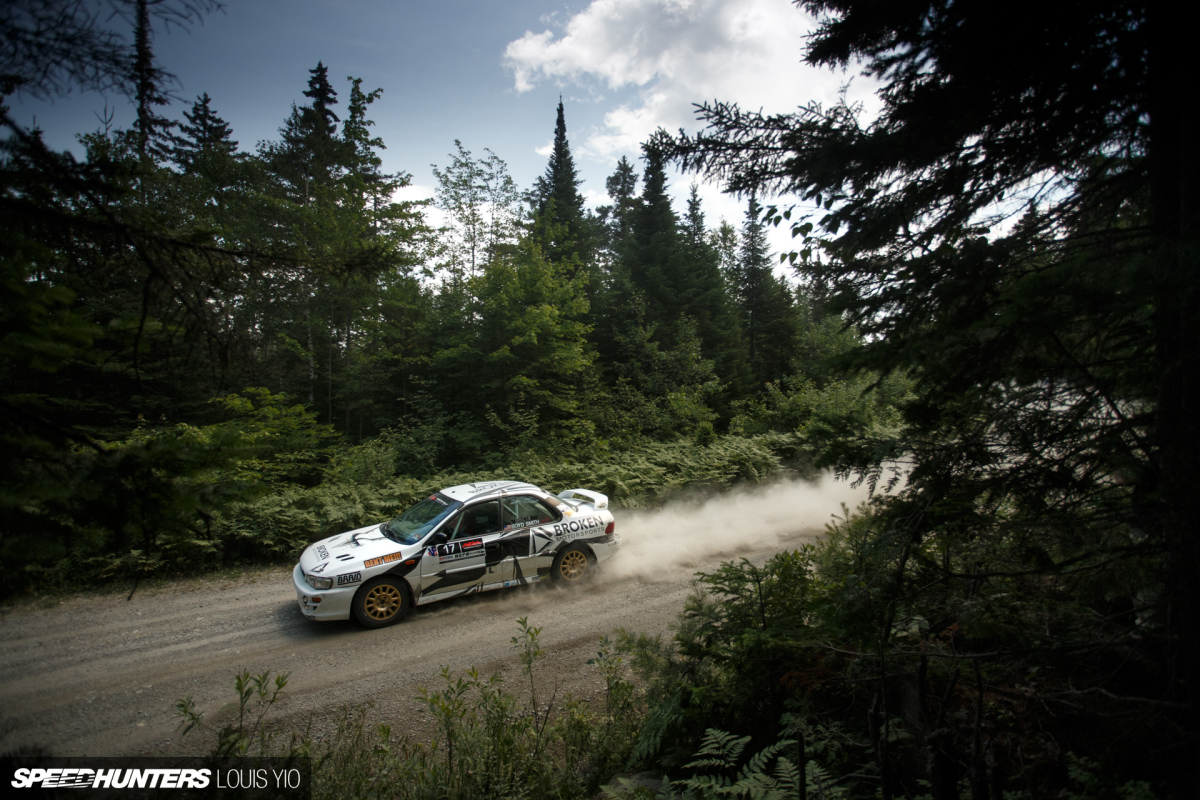 More GC8 goodness.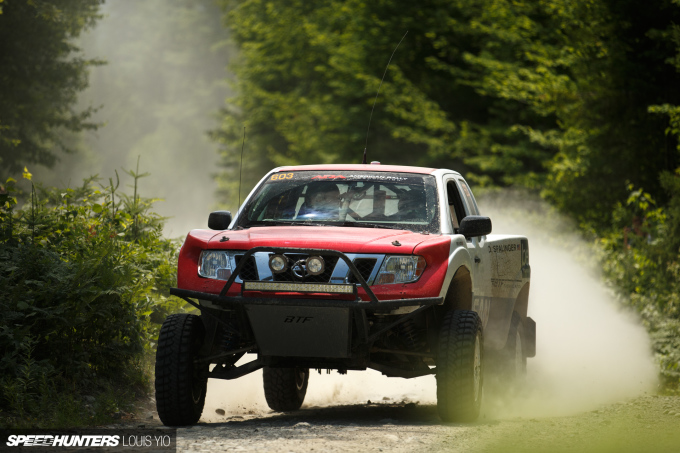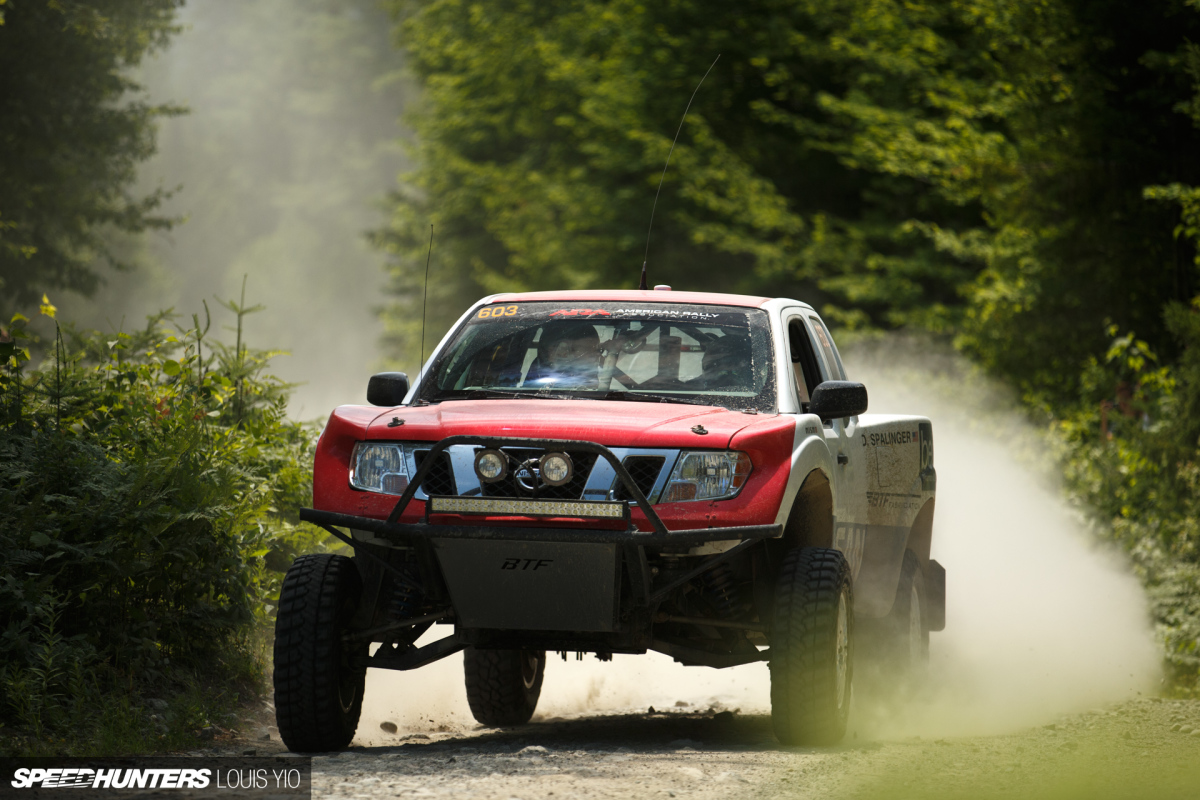 Like I said earlier, you can literally rally anything. This truck almost looked too big for the road; maybe the driver took a wrong turn while heading down south for a SCORE race or something…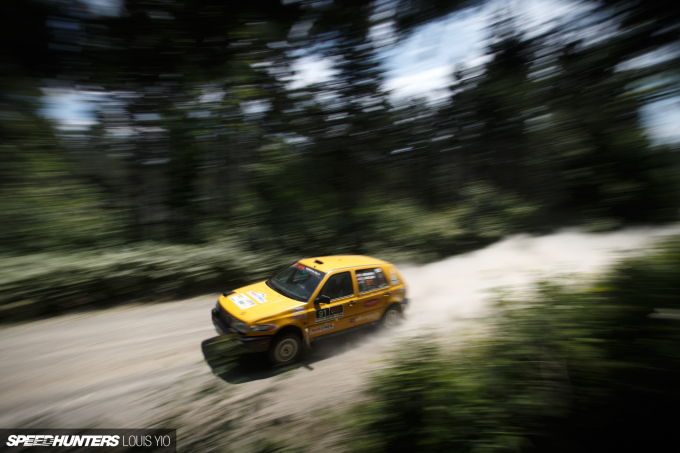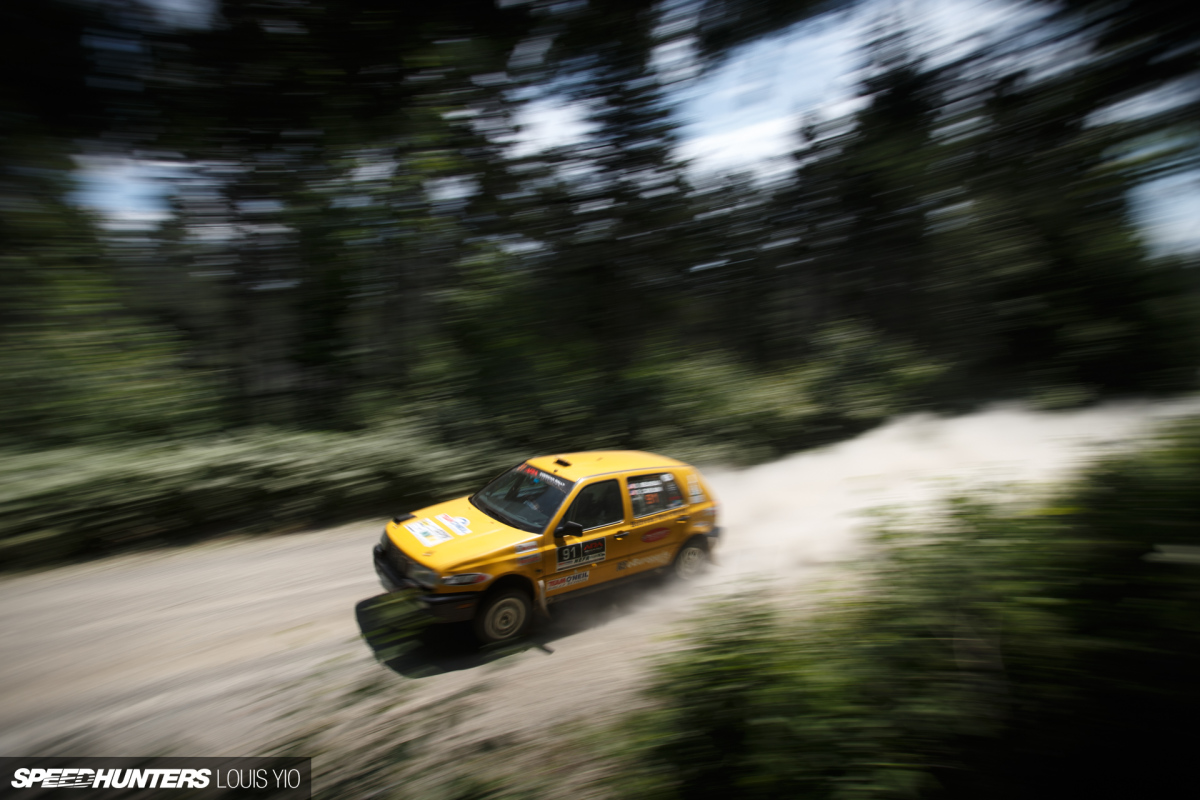 As I arrived back at the end of the stage, the last of the cars were blasting by.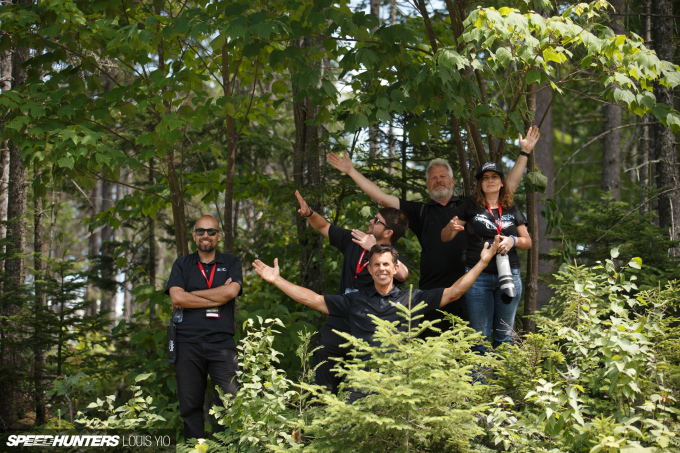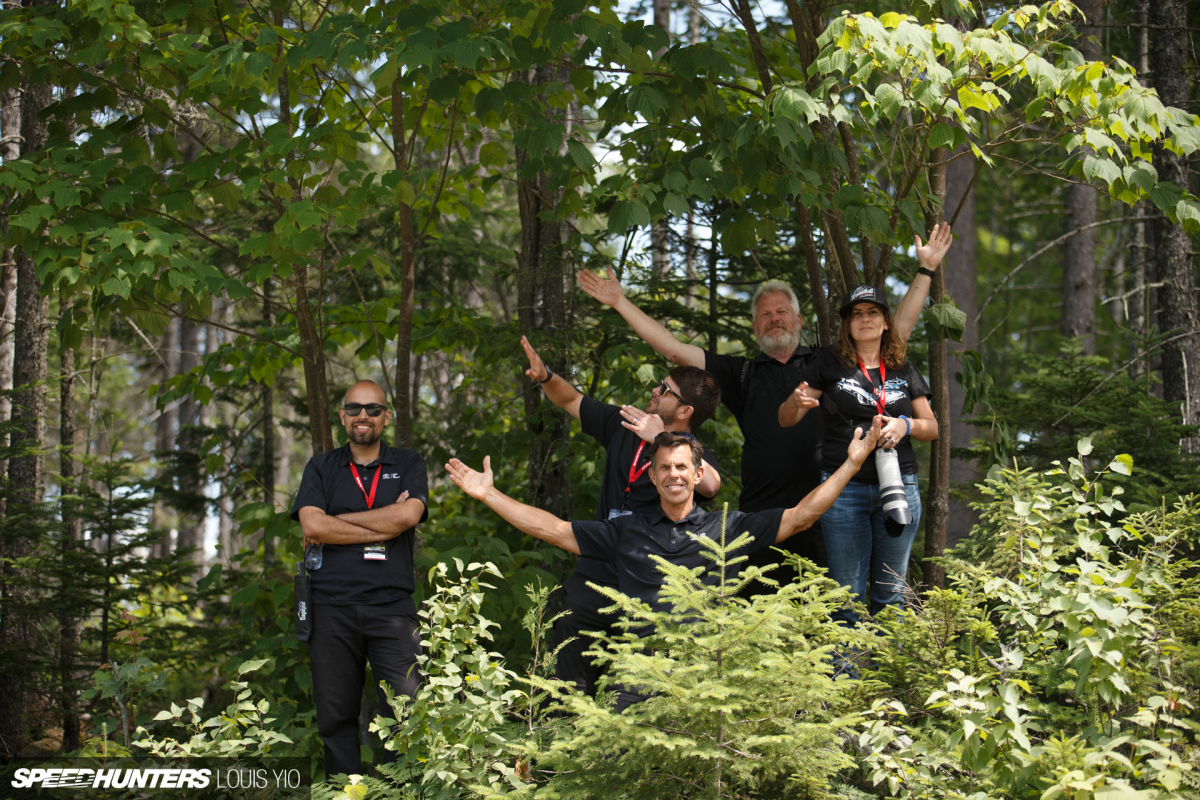 It was at this point that I found a few of the Toyota crew and decided to head back with them as Alex and Peter had other plans.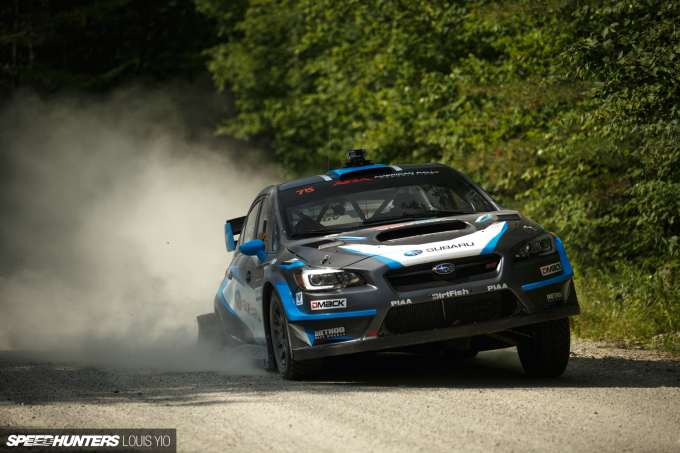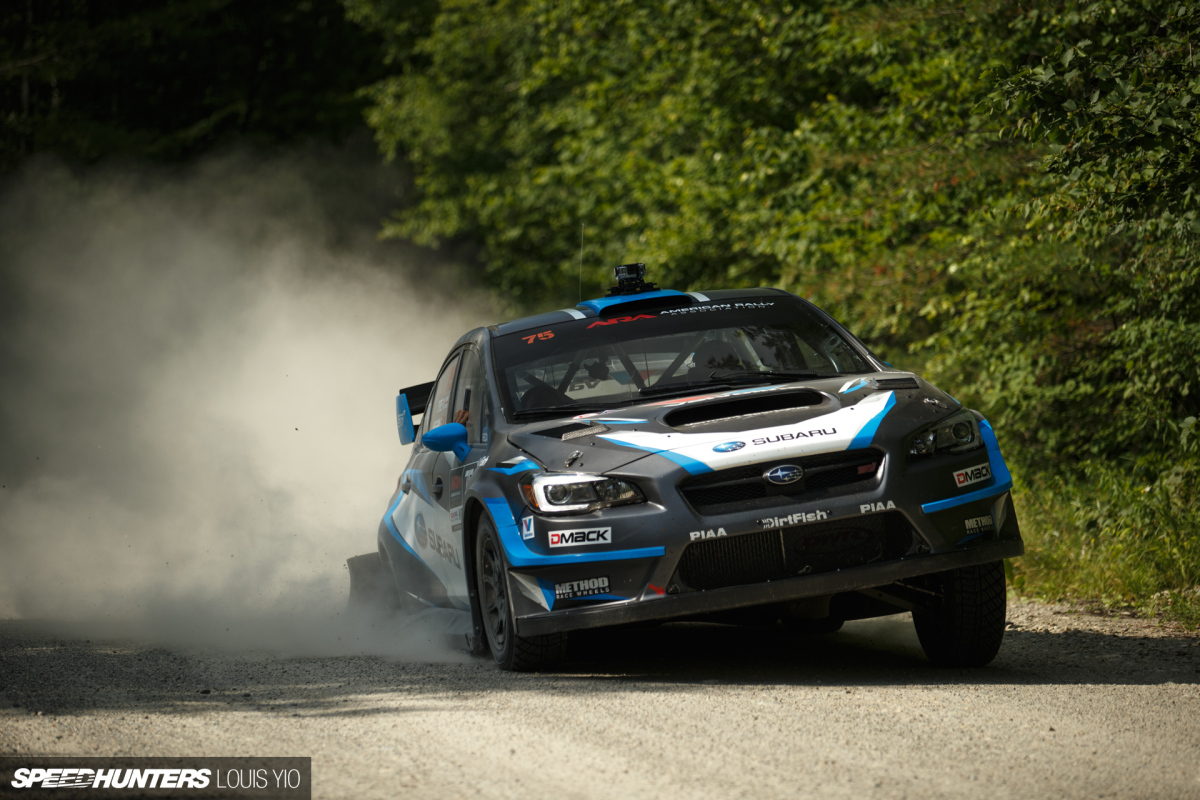 We headed to the end of the second to last stage to wait for Ryan, arriving about 10 minutes before his RAV4 would be driving through. Within a few minutes, David Higgins' STI appeared, but with only three operating wheels. It was a whopping 26 miles from the end of the stage to the service area and the clock was ticking, but he miraculously still made it there in time.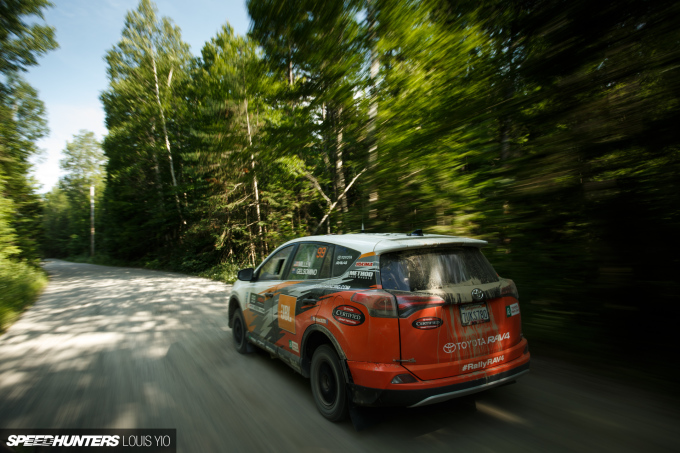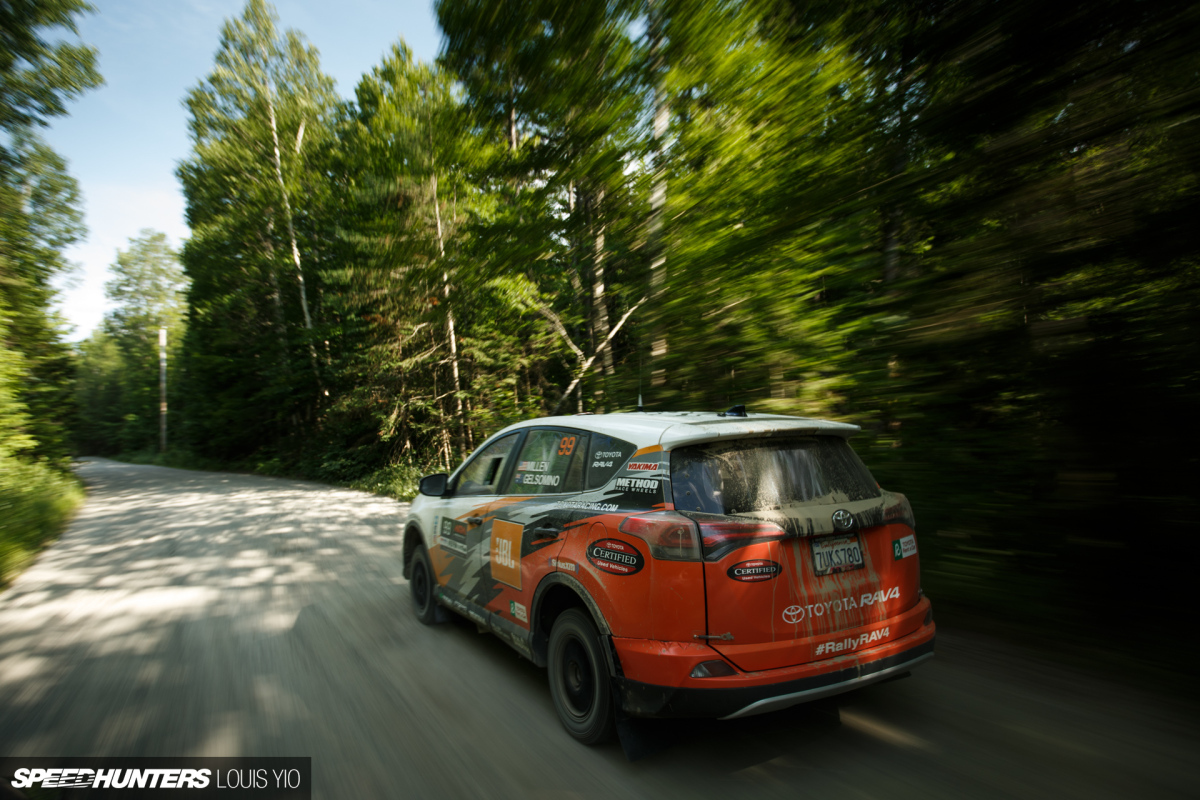 Ryan popped out of the forest and I decided to do the most Speedhunters thing possible: I followed right beside him to do rolling shots.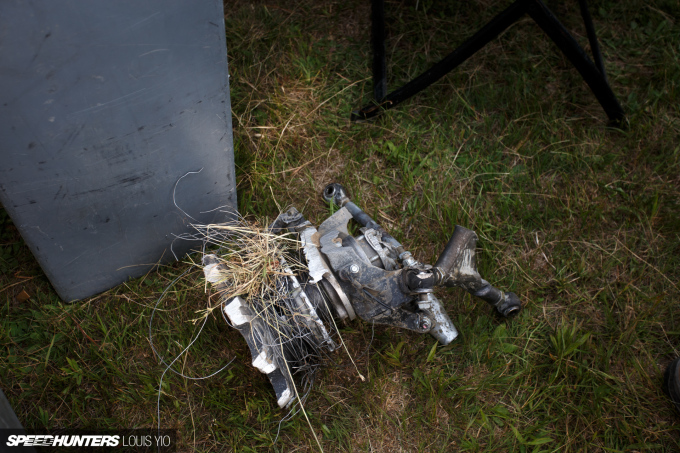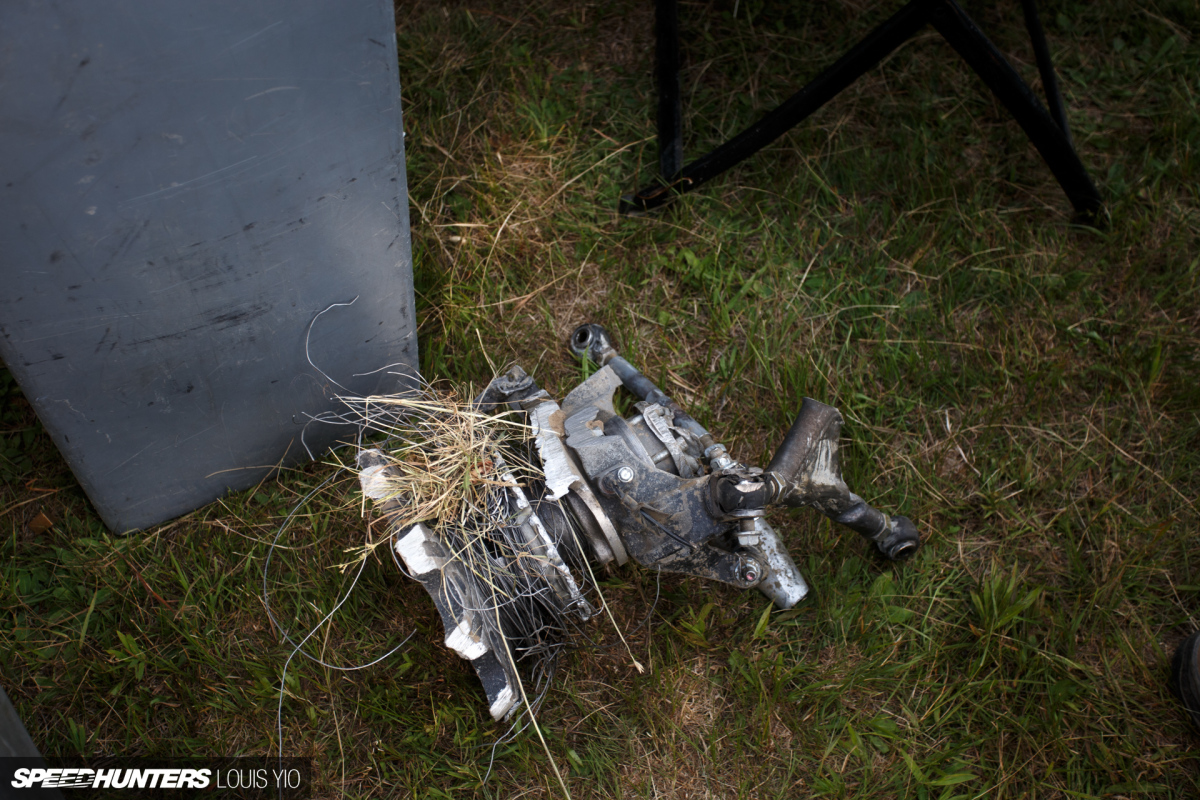 For those curious, this was what remained of David Higgins' rear right wheel when arrived at the service area.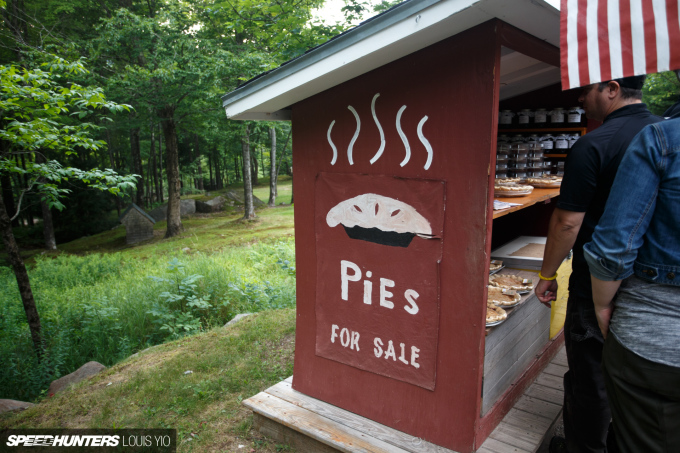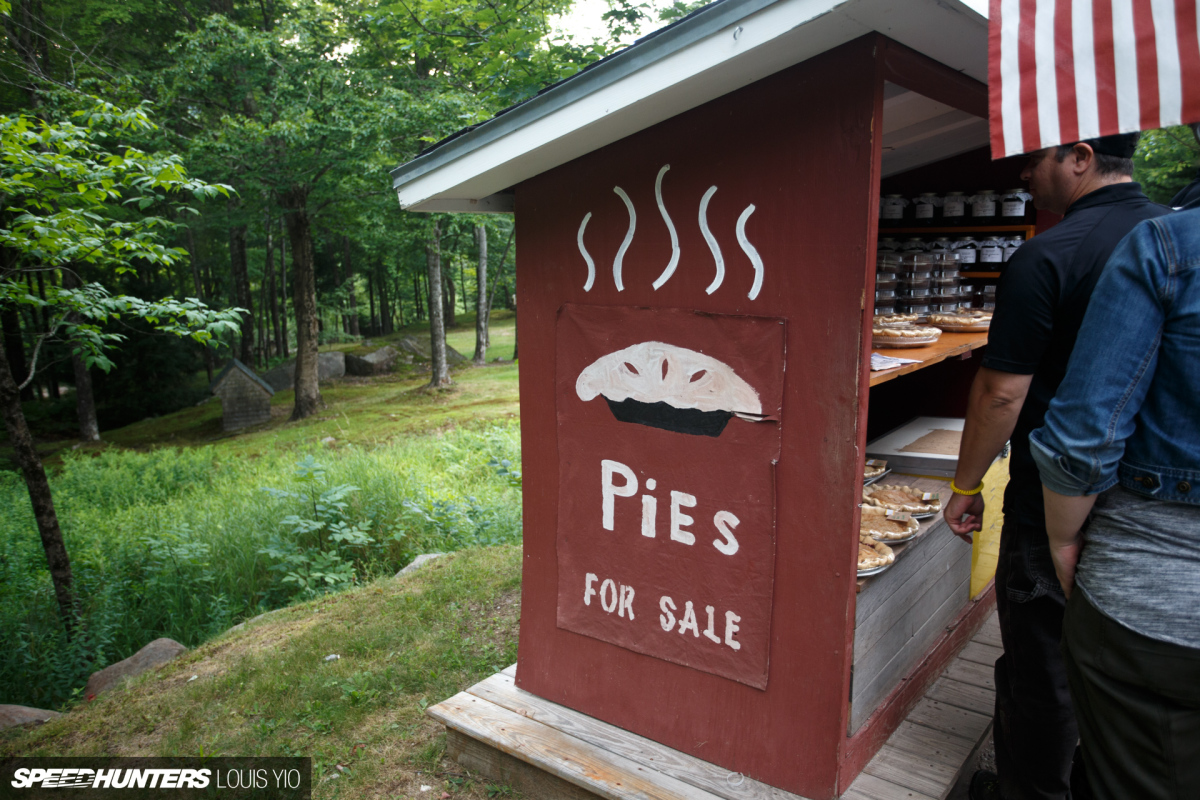 On our way back to Sunday River from service, we found this pie stand right by the road. This spot is a local favorite.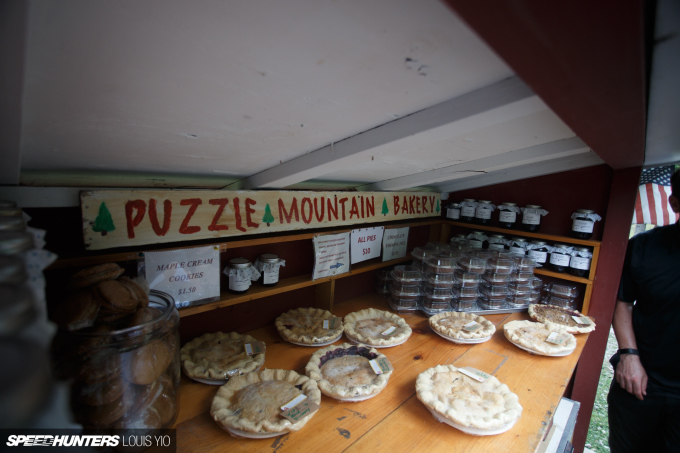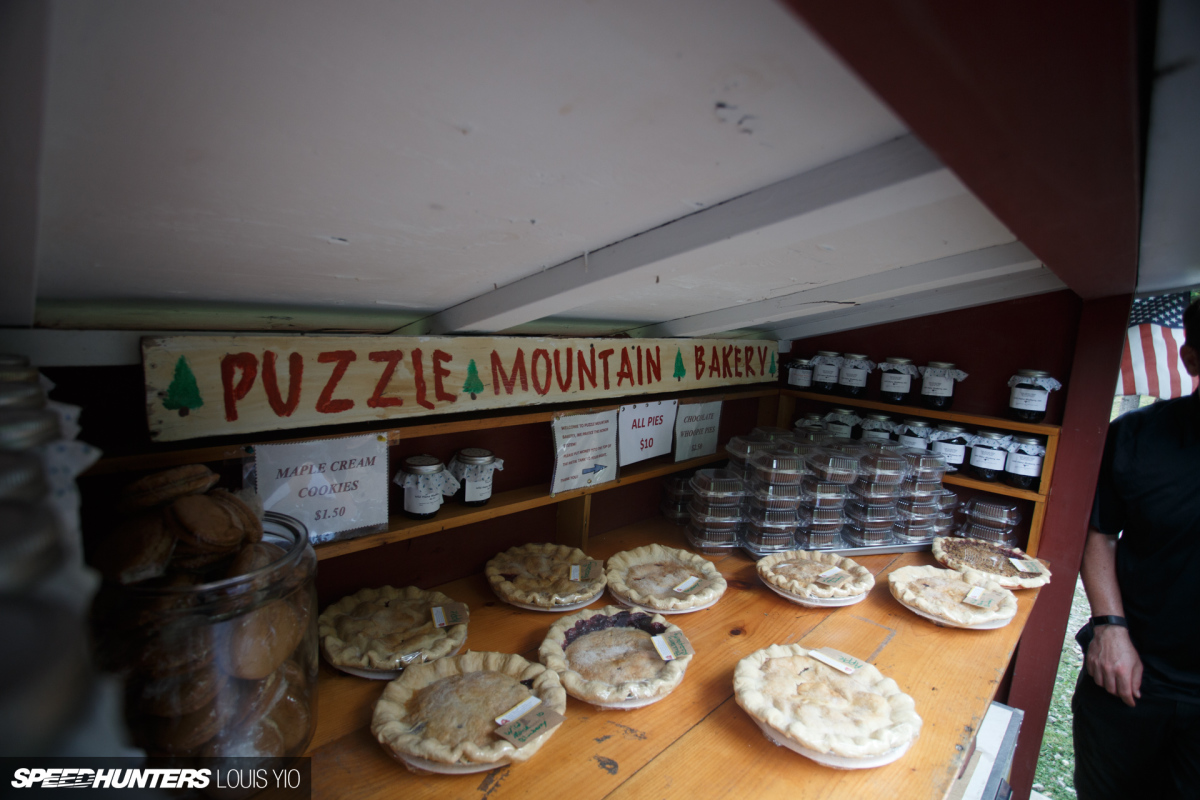 I would recommend their whoopie pies. Seriously, they are to die for.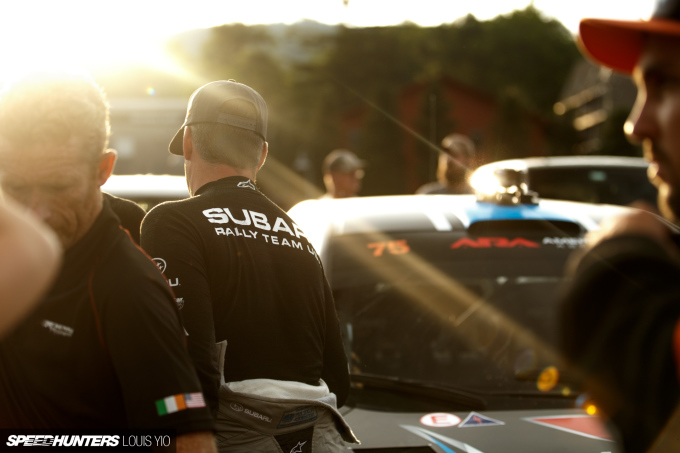 We made it back to Sunday River as the drivers were returning from the event's final stage. Ryan's car was nice and muddy.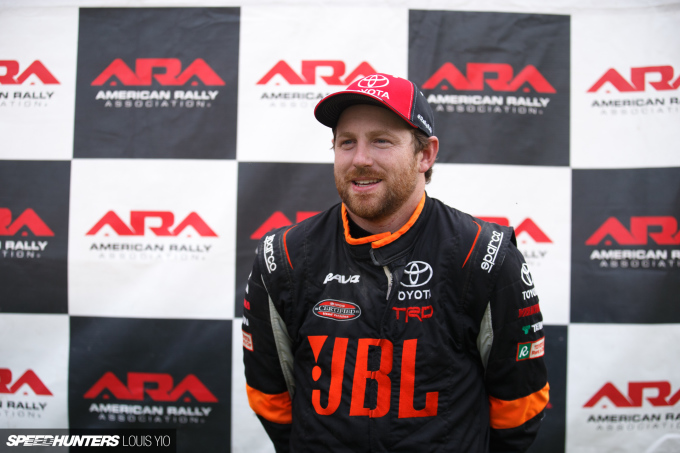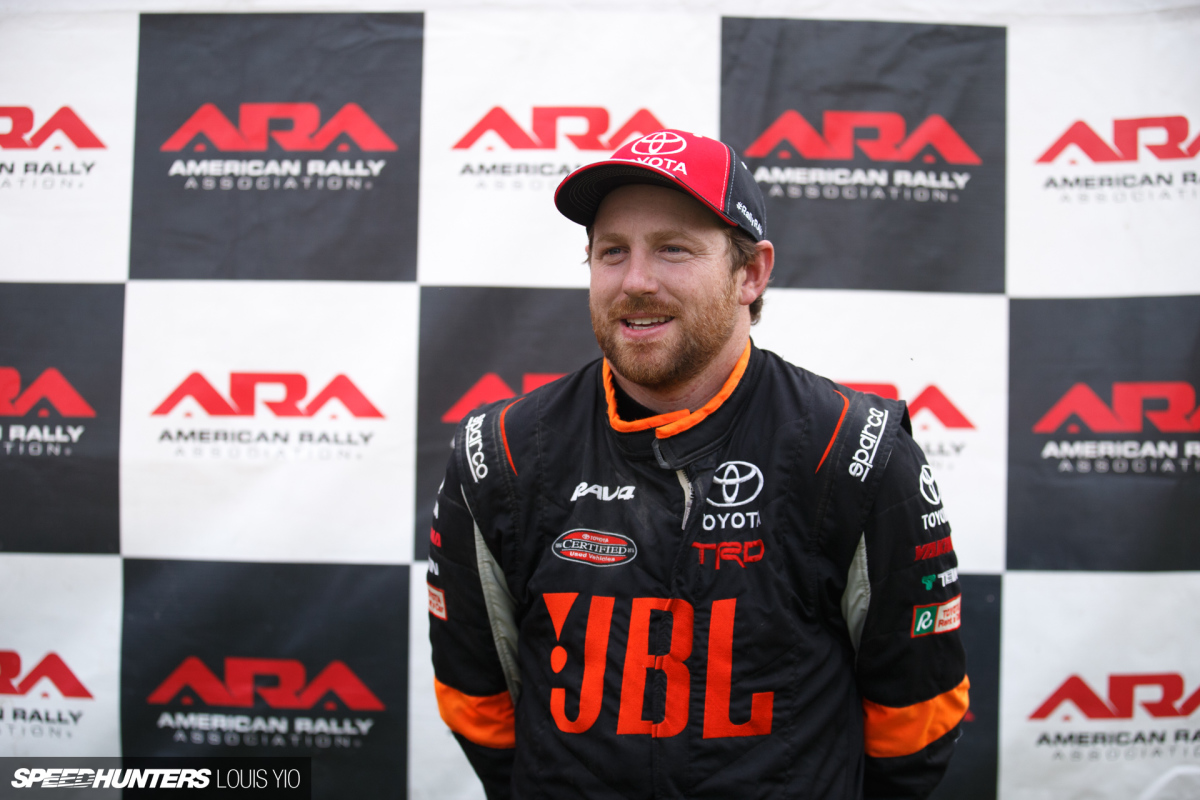 Ryan was able to secure the 2017 class championship and also won at NEFR. After a few pre-podium interviews, it was time to celebrate.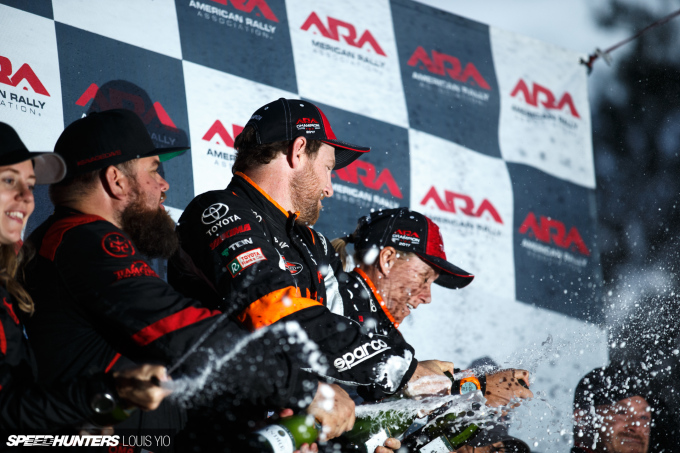 A little champagne never hurts…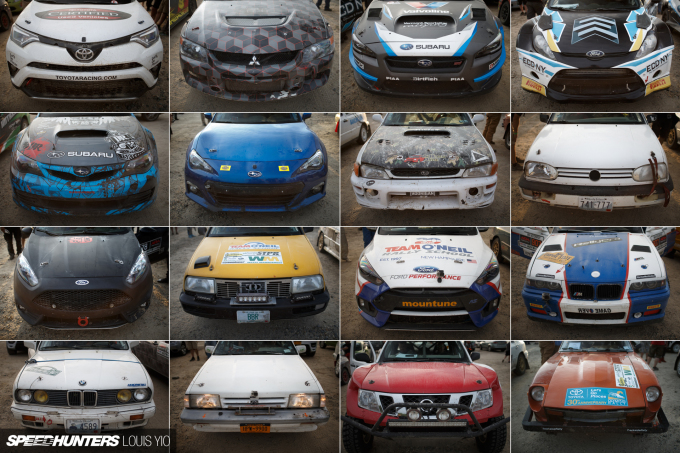 Here's just a little taste of the cars that made it to the end of the tough rally. With many DNFs, simply finishing the rally here – where some stage speeds average 86mph for race leaders – is a feat in itself.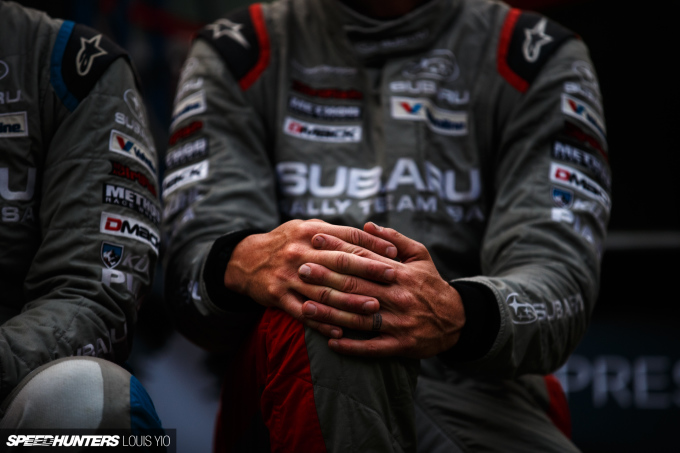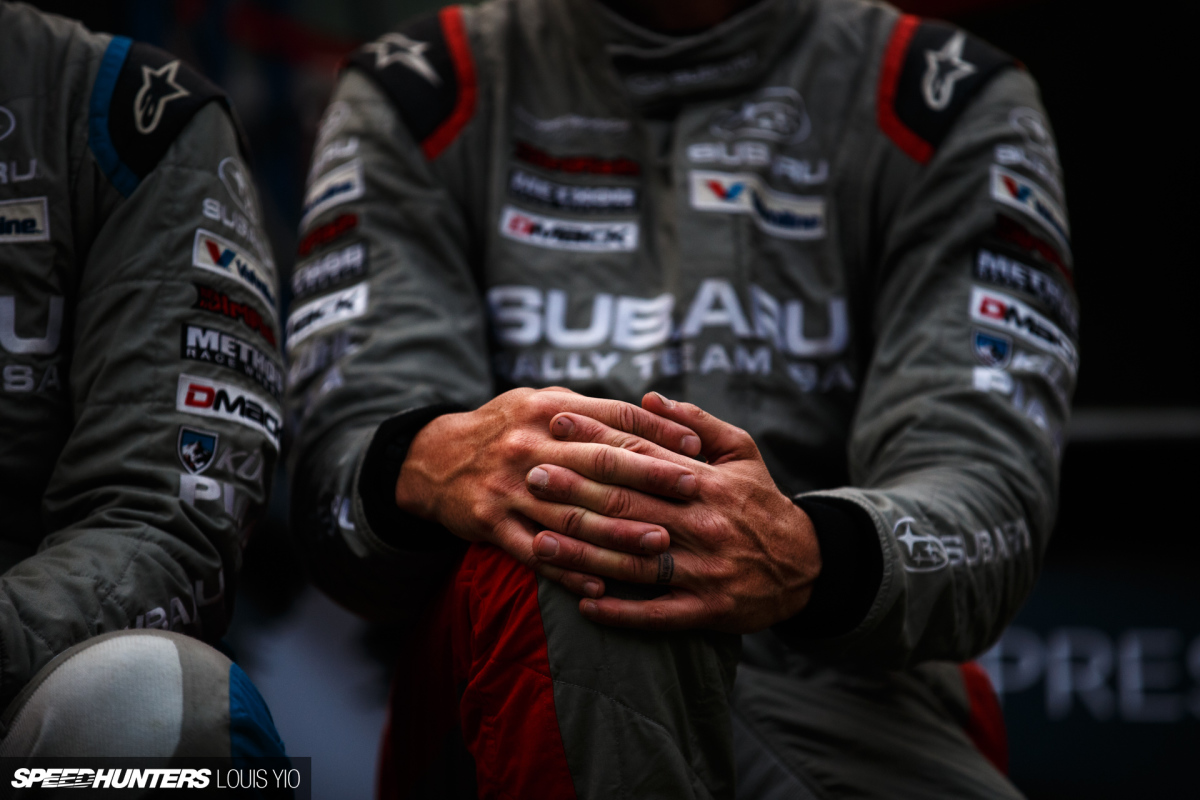 The New England Forest Rally was definitely a great learning experience. Everything from the Team O'Neil Rally School to shooting in the stages to even eating whoopie pie was all new to me. I seriously hope I can make it out to another ARA round again.
Louis Yio
louis@speedhunters.com
Instagram: lusciousy
Cutting Room Floor