These are the kind of cars that make the VW scene what it is.
For the all the typical 'finance' builds – I tend to see these as introductory builds by newcomers to the scene, and there's no harm in them whatsoever – there are still countless examples of those who fully appreciate and understand what has to be done to build a proper show car.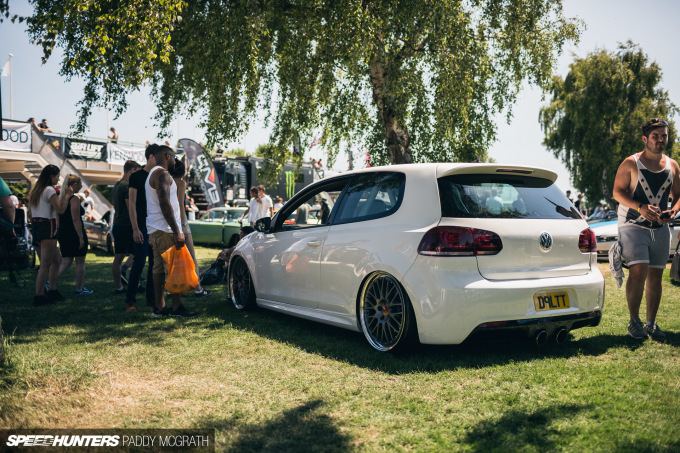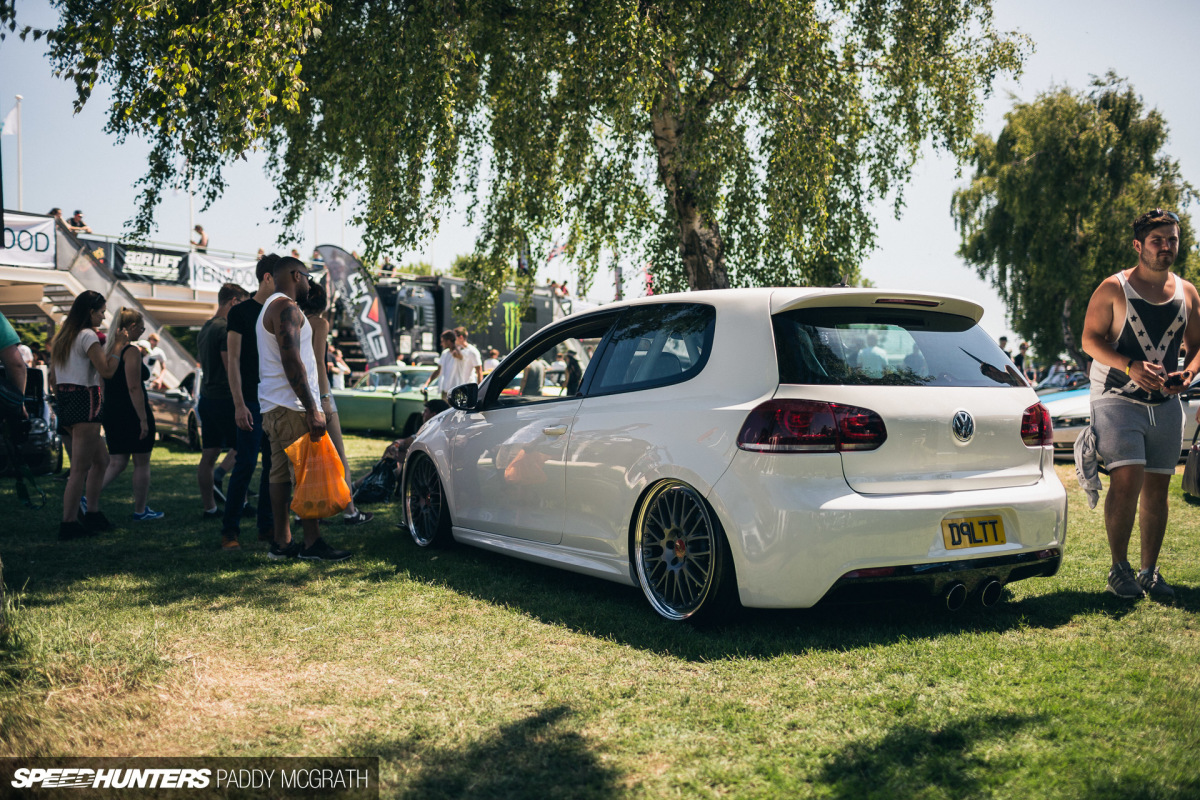 From a distance, it could be another low slung Golf on big wheels. The closer you get, and the more you take in, allows you to appreciate just how much went into this car. From both an aesthetic and mechanical perspective.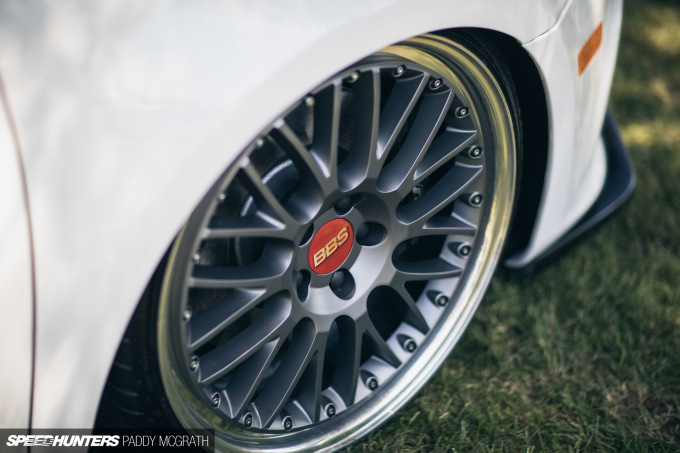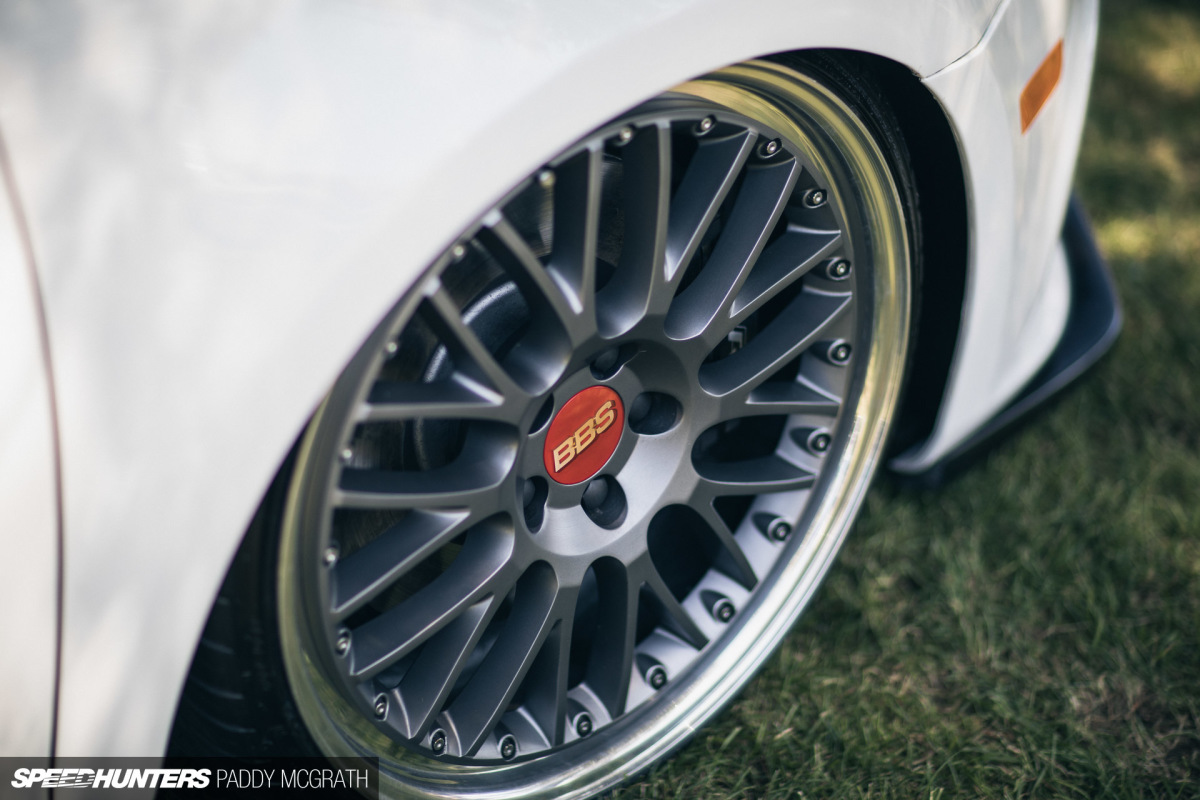 The BBS RS861s are tucked under widened front fenders which flow neatly into the standard body lines. They're subtle, but allow an extra inch of breathing space either side – vital when you want to run a car low without fouling the original arches. As this car is static, and not on air suspension, it's an even more important addition.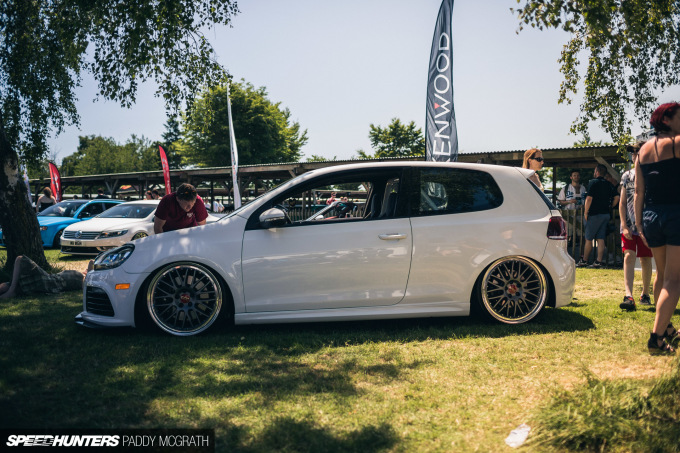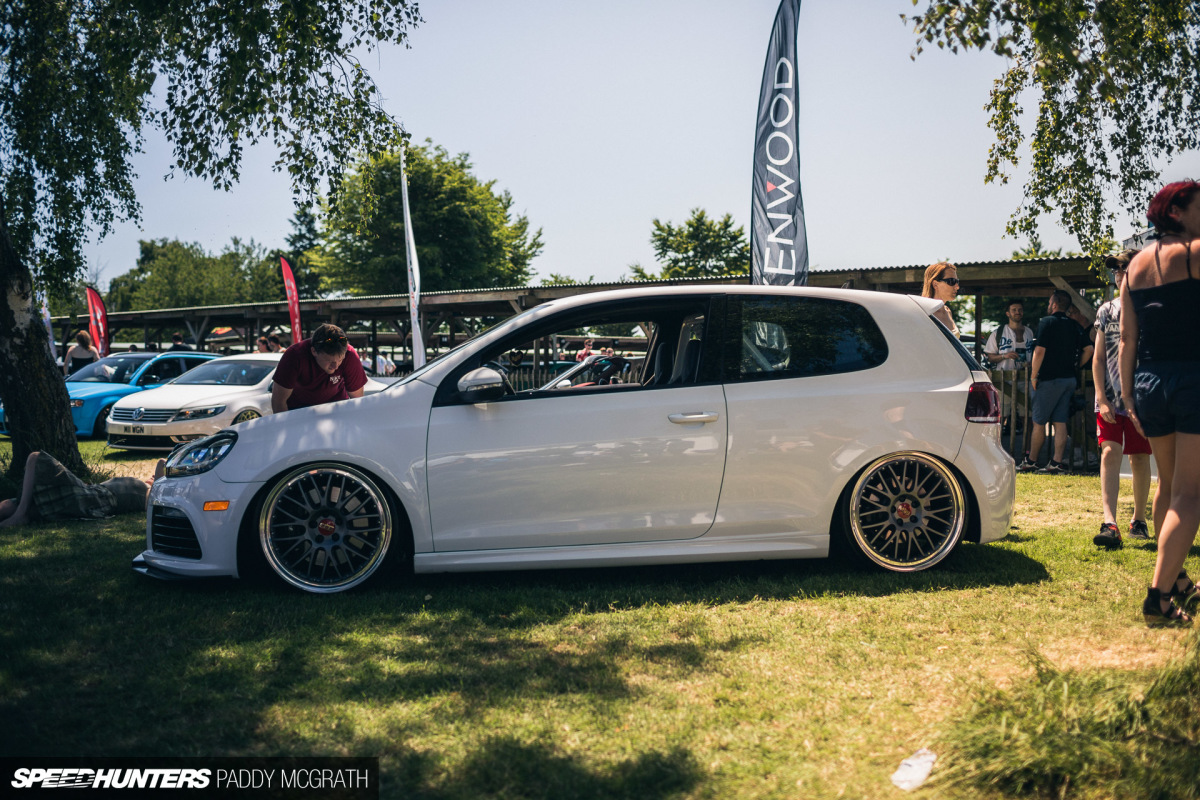 Without examining the VIN plate, it's hard to tell what variant of Golf this originally was. The Golf R front bumper, side skirts, rear bumper and diffuser, along with the darker LED tail lights would point towards it being a Mk6 R. However, the car actually used to be a previous generation Mk5 Golf, which shares the same chassis as the Mk6 and has been face-lifted front and rear to resemble its younger sibling.
The interior been completely overhauled, too. The original Mk5 interior is gone and in its place is a full Mk6 interior which has given me a severe dose of jealousy. From the carbon fibre trim pieces (I want those) to the re-trimmed dashboard and centre console, along with the matching Recaro CS seats with white detailing, it's a proper case of OEM+ styling. It looks factory, but it's just so much better. The rear is home to half-cage with a fully lined hatch area.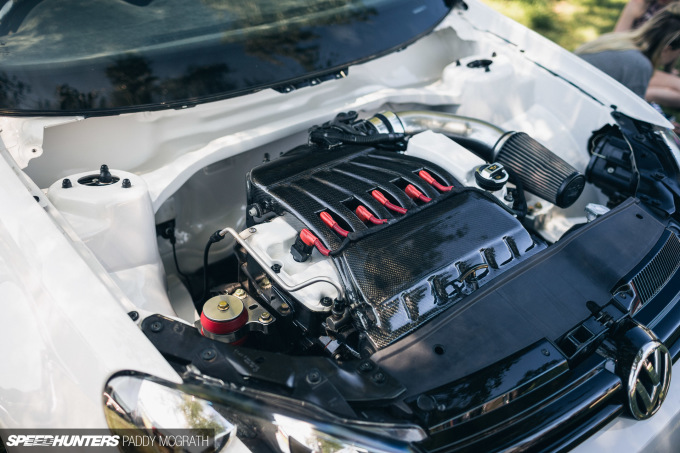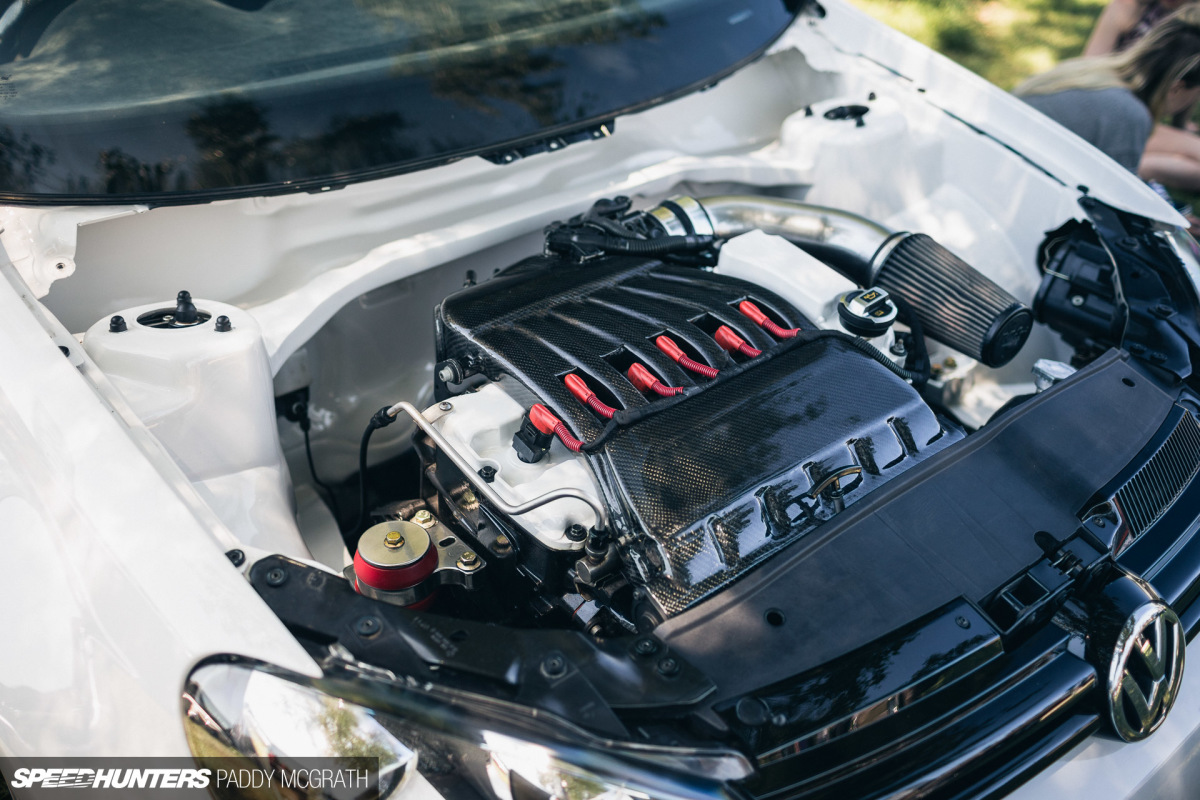 If this had been a Mk6 R, right here is where we should see a 2.0-litre turbocharged TFSI engine. Instead, there's a naturally aspirated VR6 motor sitting in the shaved engine bay.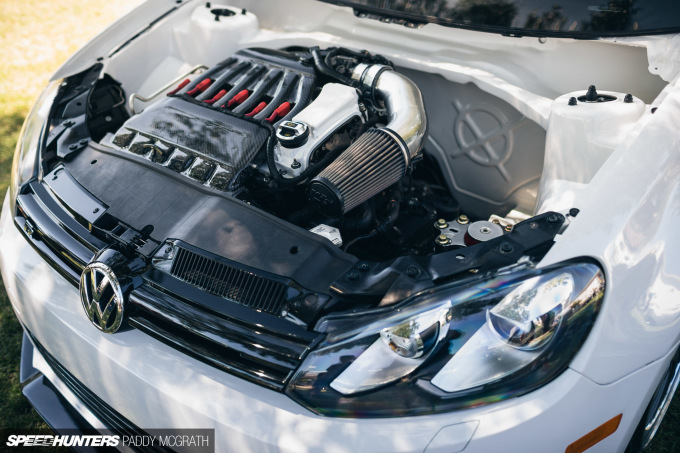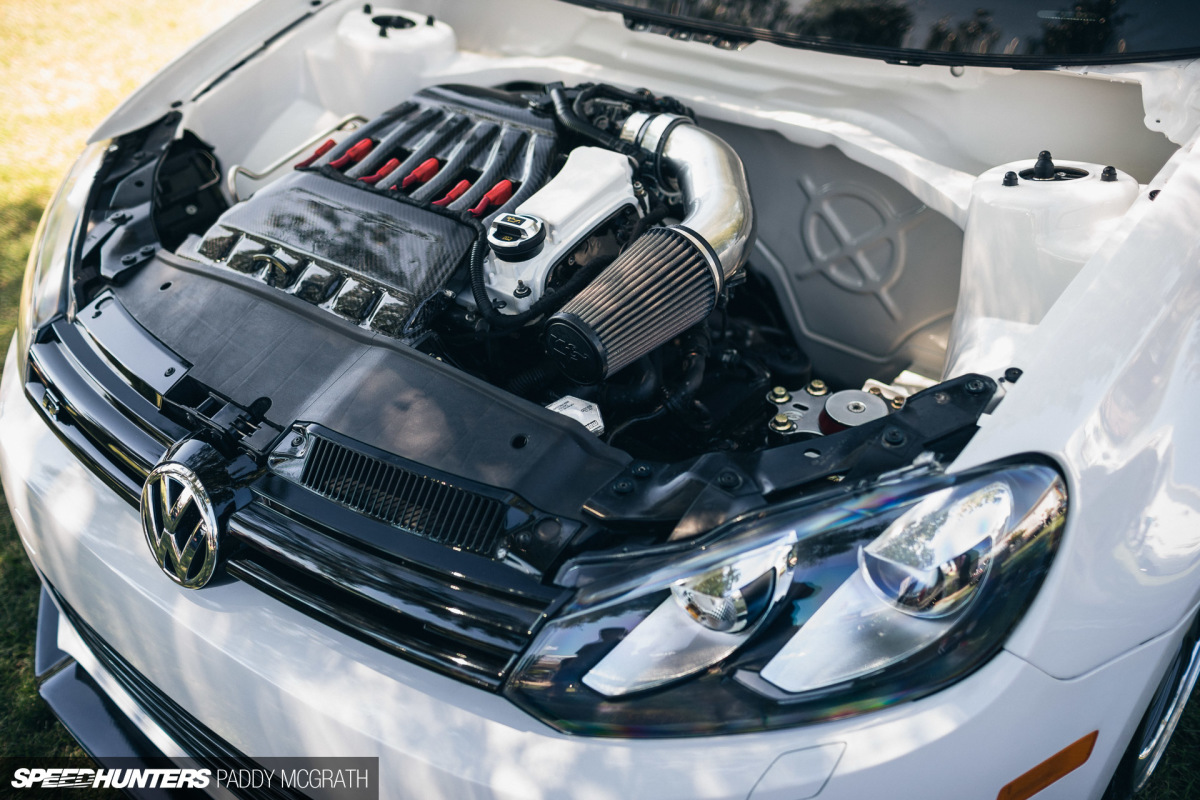 What's even more impressive than the neatness of Volkswagen's single-cylinder headed V6 motor conversion, is that the car is running a DSG gearbox and has been converted to a Haldex AWD system. I'll assume there was a Mk5 R32 involved at some point as a donor car, but the implementation of the engine and drivetrain swap is just brilliant.
So, this is a face-lifted, interior swapped, engine swapped, drivetrain swapped, shaved engine bay, widened front and static Mk5 Golf. To think how easy it would have been to dismiss it as just another Golf. To think how much we still don't know about it.
If you want to read more about it, you can check out the owner's Instagram account and the latest issue of Performance VW magazine.
Paddy McGrath
Instagram: pmcgphotos
Twitter: pmcgphotos
paddy@speedhunters.com