No Sleep, Just Speed
At first glance, yes, this does seem like an unduly hyperbolic title.
Stories about the Goodwood Festival of Speed tend to elicit such statements – we can't say this enough, but it is that special. Before opening fire in the comments section, I implore you to first read on, scroll down, take in the images and scattering of words I've provided and consider if you've ever seen a better selection of cars just parked in a field.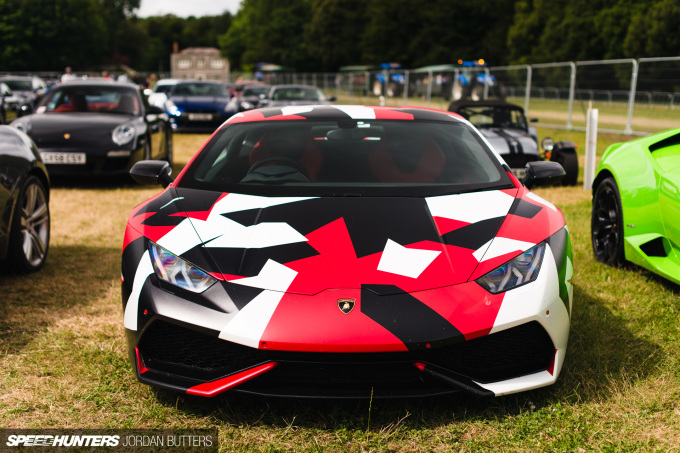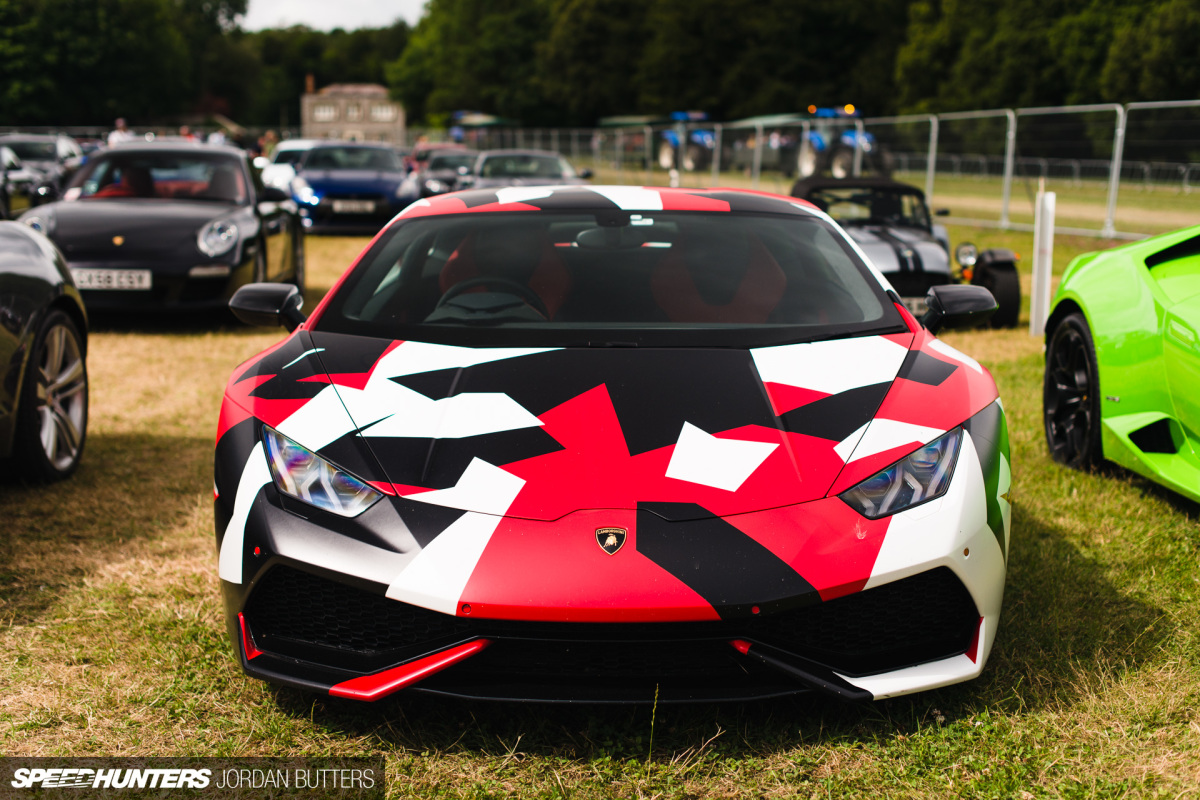 Personally, I haven't. Ever.
Shooting an event like the Festival Of Speed (edit: there is no event like FOS). Shooting the Festival of Speed is insanely hectic. At any one time there are always at least five things happening in different parts of the festival that you simply have to see. Having returned to the media centre from shooting the hillclimb, setting the contents of my memory cards downloading, and with my laptop whirring away and quickly reaching the surface temperature of the sun, I figured what better way to kill some downtime with… relaxing for a minute?
Don't be daft – at the Festival of Speed there is no sleep, only more speed.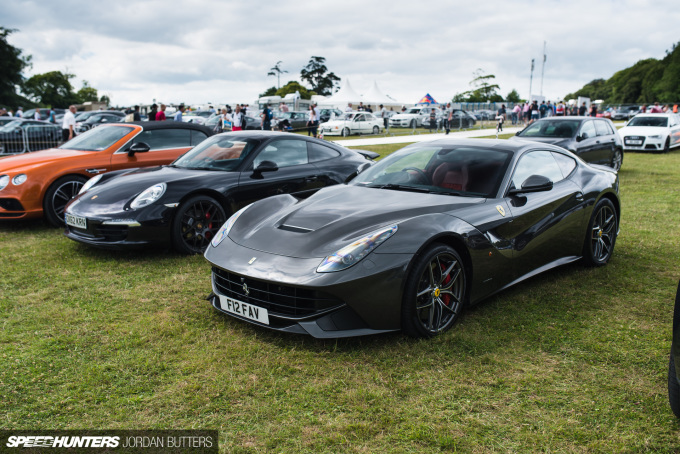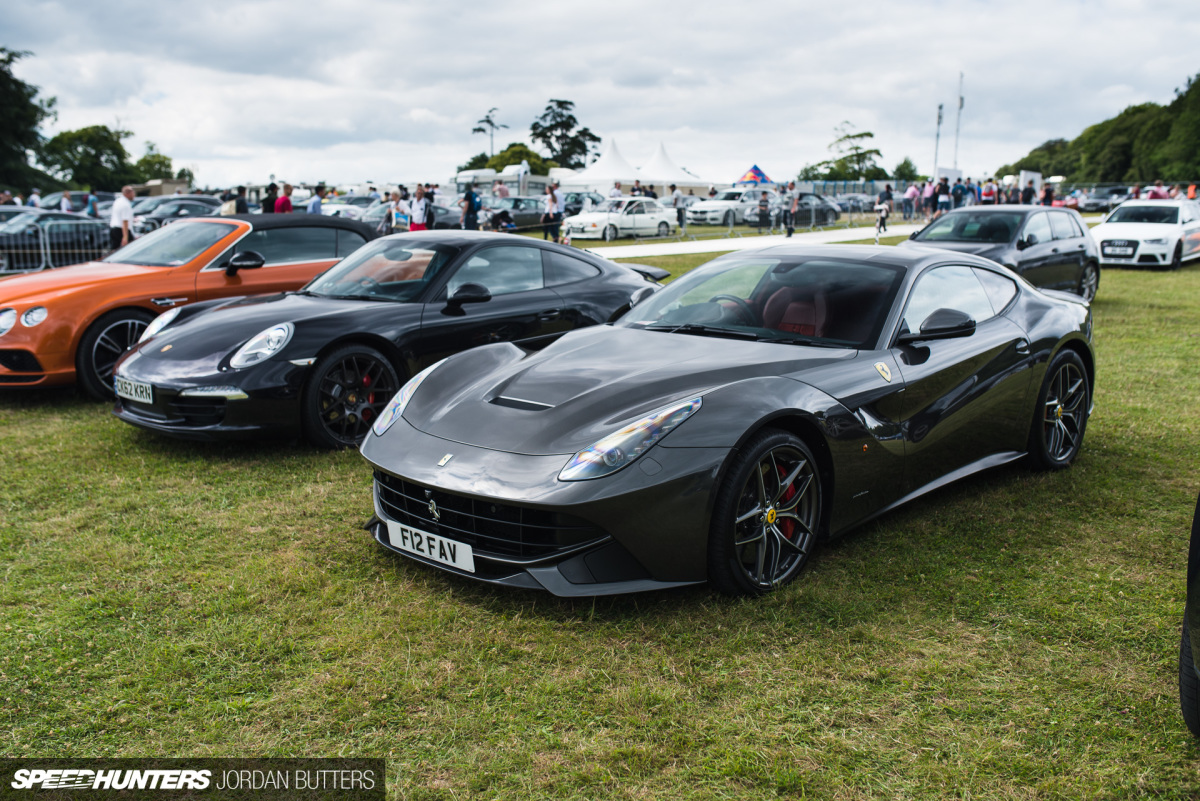 So I grabbed my cameras, loaded in several gigabytes of ammo and headed out the media centre door into the first car park to bring you a look at some of the metal that didn't even make it into the main show.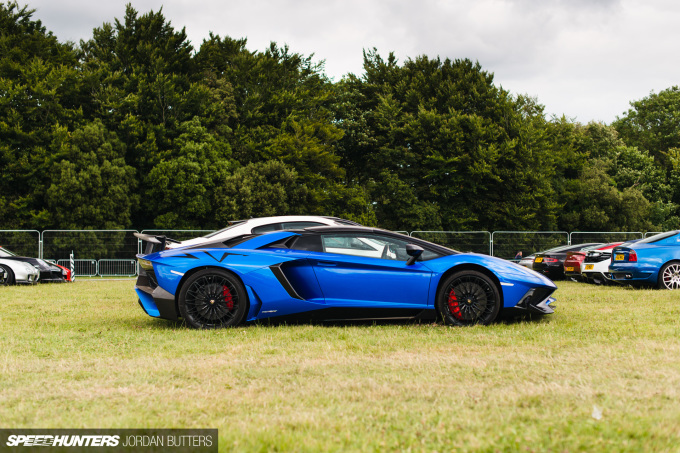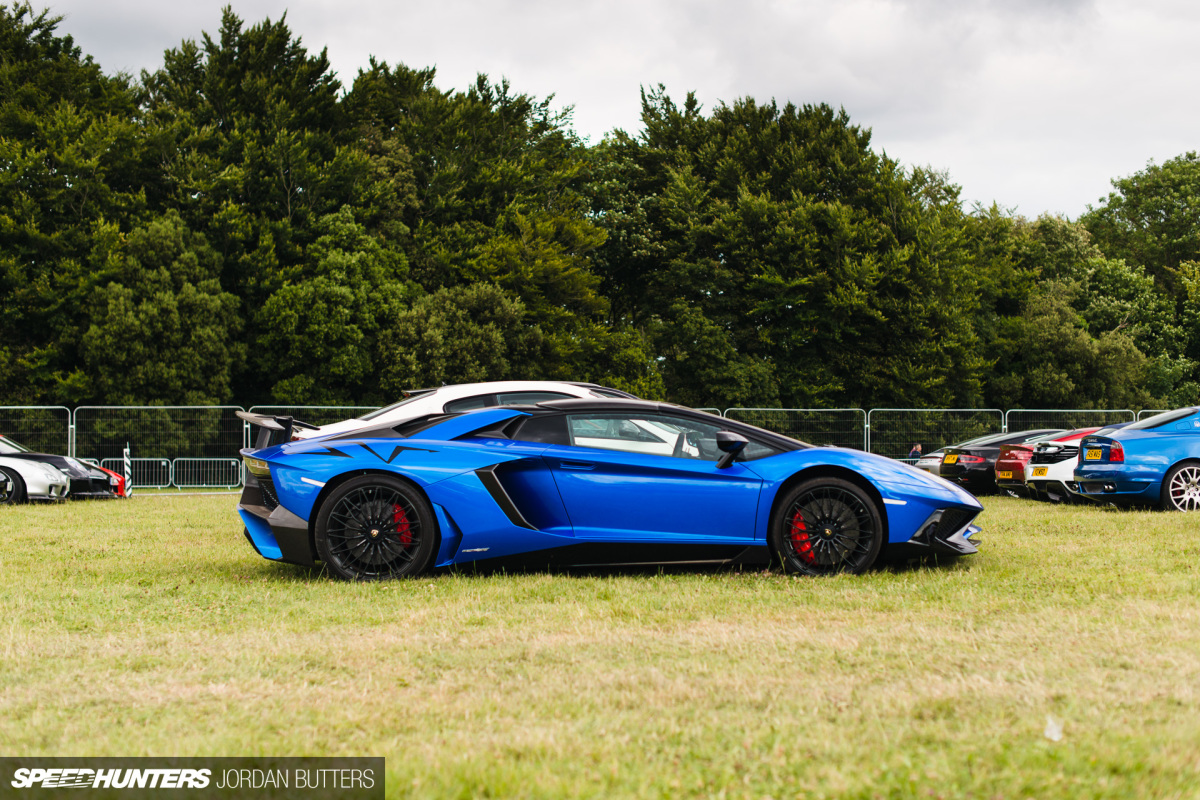 You see, this isn't your ordinary event car park. Goodwood's Festival of Speed is so mind-blowingly good, that even the car park itself is a better car show than any other car show.
Performance Parking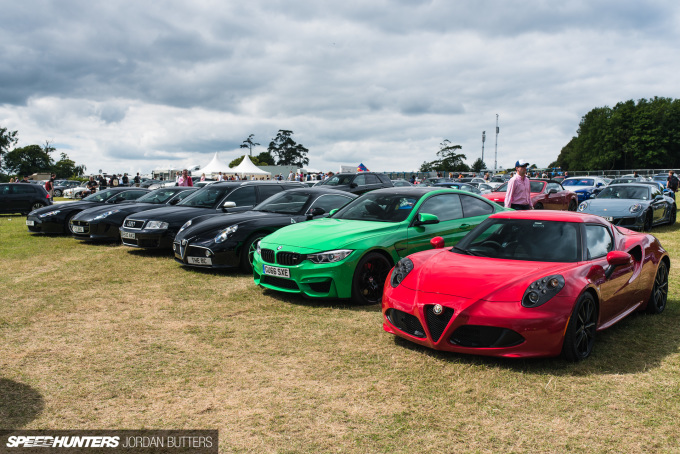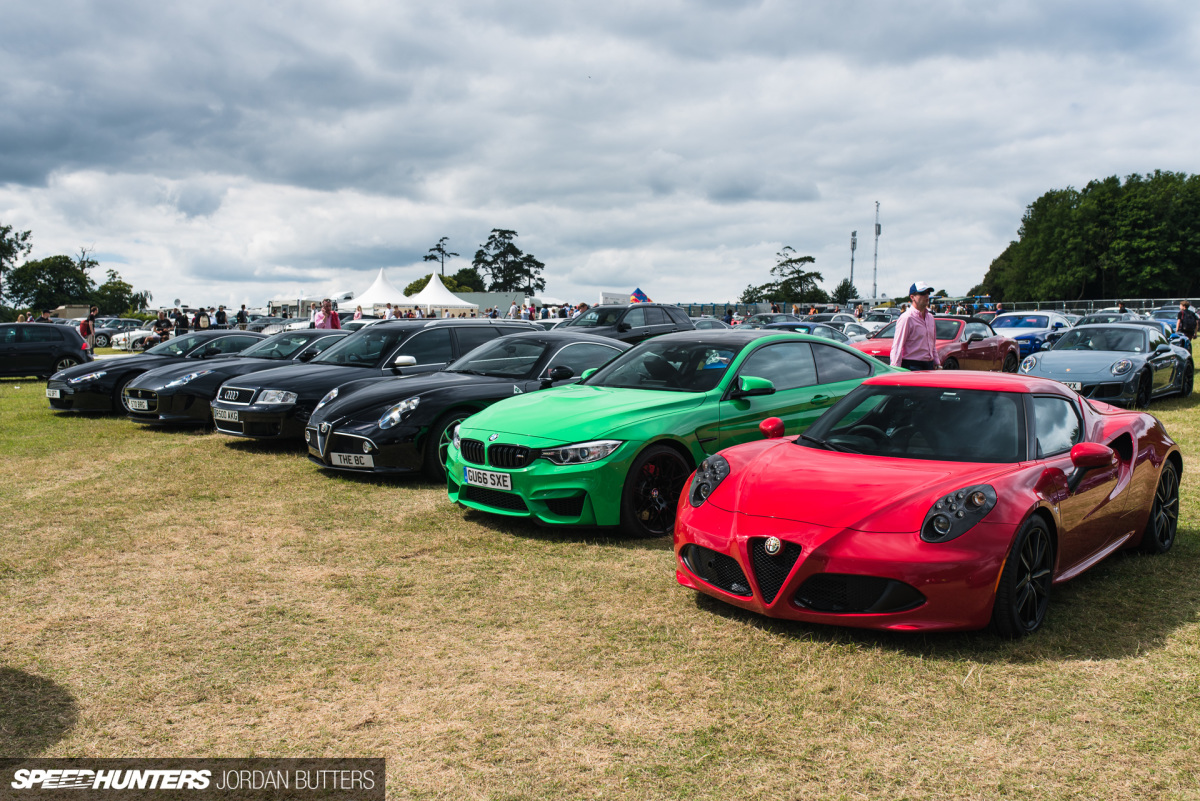 Stretching pretty much as far as the eye can see, rows upon rows of automotive goodness had been packed into the 'performance parking' area, closest to the main gate.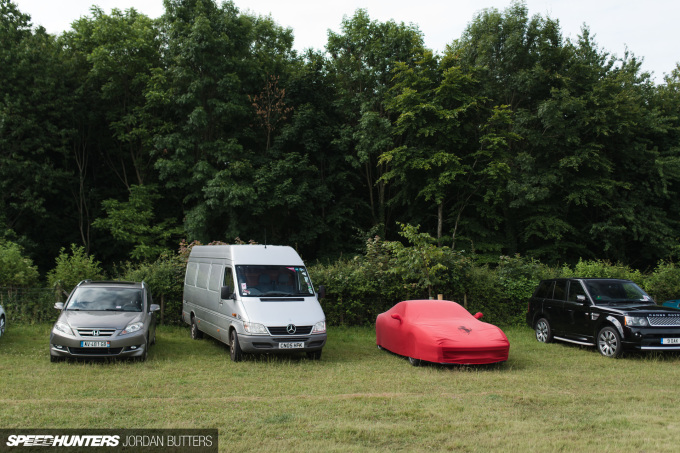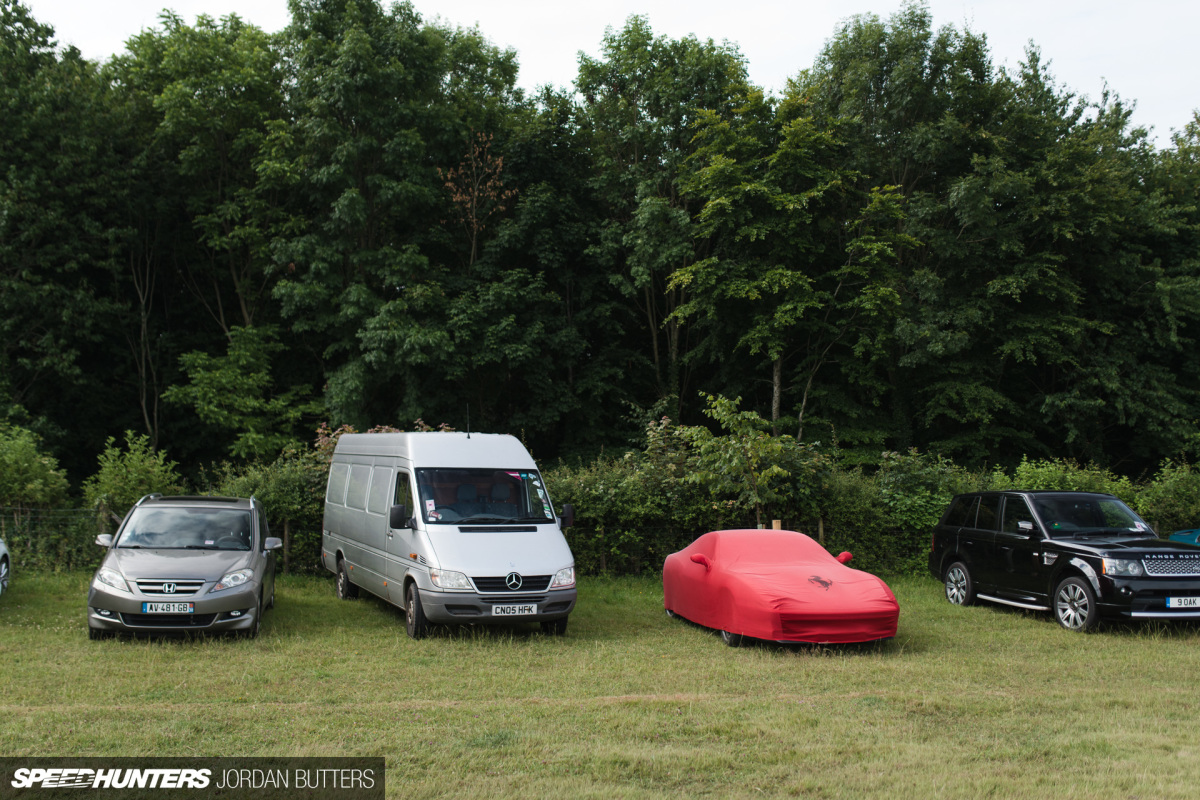 Initially I was unsure of what the criteria that had to be met was to qualify for such a convenient destination. Was it a pay to display? An area reserved for VIPs only? Maybe there was a parking attendant at the gate who let you in if your car impressed them enough.
After some digging, it turned out to be none of the above – Goodwood simply publishes a list of qualifying cars, and if your motor fits the bill, you're in. Someone really should've told this guy, whose car I spotted in the public car park…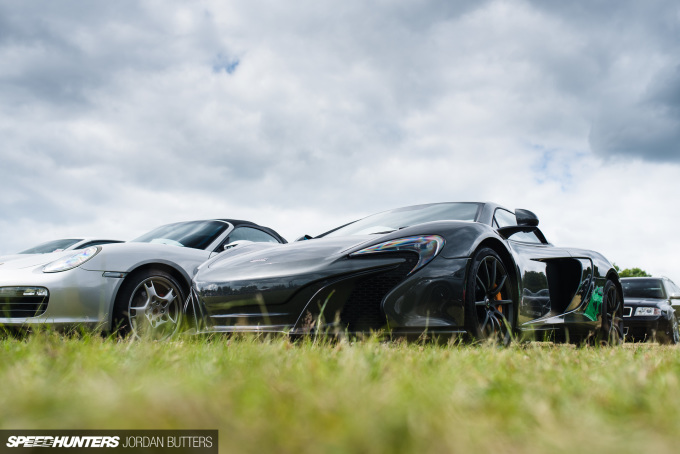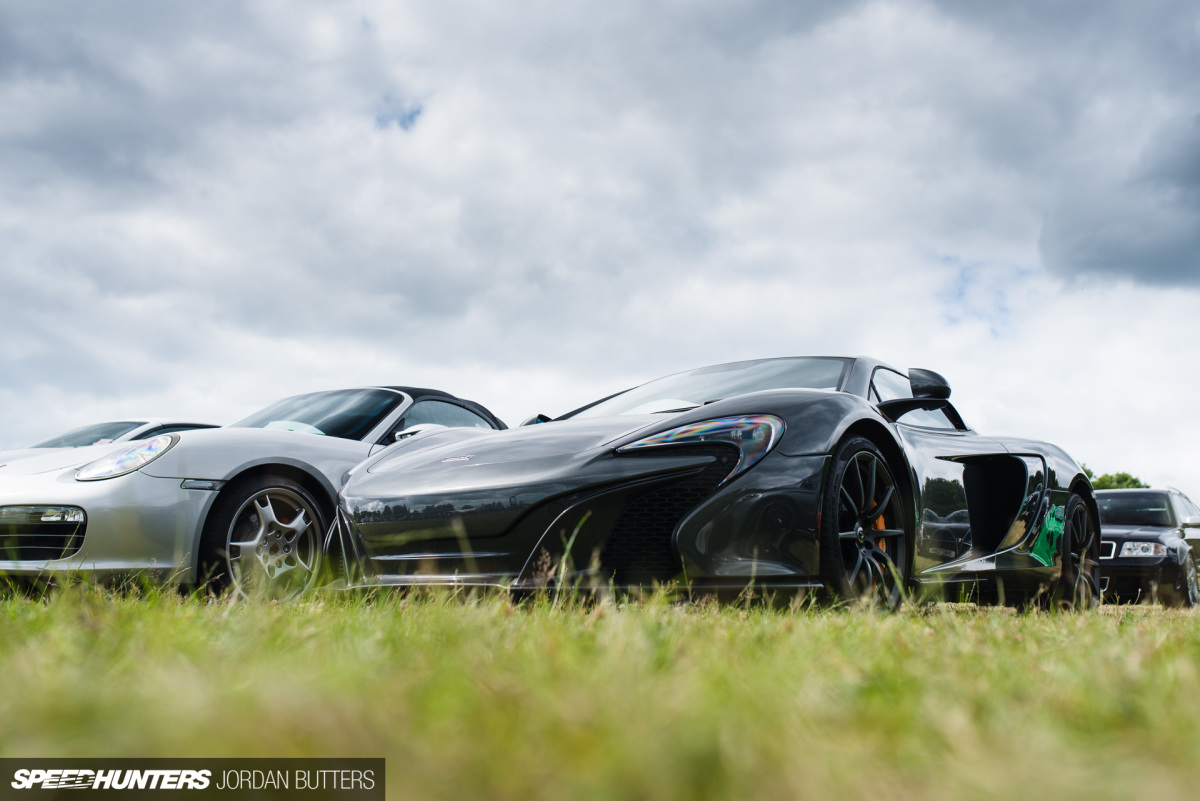 That means that if your car has a Lamborghini, Ferrari, McLaren or Maserati badge on the bonnet, you get an automatic entry.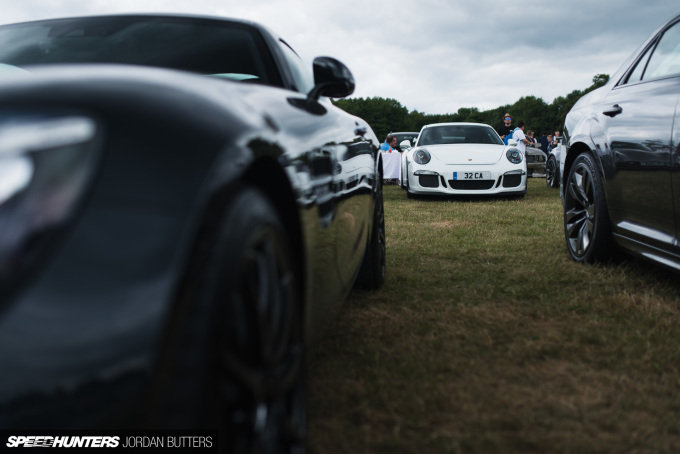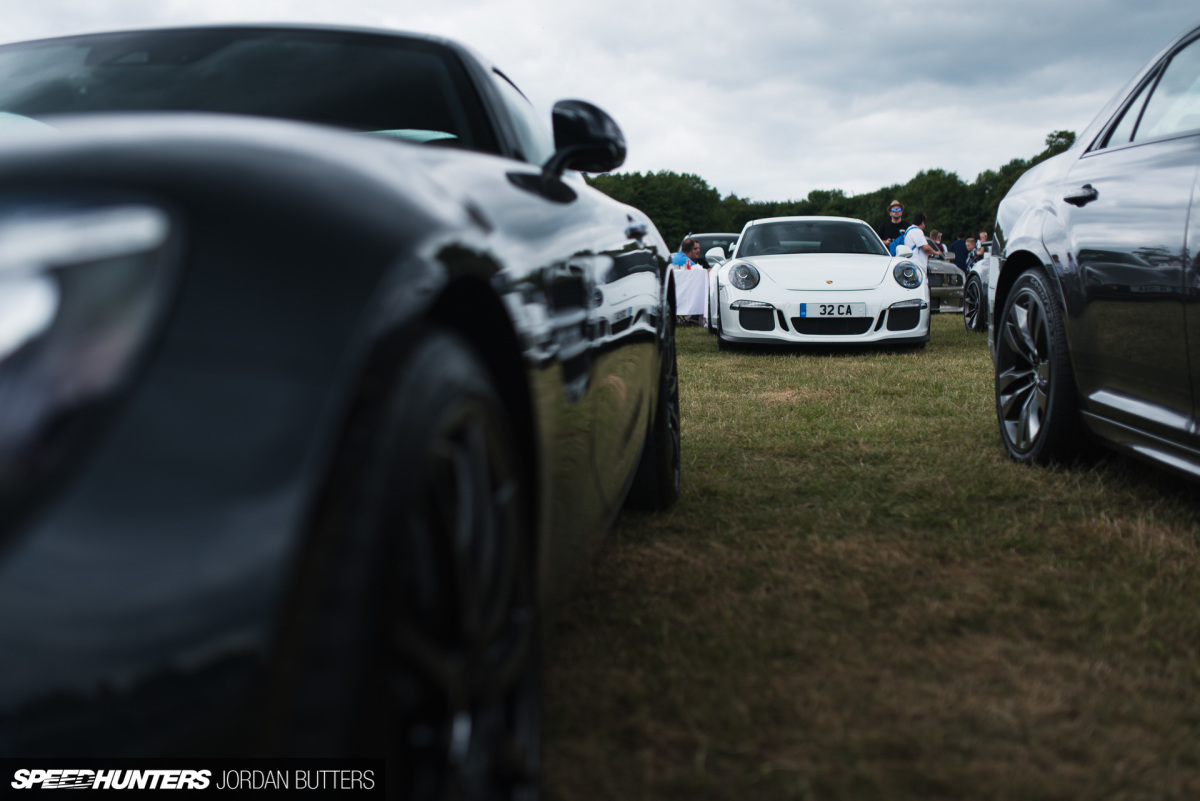 Own a Porsche? Well, as long as it's not a Cayenne or a Macan then you're welcome too (their words, not mine!).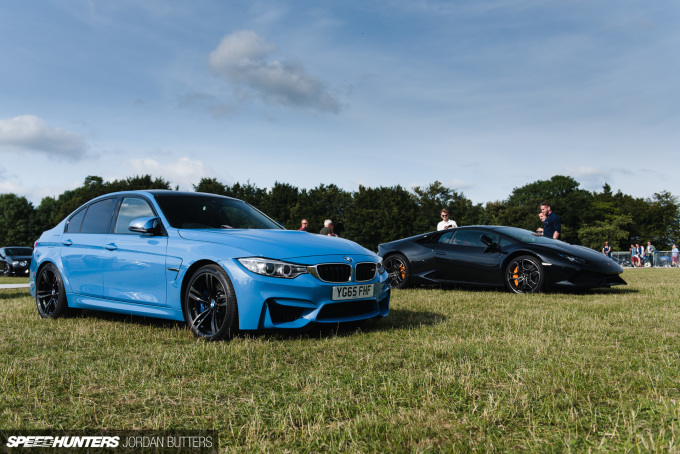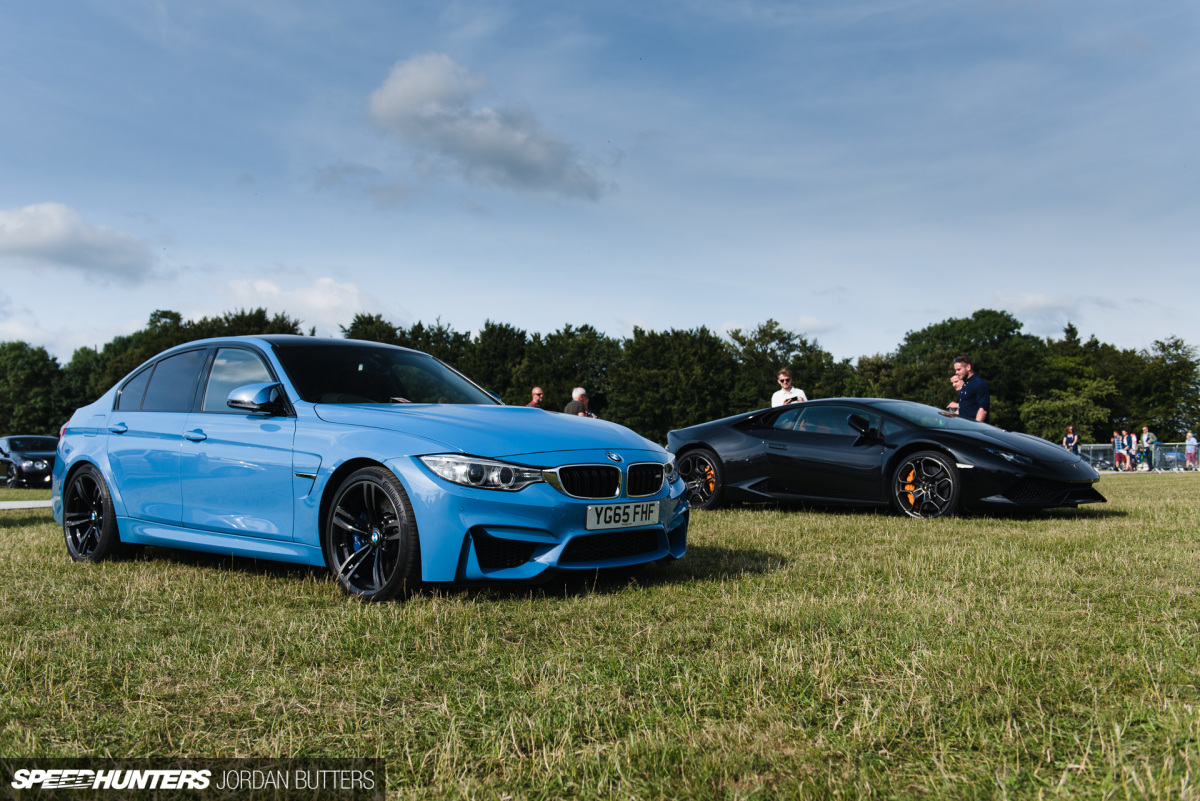 Some other marques are covered by more specific rules. If you own a BMW, for example, and it's not an M Model, Z1, Z8, I8, or any Alpina/Hartge edition, then you're parking with Joe Public I'm afraid.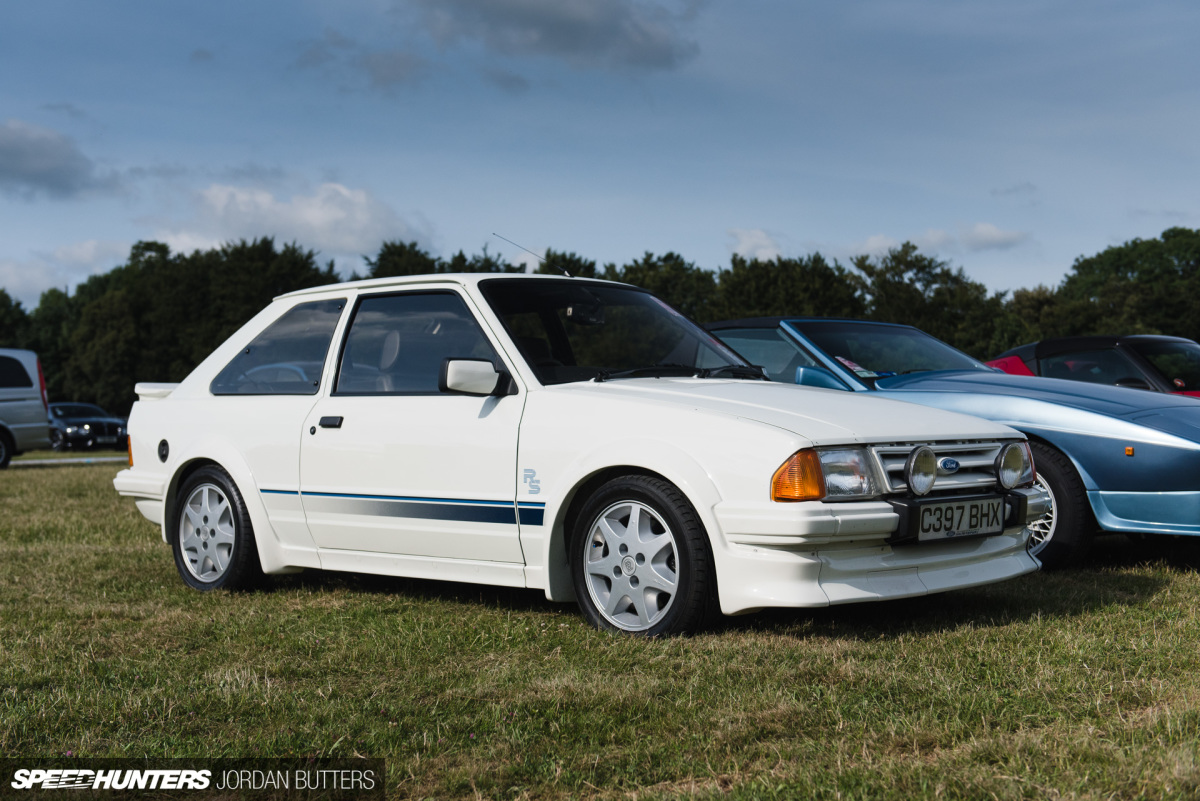 Ford RS, V8 Mustang, Galaxie, and Falcon owners can share this exclusive space too. This Escort RS Turbo's owner was taking full advantage of the reduced walk to the main event here.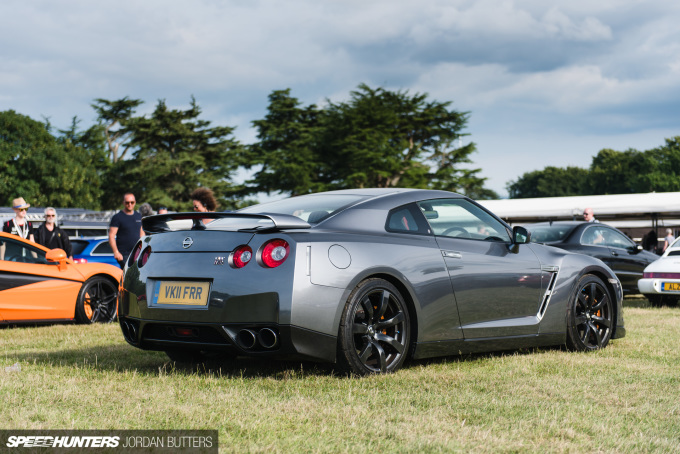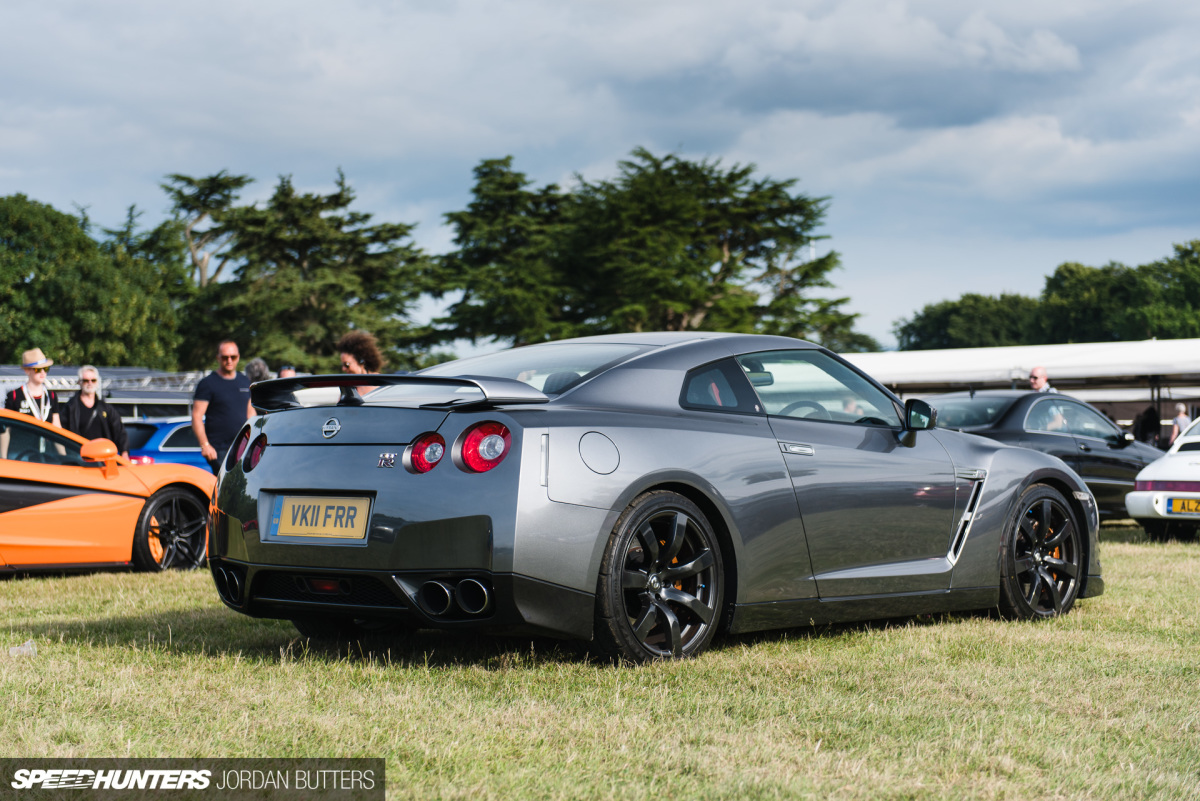 In the eyes of Goodwood, the only Nissan worthy of the performance parking is the GT-R – sorry 350Z/370Z and S-chassis owners.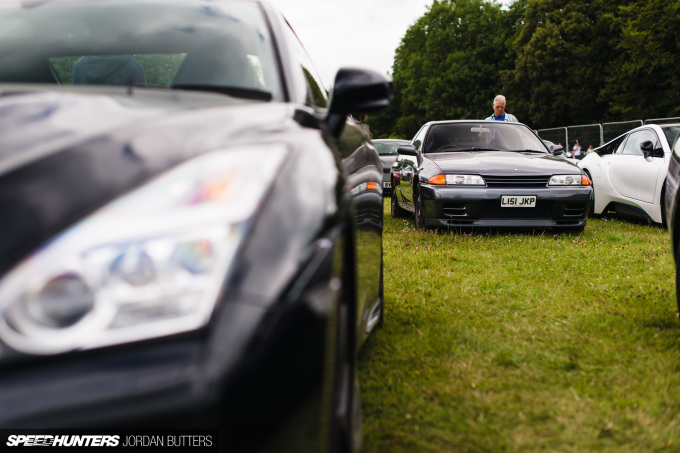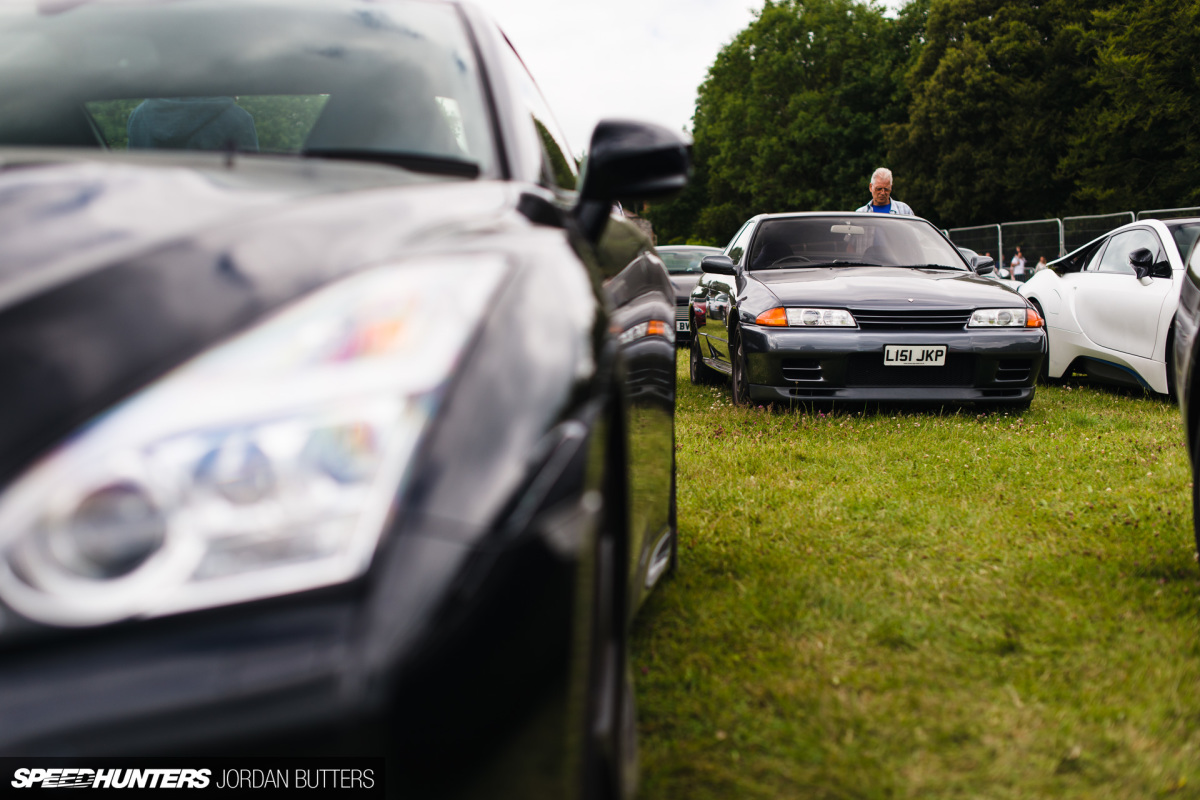 This lovely stock grey R32 GT-R obviously meets the criteria, parked up behind by its newer and much bigger brother.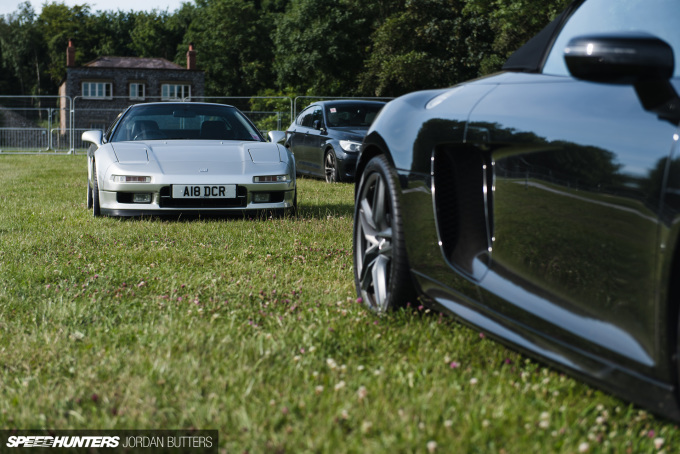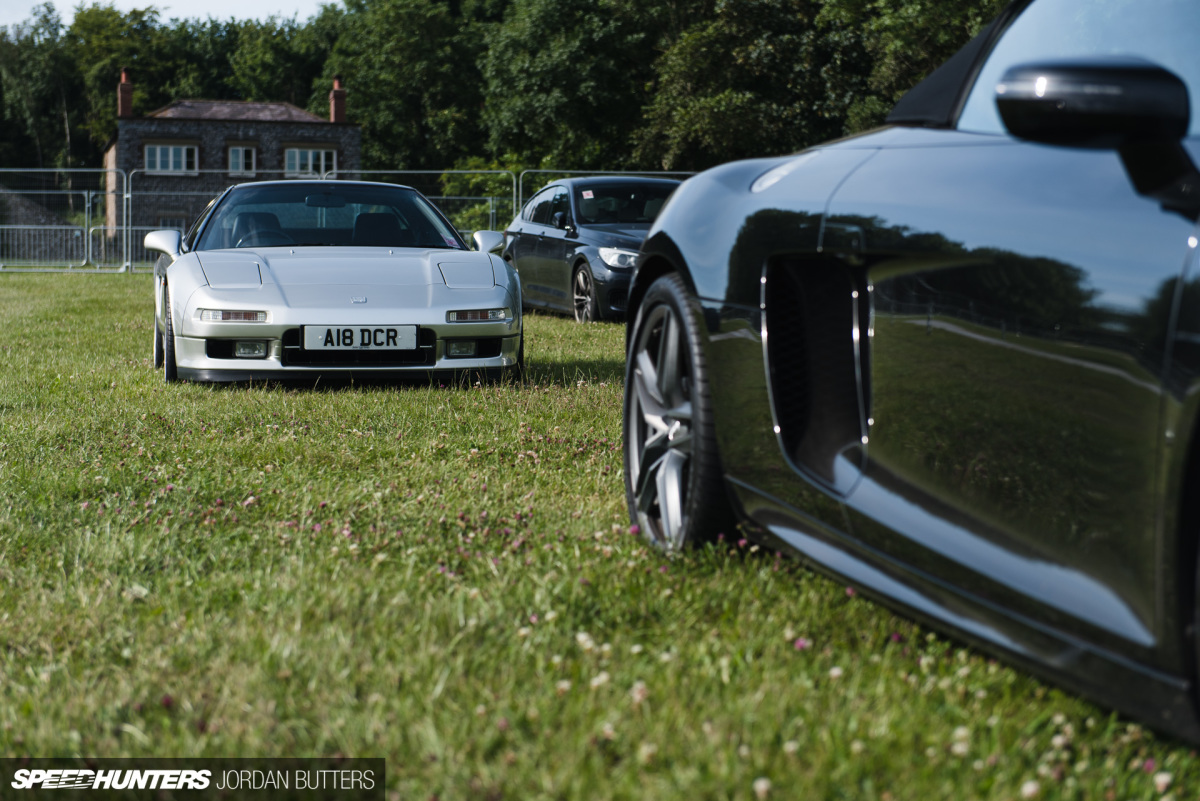 If you're a Honda owner then only the NSX will do, I'm afraid.
This red example from the Netherlands was sporting a set of what looked like double-staggered white Desmond Regamasters – ultimate wheel goals right here.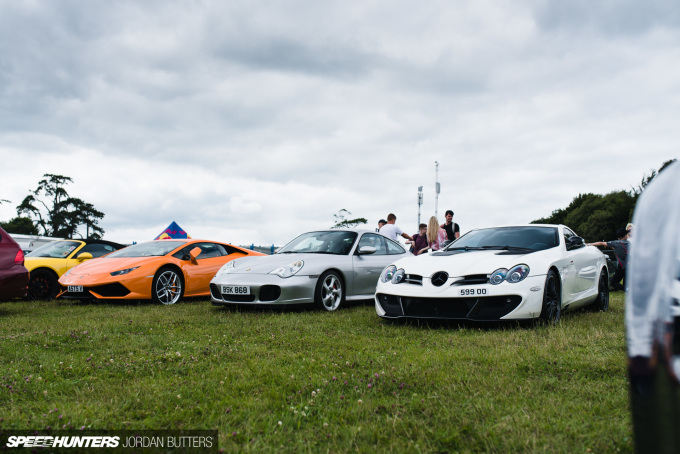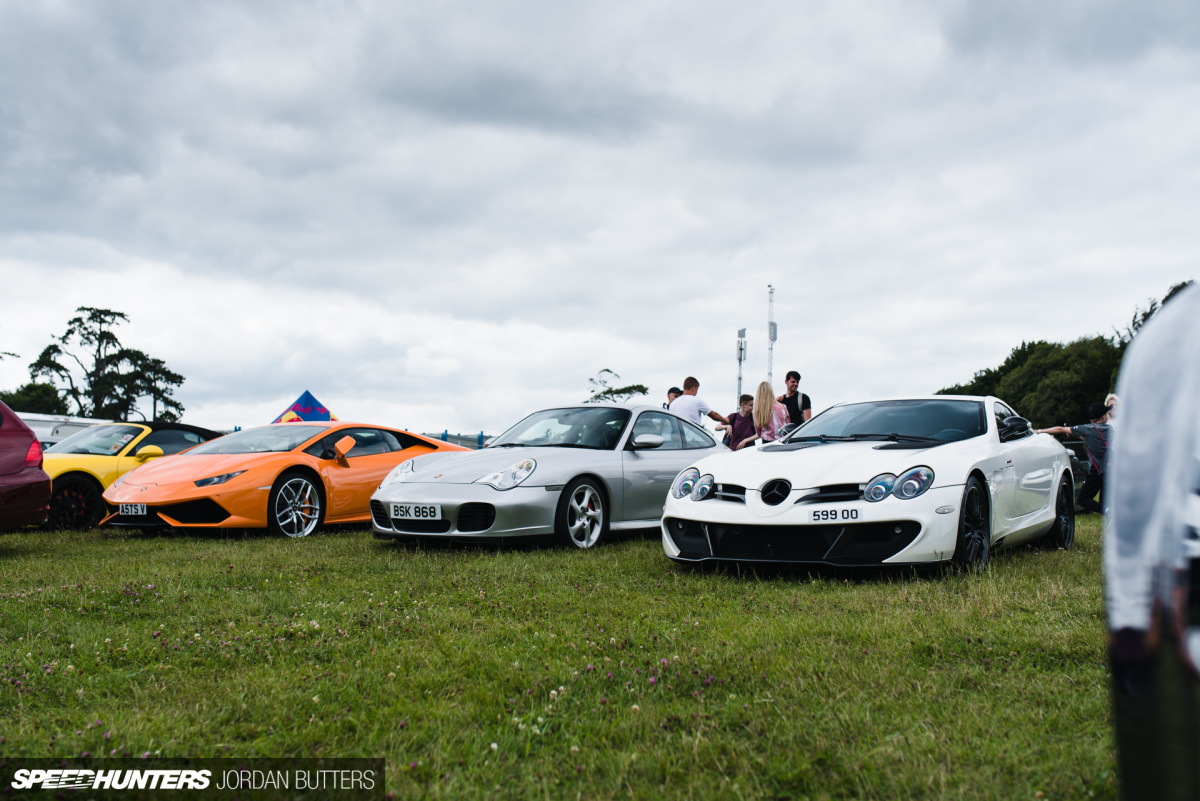 Once you're in the gate, the parking is a free-for-all affair, meaning that there's no rule or order with where you're positioned. This creates an eclectic jumble of different cars sitting side-by-side, adding to the fascination when walking down each row.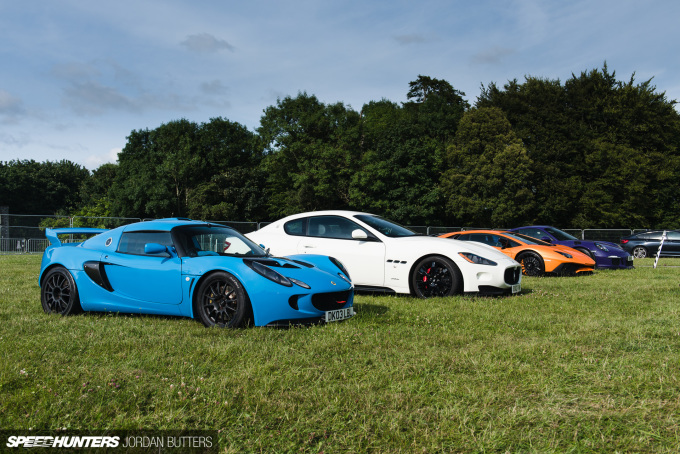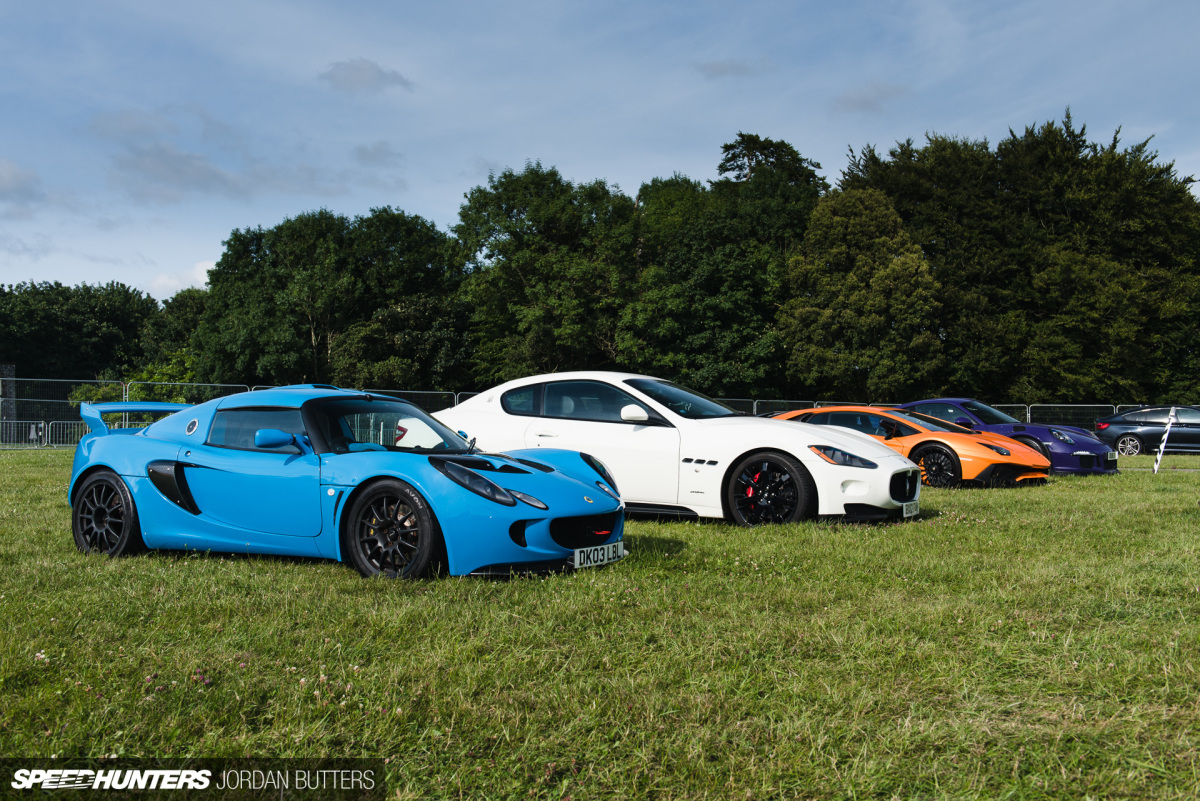 A Lotus Exige, Maserati GranTurismo, Aventador SV and 911 GT3 RS in a variety of hues keep close company.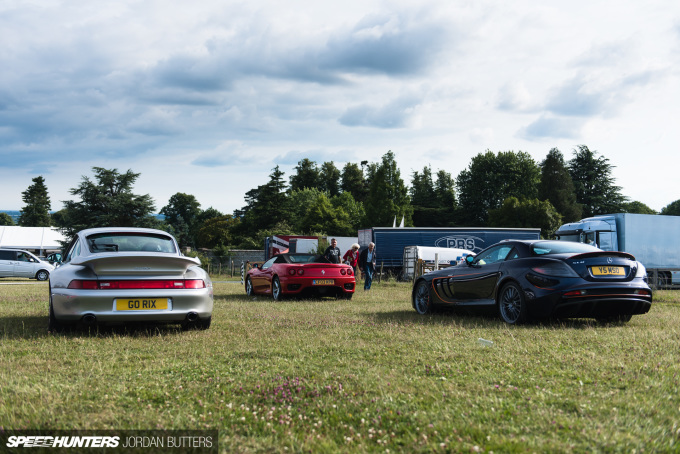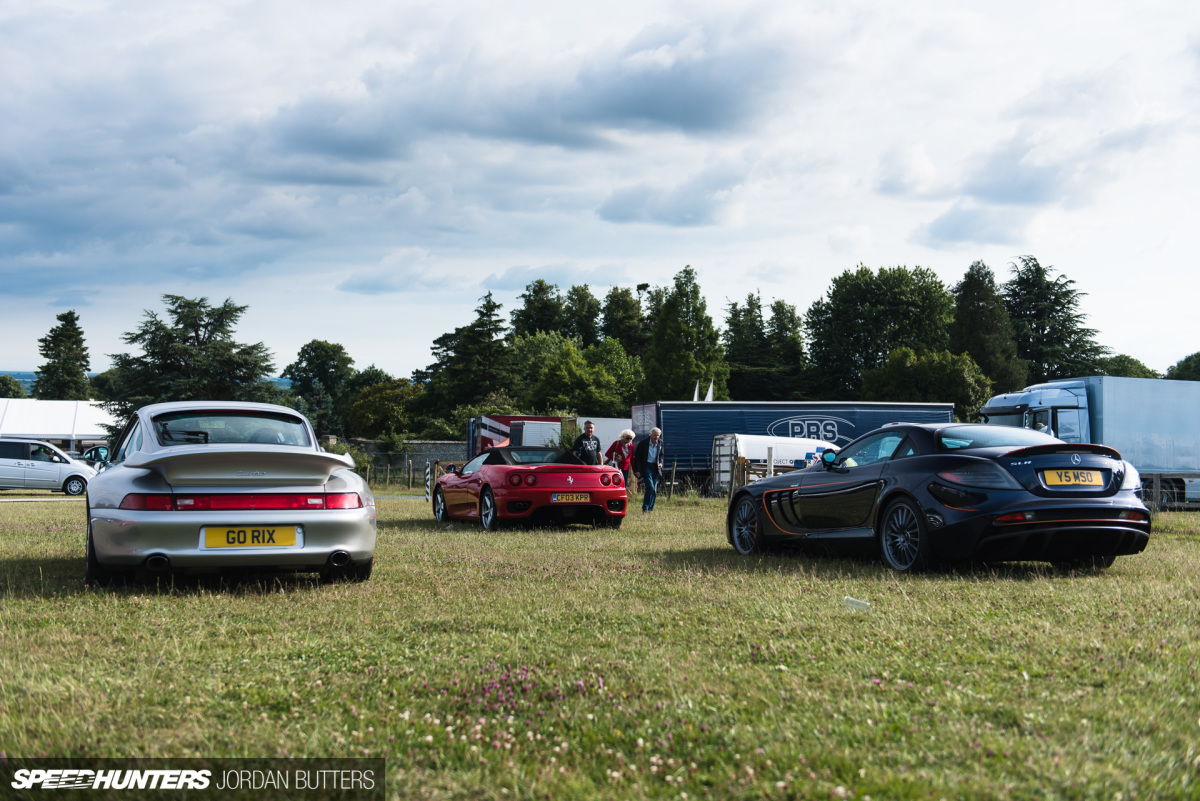 Just over my shoulder, a 993 Turbo, 360 Modena Spider and imposing Mercedes SLR lay dormant.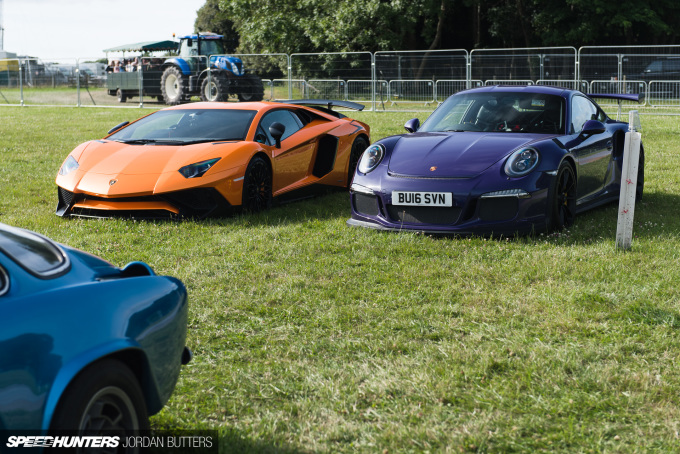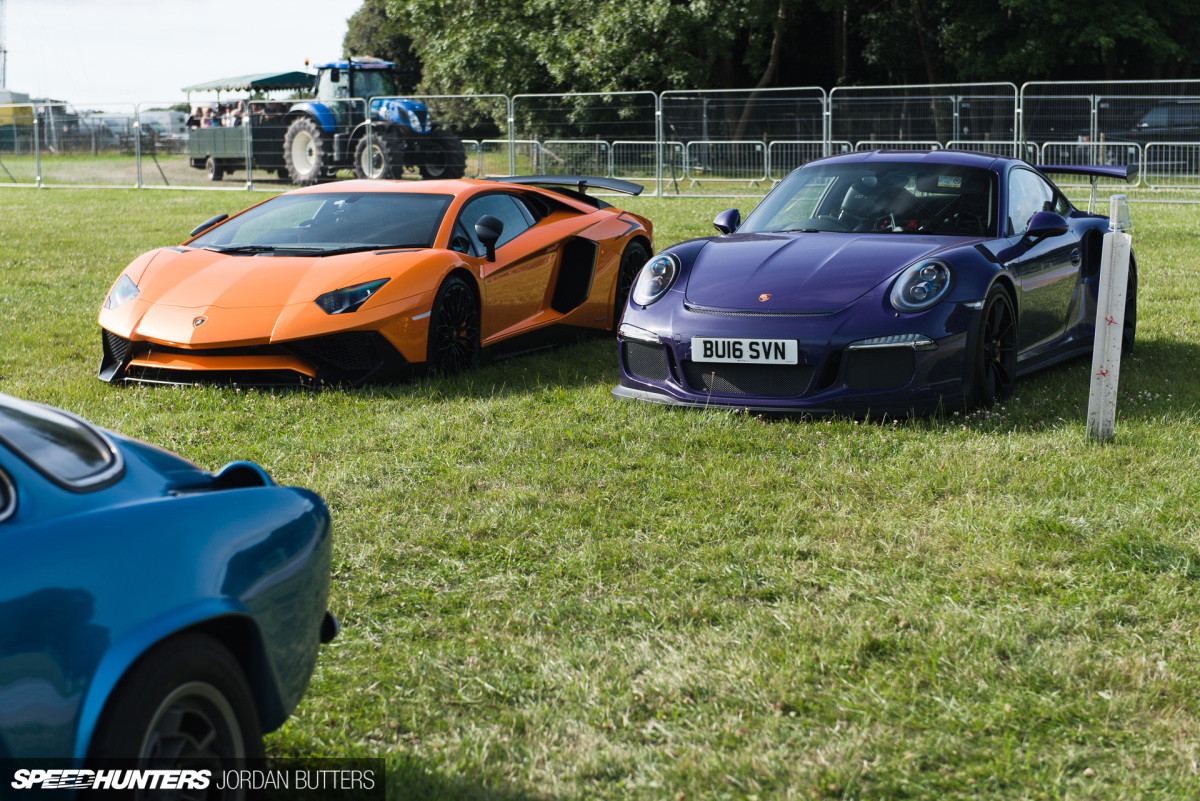 Every which way you turn sits a machine that some people will go their entire lives without seeing in the flesh. Is that a… New Holland T4 model in the background?!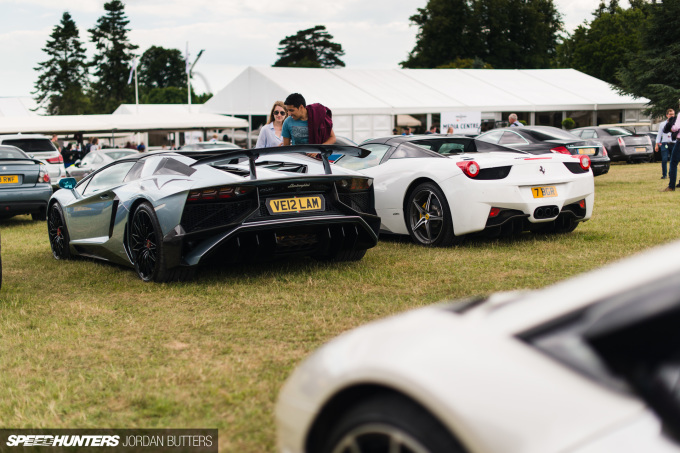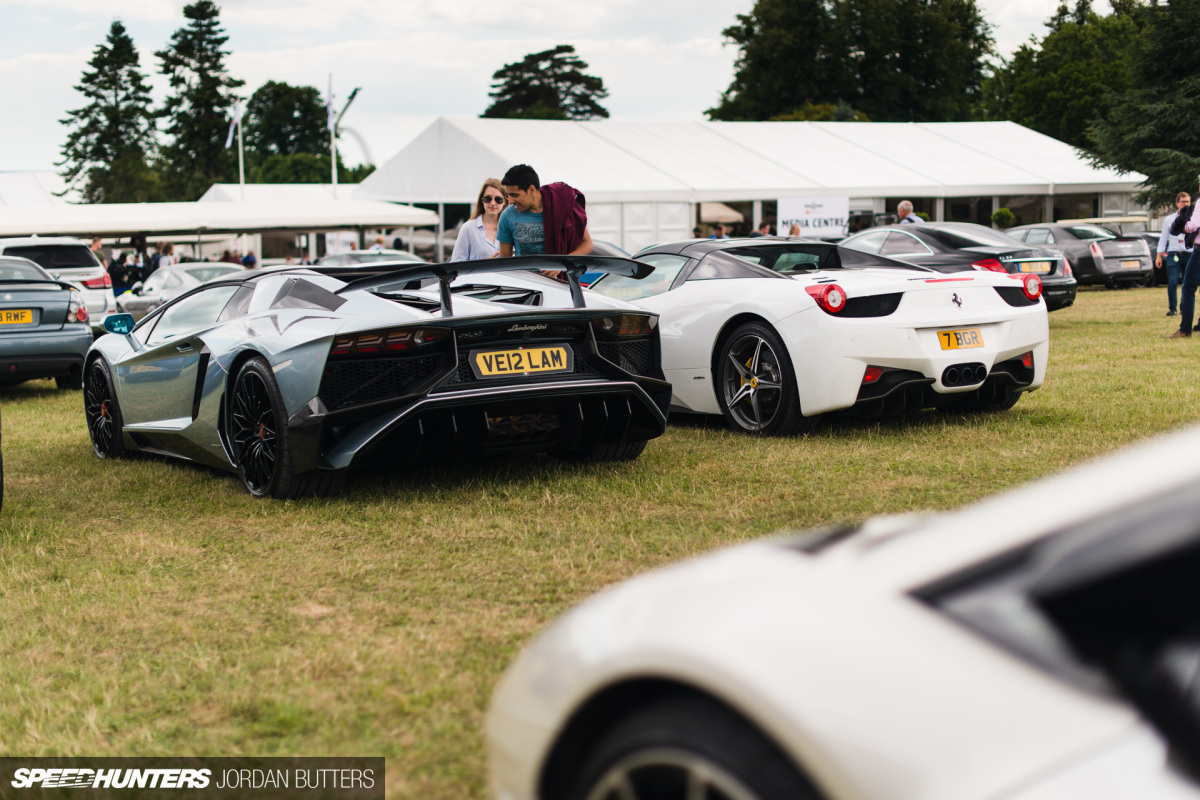 The word ridiculous doesn't even begin to cover it.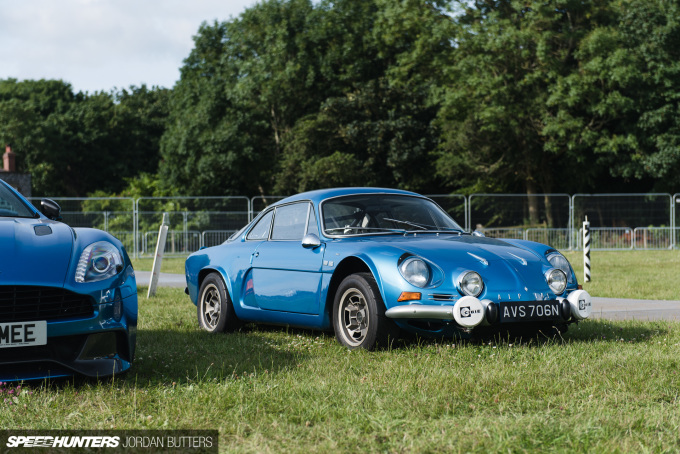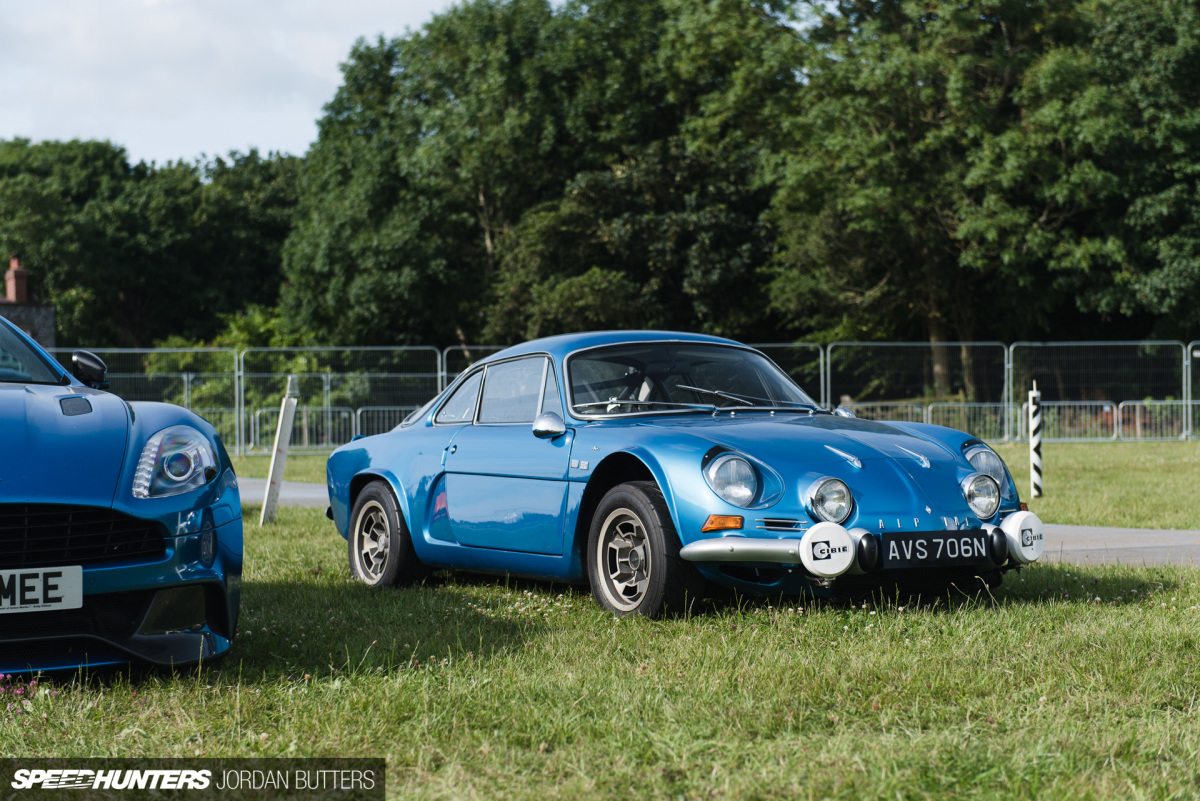 Amongst the newer metal sat classic performance machines too. I'd just been looking the brand new Alpine A110 from Renault a few hours earlier, so this pristine classic A110 Berlinette caught my eye.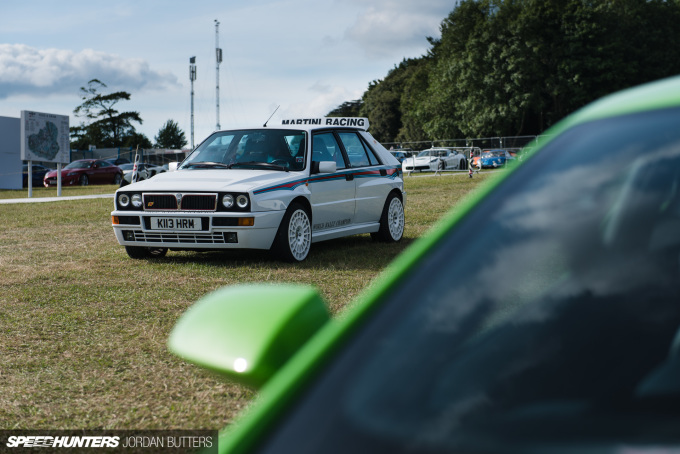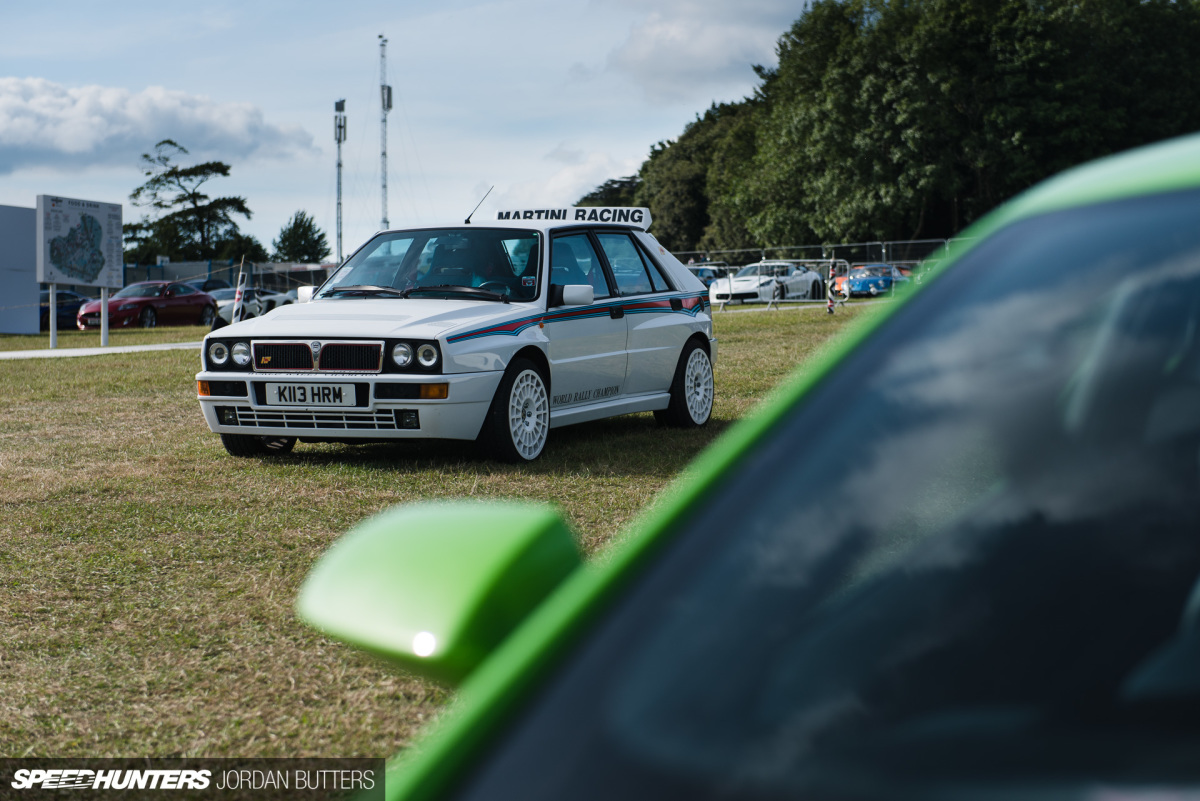 The Lancia Delta Integrale in classic Martini Racing colours was equally as stunning. It's sad that you don't see cars like this on the road any more, but getting to walk around them in a setting such as this makes up for it.
Not Your Average Field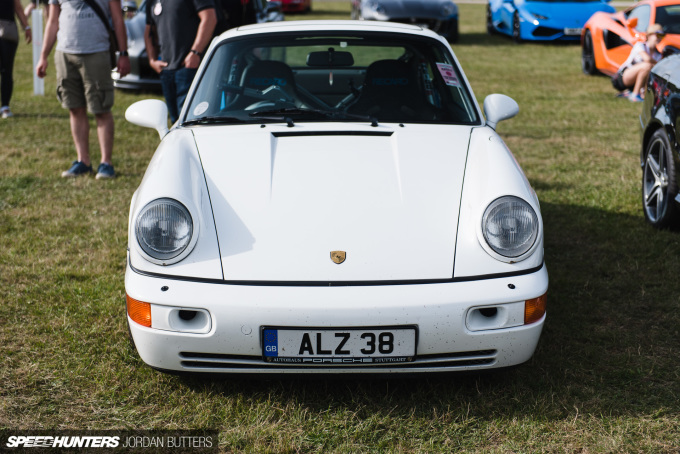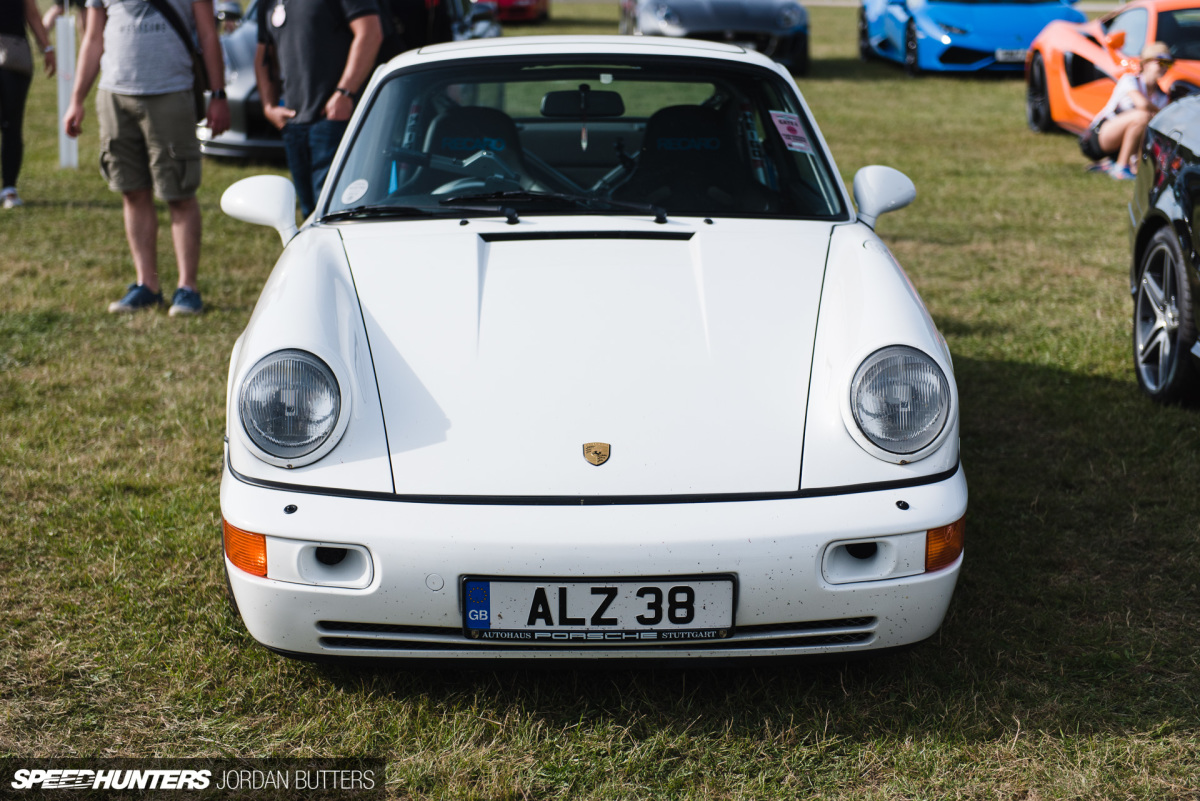 Before I'd walked 10 feet outside of the media centre this gleaming white, caged 964 stole my heart straight away.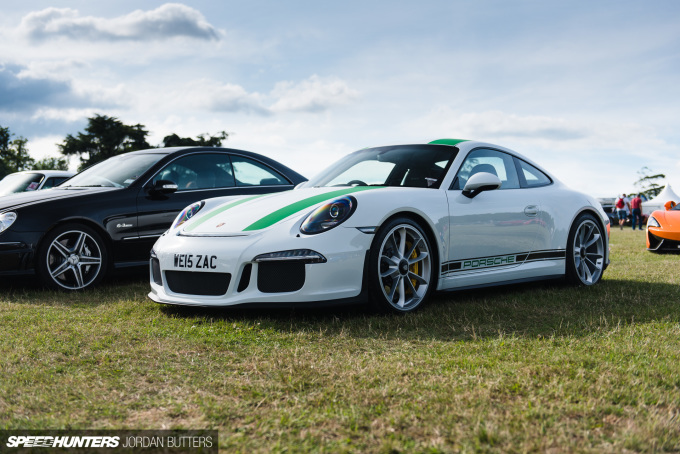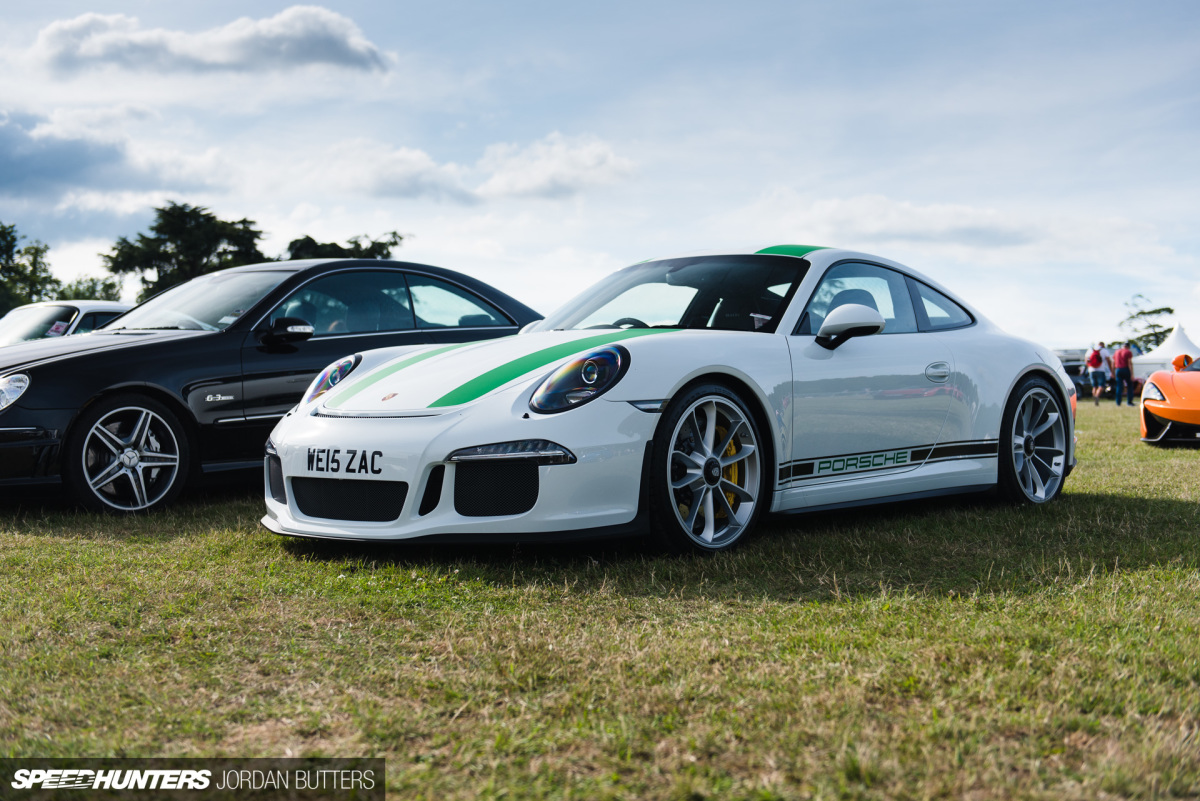 Then I spotted a 911R a couple of cars down from it. Sweet Jesus, the things I'd do.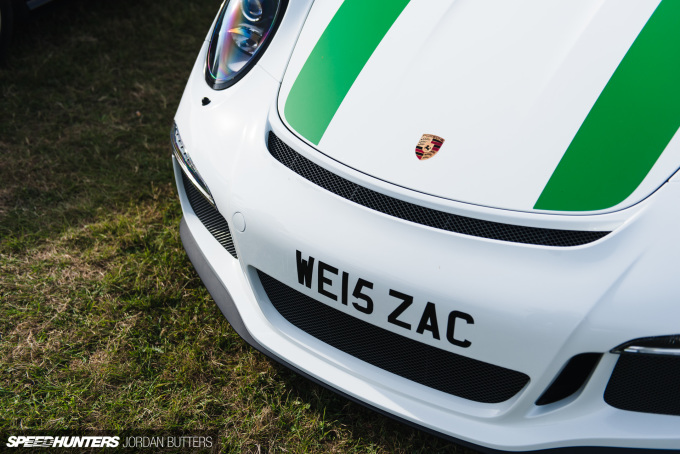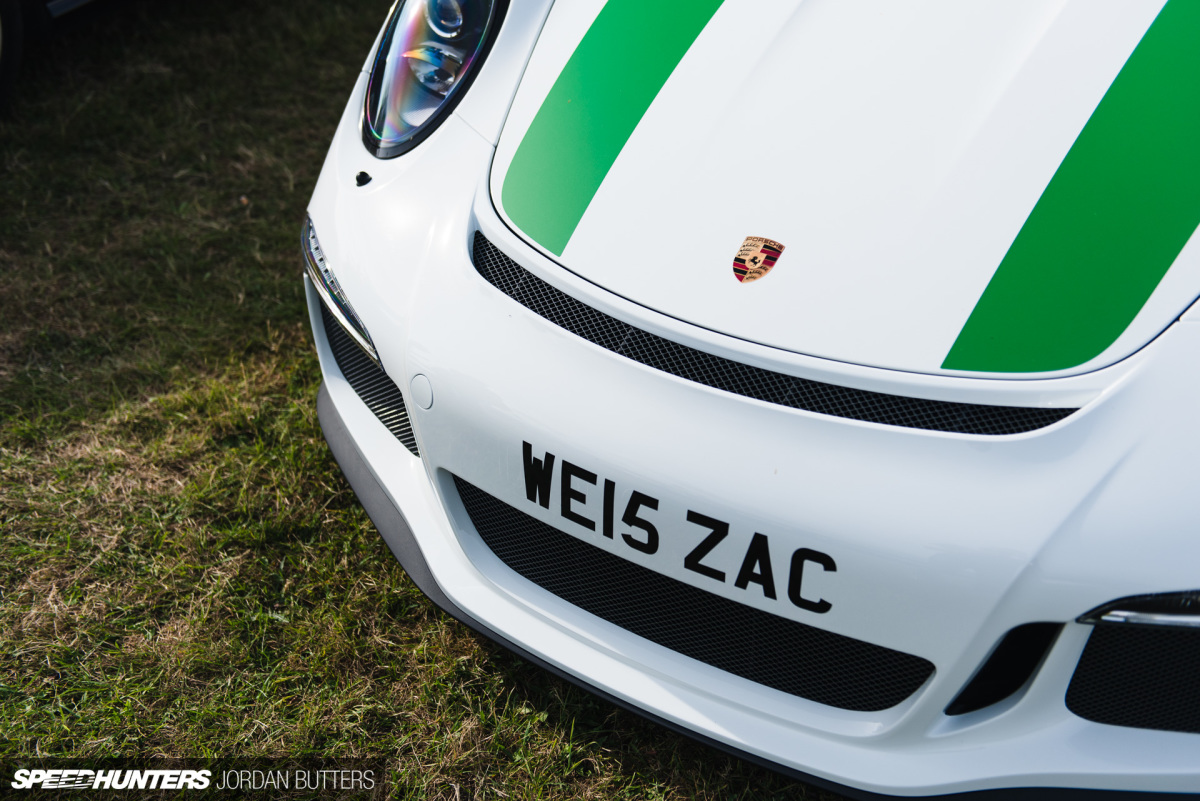 Great choice of numberplate too.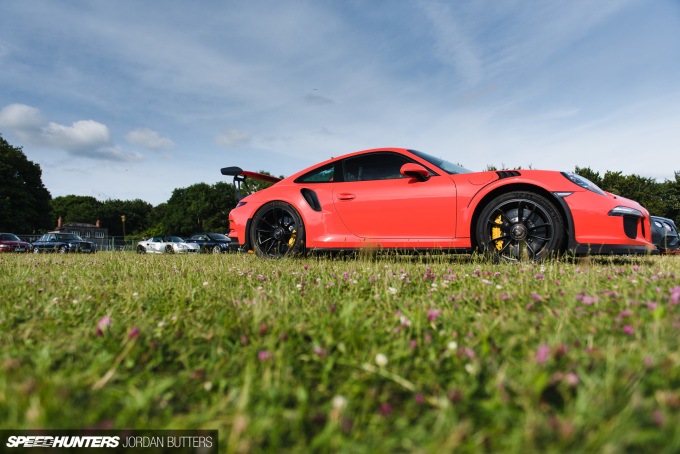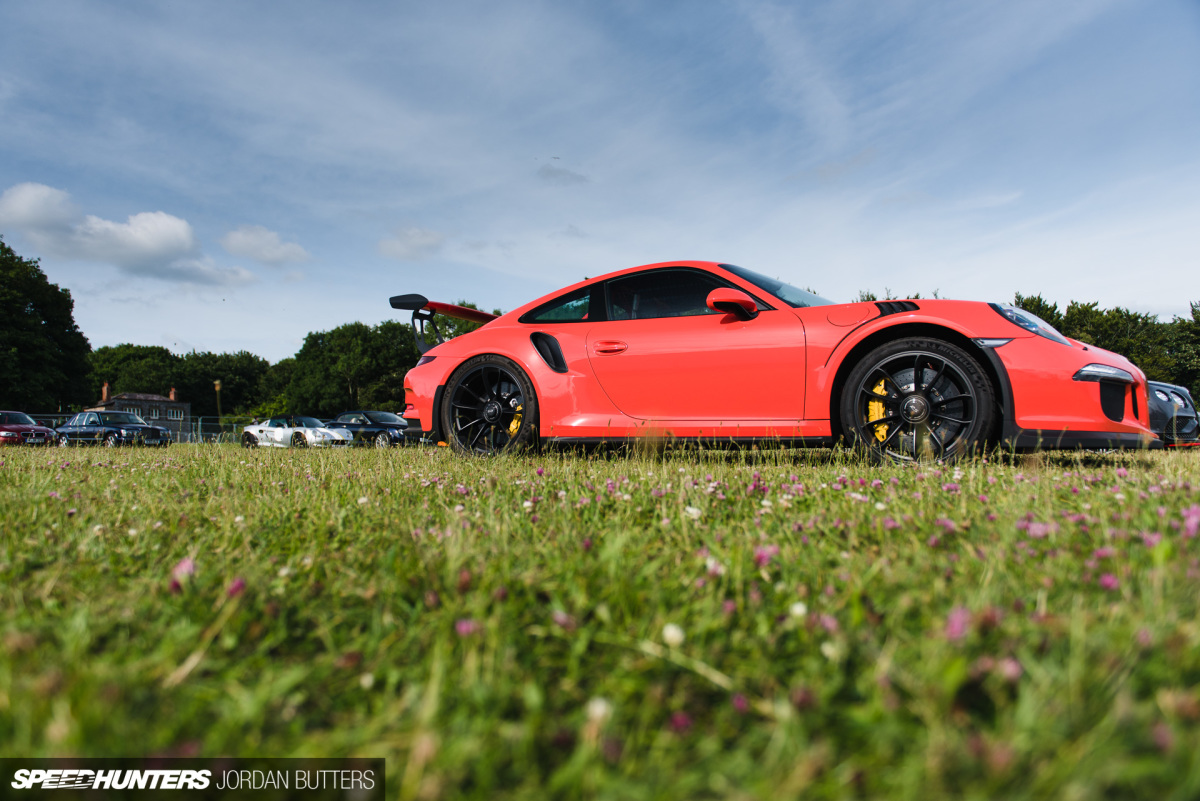 I'm not sure if I prefer the more understated looks of the 911R or the balls-out audacity of the GT3 RS. As much as I love the concept of how much of a weapon the R is for its subtle exterior, the idea of a wide, winged, road-going race car really does appeal.
Quick quiz: name the car that these two funky and bonkers OEM design features are from…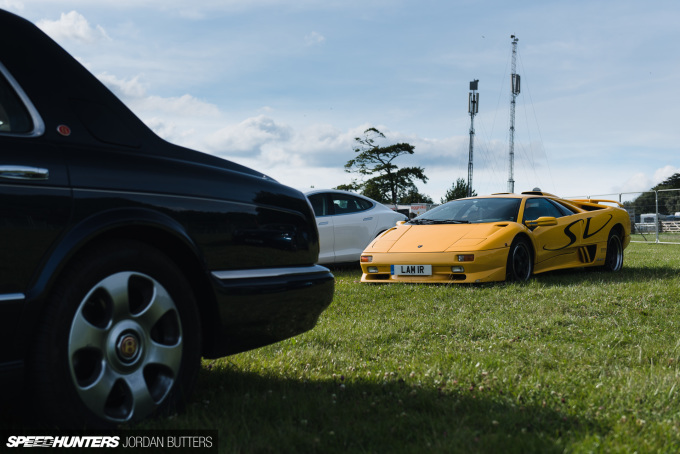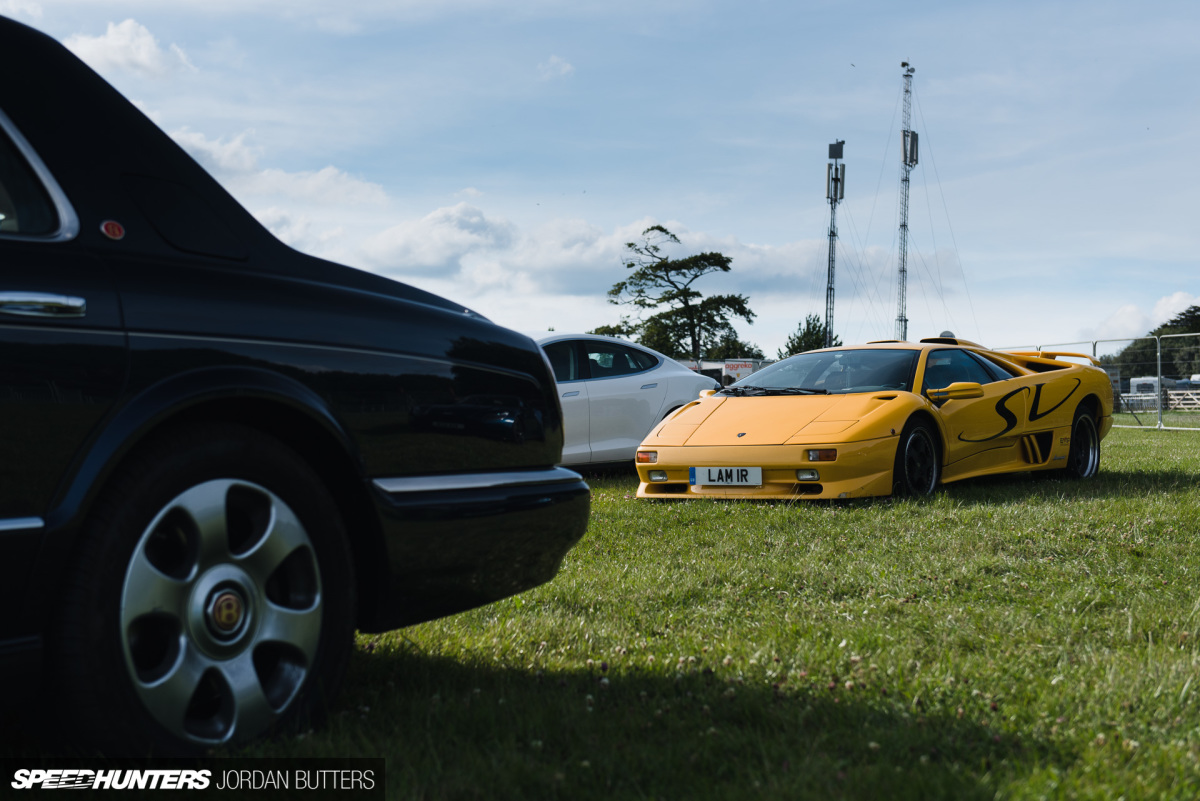 An unknown hero brought his Diablo SV out for a weekend drive too. Memories of posters on my childhood bedroom walls are flooding back right now.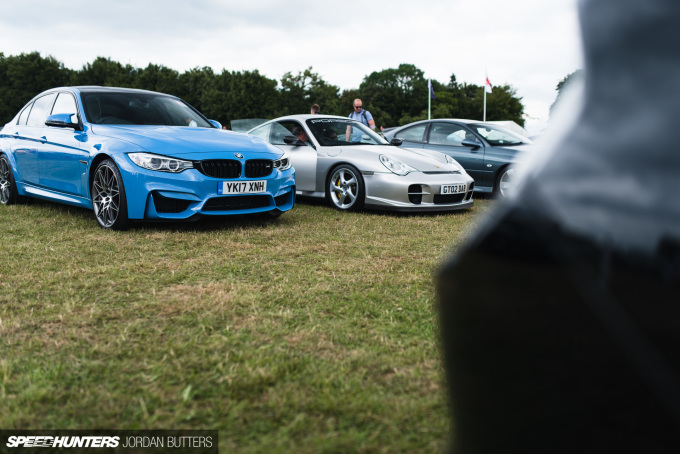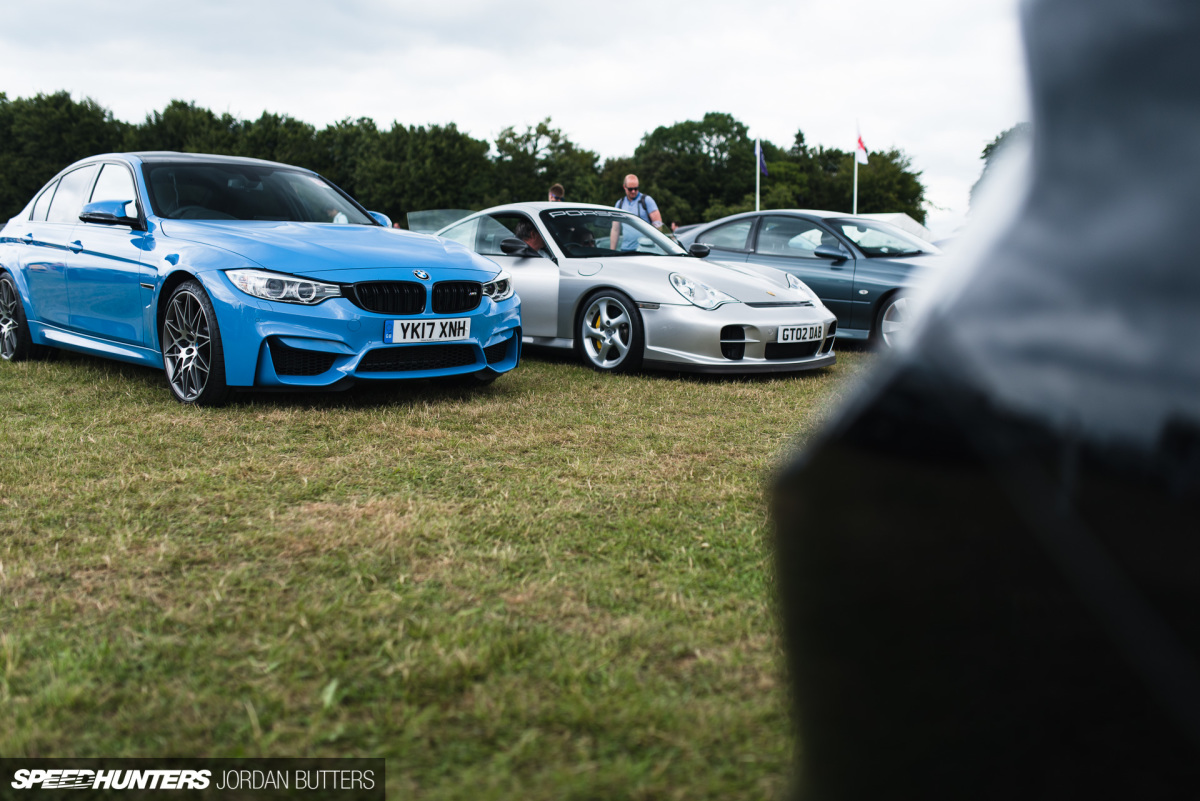 A 2017 BMW M3 and 996 GT2 would make for a very tasteful garage combo. One for the week, and one for the weekend.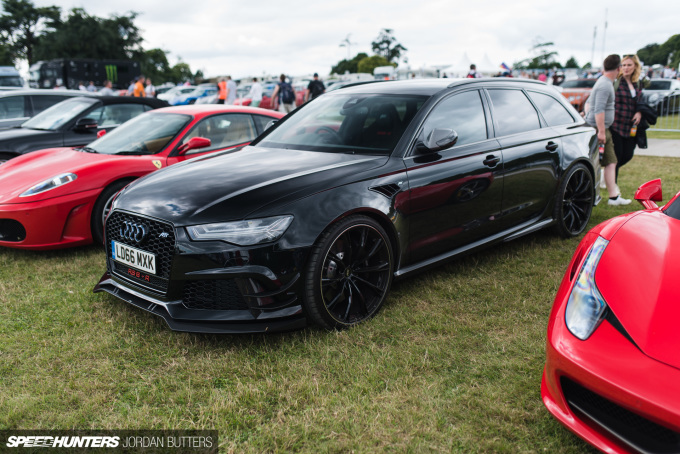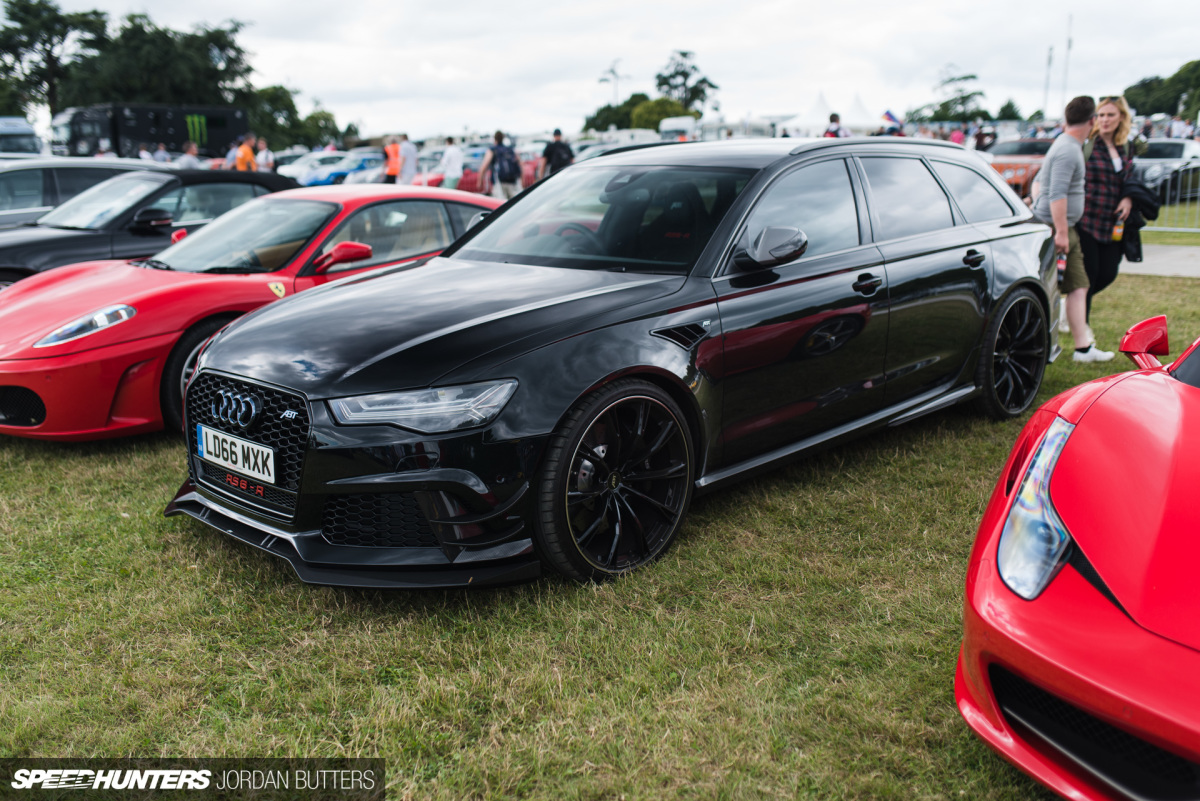 Or for something a bit more practical, how about an ABT RS6-R Avant? Room for the family and dog, and 730bhp to boot.
As a gaggle of mini Casey Neistat YouTubers scurried around the newer and more exotic metal with unparalleled excitement ('What's UP guys, I'm here at Goodwood Festival Of Speed…'), while a group of more senior connoisseurs who were clearly in the know had also spotted what I had seen and were admiring a Lotus Carlton with nods of appreciation.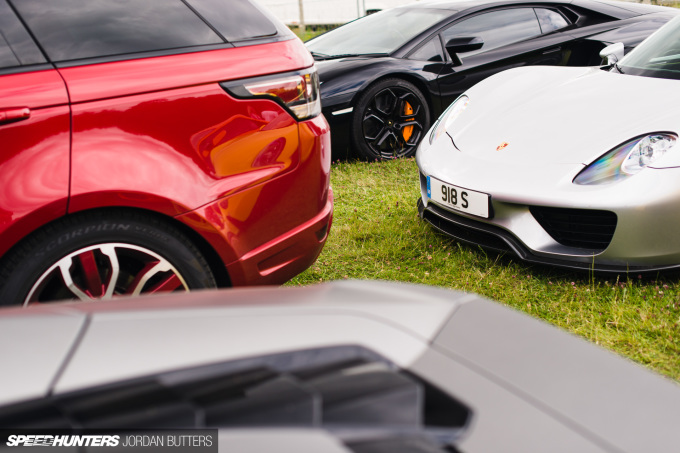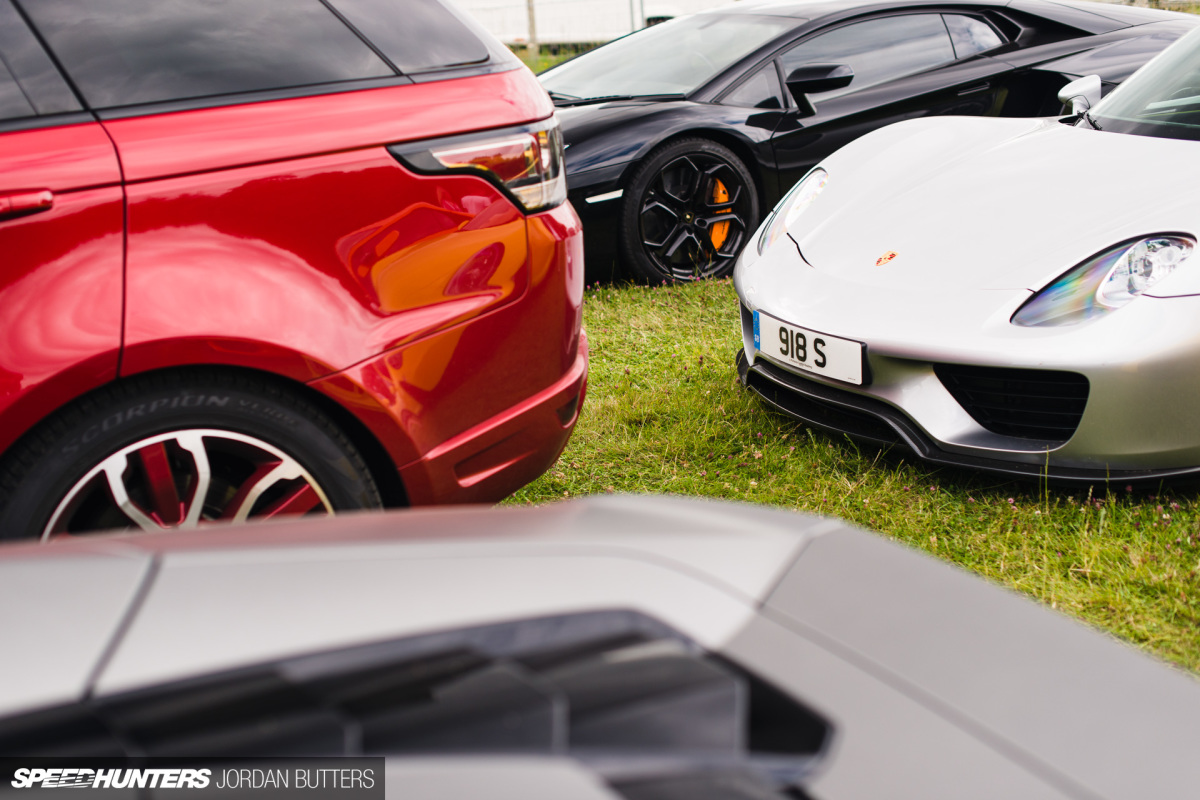 After taking a moment with the Carlton, I wandered over to see what the fuss was about a few rows down, right at the back of the parking lot. It turns out it was justified – it's one thing parking your supercar up in a field, but another bringing your hypercar out for the day.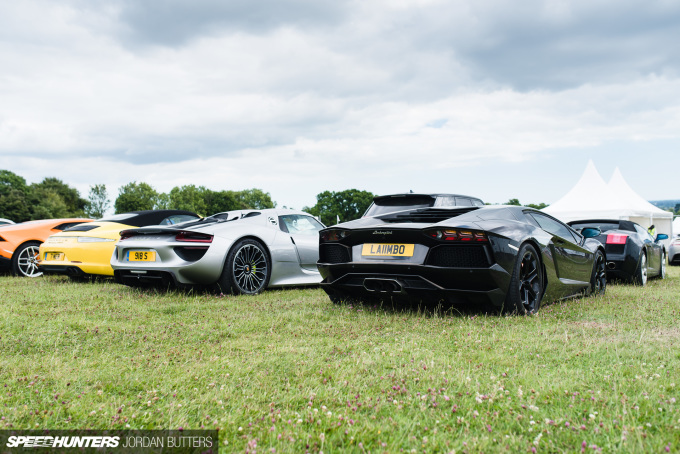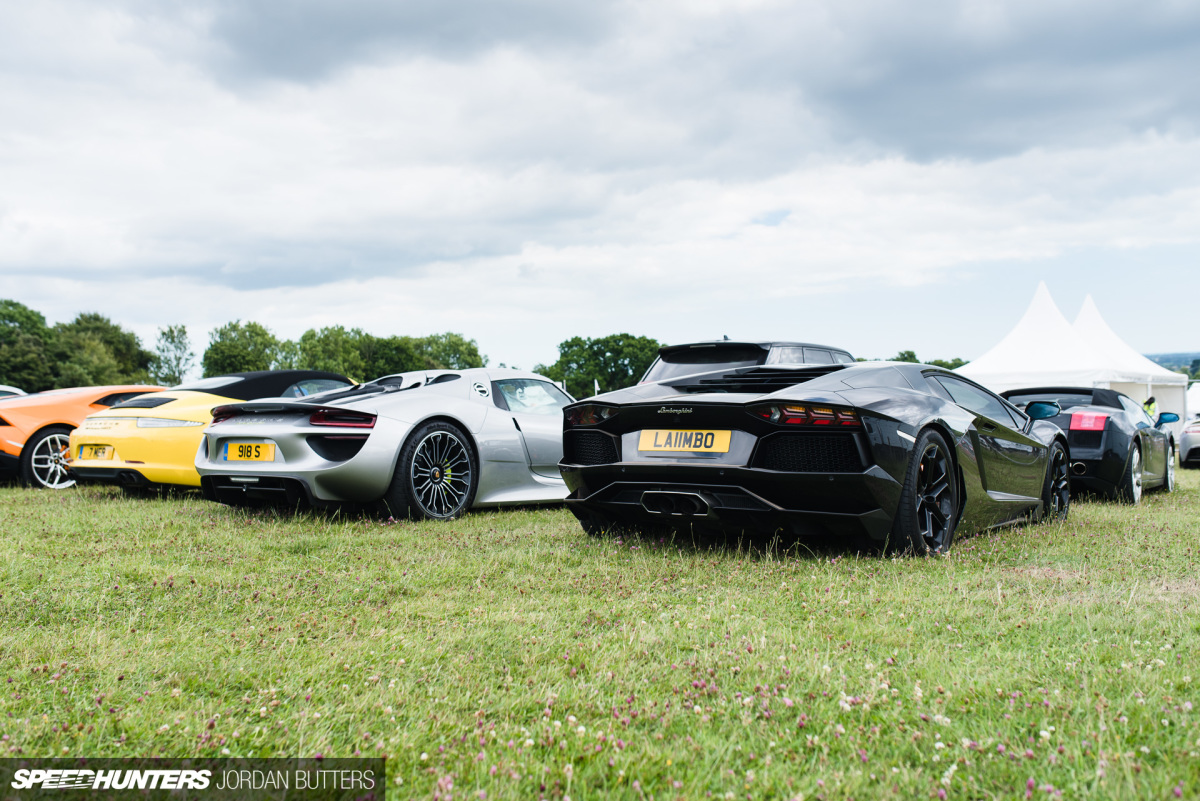 This is the first 918 Spyder I've seen in person and it really is a thing of beauty. That's not a show plate either – someone has all of the disposable income then.
The walk back down the hill to the media centre took just as long, as I discovered cars that I'd missed in my excitement on the way up.
I could go on for hours, but there's lots more hunting of speed to come from both myself and Paddy this week. If you thought the car park was good, wait until you see more of what's inside the main event!
Jordan Butters
Instagram: jordanbutters
Facebook: Jordan Butters Photography
jordan@speedhunters.com
Cutting Room Floor