Three Cars Far From Home
Believe it or not, but even in Japan it's rare to see a Hakosuka roaming the streets. With values of the '70s Nissan Skylines constantly on the rise, and even cars in poor condition fetching big money these days, owners are keeping them locked up and under wraps.
That said, when the opportunity to shoot three examples at one time came up, it wasn't something I was going pass up. But this story doesn't take place in Tokyo; we're thousands of miles away in the city of Houston, Texas.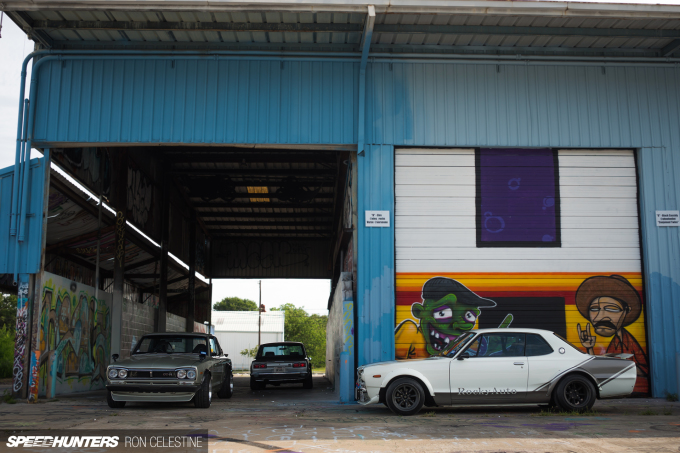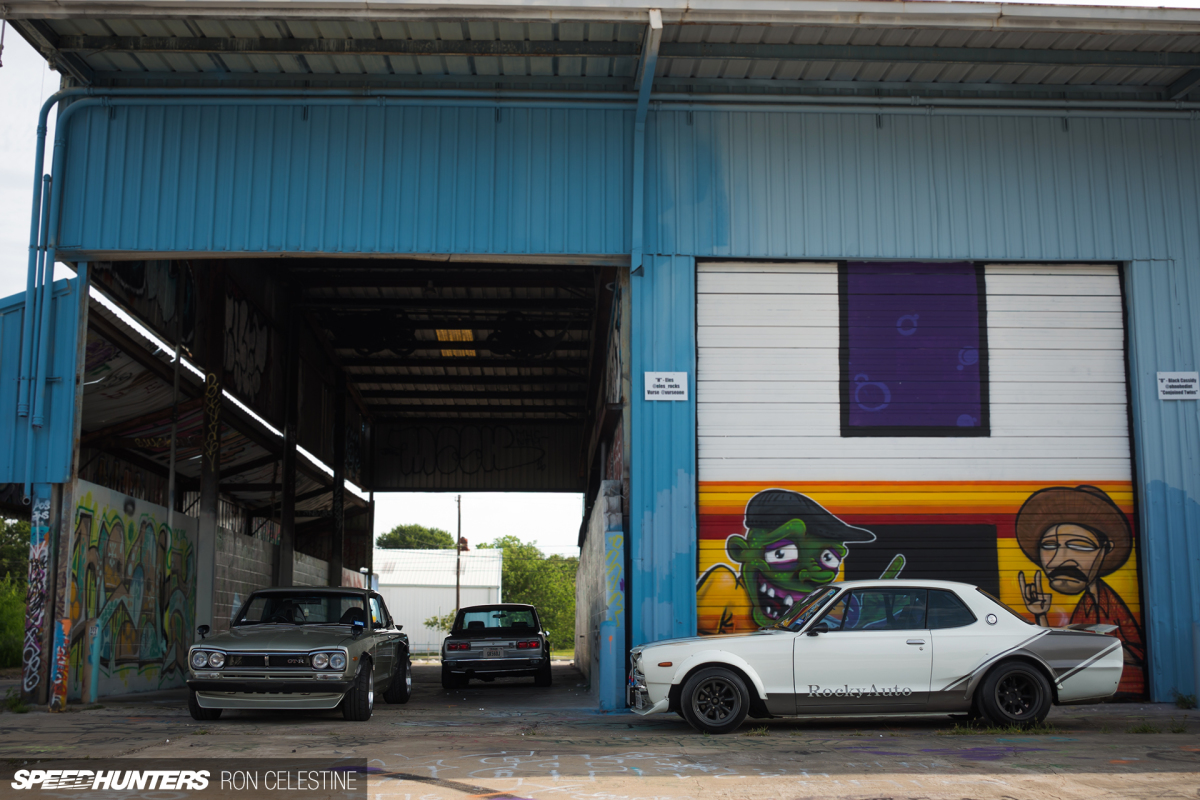 An early morning downtown rendezvous was planned, and once again I found myself leaving my parents' house under the cover of darkness. Most people were still sleeping at this time, but on this particular day staying in bed was the furtherest thing from my mind.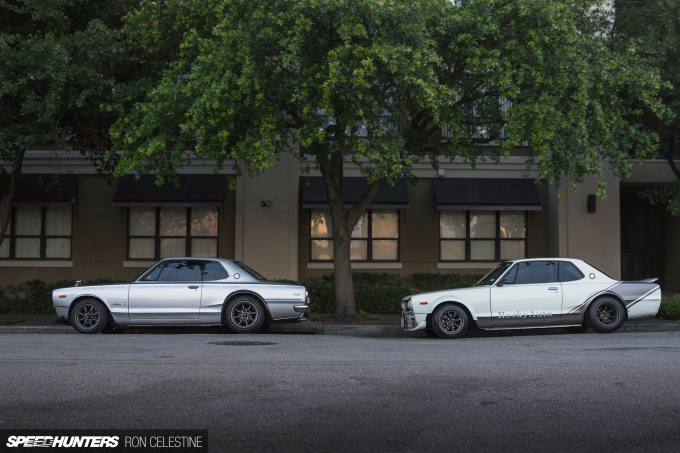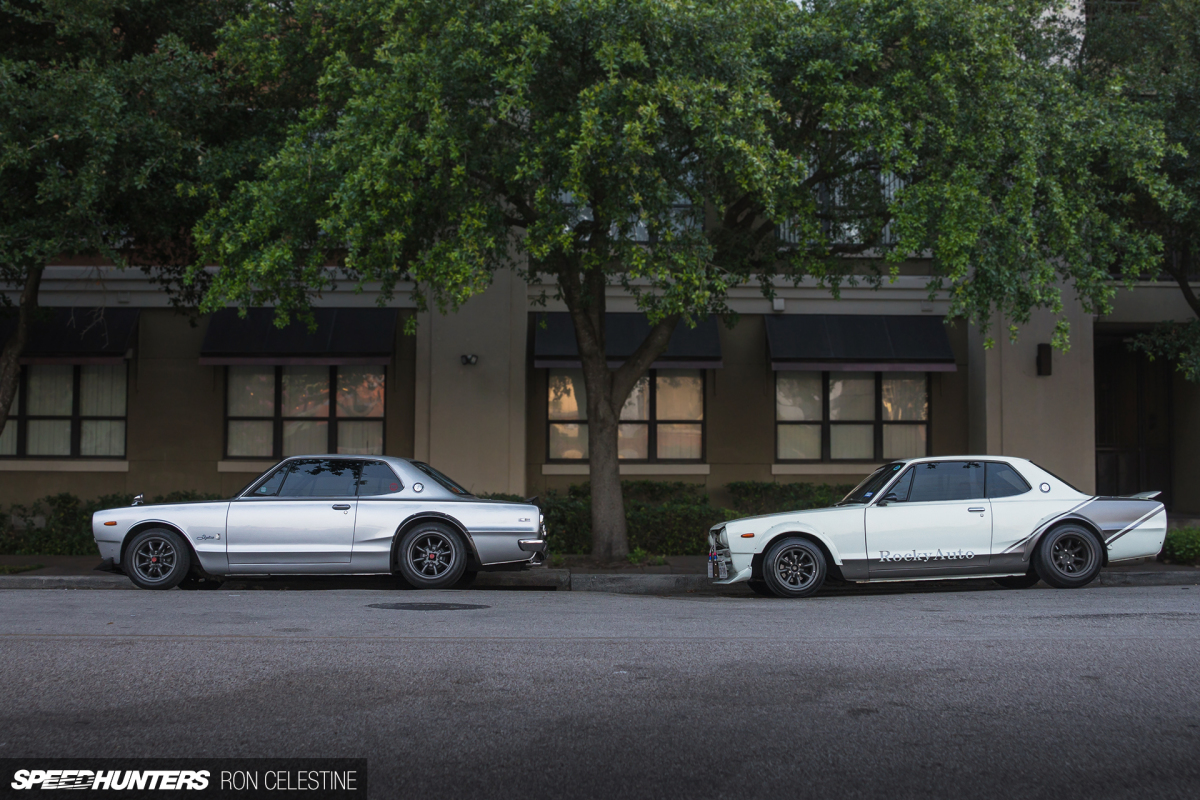 Have you ever been so moved by something so visually pleasing that you find yourself taking a step back just to let it soak in? That's exactly how I felt upon arriving at the meeting location and being greeted by three simply stunning examples. All are slightly different from one another, and each comes with an interesting story about how it ended up in Texas.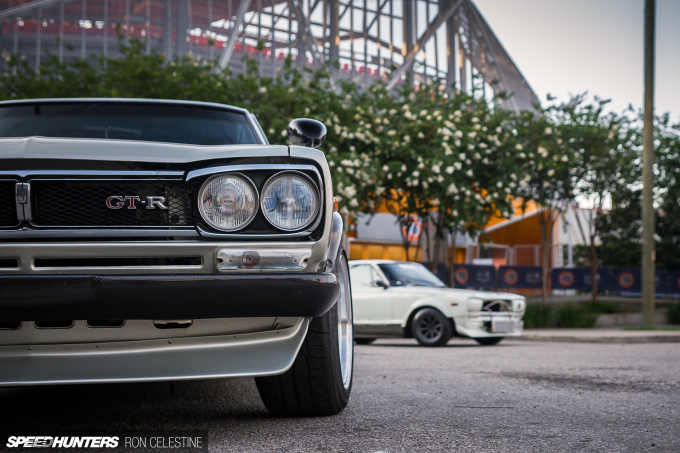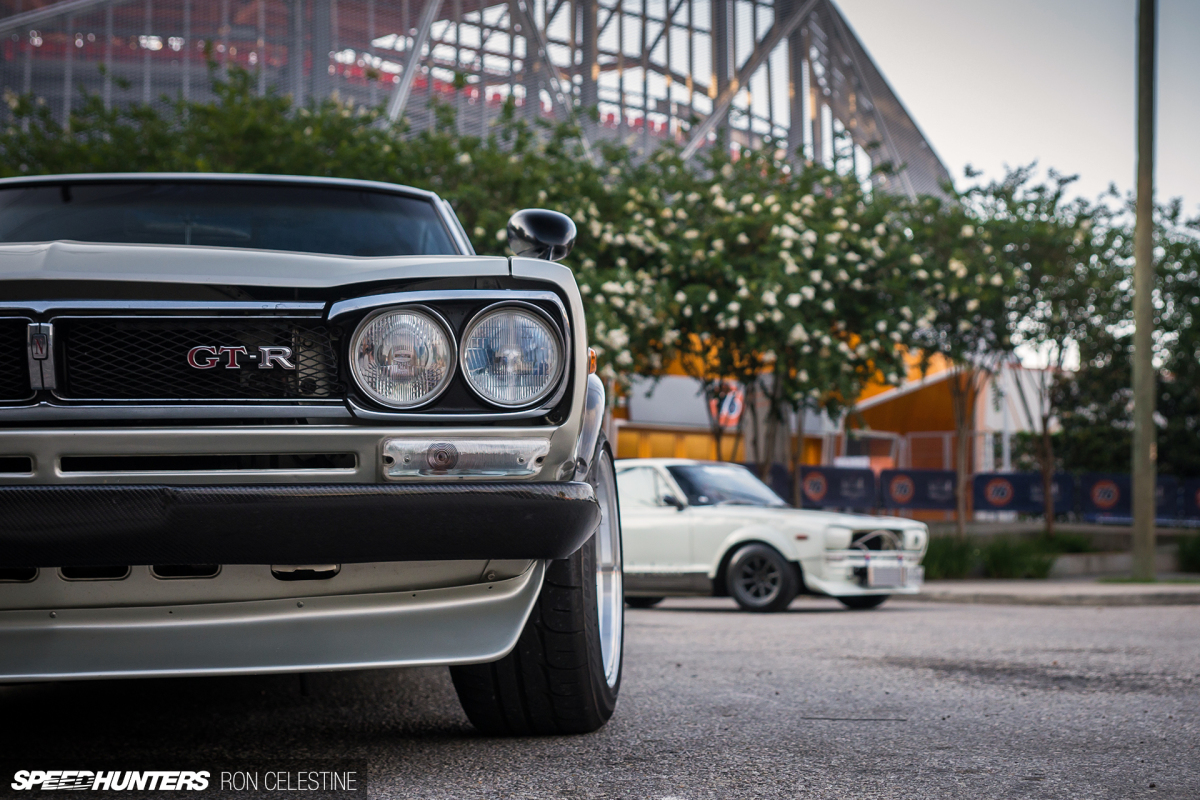 After picking my jaw off the pavement and taking a moment to recompose myself, it was time to get to work.
Thomas's Classic-Style Hakosuka
When Thomas, the co-founder of AE Threads, was living in South Korea, he struggled to find anything resembling a car scene. In an attempt to fill the automotive void in his life, he turned to the internet where the Skyline – and in particular the BNR34 GT-R – quickly consumed his attention.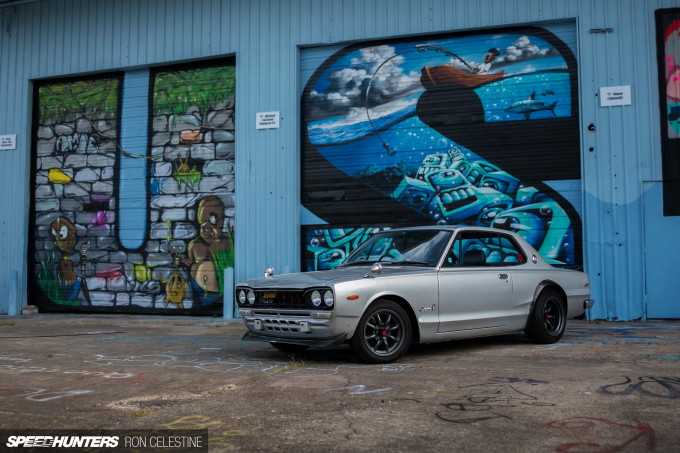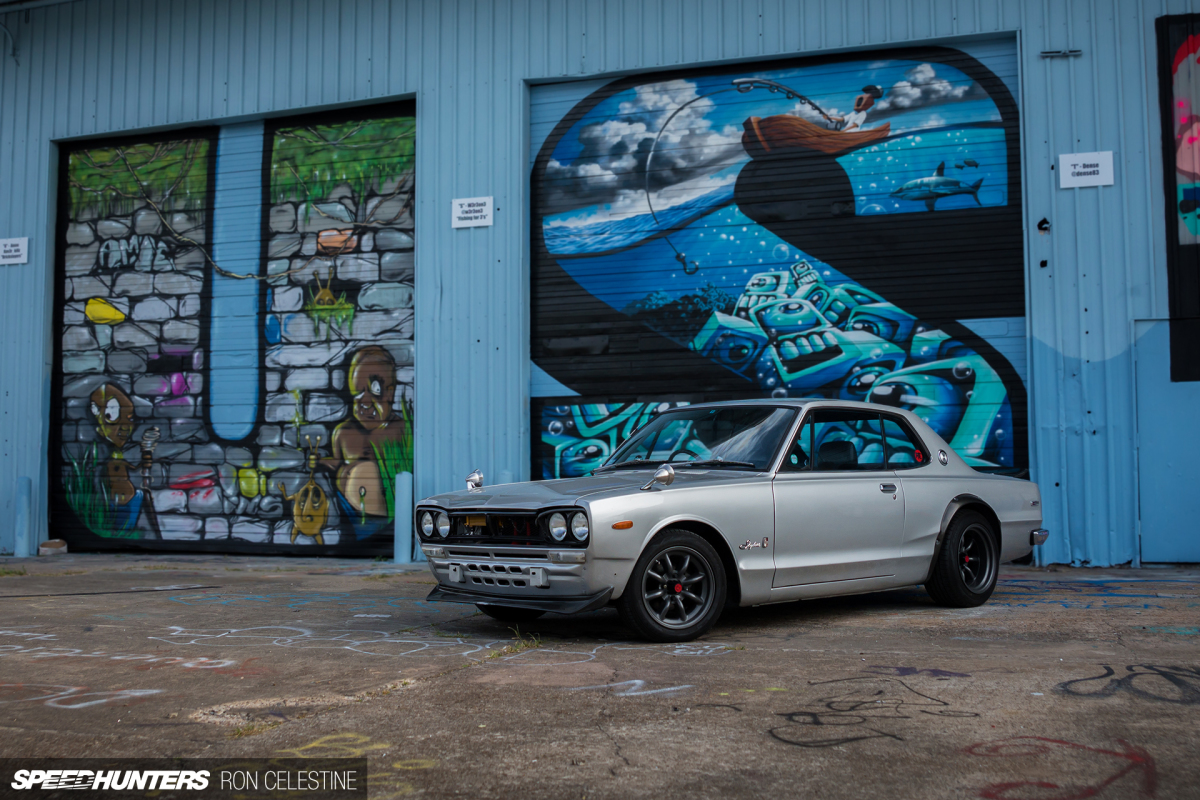 It was during one of these many surfing sessions that he stumbled across an image of a Hakosuka. It was love at first sight; the classic and timeless styling had him hooked – forget the R34. Consequently, Thomas spent the next couple of years studying every little detail about the early model Skyline, dreaming of the day he'd be able to claim one for himself.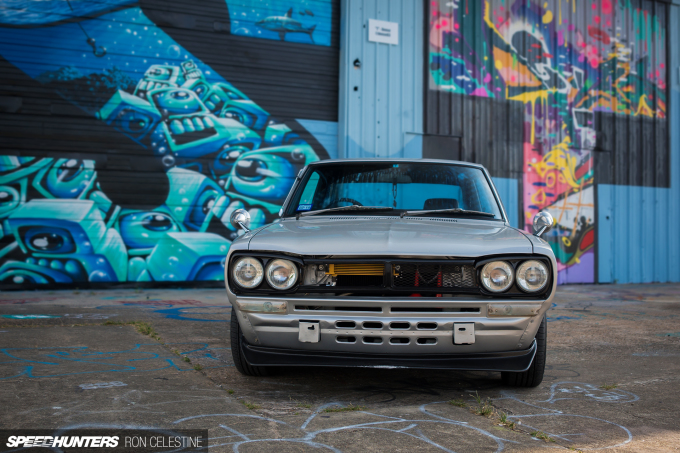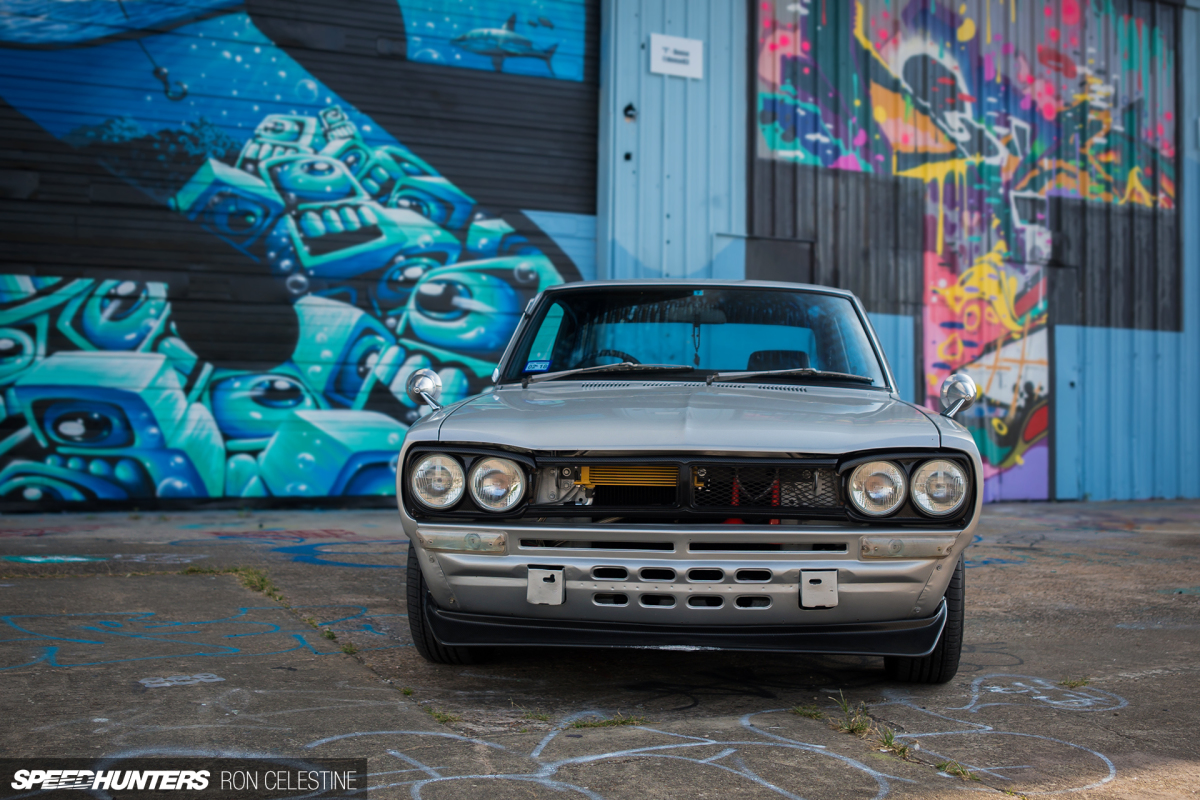 Unbeknownst to him at the time, Thomas's stay in South Korea was going to come to an abrupt end. On learning of his fate, he realized that if he was going to make the Hakosuka dream a reality he needed to act fast.
Thomas began making frequent trips over to Japan on his time off, visiting workshops in the hope they could point him in the direction of any cars up for sale. Luckily enough, the first Skyline he actually looked at in person turned out to be the one he'd end up purchasing – this KGC10 2000GT from Osaka-based vintage car specialist TeaValley.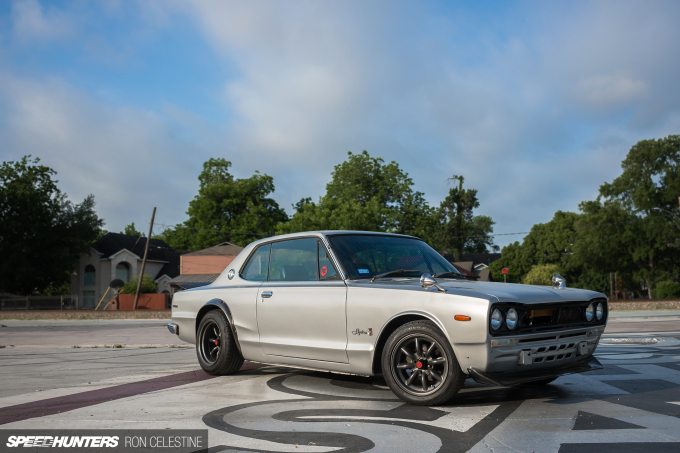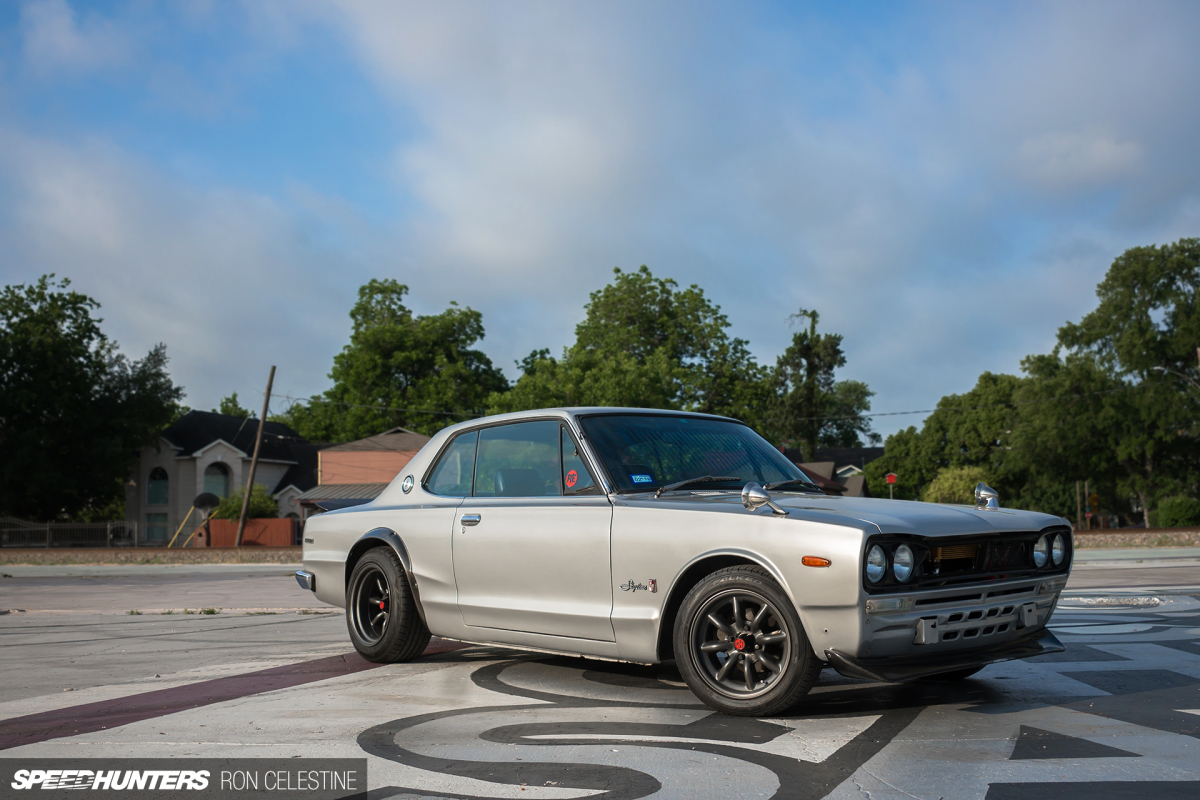 As it sat at TeaValley, the Hakosuka was incomplete; the rear fenders had been cut so flares could be added for the kai GT-R look, and it lacked a drivetrain.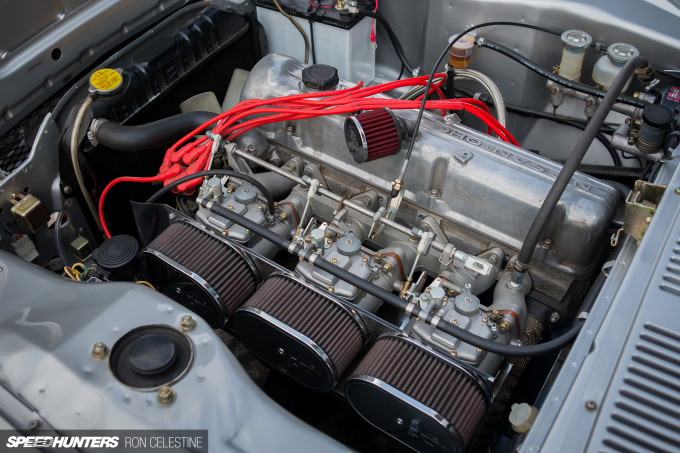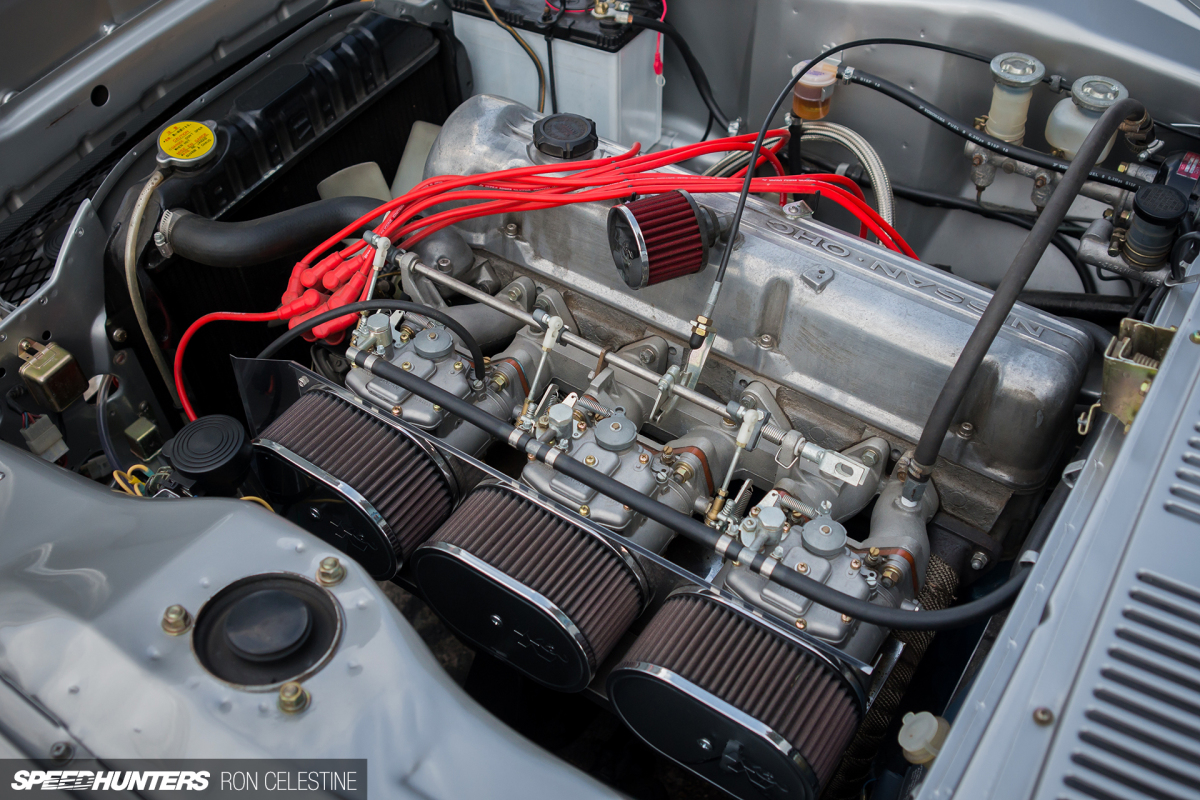 By this point, time was really running out, so Thomas had the shop fit an L28 straight-six and 5-speed combo it had sitting around. Now it was a runner.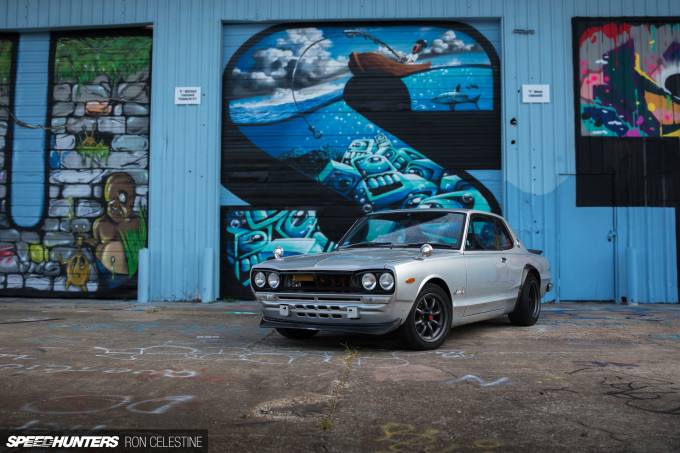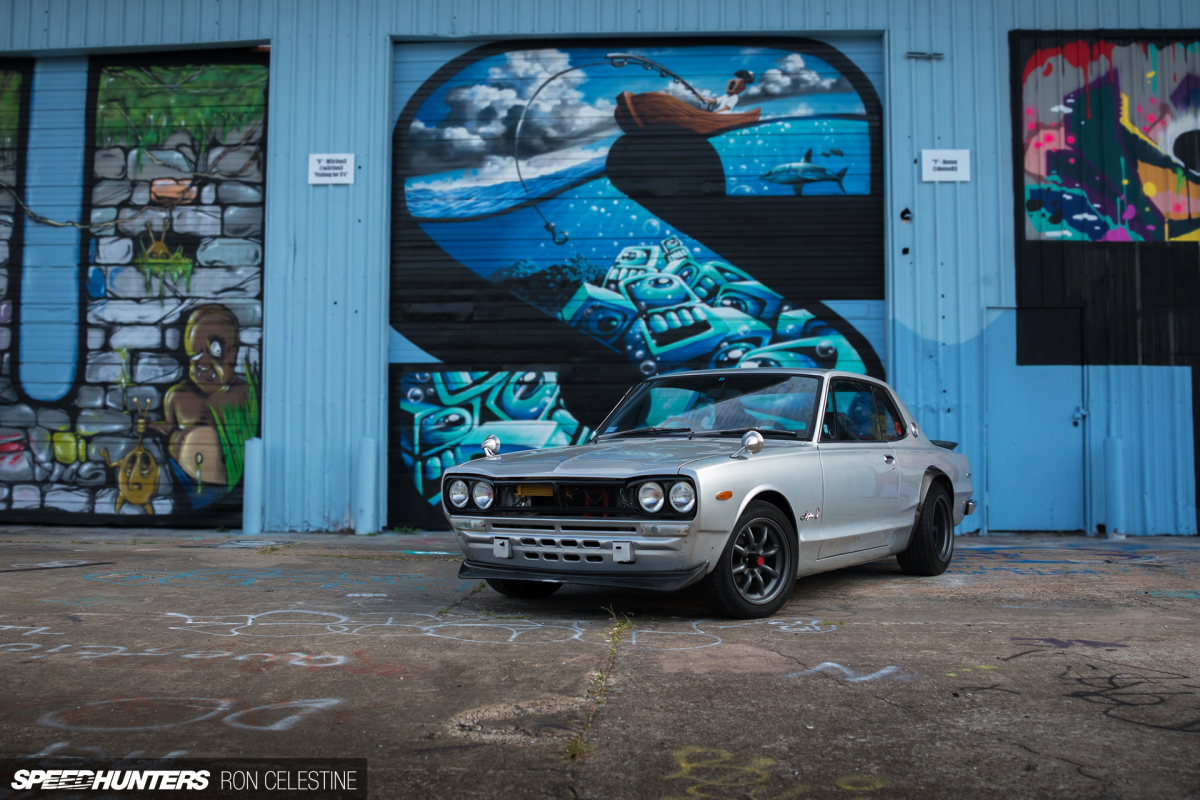 Making things even easier for Thomas, TeaValley handled all the export paperwork, and five months after purchasing the Skyline it was stateside.
As soon as the car was in his possession, Thomas wasted little time injecting some of his own style. CarbonSignal headlight bezels, front lip, grille and rear spoiler add a little bit of carbon fiber contrast while not detracting from the overall look of the Hakosuka.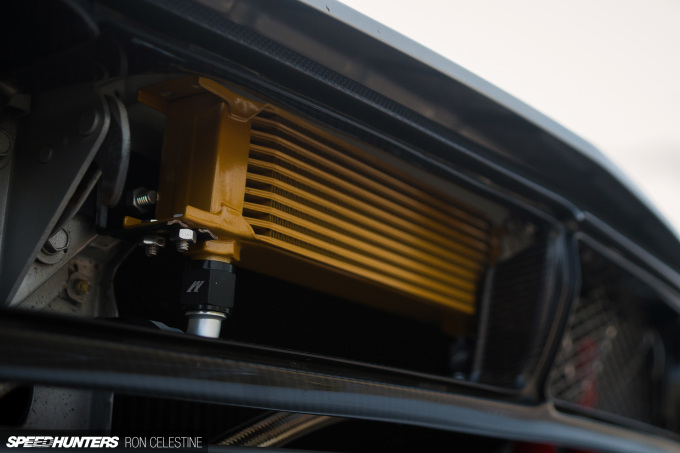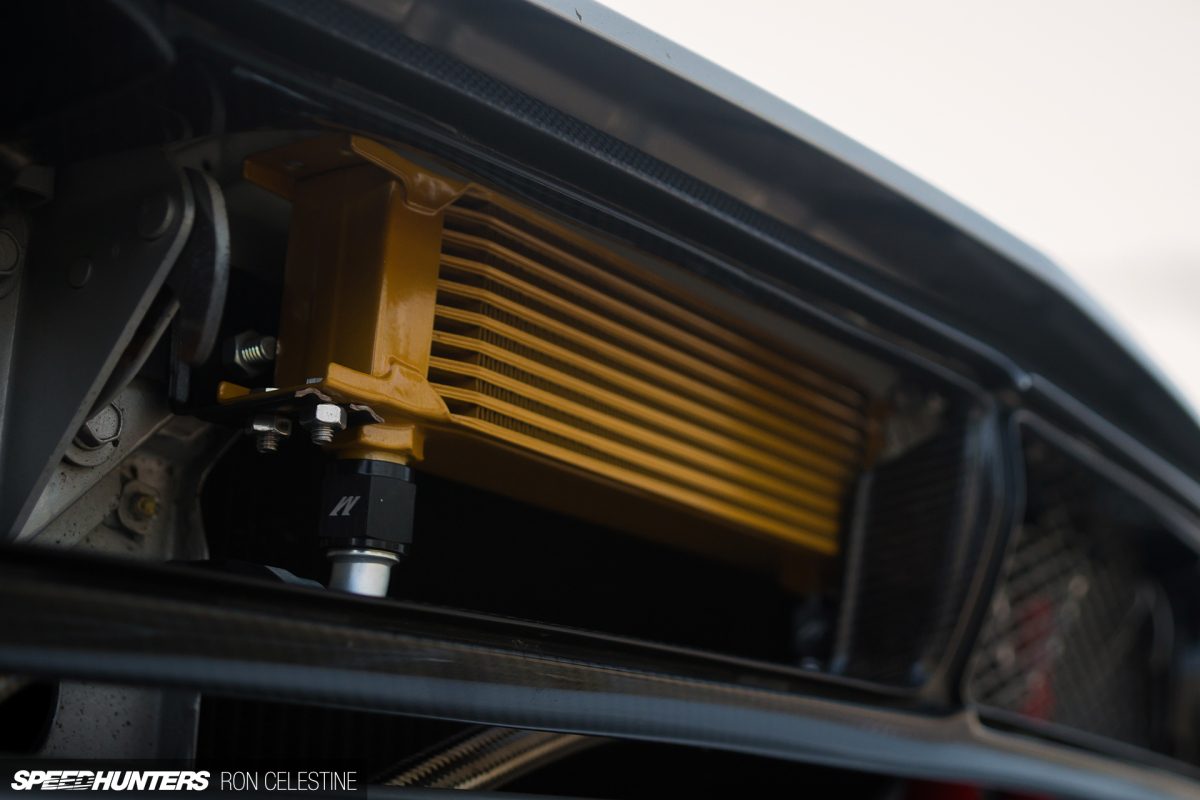 A Mishimoto oil cooler is a nod to the 'works style' made famous by the factory-backed GT-R race cars that battled at Fisco (Fuji Speedway) in its early years.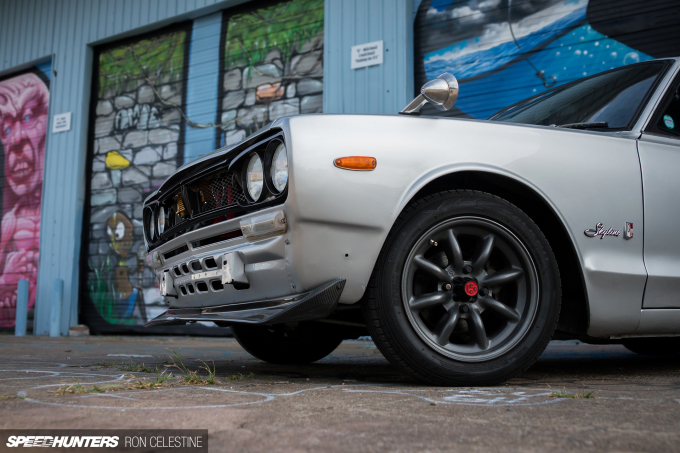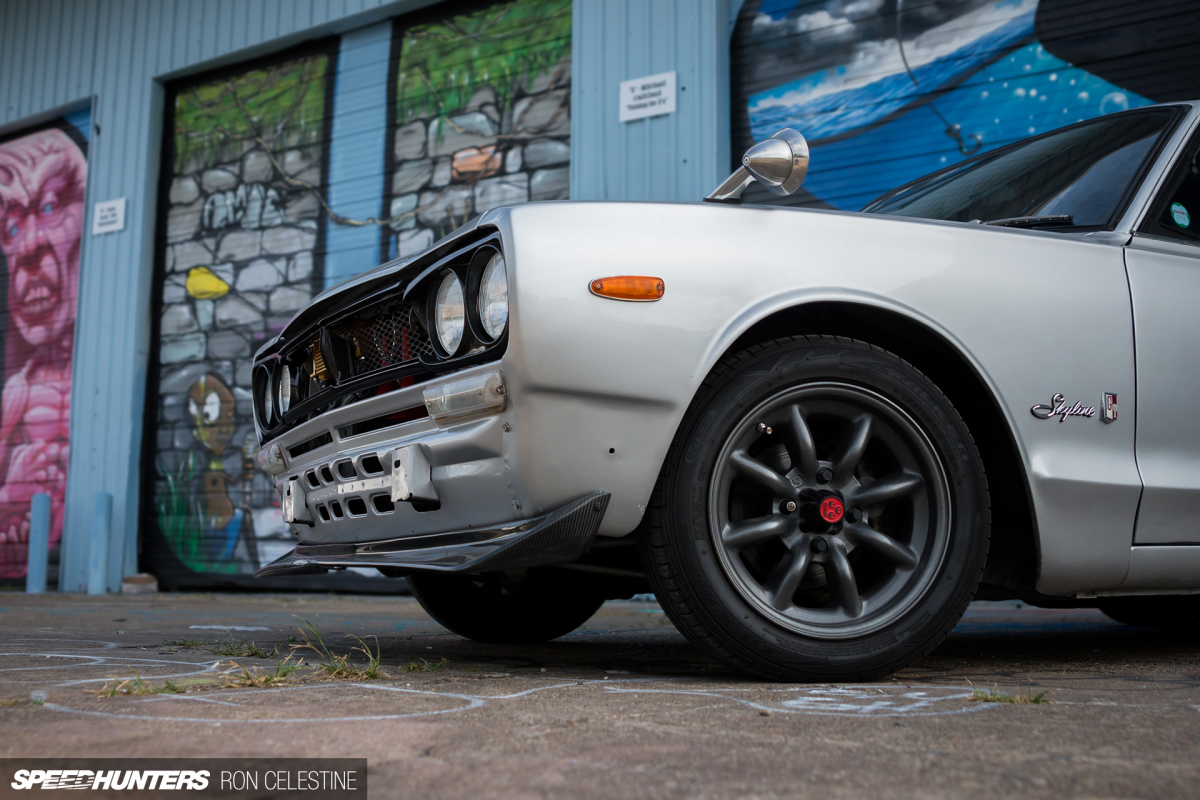 There was only one wheel that Thomas could possibly fit to his car, and I don't think anyone could question his choice of RS Watanabe 8-spokes in their classic gunmetal hue.
The 2000GT's interior is in great shape given the age of the car, the only real upgrade of note being a Nardi Classic steering wheel, itself an icon of JDM tuning.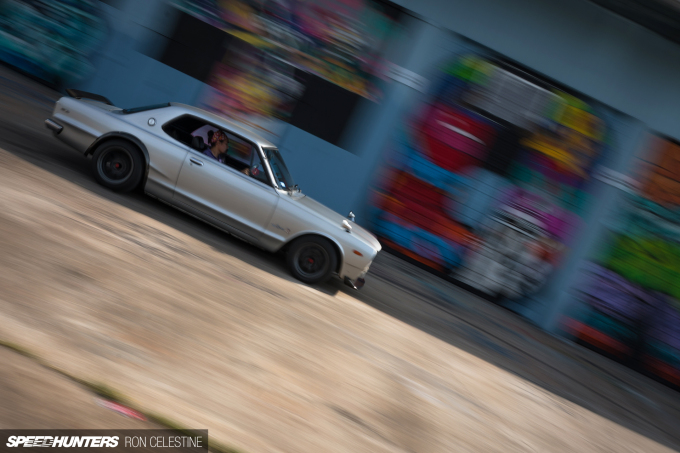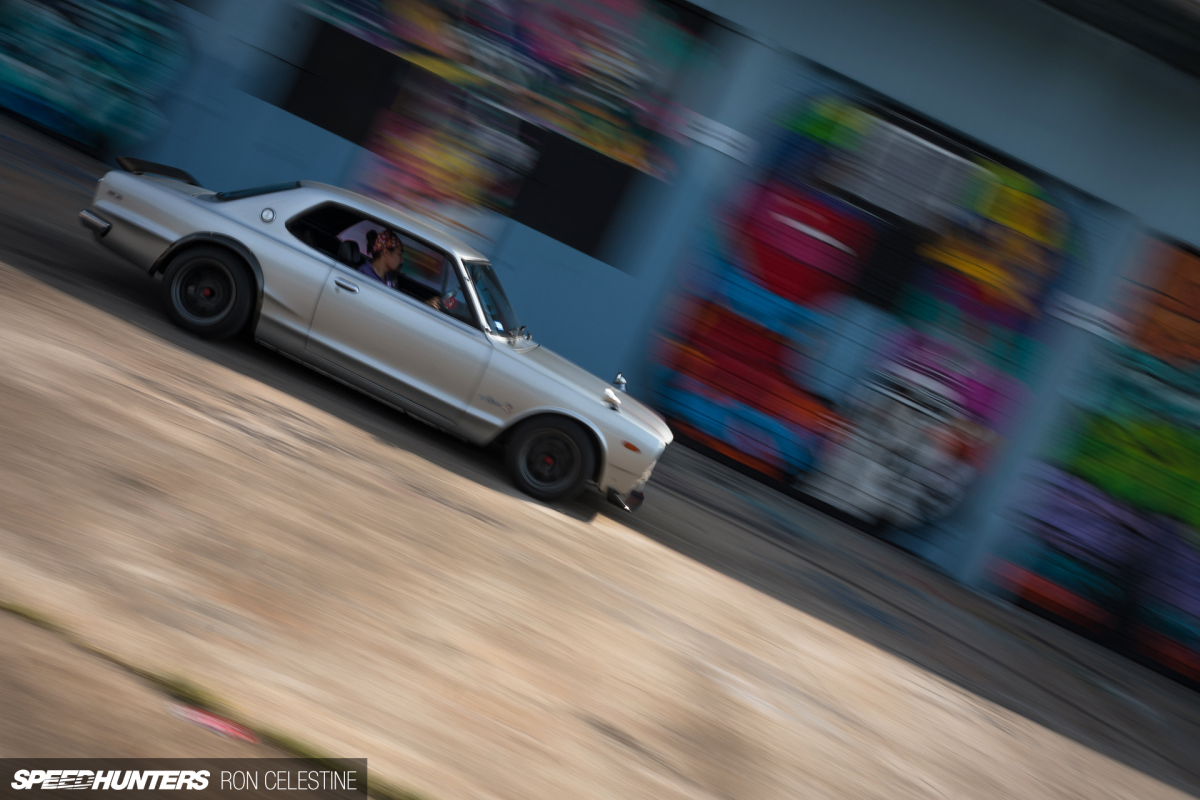 Having his dream car with him stateside is more than Thomas could ever have asked for, but don't go thinking that the Hakosuka stays locked up in his garage. This thing is put to use on a very regular basis, Thomas even making a 7-hour drive for our shoot.
Princeton's Lightweight-Focused Hakosuka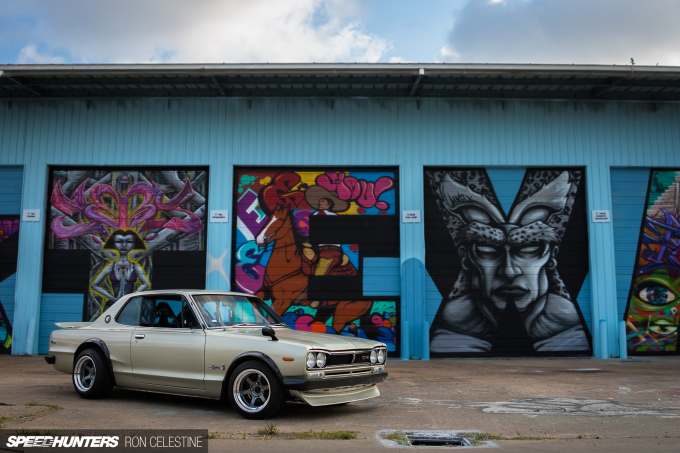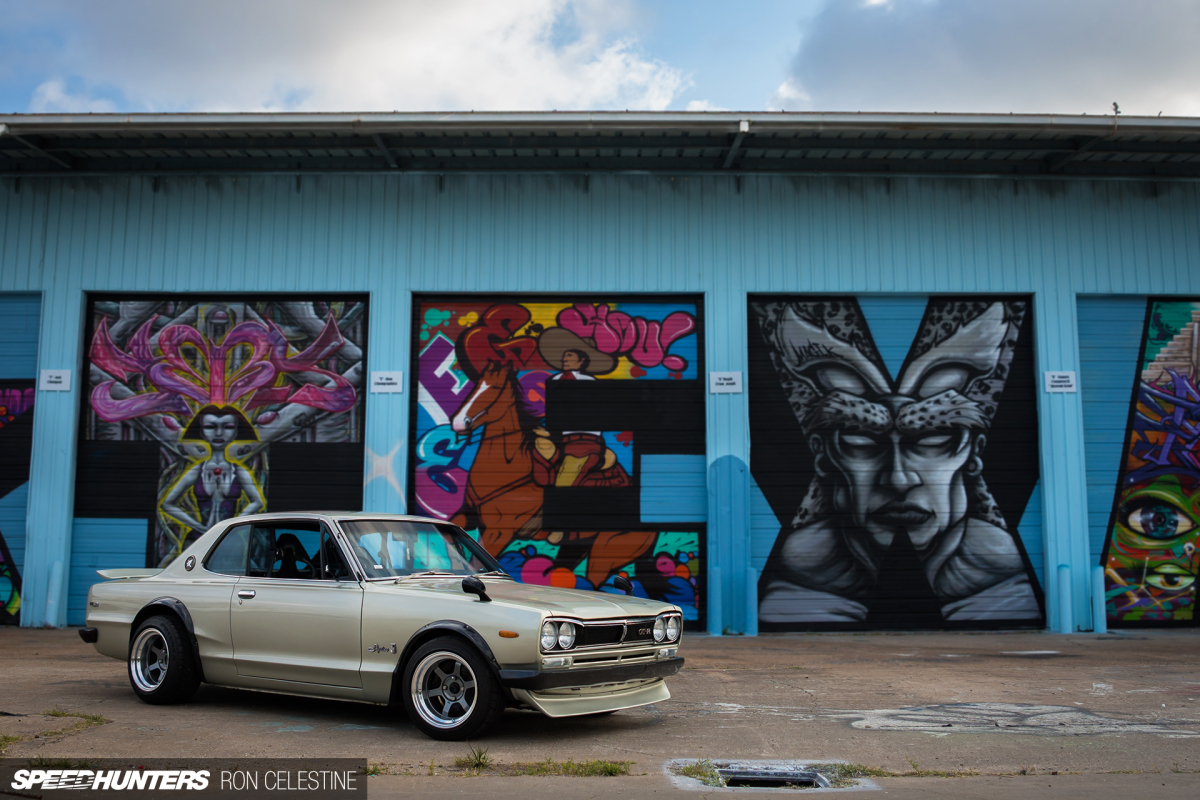 Back in 2013, Princeton had the opportunity to relocate to Japan for work. Before making their final decision, he and wife discussed the conditions of the move, and for Princeton, purchasing a vintage Japanese car that he could use while there and then ship back to the US afterwards was at the top of the list.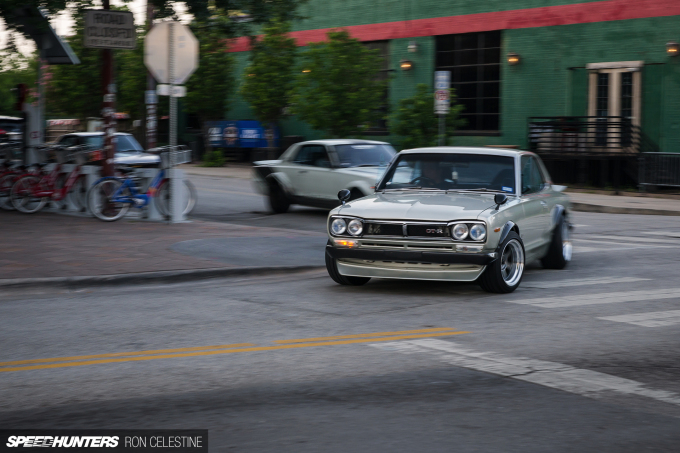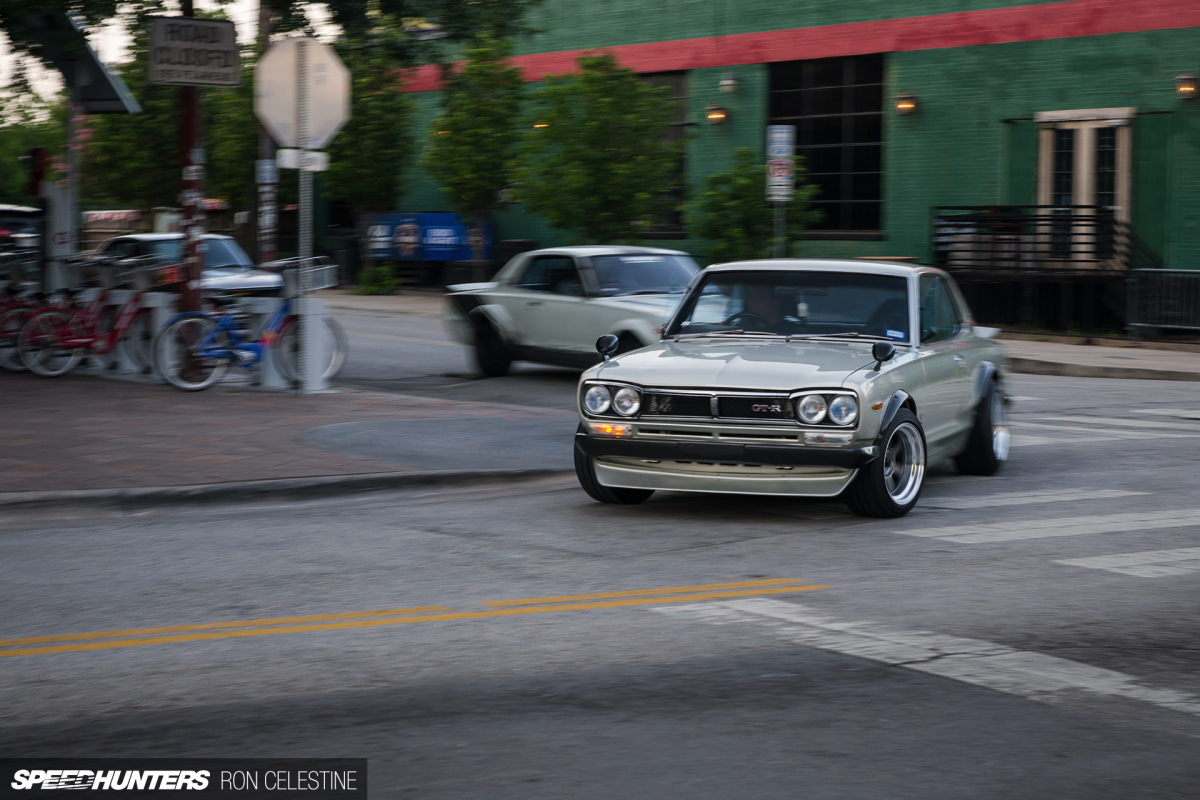 Plans made, once in Japan the hunt for suitable classic began straightaway.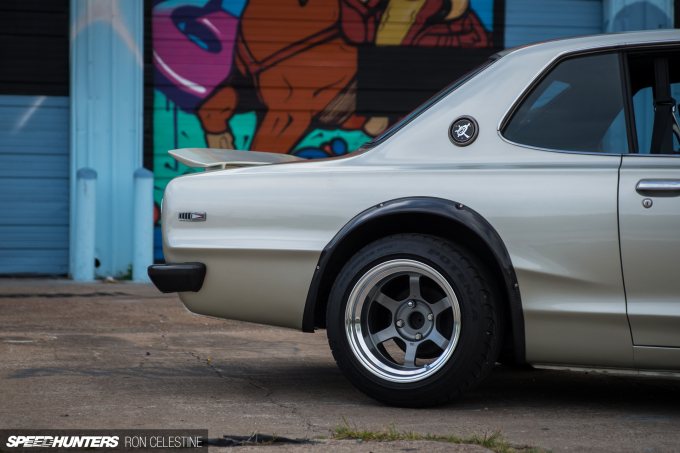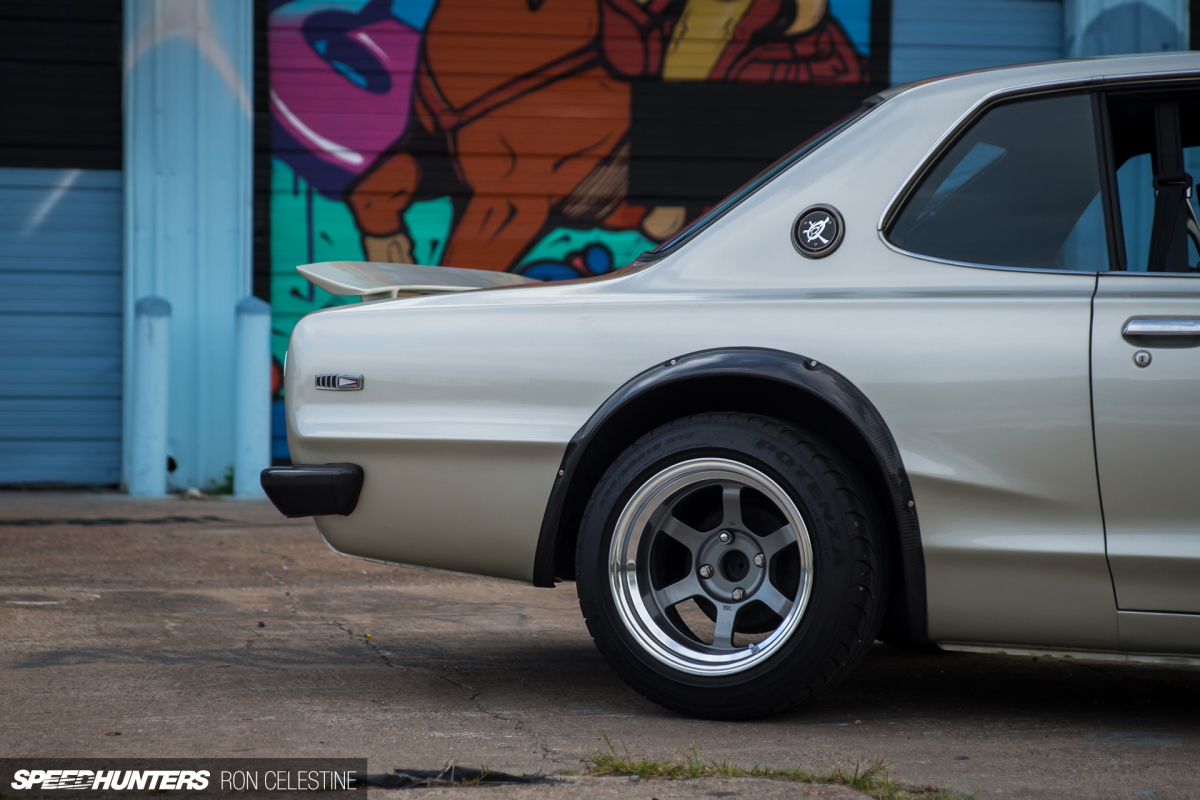 As someone who lives in Japan, I can attest to the fact that the used car market here is an enthusiast's paradise. Most late model cars are kept in great condition, and thanks to what is arguably the most effective public transportation system in the world, they generally have very low kilometers on their odometers. With so many models to choose from, it really is like being a big kid in a candy shop.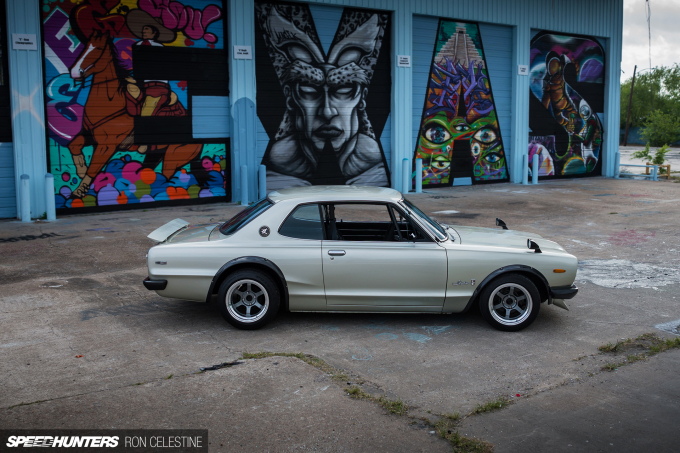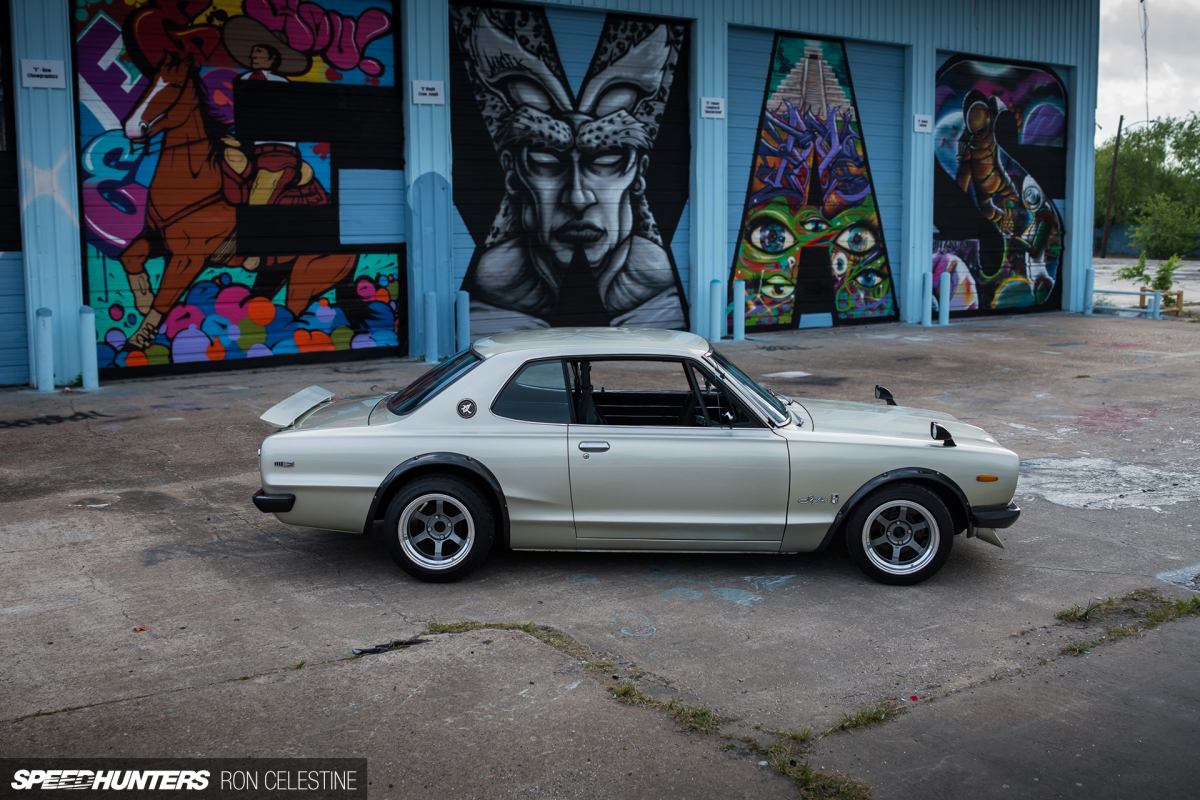 But when it comes to vintage cars, the the definition of 'immaculate' becomes a tad bit hazy, something Princeton quickly discovered during his search. One car advertised as such had fist-sized rust holes in the floorboards that spiders called home and needed to be started with a screwdriver. It wasn't the worst he saw, either!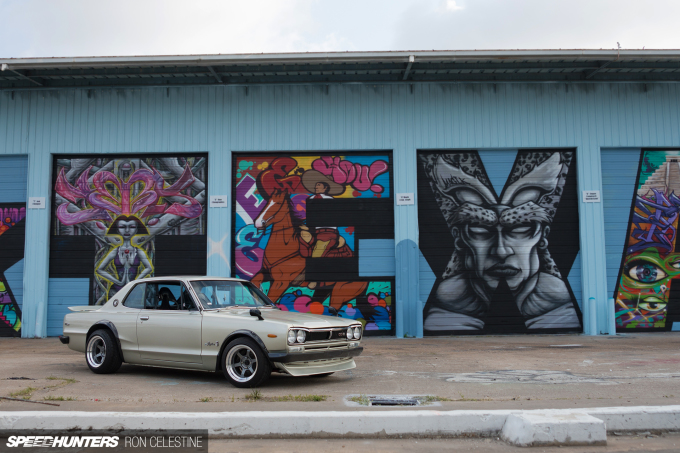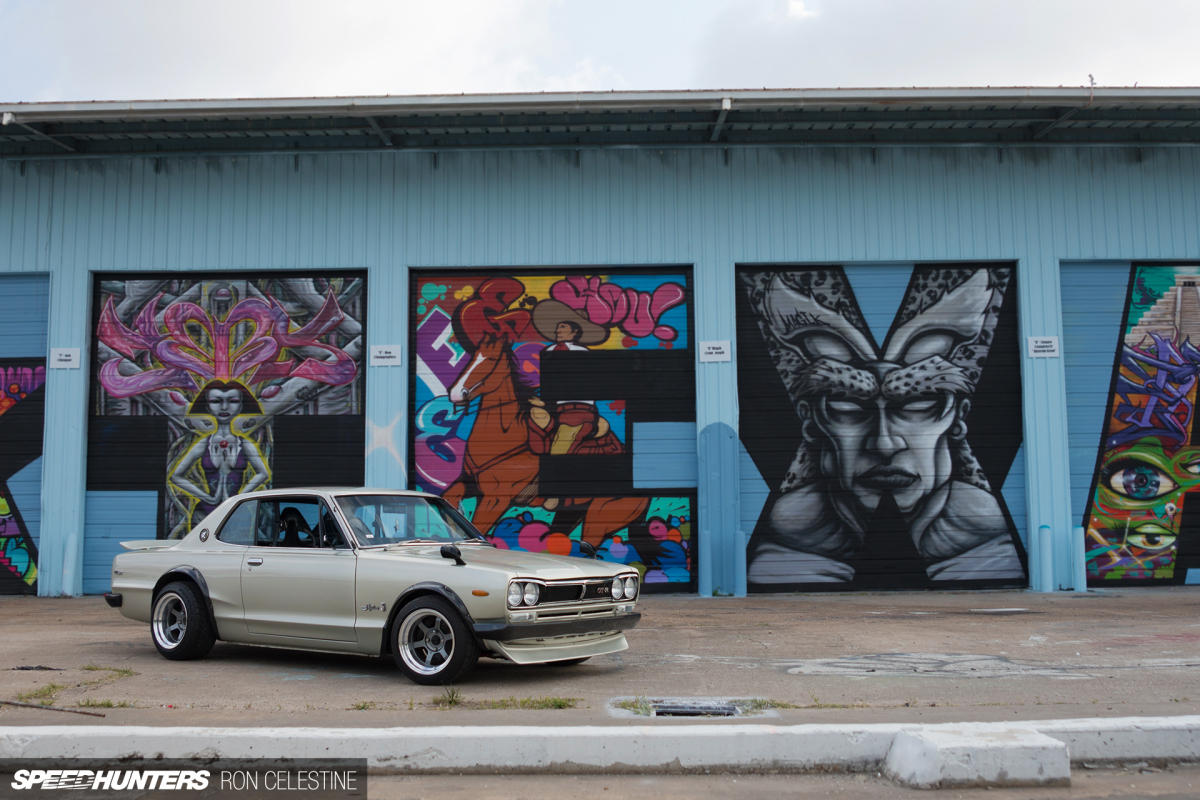 After 10 months, countless hours on the road, and some 40 car inspections later, Princeton found what he was looking for on Yahoo! Auctions.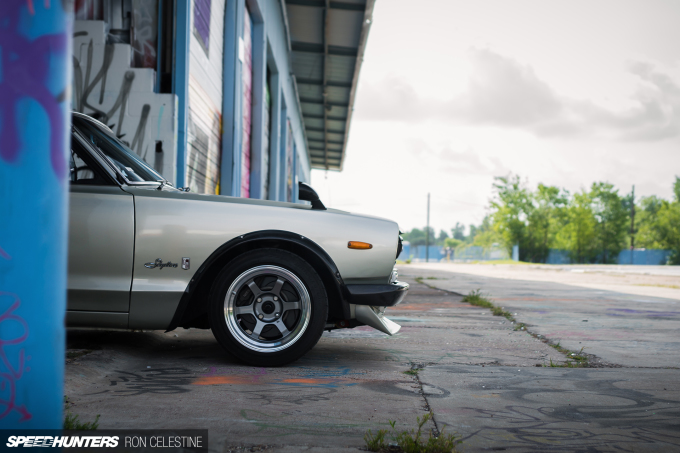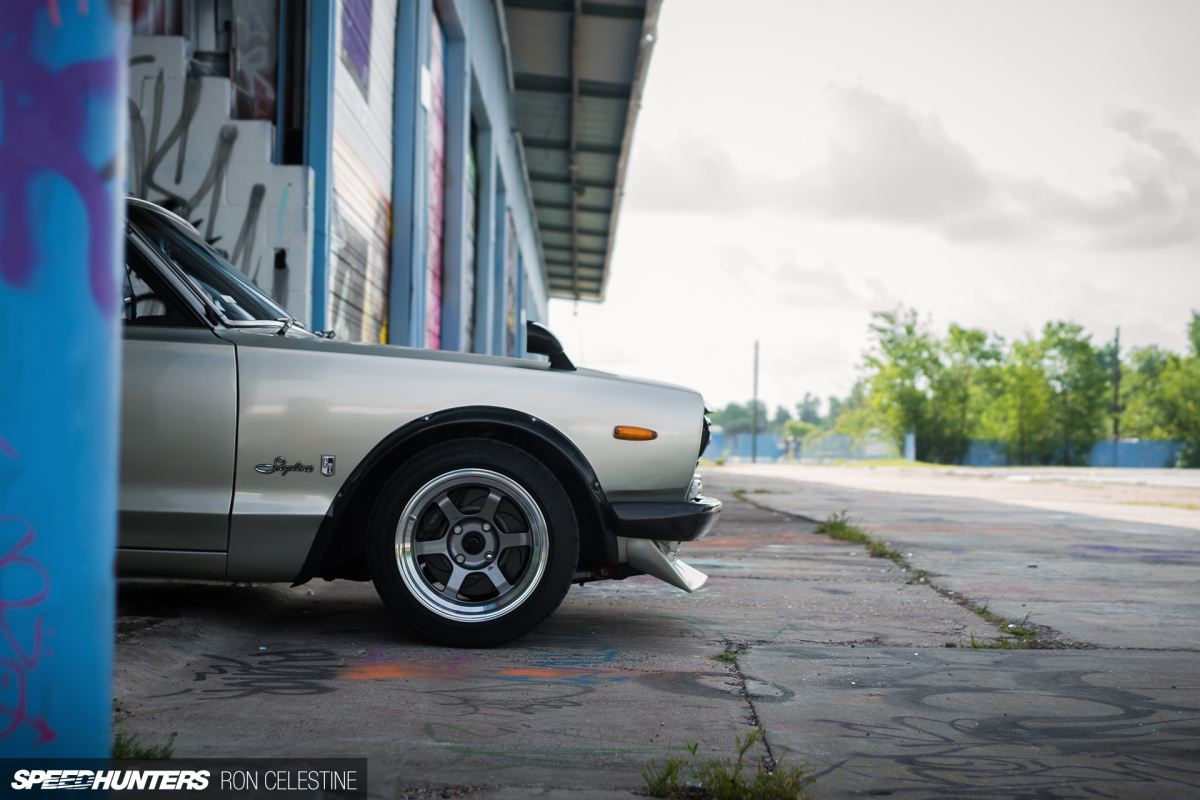 Being skeptical about the overall condition, there was no way he was going to place a bid without seeing the car first, and after driving for a few hours he found himself standing in front of a shed with the front end of the Hakosuka peeking out the doors. He knew instantly that his search had came to an end.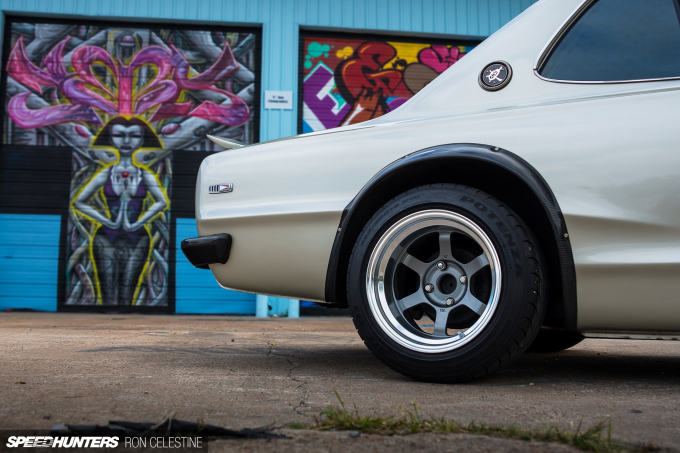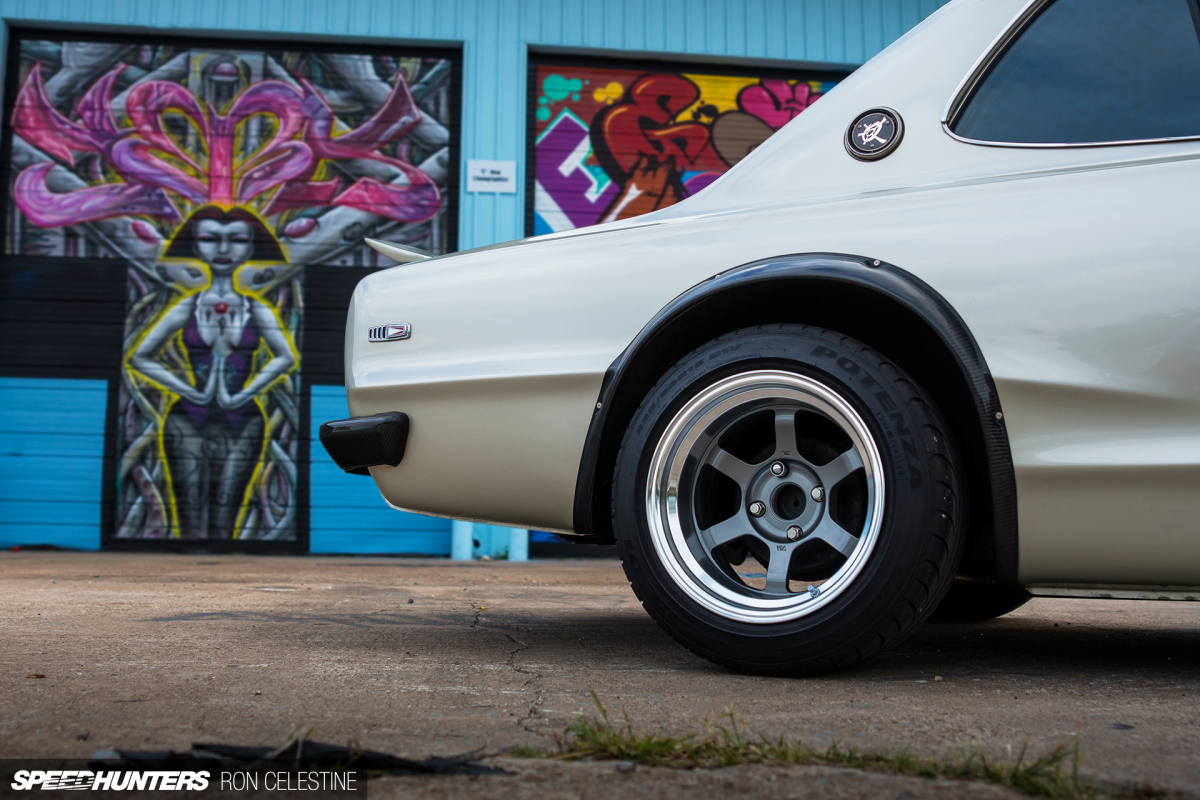 Princeton asked if he could buy the car right then and there to simplify the process, but the owner insisted that he still bid through the Yahoo! auction. He did, however, reveal the reserve amount in an attempt to make the whole process smoother and ensure the car was sold.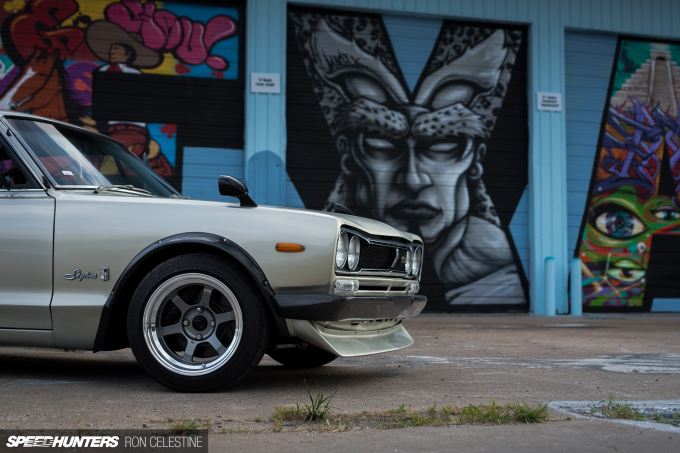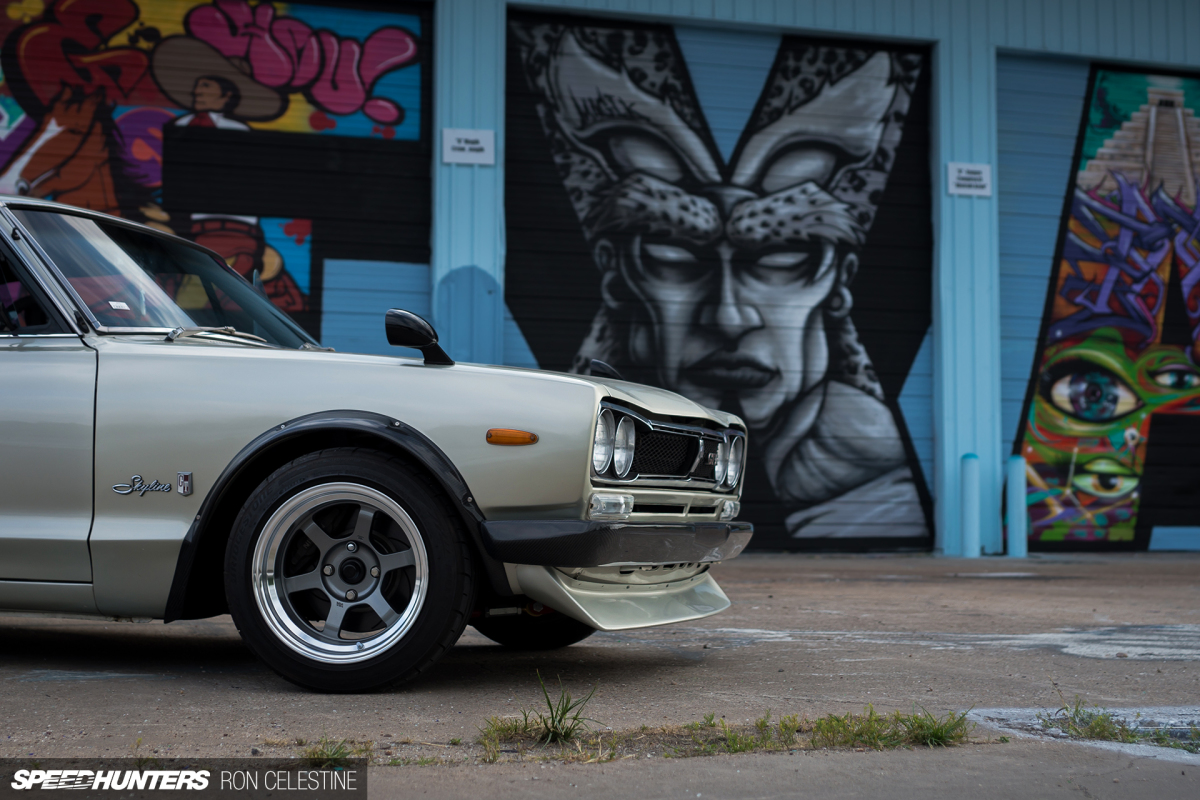 Along with winning the Hakosuka of his dreams, a stash of parts including fresh rubbers for all the windows, a wiring harnesses and a host of other mechanical goods were included in the sale. Then, only minor work was required to have the car ready for use.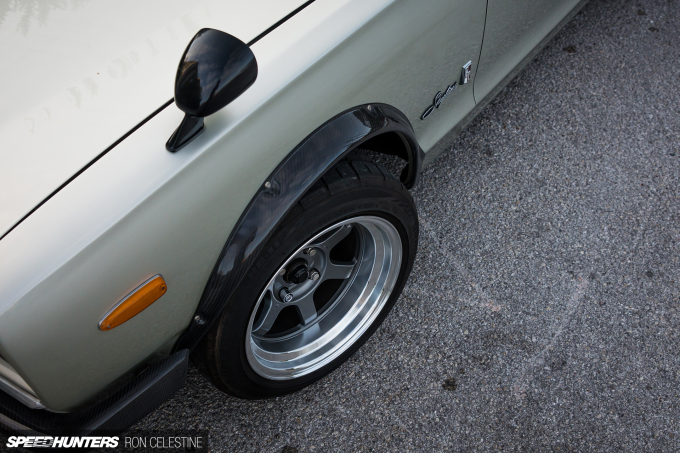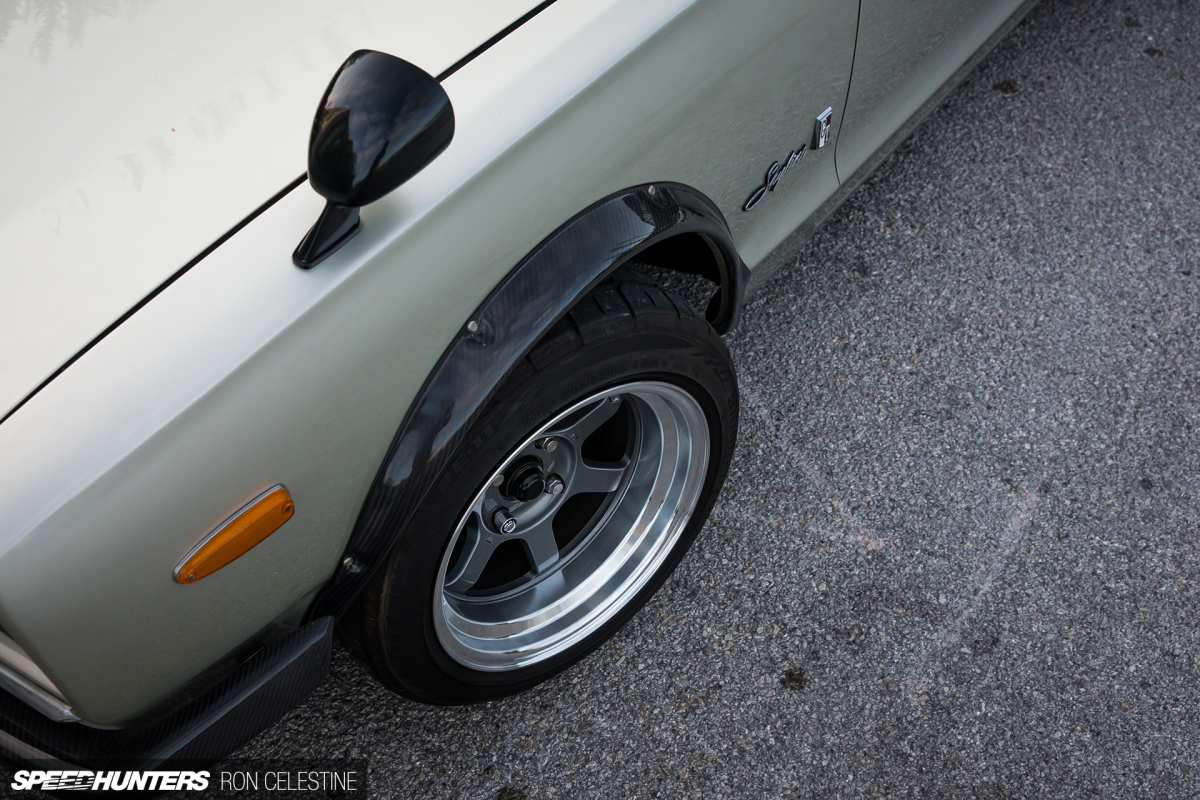 Once in his possession and able to be driven legally in Japan, Princeton set about improving the Skyline's performance. The concept behind the modifications was to make the already lightweight car lighter. He didn't want to alter the way it looked, but at the same time Princeton liked the idea of integrating some modern parts.
Thus, a number of carbon fiber and 3D-printed components quickly found their way onto the Hakosuka.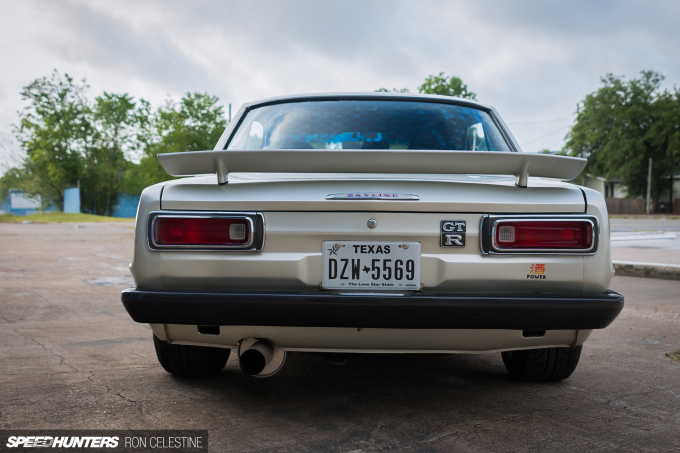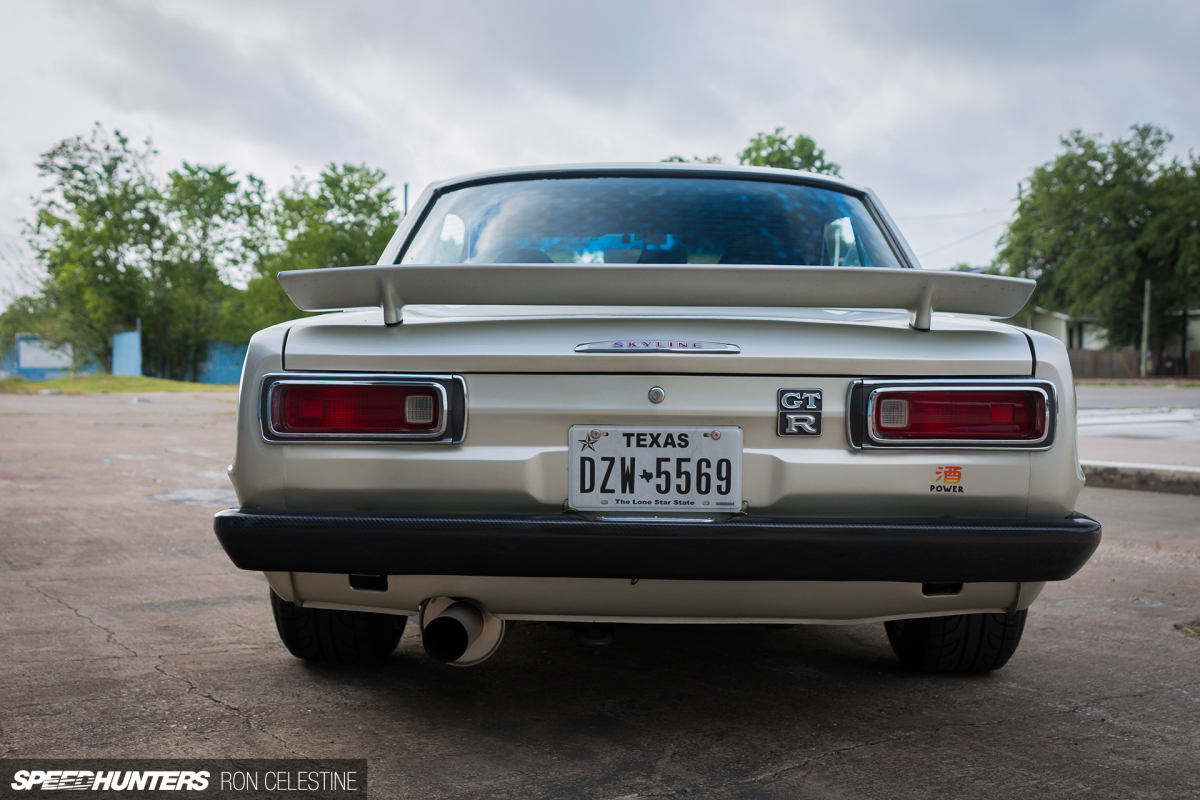 In the rear, the original tail lights have been replaced with those from a '69 Hakosuka with trims from a sedan.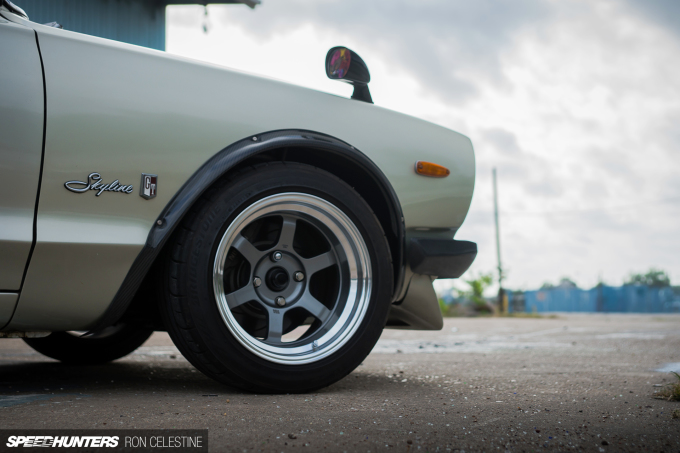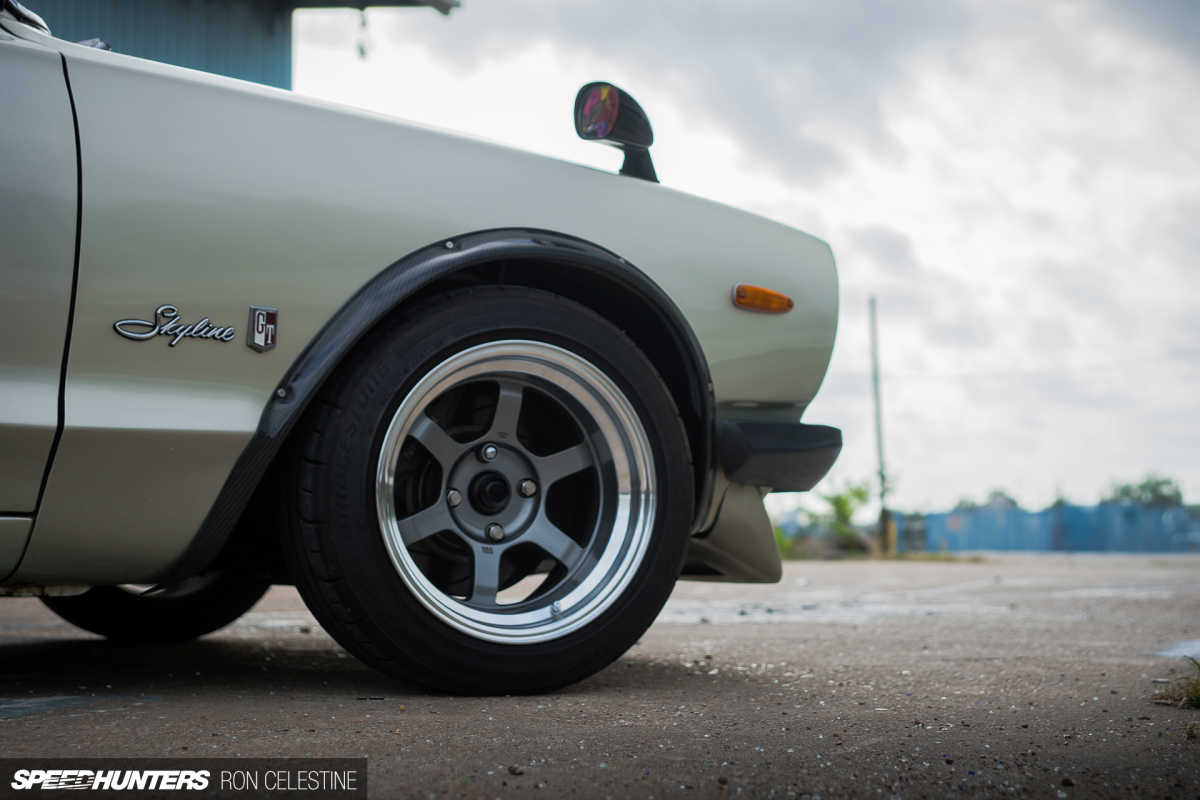 RS Watanabe wheels would have been the period-correct choice, but in following his build ethos, Princetown found exactly what he was looking for in RAYS Volk Racing TE37Vs, 15×9-inch in the front and 15×10-inch out back.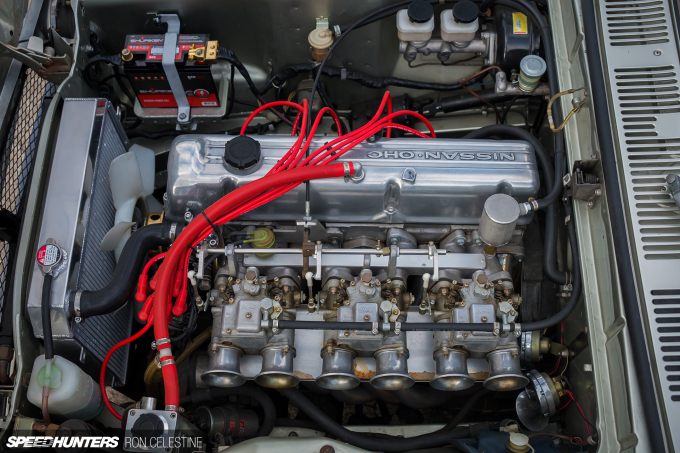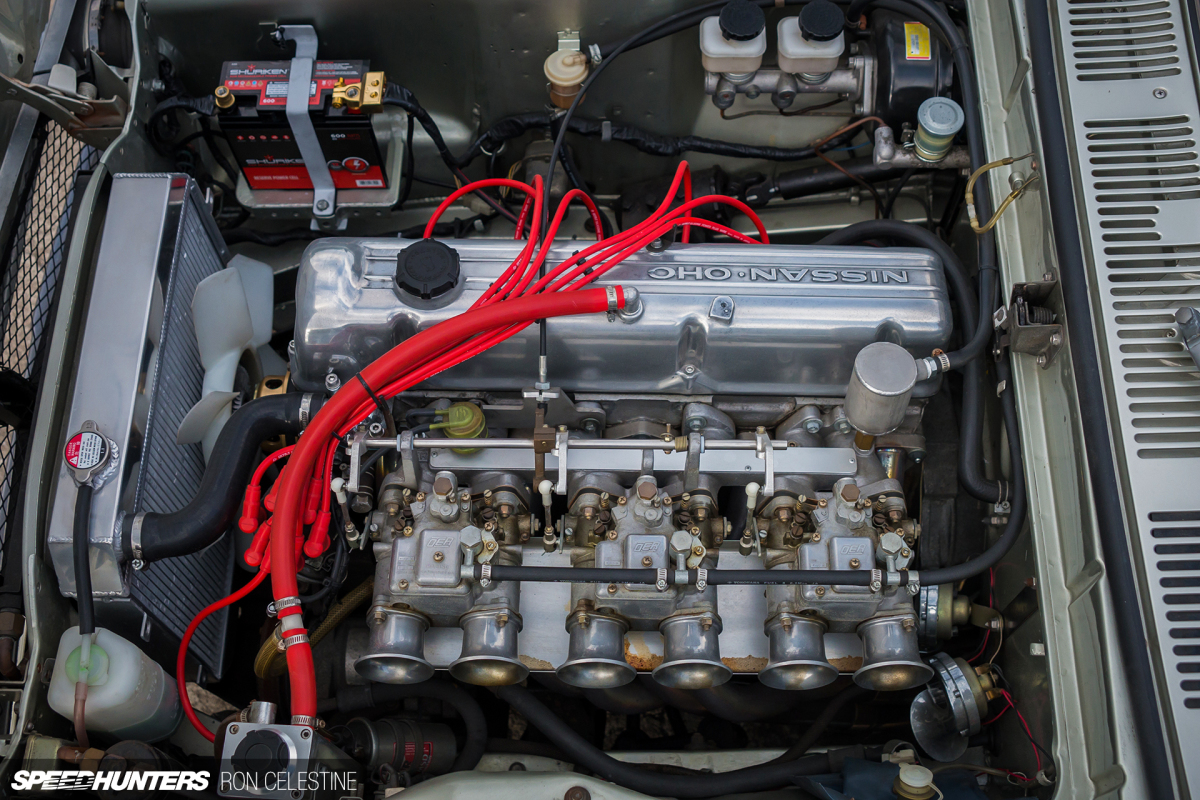 With other track-spec cars already in his stable, Princeton decided to keep things tame under the hood so as to not overpower the chassis. That's not to say that the L20A hasn't seen any work though; tasteful upgrades include triple OER 45mm side-draft carbs and Yasushi Shimodaria headers.
Like the body, the interior has also received a few modern touches, but they don't take away from the vintage aesthetic.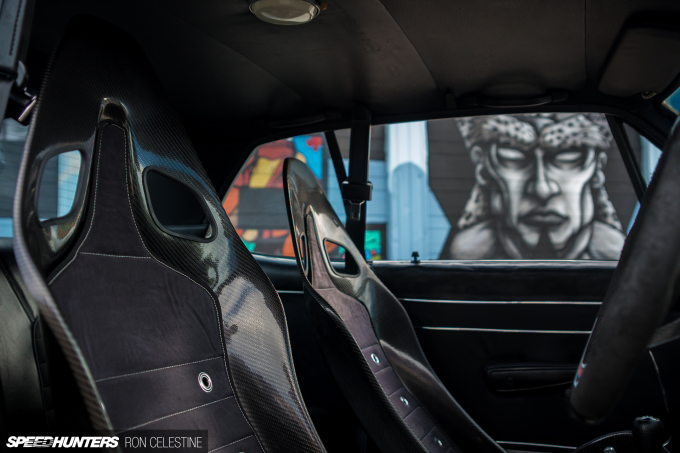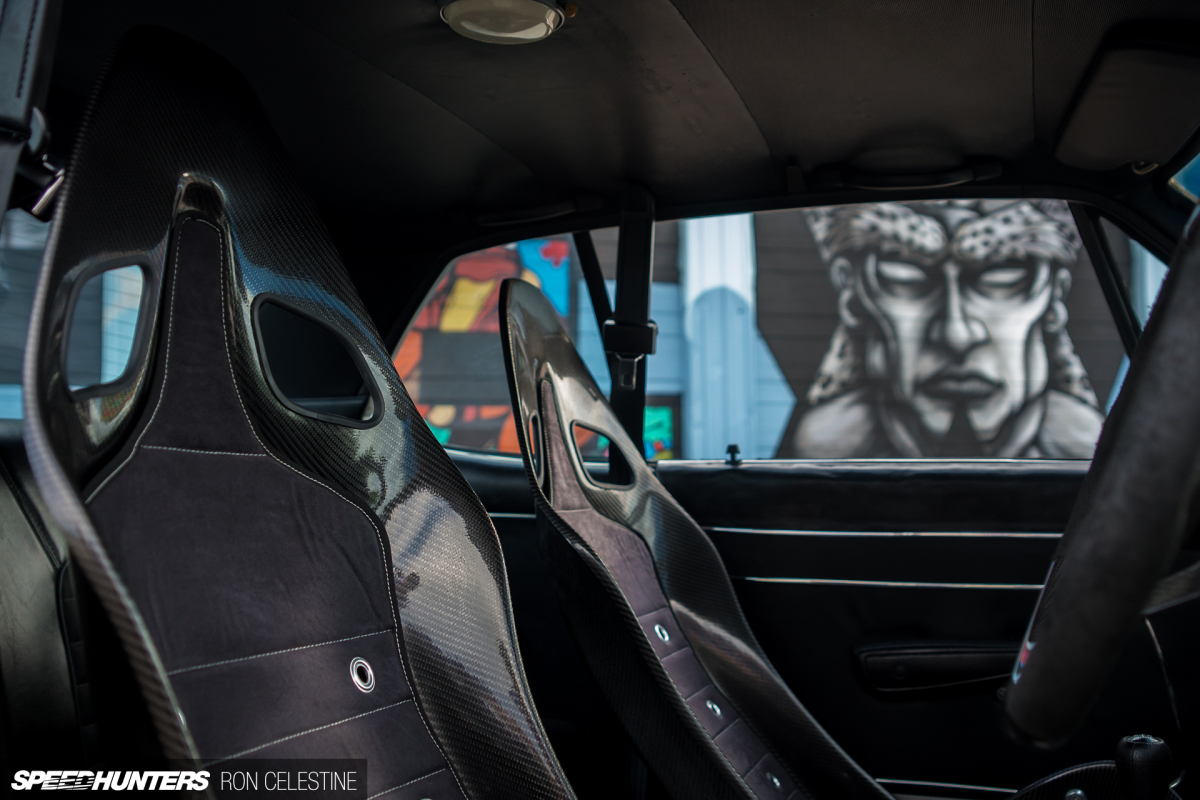 The most obvious addition are the Composite Worx carbon fiber seats and the Zero Mass carbon fiber steering wheel, which have been detailed in just the right ways.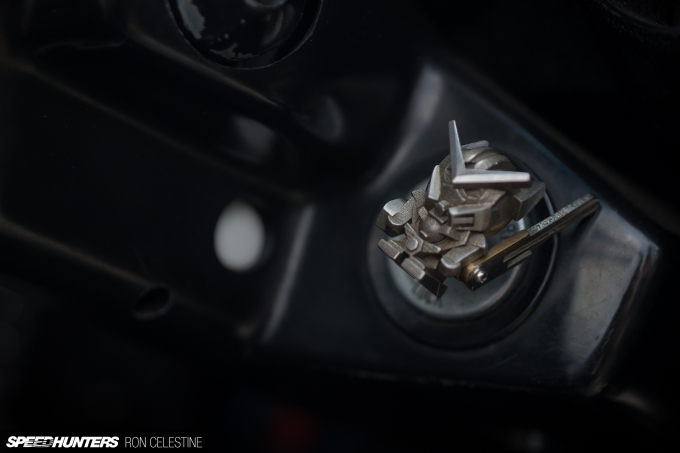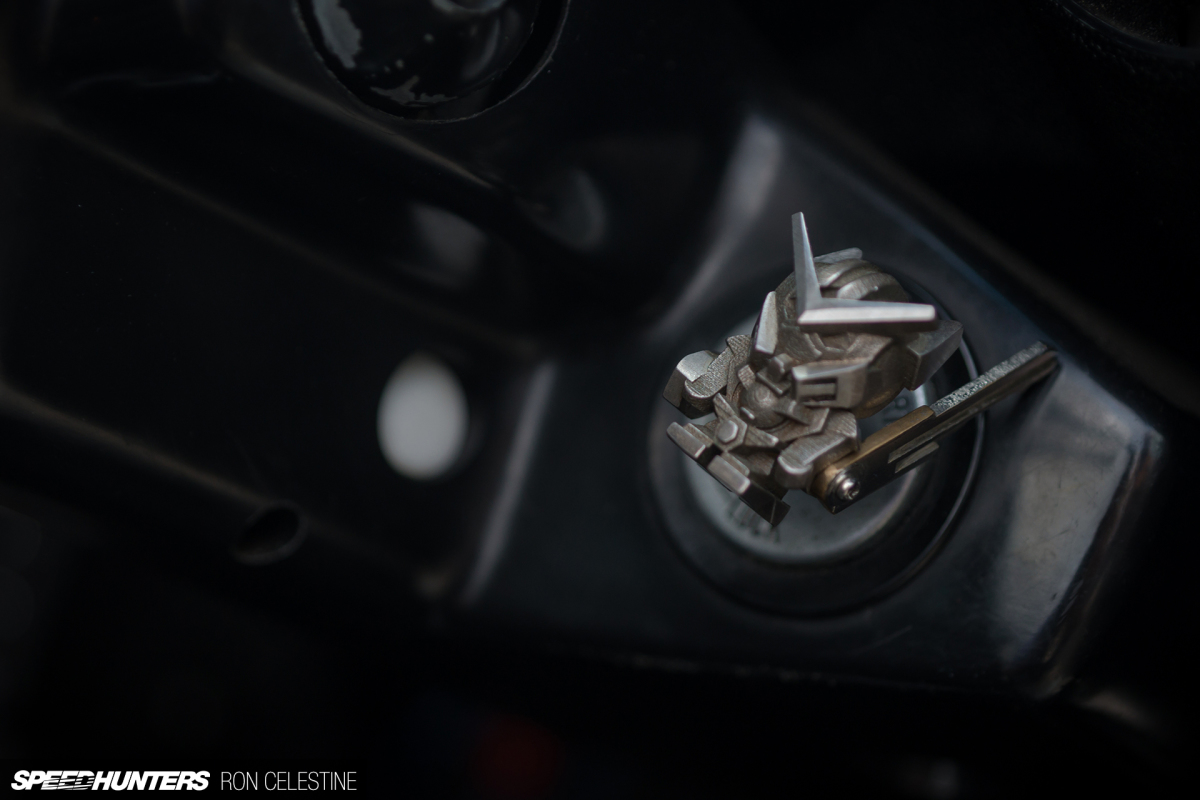 This Gundam Exia key is the coolest thing I have seen come out of a 3D printer.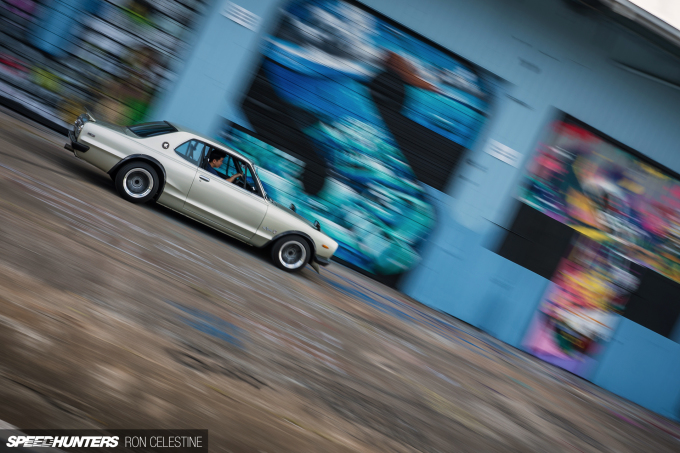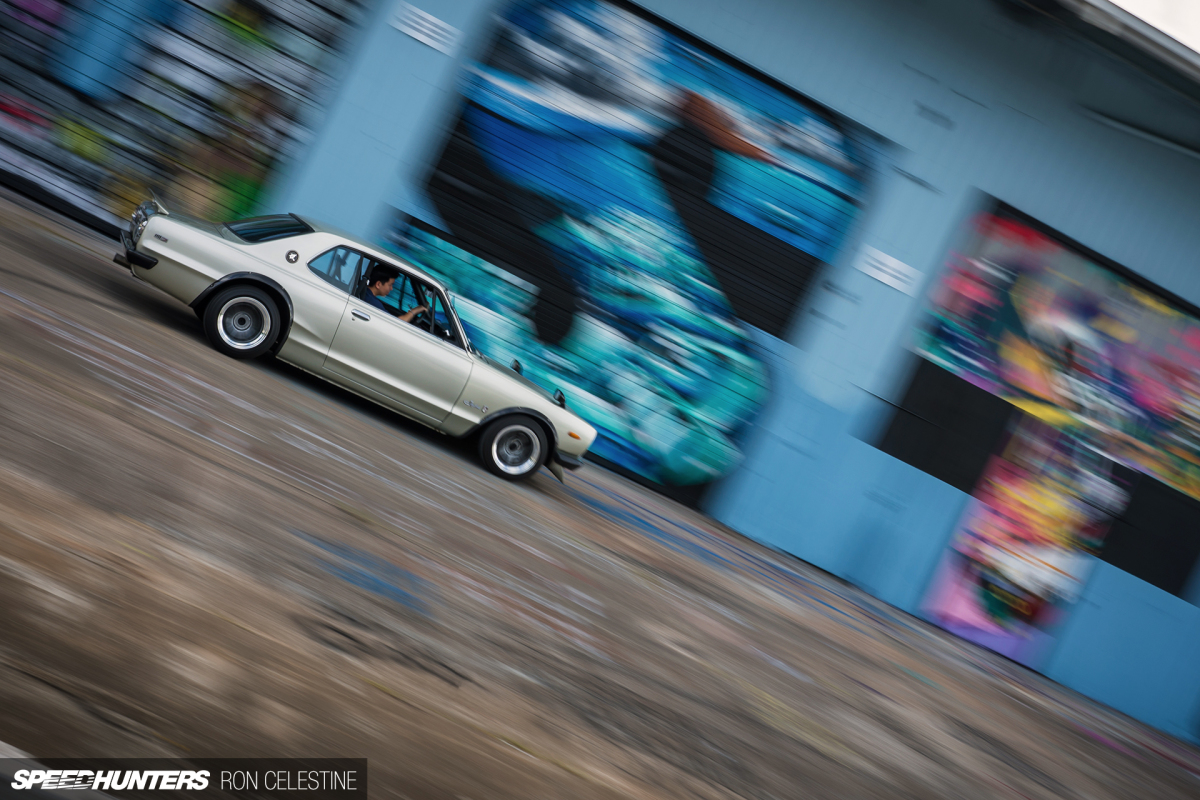 With the sun making its way higher into the sky, it was time to move on from Princeton's KGC10 2000GT and take a look at the third and final Hakosuka. 
Pecx's Rocky Auto Works-Style Hakosuka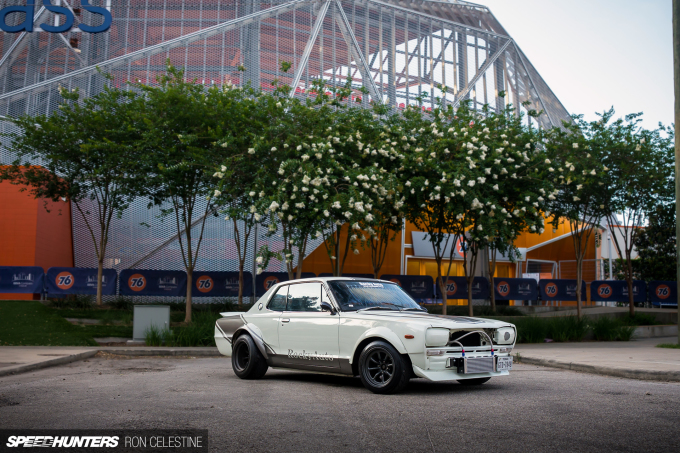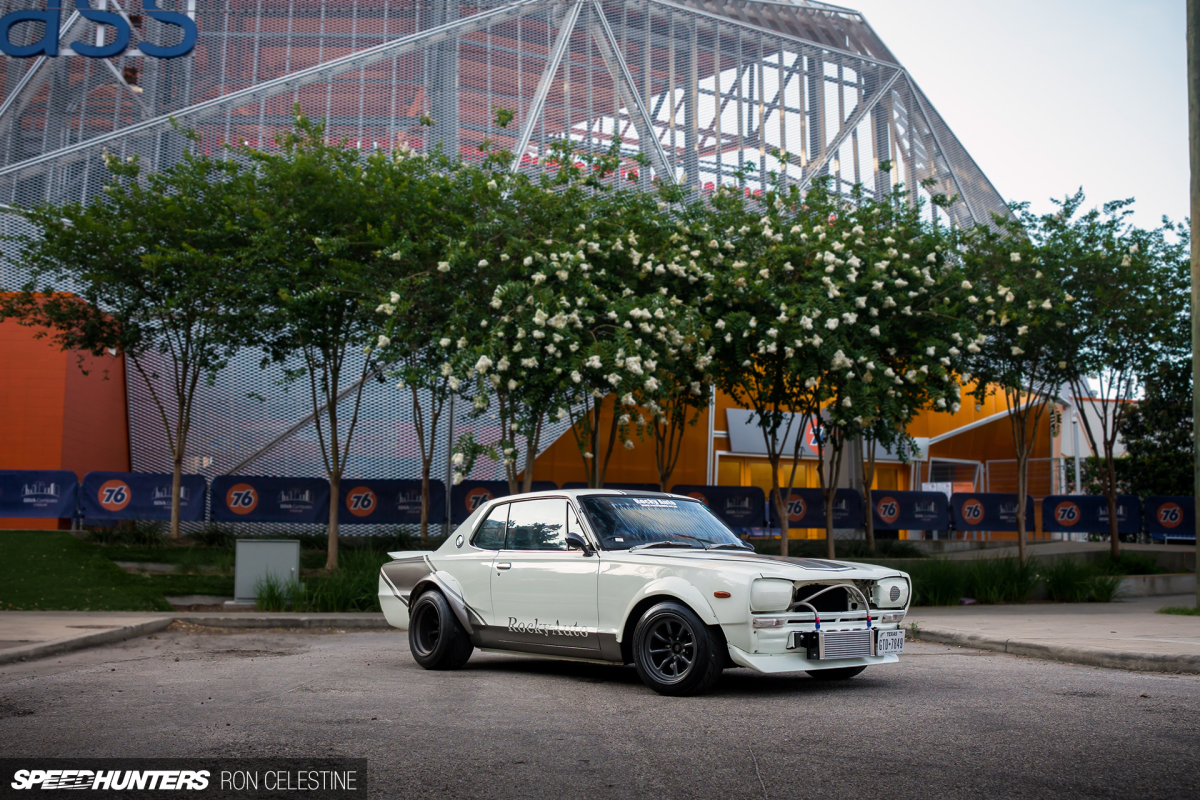 Ever since Pecx entered the retro car scene back in 2003 with the purchase of an AE86, he lusted after a Hakosuka. Over the next couple of years, he spent a lot of time scouring Yahoo! Auctions Japan and Japanese auto auction house websites in the hope of finding one, but it was all to no avail.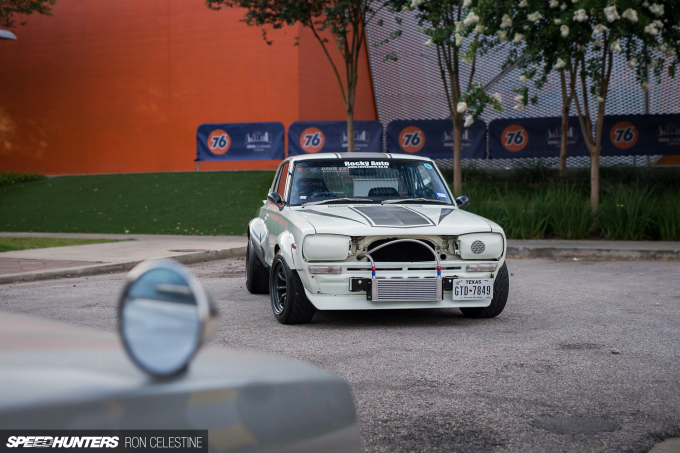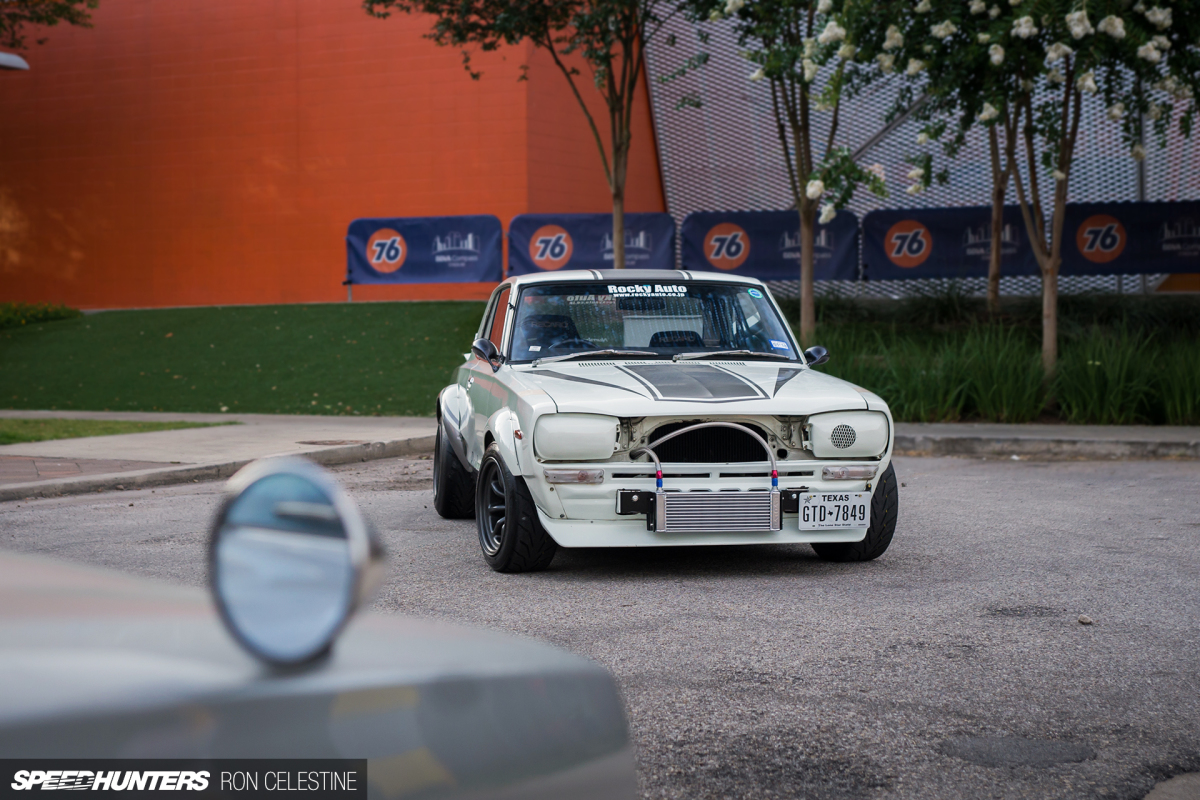 The next step, although being the more expensive option, was to start looking at what dealerships had on offer via websites such as Goonet and Kurumarabi. That's how Pecx chanced across a listing from Rocky Auto.
The Hakosuka for sale had been heavily modified to reflect the works style; Pecx couldn't have asked for more. After a little more research on the build, Yamagin Corporation was enlisted to handle the paperwork involved with purchasing, shipping and clearing customs – the deal was done. Three weeks later the Skyline arrived on American soil.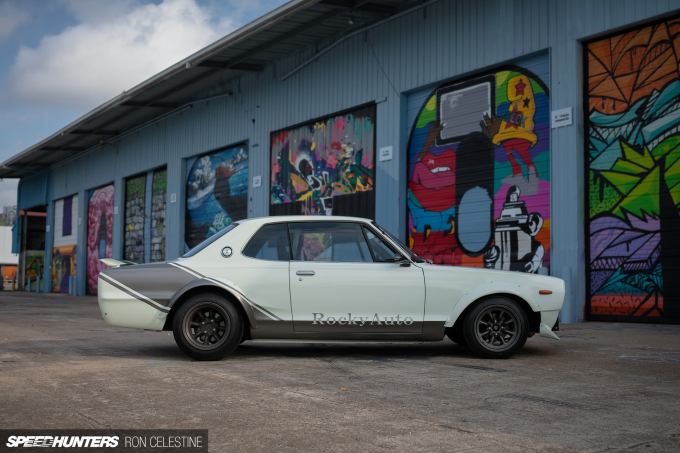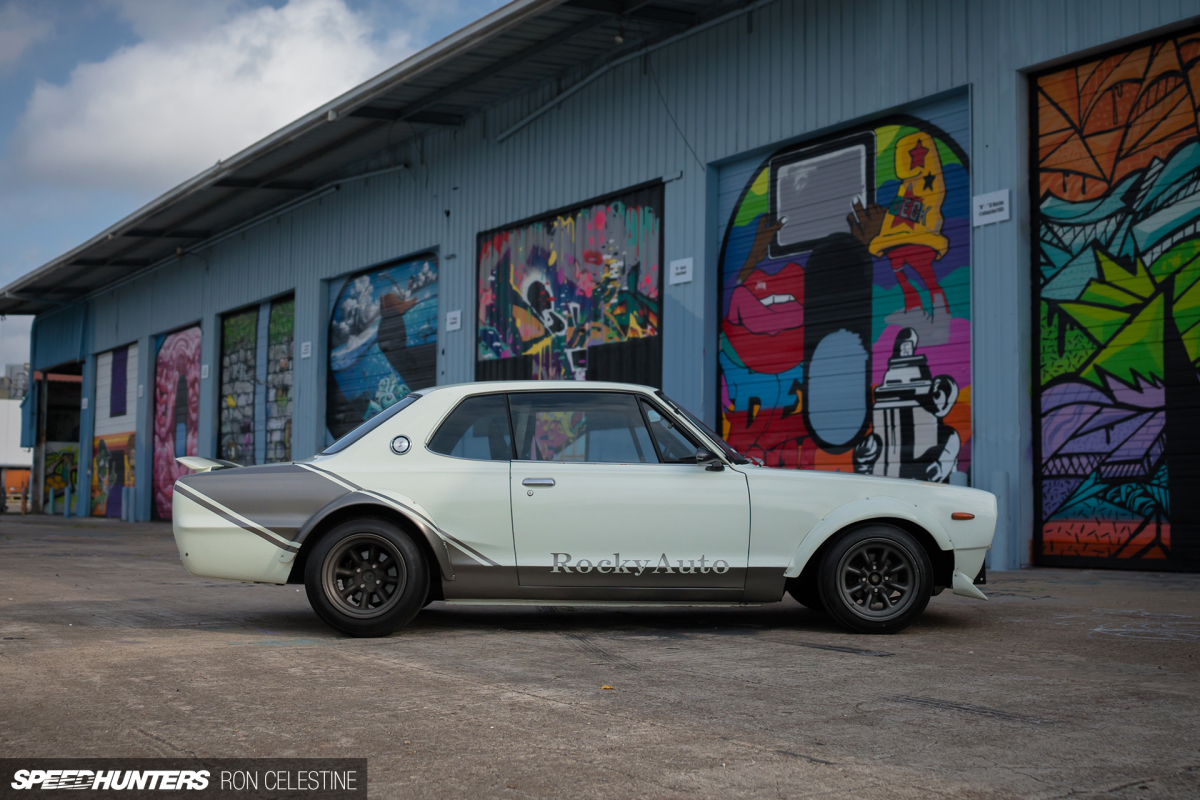 Pecx was satisfied with his purchase and thought the overall condition was good, especially when factoring in how old the car was. However, he had some ideas on how to make it even better.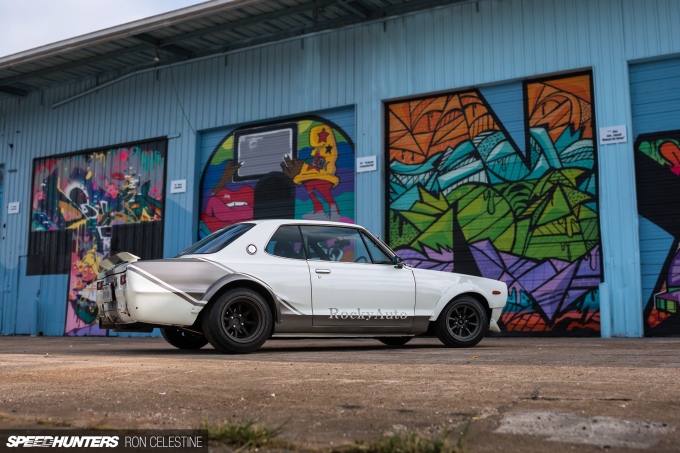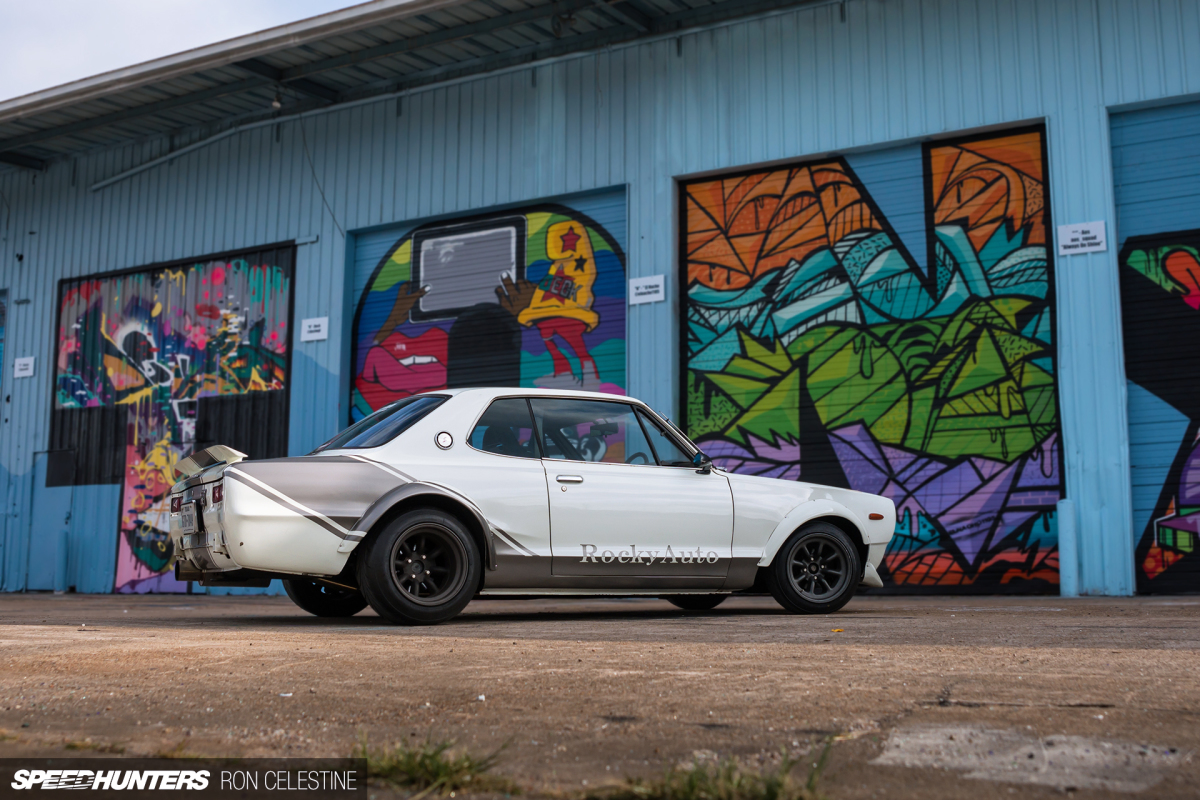 The works style upgrades – namely fender flares, a rear bumper deletion, headlight covers and front and rear spoilers – had already given the car a more aggressive look, so there was nothing major that needed to addressed as far as the exterior was concerned.
In the same vein, 15×8.5-inch front and 15×12-inch rear RS Watanabes 8-spokes stay true to the Skyline's era.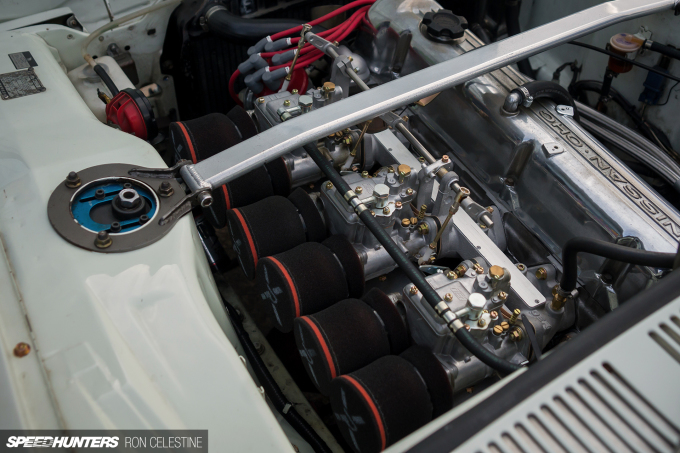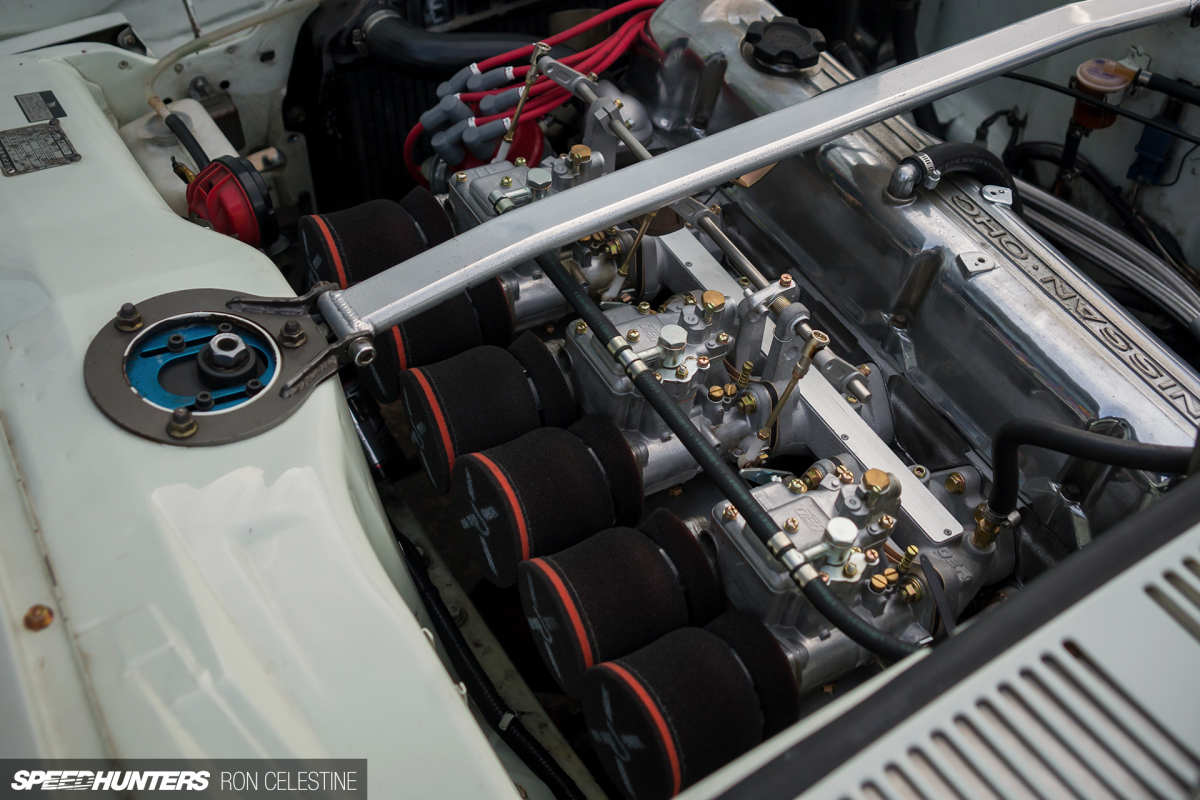 For this build, Rocky Auto replaced the original L20 engine with a 3.0-liter L28 running a beefier cam, port work, and a custom exhaust fashioned from an HKS R32 Skyline system. Chassis strengthening was also made to address any issues the added power may cause. Wanting more reliability out of his 46-year-old car, Pecx replaced the old distributor and coil setup with a more modern Mallory system, and fitted new OER 45mm carburetors.
Besides the aforementioned headlamp covers, a front-mounted HPI oil cooler with braided lines builds on the works look.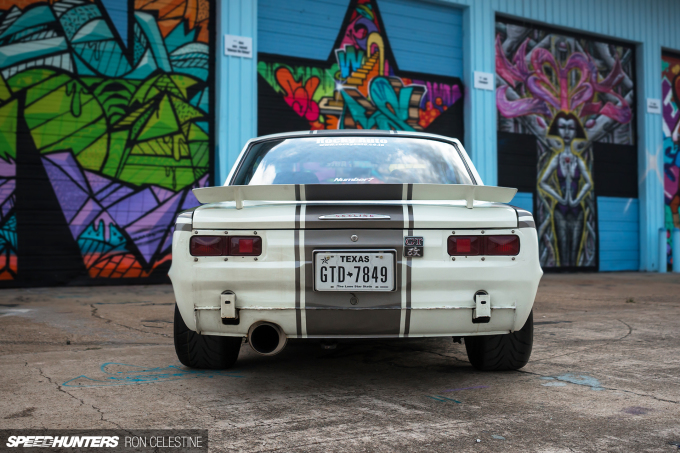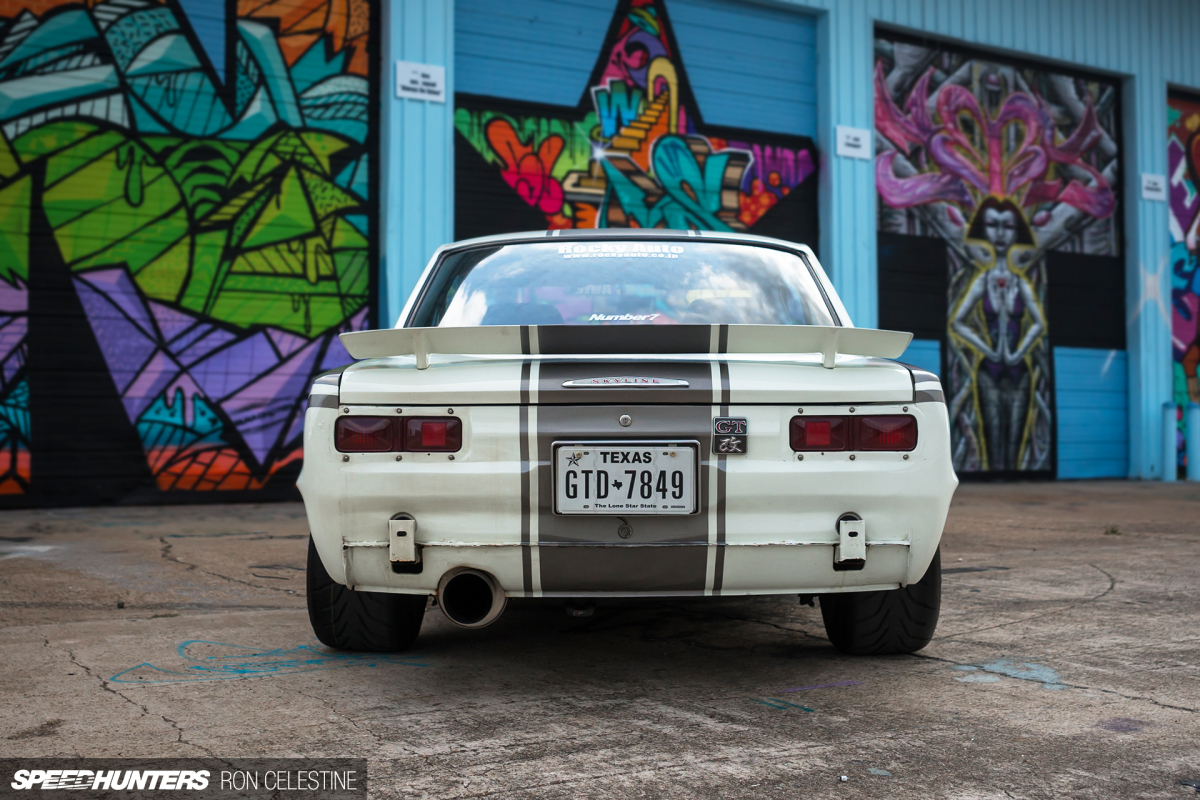 Ensuring all the power is translated to the rear tires the diff has been swapped to an R200 unit, and upgraded calipers and a rear disc brake conversion add some extra stopping ability. Further to this, Pecx has upgraded the setup with a bigger Wilwood dual-outlet master cylinder.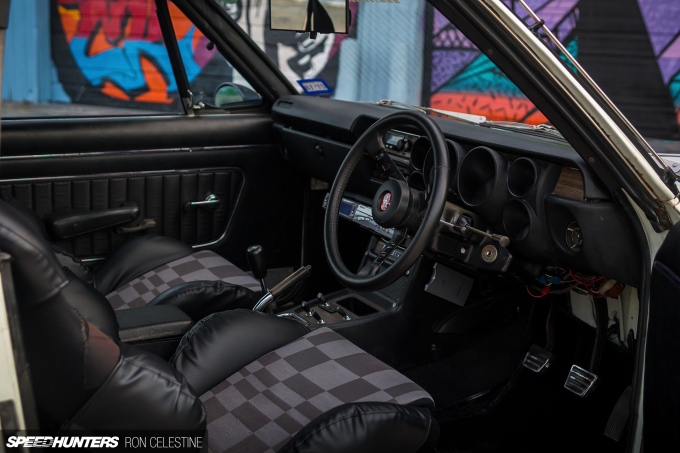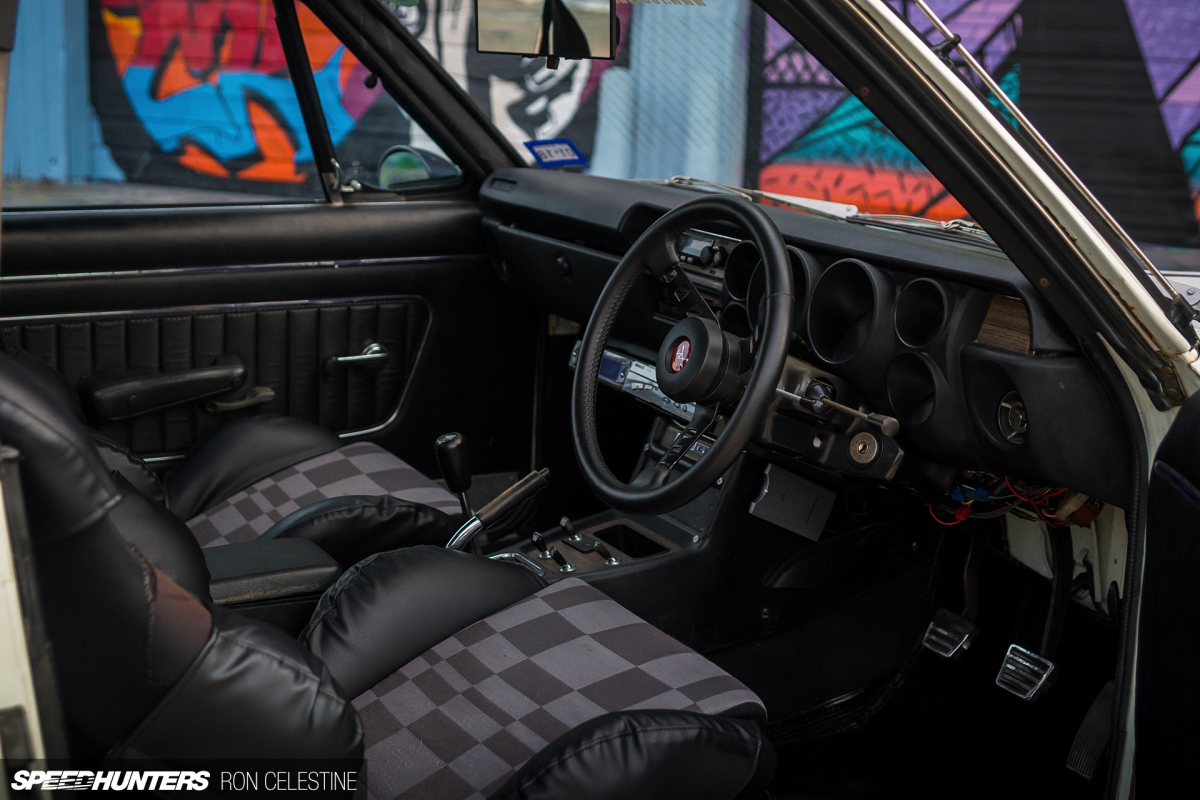 The interior remains essentially the same as it did when it left Japan, and it's only in the Recaro LM Nismo seats and the parts that fall to hand that you get a sense of wear.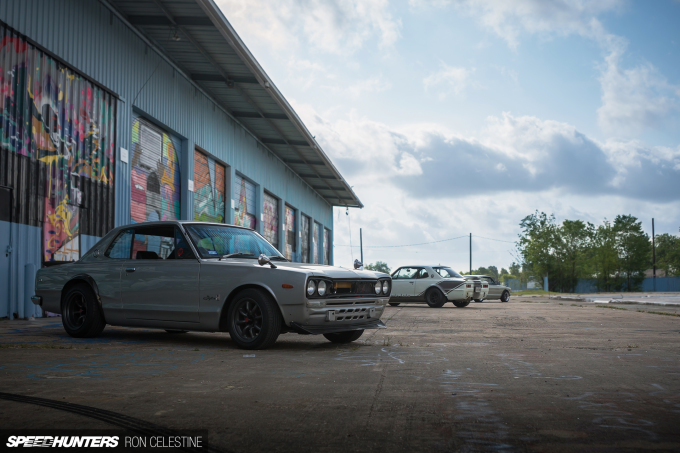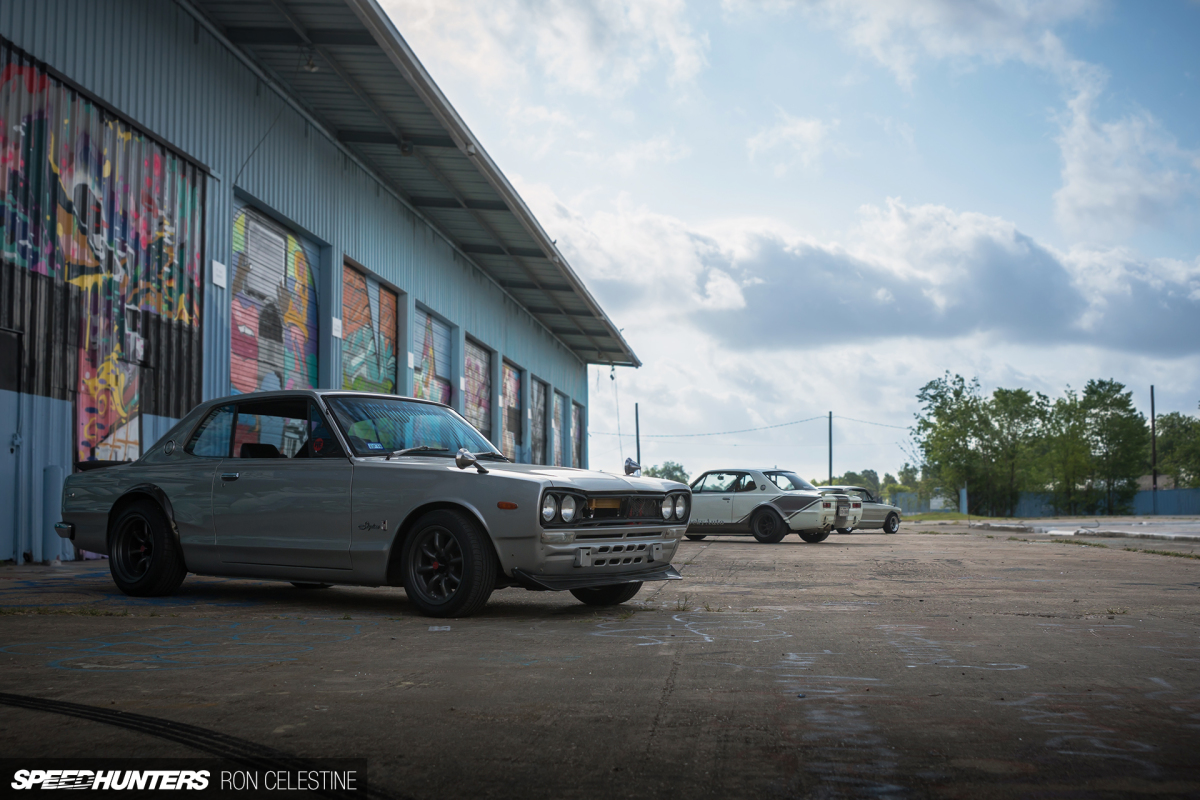 With the sun in full force and the distinct growl of four grown men's stomachs rumbling, it was time to call it a day and head back to the city. Spending the morning with not one, but three Hakosukas that have ended up in Texas was pretty cool. But what was really inspiring was hearing the three different stories that came with them.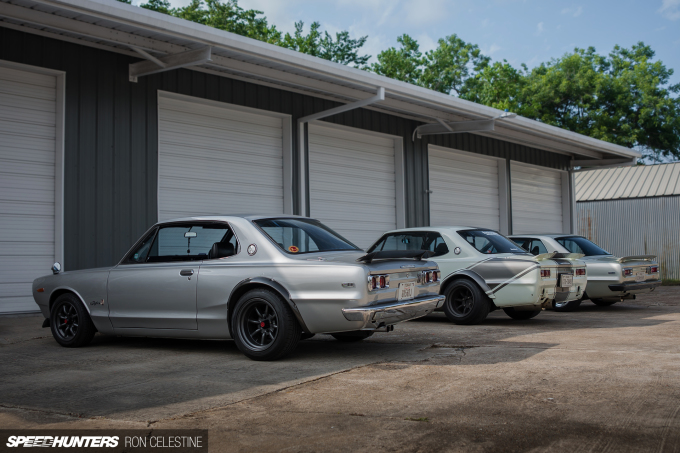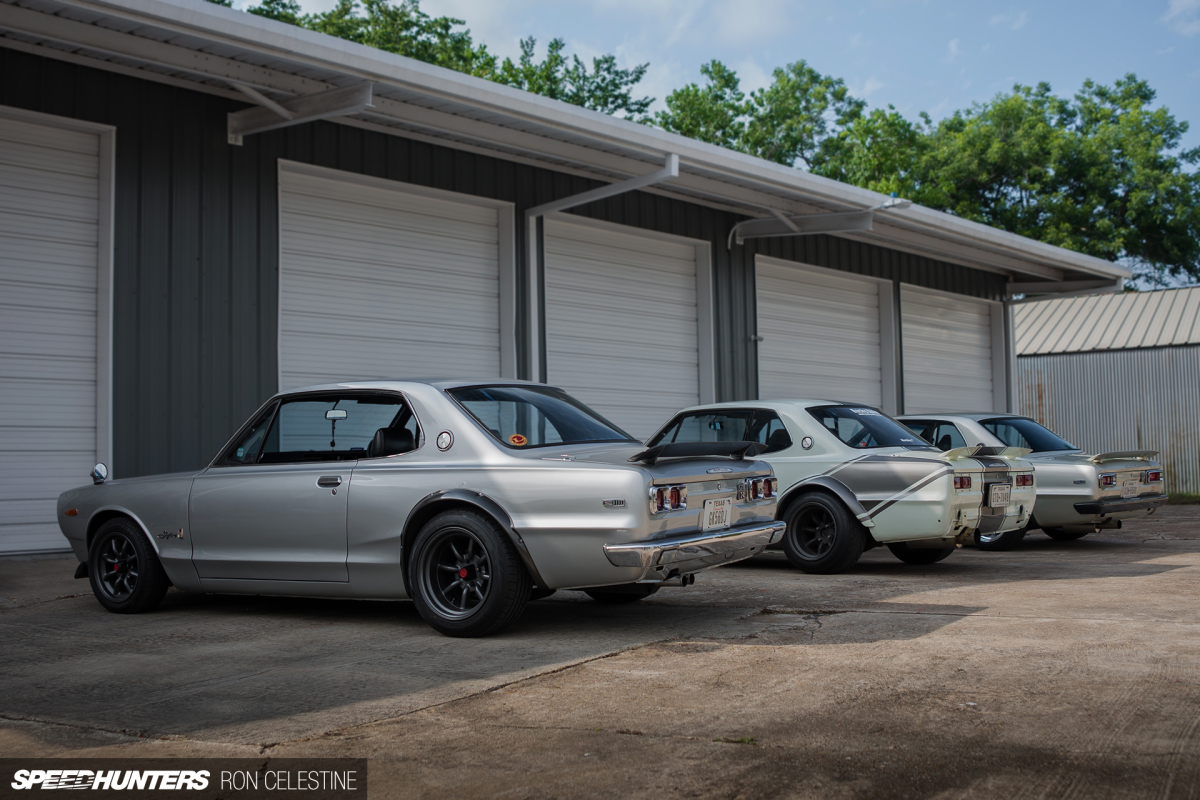 Three different philosophies and three different dreams that each pushed for, ultimately coming true with determination, persistence and lot of of patience. It goes to show what you can achieve when you really put your mind to it.
Ron Celestine
Instagram: celestinephotography