Simplicity
Being a motorsport nerd at heart, I know how frustrating it can be to find your feeds full of cars built solely for the show scene, or race-themed street machines that never see any track time.
To restore some balance, today I want to introduce Allen Hsu's DC5 Acura RSX – a car built to get out on track and race, but look good at the same time.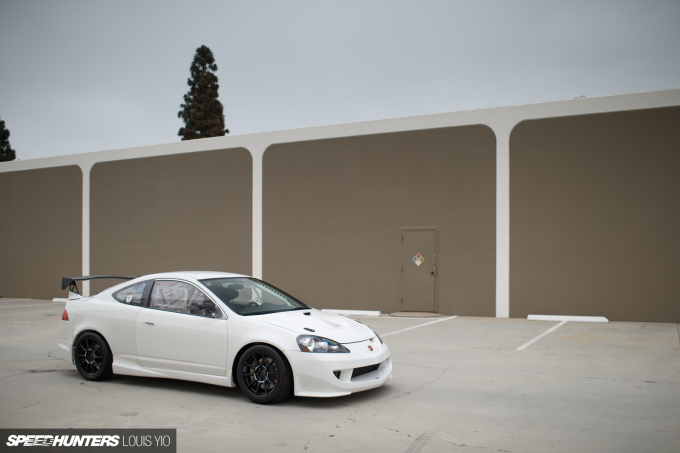 Function with form, that's the beauty of a well-built race car. Every panel, hole, aero part, and even the interior has a function that creates an attractiveness that's hard to beat. The simplicity is what makes it eye-catching in a tuner car world of wide-bodies.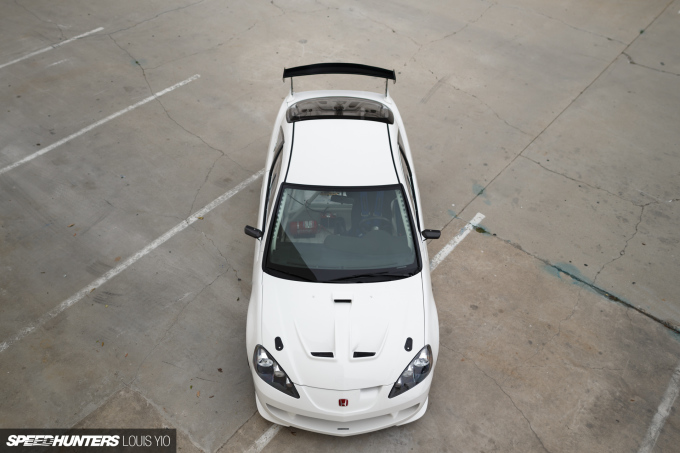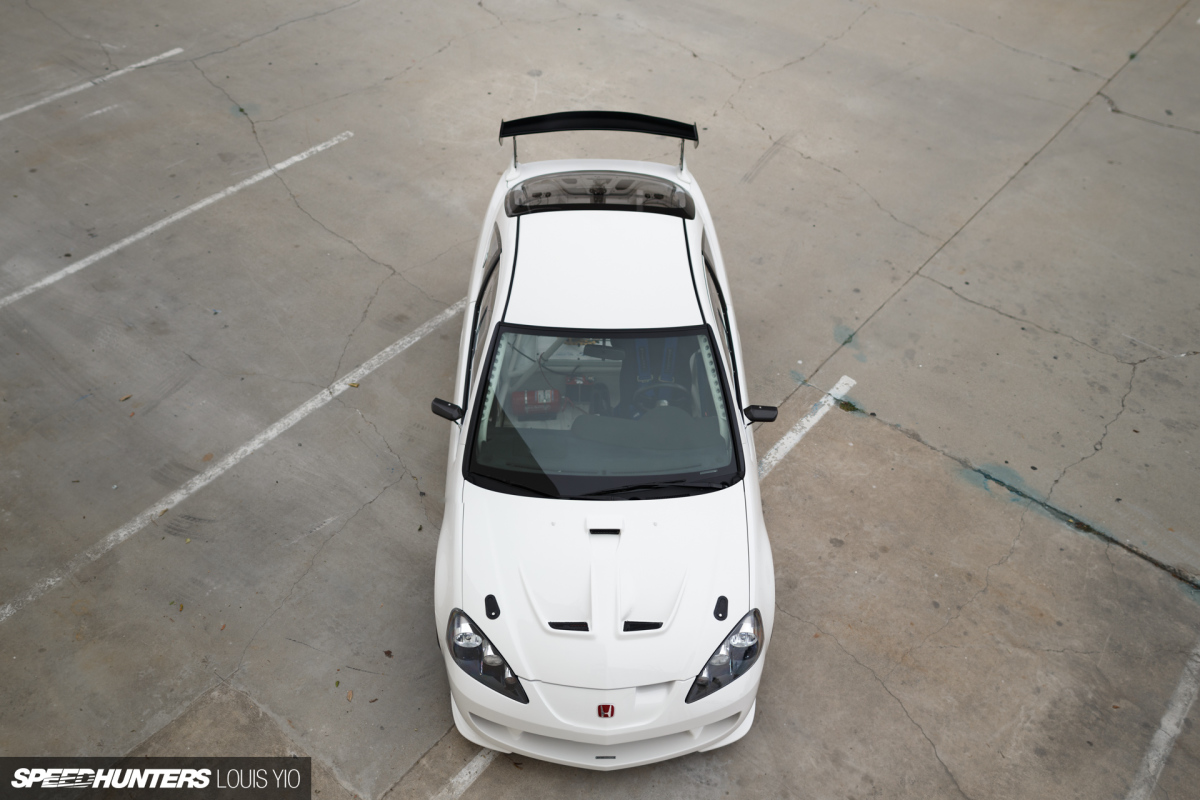 It starts with a roof transplant; if you're familiar with the RSX you'll know that the one attached to Allen's car isn't the one it came with from factory. The sunroof and original skin was removed and replaced by a smooth version from the DC5 Integra Type R we never got here in the US, a shame as it would have been nice to have this as an option when the Type S was being sold. It's a good upgrade too, because a plug didn't have to be created and the smooth flow of the roof is retained. It's also one less thing to worry with in terms of safety as the rollcage can be more easily designed without a sunroof to contend with.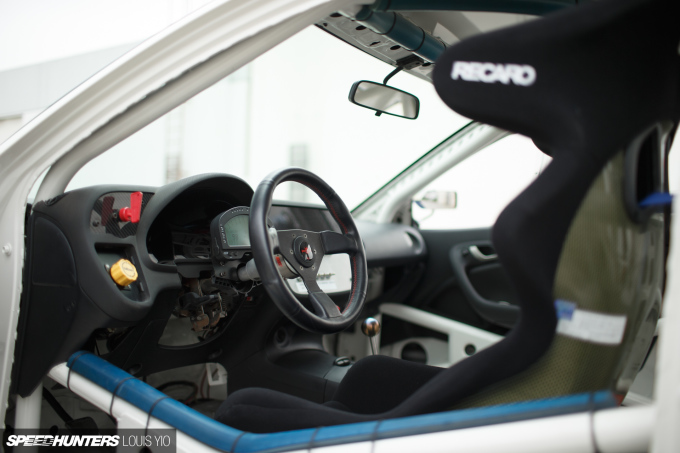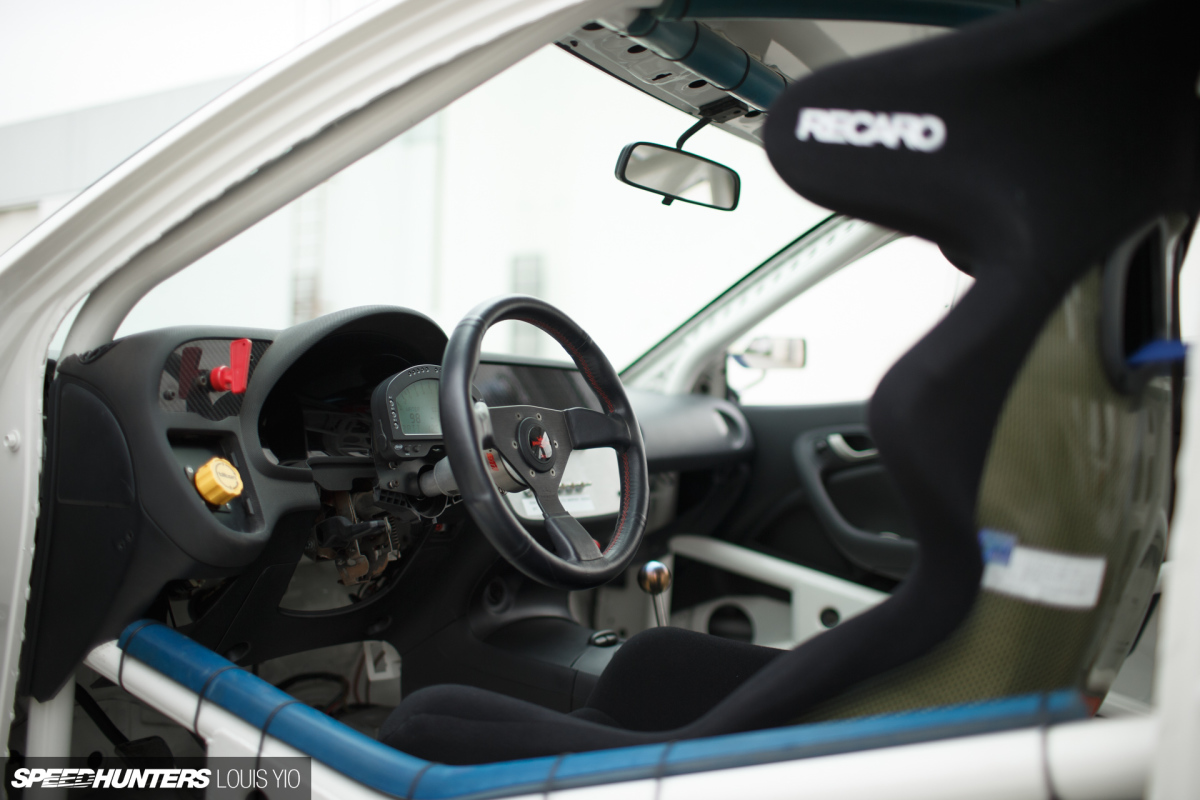 That cage and the stitch welding of the chassis was done by the legendary Howard Watanabe from Technosquare. He and his brother Richey created the business with Tadashi Nagata to continue their ventures into race car building. Sadly, Richey passed away in 2009 due to pancreatic cancer, but Technosquare continues to live on and build impressive machines. That expertise is well represented in this build.
No Rat's Nest Here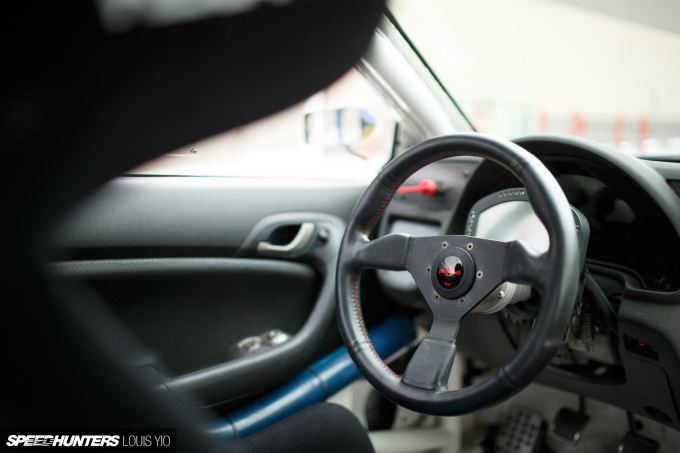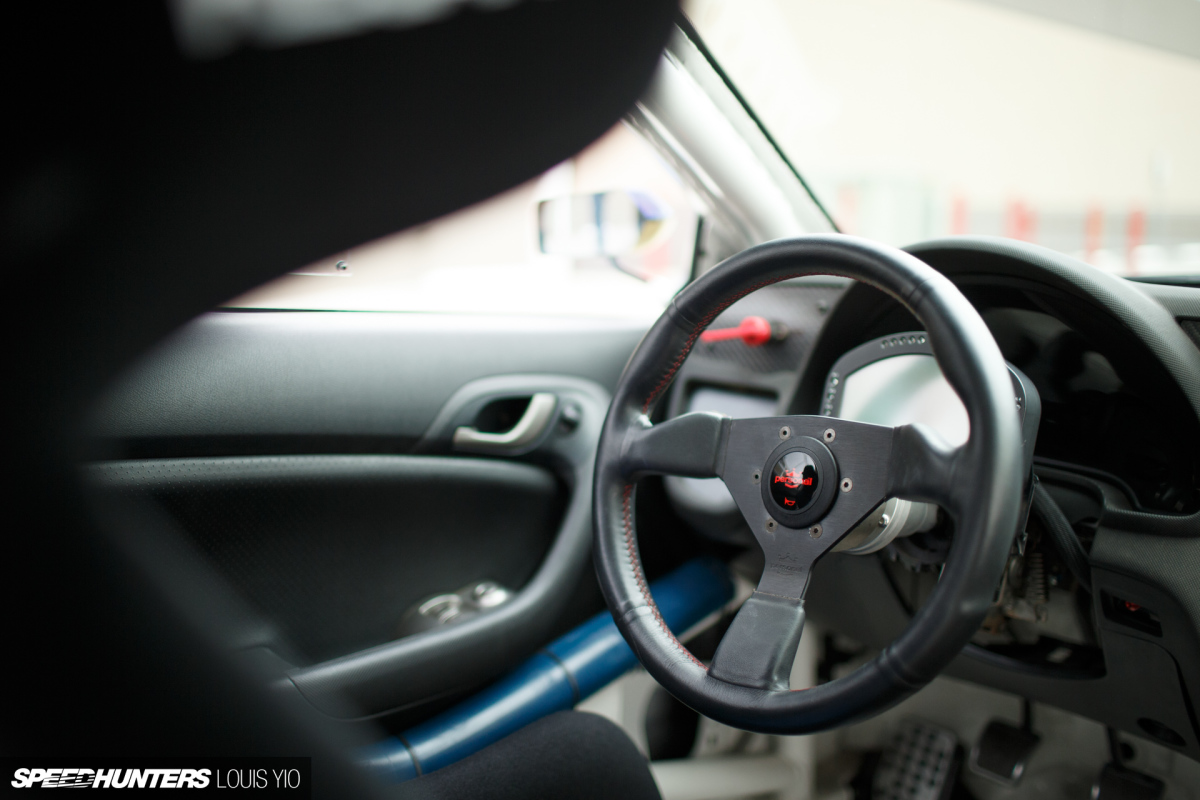 Both driver and passenger side doors are not gutted and is part of the reason why the cross bars can sit as low as they do. We'll touch on that more in an upcoming article on roll cages, but a cross bar designed like this helps with driver egress and the internal door crash bars continue to help with driver protection from side impacts.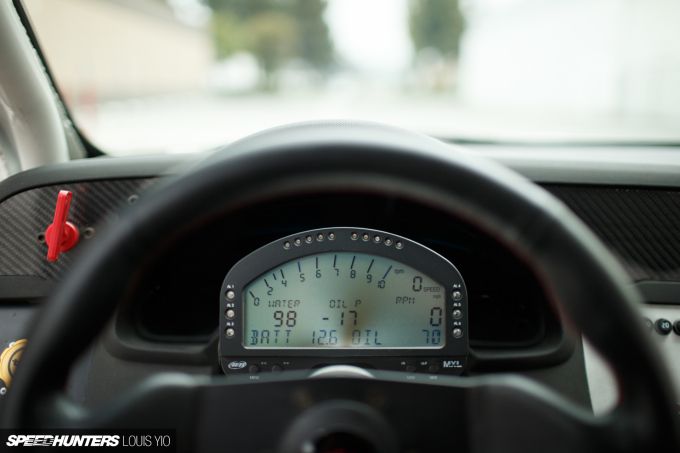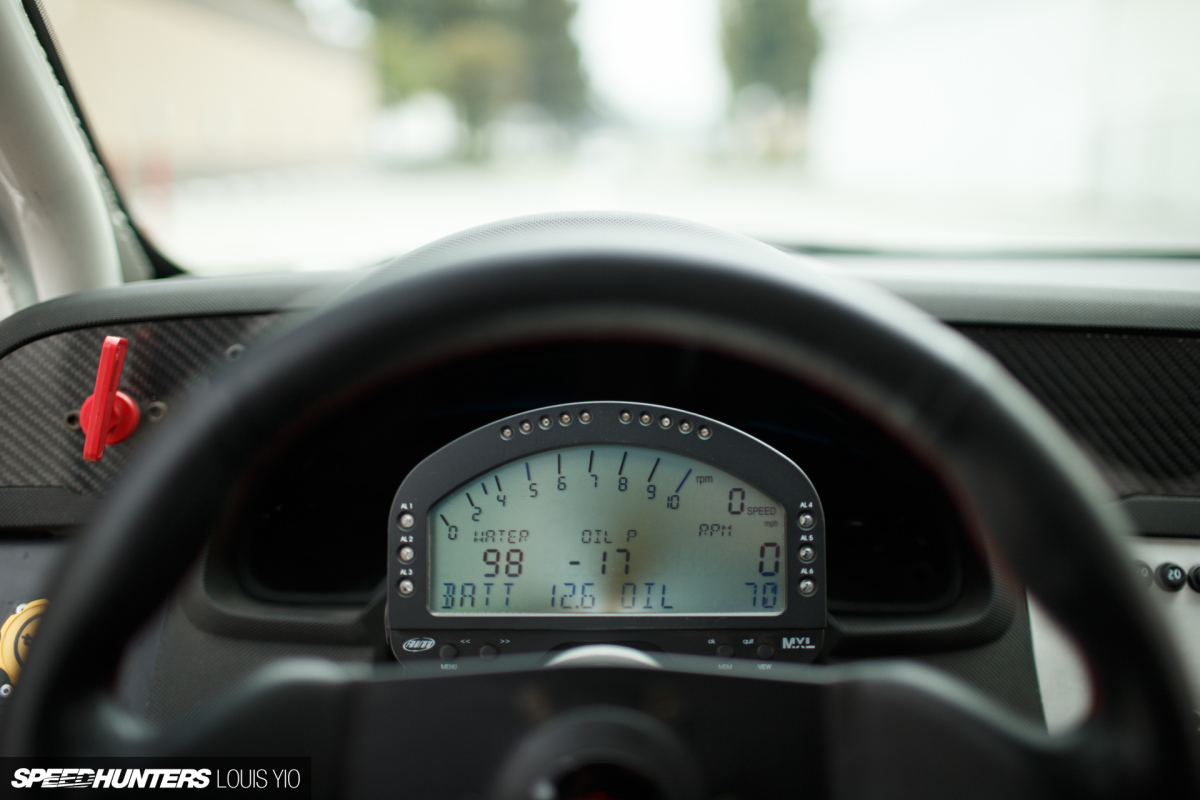 You won't see wires and relays strewn about the place, either, thanks to a Rywire wiring harness for the AiM dash display, custom switch panel, and Hondata K-Pro ECU. This not only makes for a very clean interior but finding faults in the wiring are going to be much simpler than many of the rat nests I've seen for race car wiring. Further safety features inside are the Recaro Pro Race SPA seat that is designed to work with a HANS device, a Willans 6-point harness and a fire suppression system that occupies the passenger side of the car.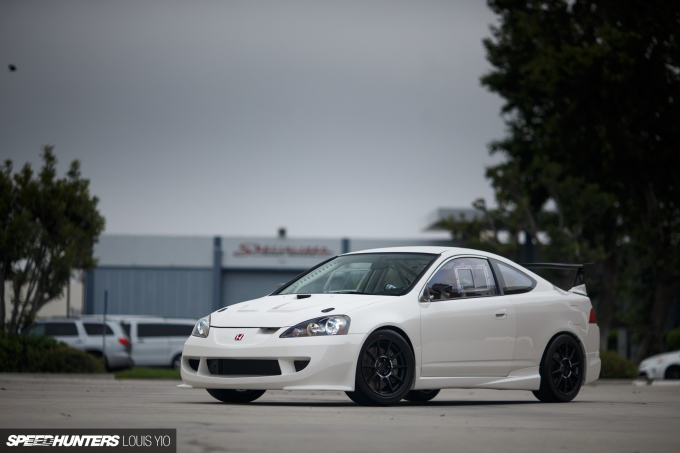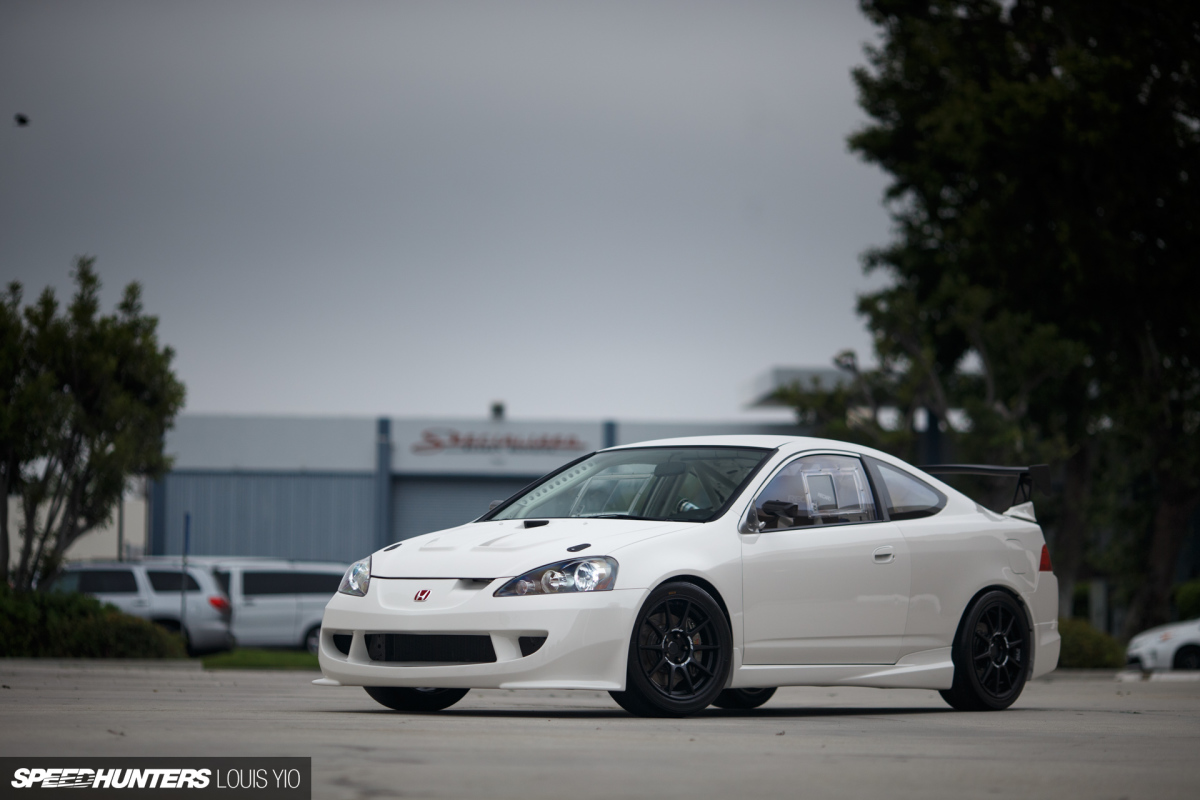 Heading outside, it's a Mugen affair with the DC5 body kit which includes the hood, front bumper, side skirts, rear apron, and rear wing. The hood is retained by a set of AeroCatch flush-mounted hood pins. Furthering the smooth flow of air around the body of the car are a pair of Craft Square mirrors which have a small profile but allow for great visibility to the sides of the car. Save for the windscreen, all of the glass has been replaced with Lexan, the front door windows fitted with slide openings.
Control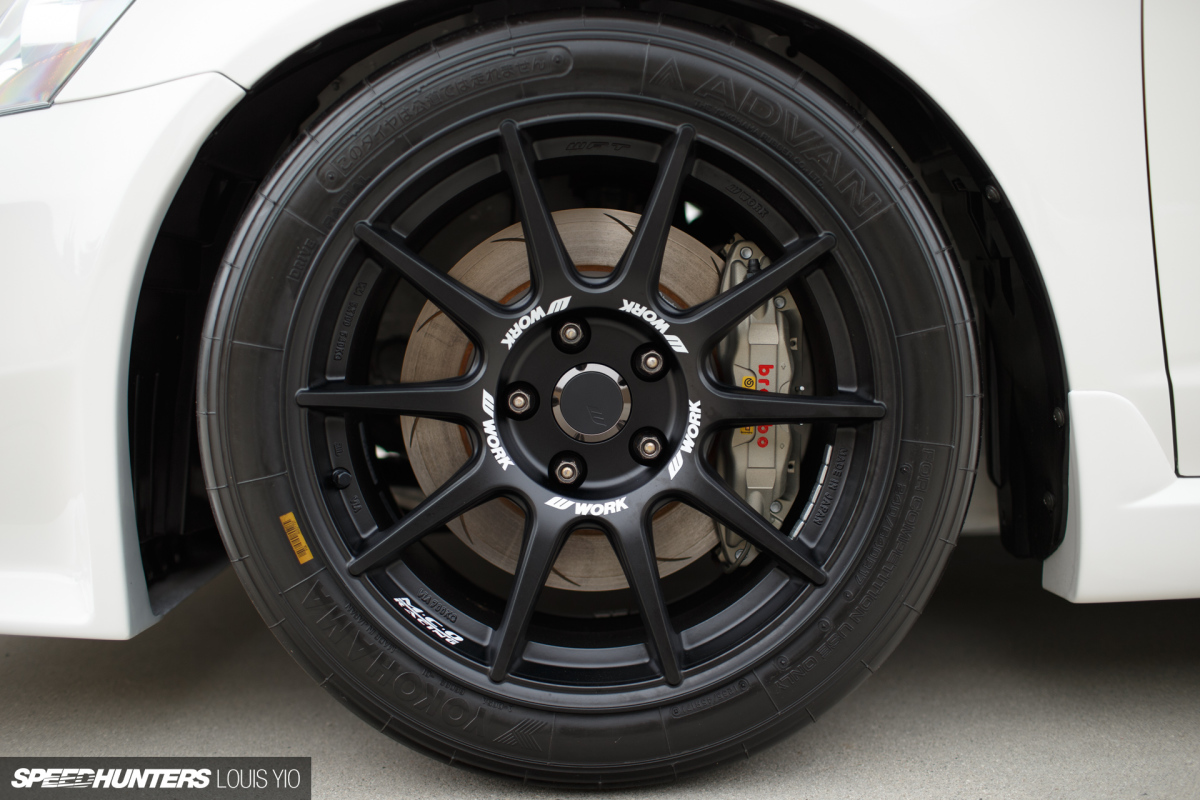 Allen heads up Work Wheels USA here in California, so he didn't need to look far to find an appropriate set of wheels for the build. They're Work MCO Racing Type CSs in 17×9.0-inch (front) and 17×8.0-inch (rear) with Yokohama Advan D005 slicks, 240/610R17 and 230/625R17 front and rear respectively. If you're wondering why the stagger is backwards from what you normally might see, it's a necessary on a FWD race car. Since the front tires are doing the accelerating, braking, and turning, they need the most grip; the rears are (putting this very simply) just along for the ride.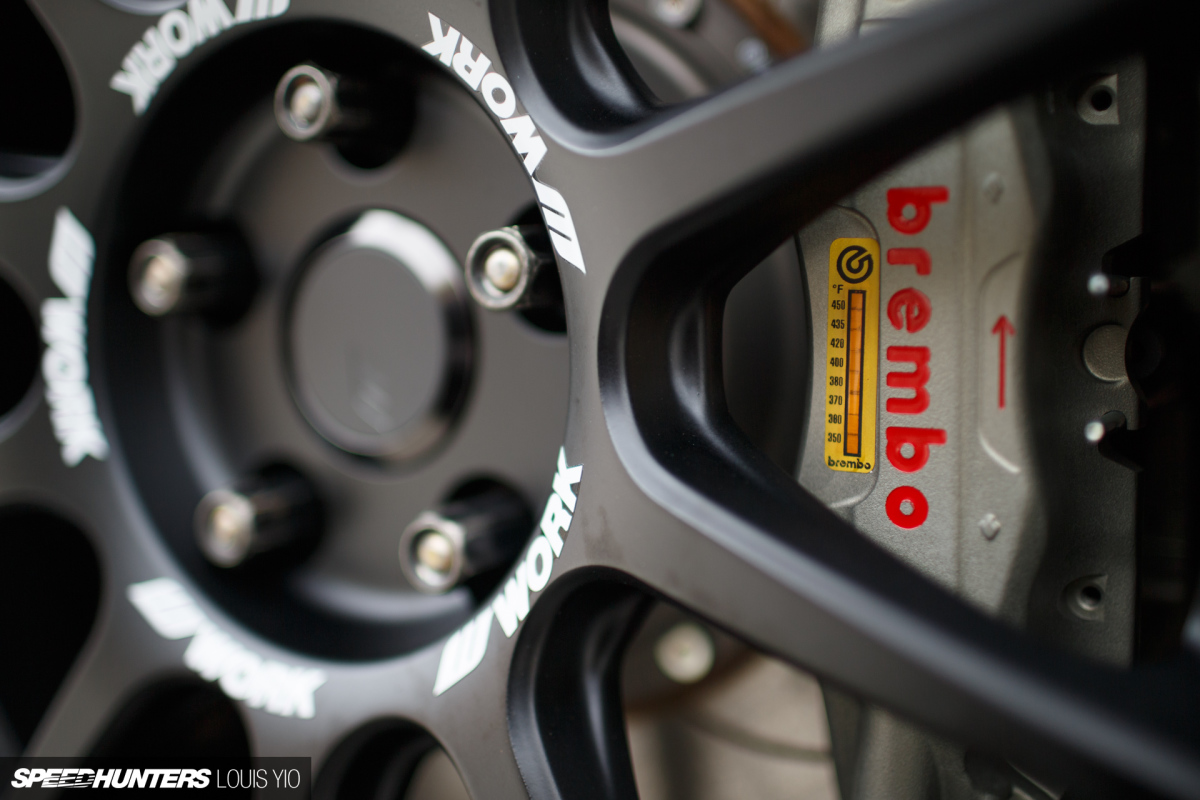 Behind those wheels are a set of Brembo racing brakes and controlling the movements are a set of Moton 3-way adjustable coilovers with external reservoirs. The front sway bar is an OEM DC5 Type R item, but the rear is an A-Spec Racing 32mm hollow bar that features a subframe reinforcing plate that it mounts to and helps with preventing subframe tear out on hardcore street/track and race cars. The control arms in the rear feature a Prime Garage Japan non-compliant bushing to prevent movements under load.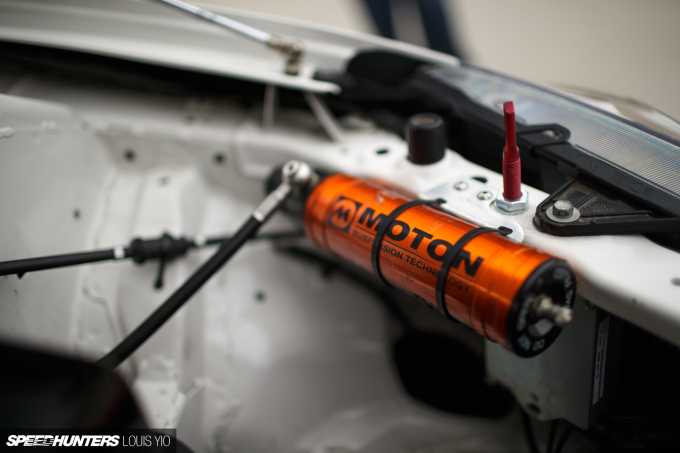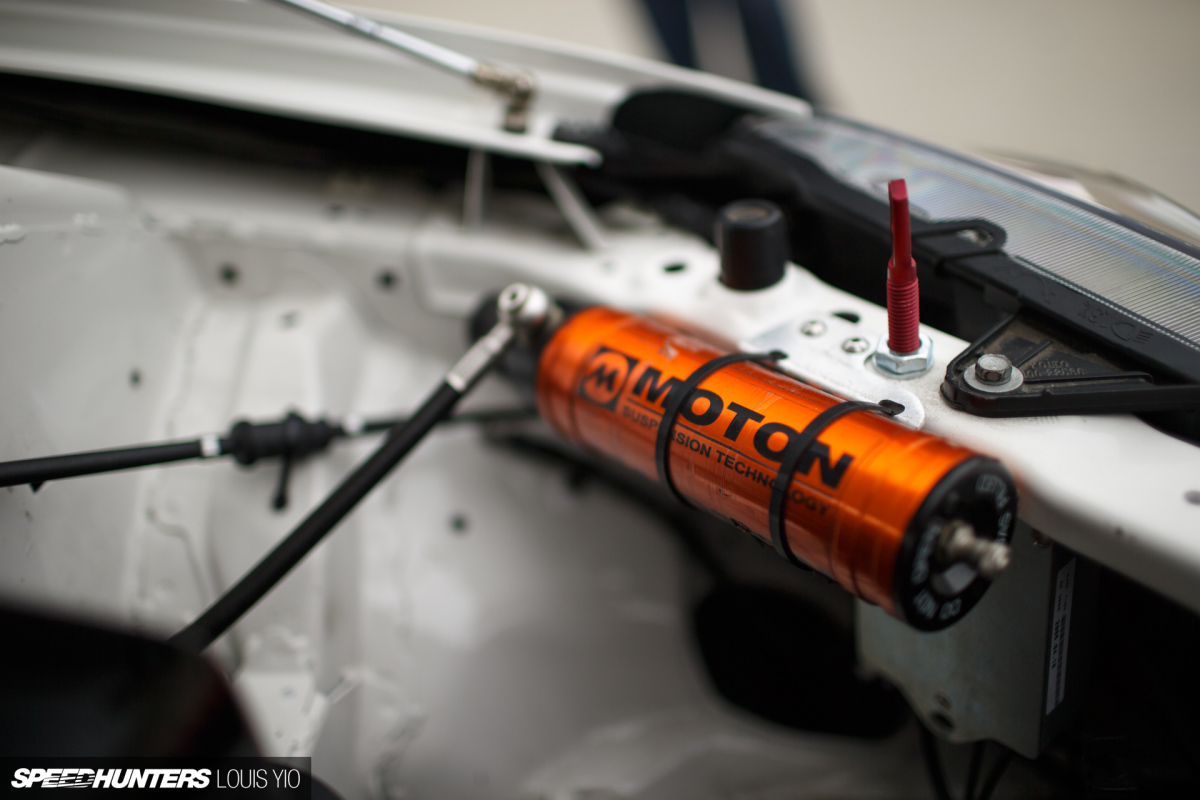 The front lower control arms come from the DC5 Type R which are 10mm wider and alter the caster (the camber difference from left turn and right turn), and are 6lbs lighter yet stronger than those found in the Type S. This is also why a Type R sway bar is used; the Type S part is too narrow for the mounting point on the arms.
K2157 Magnum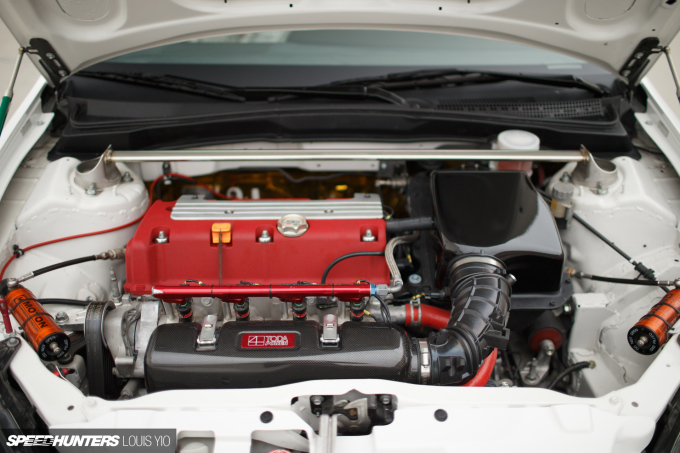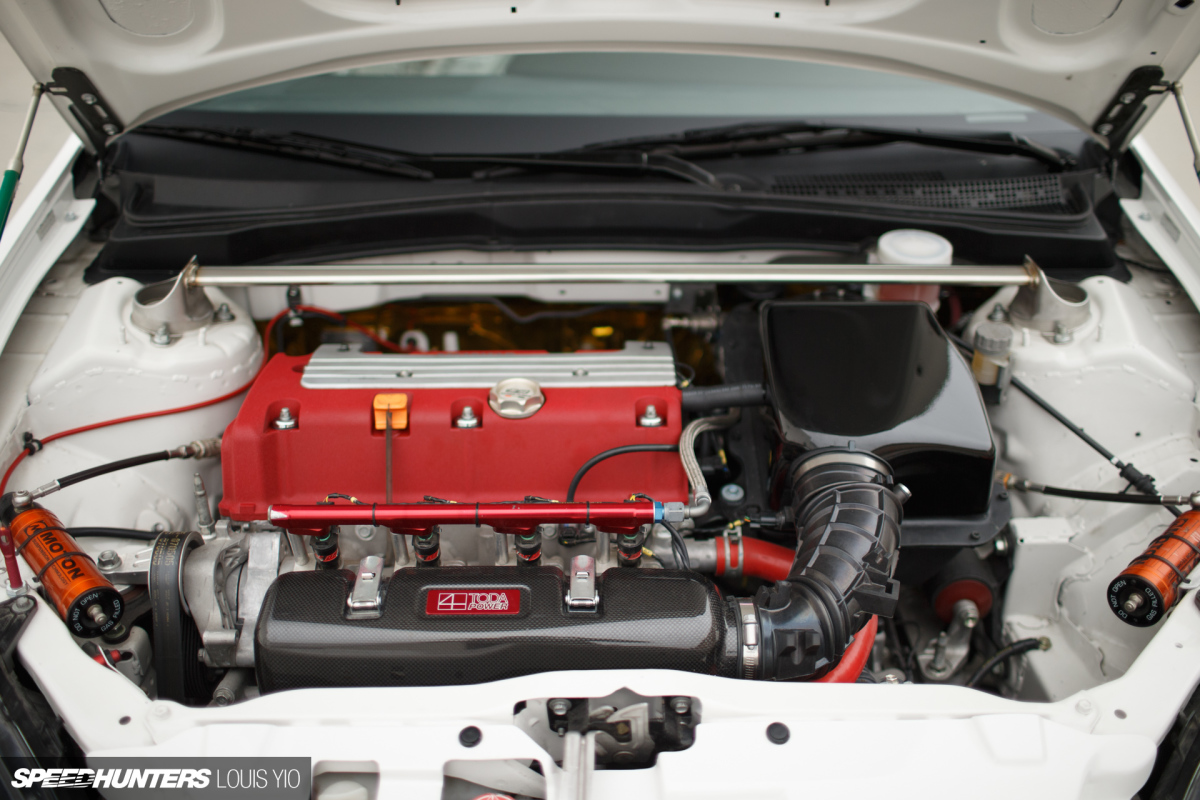 The engine is a Toda Racing K20A build with a 2157cc stroker kit that included 12.3:1 compression pistons and forged I-beam connecting rods. It achieves this displacement with an 87mm bore and 90.7mm stroke, while the compression ratio is calculated with a 7.6cc combustion chamber volume and 0.6mm head gasket.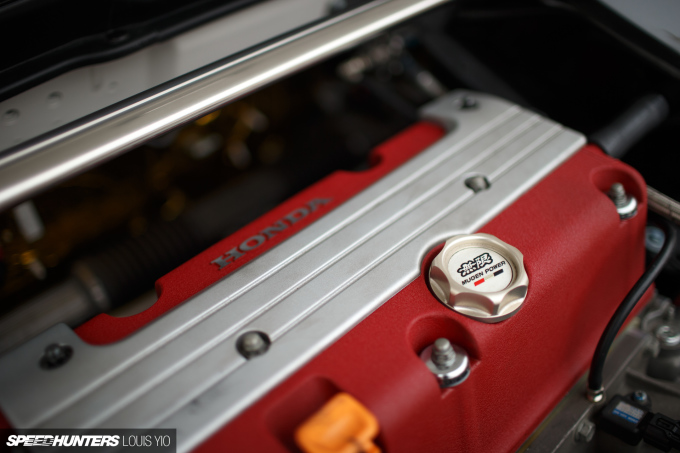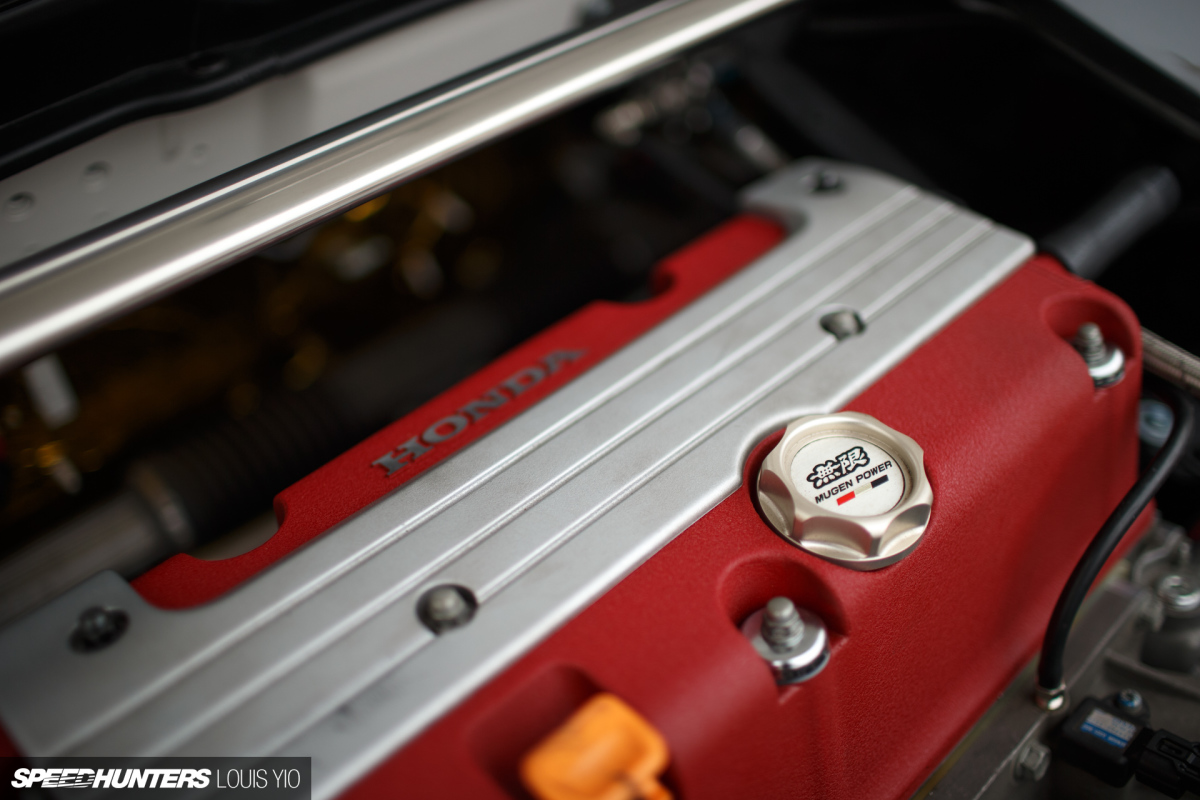 The valves are controlled with a set of Toda Spec C camshafts with 300-degree duration and 13mm lift on the intake and 295-degree duration with 12.5mm lift on the exhaust side. To ensure the engine stays lubricated, an Anti-G oil pan replaces the OE one while a Setrab oil cooler keeps temperatures under control.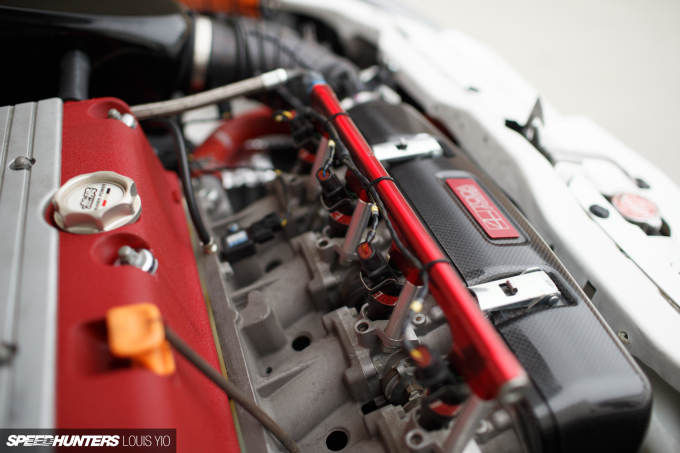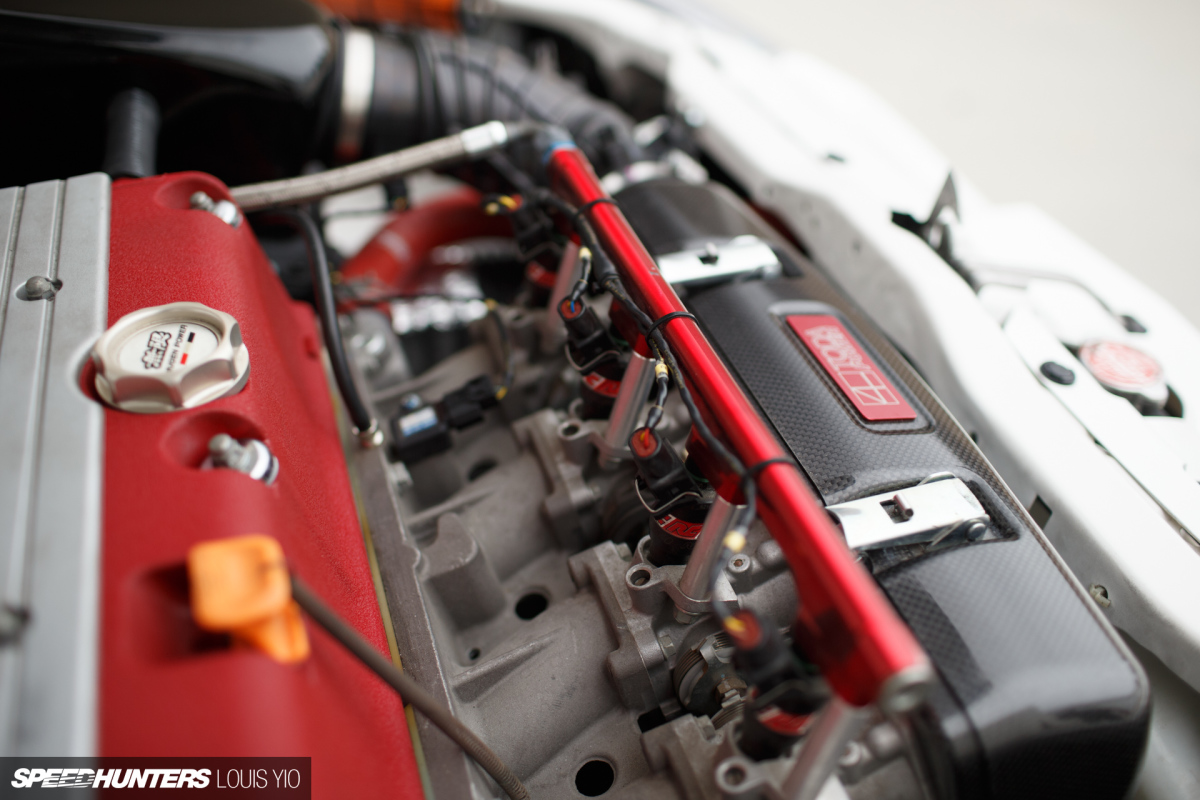 Under that Toda carbon induction box is a set of individual throttle bodies that receives clean air from a Mugen intake system, while on the opposite side of the engine a Hytech 4-2-1 header feeds into an Evasive-built exhaust system. That's all well and good, but to make sure those gases going out aren't too lean or rich you need to control the fuel from the ATL fuel cell, something handled by a Hondata K-Pro ECU with RC injectors.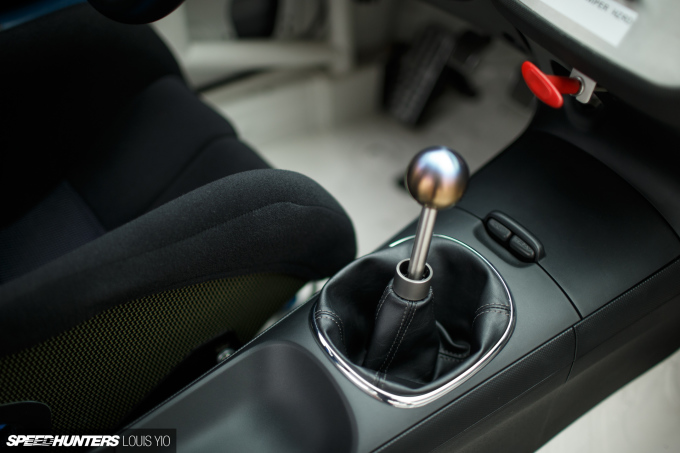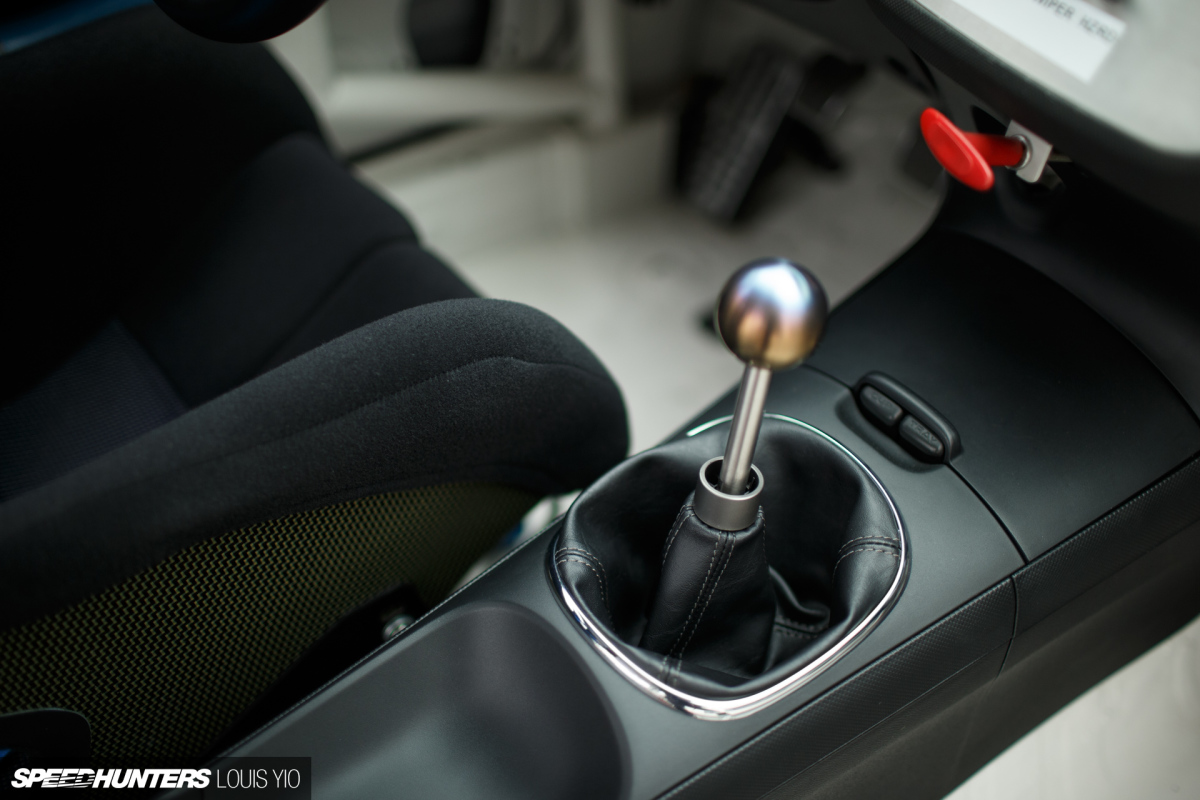 The transmission is based on the RSX gearbox but features an Active Traction Service (ATS) limited slip differential. An Exedy metal twin-plate clutch feeds power into the input shaft while a Gear X 5.46 final drive multiplies the torque just before it's sent to the front wheels.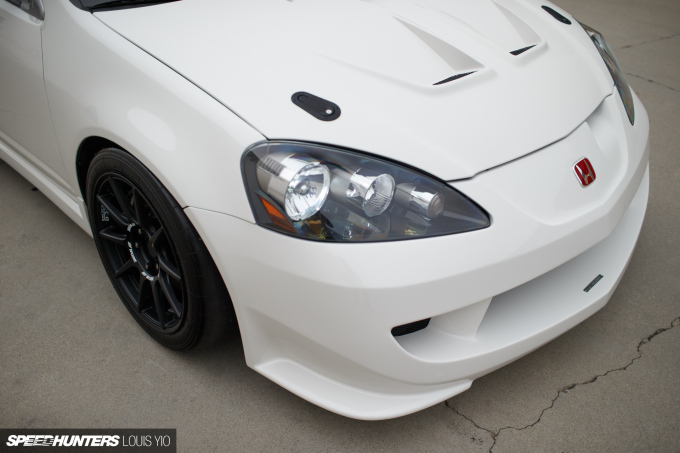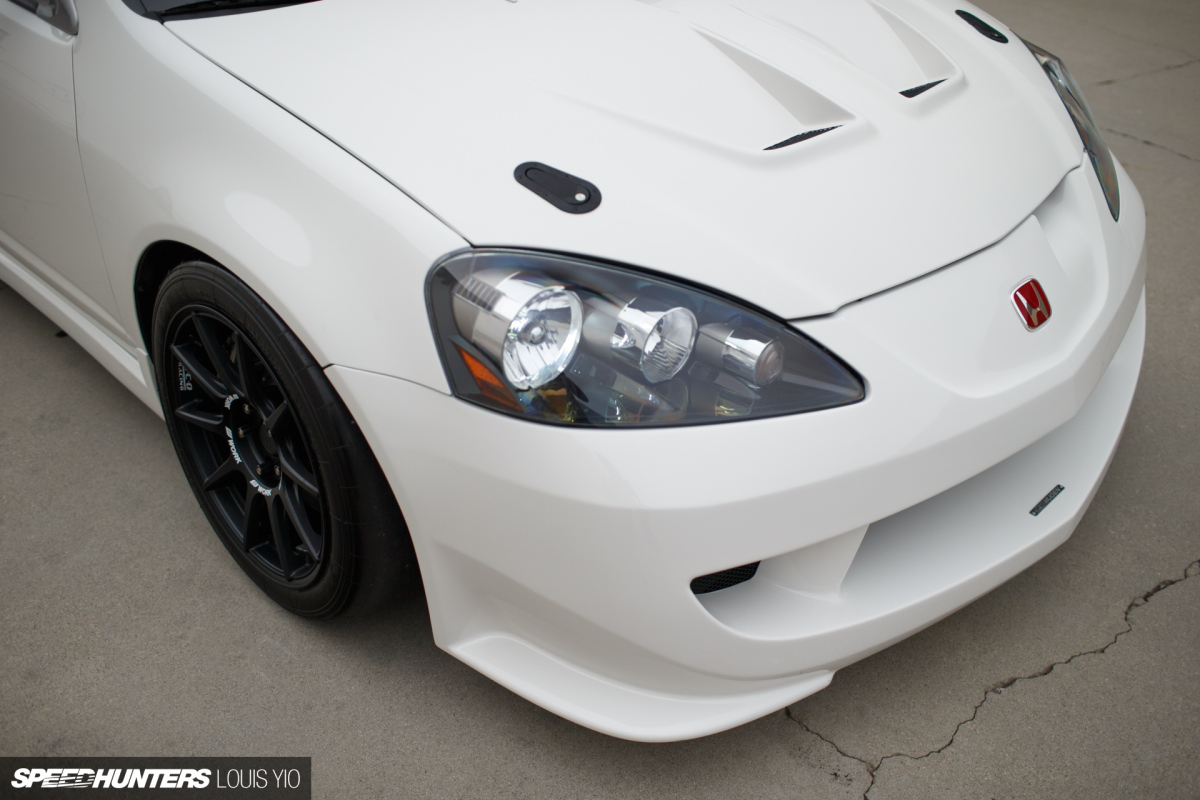 While show cars are designed to get attention while sitting still, a race car gets the attention by being fast. However, a clean build will capture attention at speed or at rest. Function dictates form, but that can create a beauty that's distinct within itself. This DC5 race car shows how simplicity is beauty.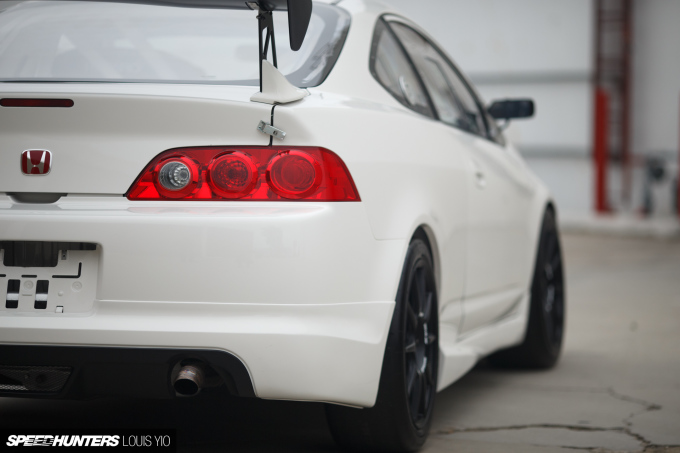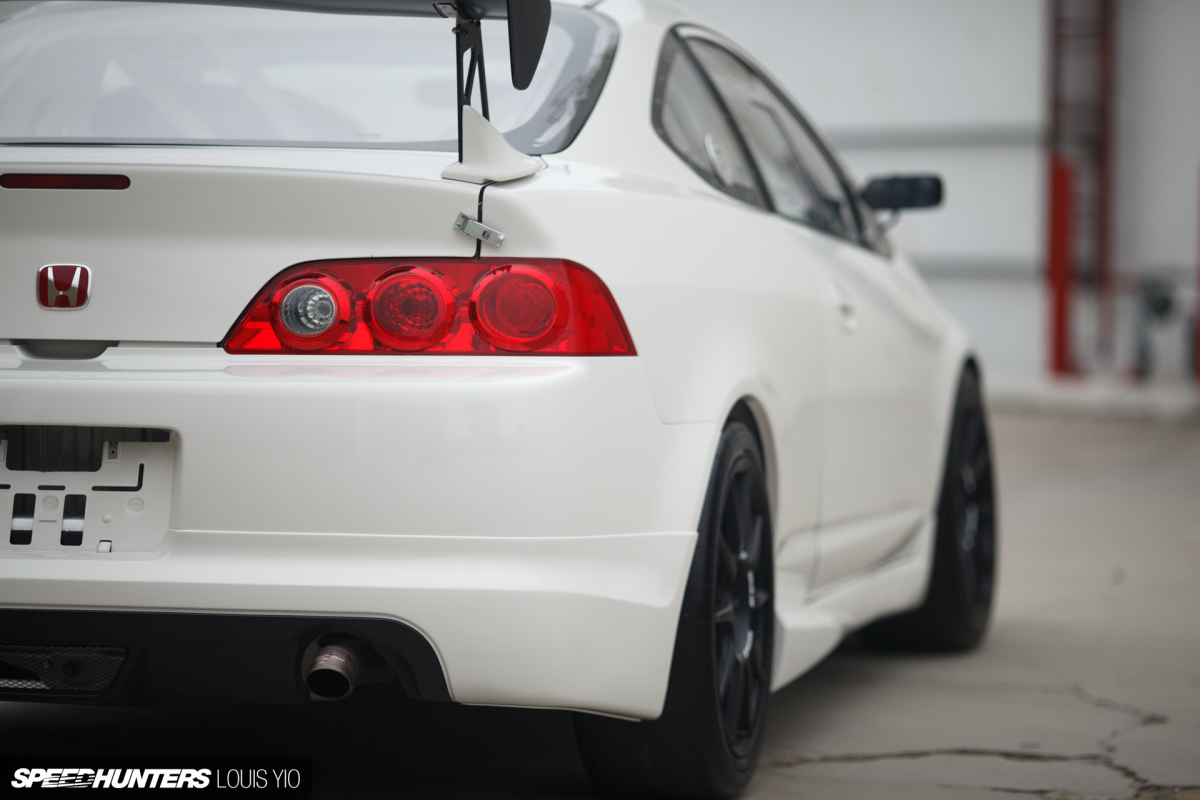 If you needed proof that a race car can look as good as a show car yet still carry all the function required for the circuit, Allen's RSX is it. We love understated builds like this.
Justin Banner
Instagram: jb27tt
Facebook: racerbanner
Twitter: RacerBanner
Photos by Louis Yio
louis@speedhunters.com
Instagram: lusciousy
Cutting Room Floor