Pure Chance
Like so many of humanity's greatest tales of triumph, this story begins with a man taking a whiz on a tree in the middle of the bush.
How often do you stop to ponder just how much of our lives and the world around us was shaped by pure chance? The more romantic amongst you may prefer to call it fate or destiny, but in this instance let's call it exactly what it was: an extremely fortunate pit stop. Right there, midstream, our story's hero, Jay, spotted a distant piece of old tin worthy of a closer inspection. It was unlike any old truck cab he'd come across before; the red patina of rust in varying stages and Postal Office Red paint sure looked interesting. The young sapling tree growing inside added some extra character too.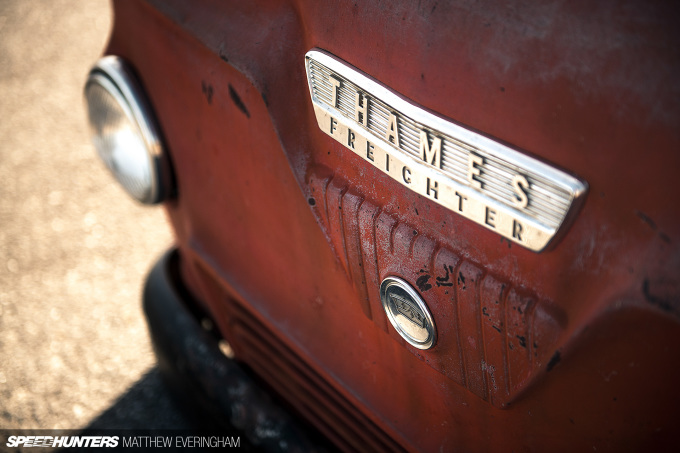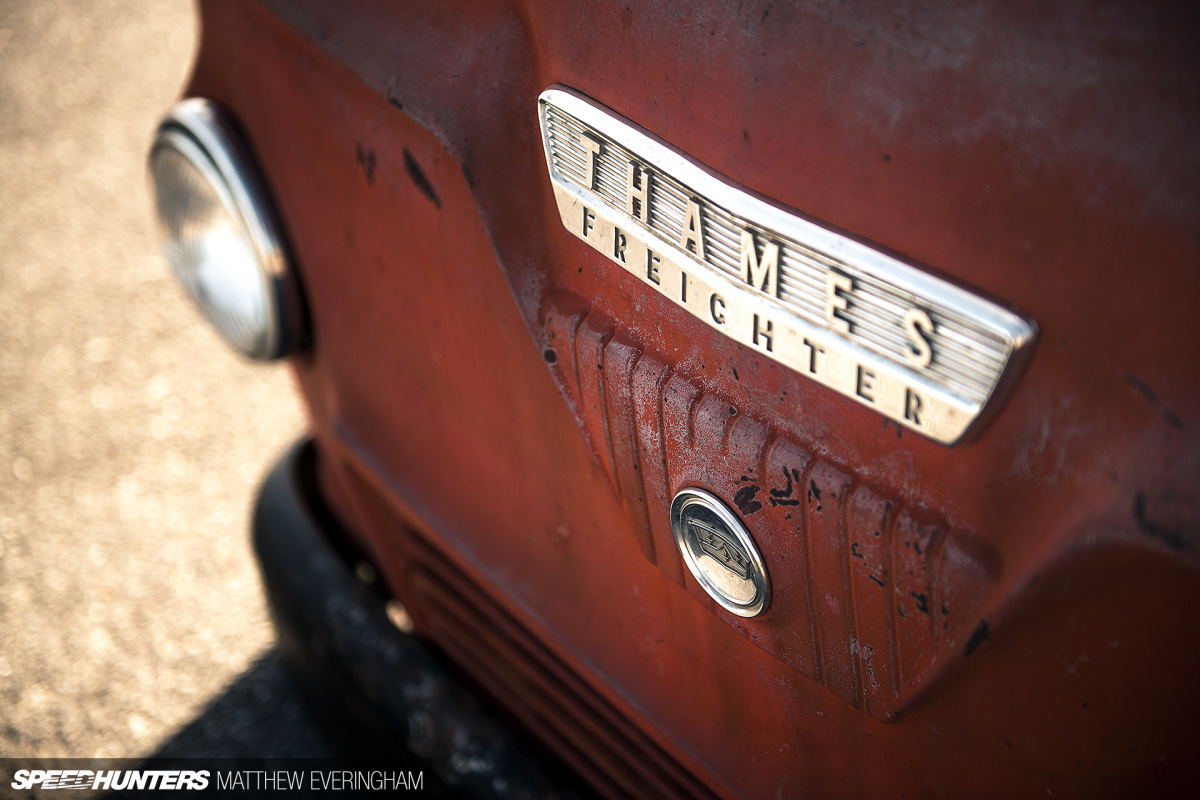 As it turns out, the cab belonged to a 1964 Ford Thames Freighter that had been unceremoniously left where Jay found it well over 20 years prior. Coincidently, (or perhaps through fate?) the sign-writing on the door suggested the truck used to be a courier for a business just 10 minutes from Jay's home, despite being finally laid to rest some 1000km away. It was a sign.
The trailer had room to bring one more 'project' home after the Datsun 240K that had brought Jay and a mate deep into the South Australian countryside turned out to be a complete waste of time. It would have been a crime to drive a 2,000km round trip and come home empty handed, so after meeting with the Ford's owner and handing over the agreed sum of just $100, Jay loaded the creepy cabin on the trailer and headed back to Adelaide.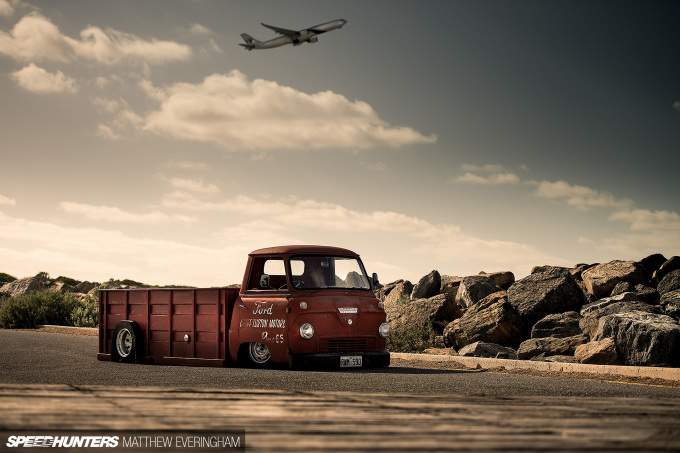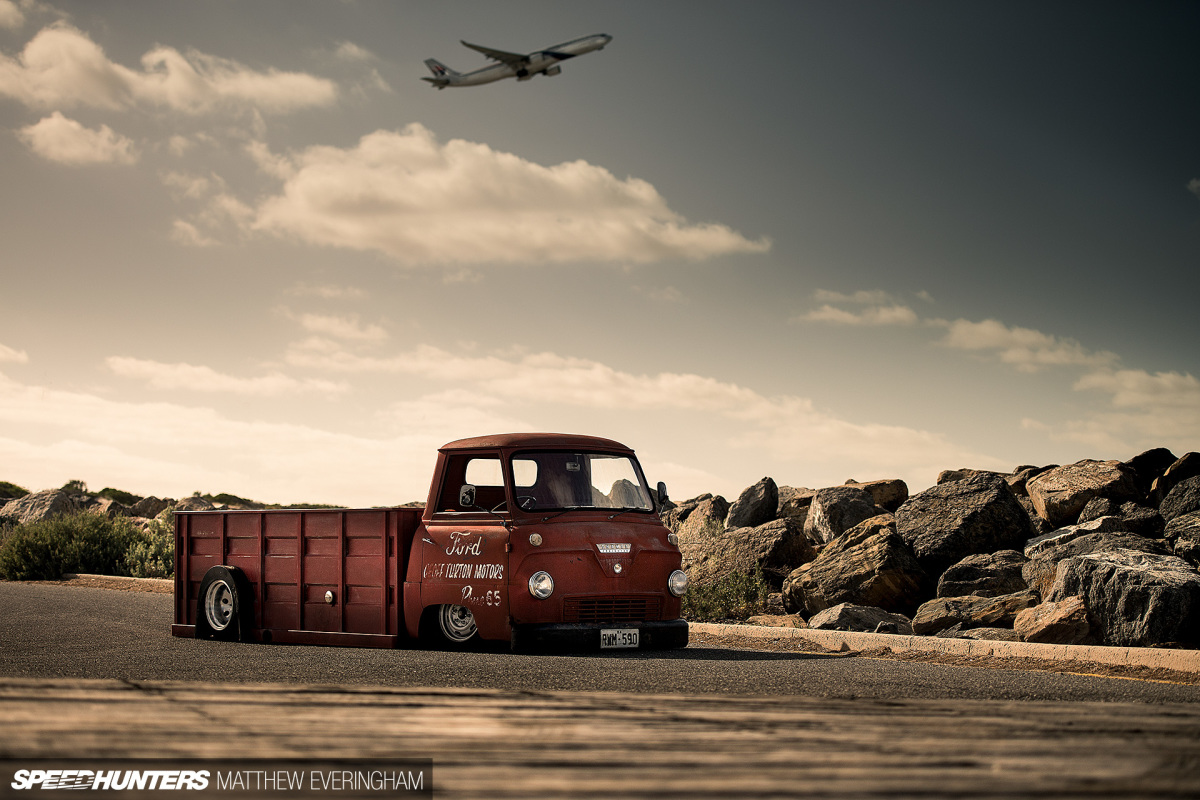 The first idea was to build a cubby house around the cab for Jay's two children, but after more thought it was deemed just too cool to be sat in another backyard for 20 years or more. Besides, why should the kids get all the toys?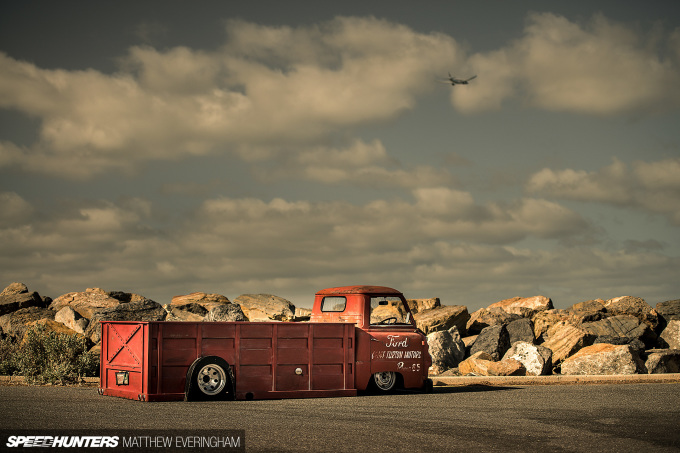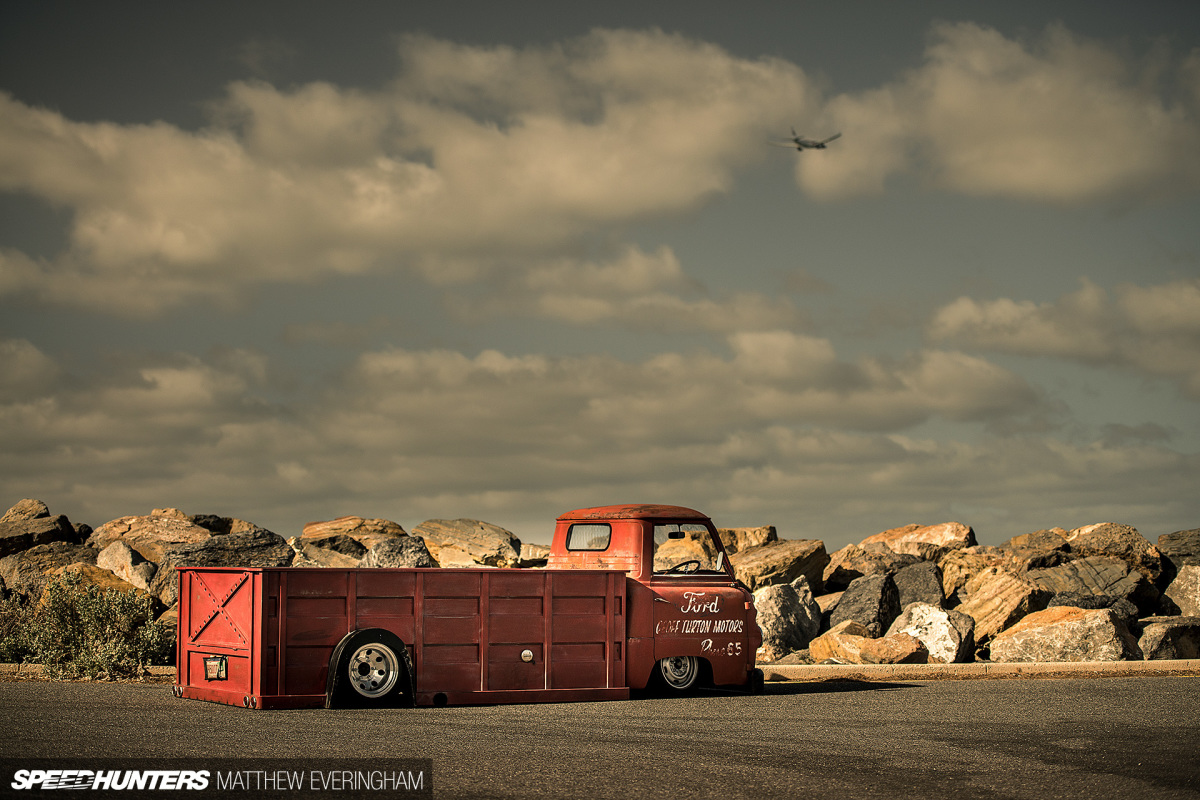 Before Jay knew it, ideas on how to incorporate the cab onto a modern chassis started bubbling away, and in next to time the plan blew out from a backyard playground to the weird and wonderful creation before us today.
Getting Carried Away
Initially, the idea was a simple conversion: find a late model utility truck (ute), swap the cab, chop some springs and run a factory engine. A relatively small project for the talent in Jay's fabrication shop, and a two-week job at most.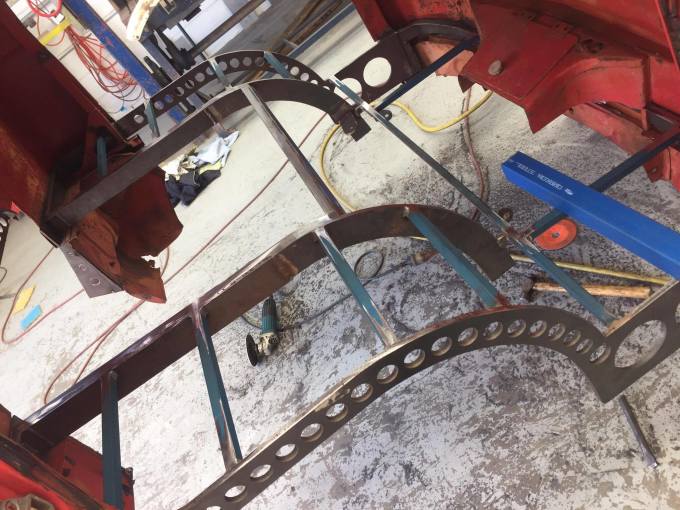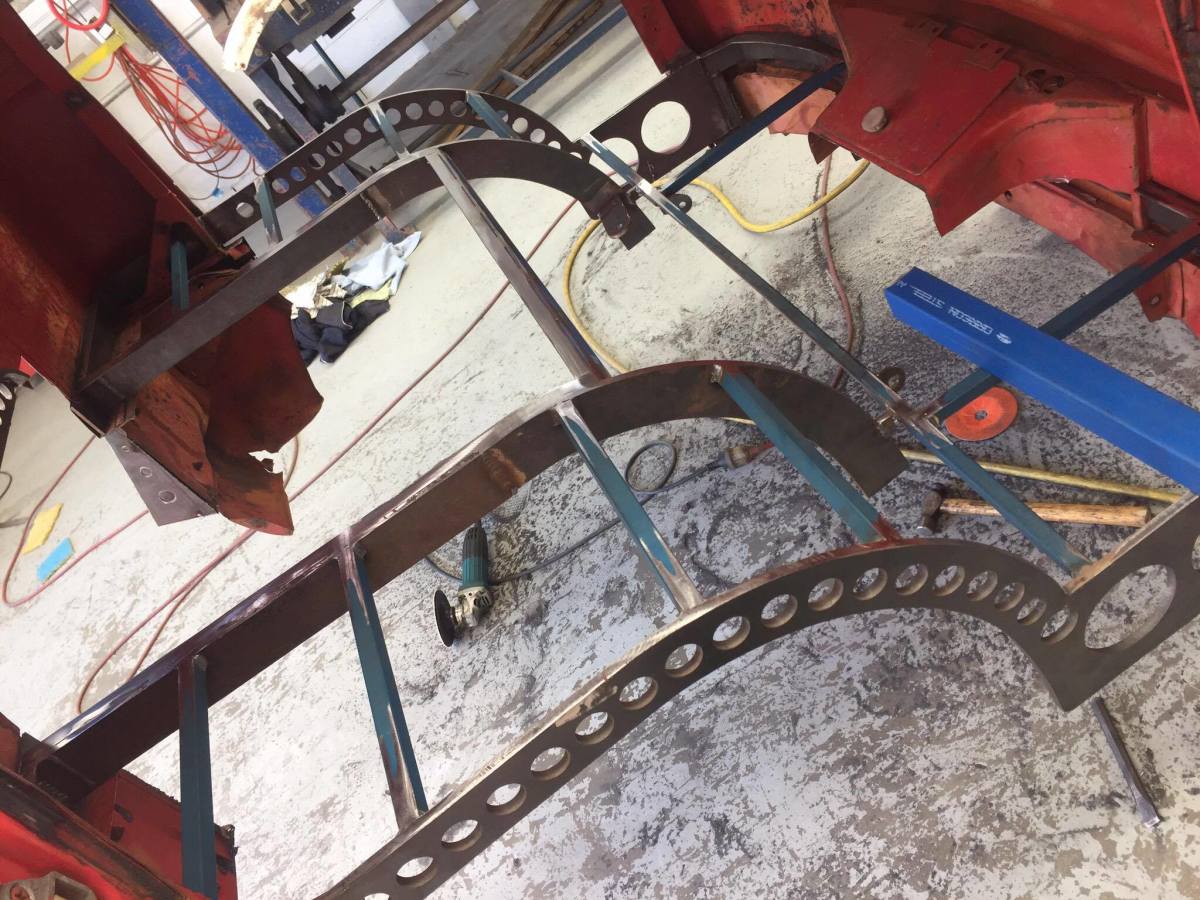 That plan blew out after some genius decided to include a dual-pump hydraulic suspension system that'd allow the truck to scrape the tarmac when required. For the chassis to hit the ground, a four-link rear end was fabricated, a wider diff sourced from a Ford Econovan was fitted, and a whole stack of clearance issues were attacked – mostly with an angle grinder.
By now, the majority of the hard work was over, but Jay being Jay once again got a little too excited on the hydraulics controls and rocked the engine right out of the frame. The bouncing snapped all the existing mounts, destroyed the alternator and wrecked a whole bunch of little parts. Whoops.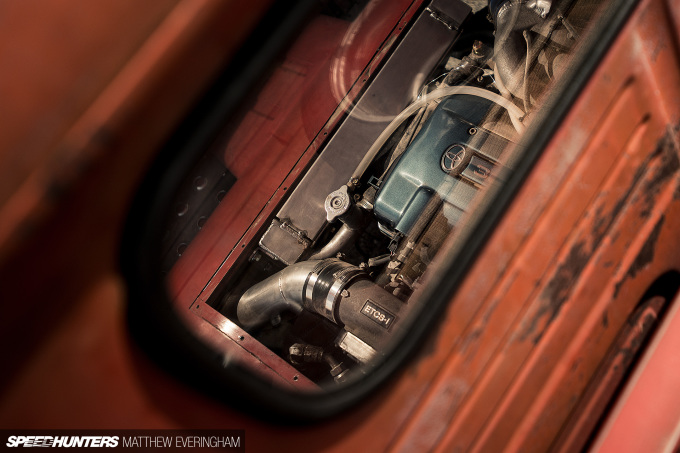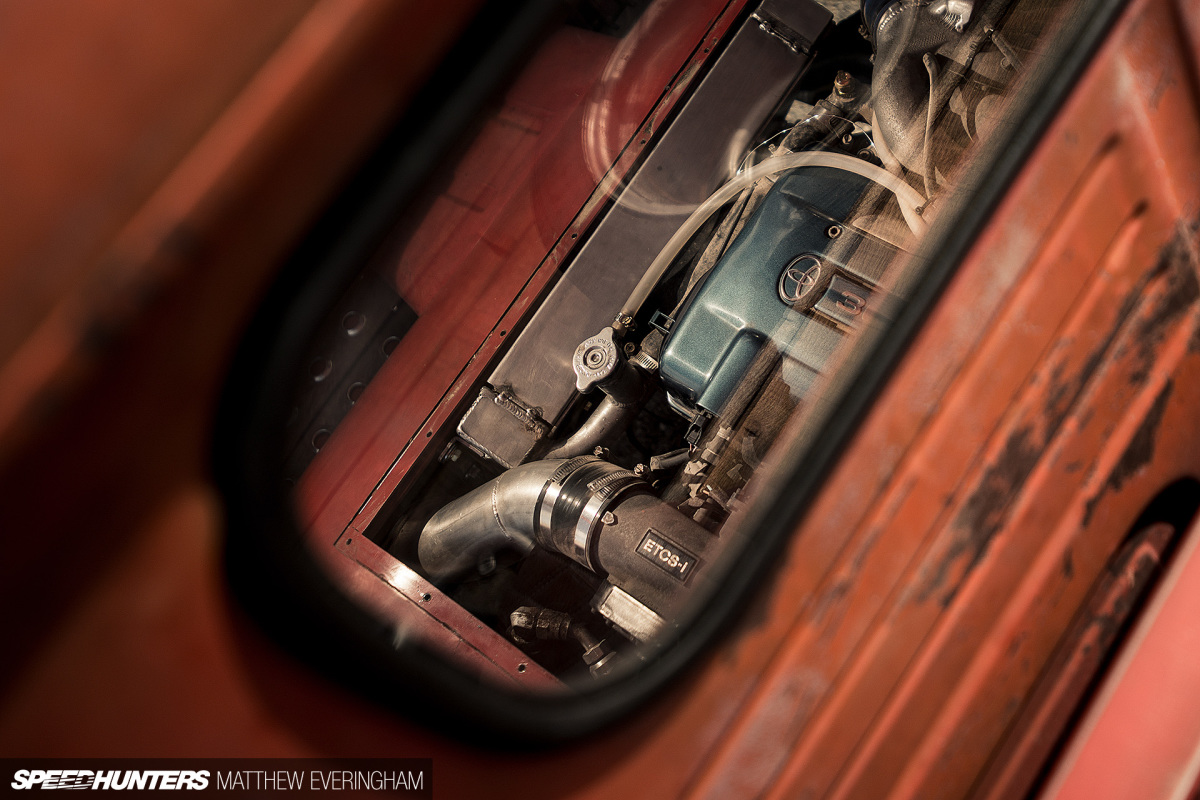 There was a silver lining to the breakages though, and that was an engine swap. A Mazda 13B turbo that Jay had at the shop was the first thought, but chasing down an automatic gearbox proved troublesome. However, he didn't need to look much further though; walking back to his Toyota Aristo, Jay had another great idea. He'd become quite bored of the JZS161, so why not use that as the donor? Just three hours later, his daily driver was devoid of its 3.0-litre twin-turbo VVT-i 2JZ-GTE. All Jay had to do was make it fit in the now affectionally named Little Red Truck.
If It's Not Low, I'm Not Interested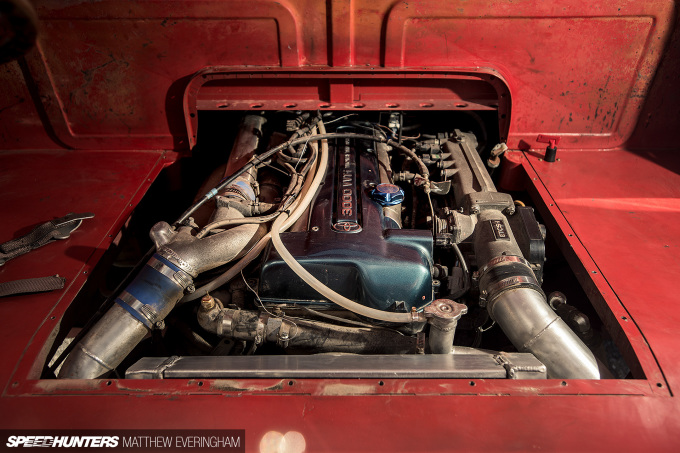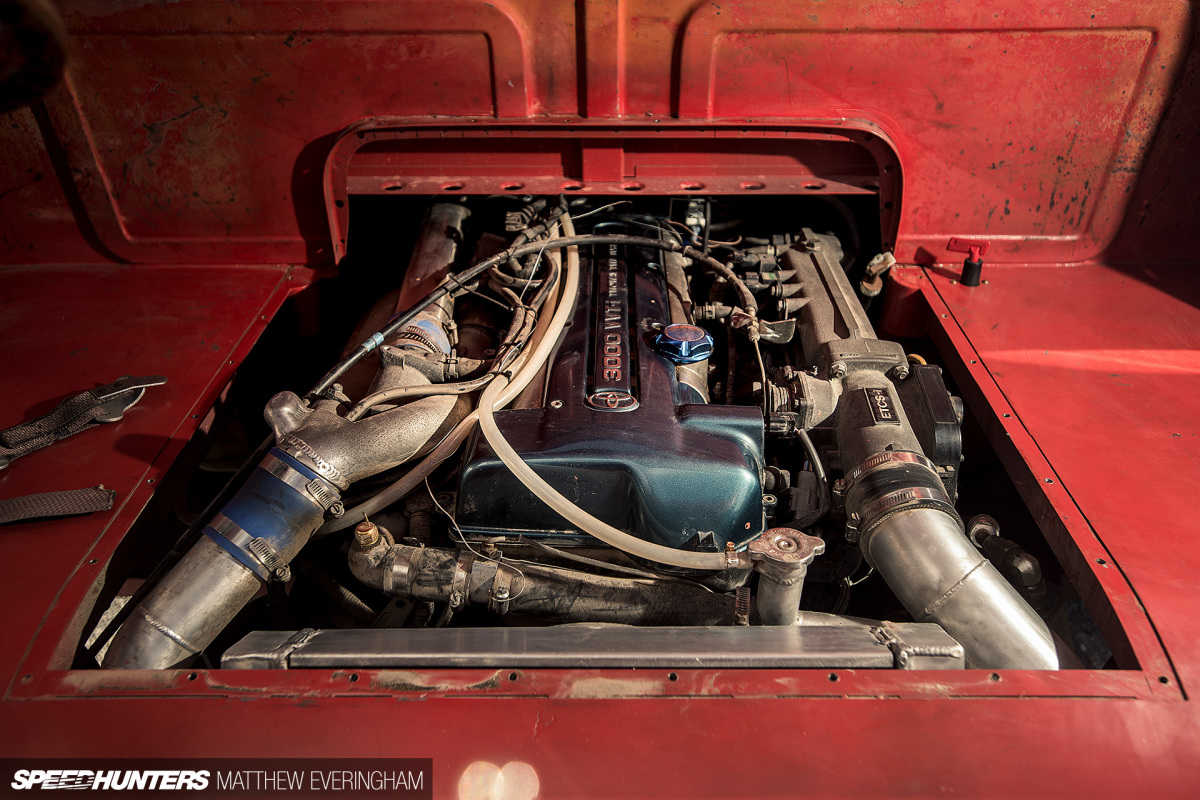 Fitting the Toyota 2JZ engine was going to require massive amounts of fabrication work, so as far as Jay was concerned, if the boys were going to commit and follow through with the second build, they had to go all out. It would take a monumental effort, but after seeing how well the Ford had come together on their first run, the team made a unanimous decision to get those sills and chassis rails scraping the ground and to somehow shoe-horn the 2JZ into position.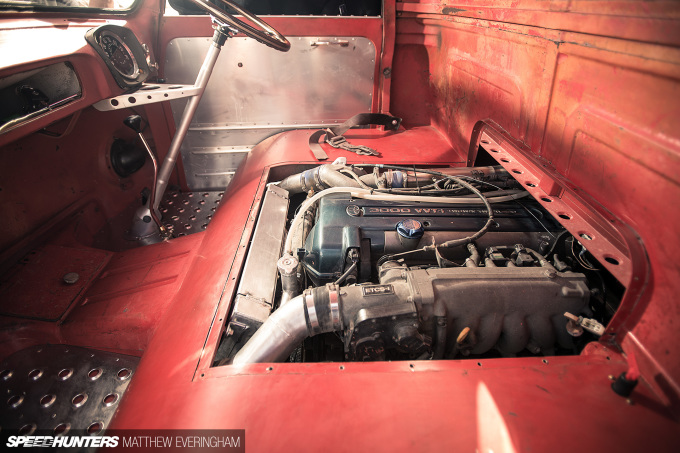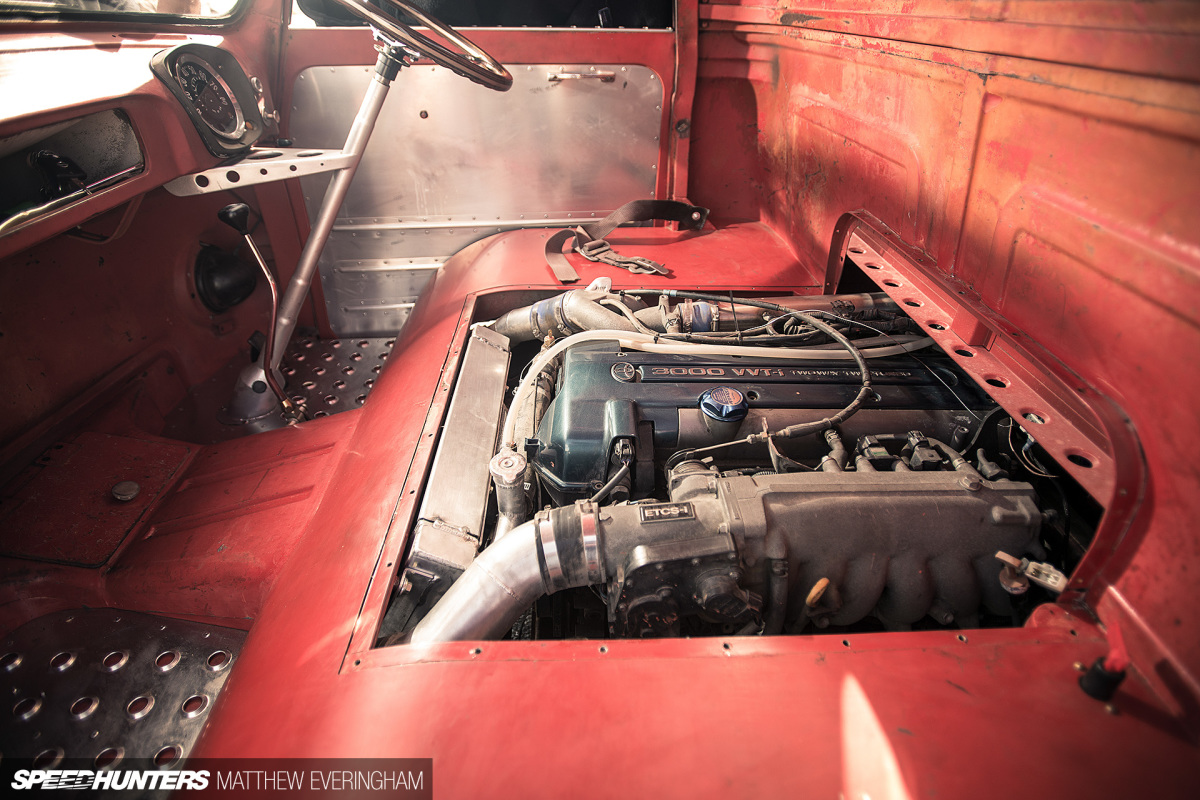 Getting the truck to sit lower than where it was meant to be came with massive problems; the floor of the cab had to be entirely cut out and a new one made from scratch.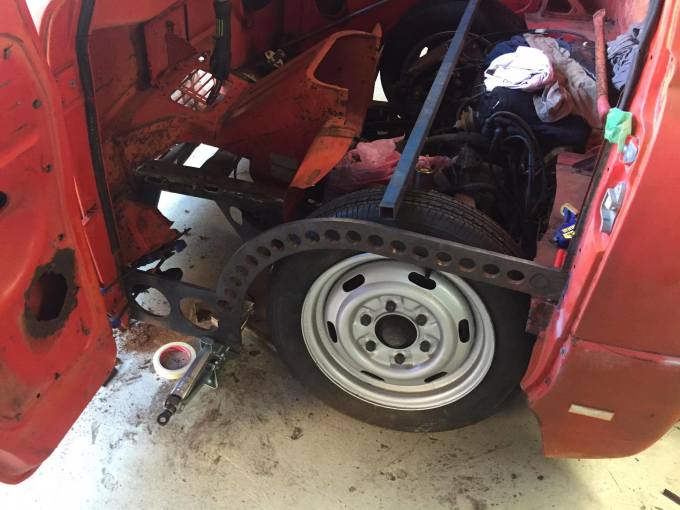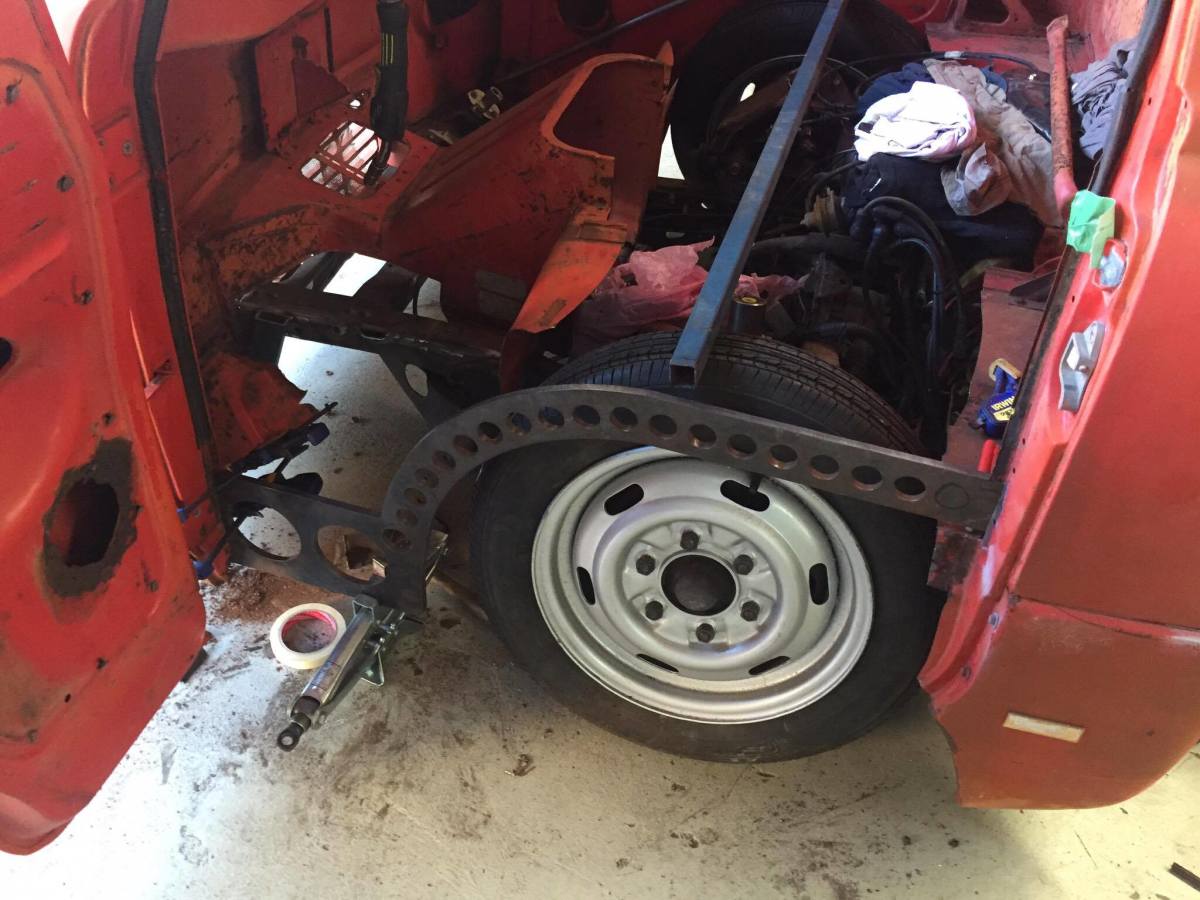 What's the problem you ask? The struggle was finding a solution that enabled Jay to cruise in a relatively comfortable position and also somehow worked around the wheel arches and a massive inline-six block sandwiched just an inch under the custom floor pan.
The ideas flowed from the team and what Jay's ended up with is an interior that's comfortable and functional without compromising the derelict, rat-rod theme. A custom steering column, shifter and Wilwood pedal box were fitted while the driver and passenger seats were positioned on the humped removable engine cover. It's all quite simple to pull apart and functional when items need servicing.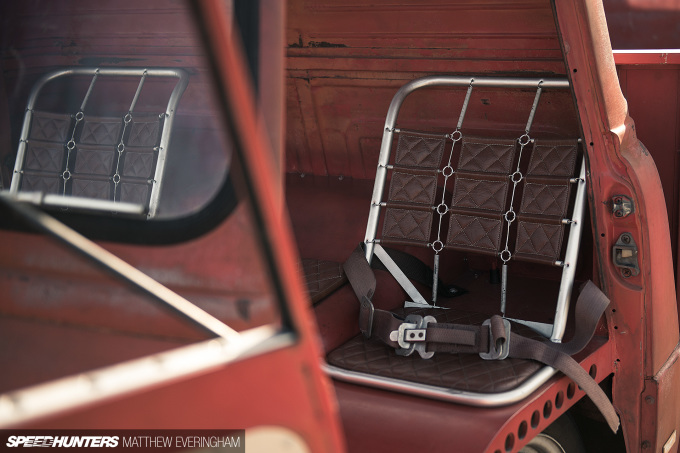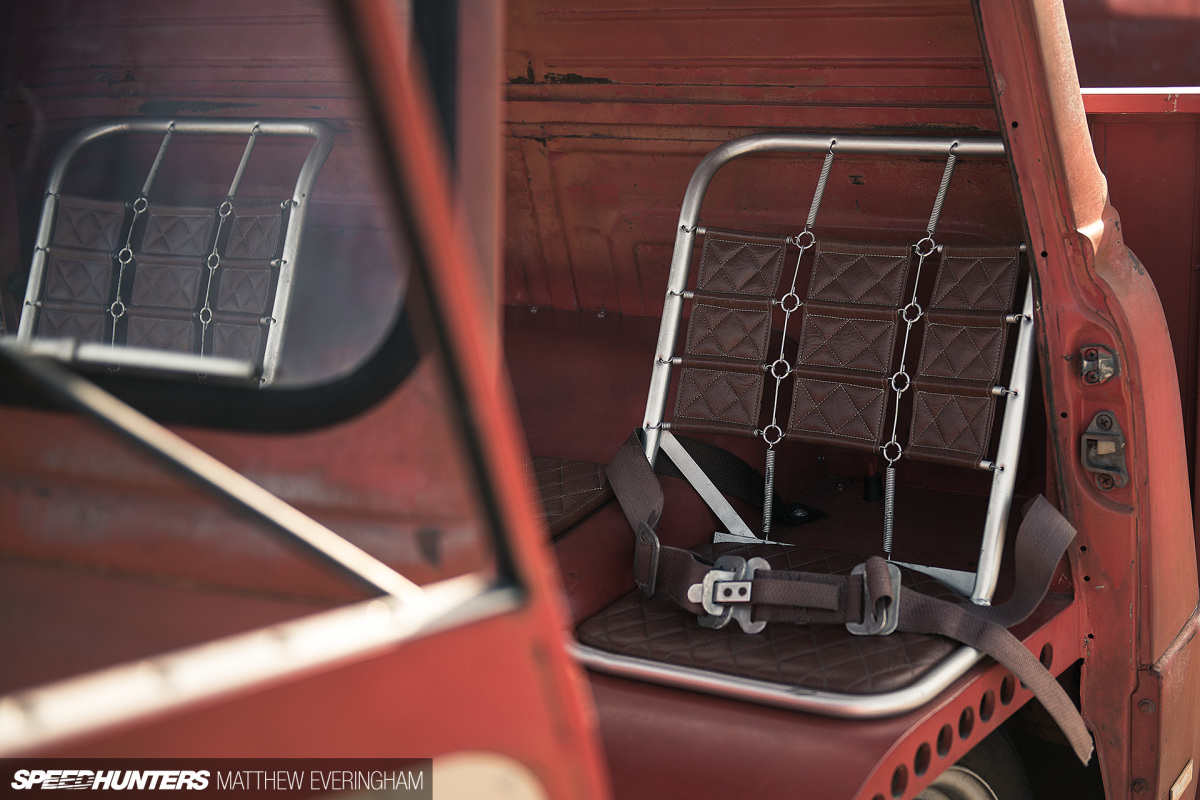 The final piece of this patina-finished jigsaw puzzle were the seats and trim. The seats themselves required a super low profile, and again would be fabricated from scratch. Luckily for Jay, a good mate of his knows a thing or two about trimming and had a good idea to complete the cabin. He took the seat frames home and reworked them with some WW2 fighter-inspired creativity. Needless to say, Jay was chuffed.
Military-themed fighter death belts and leather-stitched diamonds finish off the trim perfectly. It all fits; it all feels authentic.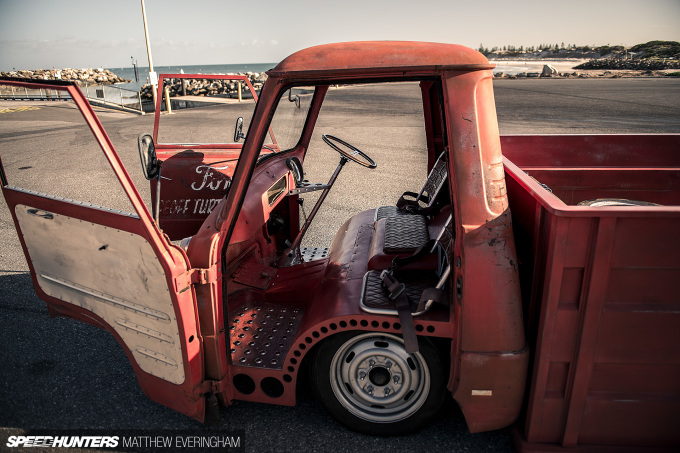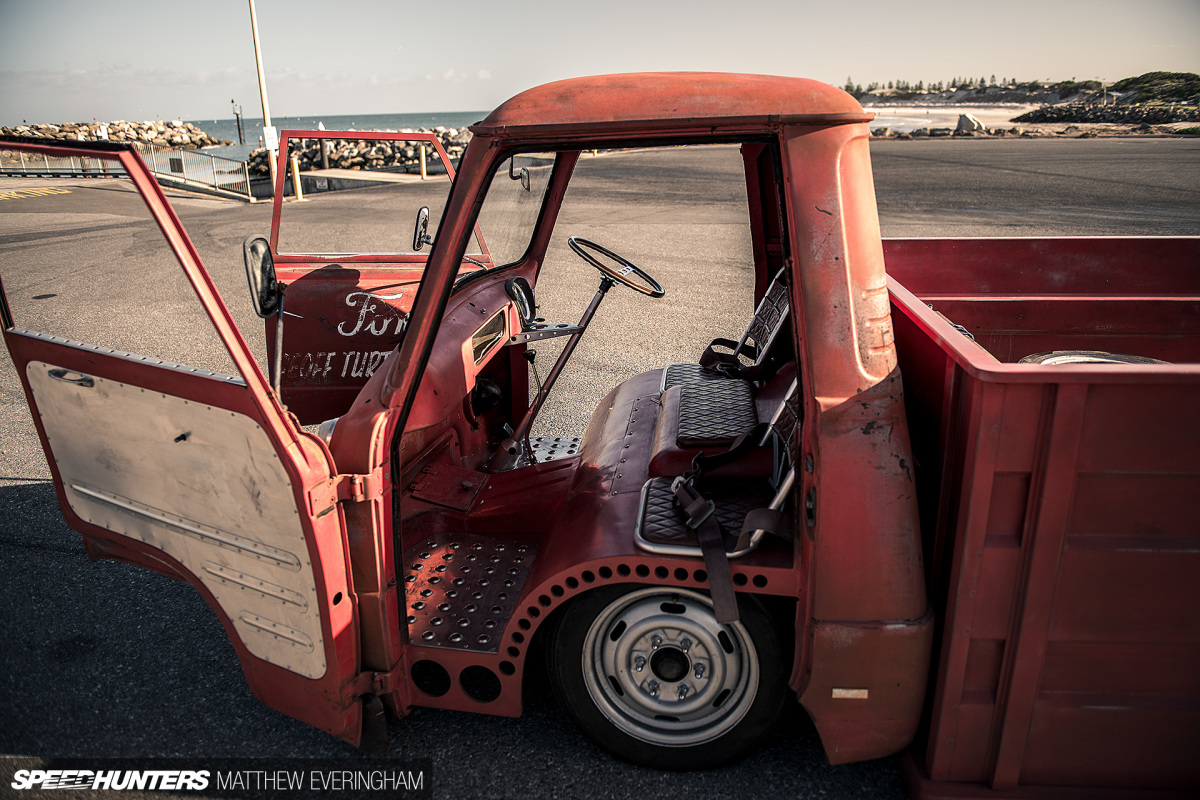 In fact, I doubt that any real effort would be required to convince a non-car person that the Little Red Truck's original post was carting supplies to Spitfires or Mustangs at some remote wartime airfield.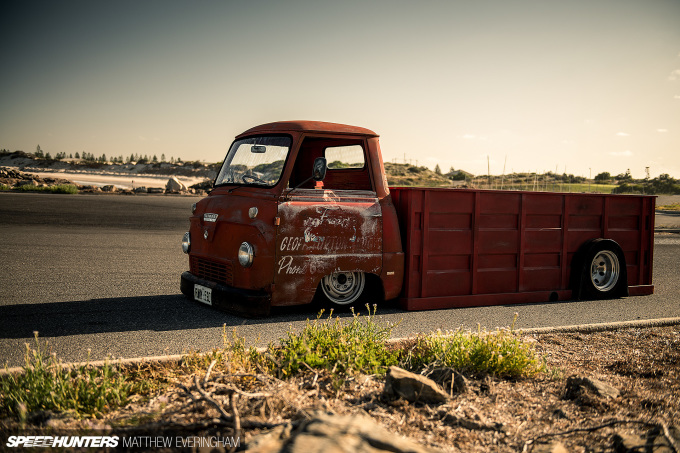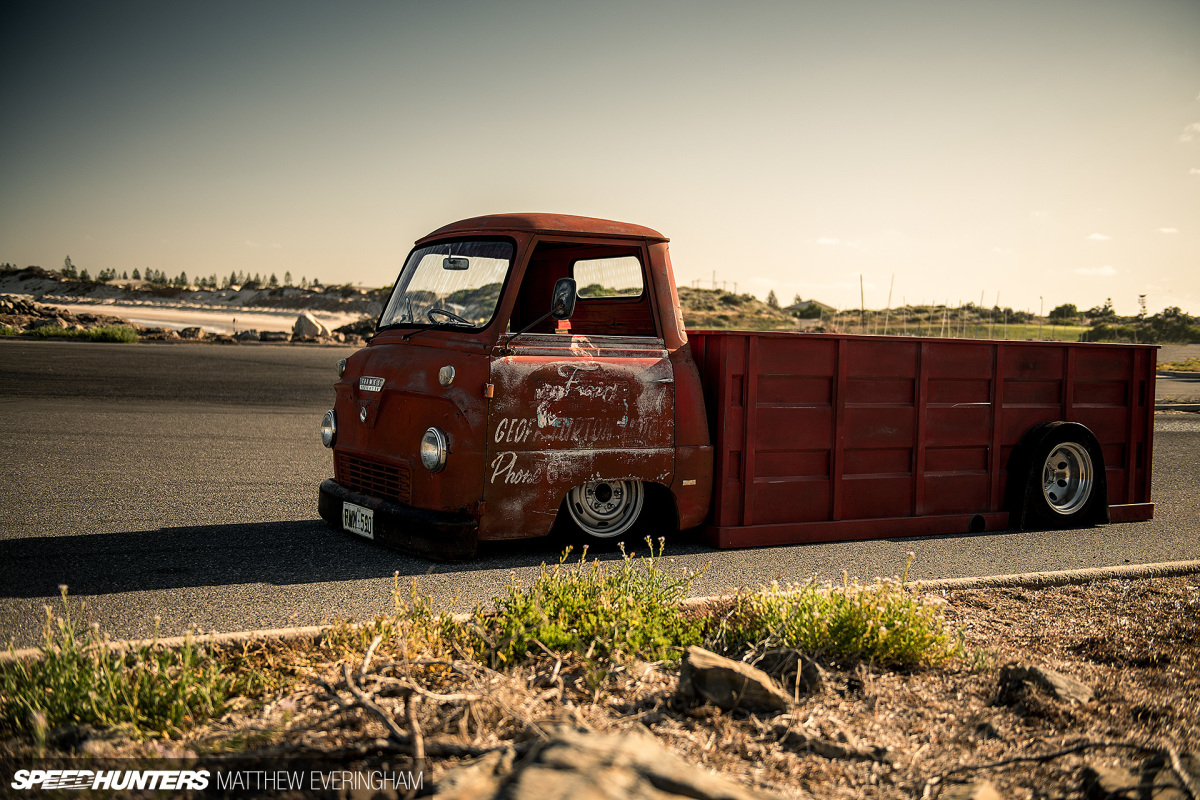 With the successful mounting of the cab, it was time to move on to building a tray. A simple flat item would have made for an easy build, but why take that road?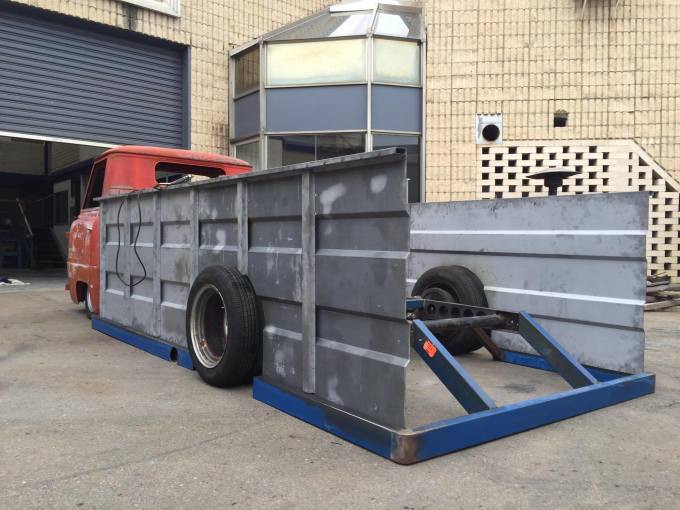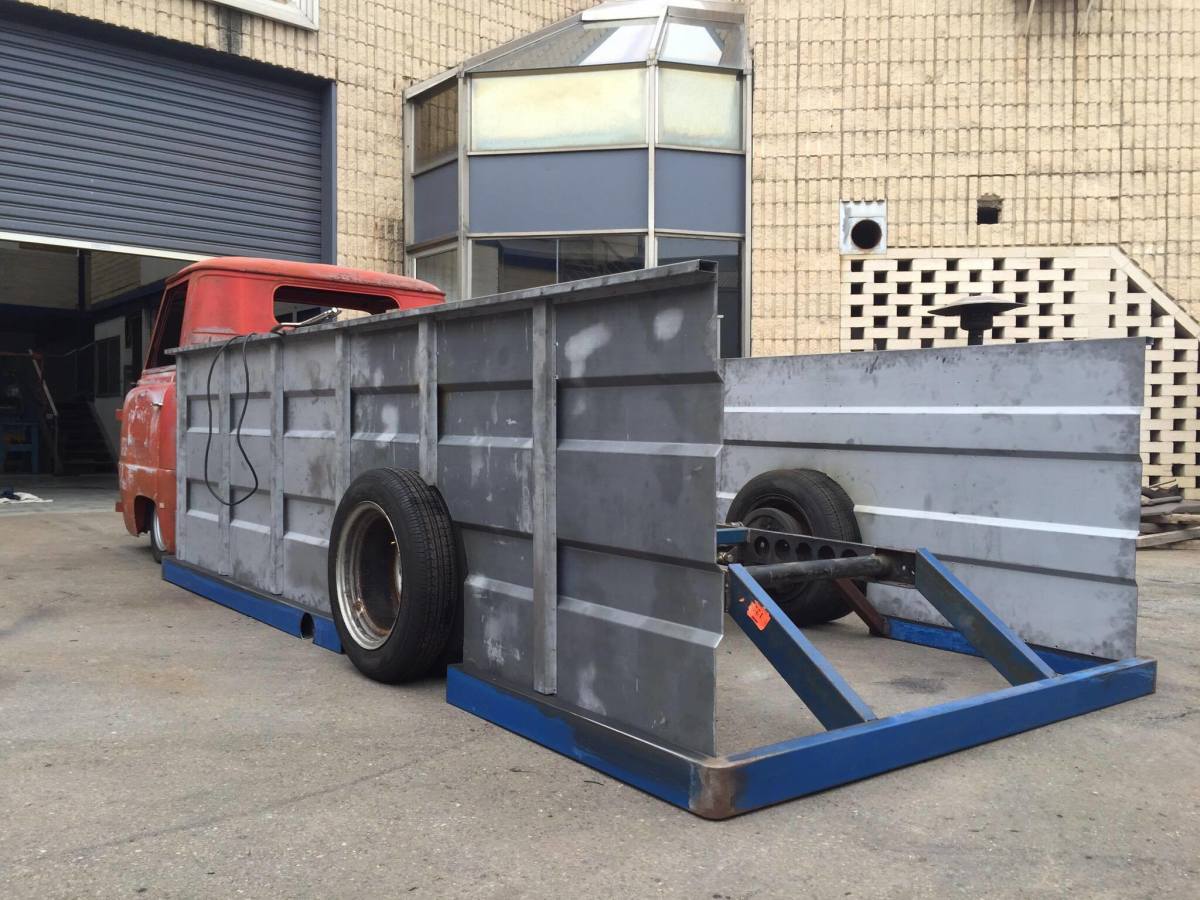 Instead, the custom tub you see now was knocked up by the gang. Inspiration for this piece came from the grape bins found at nearby wineries of the famous McLaren Vale region of South Australia.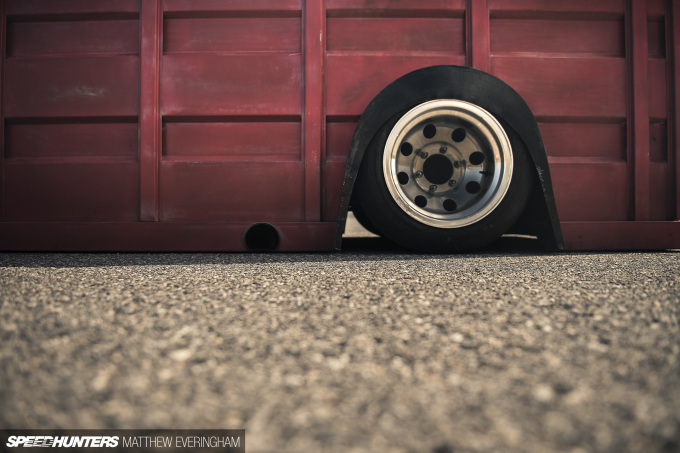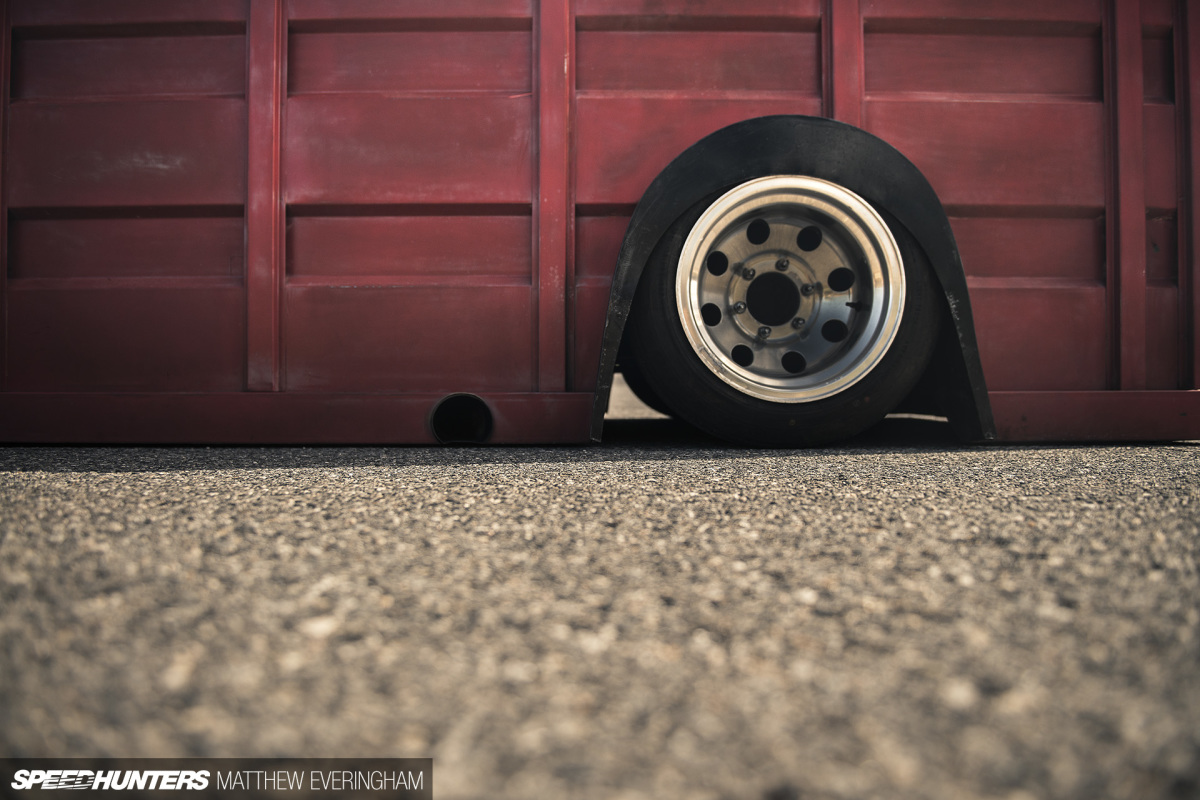 A body drop frame was extended down from the chassis rails and corrugated 1.6mm zinc sheets were transformed into the walls. Another mate, 'Big Luke', was employed to paint and patina the Little Red Truck's rear end to match the cab as closely as possible.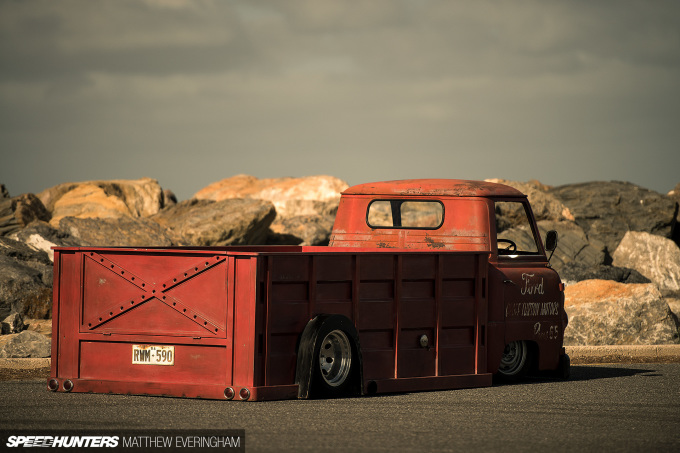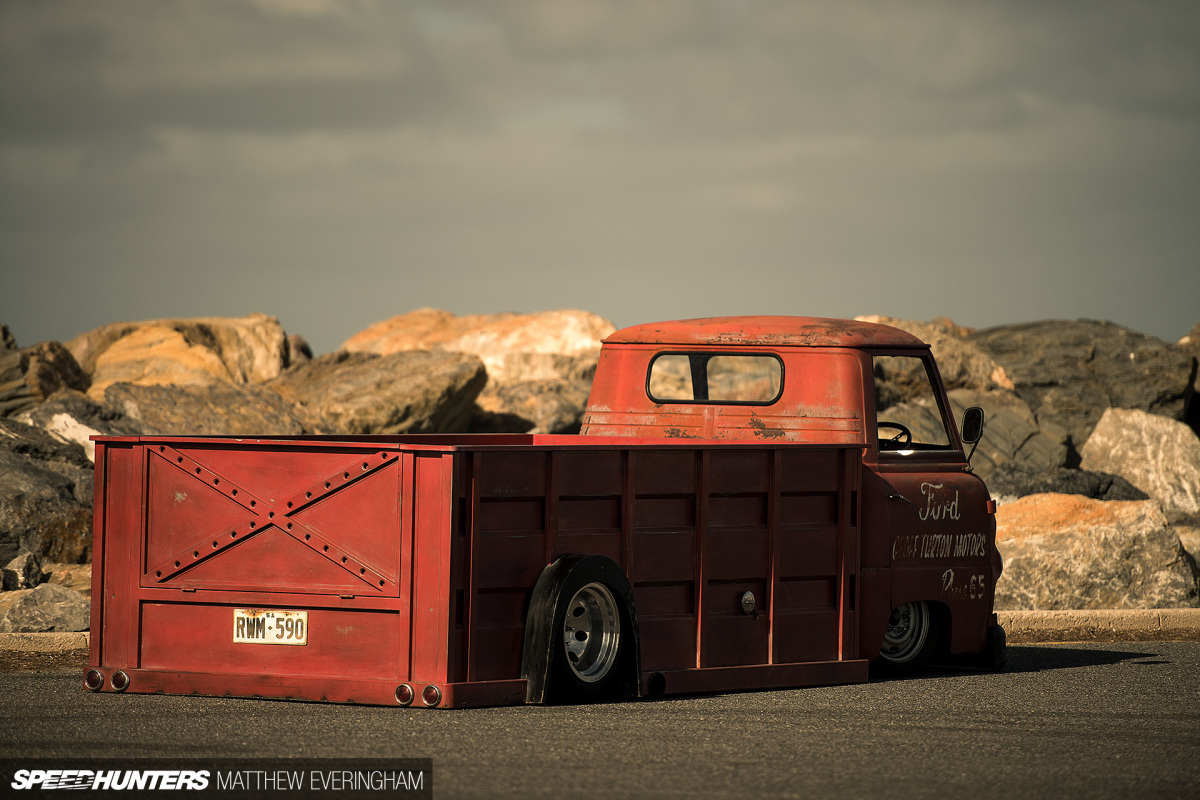 The truck received a coat of paint where it sat in Jay's workshop, and once that had dried it was attacked with abrasives to give it a well-worn look.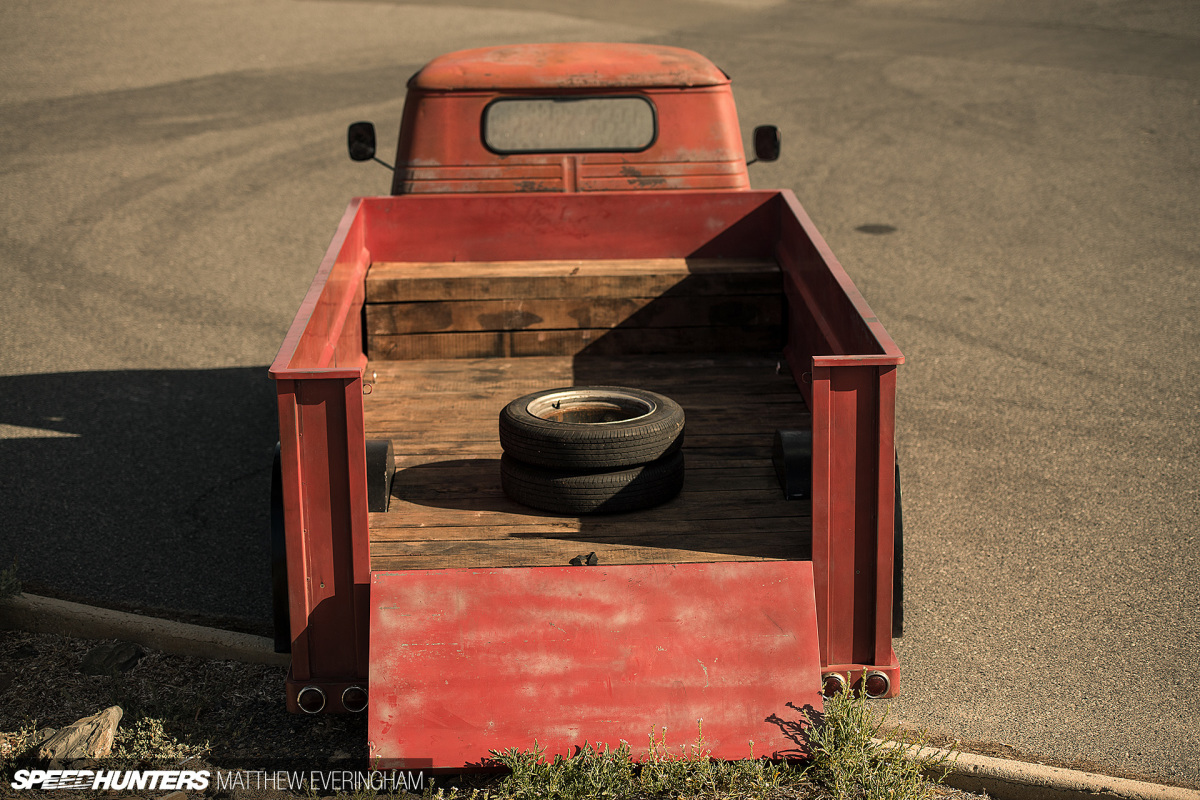 Continuing ties with the nearby vineyard region, timber that was once used to help flavor wines as they aged was repurposed for the project. The wine vat wood forms the tilting floor inside the rear tub.
Jump In, Let's Cruise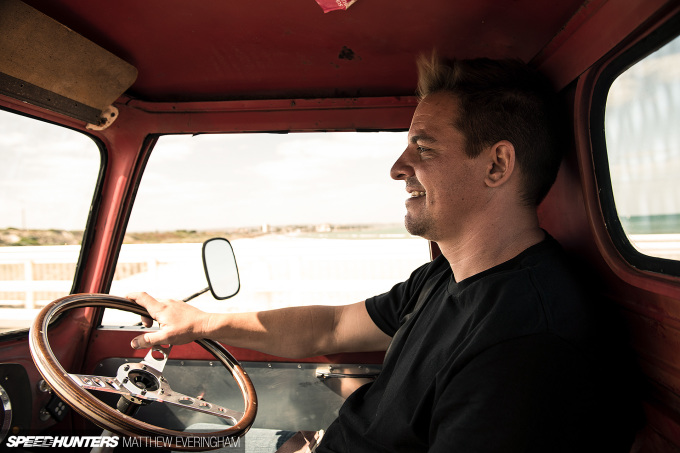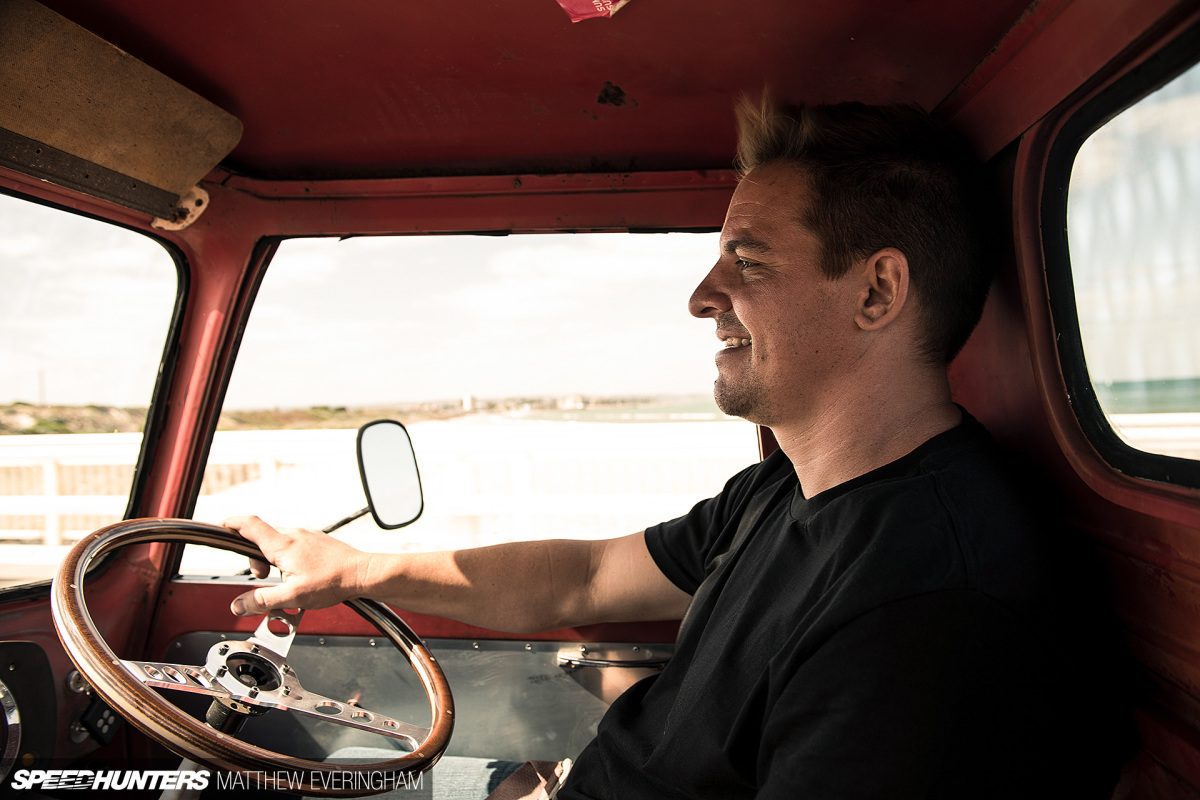 Happy with the outcome? "You betcha!" Jay fired back instantly, wearing the biggest smile. Cruising in the Little Red Truck is such a rewarding experience.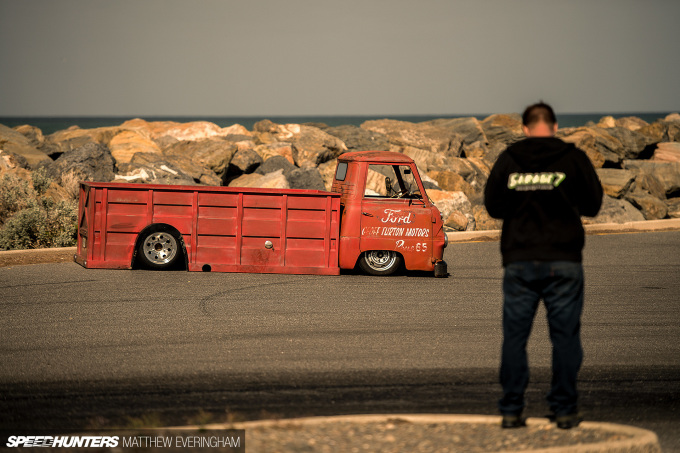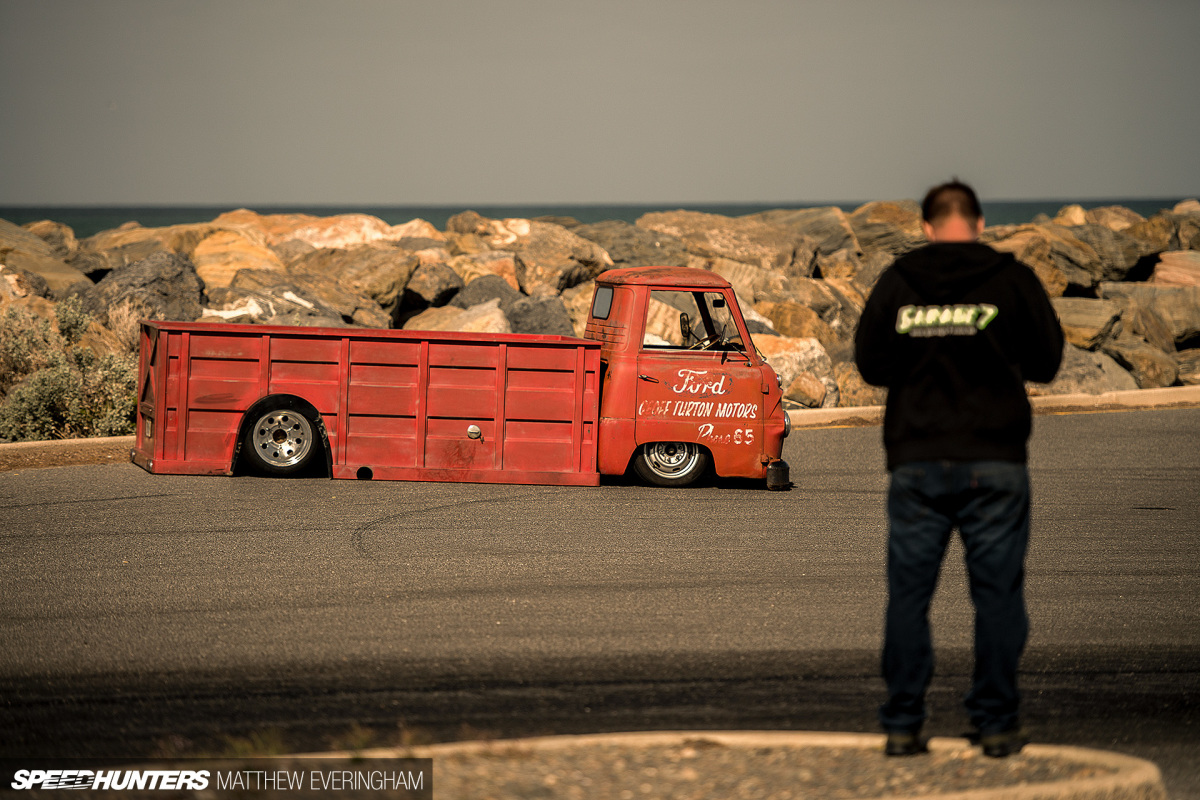 Jay's owned a lot of desirable cars over the years, and he assures me the driver's seat of the Ford is one of the most satisfying. "Everything about it is pure fun. The feel on the road, the vintage cabin, the sounds it makes, even the interest it gets while driving."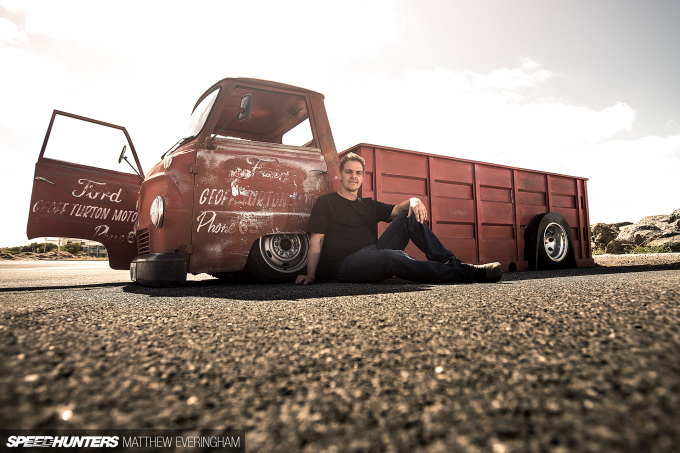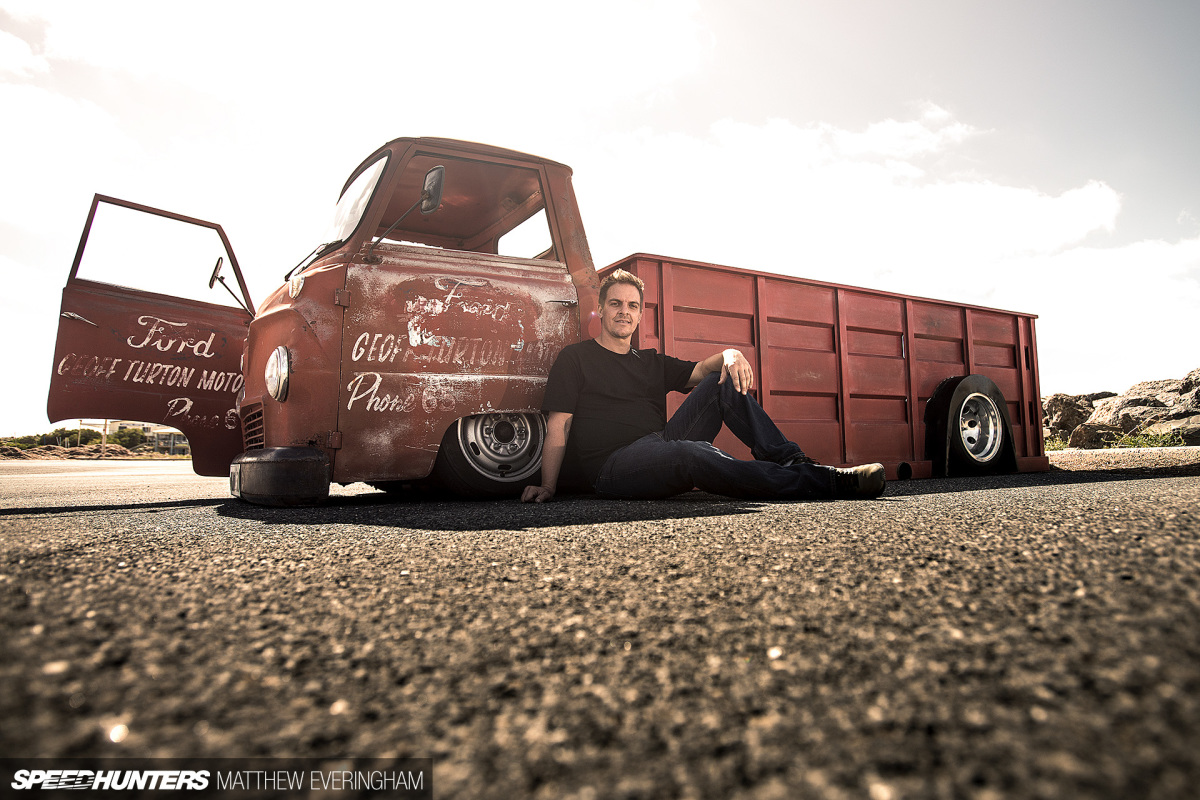 There's absolutely nothing like Jay's Little Red Truck on Australian roads; well, not that I've seen anyway. It's such a fun little attention seeker; the number of pedestrians who snapped their necks for a longer glance at the truck as we cruised along the coastal suburbs of Adelaide was staggering.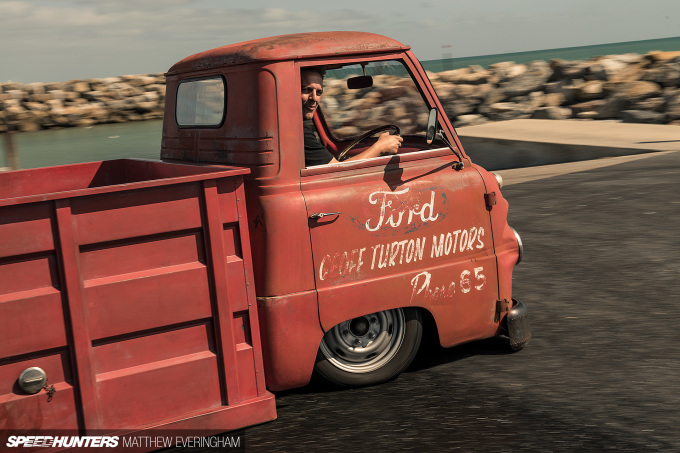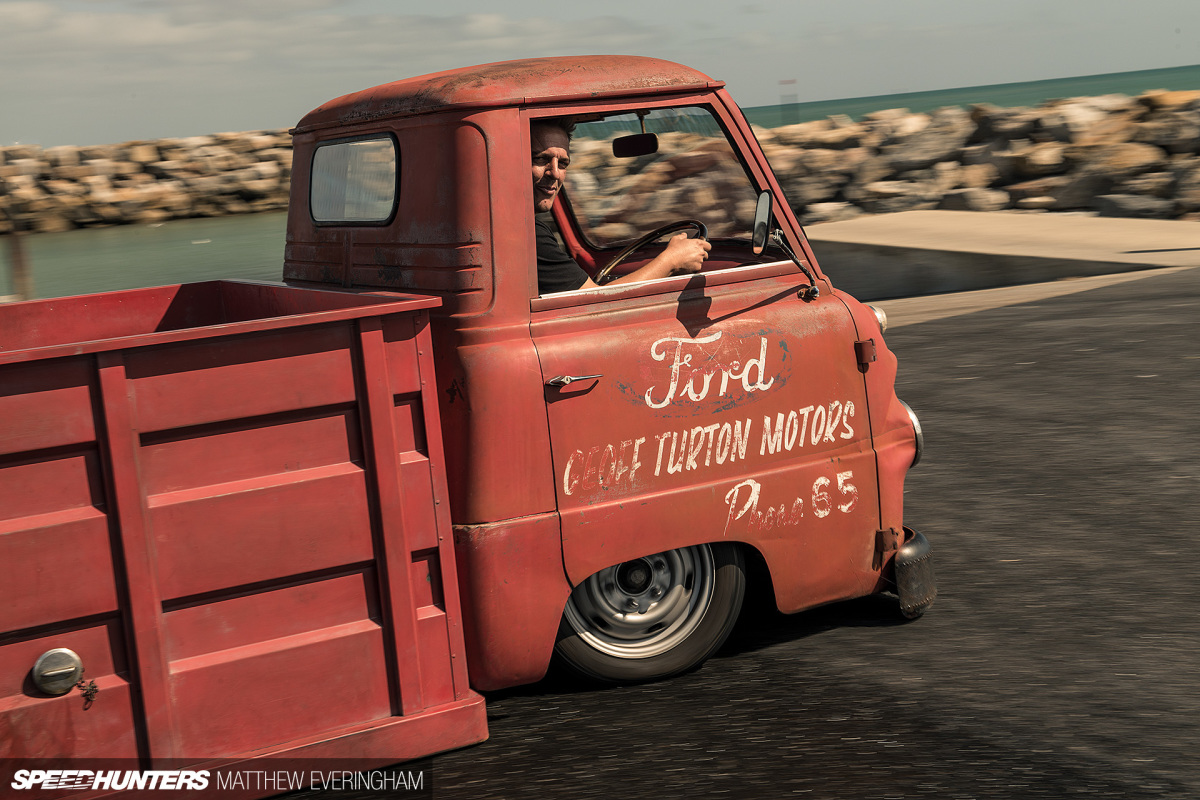 It took some time to get used the sound of the turbo spooling and dosing through gear shifts from literally an inch below my posterior, but even after a couple of hours, the novelty of a rusty old truck burbling and popping with Toyota 2JZ delight hadn't got old. I don't think it ever would.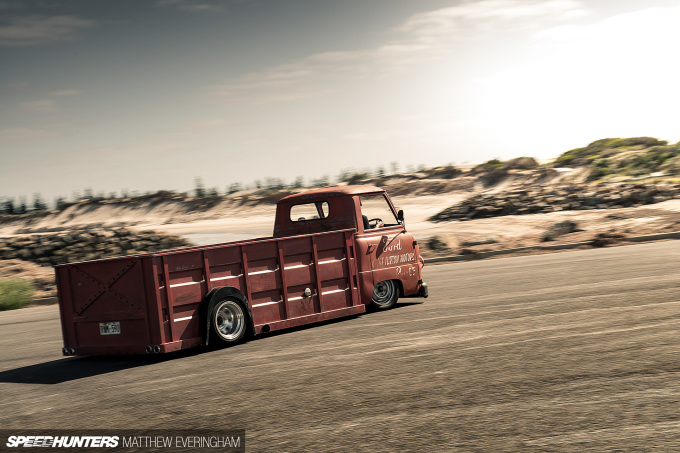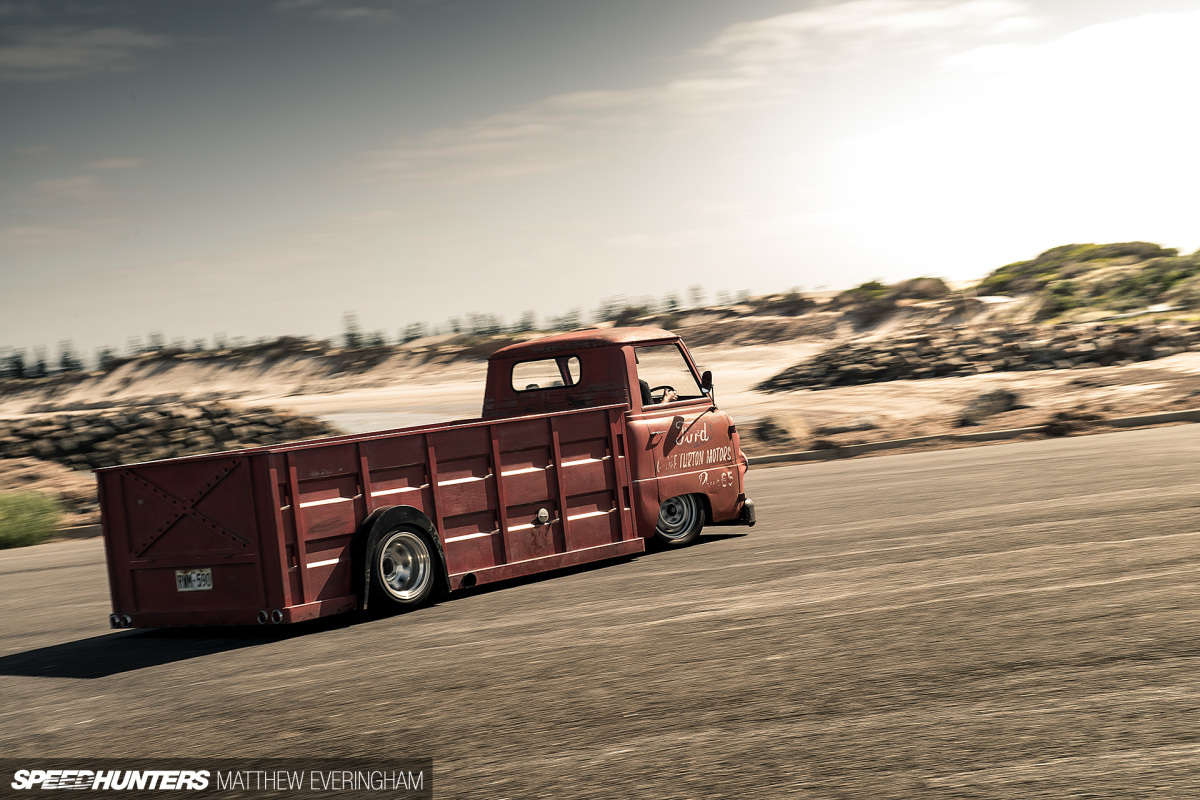 If we could get more people behind the wheel of machinery that exudes this amount of character and charm the world would surely be a better place.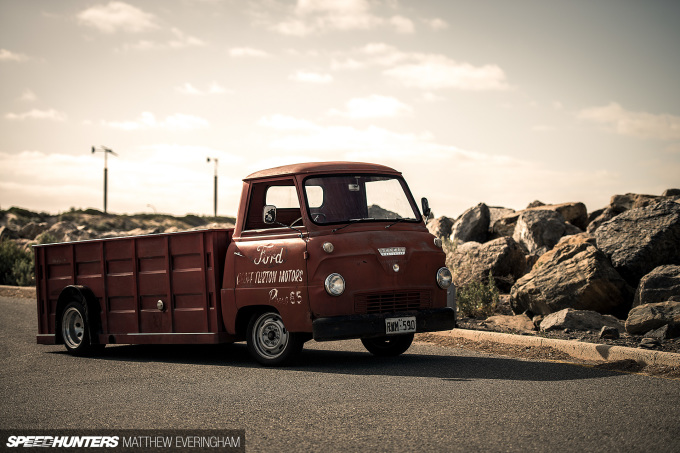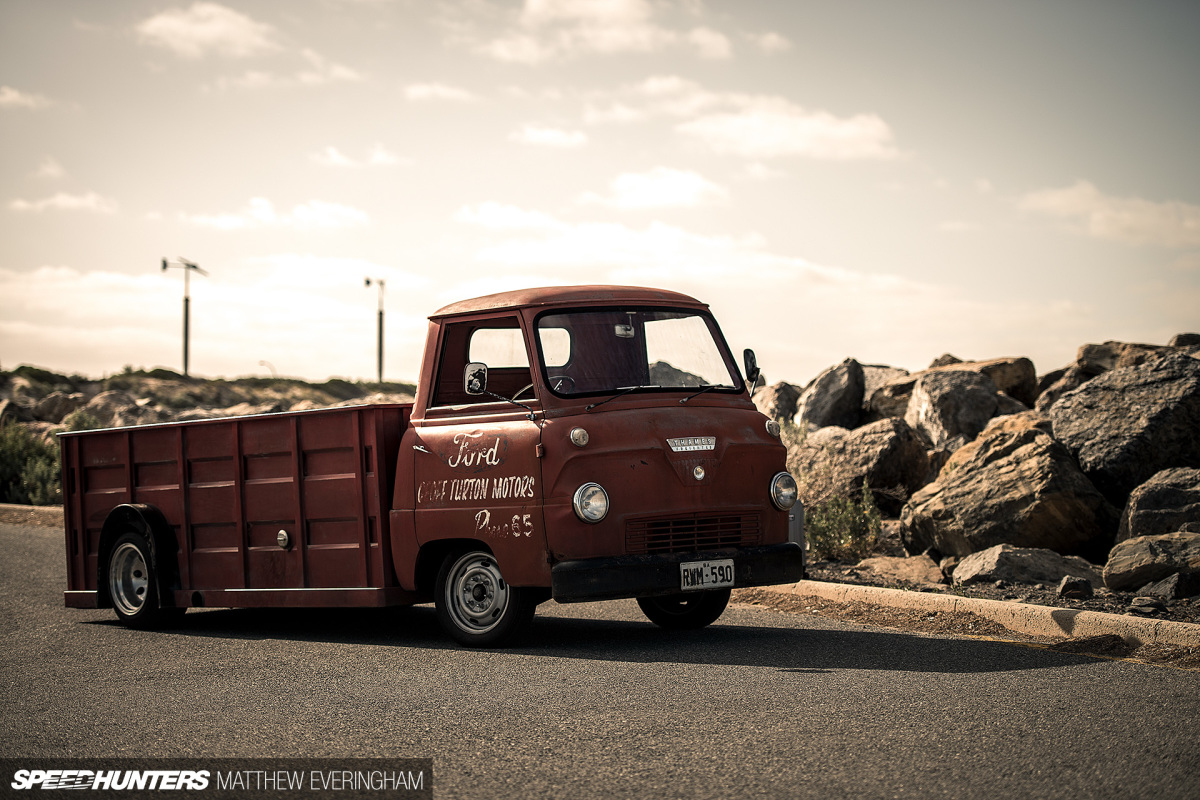 My favorite aspect of the build is its blantant disregard for tradition and the status quo. It doesn't discrimiate between car cultures; it draws inspiration from Japanese tuning, hot rods and low riders, and wraps it all up in a bland English workhorse from a bygone era. The only opinions that mattered when this mishmash was pieced together belonged to Jay and his motley crew.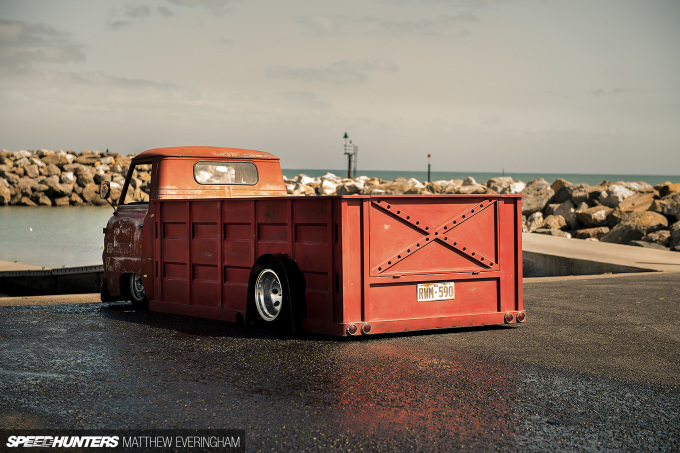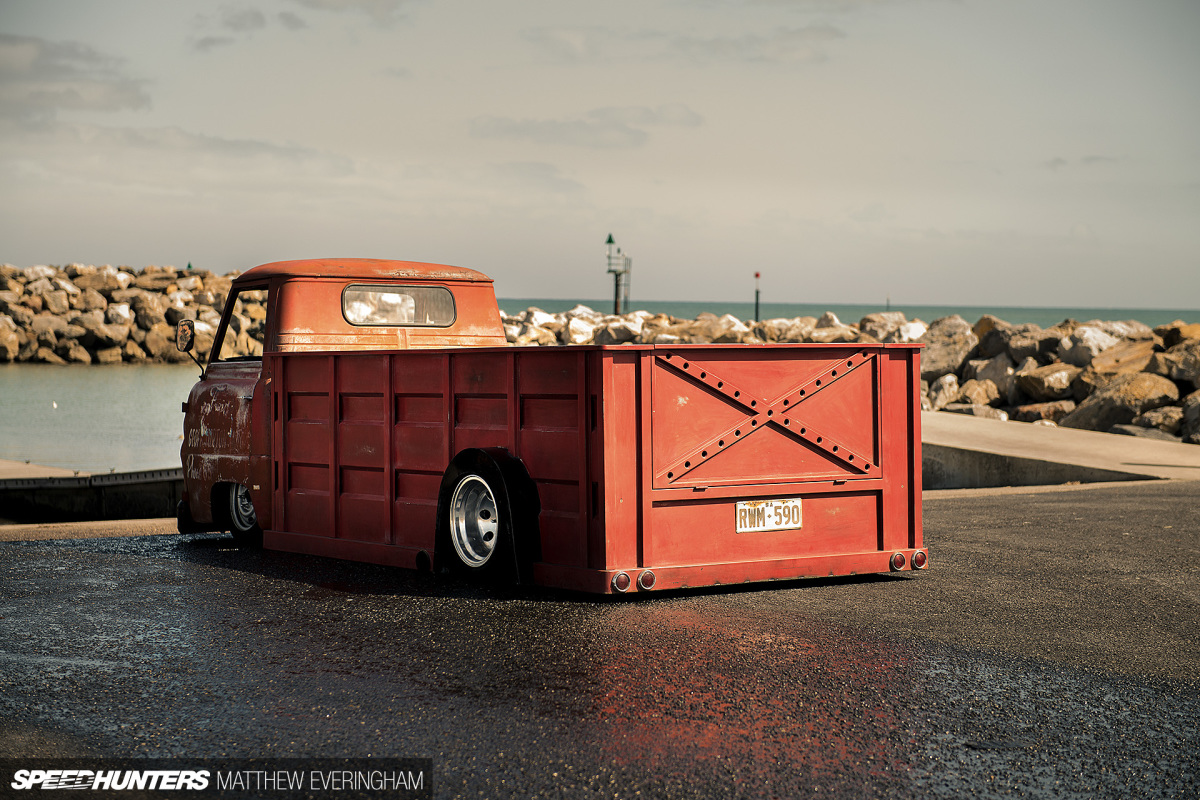 Hopefully, seeing how the Little Red Truck was put together will inspire someone out there to follow though with their wild, fresh ideas instead of opting to add another variation of something the word probably already has to many of.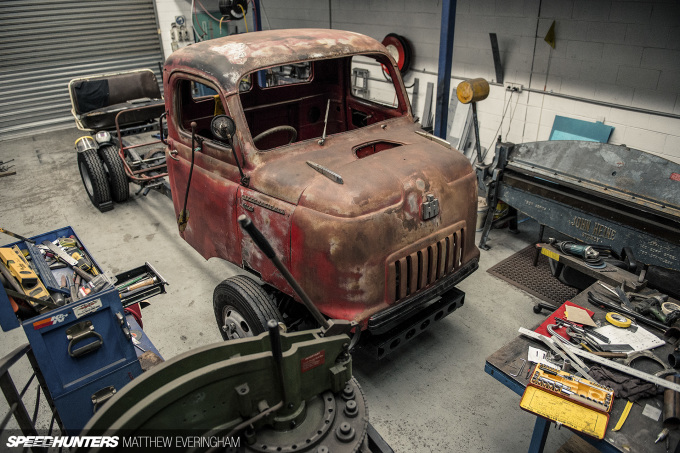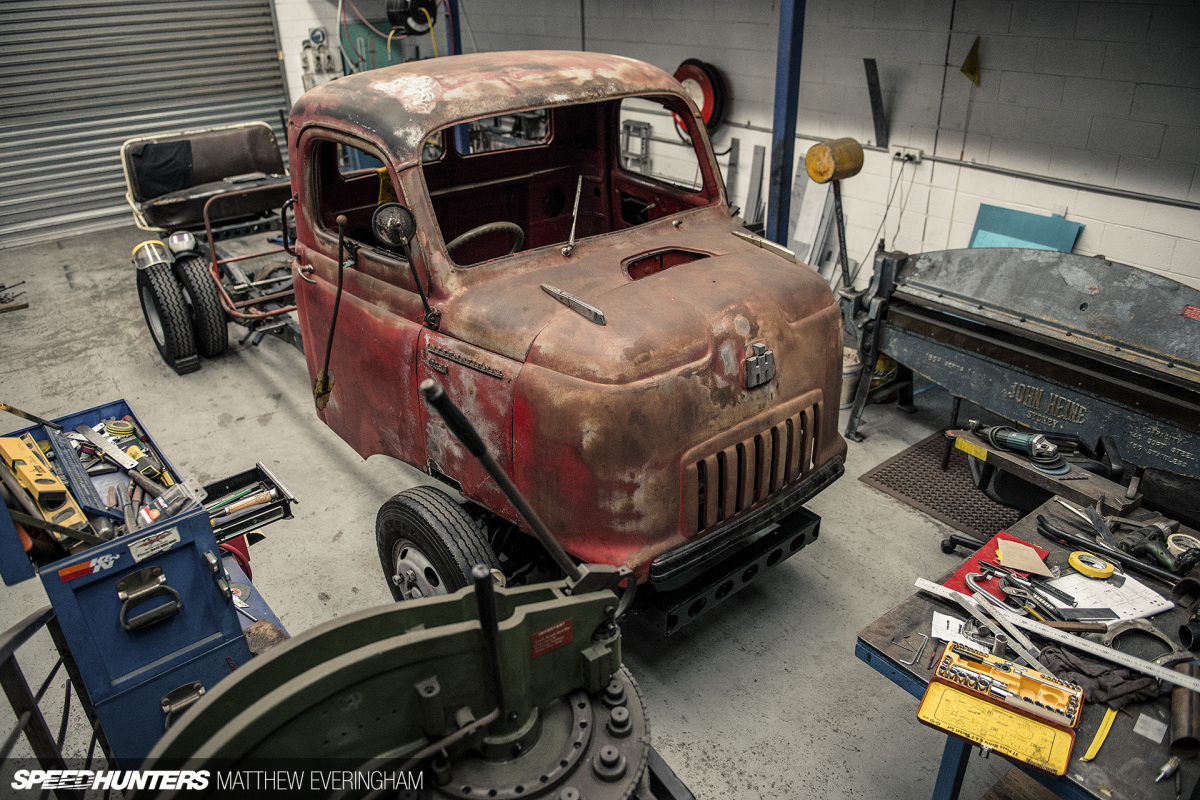 Feeling that same inspiration, Jay and the gang have already begun a follow-up project, the Big Red Truck – a pug-nosed 1955 International Harvester Cab-Over. I can't wait to see where this one goes!
Matthew Everingham
Instagram: matthew_everingham
matt@mattheweveringham.com
Cutting Room Floor