When I Grow Up…
Think back to when you were a kid. Try and remember that time a particular car made such an impression on you, you thought "that's cool, I'll own one of those someday."
Freeze that frame. What kind of four-wheeled machine was it? For so many of us as impressionable, budding petrol-heads, the answer is likely exotic; the edgy curves of a neo-classic Ferrari, or the unmistakable butt-heavy silhouette of the iconic Porsche 911. Of course, there are left field examples; for me it was the Alfa Romeo GTV, and for a good friend of mine, the Alpine A110. But for New Zealander Nathan Messenger, the car that made a lasting impression came from slightly more pedestrian stock. It was a Toyota.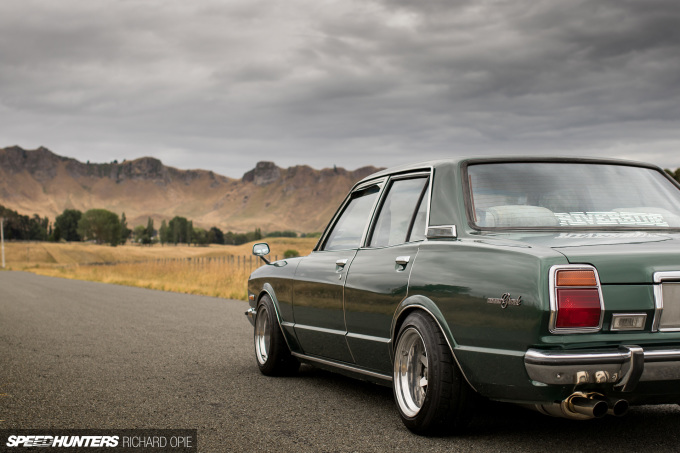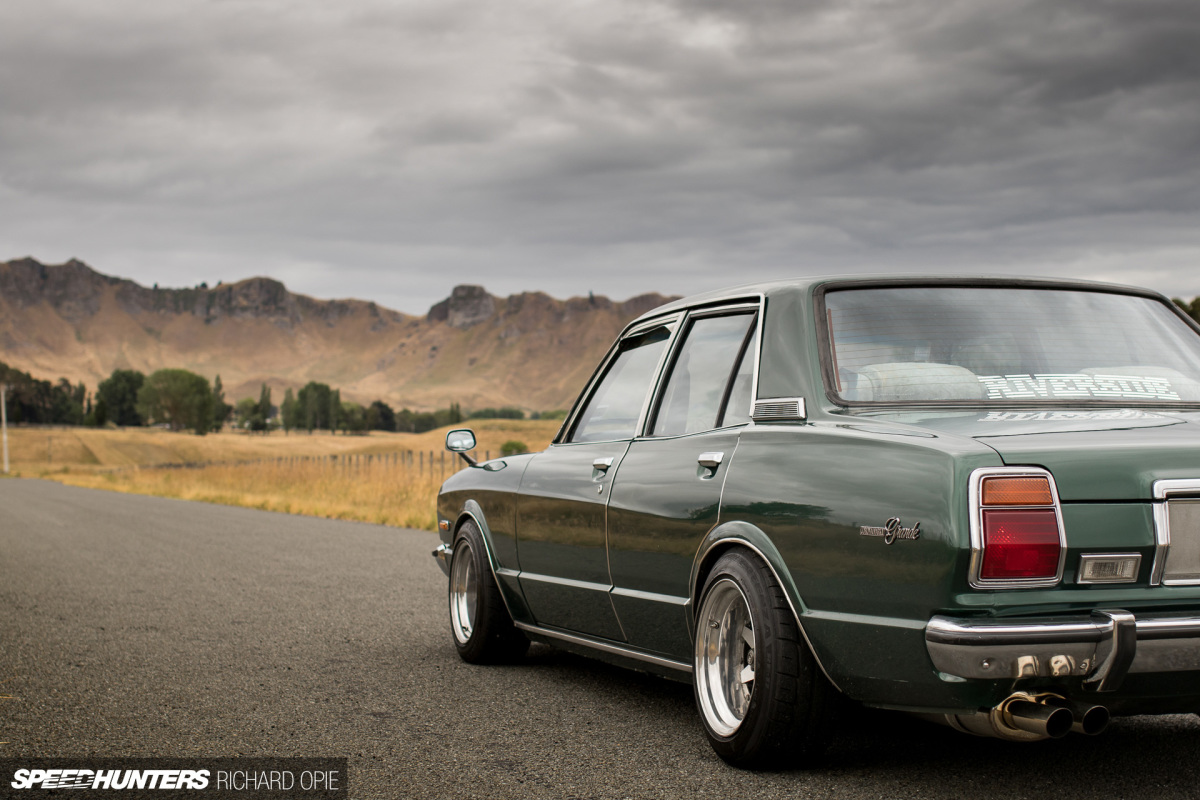 Nathan could've chosen the swooping lines of an RA28 Celica, or maybe the boxy, functional charm of an AE86 rally weapon. But think more like a school teacher, or maybe middle management. Think the first generation of Cressida, the X30 chassis created in the late 1970s.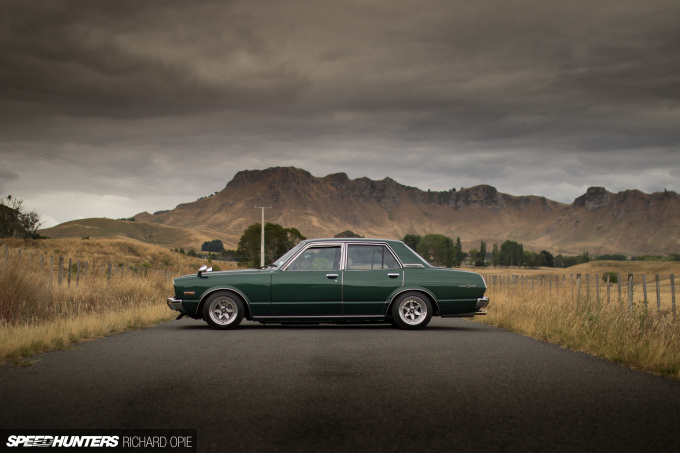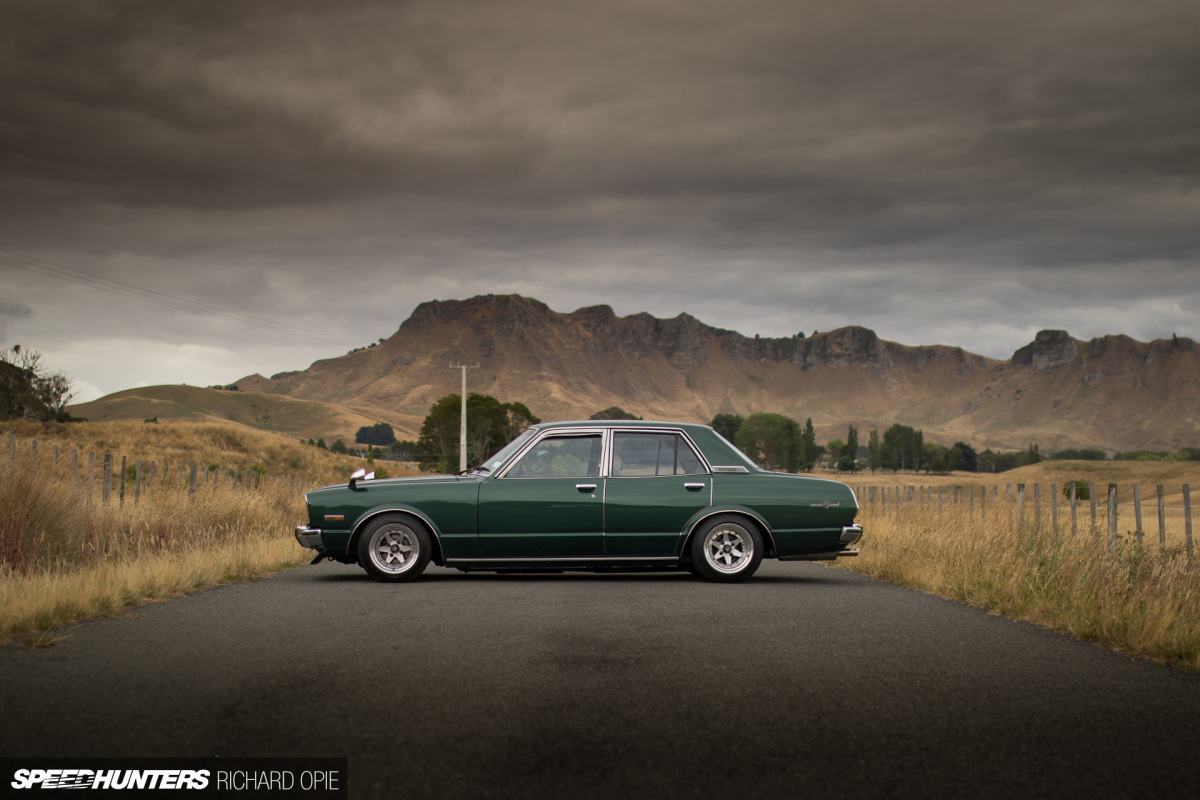 Nathan recounts the story of a family friend who owned an RX30 (yeah that's right, the mighty 18R 2.0-litres of thumping performance) in a shade of brown. Quite the childhood aspiration. But aside from thinking it was cool, for a while that was the extent of the Cressida fascination.
Of course, we all stop being little kids, and end up being big kids (some would argue that we're big kids forever), and when Nathan was finally able to imbibe himself with a passion for cars, Nissan took centre stage. Starting with an R32 GTS-t and culminating in a string of R32 GT-Rs, Nathan's Skyline phase even took in a spot of drifting before the infamous RB26 oiling issue took care of his engine. GT-R's also provided a solid stream of pocket money; travelling to and from Japan during what some would term as the glory days of the Kiwi 'import scene,' Nathan dabbled in buying and selling GT-R bits and pieces on the local market. A special R32, imported from Japan dripping with almost every conceivable Trust/GReddy modification even passed through his hands.
For some it might be tricky to believe, but after owning and becoming intimately aware of what made one of Japan's most notable series of performance vehicles tick, that image of the RX30 was still firmly seared into Nathan's mind.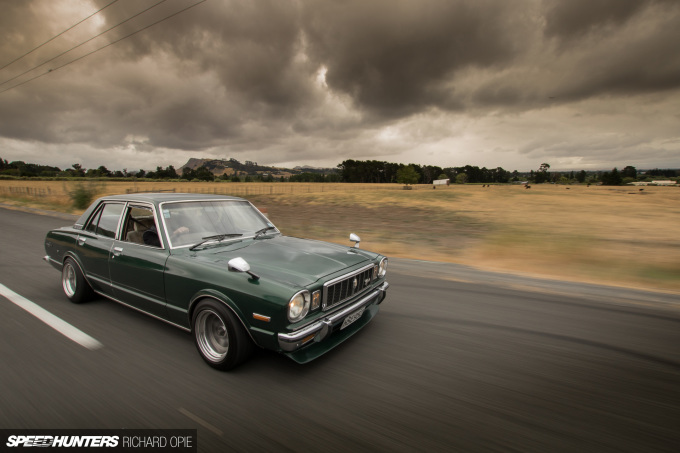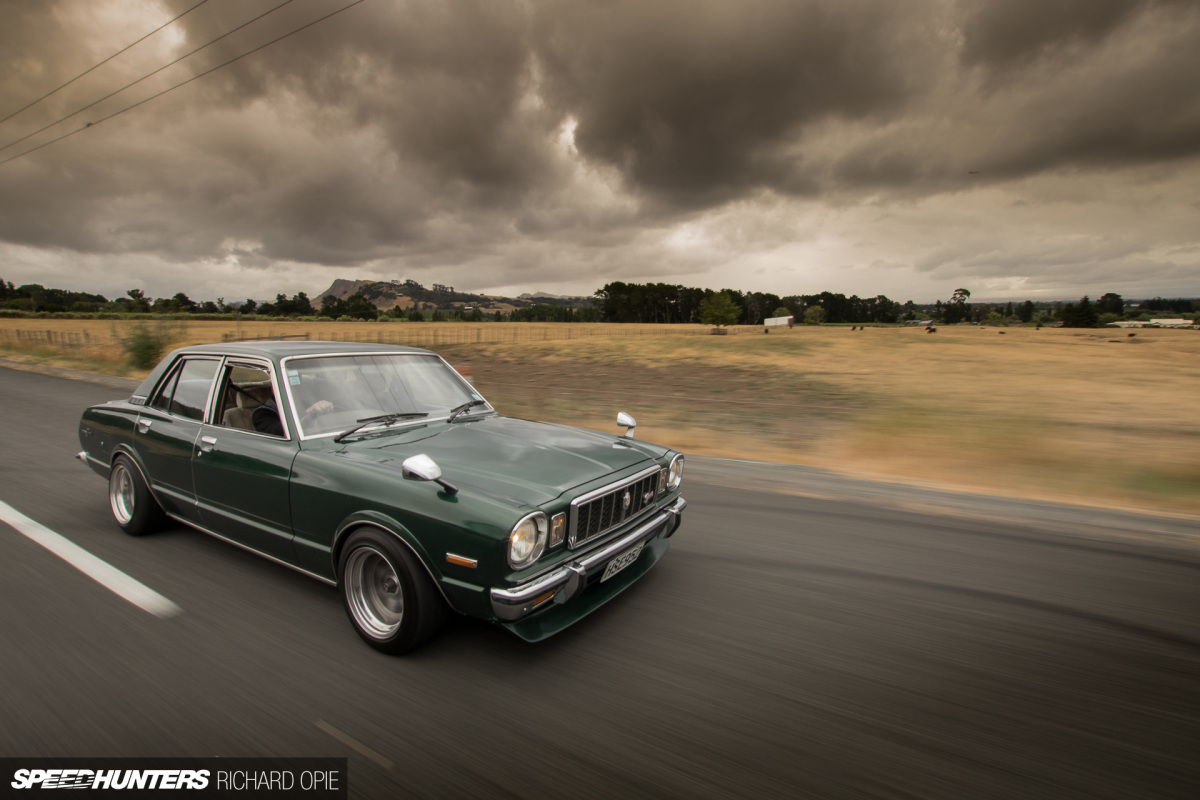 The X-chassis journey then began with the discovery of a later model GX71 Mark II stashed under a tree. The prospect of parting the car out, and selling its W-series manual box for a quick buck encouraged purchase, but upon succeeding on acquiring road-legal status, Nathan had brought the car closer to the deck, and bolted on a set of wide 14-inch wheels. It may have been certifiably kyusha style, but the desire for its predecessor still remained.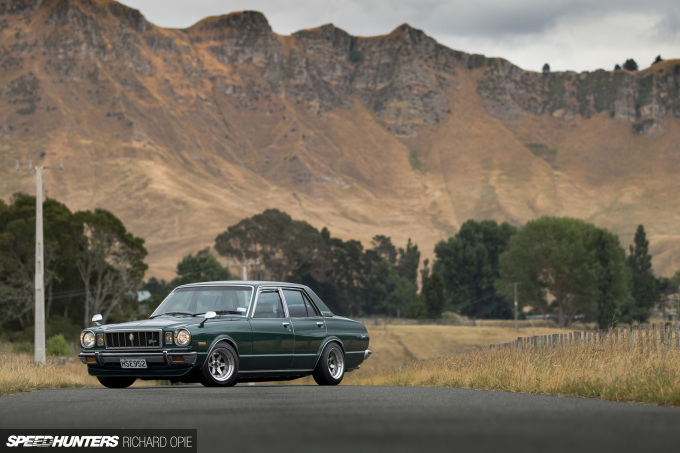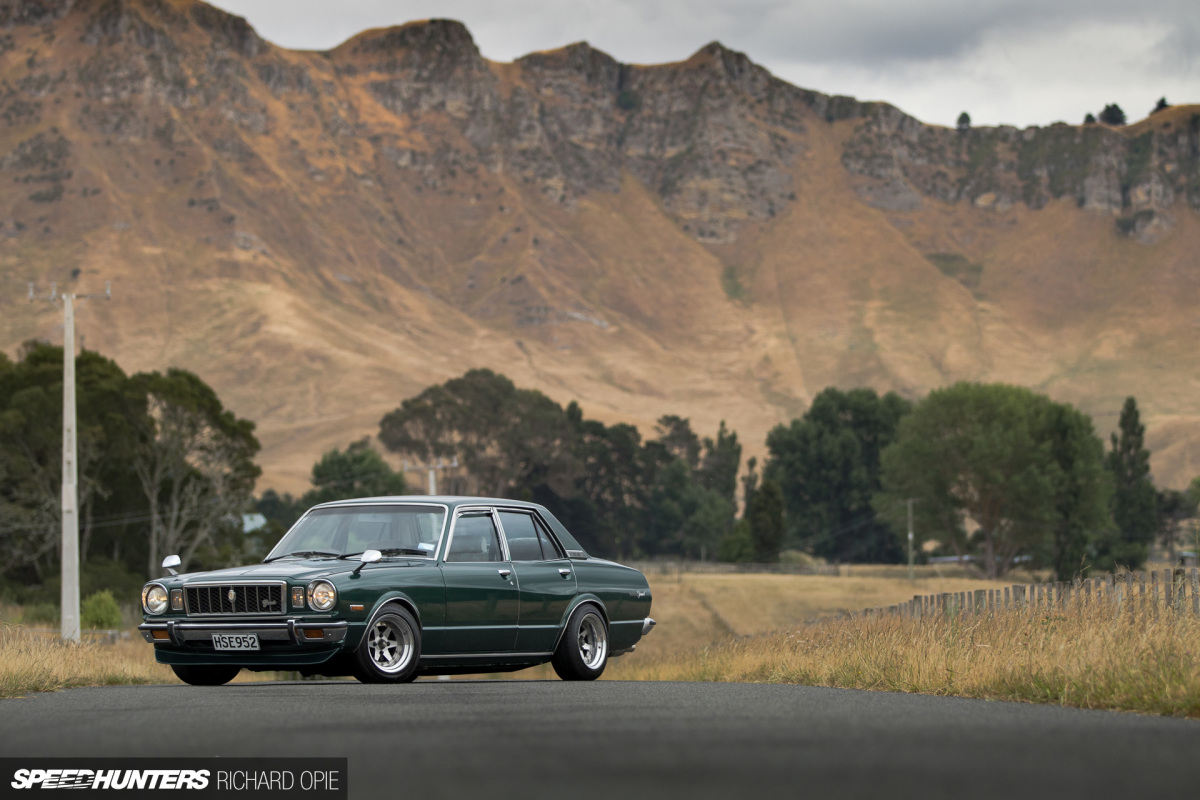 No sooner had the GX71 sold, had Nathan's first RX30 arrived in the driveway to fulfil that awkward childhood dream. A simple Google search had unearthed an example for sale "on an inconspicuous free-to-list for sale site." Even better, the car was only 30 minutes' drive away.
Suffice to say, Nathan bought his first RX30. In brown. Just like the dream.
Eighteen months later, the brown car ended up with an engineer's certification and was road legal. Why? Well, Nathan embarked on his very first full build. Without wasting too much space on details, the recipe was simple: a 1UZ-FE V8 swap, manual W-series transmission, adjustable coil-over suspension and a set of wide SSR Longchamp XR-4 wheels. Just remember that last mention for later in this tale.
Mark II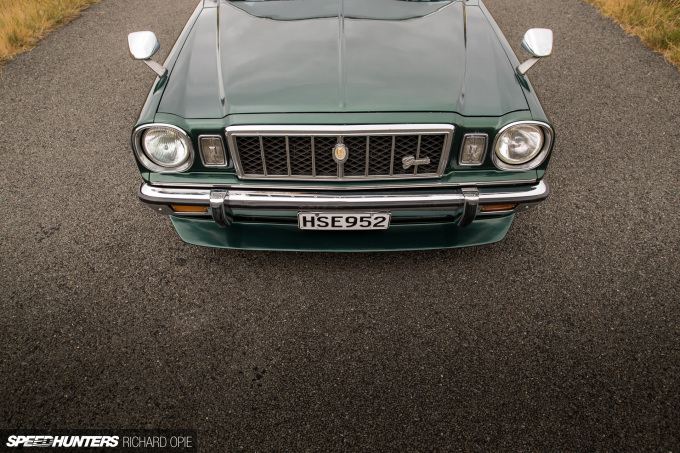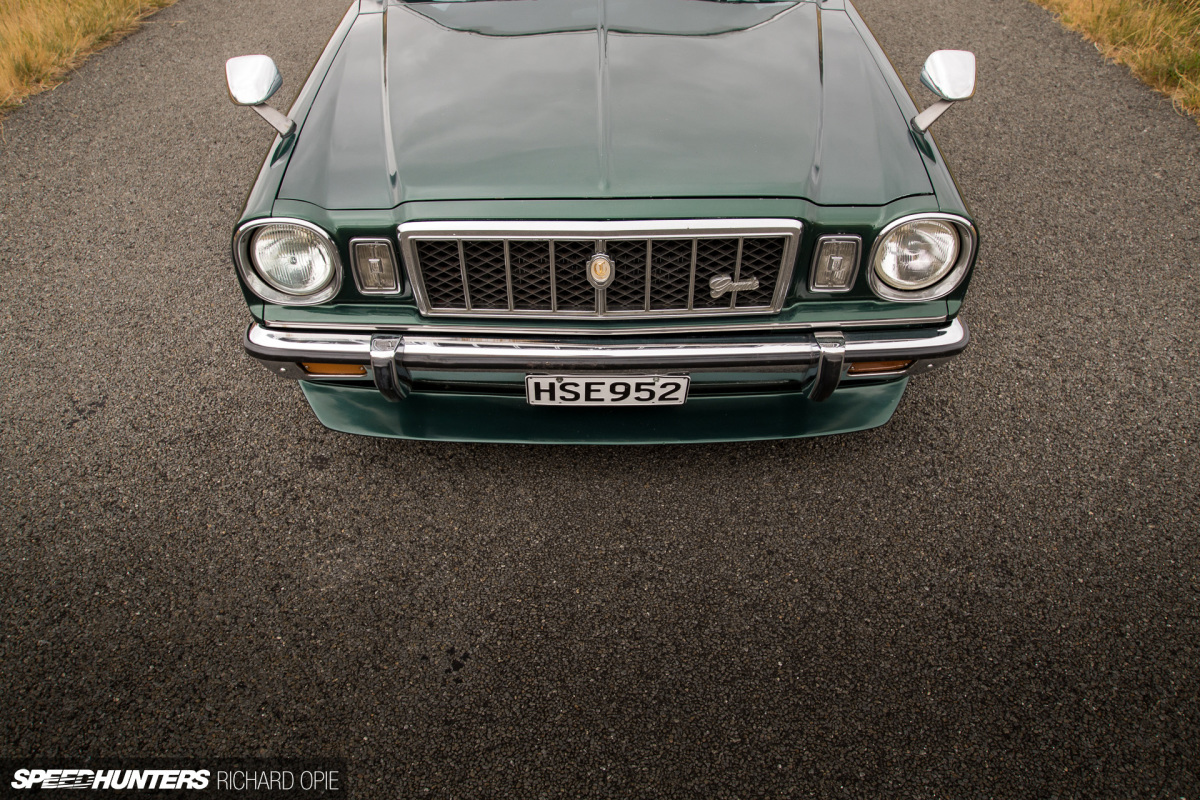 Unlike knocking up a quick feed of 2-minute noodles, life just ain't straightforward. While the V8 Cressida had been a valuable car-building learning curve, Nathan had a curveball thrown his way and circumstances dictated the car needed to go. Duly sold, Nathan went about life straightening things out, sorting bills and the like, but as always. the dream opportunity has a habit of falling into your lap at the strangest times.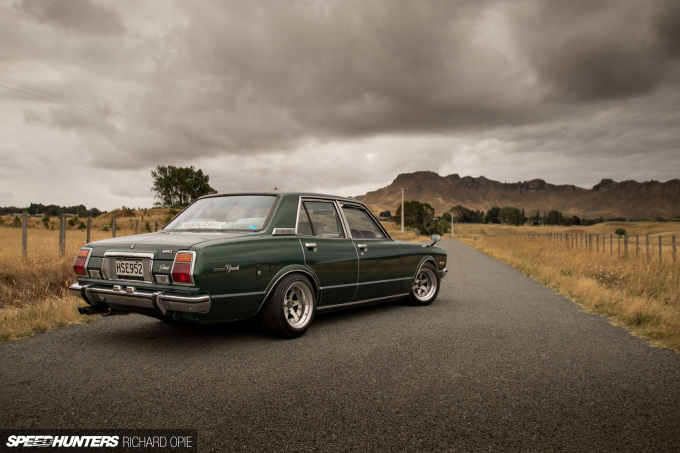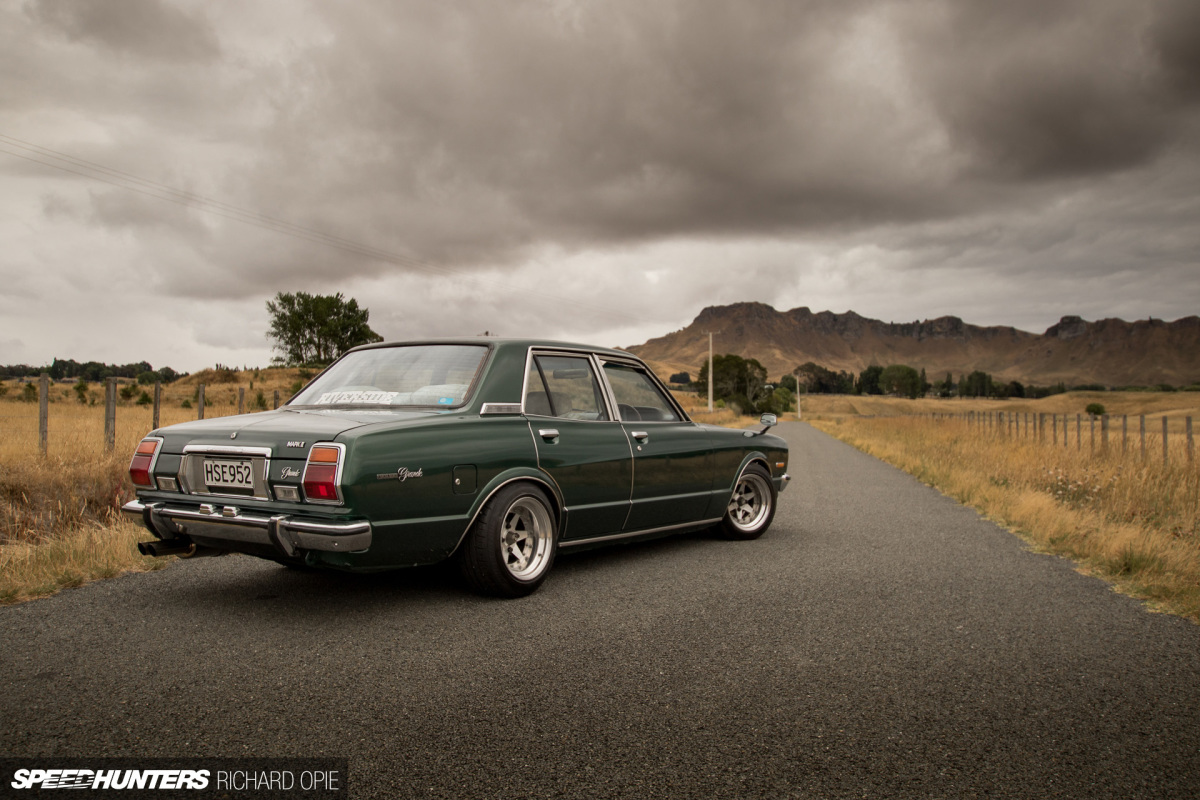 As he'd squirmed further down the wormhole into X30-chassis ownership, Nathan had become aware of the Japanese-market-only MX41 Corona Mark II. While looking outwardly similar versus the 'poverty pack' Kiwi-market RX30, the MX41 featured a smooth (if not troublesome) M-EU 2.0-litre six-cylinder and IRS as factory. It was also rare on these shores, but quickly become Nathan's unicorn.
Almost as soon as the V8-powered RX30 had left his shed, another one popped up for sale. When you're into slightly left field cars like the Cressida, the community is small and word gets around. Nathan already knew of a fairly prolific 1JZ-GTE-powered MX41 in the country, but what he didn't know was that the owner, Rupz, had a second example.
The Cressida grapevine swung into action; texts were sent, trailers were hitched and a road trip south to New Zealand's capital city saw Nathan return as the proud owner of the relatively unobtainable, JDM-exclusive model. He finally owned an MX41 Mark II.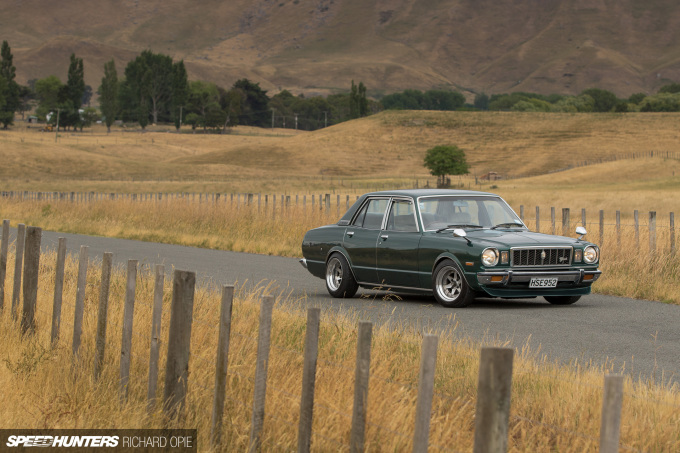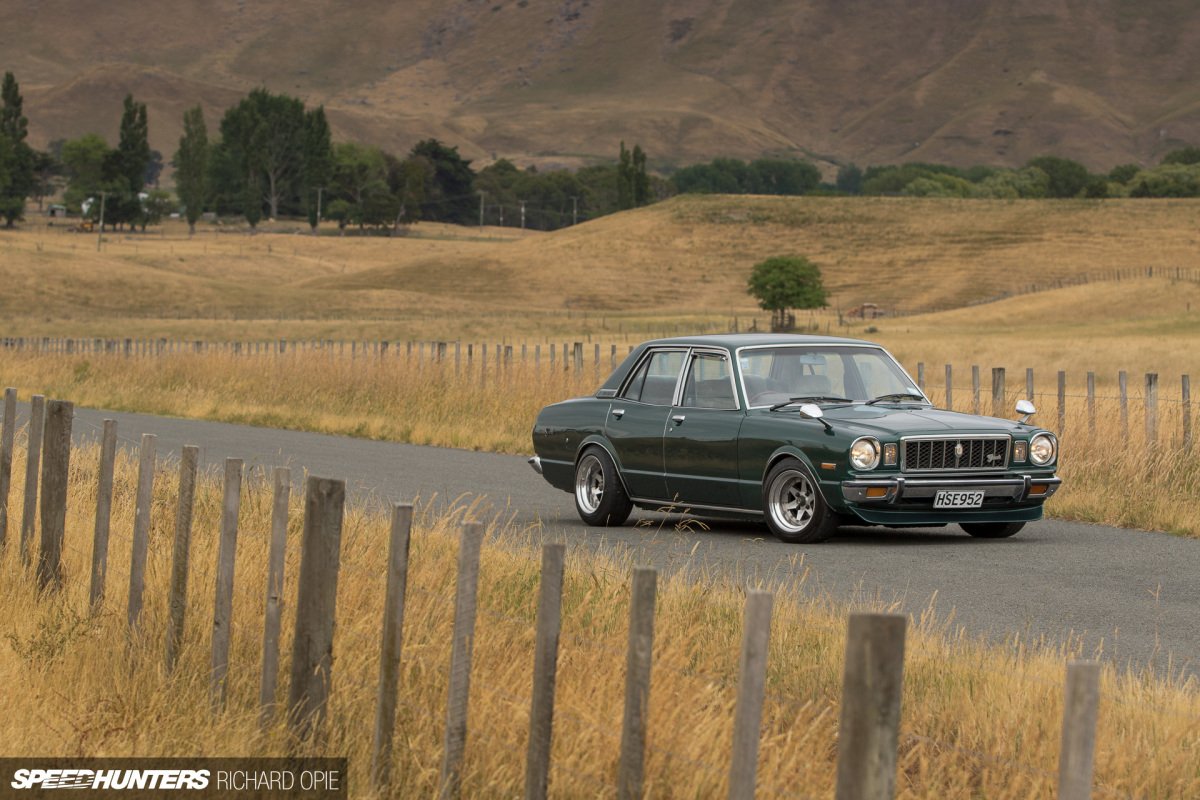 There's generally a caveat when a situation this sweet comes about, and in this case the car's previous life had taken a toll on the overall condition. The MX41 had been used as a parts car; bits and pieces here and there were missing, the panels were in need of attention, even the roof was dented. Add to that, the car was deregistered, meaning the compliance process to be driven on New Zealand roads needed to be revisited at some stage.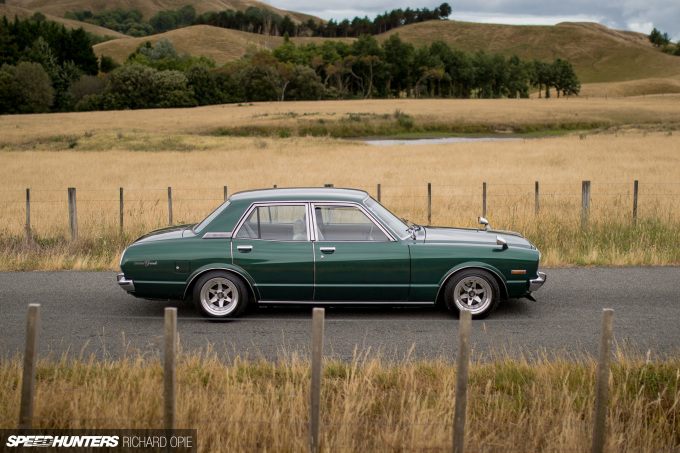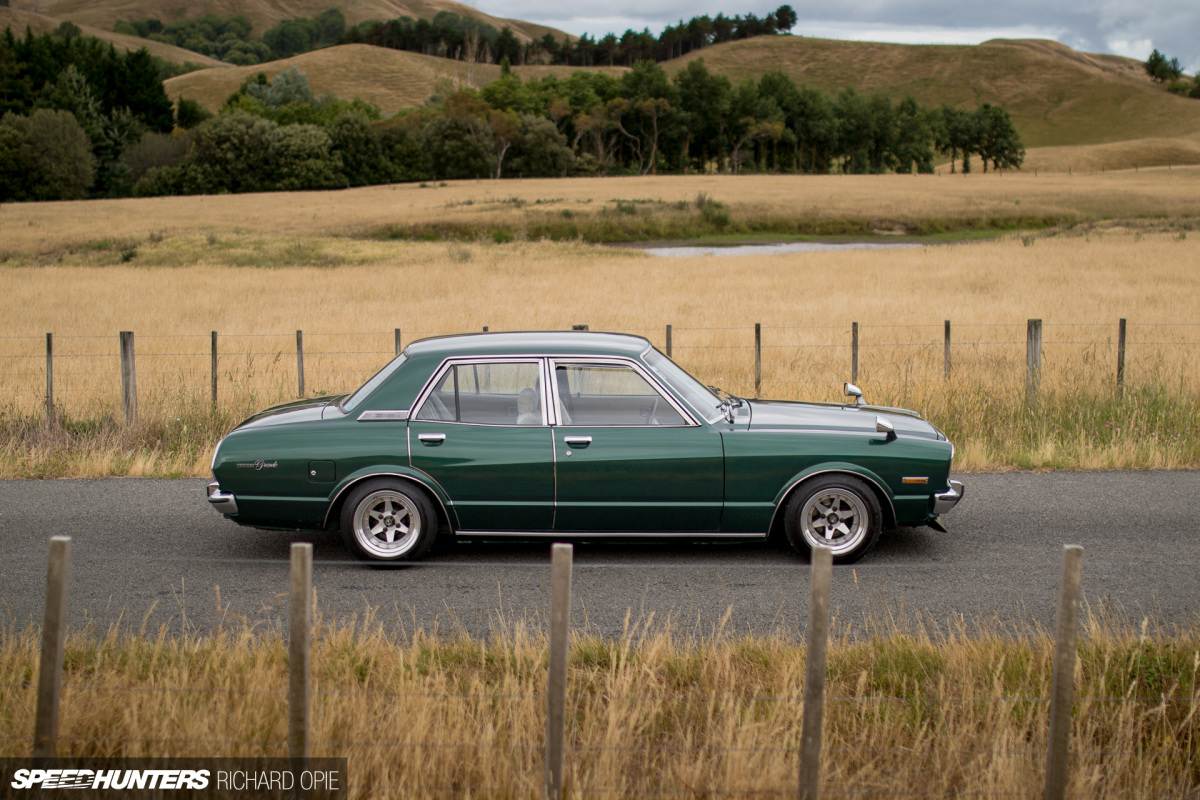 Nevertheless it was the dream, so in that classically Kiwi manner, Nathan rolled up his sleeves and got stuck in with a rough plan in mind. Panel, paint, and get it legal again in stock form. Once the Mark II was on the road, the initial plan was to embark on the installation of a 3UZ-FE V8 – 4.3-litre vs the old 4.o-litre – and add ITBs.
Nathan and the MX41 progressed through what I guess you'd term the first stage of that plan. The Mark II's panels were duly transformed back to a shape more in fitting with its exit from the production line. Rust, including a giant void in the firewall, was substituted for fresh steel.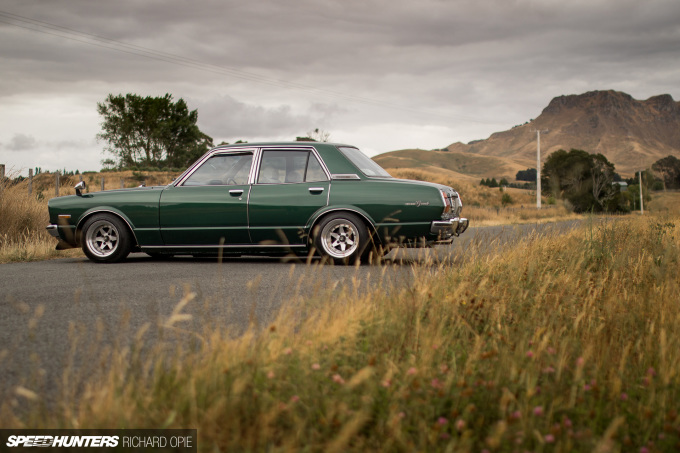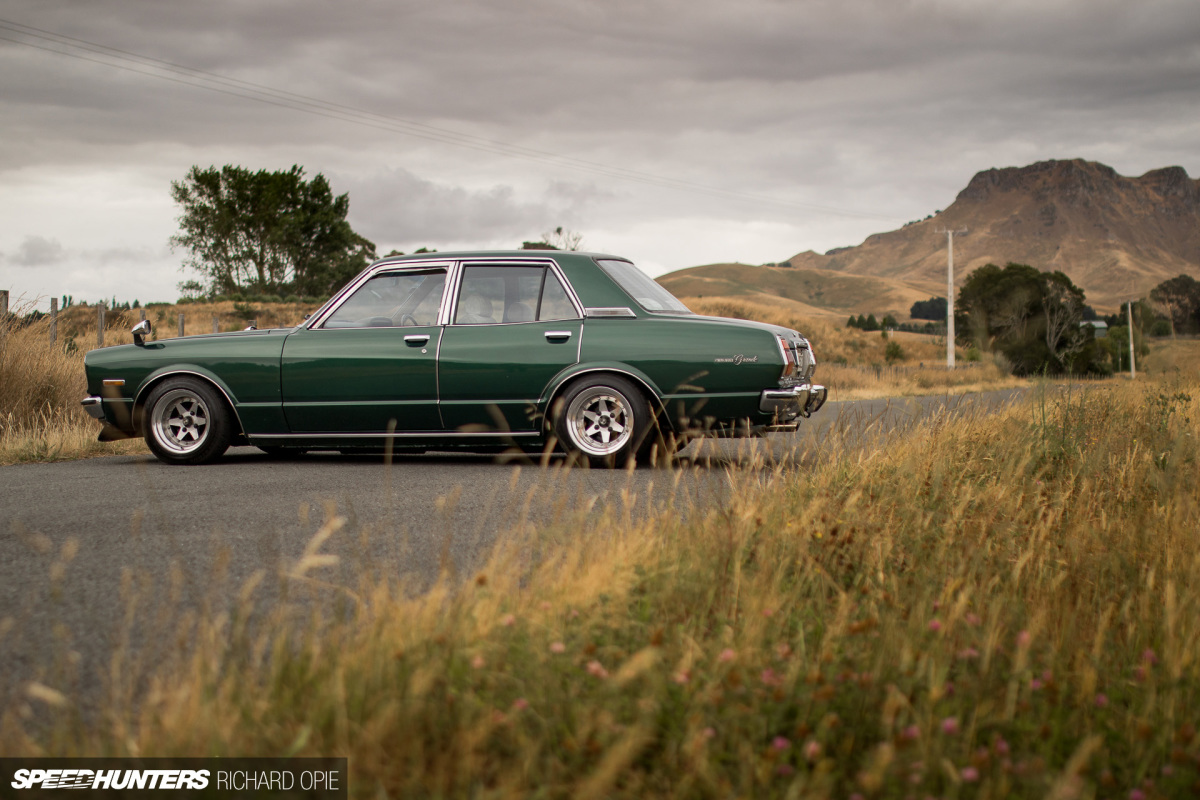 Thankfully, this time around brown was avoided. Factory Forest Green was liberally dispensed across the Mark II's Coke bottle curves, themselves sort of the last bastion of the American-influenced, yet distinctively Japanese-penned body lines characteristic of the '70s.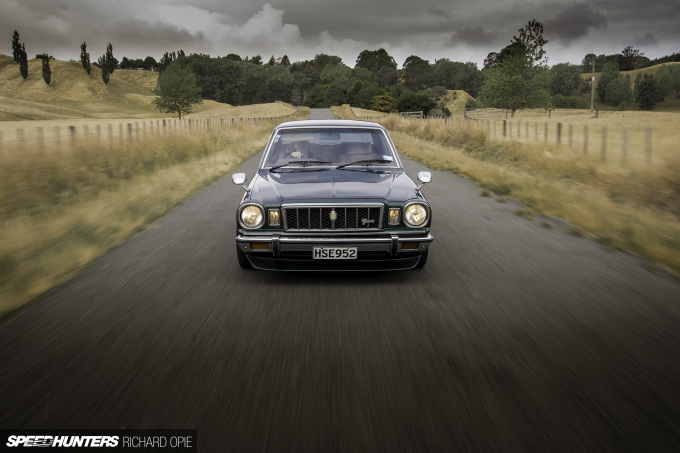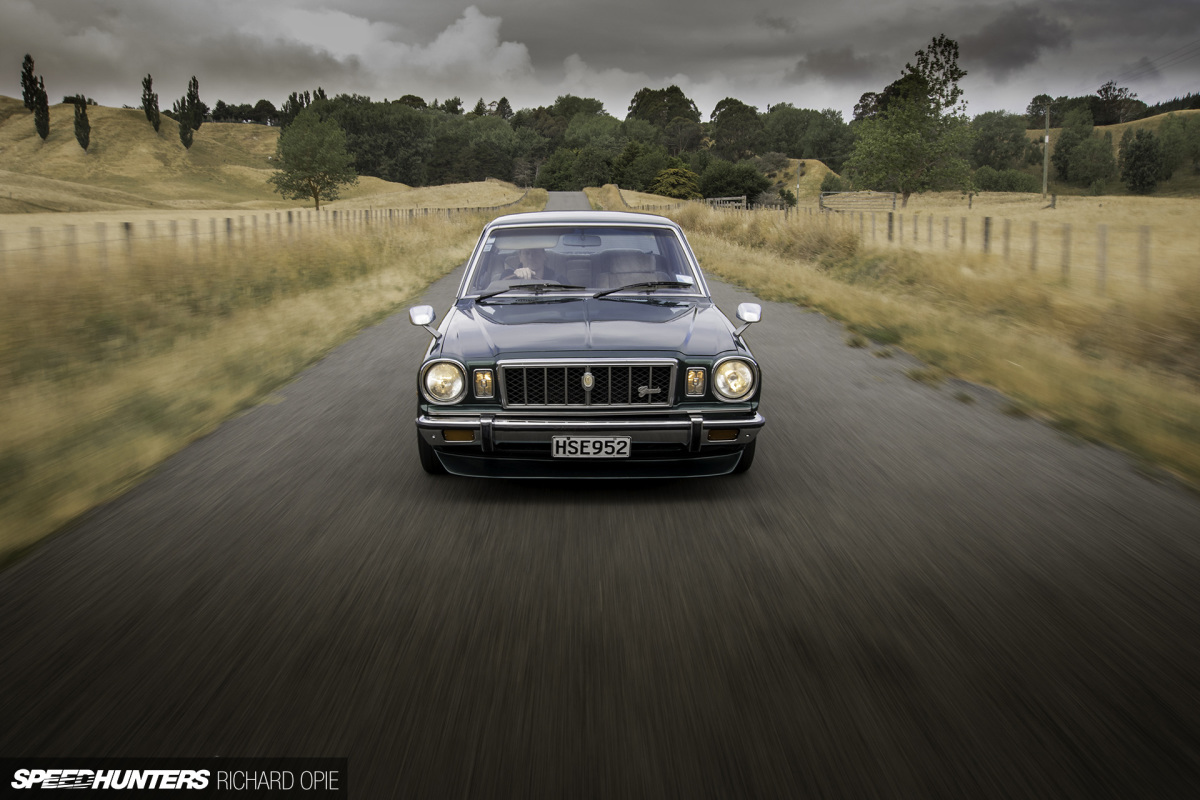 With a couple of RX30 parts cars donating some of the absent exterior trim pieces to the cause, outwardly Nathan's MX41 was looking the part. Beneath the lustre of that freshly clear-coated hood, however, the greasy old M-series just had to go. Like those annoying 'sponsored' Facebook links, "you won't believe what he does next!"
Make It A Dozen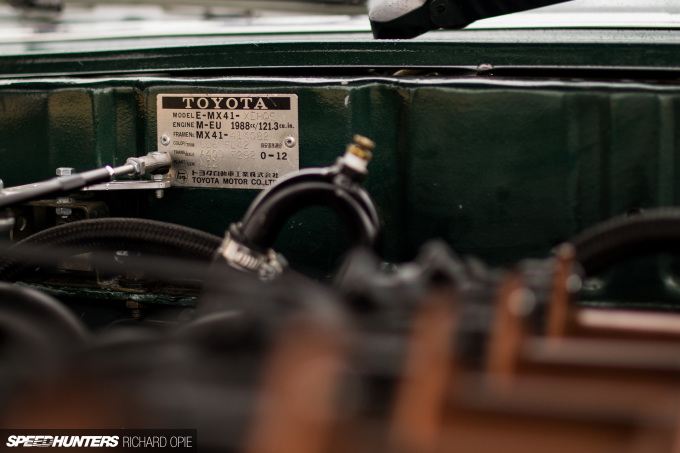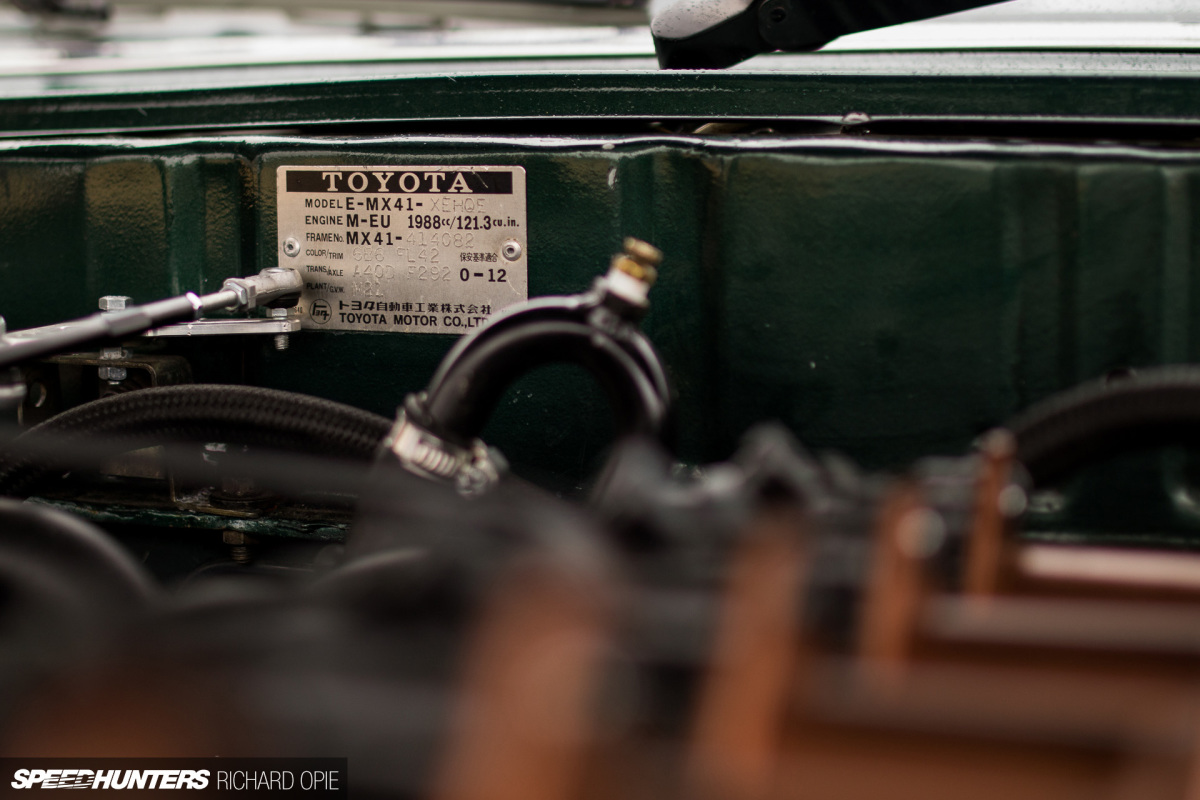 Barely mustering a stodgy 100hp, the old M-EU needed to go. While the initial idea was to fit the 3UZ-FE, found most commonly in the Lexus LS430/Toyota Celsior, a chance Yahoo Auctions Japan encounter with something a bit more exciting altered the Mark II's destiny.
Like a 3UZ, it had a couple of cylinder banks in a V-configuration. Unlike a 3UZ, it had 12 cylinders. I'm talking about the Toyota 1GZ-FE, a 5.0-litre V12 found exclusively between the struts of the GZG50 Century luxo-barge. The germination of a crazy notion kicked off, but finances dictated that a V12 wasn't quite within reach.
With typical car guy logic, Nathan enquired about shipping costs anyway with Moonlight Racing, a local importer and Yahoo Auction Japan agent. Satisfied it wasn't quite affordable, he vowed to keep an eye out, but didn't bargain for what happened next. Unbeknownst to Nathan, his wife Amie  had infiltrated his tablet, collaborated with Alex from Moonlight, sourced, ordered and paid for a 1GZ. The first Nathan knew of it, was when Amie passed him an invoice for a V12 on the eve of their 10th wedding anniversary, stamped 'PAID.'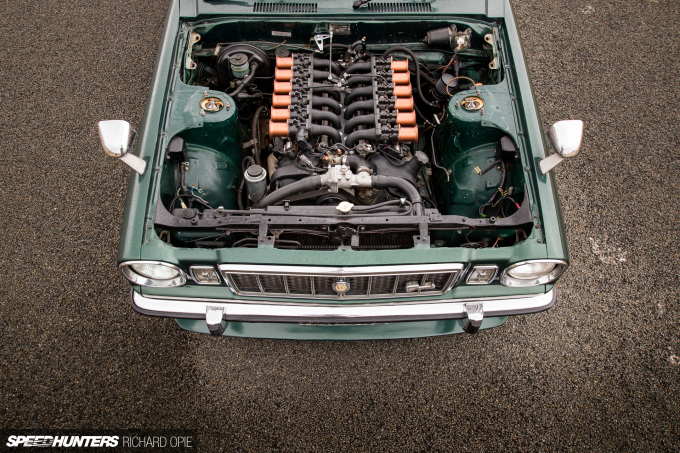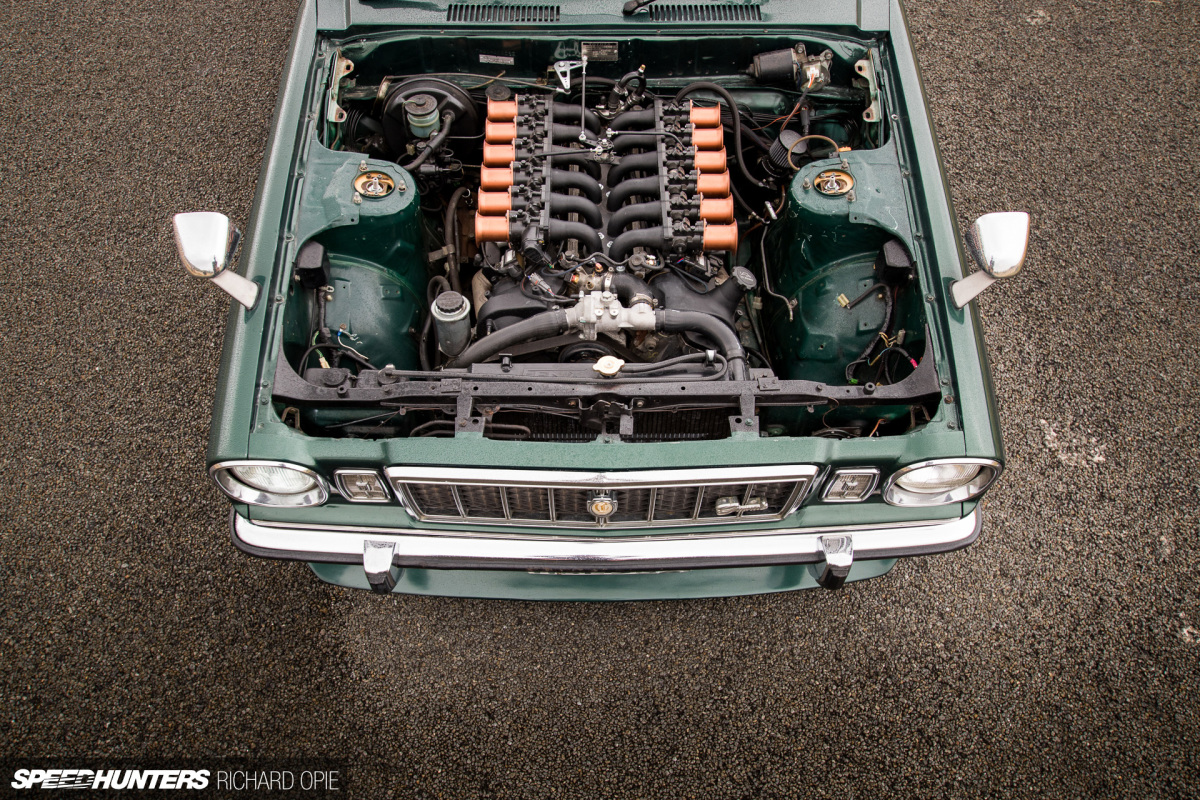 Soon enough, a large, complex looking lump of alloy was set alongside the engineless Mark II. I asked Nathan how challenging the fitment of the motor was, but at 100mm taller, 100mm longer, but crucially 100mm skinner than a 1UZ, getting the V12 into the bay was a fairly straightforward task. Some modified engine mounts designed for a 1UZ-to-MX41 crossmember ensured securing the engine was simple, with a set of custom log headers and a sledgehammer doing the rest.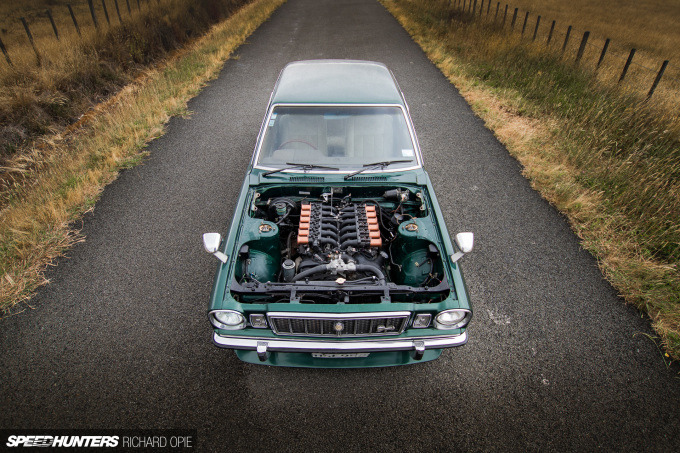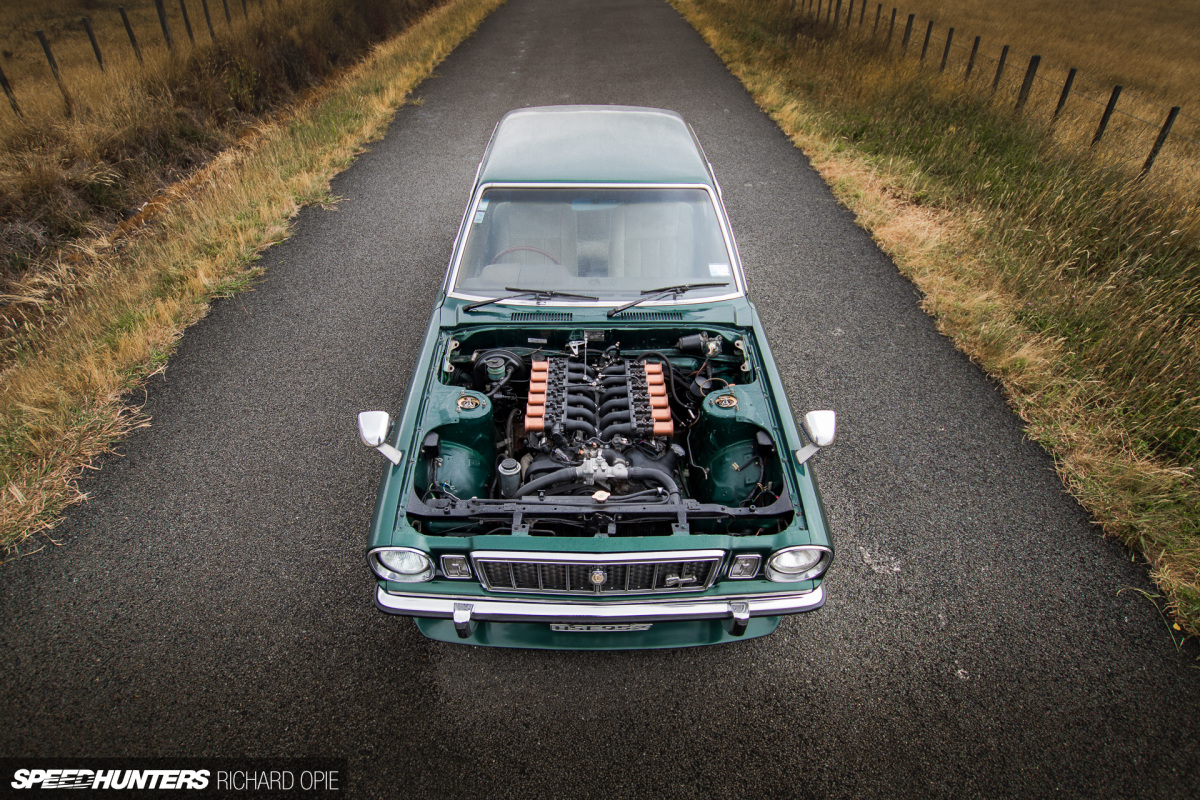 Of course, the 1GZ never came out with a manual box behind it. The Toyota Lego-kit came to the rescue, with a 1UZ flywheel and clutch repurposed to suit. Drive goes through a proven R154, and while the bell-housing was initially going to be a head scratcher, Nathan managed to track down the last of a super-limited run of GZ-to-R154 units.
In its native Century engine bay, the 1GZ comes with a massively complex intake arrangement aimed at maximising torque and minimising induction sound. When you're swapping a V12 into an older chassis, the last thing you want to do is skulk around in silence, right? Nathan nutted out a way to mount 12 throttle bodies, all lifted from the 4A-GE 20V 'Silvertop' engine. A scratch-built, equal-length crossover-style manifold sits proudly atop the 5.0-litre, with copper-anodised open trumpets contrasting beautifully against the green paint.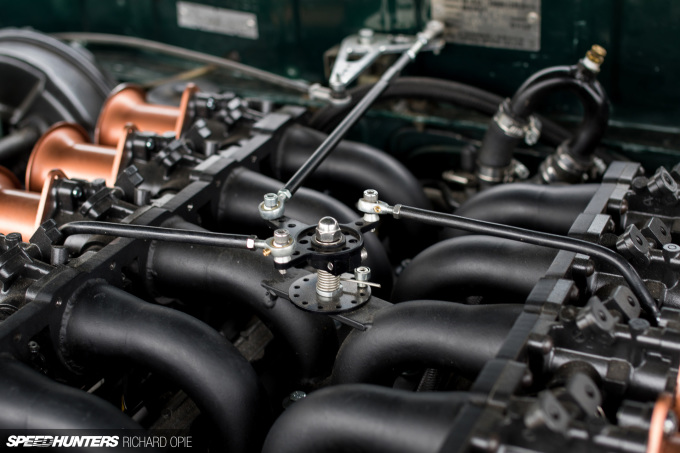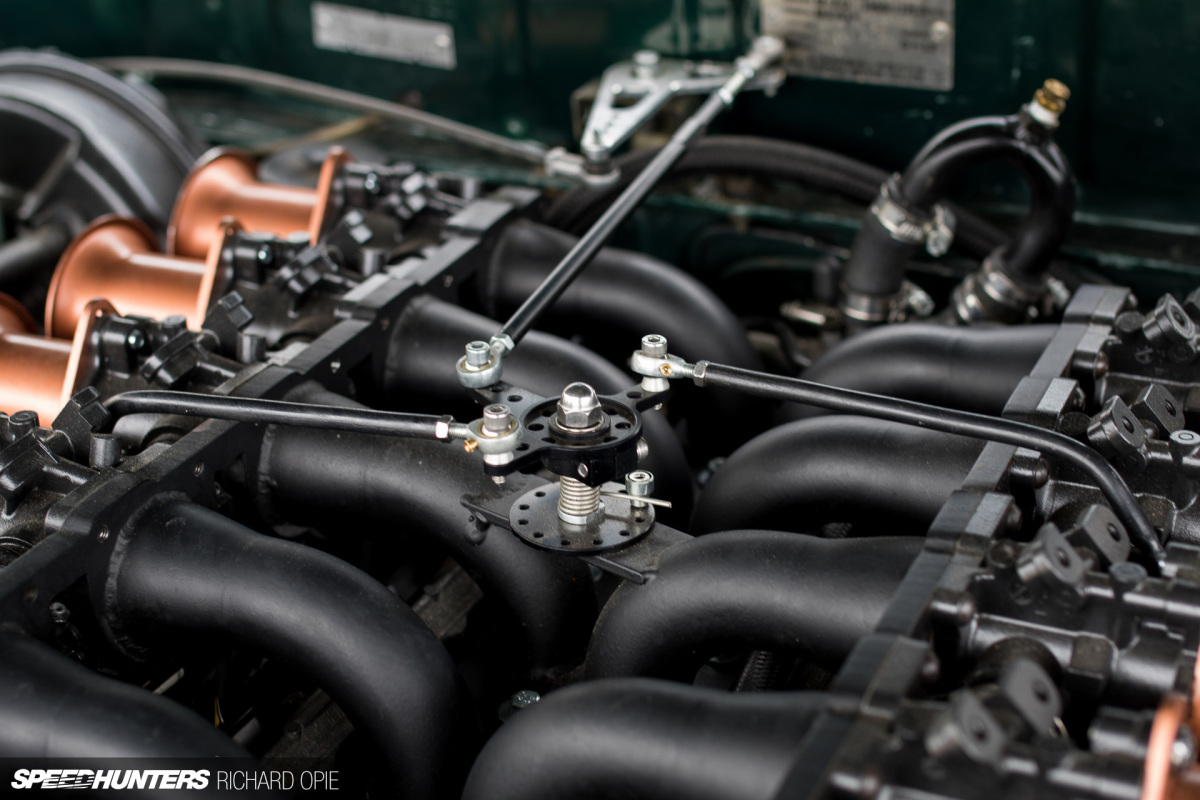 As well as being visually and aurally incredible, it also serves to delete the twin fly-by-wire throttle bodies of the OEM intake. The linkage is now mechanical, the operation of which is in itself a bit of an art form, with turnbuckles, spherical bearings and all kinds of neat analogue components working in harmony to crack the 12 butterflies open at a prod of the right foot.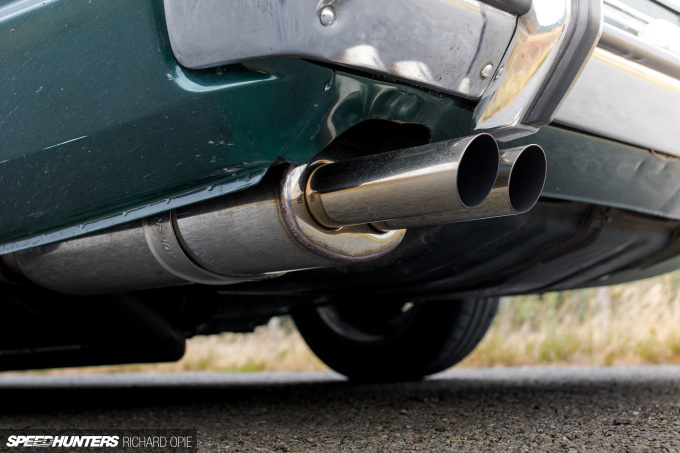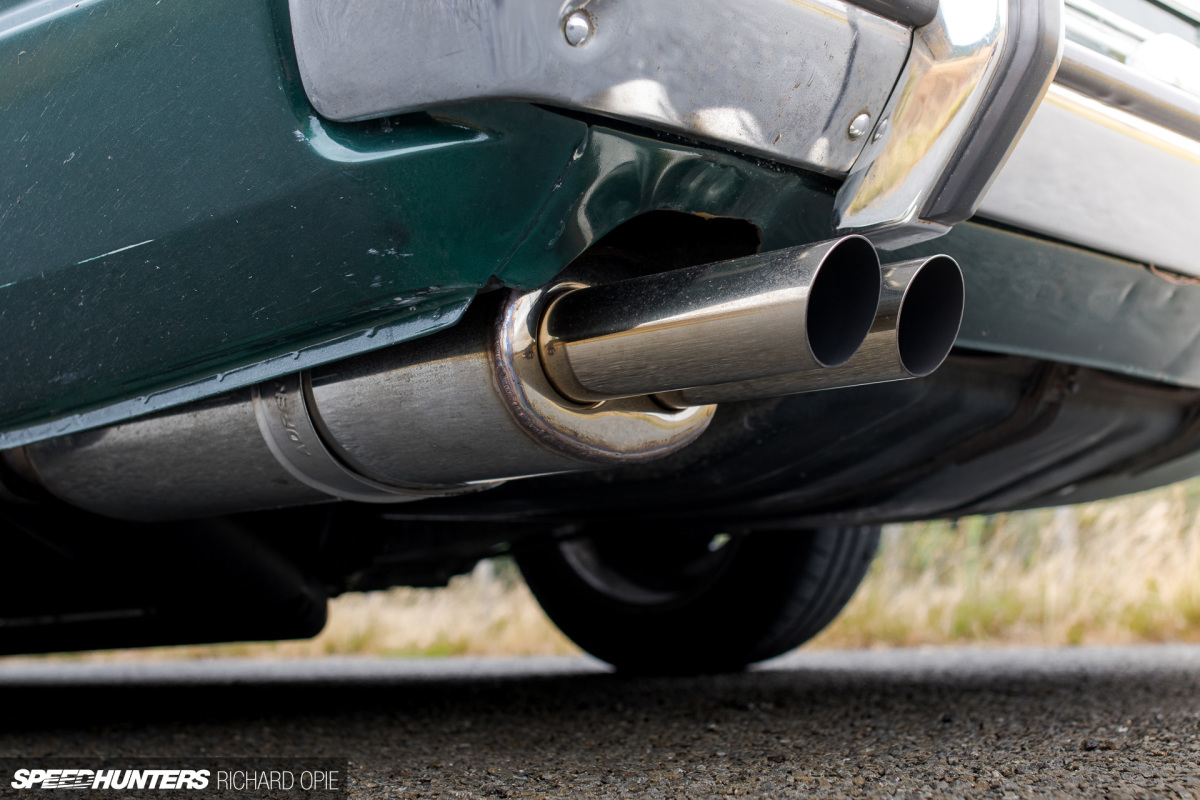 Twin 2.5-inch pipes swing down the back, through Kiwi-made Adrenalin R mufflers. The exhaust note is quite unusual; the firing order of the 1GZ was designed to allow the engine to operate on one bank, should the other suffer a problem. Instead of the typical Italian banshee-shriek, the 1GZ exhibits a baritone growl, almost like a pair of 2JZs thrumming an off-beat harmony.
Wiring an engine like the 1GZ isn't an overly simple task, but Link Engine Management came to the rescue with one of their G4+ ECUs. Batch-firing all 12 injectors and utilising the factory wasted spark proved the best solution. The weird firing order of the 1GZ required some thought concerning ignitor setup, but eventually the dyno tune saw a shade under 400hp at the treads and a huge, flat torque curve throughout the rev range.
Realisation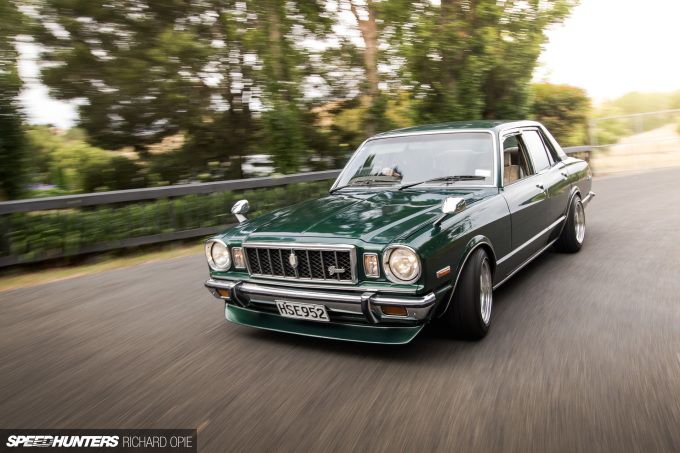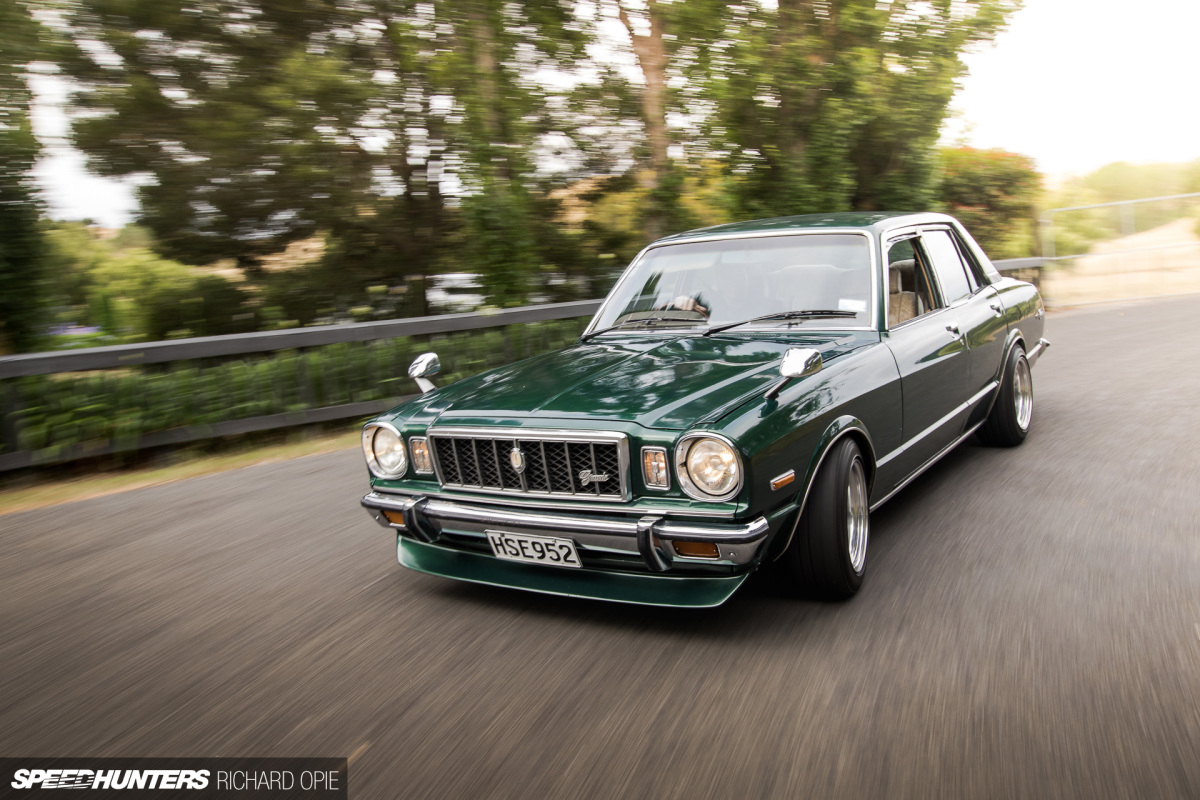 With the hood closed, no one would hold it against you if you thought the MX41 wasn't packing 5.0-litres of bellowing V12. The lines of the Toyota, while not especially remarkable in period, have aged gracefully, signing off 1970s Japan styling language and ushering in the 1980s boxiness.
The wheels though, right? Those are 14×8-inch and 14×8.5-inch SSR Longchamp XR-4, front and rear respectively. Widened with new barrels to specifically suit the old V8 Cressida build, they were still attached to that car when sold. The owner subsequently swapped it with another car, then the next owner totalled it. It transpired that, when the brown car was crashed, the SSR's weren't bolted to the hubs.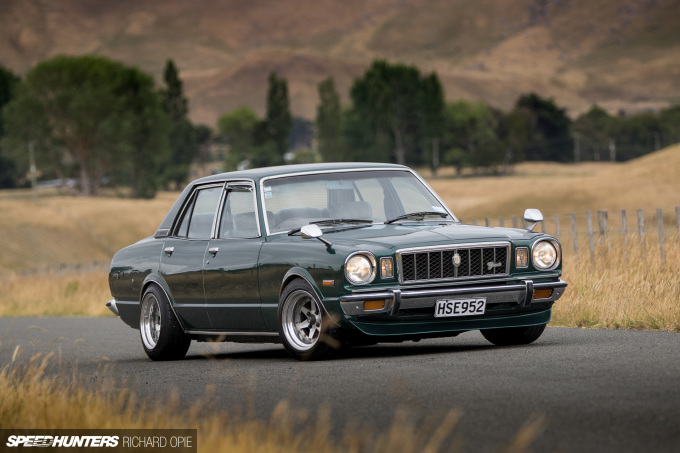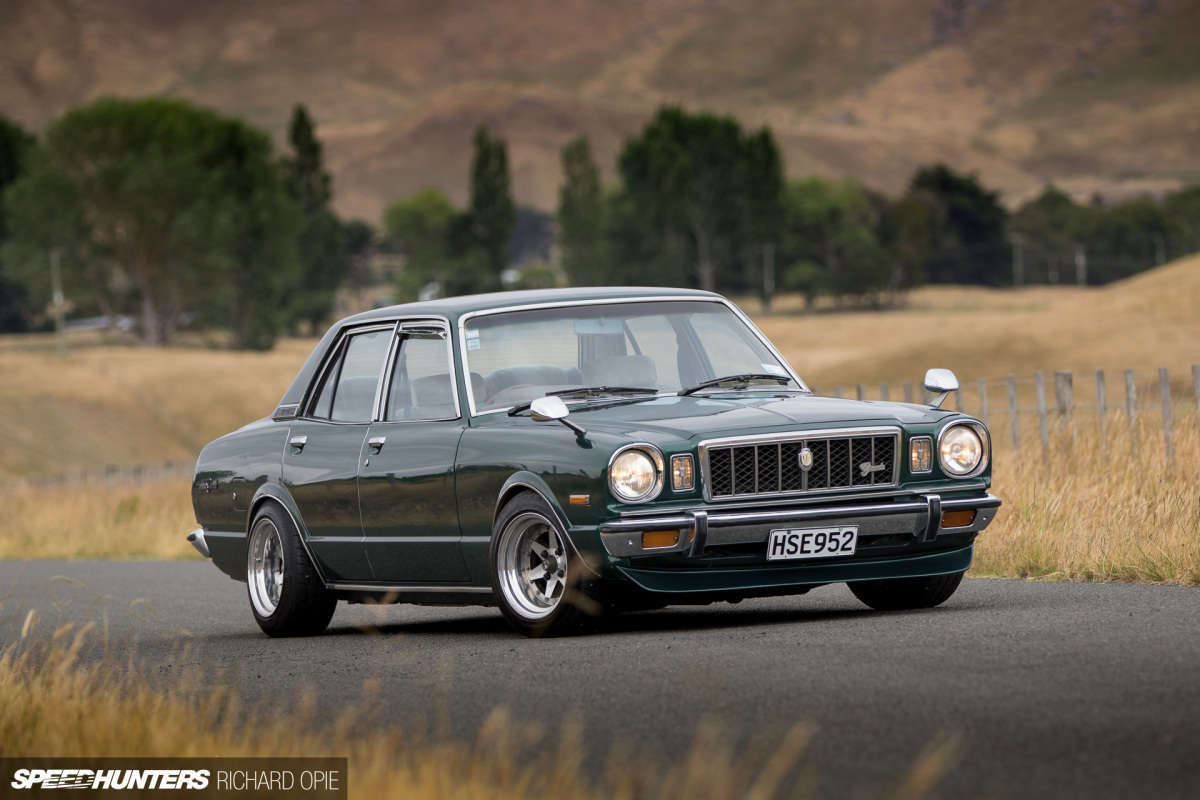 Nathan made some enquiries and found that new owner #1 still had the wheels. Naturally, a deal was struck and now the V12 Mark II's wheel arches drape neatly over the 185/60 Bridgestone Potenzas. 14-inch diameter is the sweet spot for these mid-size Japanese sedans of the period.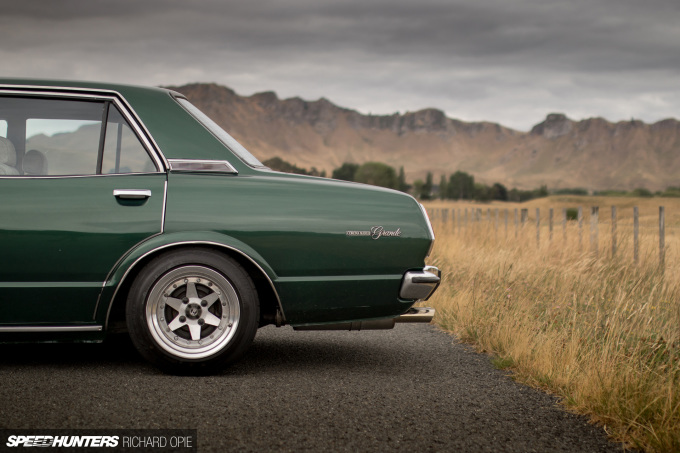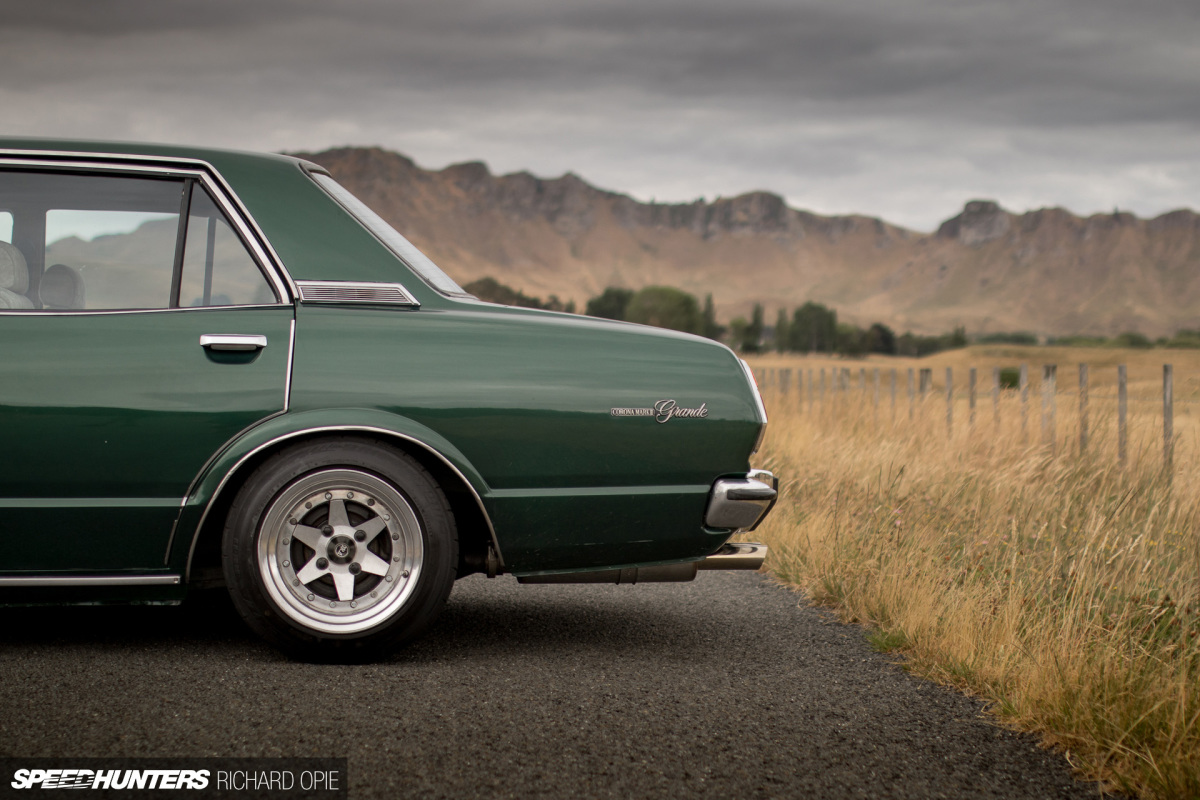 Ride height is taken care of by a simple BC Red coilover setup, meaning the guard gap is kept within an acceptable aesthetic, but the suspension has enough travel to ensure a ride suitable for Kiwi roads. We don't have too many smooth highways here, instead, the explorer of bumpy B-roads is rewarded.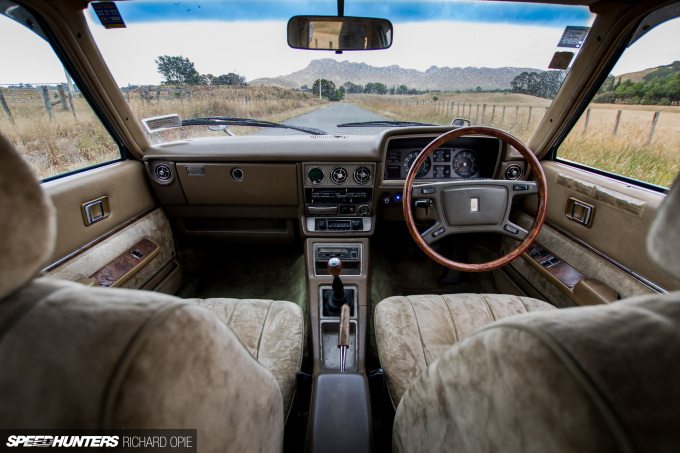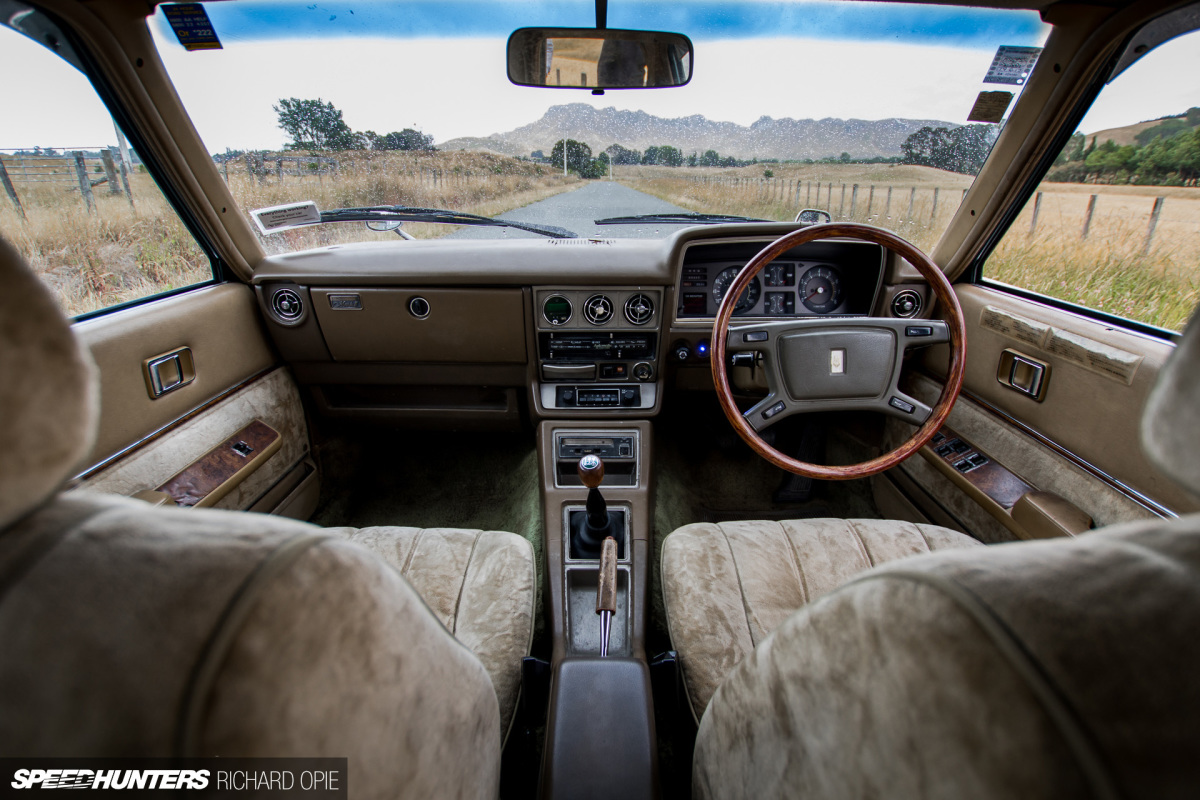 Inside the MX41, you won't find too many changes. The interior is appointed to satisfy even the most demanding salaryman of the late 1970s. The deep, buttoned velour seats remain in fantastic original condition, and all of the electronic knick-knacks remain correct and in place.
Unlike the New Zealand-new models, it's a much, much nicer place to be. Electric windows, lush carpets and even a factory tachometer collaborate to make the MX41 comfortable even when the loud pedal is mashed.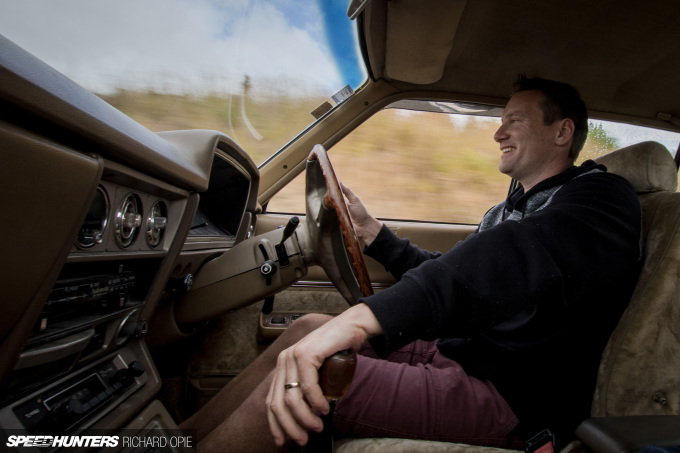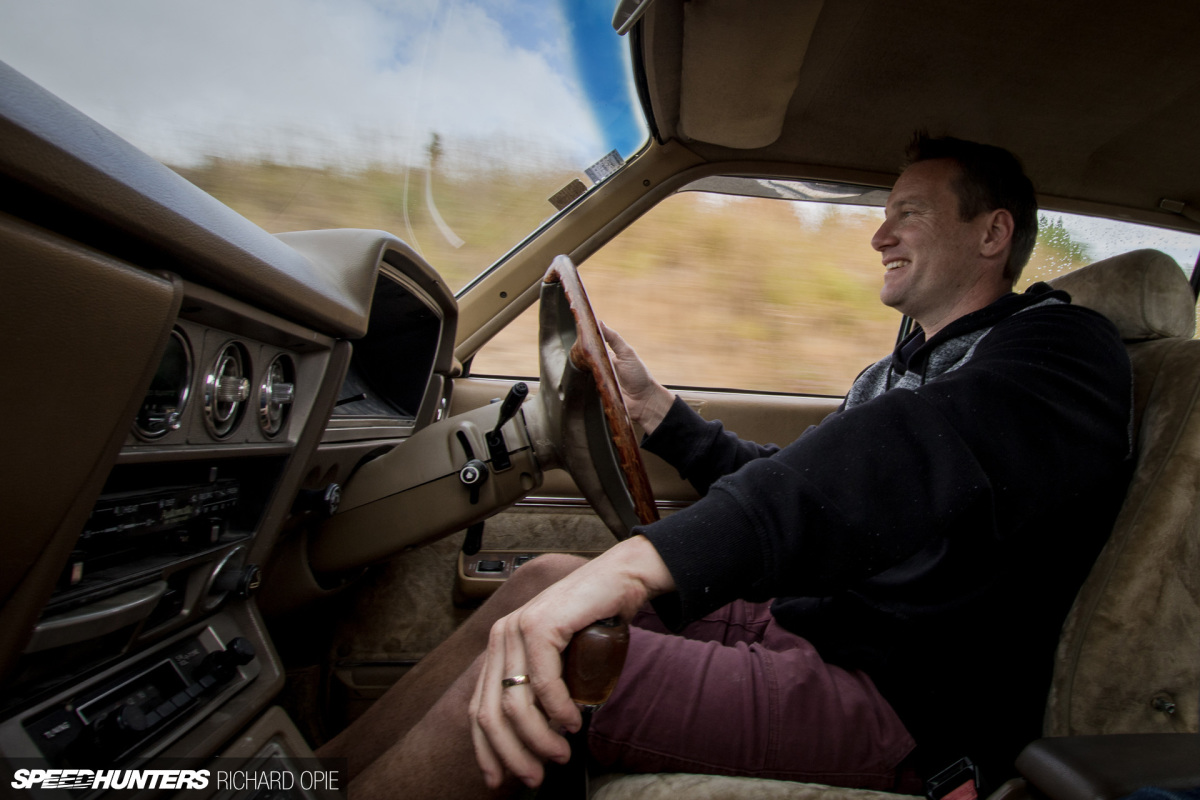 This is the realisation of a childhood inspiration. It's easy to say 'dream,' but the notion of wedging a monstrous, high-tech V12 into a Mark II is one of those things that possibly transcends even the wildest of sleep fantasies.
For now, Nathan's plan is to drive the car as often as possible, up and down country on lengthy road trips with the family. It's even seen some track time. To see (and hear) just how Nathan enjoys the V12, check out the little video below he put together, kicking off with a uniquely dry bit of Kiwi humour.
Richard Opie
richy@speedhunters.com
Instagram: snoozinrichy