If some time in the future, we receive a visit from alien beings and their only request is for me to show them one thing that defines New Zealand's modified car scene, I'm going to pick an old Mazda rotary.
Justification is two-fold, really. It's very much a contextual thing, bearing in mind my own automotive coming of age occurred during the golden era of 'imports.' Without the foundation of the New Zealand Mazda rotary scene in the late 1970s through to the 1980s that established Japanese cars as a tuneable alternative, the flourish of mid-1990s and beyond imports may have been left floundering in the shadows of Australian V8s.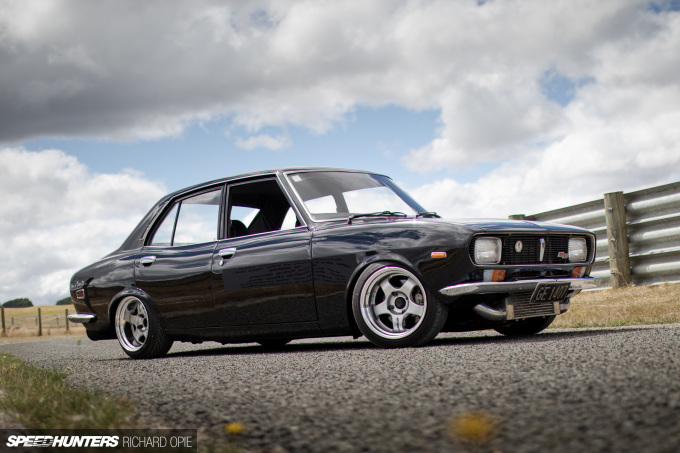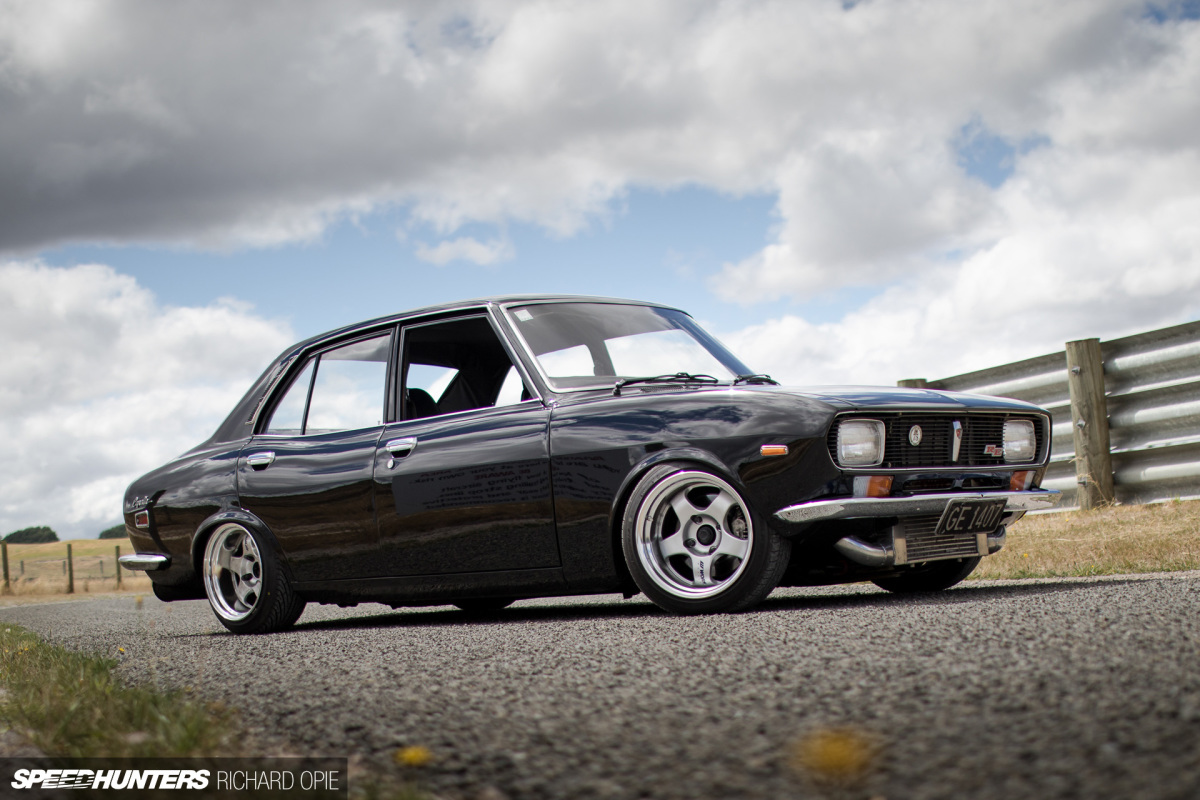 On the other hand – and this is perhaps a big call – building and modifying Mazda rotary-engined vehicles is one area of car culture on a global scale that I think our little country has managed to indelibly stamp as its own. You can pick a Kiwi rotary a mile away, and Brady Gopperth's gleaming jet-black 1972 Capella (otherwise known as a series 1 RX-2) sedan is the archetype.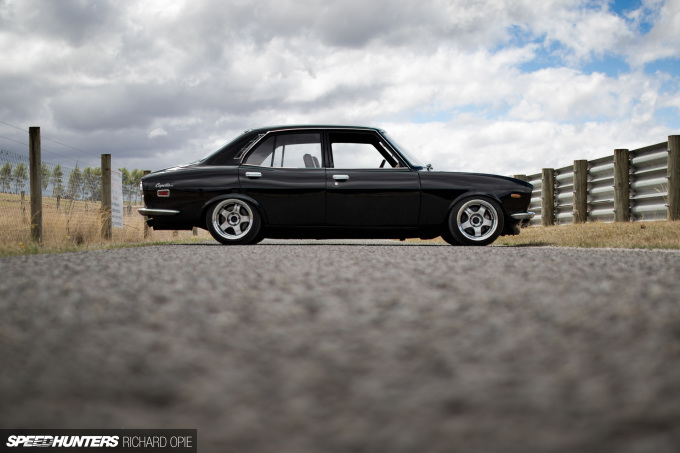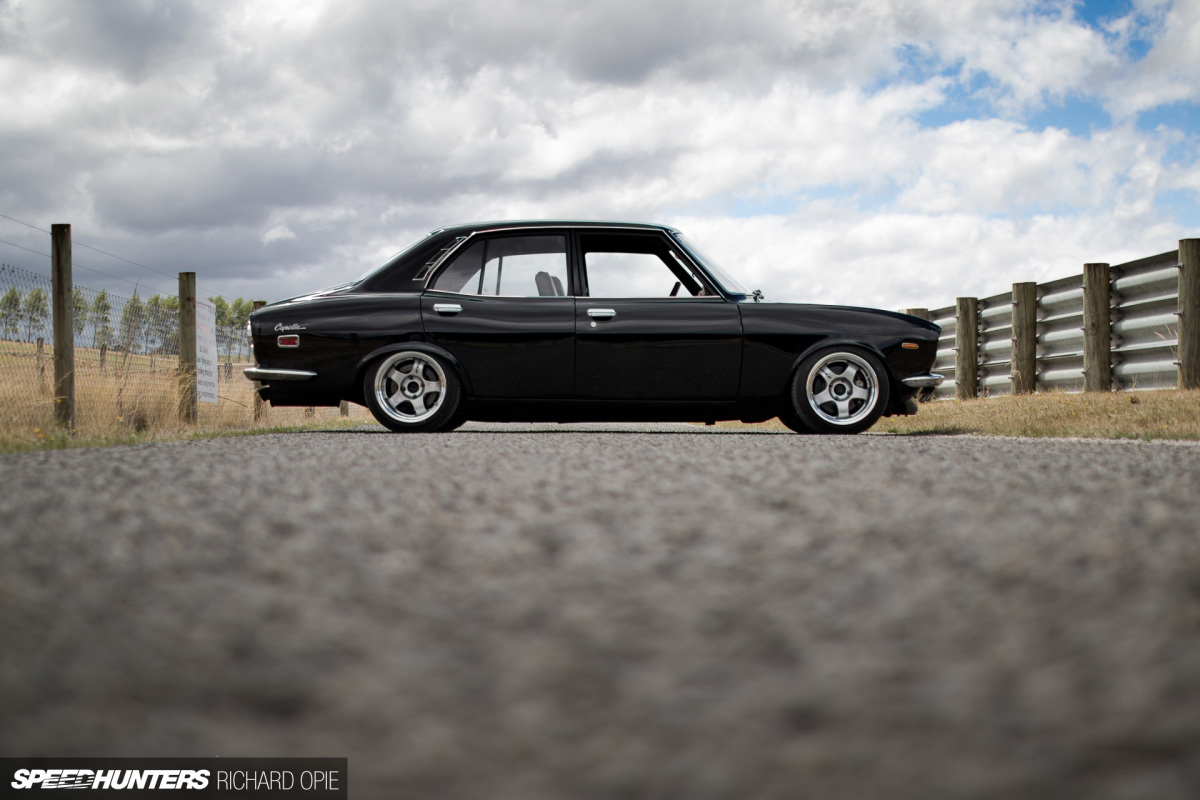 It's not as though Rotary REunion saw me deprived of a selection of Mazdas that embodied the local spirit. If anything it was the absolute opposite; rotaries displaying the Kiwi ethos attended in their slammed, stock-bodied, small-wheeled droves. Brady's stood out though for a couple of reasons. The first, the car's evolutionary process that has led to its current form. The second, he beat on it, good and proper.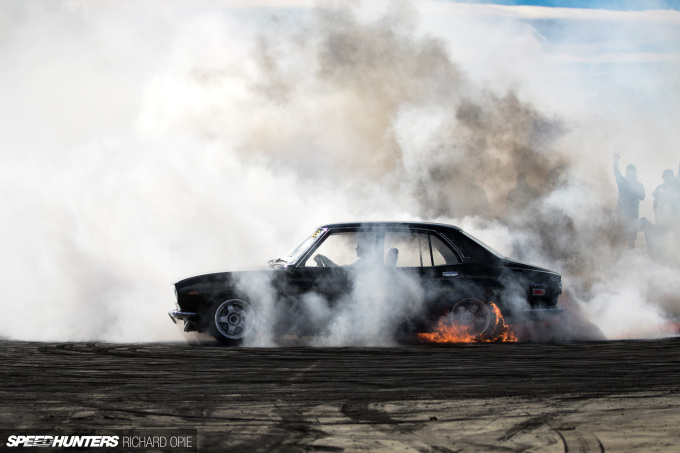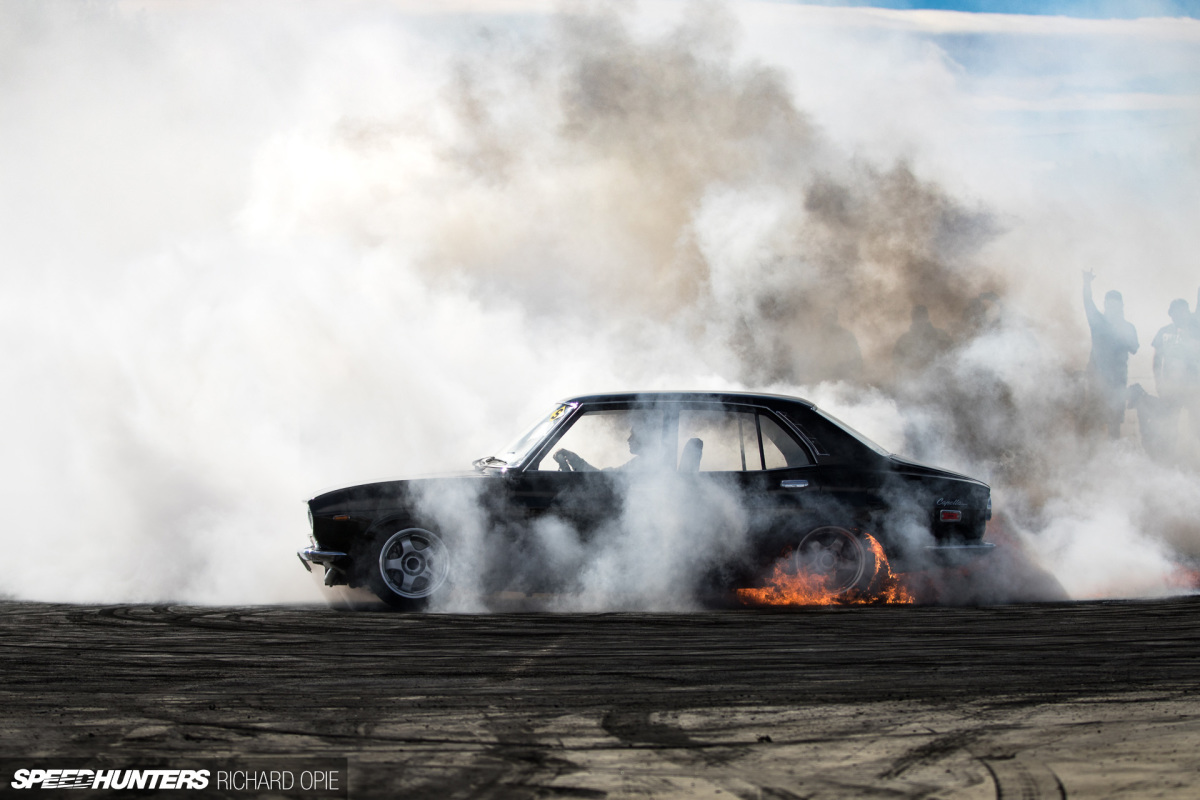 Owning a modified rotary and not giving it the absolute hiding of its life every once in awhile, is a particularly un-Kiwi thing to do it seems. Brady capitalised on available opportunities over the weekend with drag passes, circuit thrashes and of course burnouts, complete with fire.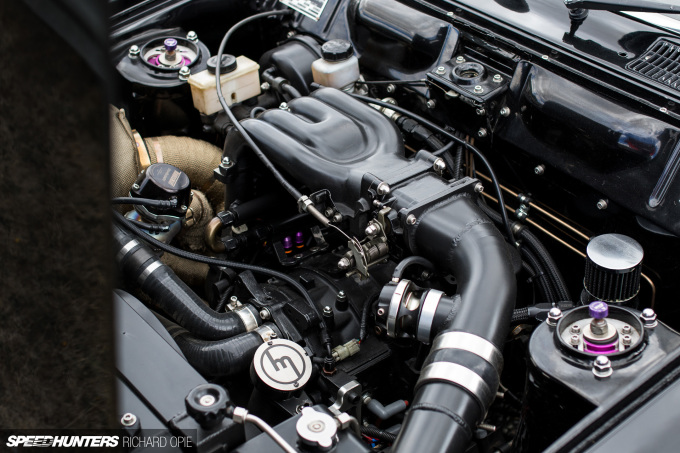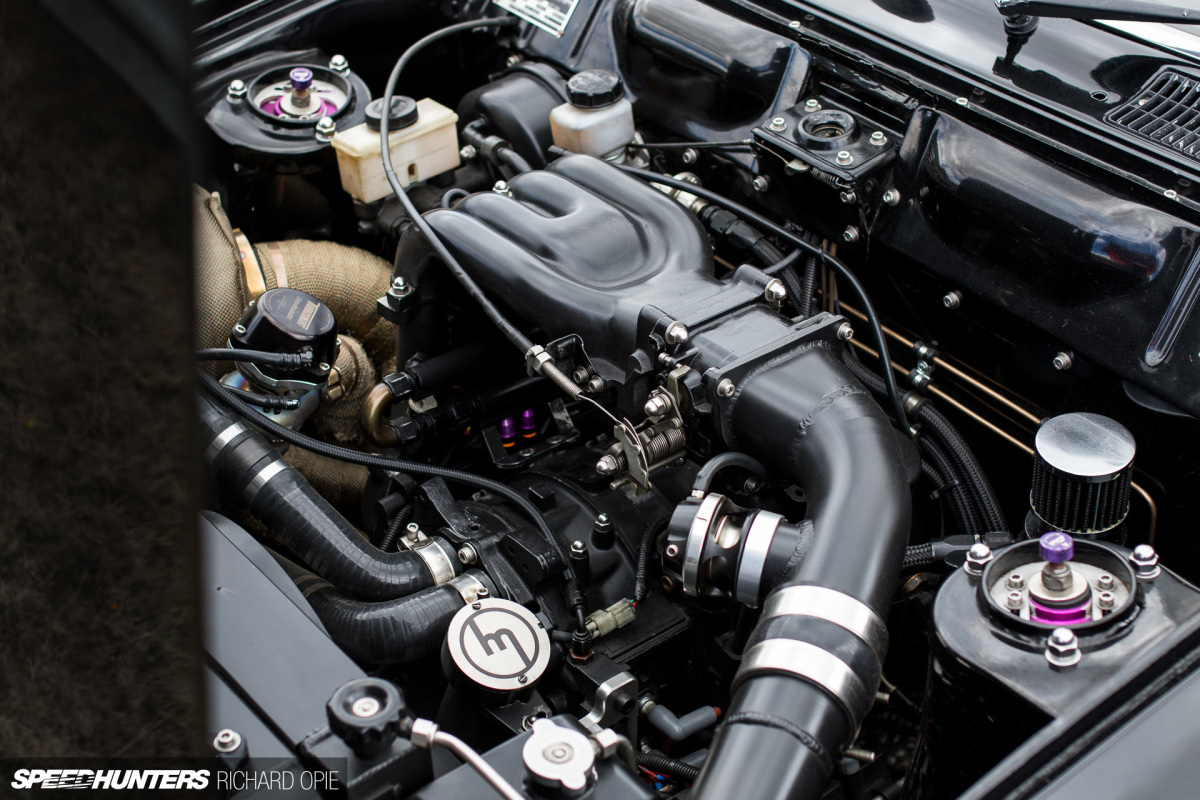 At the heart of all this abuse is a 13B turbo, originally lifted from a Series 7 FD3S RX-7. It's not the first 13B to have been in the Capella's engine bay; when Brady took ownership of the car eight years ago the sedan already sported a 13B swap, albeit a stock, injected example. The Mazda has seen a few different porting and intake/exhaust arrangements over the years, but none as potent as the current turbo setup. Brady was actually preparing for an NA 20B build, when the opportunity to trade his 13B NA for a freshly build turbo block swayed him towards boost.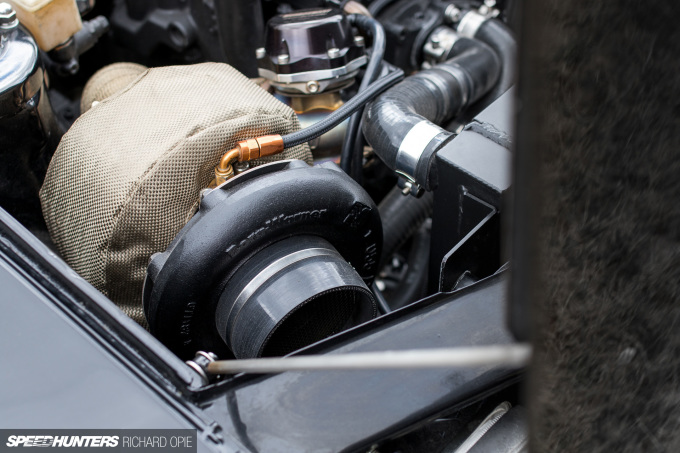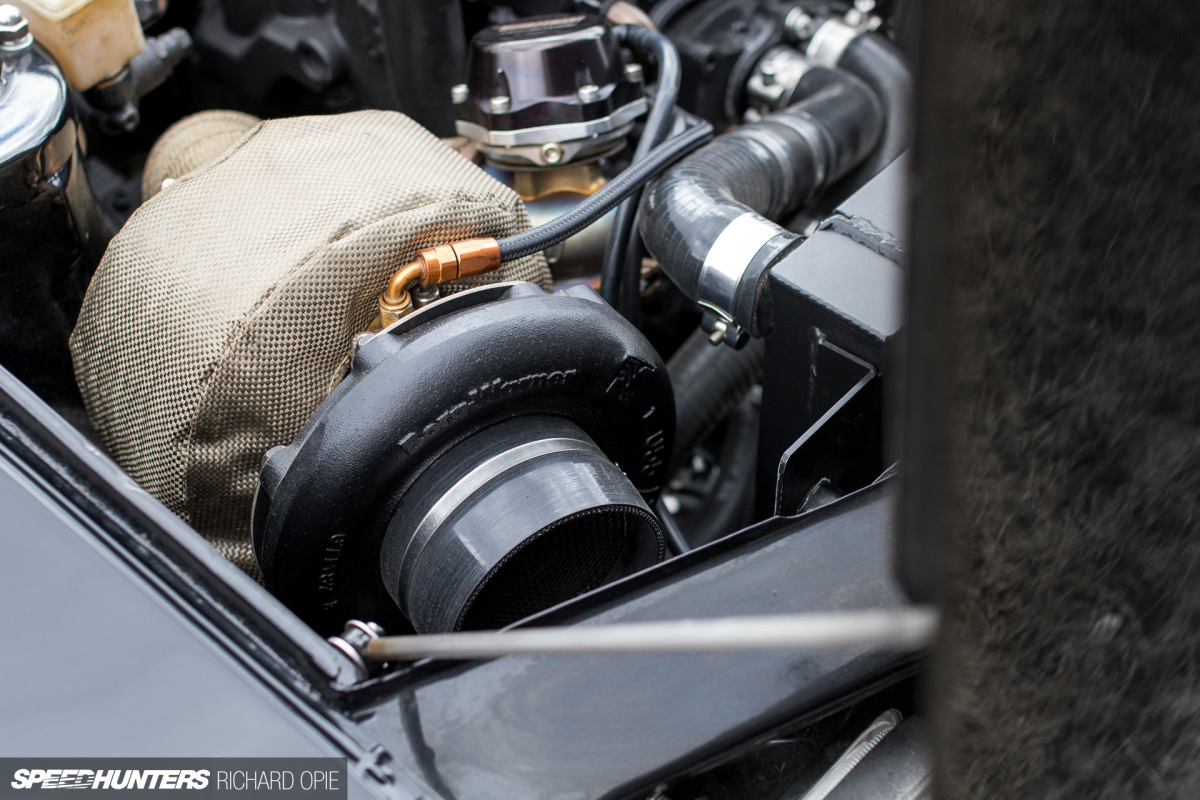 Bridge-ported, with a lightened and balanced rotating assembly as well a plethora of other crucial 13B upgrades, Brady's 13B turbo uses a BorgWarner S366SX. The twin-scroll housing enables boost to build quickly on its way to a peak output of over 450hp at 19psi.
It's a build epitomised by a choice of quality components throughout, from the aforementioned turbo through to the Turbosmart wastegate and blow-off valve chosen to control boost. Fuel is supplied by Injector Dynamics ID1000 units fed through a custom fuel rail.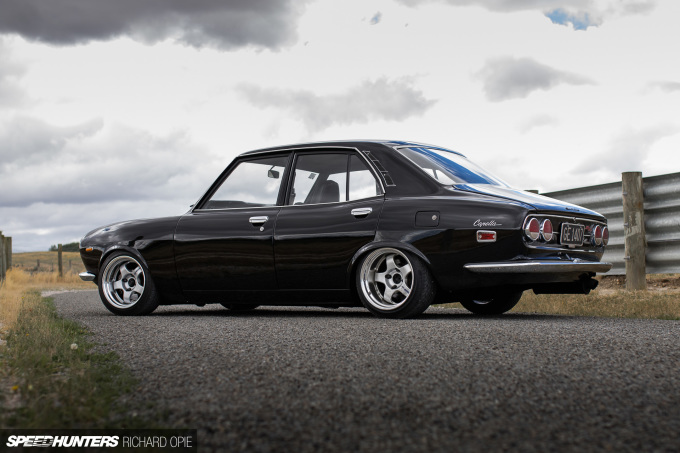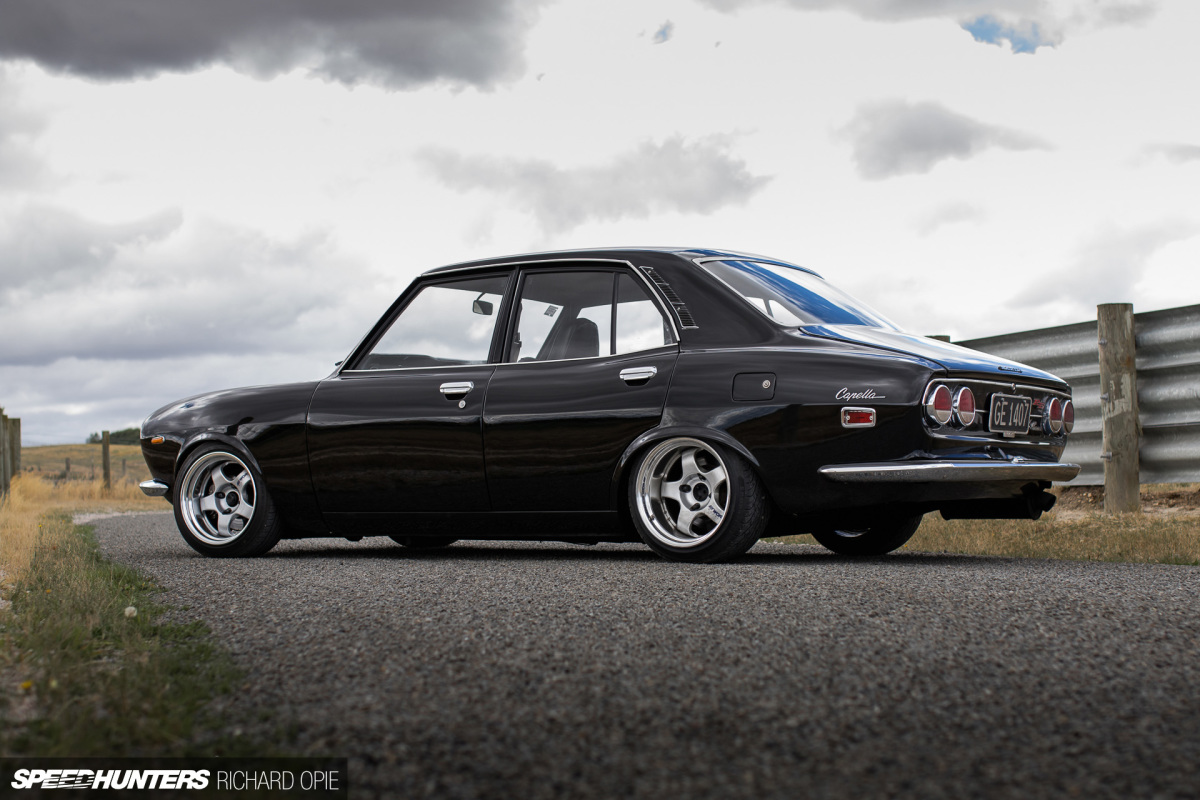 Tucking the tyres well into the arches is mandatory in Kiwi rotary circles, and the Capella's curves dribble over a set of 15×8-inch front and 15×9-inch rear Work Meister S1s. While the 13 and 14-inch choices are perhaps a little more 'classic' in an Antipodean context, the fifteens set off the stock body lines perfectly.
Keeping the flowing 1970s aesthetic was important; Brady's vision for the Capella essentially embraced a "loud and low" philosophy, with the rear arches in particular being tubbed to accomodate the wide rear Works. Otherwise, the sedan retains a full complement of OEM badges and chrome work.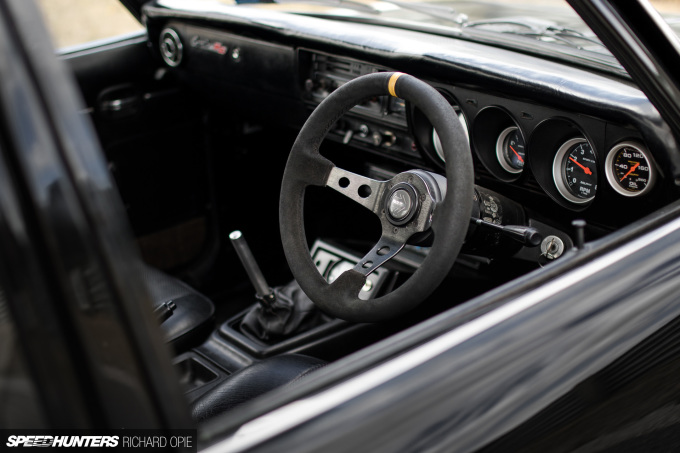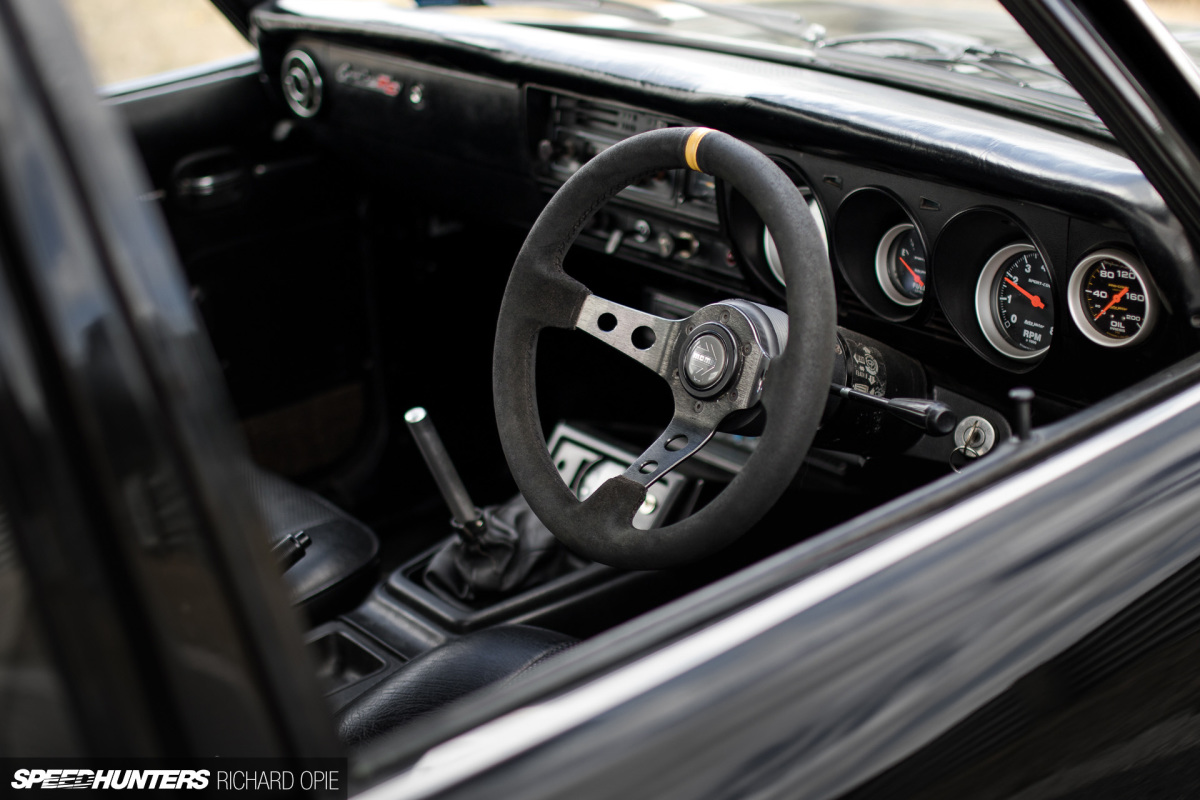 The exterior rhetoric is echoed on the inside. It's a no fuss, businesslike approach that is very much classic road car with additions hinting to the potential beneath the accelerator.
It's a colliding of worlds. On one hand, the tidy original interior trim complete with Capella insignia and distinctly '70s textured vinyl retains an original vibe. On the other, Auto Meter instruments collude with the Microtech ECU hand controller offering a glimpse of the power on tap.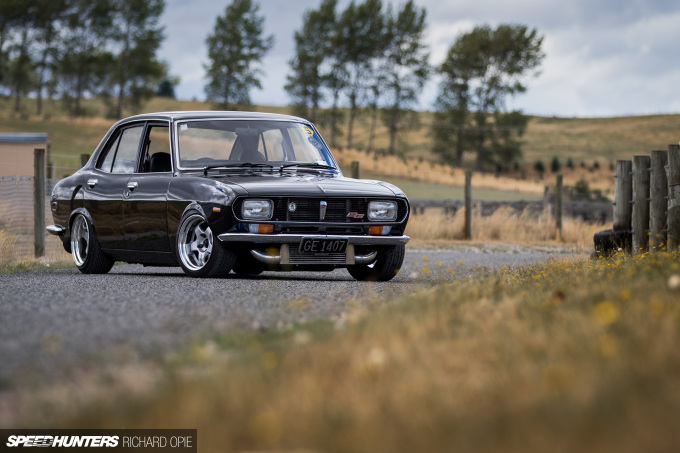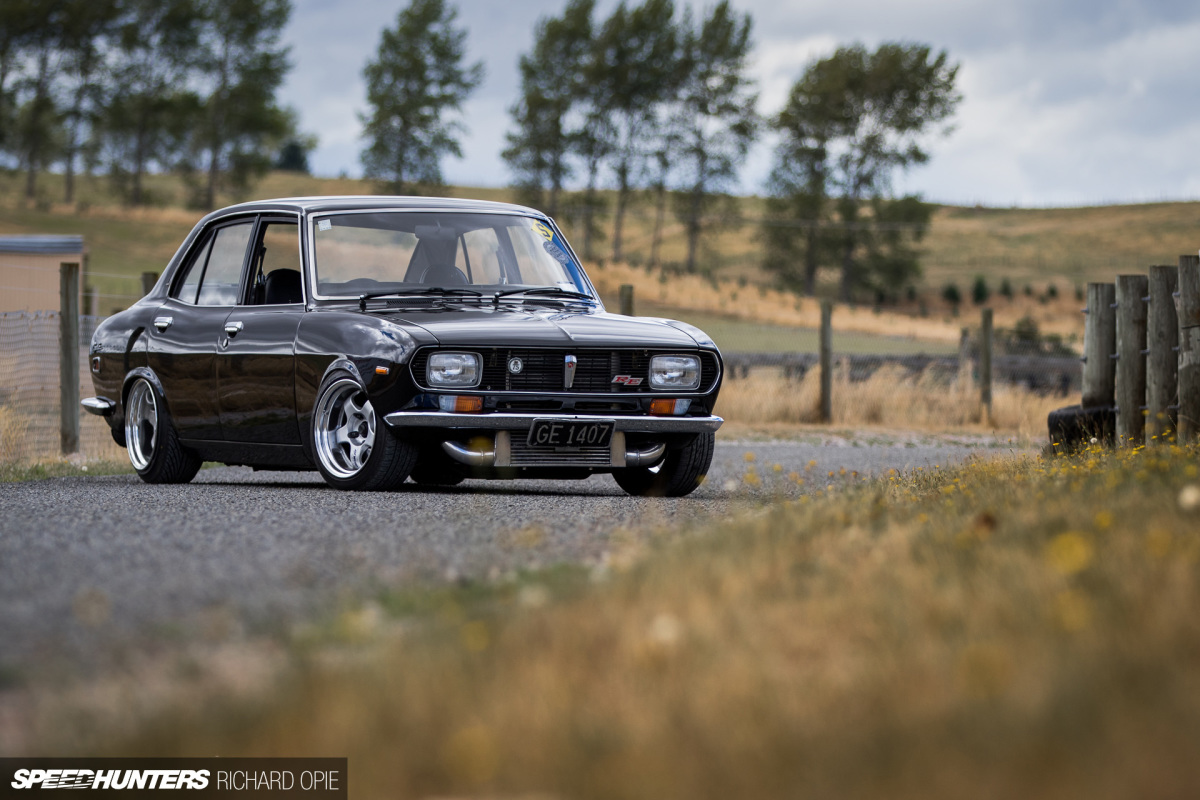 As we wrapped up, Brady mentioned he's not done. As a serial tinkerer, the Mazda is likely to receive even more development in the near future, with murmurings of improvements on the turbo side of things and water and methanol injection, all in the quest for horsepower. He reckons it'll never be finished as such, but then again, this is the Kiwi rotary way. Build, skid, improve, skid, repeat.
Richard Opie
richy@speedhunters.com
Instagram: snoozinrichy