Thinking Outside The Box
Even though the event is still a good few months' away, there's already plenty of excitement brewing online for the 2017 World Time Attack Challenge in Sydney, Australia.
Every year, the organizers and competitors truly bring their A-games, continuously bettering themselves and intensifying the overall experience for the legions of fans that attend. Time attack isn't just a motorsport, it's the epitome of tuning. It's modifying taken to the most extreme level and presented in wonderful grassroots sort of way.
It's this that keeps people coming back and the interest alive as the rate of evolution is quite hard to believe. And last year's event winners, MCA Suspension, with their wilder than wild Hammerhead S13 are the perfect example of what you can expect to see at this level of time attack competition. WTAC's current record holder is built around a common chassis that we all know and love – it's just been pushed to the extreme and made to generate unbelievable performance through good old engineering and aerodynamics.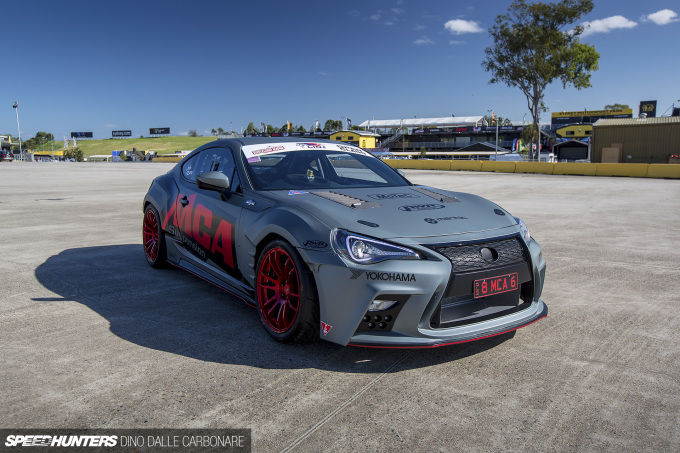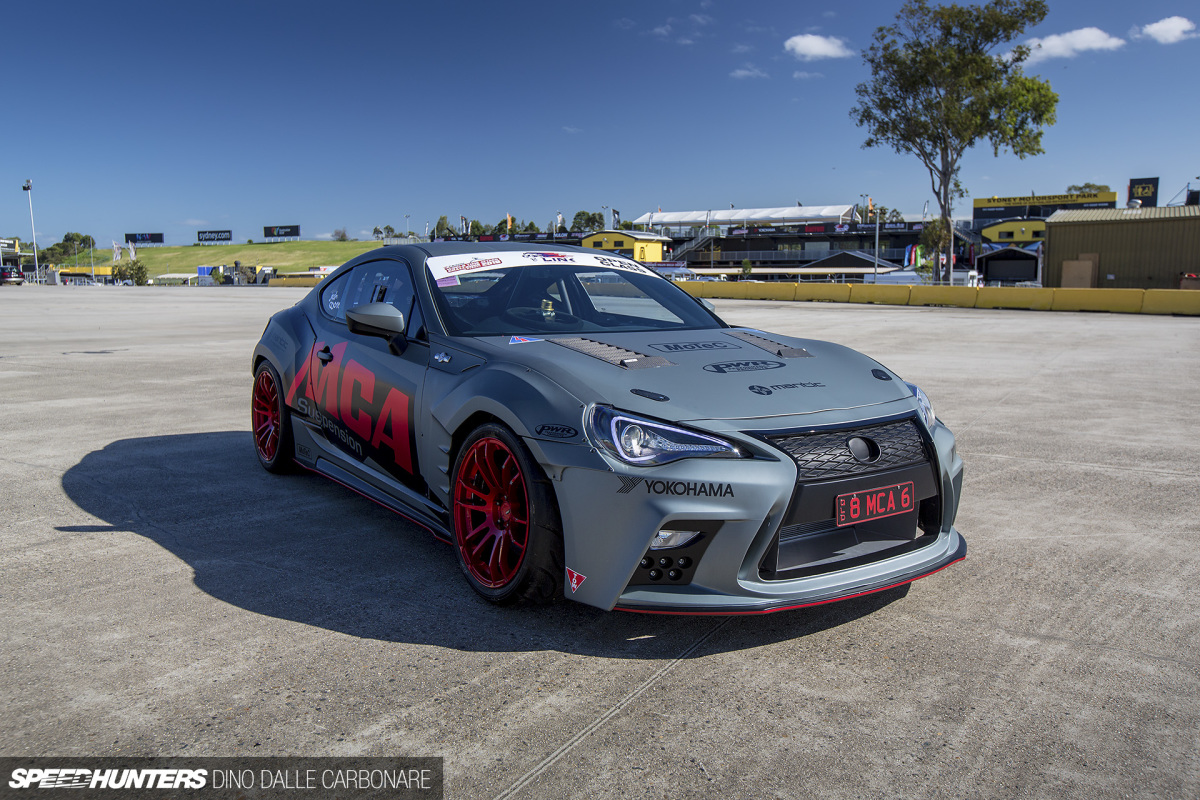 But there was another car in the MCA stable that caught my attention as soon as it rolled onto the track at WTAC 2016. I was planning on running this story fairly soon after last year's event, but no sooner had the team left Sydney Motorsport Park, there was talk of pushing the chassis even further, so I held onto the images till I had more news to share.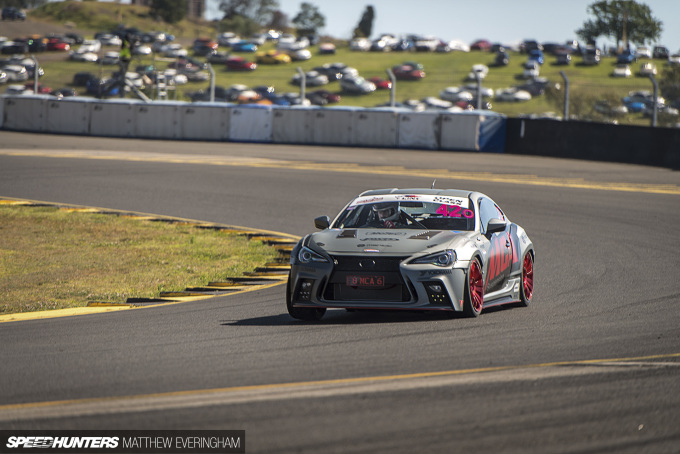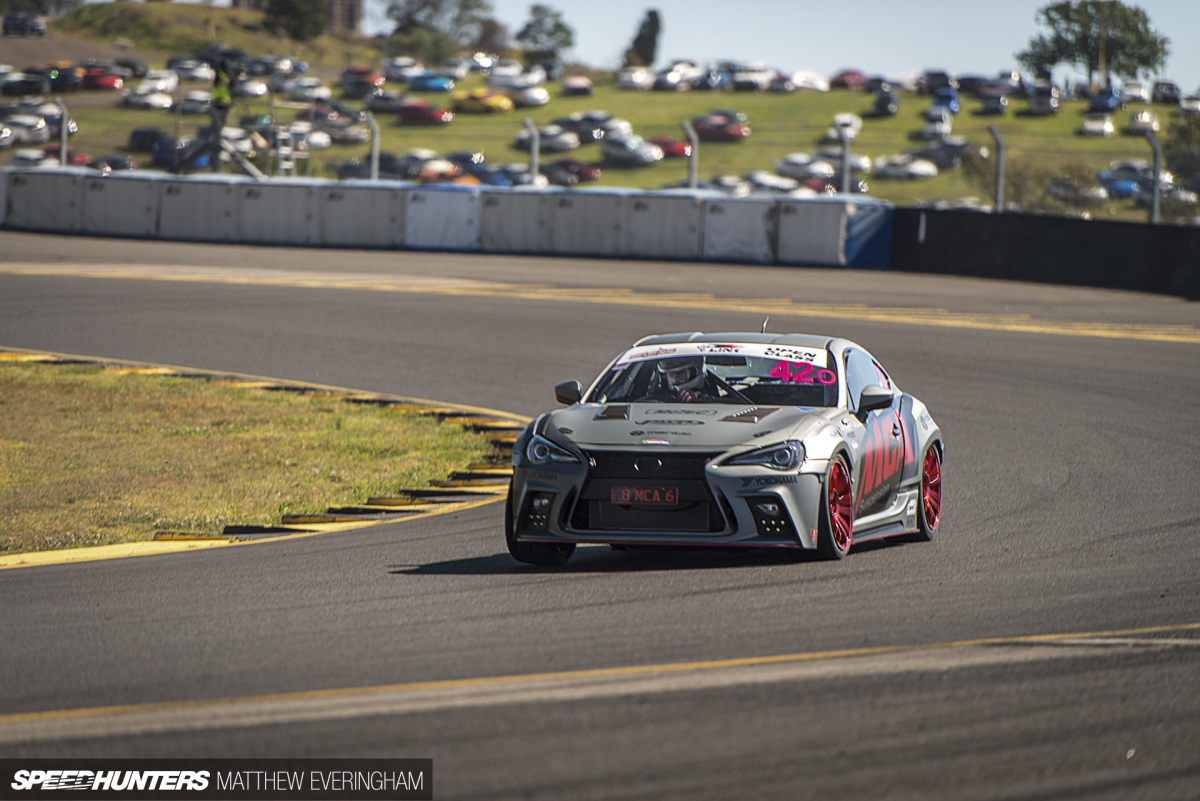 And all of this comes at a good time, as right now participating cars and guests for the forthcoming 2017 event are being announced by the day.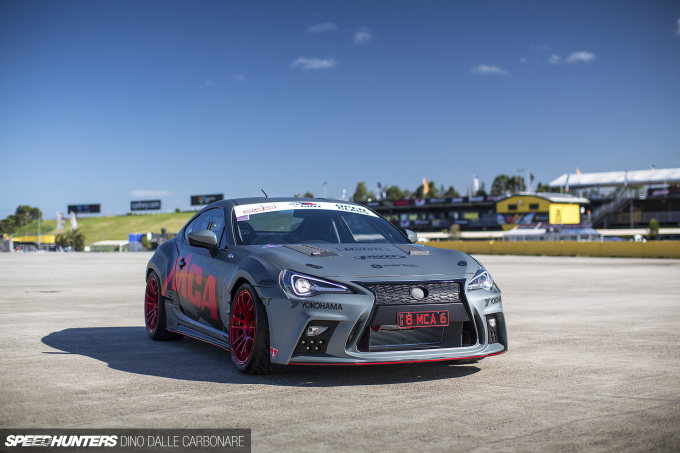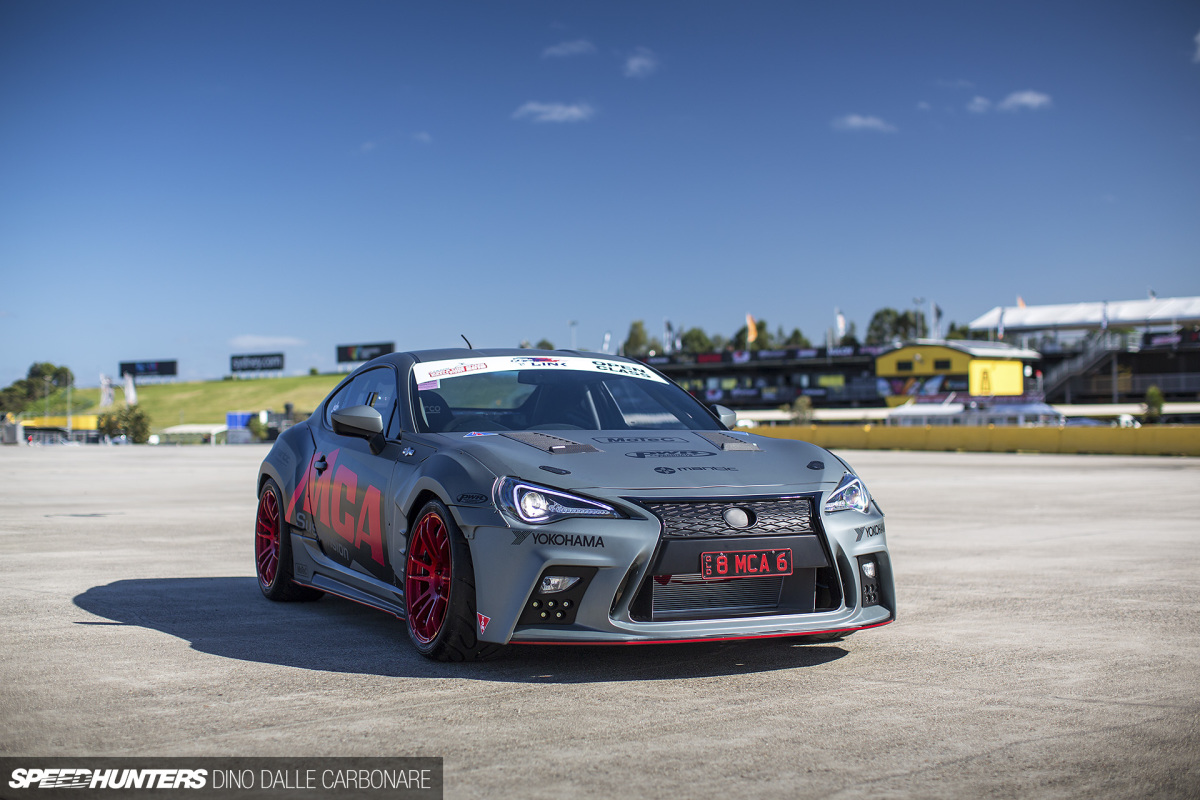 So let's take a little look at what was one of the most memorable cars for me from WTAC 2016, and one of the freshest 86 I've come across to date. You see, it's easy to impress and wow people when you go crazy on a car, but it takes a whole different level of skill to execute something that grabs people's attention without going too wild.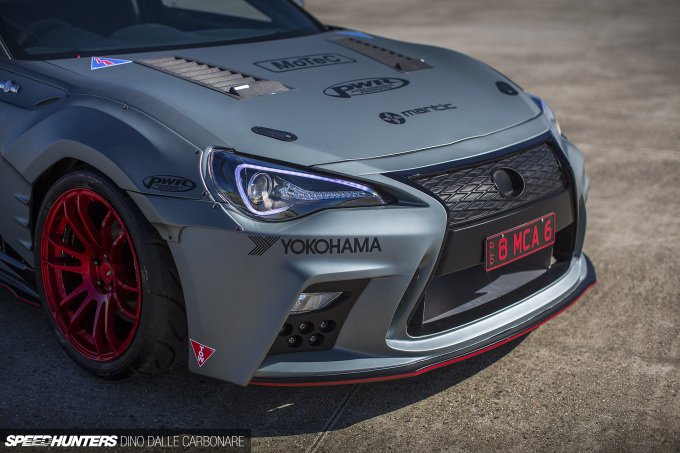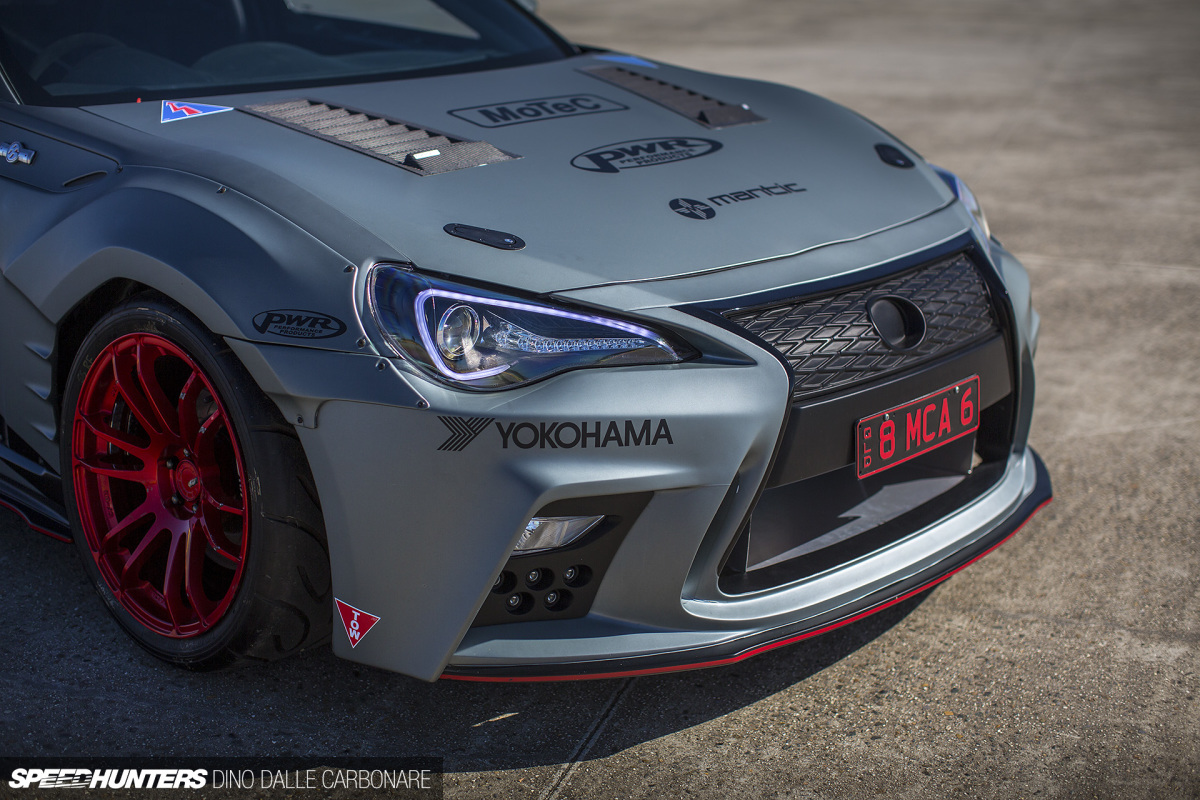 So seeing an 86 fitted with a widebody kit that isn't from the Rocket Bunny catalog was already enough to warrant a closer look. The Aimgain aero stirs the underlying lines of the ZN6 with a dose of elegant aggression; the Lexus-inspired spindle grille giving a more high-end feel to the front end. You'll also notice the complex contours that open up a pair of intakes on each side of the main air dam.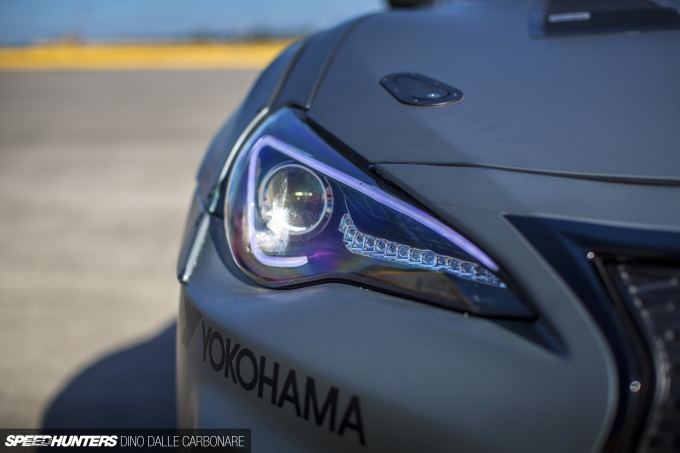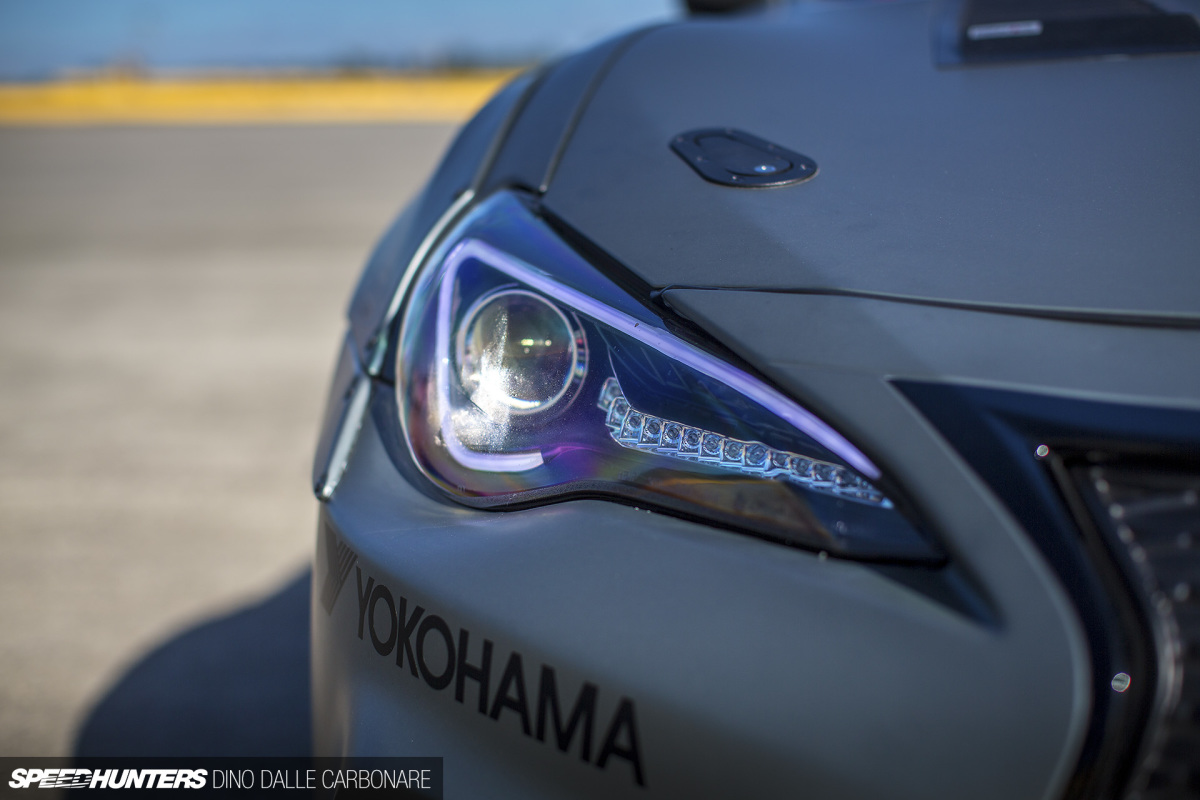 The aftermarket projector headlights with a DRL strip also do their bit to freshen up the 86's look.
To help vent unwanted heat from the engine, the stock hood was cut and equipped with a pair of louvered carbon extractors from Topstage Composites.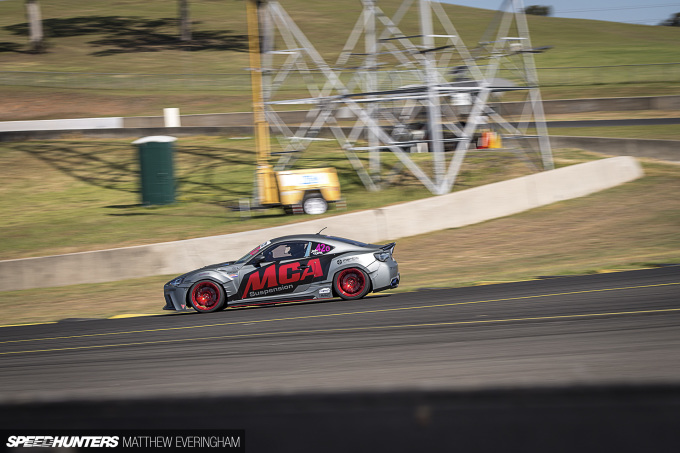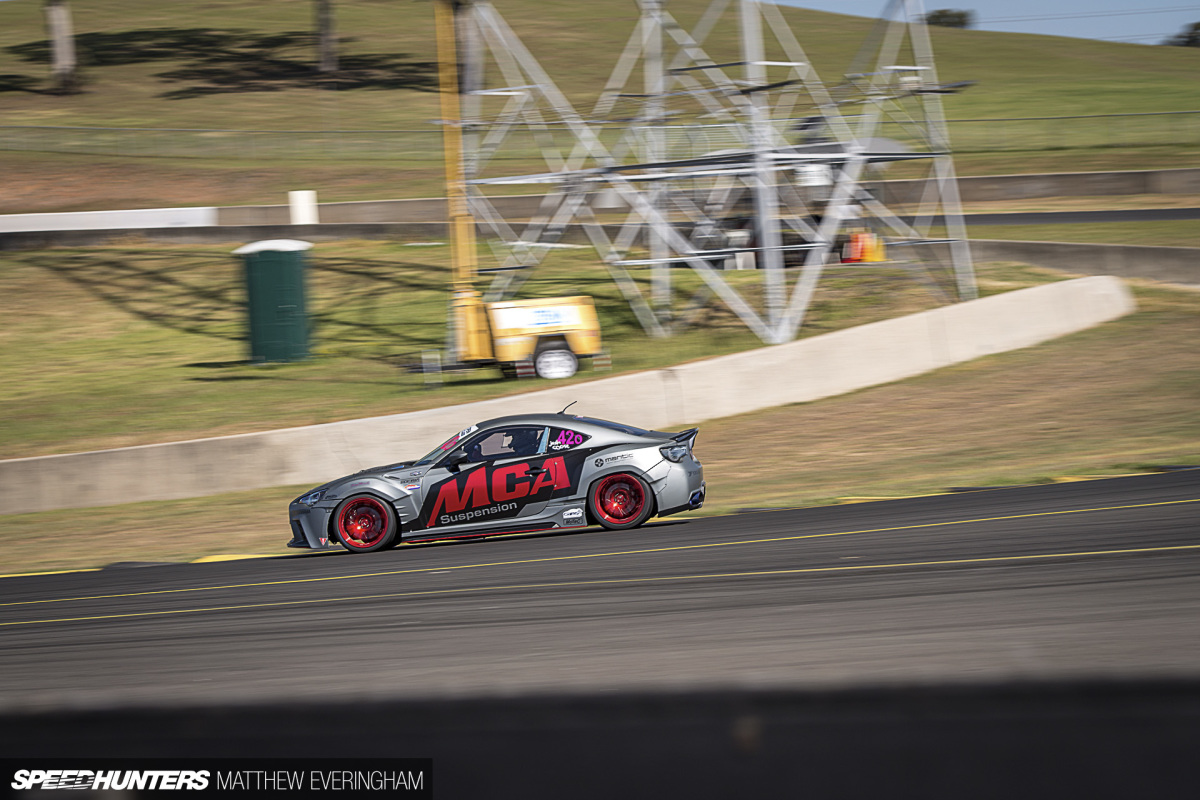 Seeing the 86 out on the smooth surface of Sydney Motorsport Park's 3.95km-long Grand Prix Circuit, you get a feel for how the rest of the Aimgain conversion looks. While some may categorize it as just another bolt-on overfender kit, I think its style is rather unique.
You won't find smooth-radius arch lines; it's like the 86 had a night of passion with Gundam and this 86 was the result. The angular theme just looks wrong when looked at single piece by single piece, but as a whole it all makes sense. The cut of the rear fenders reminds me of '80s Citroëns.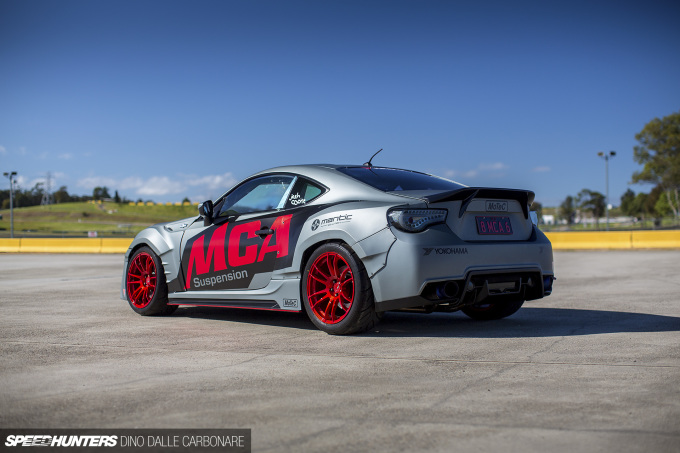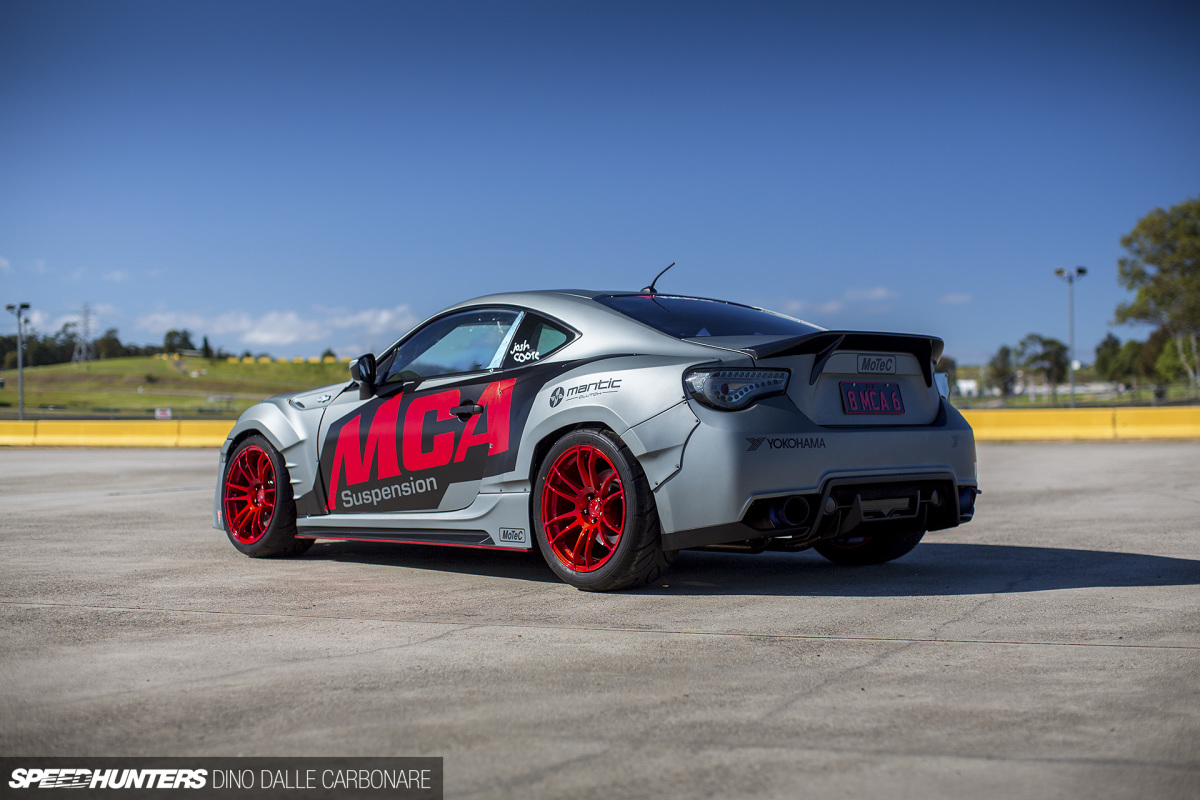 As you would imagine, the car runs on a set of MCA's own suspension – Red Series adjustable shocks to be precise, although at the time of my shoot it still retained the stock arms and bushings. Brembo brakes borrowed from a Subaru Impreza STI were swapped over for added stopping performance and fade resistance on track, and they hide behind Koya SF03 rims at each corner. Yokohama Advan A050 semi-slicks provide the grip.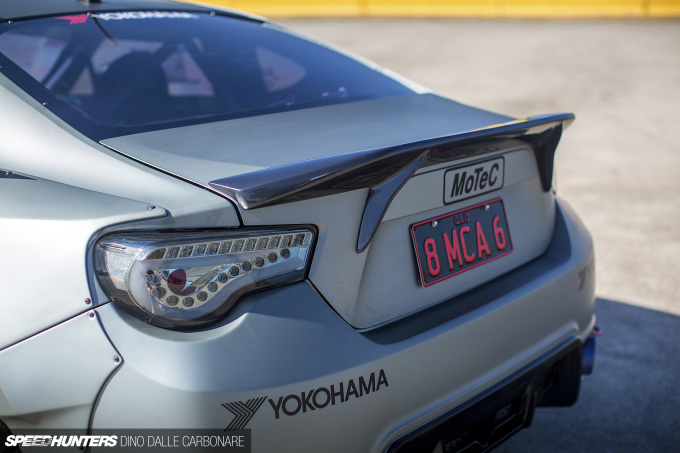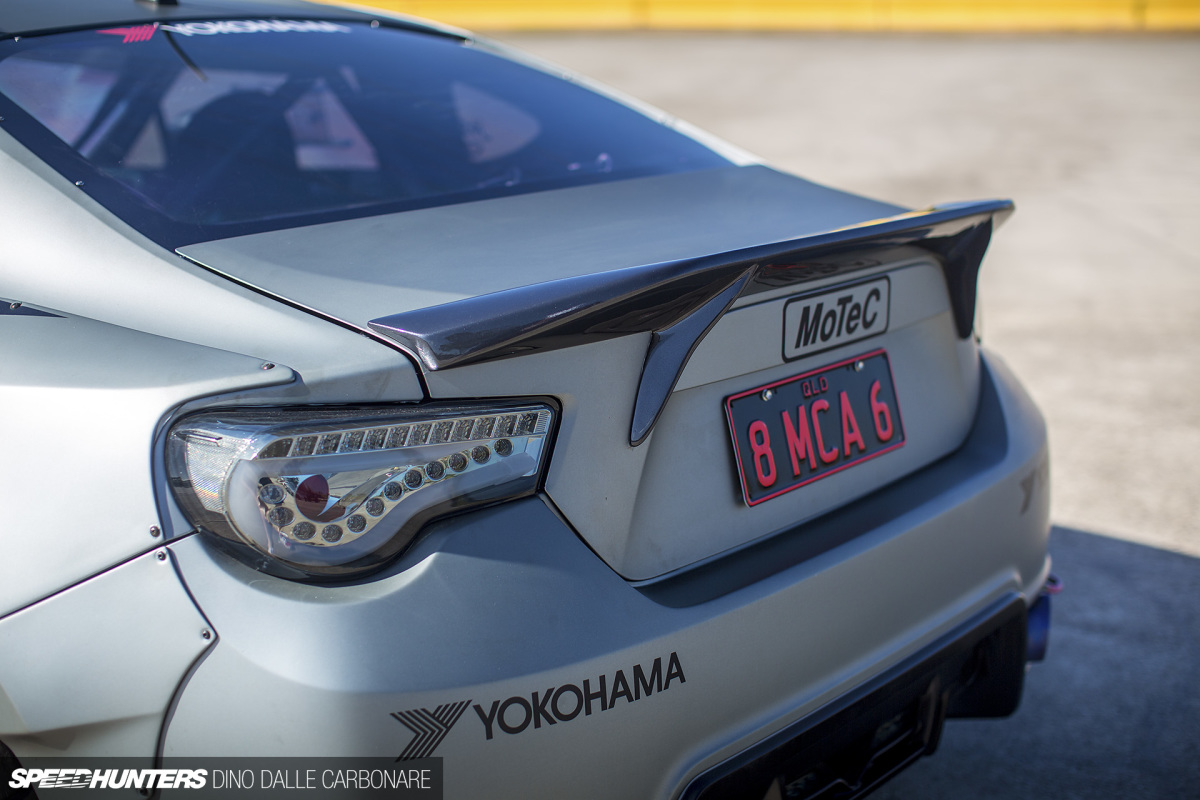 There's a subtle trunk spoiler to complete the full Aimgain look, and MCA also threw in a set of clear LED taillights for a more distinctive look. But the uniqueness of the the styling could never match the impact made by what's hiding under the hood…
A Unique Type Of Swap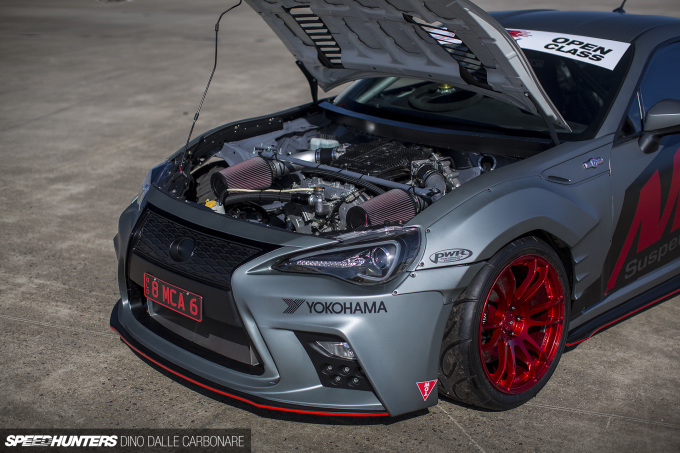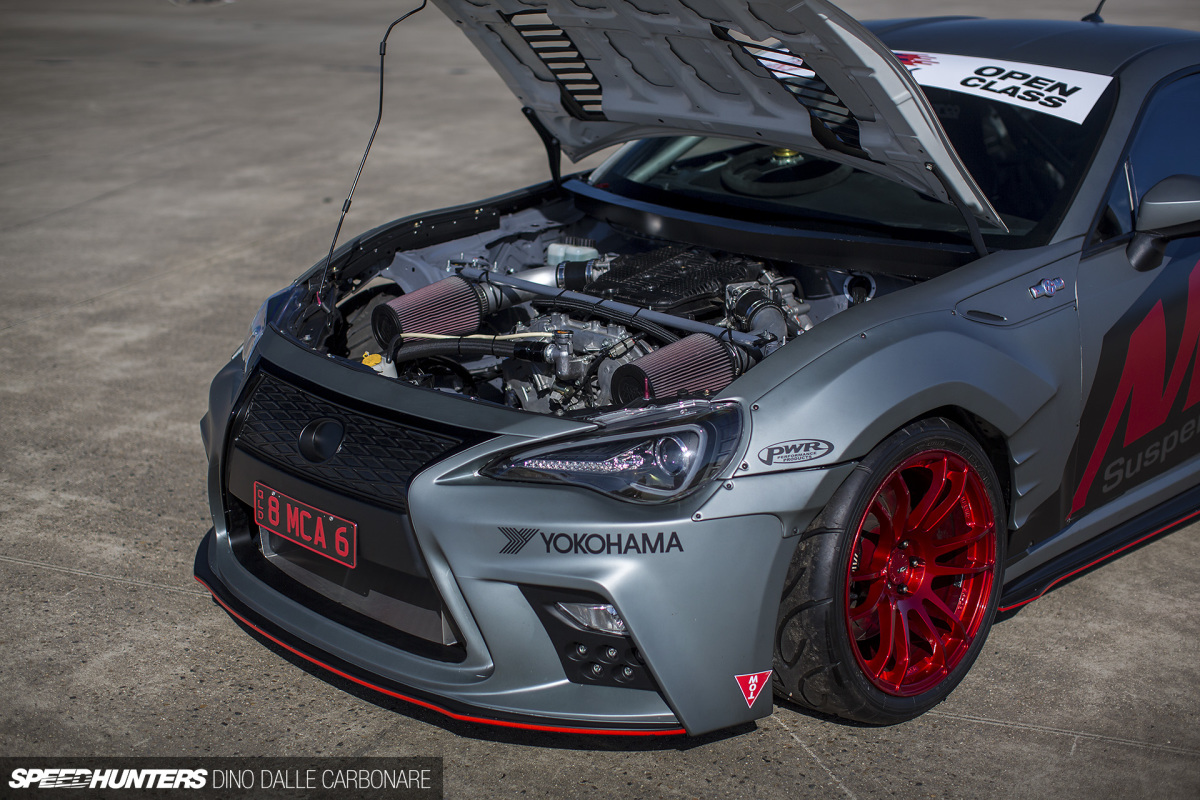 When Toyota gave us the new 86, it was an instant hit. Due to the lack of cheap and tuneable sports cars on the market, it became nothing short of a blessing for tuners, but at the same time it was obvious that the 4U-GSE powering it was almost as disposable as the stock wheels. OK, I'm exaggerating to make the point, but this has to be one of the most engine-swapped new cars in the history of the automobile.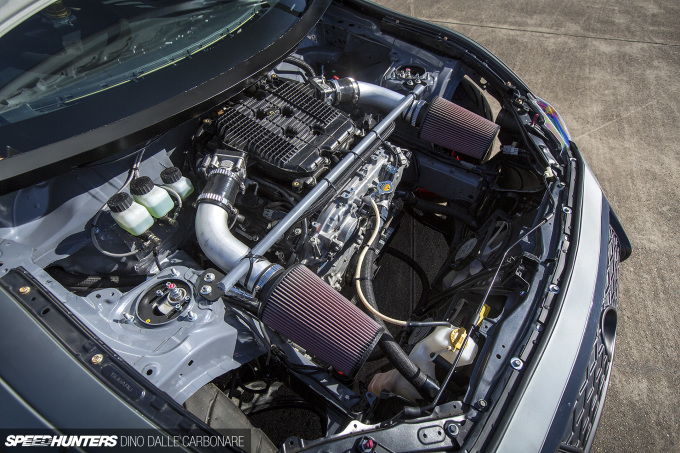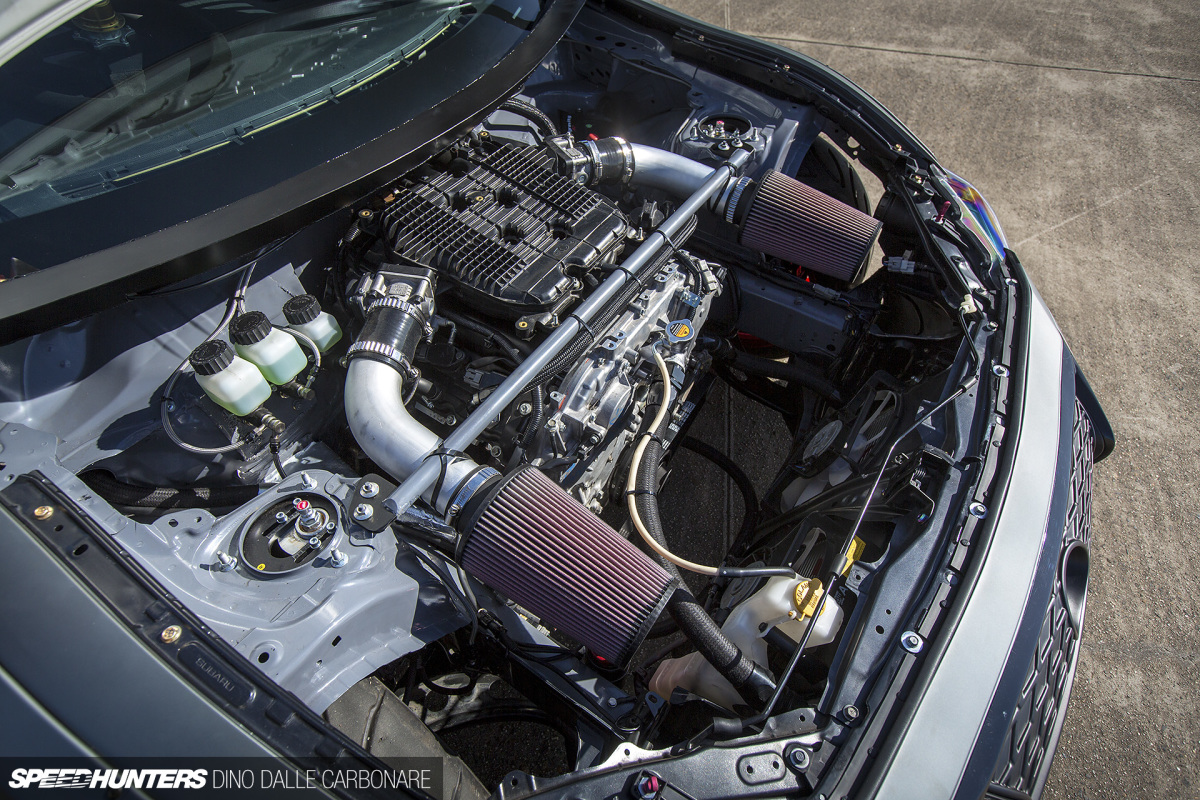 And the idea to drop a Nissan VQ37HR from a Z34 370Z into the Toyota chassis is one of the most surprising transplants we've come across yet. But when you actually think about it, it makes so much sense. For starters, because of the V6's compactness it can be positioned far back in the engine bay.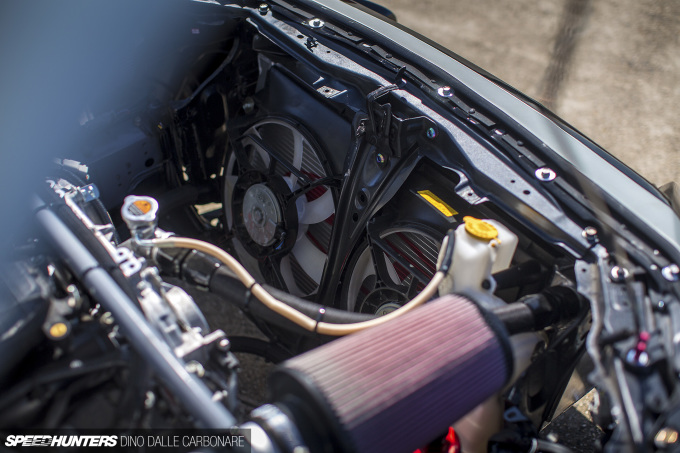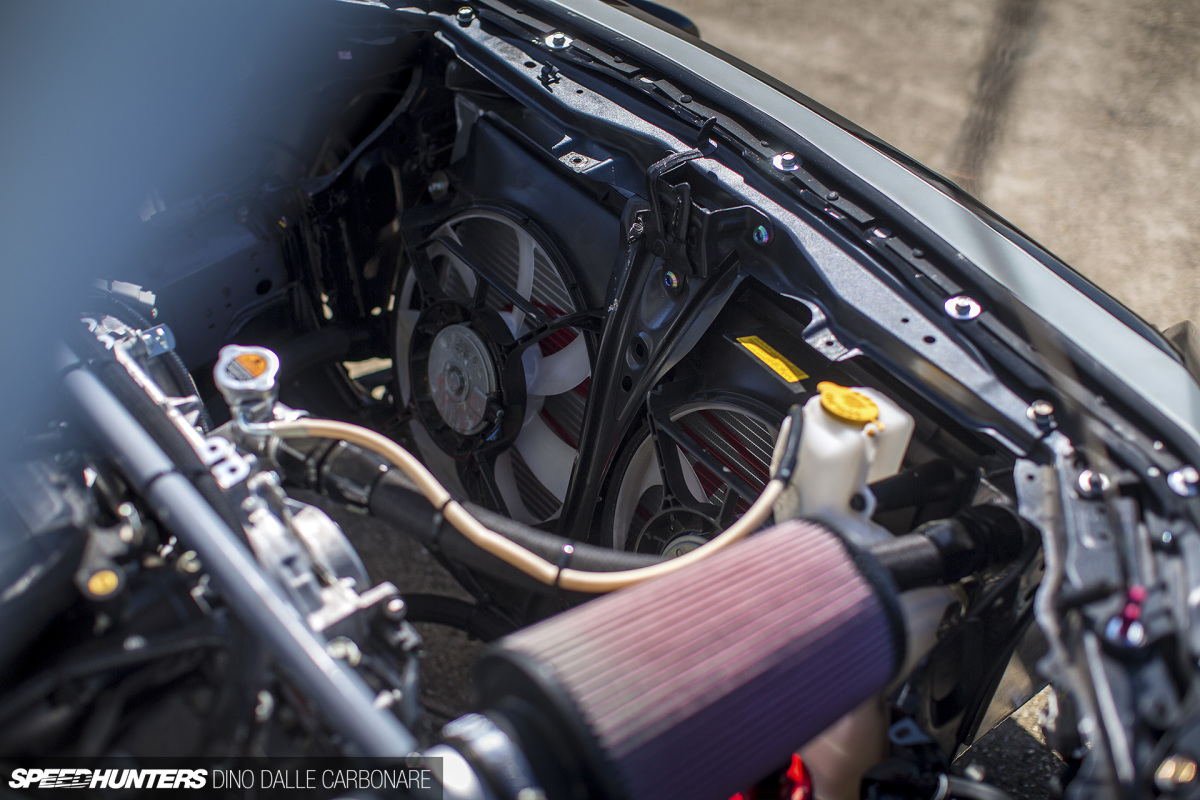 In fact, there's enough room to potentially even run a flat radiator setup or a V-mount if there were a couple of turbos hanging off the custom exhaust manifolds.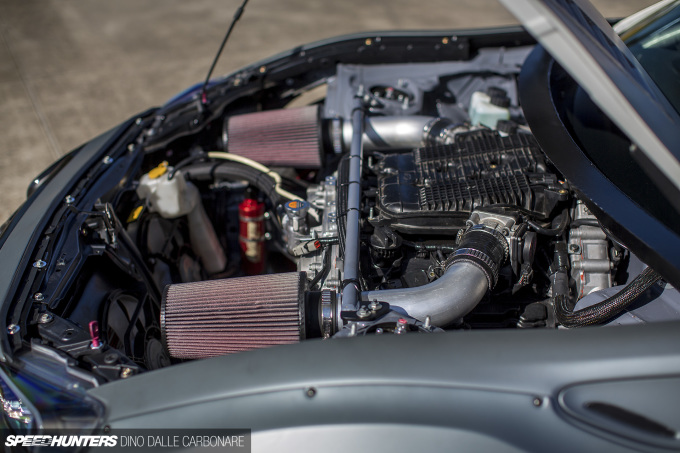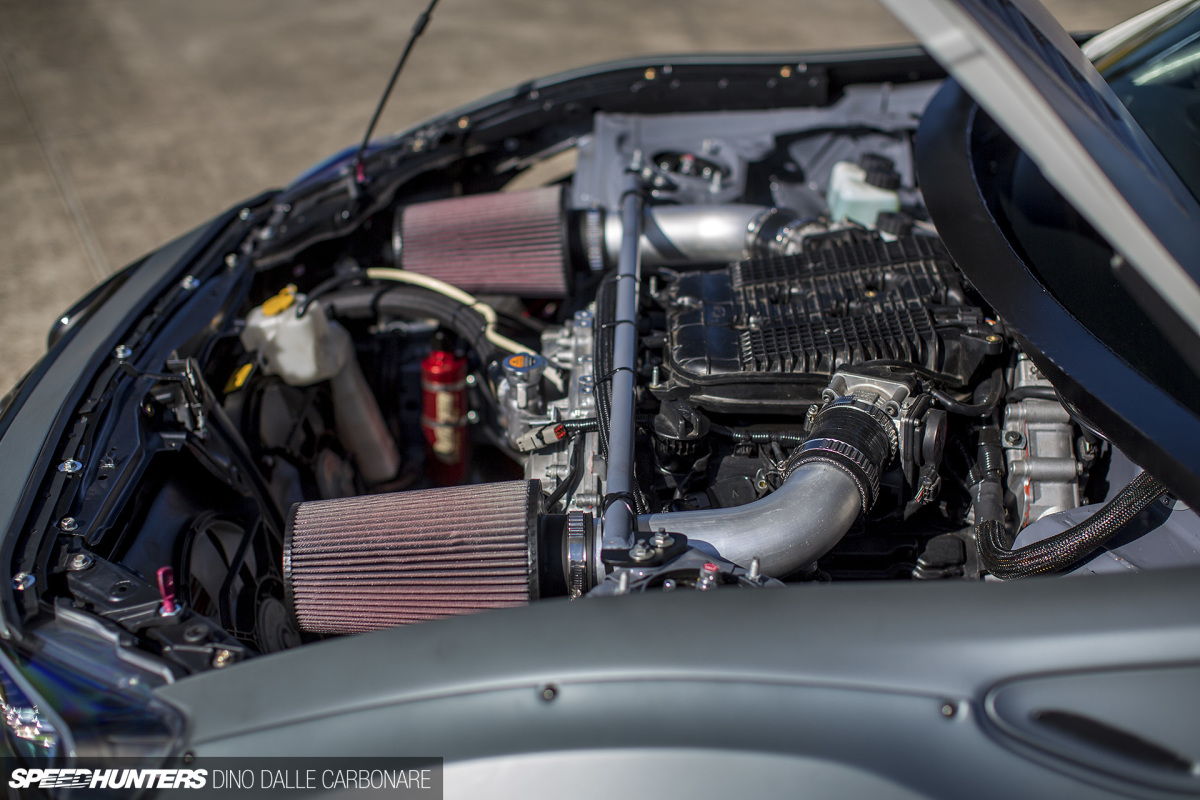 In naturally aspirated guise though, the VQ brings a 1.7-liter boost in capacity, a pair of extra cylinders, and a good 150hp power increase to the whole equation. Of course, MCA have massaged the engine a little with a selection of well-chosen ancillaries, including the headers I've already mentioned, which run into a custom titanium exhaust system. The intake gets a pair of long cone filters and a custom pipe feeding the twin electric throttle body setup. Keen-eyed readers will notice that no air flow meters are to be found, and that's because the engine has been custom rewired and now runs a stand-alone MoTeC M150 with MAP sensor.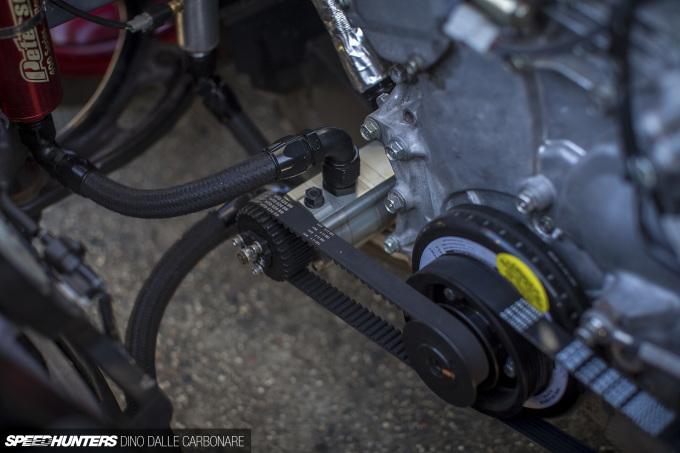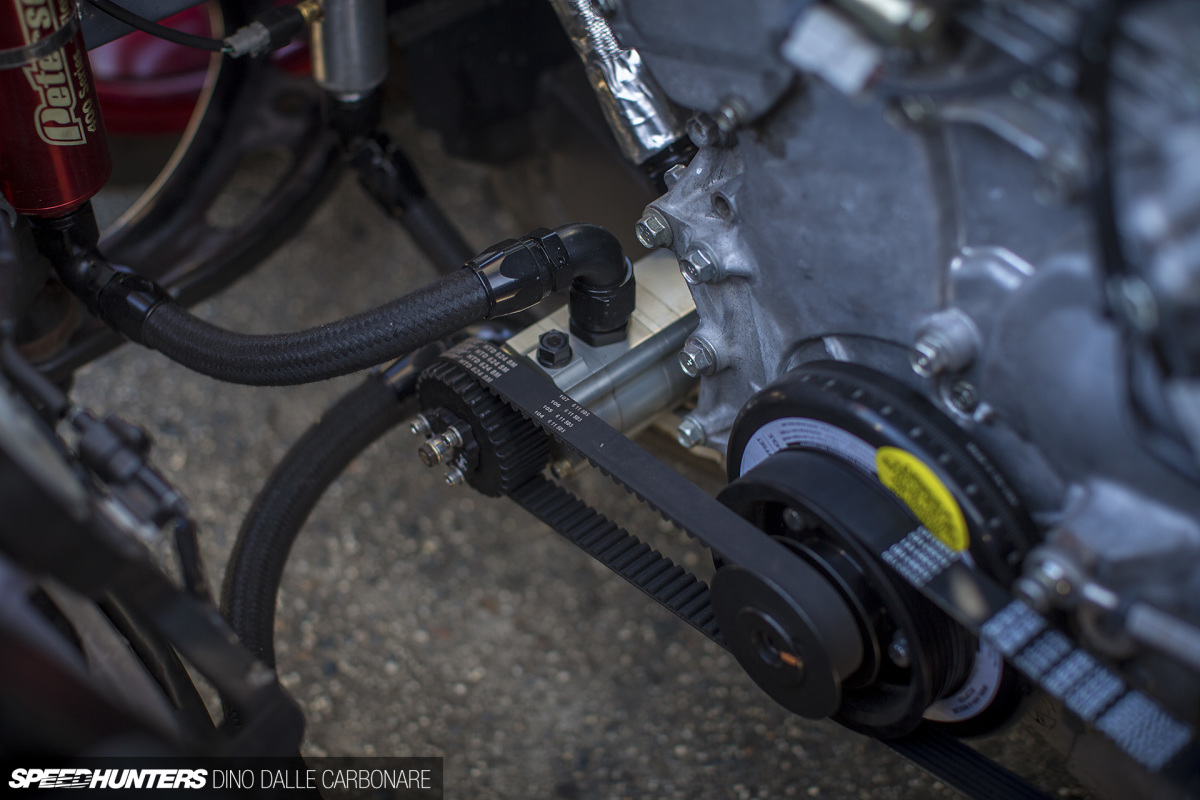 While the VQ is a decent enough engine, it's still a mass-produced unit that Nissan likes to drop into all its larger vehicles (in various configurations). So to say that it isn't quite ready for constant abuse on track wouldn't be far from the truth. "No worries" as our Aussies friends like to say, because MCA have at least made sure that lubrication is up to scratch by fitting a Dailey dry sump system. Not even the longest, constant-radius corners are going to starve this motor of its vital lubrication.
On the driveline side of things, the engine was swapped into the 86 along with the 370Z's factory 6-speed transmission which required a custom prop shaft. Specifically, it's a carbon fiber item from The Driveshaft Shop rated to 600hp. The Driveshaft Shop driveshafts were also fitted along with a Mantic clutch and lightened flywheel.
As you can see, this is one conversion that was done without taking any chances. After all, there would be no point in bringing the car to WTAC without ensuing it was bulletproof.
But for how unique the swap and work done to the VQ and rest of the car is, the whole thing doesn't really make its point until you hear it. The engine note alone will make people scratch their heads! Hit play above and have a listen.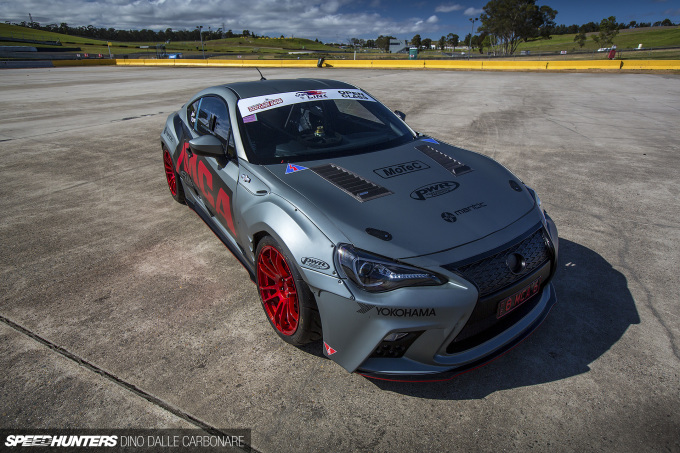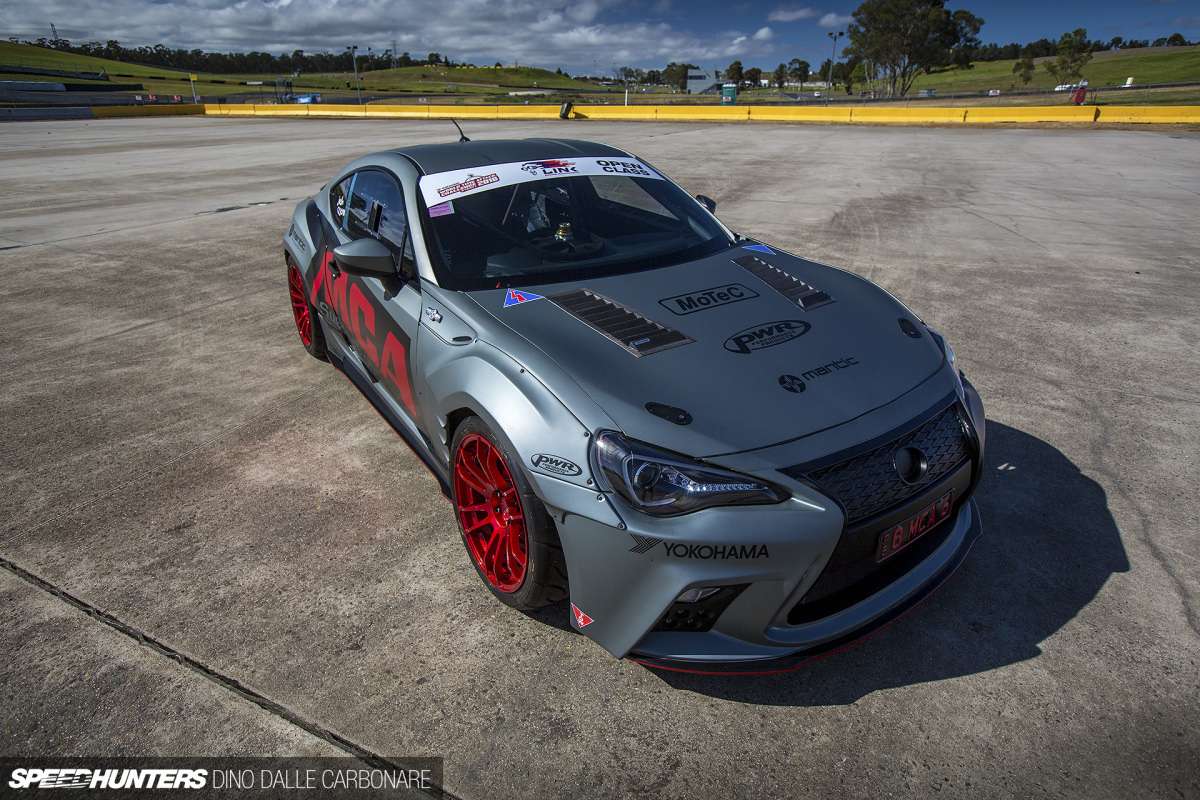 Like every time attack car, the cabin is always the place where you get a good idea of just how serious the approach has been.
The Real Evolution Is About To Begin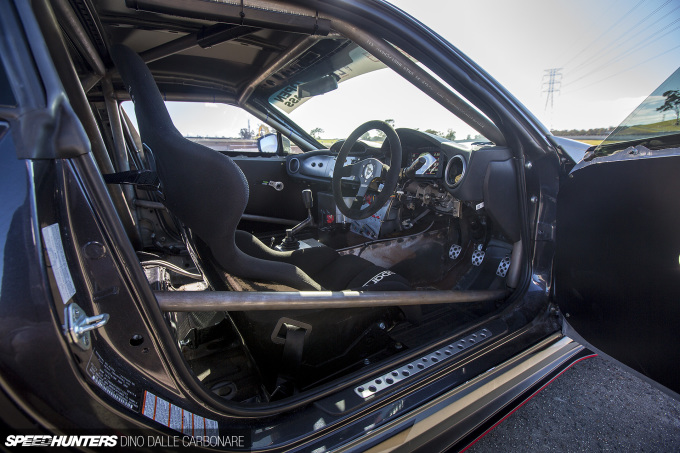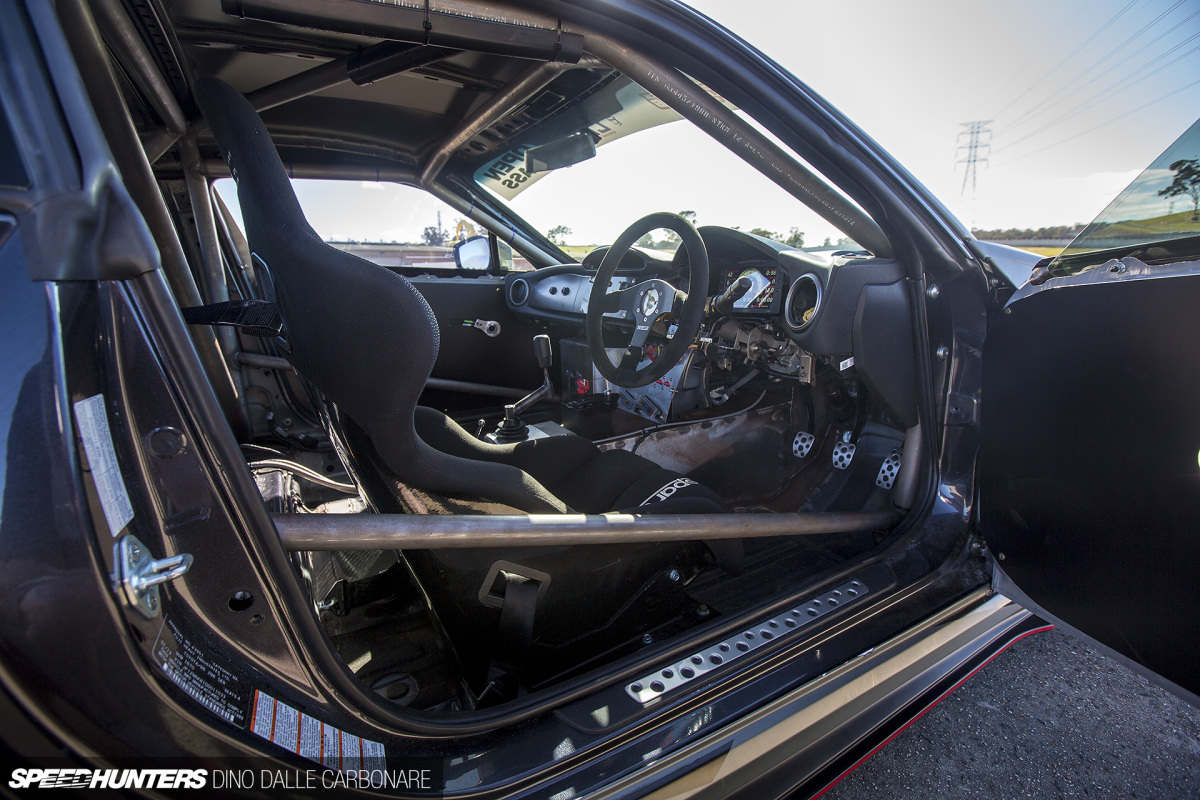 While Josh at MCA Suspension did explain that it was still a work in process, and that there were plans to keep evolving the car, the team made sure they started things off properly. This was achieved by stripping the interior bare, then welding in a custom roll-cage to triangulate the main points of the cabin, add rigidity and a provide an extra layer of safety if the worst were to happen.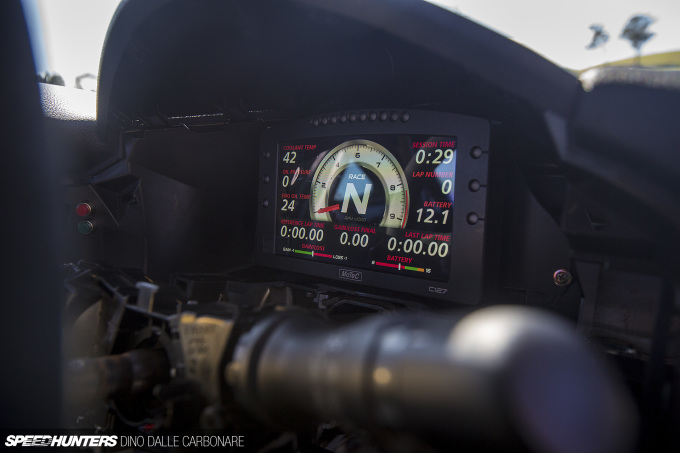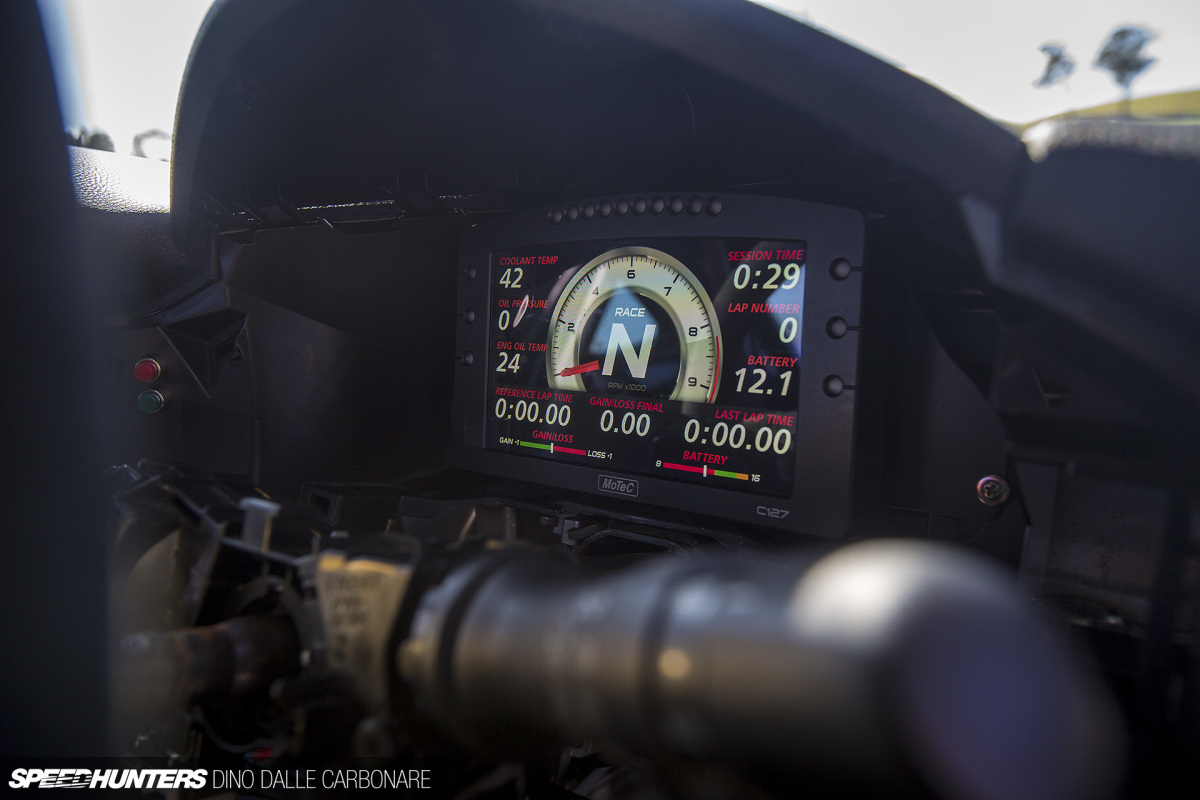 Of course, if you run a MoTeC engine management system it's very hard not to splash out a little more for a matching color dash display. This is the sort of thing all car guys dream of, and apart from its functionality, the C127 used here is a very customizable unit; you can even come up with your own designs for layout and instrumentation.
As mentioned before, the car has been custom wired throughout. The fuses have been relocated to the center console for easy access, and a custom switch panel has been made up and fitted where the audio/navi double DIN unit would usually live.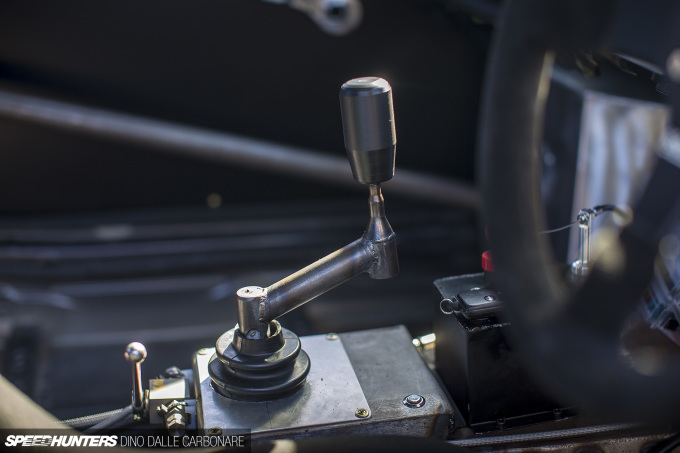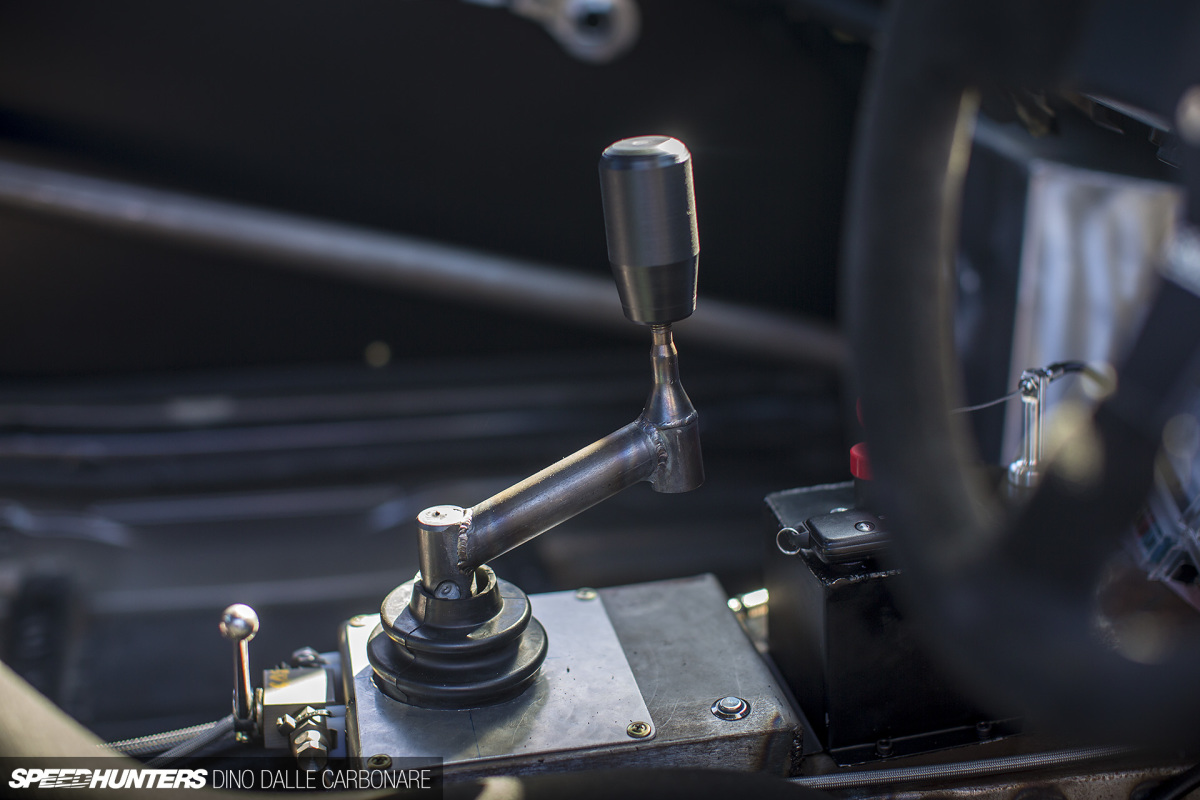 Seeing as the Nissan 6-speed box's shifter didn't end up in an optimal position, MCA came up with a custom lever to reposition the shift knob right where Josh wants it.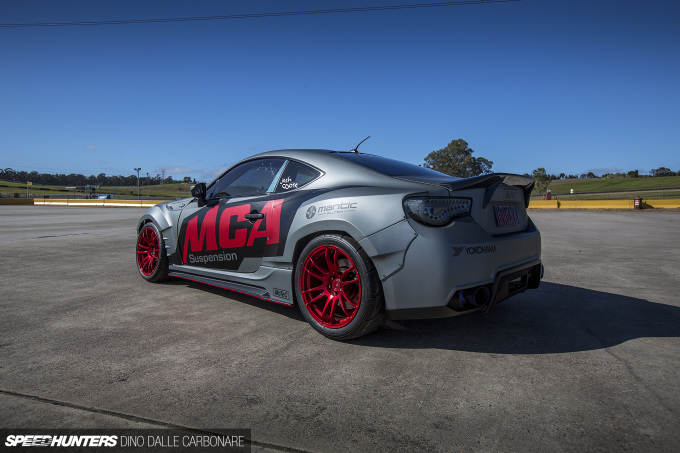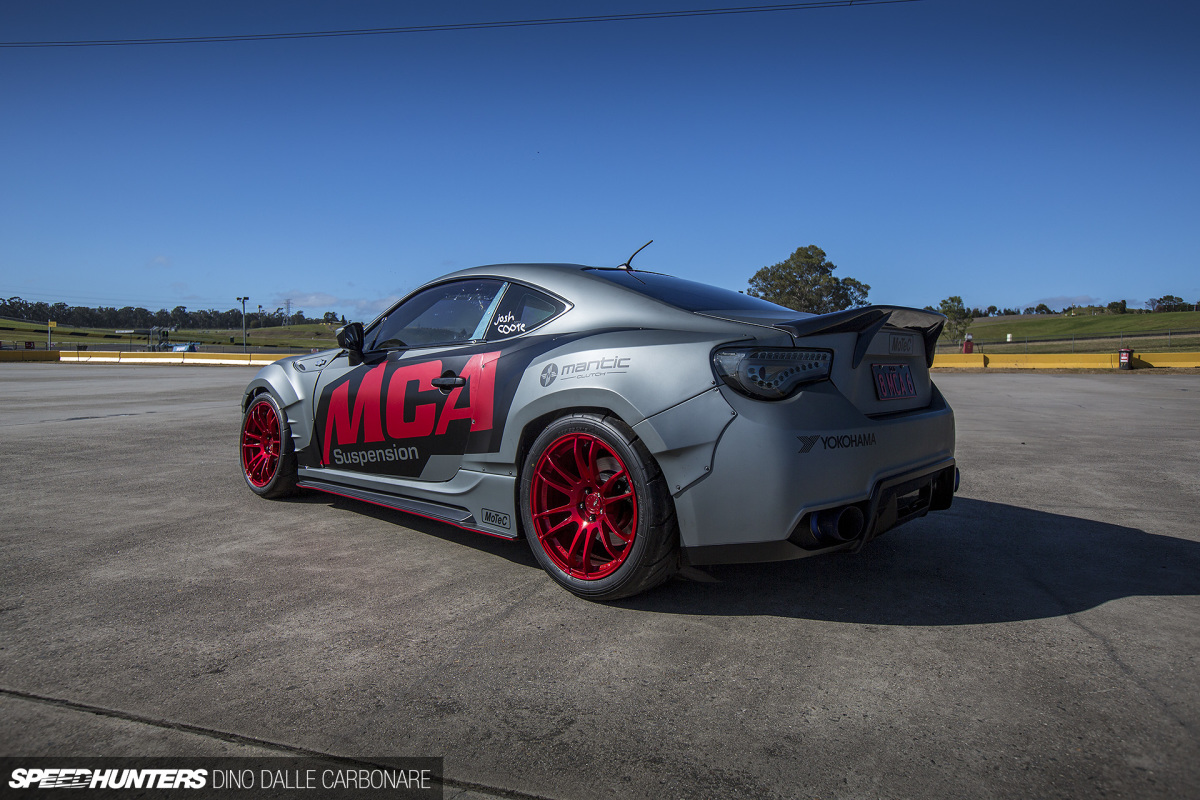 But it doesn't quite end there. There's a little more to be seen once you head to the rear of the car and lift up the trunk lid.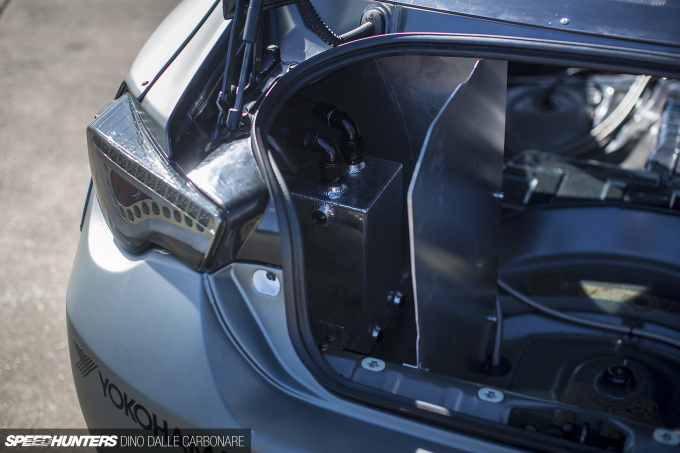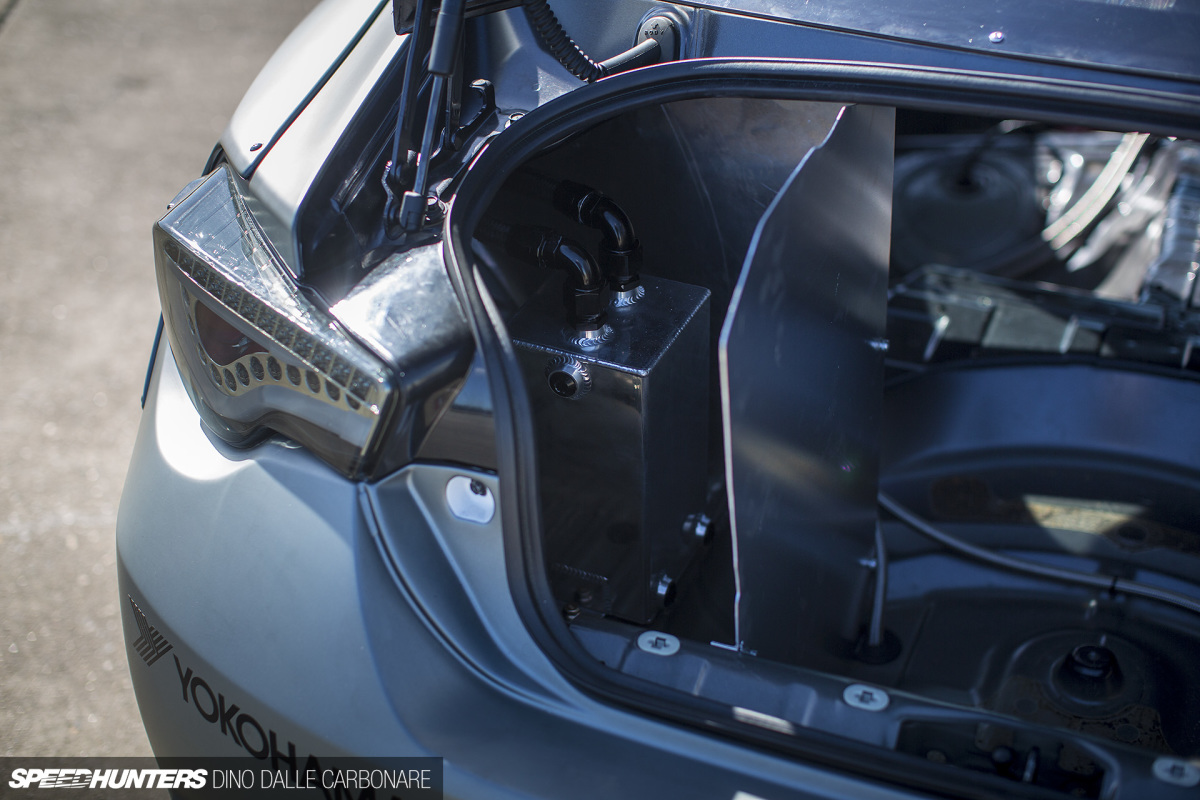 Doing so reveals just how much stripping has been done inside, as well as the custom fuel surge tank that lives in a sealed away corner of the trunk.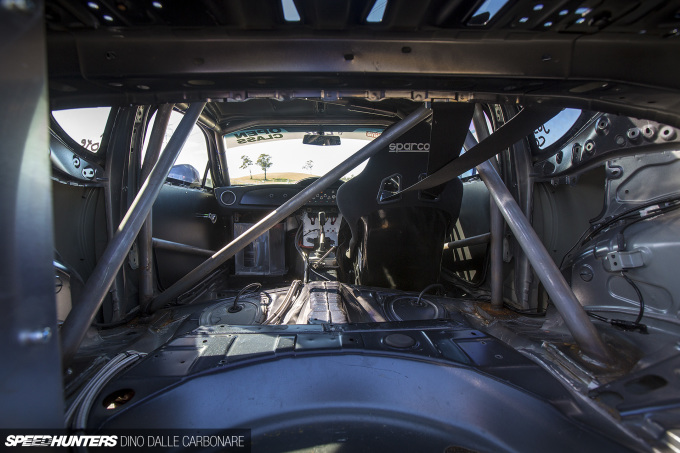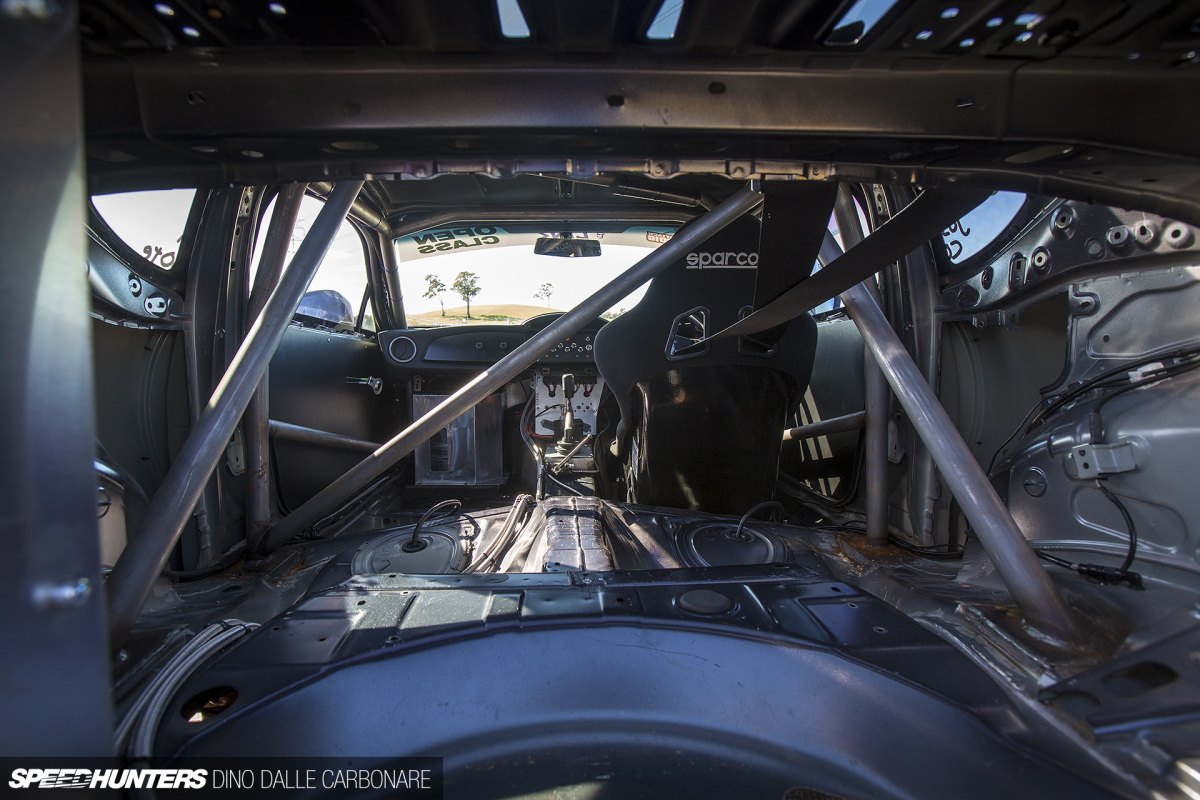 Here's another view at the cabin through the trunk, where there's no actual separator dividing the two areas. That's because the back seats in the 86 (when fitted) fold down so that you can fit a set of spare wheels/tires in the car when you hit a track day. That was always something Toyota talked about when the car came out.
So onto the future – what exactly does MCA have planned for the 86? Well, they've committed to creating a solid end-to-end custom aero package and have hired Andrew Brilliant to pen and develop it all.
As you can see though, since my shoot back at WTAC the car has continued evolving with even more attention being put on aerodynamics. However, what Mr. Brilliant will come up with will be pretty serious.
And with more downforce comes the need for more power, so on top of the new exterior you can expect a much higher performing powertrain to complete it all. Exciting times are ahead for MCA and  WTAC.
Dino Dalle Carbonare
Instagram: speedhunters_dino
dino@speedhunters.com
MCA Suspension VQ-powered Toyota 86
Engine:
Nissan Z34 VQ37 V6, Dailey dry sump system, MoTeC M150 engine management system, CES custom extractors, Invidia twin 2.5-inch titanium exhaust system, PWR custom radiator
Driveline:
Nissan Z34 6-speed transmission, Mantic clutch & lightened flywheel, custom The Driveshaft Shop carbon tailshaft, The Driveshaft Shop driveshafts
Suspension/Brakes:
MCA Suspension Red Series shocks, 86 traction mod, Subaru Impreza STI Brembo brakes, Project µ pads & fluid
Wheels/Tires:
18×10-inch Koya SF03 wheels, Yokohama Advan A050 tires
Exterior:
Aimgain bodykit, Alfa Motorsports fibreglass doors, polycarbonate windows from Plastics4Performance, Topstage Composites bonnet vents
Interior:
Custom full car wiring loom, MoTeC C127 dash, Sparco Pro2000 seat, Takata 5-point harness
World Time Attack Challenge 2016 related stories on Speedhunters