Living The Dream
T-minus one month. Time is ticking for Eriel Ferrera as he prepares to do what a lot of US military personnel in the same position have done before.
Being with the US Navy in Japan has allowed fans of JDM cars to live the dream. That is, to own, tune and enjoy automotive favorites from the '80s and '90s in the motherland, and then send them back to the States at the end of their assignment. Eriel has about four weeks to go before his car is put on a ship bound for California.
As we sit on one of the green metal fences that separates the sidewalk from the main road through Akihabara, Eriel tells me that the '25-year-old rule' everyone gets excited about isn't exactly as straightforward as it appears to be.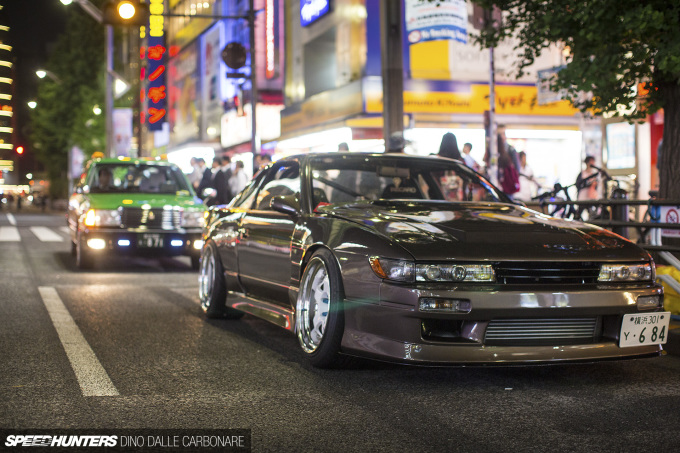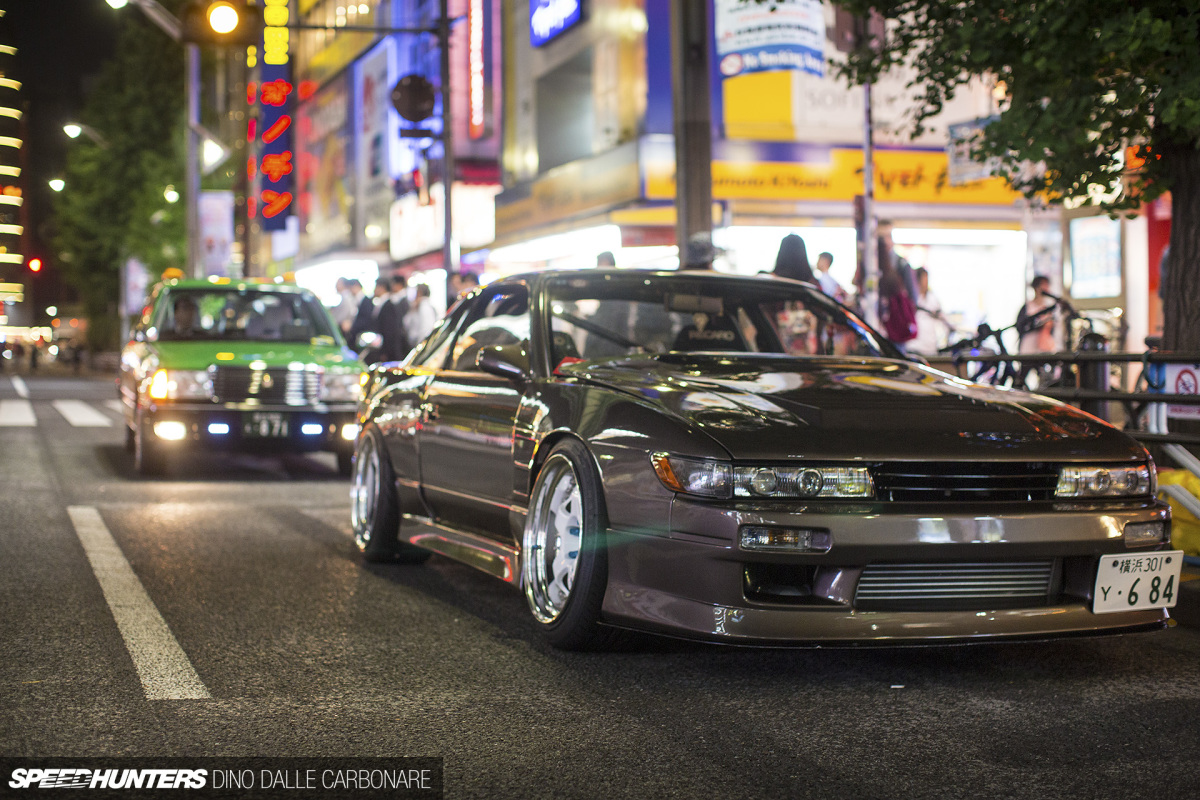 Despite his car being of 1989 vintage, Eriel has had to endure more than his fair share of headaches to get all the paperwork in check, but all looks good now, meaning that in a few months' time this S13 will be cruising some very different streets to what it has for the last 28 years.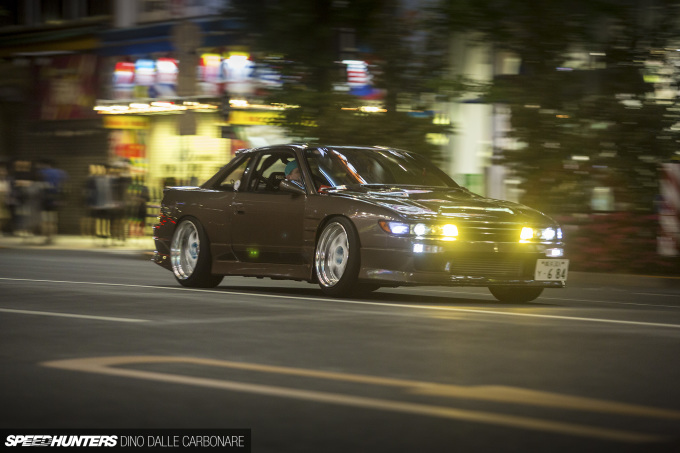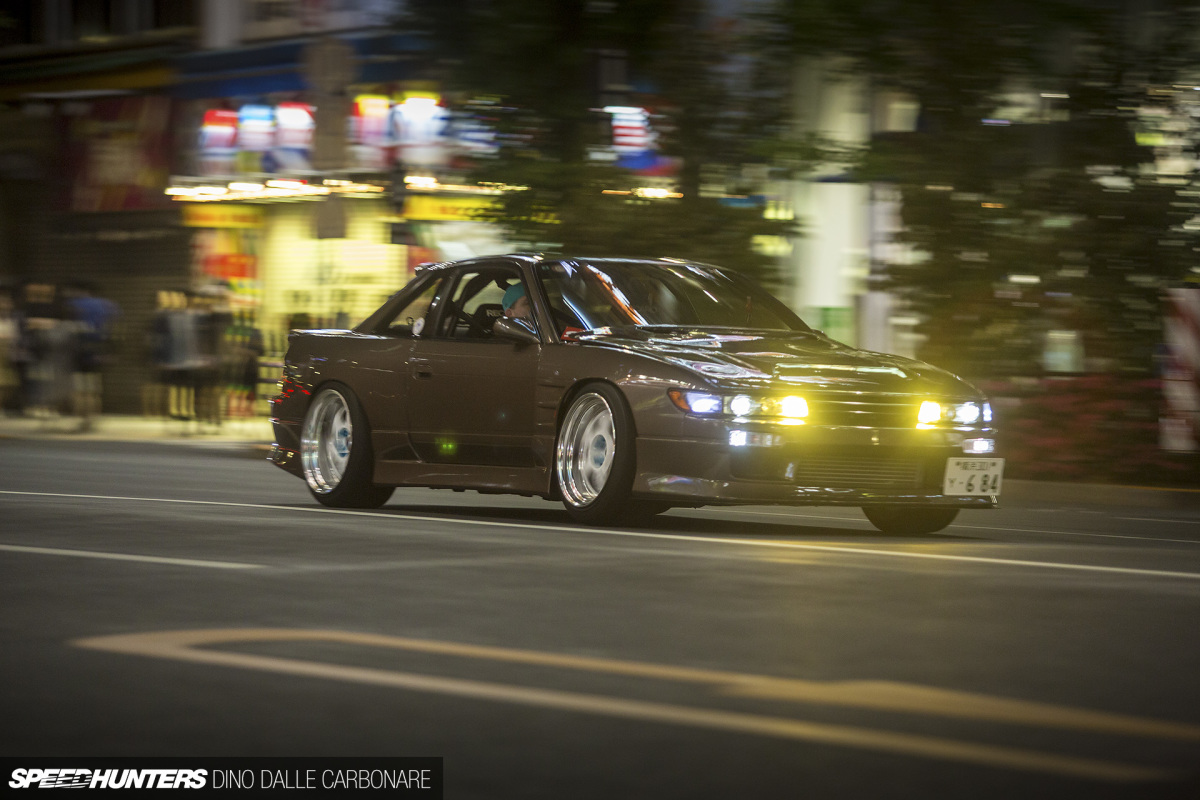 When Eriel originally made the move from Hawaii over to Japan, he knew it was the perfect opportunity to pick up something special and eventually take it back home with him. Like most enthusiasts in his line of work, as soon as Eriel arrived in Japan he looked at R32 Nissan Skyline GT-Rs. Aside from the fact that prices had already began climbing, he quickly realised that many of his peers owned them, then decided that something different from the norm would be a better idea.
Eventually Eriel settled on a Z20 Soarer which looked cool, was very different from the cars he'd owned in the past, and had that tank-like build quality to it that Toyotas of the vintage were renowned for. But just as he was just about to pull the trigger on one, he changed his mind.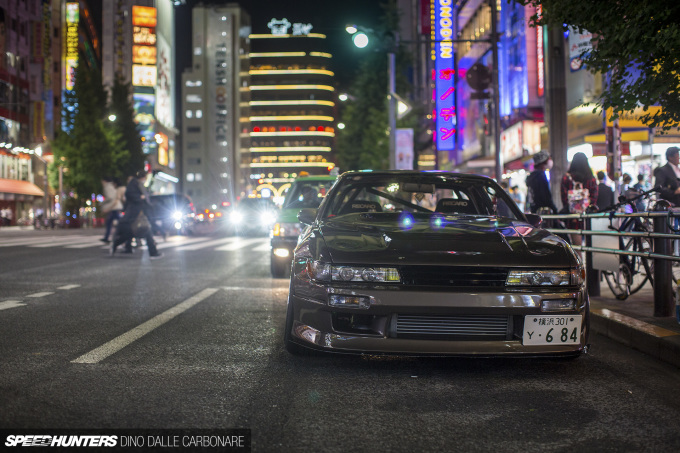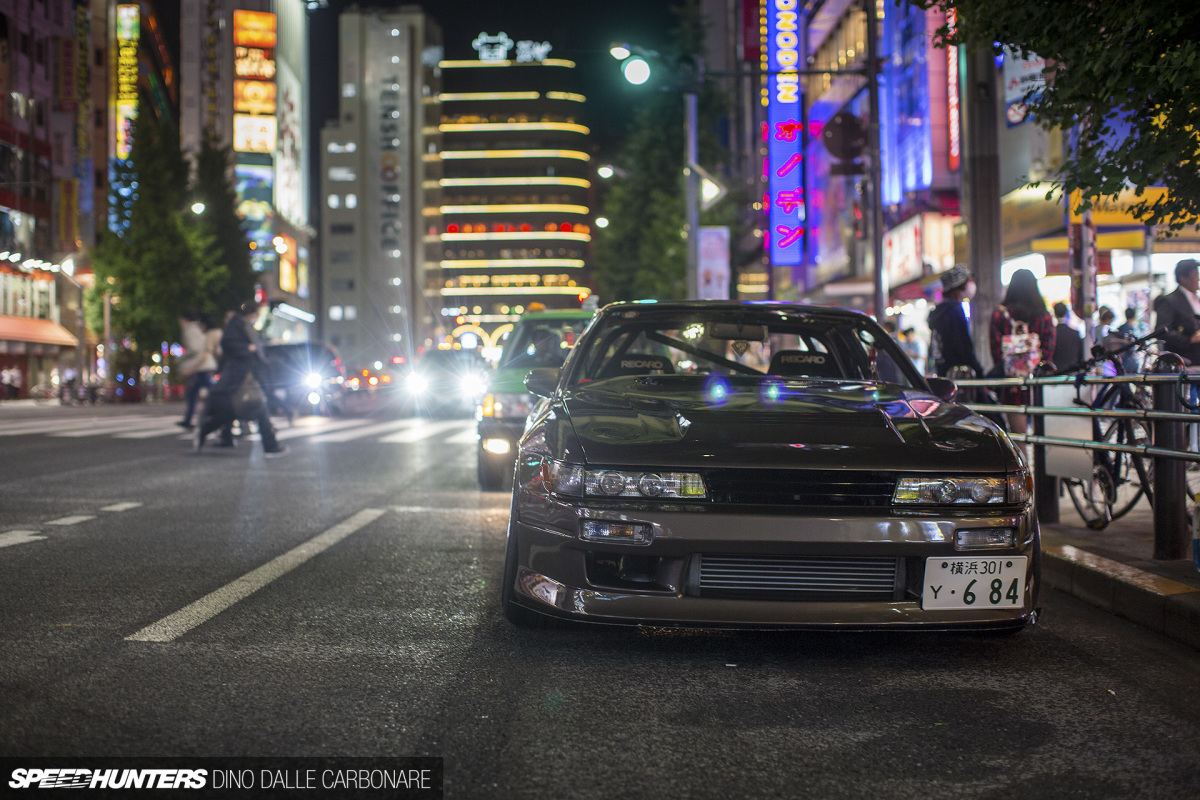 What if something broke or he needed parts once back in the US? The Z20 would cause headaches for sure, so the idea to purchase something a little less obscure seemed like the right thing to do. It's the reason why he Eriel has a S13 Silvia K's sitting in his garage.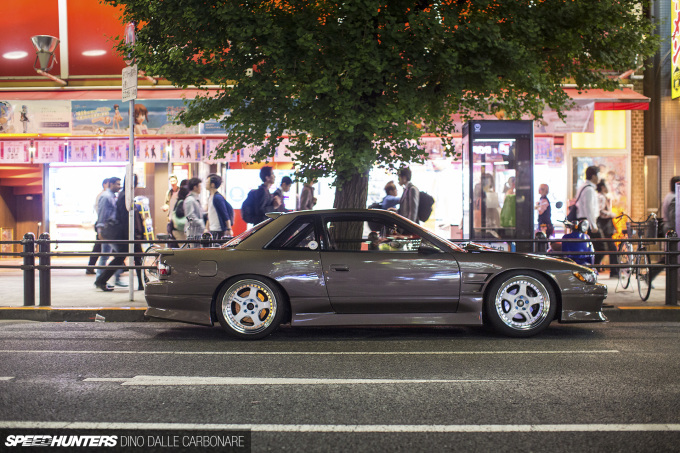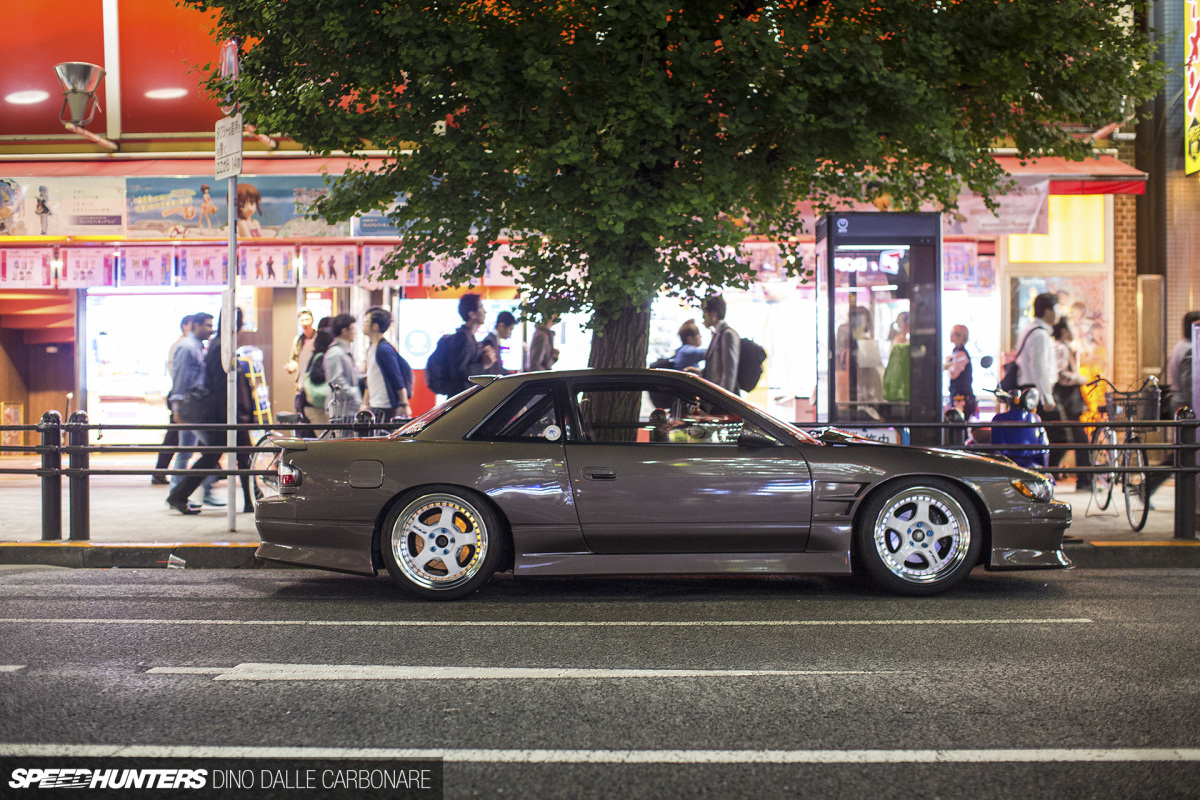 In the time he's had the car, Eriel has nothing short of transformed it. It's been cleaned up, had its engine modified, and been made to handle. This is indeed what you'd refer to as a project car, except Eriel's had to do it all with the clock ticking. It's fair to say he's nailed the execution and details to a tee; this is one of the sweetest looking S13s I've ever seen.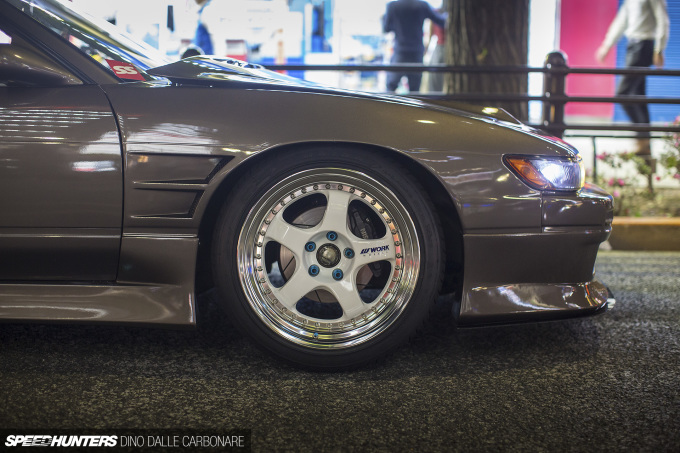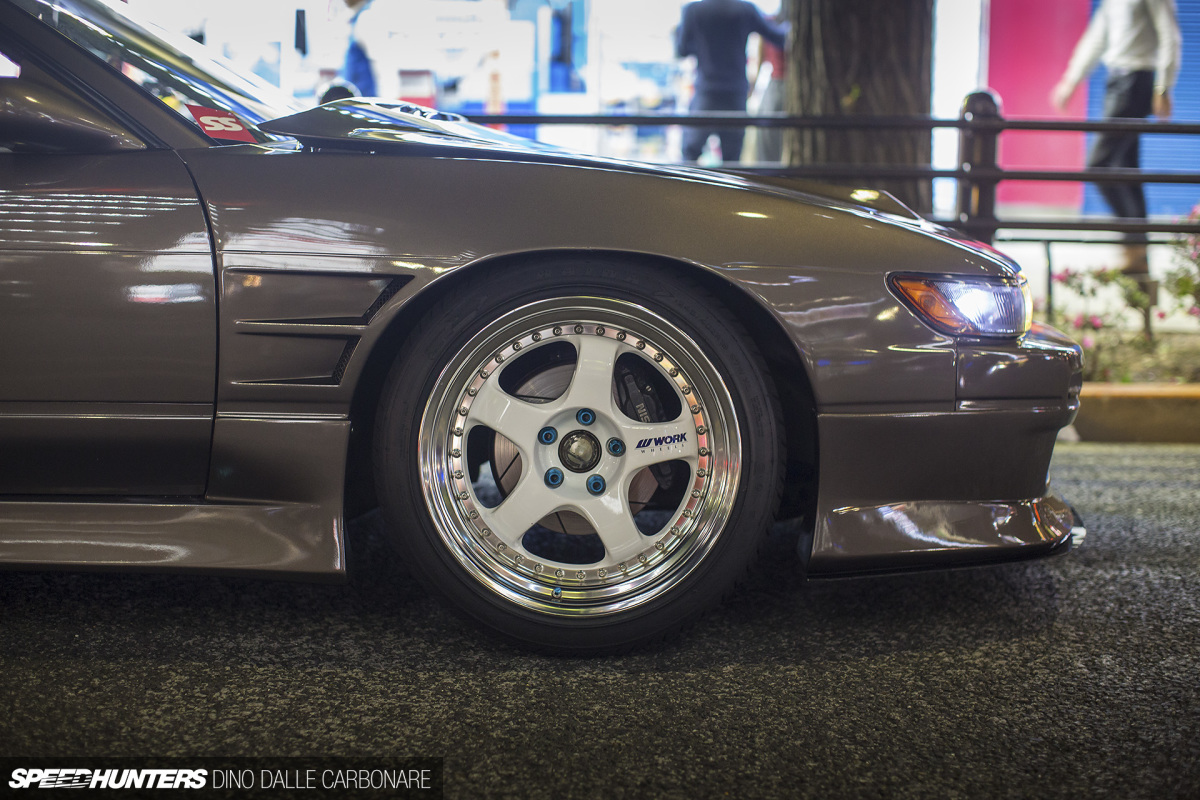 Looks-wise, the car wears a Vertex aero kit that benefits from the addition of Chargespeed front and rear fenders. They're wider than stock, +20mm at the front and +50mm at the rear, allowing for a more aggressive wheel fitment and giving some extra visual flair to the whole aftermarket FRP ensemble.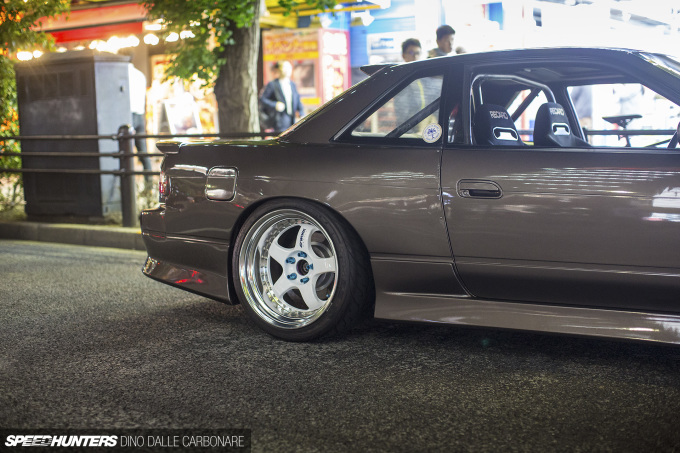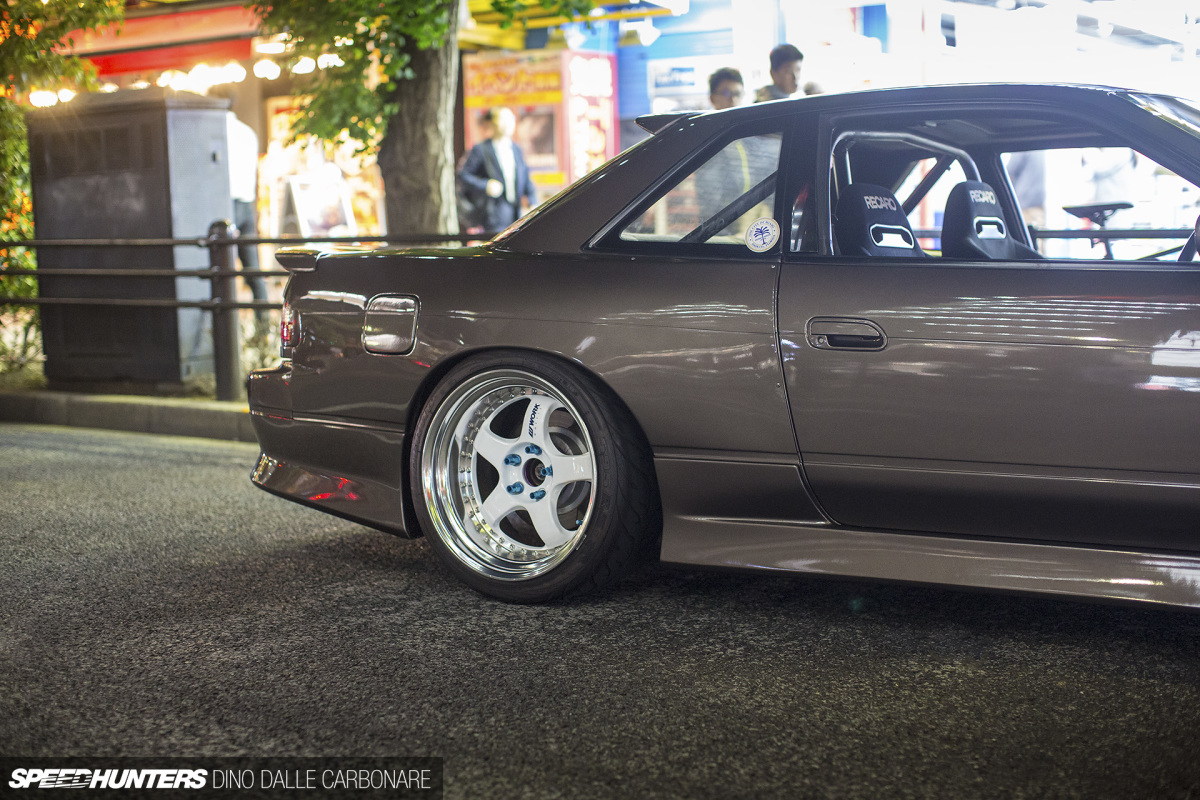 The fitment is both functional and aesthetically pleasing, all courtesy of Fortune Auto coil-overs and a set of 18×10.5-inch and 18×11-inch Work Meisters SP1s.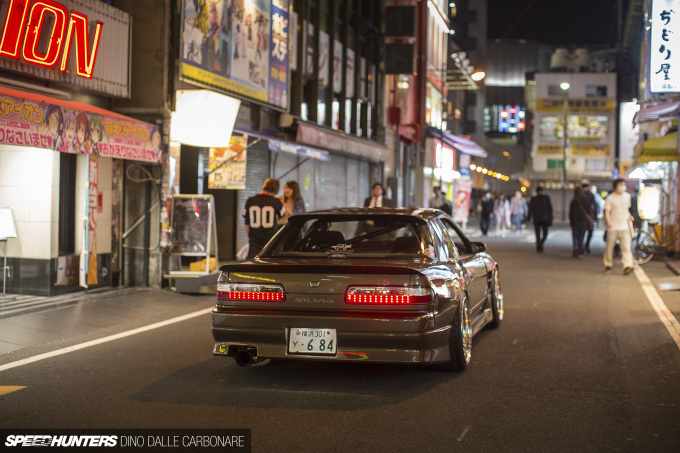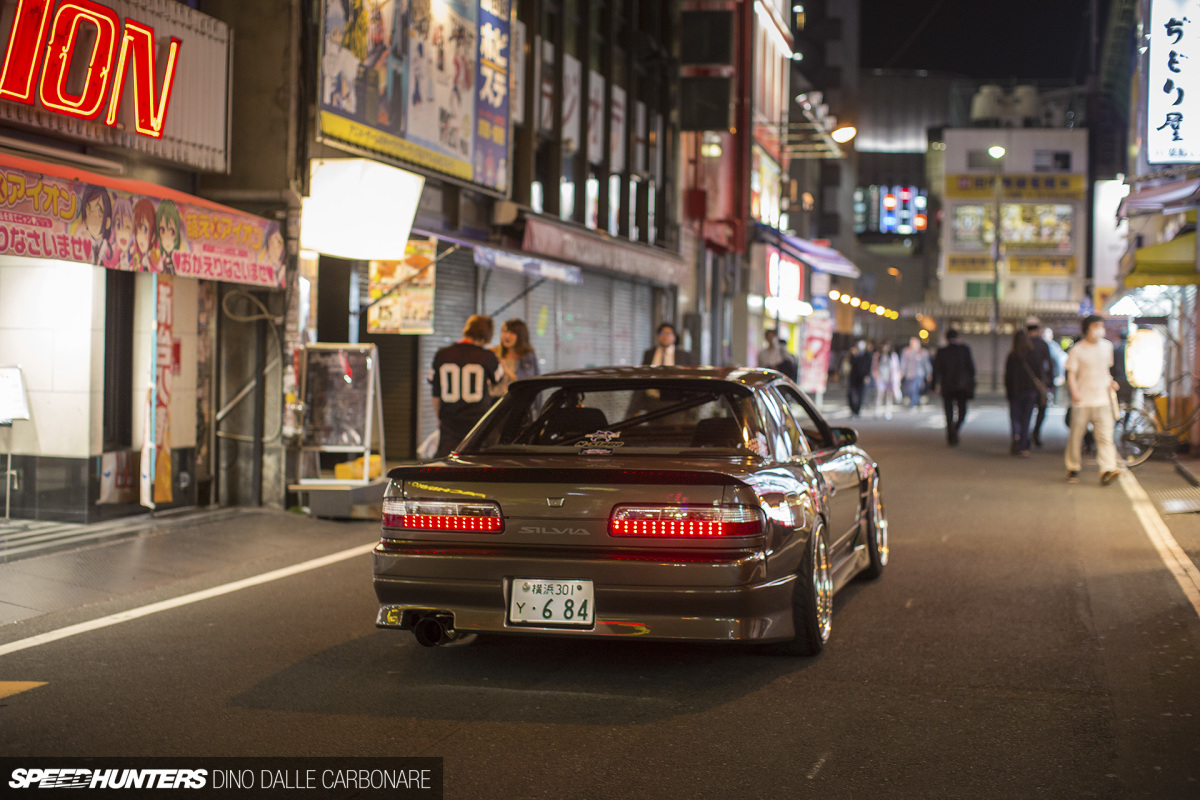 D-Max goodies like the carbon hood, roof and trunk spoiler are small details, but they play a big role in pulling the whole look together.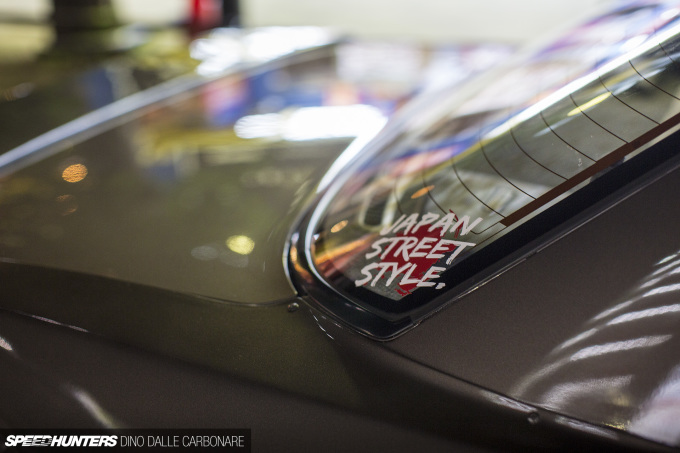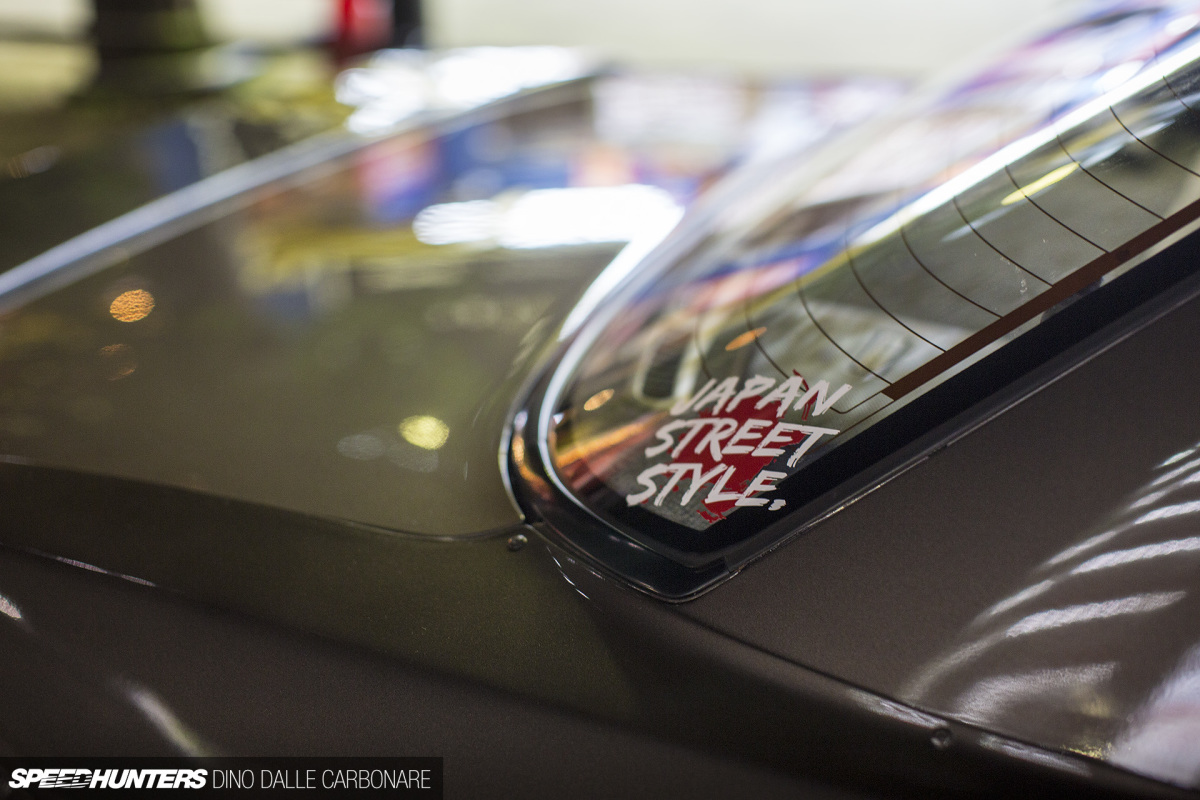 Once all the exterior pieces of the puzzle were test fitted, it was off to the paint shop to cover the entire car in a custom mix of gunmetal bronze. The color looked quite spectacular reflecting all the lights and neons that give Akihabara its unmistakable nighttime ambience.
An SR Built For Power & Reliability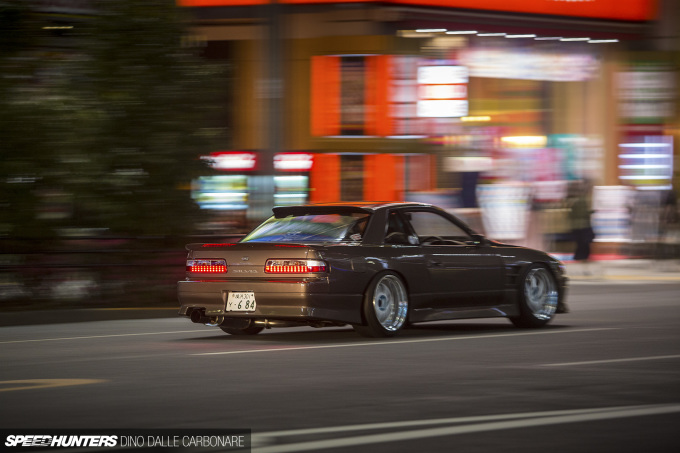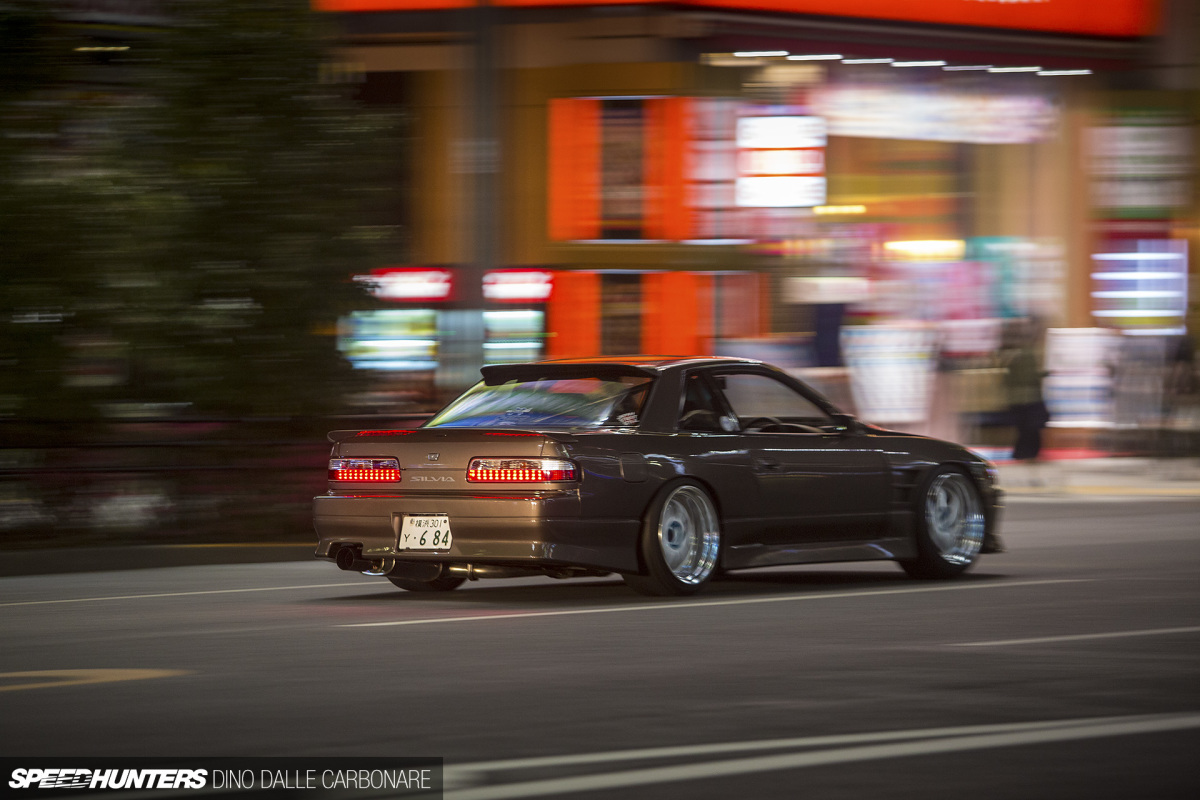 With the idea to create a car with the perfect balance of looks and performance, the mechanicals were next on Eriel's radar.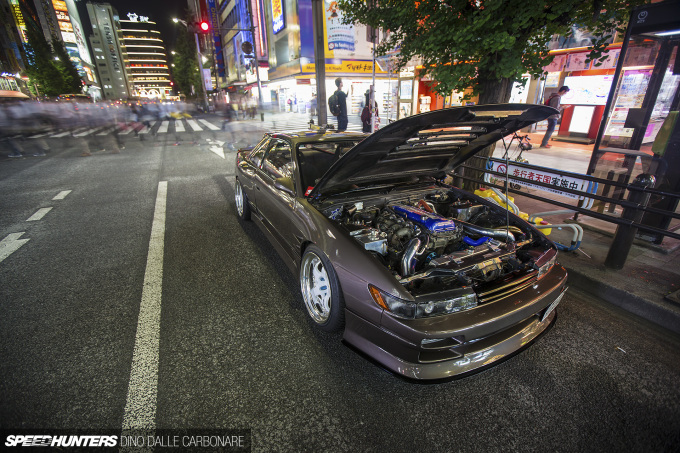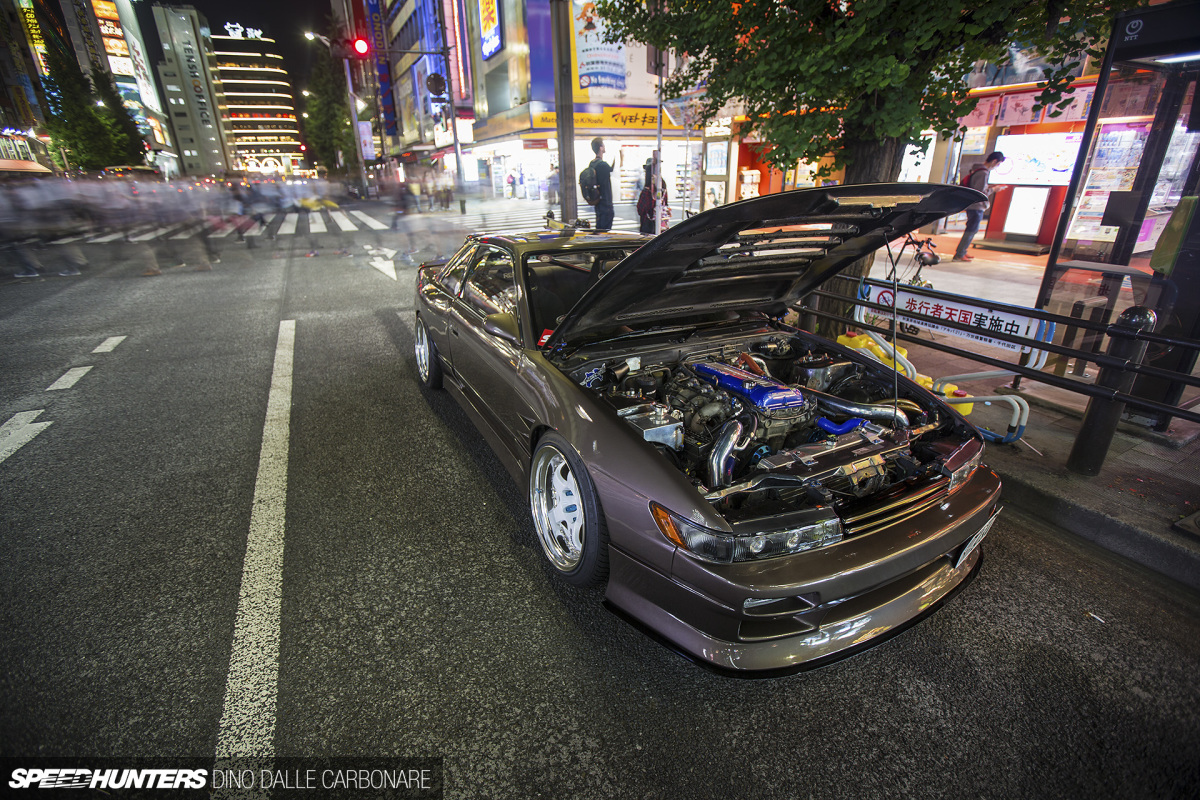 One of the reasons Eriel picked up this particular S13 in the first place was because of what's under the hood. The previous owner had relieved the stock CA18 of its duties and swapped in an SR20DET, and that ticked one big thing off the to-do list before Eriel even had to get his hands dirty.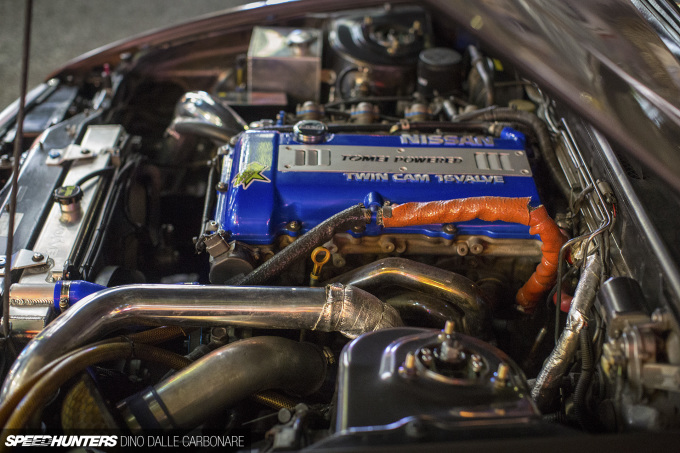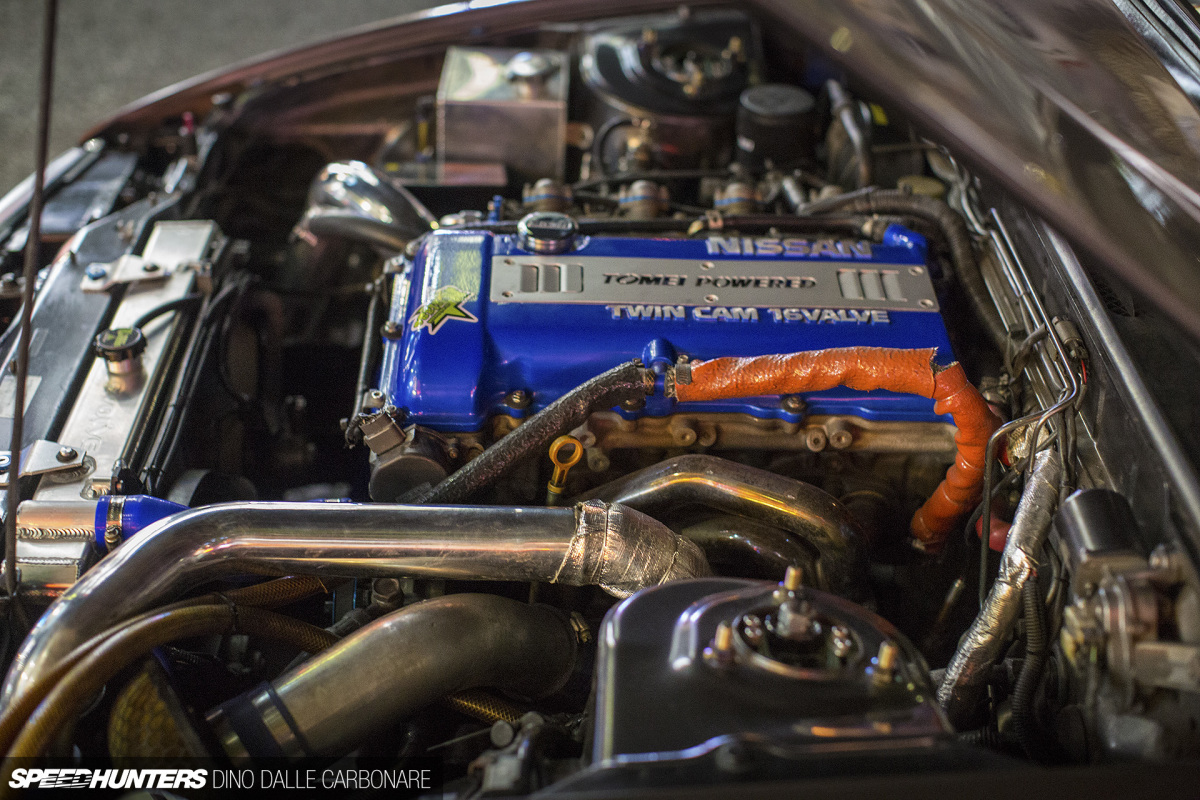 The SR has since received a whole load of goodies from the Tomei catalogue, including Poncams and adjustable pulleys, rocker arm stoppers and a metal head gasket.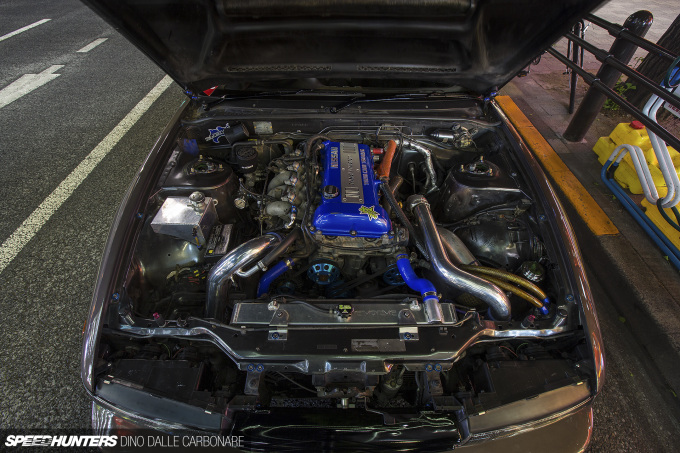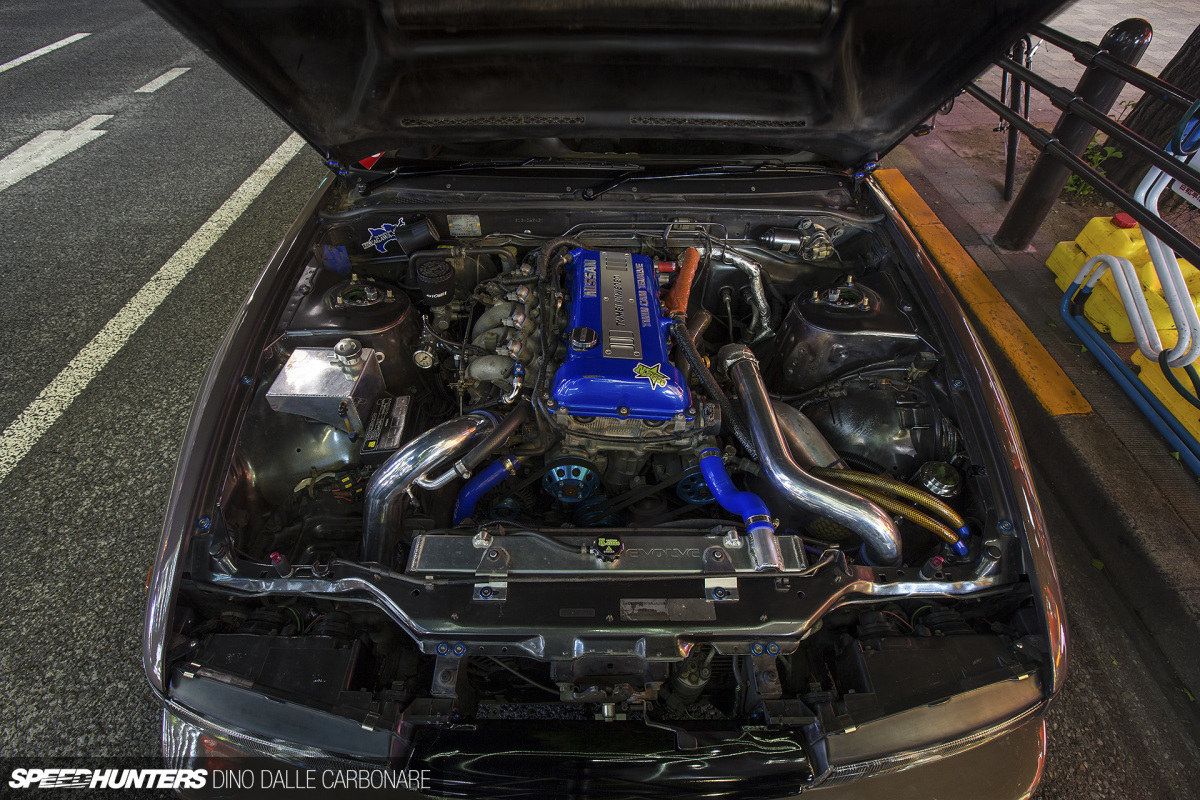 These mods paved the way for the move to a Tomei Arms M8270 turbocharger mounted on a Tomei Expreme exhaust manifold, the system all plumbed up through a front-mounted HPI intercooler. As I'm sure you've figured out, Eriel is quite a fan of Tomei parts, which is also why he originally went for a Tomei Expremi Ti exhaust. I say 'originally' because as great as it was for flow and sound, it was a tad too loud for Eriel's neighbours to digest, prompting him to fit a slightly quieter system from Kakimoto Racing.
The A'PEXi Power FC is still a popular engine management system in Japan, and it's what's employed here to control Nismo 770cc/min injectors and the Spitfire coil packs. An HPI radiator ensures cooling is never an issue, and with boost pinned at 1.2bar (17.4psi) the SR safely sends arounds 400hp to the rear wheels.
The D-Max hood has enough venting and intakes to further aid in cooling, something that will come in handy during those scorching hot days in LA.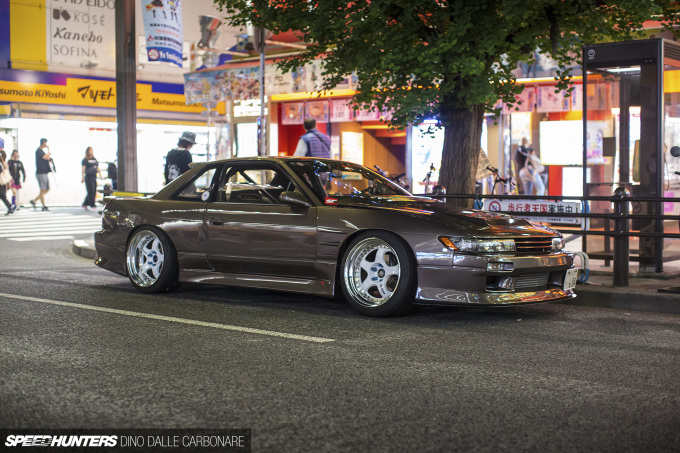 I was pretty surprised when I found out that Eriel drives the S13 on a daily basis, but he's taking every opportunity he gets before the Japanese dream ends. Once the S13 is in the US, he plans to keep it as a fun car for the weekend; the sheer distances you need to drive stateside would just add too much mileage to a car that barely has 60,000 miles on the clock.
A Mid-90s Feel
The same clean approach has also been taken inside with a pair of Recaro SR3 recliners and a bolt-in half cage providing a period-correct feel to the cabin.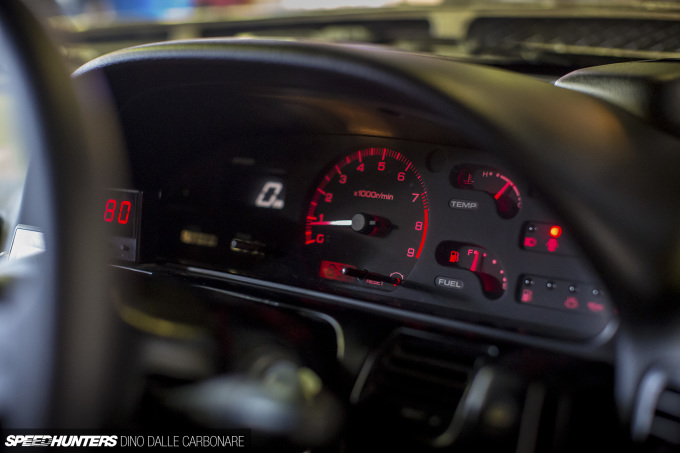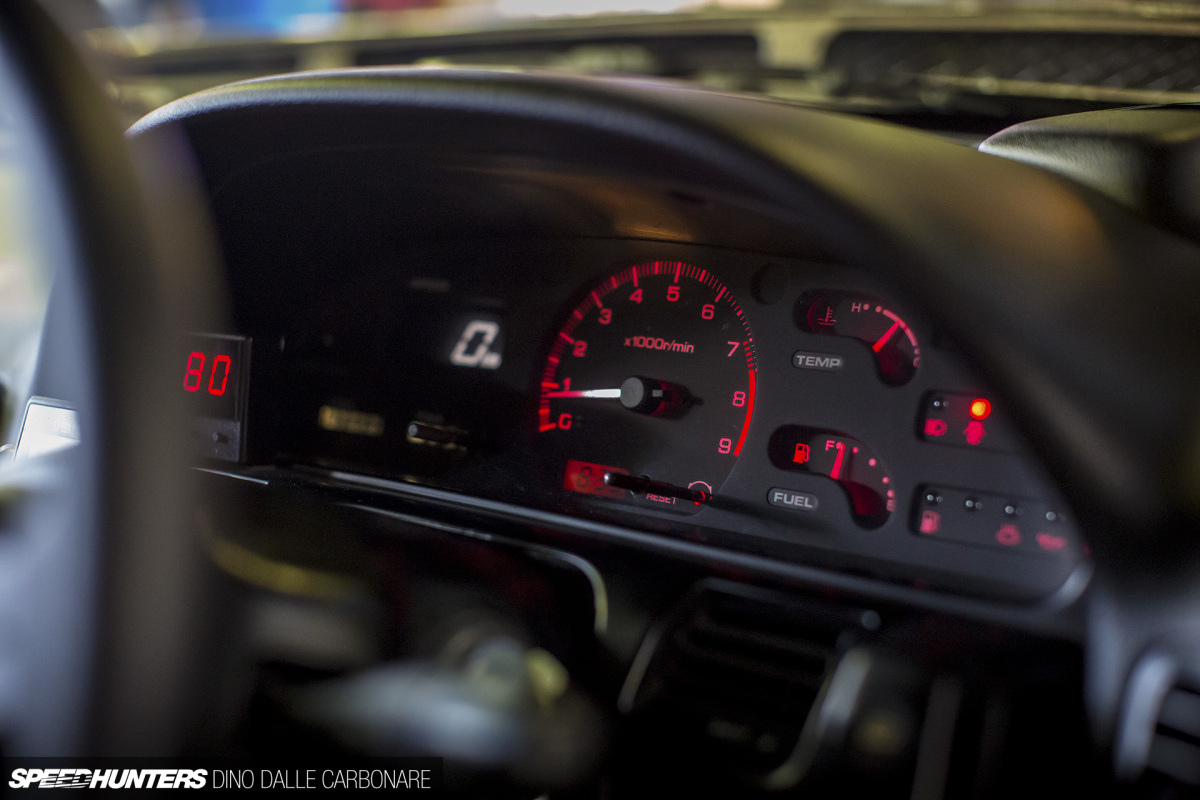 There's even a rare factory option instrument stack where the analog speedometer gets replaced with a digital read out. That and the factory heads-up display option as well.
The center air vents have been sacrificed for three Defi gauges, and Eriel likes to keep the FC Commander close by as it relays a ton of info from the ECU.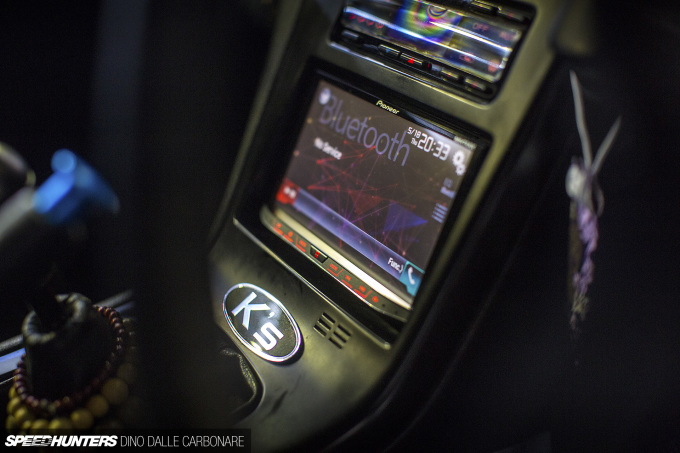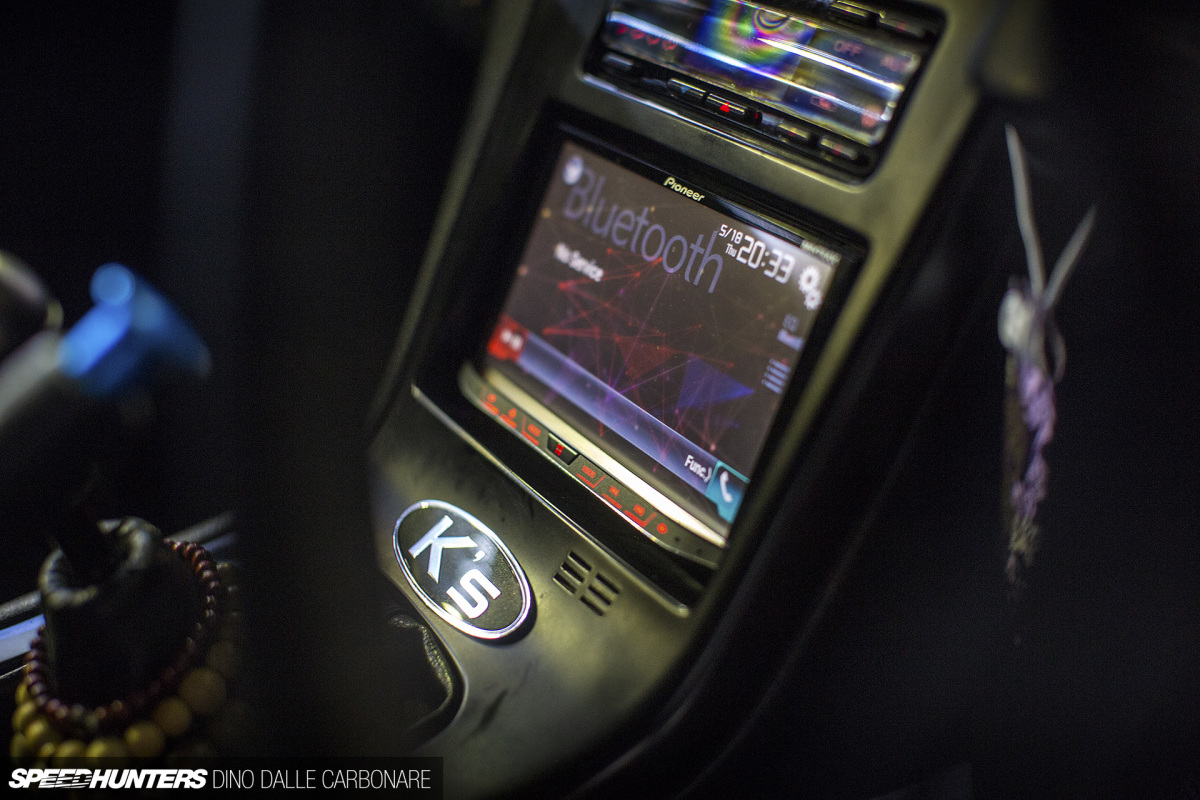 A Pioneer double DIN headunit is hooked up to a Kenwood amp and Pioneer speakers to keep the entertainment side of things in check too.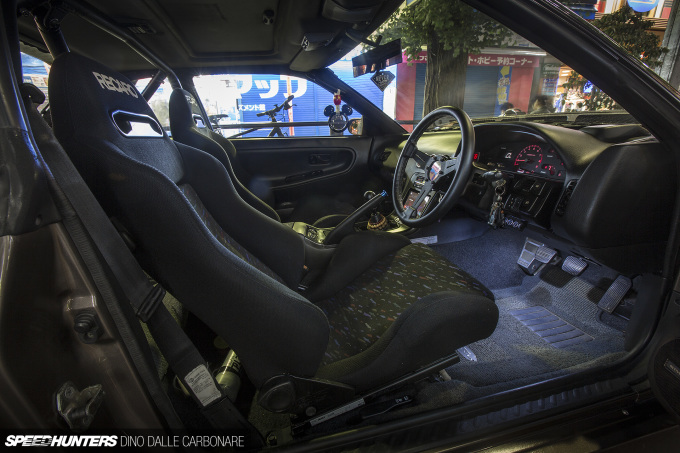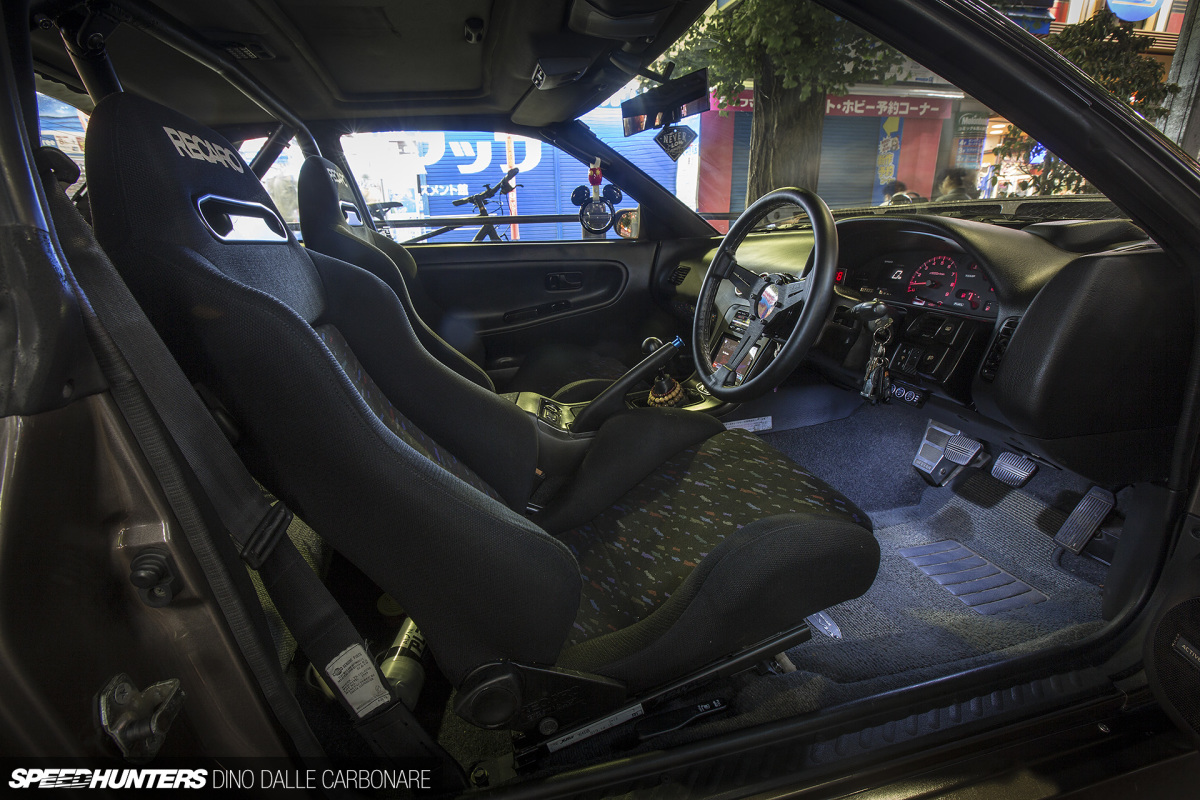 A Nardi Classic steering wheel mounted on a quick-release hub is the cherry on the top for that mid-'90s street drifter feel for the interior.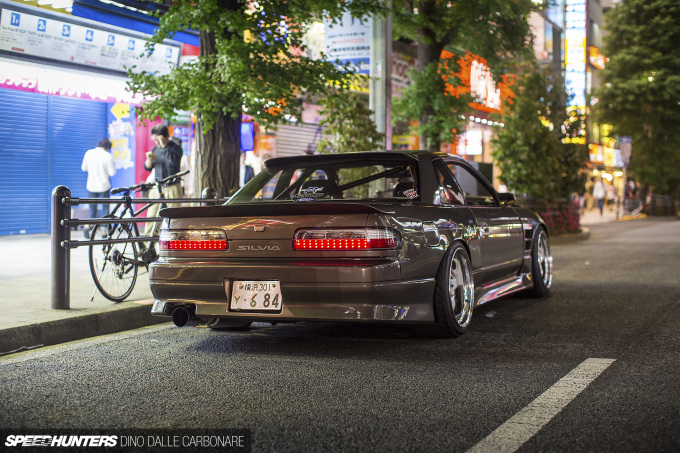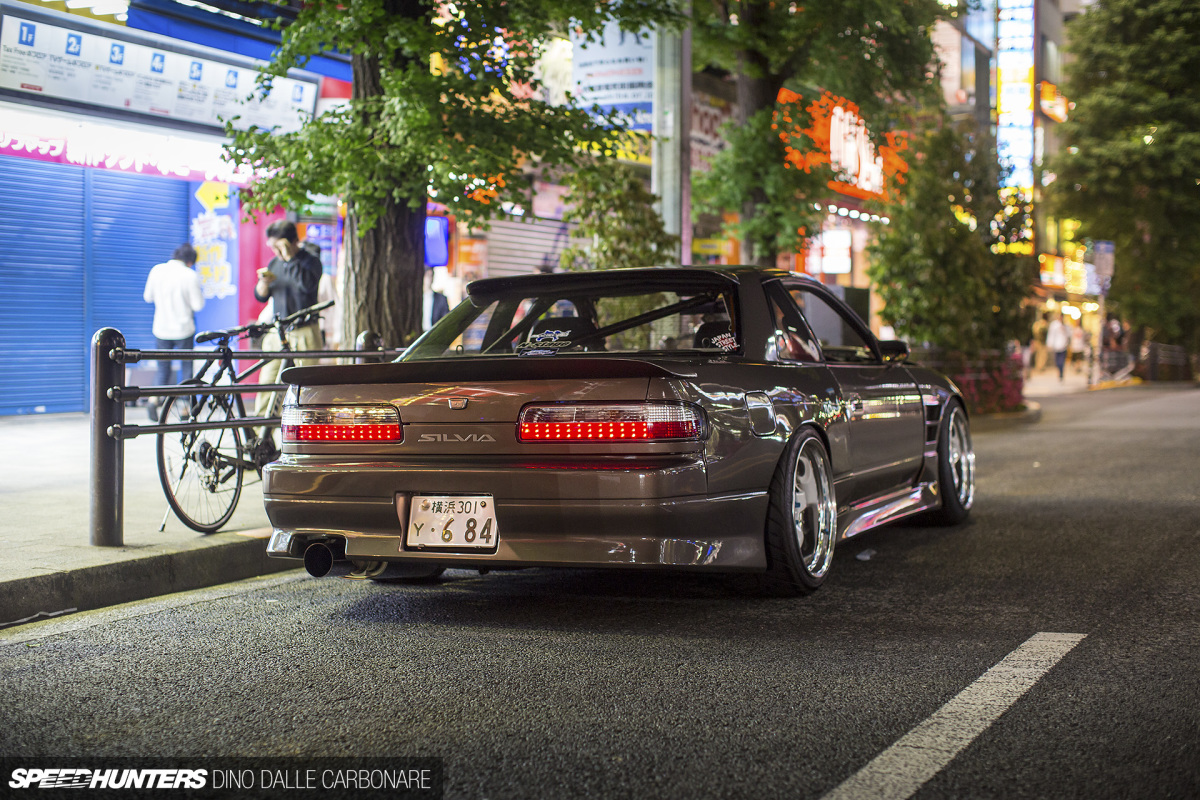 Once the car gets to LA, things like the Z32 brakes that are currently fitted will be getting replaced for something a little more modern, and Eriel says he's also thinking about whole new exterior color scheme.
Whatever the Silvia ends up looking like, if you're a SoCal local there's a good chance you'll see Eriel and his S13 at shows and meets in the very near future. Make sure you say hi.
Dino Dalle Carbonare
Instagram: speedhunters_dino
dino@speedhunters.com