It's Time
I'm extremely fortunate to be constantly immersed in the car culture I love so dearly. Getting up close and personal with such a wide variety of ridiculously high caliber modified vehicles is a dream come true, but it's not without its drawbacks.
As your exposure to finer examples increase, so do your subconscious expectations of what a car can should be. So much so, that often I see my humble Mitsubishi Evo as little more than a runabout taxi.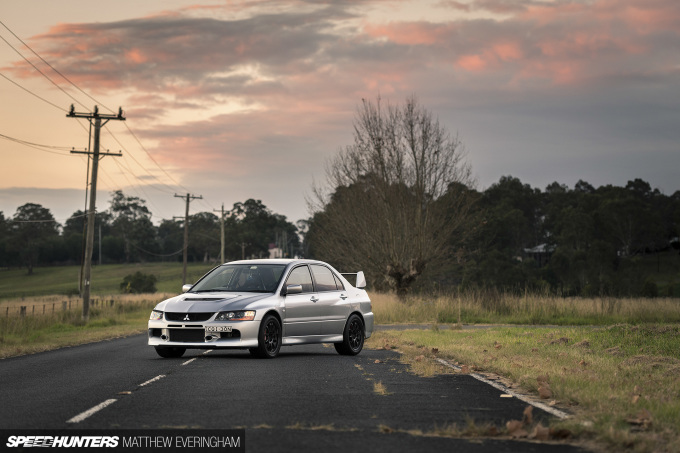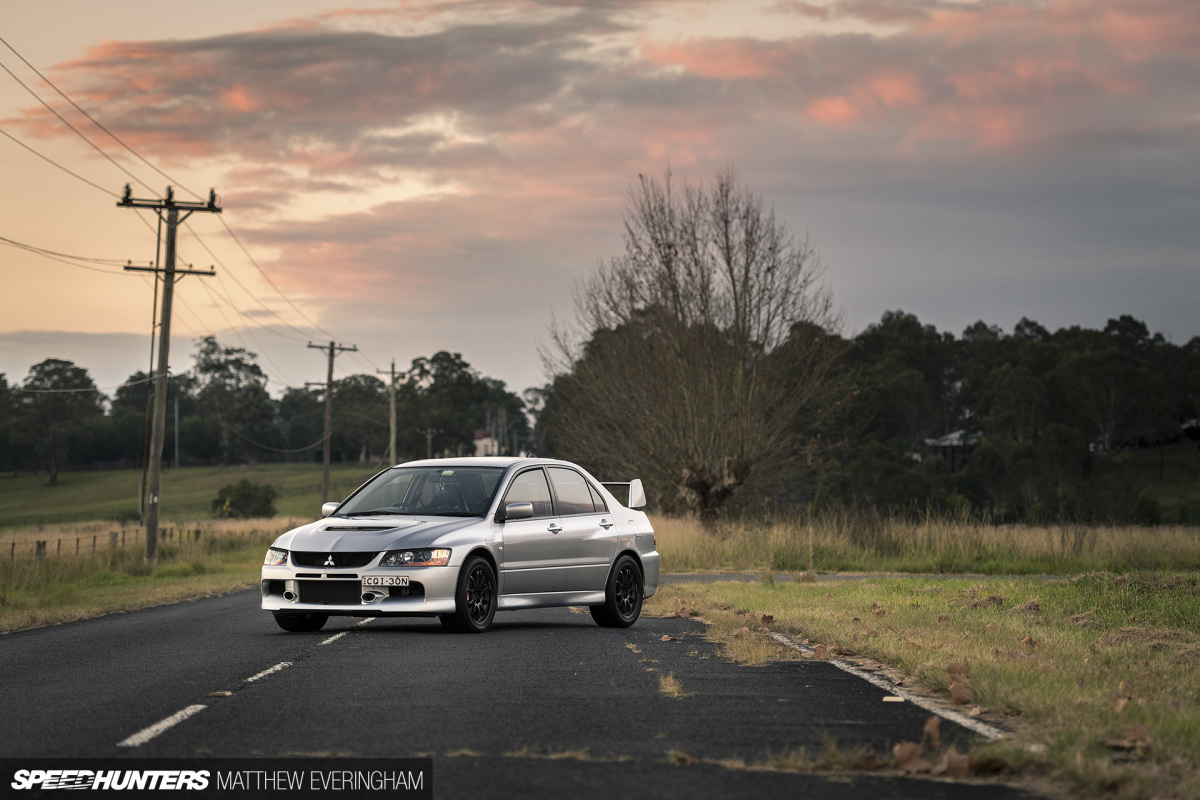 Don't get me wrong, I still love my little pretend rally car, especially after track days or a spirited run. Often though, after packing up my camera equipment and saying farewell to a street machine like the King Kong Cuda or a sub-10-second GT-R, I'm almost guaranteed to feel a little disappointed when I flick the ignition to hear the little 4G63 politely ticking over. It reminds me of my little 2kg (4.4lb) Maltese dog, Lamington, barking her loudest yet failing to intimidate well, anything.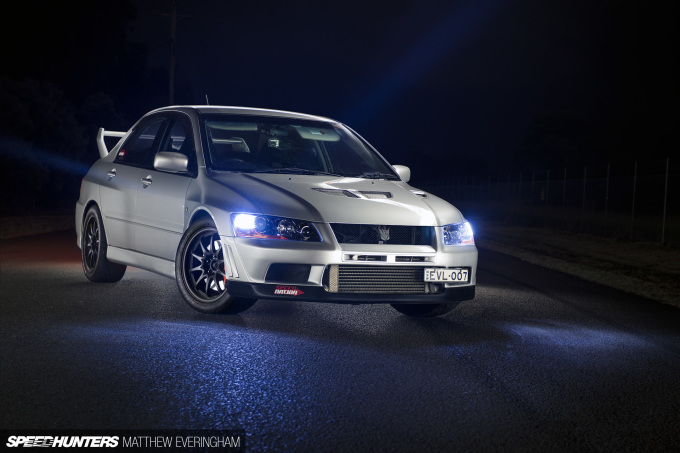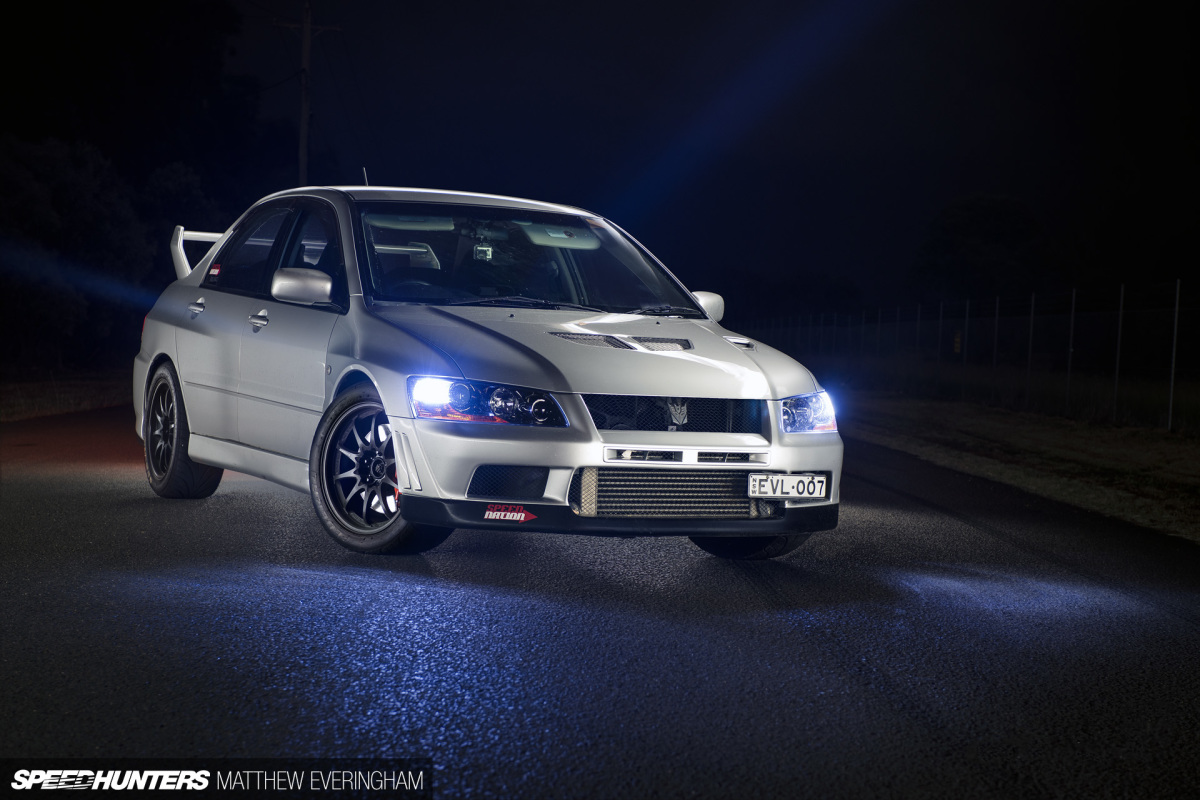 I haven't always felt like, though. The Nine is my second Evolution, and I've owned her for two years now. Prior to that I had a silver Evolution VII for five or so years, but that car was abruptly shortened a full metre during a multi-car pile up on one of Sydney's freeways. I remember jumping in, turning over the engine and smiling; I remember feeling a smug sense of satisfaction when my eyes would wander across the instrument cluster and notice the bold 'Evolution' logo (which is now replaced with 'Lancer' in the IX, boo hoo.)
When Dino and the rest of the team at Speedhunters invited the Evo into the SH Garage, I was equally excited and reluctant. 'It's just an Evo' I first thought, but I guess it doesn't have to be just an Evo. It could be something more. It could be my ideal Evo with time and work.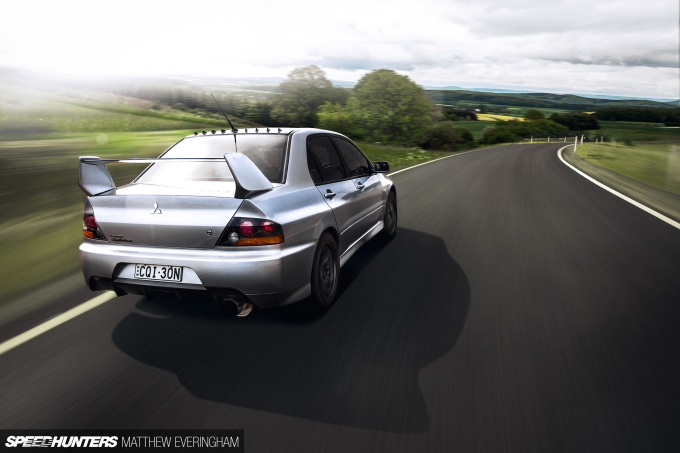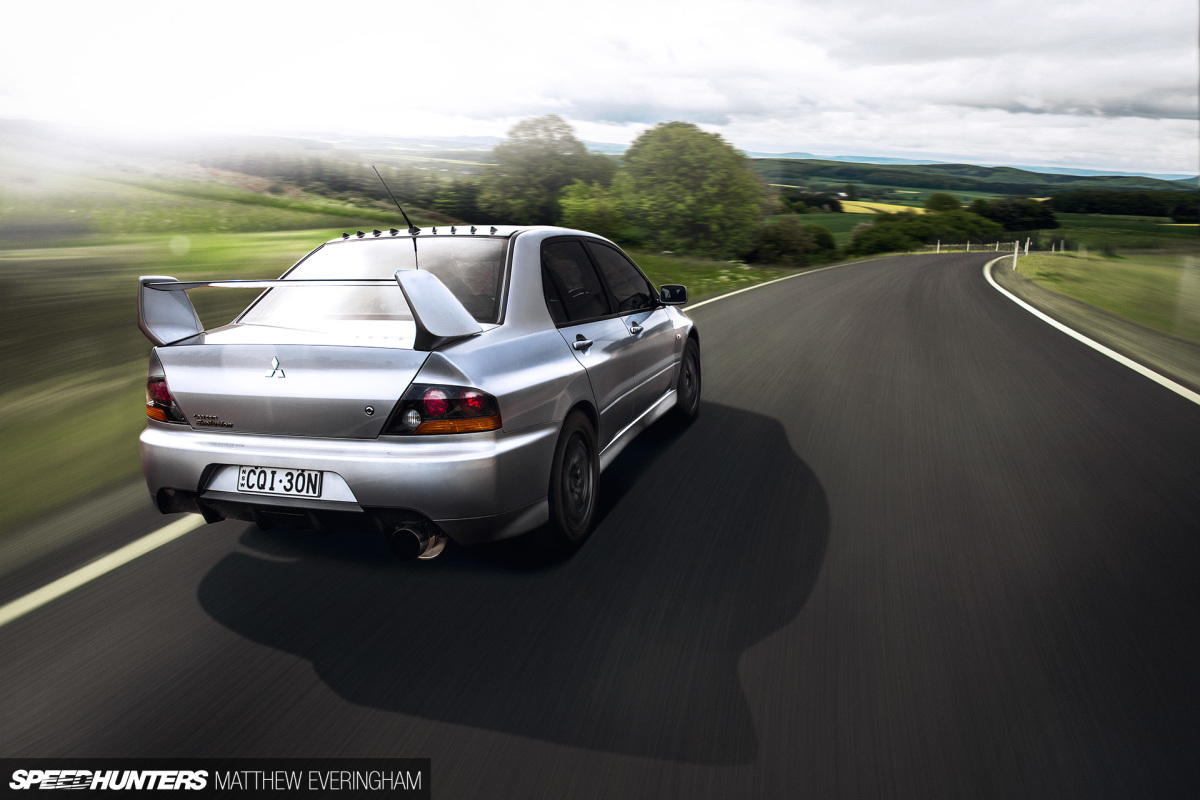 And that's exactly what this journey is about; it's time to rekindle my passion for the car and reshape it into something that puts a smile on my face every single time I get behind the wheel.
I have no illusions that the Evo will ever compare to the remarkable feature builds that Speedhunters revolve around. I also doubt it'll ever be anybody's desktop wallpaper (apart from my own), but it really doesn't need to do either. It just needs to make me happy as an owner, and more importantly, excited as a driver.
Earlier today, while packing some groceries into the Evo's sensibly sized boot, I noticed a passerby suddenly and sharply change direction to walk directly towards me and the car. Initially, I wasn't sure what to expect, but for the first time in a long, long while I heard "Awesome car – I love Evos!" I thanked the stranger and smiled. His timing was impeccable, almost as if the universe was signalling me to hurry up and introduce the car to the world. This stranger's enthusiasm really drove home just how relevant it will be to a lot of you Speedhunters out there in a similar situation.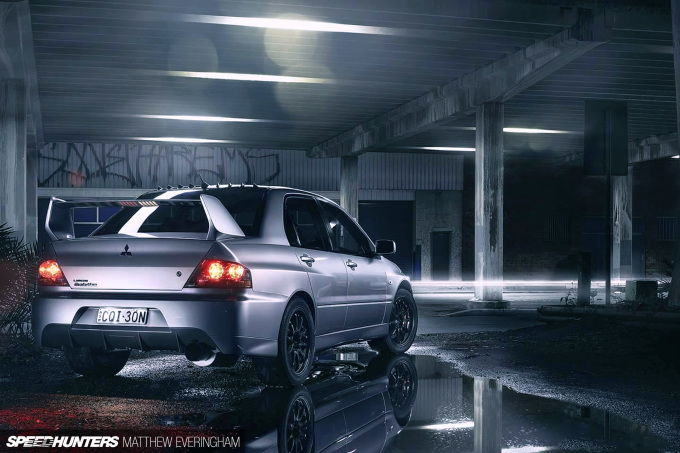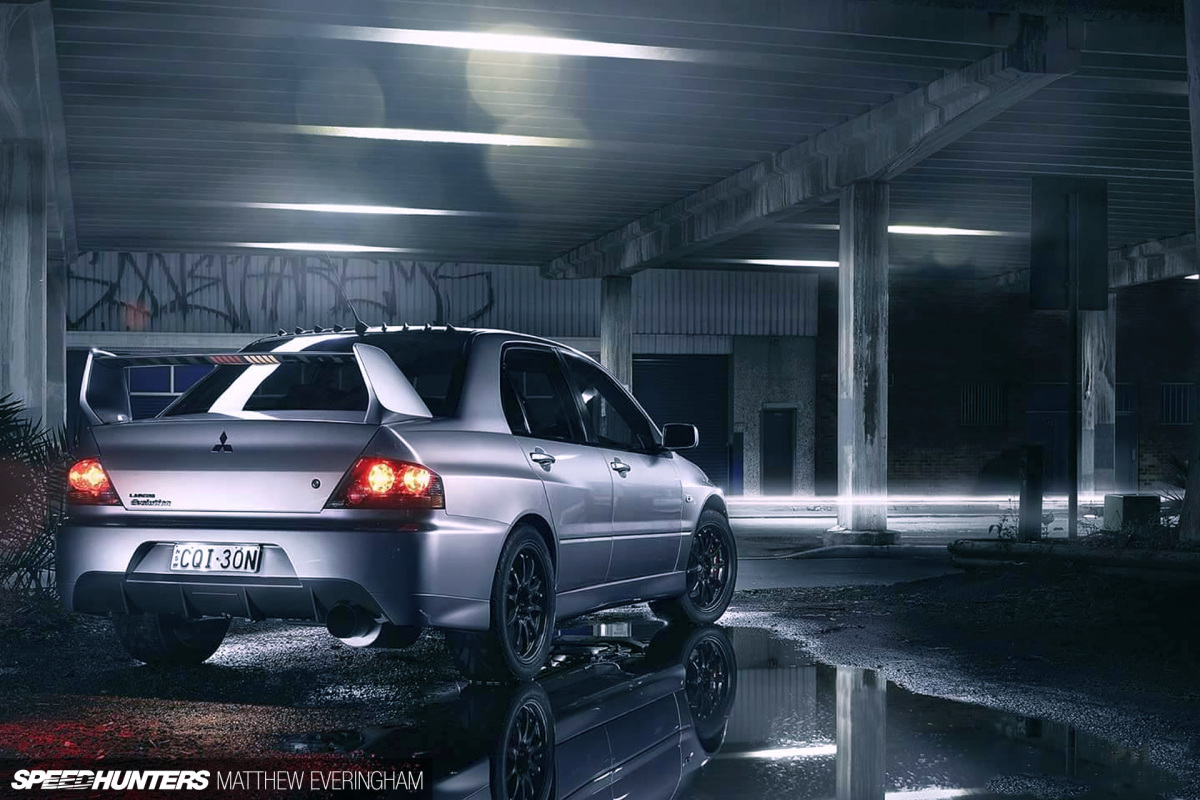 I really shouldn't be so hard on the old girl; she's been a reliable companion who's always eager to please regardless of whether the next challenge is keeping me in one piece on twisty roads, or being overfilled with a metric tonne of gear for the next big shoot. Not only that, she's been a great muse and served as a very attractive model when I feel like experimenting behind the camera.
So without any further ado, let's get into it.
Up To Speed
To give you a snapshot of exactly how the car sits right now, aside from a handful of minor engine tweaks, it's a standard 2005 Mitsubishi Lancer Evolution IX, or an "Eye-Ex" as I've been asked by strangers once or twice. Yes. seriously.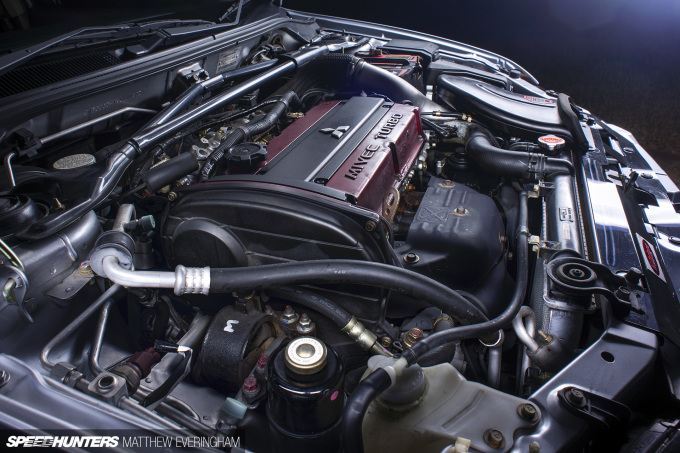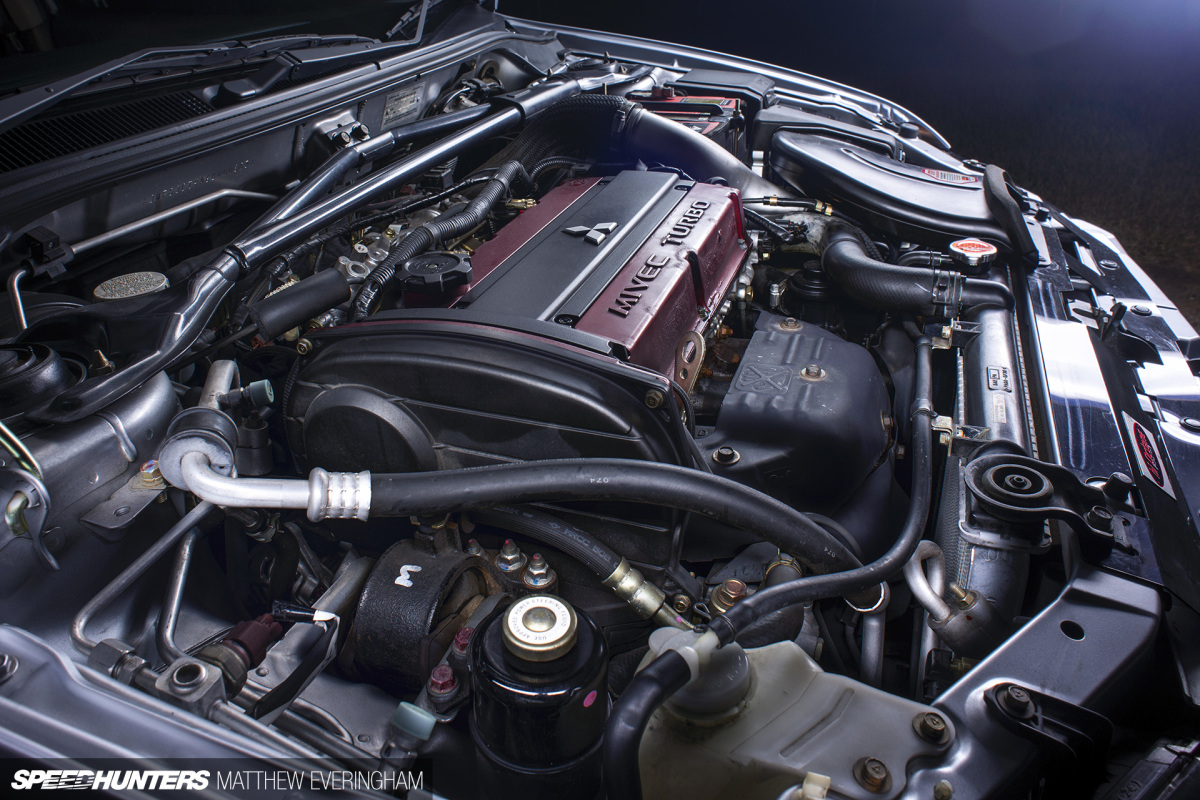 Less than a week into my ownership and I'd already thrown the car up on a hoist. A good friend of mine, Damien, with an almost superhuman knowledge of all things Evo had agreed to help me out. The logic was to hit two birds with one stone; while completing the initial flush of all fluids that comes with acquiring a secondhand sports car, we'd do our best to sensibly free up a little more horsepower from the MIVEC-enhanced 4G63.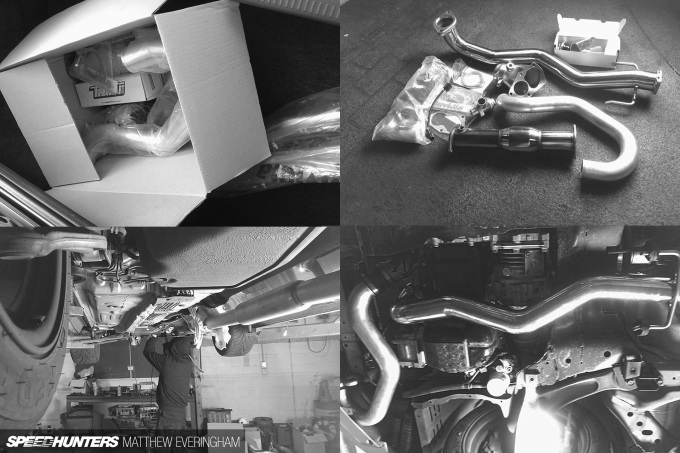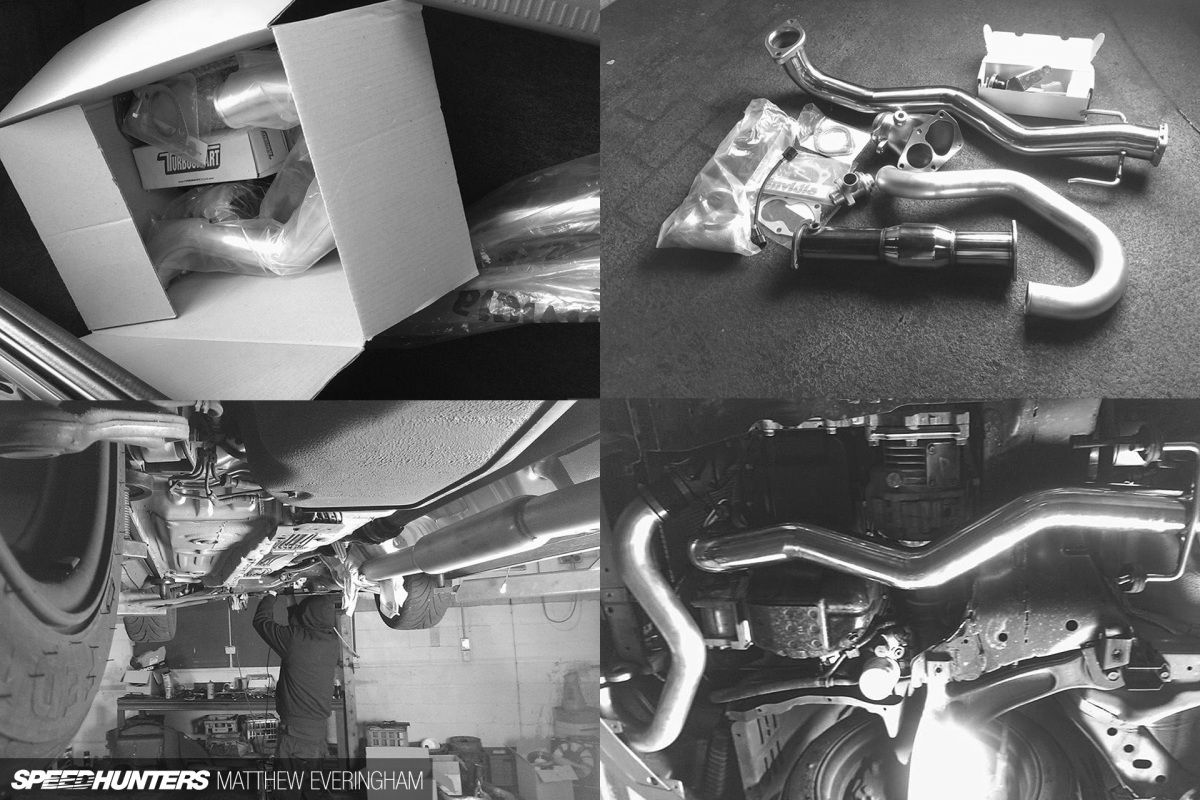 The Nine already had a HKS Silent Hi-Power exhaust fitted when I picked it up, but it was a cat-back item. It didn't stay that way for long though as an Invidia turbo back dump and front pipe replaced what was left of the OEM system, and the catalytic converter was swapped with higher flowing unit.  A Turbosmart 1.2bar (17.4psi) turbo actuator increases the boost from the standard 1.0bar (14.7psi), and a simple K&N air filter was fitted to the factory air box. The engine was finally flash tuned to suit the minor mods, and it's currently sitting somewhere in the vicinity of 210kW (280hp) at all four wheels.
Recently, an Exedy Sports Organic clutch and lightened flywheel were fitted, but more out of necessity than any sort of quest for improved performance. If I'd waited any longer the only way the car would have left my driveway was with a push and a tow truck. The rest of the driveline remains untouched.
The original Brembos and brake lines are also the original Evo fare. The suspension and bushings are stock and starting to show their age too, and the car sits at the standard rally-spec ride height. Aside from horrid 'eye-lids' covering the headlights, which I have every intention of getting rid of, the exterior hasn't been tampered with.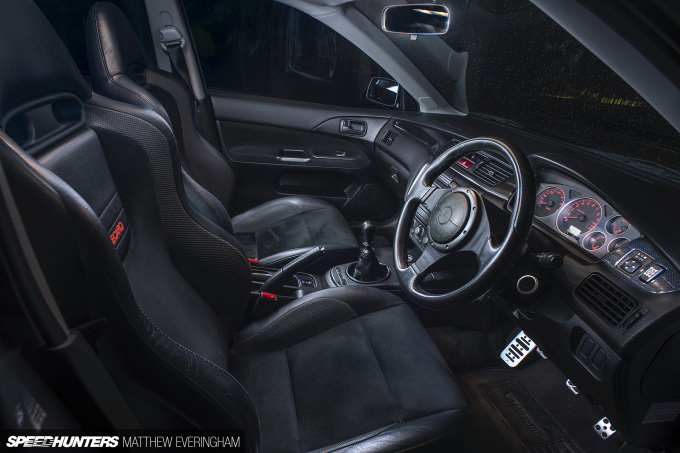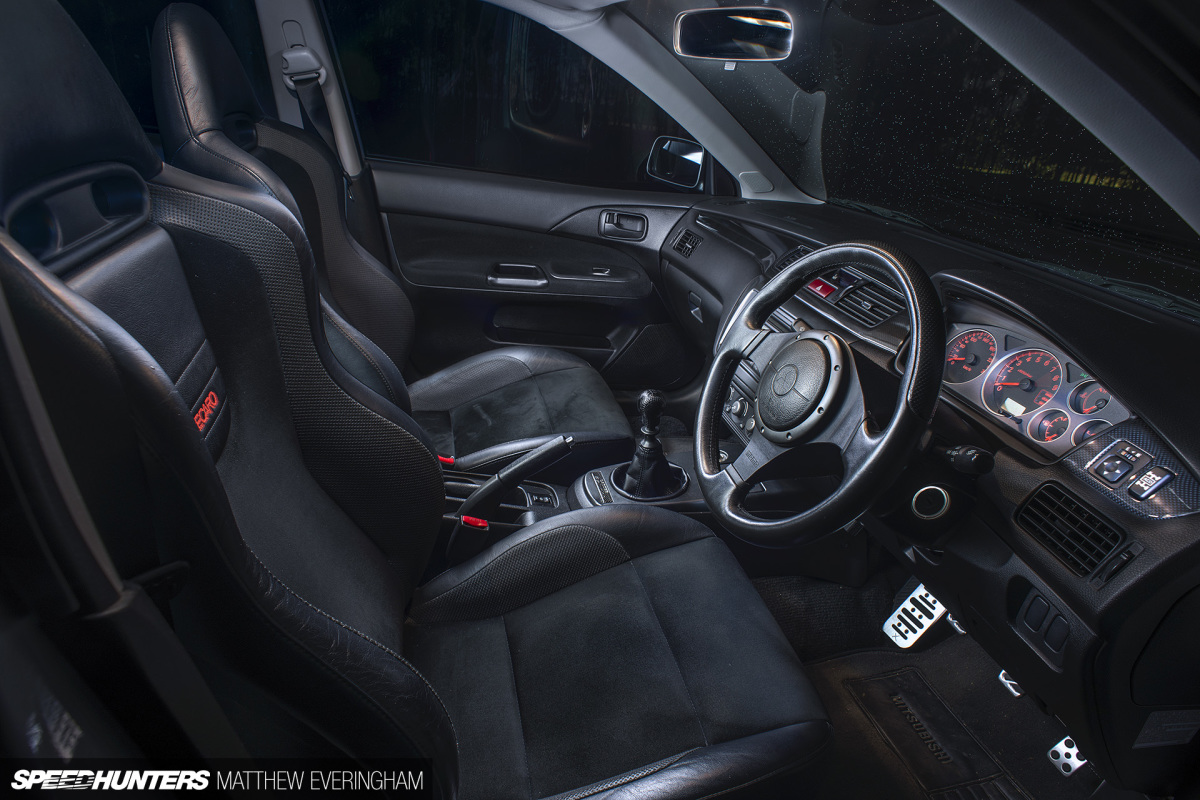 I can't really see myself doing anything drastic to the interior; there's no risk of every confusing your surroundings with the cabin of a luxury vehicle, but it's nice enough and most importantly functional. The leather-finished Recaros provide a comfortable ride and do their best to add some appeal to what's essentially the 'fast version' of the very mundane, cattle class Lancer the platform is based on. I don't mind not being surrounded by opulence, but I do take some issue with how cheap and tacky the faux-carbon interior trim is, so I'd like to address that at some point.
A set of bronze 17-inch RAYS Volk Racing CE28Ns, which I foolishly rubber-dipped matte black, finish off the build as it sits right now. While the 17s are the perfect size for track action, a set of larger 18-inch rims that'll do a better job of filling the cavernous wheels arches during daily duties are on my list of improvements.
The Game Plan
I'm not even slightly interested in creating a show car; I'm not aiming to break track records either. If I'm honest, I'd probably prefer it if what we do here doesn't 'break the internetz.' The game plan is simple: I want to find the perfect balance between a reliable daily driver and a capable weekend warrior. Hopefully, the upgrades I end up doing will be relevant and helpful to some of you out there.
Obviously, the happy medium between these two duties is a sliding scale that's likely to be different for all of us. Hell, even what I consider 'ideal' right now is likely to change as both the car and my driving skills (hopefully) evolve. So how will we know when it's finished? I'm not sure yet, but I'll keep you posted.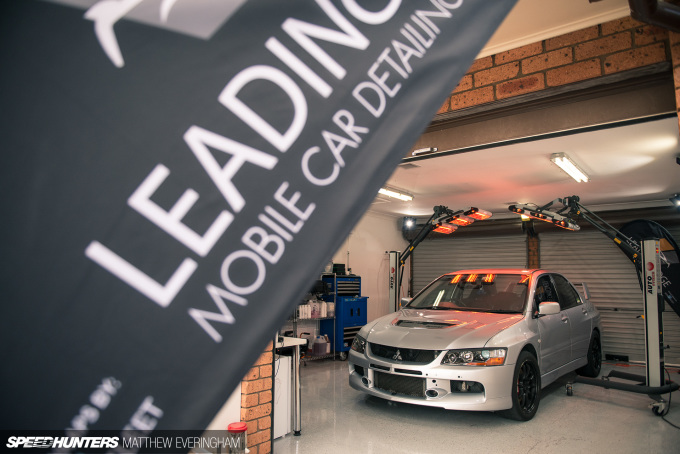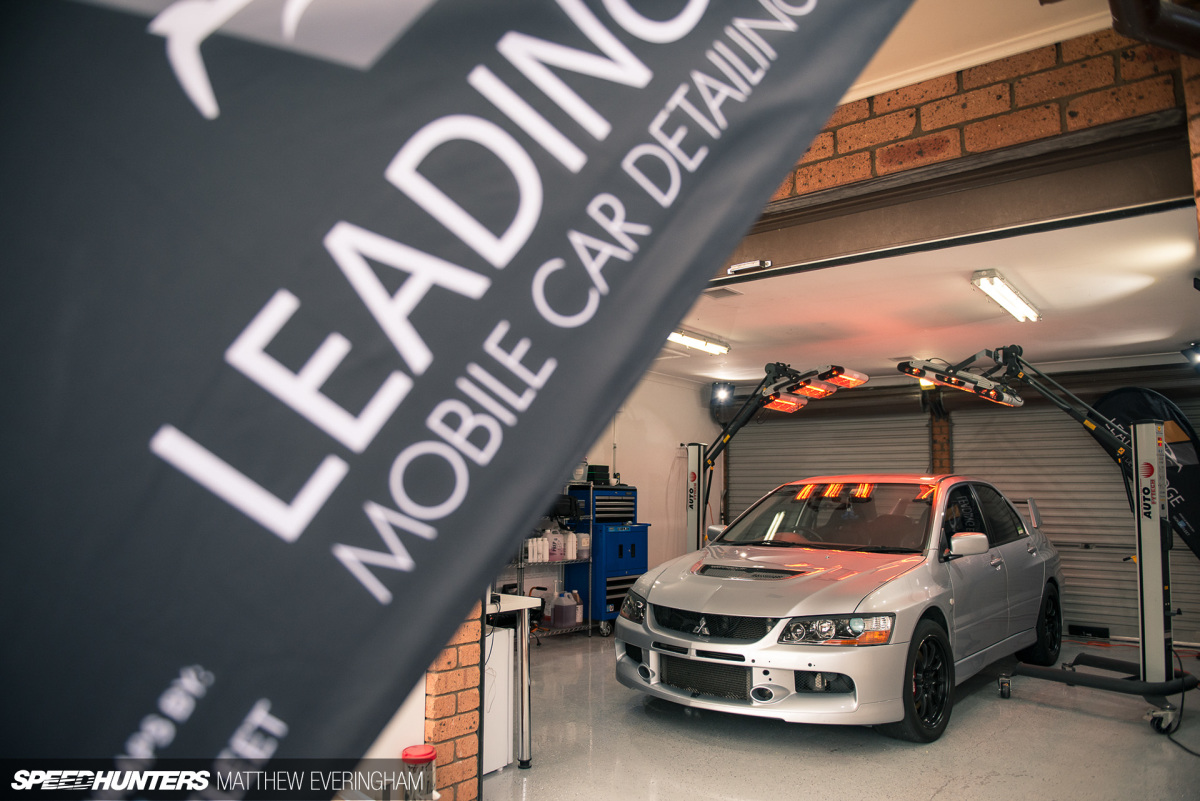 I've already taken steps and kicked the game plan into action. If the Evo is going under the Speedhunters spotlight, it needs to at very least look the part, and just last week I shipped the car to Ayman at Leading Edge Detailing. I've been following Ayman's work on social channels since watching him detail the Pagani Huayra BC at last year's World Time Attack Challenge, and he's something of a magician when it comes to restoring paint.
Ayman had the Evo for two days. The first day was all about repairing the 12 years of abuse from Australia's harsh environment and lazy owners (current owner included), which meant a proper foam wash, clay bar and paint correction.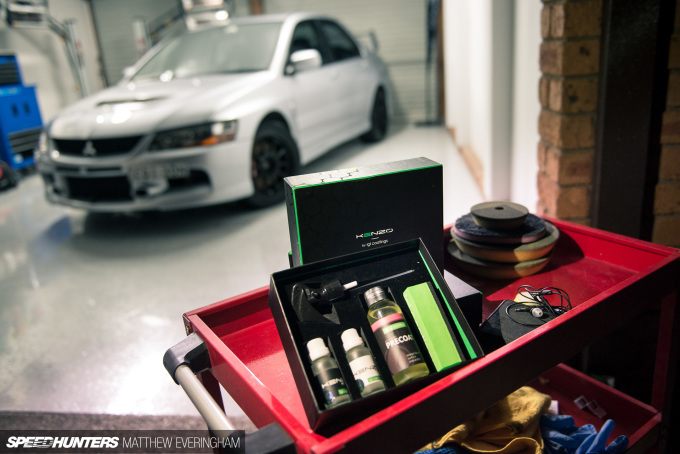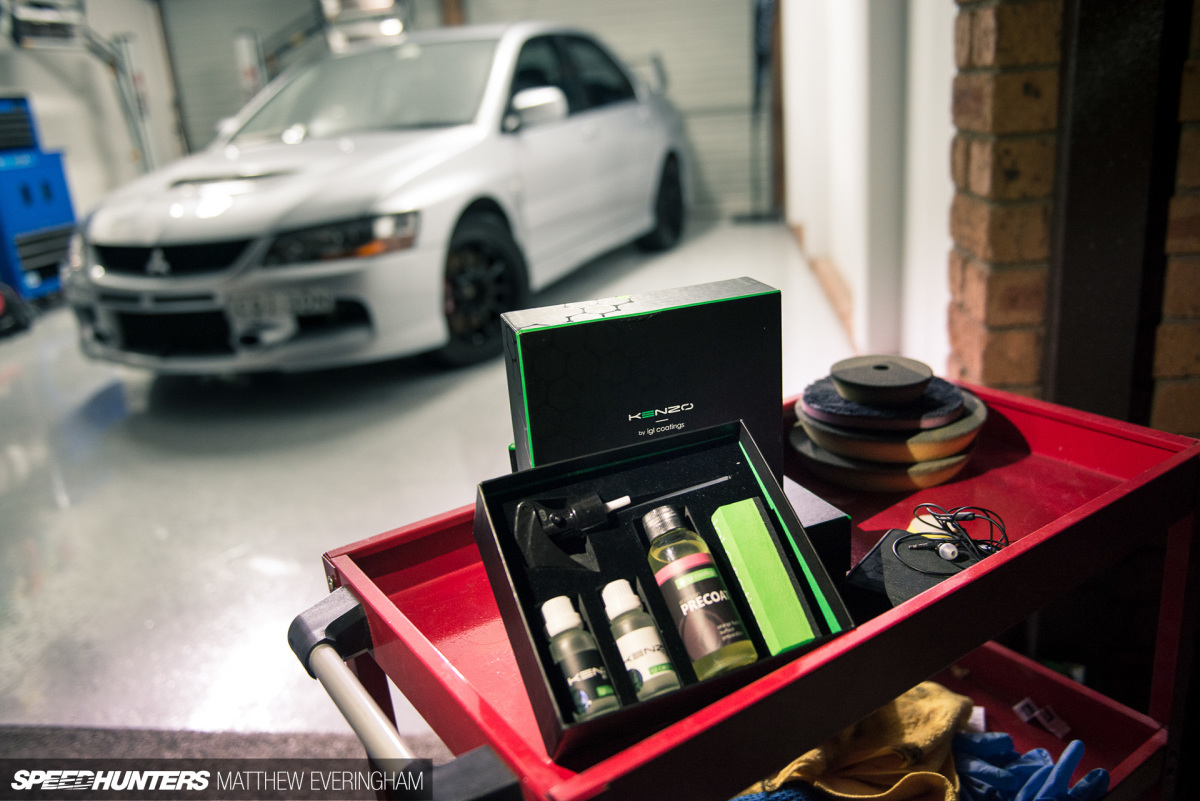 The second day was all about protection from further deterioration and to help make maintenance easier in the future. Two coats of IGL Coating's Kenzo silica paint protection was applied and baked onto the freshly corrected paint. The two days were punctuated with fun little update photos that teased me with how good it was looking. Ayman's game worked a little too well; I couldn't take the suspense and arrived earlier than expected to check out the results of his hard work first-hand. Needless to say, I was impressed. I don't think I've ever owned a car in this condition before.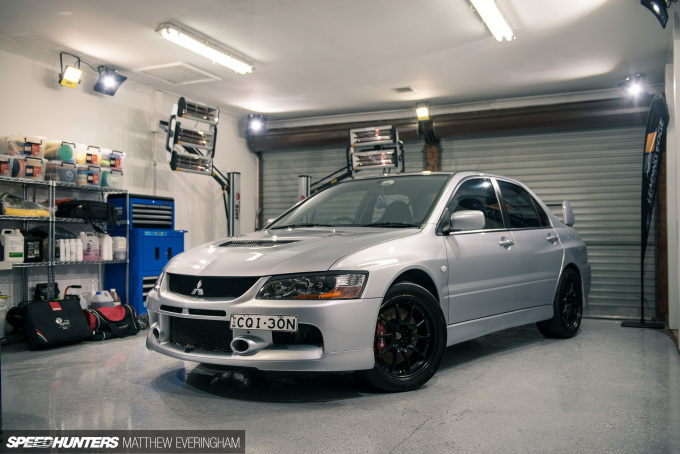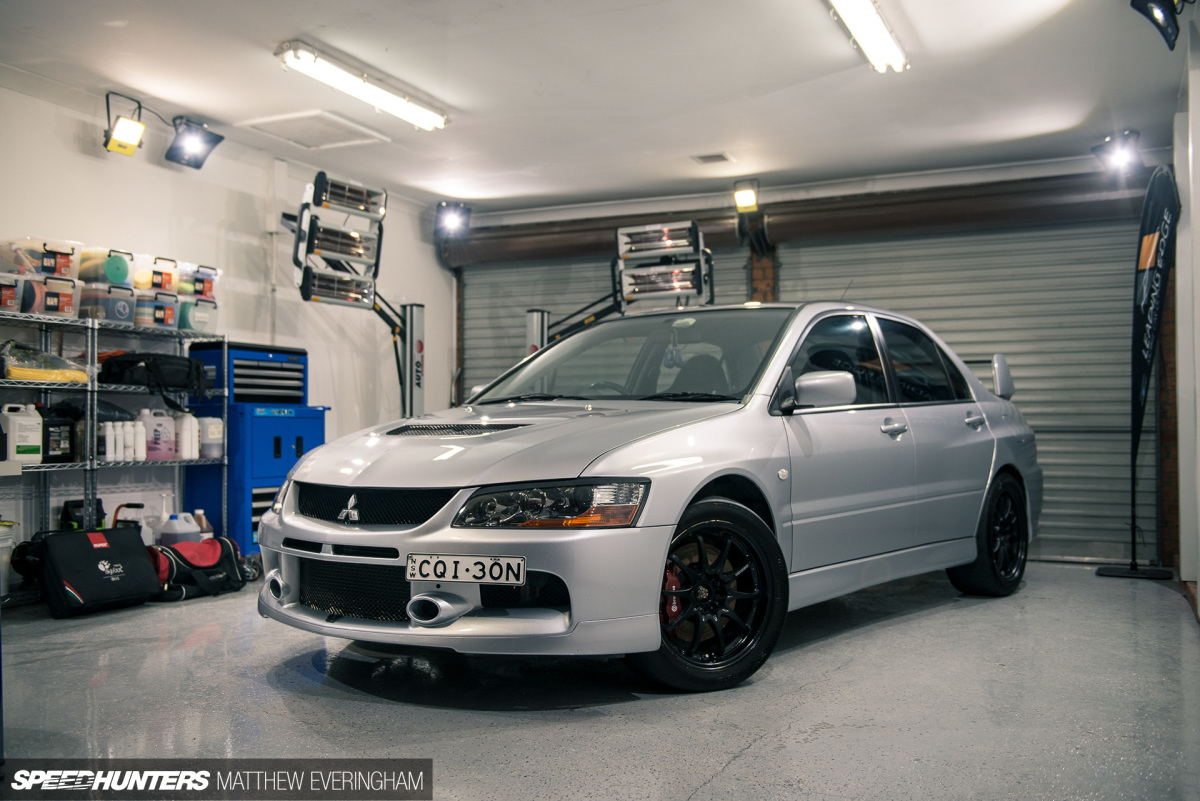 Once the coating sets, it forms a ceramic, glass-like layer that acts as a protective barrier between the elements and my paint and looks absolutely amazing. I'm assured by Ayman that it'll stay looking good for years to come too.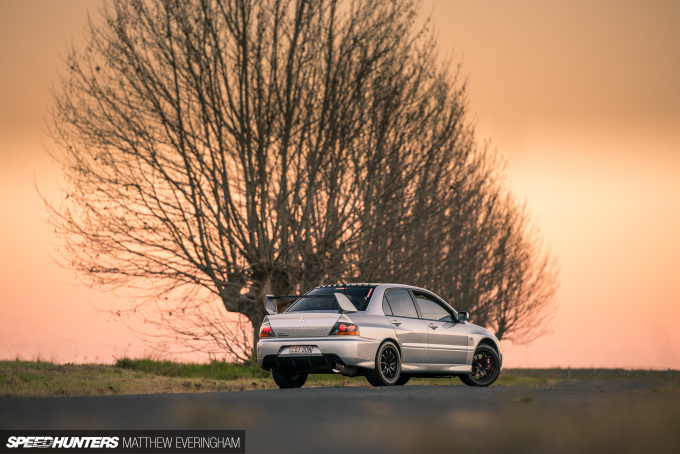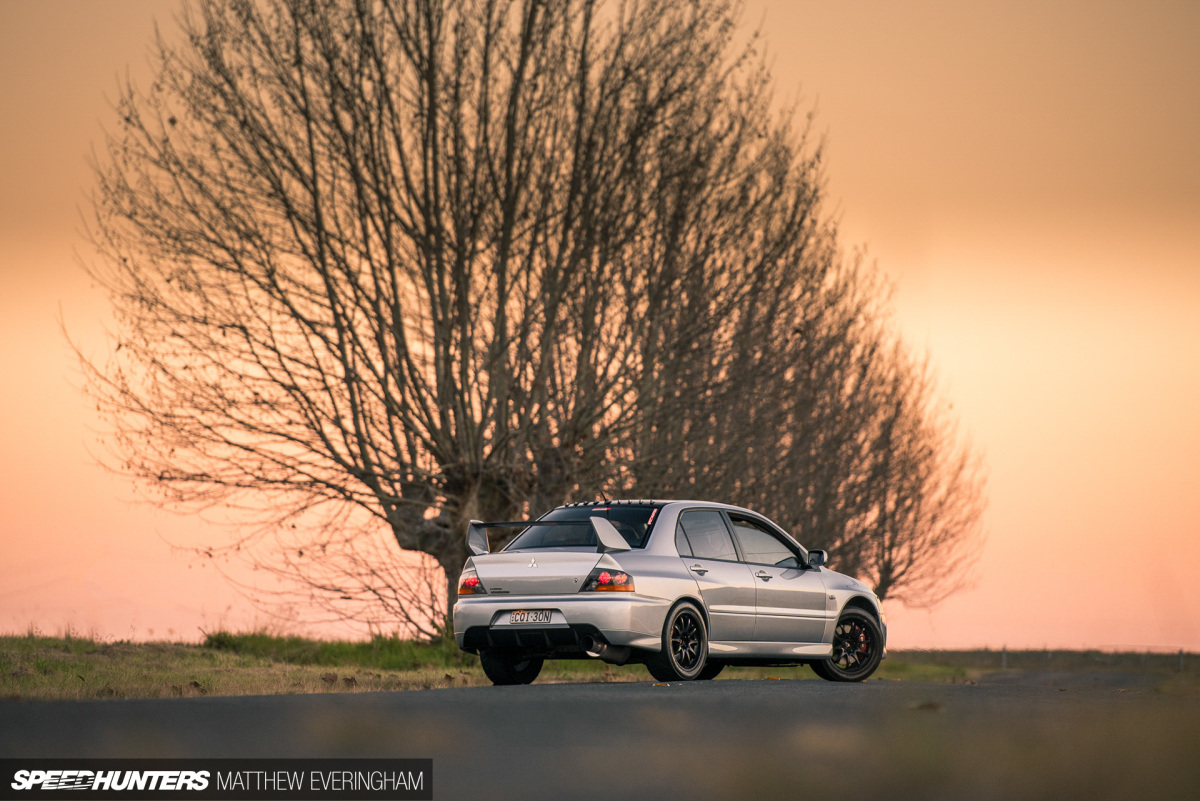 Amused by my reaction to how well the the paint scrubbed up, Ayman challenged me to check it out in natural light. Apparently the lighting setup in his garage was purpose built to show imperfections, and the paint still looked 'terrible' compared how it'd appear in natural light. He was right – I'd never seen a finer reflected sunset before.
After spending years behind a camera striving to eliminate as many reflections and distracting elements as possible, it was time to do the exact opposite. I had a lot of fun walking around my Nine hunting out as many distracting reflections as possible to help illustrate the final results.
We've only just begun the process and I'm already looking forward to what's next.
Next up, the car get's an official name with new vanity plates (feel free to drop your guesses or suggestions in the comments section below.) I've also got a brand new set of tires to test out, and most importantly, I'll be doing some first-hand Speedhunting on the same circuit at Sydney Motorsport Park that's used for WTAC. Watch out Tarzan Yamada and Under Suzuki, you may have some new competition!
Matthew Everingham
Instagram: matthew_everingham
matt@mattheweveringham.com
Cutting Room Floor