Without question, the '90s will be remembered as one of the golden eras of Japanese performance car production. Technology born in the '80s was developed and fine tuned, and by the time the new decade rolled around Japan was in the midst of a high-tech, boost-fuelled, all-wheel drive automotive revolution.
The JZA80 Toyota Supra RZ was a car that looked to the future, but also celebrated the past. It was the muscle car of the era, combining a cutting-edge 3.0-liter twin-turbo inline six with a classic rear-wheel drive chassis. There was no lightweight focus; what the Supra lacked in athleticism it made up for with brute force. Yes, it packed the same 276hp as all other Japan performance cars of the time (on paper at least), but with a little fine tuning it was capable of so much more. It's little wonder that the MkIV became a Japanese favorite for highway racing and other straight-line speed pursuits, including drag racing.
And that brings me to the subject of this I Am The Speedhunter submission: Kalle Koivumäki's '93 Supra, Finland's current fastest street class drag machine.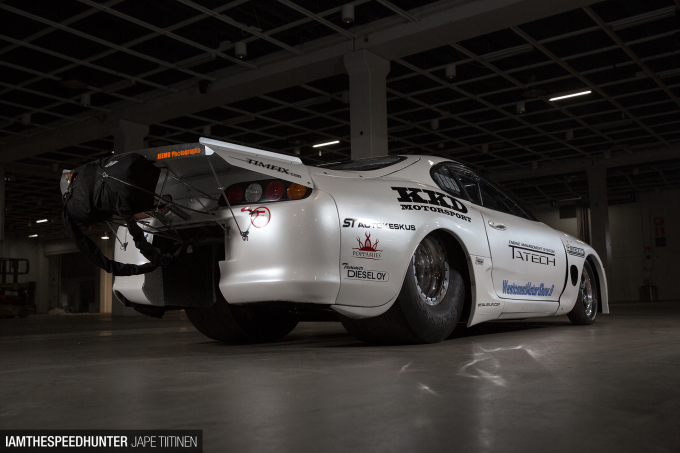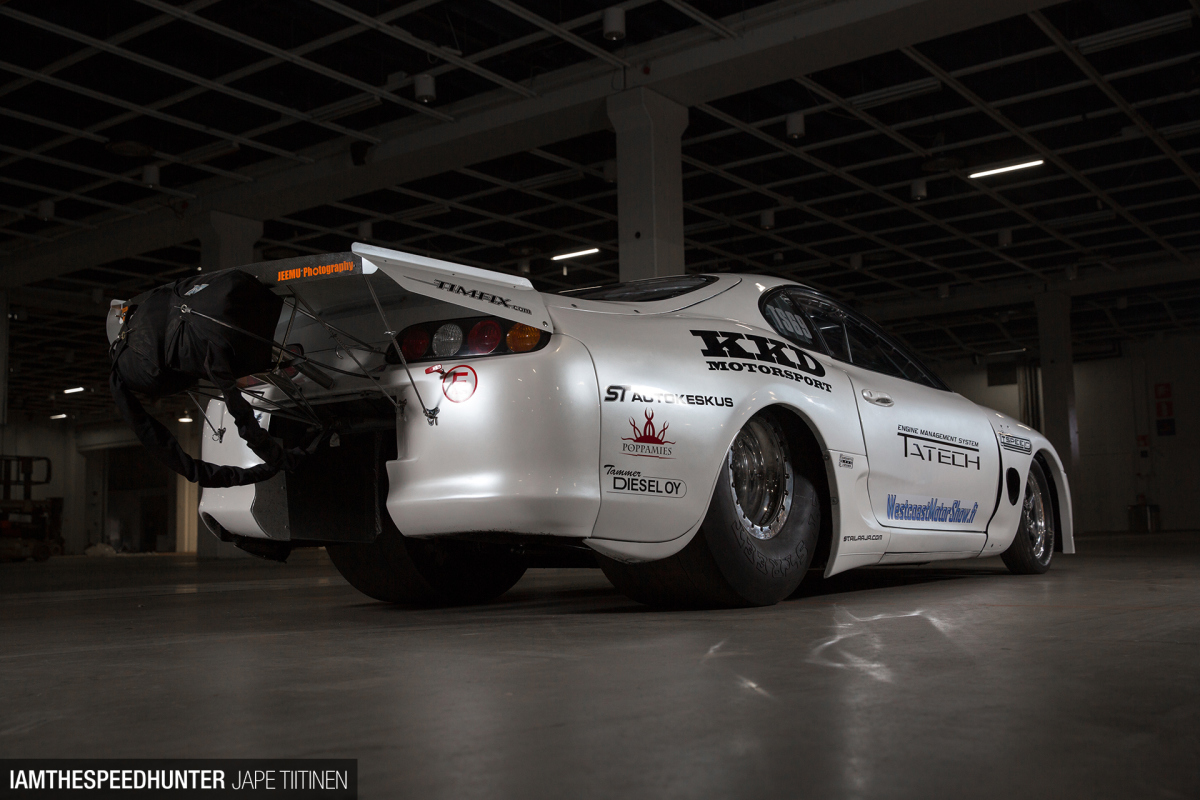 You might be looking at Kalle's KKD Motorsport creation and thinking that there's not much 'street' about the build, and you'd mostly be right. This is not the sort of car you're going to scoot down to the shops for a gallon of milk in. It's more regulation based; the Supra maintains it OEM steel body and front glass windscreen, plus ancillary items such as a horn, lights and a blower fan in the cabin. It also runs on D.O.T. tires.
Everywhere else, Kalle has gone nuts in the quest for lower ETs and higher MPH speeds through the traps. One aspect of the build focussed on cutting as much weight as possible, and in this respect the Supra is a far different car than the one it left the Toyota factory as. Carbon fiber features throughout, in the doors, the front clip and rear hatch, while the side and rear windows are polycarbonate items.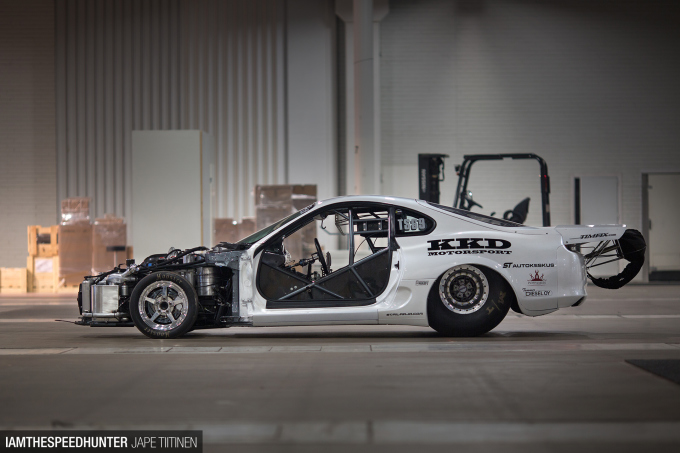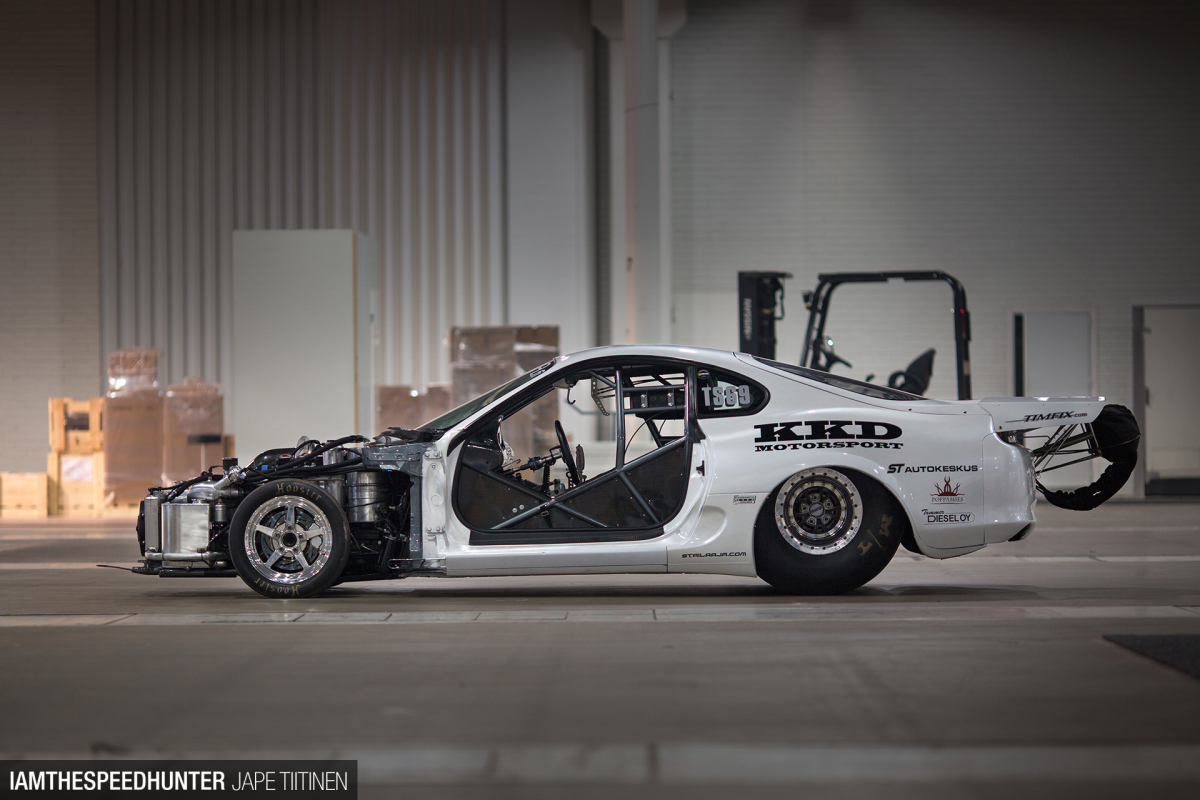 Then there's the beautiful engineering hidden away under the Supra's lightweight skin…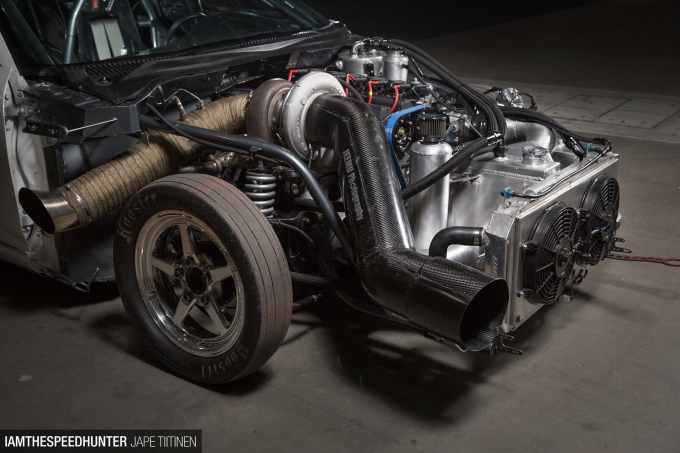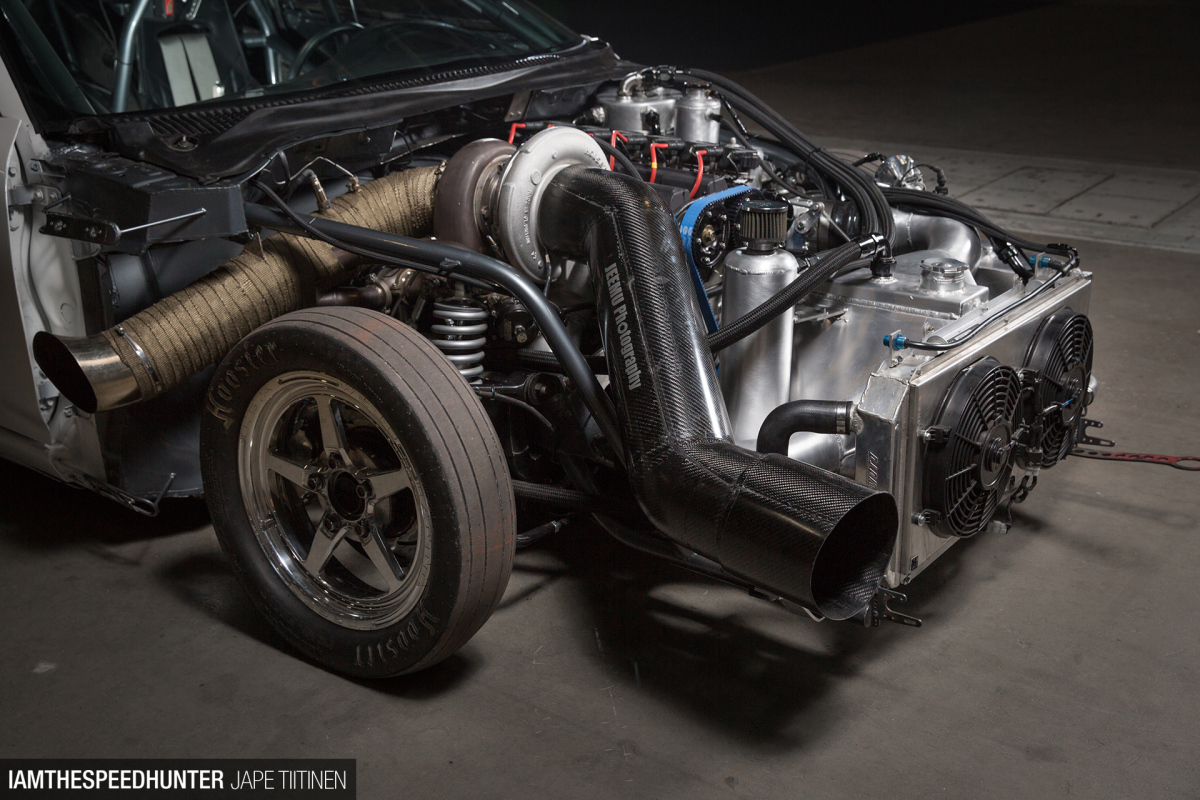 Up front, the Supra stays true to its roots with a 2JZ-GTE, but this engine's been taken to the moon when it comes to upgrades. Inside, there's a Titan Motorsports 3.4-liter stroker kit built around a 94mm billet crankshaft, 87mm CP forged pistons and Carrillo H-Beam forged connecting rods. The DOHC 24-valve cylinder head has been heavily ported and fitted with race cams and oversized valves.
On the intake side of the equation you'll find a Hypertune manifold and 90mm throttle body, and on the exhaust a gigantic 95mm Holset HX80 turbocharger perched high on a KKD Motorsport stainless steel manifold and running dual Precision Turbo wastegates. Fuelling comes via a dozen 2,300cc injectors, ignition is by MSD, and the firing orders are given by a Tatech 38 Pro engine management system.
As you'd expect, the package is making big power. Here's a video from back in 2015, where on KKD Motorsport's engine dyno 1687hp was achieved with 2.9bar (42.6psi) boost pressure. It's since seen more than 3.2bar (47psi).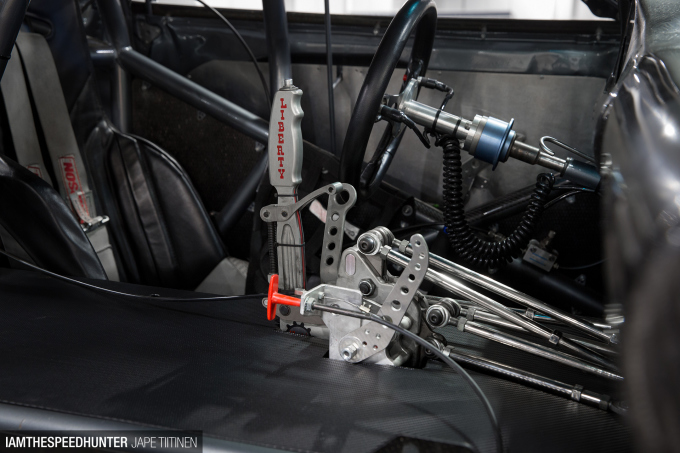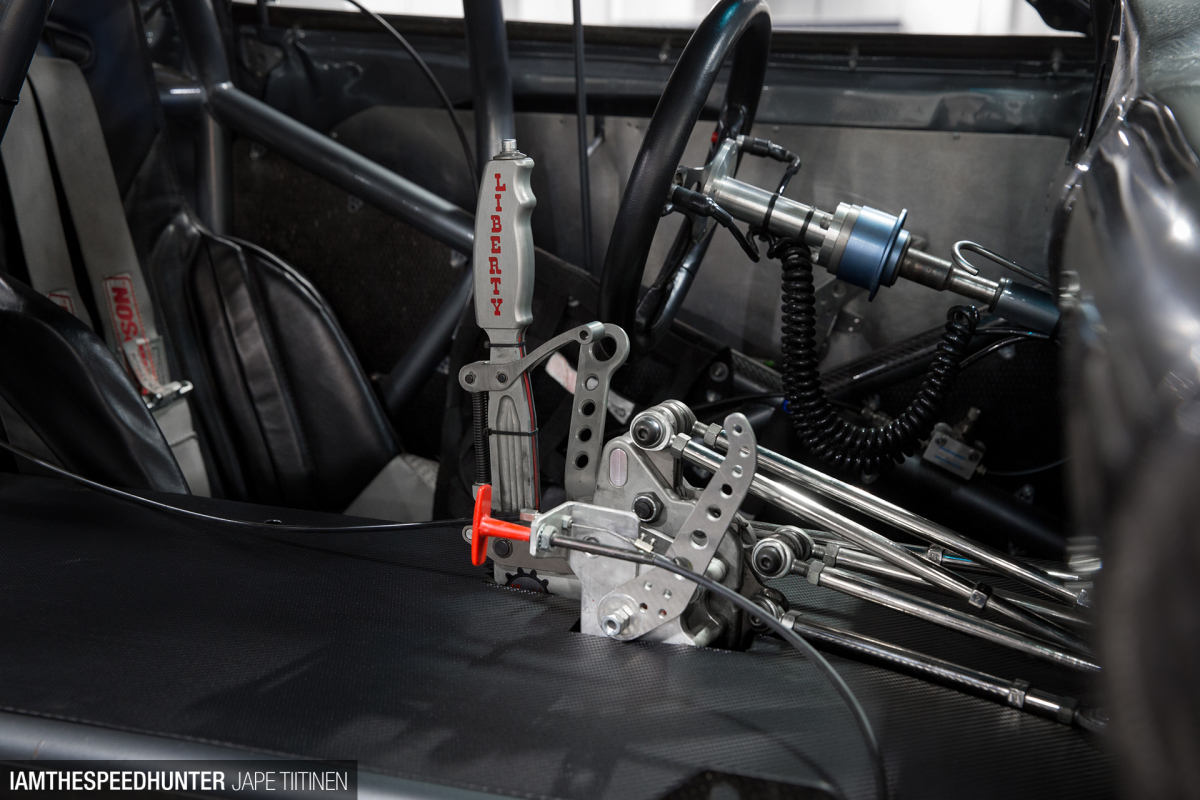 It has the driveline to back it up too, with a Liberty Exteme-T 5-speed transmission, RAM triple-disc clutch, and 3.5-inch chromoly driveshaft running out to a KKD Motorsport chromoly housing with a 9.5-inch Spool diff. The rear suspension features a ProMod-spec 4-link with Koni electric shocks.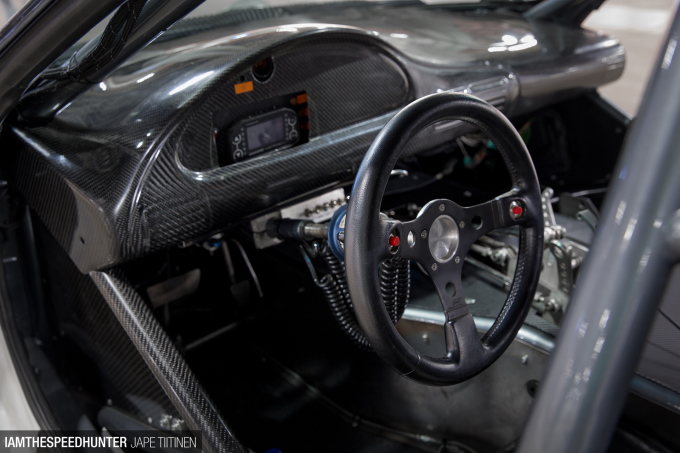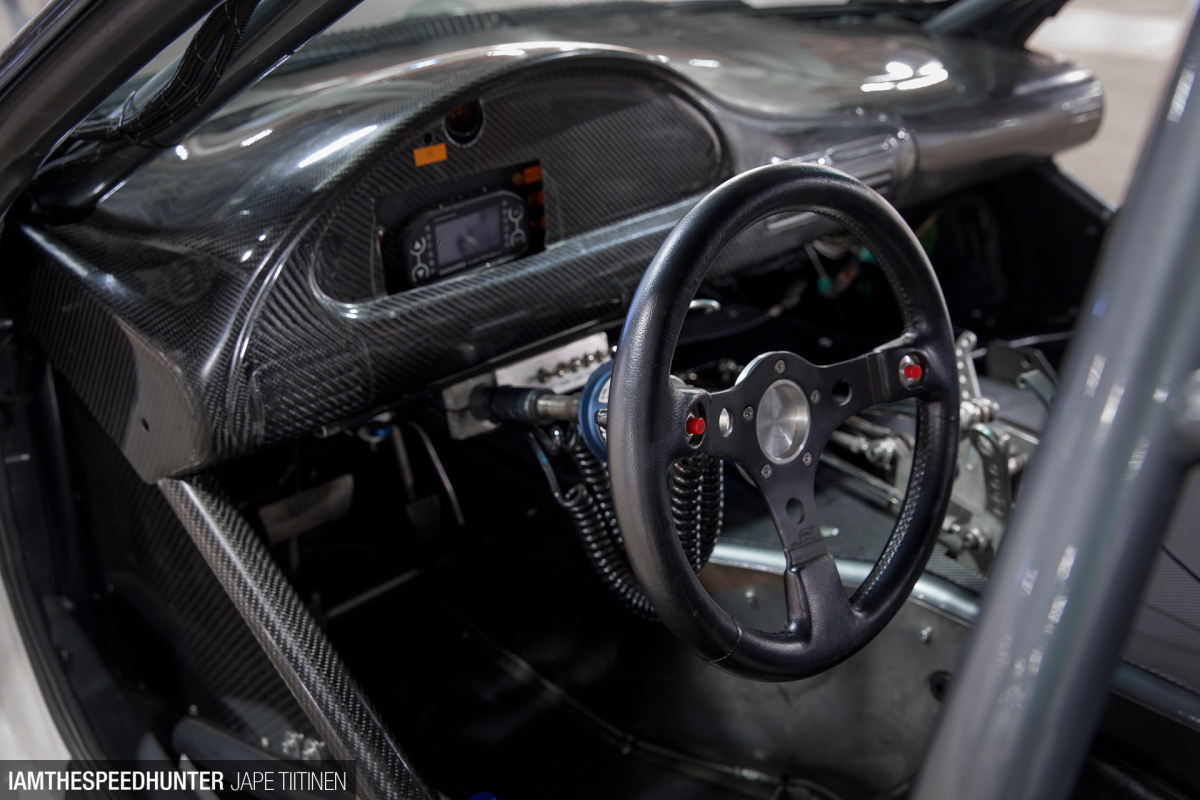 The attention to detail throughout is amazing, and the cabin in particular shows the extent Kalle has gone to in creating this quarter-mile monster. It's all his own handiwork too, the only exceptions being the electrical wiring and the paint.
As it stands now, the KKD Motorsport Supra is – as mentioned earlier – the fastest 'street' car in Finland, but further to that it's also Europe's fastest Supra and the sixth fastest Supra in the world, according to Kalle. It's best pass to date: 7.13 at 315km/h (195mph), which you can watch above.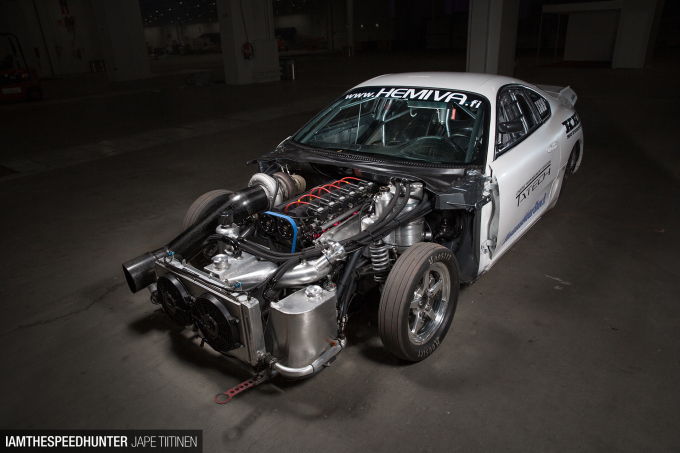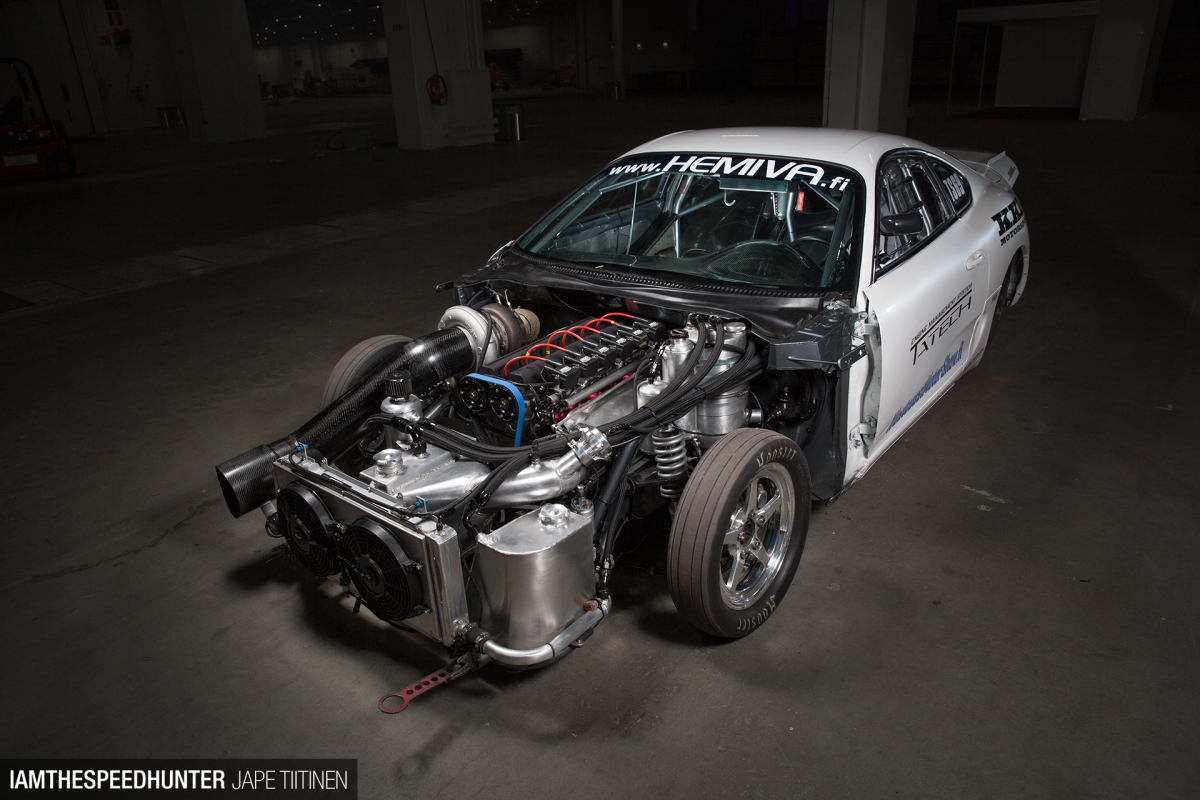 To put that performance into perspective, this Toyota goes 0-100km/h (62mph) in 1.45-seconds, 100km/h (62mph) to 200km/h (124mph) in 1.82-seconds, and 200km/h (124mph) to 300km/h (186mph) in 3.31-seconds. It's maybe not what Toyota had in mind when it designed the JZA80 Supra, but it's builds like this that make us really appreciate it did so in the first place.
Brad Lord
Instagram: speedhunters_brad
brad@speedhunters.com
Photos by Jape Tiitinen
Instagram: jap3
Website: jtmedia.fi