Start Of Inspiration
It's a classic story of a car that's sat too long but a new owner transforms it into something special.
As I've mentioned before, I'm not the biggest fan of 'stance' cars. I grew up on the nerdier side of the car culture, which probably often comes through in my longer, tech-laden articles. However, that's not to say that I can't appreciate a low, tightly wheel fitted car when done right. Kyle Ranauro knows what it takes to make a car that most will appreciate, even the most hardcore geeks.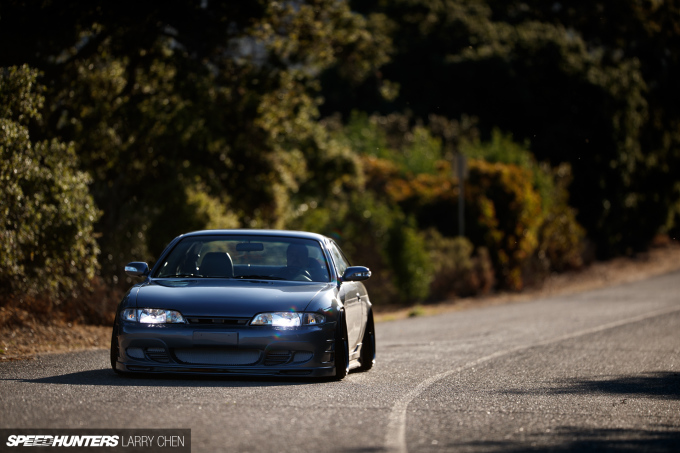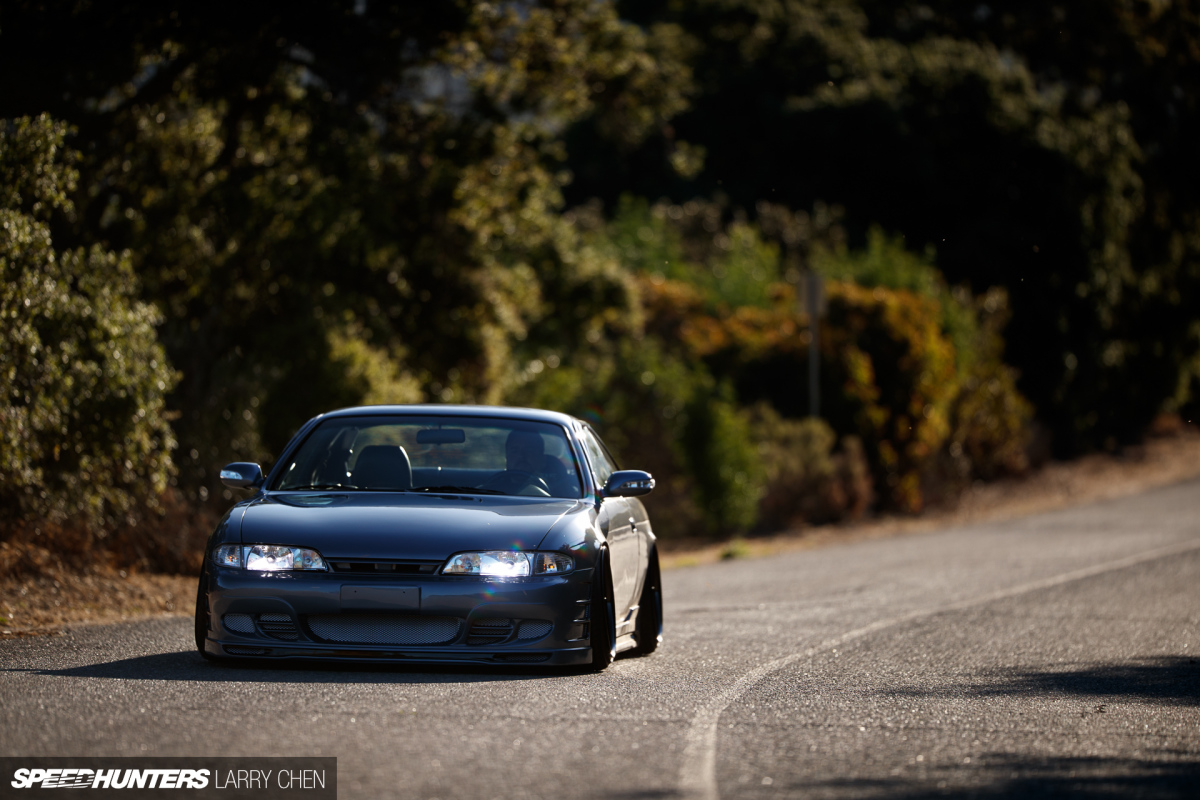 This 240SX started down the fate of cars that collect dust and rust in someone's backyard. Fortunately, it was owned by a friend of Kyle's who was eventually willing to sell it to him almost seven years ago. It's also been an evolving project going from a set of 20-inch MRR HR3 wheels with a SuperMade Instant Gentleman bodykit with an automatic KA24DE to a laid-out cruiser with a Japanese Nissan OE kit made by Navan and a set of Work Wheels.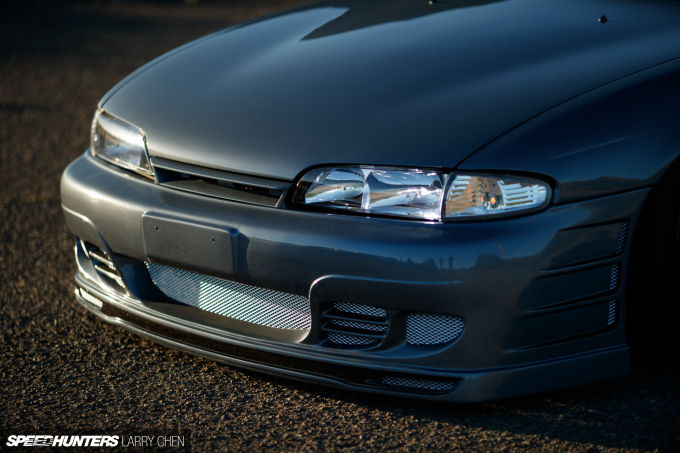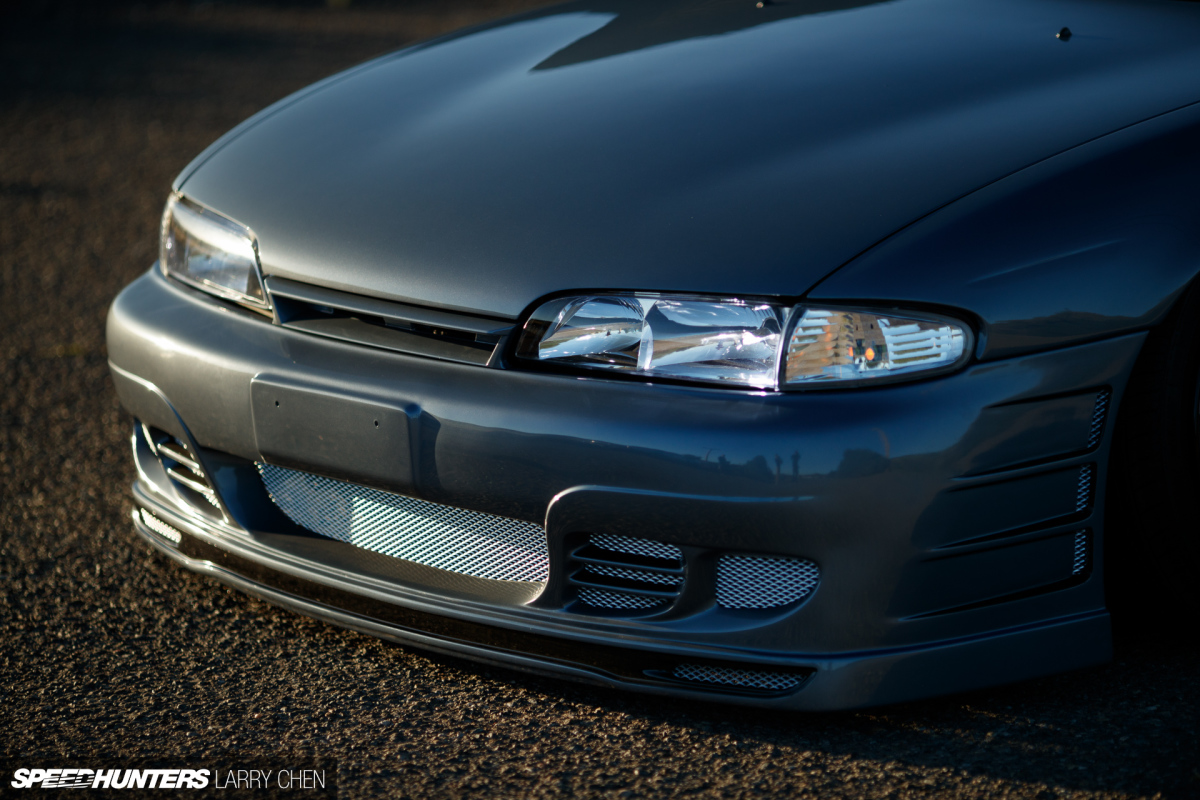 This newest phase was influenced by the 326Power 3D Star S14, and that bodykit was the first part Kyle had to locate. He had a friend that sourced a used version of the kit in Japan and sent it over, but that wouldn't be the only change to the car. The wheels were changed to Work SC2s measuring 18×9.5-inch front and rear but that also required doing something to the fenders to allow them and the stretched-out tires to fit. Kyle didn't go with a set of wider fenders, but instead modified the steel fenders to fit the square wheel and tire setup.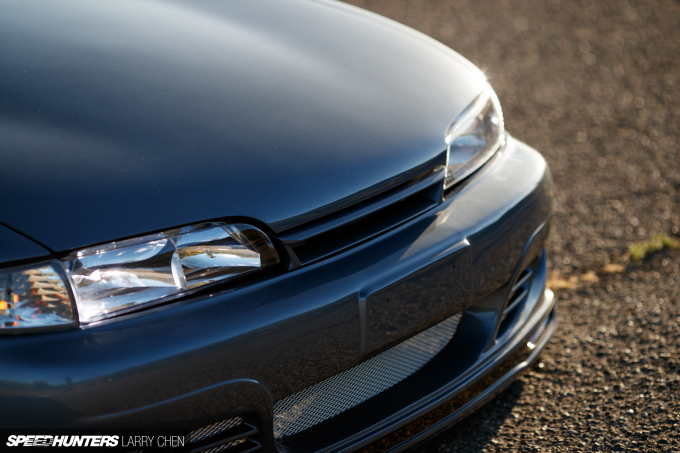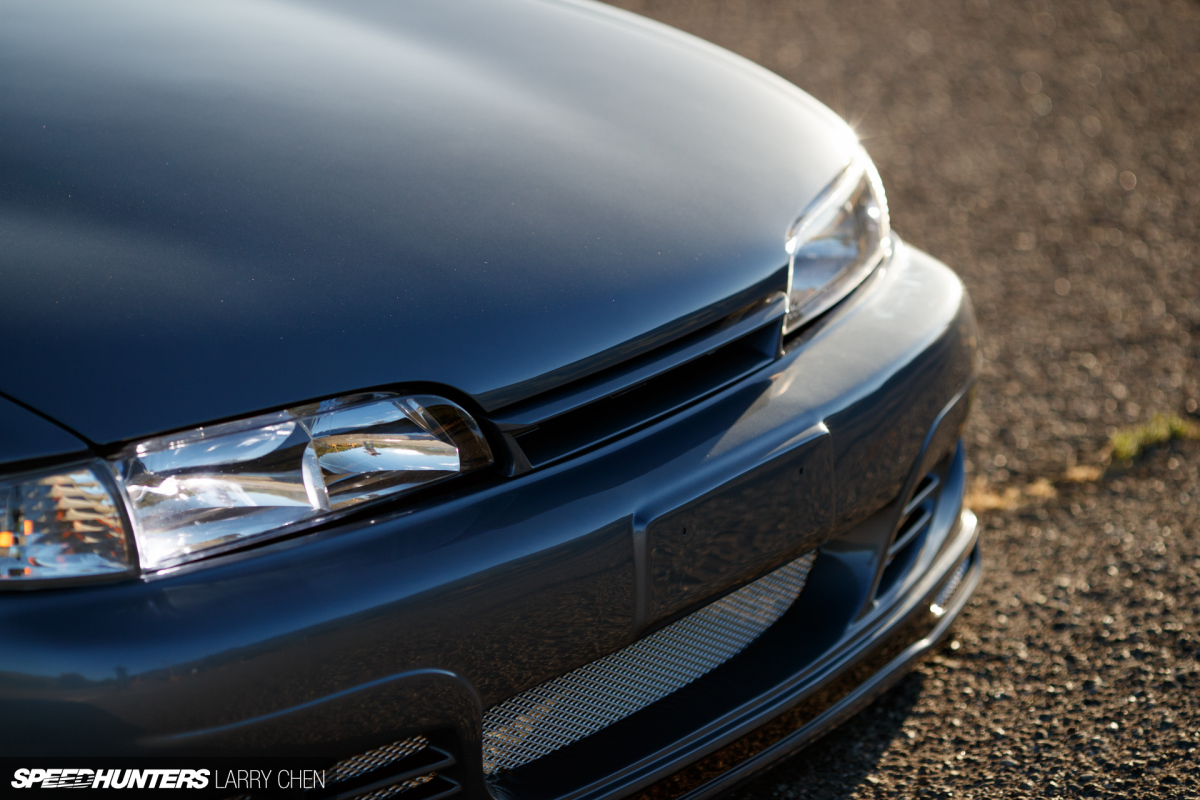 Once he was finished with the metal and body work, his friend from Japan called again with another acquaintance, Hiro Mizukami from a shop called Sonichedgehog. Hiro came over with Kyle's blessing and a plane ticket to paint the car in 2.5 weeks. With the body and paint done, it was then time to improve the inside of the S14.
Stepping Up While Stepping In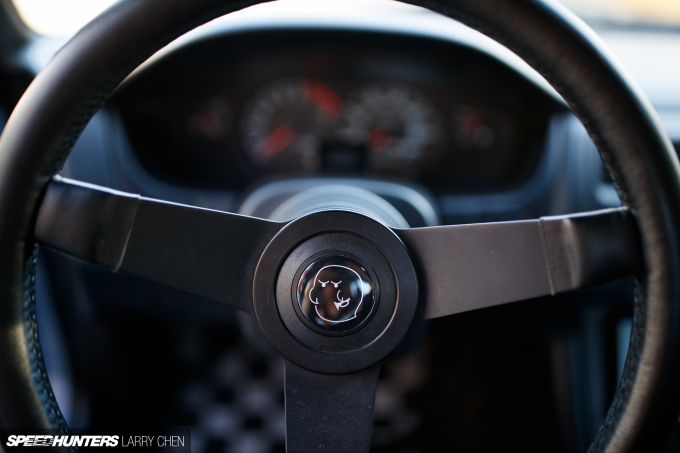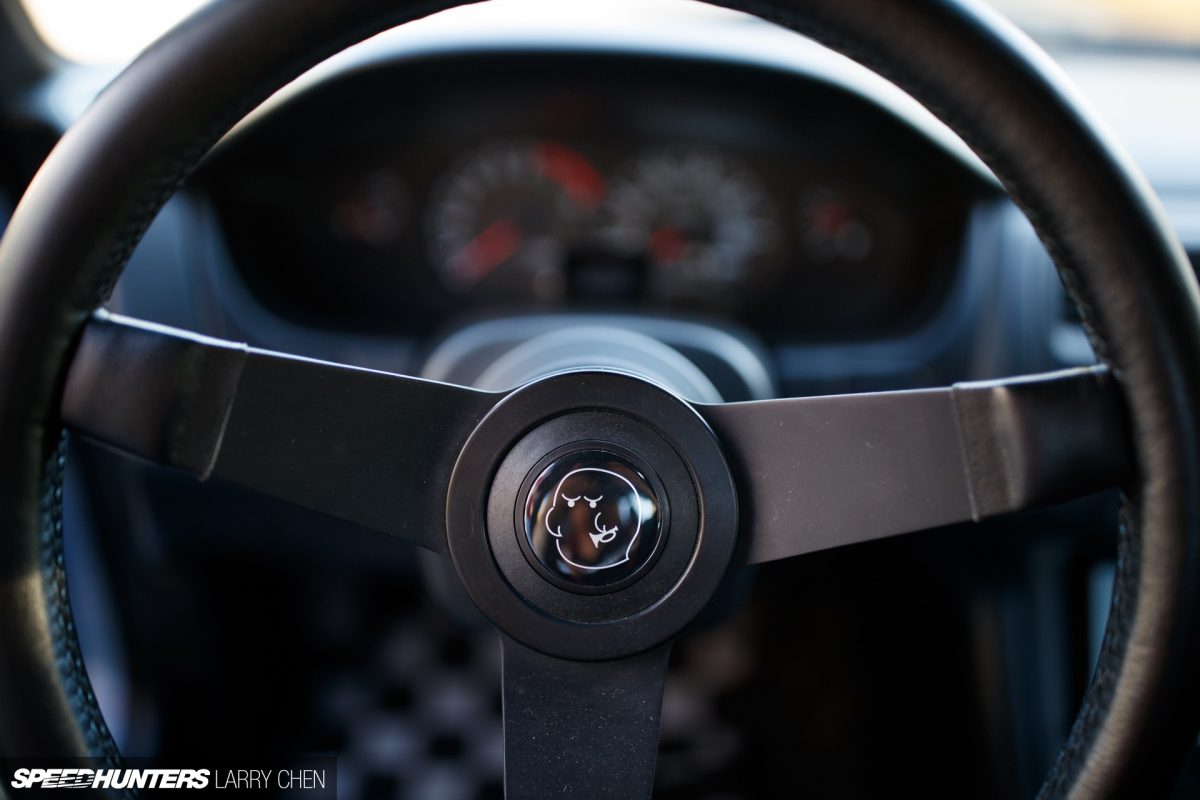 The Nissan's interior was replaced with new OEM door seals and trim pieces, and all the seats except the driver's were redone in leather. That one was replaced with a Bride Zeta XL sitting on FG S14 seat rails that still allow the fixed-back bucket to move back and forth but lock once in place. The OEM cluster remains, but a Parts Shop Max digital oil and water temperature gauge sits on the steering column cover, just behind the G-Corporation steering wheel.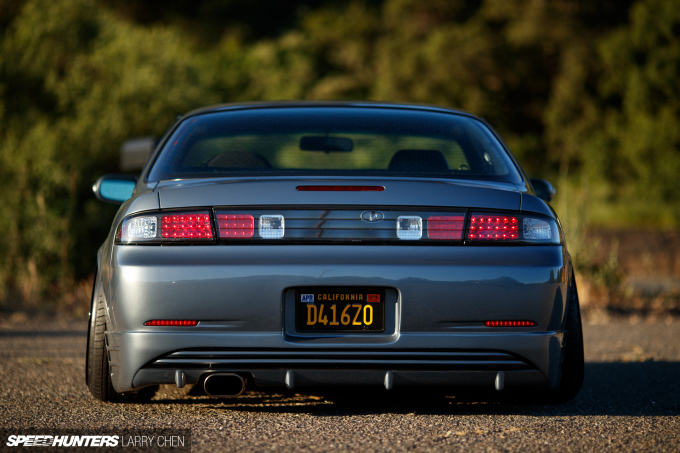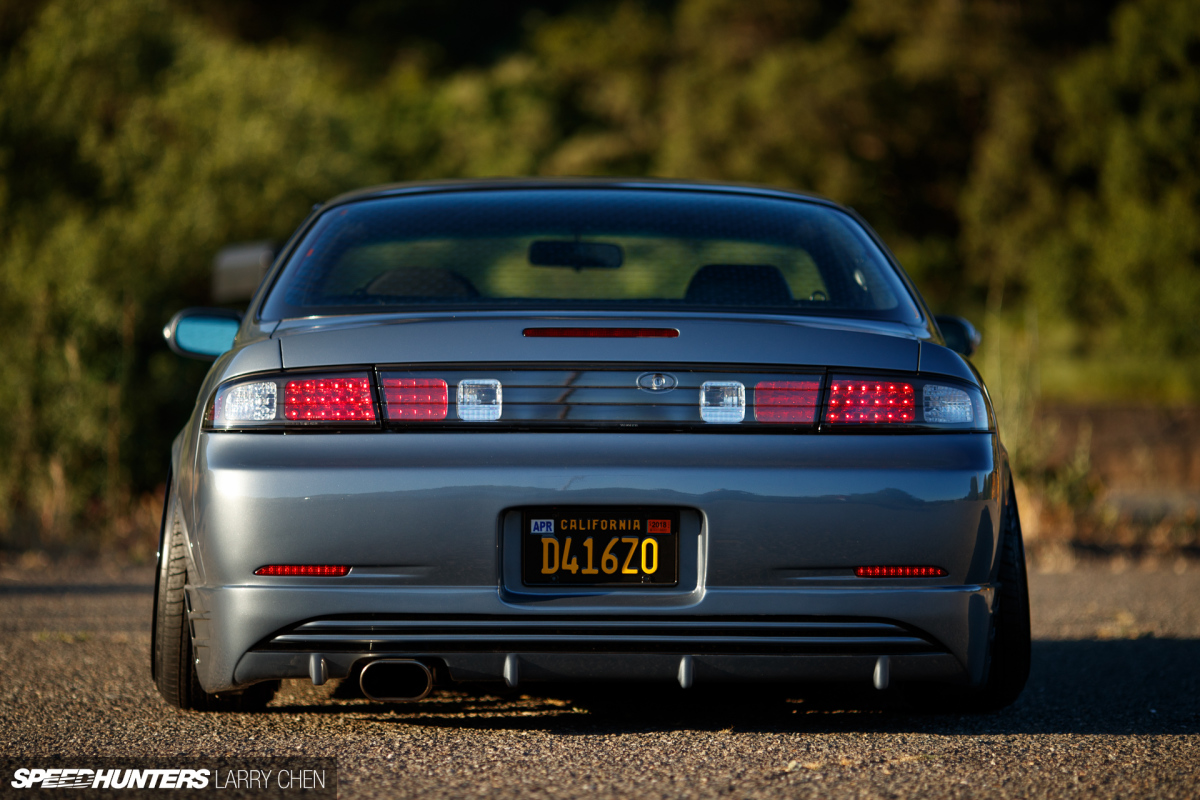 The S14 couldn't just sit right, it also had to work right. A lot of that comes thanks to Parts Shop Max with all the rear linkage replaced and using their adjustable Competition coilovers with 16kg/mm front and 14kg/mm rear rate springs. A pair of D-Max traction links work to control the amount of toe the rear wheels see during travel. Without it, you would get bump steer in the rear on a cambered S14 because the arc of the traction rod and the upper control arms would be different.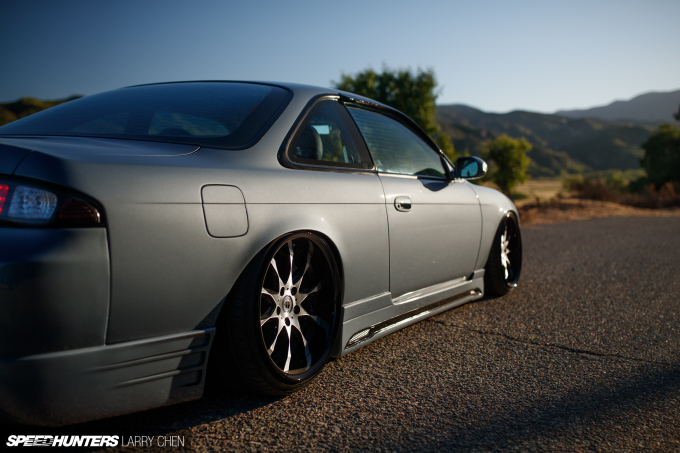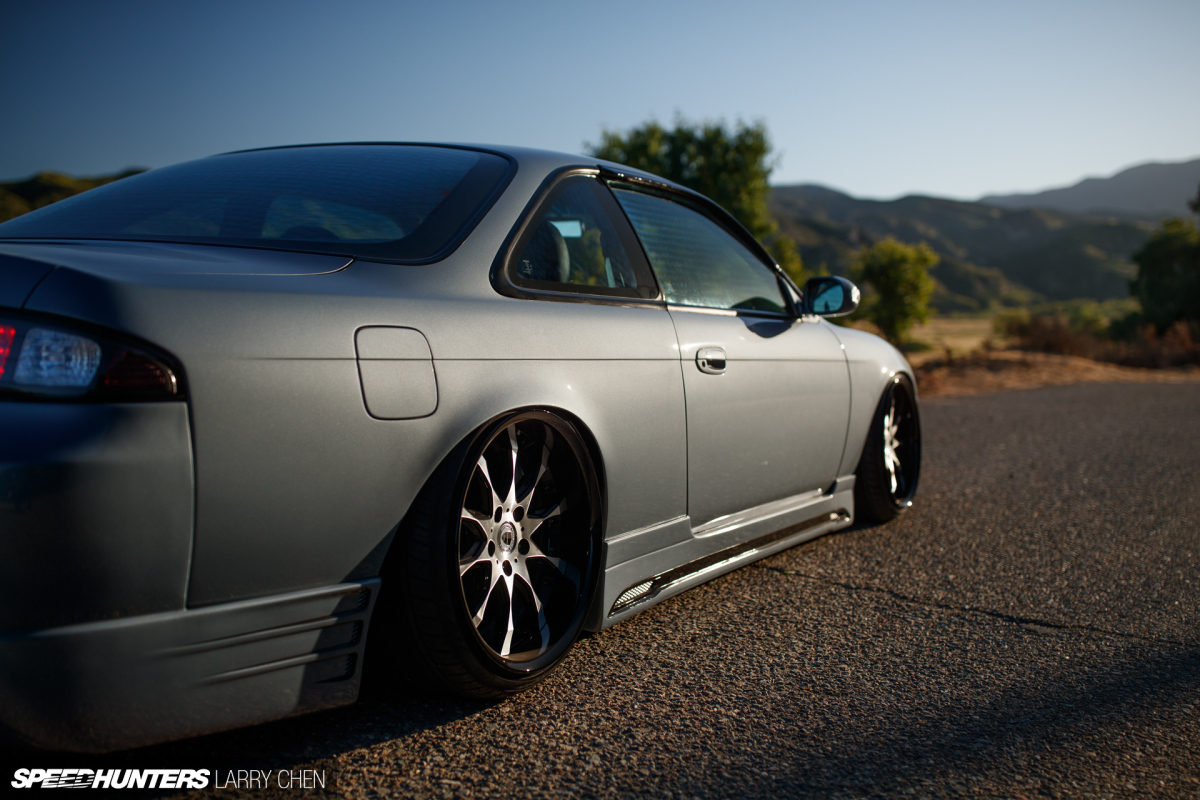 Making camber more positive would lengthen the upper control arm and require a longer traction link because it would point the rear tires toe-out on bump (upward wheel travel), negative requires a shorter version of each because it would point the tires toe-in on bump. Of course, this all still depends on the geometry of the toe-link as well, but backwards (negative camber would cause toe-out on bump, positive camber would cause toe-in). Then there is the lower control arm, but all of this would probably be better saved for a full tech story one day.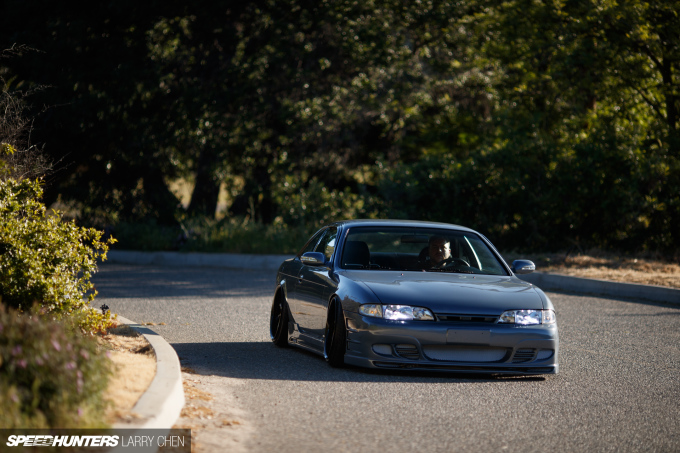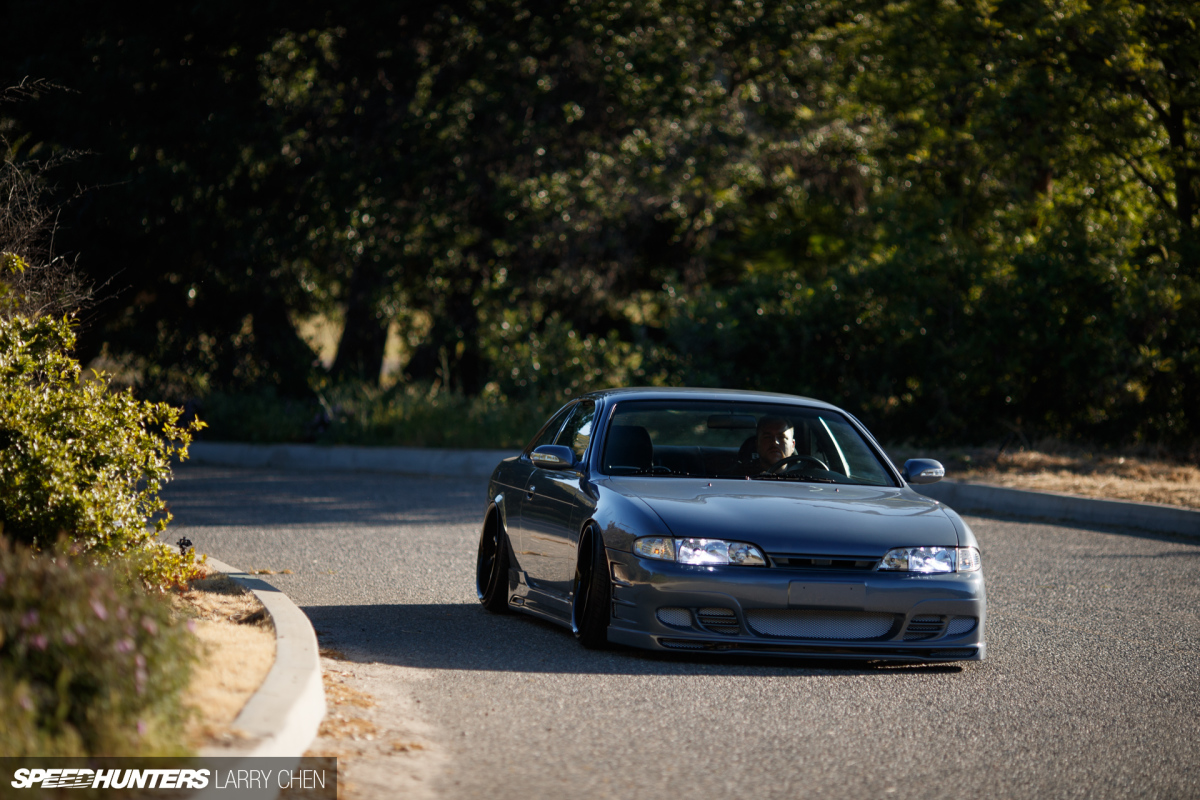 However, none of that would even matter if the rear subframe moves under load, and this why a set of SPL solid subframe and differential bushings are used to keep everything stiff. Up front the tie-rods were replaced by a set of Ikeya Formula inner tie-rods with Tein outer tie-rods. While neither are designed to change bump steer in the front, they are far stronger than OEM and OEM-style replacements. The tension rod was also replaced with a Parts Shop Max unit for more durability and a way to adjust caster angle on the front since the Competition coilovers only do camber.
Power Up With Benefits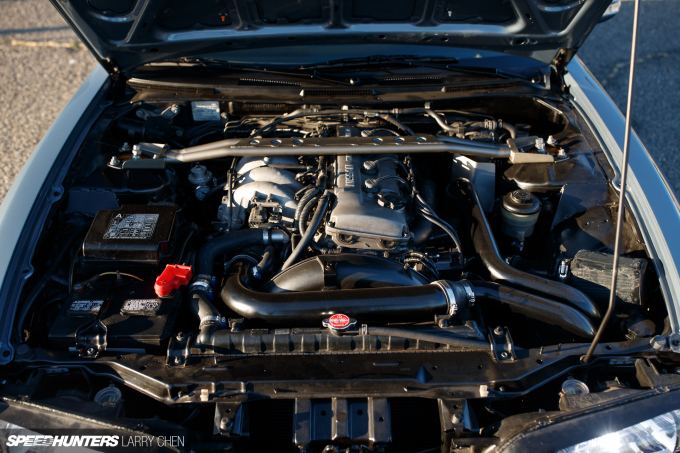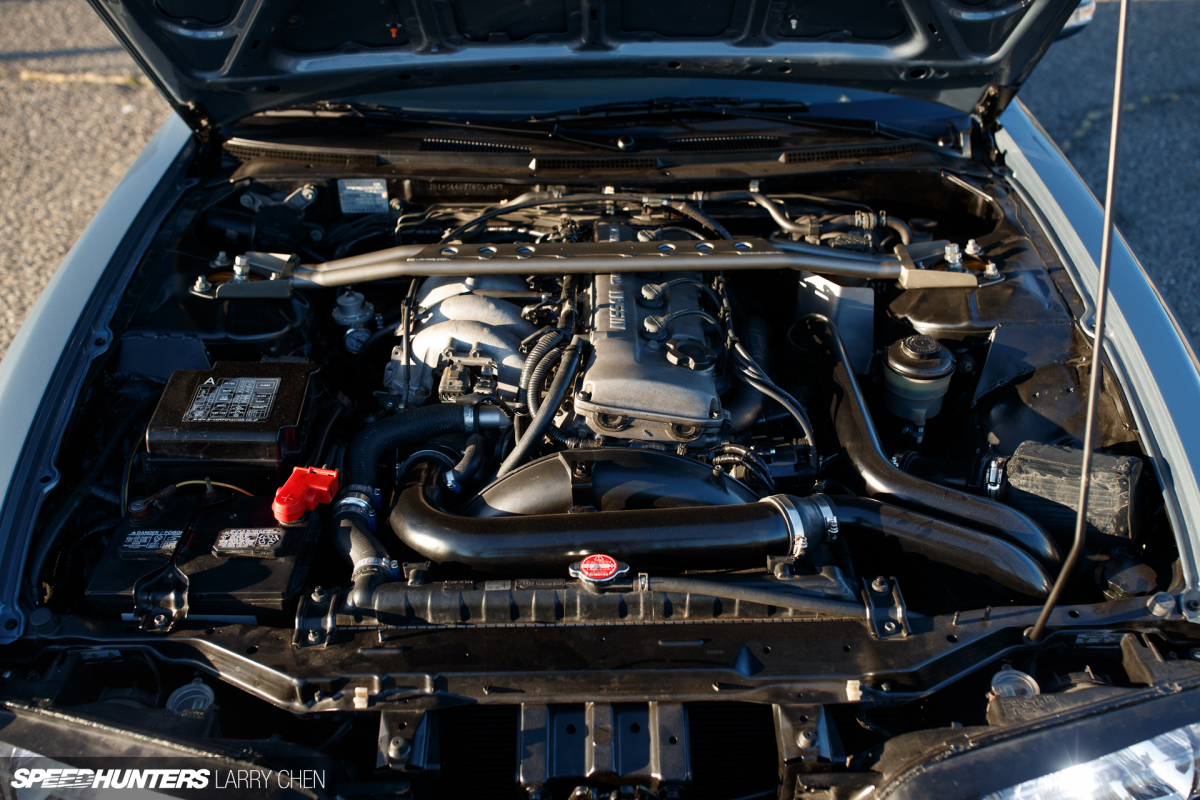 So, a 240SX with a KA24DE has a suspension upgraded far beyond what that engine is capable of – why bother? Well, that's because then engine was changed as well. Kyle wanted power but he also wanted to keep the stock air conditioning system since it is still a street car. That meant the KA24DE had to stay, but he went turbo with a Twisted Motion T25/28 hybrid and a bolt-on upgrade for a SR20DET.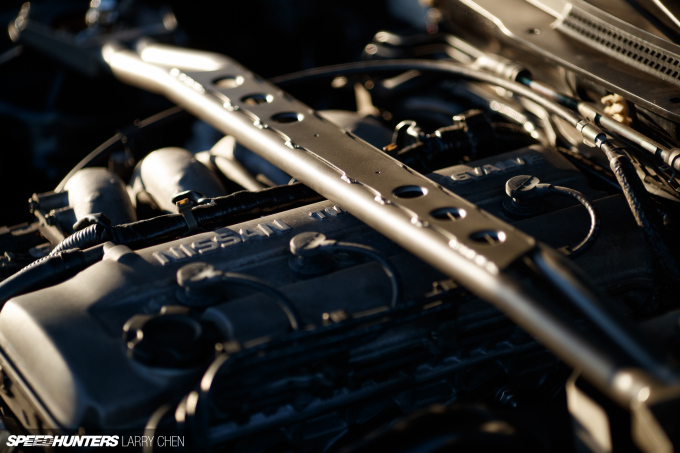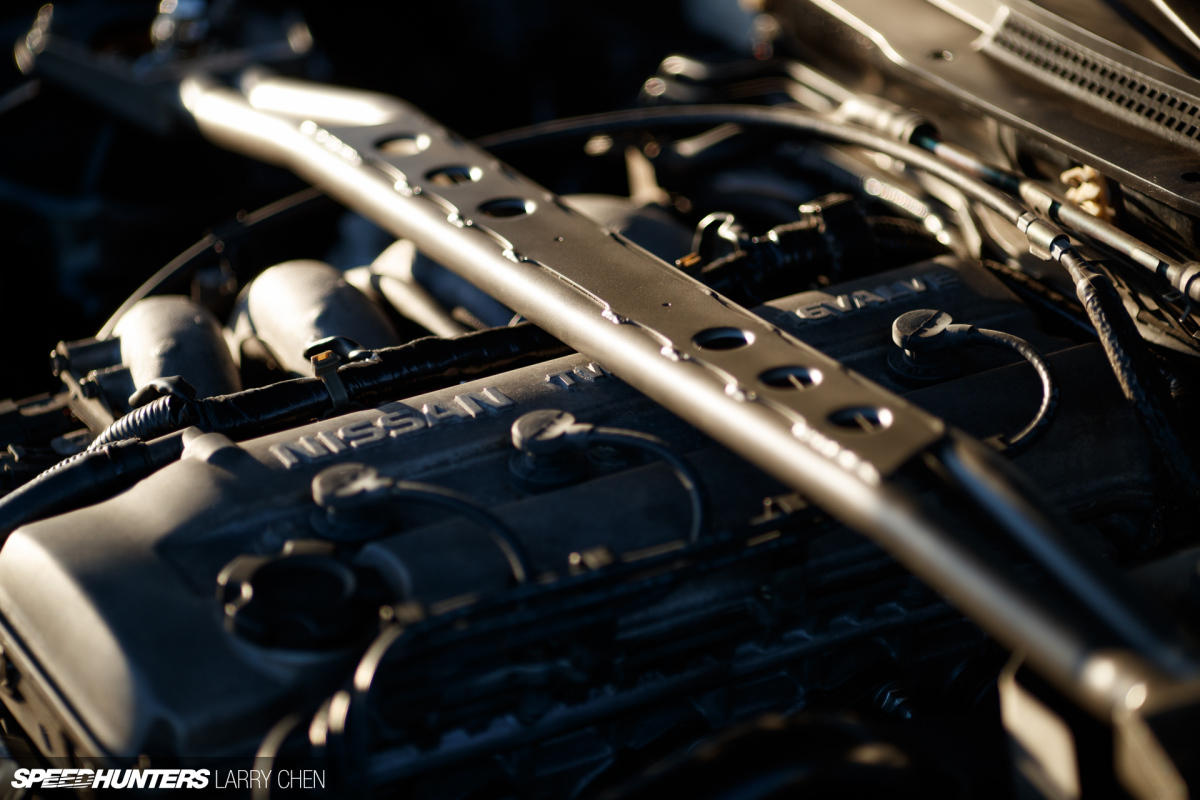 Being able to bolt it onto a T25 four-bolt flange of that engine makes it good because Tomei makes a cast-iron manifold for the KA24DE designed for the T25 from the SR20DET, which also means the turbo exhaust flange is positioned like it is on a SR20DET and bolt-on exhaust systems are easier to come by. However, the factory ECU, injectors and fuel pressure regulator won't work because none of them are looking for boost. Jim Wolf Technology came to the rescue with a KA24DET tune, while a P2M fuel pressure regulator increases the pressure to feed the OE SR20DET injectors when the boost pressure rises.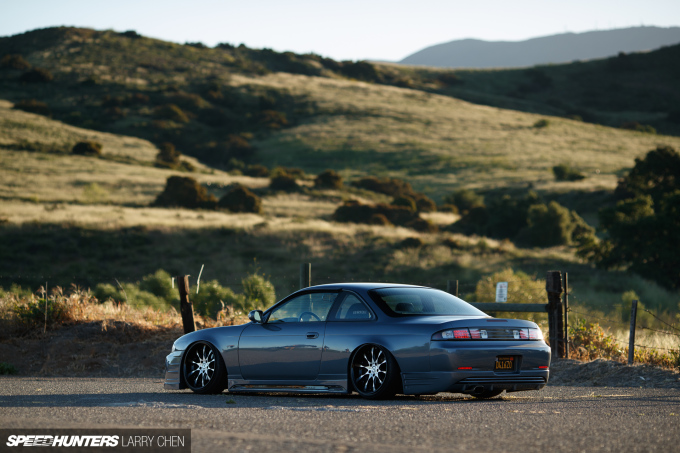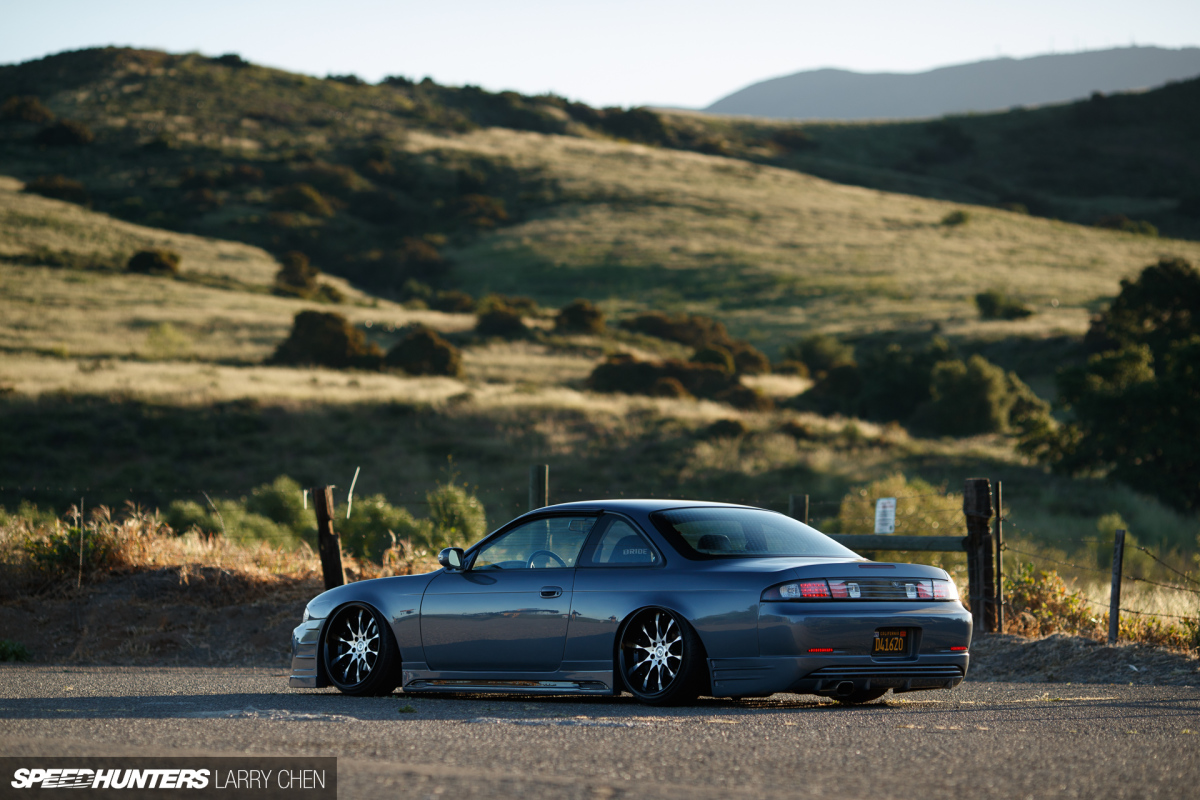 While this is a low car with camber and stretched wheels to fit under the modified steel fenders, it's a thought out one. Spring rates are reasonable for the ground-scraping ride height, the suspension works with minimal bump steer, and it's comfortable to drive with the windows up in California's hottest days yet still makes decent power. This is a car that works properly; it's a daily driver that looks good and is fast. I wouldn't be ashamed to be in it, that's for sure; though I would still find a way to take put some positive camber back in the suspension.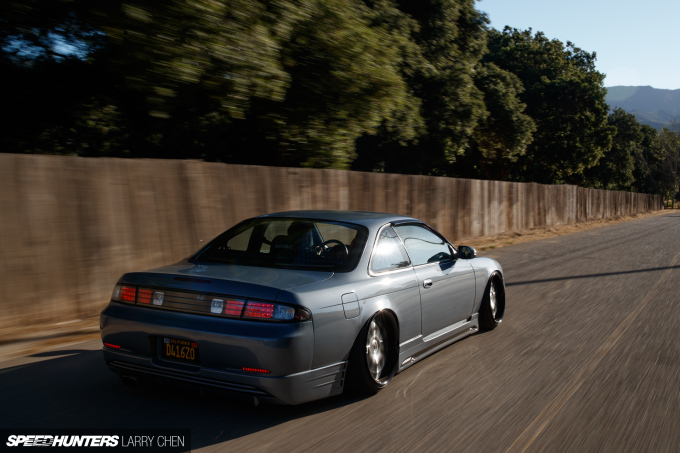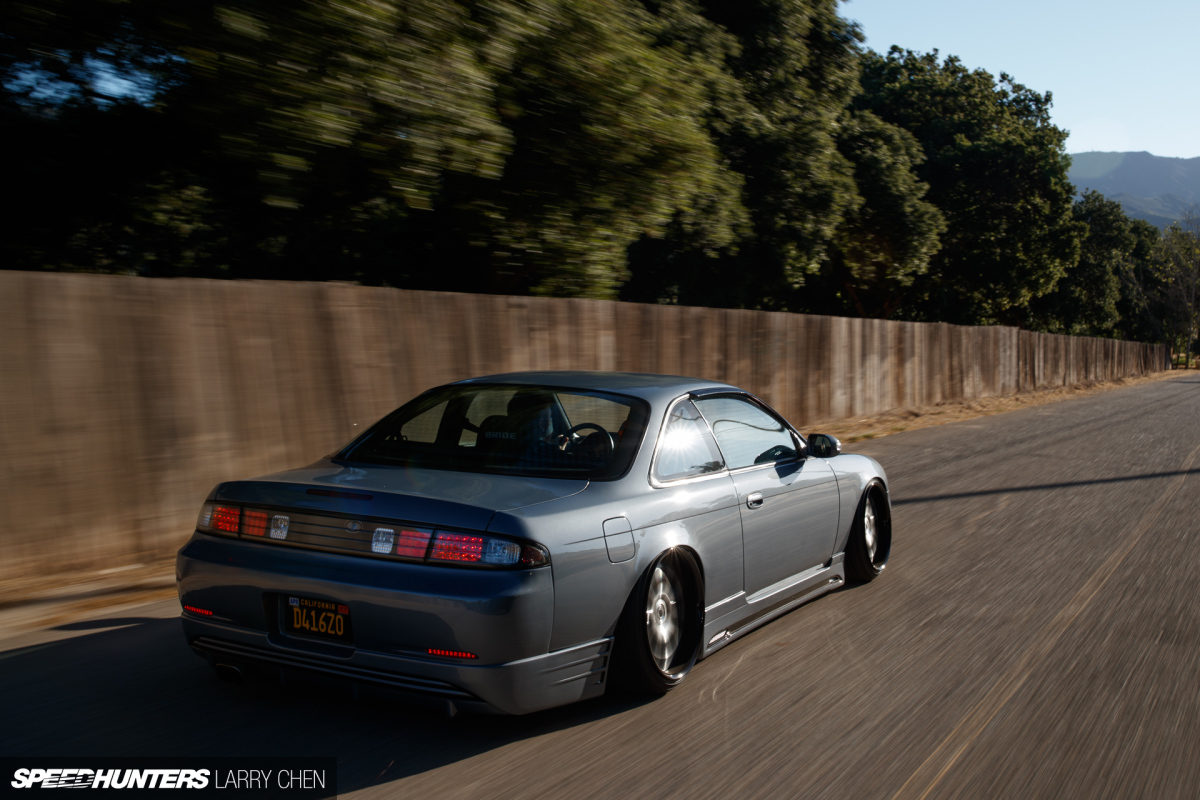 The idea of a super-low car has evolved, much like Kyle's S14; from ragged and horrible to drive in to tidied up and clean to what you now see before you. A stance car isn't what it started as and that's for the better.
Words by Justin Banner
Instagram: jb27tt
Facebook: racerbanner
Twitter: RacerBanner
Photos by Larry Chen
Instagram: larry_chen_foto
larry@speedhunters.com
Cutting Room Floor