Pushing The Envelope
Over the course of the week, we've spotlighted a diverse bunch of cars from Wekfest Japan. From a Ferrari Testarossa slammed on airbags to a 2JZ-powered Mercedes-Benz 450SLC and a supercharged Honda S2000, the Nagoya show had it all.
Truth be told though, there was so much more at this event worthy of special note, which is why I'm going to wrap things up from the Port Messe exhibition center with one final XL-sized post.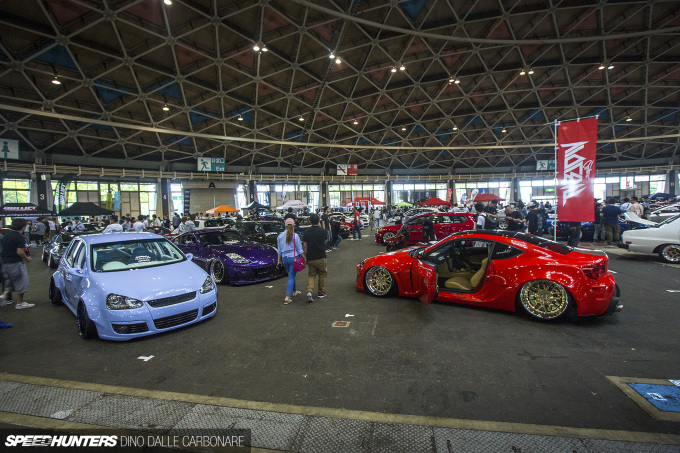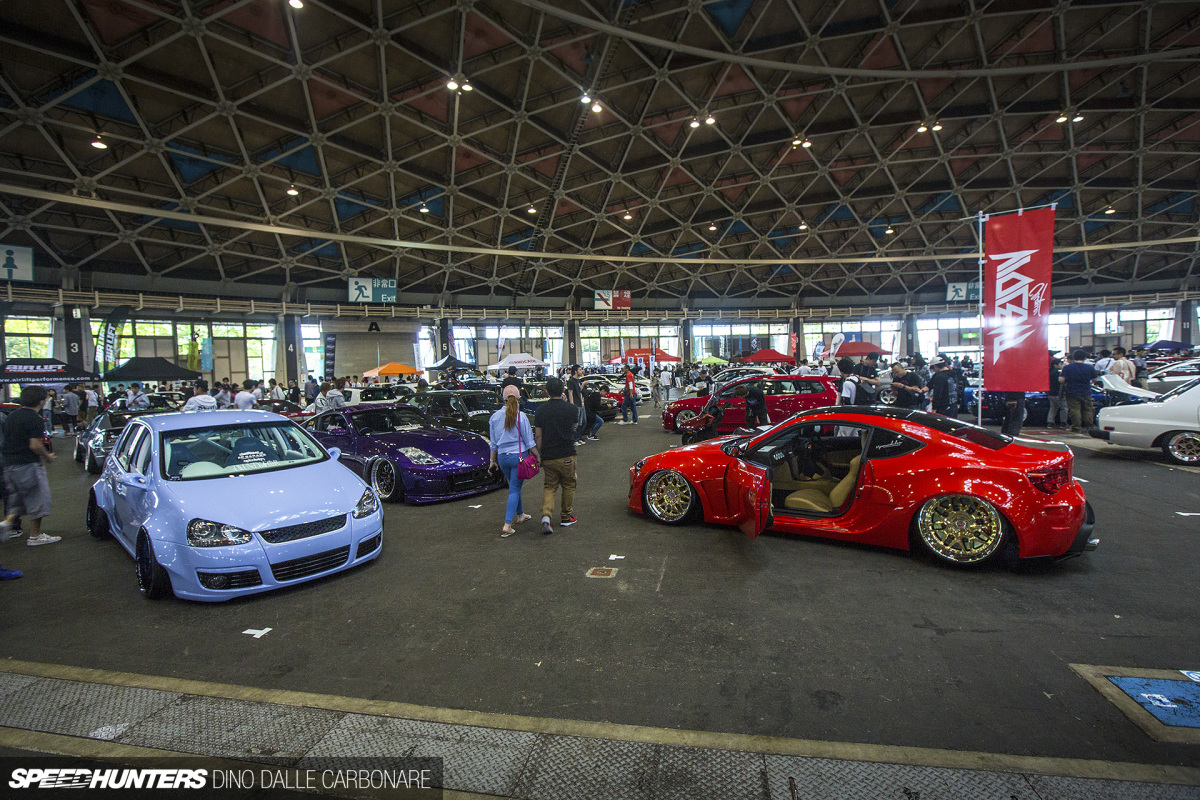 While Wekfest seems to celebrate a variety of styles, the USDM influence is hard to miss. Call it human nature, always wanting what you can't have or what's hard to get. The need to stand out sees owners going to great lengths tracking down rare parts from back in the day, but in most cases they're being combined with modern JDM touches, resulting in some unique styles and idea.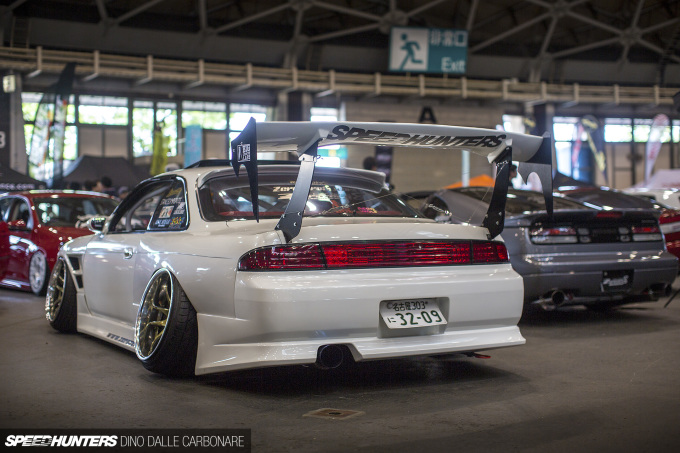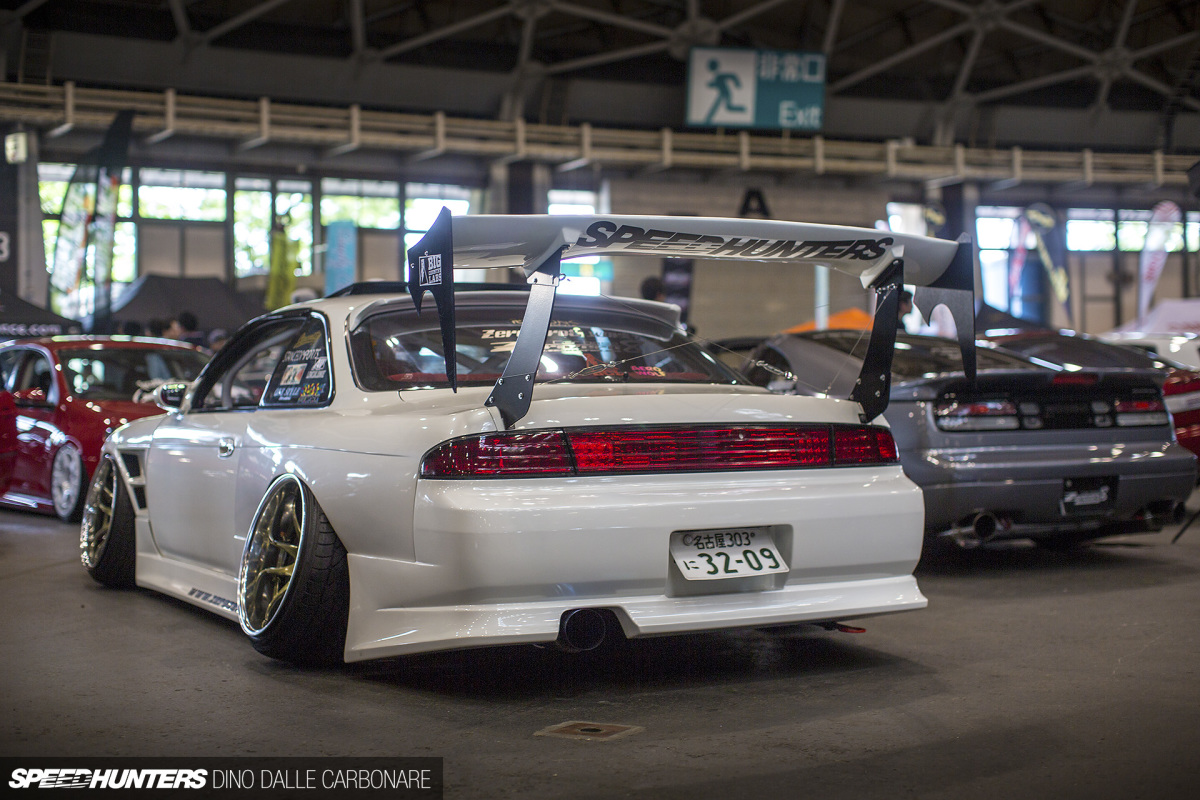 I'm sure some of the cars at Wekfest Japan, including those sporting the either love-it-or-hate-it onikyan style, will be judged negatively, but I don't think I've ever attended a Japanese show where 95 percent of the cars on display deserved a proper feature. Yes, this event was that good.
So before we get into the best of the rest, I'd like to give a shout out to the Wekfest crew for putting on such a great event, and for the Japanese guys and gals out there who are pushing the the modifying envelope.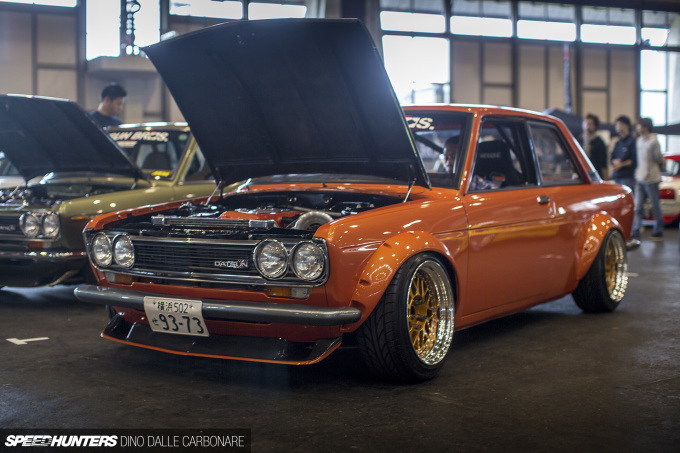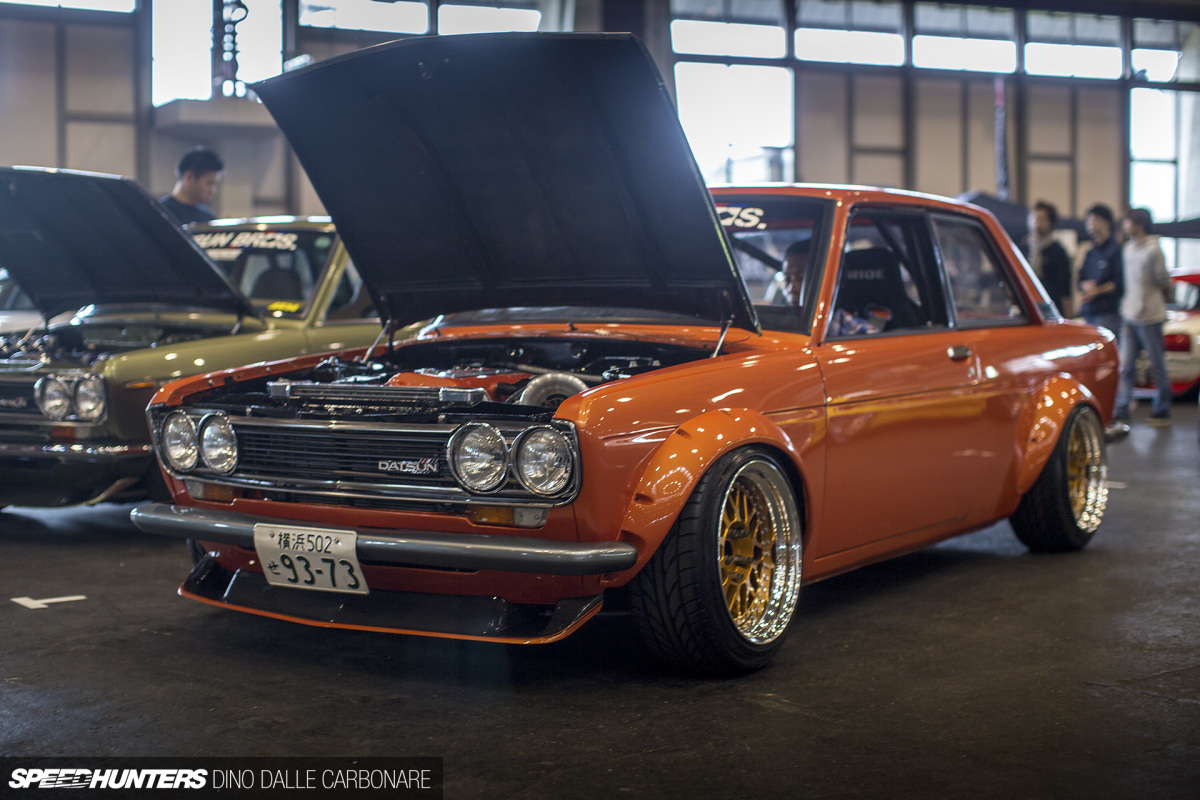 It's something I've been banging on about lately, but the execution and presentation of Japanese builds really has improved. Having to be diplomatic when sharing cars and scenes with you here in Japan means that I may not focus too much on the negative things, but when I first started shooting and featuring local cars I was pretty appalled with the way most builds were finished.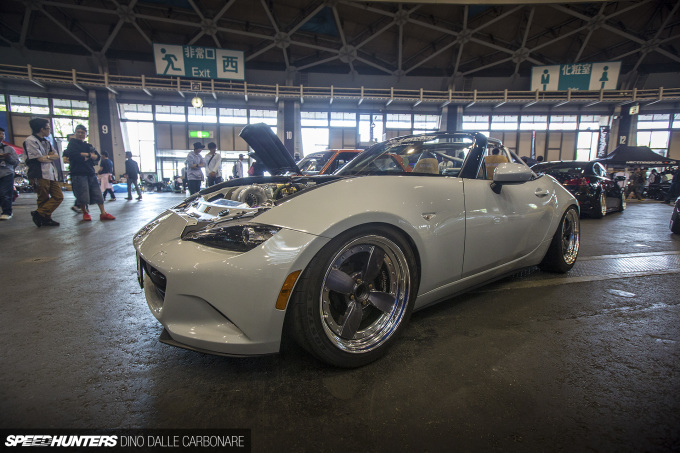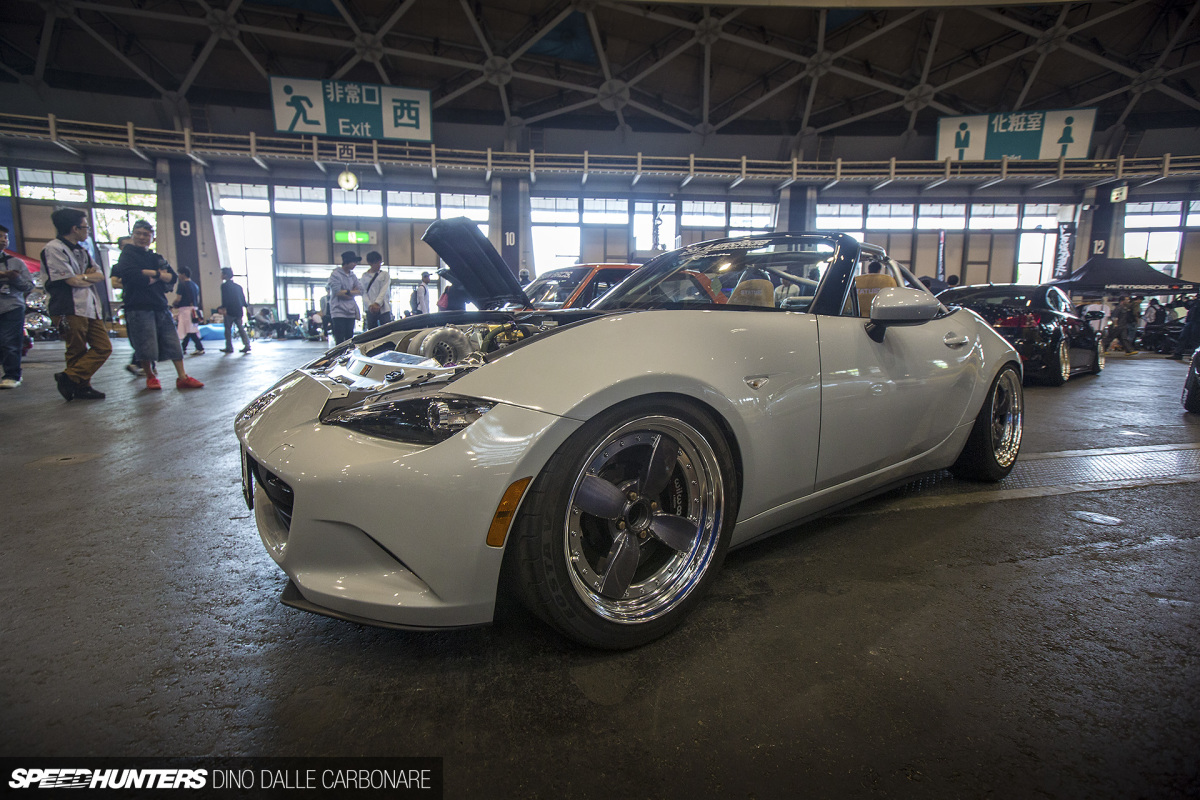 And everyone was guilty, even the big-name tuners who were held in such high regard around the world. Messy engine bays, shoddy wiring work, exposed cables, gauges crudely screwed onto dashboards, and don't get me started on roll-cages… You can categorize all of the above as 'functional' or 'JDM style' up to a certain point, but enough is enough. Thankfully, much has changed since then, and I now find myself not having to be selective went it comes to what I shoot.
S&A Auto Create is a Japanese shop that really knows what it's doing when it comes to nailing the details.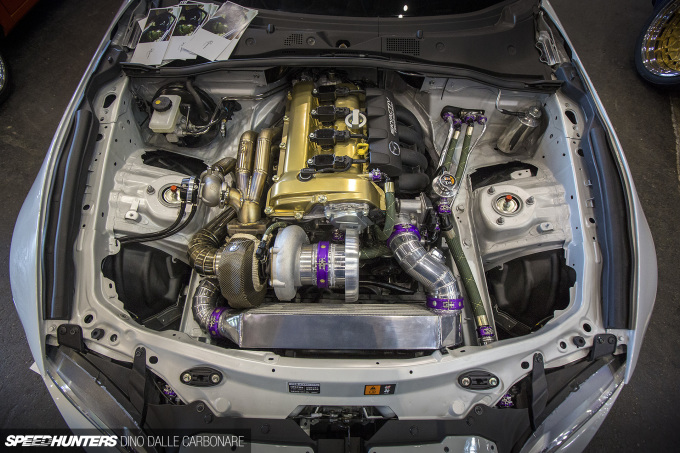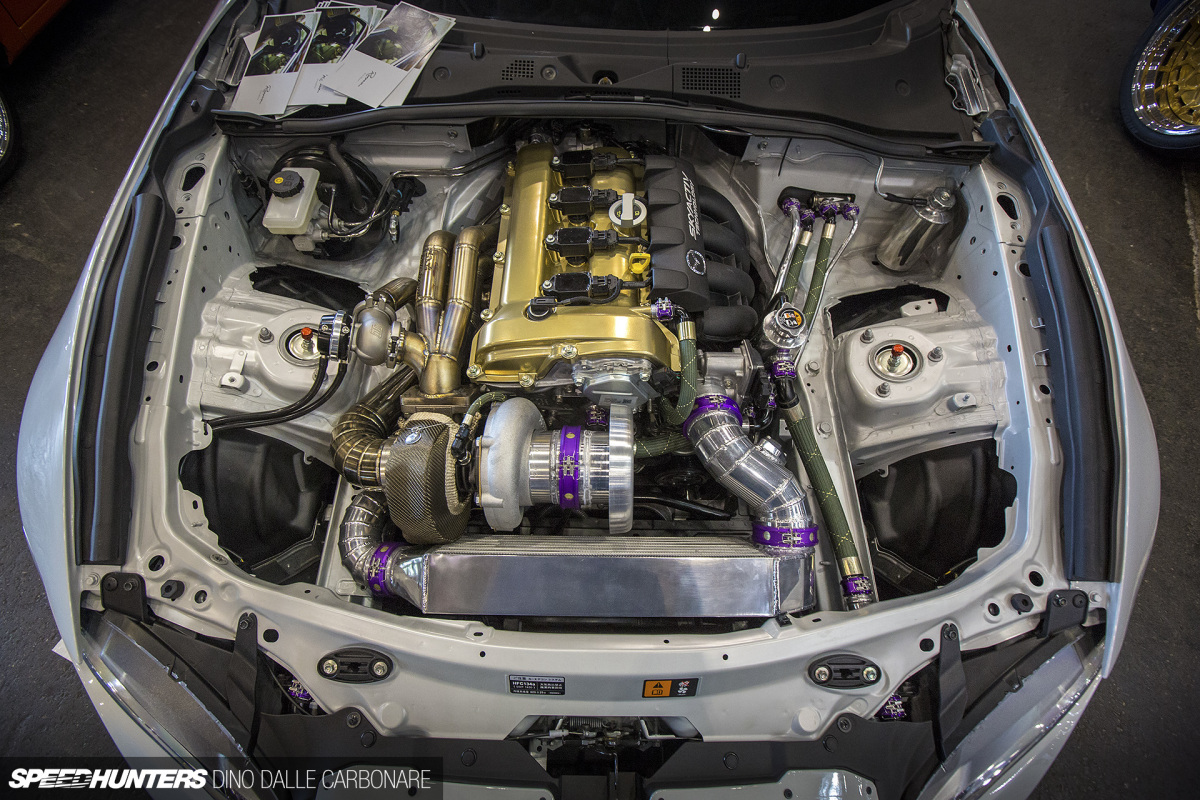 I spotlighted S&A's new-gen Roadster when it was displayed at the Mooneyes Hot Rod Custom Show in Yokohama late last year, but it's come a long way since then. I'm due to drop by the shop soon as there are some fresh builds that need to be featured. Stay tuned for those!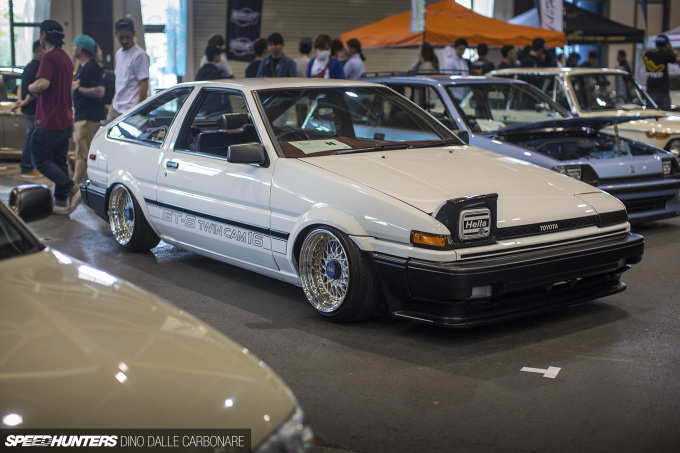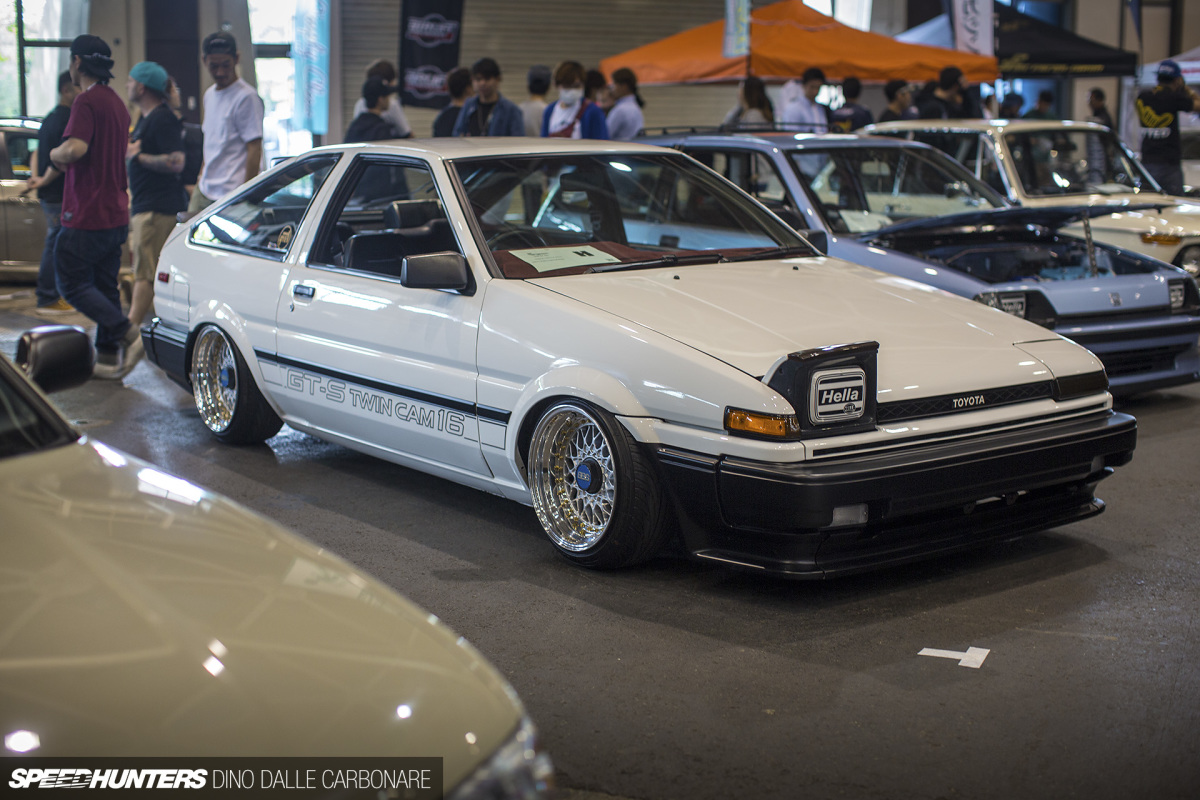 These shows also put my heart at peace, a contrast to drift events like last month's Black Mark Day where I watched dozens of AE86s being beaten down on track. At Wekfest Japan I saw a number of well cared for and polished Hachirokus. It's all about balance; for every Levin and Trueno that gets abused, two must be looked after. It guarantees survival of the species.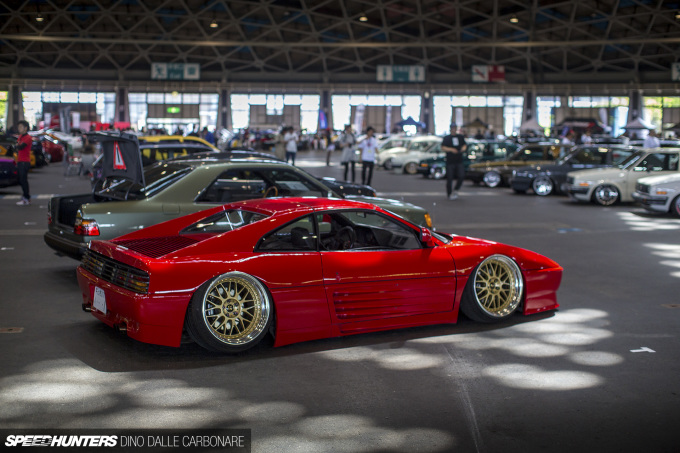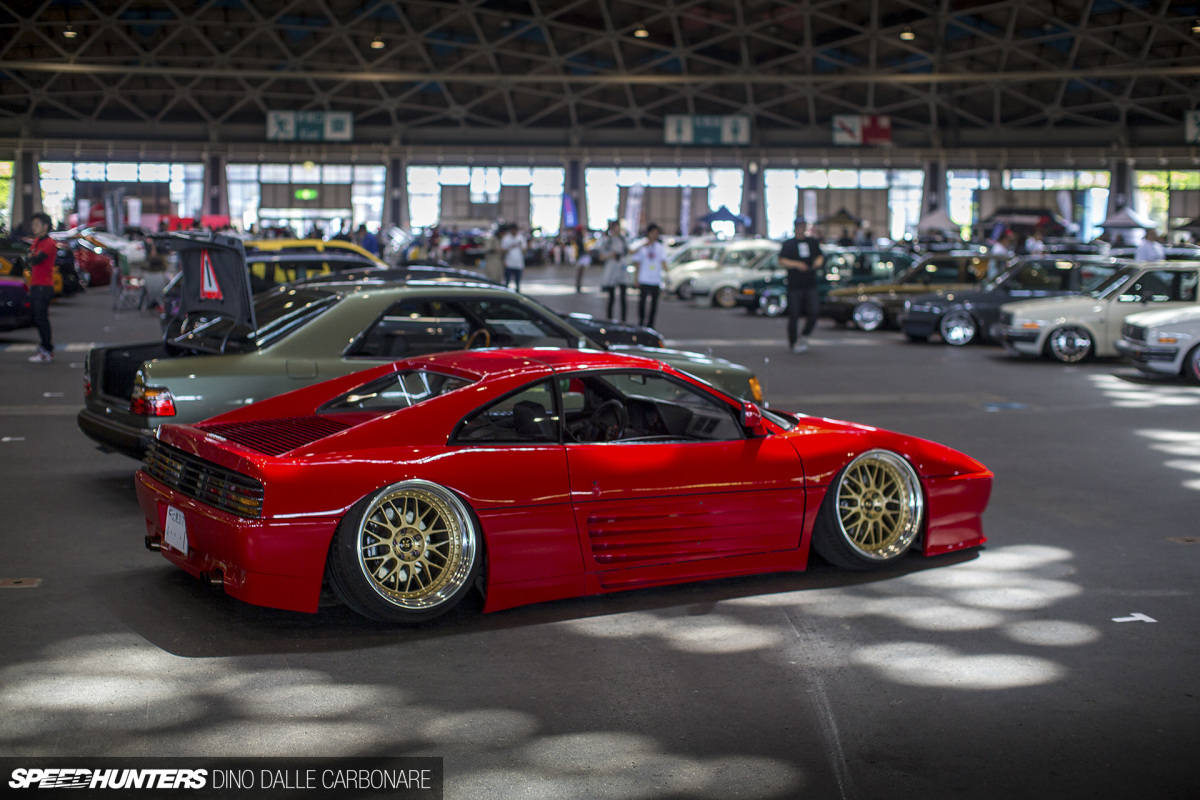 For those who get their panties in a twist even thinking about extreme modifications being made to exotic and collectable cars, here's that slammed 348 from Hokkaido again. This car created so much controversy when Ron featured it last year, and it still managed to split opinion at Wekfest with a stance that isn't exactly aimed at function.
This W116 Mercedes-Benz, dumped to the ground and embellished with well-selected details like USDM front corner lights and taillights and white-walled rubber, really impressed. It's clean, simple and to the point.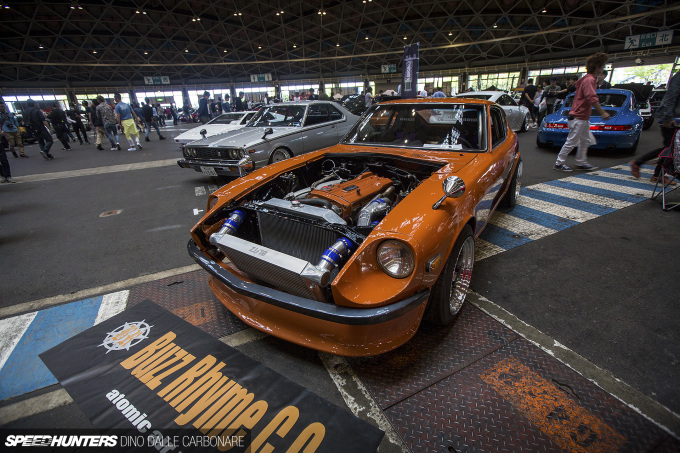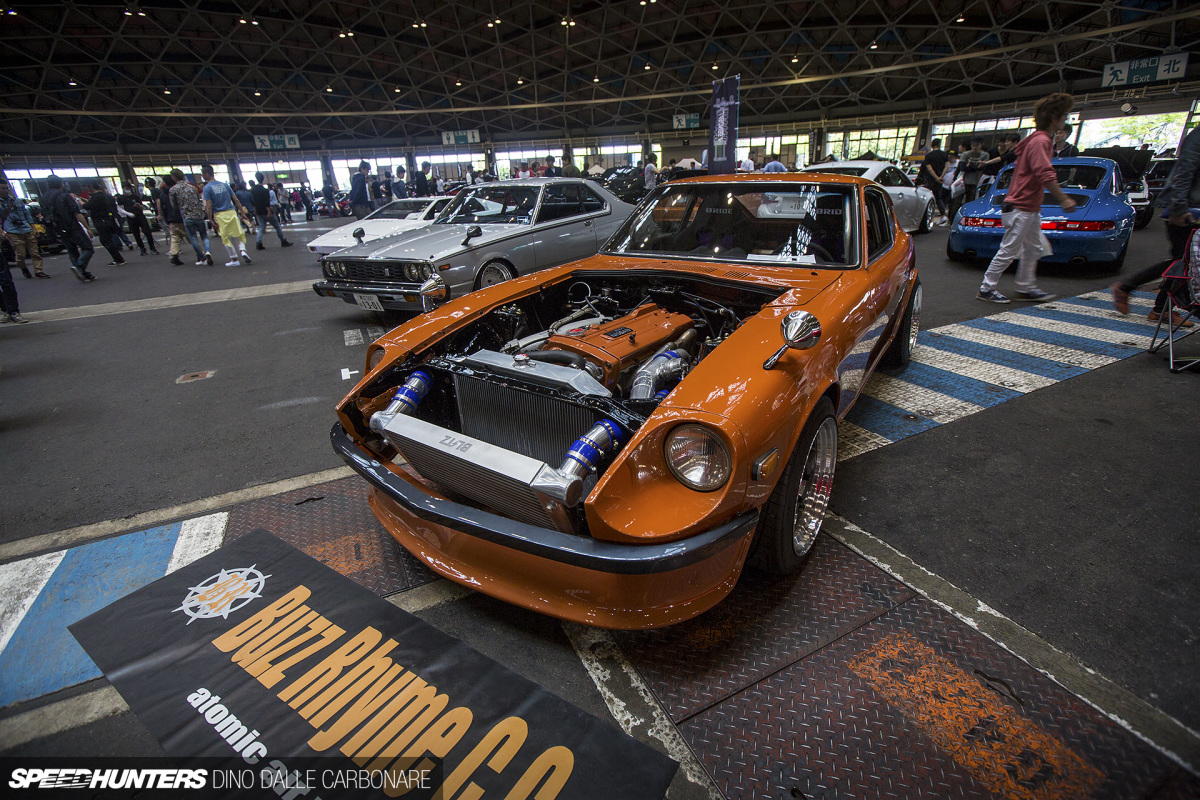 I see a lot of people dismissing the Wekfest show scene as being totally skewed towards aesthetics and stance, but that's not so true in Japan. Getting a car to sit right may make it look nice, but it's also done to improve handling performance. There were many examples of this in Nagoya too, including this RB26-swapped S30.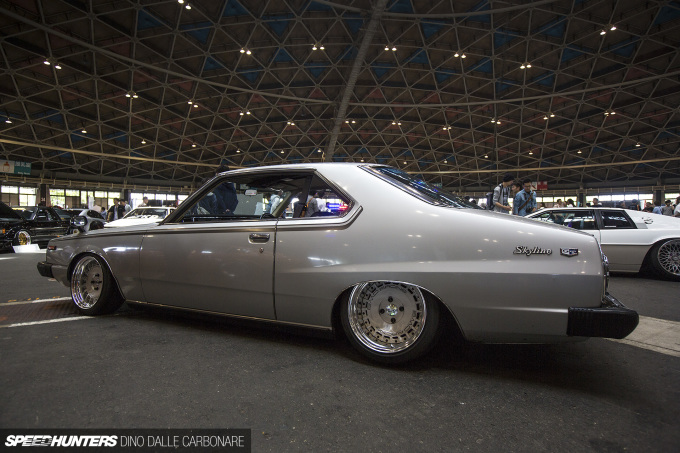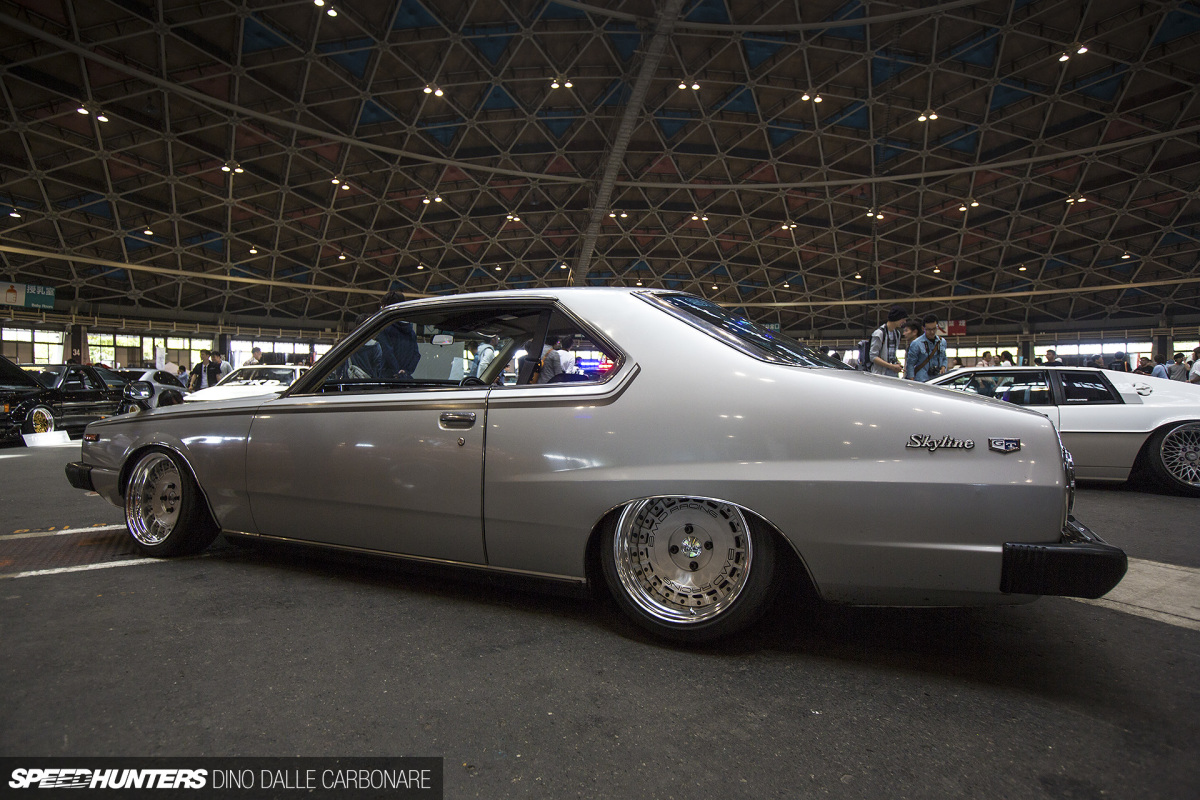 The Datsun was parked next to this C210 Skyline sitting on a set of Barramundi Hystrix wheels…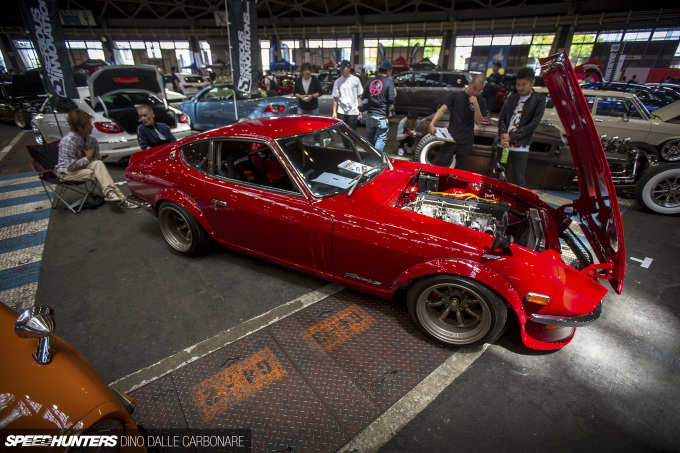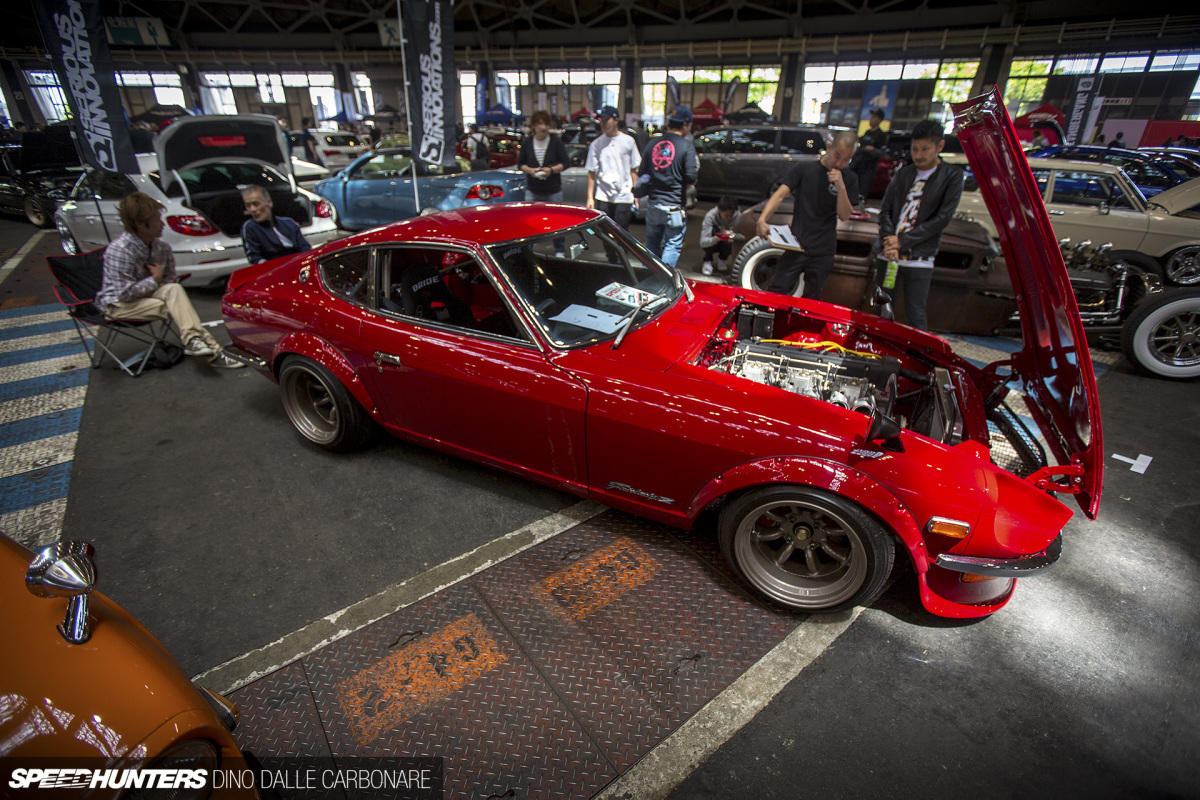 And also this Z, which was something else. Yes, a shiny red and beautifully restored S30 Fairlady running RS Watanabe wheels will always get a nod of approval, but there was more to it than that.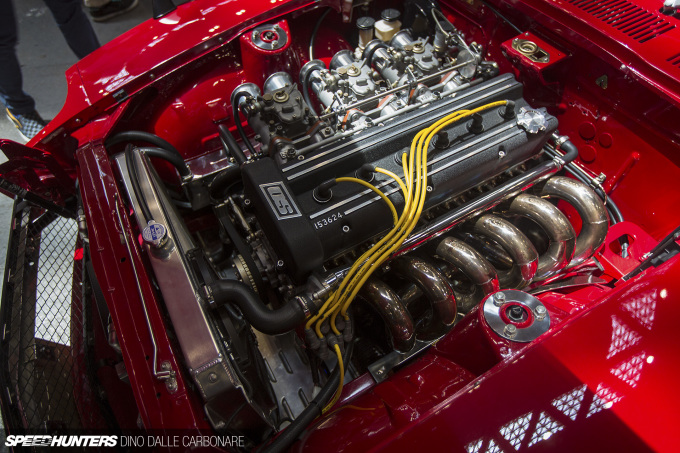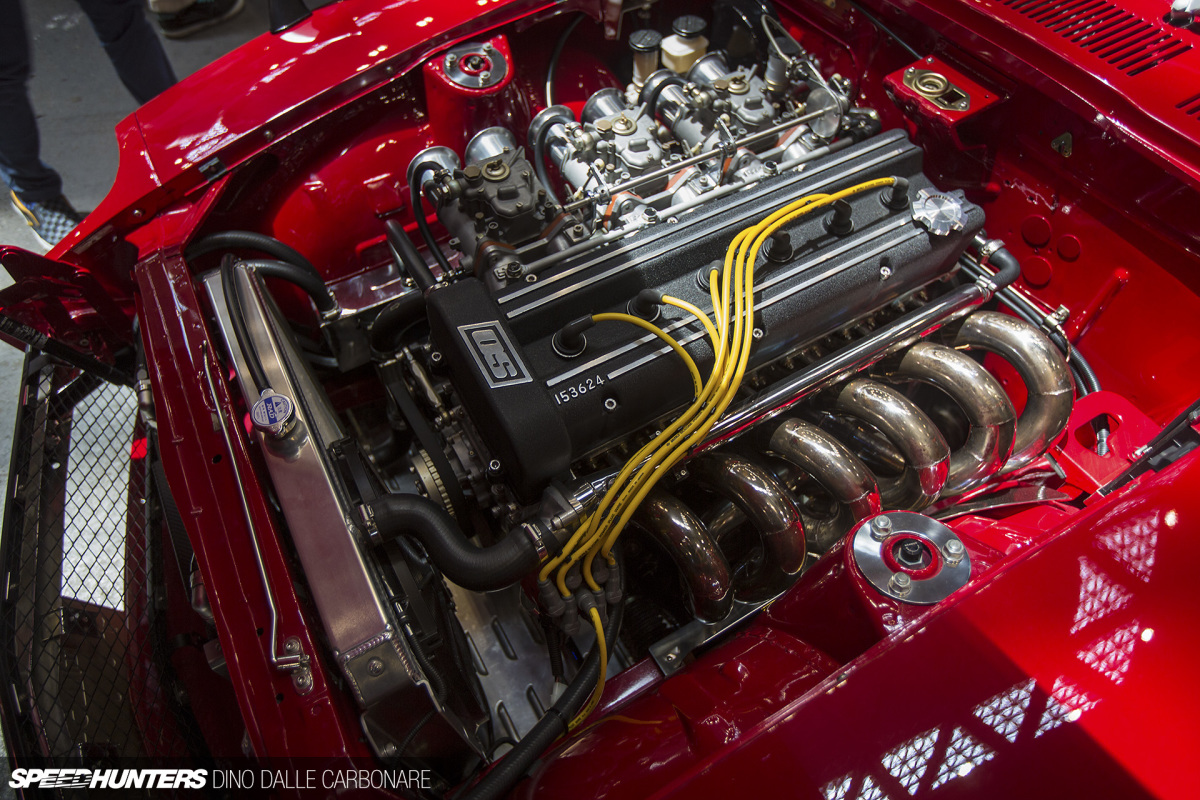 Namely, a serious L-series engine under the hood, with a little help from OS Giken. The TC24B1 is a twin-cam cylinder head replacement that boosts power, torque, response and noise in a way that no other modification could ever do to the base straight-six.
Setting Standards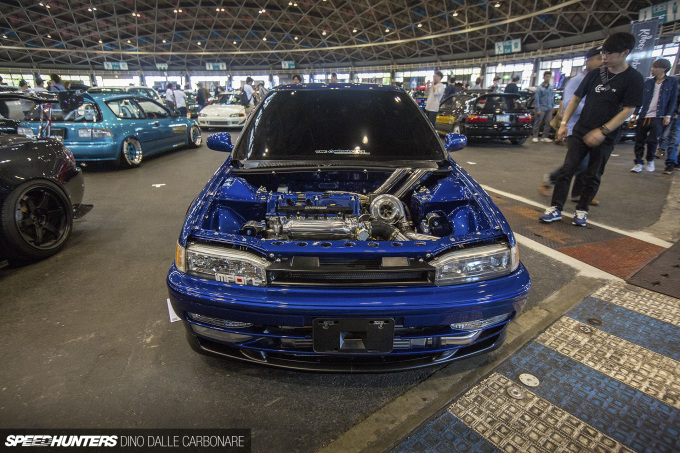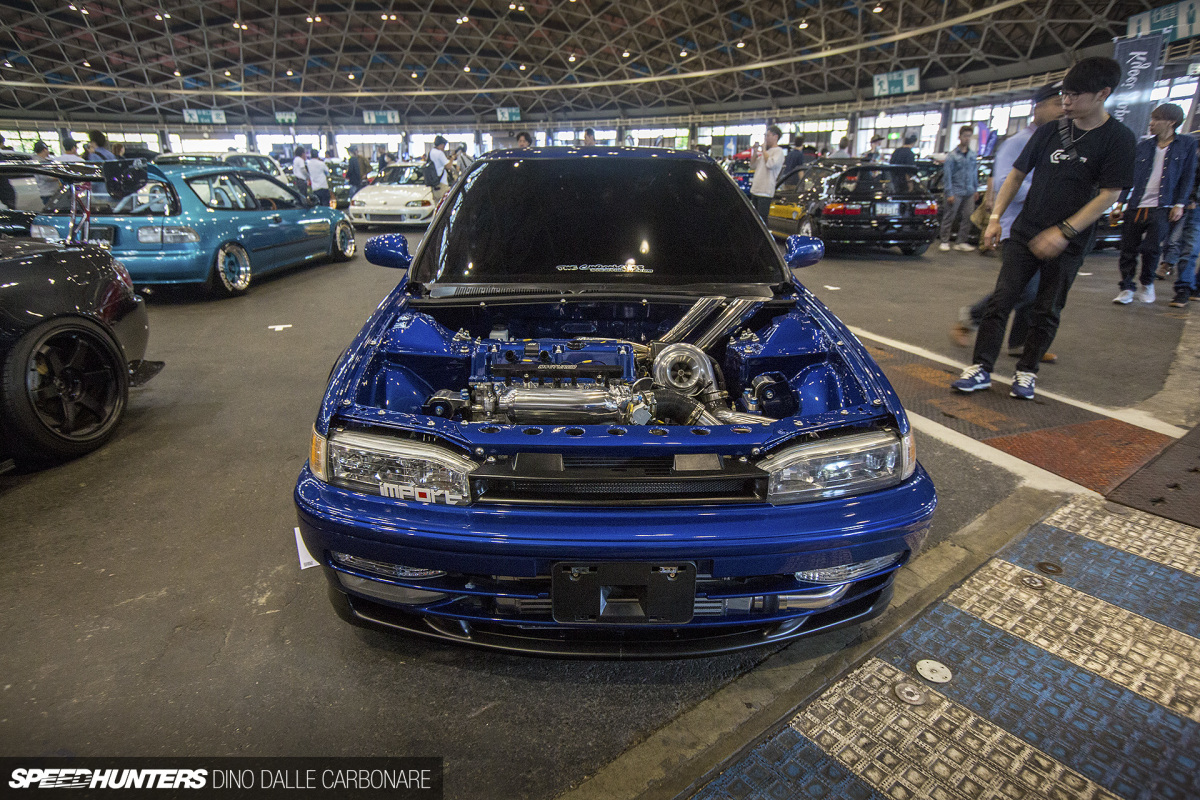 As someone rightly pointed out in my Exceed/Raw Heart S2000 spotlight, the car parked next to it was indeed a Honda Accord. This CB series sedan is unlike anything we've ever seen, both aesthetically and mechanically.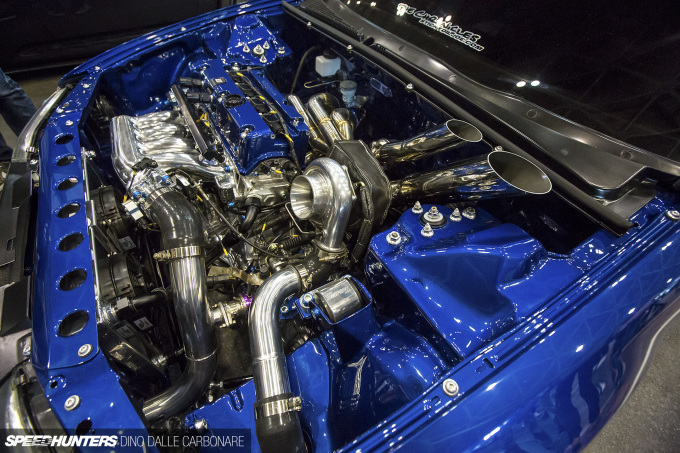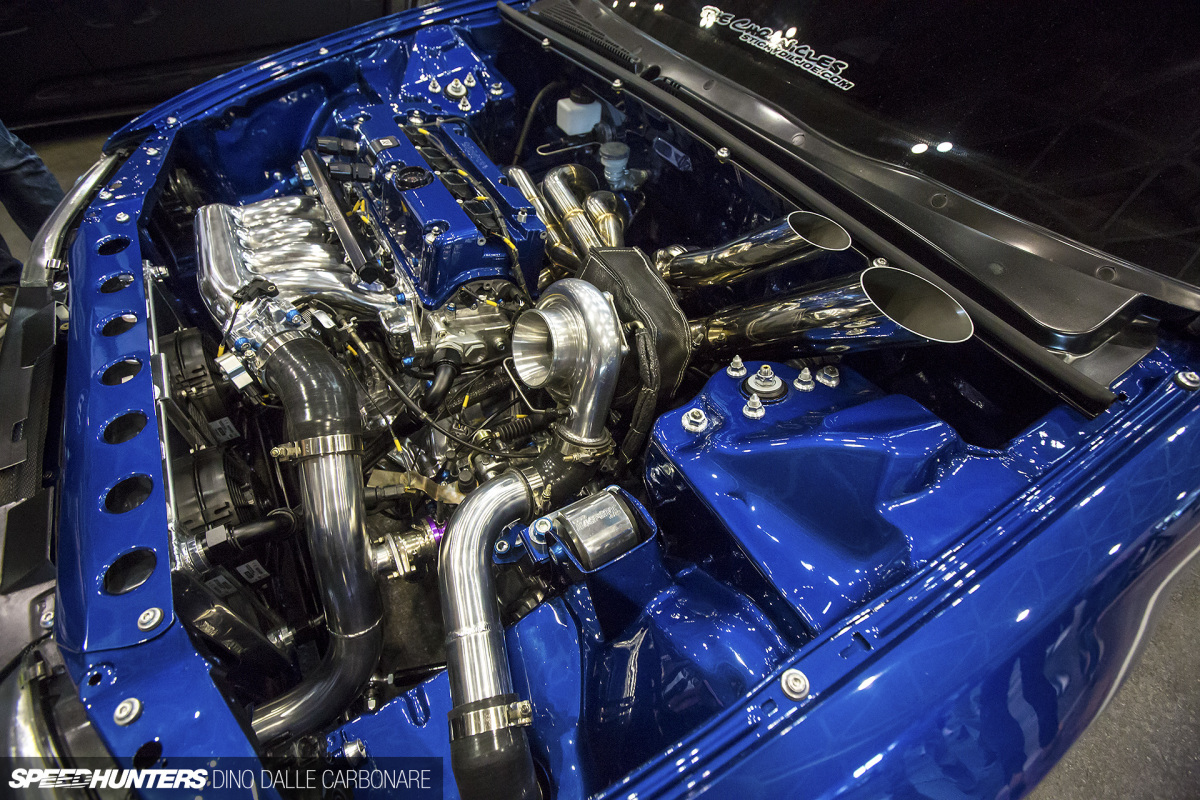 Not only has the old school Accord been K-swapped, but it's turbocharged too. Both the exhaust and wastegate screamer pipe vent through the hood and everything else has been finished off with the high level of execution I was talking about at the beginning of this post.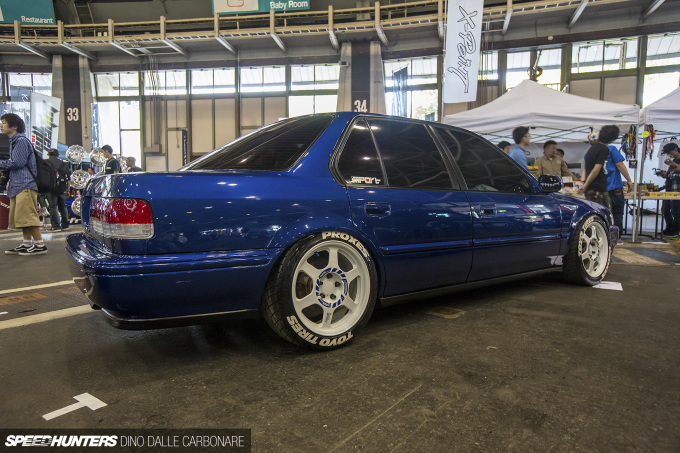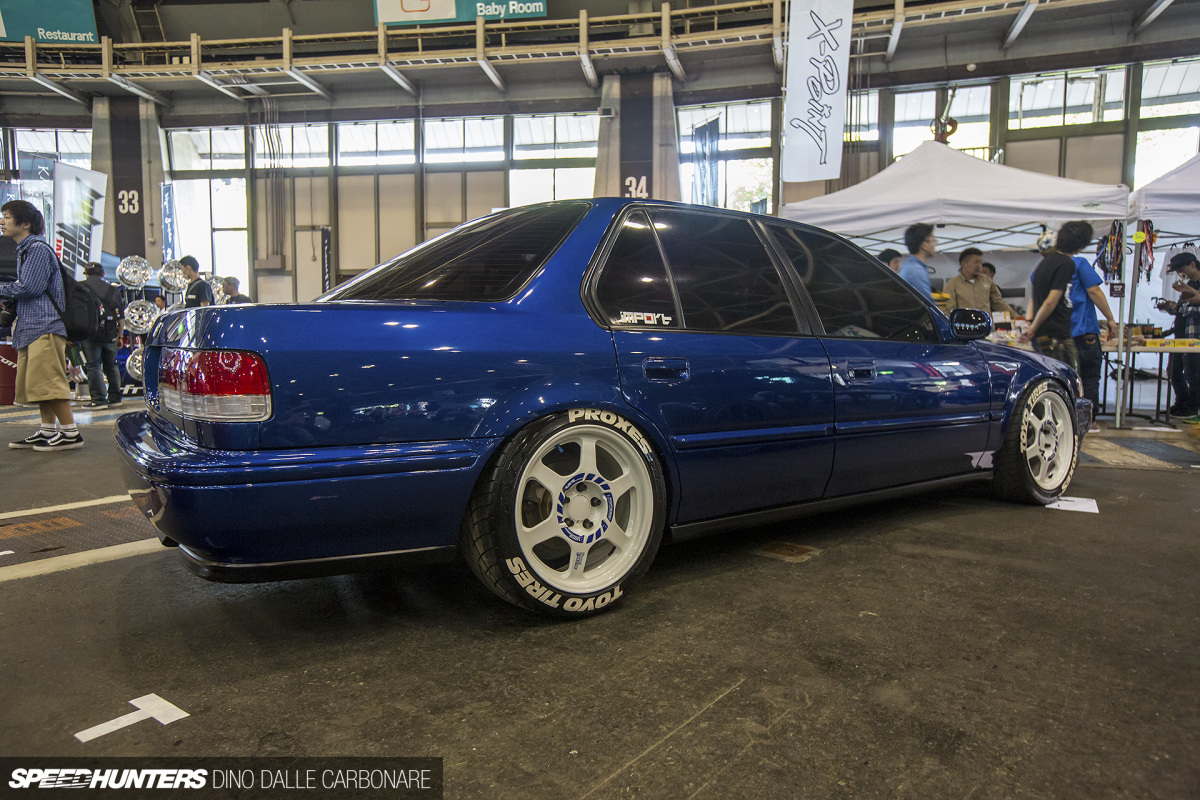 Finishing the CB off perfectly is a period-correct set of RAYS Volk Racing Touring Evolutions, wheels that started the TE37 lineage.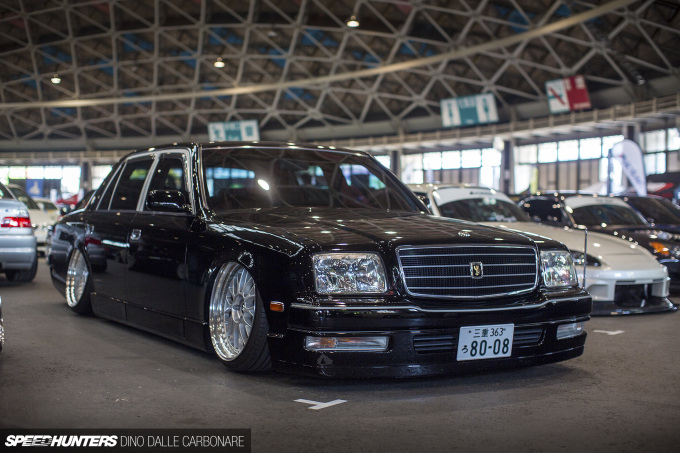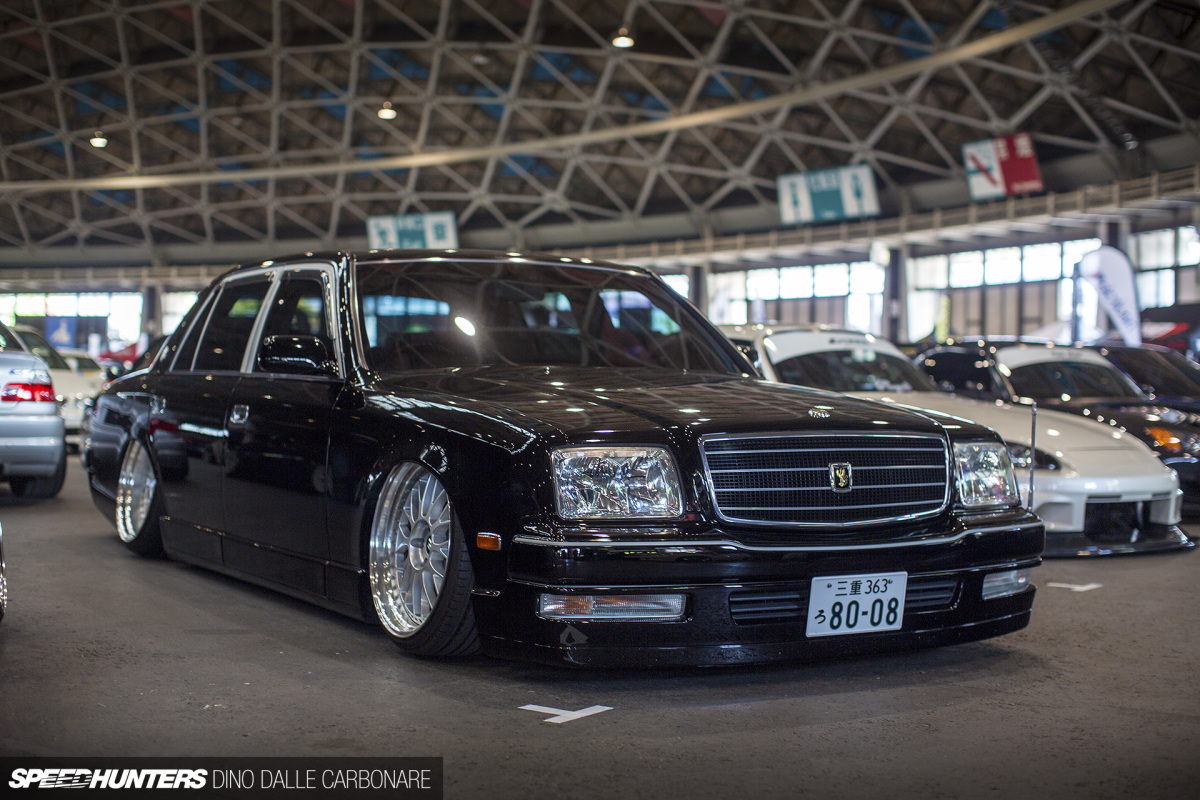 In total contrast, a few cars down was this VIP-style Toyota Century. Once again, the build quality was superb, and it was running the sort of ride height that has become accepted in bippu circles.
Deep dish Work rims, subtle aero additions and lots and lots of black is what VIP should be all about.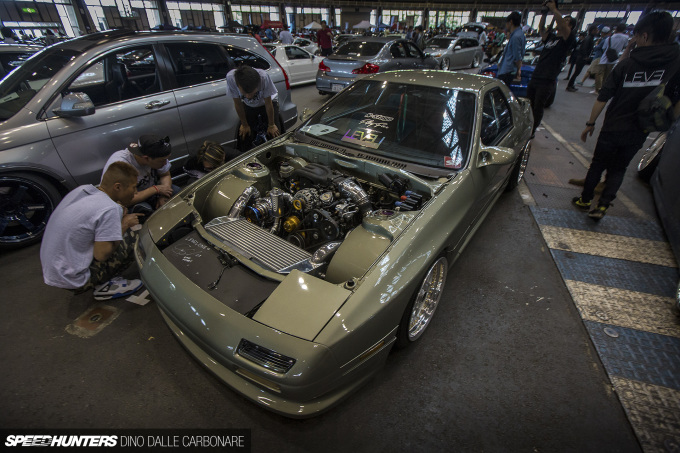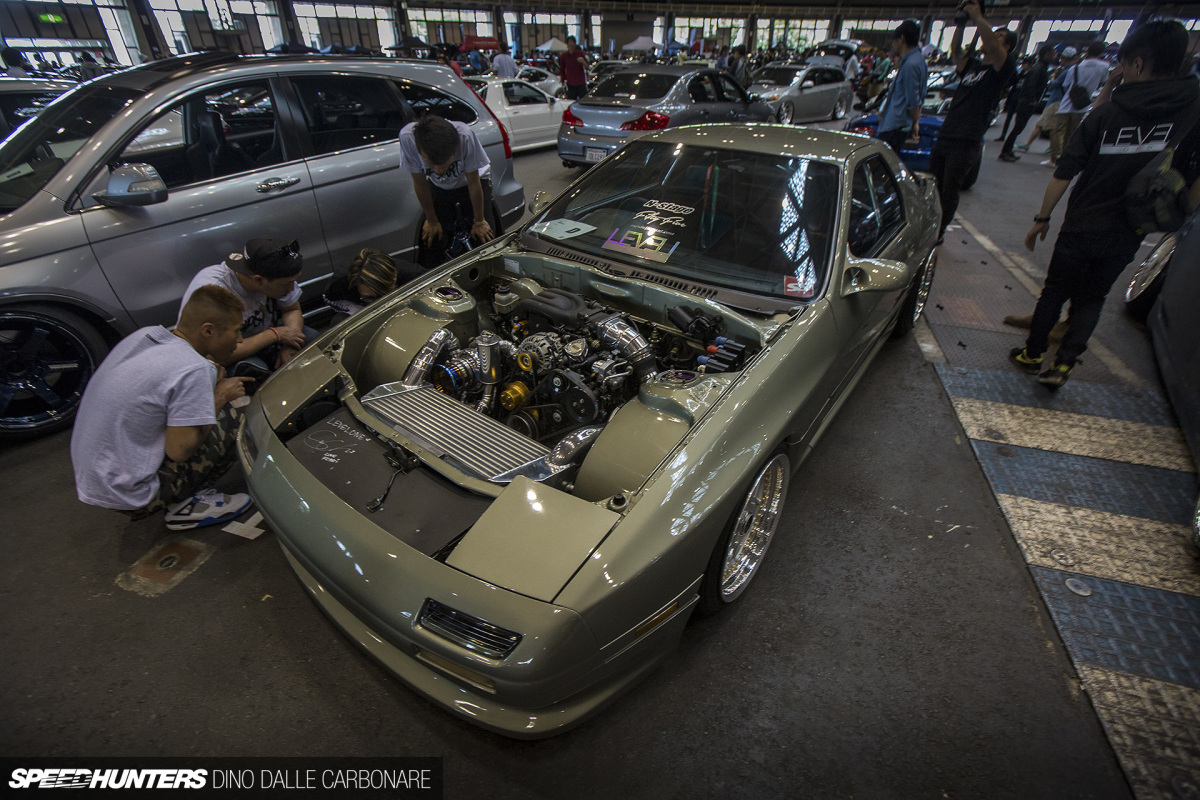 It's great to see older cars like the FC3S Mazda RX-7 being looked after, tuned and improved with presentation at the top of the list.
The VW scene was also very well represented at Wekfest, with everything from older Golfs through to more modern iterations of the iconic model.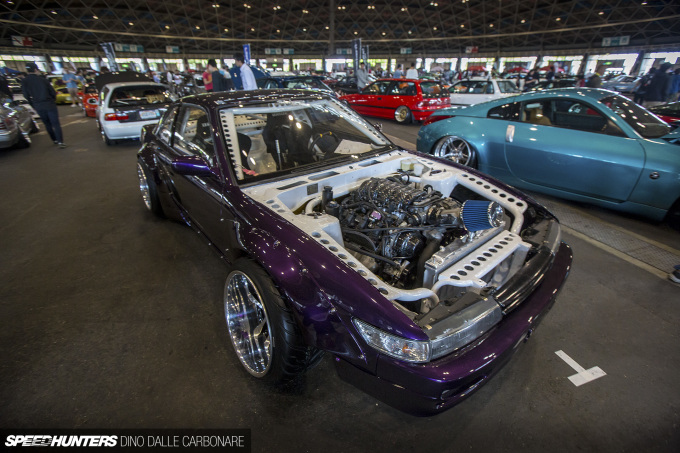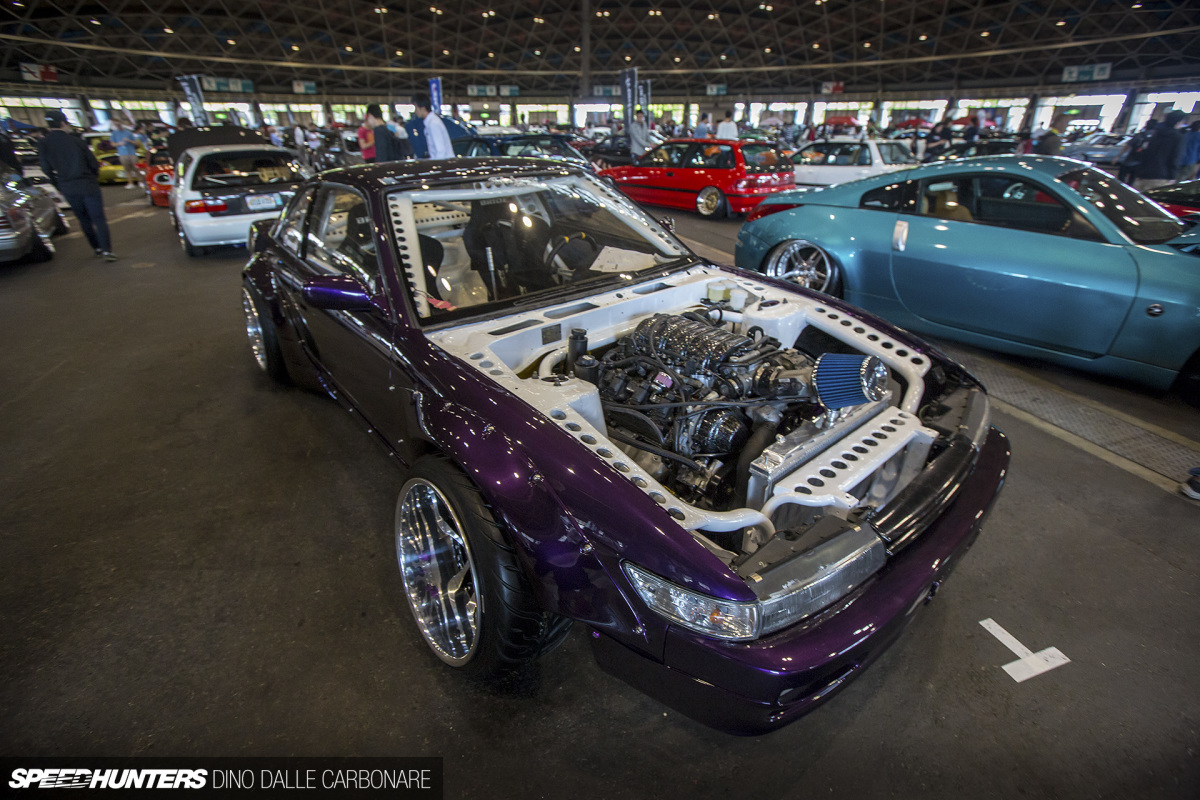 Here's a Nissan Silvia S13 that fuses Japanese and American tuning mentalities through JDM looks and USDM power.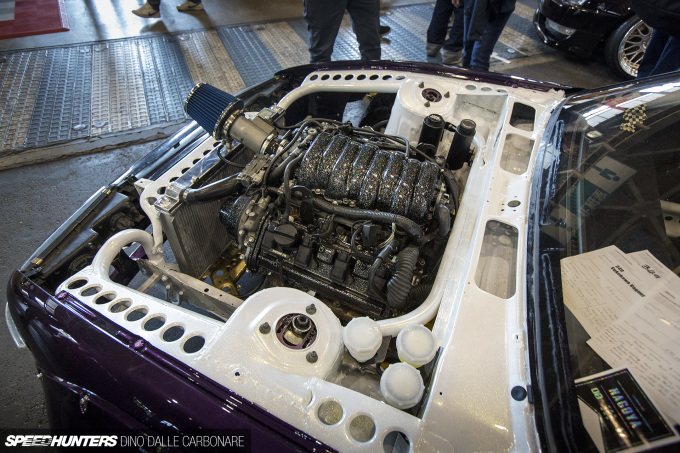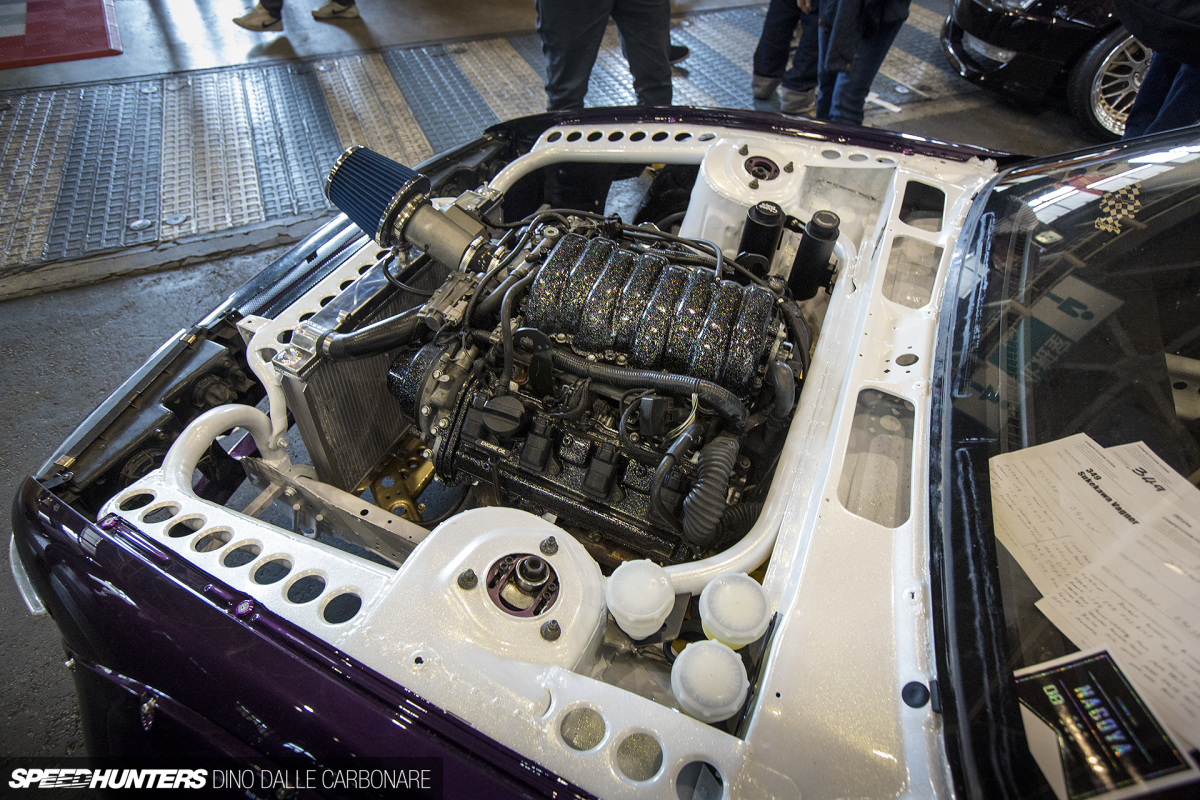 Is it just me or does the angle of that intake and cone filter perfectly express the automotive equivalent of an erection?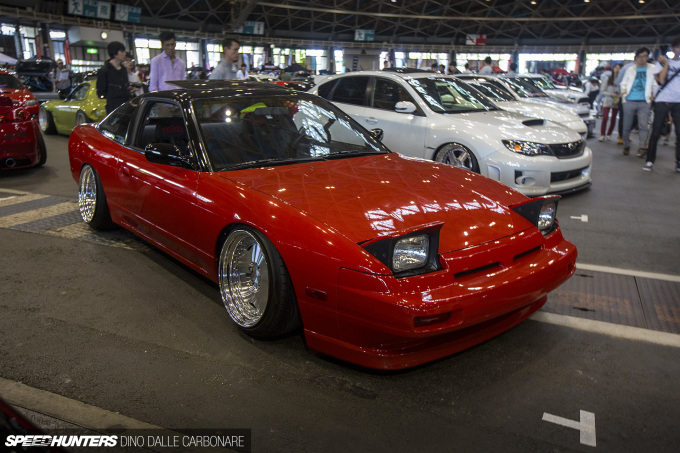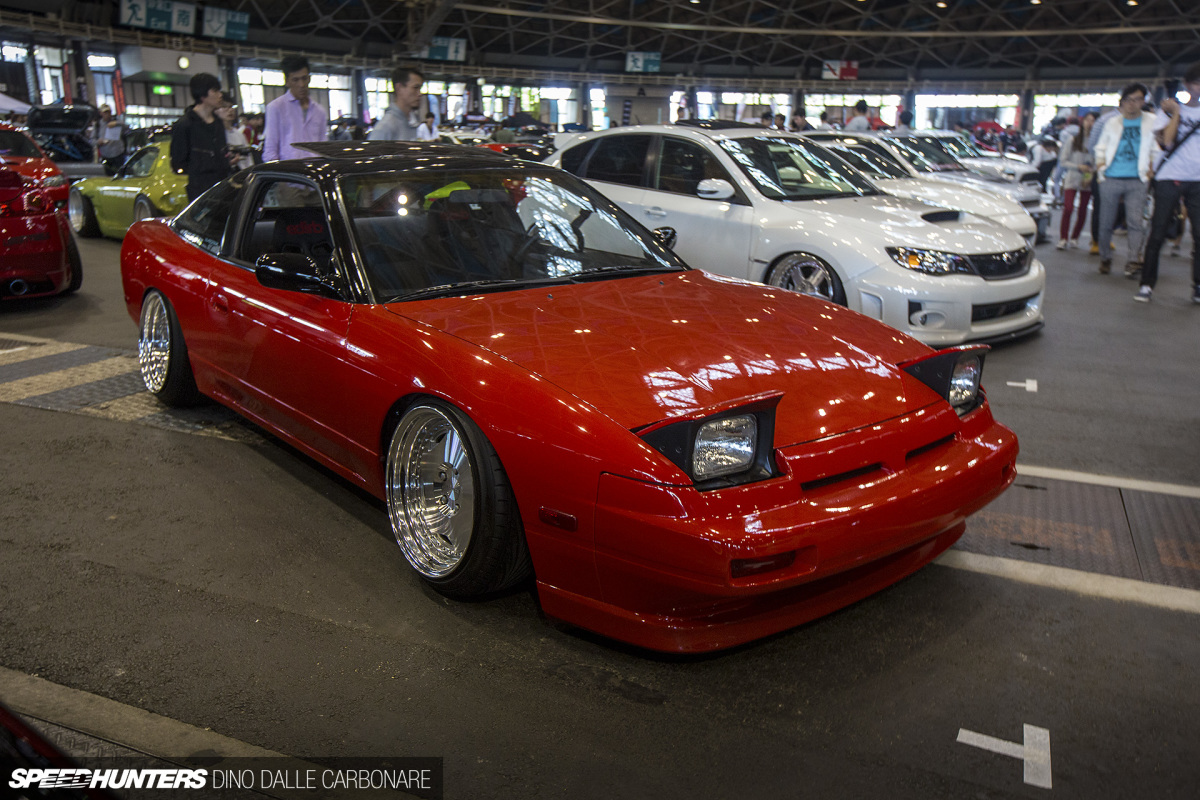 While big-power and V8 reliability may be something you strive for when building a drift car, simplicity never fails when applied to a street-oriented project. Case in point, this USDM 240SX.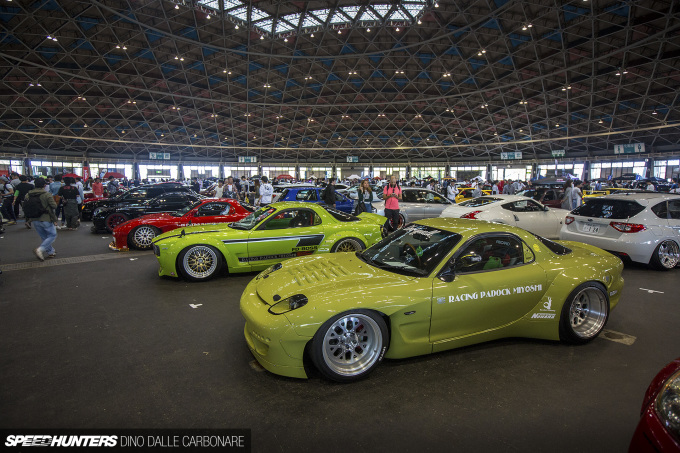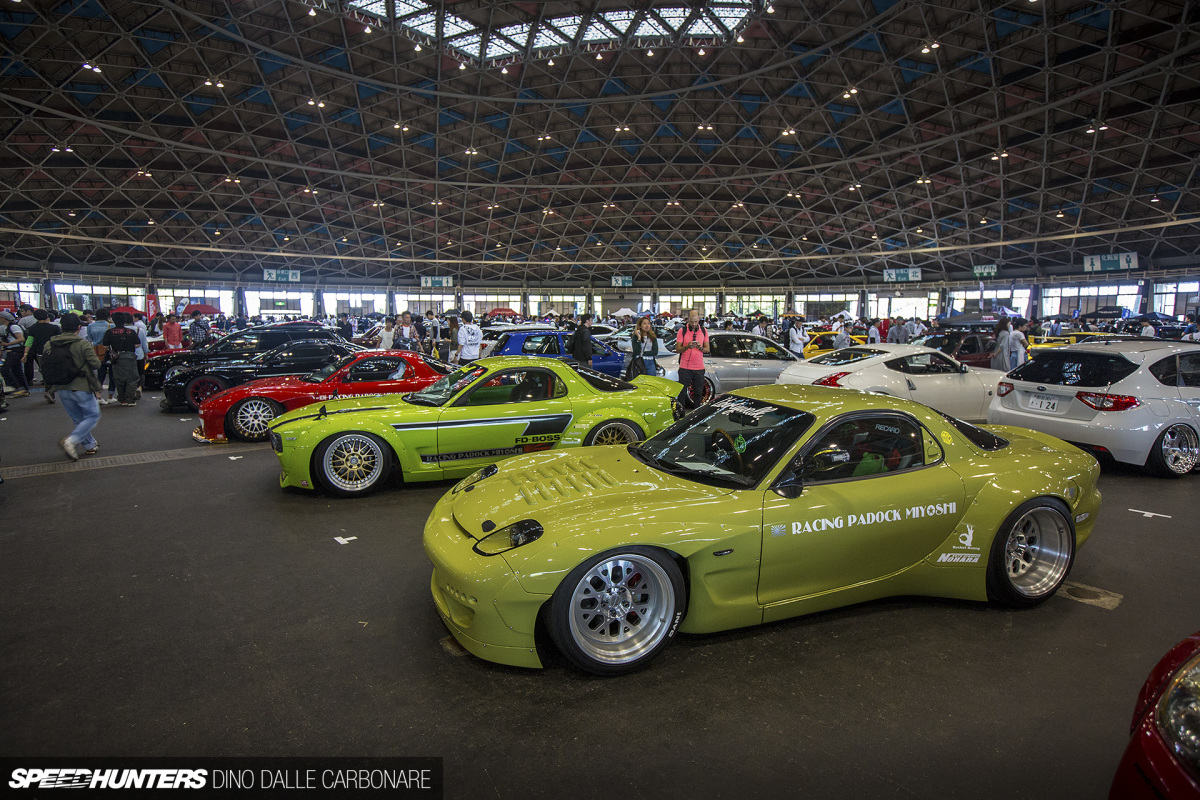 As you can imagine, Rocket Bunny, or Pandem as it's known these days, had a decent showing at this event. There were a few 86s scattered around Port Messe as well as these three Mazda RX-7s.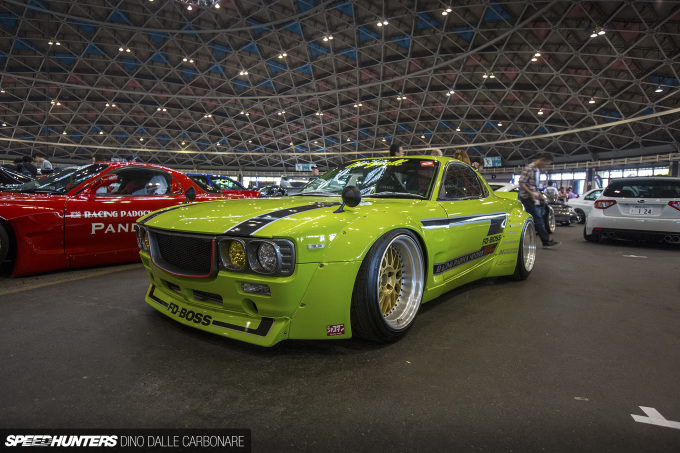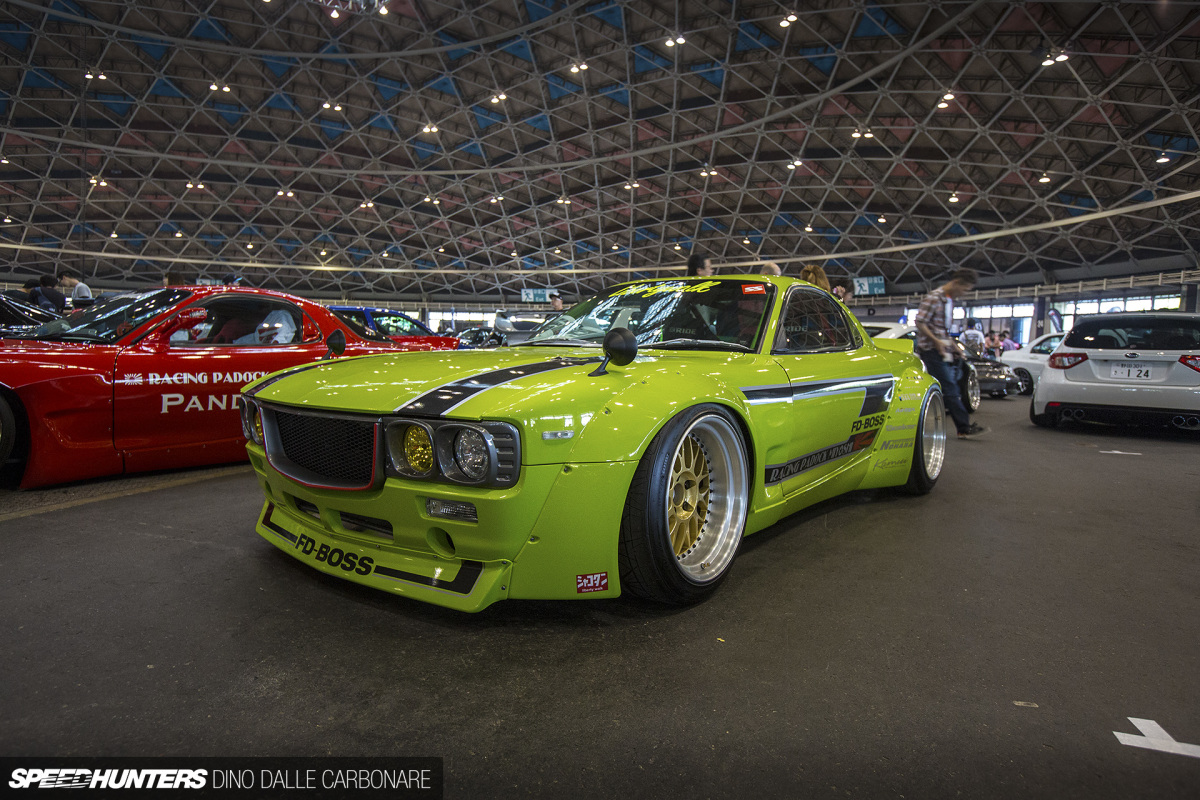 I'm still not sure what to think about the Boss aero conversion for the FD3S. It has attitude, but I can't quite find a way to digest it. Maybe a more subtle color would help the front end merge in with the existing body.
Love For The Forgotten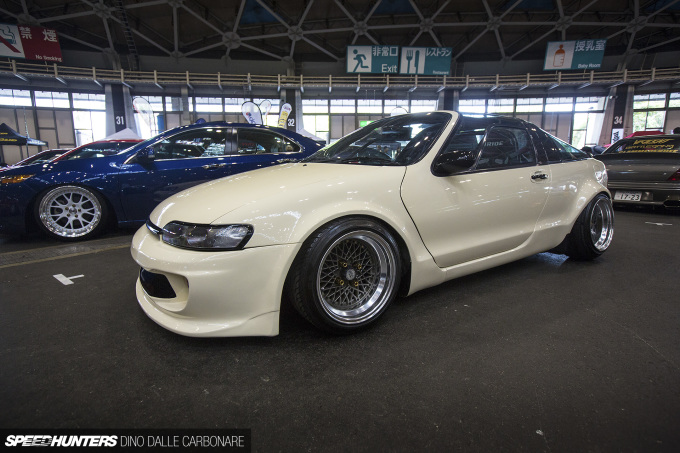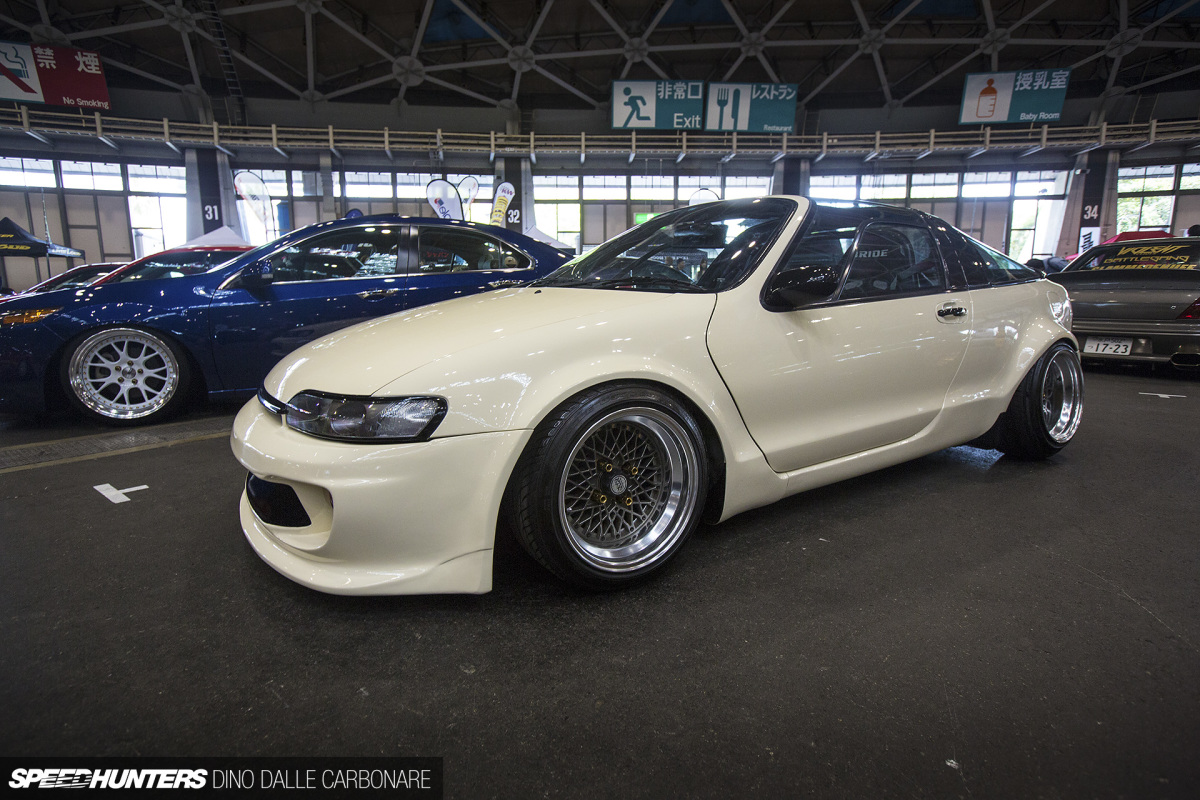 Here's something you definitely don't come across every day, and I don't think I've ever seen a Toyota Sera looking quite so good. In fact, I had totally forgotten the existence of this curious car from the glorious days of Japan's bubble economy. It's nothing too exciting in the performance stakes, but design-wise it sported McLaren-like vertical doors and an all-glass roof.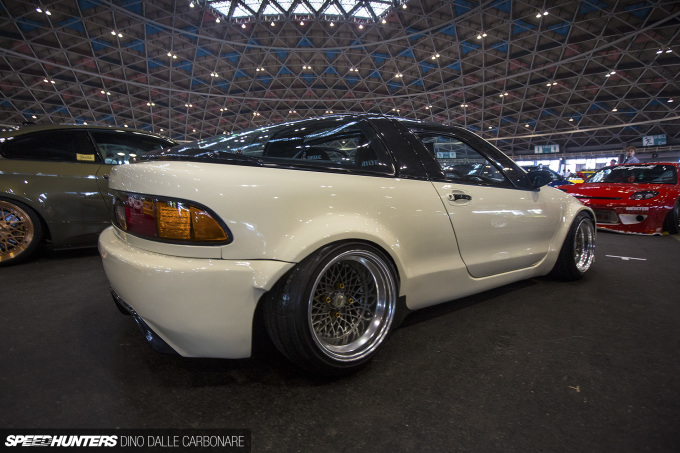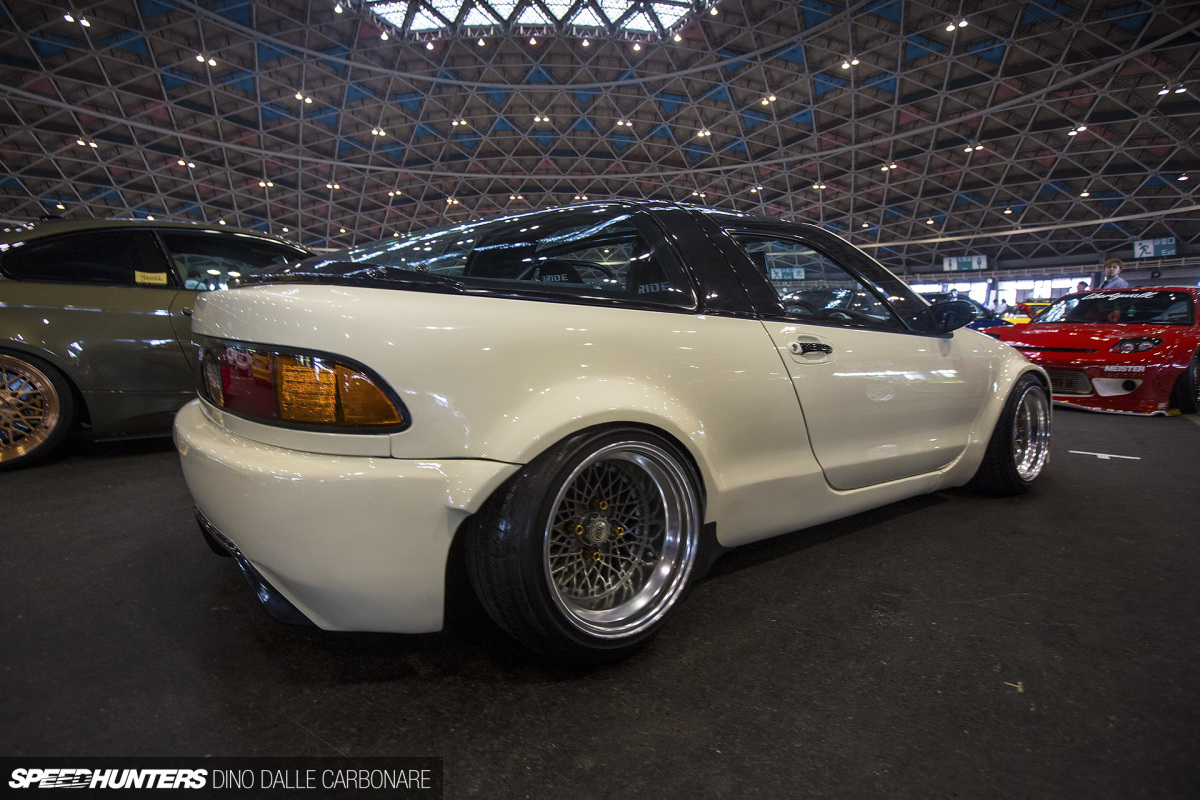 This particular Sera runs blistered fenders fabricated out of metal to boost its girth, plus QUESTpower (by Lexon) bumpers and a well-matched set of 15-inch SSR Formula Mesh wheels. It retains its 5E-FHE 1.5-liter engine, but it's now running a close-ratio AE111 gearbox.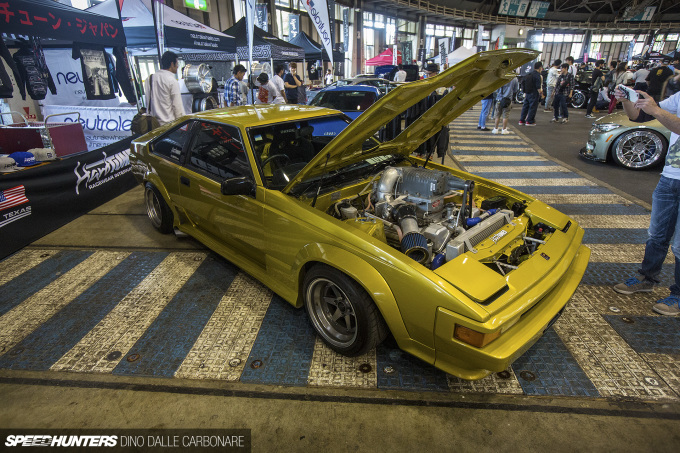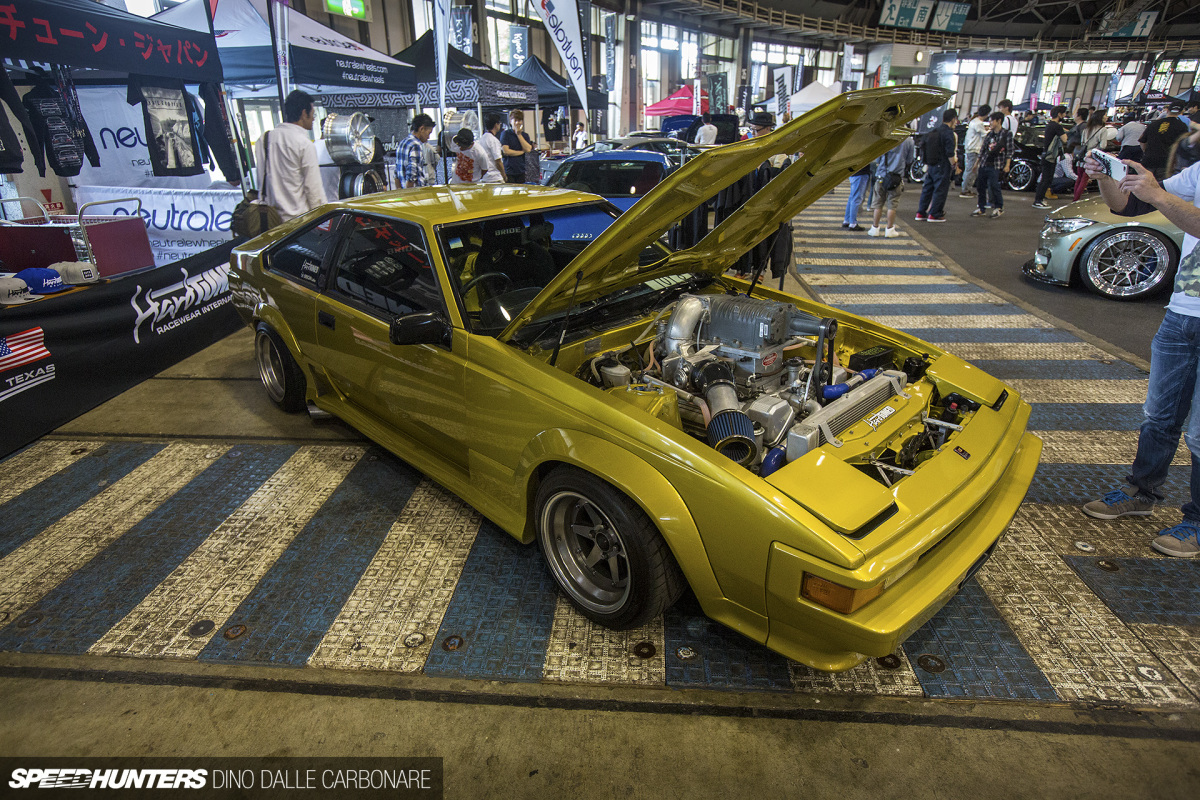 I've been hearing about this Celica Supra for years, and finally here it was at Wekfest!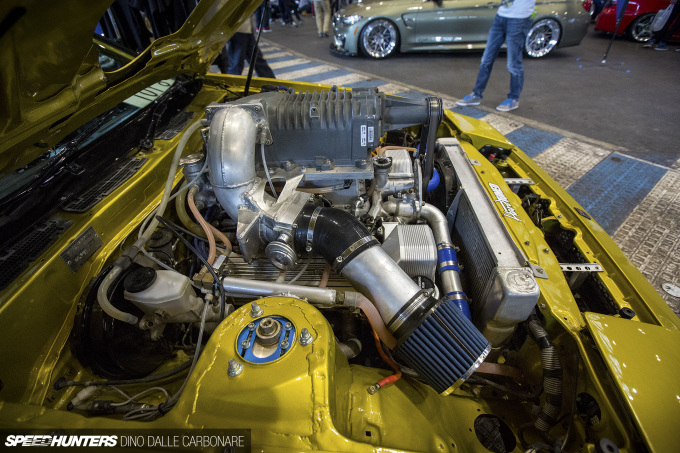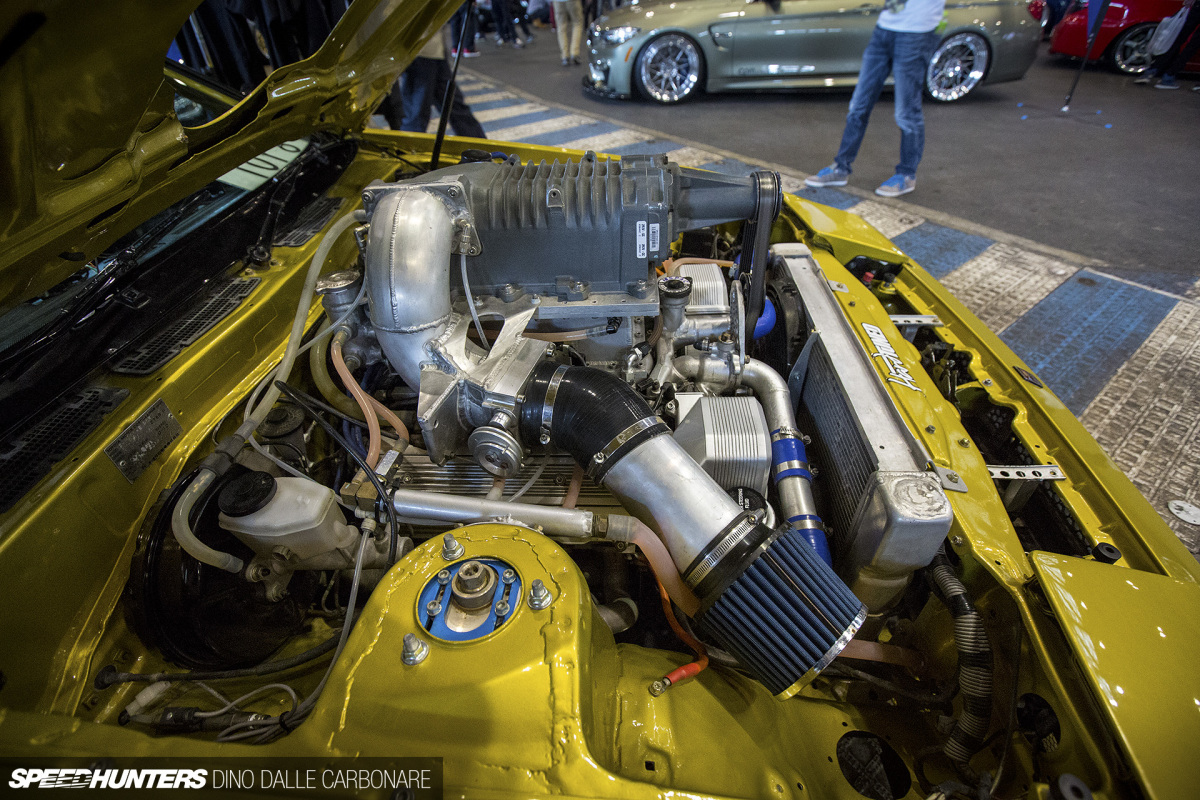 Built and owned by a Kiwi enthusiast living in Japan, it runs a 1UZ-FE V8 with a supercharger stacked on top.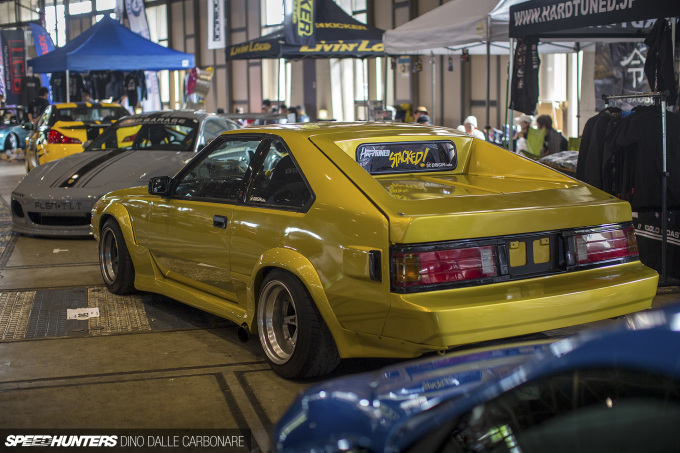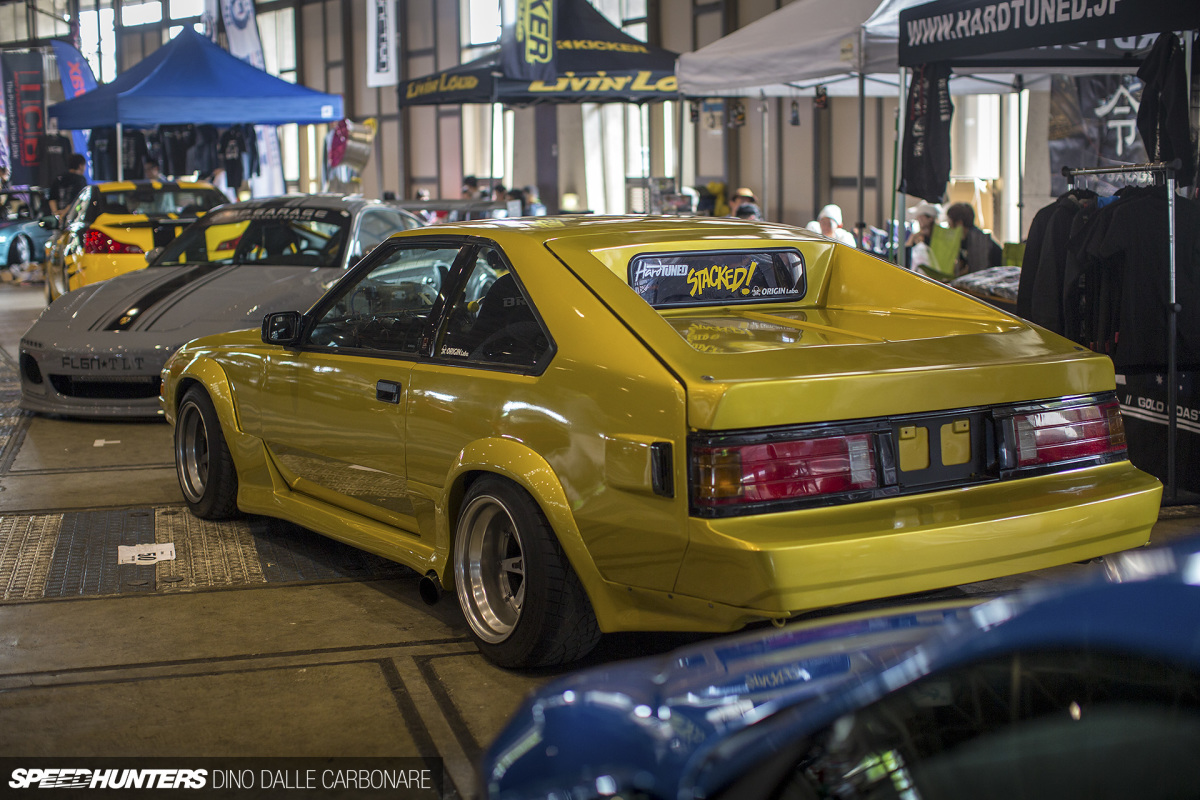 It's got a ton of presence, a Mad Max meets Japanese Kaido Racer sort of look to it, and from what I hear it's great at burnouts.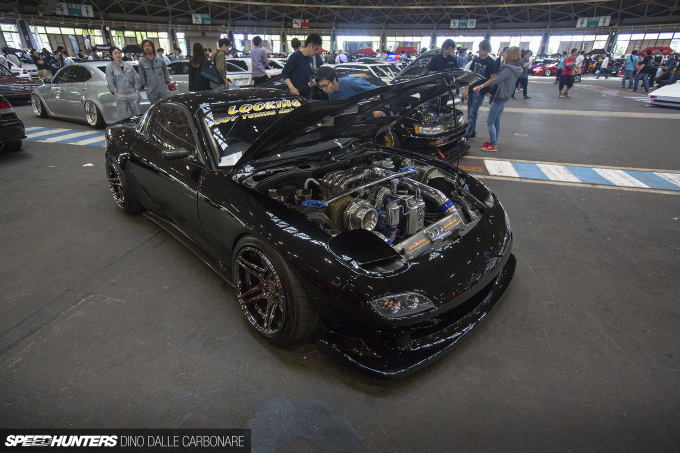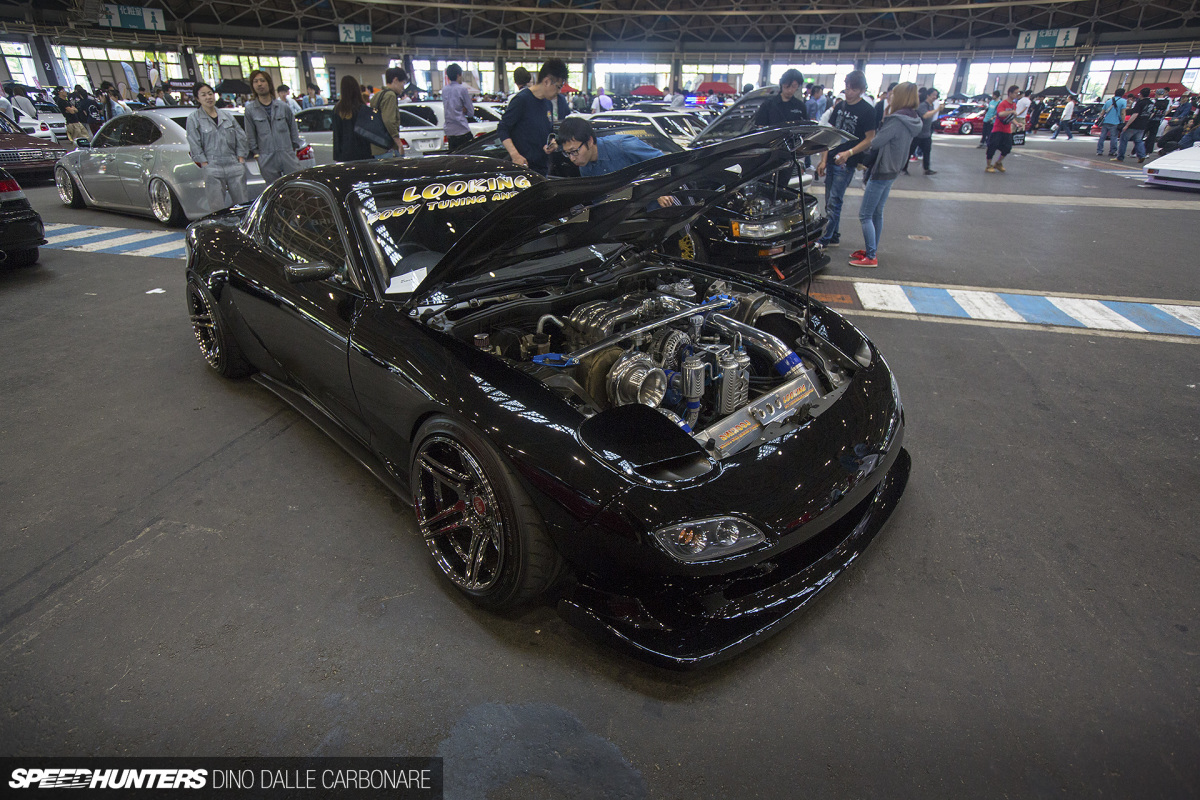 It was once gray, then candy red, but now the Looking FD3S RX-7 has taken on a more sinister appearance with a move to the dark side.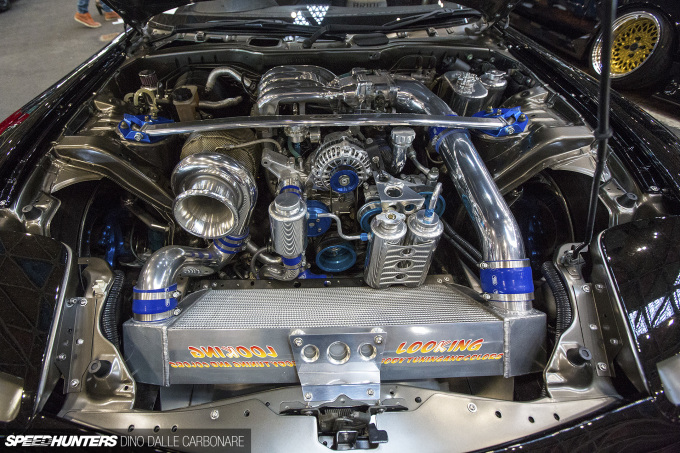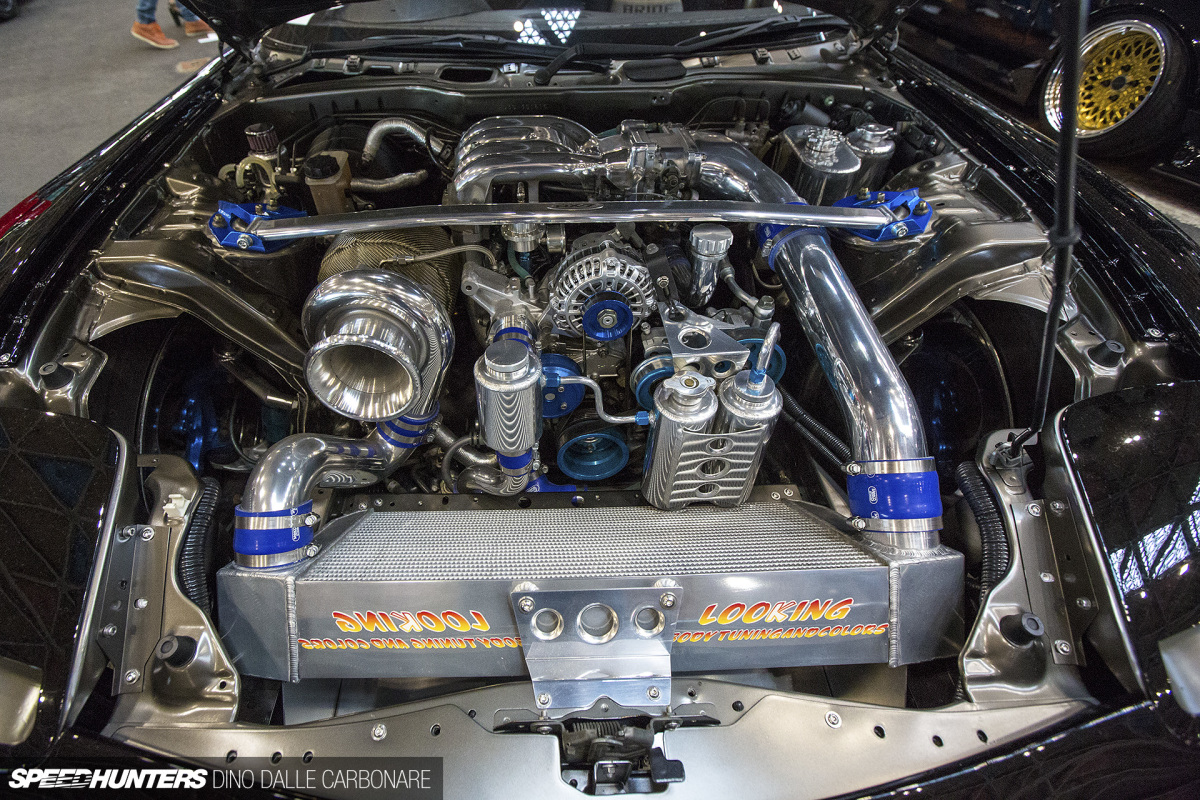 Changes have been made in the engine bay too, with cleaner piping and a few refinements to the cooling system.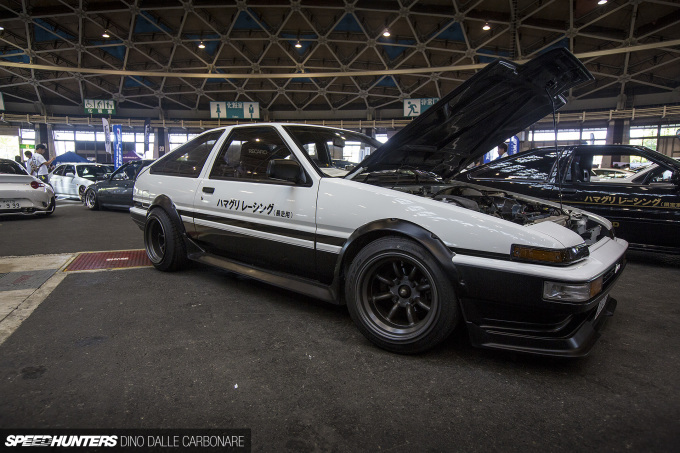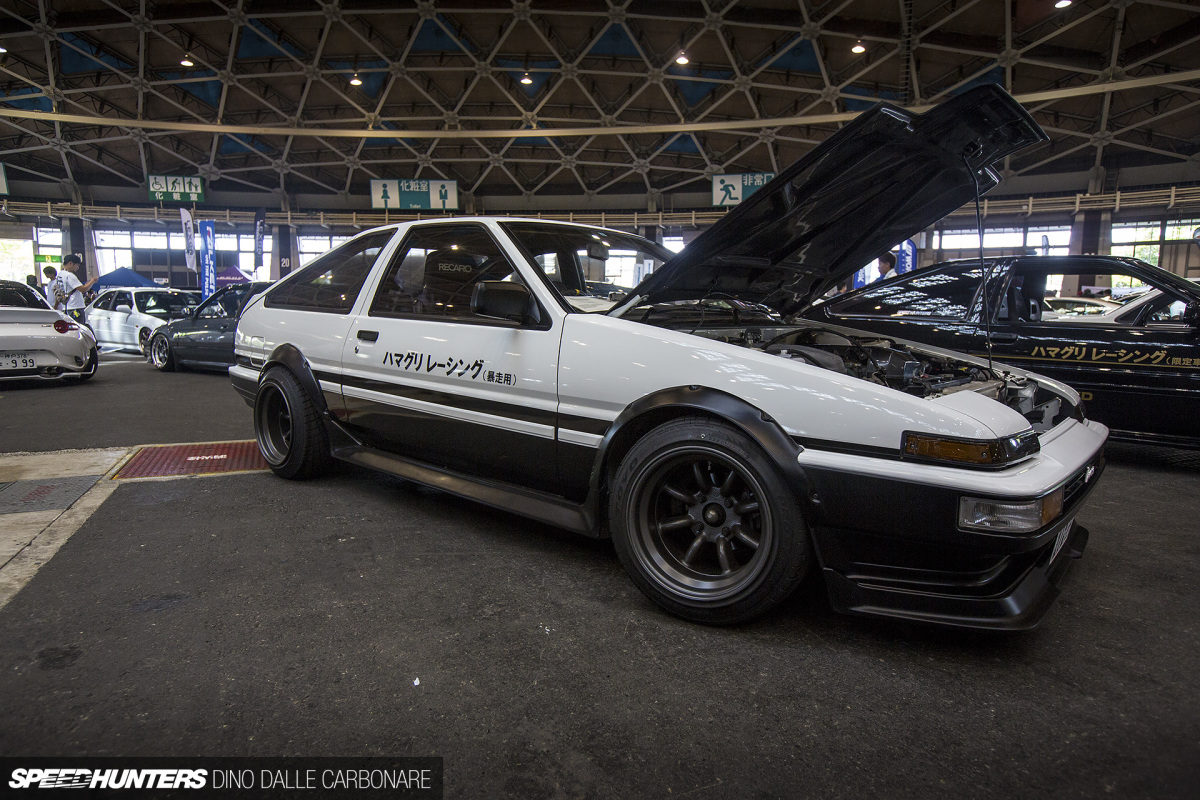 The owner of the Hamagari Racing AE86 Trueno was next to his car when I walked past, and he was happy to pop the hood and show me that the original 4A-G engine has been replaced with something slightly larger from the Toyota four-cylinder family. The BEAMS 3S-GE and 6-speed gearbox came from an Altezza RS200.
I first came across this Lotus Esprit at the Mooneyes Street Car Nationals last year, so it was good to see it again. It's not often that you see a classic like this slammed to the ground, and there was much Speedhunters love going on too with our logo stenciled onto the front tires and the sun visor.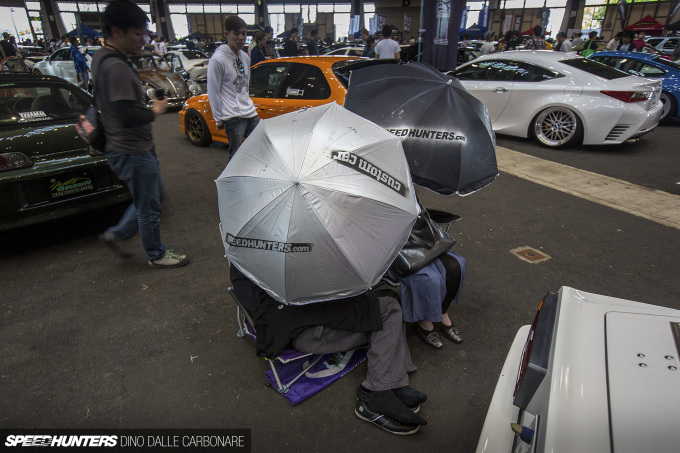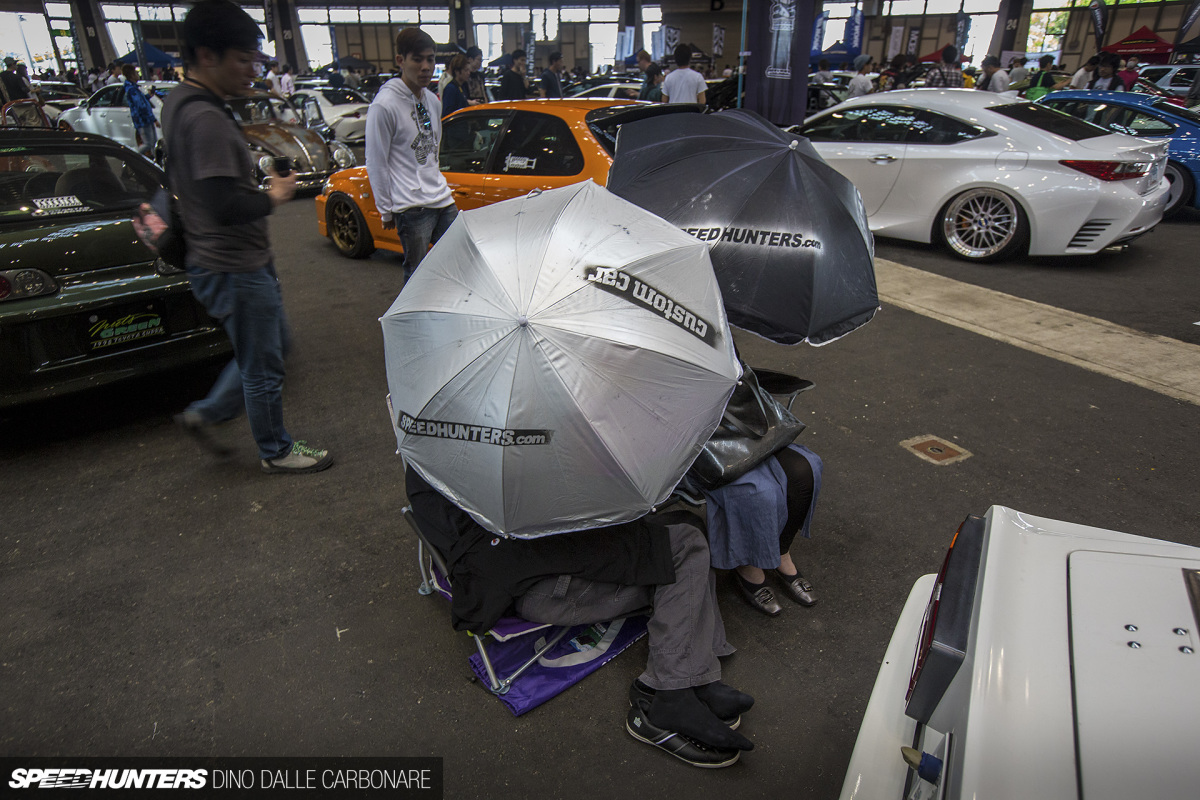 The owner and his girlfriend were also sporting some customized JDM sun-proof umbrellas, a nice way to create darkness for a quick snooze.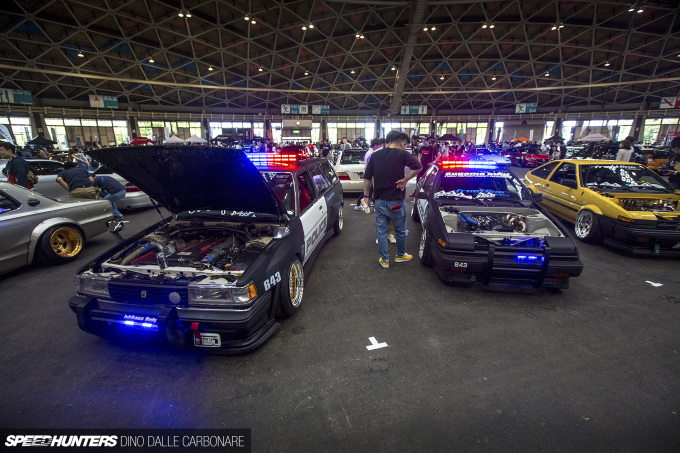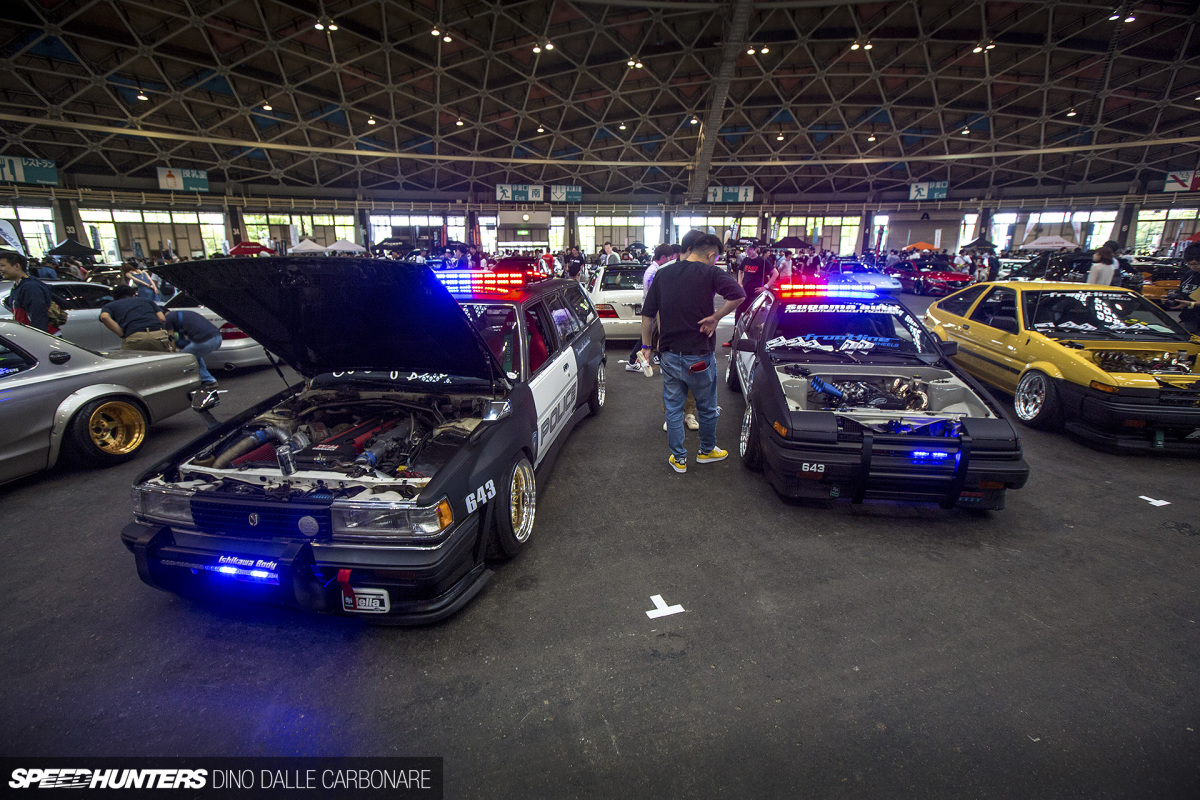 Ishikawa Body and Dope Forest both went a little USDM police patrol car crazy, combining forces – no pun intended – and bringing these two perfectly executed machines to the show.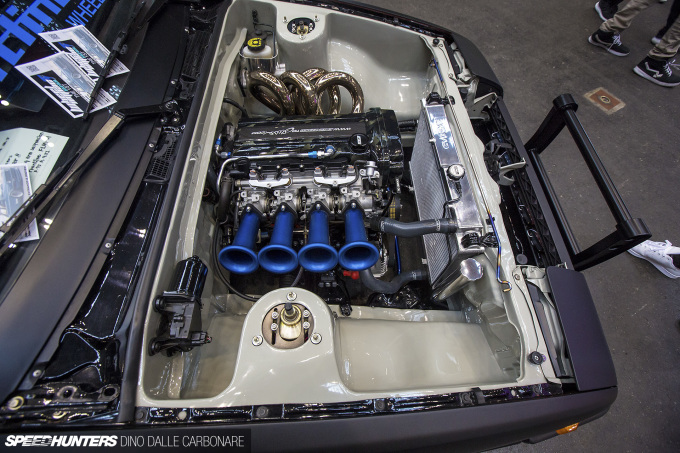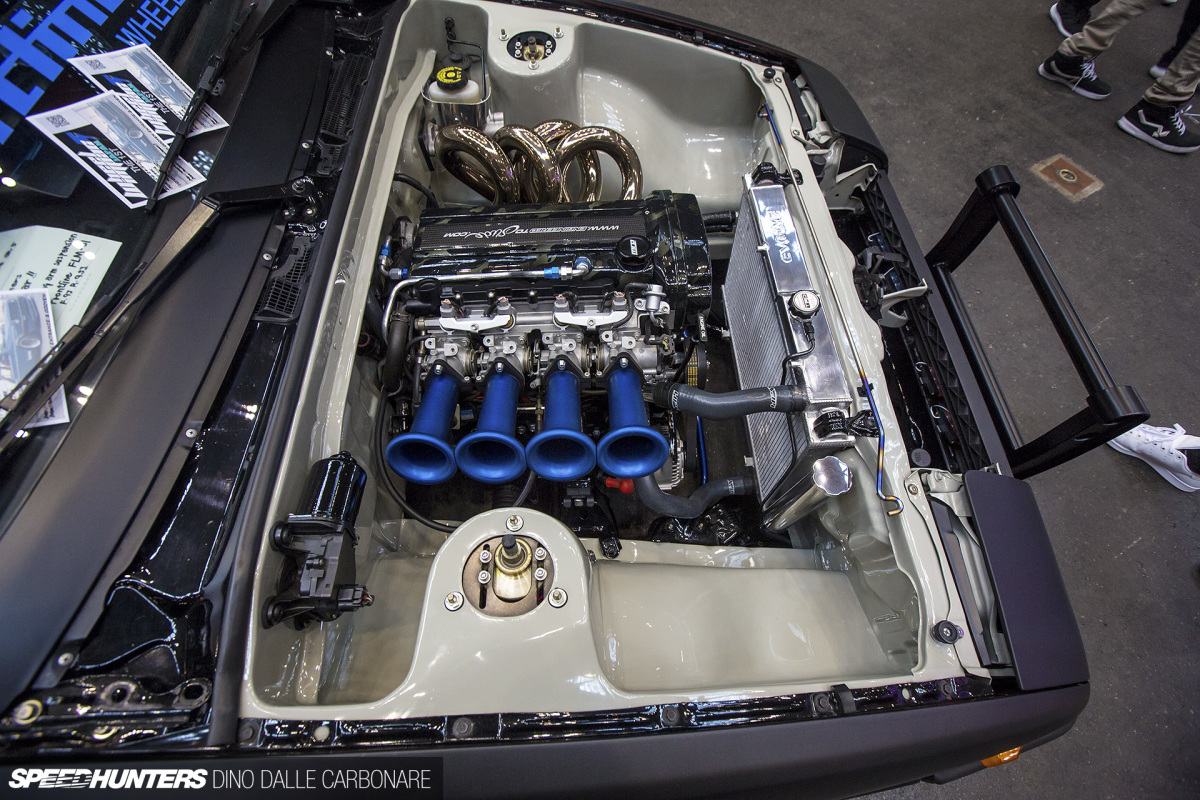 The GX70 Mark II wagon was very cool, but the AE86 Trueno drew me in with one of the nicest engine bays I've seen in a Hachi. I'm loving the crazy headers and super-long blue anodized velocity stacks.
The Evolution Continues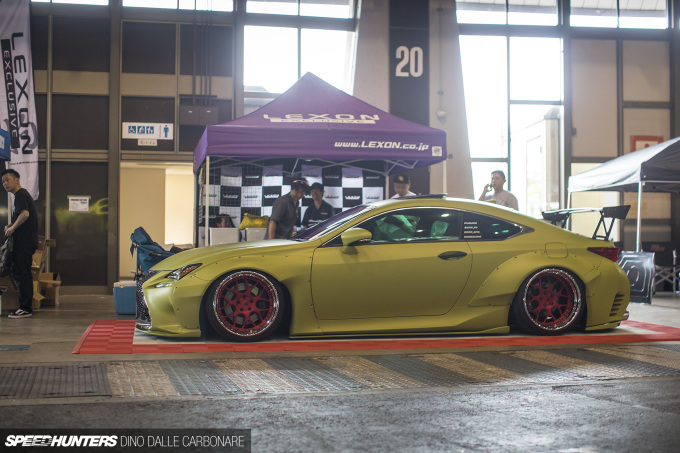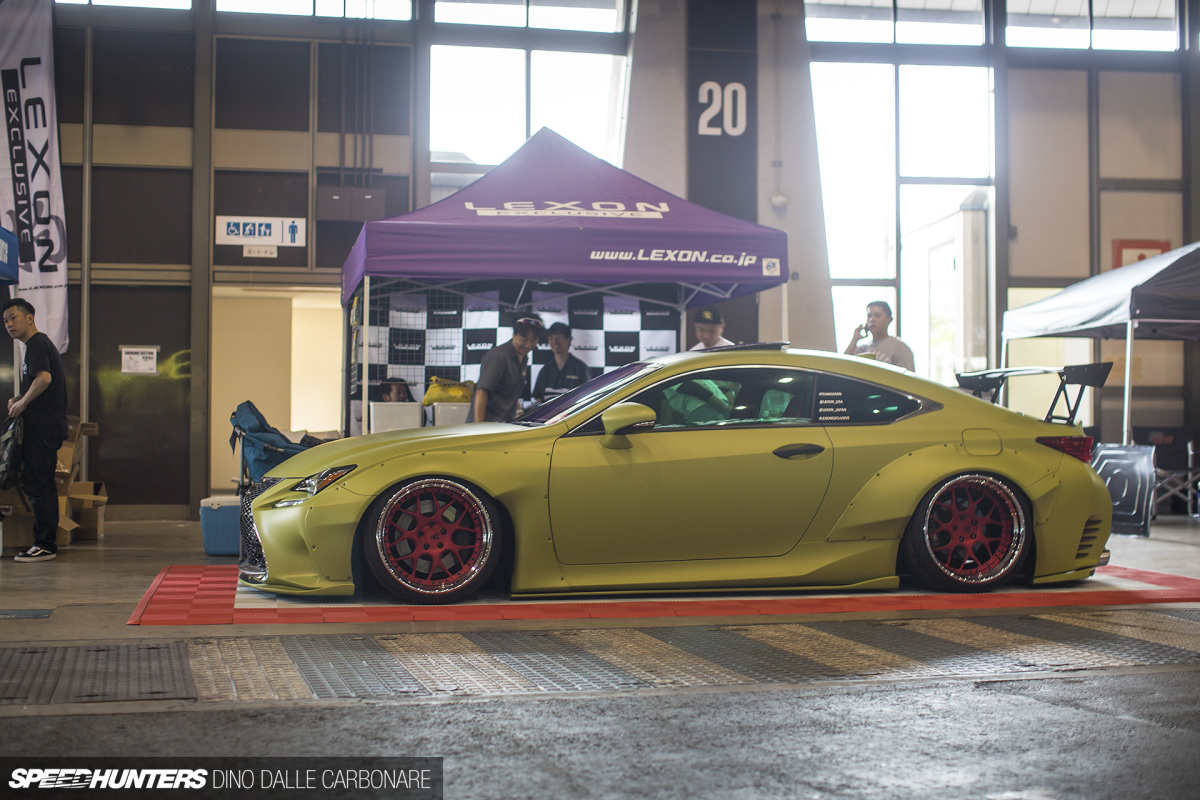 The guys from Lexon, who showed up with their freshly-wrapped RC F demo car, provided me with a place to dump all my camera gear while I was walking around the dome. They had made the trek down from Sagamihara the previous night, avoiding some of the Golden Week traffic that cripples Japan's highways during the first week of May.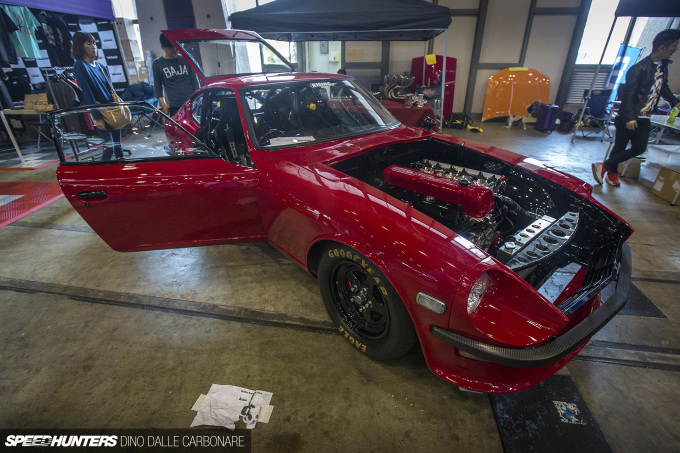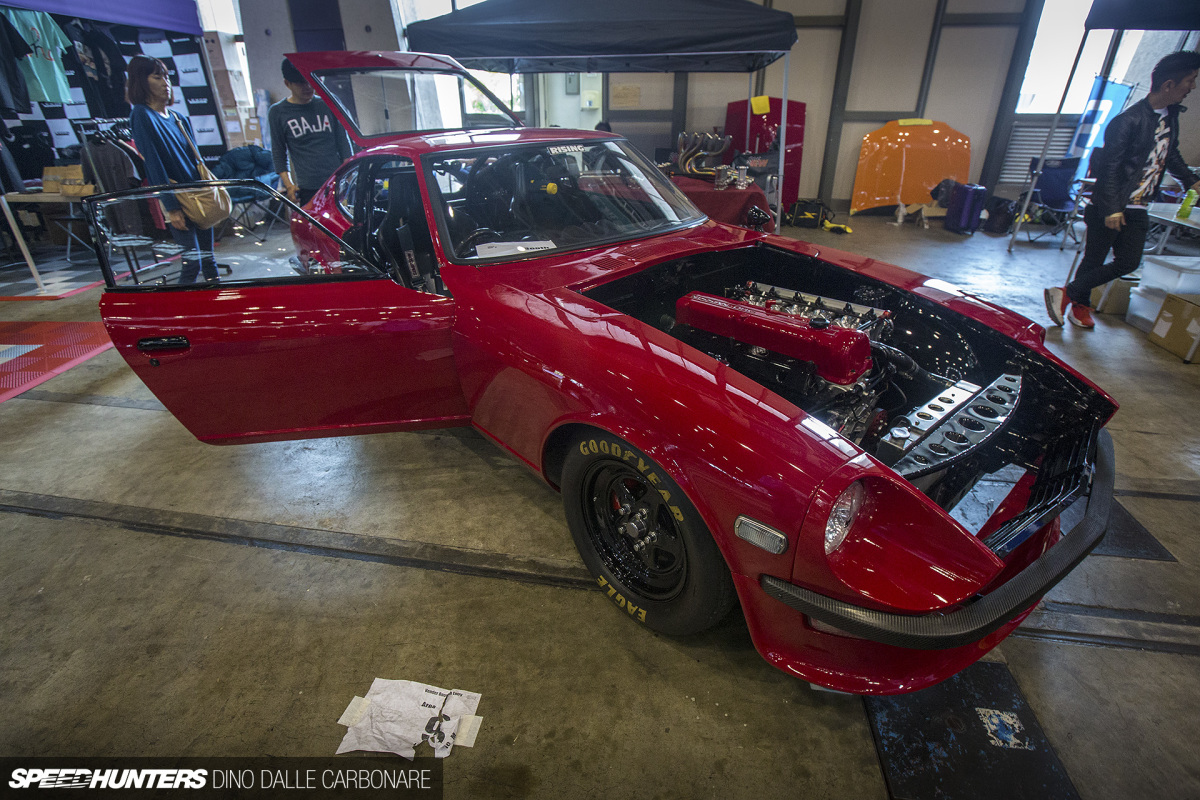 Next to their booth was another shop from Kanagawa-ken, Rising. Their drag-spec S30 simply blew me away.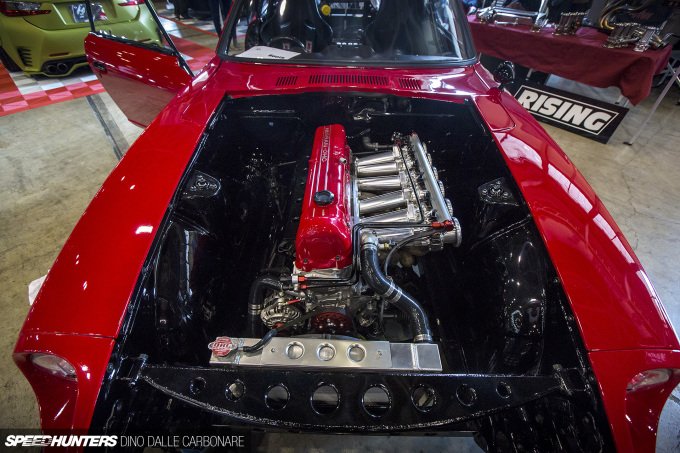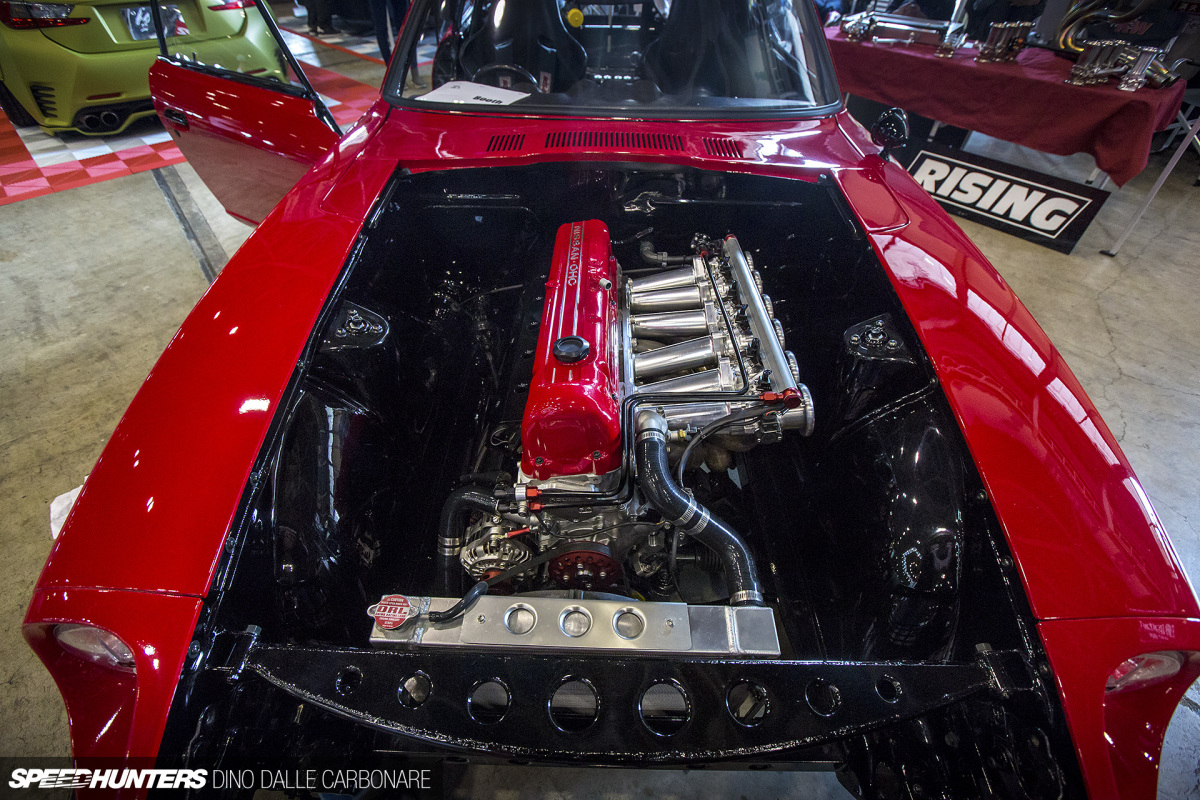 I'll show you a few images of it now, but this thing deserves a detailed feature as it's unlike any S30 race car we've ever seen.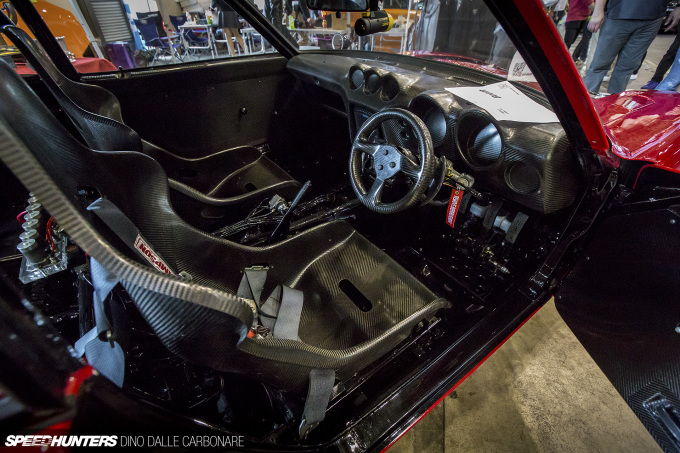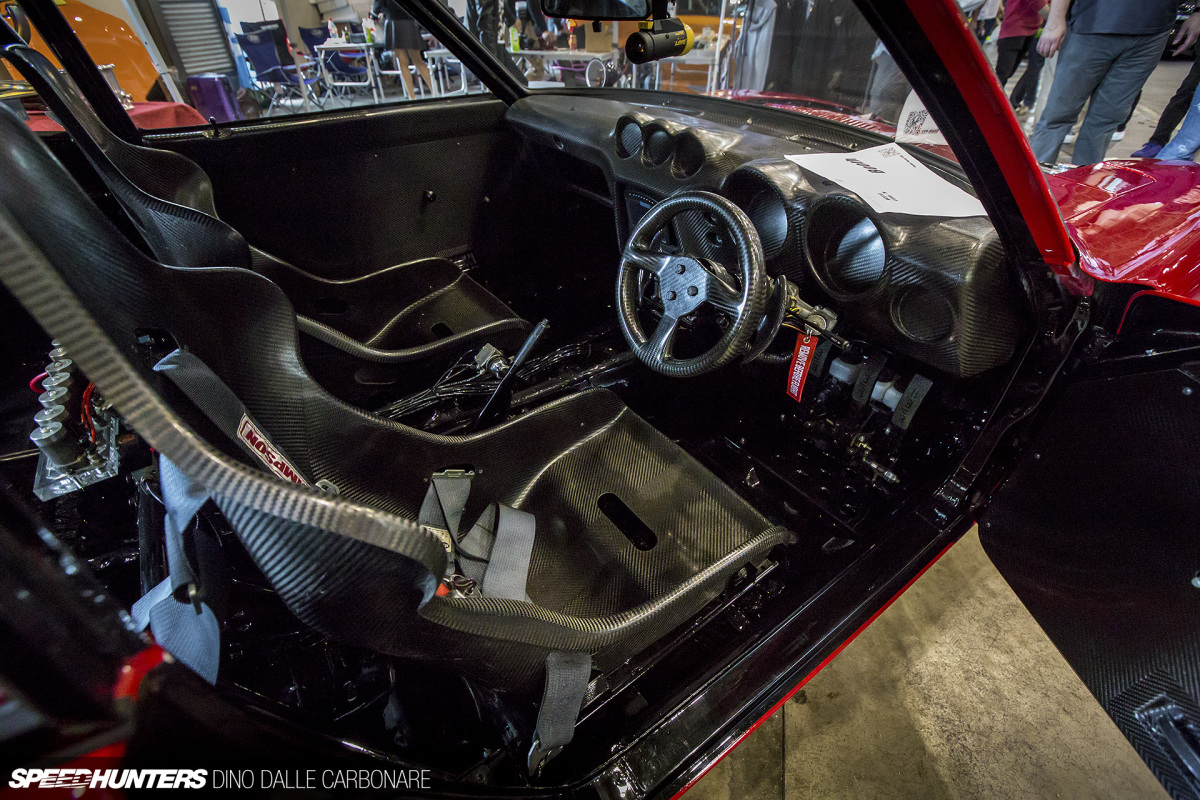 The sheer amount of dry carbon used throughout had me drooling. Yes, those are shift paddles you are seeing in a '70s Datsun!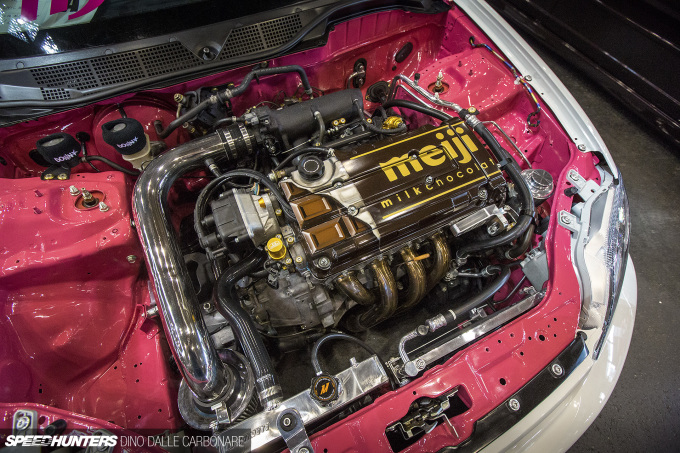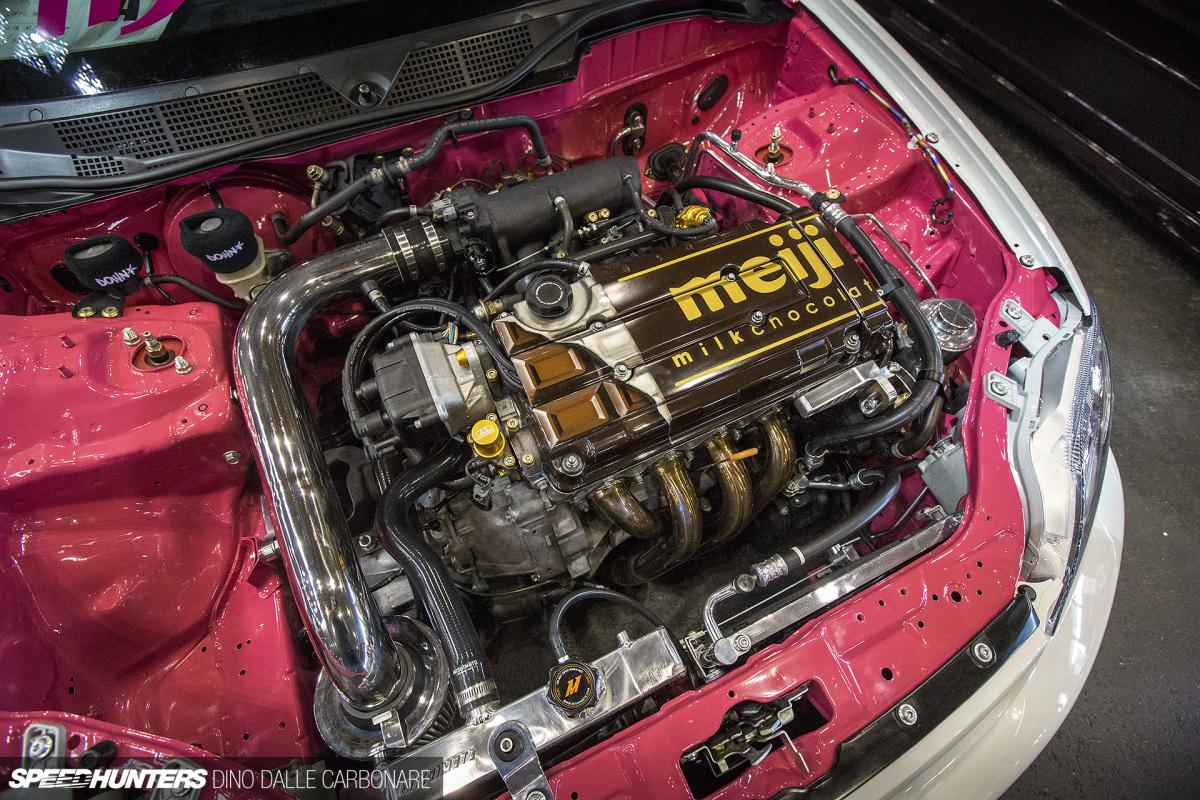 And on the subject of drooling, how about a Meiji milk chocolate wrapping motif for your Honda's engine cover? Different to say the least.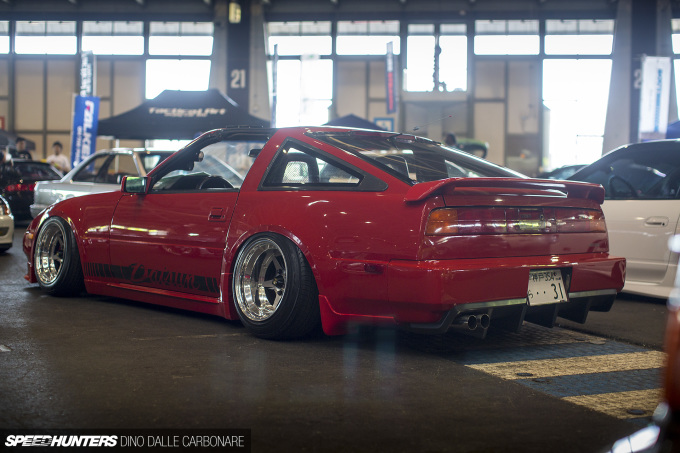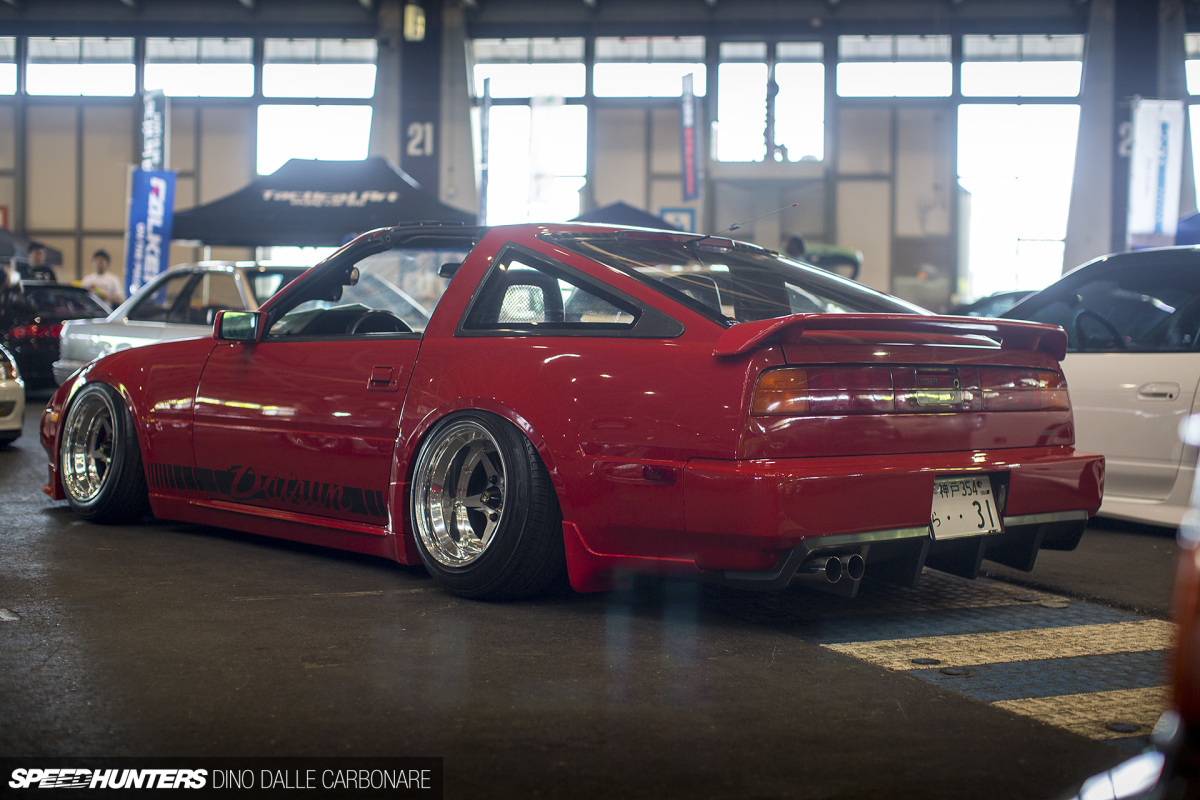 More Z goodness with this dumped USDM Z31. Much dish, much like.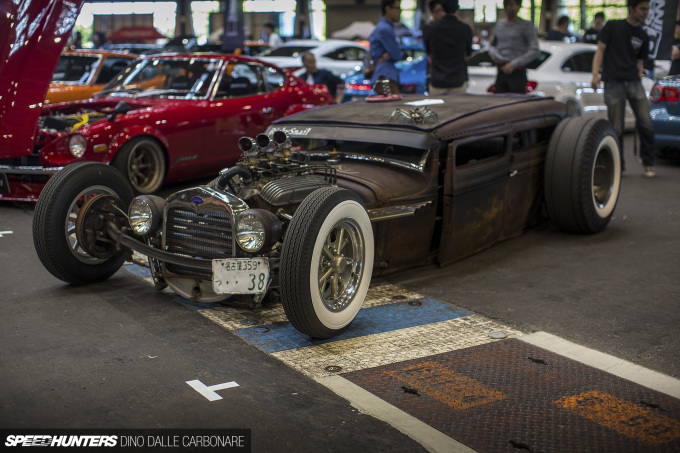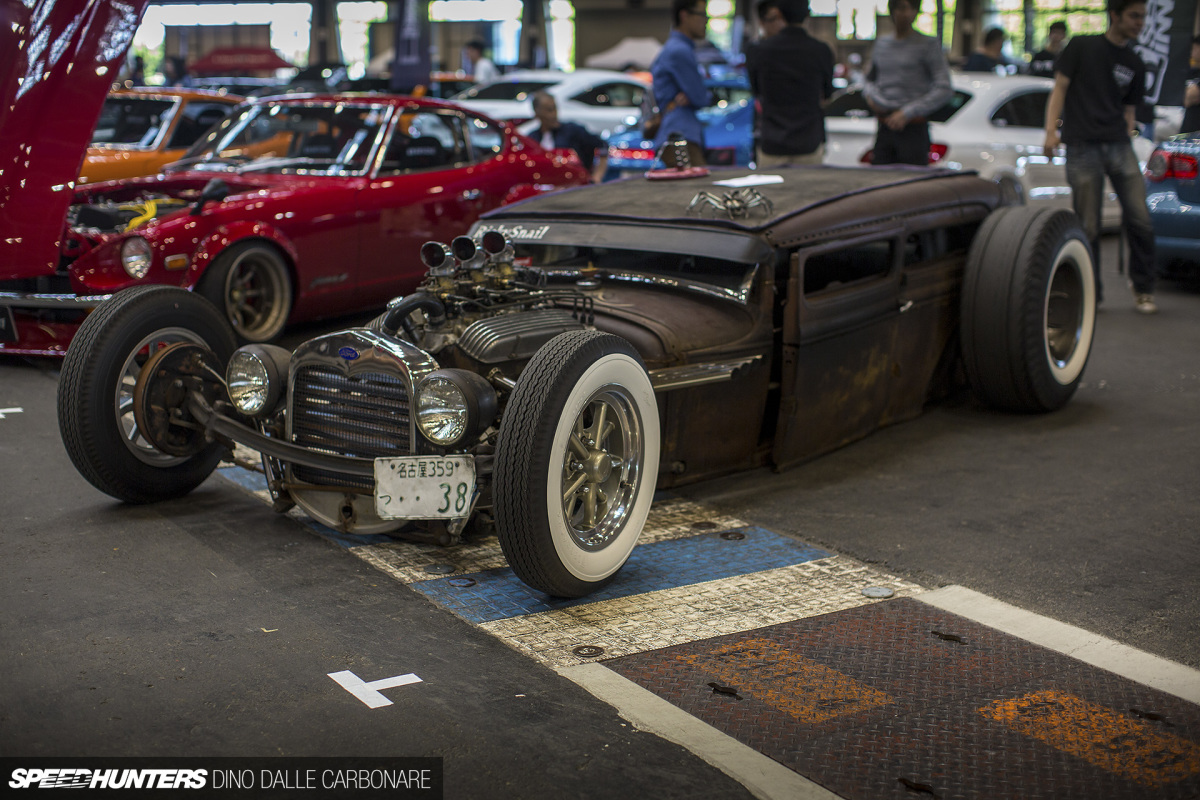 If there's one automotive subculture that Nagoya is famous for, it's hot rods and customs. The local scene is absolutely huge and there was at least once piece of old American iron at the show to represent it all – this 1938 Model A with a not-so-subtle roof chop. I can't believe cars like these get the OK to be driven on Japanese streets when my GT-R fails for emissions and excessive exhaust noise.
More metal from the US, this time of the German variety and showing off some polished rims from Stuttgart.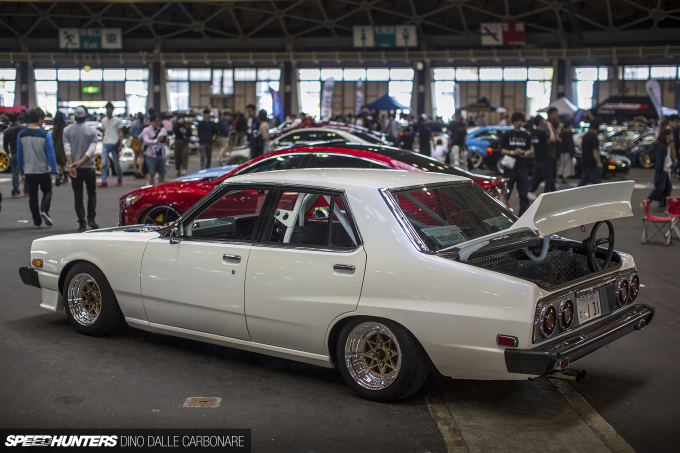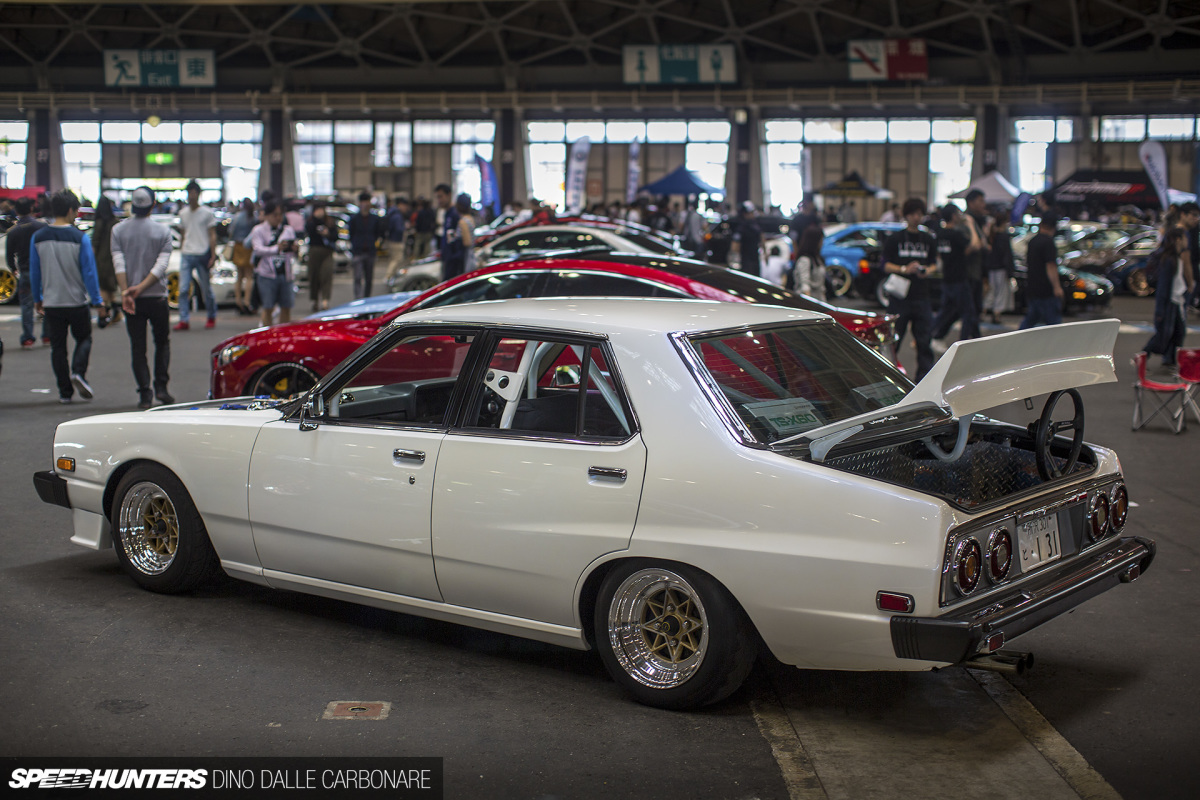 There was also a small but pretty decent kyusha component to the show, and on top of the Zs we've already seen I came across this C211 which initially drew me in with its wheel choice and stance.
Then I saw this! The L-series engine was hard to see beneath the intricate solid piping of the multi-shot nitrous oxide system.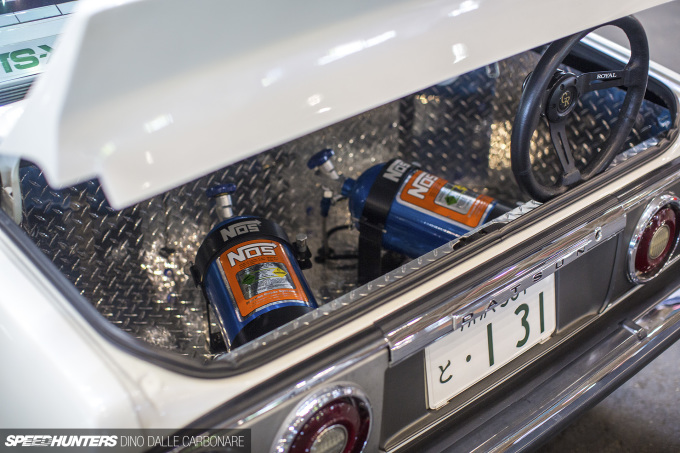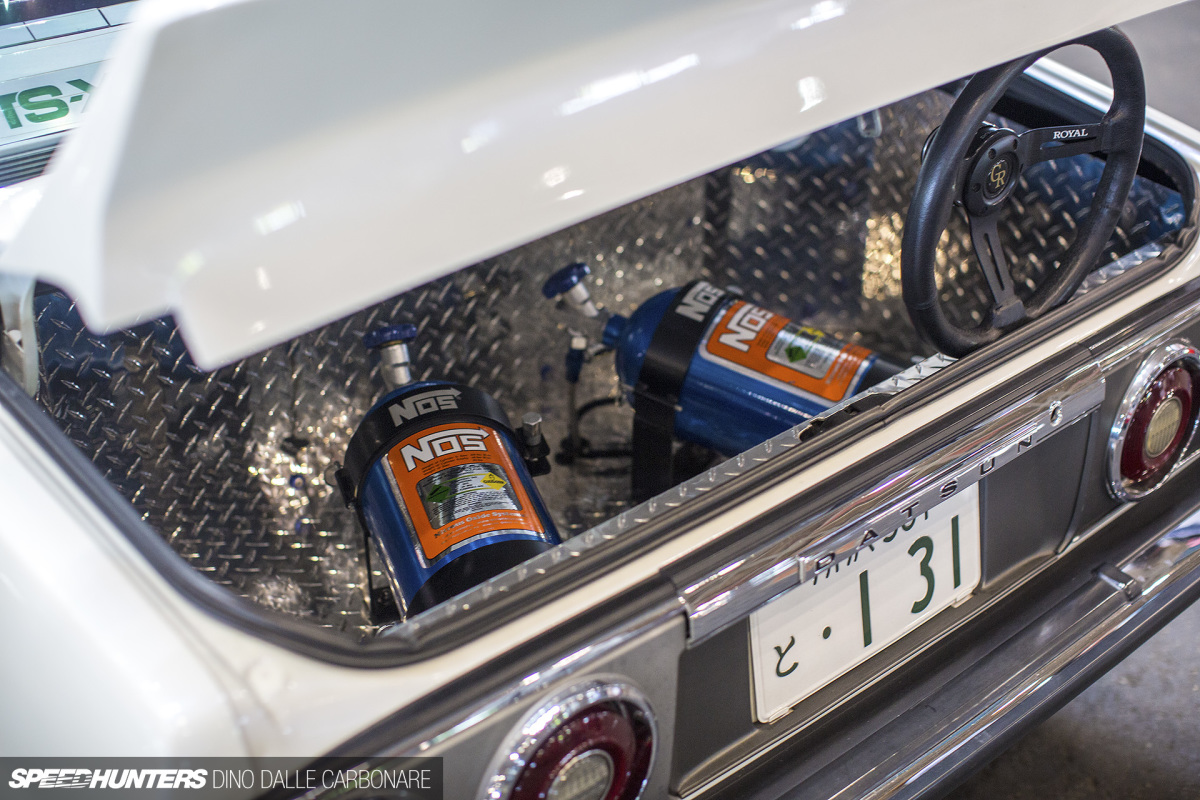 Gas is supplied by two neatly presented tanks fitted in the trunk.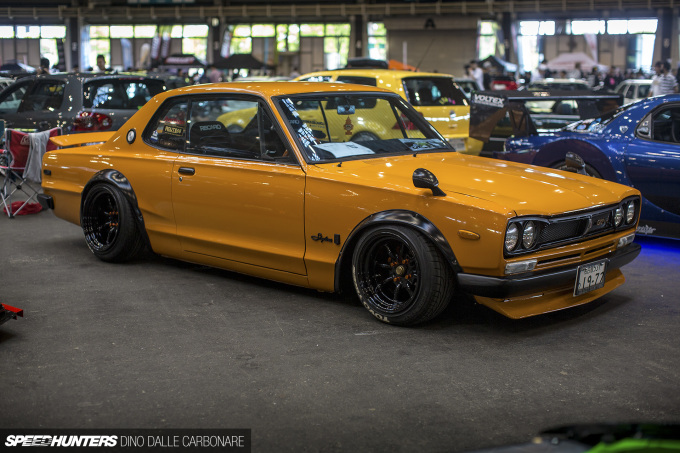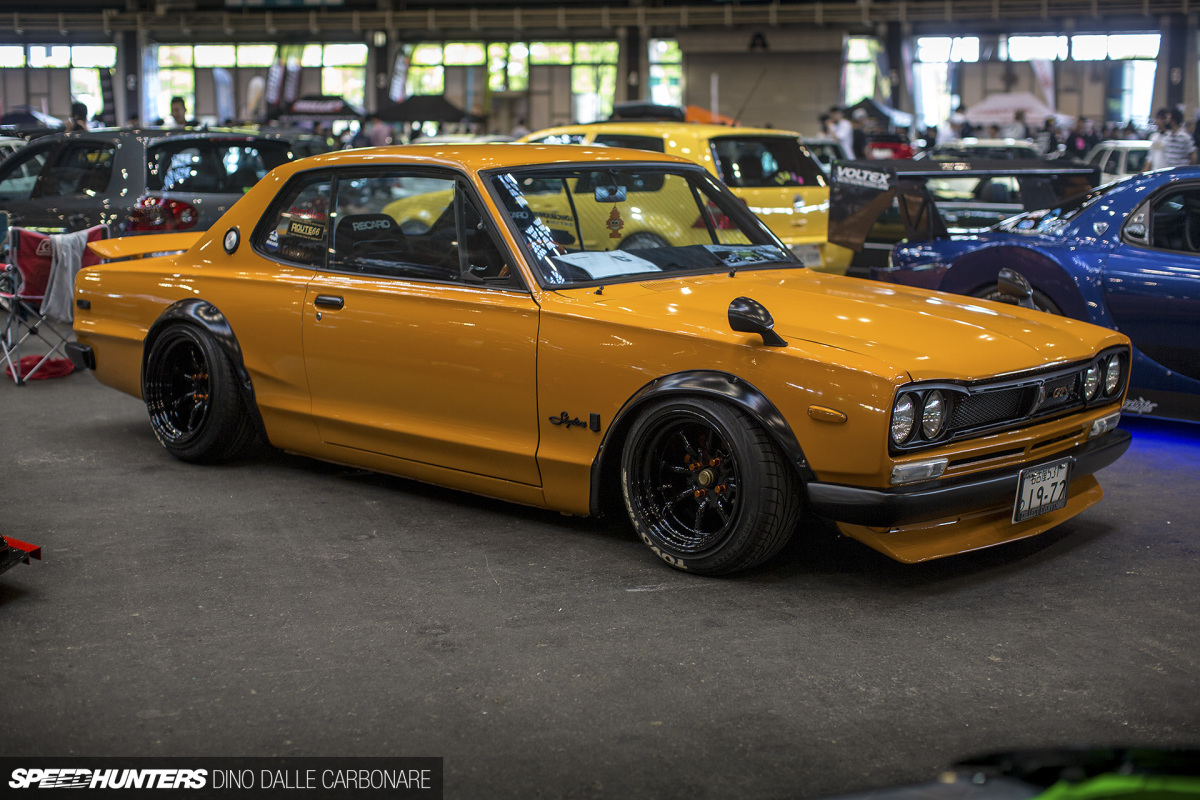 Daddy Motorworks have pretty much nailed the look on this Hakosuka. The deep mustard orange is an unusual choice, yet it contrasts so well with all the black details.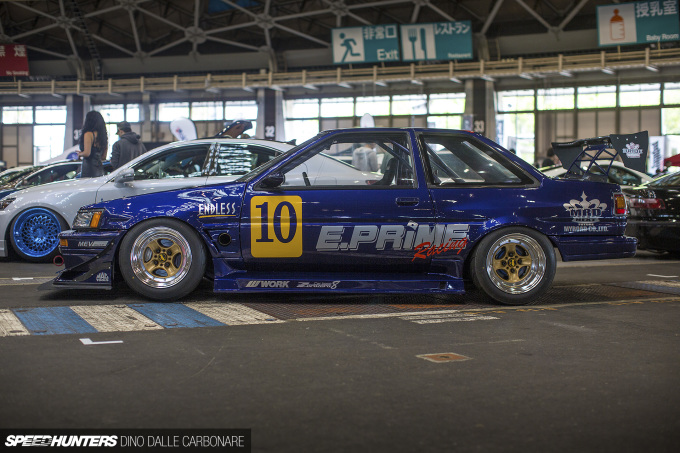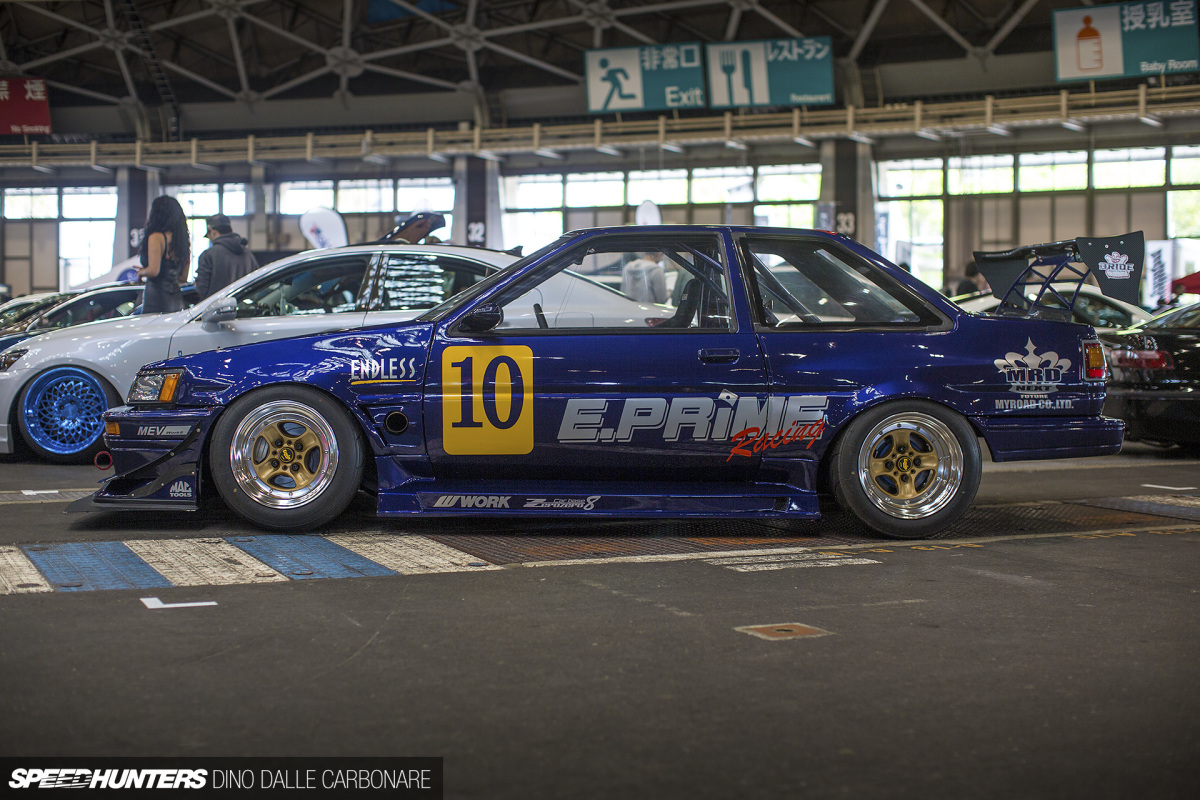 I'm a big fan of the new Work Equip 40; the stubby four-spoke design is such a nice match with the multi-piece construction. And just how good do they look on the E.Prime Racing AE86?!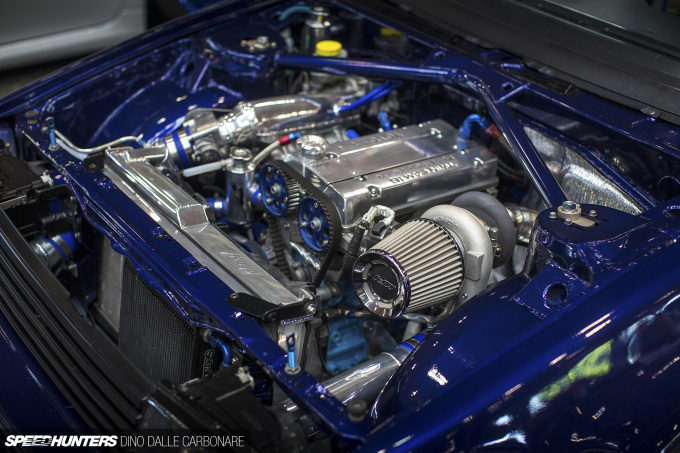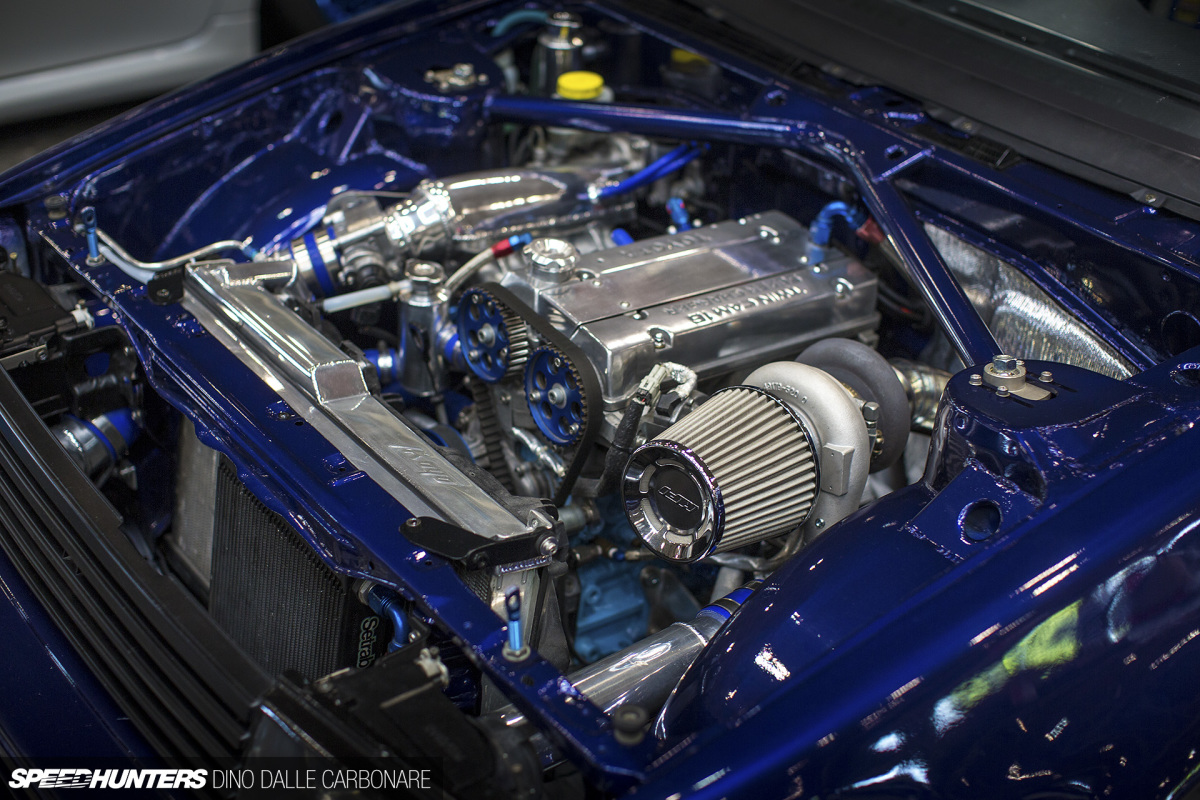 This car obviously needs a feature. I was pretty much sold when I saw the exhaust exiting out of the front fender!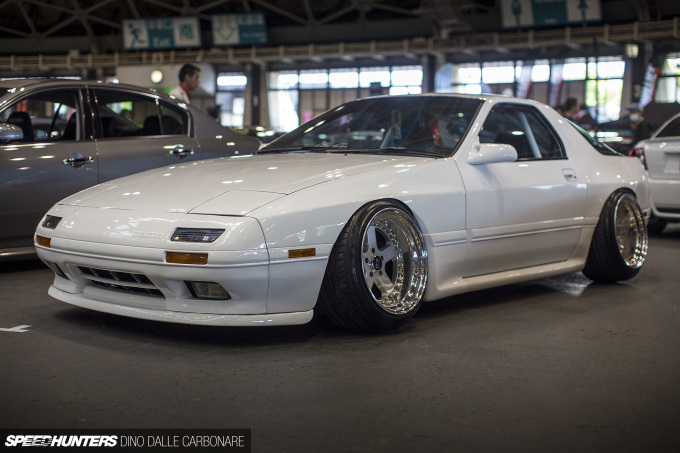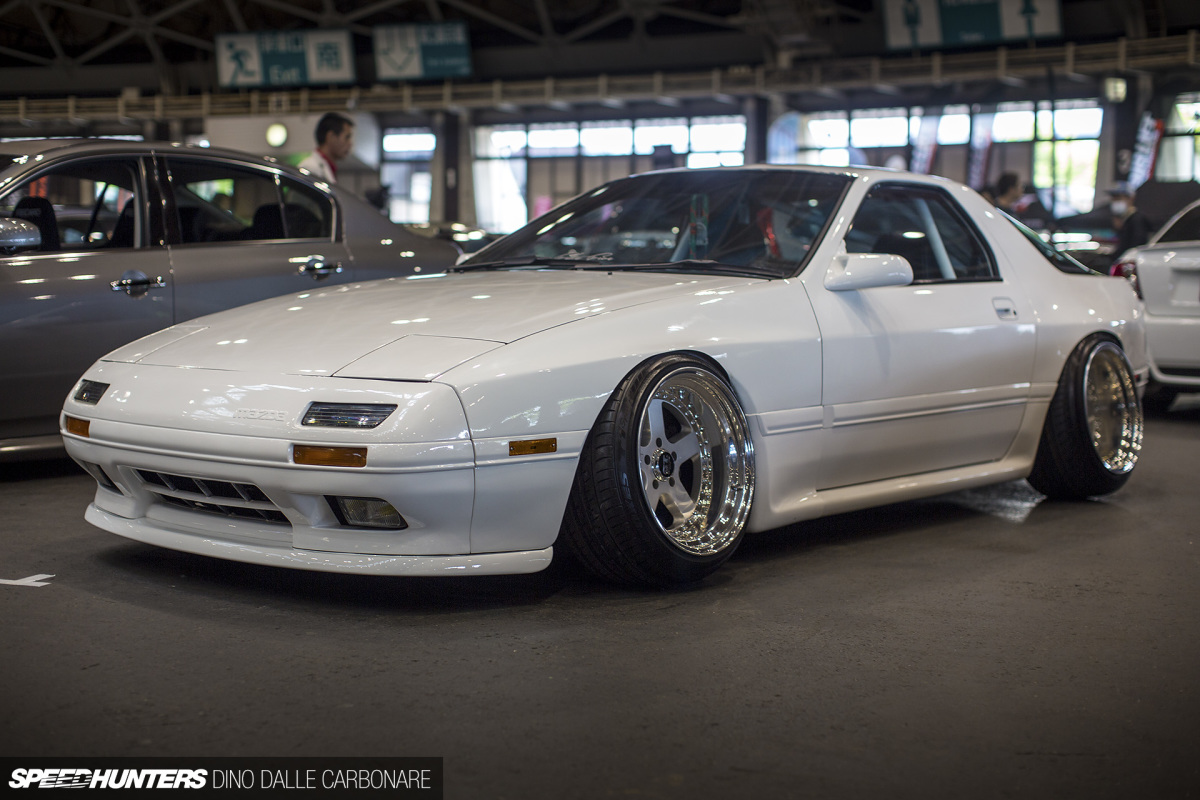 Like I said at the very beginning of this rather long post, there were so many feature-worthy cars at Wekfest, but alas, there always comes a time to end things and that time is now. To do so I've picked this super-clean FC3S which I kept coming back to throughout the day.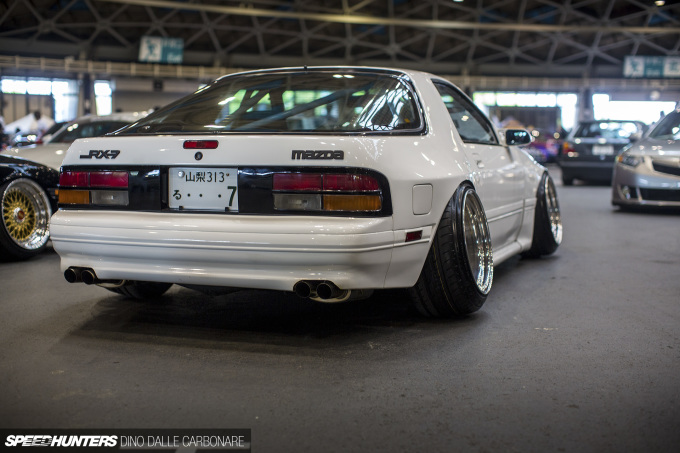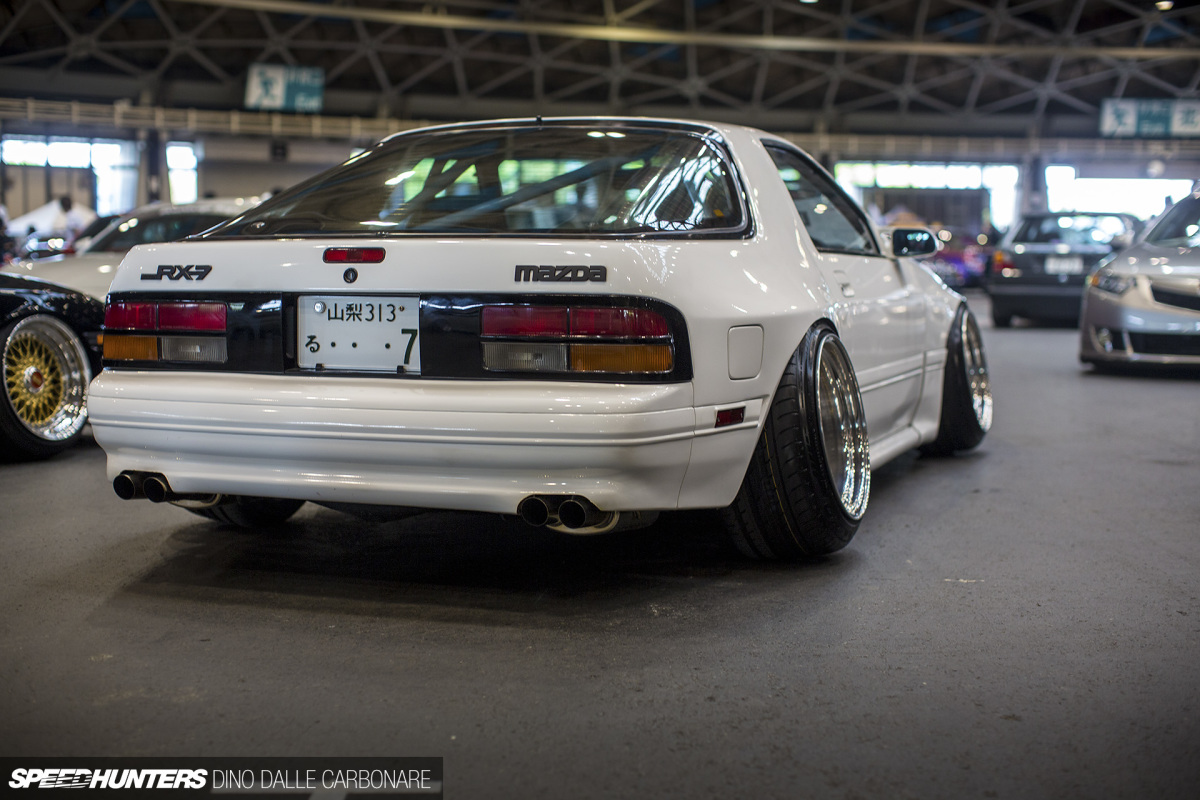 As I looked on at the rest of the cars, I felt content that Japan's unique modifying scene is very much heading in the right direction. There seems to be a newfound balance once again, where performance and functionality can live in harmony with looks and quirky touches being given more importance. I'm just happy to be in the middle of it all, observing it as it unfolds.
Dino Dalle Carbonare
Instagram: speedhunters_dino
dino@speedhunters.com