There's a lot to be said about the 'built, not bought' mantra.
Not that I subscribe to it myself. On the contrary, I know where my skills lie, and it's not with a spanner in my hands. For the safety of everyone on the roads, and myself, I'm better of getting someone else to build and tune my cars. But I have an awful lot of time for those who are willing to take on a project themselves, and who have the time, skill and patience to create something that they're proud to call their own.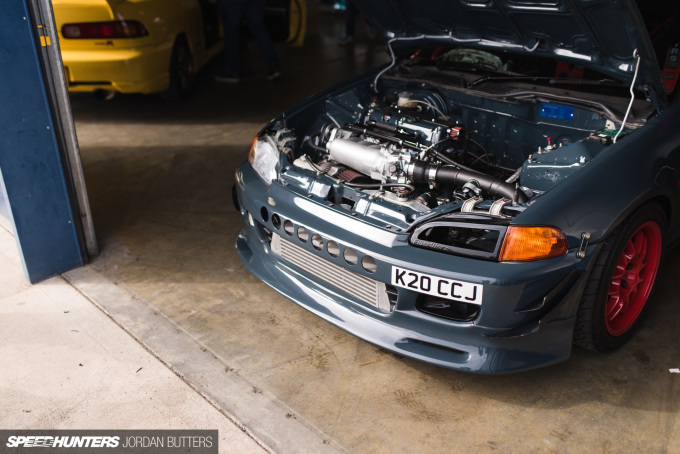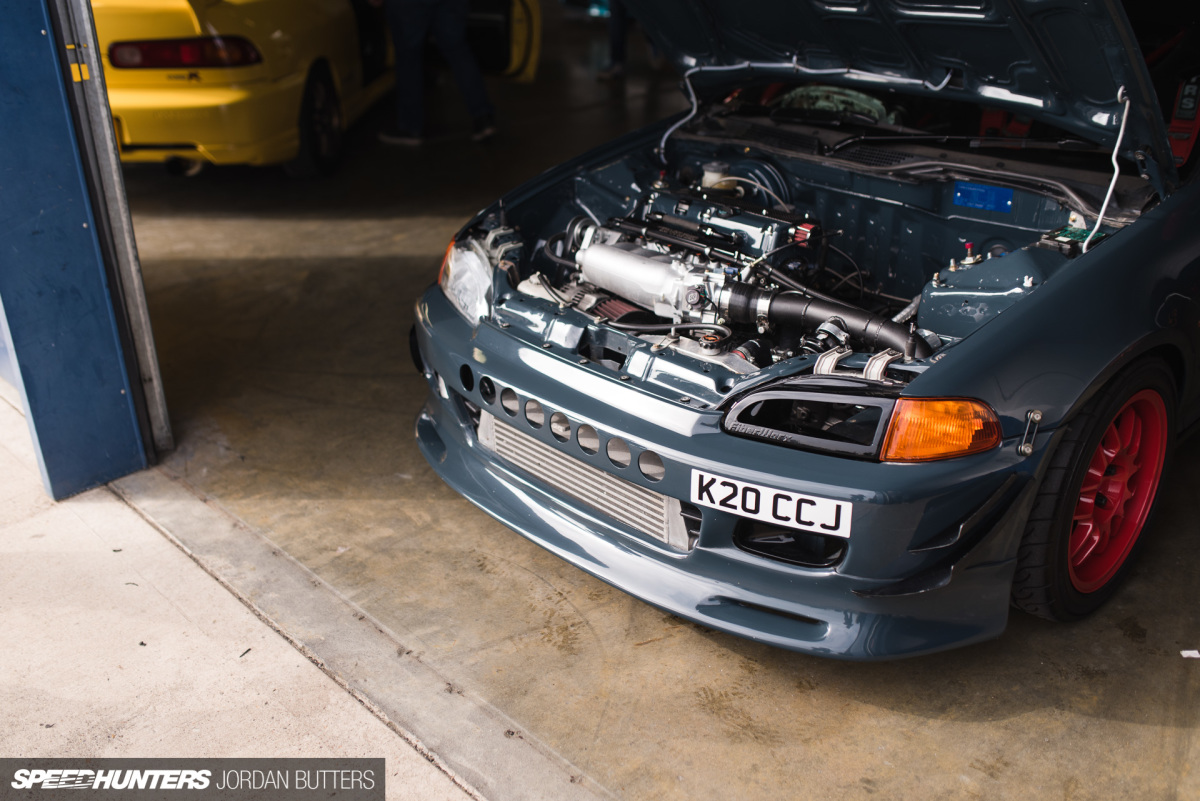 Take Chris Jennings' 1994 Civic EG, for example. I spotted the little grey Honda at the recent Mimms Honda Day after it had just come back in off track and I instantly knew I had to take a closer look.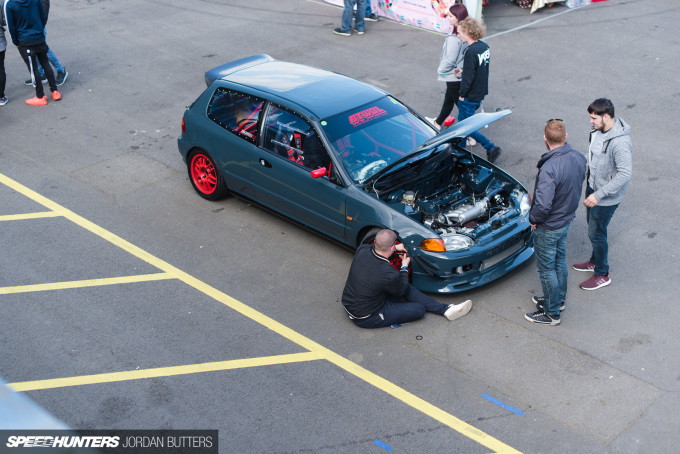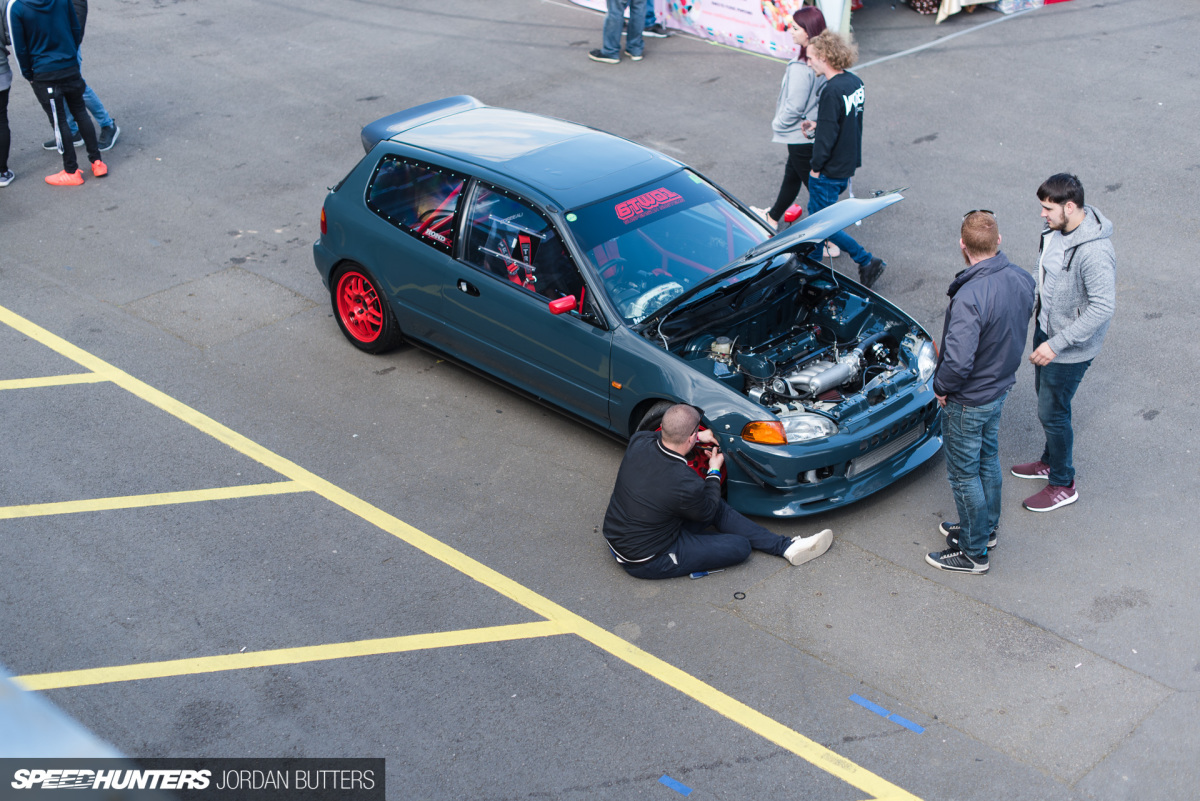 Chris tells me that the car that you see in front of you started out its life with him as a bare shell, which was a £150 birthday present from his wife.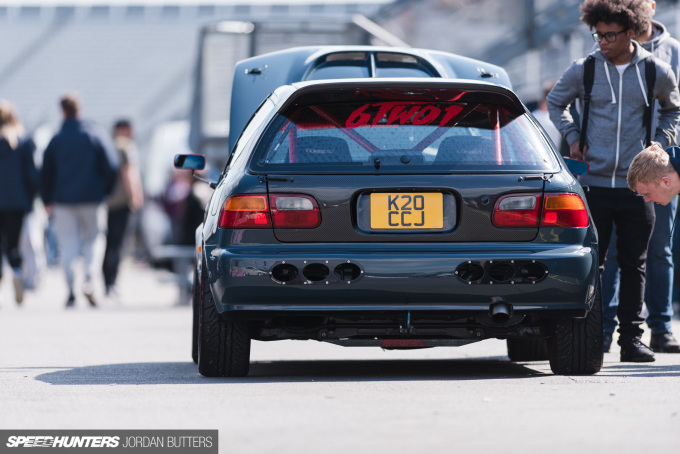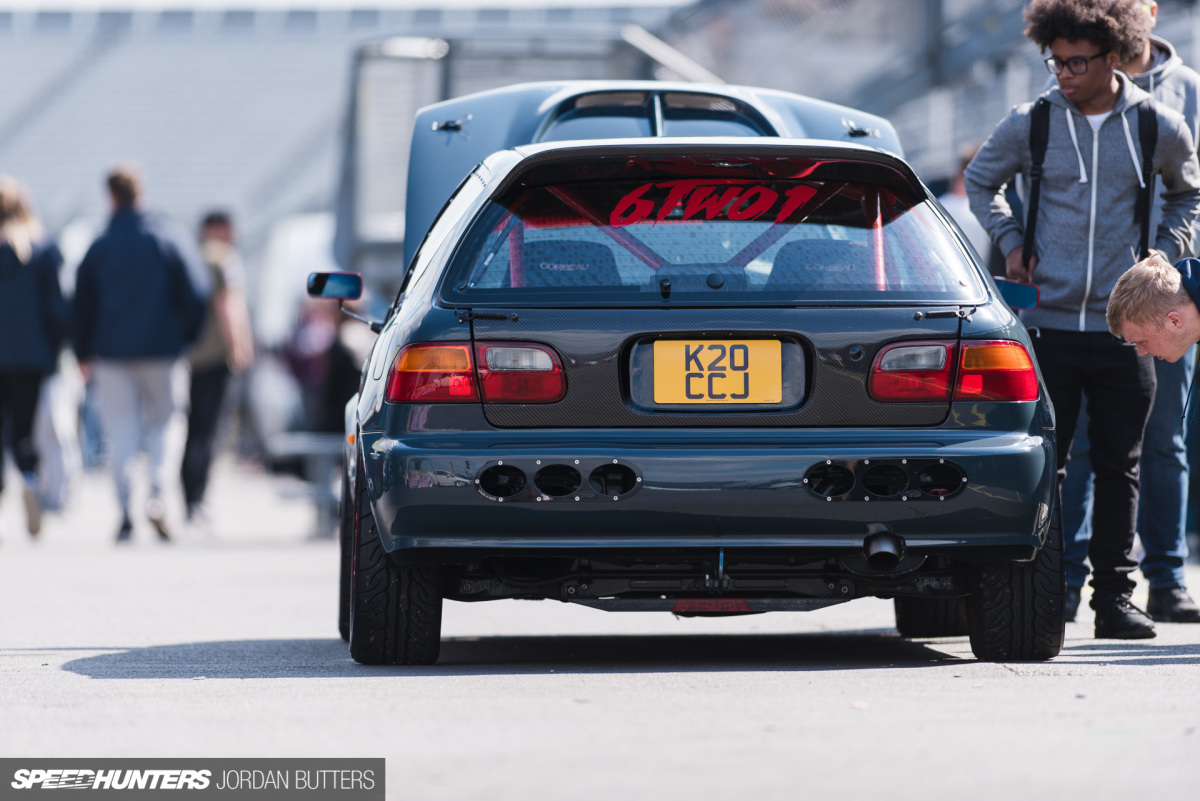 Fancying himself a track toy, Chris's initial attraction to the EG Civic was down to its light weight from the factory – the model tipped the scales at just 870kg in standard trim. That'll do nicely.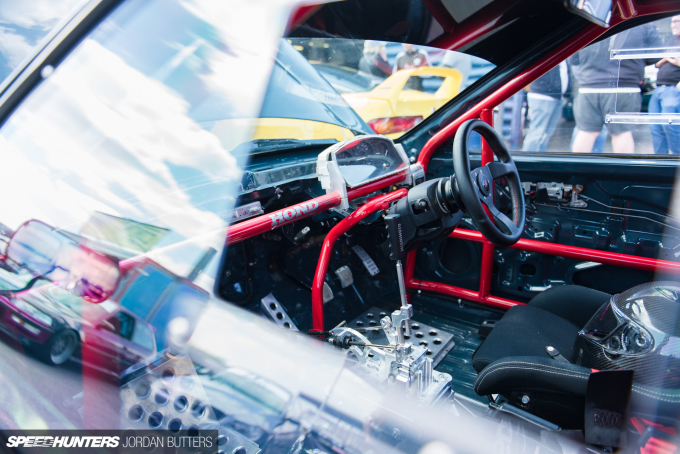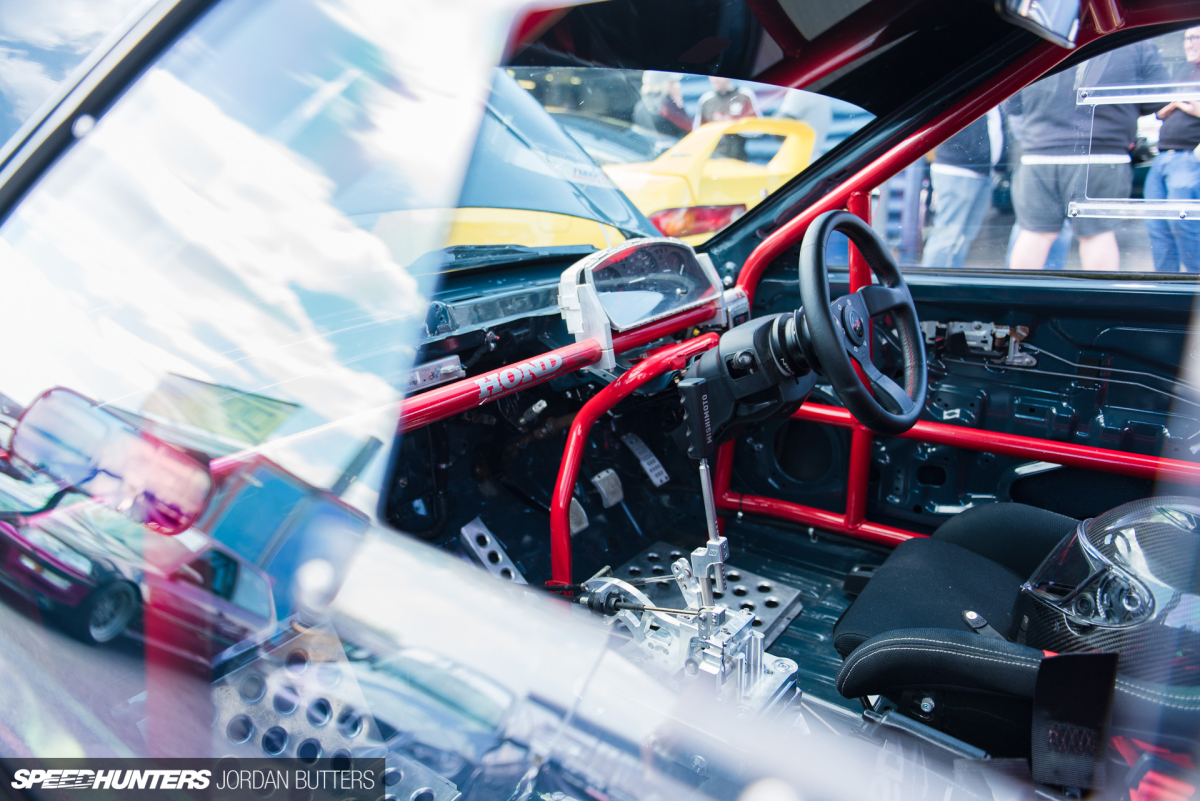 Over the course of four years, Chris and his friends built the EG on his driveway, with little more to hand than a Halfords toolkit. Tuning experts Hond-R were called in to help with the electrics and wiring, and the cage was designed and fabricated by Alan Dent, but other than that Chris took on 90 percent of the work himself.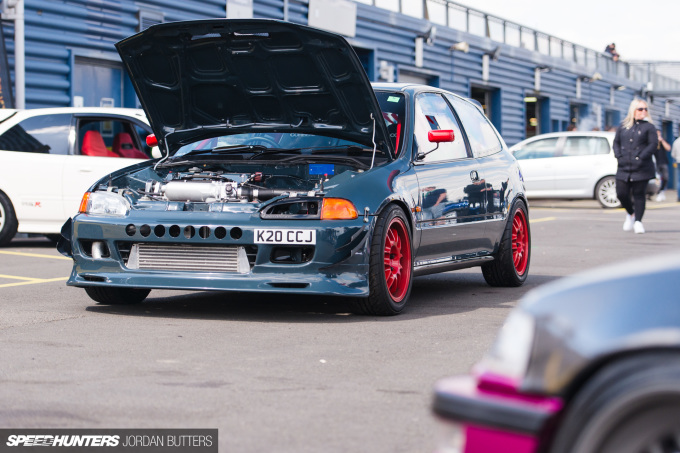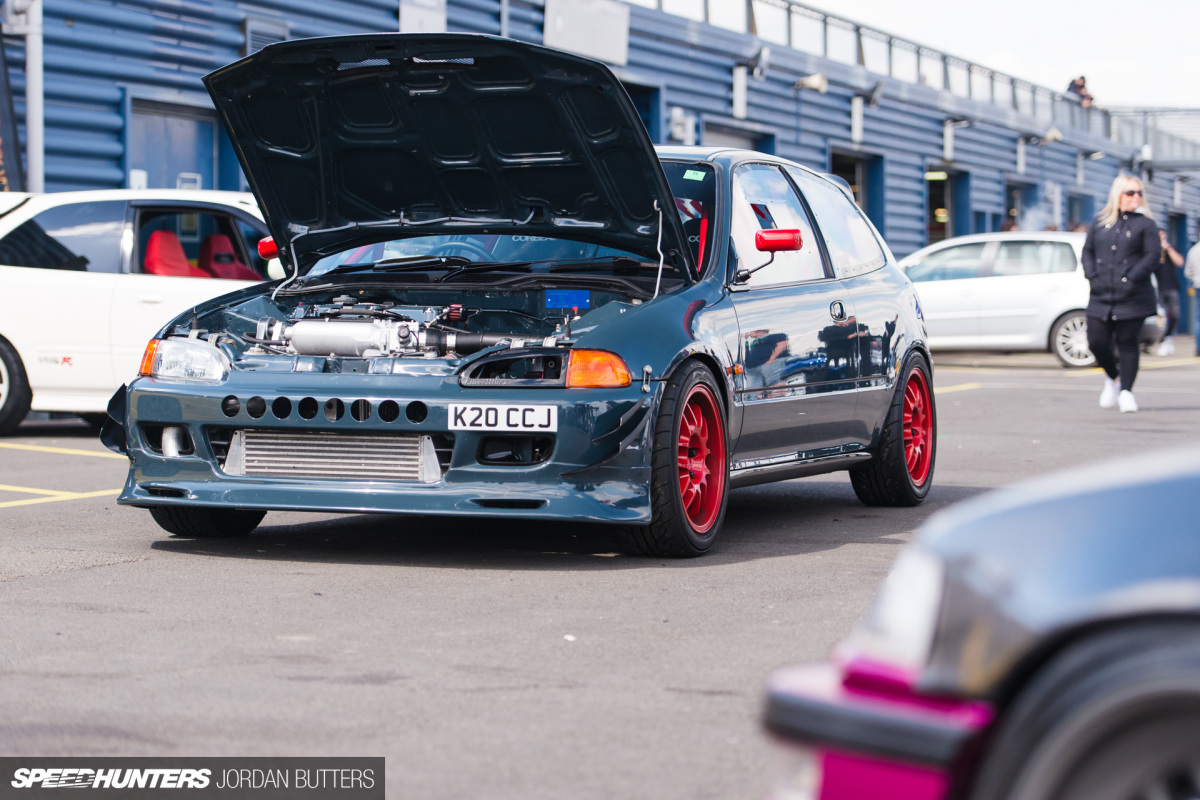 The first thing to strike you is just how aggressive the EG looks now. Coated in Audi Nimbus Grey, the body has been lightened wherever possible. A carbon bonnet, Jun carbon splitter and carbon tailgate shed pounds from the front and back, while a carbon rear spoiler sits atop the hatch. The tiny APR race mirrors are probably terrible for seeing what's behind you, but who cares about that, right? The only thing behind you is the past.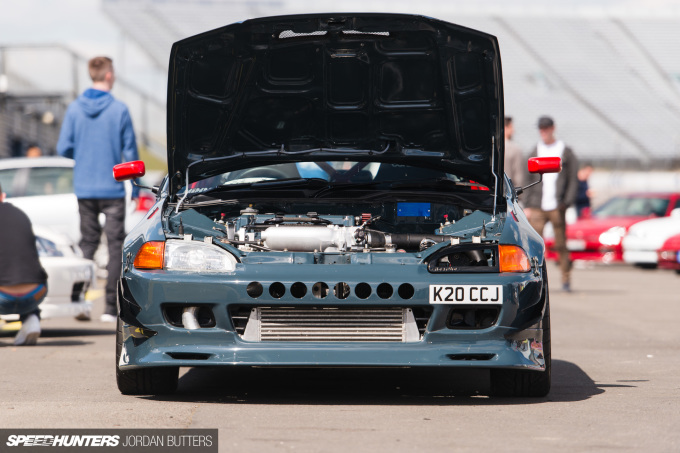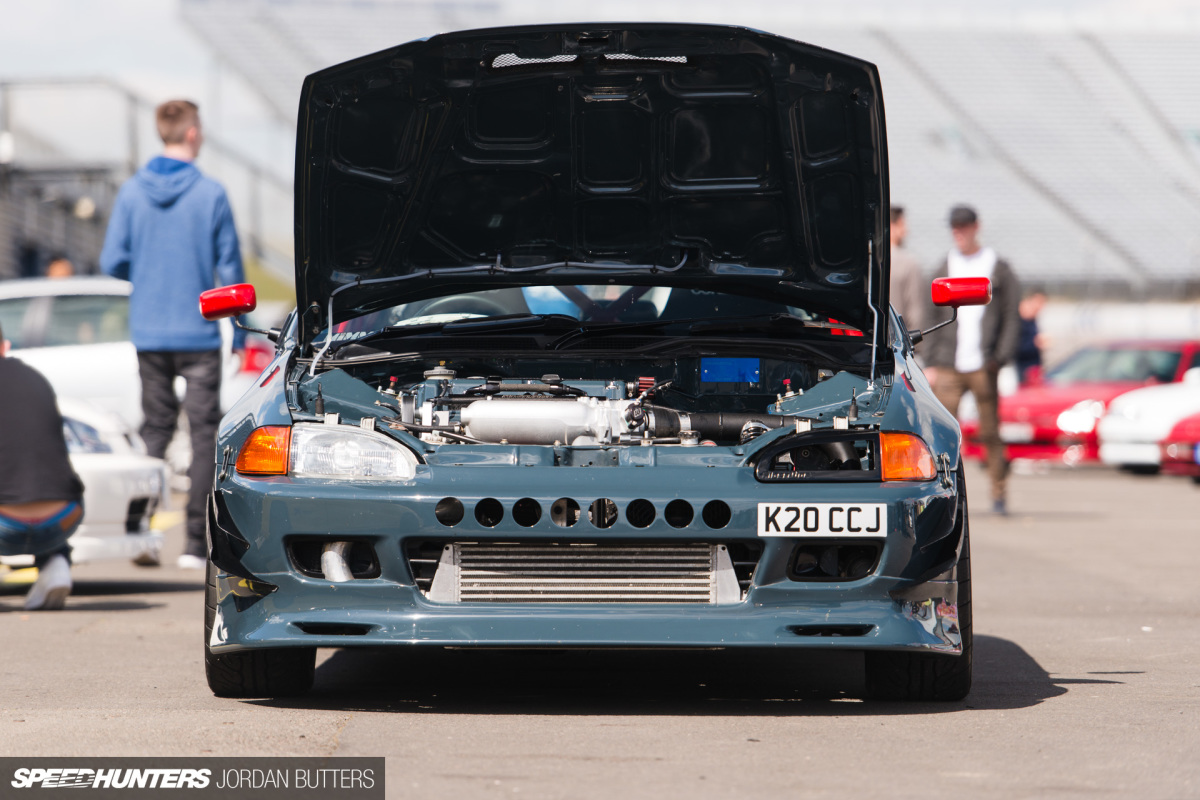 At the front there's obviously a huge intercooler staring back at you, but we'll get to that in a minute. A Fiberworx headlight duct feeds cold air into the engine bay, and makes the EG look as if it went a few rounds with Anthony Joshua.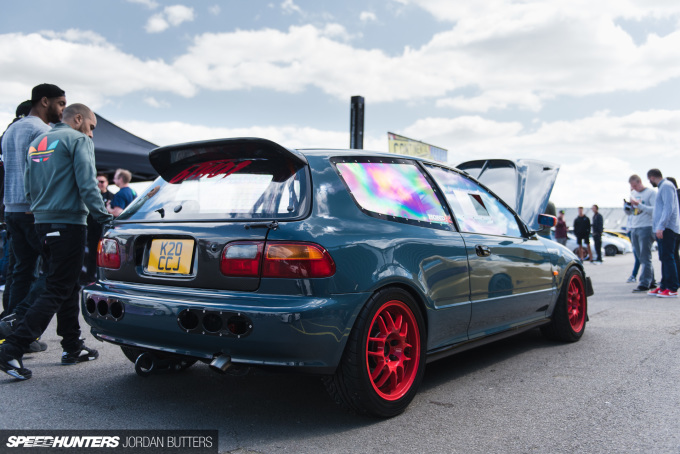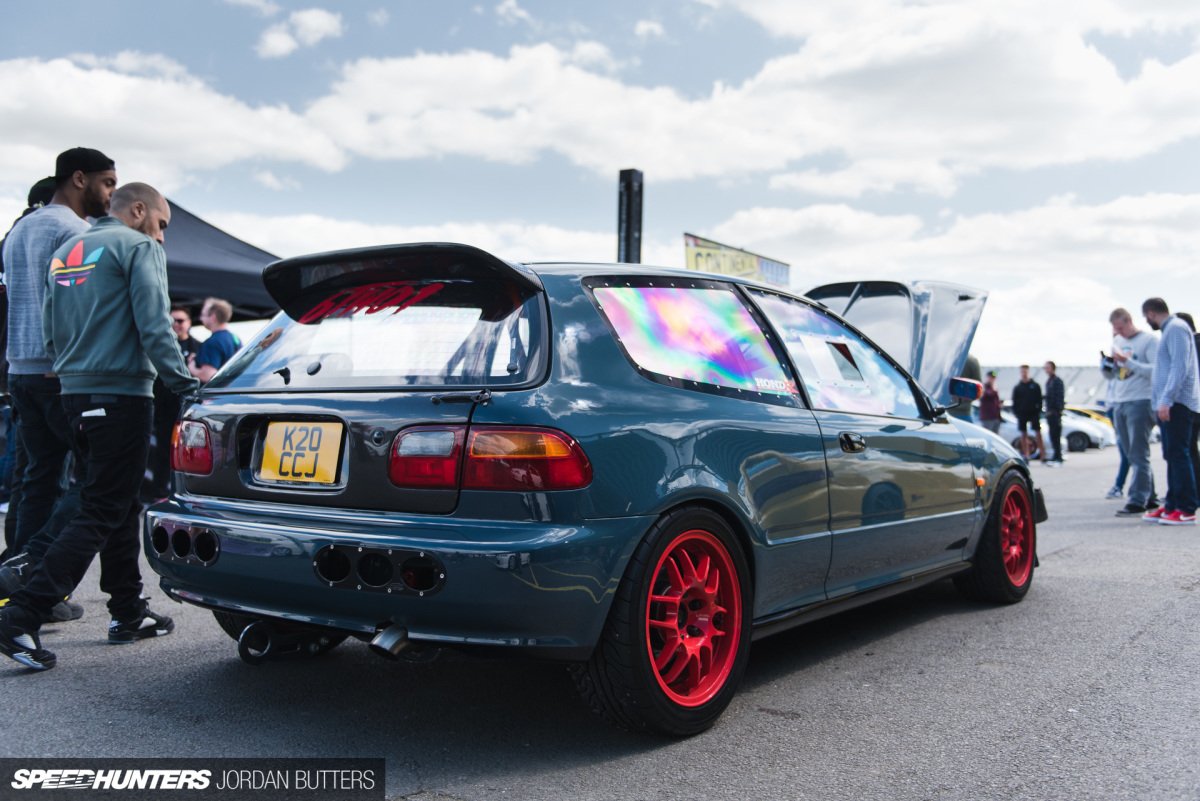 If the speed holes, meaty tyres, polycarbonate windows, snarling intercooler or single eye-less socket staring back at you weren't enough of a clue, then you should know that Chris's Civic is more than a little tuned for the track.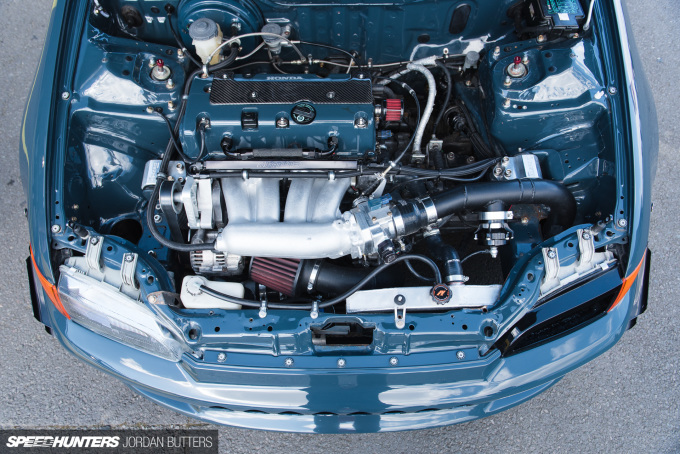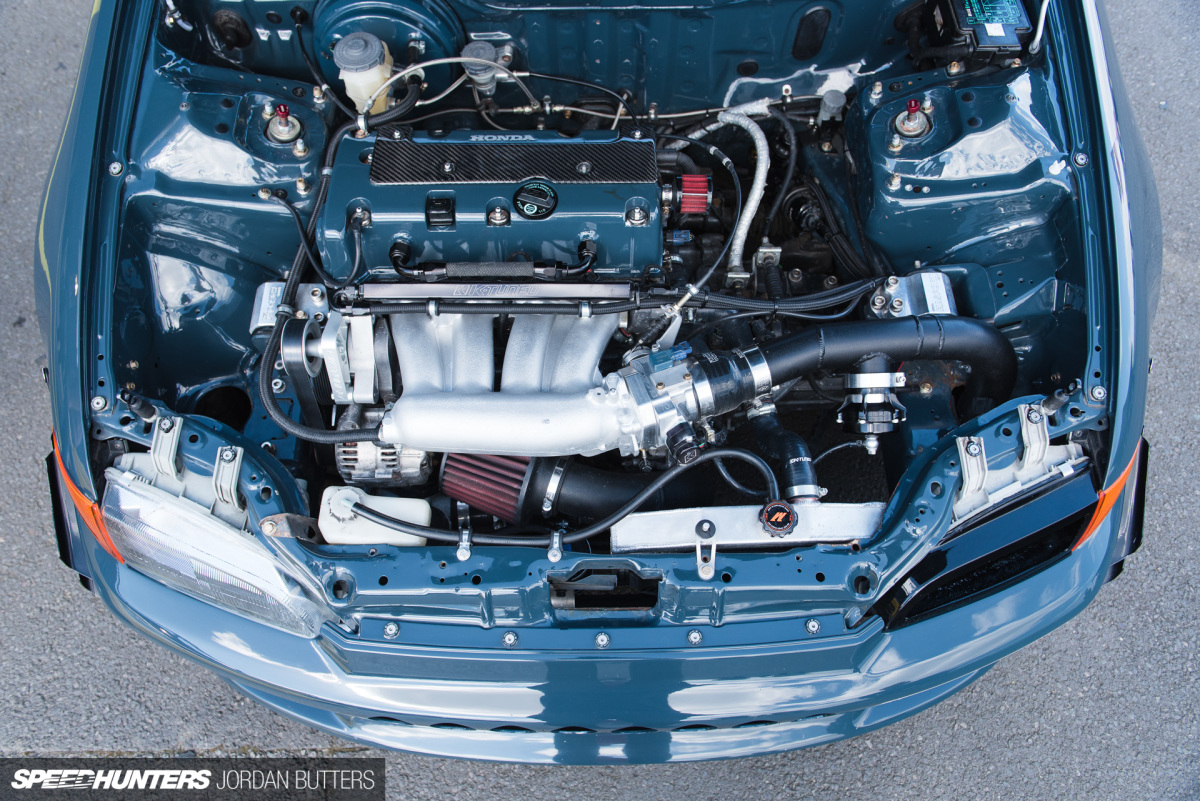 Lift the painted carbon bonnet and you soon realise that there's enough bark to back up the EG's aggressive exterior. From the moment he picked up the EG Chris had a K20A motor swap in his sights – but not a stock one. While modest gains can be had with some simple bolt-on modifications to the naturally aspirated 2.0-litre DOHC iVTEC Honda powerplant, Chris decided to take things one step further with the addition of a Rotrex C38-91 supercharger setup.

A Vibrant intercooler keeps intake temperatures at a sensible level, feeding a Blox 70mm throttle body which, in turn, delivers part of the explosive mix via an AEM intake manifold. The other half of the mixture is courtesy of a selection of K-Tuned fuelling goodies and 1000cc Grams Performance injectors. A Hondata K100 modified ECU keeps everything in check, while a TiAL Q blow-off valve disperses excess boost pressure into the atmosphere when the throttle snaps shut. Further pleasing noises come courtesy of the EG's exhaust setup, comprising of a PLM 4-2-1 manifold, custom 3-inch exhaust and a Vibrant 3-inch stealth back box.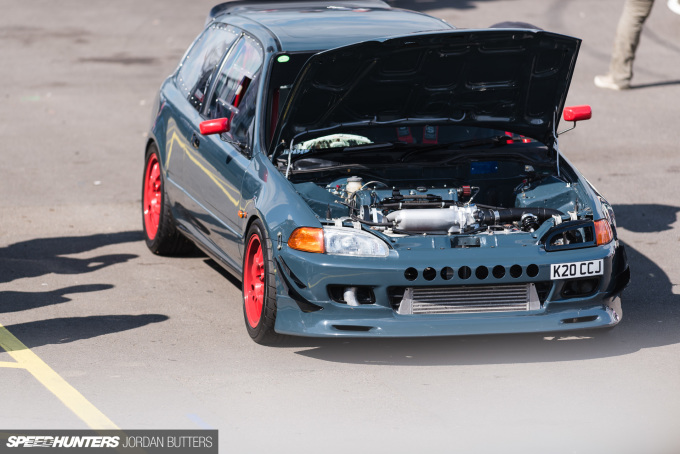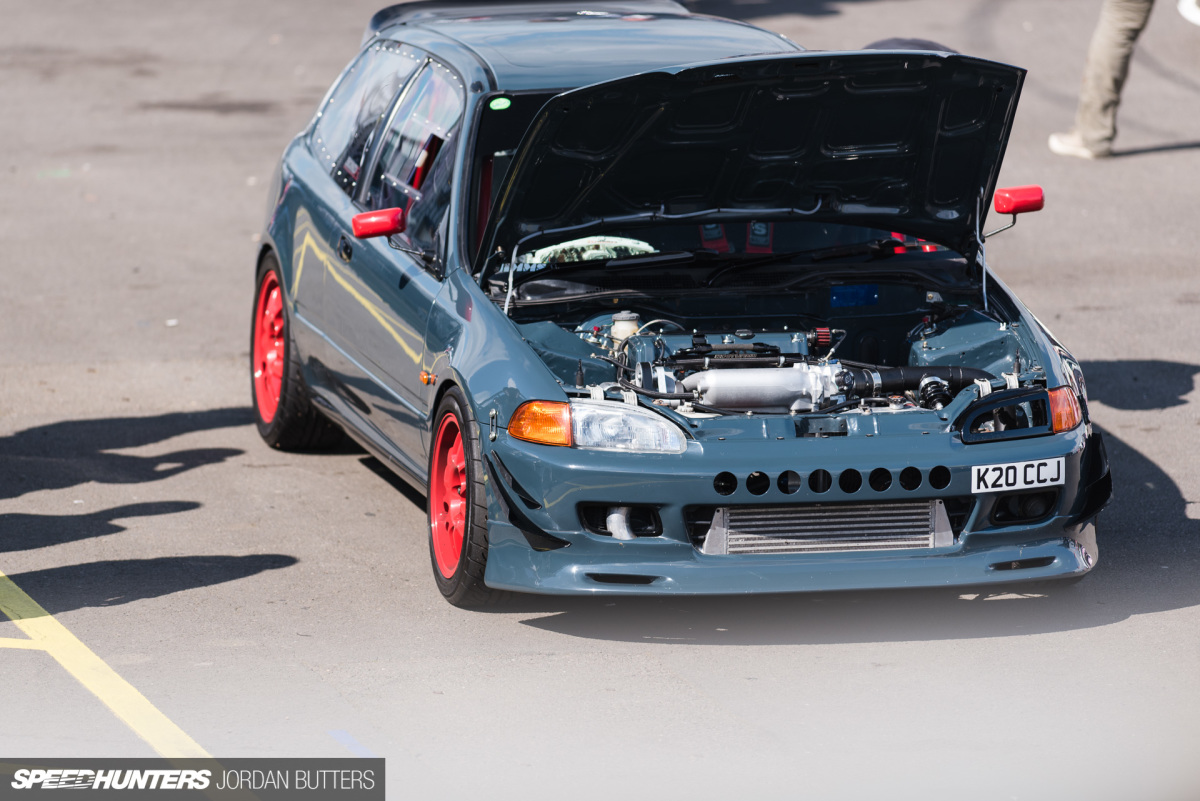 The result is an impressive 438bhp and 278lb/ft torque. Obviously the little EG's drivetrain has been upgraded to take the extra power too, with a Clutch Masters FX400 clutch and flywheel, EP3 gearbox with carbon synchros, Insane Driveshafts 500bhp shafts and a Wavetrac differential helping to put the power down reliably.
A K-Tuned billet shifter is a beautifully engineered reminder when sat in the driver's seat that this car has been built to take some mechanical abuse.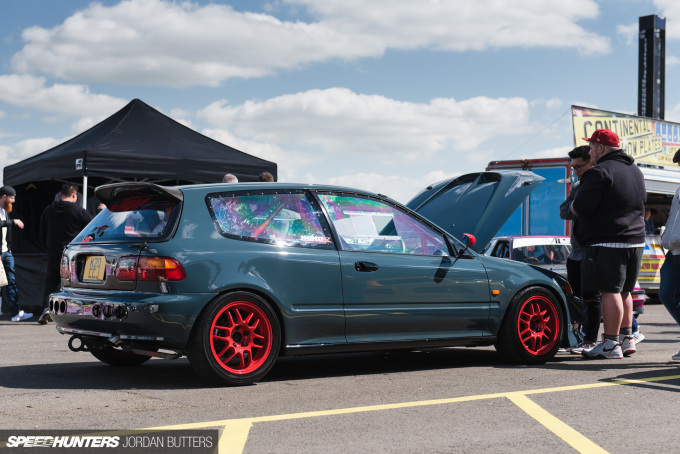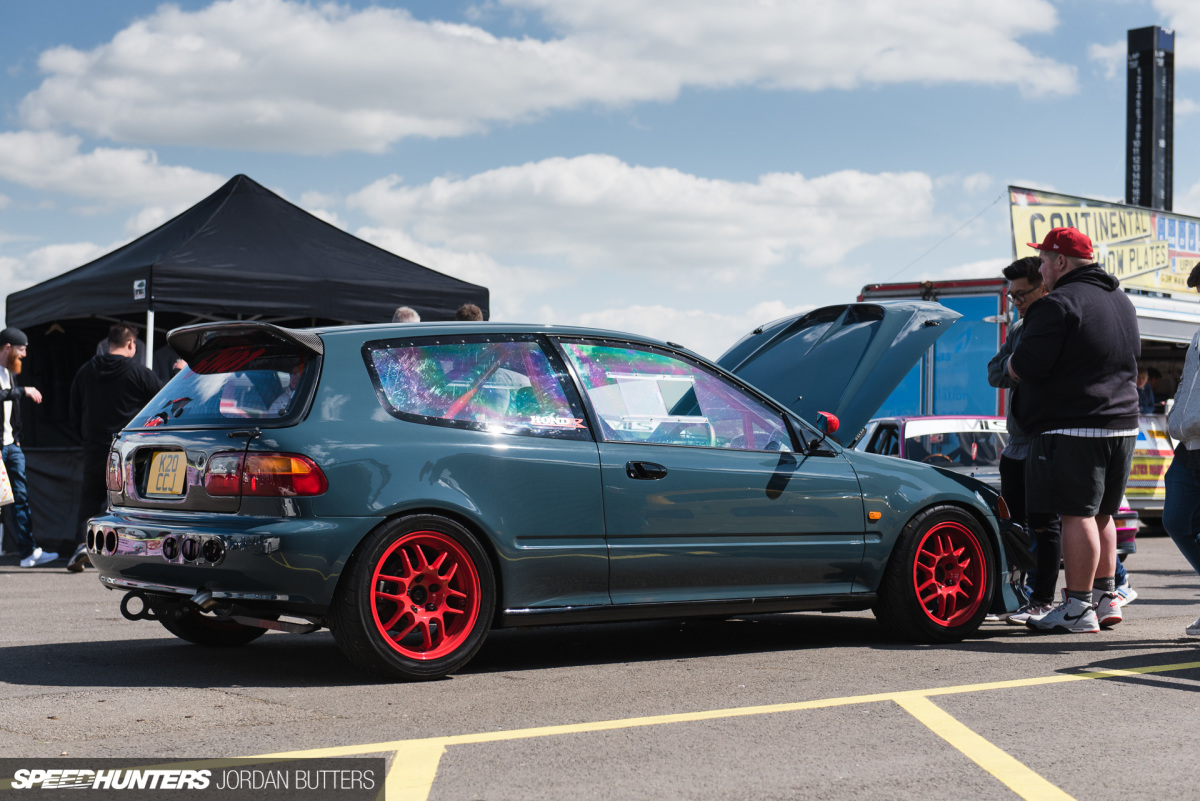 Focusing on the handling and strengthening, Chris swapped the stock EG subframe, along with the front and rear anti-roll bars, hubs and lower control arms for Integra DC2 items. Hardrace drop links, front and rear camber arms, toe arms and RCAs complete the setup. The coilovers are 6TWO1 items, and bring the EG down to an acceptable, but completely functional ride height.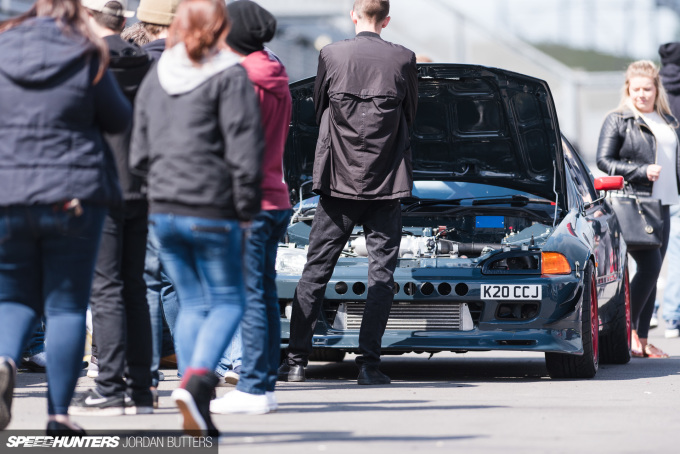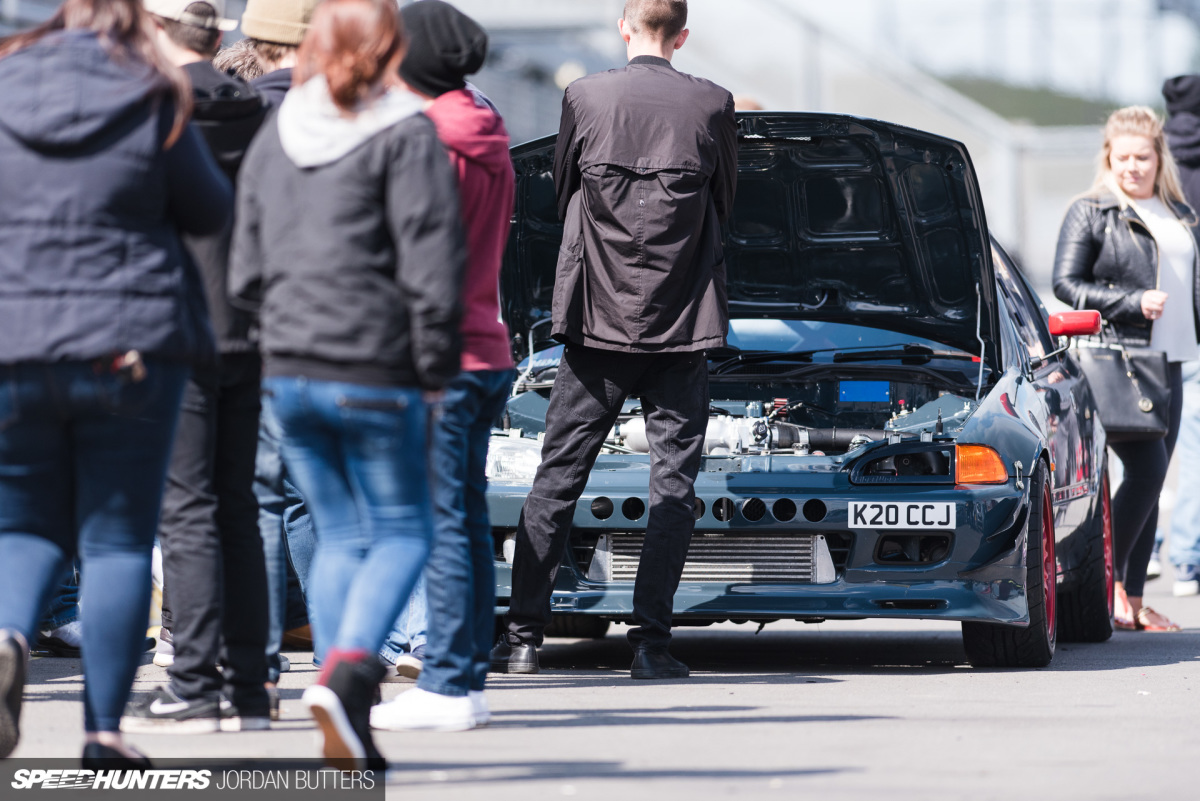 With so many of the smaller Hondas being slammed to within an inch of their lives by younger drivers, it's nice to see an EG with a purposeful 'stance' for once.
The wheels, coloured to match the EG's crimson details are Work RSBs, wrapped in super-sticky Yokohama Advan Neova AD08R tyres. Behind sit a set of Accord Type R front brakes and DC2 rears. With braided stainless steel brake lines throughout and a Wilwood adjustable bias valve, Chris has plenty of control over the stopping power at his disposal.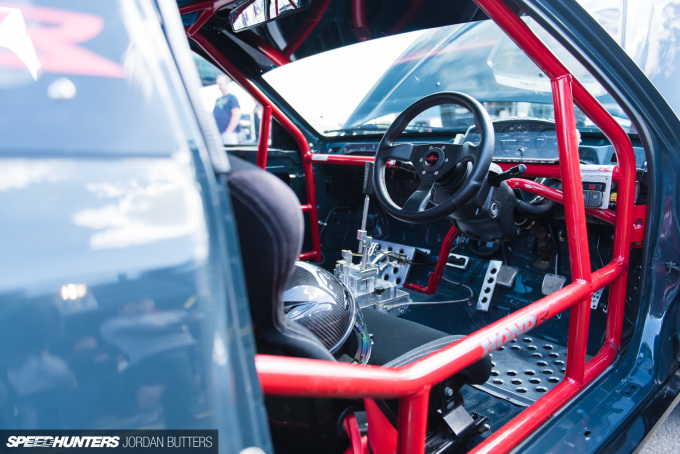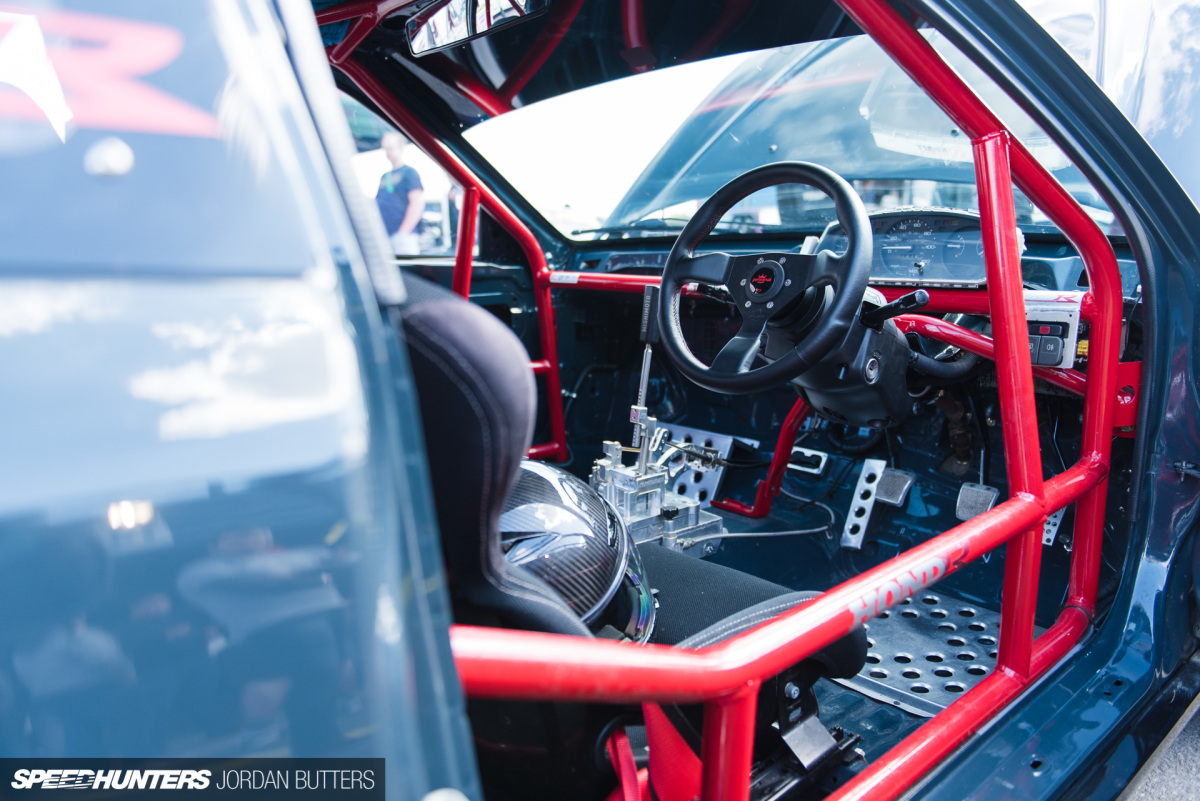 On the inside of the cabin it's strictly business. The substantial roll cage is painted a deep shade of crimson, and the squishy organic components are kept in place by two Corbeau seats with TRS 3-inch, 4-point harnesses.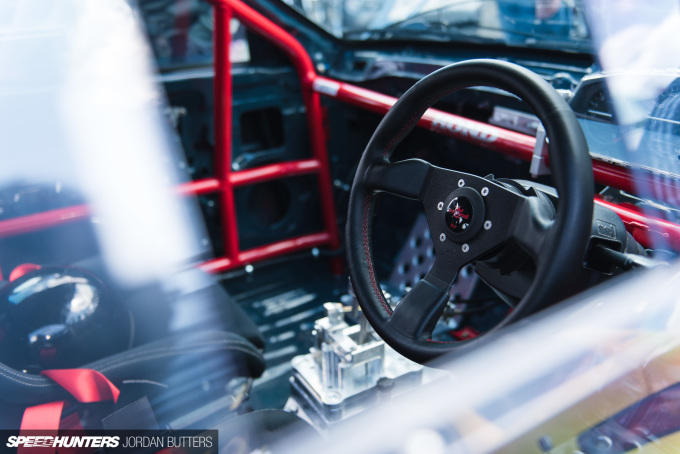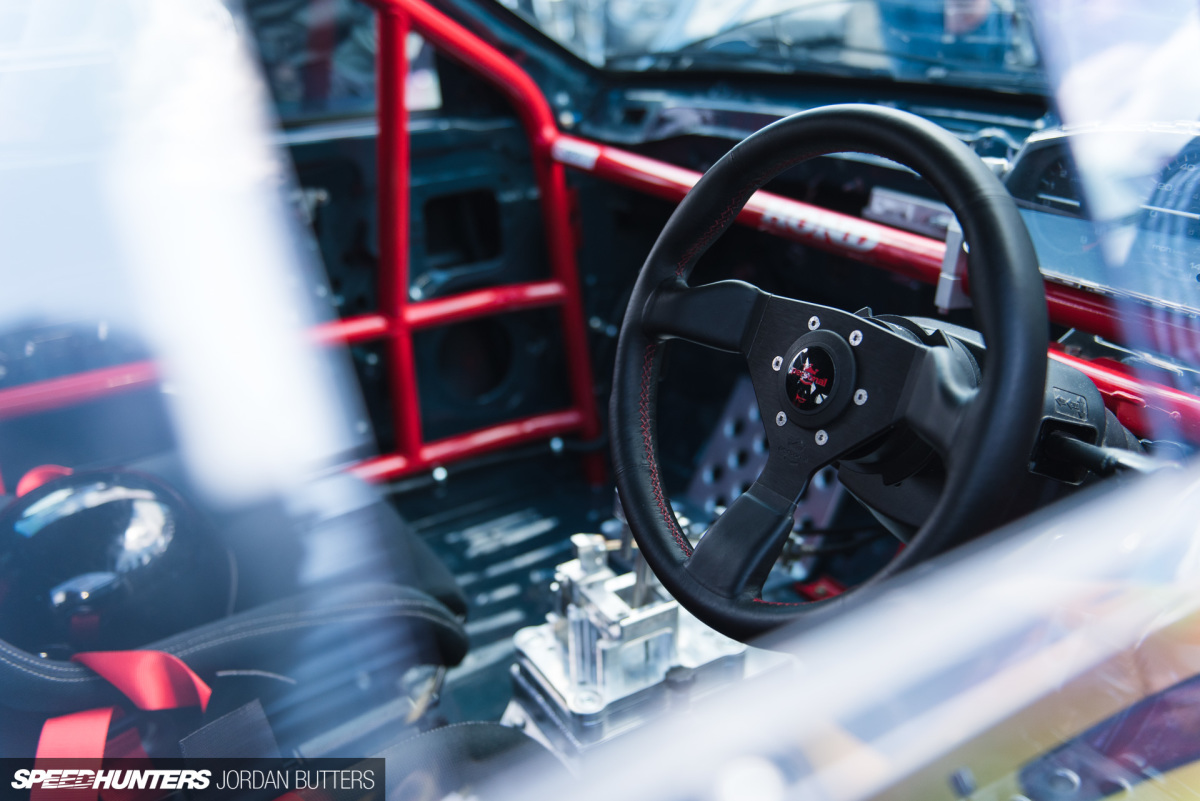 Alongside the aforementioned billet shifter with Mishimoto knob, a Personal steering wheel mounted to an NRG quick-release hub are the tricks of Chris's trade.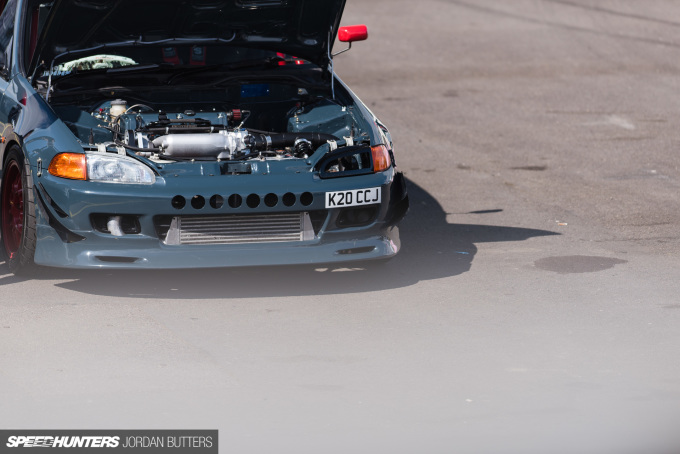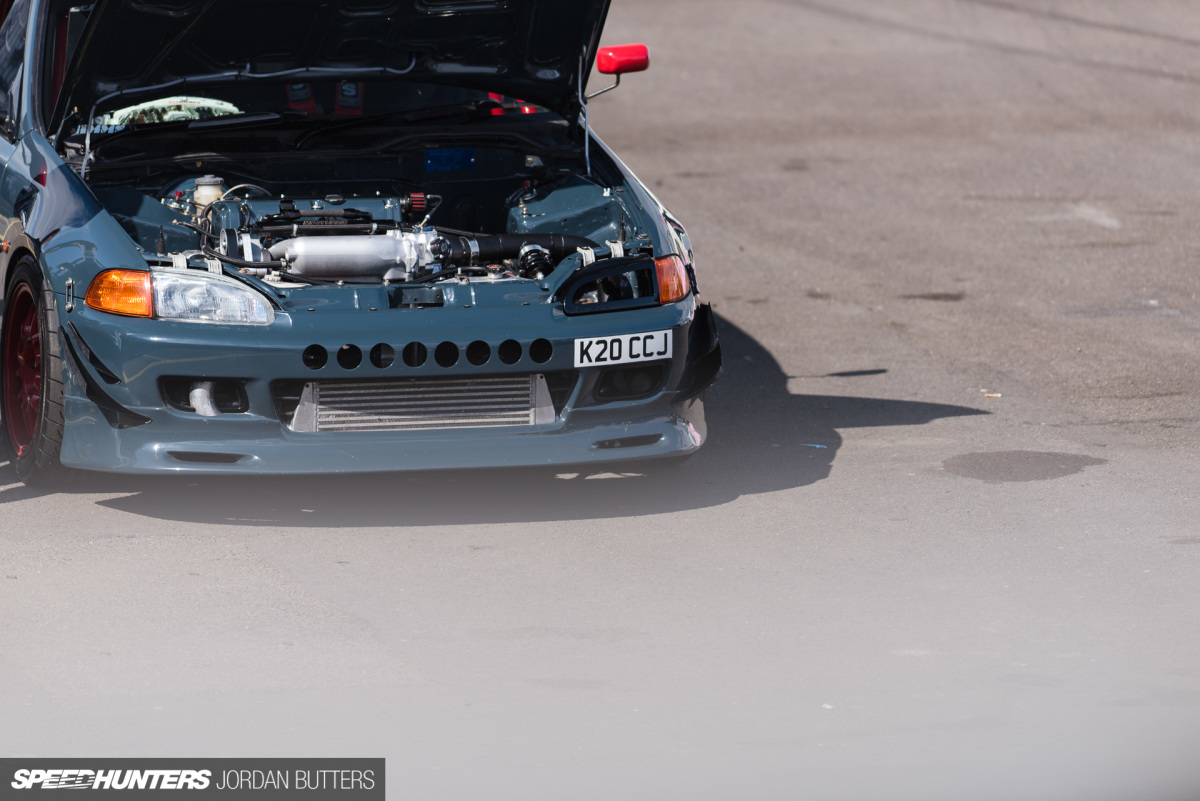 Chris tells me for the time being he's happy with the EG as a weekend track toy, but in the future he hopes it could lead to him throwing his hat into the ring at Time Attack. I certainly don't doubt the car's ability – it's light, fast and nimble and looks like it should be great fun out on track.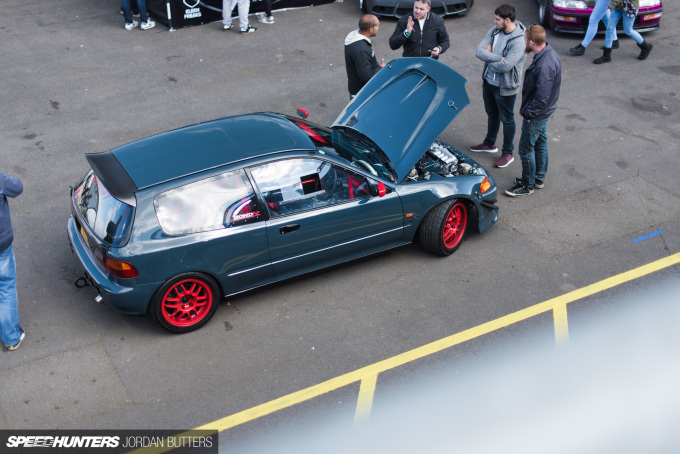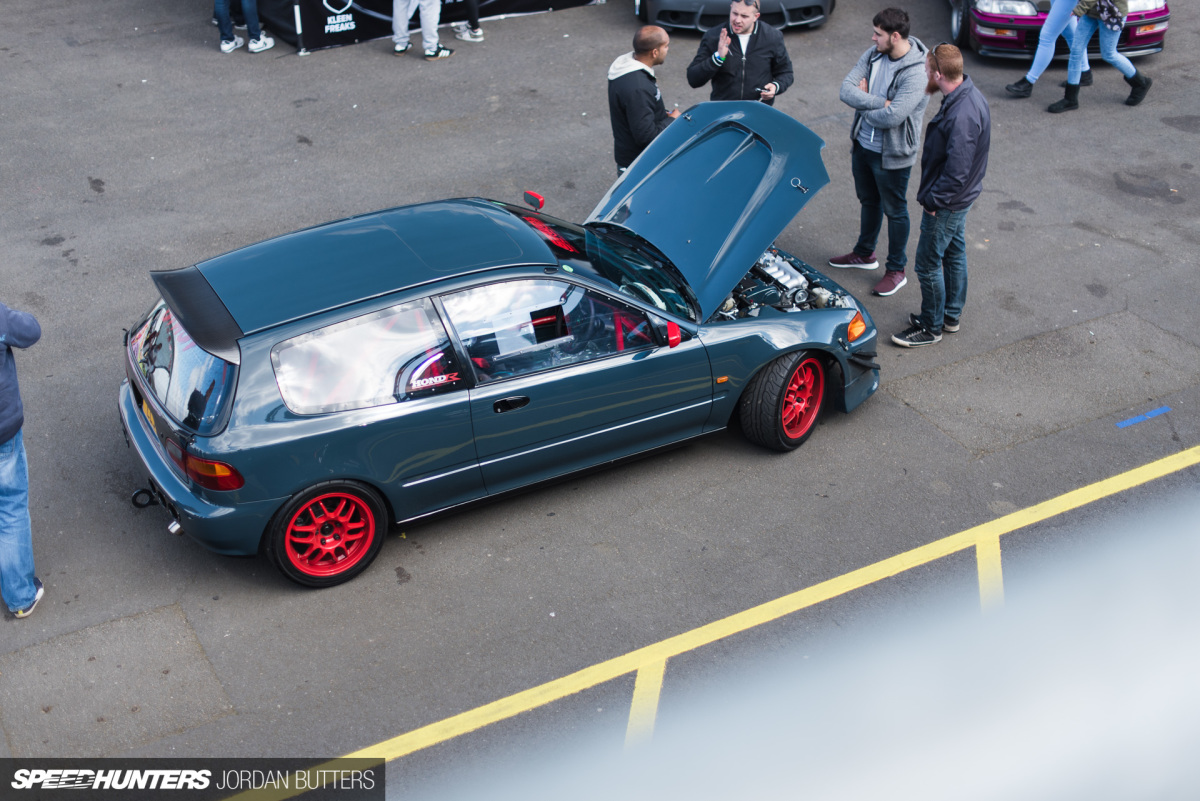 It may be small, and it might only be a Honda, but this EG isn't one to be underestimated if it appears in your rear-view mirror.
Jordan Butters
Instagram: jordanbutters
Facebook: Jordan Butters Photography
jordan@speedhunters.com