Thursday May 11th
I may have hinted it at previously, but there's a lot to be gained from losing.
It was just two weeks earlier when we saw both Worthouse S15s unceremoniously dumped out of competition at the Top 16 stage of the event in Orlando. Anyone who is familiar with watching James Deane and Piotr Więcek drive will know that it was an unusual sight. James was beaten fair and square by an on-fire Jhonnattan Castro, whilst Piotr was forcibly retired when he couldn't make the requisite repairs to his car after hitting the wall at Orlando Speedway.
Before the Top 8 even commenced in Florida, a detailed post-mortem was taking place on the bleachers, with plans being made to ensure a stronger performance for the fast approaching round in Atlanta.
And fast it was, there were hardly nine days between the time I stepped off the flight home from Orlando to when I was back on board another trans-Atlantic flight destined for Atlanta, Georgia.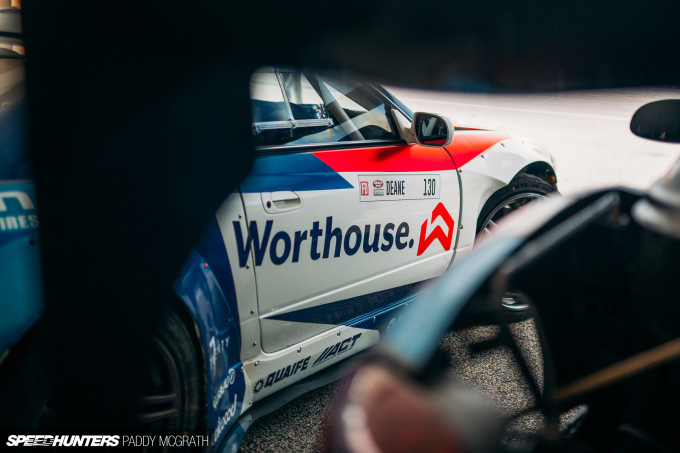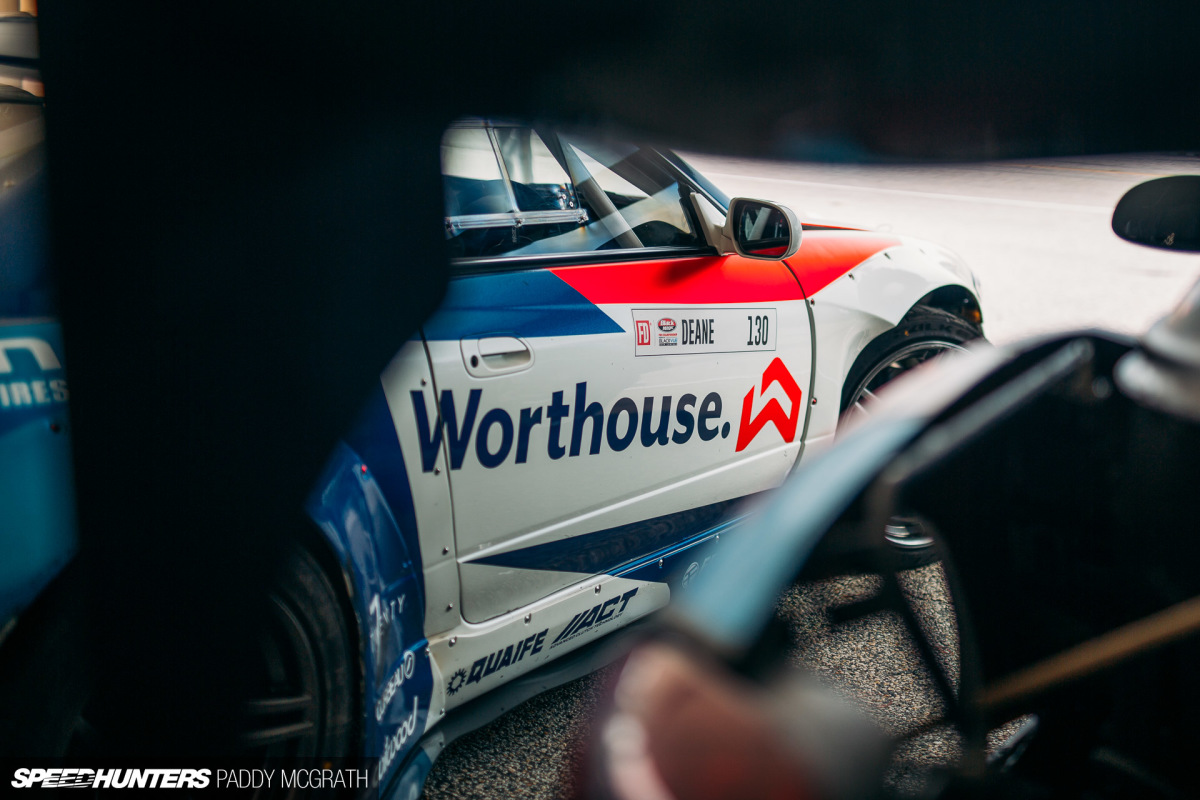 It was Thursday morning before I arrived at Road Atlanta for the very first time. The heat and humidity of the Southern state were not quite as stifling as Orlando, but still lingered again. The Bridges Racing team, with whom Worthouse are teamed with for 2017, had arrived days earlier and had the cars and pits ready for action once again. The rollercoaster started here.
I barely had time to get a camera out when the familiar sound of a rental car being stopped with the parking brake could be heard outside. Guilty laughter emerged from the car with James, Piotr, their spotter Michael and Dean Kearney all abandoning it in quick succession. Hand shakes, smiles and a brief chat quickly turned to business with the Worthouse side of the team wanting to check out the course for the very first time.
Between events, both S15s were treated to some upgrades and fresh tuning with James and Piotr having stayed in the US. While they felt that the cars had been suitably improved, they still needed to figure out setups for their first outing at here Road Atlanta. For their first season, both the tracks and their rivals are their enemies. Every event brings new challenges in the shape of learning the new courses, establishing the perfect suspension setup, finding the right gear ratio, selecting the correct tyre pressure etc.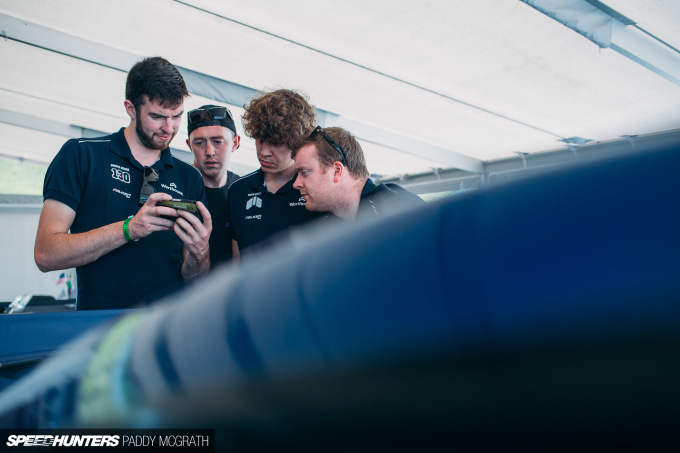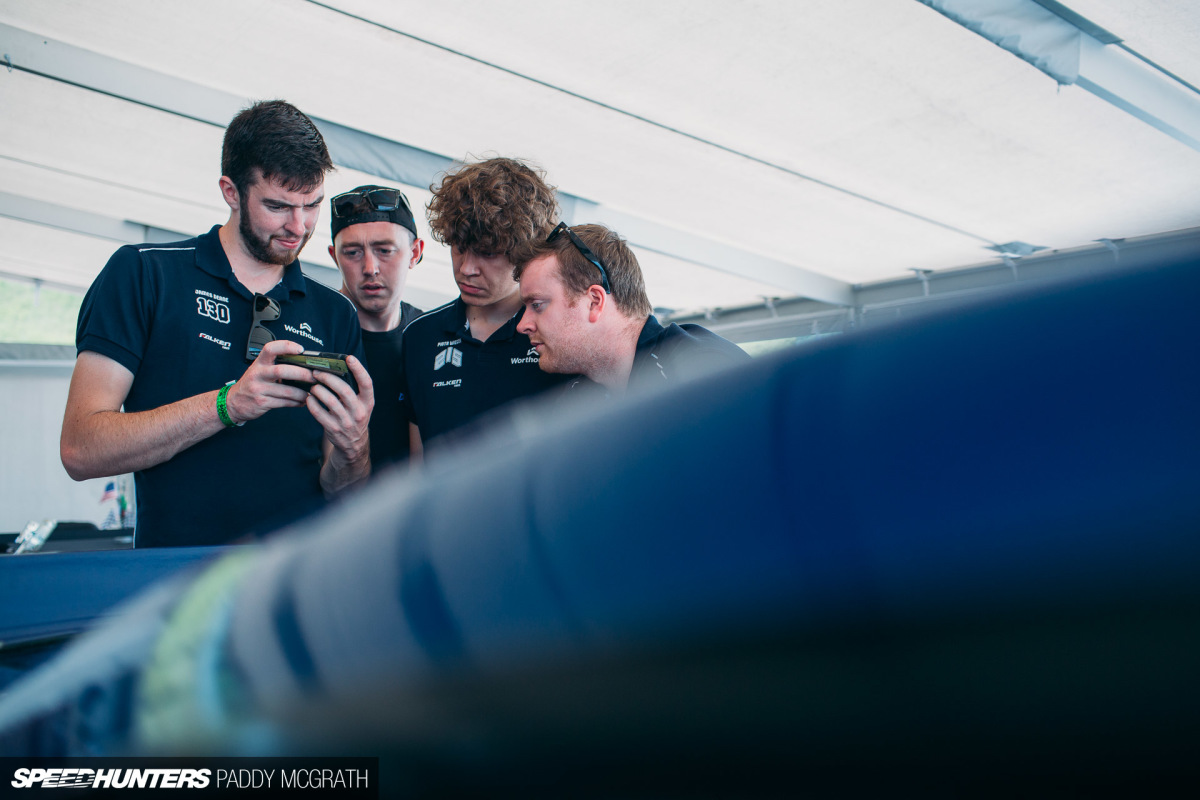 A lot of video had been watched at this point. Both replays of the livestream and onboard footage from other competitors from previous years were considered valuable information during their reconnaissance. The drivers' initial impression of the course at Road Atlanta was that it wasn't as big as first thought, although the elevation changes were still considerable.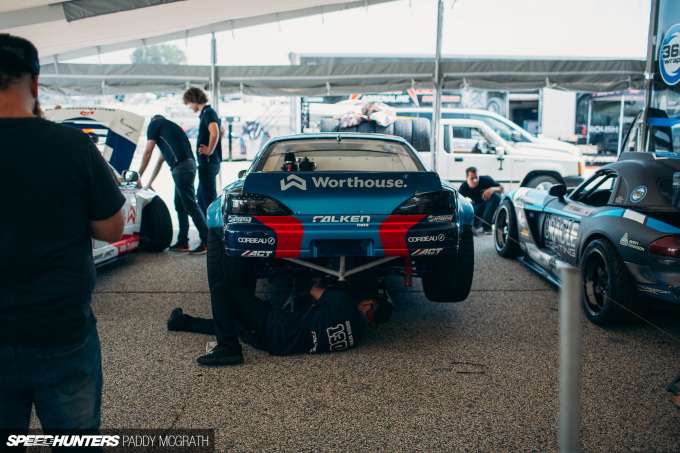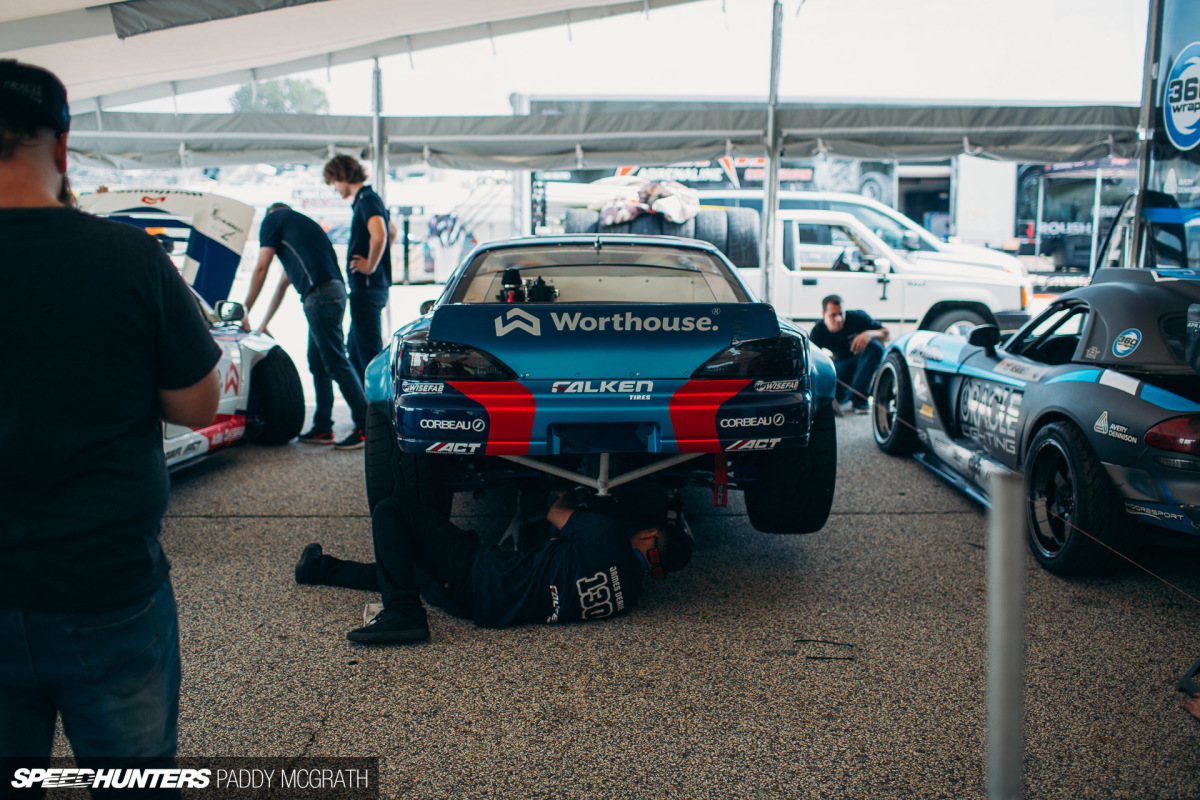 Everything is theory though, until they get in the car and drive the track. With an approximate idea of what was required, the final drive on both cars was changed and the cars were sent to the start line.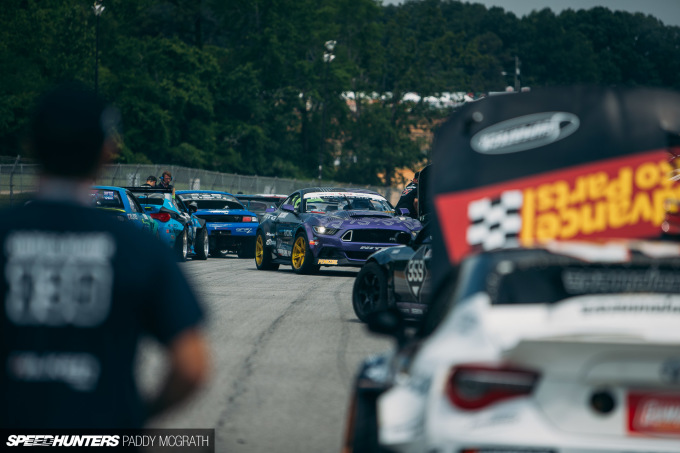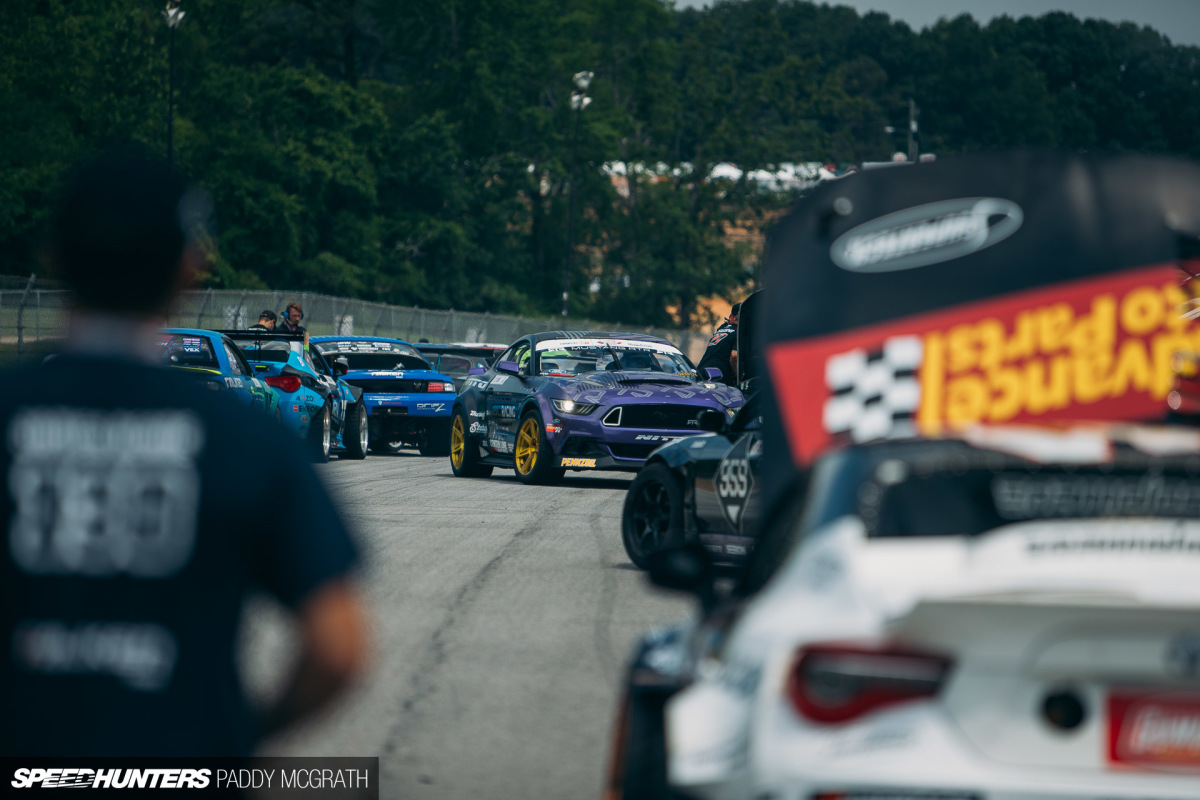 By the time we arrived at the top of the course, it was already gridlock with the full field eager to get precious seat time in. The sight and sound of a full Formula Drift grid is something to behold.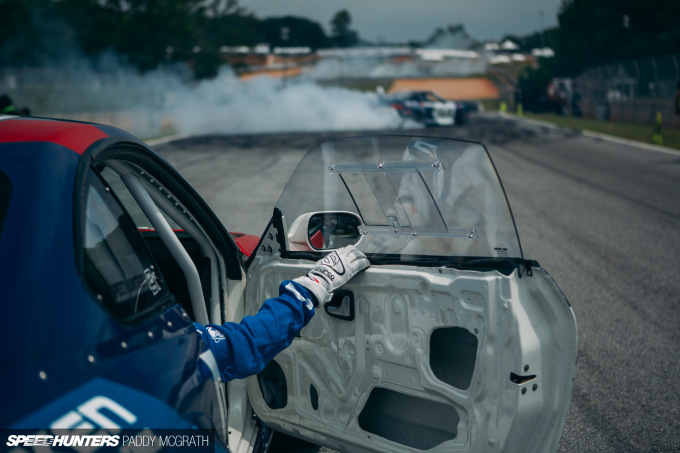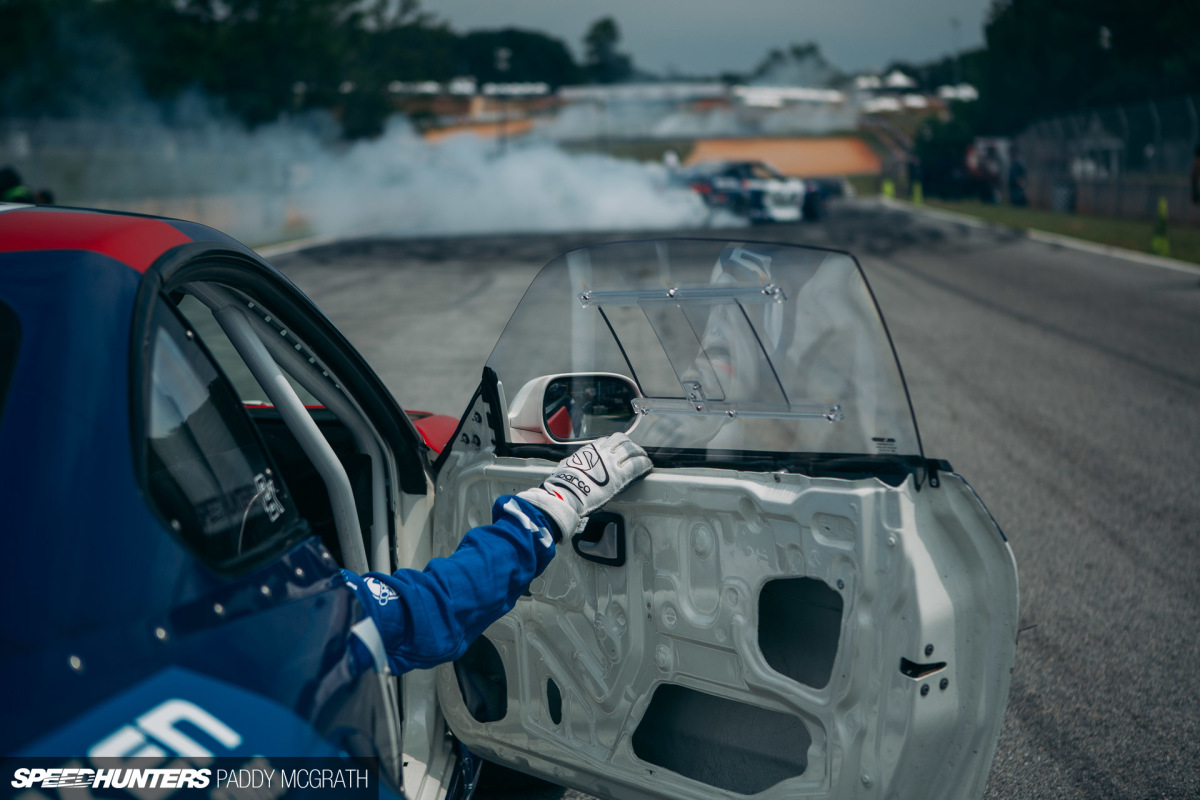 James was the first to make his way through the traffic and put a run in, but Piotr was strangely absent.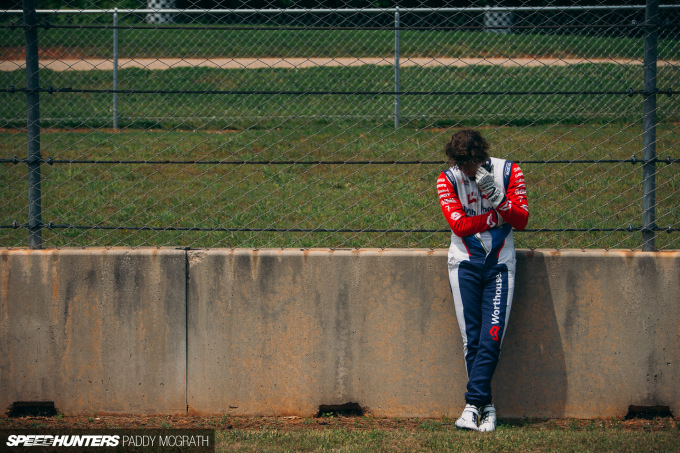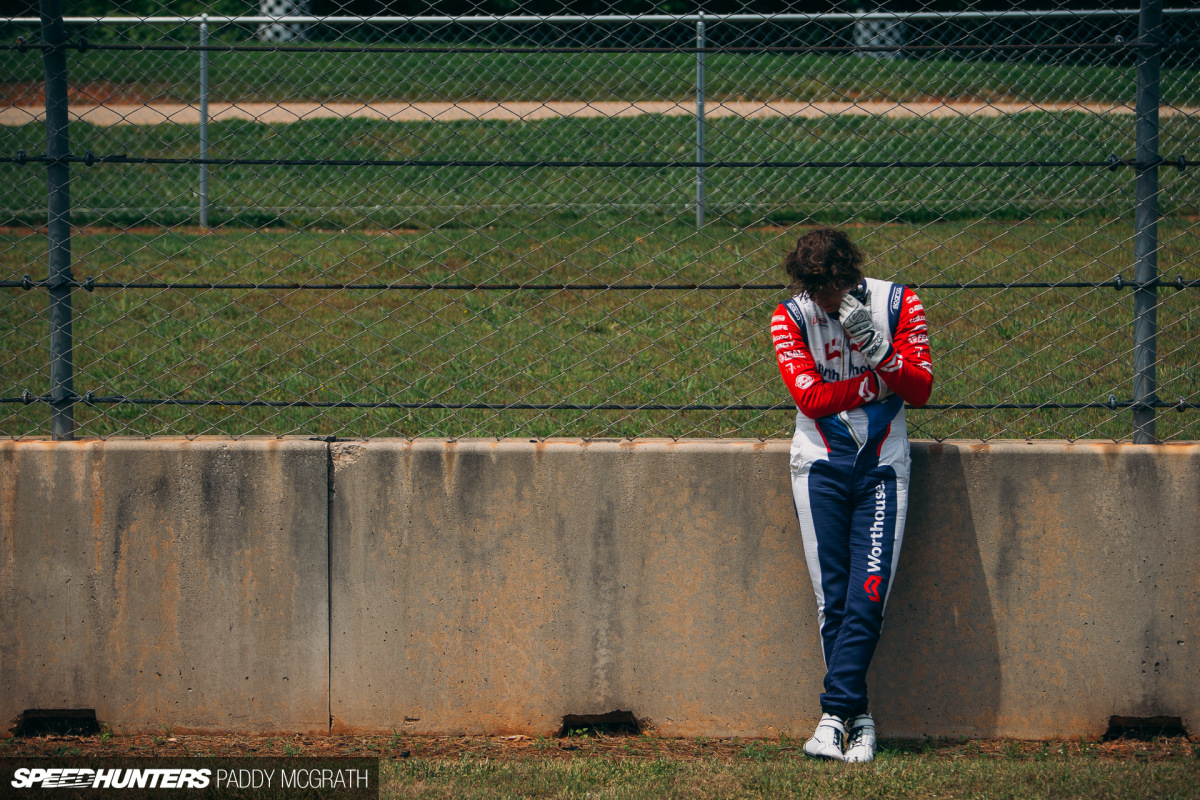 With his car lifted high in the air in the makeshift service area, Piotr cut a lonely figure at the side of the track. Instead of a helmet, he was armed with just his radio, listening intently to James' feedback.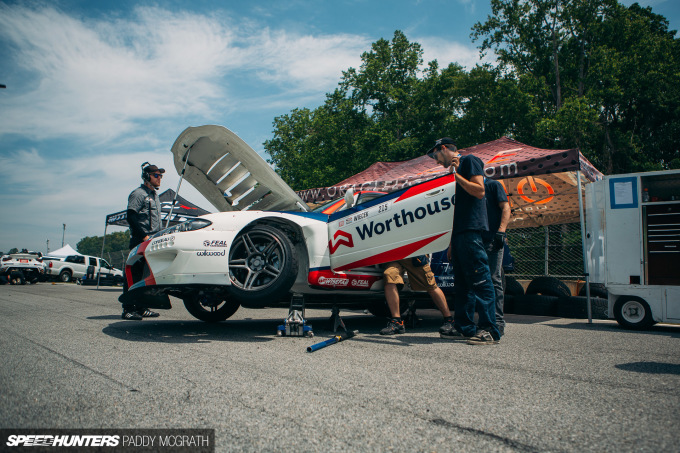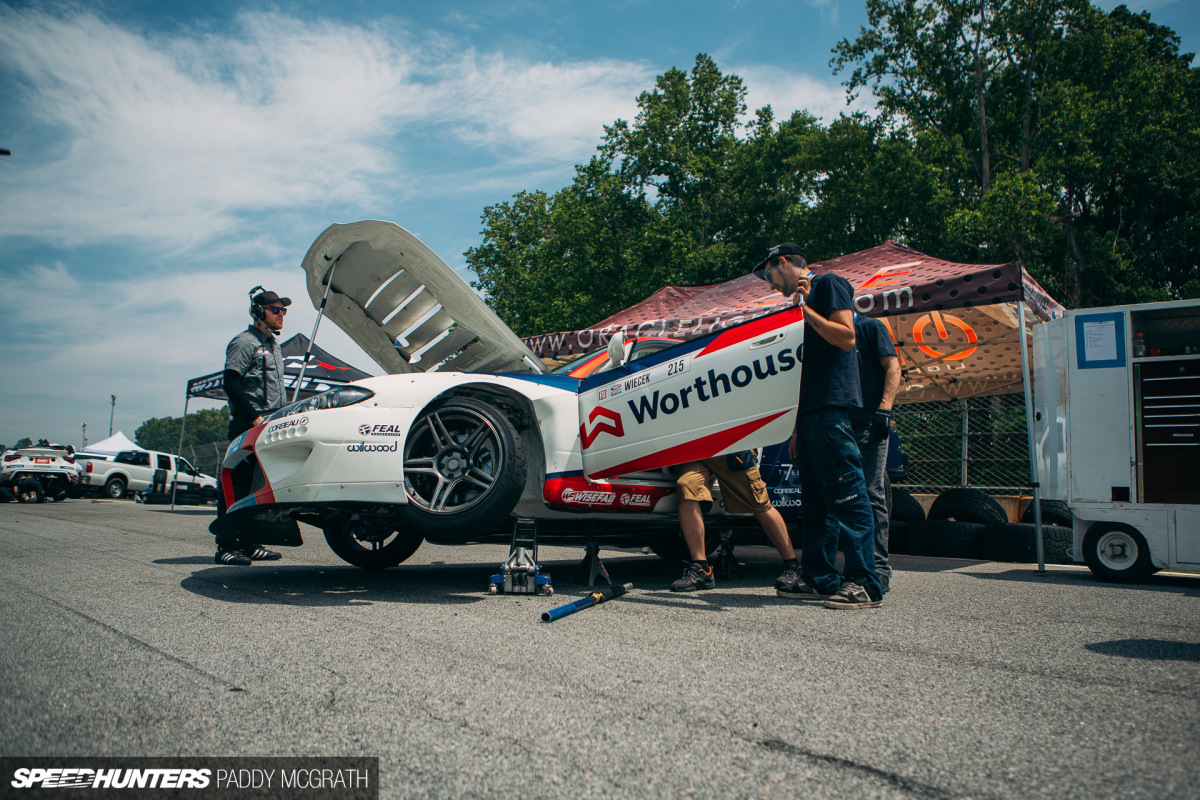 Across the way, the team was working feverishly to get his car ready. While making some last minute checks and logs with the car, Piotr was unhappy with the feel of the clutch pedal. A bleed would sort the issue, but it was time consuming.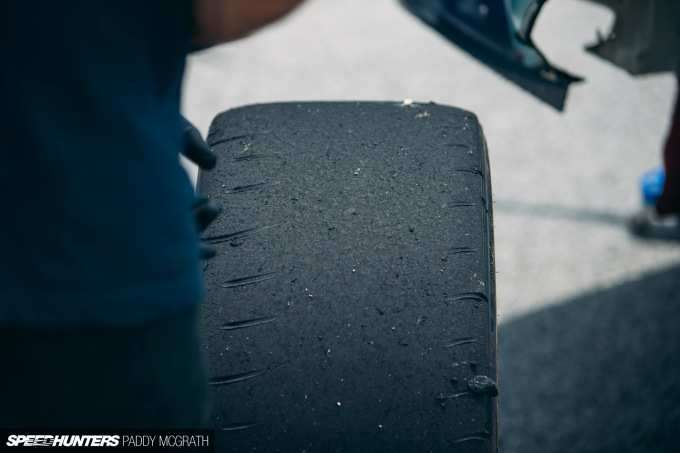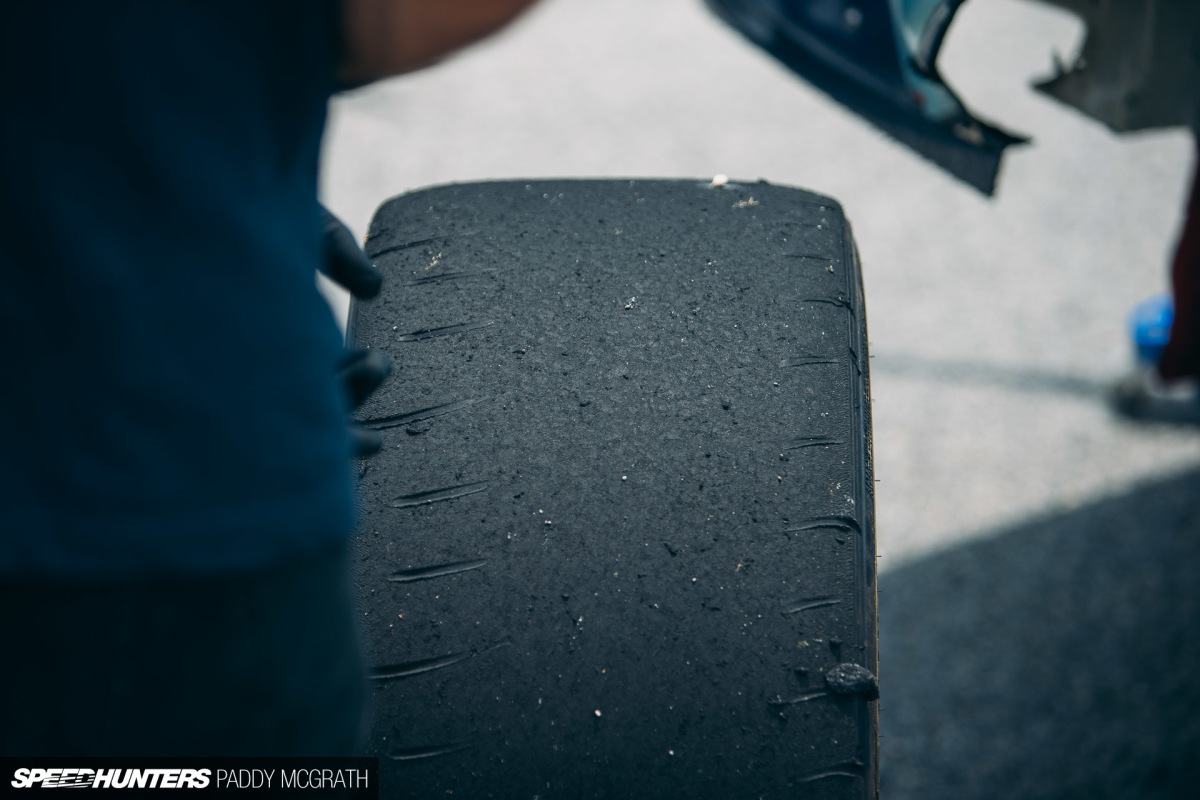 This is what a Falken RT615K+ looks like after two full throttle runs around the horseshoe and back again, if you're curious.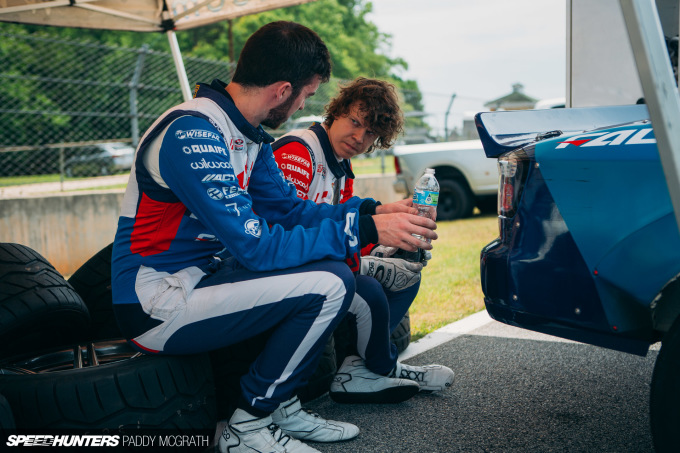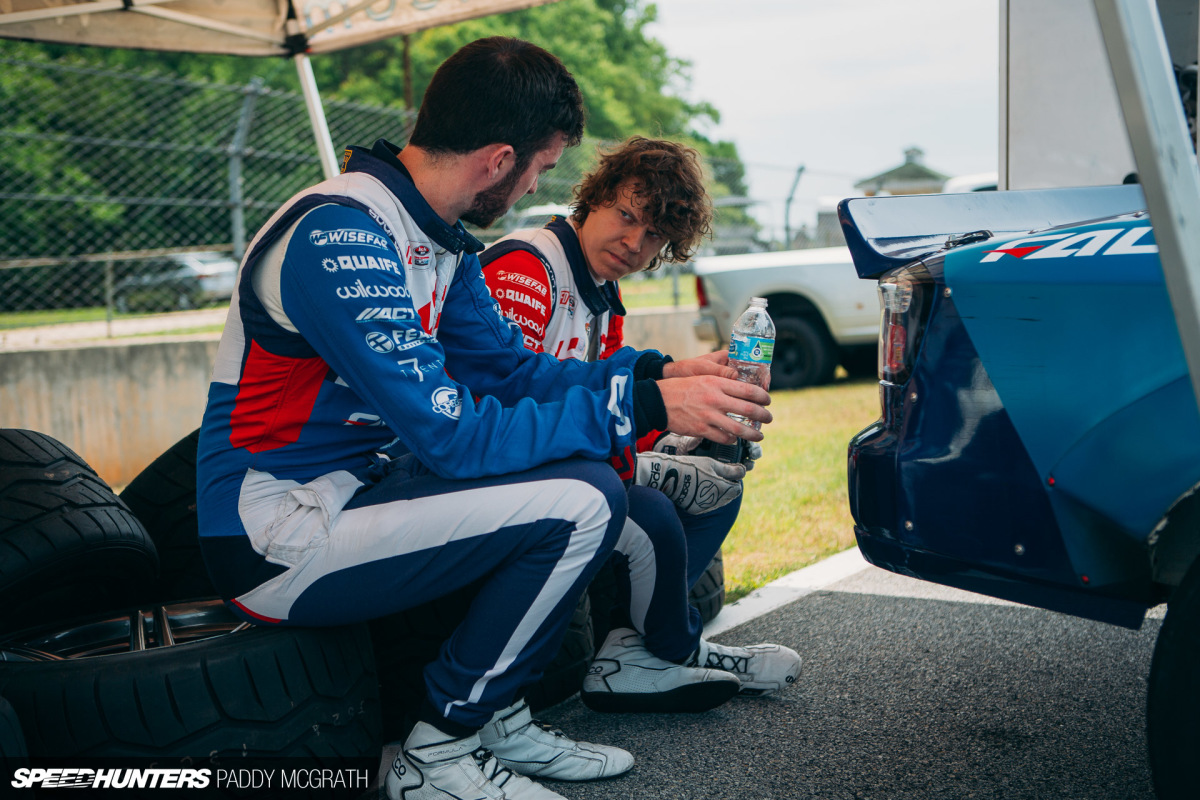 Despite looking comfortable on track, James was unhappy with the performance of the car; upgrades made between events had affected the power delivery. Piotr was still waiting for his first run, although the crew were just about finished their work.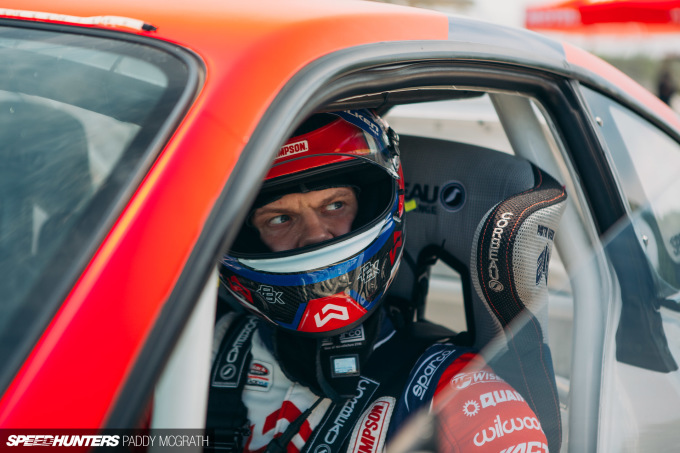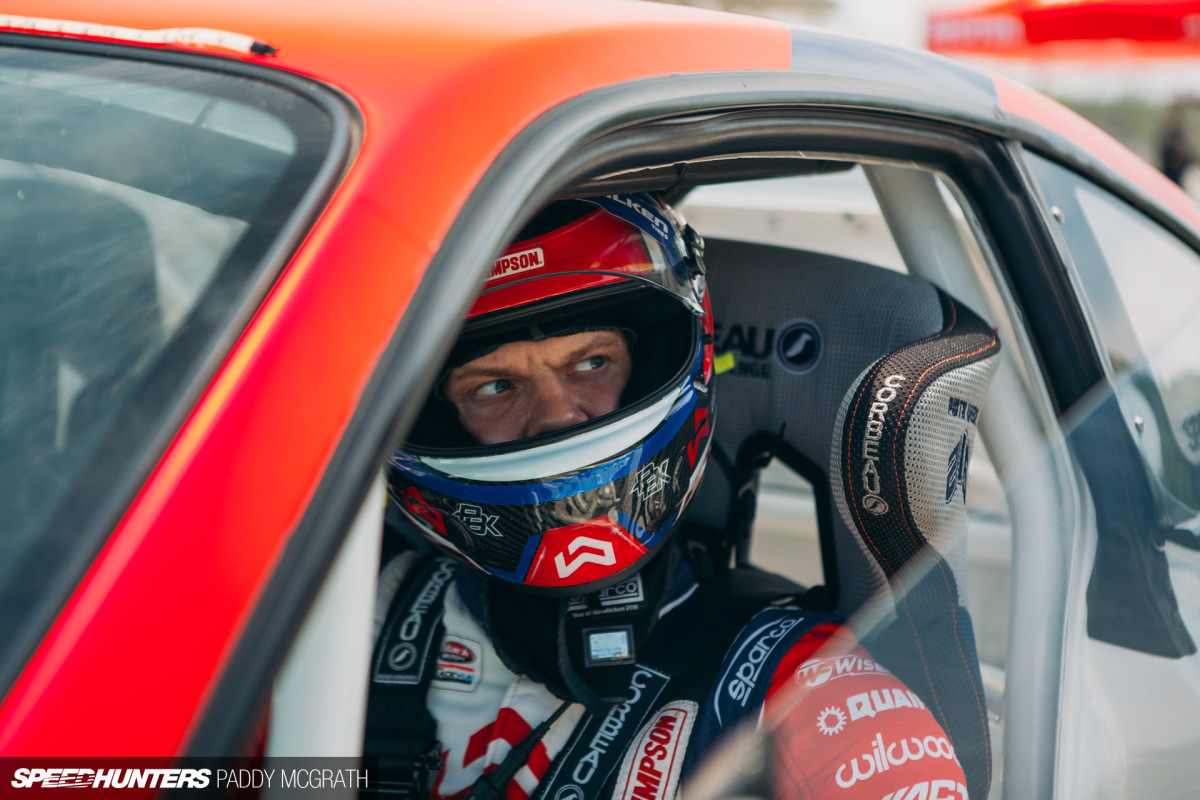 Having prepared and got back in the car, Piotr barely made it 50 feet from the hot pit before alerting the team to a new issue; the power steering had failed on the car. It's one thing to drive a car that never had power steering, but it's a whole other thing to do so with a car with power steering that's not functioning. A failed pump was quickly diagnosed, but it would take significantly longer to replace than the time which remained in the session.
Worthouse weren't the only team having issues. Although, if you're going to have problems, the Thursday practice is definitely the day that you want them to happen.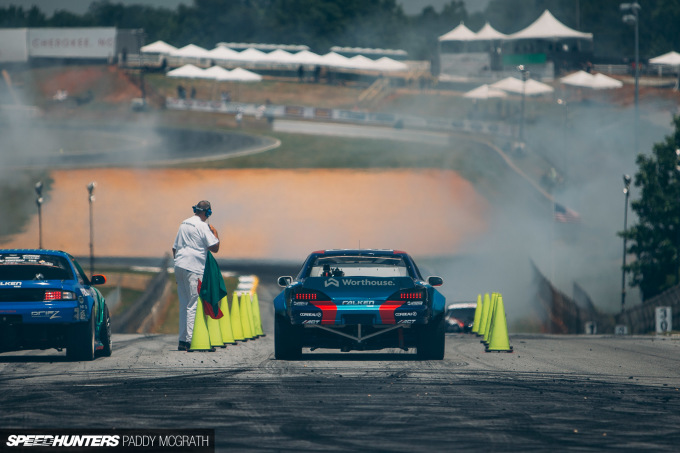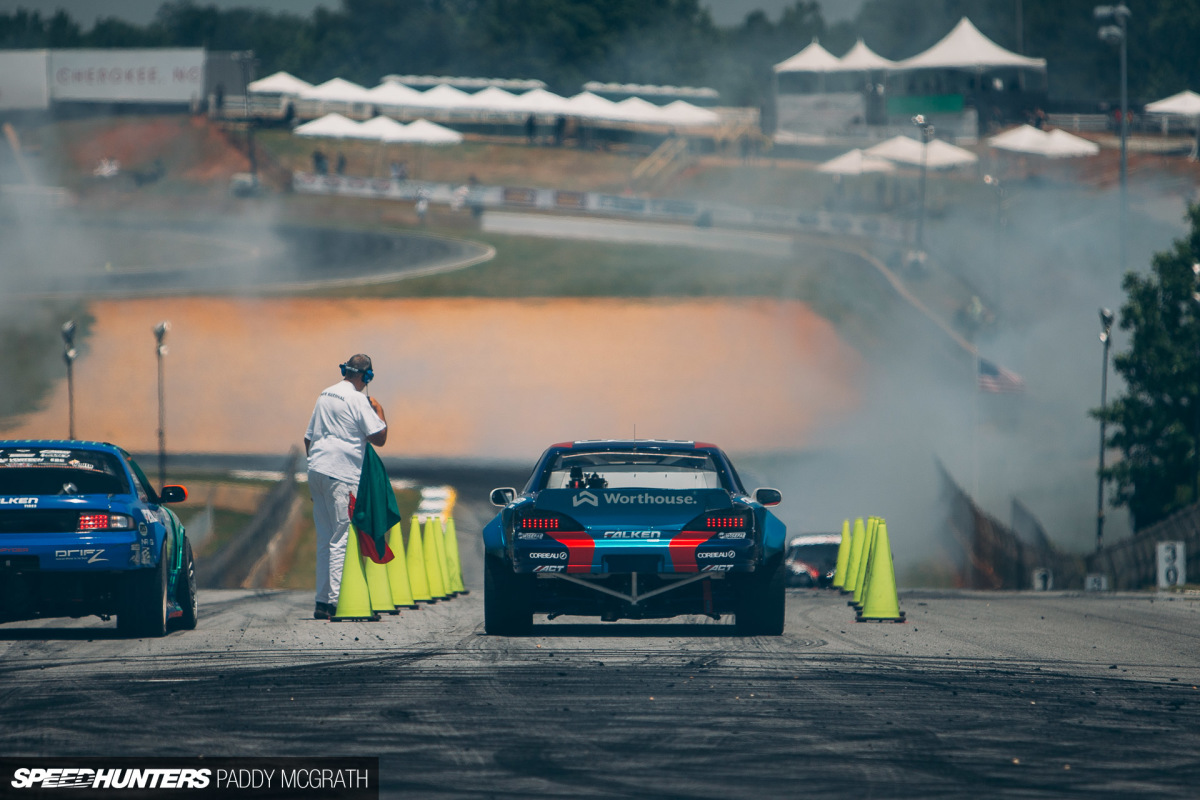 That was of little consolation to Piotr, who still hadn't experienced the track first hand.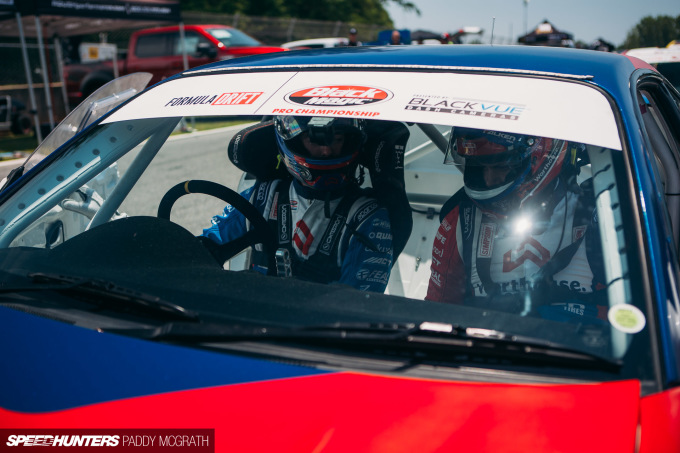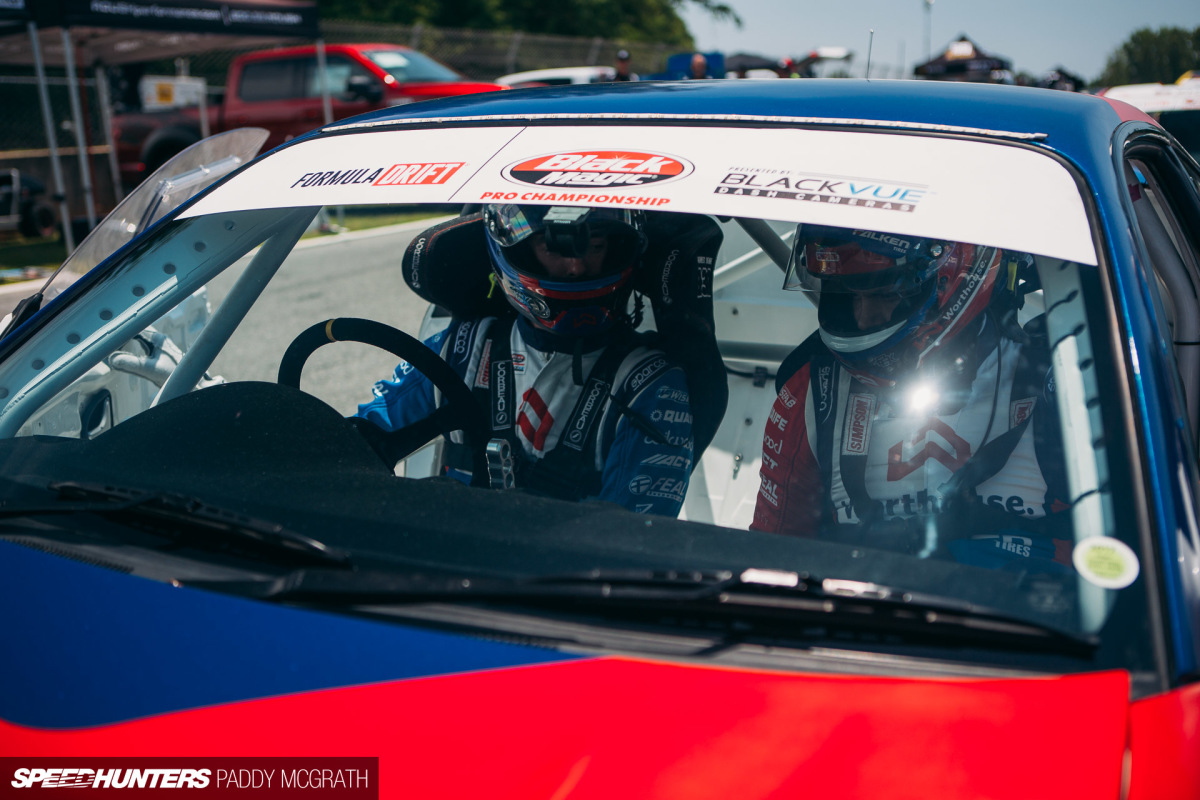 That was until a lightbulb turned on in someone's head. If you can't drive, surely a passenger run from the same side of the car you that you normally drive from is the next best thing? And especially if your chauffeur is one James Deane. It wasn't your typical Uber, that's for sure.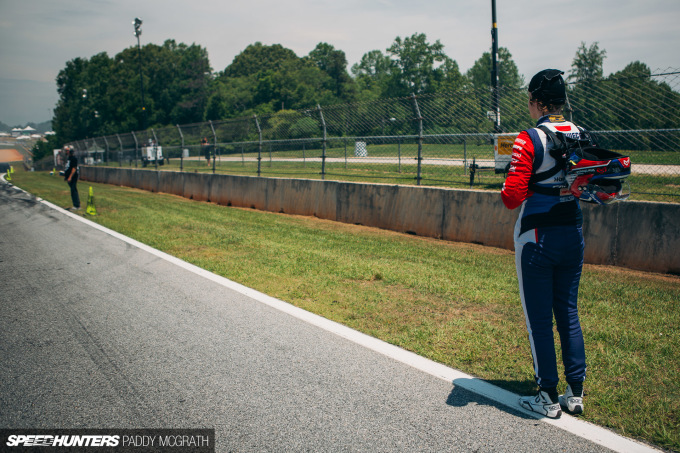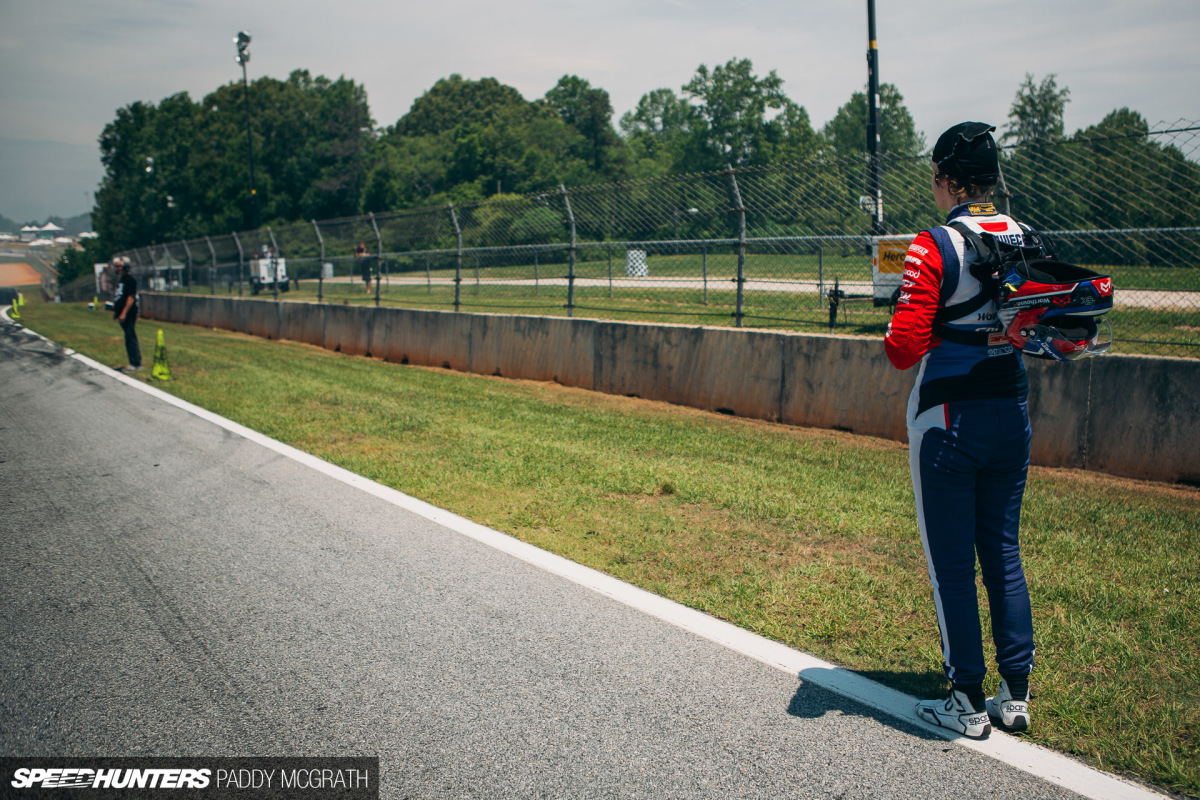 It was certainly better than nothing, and at the very least it gave Piotr a taste of the course from inside a car.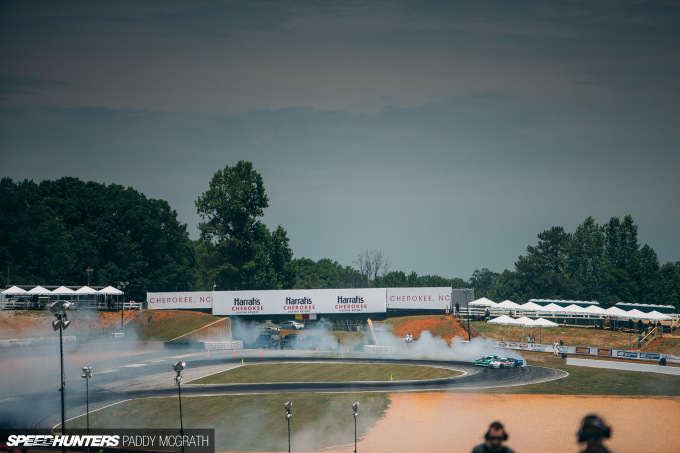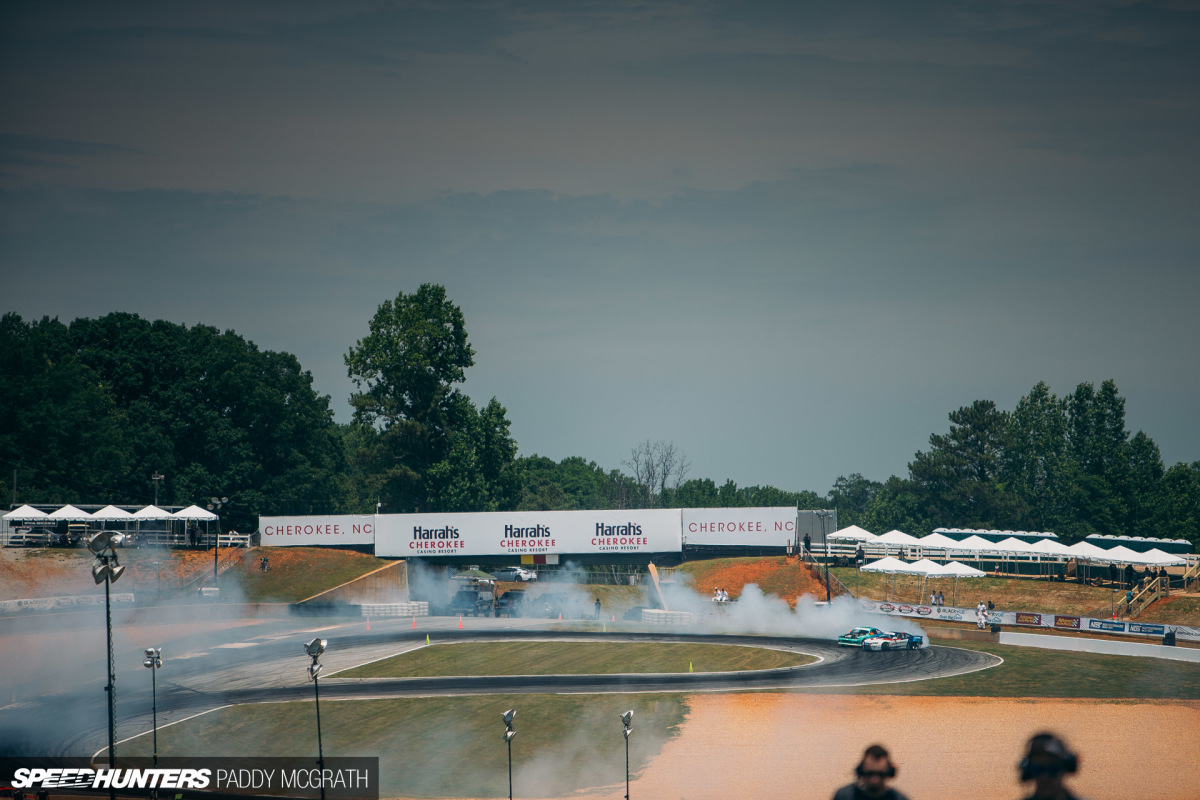 Watching from the start line, James headed back out for one last run against Odi Bakchis before practice finished. Coming out of the horseshoe, James' car suddenly slowed before taking off again, almost causing a collision. James isn't the sort to brake check, so something was amiss.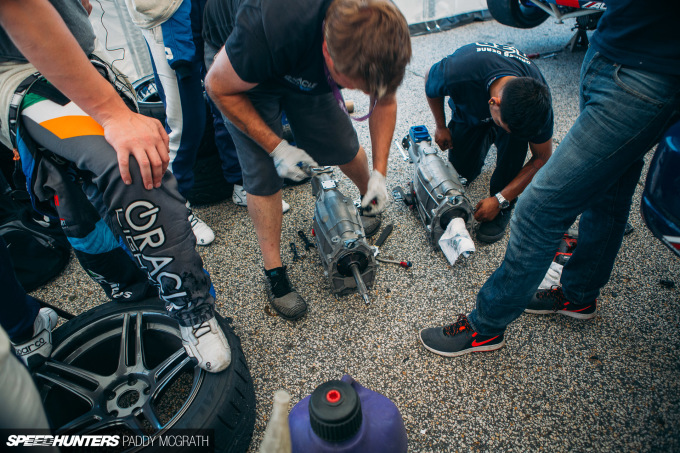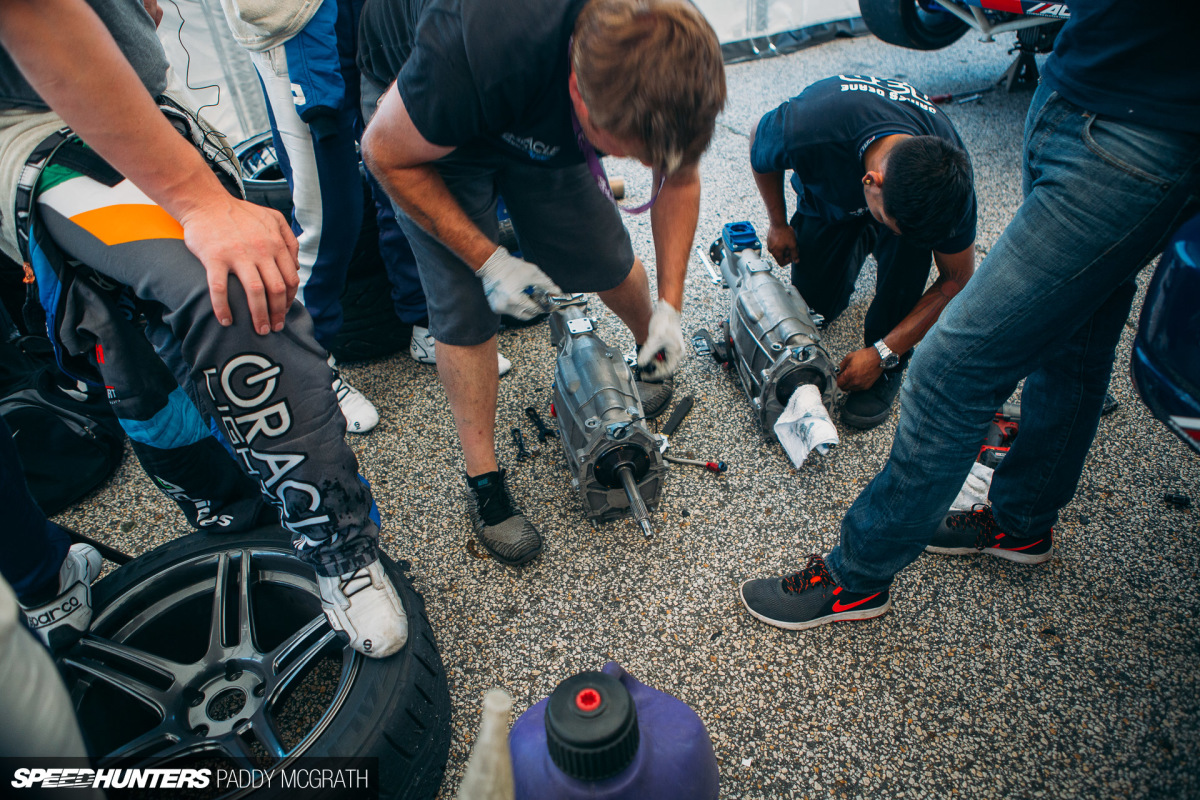 By the time I got back to the pits, practice had ended and James' issue had already been diagnosed as third gear bailing out of his sequential gearbox. A replacement gearbox was already on-hand and in the process of being fitted to the car.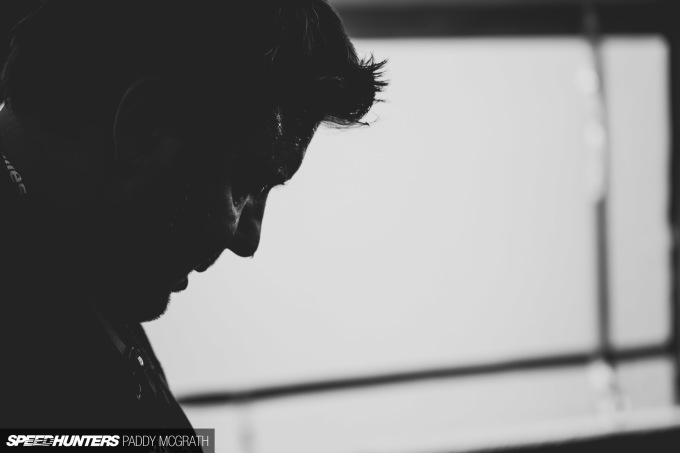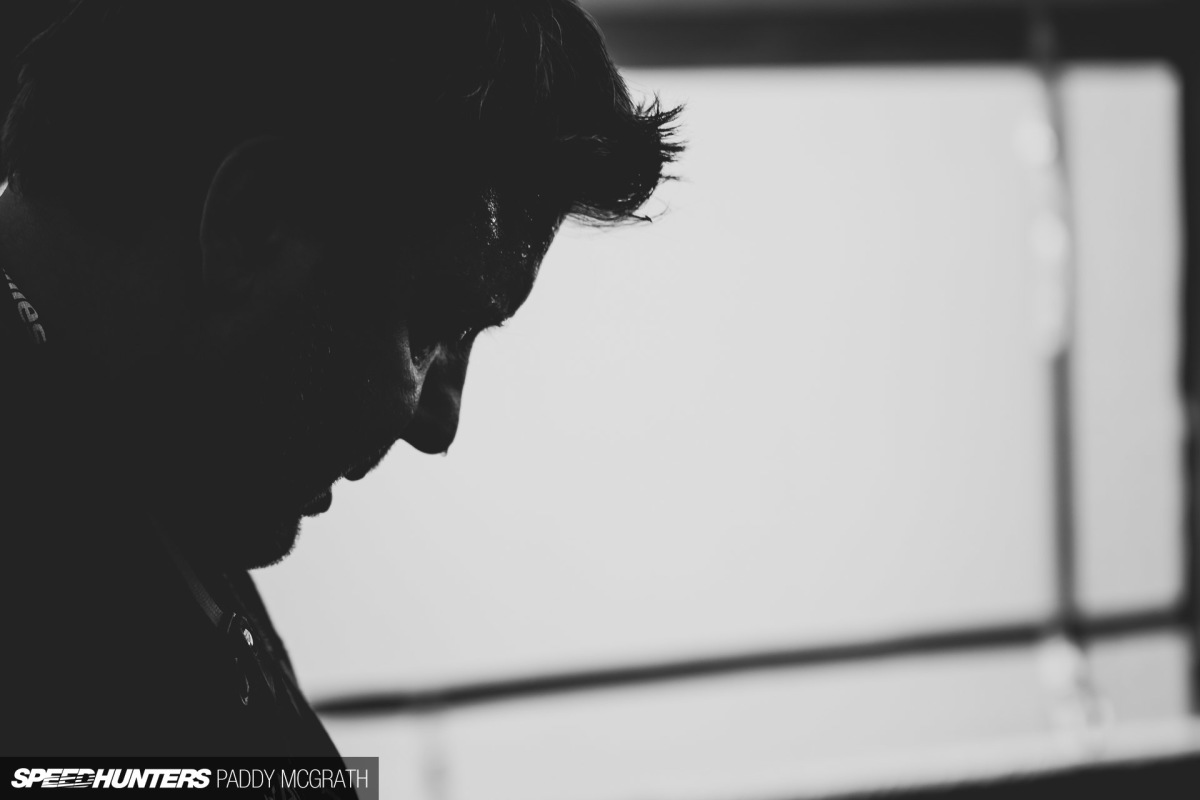 With both cars out of action and one more session looming, the Bridges Racing x Worthouse crew had their work cut out for them. It was all hands on deck.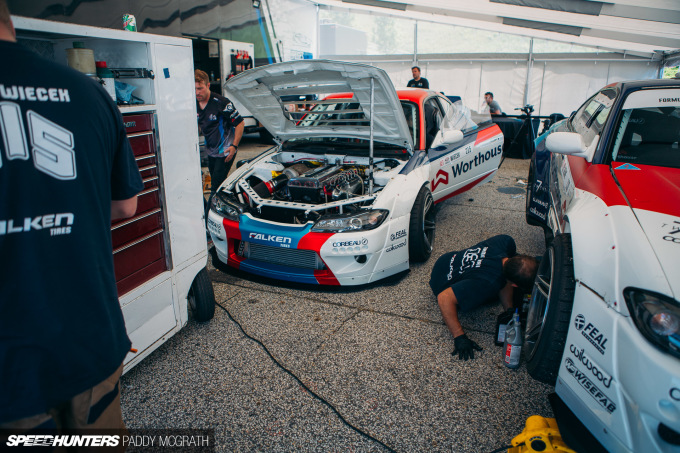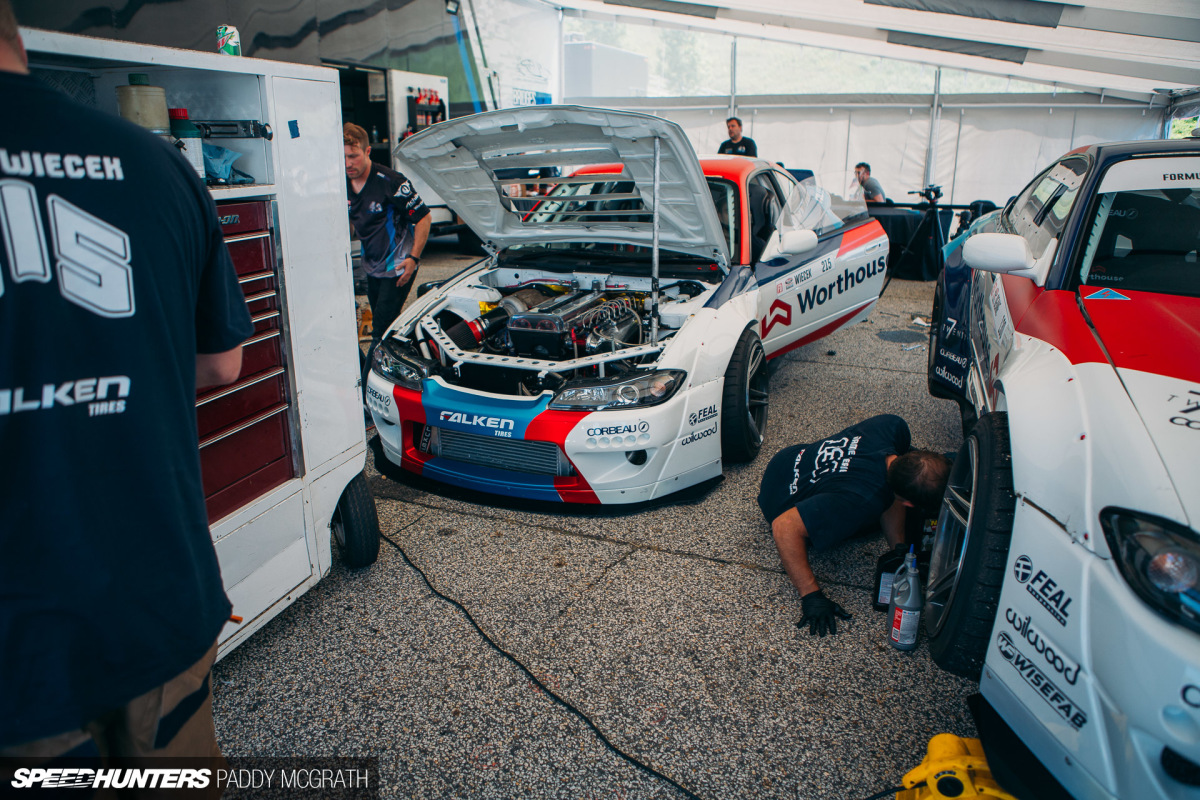 You can probably imagine, but it was pretty chaotic at this point. However, the repairs were made, the cars were further tuned, and once more they were sent back out.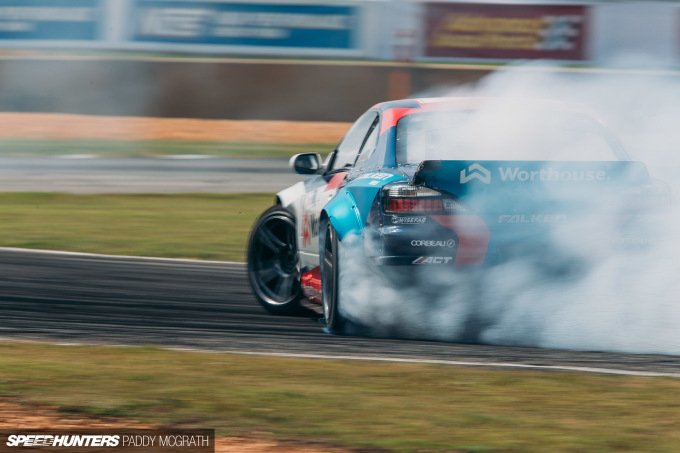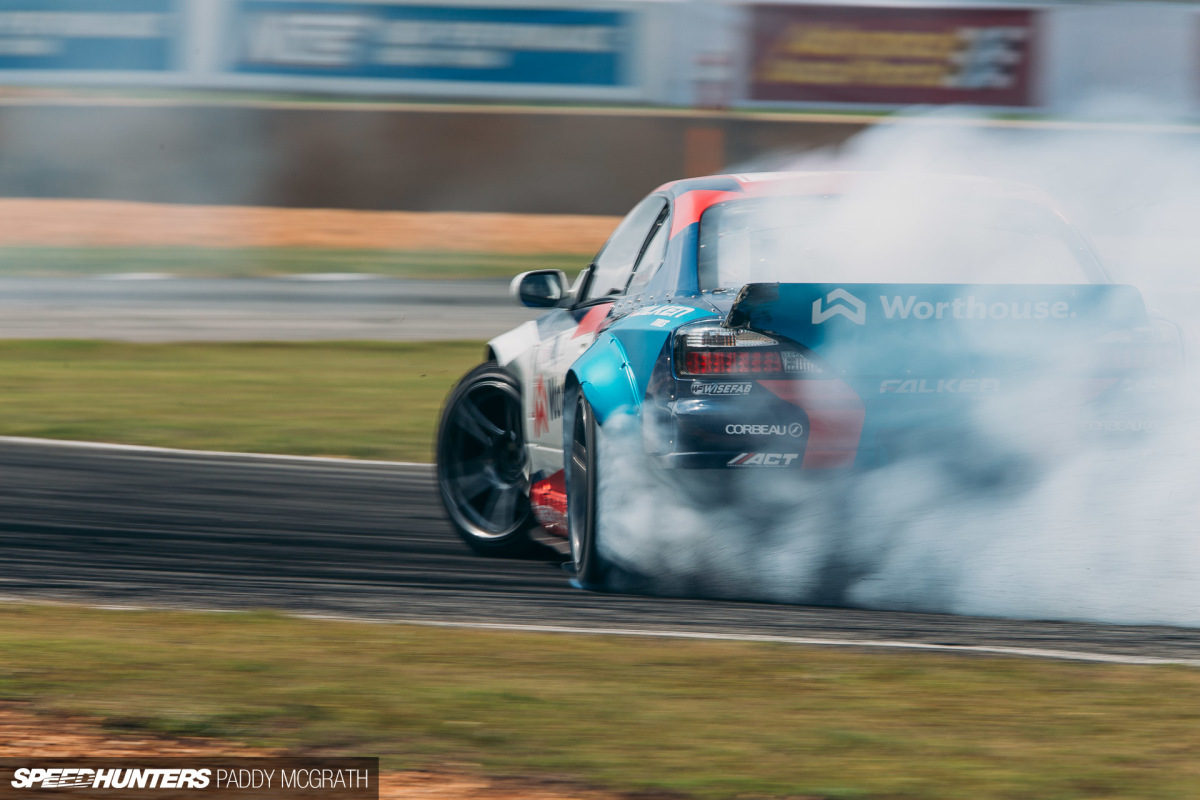 This time Piotr did get a lap in, but the car was still far from perfect, both the clutch and brake feel still not quite where he wanted them to be.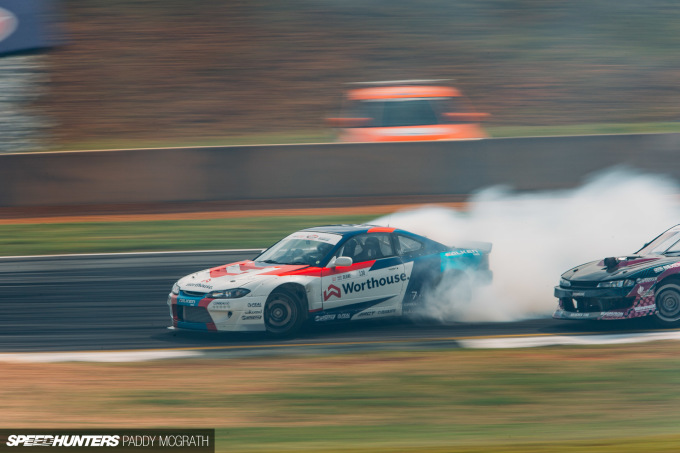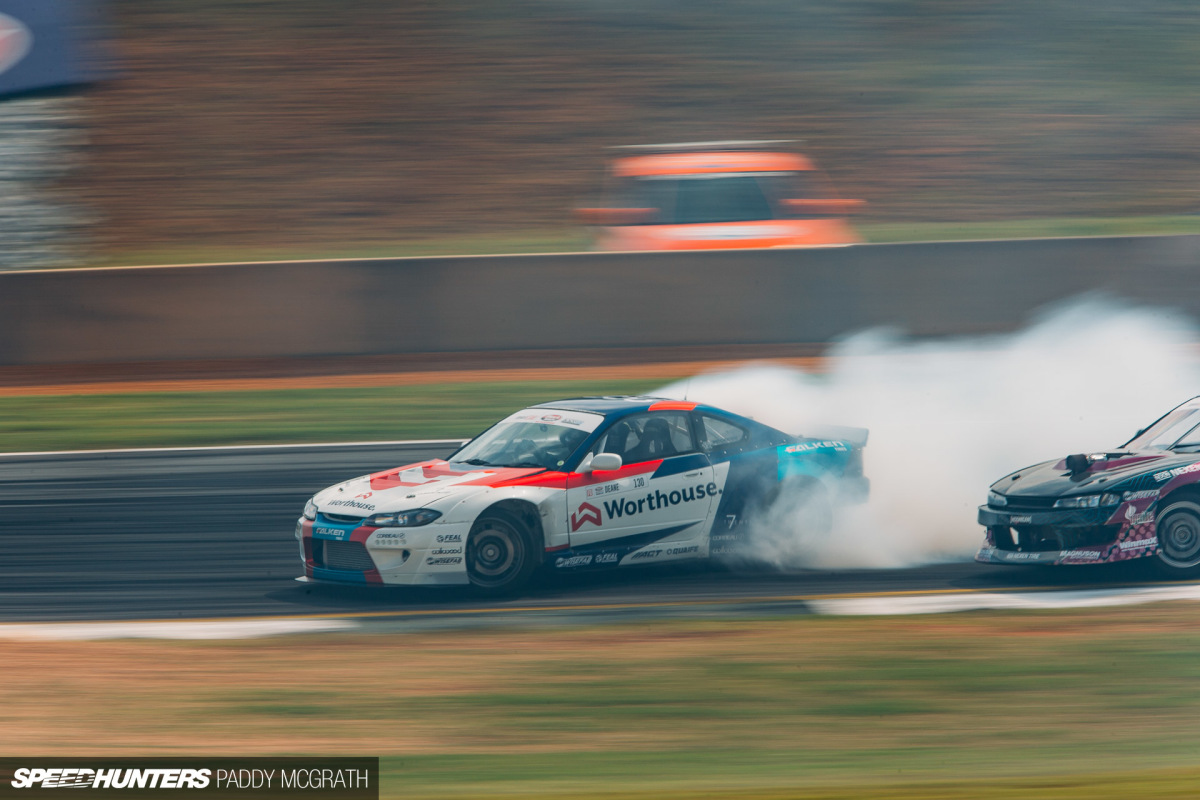 James too was back out, and if he was having any issues with power delivery still, it certainly didn't show. That being said, you could probably pull a plug lead or three off James' car before noticing any difference to his driving from the outside.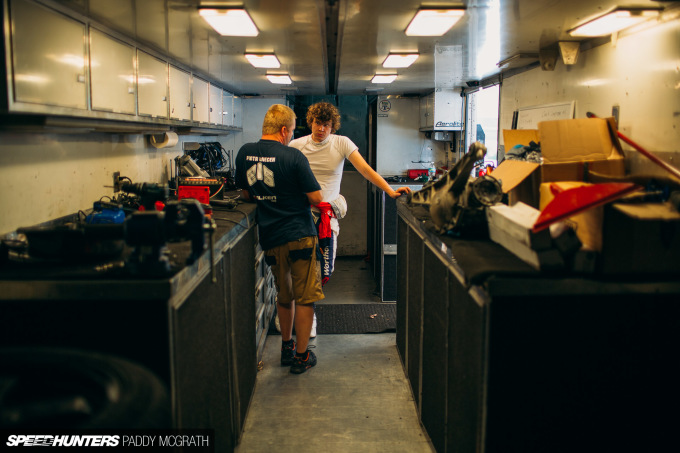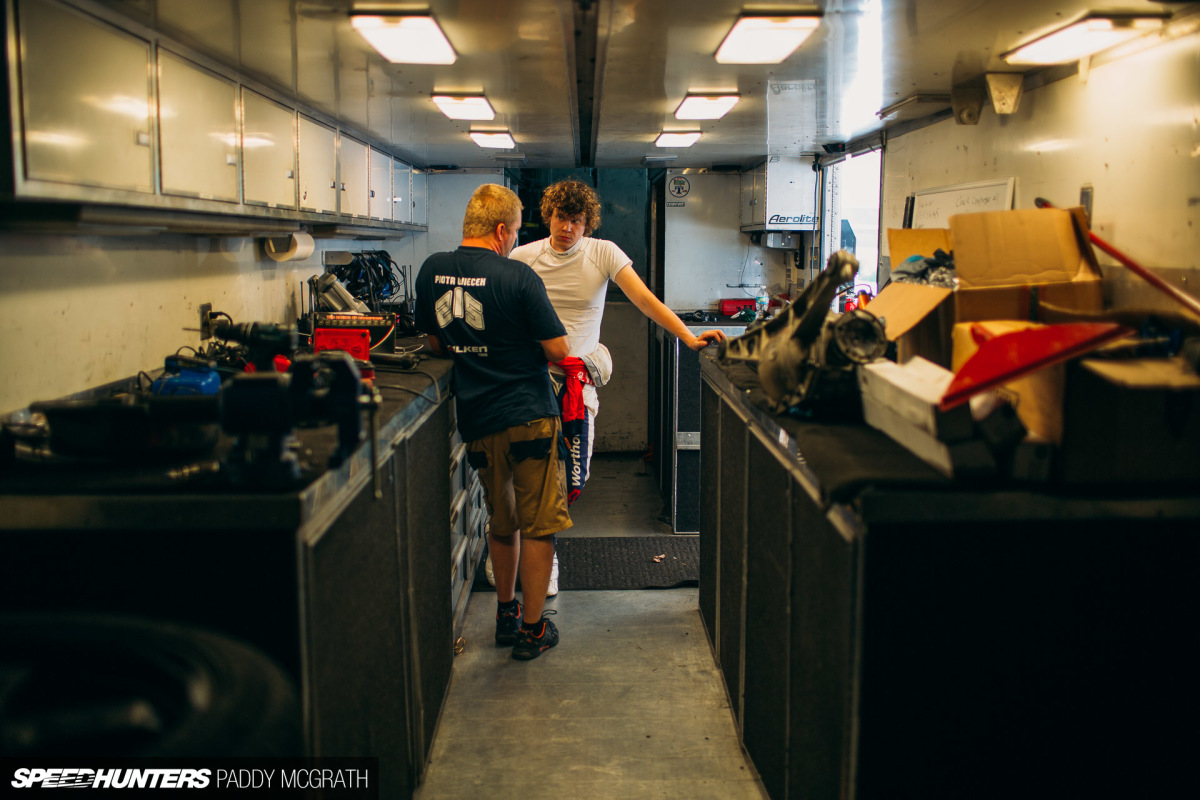 It was far from an ideal start to the weekend, but it was only Thursday. While nothing can be won in practice, you can certainly end a weekend prematurely at this point. Both cars were through unscathed and ready for the first day of competition the next morning. Friday, however, had its own surprises planned.
Friday May 12th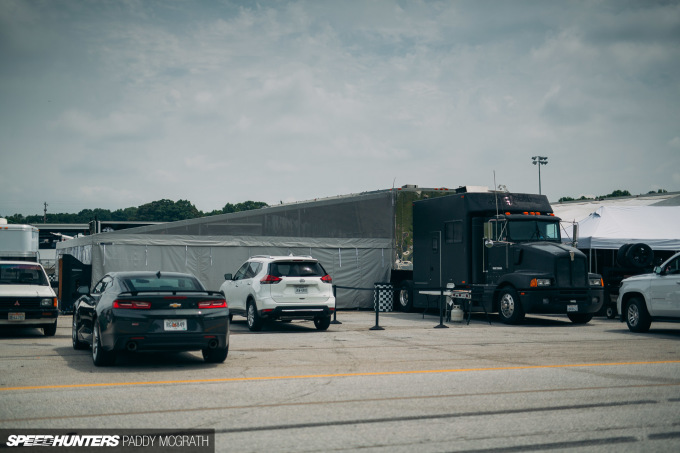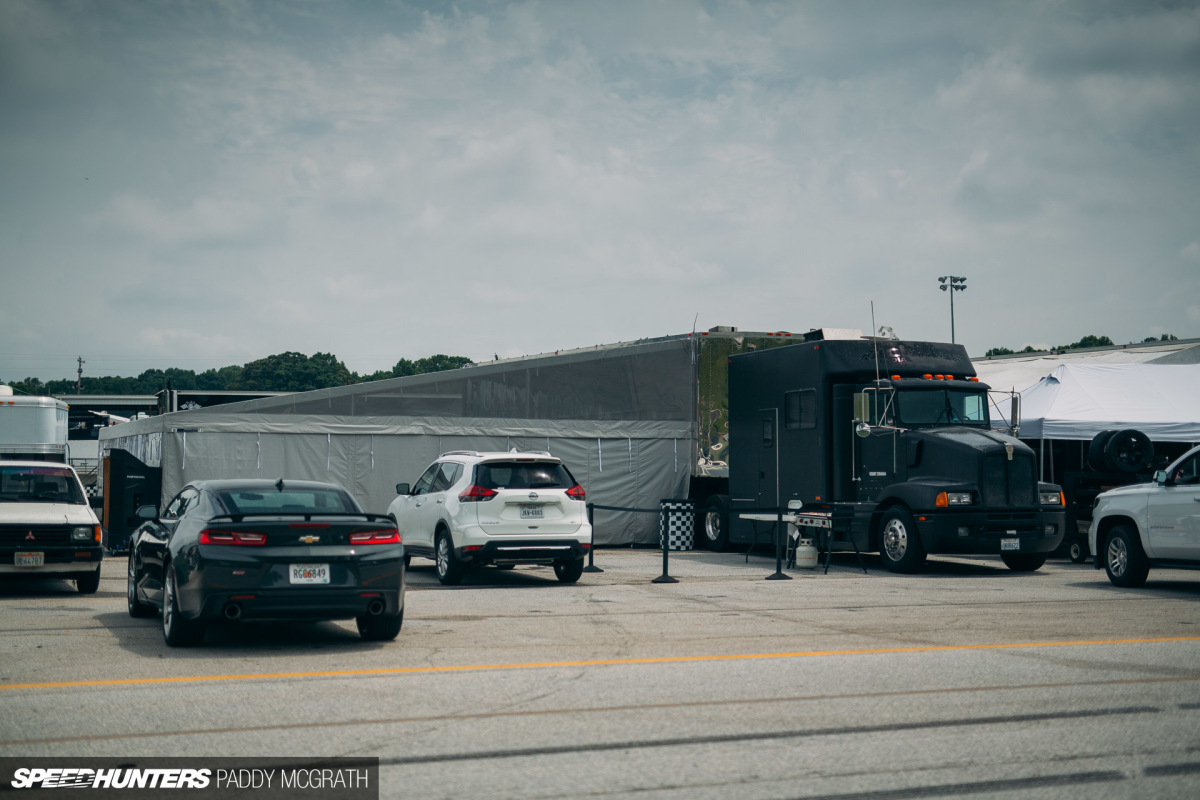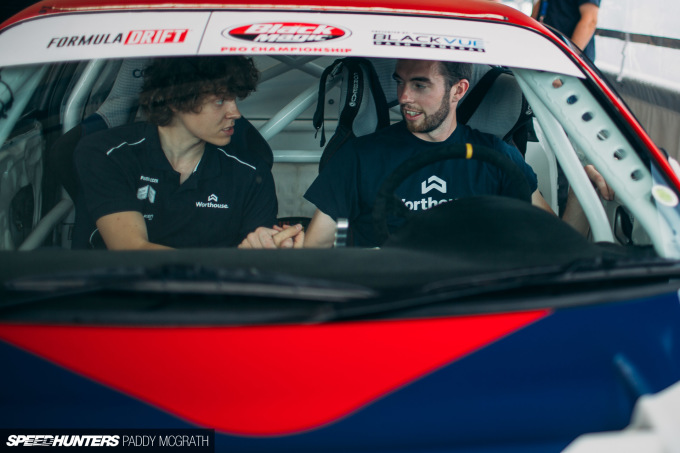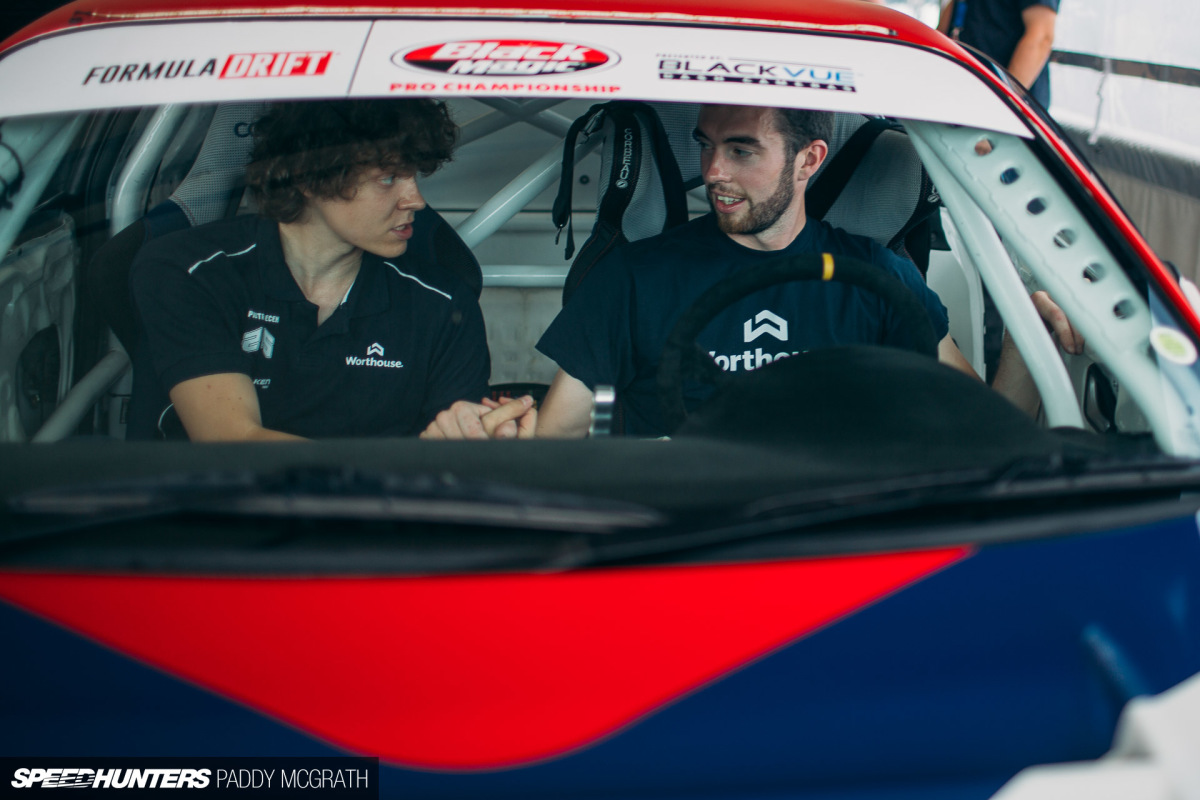 With Pro practice not due to start until 4:00pm local time, it meant that Friday morning was a much more relaxed affair. Still, that didn't stop the team arriving early to get ahead of the previous day's issues. Early on, the problems that had plagued both cars the day before had been rectified. To remove any element of doubt from his own mind, Piotr had James drive his car at low speed around the paddock to confirm that everything was as it should be. Confidence is a huge thing for a driver, so to have that reassurance was worth its weight in gold.
The sense of relief in the pit was enormous. With two hours of practice before qualifying, it would give both drivers all the time they needed to find a rhythm and get comfortable with the course.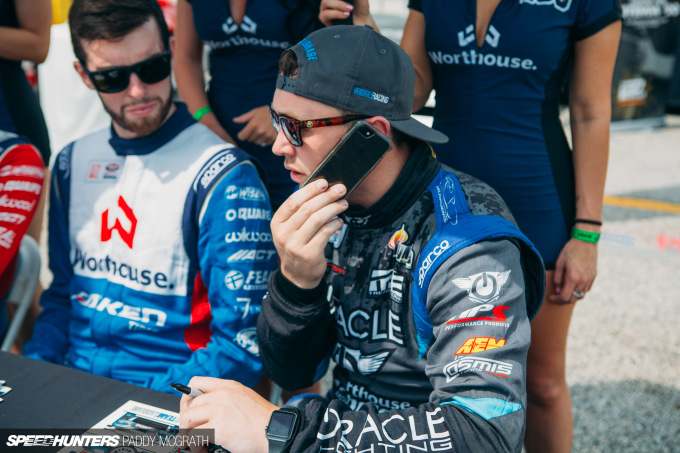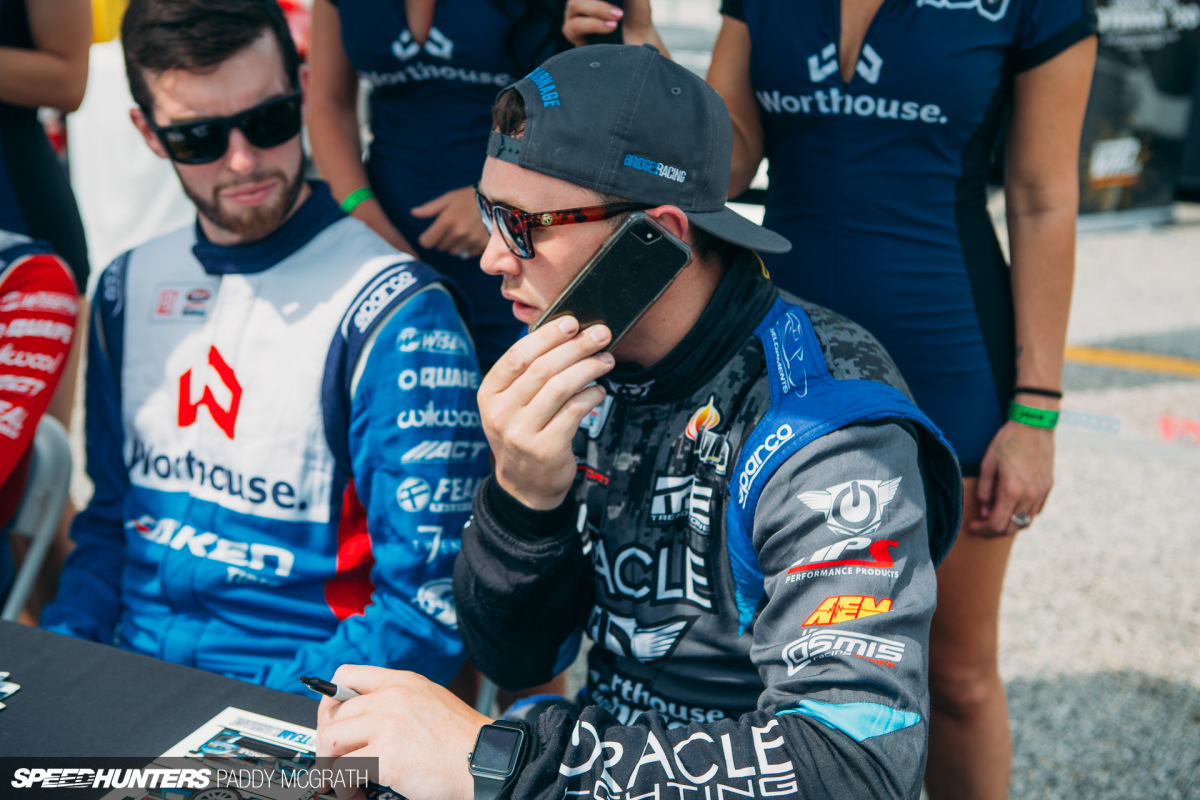 The Atlanta event is unusual in terms of how things are ordered. Each round so far had followed a similar pattern which led to a routine being formed, but Atlanta turned this on its head. For example, instead of the autograph signing session taking place at the end of the day, it now took place before the drivers even ventured out onto the track.
It was during this meet and greet that the team received a phone call to inform them that the imminent two-hour practice session was now only 30 minutes and qualifying would begin immediately after. Furthermore, it would be a limited practice session where each driver was only allowed one single pass.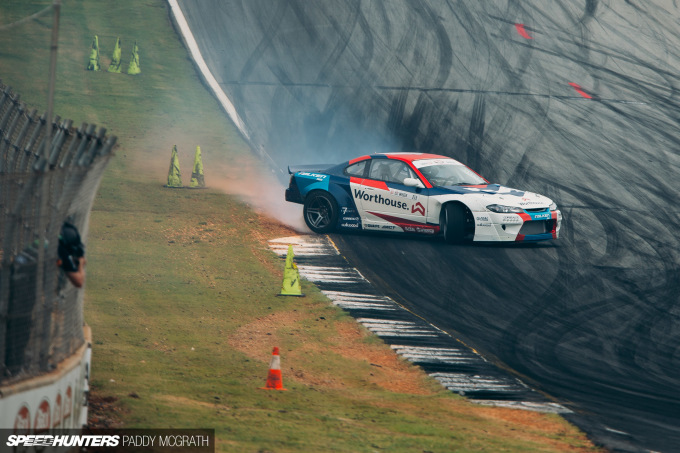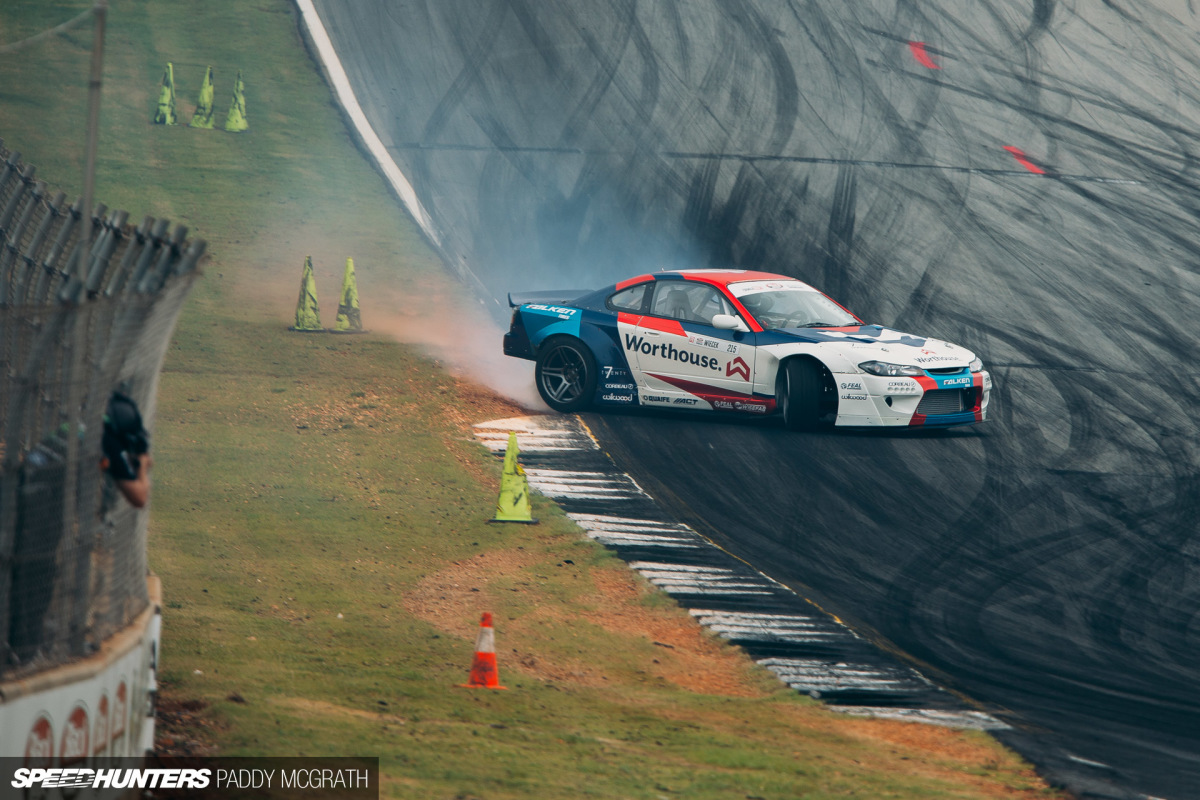 It was far from ideal, especially considering that Piotr was yet to have a run with his sorted car. It was what it was, however, and the drivers had no choice but to get on board with it. The reason it was shortened and qualifying brought forward was due to an incoming storm system, which forecast rain and lightning in the evening. The rain wasn't an issue, but lightning was, especially for spectators, crews and course workers.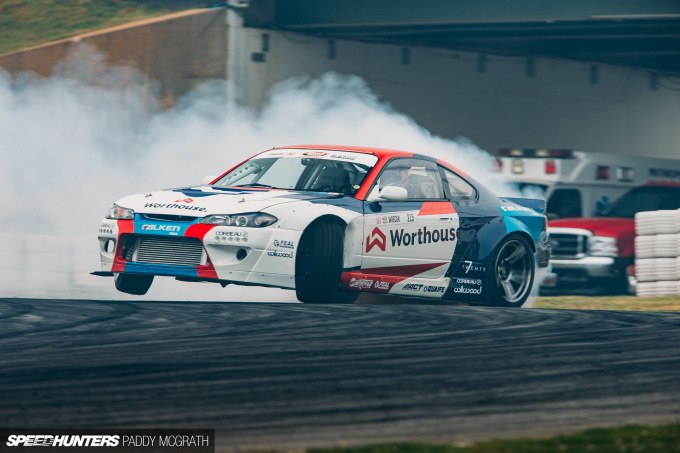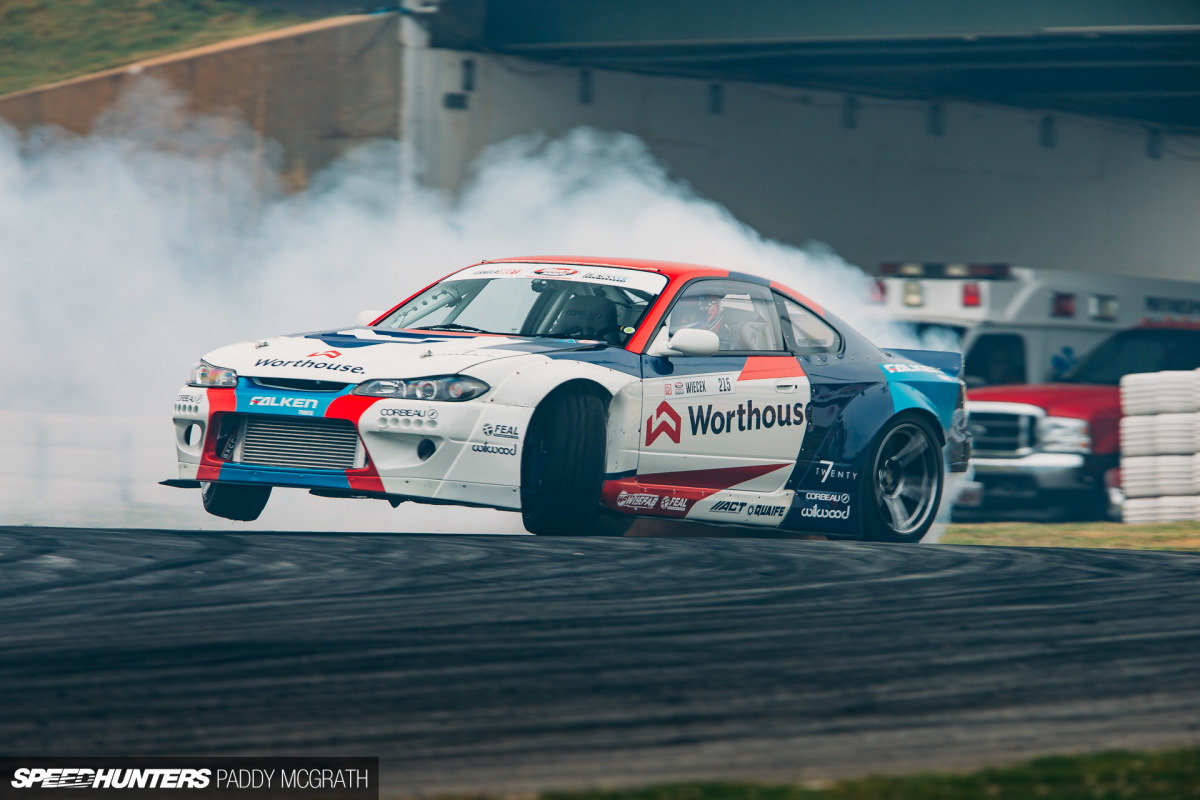 As he ranked lower in the championship standings than James, Piotr was the first of the Worthouse S15s to put a score on the board. For the first time this season, I saw a glimpse of the Więcek that I know well from Europe; fast, aggressive and on point. His first run would earn him 85 points and a guaranteed place in the battles the next day.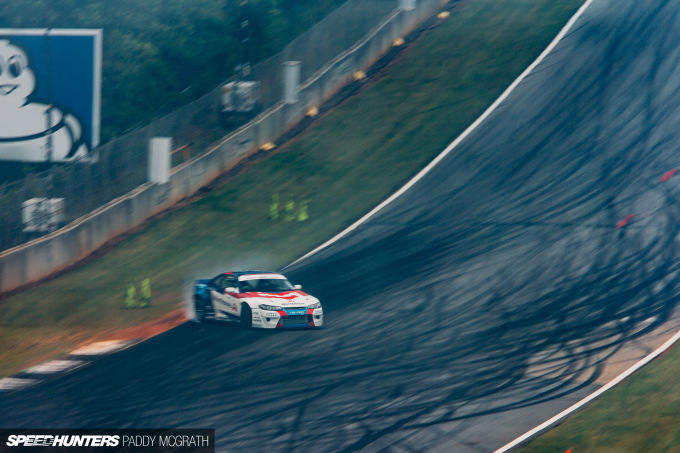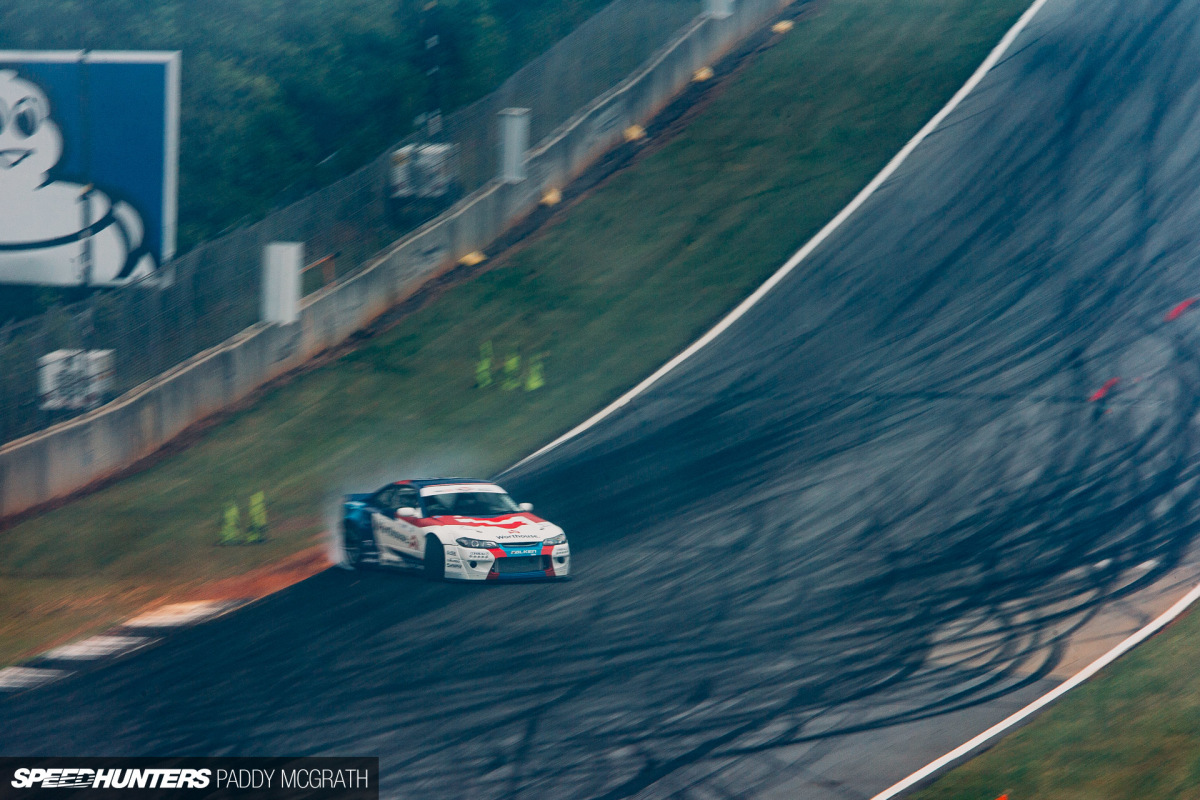 James was only a few minutes behind Piotr, and all eyes were on him to see how he would perform following his defeat in Orlando. As it would happen, his first run was not very good.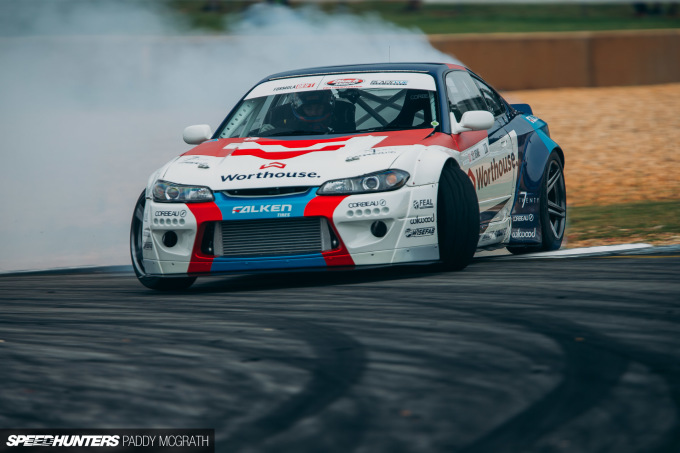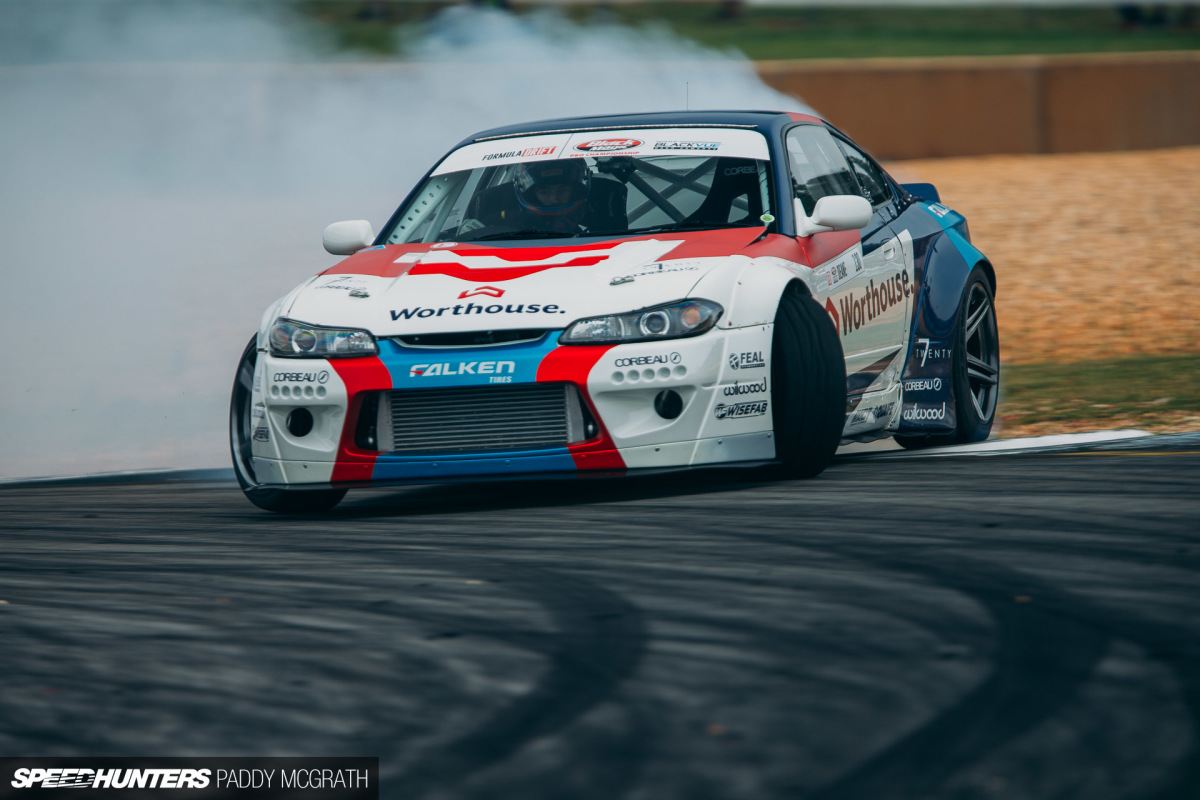 Entering fast and hard into turn one with a feint entry, the car washed out wide and ended up completely off line. While he avoided the gravel and managed to maintain a drift around the course, it was a disastrous start to proceedings in qualifying. He would earn just 66 points for his effort.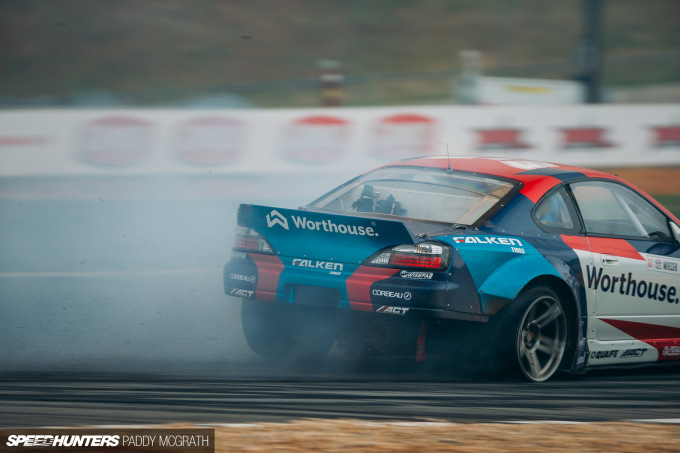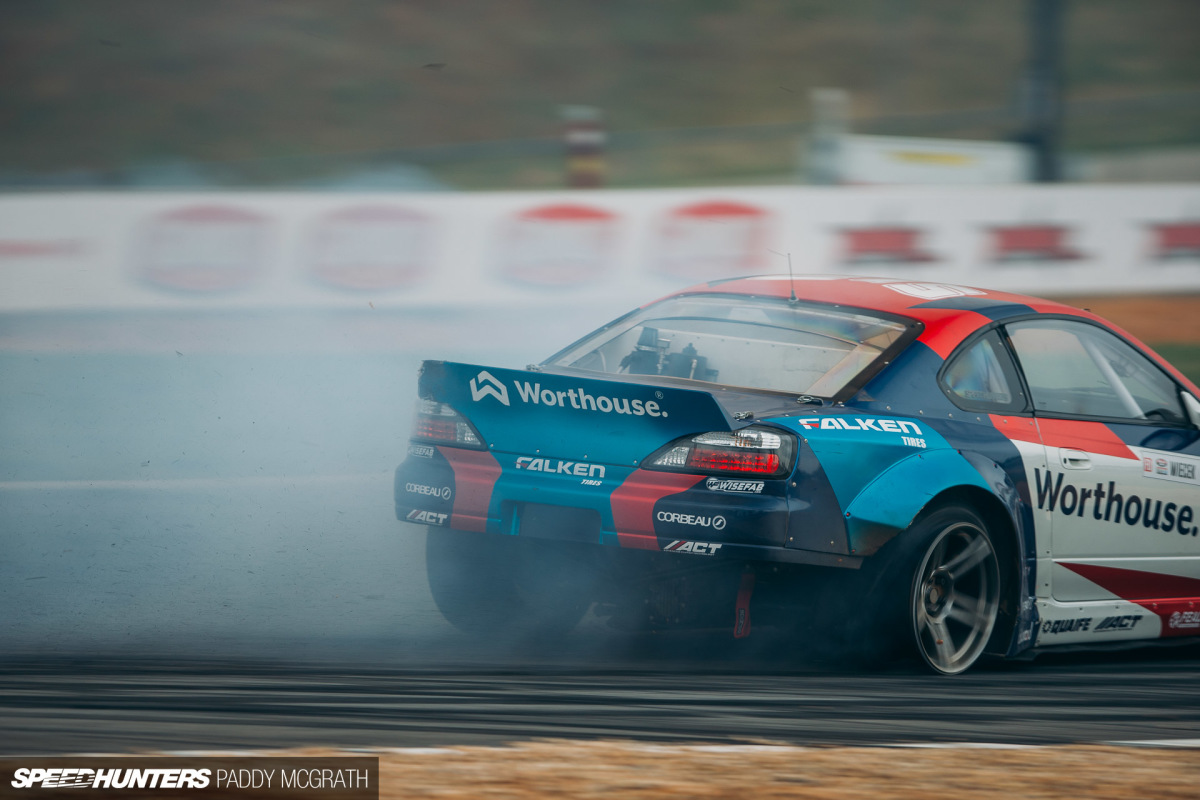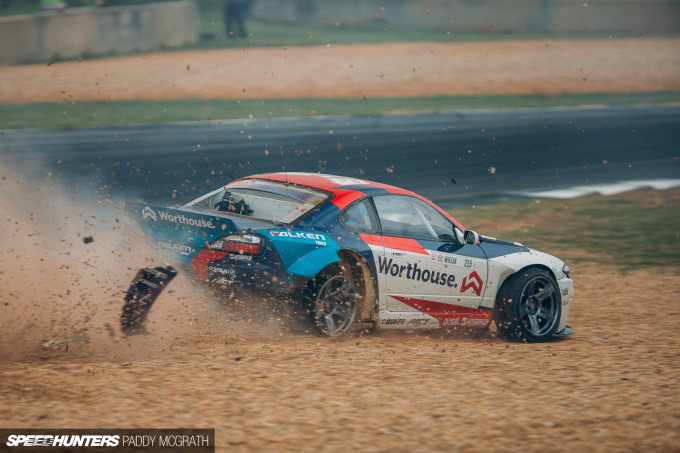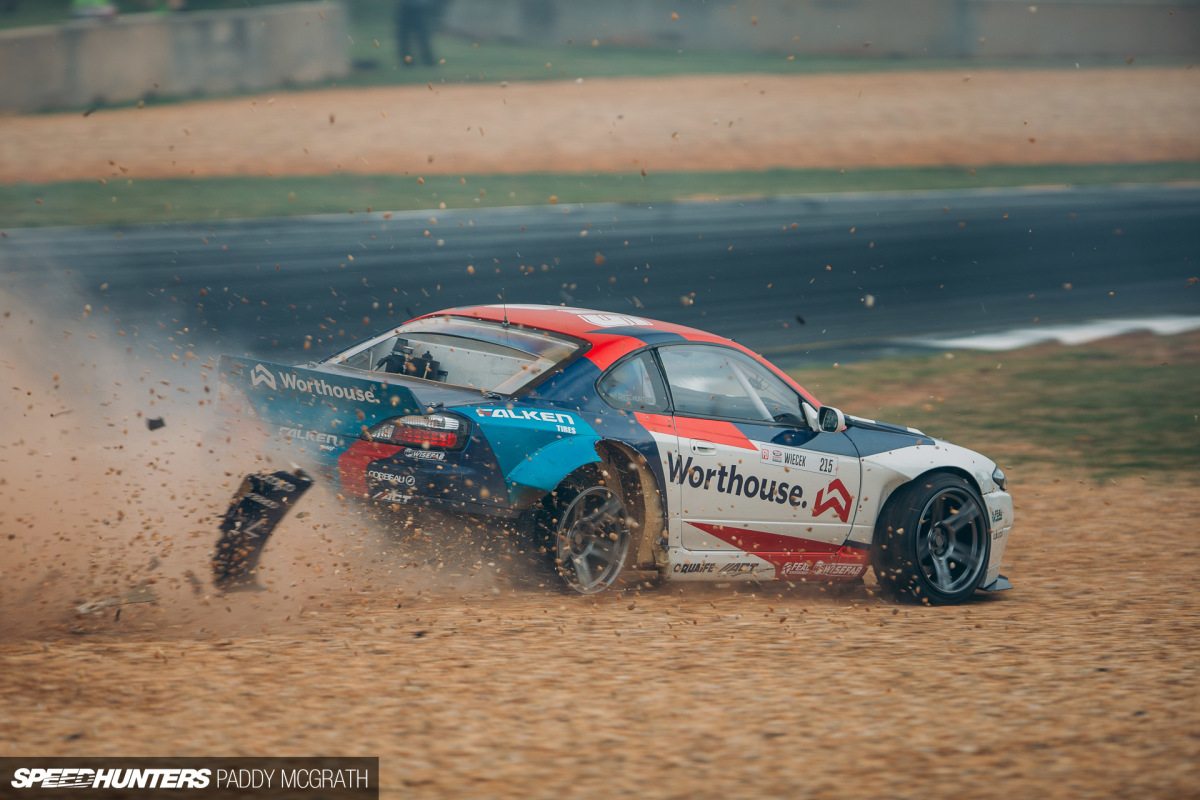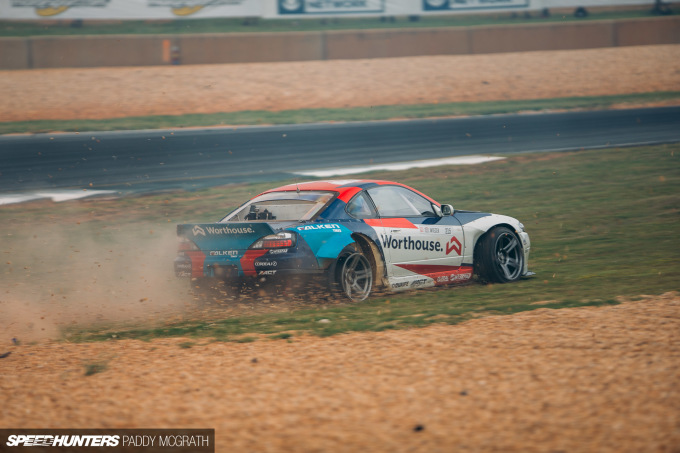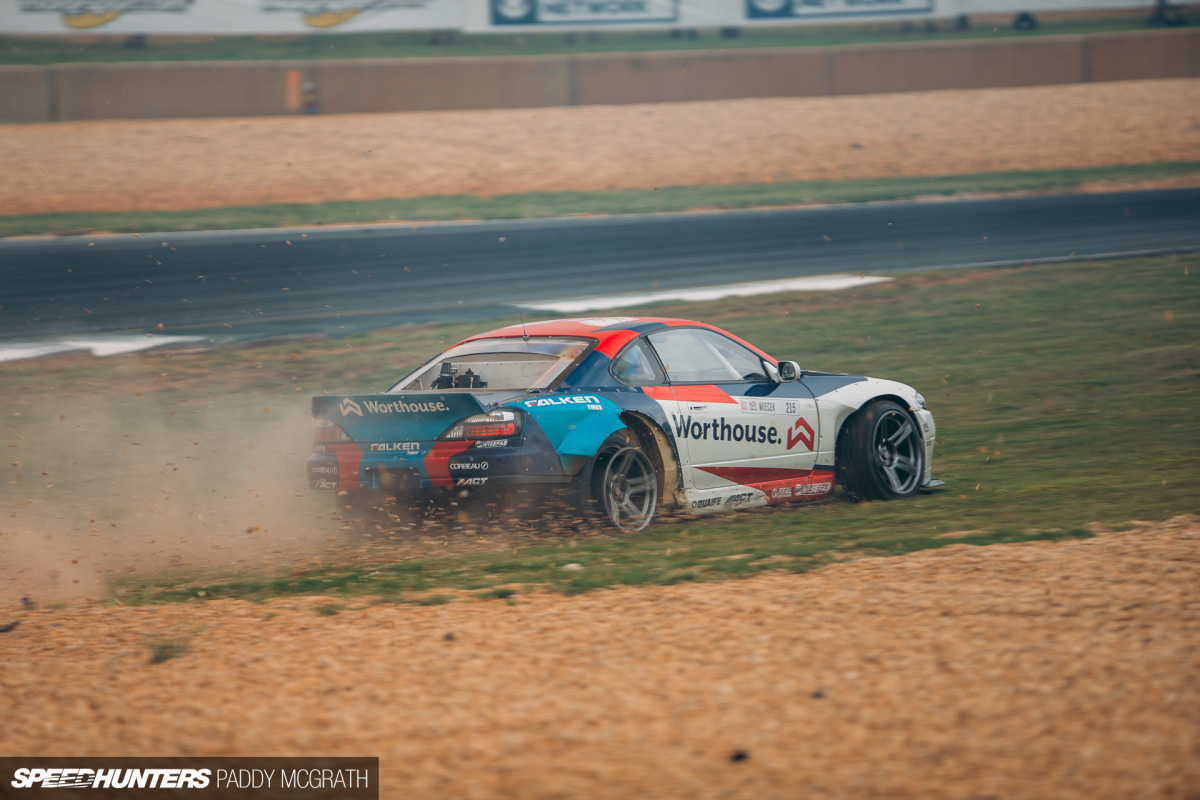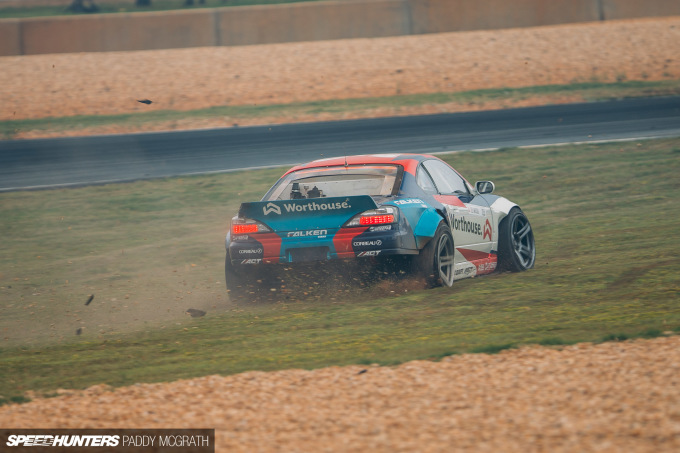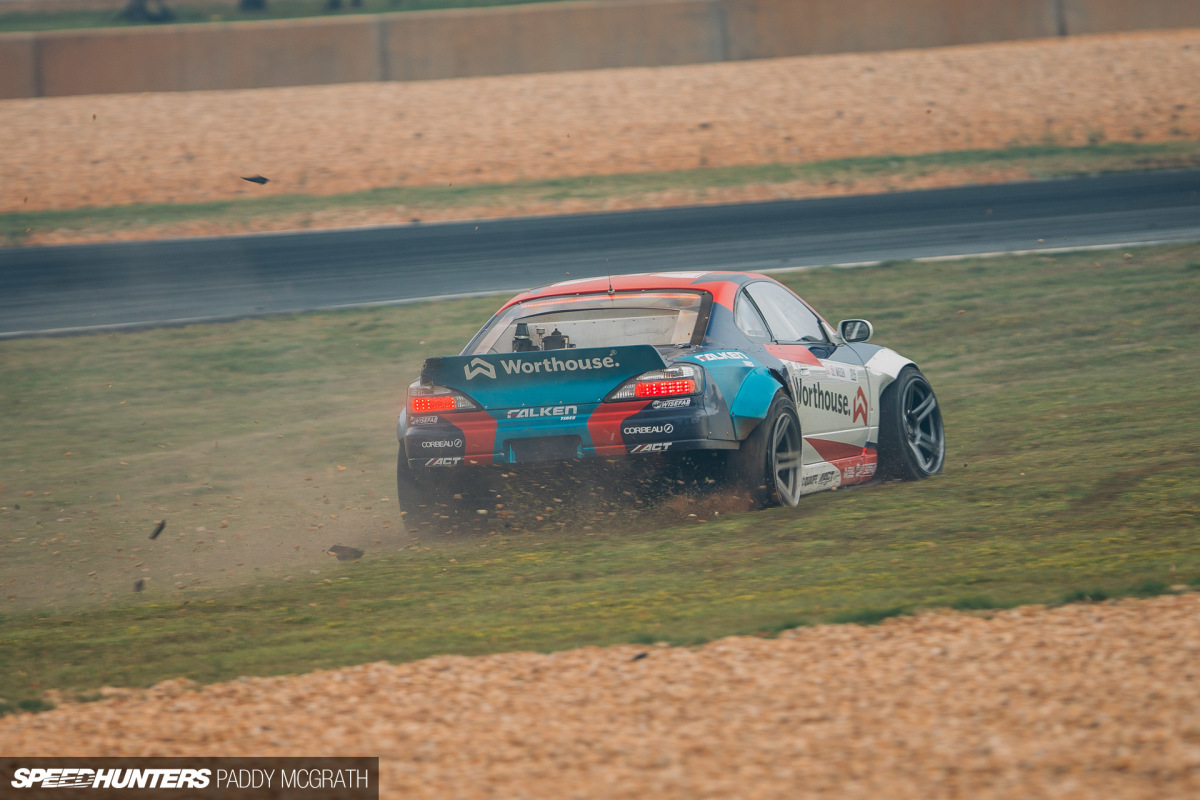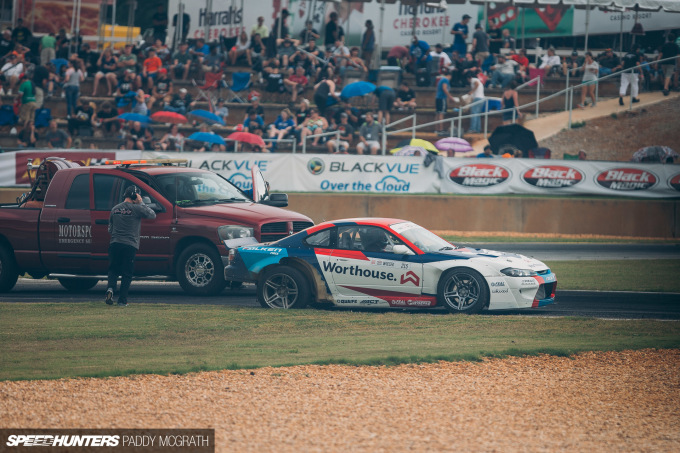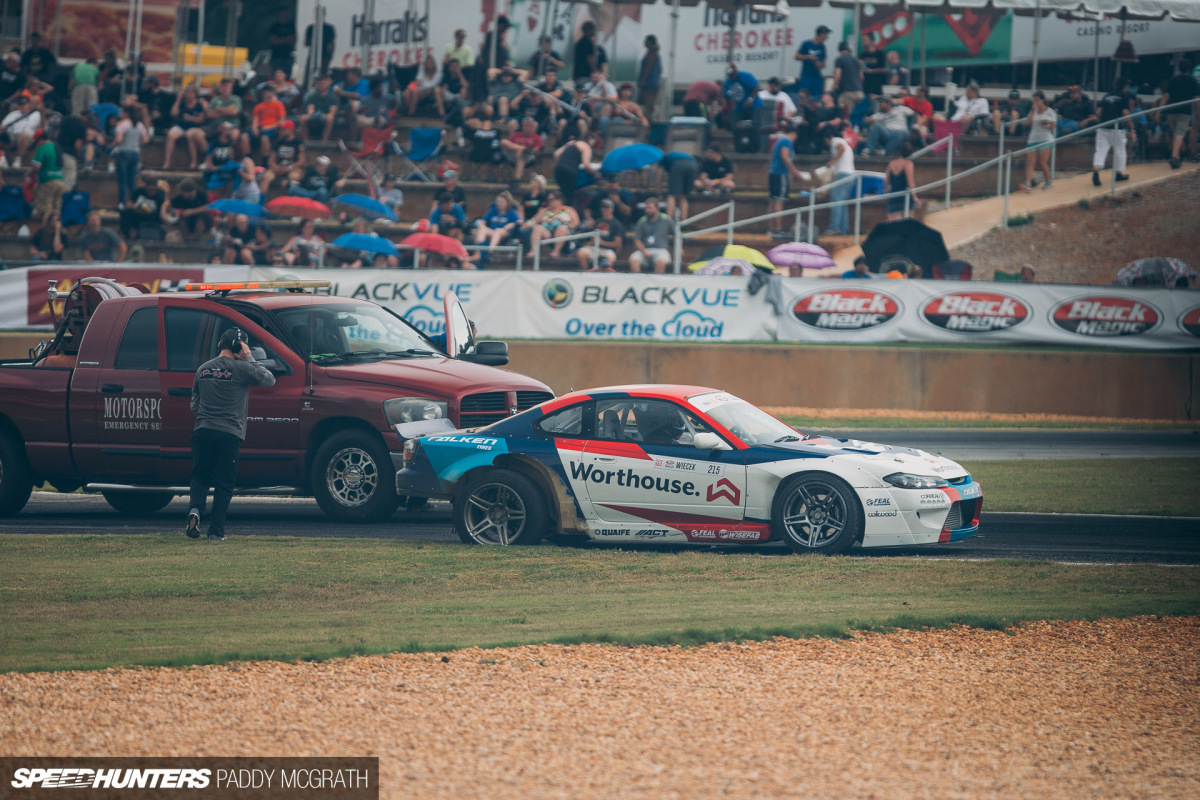 With a solid first run in the bank, Piotr returned for an even more aggressive second qualifying run. Initiating just a fraction too early in the deteriorating conditions, his rear right wheel caught the edge of the green and white kerbs on the track's edge, pulling the tyre off the rim and sending him into the gravel at high speed. No significant was damage was done, save for some aero being annihilated. His first run would place him 11th when the dust settled, although his second run would leave a mental impact.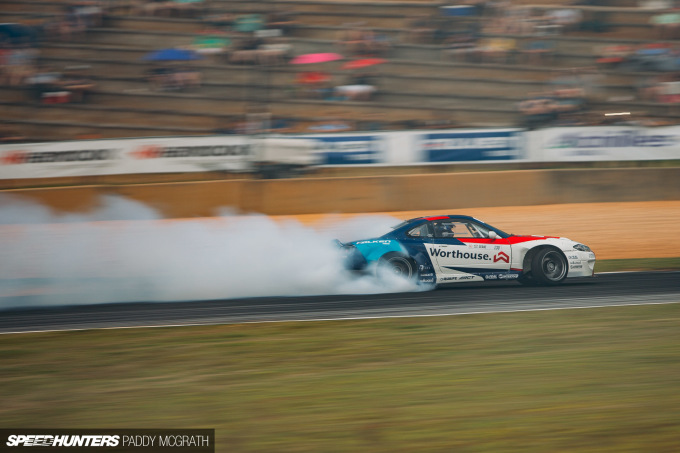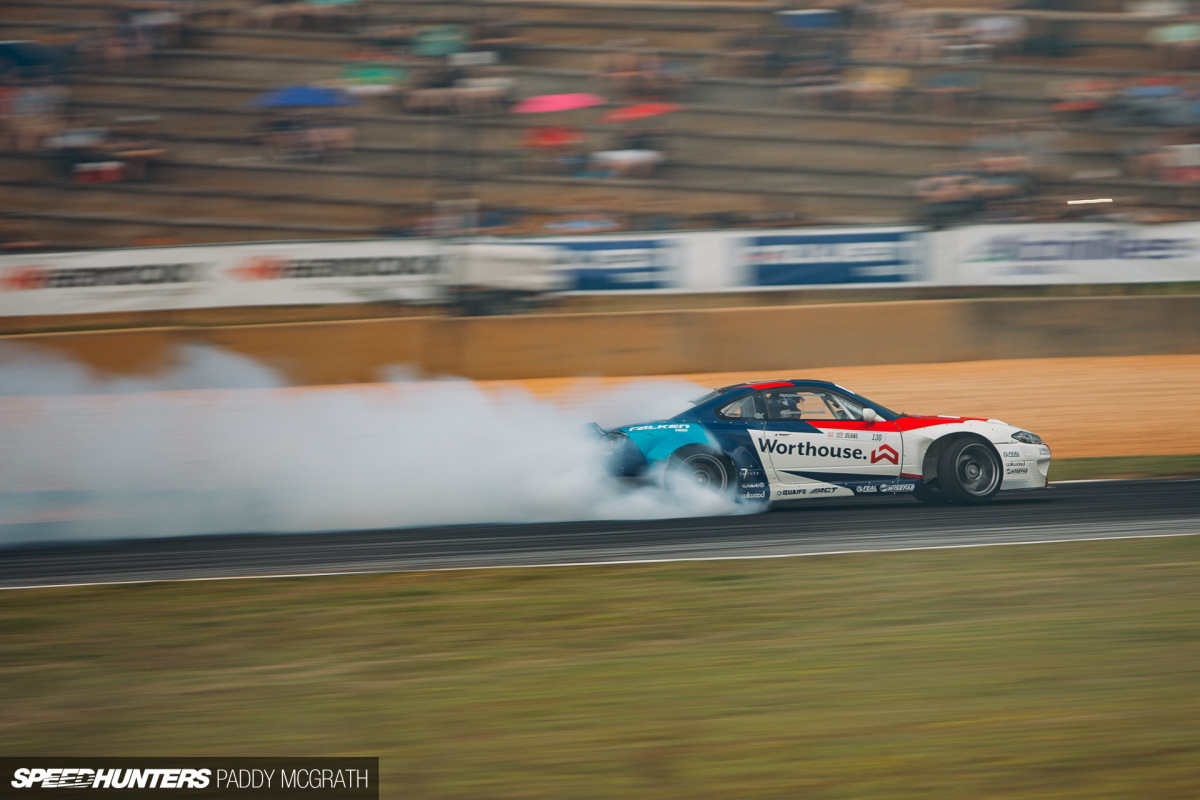 James' second run was a little bit closer to what we would expect from him, but by his own admission his confidence had taken a knock after the previous run so he chose to play it safe. The result was an 84 and 13th place in the overall scheme of things. It also meant that both drivers would end up in opposite brackets, so the only place they could meet was the final. Every cloud, and all that.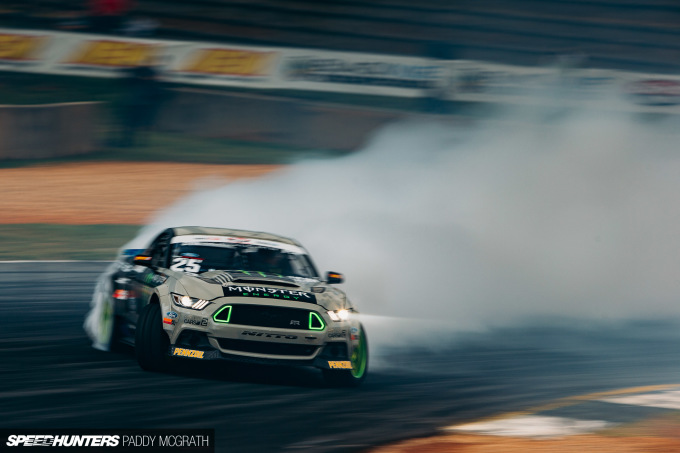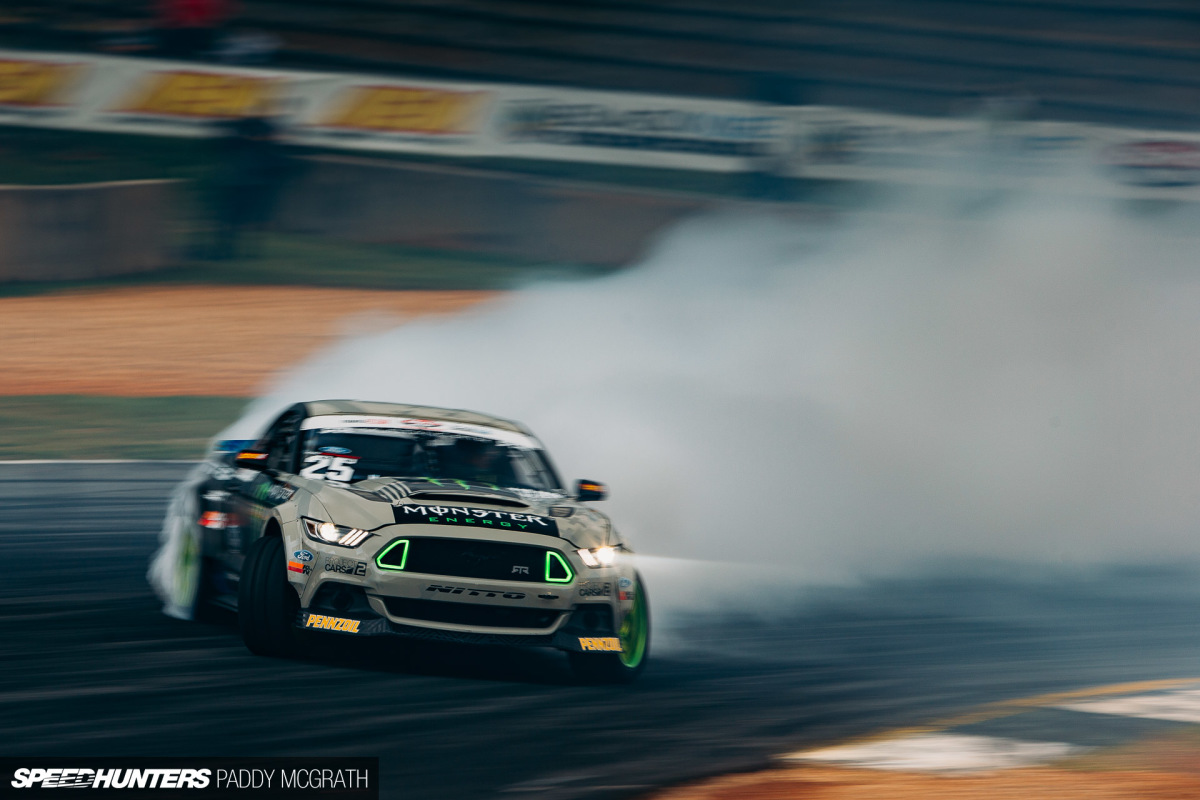 For the second time in three events, it was the three-wheeling Mustang of Vaughn Gittin Jr. that top qualified with a score of 94. The Mustangs look so difficult to drive as they constantly squat and dive around the course, which makes the result all the more impressive.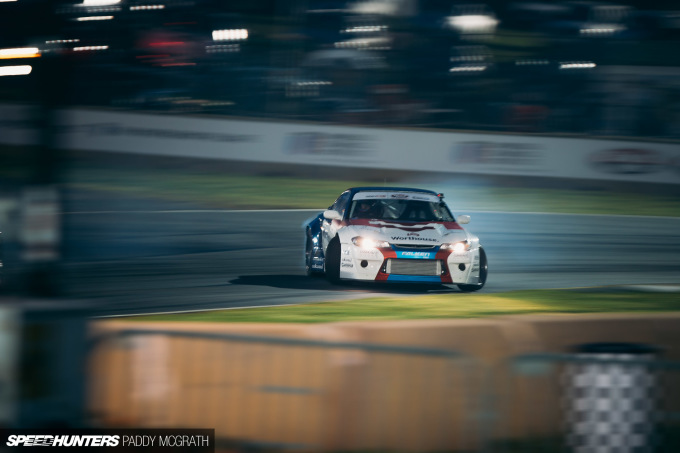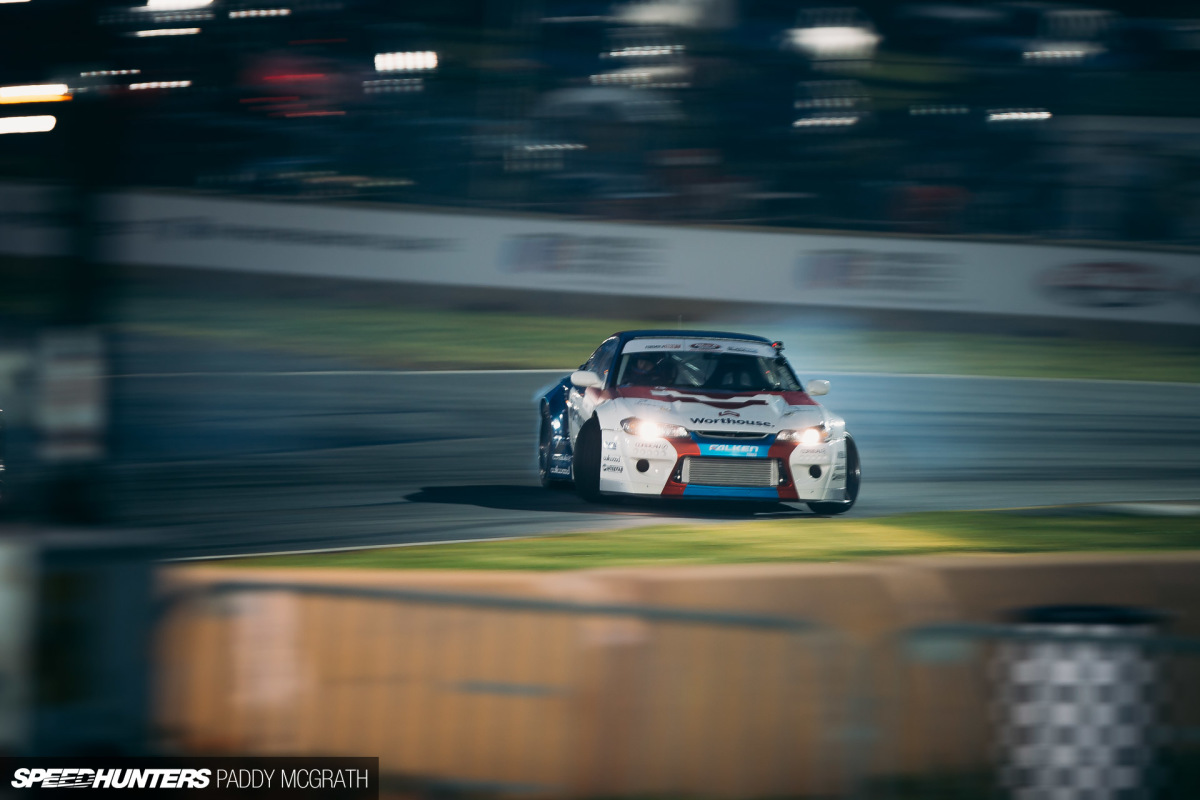 With qualifying over, the cars returned for a much later than scheduled practice session which took place before the Pro 2 competition commenced. The conditions were mixed, with the track wet, then wet and dry in places. But both James and Piotr appeared to excel, which was a big confidence boost for them after a rough two days.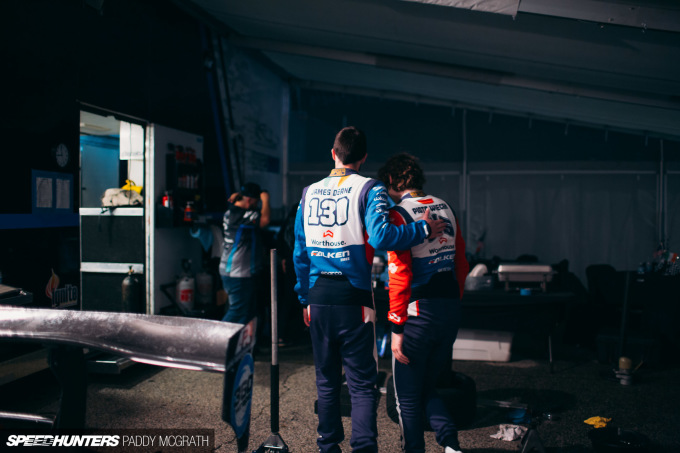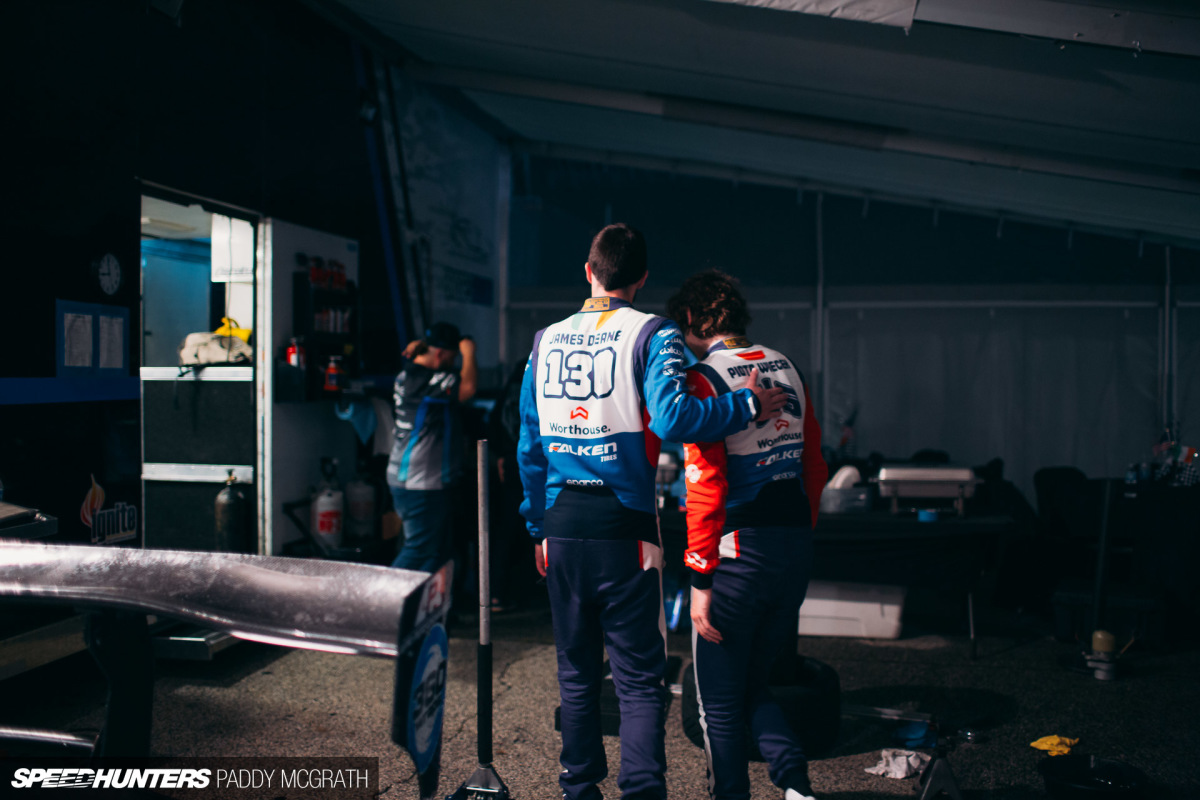 In fact, it was just the boost that they needed heading into the main event…
Saturday May 13th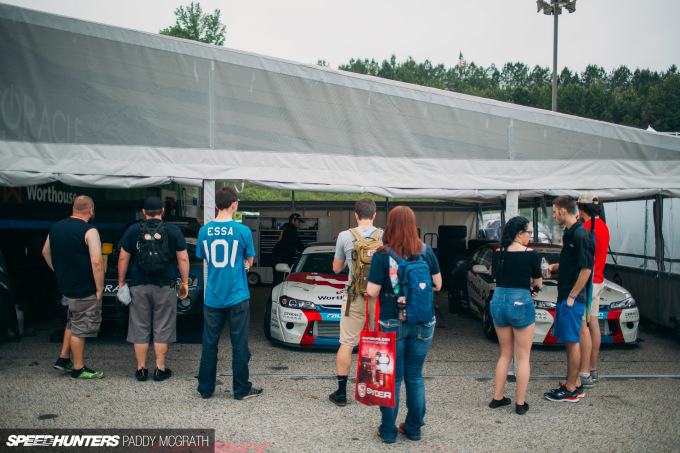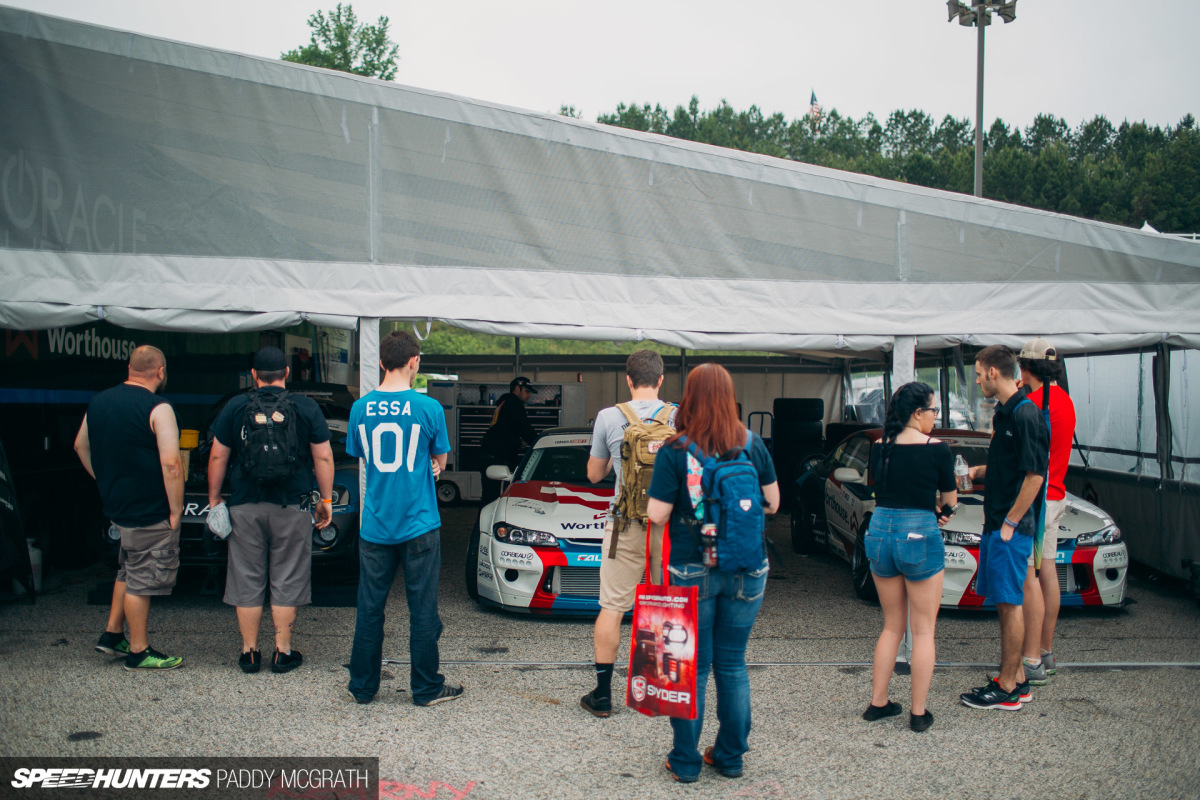 Like the previous day, Saturday started late and would run deep into the night too. While overcast and generally grey all day, it remained pleasant and warm in the morning and early afternoon. From early on, the Atlanta fans were taking their time to stop by the pit and wish the drivers the very best of luck. I've seen some great drift fans over the years, but I think those who attend FD Atlanta are on another level.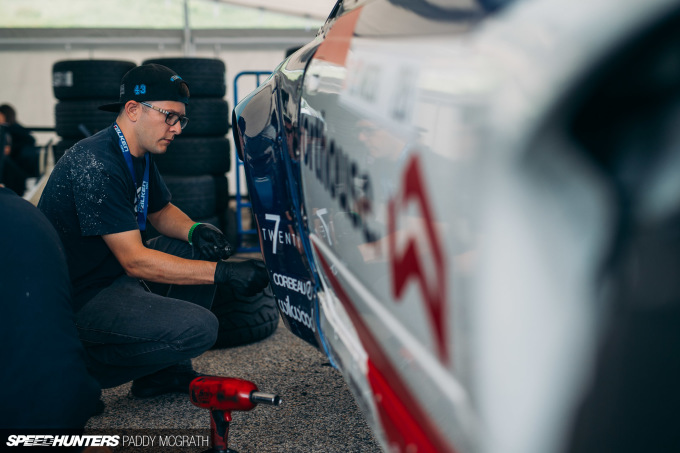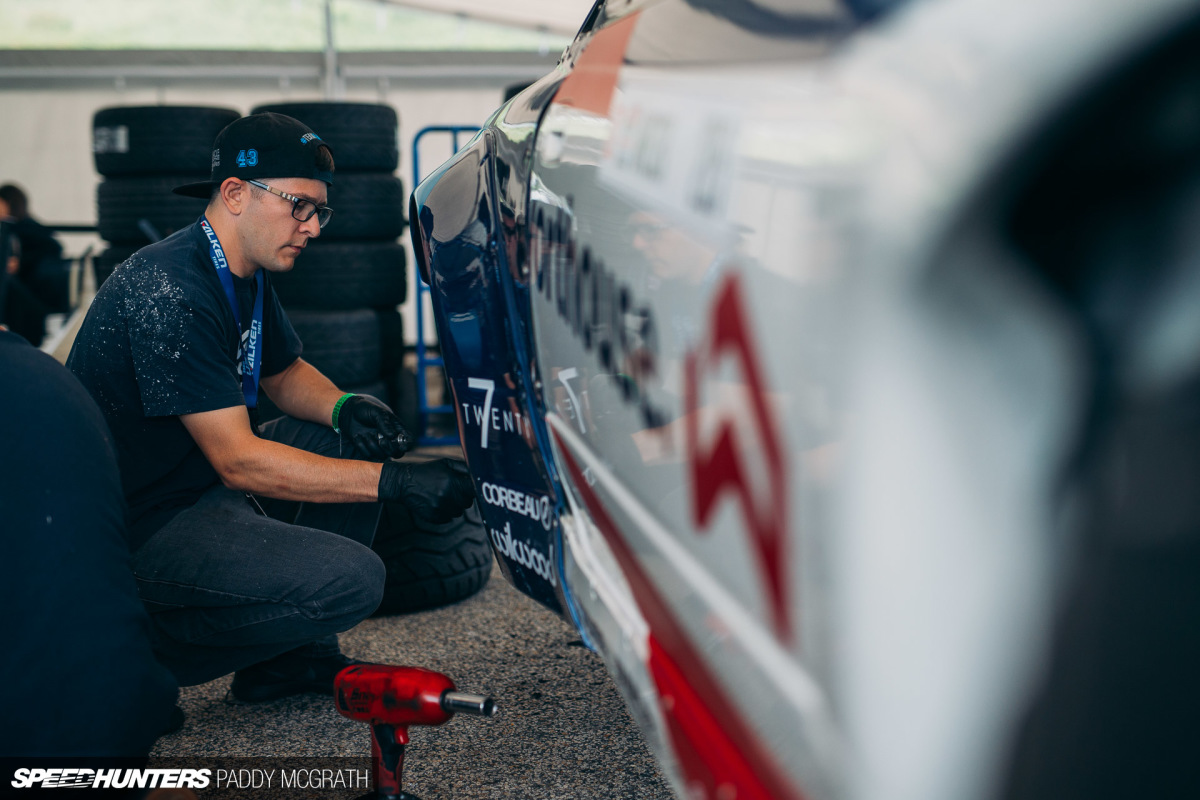 The crew were having an easier morning, with just some cosmetic repairs to be made to Piotr's car and a quick once-over for both. The pre-painted and liveried overfender that was waiting to go on filled me with absolute joy. The spares package for the two cars is a thing of beauty, although some new bumpers and panels will need to be ordered shortly at the rate they're being consumed.
There was a sense of readiness present on Saturday morning, where as previously there was that feeling of trying to catch up with the issues that kept popping up the days before. It was calm, everyone had a job and knew what had to be done.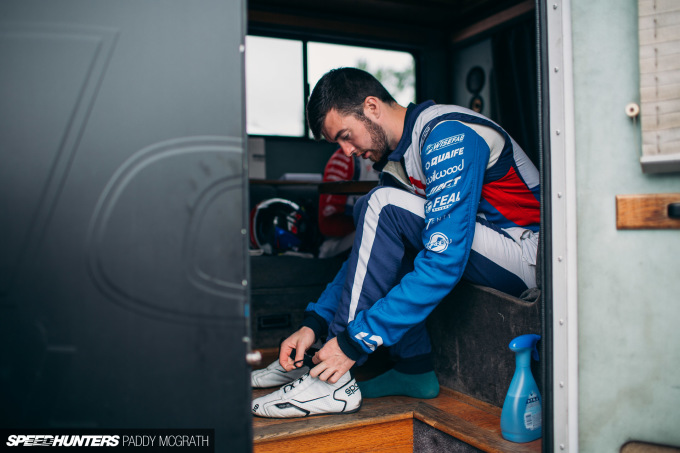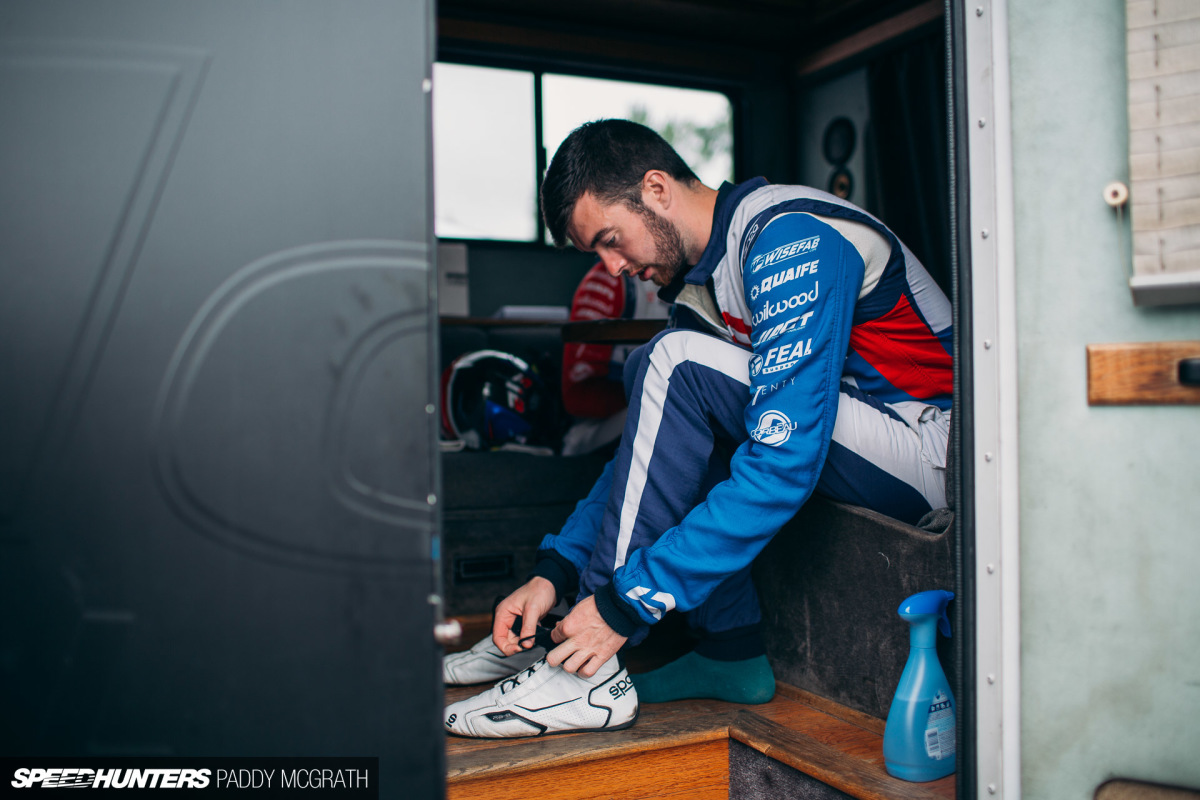 It's rare for the drivers to have much in the way of spare time over the course of an FD weekend; it's usually a case of arrive, suit up and get straight into it. Between sessions, asides from taking care of their own cars and instructing the crews, there's media obligations, sponsor obligations etc., all of which keep them occupied. It's very much a proper, professional motorsport affair.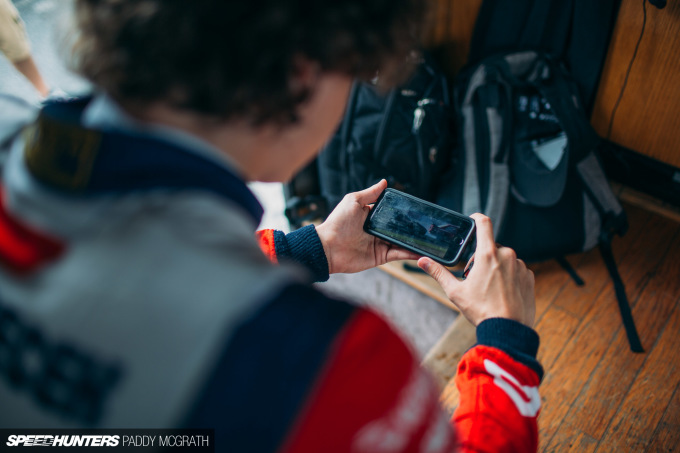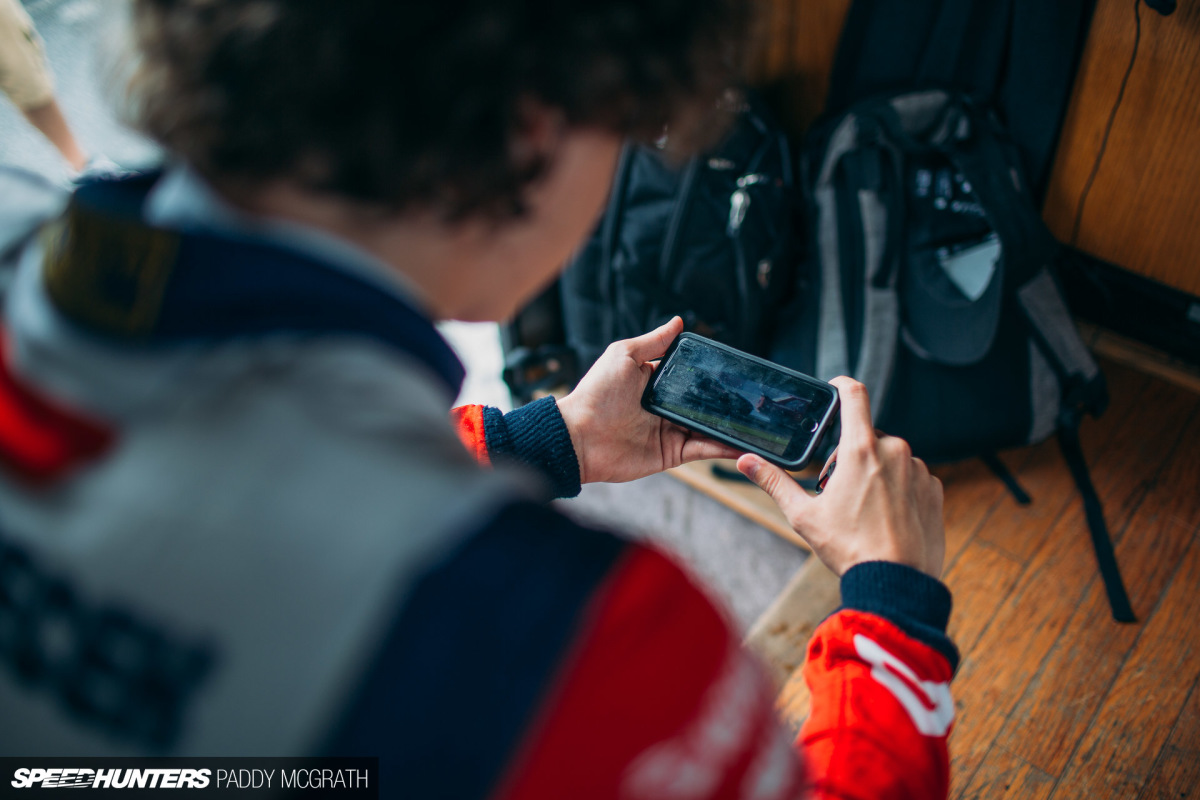 Piotr was still using every available second to keep an eye on his home series, Drift Masters, which was running at the Nürburgring at the same time. I would hate to see his phone bill when he gets back to Poland.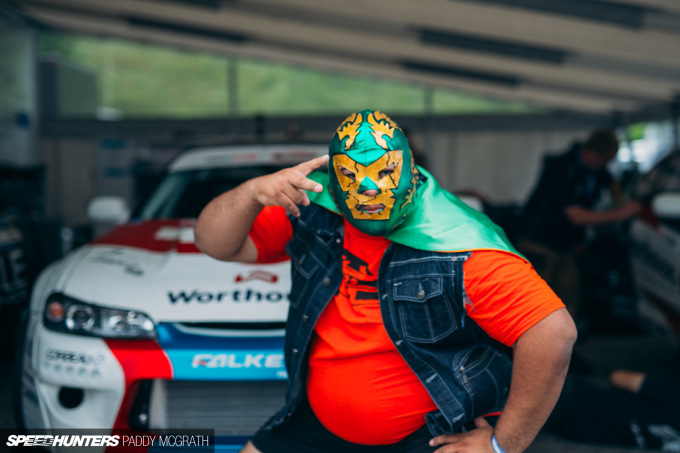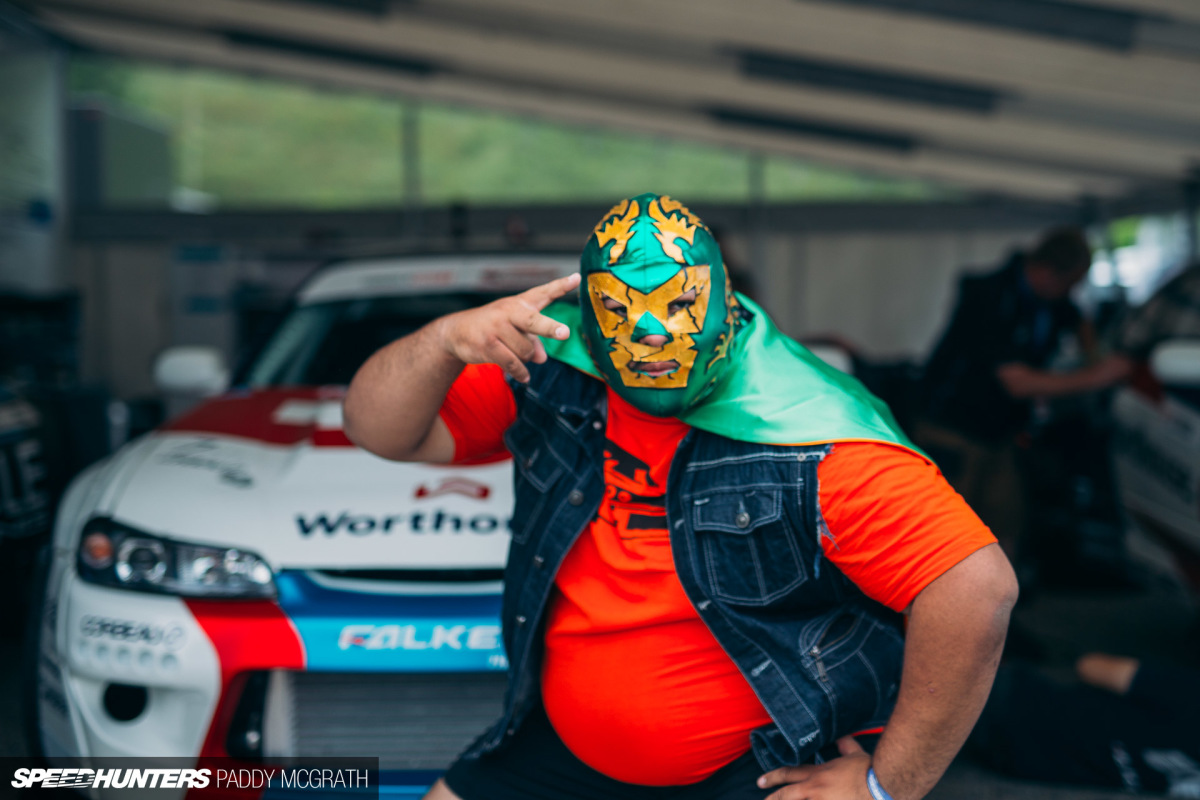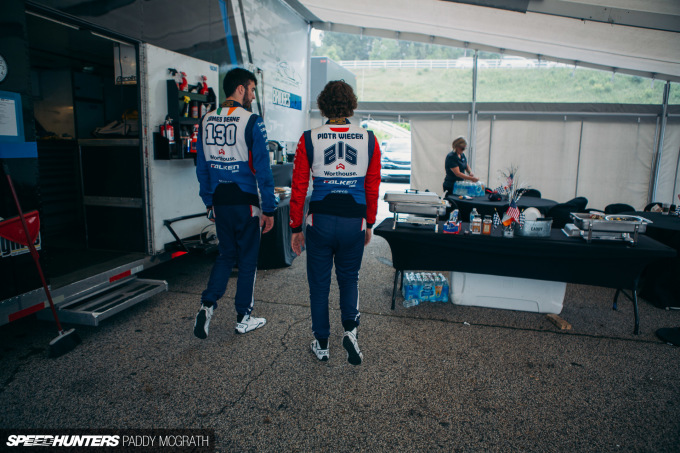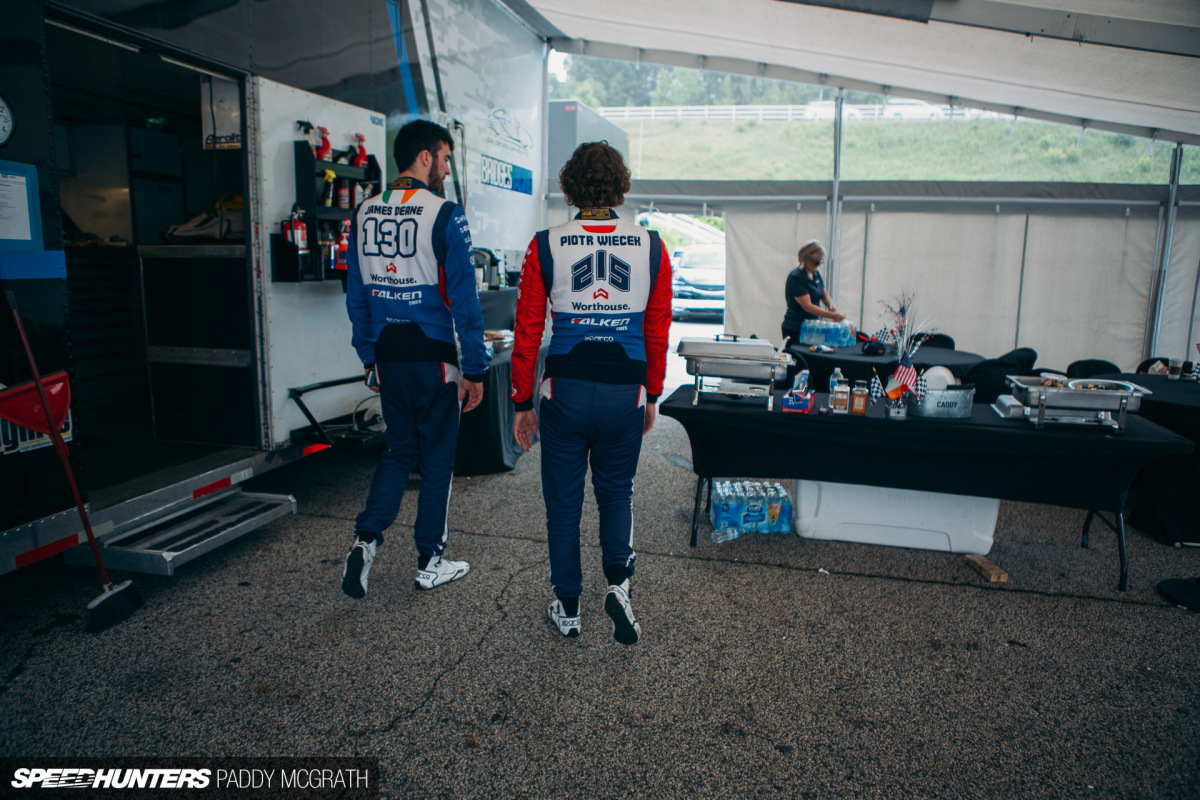 When they have the chance, both drivers can usually be found hanging out with the fans and talking drift or whatever else comes up. As said above, the Atlanta fans are a special breed.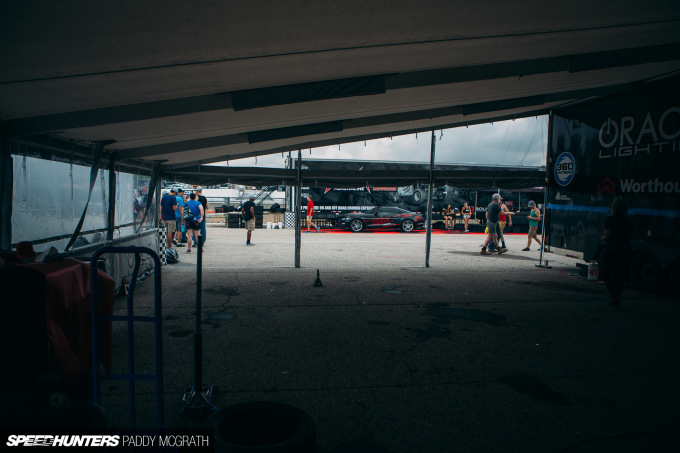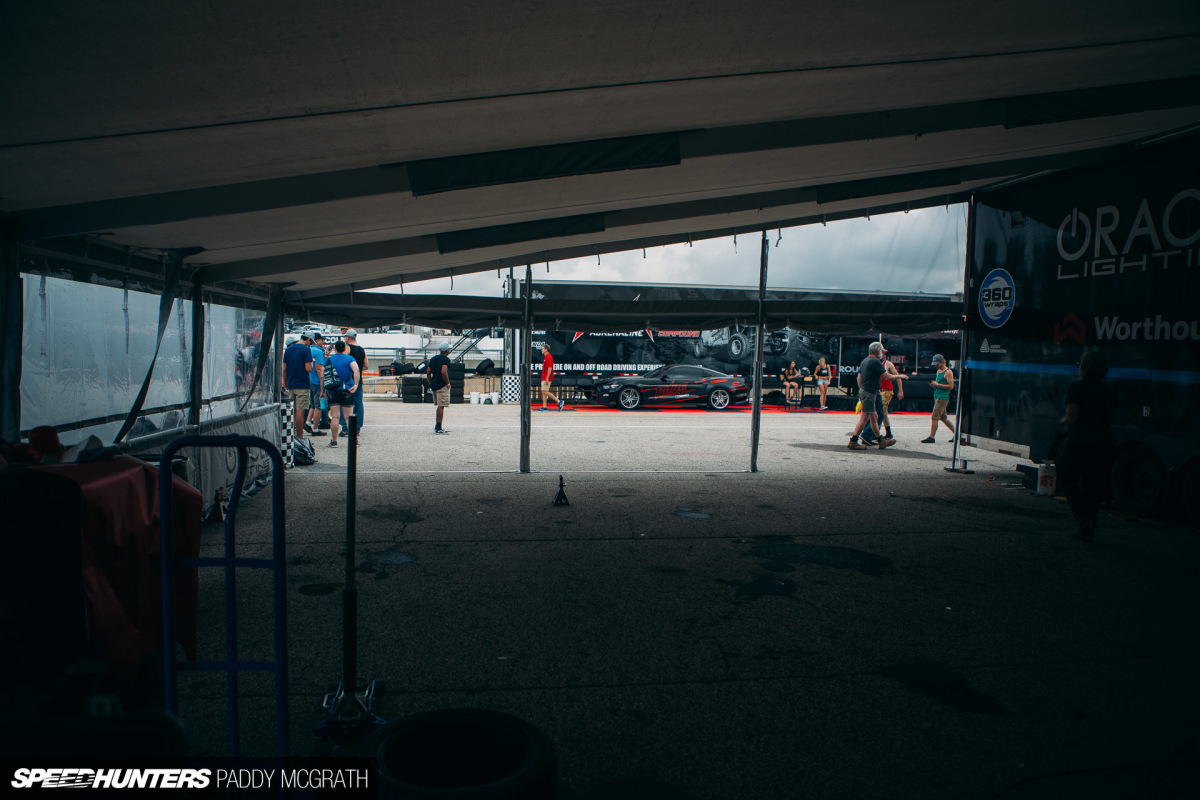 From here on out, it was time for business. Both James and Piotr wanted to make the most of the alotted practice time, so their cars were sent to the start line early in order to be top of the queue. The event would roll from a short practice session straight into Top 32 followed by a brief break and then the Top 16 all the way deep into the darkness.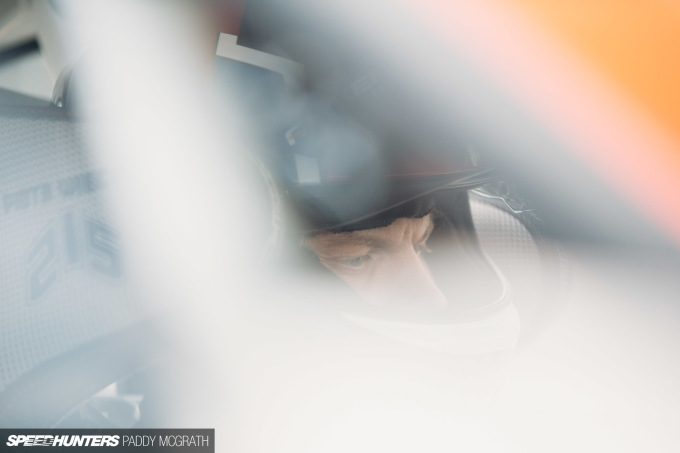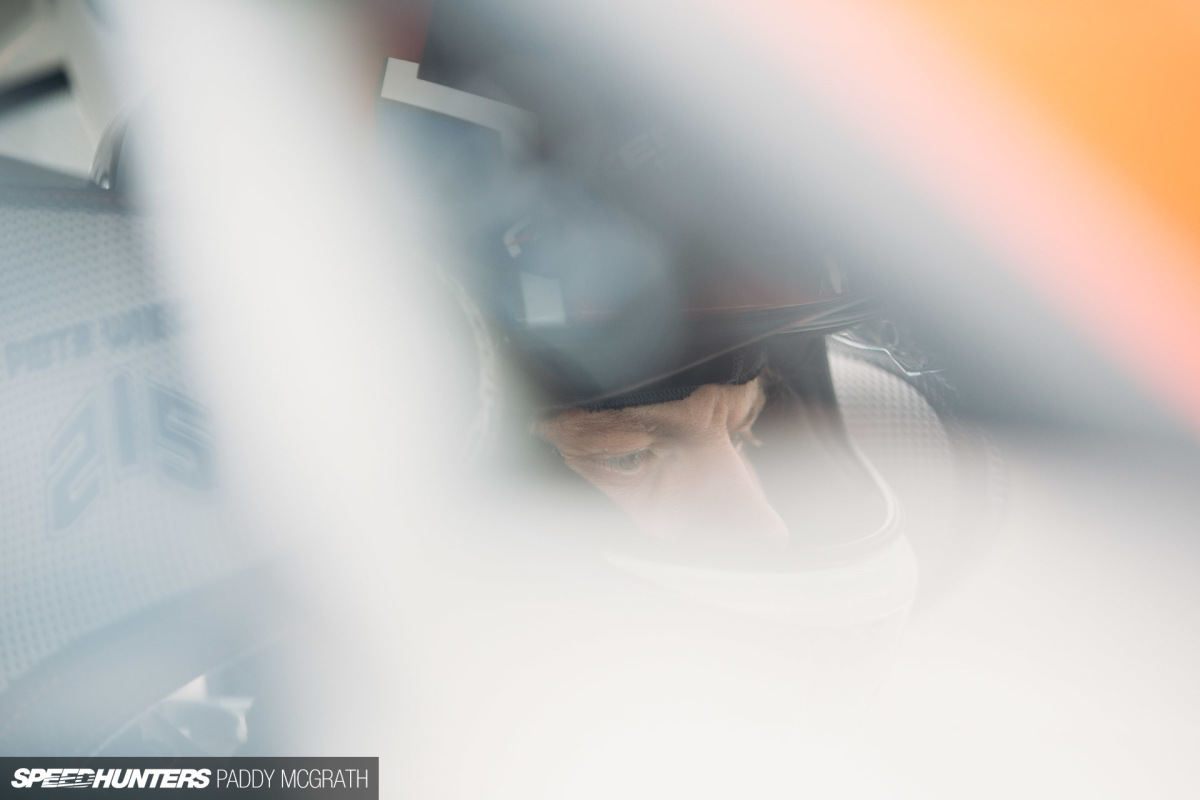 Piotr would have to put behind him two days of car trouble, a complete lack of seat time and one hell of an excursion into the gravel at this point if he wanted to succeed.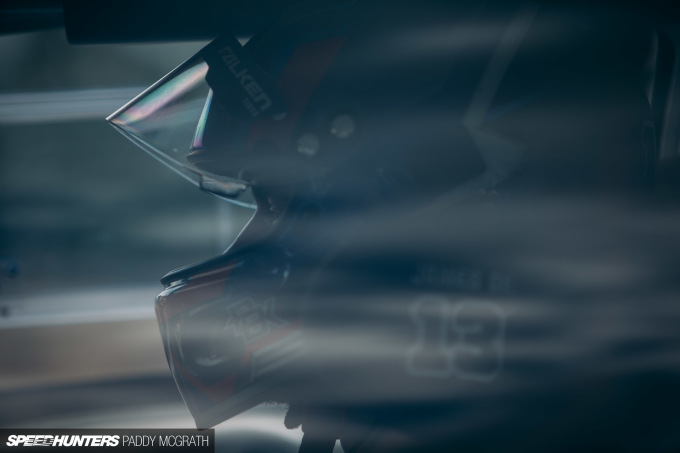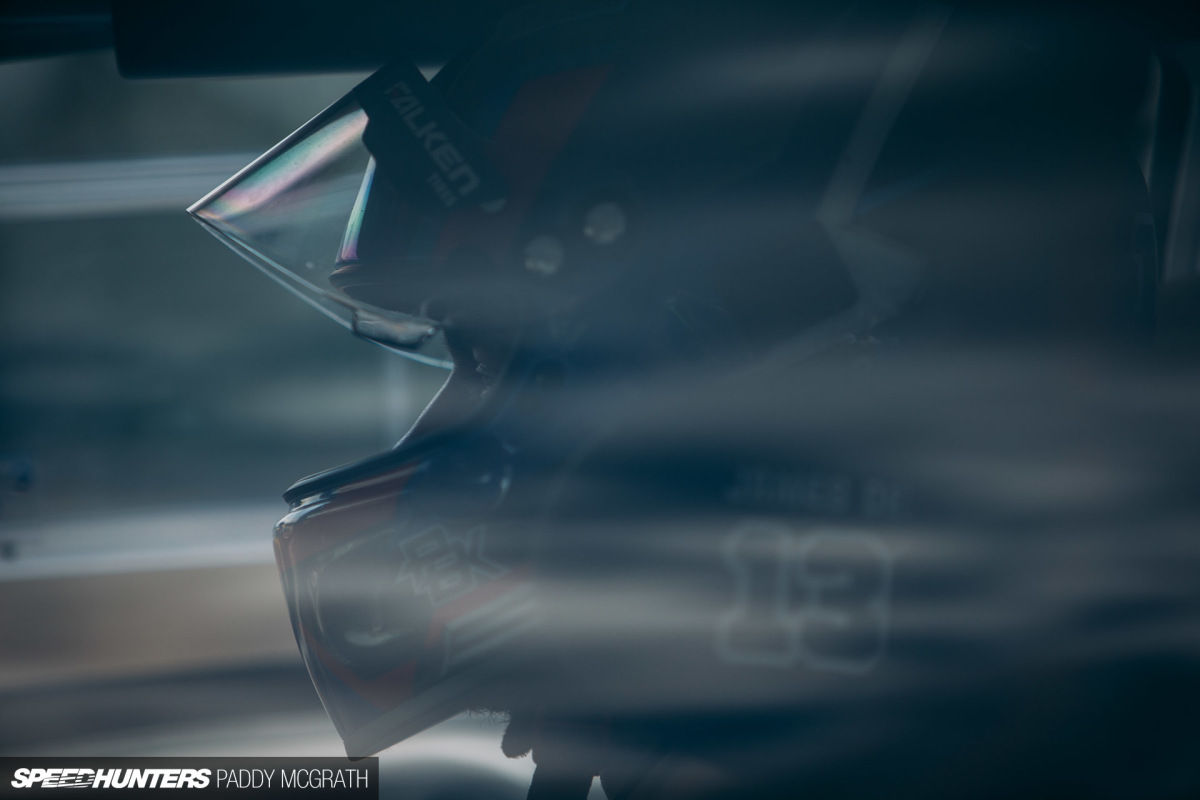 James would have to get past two days of niggles and an uncharacteristic performance in qualifying. Up until this point, it had been far from a straightforward weekend for either driver.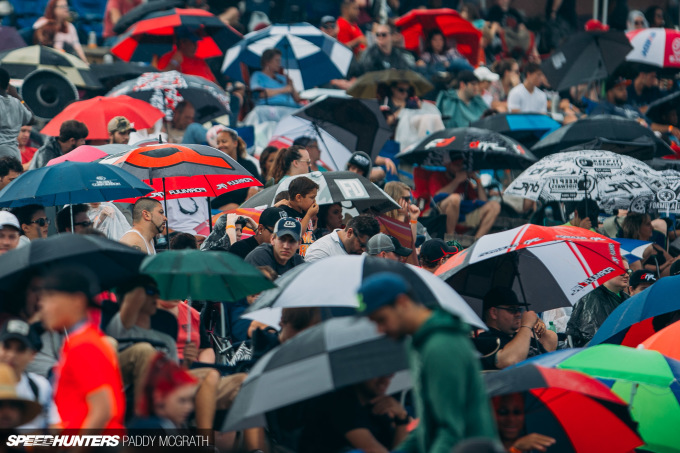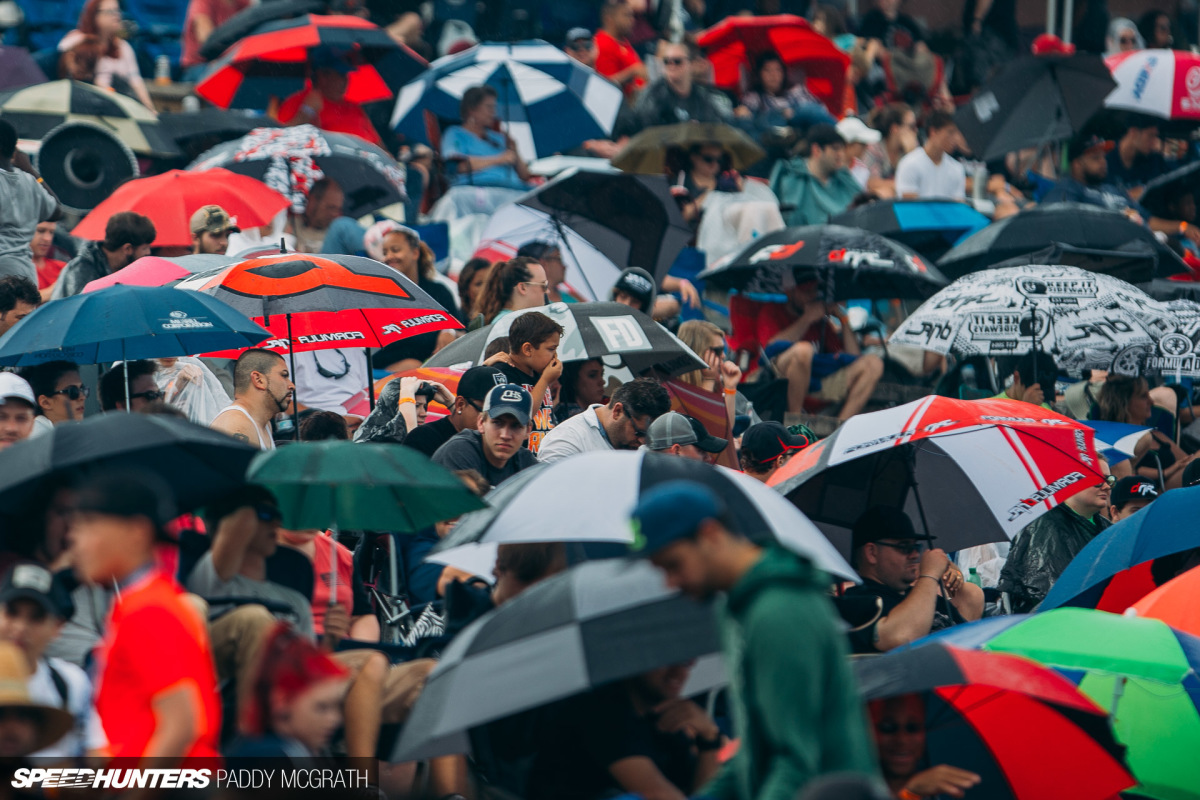 Of course, it wasn't going to be straightforward going forward either. As practice approached its end, the skies over Georgia dumped its contents on the venue, saturating the track.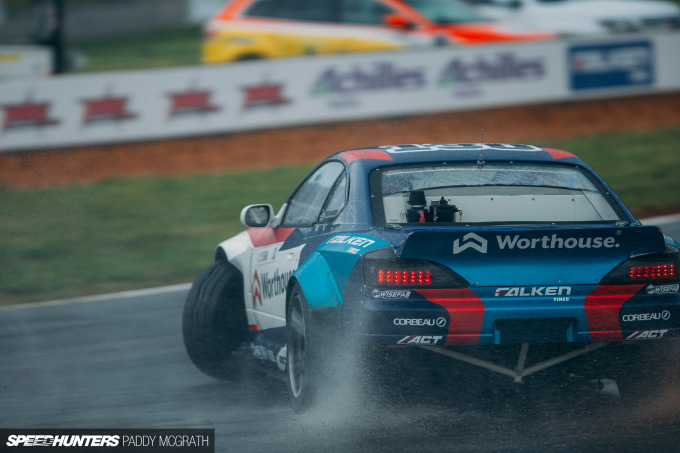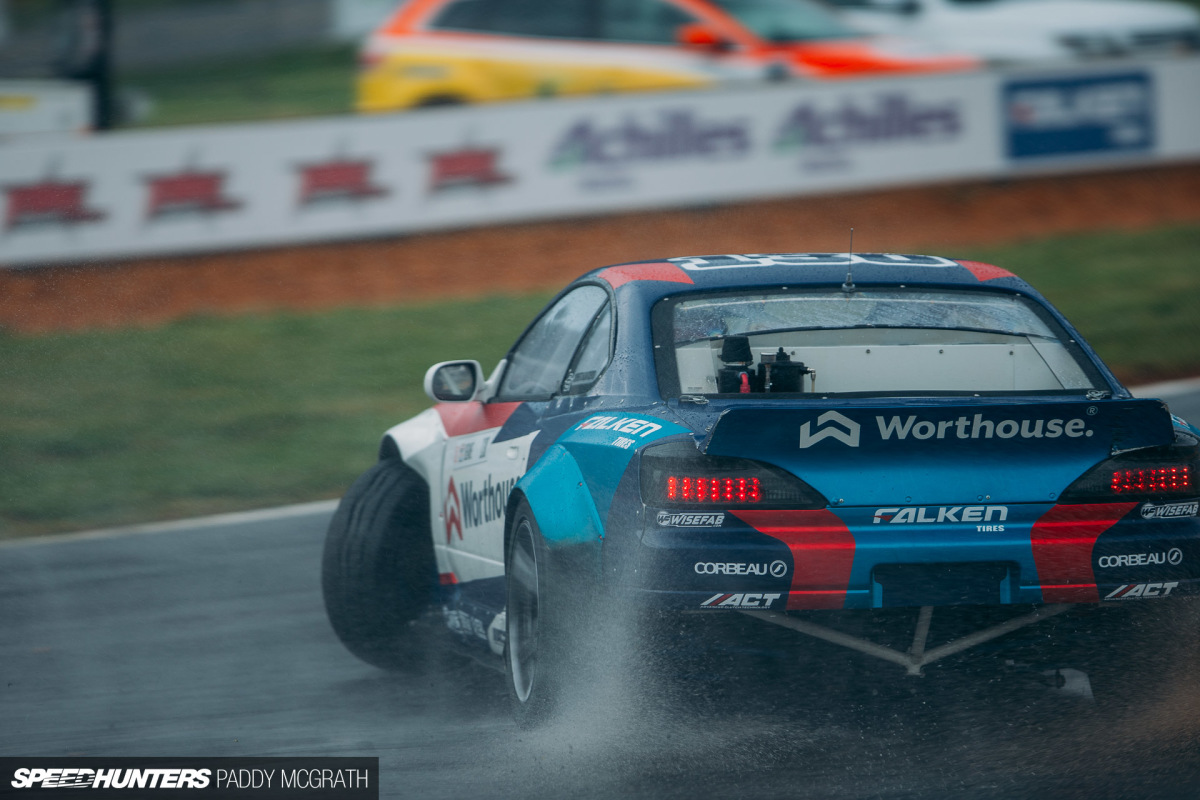 There was the opportunity to get a lap or two in under the new conditions, and again both drivers seemed comfortable where others seemed weary of the wet. At this point, I would quite happily have taken a fully wet event for the rest of the evening. As it turned out, it wasn't needed.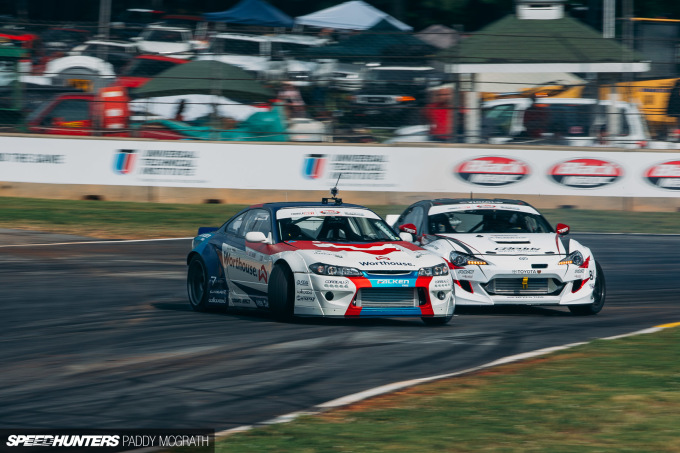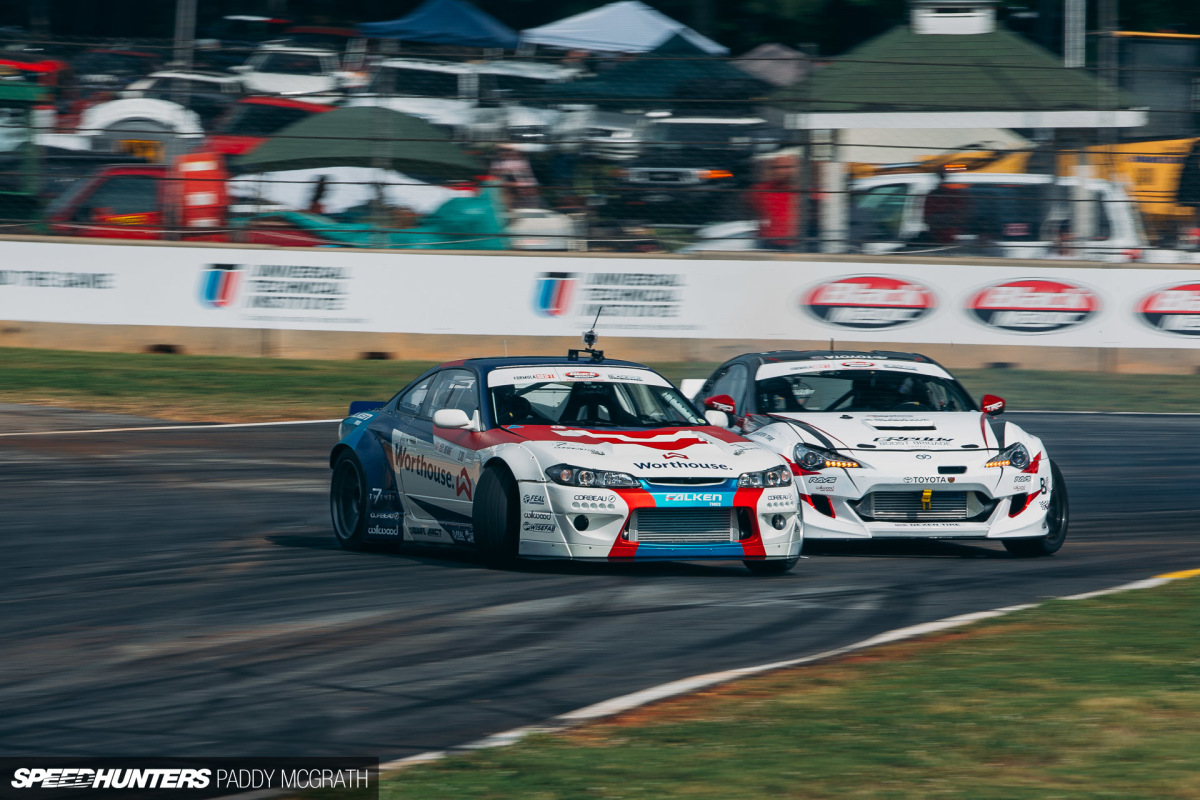 James would go to battle first against FD veteran Ken Gushi in mixed conditions. On each run, the track would continue to evolve from wet to dry, an issue that affected pretty much every battle in the Top 32. Where James' lead was solid, so was Gushi's chase, right up until the last corner when his 86 made contact with the back of the S15. When the roles were reversed, James didn't have quite the same proximity as Gushi, but Gushi didn't have the lead run that James had. The judges were split 2-OMT, but James would advance to the Top 16.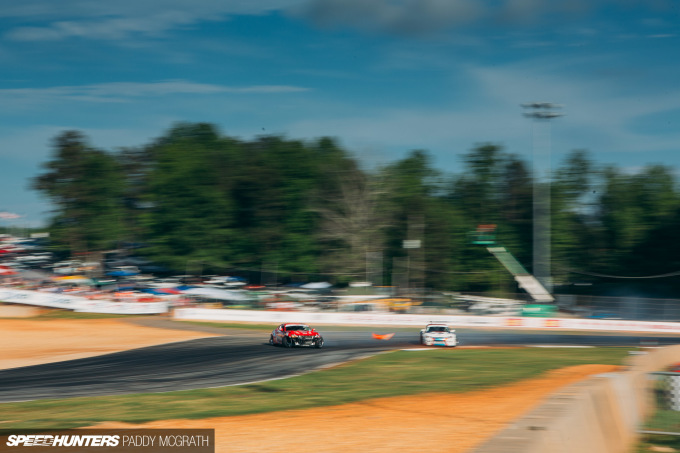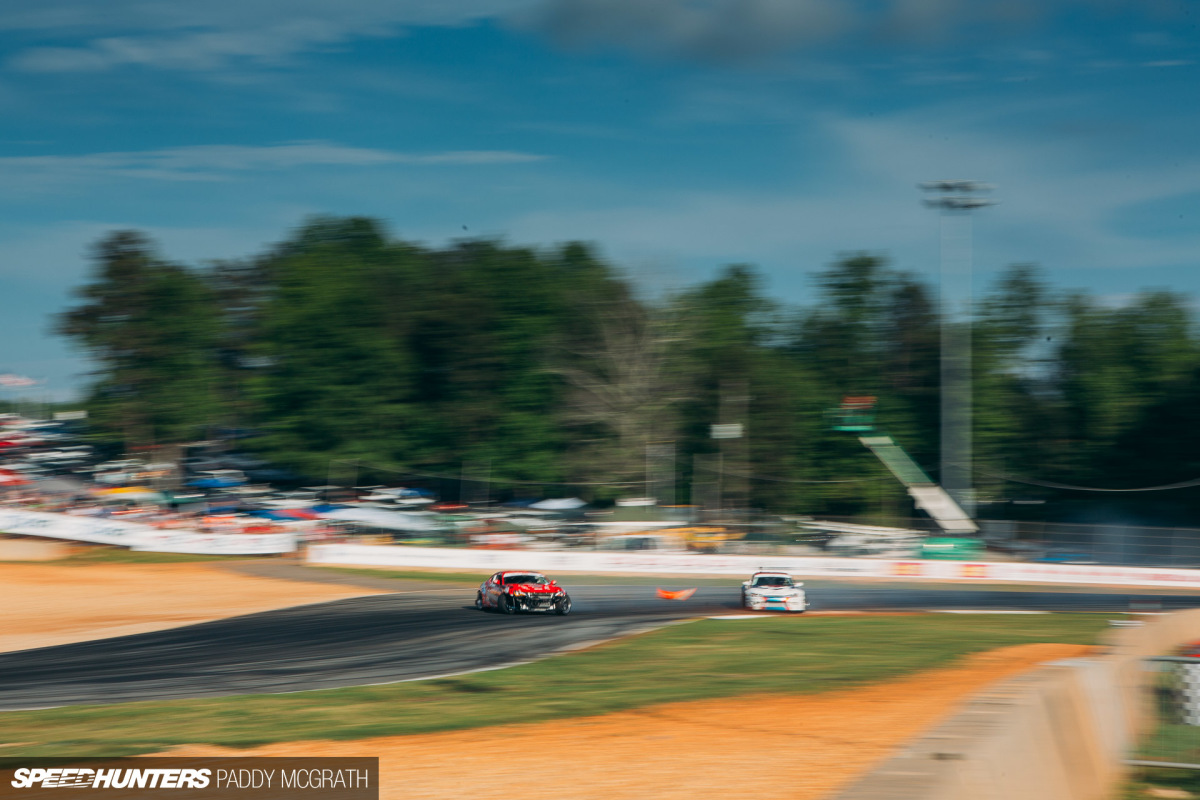 Piotr's first battle was a straightforward win against Cameron Moore, who made several mistakes over both runs: straightening behind Piotr, cutting the first two clips while leading and even sending a cone straight into the front of Piotr's car. A unanimous judging decision sent Piotr straight into the Top 16.
One set of battles down, four more to get to that top step of the podium.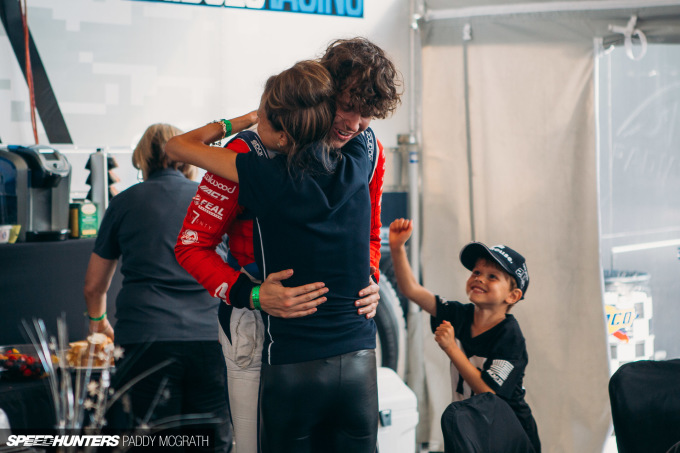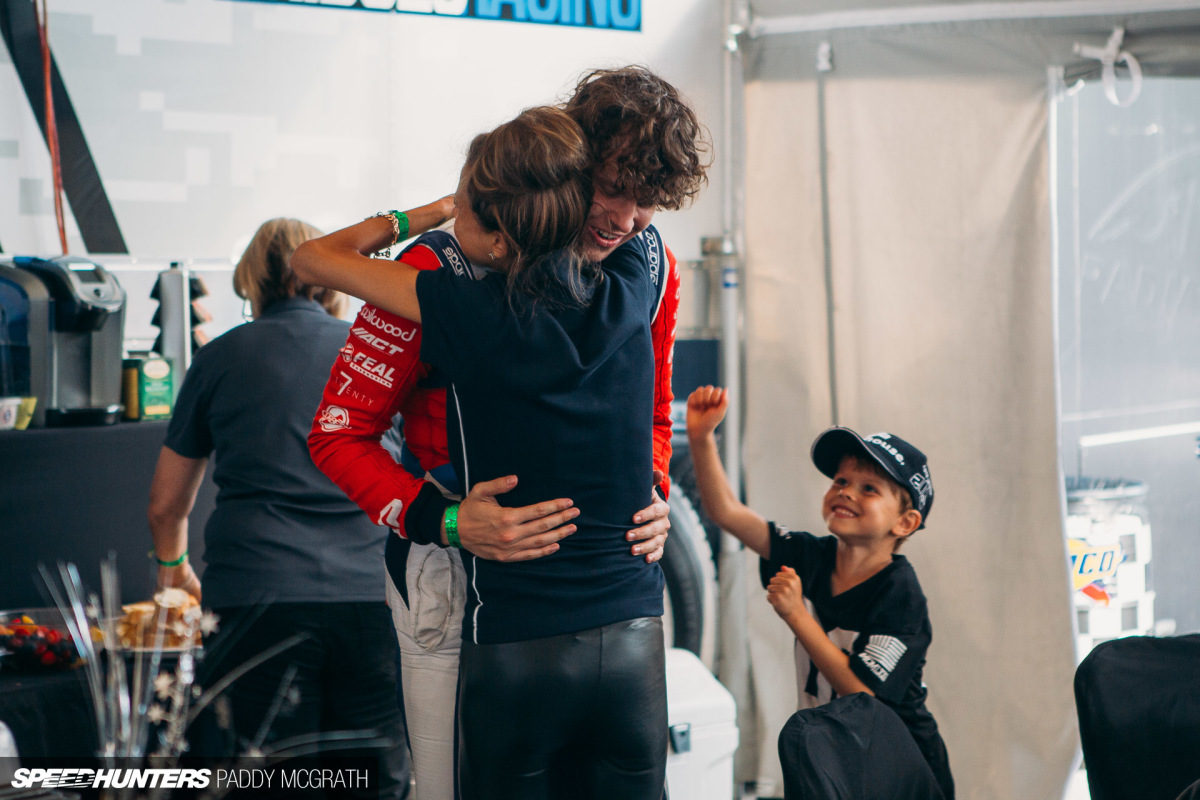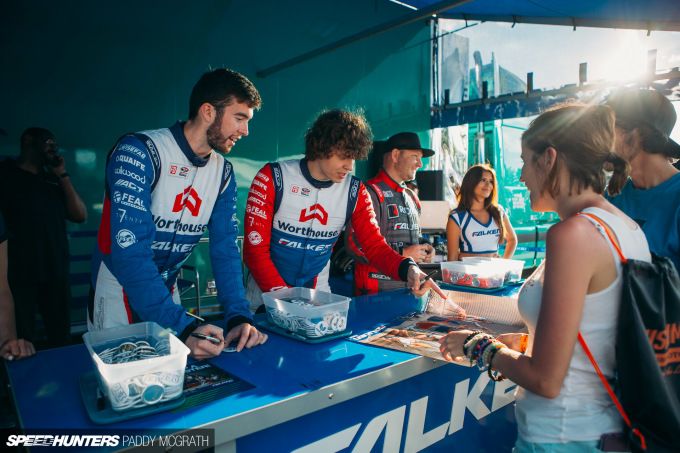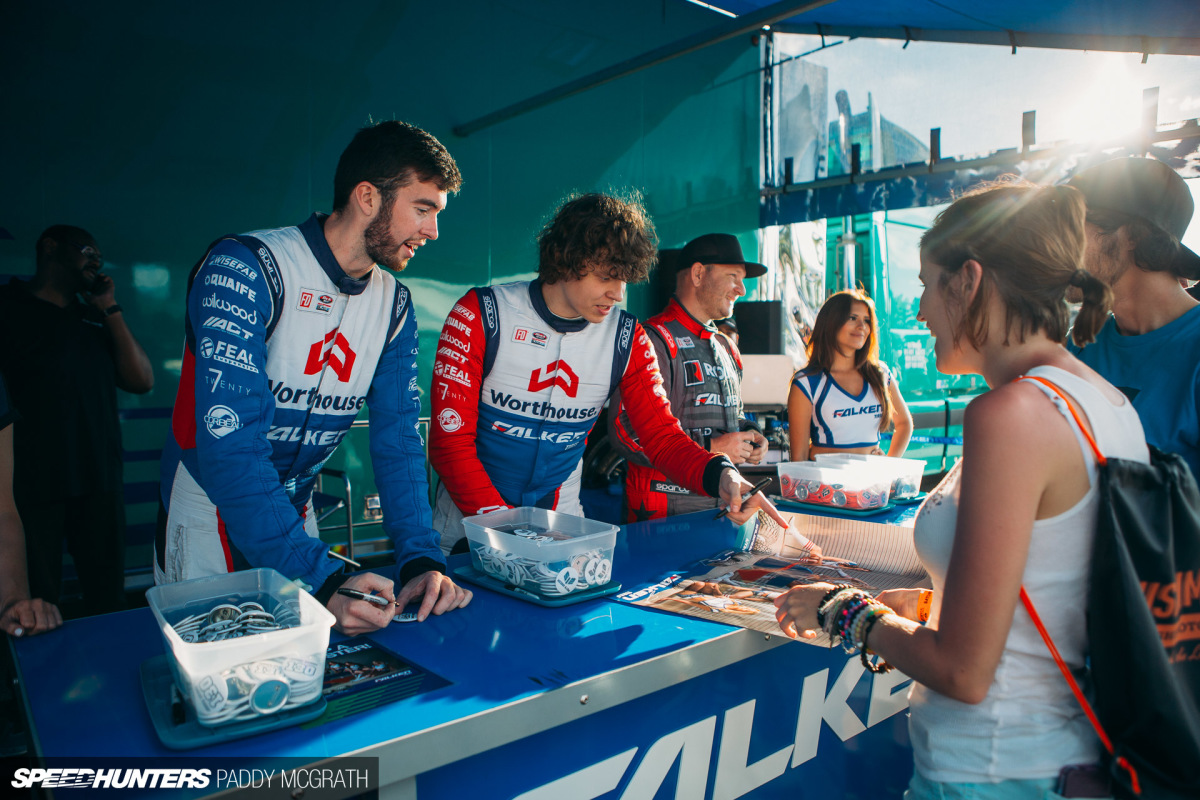 Typically, the break between Top 32 and Top 16 feels like an eternity, but this one absolutely blitzed past. There was just about time for congratulations for all three drivers – Dean Kearney would eliminate Dan Burkett – before a brief autograph session at the Falken area and then immediately heading back to the track for run out to the finals.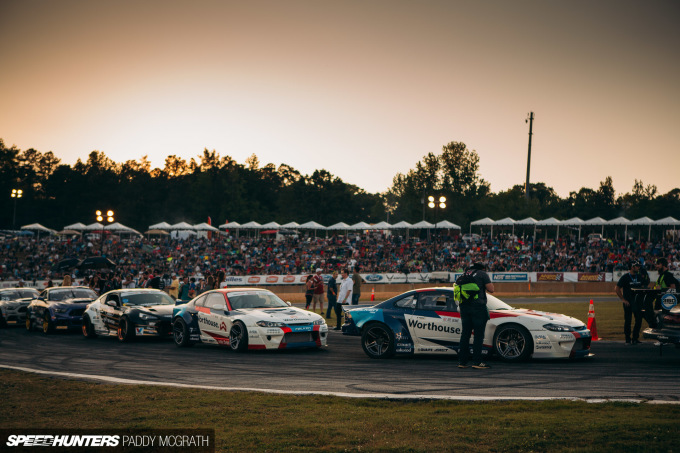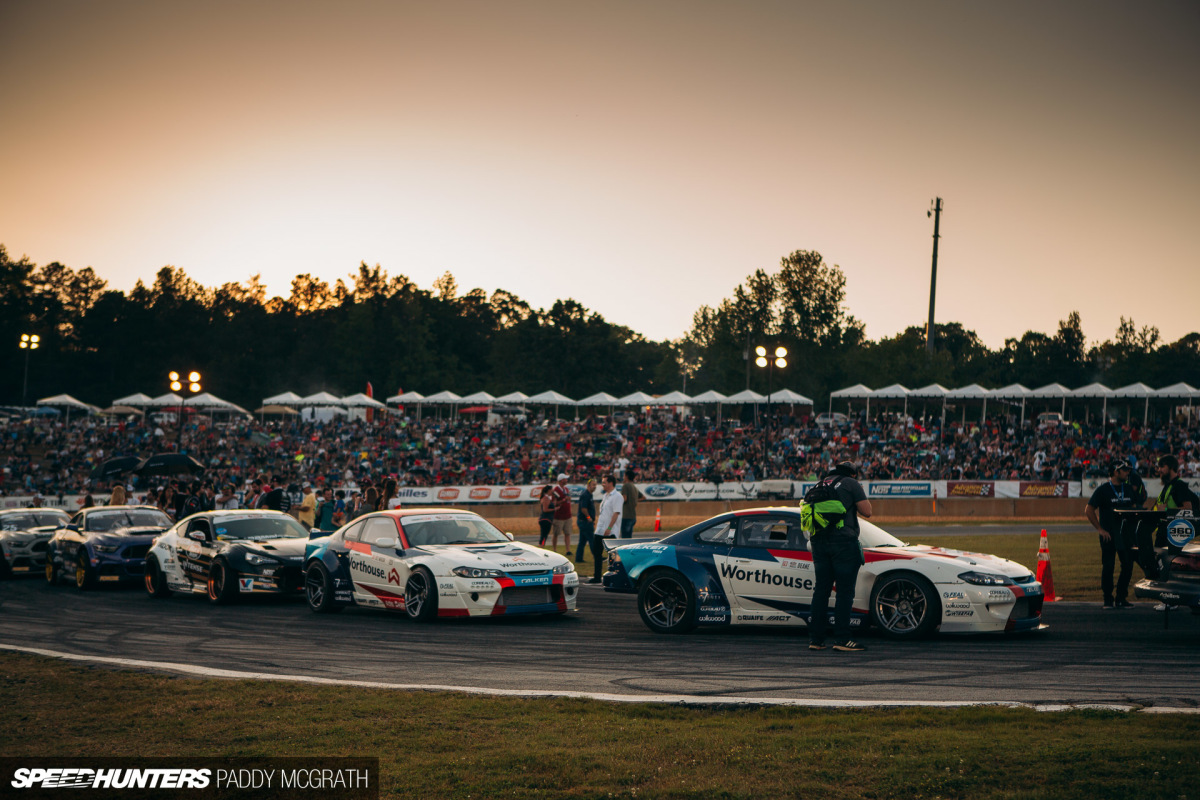 For the third event in a row, both Worthouse cars had made the Top 16 parade and ceremony.
And a ceremony it was. Nothing quite says 'Merica like celebrating the national anthem by shotgunning beers with your buddies. Damn, I love these fans.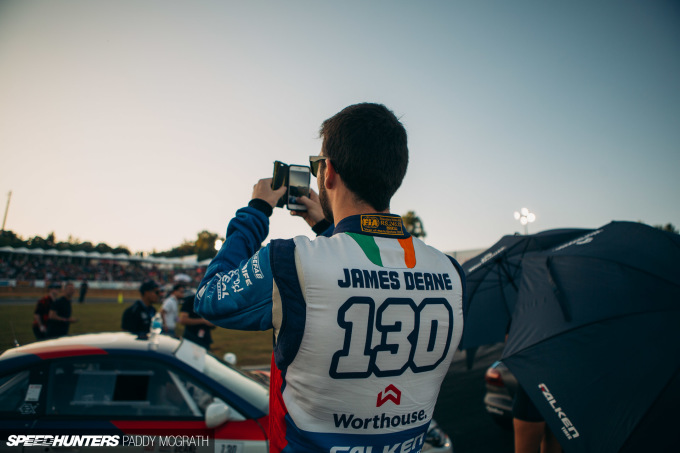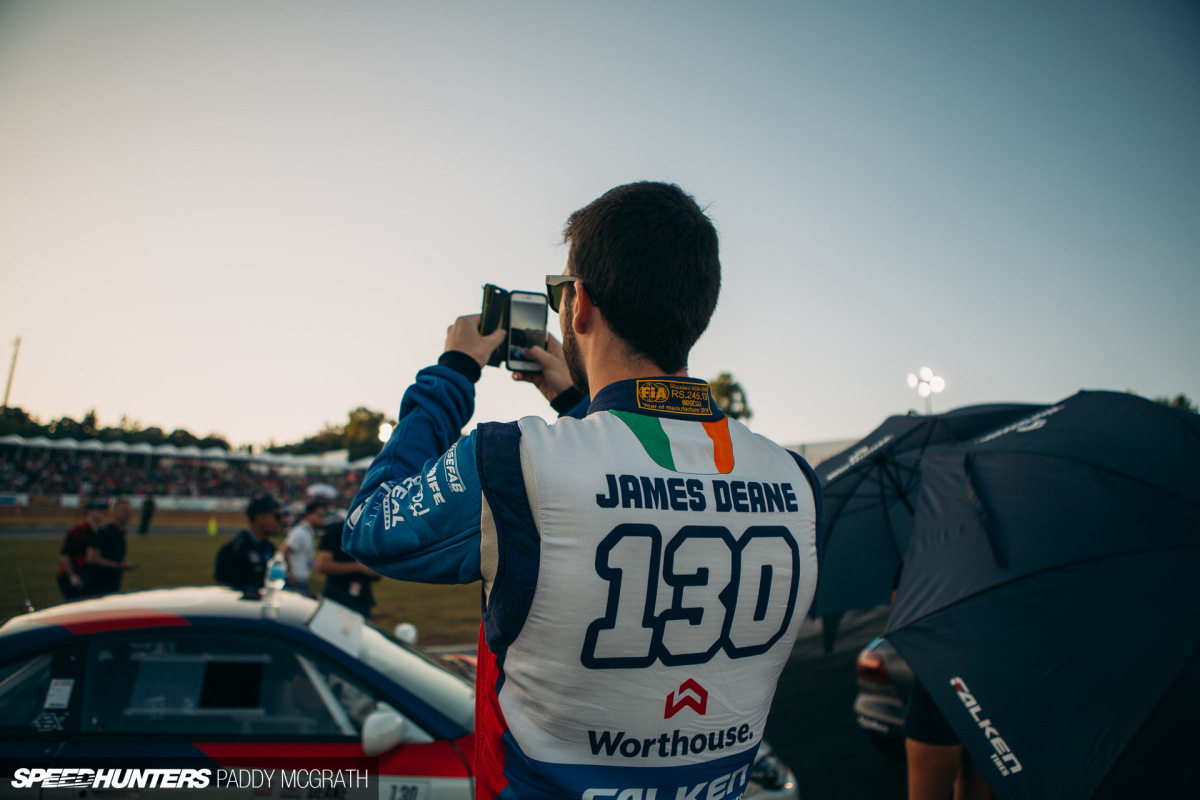 James was just taking it all in; he really couldn't be happier to be there, regardless of what was to come. With what he's sacrificed to get to FD, you can be certain that he's going to enjoy every single minute of it. With Fredric Aasbø having been the surprise elimination of the Top 32, it was the perfect opportunity for James to leapfrog him and try put some distance between them in the standings at the same time. There was a lot to play for.
With the sun setting, no more rain forecast and an electric atmosphere, the stage was set for a proper evening of battles.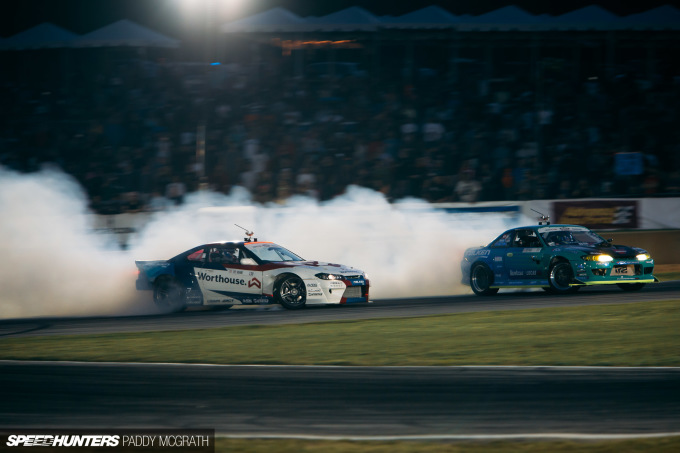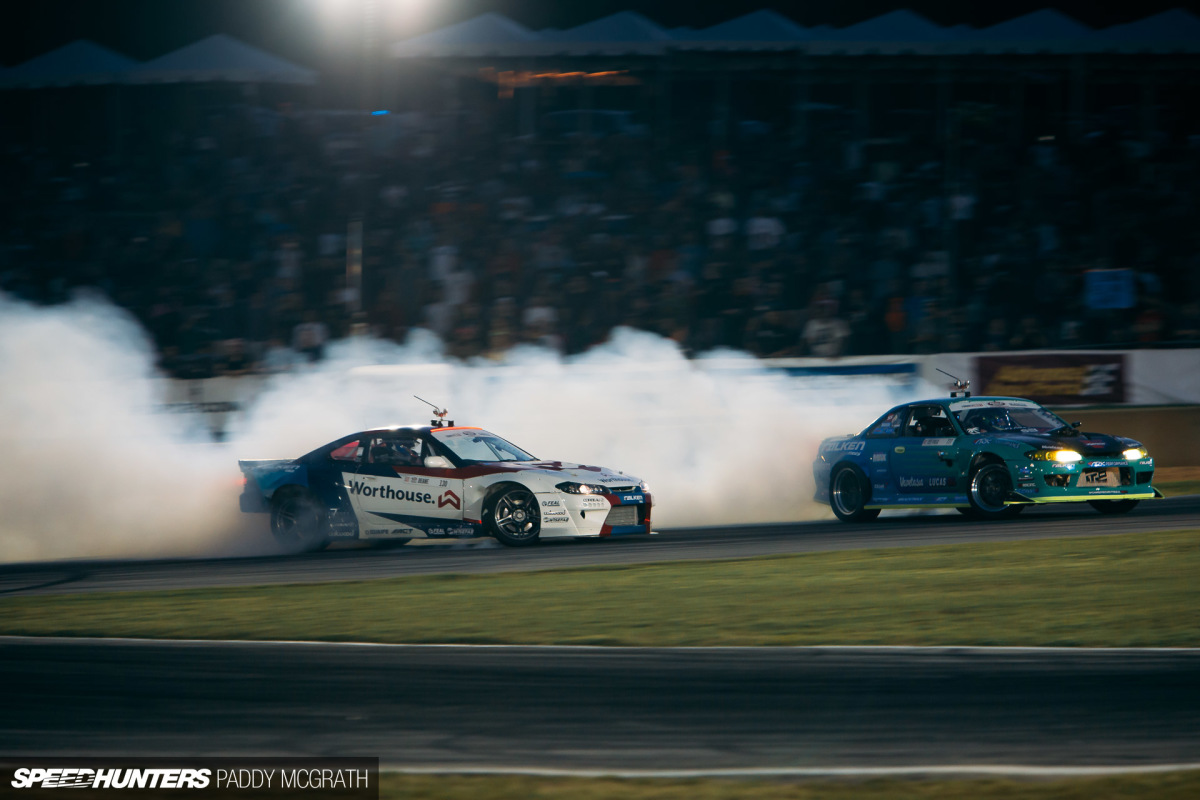 Again, James would be the first of the Worthouse cars to run. His Top 16 opponent was Falken teammate Matt Field. There was definitely a level of trust between both drivers as they committed fully on initiation and up the hill.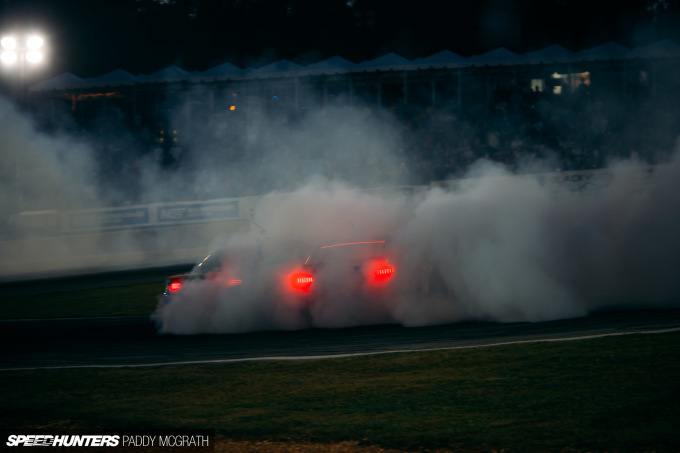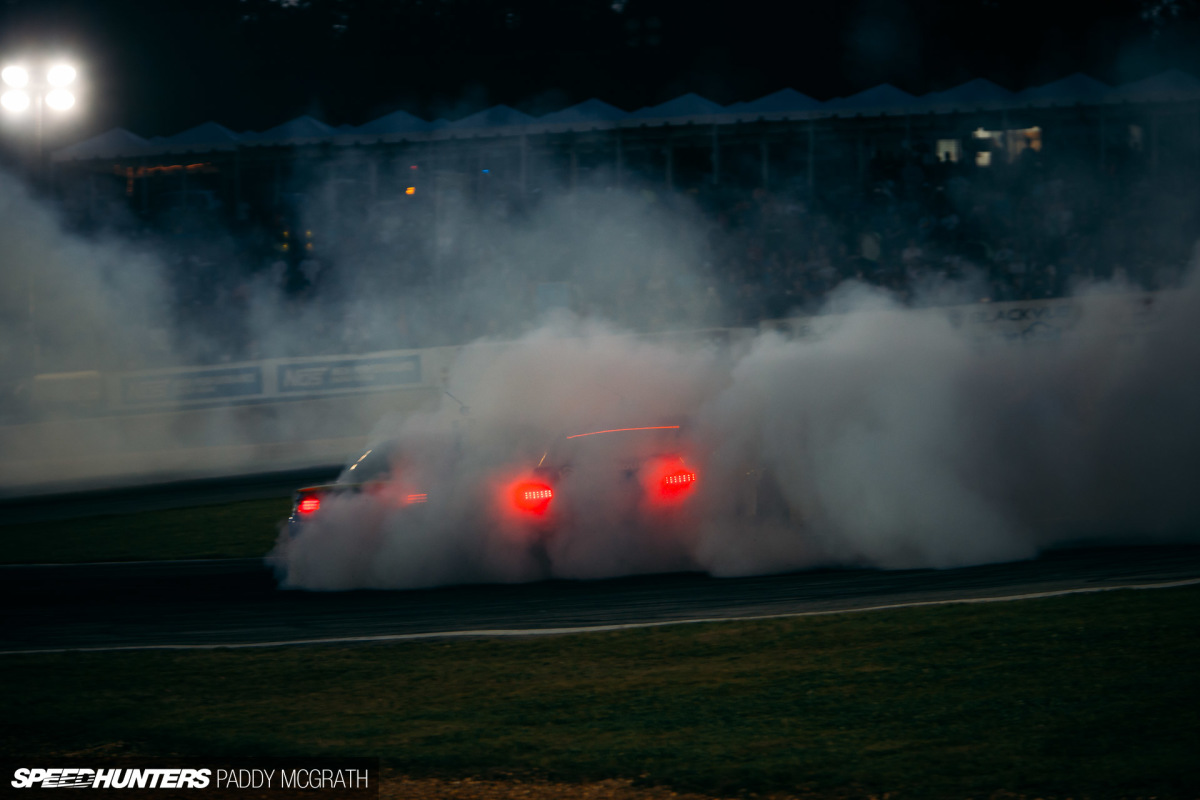 As they came around and past the second inside clip, Field over rotated and briefly stalled, leaving James with no where to go but right into him. The contact was minimal, but enough for the judges to hand a significant advantage to James heading into the second run.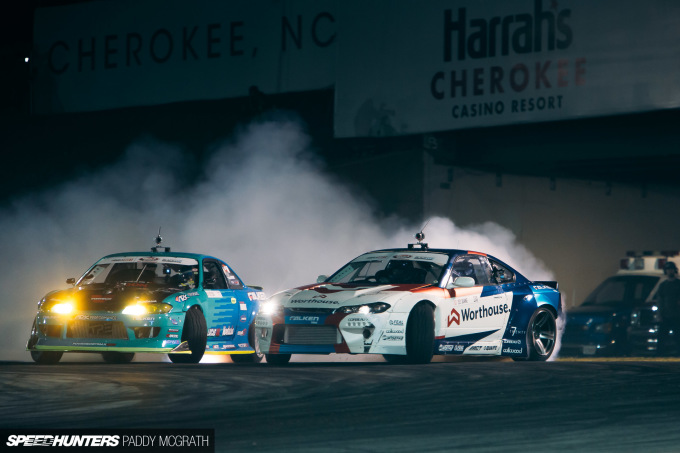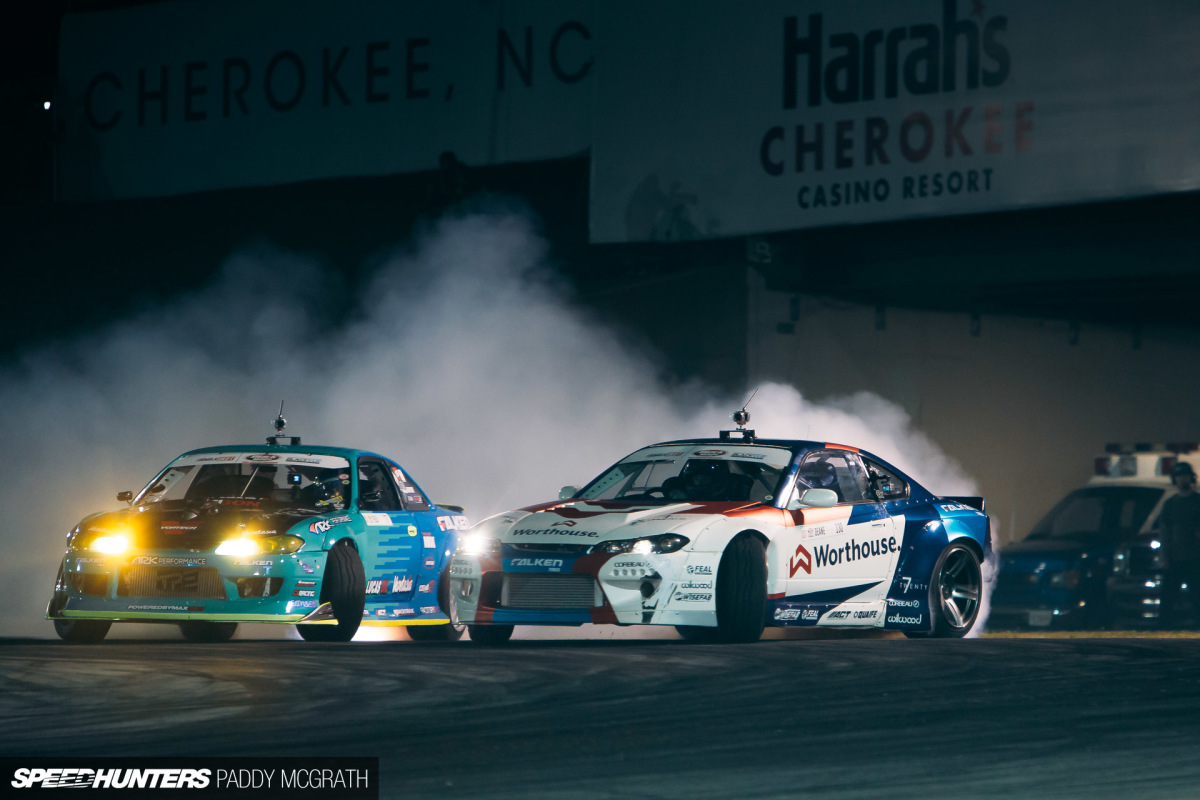 After a quick checkover, James lead Field through the course. After a hard initiation, Field pushed maybe too hard and made a series of errors while chasing. Throughout the second half of the run, Deane's car developed a vibration through the driveline, which would plague him for the rest of the event.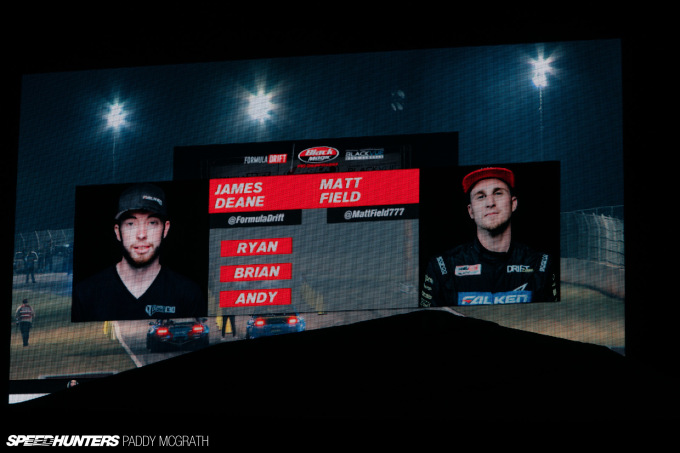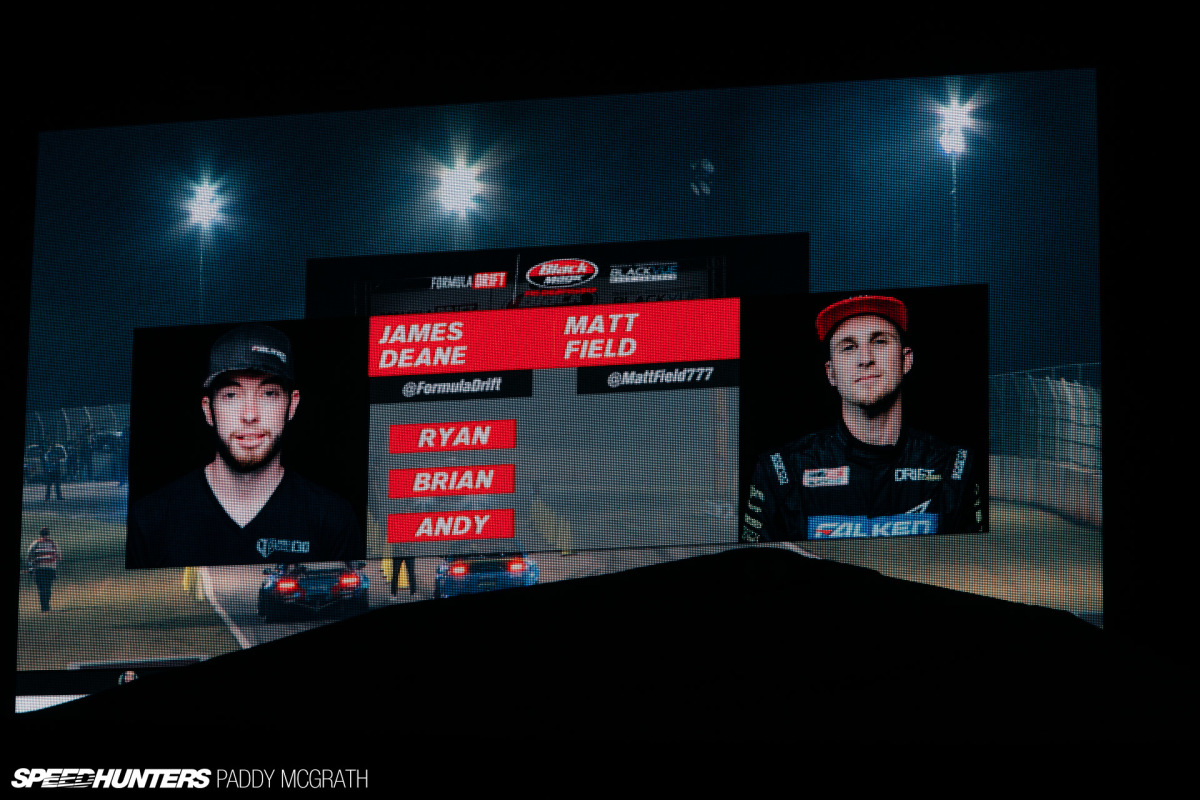 Ultimately, it was an easy and unanimous decision for the judges. James was through to the Top 8.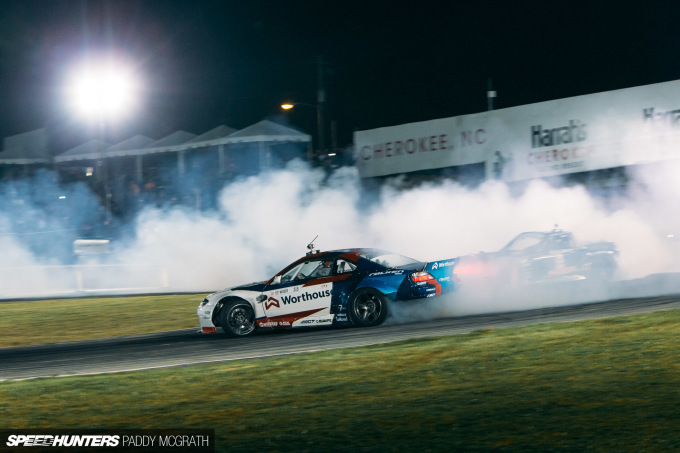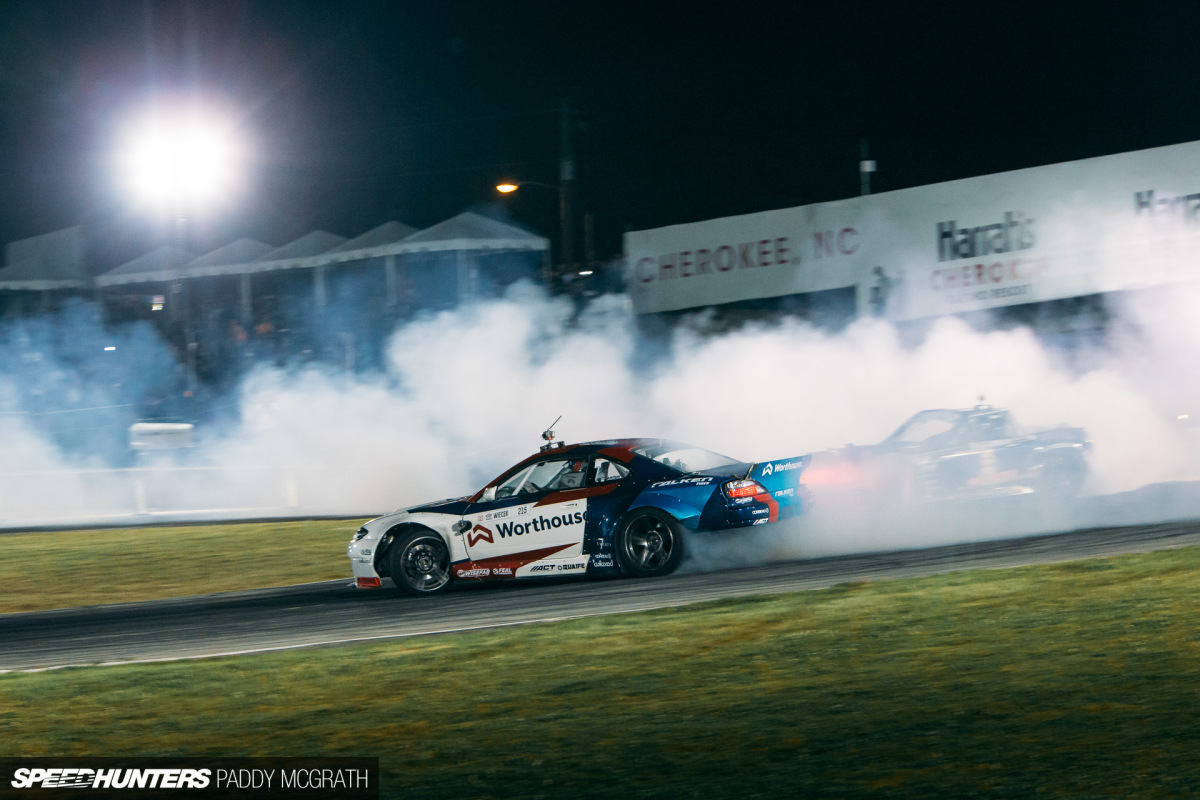 Piotr's opponent at this stage of the competition would be the three-rotor MX-5 of Kyle Mohan. Mohan has proved a tricky adversary, with Aasbø falling foul of the often troubled Mazda. Piotr was able to put a big distance between both cars on his lead, with Mohan not having an answer for him.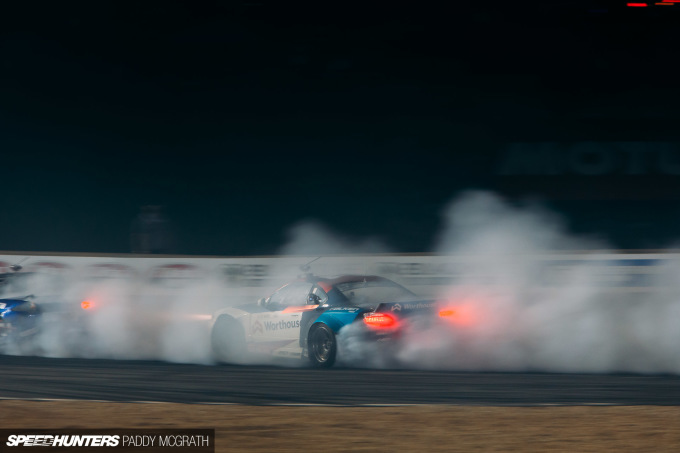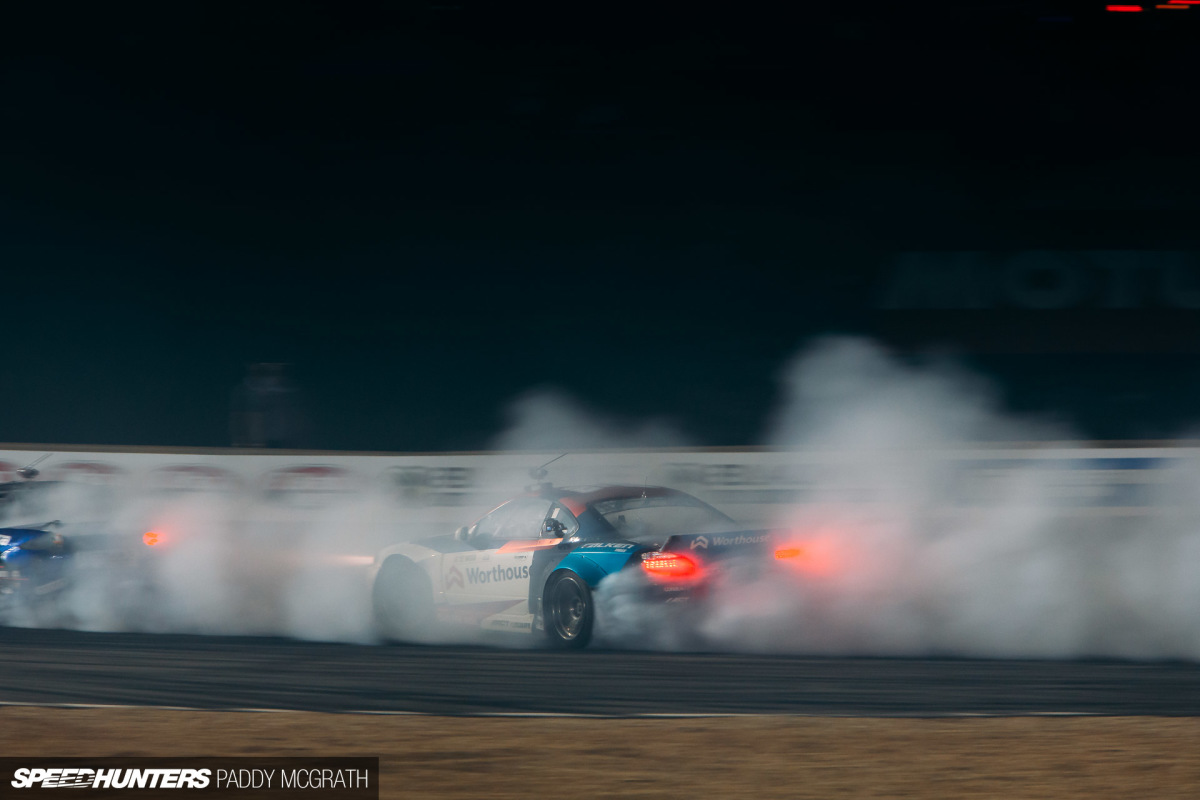 With the roles reversed, Piotr maintained decent proximity despite an issue with second gear, while still allowing Mohan some room and not to trip over himself.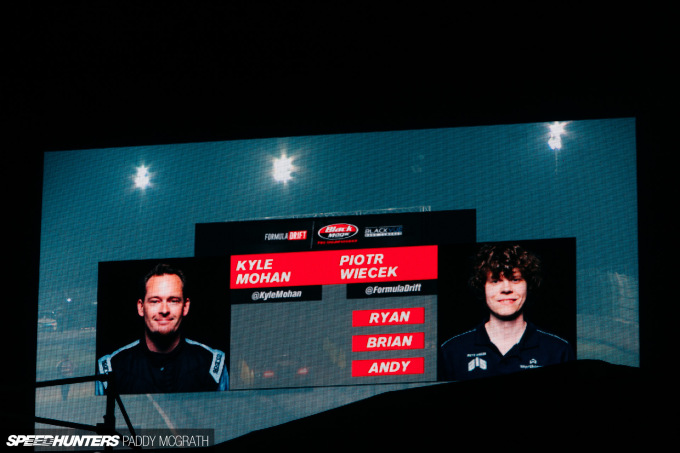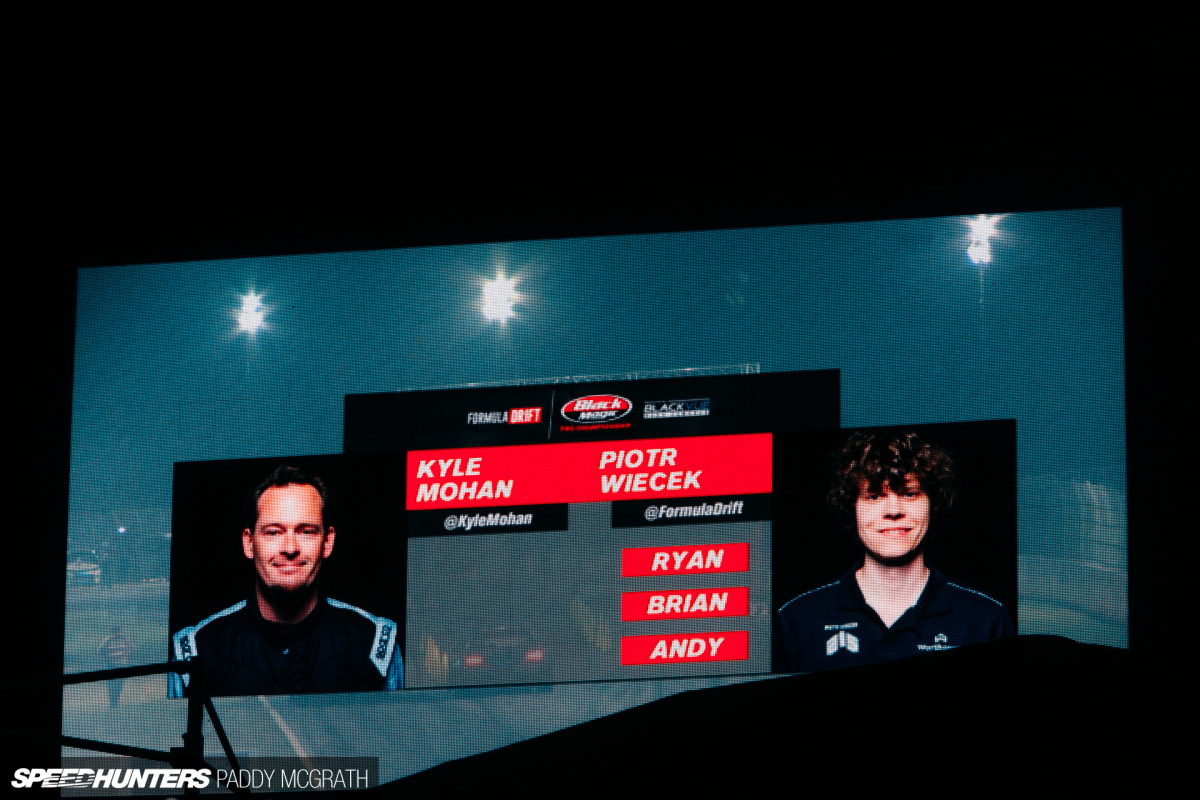 It was a strategy that paid off, with a fast and unanimous decision to send another Worthouse S15 into the Top 8.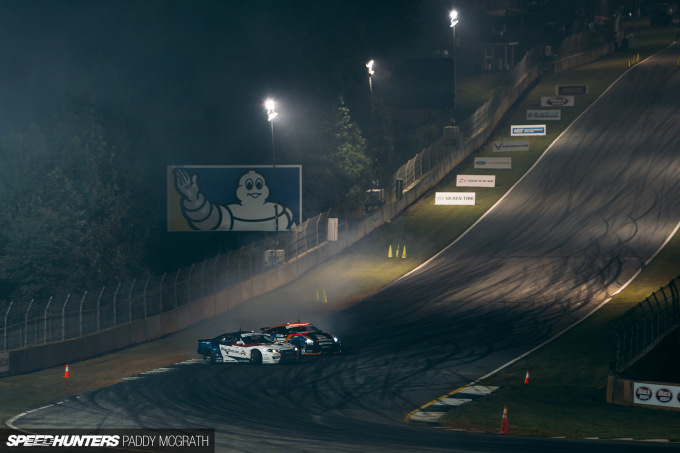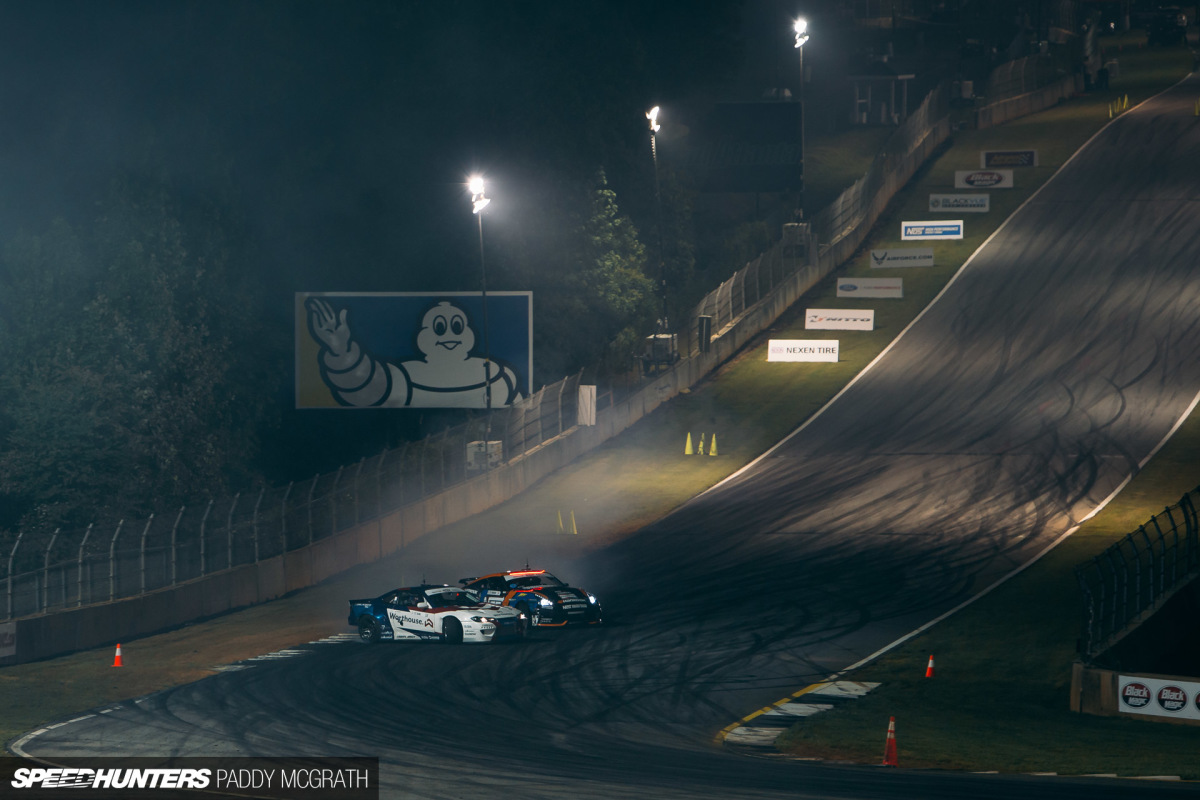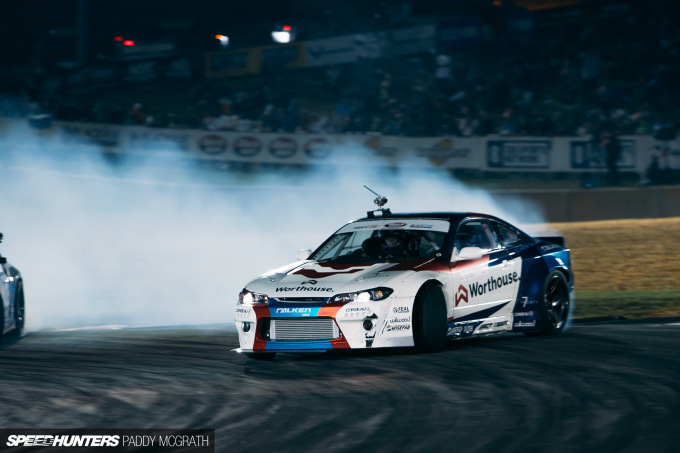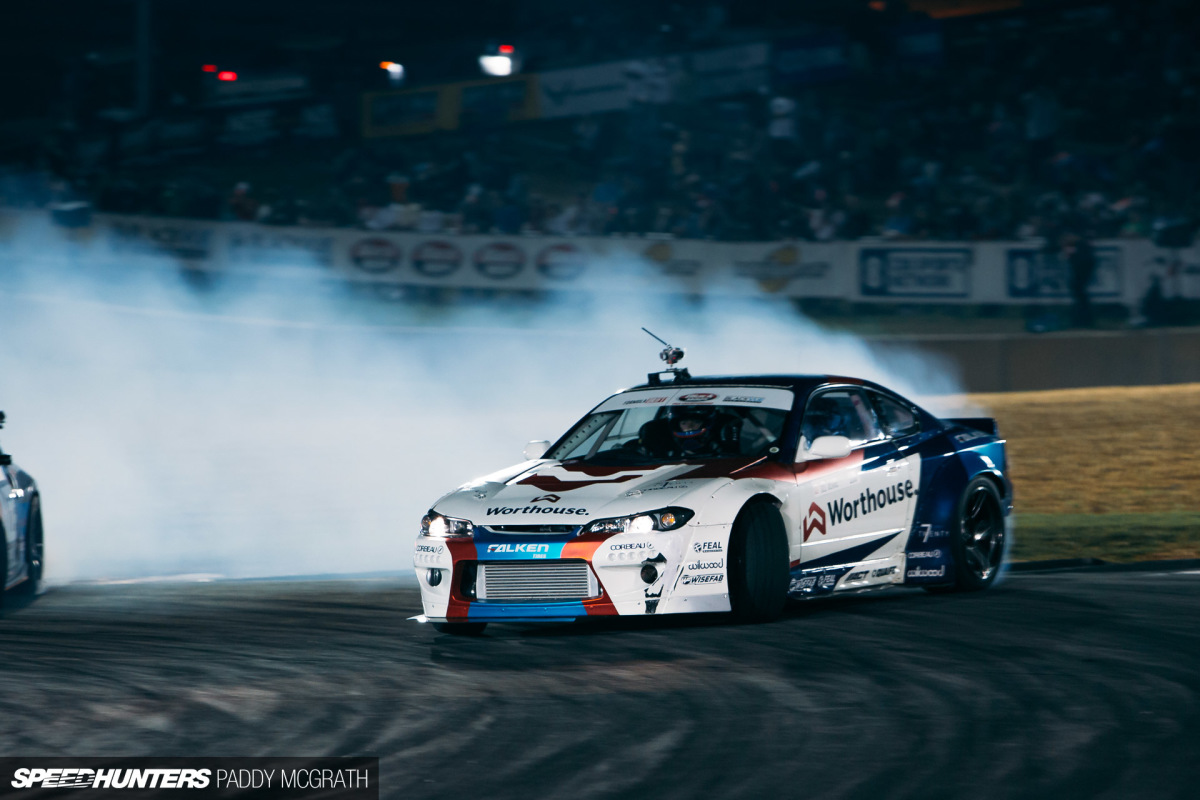 There's never an easy route to the final in Formula D, but James must have been thinking that he was going to have to do it the hard way again. In Long Beach, he had to go through Essa, Forsberg and Tuerck to reach the final. In Atlanta, he had already got past Gushi and Field, and again he would have to fight Forsberg in the Top 8. With the vibration still in the car, he could only hope that everything held together.
Leading the pair out, James again started with a feint before pulling away from Forsberg up the hill. Forsberg would catch him coming through the horseshoe and stay with him through the rest of the course.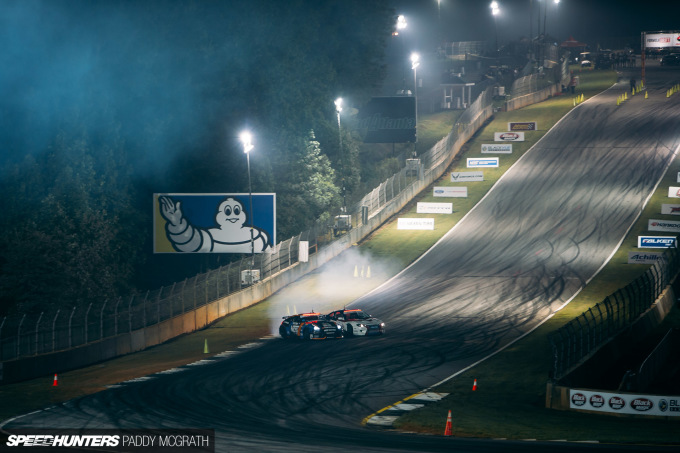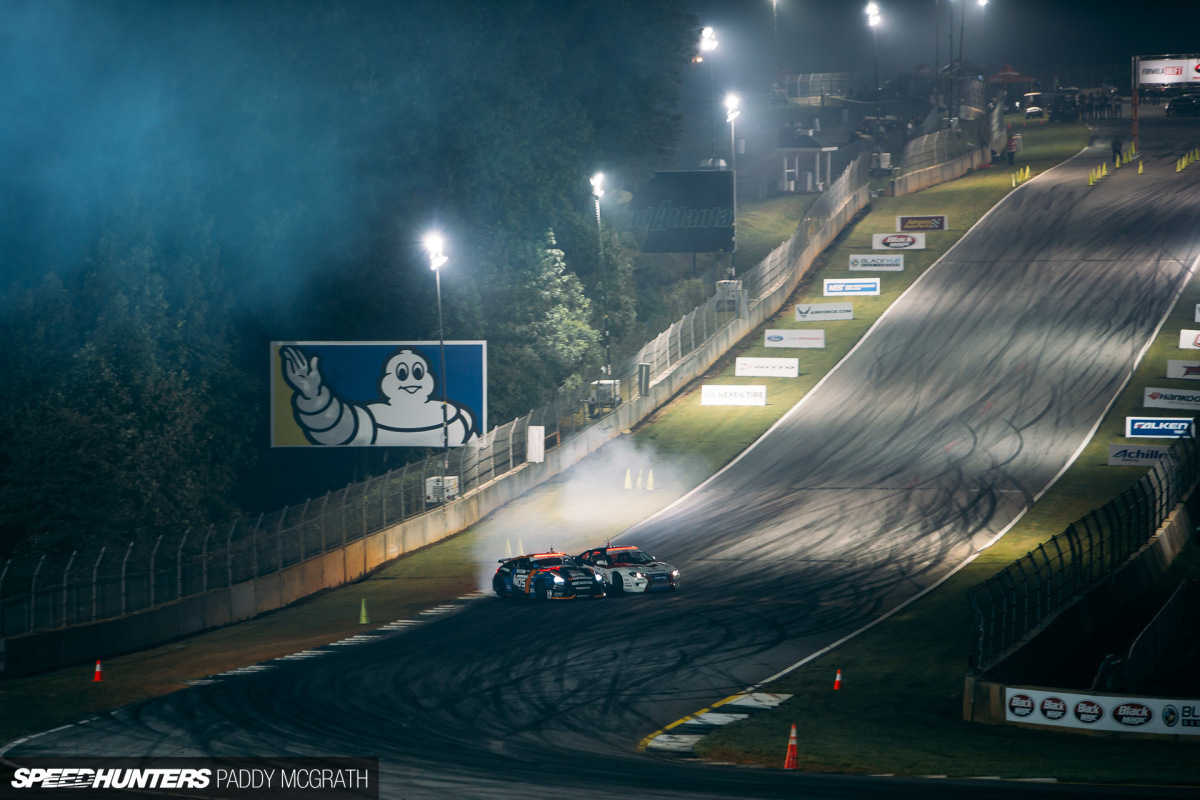 With Deane running behind Forsberg down the hill and into the first corner, James matched Forsberg on entry and absolutely stuck it right on the reigning champion's door. Forsberg put down a solid lead, similar to James', but James' chase was judged to have been better overall.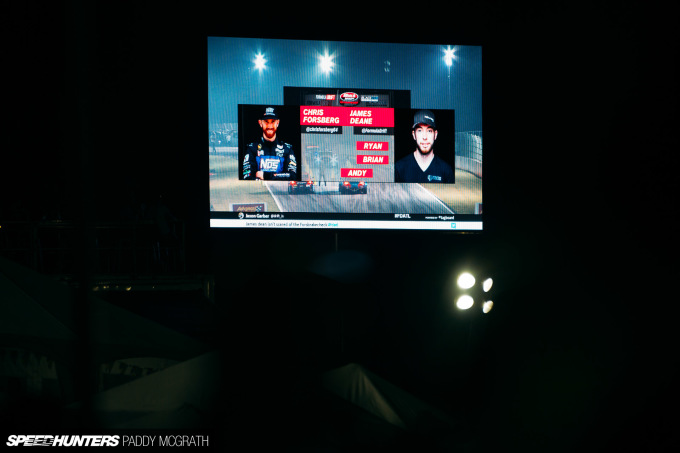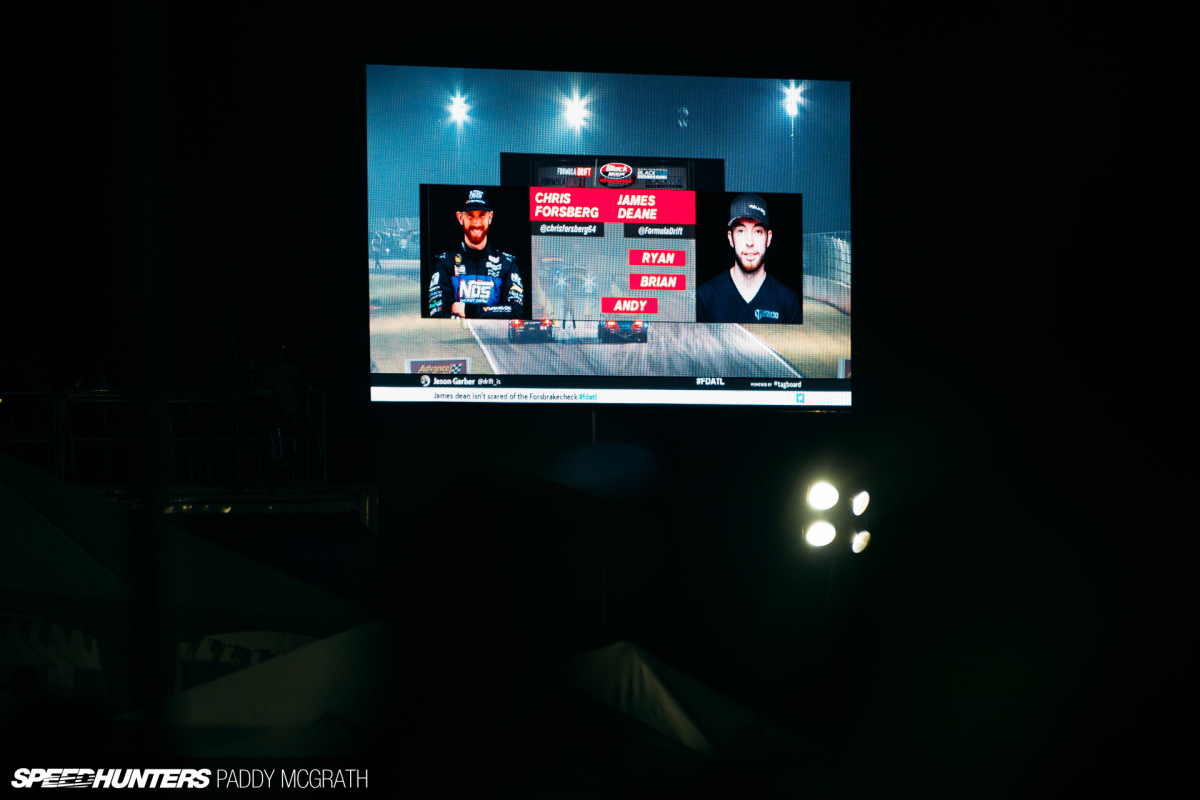 For the second time this season, Forsberg was defeated by Deane. Again, it was unanimous.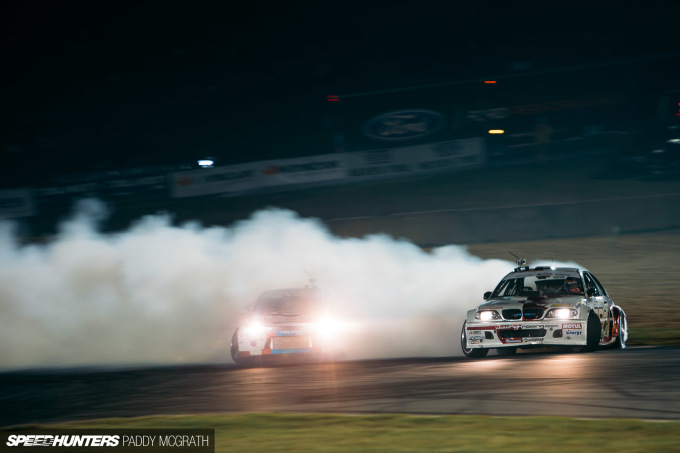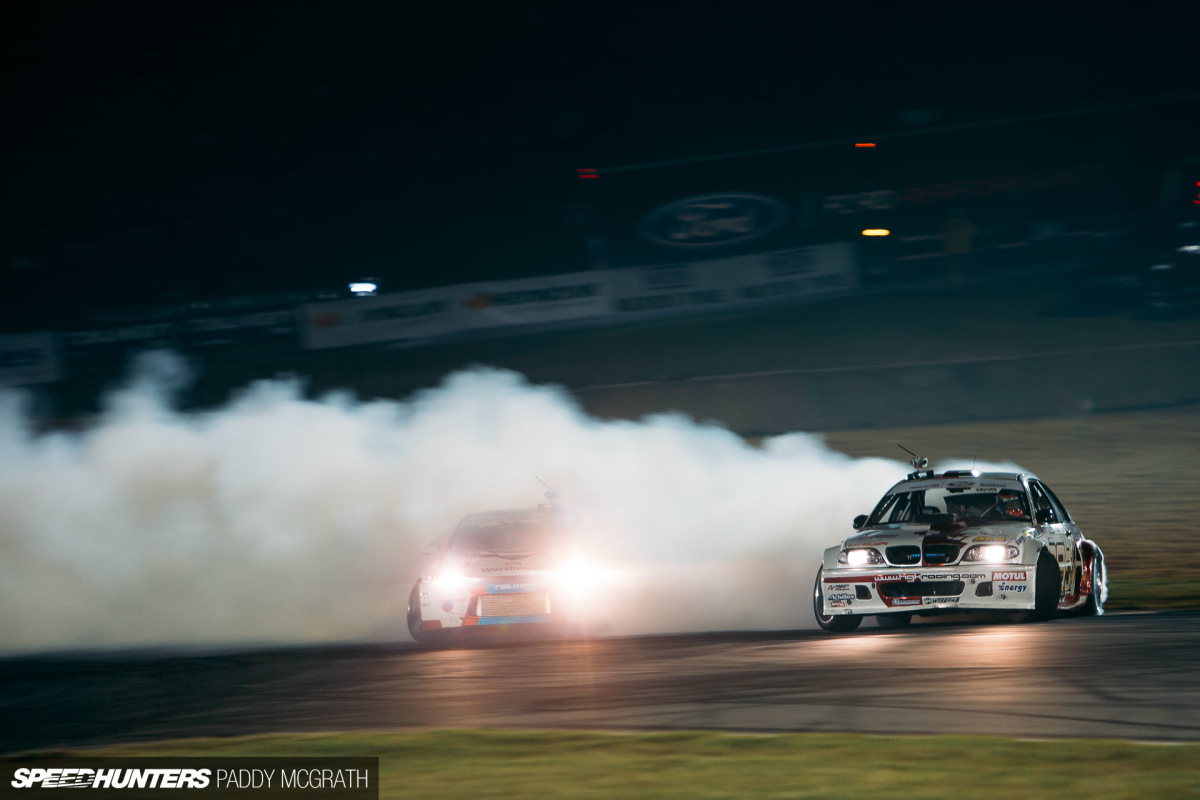 For Piotr's Top 8, he would face a familiar rival in Latvia's Kristaps Bluss. Until this point, Kristaps was seemingly unstoppable and steamrolling his opponents. The HGK driver's style was a perfect match for Piotr: both are no nonsense, aggressive drivers who only want to win by going maximum attack.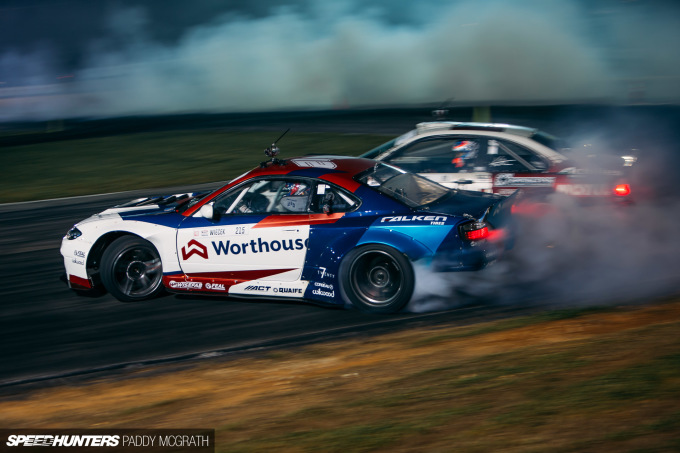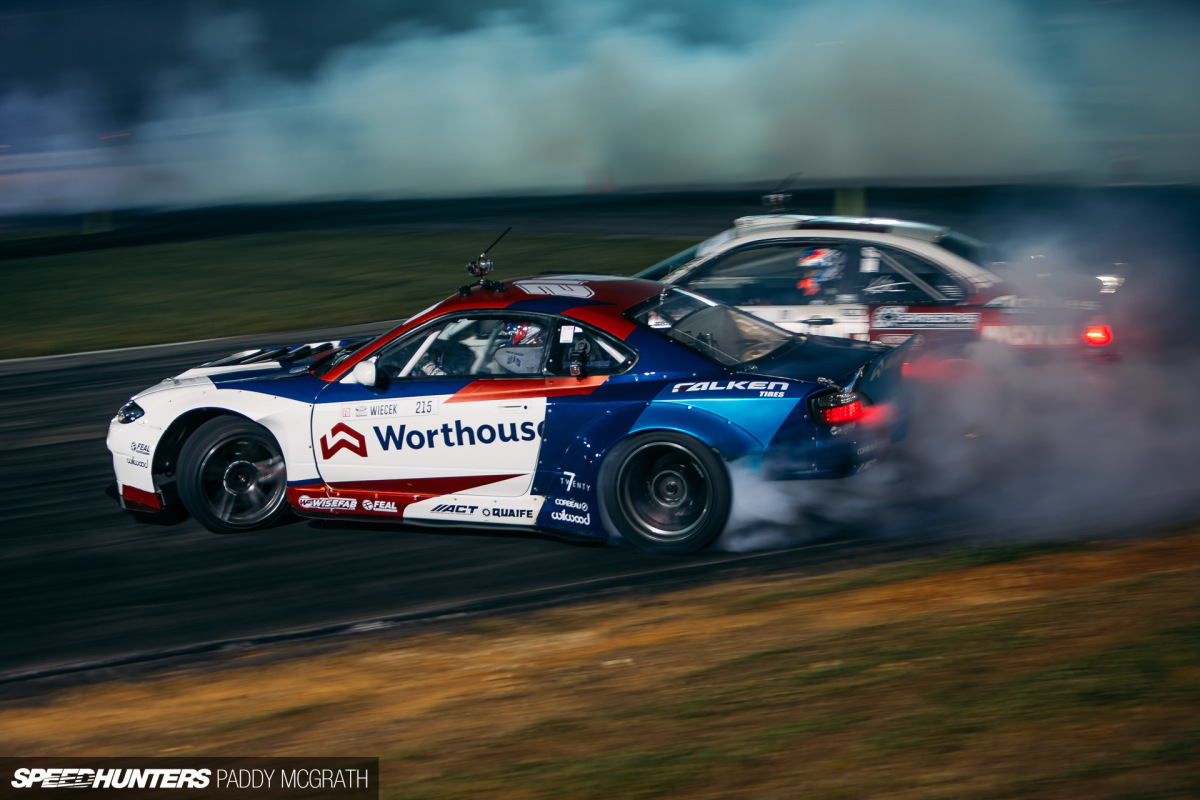 From the off, Kristaps' speed was breathtaking. It looked to be a comfortable victory for Bluss, until he put two wheels off when chasing just before the finish line which drew a OMT from the judges.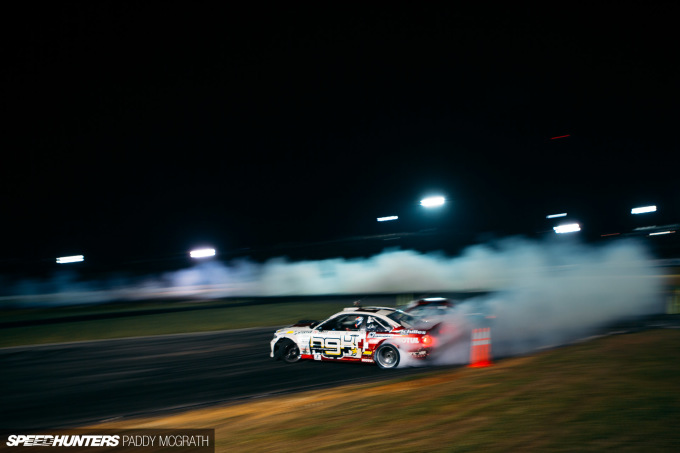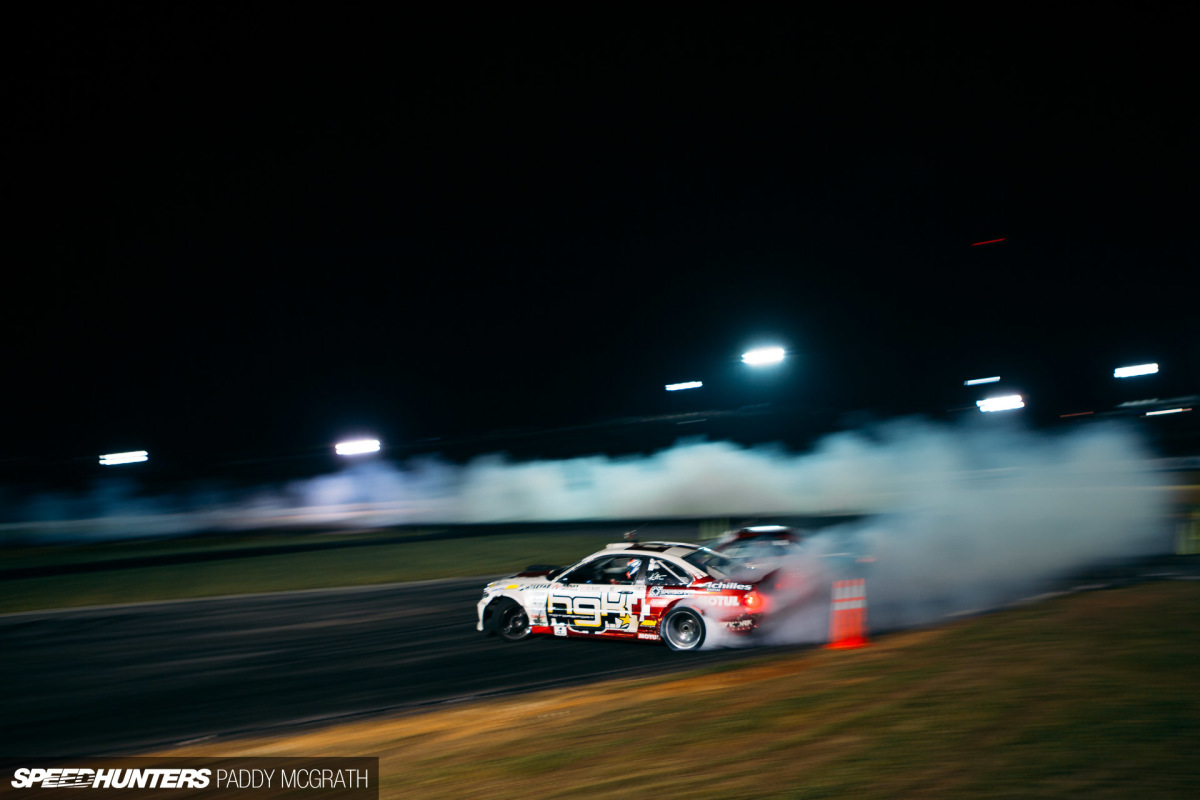 For the rerun of the battle, Kristaps would just have to repeat what he done in the first runs, without the error before the finish line. Piotr was able to maintain much closer proximity compared to his first run, but it was still a strong lead from Kristaps.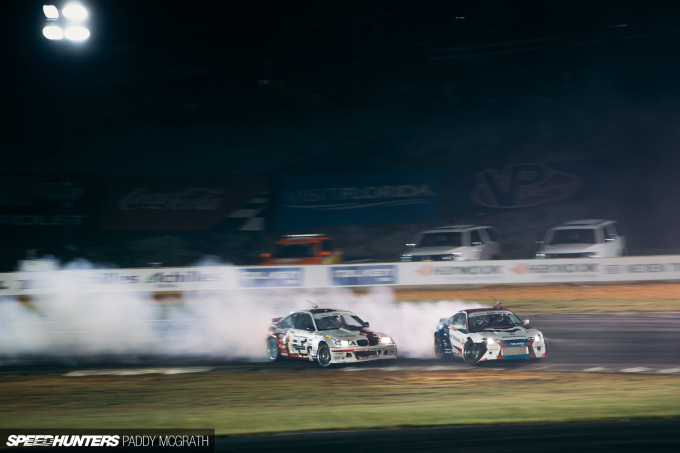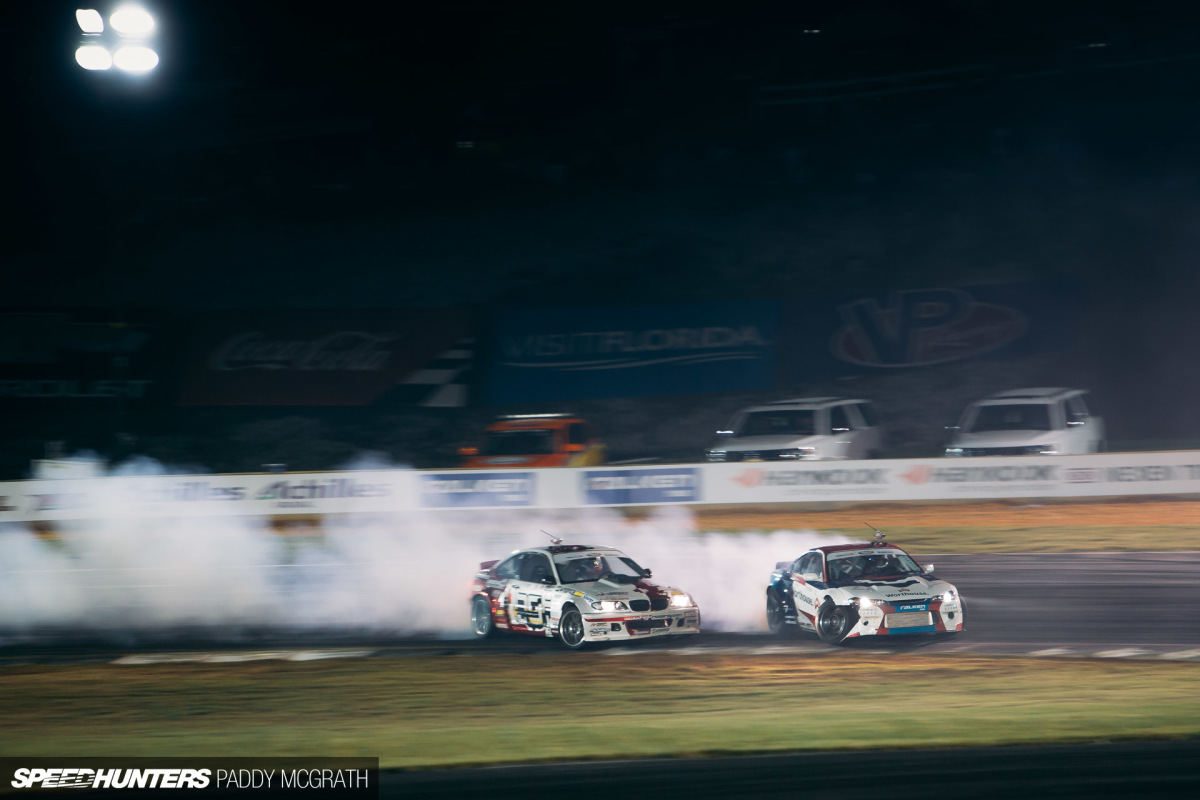 On his own lead, Piotr held his own, but Kristaps took more risks that paid off when chasing which ultimately gave him the win. It was a close fought battle over two sets and it was a defeat that Piotr could take with his head held high. If you're going to lose, this is how you want it to happen. It was also Piotr's best result in FD to date, so there was lot to take from it.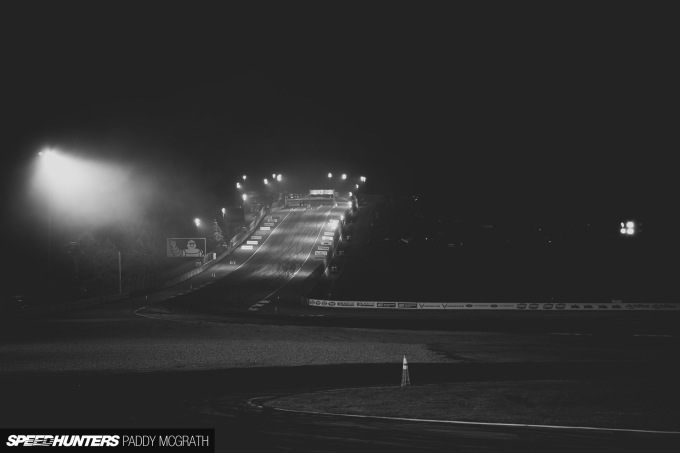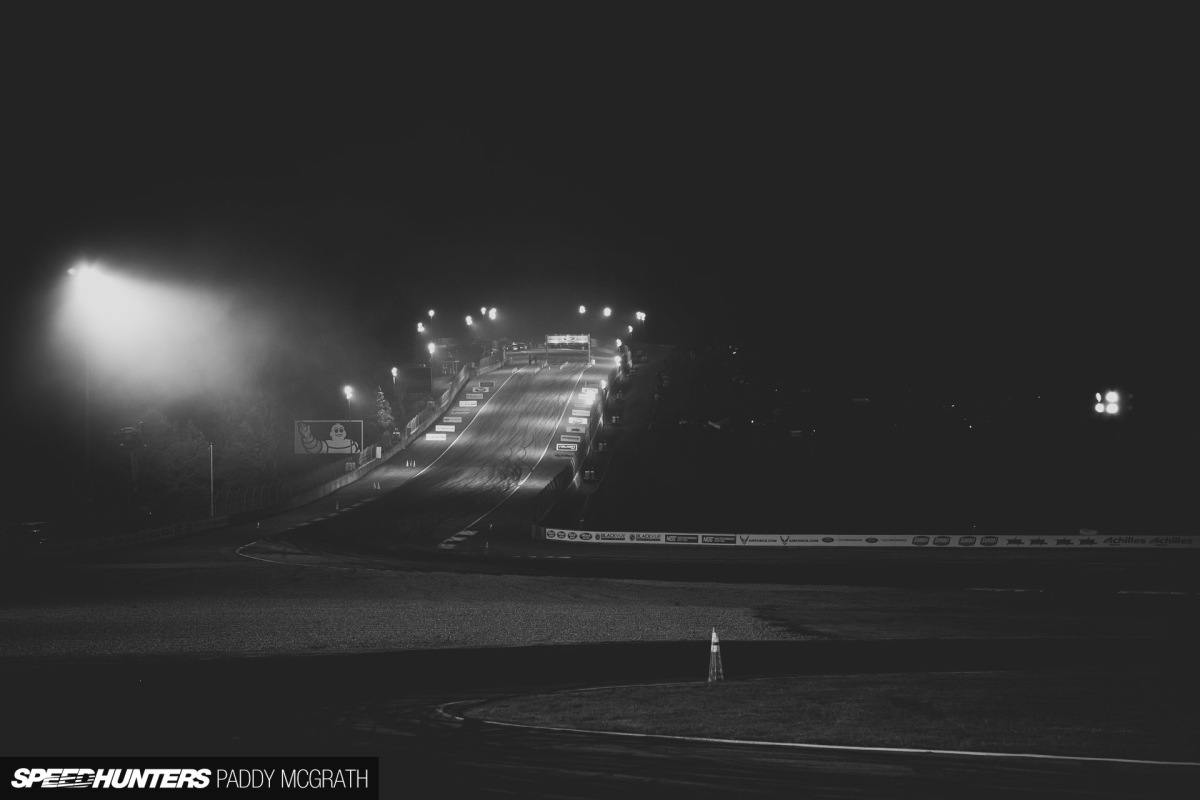 Getting late into the night, the only issue was smoke clouding the venue. With practically no wind, one could watch the smoke almost fall out of the sky between runs. It added an eerie feel to what was an exciting event, and not like any other that I've experienced before. The smell of fuel, smoke and BBQ isn't a typical combination.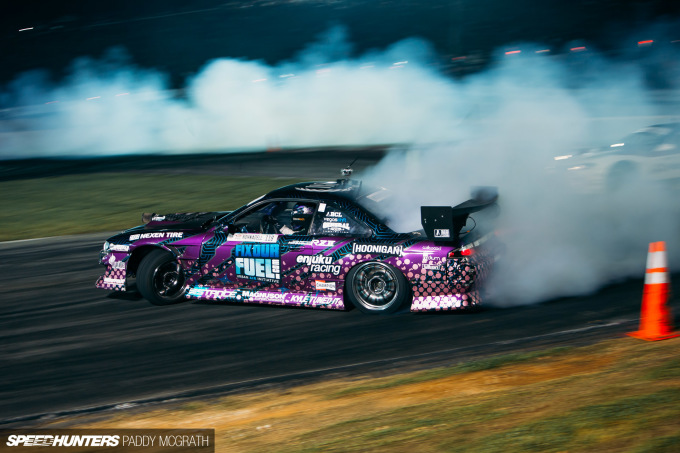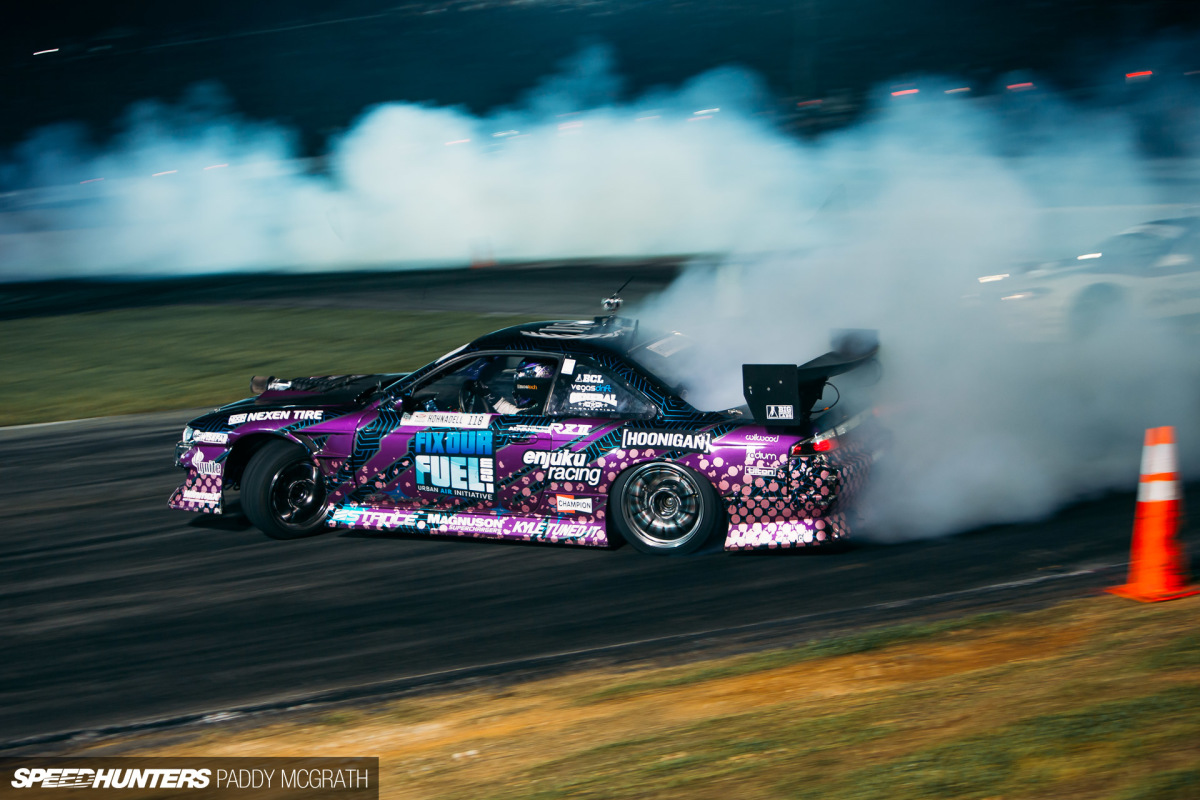 For the final four, James would face down Alec Hohnadell who had already taken out first place qualifier Vaughn Gittin Jr. and was flying high. Through the first and second corners, Hohnadell opened a big gap as James seemed to pull too much angle on initiation and had to play catch up.
It honestly looked comfortable for Hohnadell until a mis-shift put a halt to proceedings and forced him into a big straighten. It was a huge let off for James, and handed him the advantage heading into the second run.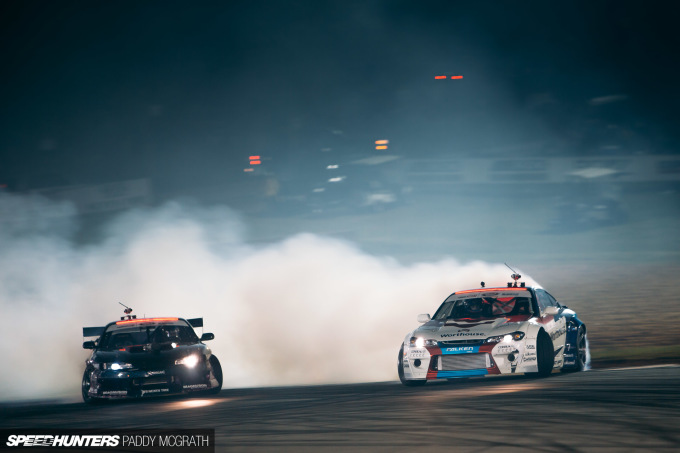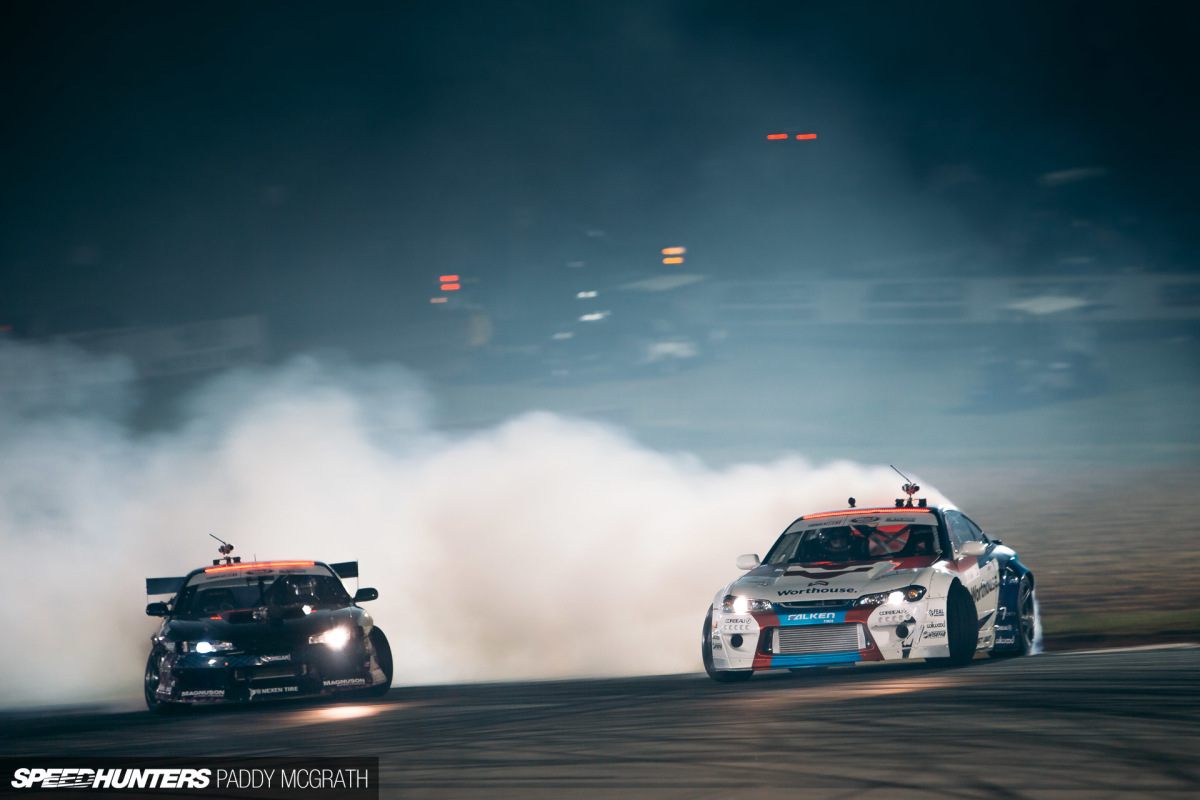 Unfortunately for Hohnadell, James Deane has made a career out of knowing exactly how hard to push to win. With no risks taken, a conservative lead – by his standards, at least – was all that was required for another unanimous decision to send him to the final, despite an epic push from Hohnadell.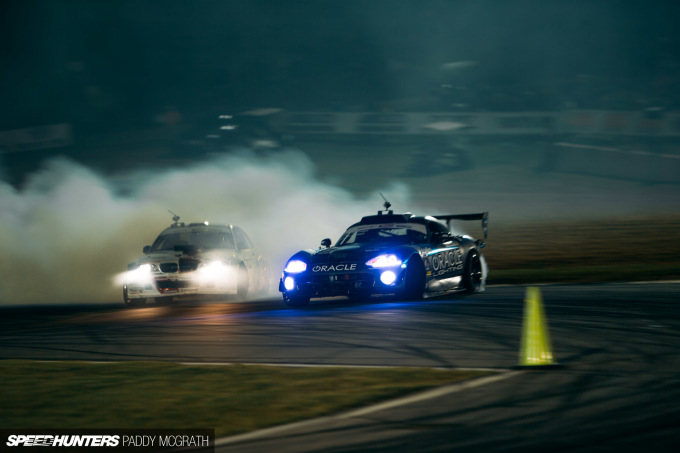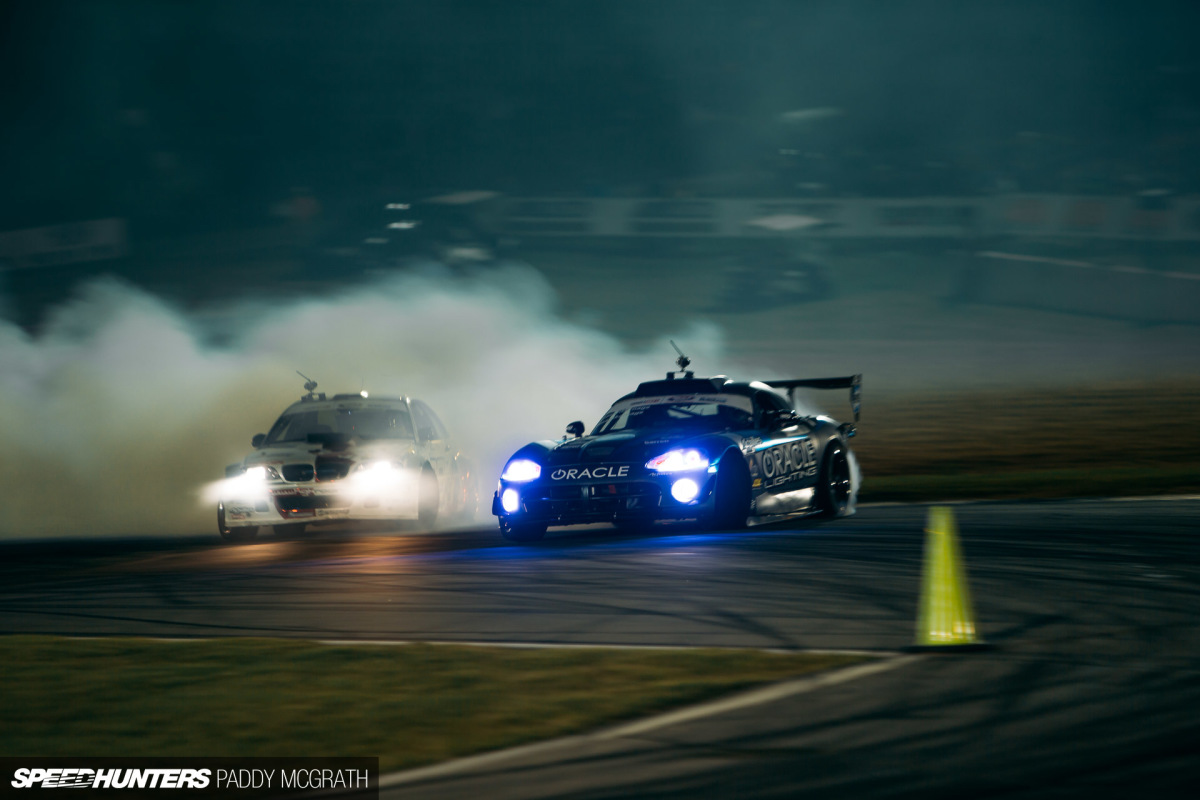 At the other side of the bracket, it was another Irishman, and another under the Bridges Racing x Worthouse banner, preparing to do battle. Dean Kearney was about to put in the battle of his life against Kristaps Bluss; arguably two of the fastest cars on the FD grid that weekend with two of the most aggressive drivers. What could go wrong?
For the first battle, both drivers made errors with Bluss straightening slightly and Kearney going off course across the finish line. The reverse run saw Kearney put in a huge lead run which was just enough to force the judges to a split decision OMT.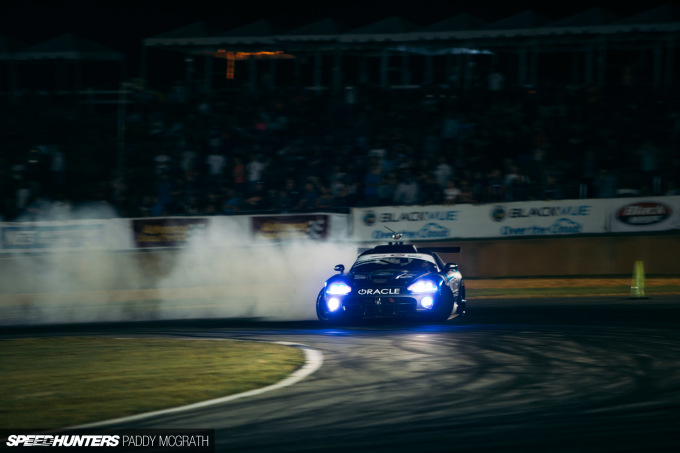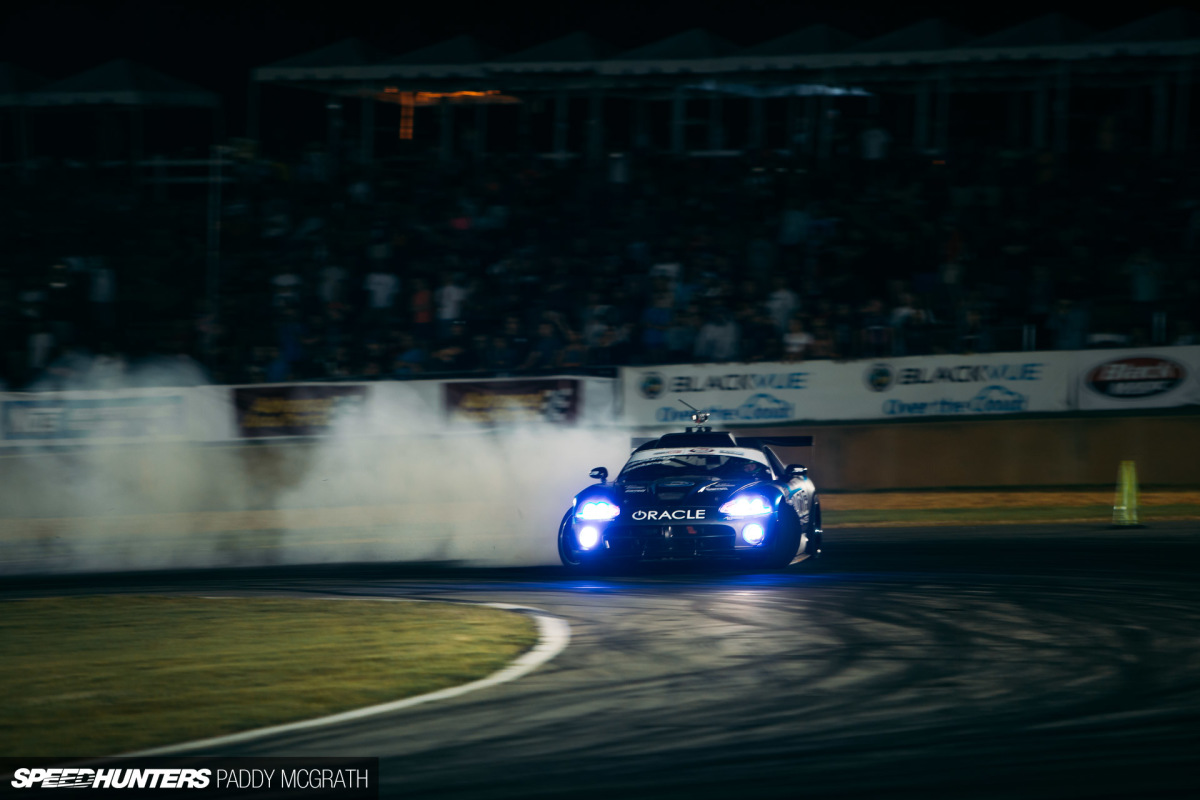 From the first corner of the OMT, this battle became a proper event. Kearney was too aggressive on initiation and hit Kristaps with his rear quarter panel, spinning the Latvian. Kearney continued his run, but the judges deemed him at fault and handed a huge advantage to Kristaps for the second leg.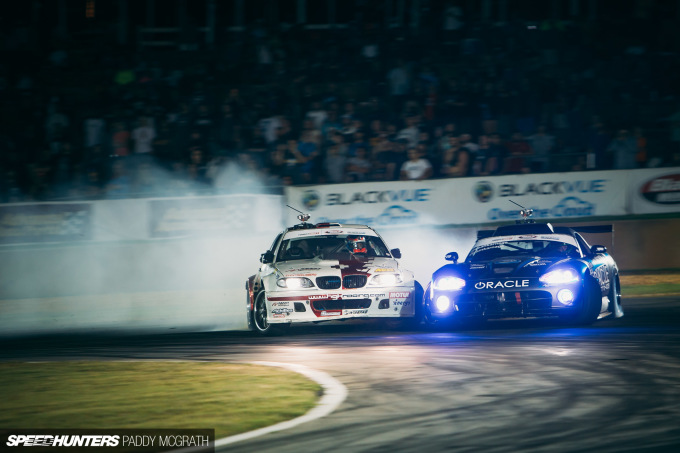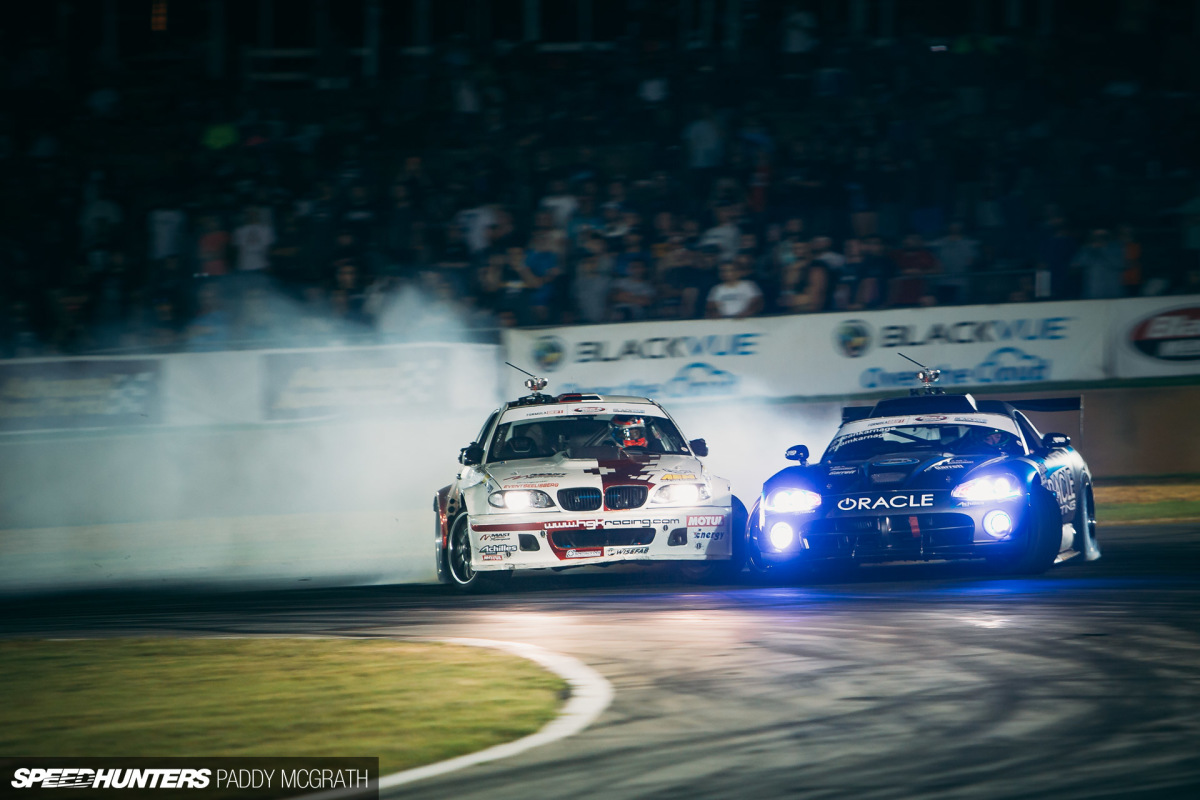 At this point, Kristaps should have put in a safe run to ensure safe passage to the final but the words 'safe' and 'conservative' seemingly do not exist in Kristaps' world. It's all or nothing for him, which is something I hugely admire, but in this case, it would eventually result in nothing.
With everything against Kearney, only a mistake from Bluss would see the result turned around. Bluss got right on Kearney from the start and stayed with him up the hill. As they entered the horseshoe, Bluss made contact with Kearney's front wheel which caused Kearney to hesitate slightly, before Bluss came in and hit him again. The second hit disabled Bluss' E46, with what looked like a broken front left tie rod.
The judges deemed Bluss at fault, which sent the battle to another OMT.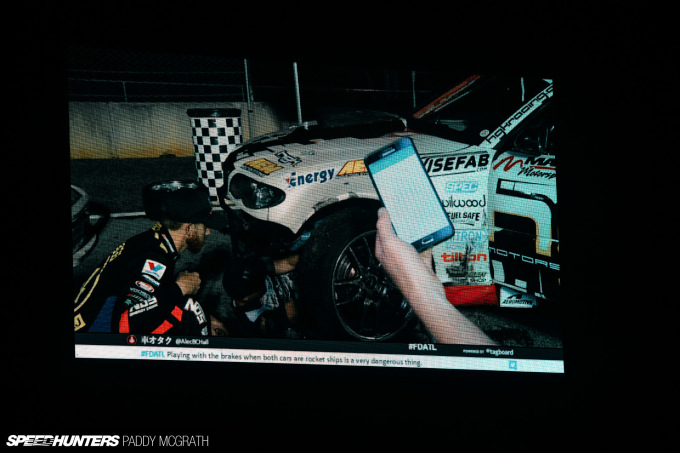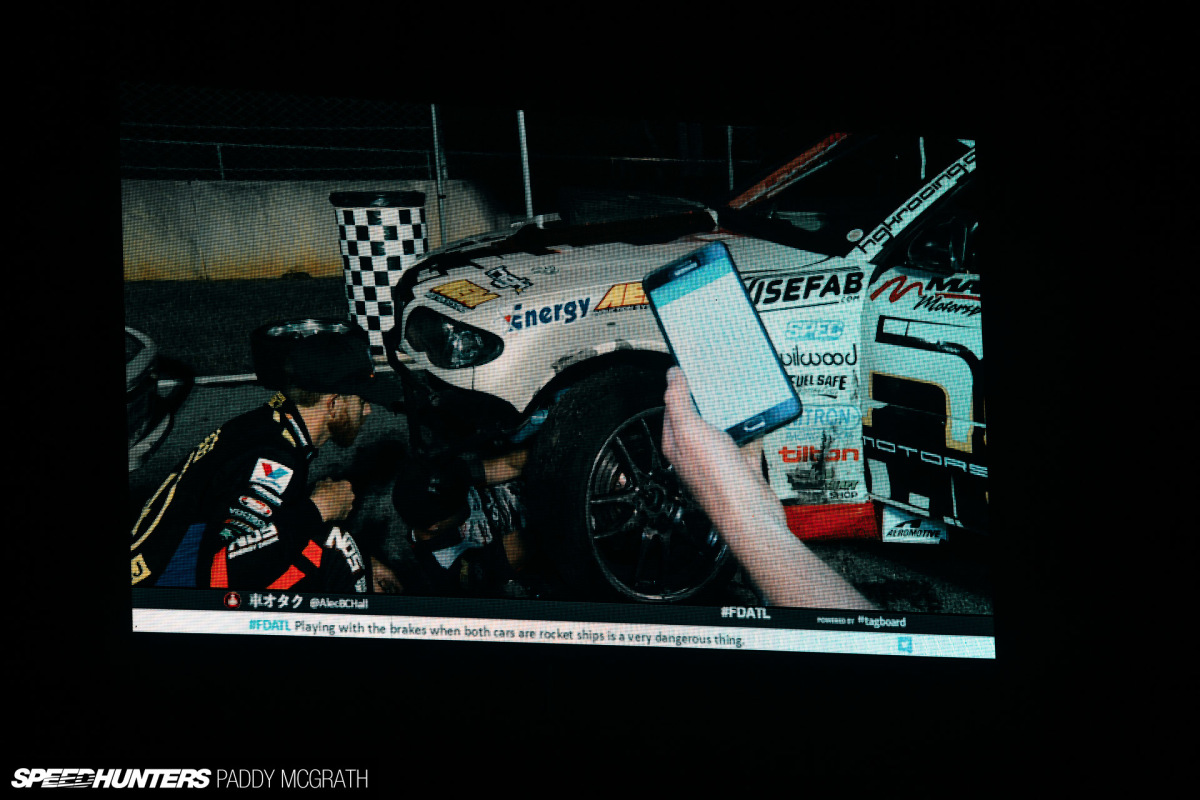 This is where things got interesting. As Bluss was at fault, Kearney was awarded 10 minutes to check his car and make repairs if required. Bluss was forced to use his Competition Time Out, which gave him five minutes to fix the car from the time someone put a hand on it to begin repairs.
With assistance from fellow competitors Forsberg, Tuerck and Essa along with their respective crews, they set about making the required repairs in the allotted time. I think everyone in Atlanta and watching at home was rooting for them to beat the clock at this point, myself included. With the car still on stands and time about to run out, Kristaps drove the car forward off the stands in order to try and make it, but it was just too late.
Despite their best efforts, there were no rear lug nuts installed and the car was not deemed safe to compete by FD's tech. I spoke to some of Kristaps' crew after who acknowledged the same, and although they were obviously disappointed by their team's exit, it was accepted as the correct call by FD.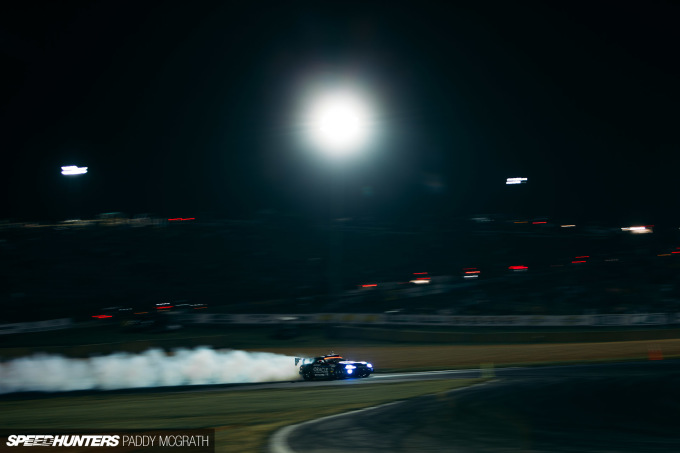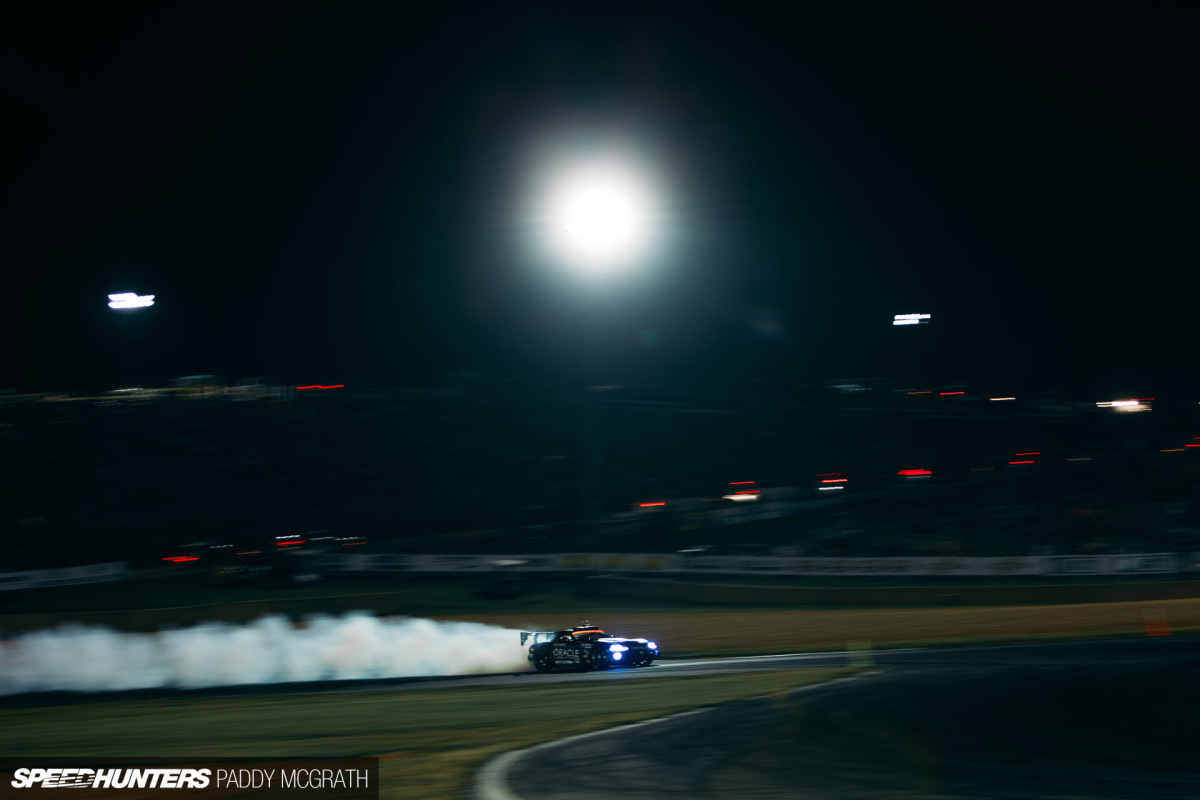 It was a heartbreaking way for Kristaps to exit the competition, and from speaking to Kearney afterwards, it wasn't how he wanted to get the win on this one. As a consolation, Kristaps would still take third place on the podium, but it was Kearney who was heading to the final after he completed a solo bye run.
All-Ireland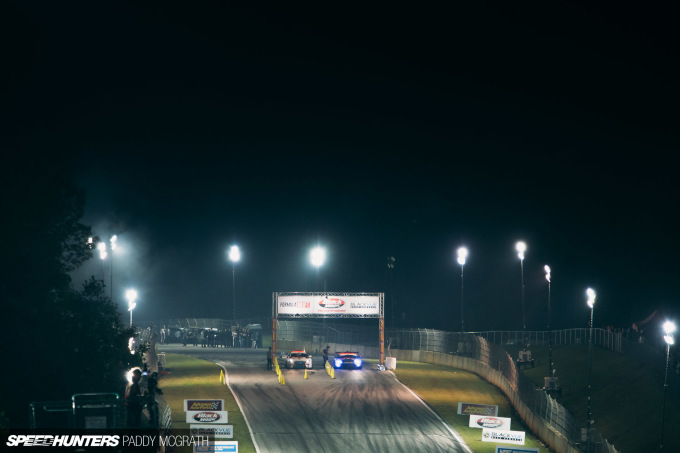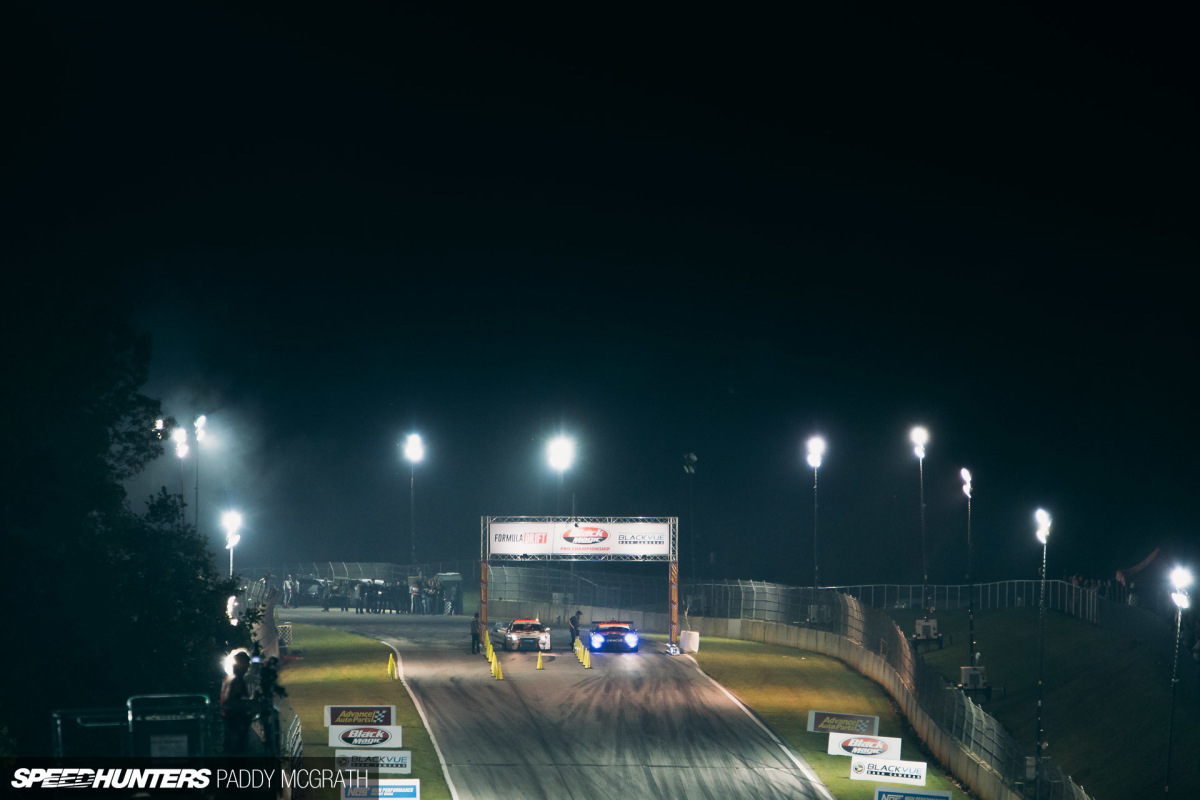 The setup for the final was intense. With Deane having waited on the line for nearly an hour to see who he would battle, it would be the same driver that he started his career alongside over 10 years ago. Both drivers started competing the same day, at the same event for the first time, and here they were ready to do battle at the top of the sport.
The supercharged V10 Viper of Kearney versus the 2JZ S15 of Deane. An all-Ireland final on US soil between two friends who have been driving with each other since the beginning. The story wrote itself.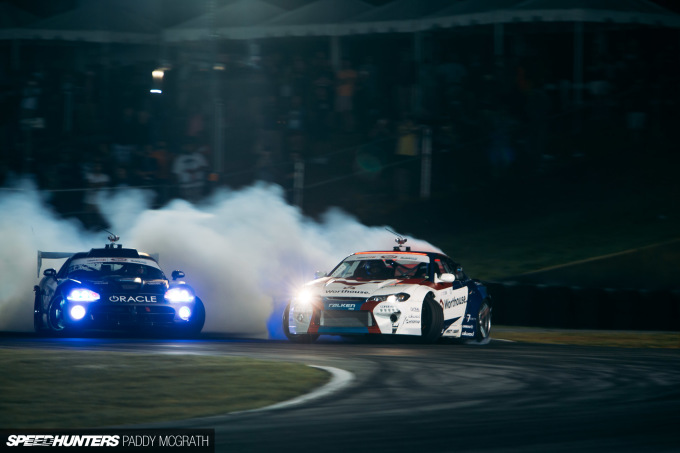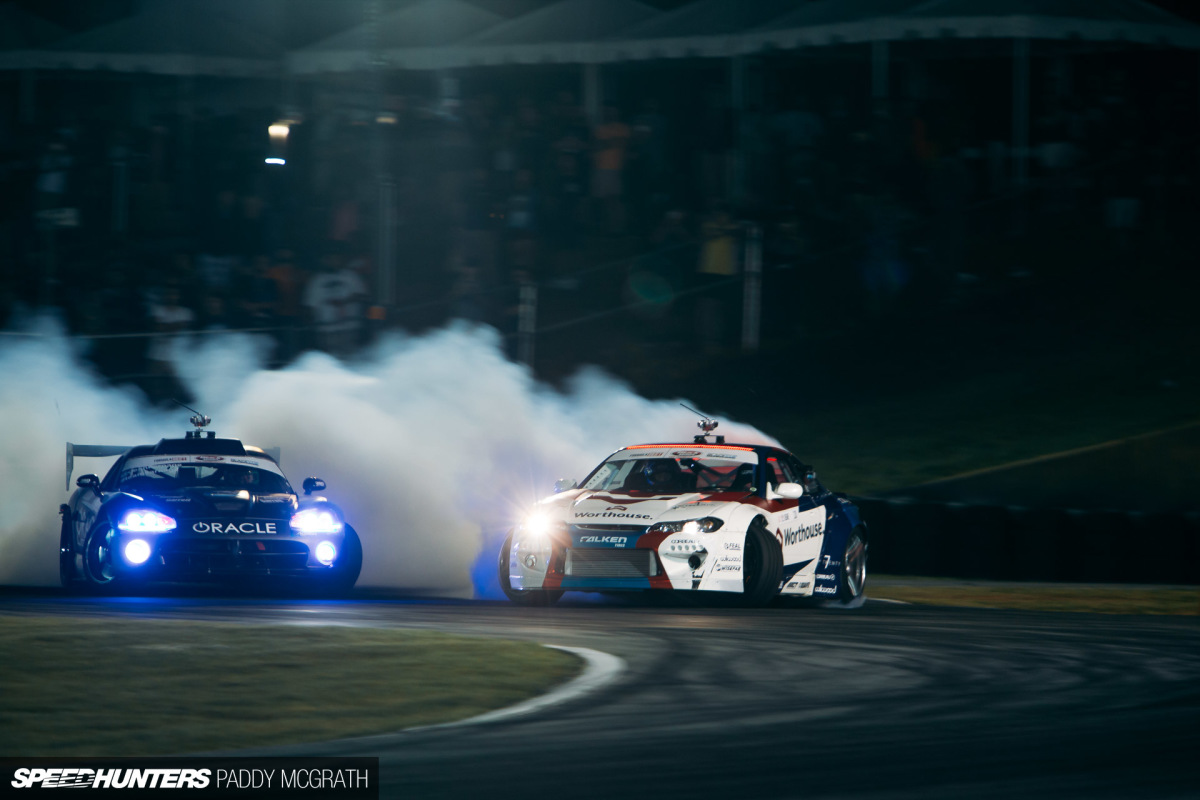 Deane would start with his preferred feint initiation before powering through with a text book lead. Kearney was right up on him pretty much the whole way, closing any gaps that opened quickly with his significant power advantage.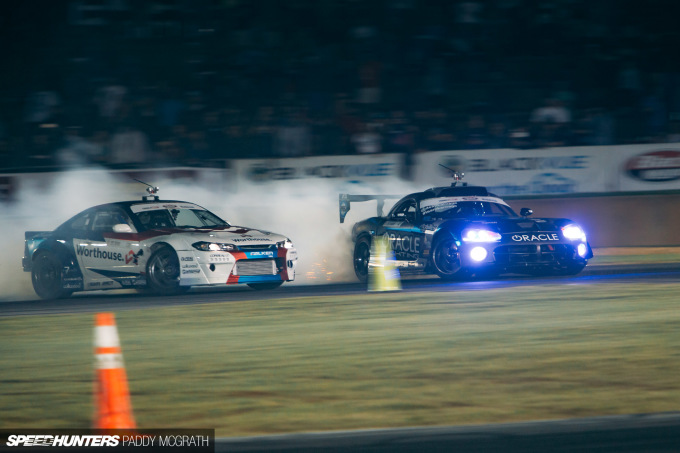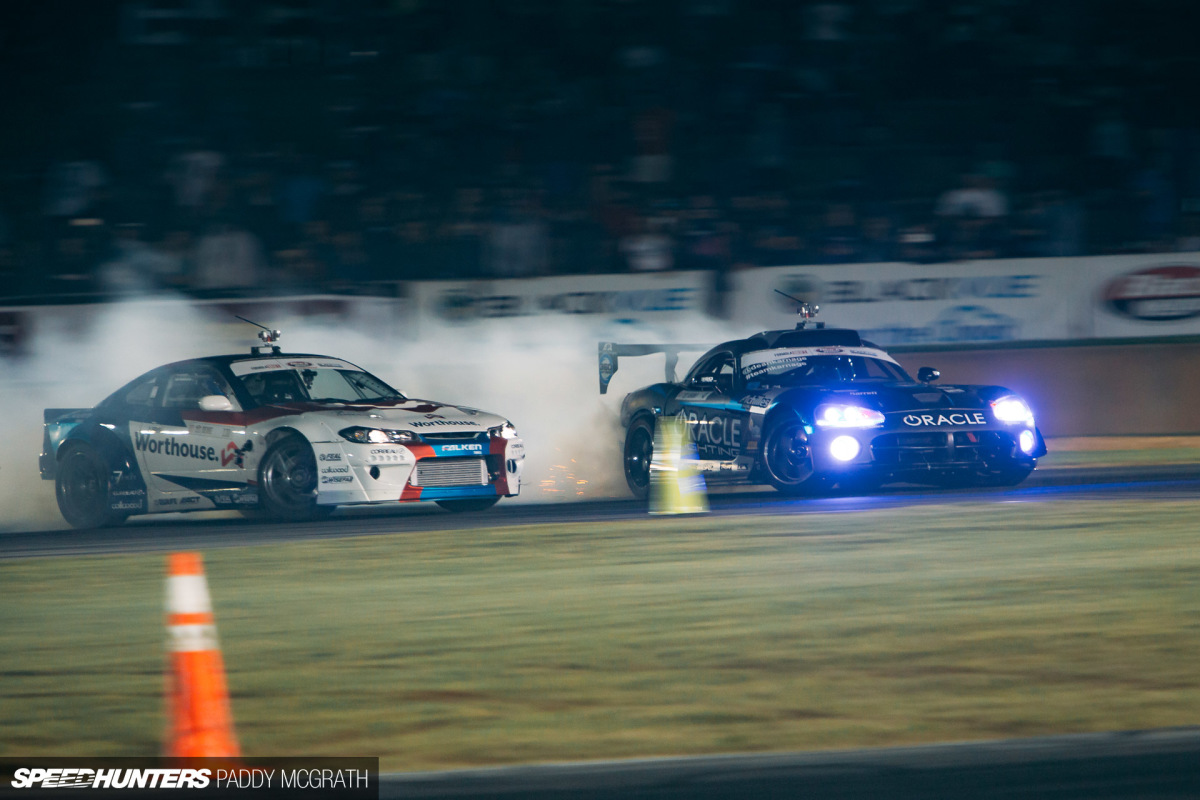 With positions swapped, Kearney would initiate hard, putting one wheel in the dirt before Deane caught up with him. Through the horseshoe, Deane would keep incredible proximity and even leave a little bit of rubber on Kearney's door, without affecting either driver's line. It was a proper, no holds barred final.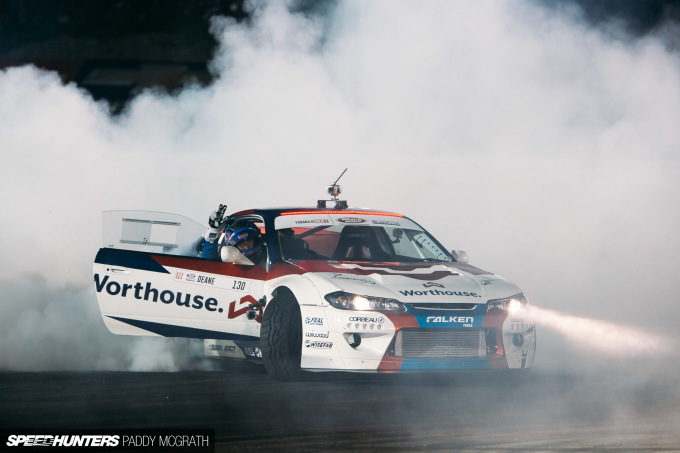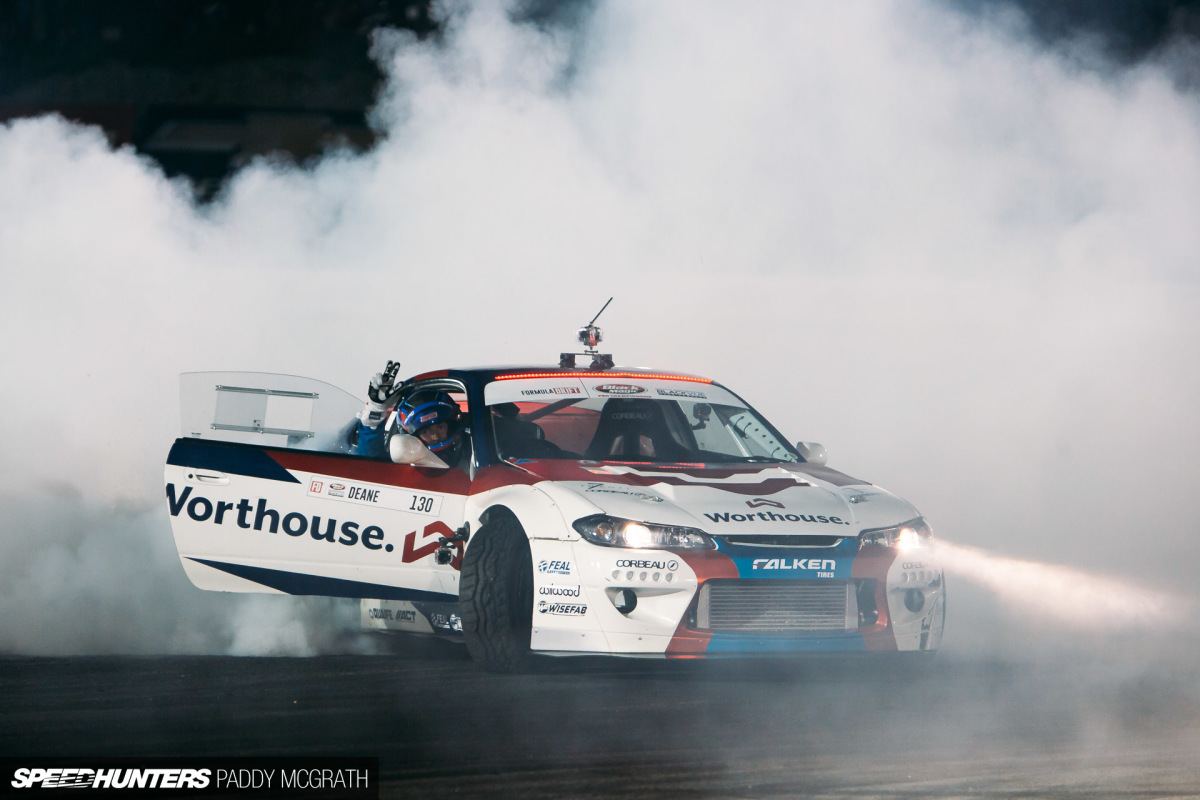 With a decision made after just one battle, both drivers made their way back to in front of the judges tower to await the result. Side-by-side, they drove slowly down the hill, high-fiving from their moving vehicles and playing with each other before tipping in and putting out one last smoke cloud into the night sky with some huge tandem donuts.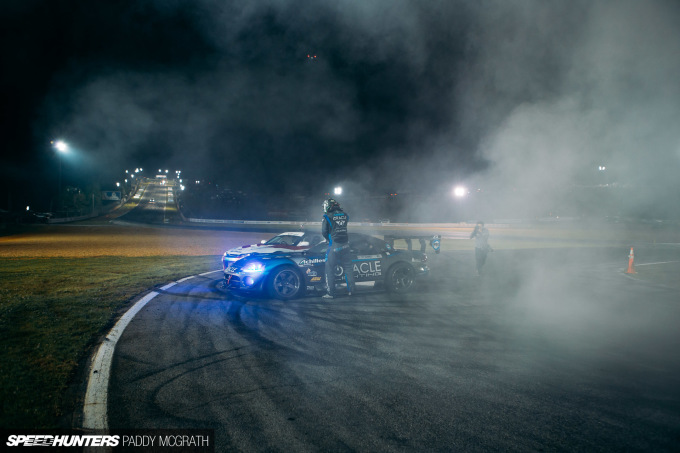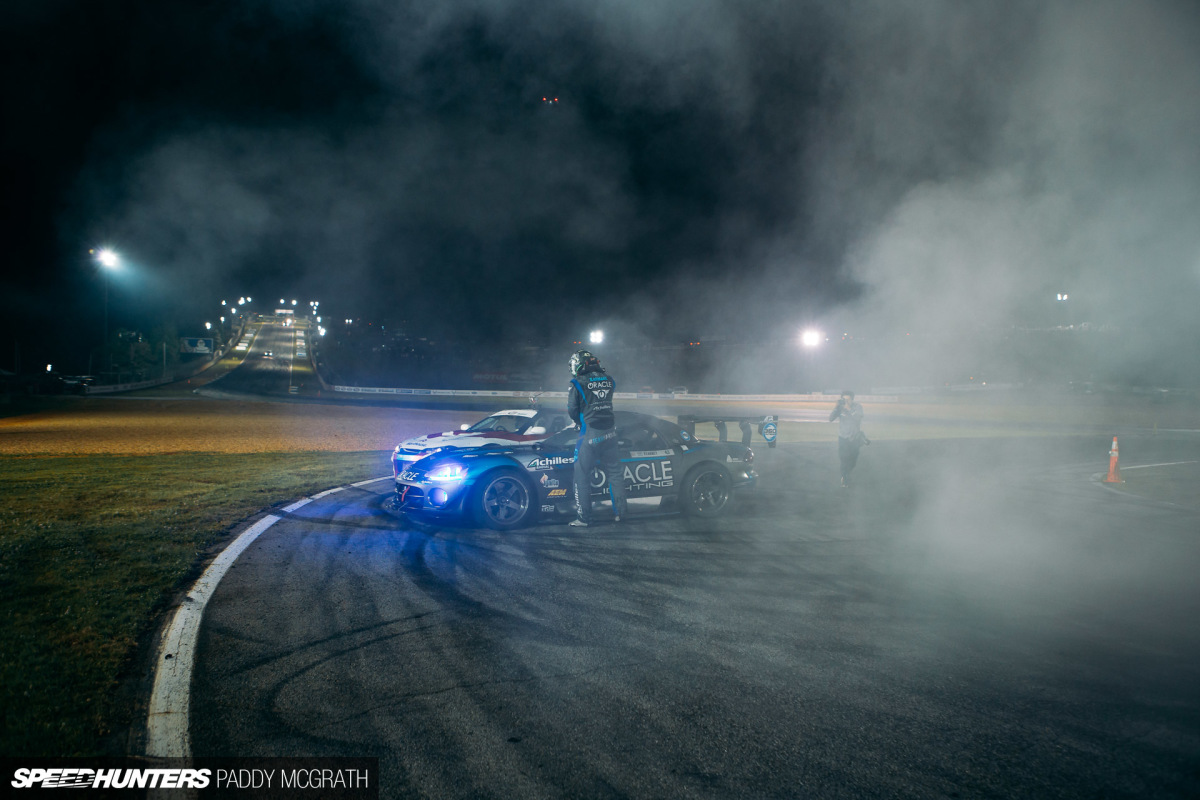 Kearney had been to the podium only twice before in his FD career, but never the top step.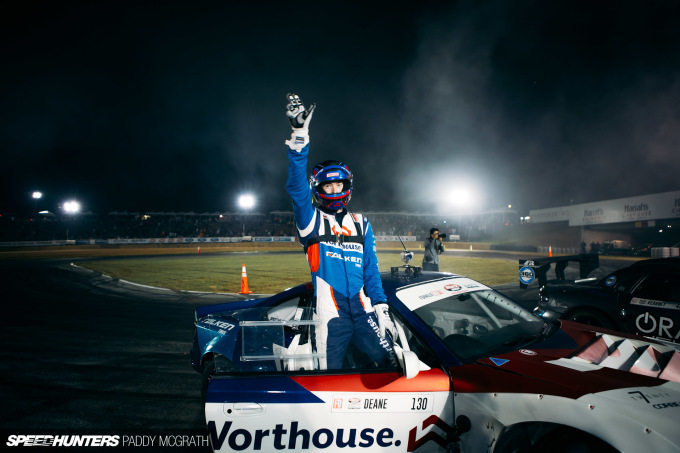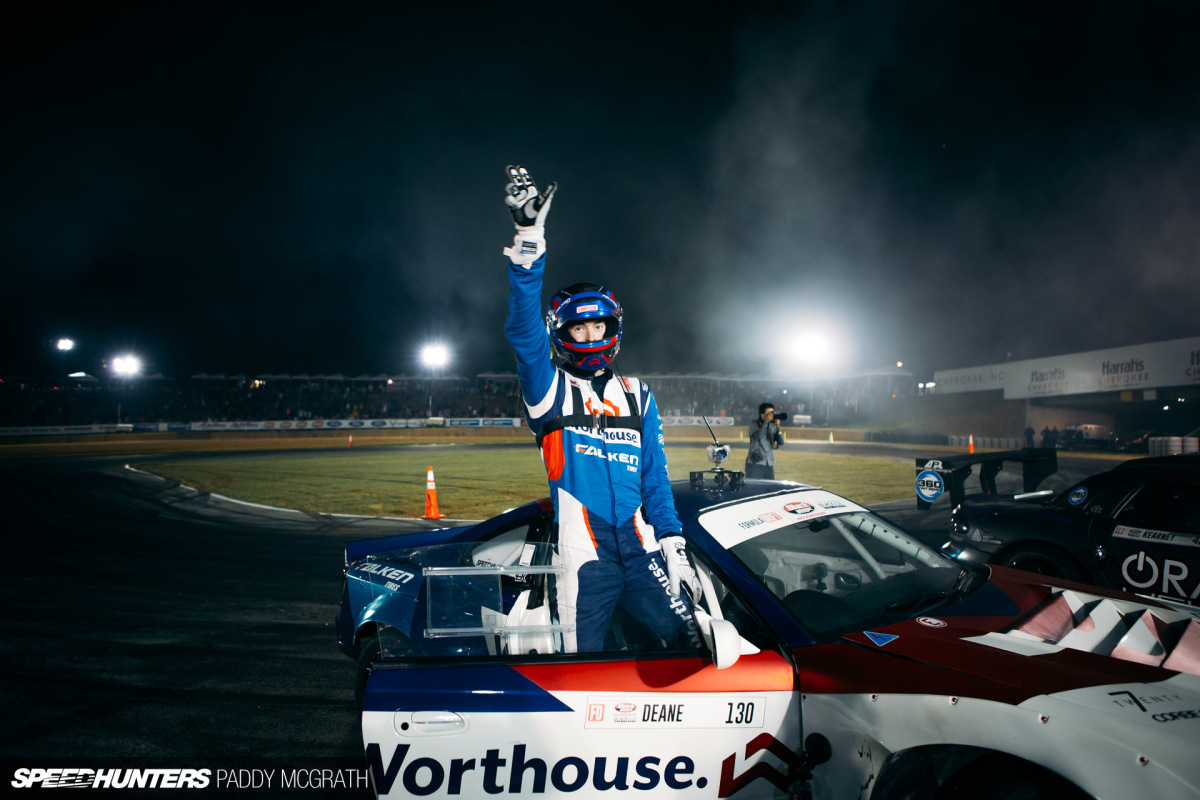 James was chasing his second win in three events.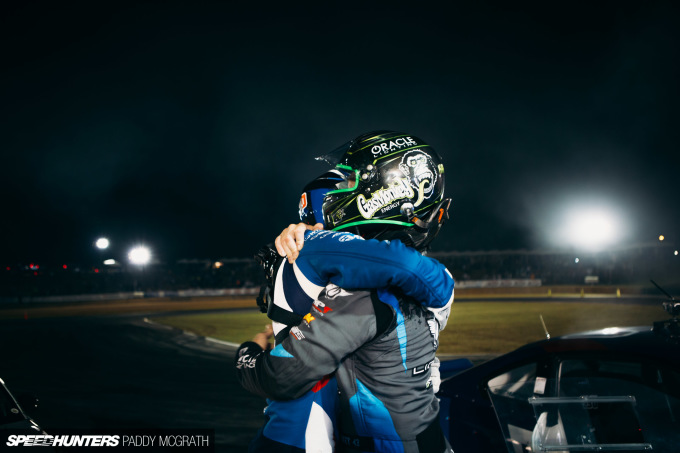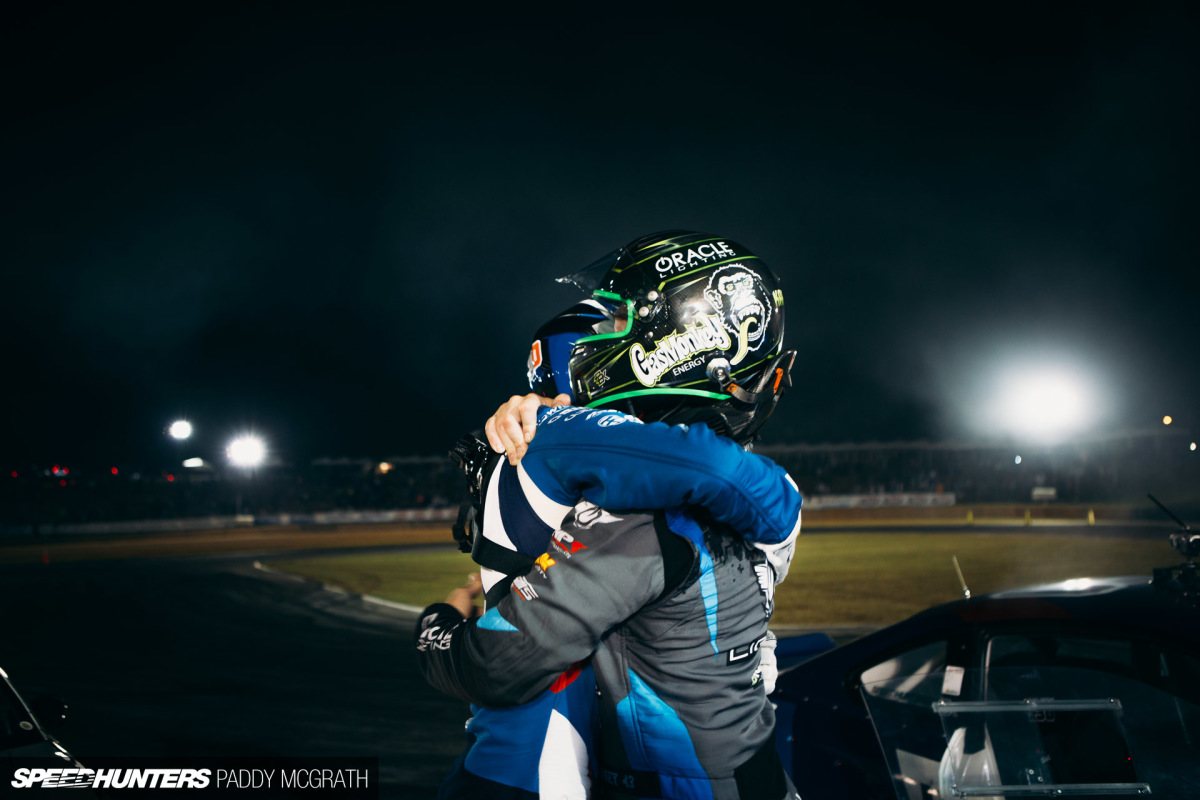 For both drivers, it really couldn't get any better, regardless of the result. They've driven together for so long, and to do it once again at the very top of the sport was nothing short of euphoric for both of them.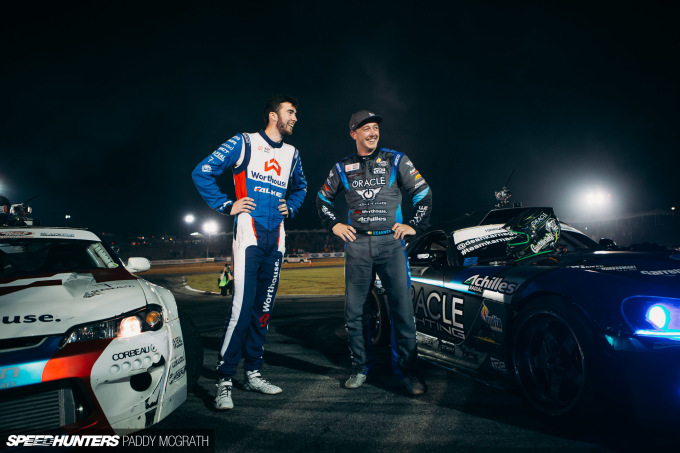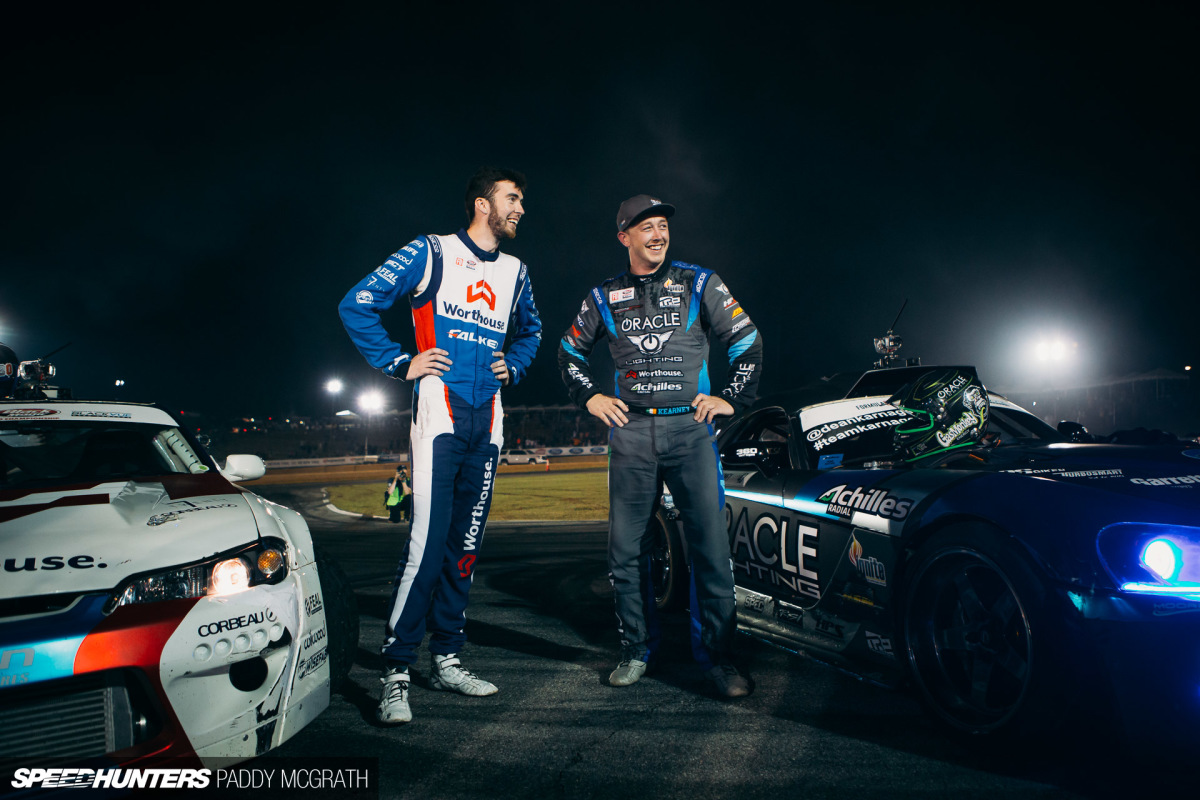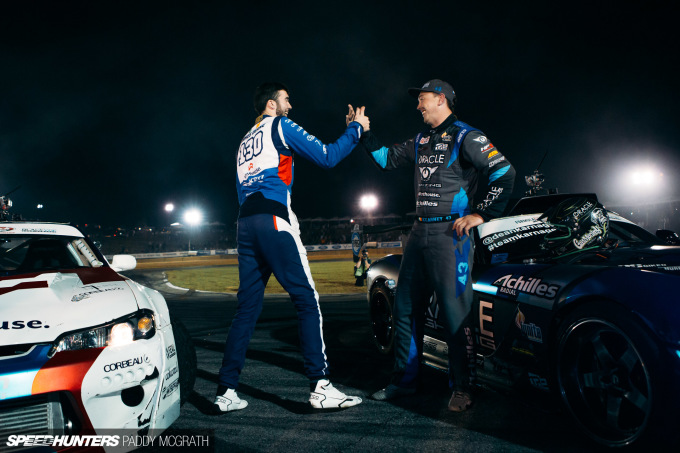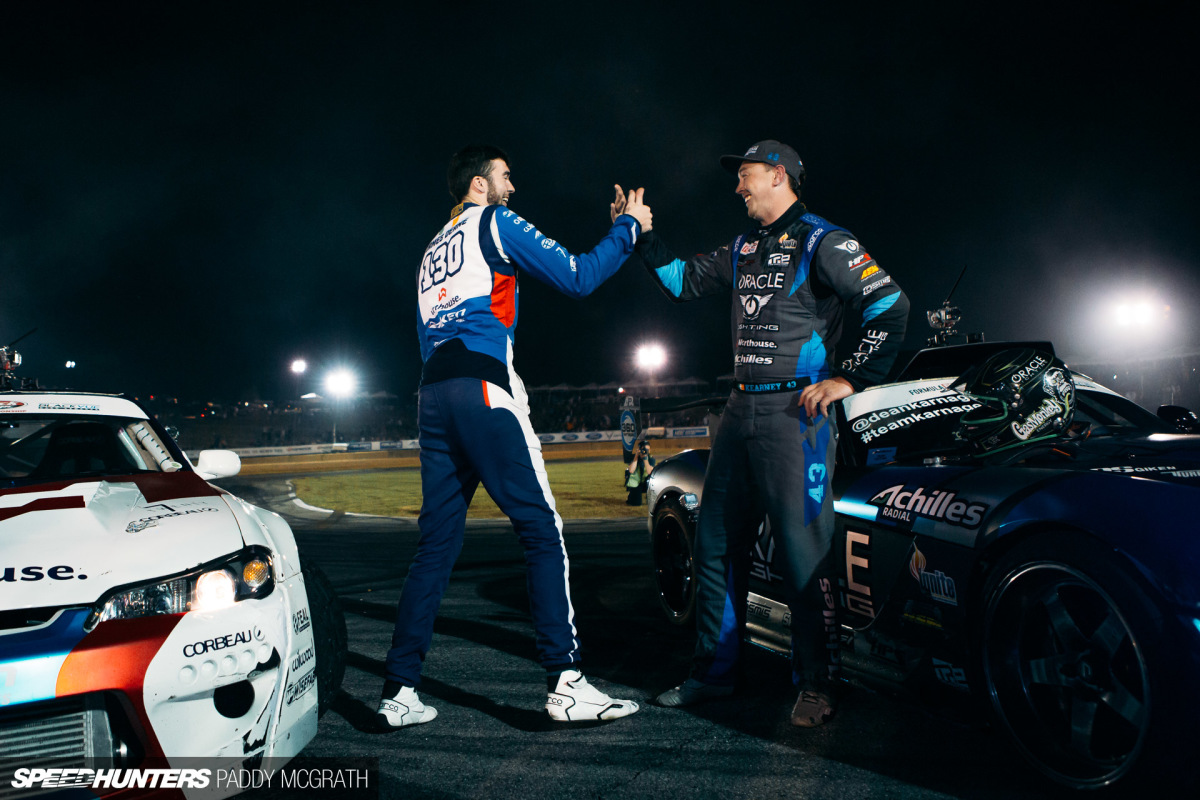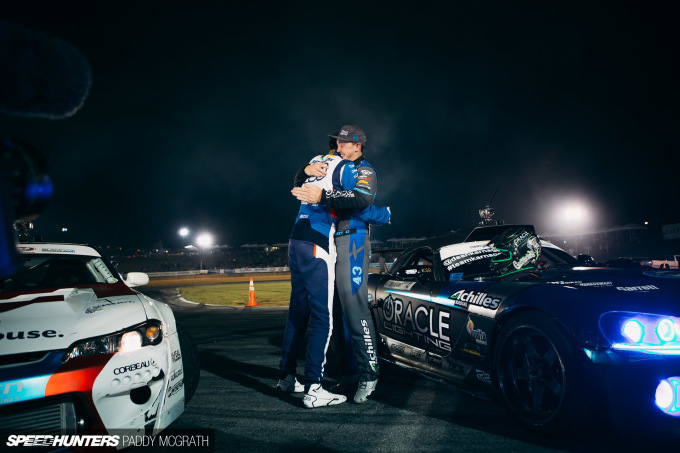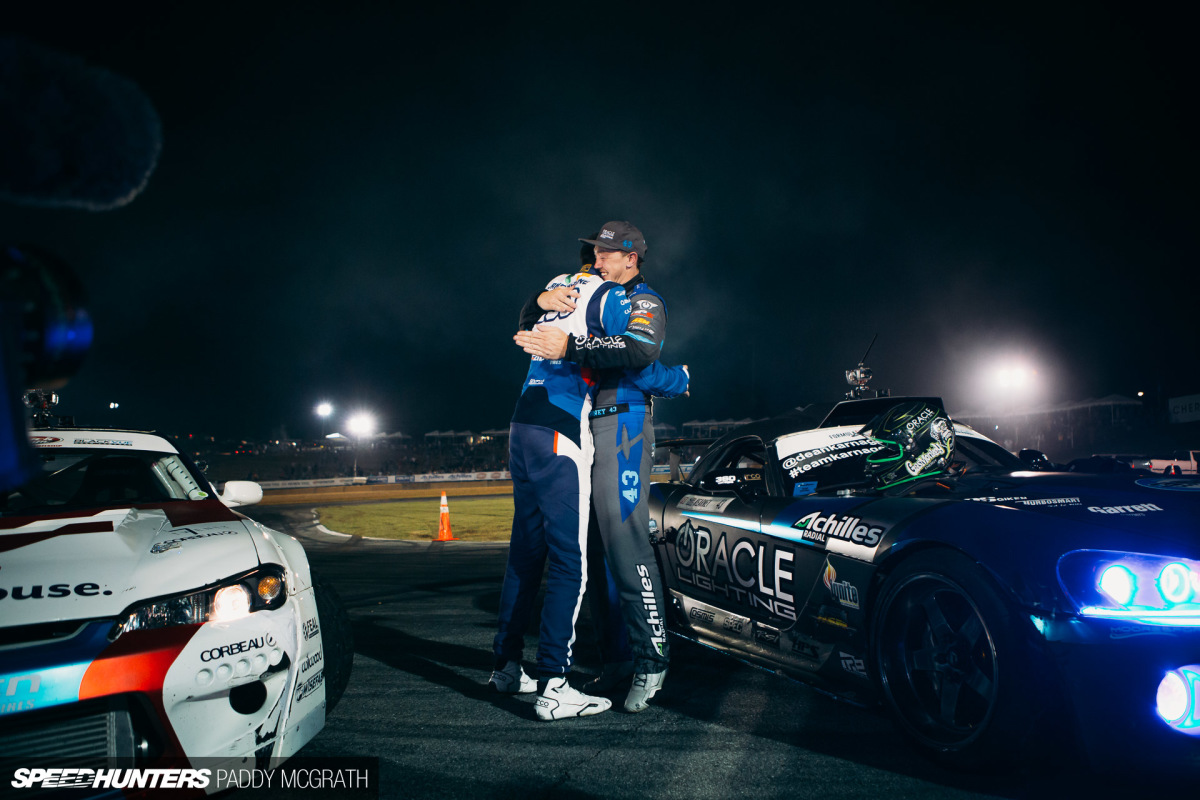 As they waited for the results of what was a split decision, the smiles on both their faces said it all. With the first judge going OMT, the next two decisions slid right and awarded James his second victory of the season.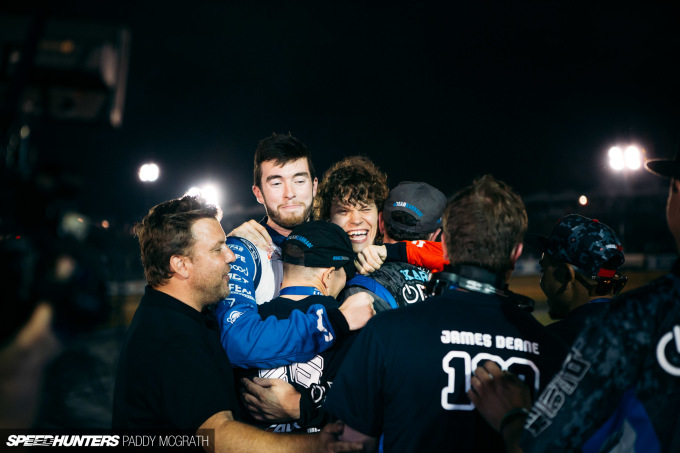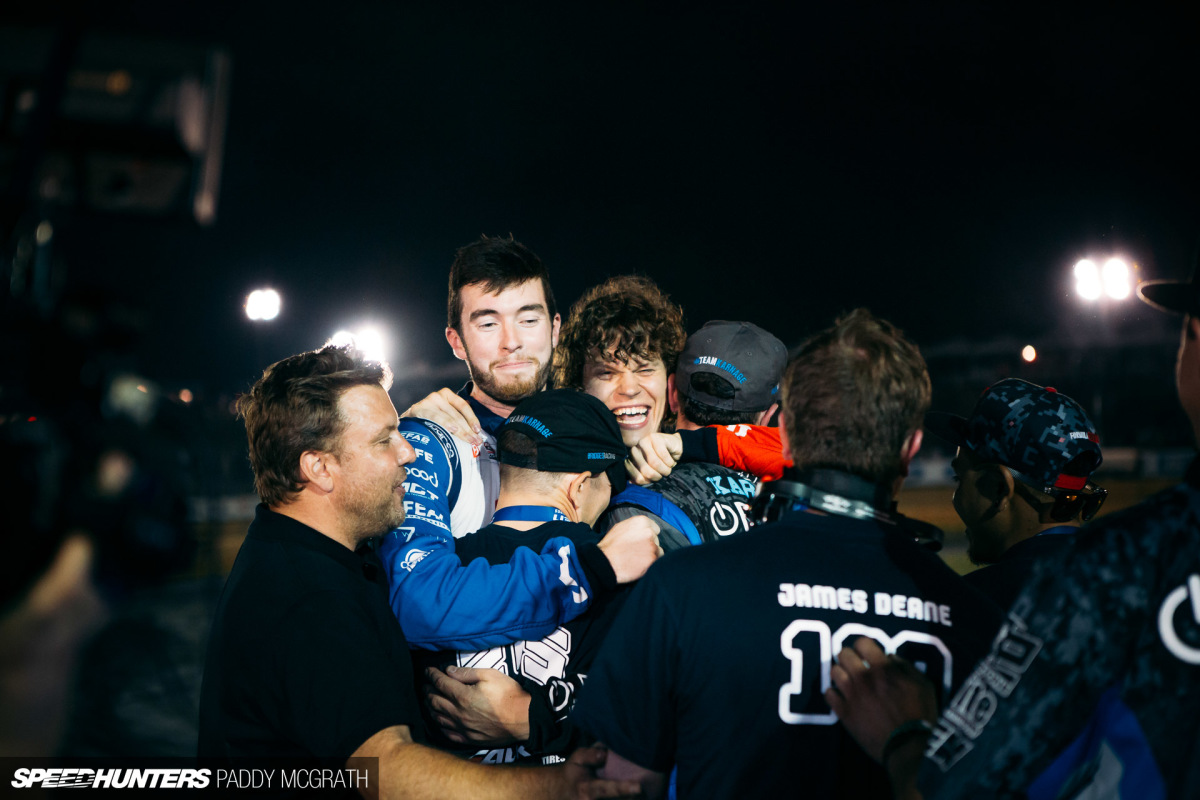 The sincerity in the entire teams celebration said it all. This wasn't just a victory for James, it was one for everyone under the Bridges Racing x Worthouse banner.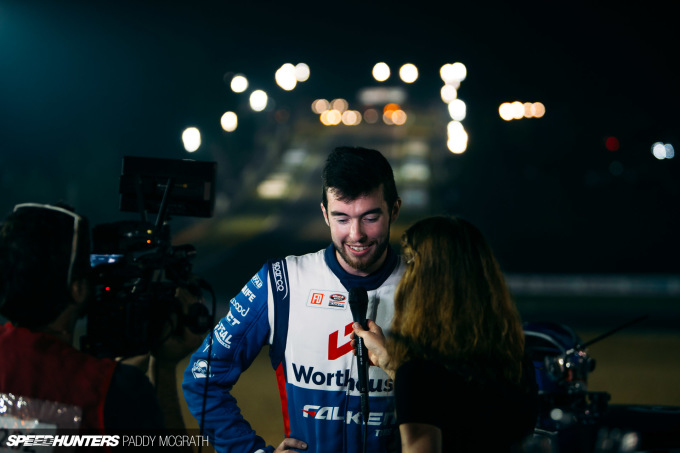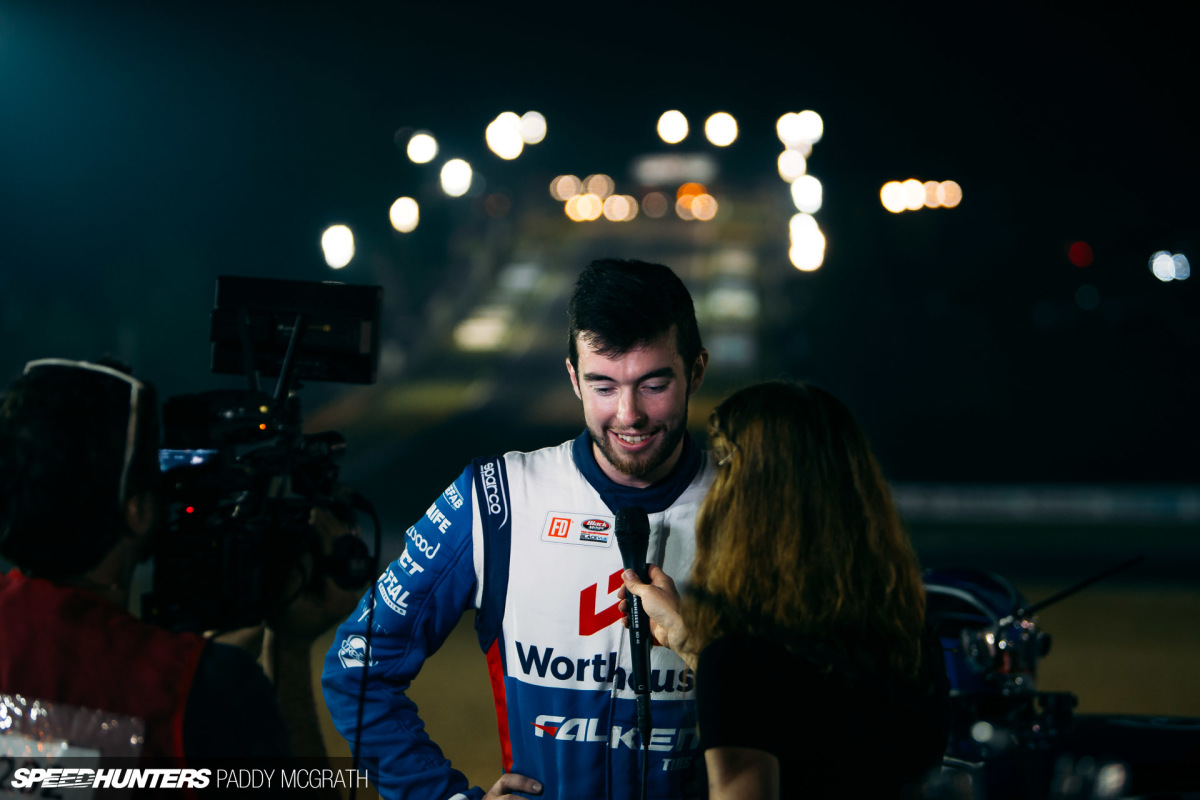 In his interview immediately after getting the win, James described it as "the very definition of a dream come true." It was an all or nothing final, with neither driver having any idea who was victorious, only that they had given all they could give.
It was a spectacular event, and one which I feel privileged to have witnessed firsthand. For years and years, I had heard so much about Formula Drift, both good and bad. I had heard about issues with judging, influenced decisions and questionable driving tactics, but I've not seen one thing of the sort since we arrived in Long Beach. When someone has been beat, they were beat fair and square. It's not an exact science and things will always be open to debate, but I can always appreciate why the judges made the decision that they did. Sometimes it's best to ignore the noise online, and learn to make a decision for yourself.
The driving has been spectacular this season, and I think that on any given day, that any driver in the Top 16 can step up and win an event. There aren't any other series like that in the world. The level of commitment from the drivers is breath taking, and with every driver giving it all they can, we're being rewarded with some of the best battles that we've ever seen. To answer my own question posed in the title, I don't think so, but I do think that the European drivers are part of a movement of great drivers that are driving the sport forward at the moment.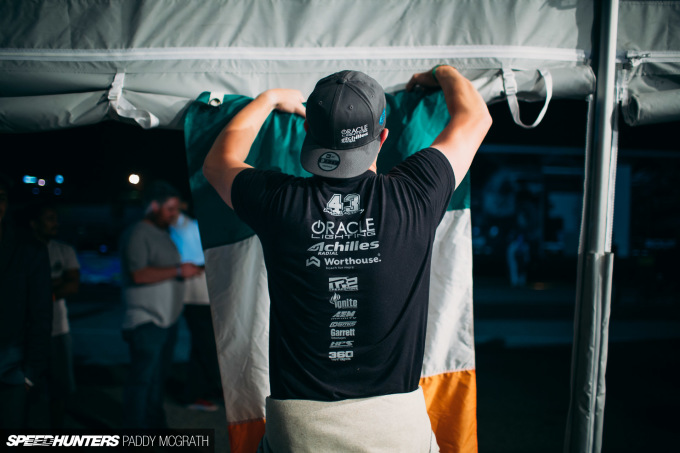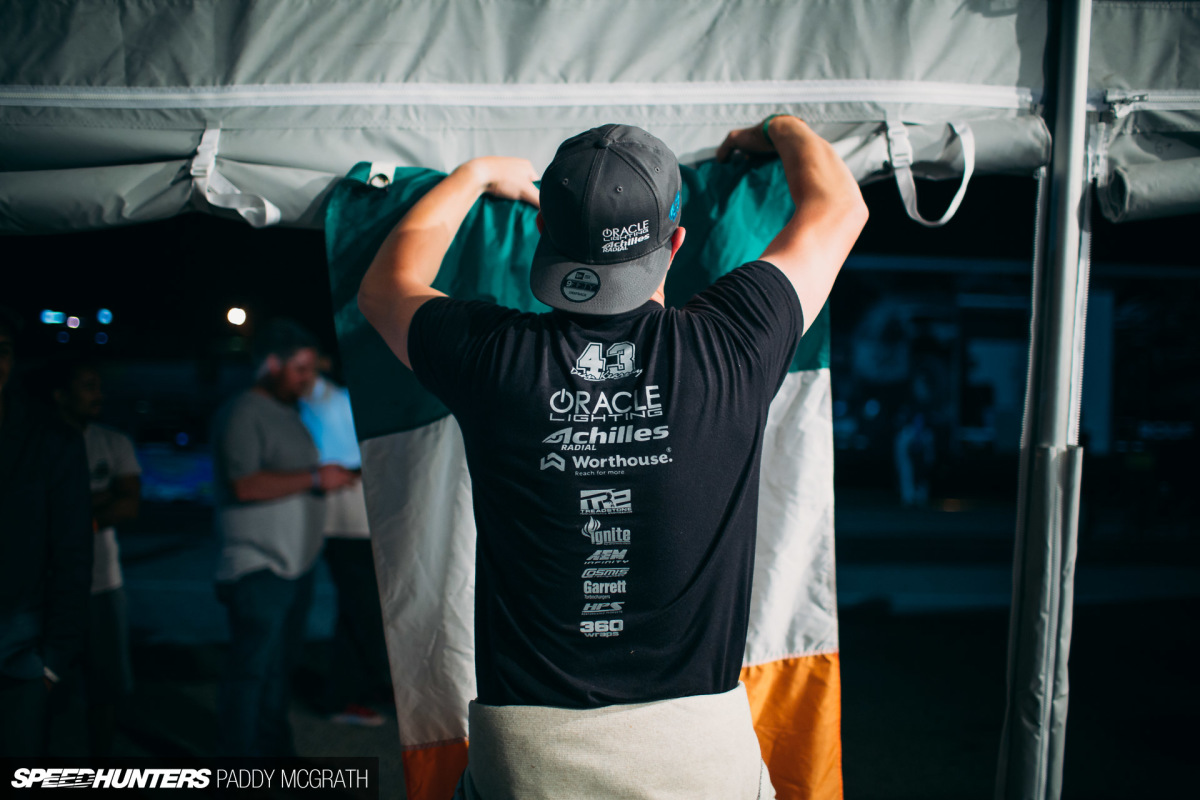 I really do think we're witnessing something great, and having two Irishmen at the top just makes it that little bit sweeter. James is back on top of the standings, with a 59 point gap back to second place Kearney. Piotr is the highest ranked FD rookie by a considerable margin, sitting 11th in the overall standings, 65 points and 14 places ahead of the next rookie in the series.
For years, I always wondered how the very best of Ireland would fare in FD. We perhaps know the answer now, and although there's still a long way to go, I think a lasting impression has been made this season by Irish and other European competitors. I do fully expect the US drivers to come out fighting, as they always do, in New Jersey in just a couple of weeks, but this season isn't just a fight any more, it's international warfare.
See you in New Jersey.
Paddy McGrath
Instagram: pmcgphotos
Twitter: pmcgphotos
paddy@speedhunters.com
Cutting Room Floor