A Doctor's Approach
I get the distinct impression that Japanese car culture is following me wherever I go. It's weird; no matter where I venture to in the world there always seems to be a cool Japanese car build waiting for me to shoot. It's exactly what happened back in February when I was in Dubai for the RWB Emirates triple-car build.
As I was sitting in the pits admiring Nakai's fender-cutting precision with his trusty air saw, I received a message through Instagram. Aamir Ali's DM read along the lines of 'I have a company that makes carbon fiber parts and I have recently finished restoring one of the only street-registered Hakosukas in Dubai – do you want to take a look?'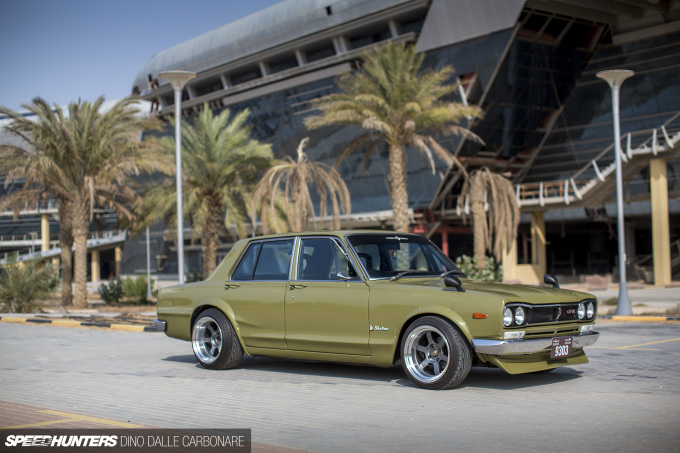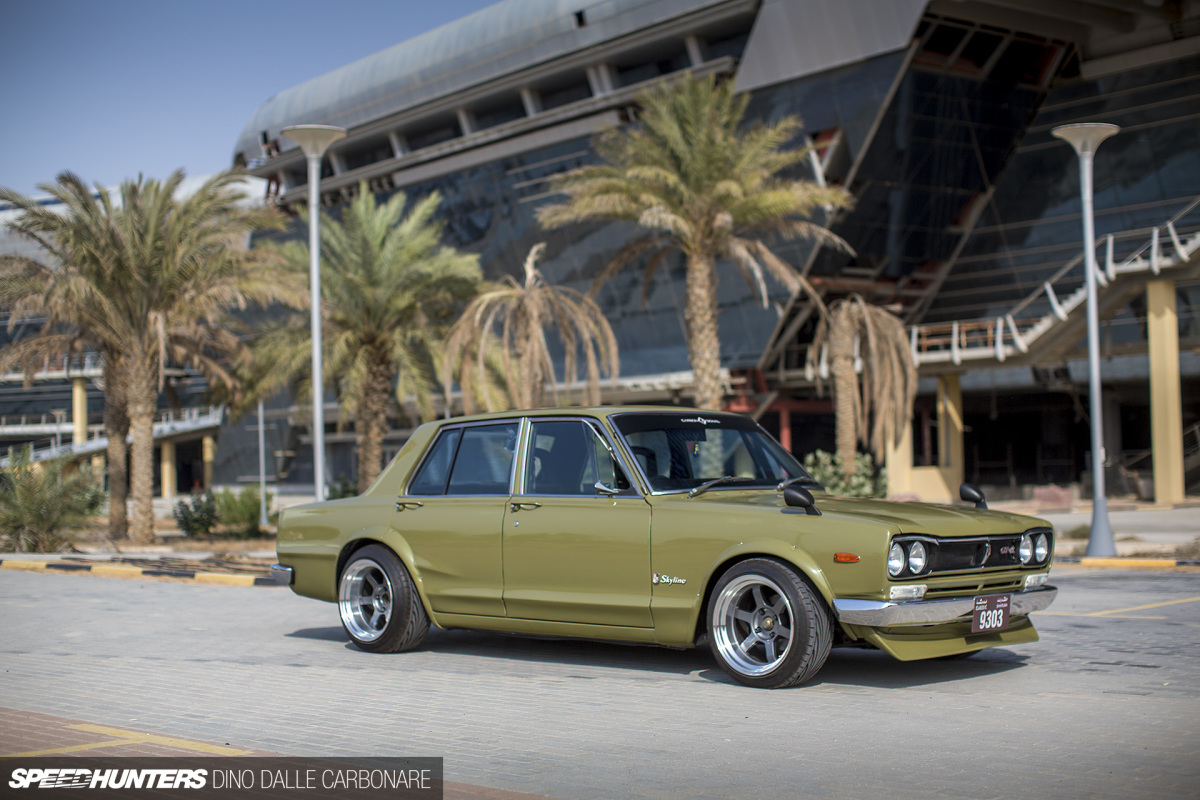 After a quick chat with Aamir, he told me that he'd drop by the build site at the Dubai Autodrome a few days later after he finished work at the hospital. I was a tad confused, as I assumed he made carbon parts full-time; but regardless, I was very keen to see what he'd done to his four-door Hakosuka.
Fast forward to the day of the meeting, and even before Aamir got out of his car I was impressed. I'm used to seeing two different schools of thought when it comes to restoring and modifying a kyusha like this in Japan. Some prefer to keep things simple, change very few details, source OEM parts and stay as period correct as possible, while the other camp – one that is far more popular (especially with the non-GT-R iterations of the cars) – prefer to restomod, at times with little concern for the details. Aamir has instead focused on every small detail, creating one of the most complete and well-executed GC10s I've come across.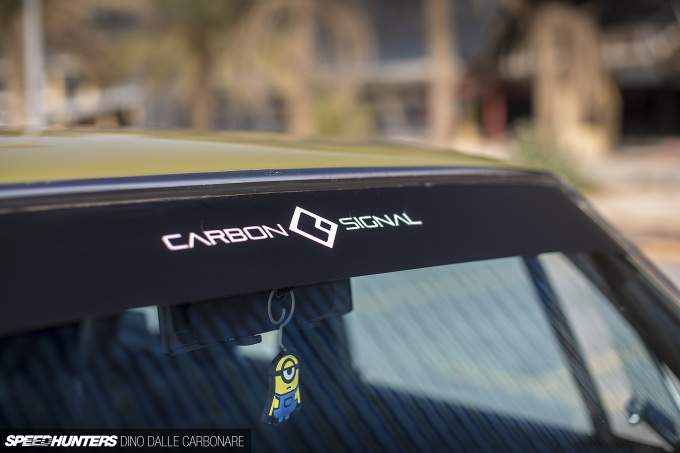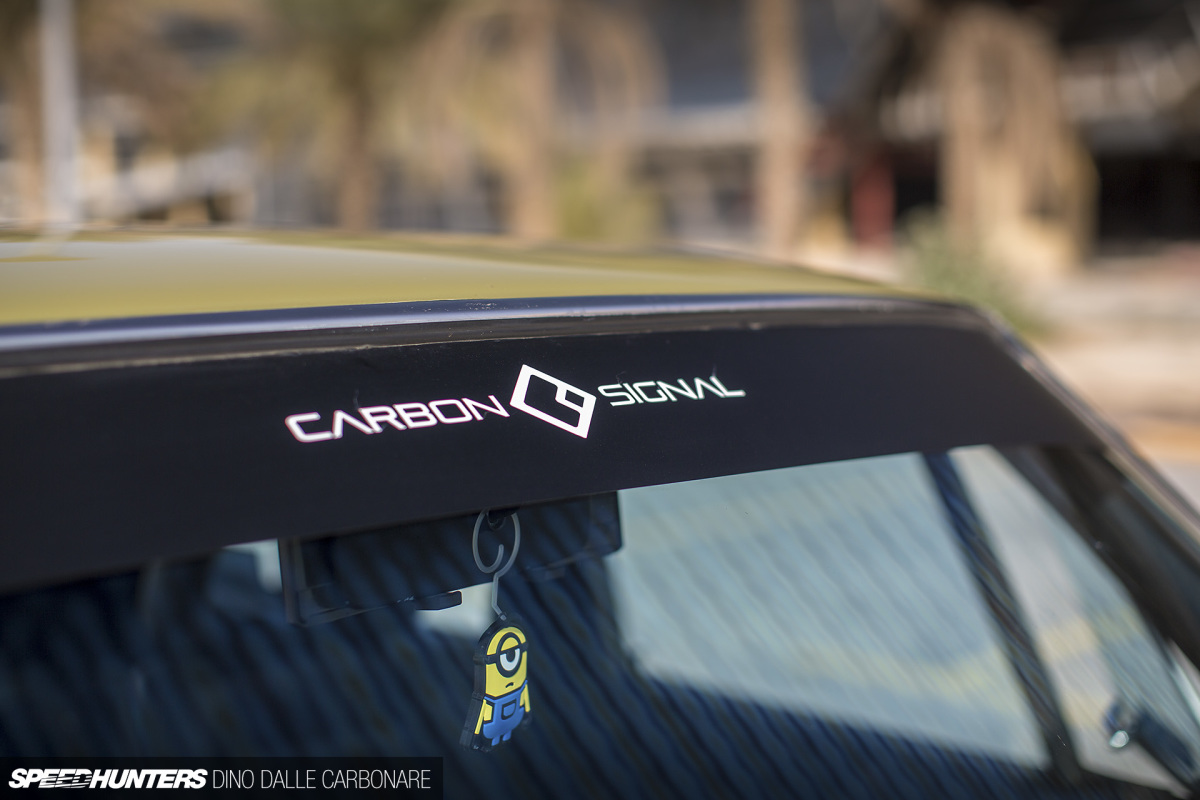 It also turns out that Aamir is a doctor by day, and works on CarbonSignal whenever he has spare time. He built the brand alongside his passion for tuning and restoring cars, and it's a name that we've seen before on Speedhunters.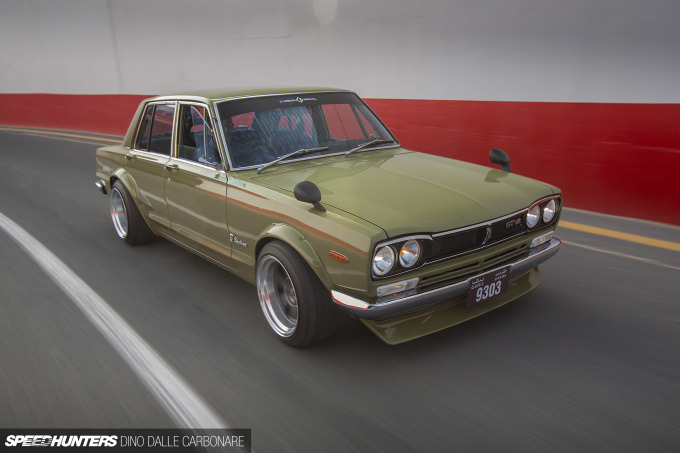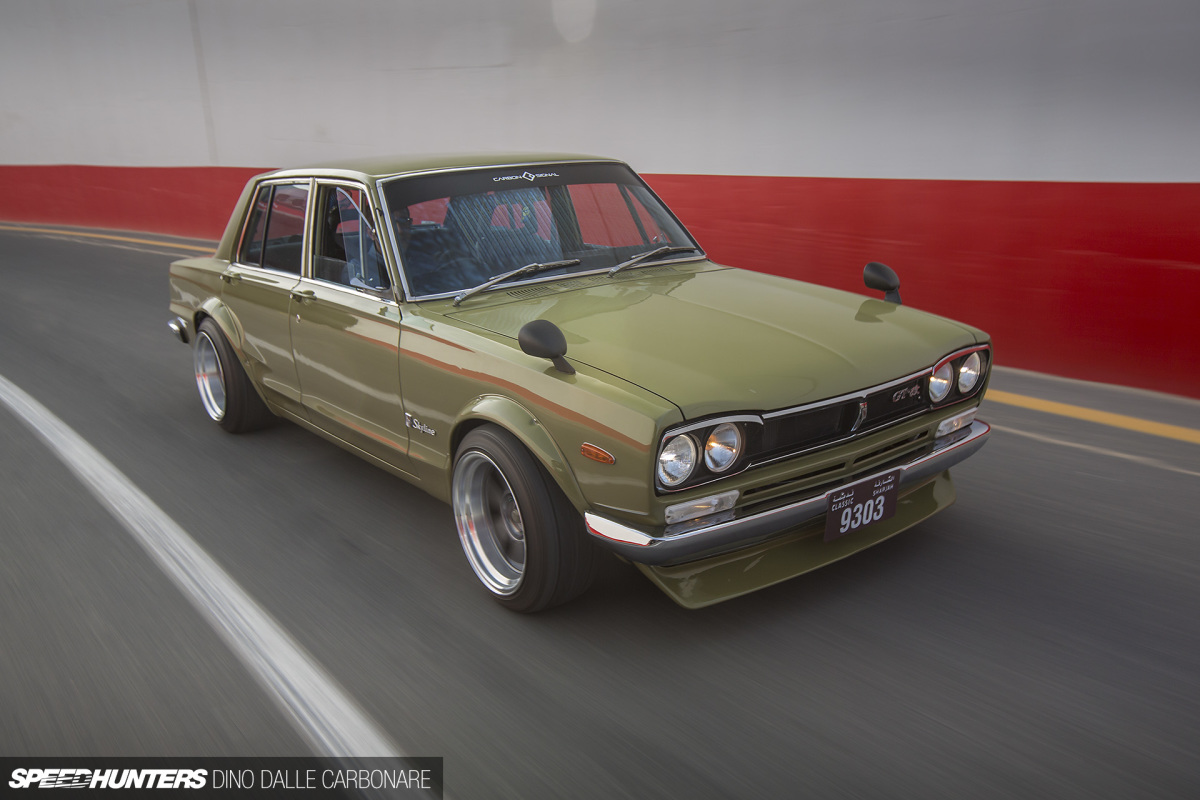 Both the S30 240Z that Chris Forsberg debuted at the SEMA Show last year and Sung Kang's FuguZ build feature Aamir's parts, which are not limited to carbon but also include body kits and even retro-style race seats. But more on those aspects soon.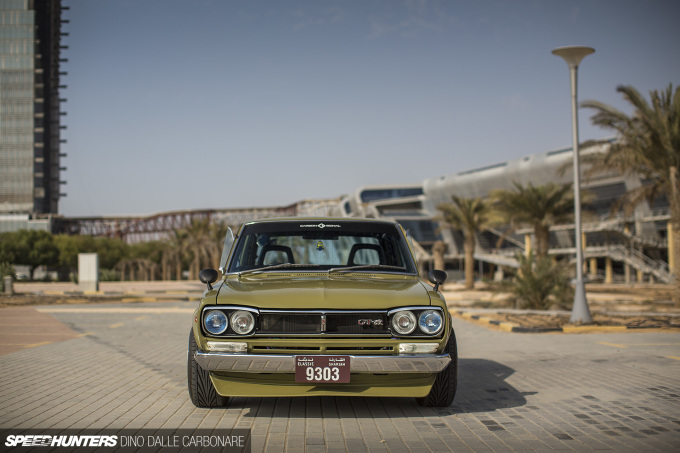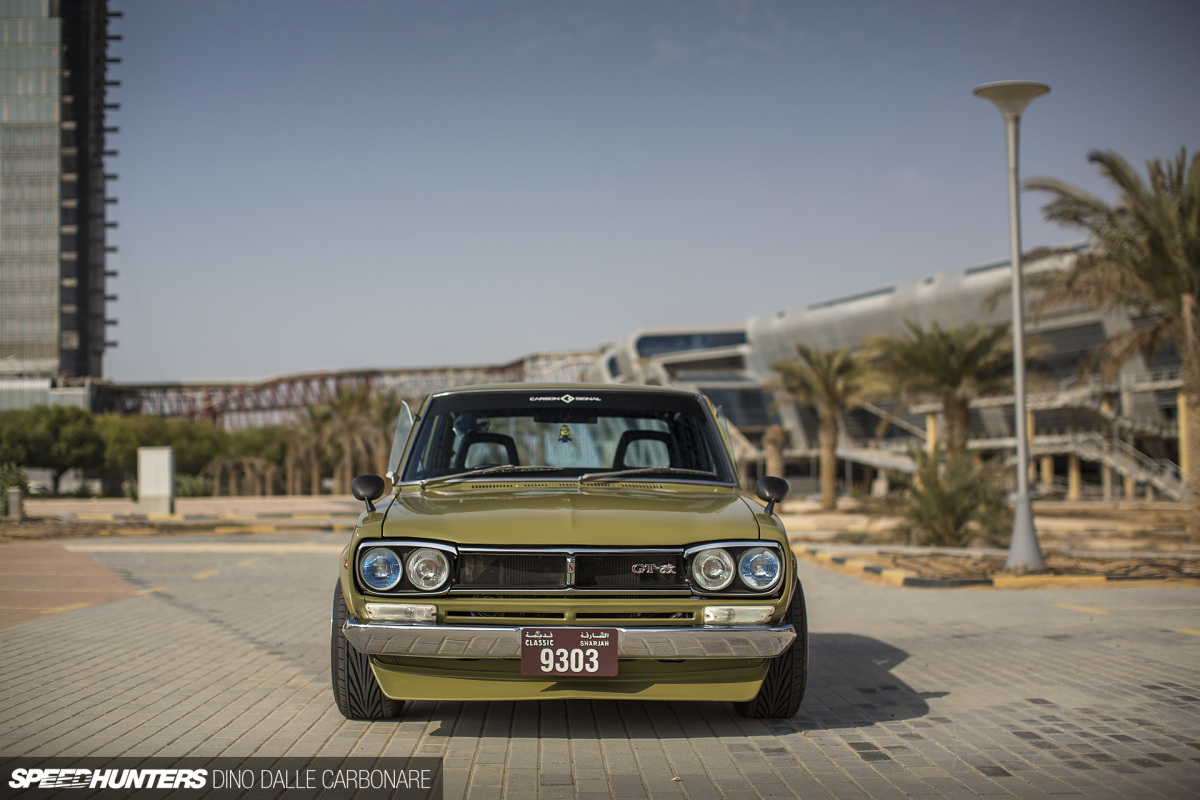 First, I want to concentrate on the looks and performance of the car, two areas that really set this Hakosuka apart from other kyusha creations.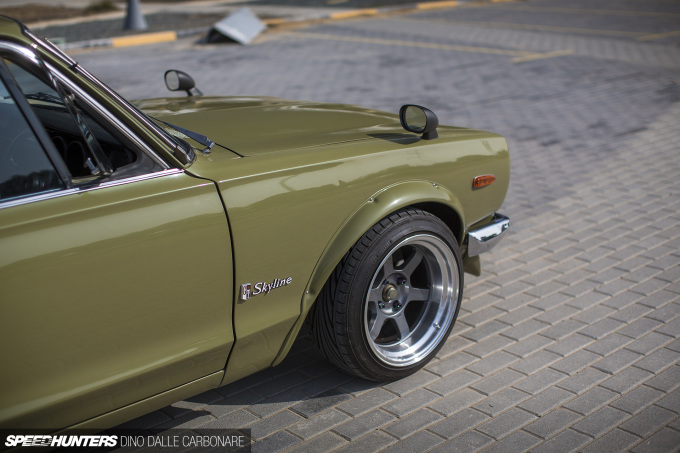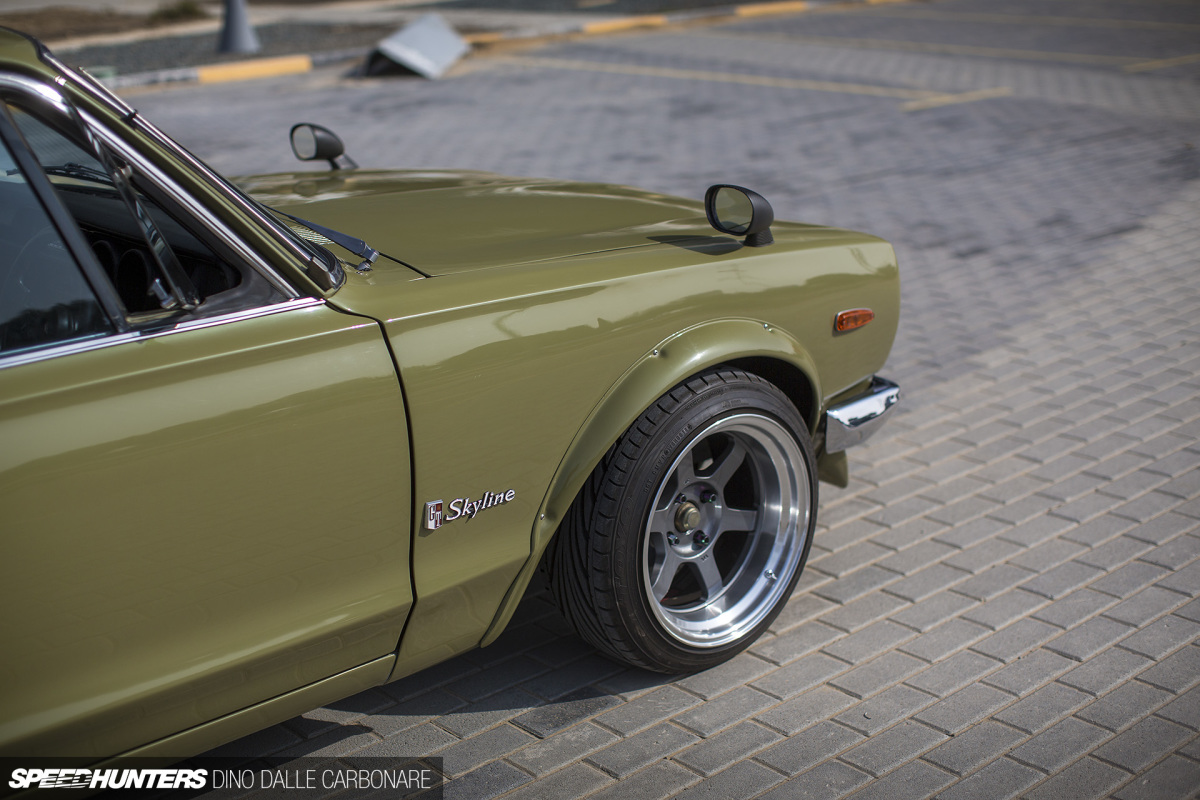 The deep pastel olive green sort of reminded me of the lighter and metallic hue that Nissan used for the 1000 Nür versions of the BNR34 GT-R prior to ending its production in 2002. It's not the same color in any way, but a nice nod to the lineage of the Skyline. The restoration of the Hakosuka also served as a good opportunity for Aamir to design and create his very own six-piece flare kit. It's nothing too wide, but it definitely gives the old girl an extra bit of presence. As you can see, the flares were color-matched to the body, which I though was quite cool.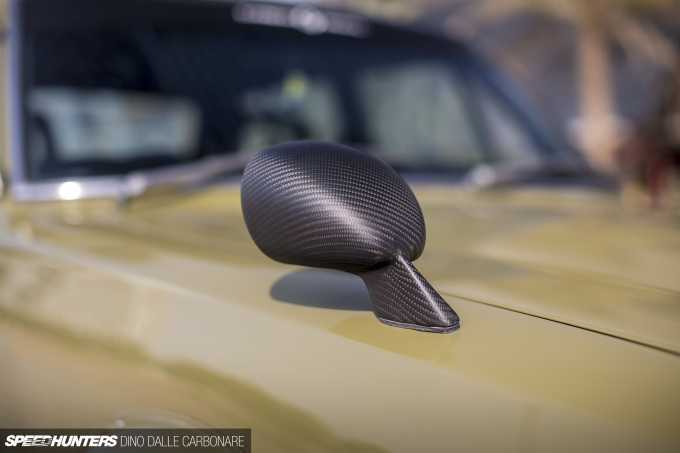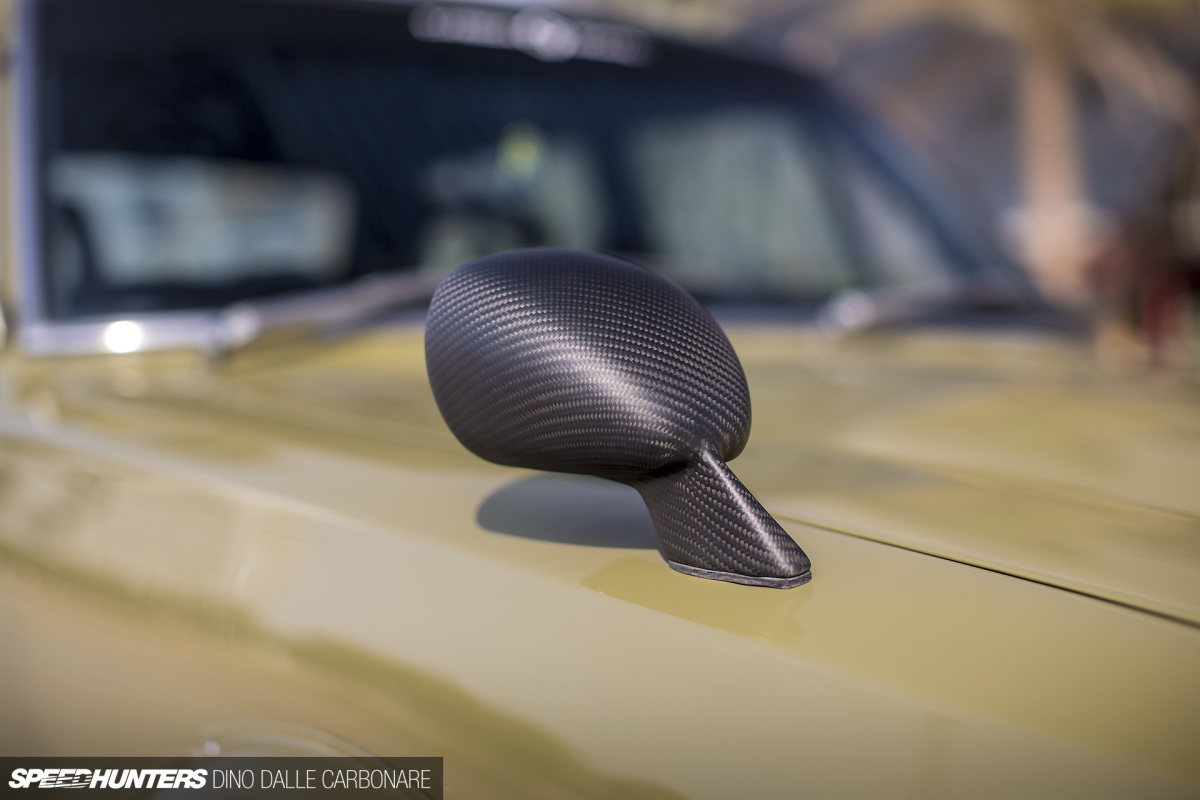 The carbon fender mirrors are a nice addition too; vintage and period-correct in positioning, modern and lightweight in execution.
For wheels, Aamir settled on a set of Volk Racing TE37Vs from RAYS, which again offer a nice balance between modern and vintage. The 10.5-inch wide rears definitely fill out the pumped guards, but the car sits a tad higher than you'd expect, something that's totally down to the roads in Dubai. Actually, not the roads, those are fine, it's all the speed bumps! Quite simply, a shakotan stance would severely limit where the car could be driven.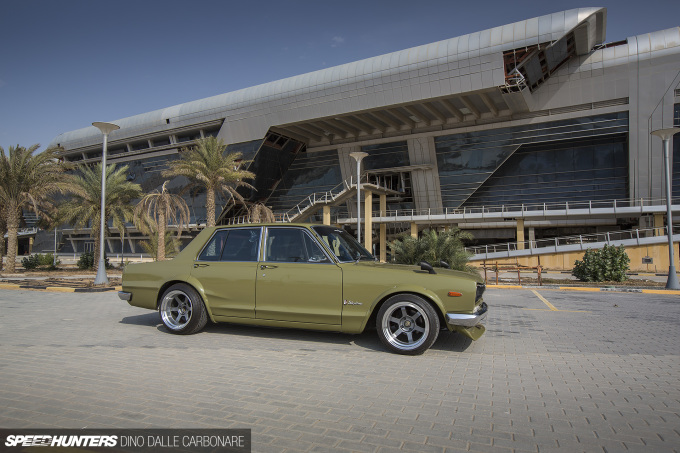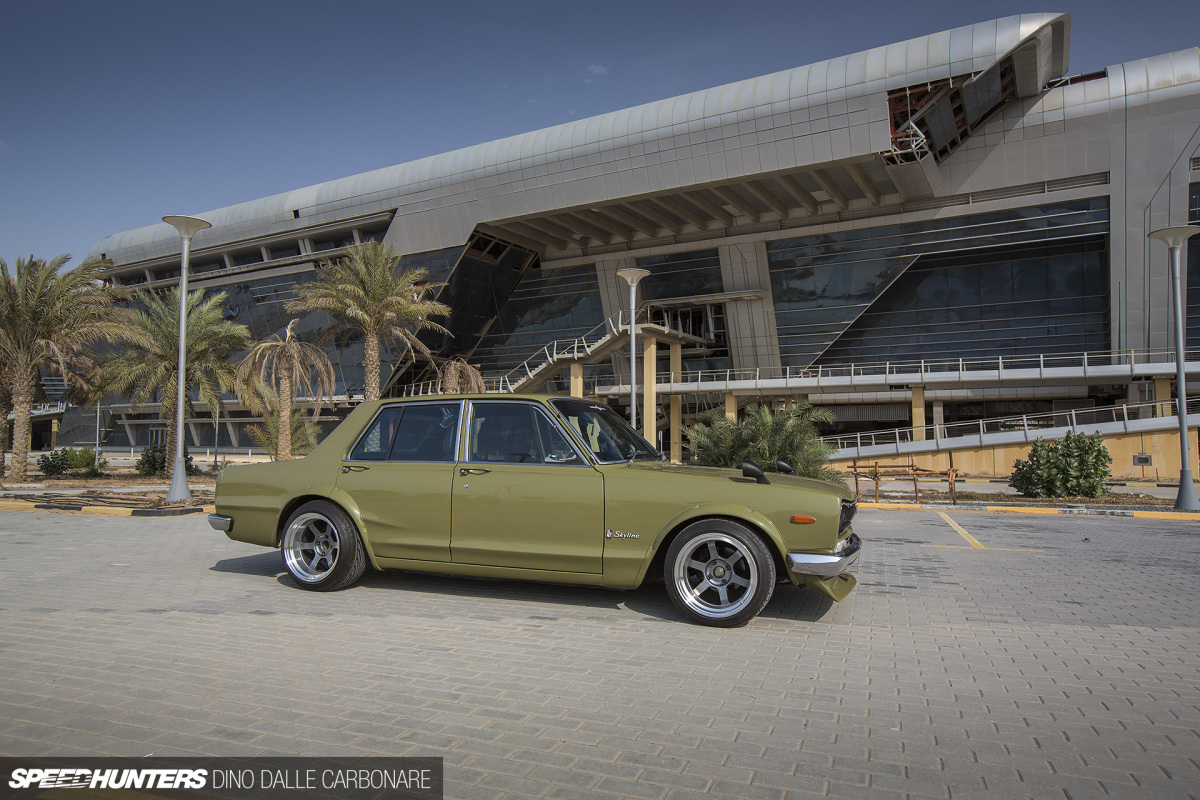 The overfendered look is balanced out up front with the must-have bucktooth chin spoiler.
Pumping The L28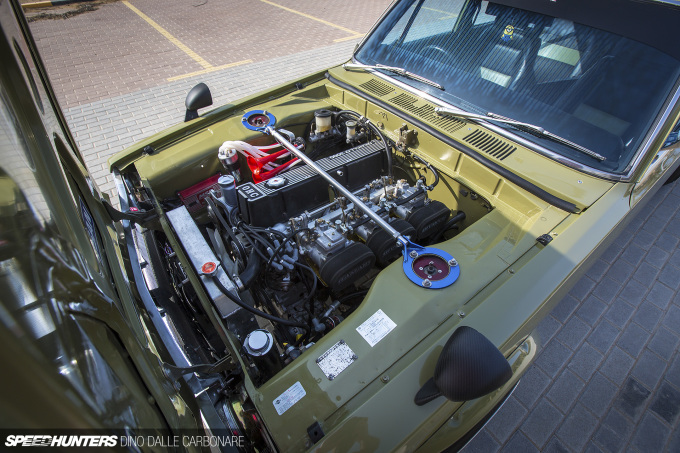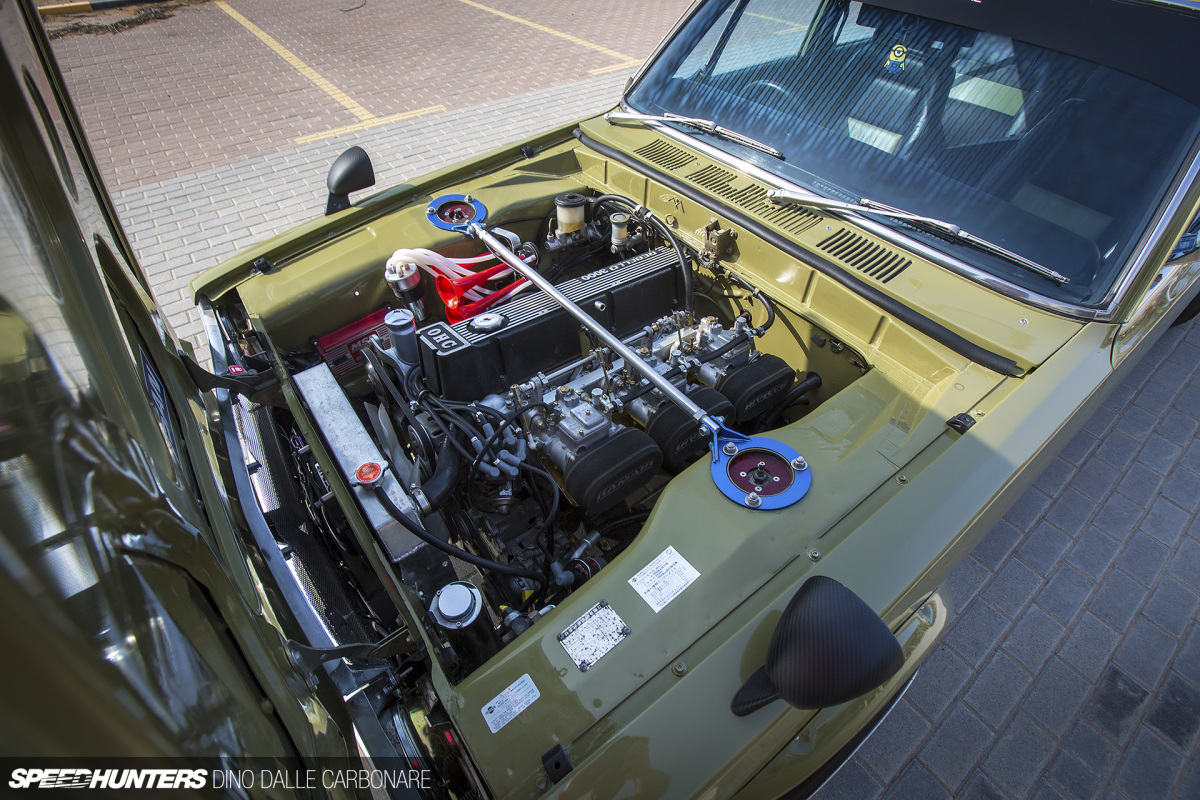 The unmistakable lumpy idle of a tuned L-series motor was too much for me to bear, so before I had even finished snapping away at the rest of the exterior I asked Aamir to open up the hood.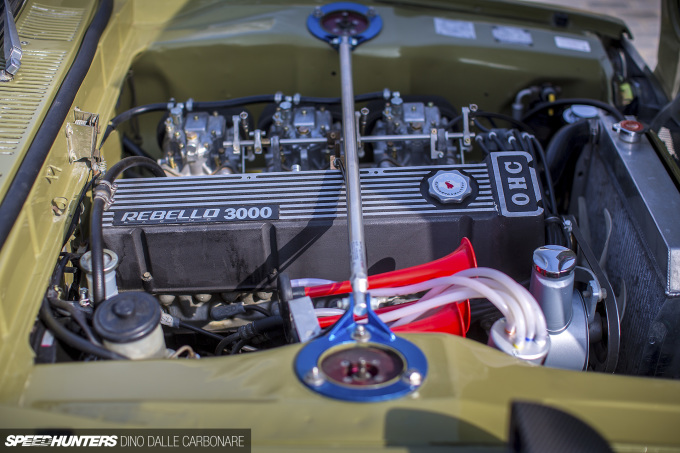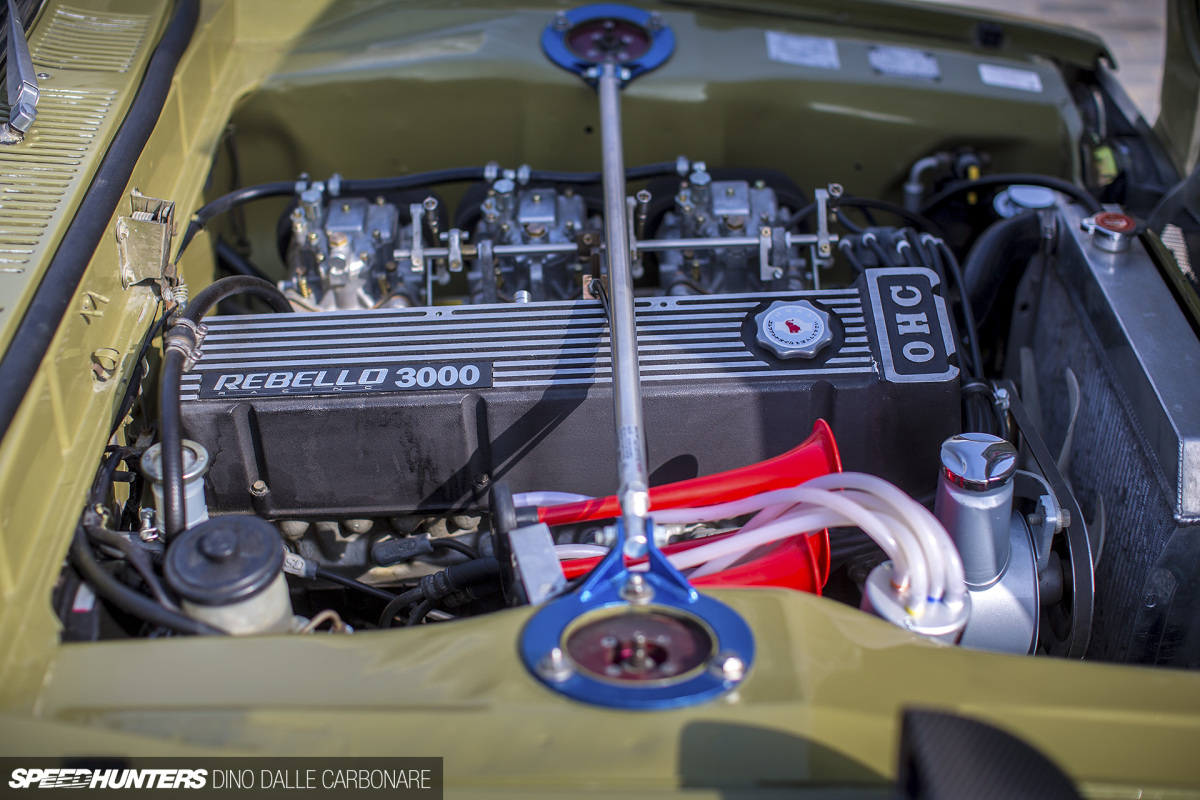 Just like every other detail of the build, absolutely no corners have been cut here. In fact, Aamir went nuts, basing the build on an N42 L28 from a 280Z, which has since been stretched to 3.0 liters and topped off with a Rebello Racing cylinder head. The Rebello item has been thoroughly ported and polished, and is equipped with Supertech stainless steel intake valves and Rebello heavy-duty springs to ensure it can handle 8000rpm+.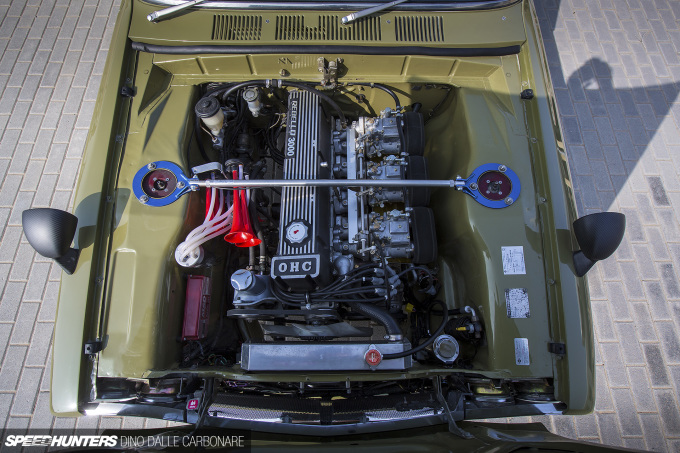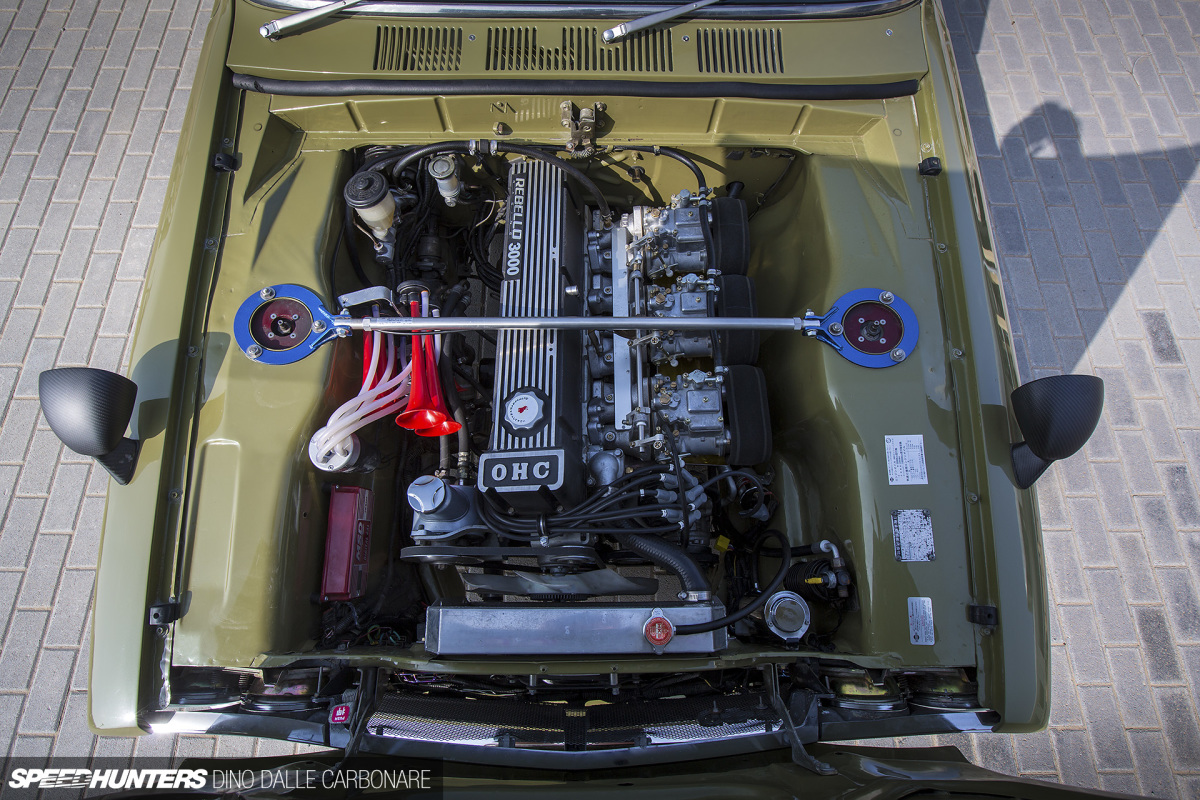 Actuating the valves is a custom 282-degree/12.4mm cam to make the most of the modifications. With a trio of O.E.R. 45mm DCOE carbs fed through a Mallory fuel pump, the engine is able to develop a solid 275hp.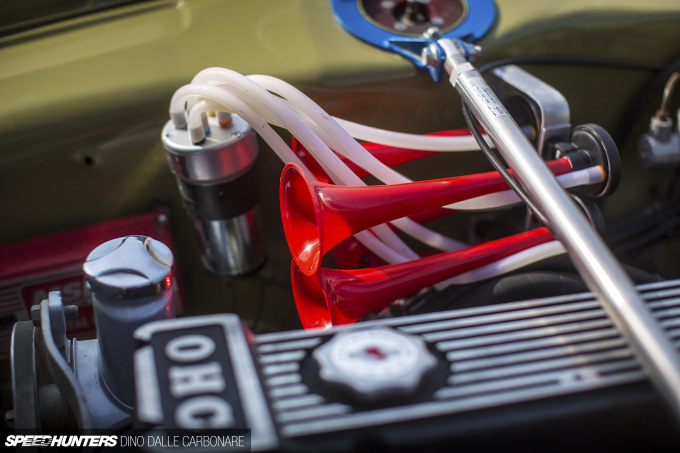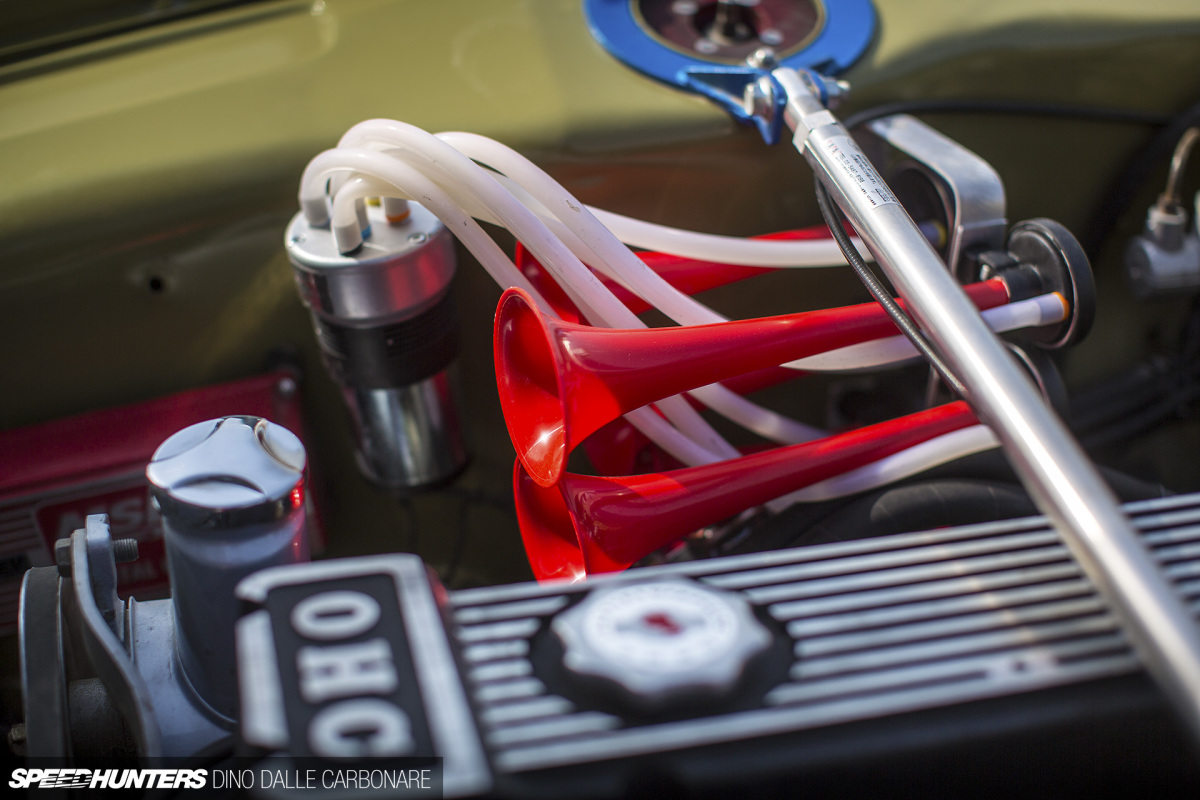 The most important touch of all, however, is the air horn which plays the Godfather theme. Bosozoku across Japan will bow in respect.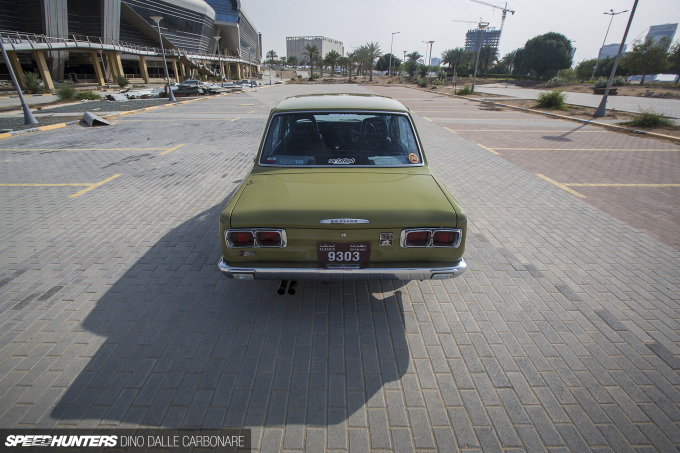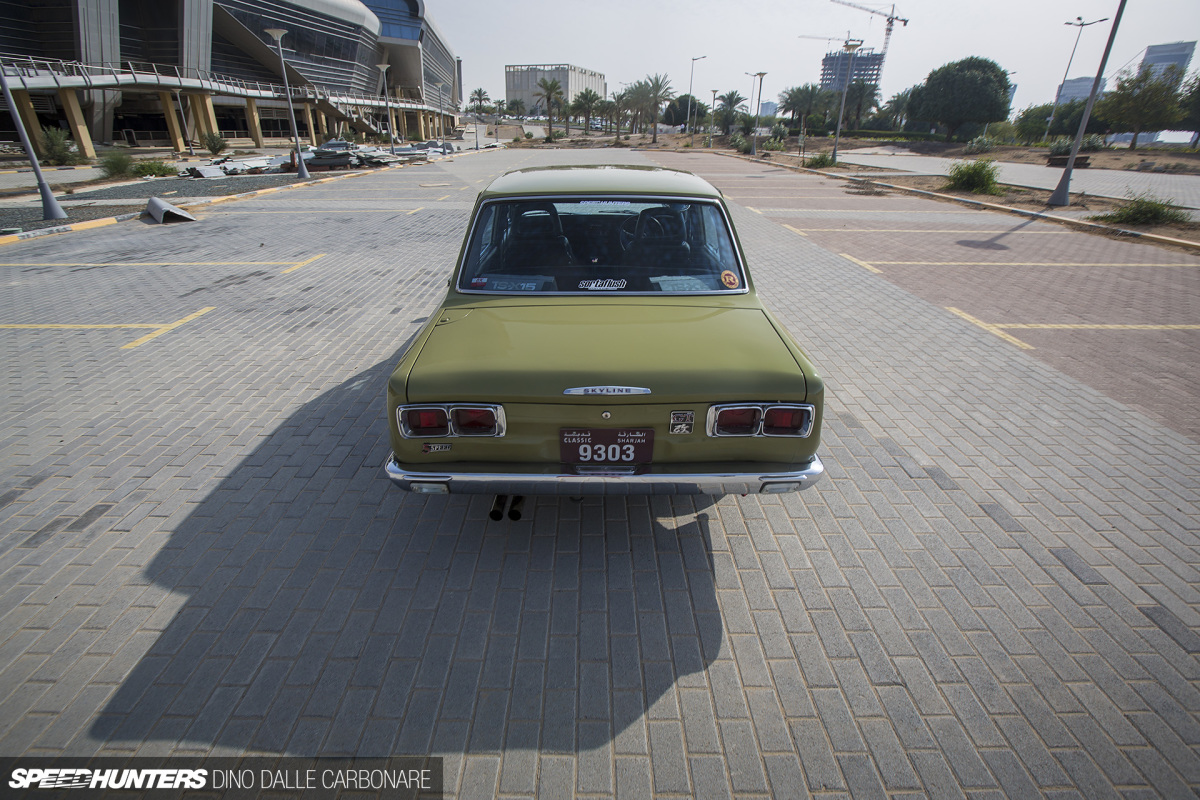 The additional soundtrack is provided by a full Fujitsubo setup from the headers back.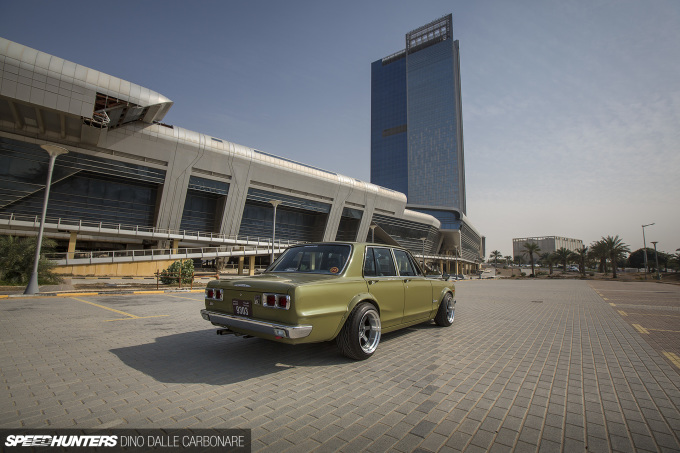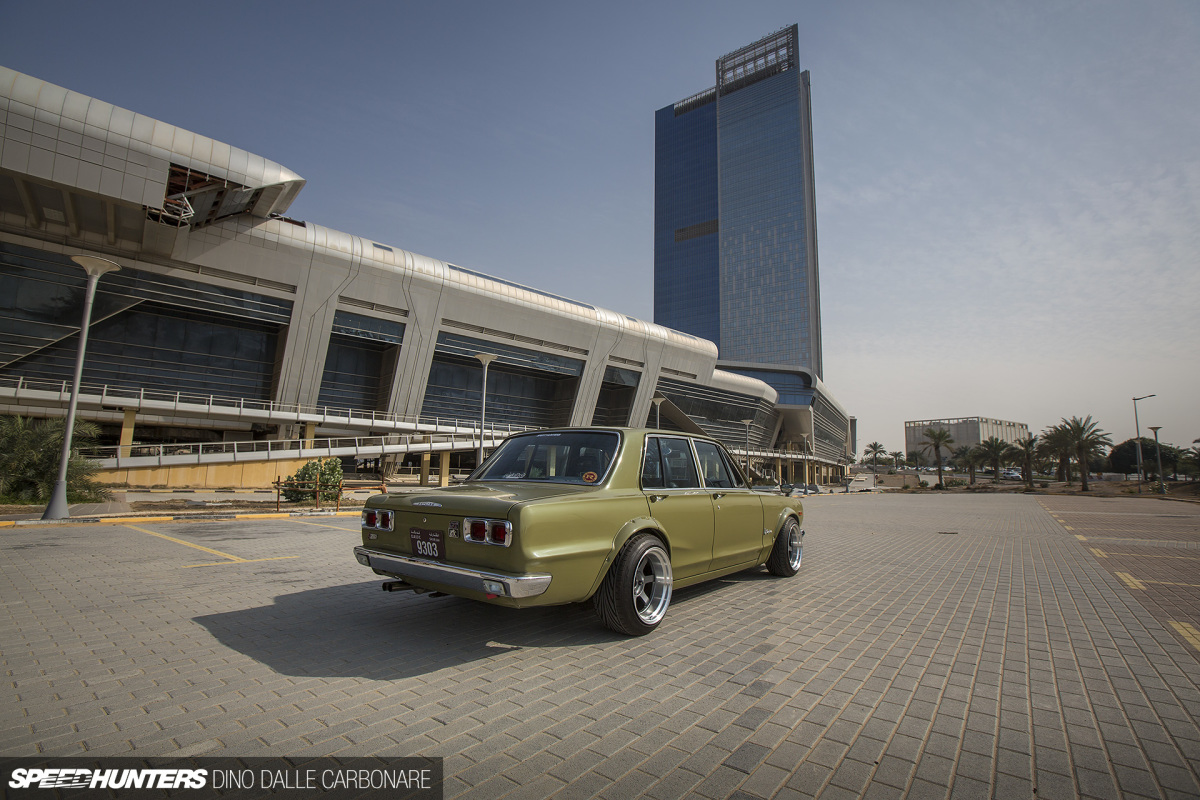 While we're looking at the back of the car, let's talk a little about how the Hakosuka puts the power to the ground. While 275hp isn't going to upset most drivelines, Aamir still wanted to address what was there and beef it up for piece of mind. So along with a longer ratio 5-speed gearbox he threw in a Centerforce clutch and Kameari flywheel, then added an R180 Subaru STI diff along with custom axles.
I was really surprised to see a vintage Nissan Prince Tokyo sticker on the back window; this is the dealership that made race Hakos famous in the '70s. Seriously, no detail has been left out, even Pioneer TS-X15 parcel-shelf speakers are fitted.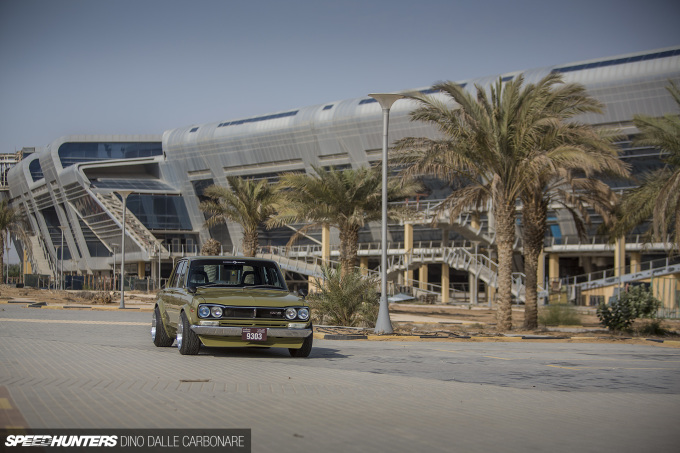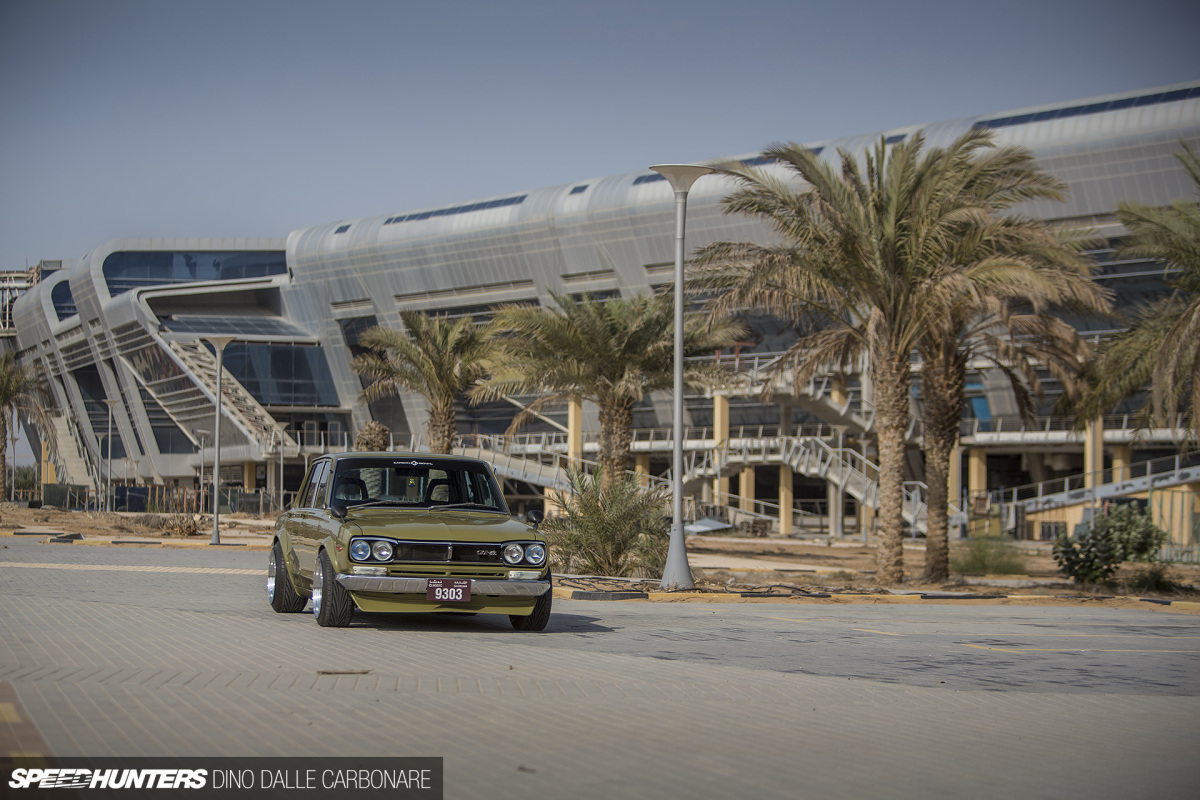 With the looks and performance taken care of, Aamir turned to the handling, and indirectly also the way the car would sit.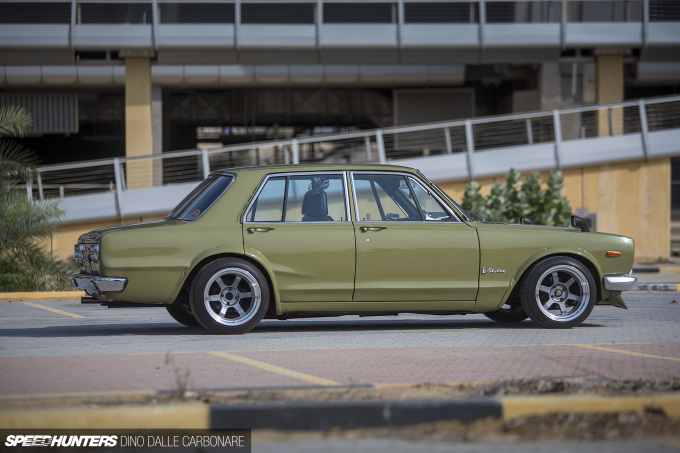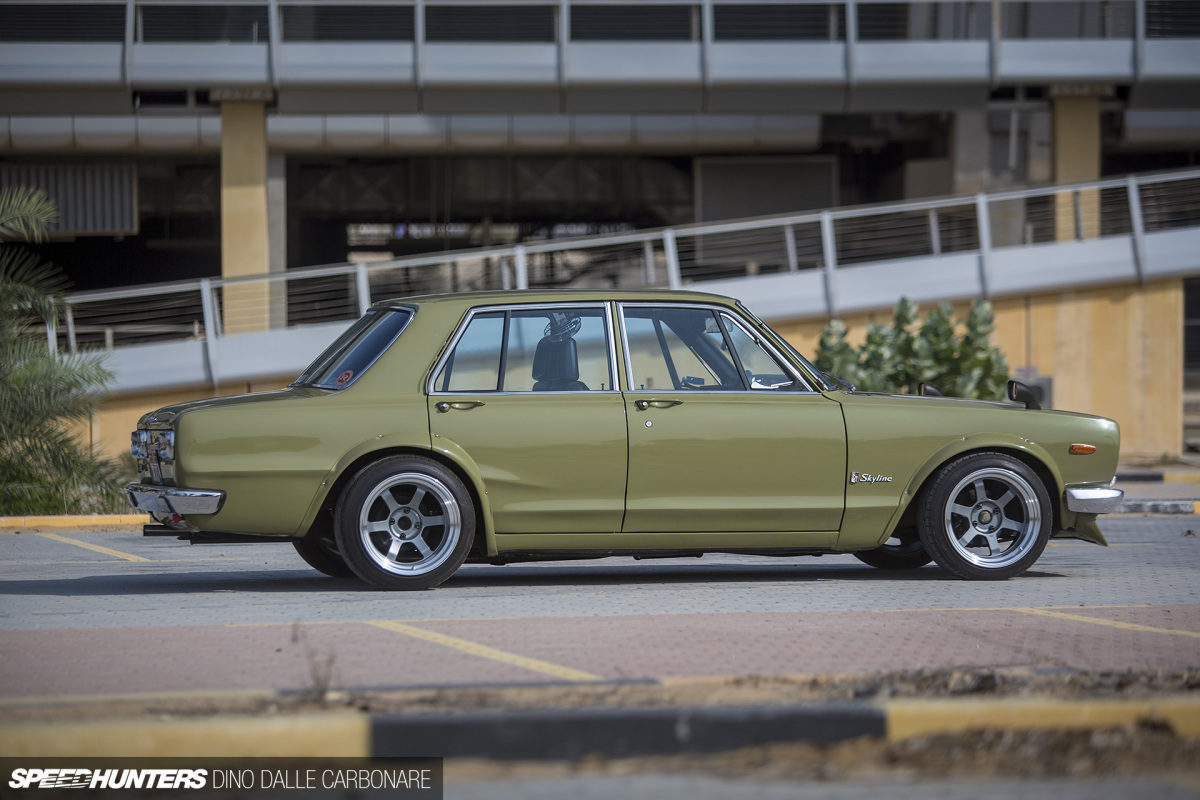 Like everything, this is mostly about achieving balance through use of the right components and having them set up correctly. Aamir selected a Rubber Soul lowering kit and a Futofab rear camber kit to complement Stance front coilovers and Gaz shocks at the rear.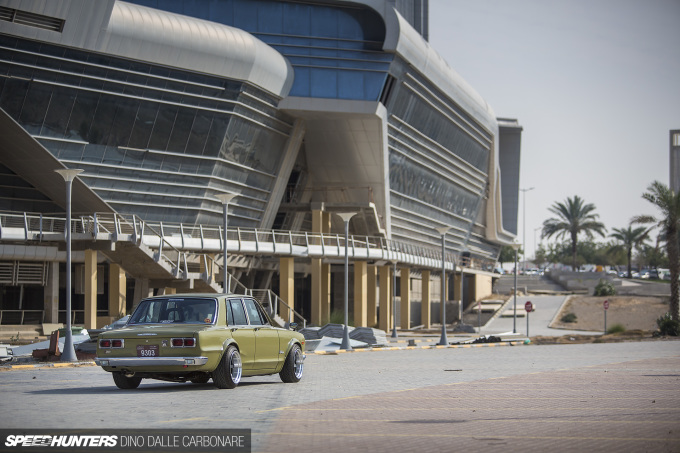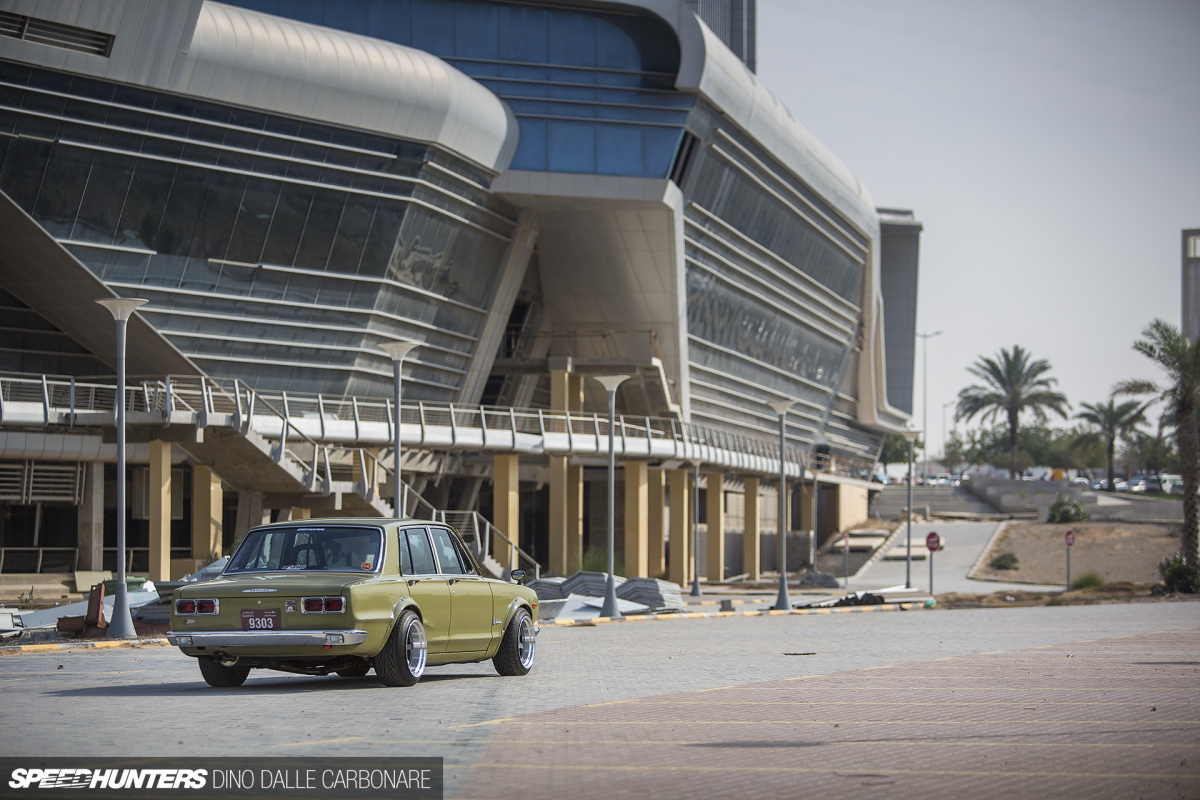 The springs are just about right for a street car, measuring 12kg/mm at the front and 14kg/mm in the rear.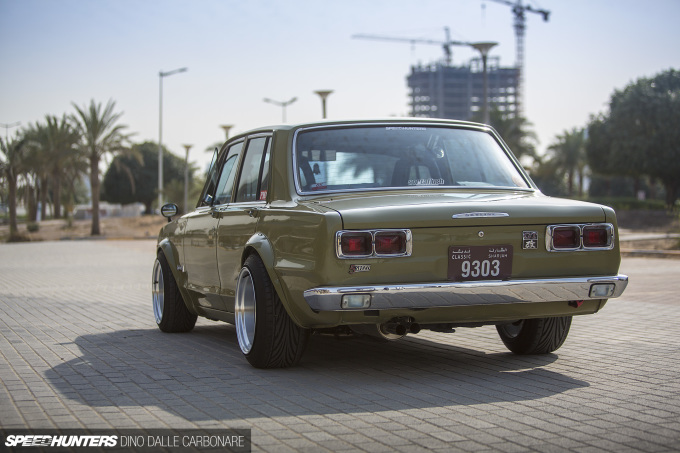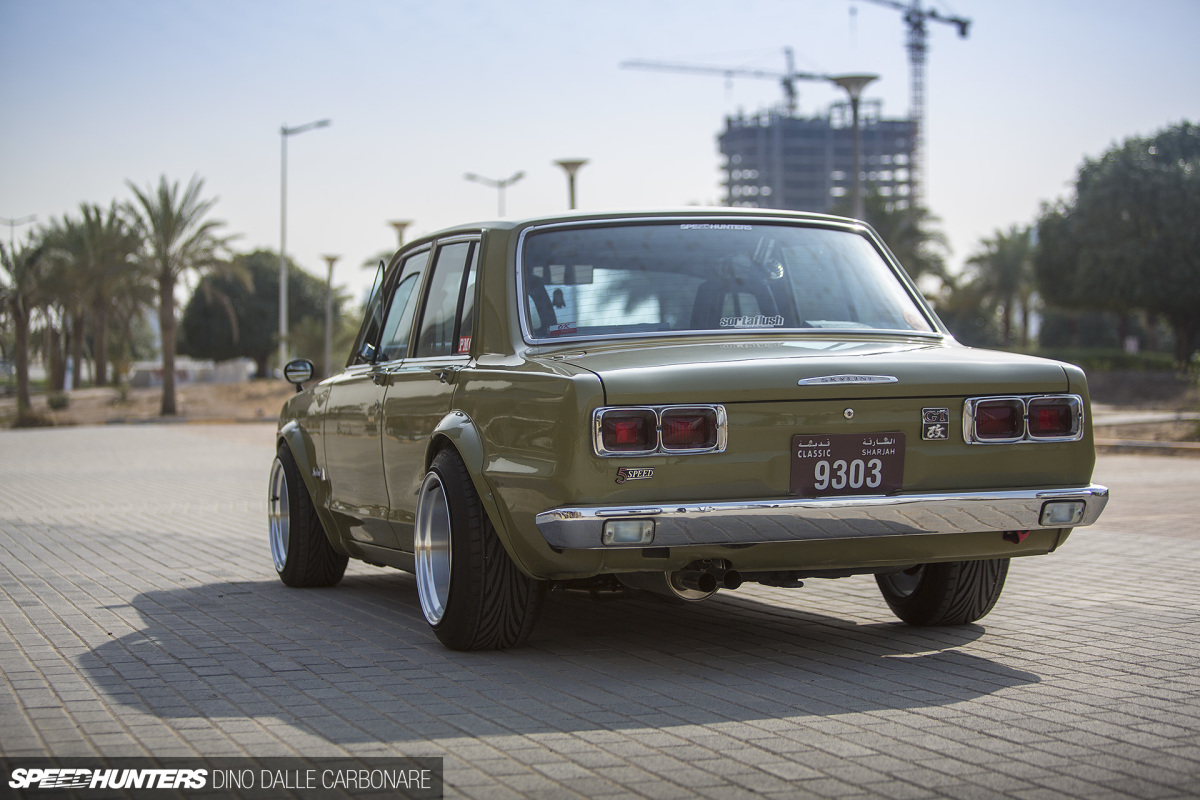 Nice and square would be a suitable assessment of the setup I think.
Comfort Comes Next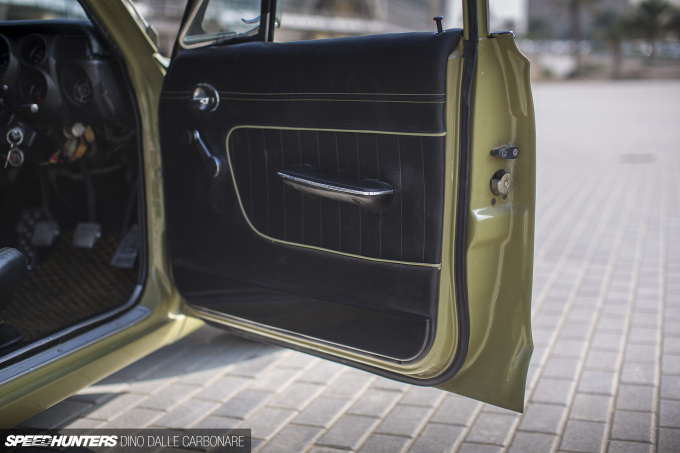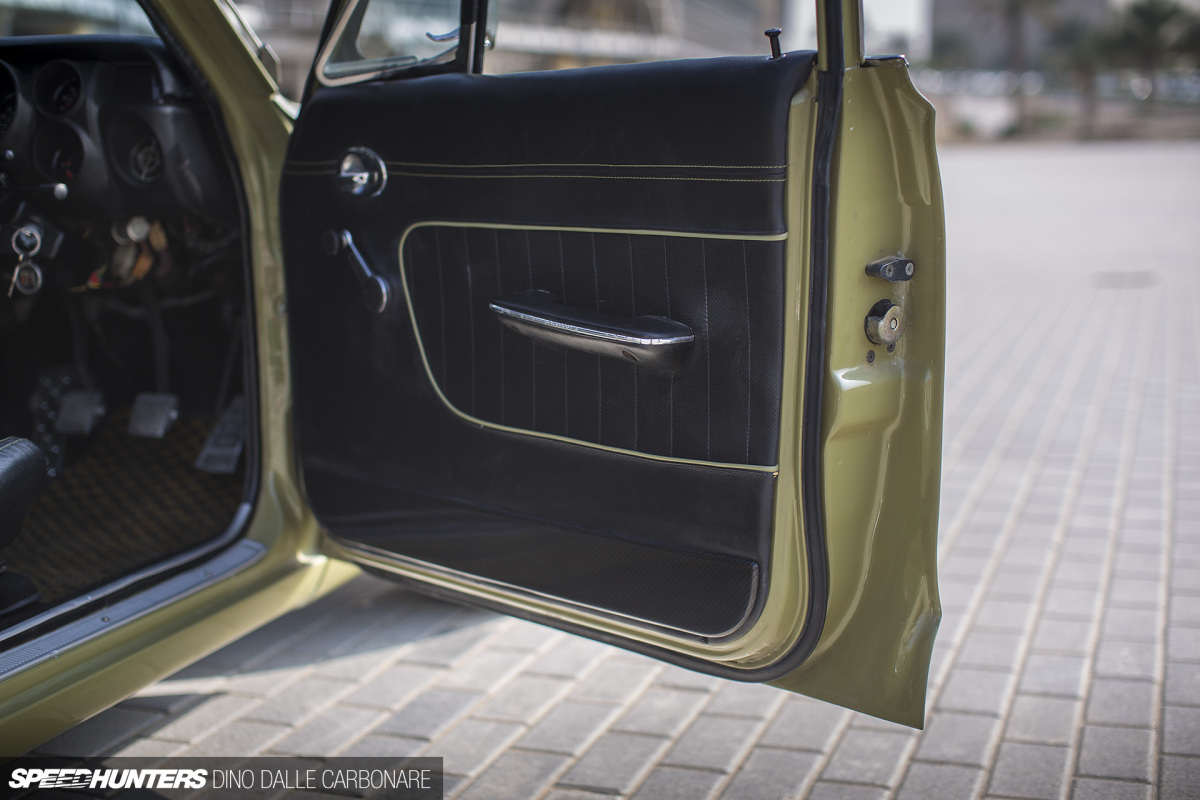 I found myself detail-hunting during the rest of the shoot, and there are plenty of them in the interior. It all starts with the door cards which feature color-matched piping and stitching, Napa leather, and a carbon strip to protect the lower sections from scuffs.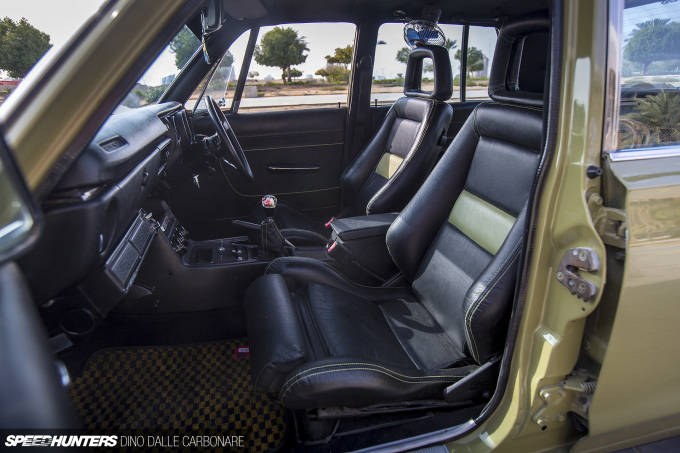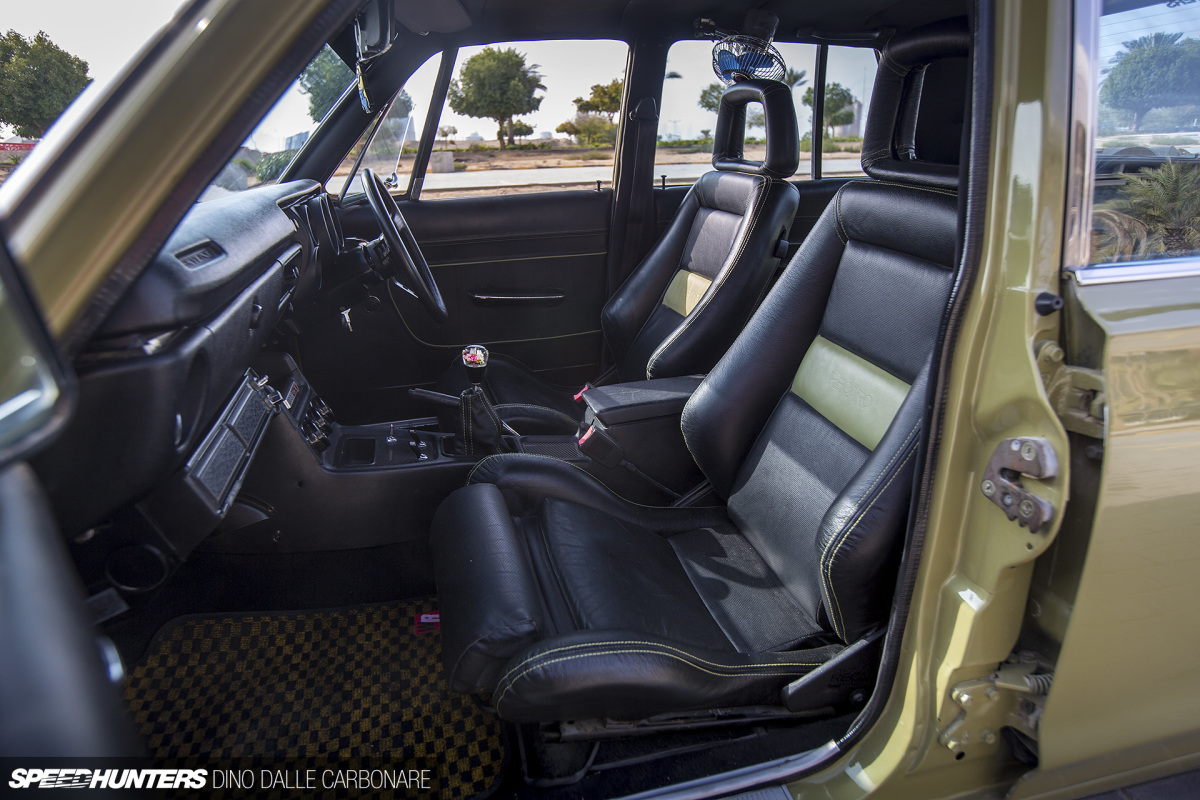 That theme is carried over to the Recaro LS Classic seats up front which also feature Napa leather.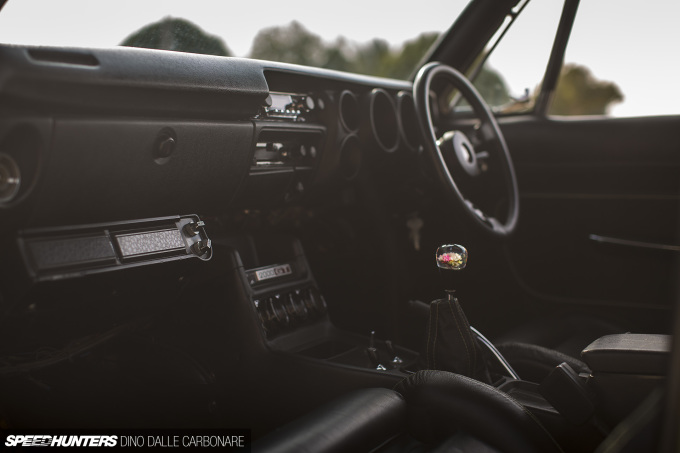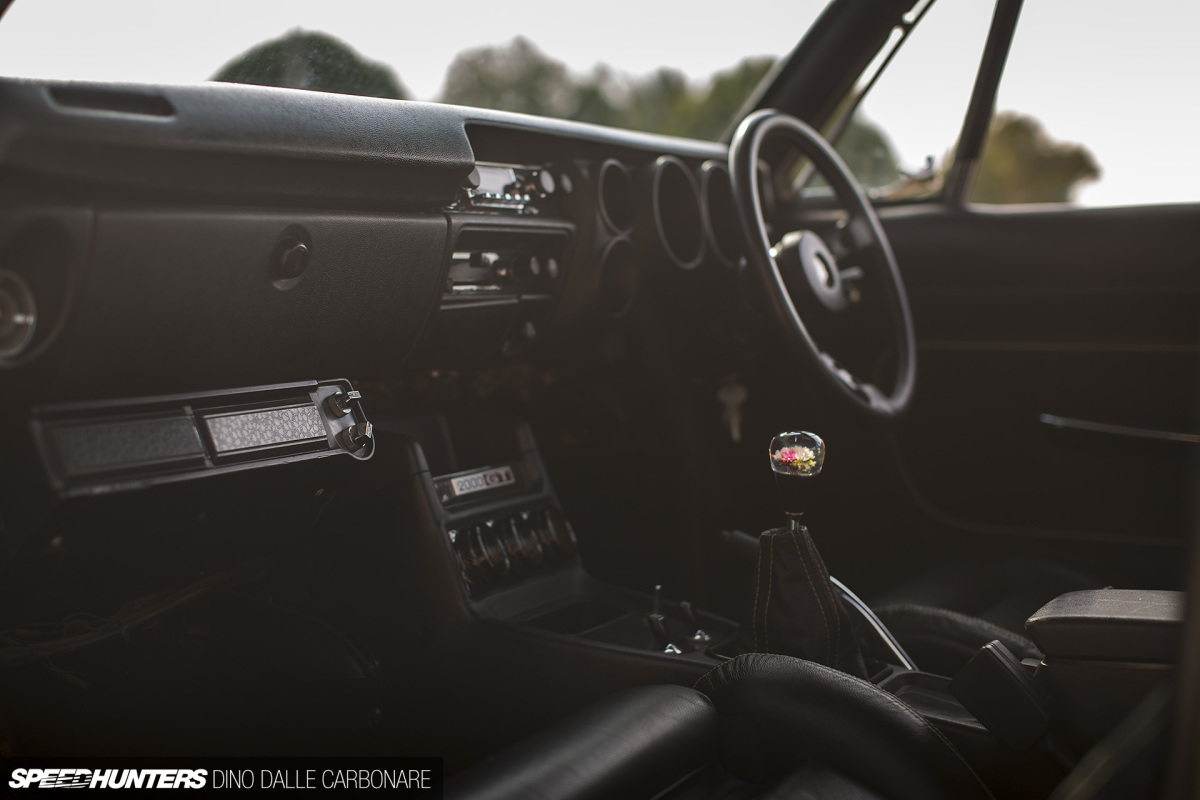 The dashboard has some cool additions, but you really have to look for them as everything blends in so seamlessly. You know you've done stuff right when that's the case.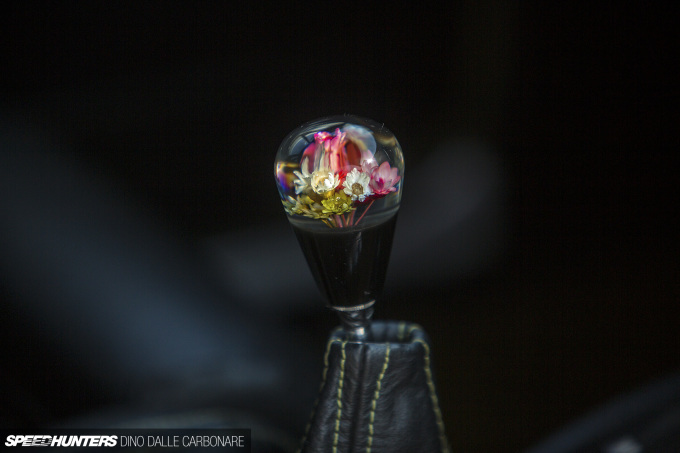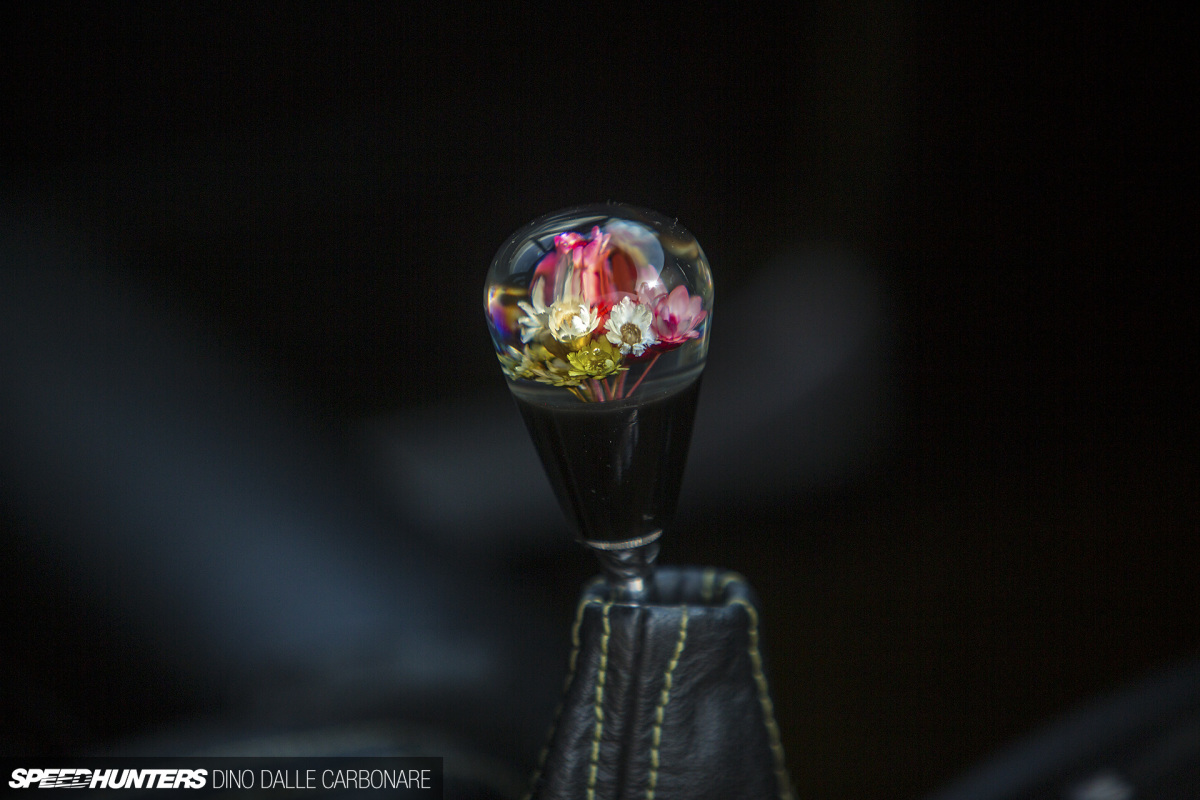 As a '70s Japanese kyusha, the flowery shift knob is right at home too.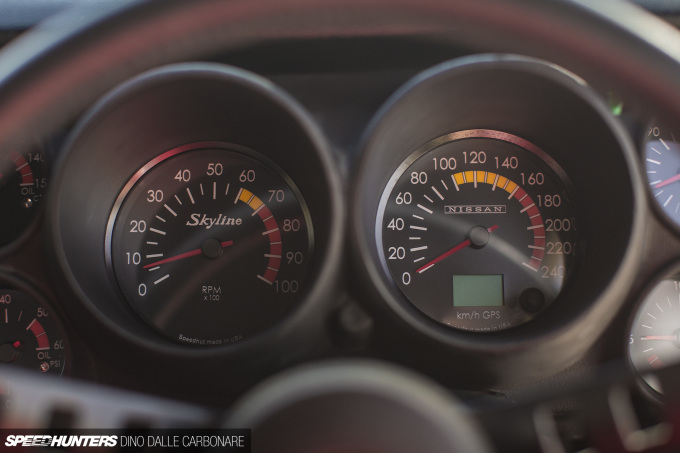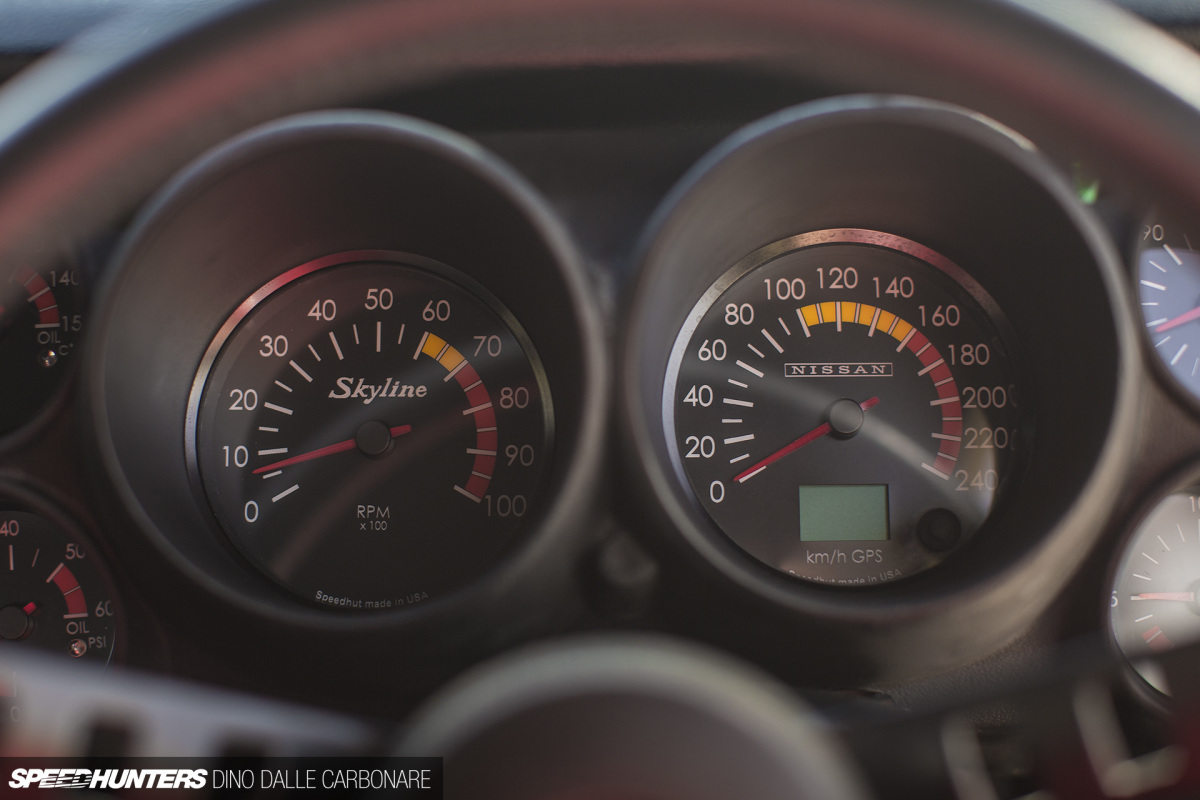 The main instruments are SpeedHut items that have been custom-built to CarbonSignal's own design, and they look amazing. The speedo is GPS driven so there's no cable necessary, and it's way more accurate than a mechanical item – as long as you're not in a tunnel.
Extra gauges can be find in the center stack, along with more CarbonSignal carbon fiber to dress up the drab '70s plastic of the stock dash. And of course air-conditioning, which is an absolute necessity in this part of the world.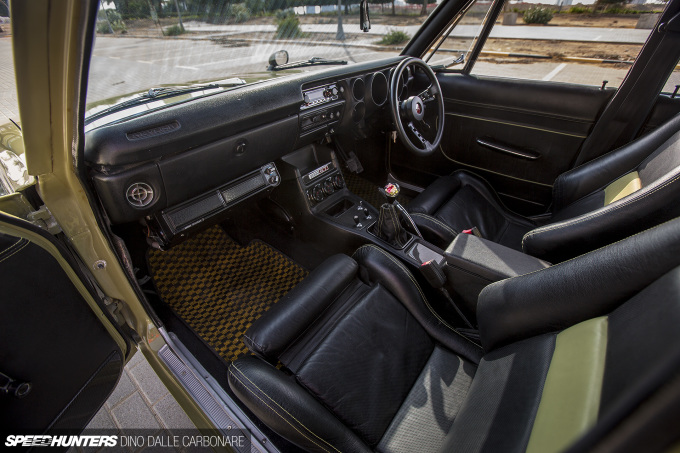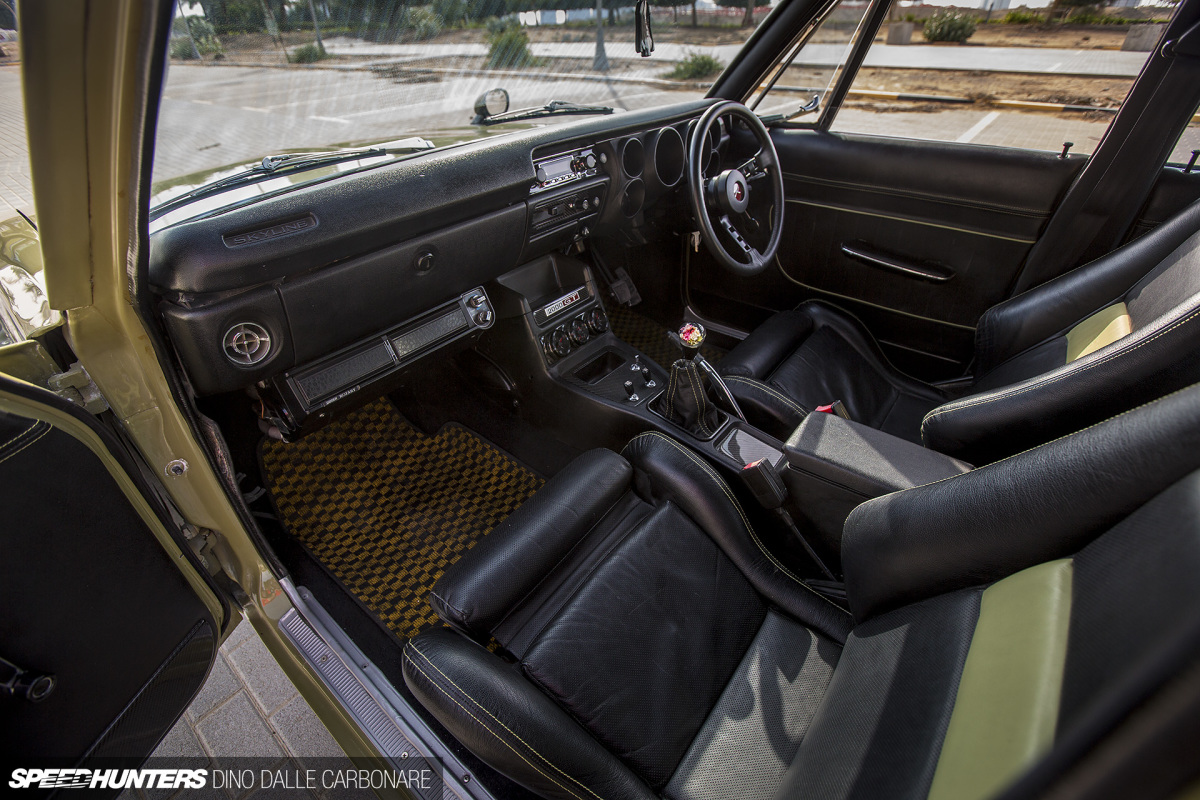 Take a wider look and it all blends in; there are many details but in no way is it overdone. It's just right.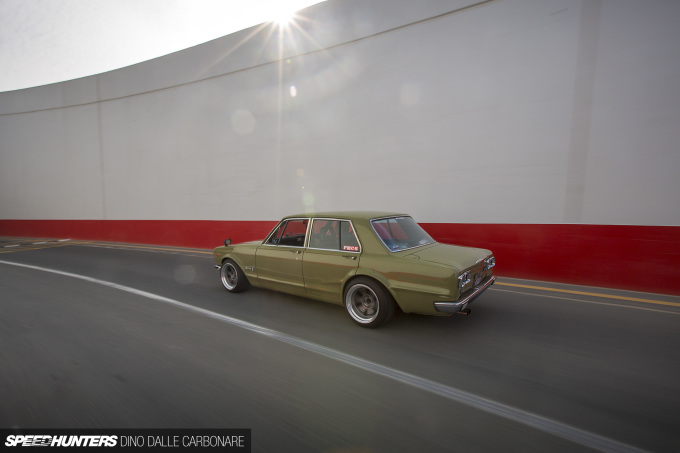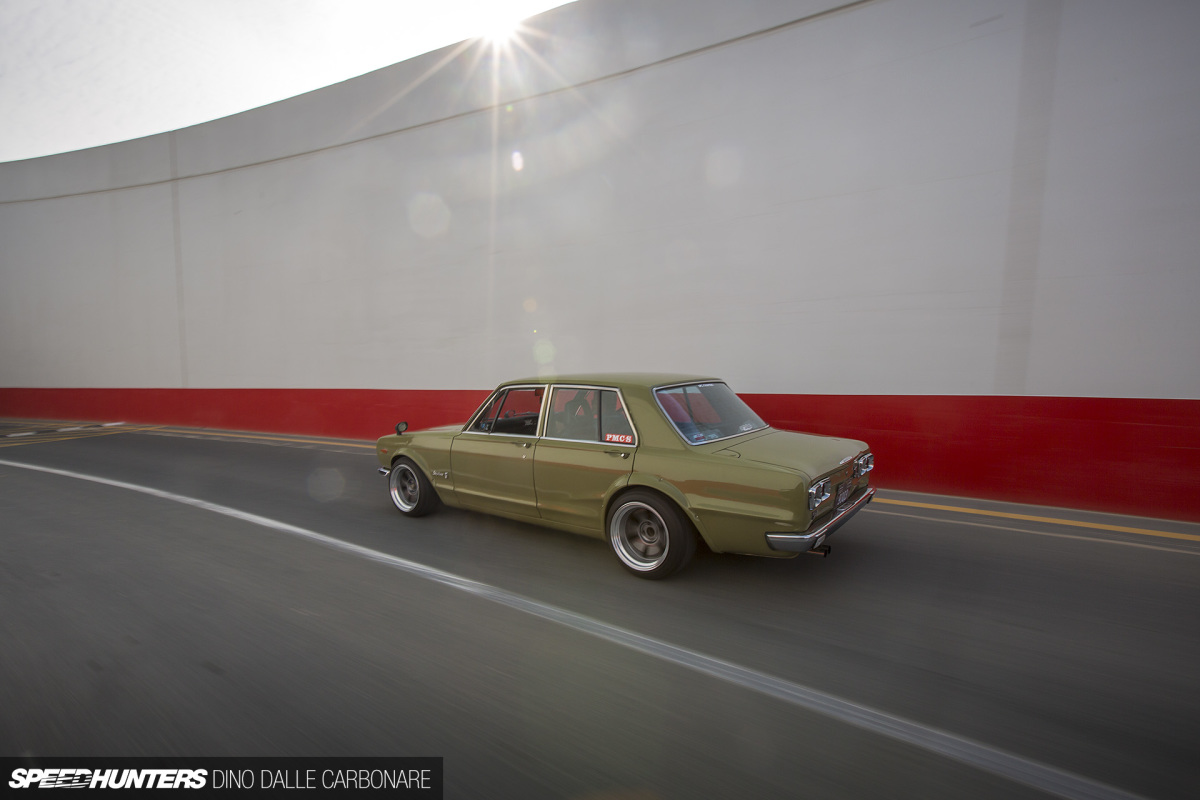 The GT Kai badges on the front and rear of the Hakosuka couldn't do a better job of categorizing the theme of the car. Kai means 'modified' and 'perfected' in Japanese, and that's precisely the case with every single aspect of the classic Skyline.
After checking out this build in detail, I really can't wait to see what Aamir comes up with in the future. Right now he's putting the final touches on a pretty unique Z, and that's something I'll have to investigate further when I make a return to Dubai later in the year.
Dino Dalle Carbonare
Instagram: speedhunters_dino
dino@speedhunters.com