Getting Back In The Game
I've always been a sucker for a well executed engine swap, and this M3 BMW sure had me buzzing with delight as it rolled through the pit lane at Rotary Revival 4.
Even from a distance it caught my eye with its pristine body work and aggressive stance, but once it passed by with its tubbed rear end on show and an angry rasp emanating from its dual exhaust I knew it was time to do some further investigation.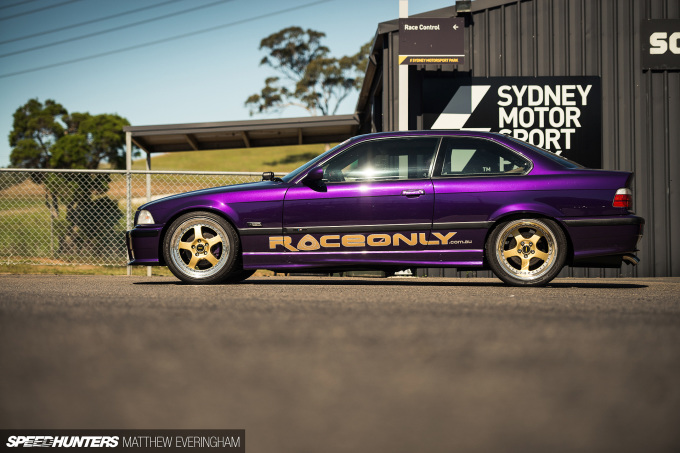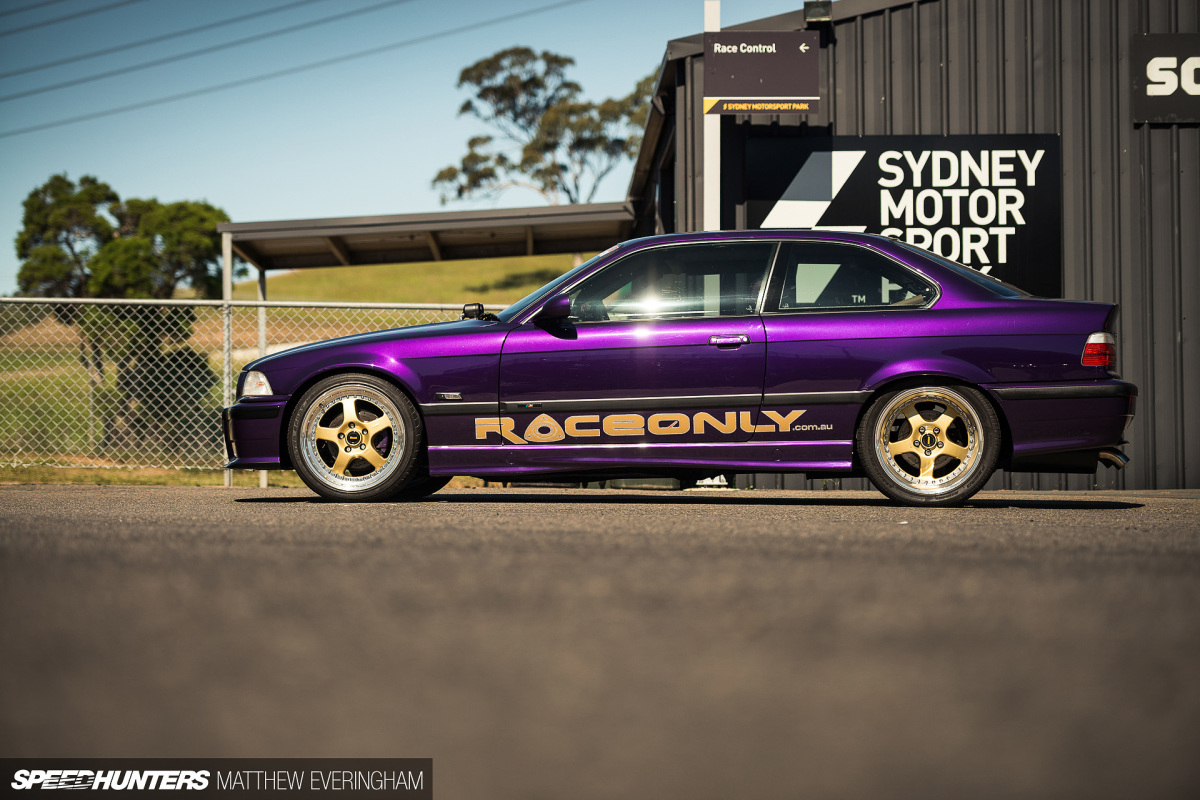 I wasn't the only one investigating; I arrived to a packed-out pit garage. I'd suspect that the 1995 BMW M3 coupe isn't what most punters were paying their hard earned money to see when they walked through the gates of a Mazda-focused event, but nonetheless this rotary-powered Bavarian machine had more than its fair share of admirers.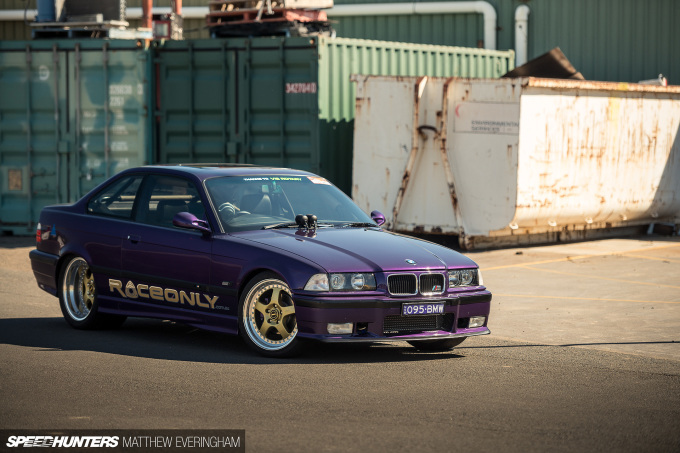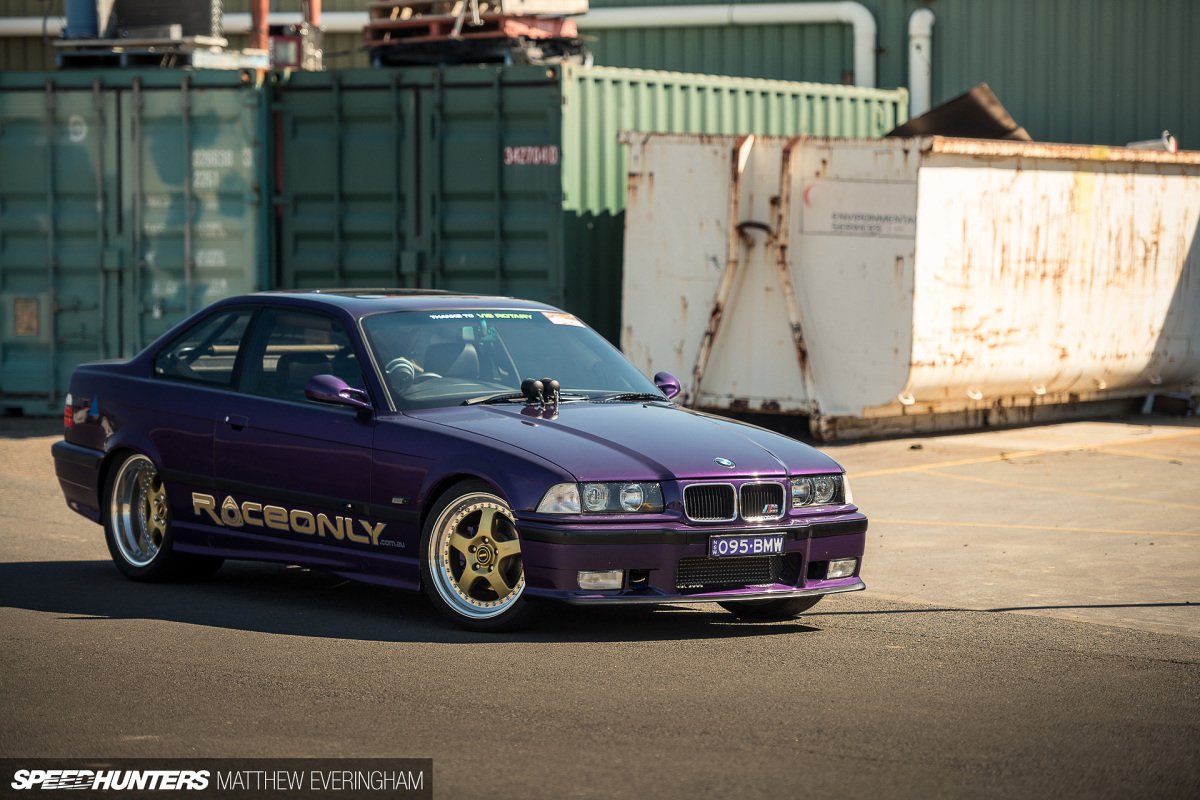 Among the crowded pit garage I shook hands with the M3's owner, Geoff, who'd noticed me nosing around a bit longer than most and taking in the finer details. He was more than happy to guide me through the build and give a quick history lesson, and then roll her out into the sun away from the crowd to give me a better look.
While growing up, Geoff always had a rotary of some description parked in his driveway, but as life and priorities changed the performance cars were replaced with work vehicles and family saloons. Eventually though, the allure that drew him to the rotary engine in the first place proved too strong and the quest to find a new toy began.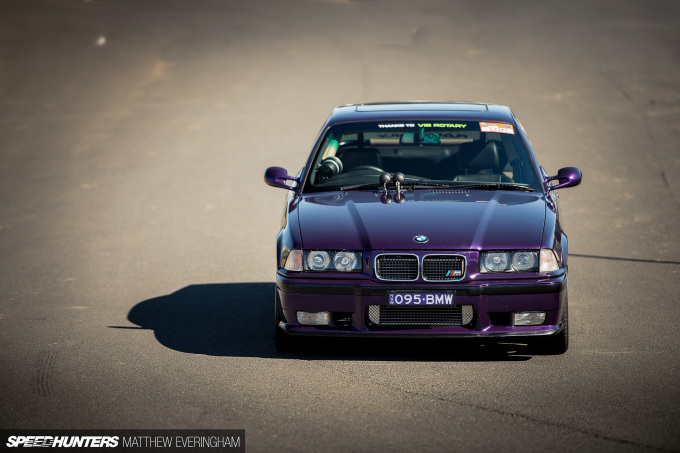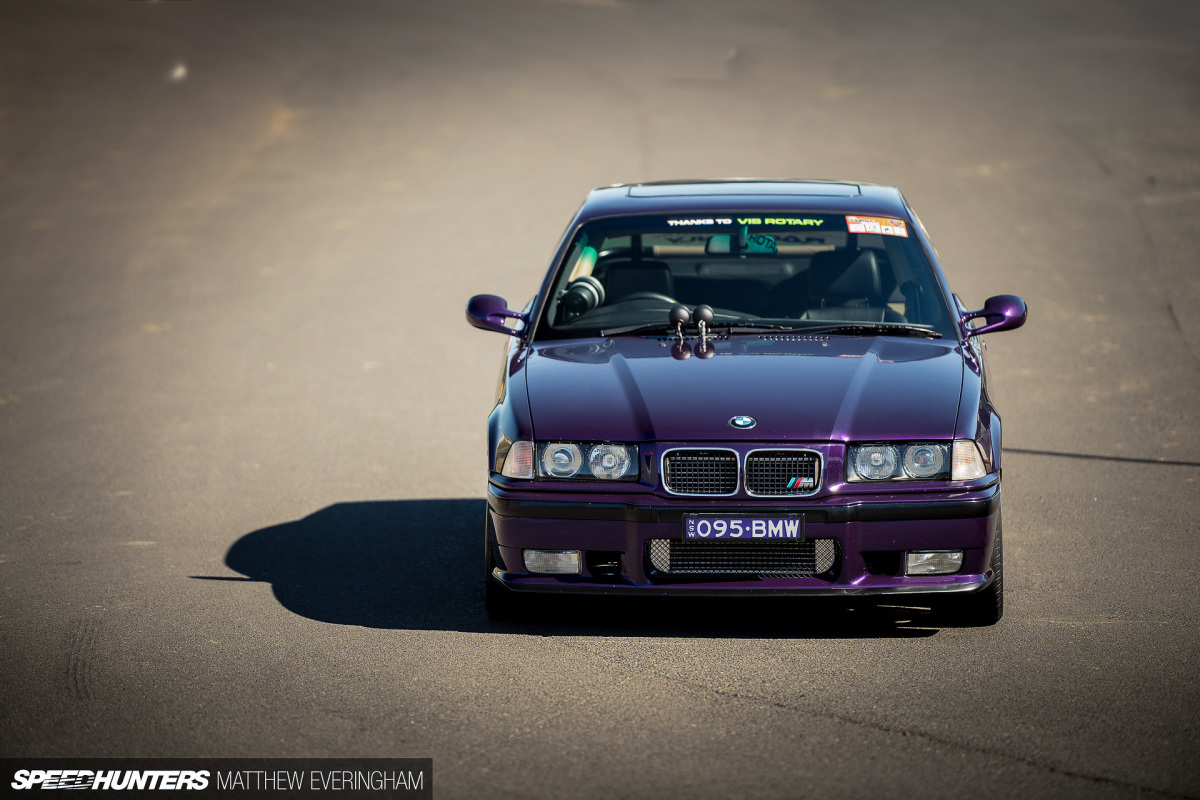 It'd been 15 years since his last sports car, and while shopping for a new car it became apparent just how much wear can occur during such a long period of time. The search started by trying to find a clean RX-2 or RX-3 but it seemed to be waste of time. But in a stroke of good luck, an M3 already sporting a three-rotor 20B engine conversion and extensive custom bodywork popped up on the market. The car had been sitting for a few years though and would require serious levels of TLC, specifically in the form of a complete engine rebuild and chassis refresh. But that was fine, because it isn't everyday you find a tubbed, caged rotary BMW in the classifieds. Finally Geoff was back in the rotary scene.
Less Is More
The tasteful, less is more modifications made to the body work sent me on a quick trip down memory lane; I was transported back to my school days, flipping through car magazines primarily filled with stout but simple looking machinery. It was age where lap times and subtlety were the primary goal posts for success, an age devoid of the desire to attract 'likes' and the attention of international strangers with instantly recognisable and often outrageous changes to a car. I'm all for pushing boundaries and exploring the wildest of builds, but sometimes a change of pace and direction like this is appreciated.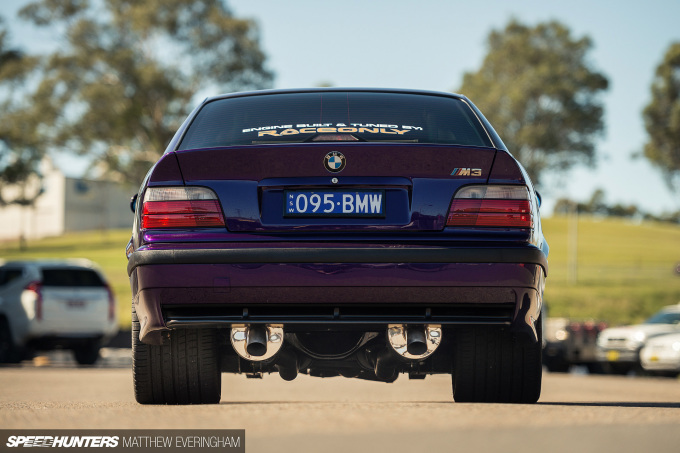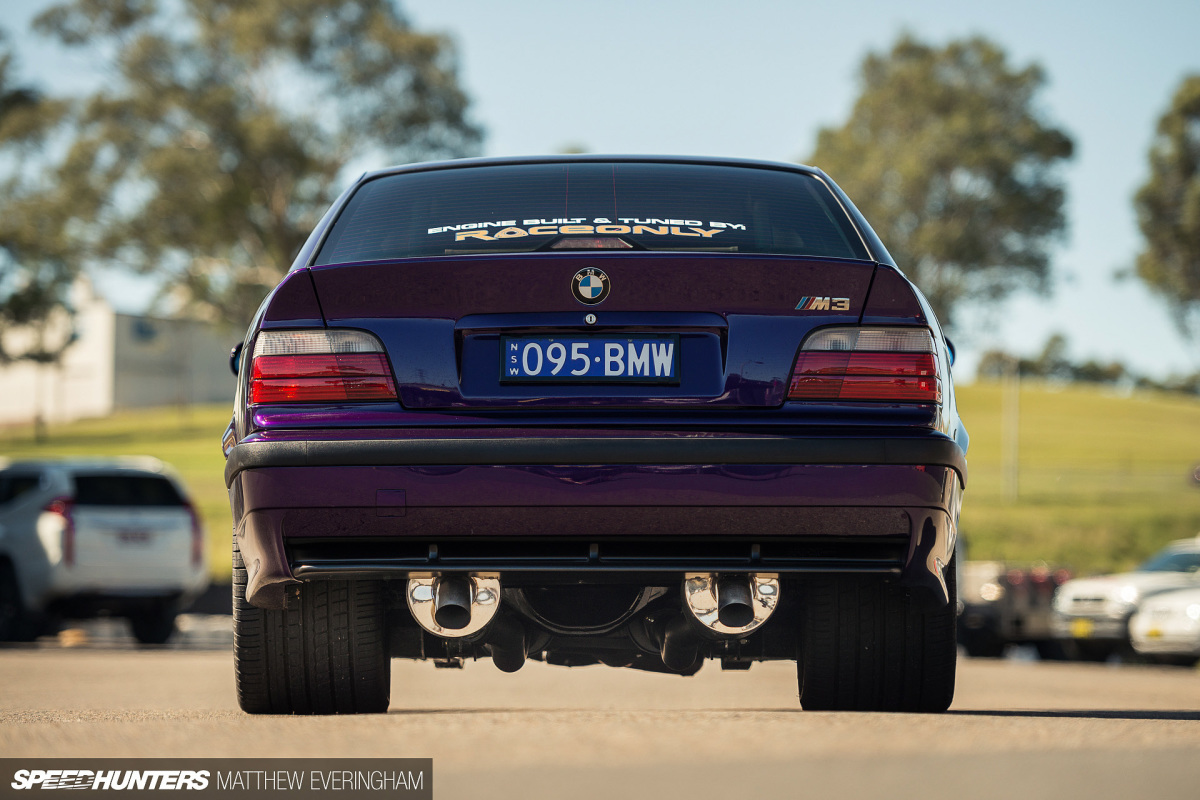 BMW's E36 M3 coupe cuts one of the most iconic German automotive silhouettes, and for good reason. Not only does it look amazing but its proportions are the embodiment of everything BMW stood for in period. When it was time to send this particular M3 under the knife, a high level of respect and restraint was implemented by the original build team to preserve the already clean lines.
Most of the hard work and big changes remain hidden behind the factory rear fenders and the underside. Cosmetic changes were minimised, but this Bimmer now runs a mini-tubbed 3/4 chassis, which allows for massively wide 335mm Pirelli tires to fit snugly out back.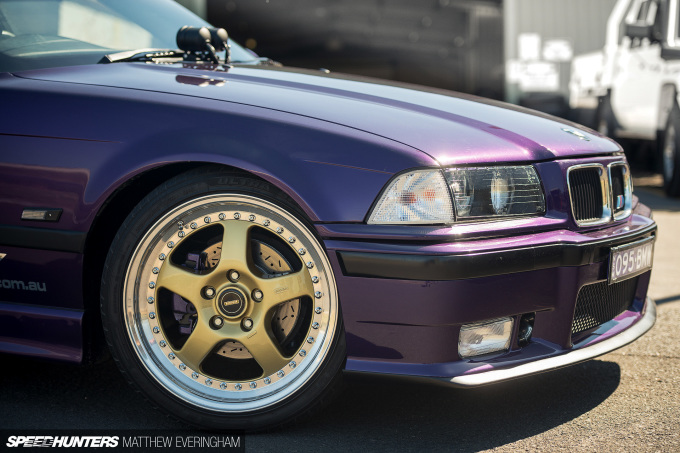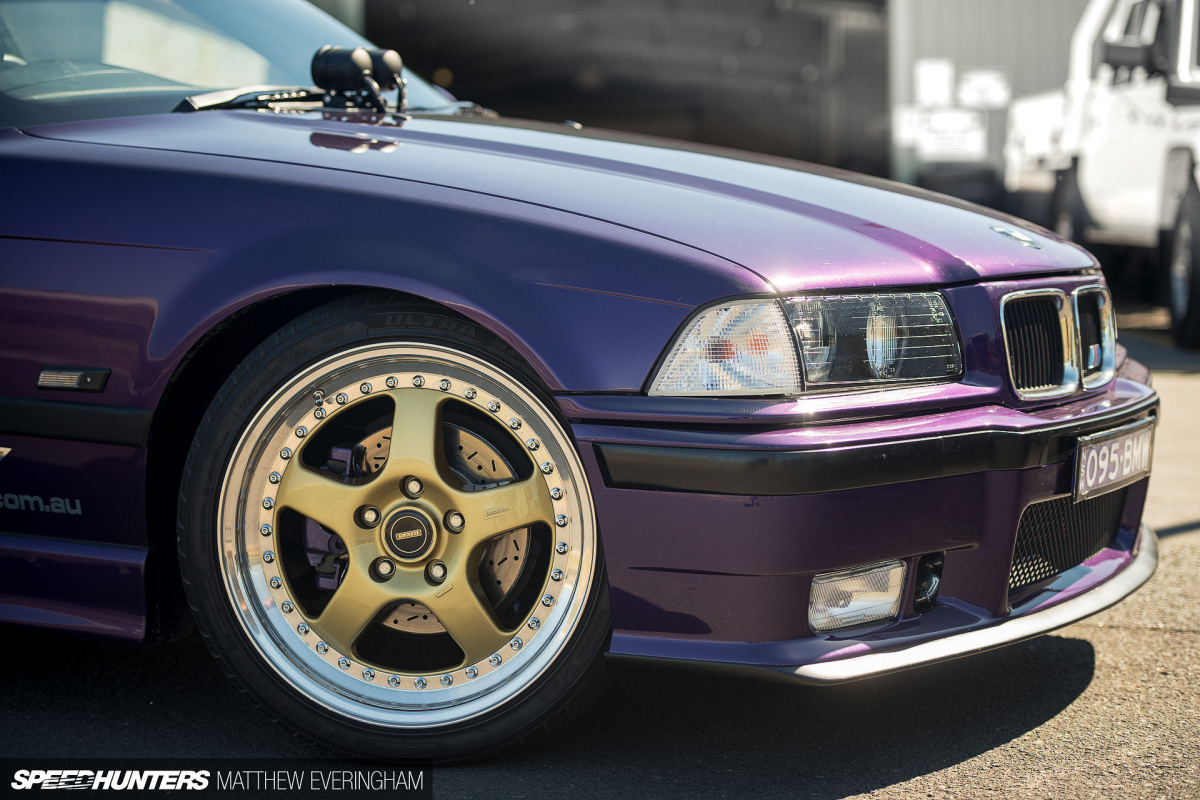 A staggered set of custom Simmons FR wheels – 18×8-inch and 18×11-inch front and rear respectively – bring a uniquely Australian finish to the project. Gas strut shocks provide a smooth ride up front and a pair of Strange coil-overs do their best to keep those behemoth rear tires planted on terra firma. M Spec BMW 4-pot calipers remain on the front end, while large Ford calipers were carried over when the entire rear end was swapped for a stronger Ford 9-inch unit. Each corner features upgraded ventilated rotors and carbon ceramic pads.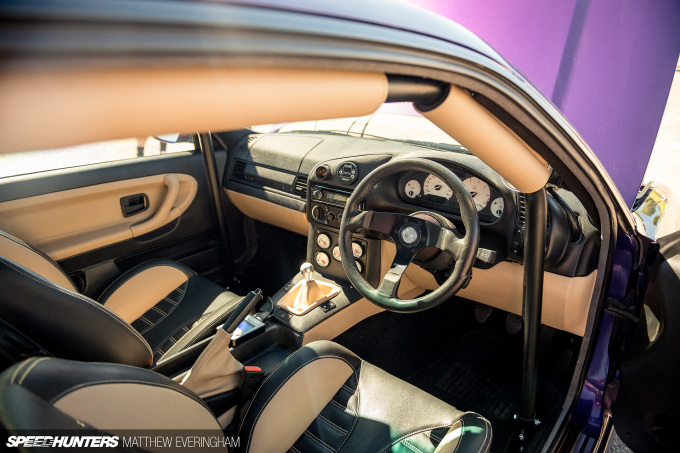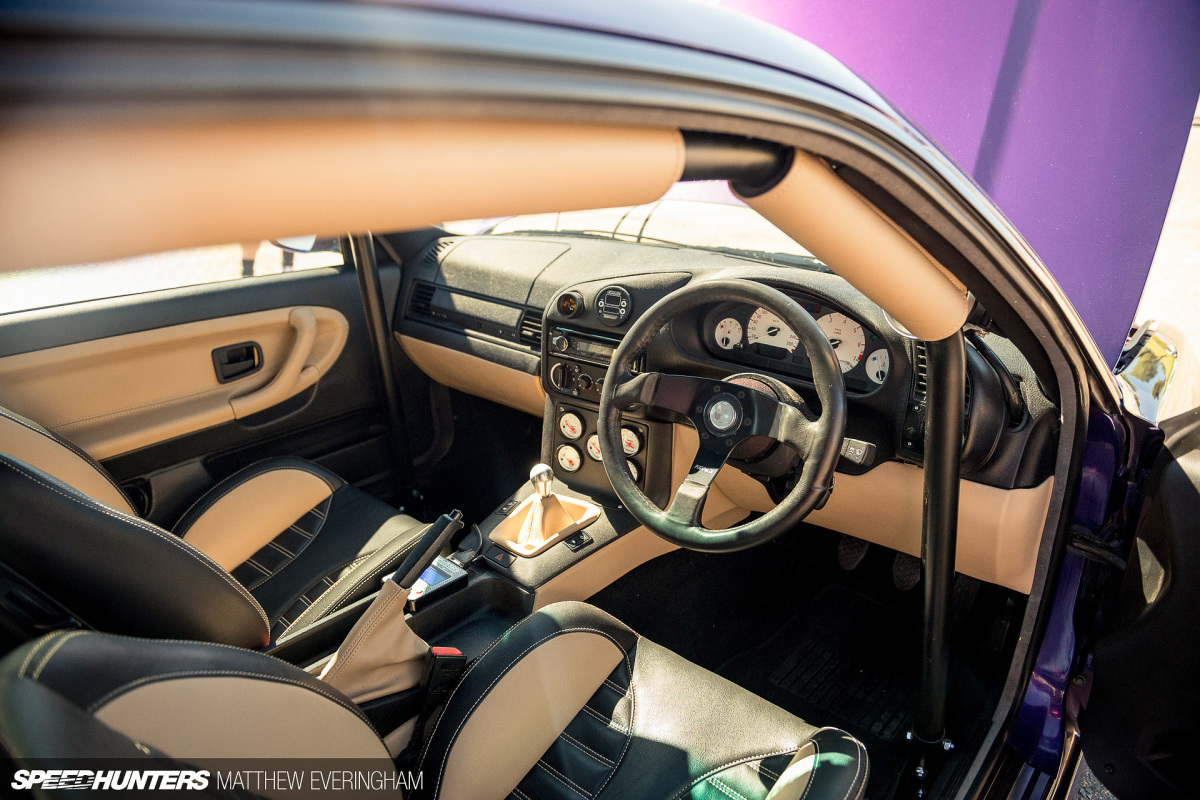 The same build principal is on display throughout the interior. With the exception of the 5-inch tachometer, another hallmark of the same 'car magazine era' I referred to earlier, most of the additional Auto Meter gauges and the Turbosmart e-Boost 2 controller do their best to blend in with the clean standard factory aesthetics.
The cabin still smells like fresh leather; as part of the BMW's refresh the entire interior including the boot area received a complete retrim. Geoff sat down with the team at TQ Motor Trimming and came up with a set of custom patterns and colors that give a clean and unique BMW-inspired look that doesn't go over the top.
The Heart Of The Matter
You've read the title, you've seen the cover shot, there's no point continuing the tease – let's get down to business.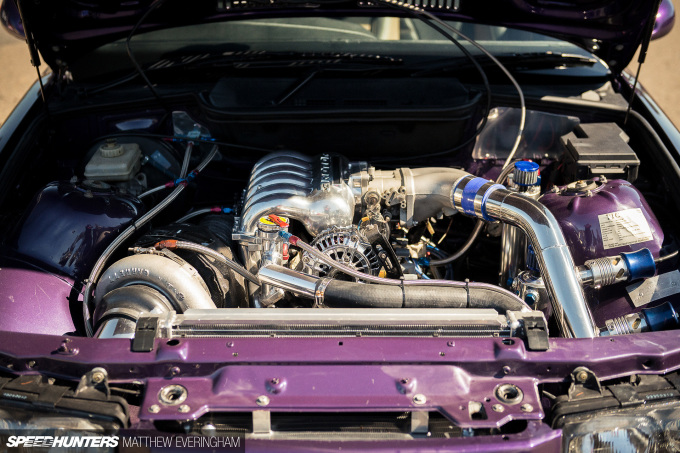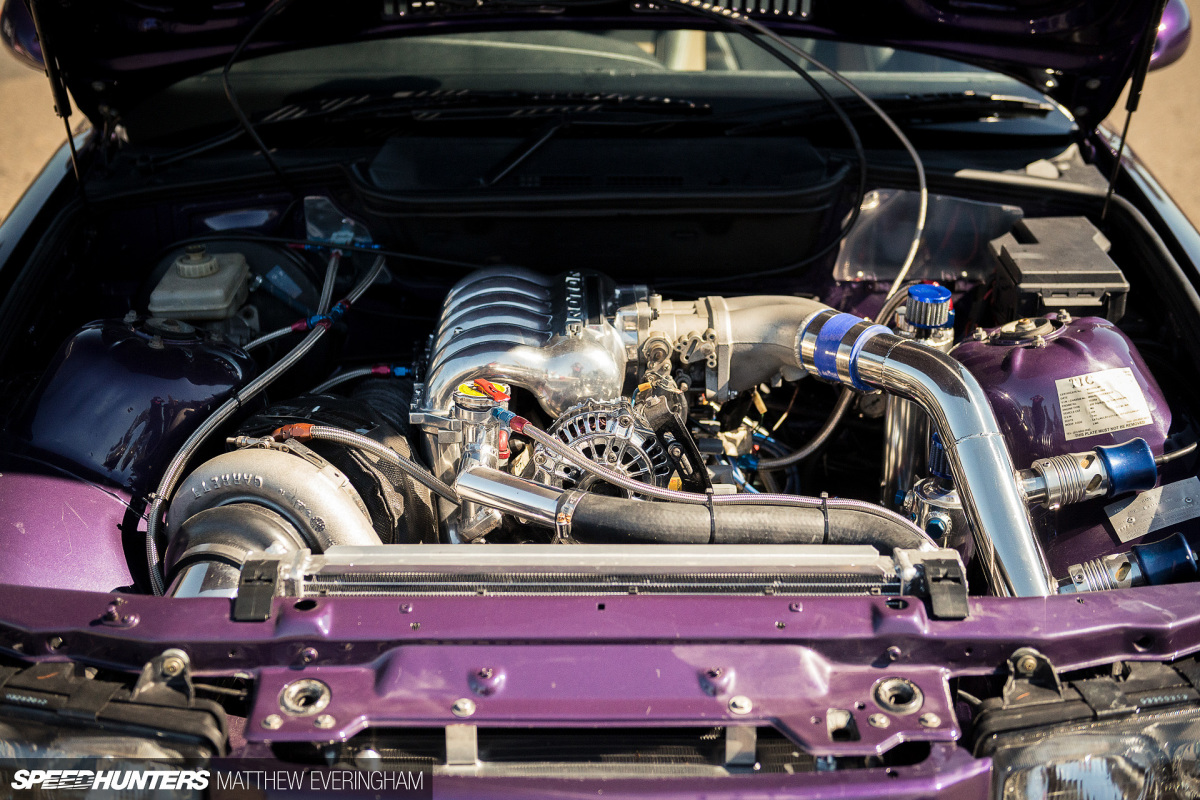 After a quick and unsuccessful foray into outsourcing the engine rebuild to a local shop with rotary experience, Geoff decided it'd be best to park the purple monster in his shed at home and get his own hands dirty. While he wasn't unfamiliar with the ins and outs of tearing down a Mazda rotary engine it had been quite a few years since his last excursion under a hood.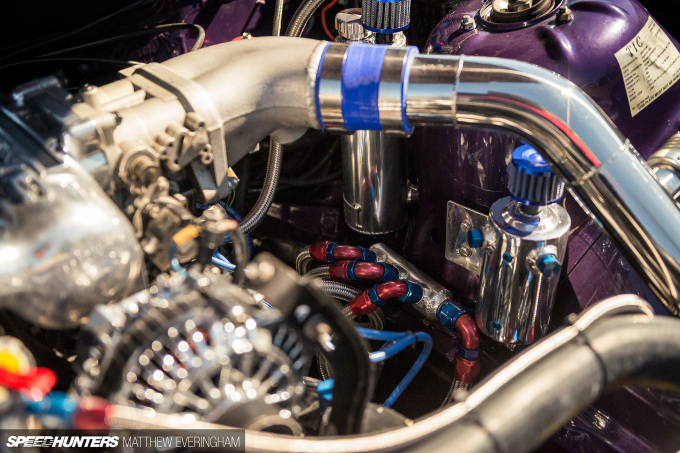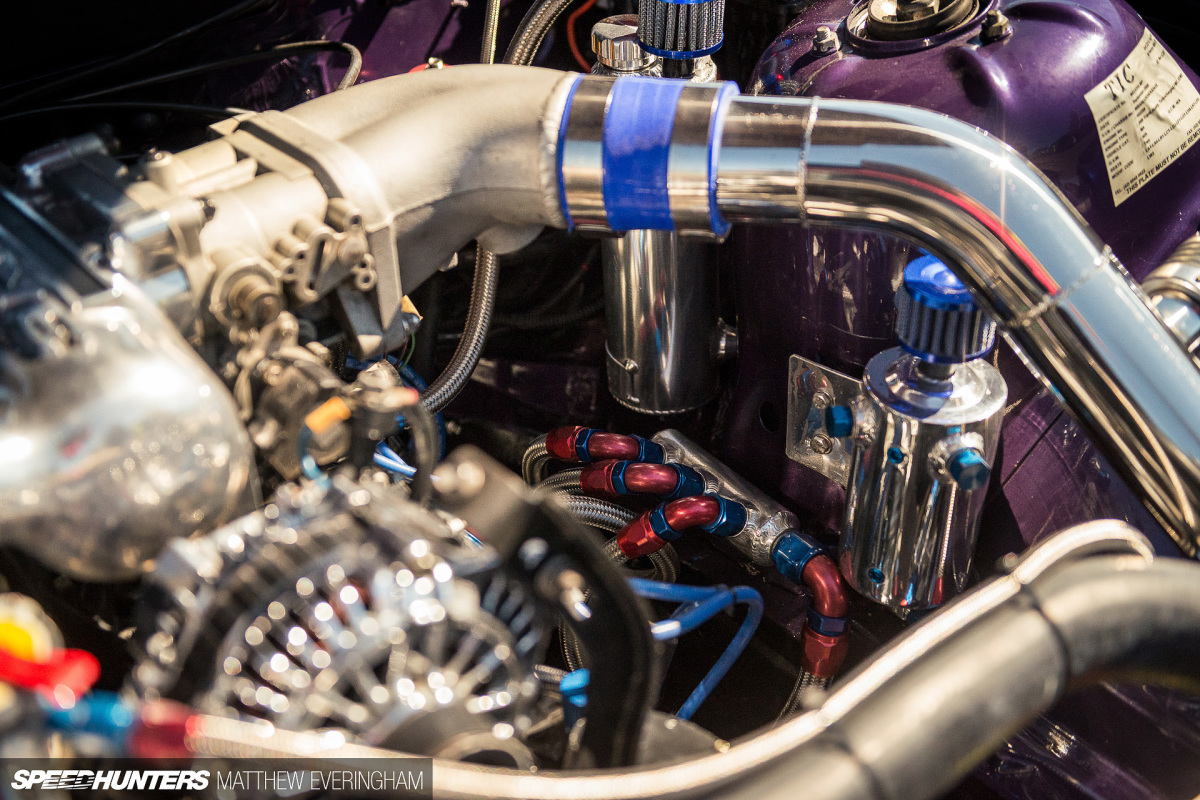 The rebuild started slow, but before long he felt right at home again. During this time Geoff reached out to Sydney's RaceOnly who were more than happy to help out with useful information, bringing Geoff up to speed with the decade and a half of engine development that he'd missed and finally tuning the monster once complete.
The fresh bridge-ported 20B is force fed by a Garrett GT42 turbocharger controlled by dual wastegates. Not wanting to take any chances with fuel starvation, Geoff chose to bin the existing fuel system entirely and start from scratch. Now, three Walbro 460lph pumps and nine Bosch 1600cc injectors supply the very thirsty engine from a new fuel cell located in the boot.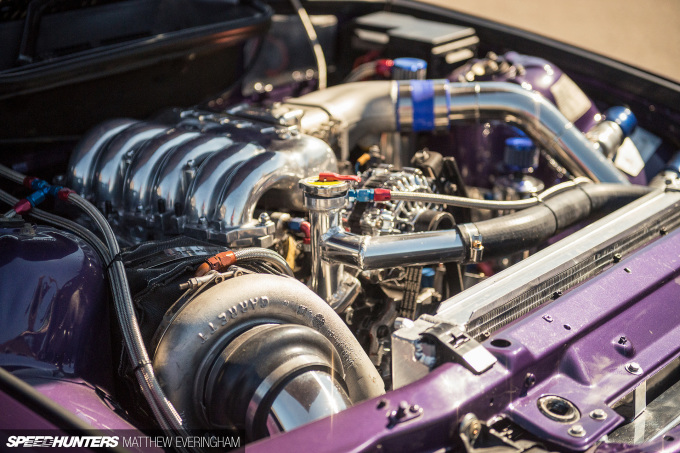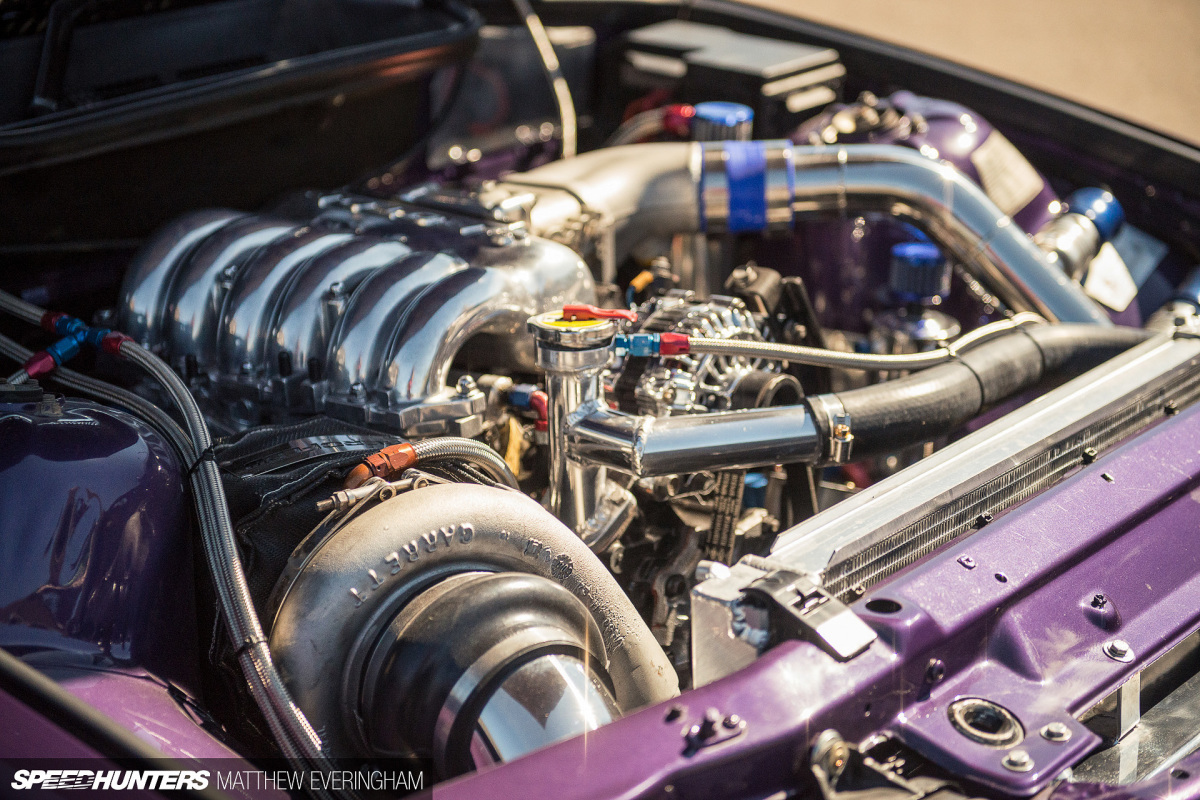 A PWR radiator, intercooler and Spal 3000 electric fan keep things cool under pressure, while six Bosch coil packs work with the almost requisite Australian aftermarket rotary ECU, Microtech's LTX12. After a bit of tuning, the rebuilt 20B now delivers 730hp to the ground through those massive rear tires. That's a lot of power for a car I'm told is supposed to be built for comfortable cruising!
Currently the 20B-powered BMW runs a twin-plate clutch and RX-7 5-speed manual, and although Geoff says the engine and driveline is a strong combination on the track, it's hellish in Sydney's terrible traffic. To make the car a lot more comfortable for both short and long drives on the street, a C4 automatic is planned for the near future, and when that change is made this Mazda/BMW mash-up will be able to be fully enjoyed by Geoff and his family.
That's what this Bimmer's second life and Geoff's return to the car scene is all about: the pure enjoyment that tinkering and building can bring to people like us.
Matthew Everingham
Instagram: matthew_everingham
matt@mattheweveringham.com
The Cutting Room Floor