Making An Impression
Speedhunting's greatest perk is that the job never gets old. What we uncover on a daily basis usually has the potential to fill us with amazement, catch us off guard, and leave us in awe.
Occasionally, we get super lucky and stumble upon a build that does all three in the very same instant. That's an accurate way to sum up my 'WTF' moment as this sunburnt orange 1927 Ford Roadster blasted past me during the finals of Rotary Revival's main straight drag race element.
Whoa! A T-bucket at rotary-only event? What the heck?!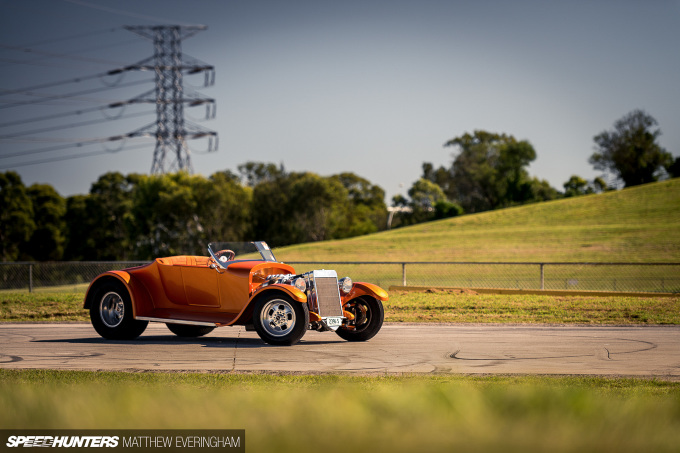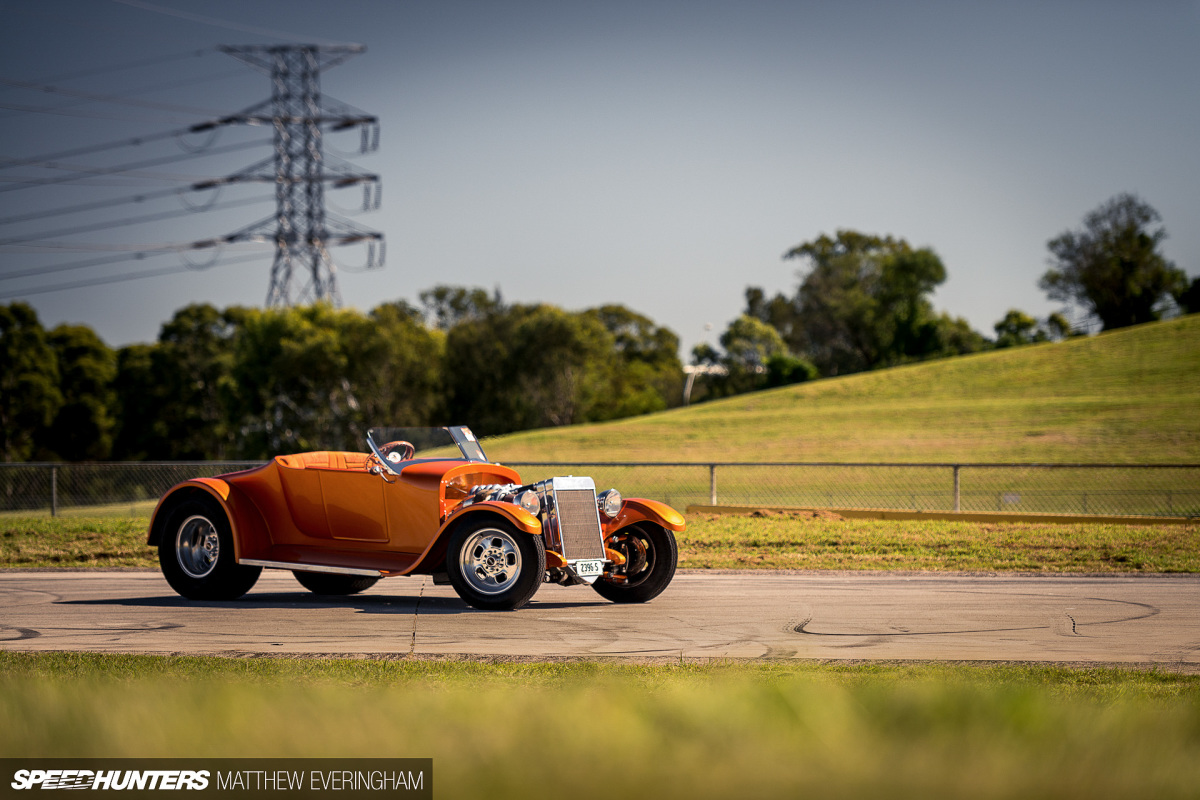 Compounding the surprise was the fact that I'd already spent half a day at the track, but not seen this car. After hours spent walking up and down pit lane, passenger laps during the main parade, and even after stopping for lunch, somehow this creation and I hadn't crossed paths.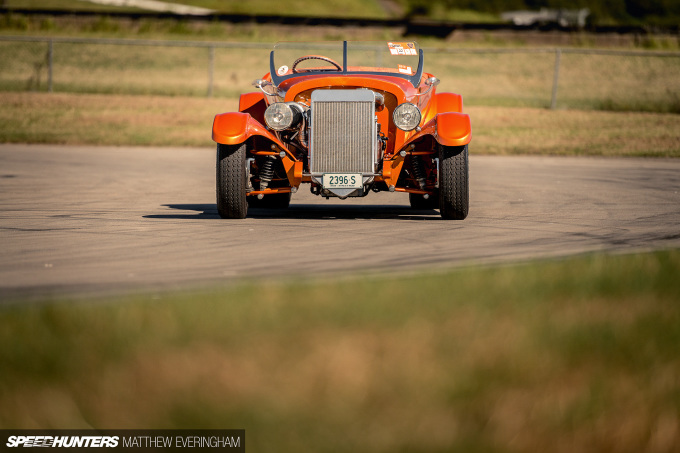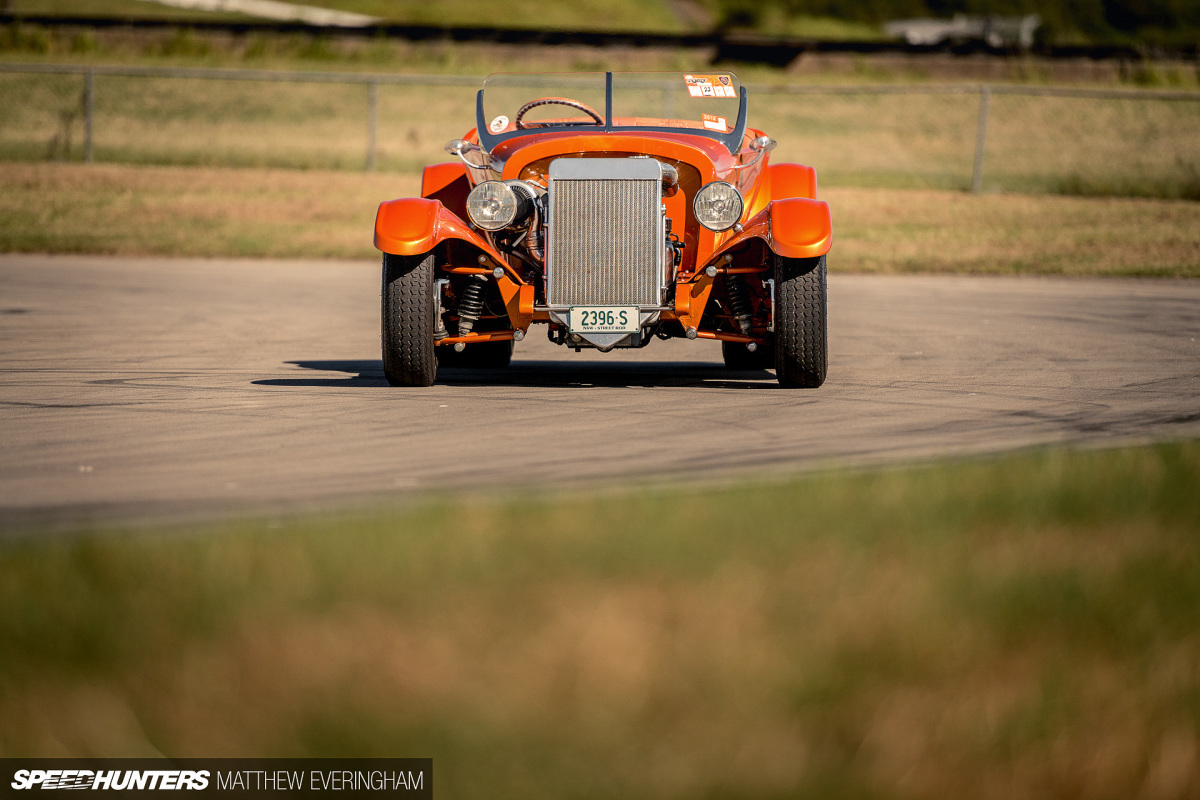 It was almost as if the '27 was waiting to create maximum impact, choosing to make my acquaintance at full throttle, full speed and full noise. Well, it worked. My attention was captured. It was time to arrange a private viewing of this orange fireball.
I don't recall ever seeing a rotary-powered hot rod before. I'm certainly not proclaiming that it's a world first, but this was all news to me. The concept is pretty simple though, and seeing it executed so well made me wonder why I hadn't seen one before. It's like one of those blindingly simple combinations that instantly makes complete sense.
Japanese Heart, American Body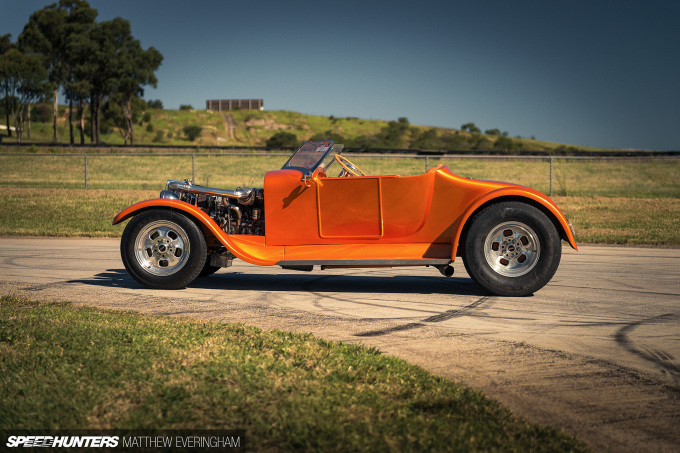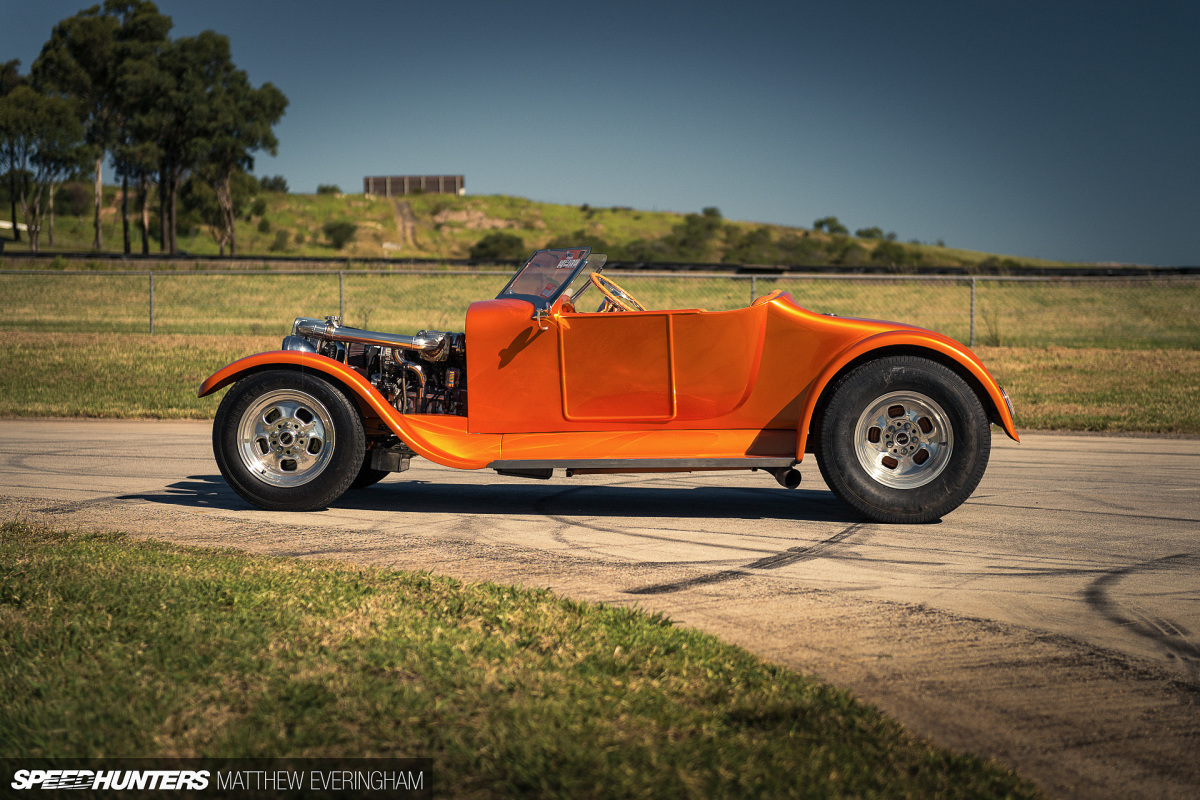 This Frankenstein of a machine, better known as Rotor Rod, was brought to life by mad scientist Troy Heywood and his two sons. After a quick chat with Troy, it was clear this guy had a long history of shirking the status quo to create unusual machinery. His motivation for throwing a Mazda 13B turbo engine into a 1927 Ford Roadster was as simple as never having seen it done before.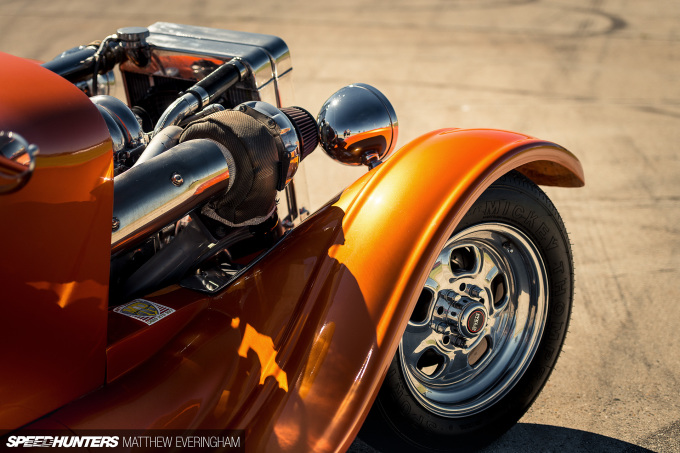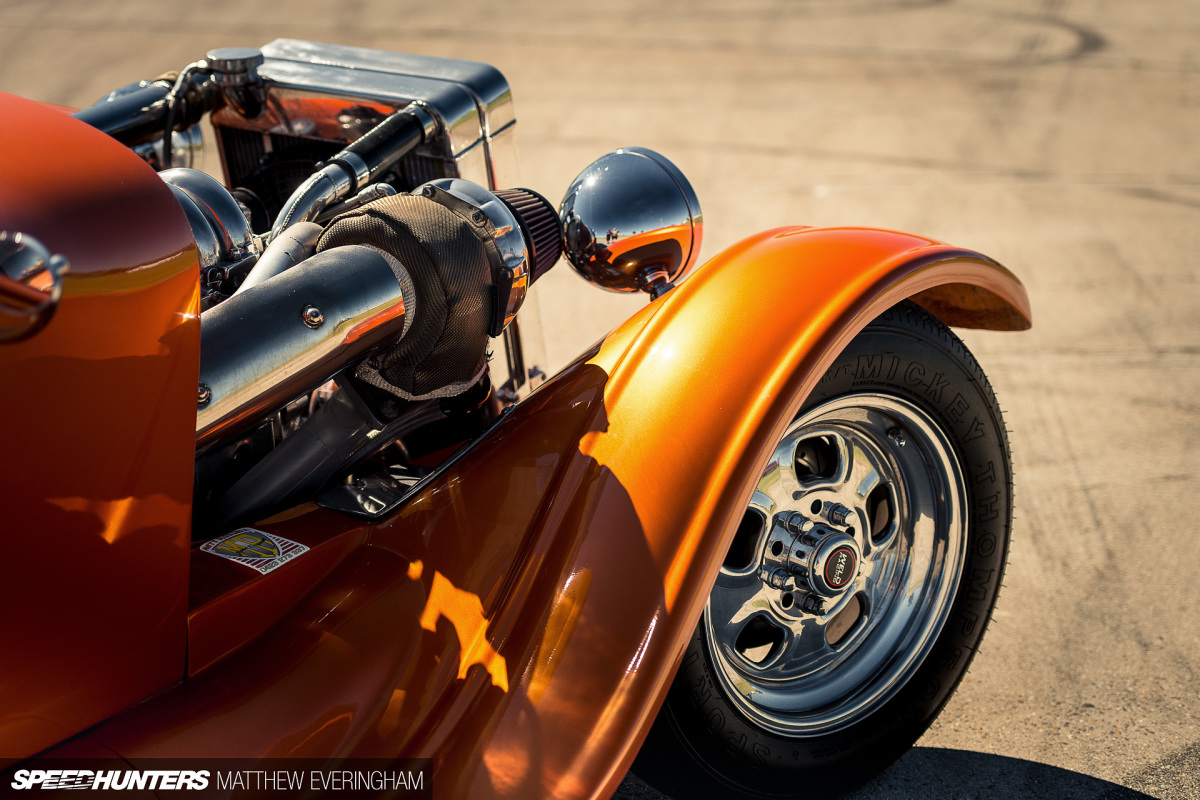 The twin-rotor engine was sourced from a Series 6 FD3S RX-7, but before finding its way into the '27 it was sent off to local rotary expert Matt Russell for a performance rebuild.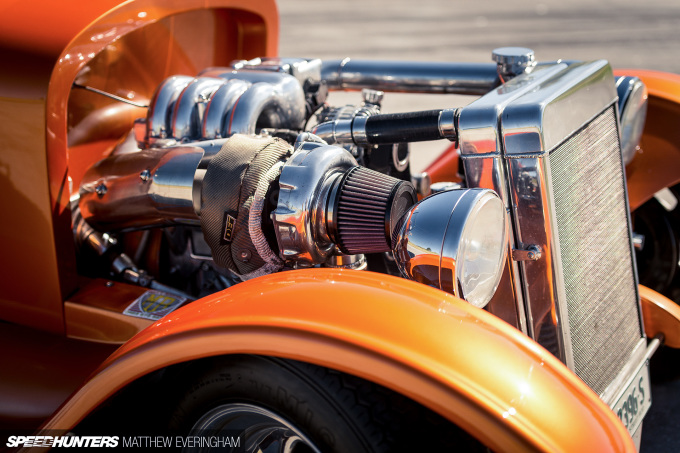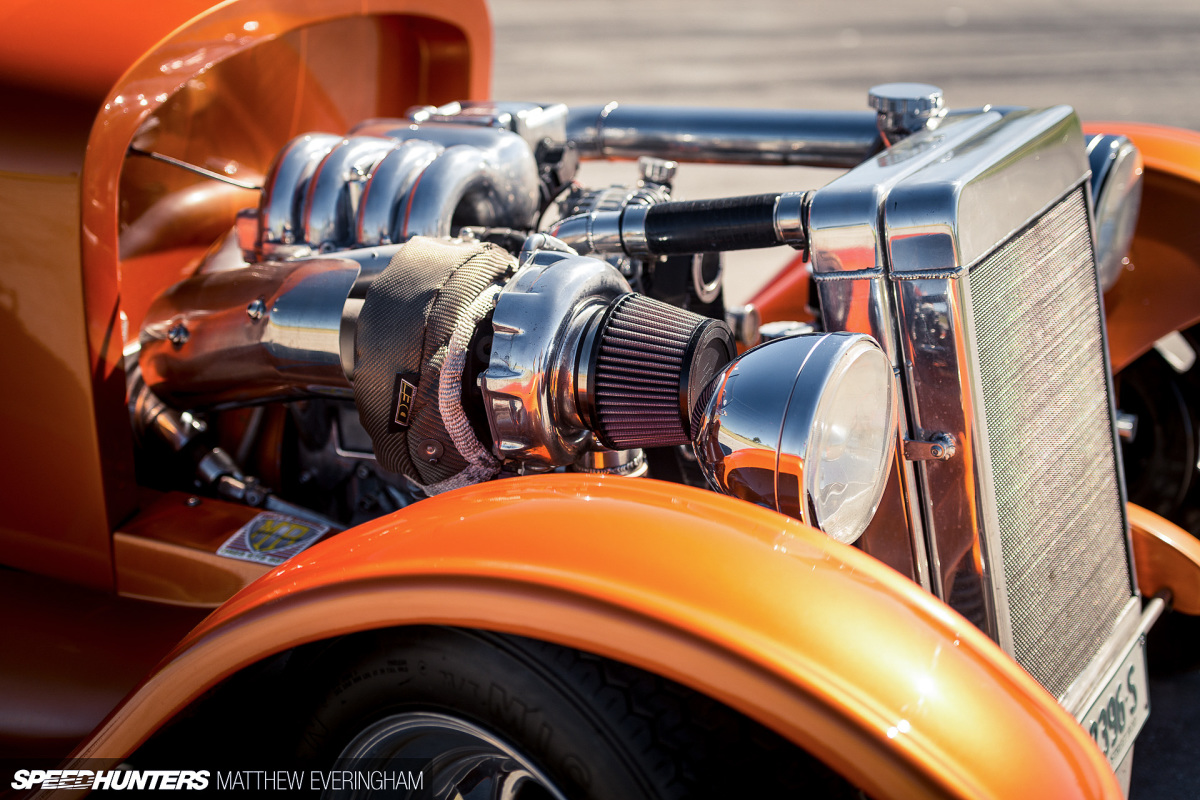 The 13B was bridge-ported and fitted with upgraded apex seals, and its twin-turbo setup ditched for a single Garrett unit. As it sits now it's sending 280hp to the rear wheels, but there's plenty of scope for an increase if it was ever deemed necessary.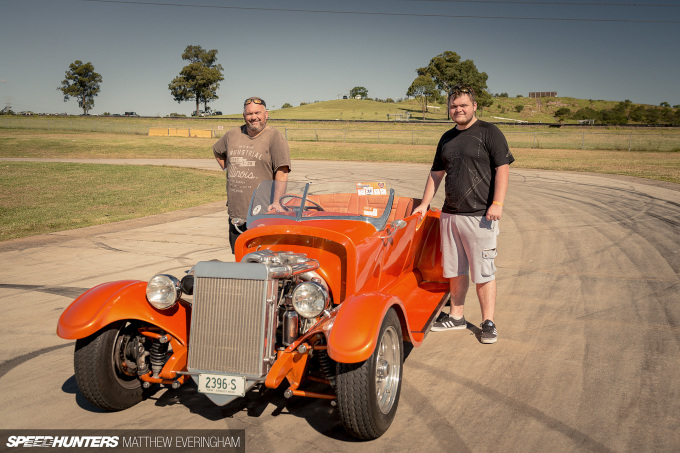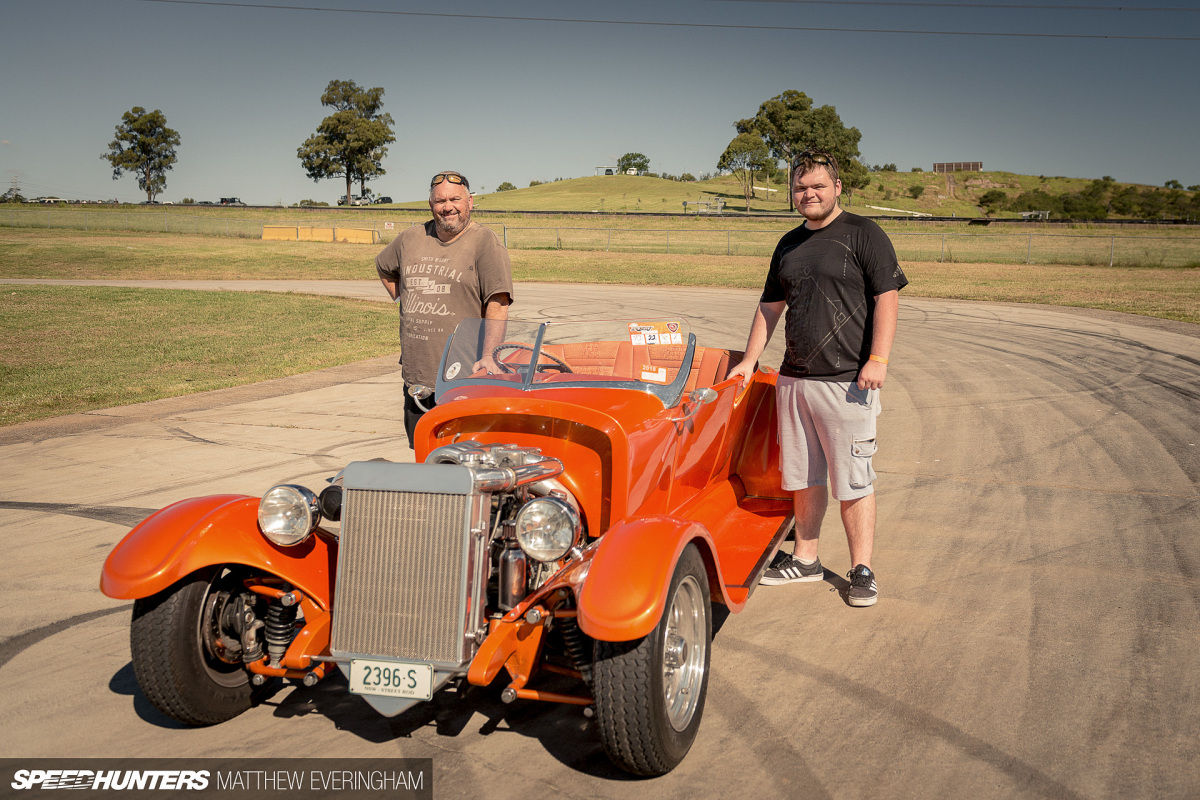 Troy is pretty adamant that it's powerful enough though, reminding me the chassis only weighs 800kg (1763lb). After seeing the Rotor Rod win Rotary Revival's drag challenge against some pretty wild builds I'd have to agree with him.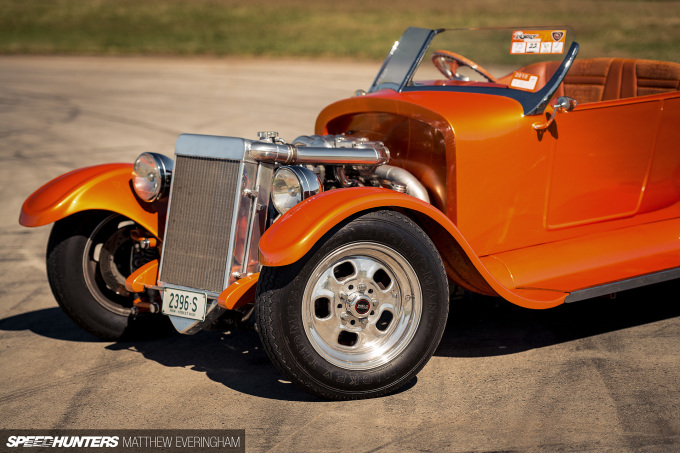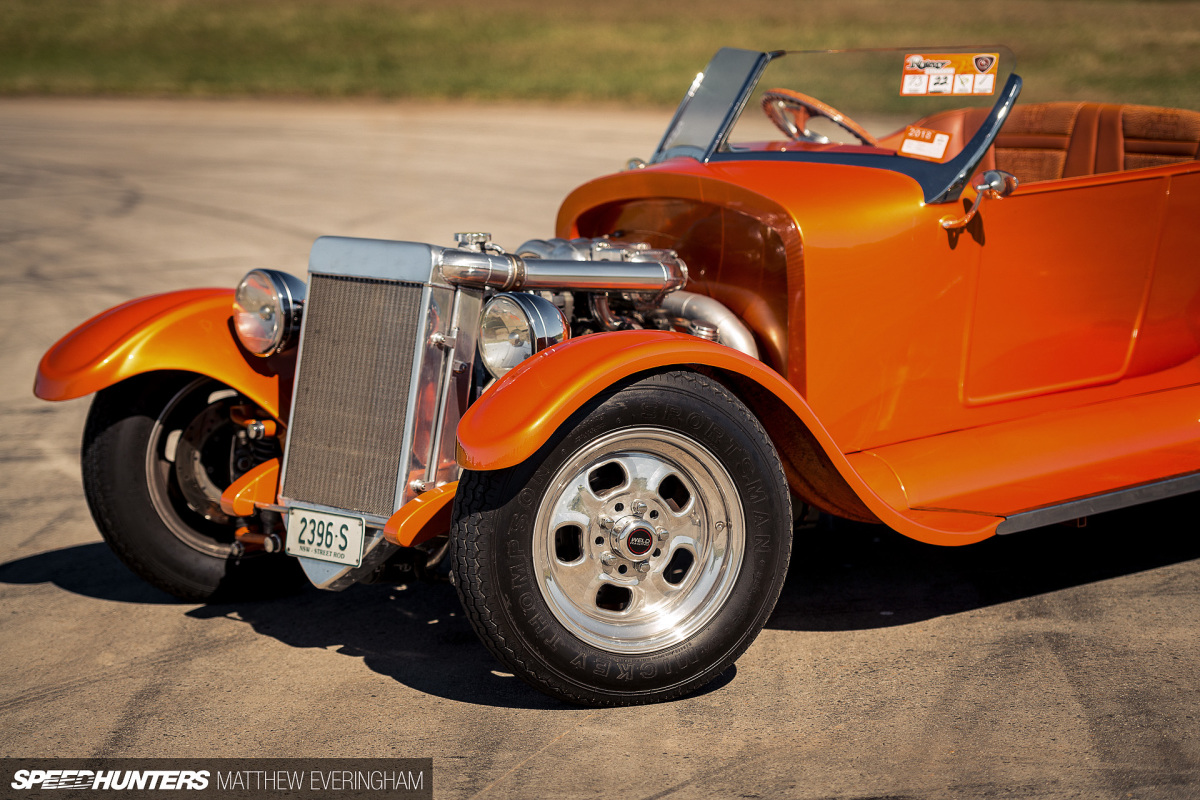 One feature that no doubt would have captured your attention straight away is the custom fabricated grille radiator and intercooler arrangement that create that very recognizable T-bucket front end we all love.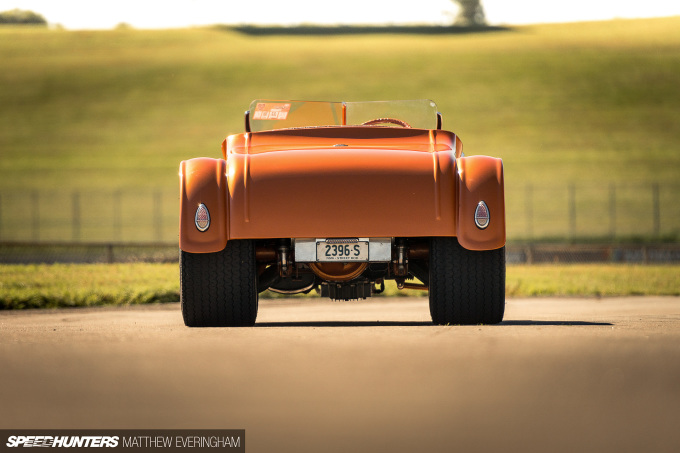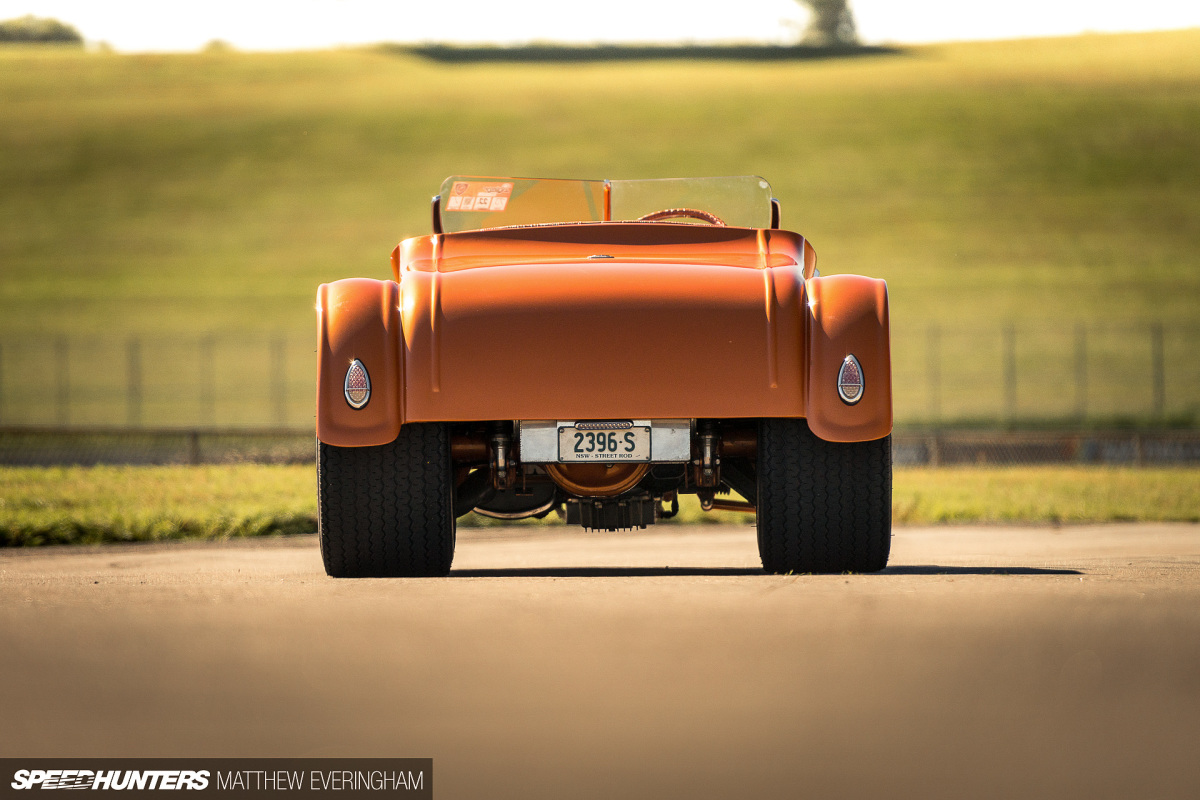 The 13B is mated to a Ford C4 transmission equipped with a 3500 stall converter, and power is transferred to the enormous 15-inch-wide Mickey Thompsons through a 9-inch diff and Truetrac billet axles.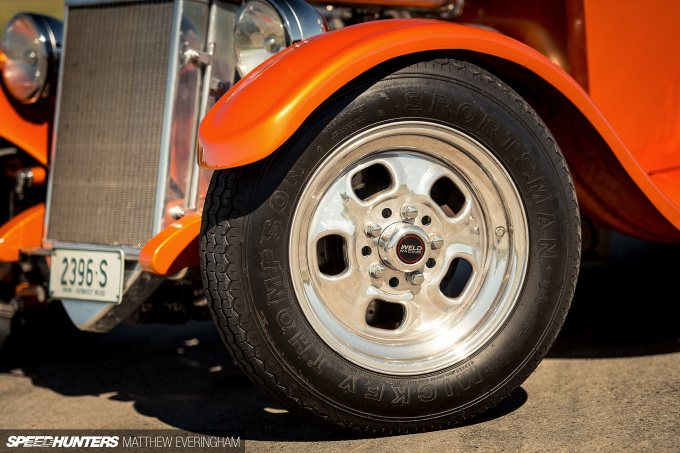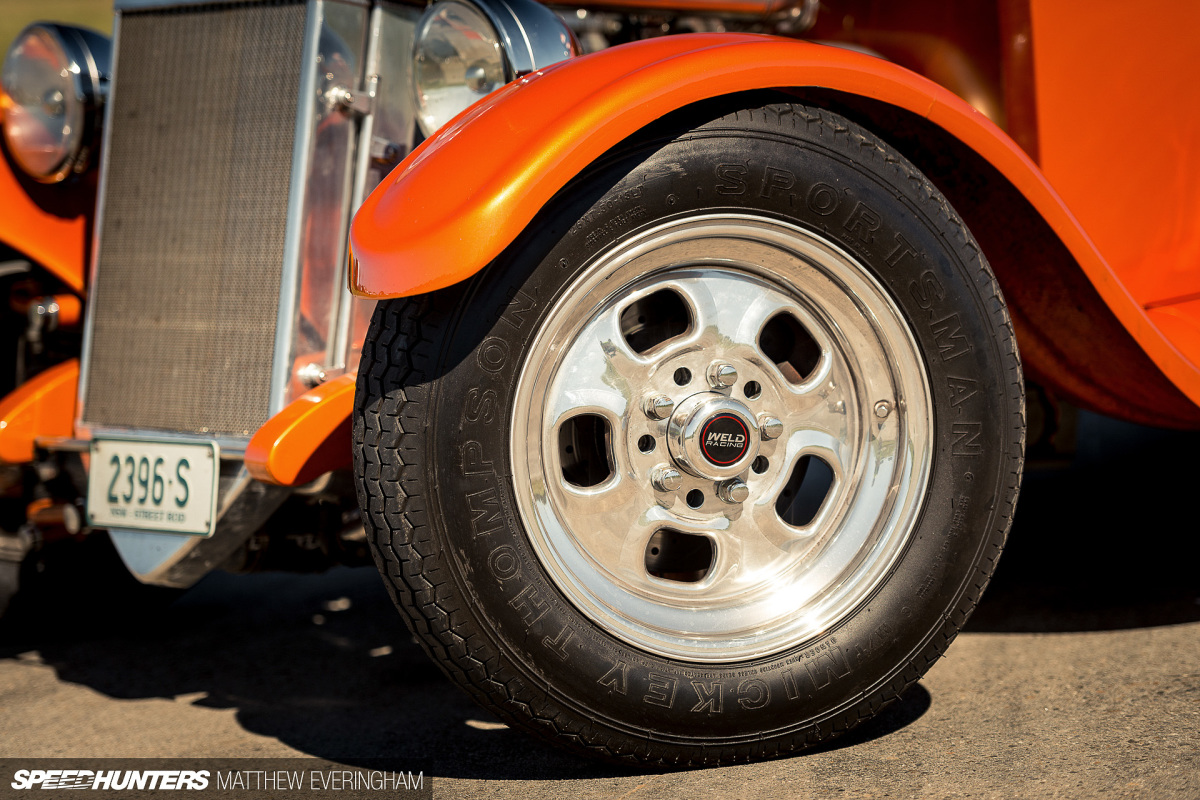 Staggered 15-inch Weld Racing Rodlite wheels complete the clean and classic look.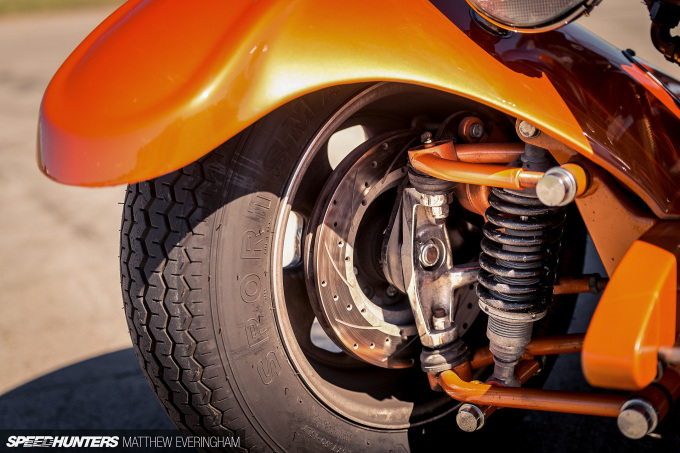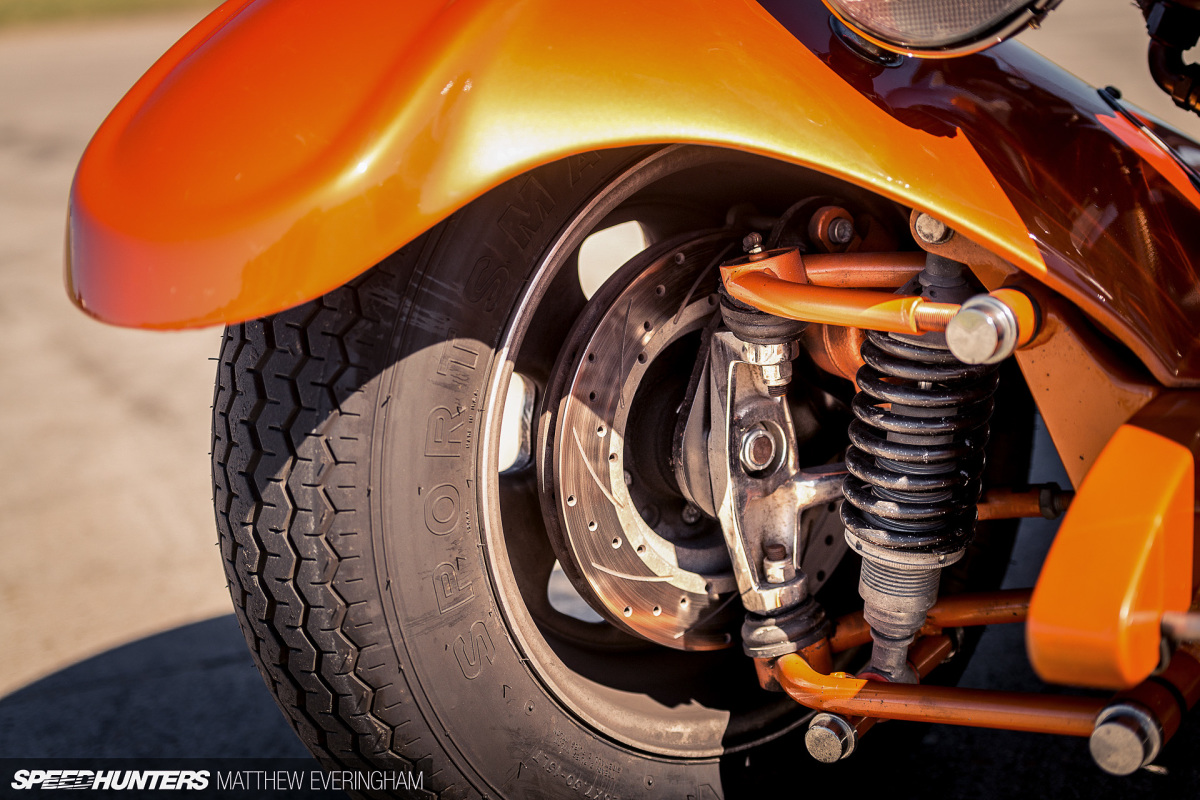 The front steers and stops through an independent suspension and brake combo that was pilfered from a Mustang and customized to fit the build, bringing a modern level of control and handling to the 90-year-old chassis.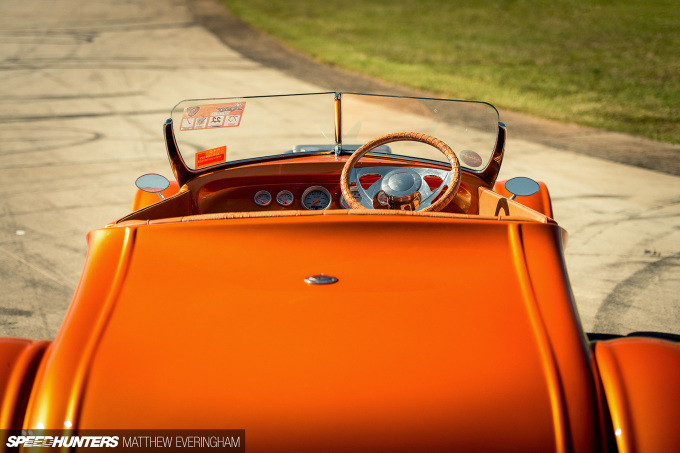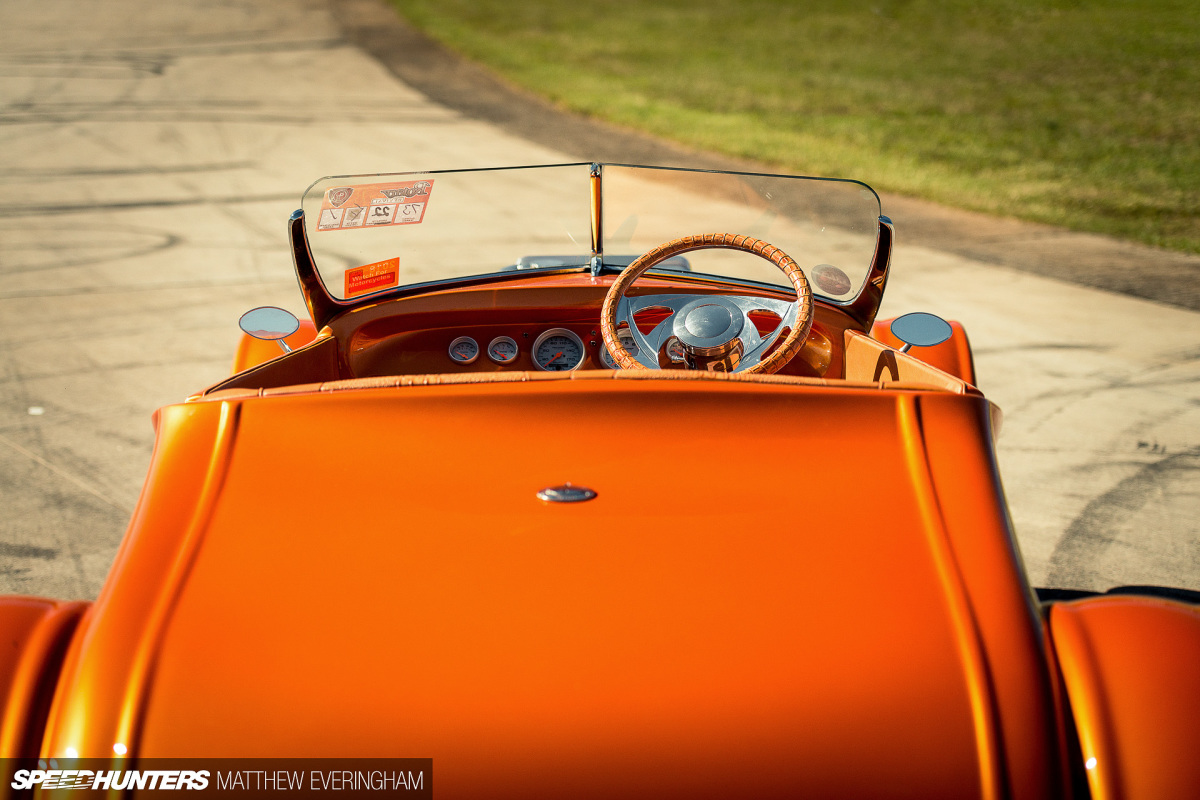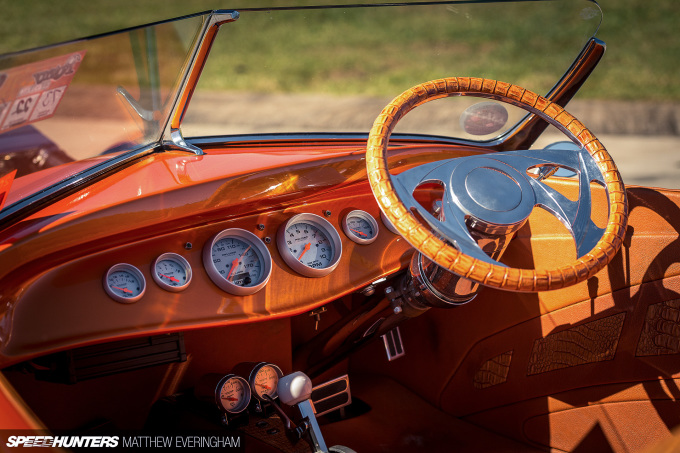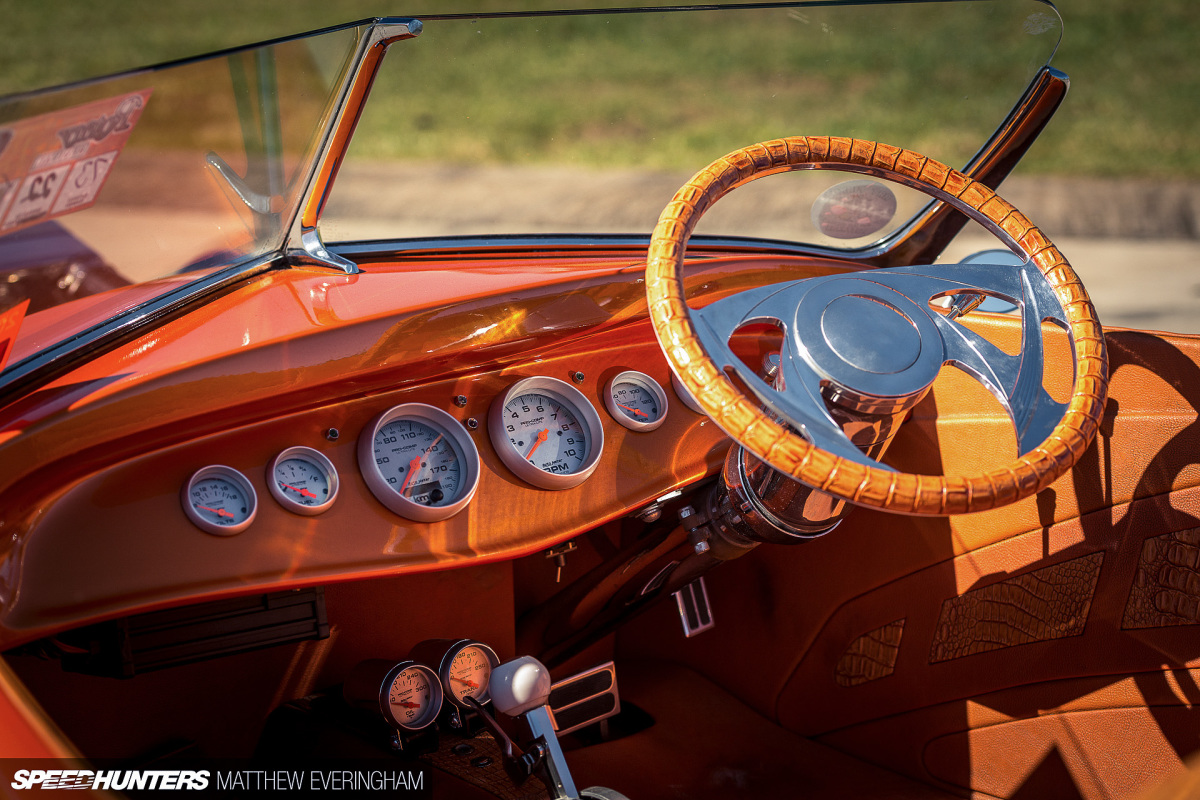 Not unlike the rest of the Roadster, the interior is clean, simple and well executed. There's nothing surplus to get in the way of driving, just a crocodile skin-finished billet steering wheel, a stick shifter for the auto, some pedals and a clear set of Auto Meter gauges to report back all the important information.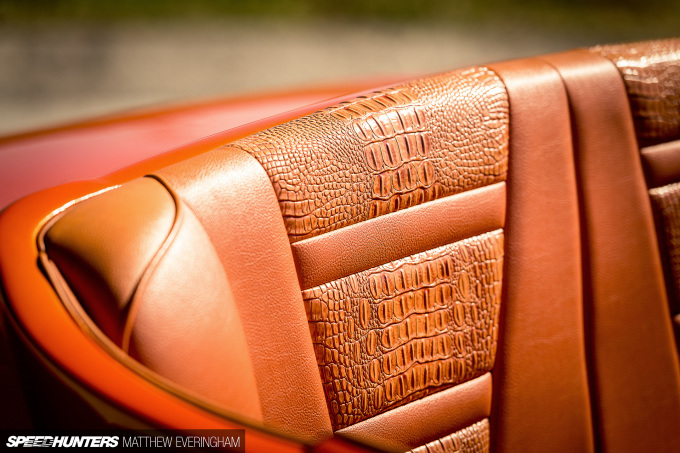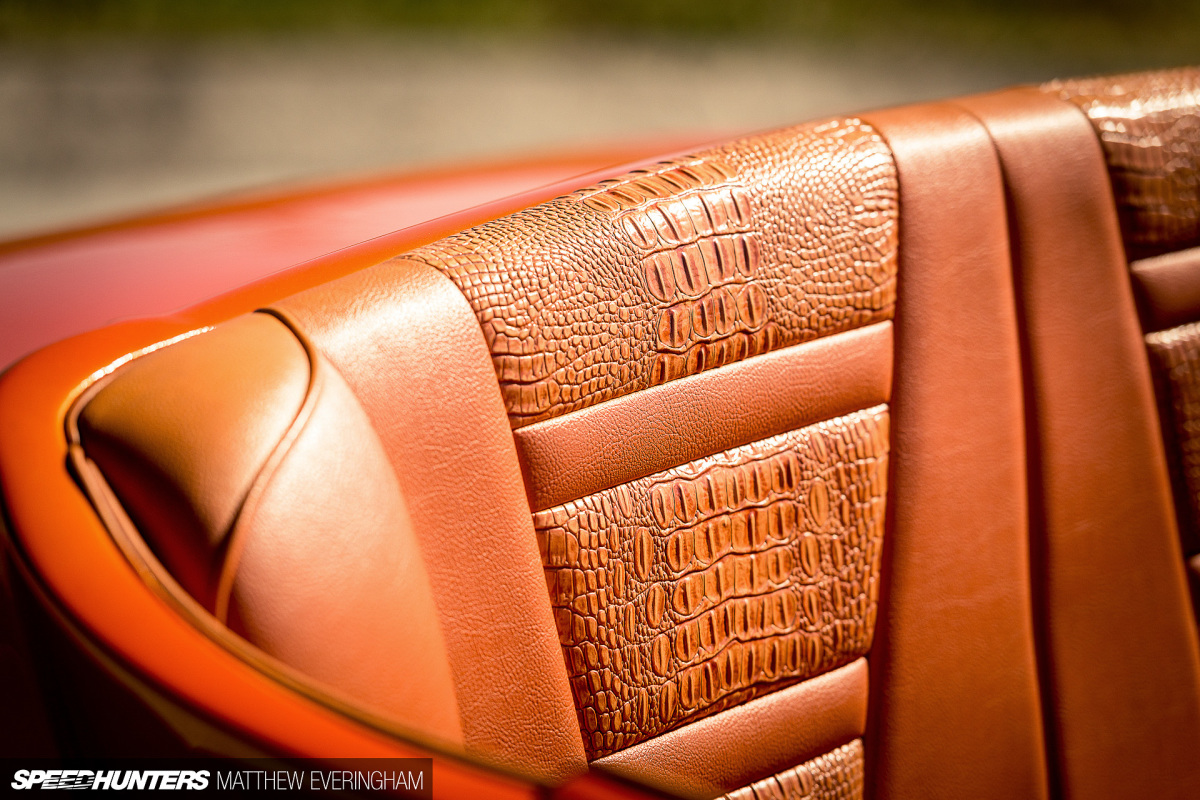 The color of the leather blends in seamlessly with the Arancio Atlas paint – Lamborghini's beautiful shade of metallic orange. I'd never known how badly I needed a crocodile leather interior in a car, but unfortunately I don't see it working in the Evolution IX. Perhaps my next project…
I'd love to build a project as far-out and well executed as Troy's Rotor Rod. One day it's going to happen, but that day is a long way off in the future. For now though, I'm enjoying living vicariously through the hard work of others and continuing to look forward to the next surprise build I get to share with you.
Matthew Everingham
Instagram: matthew_everingham
matt@mattheweveringham.com
The Cutting Room Floor