Car Art In The Countryside
If you cast your minds back to last month, you might remember the spotlight on a track-tuned Mercedes-Benz SL500 that I happened across while at Fuji Speedway for R34 Day. What I failed to mention in that post was that there was another circuit-spec Benz parked directly behind it, specifically an SL55 AMG.
The owner, Ouchida-san, is the mastermind behind both Mercedes' extensive modifications and was more than happy to extend an invitation for me to check out his garage in the Saitama countryside. Clearly, this was an offer I could not refuse.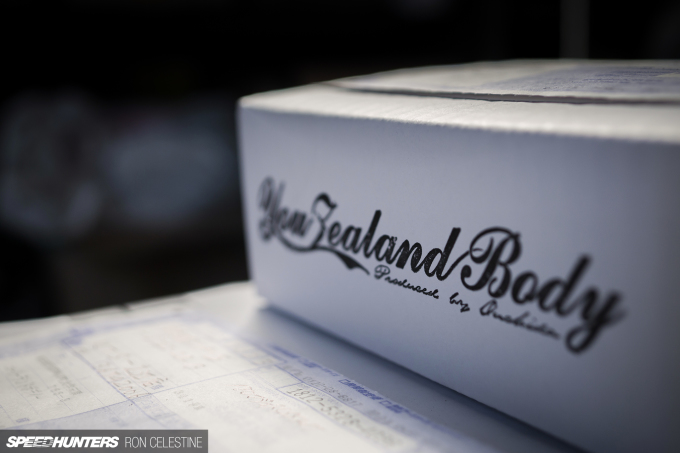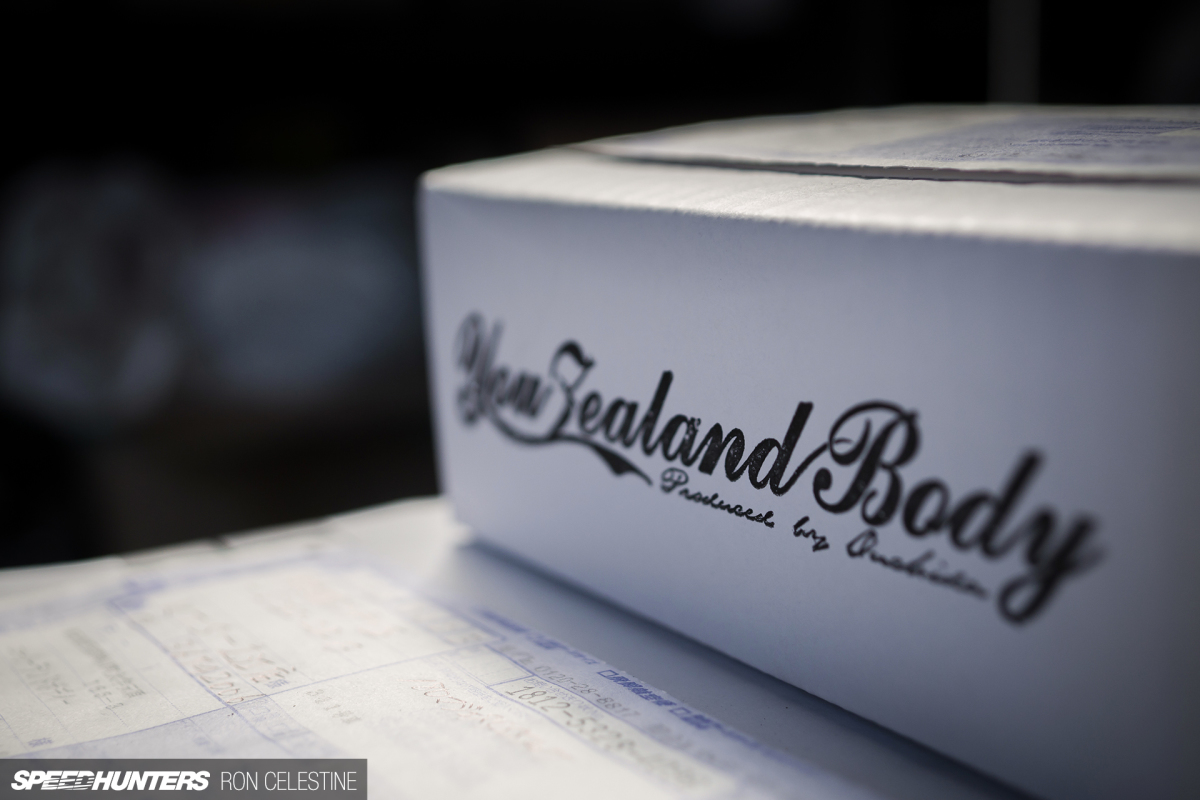 Before the trains became unbearably crowded with morning commuters, I found myself headed north to YouZealand Body.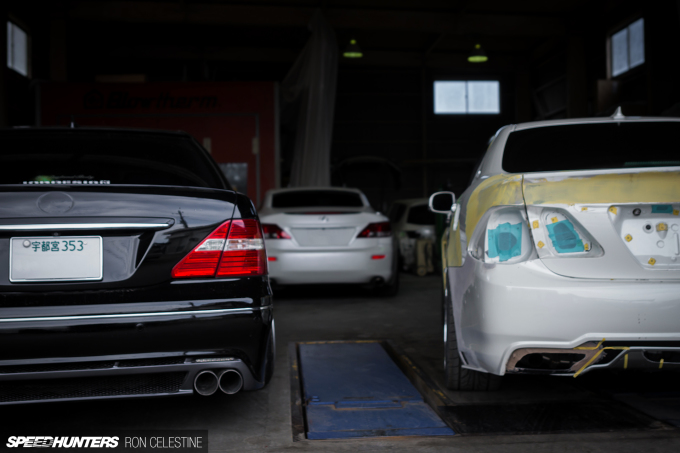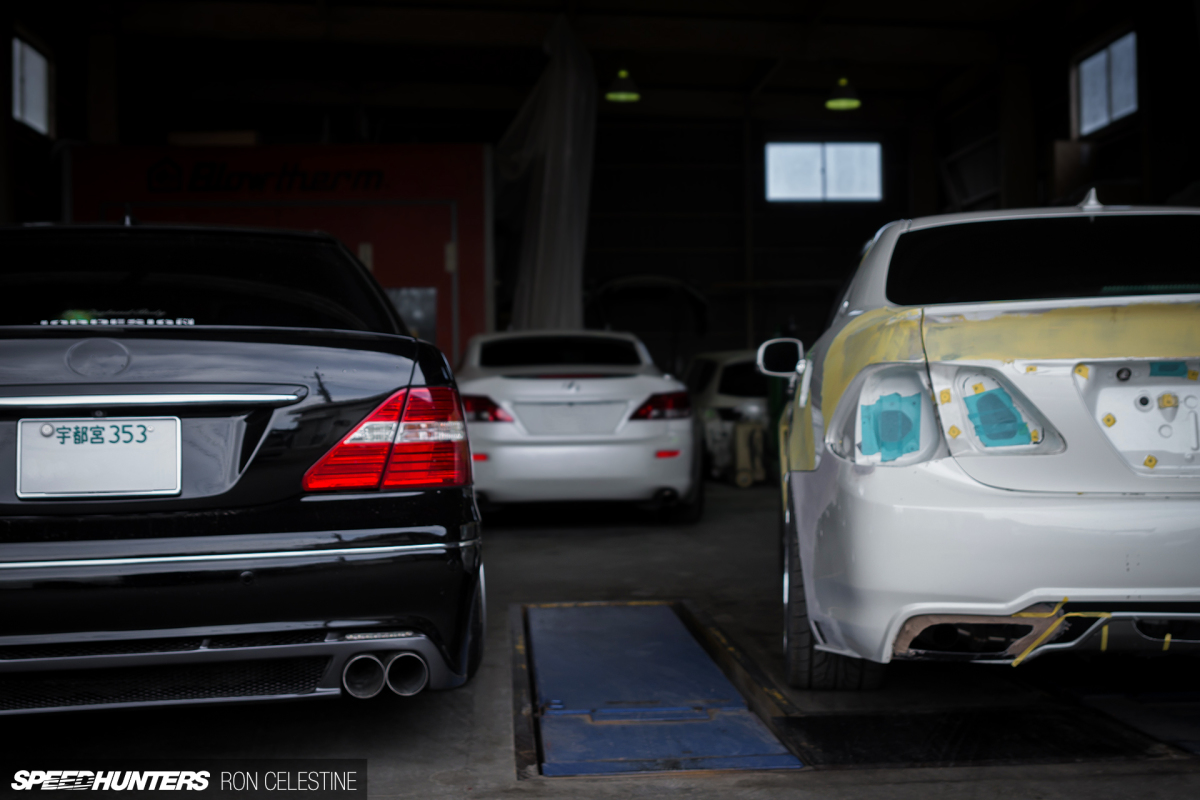 Aside from scouting cars to feature and owners to talk to at events, I simply love doing workshop tours, especially with smaller, lesser known businesses.
The feeling that the owner has put their very essence into their​ shop; the glow of excitement when they are showing me around and telling me every little thing about their history in the tuning world and each car they are working on – it's so intoxicating that I normally find myself staying for hours. With Ouchida-san, it was no exception.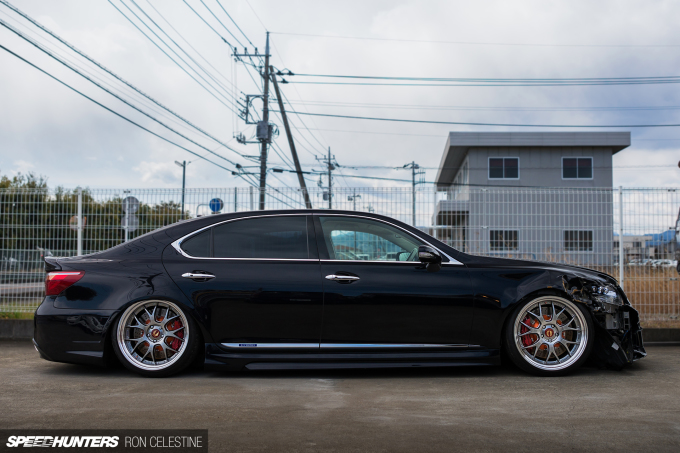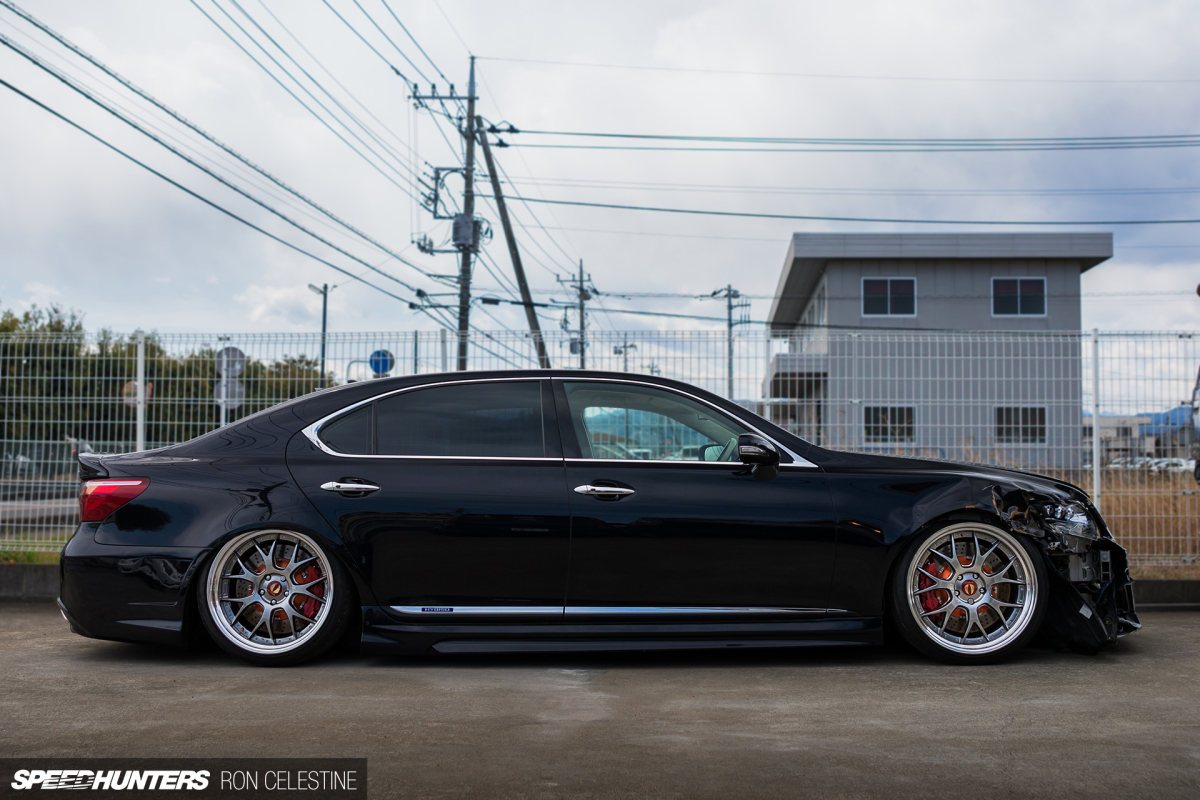 YouZealand opened its door 20 years ago, and since then Ouchida-san has evolved the business into one that specializes in building original suspension components, braking systems, and bodykits for Mercedes-Benz, Lexus, and other big-bodied luxury cars.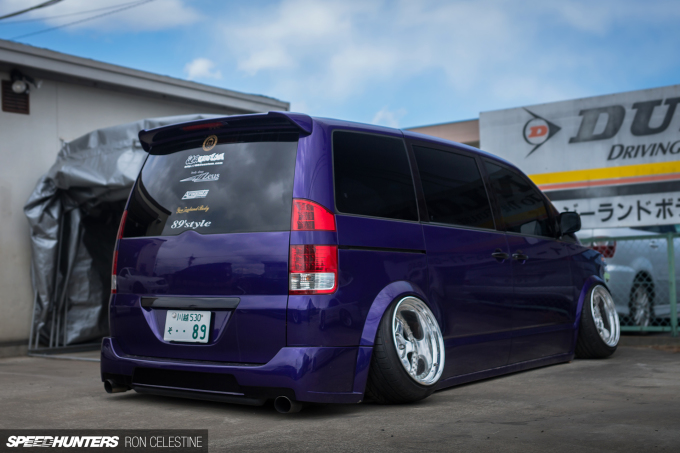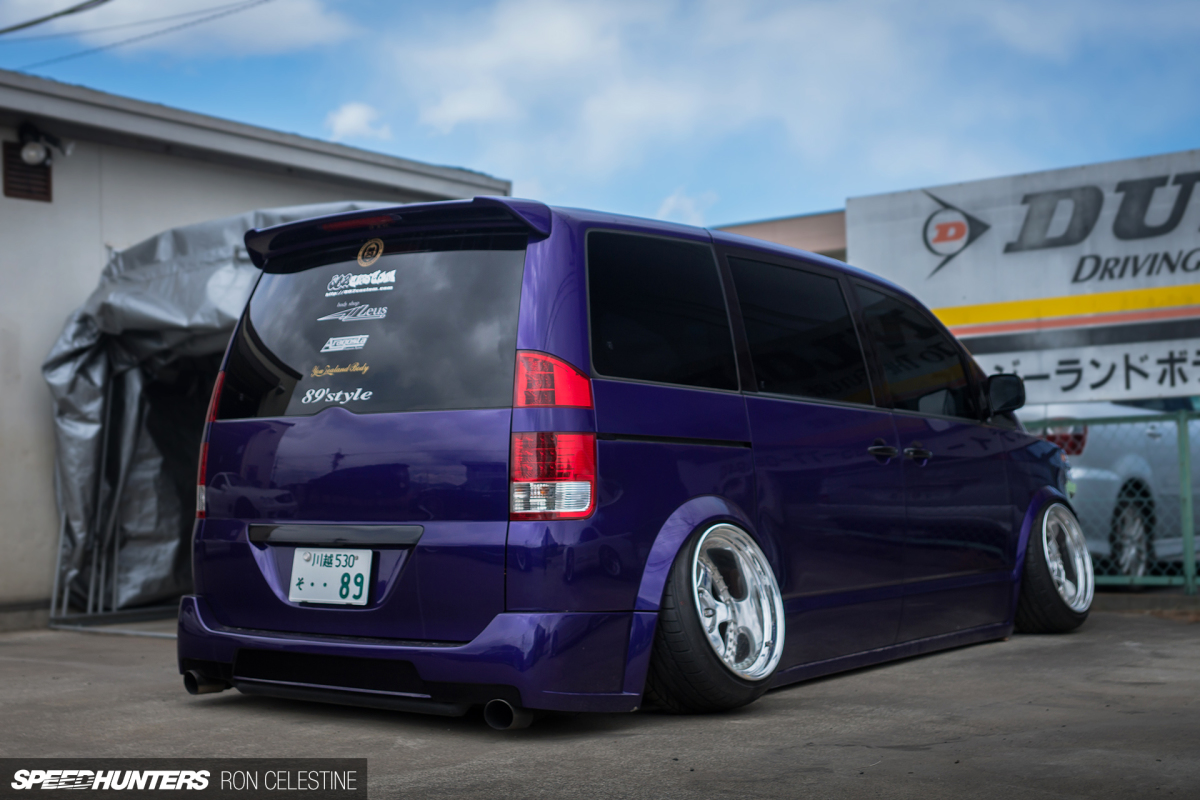 If you have a project that doesn't fall into that category, no problem – YouZealand Body will turn its talents to almost anything.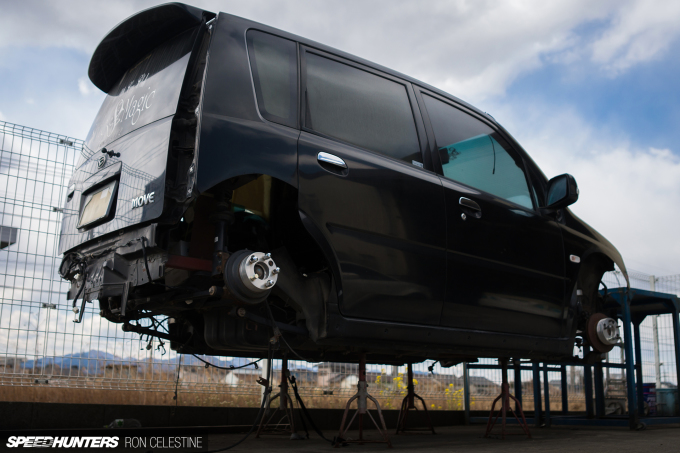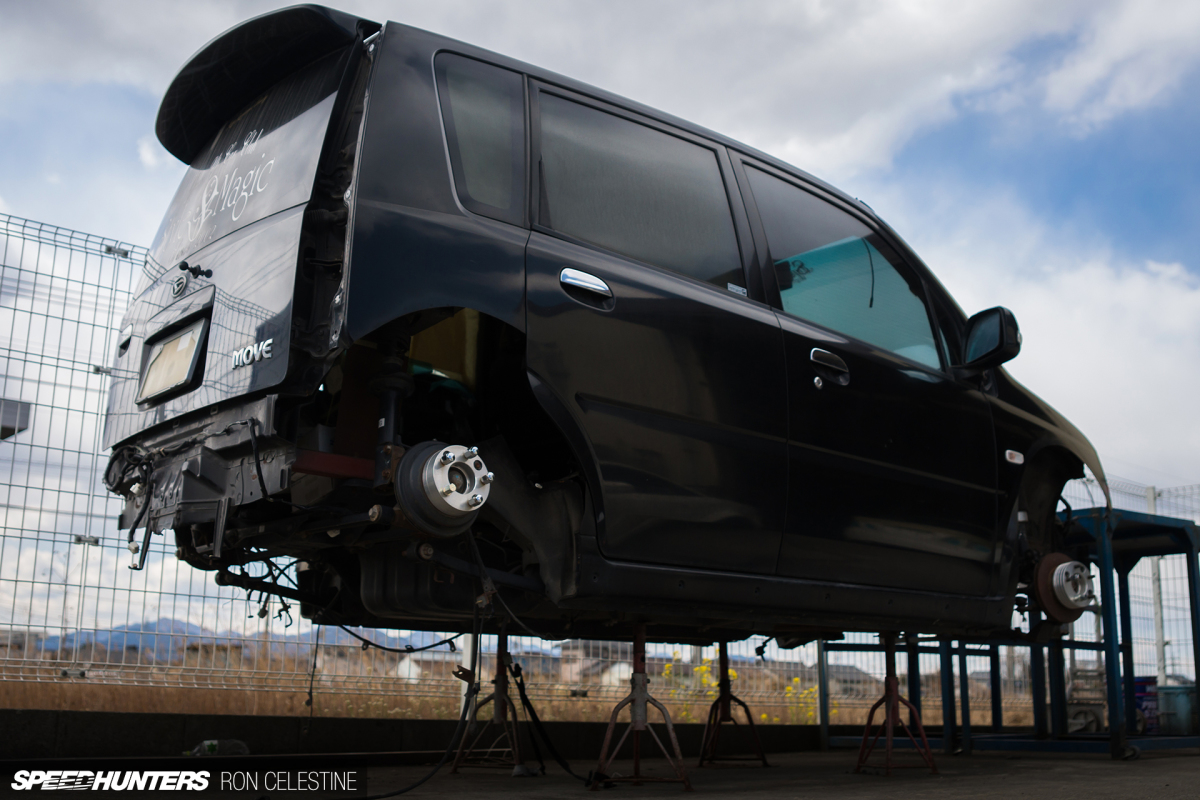 This Daihatsu Move is just one of the many examples of different vehicles currently under the knife at the garage. Among the countless things going on with the kei car is a custom 5-lug conversion and massive spacers which leads me to believe some big wheels with crazy offsets are going to be fitted.
Inside the shop, the majority of cars were having custom aero kits made and being fitted with YouZealand's own 380mm rotor and 6-pot caliper brake kit.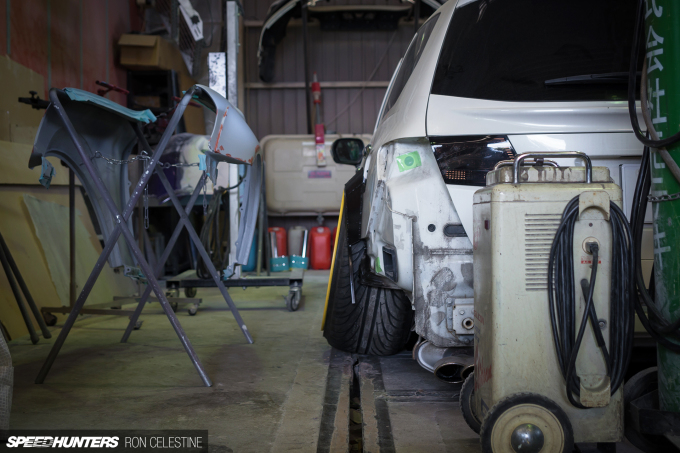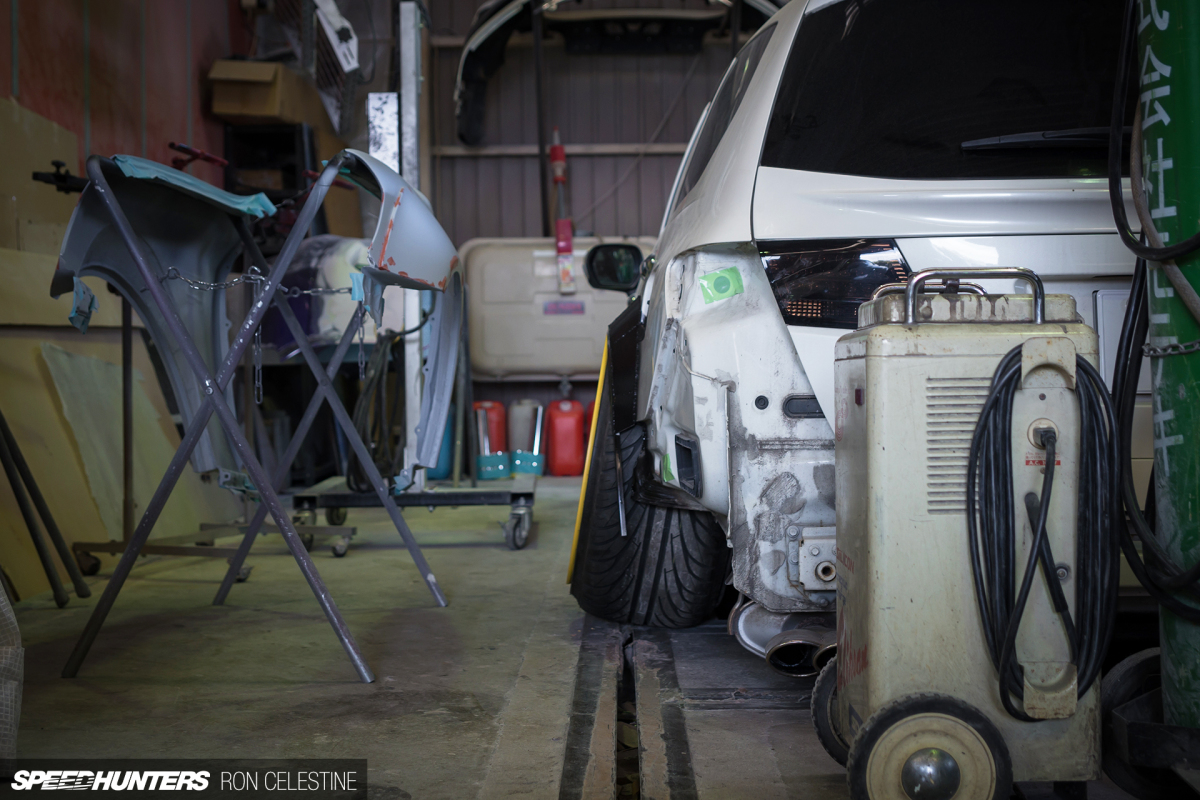 Tucked away in the back of the shop I spied an interesting looking Honda Odyssey having some heavy modifications made to its fenders.
Ouchida-san explained to me that, to achieve the perfect flush fitment, the Honda was first laid out on YouZealand Body's custom hydraulic system, causing the wheels to articulate inwards. Then, necessary measurements were taken and marks made where the new fenders would extend out to, before welded metal sections formed the new shape. These will be smoothed out and finely filled before paint.
Along with the custom fender work, Ouchida-san was in the midst of creating a one-off aero kit for the Odyssey. I can't wait to see what this thing looks like once it's completed.
In setting up this business, one thing of extreme importance to Ouchida-san was the ability to perform all aspects of car customization in-house. It's one of the reasons why you'll find a paint spray booth/bake oven in the back of the shop.
During my visit, this Toyota Crown Majesta was being prepared for paint. You can get a real sense of how dramatic the new fenders are going to be based solely on how they absolutely swallow up those 'normal' size wheels fitted for rolling it around.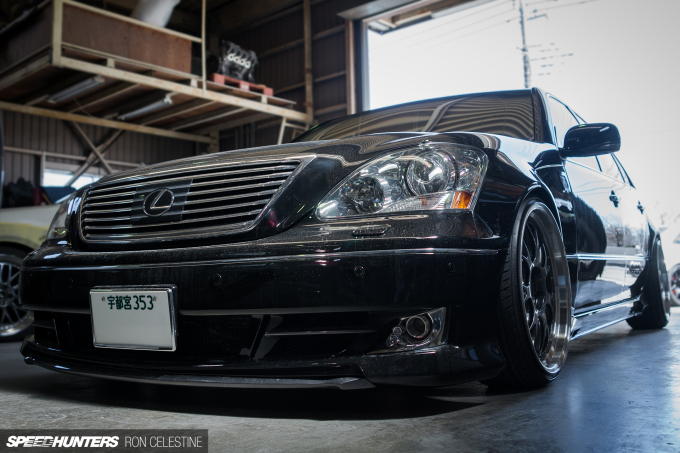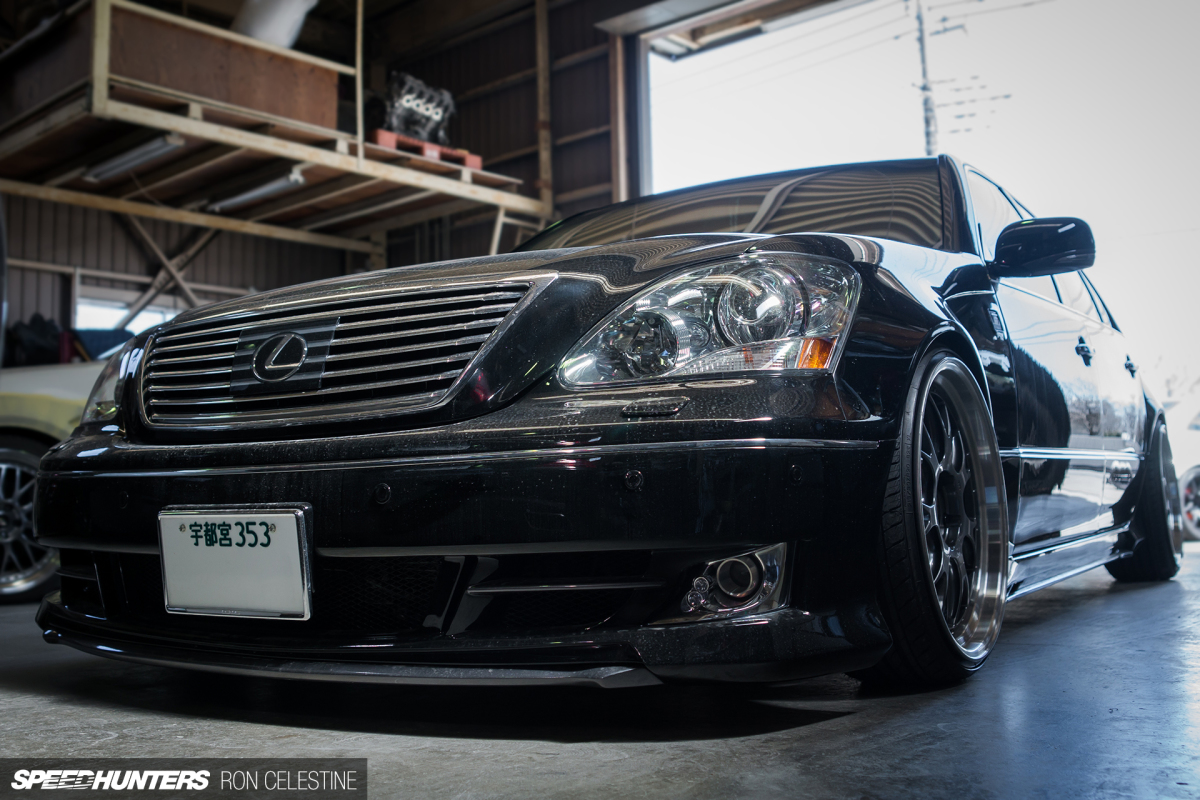 I could have spent a lot more time checking out every nook and cranny inside and outside the workshop, but there was something else I had come to see, and that was the SL55 AMG from Fuji Speedway.
The AMG
You've probably already figured out that Ouchida-san loves creating wild creations at his shop, however his true passion is racing them. When it came time to choose a platform for his latest race car, he really wanted something that would challenge him while showcasing the performance and reliability aspects of the YouZealand-branded products he designs and sells.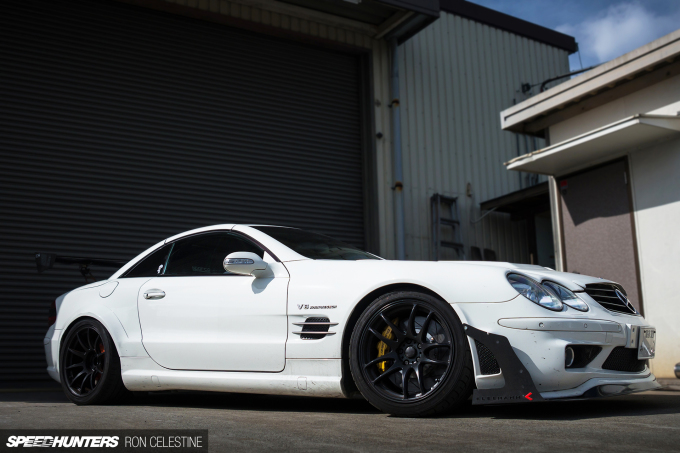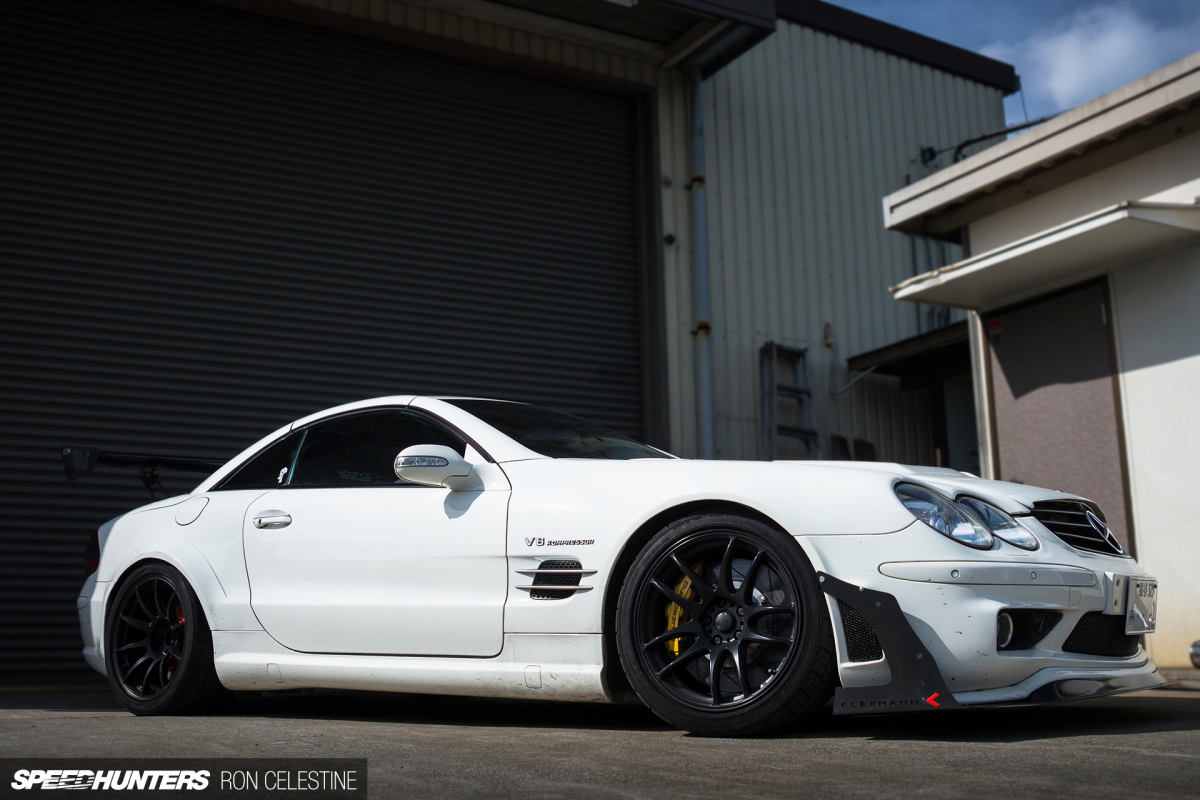 This SL55 AMG was the perfect candidate.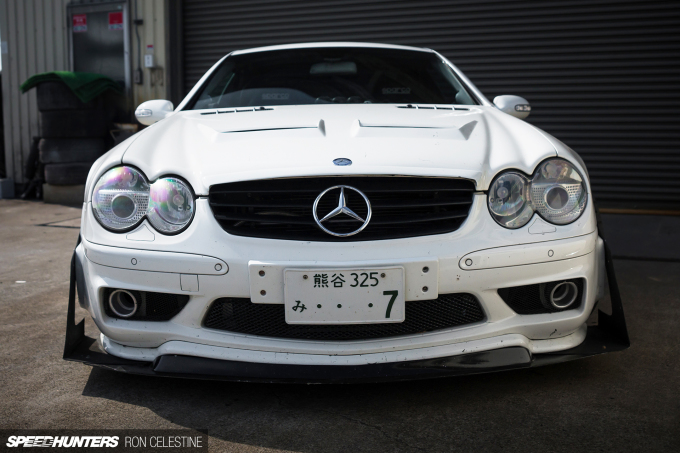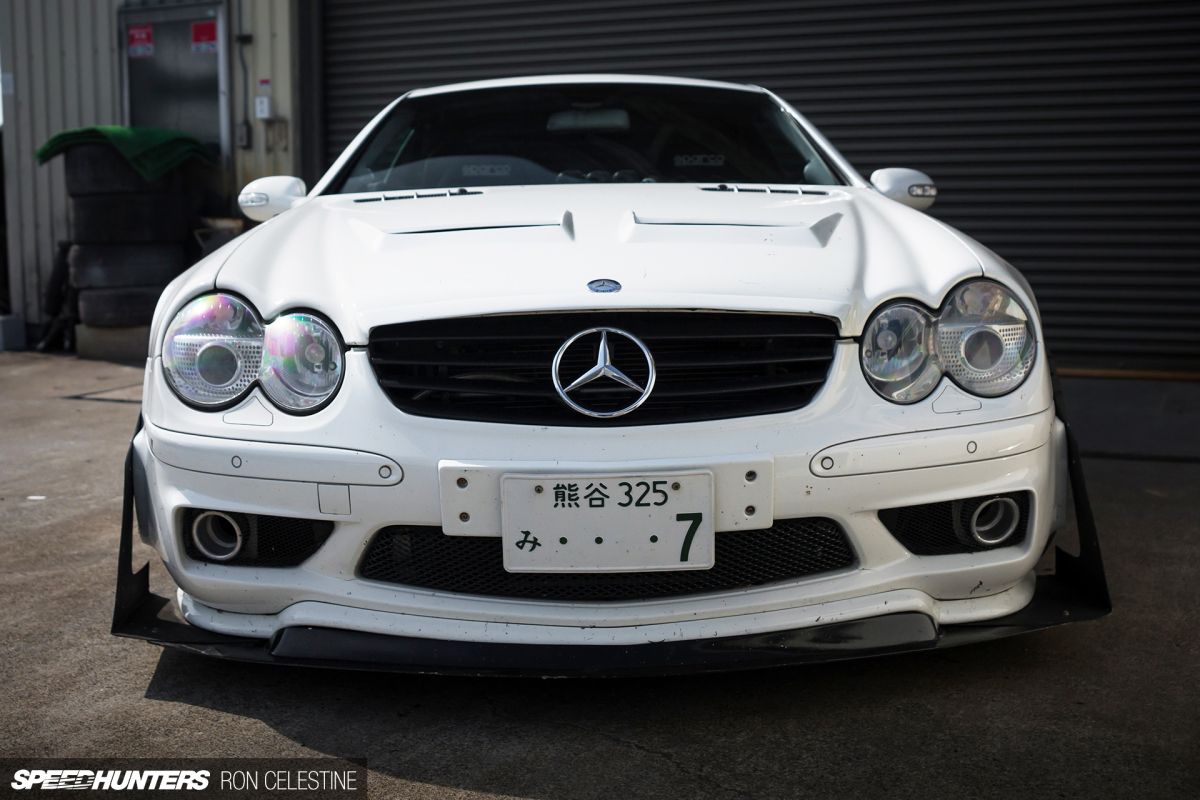 When it comes to straight-line performance from factory, there's no questioning the AMG's ability. When it came to tackling corners though, Ouchida-san wanted to raise the bar.
Every change made to the exterior has been done in the pursuit of function. A Kleemann carbon fiber front splitter and large GT wing create additional downforce.
As expected, Ouchida-san created custom rear fenders for the SL55, allowing fitment of 315/30R18 Yokohama Advan Sport tires. Fortunately, fitting 275/35R18s at the front didn't require any custom work.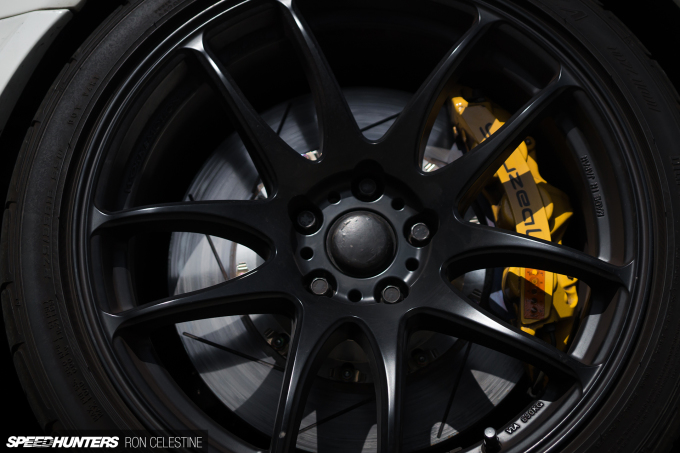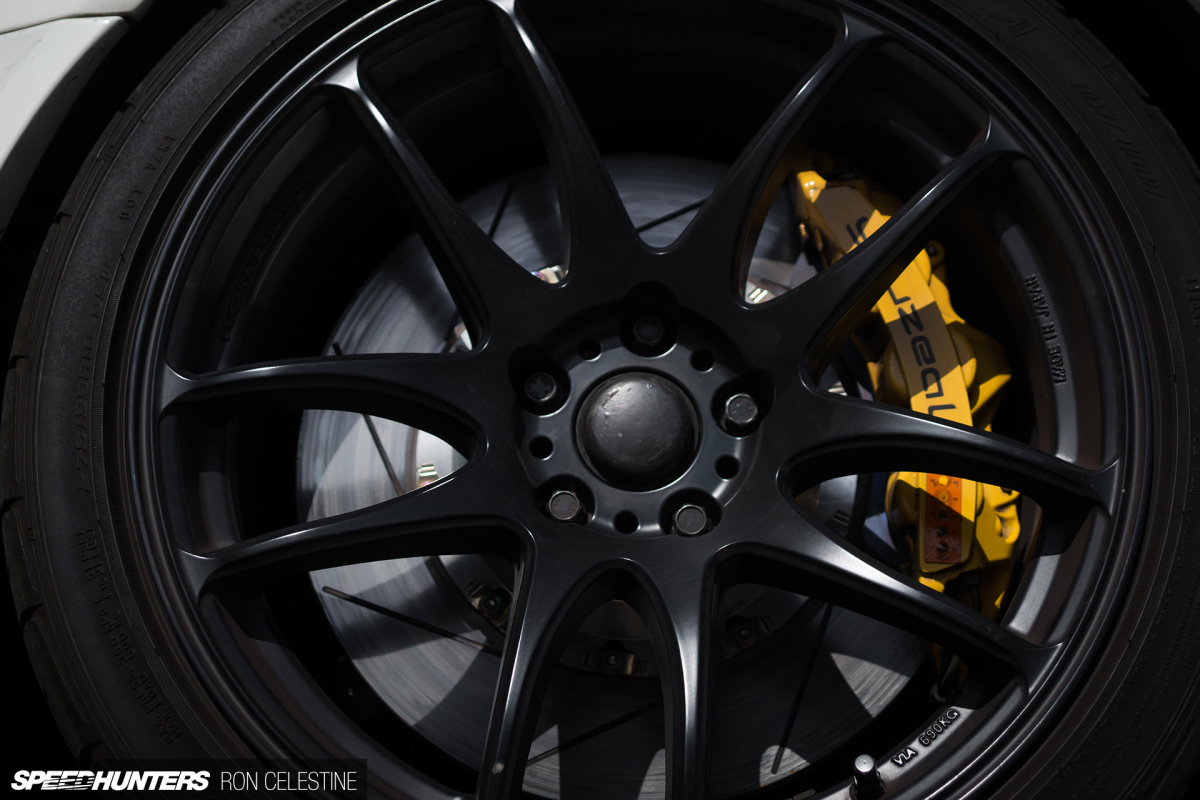 The matte black Work Emotion CR wheels have a dual function, matching the styling cues of the SL55 and also showing-off what Ouchida-san calls his GTA6 Brake Kit.
For the R230, the kit comes with the option of either 380mm or 405mm slotted rotors for the front, 380mm for the rear, and as the name suggests, large monoblock 6-pot brake calipers front and rear. Currently, the race car is running 380mm rotors at all four corners, and I know firsthand that it provides enough stopping power. During a spirited drive on the expressway with Ouchida-san, a quick braking situation almost caused my camera to come flying out of my hands!
In my spotlight on the SL500, one reader asked if there was any video footage of the car attacking Fuji Speedway. Because I only caught up with the Mercedes at the end of the day I didn't capture any, but I wish I had. This time around though, I made sure to whip something up for everyone, and you can check out the clip by hitting play above.
Are we back yet? OK, good!
Since suspension work is one of YouZealand's specialties, Ouchida-san wanted to prove that his original components are reliable and improve handling on the track, all without destroying the ride quality. This custom setup in the SL55 has an hydraulic system to raise the vehicle just high enough to make it useable on the street and able to negotiate driveway entrances with ease.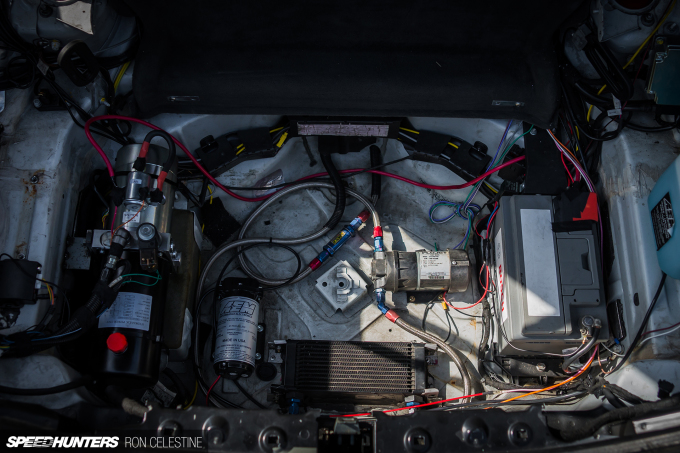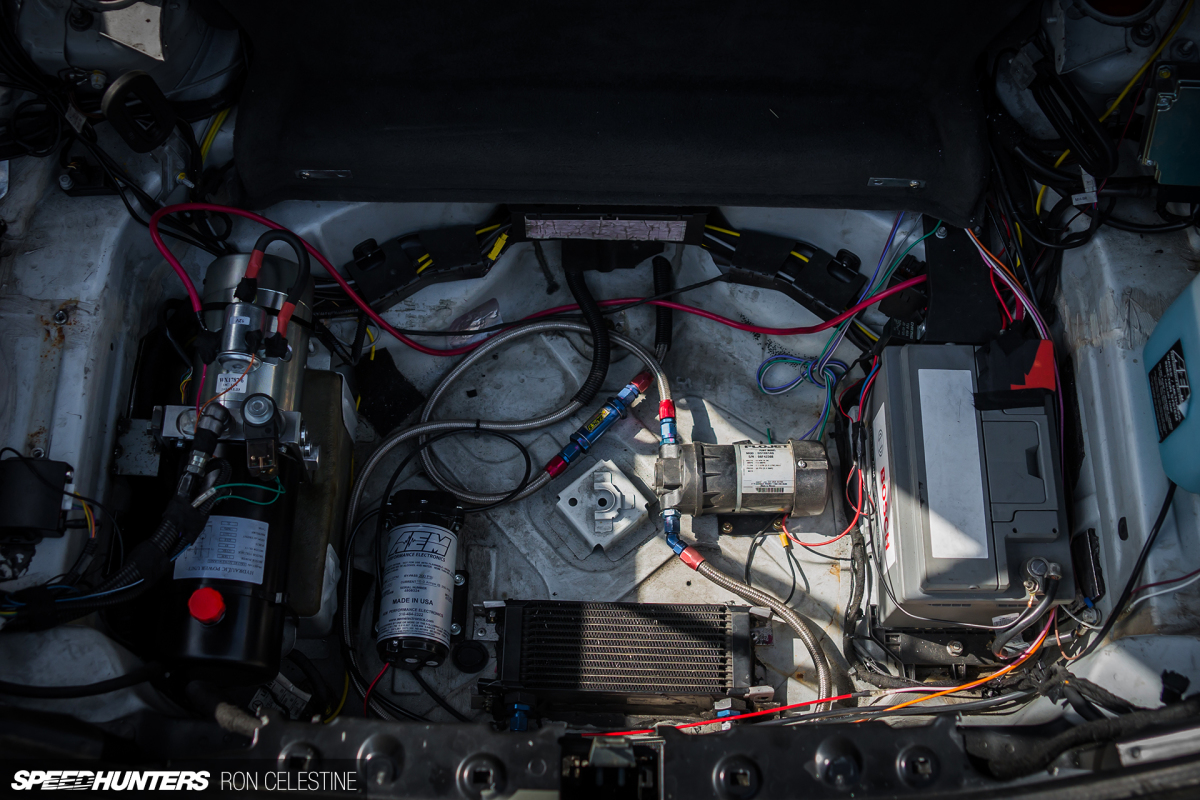 A little junk in the trunk never hurt nobody, especially when said junk is designed for optimization and performance.
Various motors, pumps, and valves for the hydraulics system, the diff cooling system, and the water injection system all reside in the trunk, control coming via simple toggle switch system on the dash.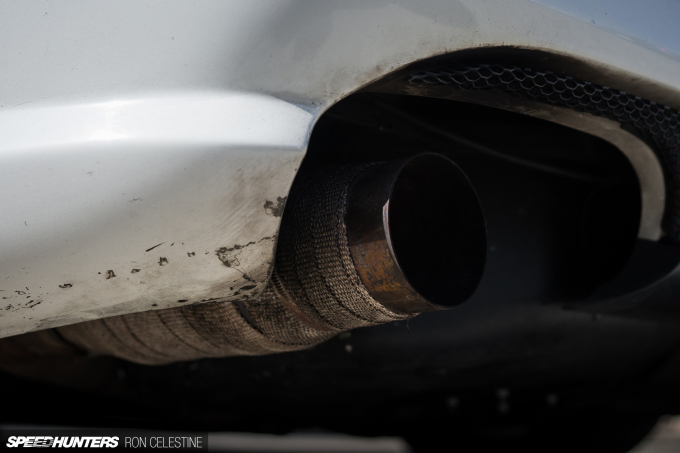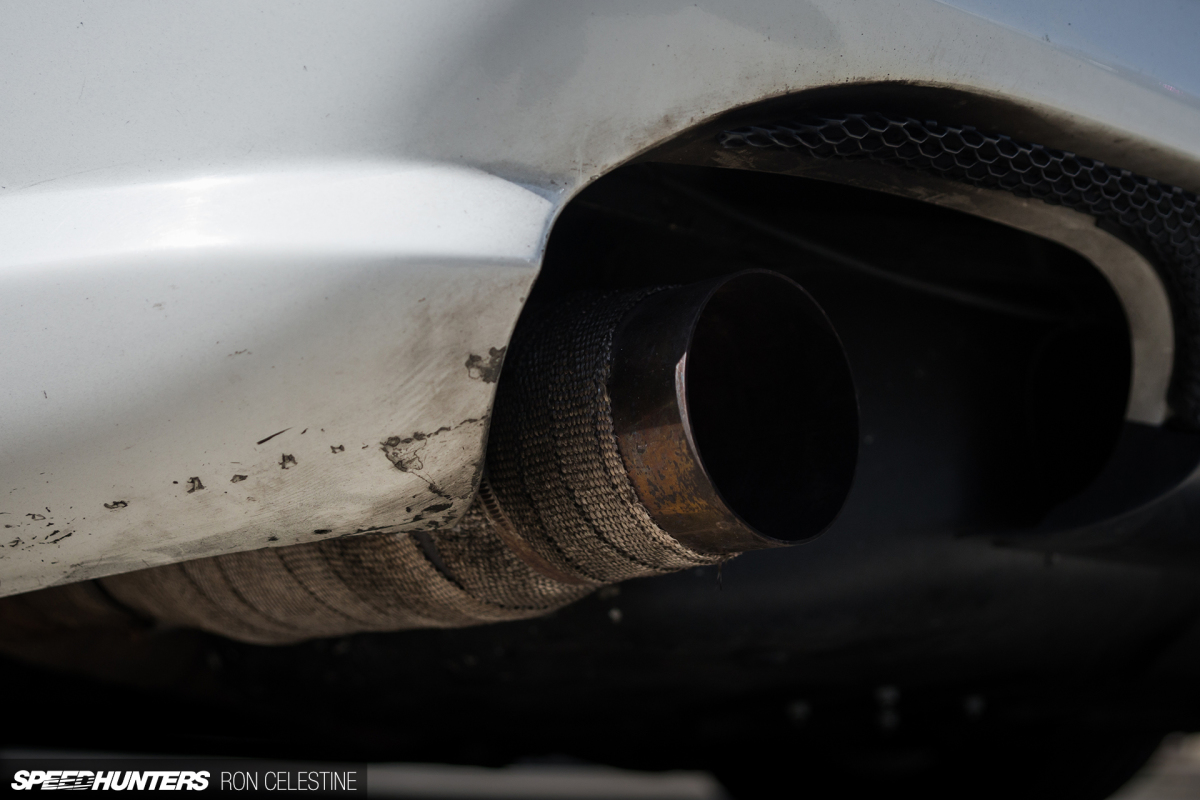 The quad-tip exhaust system may look cool, but with the power figures this thing is churning out, something less restrictive was absolutely necessary.
Ouchida-san provided me some images of the extra long headers that are wrapped to contain the heat.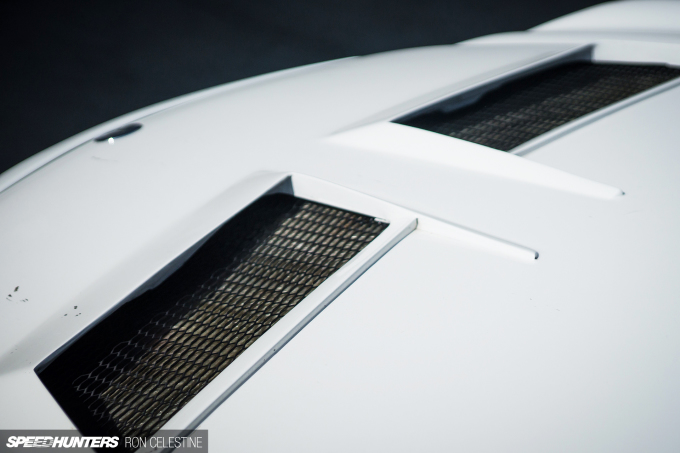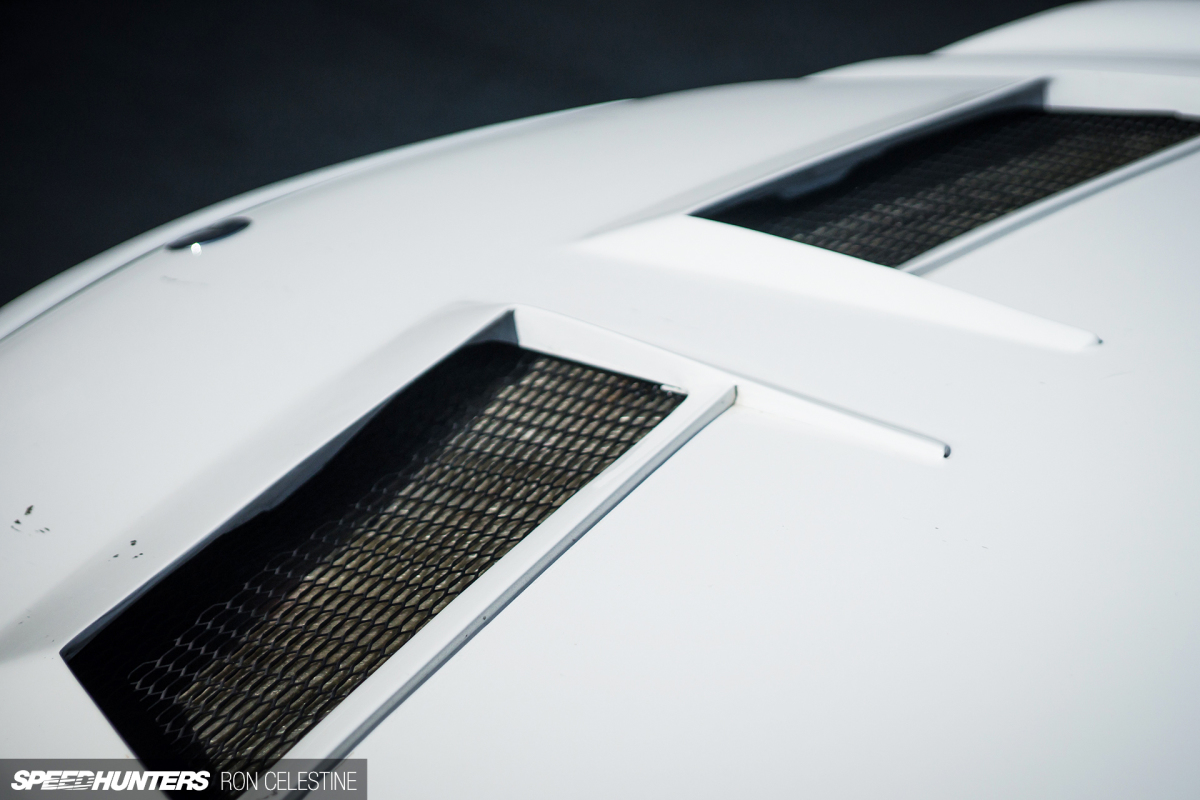 Since I mentioned power figures, this seems like the optimal time to look at what's lurking beneath the hood.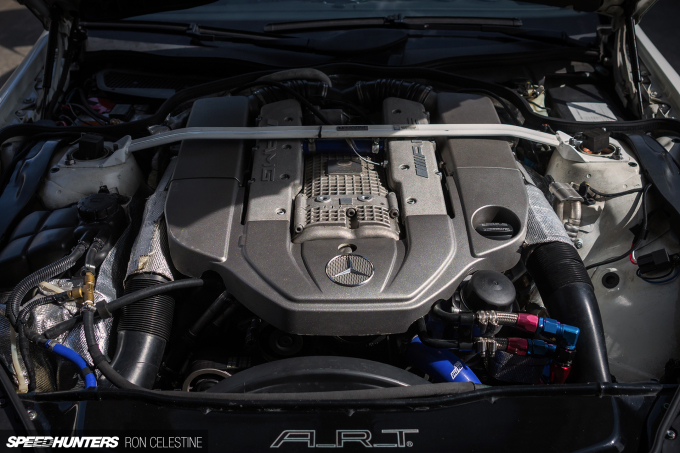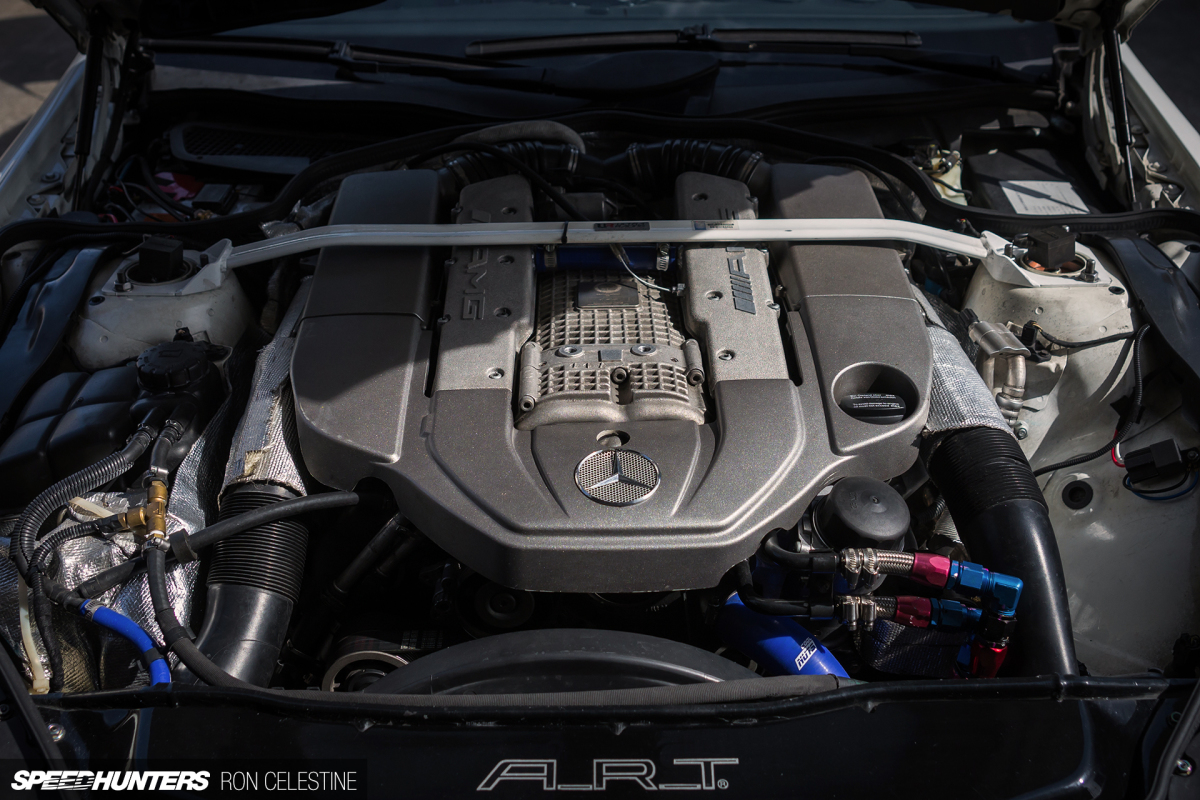 The supercharged 5.4L V8 was good for 500hp from factory, but knowing the car is no lightweight, Ouchida-san wanted more power.
Thanks to strengthened internals, a Kleemann camshaft, 80mm throttle body, and the added bonus of the water injection system which allowed Ouchida-san to turn the boost up a bit, the M113 is now pushing close to 600whp. An OS Giken LSD helps it find the ground.
Since most of the interior is still intact, the cabin is an interesting mix of race car and Mercedes-Benz luxury.
Similar to his customer's SL500, a giant water jug with an electrical pump fitted to it sprays water across the intercooler core for even more cooling.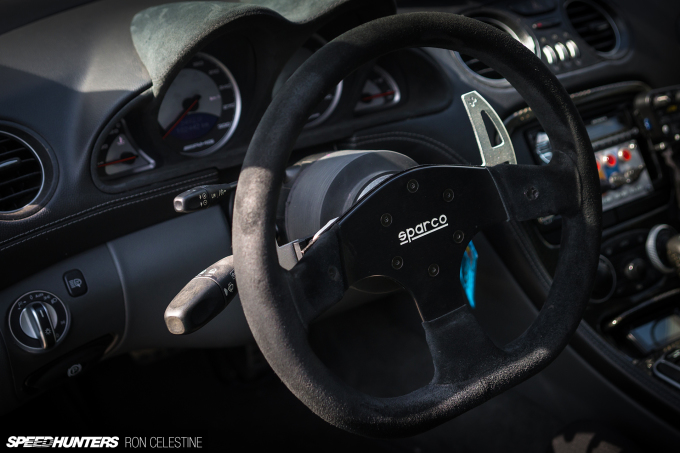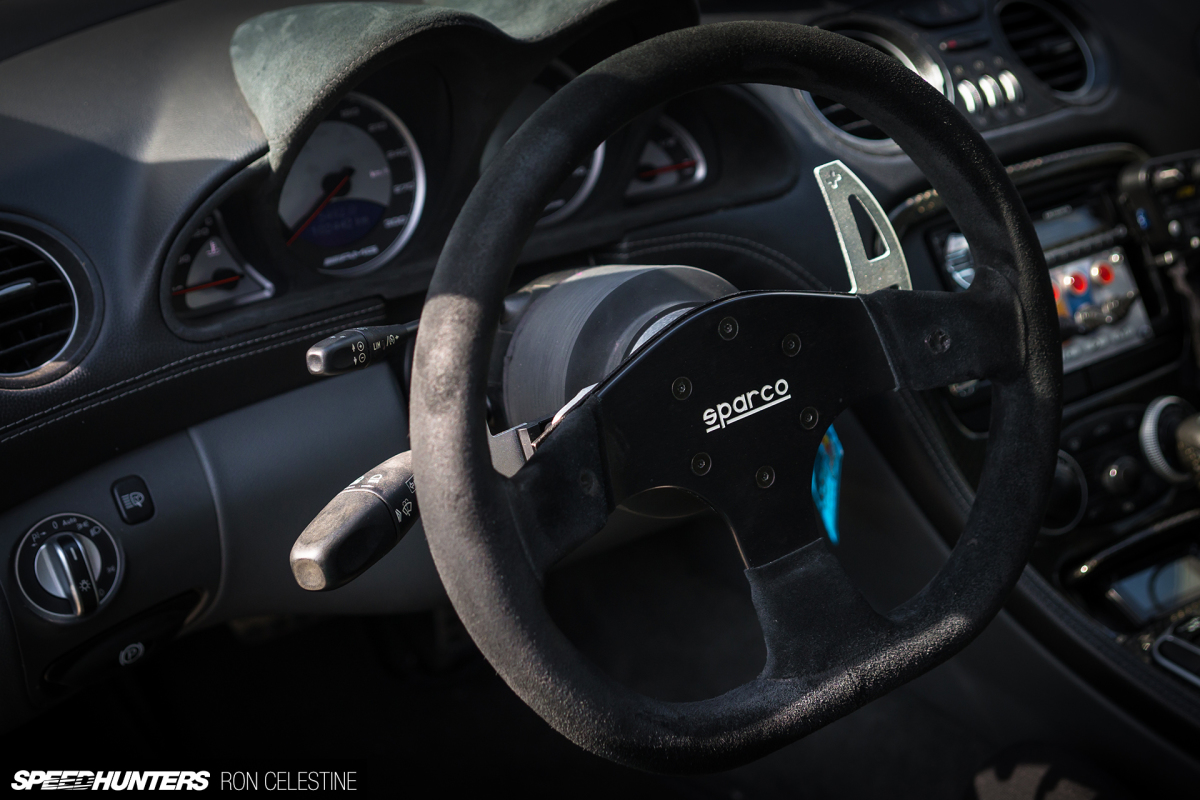 A Sparco R353 replaces the factory steering wheel and feels excellent to hold. In this image you can also see the custom aluminum shifter paddles – again, Ouchida-san's own handiwork.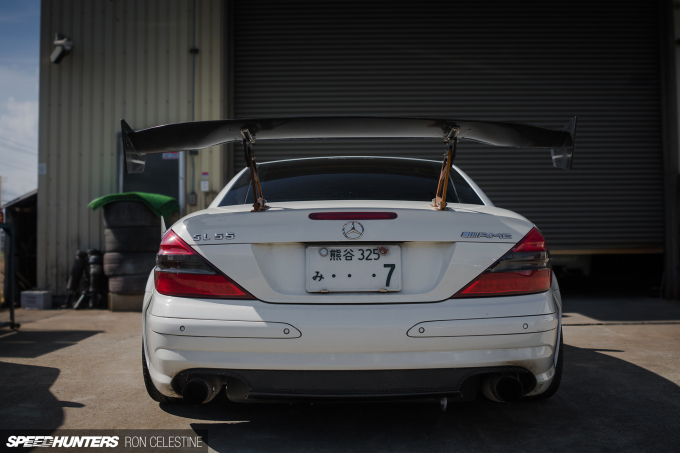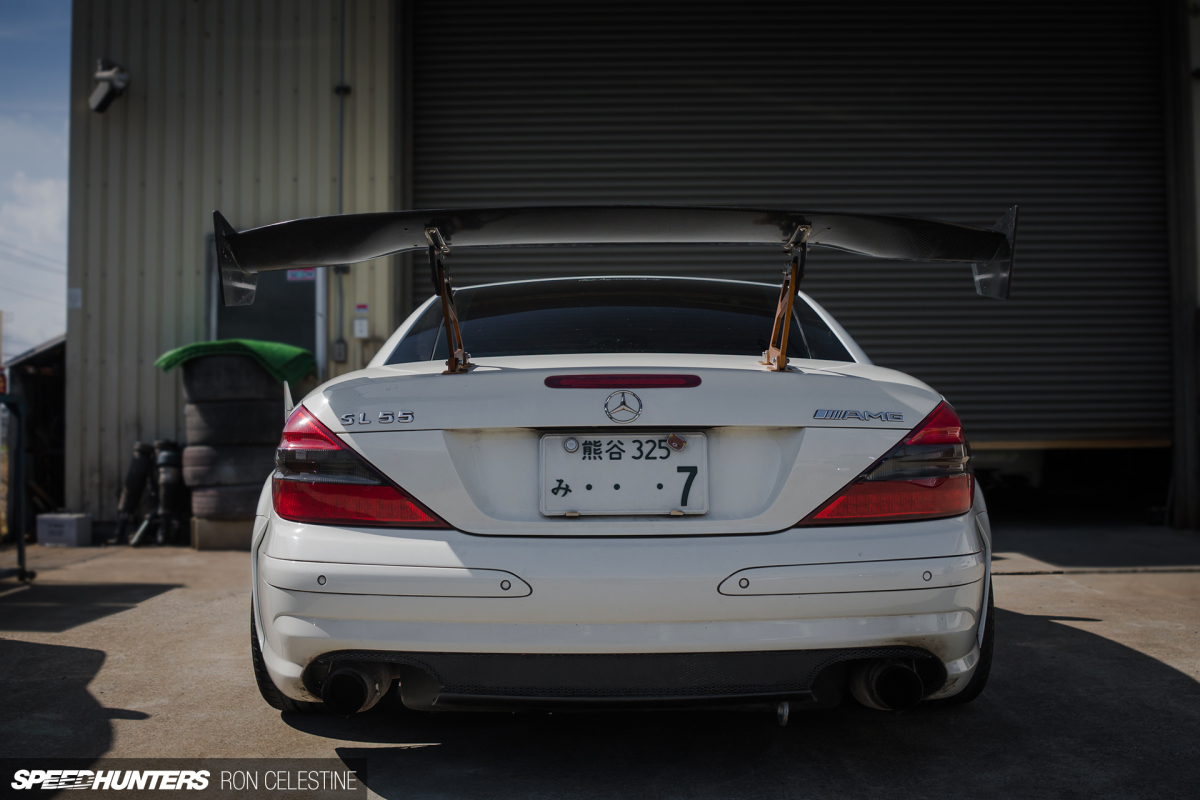 With it being a regular work day at YouZealand Body and most of that work being done by Ouchida-san himself, I decided to wrap up my shoot. With his shop being relatively close to where I live, you can bet I'll be stopping by again, and maybe even arranging to get that track footage!
Ron Celestine
Instagram: celestinephotography