Bringing Back Memories
Right, it's back on the saddle for another instalment in my recent cycle tour down Meguro-dori, and for this second post there was definitely more distance covered to get to some must-see shops along the way.
It was a pretty cool experience for me too as I hadn't stopped by any of these businesses before, despite them being situated along a road I drive down all the time. But I guess that's human nature, you tend to end up and explore stuff that's a little further away from your general area, and not the things that are nearby. Because you tell yourself you can visit those places anytime, even though you probably won't.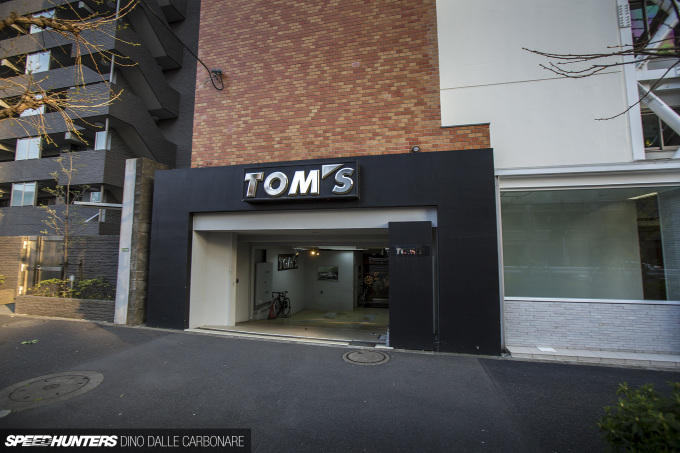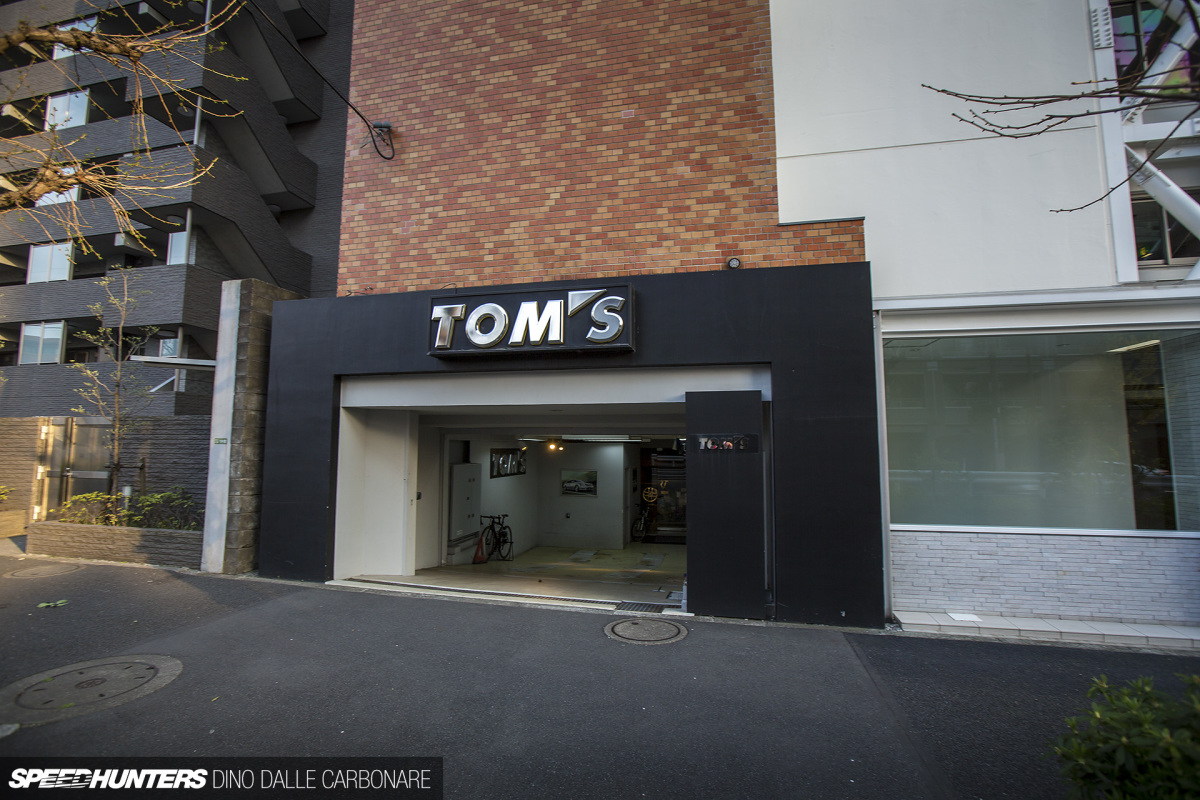 So it was a cool thing that I was doing, ticking off a number of places that I've had on my radar for so long, and that started with the headquarters of TOM'S.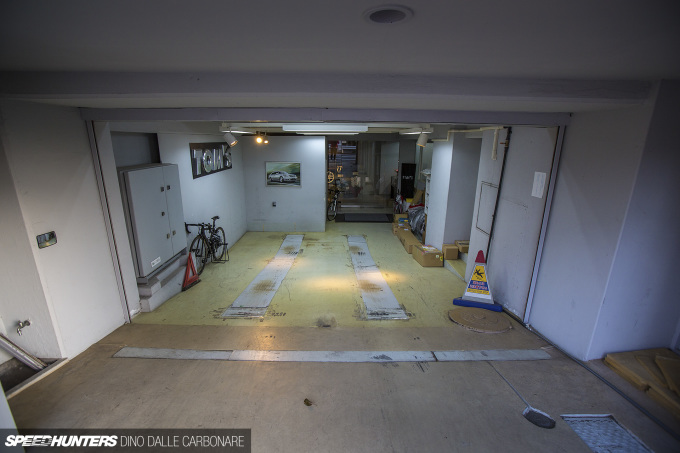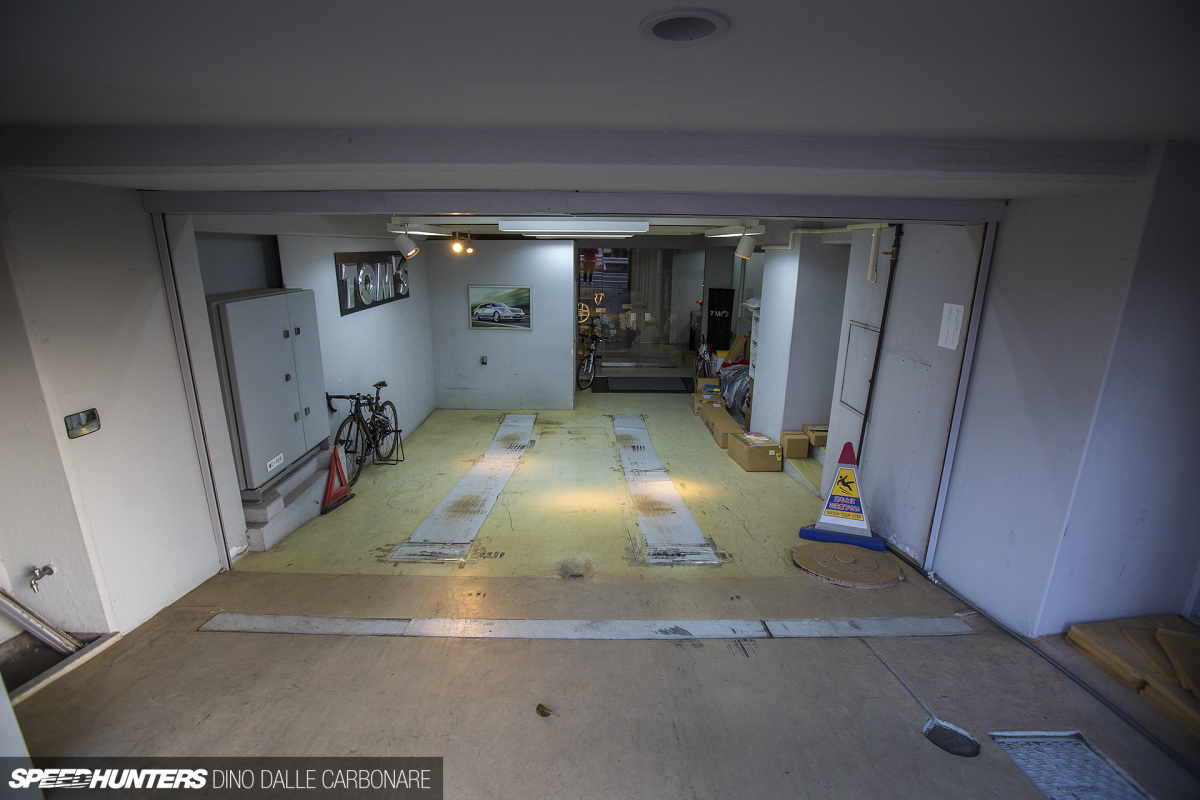 While TOM'S is involved in all sorts of racing activities, like heading up R&D for the current breed of GT500 Lexus LC and F3 race cars, it's also still developing a few cool parts for the most interesting Toyota and Lexus models. For example, at this year's Tokyo Auto Salon, TOM'S had its own lightly tuned versions of the GS F and RC F, plus quite an interesting range of parts for the 86, including a supercharger kit for the 4U-GSE (FA20)
But I knew that going into the main offices I would be seeing nothing of this. Like in any corporate establishment, all there was, was a waiting area with a few parts on display, including TOM'S' iconic split 4-spoke wheel and some brake and suspension goodies. Oh, and a phone with a few preset extensions so you can reach the right department.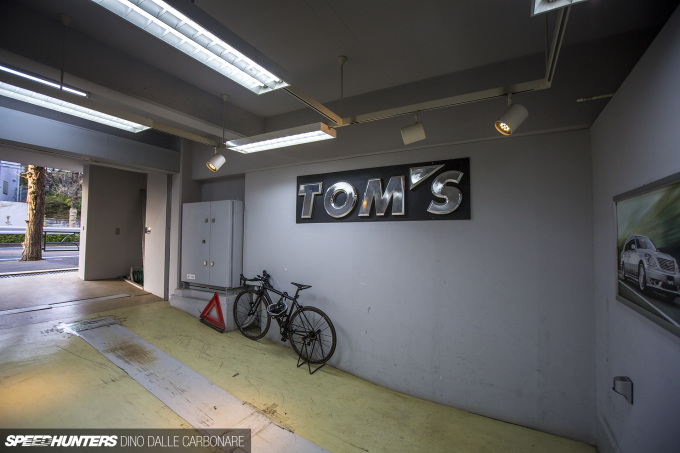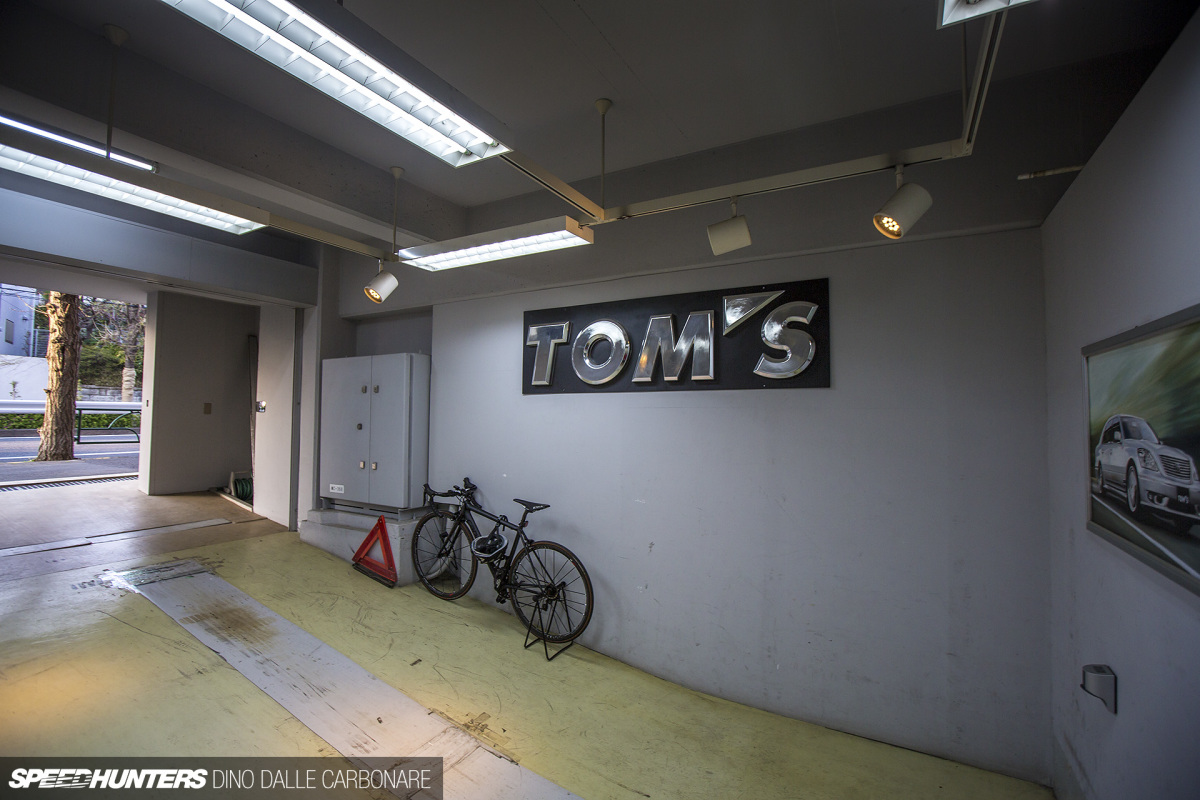 While I have seen demo cars sitting in the single space on numerous occasions when driving by, on this particular day it was empty. Of course, there'd be plenty to see at TOM'S Technical Square in Gotemba, not too far from Fuji Speedway, but that's a bit too far off Meguro-dori!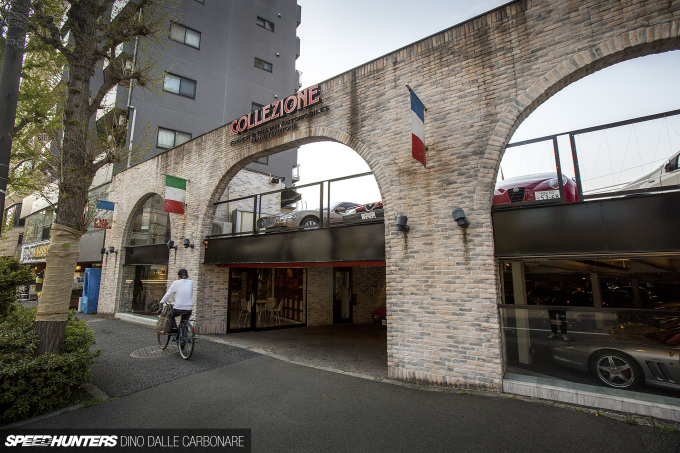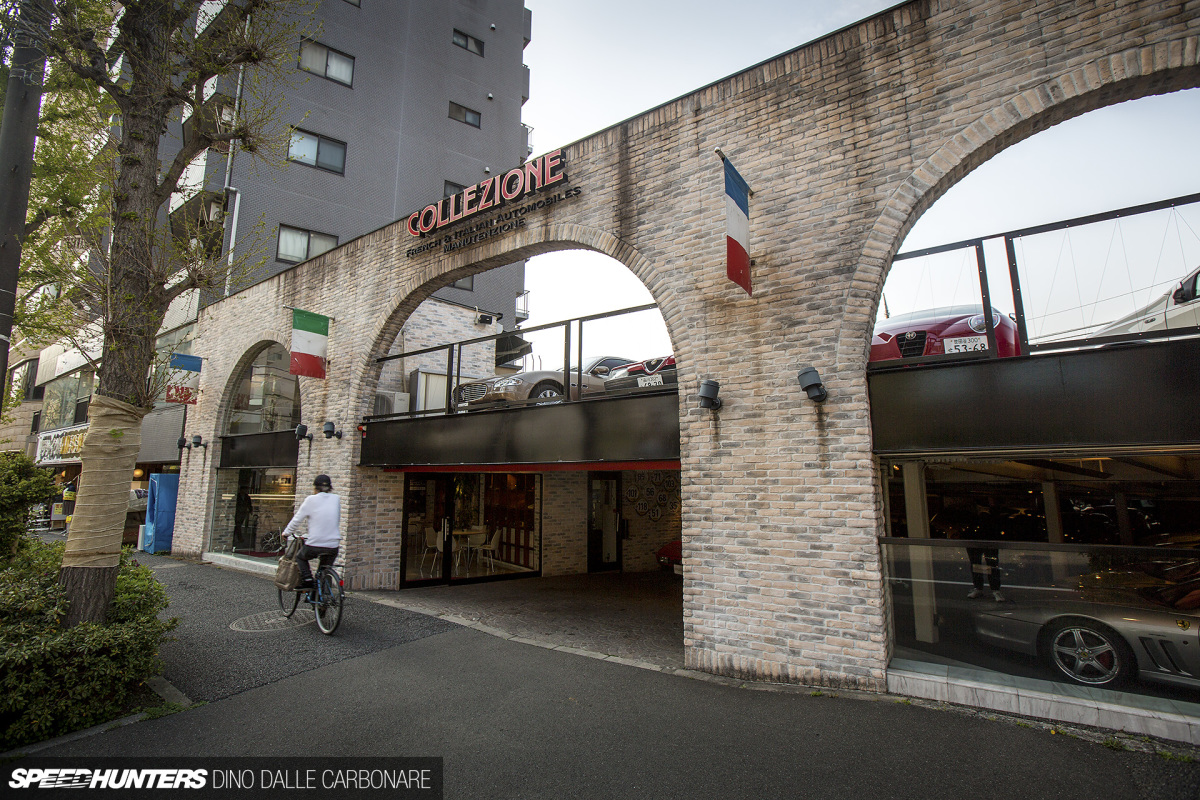 The next stop on the list was Collezione, a specialist in Italian and French cars.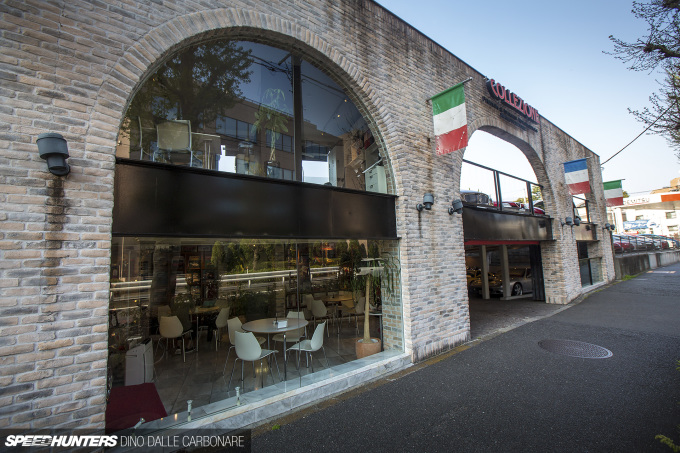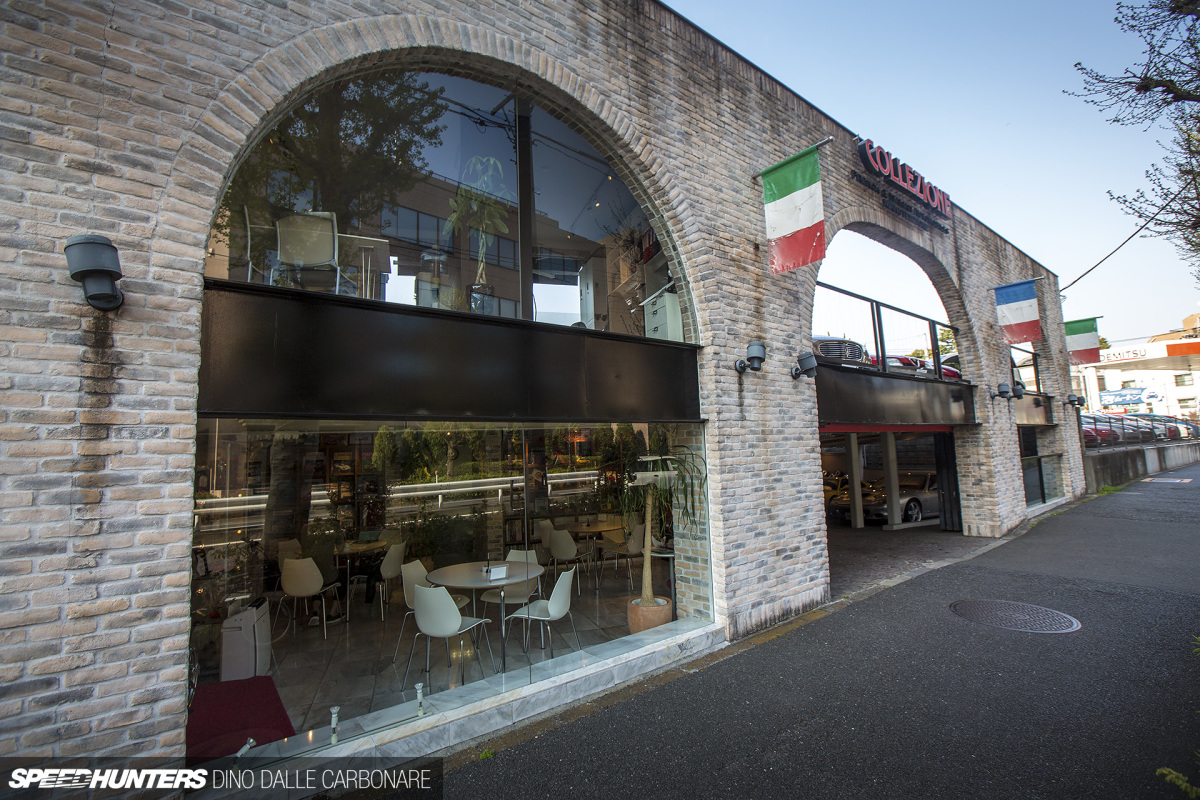 Its stock is spread out over two floors, a lower garage space and the roof/backside of the building which is filled with all sorts of cool and interesting machines.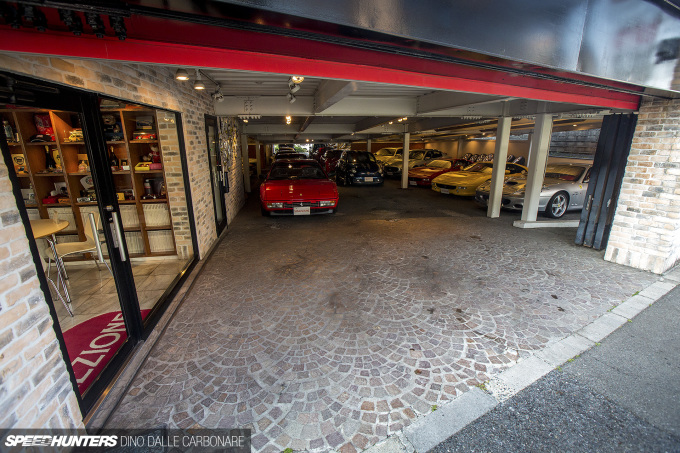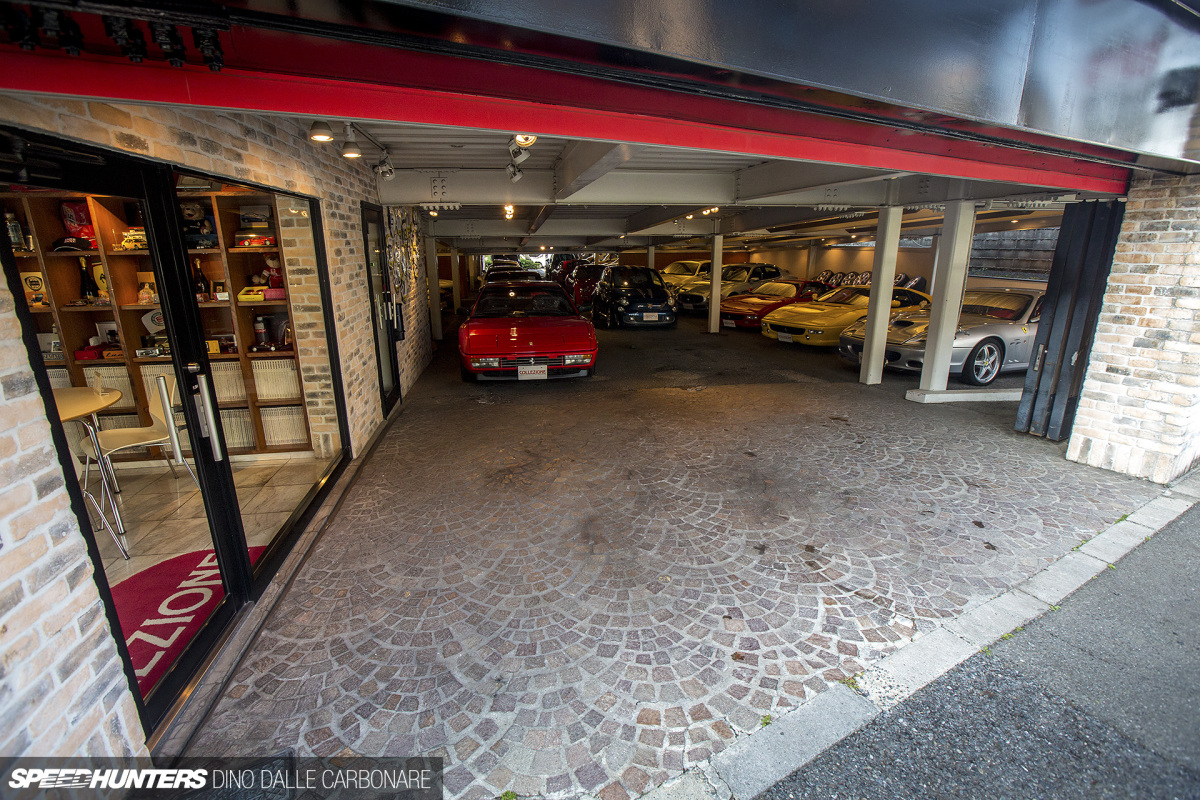 While I did spy some nice metal in the covered area, I first wanted to check out what they had on display around the other side.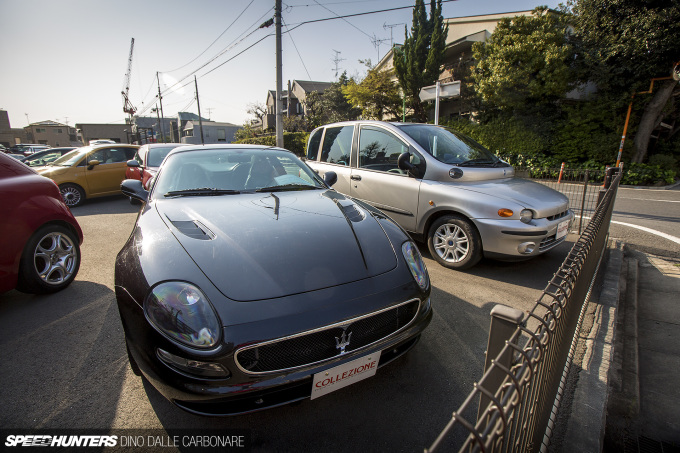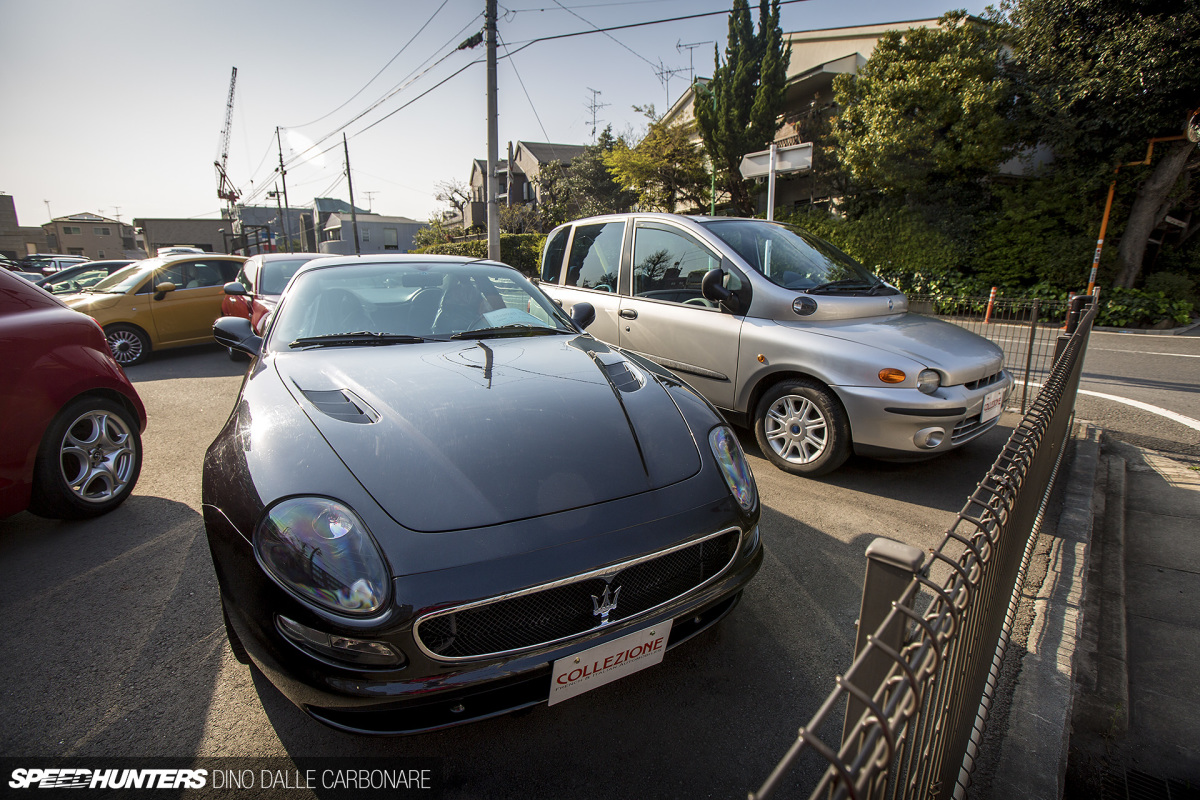 The cool thing is that it's not all prohibitively expensive stuff for sale here; it's mostly what the Japanese enthusiasts would like, and that means interesting rarities and uniquely-styled cars – pretty much anything to help you stand out from the minivan-laden streets of Japan. One of the first things that made me smile was seeing a Fiat Multipla, a curious design from the Torino manufacturer.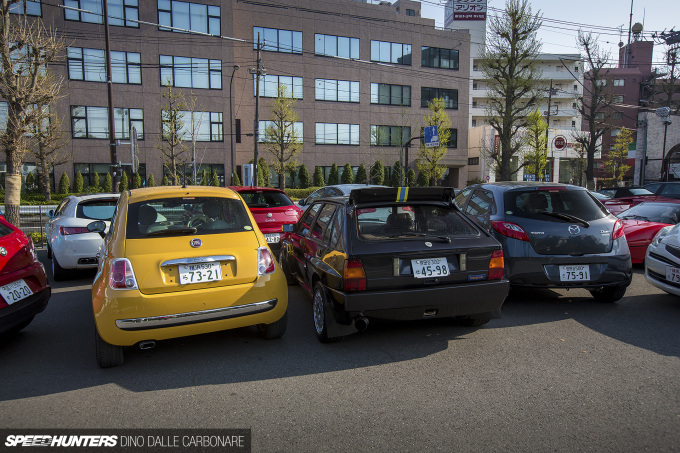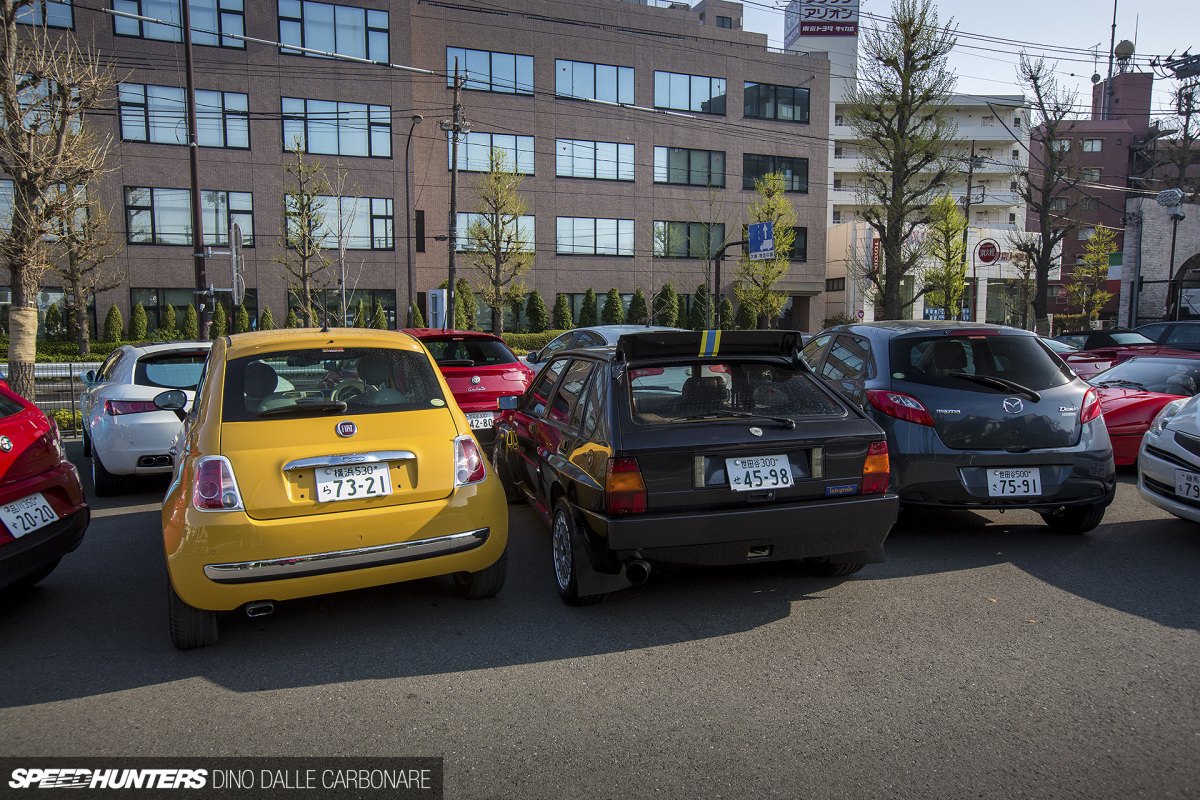 While the majority of cars in the outside yard were Alfa Romeos of the Mito, GT, GTV and Spider variety, I did come across an Italian car that is still very much sought after in Japan – the Lancia Delta Integrale.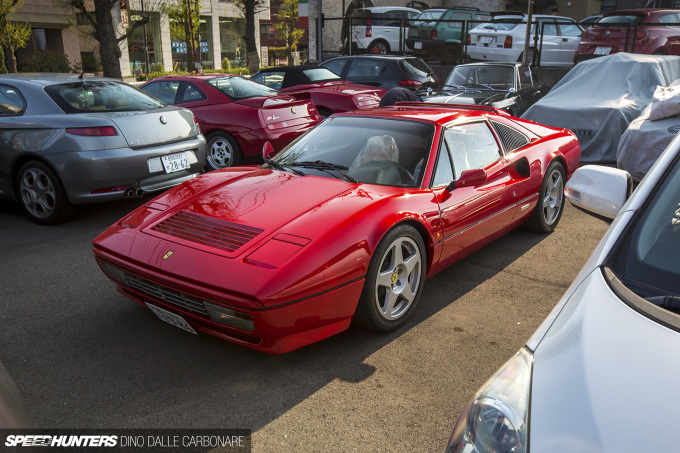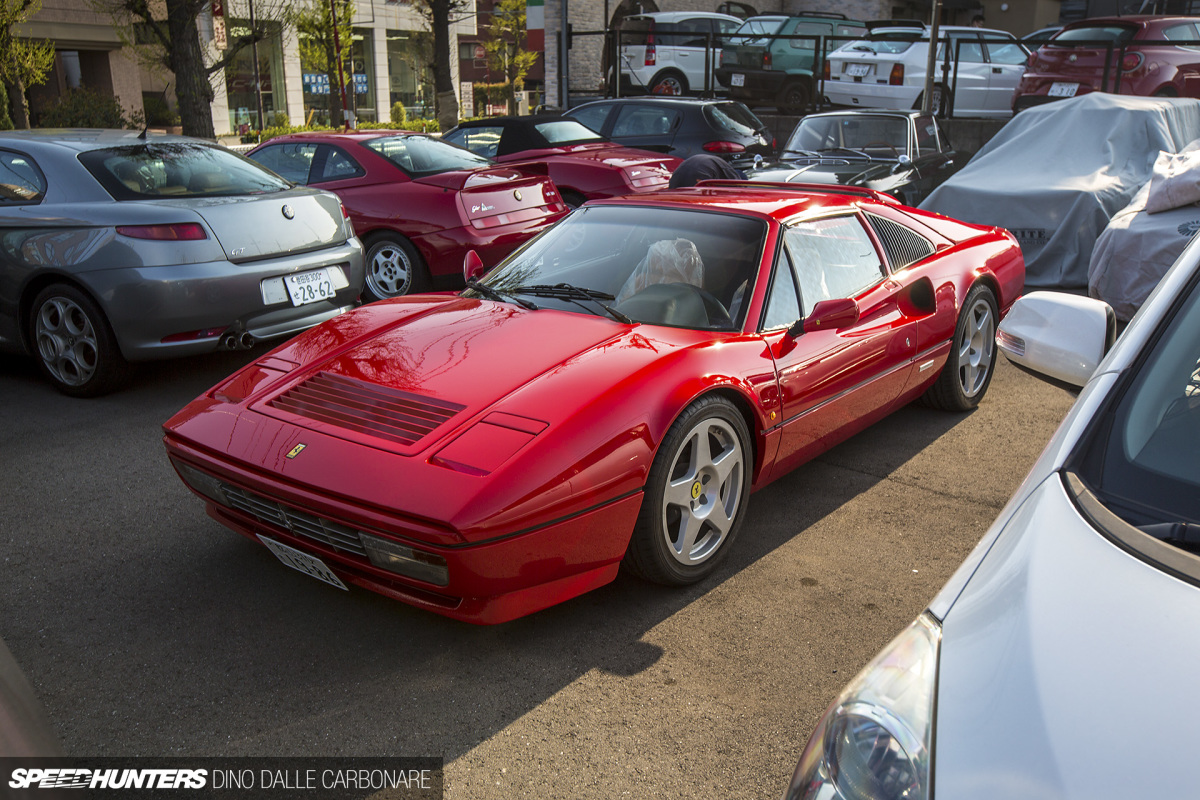 Despite its clean appearance, this Ferrari 328 was just about to be treated to a wash, perhaps readying it for the Collezione garage where the more valuable cars are displayed.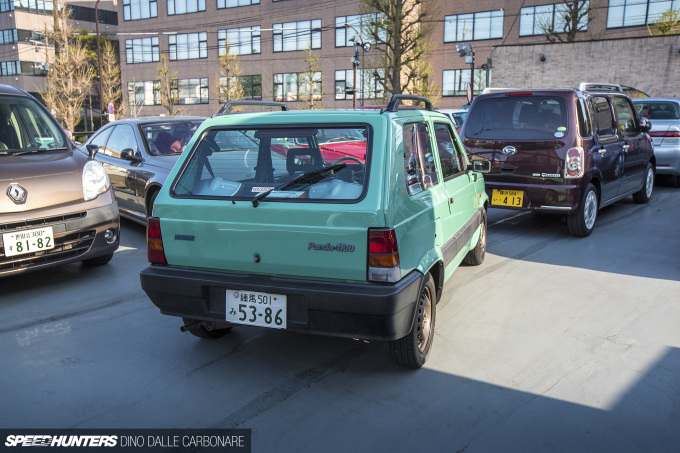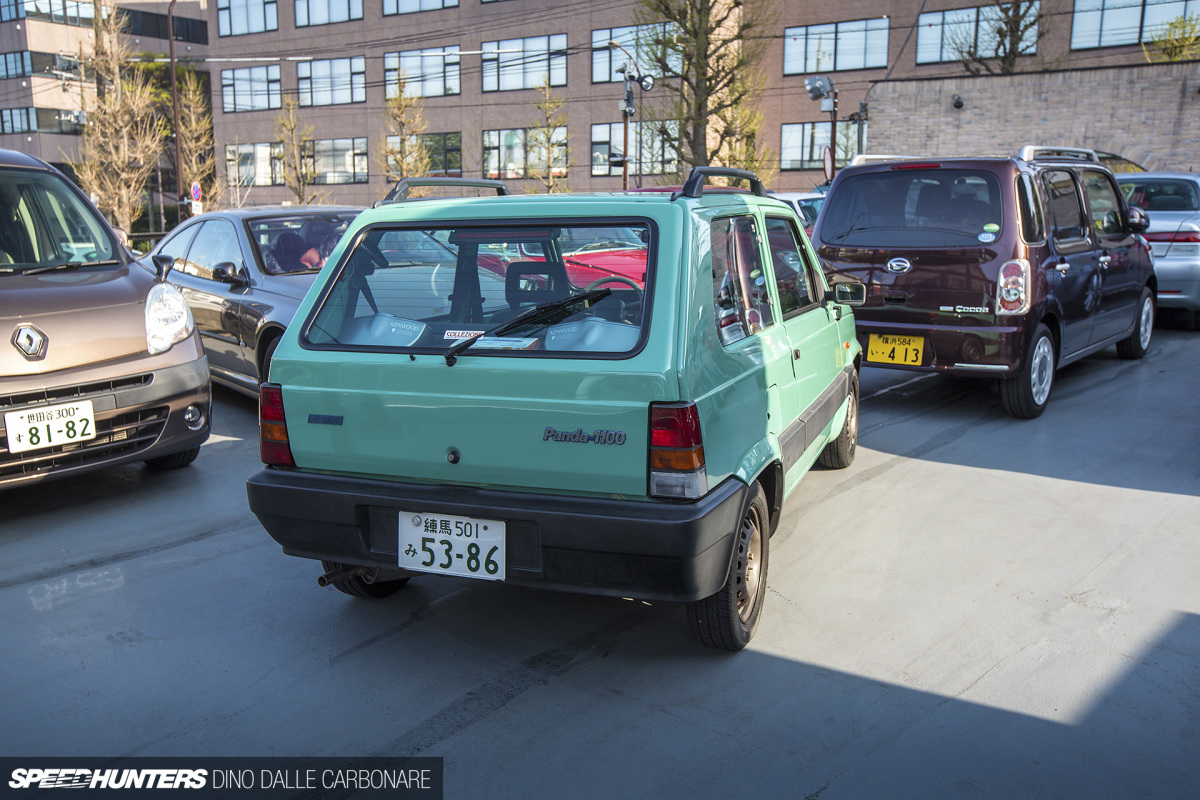 Then of course there's the Fiat Panda. To this day I am still baffled at the passion the Japanese have for this model. In Italy, it was as common as bread from 1980 when it first appeared on the market right through to the early 2000s when it was still being produced. I'm not sure what makes it so cool; perhaps it's the fact that the original design was penned by Giorgetto Giugiaro at Italdesign? Or maybe its the Panda's sheer simplicity? I do wonder this every time I see one on the streets of Tokyo, which is a lot more often that you'd think.
A few cars up was this stunning Giulia, the epitome of a proper Alfa driver's car. There's so much right about this car and its four-door variant, which I guess is why Alfa Romeo brought the namesake back.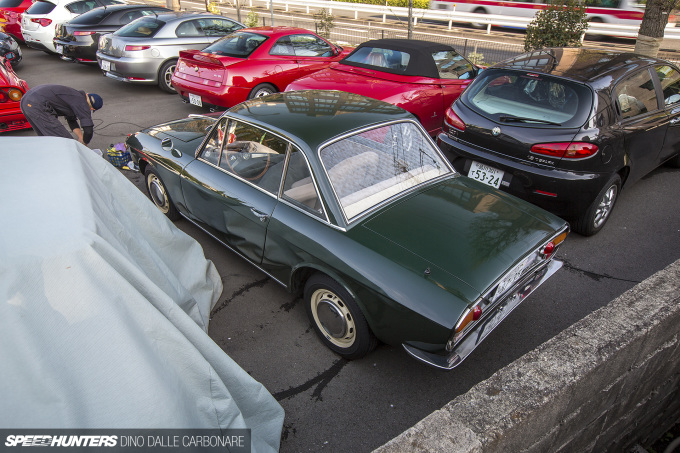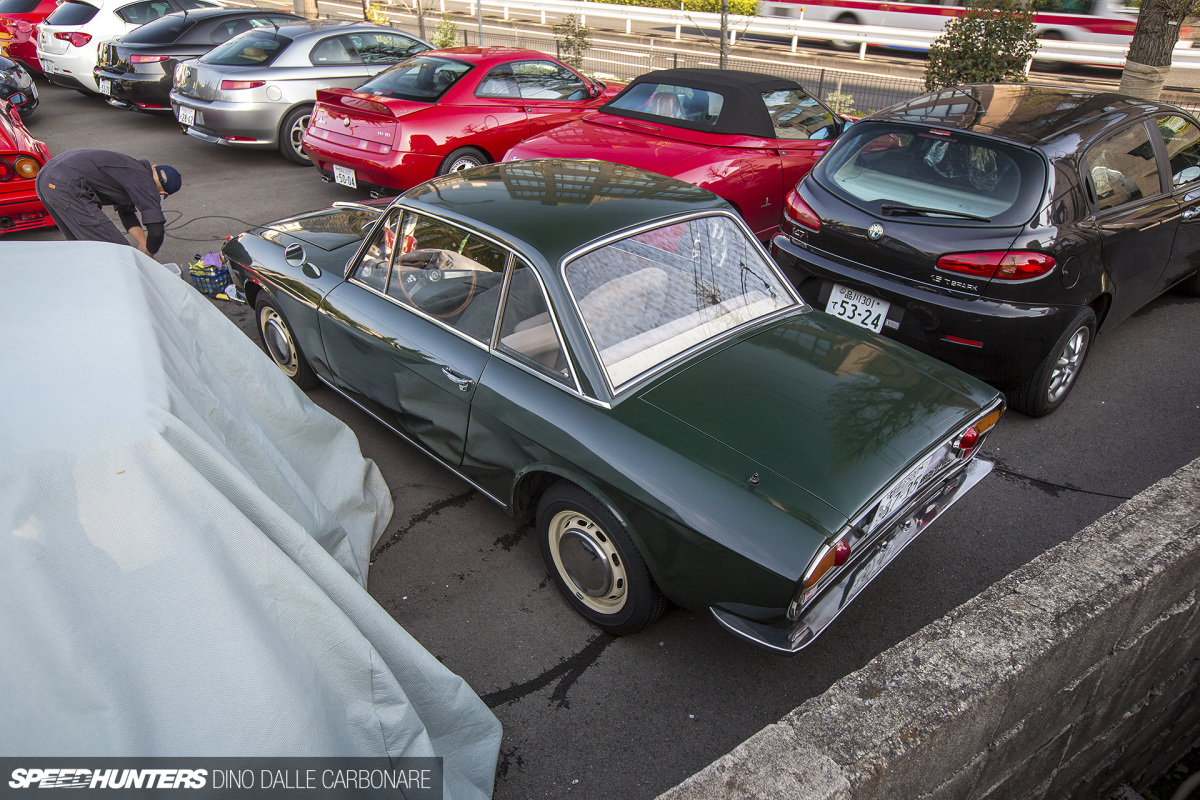 The Lancia Fulvia is from the same era, and it's another great enthusiasts car that was used for competition purposes – both in races and rallies – back in the day.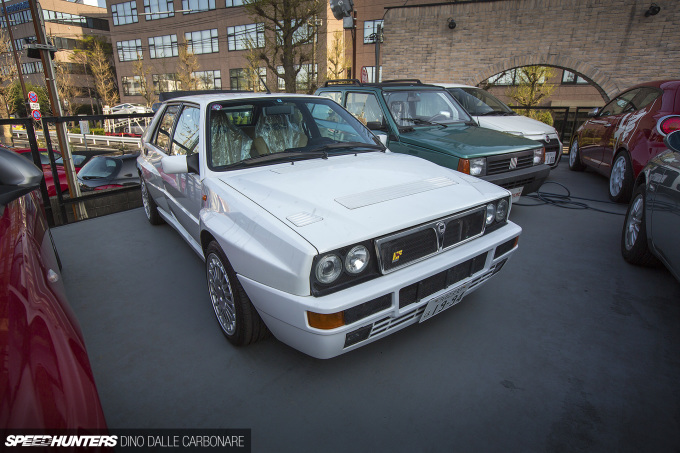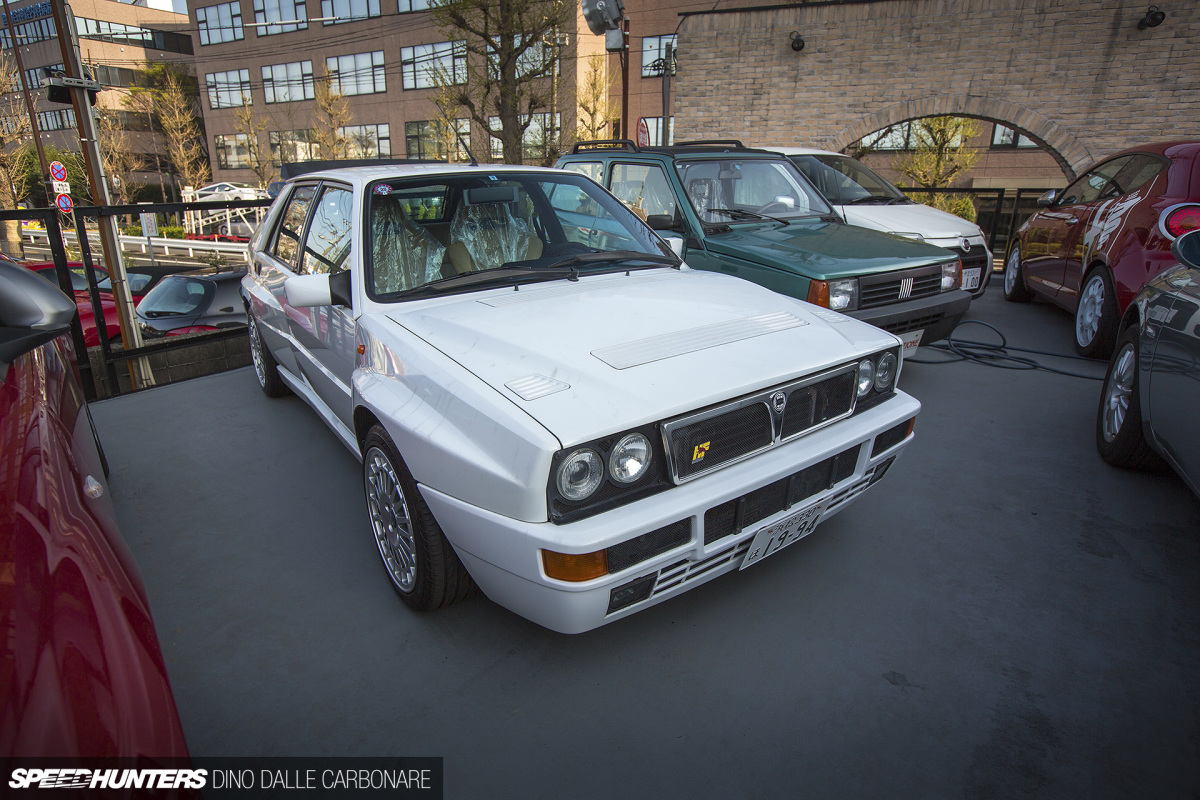 Another Delta Integrale, but this time in white with tan seats. Both this and the dark blue example I showed you a moment ago were in perfect condition and still even had plastic wrapping on some of their interior trim.
As I mentioned, Collezione deals with French cars too, and this Renault Alpine V6 Turbo is definitely one worthy of note. It has instantly recognizable styling and was quite a fast car in the late '80s when it was attempting to fend off competition from the likes of the Porsche 924 and 944. It's cool that Alpine is coming back in the next few years with a production version of the Vision concept.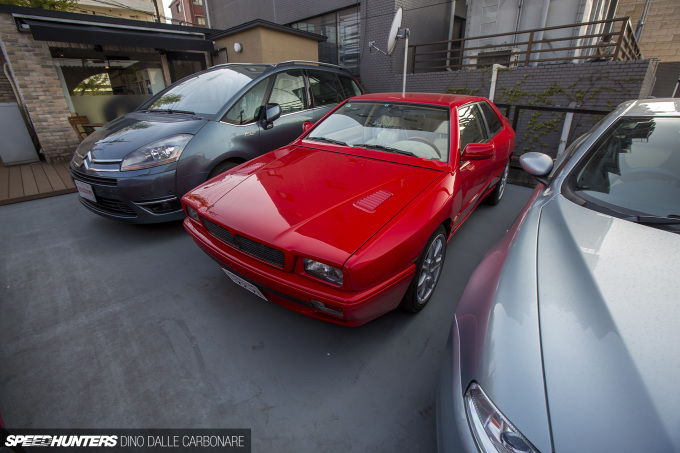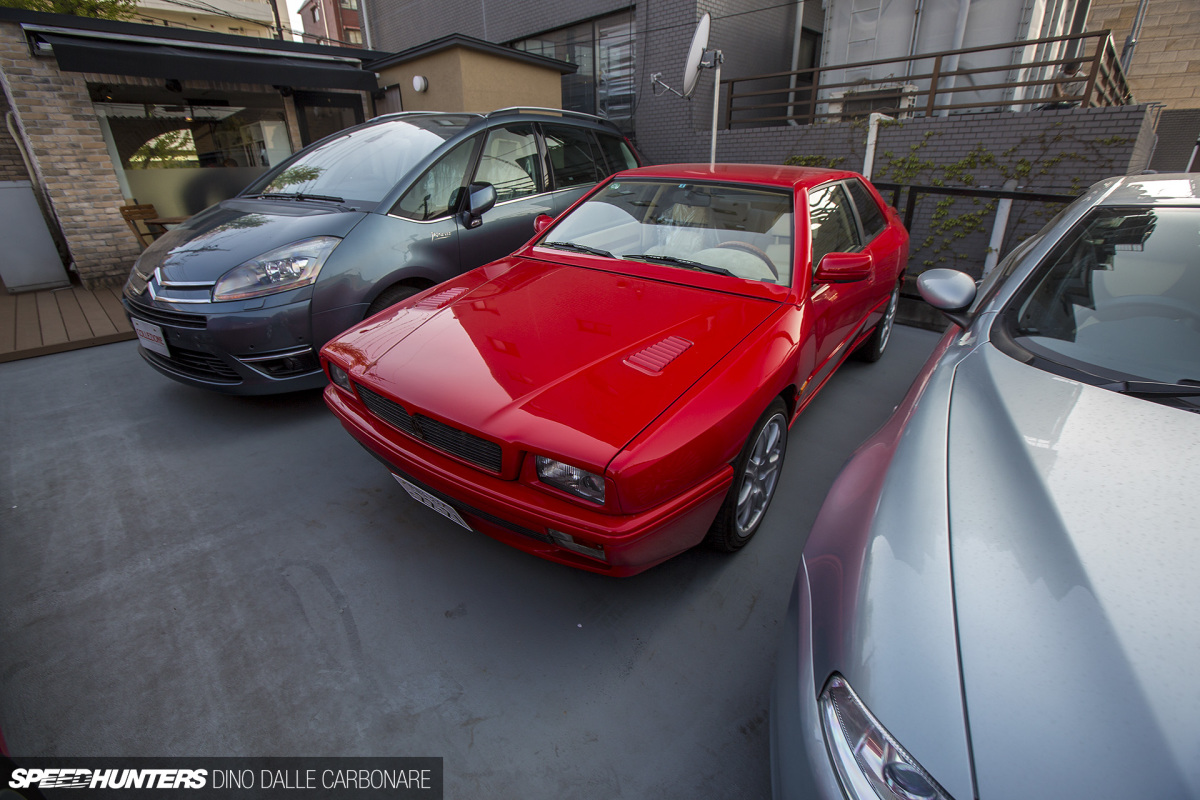 One car that did make a return in a slightly better form is the Maserati Ghibli. Throughout the '80s and '90s Maserati did nothing but struggle, even if in retrospect it did come out with some very unique looking cars. Now the Ghibli has grown, has become a four-door sedan, and is way more reliable than this mid '90s iteration ever was.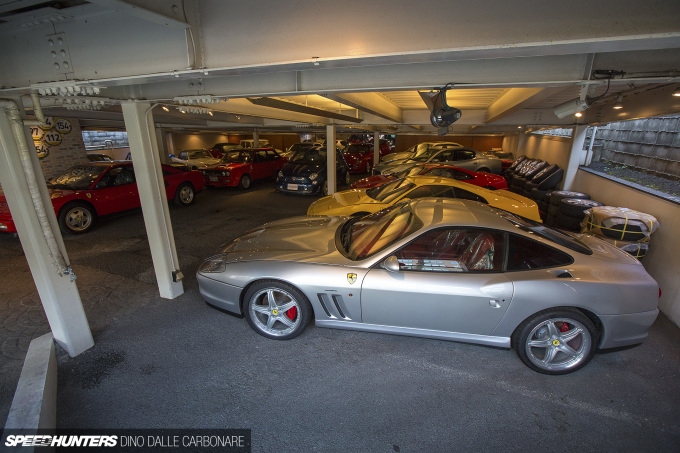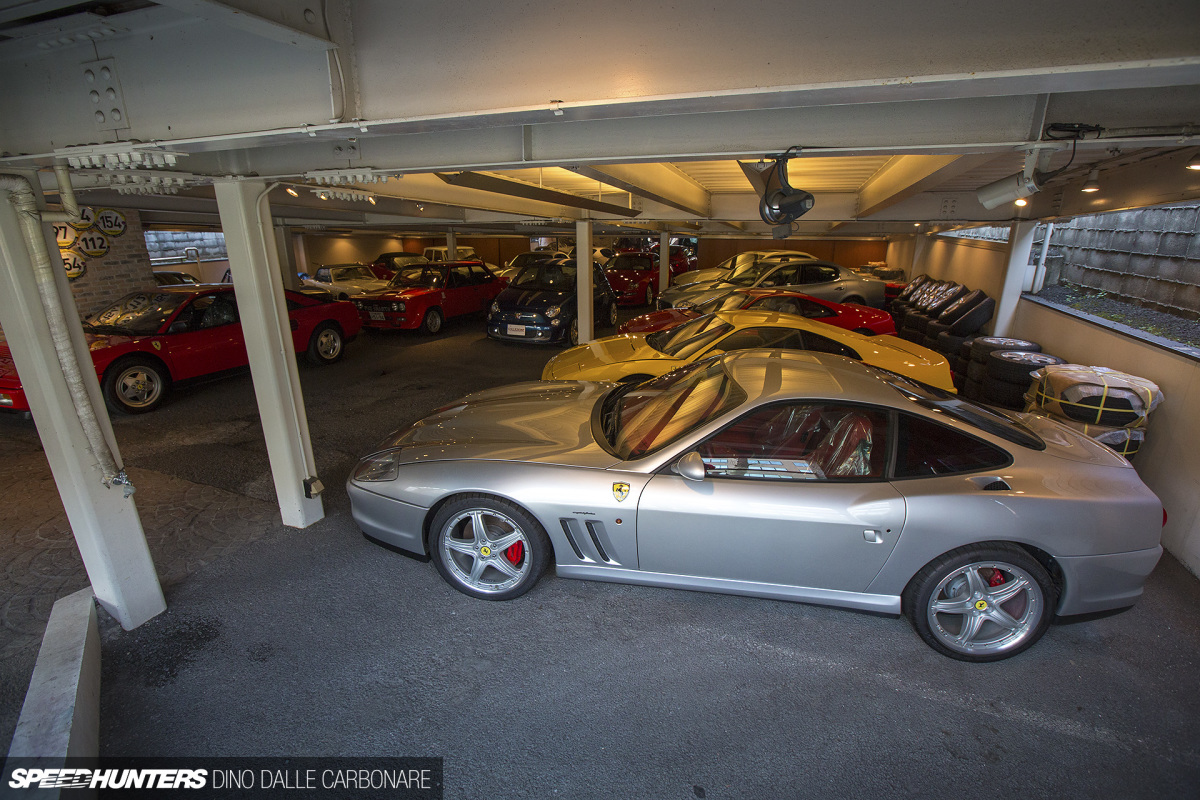 Knowing I had saved the best of Collezione for last, I couldn't wait to check out what was downstairs.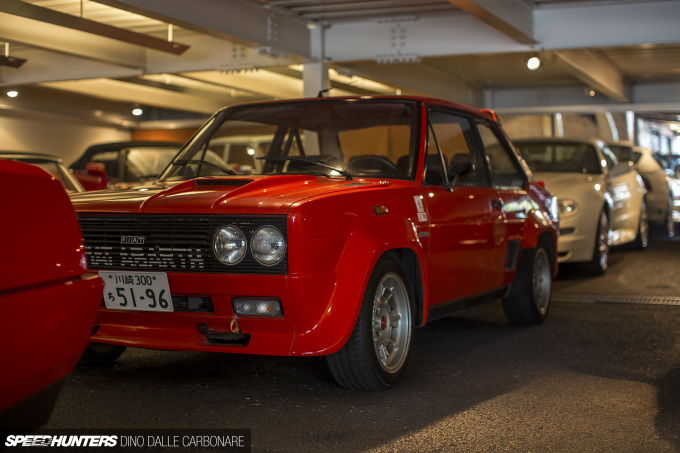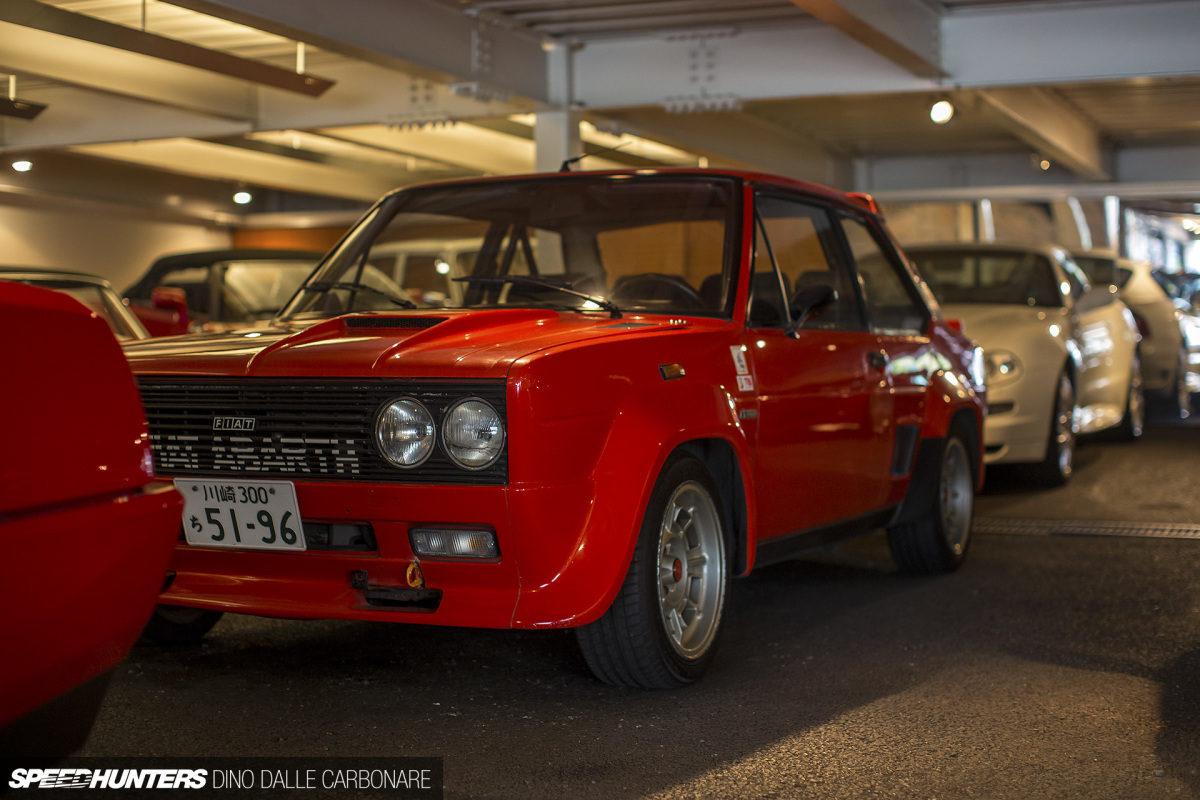 It was this car that I had seen from a distance. The Fiat 131 is a bit of a special one for me, as my father used to have a 1.3-liter Mirafiori as a daily driver. That was the car I learned to drive in, and being rear-wheel drive  – unlike the stuff that we see coming out of Torino these days – it provided me with some fun times too.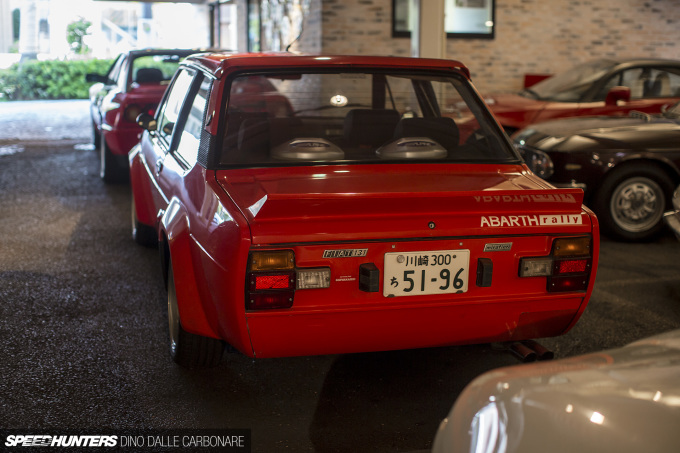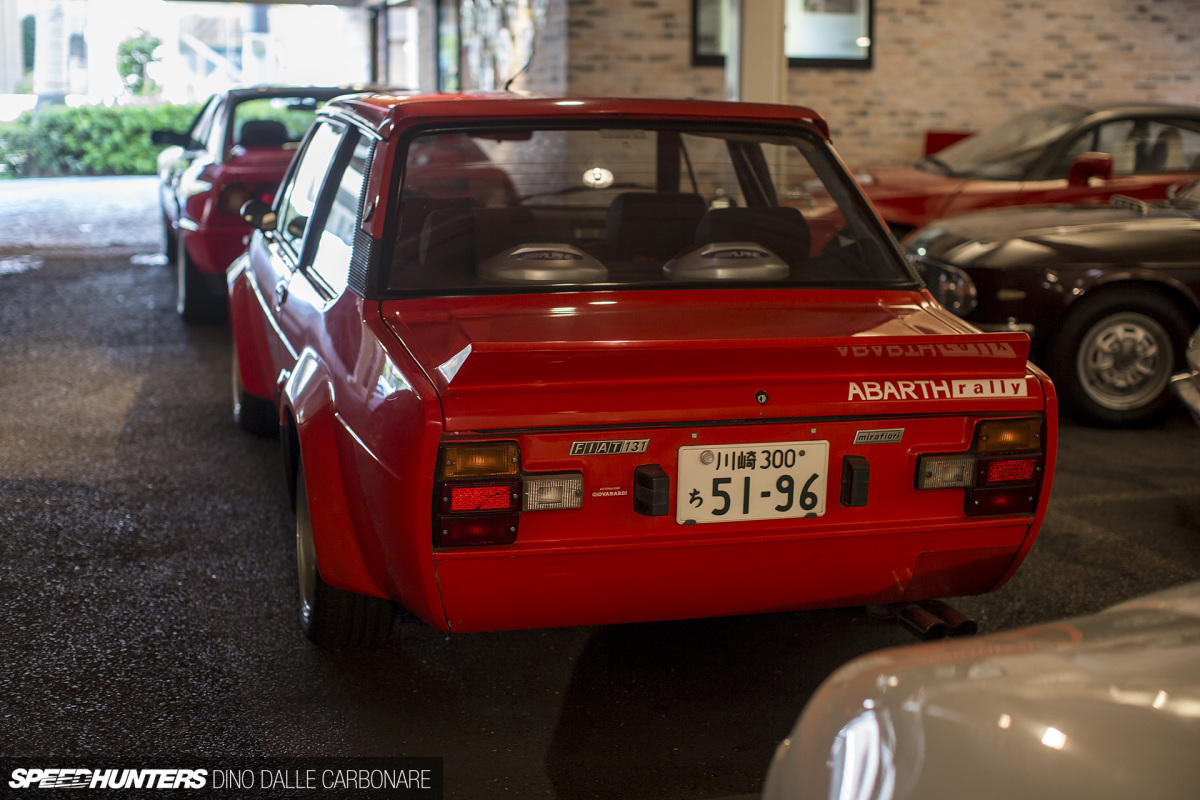 This 131 is an Abarth version, the homologation model for the Group 4 rally car that won the World Rally Championship three times in 1977, 1978 and 1980. It's a big deal for Fiat rally aficionados, but also just looks so cool with its pumped fenders and trunk spoiler. This is definitely one car I'd love to have in my collection.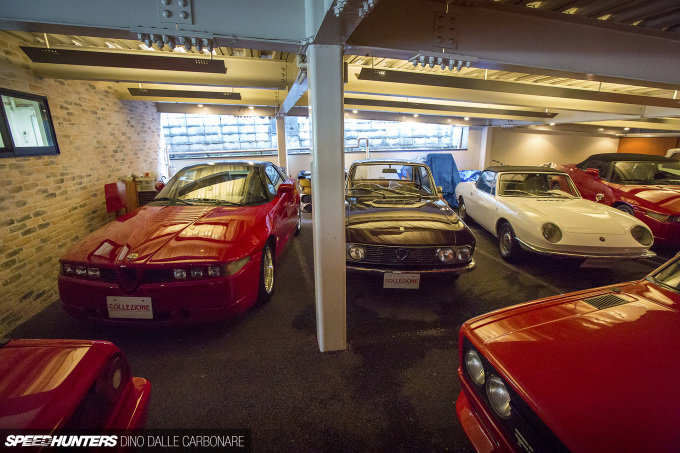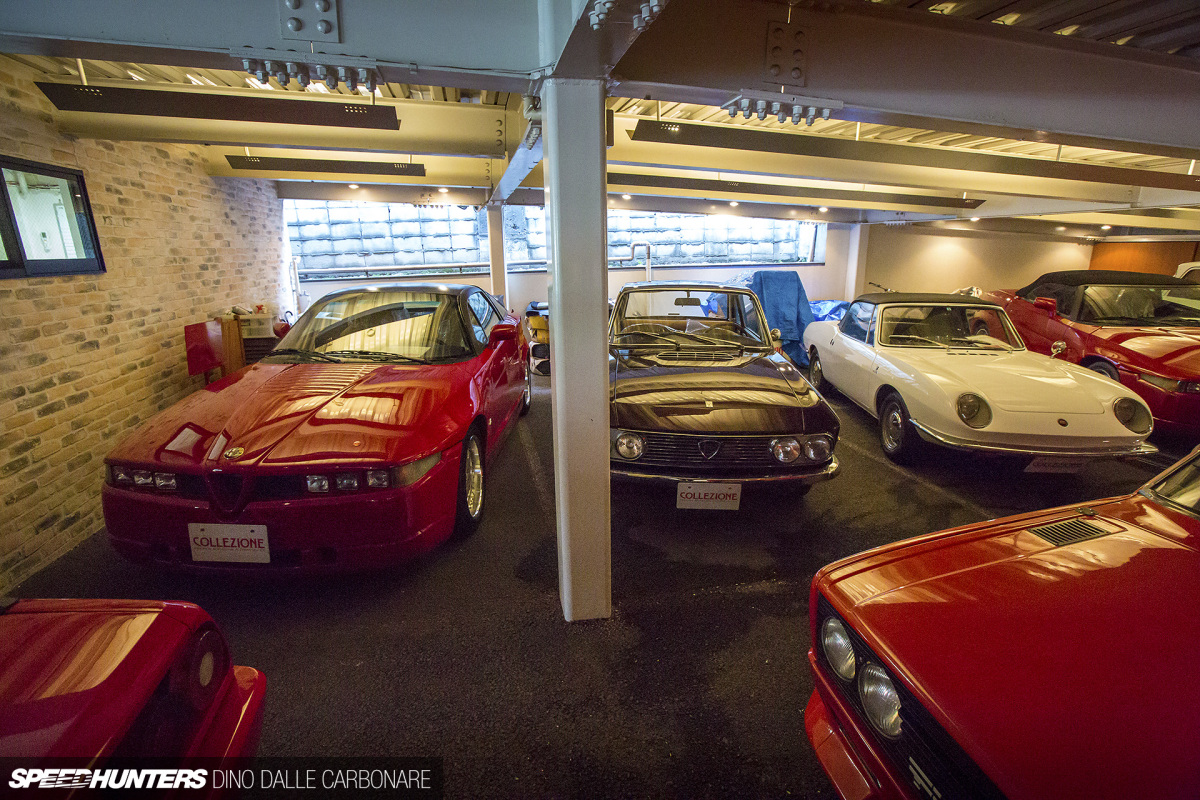 The rarities didn't end there; from the left we have the Alfa SZ, another Lancia Fulvia…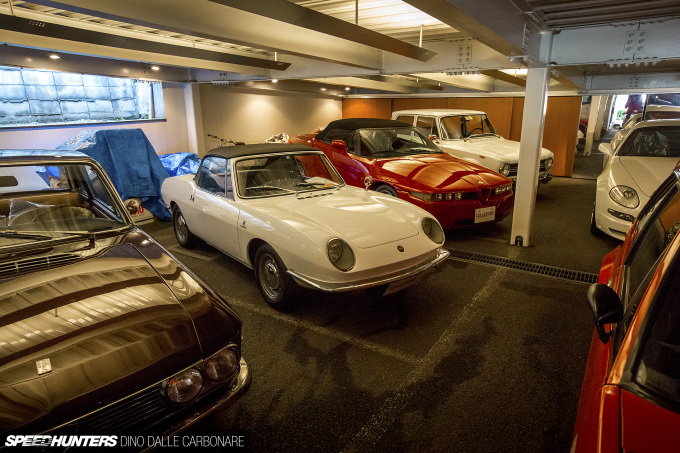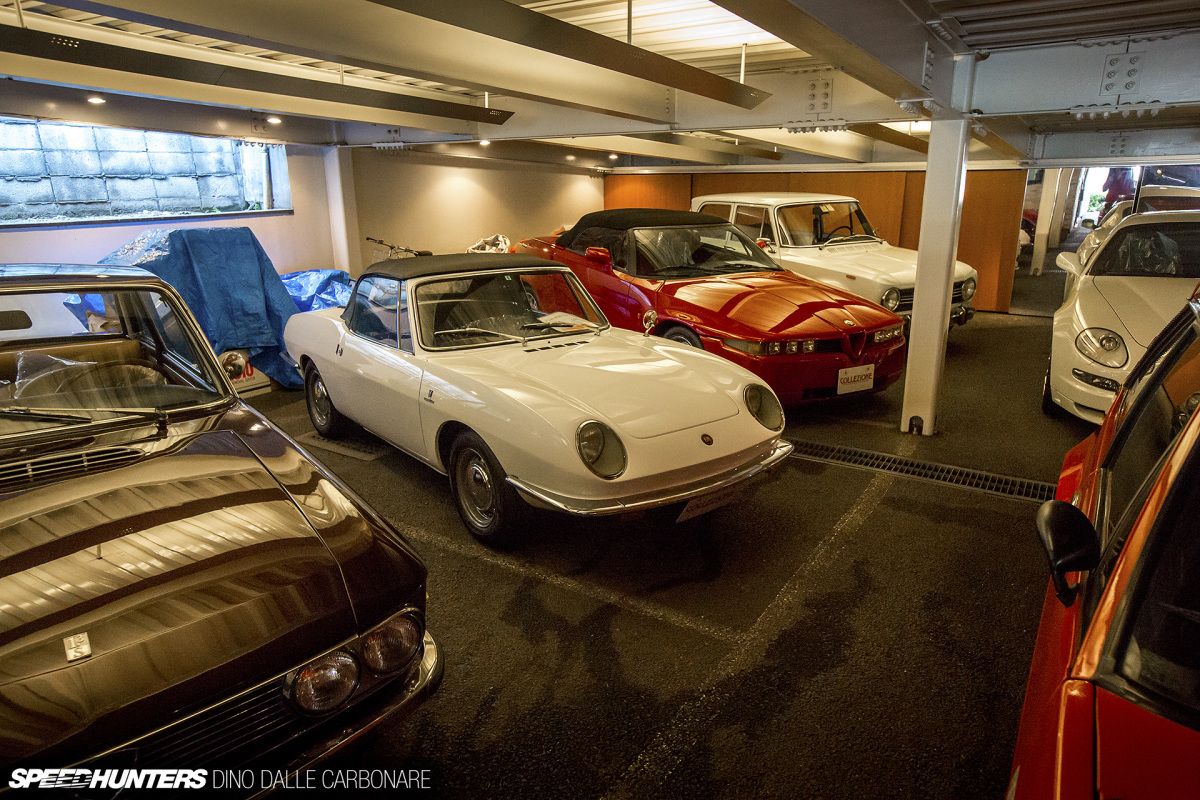 Plus a Fiat 850 Spyder, an Alfa RZ (the soft-top version of the SZ) and a Giulia sedan.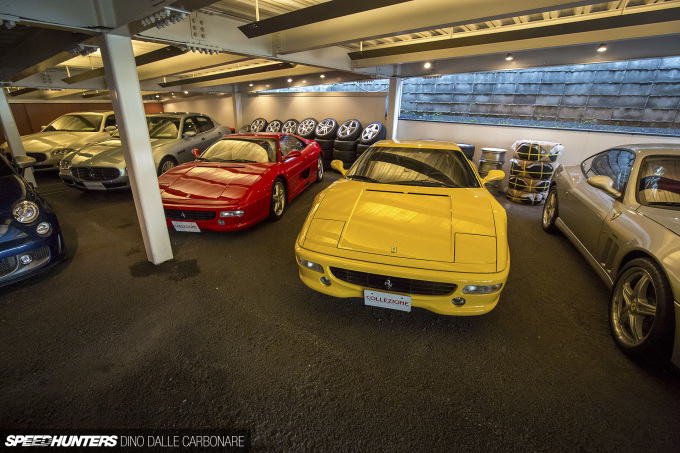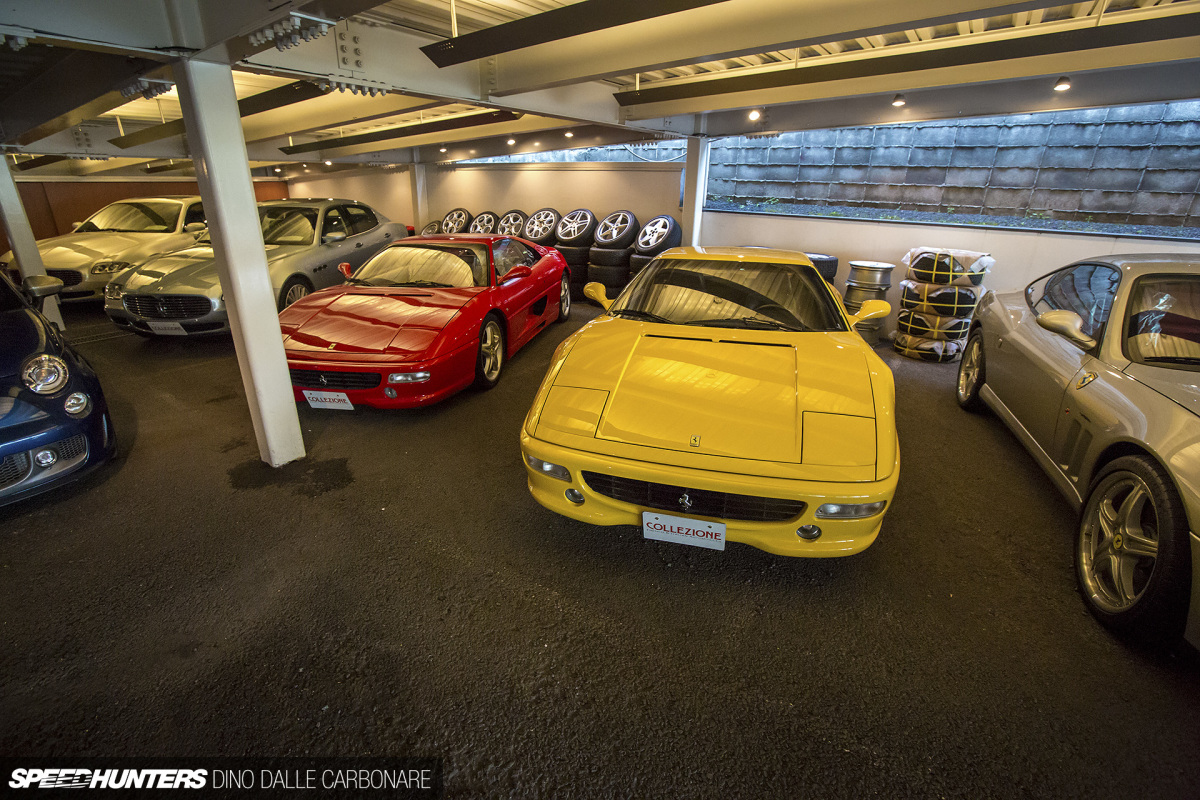 So much awesomeness in one place and all topped off by two Ferrari F355s. I had to leave though, as there were still a few more shops to visit before the afternoon was out.
A Slice Of Britannia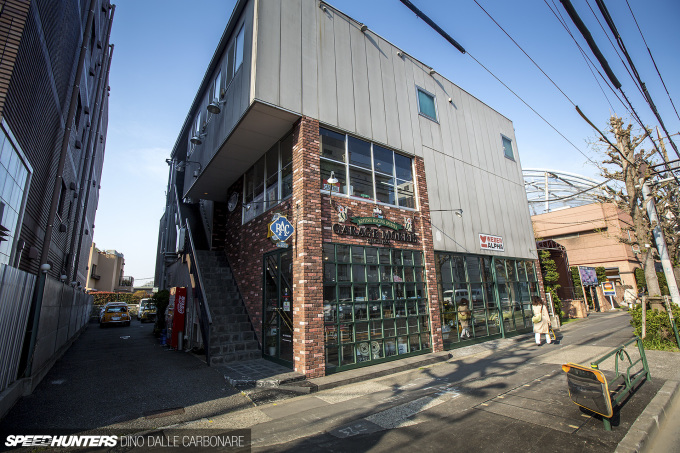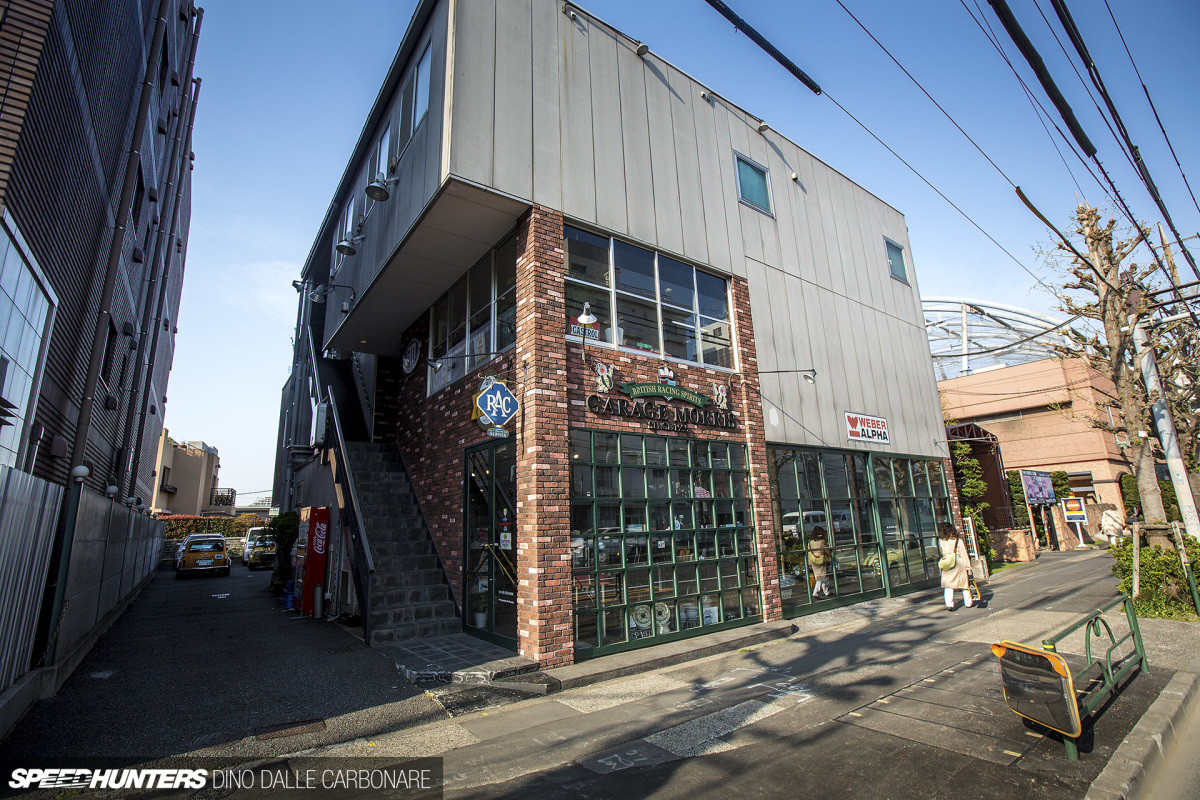 A few kilometers down the road I found another good reason to jump off the bike, park up, and grab my camera from my backpack.
Garage Morris is a shop specializing in all things related to the good old Mini, a car that has a massive following in Japan. 'Doesn't everything though?' you're probably asking, and the most accurate answer would be yes. The Japanese know what they like and go all out; it's the way of the otaku.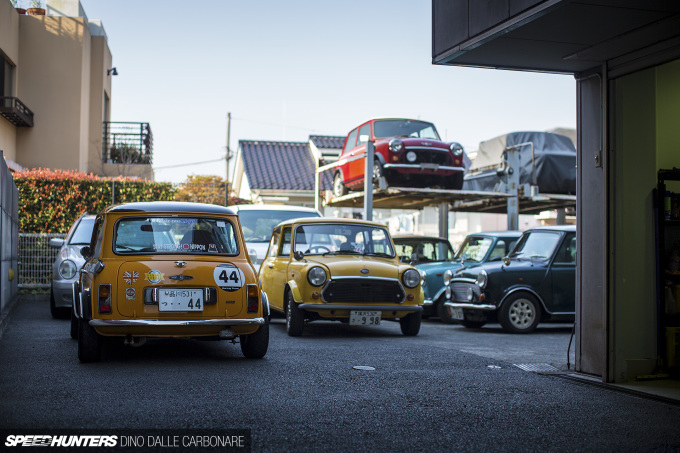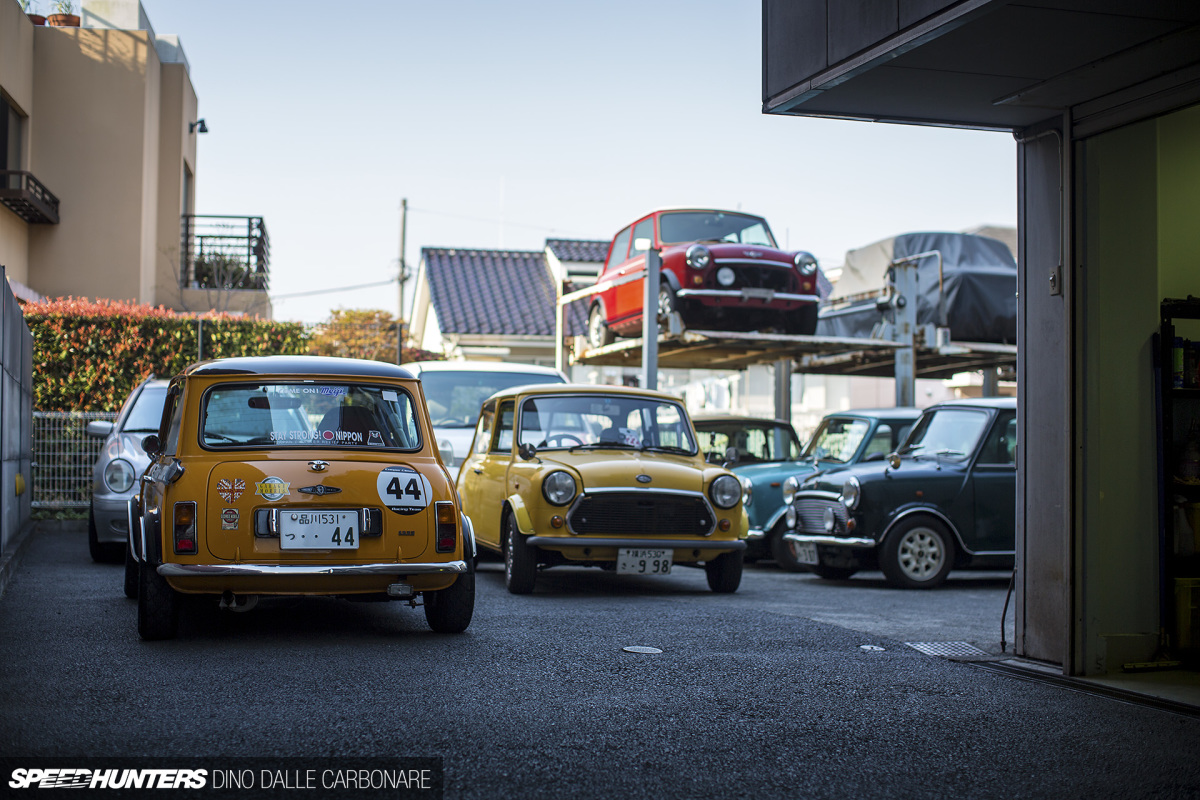 Before stepping inside, I took a quick look at the back of the building where quite a few Minis were parked up. Along with maintenance and tuning services, Garage Morris also sells cars.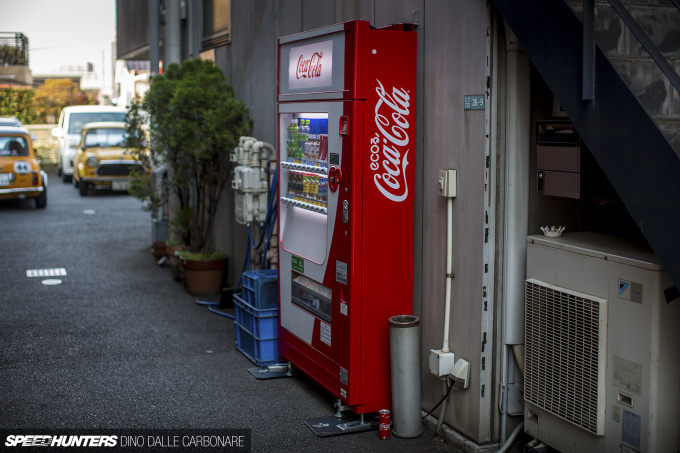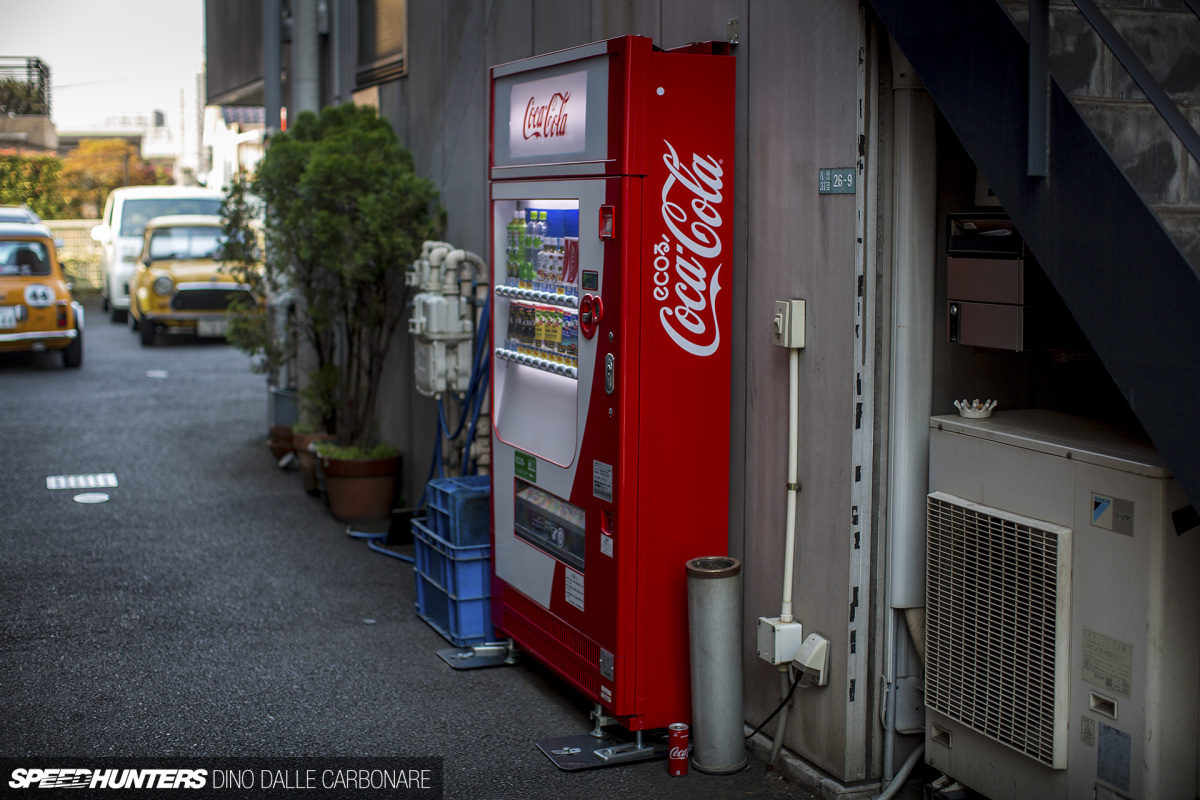 I just had to throw this in – the world's thinnest vending machine perhaps?
Going back to the subject of cars for sale, you can see some of Garage Morris's stock through the big shop window.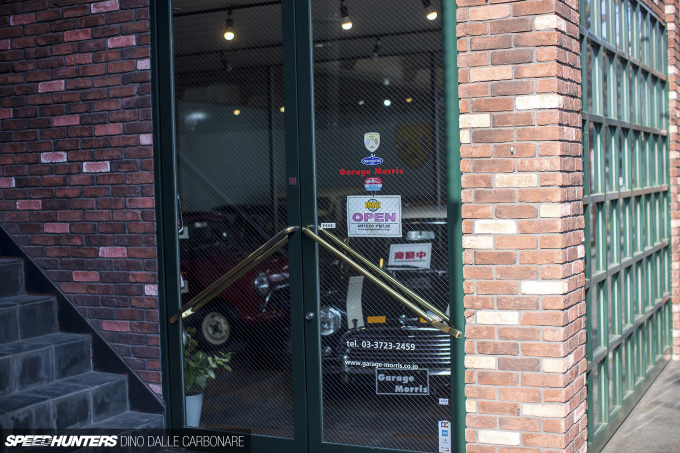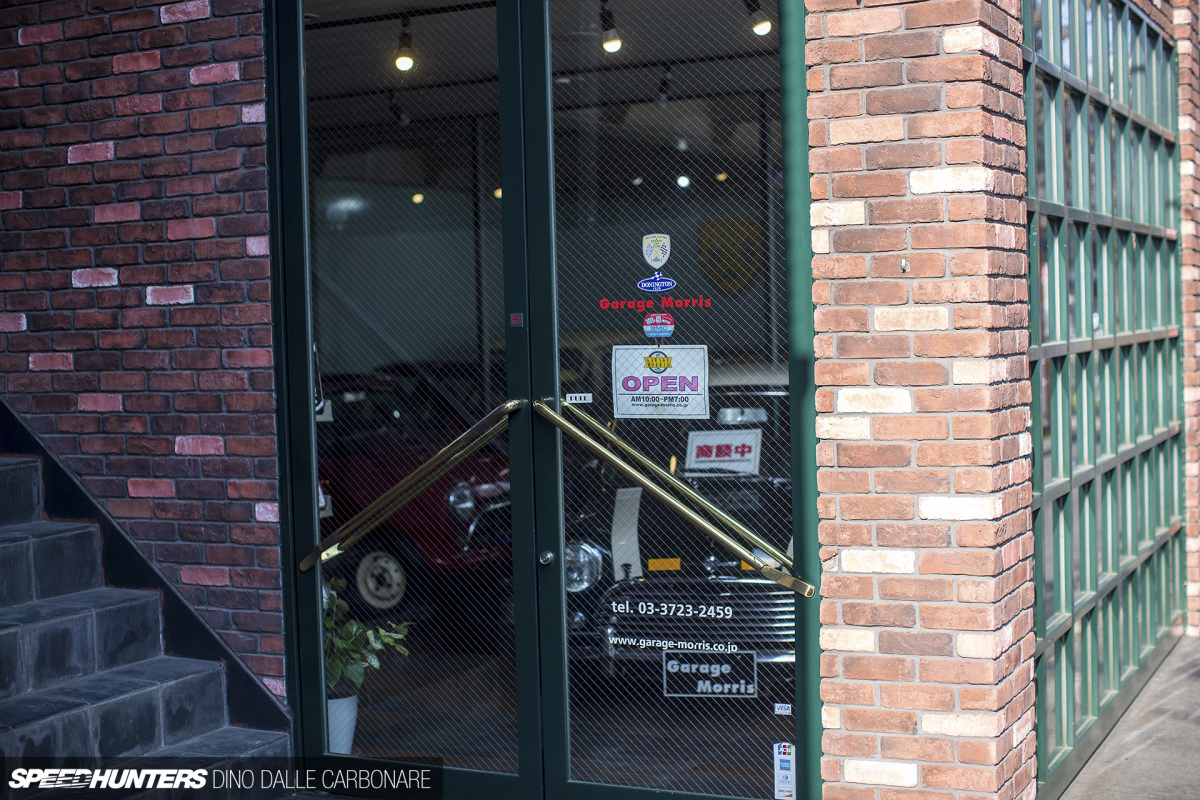 Time to go in!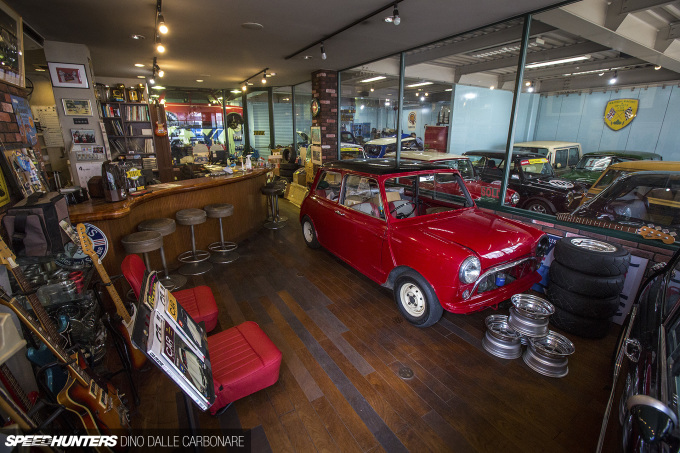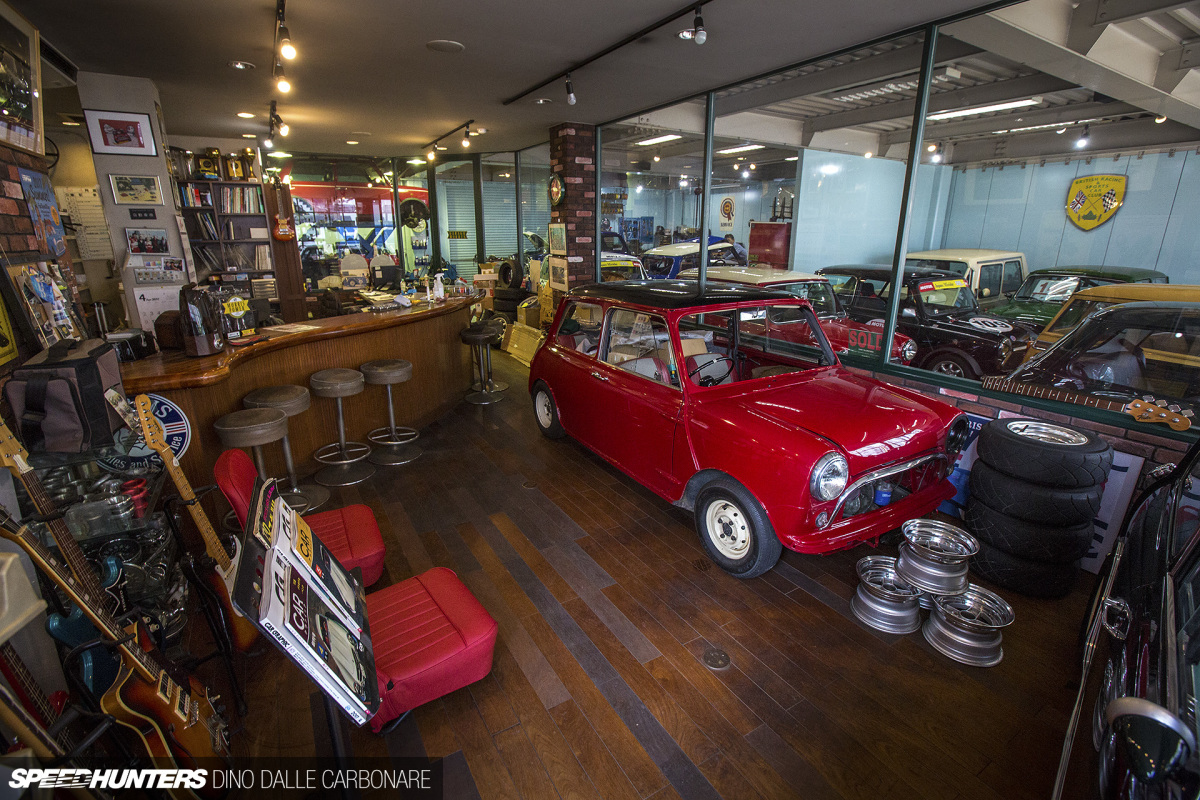 The ambience in this place blew me away; one second I was negotiating a busy Tokyo street and the next I was experiencing a little slice of England.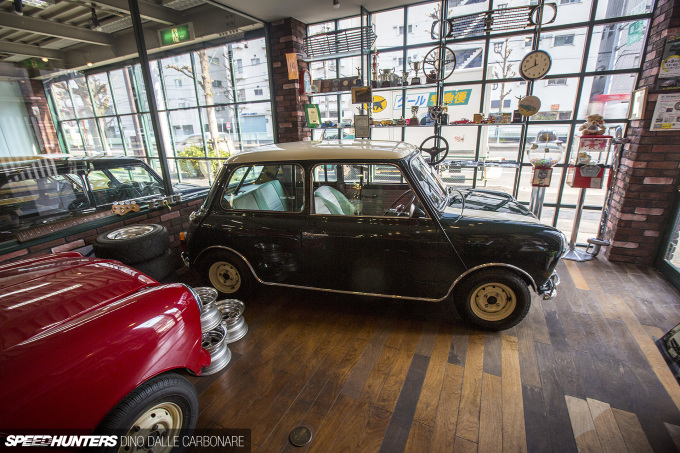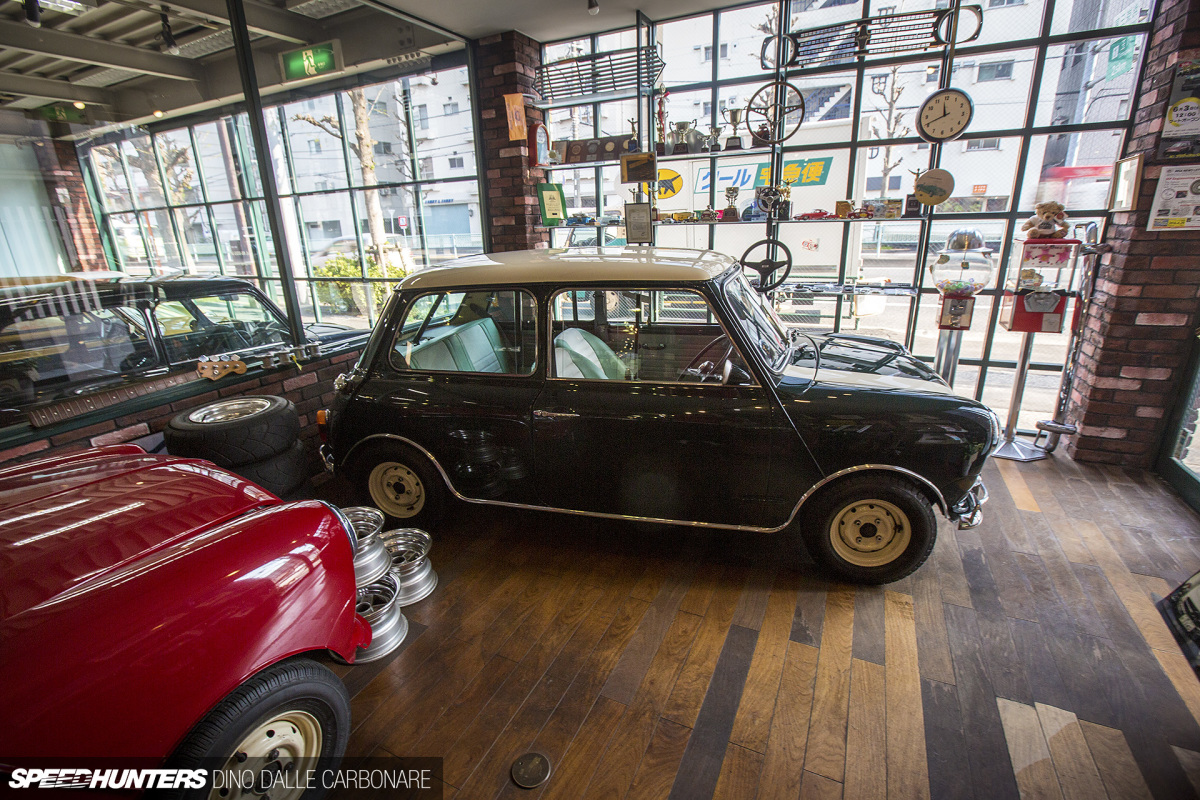 I quickly asked the owner if it was cool to grab some shots and was met with a friendly "dozo!" They must have realized I was a car guy, because what else would I be doing there with a big DSLR in my hands?!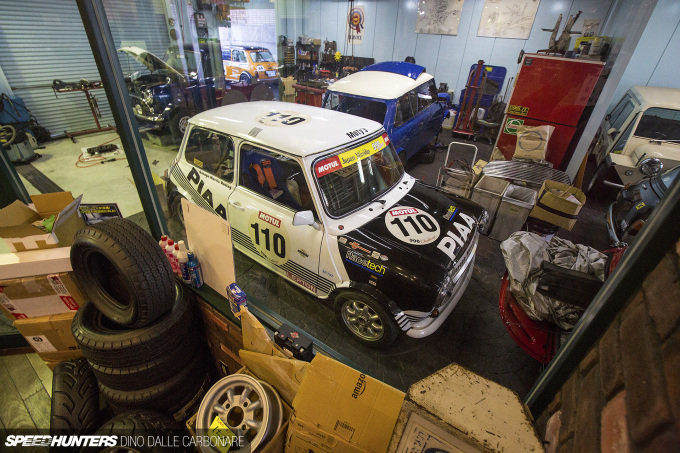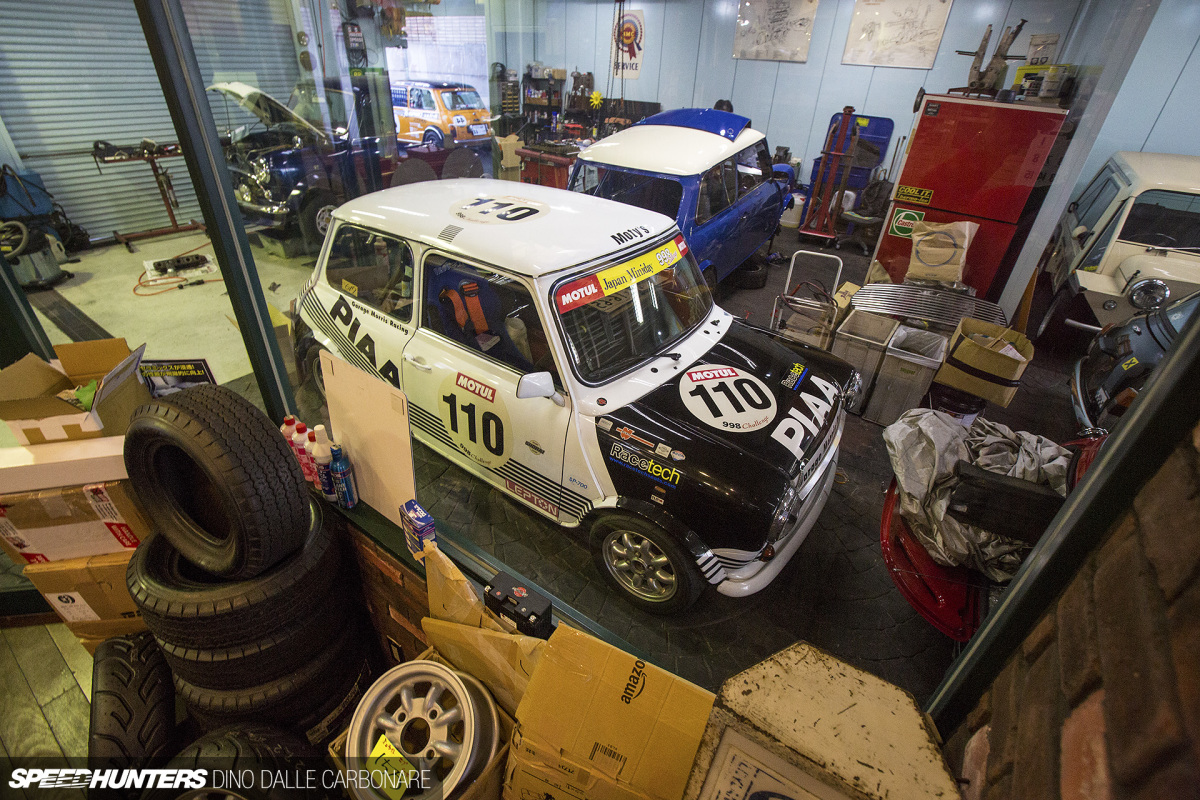 Through the glass separating the workshop I spotted this race car being worked on.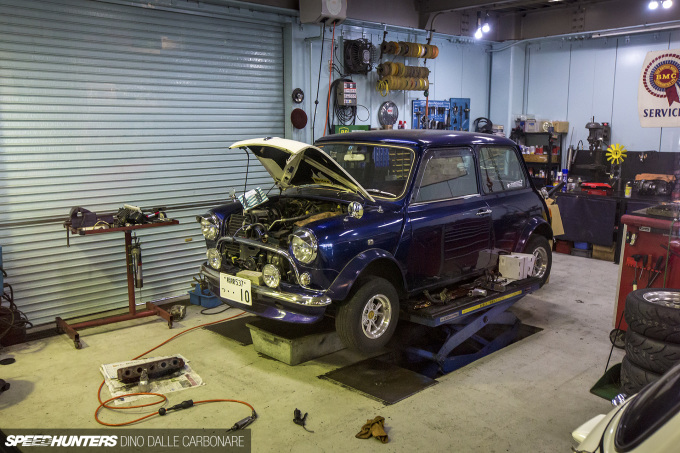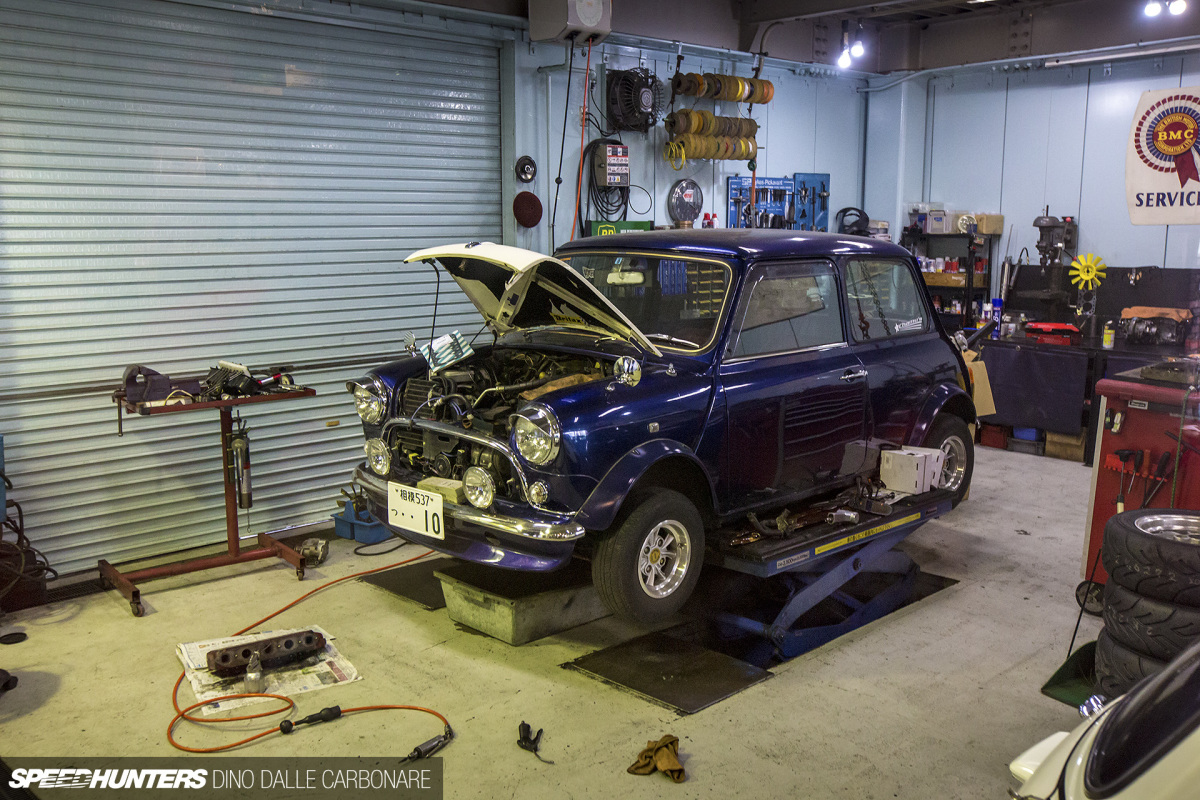 There was also a street car sporting a souped-up engine and a proper stance for a Mini.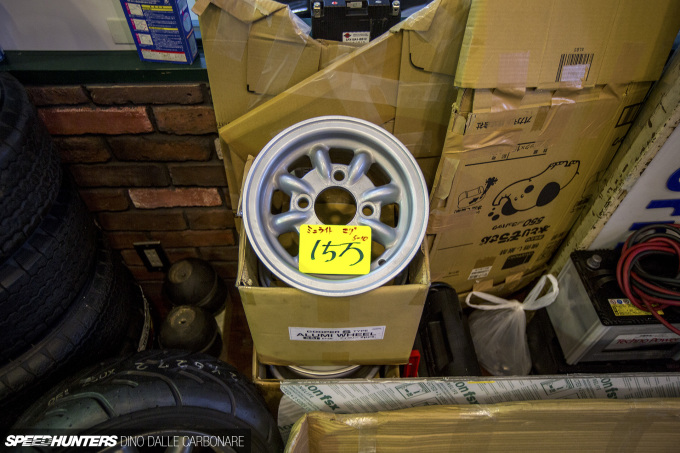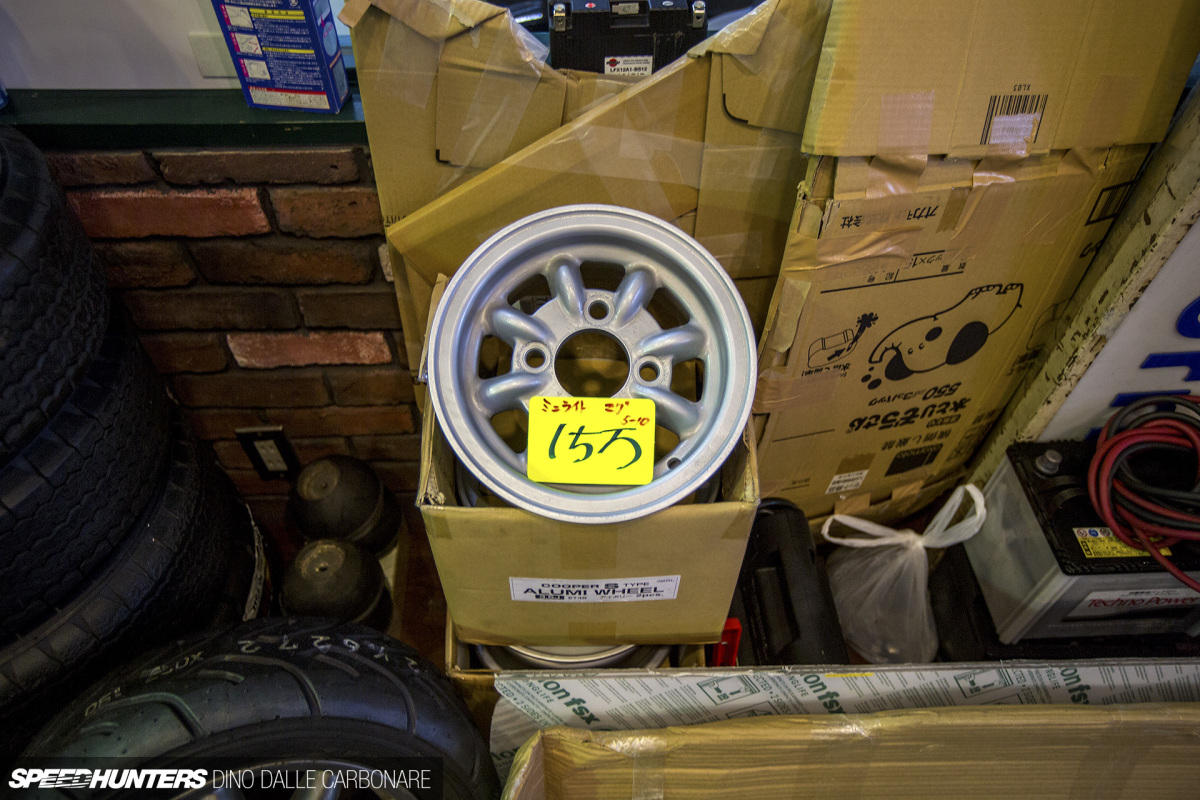 10-inch rims, anyone?!
Time For Some Collectables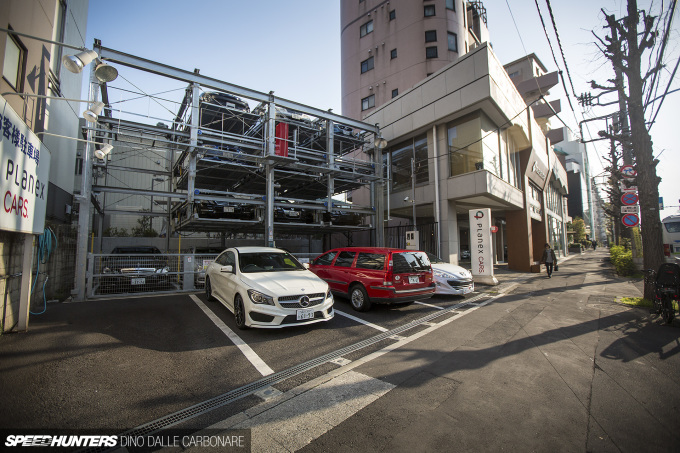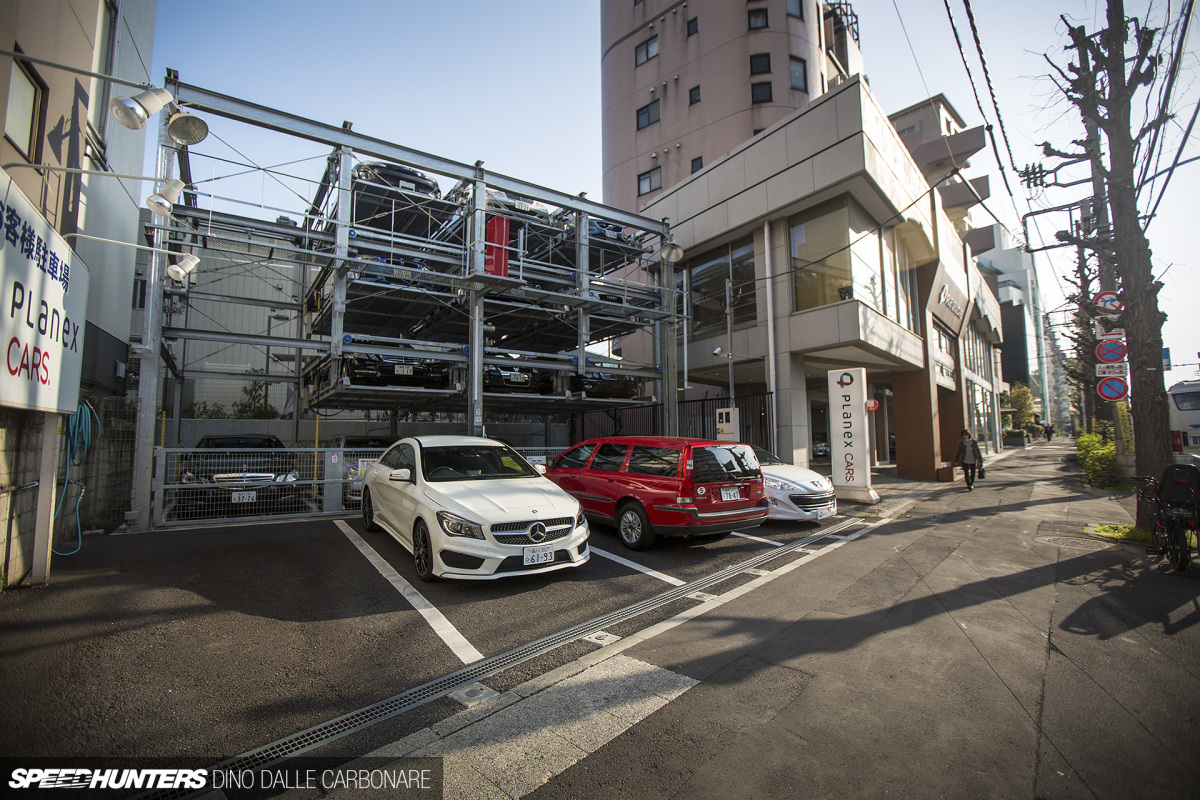 My next port of call was quite a distance down Meguro-dori and required me to cross over the other side of the street.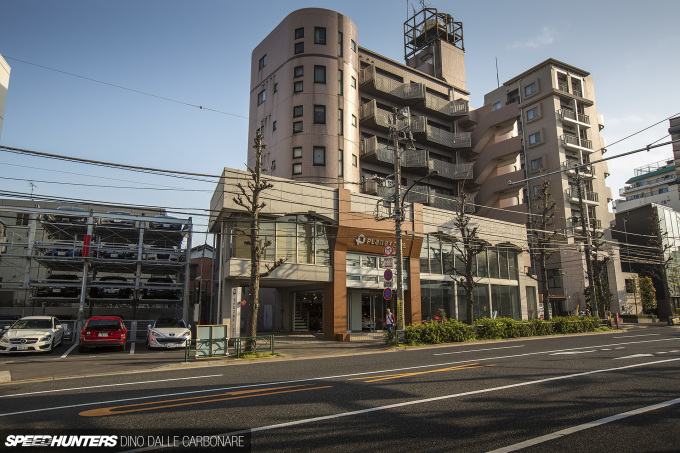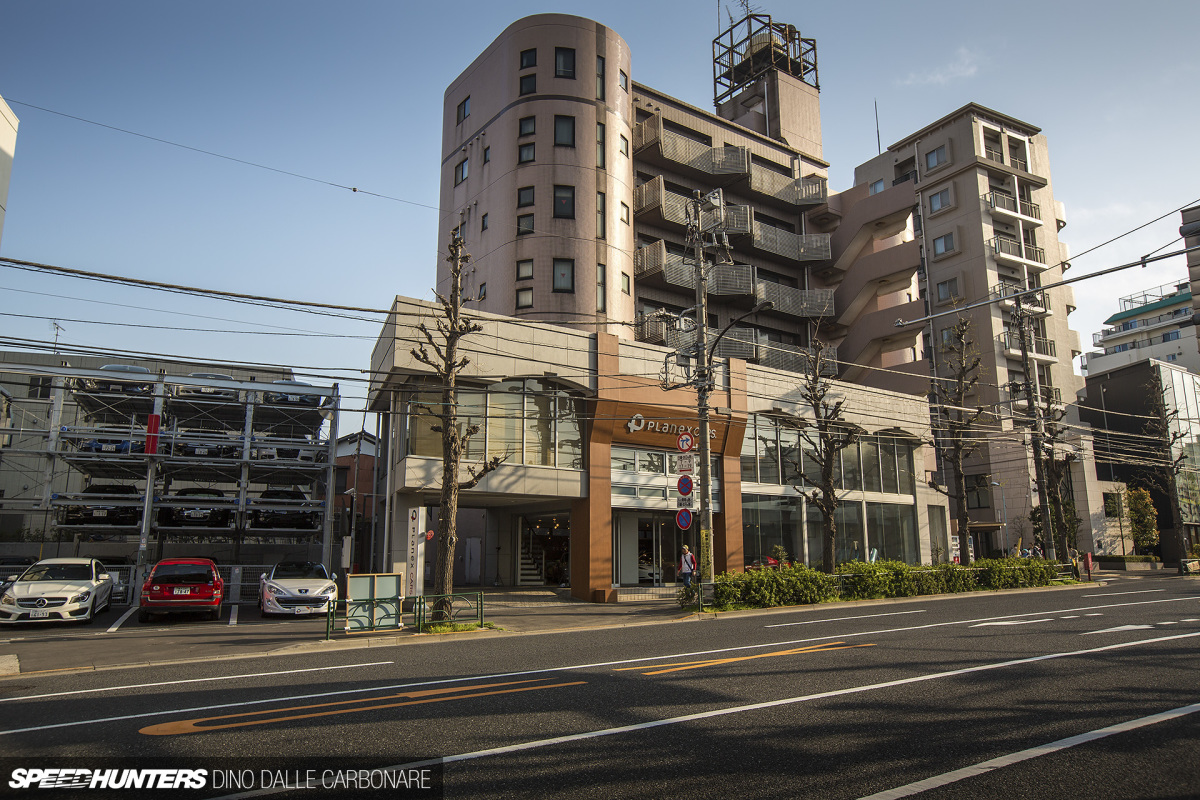 Planex Cars is yet another specialist dealer; they deal and trade in the more collectable type of car, but usually mixed in with the exotics are more run-of-the-mill models, many of which are trade-ins.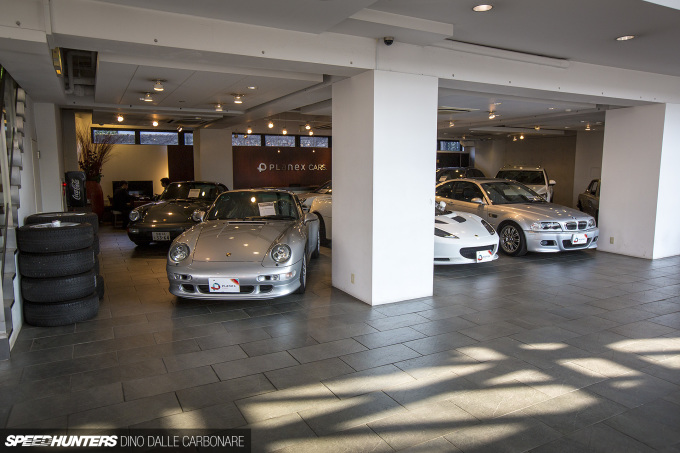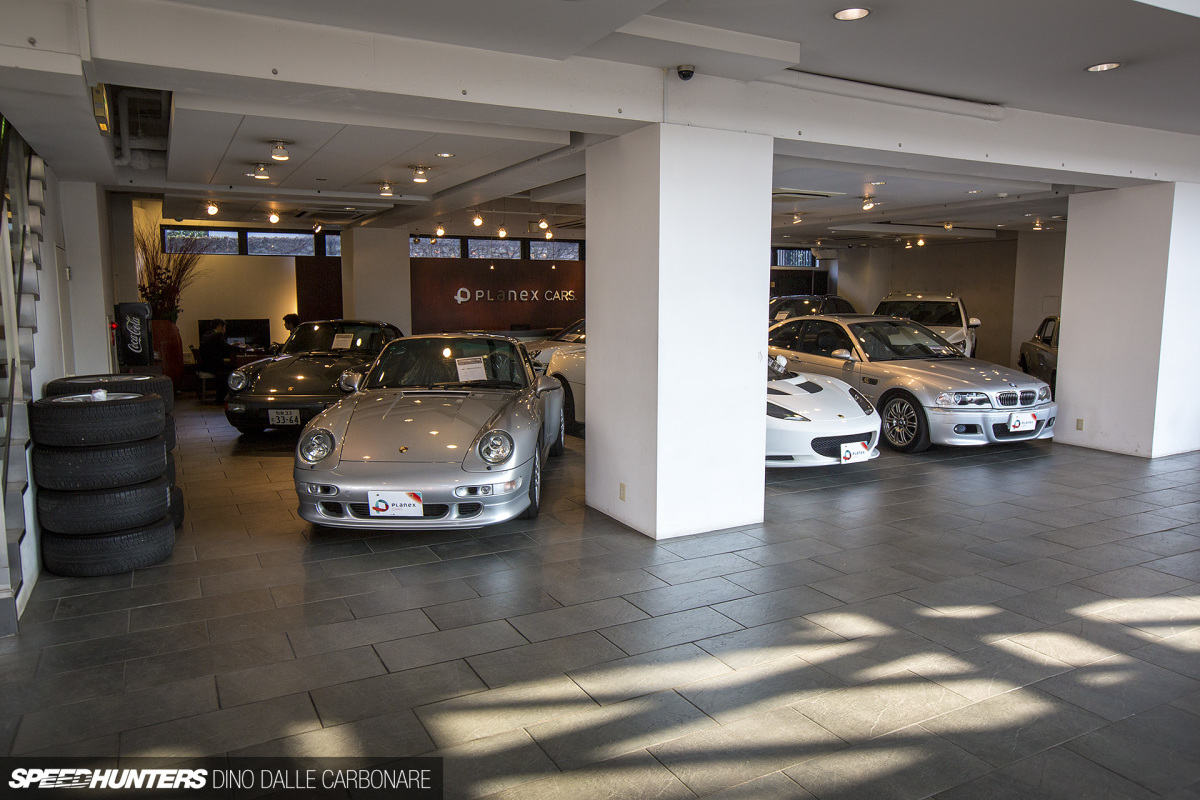 A few days prior I had seen what looked like a Top Secret-kitted R35 GT-R sitting centerstage in the showroom, but on the day I visited it was nowhere to be seen.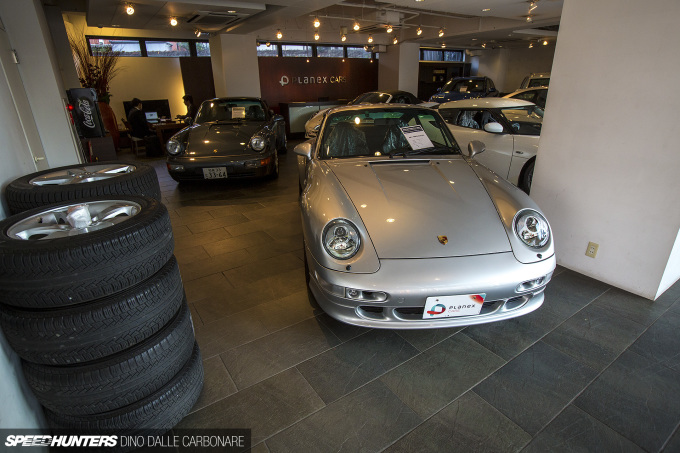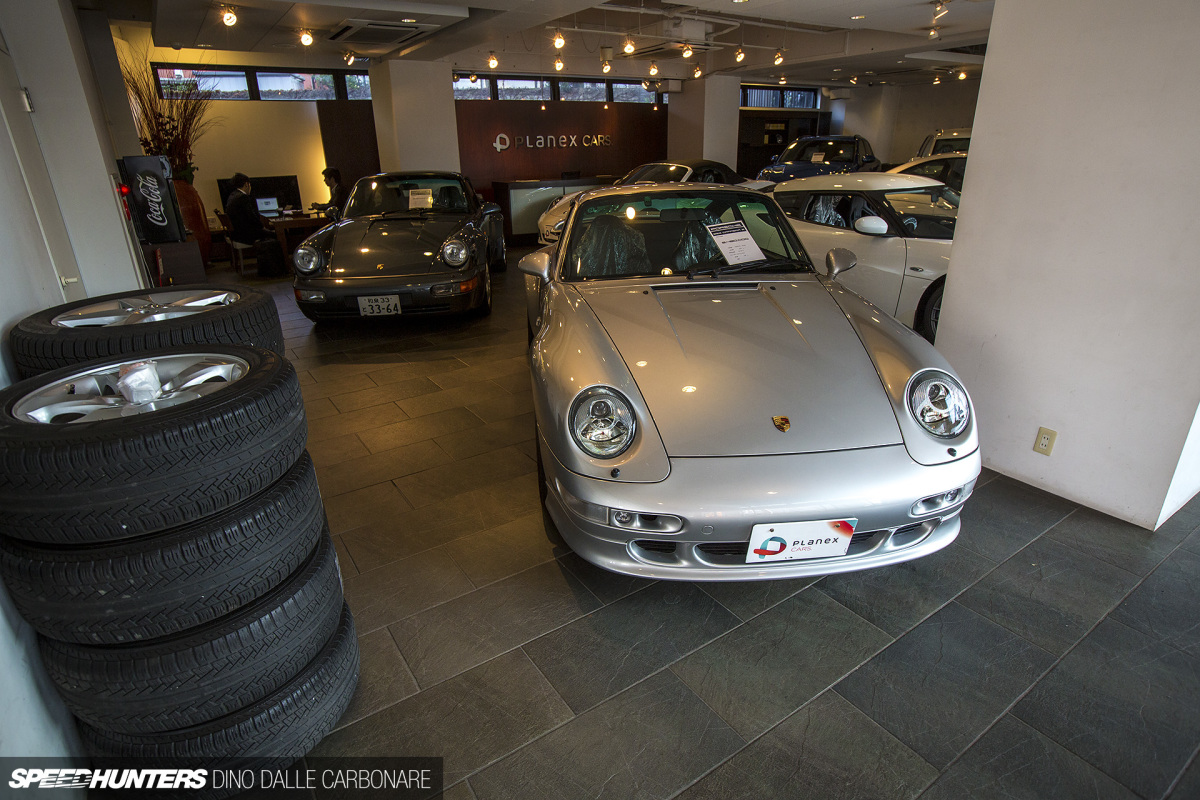 With 911 mania finally having made it to Japan, the value of older models has come right up on par with the rest of the global market. The only difference being that a lot of the cars you'll find in Japan have substantially less miles on the clock as you just don't drive big distances in Japan – you spend most of your time just idling at red traffic lights!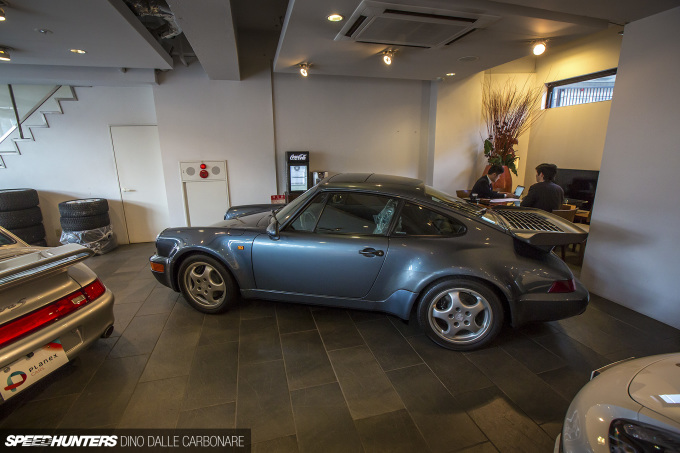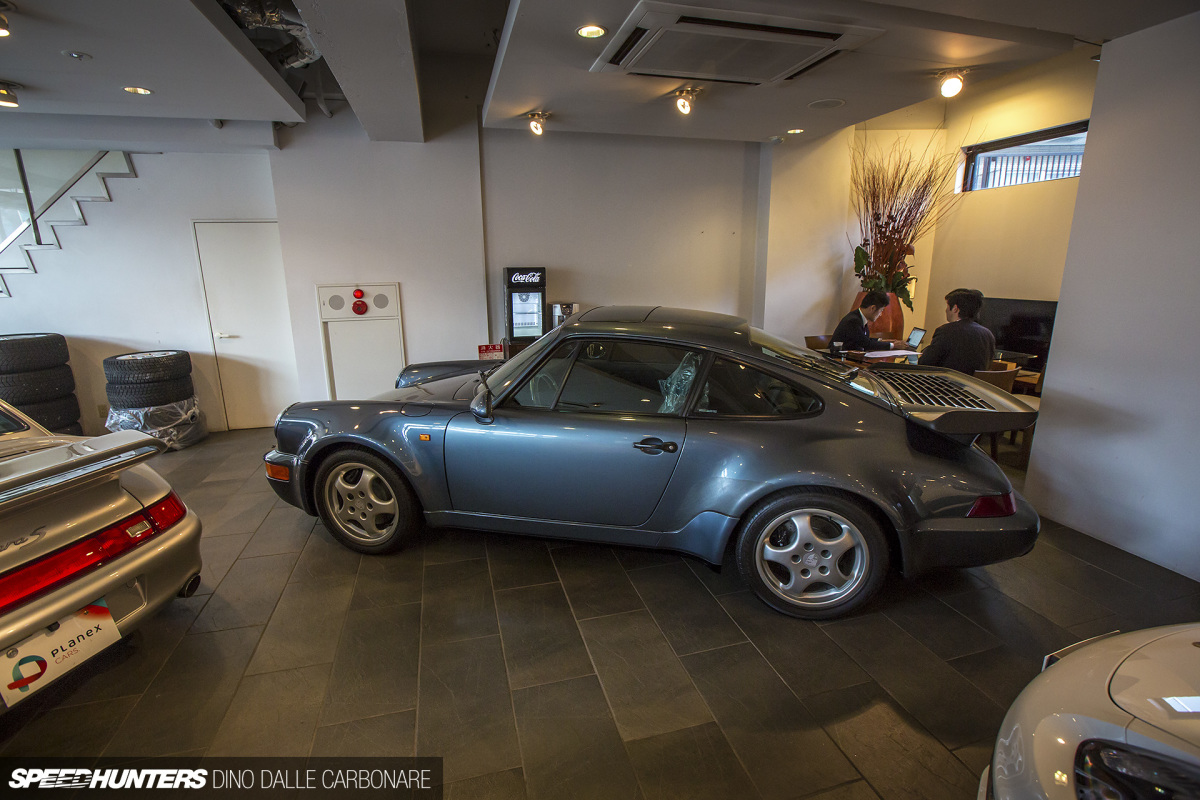 This 964 Turbo was pristine in every sense of the word. It had just 35,000km on the odometer and a sticker price of just over $150,000 US.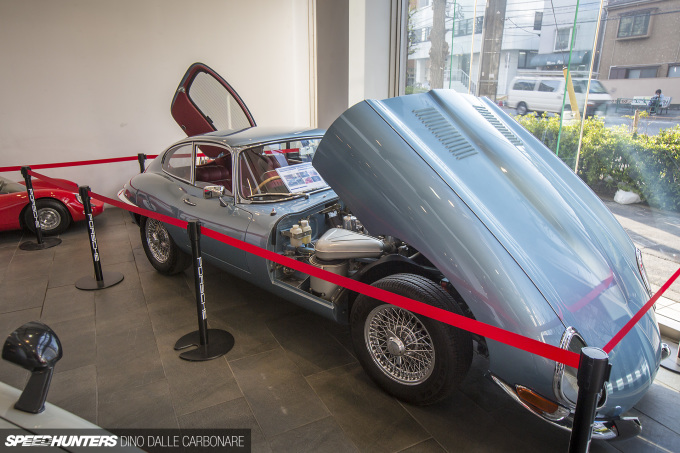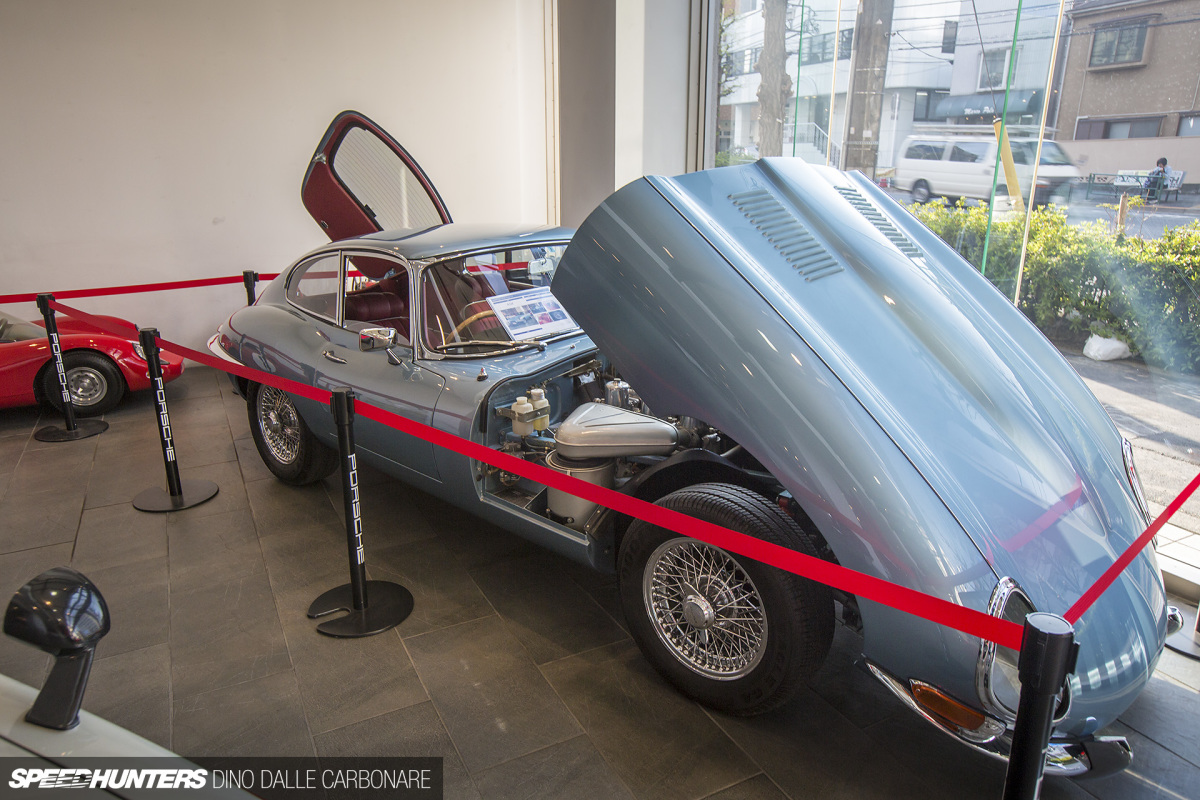 Right by the shop's window was this absolutely gorgeous Series 1 Jaguar E-Type coupe.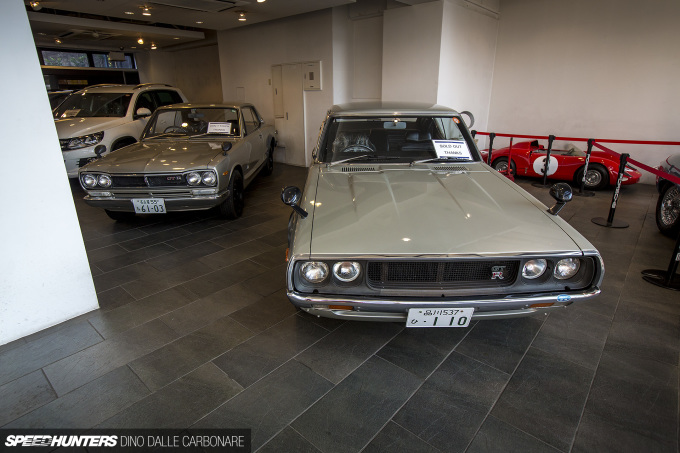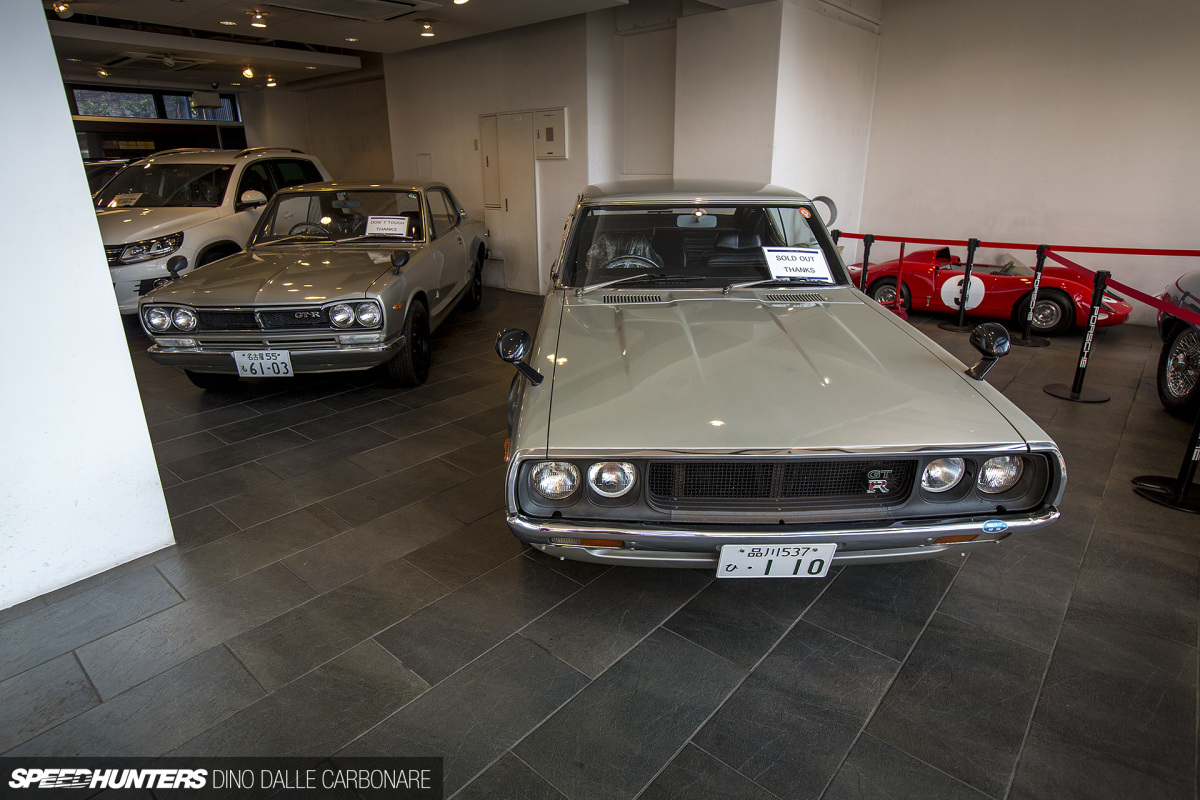 It almost made the two GT-Rs parked nearby look ugly by comparison, but then again the KPGC110 Kenmeri and KPGC10 Hakosuka were never made to be pretty. Just like the GT-Rs that followed, these cars were all about functional performance and brutal aggression.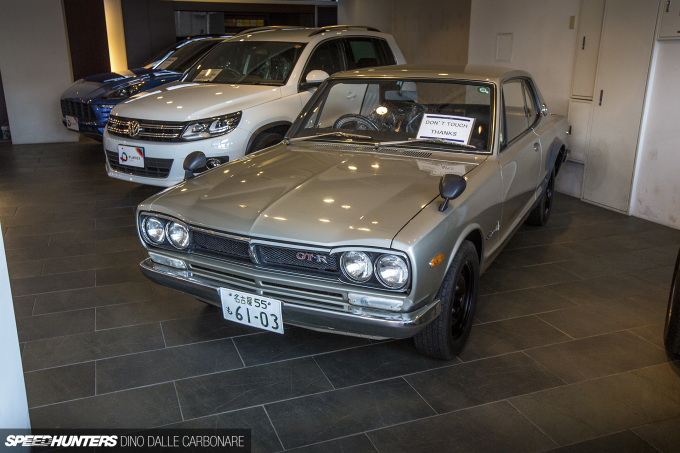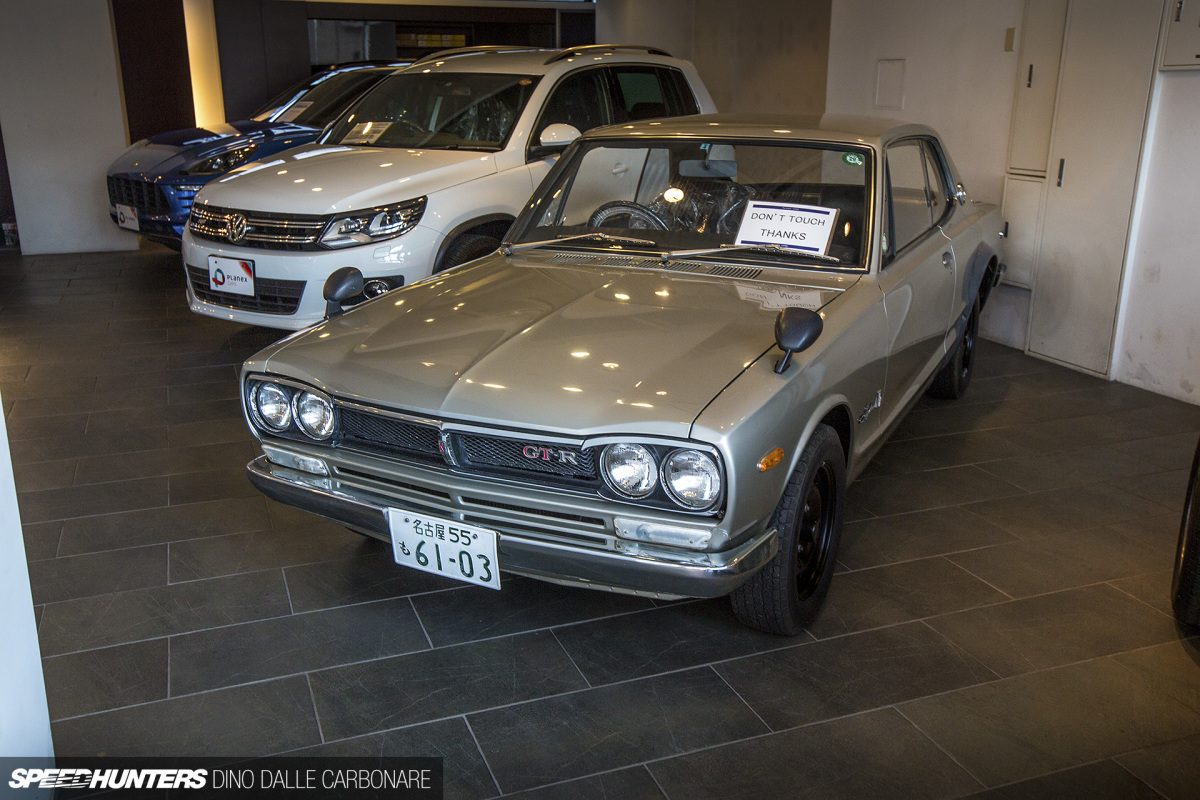 While the Kenmeri was sold, the Hako' was still up for grabs at time of my visit last Friday and even still had its original licence plates from Nagoya. These cars are fetching anything from 25 million JPY (approx $230,000 US) and up these days.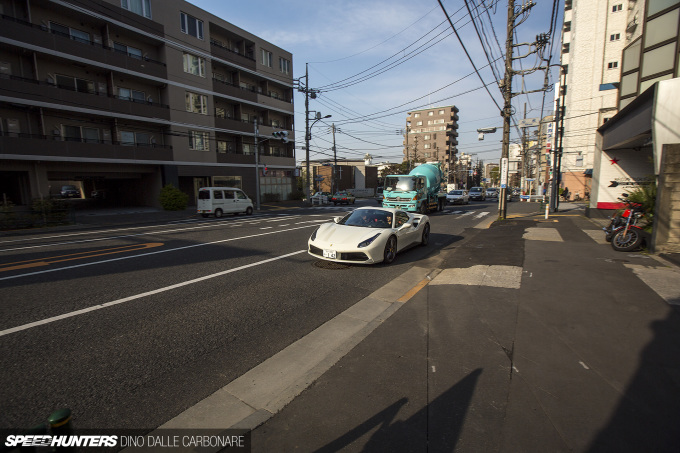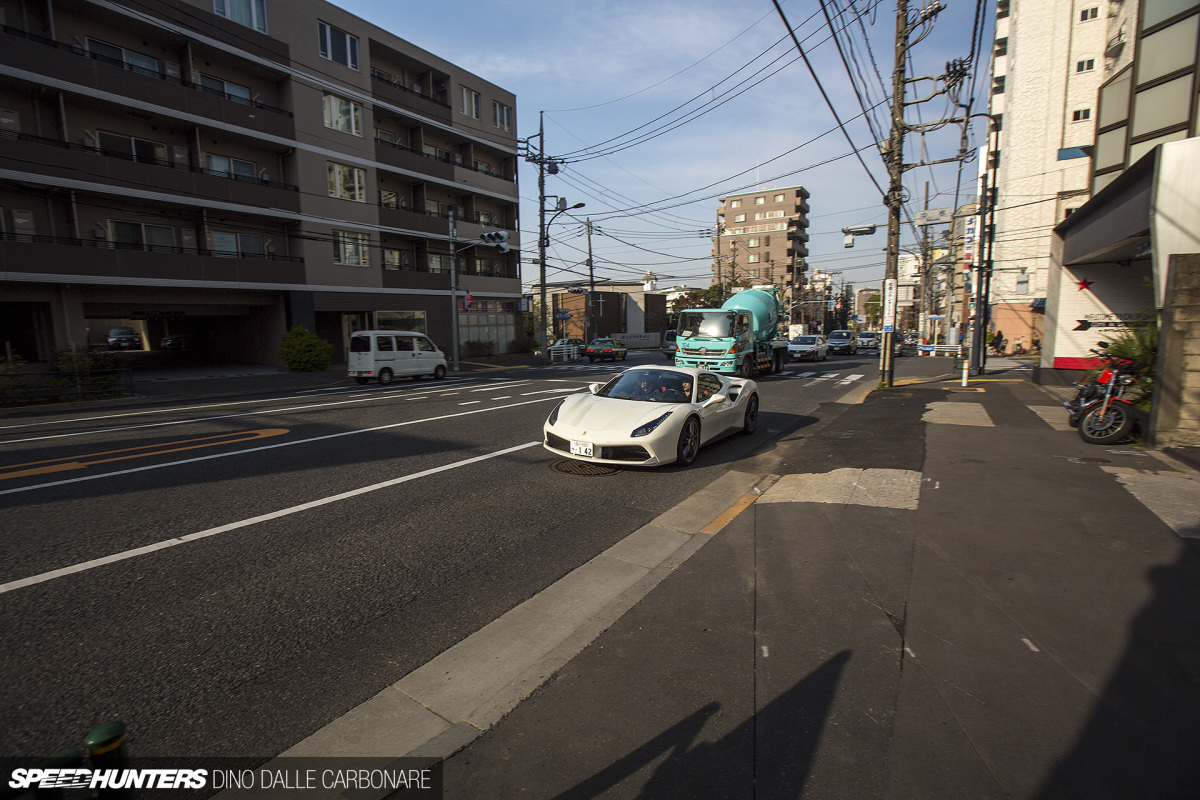 As I exited Planex a brand new Ferrari 488 GTB flashed by at speed, but since I had my camera ready to go I managed to snap a quick shot of it. When reviewing the image I spotted the '142' number plate, which is what Ferrari Japan puts on all its press fleet. I'll have to see if I can borrow this white one for a little blast around Hakone!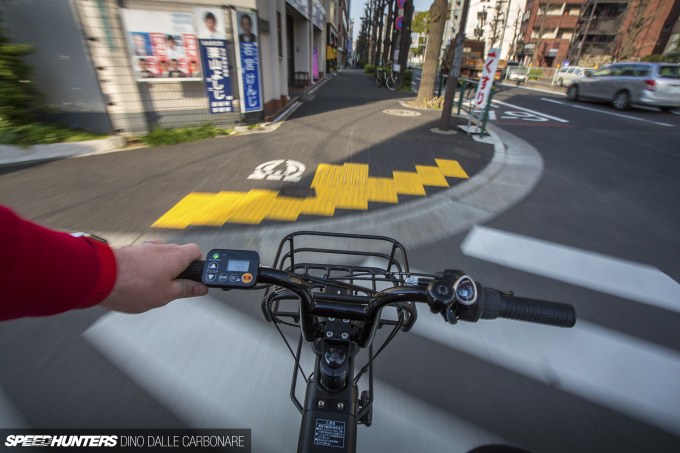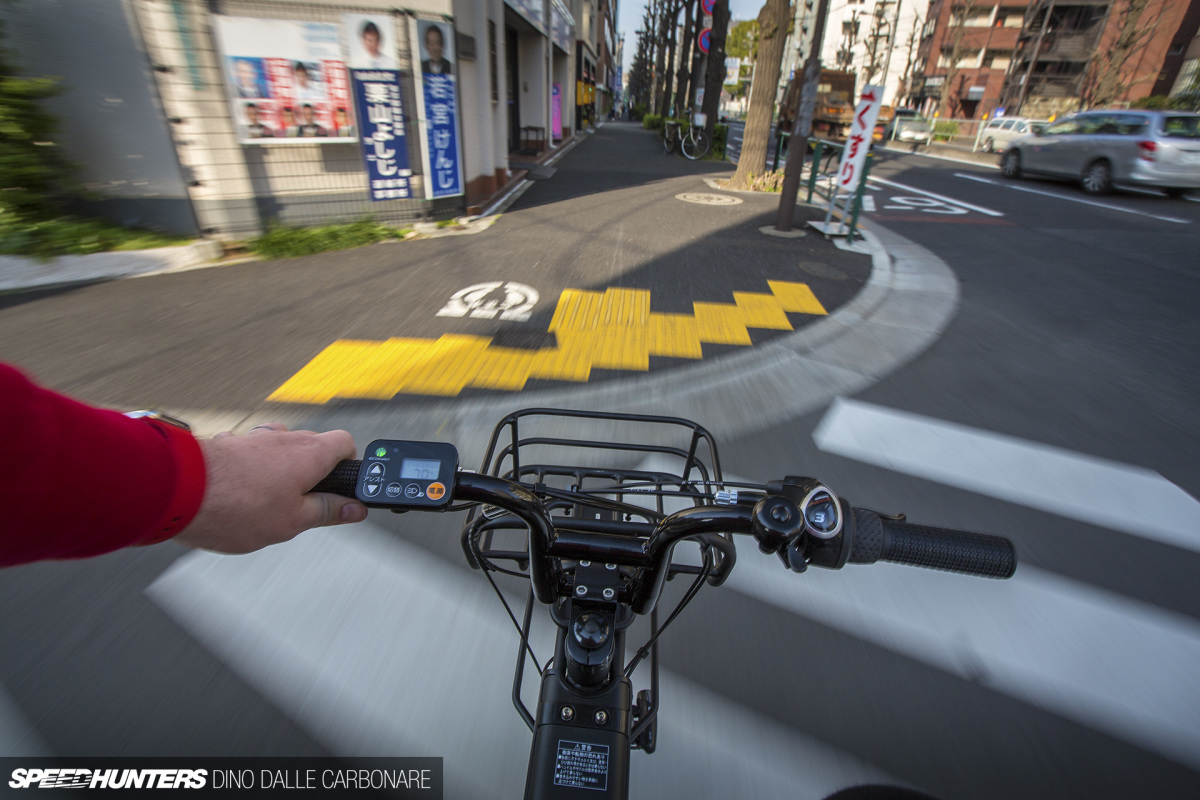 I took full advantage of the downhill stretch by piling on some speed before hitting Toritsu-Daigaku station.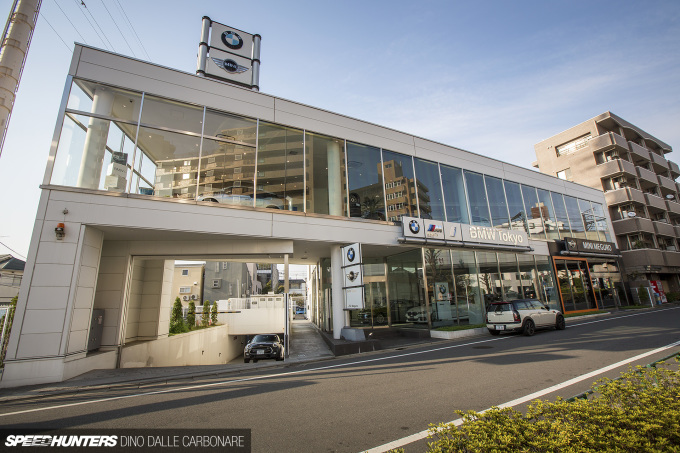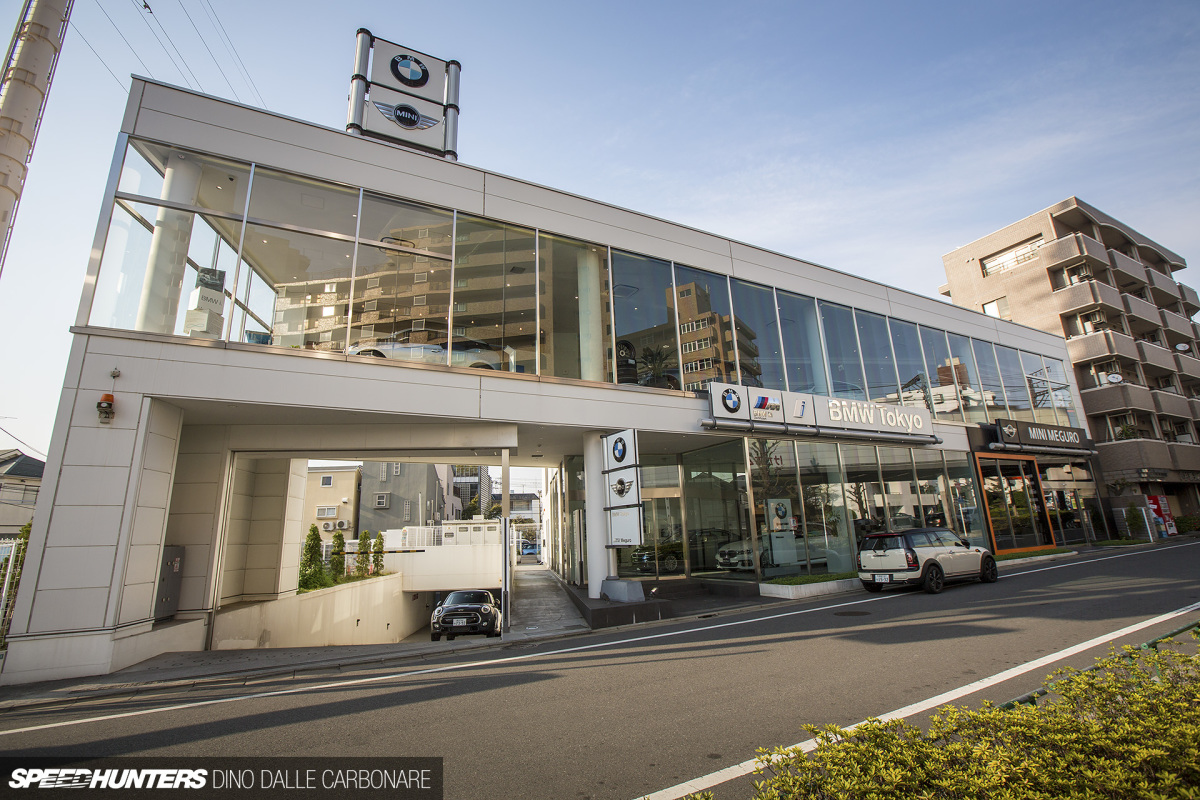 That took me right down to the big BMW Tokyo dealer before the junction with Kanana-dori and where I will end things for this second post.
I will keep the final few shop visits for part three, which will include some awesome air-cooled stuff. Check back soon for more!
Dino Dalle Carbonare
Instagram: speedhunters_dino
dino@speedhunters.com