Making The Switch
In my last Project bB update, I covered off some of my plans for the little box car including adding forced induction – by the way of turbocharging – into the mix. Today, I want to talk about the other major upgrade I'm making to the Toyota: a switch from 4-speed auto to 5-speed manual.
You might be wondering why I just didn't start with a manual car, and that would be a fair question to ask if I was living in the US and my project base was the bB's USDM counterpart, the Scion xB, which was offered with a 5-speed stick shift. But alas, that was never an option for the JDM model, which I have here in New Zealand. Column-shift automatic is all that was offered for Japanese market buyers, and therefore all that's available for purchasers of used examples.
But a turbo auto bB was never going to cut it for me.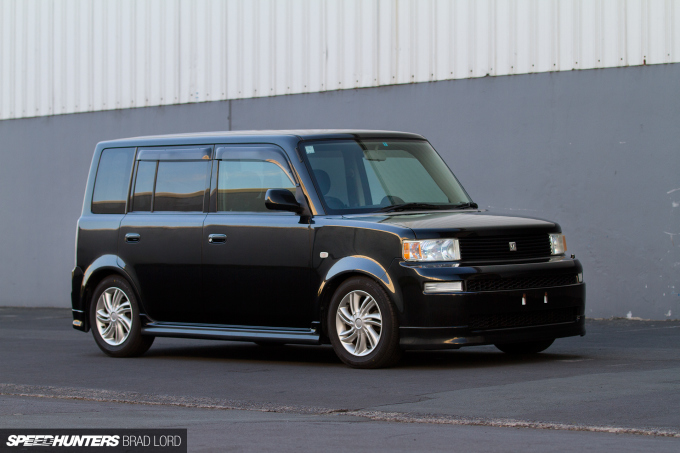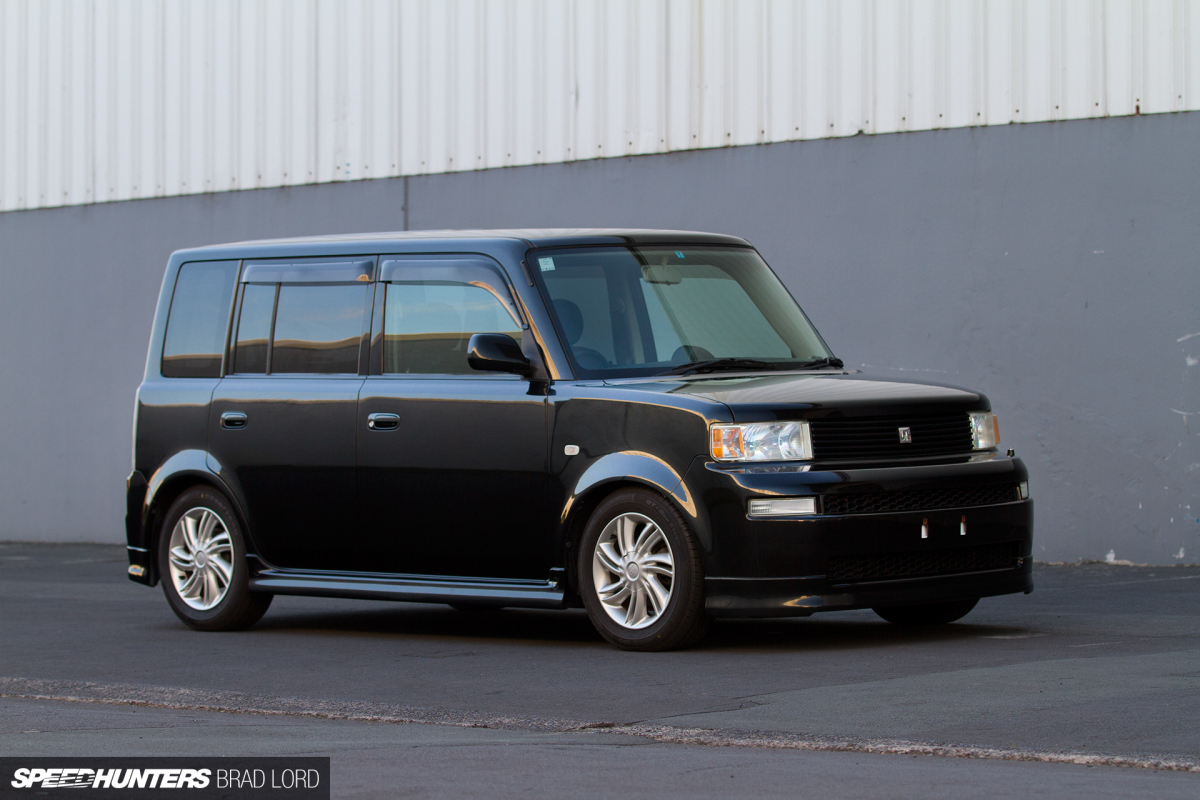 Looking at images of manual xBs and noting that they used a C-series Toyota gearbox, I figured that the swap could be easily done, even though I'd be dealing with a right-hand drive car as opposed to a left-hand drive one. Discovering a few manual-converted bBs in Japan online also gave me confidence that it would be a pretty straightforward upgrade, but I couldn't be entirely sure until I got into it.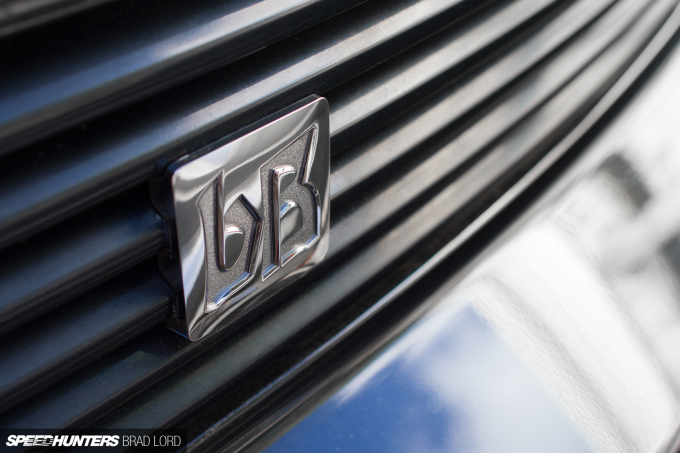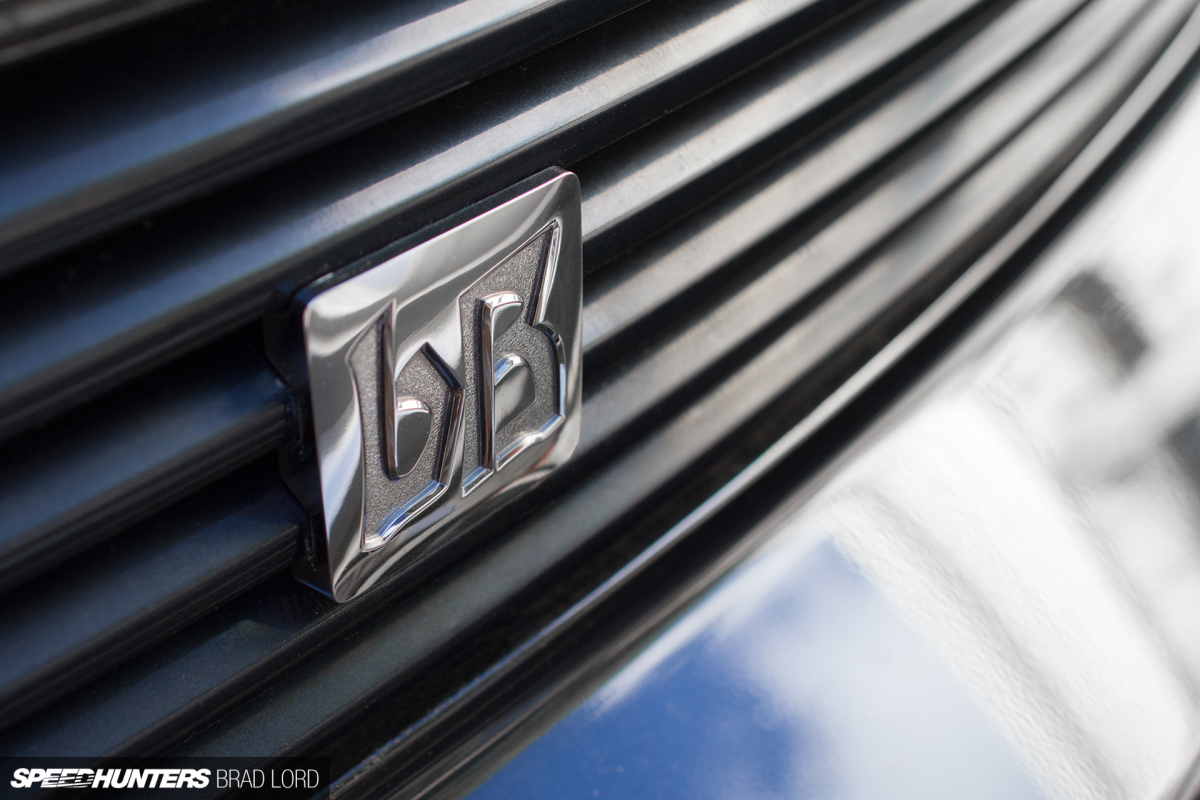 The obvious thing to do was use a manual donor car with as much in common with my bB as possible, and when I looked into that everything pointed to the Japanese market NCP13 Vitz RS. This model was built at the same time through the early 2000s, on the same basic chassis, and featured the same 1.5-litre DOHC 16-valve 1NZ-FE engine. As a bonus, the JDM NCP13 came with Toyota's C56 gearbox, which has the most performance-oriented ratios of all the 5-speed C-series gearboxes.
All I had to do was find one.
Wrecking Yard Riches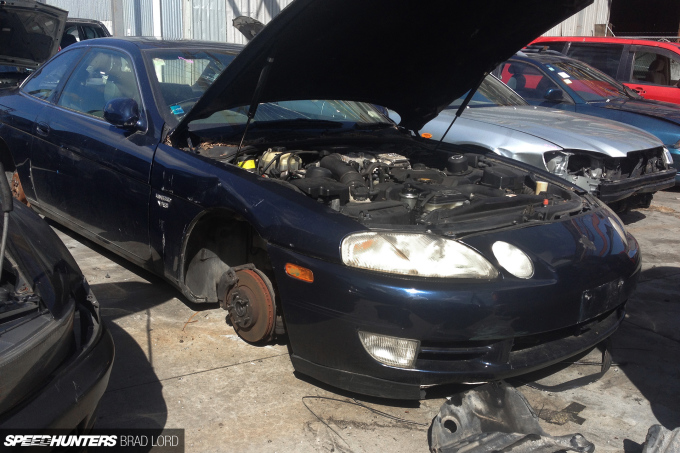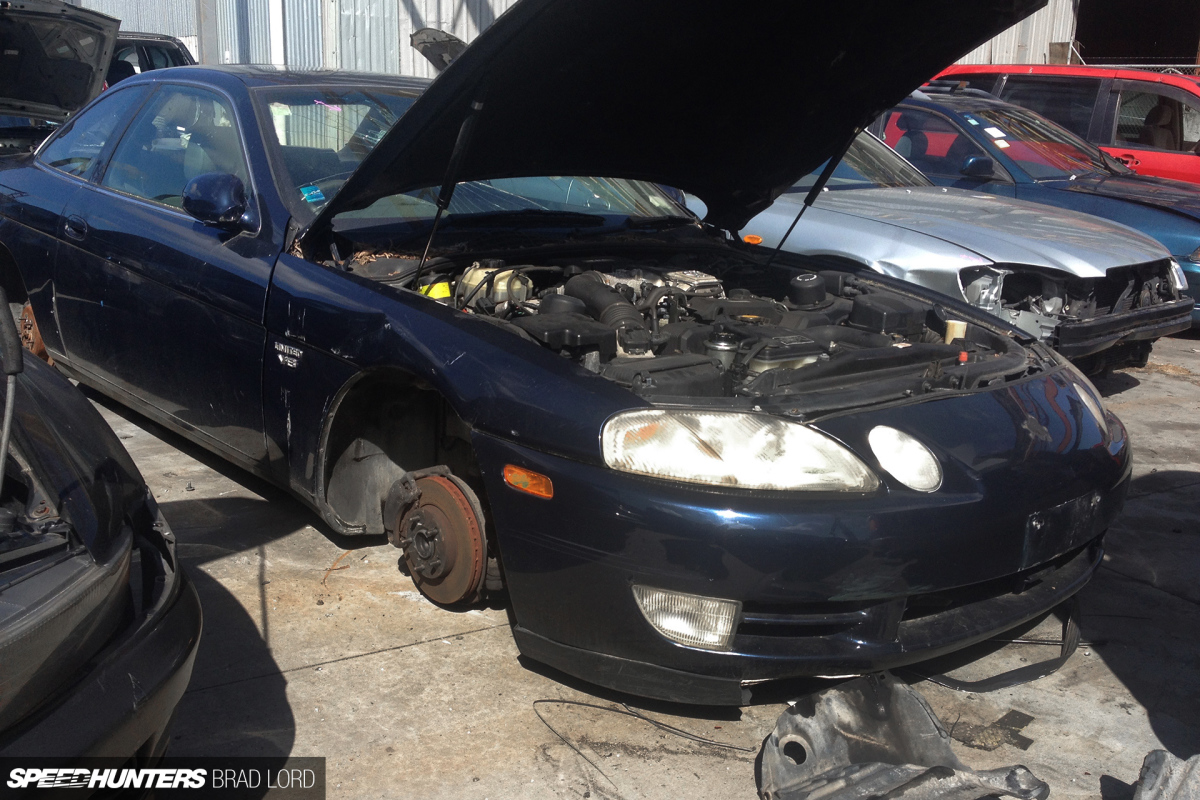 Because such a large number of the vehicles on New Zealand roads are used Japanese imports, wrecking yards are full of weird and wonderful JDM models. I figured the best place for me to find what I needed (at a reasonable price) would be at one of the local self-service wreckers, namely Zebra U-Pick, which sources the majority of its stock from private sellers and salvage auctions dealing with insurance write-offs.
Of course, most vehicles of real value don't end up in a place like Zebra – they go to auto dismantlers that know their parts' worth – but that doesn't mean it's all run-of-the-mill stuff. Sometimes it's fun just to pay the $2 entry fee and have a look around.
Toyota bBs aren't all that rare in New Zealand, meaning there's a constant supply of them coming through places like Zebra U-Pick. I've managed to pick up a few parts as they've appeared too. In fact, one bB turned out to be a bit of a treasure trove, but more on that in a future update…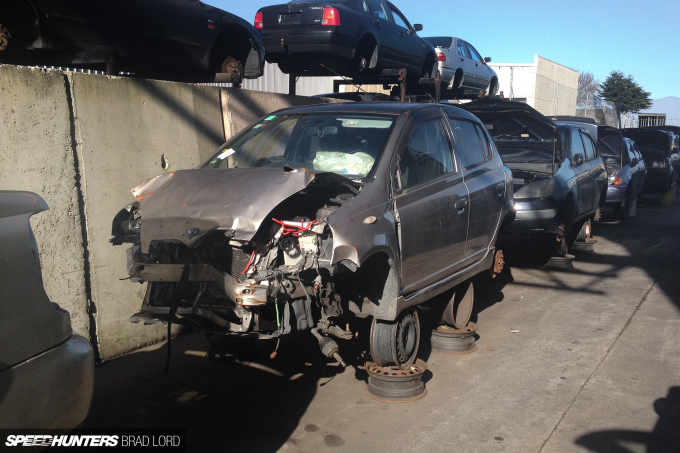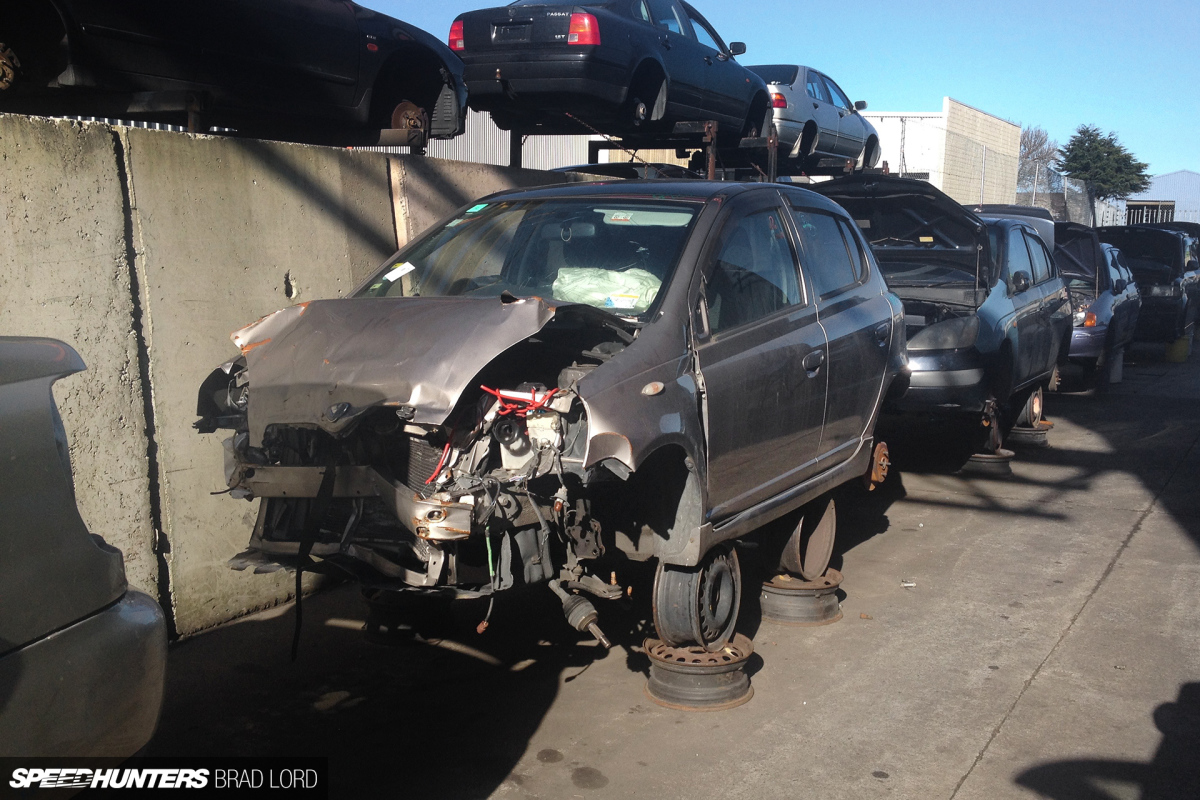 One great thing about Zebra U-Pick is its daily online stock updates, and ever since I decided to do the automatic-to-manual swap in my car, I made a point of checking the list every morning and afternoon. After a couple months of nothing, my luck finally changed. Or at least I thought it had until I saw the Vitz RS in its twisted metal glory.
Yes, the car had all the bits I was after, but its frontal damage was so heavy that the bumper beam had crushed the radiator and electric fan up against the gearbox (and engine) and smashed off the clutch fork reservoir along with a sizeable chunk of the transmission casing. I guess it could have been repaired, but with 280,000km (174,000mi) on the clock of this particular car and absolutely no guarantee that the gearbox was even operable, I decided to leave it and resume my search.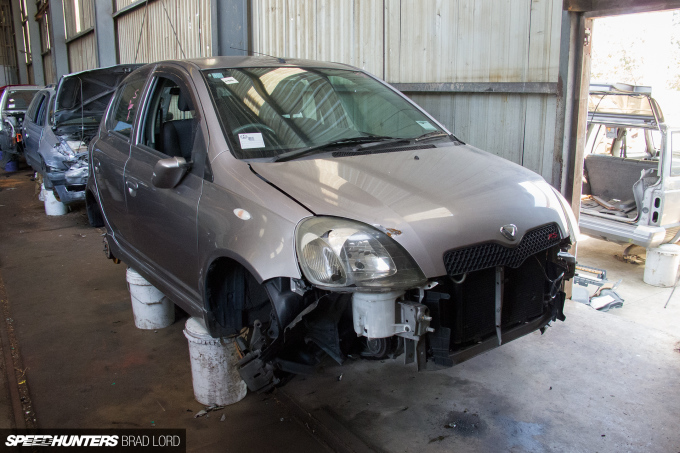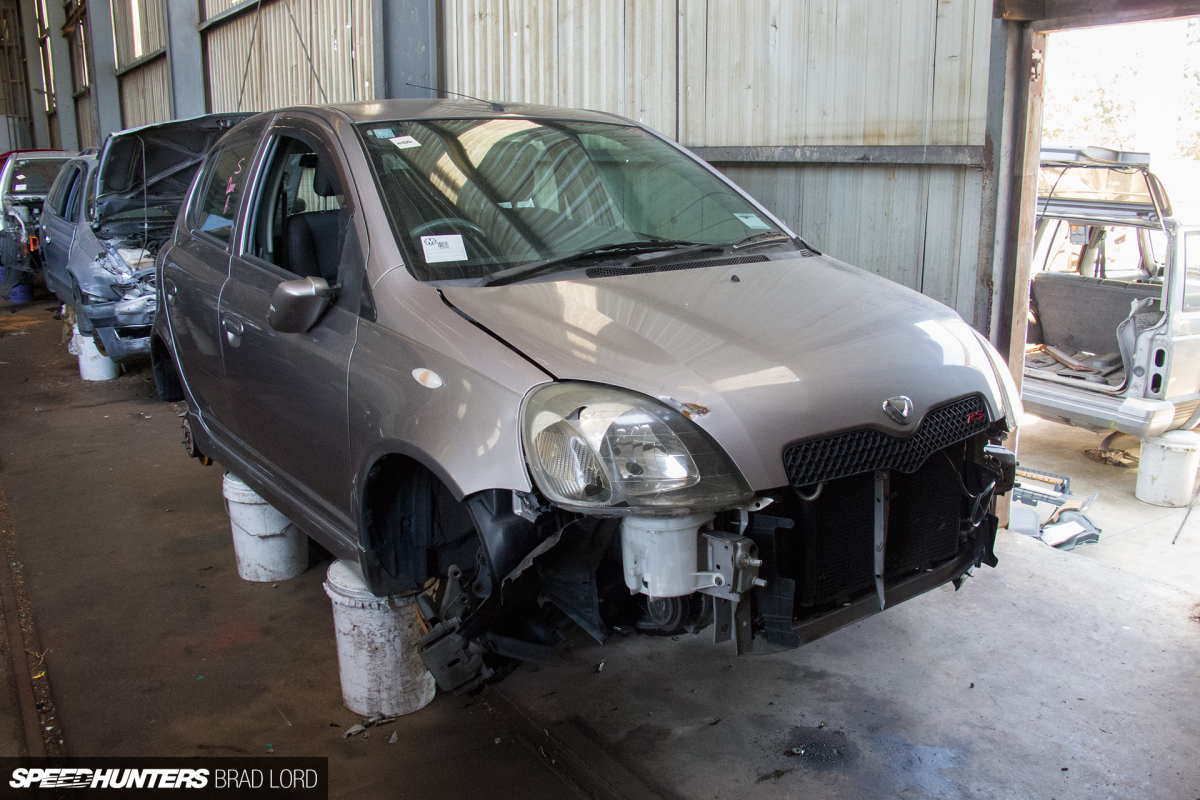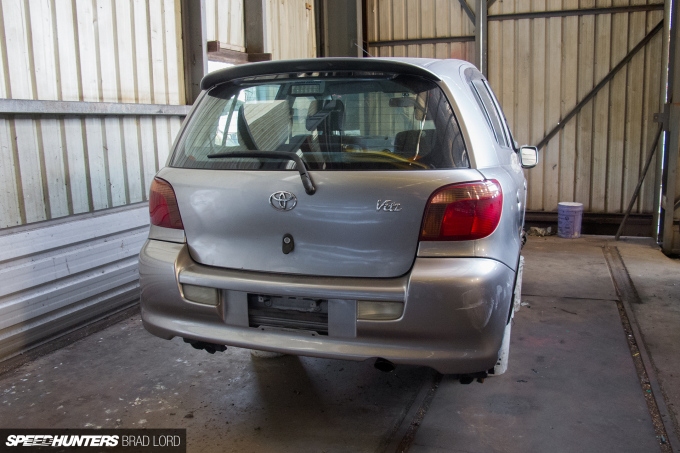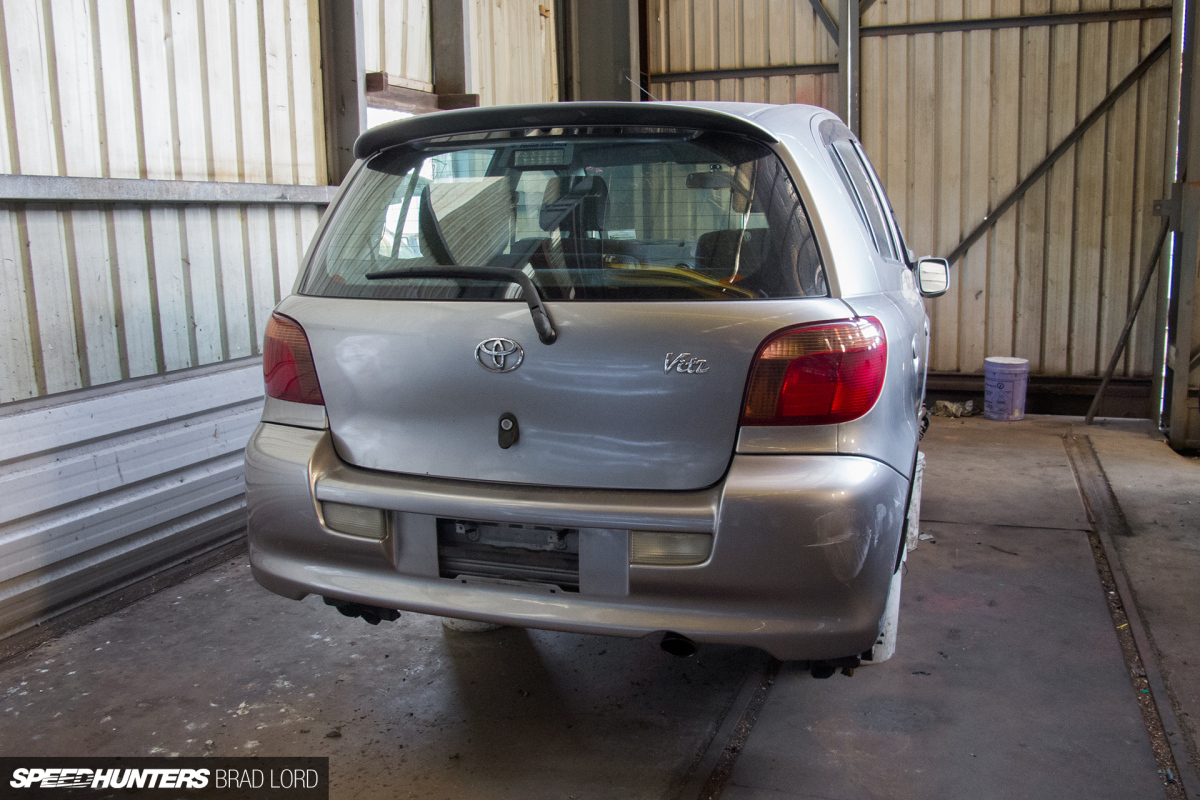 A couple more months followed with no good leads, and by this point I had started looking at complete cars to wreck and even investigated the costs of sourcing a Vitz RS front-cut out of Japan. Both of those options weren't going to be cheap, so I was pretty happy when finally a suitable donor turned up at Zebra.
As soon as I found out the Vitz was in stock, I headed straight over to check it out. This one looked much better; not only was the damage minor, but the car had low mileage for its age and appeared to be in good (and complete) condition otherwise. As it was nearing the end of the day, I made a plan to return the following afternoon with some tools and at least grab the gearbox.
Less that 24 hours later, I fully expected to find the Vitz in the same way I had left it, but that wasn't the case. Not only had a bunch of of parts been removed, but someone had started unbolting the gearbox from the engine. I wasn't sure why, but I could only assume they had either given up on it or found what they were looking for elsewhere, so I set about finishing the job off.
The main sticking point was the rear mount, but after I managed to prop the engine up with a handy nearby concrete-filled bucket, the gearbox disconnected from the engine and cleared everywhere else, allowing me to drop it (not literally, but almost) onto the floor. NZ$110 (US$75) later and I was walking out the door with an NCP13 C56.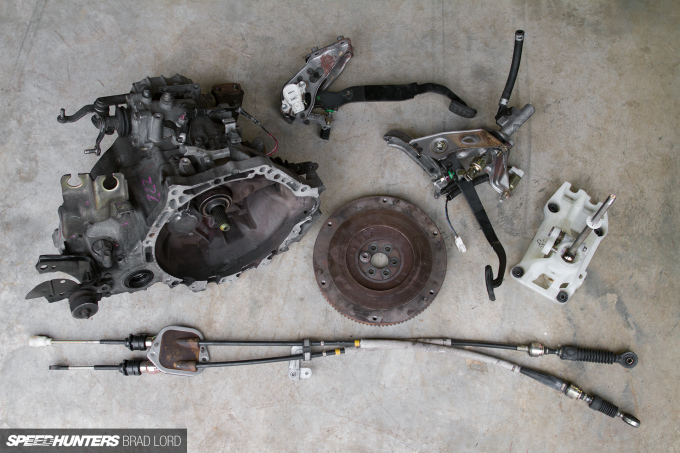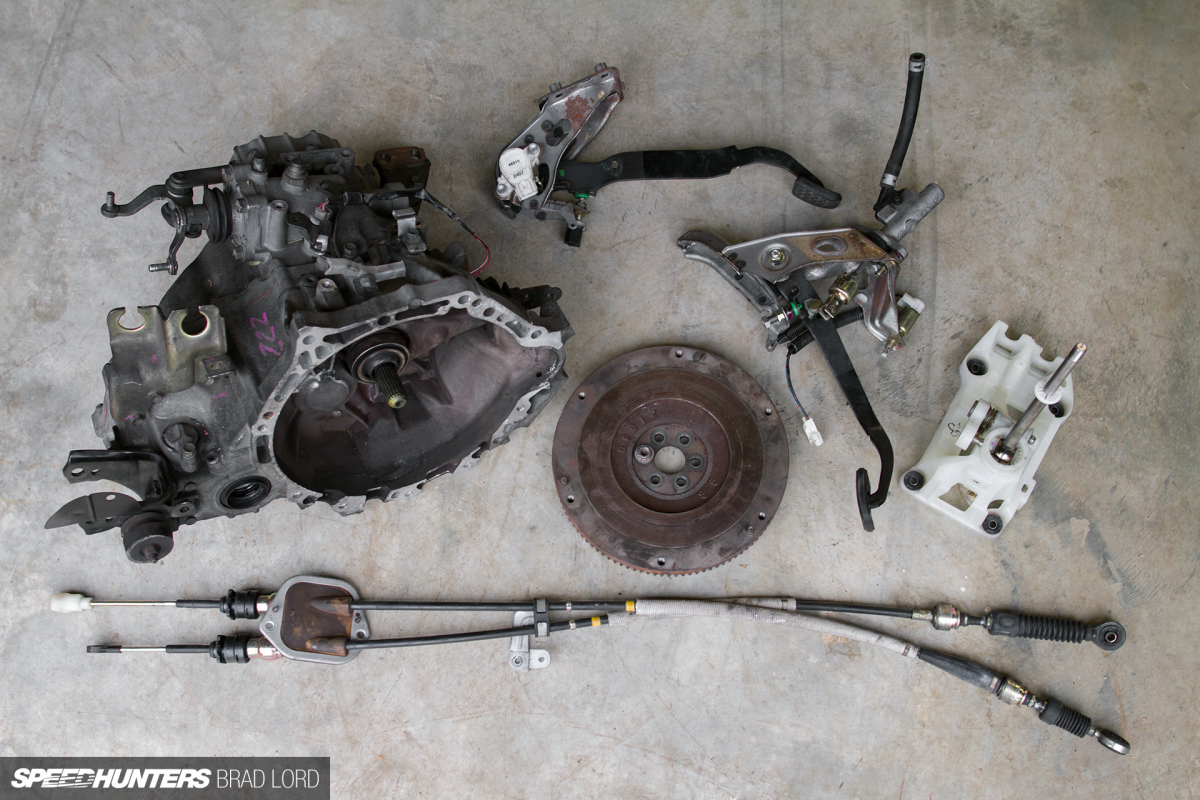 The following morning I made my third trip to the wrecking yard in as many days, but this time with my buddy Kevin. On this visit we gathered up all the other parts needed for the gearbox conversion, including the Vitz's clutch and brake pedal assemblies, plus the shifter box, cables and flywheel, and all the required lines and fitting hardware (not pictured).
Test Fit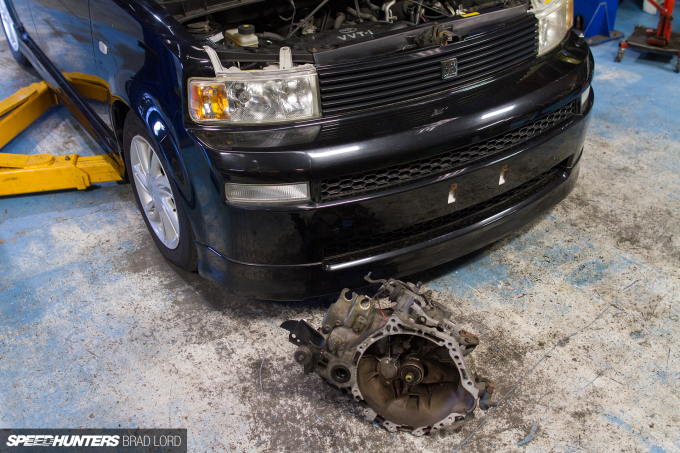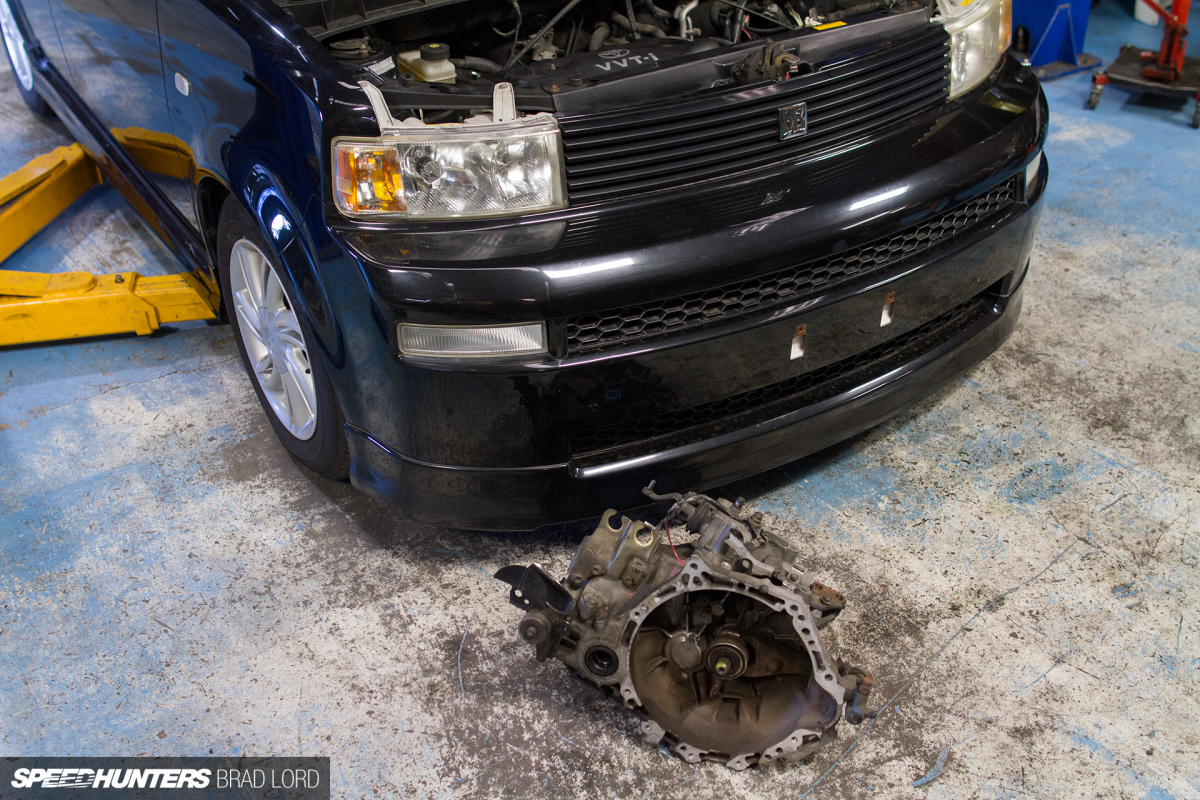 With all the pieces of the puzzle now in my possession, a couple of weeks ago I drove the bB over to my friend Jacky's workshop, where previously we had run it up on the Dynapack chassis dyno for a baseline run and sh*ts and giggles.
JTune Automotive builds some pretty tough cars, and every time I visit I'm reminded that I really need to do a shop tour post. Soon, I promise. On this particular day, however, we'd be removing the auto transmission, throwing the manual gearbox in for a test fit, and then dropping everything out of the engine bay.
The workshop was pretty busy when I arrived, so I maneuvered the car into the far corner and set about unplugging and removing everything on the topside to give access to the transmission. Then, once the final jobs of the day were off the hoists, Kevin – who by day is a mechanic and fabricator at JTune – lifted the bB up into the air, and we carried on with the removal process.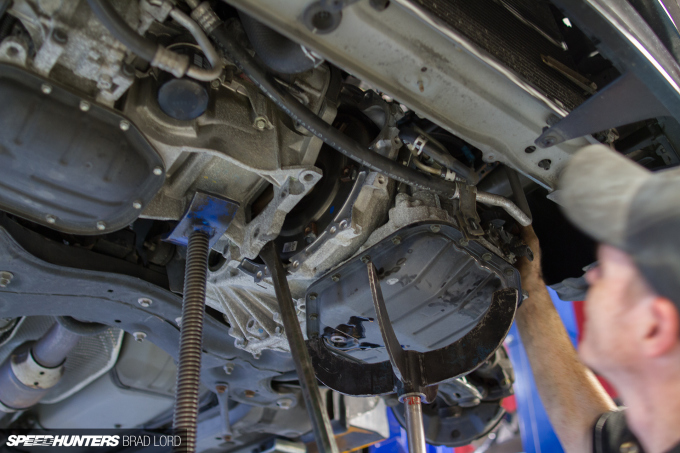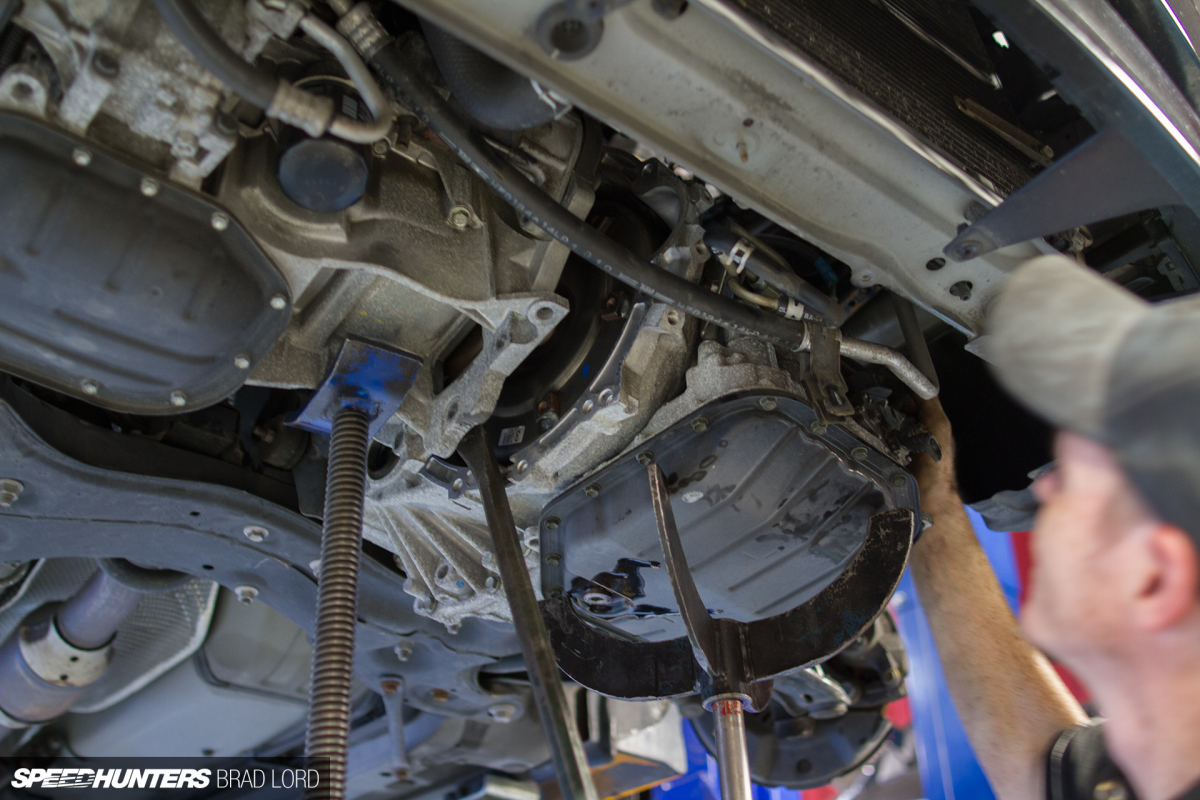 With easy access and the right tools for the job, quick work was made of undoing all the bolts, splitting the transmission from the engine, and then completely removing it from the car.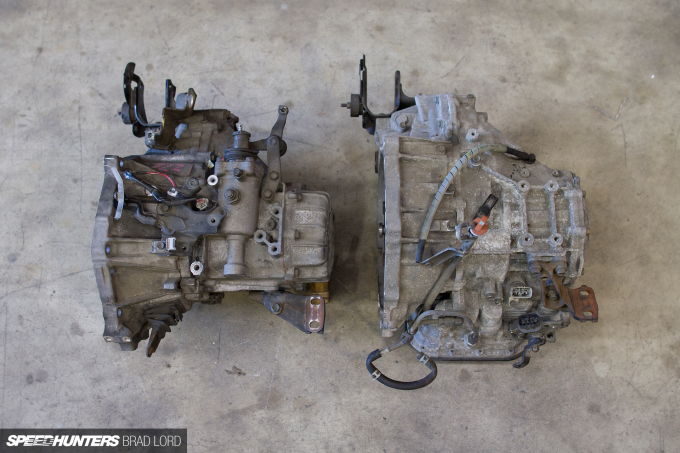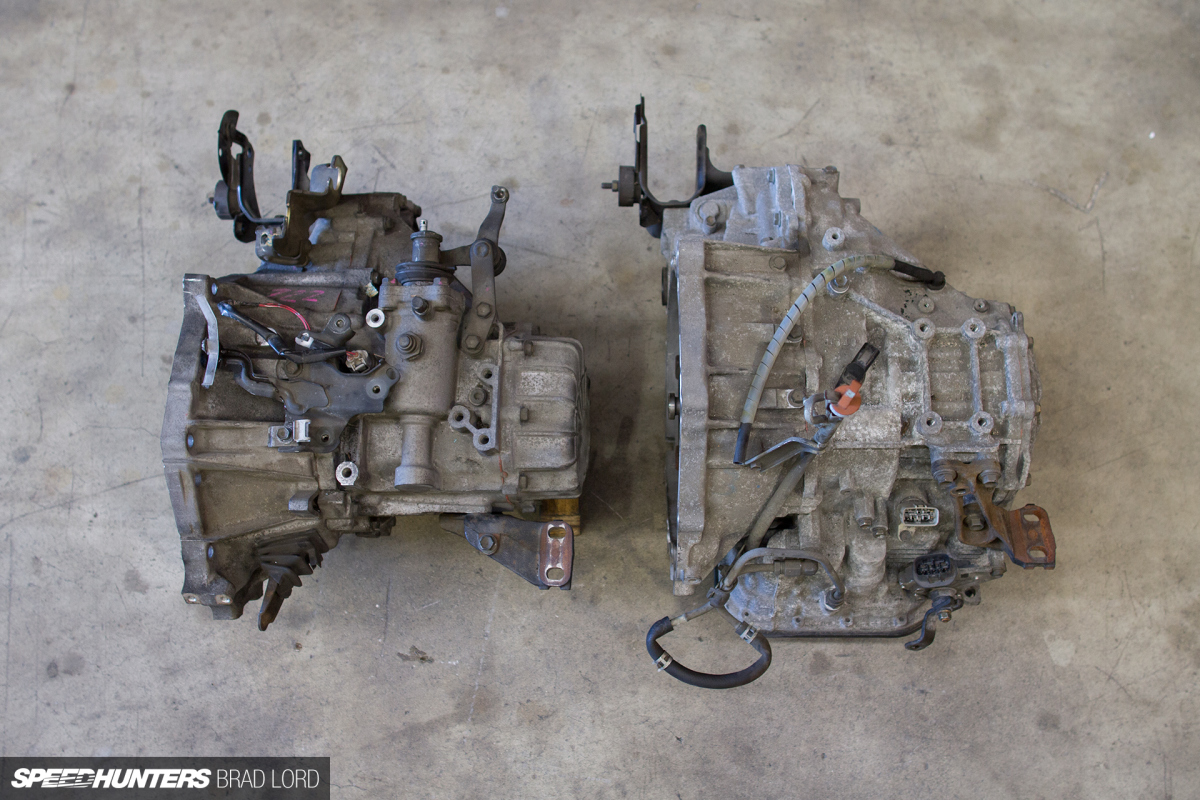 As soon as it was on the ground, we compared it to the Vitz 5-speed to confirm that the mount brackets looked similar and were all in the same place. As you can see, things looked promising. I was also happy that what we were putting into the car (albeit only temporarily at this stage) was about half the weight of what had come out!
Because this was just a test install we didn't worry about fitting the flywheel or clutch; all Kevin and I were interested in (or maybe just me, Kevin is pained by this project) was whether the Vitz manual gearbox would bolt straight up into the bB auto mounts. And it did – perfectly. Thanks Toyota!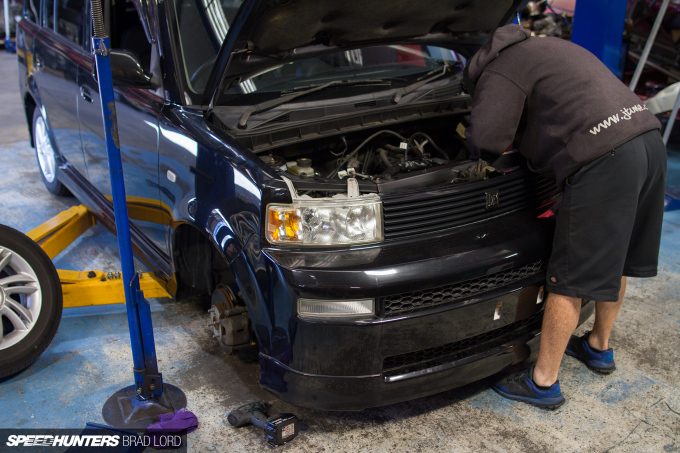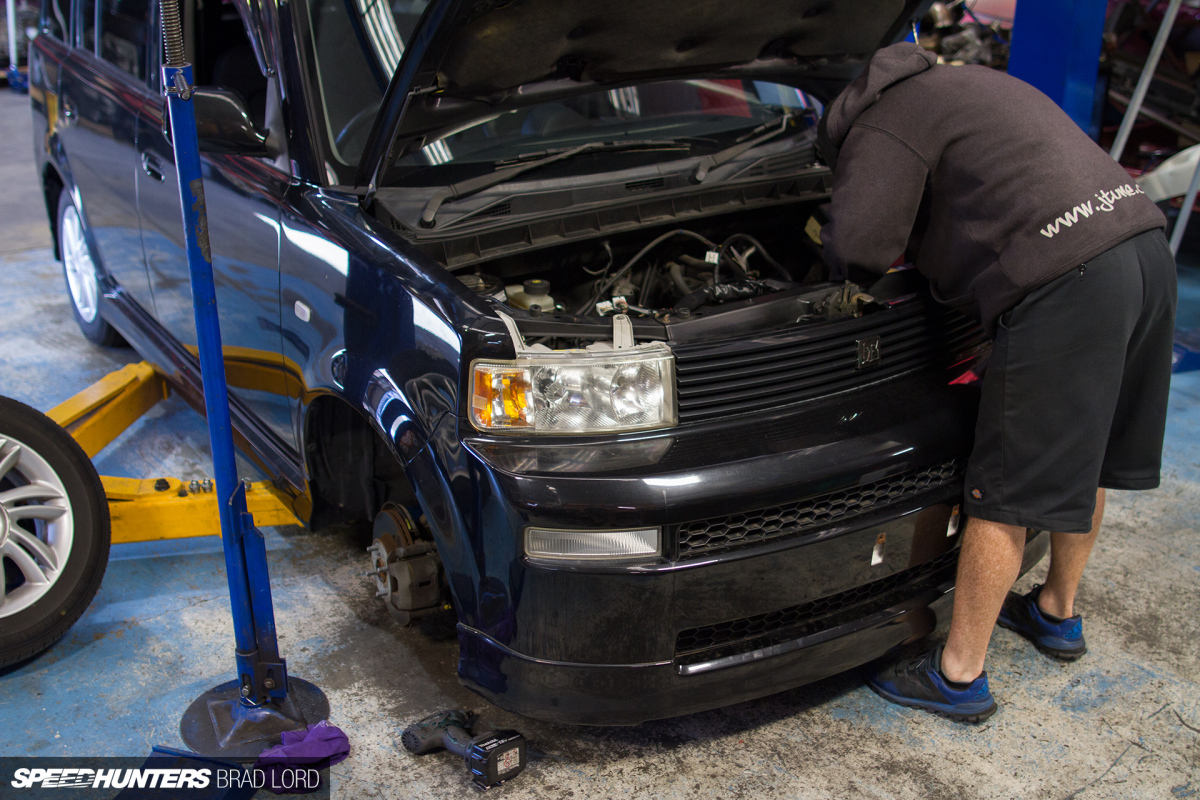 With the fitment confirmed, we turned our attention to removing both gearbox and engine from the car. At this point the engine was sitting on a low trolley and Kevin was checking that everything was clear before the bB was raised back up, minus the 1NZ-FE and C56 combo.
A couple of minutes later and it was free, and we didn't even have to remove the subframe. Now I have an engine bay that looks like this.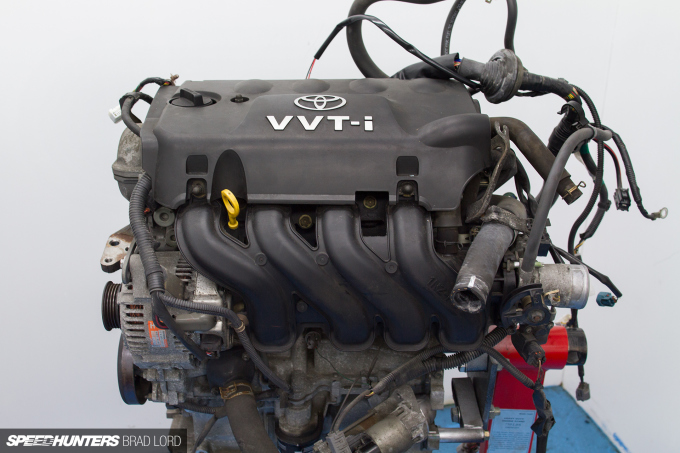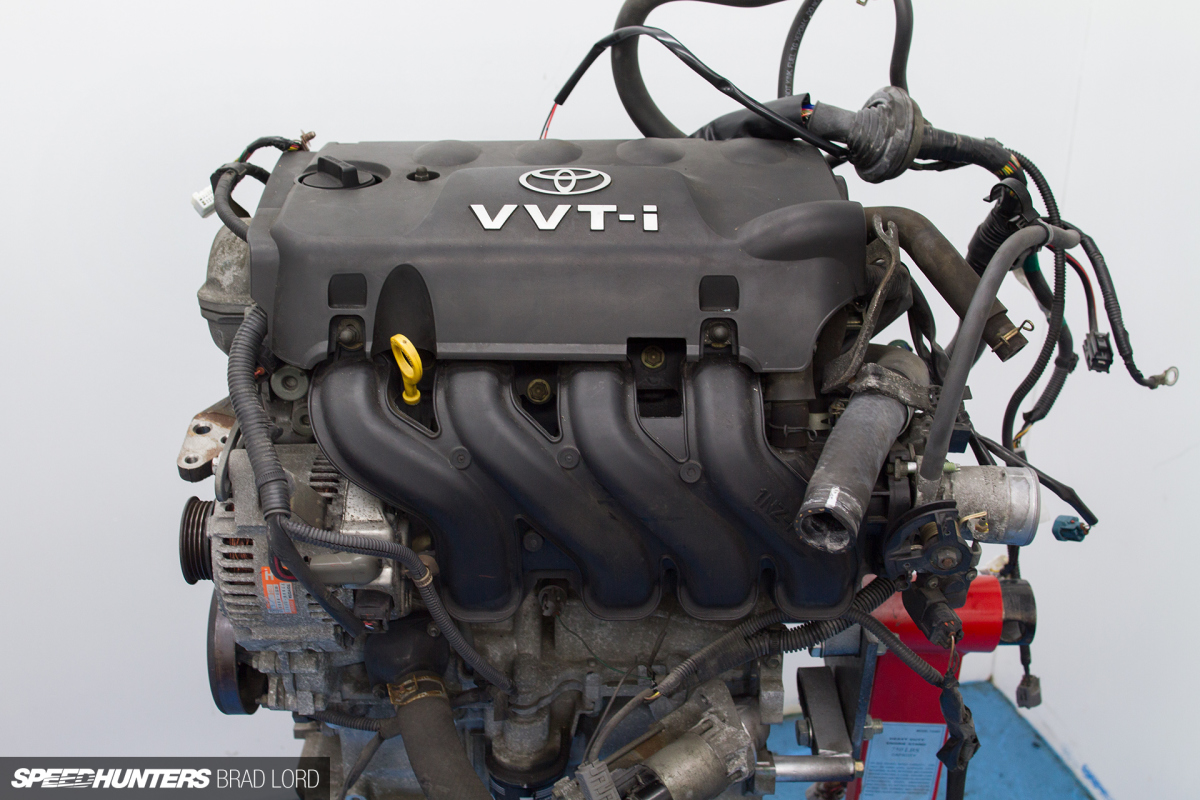 As for the motor, that was attached to a stand and wheeled into JTune's engine room where I'll soon be tearing it down in preparation for some shiny new internal organs. Before that though, I couldn't help but do a test-fit with my HKS cast iron manifold and baby Garrett T25 turbo. As I mentioned last time, the turbo itself is toast and will probably be relegated to doorstopper or paperweight duties in the future, but as I intend to replace it with a similarly-sized unit (or something marginally bigger) it was good to see how it sat relation to the engine and how much space there is to play with.
Having transported Project bB back home as a rolling body, there are now numerous jobs I can take care of, and I hope to tick off as many of those as I can over the colder months which are almost upon us down here in the Southern Hemisphere.
Brad Lord
Instagram: speedhunters_brad
brad@speedhunters.com