Patience
10 years, 6 months, 1 week, 5 hours, 31 minutes, 55 seconds. That's how long it took for James Deane to go from his first competitive drift event as an amateur to the top step of the podium for the first time at Formula Drift in Long Beach.
Before last weekend, a lot of people would have said this victory, maybe the most significant of his career, was inevitable. I wouldn't have argued with them, but I know from experience that victory in motorsport is never guaranteed. It certainly does not come easy.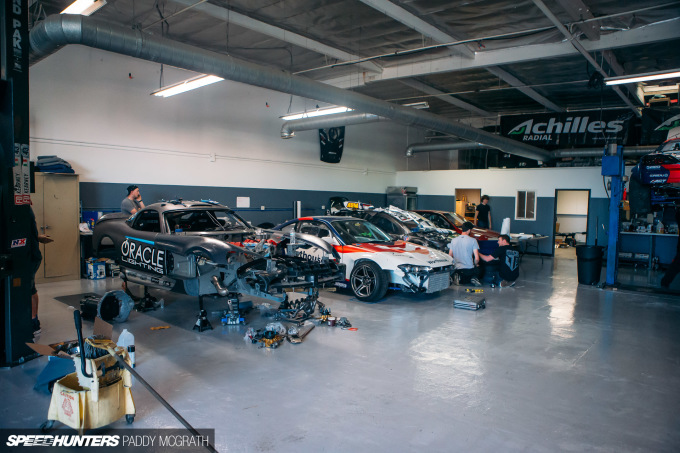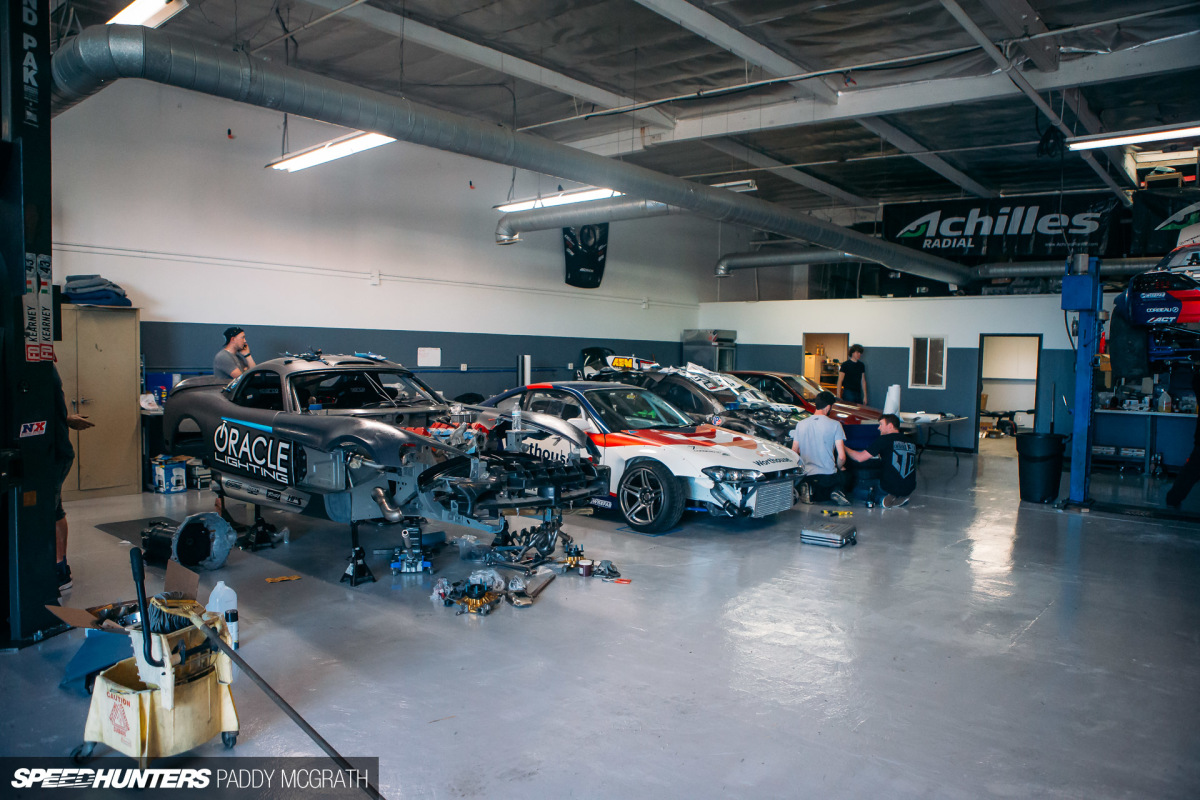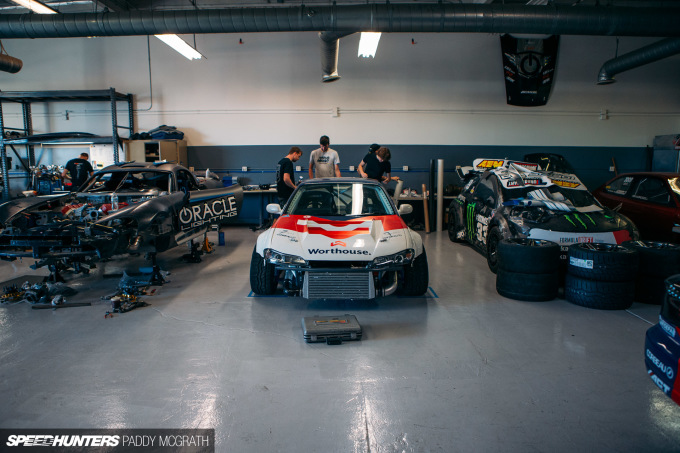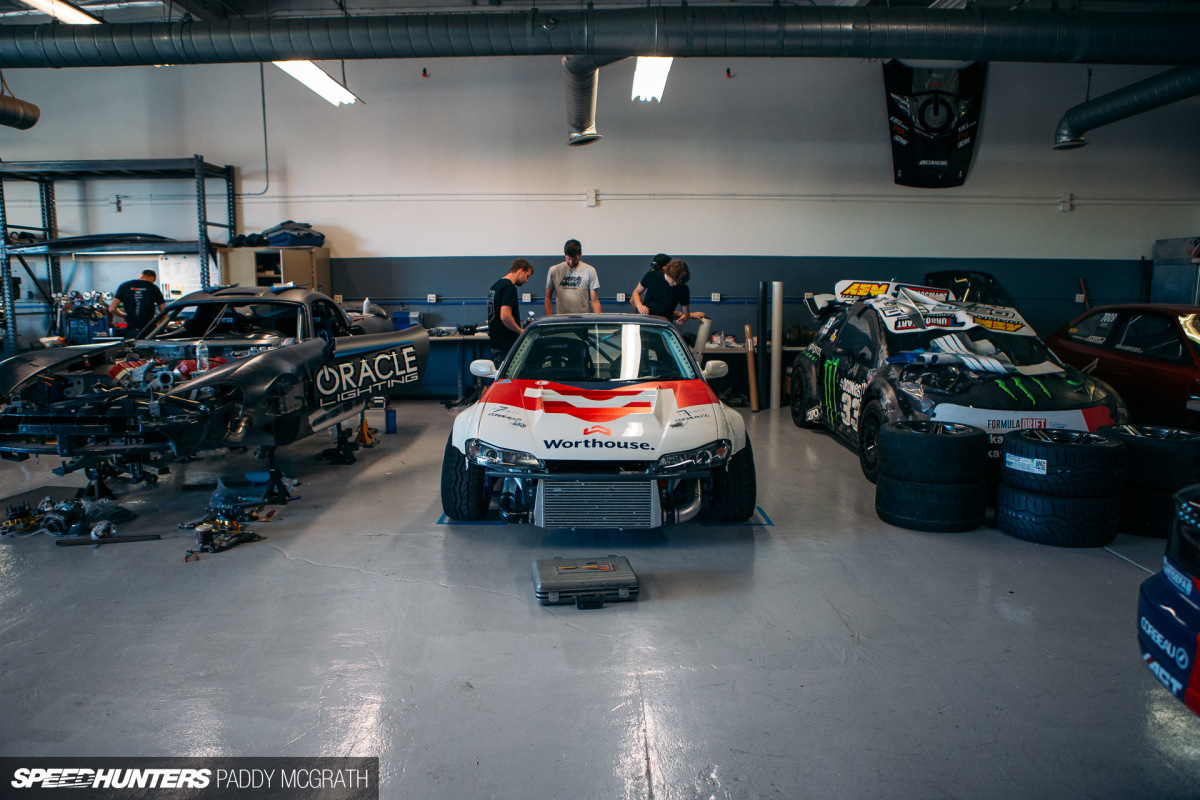 It was Wednesday, March 29th, when I finally caught up with James, Piotr and their crews at Bridges Racing in Huntington Beach, California. They had been in the United States for a couple of weeks at this point, having successfully tested the two cars in Poland and then flown them to the US, followed by one more test at Willow Springs.
I was in the midst of a 32-hour day, having spent 10 hours on a flight but arriving only two hours after I had departed, so my memory is a little hazy around this particular point in time.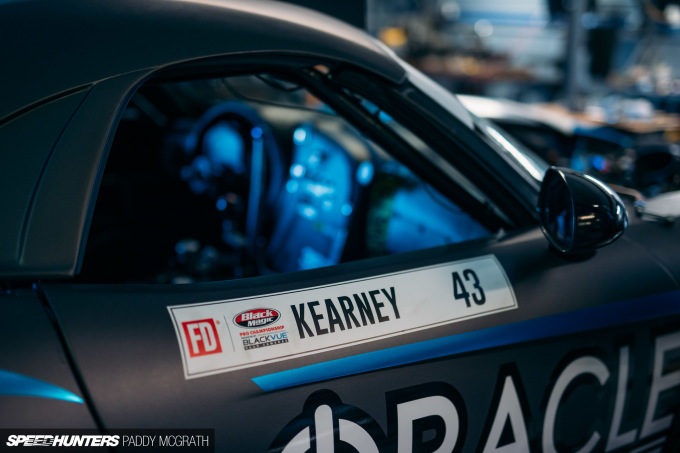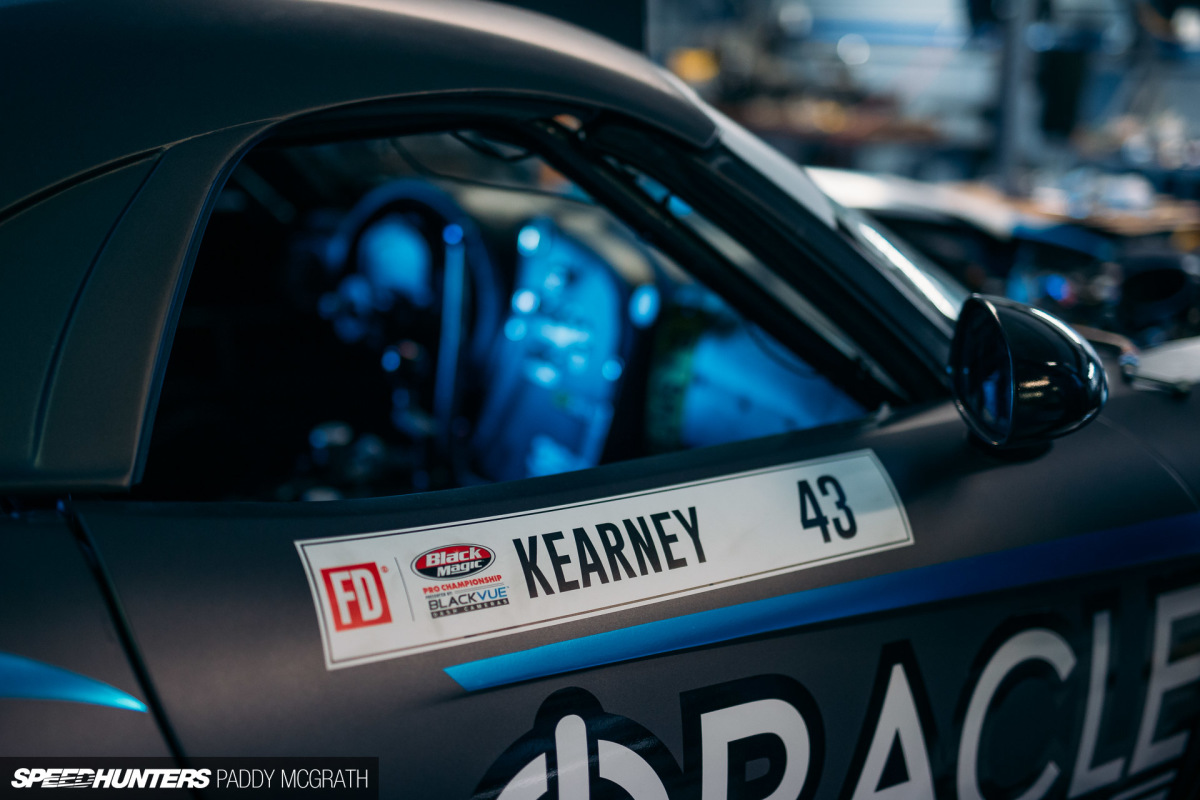 Bridges Racing is the home of Dean 'Karnage' Kearney, whom I still haven't forgiven for driving over my camera case around a decade ago, and his Oracle-backed Vipers. Yes, Vipers, plural. Although his new car wouldn't be ready for Long Beach, it is expected to line up in Orlando in a couple of weeks.
Bucking the trend of drifting being the form of last minute motorsport, both James and Piotr were surprisingly relaxed with only small jobs to be done, including fitting the rear wings to both of their cars. For Long Beach, they decided not to run the GT-style wing that was in the original renders of the cars, but smaller ducktails instead.
For something which they both knew would end up on the wall at some point, they put an almost alarming amount of thought and consideration into the wings' positioning. It makes you think, if they care this much about a sacrificial panel, how much must they put into the rest of the two almost identical cars?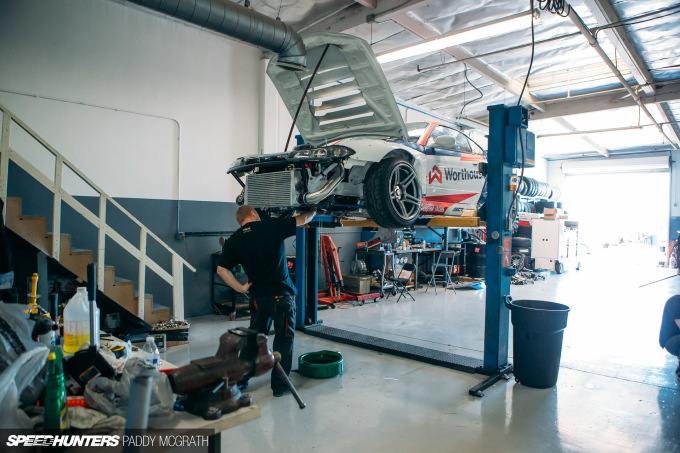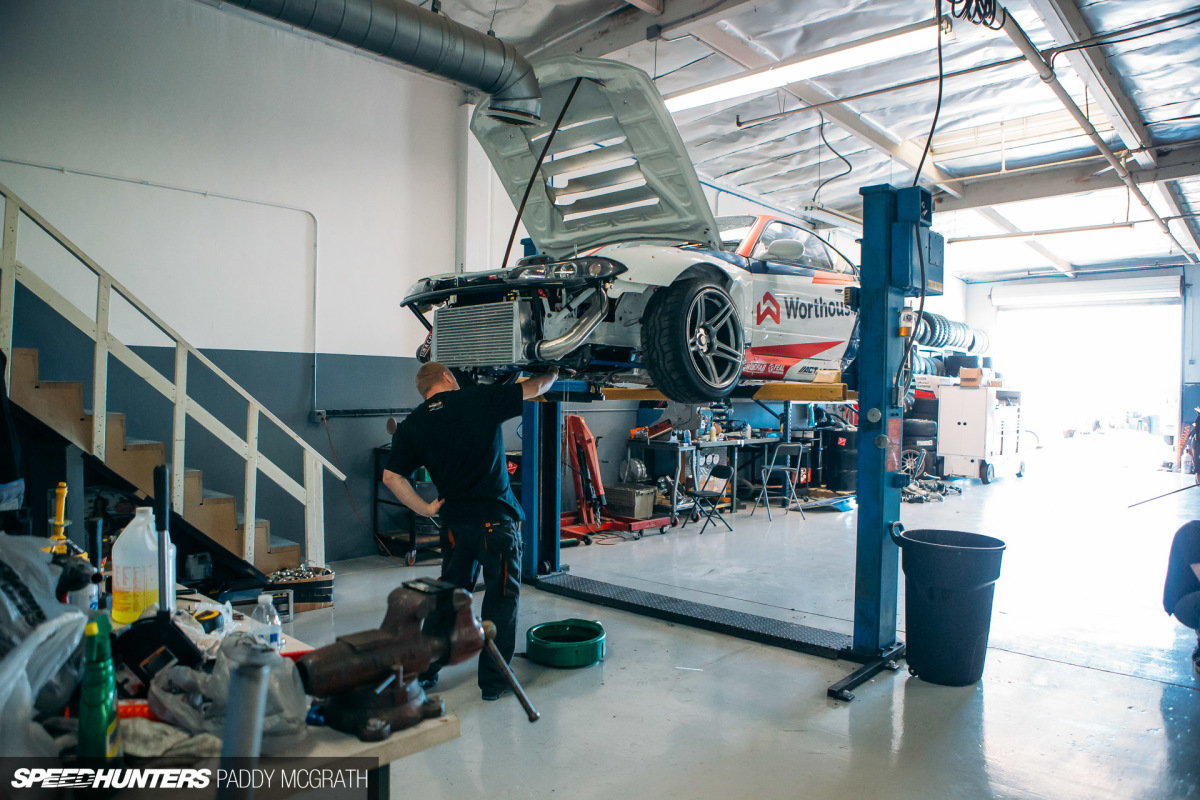 Speaking of which, this was the first time I'd seen both cars together and finished. While we didn't have time to shoot them before the event, we will make the time before Orlando to pore over them in detail for you. Honestly, I think they're amazing and may be the best looking pro-spec cars around at the minute. They've managed to combine professional levels of function with street style, and topped it off with clean, sponsor-pleasing branding.
Gelo, Piotr's chief mechanic and the 'G' in G-Garage, was performing a routine spanner check and fluid change on the red-roofed S15.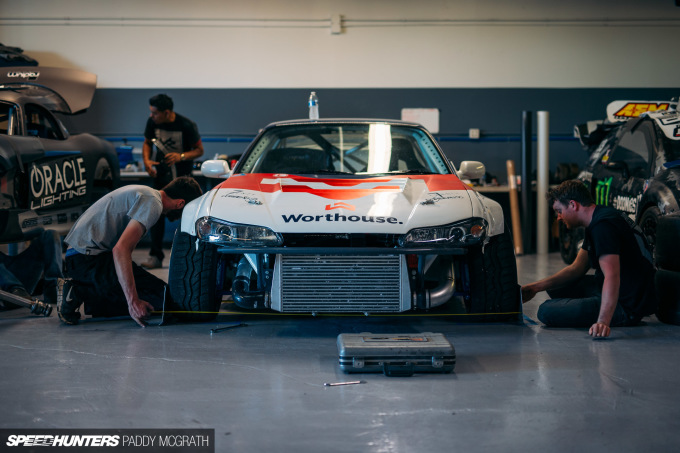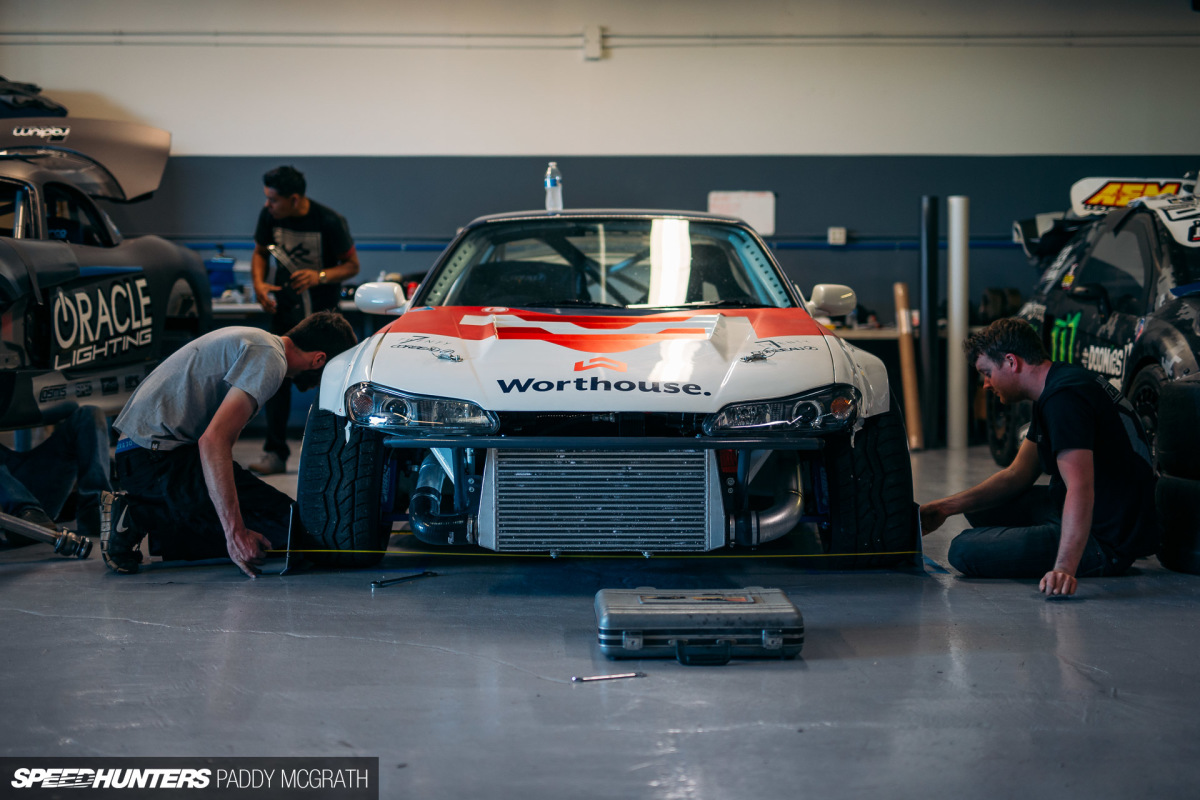 At the same time, James and Michael, were making some suspension geometry changes to the blue-roofed car. While there had been long days and nights previous, both sides of the team were at the point where they could see the light at the end of the tunnel. All their months of incredibly hard work were about to bear fruit.
This was it.
Thursday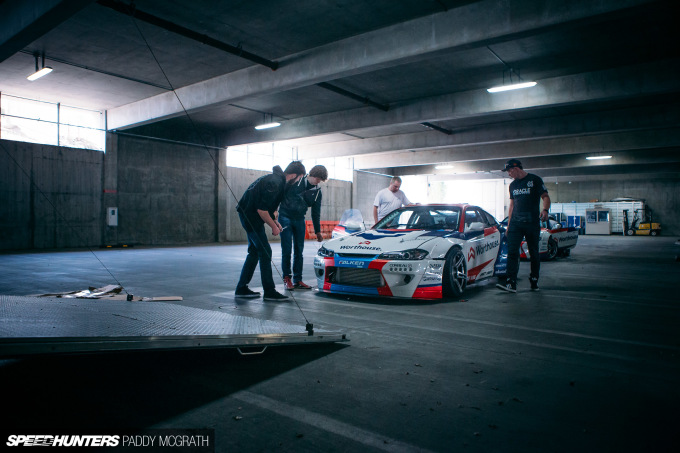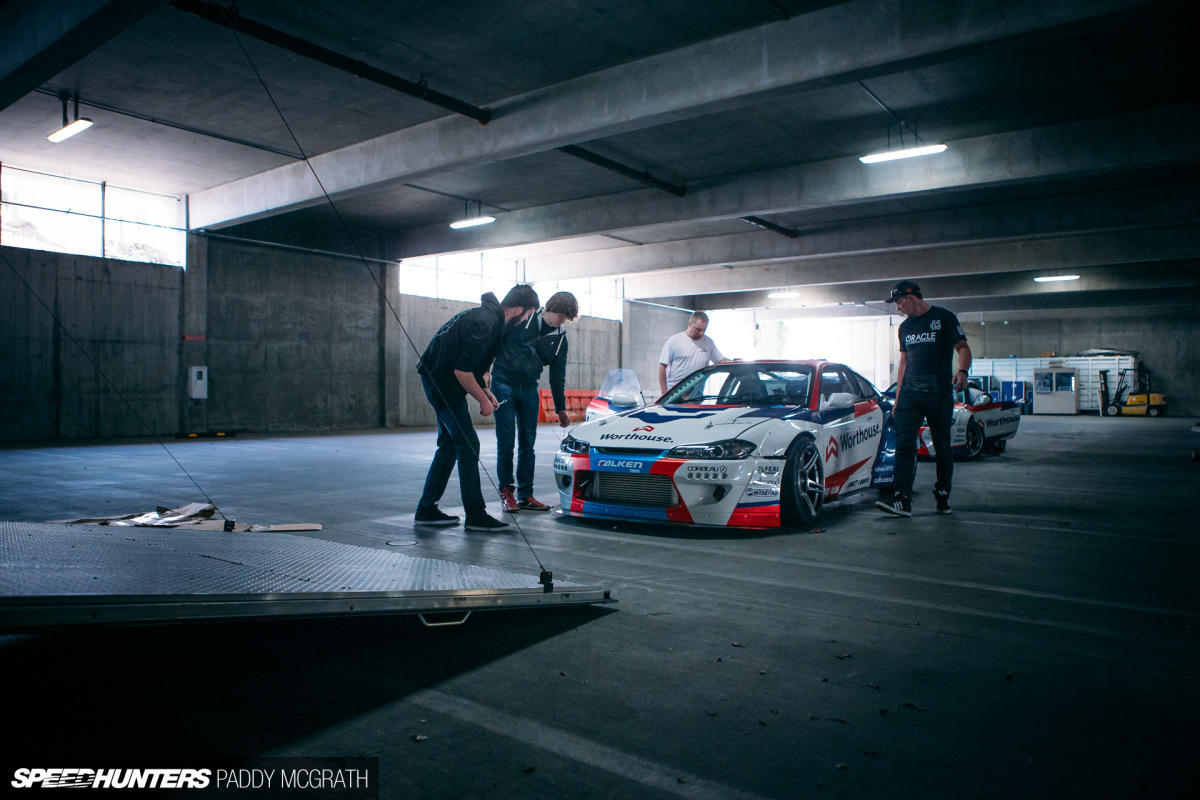 I hadn't even parked my humble Hyundai rental car inside the concrete parking structure at the back of the Formula D paddock in Long Beach, when I saw the familiar Oracle-branded trailer about to be unloaded. It was quiet, it was relatively early, and it was time for both Worthouse cars to be scrutinised at tech inspection.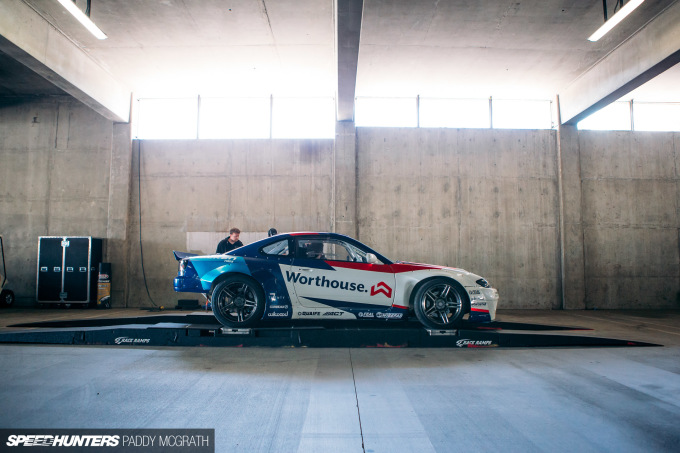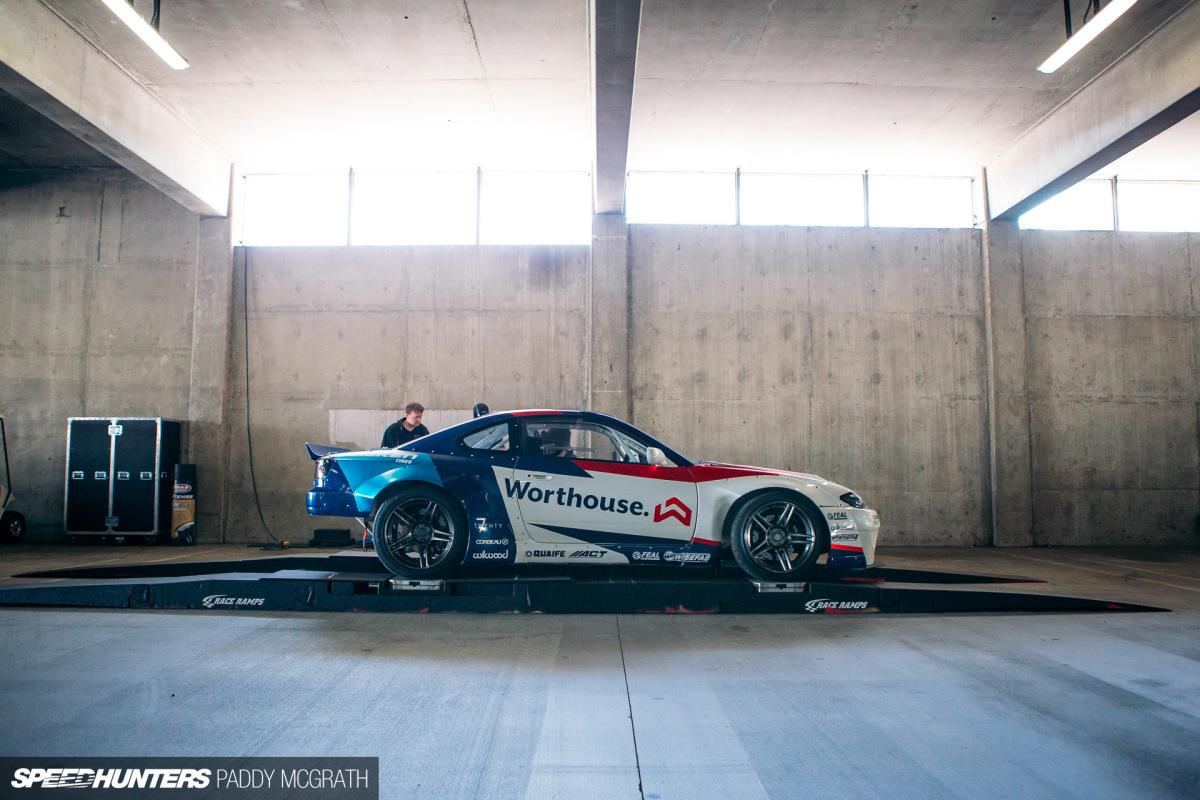 Although there was never any doubt that both cars would pass through, there is a fine balancing act involved to ensure the cars hit their target weight without being too far on the heavy side. As the cars can be subject to weight checks at any time, at their absolute lightest they must still meet the target weight. This includes a hypothetical situation where a car can be on the way back from a run, having lost a bumper and being low on fuel.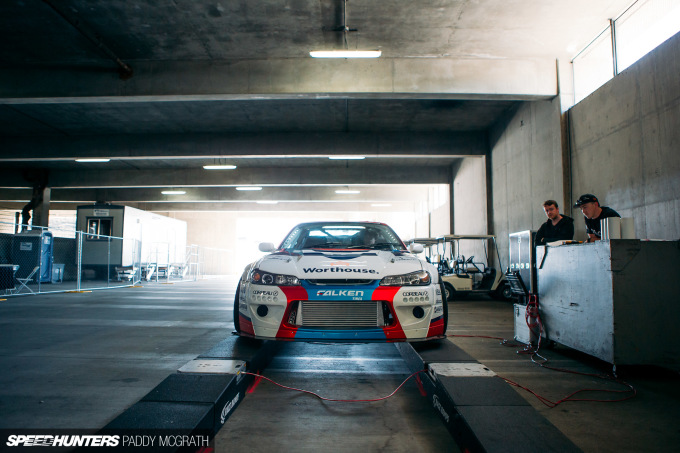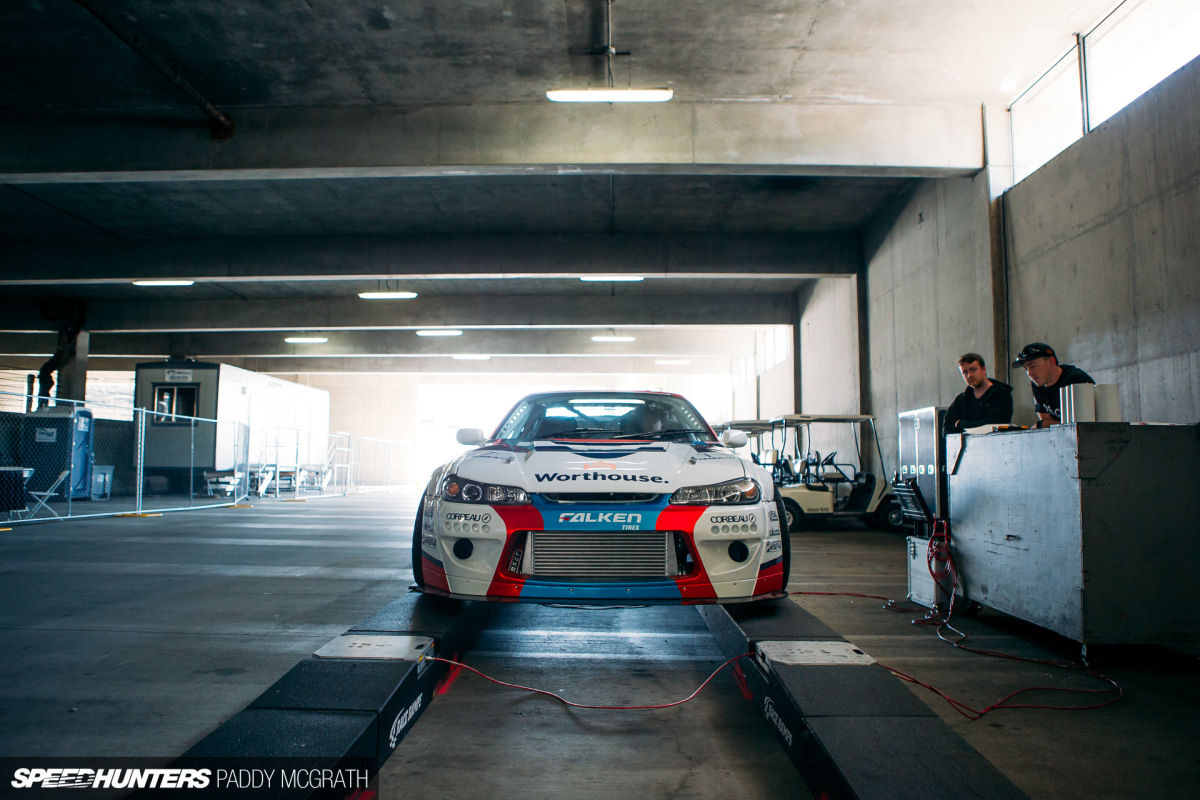 While it's a rule that I was aware of, I was surprised to see how strictly it was enforced. Both cars made their target weight which allows them to run their ideal 295/40R18 Falken RT615K+ tyre choice. There was only around 10lbs difference between the two cars, which is pretty impressive considering the weight includes the driver and the cars were built some 1,400 miles apart.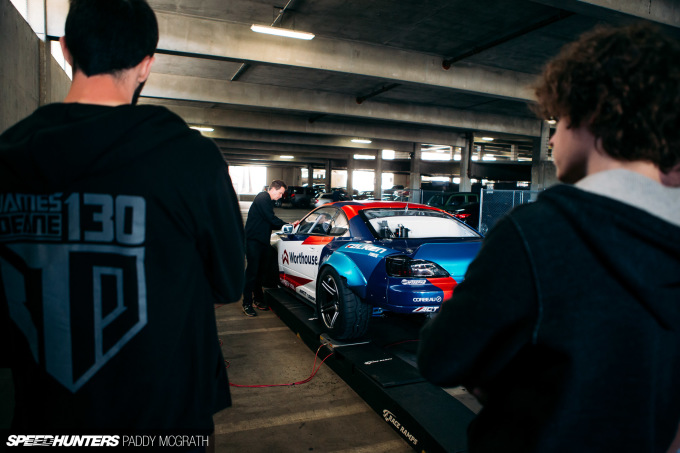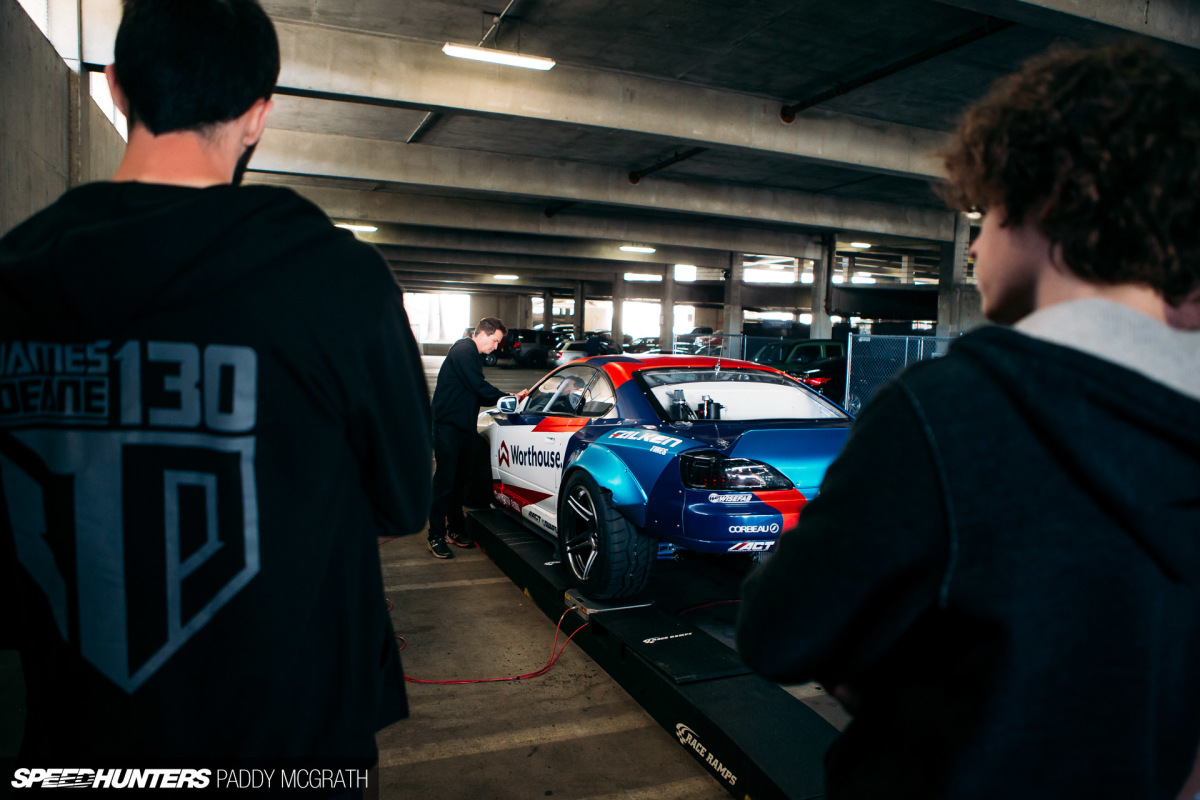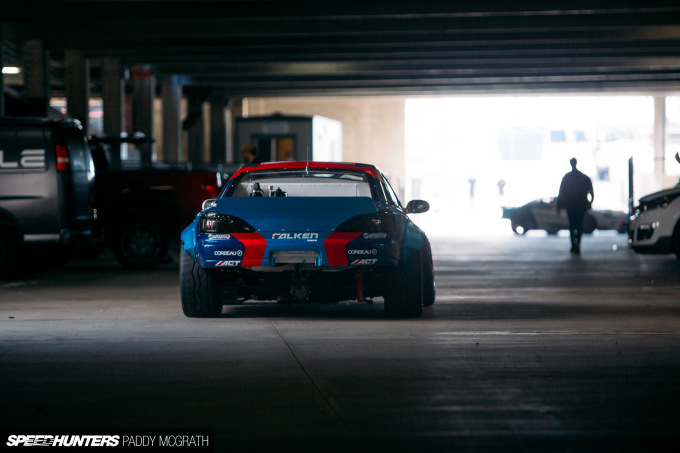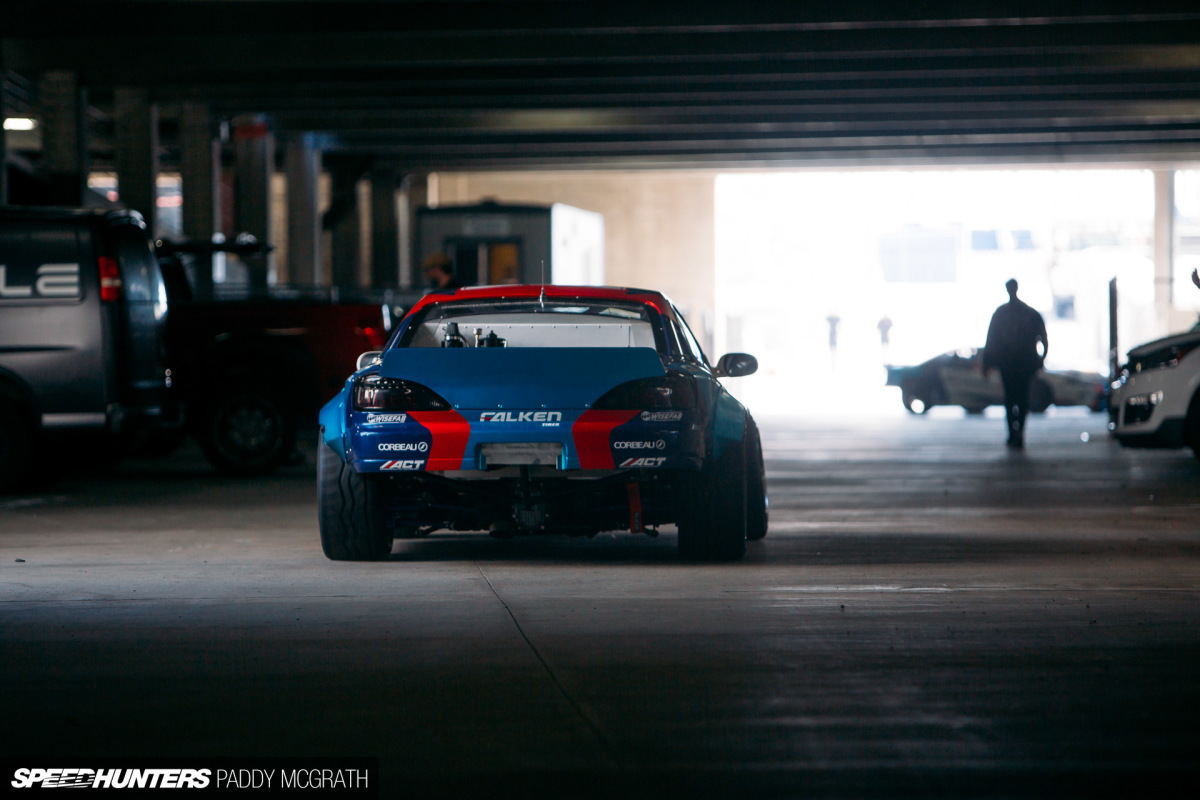 It didn't take long for both cars to be approved, logged and sent on their way. This was the final obstacle that needed to be hurdled before the cars and drivers were eligible to compete. The sense of relief and excitement at this point was palpable.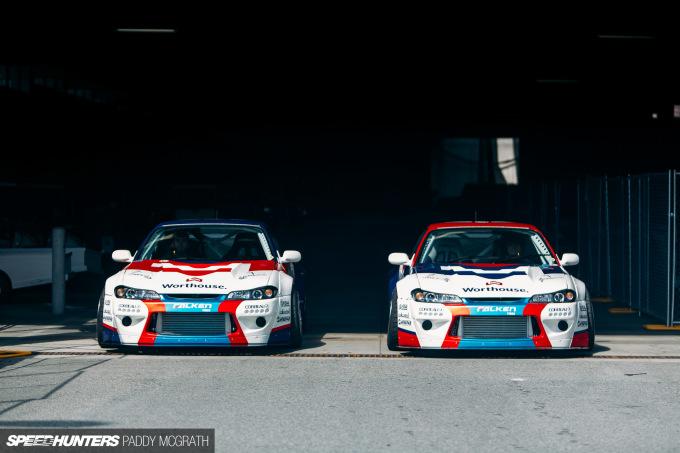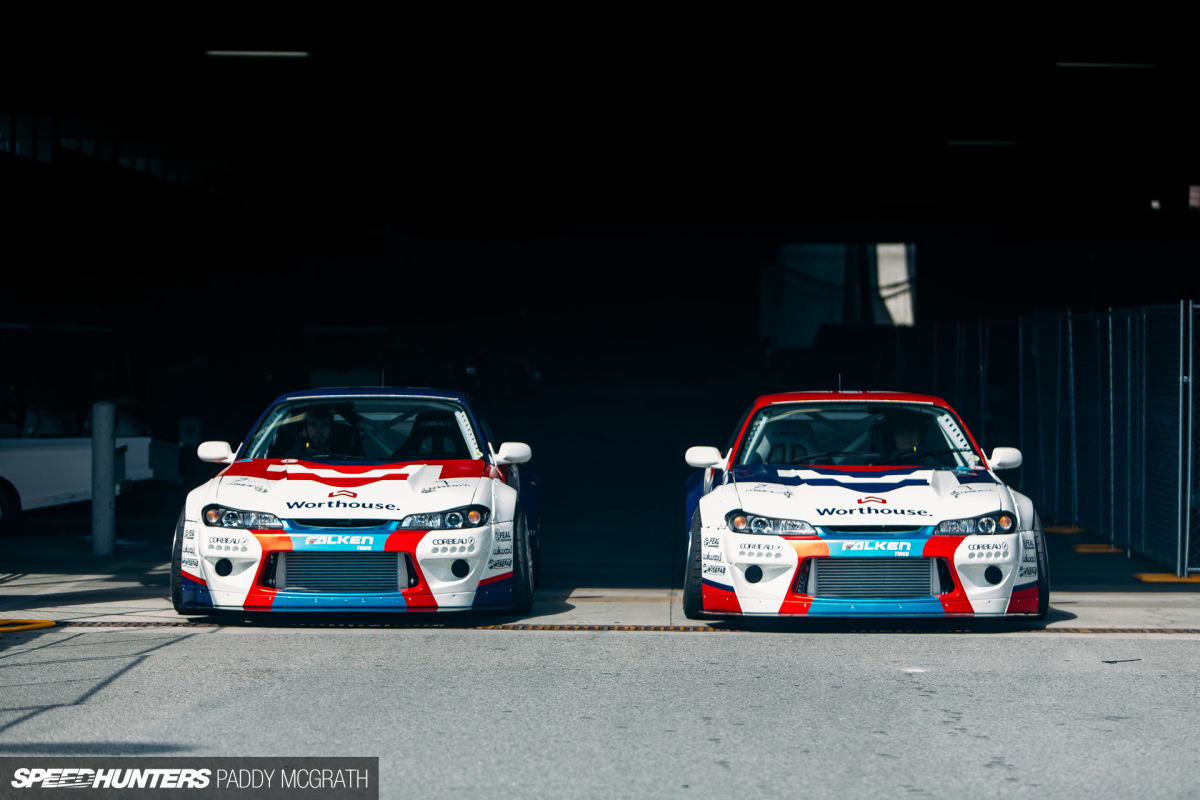 Heading out into the Californian sunshine for the first time as Formula Drift cars was a significant moment. Not only were they eligible, but there was no turning back. All of a sudden, this was feeling very real.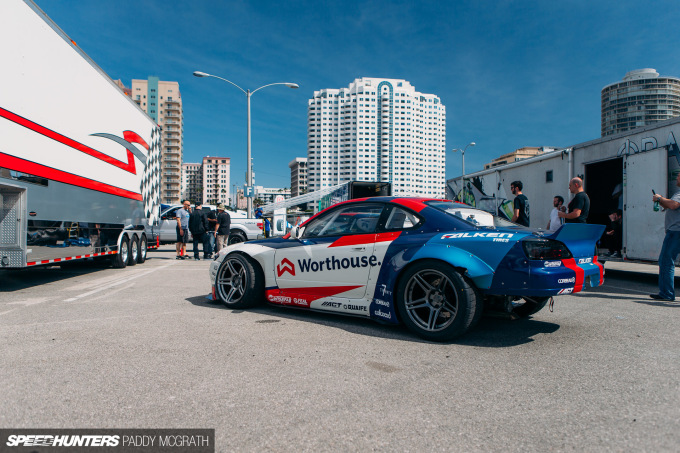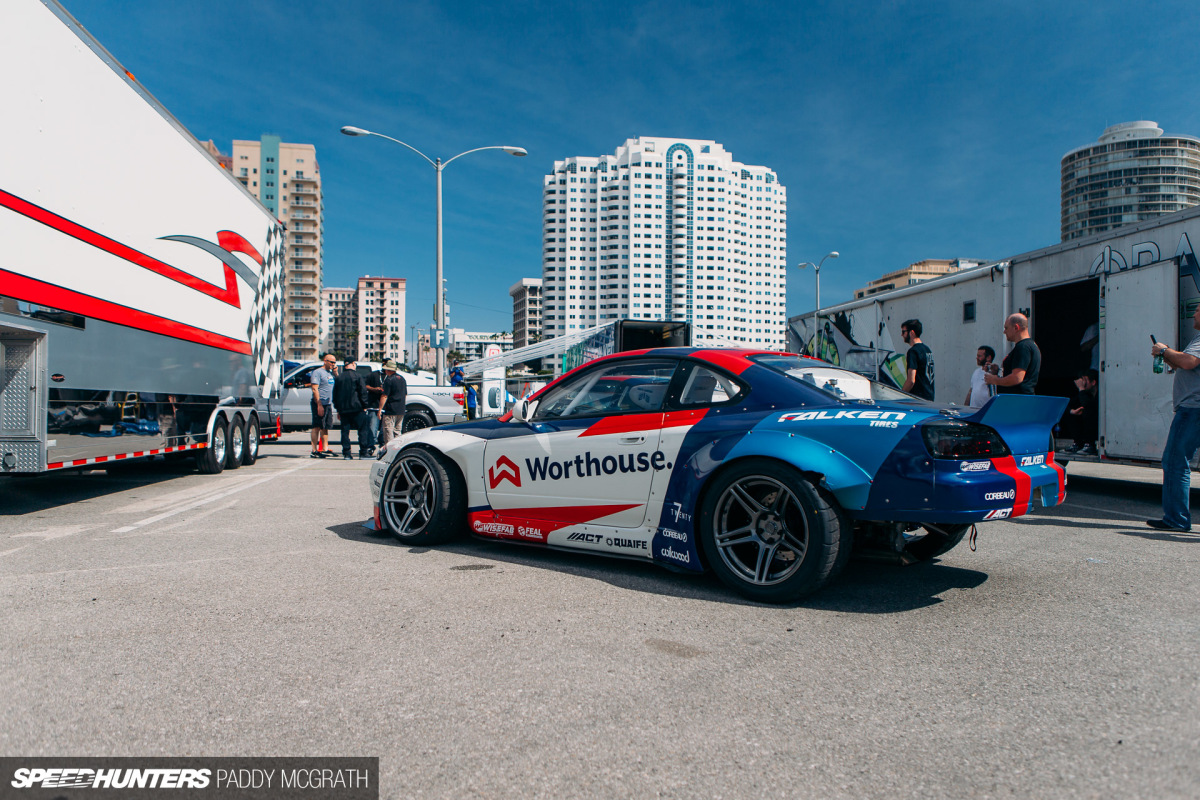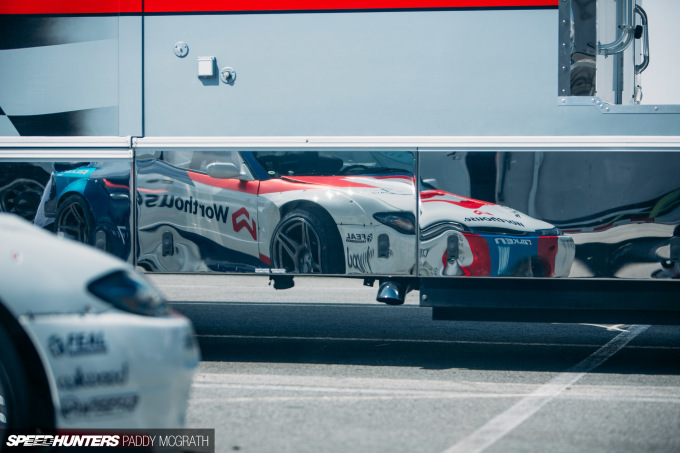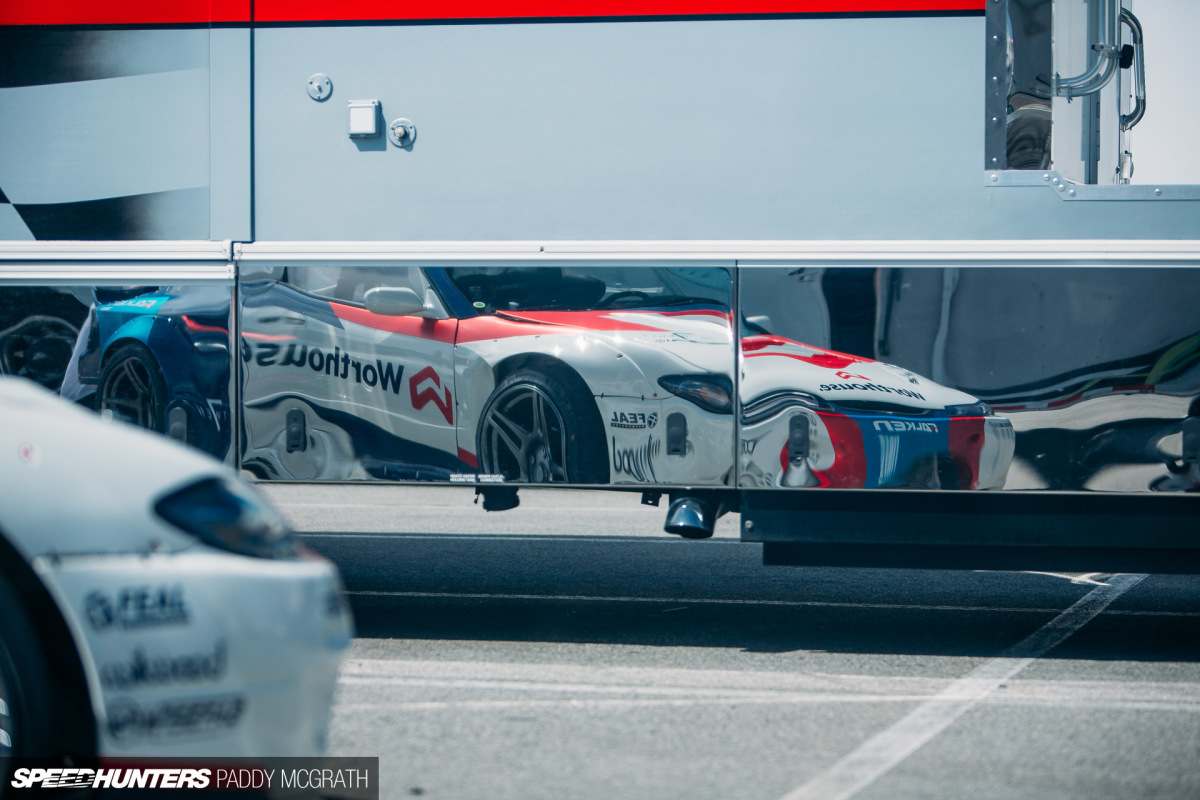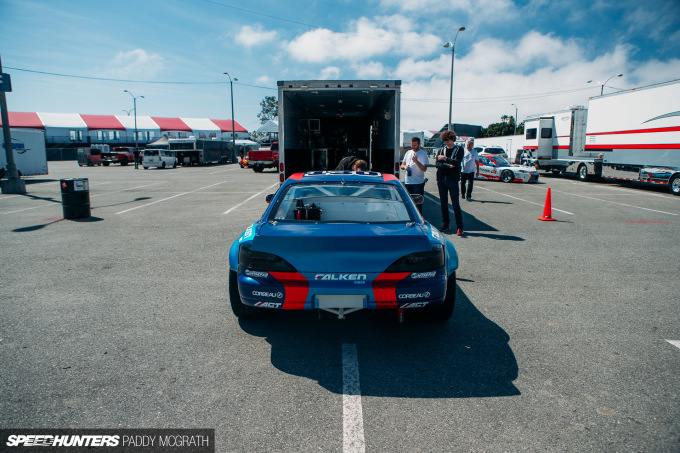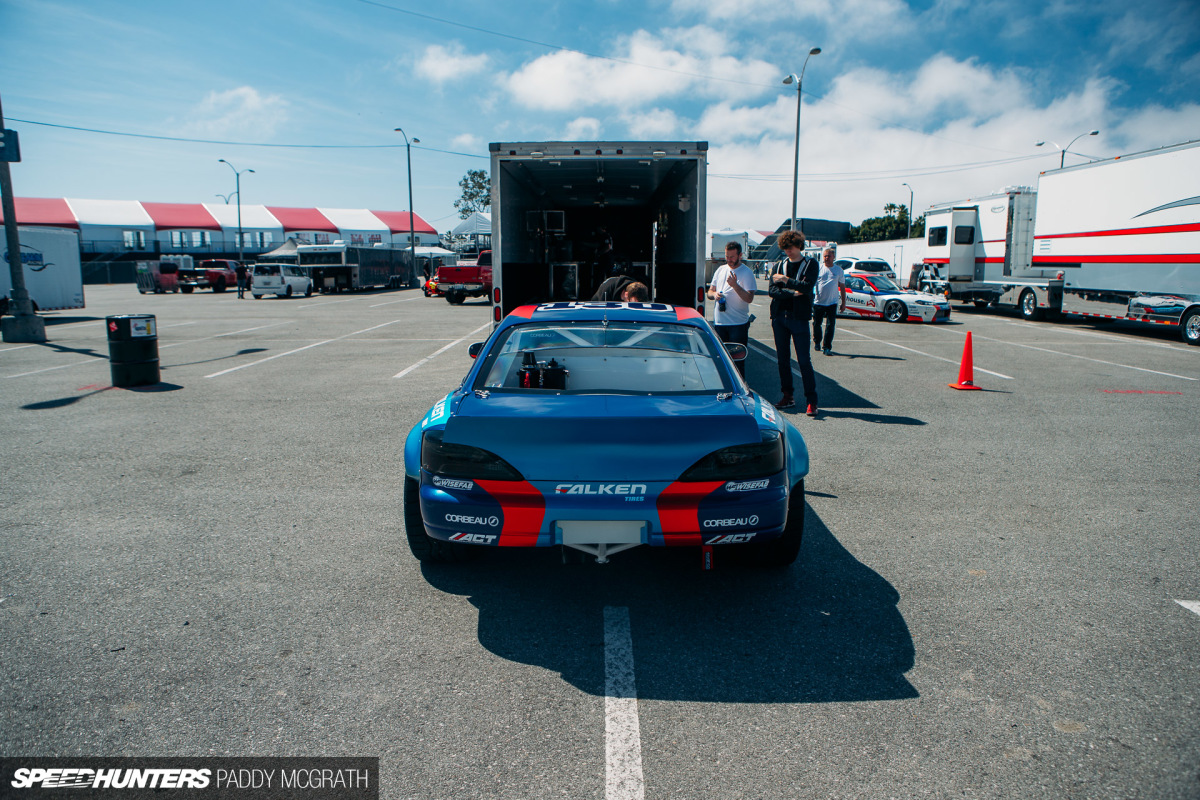 With that out of the way, there wasn't much to do except breathe a sigh of relief, move the cars temporarily back into the trailer, and for the guys to take care of some errands.
I took the opportunity to explore the paddock and check out both the regular and new FD machinery in person. Days like this rarely feel like work, but someone's got to do it. I'll give my thoughts on these in a separate post, as I've enough to try and get through in this as it is.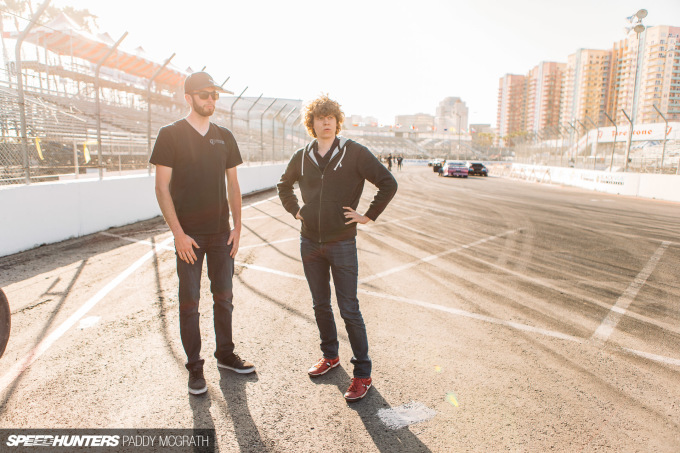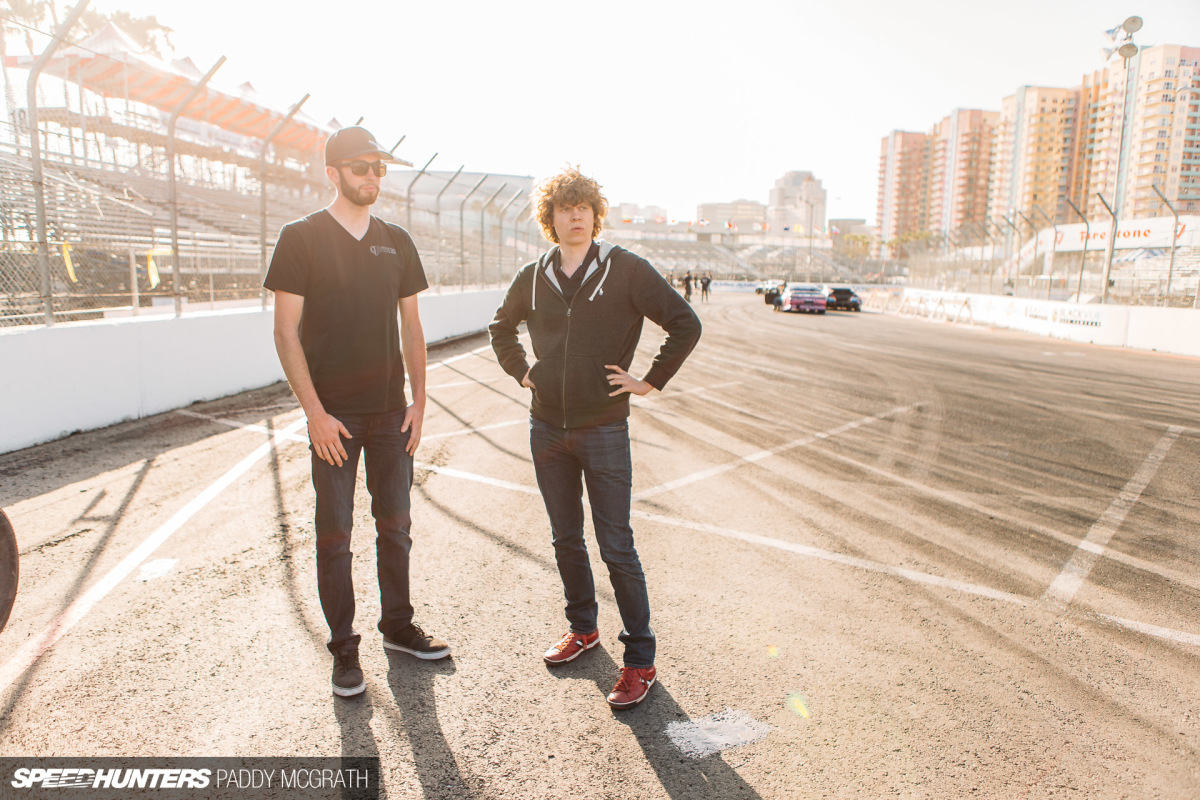 With the sun slowly dropping towards the horizon, a track walk felt appropriate following dinner at a nearby restaurant. The FD Long Beach drift section felt much more claustrophobic in person than I had expected; the walls only adding to that.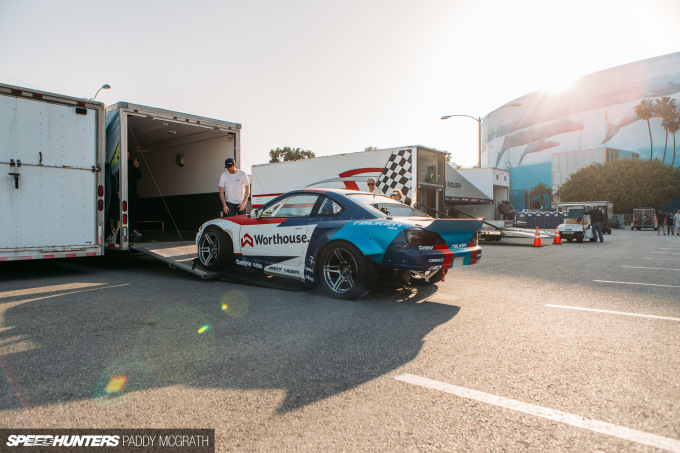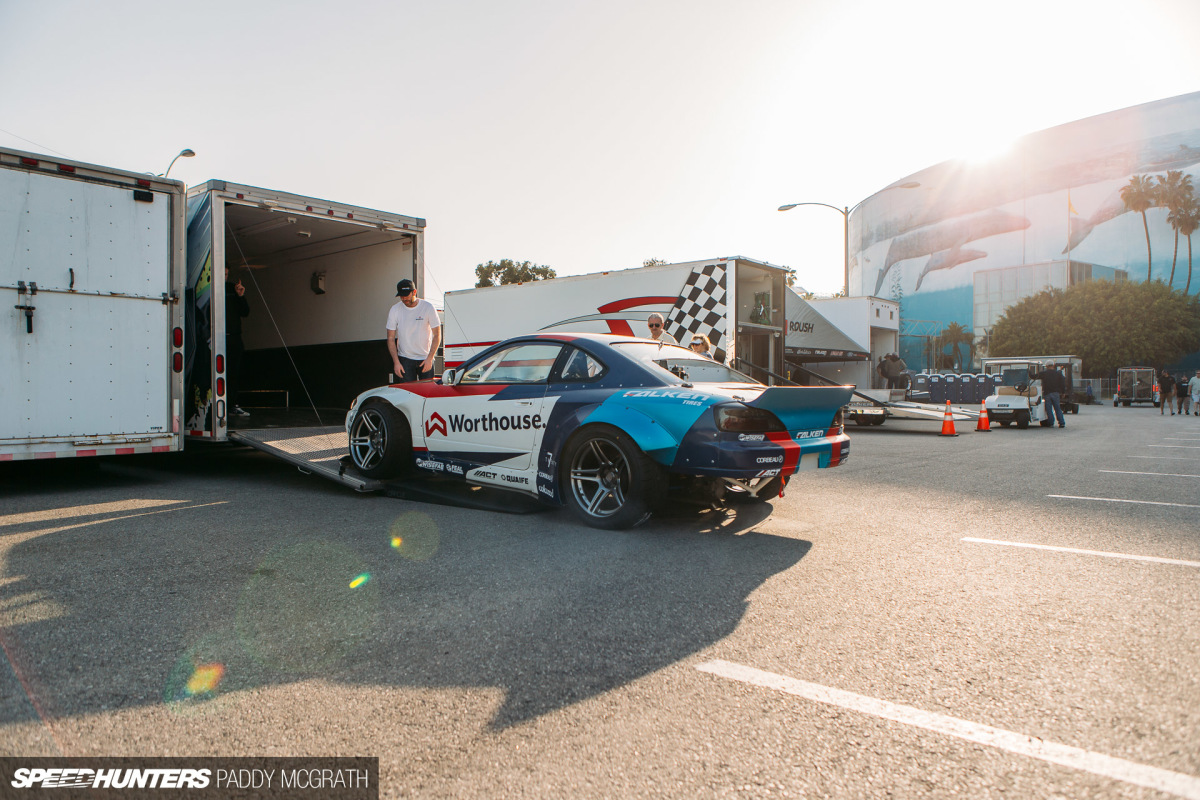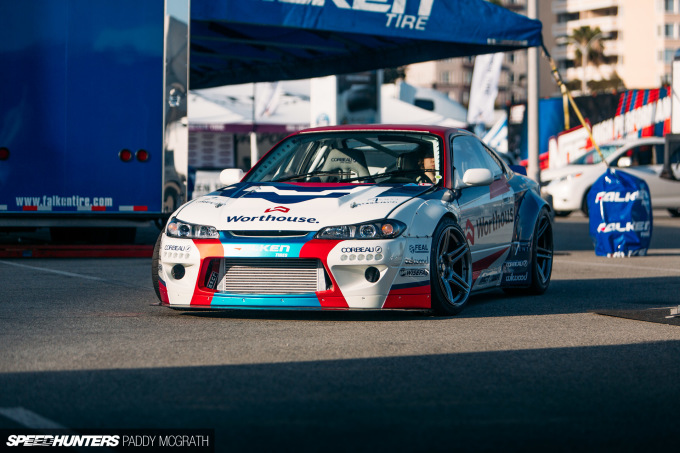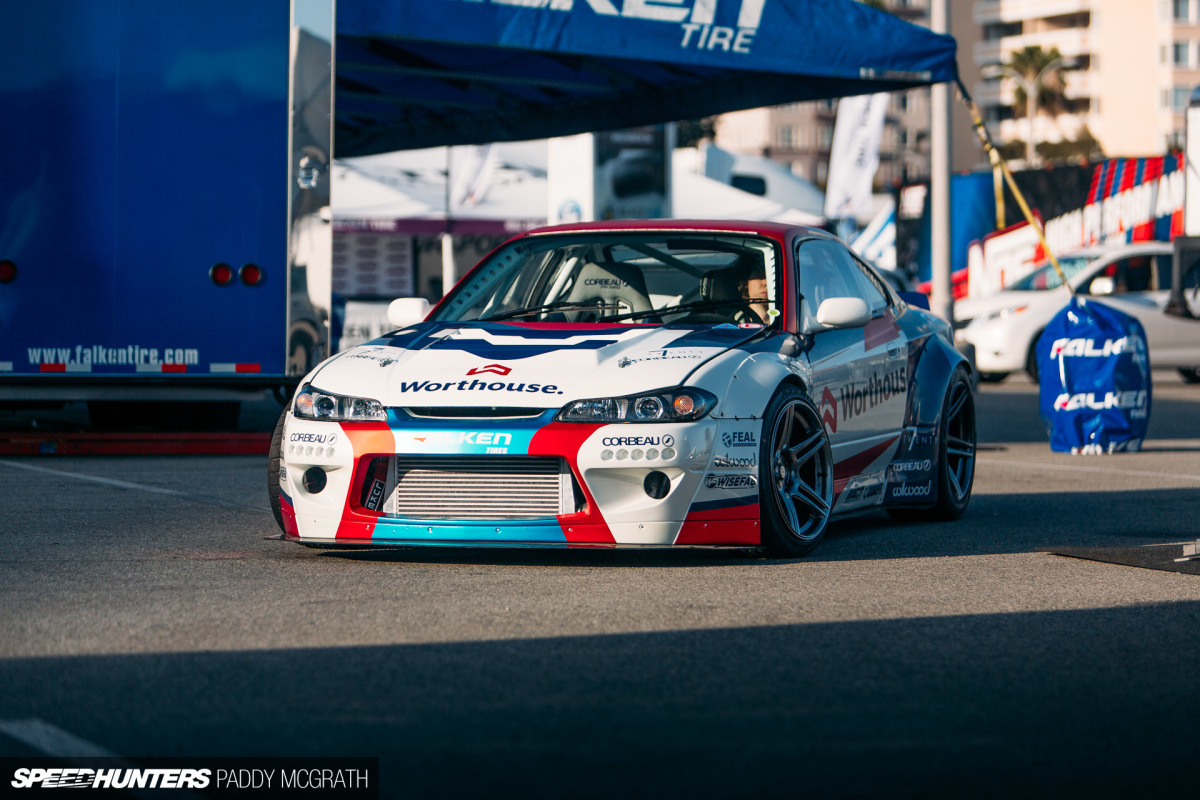 It's amazing how much significance a sticker can have, but seeing the drivers putting their names on their cars was the icing on the cake. Again, an alarming amount of thought and care went into their positioning, along with consulting the FD team to ensure that their final position was okay.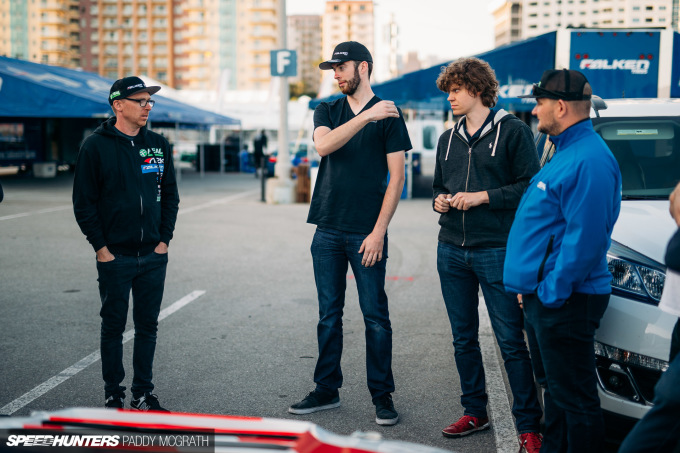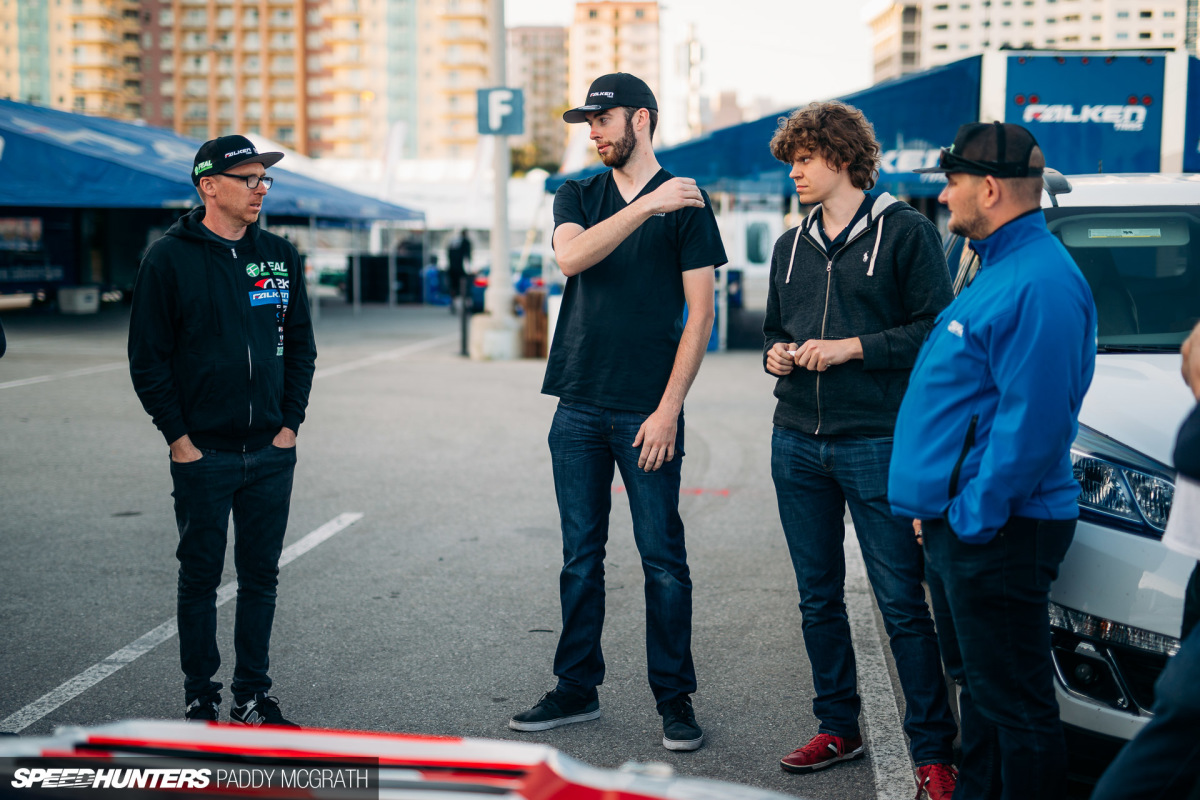 There was a steady stream of friendly faces all day to welcome the new team to the paddock, although some did keep their distance which I found curious on a couple of levels.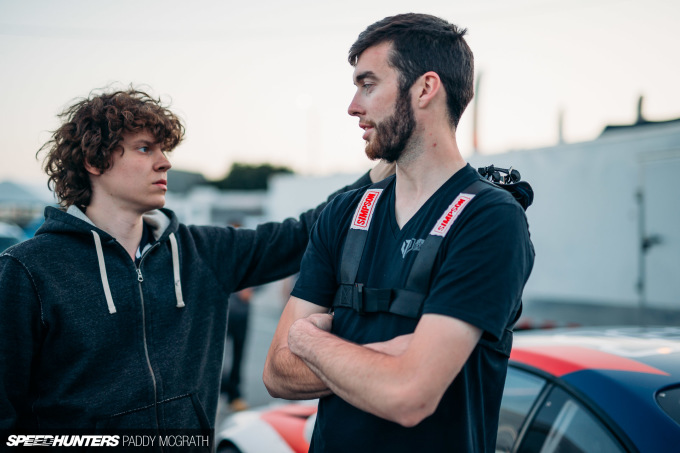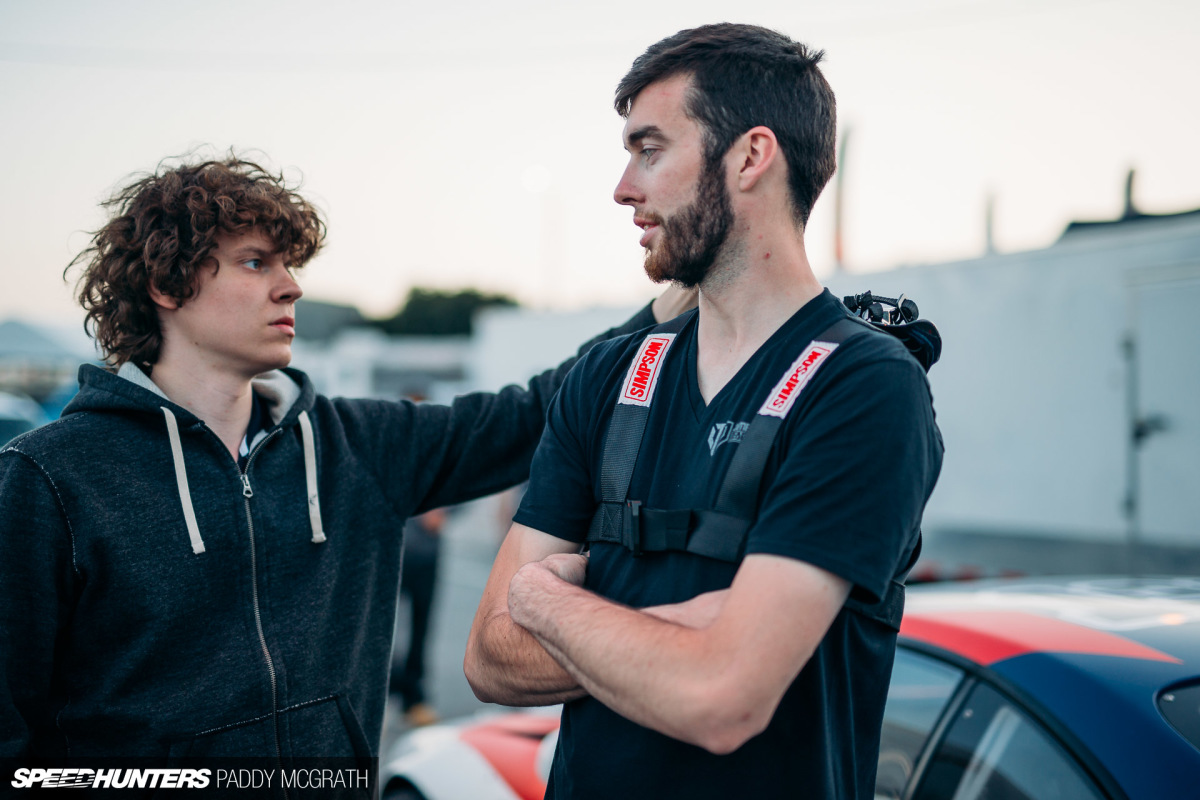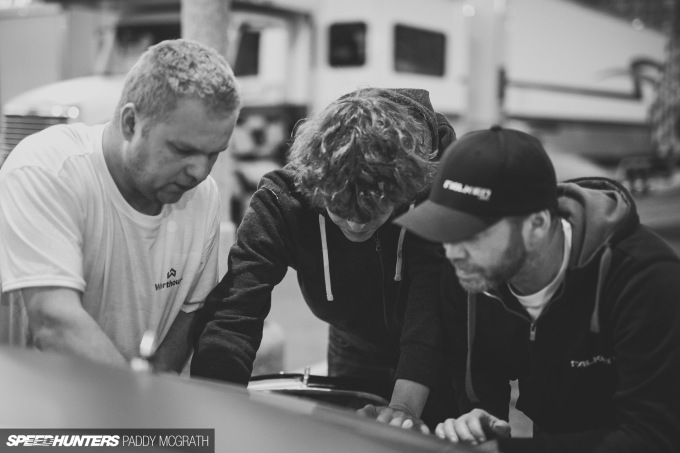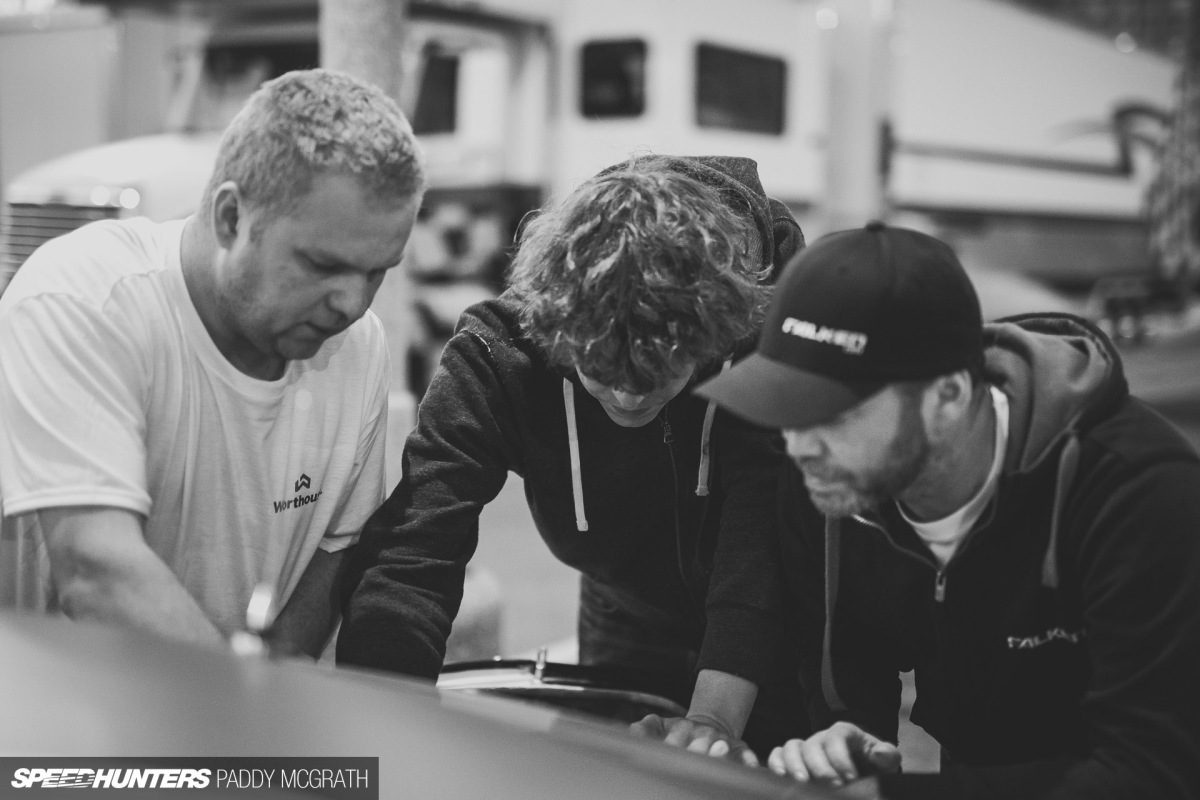 We were really down to final checks and the last things on the to-do list heading into the night, including the fitting and adjustment of both drivers' HANS devices, something neither had used before (that I can recall, at least). They're a mandatory safety device in Formula D.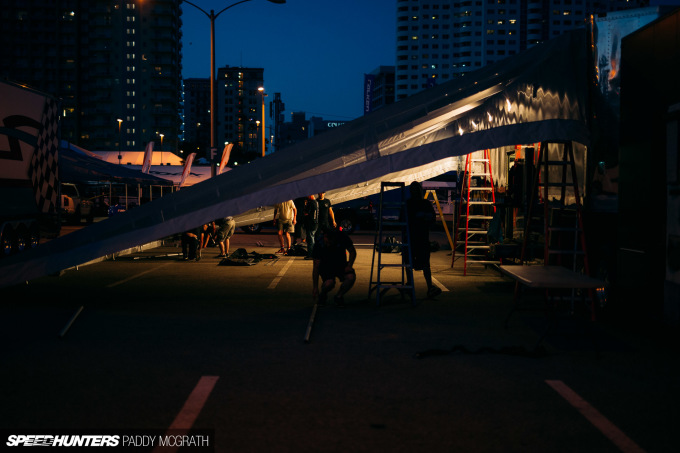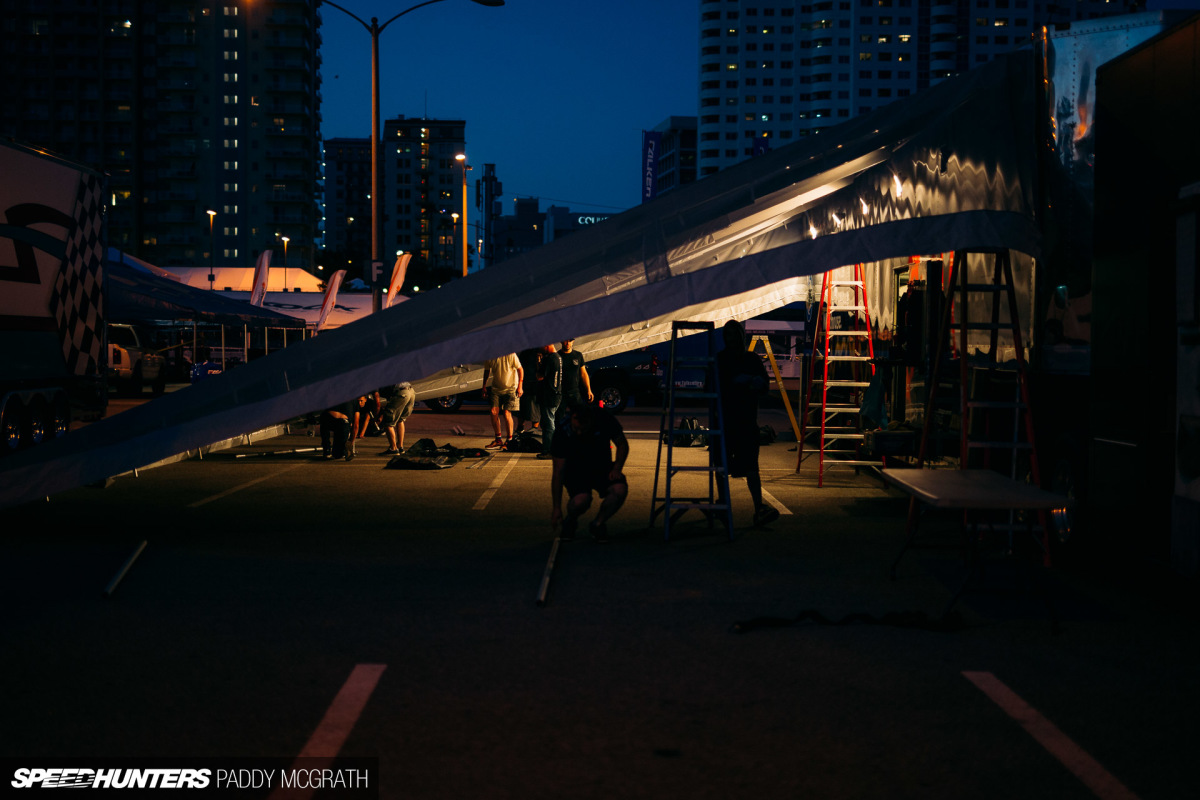 Into the darkness, and with the Bridges Racing crew assembling the three-car pit area, it was time to call it a night. The wait was almost over.
Friday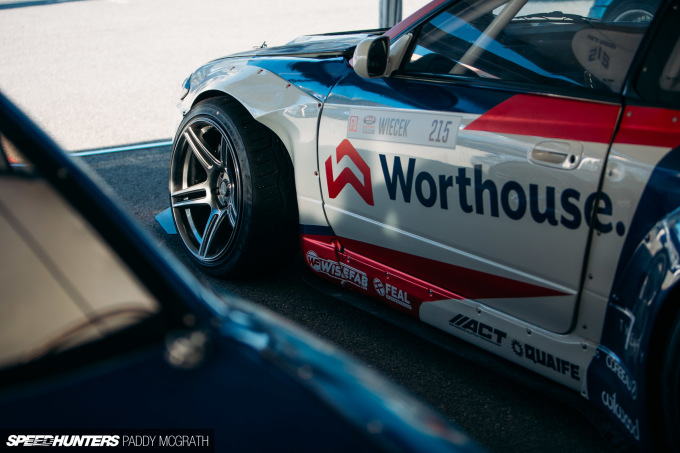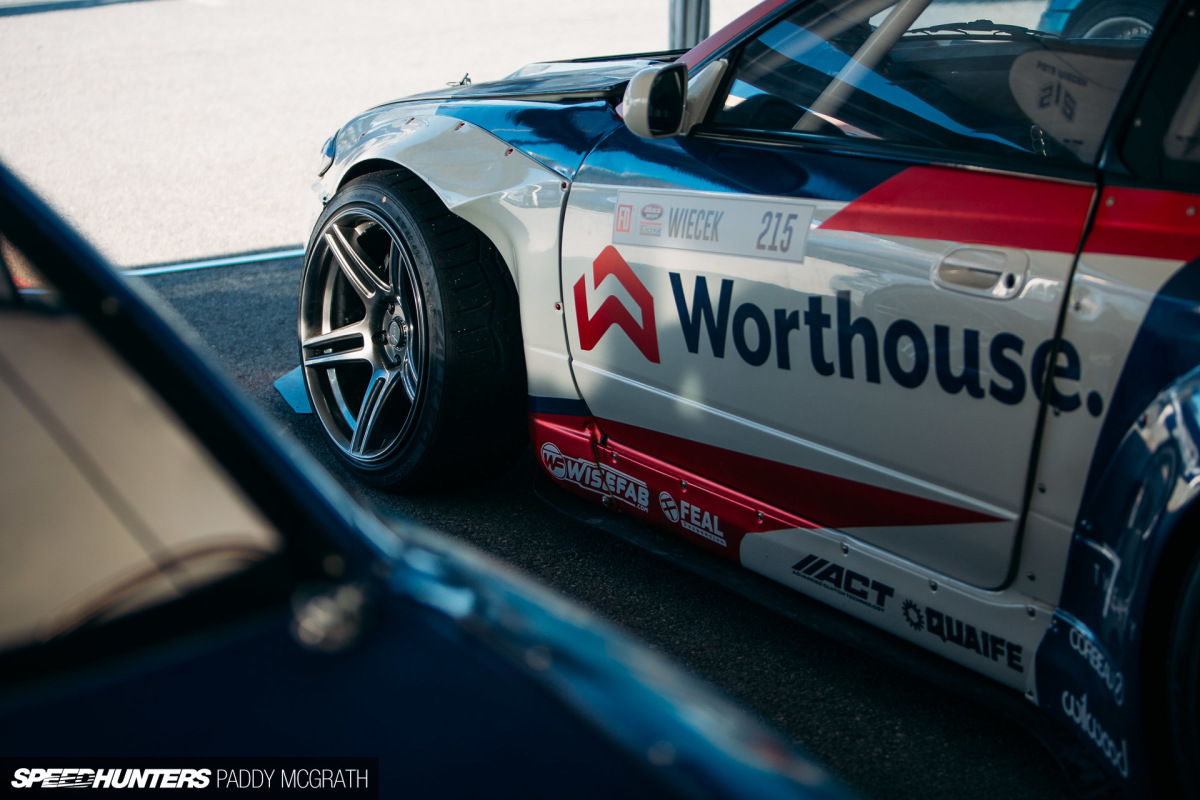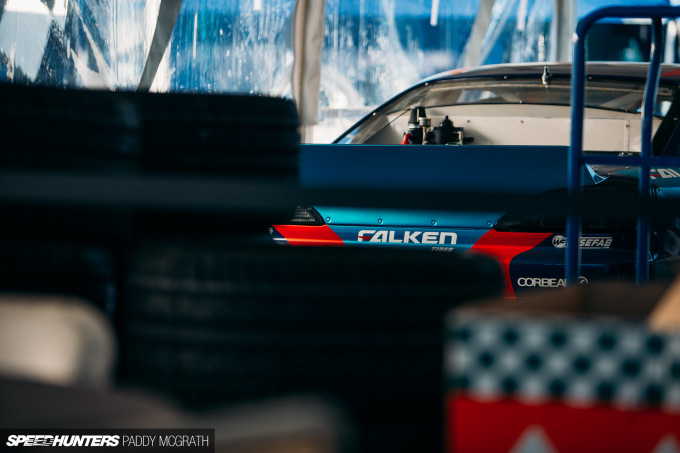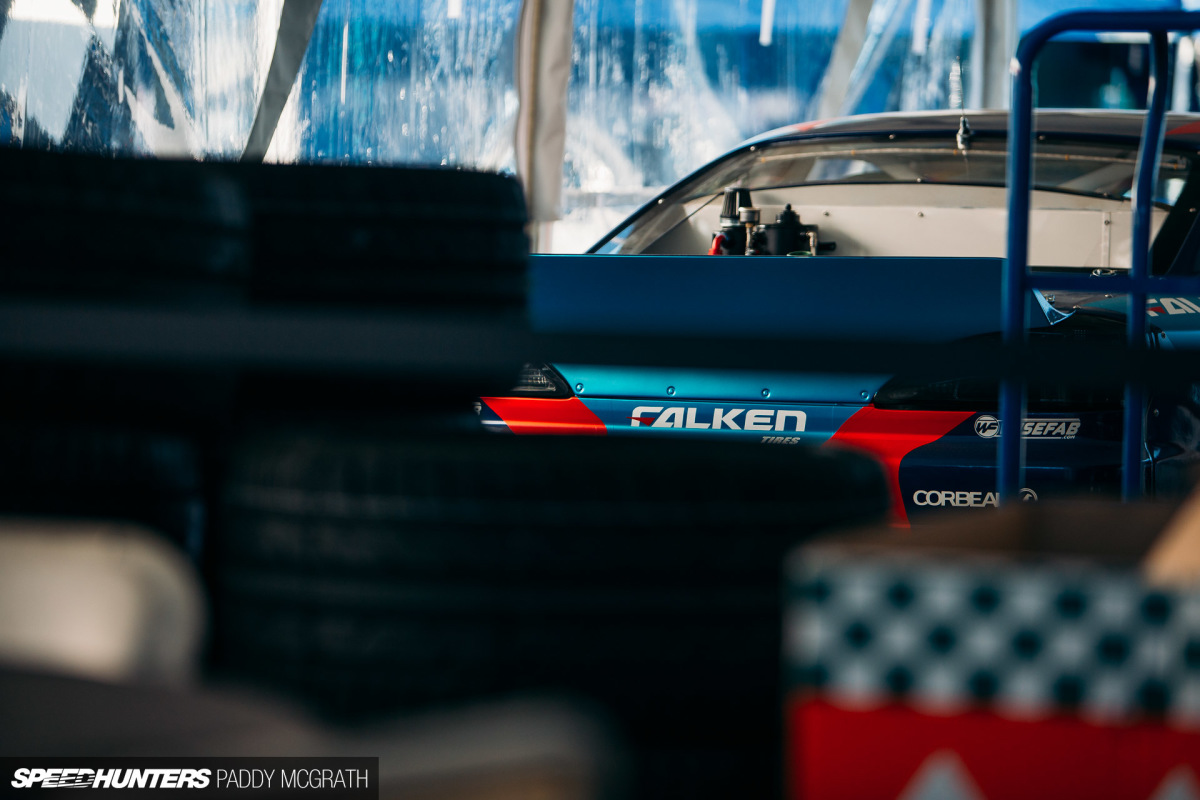 When I first started documenting this story back in October last year, I was committed to sharing all the nuances, both good and bad, of the adventure. So far though, it was pretty a pretty straightforward tale.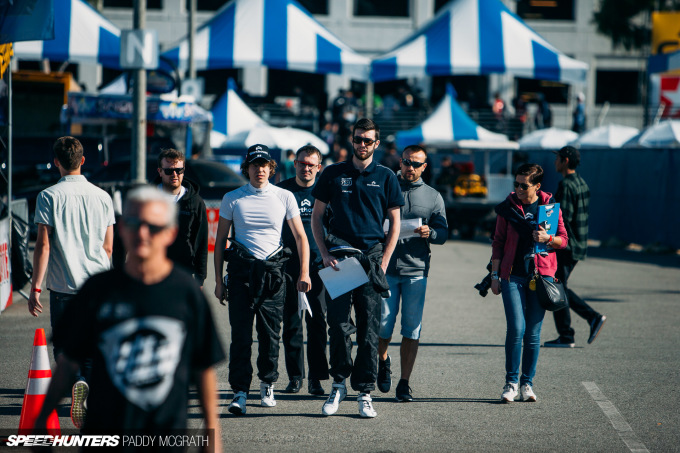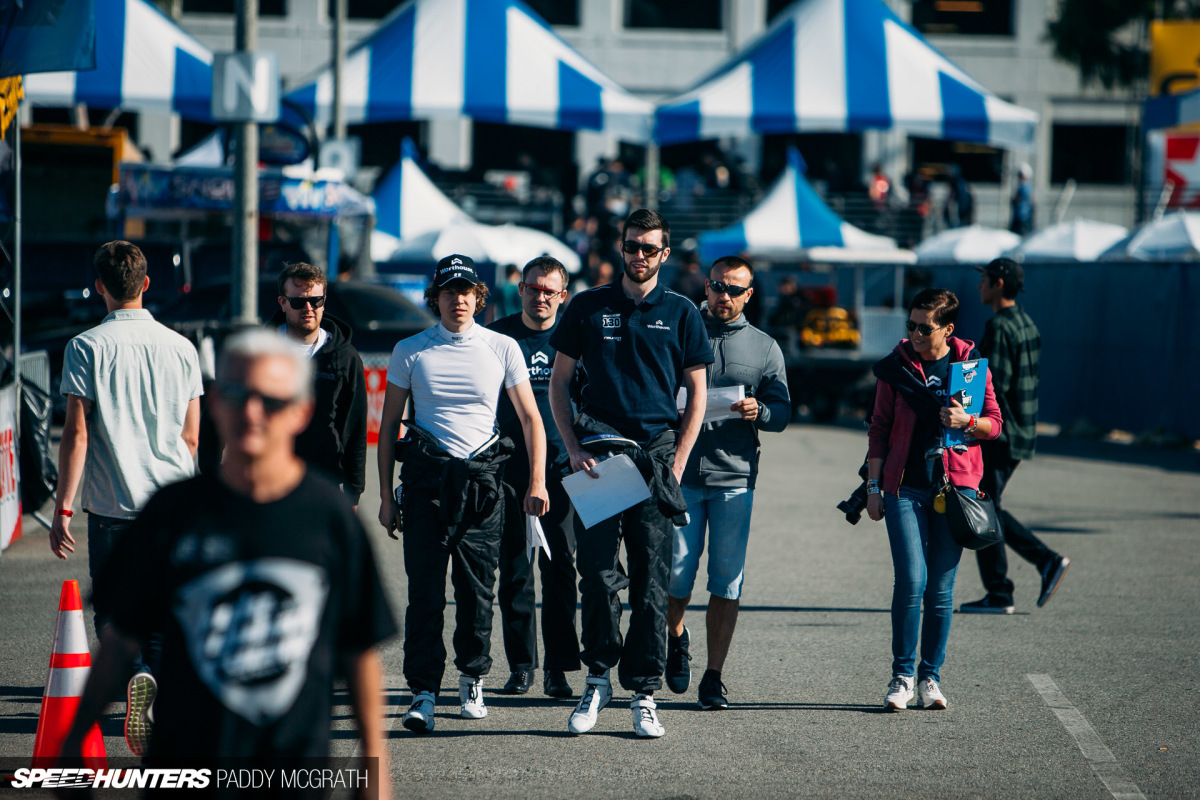 As teammates, both James and Piotr work extraordinarily well together; they make decisions together, they can comfortably compromise on things, but always keep moving forward. They're a remarkable unit who are both equals in the team. They are both human though, and I'm interested in seeing how this relationship will evolve over the course of the season.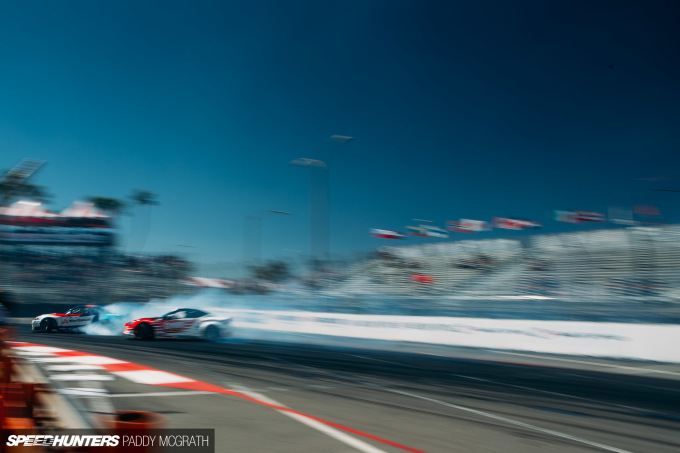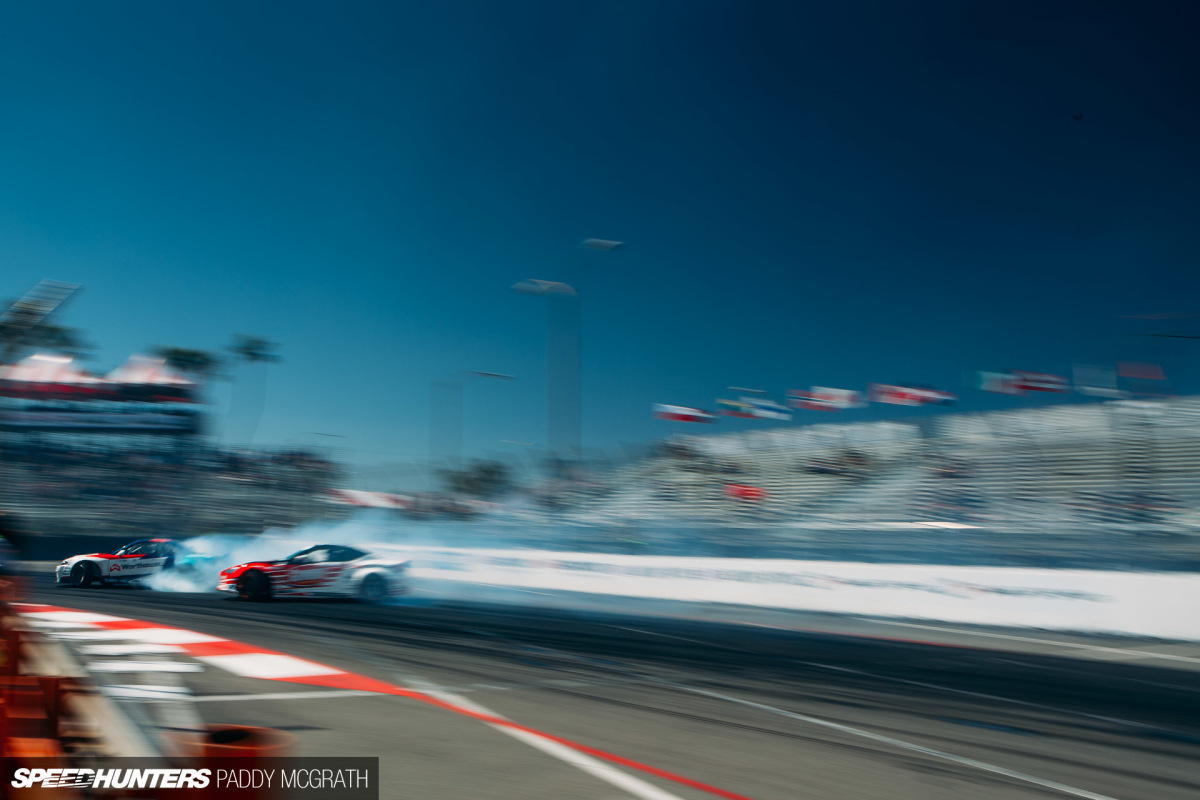 Of course, the most significant part of this particular morning was the first practice session of the 2017 season. These were the moments when dreams became reality.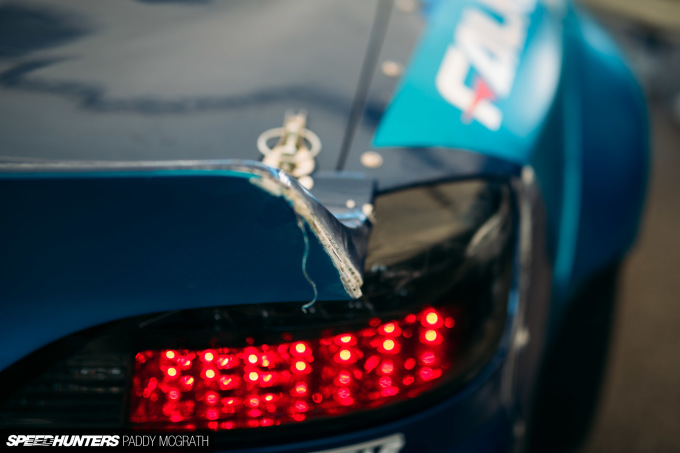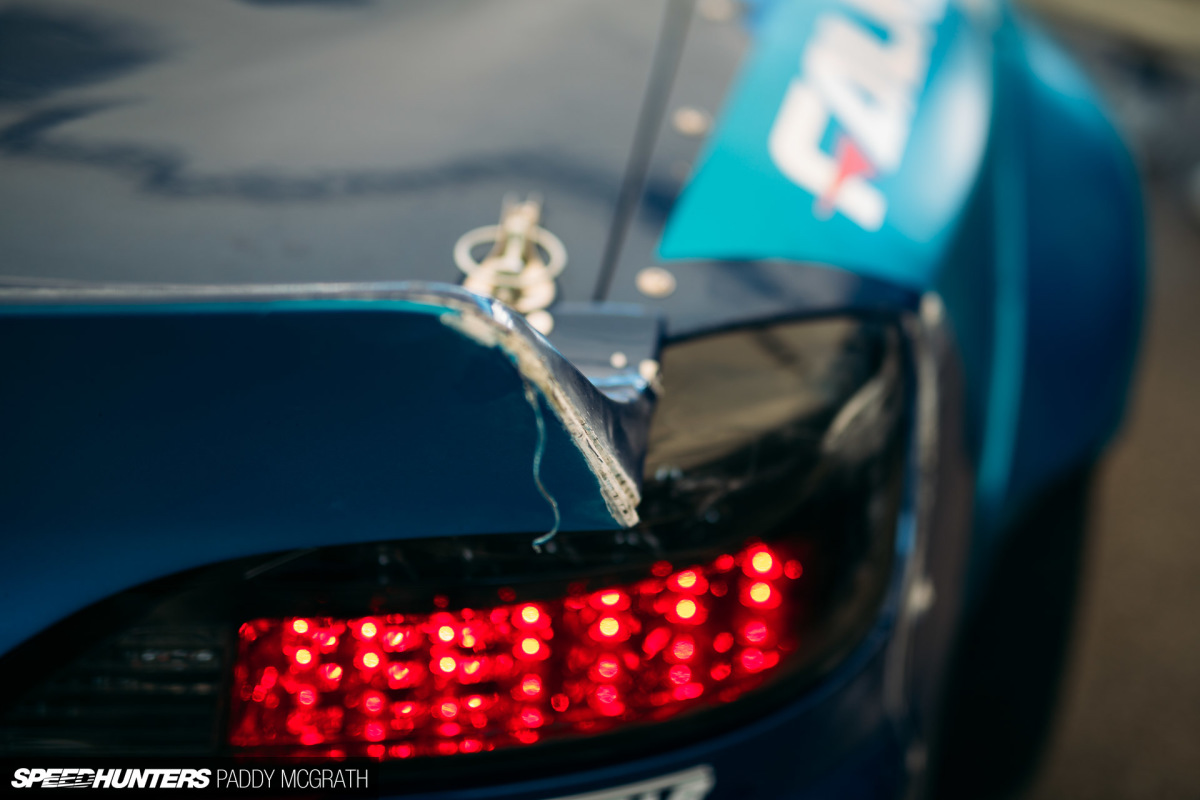 Needless to say, fun was had with both drivers returning with familiar looking scars on their cars. Well, they are twins after all.
While it wasn't James' first time driving in Formula D, it was his first time in a proper car. As even Chris Forsberg said, James' last drive was so long ago that this might as well be the first time; the game has moved on so much. It was Piotr's very first time, and as expected, he took to it like a duck to water.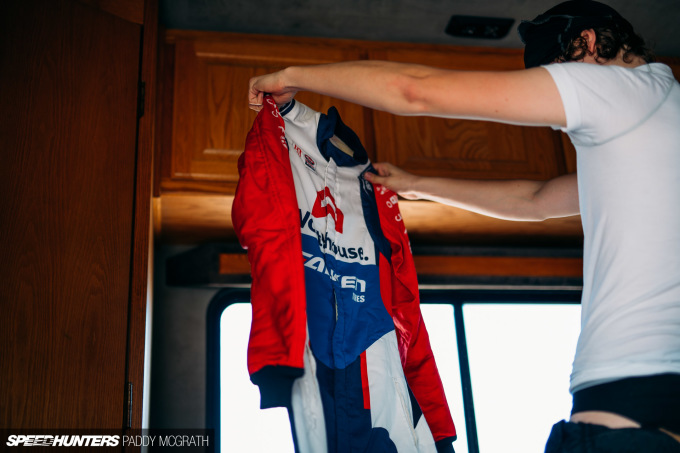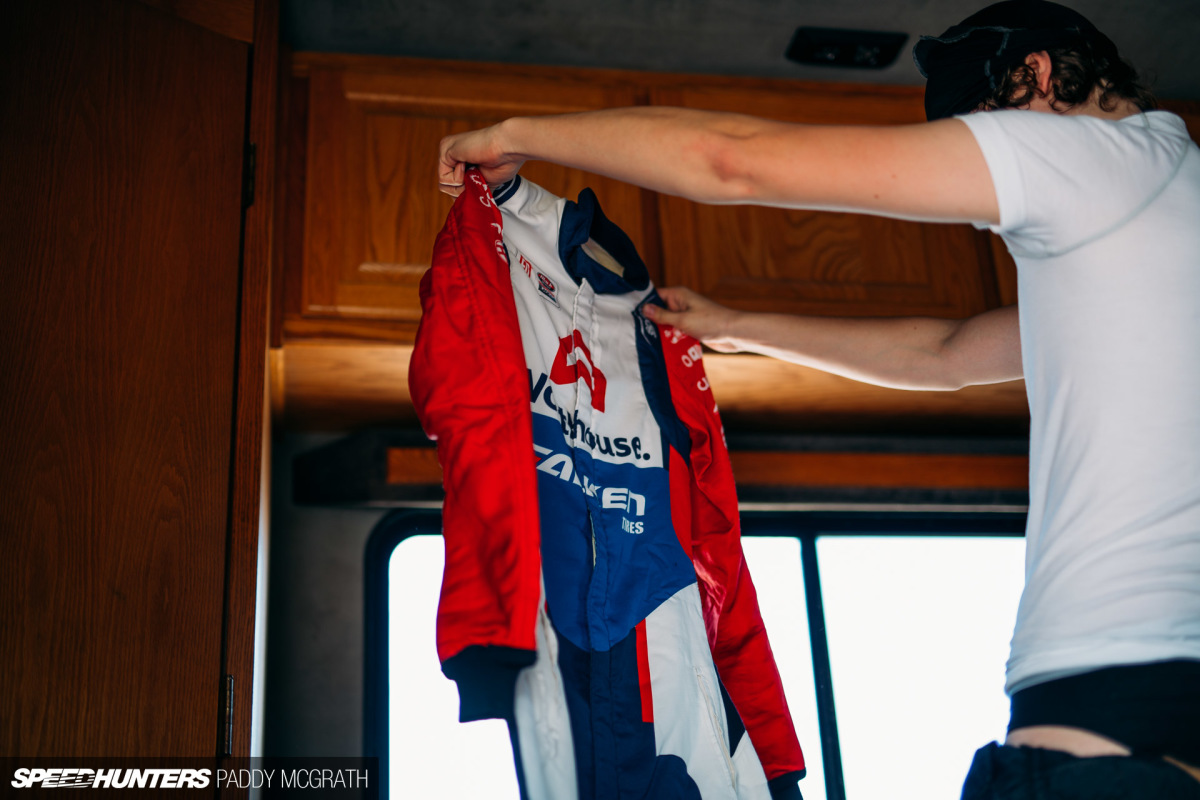 To make a good morning even better, their two brand new custom Sparco race suits had arrived.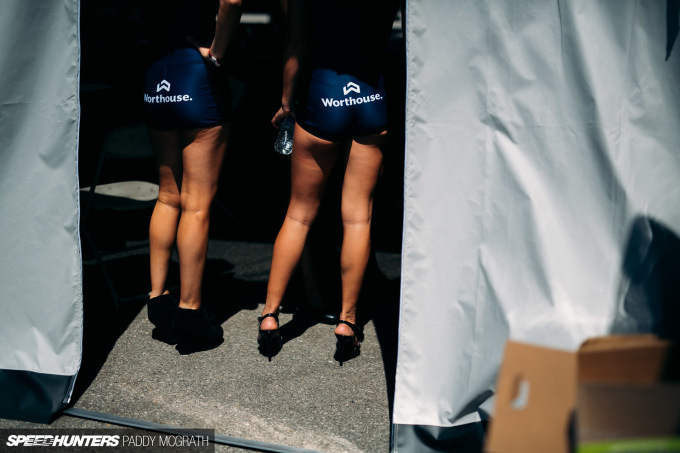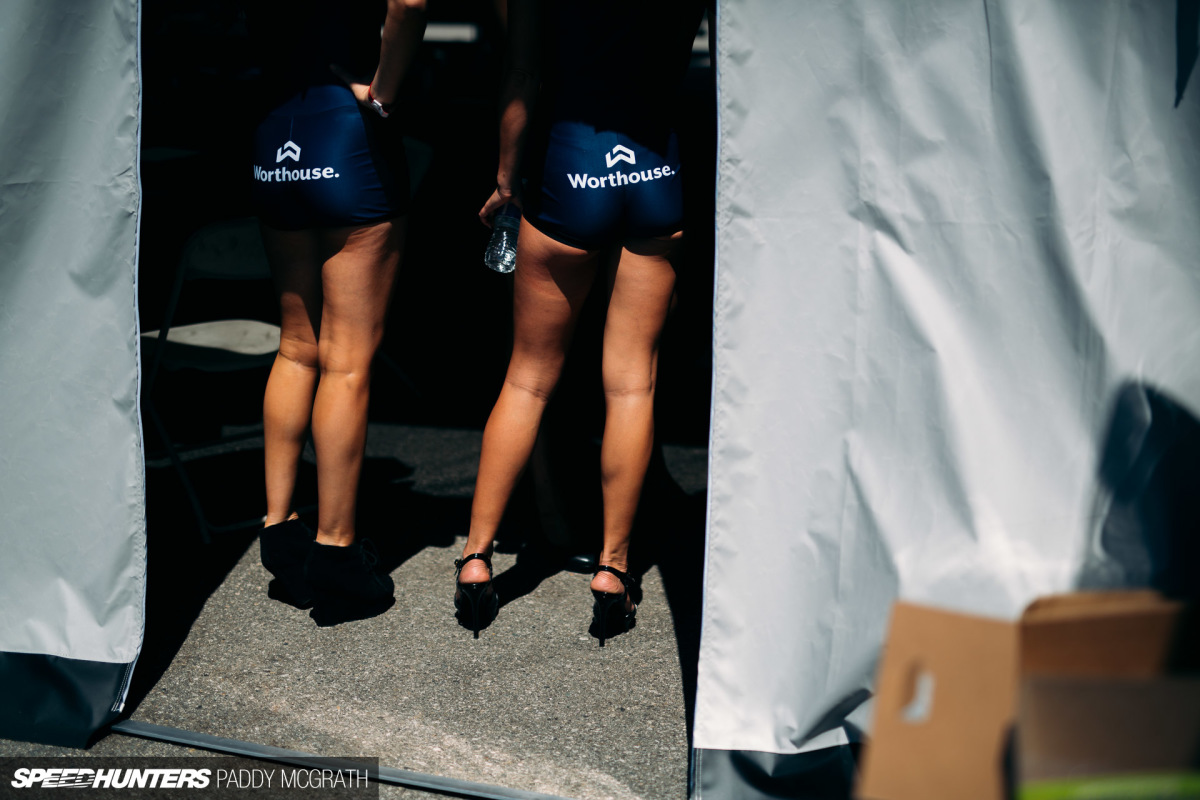 Along with the rest of the staff uniforms. I'm glad I didn't have to wear one, as was probably everyone else in the paddock.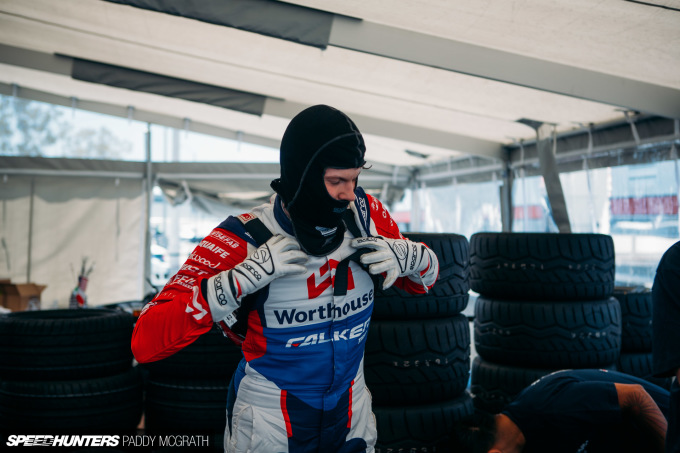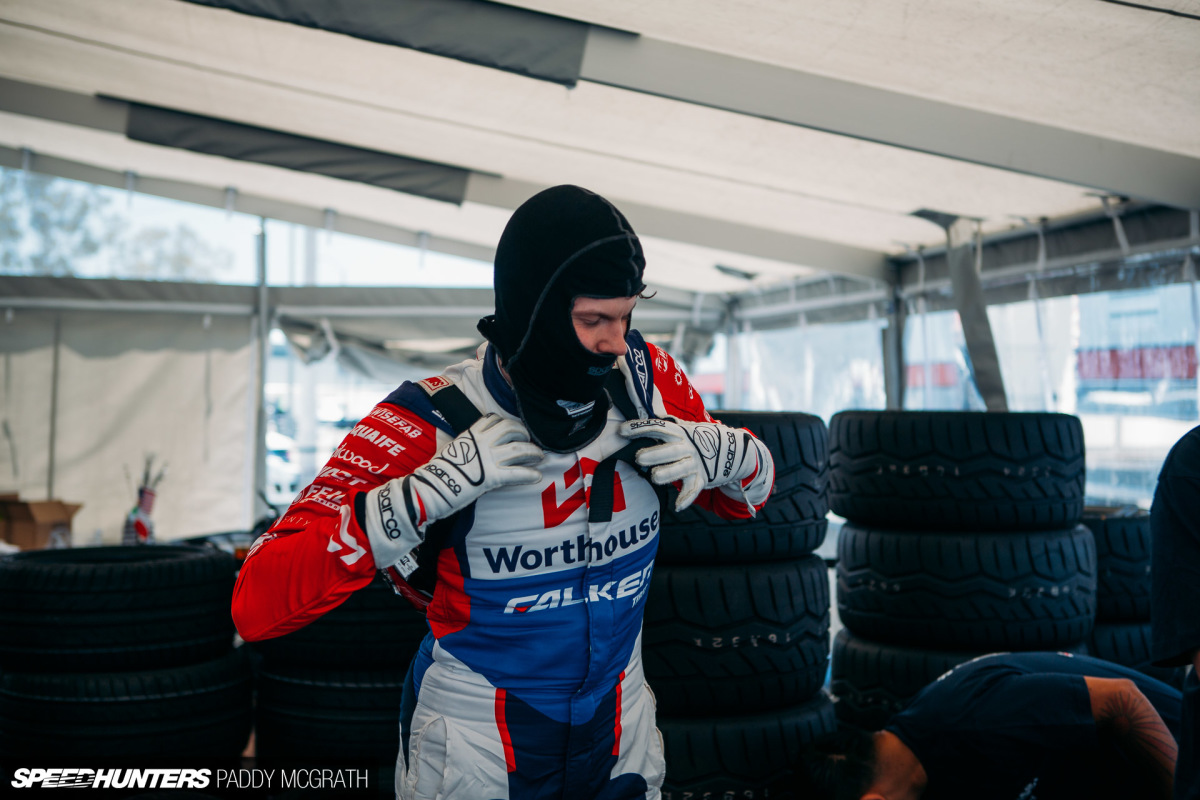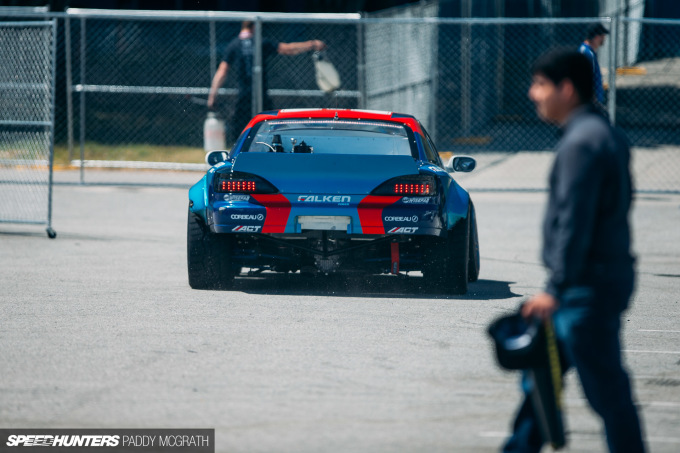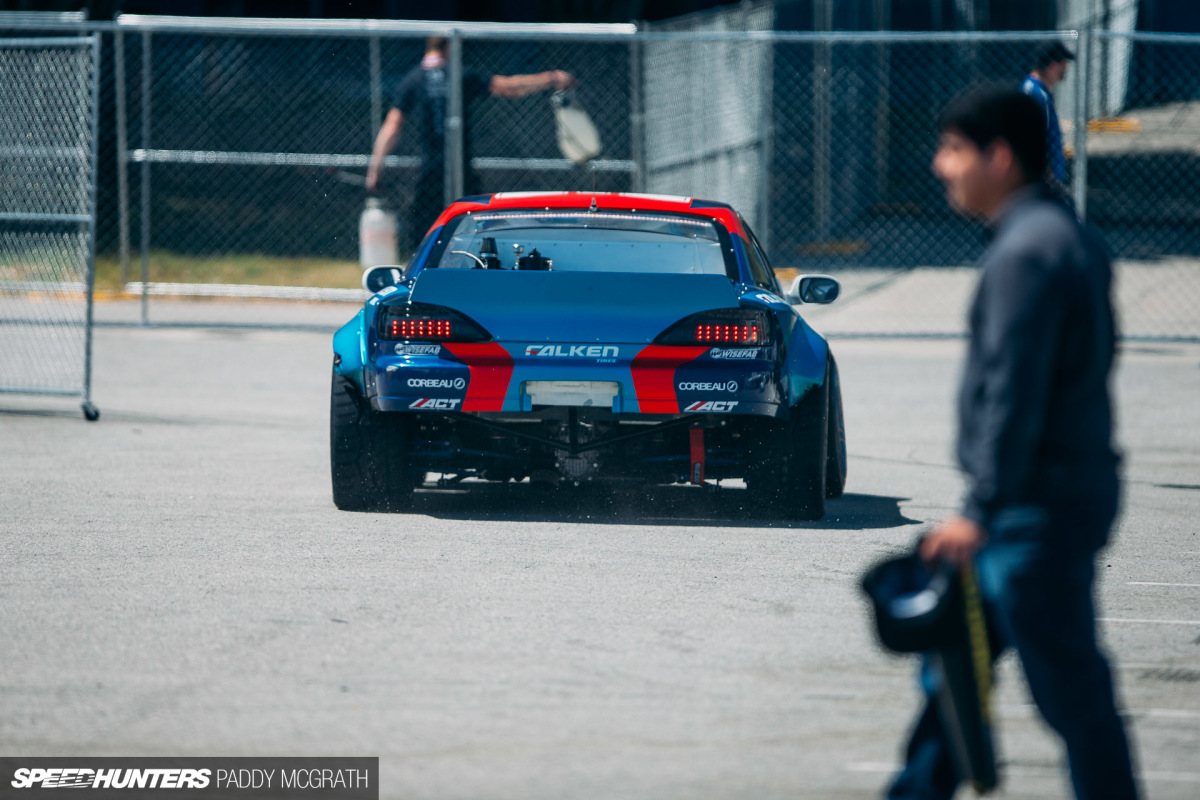 There wasn't much time to hang around as practice led straight into qualifying. Being newcomers to the series, Piotr would be the very first to qualify, with James running as third qualifier. Things were running full speed ahead at this point.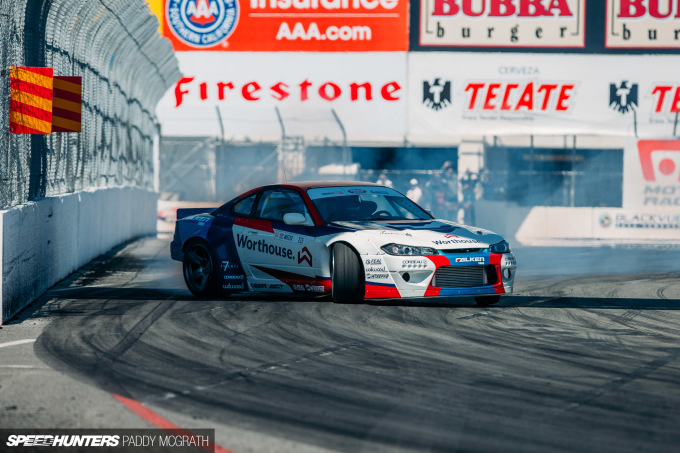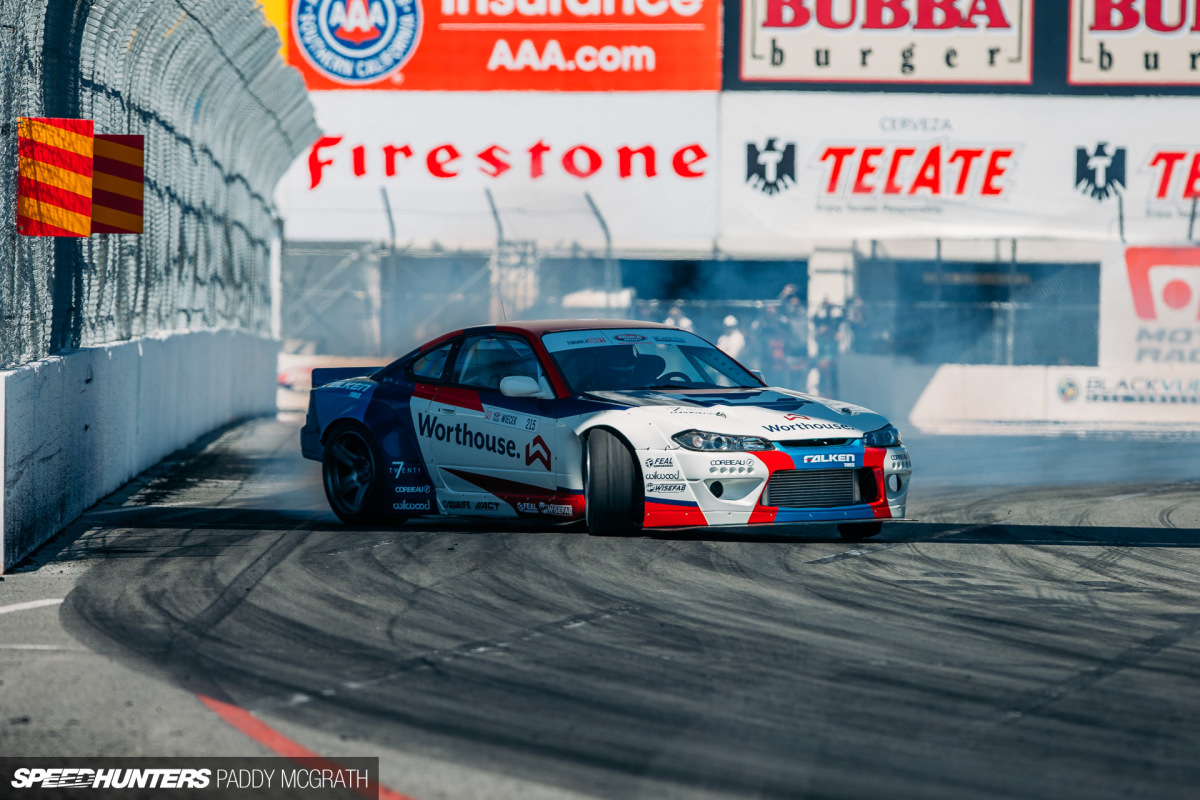 Leading in as the first car, Piotr put in a run which could be best described as solid. The judges agreed, rewarding him with a 74 point score. Not a bad start to his Formula D career.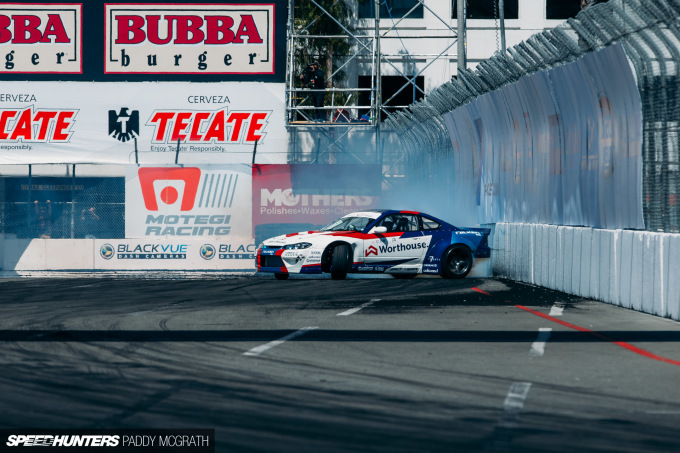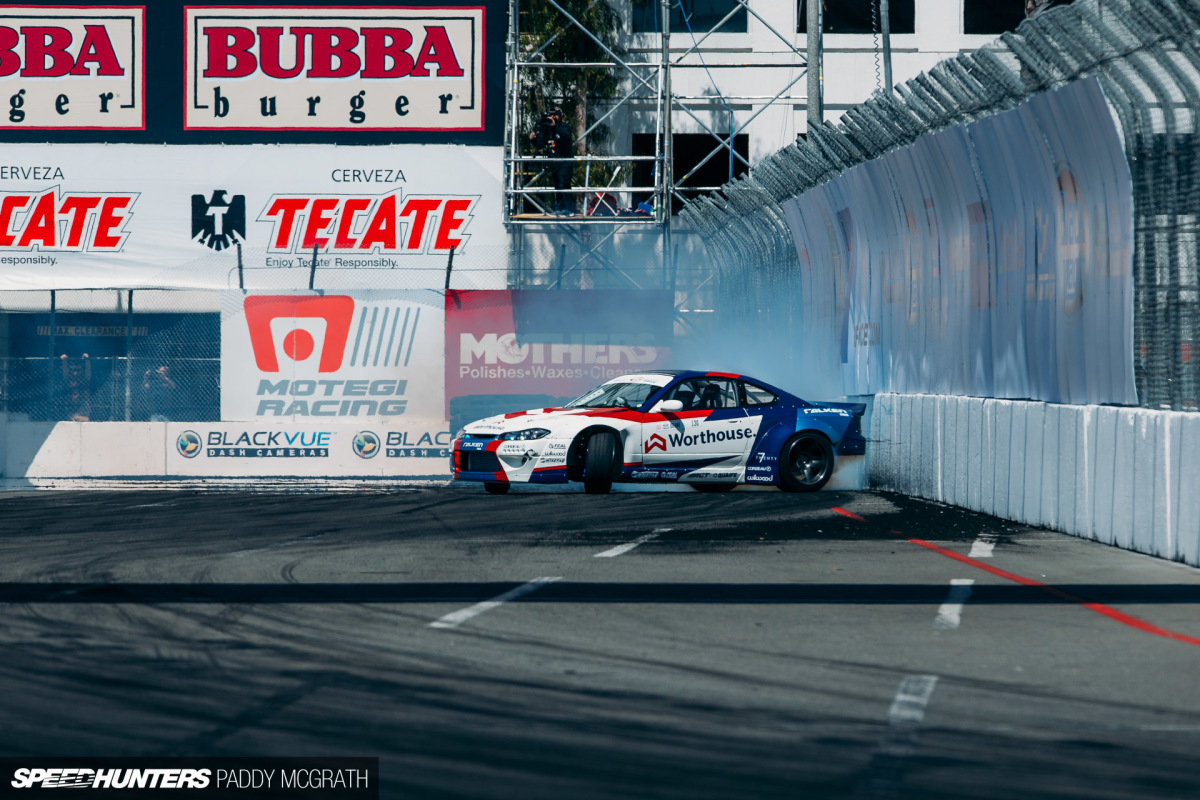 Not to be outdone, James decided to herald his arrival with a stormer, which netted him 91 points and joint top qualifier after the first set of qualifying runs. His smoothness and ability to seamlessly go from lock-to-lock is a sight to behold.
Support was strong with both drivers, with even more fans watching on the livestream.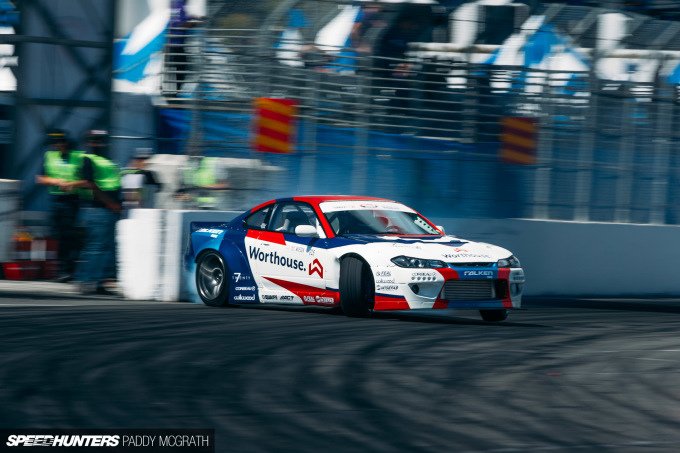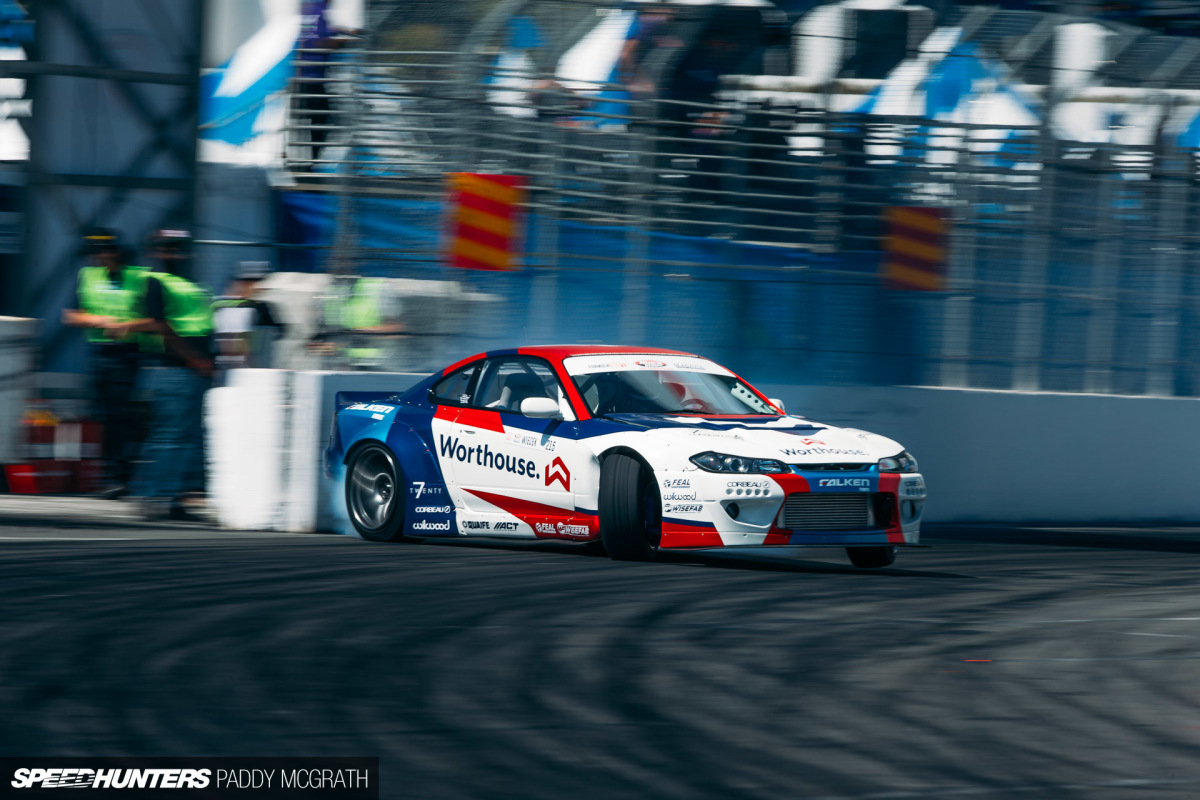 For his second run, Piotr decided to turn it up a little bit more and boosted his score to 87 points and a 9th place qualifying position when the dust settled.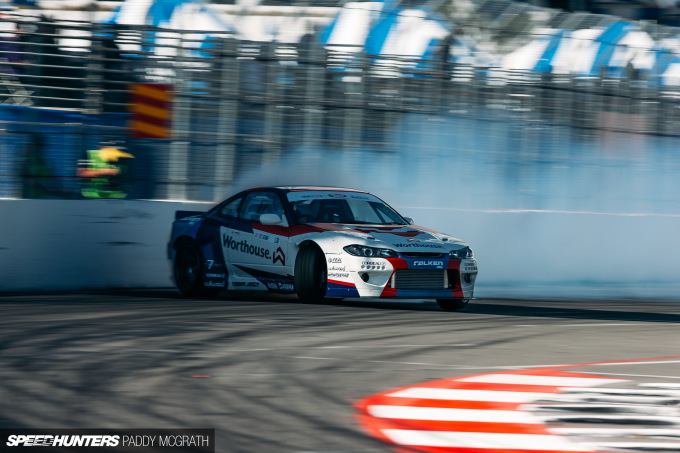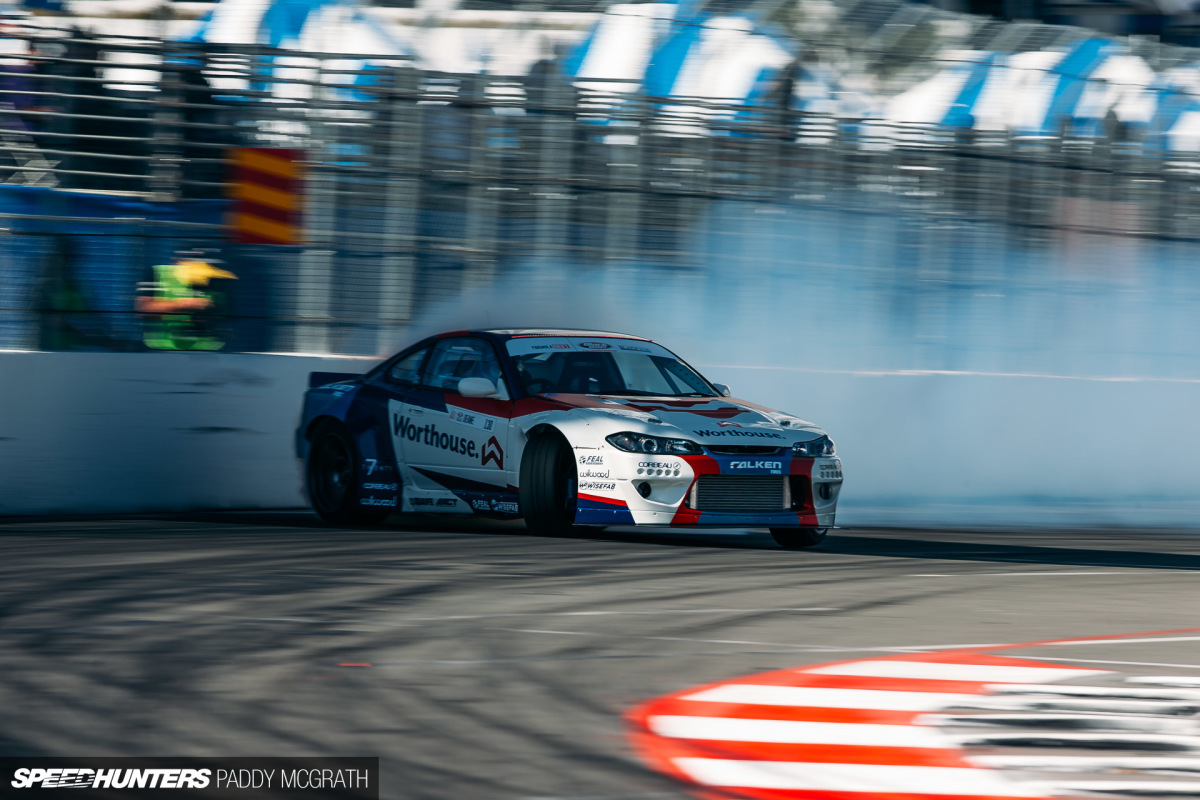 Despite already sitting joint top of the leader board, James decided to push harder on his second run and received a 96 point score.
Because both their runs were so early in qualifying, it afforded James and Piotr the luxury to head to the stands and watch the rest of the field put their runs in. At this point, I think 'elation' would accurately describe both drivers mood. For both cars and drivers to be so strong out of the box, was enough reward in itself.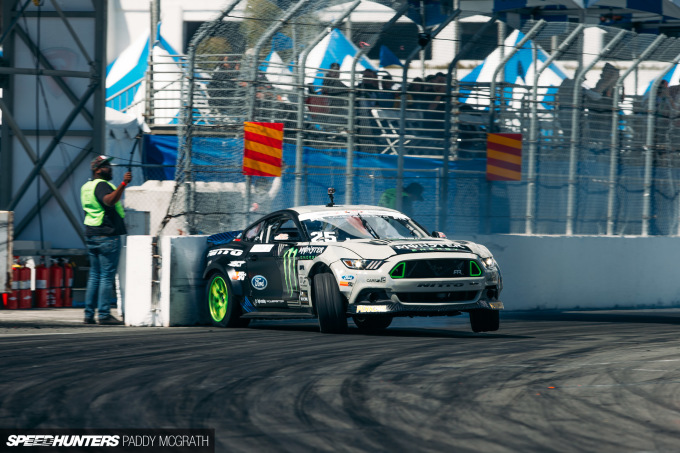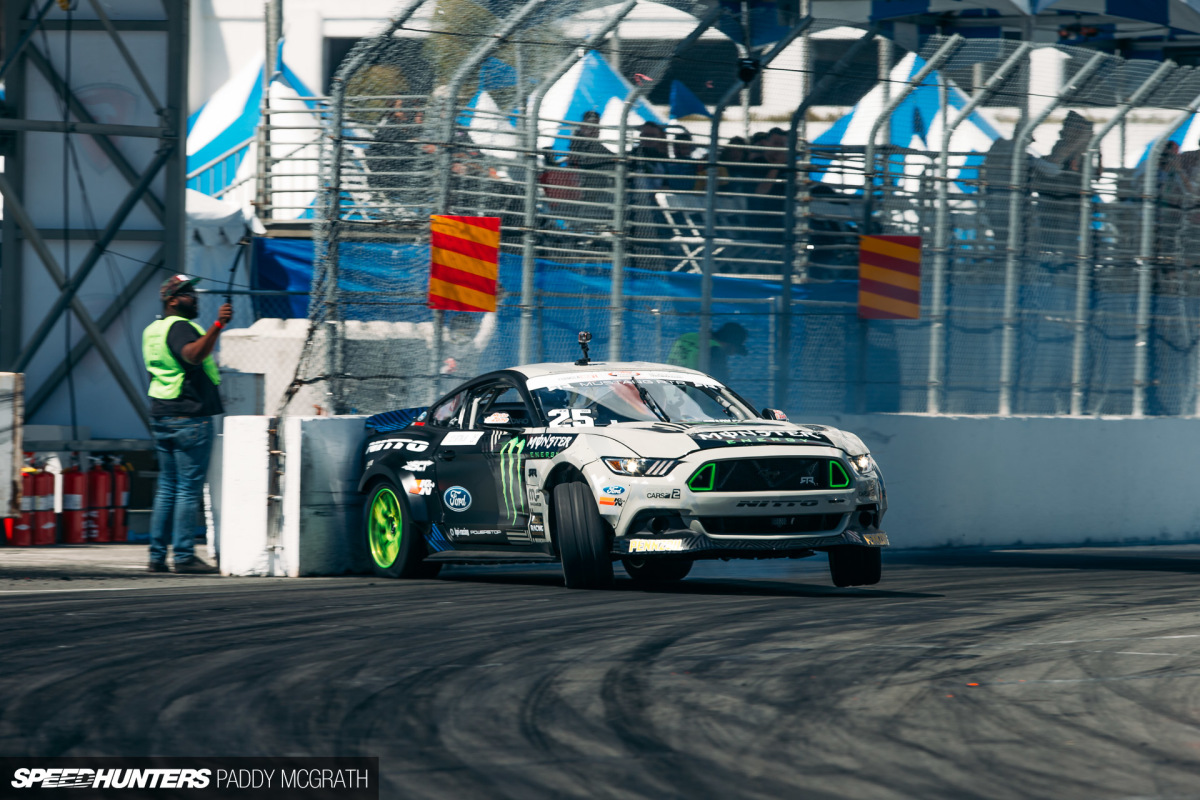 The fairytale start to the weekend wasn't to be though as Vaughn Gittin Jr. went a single point better to top qualifying. It was an extra point that was absolutely deserved, as he perfectly tagged the wall three times on his run. I thought it might have been a little bit of a sucker punch to James, but he took it in his stride and still remained happy, while praising JR's run in the process.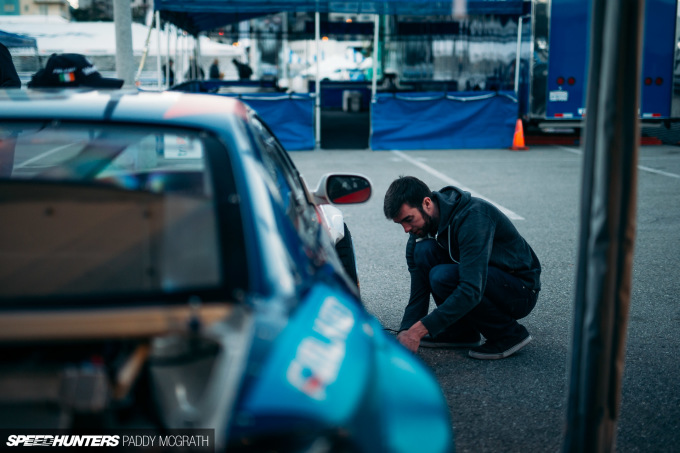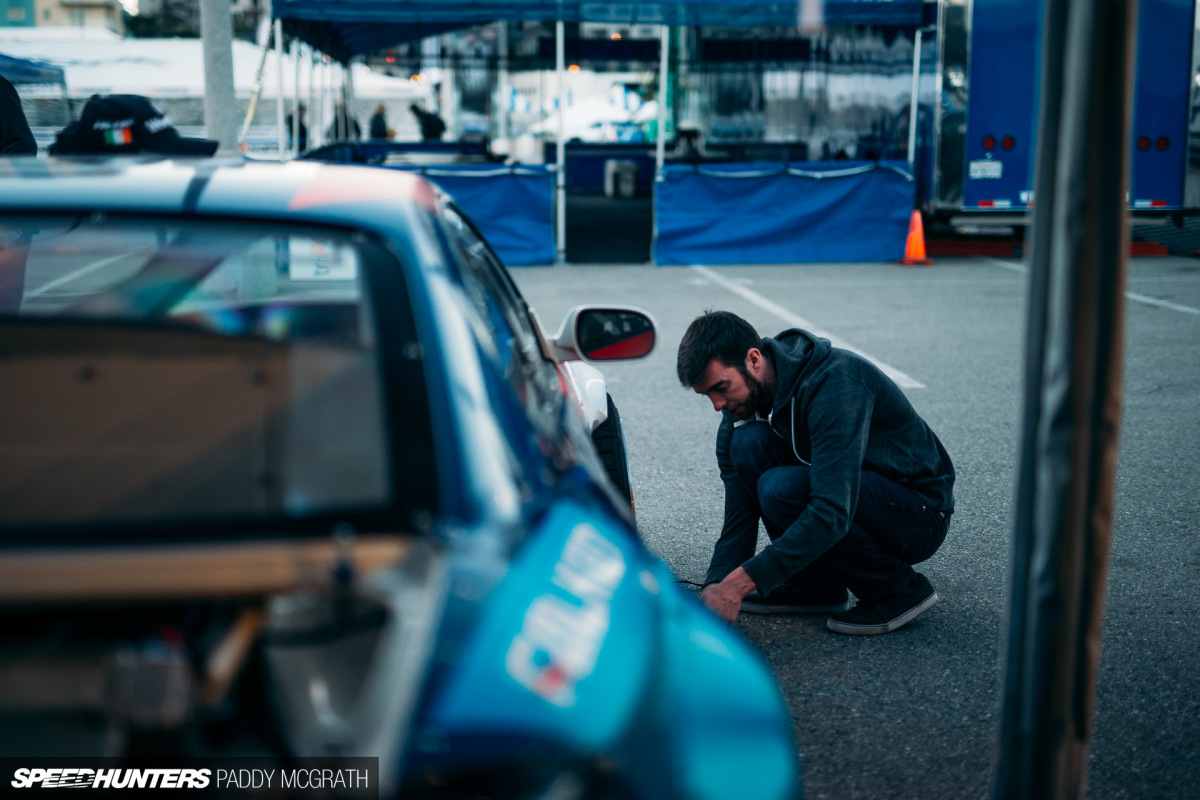 James has always been just about the most humble and respectful driver on any grid that I've seen him, so it wasn't a surprise. Still, he knew that if he wanted to make an even bigger impact the next day, nothing could be left to chance. When all the other teams had gone home, James was still poring over his own car to make sure everything was perfect, while continuing to fine tune the setup.
He might not have topped qualifying, but the next day was the one that really counted.
Saturday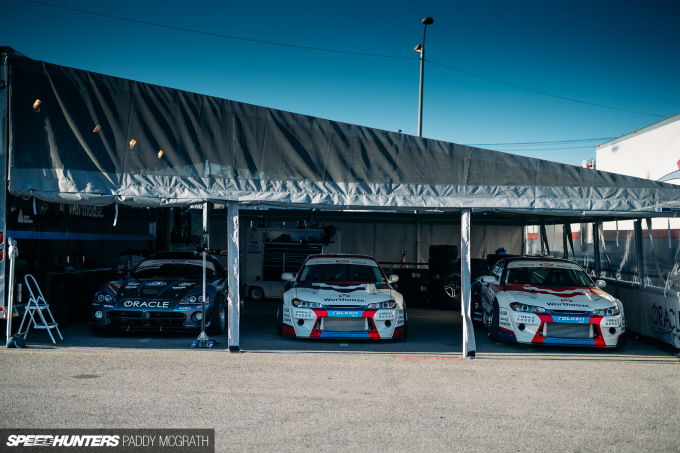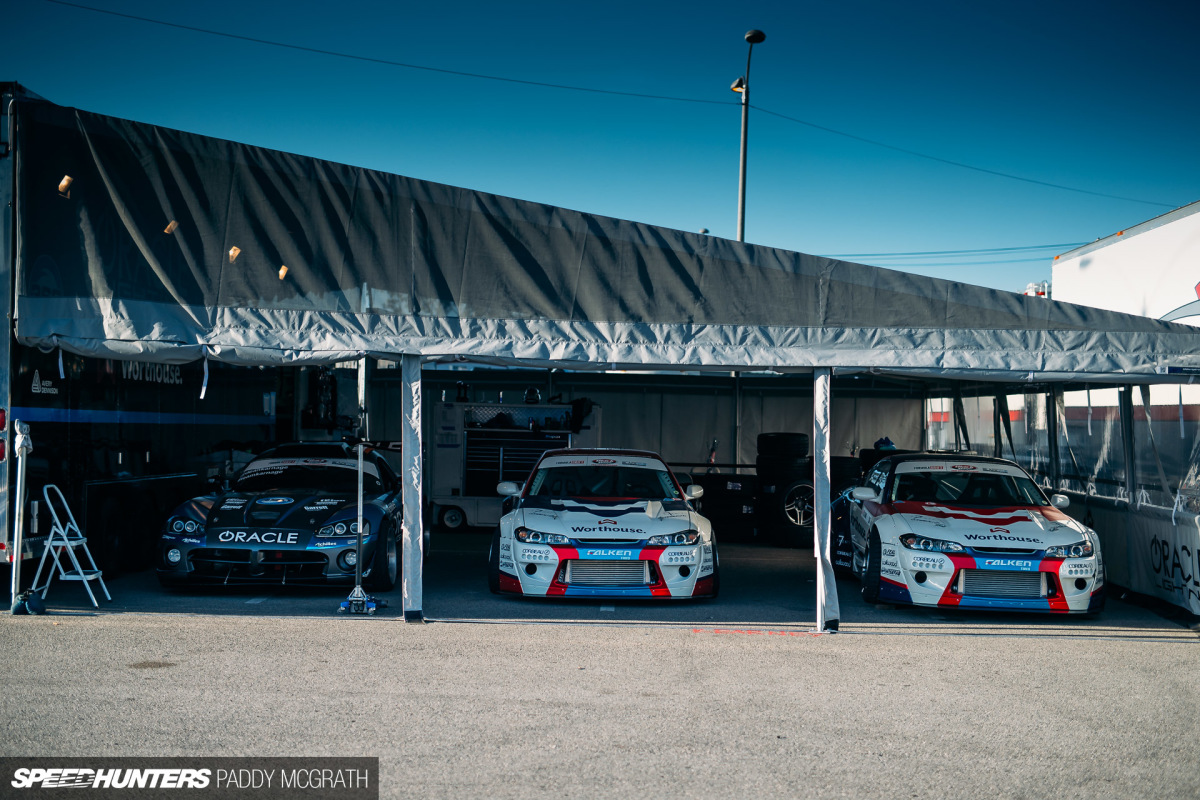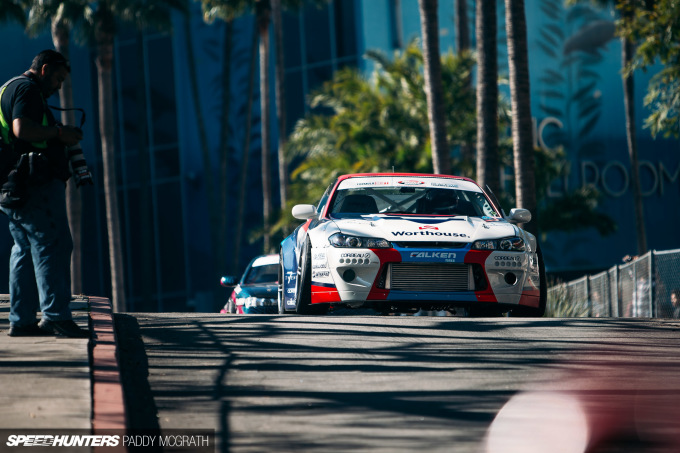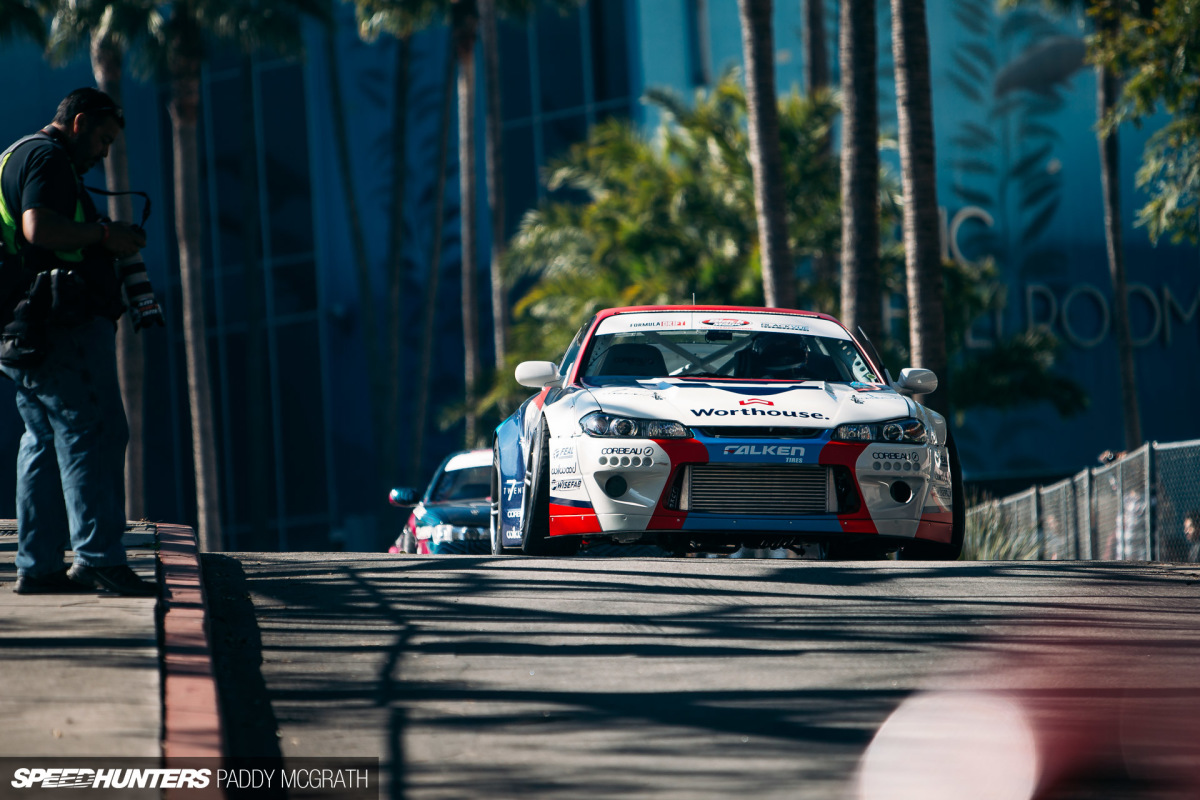 There's a distinctively different atmosphere in the Formula Drift paddock on the day of the main event. I don't think 'foreboding' is the right word, but there's definitely a feeling of anxiousness about the day ahead. There are less smiles, less small talk, and lots more focus.
Like Friday, Saturday starts with practice, although even that feels different as there's more purpose to it than just getting seat time. With qualifying out of the way, everyone wants to chase to learn their fellow competitor's traits. Those leading, are trying to throw off the chase cars or at least leave a little something in reserve.
The pace of practice was furious, with the cars returning to the start line time and time again in the hopes of running against different lead and chase drivers. It might not have been competitive, but it bloody well felt like it. There wasn't the usual smiles and joking around between drivers that I've come to be familiar with at the likes of IDC. There's a lot more at stake here.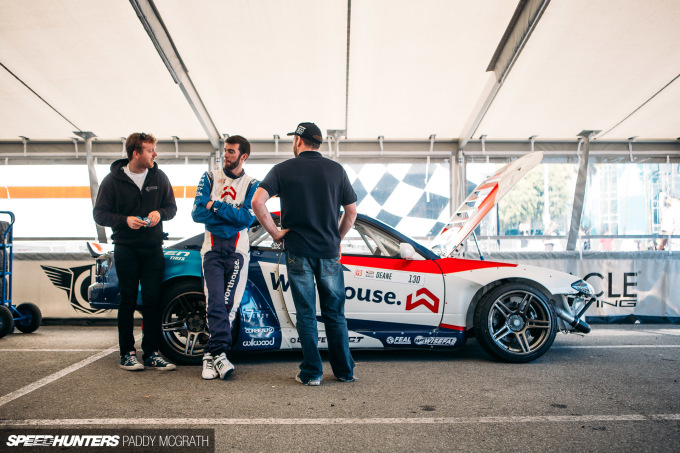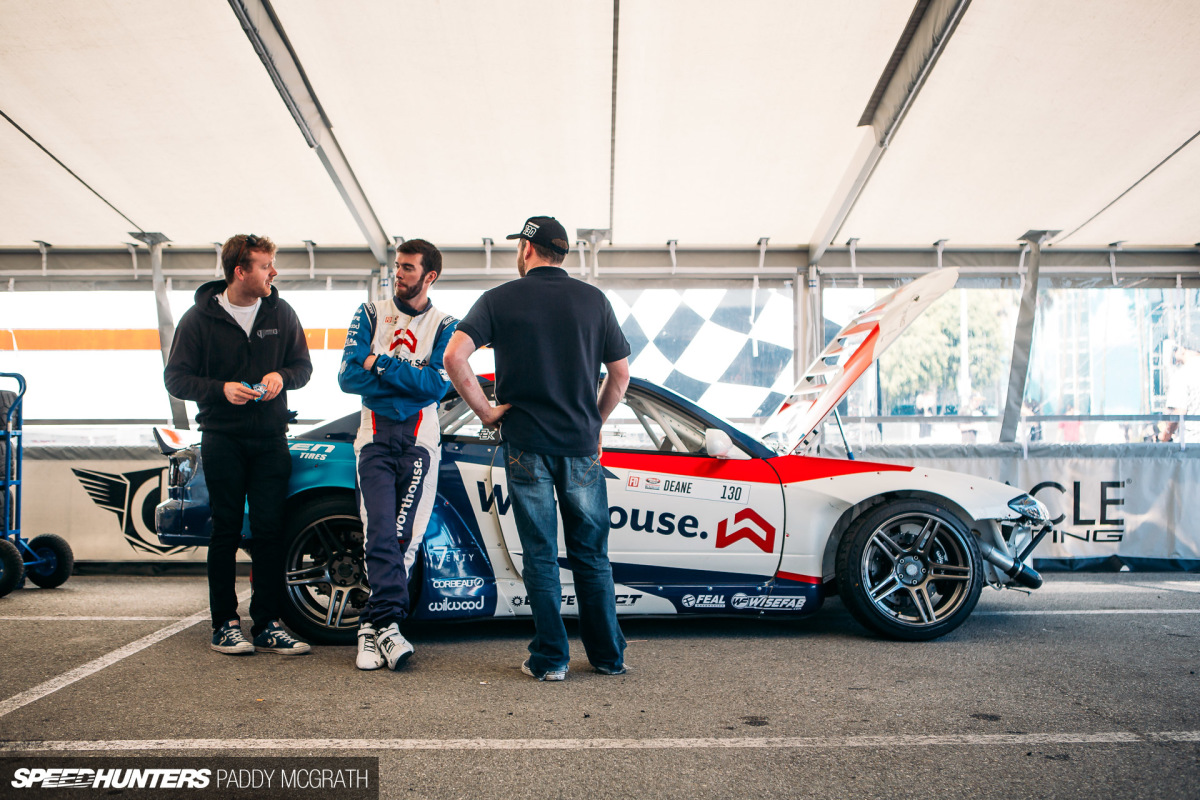 It wasn't without incident though, as James had an uncharacteristic coming together with Kristaps Bluss, out of sight of my camera at least. By James' description, Bluss came to a practical halt in the middle of the course, which left him with no where to go. The front right corner of the car took the brunt of the impact. The bumper was damaged and a boost pipe was pierced, but that was the extent of it.
James also complained about the car being slightly down on power when chasing – where he is constantly adjusting the throttle, rather than flat out when leading – which was traced to a gasket between the turbo and exhaust manifold leaking. Relatively straightforward fixes were deployed and all was good again.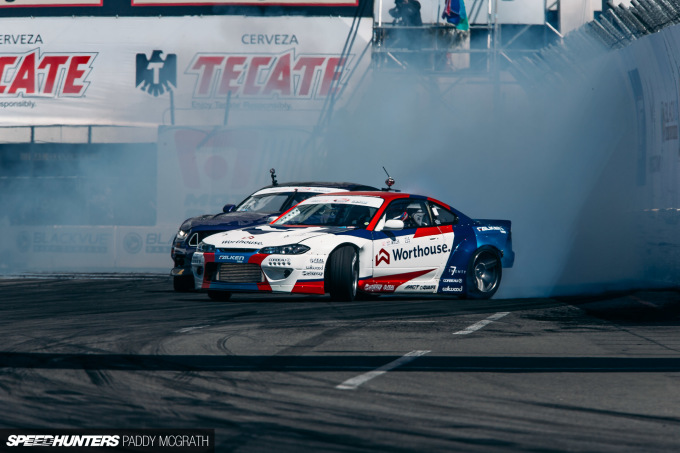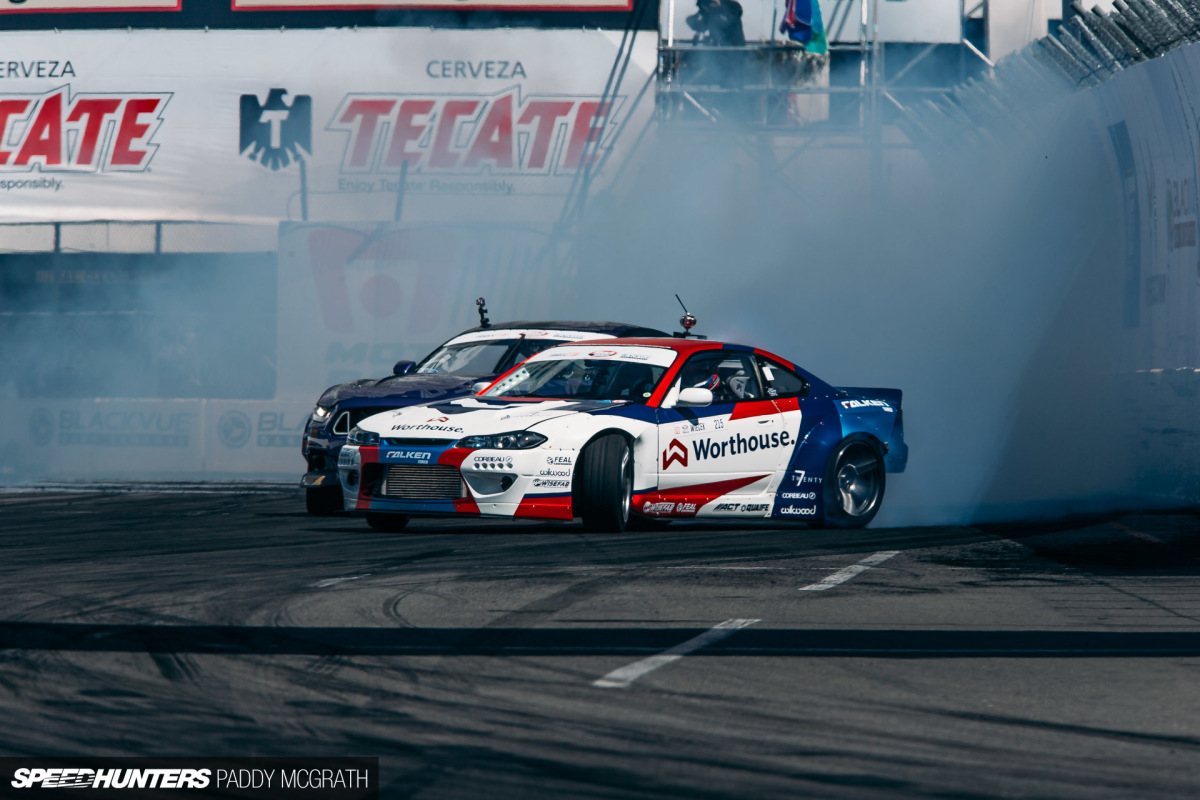 I didn't have much time to hang around the pits as, once again, practice led straight into competition. The first battle of Piotr's season would be against last season's opening round winner, Chelsea Denofa, in his new Ford Mustang RTR. Denofa was absolutely slaying it in practice, so this was always going to be difficult.
As the higher qualifier, Piotr would lead on the first run. Nailing the touch and go, before transitioning back to the first outer zone, Piotr was on an absolute stormer. Looking straight up the track through my lens, I could see the chasing Mustang begin to over-rotate in Piotr's smoke, before heading backwards into the tyres in front of me. For his chase run, Piotr just had to follow Denofa around and minimise any mistakes.
First battle and first win for Więcek.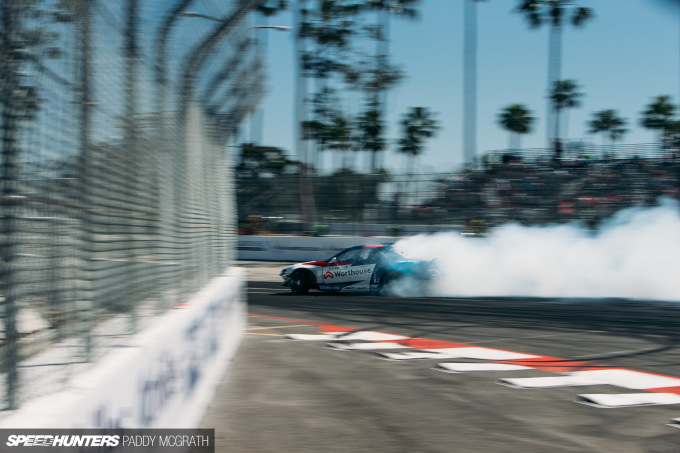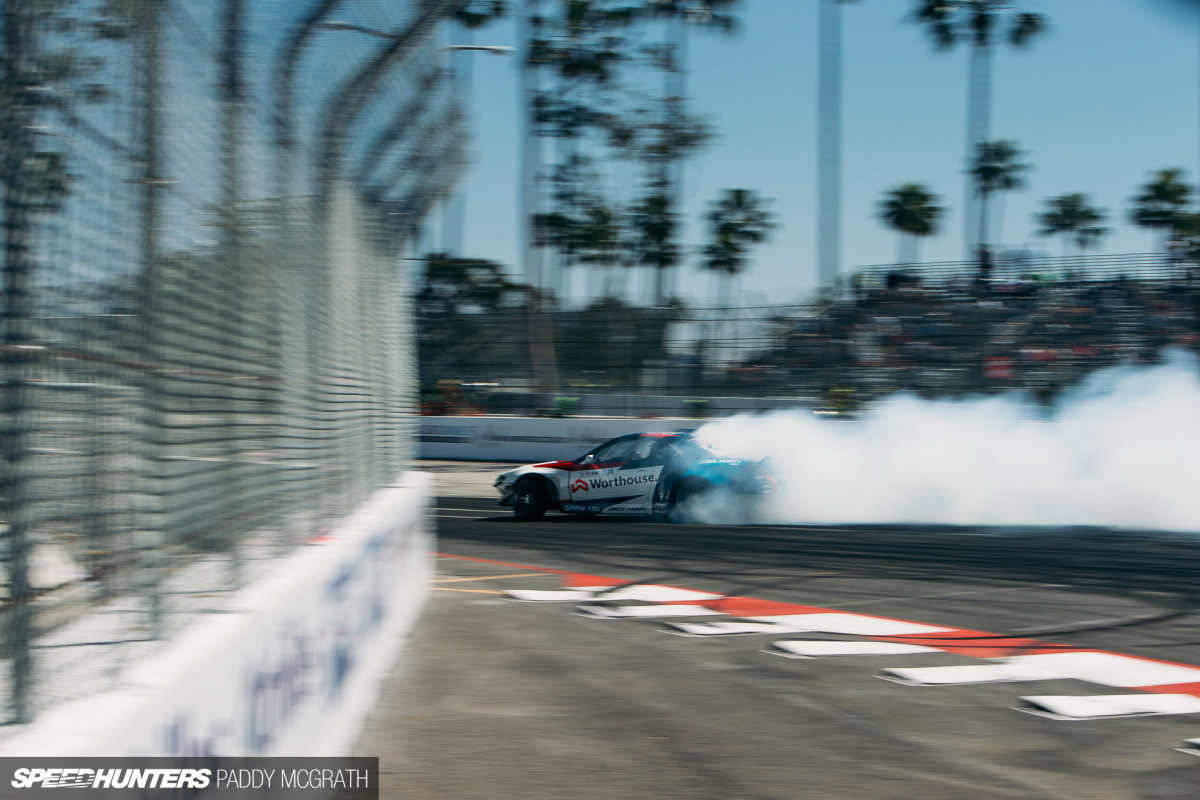 James' first battle was against himself, as he had a bye run into the Top 16. He did have to complete a lap, which almost caught the team by surprise as they were unaware one was required in Formula D, as a bye means you can usually sit out that battle in Europe.
That could have been a pretty awkward start to the season.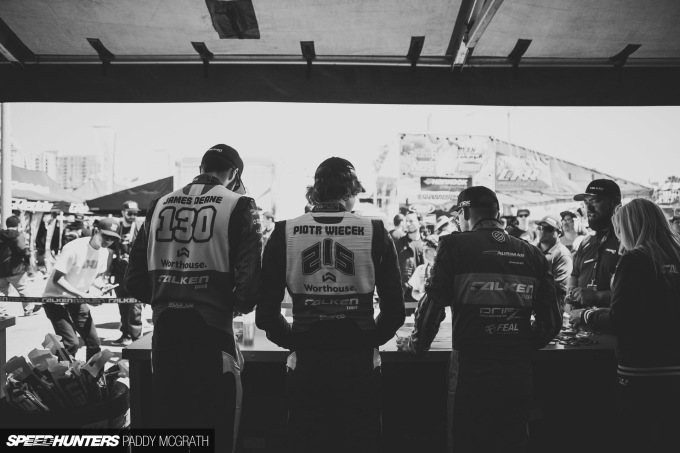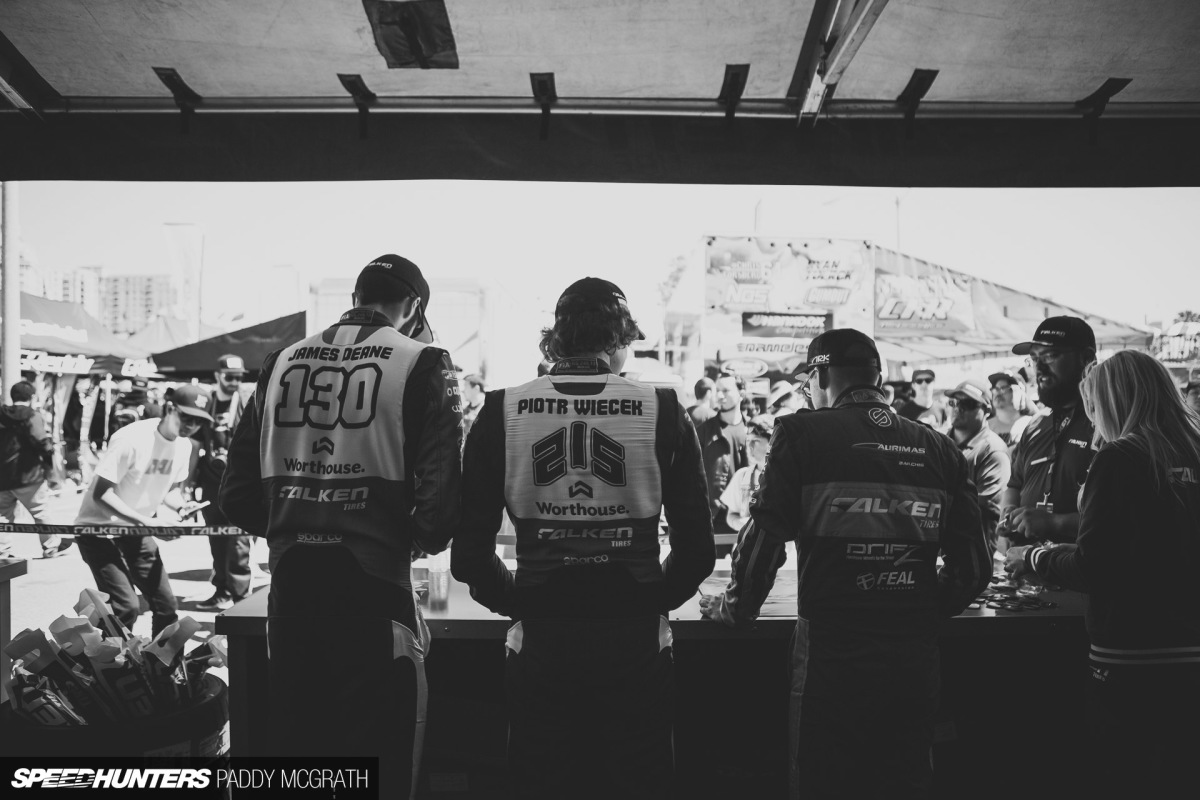 With both drivers through to the Top 16 completely unscathed, it made for an enjoyable lunch break of meeting with fans and generally relaxing over some good food.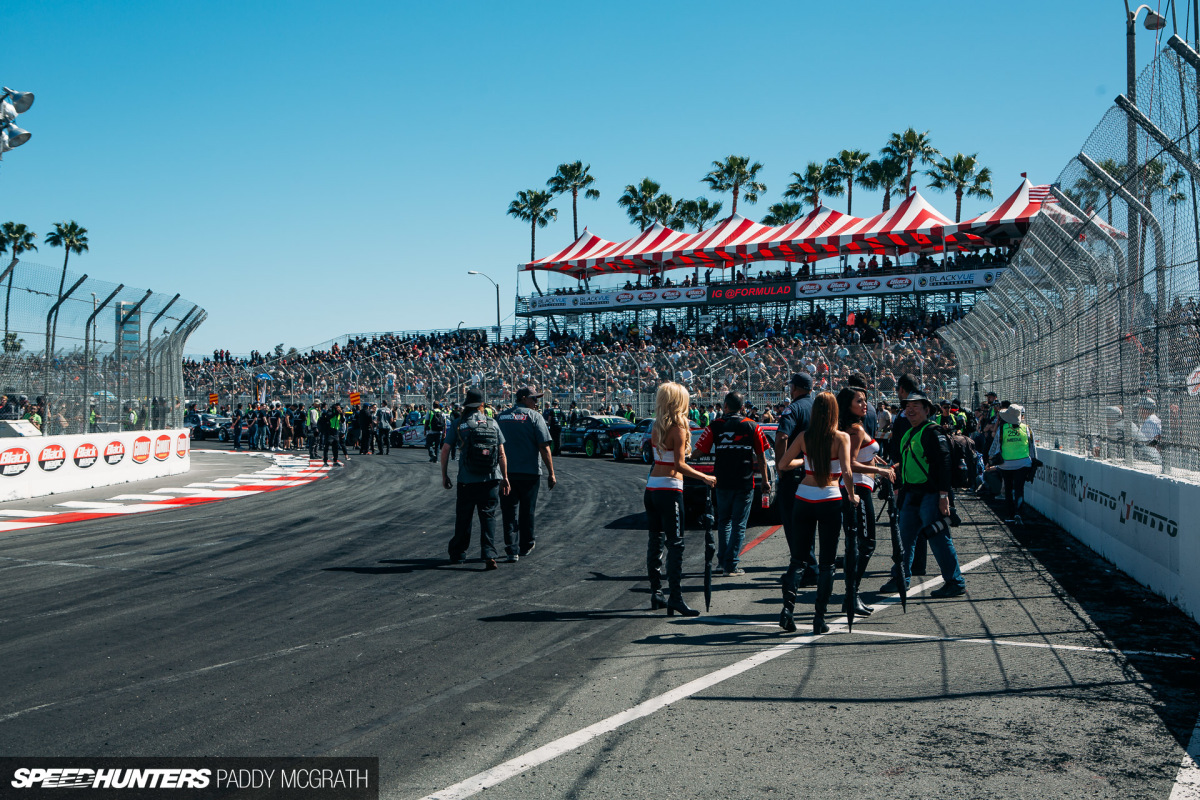 I can't even to begin to imagine how this sight must have felt for both drivers, because it put the hairs standing on my neck. The entire course was jammed with spectators; I can't recall ever seeing a crowd this big at a drift event before. Truly, this is the big leagues.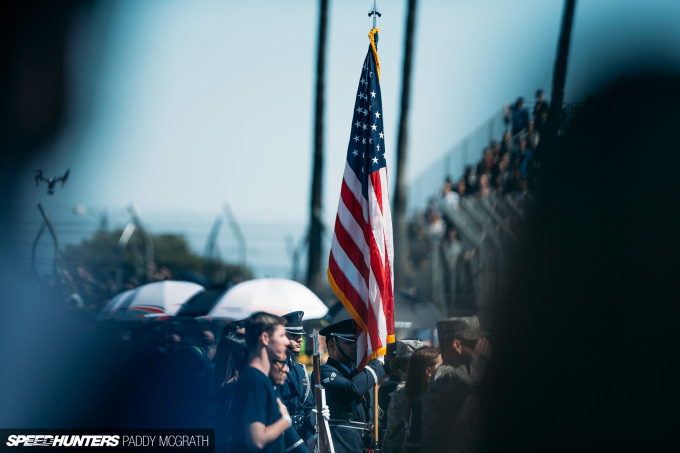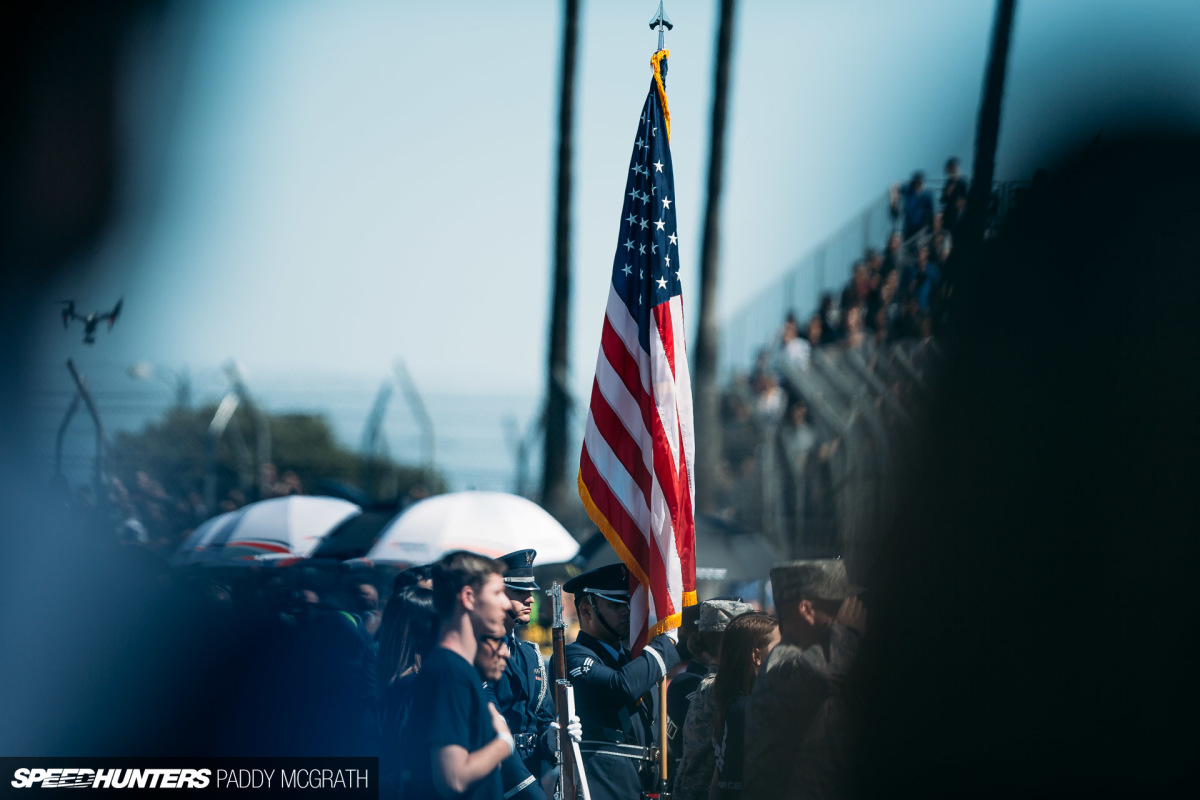 The US national anthem, which might not be the anthem of James or Piotr, still has a certain power to it which perfectly builds the occasion.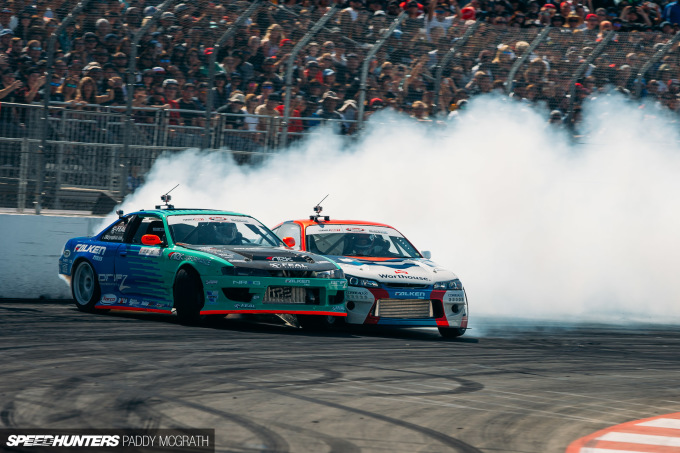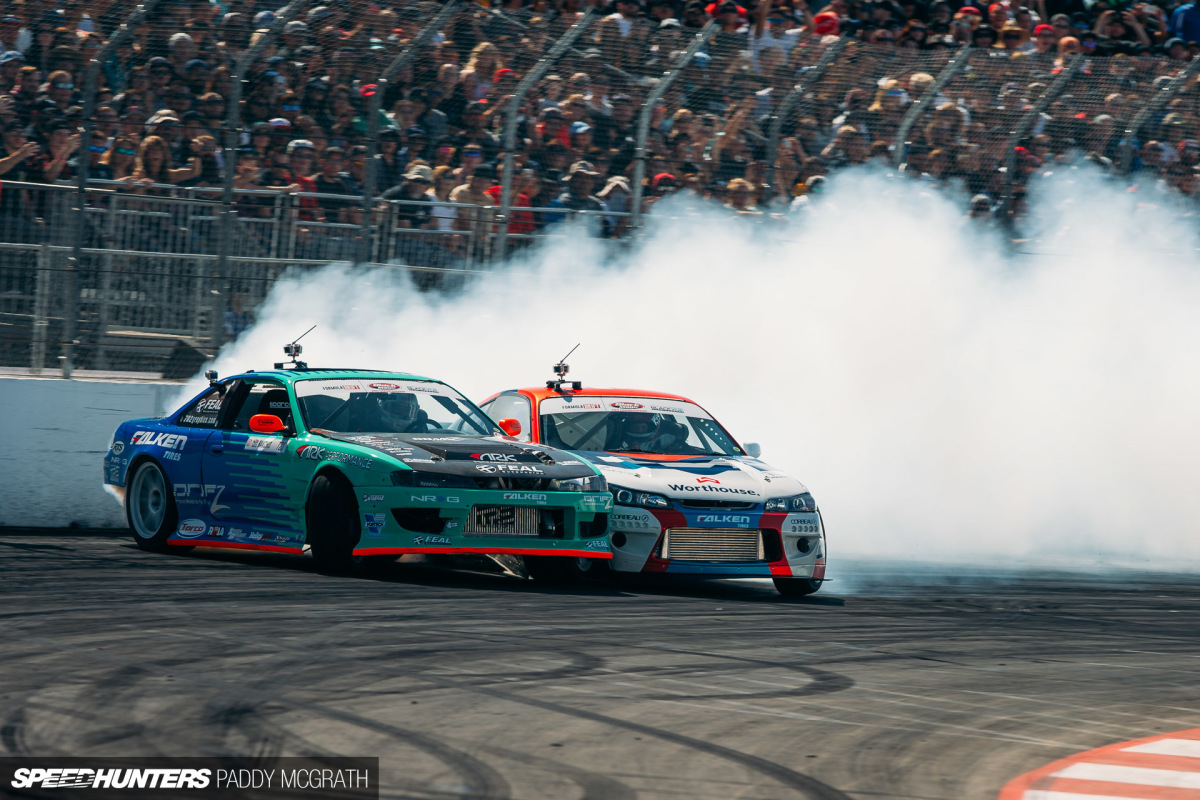 There was little time for sentimentality, however, as we ploughed straight into the Top 16 battles with both drivers still facing tough opposition from the off. For Piotr, he would chase Odi Bakchis into the course.
His run started brilliantly, with an insane transition between the touch and go and OZ1, which preempted Odi's. Pushing through OZ2, Piotr went too aggressive and made contact with with the Falken S14, the result of which threw Piotr off line and eventually resulted in a stall coming out of the hairpin.
For his lead run, there was little Piotr could do as Odi kept his distance and maintained an easy and without risk chase. Odi went through, Piotr was out.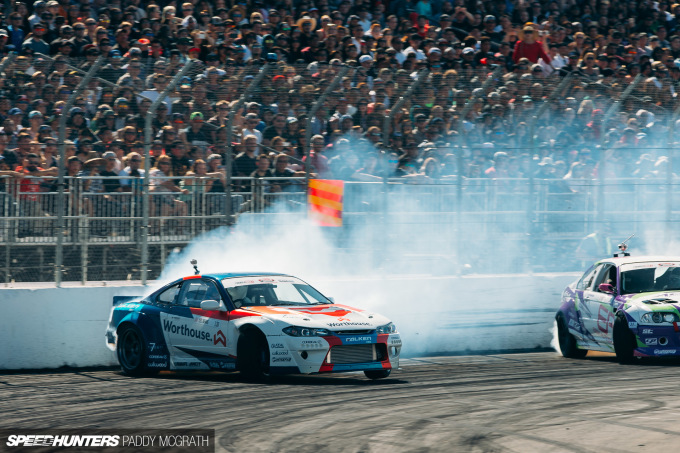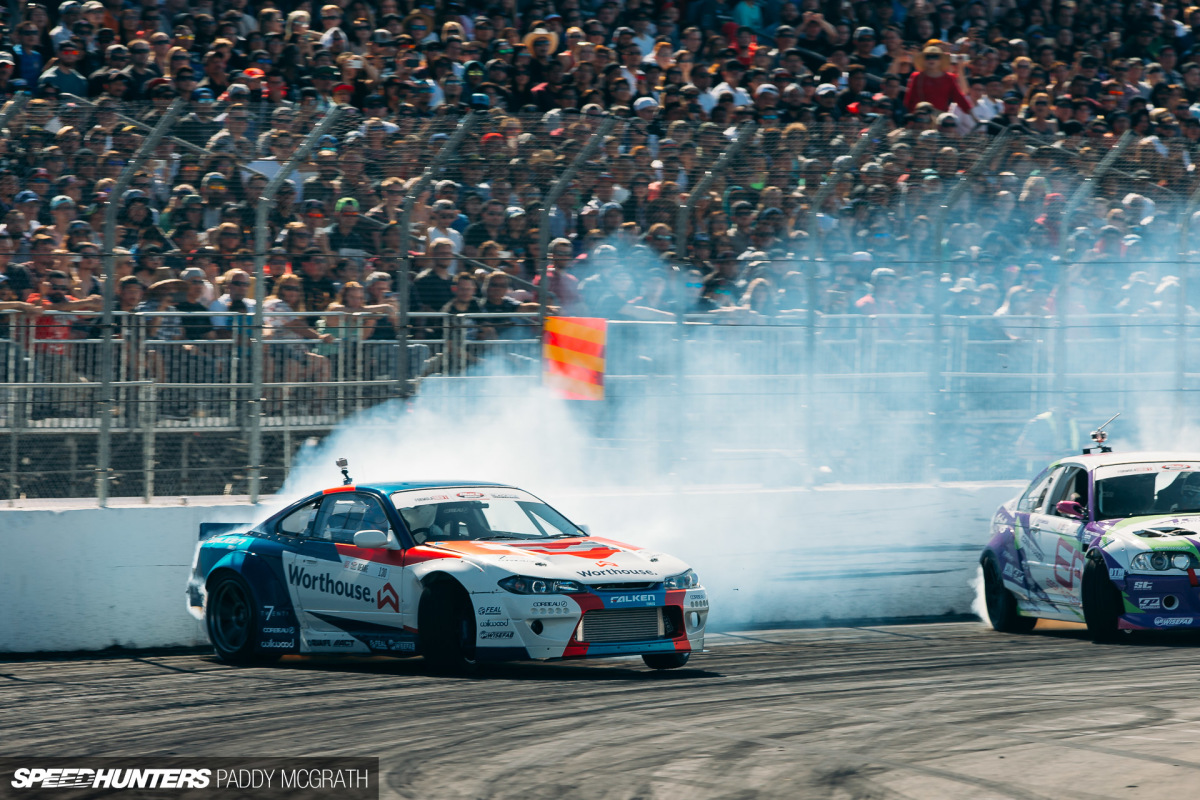 James would lead former champion Michael Essa for his Top 16 battle. It would be an uneventful pair of runs for James, as he was able to put down a lead run which Essa just had no answer for. This would become a recurring theme.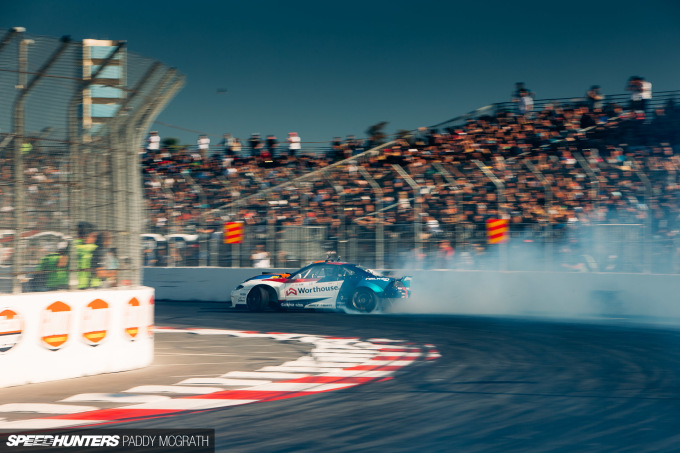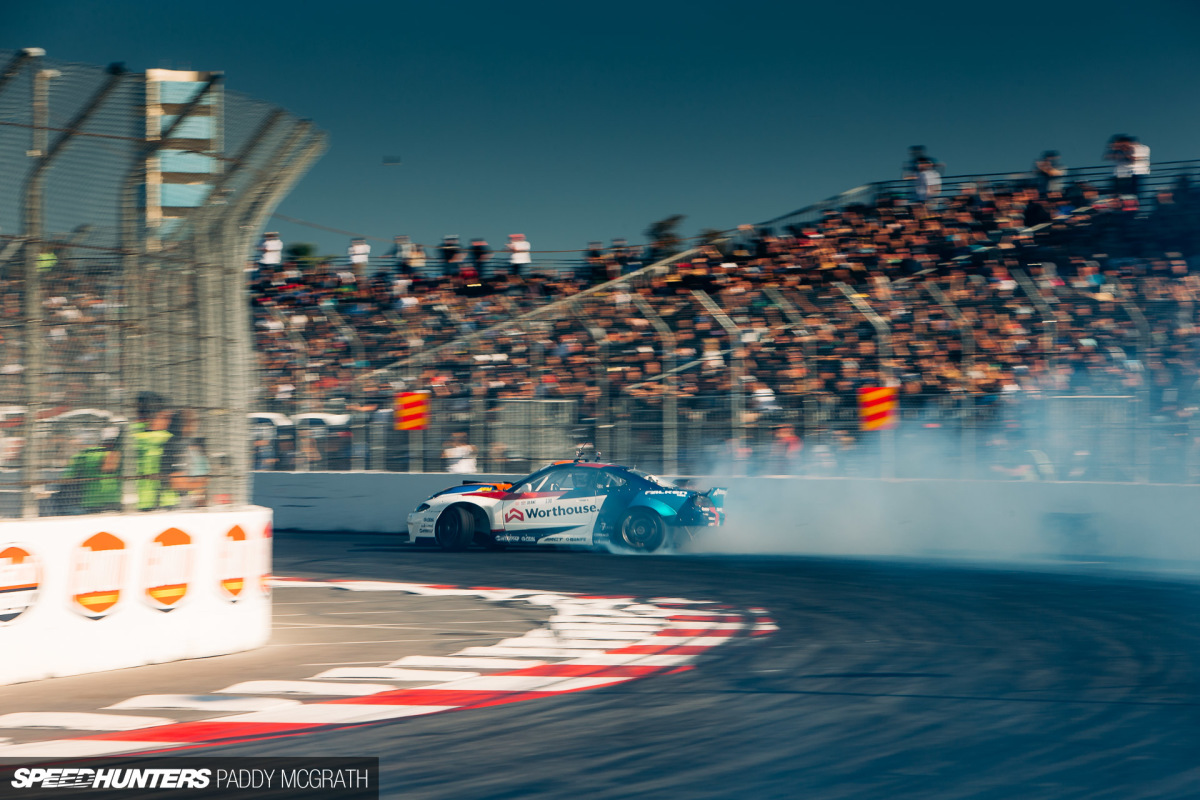 Into the Great 8, James would face former and reigning champion Chris Forsberg. I hold Forsberg in the highest regard, but I knew that if James could beat him, he would stand every chance of winning the event. From where I was shooting, it looked an incredibly tight battle. Re-watching it on the livestream, I didn't realise just how tough a job the judges had.
Forsberg would later complain that James made contact with him on entry, which it appears that he did when looking at the replay. I personally don't think it was enough to throw Forsberg so far off line for the rest of his lead, and it certainly doesn't explain him throwing the anchor out after OZ2, which somehow James adapted to without making contact.
It could have gone OMT, but the judges decided that James' superior lead run was enough for him to advance. Two battles, two champions down.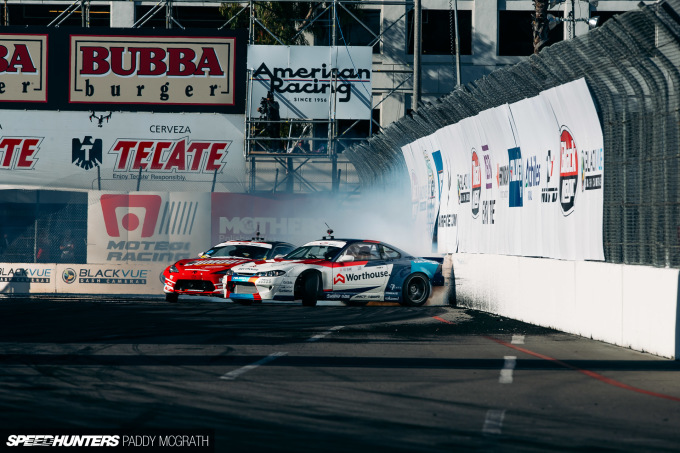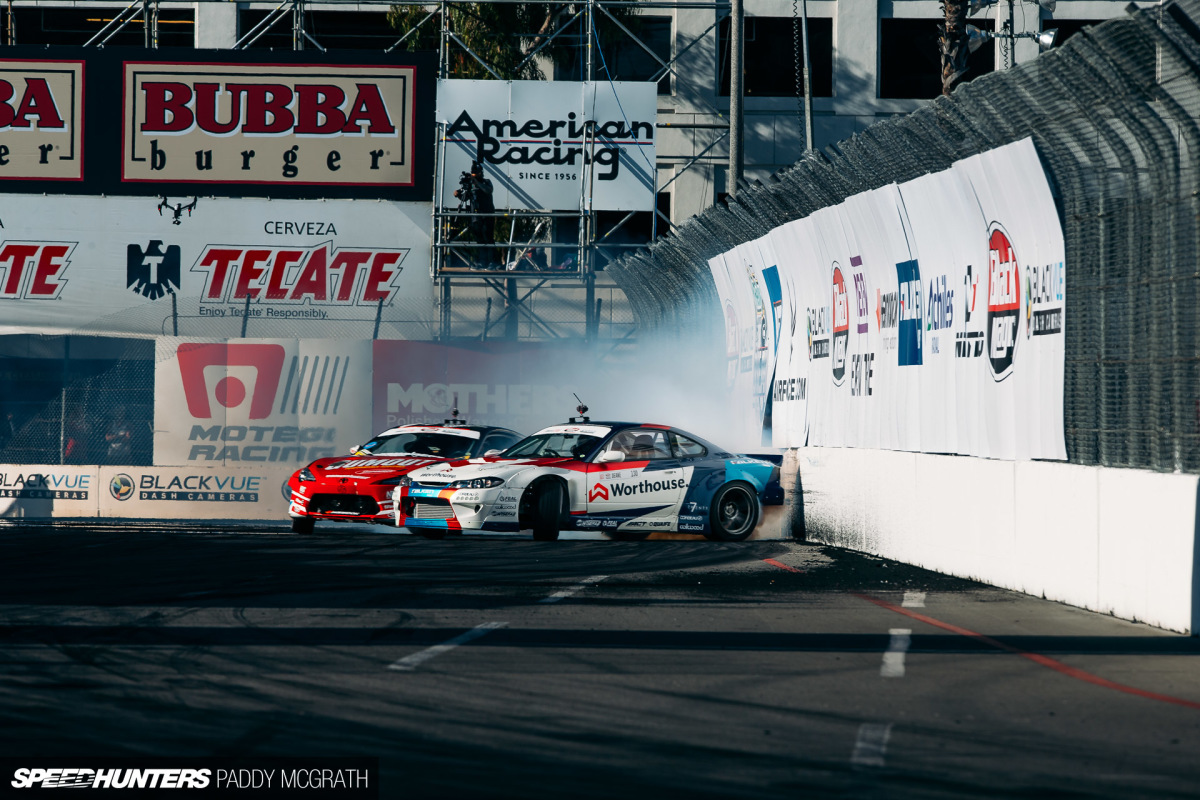 Up next? Ryan Tuerck.
Beforehand, I had looked at the brackets for the entire Top 32 and come to the stark realisation that there were no easy routes to the final in Formula Drift. Any of the Top 16 can comfortably win an event. But this is what appeals to the drivers the most, the opportunity to drive against the very best, win or lose.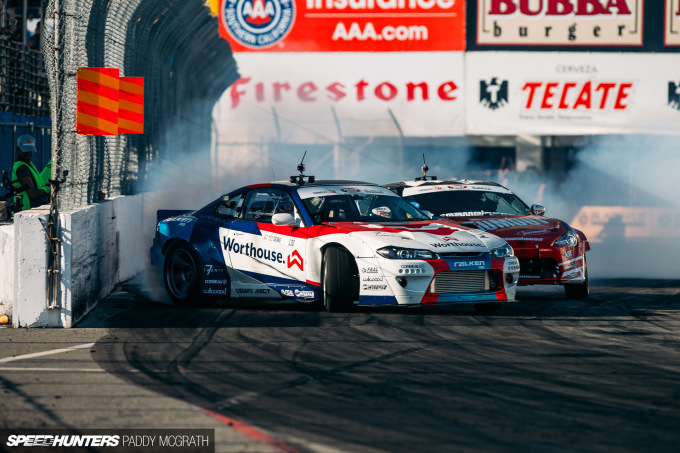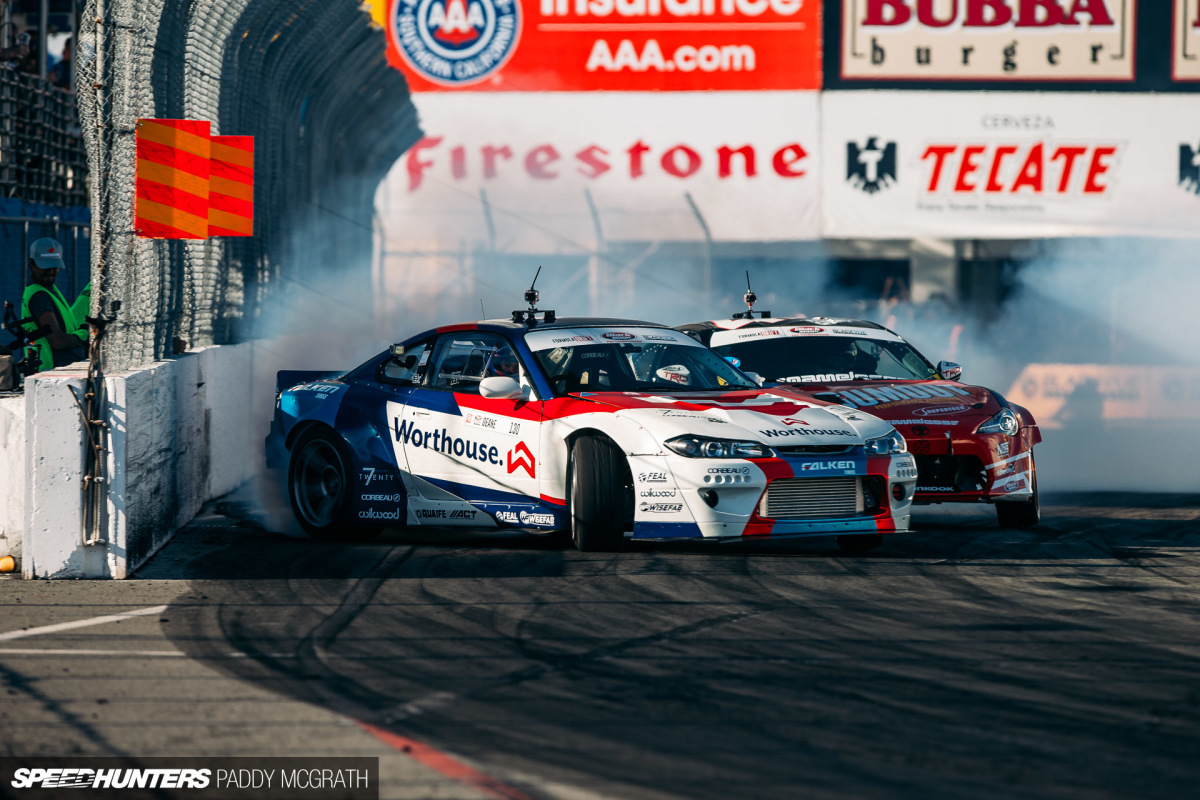 With another solid lead run in the bag, it was Deane's chase run that would ultimately give him the win over Tuerck. His ability to transition in space which does't exist when he beings the manoeuvre, is something I've seen him do countless times over the years. It's staggering to watch, and when he did it heading into the hairpin before promptly sticking his car back on Tuerck's door, he made the judges' minds up for them.
It was a masterclass in chase driving, behind what was a superb lead run by Tuerck. If you're going to be beaten, this is how you want to lose, giving it your all but ultimately being pipped at the post. No cynical tactics, just flat-out, good driving.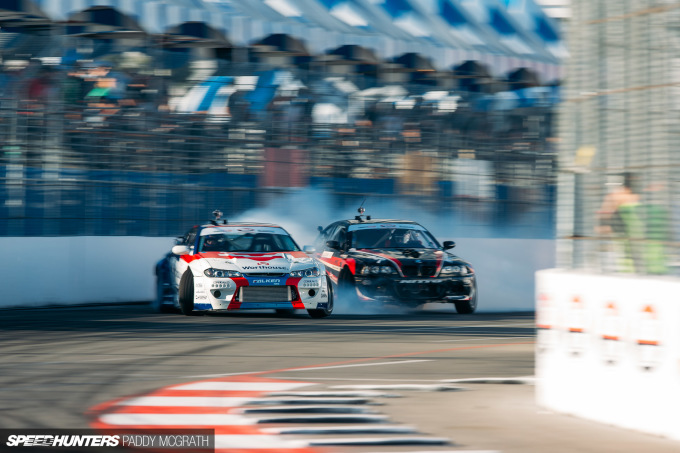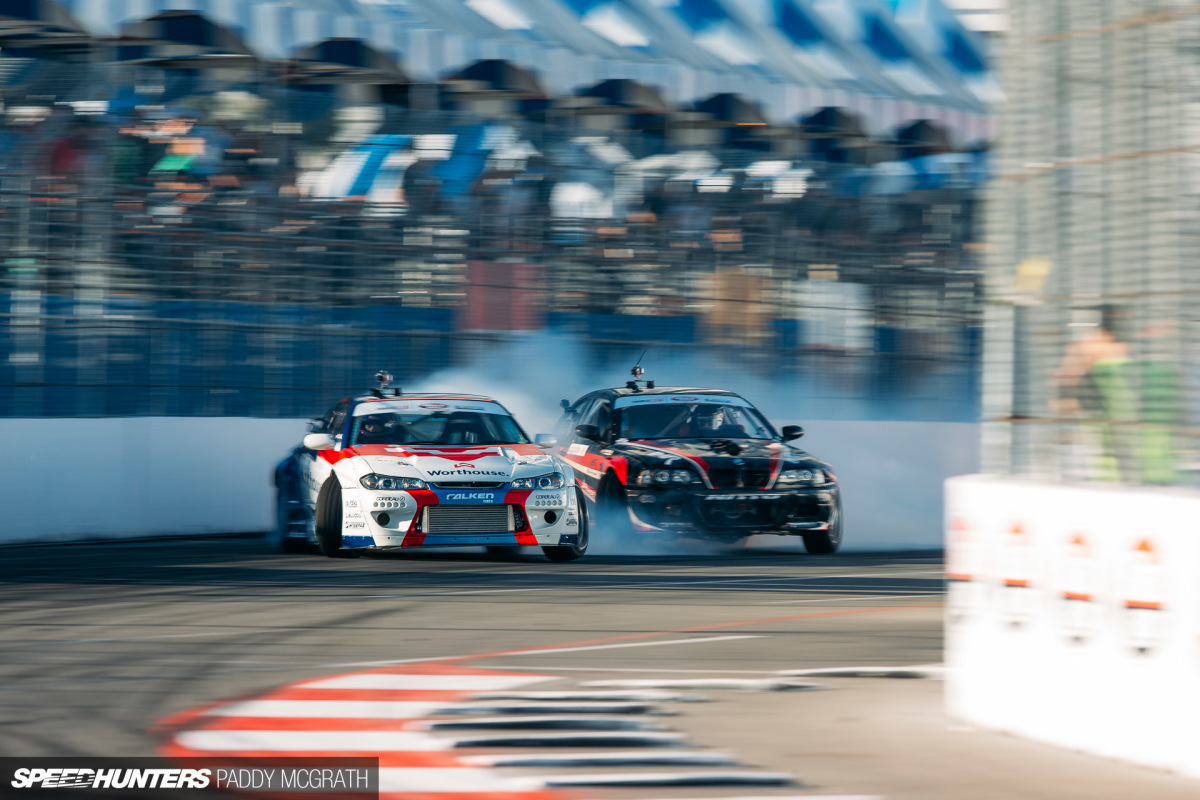 For the final, it would be an international affair against Peruvian Alex Heilbrunn in the Nitto Tire BMW E46. Heilbrunn was on fire all weekend, something you could see as he cut through the field to make the final. Like James, he was winning by going hard.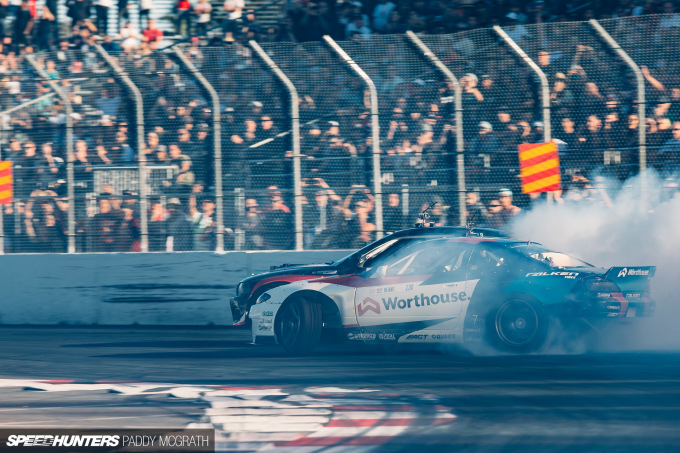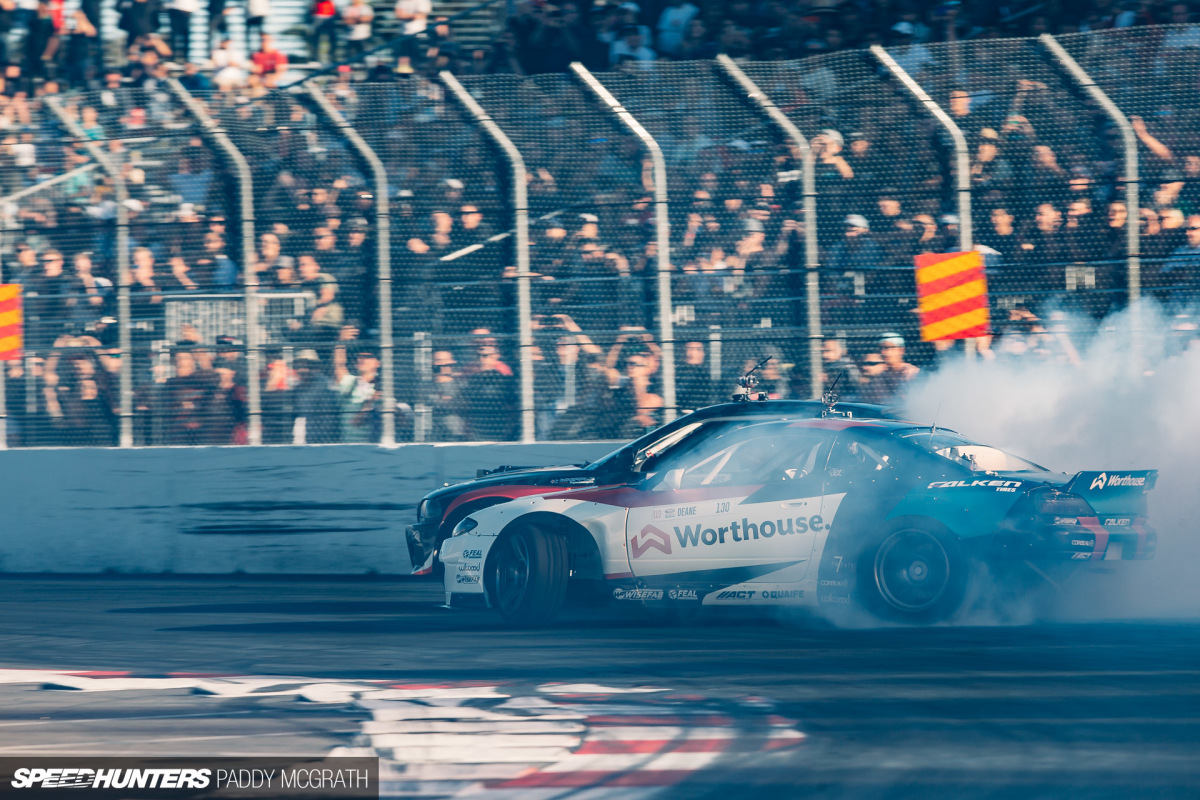 I couldn't have called the decision watching trackside, but the judges decided a winner after just one battle and had the cars return to in front of the judging stand.
Sometimes it's impossible to capture those micro expressions that tell you precisely how a driver feels. As he stepped out of the car and waved to the crowd, there was the briefest of moments of recollection before James warmly embraced Alex with the sincerest of hugs. No matter the result, James was a winner.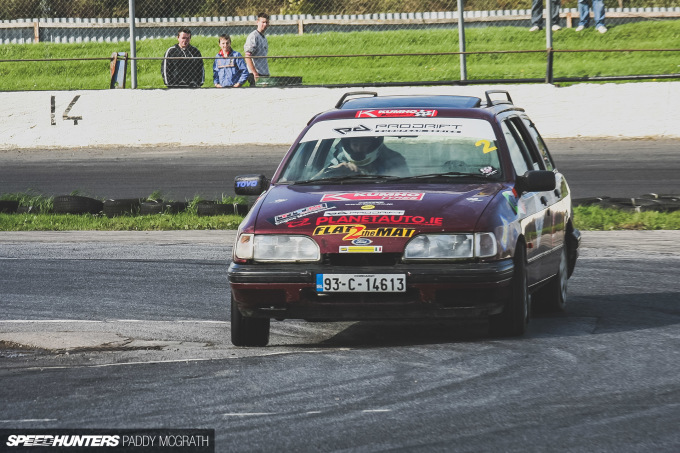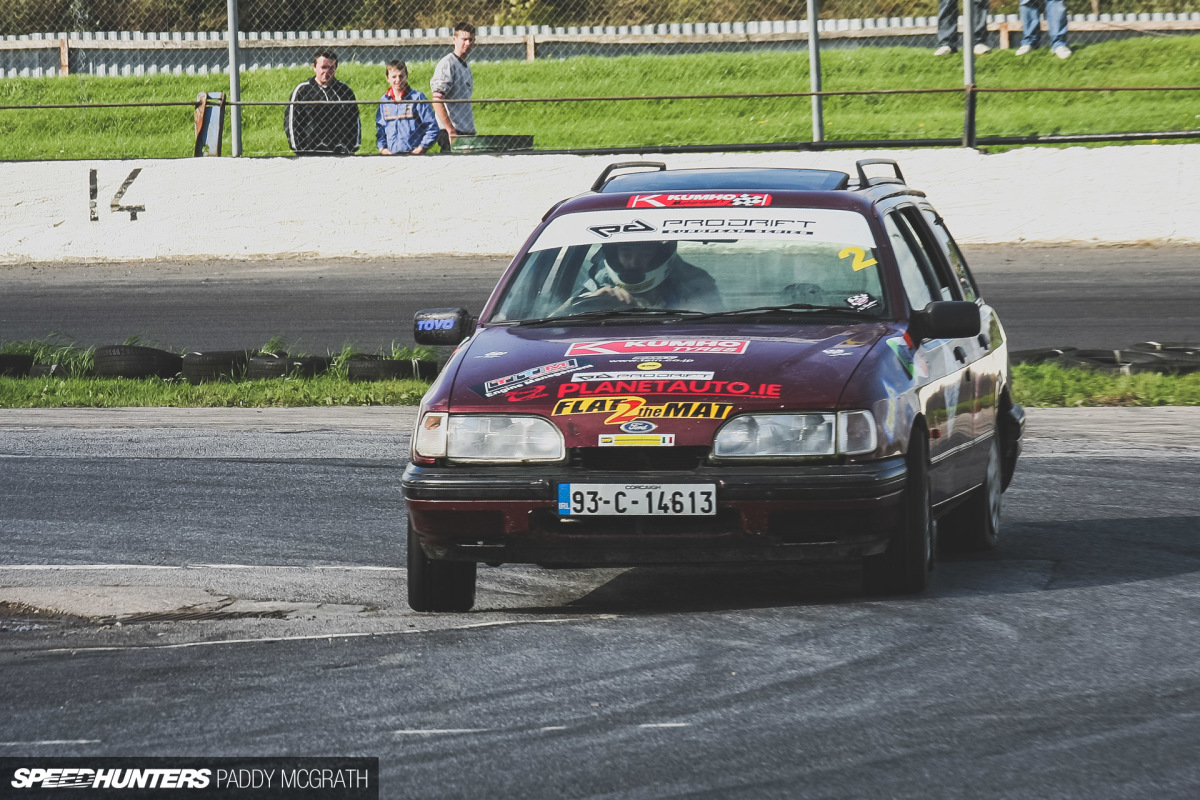 Ten years.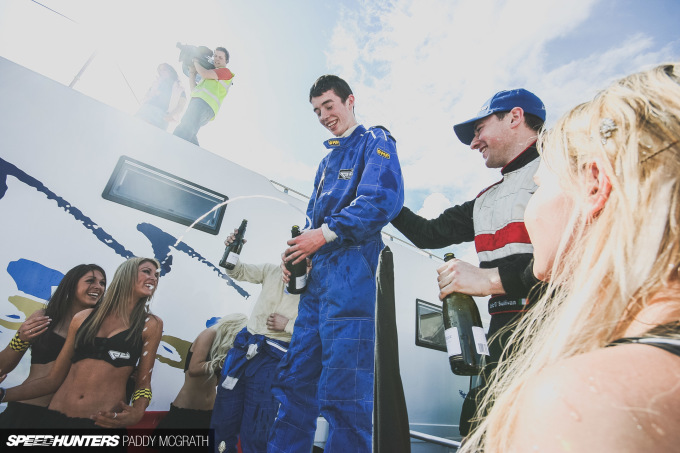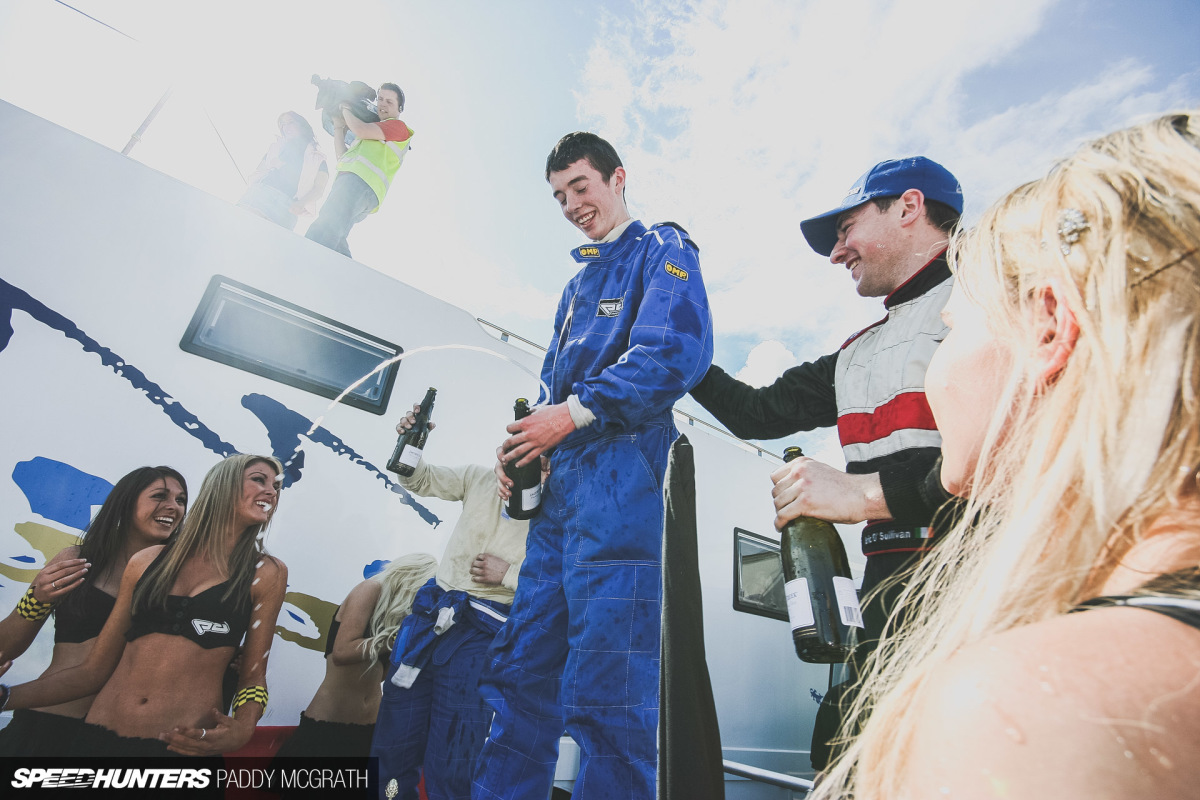 Six months.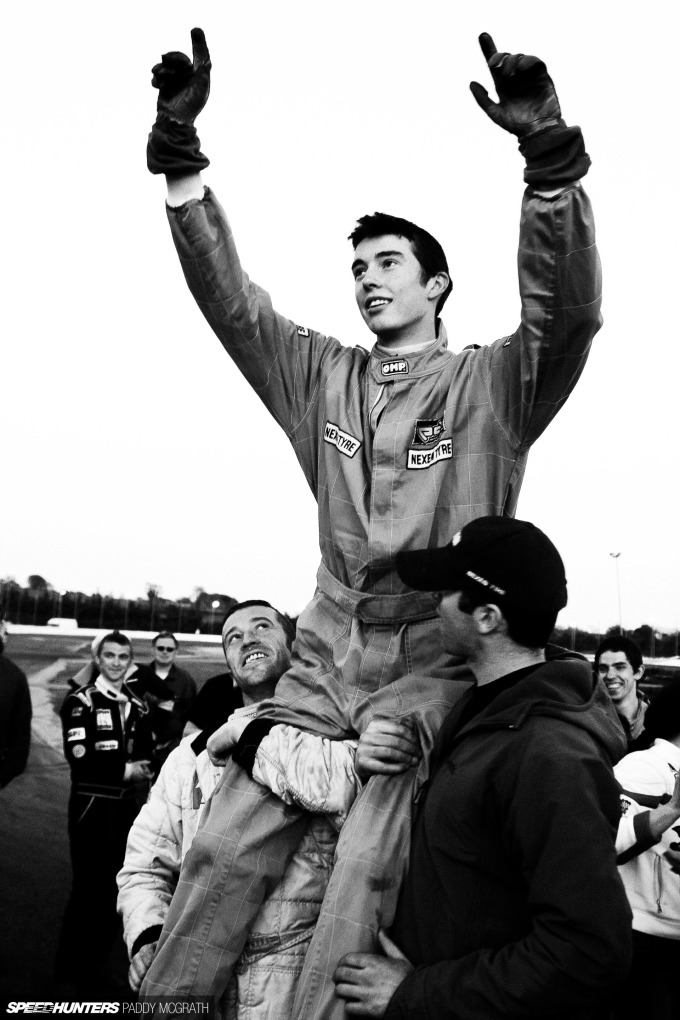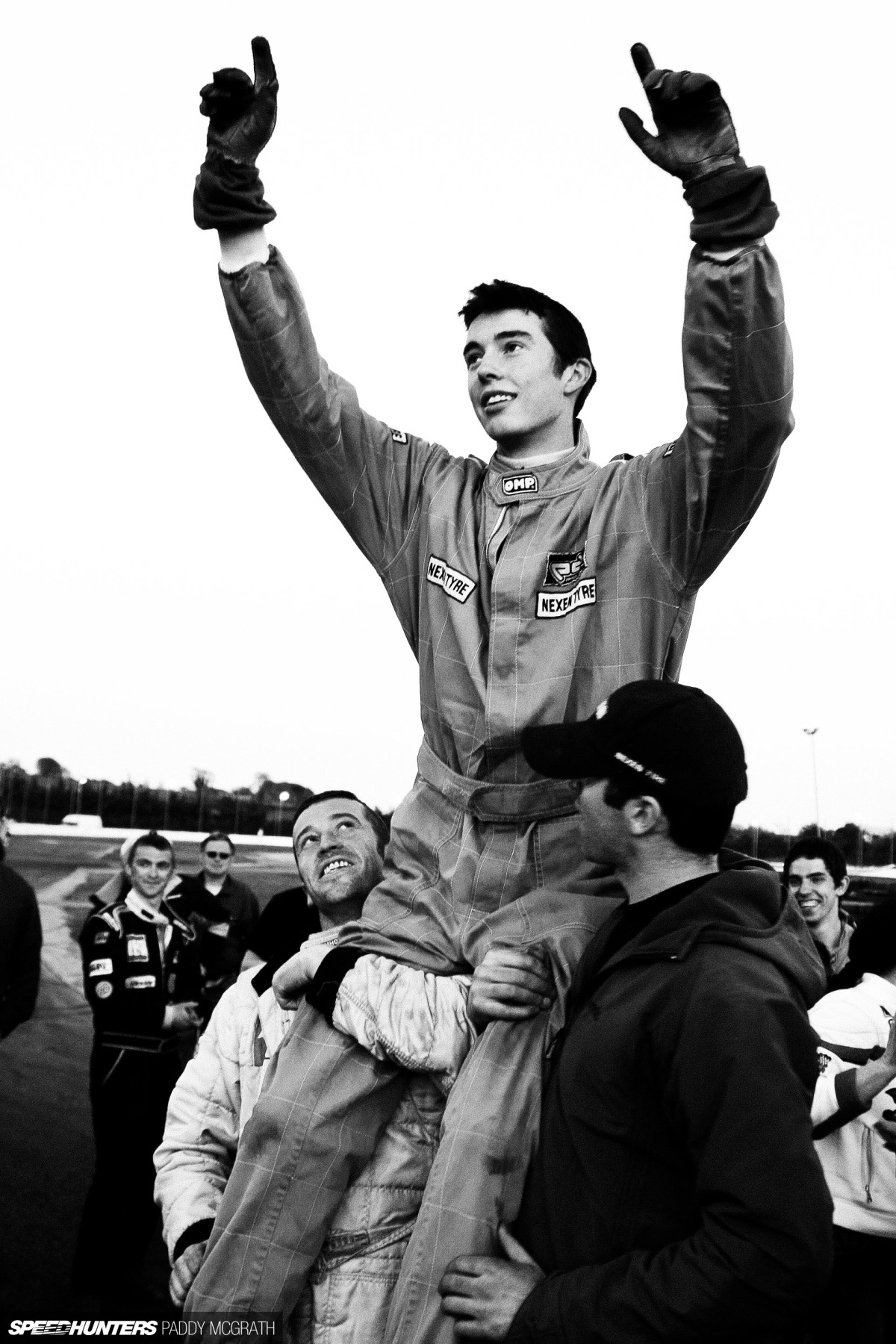 One week.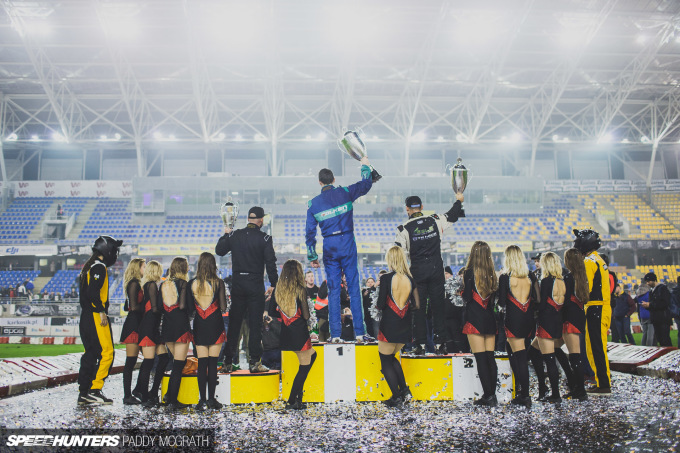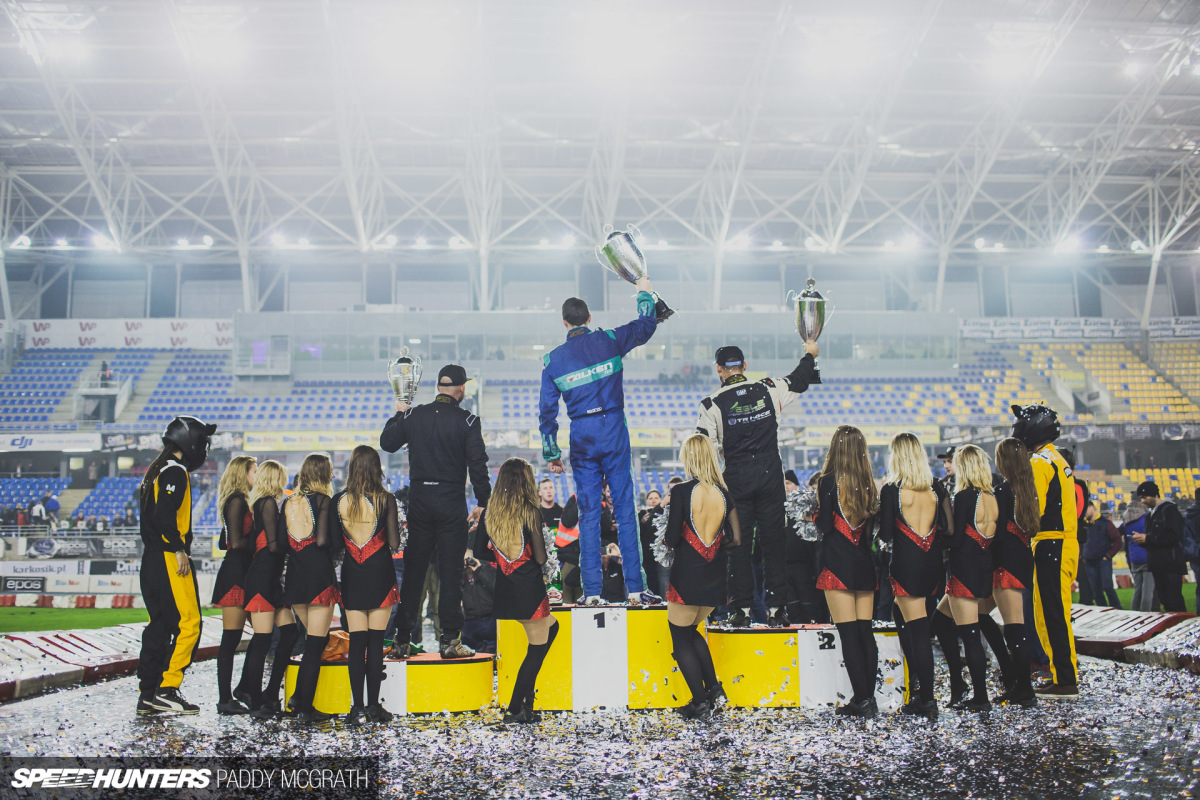 Five hours.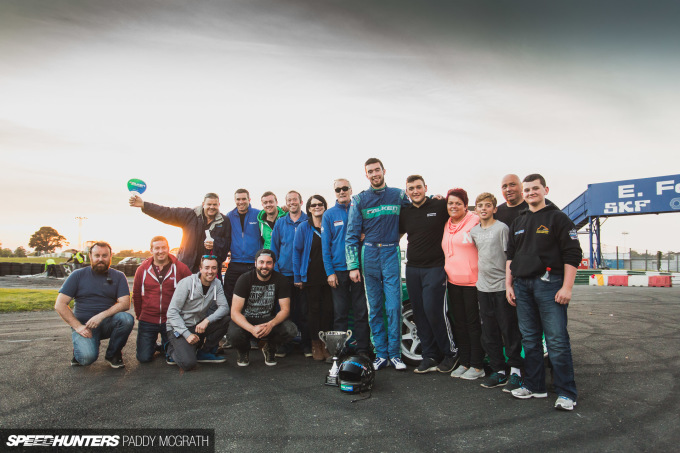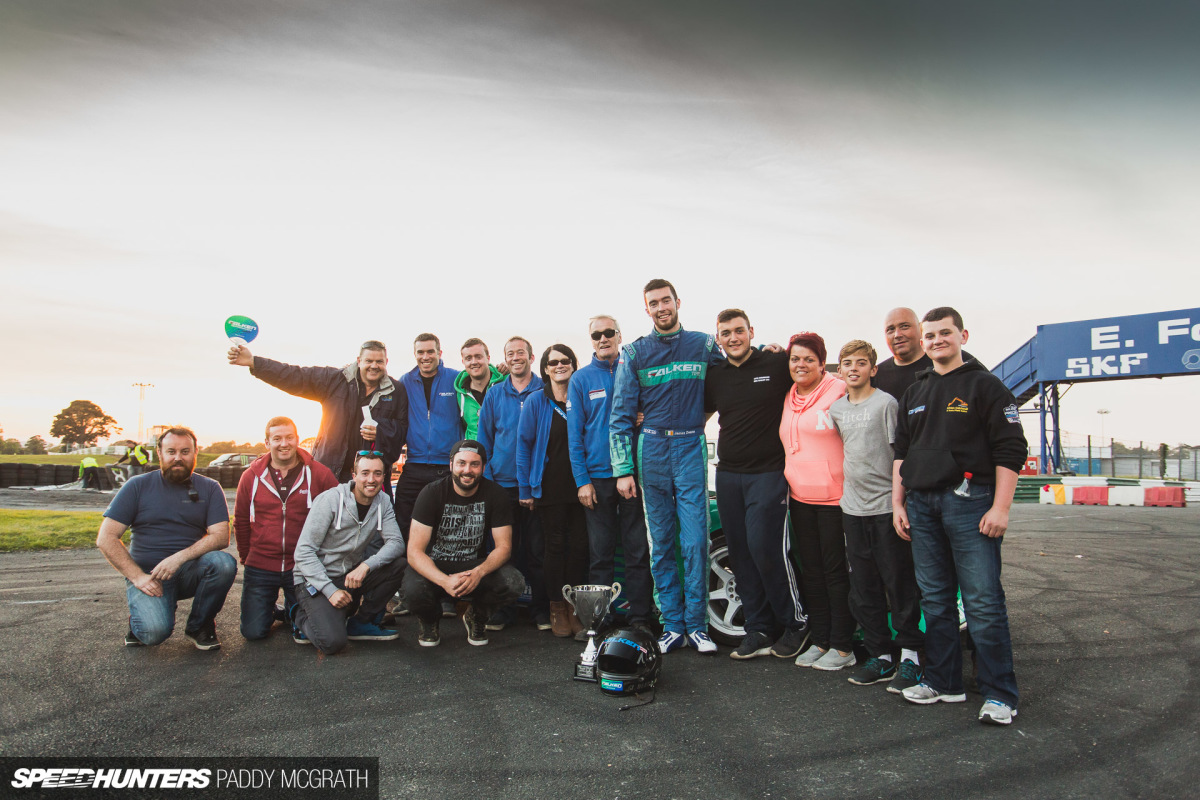 Thirty one minutes.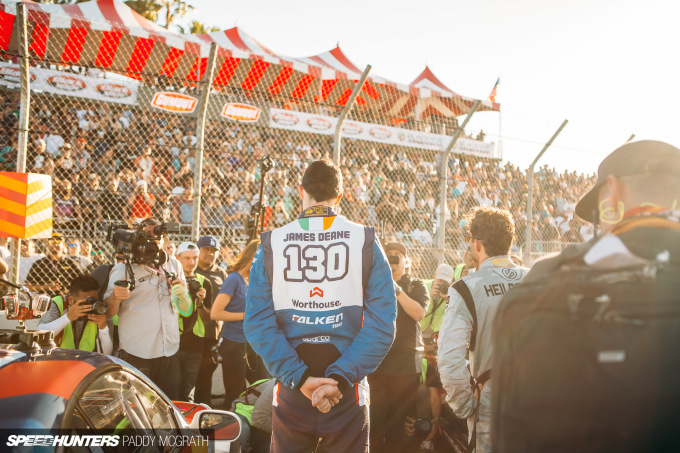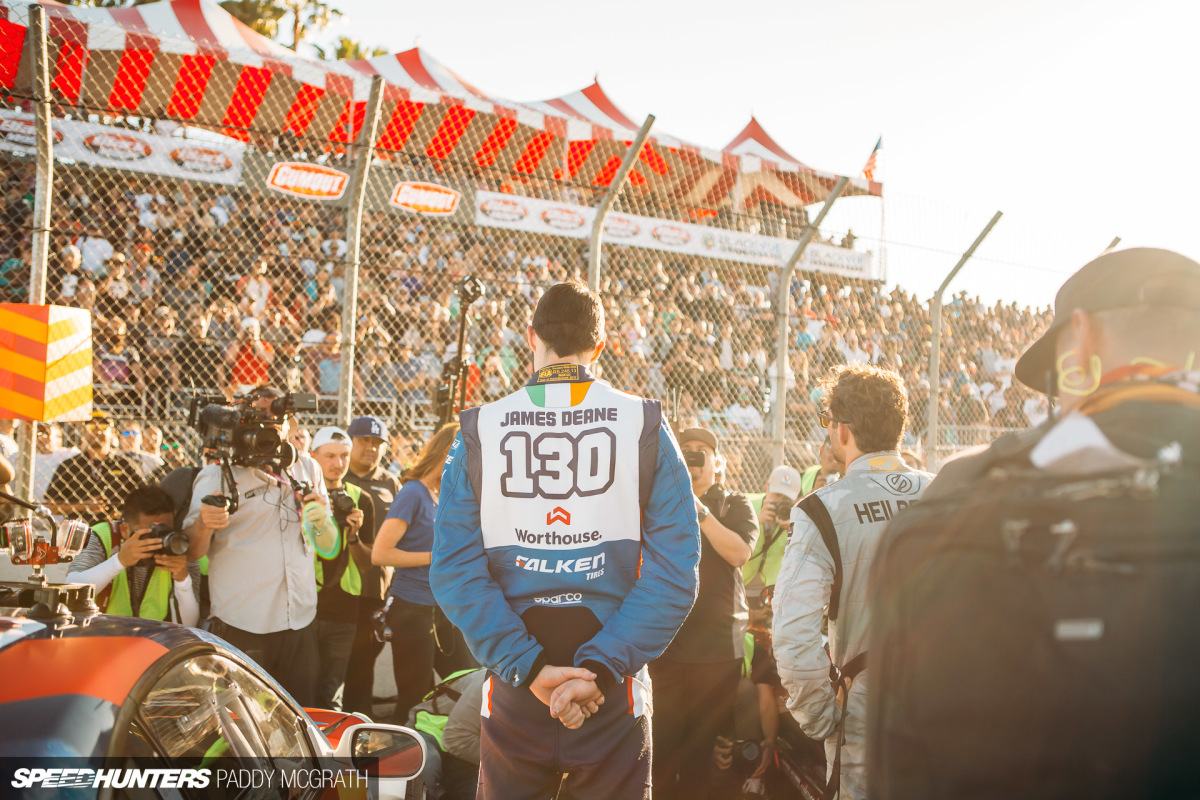 Fifty five seconds.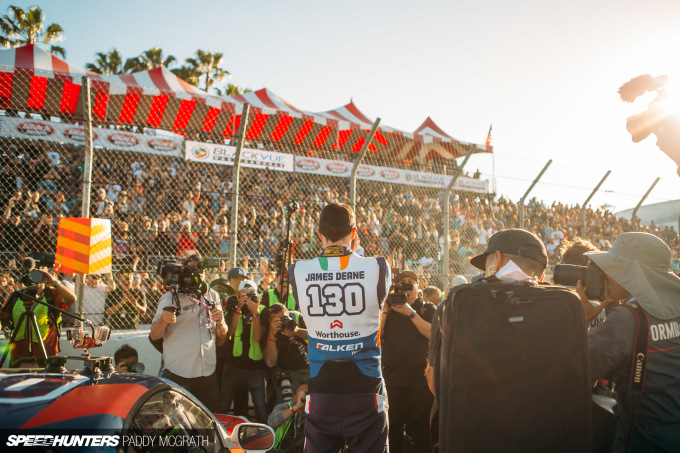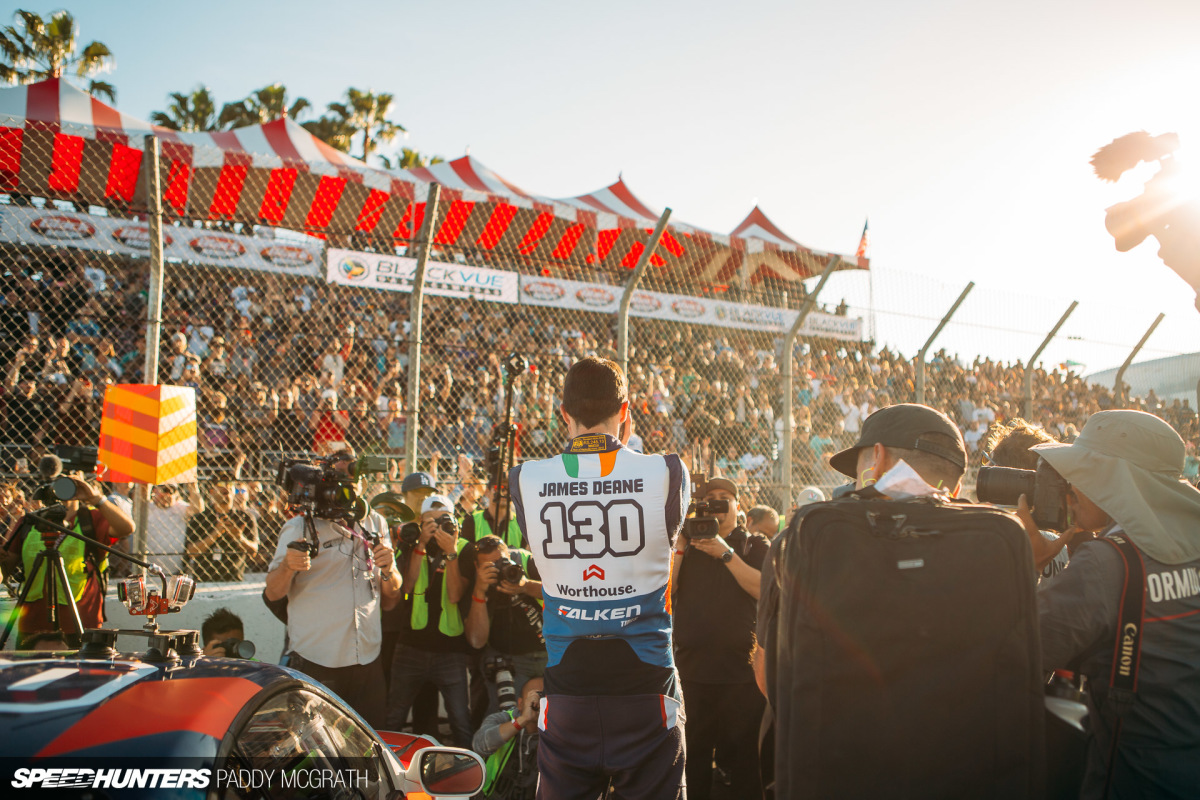 "Your winner here, on the streets of Long Beach…"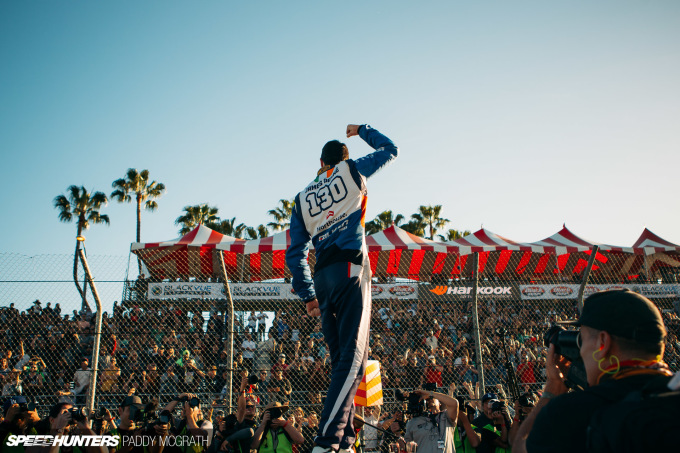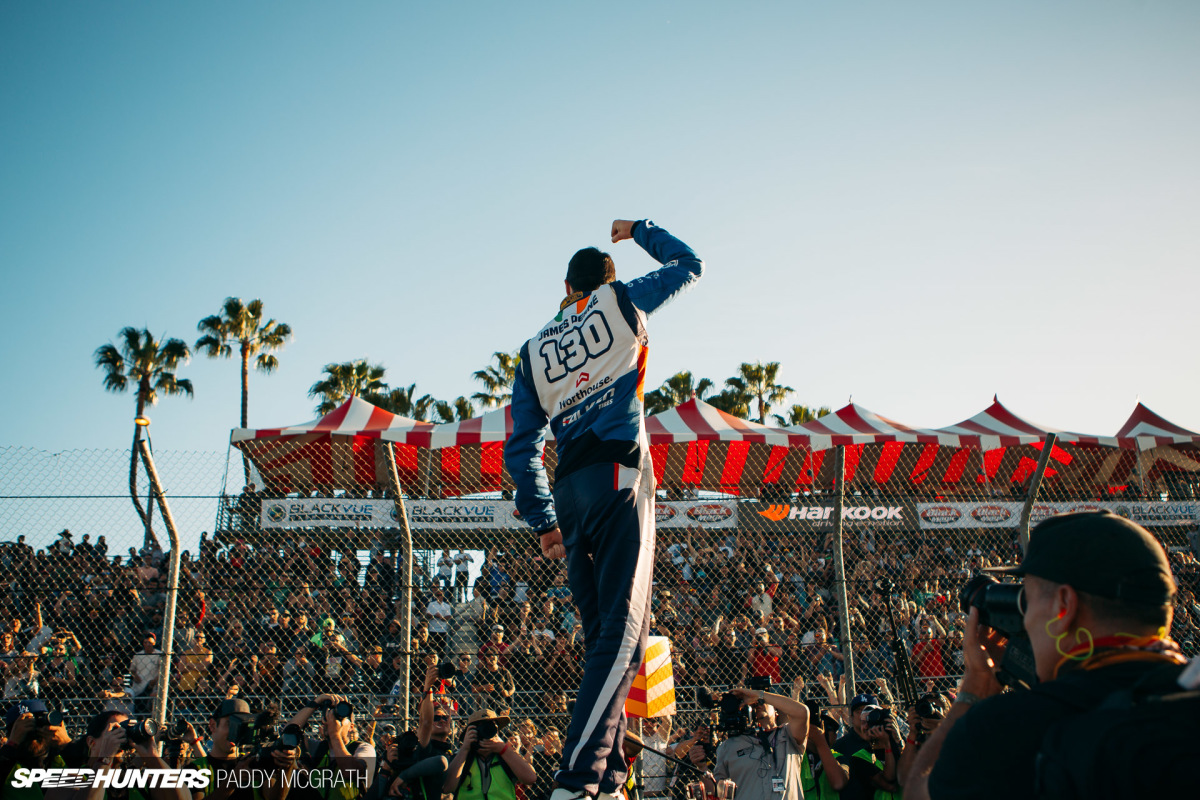 "…from Ireland, James Deane."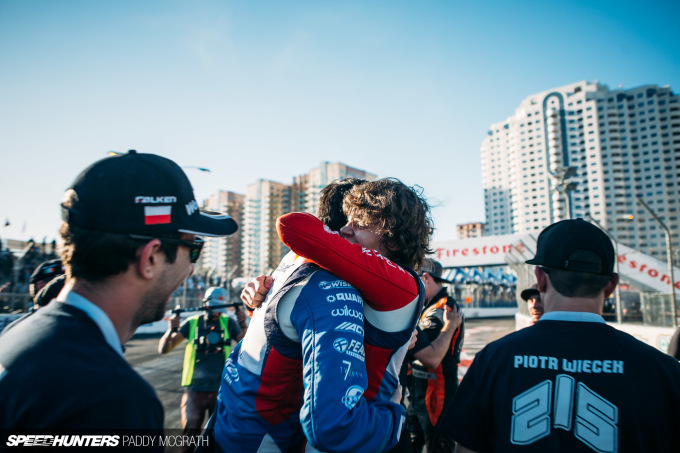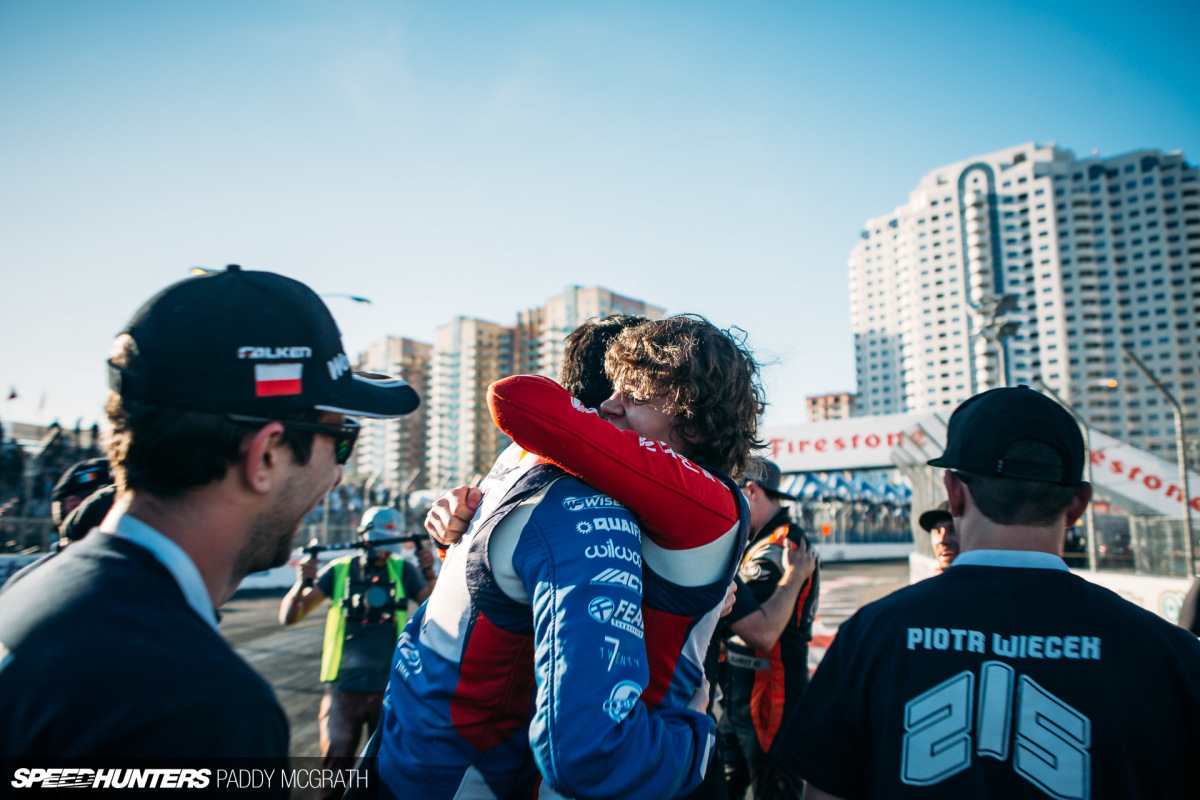 It turns out he was the actual winner, too.
There really isn't a whole lot that I can add to that other than the absolute level of pride that I have for James, his family, his team and everyone who helped this kid from Cork achieve his dream. Few were as happy as his team mate, and maybe the man most responsible for this victory, Piotr. It was Piotr who had the idea of bringing a team to Formula Drift, but only if they could prepare the perfect package.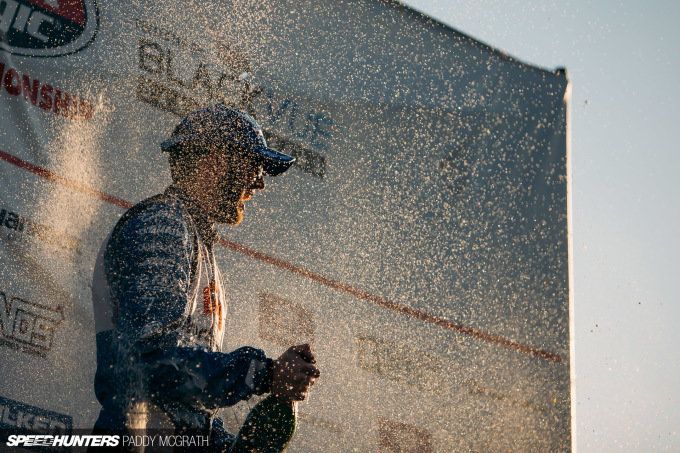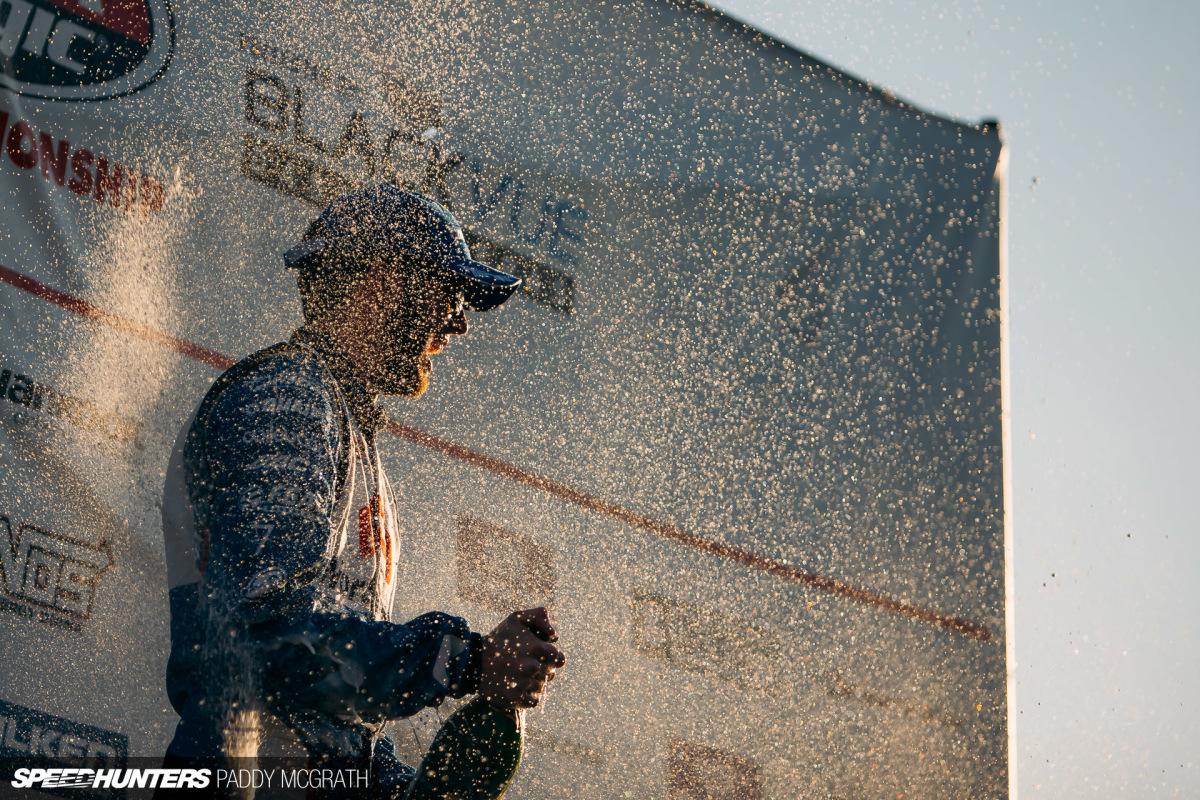 There are few better endorsements than a win first time out.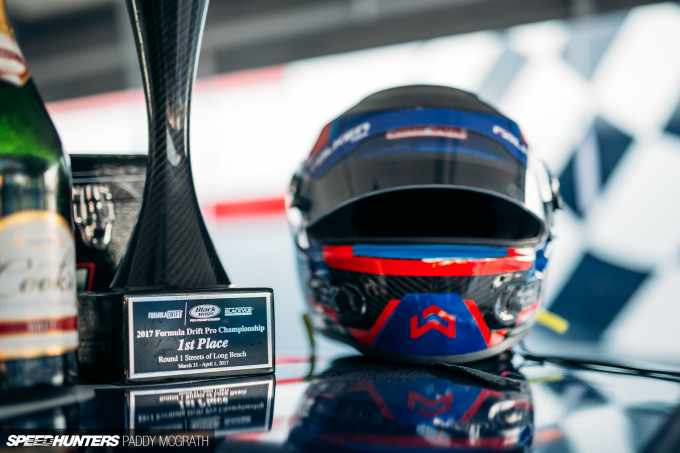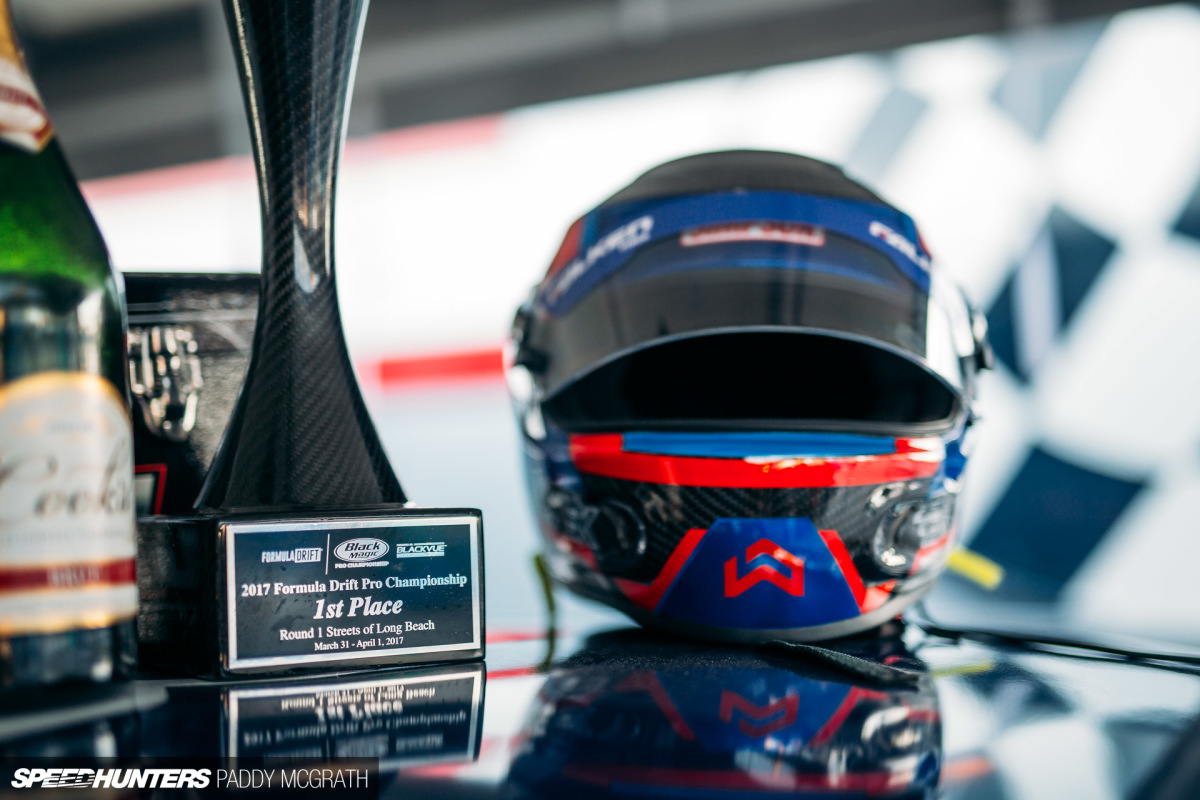 However, to try and keep a lid on emotions, there are still seven rounds left of the 2017 Formula Drift championship. The euphoria of this victory will fade, and will be replaced with a renewed sense of determination for Round 2 in Orlando in a few weeks. Some have already begun to talk this victory down claiming that Long Beach isn't a big power track, and that it favours right-hand drive vehicles, so it's not representative of the rest of the courses on the FD calendar. When people start moving the goal posts, you know that you're doing something right.
Still, as strange as this might sound, I don't think the Formula Drift roster has seen James at his very best yet. They definitely haven't seen what Piotr is capable of, so he remains the dark horse of the Worthouse Drift Team, for now at least. Just don't be surprised when he reaches the top step of the podium.
One down, seven to go. See you in Orlando.
Paddy McGrath
Instagram: pmcgphotos
Twitter: pmcgphotos
Facebook: Paddy McGrath
paddy@speedhunters.com
Cutting Room Floor