Here in Scandinavia, we are rather lucky when it comes to car culture. Not only is there a thriving drift and time attack scene, but some of the craziest engine-swapped creations are dreamed up and built in this part of the world.
The annual Bilsport Performance & Custom Motor Show held at the Elmia convention and events center in Jönköping, Sweden provides a great opportunity to check out some of the latest builds before the start of the new season. It's where I was a couple of weeks back.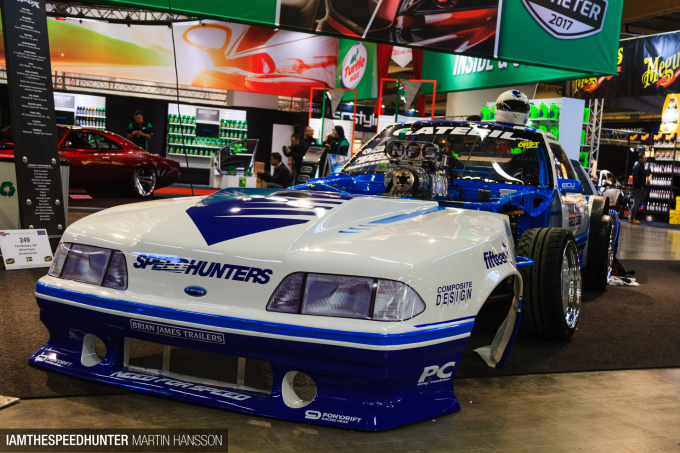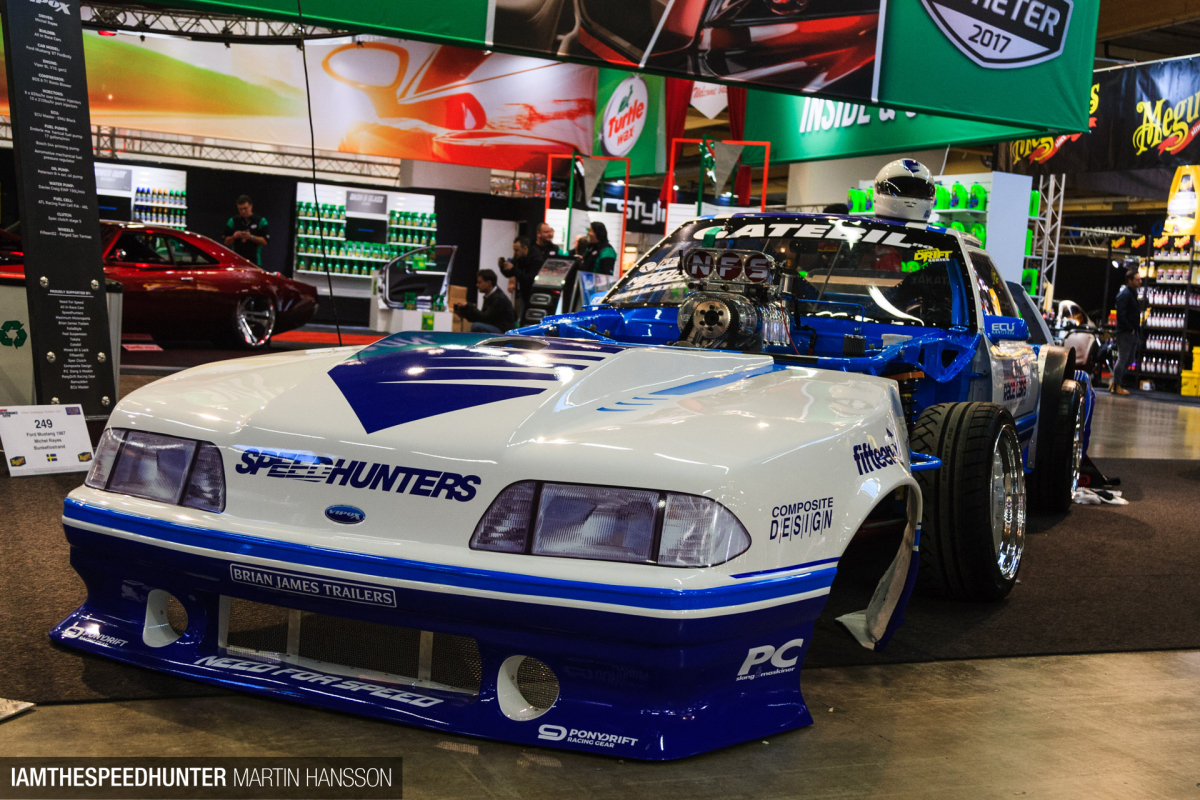 One of the first cars I saw after walking through doors between Hall A and Hall B at Elmia was Michel Rayes' new Ford Mustang dubbed Vipox. If you read the build post on Speedhunters recently, you'll already know that this is a rather special piece of kit.
Michel saved some of the main details of this car for the show, including the bodywork/livery design and the engine base, but you can see how great it's all turned out. With the help of a drag-spec supercharger, the Viper V10 will make over 1000hp – I can't wait to see and hear this Mustang on the move!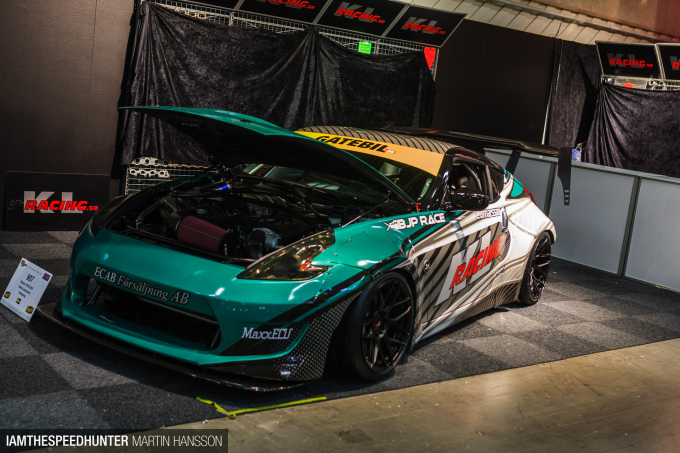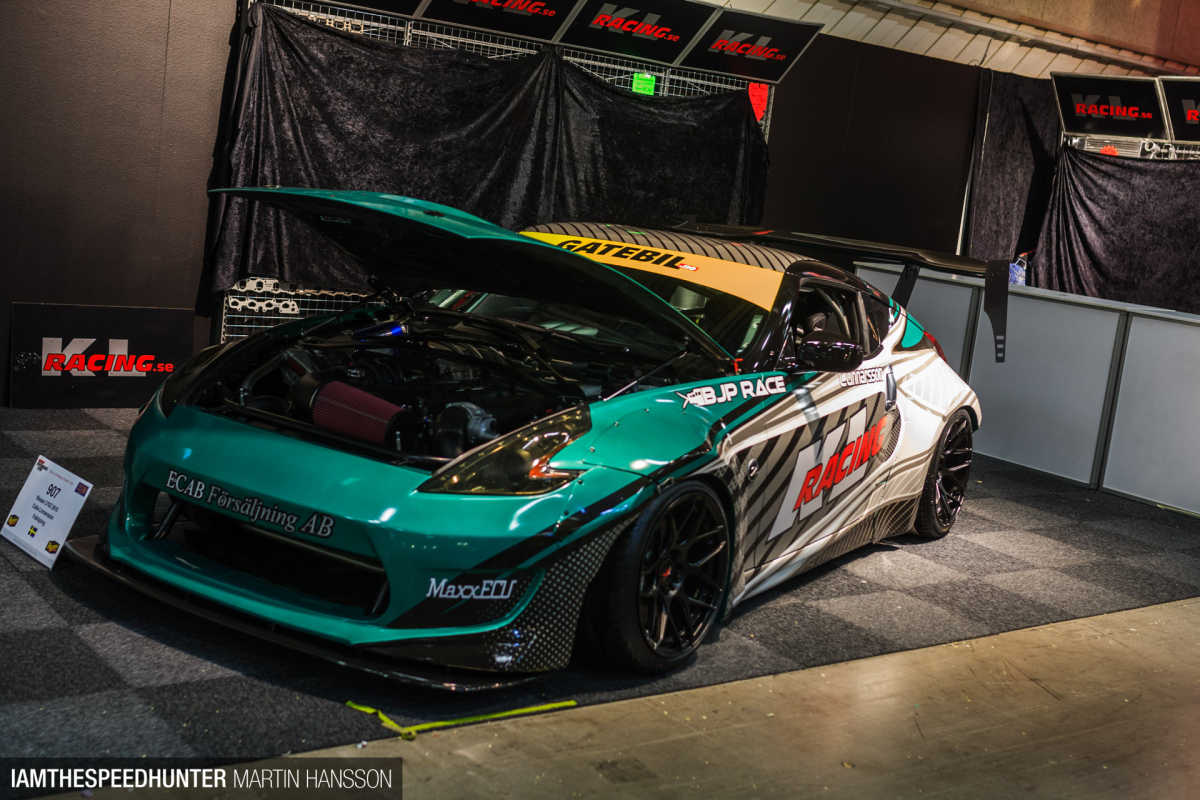 Further inside the hall was this Nissan '370JZ' – can you guess what engine it's running? The car started life as one of the special Nismo version 370Zs, but after being involved in an accident it was sold to Calle Linnarsson who has built an awesome drift machine out of it. Among other things it features a Samsonas sequential gearbox, Fat steering kit and Wisefab to keep the rear under control. The stroker 3.4-liter 2JZ-powered Nissan will compete in the Swedish Drift Championship and the Gatebil Drift Series.
When I saw the familiar Gatebil logo, I knew I had to take a look at their stand to see what they had to show this year. And this is it – a Lexus RC F built for drifting. It's often said that you should expect the unexpected when it comes to Scandinavian builds, and that's definitely the case here. A 2JZ would be a cool swap, but if you think that's what is under the bonnet, you'd be wrong; this car will actually use a turbocharged BMW M50i engine.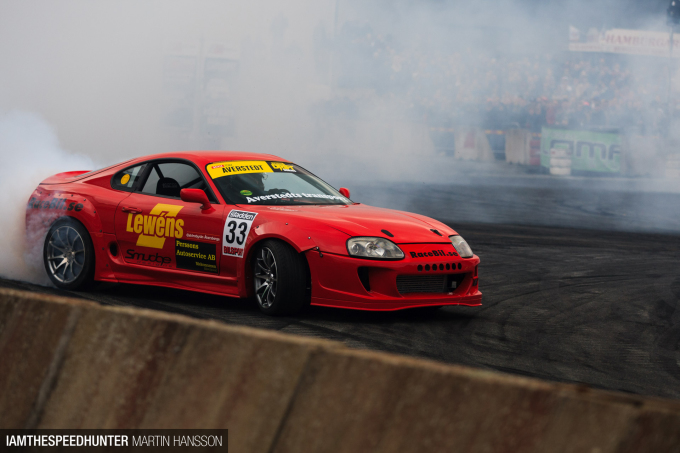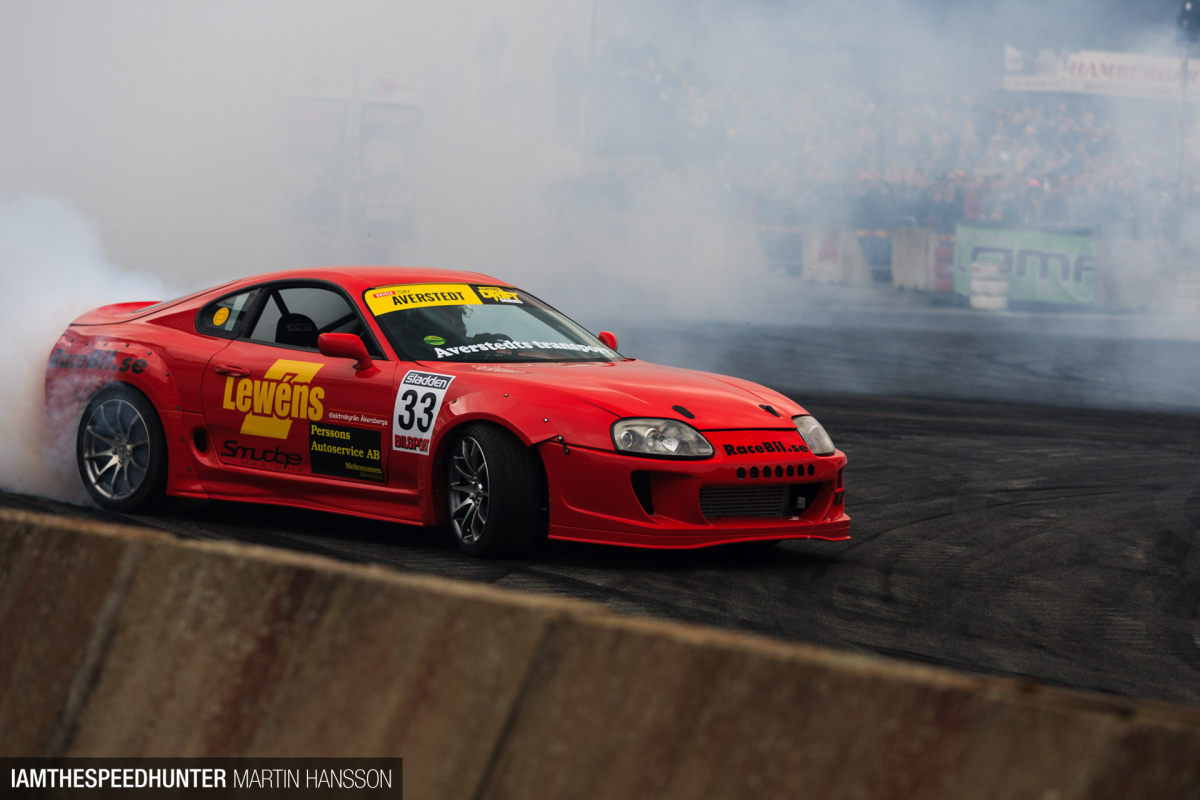 After checking out some more cars, I made my way outside to the arena area where the drifting competition was about to start. One of the first cars that stood out to me was the Averstedt Motorsport Toyota Supra, which has been repowered with an Audi engine that makes close to 750hp!
A few runs later, David Skogsby finally came into sight and put on a real show with his BRL Racing 2JZ-powered Nissan S14. The reason why it was out of sight for a while was Rickard Ivars' S14, which runs a turbocharged BMW S38B38 that produces some 1020whp and 1205wNm (barely enough if you ask the owner) and makes a lot of smoke. If you happen to get along to any of the Gatebil events, there's a good chance you'll see this car being driven in a ludicrous manner.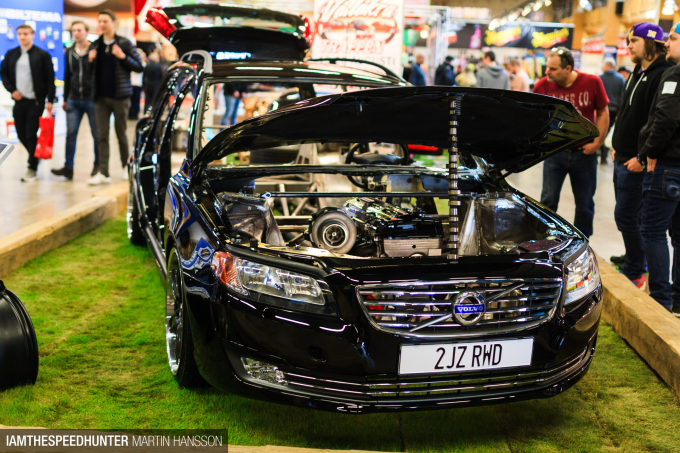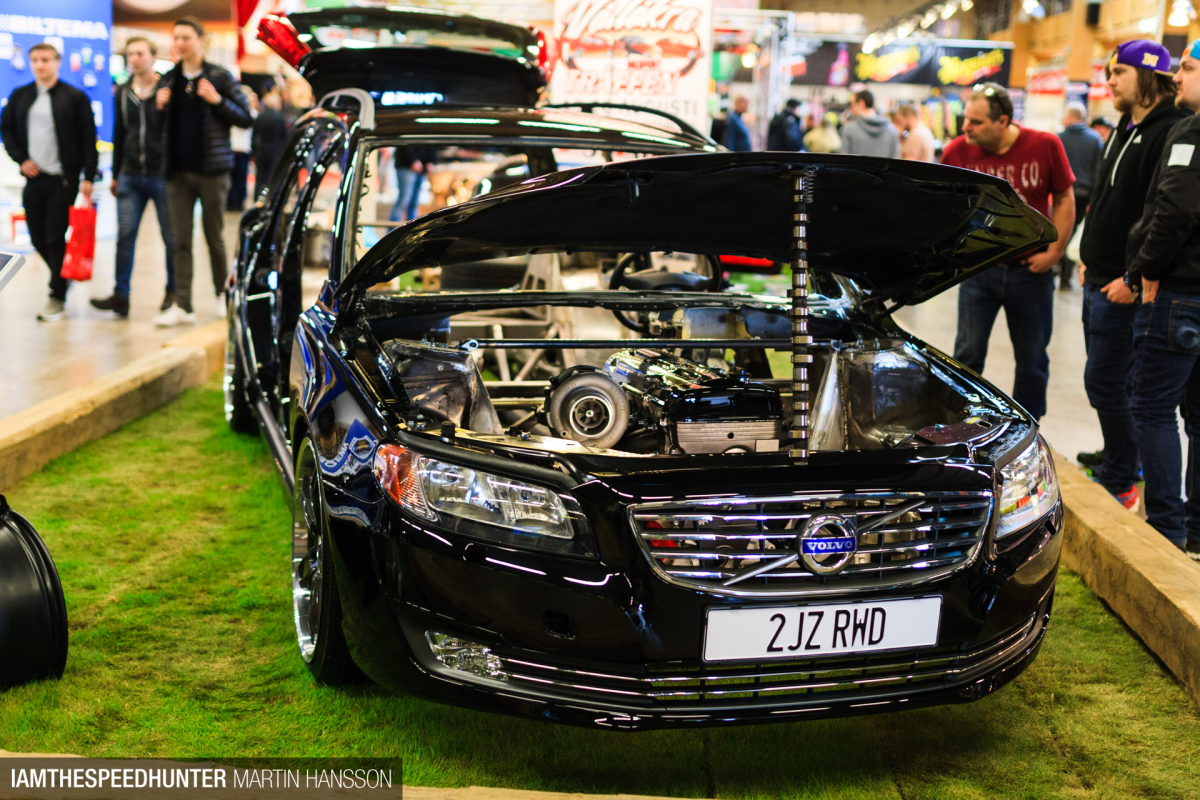 This was once a nice Volvo V70 family wagon, but now it's much better thanks to custom chassis work and a 2JZ in place of whatever engine it left the factory with. Unlike many of the builds at Elmia, this one isn't destined to become a track machine when finished – it'll be used back on the road with a full interior and all the comforts of the standard car.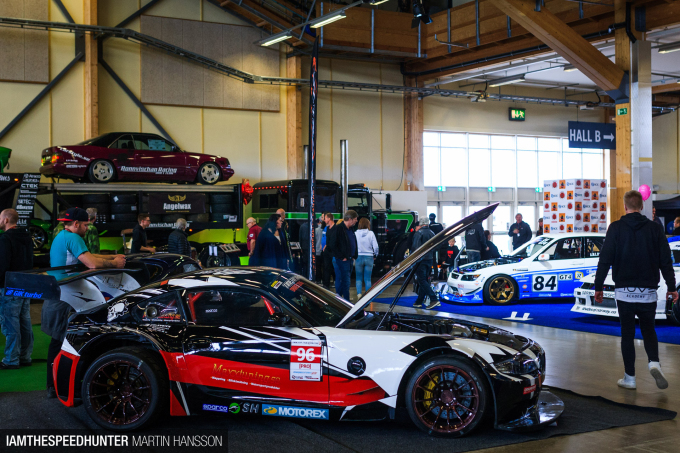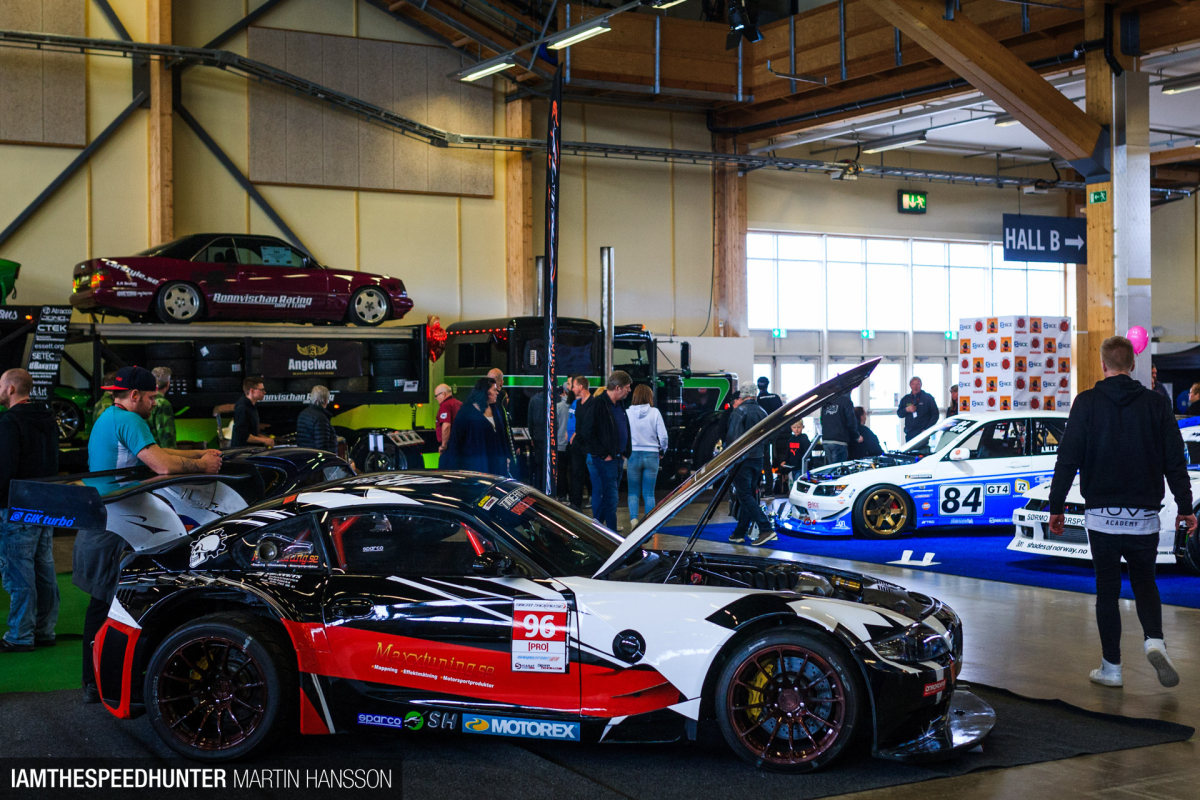 Next up we have a Z4 built for the Swedish Time Attack Championship that features a BMW Motorsport GTR bodykit from when these cars competed in Super GT back in 2008. Previously it was fitted with a Nissan RB26DETT from an R32 Skyline GT-R, but when that engine gave up late last year after five years of abuse – both in the Z4 and the owner's previous BMW E30 – it was replaced with something that I don't think anyone would see coming.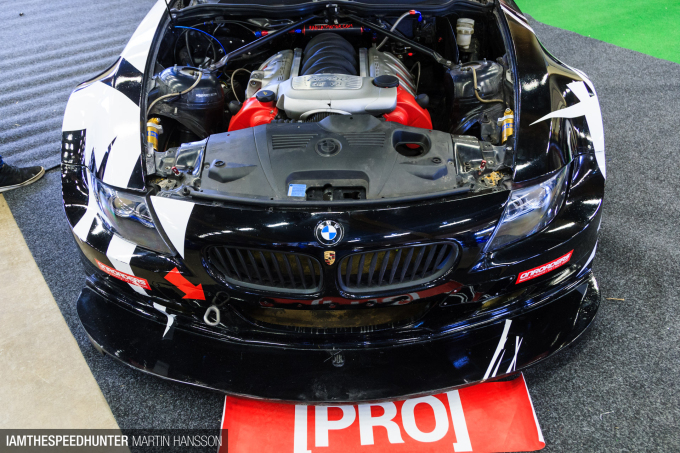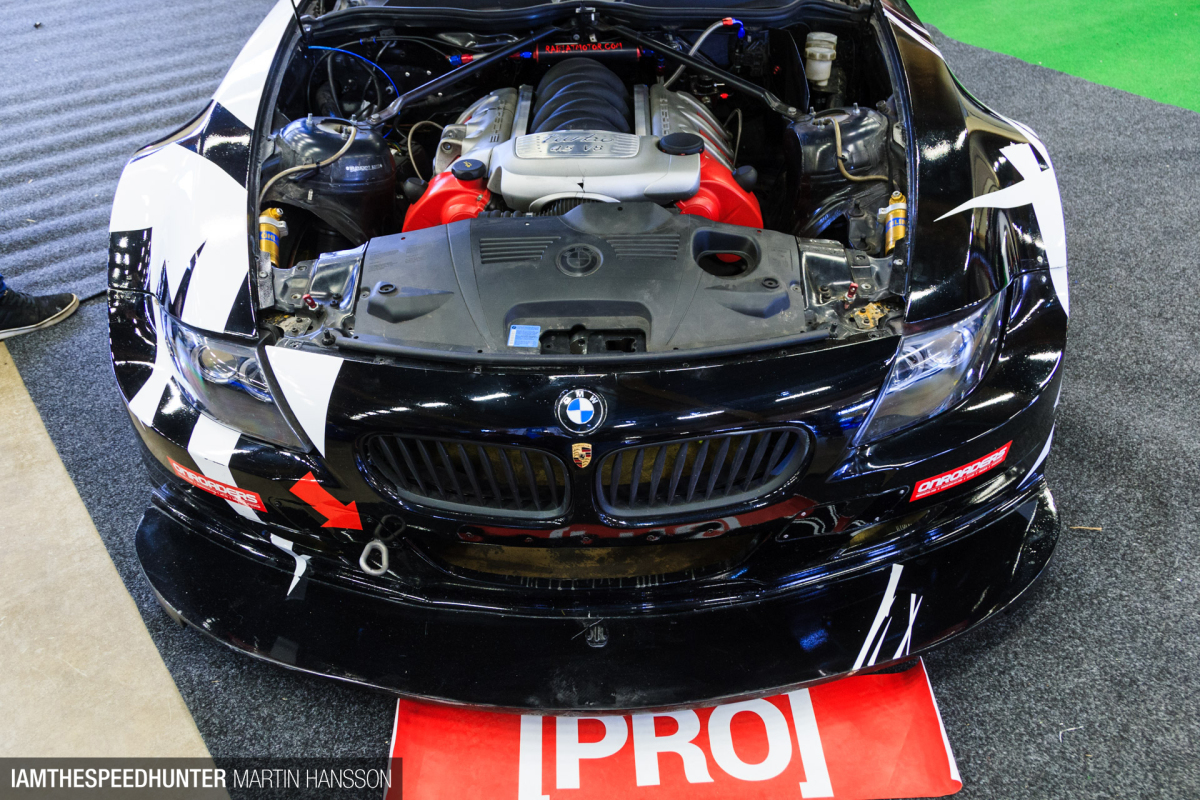 The secondary badge up front hints at the swap, but lifting the bonnet reveals the exact engine conversion – a twin-turbo 4.5-liter V8 from a first-gen Porsche Cayenne!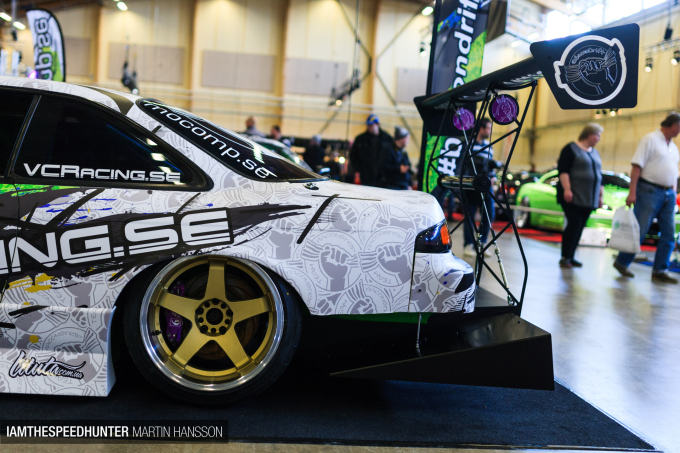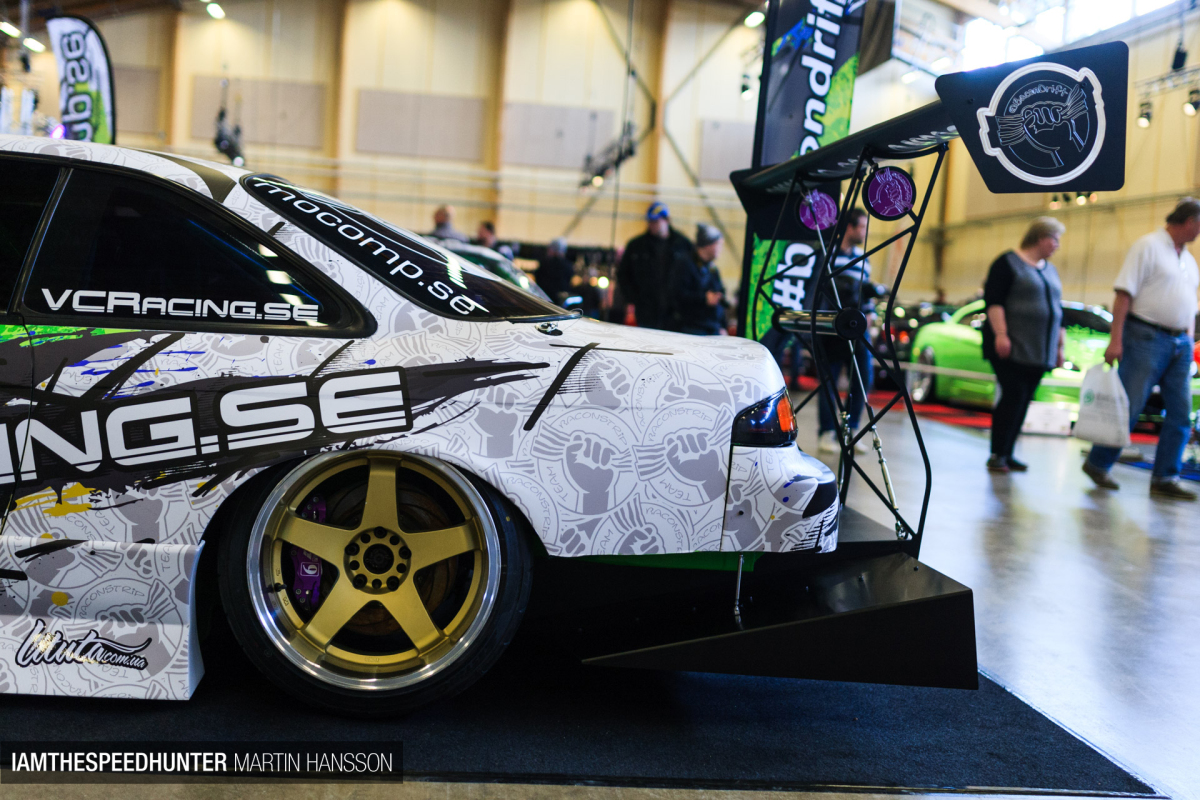 Time to play 'What will this car be used for?' Time Attack? Gatebil Extreme? Pikes Peak? Show only? Actually, none of these things – it's built for drifting. Of course, it's not just a Nissan S14 with some wild aero additions…
With the front clip removed, there's no hiding the retrofitted BMW M62B44 V8 which has picked up two boost-generating friends since it left the factory. The target here is 700hp, which sounds completely achievable given the engine's capacity and current spec.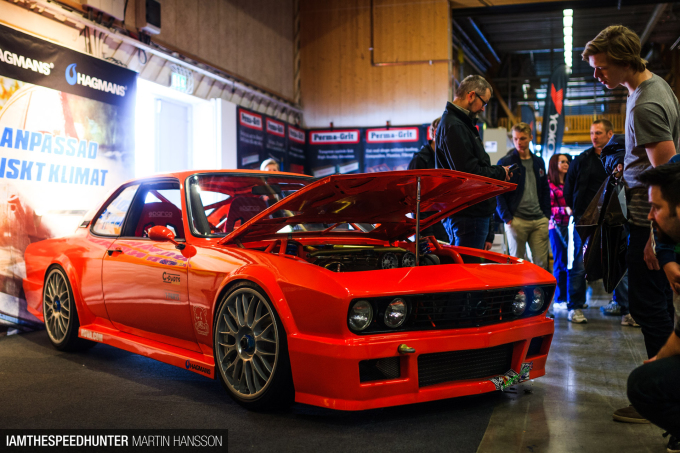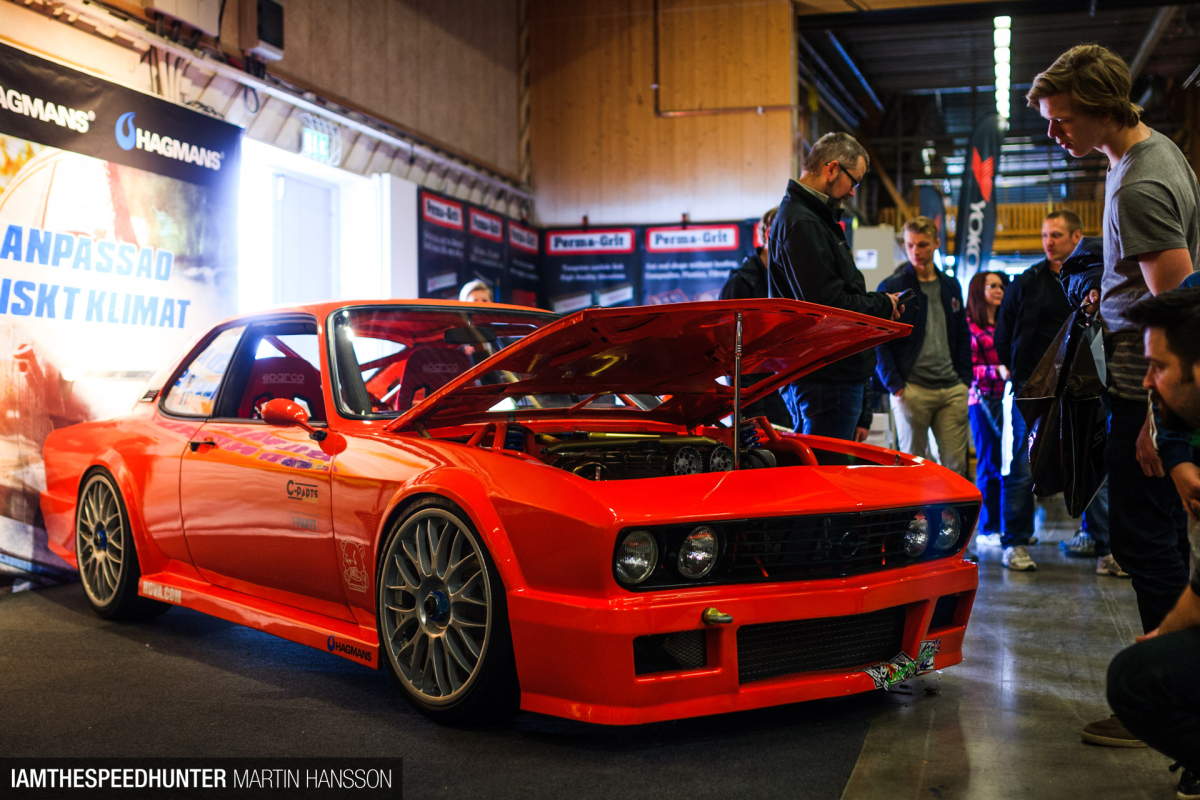 One car that really held my attention at Elmia this year was a very heavily modified Opel Manta. It's not a new build by any stretch; the Hilmersson Racing machine has actually been around for decades.
Up front is not an Opel engine but a Volvo B230 unit backed up by a close-ratio Getrag 262 gearbox from a BMW. It's not just any B230, but a 16-valve unit with turbocharging and supercharging that's good for more than 570hp. Just look at all the custom fabrication, which even extends to raising the suspension turrets up through the bonnet. Crazy!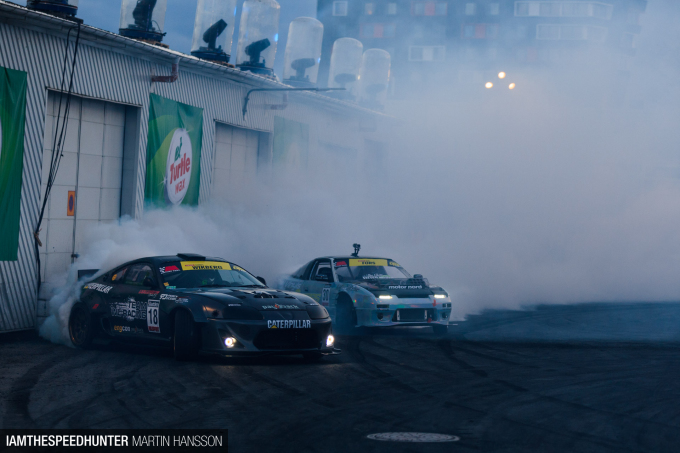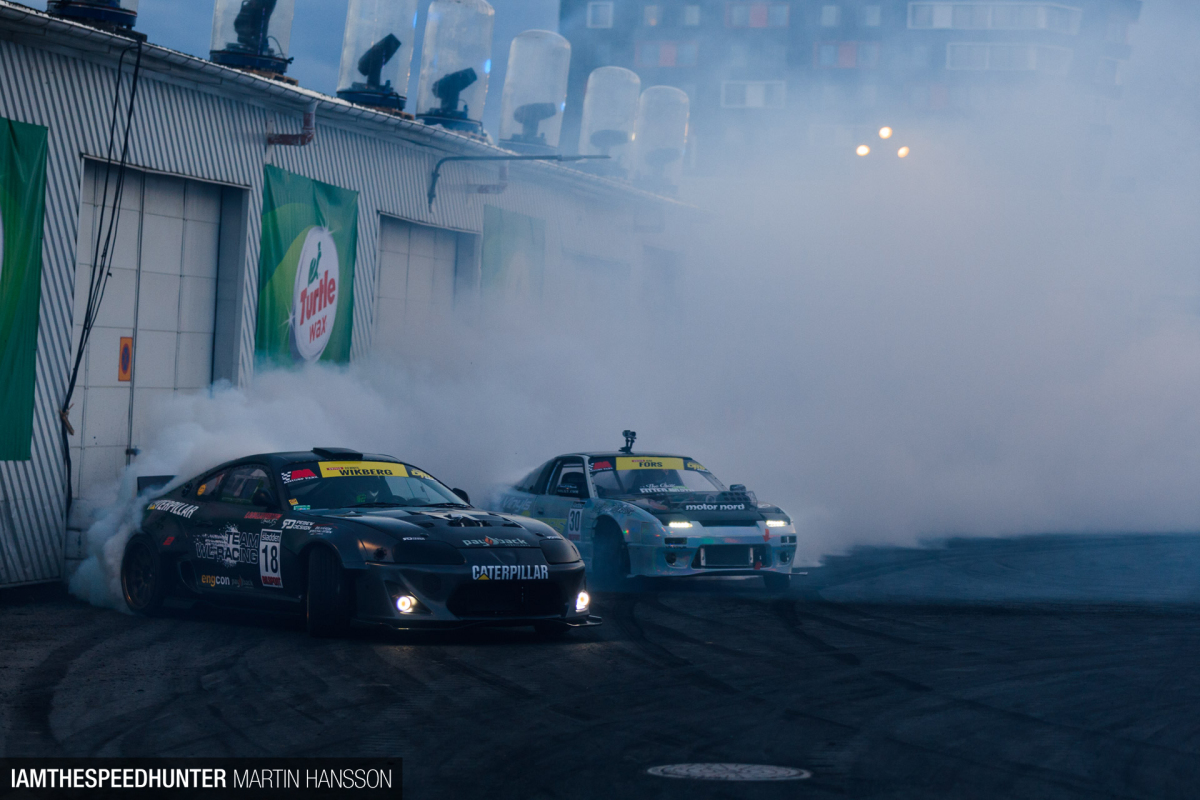 As always, the Bilsport show at Elmia was a great way to welcome in a new season of motorsports for the region, which is now just around the corner.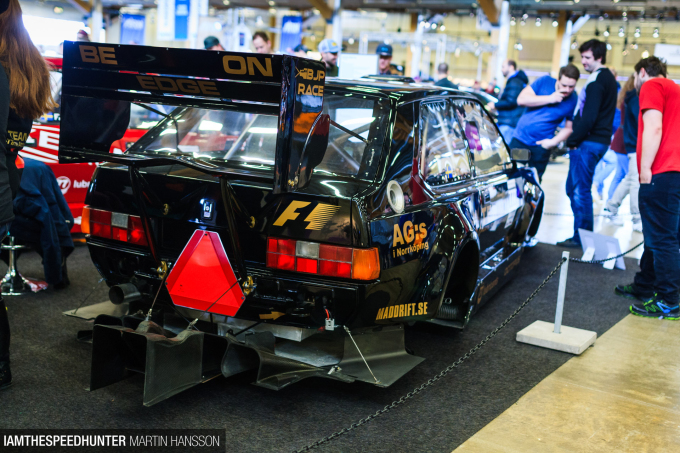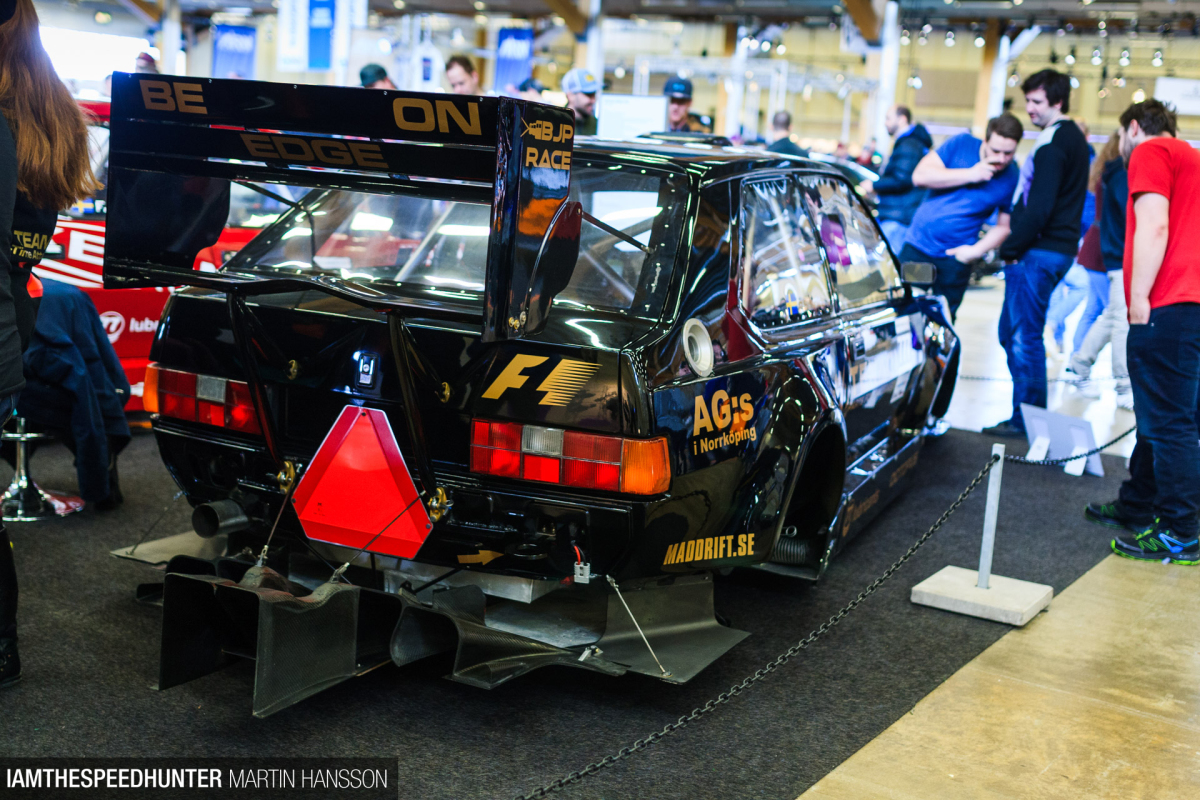 I'm going to finish up with a few photos of what may well be the wildest Volvo 360 ever built. Like the Manta I just showed you, Peter Schmidt's Unlimited class time attack machine runs a twin-charged (turbo and supercharger) B230 engine, plus a host of genuine Formula 1 parts. Yes, you read right.
Would you expect anything less from Scandinavia though?
Martin Hansson
Instagram: mhrallybilder
Website:  mhrallybilder.se
Facebook: Mhrallybilder.se
More I Am The Speedhunter posts
How To join The IATS Program: We have always welcomed readers to contact us with examples of their work and believe that the best Speedhunter is always the person closest to the culture itself, right there on the street or local parking lot. If you think you have what it takes and would like to share your work with us then you should apply to become part of the IAmTheSpeedhunter program. This is our way of trying out fresh talent on the site and encourage you to get involved! Contact us here.